It had to be a V8
If you're going to do something, you might as well do it properly. A simple enough bit of advice to follow, but in practice, one that is not so easy to stick to, especially when it comes to building a car up from a bare chassis. But Enrico Sartori and his crew at Brill Steel Motorsports right outside Treviso in Northern Italy attempted to do just that, grabbing inspiration from a variety of styles and forms of motorsport and combining them to sculpt their very own bespoke creation: their vision of what the perfect drift car should be.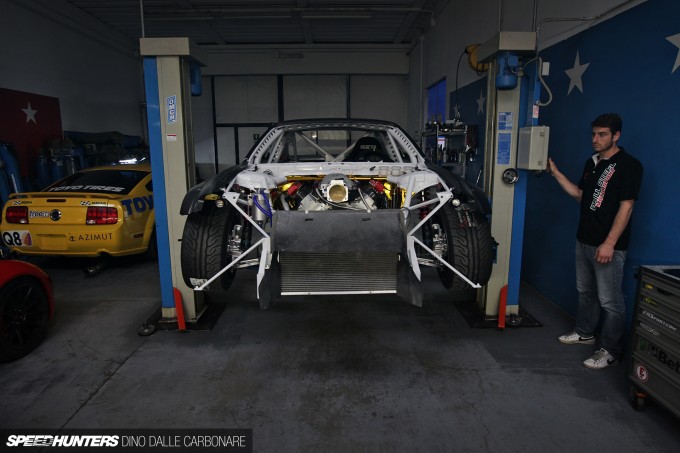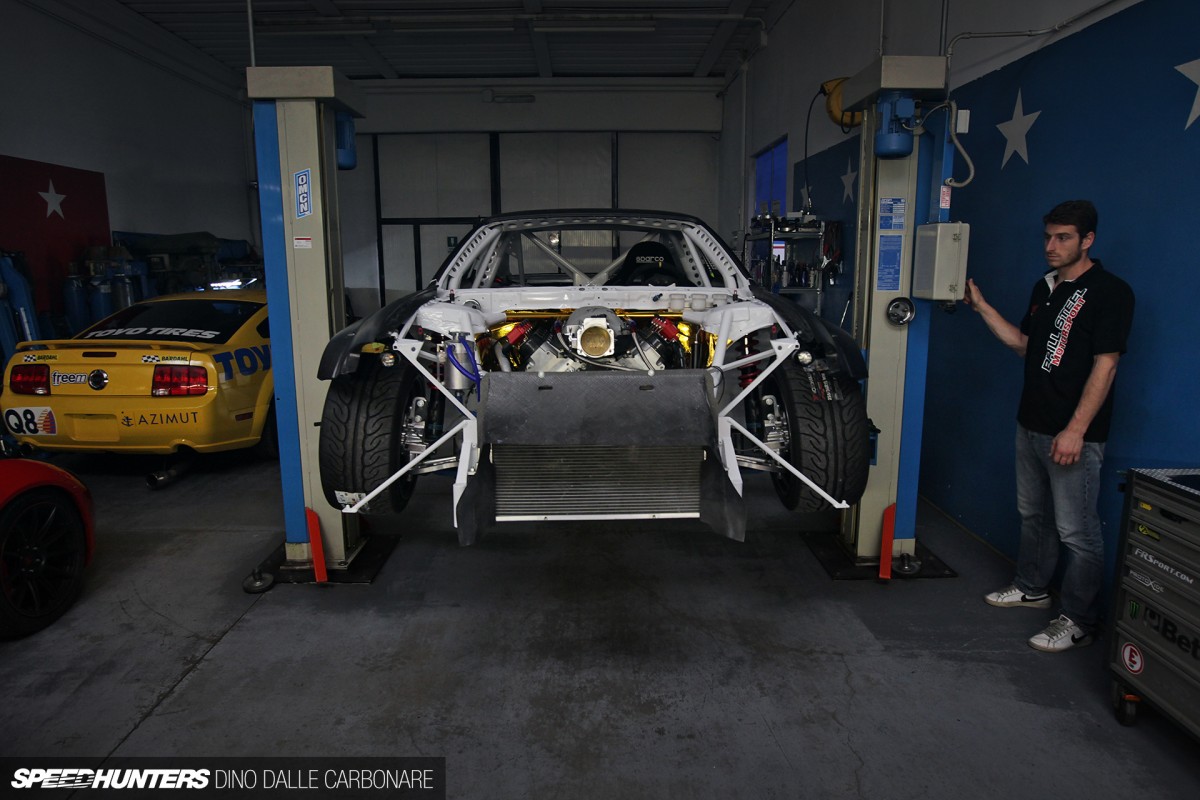 This S14 is the culmination of years of work; the sum of an impressive amount of carefully selected and custom-made parts. As it sat during the time of our visit last month, the car was close to completion only waiting for a set of specially cut Lexan windows and custom driveshafts to connect the driveline up.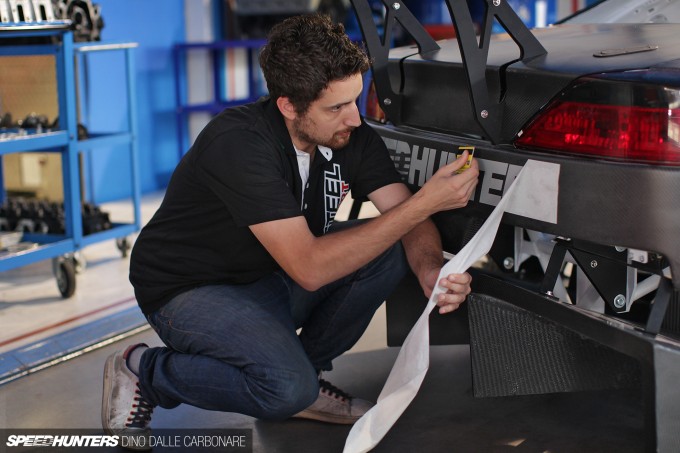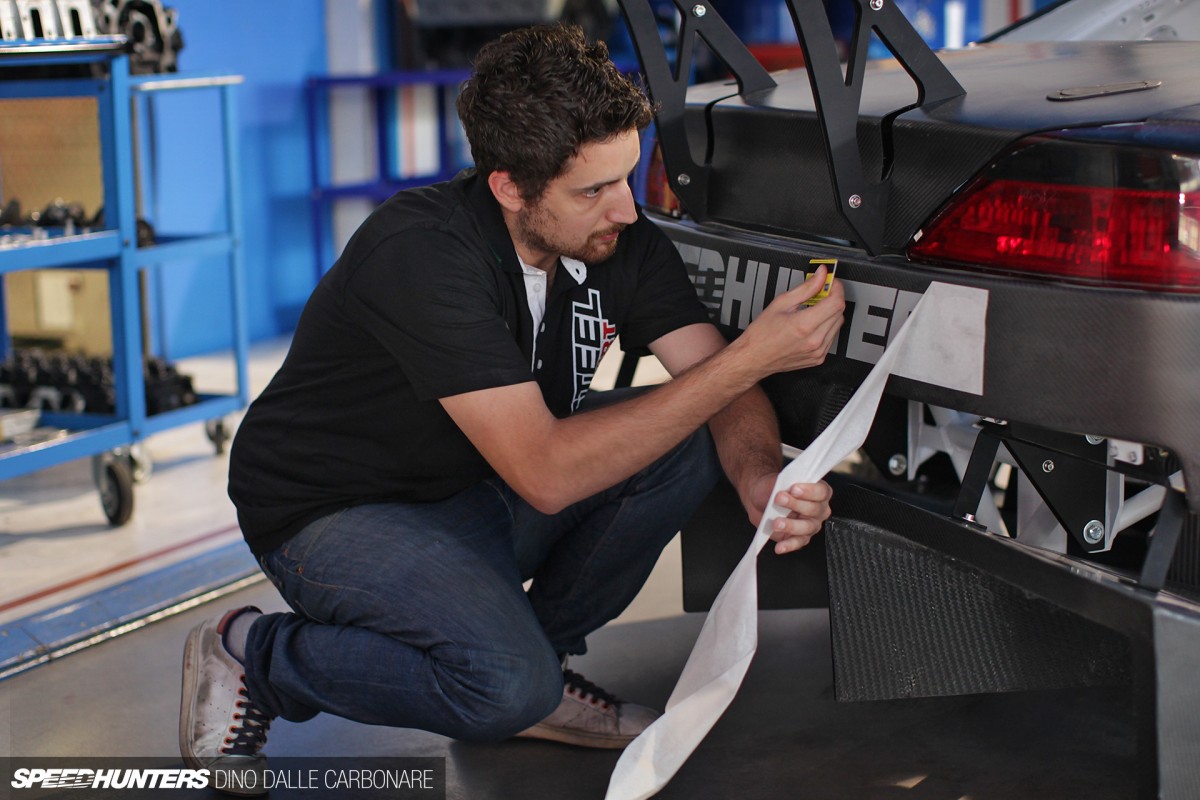 That wasn't certainly going to stop me attacking it with my camera. I just felt compelled to share this one of a kind build with you guys, so to make things look a little more complete, we thought we'd add a new grey Speedhunters sticker on the rear bumper, which by coincidence Enrico told us was the same type of grey their graphics will be done in.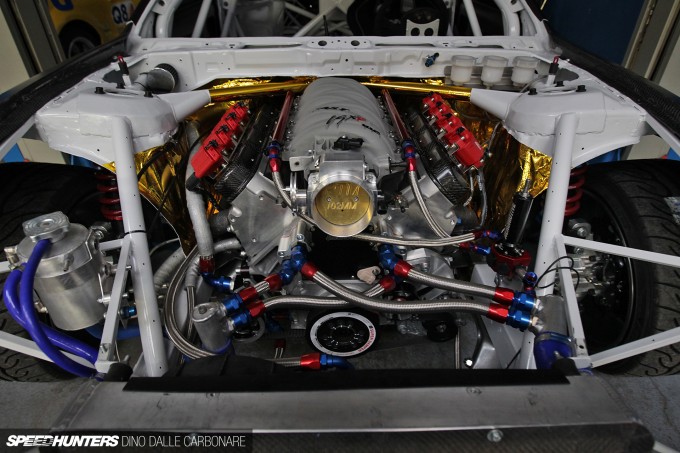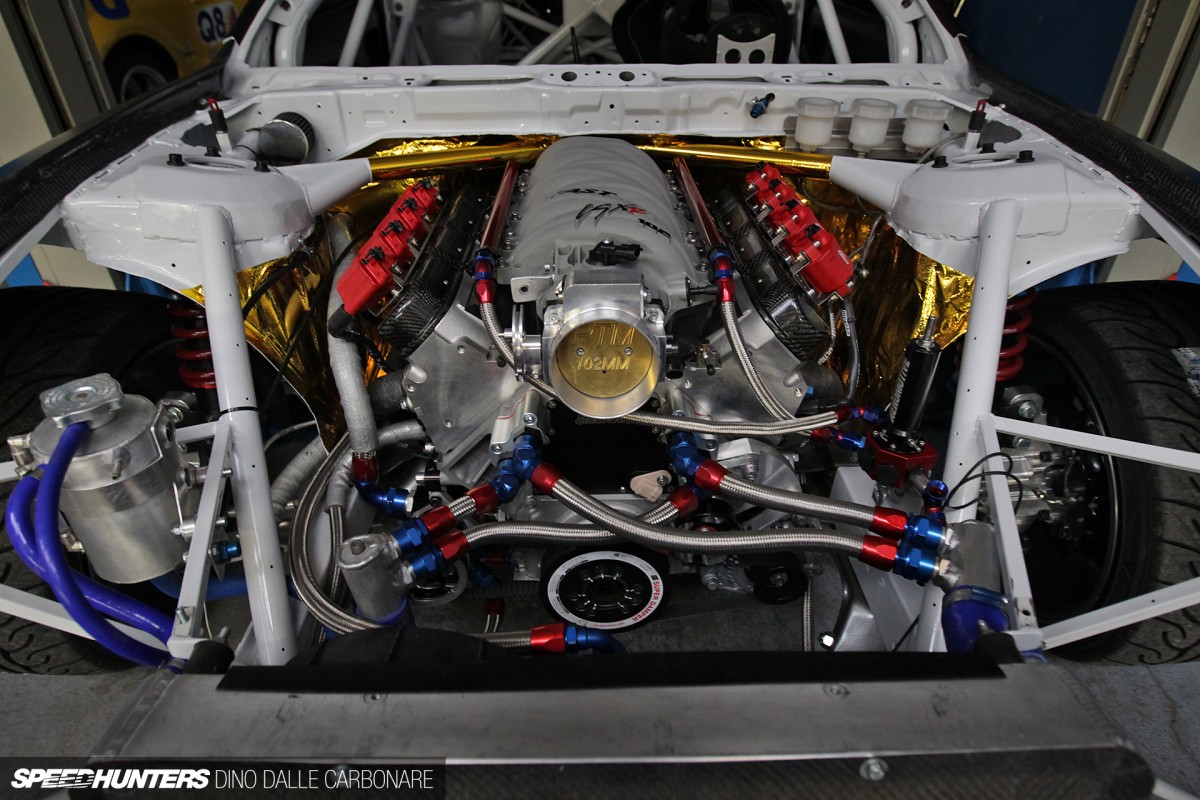 However before we headed out to the agreed upon location, there was one thing I first wanted to do. After having been blown away by the meticulous way in which the car had been put together, I just had to get a glimpse underneath and shoot away at some of the details that make this S-chassis so impressive. Before embarking on the build Enrico was adamant on running a V8. Brill Steel is actually one of a very few hot rod and custom shops in Italy and their love for Americana runs at the core of what they do. They built Graziano Rossi's (Valentino Rossi's old man) turbocharged Ford Mustang which he drifts in various championships in Italy, so there was never any real doubt what sort of engine their S-chassis project would be powered by. So a few phone calls later and a 480hp LS3 crate motor was delivered from the UK, ready to be fitted onto the heavily stiffened and caged shell.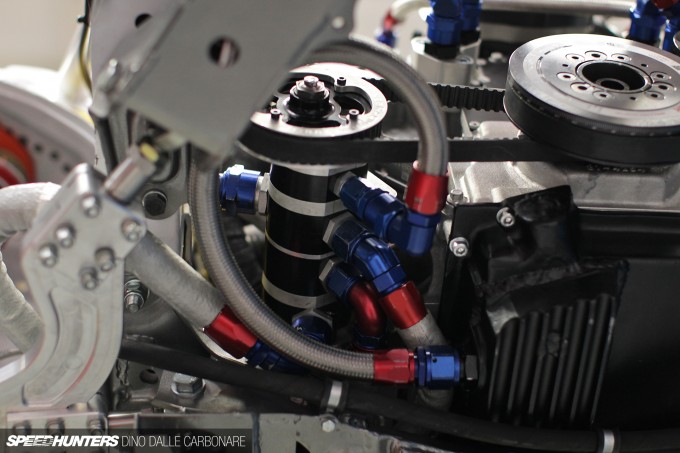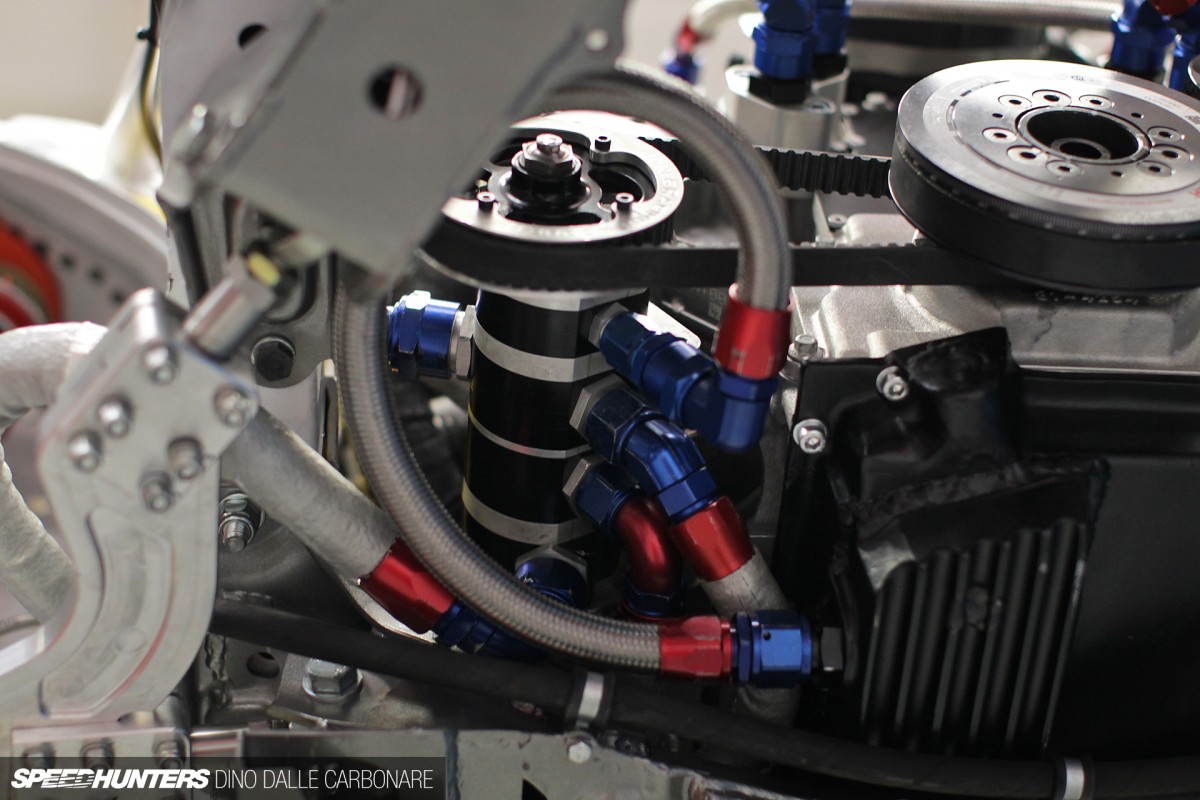 Except they had no intention of keeping the motor stock; far from it in fact. Along with the engine, a bunch of nice parts were delivered from the US: stuff that included a new bottom end, a dry sump conversion and whole new valvetrain. So the engine was opened up and its innards gutted, first off replaced by a Lunati stroker crankshaft, Compstar H-section connecting rods and high compression Wiseco pistons. This whole lot would bump capacity to 427 ci (6,997 cc) and compression to 14.3:1.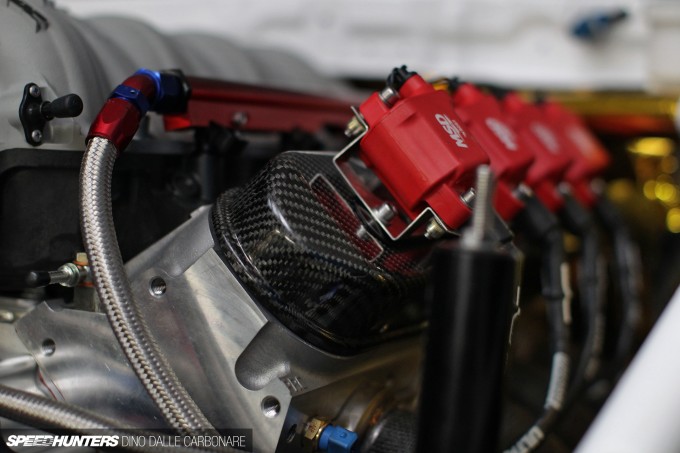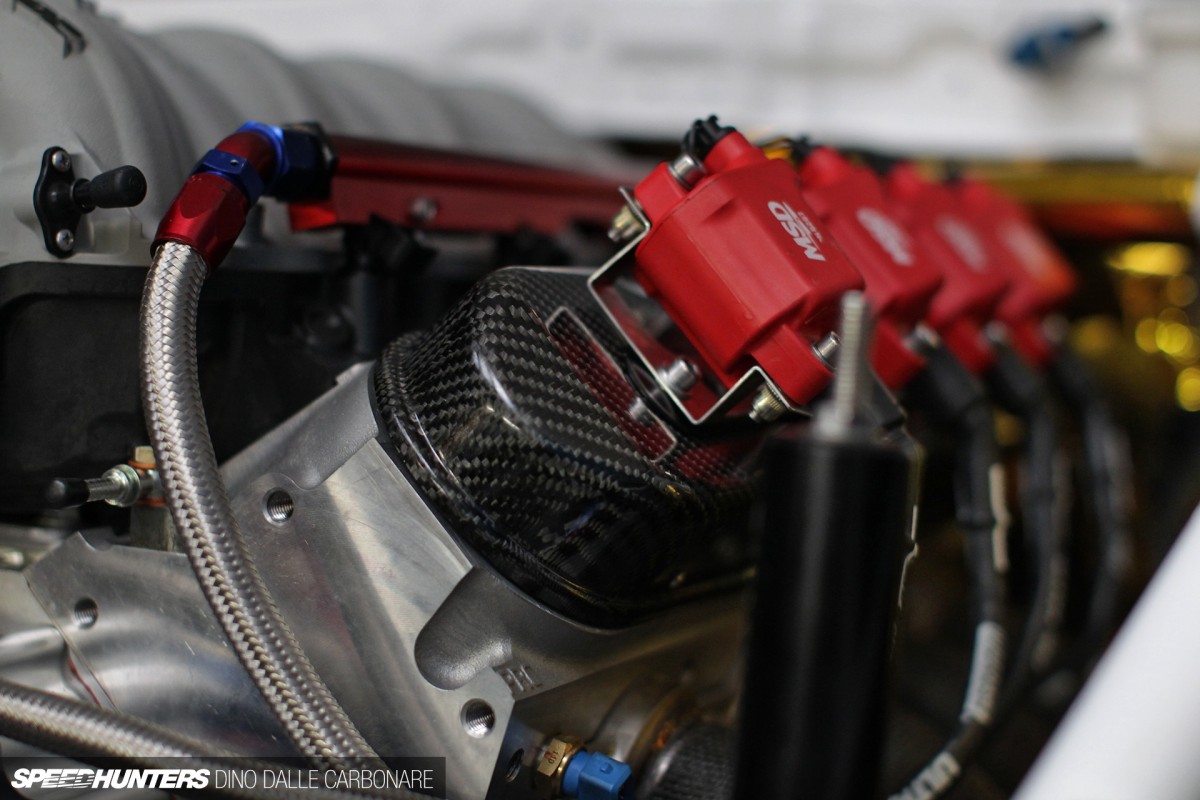 Precision Race Components L92 280 cfm heads followed, along with Jesel valvetrain and topped off with custom carbon fiber head covers.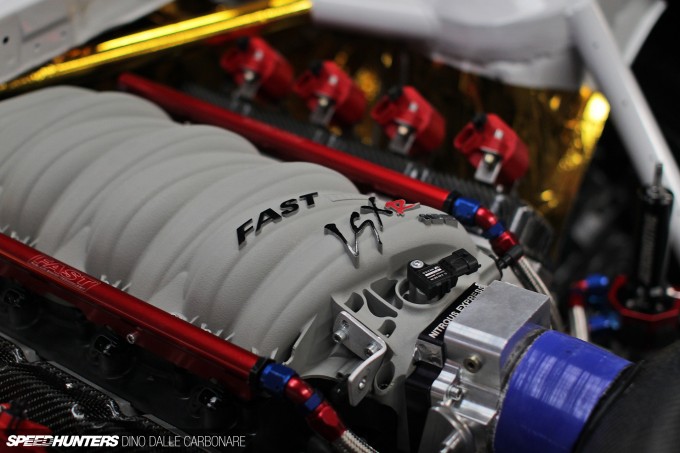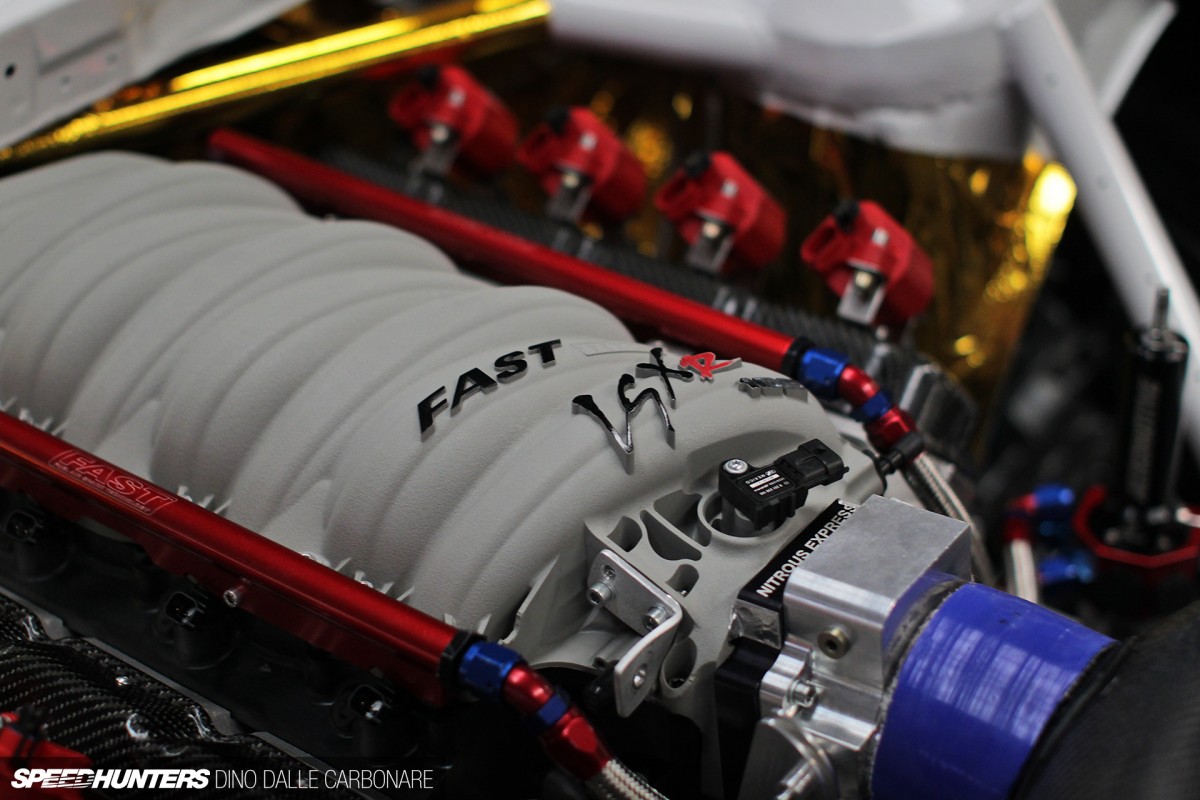 A F.A.S.T LSXR intake manifold has the job of apportioning an equal amount of air to each of the eight cylinders and is throttled by a massive 102 mm PTM body. Enrico explains that he will eventually want to develop an eight-throttle set-up with velocity stacks to maximize response, not to mention the induction sound! The engine is also set up to use a Nitrous Express nitrous oxide system for a big boost in power.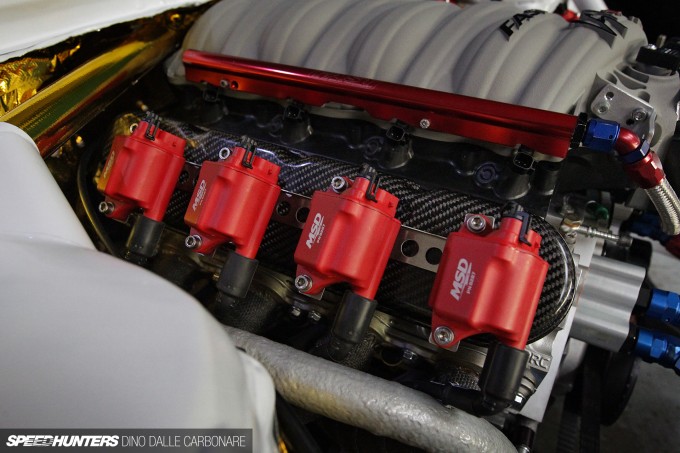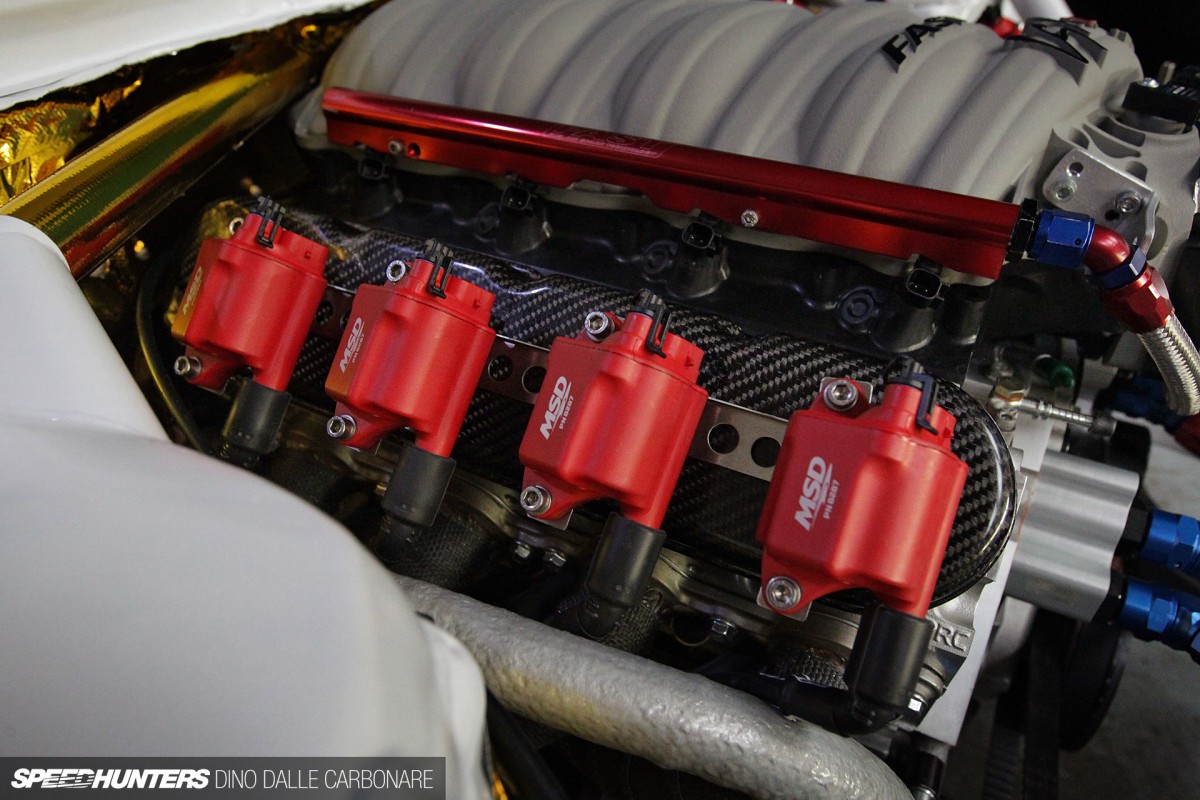 900cc/min injectors have the job of efficiently delivering the race gas necessary to develop the 717hp and 124kg-m (896lb/ft) the engine has been dynoed at. With the gas turned on it can churn out 945hp. A MecTronik ECU MKE6 is at the heart of the engine management and has great components like the MSD individual coils to rely on to get the best possible performance out of the motor.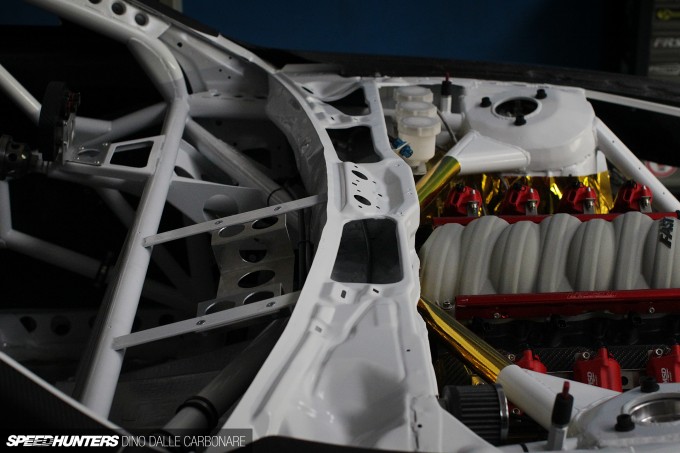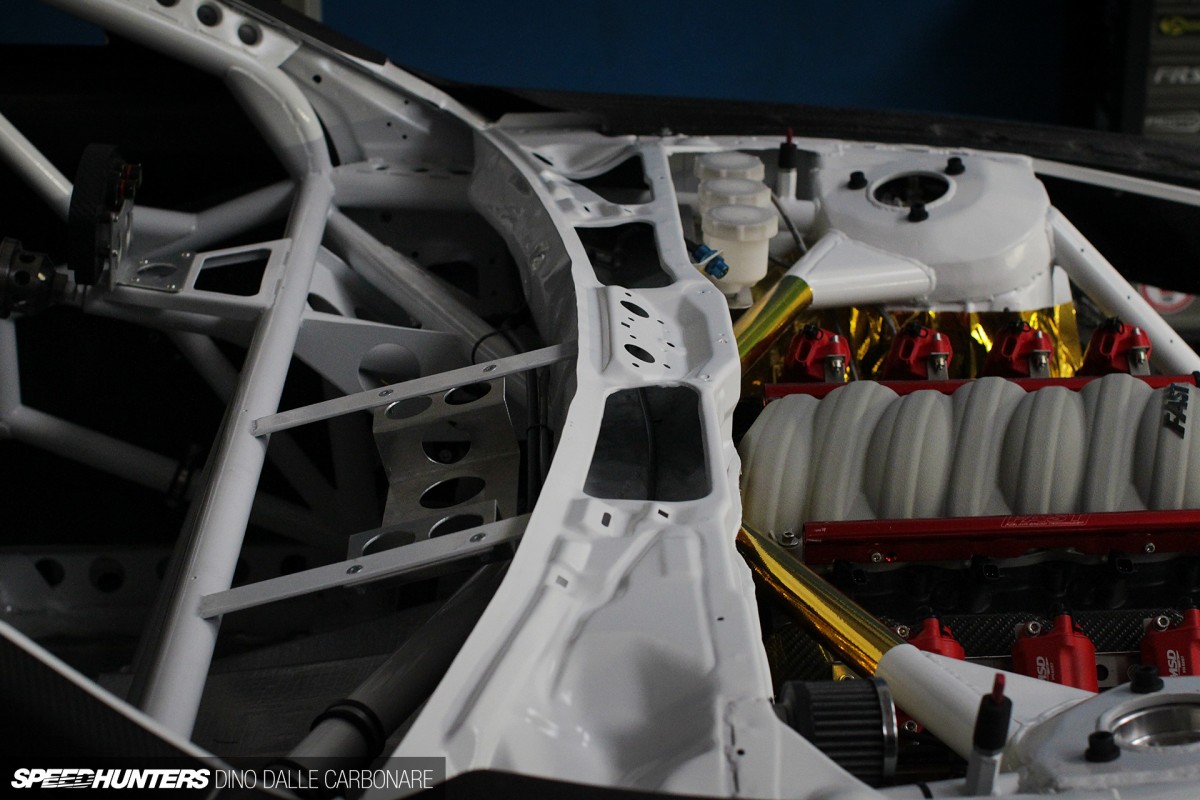 Here you can see the crossed bars that link the front section of the roll cage across and through the firewall, onto the strut towers. This is a detail you often see on WRC cars and one that helps boost rigidity and resistance to twist.
What you can't see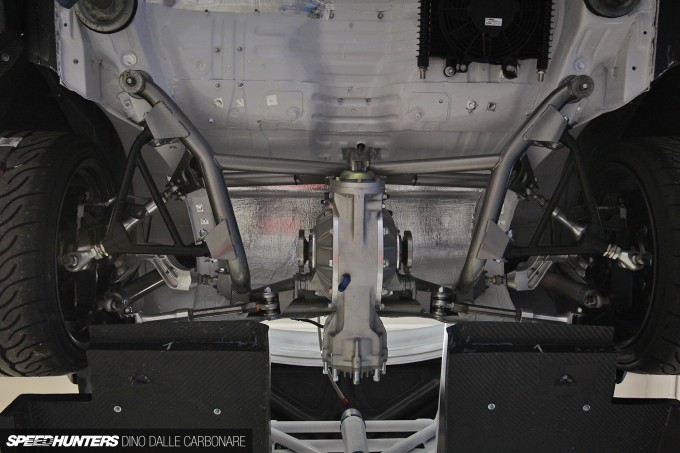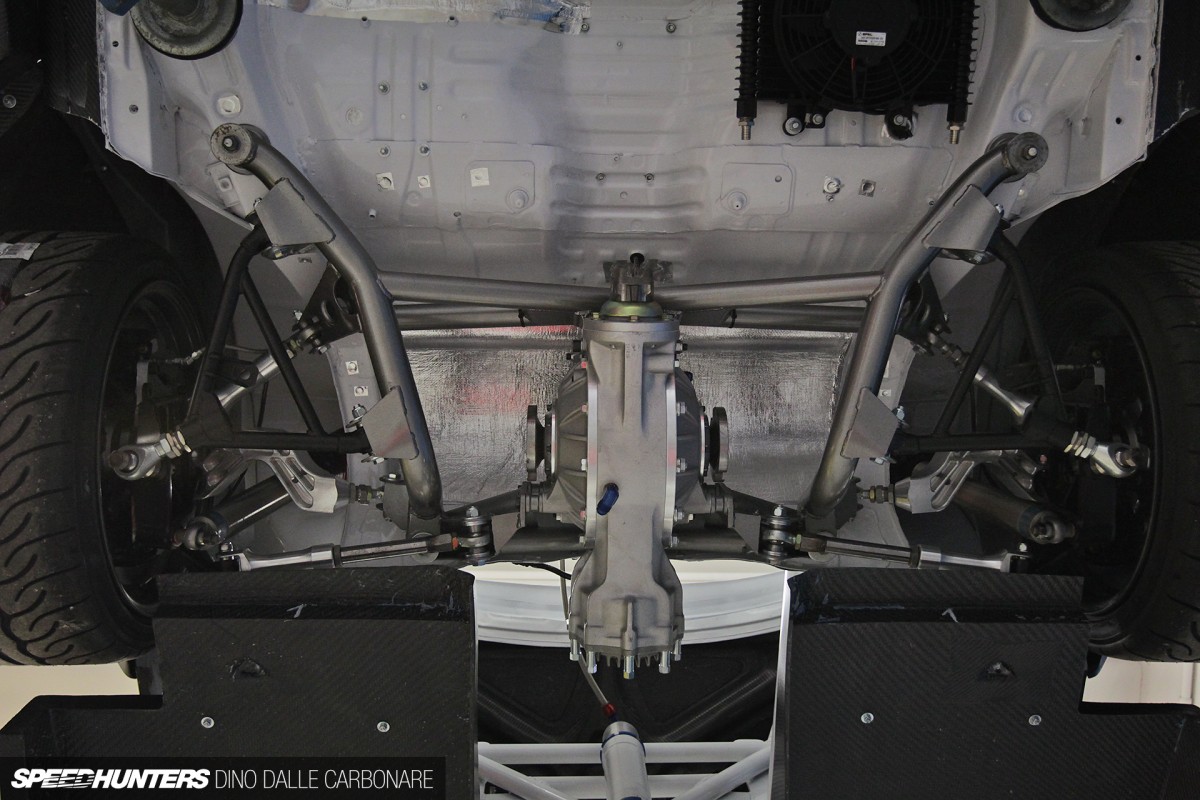 One area that Brill Steel took a lot of time to develop was the thick gauge custom rear subframe that they designed and fabricated…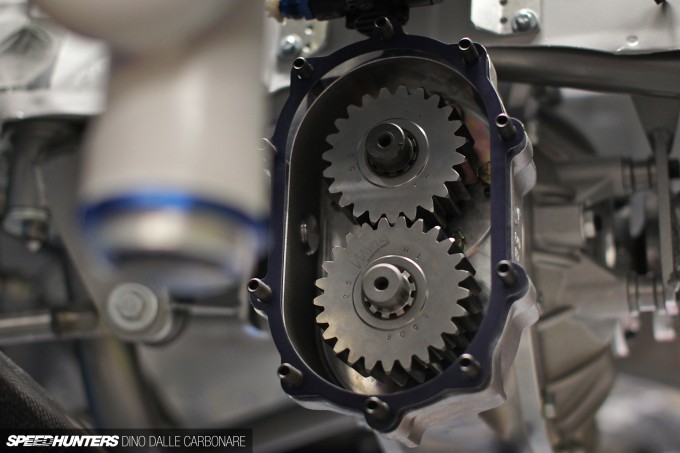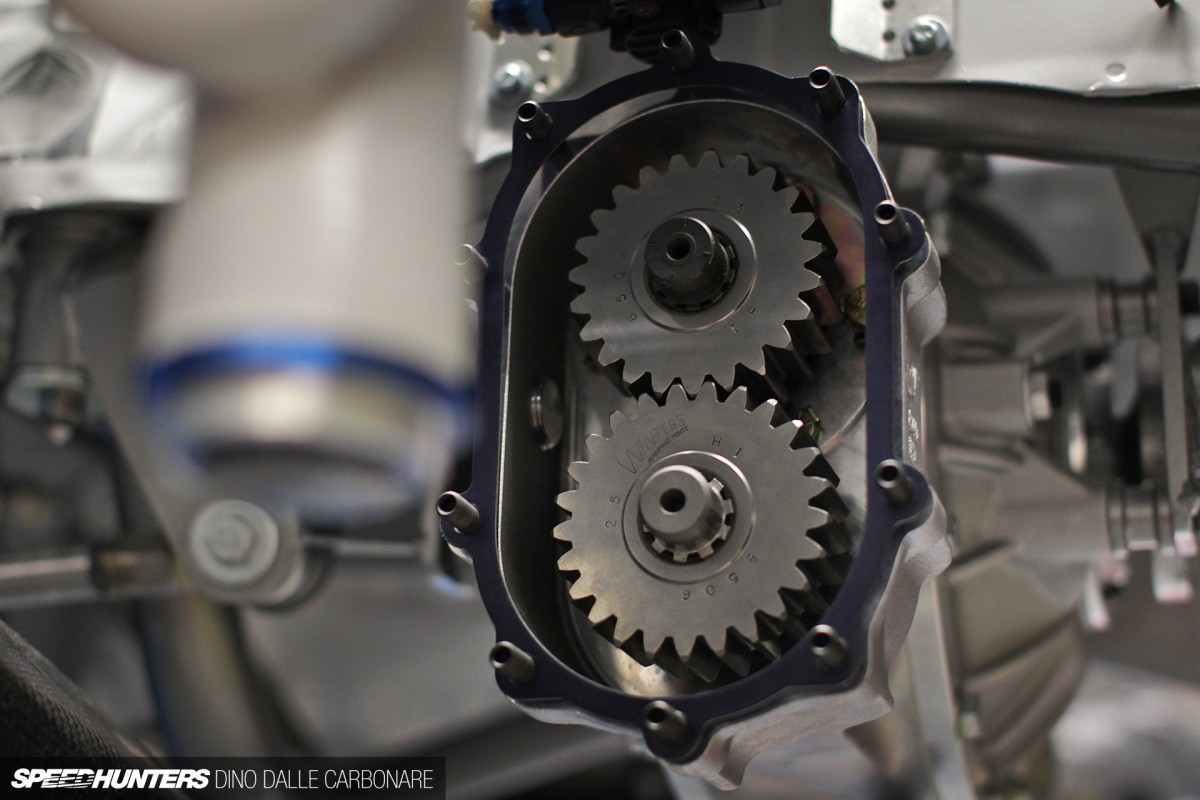 … to hold the Winters quick change rear end in place. The rear subframe is actually something they are selling as a kit for easy bolt-on applications on S-chassis and to be used with Track Day Performance adjustable rear arms.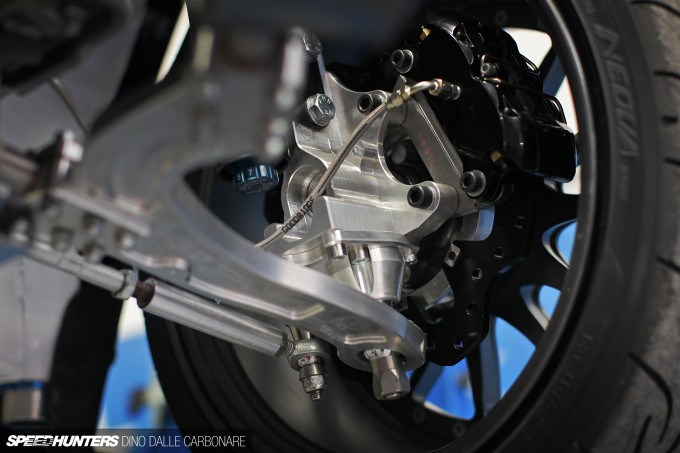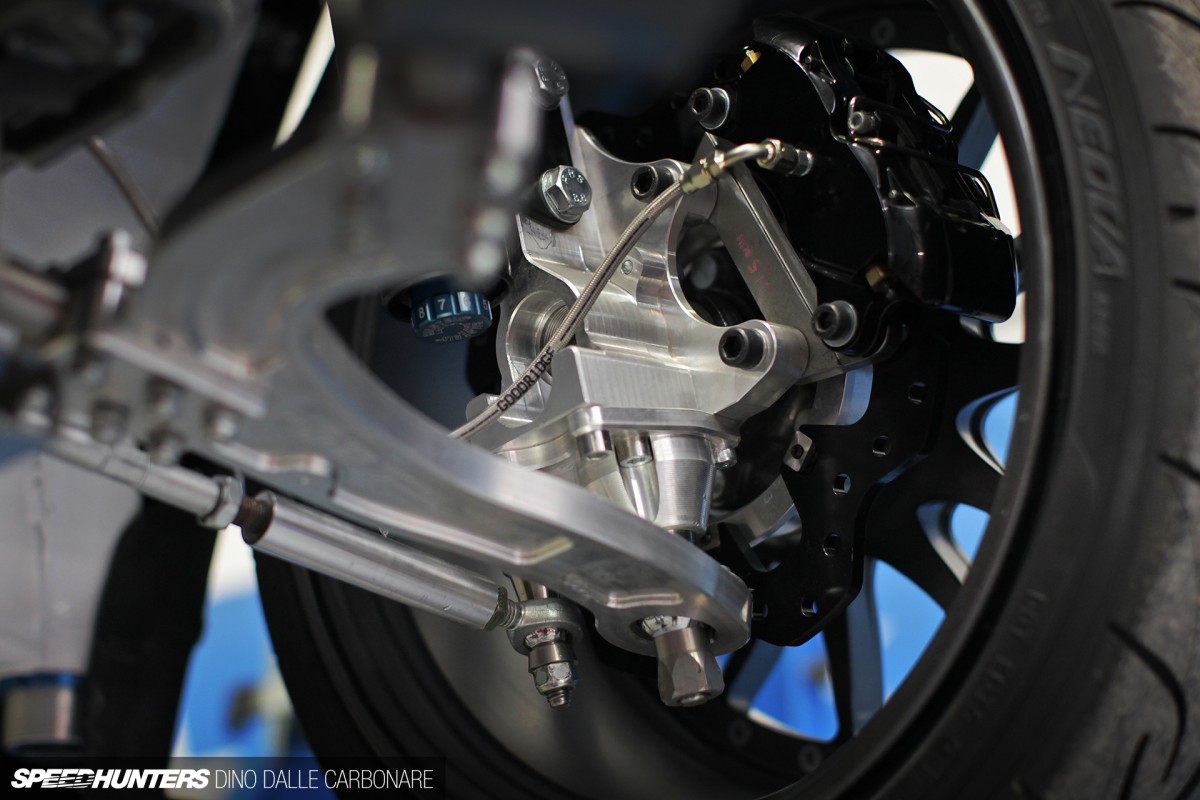 Up front they got rid of the stock S14 arms and fitted a Track Day Performance Angle kit which includes all the necessary components to boost steering lock…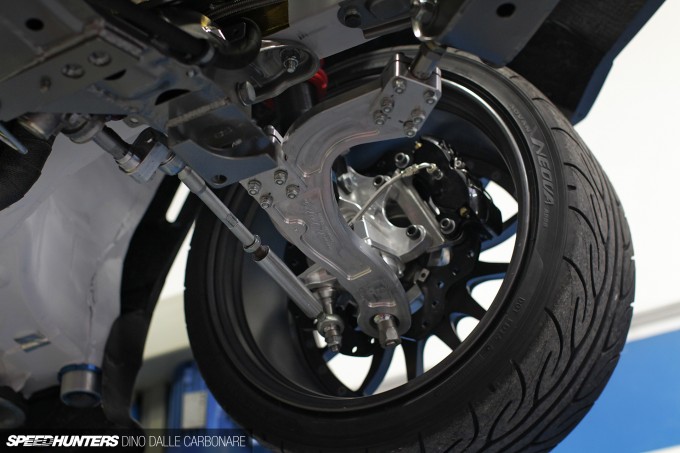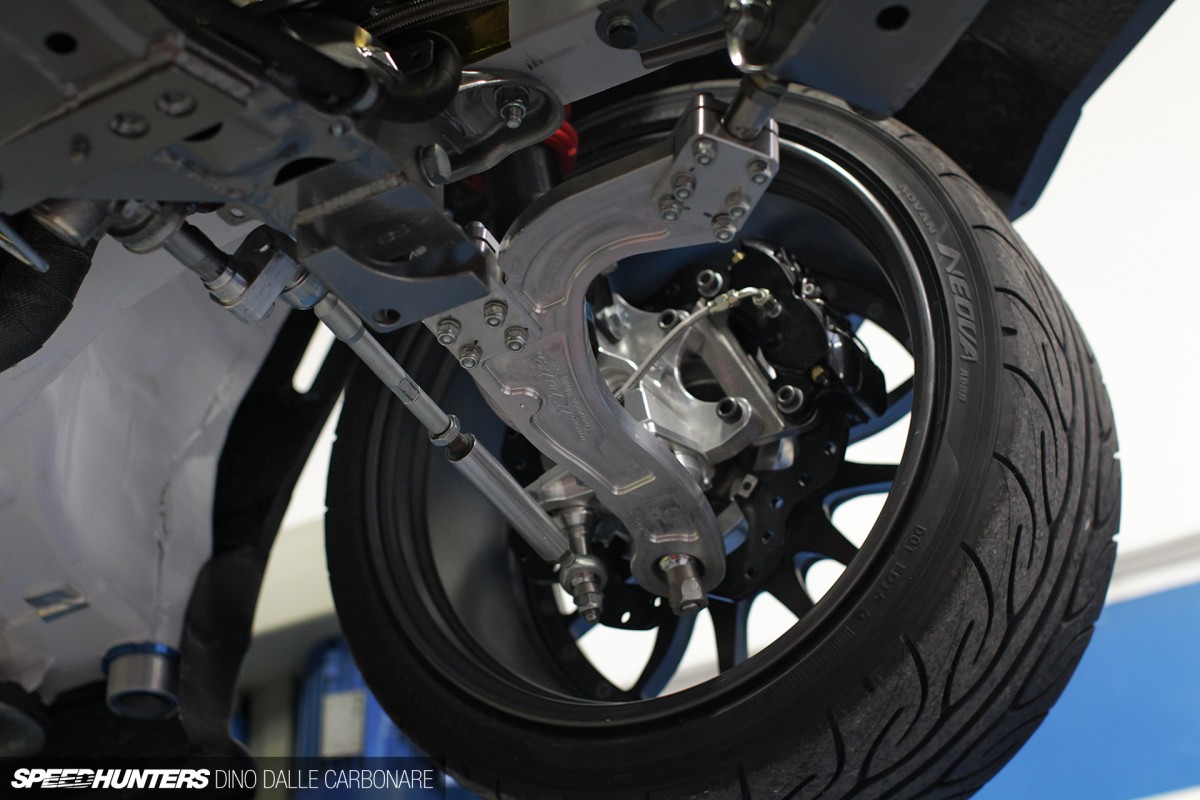 … and get the right sort of suspension geometry. All of this is mated to custom-built and valved Bilstein adjustable dampers.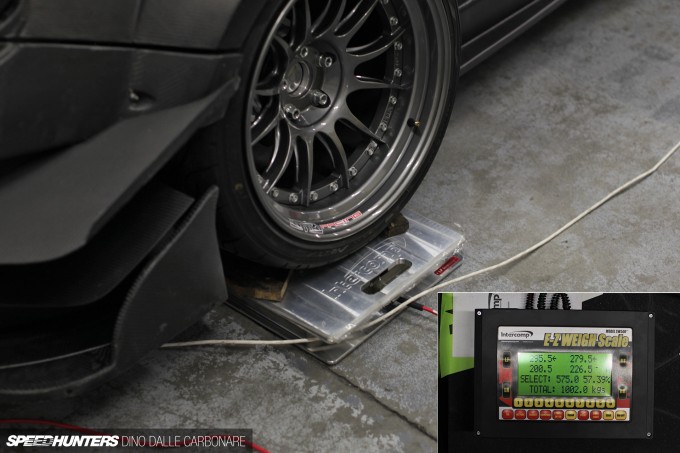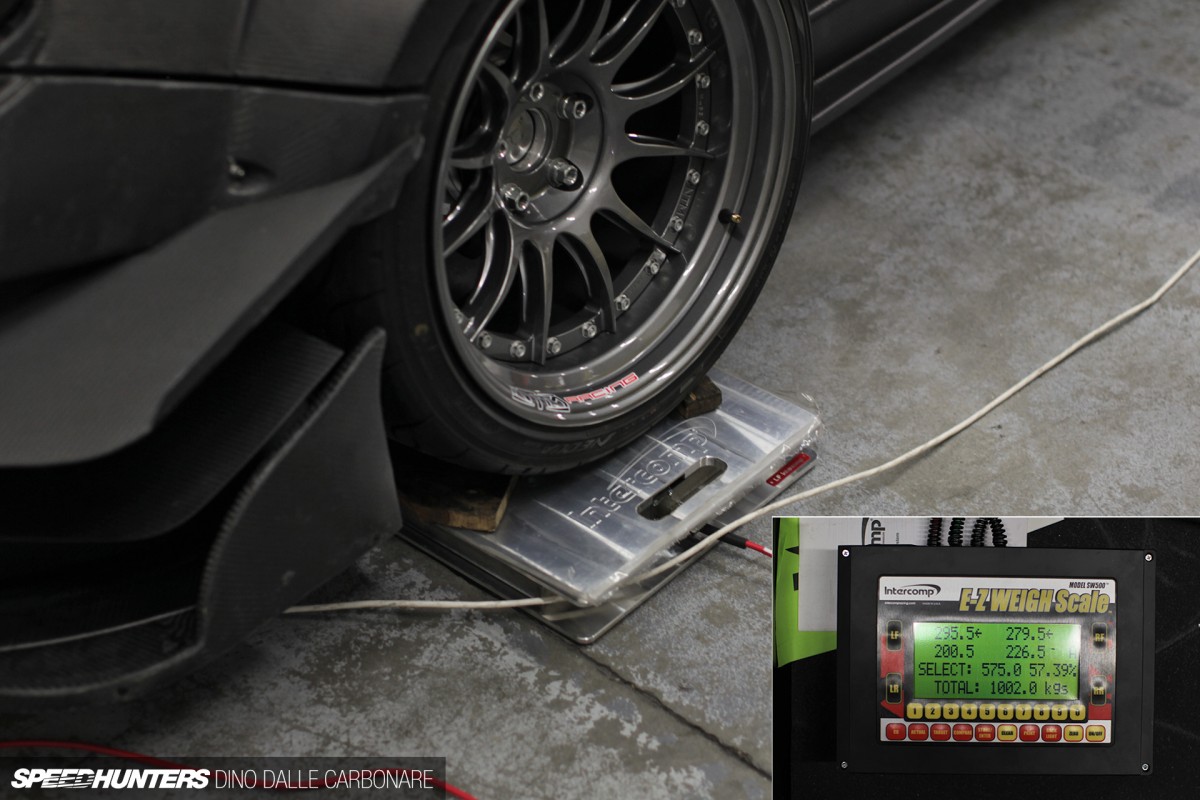 While we had the car in the workshop we even threw it on some scales to see what she weighed in at. While corner weights still need to be fine-tuned, the 1002kg curb weight (no fluids and no driver) is mighty impressive. But there is still a lot more to see…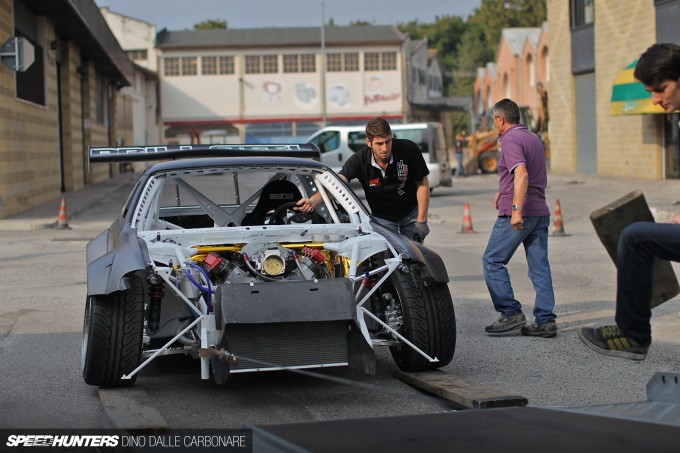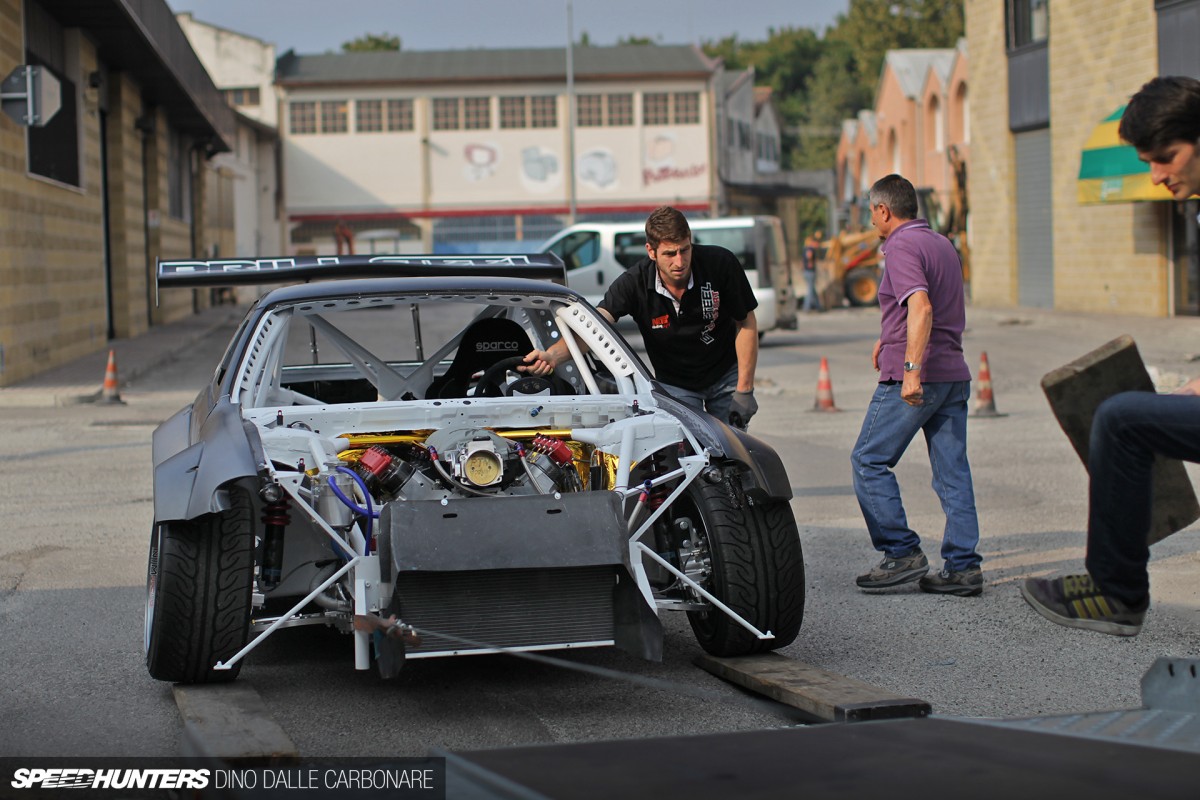 … so we loaded up the car on the Brill transporter and threw all the carbon body panels on there…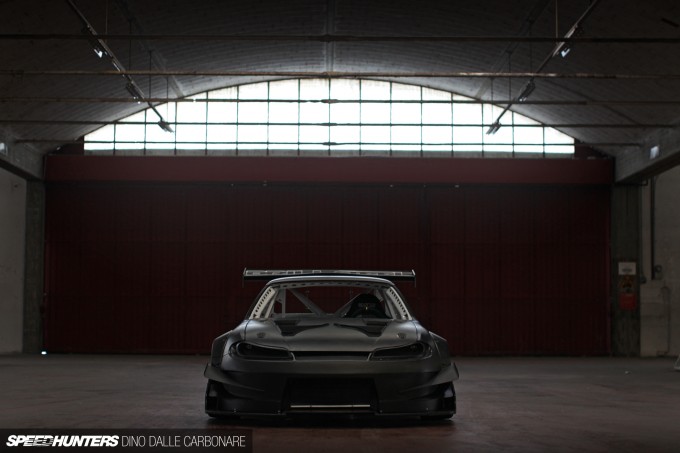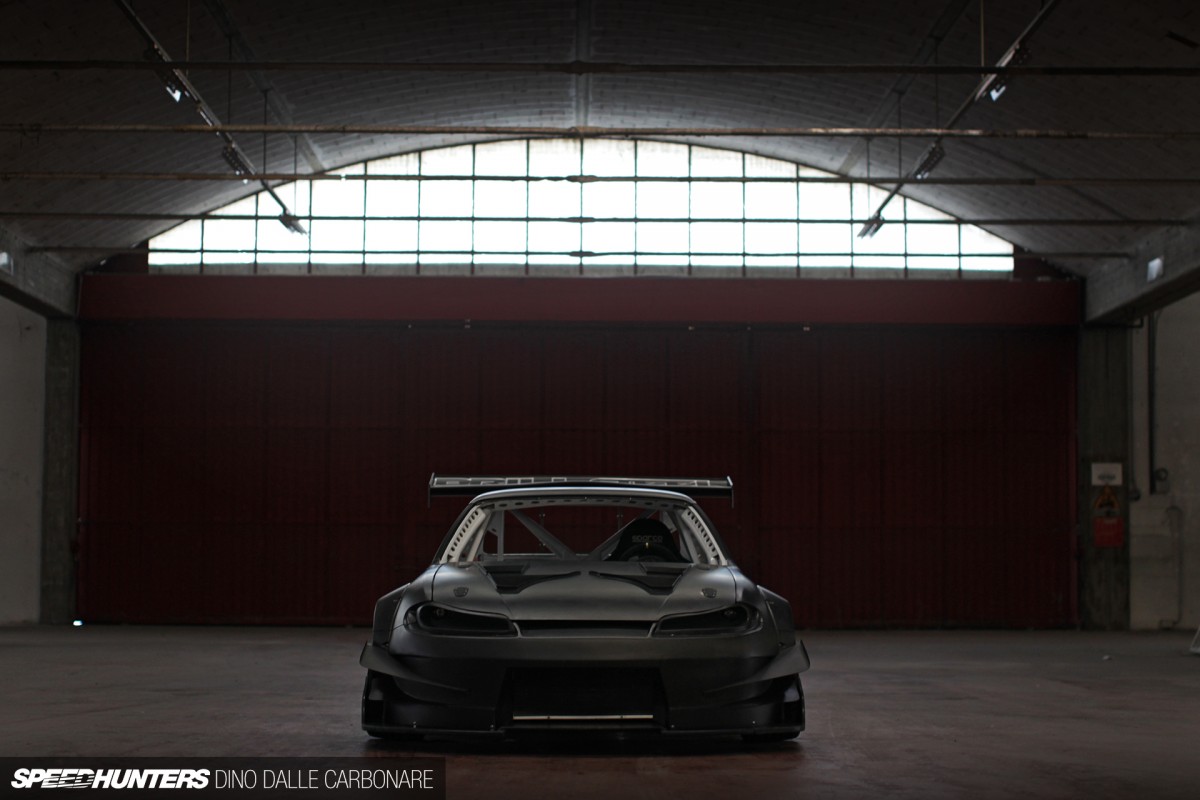 … and reassembled the car at their warehouse a short drive away. Now you may have noticed I have kept on referring to this car as an S14, despite it obviously looking like an S15 but then as they say, looks can be deceiving. The base car is indeed an ichi-yon, but Enrico wanted to convert it to an ichi-go, going so far as sourcing all stock original Nissan body panels (including roof, rear fenders and pillars) to then have recreated in dry carbon.
Drift and grip and vice versa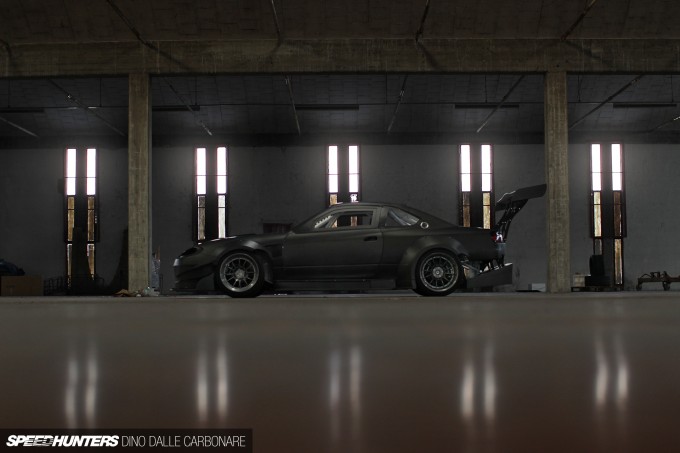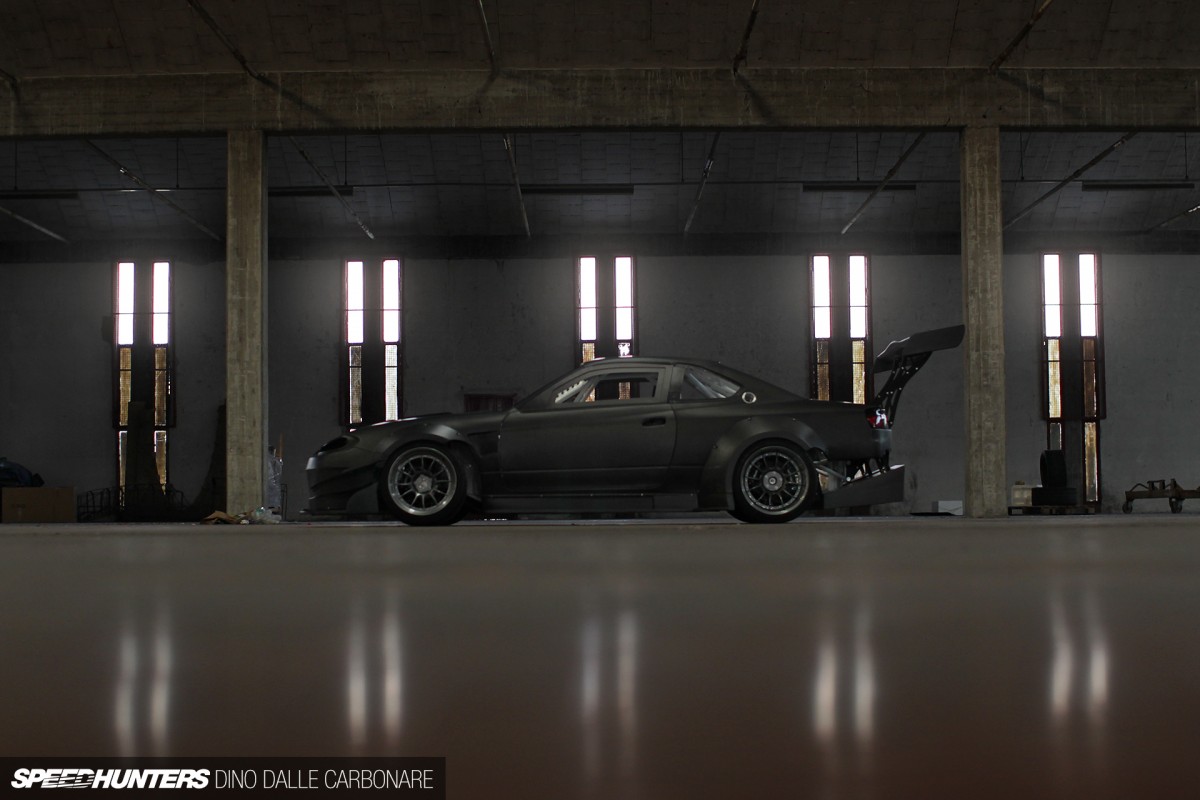 It's one imposing car that's for sure, not really standing out as a drift car per se, but that was never really the goal. Enrico wanted to create something wild, and he took some inspiration from Nakai-san's RWB 911s…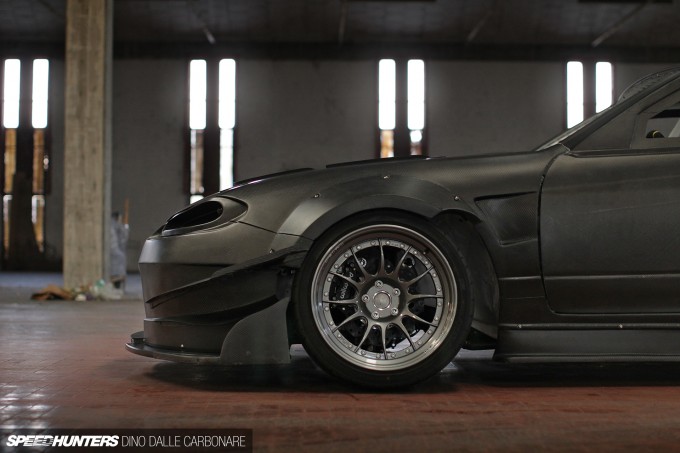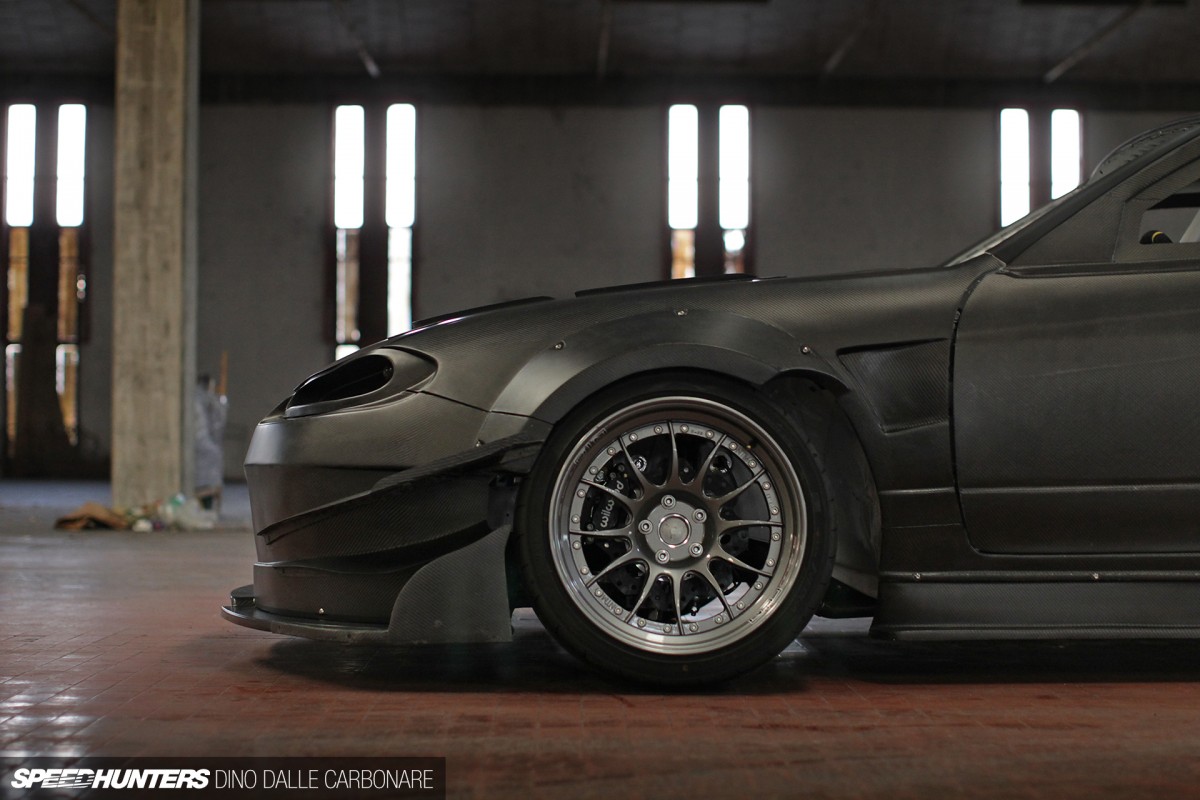 … which is why the carbon exterior wears screwed-on fender flares front and back. The obvious amount of front…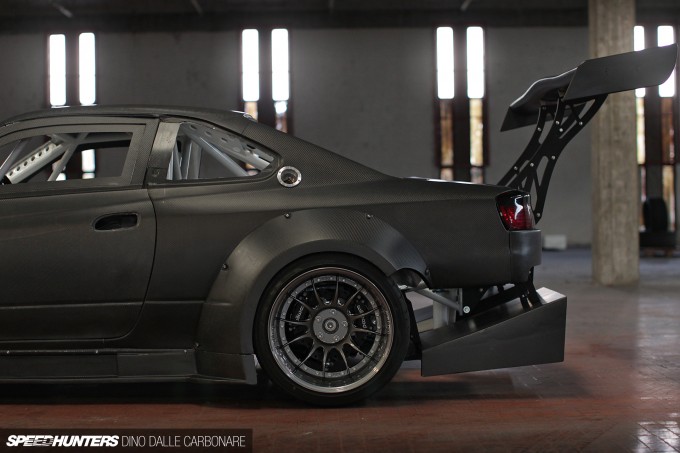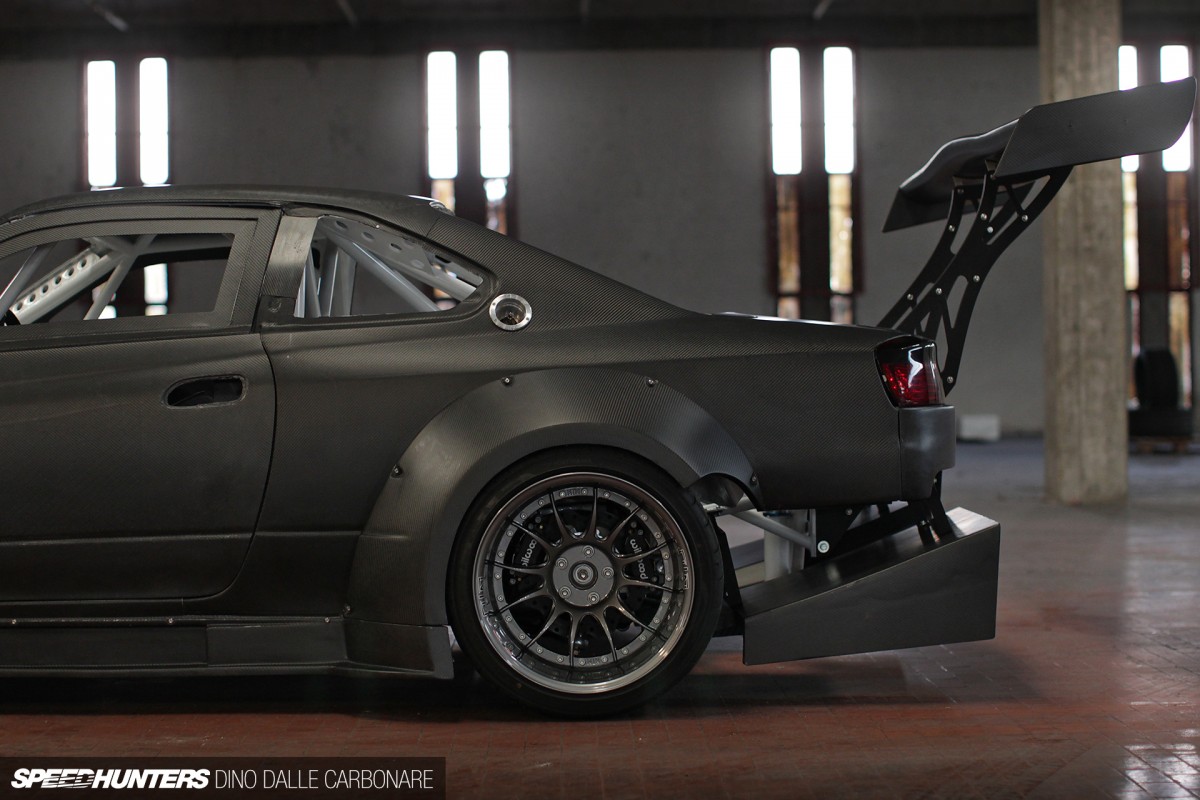 … and rear aero isn't really something you would see on a drift car that's for sure, especially that high-set rear wing and the extended rear diffuser. Enrico plans to enter a variety of drift competitions and championships around Europe in the next year and is probably also going to have a go at the odd time attack attempt. After seeing our coverage of the Gatebil events he is also seriously thinking about taking the car up to Norway.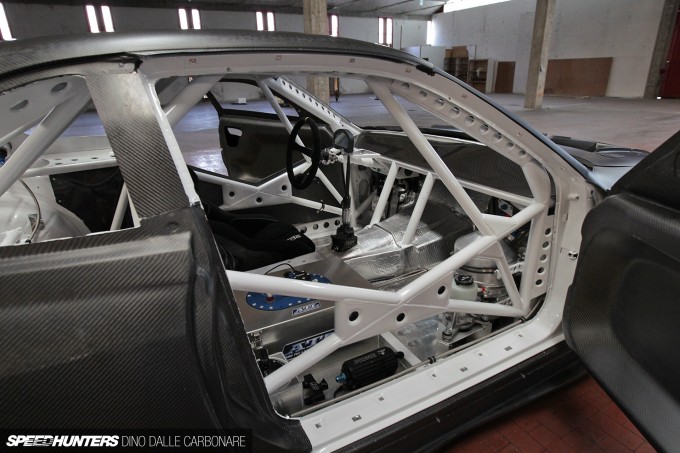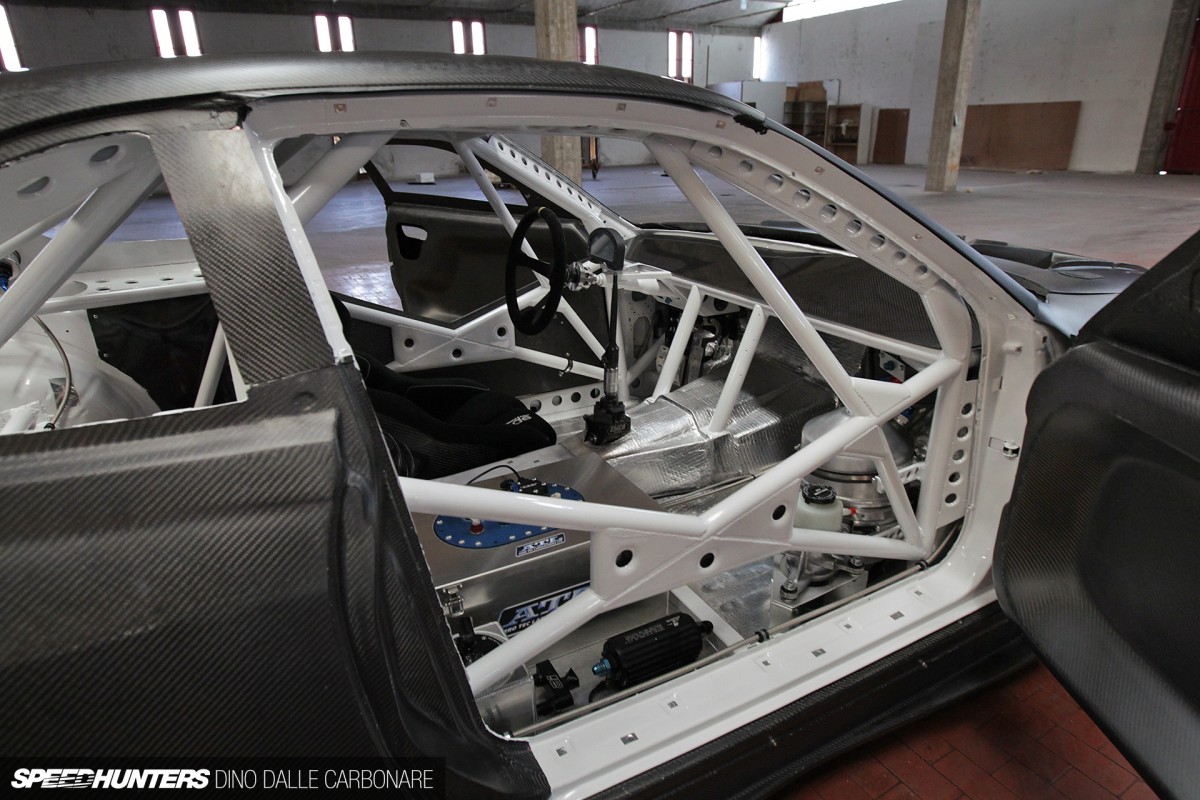 Open the ridiculously light doors and you find yourself marveling at a beautifully appointed interior, from the intricate piping and gusseting of the cage…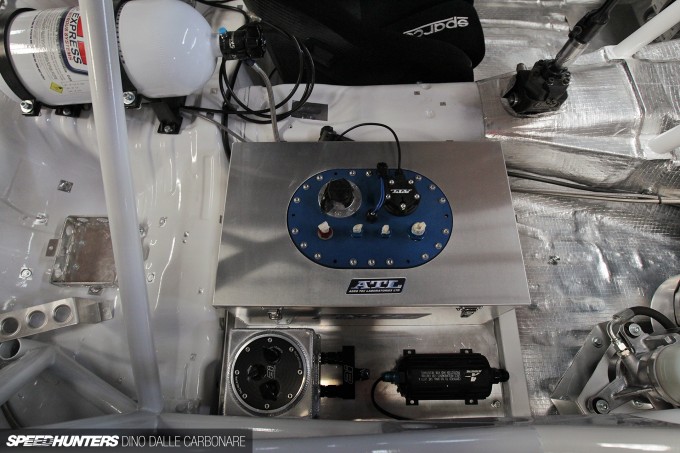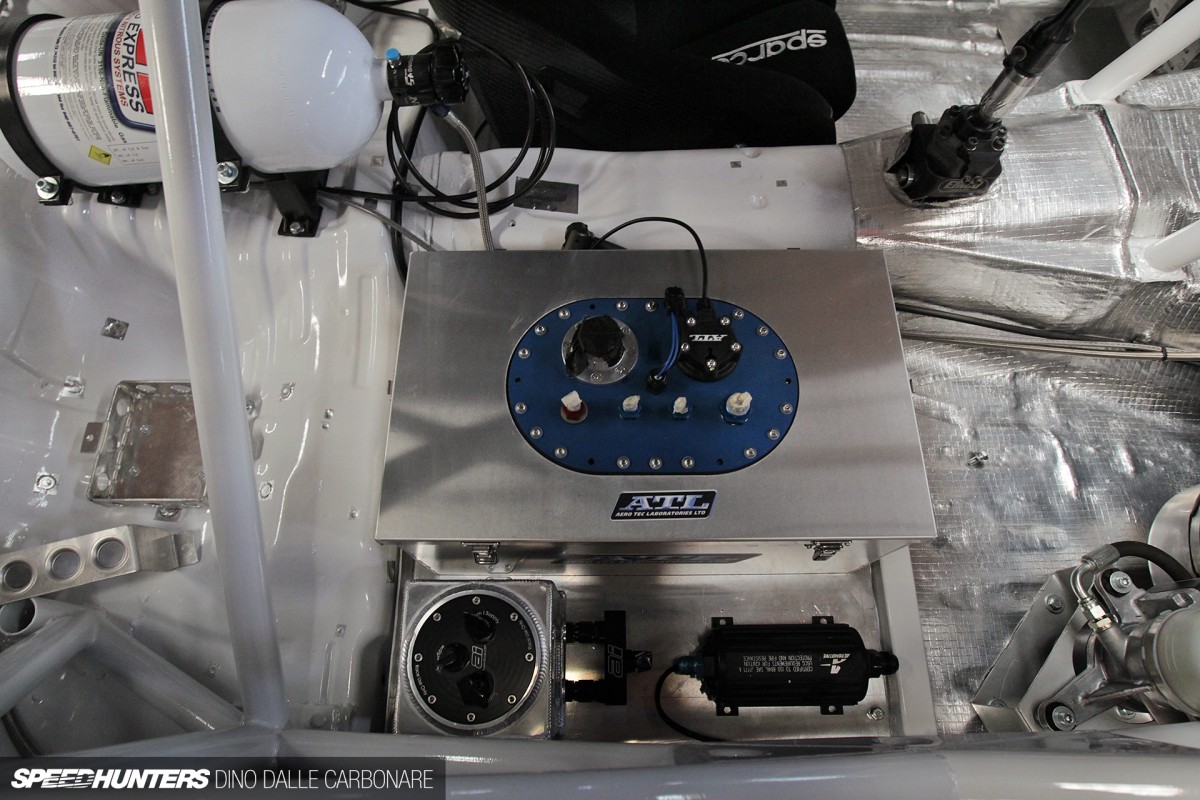 … to the nicely laid out components like the ATL tank and surge tank in the passenger side…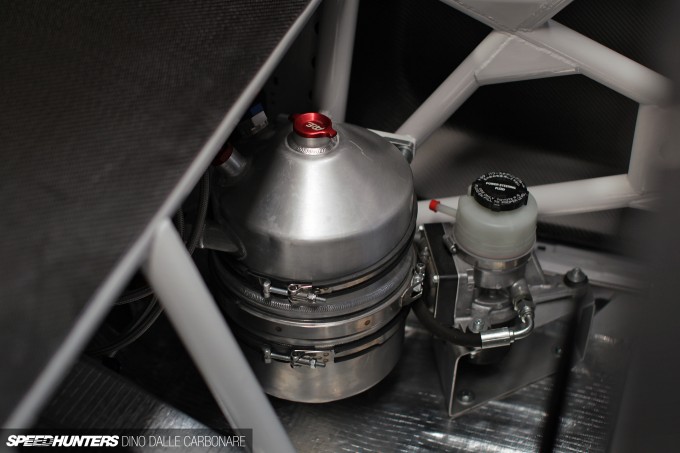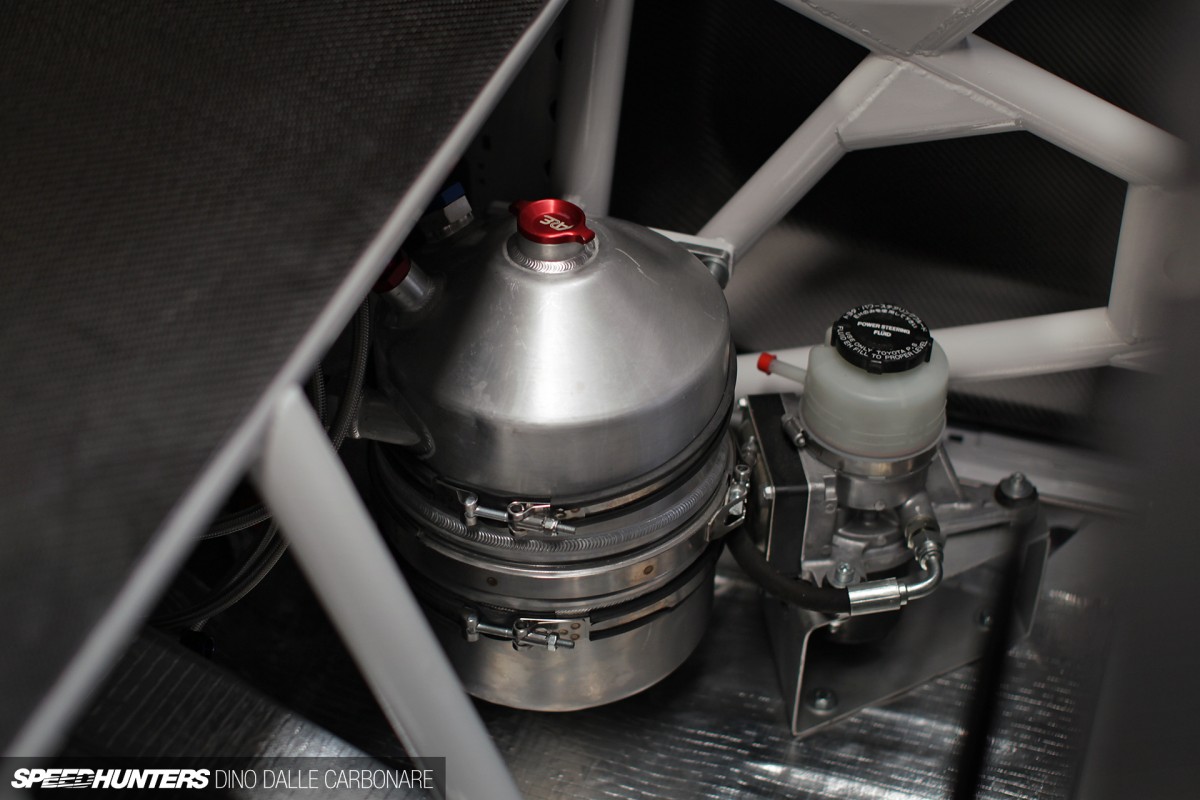 … as well as the oil tank for the dry sump system.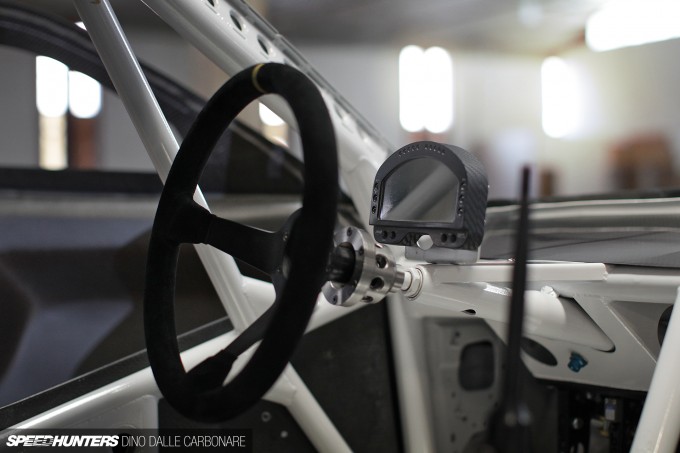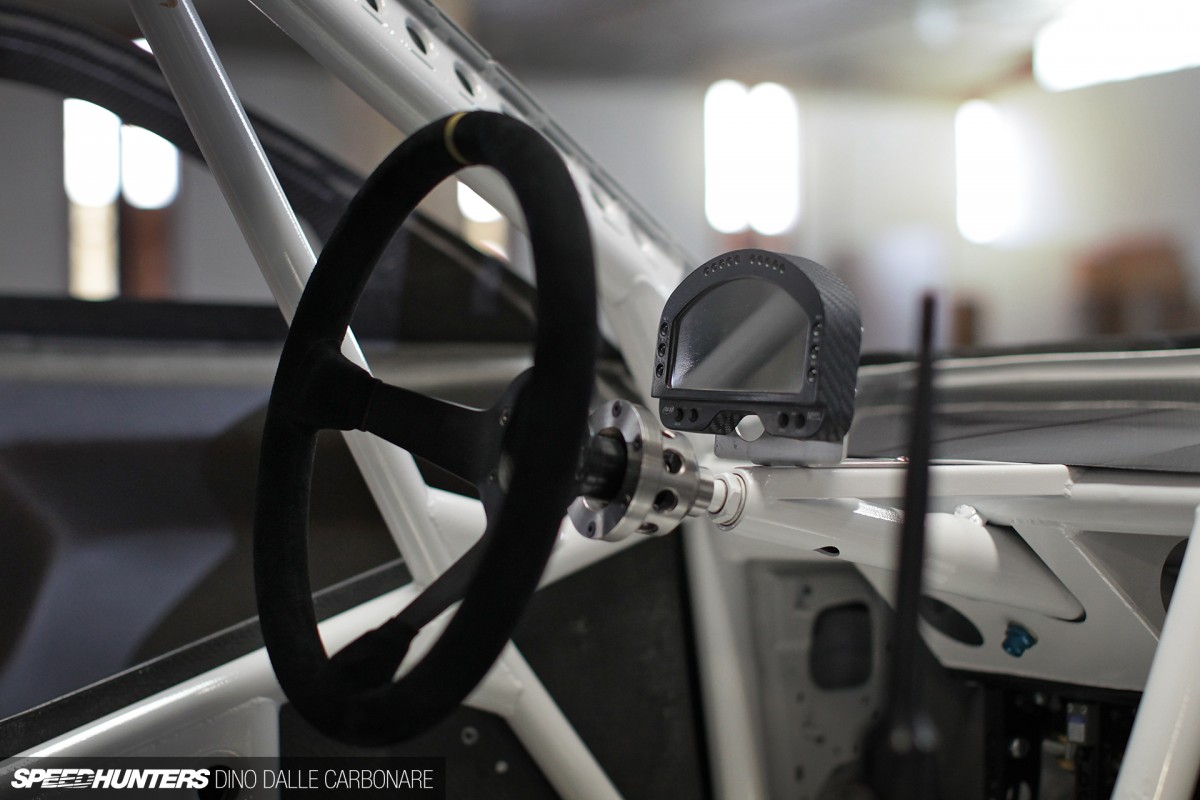 The AIM dash unit and data logger is the sole bit of instrumentation sitting in the almost minimalistic cockpit. You've got to love simplicity and a clutter-free layout!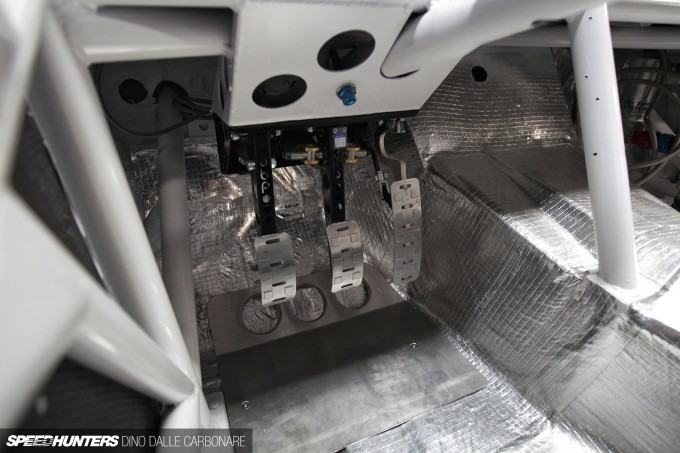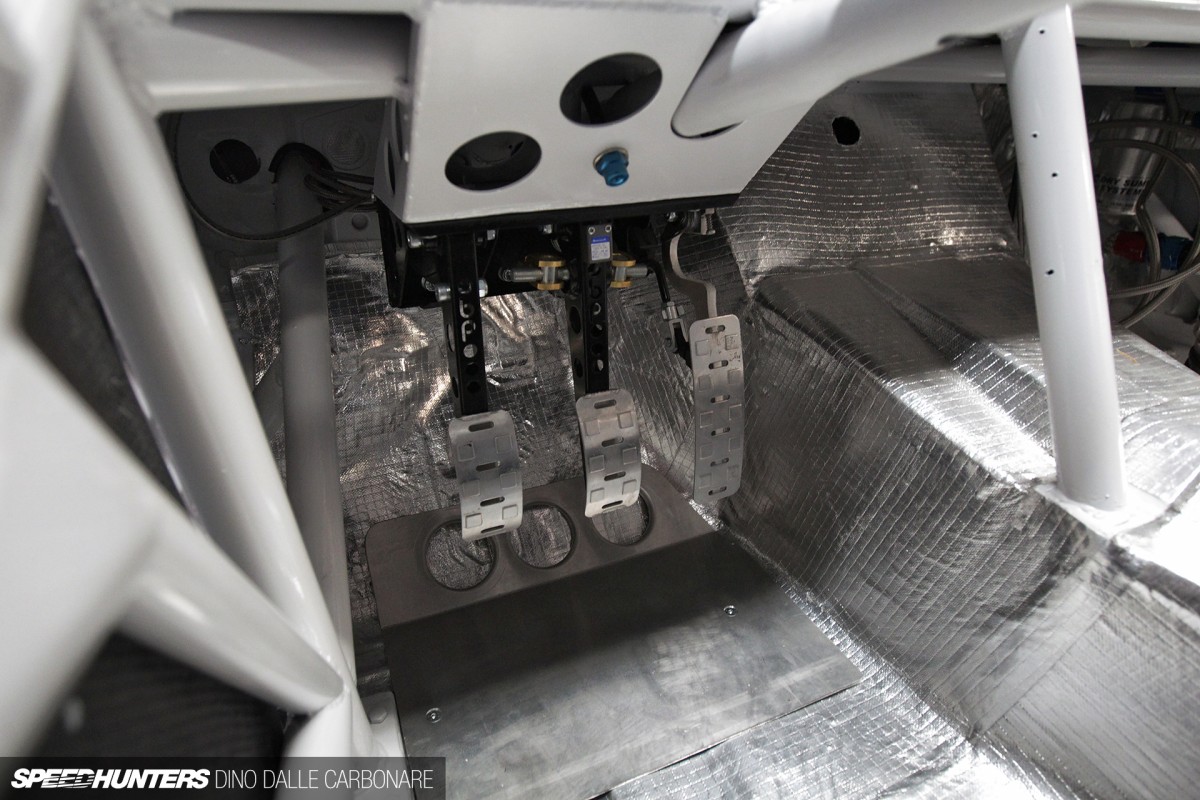 An OBP adjustable pedal box replaces the S14's factory set-up and sits in the stiffened and heat-insulated footwell where Enrico's feet will be doing much dancing when taking the car out on track.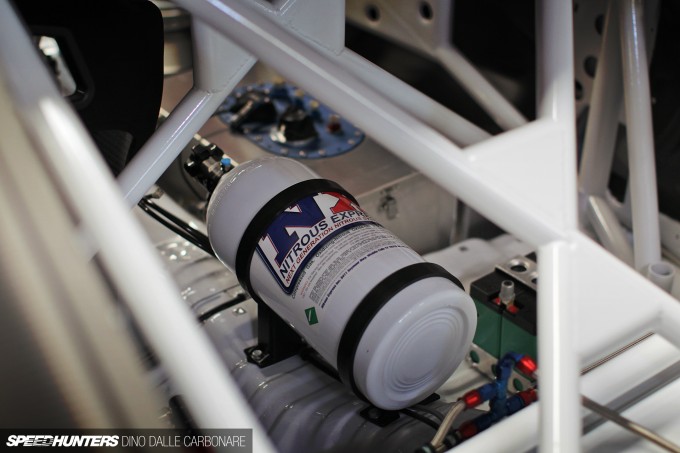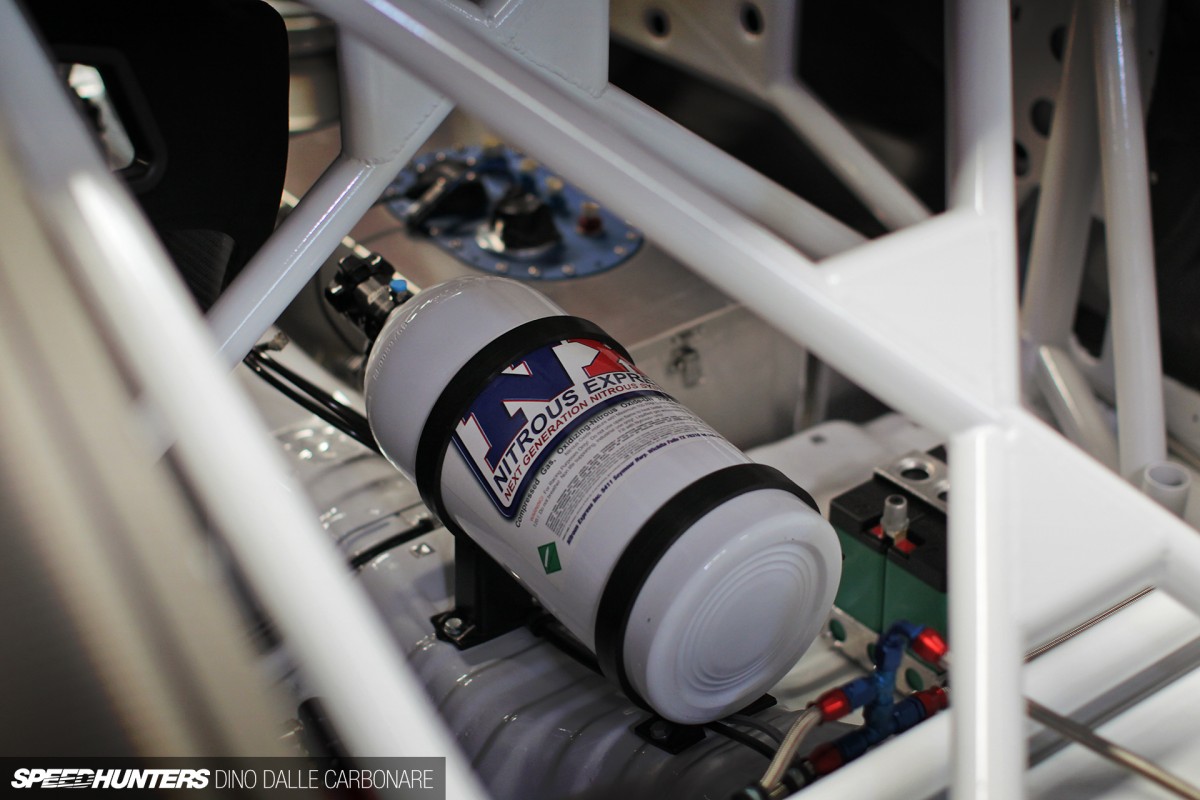 Once engaged, the nitrous oxide bottle will deliver a 200+hp hit of power for those squirts of acceleration that might be required down a straight or to help keep the rear tires lit up while sideways through a tough corner.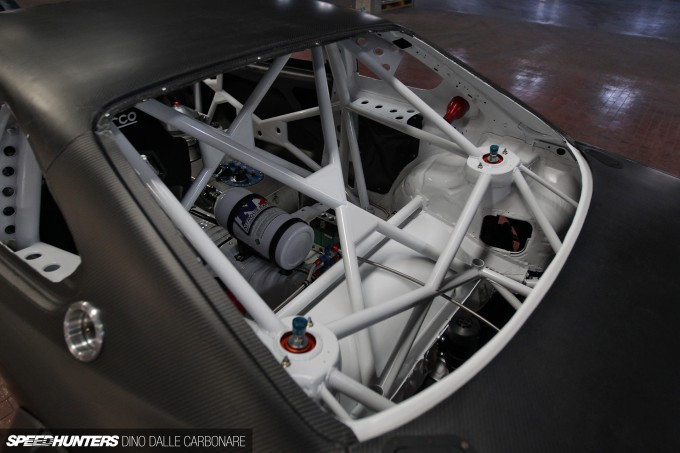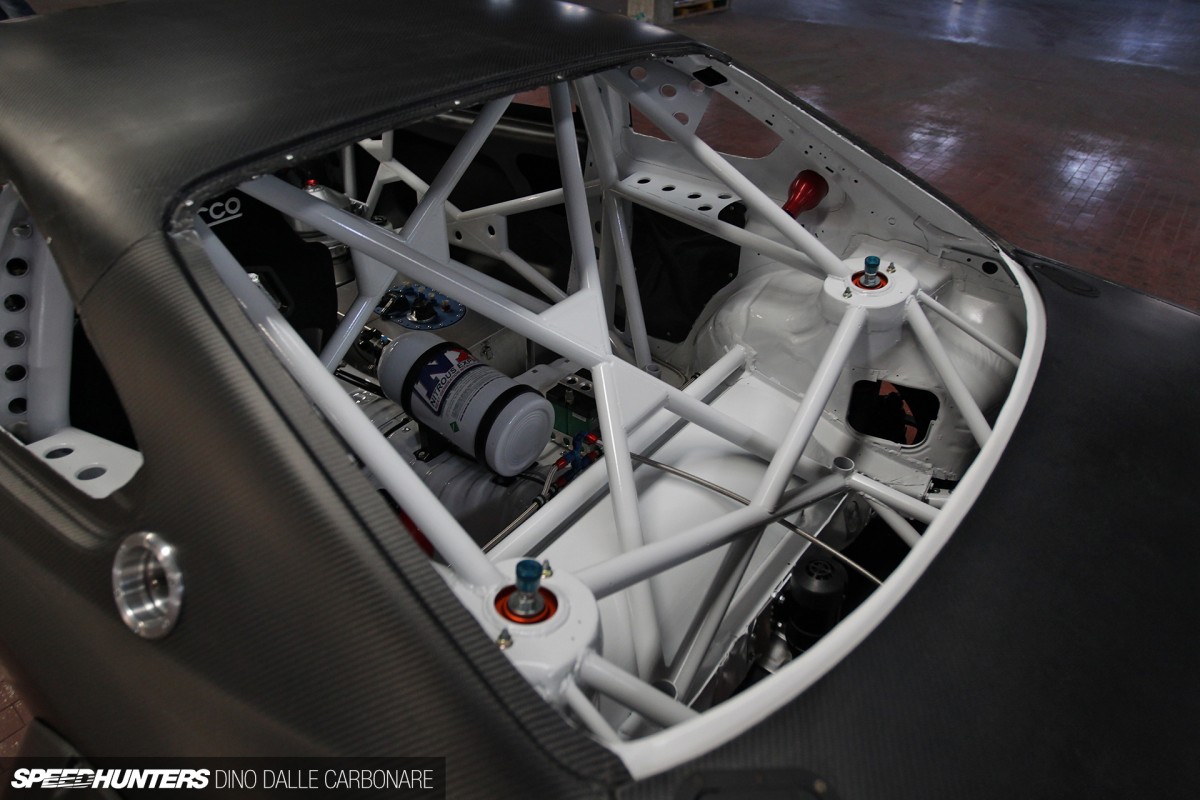 Without the rear Lexan glass fitted there was a great view onto the rear section of the cage. In case you need lessons on how to fabricate a proper cage…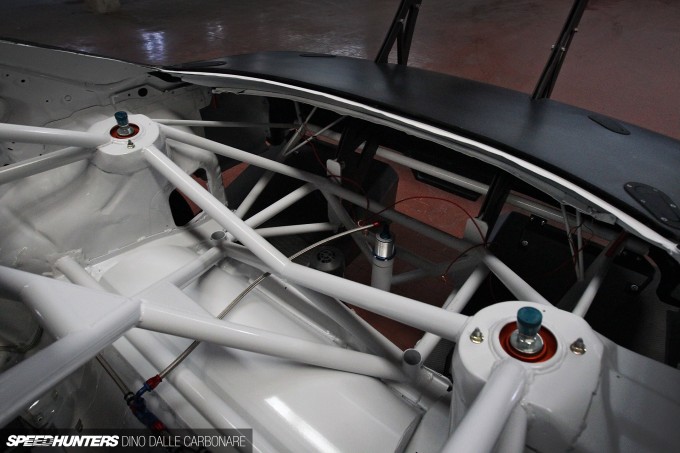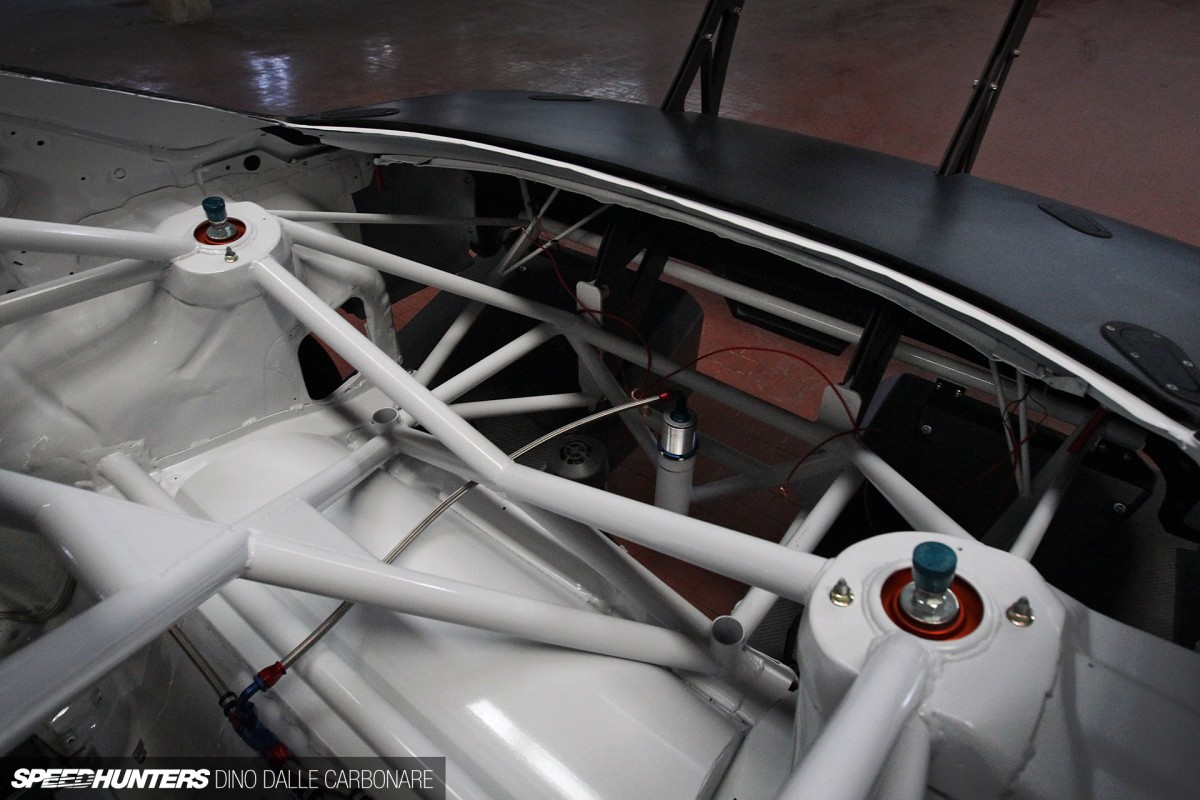 … these images will be of some assistance! As you can see the rear trunk area has been clean cut off: in its place pipe frame, some of which is holding the rear mounted AP Racing air jack (there are two more up front), making lifting the whole car as simple as twisting the tap on a high-pressured gas canister.
945hp x ton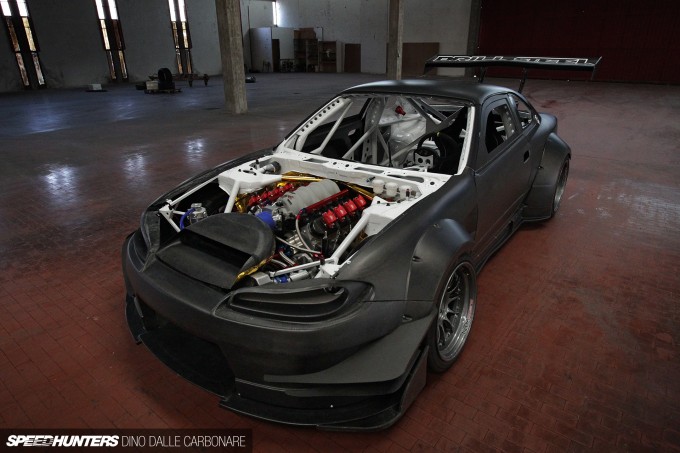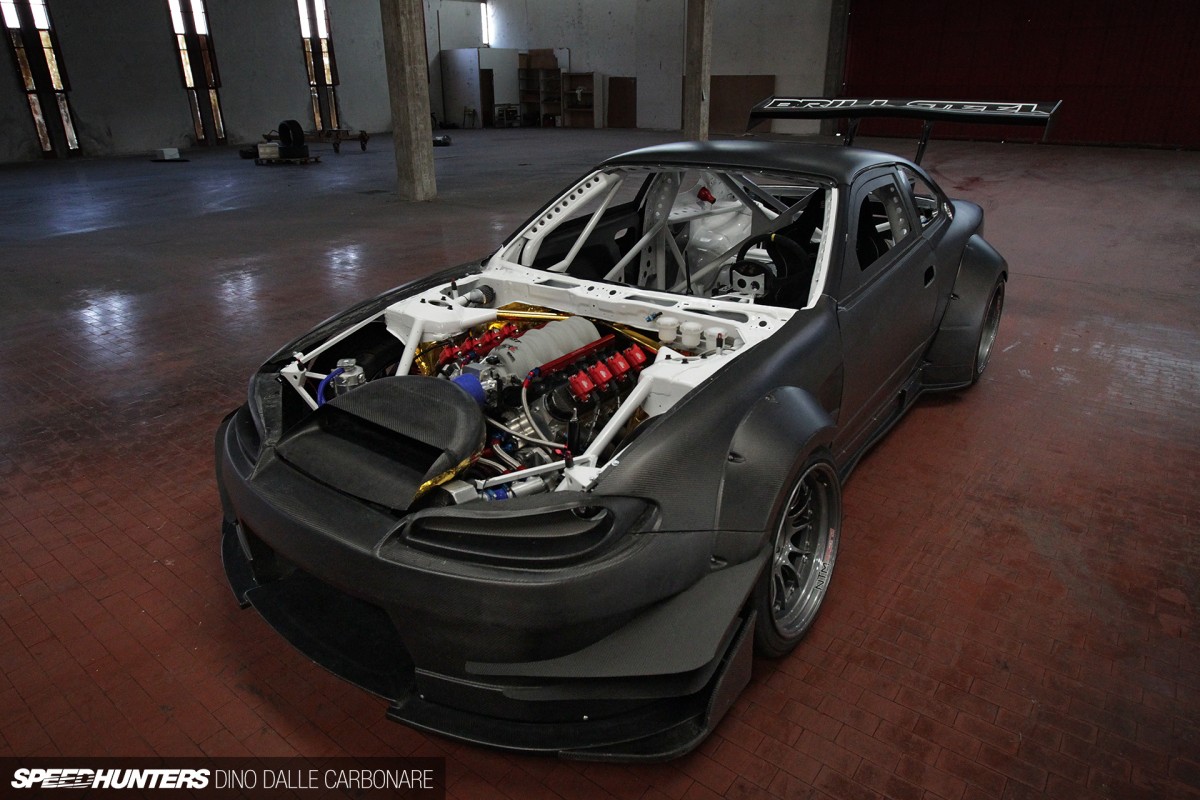 As you can see with the hood removed, the stroked LS3 breathes through a large carbon fiber intake scoop, which at speed can generate quite a big ram air effect.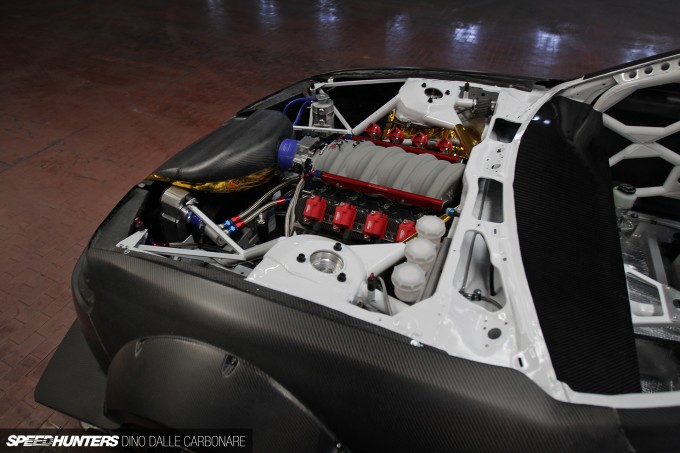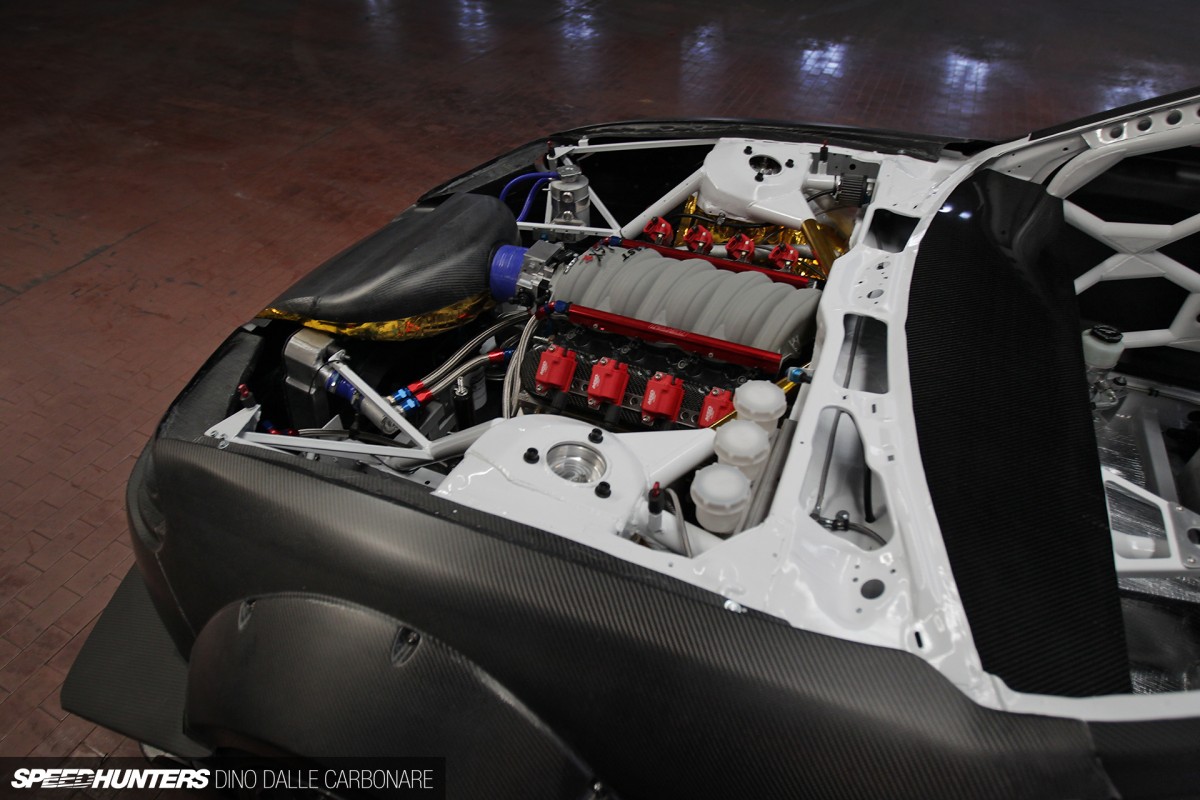 No matter which angle you look at the car from, there's so much attention to detail.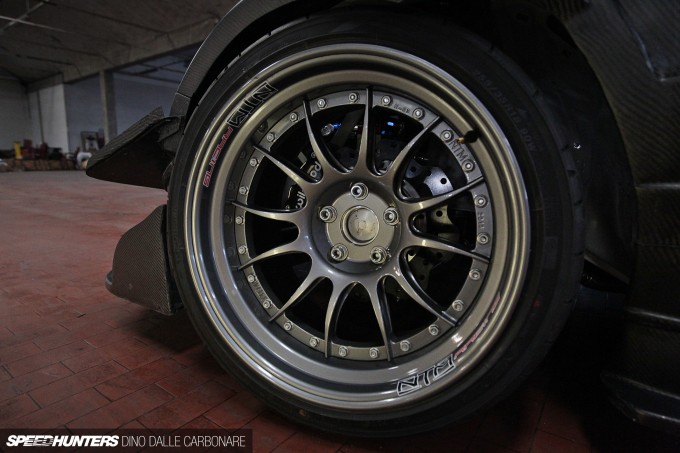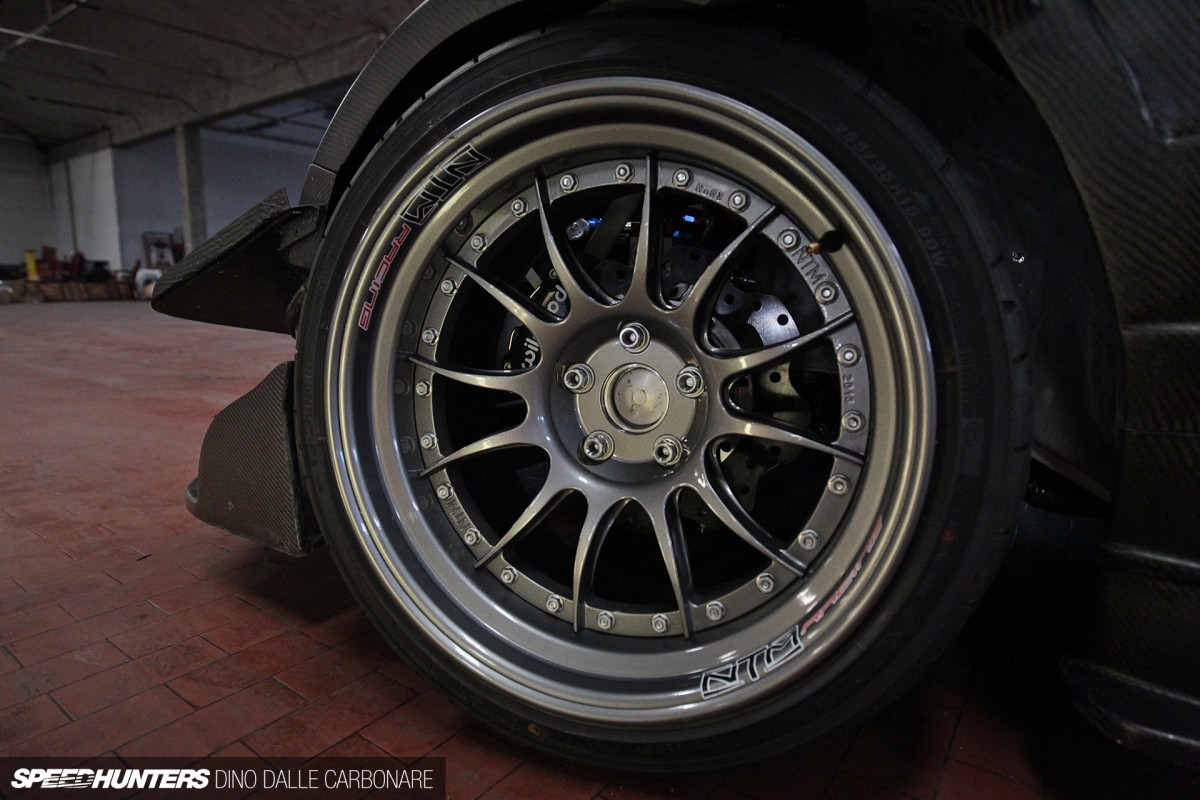 The Brill Steel carbon Silvia runs some locally made racing wheels created by a small motorsports wheel company called NTM. These Racing PISTA measure 10.5×18″ at the front and a massive 12.5×18″ at the rear where the rim has been reversed to get the correct offset. Enrico has sourced some Yokohama Advan Neova AD08s, 255/35R18 for the front and the same 295/30R18 I run on my car for the rear. Now that's a hell of a lot of rubber!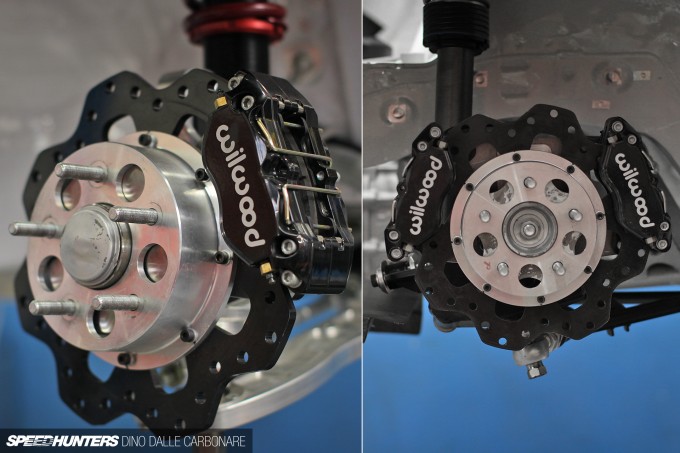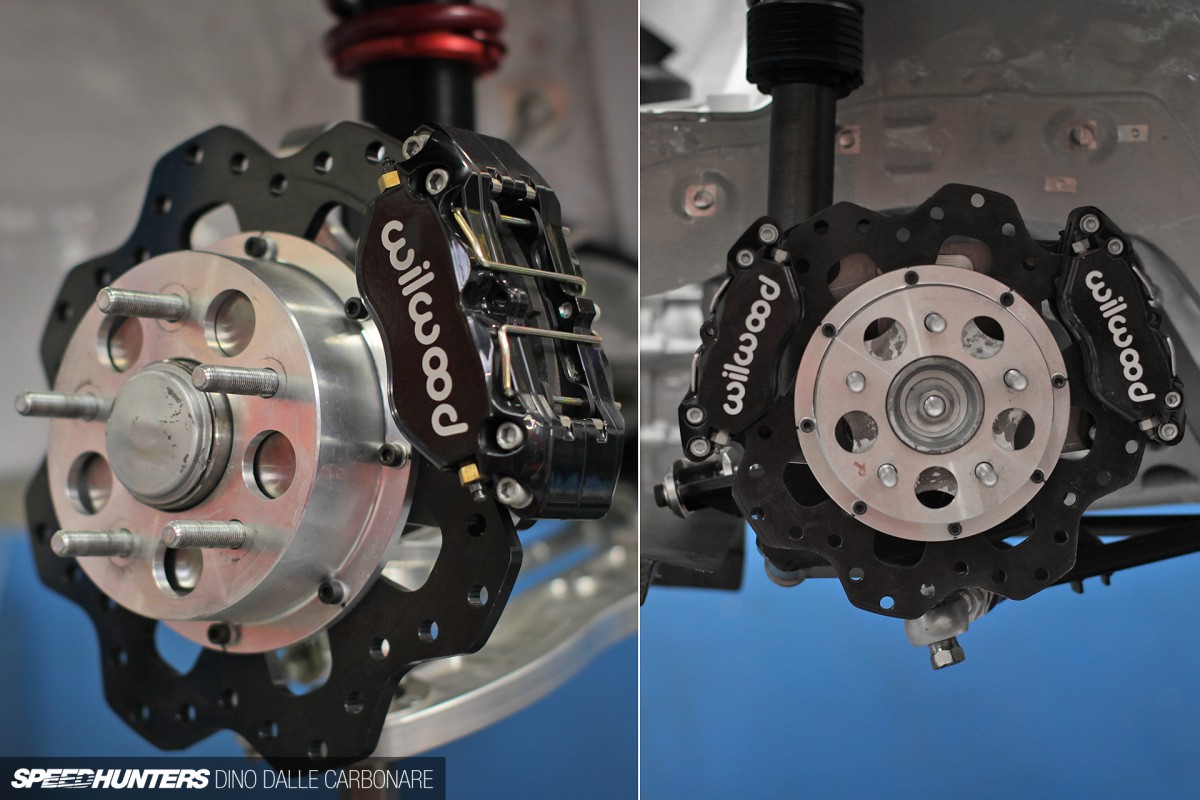 Behind the wheels Enrico has taken a little inspiration out of Daigo Saito's book, running a Wilwood braking set-up with 11-inch scalloped rotors all round. The rear runs a twin four-pot caliper set-up, one pair used solely for the e-brake to make initiations as easy as a flick of the big WRC-lever inside the car. If the car is to participate in time attack events the braking will have to be upgraded to a larger and more grip-oriented system.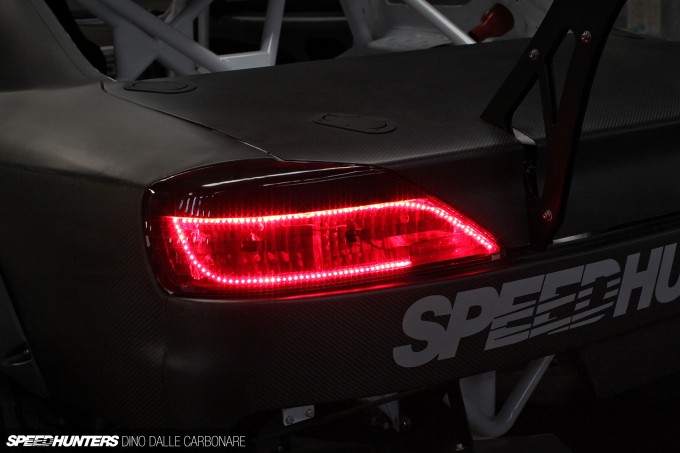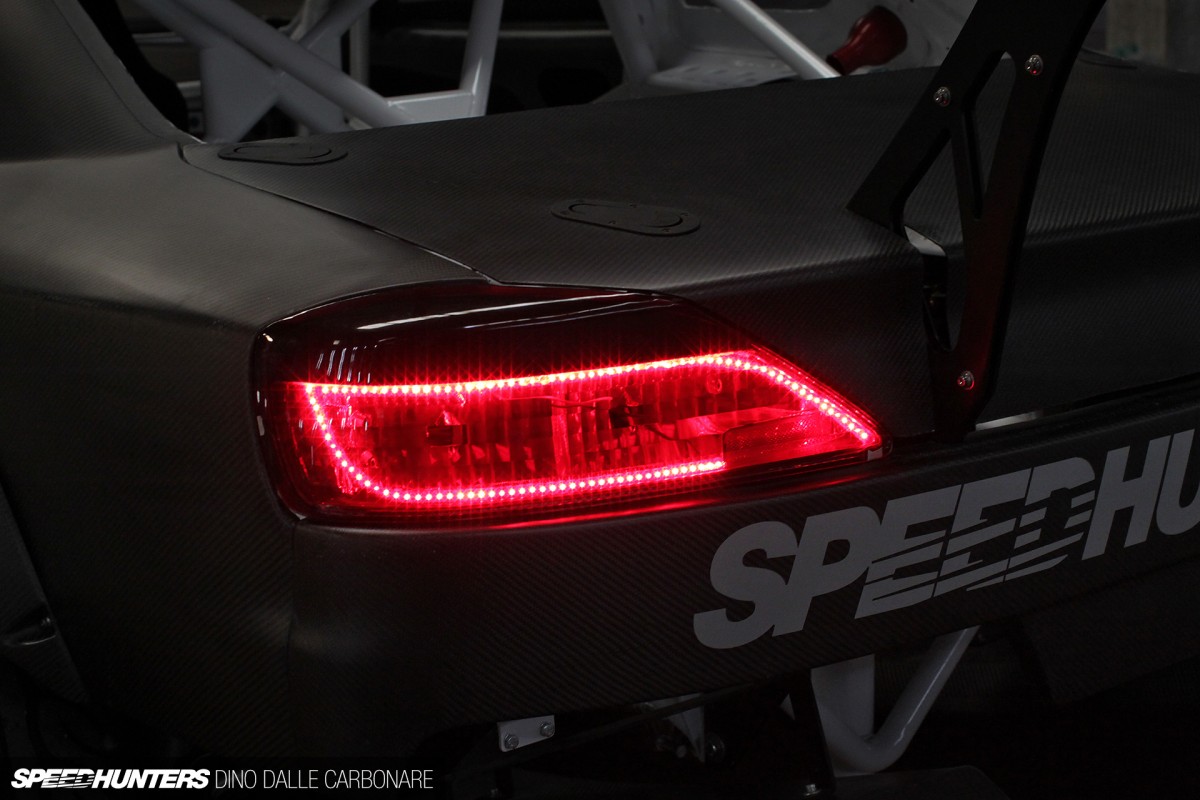 Matching the evil red headlights are some pretty cool custom LED taillights, all meticulously soldered by hand tracing the edges of the S15 taillight housings. On such a mean-looking car, the Brill Steel guys certainly couldn't have chosen a better way to finish off this particular area.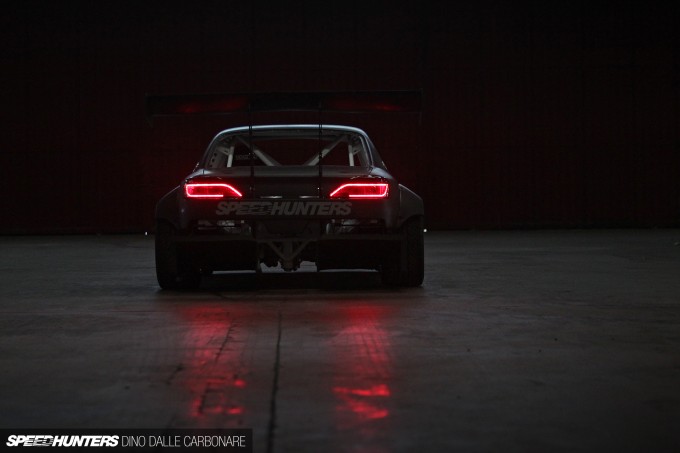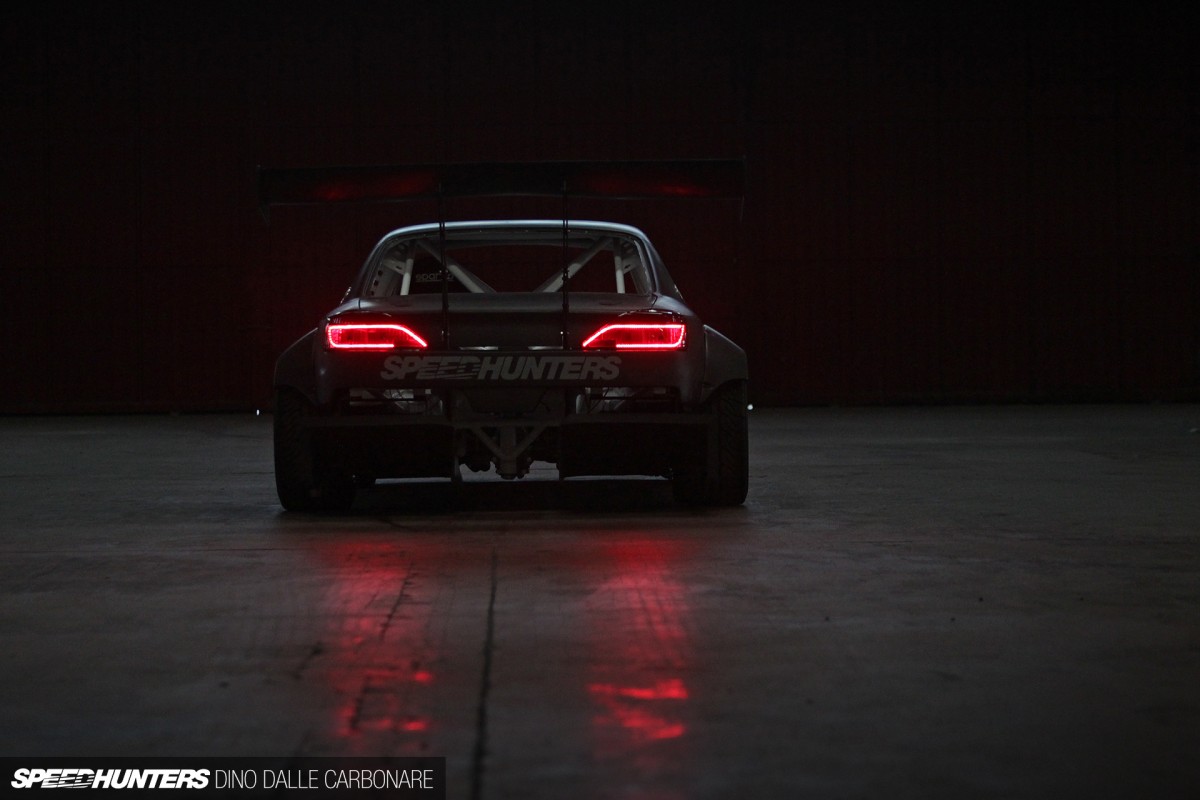 With so much attention to detail having gone into this project, not to mention the astonishing numbers that it boasts, this is one car we would love to see shredding tires around Rudskogen with that big V8 bouncing off the limiter. With 945hp per ton, it would certainly fit in to the Scandinavian way of doing things…