Welcome To Sears Pointless
In my eight years of photographing and writing about cars here on Speedhunters, I've seen things that have generated all manner of emotional reactions. From the sheer thrill of drifting in the mountains above Hiroshima, to the insanity that is standing next to a nitro funny car as it launches down the quarter mile at Famoso.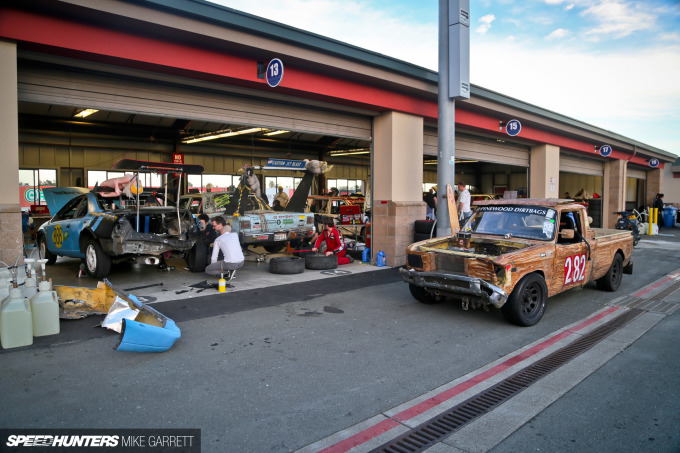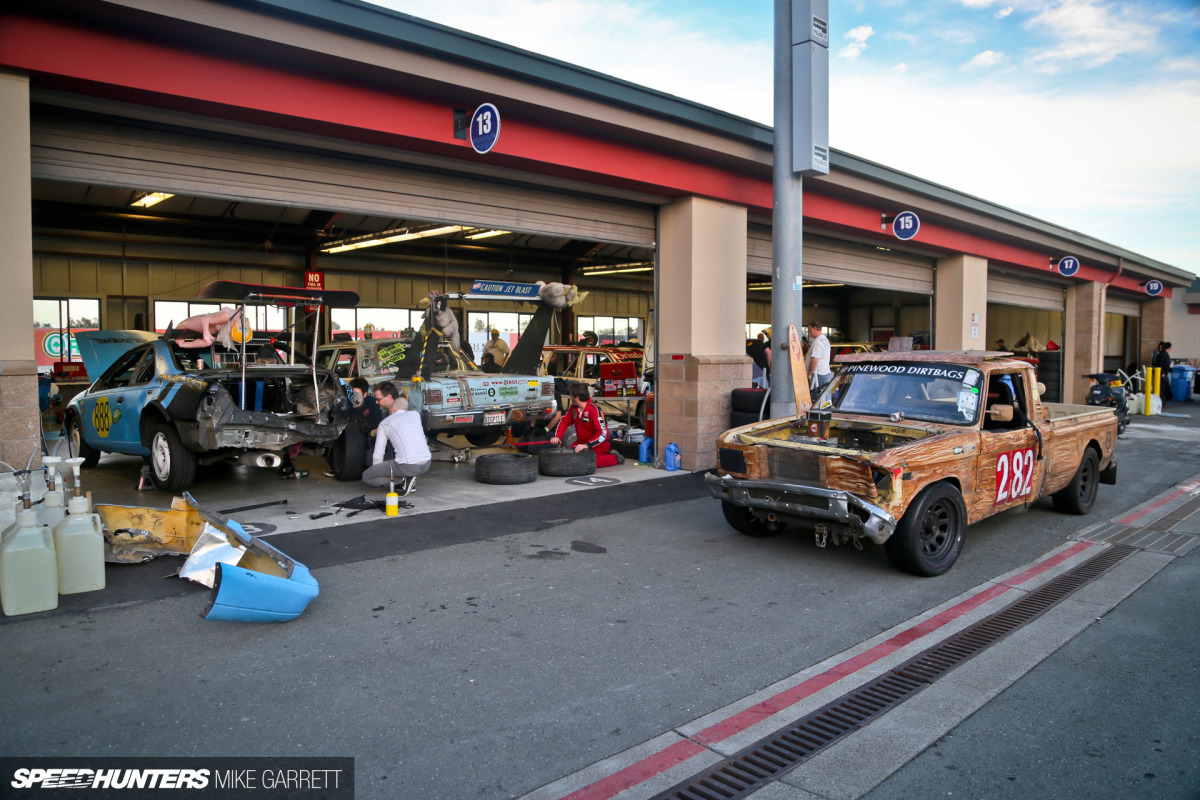 I've been frightened when out of control racing cars have come dangerously close to my trackside photo positions; I've stared at custom-built automobiles with my jaw open in amazement. But it wasn't until last weekend at Sonoma Raceway that I was laughing out loud while looking through my viewfinder and clicking the shutter button.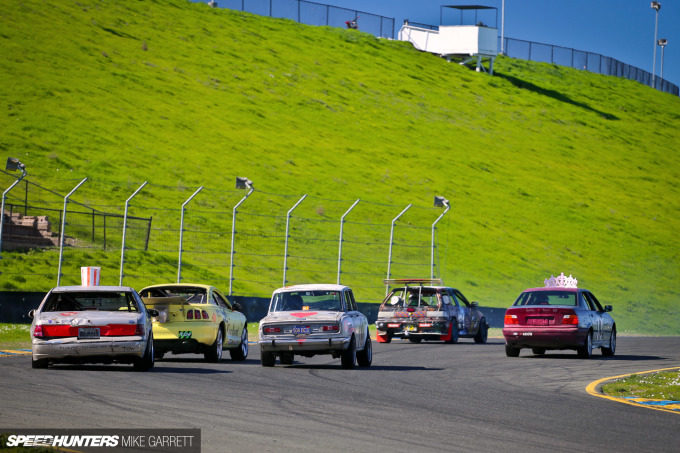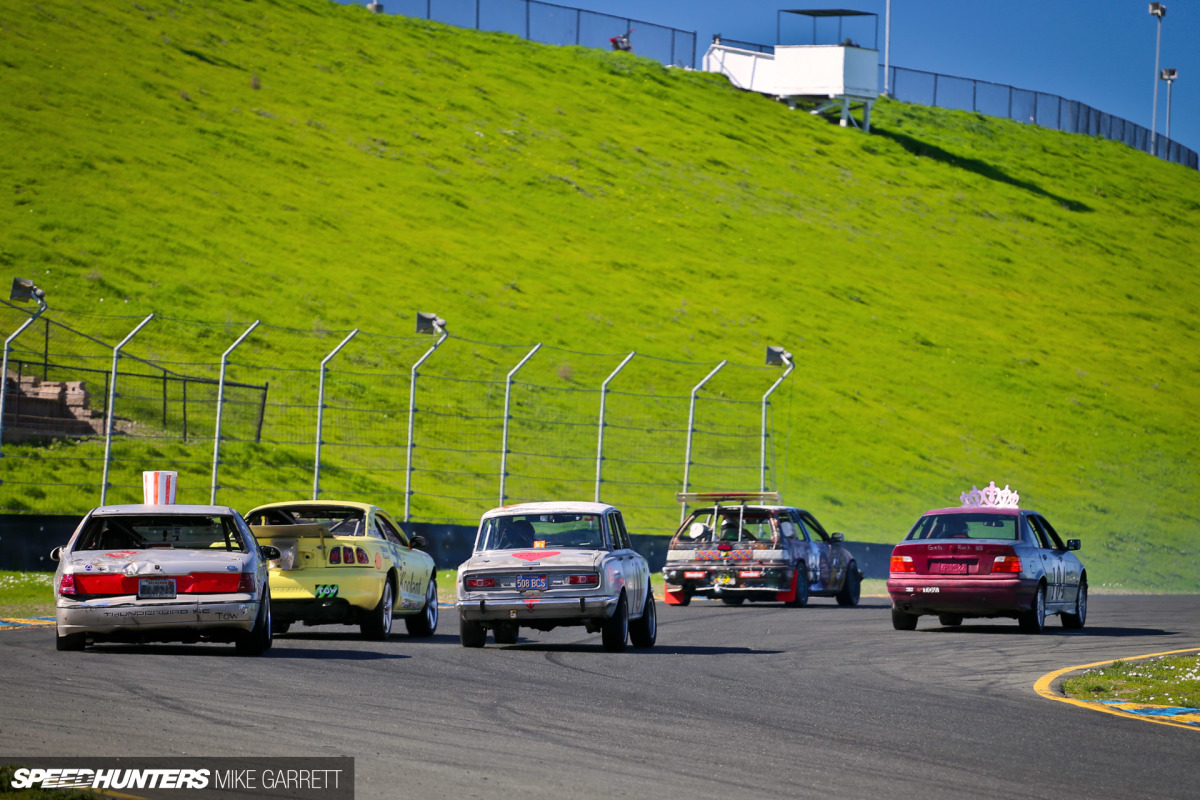 Sure, I've laughed in response to a gigantic turbocharger or a crazy story from a car owner, but what I was seeing here in Sonoma was pure automotive comedy – and I loved every minute of it. Welcome to the 24 Hours of LeMons.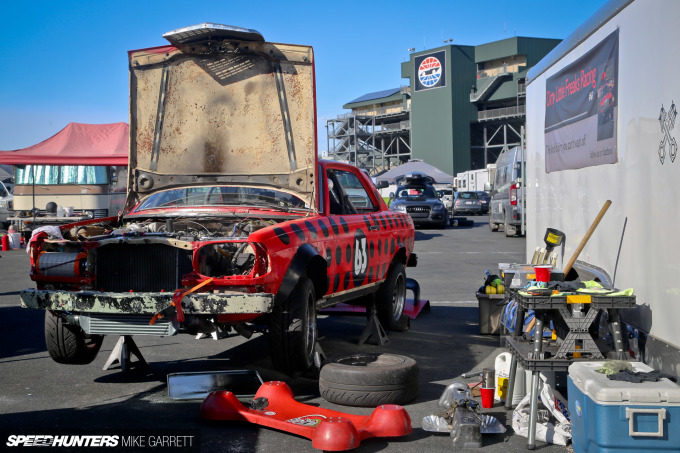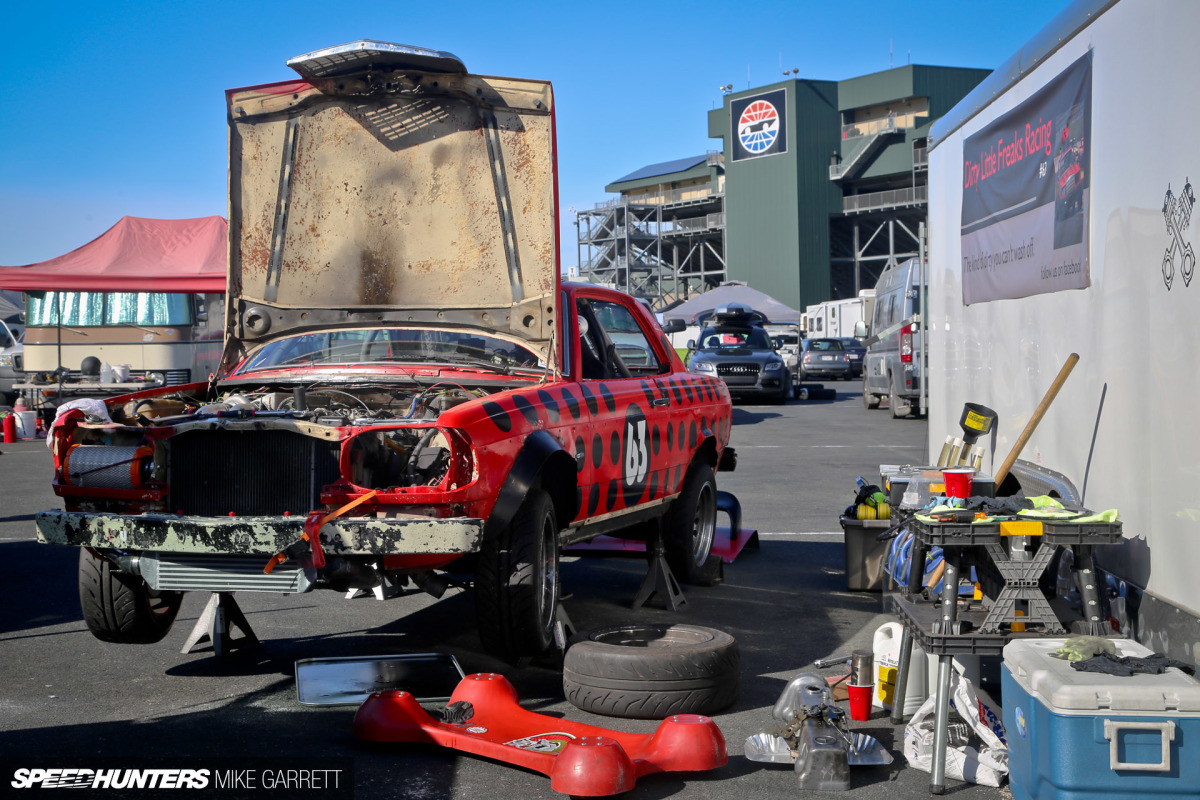 I'm guessing most of you guys are already familiar with this unique brand of amateur, extremely budget-minded endurance racing, so I'm not going to spend much time going over the background and rules of the series (that can all be found on the official LeMons website). But I will say that after spending just a few minutes watching the action, all I could think about was why I hadn't covered the event earlier!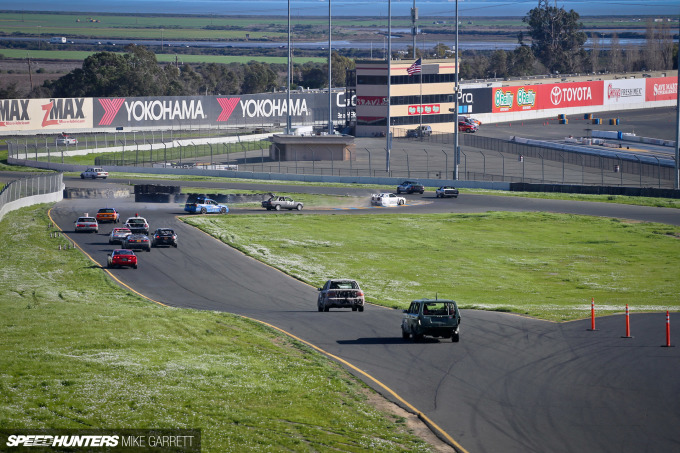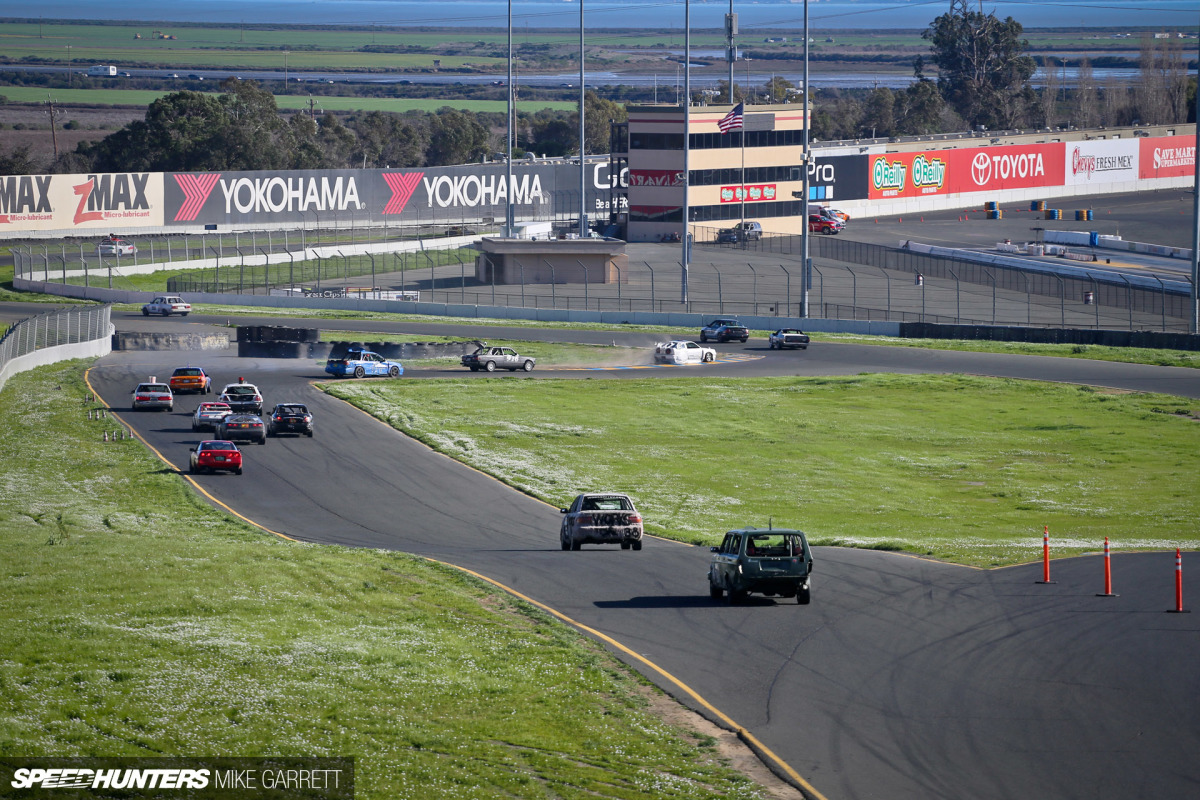 I'll get to the cars in a moment, but the first thing I noticed was the sheer number of them. While most race events usually have a pack of cars that you wait for, or small groups spread across the track, the 'Sears Pointless' event was a never-ending parade of vehicles looping their way around the hilly Sonoma track.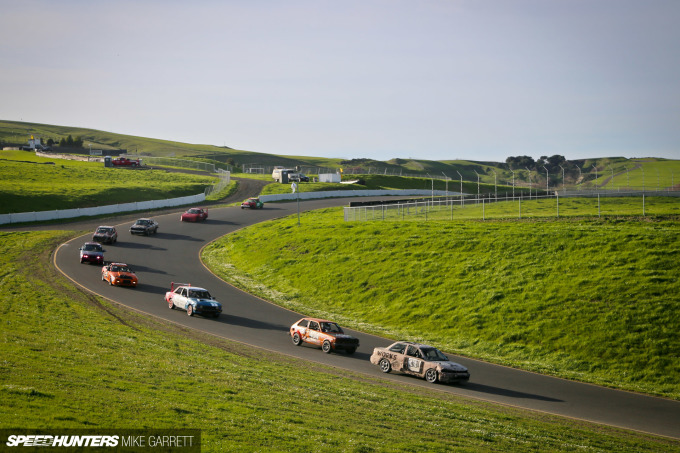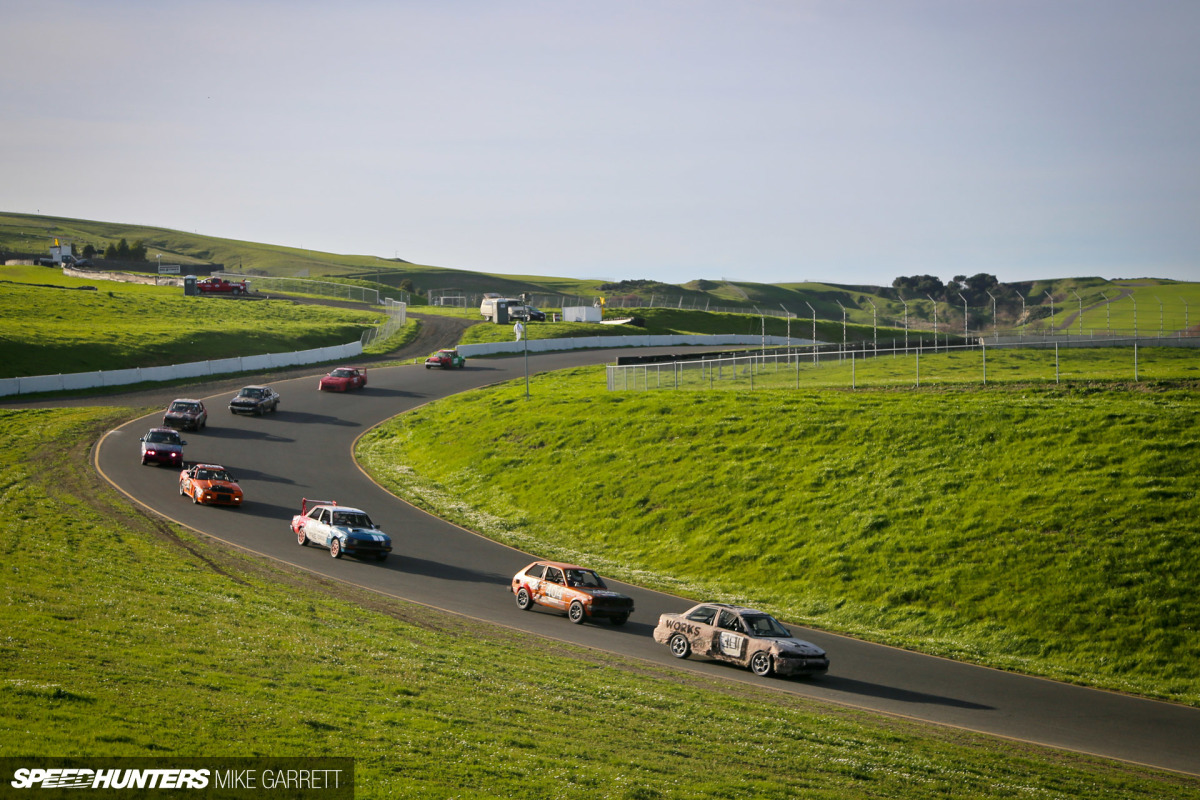 With somewhere around 150 cars entered that's not surprising. And given the fact that all the vehicles race at the same time rather than being divided into groups, it was pure chaos. When it comes to LeMons, that's how it's supposed to be.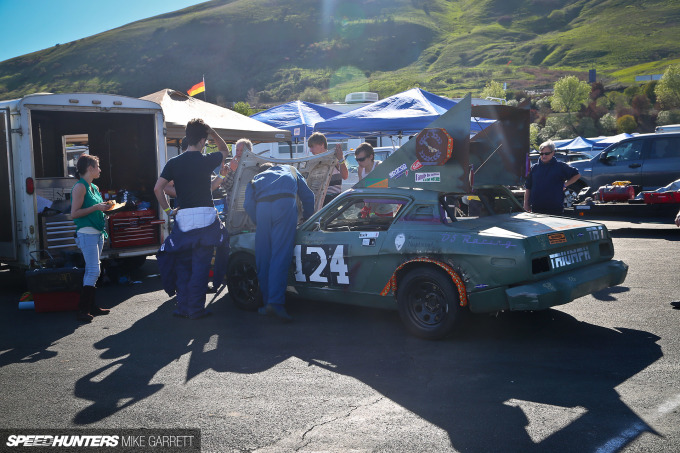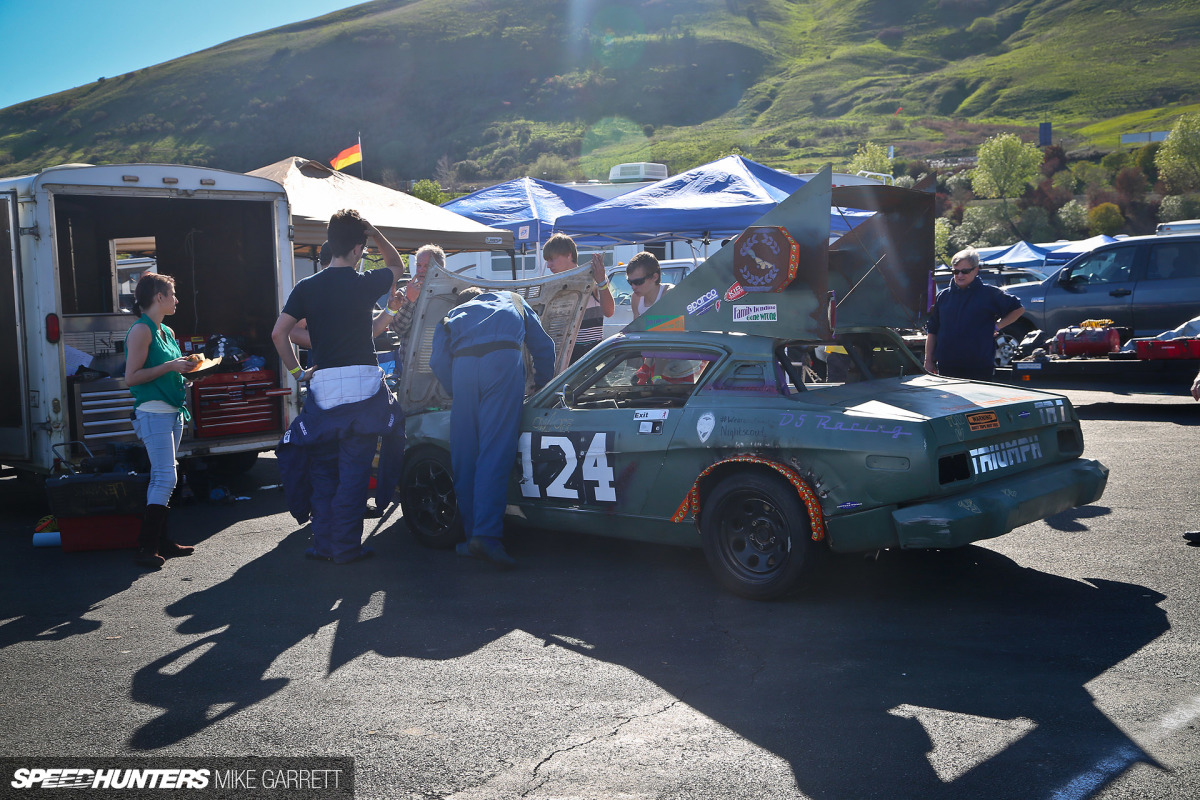 And that huge field of cars is about as diverse and wild as you can possibly imagine; the only real rules being that a LeMons entry must have four wheels, have been originally sold for street use, and cost no more than $500 to build (excluding the necessary safety equipment and other items like wheels and tires). It's about ingenuity and reliability more than it's about budget our outright speed.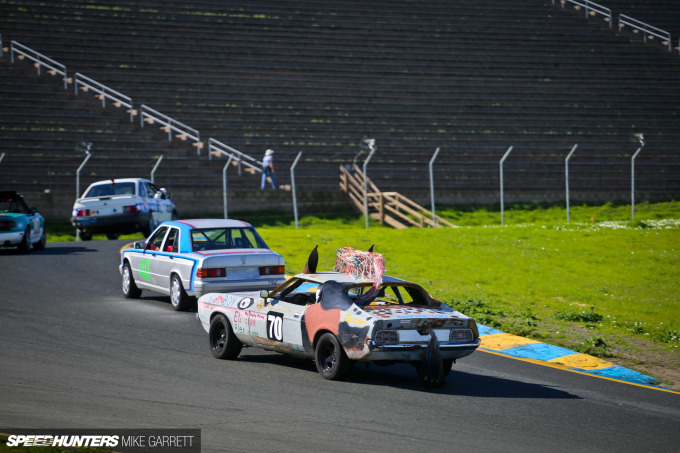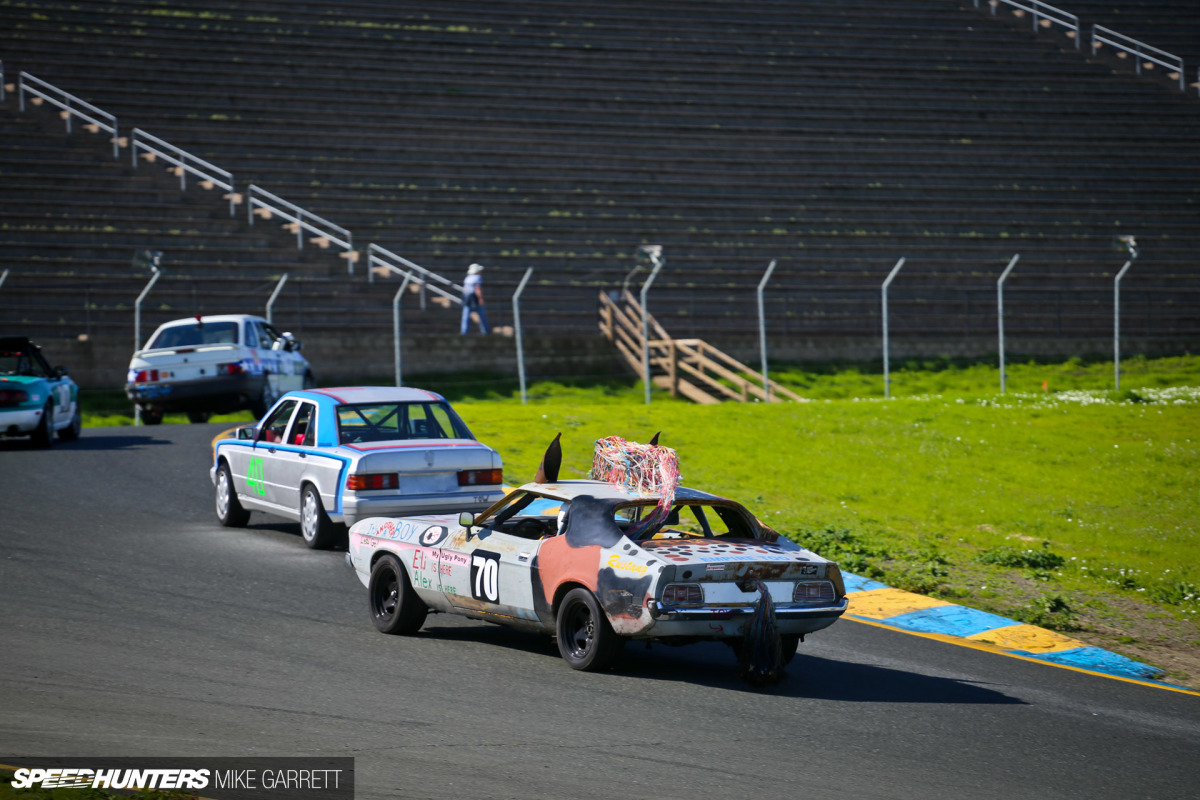 The idea is for everyone is to share and enjoy a cheap and cheerful amateur race series with tons of seat time and lots of wheel-to-wheel action, but from what I saw there are really two different sides to the LeMons experience.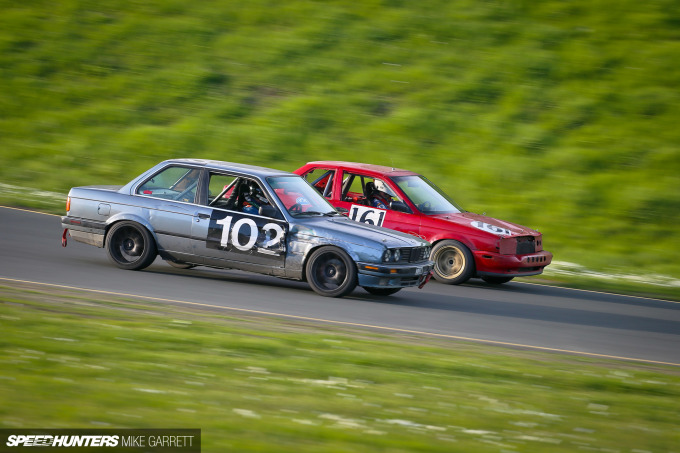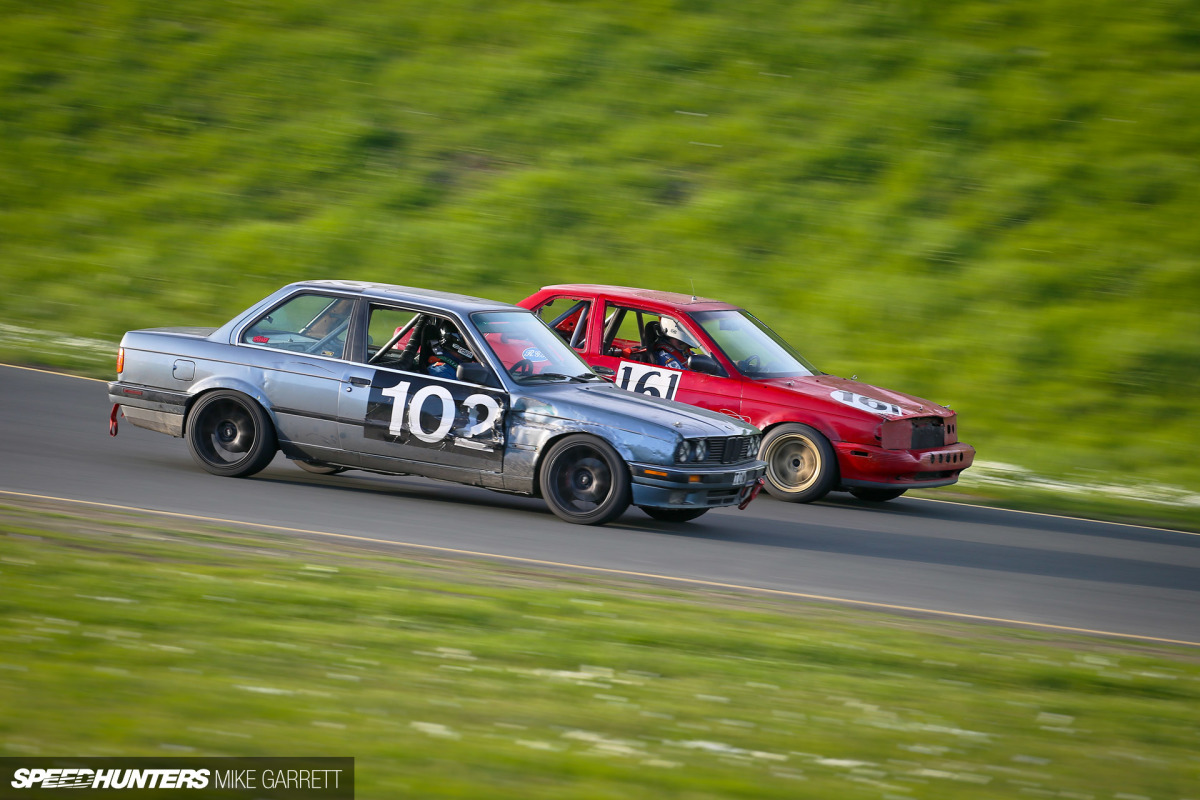 On one hand it's a no-frills. low-budget race series with a lot of entries built out of popular track cars like the first generation Mazda Miata and the E30 chassis BMW. In other words, it's a very affordable way to scratch the racing itch and have fun with your friends at the same time.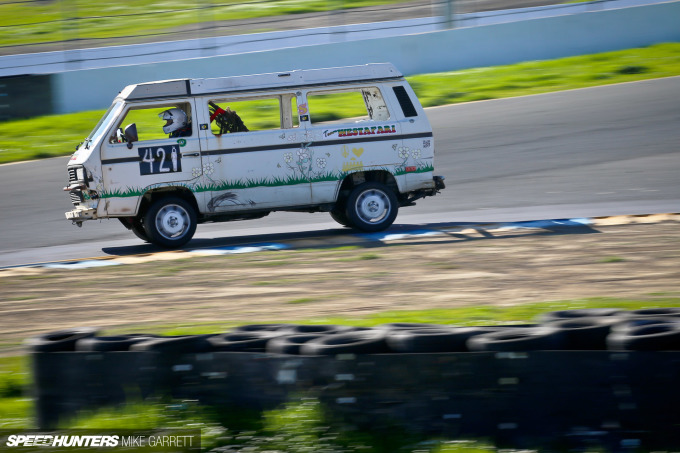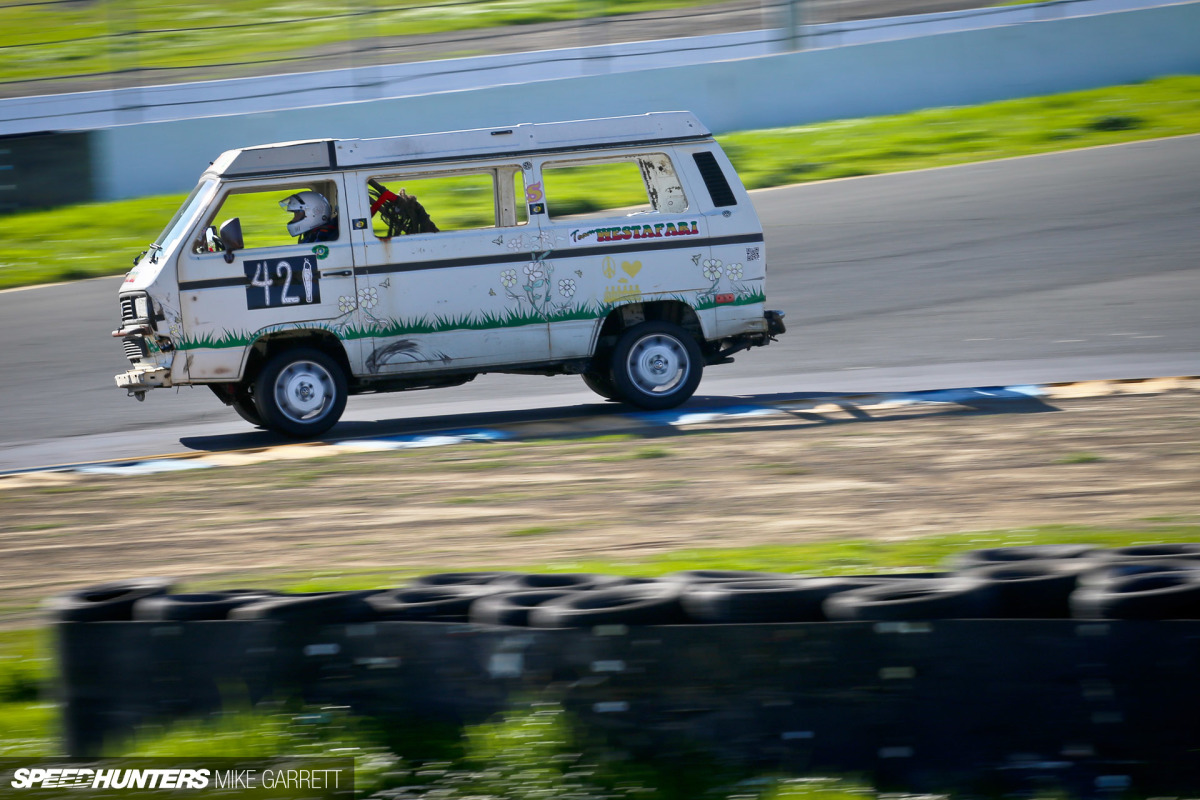 And on the other hand, it's the ultimate in automotive-related expression and outright humor. Thus you get entries like Ford Crown Victorias and Volkswagon Vanagons – vehicles that were never designed for track use, but fit right in among the LeMons crowd.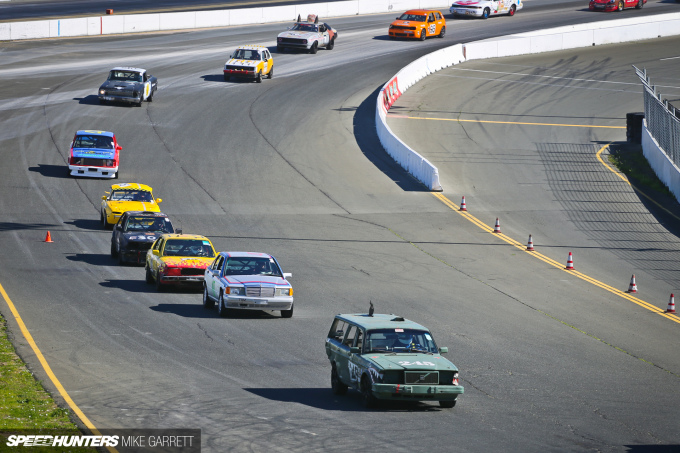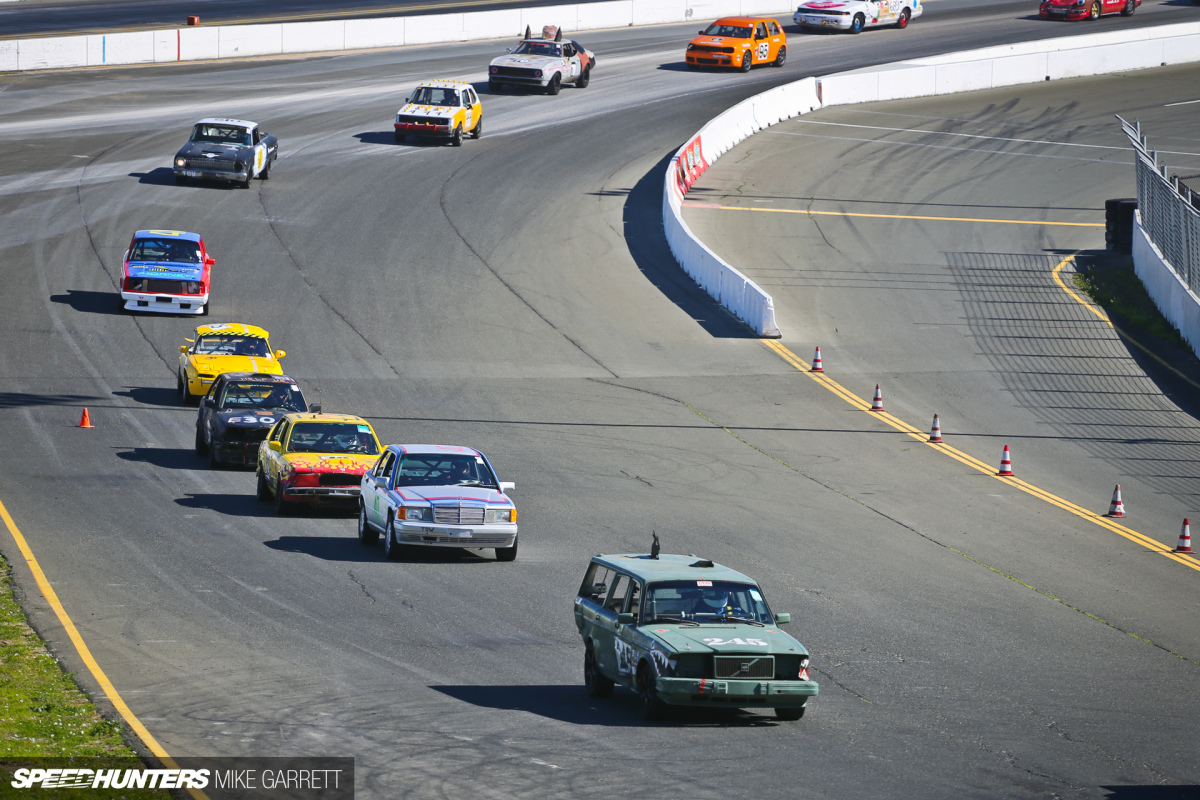 Volvo, Mercedes-Benz, Ranchero, Mustang , Golf. Just look at this scene of the field pulling out of the main straight and tell me it doesn't you make laugh in amazement (or disgust depending on your automotive sensibilities).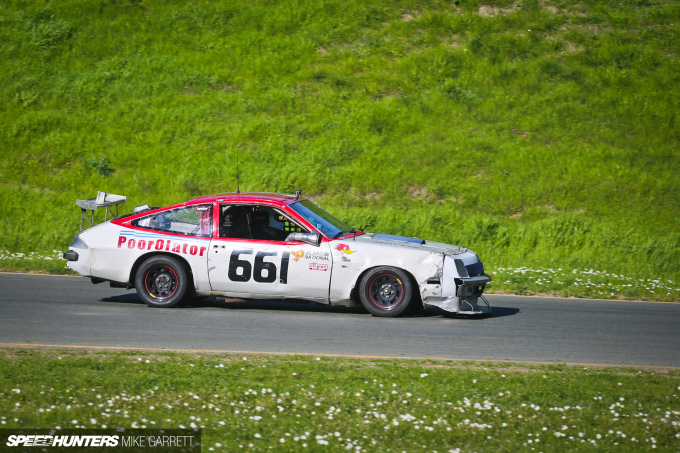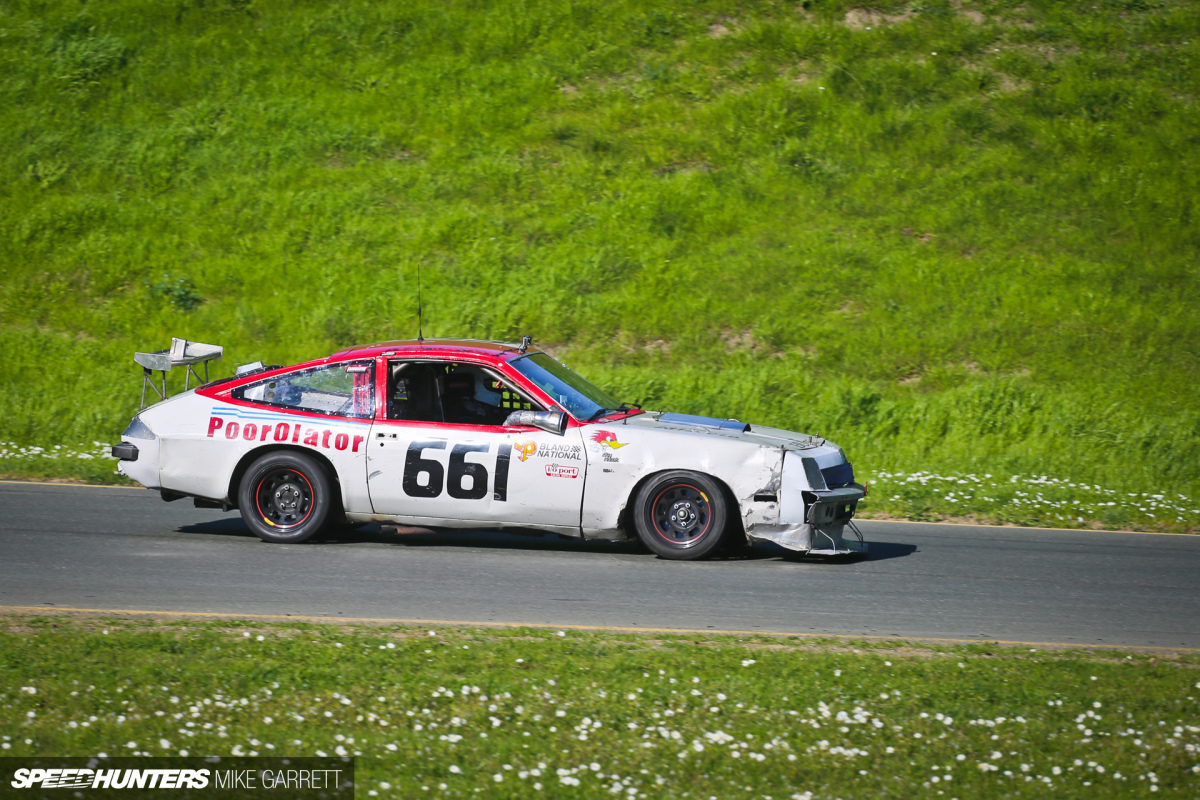 And it's not just the unusual base vehicles that make the series so strange and so entertaining, it's the clever and often hilarious ways in which the cars are modified and decorated. The track is full of character-laden beaters like the PoorOlator Chevy Monza.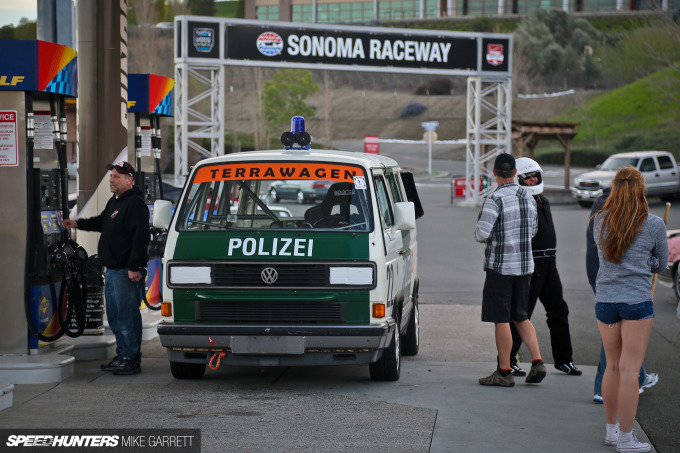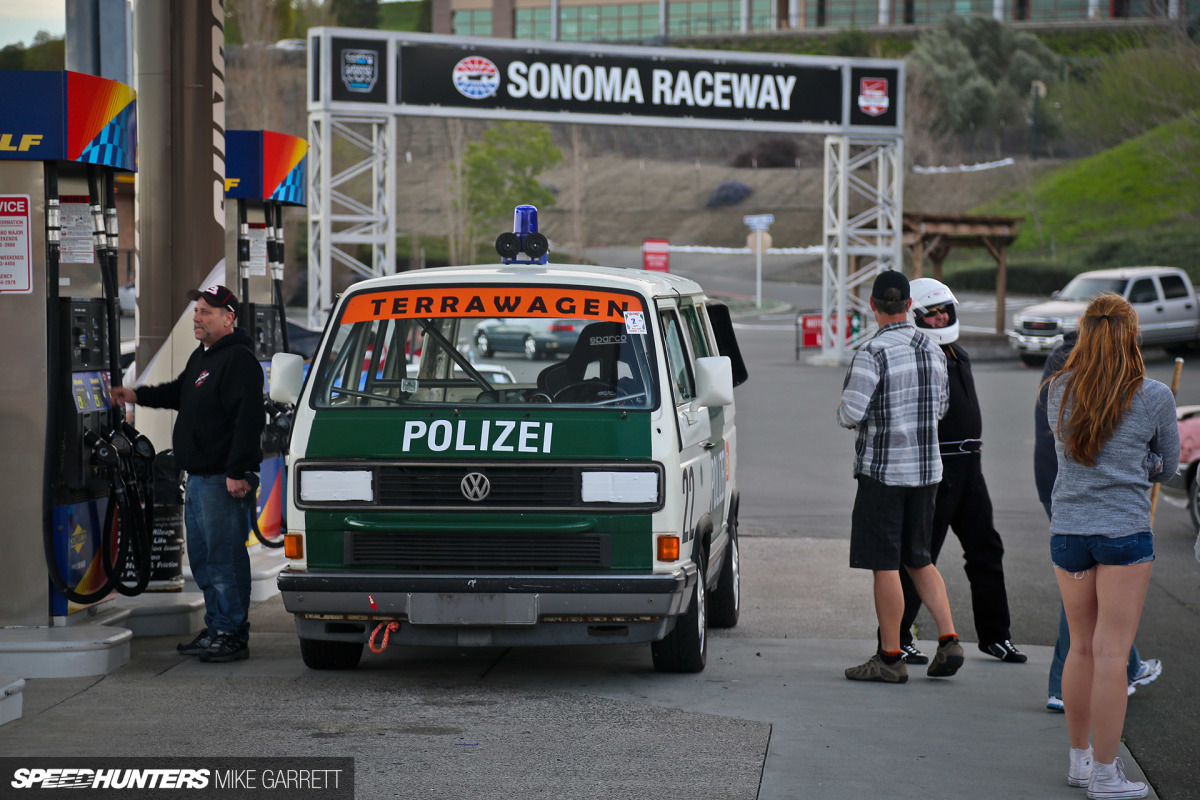 While walking the pits at a normal race event will usually get reactions like, 'Oh hey, that's pretty cool', browsing the paddock at LeMons is going be filled with lots of 'WTF is that?' moments.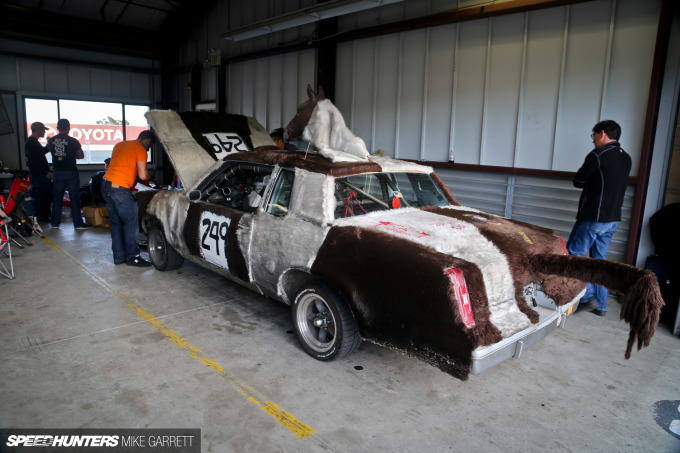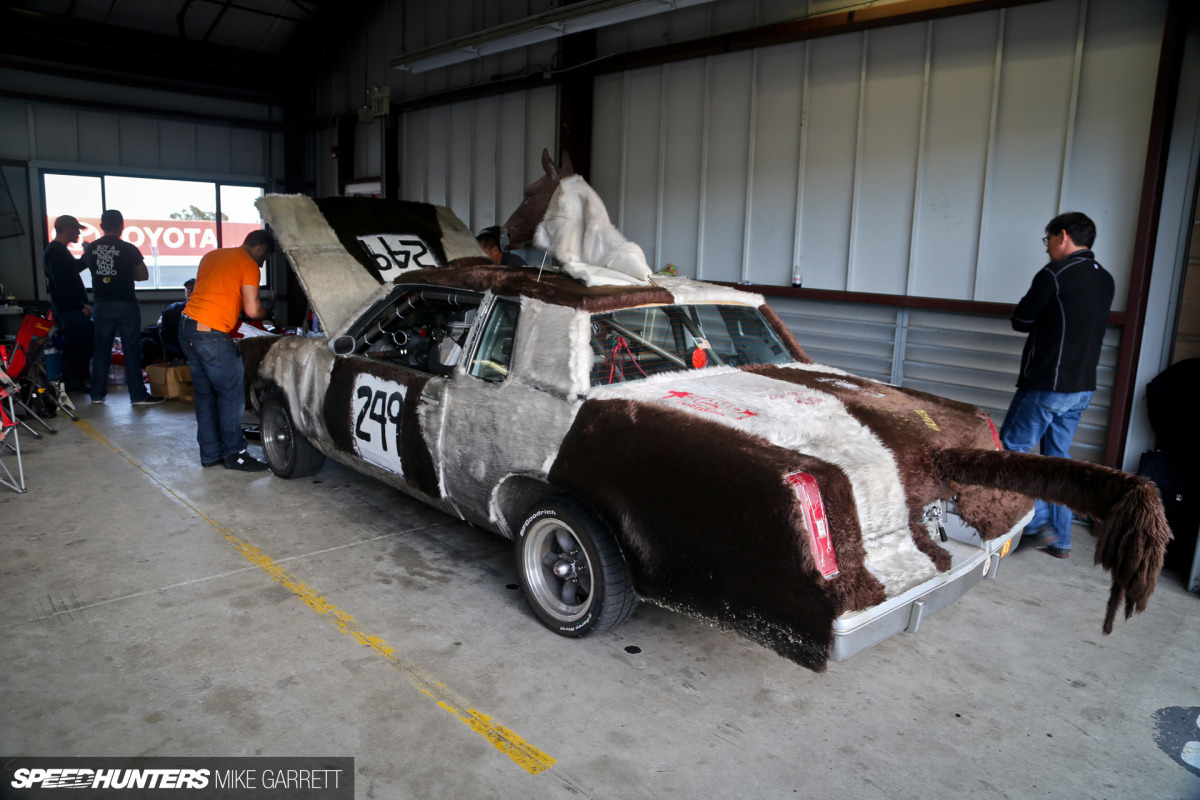 It's the kind of pace where an Oldsmobile Cutlass covered in fur and wearing a horse's head and tail is a completely normal and expected sight.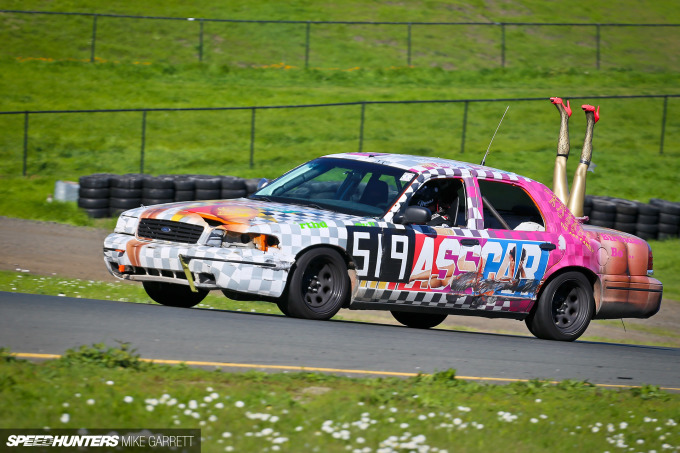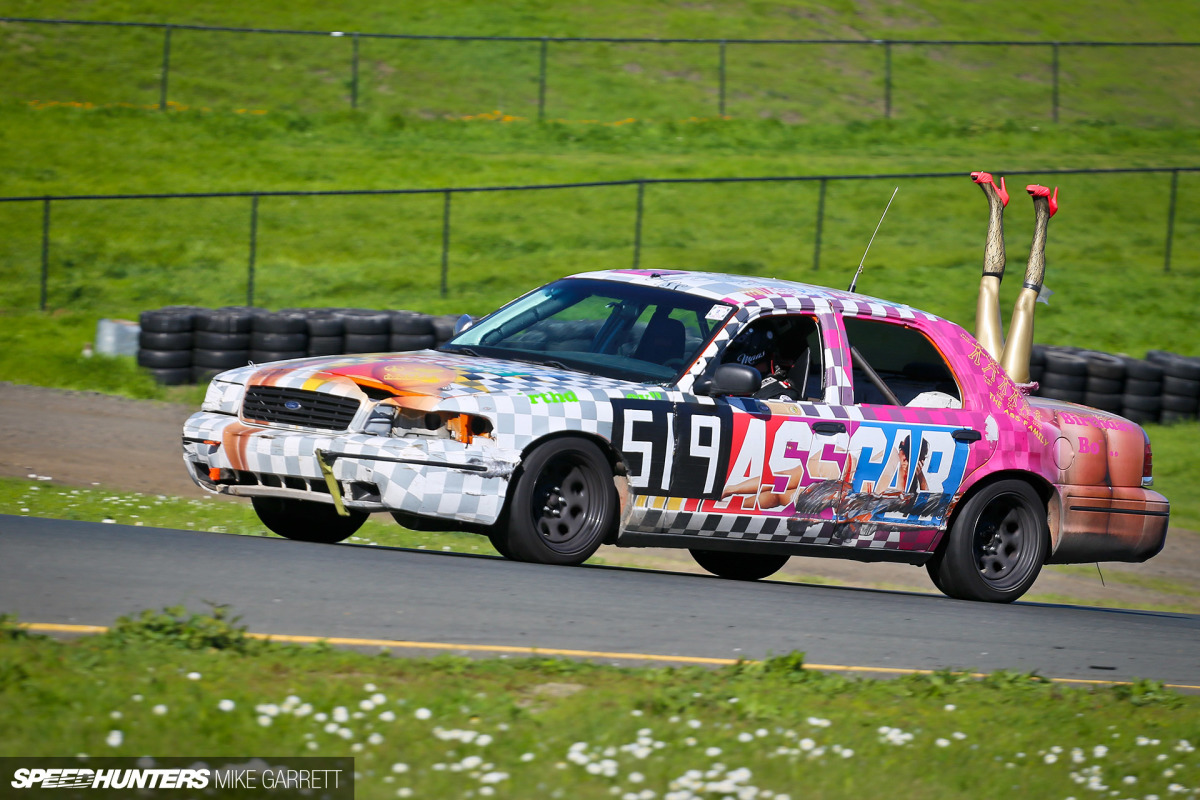 As is a Ford Crown Vic with the word 'ASSCAR' across the door and a pair of mannequin legs sticking straight up from the trunk.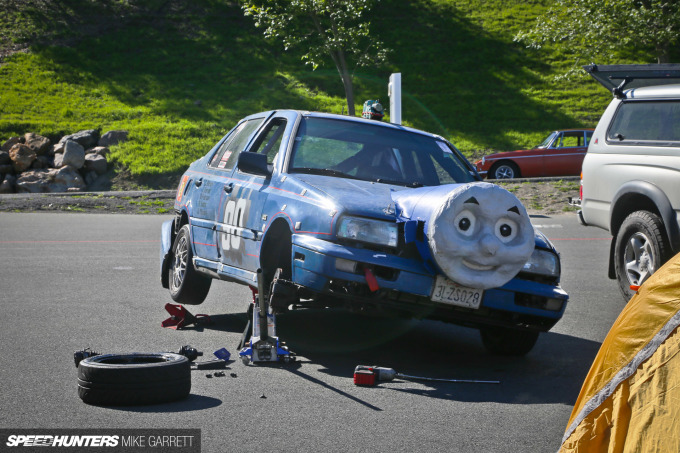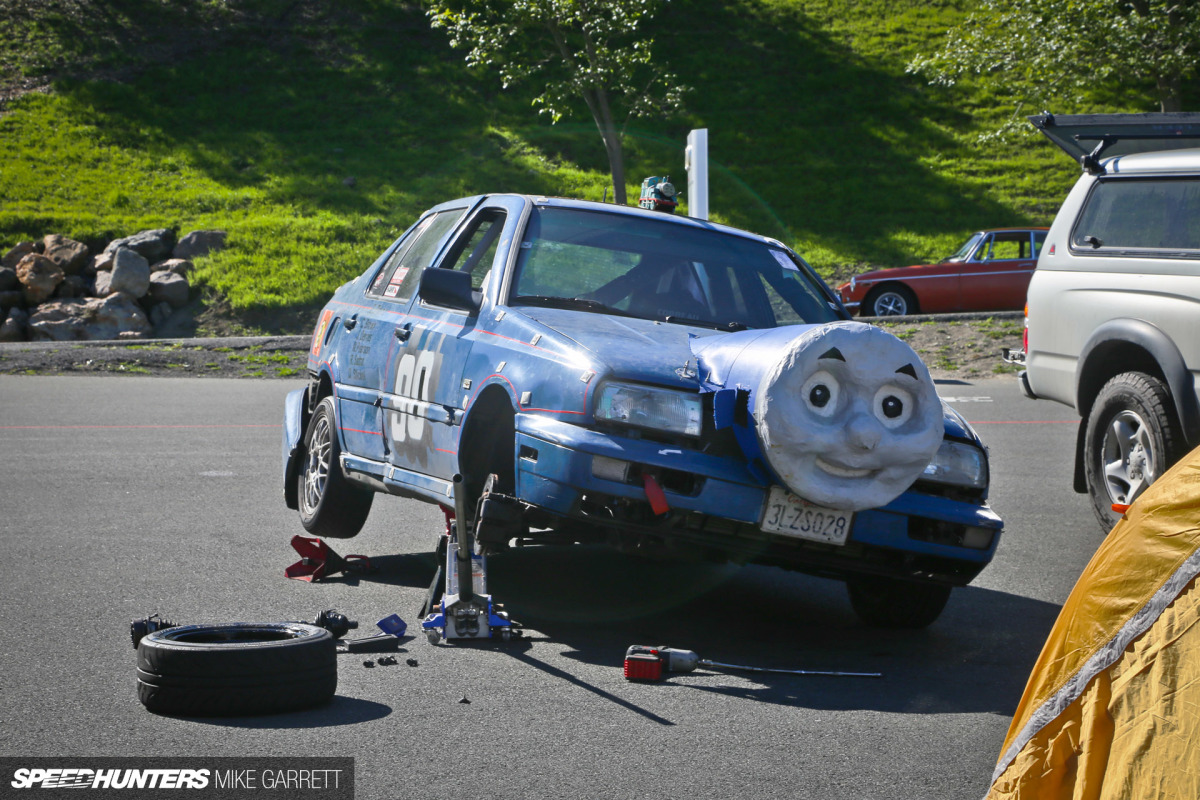 Why Volkswagen Jetta with a Thomas The Tank Engine face grafted onto the hood? Because LeMons. A sense of humor is never far away around here.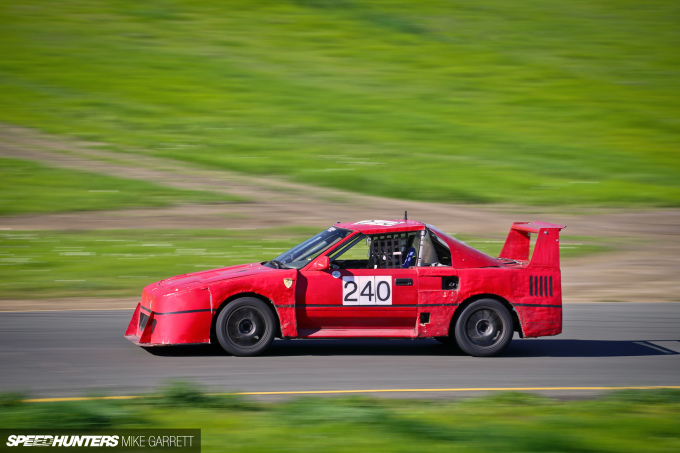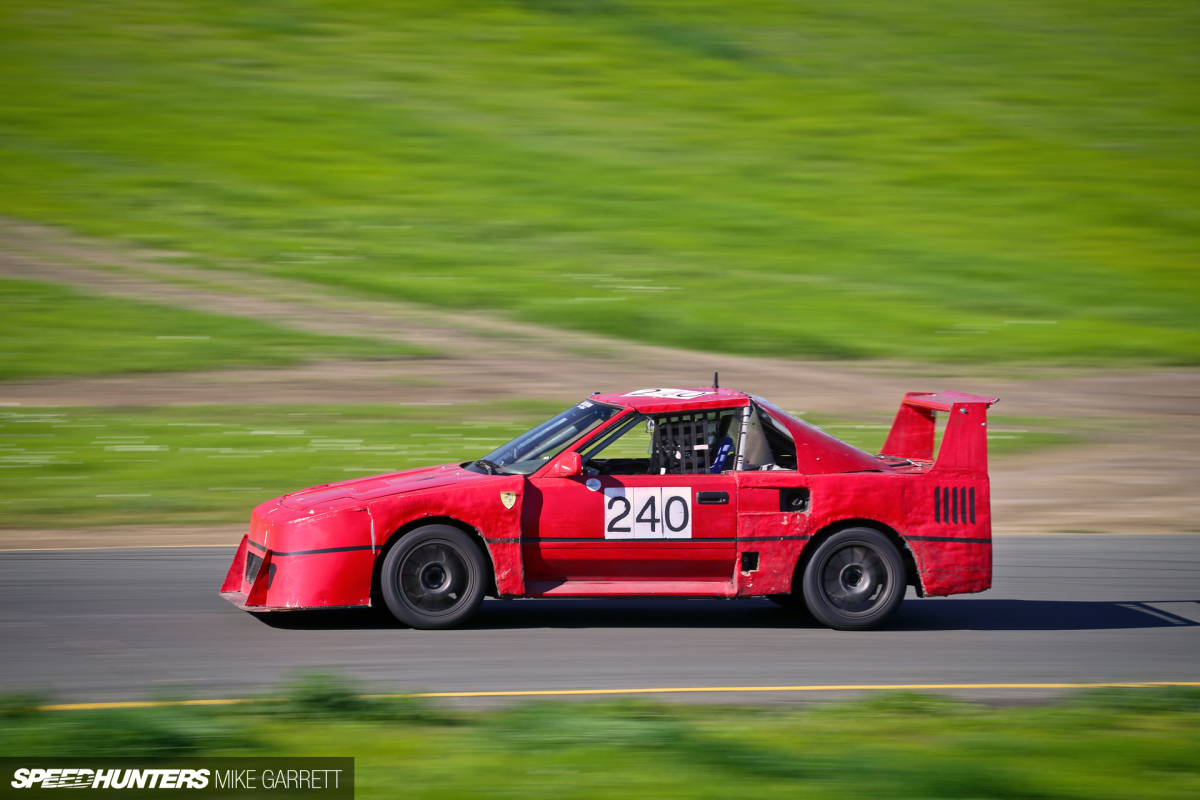 If you squint your eyes really, really hard this AW11 Toyota MR2 looks exactly like a Ferrari F40. Don't see the resemblance? Squint a little harder.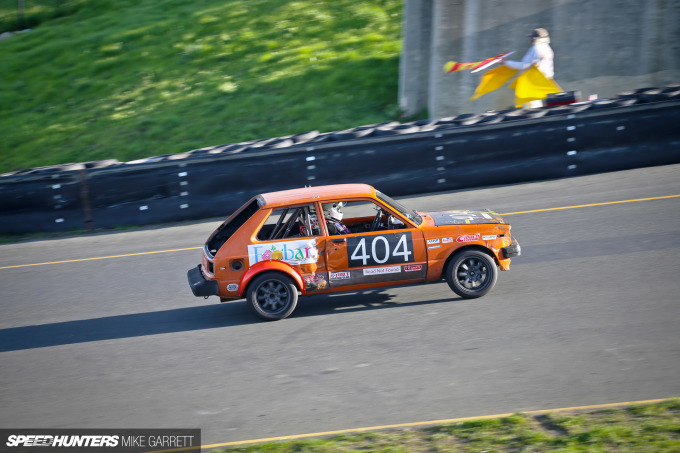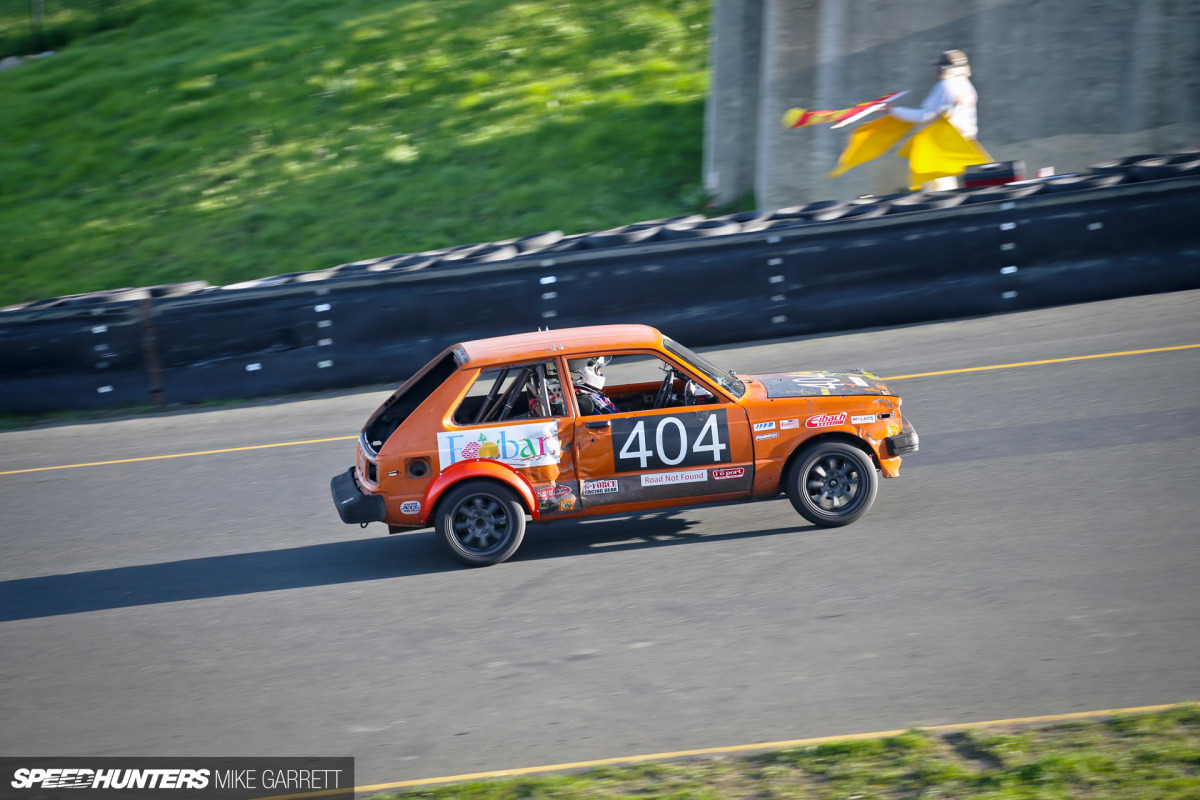 If you dig old Japanese cars, you should enjoy a LeMons event as there are plenty of them spread among the grid. One team used a beat-up KP61 Toyota Starlet for their entry.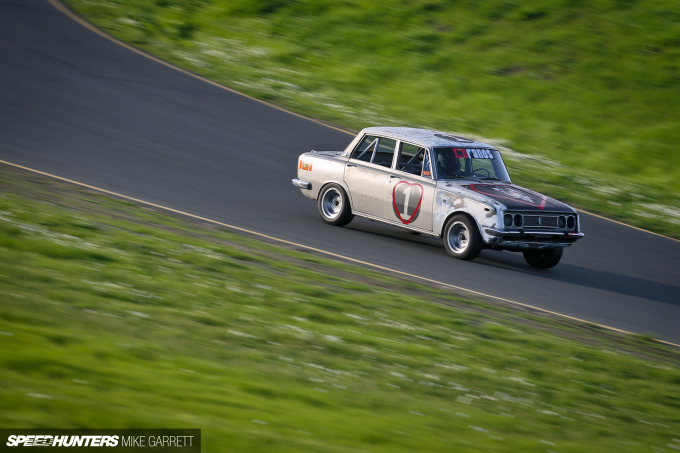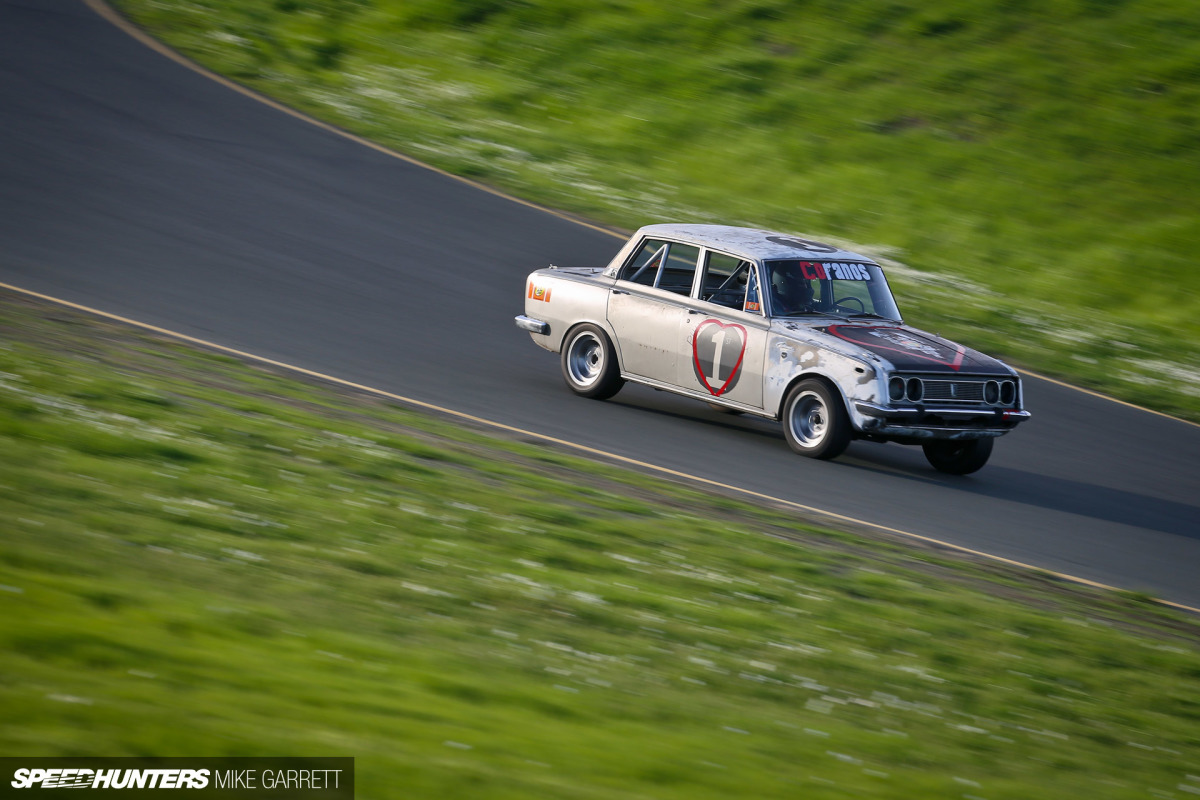 While another used an even older Toyota Corona sedan from the '60s as their weapon of choice.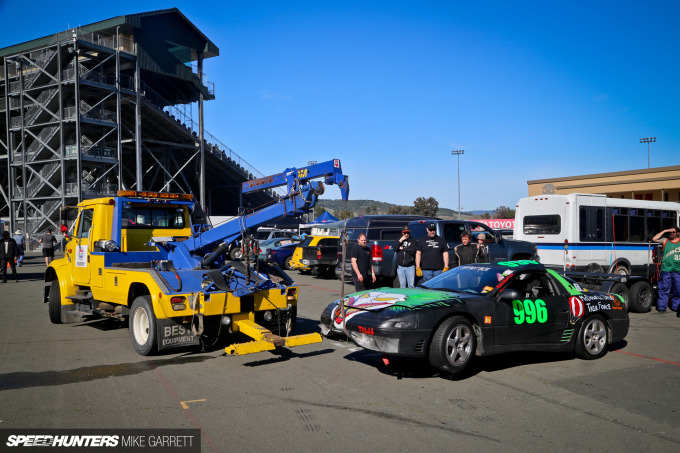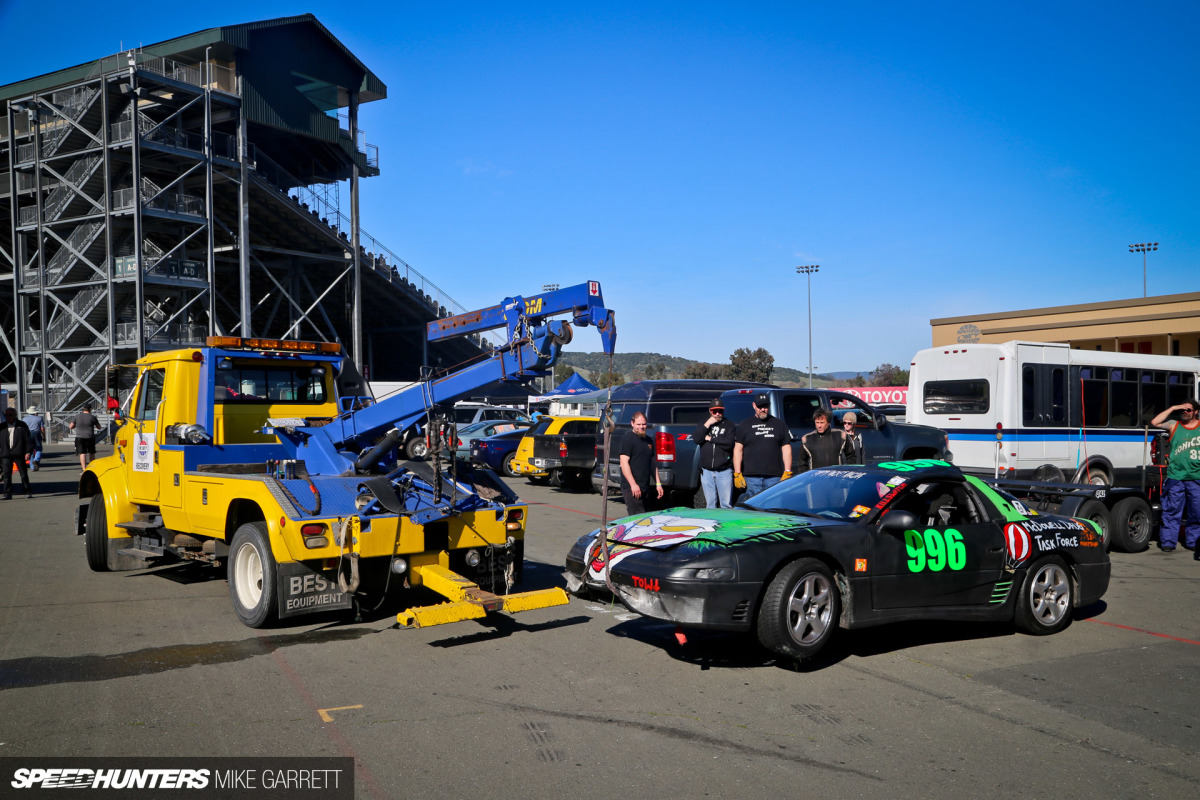 Or for a completely different style of Japanese machine, check out the Mitsubishi 3000GT entered by the Empty Pocket Racing Team.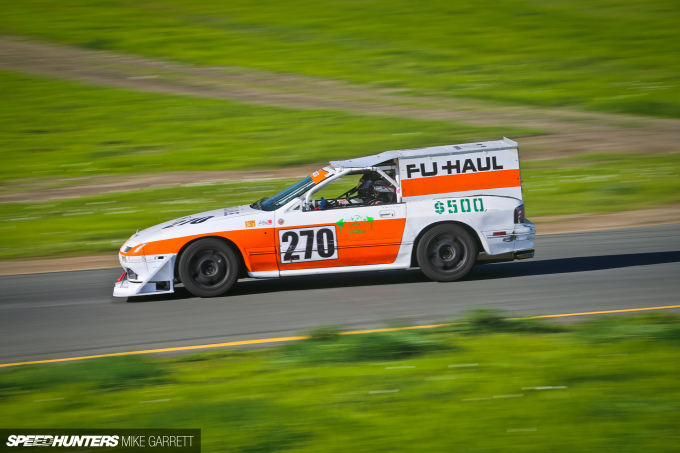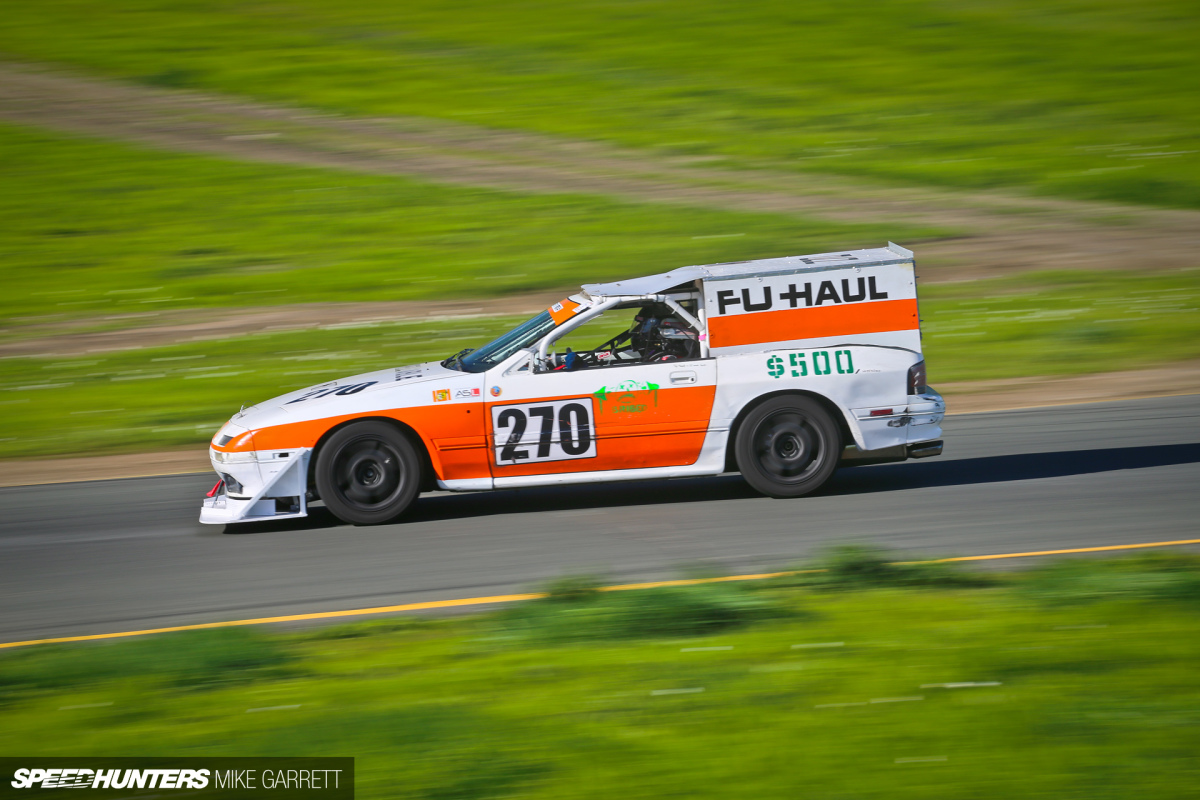 It's also very common see to race cars with dramatically altered bodies, like this RX-7 which has been converted into an 'FU-HAUL' truck.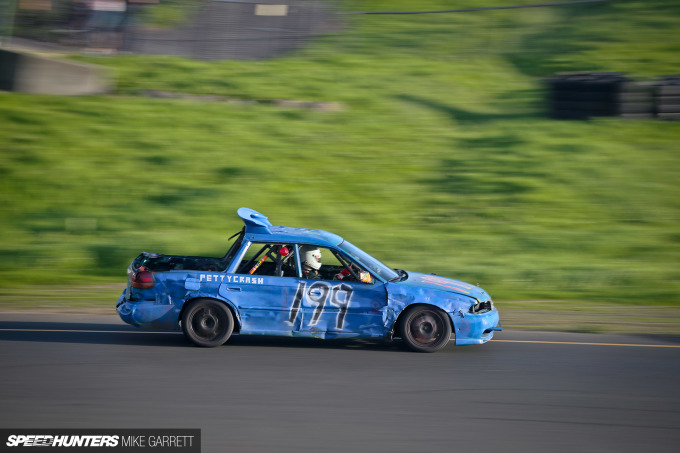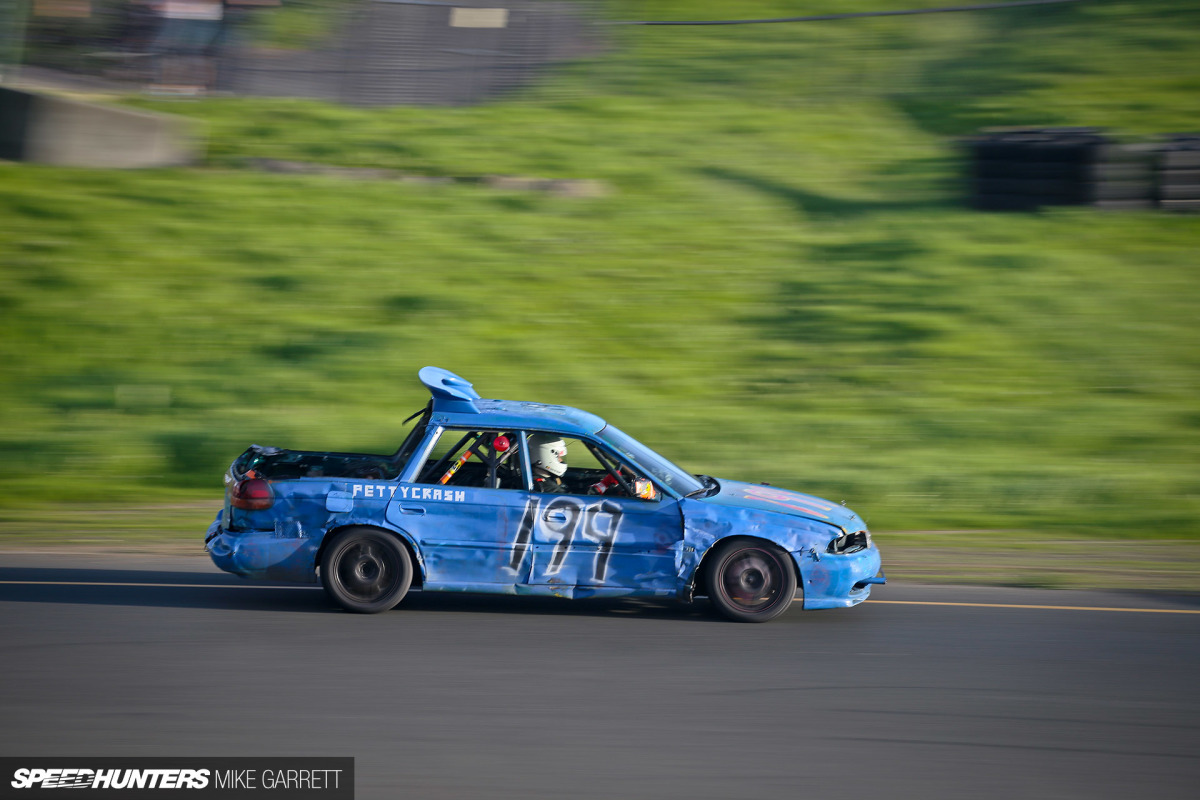 And while some teams put quite a bit of effort into the appearance of their LeMons cars, others look like they were literally plucked straight from the junkyard. Like this Legacy wagon that's been transformed into a pickup truck of sorts. I love that wing on the roof!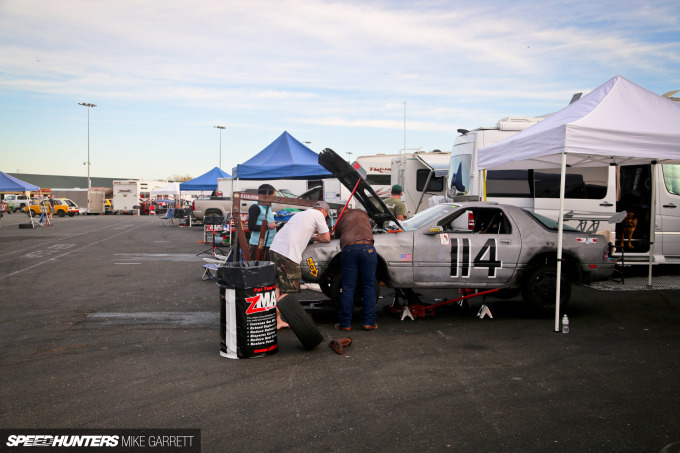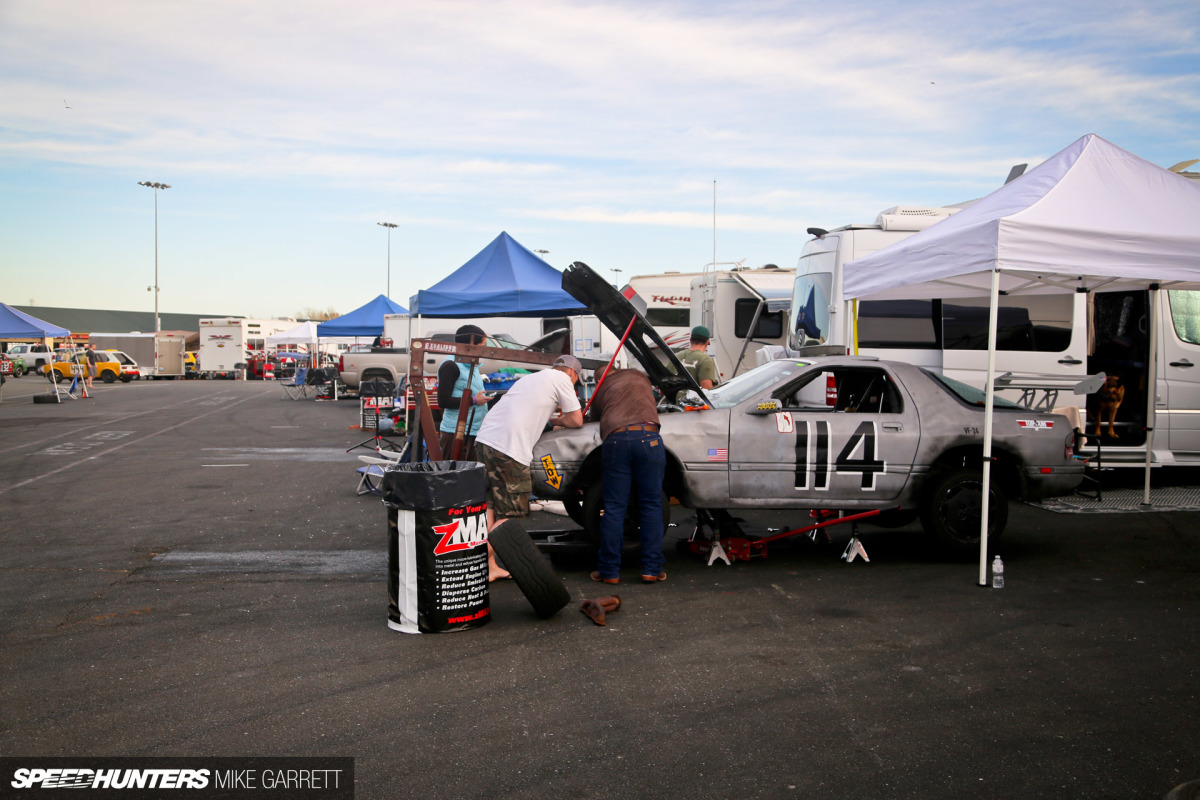 And speaking of the junkyard, the vibe of the pits is often more wrecking yard than it is race event. Two full days of racing is a lot of abuse for any car to take – especially ones as cheap as these. Mechanical ability and lots of teamwork are crucial for completing as many laps as possible.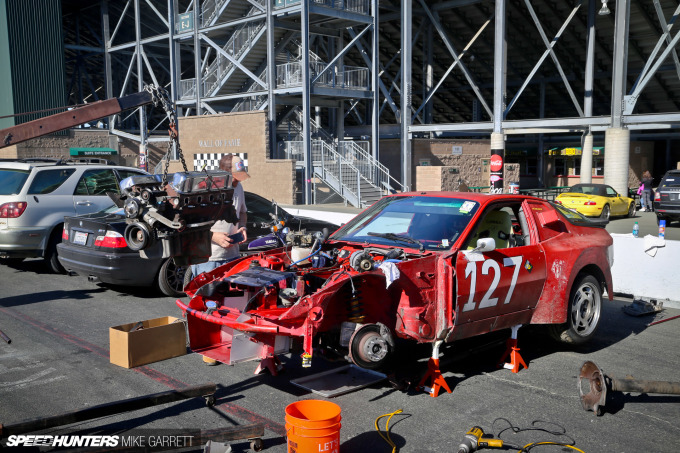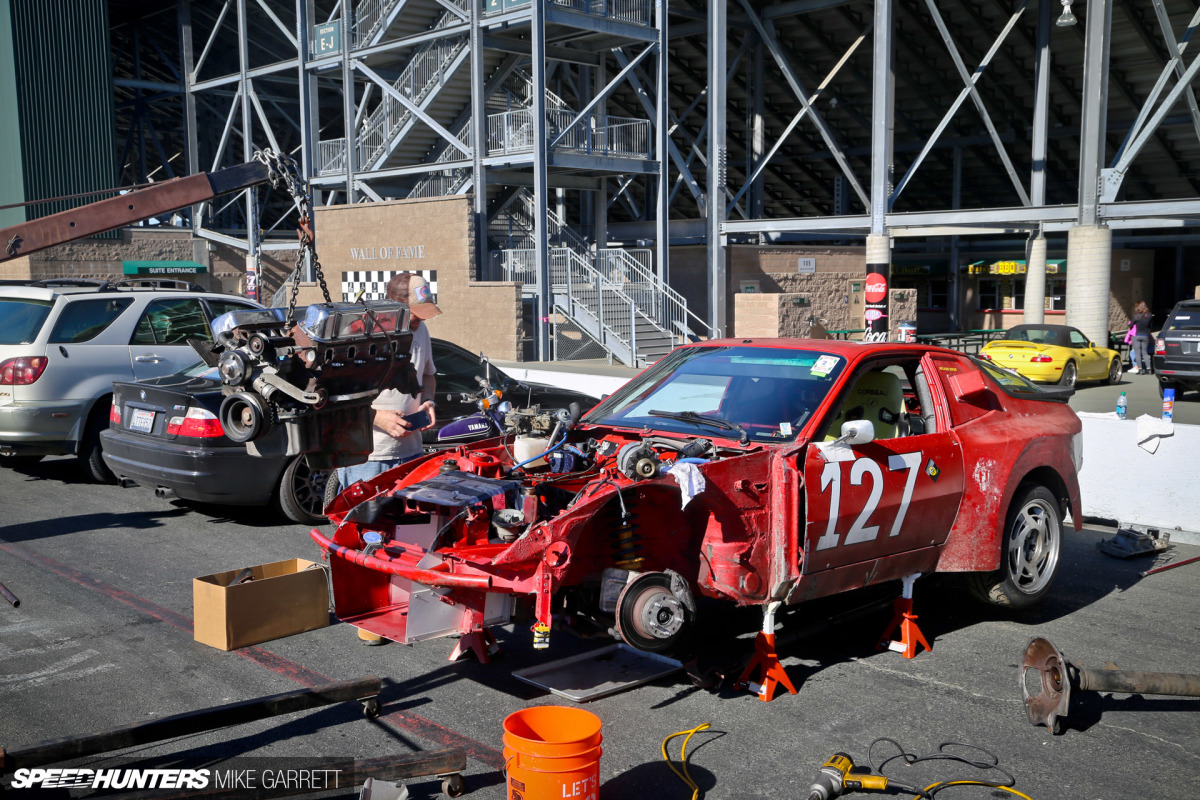 The body tells me this is a Porsche 944 but the V8 engine and the wheels suggest it's also part Corvette. Call it a LeMons hybrid.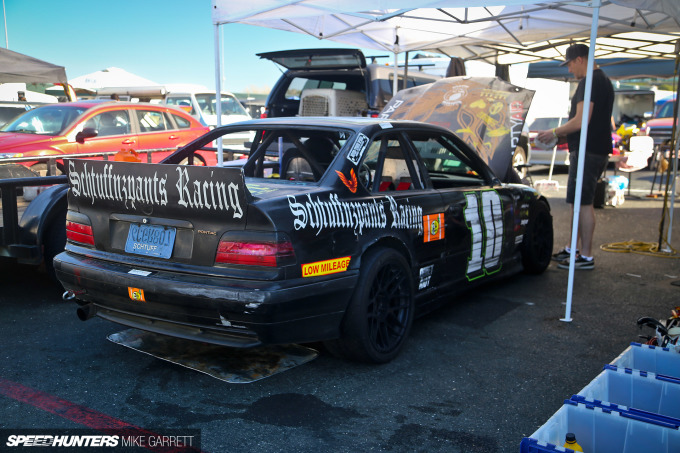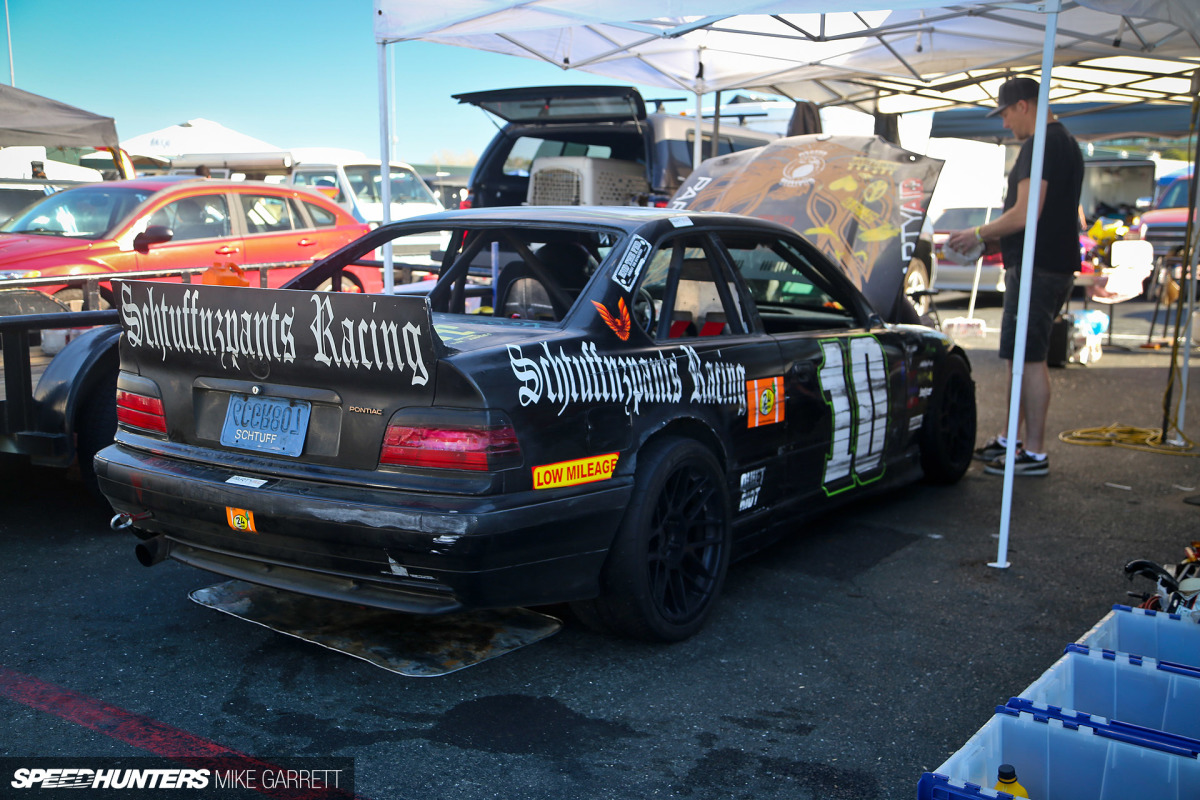 Cars with motor swaps are actually quite common in the LeMons field. Take this BMW E36 for example.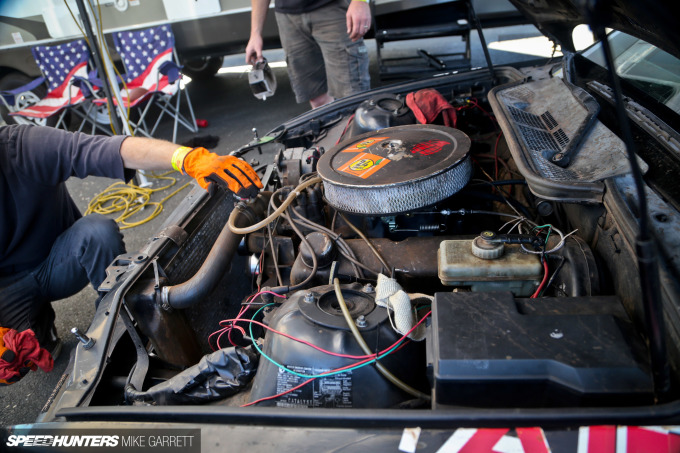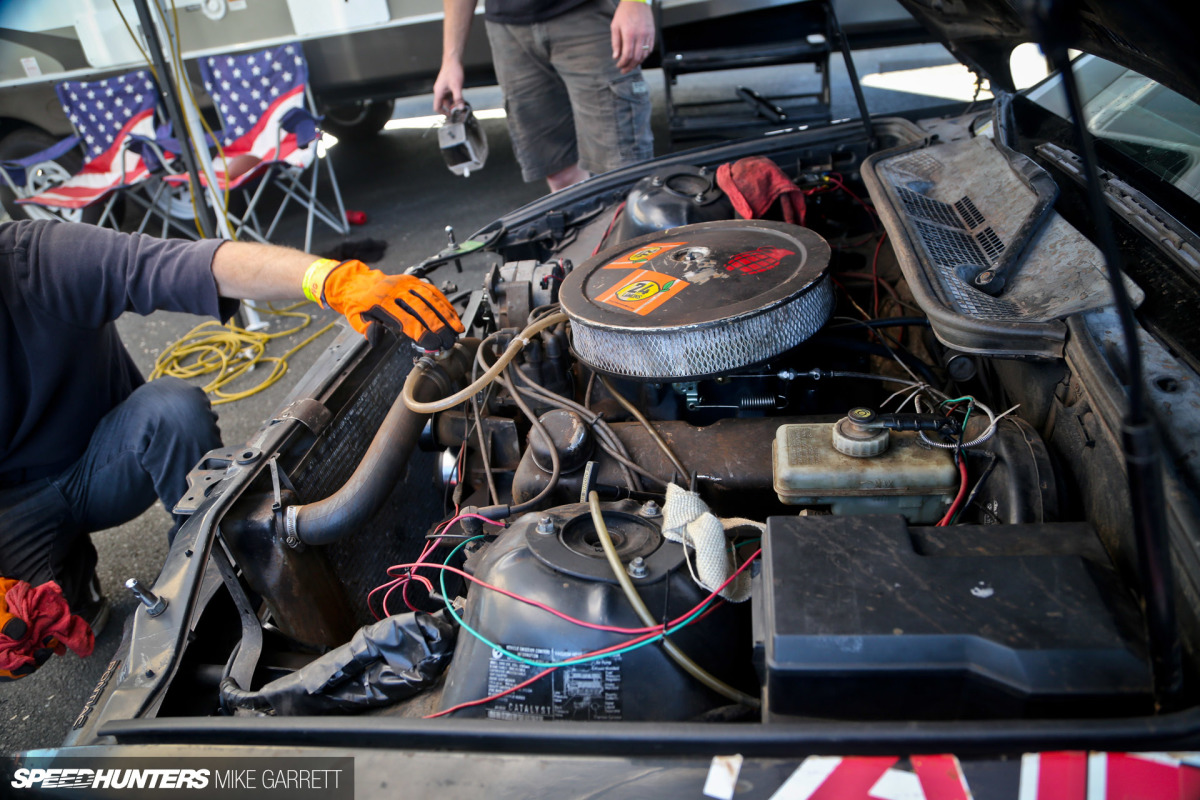 There's no inline six under the hood. Instead you'll find dirt-cheap carbureted V8 swap.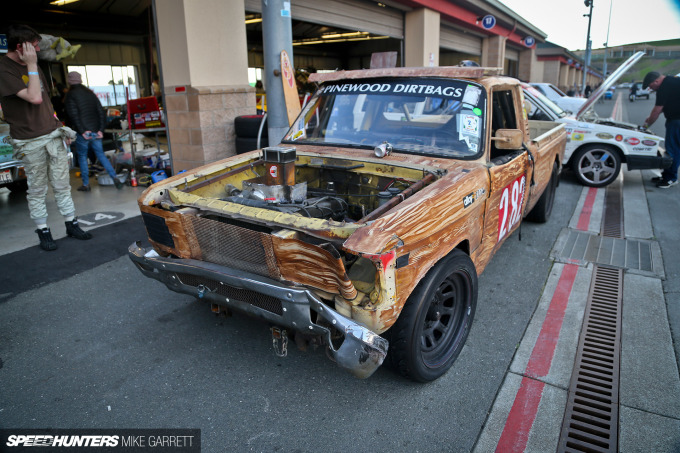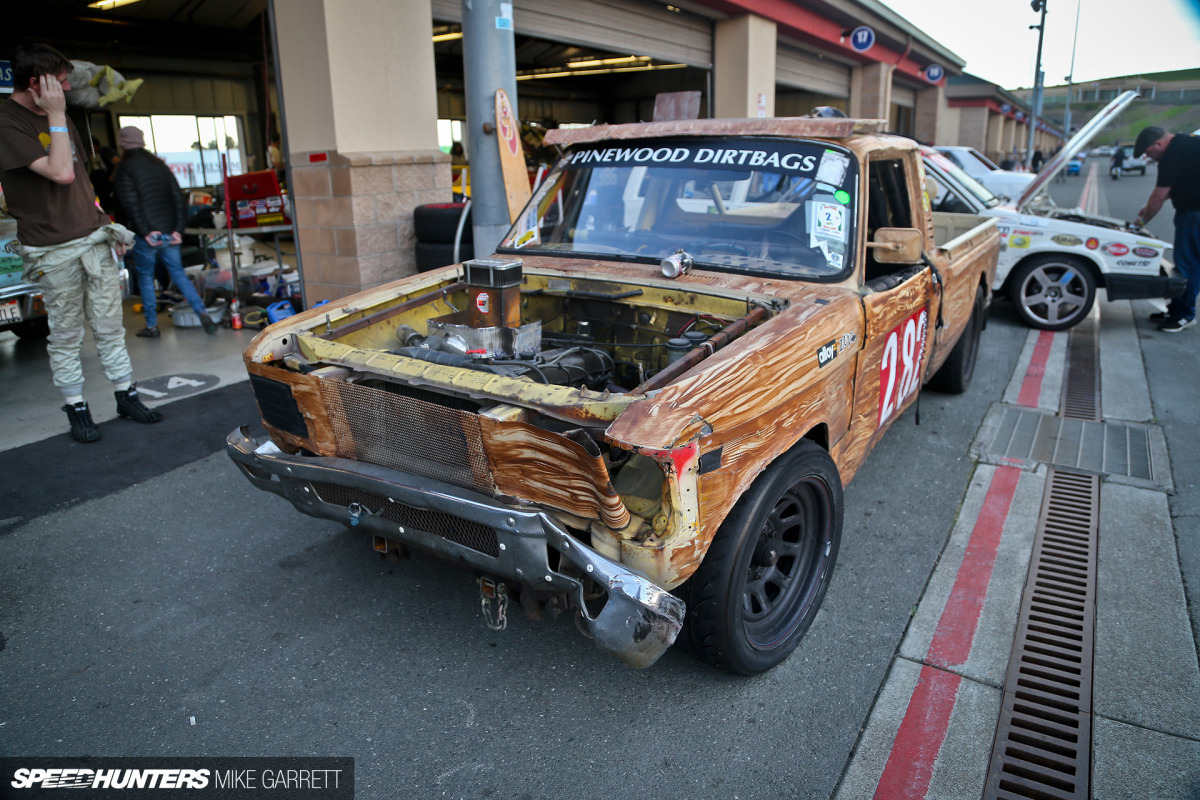 Pickup trucks are also welcome to get in on the fun. Here's the Pinewood Dirtbags' Chevy LUV truck.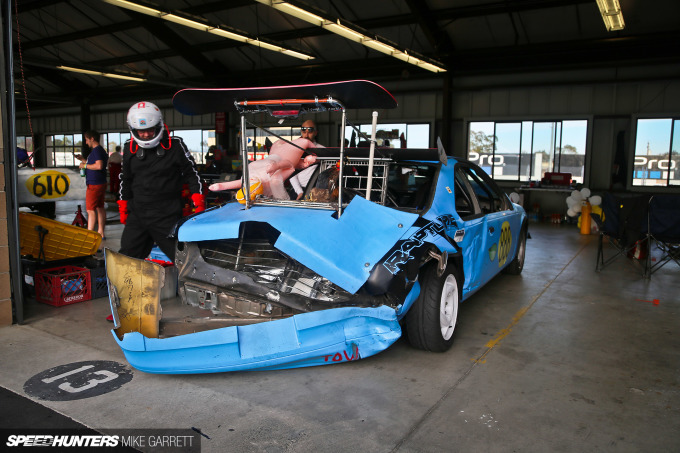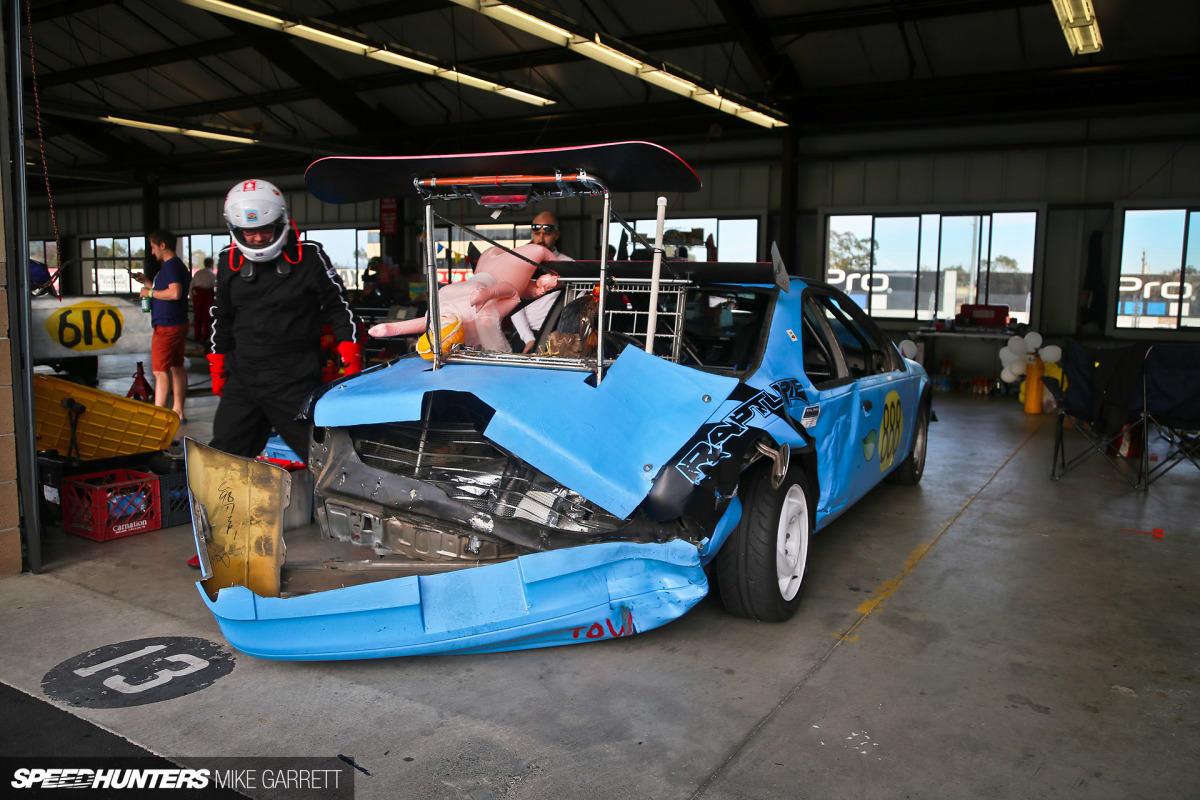 Make no mistake, LeMons racing is a contact support and the chance of wrecking your car is always there. But a crash usually results in a quick 'Oh damn', before the repairs begin.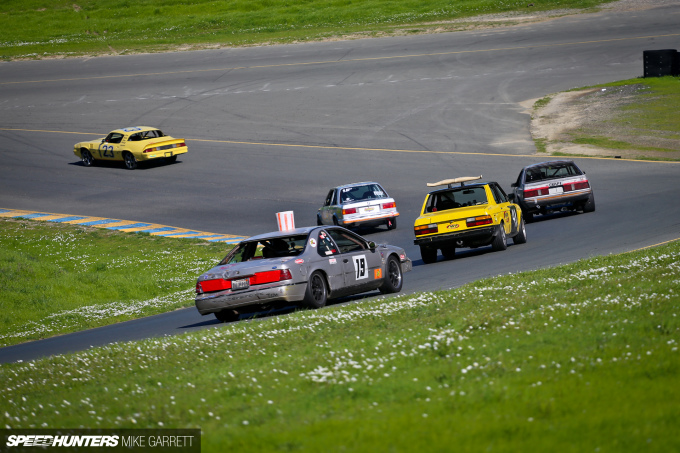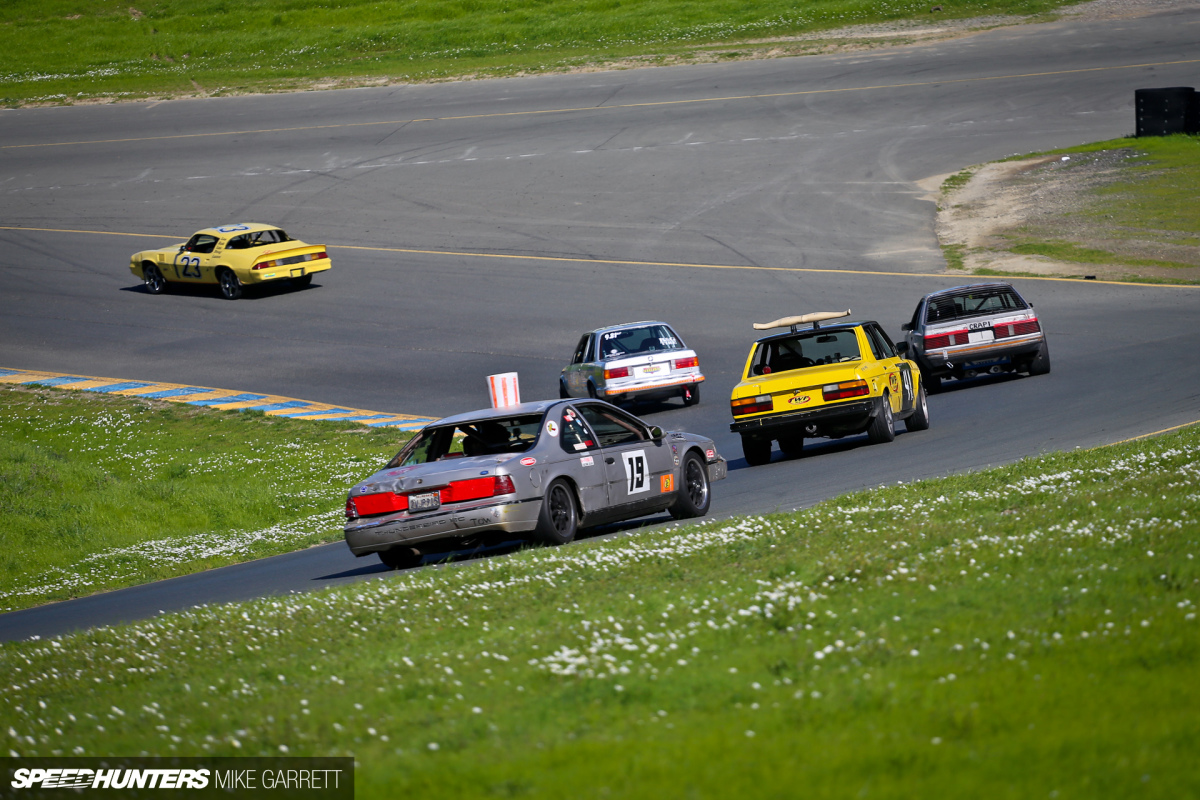 I've always been someone that likes a little bit of humor and lightheartedness with my car culture, and I think that's why I enjoyed my experience at the 24 Hours of LeMons so much. Now the next step is to find a way to get behind the wheel. Speedhunters LeMons team anyone? Who has a good suggestion for a car to use?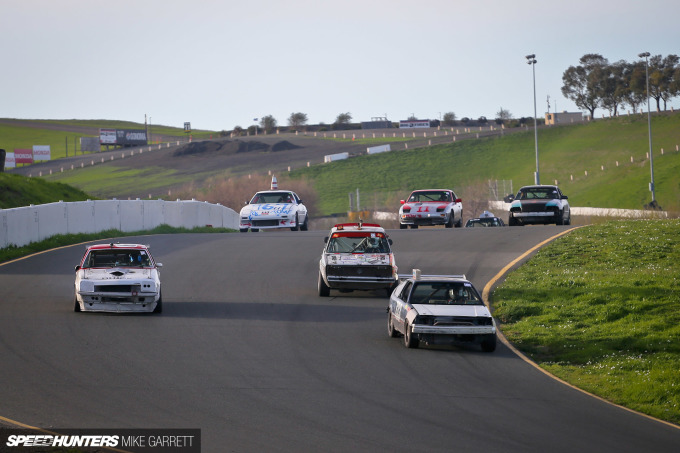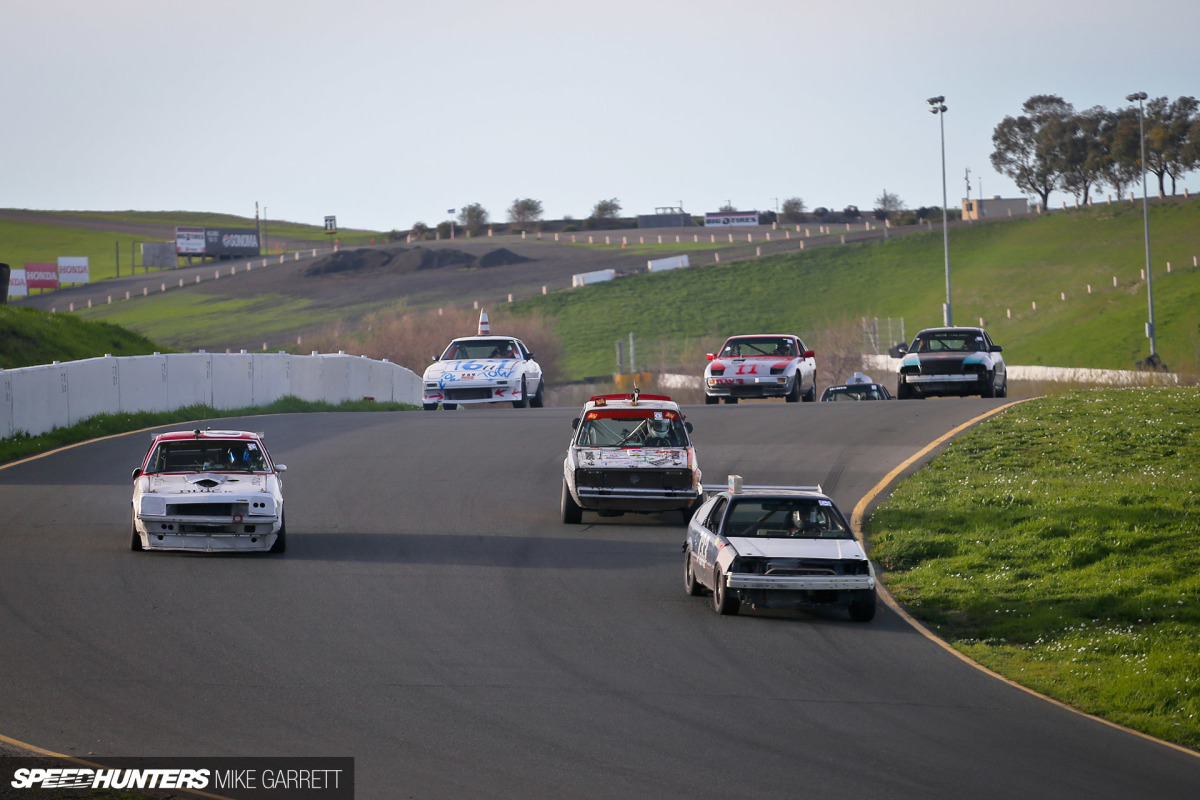 Stay tuned for more from 'Sears Pointless', including closer looks at some of the coolest and just plain strangest budget race cars that were out there dicing it up.
Mike Garrett
Instagram: japanifornia_media
mike@speedhunters.com
Cutting Room Floor