Terror In Bandung
As a Speedhunter you get to experience a lot of very nice cars – supercars, track weapons, show cars, lowriders, concours champions… The list is very long and very exciting. However, it is very rarely that I've found myself faced with a vehicle that transcends its label and becomes something more.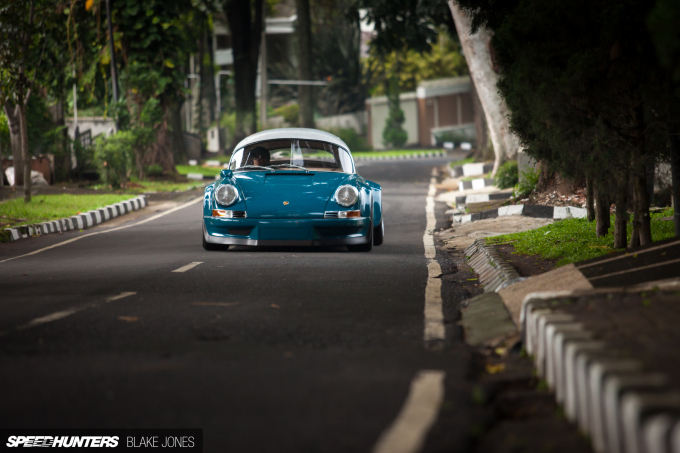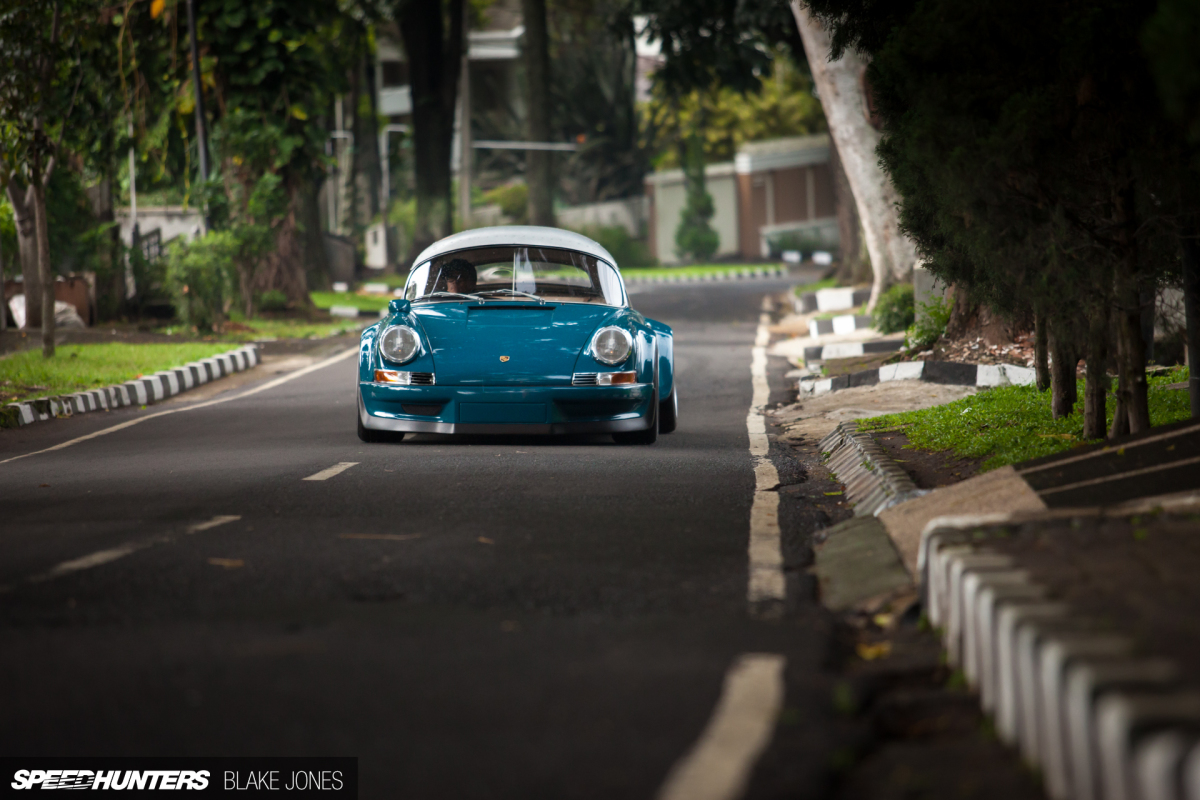 Following on from a whirlwind three days at the Jogja Volkswagen Festival in Java, my local contacts made some introductions to several movers and shakers in Indonesia's car scene. Before long, two VW enthusiasts from Bandung had extended an invitation to visit their private operation named Terror Garage, and take a closer look at some of their recent creations.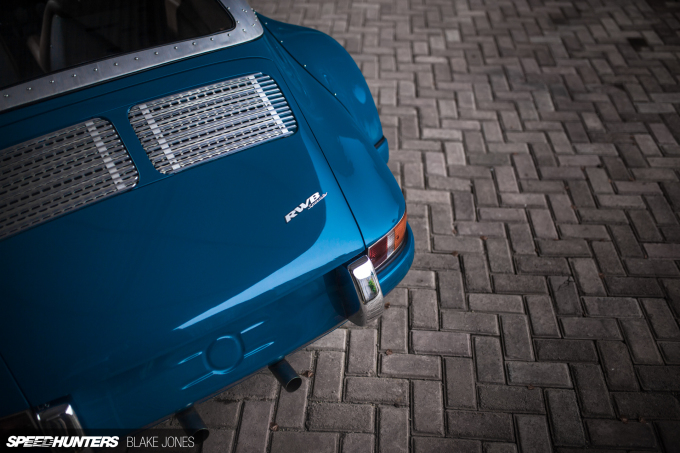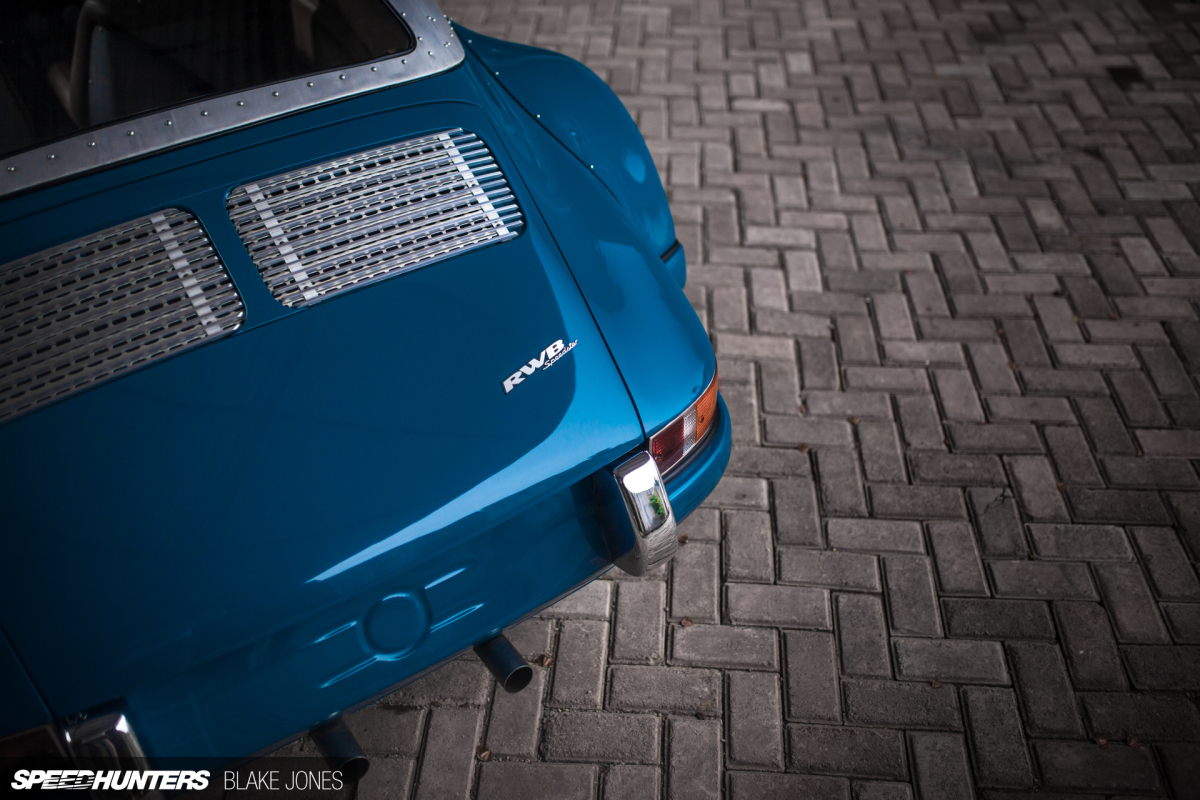 Terror Garage was merely a familiar name to me at this stage; I knew there was a link to Akira Nakai's growing RWB family, but as with much of the Indonesian car scene, very little detailed information had made it into Western circles. However, even the veteran collectors and builders spoke with hushed reverence when they mentioned the sinister-sounding workshop name. It didn't take long for my curiosity to be piqued, and I accepted the invitation.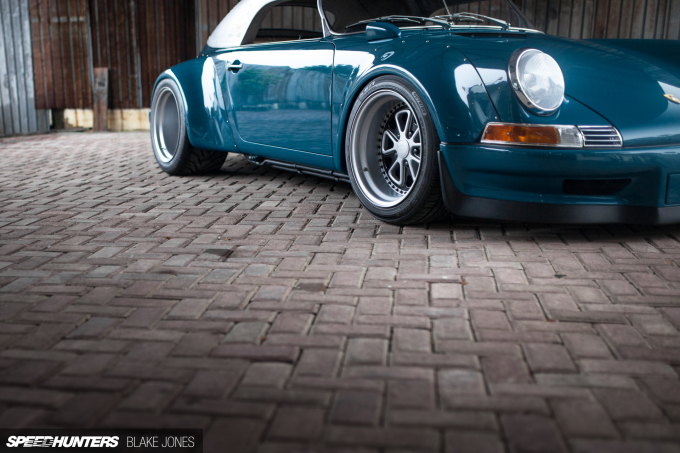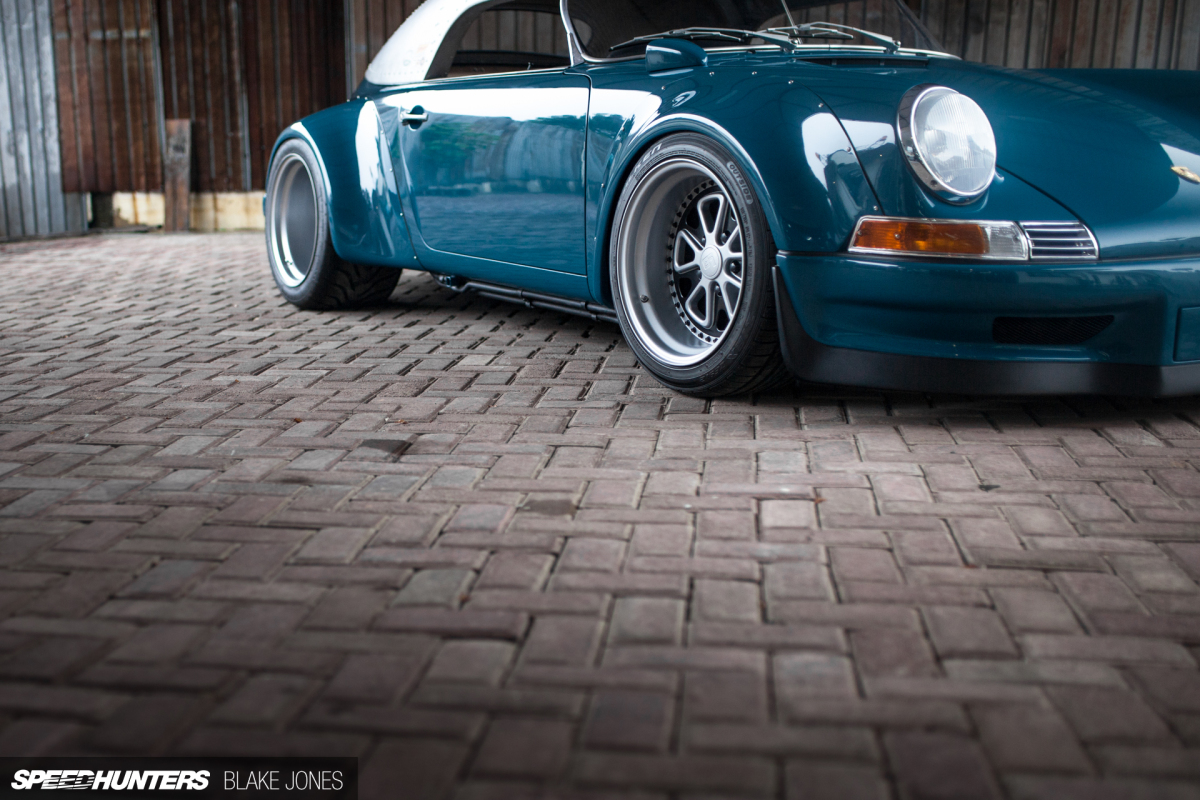 And that's how I found myself on a leafy suburban street above the chaos of the city of Bandung, staring at what is undoubtedly one of my favourite cars I've hunted this year.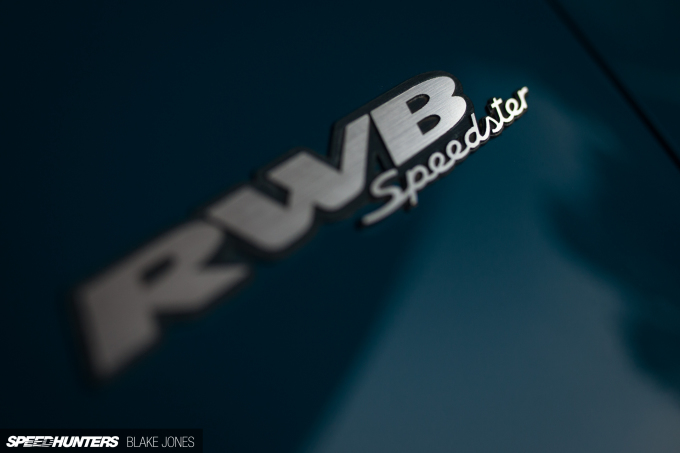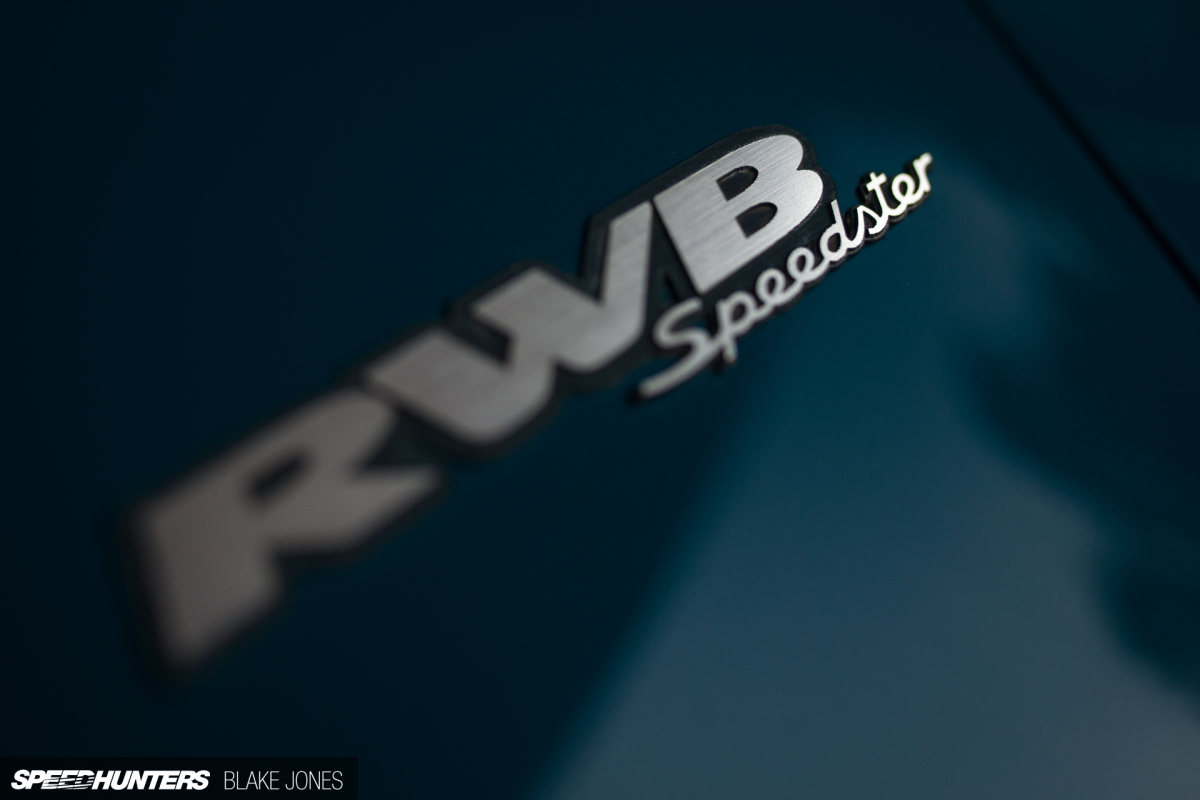 I won't spoil the whole story of Terror Garage (it deserves an article for itself), but one part of the operation is running RWB Indonesia – the exclusive local arm for RAUH-Welt Begriff's Porsche modification operation. RWB has, in the past few years, been establishing a network of similar partners around the globe to assist Nakai-san continue to deliver the unique RWB experience as the business continues to rapidly expand.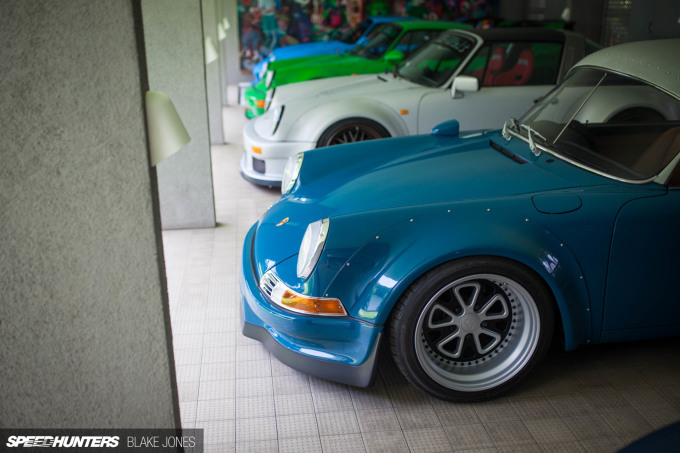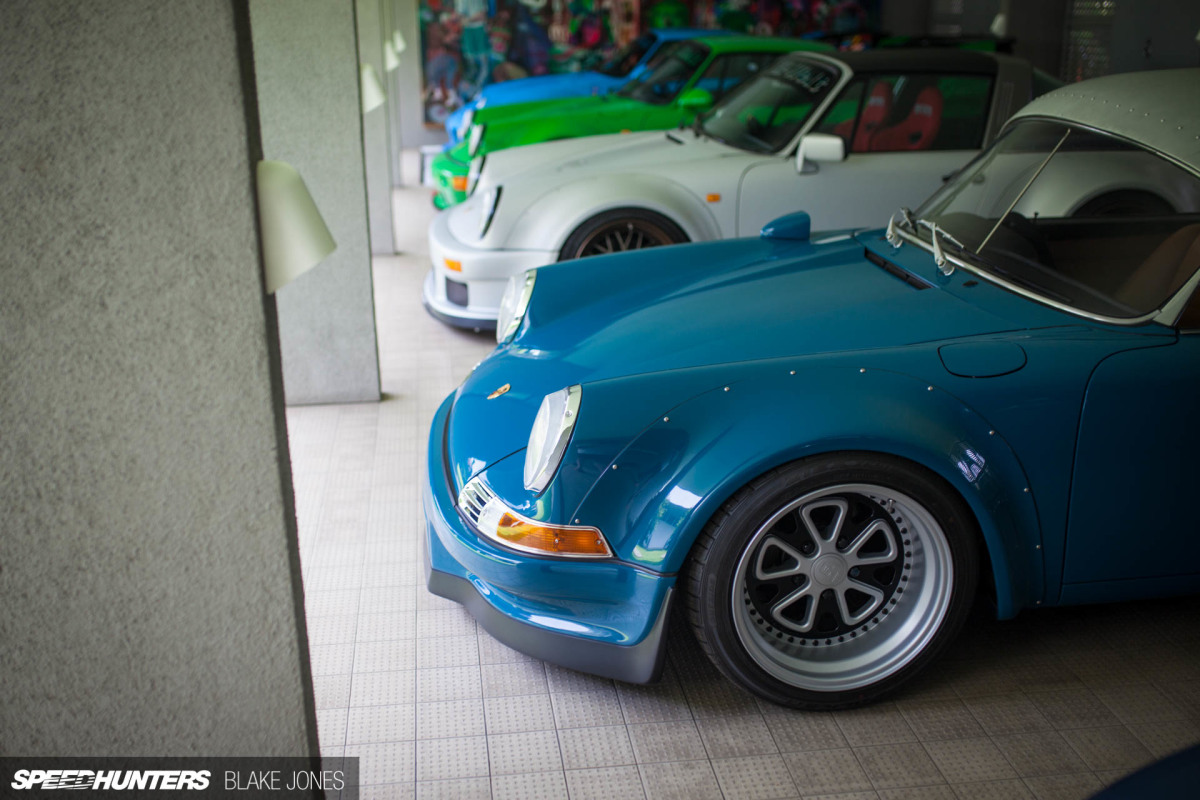 The stunning blue creation you see here is not Terror Garage's first or only RWB, but it is the latest and quite obviously breaks the somewhat formulaic design approach we've seen from previous RWB builds. It is, in fact, build #4 for Yanto, the passionate VW collector and owner of Terror Garage.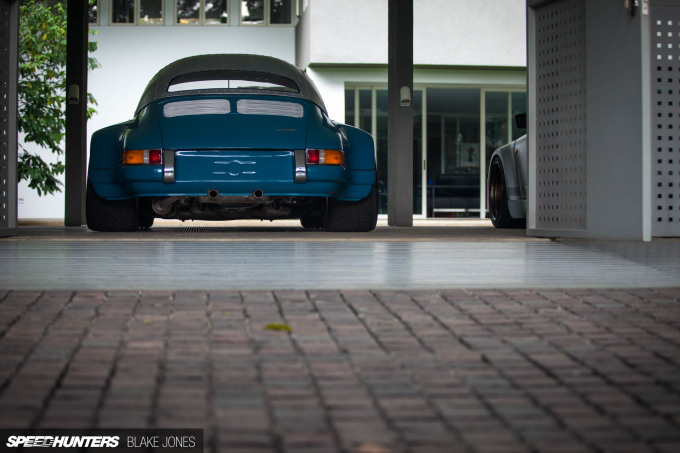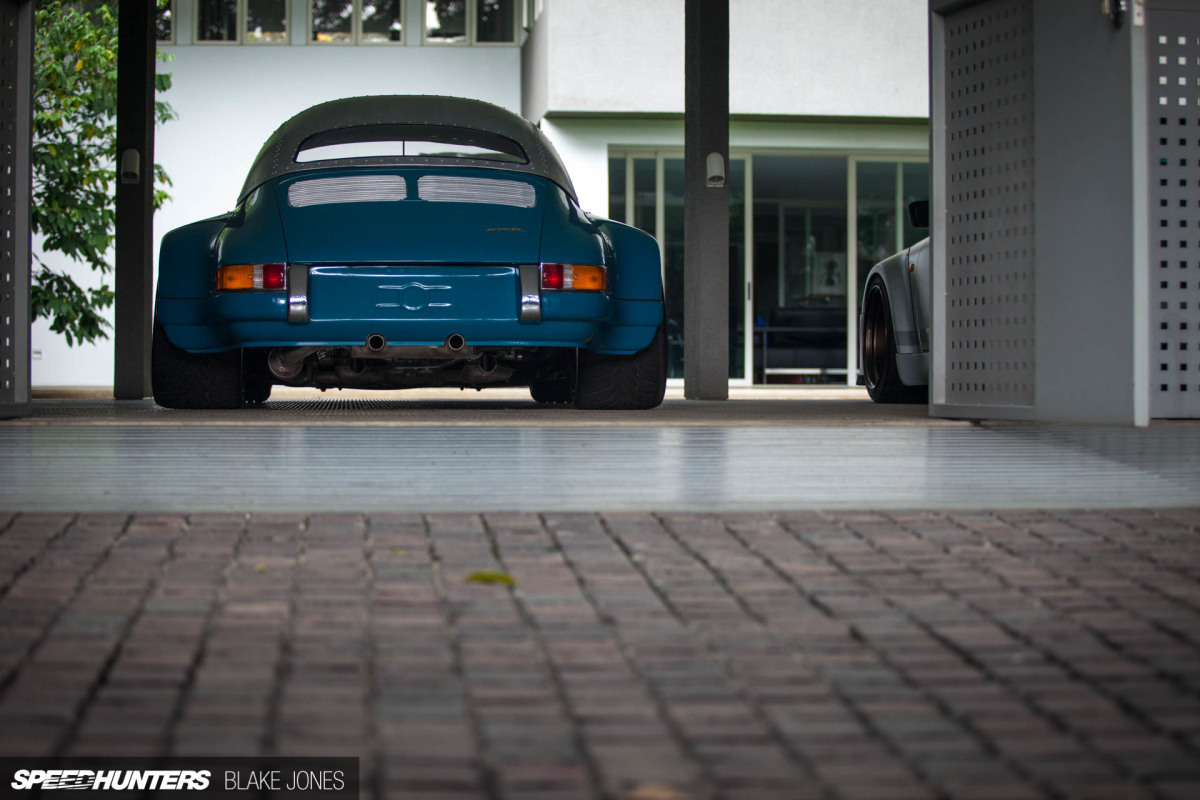 Yanto's partner at Terror Garage, Michael Lesmana, is a talented designer who cut his teeth working for large car manufacturers before the partnership with Yanto opened up the opportunity to work on projects closer to his passion for vintage vehicles. He is the mastermind of this creation, leading the project from the first sketch until completion some three months later.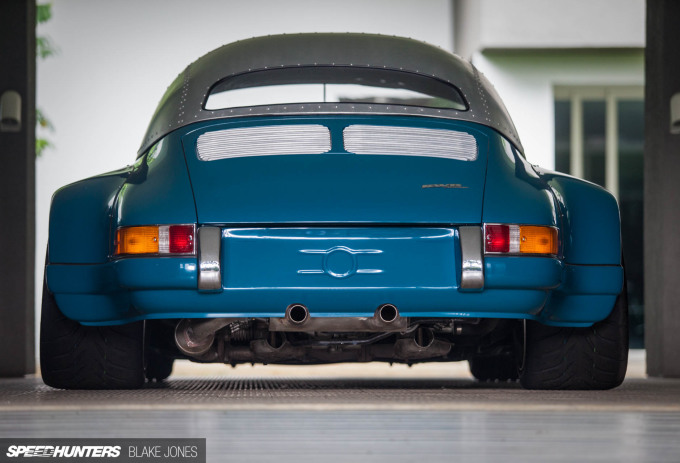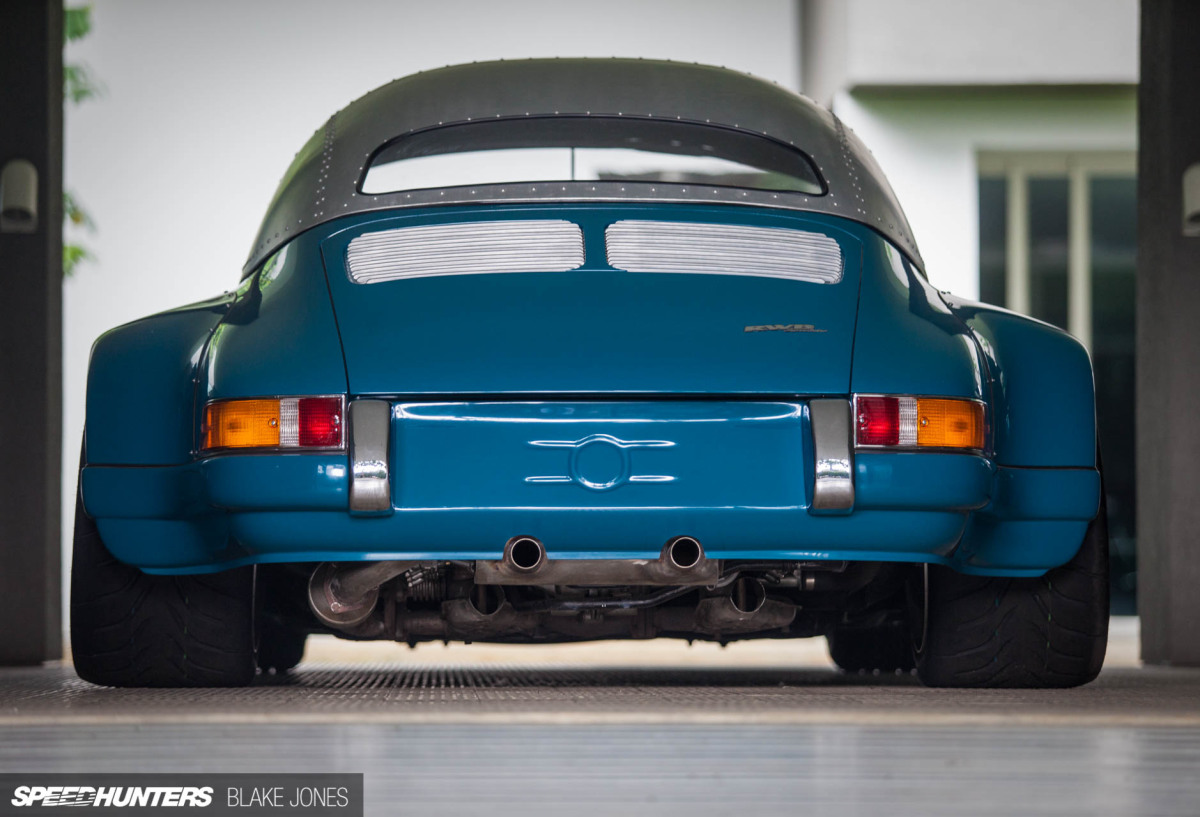 The final product seems to exist more in the realm of the concept cars that grace motor show stages – a creation that is absolute in its conception and execution as opposed to something that has been merely modified to suit a specific taste or purpose.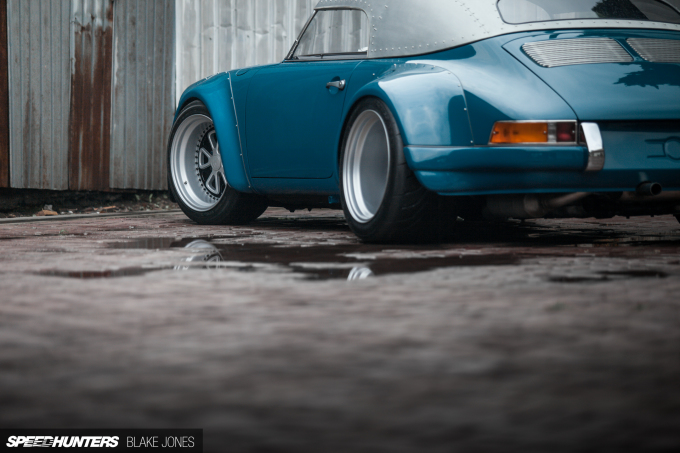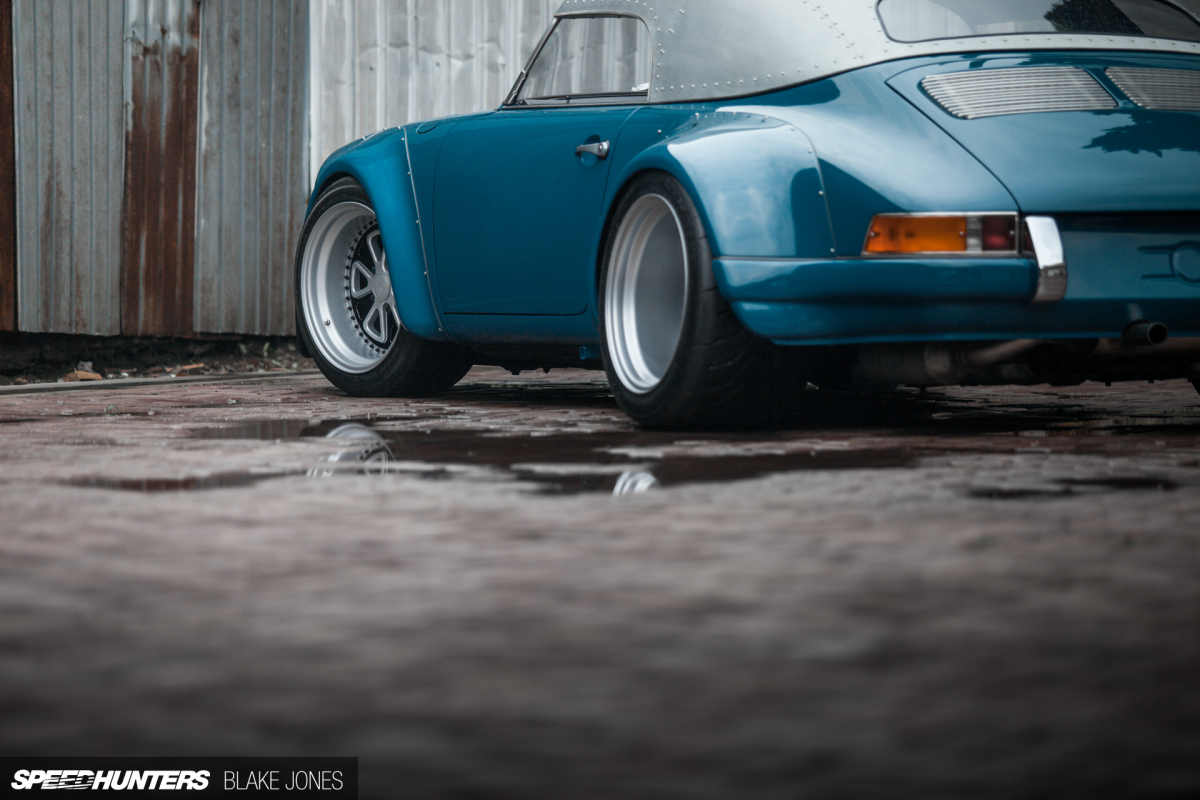 Relative to other RWB builds, Nakai-san's role was slightly more subdued than you might expect. Although he did supply and fit the iconic over-fenders during a short visit in October, it was Michael who fathered the Speedster concept and its many unique details. Thus, it's incorrect to think of the Speedster as an RWB car – rather it is a collaborative effort between the two entities of Terror Garage and RAUH-Welt Begriff.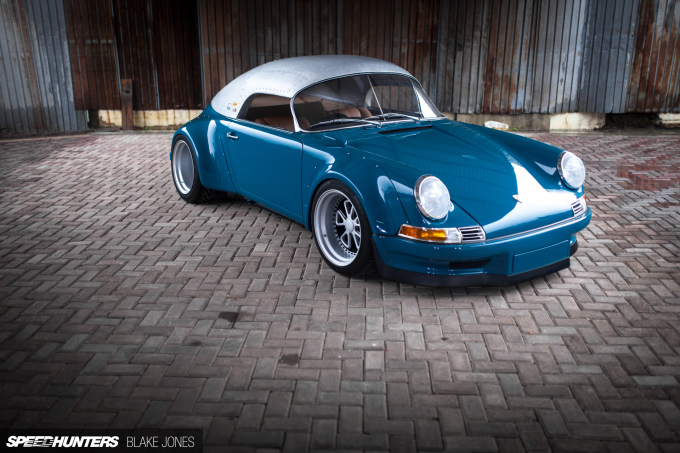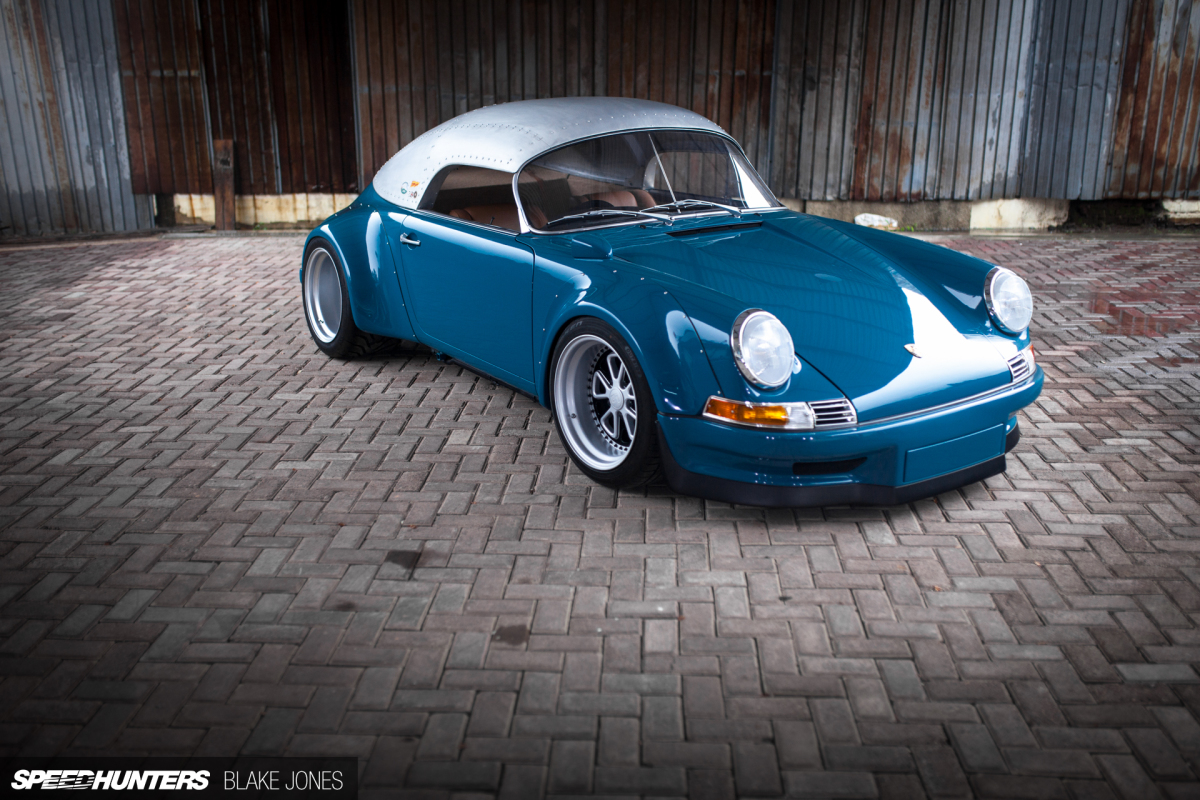 I probed Michael about his relationship with Nakai-san, and in particular his feelings towards this extremely unorthodox build. Let us not forget that 'Rauh Welt' translates to Rough World, and that Nakai's usual creations are characterised by a rawness that the polished Speedster lacks completely. "He was really positive; as soon as I saw his first reaction to the car I knew he liked it," Michael said. "He approved of my design."
An RWB Like No Other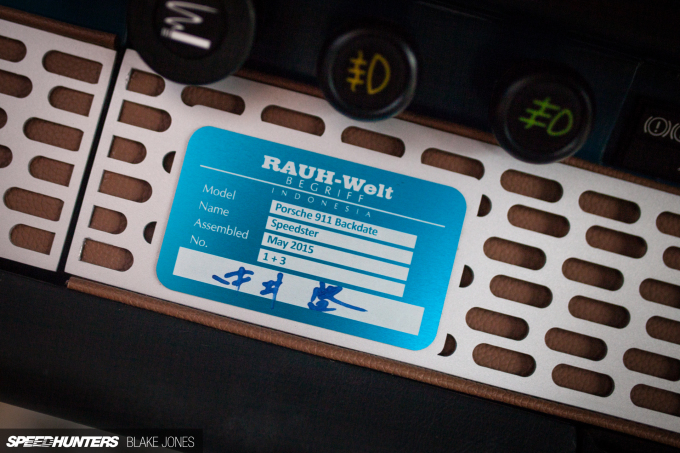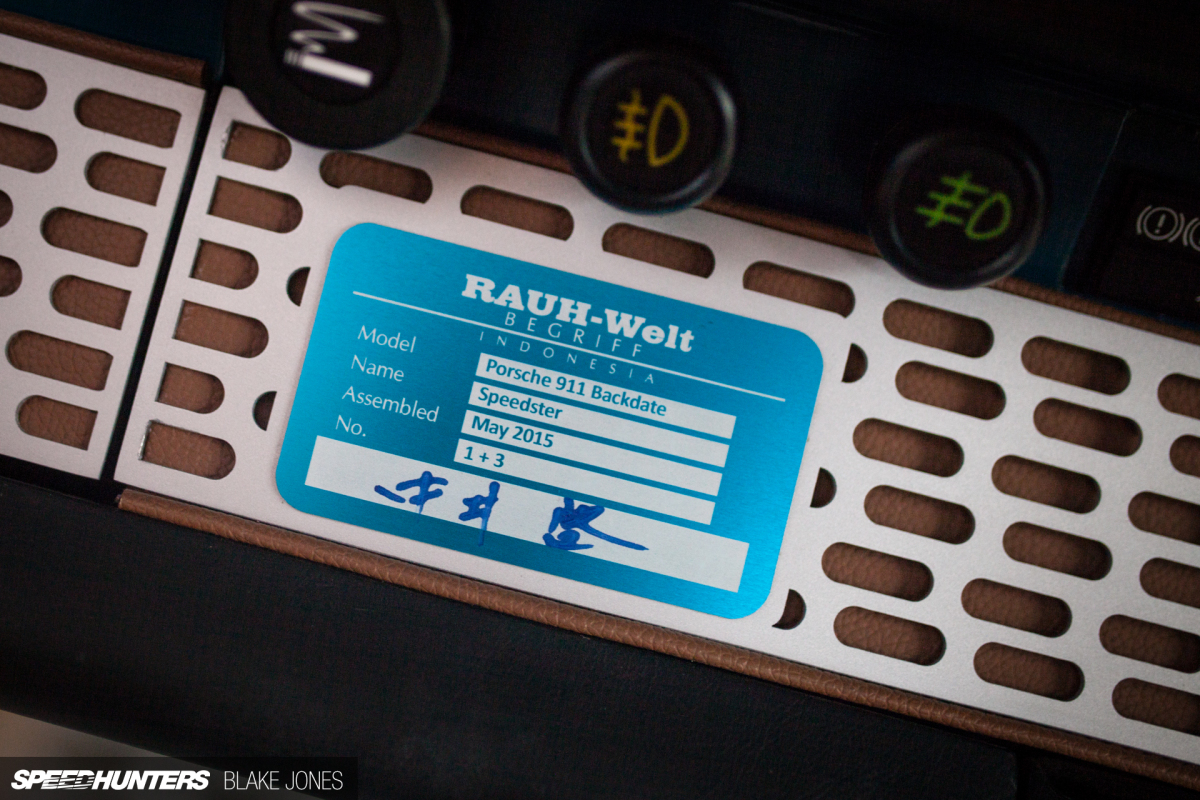 In addition to VWs, Yanto also has quite the collection of artwork. Although I won't profess any knowledge of the fine art world, it was clear even to me that Yanto's preference is for contemporary and local artists to anything classic or foreign. This is a man who doesn't look to others to help define his taste. The unique arrangement between Yanto and Michael allows the duo to push boundaries further than a typical shop/client relationship, and it's immediately evident that there is a huge level of trust between the two men which allows Michael to work with a high level of creative independence.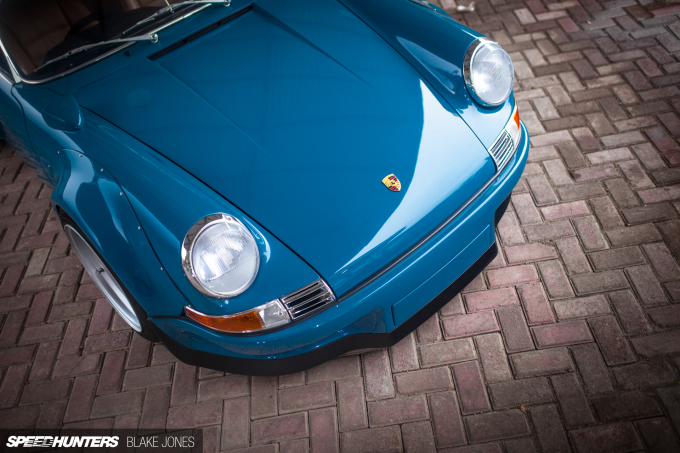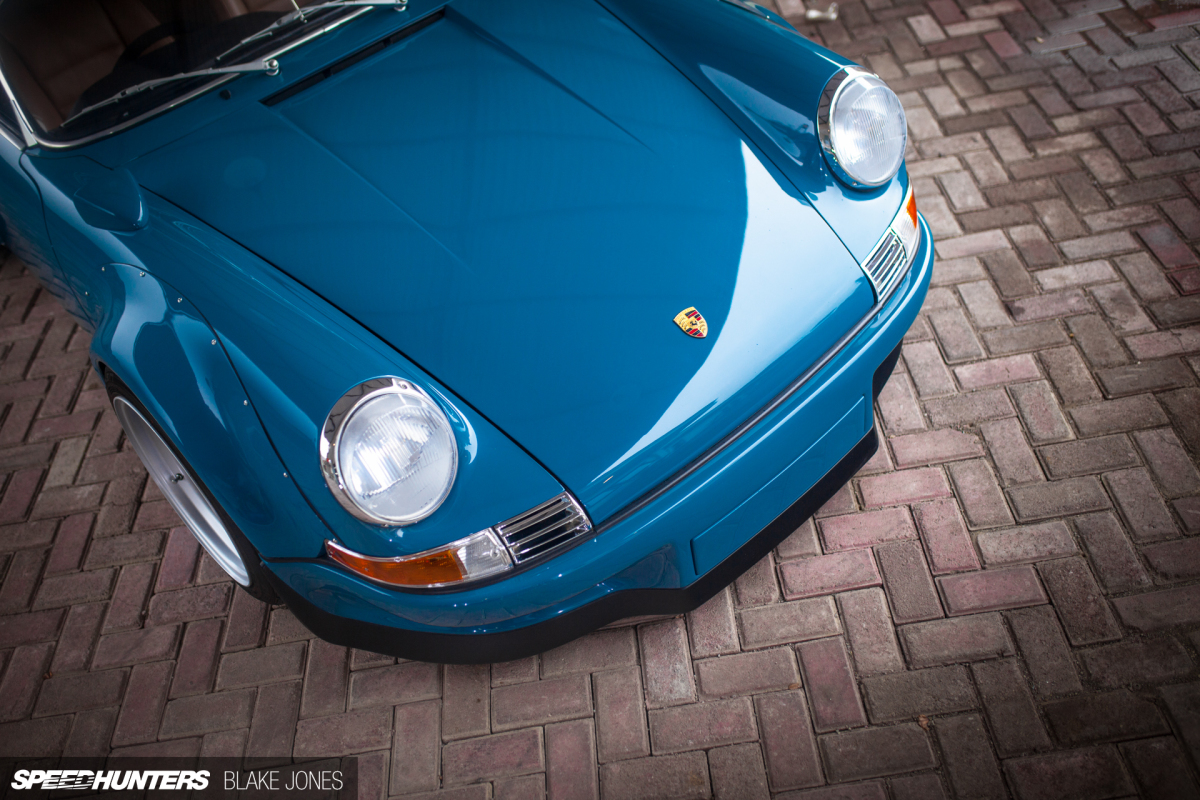 This is why I refer to the Speedster as being something 'more' than just a modified car. What Michael has created is in my eyes worthy of being compared not only to great Porsches around the world, but also to be appreciated as an artistic piece of industrial design. However, it is a car too, so let's take a closer look at the parts that make this Speedster whole.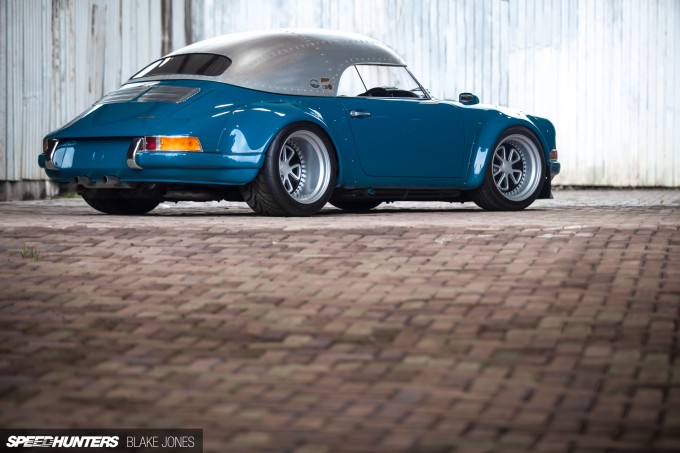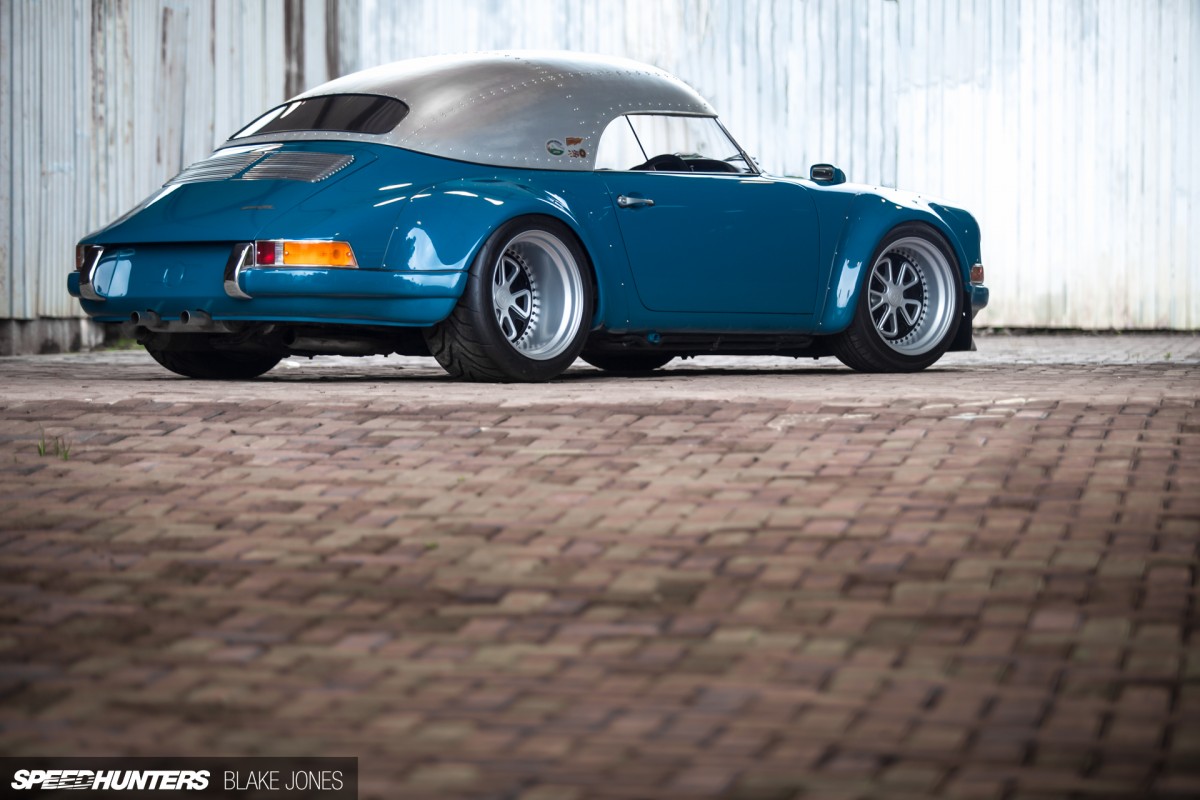 Before Terror Garage kidnapped it and performed their surgical transfiguration, the Speedster lived a peaceful life as a 1984 911 Cabriolet. Not much of the original Porsche remains now – the new look being defined by the backdated details, RWB flares and that stunning aluminium roof.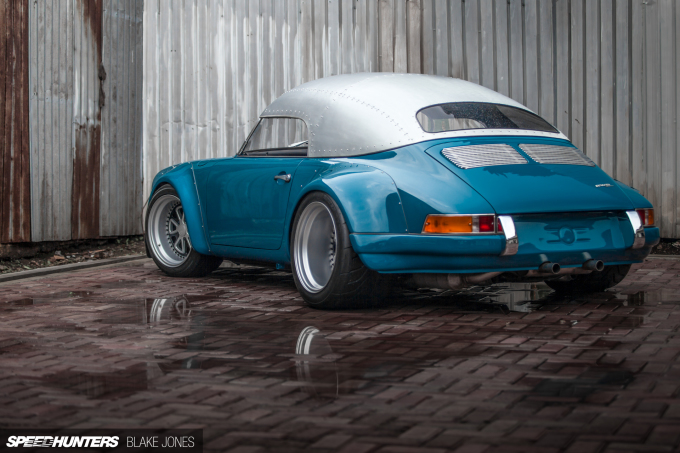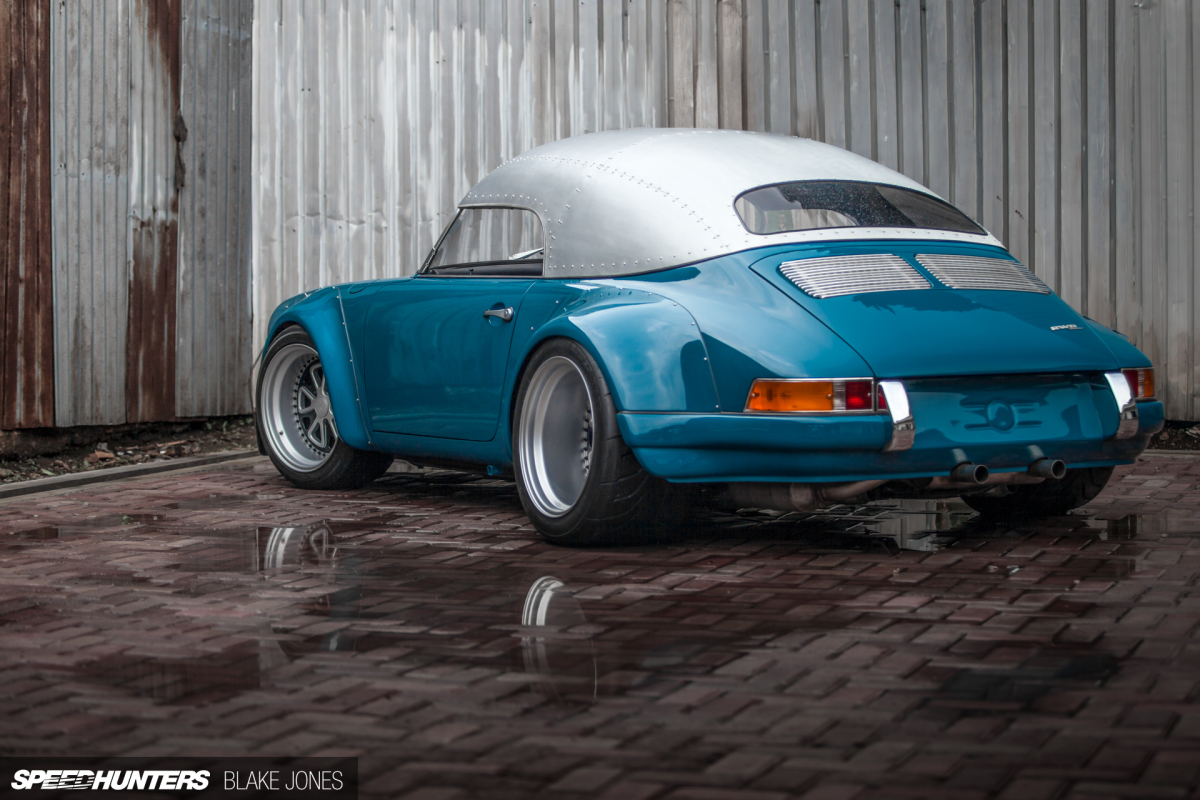 I expect it will be the most polarising component of the Speedster too. From some angles the roof can seem to hold a disproportionate amount of visual weight, however I can assure you that in person it is not only aesthetically balanced, but one of the most impressive aspects of the car. It goes without saying that the roof is a one-off creation; Michael and his team hand-formed the aluminium into shape over a skeletal plywood buck which was in turn trimmed to the shape of a singular iron bar that was bent to form the perfect profile.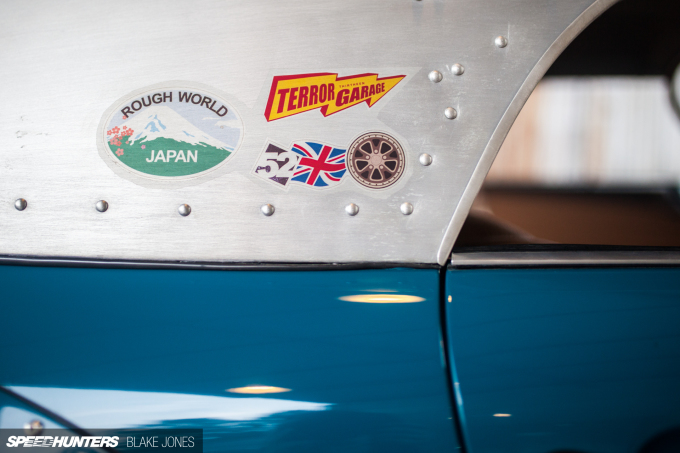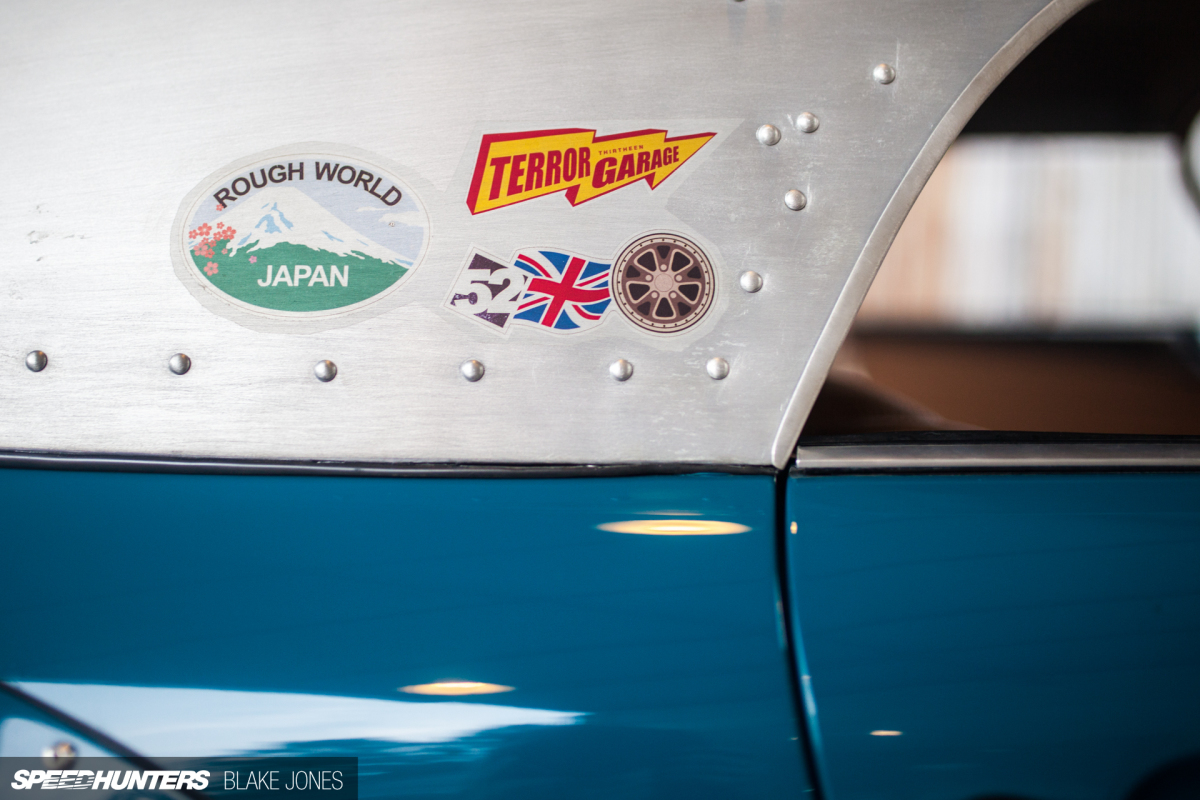 The raw aluminium finish is only punctuated by the rivets securing the skin to the structural frame beneath, and provides the strongest link to the B-29 Bomber which Michael lists as one of the inspirations for the build. He later mentioned that there was at least one month's work in the roof alone, but for a first effort working with aluminium the results are impressive, and the skills gained will be invaluable for some of Terror Garage's upcoming projects.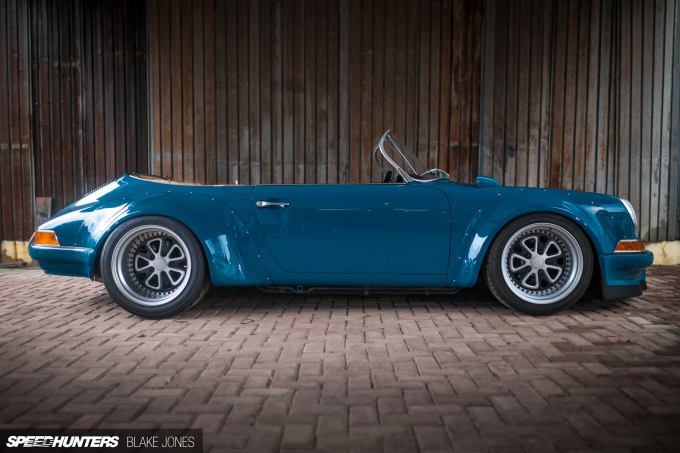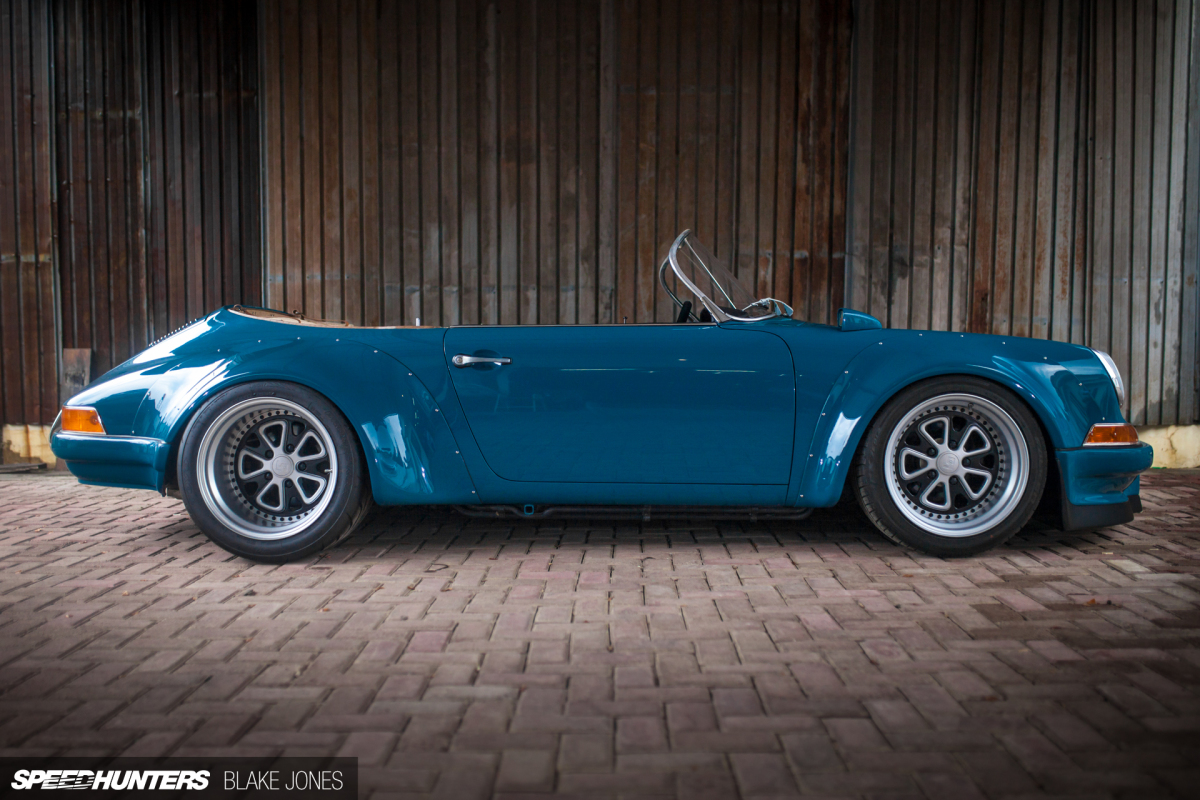 The roof is attached by a few internal latches and can be removed in only a minute or two, instantly transforming the car into an open-topped cruiser. Personally, I think the Speedster looks naked without its roof or a driver sitting inside, but truth be told, I've always preferred the 911 Targa to the Cabriolet owing to the Targa's central hoop maintaining the car's appearance of rigidity and thus performance.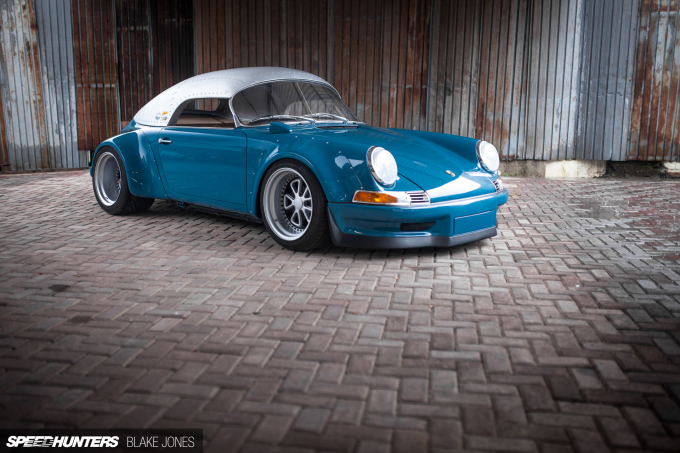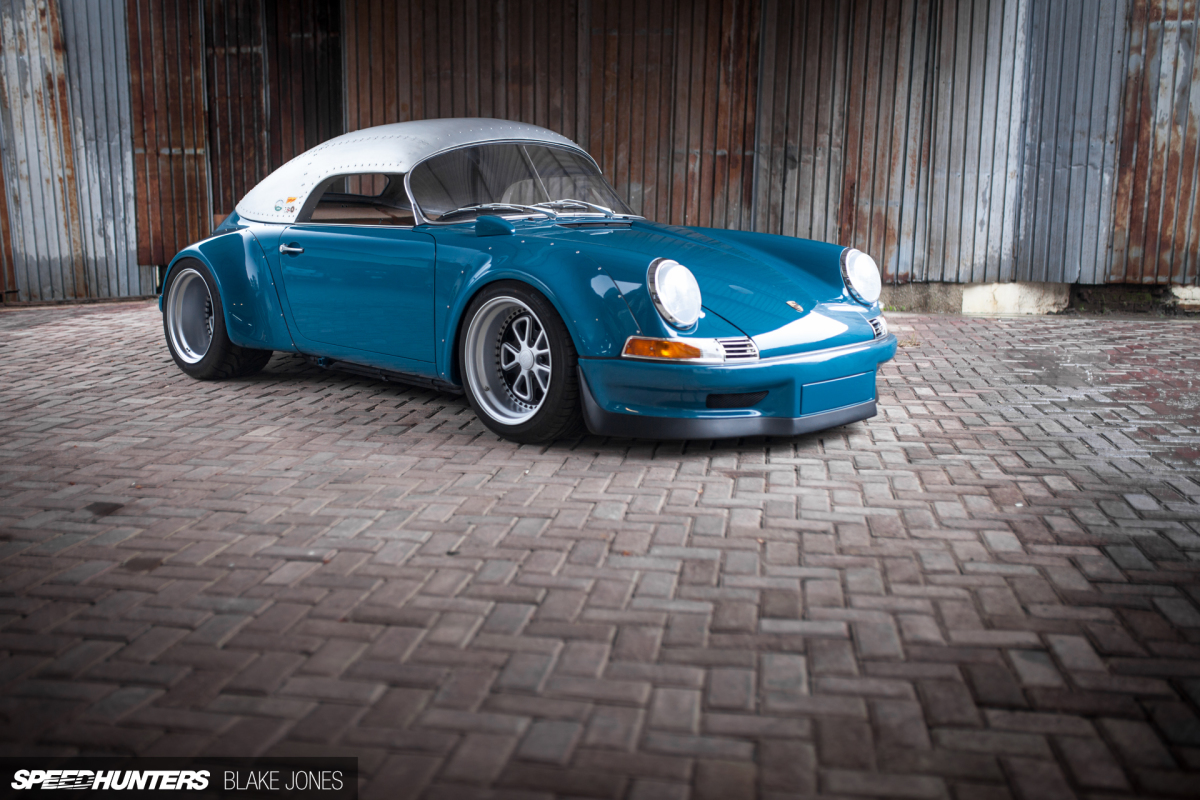 The plastic nose of the 911 has received a significant rework to backdate the styling, a fairly popular modification style for the '80s-onwards 911s. Unsightly bumpers were traded in for an elongated hood, and a combination of genuine and custom lights and trim bring back the '60s Teutonic flavour at both the front and rear of the car.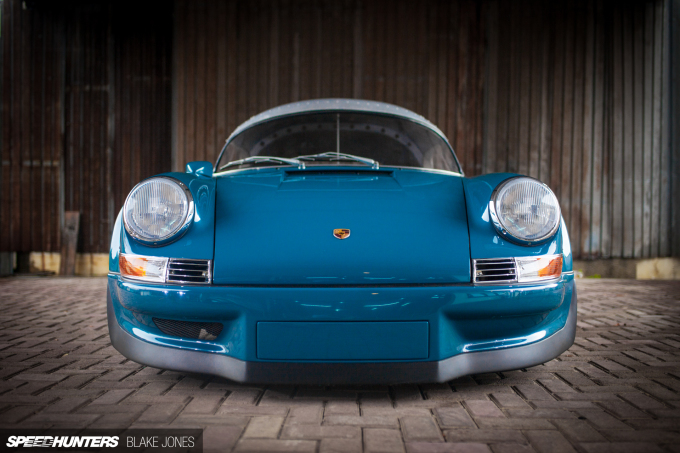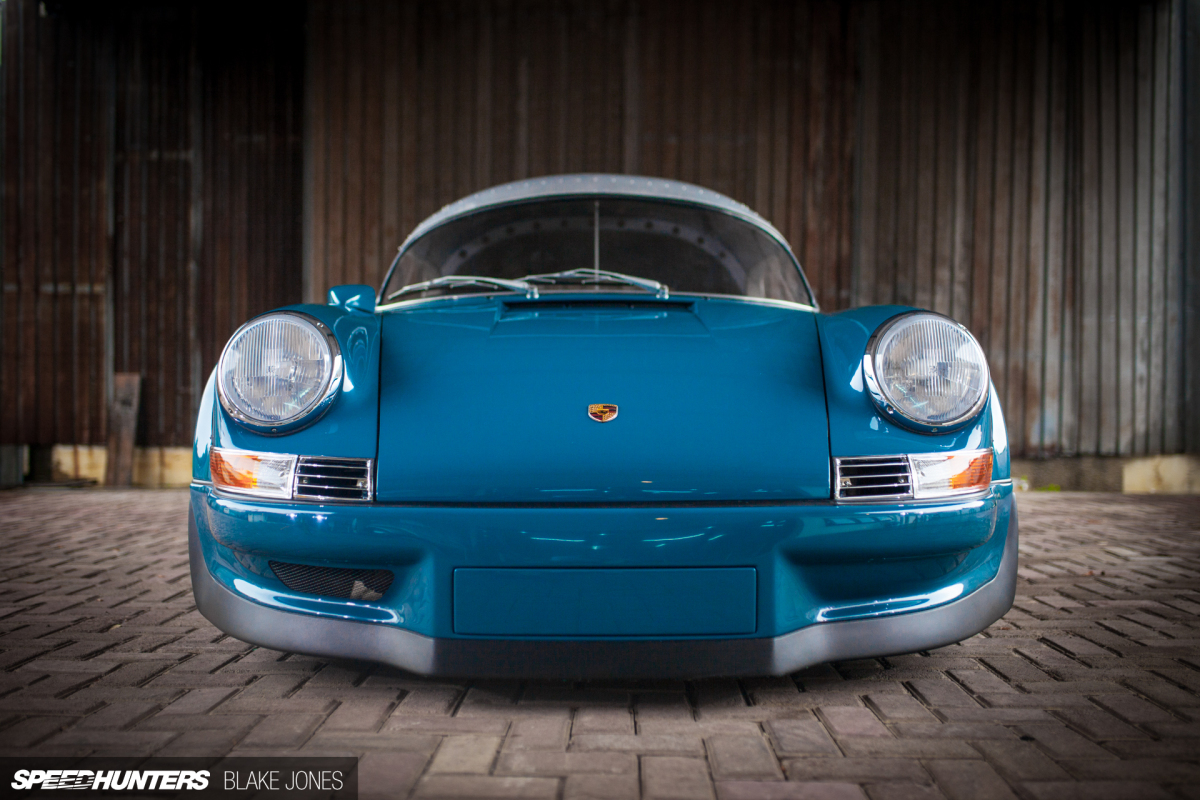 Michael tells me this was actually one of the most involved parts of the project, but the attention to detail pays off in spades, each element working in consideration of the others to create a uniform whole.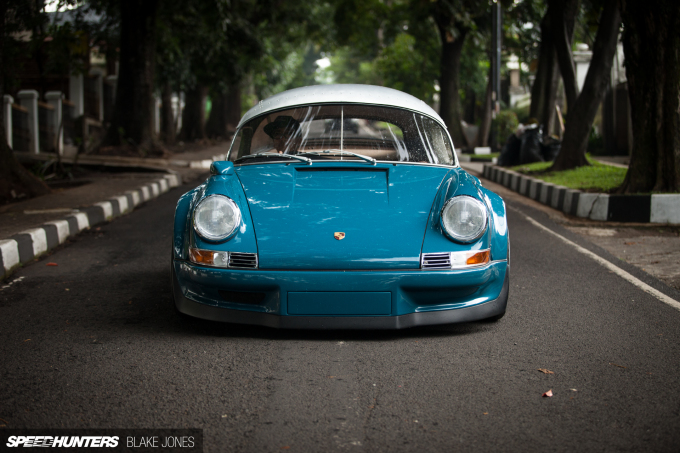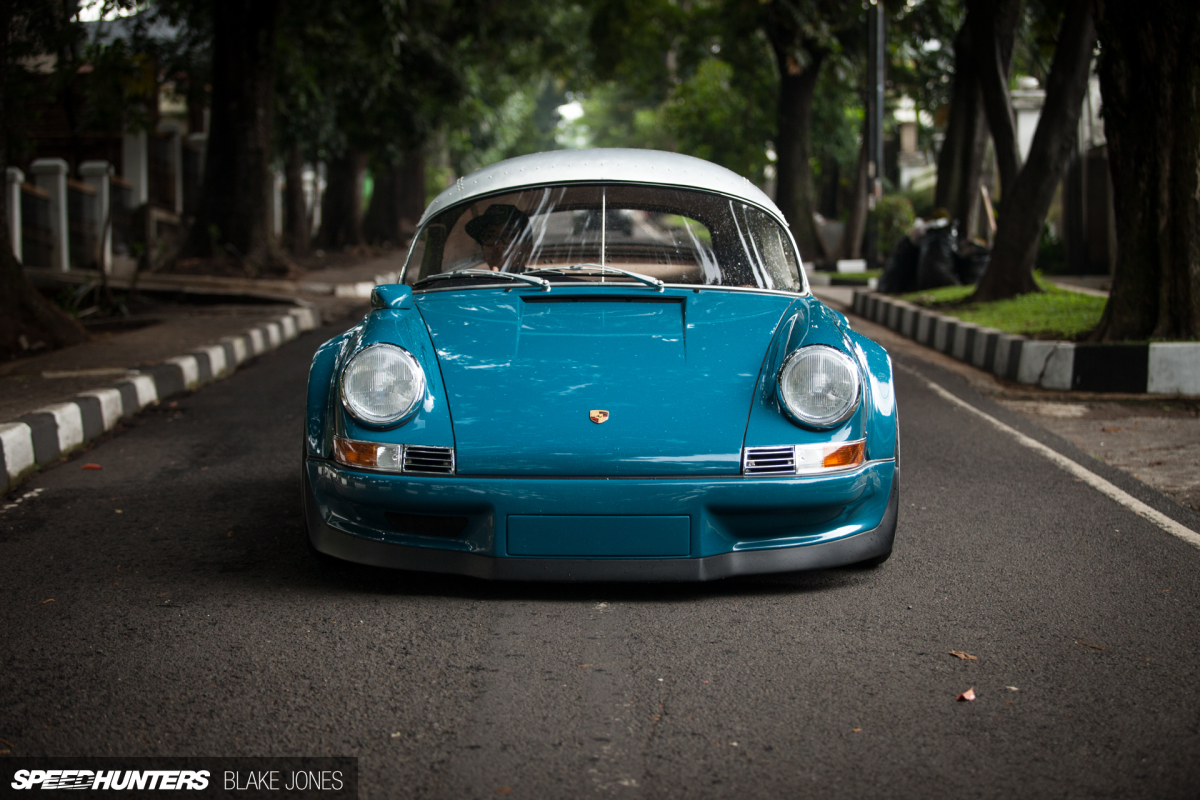 The windscreen from the original 911 is long gone, now replaced by a custom-shaped acrylic screen mounted into a widened frame originally taken from a 1958 Porsche 356.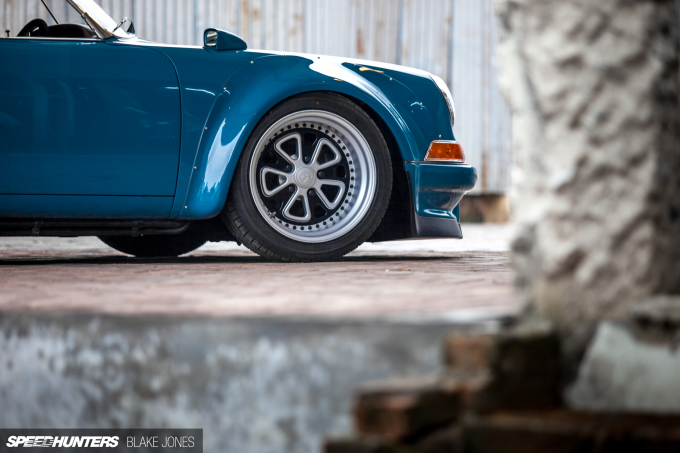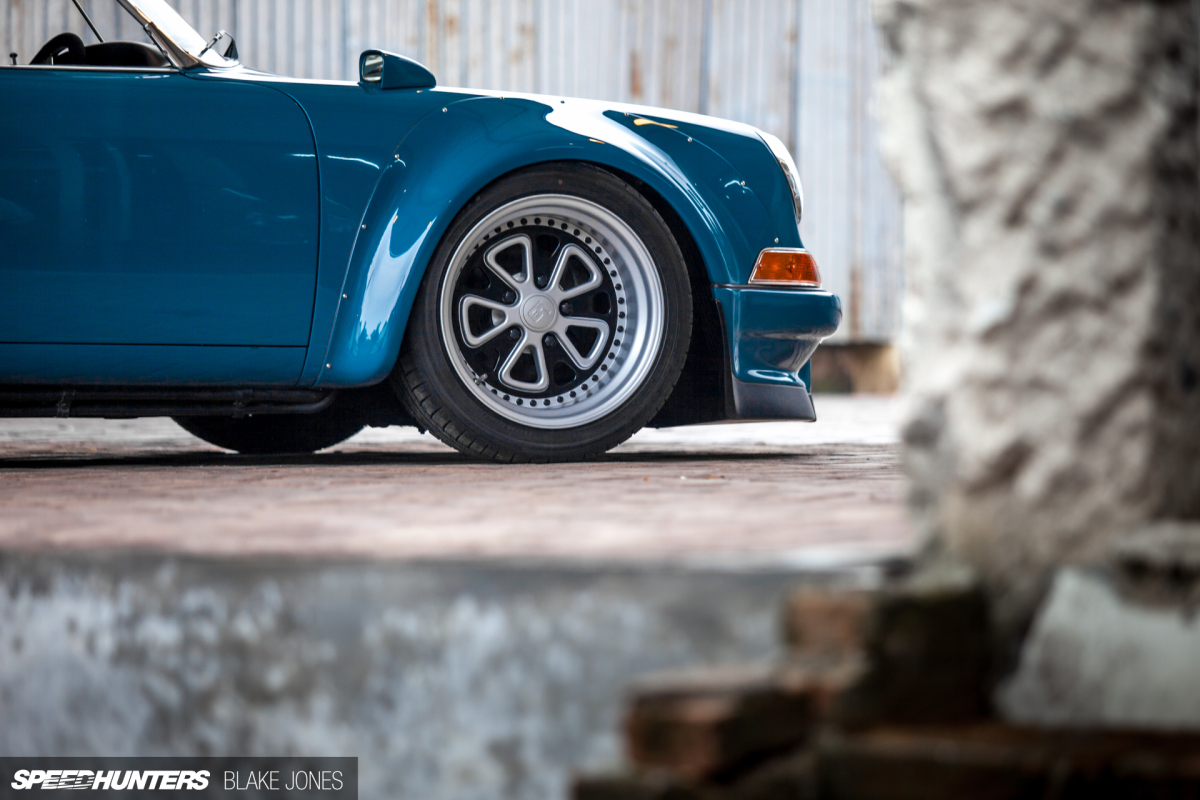 Also borrowed from the 356 book of inspiration is the fender-mounted mirror inspired by the competition-spec 356 GT – one of my favourite details of the whole build.
Under The Skin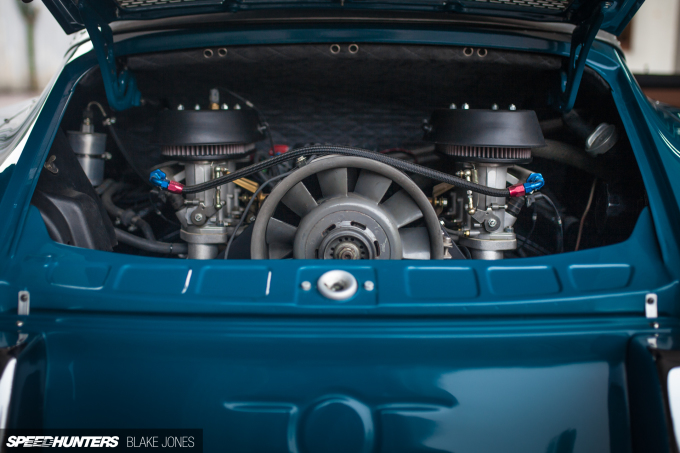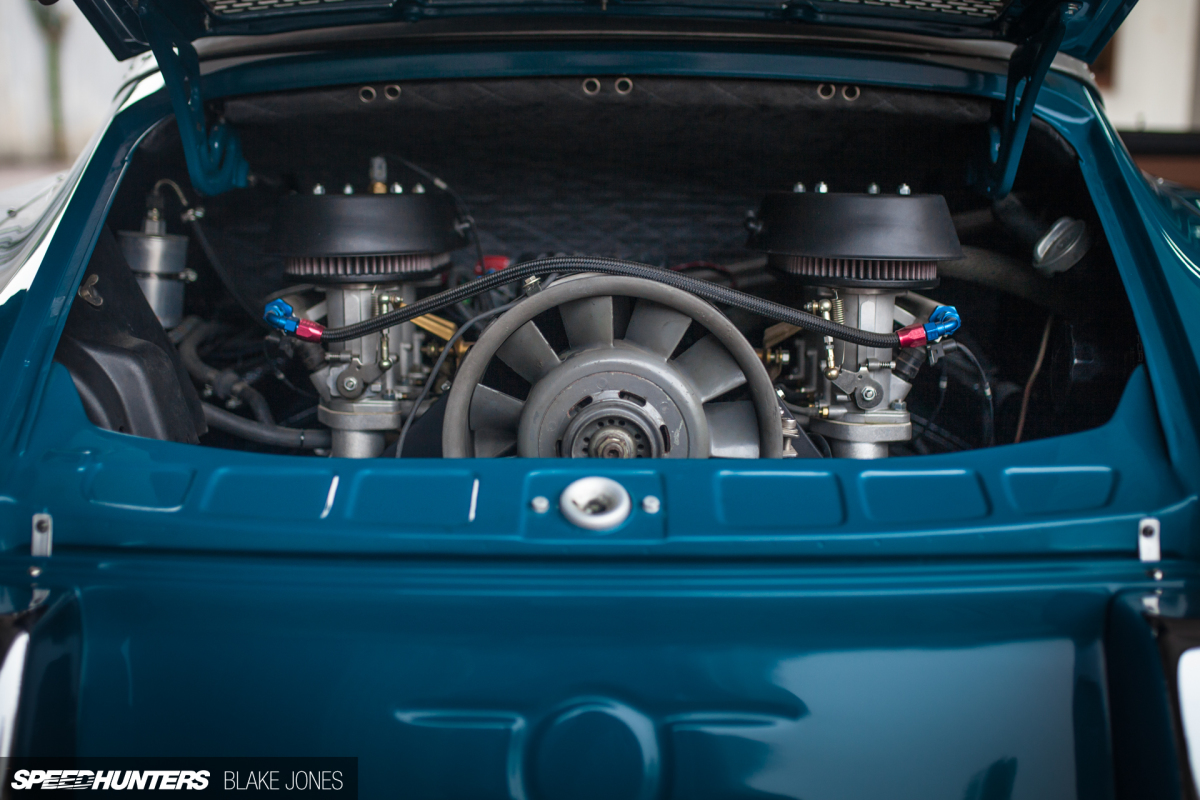 The engine remains relatively untouched; it goes without saying that outright performance was not a top priority for the Speedster – Terror Garage have other projects for that, which you are going to love. The stock 3.3-litre flat-six is helped along by a Clewett Engineering mechanical throttle body setup.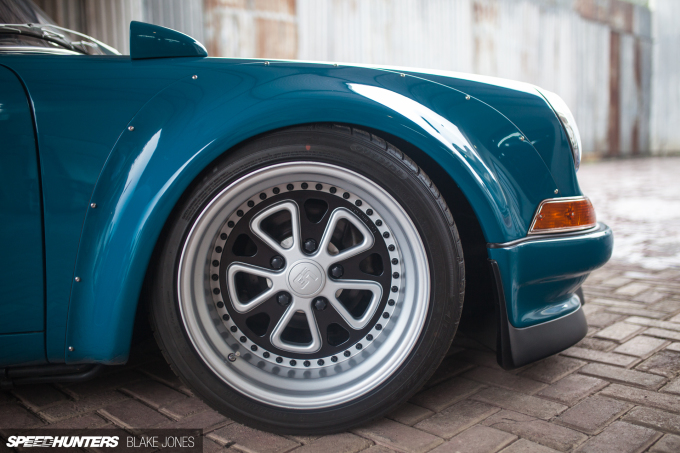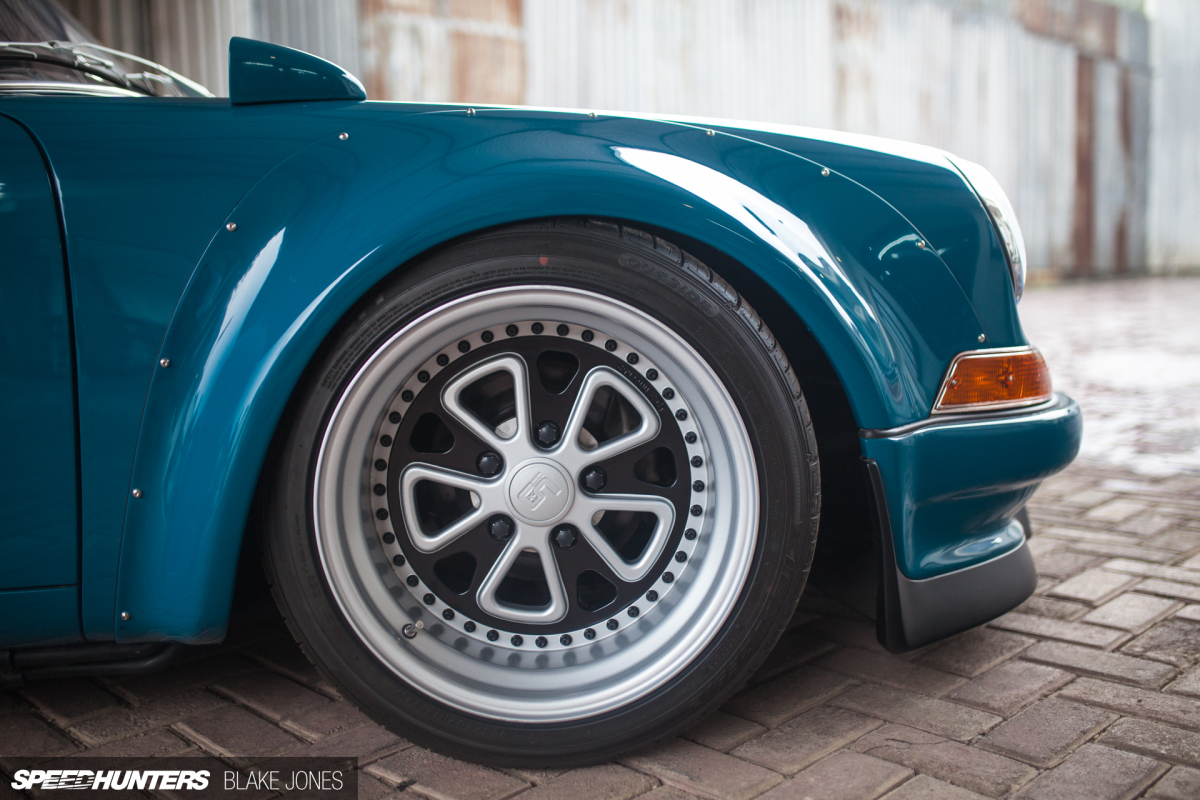 Filling the muscular arches are custom-sized Outlaw 001 3-piece wheels from the collaboration between Fifteen52 and Magnus Walker. They are a perfect match for the car both aesthetically and conceptually – a Porsche icon reinvented for 2015 with reverence for the marque's history.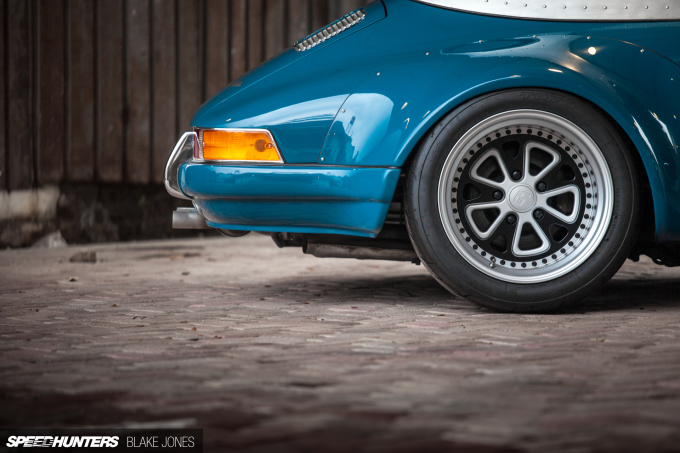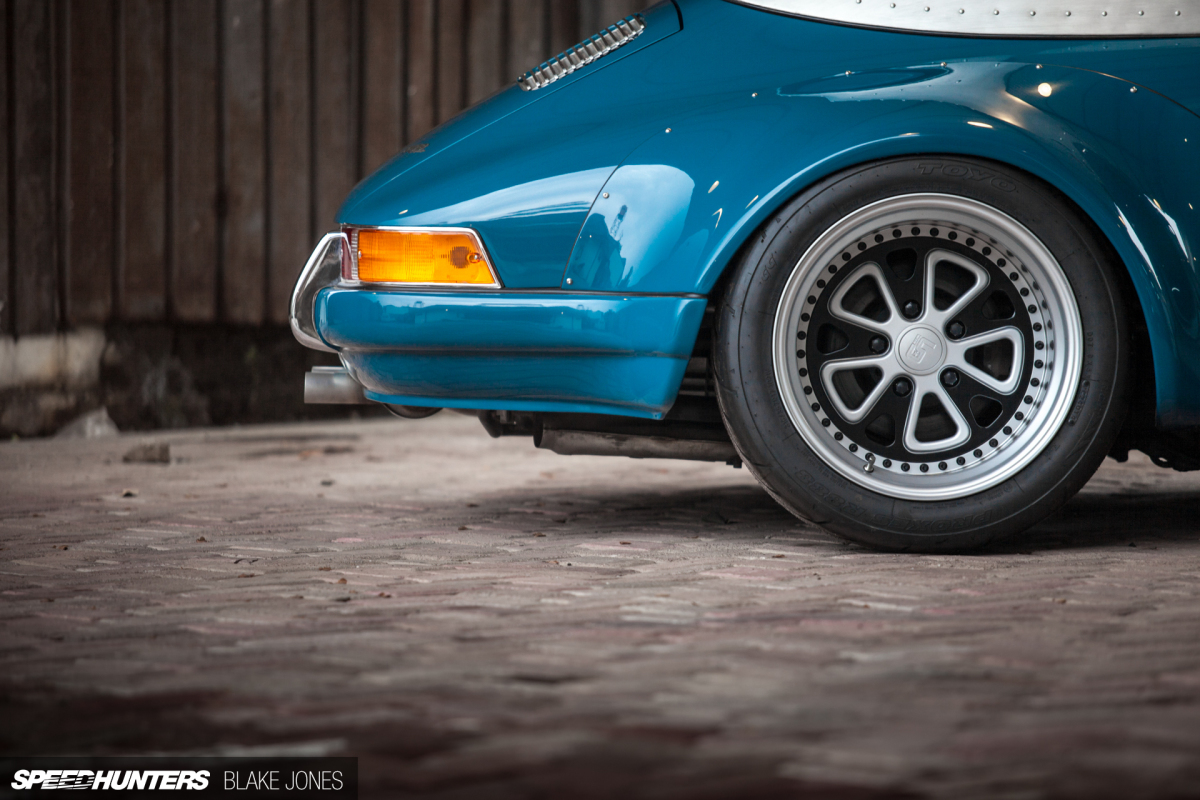 Michael and Yanto are both friends and fans of Magnus, so obtaining the world's first 17-inch Outlaw wheels in a suitably-aggressive fitment was an easy task. The fronts measure in at 10 inches wide and -11 offset, while the rears are a cavernous 12-inches wide, -74 offset.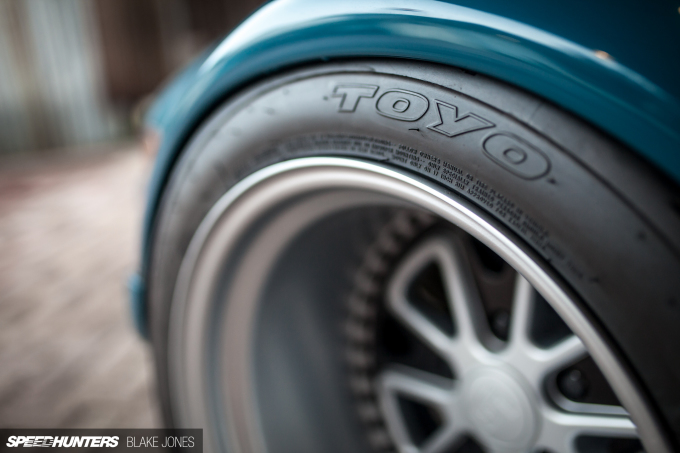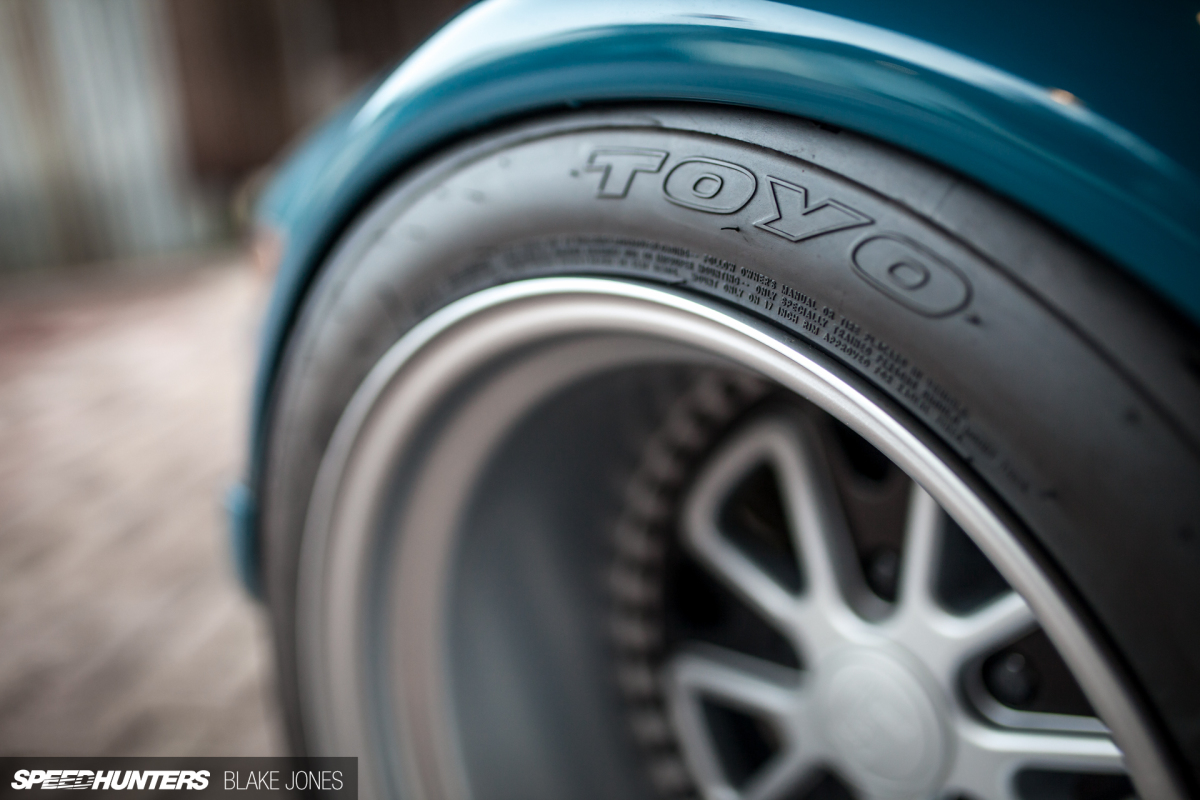 The tread pattern is barely visible so tight is the wheel fitment, but the rolling stock is Toyo's aggressive R888 semi-slick in 225/40R17 up front and 315/35R17 at the rear.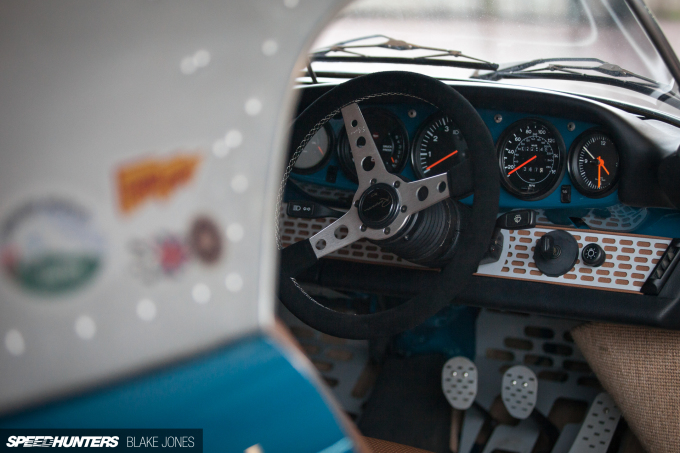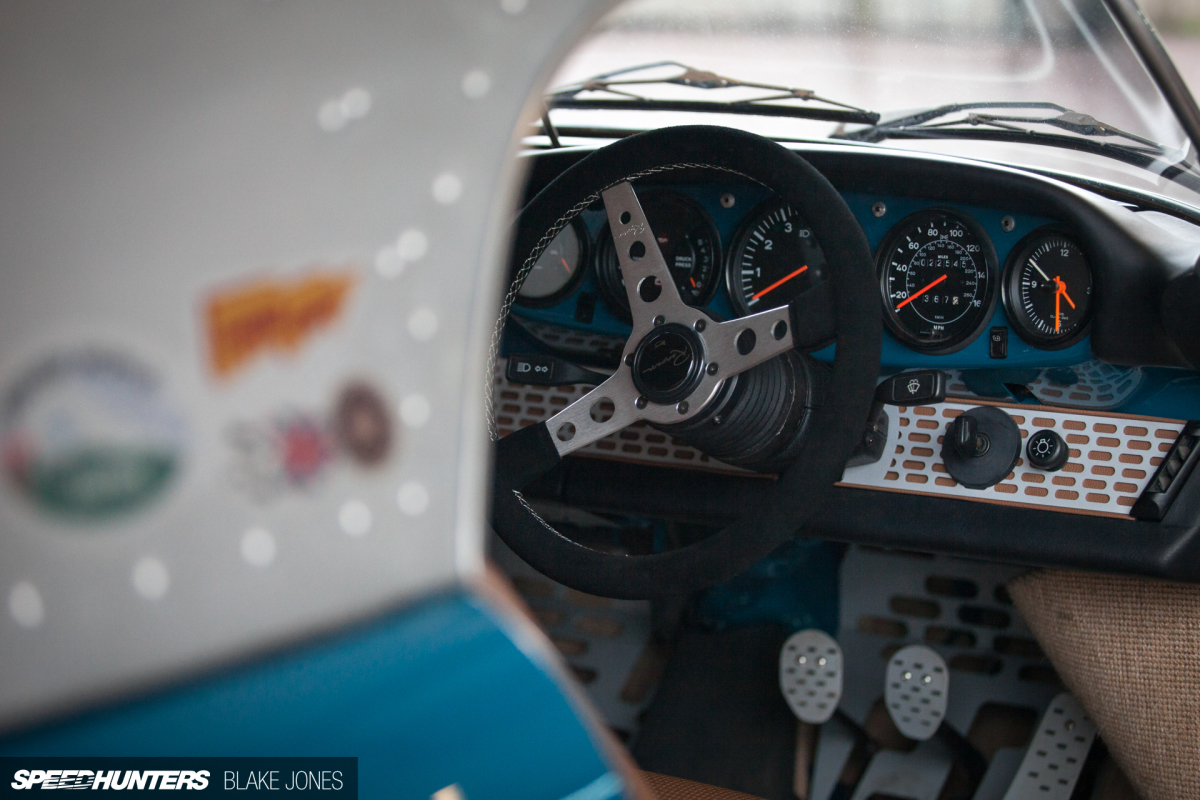 Swing open the driver's door and what greets you is an environment that flows uninterrupted from exterior to interior; the Sea Blue paint reappears on the dashboard and brushed aluminium abounds. Also making an appearance is a coarse, Berber-style carpet that I'd never envisaged would work well in an automotive application, but the results speak for themselves.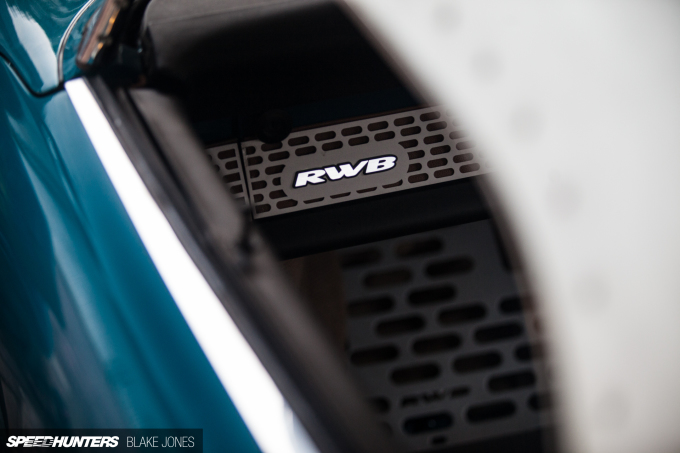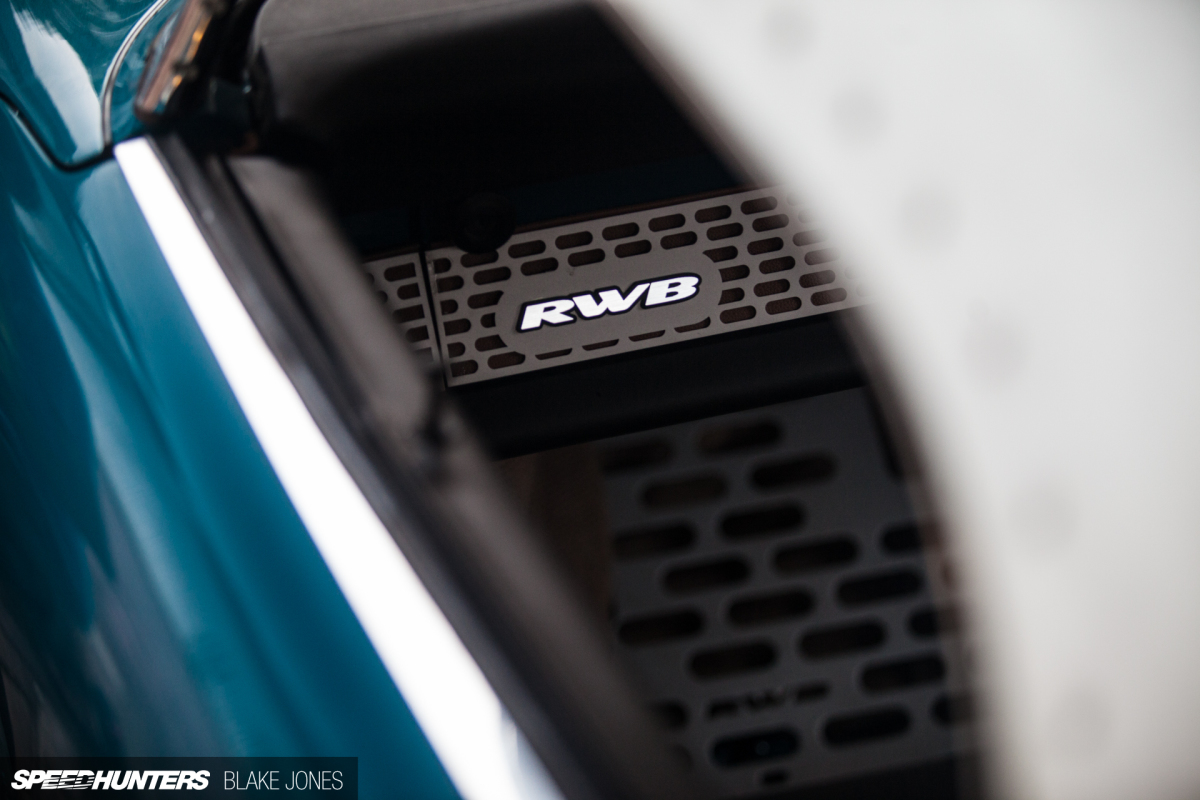 Michael designed a capsule motif for the interior which ties all the aluminium components together, including the dashboard and footrests. The purity of the 911's basic interior layout remains, but has been hit with a modern, industrial twist.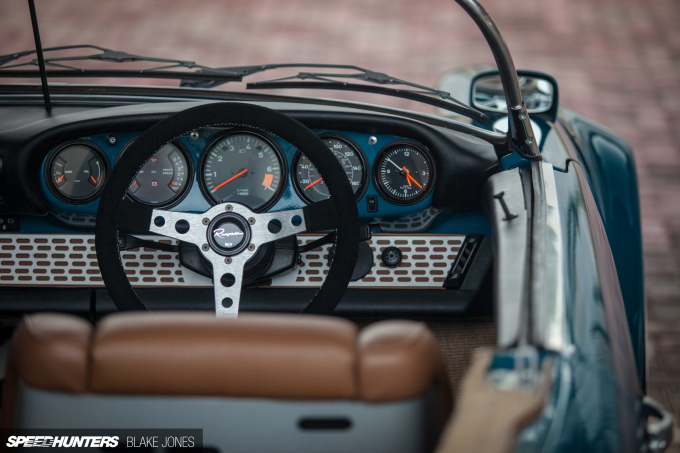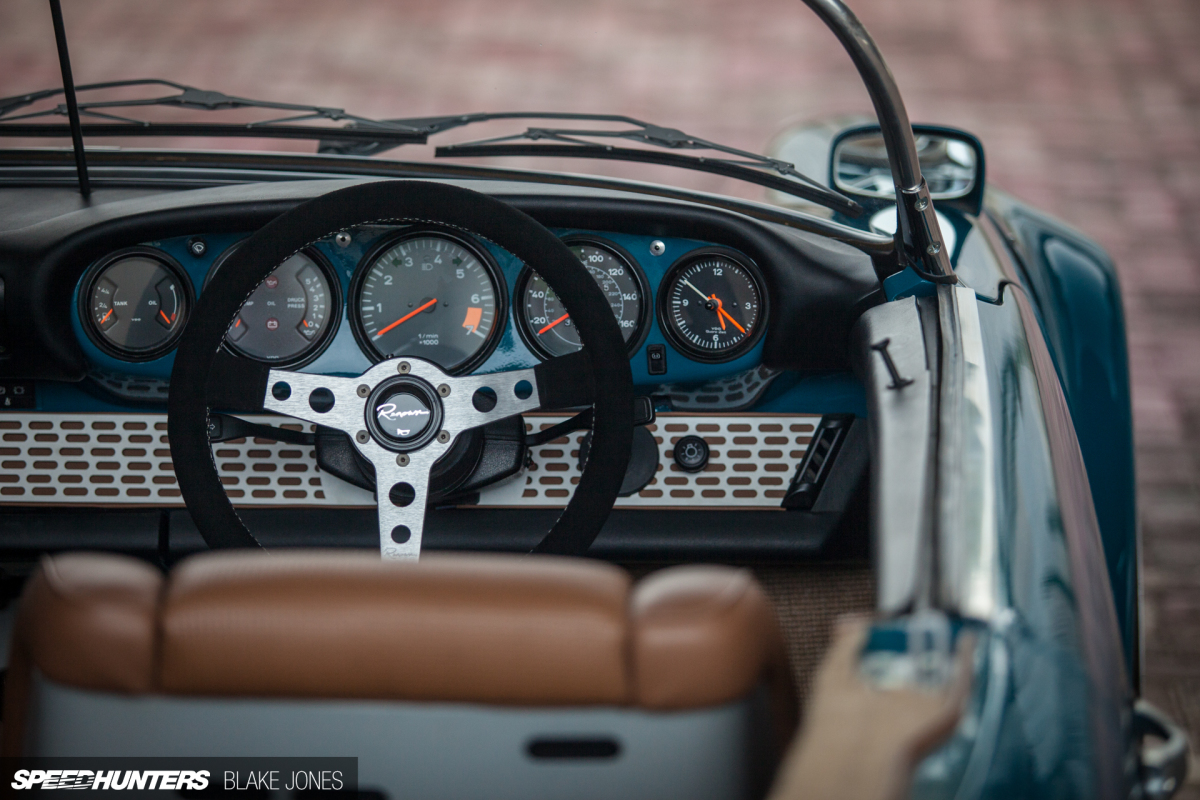 The factory gauges remain too, but Renown USA provided a suede-wrapped wheel for the driver to steer with.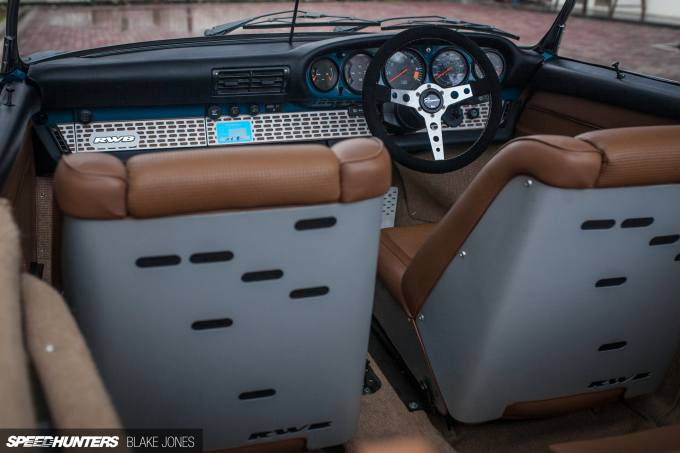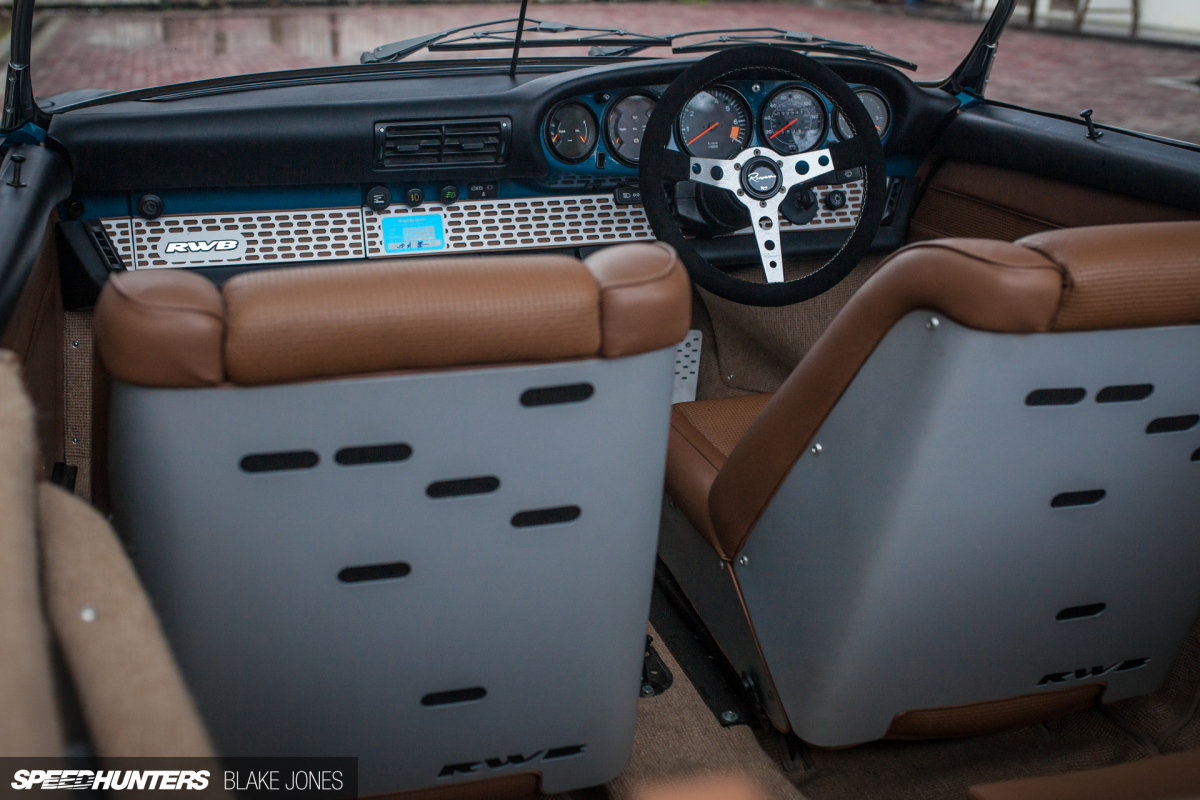 It's hard to think of a better place to spend a sunny summer's day than in the Speedster's driver seat with a buddy by your side, cruising a favourite road in some exotic corner of the world. This creation from Terror Garage certainly captured my imagination, and I'm sure will do the same for many reading this story.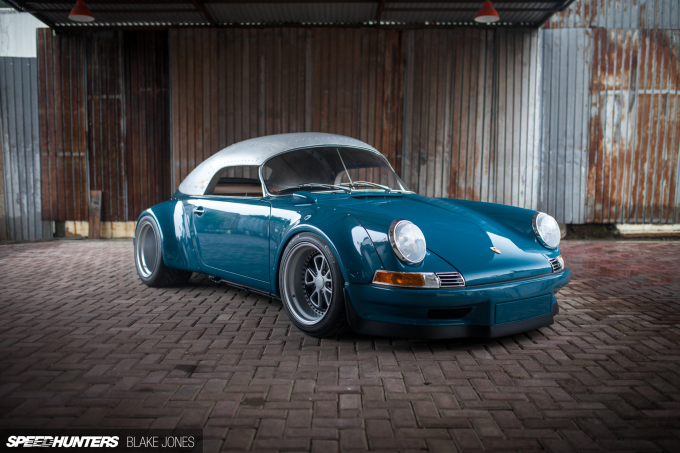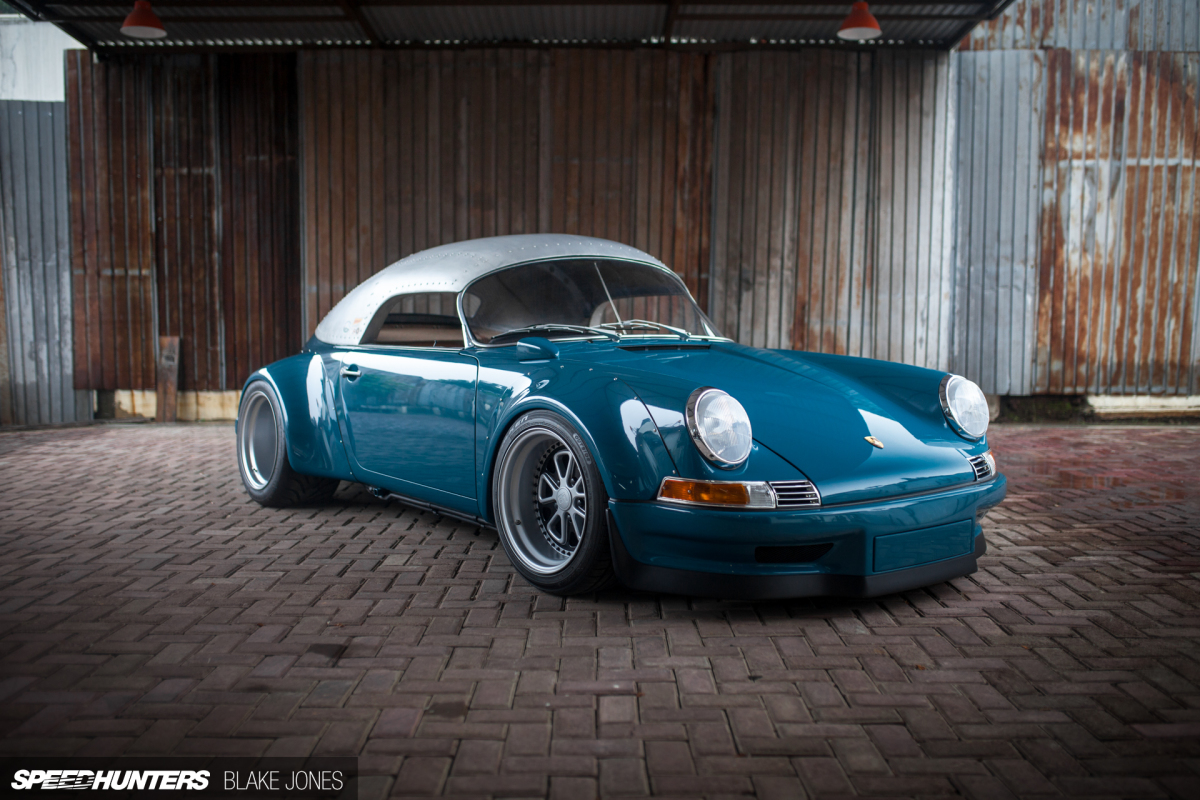 The great news is that there are many more artistic four-wheeled and over-fendered creations to come from Yanto and Michael. If ever there was a good reason for a return to Indonesia, Terror Garage is it.
Blake Jones
Instagram: blaketjones
blake@speedhunters.com
Terror Garage RWB Speedster
Engine
Porsche 3.3L flat six, Clewett Engineering Porsche MFI individual throttle bodies
Driveline
Factory manual transmission
Suspension/Brakes
Deed adjustable coilover suspension (front), Aragosta adjustable coilover suspension (rear), custom knuckle & drum brakes adjustment by Terror Garage
Wheels/Tyres
Fifteen52 3-piece Outlaw 001 wheels, 17×10-inch -11 (front), 17×12-inch -74 (rear), Toyo R888 tires, 225/40R17 (front), 315/35R17 (rear)
Exterior
Sea Blue paint scheme, Porsche 356 Speedster front panel custom made by Terror Garage, RWB fender flares, RWB bumpers, aluminium hardtop custom made by Terror Garage, Carrera GT mirror, alumunium rear dual louvers engine lid by Terror Garage
Interior
Aluminum sill plates custom made by Terror Garage, aluminium pedals custom made by Terror Garage, Renown USA Monaco silver suede steering wheel, custom seats by Terror Garage, custom lock hatch by Terror Garage
More RWB related stories on Speedhunters
Cutting Room Floor