A True Festival Of VW
The Speedhunting pursuit is guaranteed to take you to interesting places to meet inspirational people and experience the world's coolest cars. Japan, the US, Australia – they're all countries known for their rich automotive history and vibrant contemporary car culture, and you'll find an active VW community in all of them. But Indonesia? A country infamous for its traffic congestion, extreme weather and import restrictions? Surely not…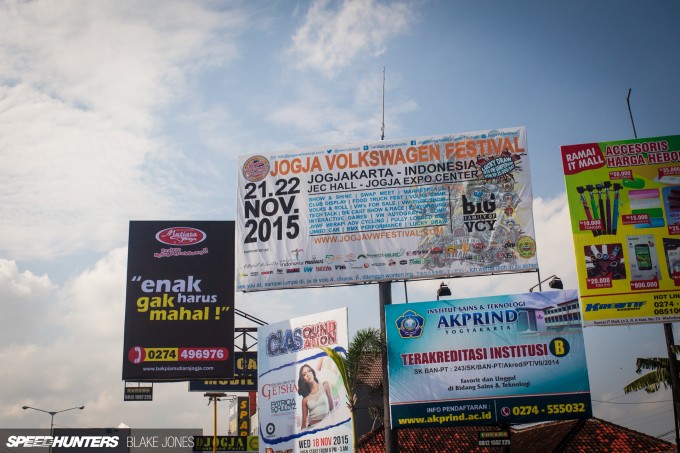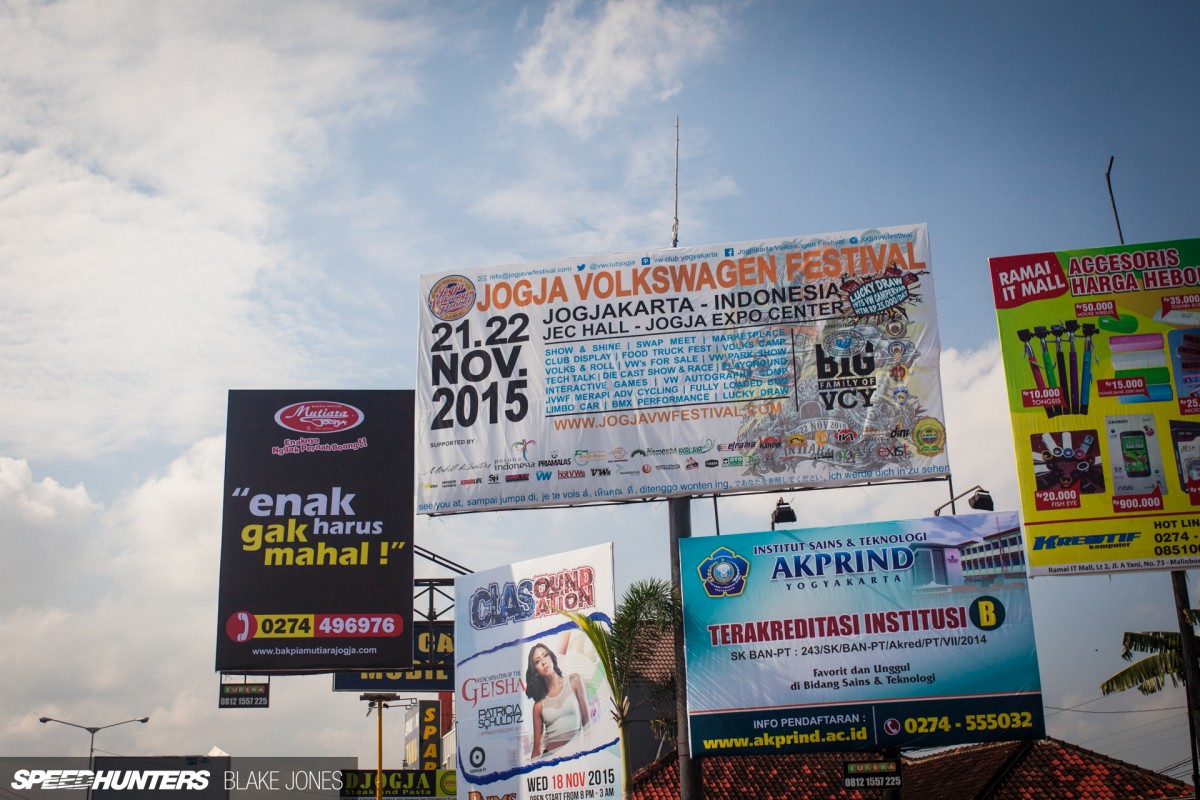 It seems Indonesia has remained relatively 'off the map' when it comes to automotive culture. Despite a population of over 250 million, here car ownership is a luxury enjoyed by only 20 per cent of the population. Even then it is often an expensive hobby thanks to government regulation and a fledgling aftermarket industry. However, for one reason or another, Indonesia and in particular the city of Yogyakarta (aka Jogja) in Java, has fallen into a passionate love affair with 'The People's Car" over the last half century. Last week I was invited to join enthusiasts from around the country to gather under the banner of the 'Jogja Volkswagen Festival'.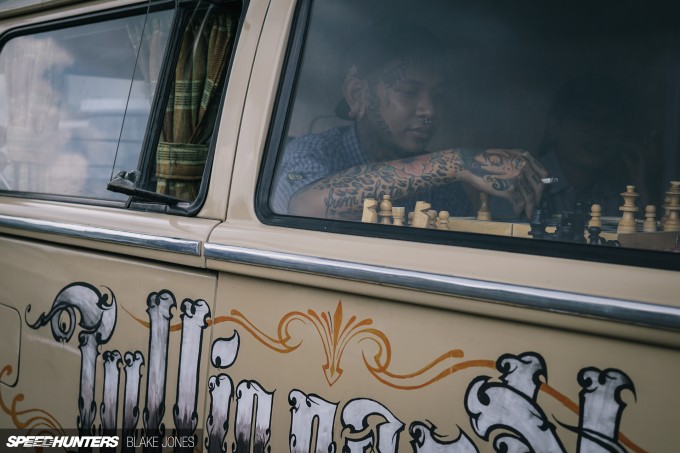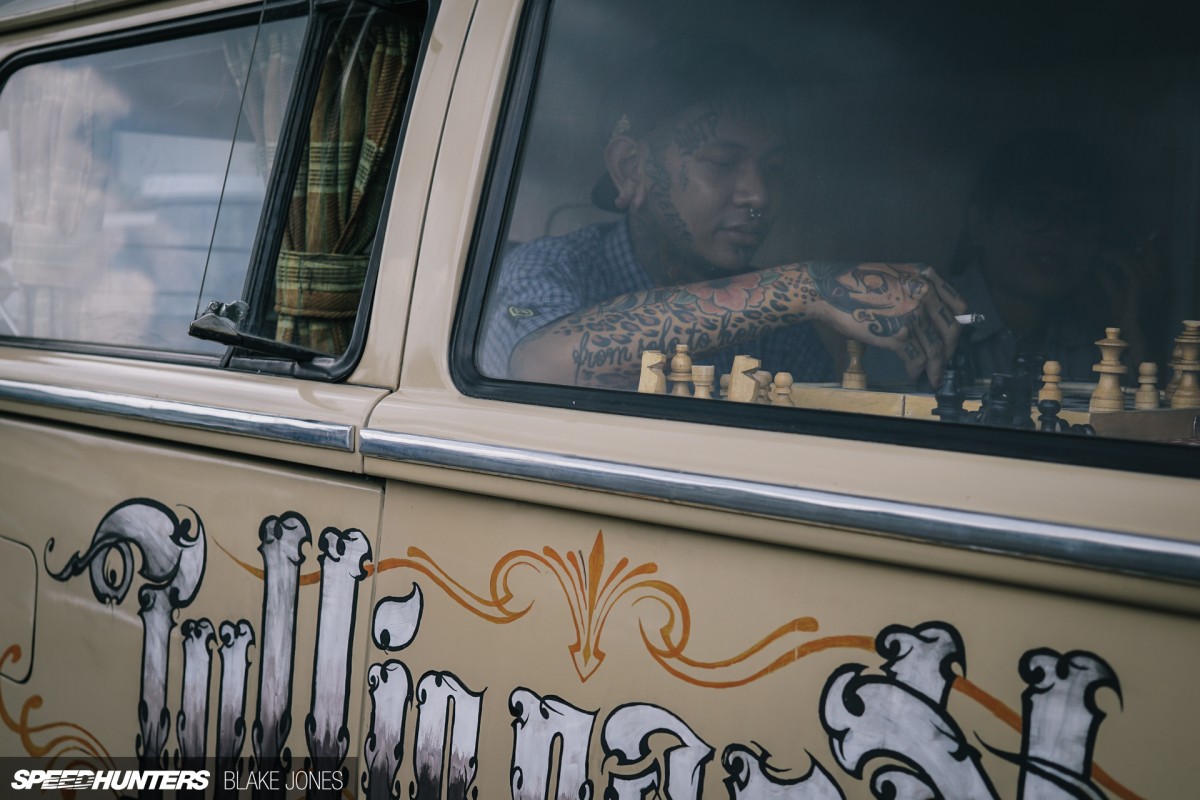 The festival is in its second year after a debut in 2013 that drew close to 15,000 attendees over two days, capturing the attention of the international VW community. Not content to rest on their laurels, the committee behind the event decided to step things up for 2015 and an invitation was kindly extended to Speedhunters. I'm a bit ashamed to admit that despite Indonesia and Australia being fairly close neighbors in this part of the world, I had no idea what to expect when it came to Indonesian car culture.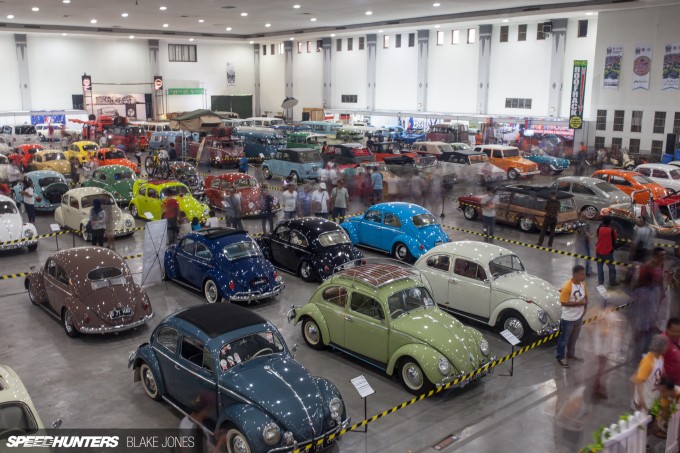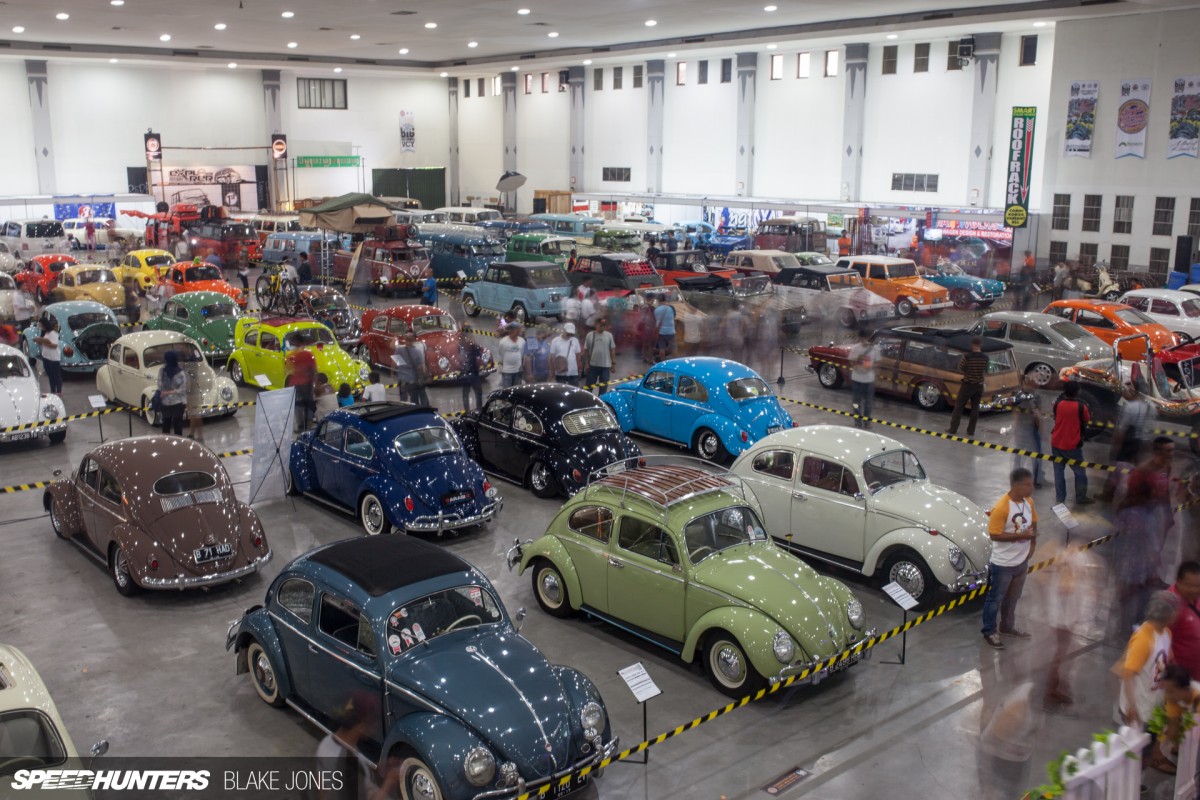 With the JVWF run and done now however, I can without hesitation say it was the most impressive club-run event I've ever attended. Back home, you're lucky to find a sausage sizzle and the shade of a tree at a club car show, but this event did things on a much, much grander scale. In fact, by uniting almost all of the 70-plus Volkswagen owner clubs in the country, they've managed to create an event that not only plays on a worldwide stage, but could actually teach a thing or two to the established European and US shows.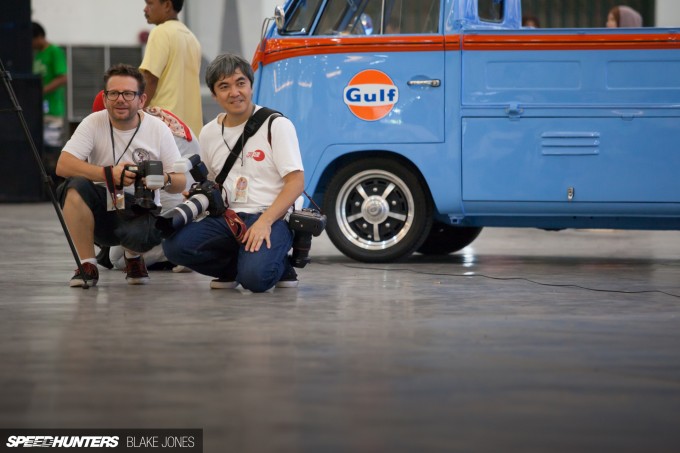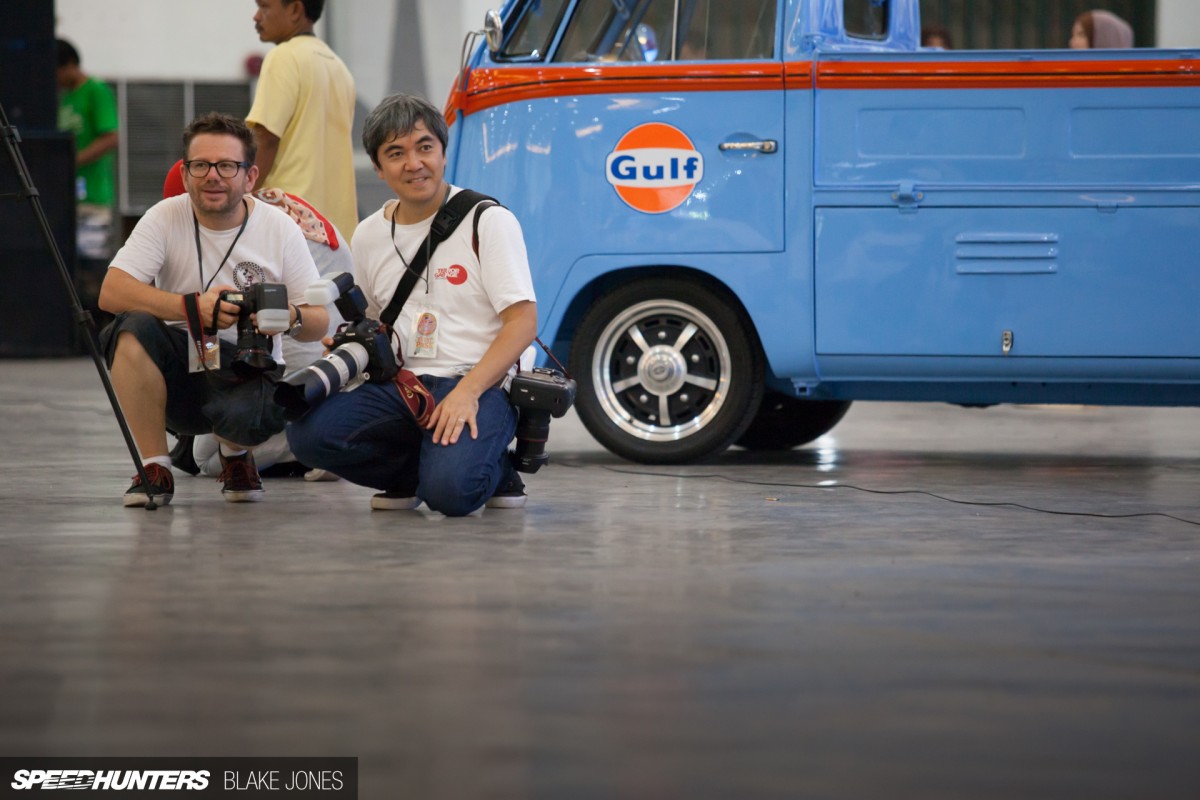 For 2015, the JVWF attracted a sizeable contingent of international media, including stalwart photographers Shin Watanabe from Let's Play VWs (Japan) and Julien-David Collombet from Super VW. These two had made the massive journeys from their home bases in California and Europe respectively after seeing the impressive turnout in 2013. I dare say they will be returning again in 2017 with even bigger smiles.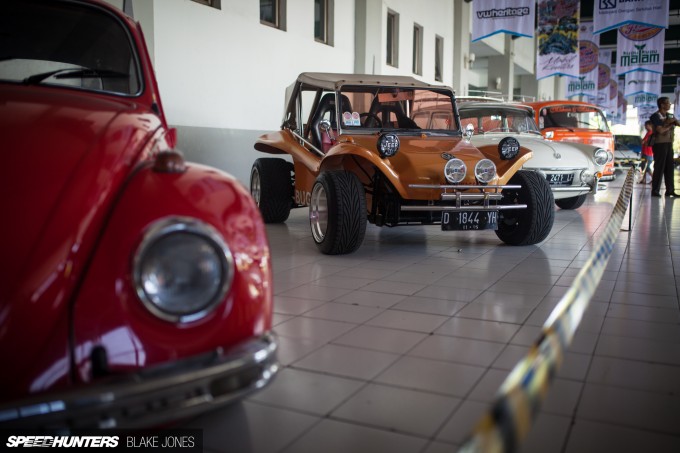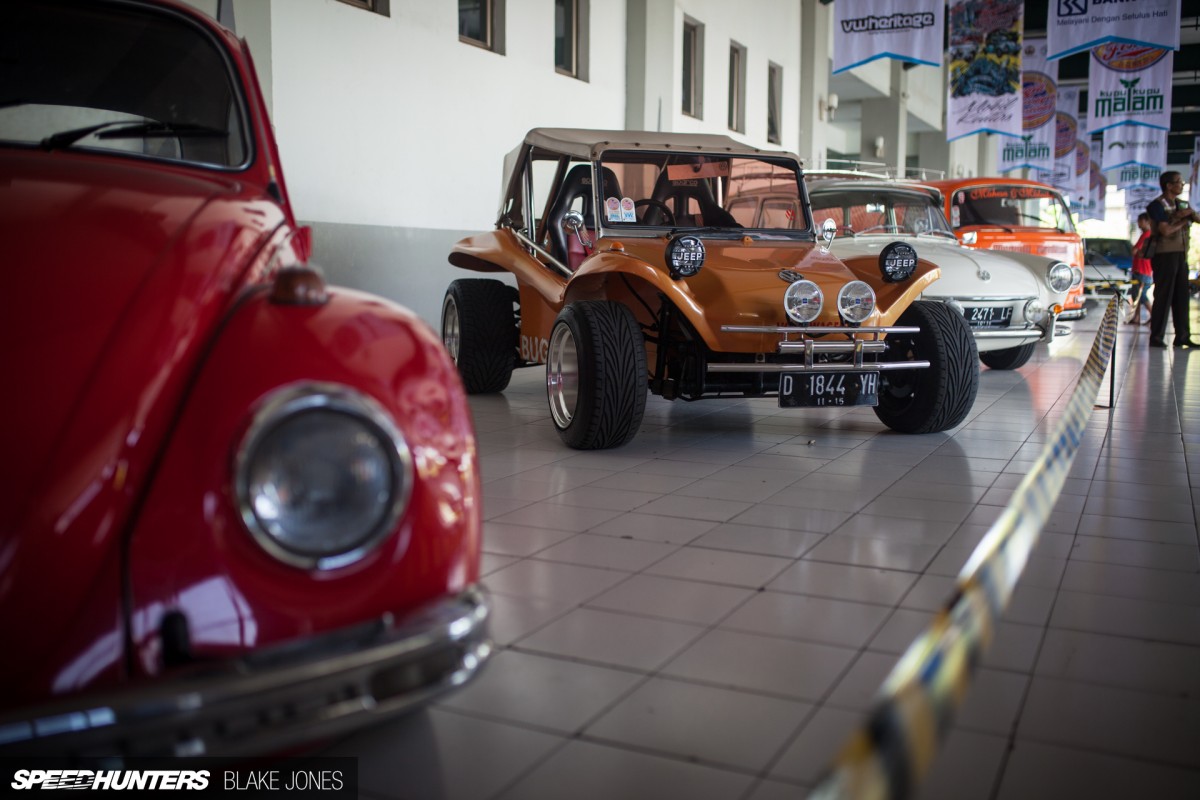 VW (or Vie Wie as it's known in the local dialect) is renowned for having a fanatical fanbase, but I must admit that personally I've not had much to do with the brand as a Speedhunter. Sure, I can appreciate a nice old Beetle as much as the next guy, but at times the obsession over the usually slow rear-engined machines has just been a bit, well… confusing. In fact, the global VW community can sometimes seem to have a wall around it, with shows, magazines and brands focused inwards and happy to remain blissfully unaware of the outside world.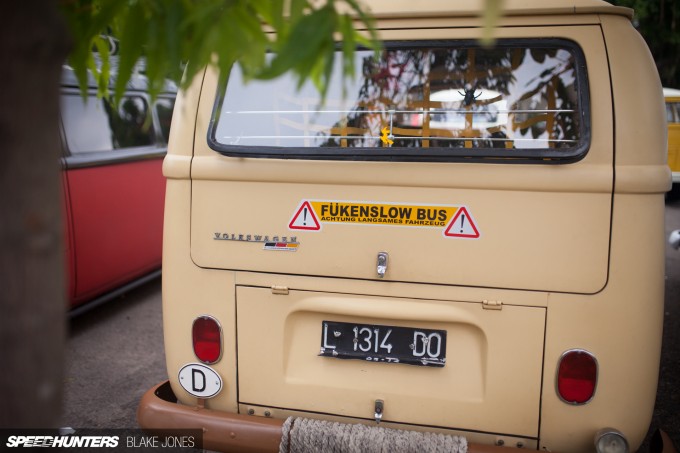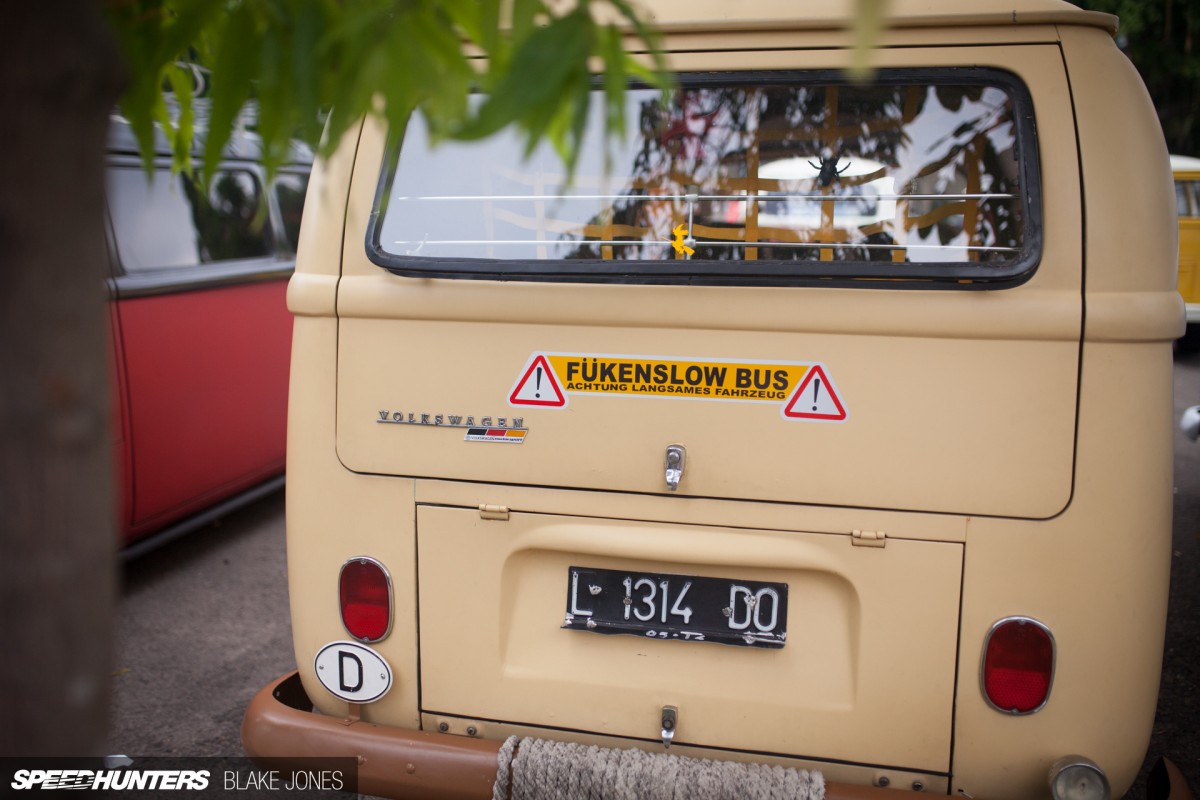 So I took it as my mission to bottle up the essence of this festival of all things VW for you. No, I still can't tell the difference between a '56 and a '57 Beetle (it's something to do with a redesigned brake pedal I'm told), but I've had a big dosage of the passion and fun that these VW owners from Indonesia seem to inject into everything they do. I think I may have caught the bug… pun intended.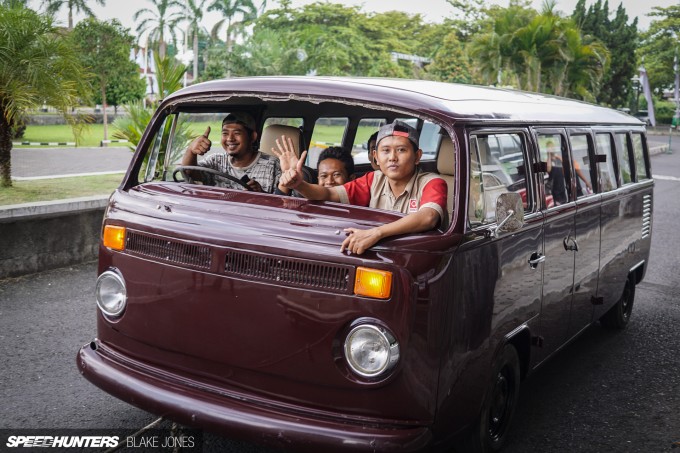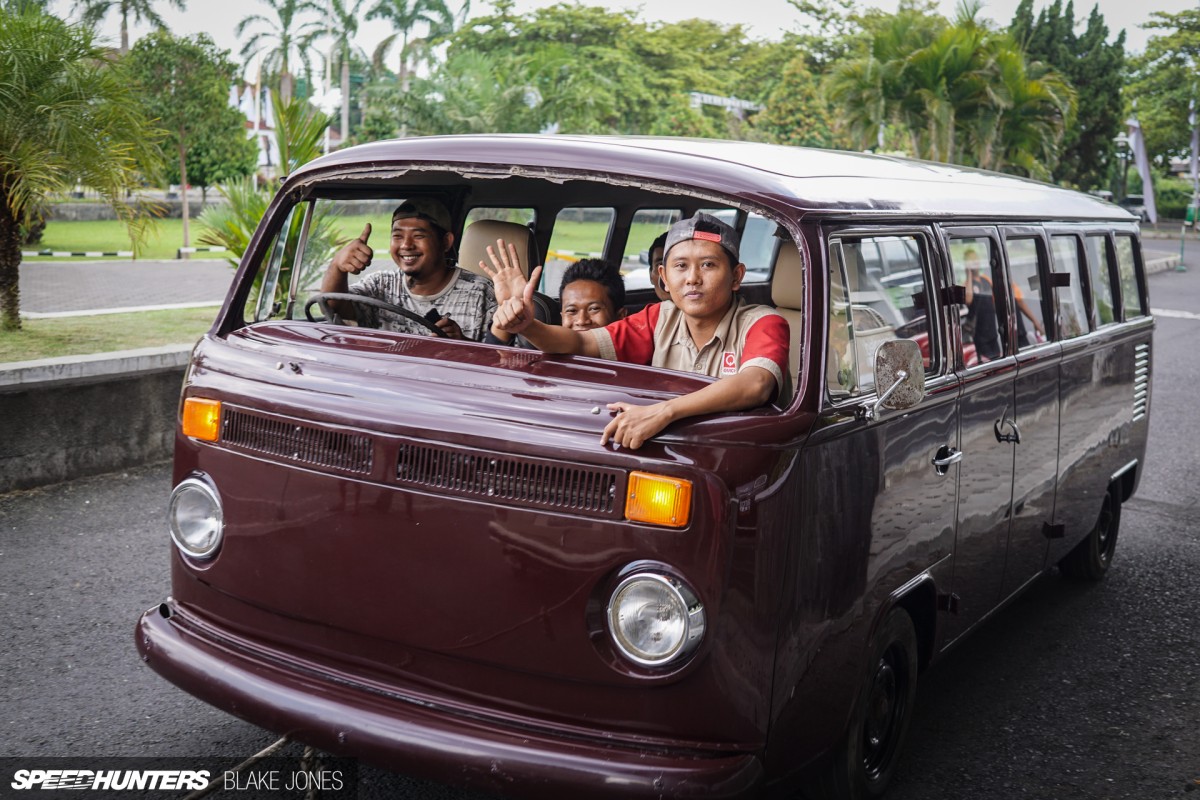 You see, owning a Volkswagen is actually a one-way ticket into a lifestyle like no other. Beyond the mere acquisition of cars and parts, choosing the VW life is a statement about who you are as a person, and what you value in life. You've forgone comfort, reliability and efficiency for fun, nostalgia and community. Yes, there will be break downs, but nothing builds camaraderie like helping a stranger clutch-start his Kombi at 3:00am in the morning!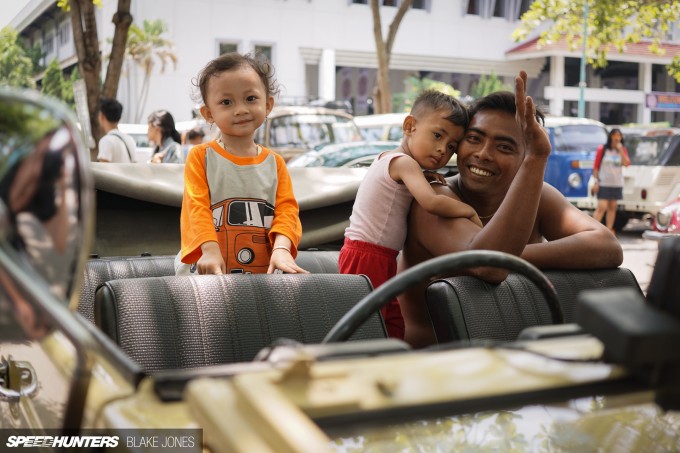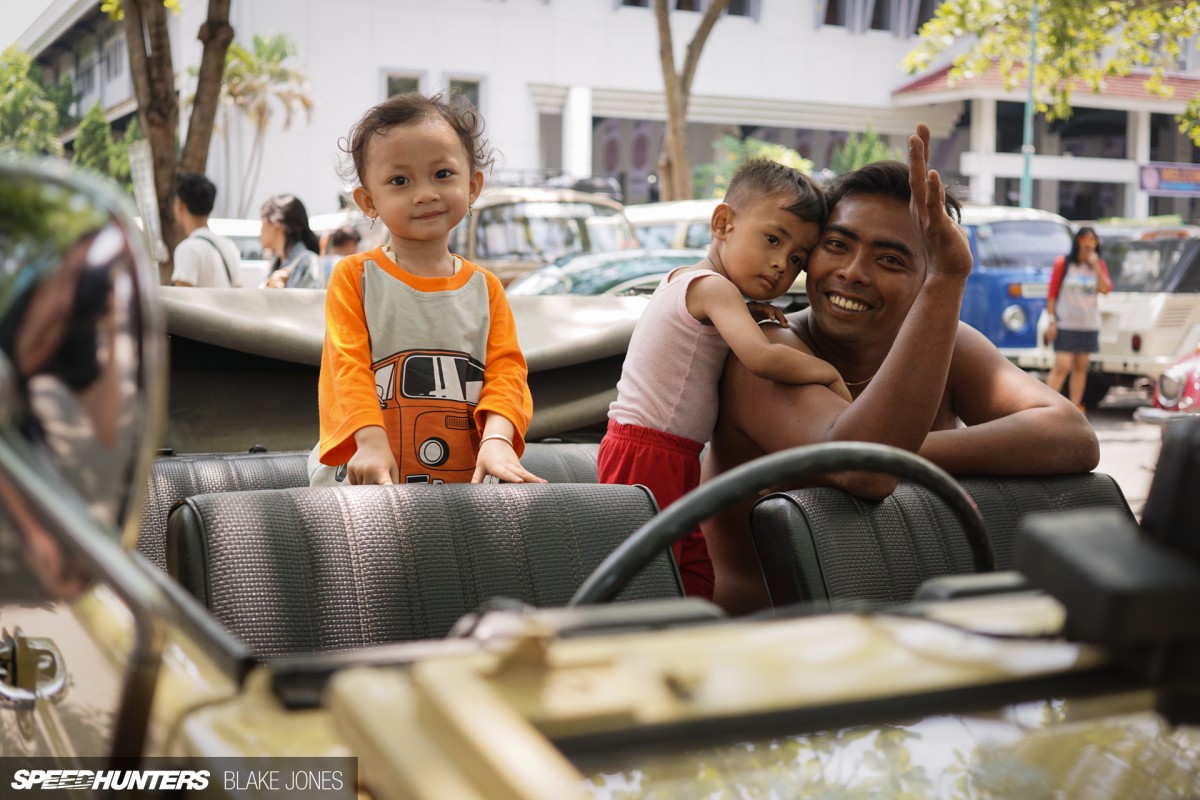 An aspect of the event that really stood out was the family involvement. Parents, kids, grandparents, uncle twice-removed – all were welcome through the Expo Center doors for JVWF. A comparable event in my home country of Australia would attract a legion of middle-aged men and the odd sulking wife or child, but not so in Jogja. The fields and parking lots surrounding the festival were overtaken by an invasion of Campers, kitted out to keep the family comfortable and in many cases, well fed.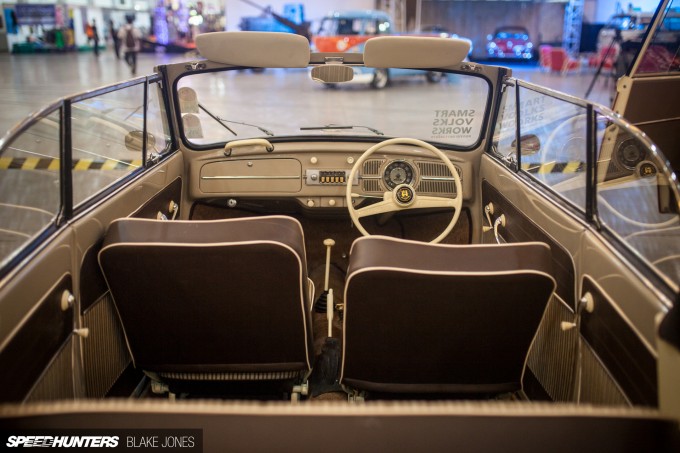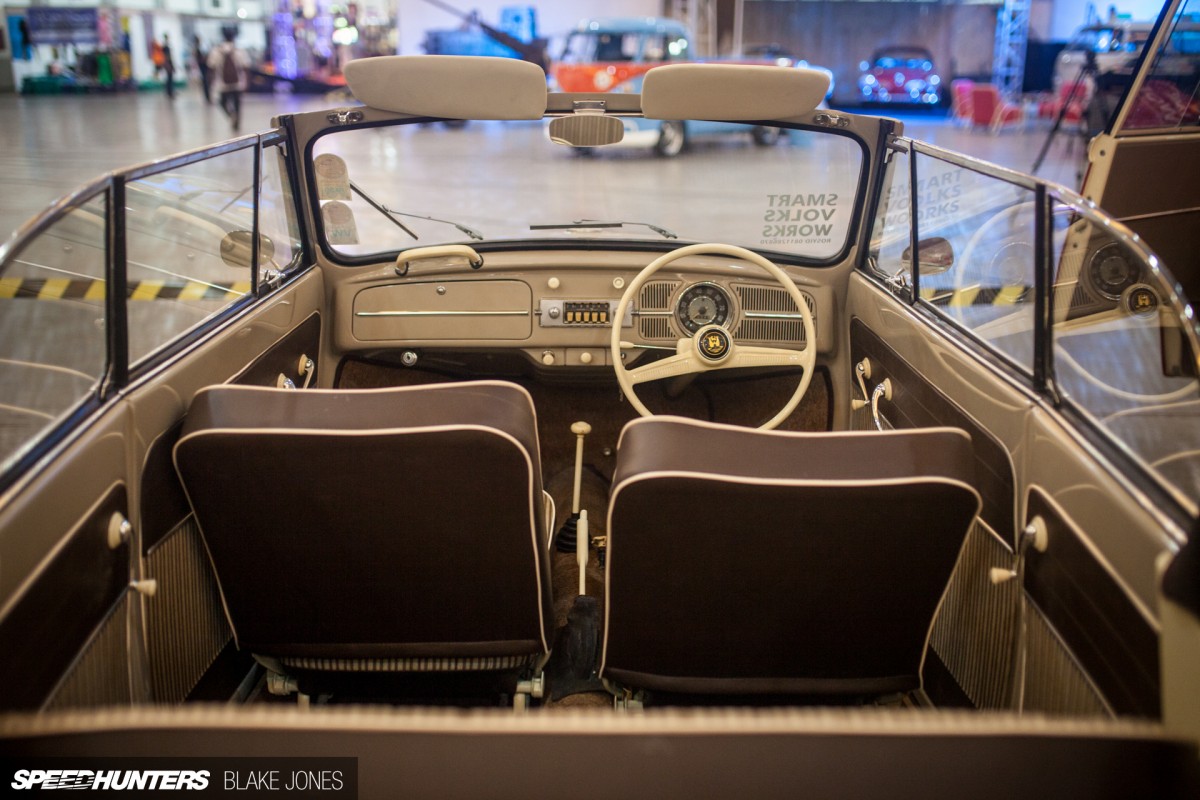 Another enviable trait is the co-existence between rough-and-ready beaters, custom creations and concours-standard restorations, with no sense of discord between the different approaches.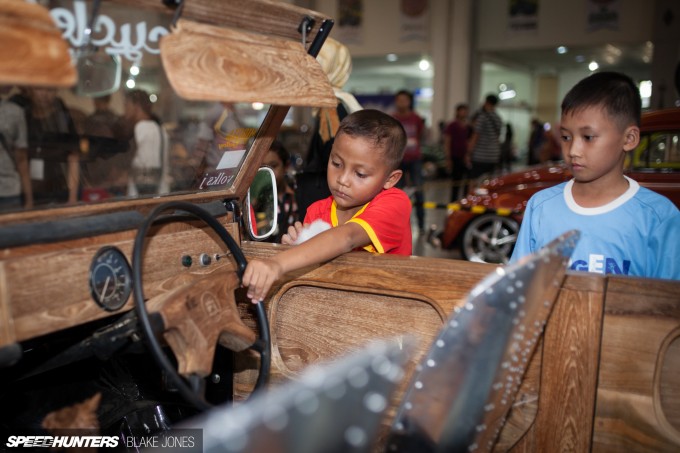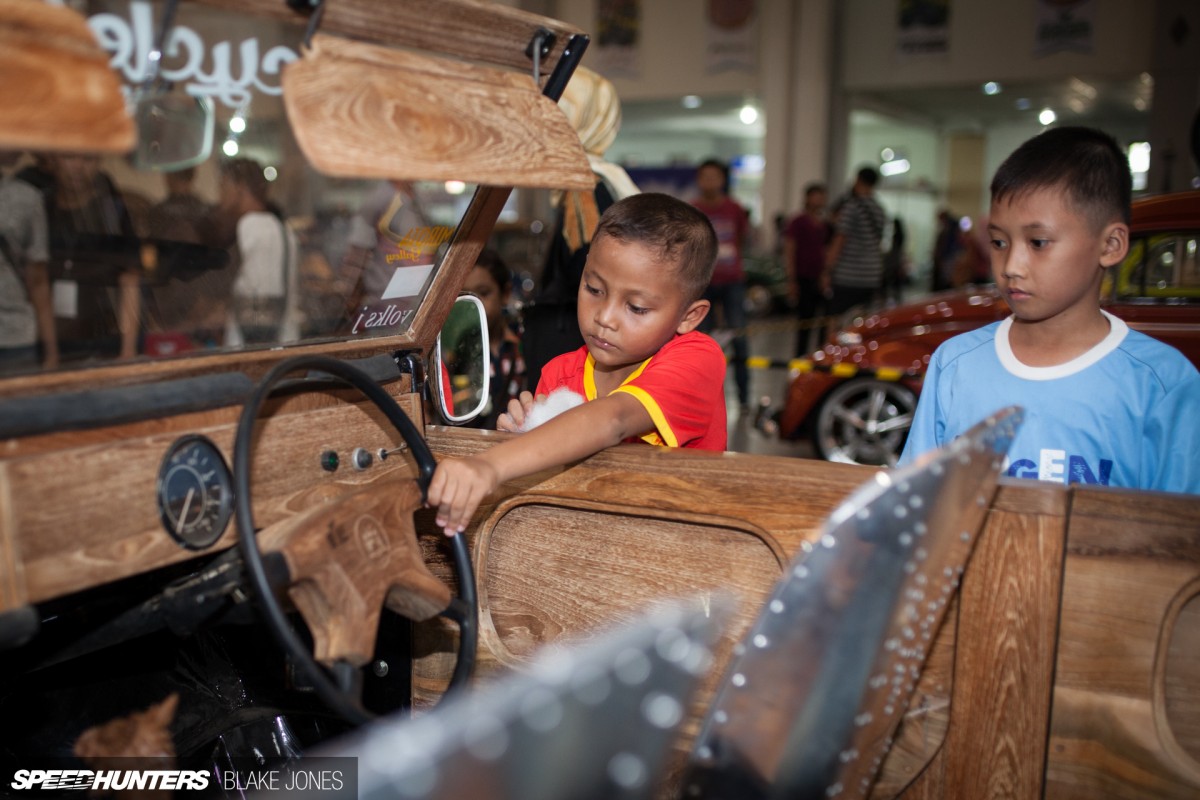 Regardless of the desired result, the locals are not afraid to push creative boundaries, and their resourcefulness and aptitude for handiwork made for some pretty spectacular creations. If you can imagine something, there's a guy in Indonesia who can make it, or probably has already! Now, to take a closer look at the vehicles of JVWF 2015…
The Cars Maketh The Show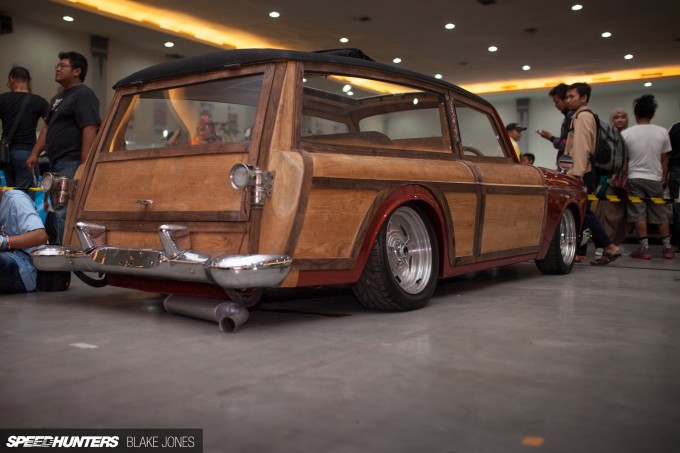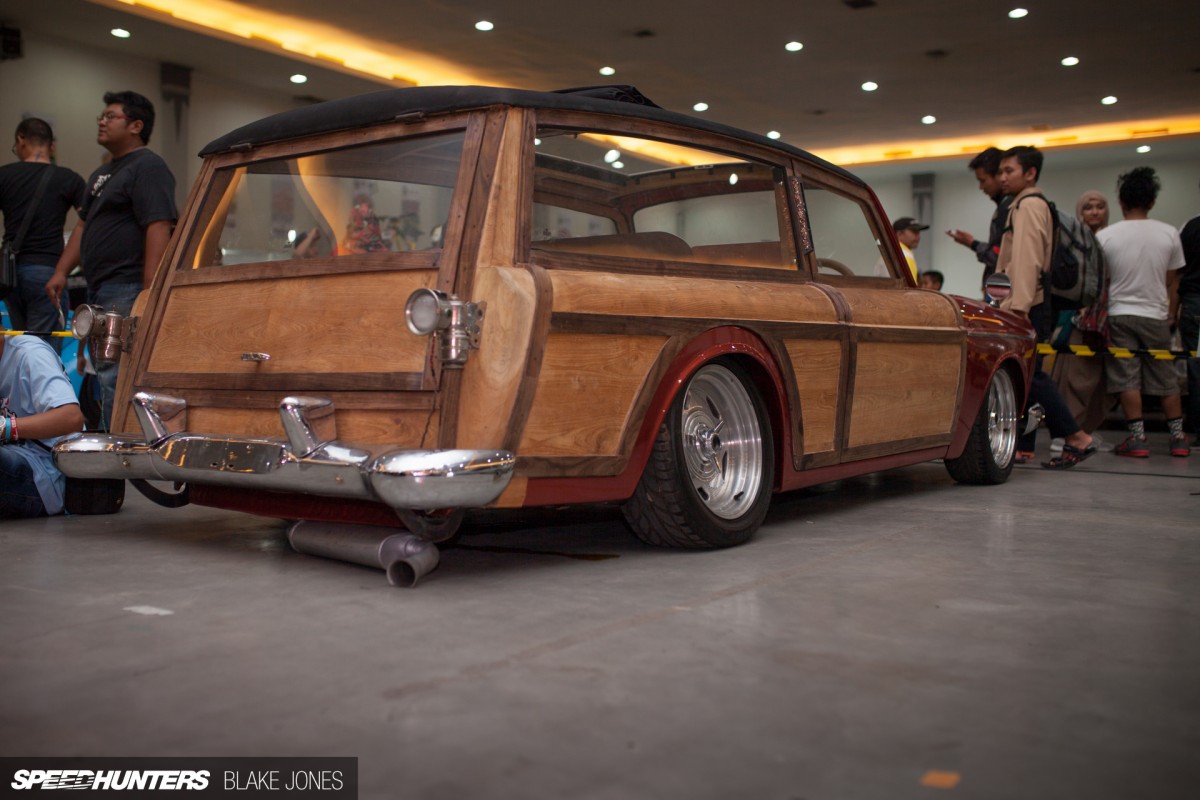 This Type 3 'Squareback' is a brilliant example of Indonesian ingenuity – local materials and handiwork combine for an extremely unconventional but well-executed creation. Details like the carriage-esque tail lamps and numerous copper engravings set into the timber frame elevated this from car to art piece. Not to mention, the wheel fitment was spot on!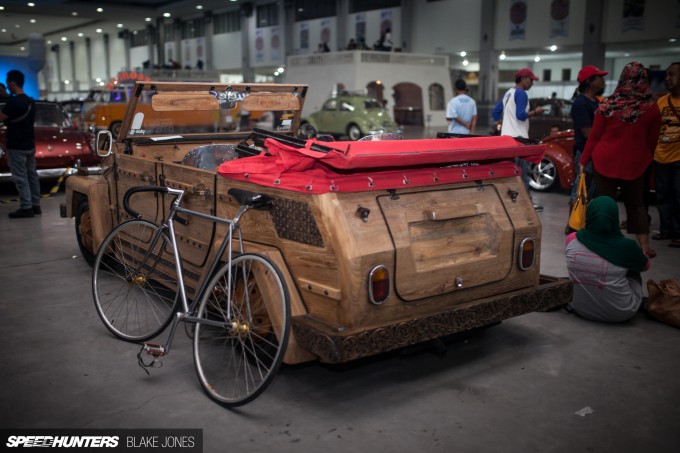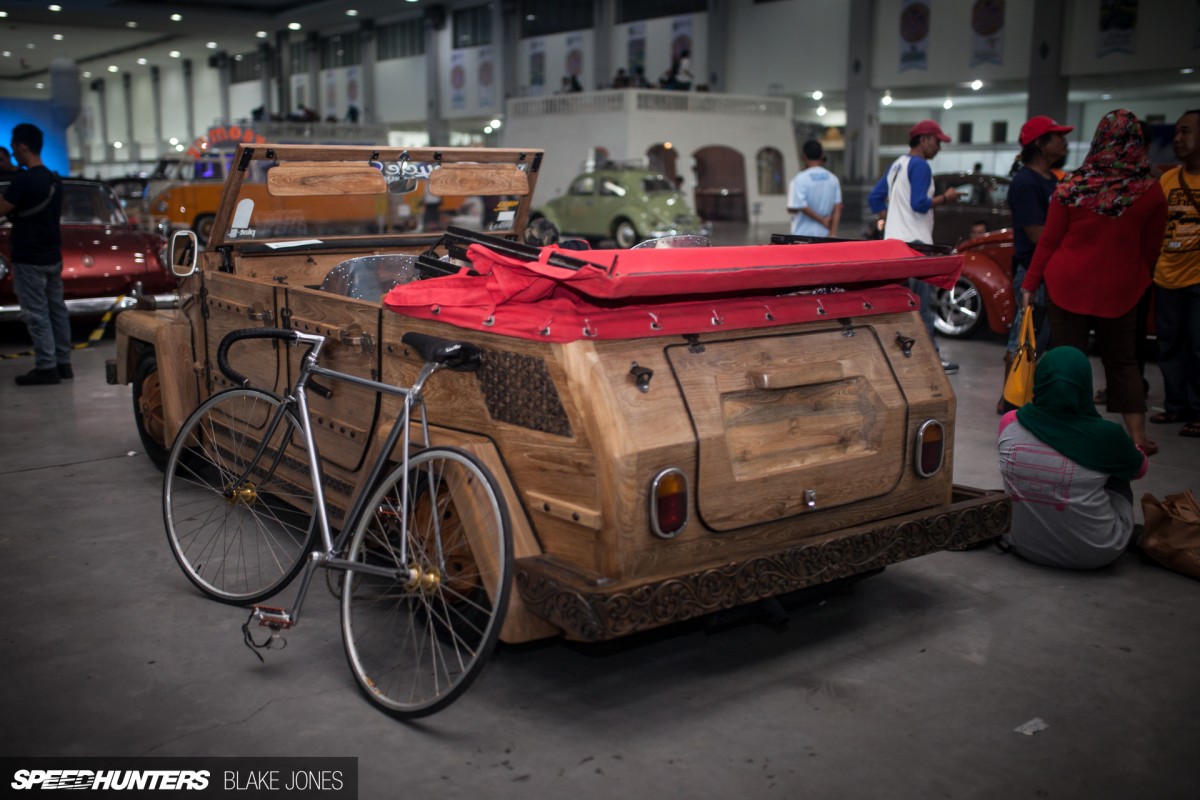 Taking the obsession with timber even further was this 'Wooden Thing' – a Type 181 completely remade from local hardwood and finished in a style famous in the builder's hometown. This was easily the most talked-about car at the event and even took home a few awards. At least the owner doesn't need to worry about rust in the tropical Indonesian climate, right?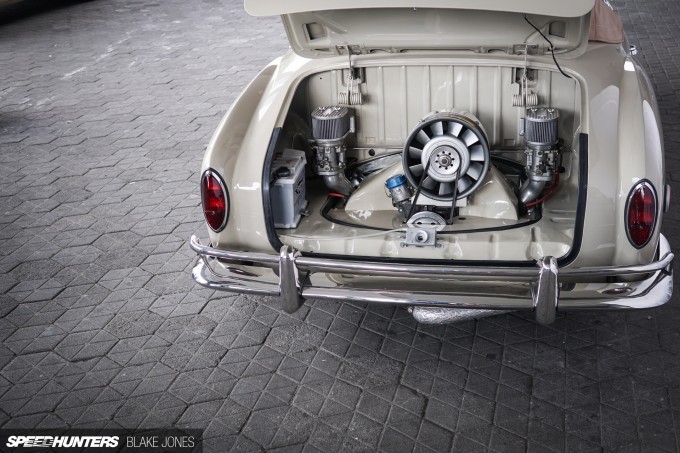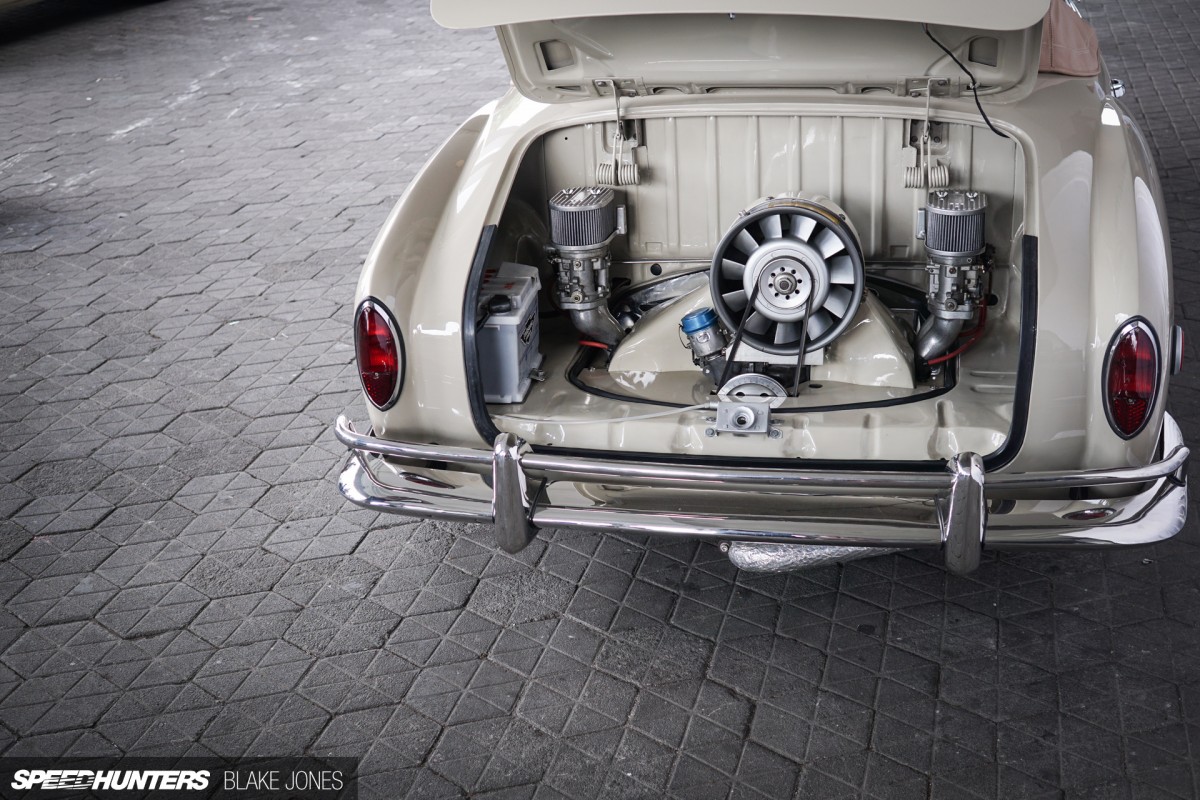 Whiles some events are satisfied with showing the same cars year after year, I was assured that every single car on the show floor was new for 2015. That's a pretty remarkable feat, but it does ensure a fresh and interesting experience for returning showgoers.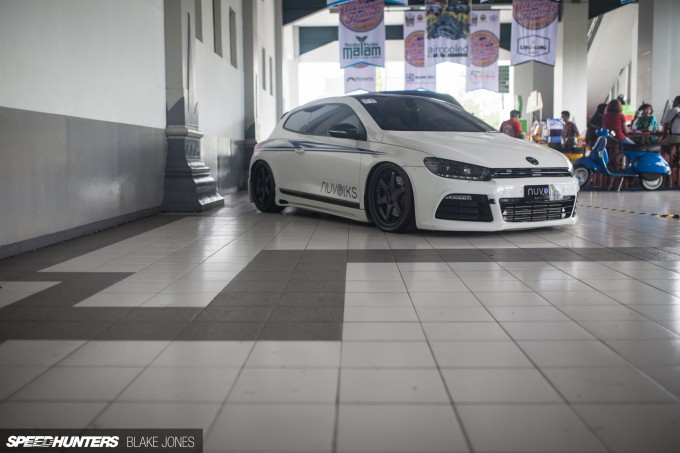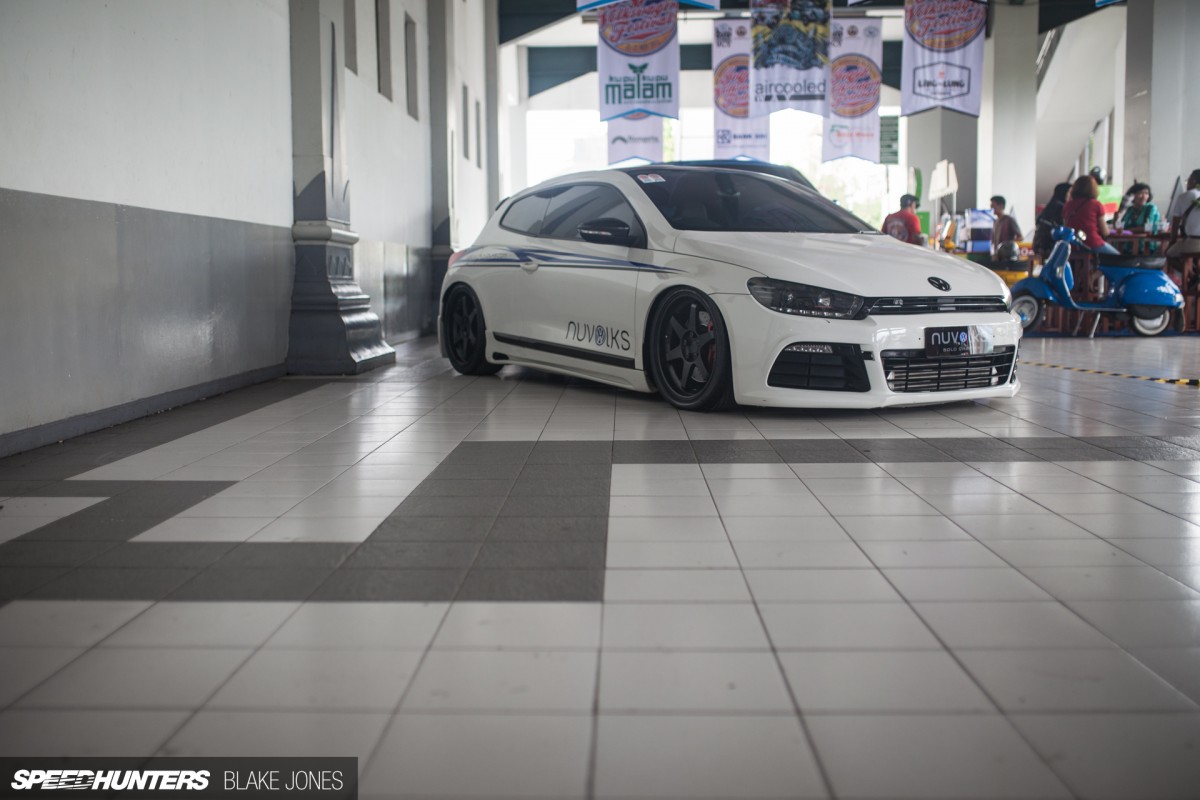 In 2015, the Festival's Council extended an invitation to newer, water-cooled VWs to complement the huge assortment of classic metal. The Solo chapter of the national NuVolks club brought a small but high quality contingent of modern cars, including this clean and simple Scirocco. It's one of only a handful in the country; imported cars face a whopping 300 per cent import duty at the port, so you have to really, really want one.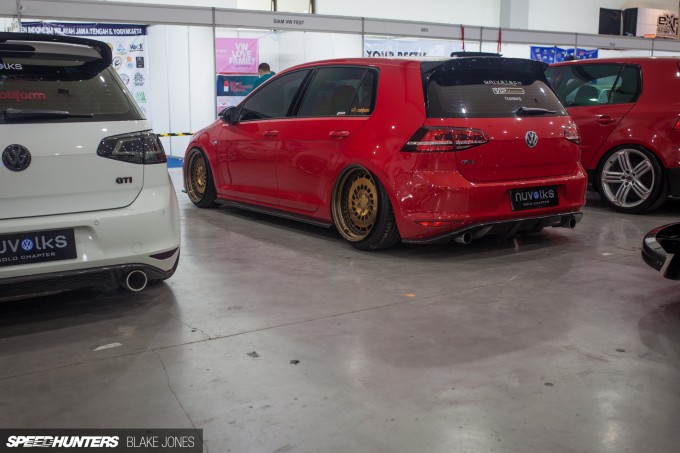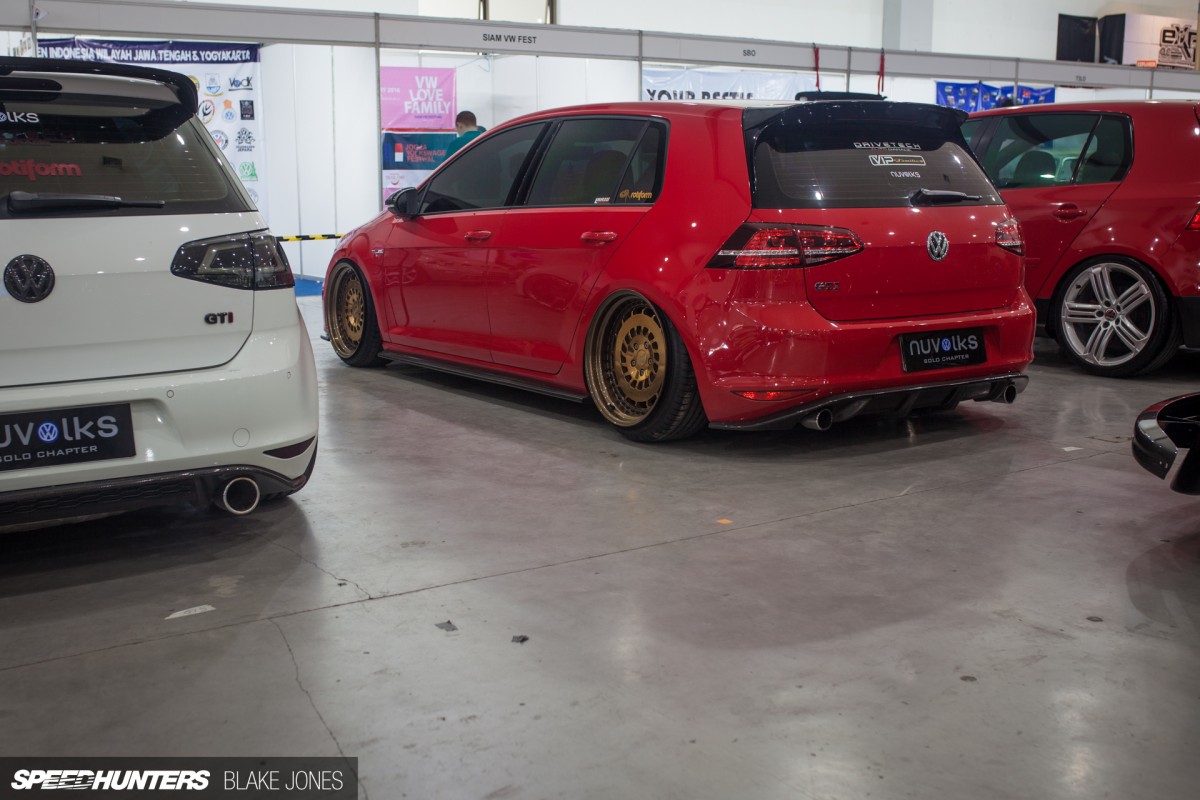 In addition to the overall 'Speedhunters Choice' award, the JVWF council asked me to select a new timer to recognize with an award as well. It was impossible to go past this Mk7 GTI on Rotiform wheels – a well-executed example of how strong wheel choice and a drop can transform a car. We'll take a closer look at this hot hatch in a later article.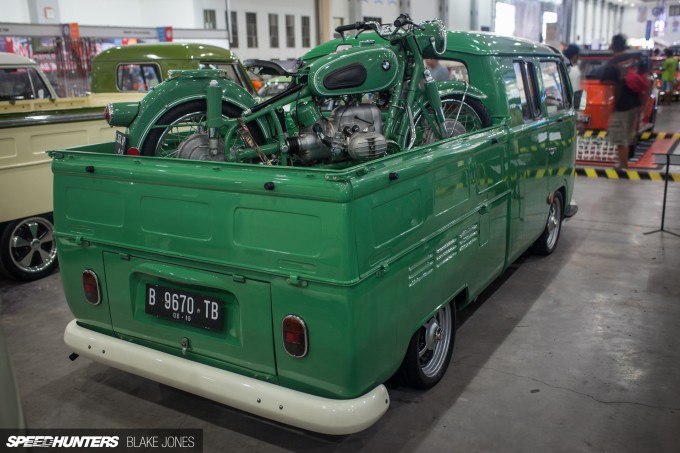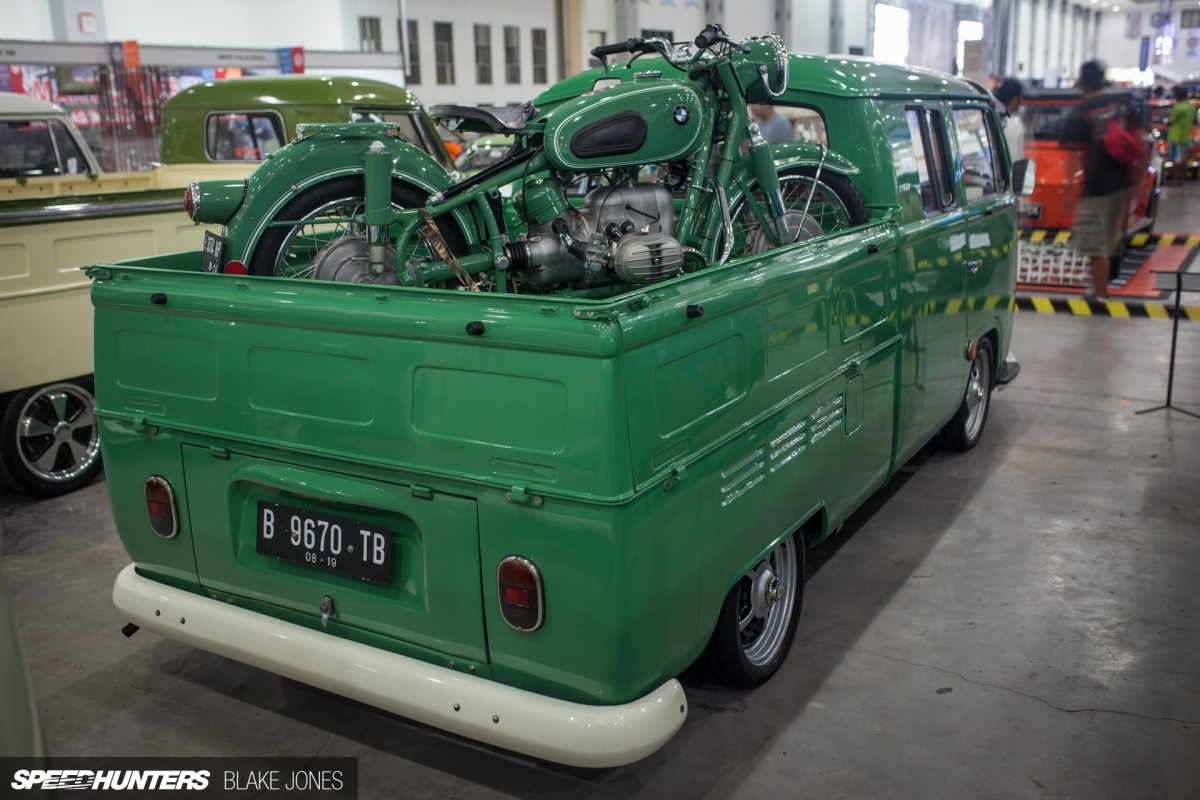 Combining my love for classic motorcycles and large vehicles transporting smaller vehicles was this flatbed Kombi/BMW R50 duo, both treated to ground up restorations and what is now my favourite shade of green. Yep, this is the stuff of dreams.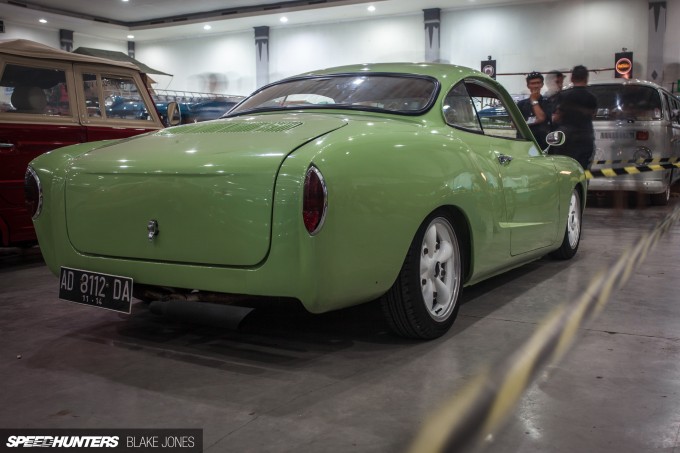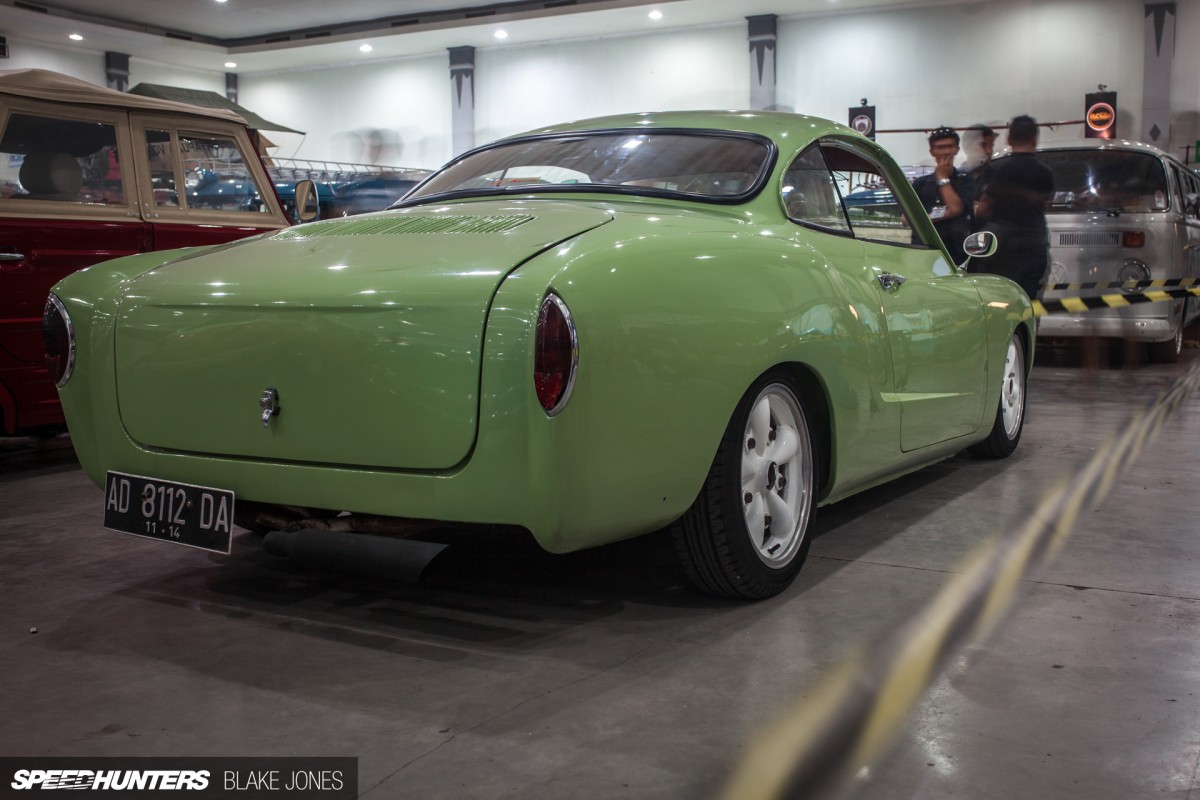 Also tugging at the heartstrings was this shaved Karmann Ghia, devoid of bumpers and looking very purposeful thanks to a hunkered-down stance.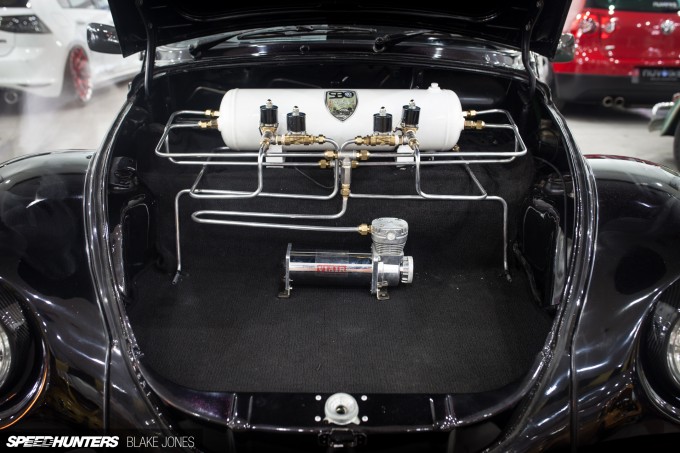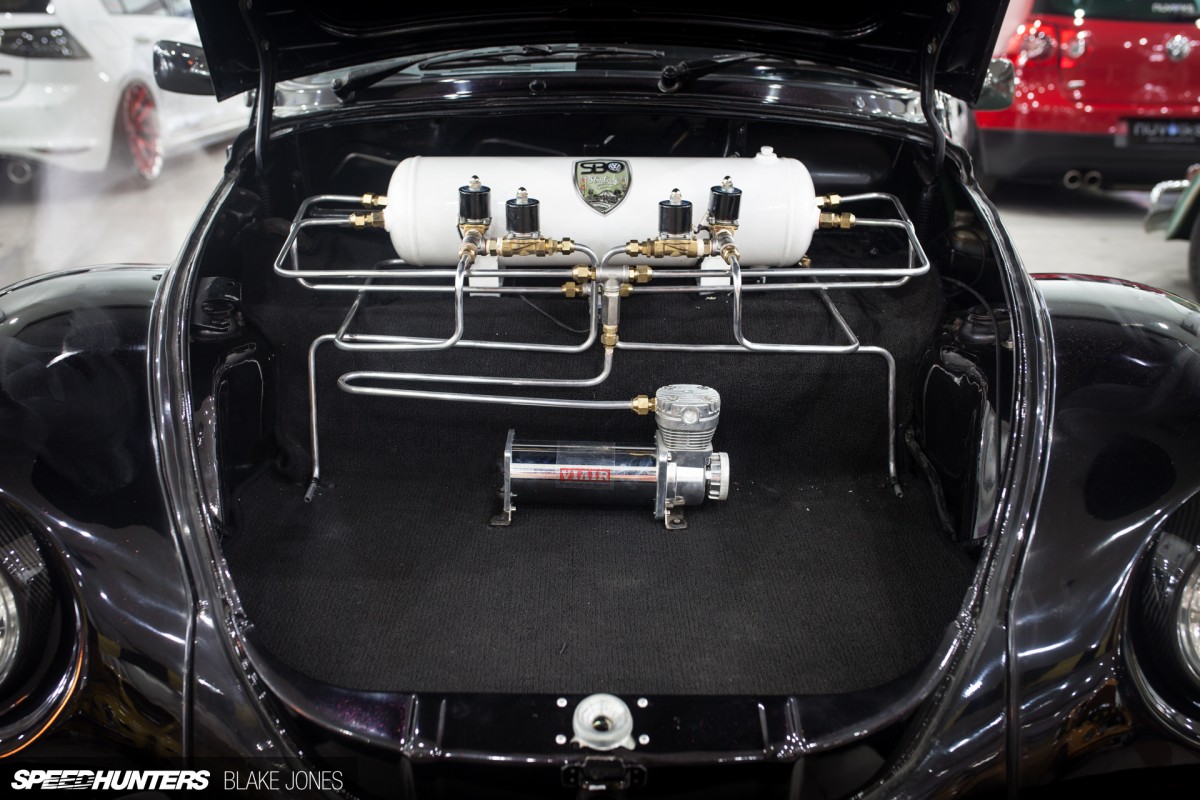 Speaking of the 'S' word, it was interesting to note the relative popularity of air suspension amongst Volkswagens both old and new. Indonesia's roading infrastructure can be best described as a 'work in progress' so it does make a lot of sense to be able to lift your ride away from the broken asphalt and drop it back down to earth upon arrival at your destination.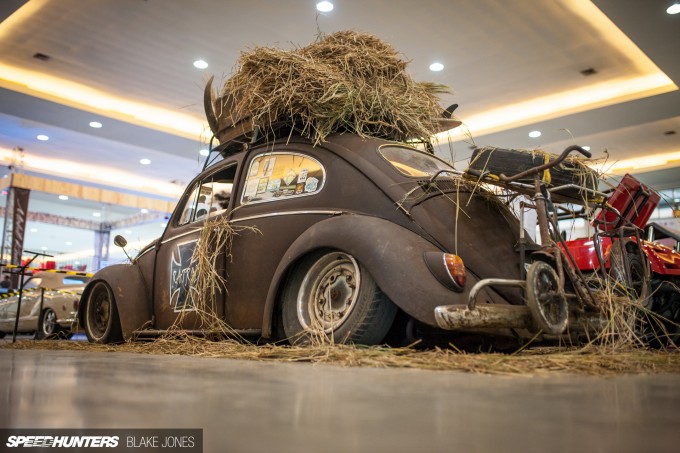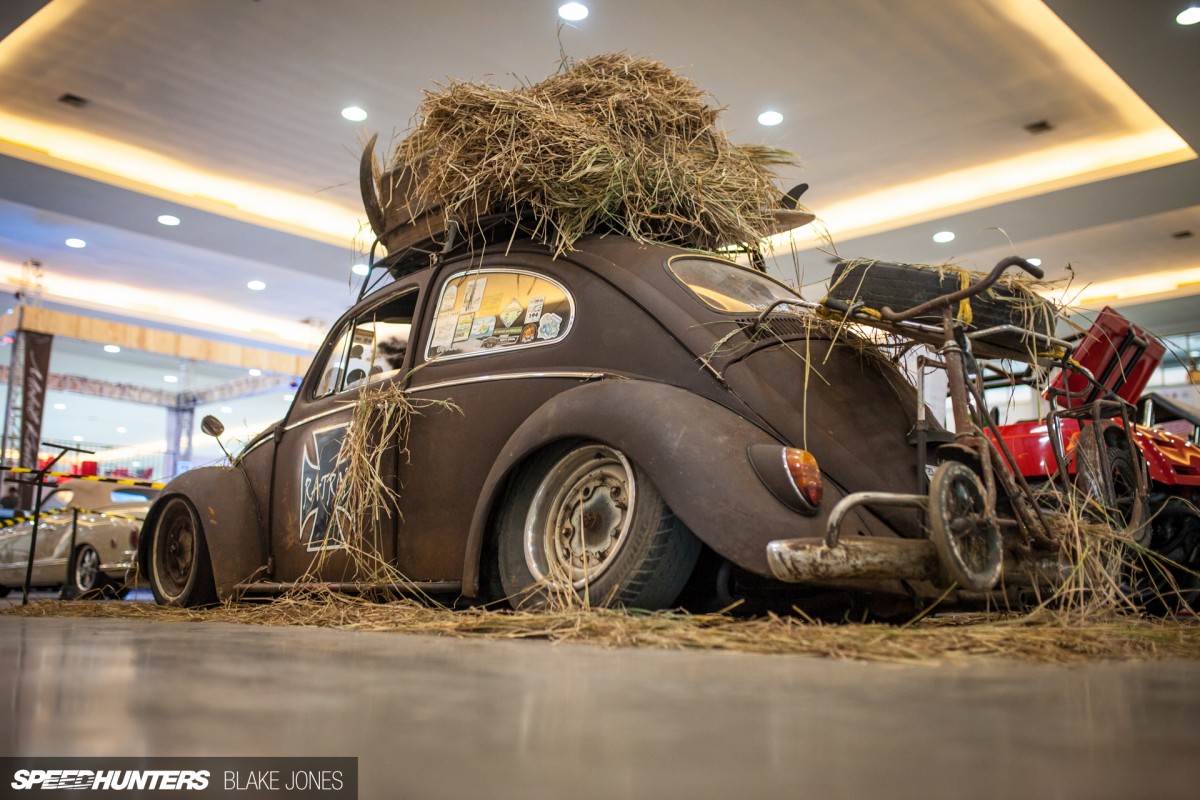 The 'rat look' is still relatively new to Indonesia, but I'm going to christen a new style for this year: barn rat. Hay is the must-have styling accessory in 2016.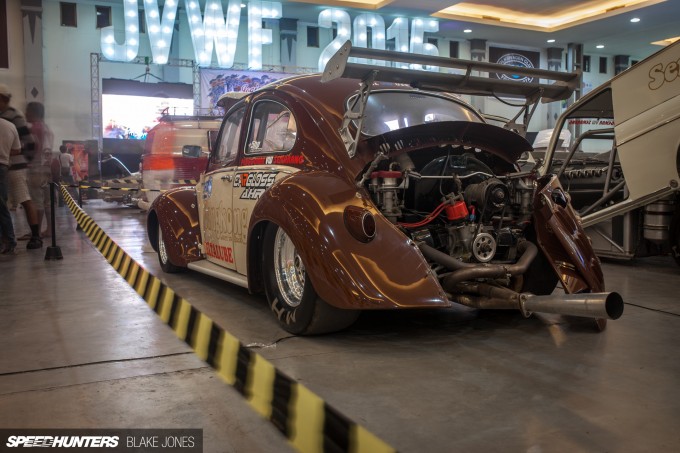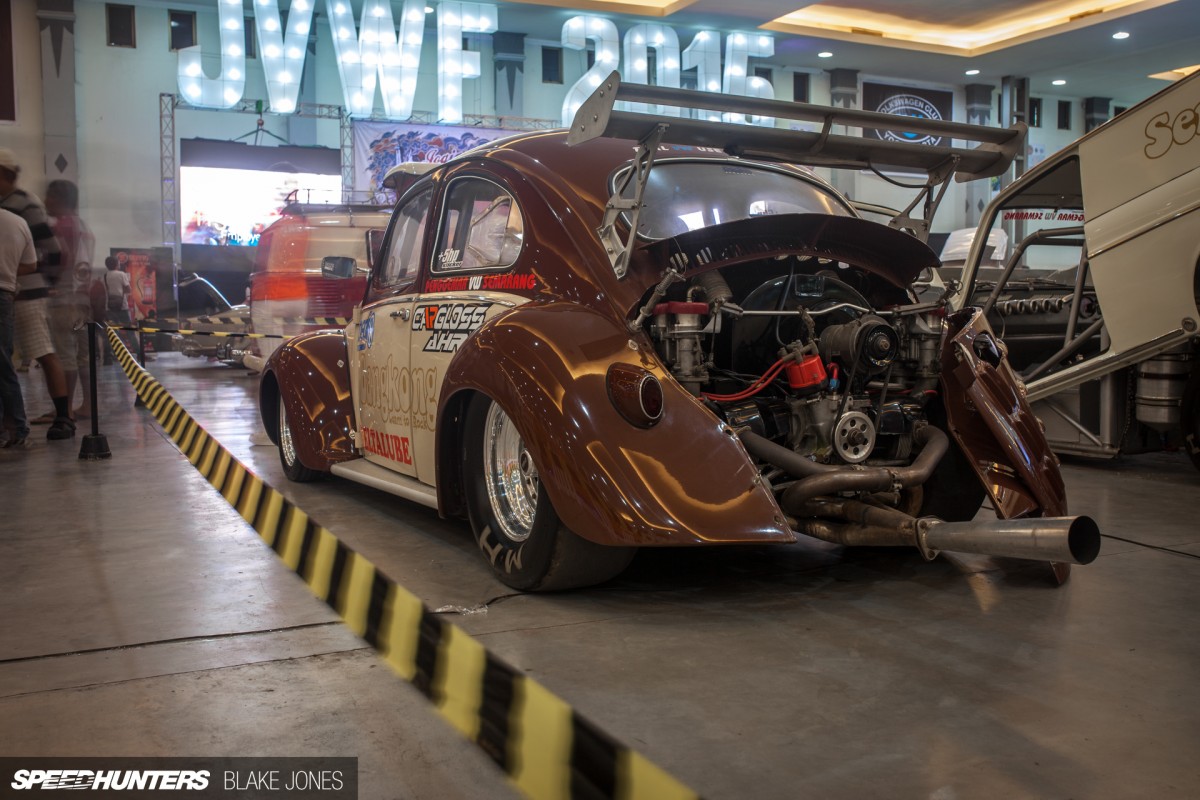 I also came across this absolutely evil drag-spec Beetle. Natural aspiration has been retained here, but in the background you might be able to see a glimpse of our heavily turbocharged 'Speedhunters Choice' car, which we'll get under the skin of soon.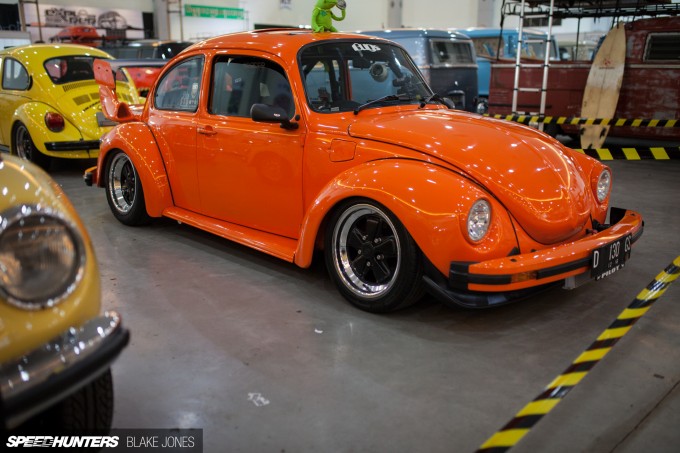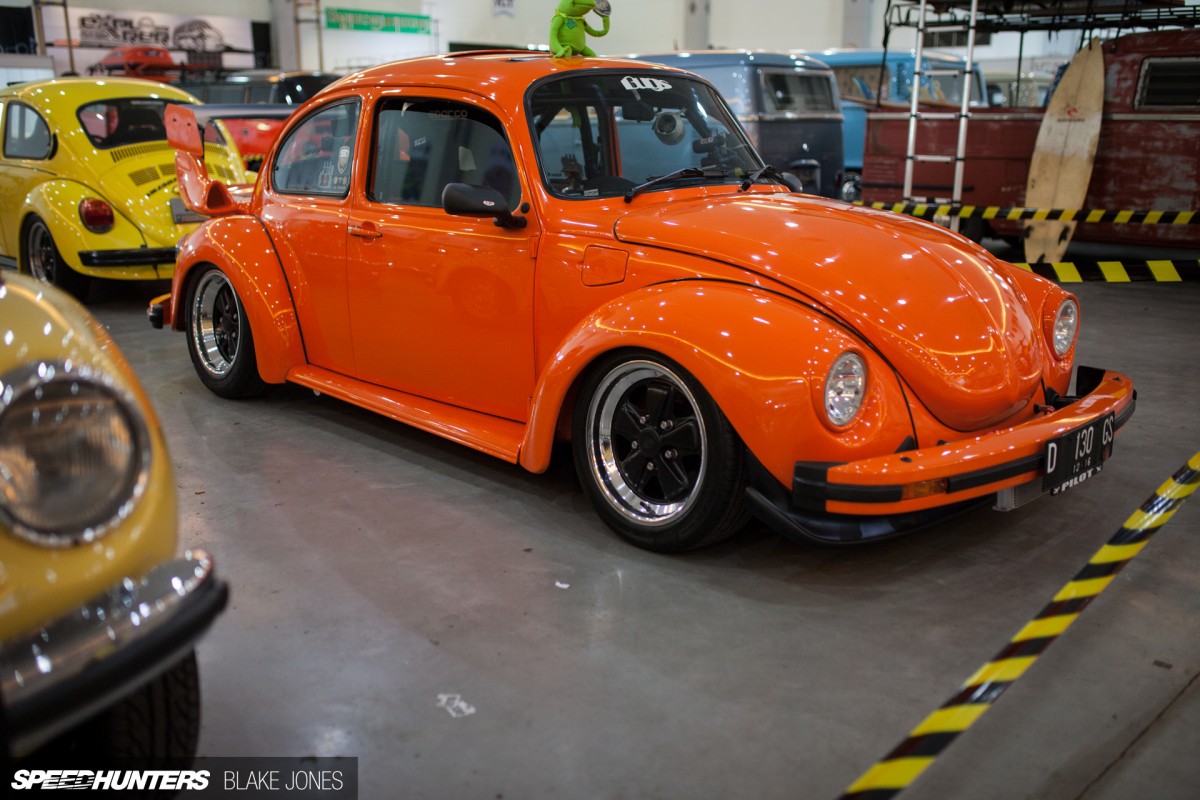 Keeping with the high performance theme is this vibrant bug of the Super Beetle variety – a premium version of the Beetle featuring a whole host of performance upgrades over the base car. The owner of this example has taken that approach even further, and done so in a really unique way. I won't give too much away as we'll be taking a closer look at this car in the near future too.
The People's Event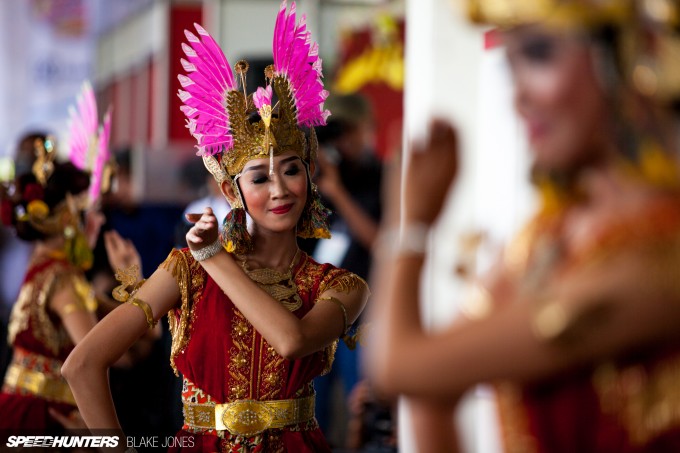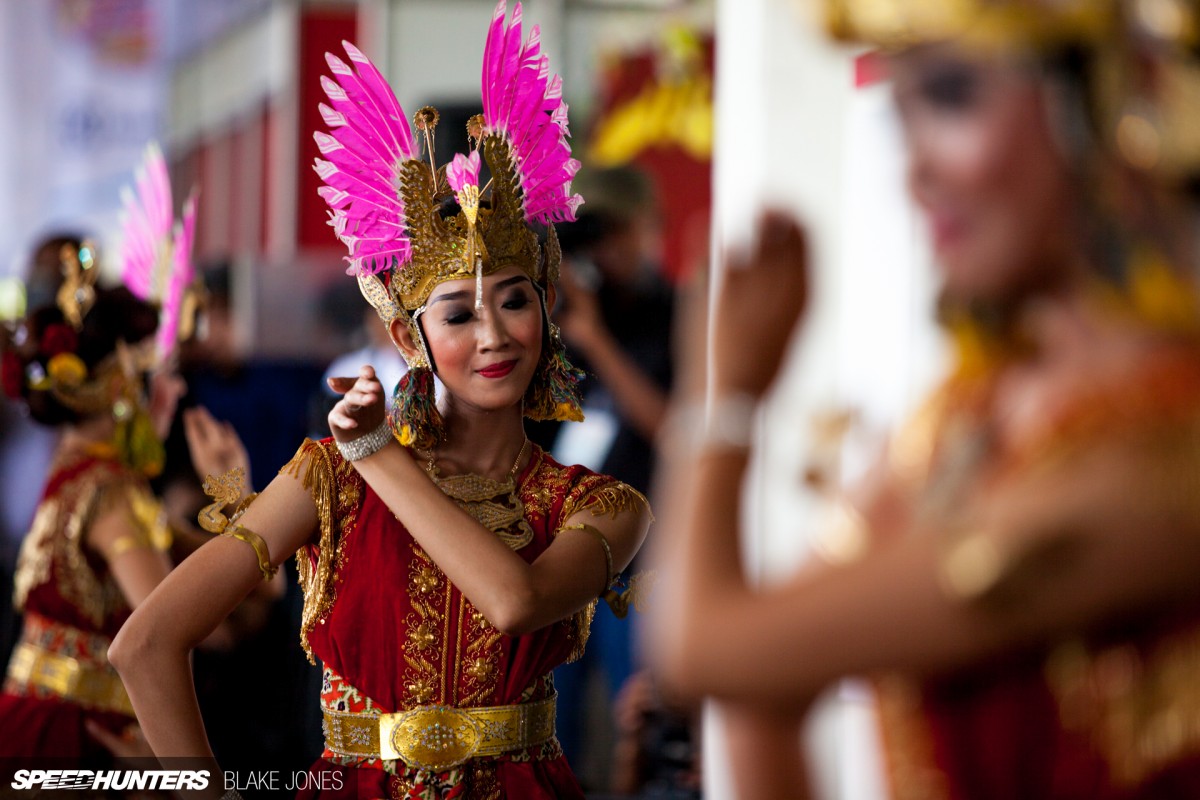 Yogyakarta is renowned for its rich cultural heritage, and the local pride shone through at the opening ceremony, where attendees were welcomed by a traditional band and dance routine. Even the Sultan of Yogyakarta joined in the festivities – not surprising considering that he owns a Scirocco!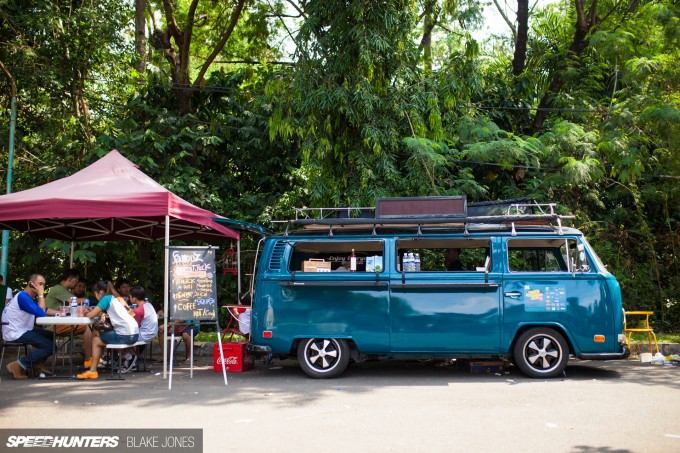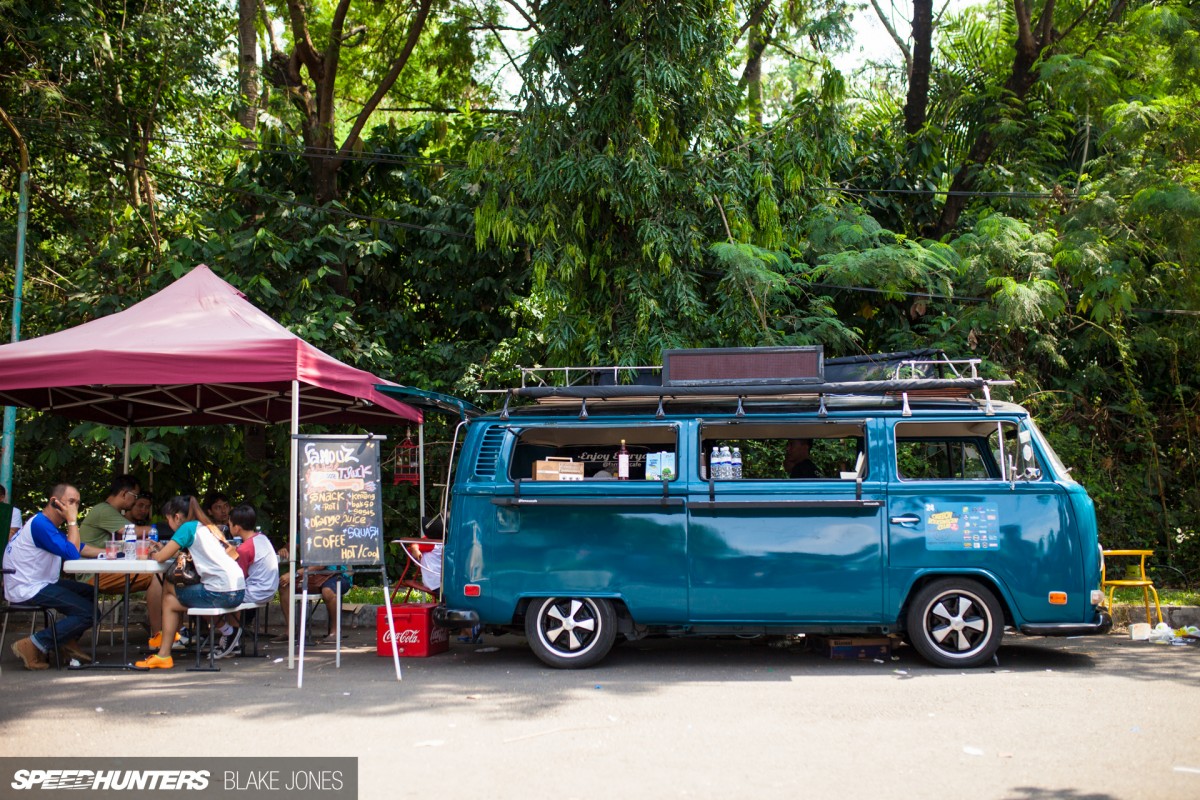 Anyone who knows me knows that my mood is directly proportional to the proximity of my next meal, so car events usually end in me stumbling around like a camera-wielding extra from The Walking Dead. Not so at JVWF though. It turns out that Indonesians love their food even more than I do, and stepping outside the Expo Center punters were greeted with the sight of about 20 food trucks – all Kombis of course!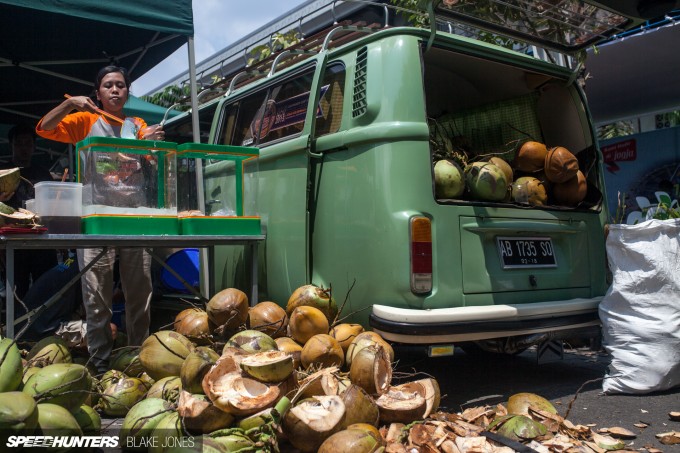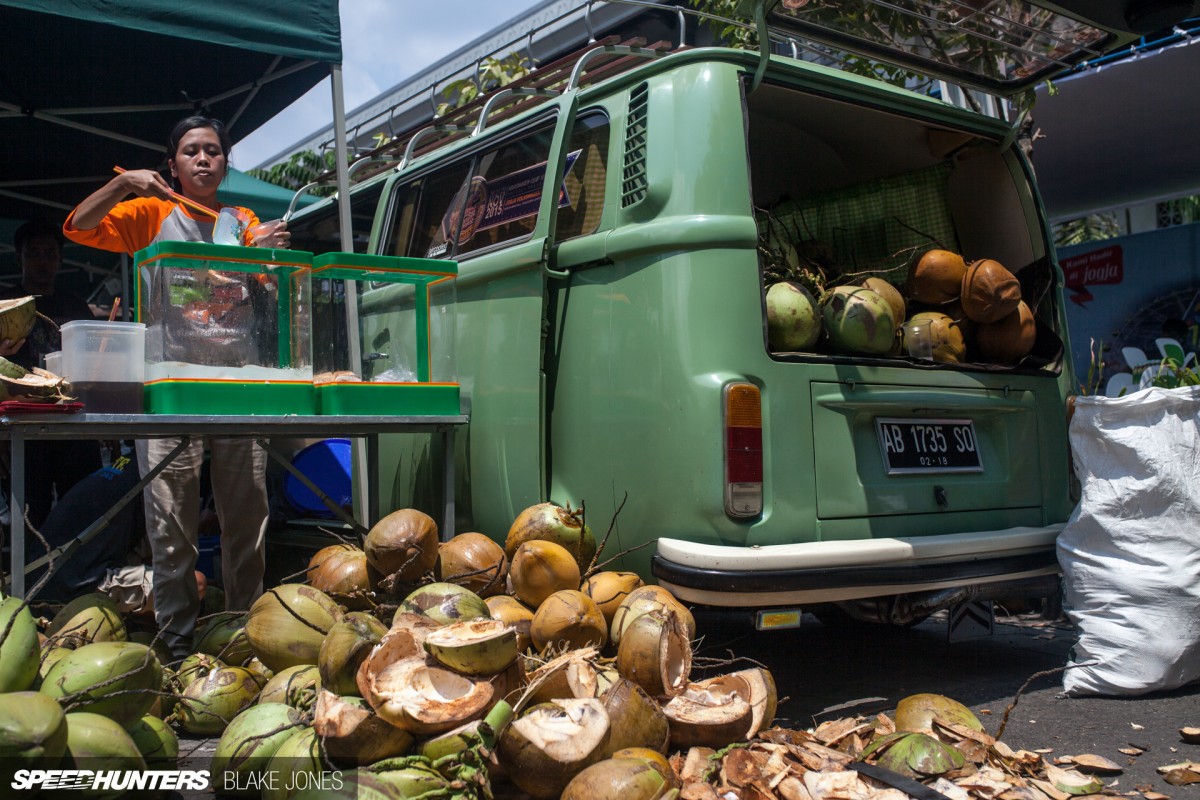 Local favourites like gudeg and mie goreng mixed it with burritos and burgers, and a refreshing coconut water or Bintang was only steps away.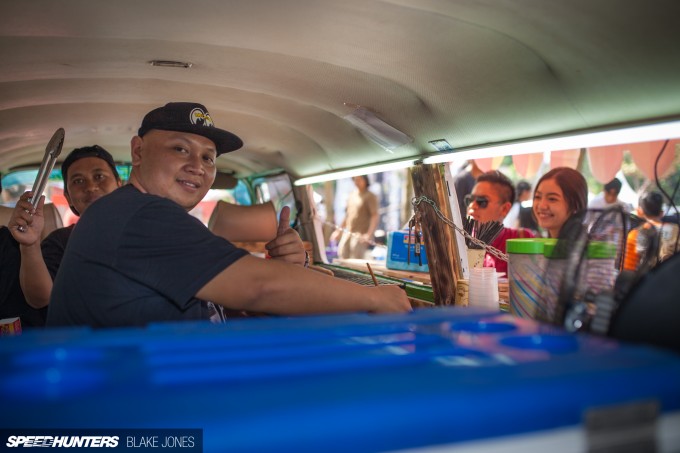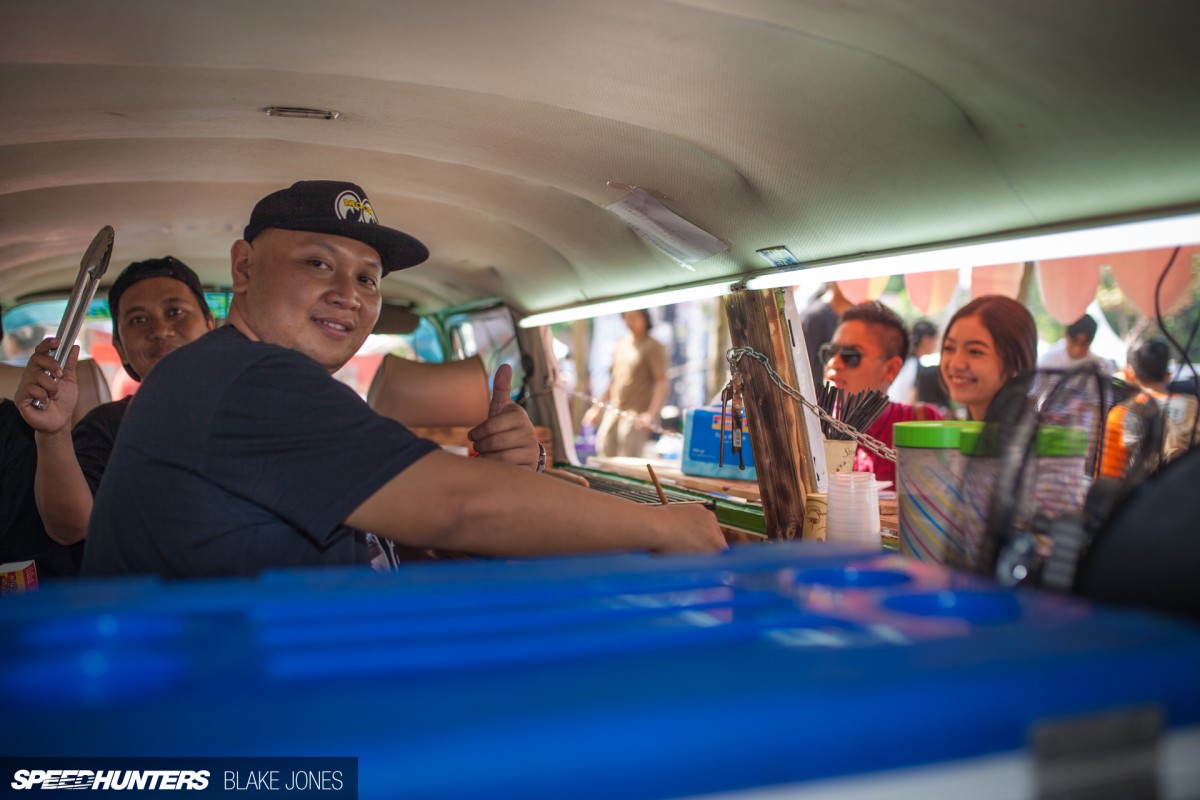 I'd really better stop talking about the food trucks before people start calling me the Lunchhunter or something, but damn, were they good. They really brought a festival vibe and gave attendees somewhere to genuinely rest and refuel before heading back into the throng of the car show. Event organisers around the world – take note!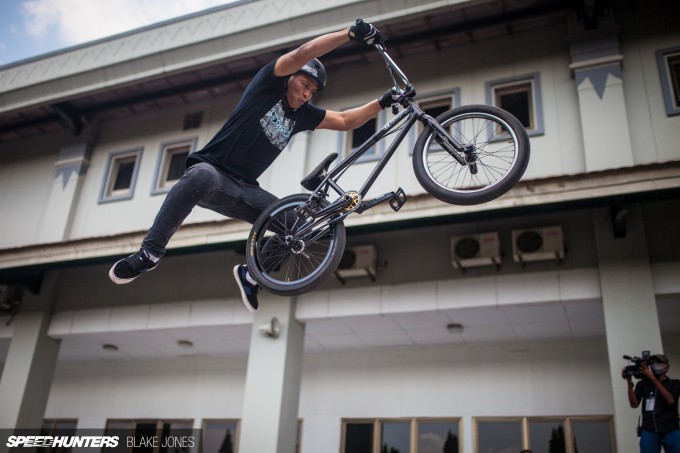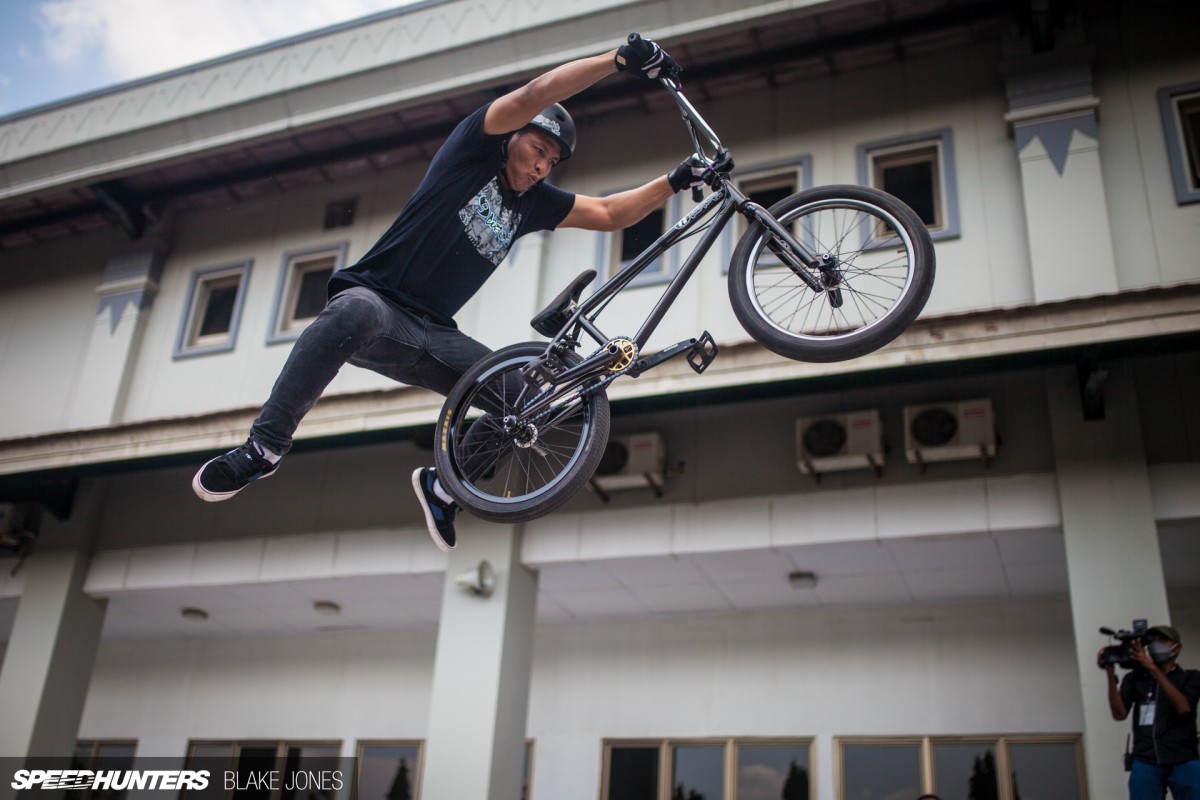 Further outdoor entertainment was provided by the boys at Cb Customs in Thailand who build killer custom VWs in their downtime from touring Asia as professional BMX riders, while DJ's and local rock bands tore up the nearby outdoor stage. The 'festival' descriptor gets thrown around these days, but JVWF definitely earned it.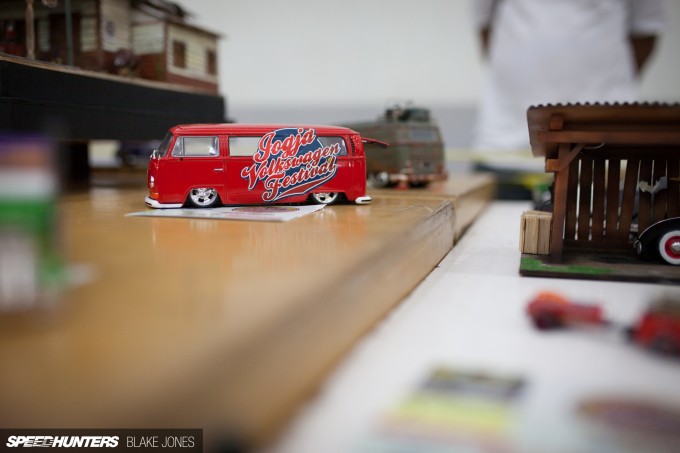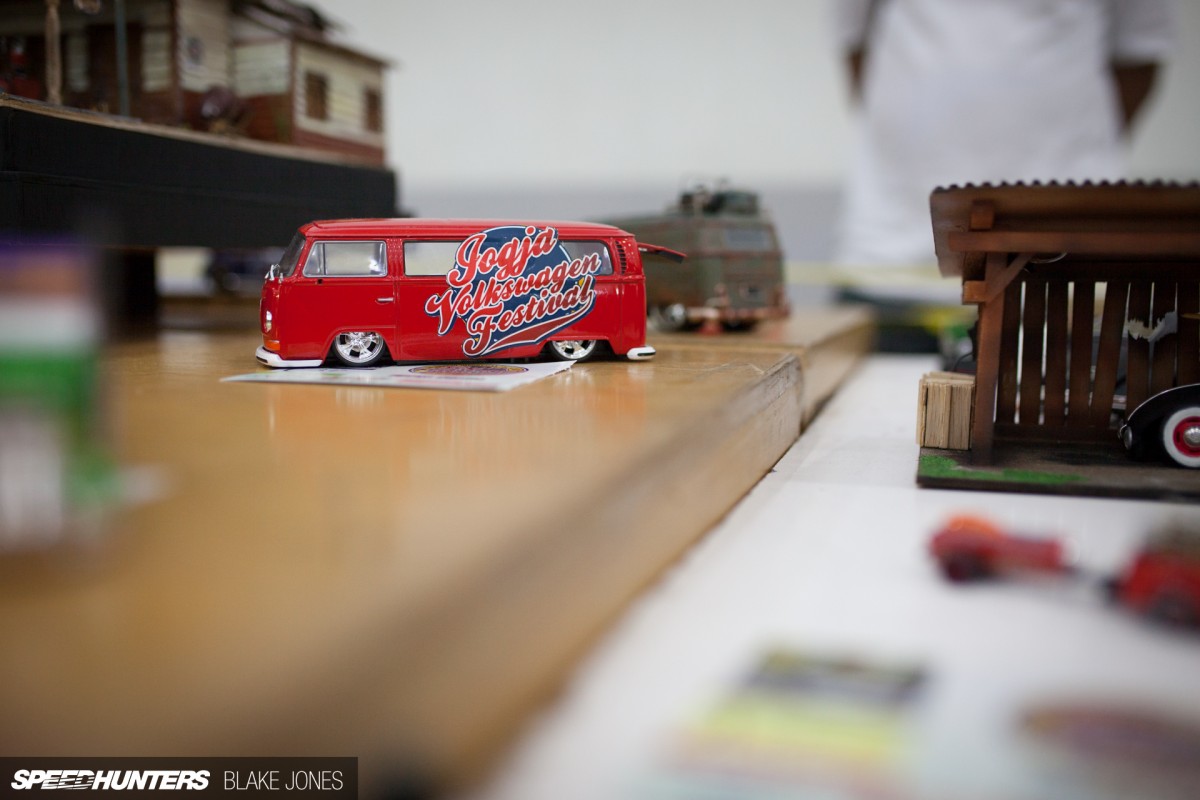 There was some smaller entertainment too in the form of a custom scale model competition. This little bus reminded me of the Kombis that were used as transport for the official guests. Too cool!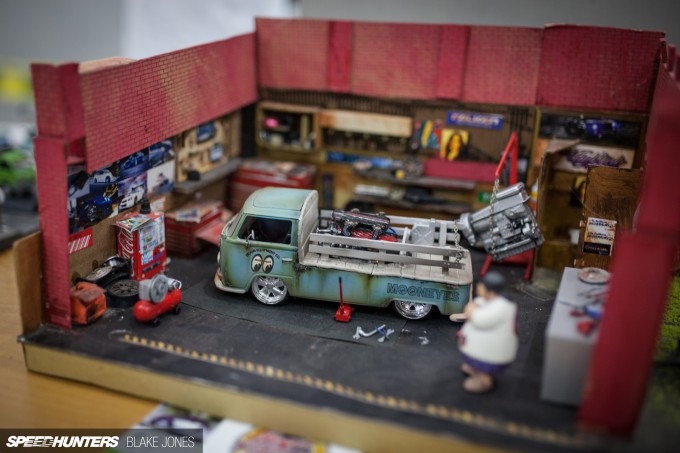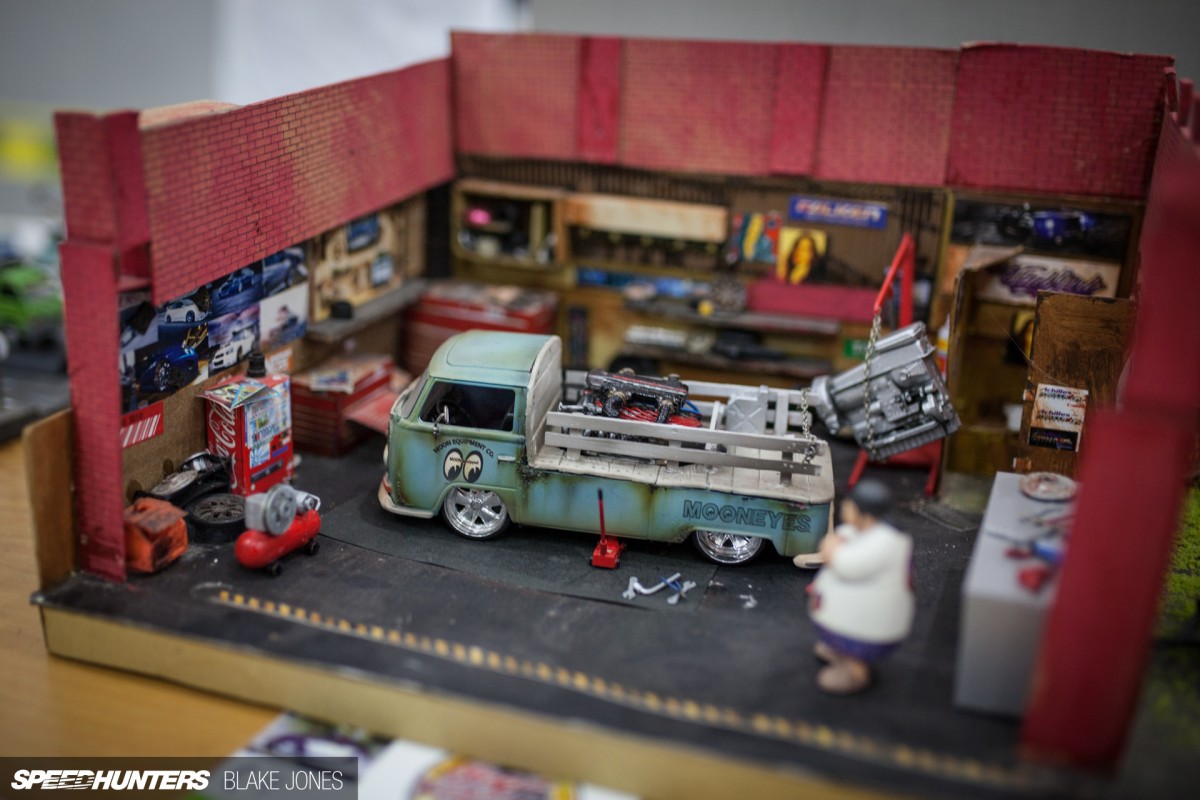 My pick was this flatbed diorama, replete with tiny details like an air compressor, wall posters and a Japanese-style drinks vending machine.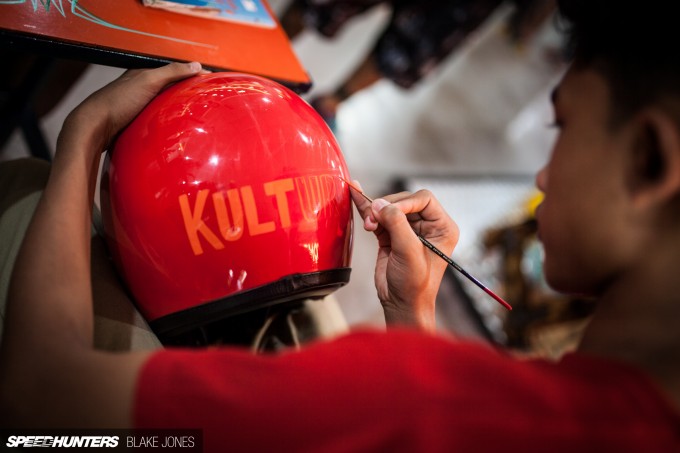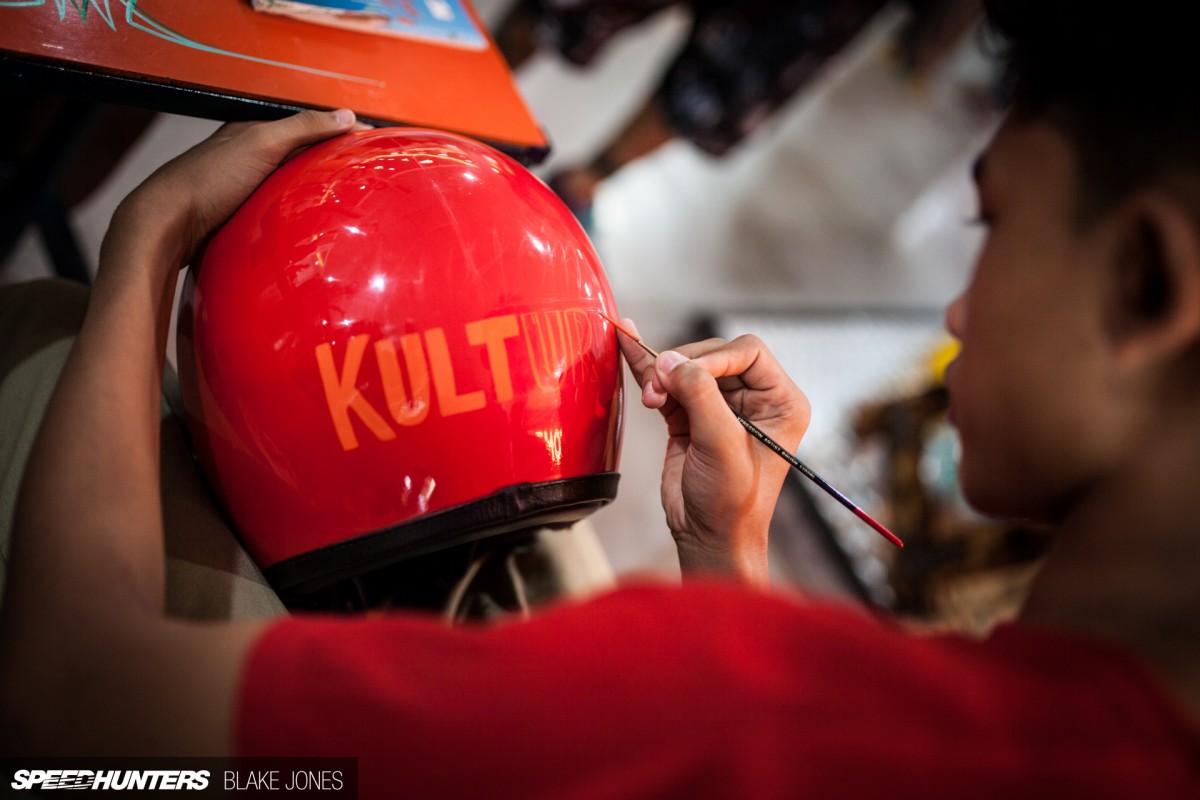 The word 'dynamic' seems fitting to describe JVWF, and very rarely was there a moment without something happening. Between interviews and presentations I made sure to take a close look at the work of some of the upcoming local artists, including the pinstriping artist at the Kustomfest stand, seen here applying his stamp on a retro lid.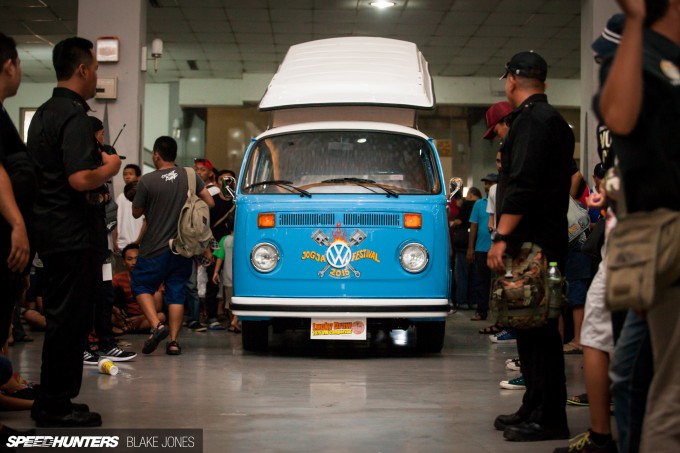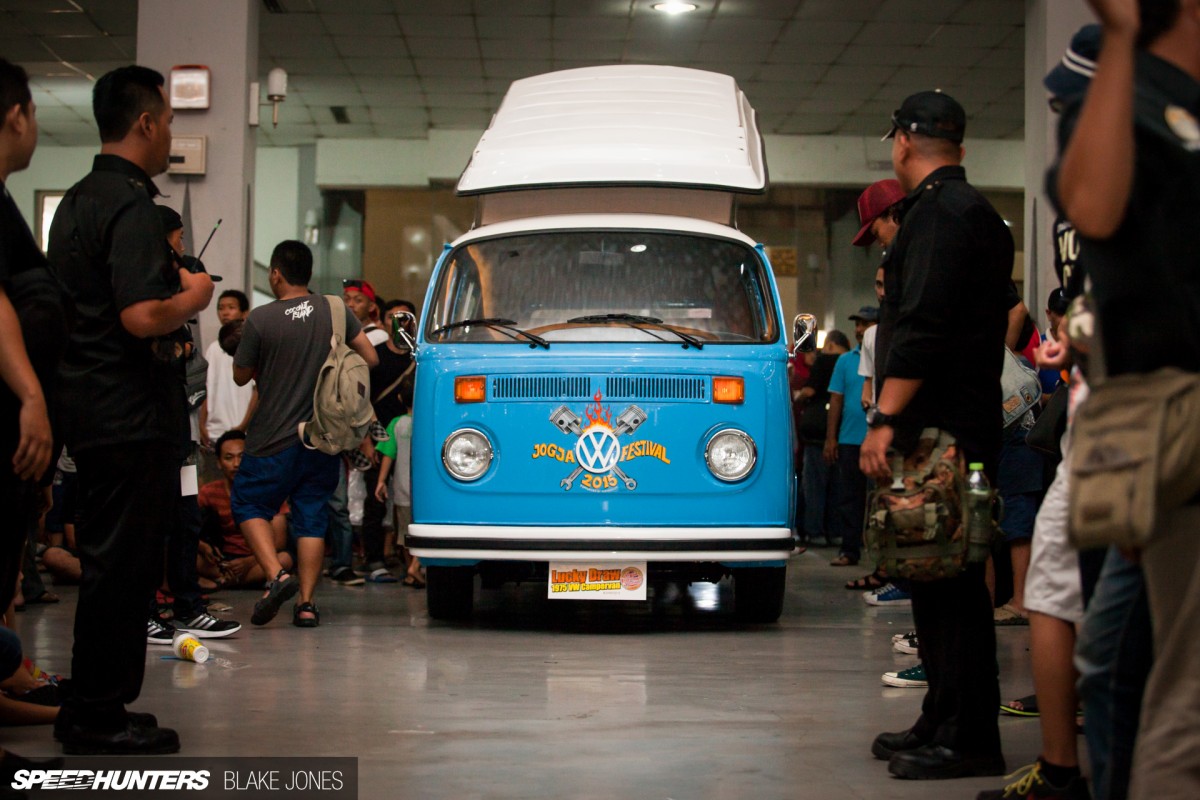 Also receiving the hand-painted touch was the official JVWF Camper, which was rolled through to the stage on Sunday afternoon. Why, you may ask? One lucky attendee actually took the campervan home from the festival as a grand prize! I tried to sneak an entry in before the organizers busted me, but no such luck. Next time…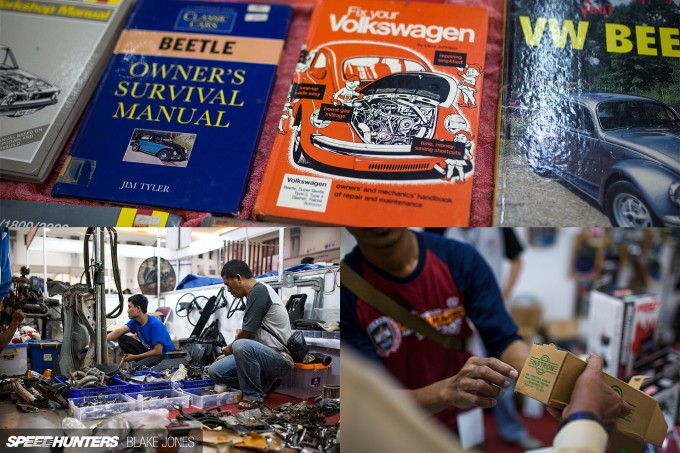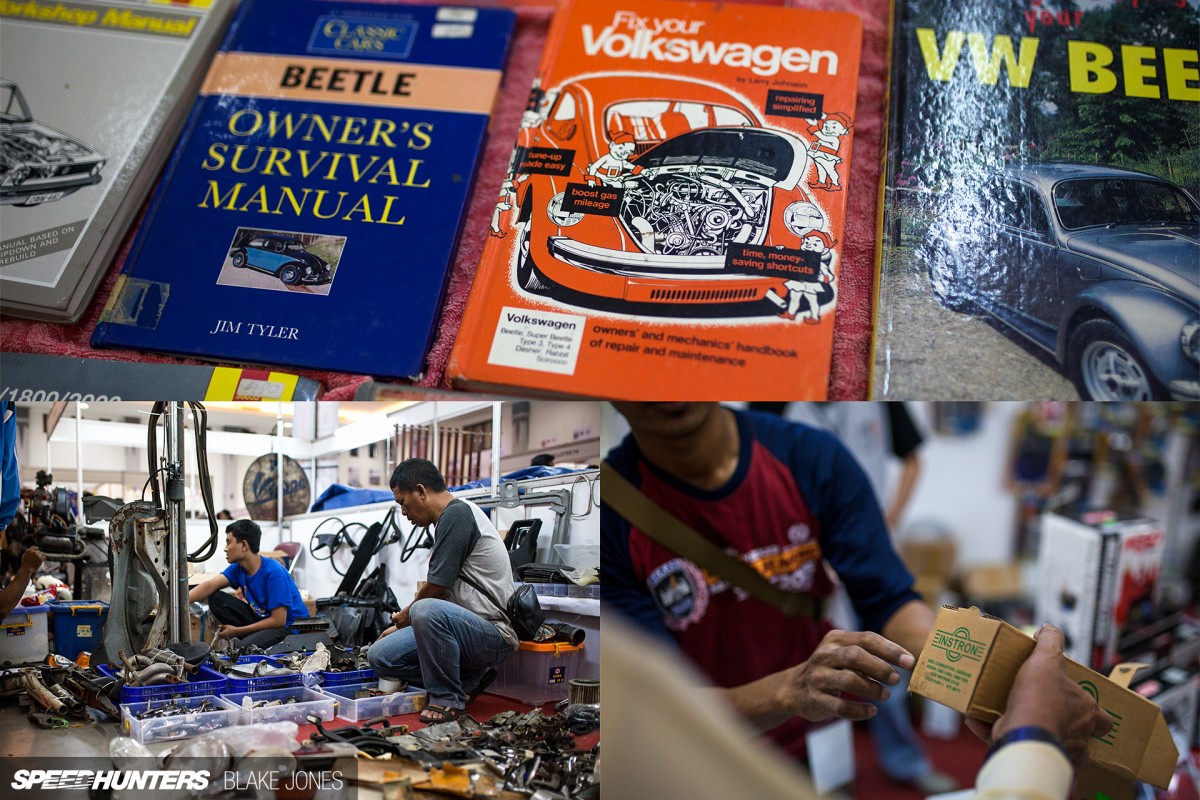 A large section of the hall was dedicated to trader stands selling an eclectic mix of new and hard-to-find used parts. Genuine parts can tend to be very expensive in Indonesia due to the high import duties, which is why the local industry has picked up the baton and can make anything from replacement floorplans to complete Karmann Ghia shells.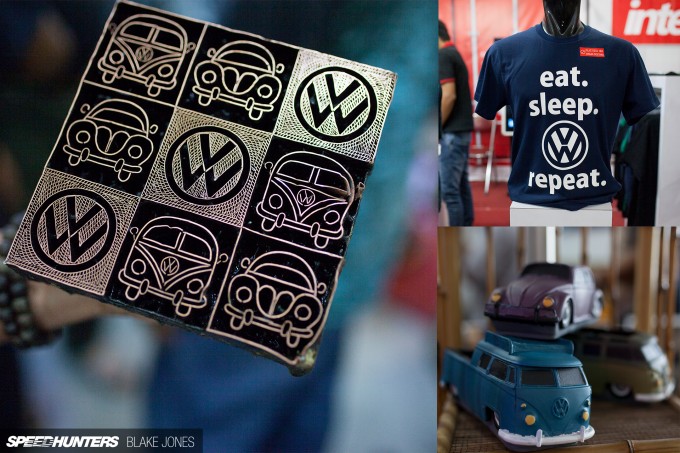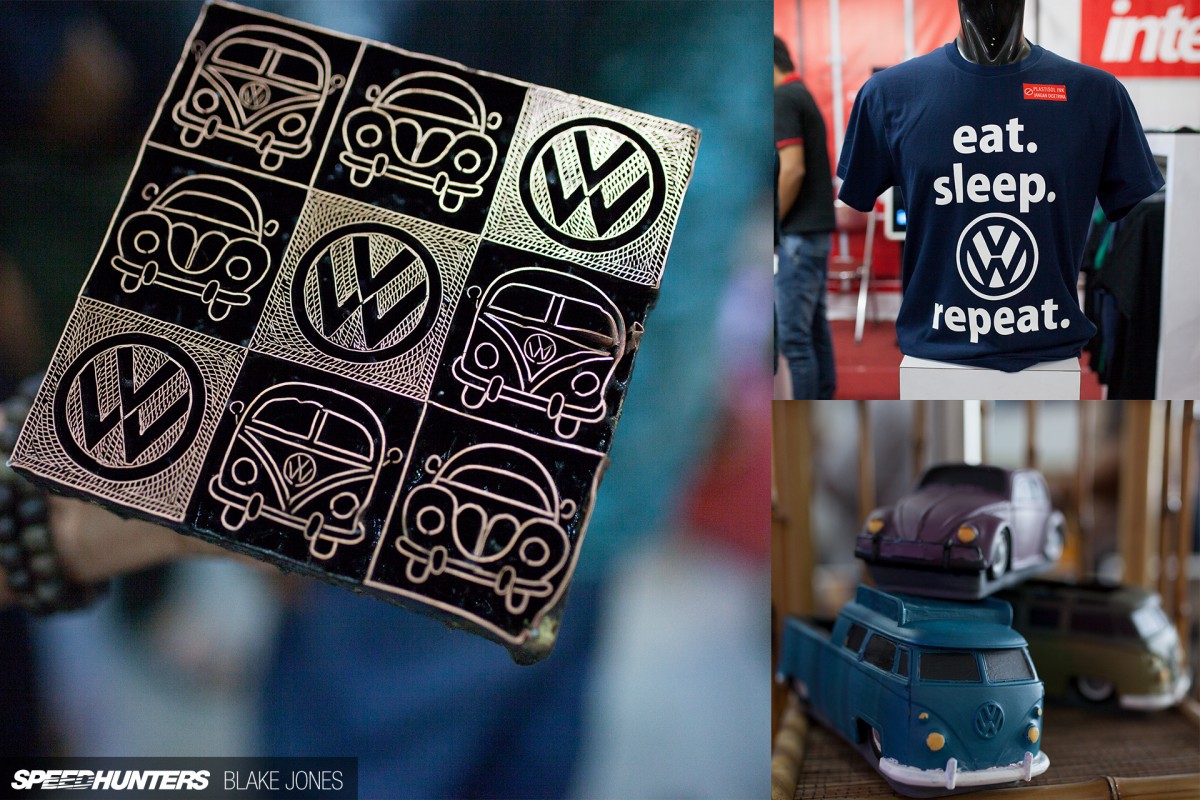 VW enthusiasts are absolutely crazy for VW-branded everything, but even so I was gobsmacked with the amount of different merchandise on offer. On the left you can see the custom stamp made to print a repeating design onto a batik – an Indonesian fabric used in shirts, dresses and the like.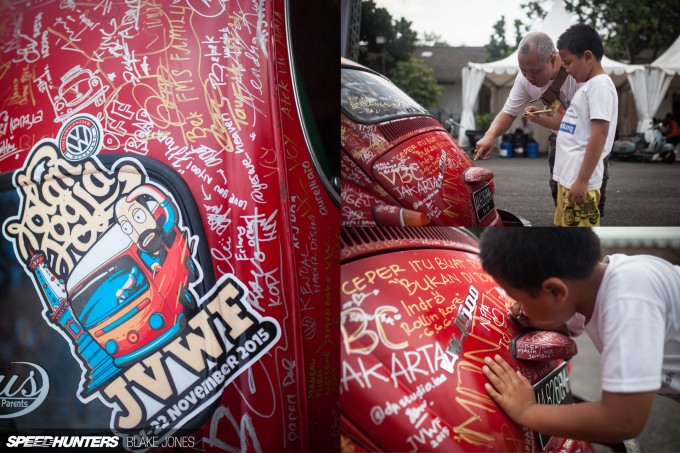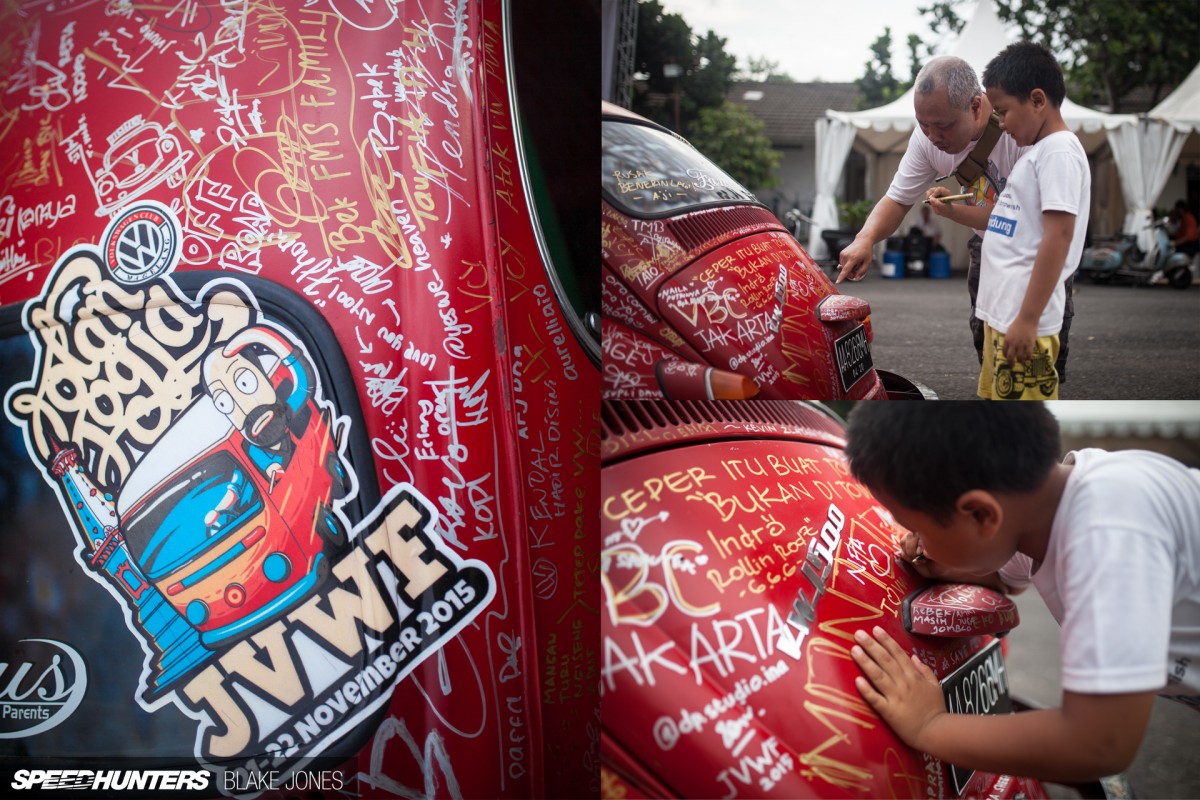 What more can I say about JVWF? Plenty, actually, but it all comes back to one thing: community. For a disparate collection of clubs linked only by their enthusiasm for VW to organise an event on this scale may have seemed like a logistical impossibility, but it was pulled off with absolute flair and proves just how far a shared passion can take something. If there was ever any question about whether a VW event in Southeast Asia deserved to be on the global stage, consider it resolved: JVWF is here to stay!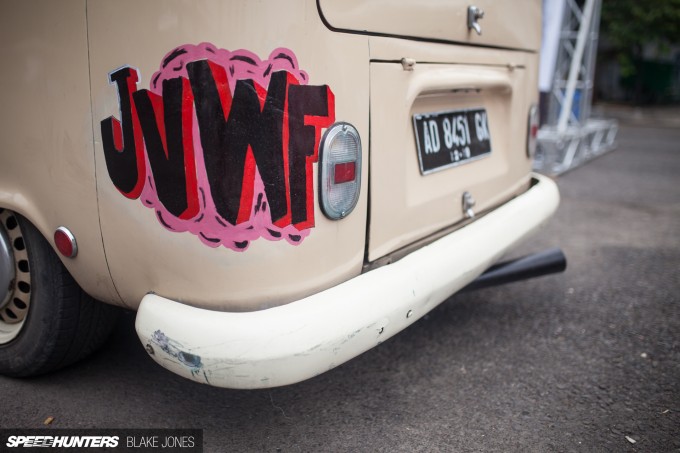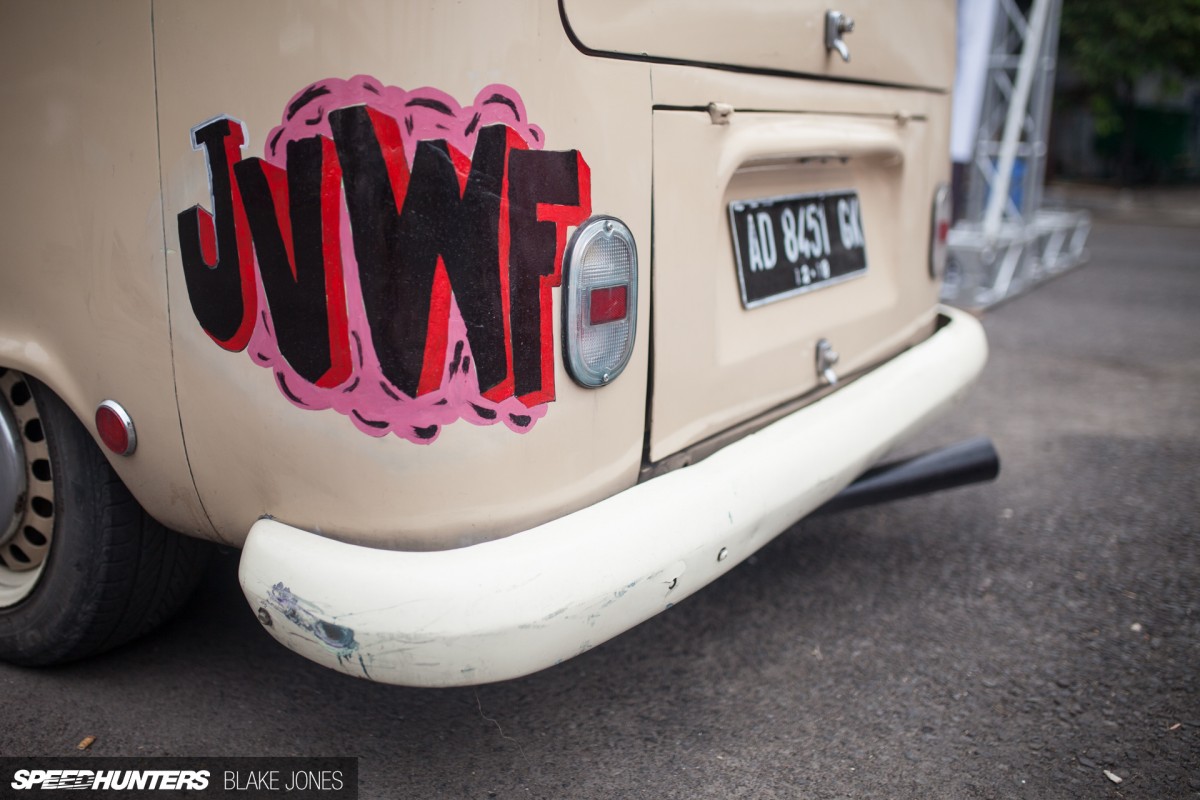 In such a short time period I was completely blown away by not only the quality of vehicular eye-candy at the event, but the hospitality and fun-filled attitude of the people of Jogja, and I can't wait to see what 2017 brings for the Jogja Volkswagen Festival.
There's plenty more to come from JVWF and Indonesia, so don't touch that dial.
Blake Jones
Instagram: blaketjones
blake@speedhunters.com
Cutting Room Floor