Japanese Legend
Unless you've been living under a rock for the last several years, there's no doubt you've heard about the boom that the classic Japanese car market is currently experiencing.
From million dollar-plus Toyota 2000GTs at auction, to the skyrocketing prices of everything from Datsun 510s to AE86s – old Japanese machinery has never been more popular.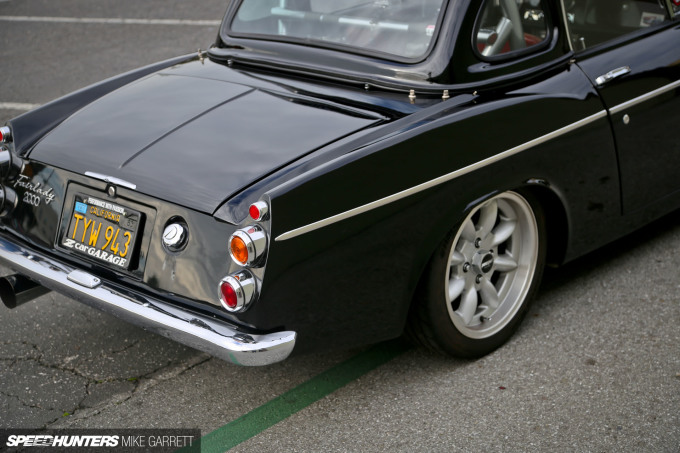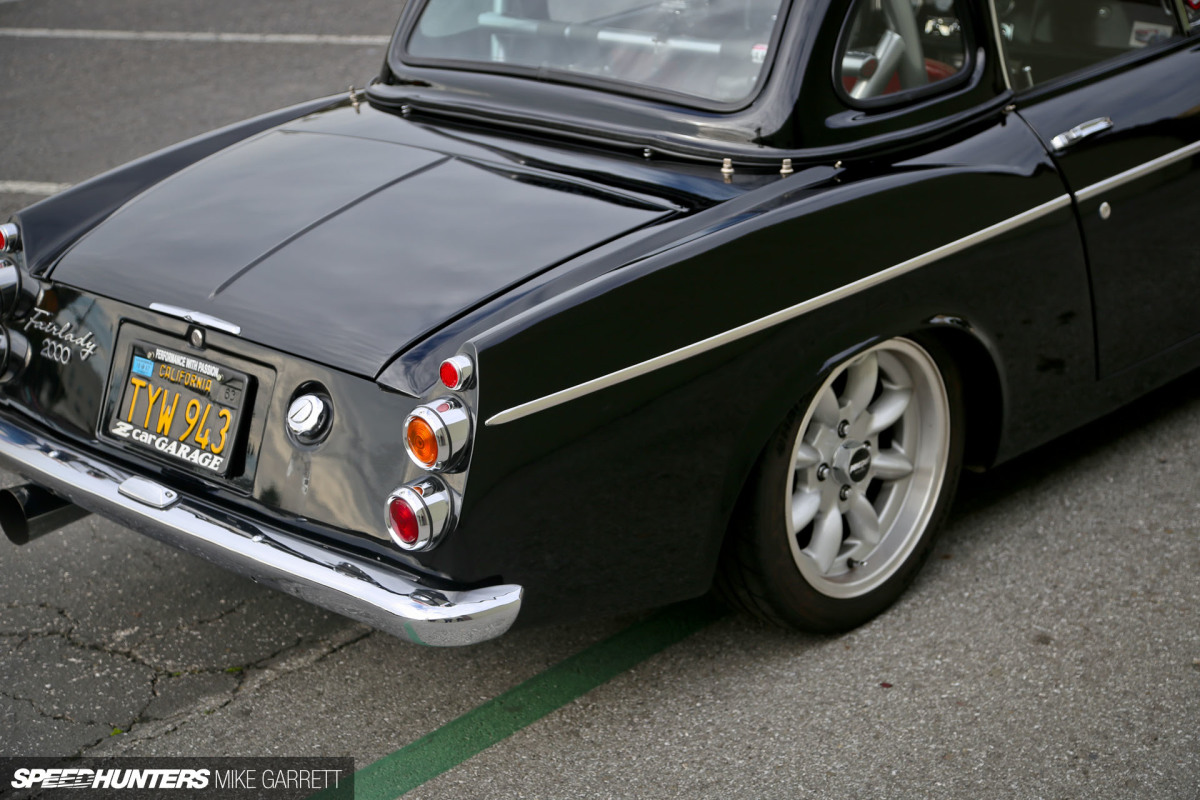 Yet, I still can't help but think that one of the most historically important Japanese vehicles always gets overlooked; the car that was an MX-5 a couple decades before Mazda first released its two-seater sports car. I'm taking about the Datsun Fairlady Roadster.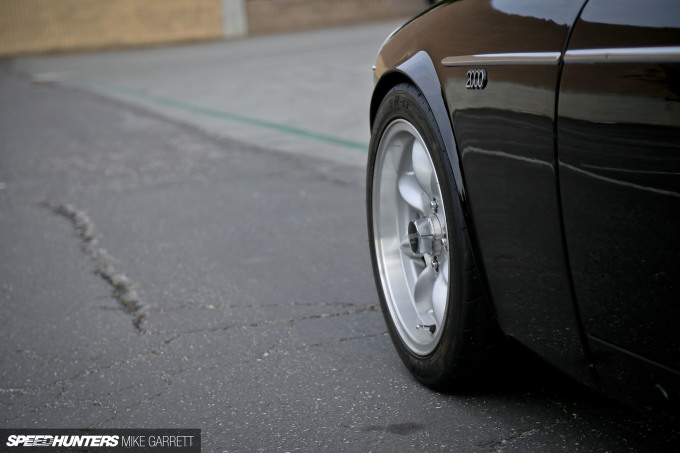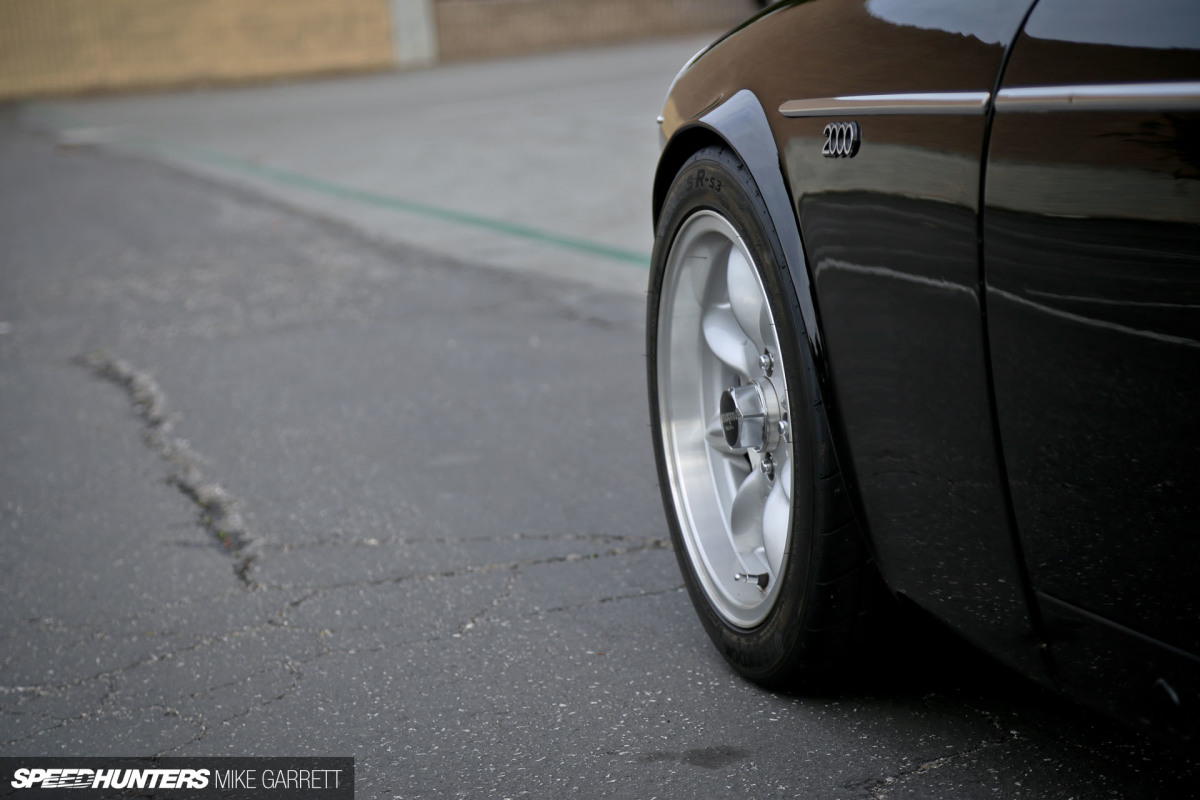 The Datsun Roadster of the 1960s was aimed straight at sports cars from Europe, and it was a massively important vehicle when it came to the growth of the sports segment in the Japanese market. It's also a car that I feel never quite gets the attention it deserves.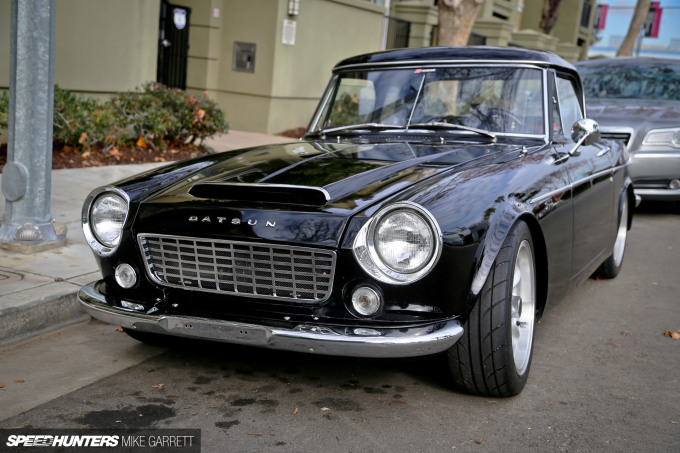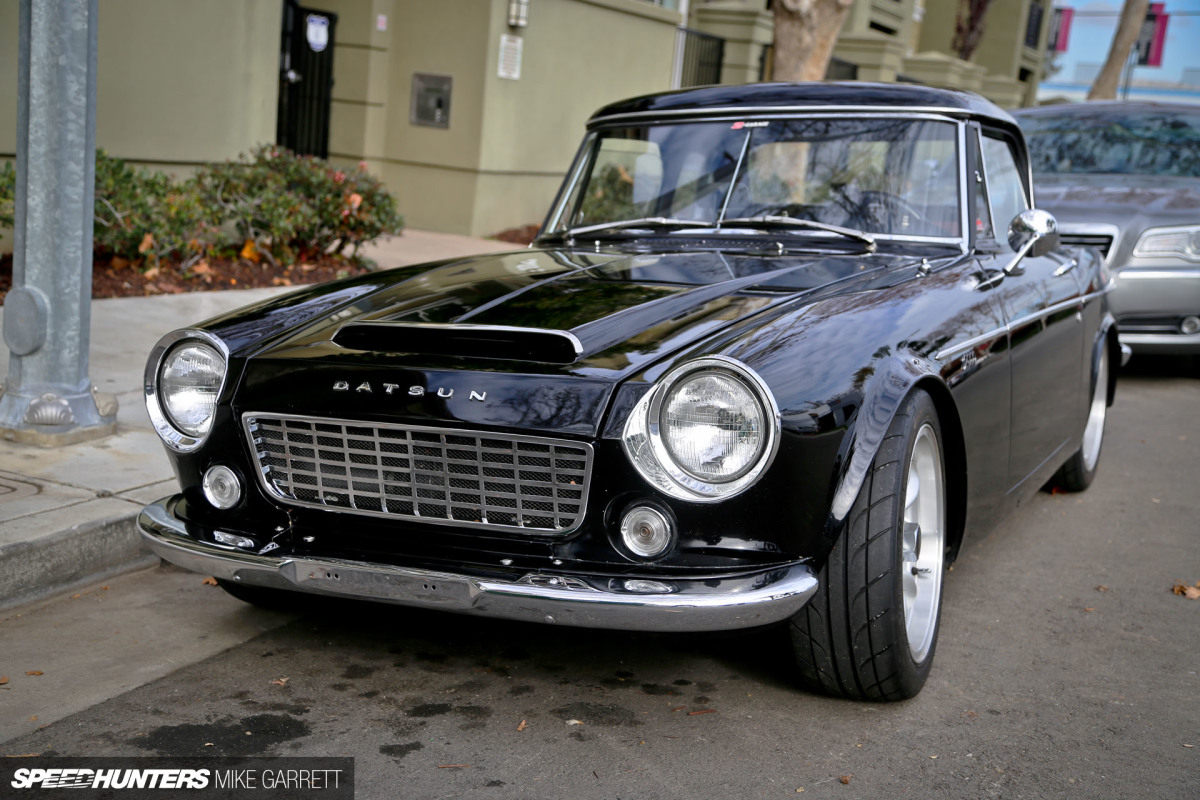 But that's not to say Datsun Roadster owners are short on passion – anything but. And that brings me to Alvin Gogineni, the owner of this beautiful black 1967.5 SPL311.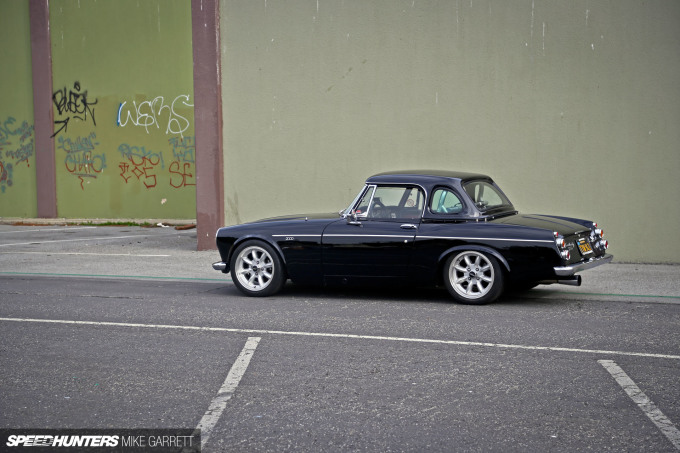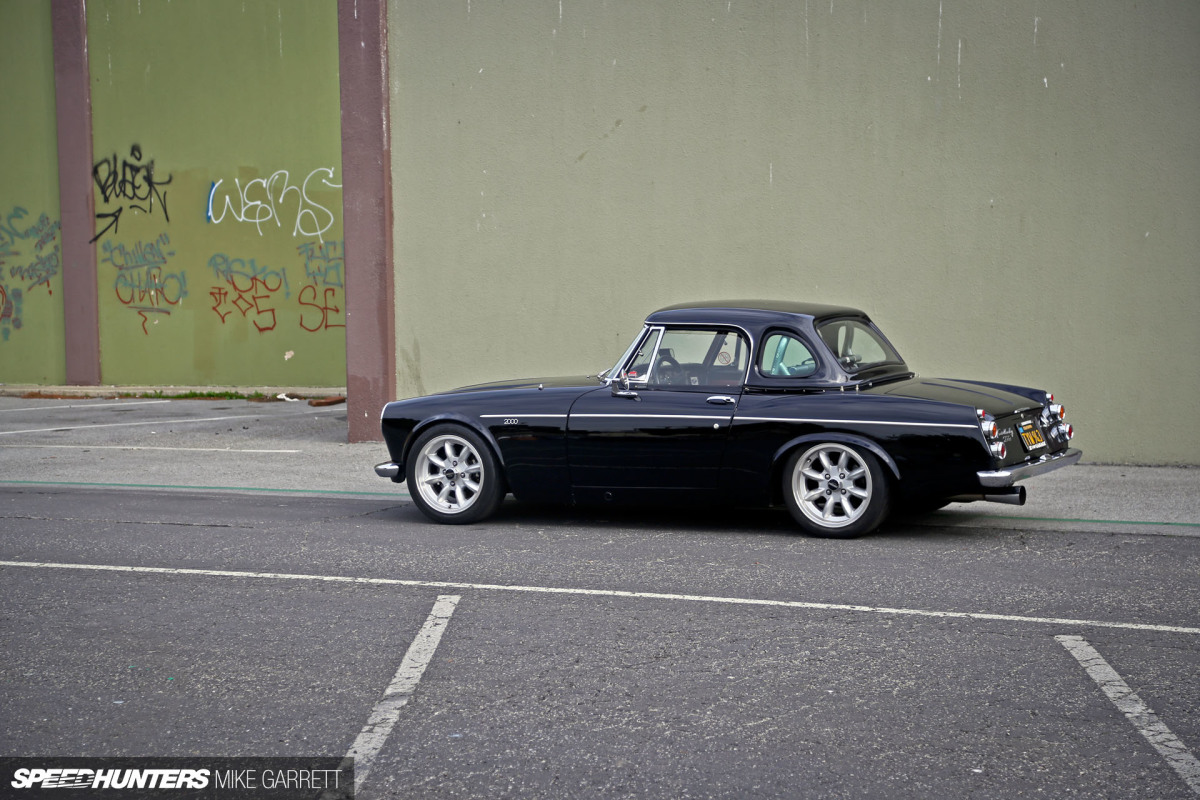 Alvin has been a Datsun lover well before the current boom. In fact, he acquired his Roadster in Modesto, California, way back in 1999. This was a time when vintage Japanese machines were still a cult thing in the US, driven purely by passion and not by investment and speculation.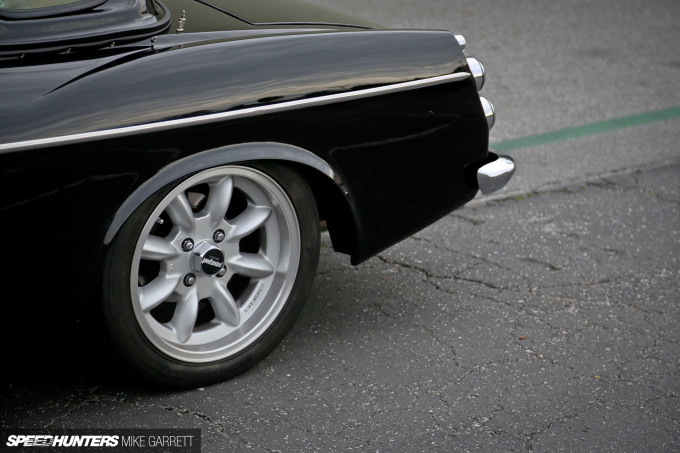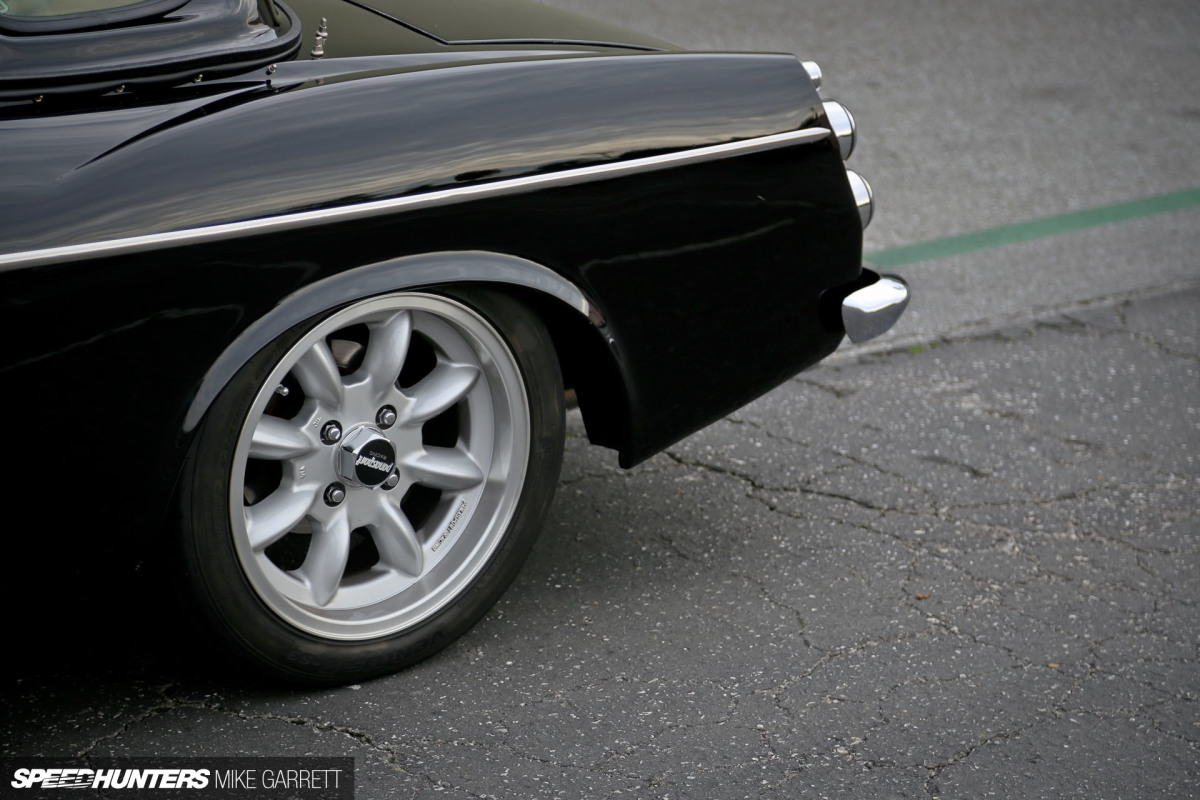 The car originally left the factory in Japan as a standard 1600 model with a 4-speed gearbox, but the previous owner had swapped in the more potent U20 engine with a 5-speed trans. Alvin enjoyed the carbureted setup for a while before deciding an upgrade was in order.
N/A All The Way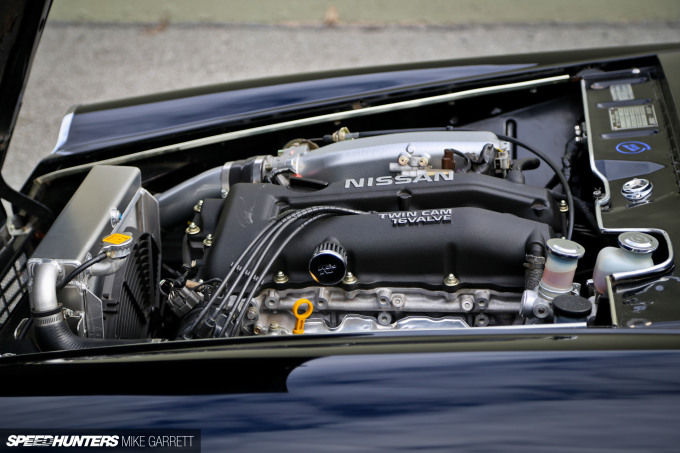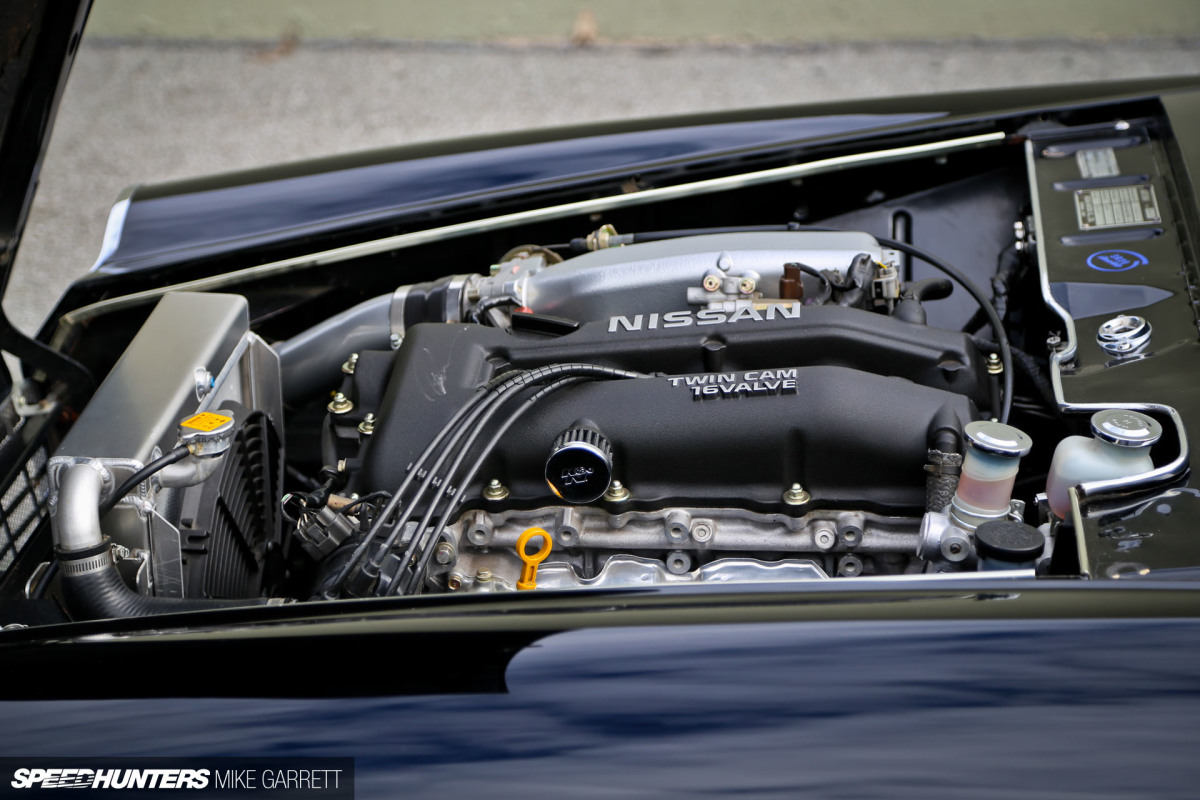 By this time Alvin had linked up with Rob Fuller of Z Car Garage fame, and together they came up with a plan of attack to make the old Datsun more powerful and reliable without straying far from the car's roots. The U20 was pulled out and in its place went a version of Nissan's venerable SR20 powerplant. Not the turbo variant, but a naturally aspirated engine pulled from a Japanese-market S14 Silvia.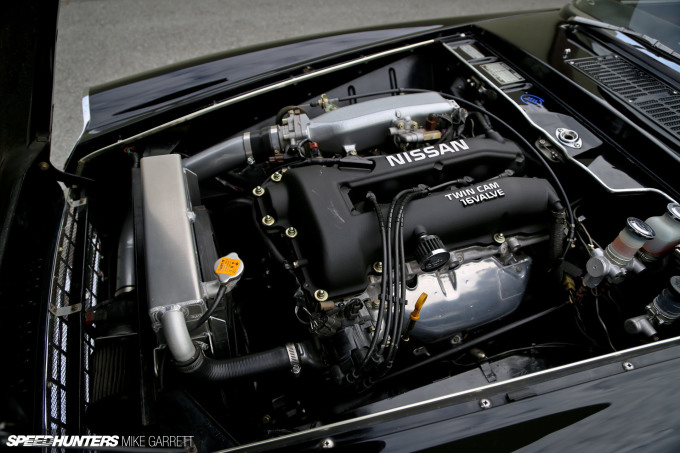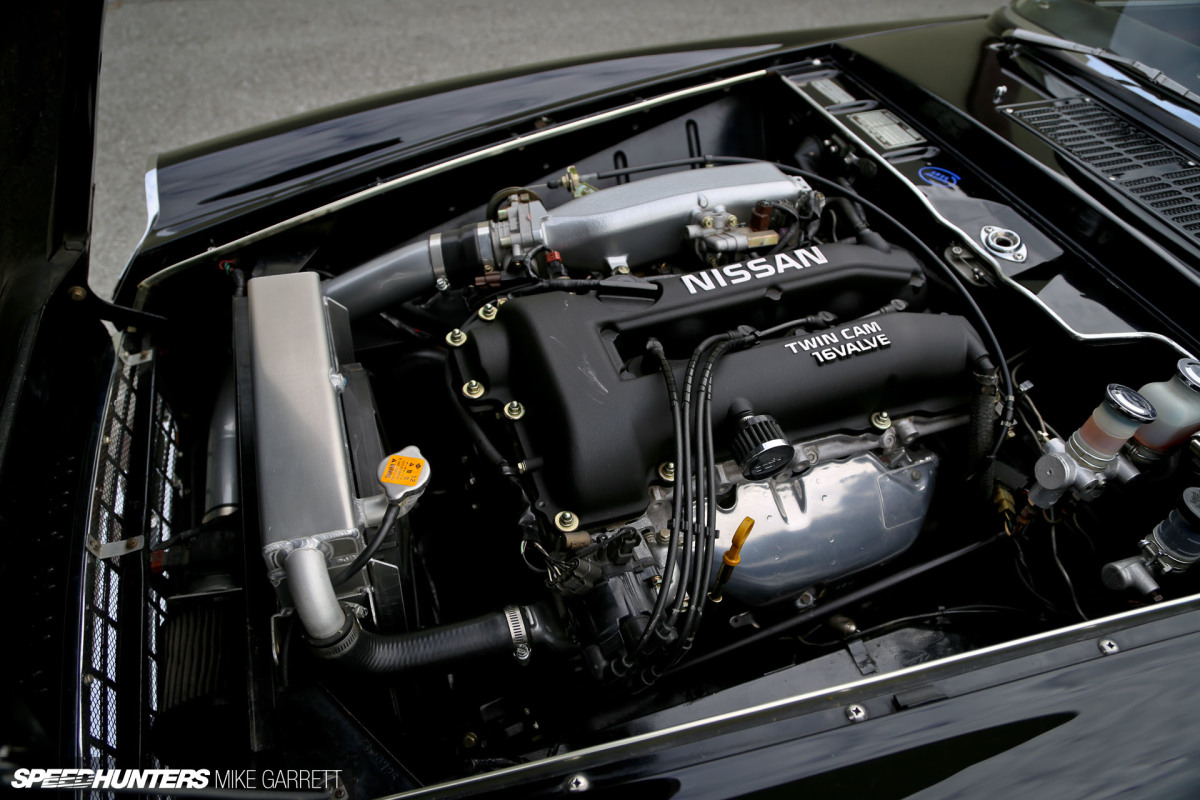 It wasn't as easy as just dropping in the motor and calling it a day though. To get the SR into the old Datsun, Rob made a custom set of motor mounts and a front-wheel drive SR20 header also had to be used because of the tight confines of the engine bay. The goal was never to make the car a monster in a straight line, but in base form the SR20DE is already a slight improvement on the hot-for-its-time U20 engine, and Alvin's motor has also been given some additional tuning to up the fun factor.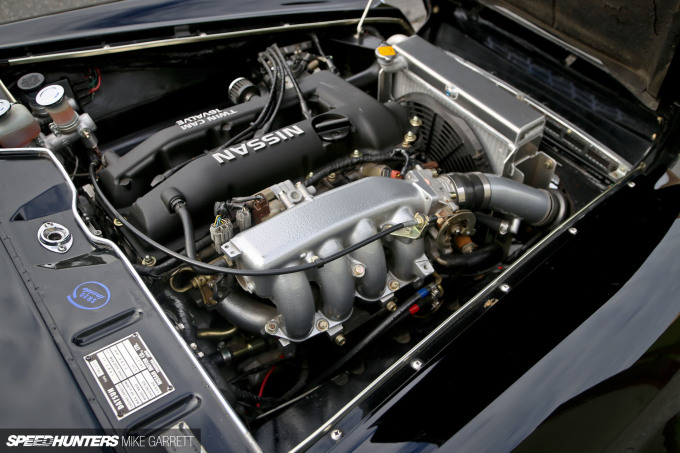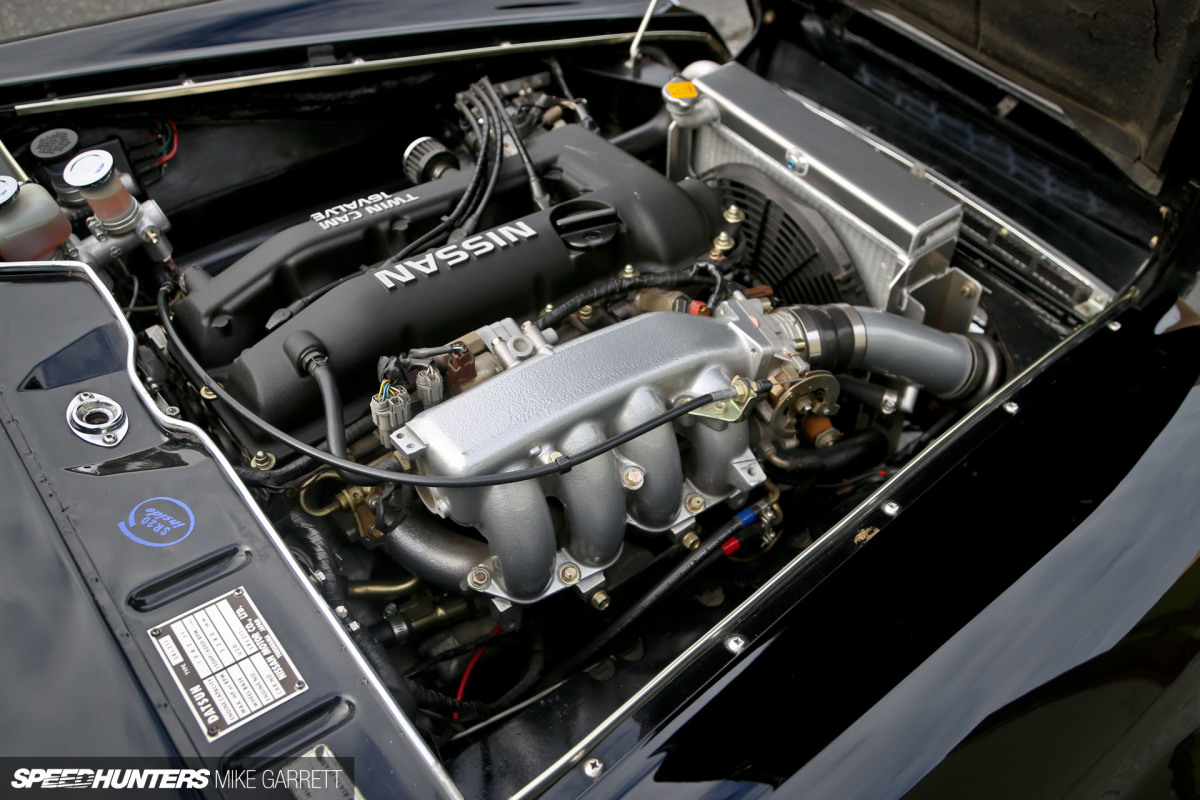 The SR has been treated to a set of Jim Wolf Technology C1 racing cams, along with a free-flowing Borla exhaust system and a Jim Wolf ECU to add power while not taking away from the car's friendly, naturally aspirated character. On the dyno the result is 156 horsepower to the back wheels. When you consider the numbers it was putting out in stock form and its light curb weight, that figure becomes even more impressive.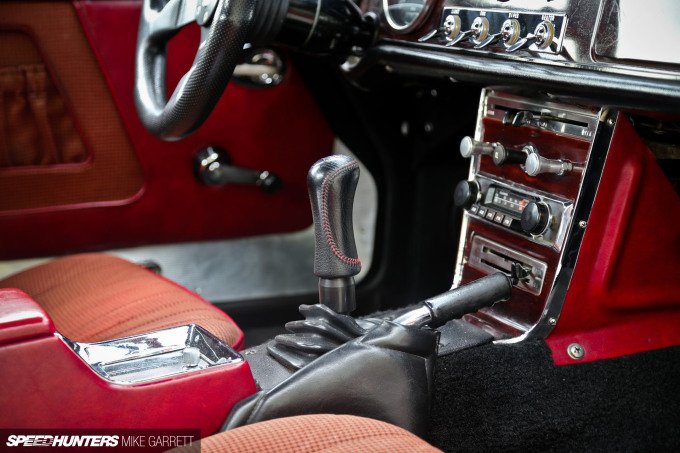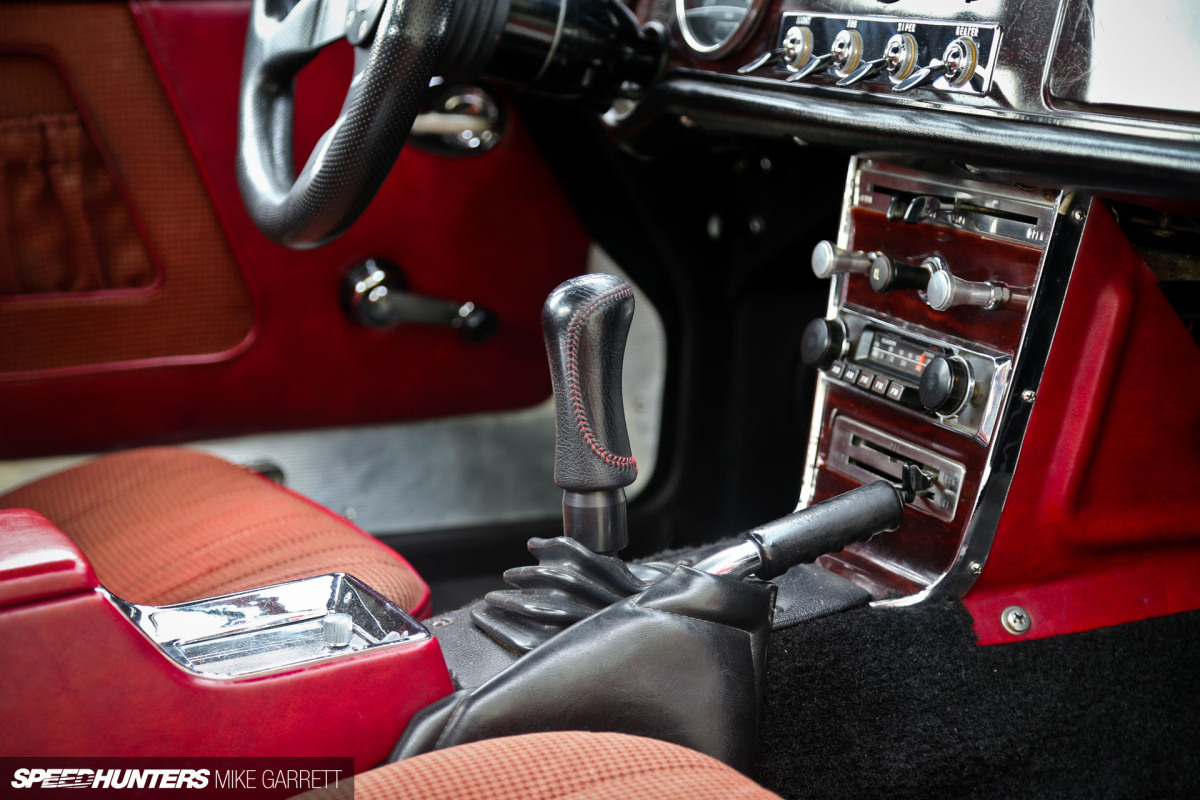 The engine is mated to a 5-speed transmission from the same S14 Silvia, with a B&M short shifter further helping to improve driver engagement.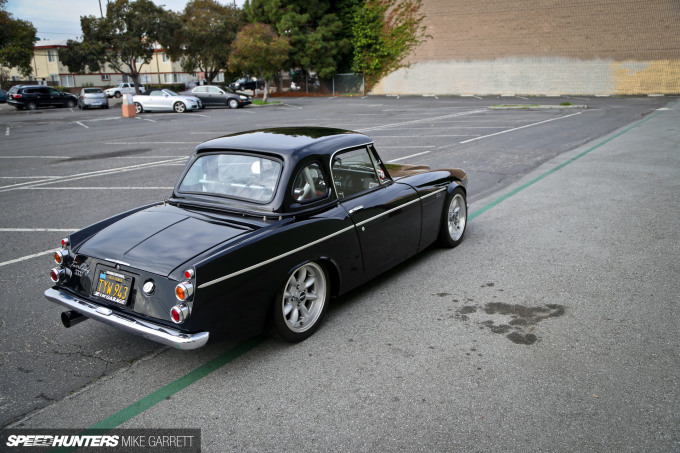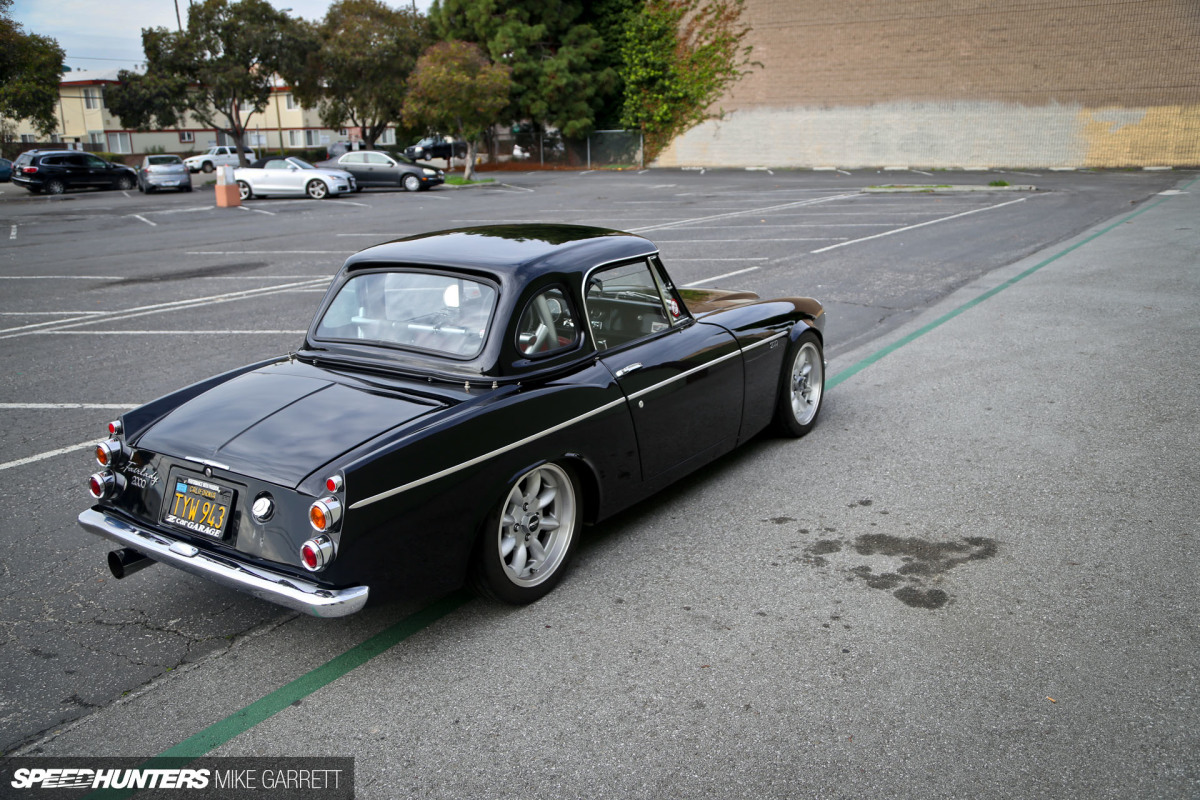 And best of all, the Datsun drives with the reliability and smoothness of a modern automobile; one that could easily handle the daily Bay Area commute if called upon, all while getting more thumbs-up in traffic than many high-end performance cars could dream of.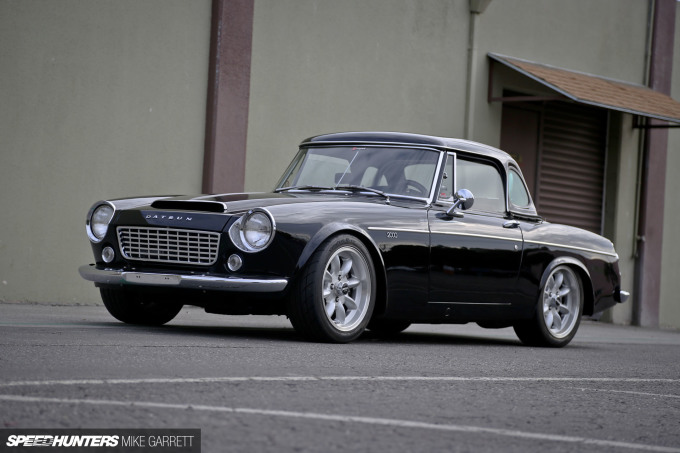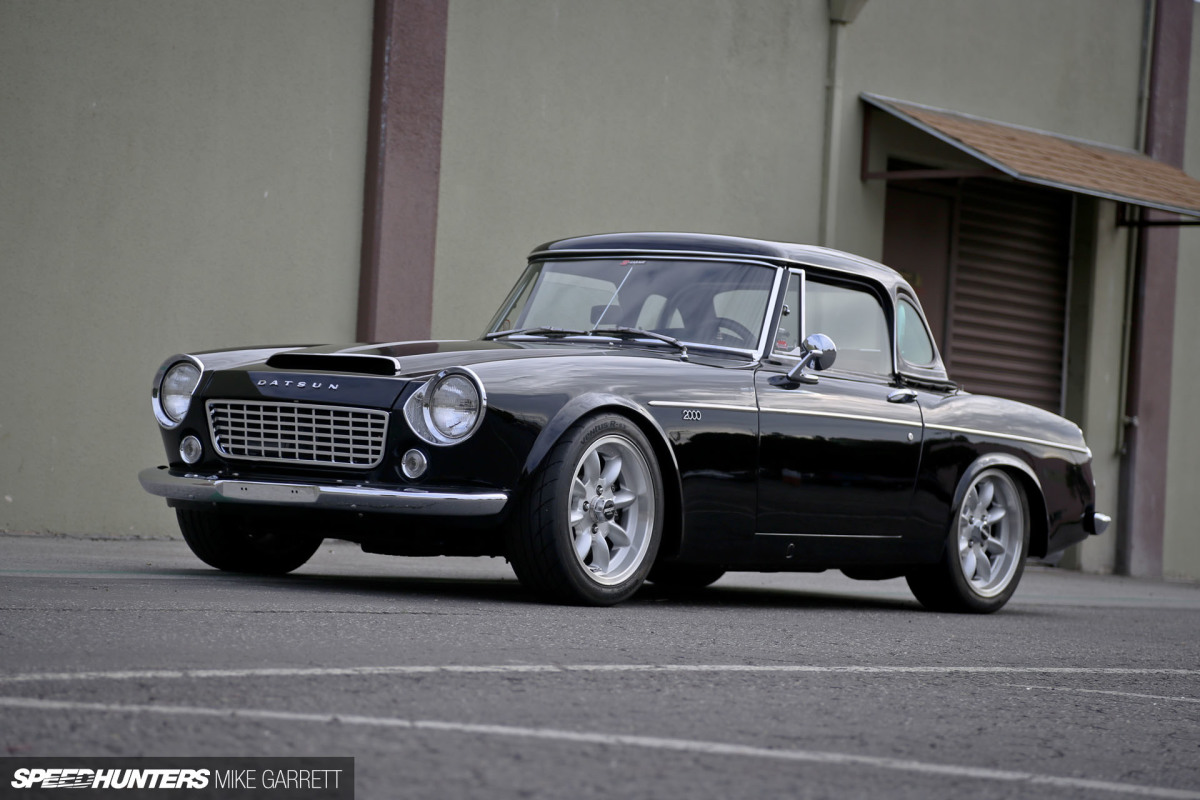 Naturally, other areas of the vintage Datsun were upgraded to match the new powerplant. The suspension consists of Nismo springs and a sway bar up front, while the rear is home to a custom 4-link setup with a Panhard bar and QA1 coilovers.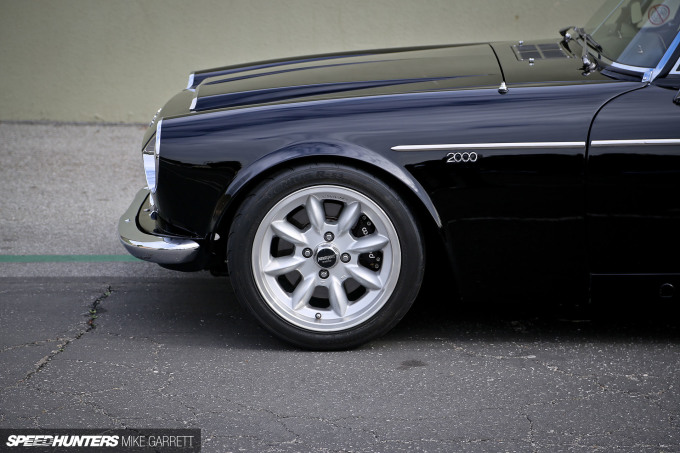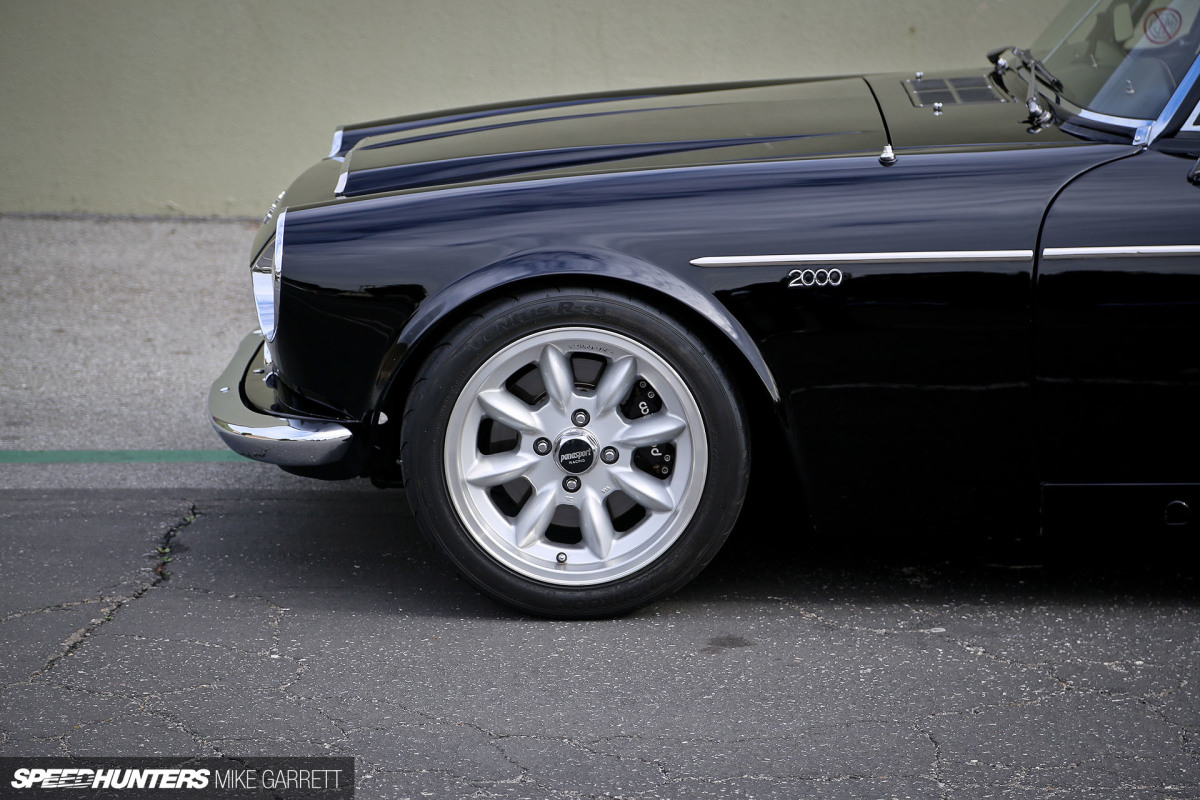 And to bring the Fairlady to a stop are a set of vented discs with Wilwood 4-pot calipers in the front and a set of 1985 Mazda RX-7 discs in the rear.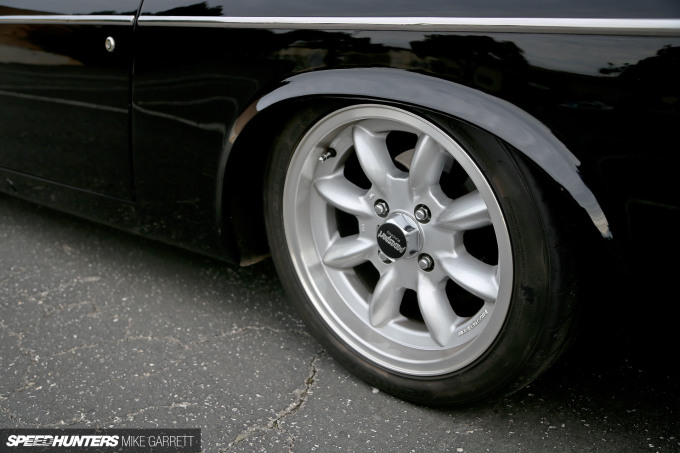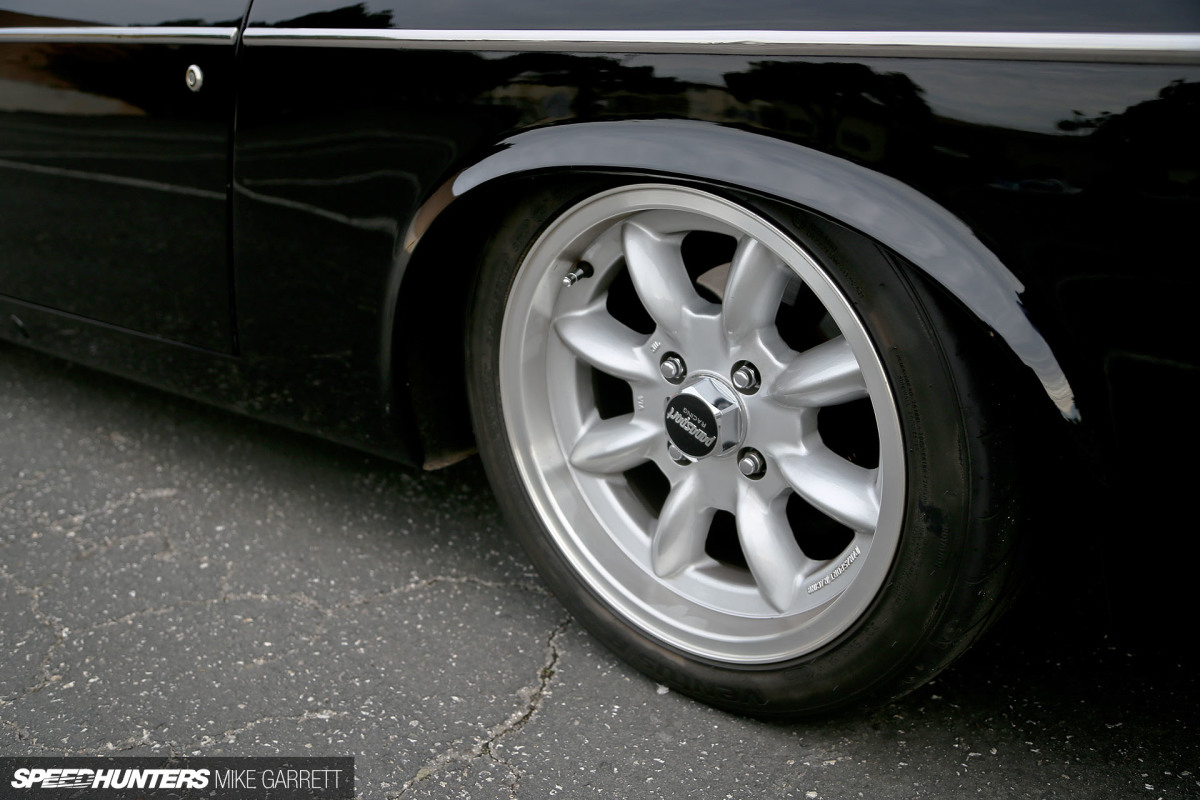 The wheels are classic eight-spoke Panasports measuring 16×7-inch on each corner and mounted with 205/45R16 Hankook Ventus RS-3 tires all around.
The Timeless Roadster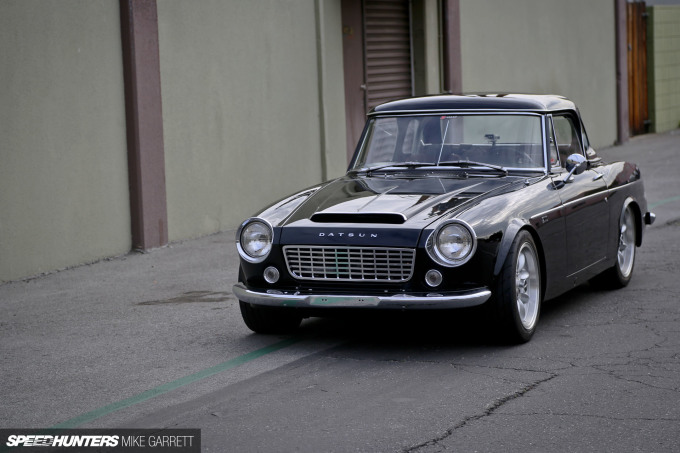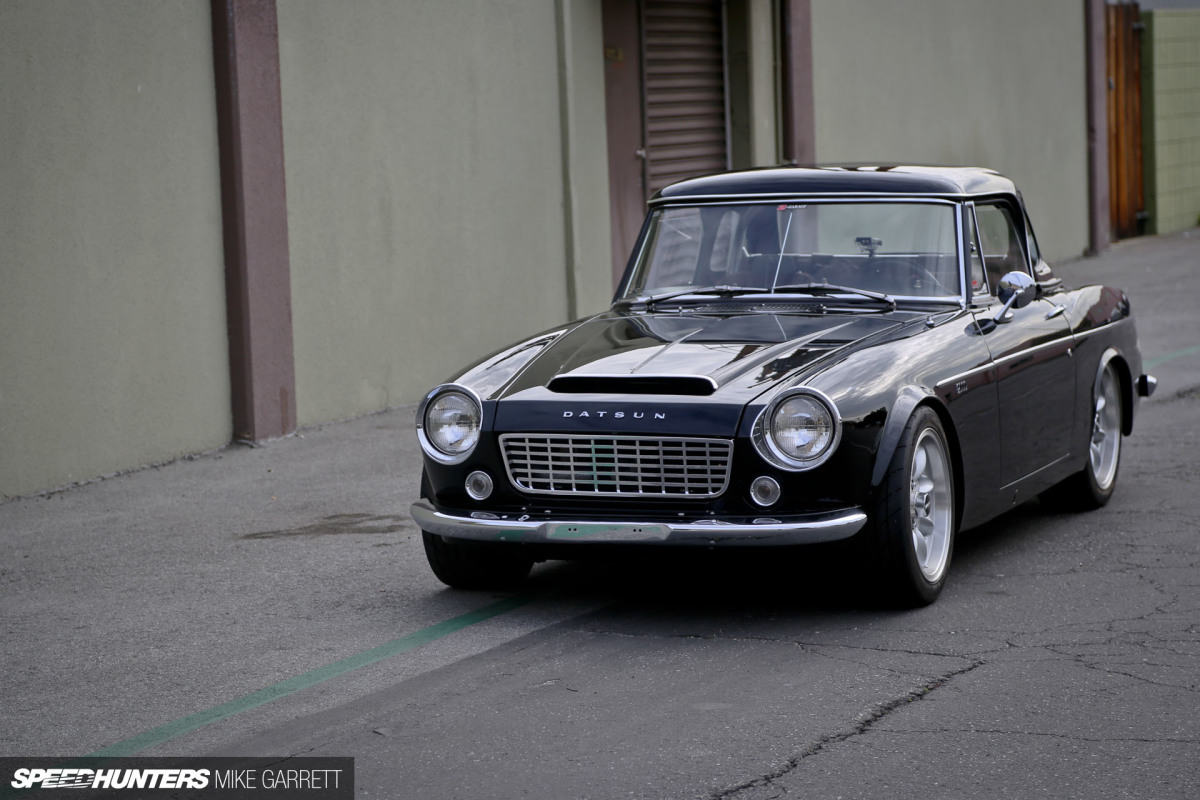 The exterior work has been kept very tasteful with a Datsun 1500 grille up front, some subtle emblem changes, amber rear turn signals and of course that fully restored hard-top that's been painted to match the black body.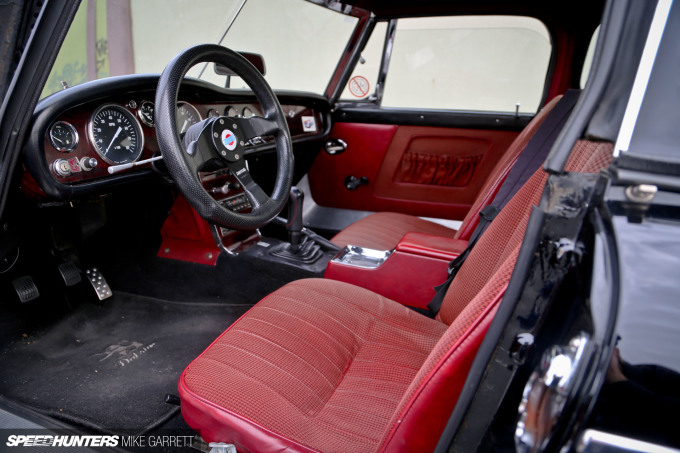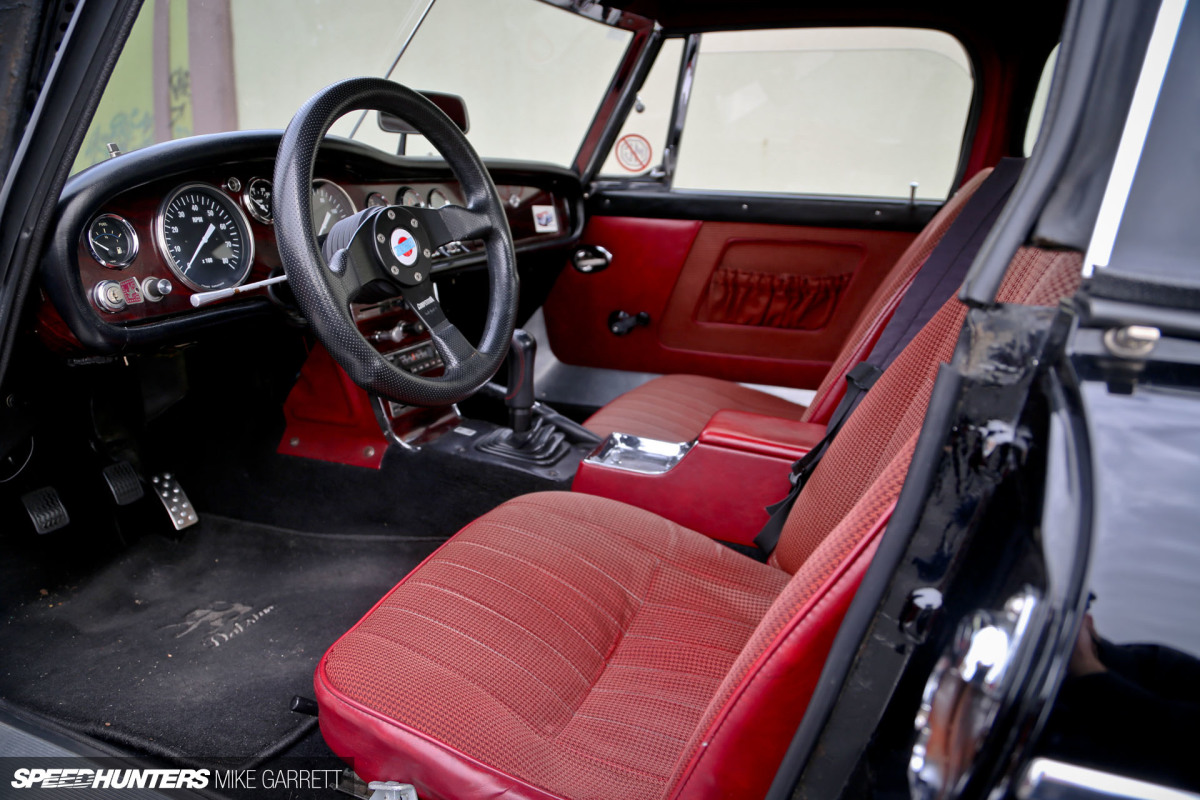 Inside the Roadster, the cockpit hasn't been altered greatly. There are reupholstered stock seats, a Momo steering wheel and a shift knob from a 300ZX Twin Turbo to keep it in the Nissan family.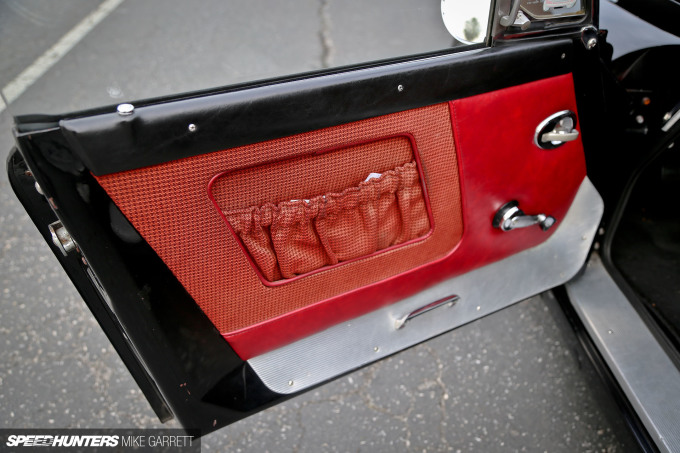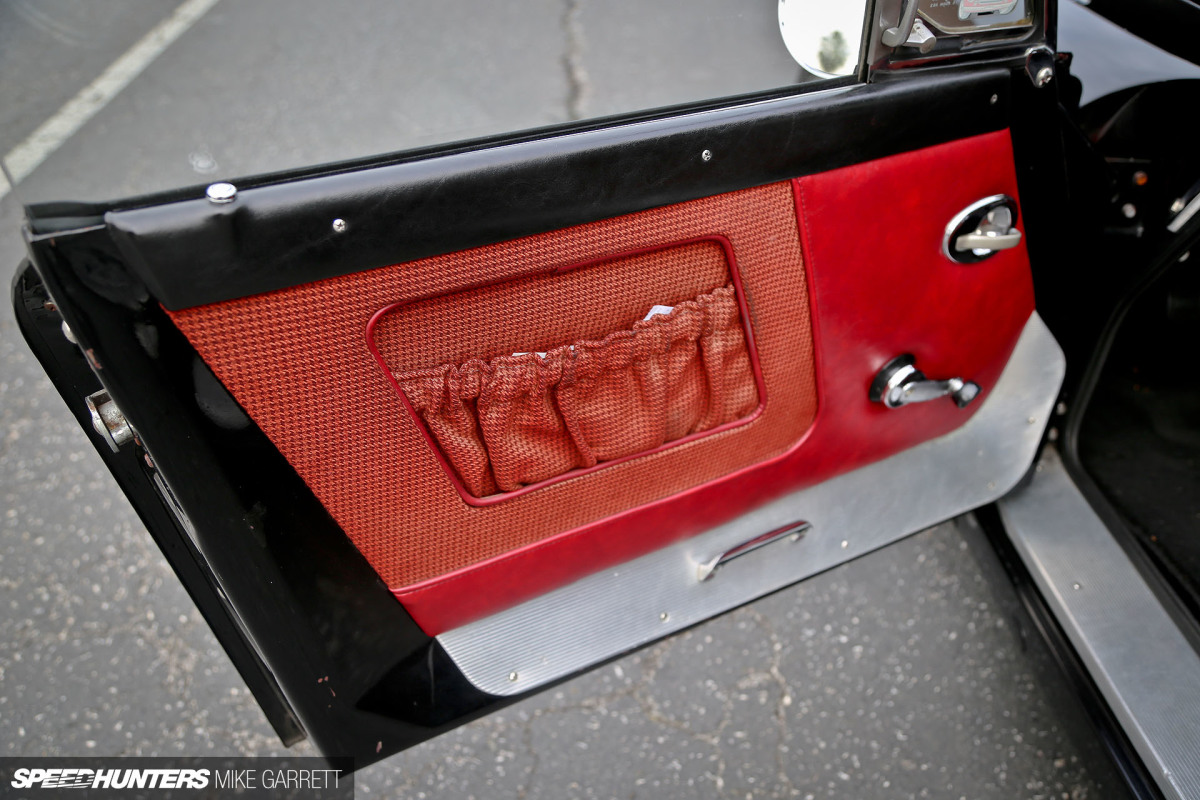 I'm especially fond of the red interior upholstery that contrasts so perfectly against the elegant black exterior.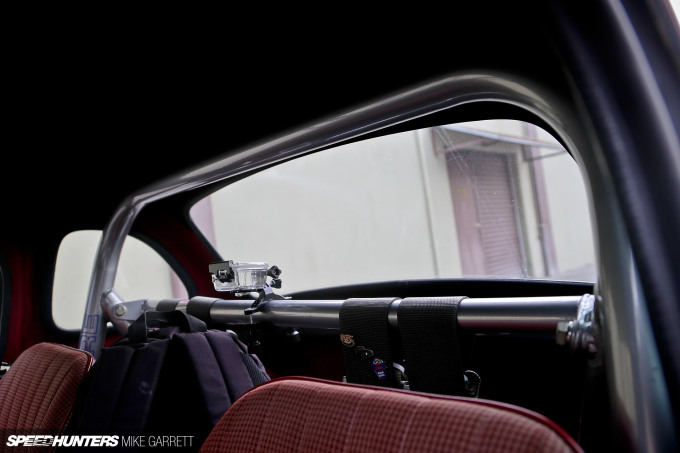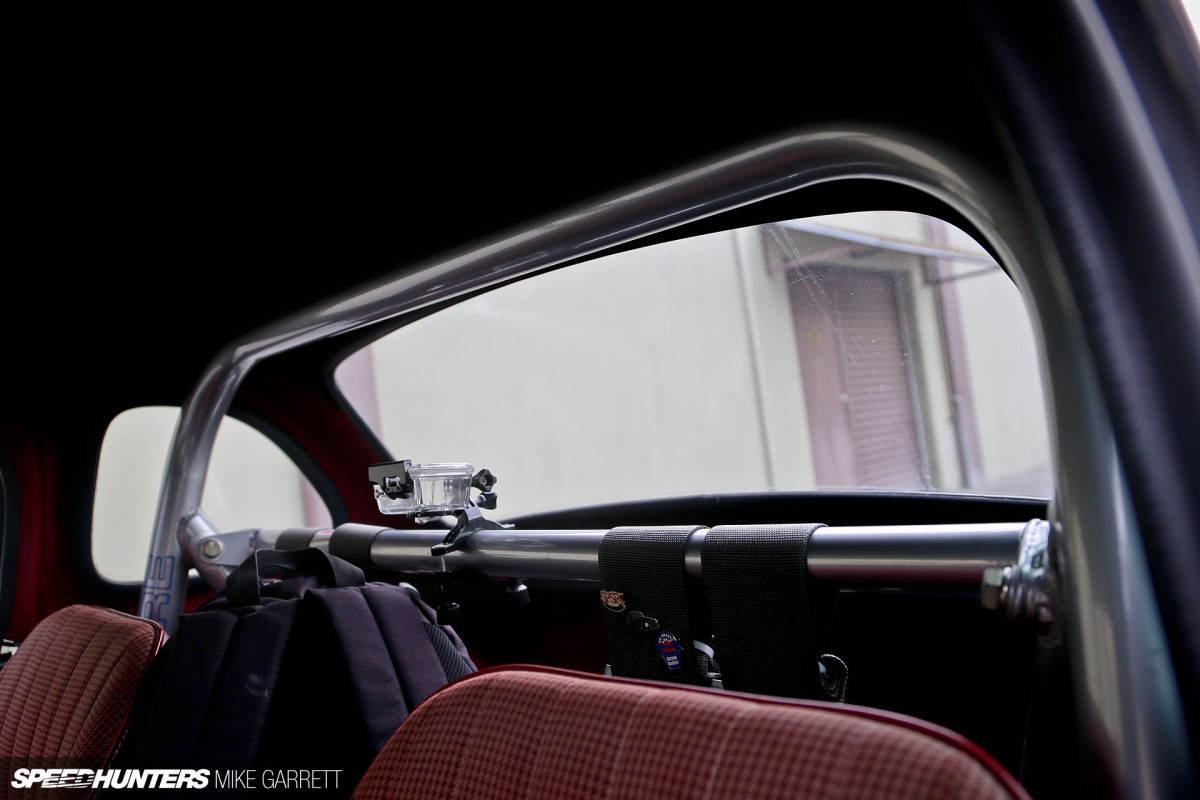 Last but not least is a roll-bar with a bolt-in harness bar that not only helps on the safety side, but also adds some much needed stiffness to the vintage chassis.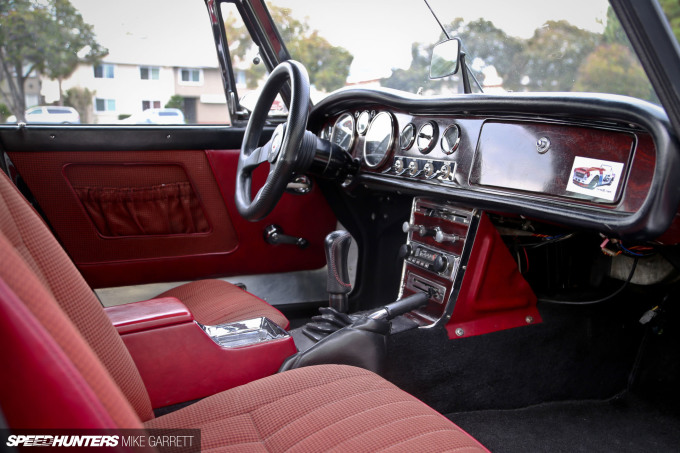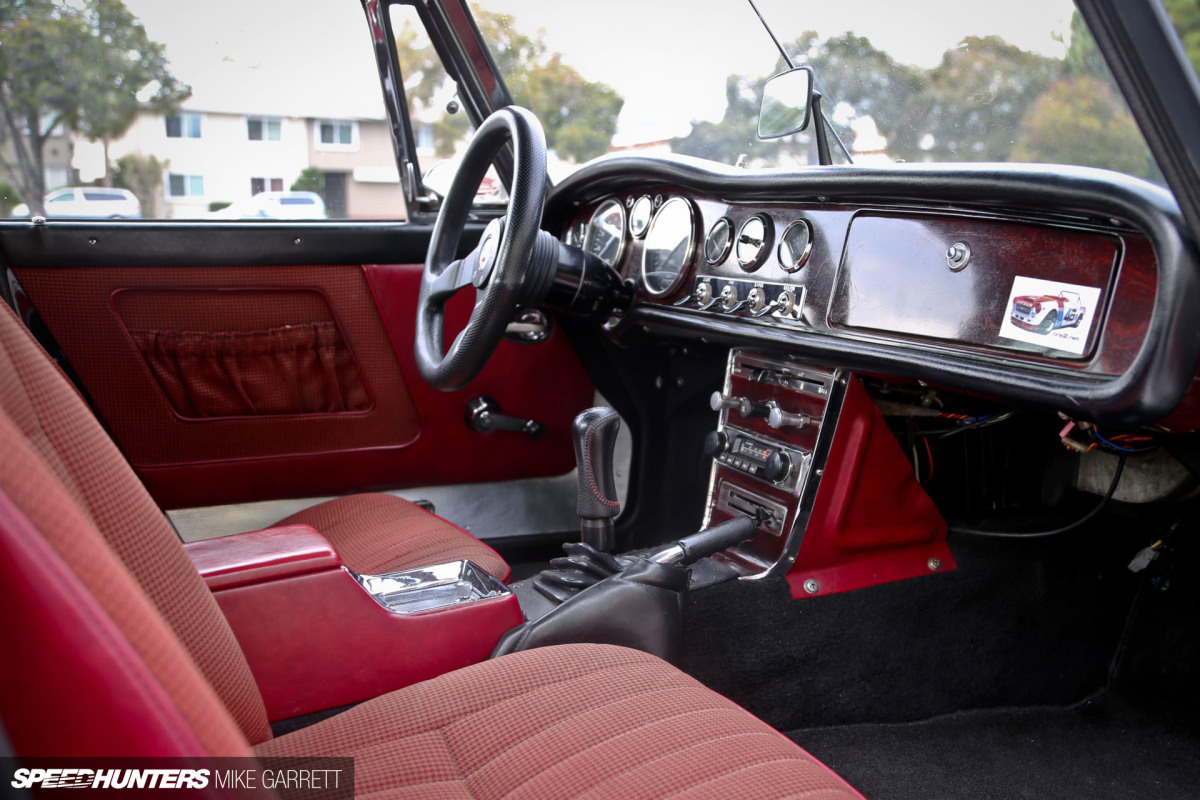 Balance always seems to be the key to a successful build and Alvin's Datsun is not lacking in any area. Is it the fastest car on the road? No, but that's never what the Datsun Roadster has been about.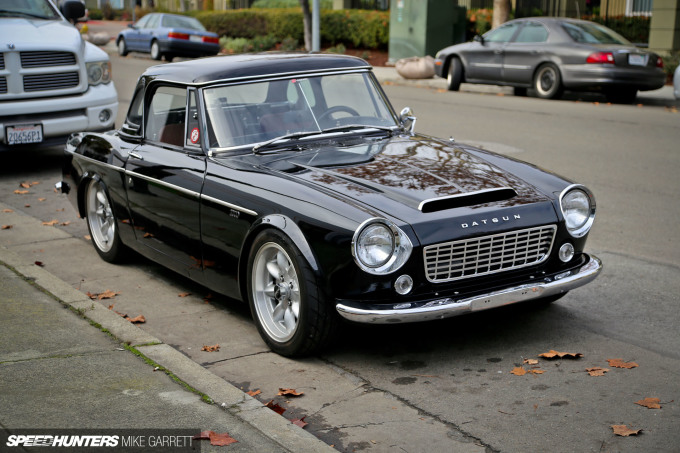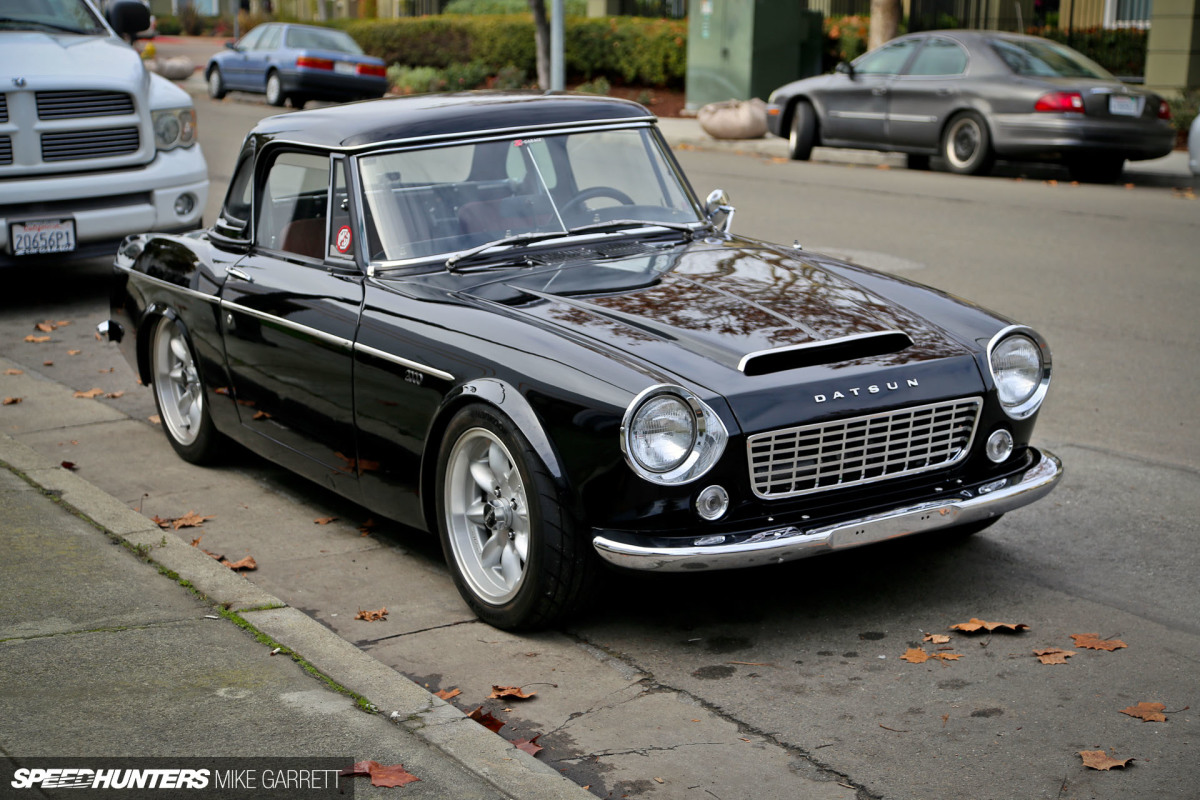 It's quick, it's fun, it's reliable and it's beautiful. Above all, it's a fitting take on a classic Japanese sports car that led Datsun to become such a cherished name among car enthusiasts.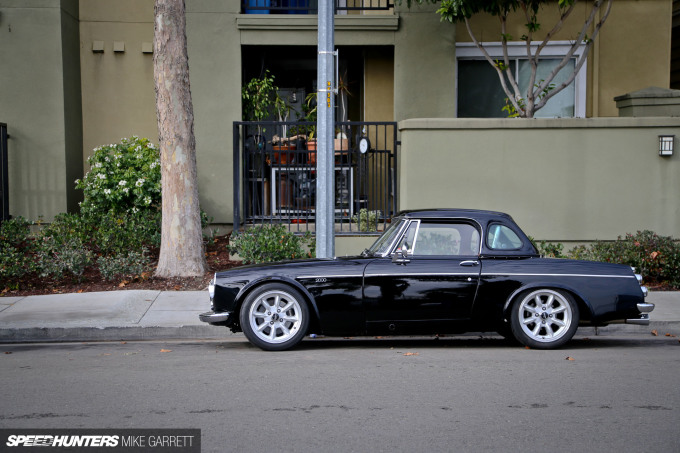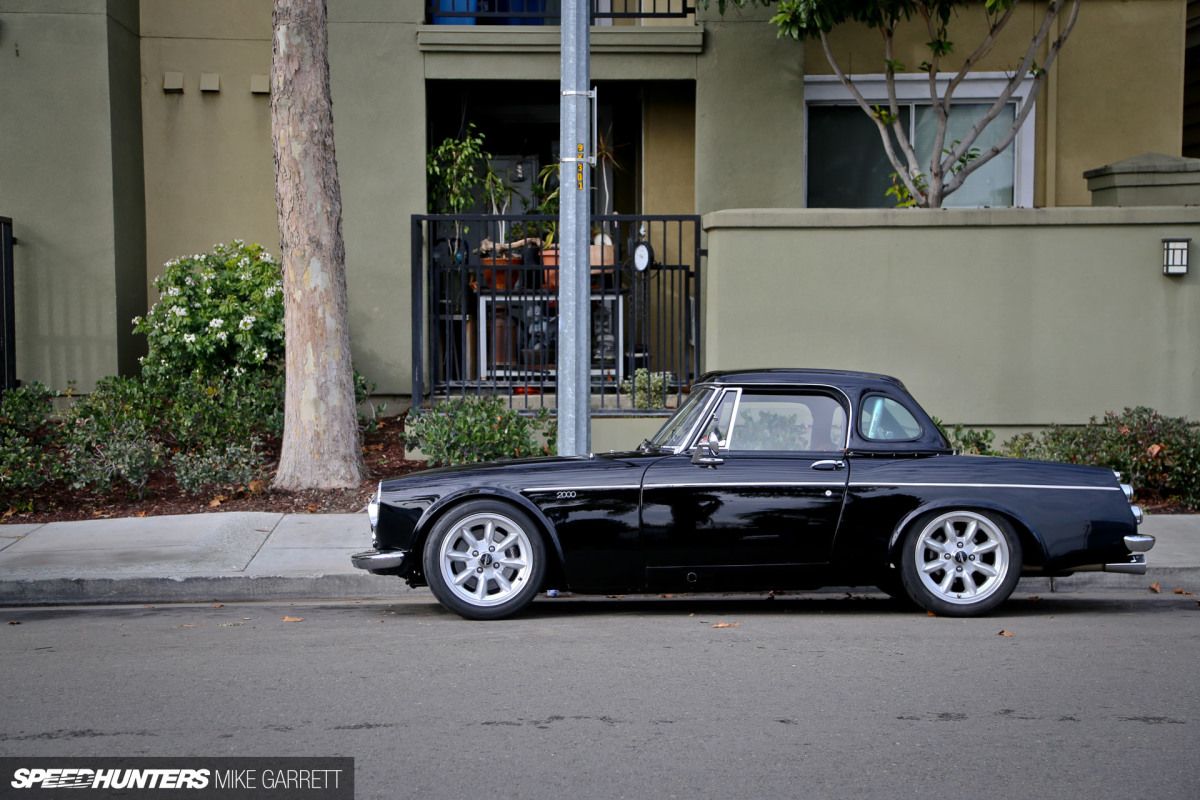 At this point it's been nearly 15 years since Alvin transformed his Datsun, but it certainly doesn't feel like it. The car is every bit as fresh and as stylish today. Ahead of its time? Maybe. I'd say 'timeless' might be a better way to describe it though.
Mike Garrett
Instagram: japanifornia_media
mike@speedhunters.com
Alvin Gogineni's 1967.5 SPL311 Datsun Fairlady Roadster
Engine
1998 Nissan SR20DE installed by Z Car Garage with custom mounts, Jim Wolf Technology C1 racing cams, front-wheel drive Sentra exhaust manifold, Walbro 255lph in-tank fuel pump, Borla XR1 muffler with 3-inch pipes, C&R Racing radiator, Jim Wolf Technology ECU
Drivetrain
1998 Nissan Silvia 5-speed gearbox, B&M short shifter
Suspension & Brakes
Nismo front springs, Nismo front sway bar, custom-fabricated 4-link rear with two parallel links per side, QA1 coilovers, Panhard bar, Wilwood 4-pot calipers with vented rotors (front), 1985 Mazda RX-7 vented discs (rear)
Wheels & Tires
Panasport 16×7-inch +11 (front) +0 (rear) 205/45R16 Hankook Ventus R-S3 tires
Exterior
Datsun 1500 grille, factory bumper over-rider delete, clear front turn signals, shaved 'Datsun' side badging, JDM 'Fairlady' emblem, amber rear turn signals, restored hard-top
Interior
Reupholstered seats, 4-point roll-bar with bolt-in harness bar, RJS harnesses, Momo Competition steering wheel, Nissan 300ZX Twin Turbo shift knob, Alpine head unit, MB Quart front & rear speakers