The Mecca Of JDM Drift
It surprises me just how quickly and massively R/C drifting has taken off and evolved over the last five years. It's something that's gone hand in hand with car culture, as people continue to inject as much realism into the R/C cars they build and even down to the way they drive.
So it was with much excitement that I headed up to Yatabe Arena a couple of weeks ago to check out the 2015 Cross Games – an event that has single-handedly pushed creativity in this miniature world of radio control drifting.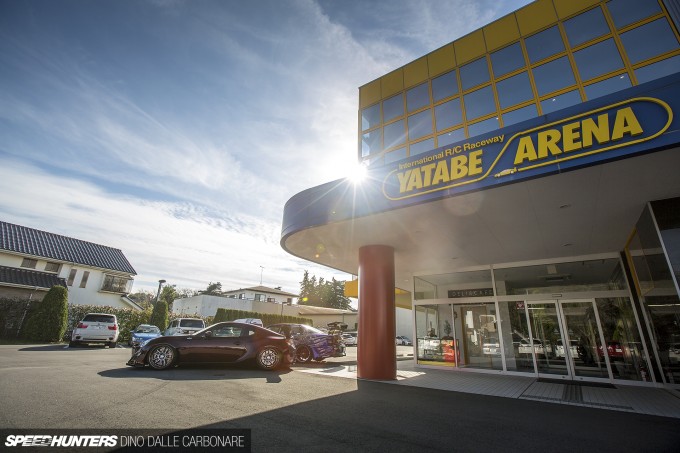 And I was really excited that I finally got to visit what is undoubtably the mecca of Japanese R/C.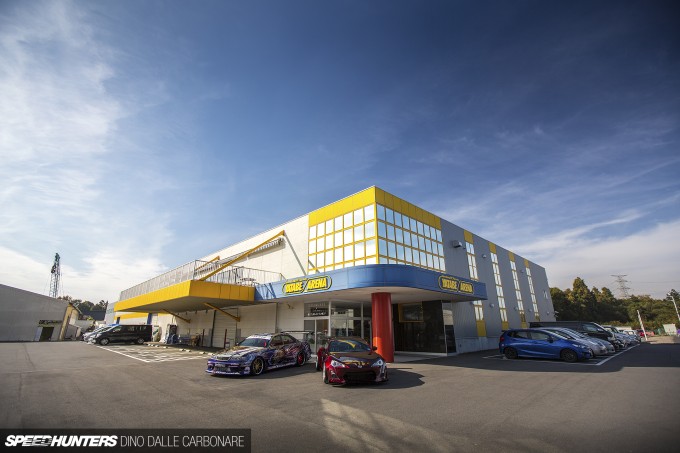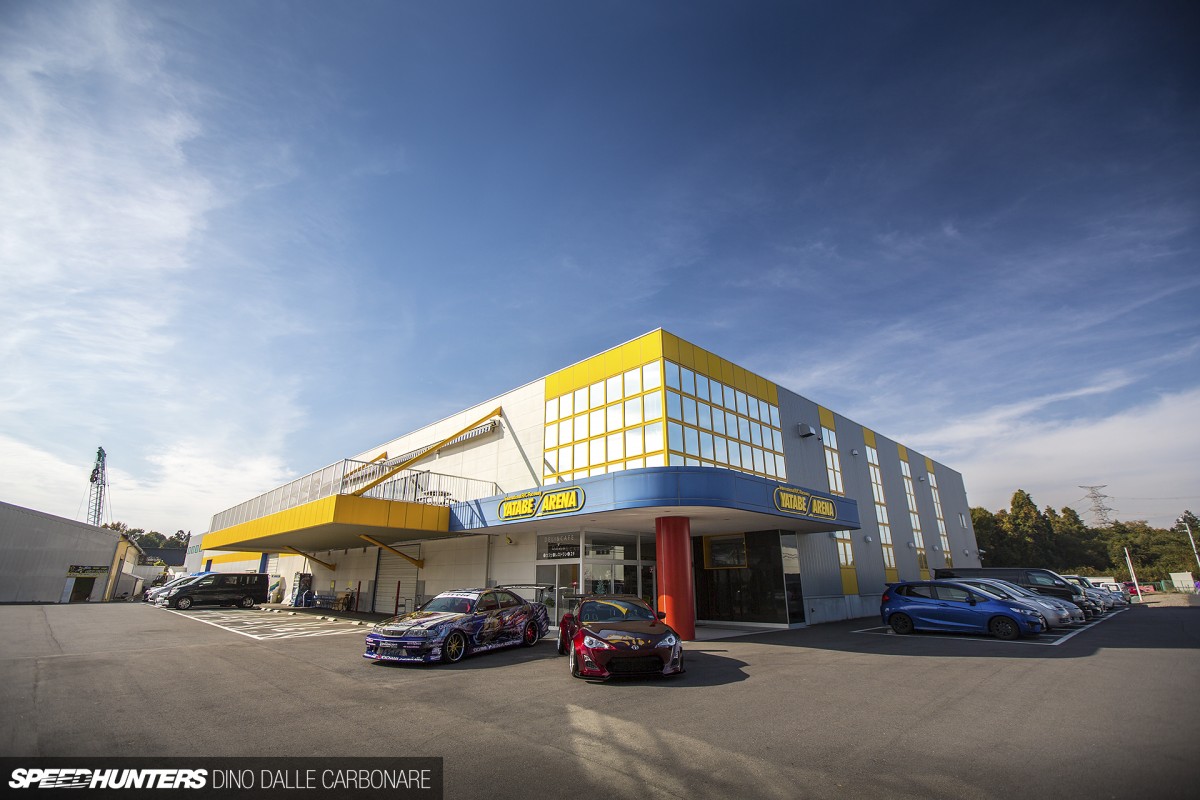 Yatabe Arena is nestled deep in the Ibaraki countryside, not too far from Tsukuba Circuit and pretty close to the old proving ground that back in the day hosted those legendary Option magazine 0-300km/h speed trials.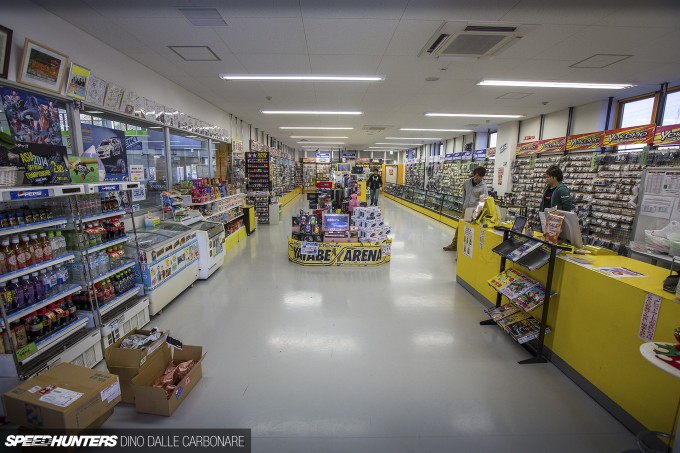 The place is simply massive, but that's understandable given that a ton of national competitions are held here – and some international ones too. Once you walk in through the front doors there is an equally huge shop to check out. You can pretty much purchase anything you could ever want in here, from the most basic of packages that you can then hop-up with the masses of parts that are available from a variety of makers.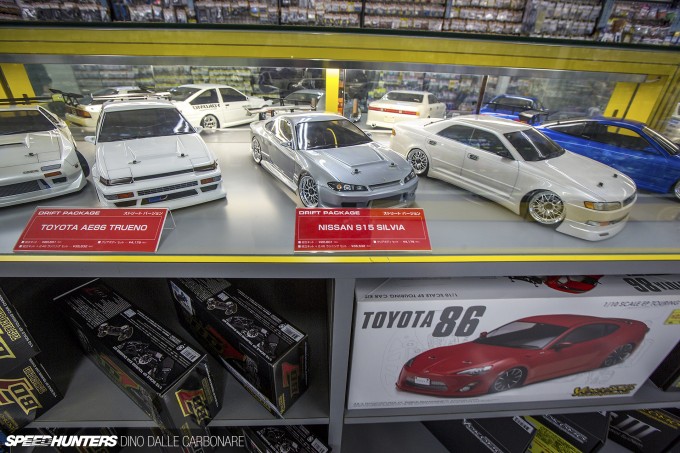 There are countless displays showing fully-built and prepped bodies to give potential buyers an idea of what you can do with them.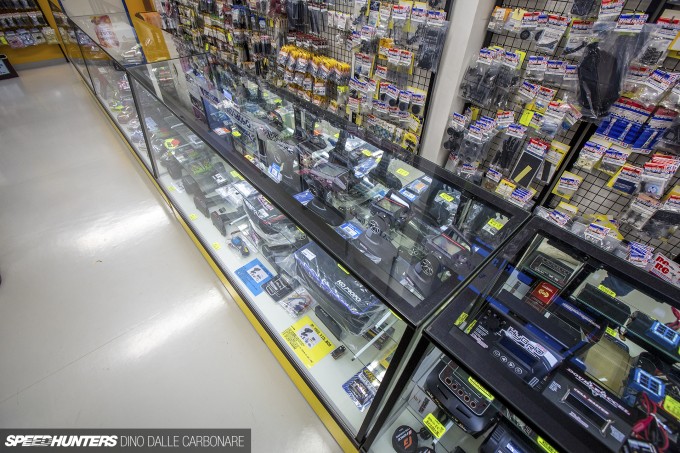 The technology in all forms of R/C sports doesn't seem to stop evolving either; batteries are constantly getting better and lighter, and there are more efficient and reliable ways to charge them. The controllers too are infinitely customisable in the same way that you're able to alter many parameters in a car ECU.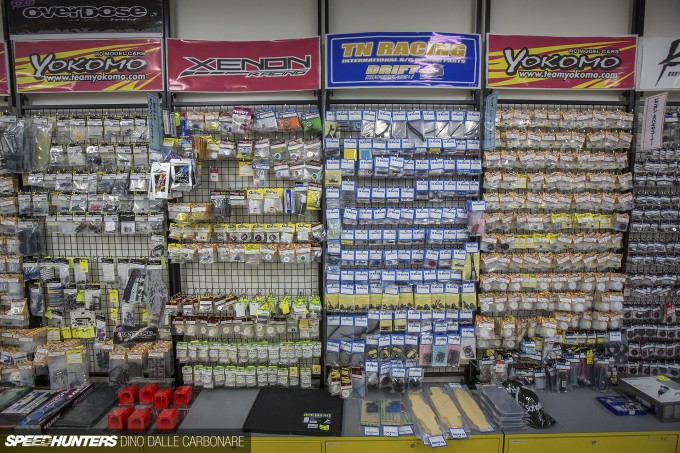 For an R/C fan, coming into a shop like this is akin to hitting up your local tuning shop for some upgrades, be it dress-up stuff like wheels and bodykits, to stuff that actually makes a difference, like suspension and lightweight carbon bits to shed precious weight.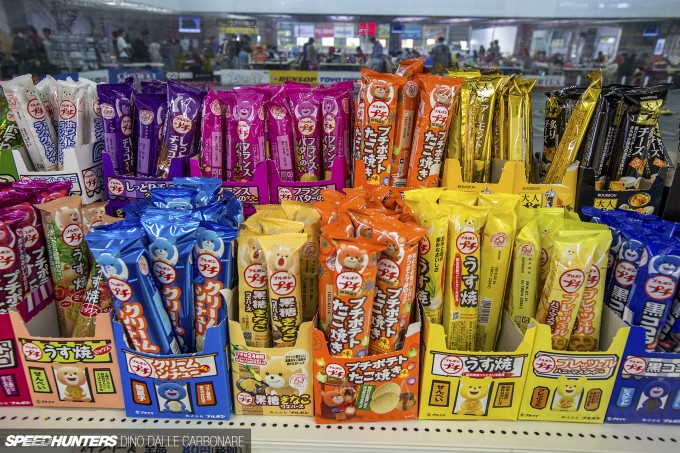 Hell, there was even a little section selling Japanese snacks and ice-creams – just what you need after a few hours of hardcore drifting and racing!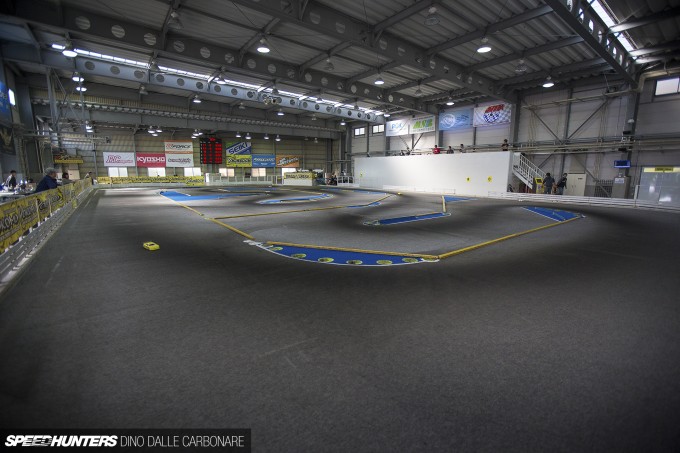 On top of the main drifting track, Yatabe Arena also has a huge carpeted circuit for those that prefer grip racing. It blew me away seeing the speed these cars were zooming around the turns at – akin to watching an F1 race in fast-forward. The guys that do this sort of stuff are hand-eye coordination masters!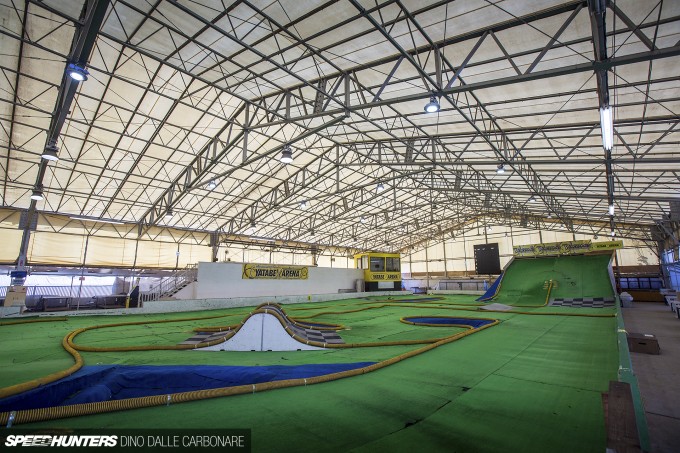 There is also an equally-large off-road track, carpeted in an artificial grass type surface and featuring a few jumps and off-camber corners to really put the suspension of the trucks and buggies to the test. This is by far the least popular of the R/C sports at Yatabe Arena, and there were actually only a couple of people racing here during the day I visited. It seems like most find R/C drifting far more satisfying to learn and master.
Realism Is Key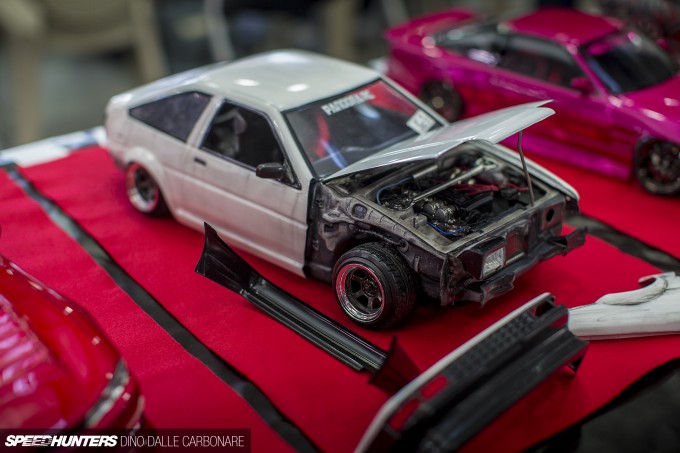 And speaking of R/C drift, let's get to it!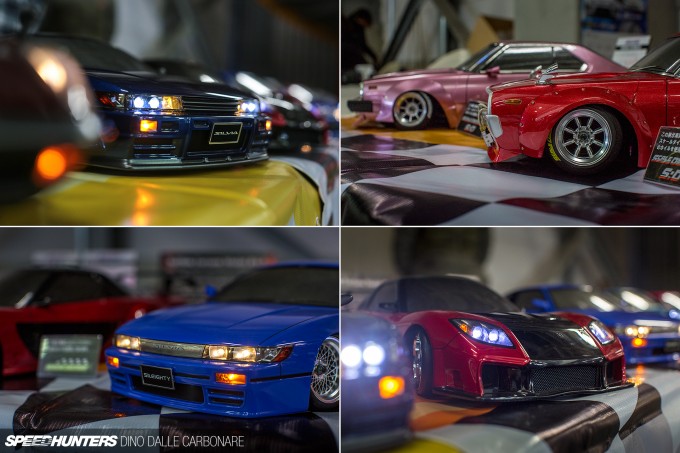 The annual Cross Games is all about fun and a way for the whole industry to show off the coolest and latest products they've been working on. For example, these guys from Scale Dynamics had a massive display of extremely detailed, ready-made bodies of the most popular cars we all love. What impressed me the most was the accurate recreation of the headlights and especially the reflectors within them. Check out the S13 Silvia and Sileighty above, and that Veilside Fortune RX-7 too. Crazy stuff!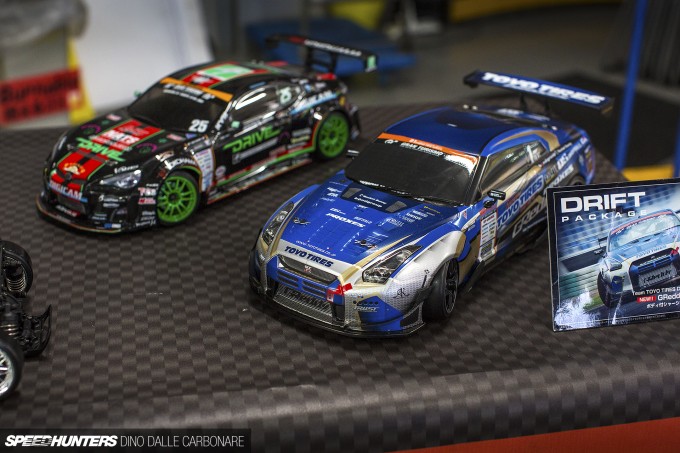 I thought this was hilarious, because a few days prior to this event I was shooting the real GReddy/Toyo Tires R35 GT-R drifting the Hakone Turnpike with Kawabata at the wheel. More on that later in the month though…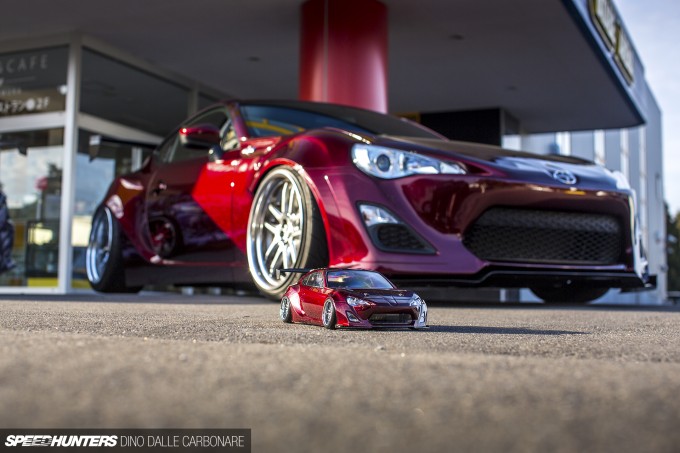 The event is co-organized by Weld, which is best known for creating some of the most intricately prepared and built up drift and street cars. If you recall, I featured the Weld FR-S last year, which as you can see has now been recreated in miniature.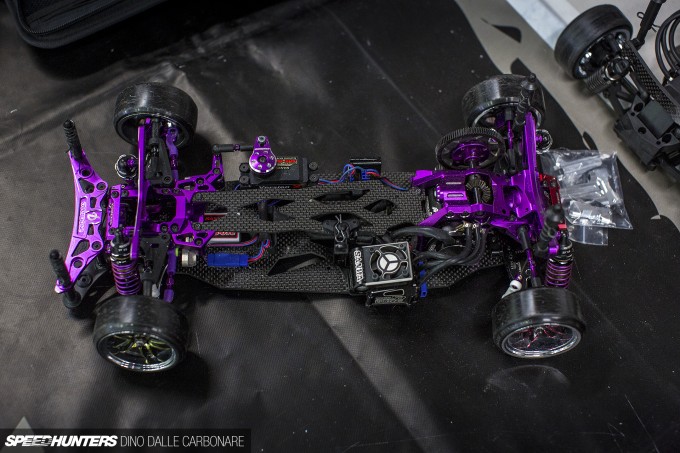 The body is part of Weld's Overdose brand, which has everything you could possibly need to get into the sport, from ready-to-run starter packages to these two examples of completely tuned-up chassis.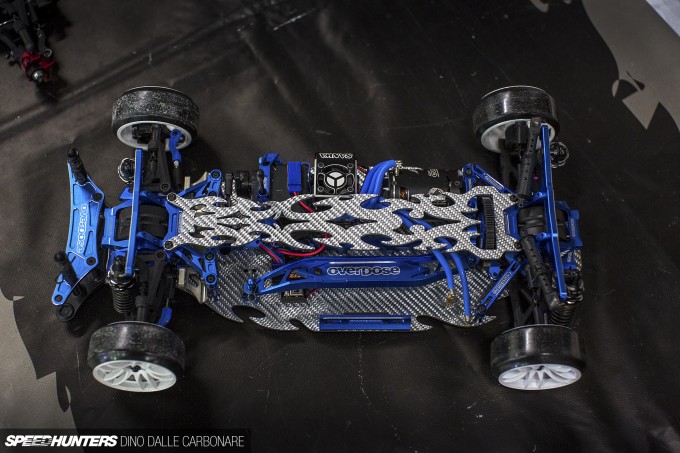 And over the years the shift to rear-wheel drive has become the thing to do. It might be harder to master, but with a good chassis, suspension and tyre setup, you can drift in a far more realistic way. For a fully-built chassis and all the best running gear, you're looking at a couple of grands worth of investment. Still, it's way cheaper than a real drift car!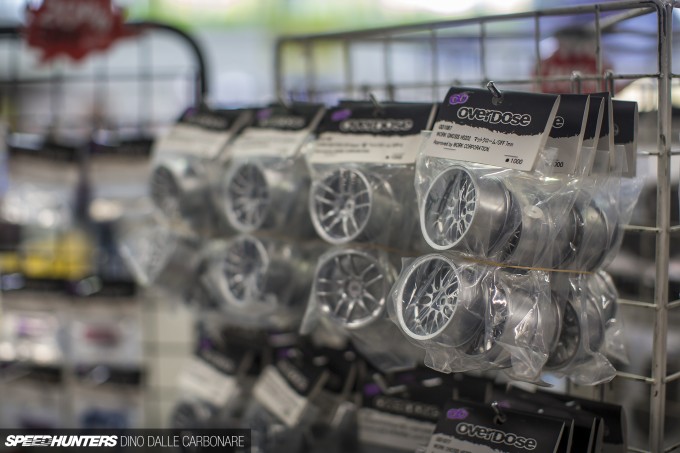 Overdose has an agreement with Work Wheels, so it's able to create a variety of real-world wheels in scale form under license.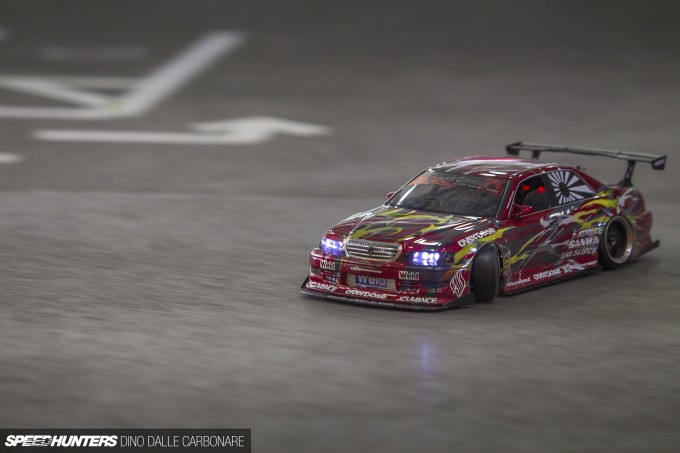 Johnny from Weld brought out a replica of his JZX100 D1 car, which he entered in the main event of the Cross Games – the custom body competition.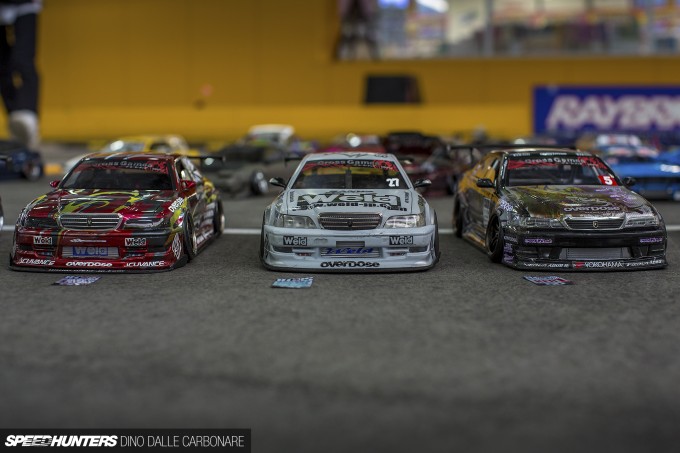 It didn't take me long to realise that what I was seeing was already a step up from what I had encountered in previous years at this event, and as in the past, I was asked to choose the top three cars for special Speedhunters awards. The winner would be taking home a Speedhunters t-shirt and a copy of the recently-released Need for Speed game.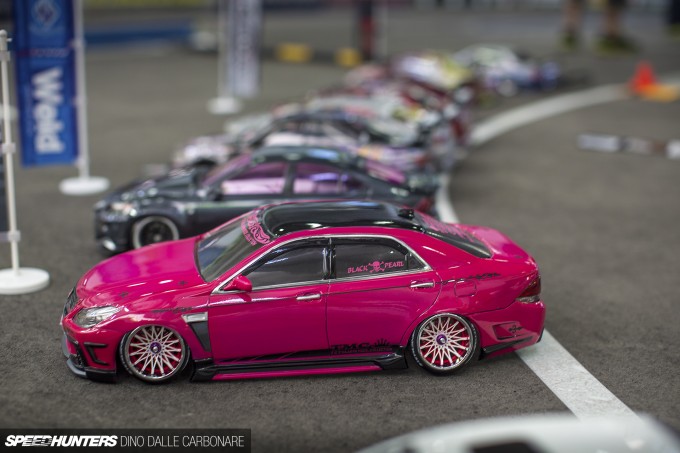 This was going to be one hell of a tough job though as each and every car there was special in its own way – be it in innovative details or the perfect recreation of a famous drift car.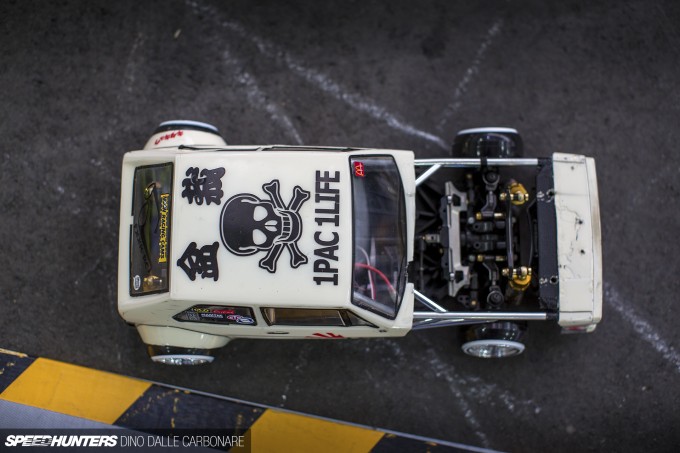 There were original ideas too, like this crazy Mk1 Golf GTI that had been cut and extended in an almost rat rod kind of way.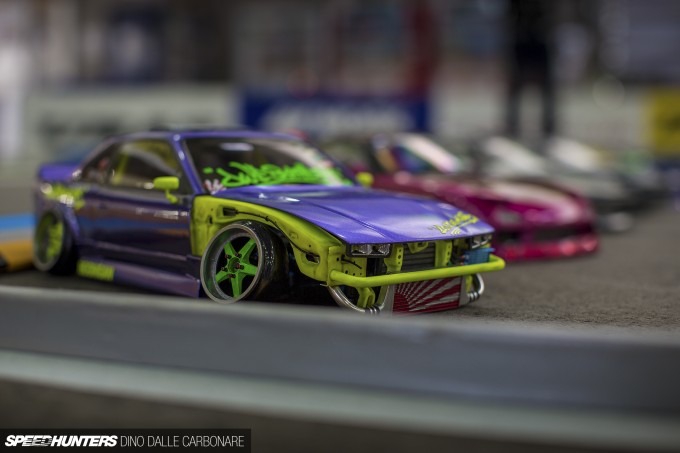 I spent most of the afternoon sitting on my butt going from car to car in an attempt to capture all the astonishing details that I was seeing.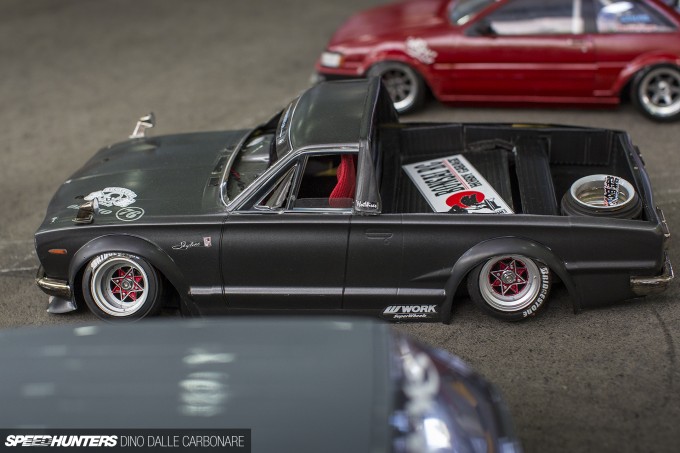 Take a look at this Hakotora, or more to the point – the various details. From the truck bed with spare wheel, to the over-fenders, full interior and SSR Star Shark rims – just amazing!
It's Tough To Be A Judge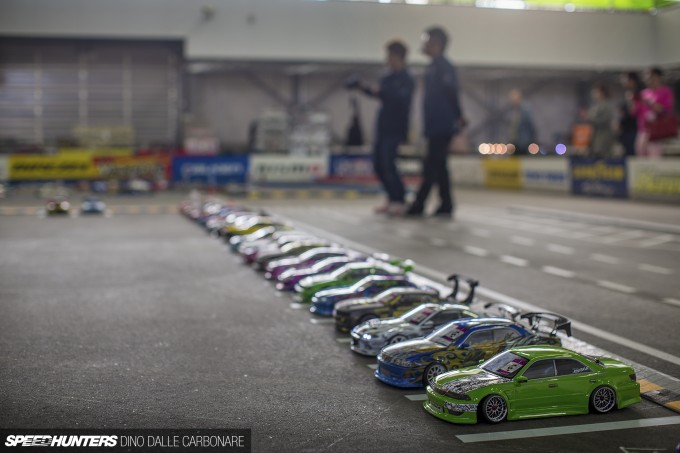 All the cars were lined up in two rows in the very center of the track, with the top portion of the display set aside for cars built by body maker brands, and therefore not part of the actual competition.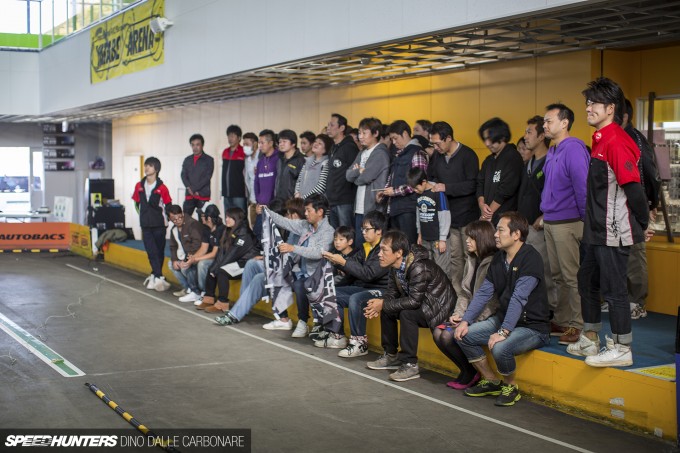 And these are the people behind the amazing and colourful creations.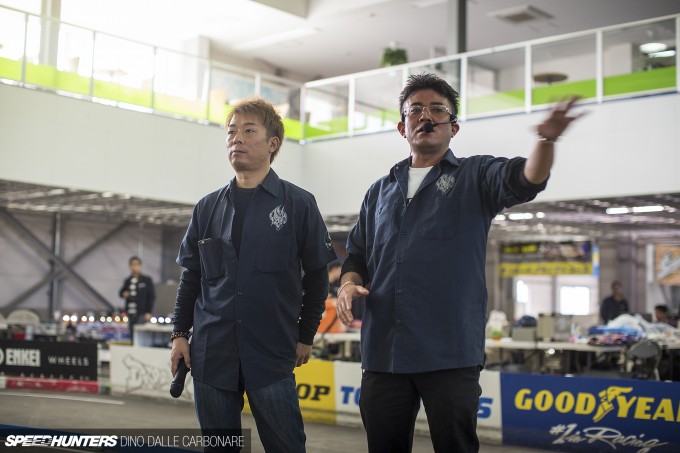 Johnny from Weld welcomed everyone and ran through how the day would be split up, starting off with the presentation and then a detailed look at each of the entries.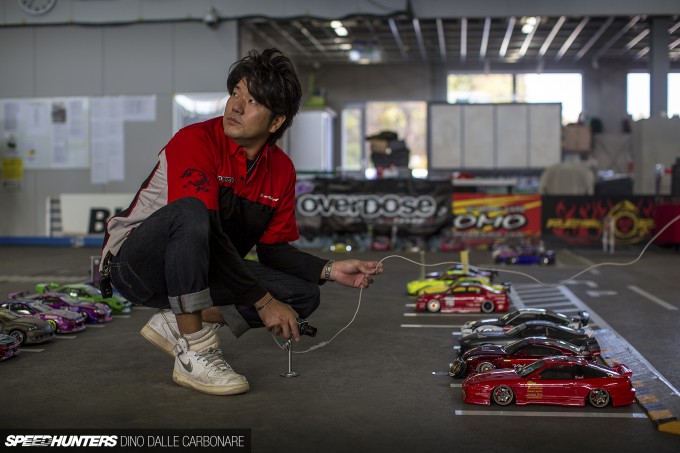 This was done with the use of a camera…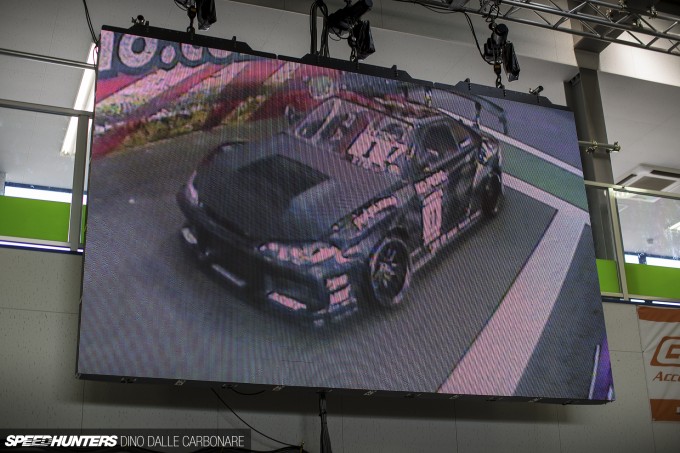 Which was wired to the big LCD screen in the hall so that everyone could see.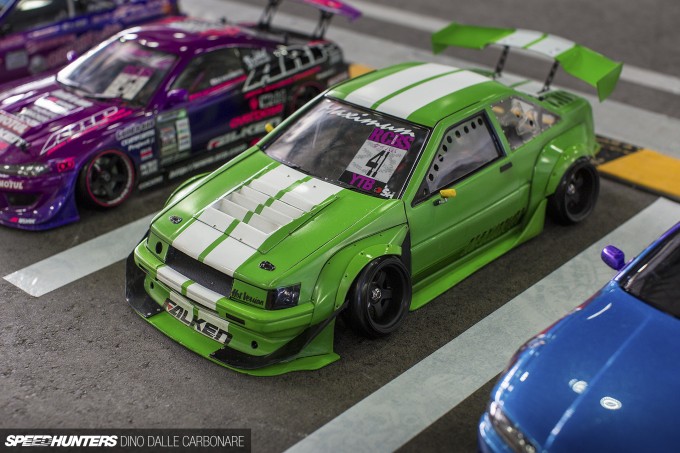 One of the cars that I instantly knew was going to be part of my selection was this lime green N2-style AE86 Levin. It was rocking the functional time attack look very, well with a ton of aero additions and even over-fenders on top of over-fenders!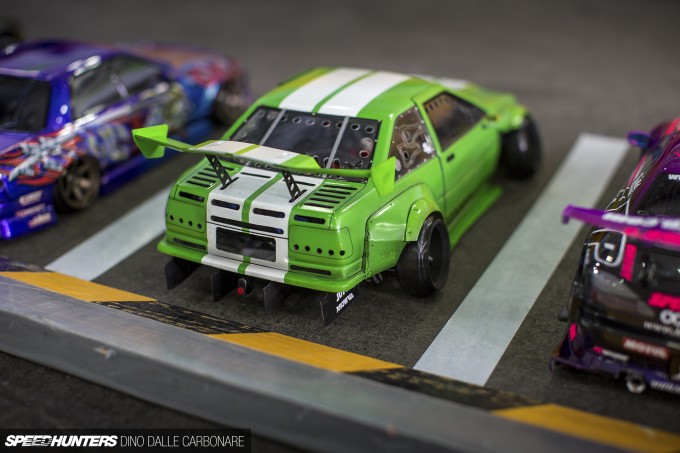 Notice how the big rear wing is fixed in position with stays that go through the trunk lid like on a properly-built time attack machine. I really liked the addition of all those louvers, the rear diffuser and the center-exit exhaust too.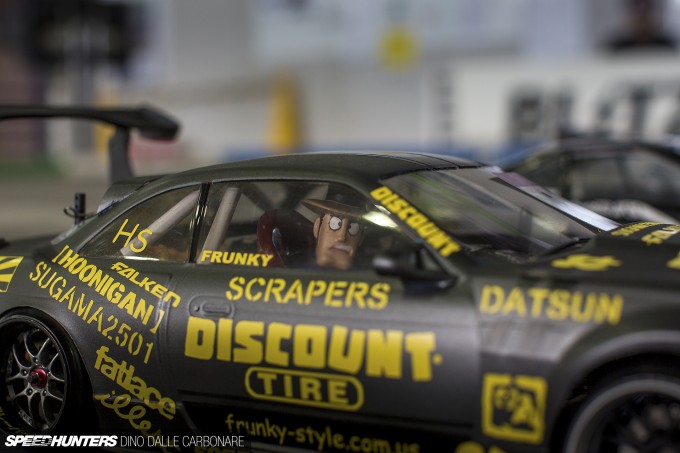 You really had to keep your eyes peeled as sometimes the coolest details were a little harder to spot.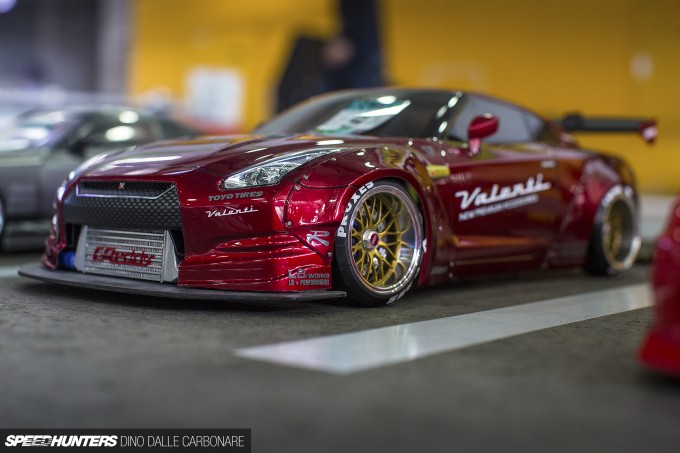 It wasn't long before I spotted this R35 GT-R – a perfect replica of the Valenti demo car which I remember very well for having one of the nicest candy red paint jobs.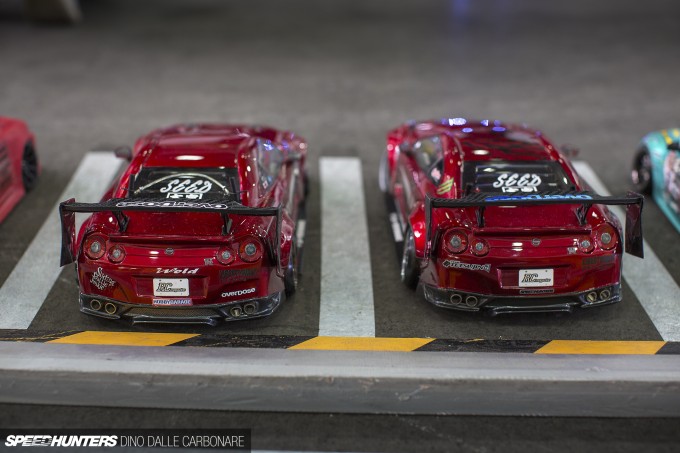 It was sitting right next to another faithful R/C reproduction; both cars running Liberty Walk aero kits and a massive carbon fiber GT wings.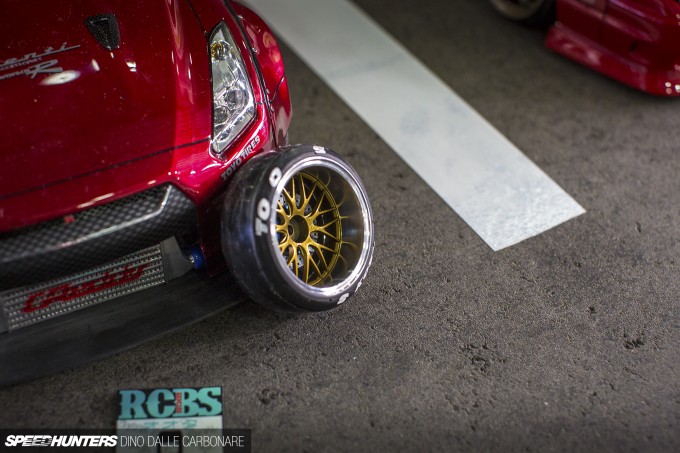 What impressed me the most, however, is that the builder of this car went to the trouble of CNC-machining aluminium barrels for the wheels so that he could then obtain the right sort of lip and offset to fill up the widened arches.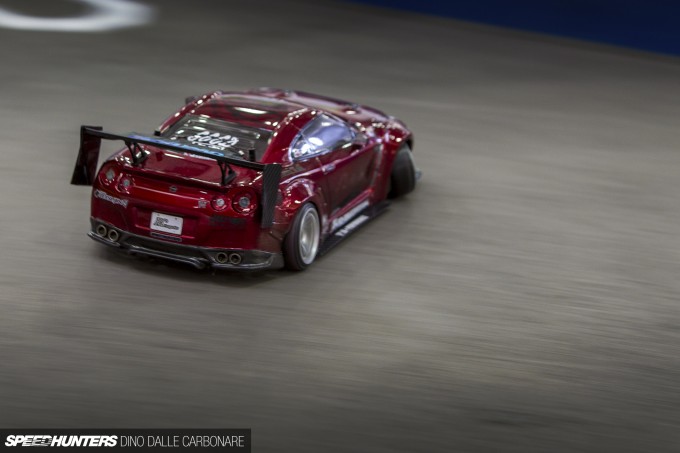 The wheels are therefore pretty heavy and thus only for show, so when this GT-R hit the track for a bit of sideways action they were replaced with conventional plastic ones.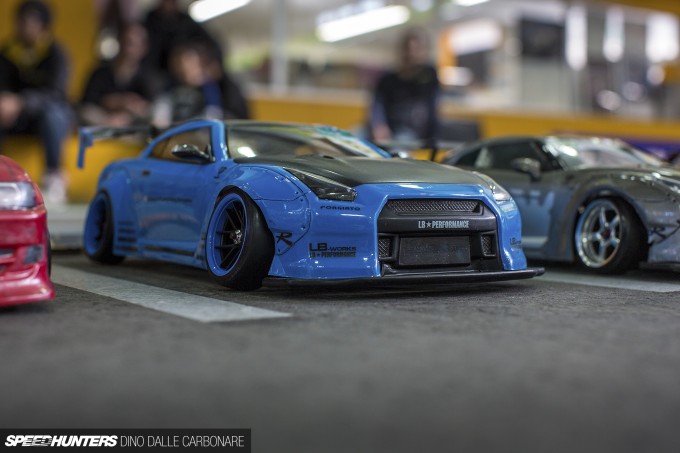 There were quite a few more Liberty Walk kitted R35s in the line-up too, proving that whatever is popular in the real world always gets recreated down to scale form.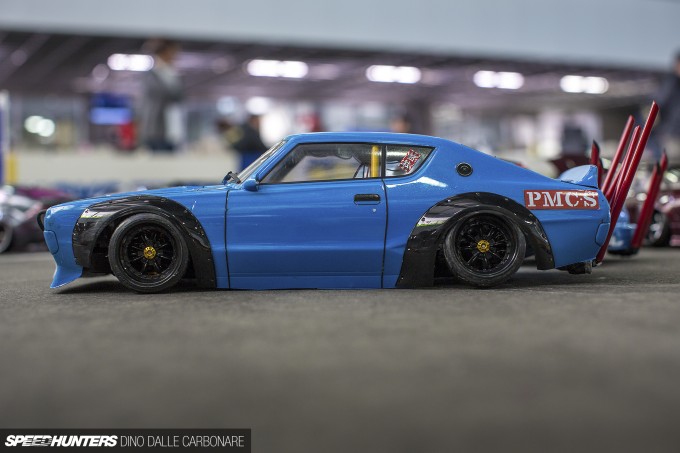 And I'm sure Kato-san would be very pleased to see just how much people love his cars! This Kenmeri was on display in the 'maker' portion of the show, so wasn't being judged.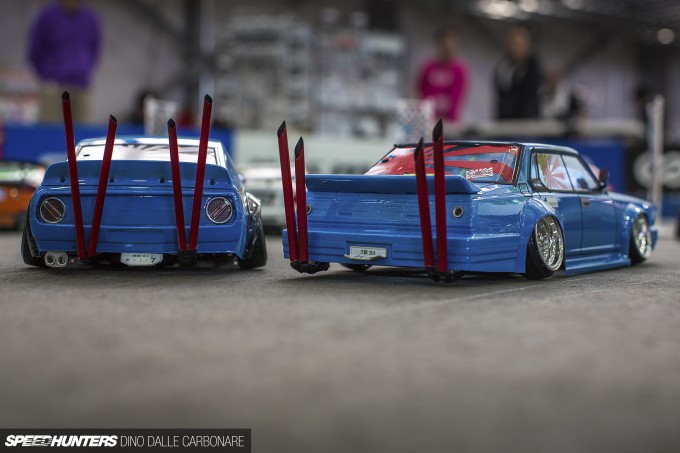 It wasn't the only bosozoku car there either. Gotta love the takeyari!
The Details Are What Count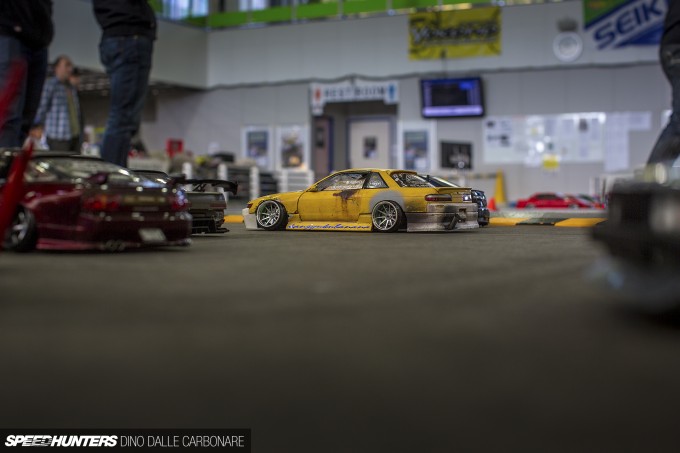 One thing that I really like seeing on scale models and R/C cars is the recreation of patina. For a drift car, that's better described as the 'beaten-up' look, with scratches, discolourations, damaged body work and primer on recently-repaired panels.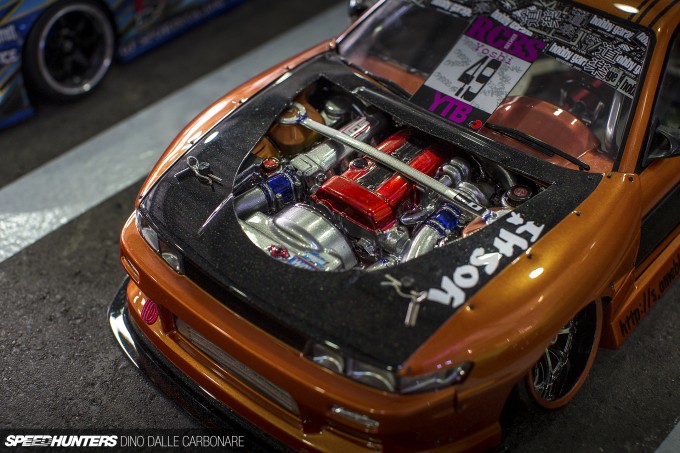 Then of course there are the engines. These days most makers create miniature engine bays that you can paint and then slot under your liftable bonnets, and it's a worthy addition as it gives another level of realism to the car.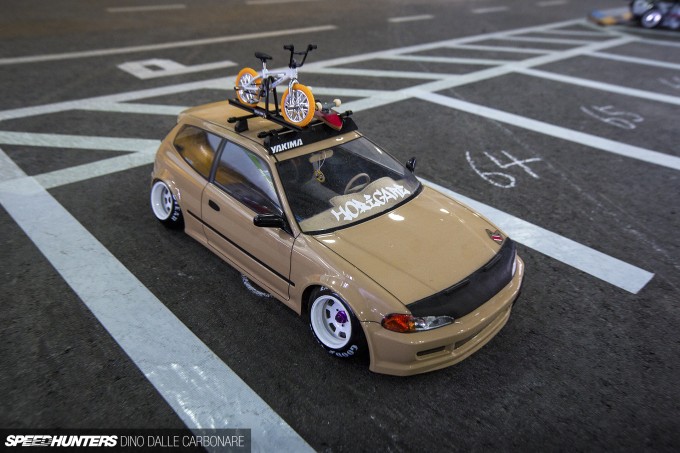 Talk about the most accurate take on the whole stanced look! This EG Civic not only sported a full interior and that BMX bike on the roof rack…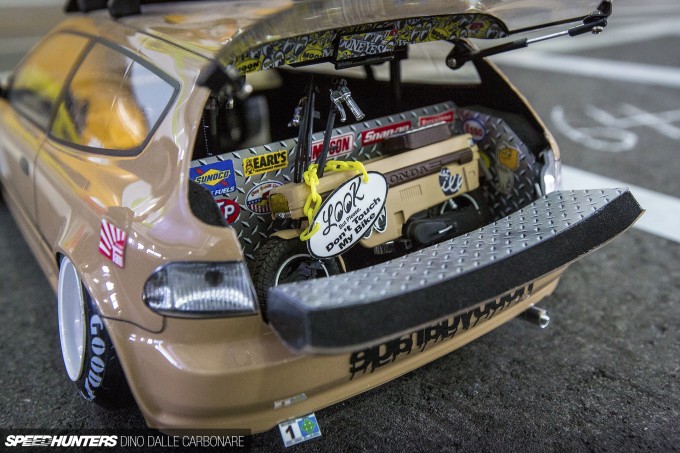 But it had a trunk that you could open, in which was a Honda Motocompo foldable scooter. How crazy is that!?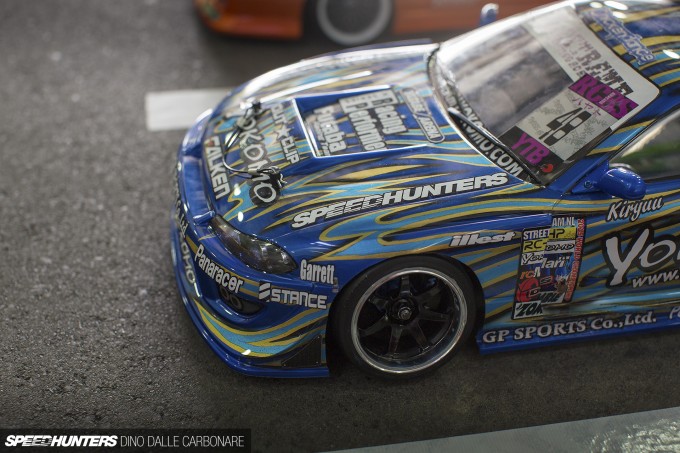 One thing I really am humbled by is the support that Speedhunters gets in this scene too. I saw cars rocking the stickers I'd given owners years back, plus custom decals.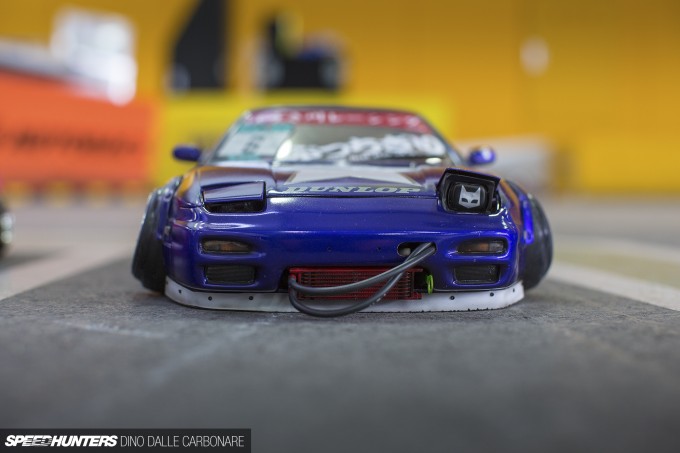 This 180SX reminded me a bit of the Bad Quality RPS13 that the internet went crazy over a couple of years back. I love the weird mix of detailing, like the Hakosuka-style externally mounted oil cooler and the functional pop-up lights.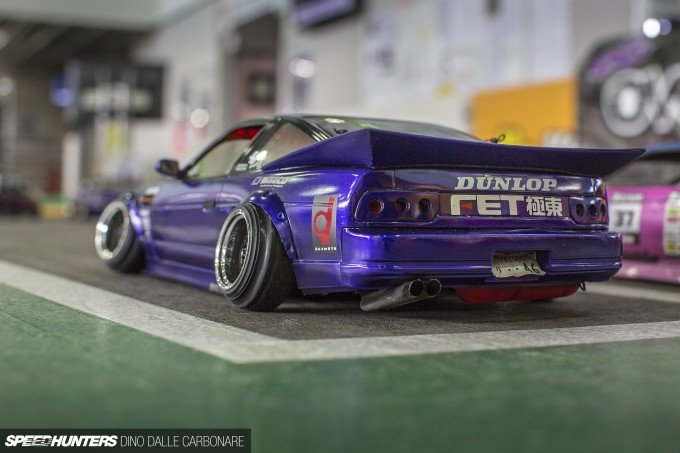 The onikyan was pretty wild too!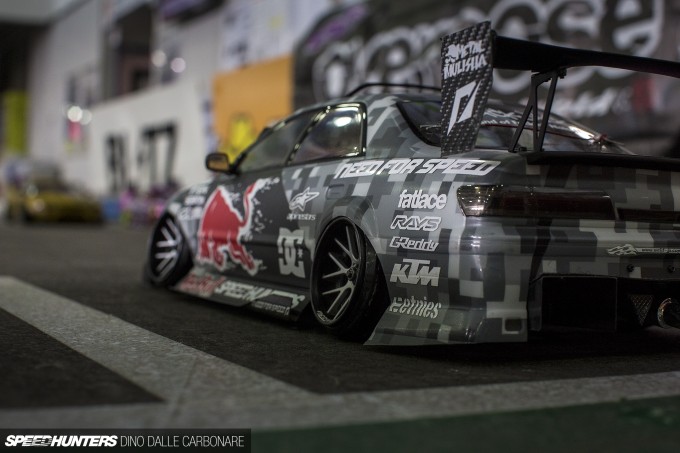 With the new Need for Speed game having just been released in Japan, there were a few cars running the recognisable logo, as you can see on this Mad Mike RX-7 inspired JZX100.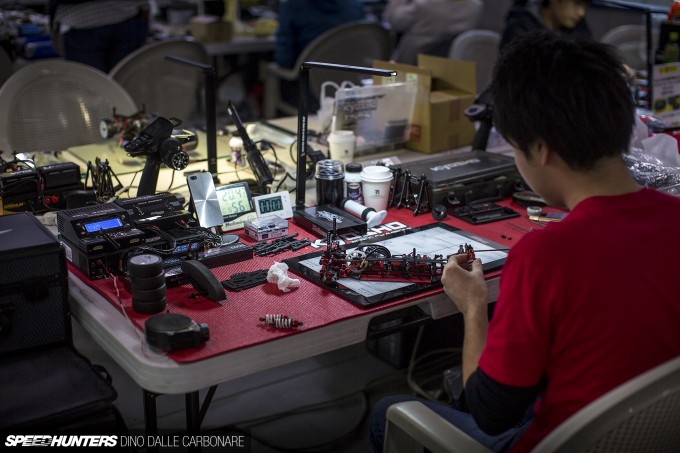 With the presentation of each car completed, it was then on to a bit of fun with a free drift session before the judged competitions commenced.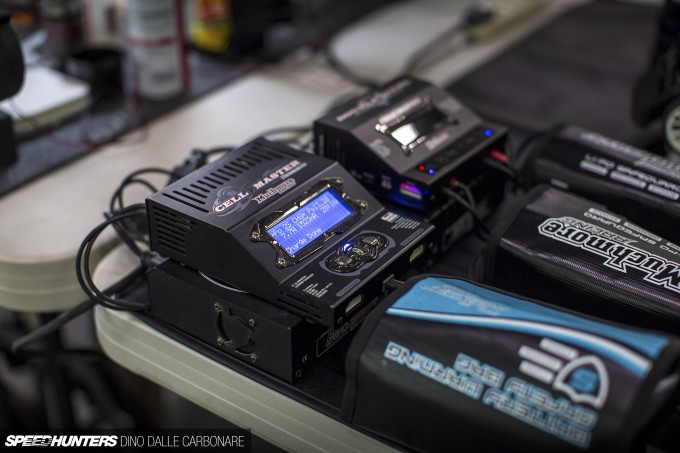 That meant getting the cars ready, the batteries charged up and the finer details set up properly.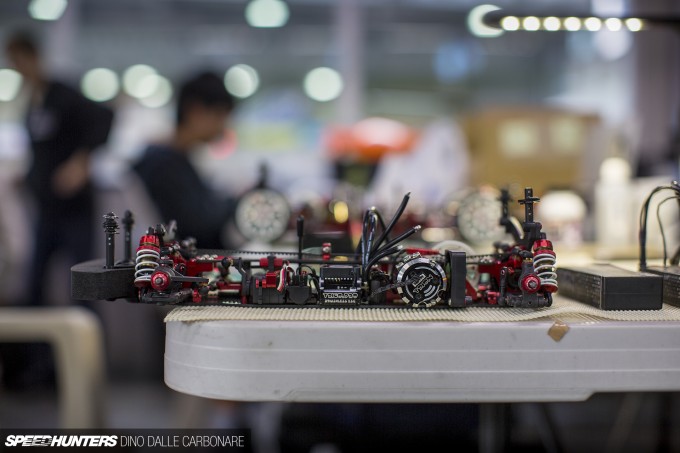 It never fails to amaze me the amount of otaku-like dedication that the Japanese bring into this hobby.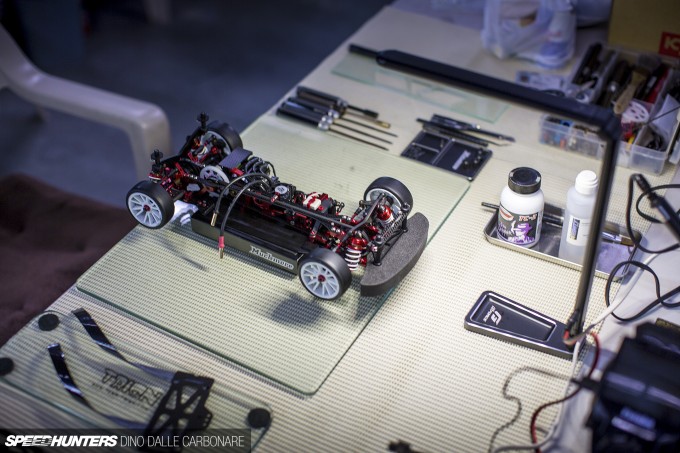 It's all taken extremely seriously, with each driver setting up a carefully laid out space on which they can prep and adjust their cars. The amount of equipment that the majority of these guys bring to the track really has to be seen to be believed.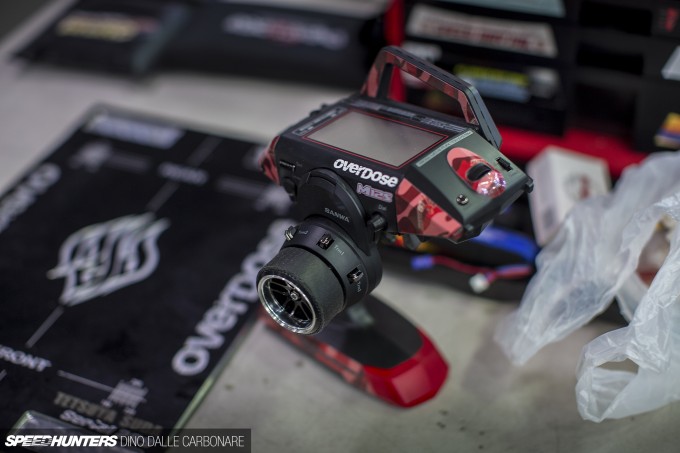 And of course, even the controllers don't miss out on being customized. In fact, most companies and parts makers sell pre-cut skins to fit whatever controller you may be running so that you can wrap it in your favorite colors and patterns.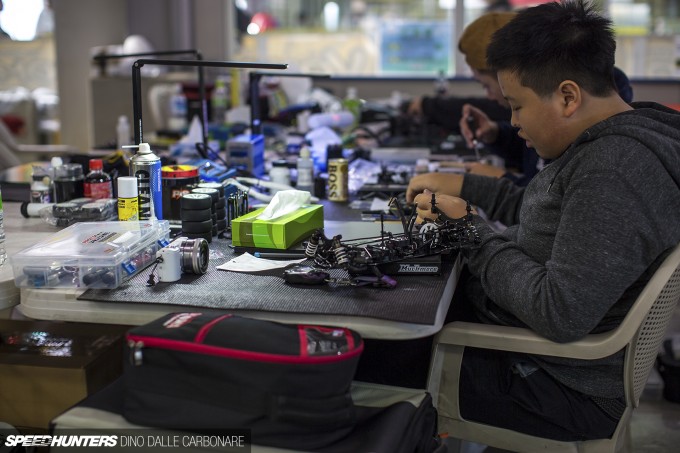 While the majority of the guys that get into this hobby are well over legal driving age, it was cool to see some younger budding R/C drifters enjoying themselves.
The Comp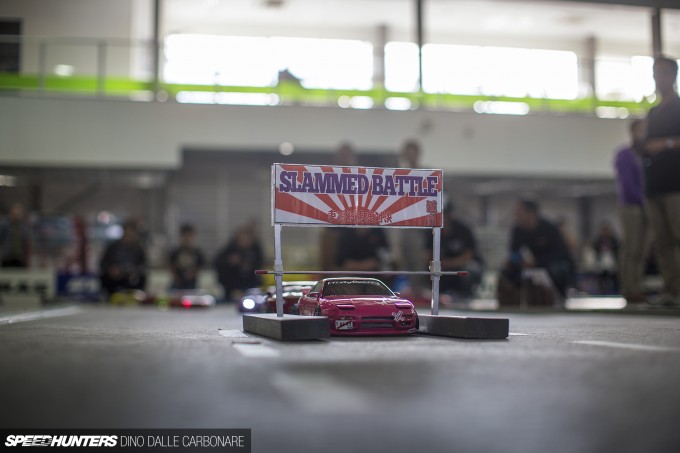 The first judged comp was the 'Slammed Battle' where each car had to pass under a limbo pole to narrow the field down and see which one of the cars sat the lowest.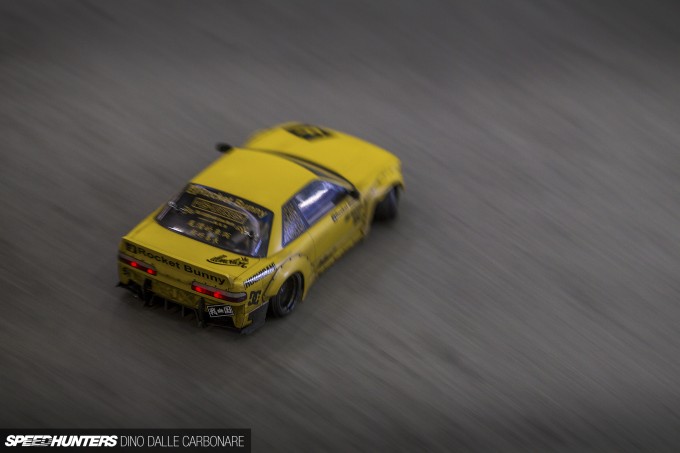 It was a cool way in which to judge the cars – not just on style, but also on something a little harder to achieve. Of course, this meant that those few complex bodies that don't clear the chassis and running gear of the car weren't able to be entered as the car had to run under its own power.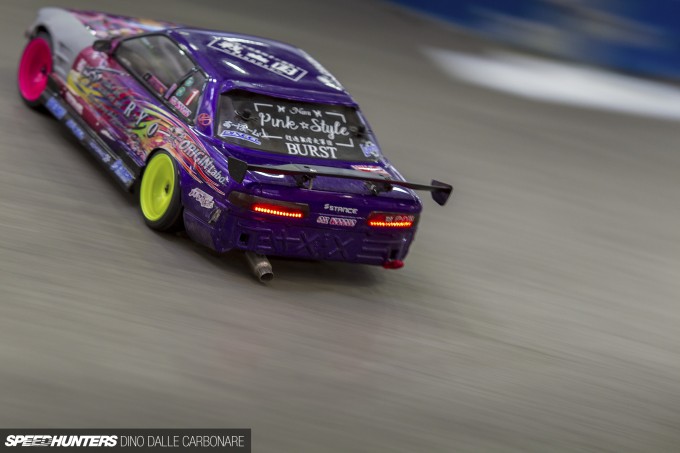 And then it was on to more drifting! I forgot how damn hard it is to shoot these cars zooming around at speed; they are so hard to keep in the viewfinder because unlike real cars they vary speed and trajectory so quickly. But it's just more of a challenge.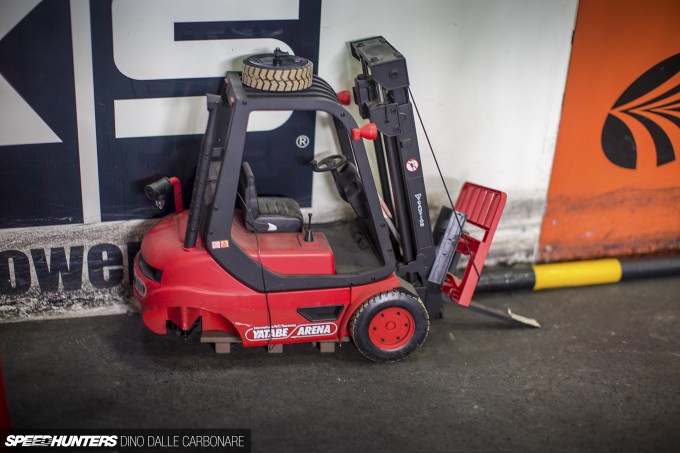 Yes, this is a radio control forklift that when running all four of its wheels can be used to pick up stranded cars and get them out of the way. I thought it was hilarious!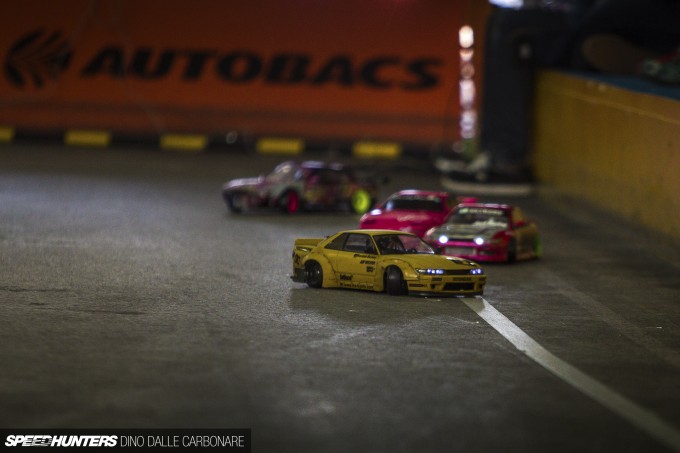 As I expected, everyone present was quite handy behind a controller. The smoothness in which most cars are drifted around has to be seen to be appreciated.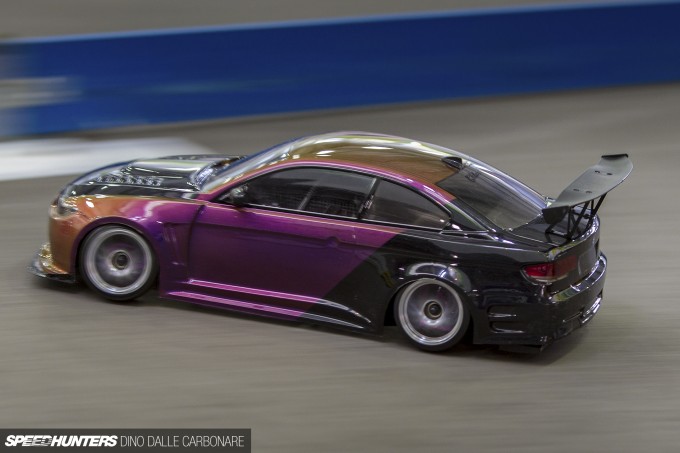 And like I mentioned earlier, the majority of them have now moved over to rear-wheel drive layouts…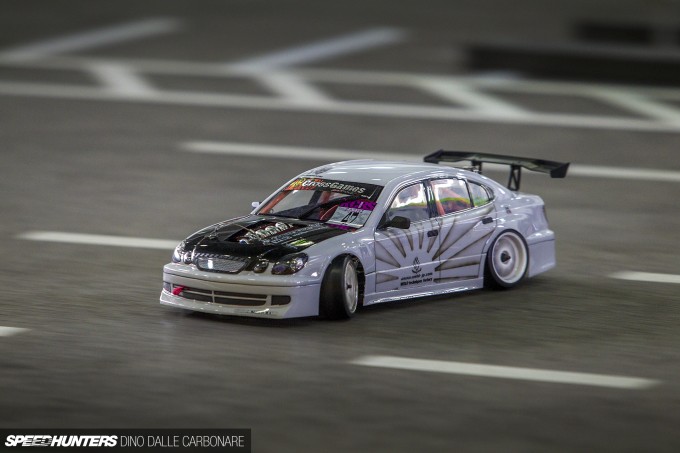 It gives a far more realistic look and feel to the drift.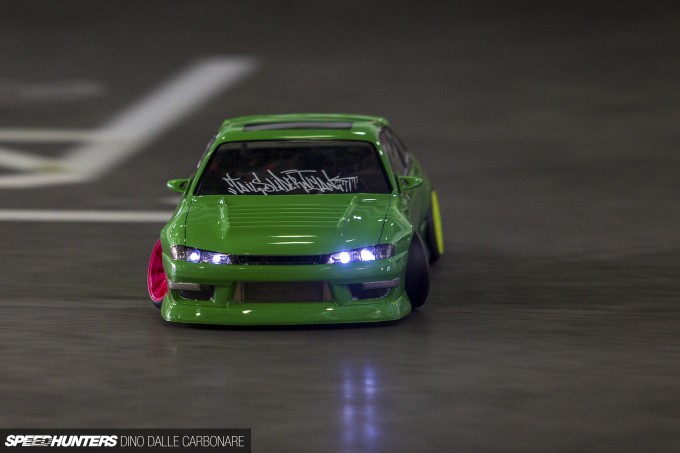 As I reviewed my pictures, I sometimes felt I was at a track like Nikko or Mobara – the cars looked that real in my camera's LCD screen.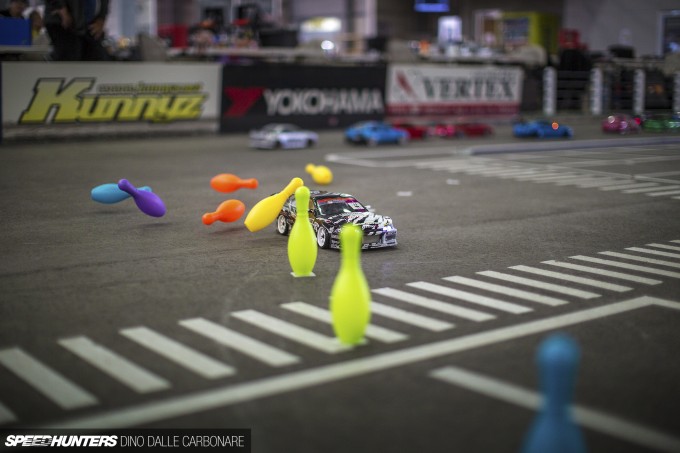 The final event was the 'Bowling Pins', something that I thought looked rather simple. Boy was I wrong. The pins were laid out in a way that you would have to be on the perfect line around the corner, and it proved impossible for most to hit them all. Only two cars successfully completed this challenge.
Luckily I just happened to be filming when one guy nailed it perfectly! Notice how the driver is continuously adjusting the throttle to make sure he kept to the right line. Proper skills right there.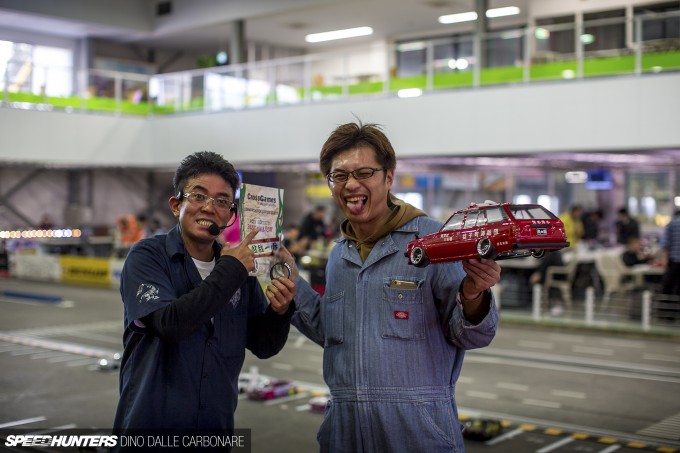 The day ended with the top cars being picked for the prize-giving; the organisers deciding to go with this JDM fire truck themed Carina wagon, which was a replica of a 3S-powered car we saw a few years ago at the Offset Kings show at Fuji Speedway.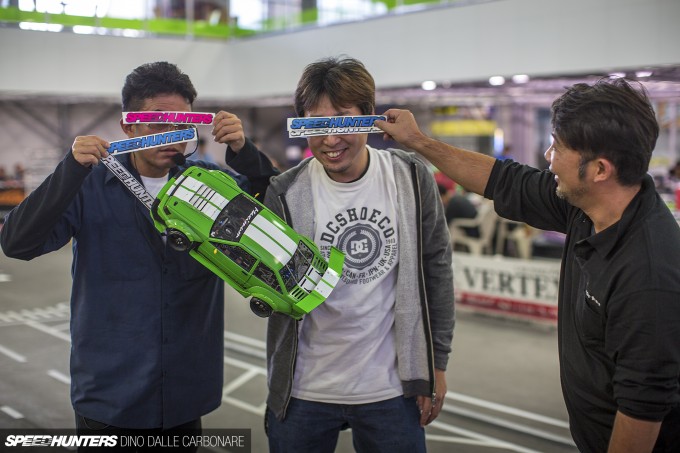 Then it was my turn to announce the winners.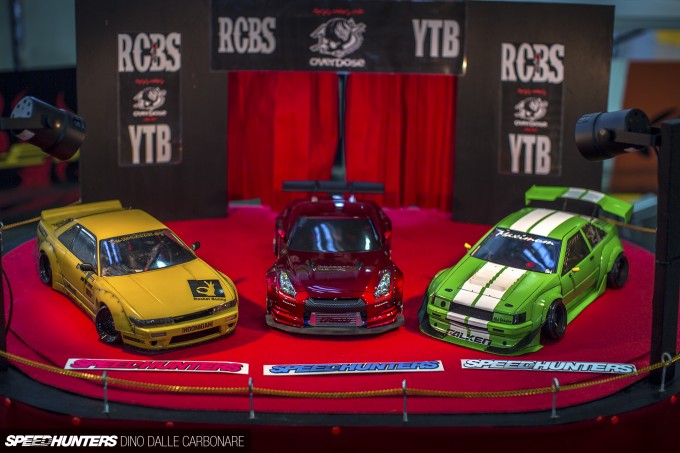 These were, in my eyes, the three worthy finalists: the LBW R35 GT-R with aluminium wheels in first place; the N2 Levin AE86 in second and that sick Rocket Bunny mustard S13 in third.
It's always enjoyable and refreshing to approach car culture from such a unique angle, but most of all to see how people keep pushing themselves year in and year out to come up with new styles and details – in scale form. It's a true reflection of what's happening out there in the real world.
Dino Dalle Carbonare
Instagram: speedhunters_dino
dino@speedhunters.com