Rennsport-bound With MOMO
You hear it time and time again: people love Porsches, because they are meant to be driven. It's rare to find any 911 with low miles. They fly under the radar, and that's exactly why I wanted to build Project 996 Turbo. Because, as much as I love Ole Orange Bang, it's just not practical as a daily driver anymore. While smelling like exhaust fumes and sweating profusely sounds like a good time for some, I needed a modern sports car in my life.
While driving a Porsche is fun in its own right, does it mean it's even more fun when you drive with other like-minded individuals? Absolutely! This is exactly what Magnus Walker had in mind when he partnered up with MOMO to create a road rally from his shop in Los Angeles. The destination: Rennsport Reunion V.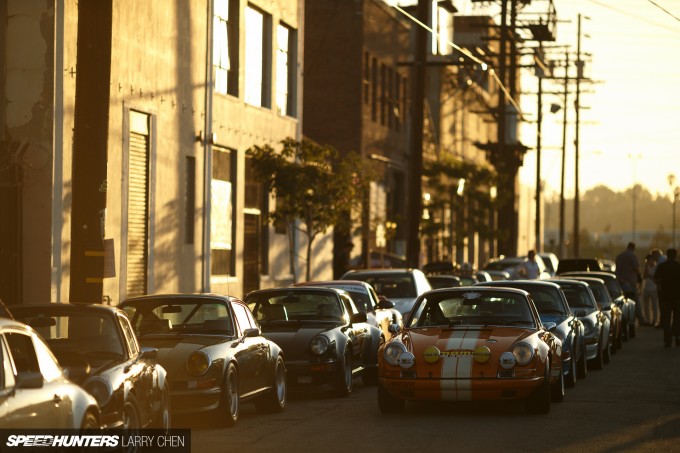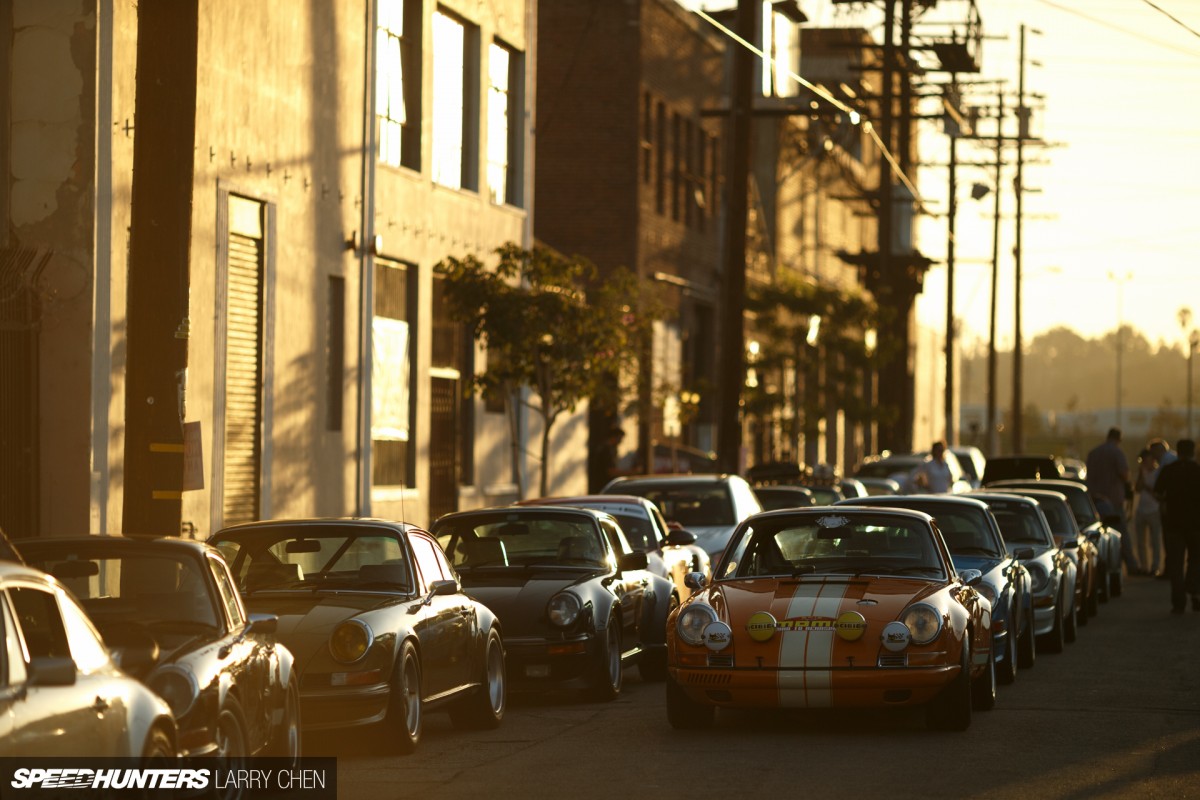 Around 65 cars showed up for the 400-mile drive, so it was epic to say the least. It was definitely a rude awakening for the people of downtown Los Angeles when we rolled through in the early morning.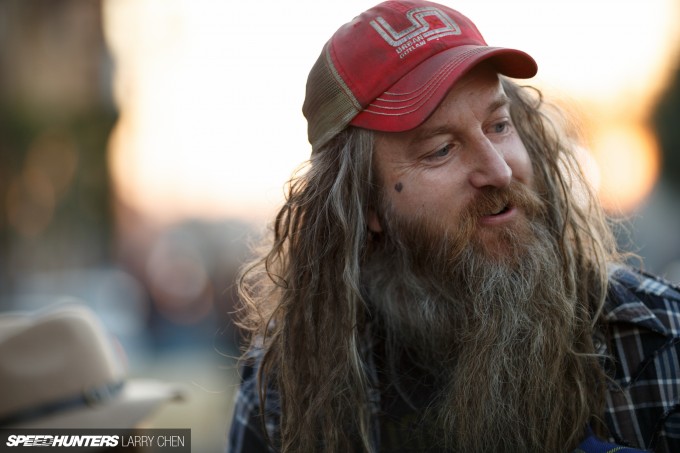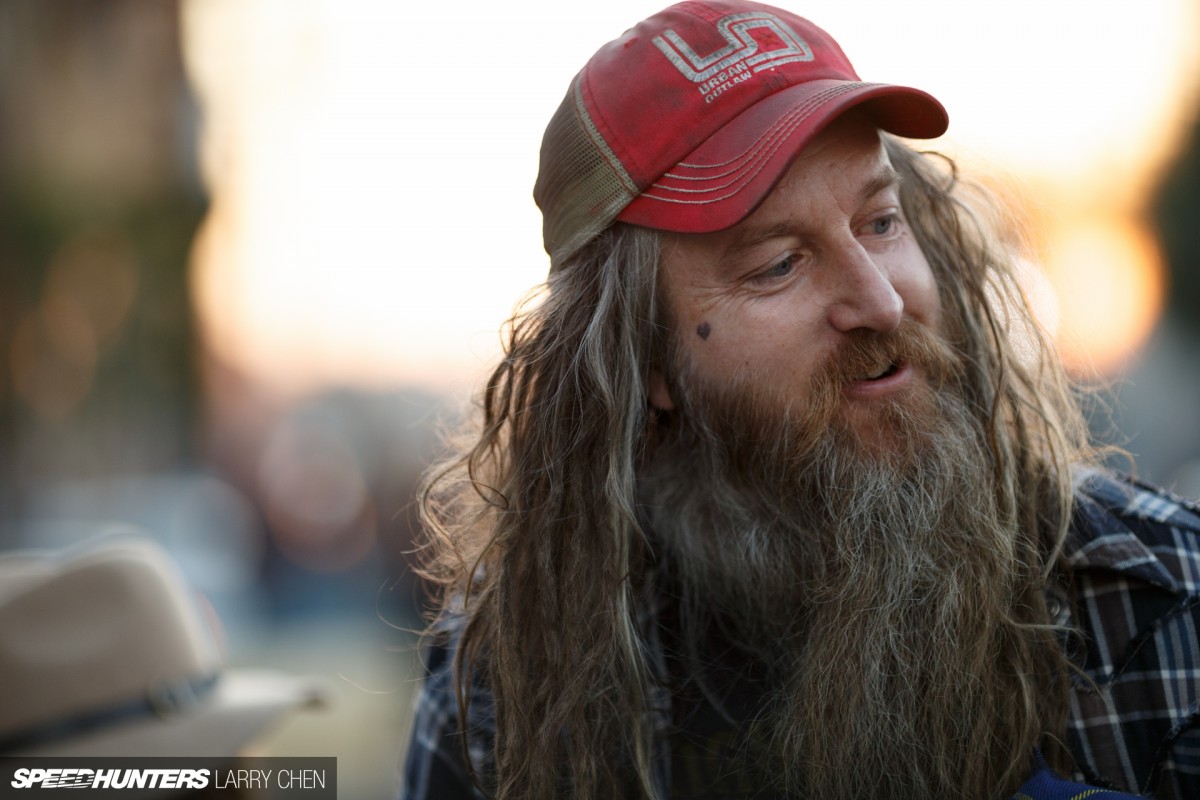 In addition to the rally activities, Magnus also collaborated with MOMO to design a hand-distressed leather steering wheel. This could be the perfect addition for Ole Orange Bang, I think. Italian wheels go very well with classic Japanese cars.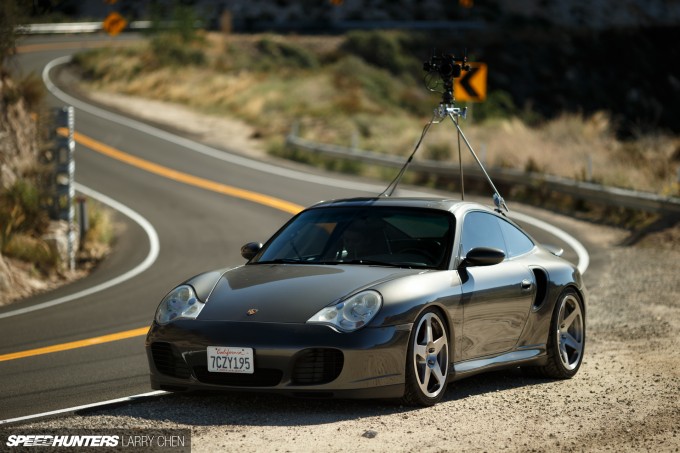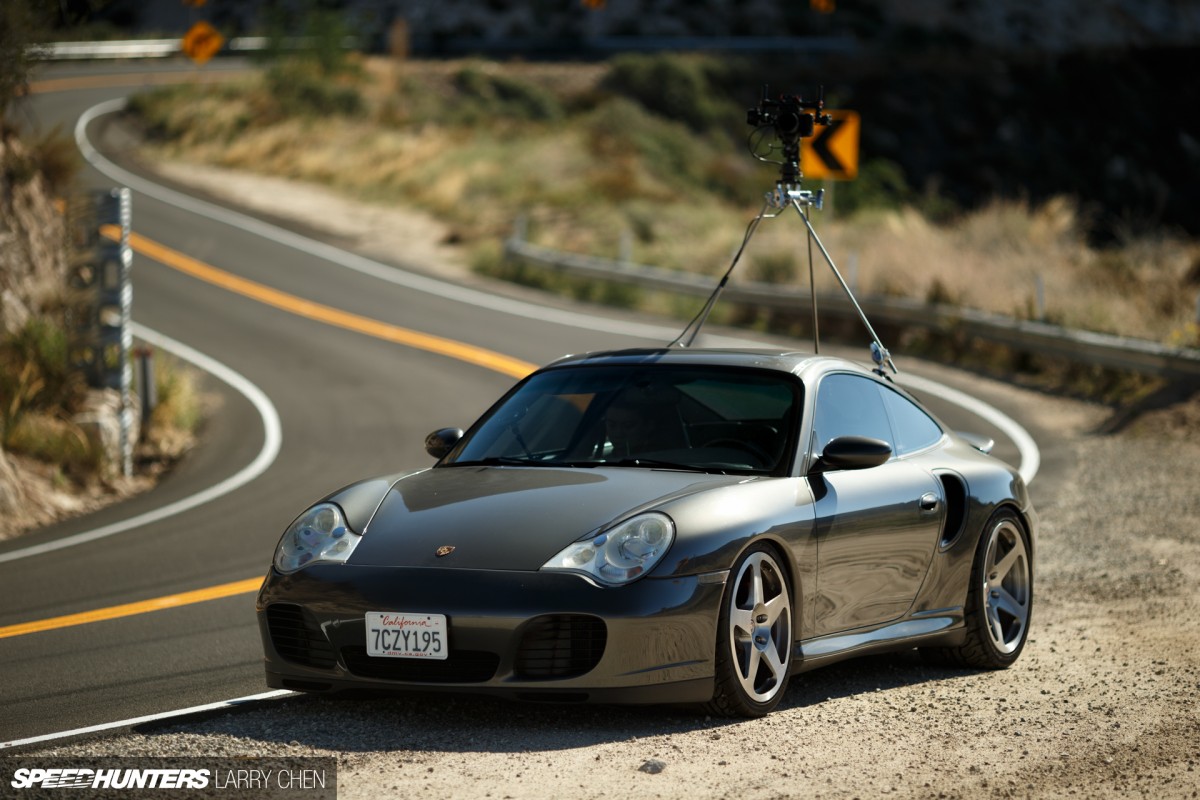 My ride for the event? Well, normally with road rallies I tag along with someone else, because that's the only way I can shoot the event. But this year I figured it would be fun to drive Project 996 Turbo and shoot at the same time. Of course, it proved to be difficult as most of the drivers were not breaking any local laws or anything, but they were not exactly driving slow either. I will touch more on my Turbo camera car later.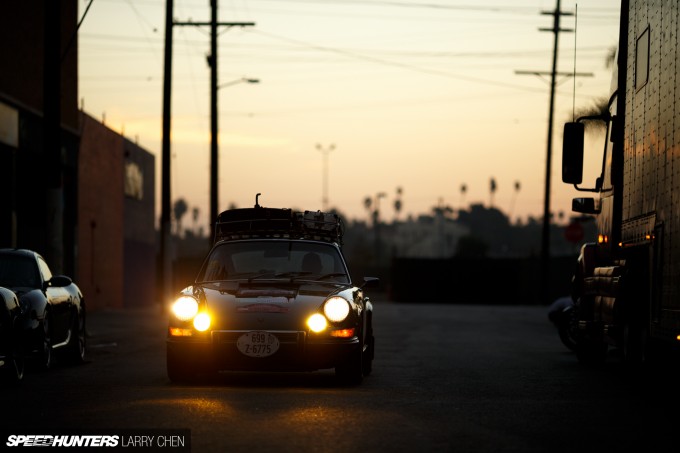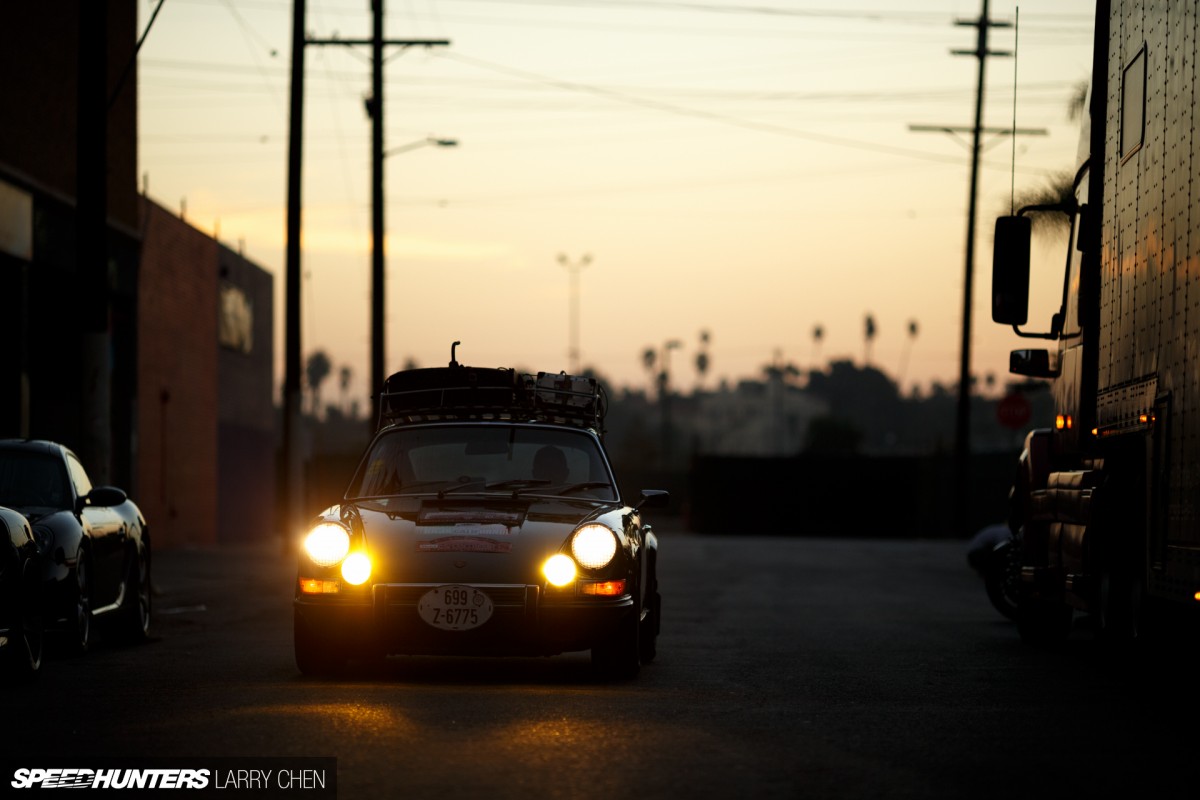 The rally was set to depart from Magnus's shop at 8:30am. I showed up two hours earlier before the sunrise, but I wasn't the first to arrive.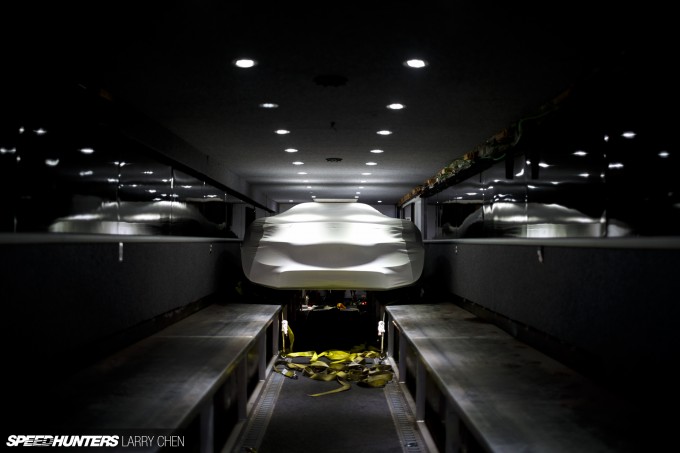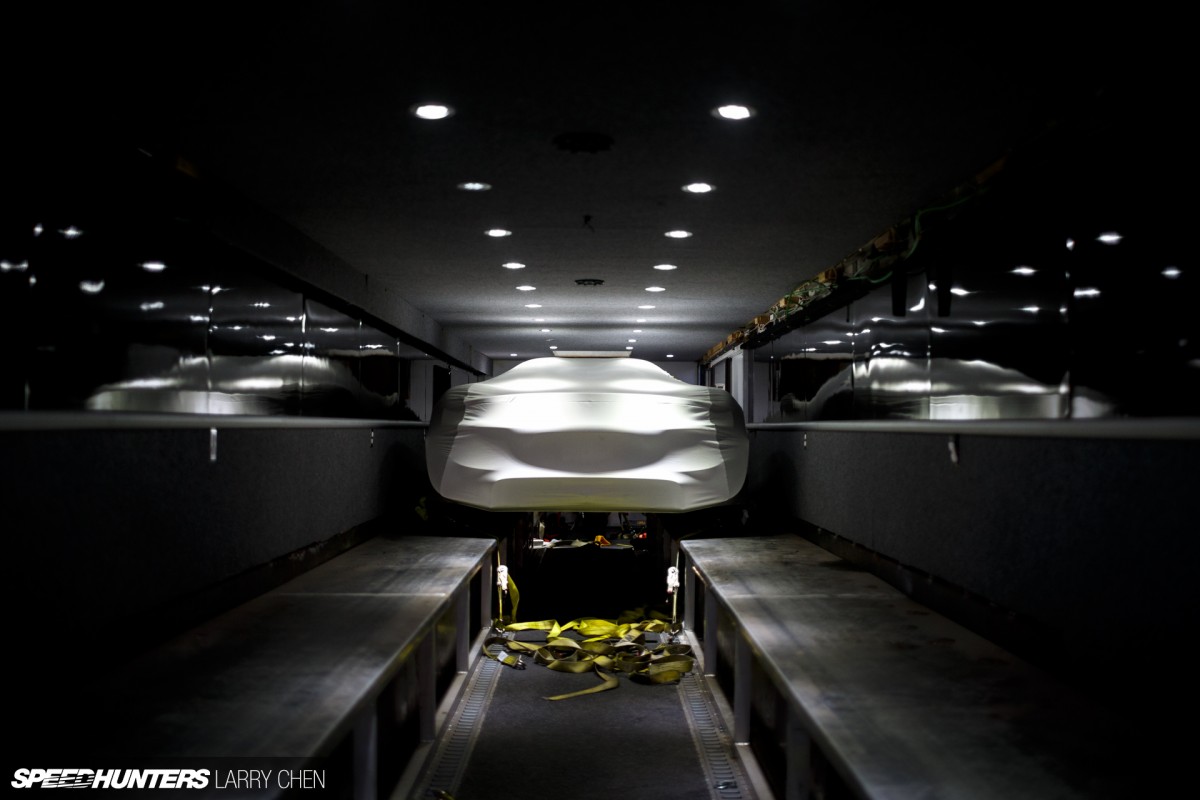 Parked down the street was a transporter that had come all the way from Minneapolis, and it was bound for Laguna Seca too. So why was it in Los Angeles?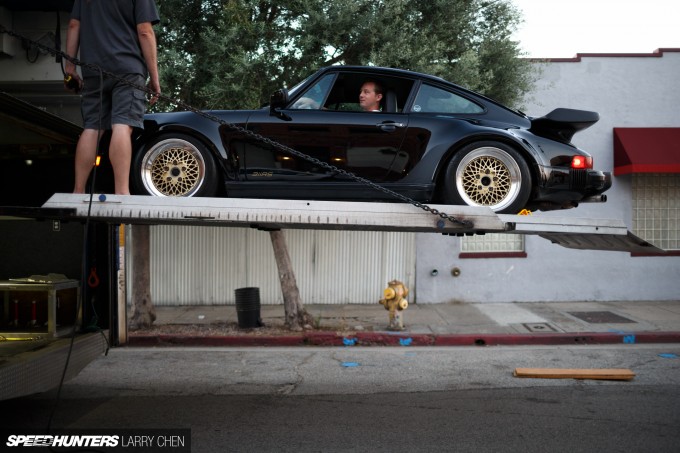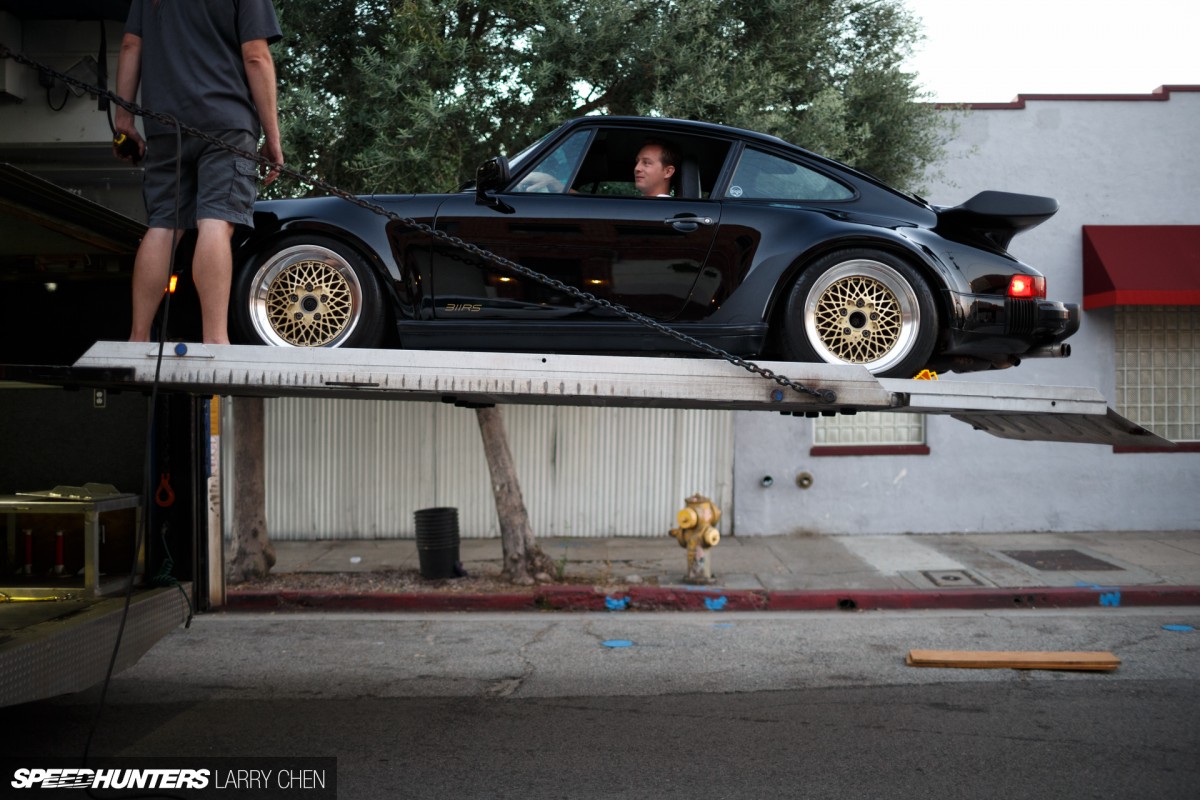 Because my friends at 311RS are crazy, that's why. Here's Ryan Gates in his super-clean 930 Turbo.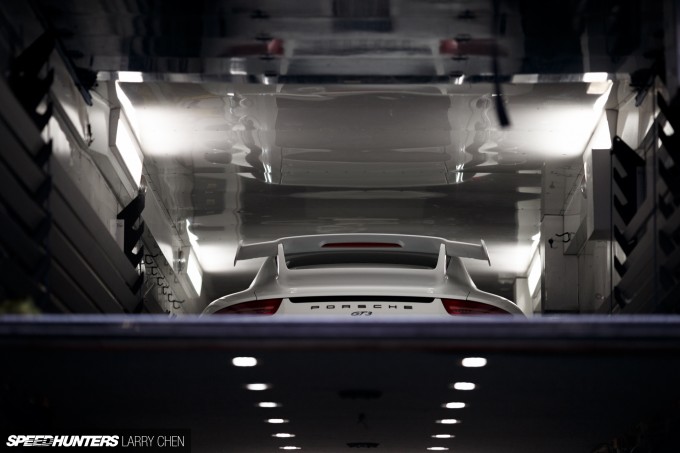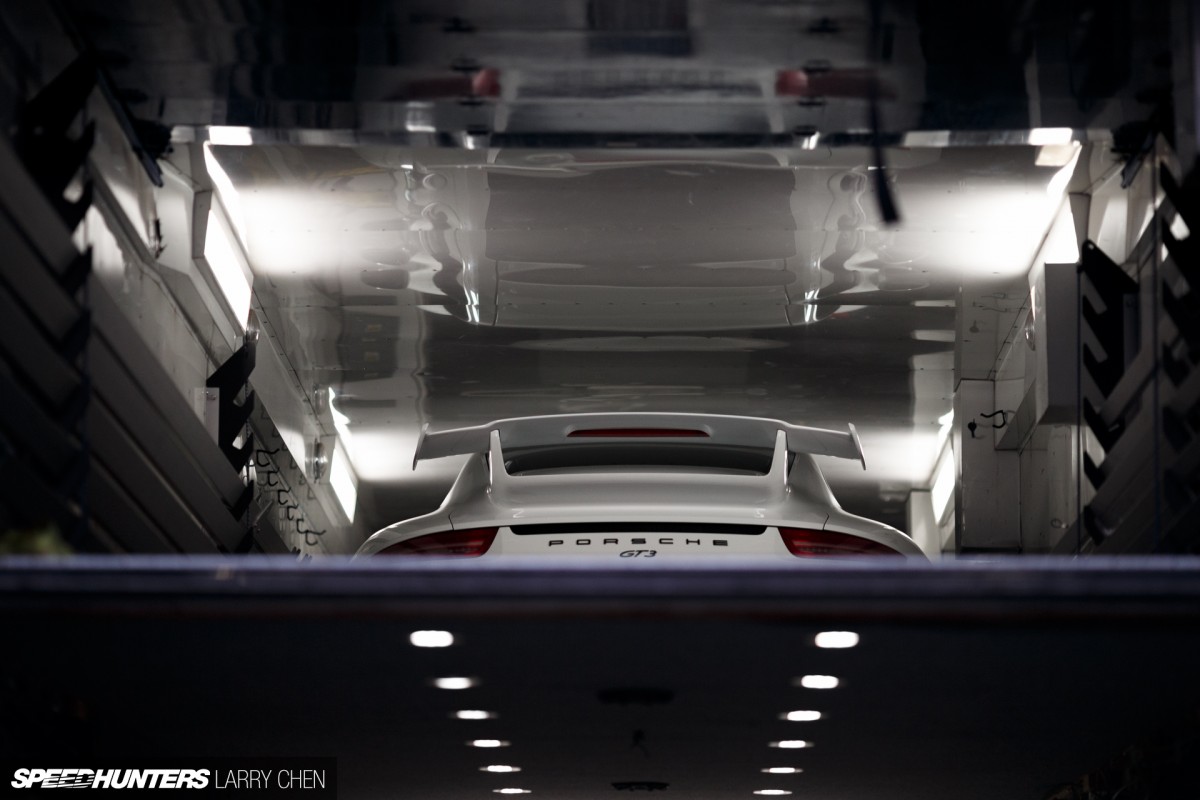 Ryan and his crew wanted to attend Rennsport Reunion, and they wanted to do it in style – in their own cars. So they shipped them to the West Coast in order to join the MOMO rally.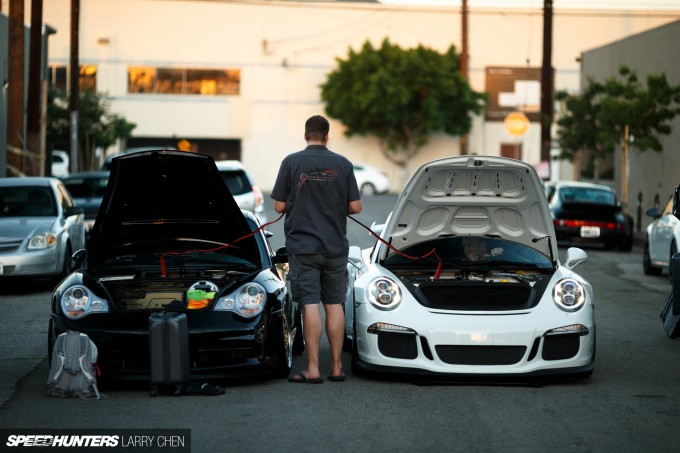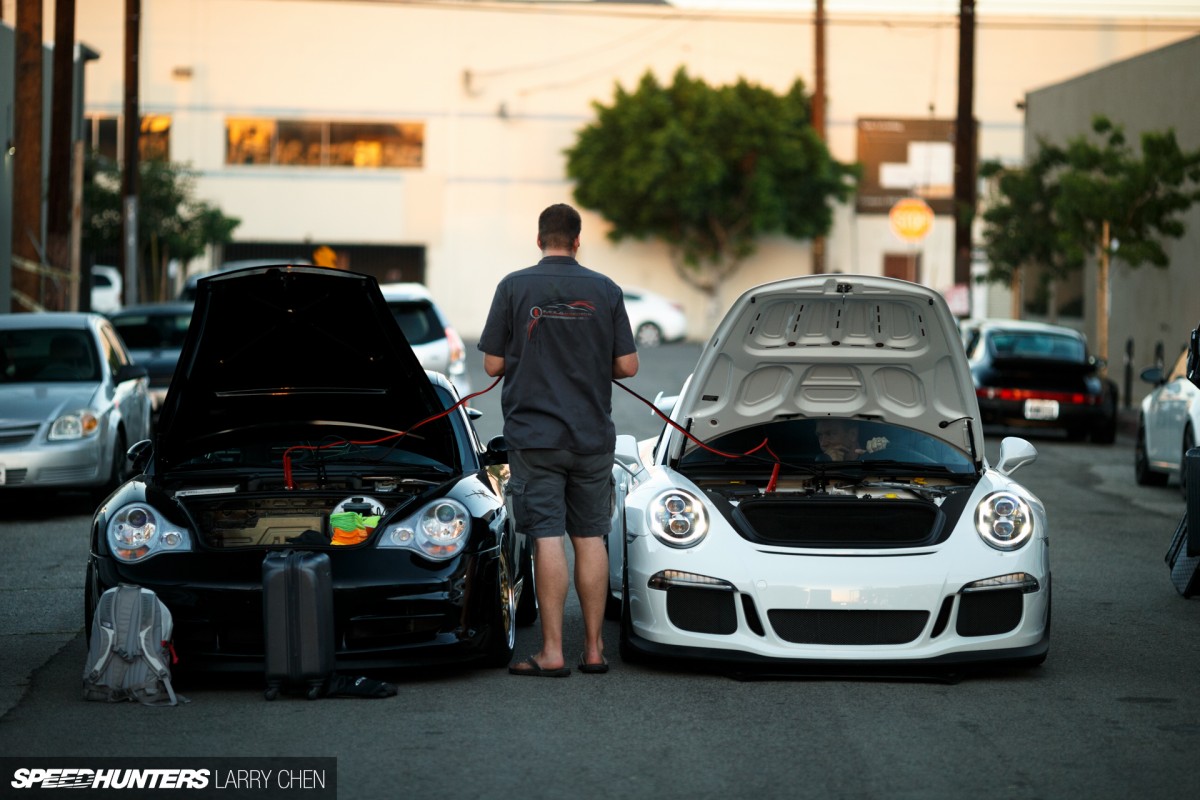 On the way, one of the cars with a tiny lightweight battery lost all its power. Isn't this what the 991 GT3 is for? Jump-starting a 996 GT3!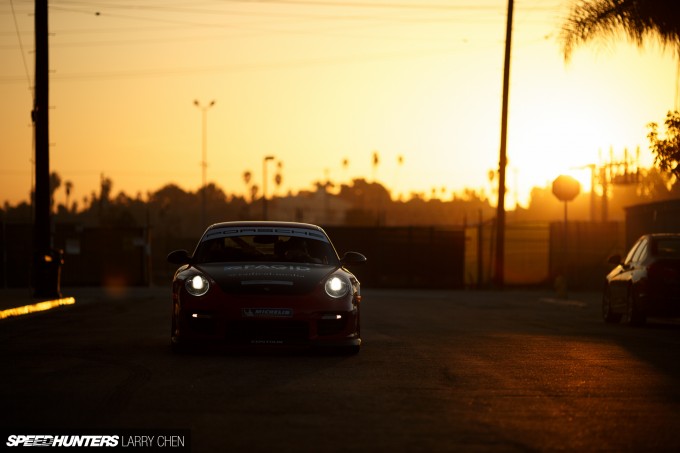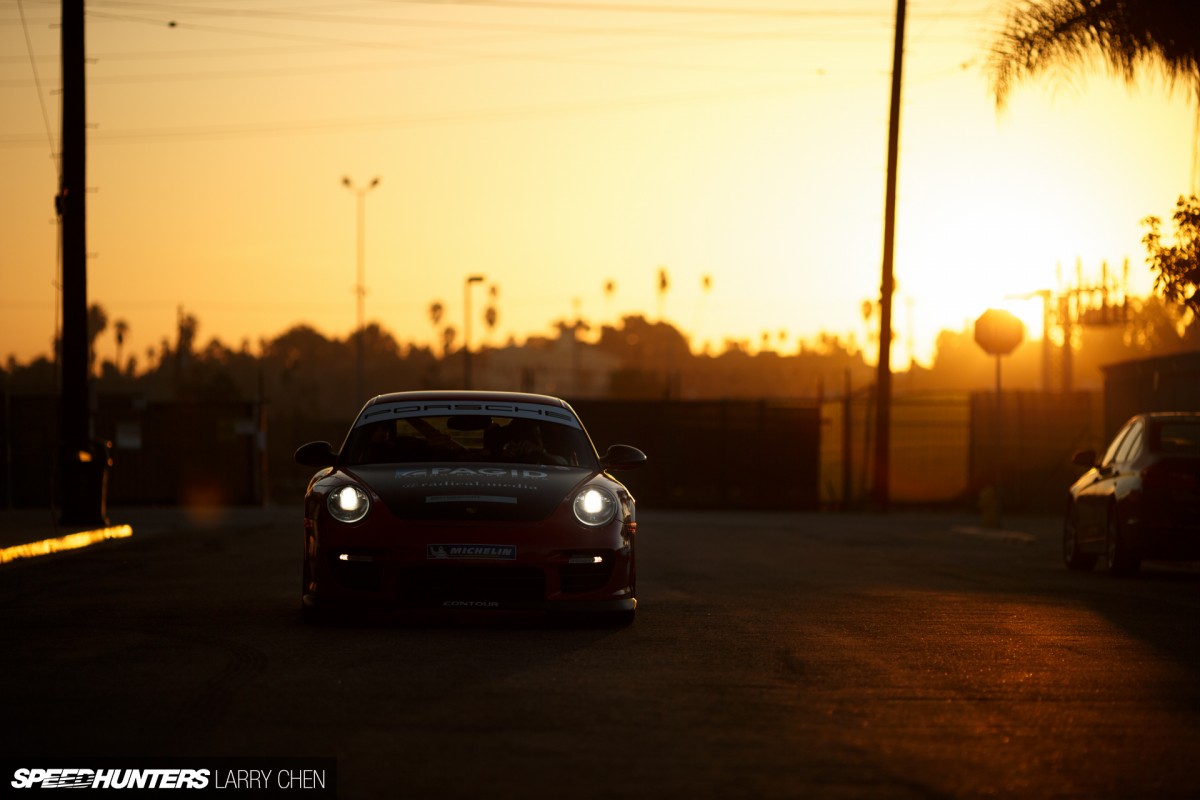 I knew it was getting serious when I watched Jeff Zwart's 997 GT2 Pikes Peak car roll down the street. I admired this car from afar while covering Pikes Peak back in 2011, but I never thought I'd be able to drive along with it on the same rally.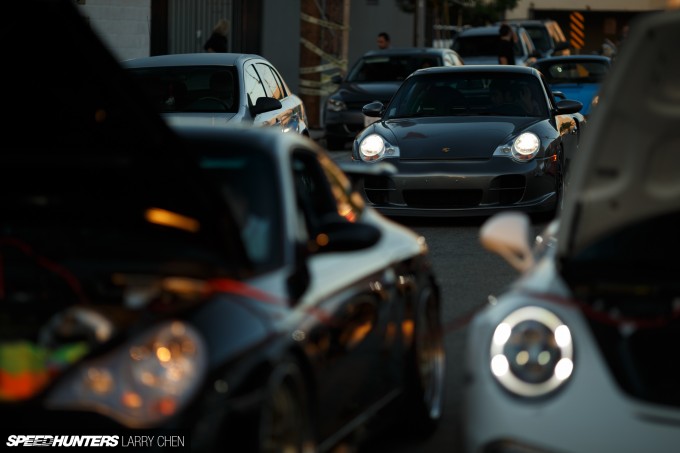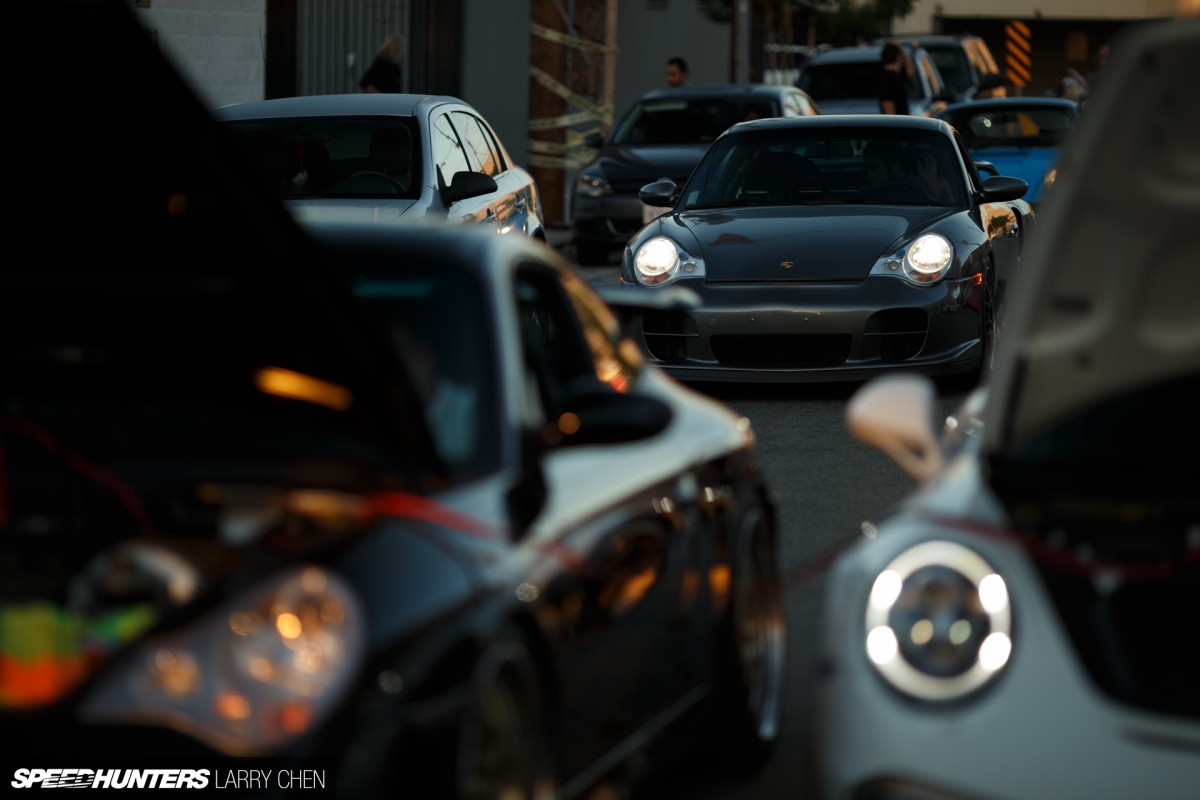 The street was becoming more and more crowded by the minute, and pretty soon it was owned by a sea of Porsches.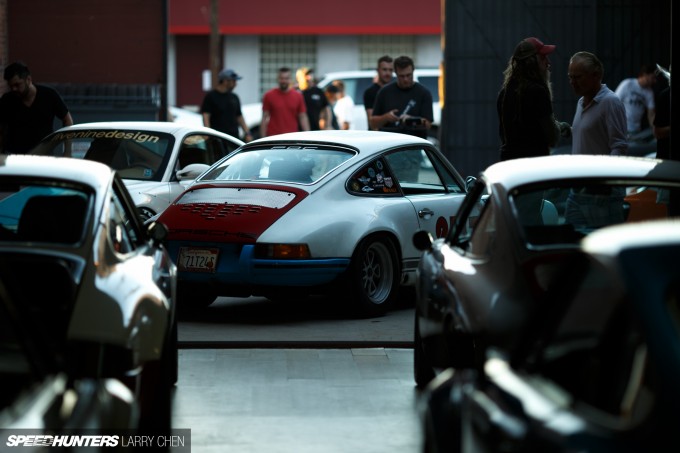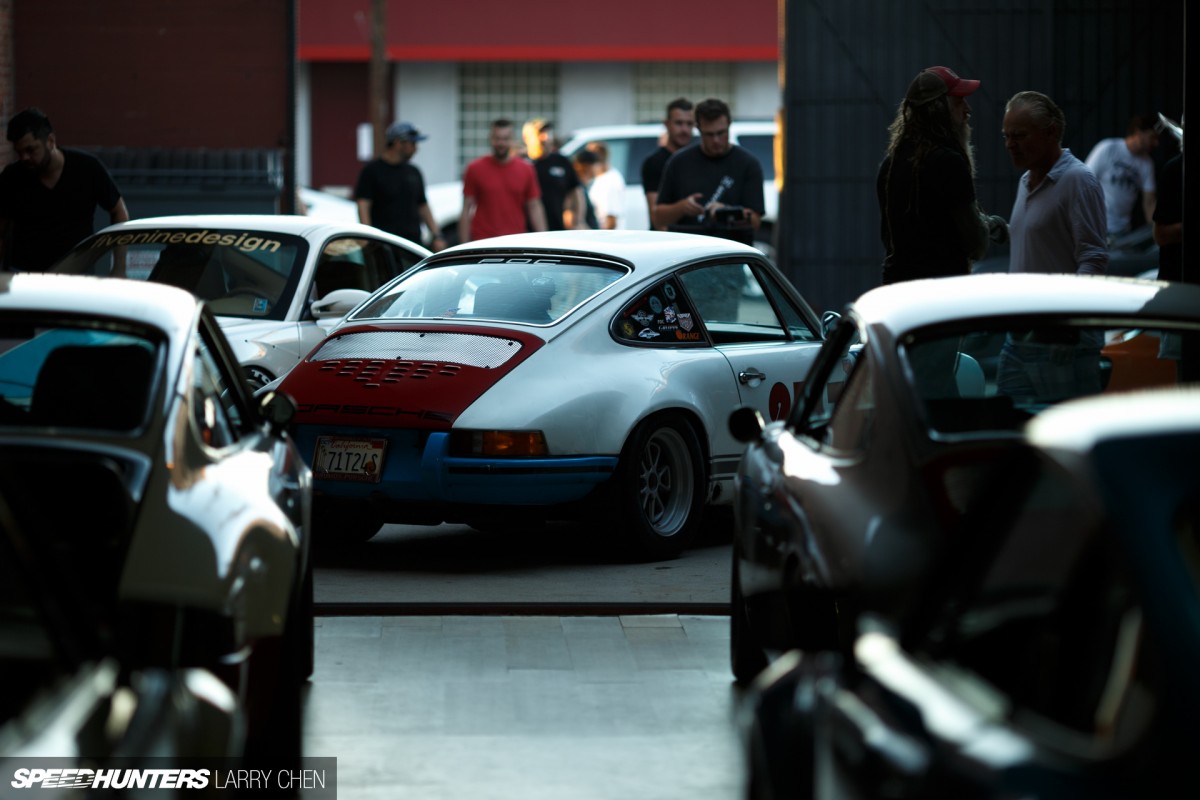 It wasn't any better at the Urban Outlaw's garage either.
Air & Water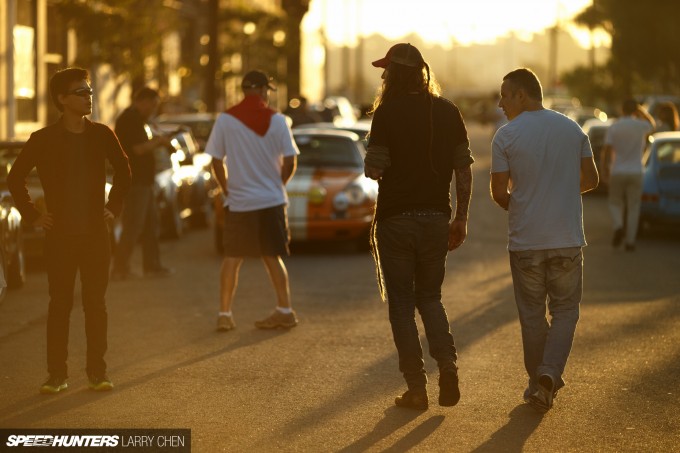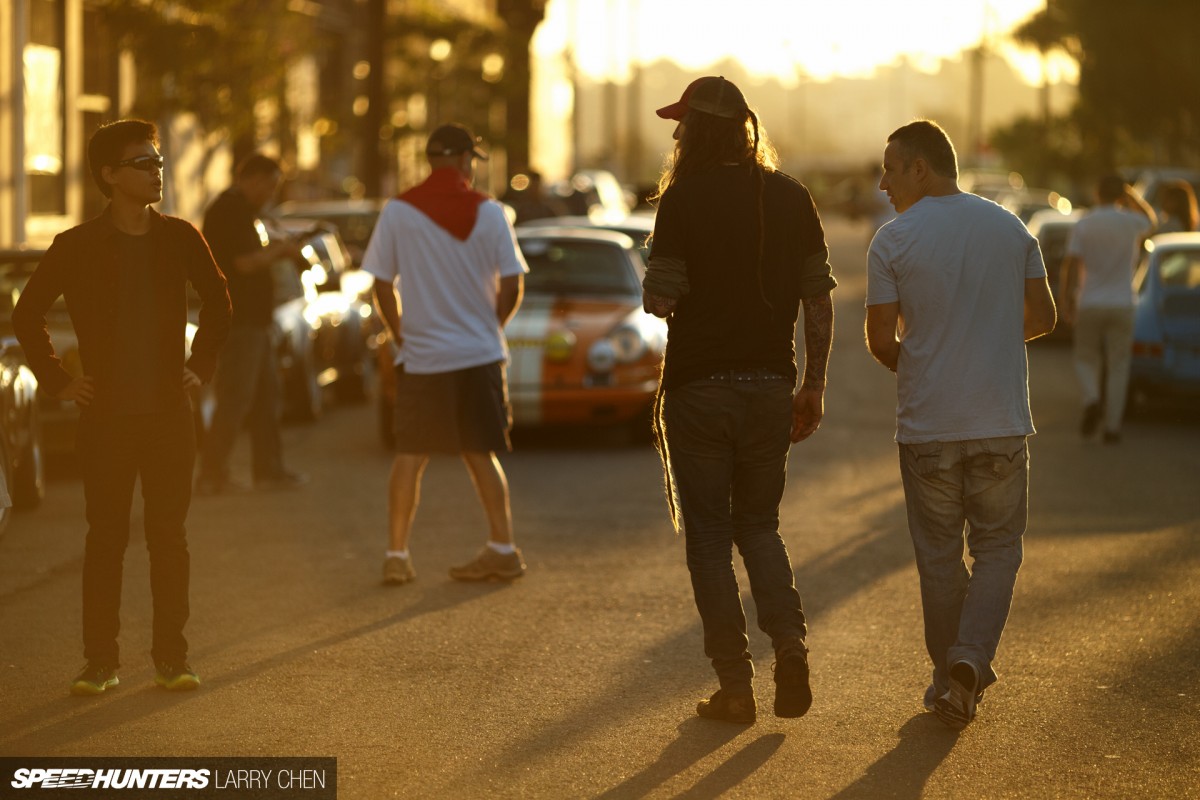 As the Porsches piled up it was time to check out what had actually shown up for the rally. Walking with Magnus was Alex from Sharkwerks, who build a really awesome 997 GT2.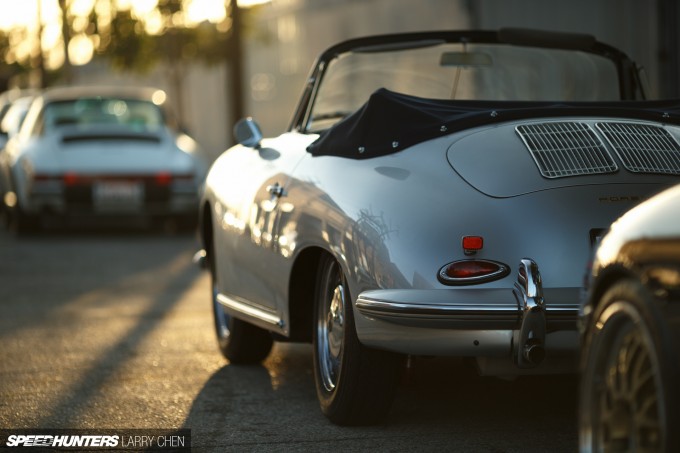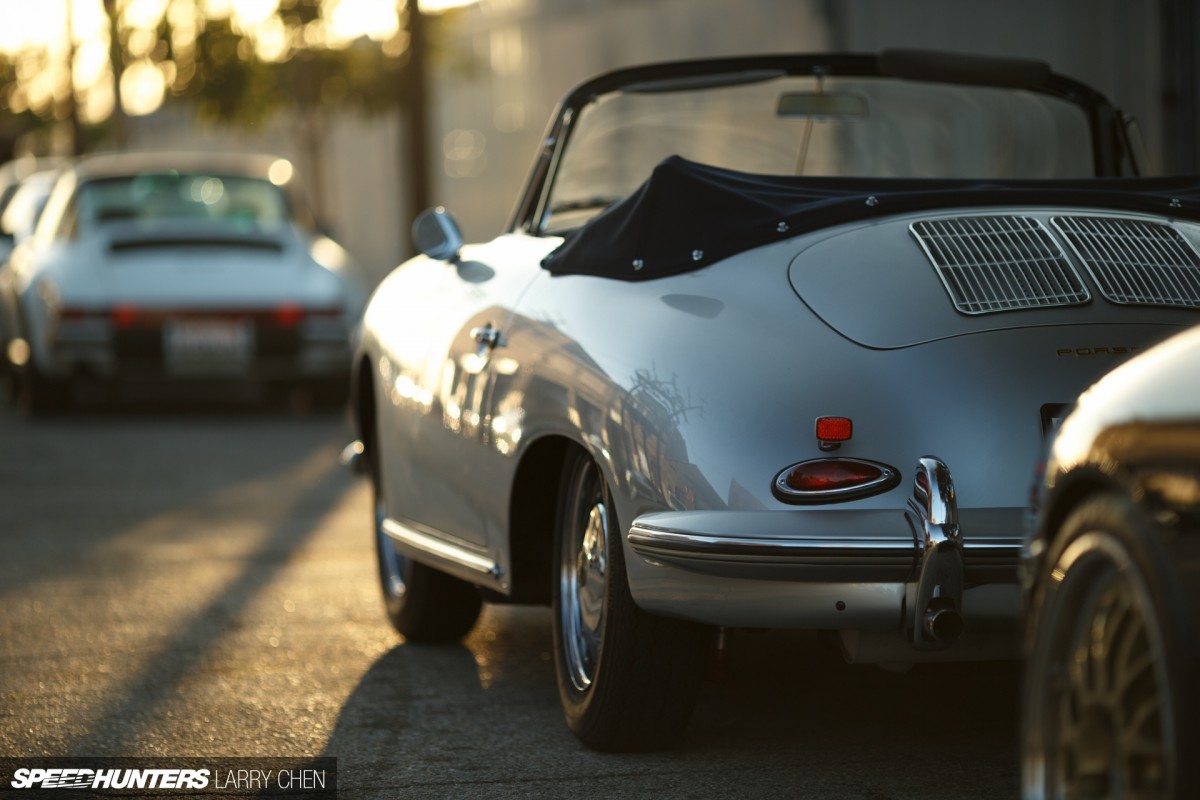 The cool thing about this drive was that it wasn't limited to a certain kind of Porsche. It was a celebration of all of them, whether air-cooled or water-cooled.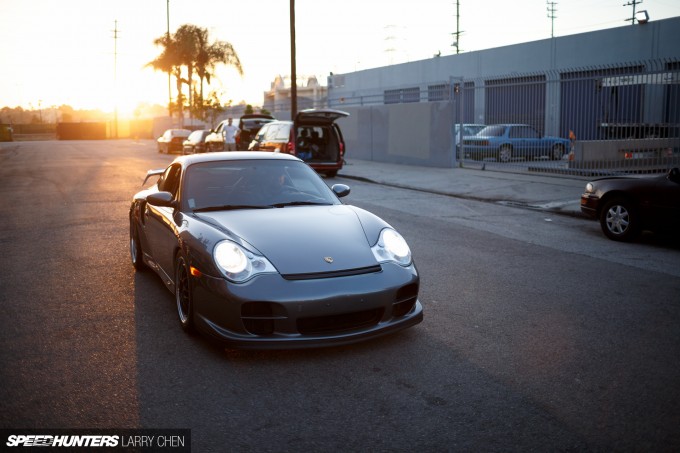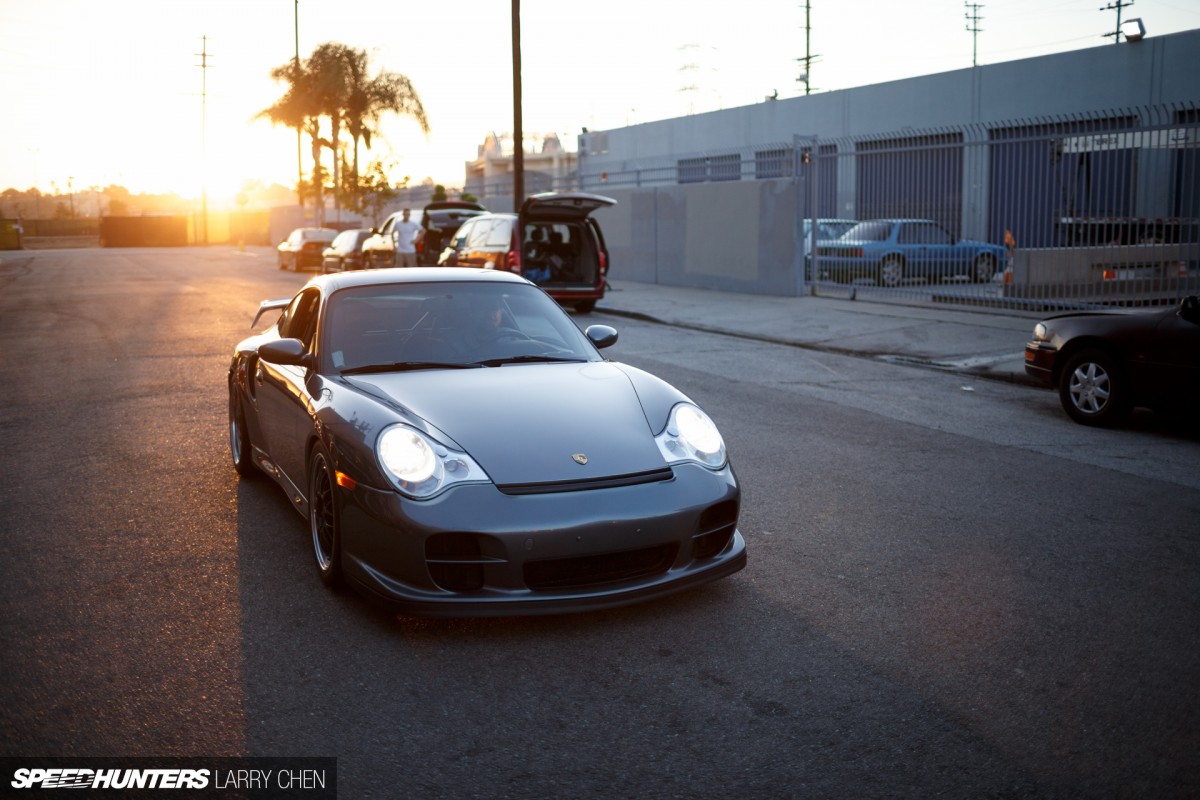 Just when I thought I would be the only 996, this example turned up. Except mine is not a GT2, and it does not have 600 horsepower. Yet…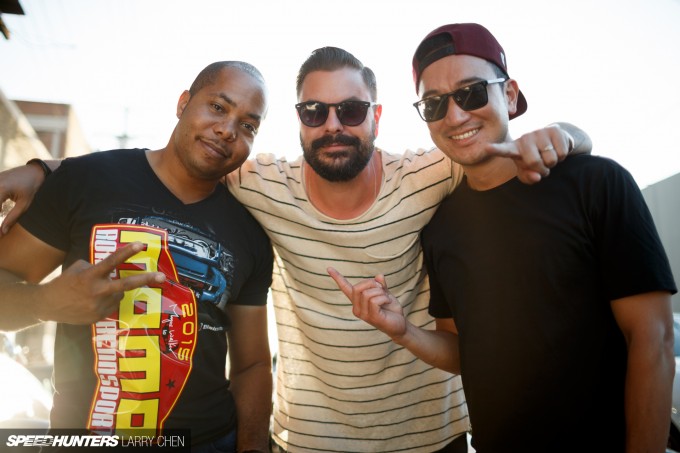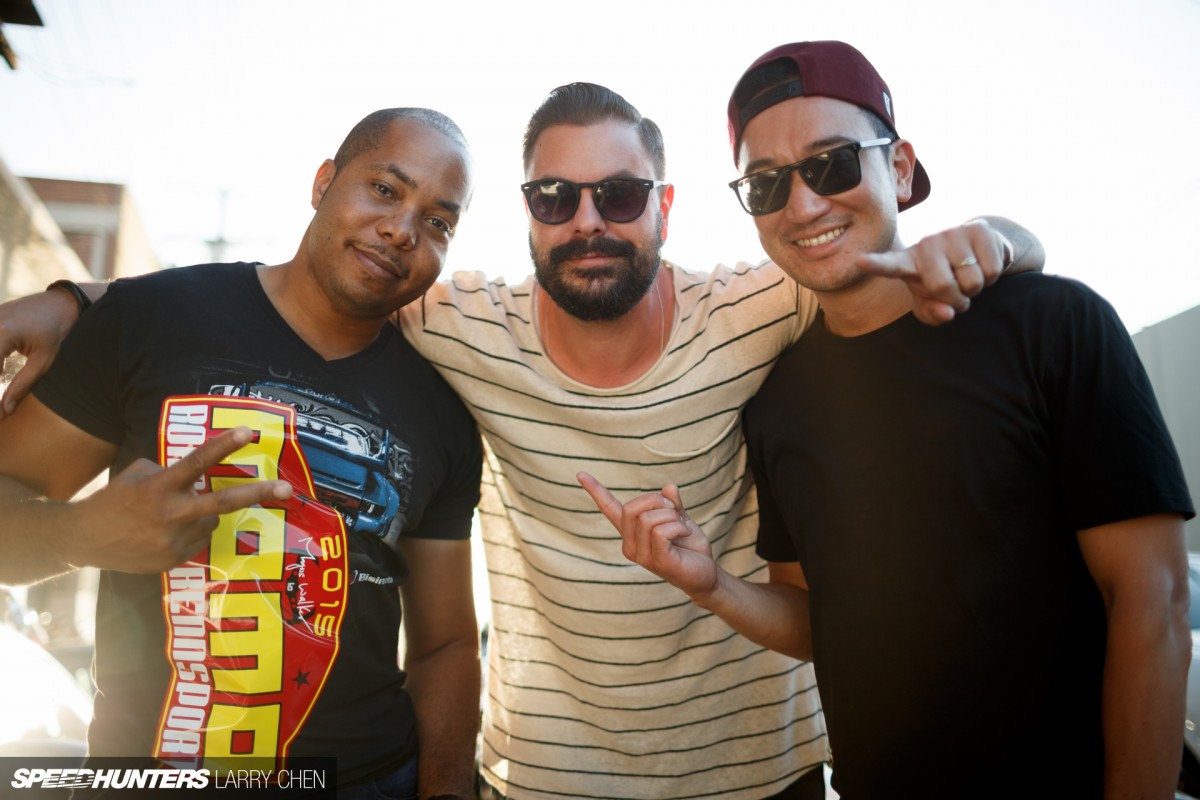 The who's who of the tuning community came out for some fun. On the left is Bisimoto, in the middle, Mr. Fifteen52 himself, and on the right, Speedhunters' very own Fred Chang.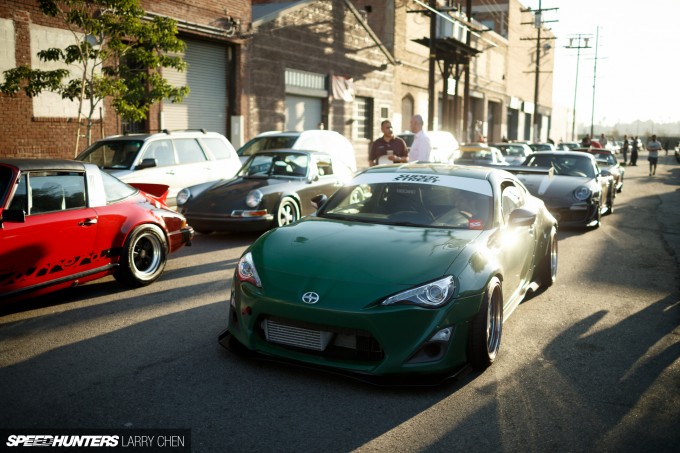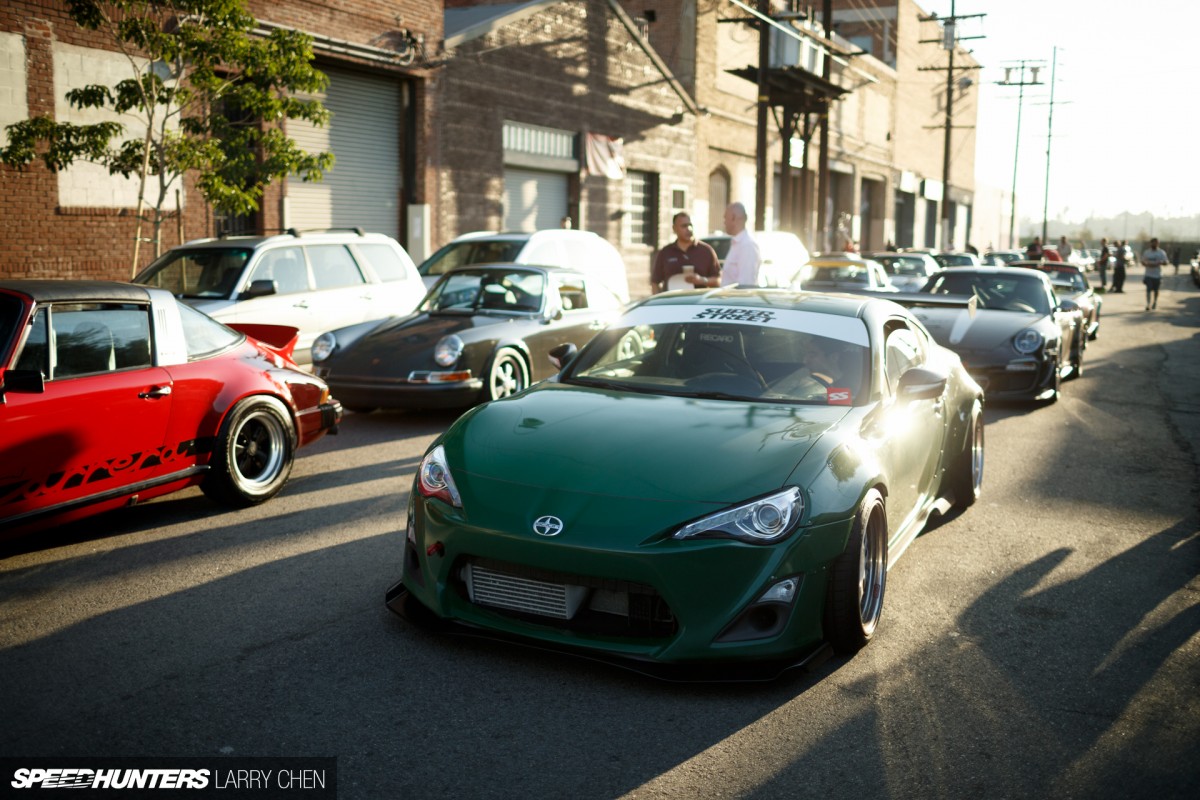 Even Sam Du from Super Street came out, although he brought a funny-looking Porsche with him.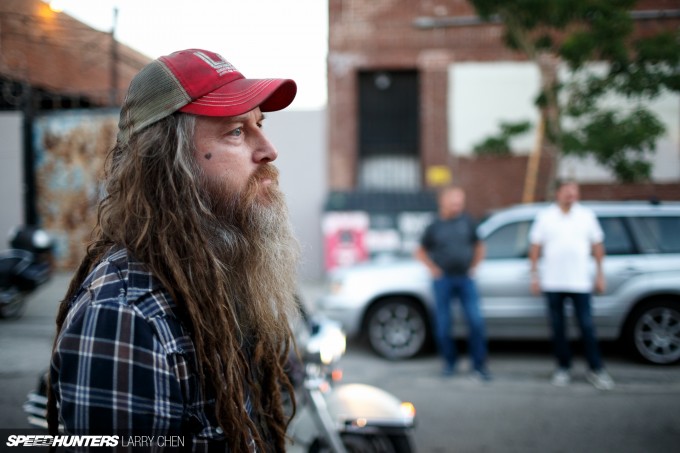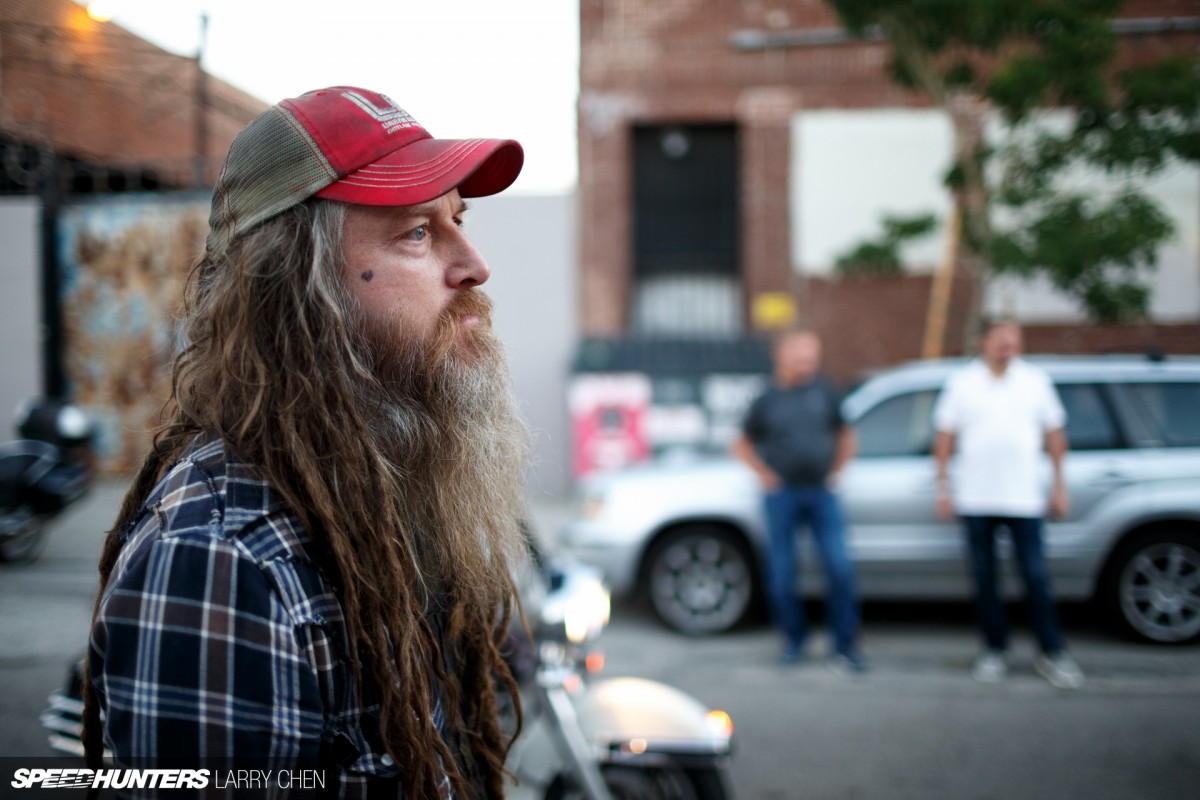 The Magnus is not normally so friendly with the authorities, but time he needed their help.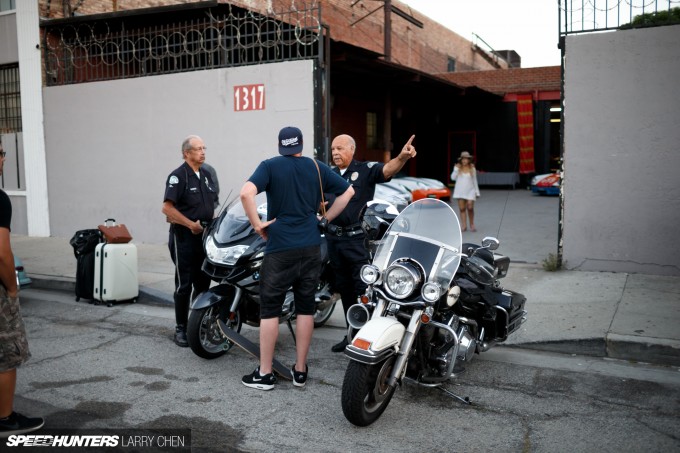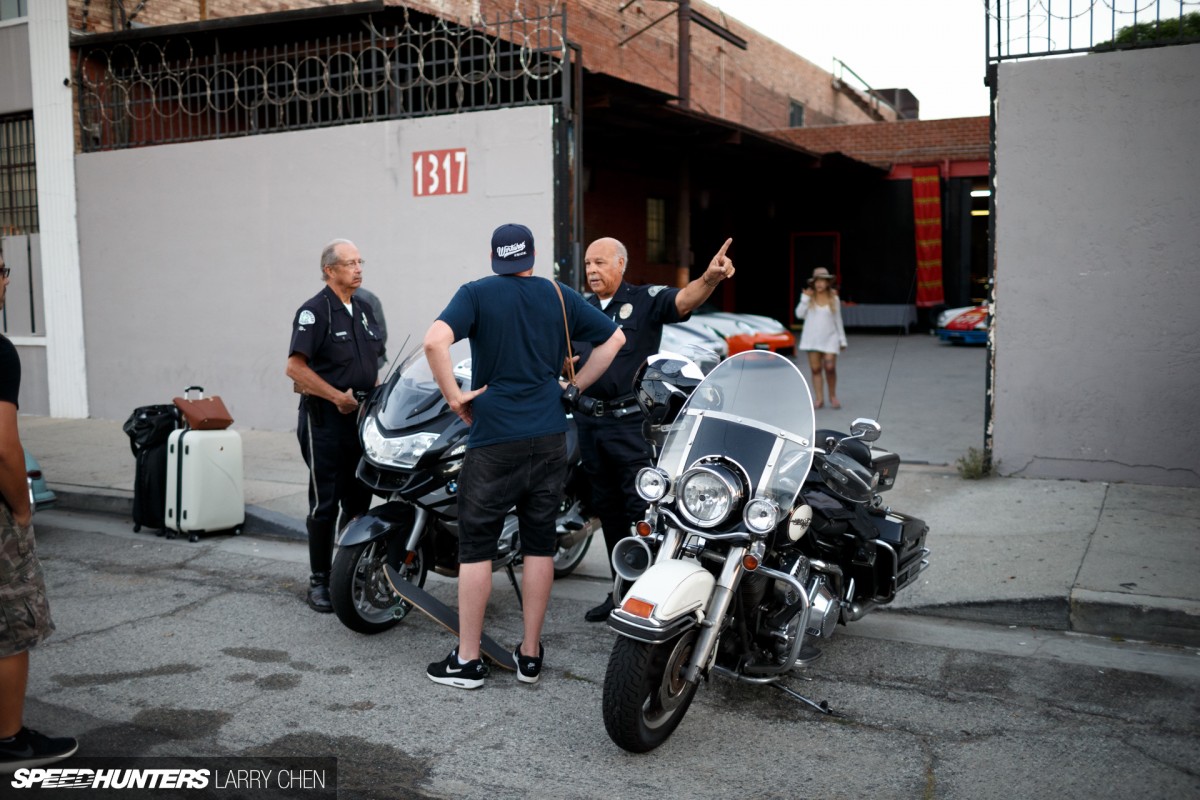 For the start of the rally we had a police escort, which was the only way we were all going to make it out of the street in one group. Because after all, this was a weekday and there was Los Angeles rush hour traffic to deal with.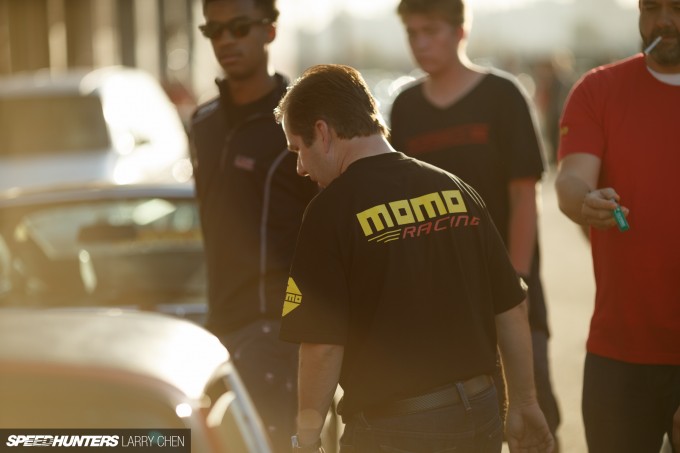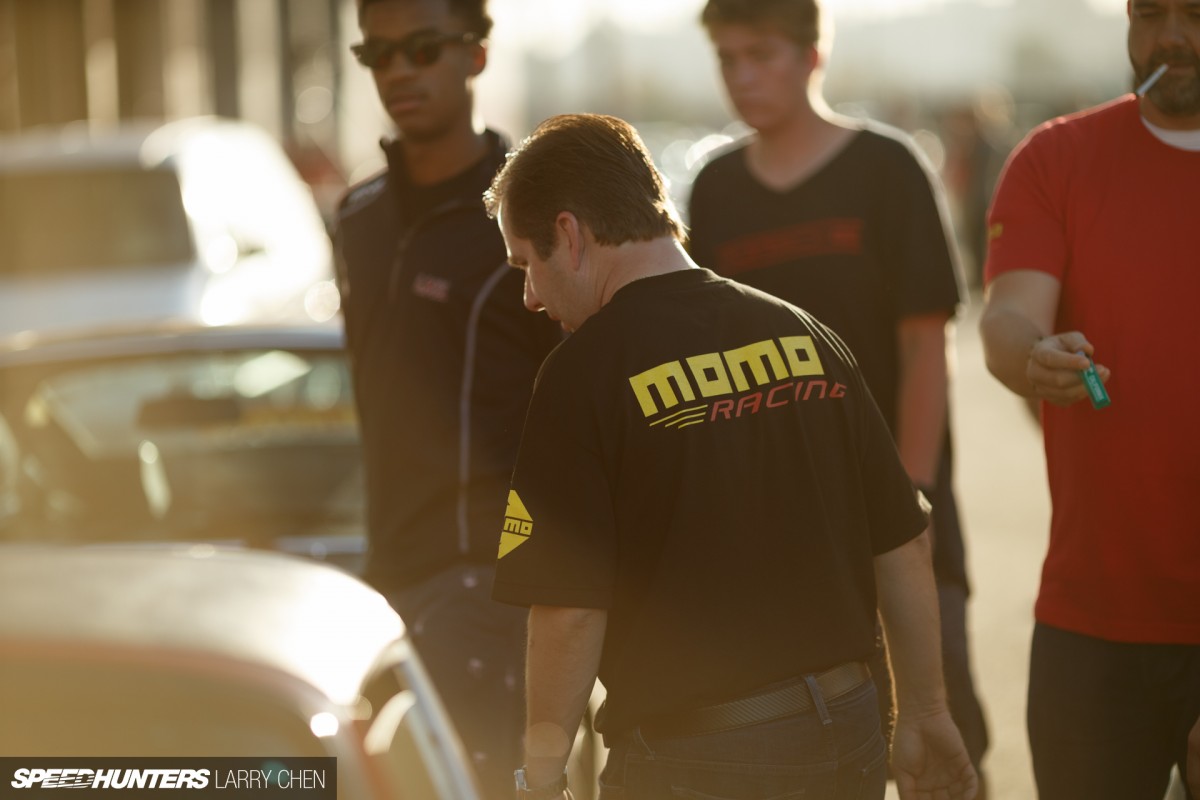 My good buddy Fabryce Kutyba who works for MOMO did a great job putting this all together. It was now up to us to make it an epic journey.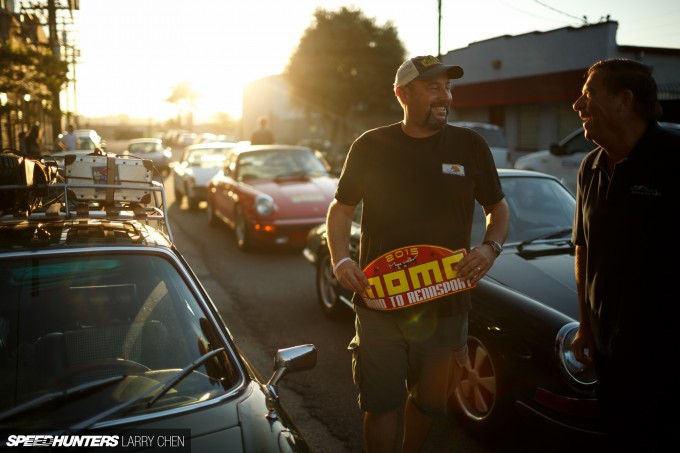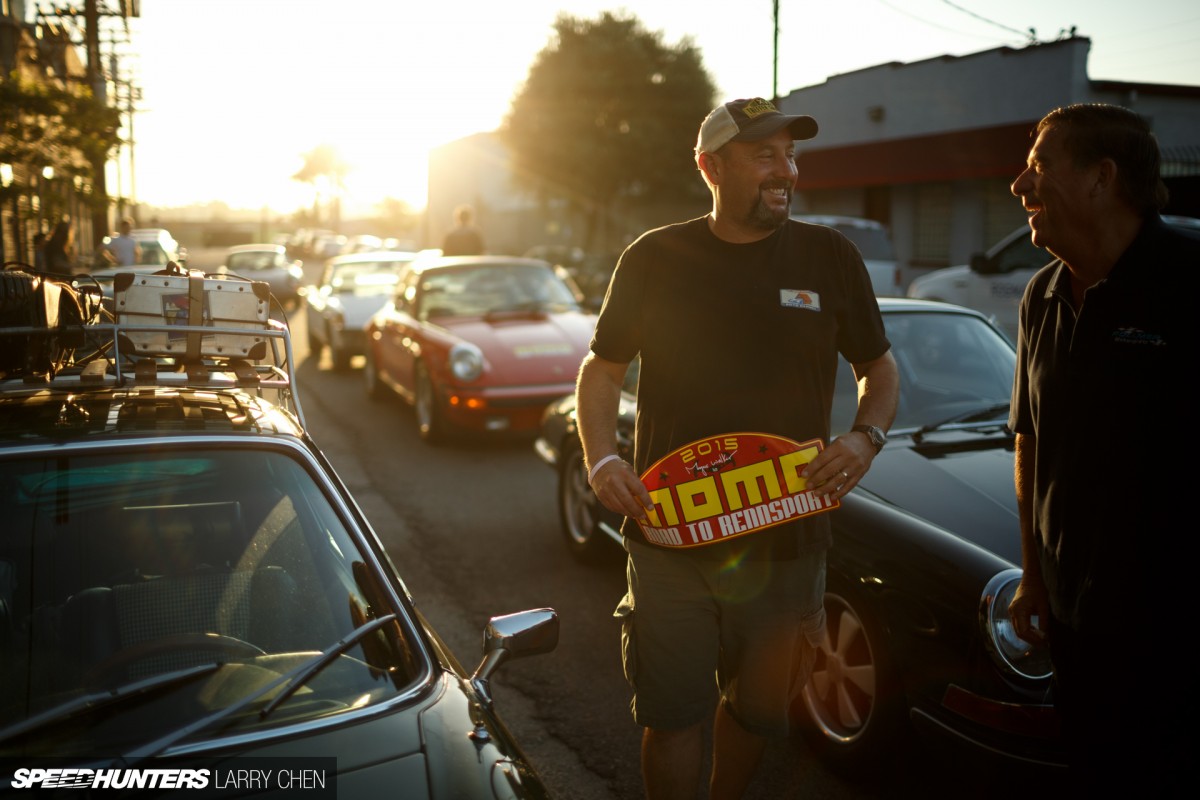 Final preparations were made and decals were applied.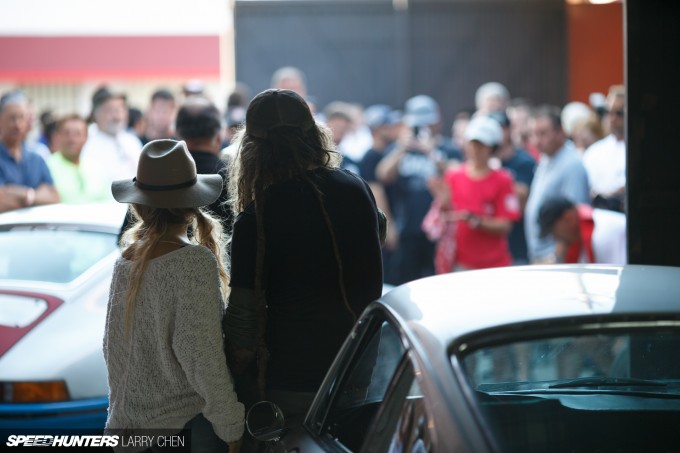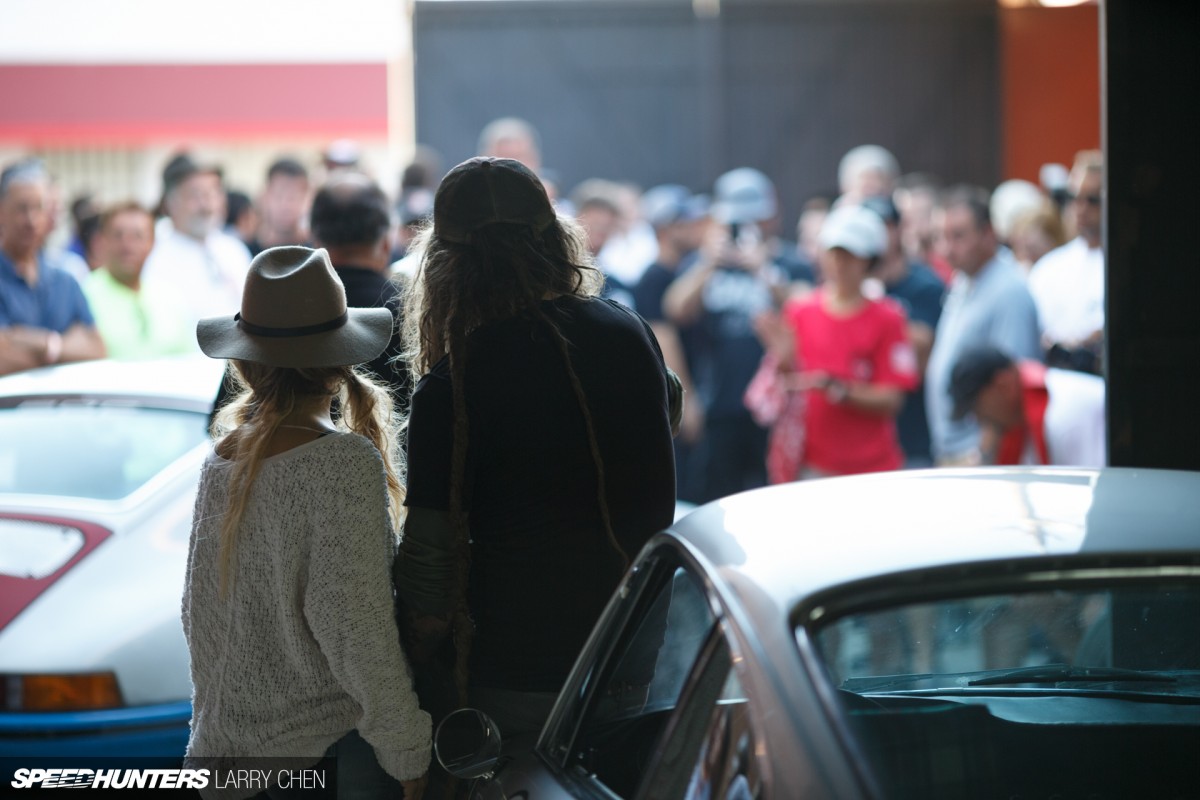 It's really awesome that Magnus and his wife Karen opened up their place to everyone. Even though I've visited many times before, it's always nice to check out the ever-evolving collection.
Roll Out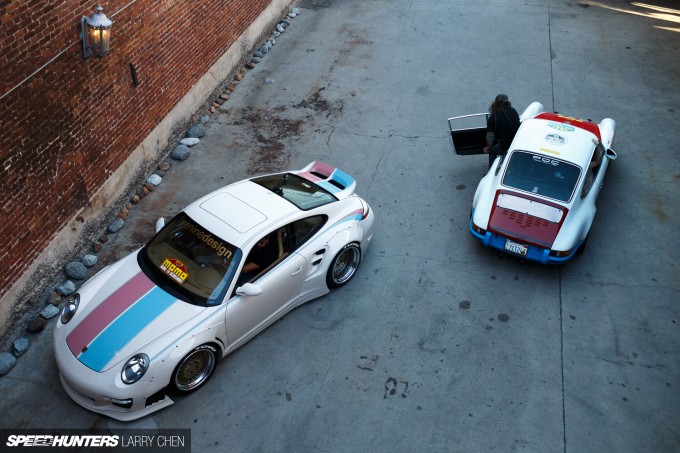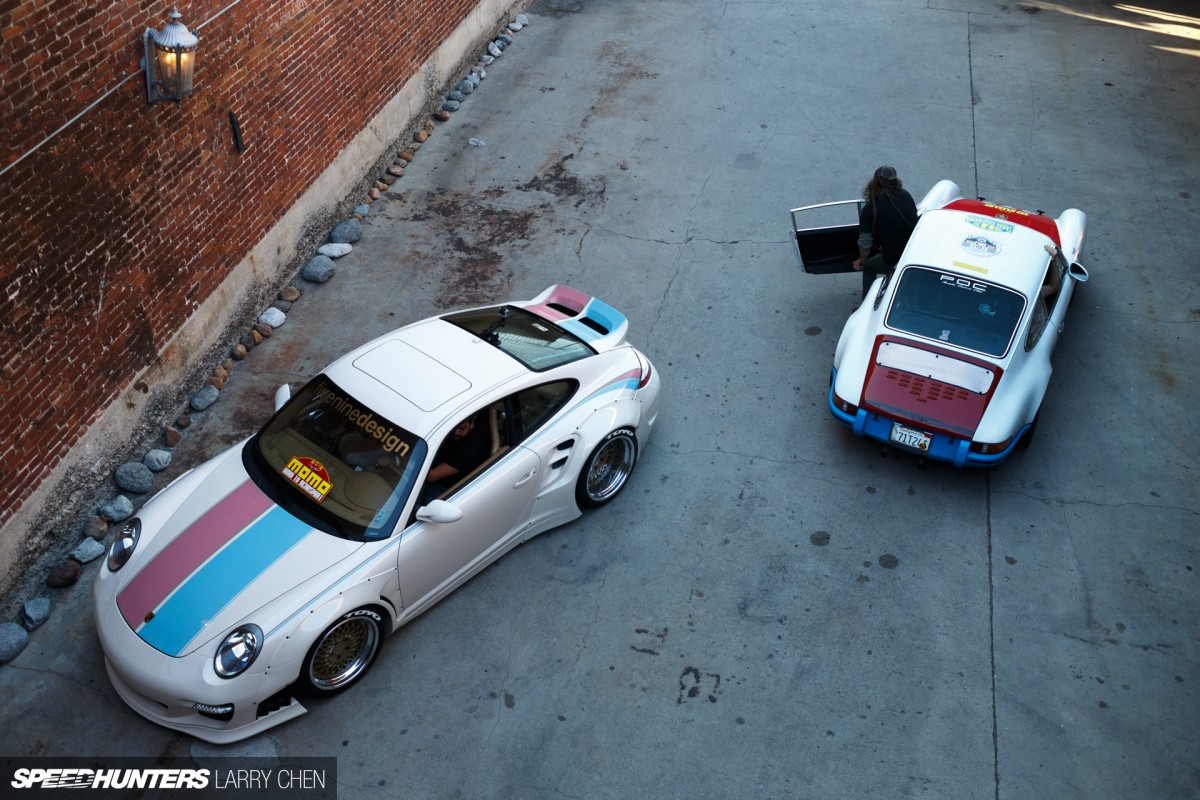 Everyone got into their cars and slowly made their way down the street. I wanted to get a bird's-eye view of the action, so I climbed up on the roof.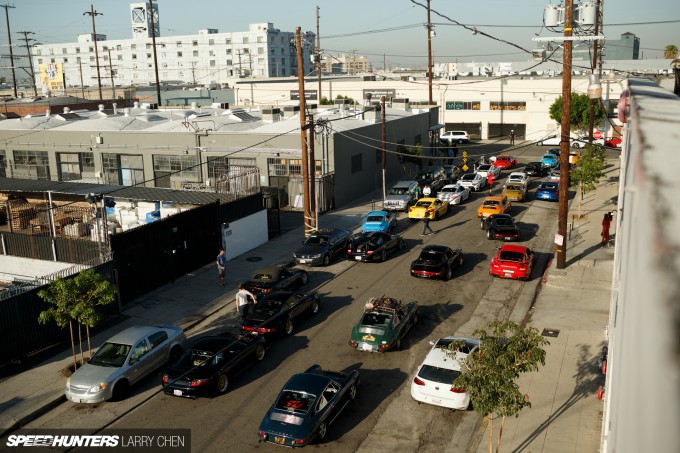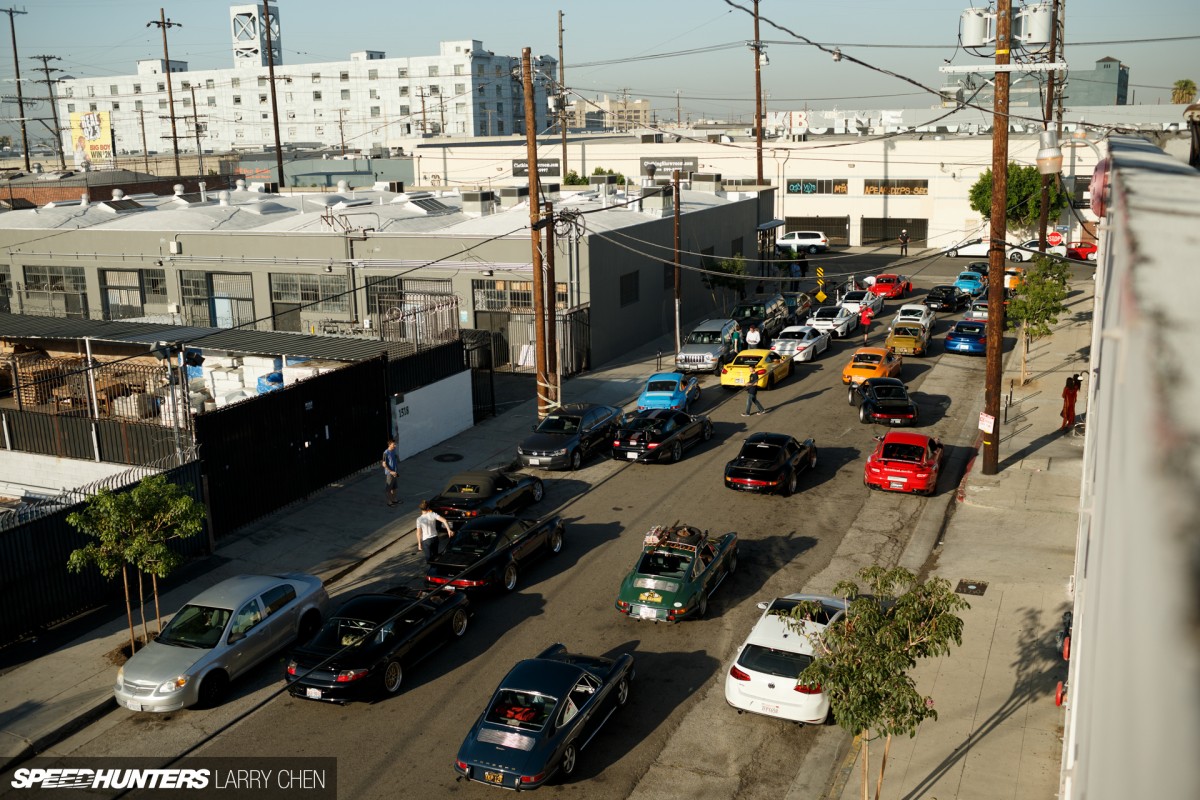 The street was incredibly packed; the entire city block filled with German sports cars.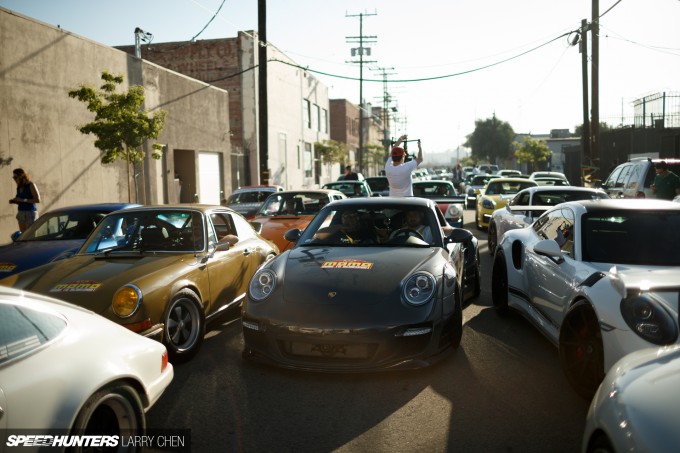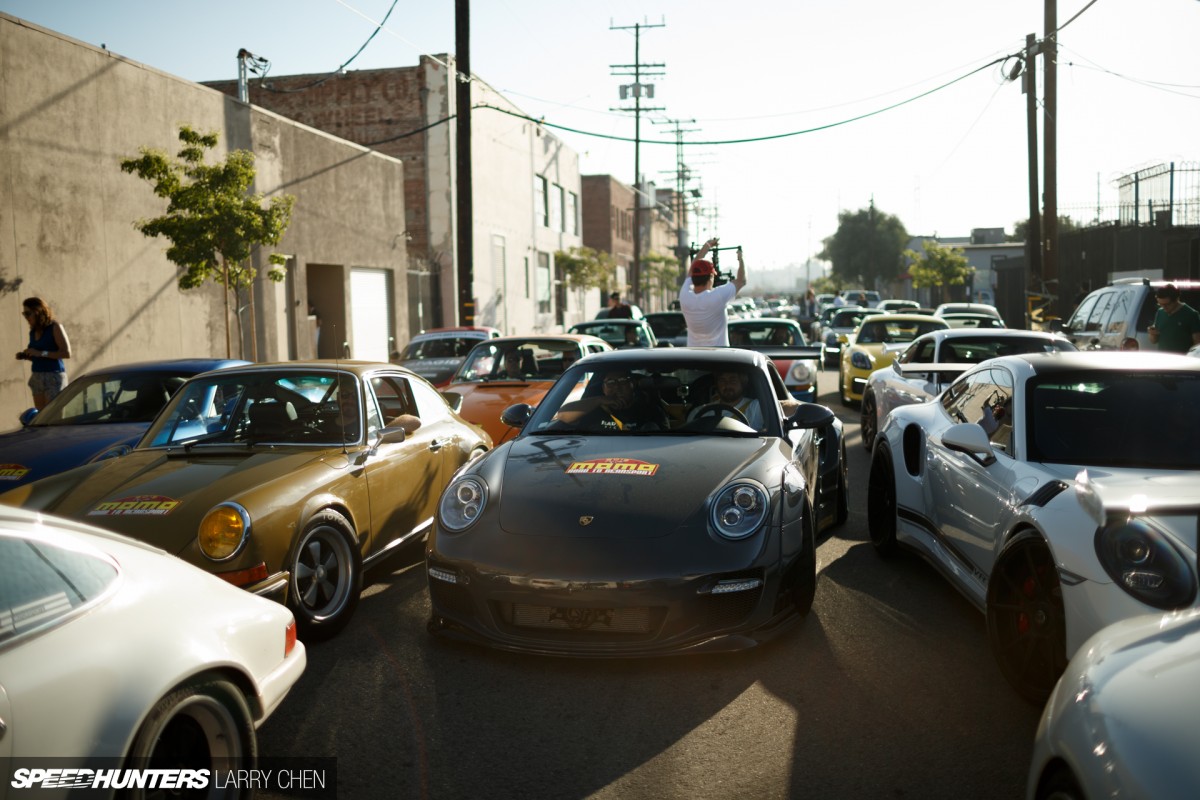 At one point there were cars four-wide making their way to the freeway.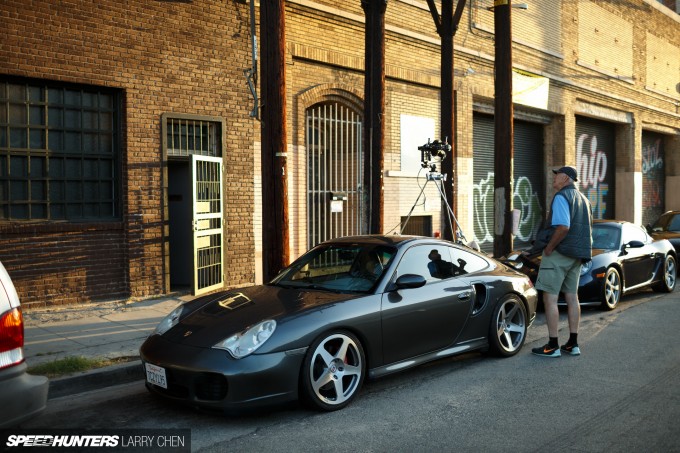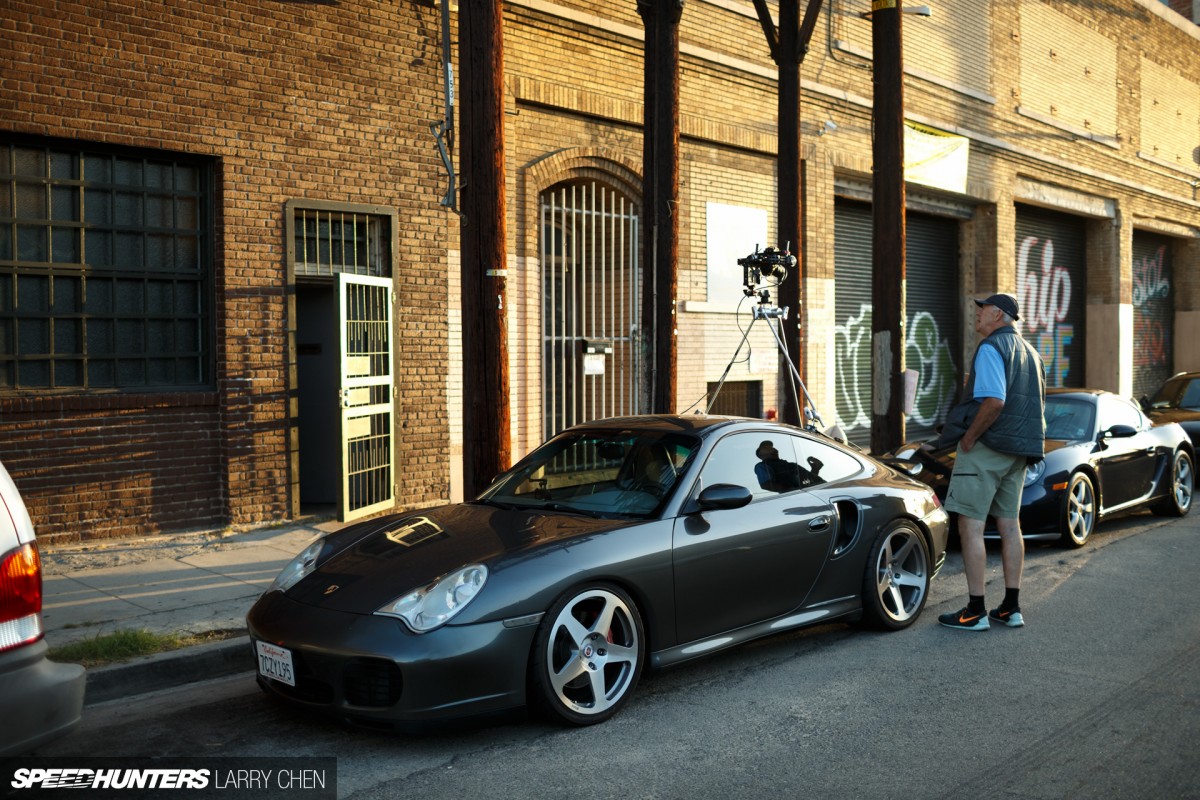 I jumped in my camera car, which of course was garnering some attention as well, and followed the group.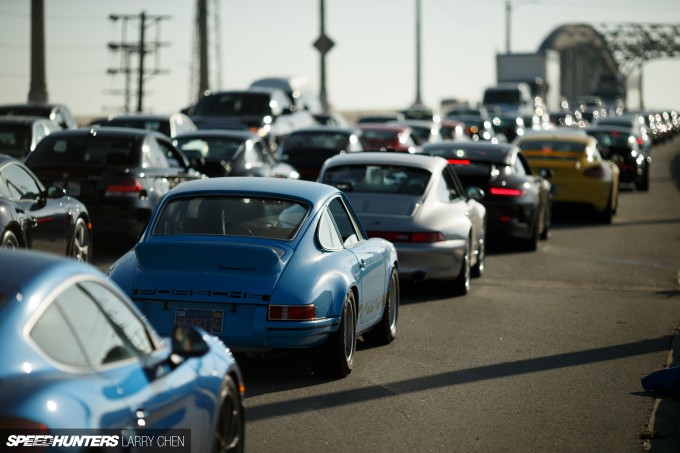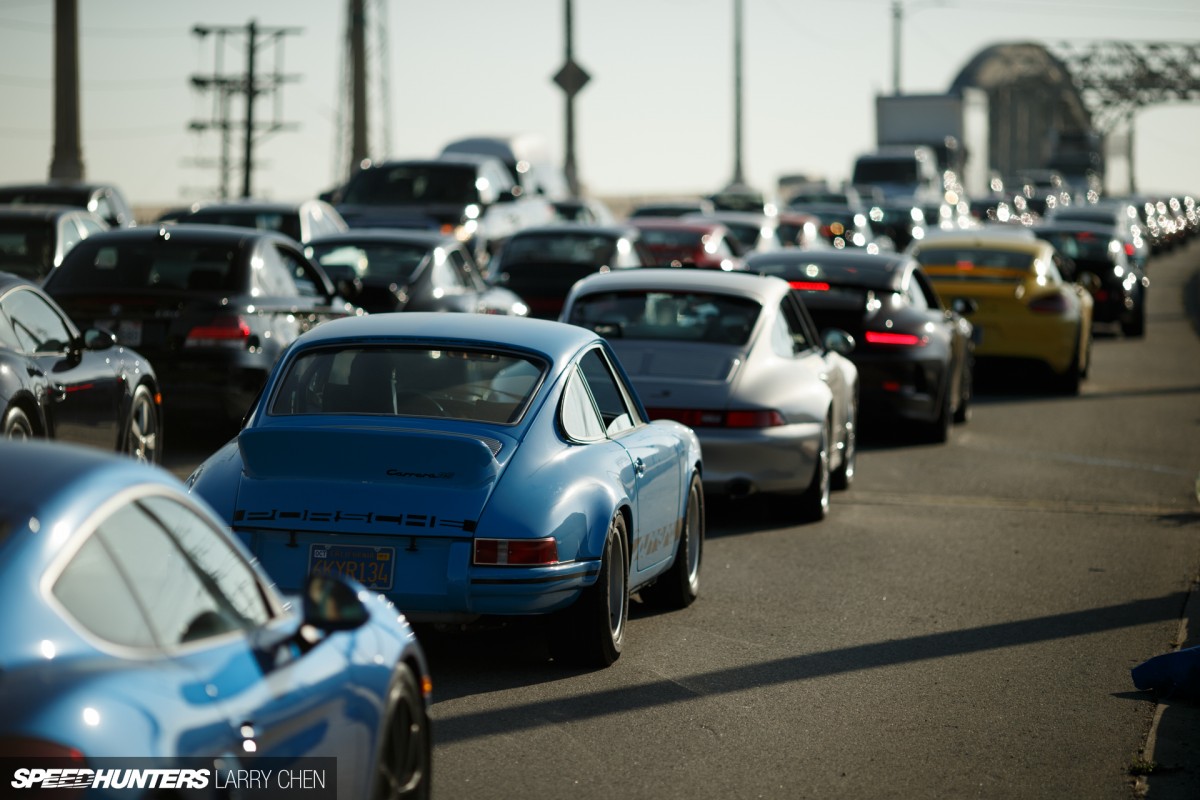 We did not get very far, maybe about a quarter mile, before we jammed up the entire 6th Street Bridge.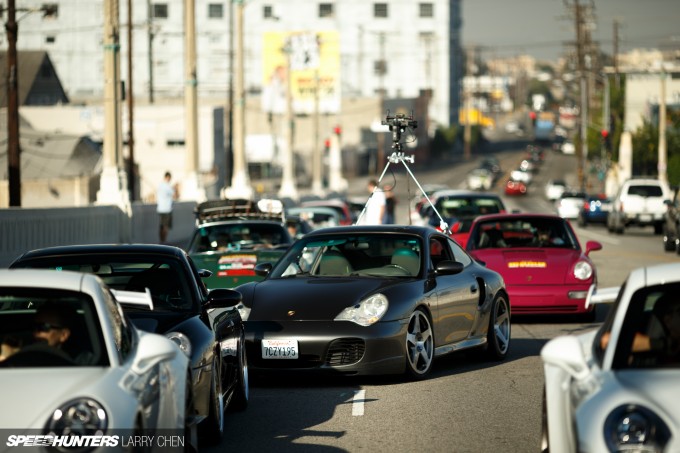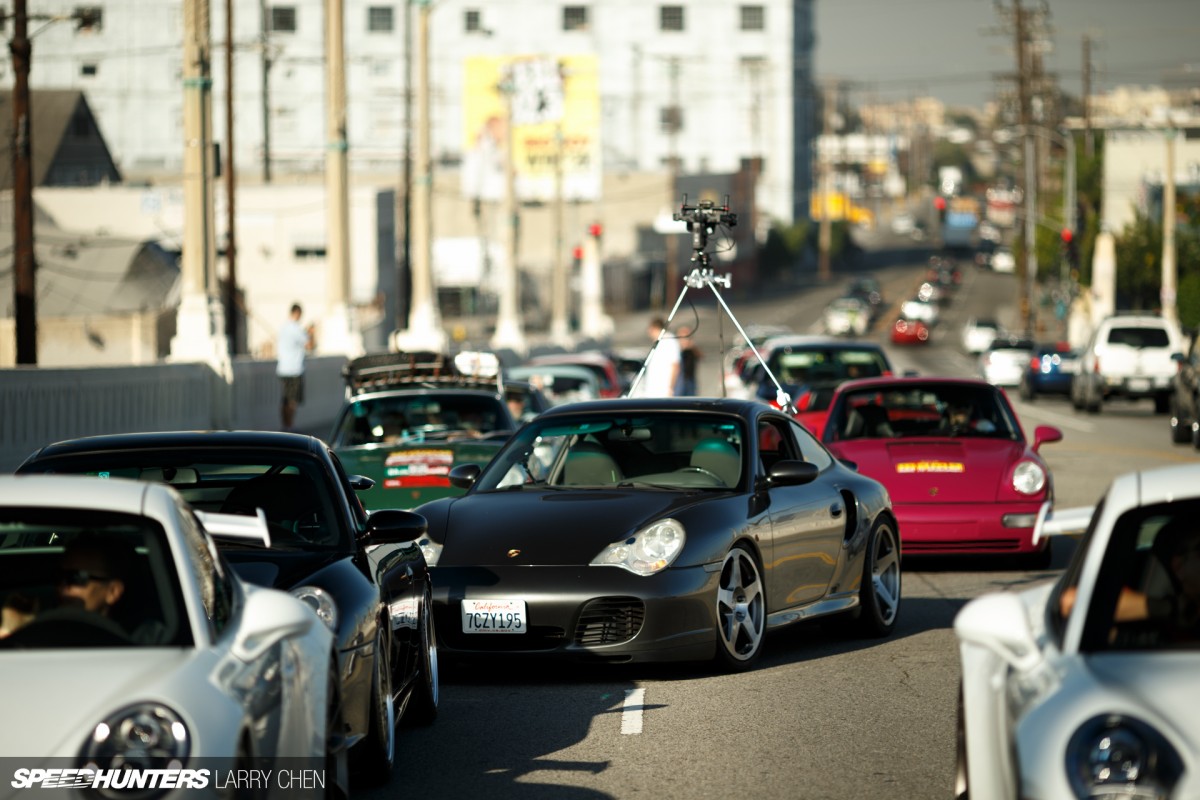 As there was nowhere to go, I left my car between two lanes and jumped out to shoot some photos of the spectacle.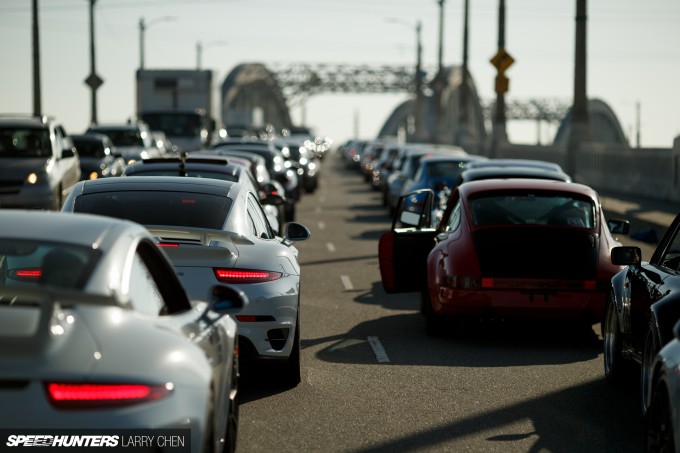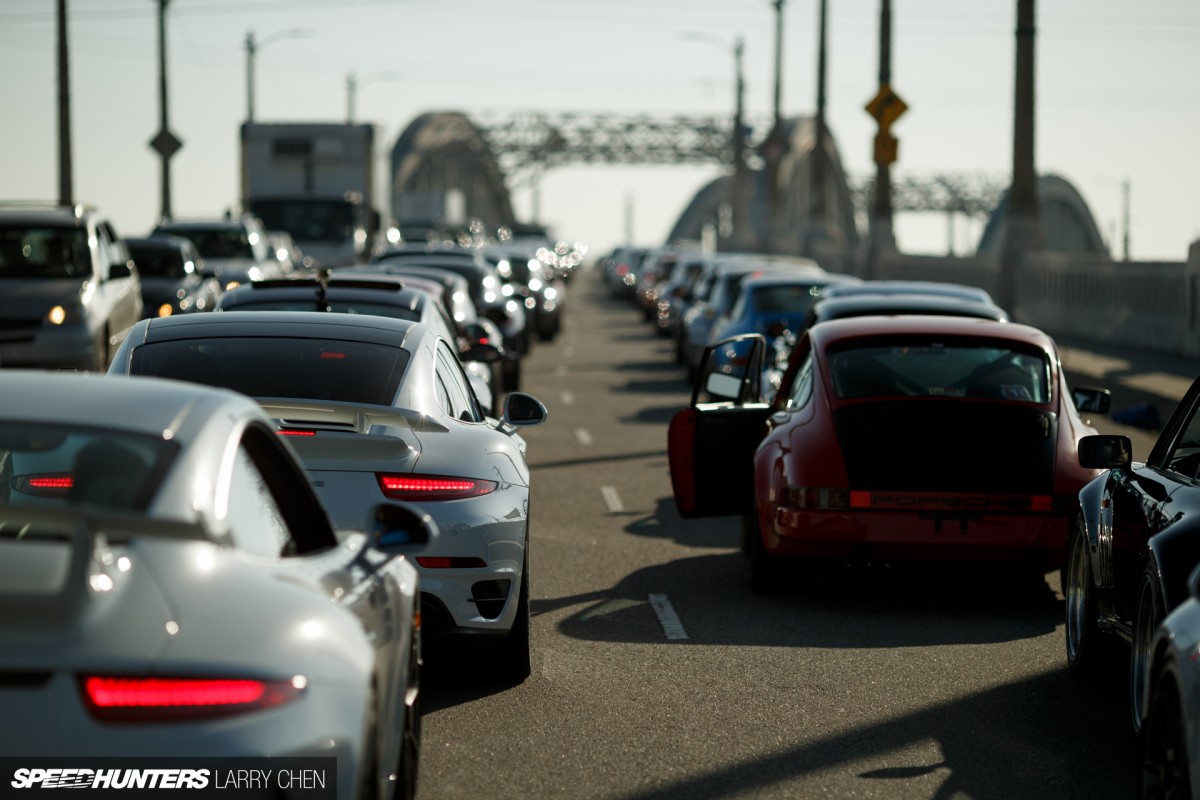 Los Angeles traffic is bad enough as it is without 65 Porsches trying to enter the freeway at the same time, so it's a good thing we had a police escort to block off traffic.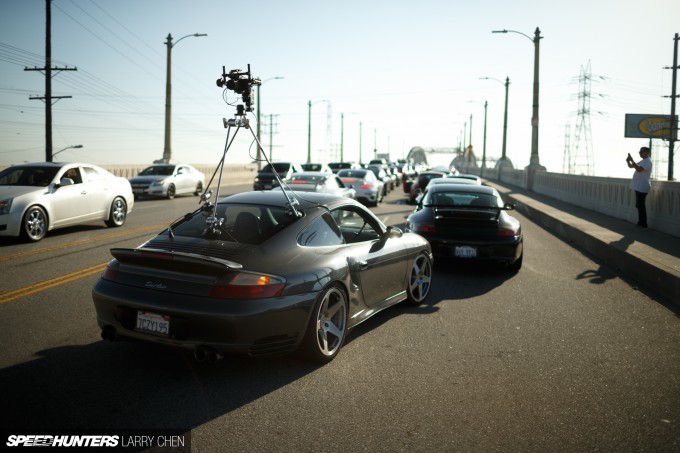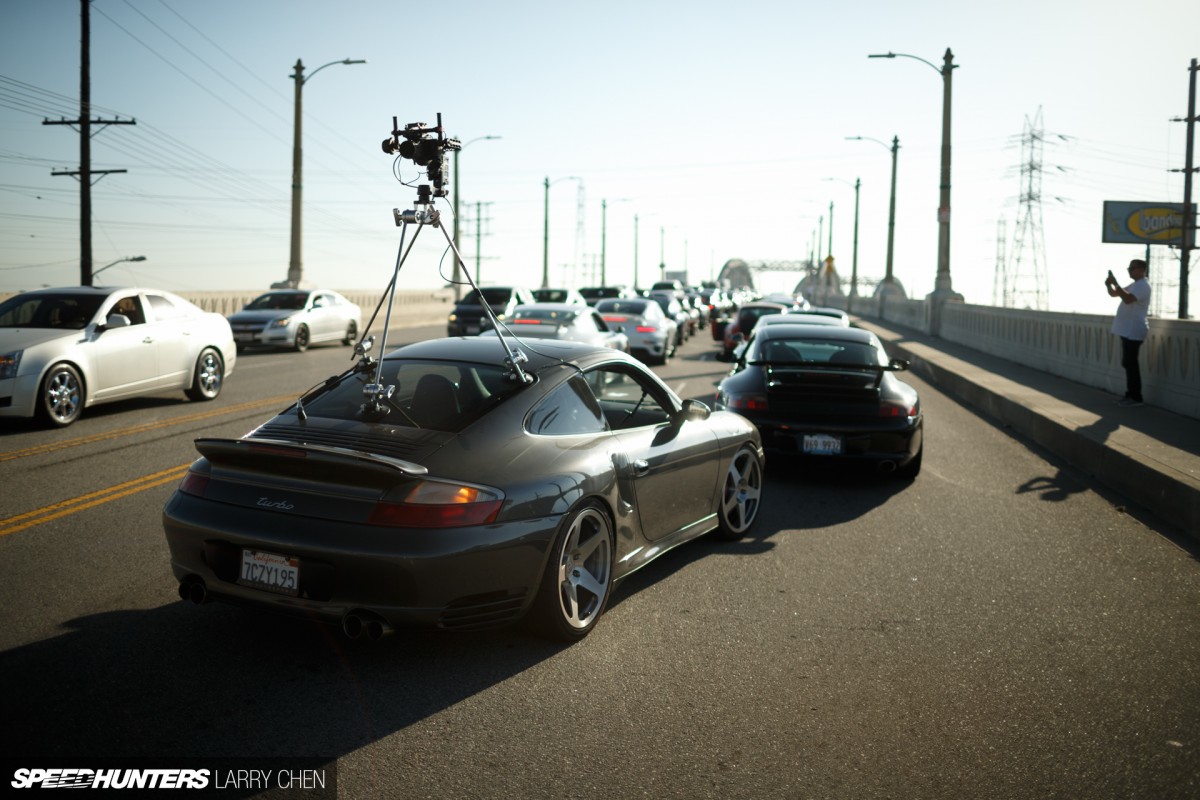 My co-driver, Louis Yio, operated the gimbal with a Canon 5DSR and a wide-angle lens strapped to it, and directed me where to go and who to follow. I did my best to keep up, but every time we pulled up alongside someone they assumed we were capturing video and floored it.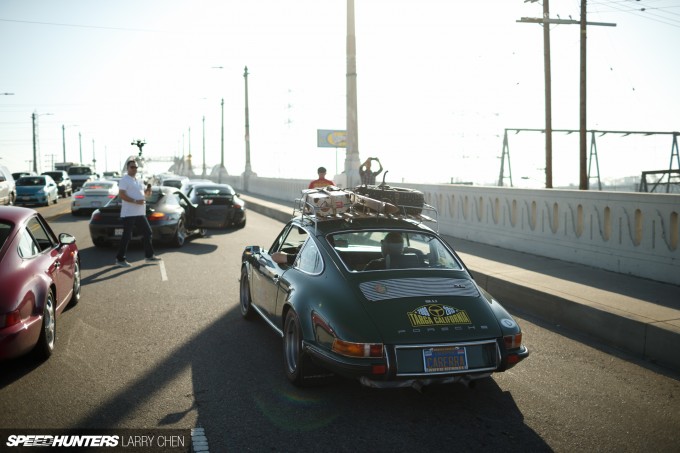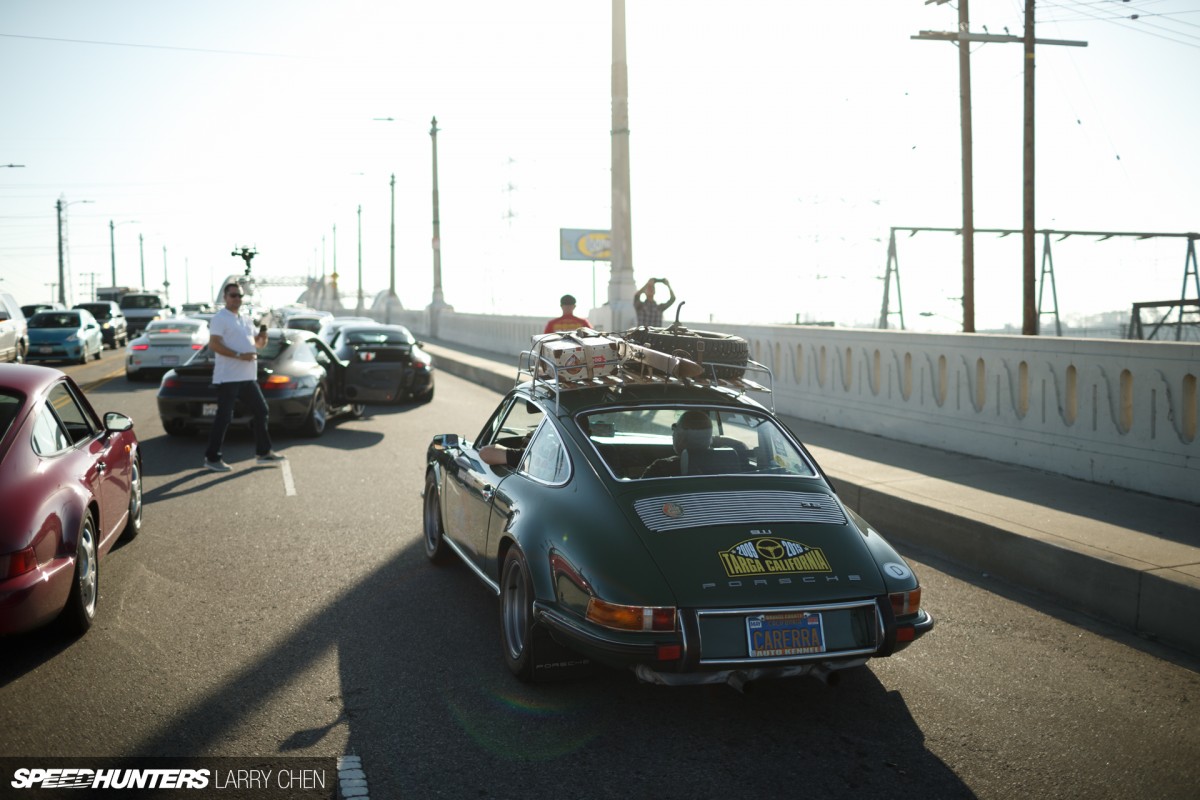 I'm not going to lie, it was kind of the fun trying to speed-match certain cars for certain shots.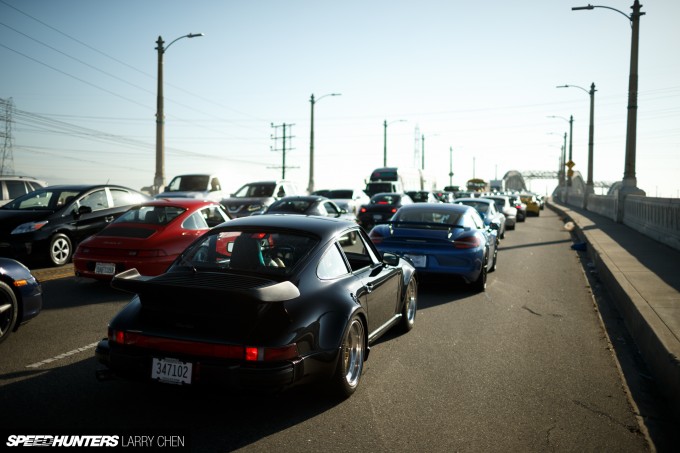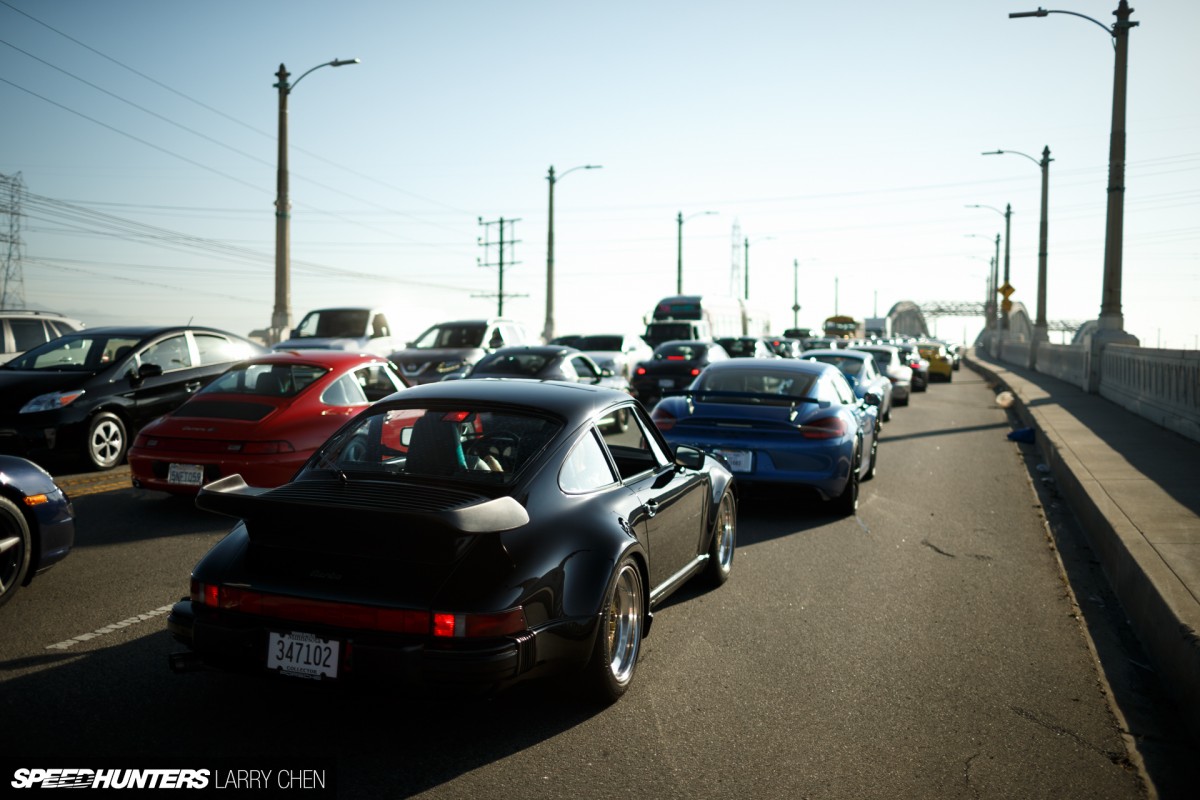 As I walked up the line, I ran into Ryan and his absolutely stunning 930 again.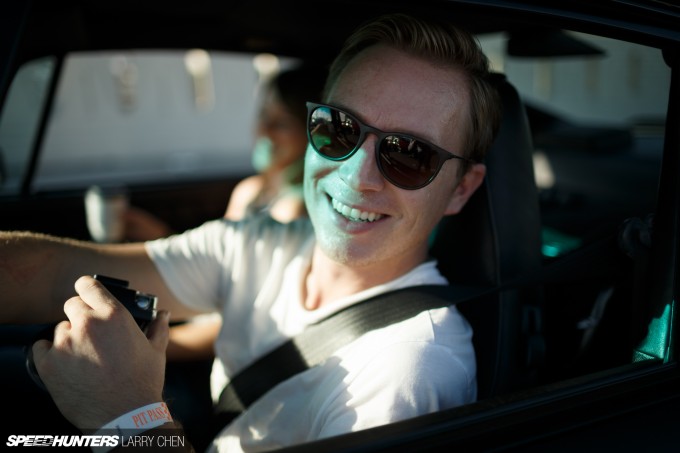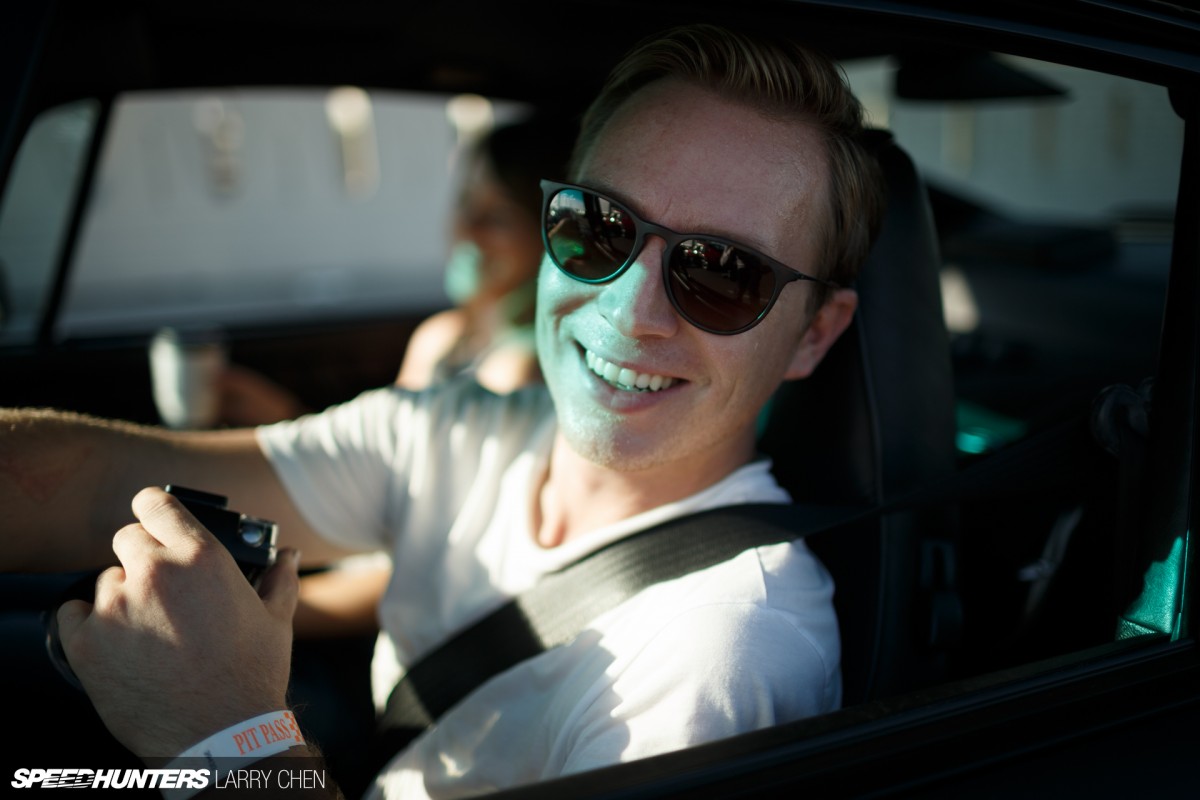 He was all smiles – this was exactly what he'd signed up for. With the Mitsubishi Lancer Evo X now out of production, he has to focus on a different marque.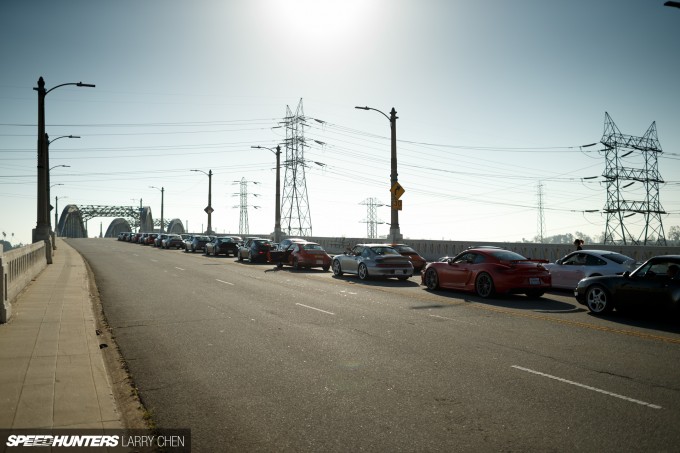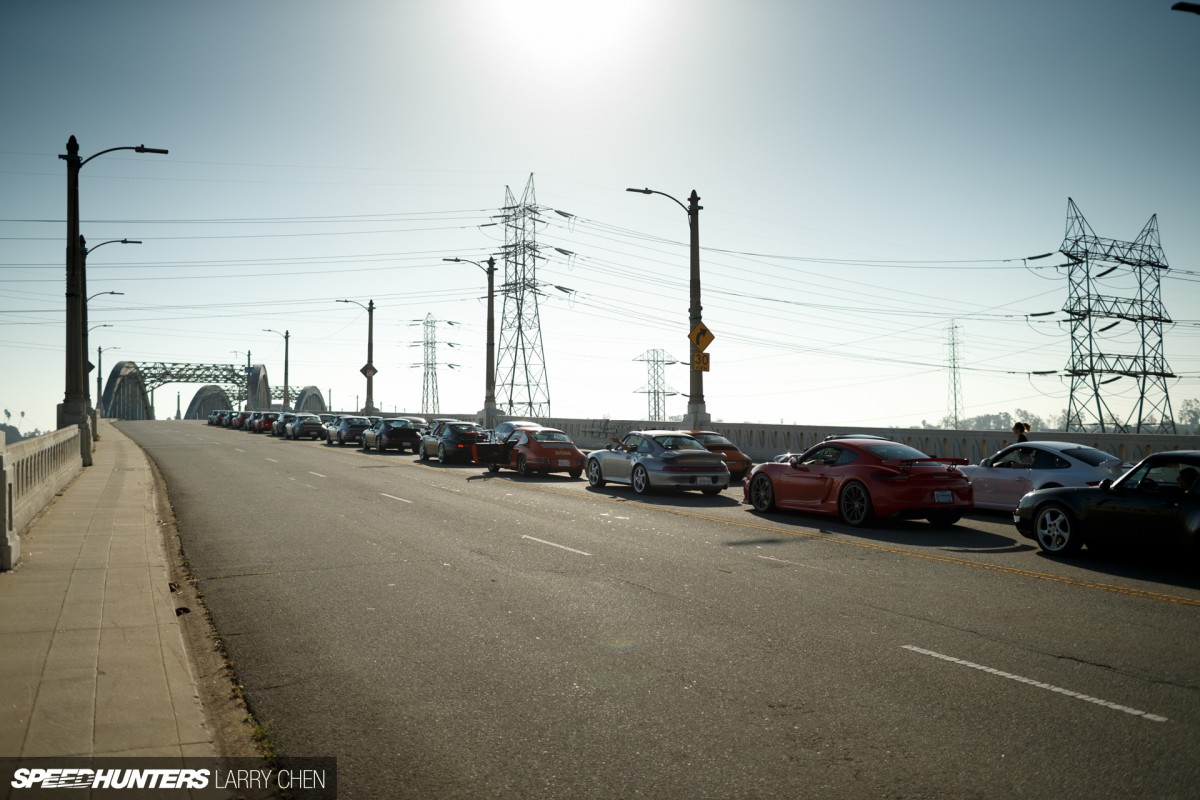 Little by little the Porsche train started to move again, but the group was being spread thinner and thinner.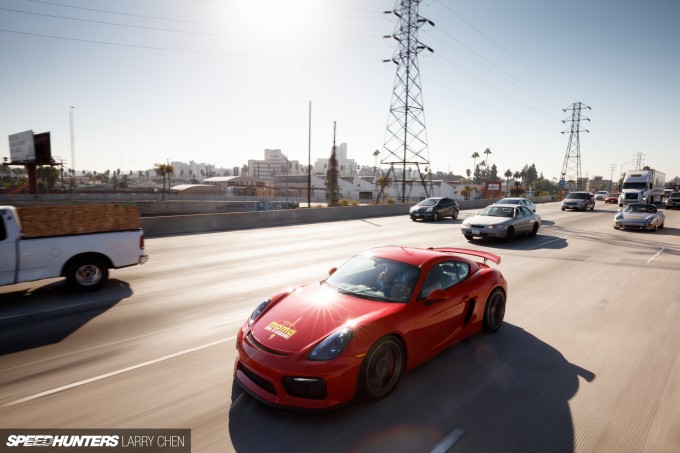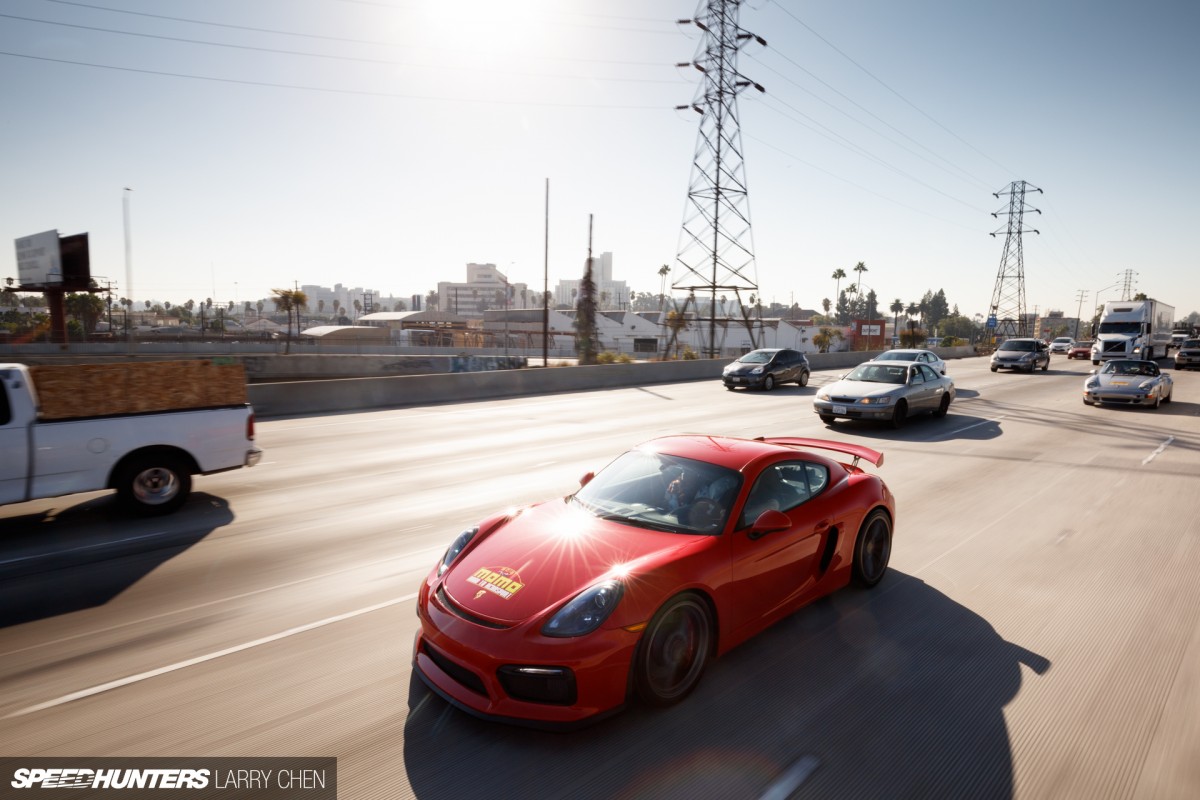 Pretty soon it was every man and woman for themselves as we made our way to the hills.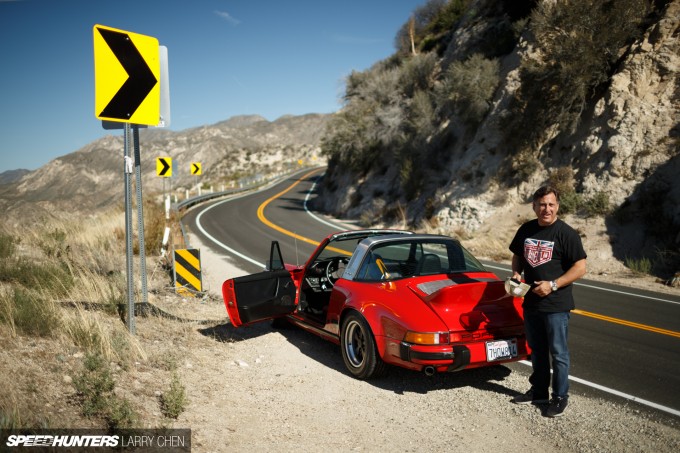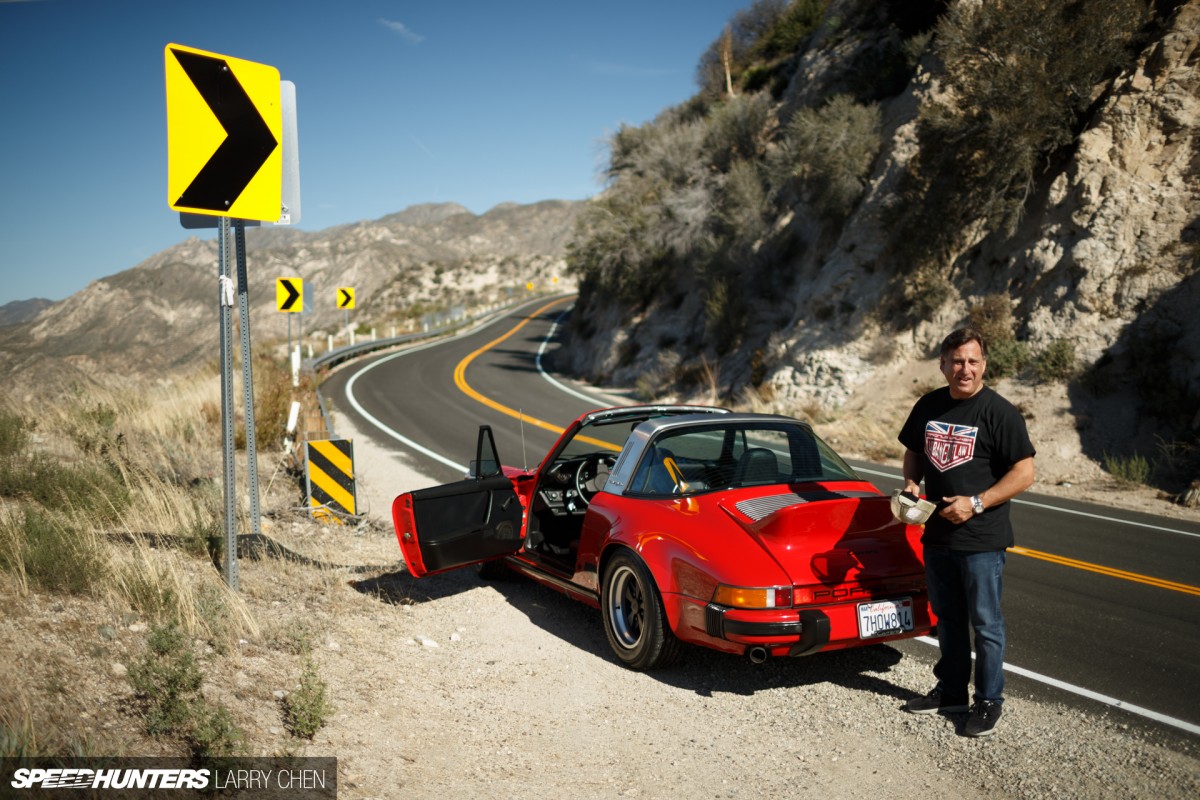 Unfortunately for this guy, his car decided to quit working mid-corner in the canyons. We pulled over and helped him off the road, of course.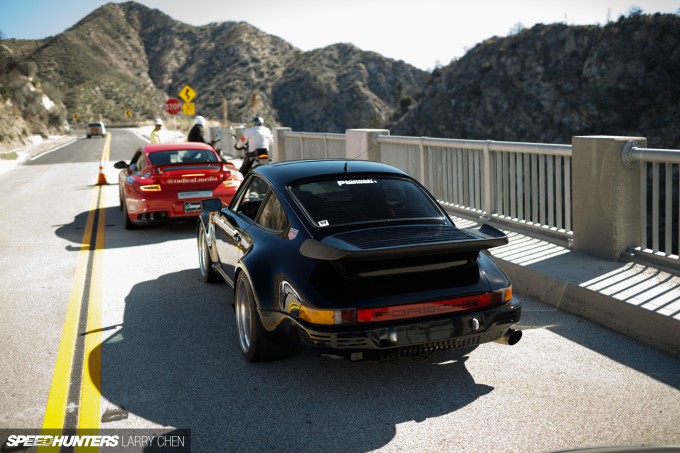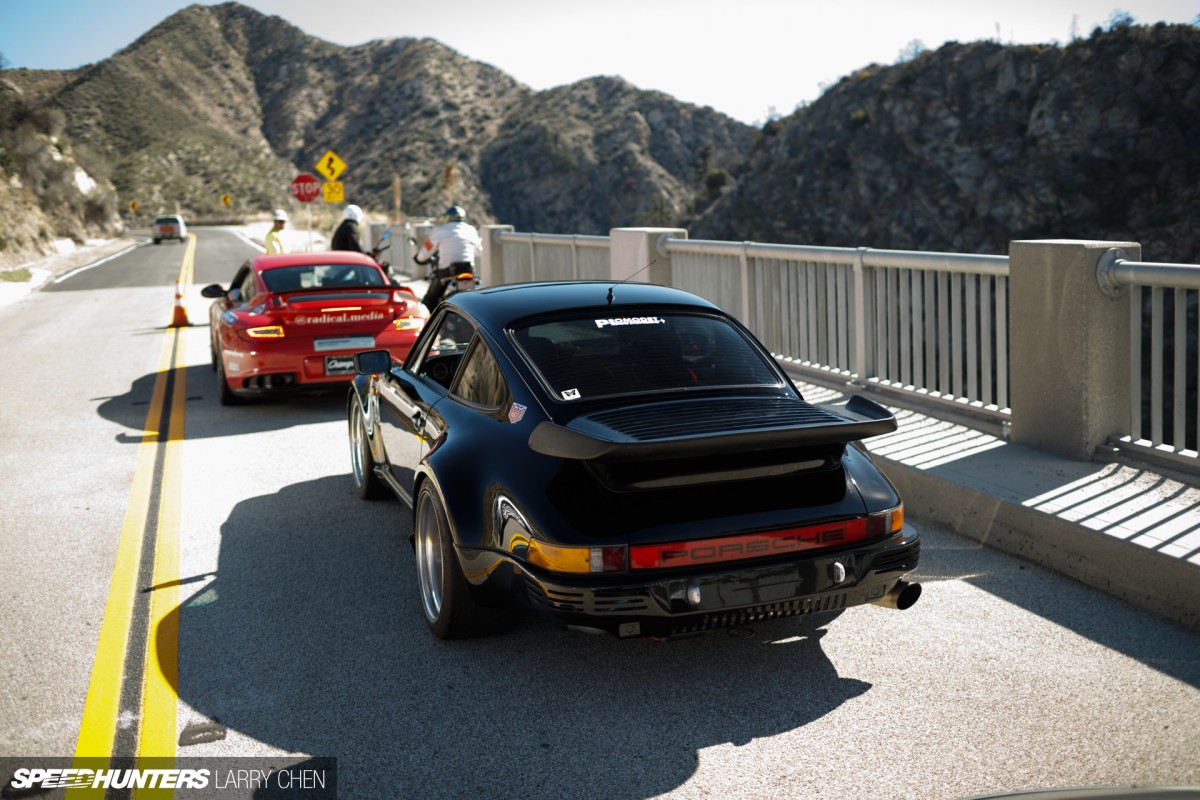 We didn't catch up to the main group after that as everyone headed to Willow Springs. But that's okay, because we got a good amount of shots. Although I really wanted to, I could not actually go up to Rennsport due to other obligations.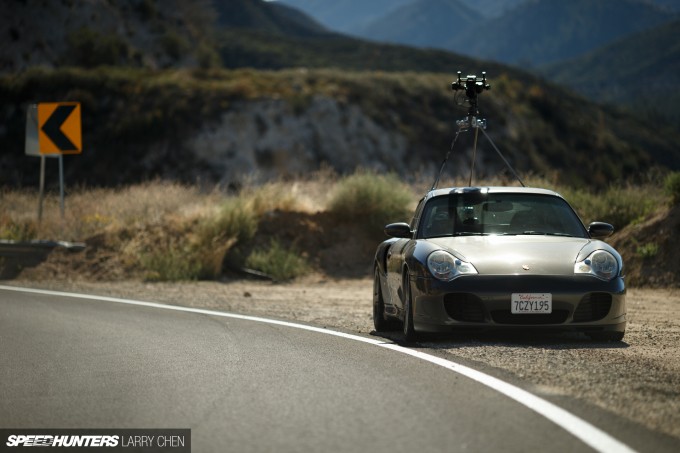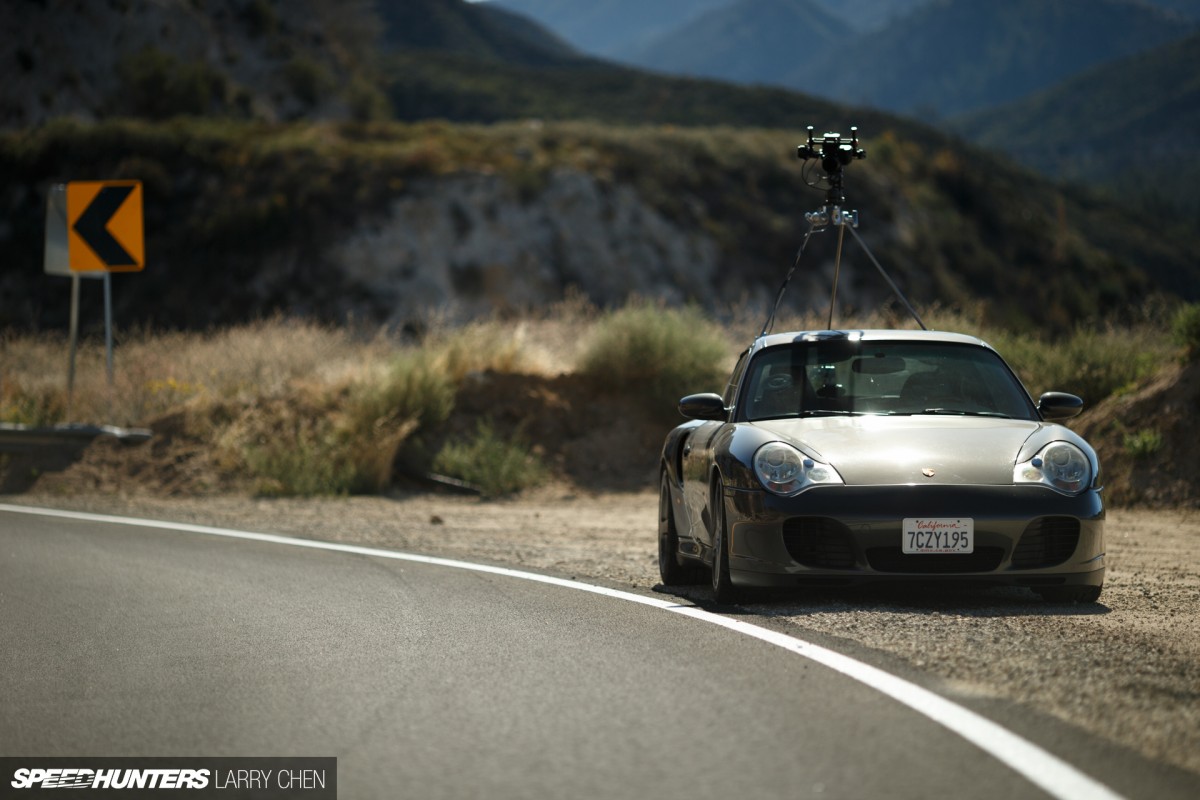 The camera car? It worked well enough to a certain point, but we noticed that it handles g-forces much better than wind. With the way it is setup currently, we can hold a steady shot up to about 55mph, which is fine for the canyons. It only hurt us when were were going 65-75mph on the highway. I think it's time to design a wind shield…
The guys at eGarage made a great video that covers parts of the rally, which you can watch by pressing play above.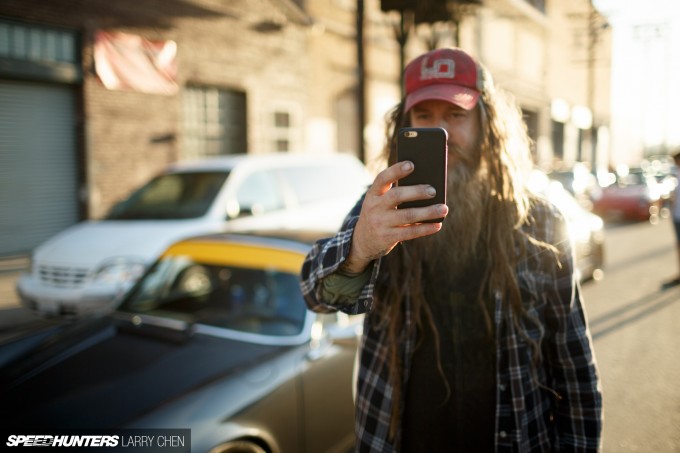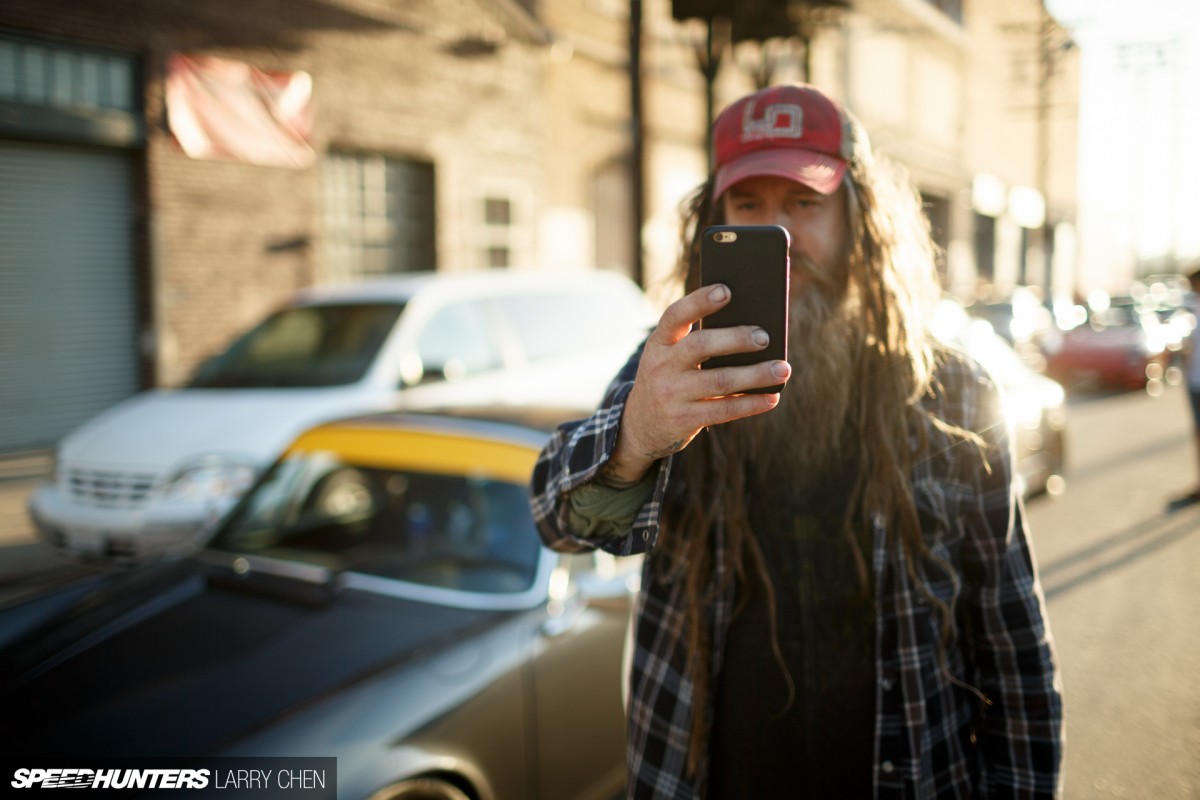 I have to thank MOMO and Magnus for inviting me, even though I could not go all the way to Laguna Seca. Hopefully, in four years time I will be free on the same weekend as the Rennsport Reunion, because I would hate to miss it again.
Larry Chen
Instagram: larry_chen_fotom
larry@speedhunters.com
Cutting Room Floor