Holy Grail
Like most of you, I've known about Ebisu Circuit for many years. The drift complex/zoo nestled in the lush green mountains of Fukushima Prefecture north of Tokyo has long been one of those places I've always wanted to visit – a boost-fed, petrol-soaked holy grail of sorts. Speaking realistically though, the vast majority of us will never quite make it out there, and until recently, I figured I was in that boat too.
Well, maybe I'd get to go at some point, but only to visit the facility and watch some driving, perhaps take some photos and generally soak up the atmosphere. Somehow though, early last month, fellow Speedhunter Taryn and I were pulling up to the famous gates of Ebisu at 8:00am on an unbearably hot and humid mid-summer morning in our own car. Ahead of us was two whole days of drifting…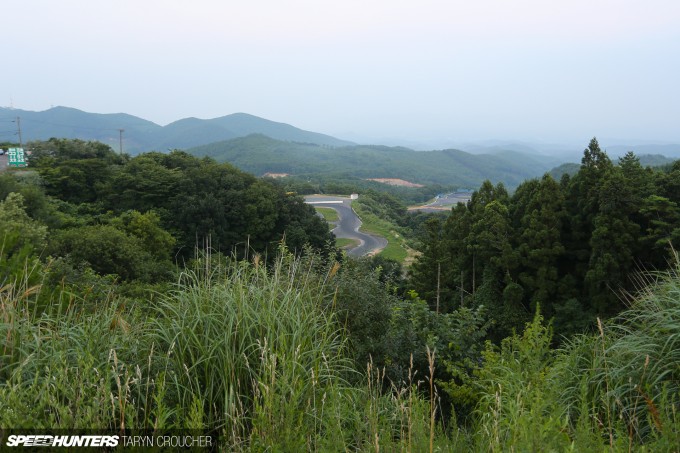 After paying the paltry entry fee – about US$50 dollars for free reign of the place for the whole day – my initial thoughts centered on just how massive this facility was as we drove up the steep hill past the odd tiger, some type of deer and a bunch of really weird looking birds. Yes, Ebisu is a full-blown zoo, which makes the whole experience just that little bit weirder. In the image above, you can see just two of the seven tracks/areas on offer – the school course in front and the famous Minami track, complete with jump, further down the hill behind it.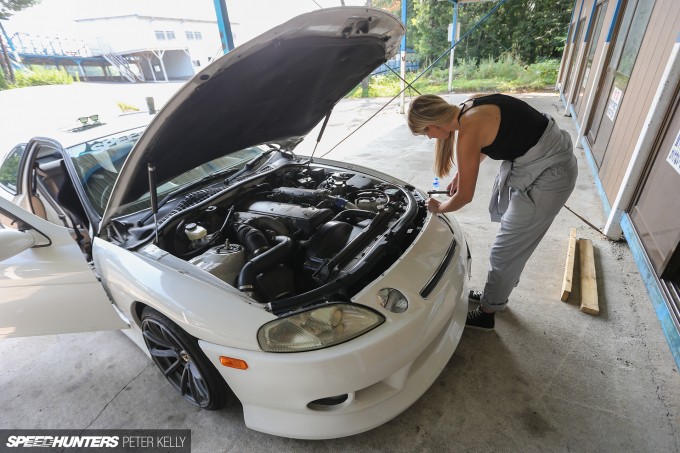 Coming from a country in which motorsport of any kind is heavily regulated and coddled (not necessarily a bad thing), it took a while to get my head around the fact that you could simply hand over some bills and essentially go do whatever the hell you wanted, all day long. No lines, no classes, no sessions, no marshalls – just open tracks, all the time. This means that you can simply find an empty pit bay, get your car all ready to go at your own pace, and then pick a spot to go destroy some tyres. After doing a fair amount of damage to our Vertex front bumper at Nikko, for Ebisu we decided it would be a better move to whip it off as soon as we arrived. I know it makes for slightly ghetto-looking photos, but it was worth it just to not cringe every five seconds when driving the car.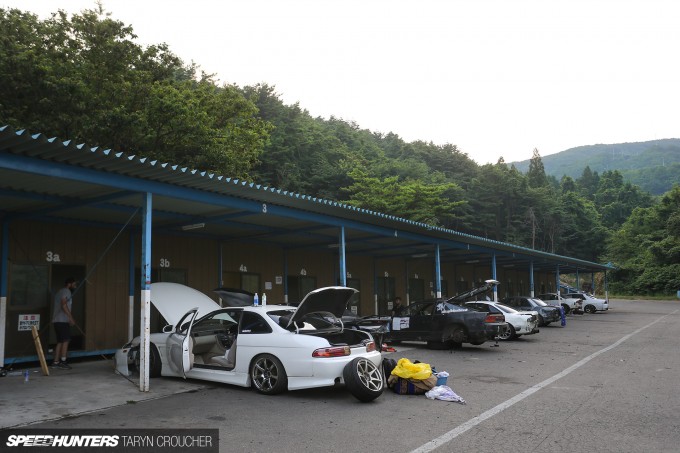 Although we hadn't actually planned it, it turns out that we had arrived for the very start of Drift Week, a three-times-a-year, week-long event run by local company Power Vehicles that attracts a lot of foreign drivers and culminates in both the G1GP competition and then the famous Drift Matsuri over the weekend. This meant that we found ourselves in the pits surrounded by a bunch of super-friendly Aussies and the odd Irishman – not quite what we'd expected, but a very welcome change of pace from the usual charades and extensive use of the Google Translate app. These guys were getting their missiles ready for the week ahead, and had all been to Ebisu more than once before.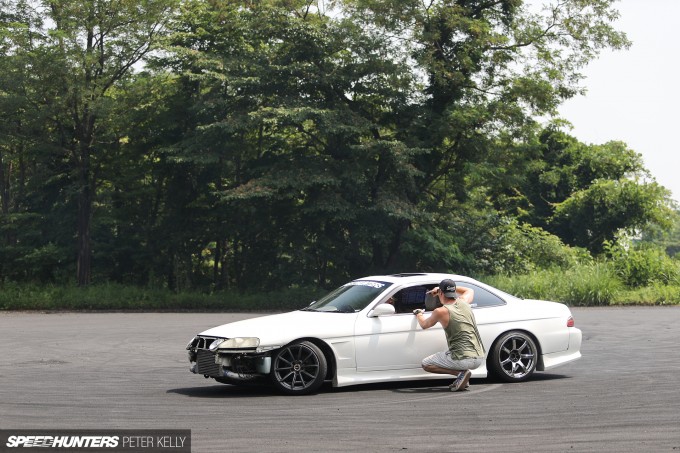 Our closest neighbor was Josh Robinson, a circuit racer/rally driver/drifter who competes in top-tier drifting in a Holden Commodore Maloo ute back in Australia, and comes to Ebisu as much as he can to get valuable time behind the wheel. Josh was borrowing a clapped-out R32 Skyline from a friend, as his car was meant to be hitting the dyno later that day. With not much more to do than taking the Nissan out for an occasional skid whilst he waited for the dyno runs, Josh kindly agreed to show us around the place and provide a little coaching.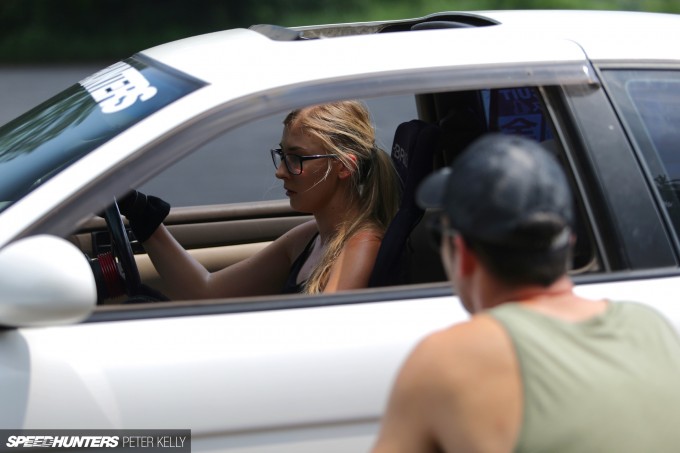 After I hogged all the wheel-time at Nikko circuit earlier in the month, it was only fair that we spent the majority of this first day at Ebisu getting Taryn a little more comfortable in the driver's seat of the Soarer. So first it was off to Kurukuru Land at the bottom of the park – two big empty areas with complimentary cones for setting up some practice courses.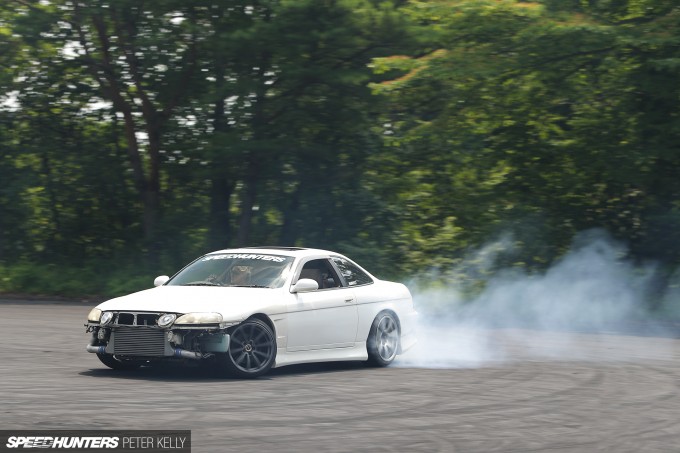 It didn't take long for Taryn to start smashing out some big, wide Os…
Before moving on to figure eights. It's amazing how quickly someone can learn when you've got decent equipment, good instruction and a no-pressure environment.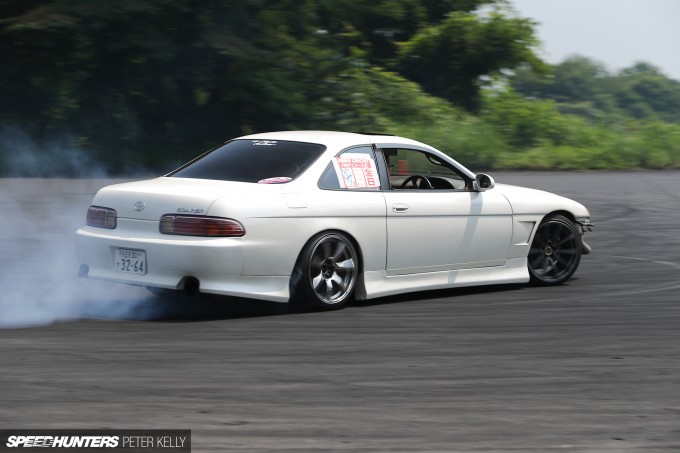 Eventually, the stock handbrake decided it'd had enough of the abuse and lost its bite, so we shot back up the hill to the on-site restaurant for some ramen before swinging past the pits to give the Z30 a little TLC.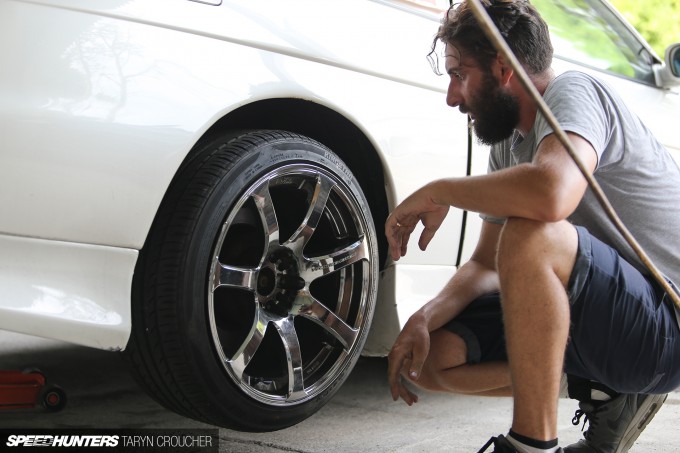 I must confess that I've never had a proper go at adjusting a handbrake myself, only ever the half-arsed in-cabin version.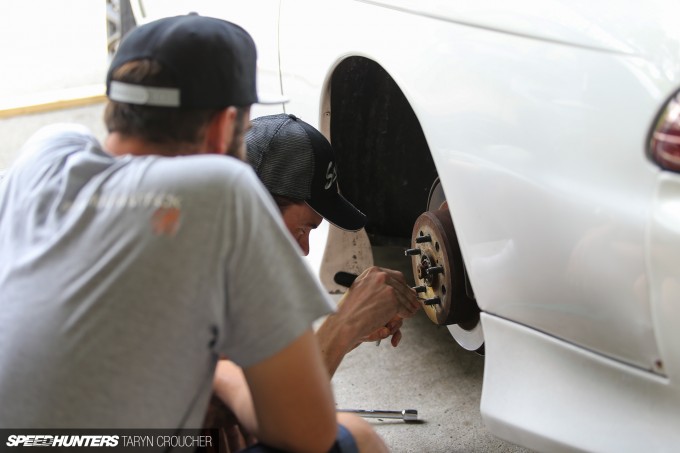 But Josh was good enough to show me how it's done (very simply, as it turns out). To be honest, although it certainly needed some adjustment, it still wasn't amazing. While I'll stop short of switching to a hydraulic setup, which is a very rare sight in Japan, I think it's time to give the handbrake a proper overhaul, and perhaps a switch to Project Mu shoes, which a few local friends can't speak highly enough about.
North Course-Bound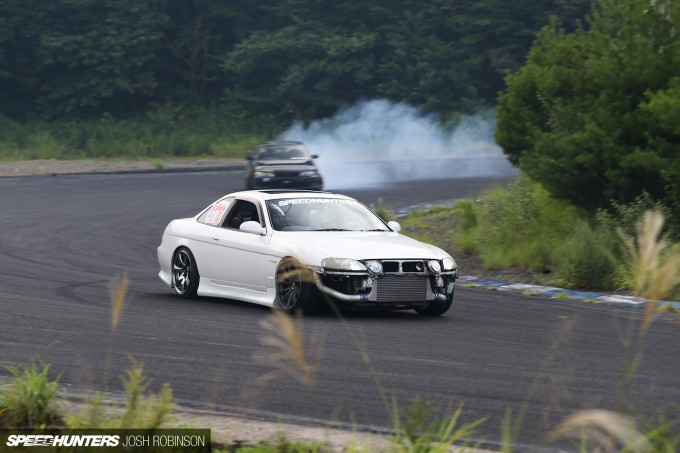 After a little more messing around on the nearly-deserted lower courses in the early afternoon, we decided to head towards the noise higher up the mountain. This was the famous North Course, and once we navigated the extremely steep climb up the hill and found the pits, we trundled straight out onto the track for a couple of reconnaissance laps. But halfway around the first corner, it was all panic stations as a gang of screaming Nissans appeared out of nowhere behind us and began quickly reeling us in. If you view this image in full resolution, you can actually see me in the passenger seat looking at the wing mirror yelling "faster, faster, faster!"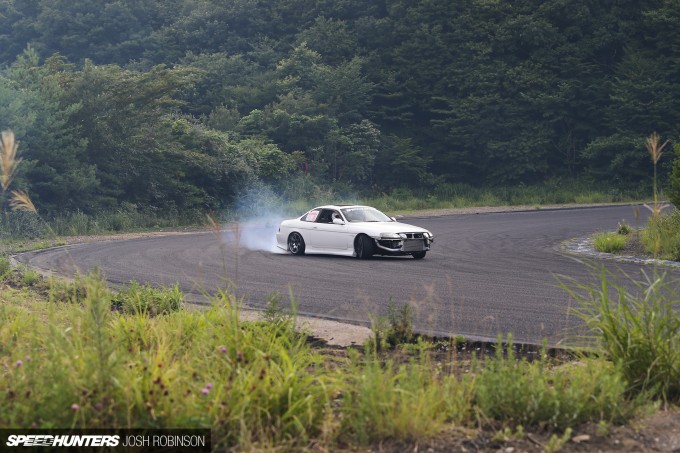 At this point, I must admit that I couldn't resist jumping in the Bride drivers seat. Years of watching in-car YouTube clips of this course had me amped to see what I could pull off, and after a few complete failures on my part, our faithful Soarer was singing as it ripped around the big sweeper. It wasn't to last though, as I soon learnt that Z30s don't really like drifting with anything under a quarter tank of gas. Yes, fuel surge. So, after profusely apologising to Taryn for insinuating that she was being a pussy on the switches and there was nothing wrong with the car (whoops), then heading back down the hill for more gas, time was running out before the 4:30pm cut off.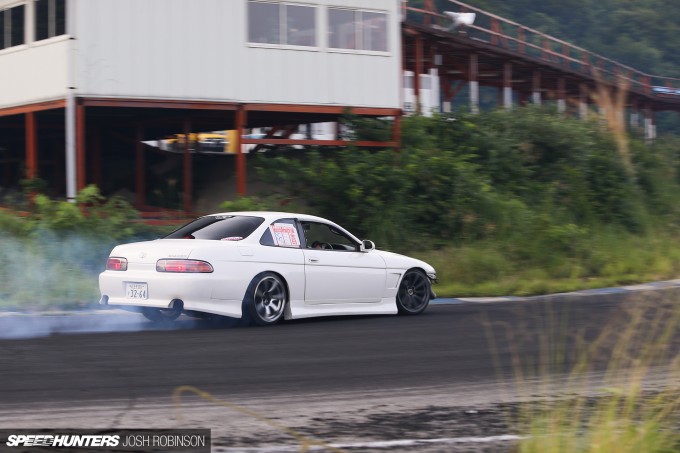 Still, I had about 15 minutes left in which to really wail on the car and see just how much I could get out of it on this awesome little circuit. The whole track is great, but this particular corner rules, because you're able to slowly build confidence, initiating earlier and earlier each lap, and then carrying the car through the bend at high speed as you circle the pits and the corner shallows out into the downhill section. I would have liked a little more time to try my hand at some faster entries further up the pit straight, but that'll just have to wait until next time.
I do love the sound of a 1JZ opening up! Maybe we need an external wastegate venting to atmosphere for extra points? The car performed admirably once again, although if I'm to be totally honest, we still had a big issue with the power steering, as mentioned in the last Project X installment from Nikko circuit. We'd spent the time between Nikko and Ebisu trying to get it sorted, and yet, once again, it was cutting in and out with the revs, making for an unpredictable drive. It was something we really needed to get sorted once and for all, and I had just the man to point me in the right direction.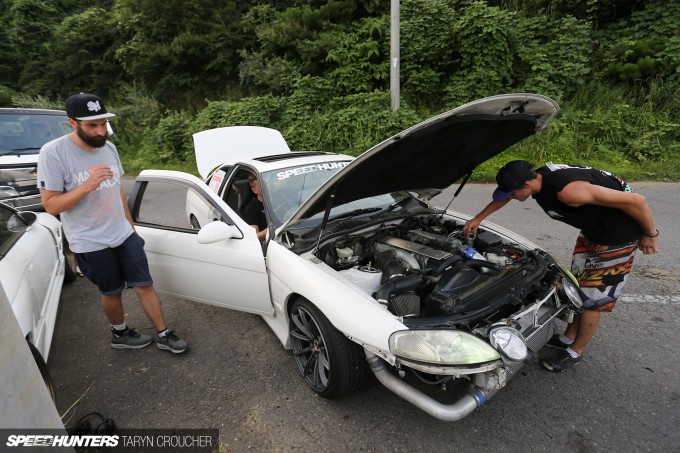 Earlier that day, we'd met Andy Gray in the pits. Together his wife and fellow drifter Emily, they run Power Vehicles at Ebisu. I'd told Andy that I'd swing past the the shop before we left, so we jumped in the Soarer and shot over the other side of the park. Andy has huge amounts of experience with all things Toyota, and it would turn out that one of his workers, Australian drifter Ben Williams (pictured under the bonnet) also competes in D1SL in a Z30 Soarer. Perfect!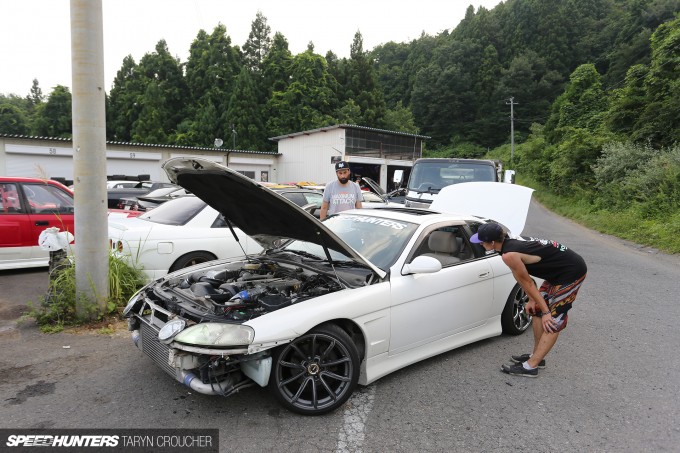 Both Ben and Andy confirmed that it wasn't a quirk of the Z30s, and there definitely was something wrong with the steering despite the recent replacement pump. After a quick call to Shinji Minowa at HeyMan in Tokyo (which you might recognise for its famous steering knuckles, as used by Daigo Saito), the remedy was clear, if not painful. We were going to have to replace the whole system – steering rack and pump (again) included. This wasn't exactly what I wanted to hear, but hey, par for the course, right?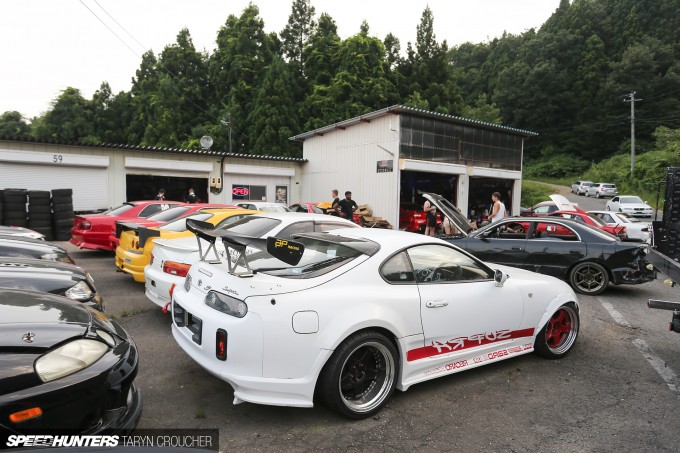 Because it was Drift Week, the area around Power Vehicles was absolutely rammed with people and their cars. There were all sorts of vehicles – banged-up missiles, D1-capable competition machines and even a recently-saved '90s Honda Prelude race car.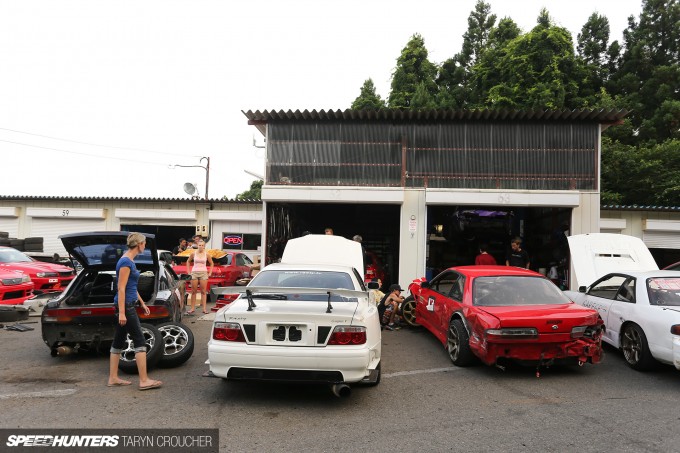 I still couldn't help but wince when looking at some of the battle-scarred machines being readied for action, though.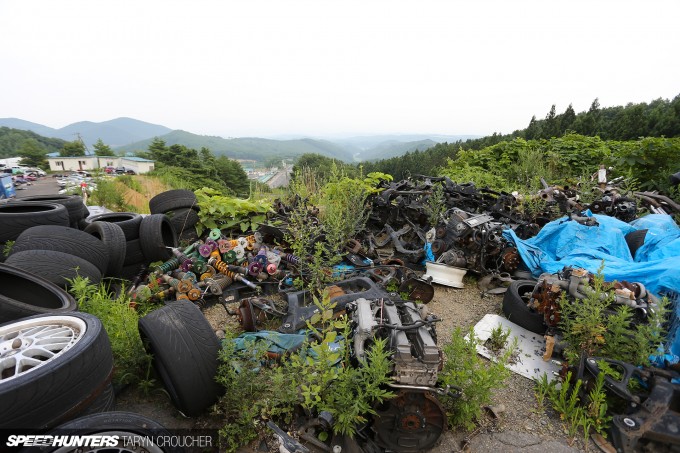 Just imagine all the now-defunct cars that all this gear came off… With the sun setting, we made plans with Andy and Emily to return later this year, and headed back to our pit bay to pack up the car and head back to the hotel in downtown Fukushima.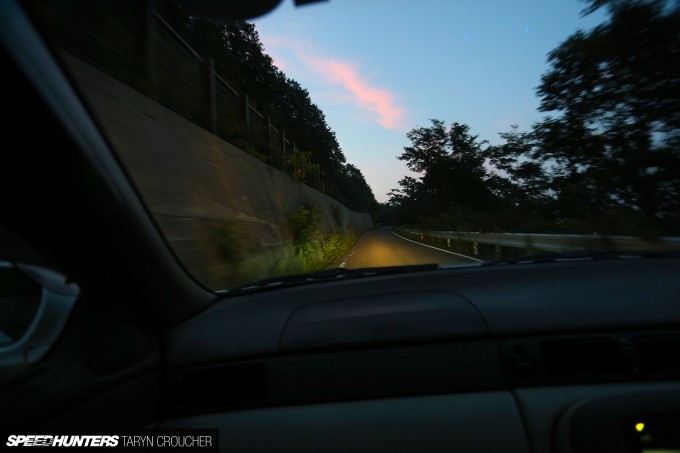 Once we left the park however, we couldn't resist going for a blast on some of the great touges that snake through the hills in the area. Sure, we'd had our fill of driving for the day, and yes, we had to get up pretty early in the morning, but imagine if you saw a sign that read 'Best tacos in the world inside' – you wouldn't just walk right past it, even if you'd just left a restaurant serving the best pizza in the world, right?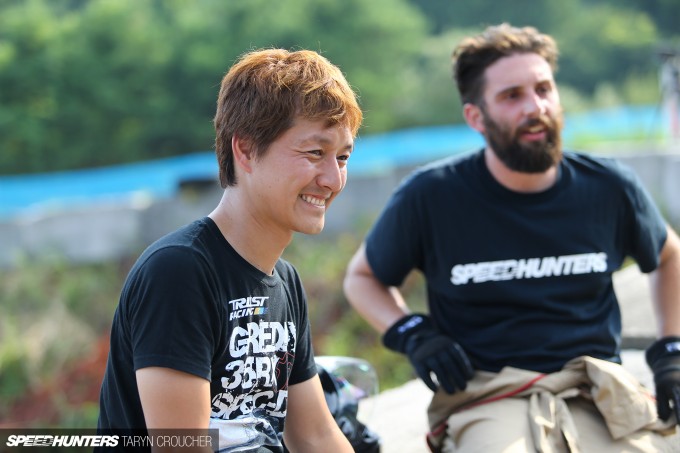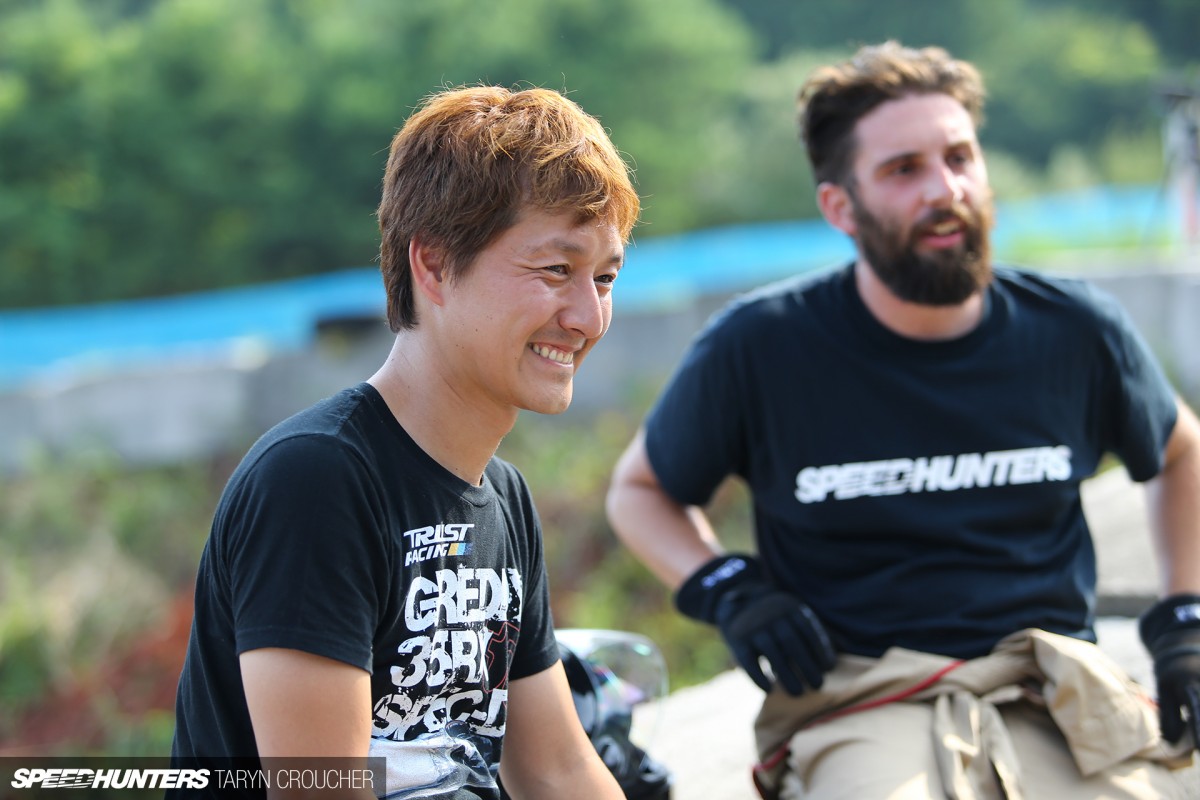 So, why did we have to get up so early? Well – and I'm not quite sure how I managed this – but thanks to some local contacts at Toyo Tires Japan, we were coming back to Ebisu the next morning to meet up with one of my all-time favourite drivers, the great Masato Kawabata. Kawabata-san was doing some testing in the GReddy/Toyo R35 GT-R on Minami, and had agreed to take us for some passenger runs in the morning, before spending the afternoon in the passenger seat of our Soarer, where he'd be imparting some of his driving wisdom upon me. A new contender for 'best day ever'? Find out in the next installment of Project X, coming up very soon!
Peter Kelly
Editor-in-Chief
Instagram: speedhunters_pedey
pedey@speedhunters.com
Additional images: Josh Robinson
www.joshrobinson.com.au