After the successful debut of our revised Project X at Minami Chiba, both Taryn and I were quite pleased with ourselves. The new Soarer was fun to drive, we'd gotten comfortable piloting its 1600kg bulk, and we'd driven away at the end of the day with nothing but a mildly noisy power steering pump. Not too bad in comparison to the month we'd had previous!
But now, where Minami Chiba was a one-car-out-at-a-time affair, it was time to head straight into the deep end and sign up to a track day at Nikko Circuit, two hours north of Tokyo. There would be no such exclusive use of the track here, and not just cones to hit. Hell, there weren't even classes, it was an open-pit free-for-all mixing highly experienced drivers in very fast cars with, err… me. A bearded white man desperately trying to control his lumbering Toyota.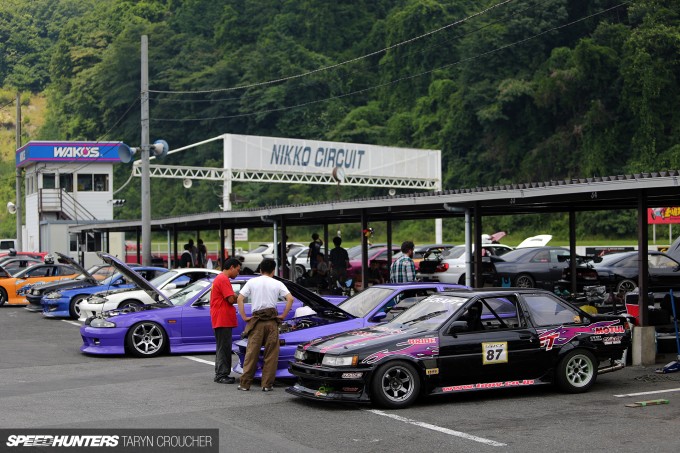 After an early wake up call, we arrived at Nikko Circuit just in time for sign up. Although I don't tend to overthink things too much, I will admit that it's a bit daunting to roll into the pits and park up next so many cool cars not knowing a damn soul, let alone being able to speak their language.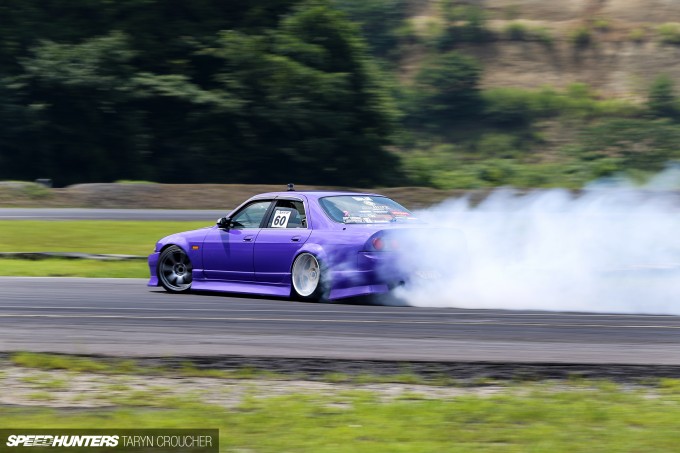 Well, apart from our Kiwi compatriot Toby of course, who had brought out his very cool R33 Skyline sedan for a skid.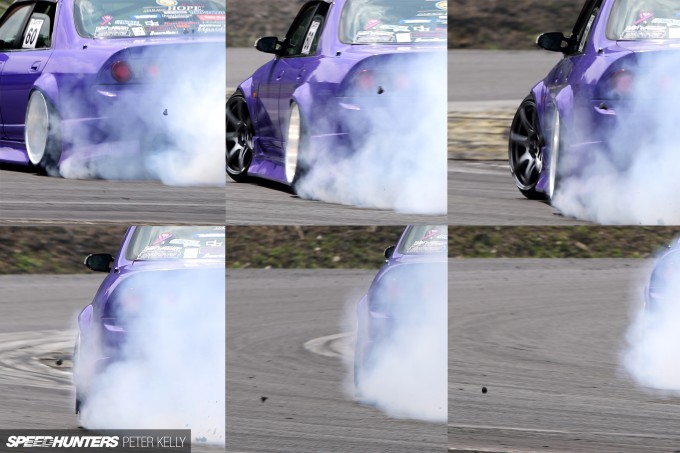 Unfortunately, Toby's car only lasted a couple of sessions in the morning before deciding to eject its turbo exhaust wheel out through the 3.5-inch piping and onto the track – something that I somehow managed to catch with my camera.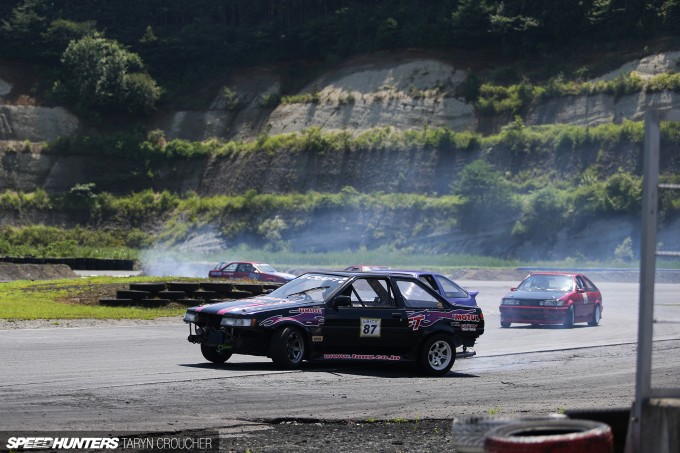 Back to the task at hand. For this track day, Taryn quite rightly decided she needed a little more cone work before heading out into the packs of screaming cars ripping around Nikko's tight, hazard-filled course. The circuit is extremely small, which is perfectly fine, but still daunting when no matter how hard you try, you can't seem to avoid ending up in a impromptu squad of cars – usually a train of barking AE86s – as you enter the section.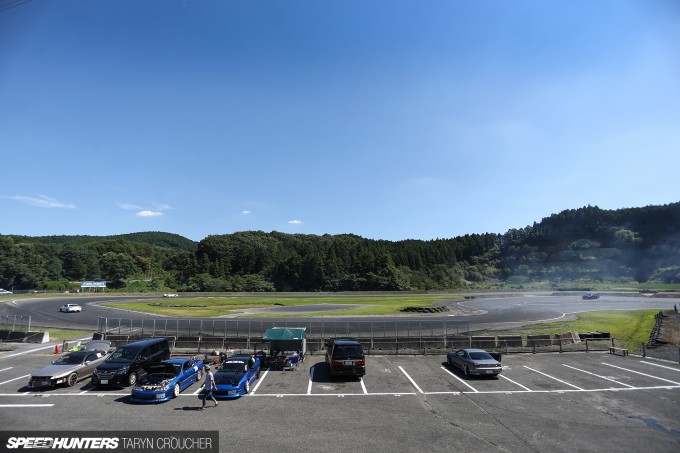 Amazing fun for the experienced, but pretty unnerving for me. Looking back now, I think I had put a fair amount of pressure on myself for fear of becoming that dumb foreigner that caused a huge pile up. The section begins on the front straight, with a fast left-hand entry that tightens up on itself dramatically, feeding into a set of compact esses before a long, fast right-hander that hopefully takes you to the final clip on the inside of a medium right heading onto the back straight.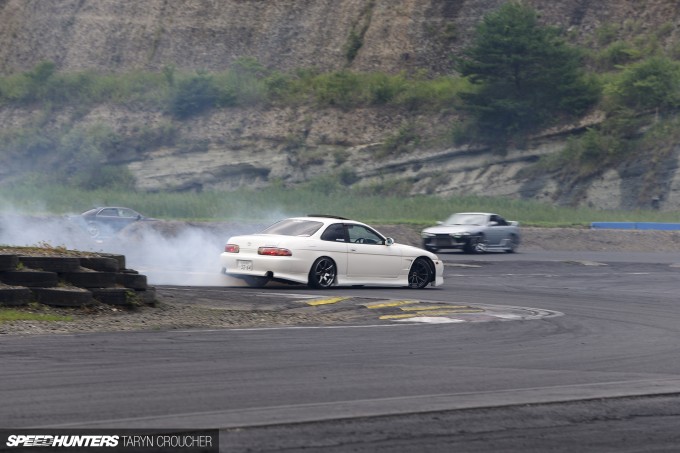 All this combined with the famous drop-offs skirting the outside of most corners made for a disconcerting prospect as I headed out for my first session. But, as with most things, as long as you're not acting like a complete dickhead, it's completely fine. I did do my fair share of spinning though, but managed to learn a little each time I looped it and simultaneously prayed that there wouldn't be pack of cars sliding towards me.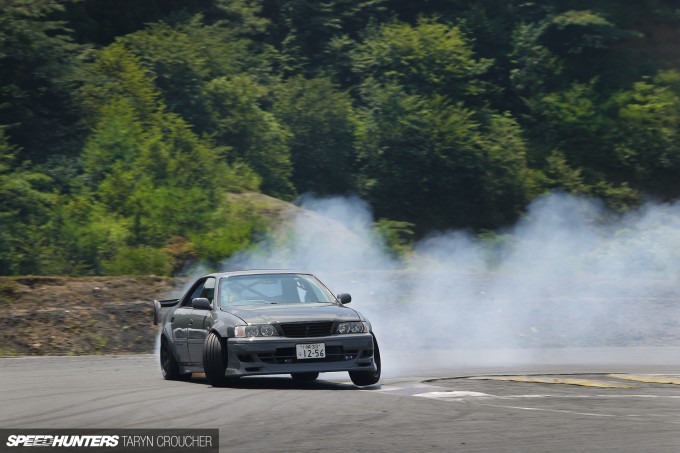 The other drivers quickly learnt to be weary of my unpredictability, and I soon got pretty good at checking my mirrors and finding little gaps in the action to try new things and push harder than I otherwise would with a howling JZX100 right on my rear bumper. I'd have to say, this grey JZX was my favourite car of the day. It was great-looking, super-quick, amazing to listen to and the driver was one of the most aggressive out there.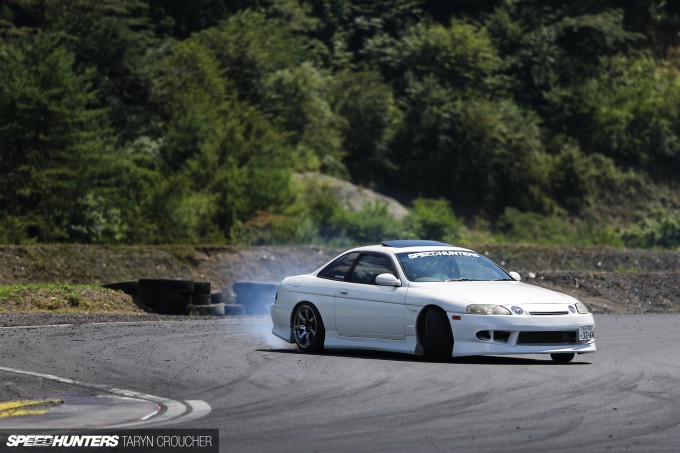 By midday, I was starting to pick up the flow of the track, although the third gear entry off the front straight was still a little beyond my reach and I was having some serious steering issues, which I'll touch on soon.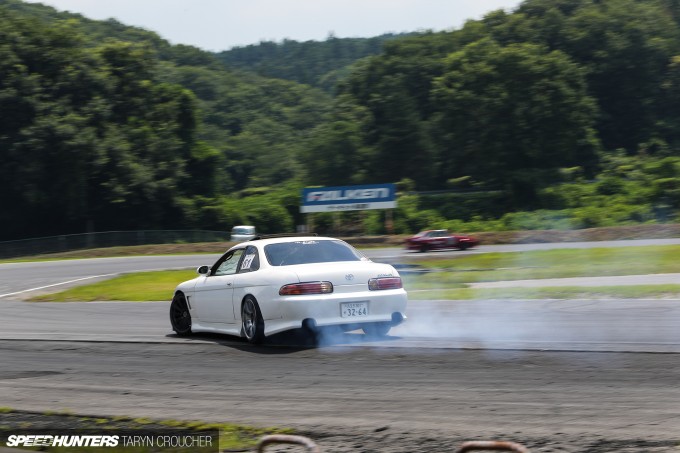 Easily my favourite part of the section is that final long right-hander, which is more of a straight with a kink in it really. I loved that it punishes you if you get your line wrong in the section beforehand, but if you get it right and carry enough speed to the very outside, you can drop the back wheel/s off the edge and the whole front of the car heads skyward as you keep your foot buried.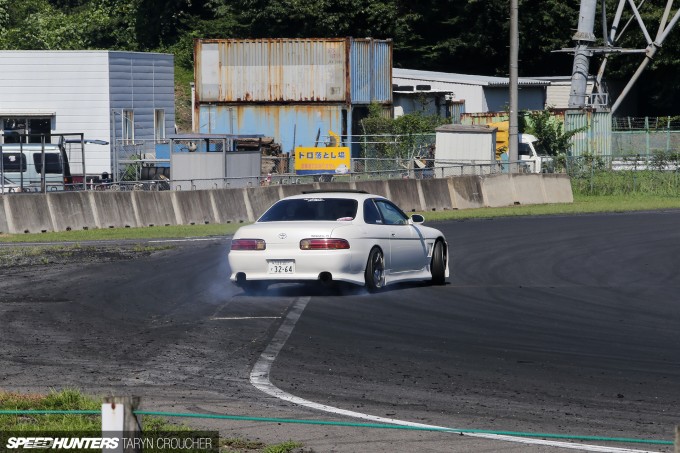 Obviously the more experienced drivers were much better at this, but on the occasions I got it right there was some serious Peter Kelly trademark hootin' and hollerin' inside the Soarer's cabin.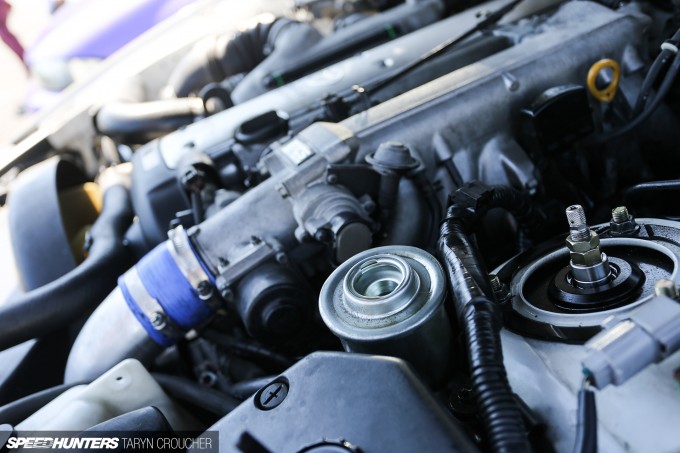 Back to that aforementioned steering problem. In between Minami Chiba and Nikko we decided to replace the noisy power steering pump for piece of mind, but it unfortunately quickly gave us the opposite. Heading out into the first session at Nikko, the steering quickly became very heavy, then very light, and then heavy again, seemingly with the revs, making for a fairly unpredictable drive. A quick pop of the hood revealed power steering fluid everywhere.
You can see me struggling with the wheel in the Instagram video above. I'm certainly not at all saying it was the reason I was having trouble linking up the entire section consistently, but it didn't help… Despite the ridiculous summer heat and the destroyed arms and shoulders, we'd come all this way, so I just made the call to struggle through it and see if we could figure out what went wrong once back in Tokyo.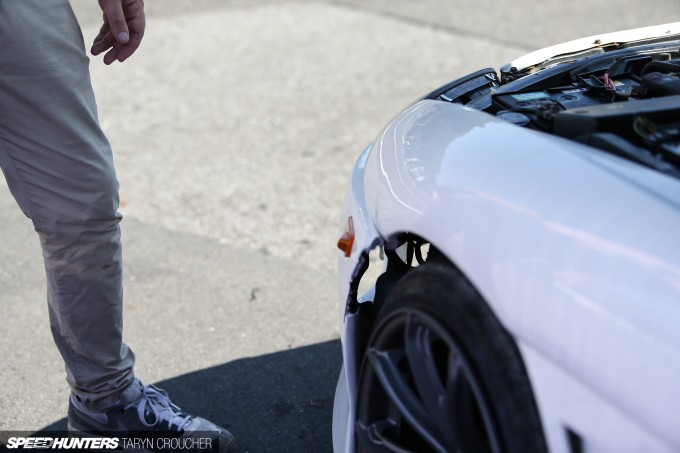 By 3:00pm I was growing more and more confident, which is always a recipe for disaster. Thankfully my 'big off' wasn't too bad, with a short dive off the outside of the first corner bending the front bumper back into the fenders. It did some damage, but hey, I'm not worried – it was bound to happen sooner or later!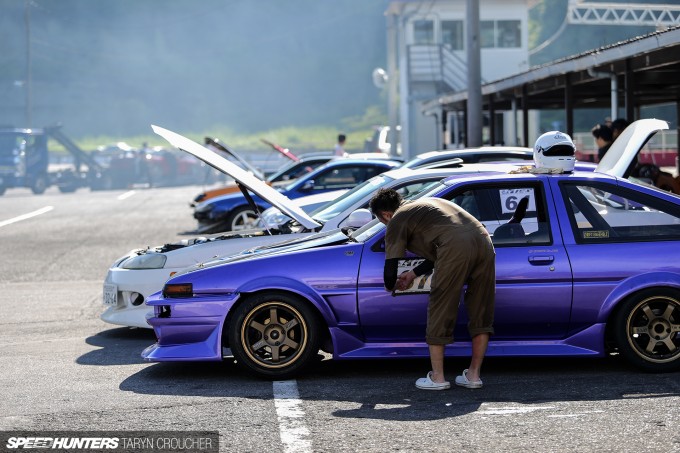 Just like Minami Chiba, everyone we spoke to was super-friendly, despite the fact that I can almost guarantee I spun in front of a good portion of them at some point during the day.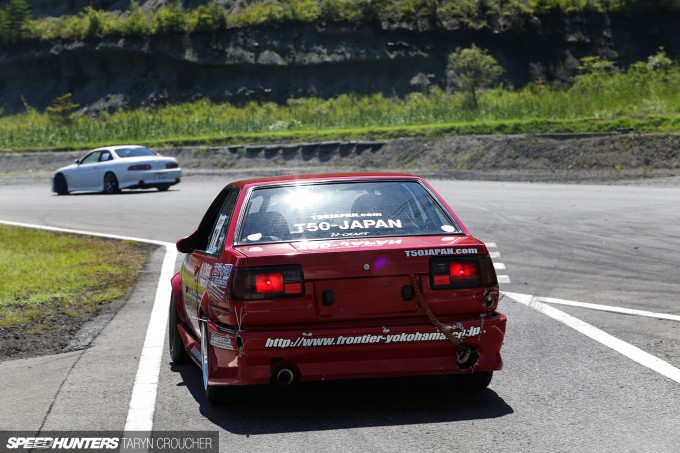 Considering this was my first real Japanese drifting experience on a proper circuit jammed with other cars, the day spent at Nikko went really well and I gained a lot of confidence that will certainly come in handy as we head towards even tighter and more daunting venues. Look out for another Project X update later this month as we visit to the temple of drift high up in the mountains at Ebisu Circuit!
Peter Kelly
Editor-in-Chief
Instagram: speedhunters_pedey
pedey@speedhunters.com