Vaughn Gittin Jr.'s long-time dream of competing in a Japanese round of the D1 Grand Prix will soon come true.
Next month, the Monster Energy driver will line-up with Japan's top pro drifters and battle it out on a custom carpark course in the popular Odaiba entertainment district. 'Tokyo Drift' is a weekend-long event encompassing the sixth and final round of the 2015 D1GP series followed by the D1 Grand Prix World Champions, and Vaughn is signed up to drive on both days.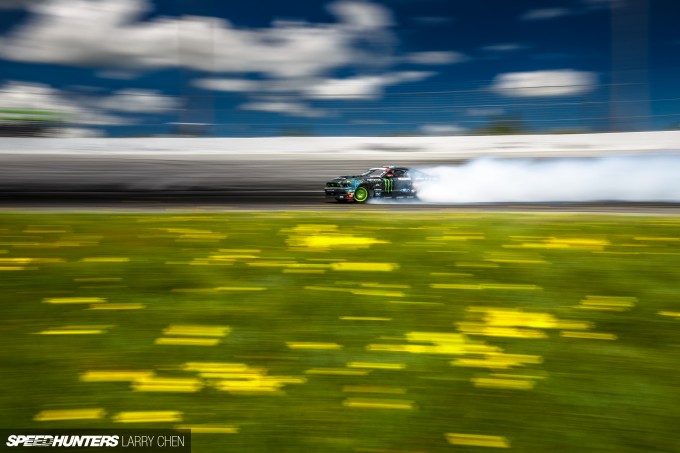 The D1 Grand Prix is celebrating its 15th anniversary this year, and while a number of foreign drivers have competed alongside Japan's finest since the series' inception, Vaughn will be the first American to do so in an all-American car. More specifically, a 2014 Mustang RTR similar in appearance to the machine that up until recently he was campaigning in the 2015 Formula Drift Pro championship.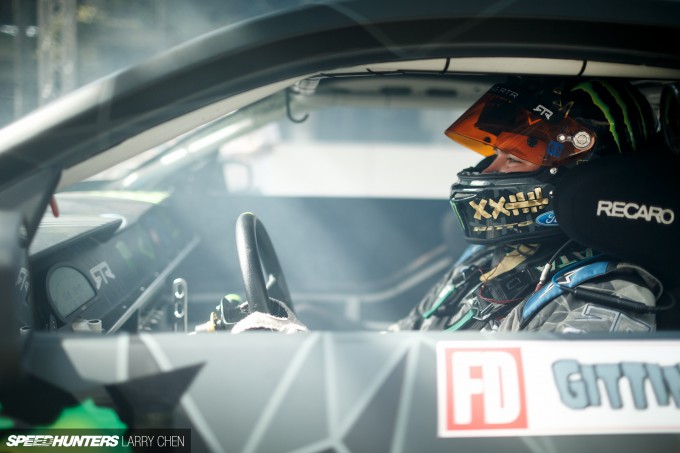 Vaughn's forthcoming trip to Japan isn't the first time he's ventured to the Land of the Rising Sun though. Back in 2009 he shipped a then brand new 2010 Ford Mustang across the Pacific for a tour of drifting's motherland, and in the process put it to good use on a few of Japan's iconic drift circuits. You can check out the video series here.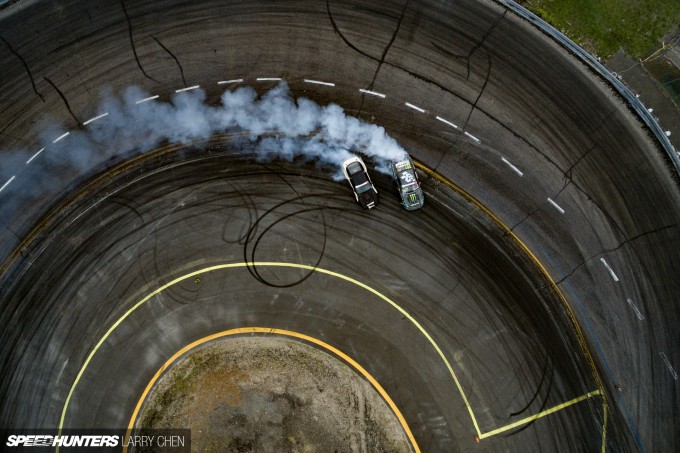 While that trip provided an authentic taste of Japanese drift culture, the D1GP itch remained. But that's all about to change now.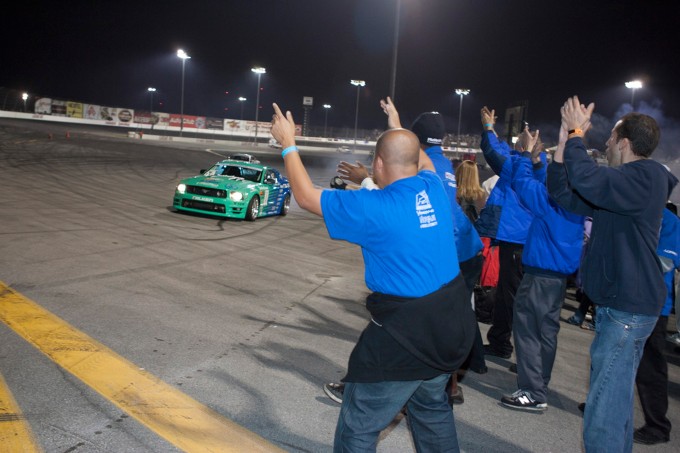 It's not surprising that Vaughn's been counting down the days for this opportunity to present itself, because as anyone who's followed his career thus far will know, he had a lot of success when D1 Grand Prix was running events Stateside. It was 10 years ago when the photograph above was shot at Irwindale Speedway by Jay Canter.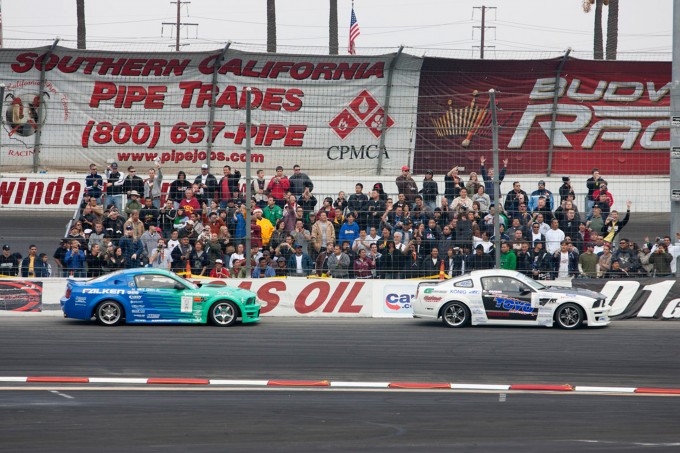 Following on from a D1GP Exhibition Round at Irwindale in 2003, the Japanese series returned in 2004 with the first of what would end up being four annual D1GP All Star rounds. Nobushige Kumakubo won that year driving his Team Orange Nissan Silvia S15, but the following year it was Vaughn that made history.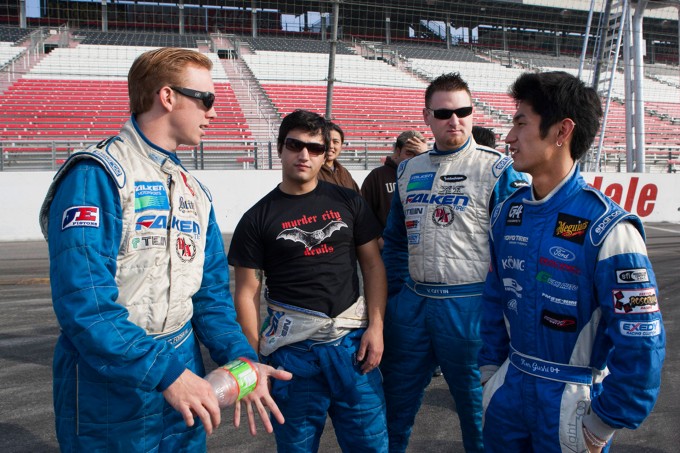 This was the burgeoning era of American pro drifting, and although the motorsport has evolved massively in the last decade, not everything has changed.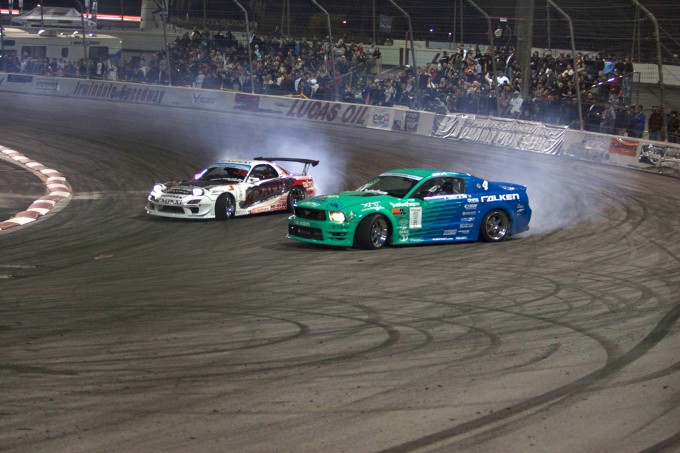 After qualifying strongly for the main event, Vaughn battled and beat Kei Office Nissan Silvia S15 driver Yasuyuki Kazama S15 in the Best 16, before going on to defeat Imamura Youichi driving the A'PEXi Mazda FD3S RX-7 in the Best 8 after a One More Time 'Sudden Death' rematch.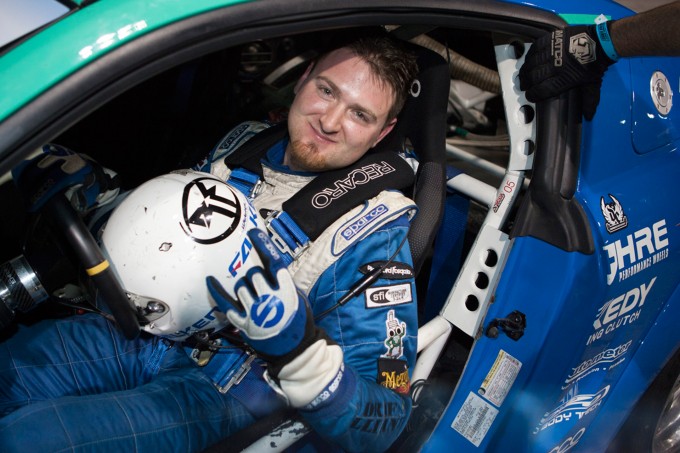 In the Semi-Final, Vaughn faced off against Masato Kawabata driving GReddy's Nissan Silvia S15, and again took the win.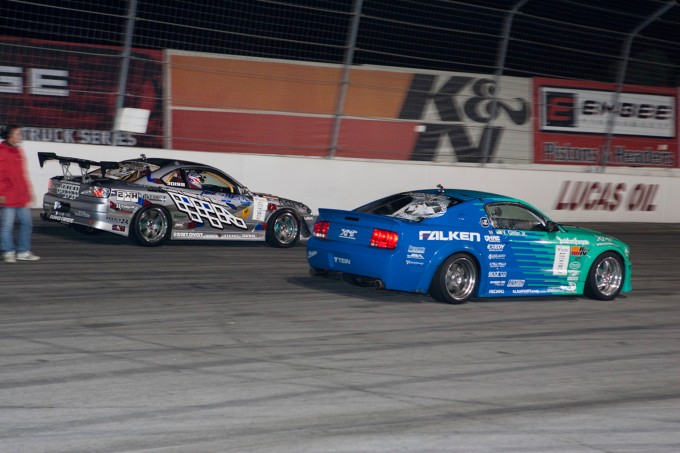 The final match-up of the night was another Silvia versus Mustang battle, this time Tatsuya Sakuma in the APP S15 coming up against Vaughn's 700hp V8 Ford.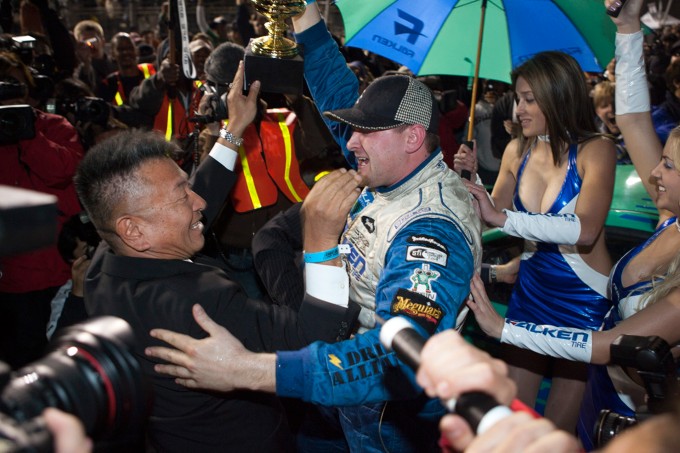 It took a Sudden Death re-run to decide this battle too, but in coming out on top when the judges scores were tallied, Vaughn became the very first American driver to win a D1 Grand Prix event.
If you want to relive the glory from a golden era in pro drifting, hit play above for a Video Option compilation of Vaughn's road to the top step of the 2005 D1GP All Stars USA vs Japan podium.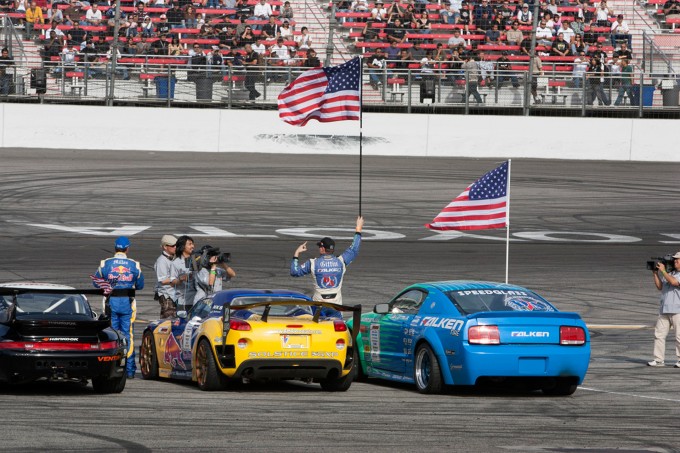 The following year Ken 'Nomuken' Nomura won at Irwindale, taking one back for Japan in an All Star event that had now been opened up to the world, but in 2007 history repeated for Vaughn.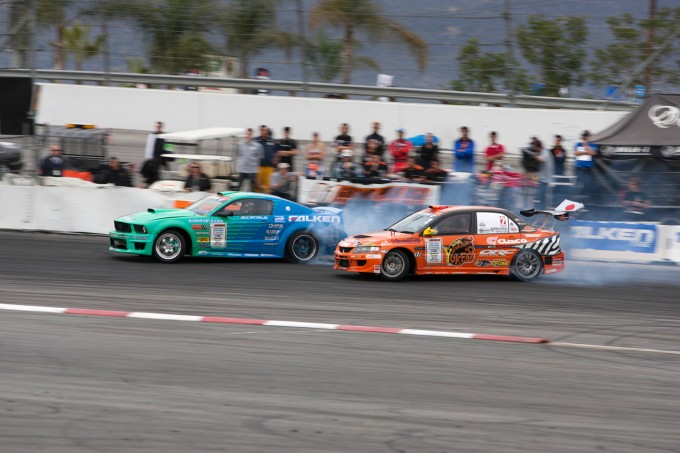 This time it was Kumakubo-san driving the Team Orange/Yukes RWD-converted Mitsubishi Lancer Evo that Vaughn met in the final.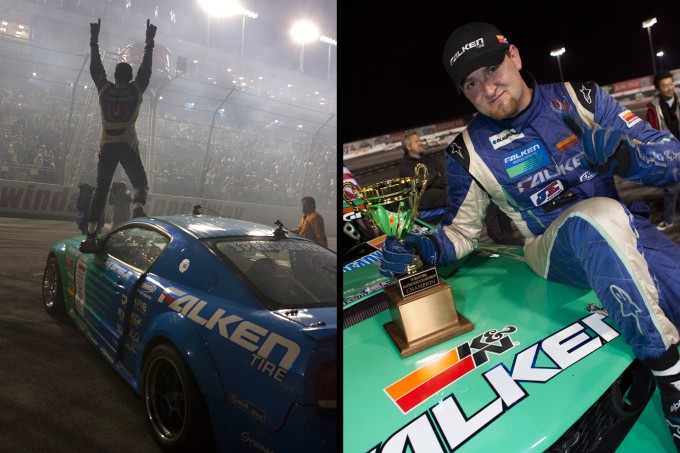 2007 marked the final D1 Grand Prix All Star event in the USA, so to have placed first at this one was another big win for Vaughn.
Thanks to GT Channel and Video Option, you can relive the entire event through the video above.
In counting down to Odaiba, we'll leave the final words to Vaughn… "Since winning the D1GP USA vs Japan in 2005, I have wanted to take my Ford Mustang RTR and my team to Japan, where drifting started, to compete. I am pumped that 10 years later, the dream is becoming reality and I will be joining the Monster Energy Japan crew in downtown Tokyo for the D1GP final round on October 24-25th. I am very excited to meet a lot of my Japanese fans for the first time, and I look forward to some epic battles with the great drivers in Japan's D1GP series."
The Speedhunters
2005 & 2007 D1GP Photos by Jay Canter 
Additional Photos by Larry Chen