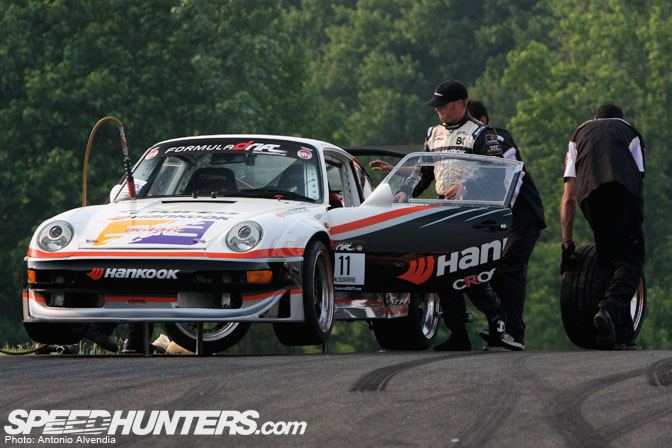 One car that definitely made waves in the United States professional drifting scene is the JIC Magic/Hankook Tires Porsche 993 GT2. This car is being driven in the Formula Drift Series by Northern California's Tyler McQuarrie, a driving instructor at Infineon Raceway. This was the first-ever Porsche to be used for professional drifting in the United States, and as a result, it made a lot of media headlines when it first came out.
During the Formula D New Jersey round, it was almost impossible not to notice Tyler and his Porsche as he laid down smoky lap after lap, wowing the crowd and judges alike! Tyler was killing it that day, and the Porsche was running very well also, with no major mechanical problems to slow them down. The JIC/Hankook GT2 was throwing out so much smoke; it was definitely a crowd favorite..! And let's not forget the tandem battles! It was insane to see how much power this Porsche had, as Tyler used the GT2's power and torque to accelerate away from opponents he was leading, or to quickly catch up to cars he was following. By the end of the event, with Tyler behind the wheel, the JIC/Hankook Porsche GT2 won its first podium finish in Formula D!
So let's take a closer look at the car itself. The car's owner, Jon Kaneda from JIC Magic in Downey California, tells me that the original base car was actually a 1996 European version lightweight 993RS street car that was converted to GT2 specs – this wasn't built as a race car originally, it actually started life as Jon's street car!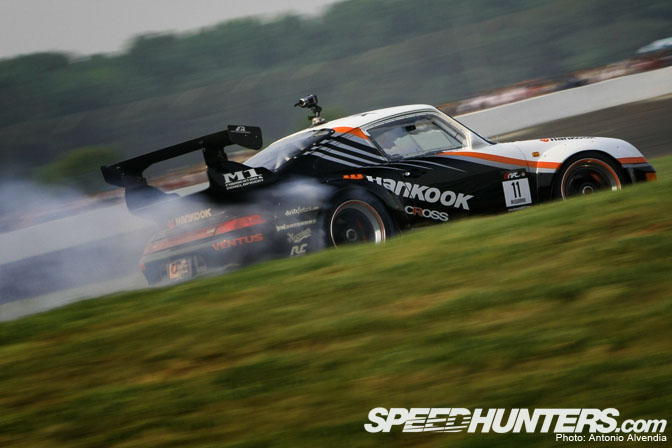 Tyler McQuarrie's JIC Magic/Hankook Porsche 993 seems to handle really well at high speeds. This is due to the following suspension and chassis modifications from JIC and Cross:
ERP rear camber control arms and toe control arms, Ziel Sports front knuckle modified by M1 fabrication, JIC drift-specific hard tie rods, Ziel Sports bump steer tie rods, and an M1 fabrication full roll cage, which was made by Mack. To ensure the most angle, the Porsche has also been fitted with a Ziel Sports modified steering rack.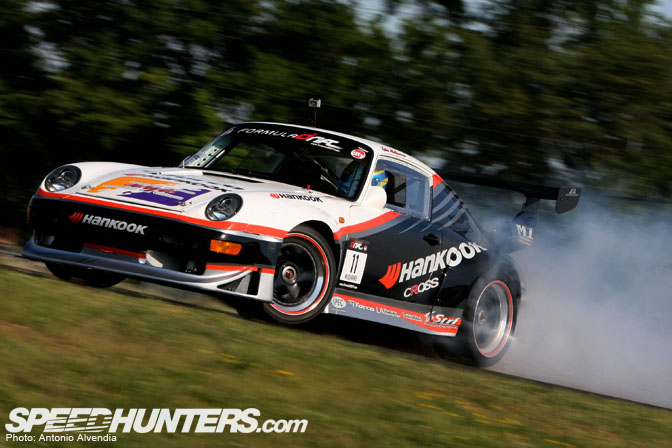 Let's take a look at the JIC 993's bodywork for a moment. It has been fitted with a JGTC front chin spoiler, 993 GT2 front and rear fenders, a 993 GT2 rear bumper, and a 993 GT2 engine lid which has an APR rear wing affixed to the top of it. As seen in the first photo of this feature, there's also a super cool air jack system, so the JIC team doesn't need to worry about sliding jacks underneath the car and damaging the bodywork!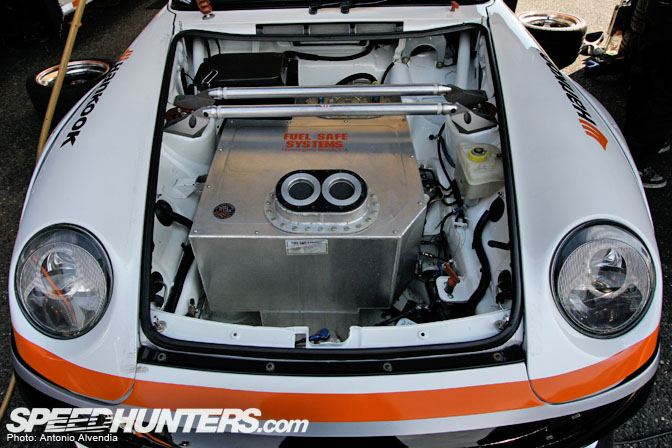 Popping up the front bonnet of the Porsche, the first thing you notice is the big 100 liter FT3 Fuel Safe fuel cell, which allows the JIC team to refuel the car rapidly. It also has Bosch twin race fuel pumps to make sure the engine always has plenty of fuel to digest. The weight of the car with roll cage is pretty light – 2520 lbs without race gas!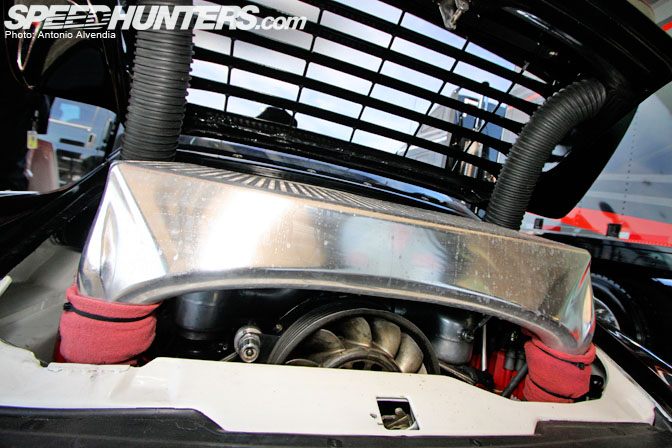 It's kind of hard to see the engine, even when the 993 GT2 rear engine cover is lifted up… because there's a humongous Ziel Sport intercooler sitting right on top!
In case you were wondering what the engine internals are like (I know I was), Jon from JIC Magic/ Ziel Sports sent me the following spec sheet on the modified 3.8 liter Porsche motor that he built:
9.0:1 compression pistons, Carillo H-beam connecting rods, balanced crankshaft, Ziel Sport high boost metal head gaskets, the 993 cylinder head has been modified for use with the high boost head gaskets, 993 GT2 camshafts, RSR/ALMS spec valve springs, forged valve spring retainers, 993 GT2 rocker arms, RC engineering 750cc injectors, Ziel Sports intake system with 6 individual throttles, Ziel Sports intercooler system and piping, IHI RX6 TCW76-13 ball bearing twin turbo, Tial twin wastegate, Ziel Sports exhaust manifold and exhaust pipe. RSR flywheel, Spec clutch disc and cover.
To control this all, this 993 has a DTA Fuel Management System, which was tuned by Jon Kaneda at Ziel Sports. Altogether, this engine makes over 600 horsepower at 1.2 bar, but has a max boost of 1.5 bar (750hp).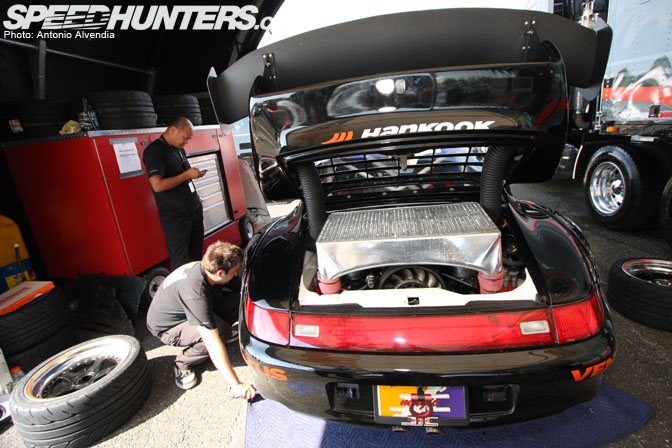 Here's the JIC Magic team hard at work… well actually, it looks like JIC's technician is hard at work, because in this photo, Jon looks like he's sending someone a text message, haha!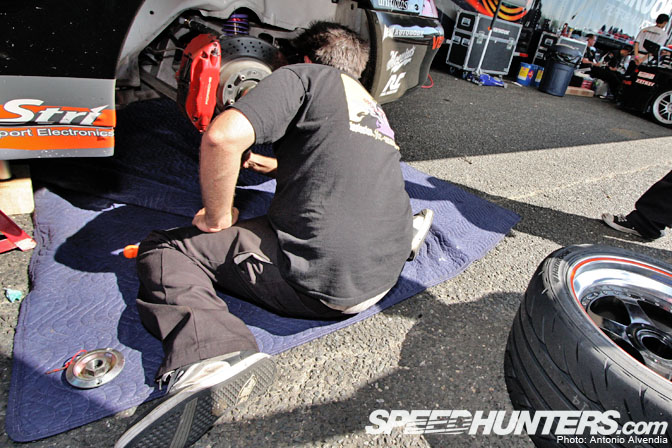 Upon closer inspection, you'll notice Stoptech 350mm brake rotors and 4-pot calipers in the front, and factory 330mm rotors in the rear and 4-pot Porsche calipers. See the big nut to the left of the JIC technician's foot? That's the nut from the 993 GT2 center lock system. Air jacks? Center lock lugnuts? These guys are ballers no doubt!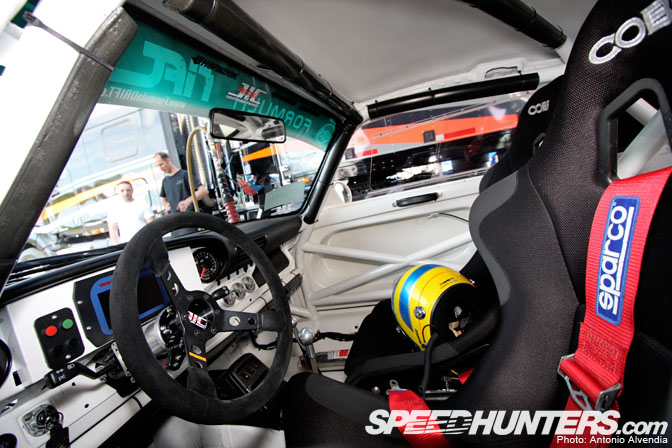 Inside the cockpit, you'll notice two Cobra racing seats, Sparco harnesses, and a Momo steering wheel with Works Bell steering wheel hub. This JIC Porsche 993 is strictly business! And achieving JIC's first podium win at New Jersey, Tyler McQuarrie is handling it!
-Antonio Alvendia
Speedhunters HD Video Car Tour of JIC Magic Porsche 993 GT2!