I love the moment at a show when a car blips on my peripheral radar because there's something not quite normal about it. Not something wrong, but rather a look or detail that I instantly know is out of place. It's even more enjoyable when it's a classic car: a situation where risks are rarely taken, and where glorious results that the rest of us as think stunning will likely set purists' heads on fire.
That was the case at Salon Privé the second I saw this 1957 Lancia Aurelia B20GT S6 Outlaw. From the perfectly balanced nose via a chopped roof to the gloriously sloping rear, this was obviously no typical Aurelia…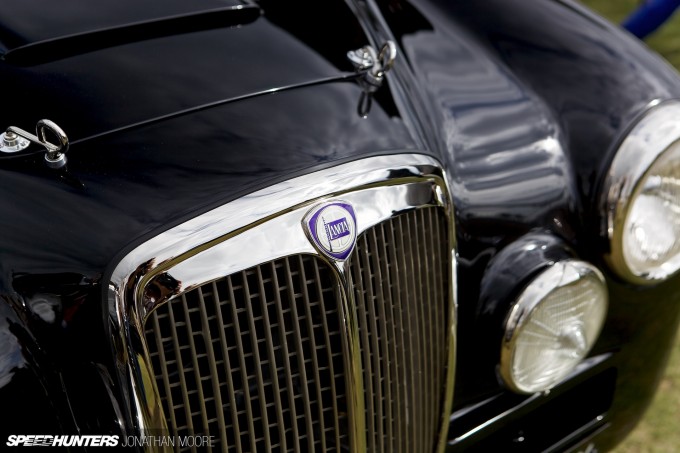 Restorers Thornley Kelham used the Salon to unveil its Aurelia build, newly completed, just before it was due to appropriately head off to Italy to take part in a road rally in the hands of its proud new owner. It's exactly what this car was originally built to do.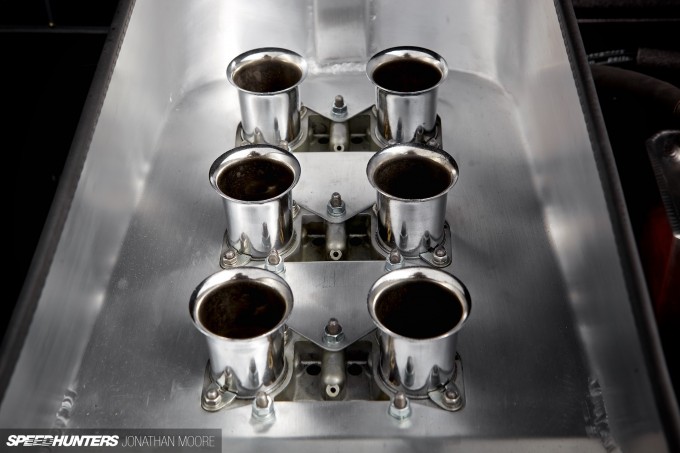 Not heard of an Aurelia? Well, it's from Lancia's period of post-War recuperation and showed the side of Lancia you may not be so aware of – that of engineering excellence. Yes, you read that right. Lancia pioneered the V6 configuration with the Aurelia – a big challenge to balance compared to the inline engines typical of the time – and featured in-board rear brakes as a way of reducing unspung weight. It was also at the cutting edge of weight saving and aerodynamic advances.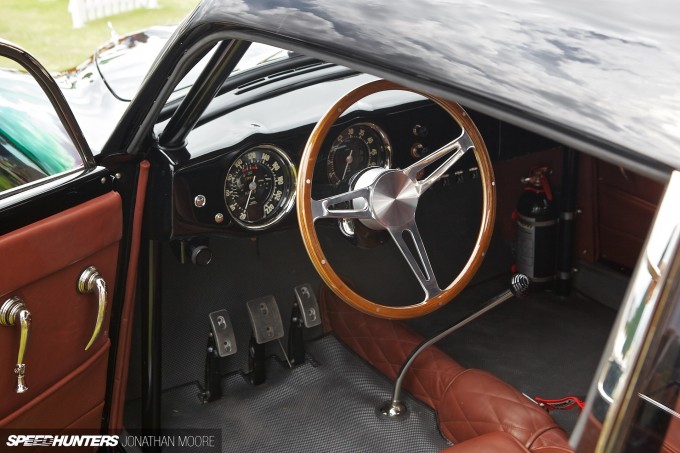 Lancia has an archetypal history for an Italian brand. In operation for well over a century, it's created beautiful cars made with panache and emotion, but every high has been followed by a near ruinous low. At its height Lancia was run by designers and engineers rather than accountants – though perhaps if they'd listened to at least one money man the company wouldn't have endured such ruinous fortunes in business…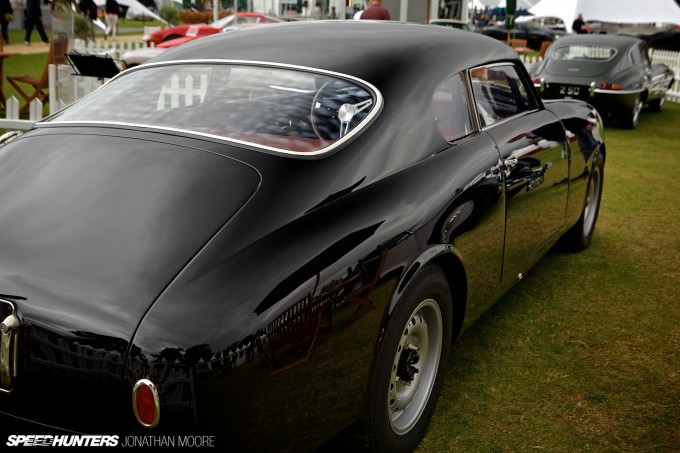 Just 3800 or so Pininfarina-designed B20s were constructed between 1951 and 1958, and this is one of the later Series 6 models. The obvious change that the team at Thornily Kelham made was to the roof: that lowered roofline makes a massive difference to the car's appearance, especially in contrast to the bluff nose with its clear vee of headlights and imposing grill.
But actually the entire body has been subtly redefined: the waistline and wings have been widened out as well, which gives the Aurelia much more of an aggressive poise. But it's all been done with a nod to tradition, I found out. For instance, the door handles have been modified and cut-down, but even this small detail follows something that Nardi carried out on S3 competition Aurelias back in the day.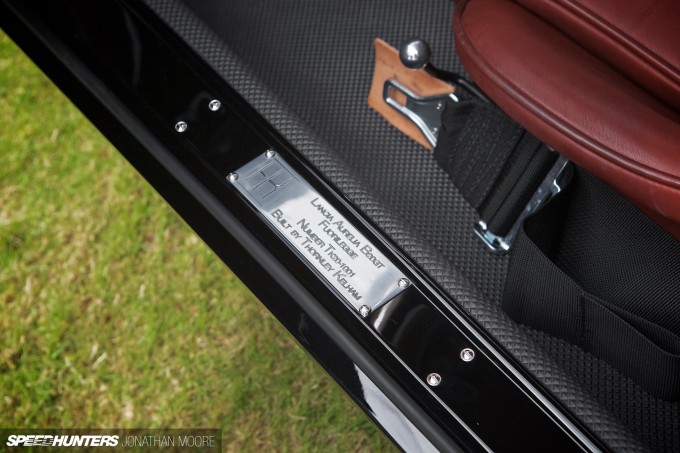 TK worked the concept up in tandem with the owner, so although it loosely follows the Outlaw idea it's also deliberately based on innovations that Lancia was carrying out in period. The famous Bracco Series 1 Aurelia race car featured the same kind of low-line form (the wings lowered as well in that case), and the initial run of Series 2 cars were all separately clothed in different low-drag bodies.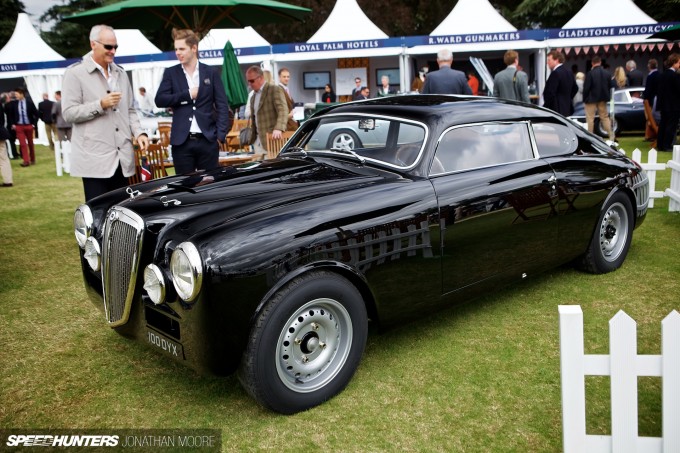 This is the key – TK knows its Lancias. Even more so, it respects them. There are plenty of 911s or even E-Types around that can be chopped about, but that's just not the case with cars like Aurelias. It's not that TK won't go a bit mad – this car is evidence of that – but more that it understands context and balance. The project involved as much trial and error as it did utilise the company's engineers' expertise and in-depth knowledge of Lancias, wanting the car to look as cool as possible – but not to the detriment of the base Lancia ethos.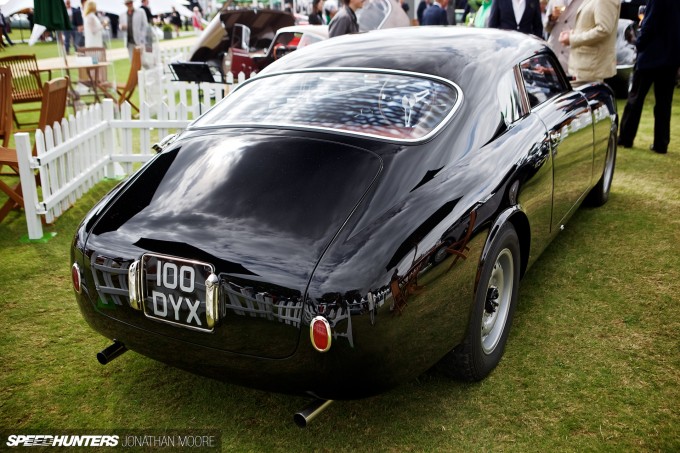 Talking to company co-founder Simon Thornley – a Lancia nut who himself runs an Aurelia – the passion for the brand was clear. The donor for this project was a bit tired, but TK's not about chopping up cars for the sake of it. The team see this as a logical development of the Aurelia, something that the Lancia factory could (and with certain aspects of the build, did) do in period.
You hear stories about many 1950s cars being beautiful to look at but terrible to drive, unreliable and uncomfortable. But Simon said that the Aurelia has always genuinely been a driver's car, and it was all down to Lancia's commitment to engineering. It had an incredible engine R&D department at this time, and each car had engineering drawing for the smallest of items. Everything was high quality, from individual castings up – it was all about understanding the car as a complete package. The Aurelia has almost perfect 50-50 weight distribution, even with the original V6 engine, which is quite an achievement.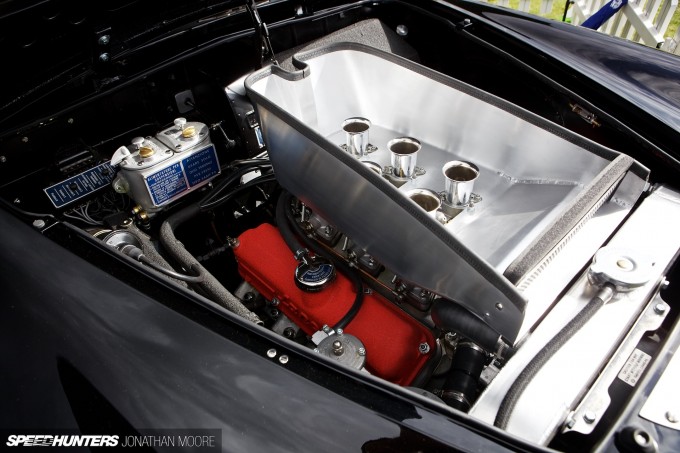 For the engine, TK installed a next generation V6 from the Flaminia Sports Zagato, the model that followed on from the Aurelia. It's a 2.5-litre unit like the original, but has been bored out to 2.8 litres. The new engine took quite some work to fit in, but out of the blocks it's producing 170hp – and the engineers expect at least another 10 with some further tweaking.
There has been some bespoke work carried out: obviously the glorious trumpets and pan, inspired by Ferrari and Lancia racers of the time, but also with a new engine pump and an alloy radiator with a built-in oil cooler. The red cam covers? Seemingly the only frivolous thing on the whole car!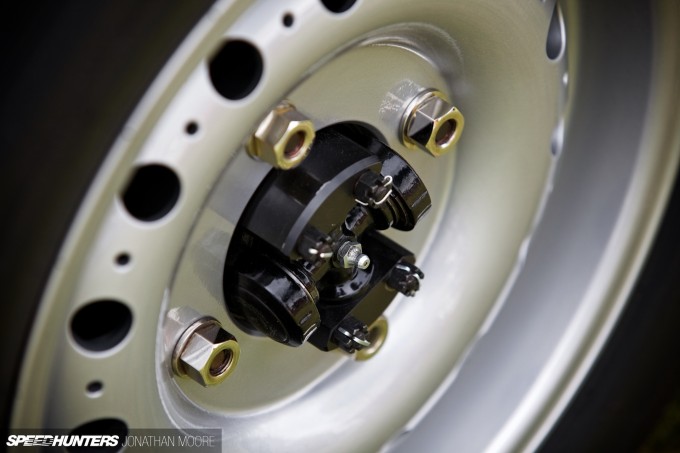 Lancias have never been known for flamboyant wheels – if a steel wheel could be balanced and efficient, then why bother with fussy things like wire rims. But TK decided to opt for something with a little bit more panache. It found a company that makes racing wheels in the style of the Jaguar D-Type that could fit any centre, and settled on those to complete the race-ready look.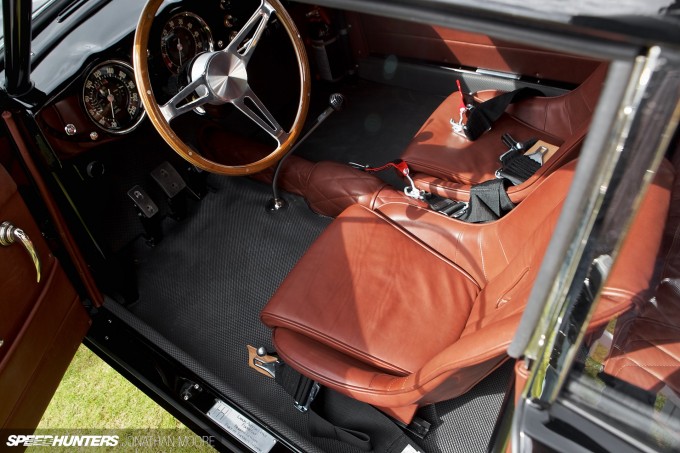 The cockpit retains a period purity with heritage style. It's quite stripped back, and feels like a classic competition car, especially thanks to the old-school harnesses and basic bucket seats. It also features the few elements which aren't authentic Lancia, one of which are those seats – they've been taken from a Porsche Speedster and then re-trimmed. All the material finishing is lovely: diamond-stitching adds a luxe feel, but nothing goes away from the practical feel.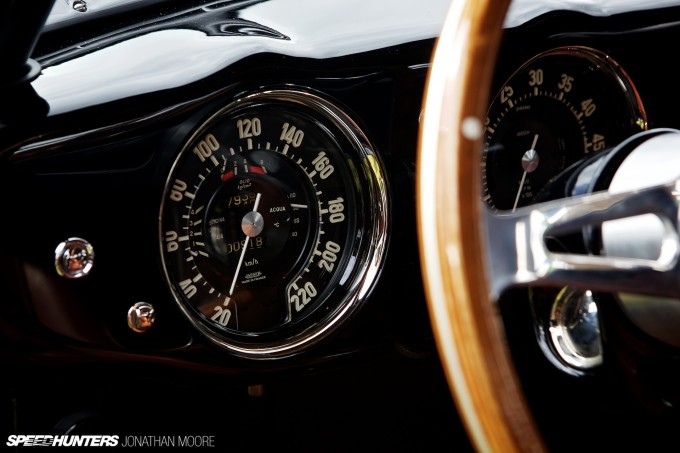 The beautiful Jaegar dials and all the switchgear are original, but restored and repainted for maximum impact. The wheel is Moto-Lita with a custom-machined boss – a Lancia emblem will be etched onto it. At first I didn't notice that it's also got a full rollcage in place, and a substantial one at that. It's painted to match the gloss cockpit finish, so subtle in appearance, and has also made the car incredibly stiff, which means handling is even better.
Learning about this Aurelia taught me more than just about its individual story though. This was as much a valuable object lesson about Lancia, a company much misunderstood and maligned, especially in the modern era. This Aurelia reminded me of the rich period that precedes the one I'm more familiar with – the Fulvia, Stratos and Delta rally cars, the ferocious Beta Montecarlo and LC racers – but that did just make the horror of the marque's current situation even more painful. Lancia is another of those marques that evoke pride in the faithful, but almost pity in everyone else – and that's really not fair.
On TK's website there's a page dedicated to its Lancia restorations, which says simply that 'We like Lancias'. I don't think that's true: this car shows that Thornley Kelham's passion is far deeper, and I think mine is now too.
Jonathan Moore
Instagram: speedhunters_jonathan
jonathan@speedhunters.com