Boutique Broadsides At Blenheim
If you're going to choose an appropriate backdrop for a concours d'elegance, then you'll have to go some way to rival Blenheim Palace in Oxfordshire, the new home of Salon Privé. It's the UK's premier boutique motoring event, Britain's Pebble Beach or Ville D'Este: a quiet corner of England dedicated to the most passionate and exclusive of car aficionados and their prized possessions.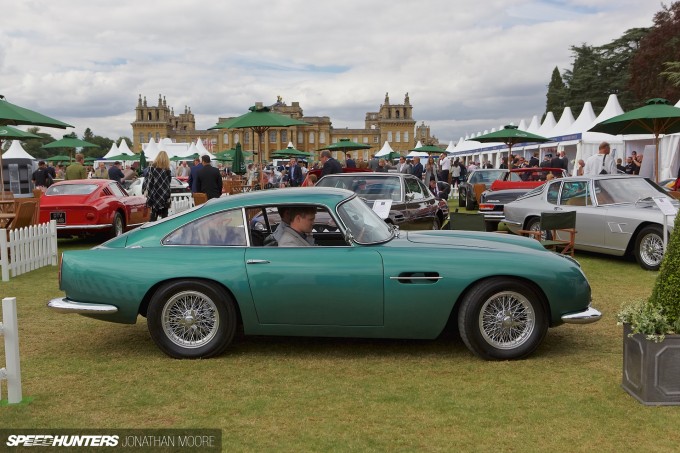 But the sounds at Salon Privé weren't just the gentle tinkling of champagne glasses and the judges' hushed discussions: the air was full of explosive noise, and the event all the better for that.
John Churchill, 1st Duke of Marlborough and the first resident of Blenheim Palace back at the beginning of the 18th century, was no stranger to the sound of firepower. A fighting man and victor in the Battle Of Blenheim of 1704 after which this magnificent house is named, I like to think that the rumble of horsepower that reverberated around the grounds for the four days of the Salon would have been reassuringly welcome.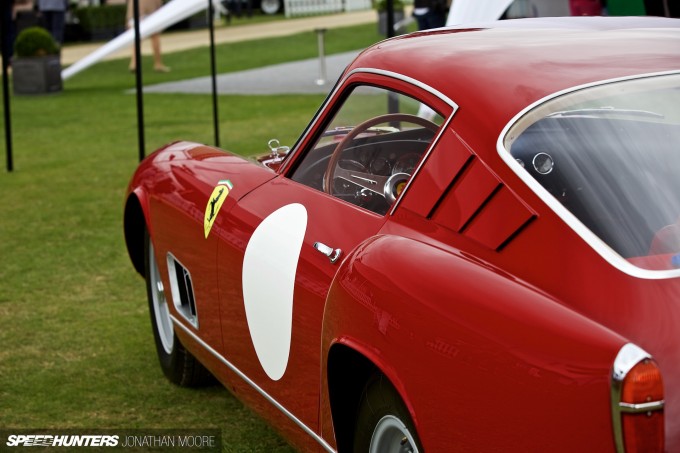 There might have been a garden party atmosphere, but really that just gave this event a more informal and welcoming feel. From the latest hypercars back through the decades to bona fide classics of glorious eras past, Salon Privé delivered inside and out. Sure, access to the concours itself was ticketed and pricey – but then you don't just waltz into Pebble Beach or Villa D'Este on a whim either. Even general access to the Palace delivered a wealth of cars to take in, with the forward parking a show in itself.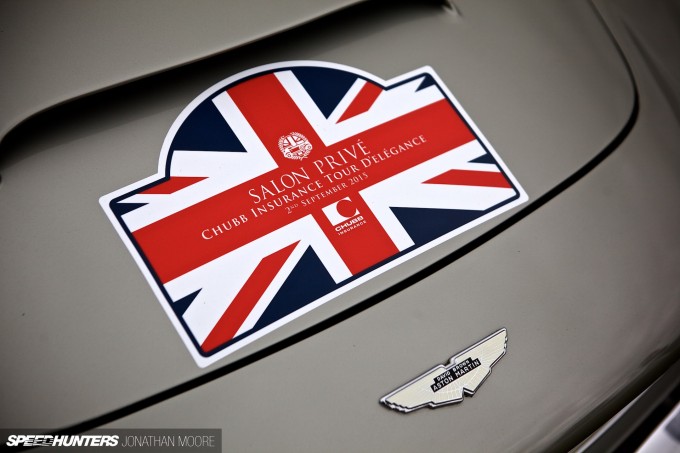 This was the first Salon Privé to be held at Blenheim, having taken place at Syon Park in West London for the last seven years and Fulham for two before that. It was amusing watching regular Palace tourists arrive, gasping their way past the lines of hundreds of parked supercars after having driven past more of the same buzzing around the local roads, perhaps thinking this was normal for England!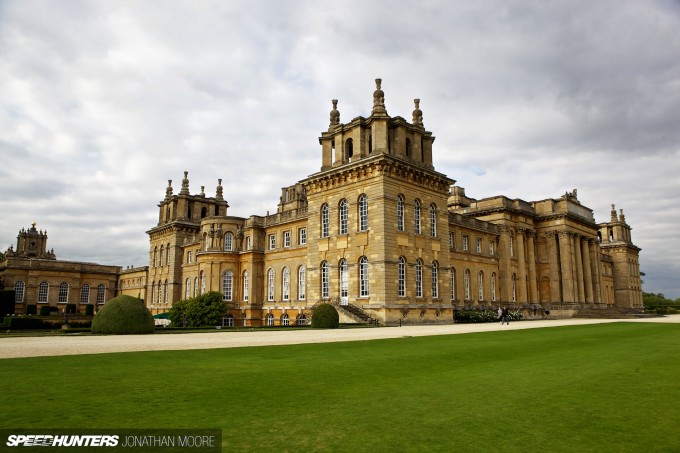 Designed in stunning Baroque style, the spectacular and sprawling palace is a World Heritage Site, such is its importance in both historical and architectural terms. Understated it is not…
For any of you with a history bent, then you might have spotted the surname of the Duke – this was also the birthplace of the legendary British prime minister Winston Churchill, who was the cousin of the 9th Duke Of Marlborough.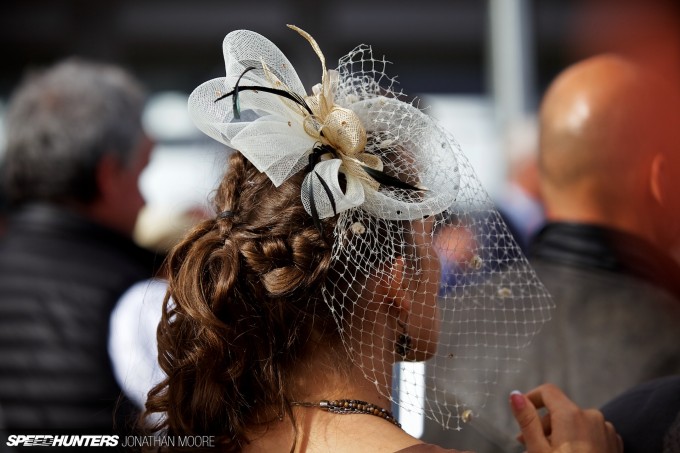 As with many events like this, there was an element of it being a social gathering as much as a car show, but that's par for the course. It's not quite the same as something like the Goodwood Revival (which is just a good excuse to dress up as opposed to out and out extravagance), but bravely stay away from the free champagne tents and you'd find the same oil running through people's veins as at any car event.
The friendliness and openness of absolutely everyone I spoke to was truly exceptional, even though a guy laden down with cameras was unlikely to be in the market for an F40 or million-pound, thousand horsepower electric hypercar.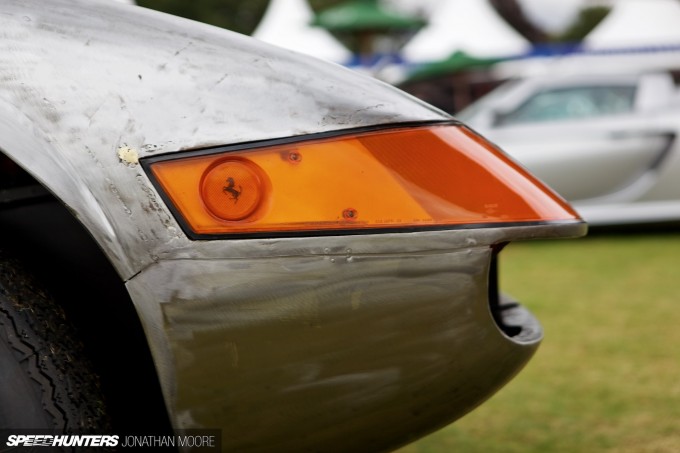 The real attraction of Salon Privé was that it was far more multifaceted then you might expect. Certainly, a concours is always going to be stacked with certain kinds of pristine car, but here there were plenty of firms not just buying and selling, but also offering restorations in progress and bespoke coachbuilding services. I found the soon-to-be-swans just as exciting as the shining concours entries.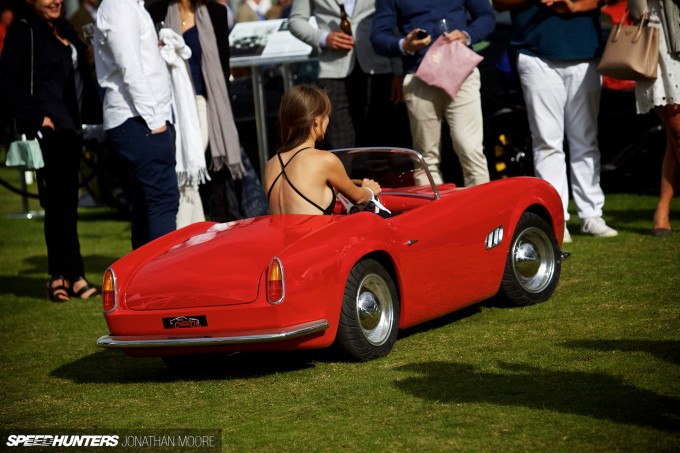 That said, of course the badges here were all exclusive and evocative: Aston Martin wings, Ferrari's prancing horse and Lamborghini's raging bull dominated, and even the toy cars carried the same logos. There was almost a constant round of people lapping the lawn in one of Junior Classics' awesome miniature recreations!
Okay, maybe these weren't exactly 'toys'. Reading the info panel, they can top 45mph even in basic form – and a terrifying 100mph if tuned up. For one per cent the price that some of the real things go for. It's almost a bargain – and from a distance you could always play the perspective card, so accurate are they!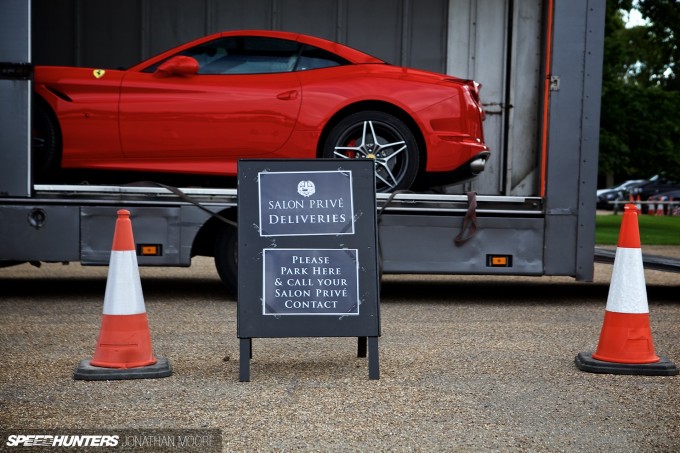 That was the overriding emotion at Salon Privé: there was a true sense of fun to tap into. It was actually less serious than a lot of regular car club meetings I've gone to… Driving out on the evening of the first day, I had to stifle a laugh at the fact the deliveries area was taking in not catering supplies but a whole forecourt's worth of Ferraris.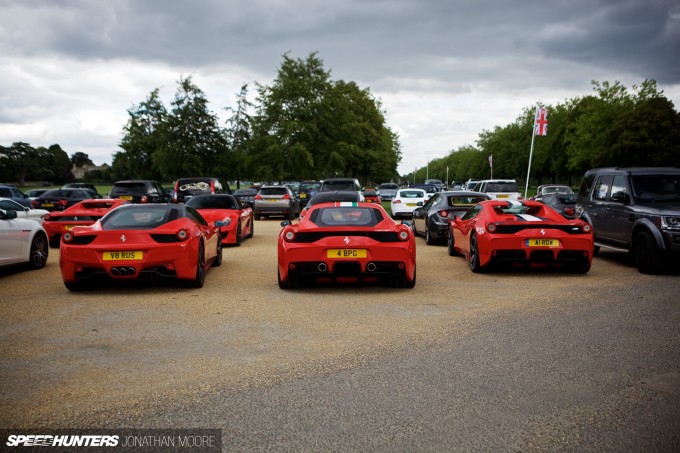 There's often a bit of backlash against supercars, and certainly we don't tend to feature off-the-shelf machines here on Speedhunters. However, sometimes we need to just get over ourselves. Even approaching the imposing main gate to the palace, you walked through a forward parking area that was absolutely awash with supercars, so many that I was reduced to a giggling wreck at the glorious excess on show. What, 30 or more Ferraris, and countless other marques.
It was a truly spectacular display that transported me back to the sense of magic I used to feel as a kid at motor shows – proper, pure joy when faced with overwhelming quantities of incredible cars.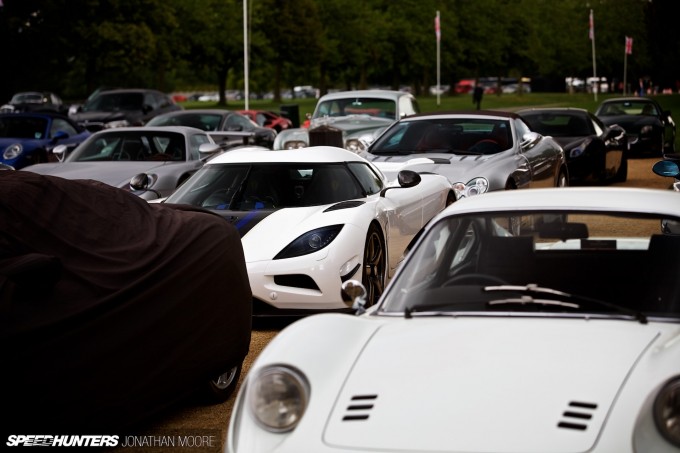 It was still a car park. Just an evolved car park that you'd have to lack a soul not to enjoy even a little. A couple of Koenigseggs. A duo of Dinos. A batch of Bugattis. A pack of Porsches. That phalanx of Ferraris. Insane numbers of cars with an insane combined value, that on their own could keep most people satisfied even before you went through the palace gates.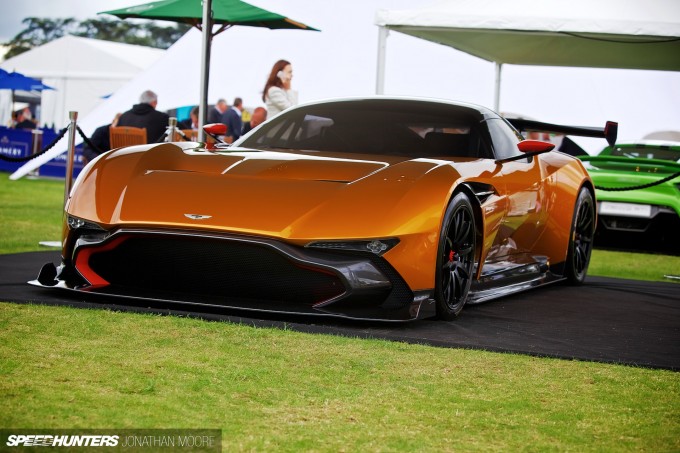 But then going through the gates took things to another level. Sauntering across the huge lawn of Blenheim to the tented corral of the Salon, as soon as you emerged inside the paddock there was truly a hypercar feast for the eyes. Pagani, McLaren, Zenvo, Koenigsegg, Aston Martin.
Maybe it's just a vein of personal parochialism, but I appreciate the ethos behind the Aston Martin Vulcan so much more than many other track-only hypercars. Yes, the price tag is obscene, and yes, you can only drive it on a track, but I hold out hope that one of the 24 built might make its way into an actual race, rather than just being chaperoned around a private circuit behind closed doors. I want to believe.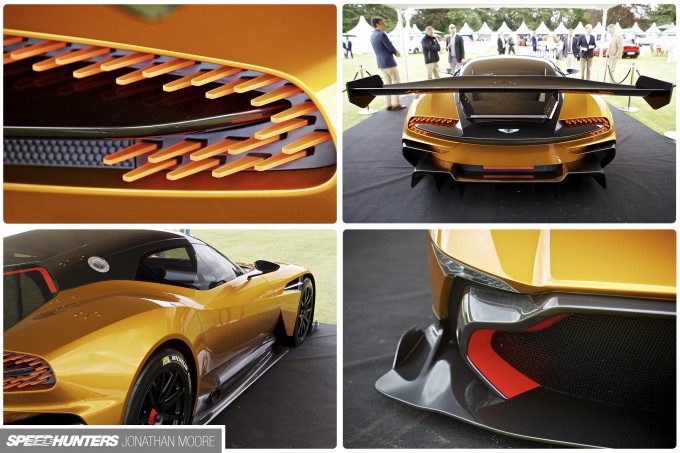 It's what I love about Jim Glickenhaus' SCG003 project: an insane road car deliberately developed to be able to race against its peers. Otherwise, sure, I'm sometimes on the side of apathy with the hypercar phenomenon – though I suspect for different reasons. I don't hate the excess or the cost at all, just that they're used in the wrong place.
I haven't heard the Vulcan's 7-litre V12 roar – very few have as yet – but good grief I want to. Side exhausts, a straight-cut sequential and that V12? But I want to hear it on track. At Le Mans even? In my personal dream-space, this is the kind of car that will be the next generation of cutting-edge machinery at the front of the iconic 24 Hours. Then again, alongside the pair of cars I'm about to show you, the Vulcan is almost an anachronism! Only 800hp? And only 800hp created by blowing up petrol and air? How terribly vulgar…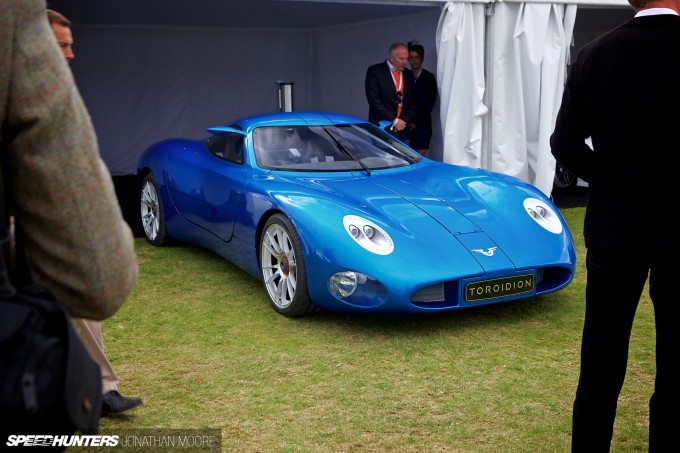 My dream with the Vulcan is the reality with this car, the Toroidion 1MW. I had a fascinating talk with the Finnish company's incredibly modest founder and designer, Pasi Pennanen, who was quite matter of fact in saying that he was deliberately designing a car to win Le Mans. Right. Let's digest that. Not only that, but you can forget all that talk of hybrid nonsense, of fuel efficiency or of small cap turbos. This is the proof-of-concept in the carbon flesh: a one megawatt EV car powered by four hub-mounted electric motors (a pair of 200kW at the front and a pair of 300kW at the rear) delivering 1,341hp, with a top speed of 450km/h (yes, 280mph) and with a 515km range (320 miles).
The performance figures just make combustion-engined cars redundant. There's simply no argument any more against EVs – or at least not sensible ones. Sure, I love wailing V12s as much as anyone, if not more, but this thing is in a different league and it's not even fully developed yet! The 1MW is insane.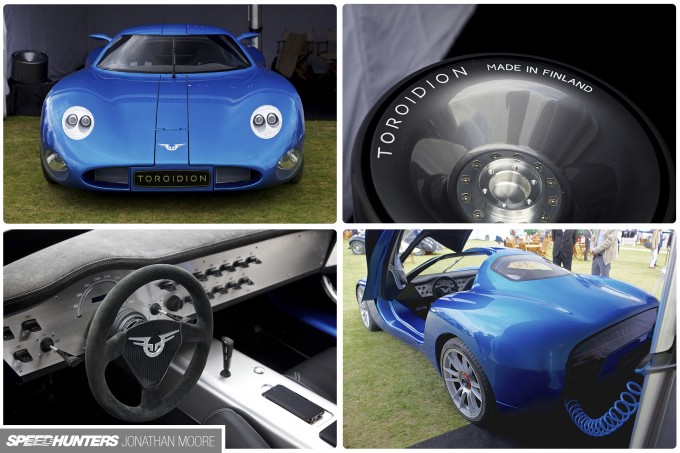 The car is already sub one ton, and the aim is to get it down to the low 800 kilos mark. It's been designed for racing against (read: battering into submission) modern LMPs, but is still drivable and practical. But it's the competition concepts that are incredible. It features a quick-change battery system where – get this – you drive into the pit-lane, thumb the button that opens the front flap and drive onto the new battery, which is mounted on a platform in the pit-lane. As the new battery is inserted, the old one is ejected out the back. You don't stop. Tyres and driver, sure, but 'refuelling', for want of a better word? Done without stopping.
Following this car's development over the coming year will be fascinating.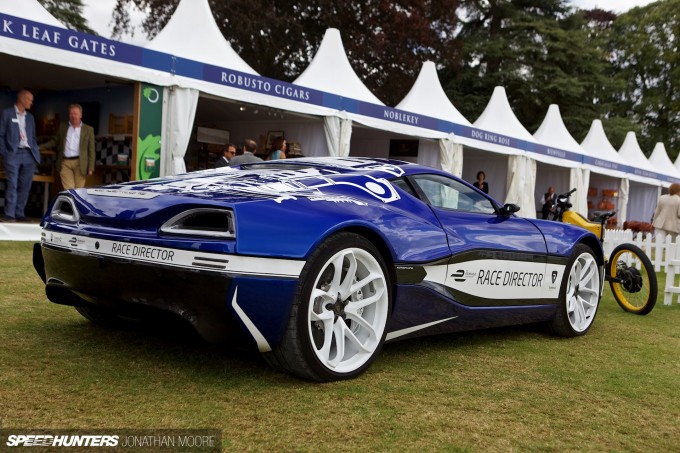 Similarly, there was the Rimac, another left hook into the world of the EV hypercar. The company are Croatian, so perhaps another surprising entrant into the market, but that's also what's so refreshing. These are people demonstrating pure passion and commitment, unbound by tradition or, let's face it, any kind of domestic automotive industry to call on. They're running on raw talent, learning as they go – and learning fast.
Rimac has developed its own bespoke motors, after the owner trashed the engine in the old E30 M3 he was using in drift and circuit races back in 2007 and decided to electrify the Bimmer in every sense of the word. They might not be well known in the wider world, but these guys are EV masters. They built the batteries for the Direct Drive system in Koenigsegg's One:1 and also the propulsion unit for Monster Tajima's recent Pikes Peak e-Runner machine.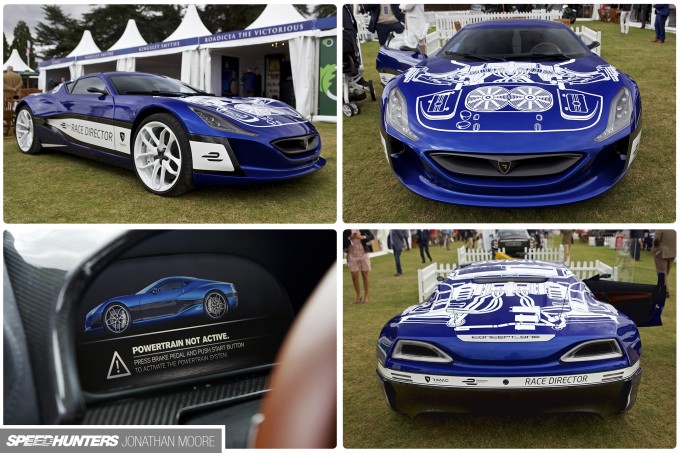 The Concept_One shares similar crazy stats with the Toroidion: 1,088hp and 1,600Nm of torque; an all-wheel torque vectoring system that dynamically allocates power around the four wheel-mounted motors; motors with twice the power density of an F1 engine; instant, maximum torque from zero speed upwards; a dual-gear system on each rear motor for even more punch…
The Concept_One was used as the course car for the recent debut season of Formula E: in my opinion, seeing a pack of these running around would have been both more relevant and far more exciting than the car-swap single-seaters actually raced…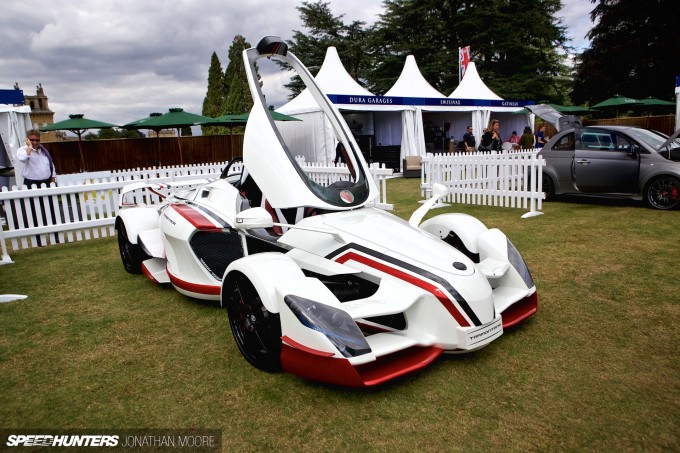 It would be madness to suggest that the Tramontana is any less out-there just because it uses a 'normal' powertrain. Like the Vulcan, it's a bespoke piece of engineering, created to give the driver the ultimate experience. The Spanish company is based in Barcelona, and hand-make each car around a carbon monocoque to the customer's requirements. This road-legal model features tandem seating in an F1-inspired body: it's actually easier to get into and more refined than you might expect, but then you're sitting inside a missile.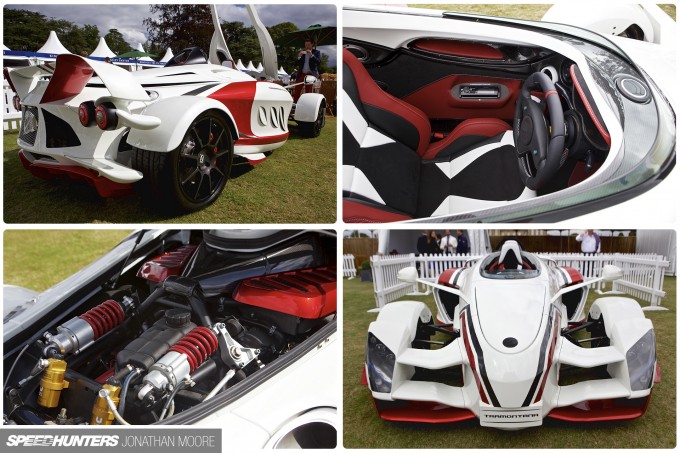 Traditionally pretty it might not be, but this is about hardcore performance and agility. The long wheelbase creates a stable platform for its twin-turbocharged 5.5-litre Mercedes V12 engine and extreme aero to do their work. That V12 can be tuned-up to make 986bhp, matching a P1… The cockpit can be enclosed in a fighter-style canopy, though the customer for this car wanted the full gale-in-your-face experience.
Bespoke Builds & Classic Coachbuilding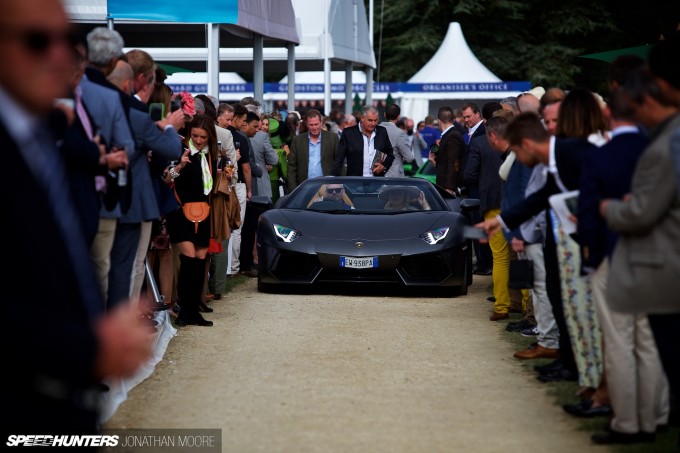 Whilst the centre-line of the Salon invariably featured a corridor of people packed around the rotating drive-through of concours or supercar entrants, the outer perimeter was a calmer place where you could spend your time talking to the various exhibitors.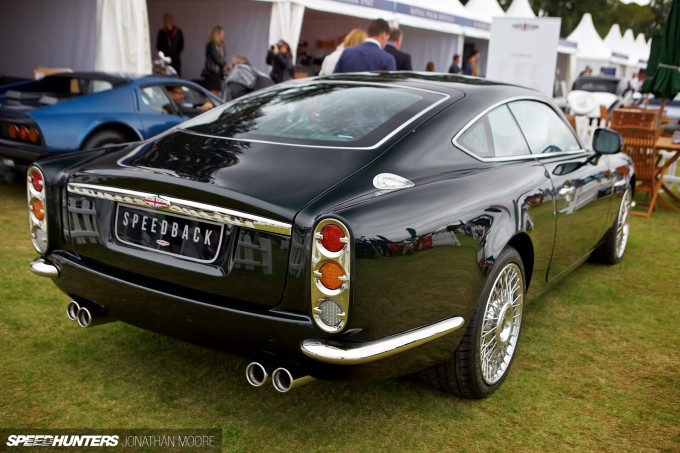 As well as the particularly cutting-edge machinery already mentioned, there were plenty of other creations to enjoy. David Brown Automotive's beautiful supercharged V8 Speedback GT evokes a DB6, but I think effortlessly translates it into the 21st century. It's based on the Jaguar XK platform with a traditionally coach-built body. The name is completely coincidental: this David Brown is no relation of the Aston Martin founder, though what other marque was he going to style this creation after?!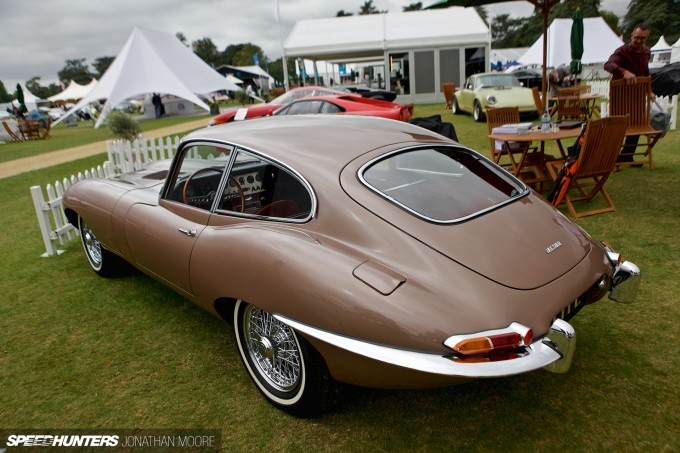 Jaguar E-Types need no introduction. This '61 Series FHC was freshly restored to factory condition by New Forest Classic Cars, using all period-correct Jaguar Heritage Certificate standard. The swooping rear of the coupé surely makes this the most beautiful of a blessed line.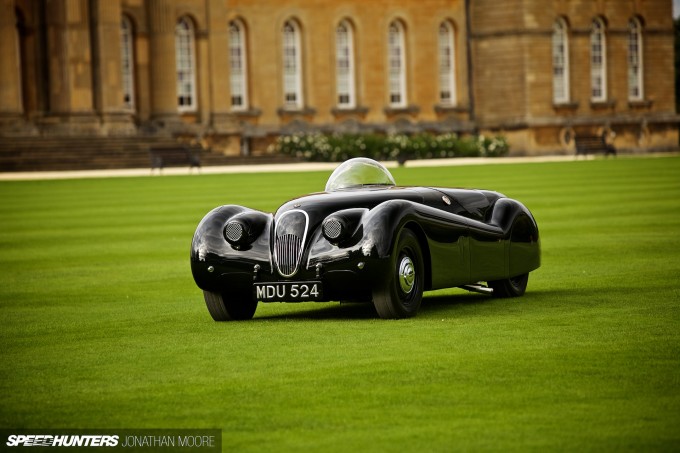 Classic Jags were always about performance, and this XK120 Jabbeke from 1952 was the ultimate speed machine of the time. This faired-in, bubble-cockpit Big Cat set the Land Speed Record in 1953 with a top speed of 173.159mph on Belgium's Jabbeke motorway. It's the only Jag to hold an LSR record, recently exhaustively restored over an 18 month period by the experts at JD Classics.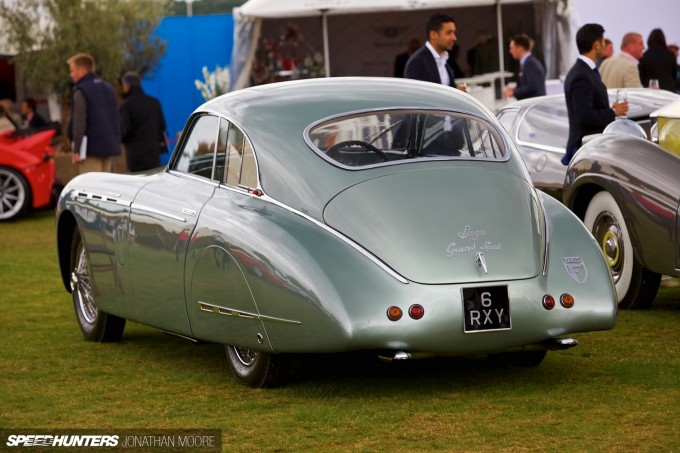 The Concours itself was split into nine categories, from beautiful pre-war Art Deco cruisers through iconic racing bruisers of the '70s. The XK120 Jabbeke shared the same Post War Coachwork class as this stunning Talbot Lago T26 Grand Sport Coupé.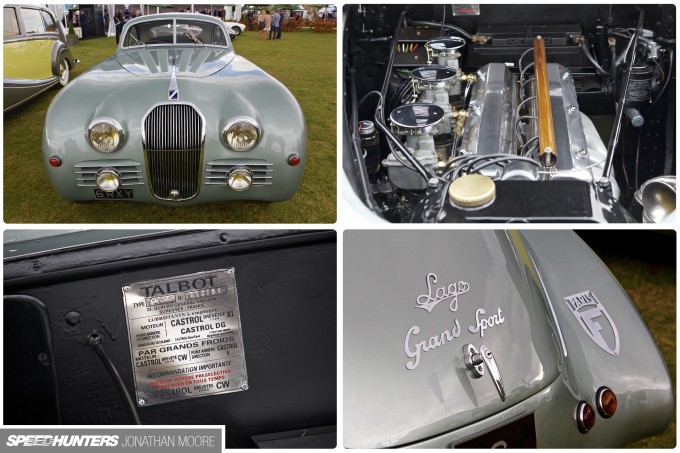 Anything with the name Lago attached is invariably a work of art, and the 1950 T26 is no exception. The appliqué finish of Parisian coach builder Jacque Saoutchik made the car shimmer even under a cloudy English sky; this is one of the few right-hand drive examples of just 36 cars built in total, and the owner drives it regularly. Although it might not be pushed hard now, it's amazing to think that these stylish cars were raced at Le Mans in period.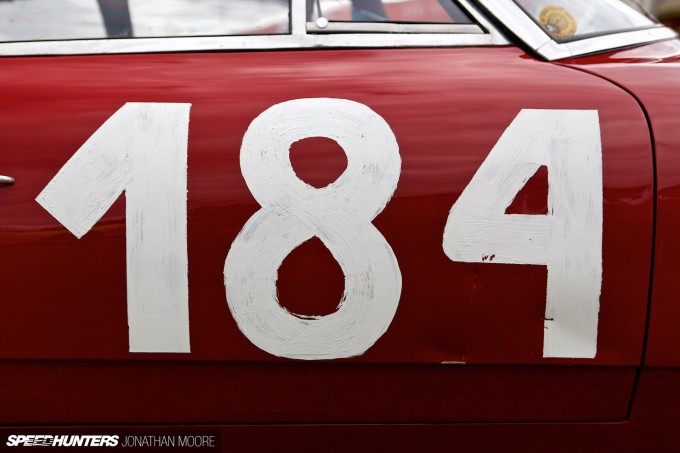 As much as I love the glorious hand-built detail of classic cars, I equally enjoy seeing the more rustic approach – especially on competition machines. Class C was for Competition Cars, and is a good excuse to kick off a red theme for a couple of paragraphs.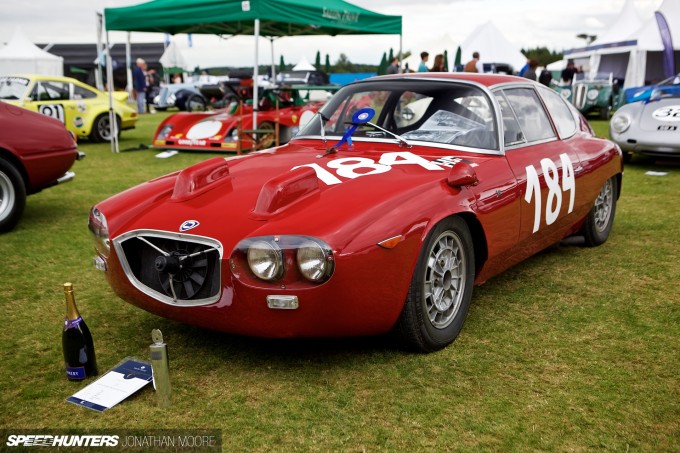 The hand-painted numbers were on the side of a Lancia Sport Prototype Zagato: a one-off factory racing machine from 1964. With a lightweight body, chopped roofline and shortened wheelbase, the four-cylinder boxer engine was fronted with a gaping nose fan, with elongated carb trumpets fed by the two bonnet intakes. This car was in virtually original condition, with just light restoration work to keep it in running condition.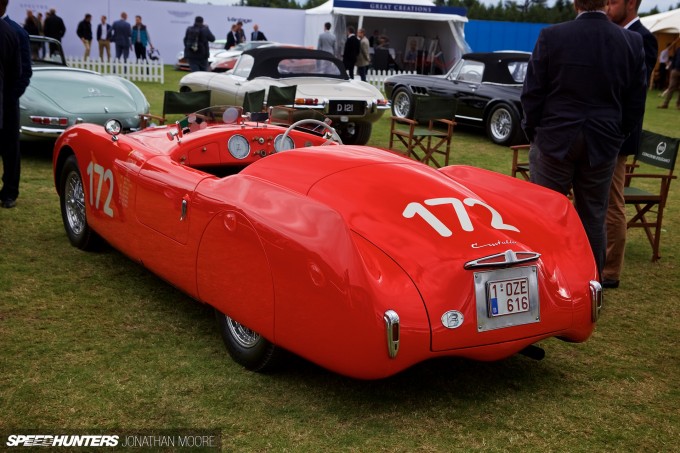 Cisitalia is another name people might not be familiar with, but it's a treasure in the hearts of Italians. This was one of three works 202 SMM Nuvolari Spiders entered into the 1947 Mille Miglia: its aerodynamic body and light weight made up for its small 1-litre engine.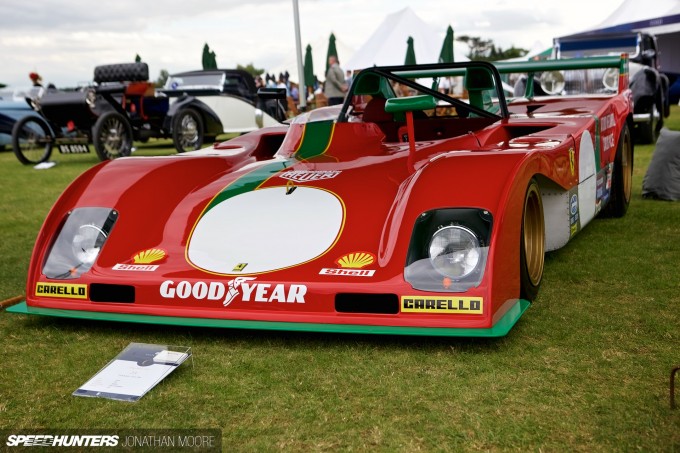 Far more brutal was this Ferrari 312PB wedge racer from 1972: it won three classic enduros that year, and was part of the that was Ferrari's last ever entry in a World Sportscar Championship race in '73. Group 6 machines were ferocious, taking the bluff look of CanAm and matching it with smaller but still mighty engines. If you like your racers hardcore, Group 6 is something to check out.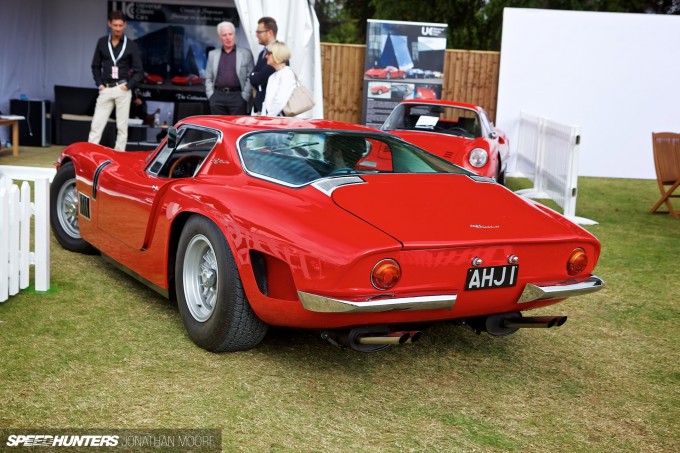 The Bizzarrini 5300GT Strada from 1966 is another utterly beautiful example of '60s design. It was penned by ex-Ferrari chief engineer Giotto Bizzarrini: one of those mash-ups between graceful European lines and monstrous American V8 power. Unbelievably, this car was found rotting in a field, rescued and restored to its right and proper condition.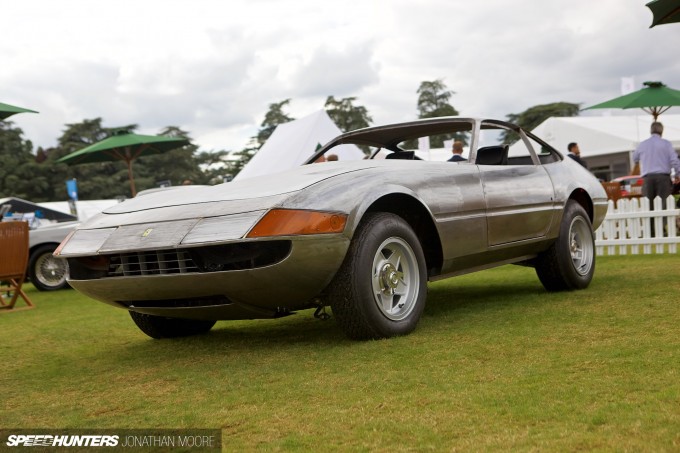 Like many of you, I dream of finding one of those mythical barns or fields you hear about… This 365 GTB/4 was actually brought back from Singapore: it was raced in the '70s by the local Ferrari importer, muscled-up with Group 4 bodywork.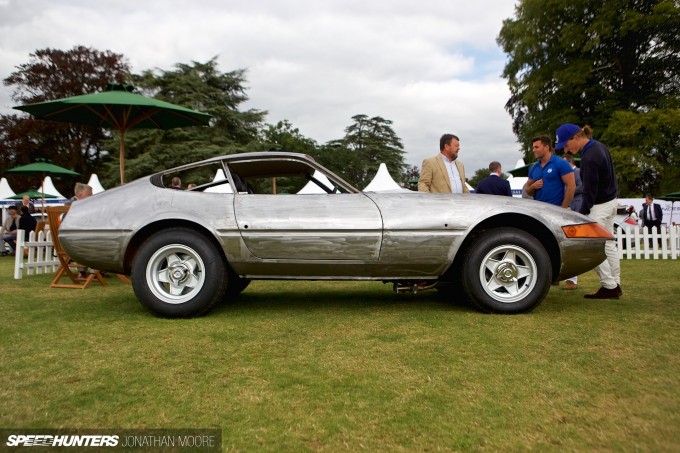 Restoration firm Britalia is currently putting the Daytona through a painstaking rebuild to road condition, and displayed it at Salon Privé in as-is condition – showing off all its racing bruises. It's riding high on brand new shocks, as it's been up on stands for so long and hasn't settled down as yet.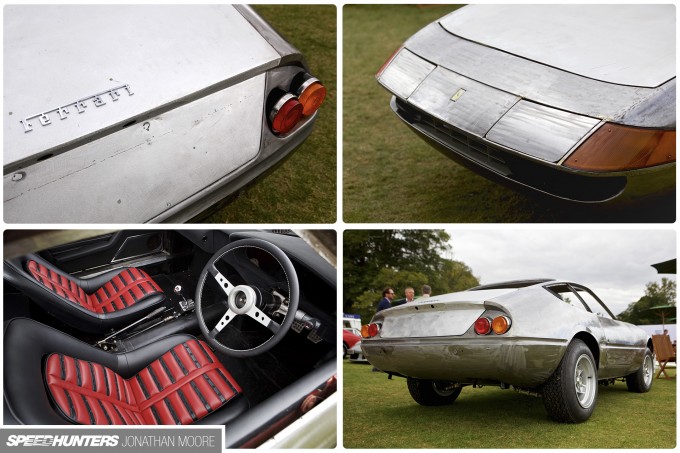 The plan is to return it to factory condition as it was delivered back in 1972; any new owner will be getting not just an iconic Daytona, but one with an incredible history. As with the MG GT3 project I've been covering, part of me would like to see this Ferrari retain its bare-metal look!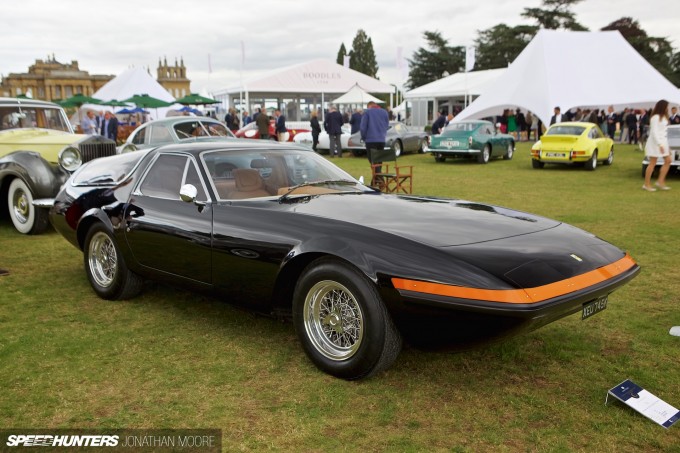 After seeing the Vignale 330 GT Shooting Brake at the Goodwood Festival Of Speed, it seems the automotive gods are drip-feeding me the cars that I mentioned in my feature back in February but never expected to see. Salon Privé served me up not just another rare classic but another Daytona: the Panther Westwinds built 365 GTB/4 Shooting Brake from 1972.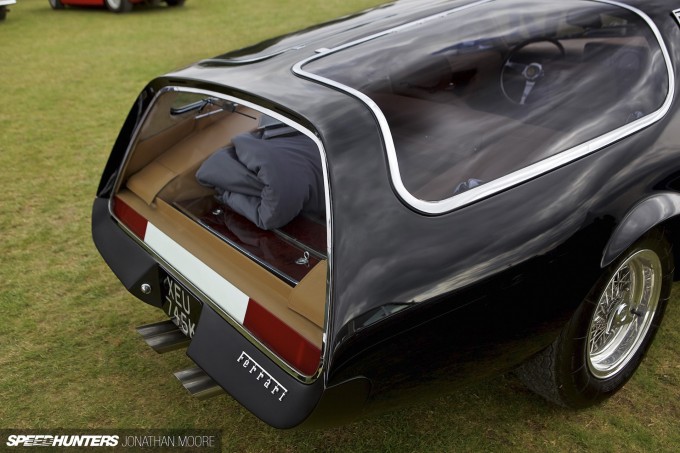 It's another one-off – you just don't expect to see these cars in the flesh. From the B-pillar backwards it's anything but standard, with a huge double expanse of curving glass framing the rear. You could think 'hearse', but I prefer to consider it more menacing than morbid…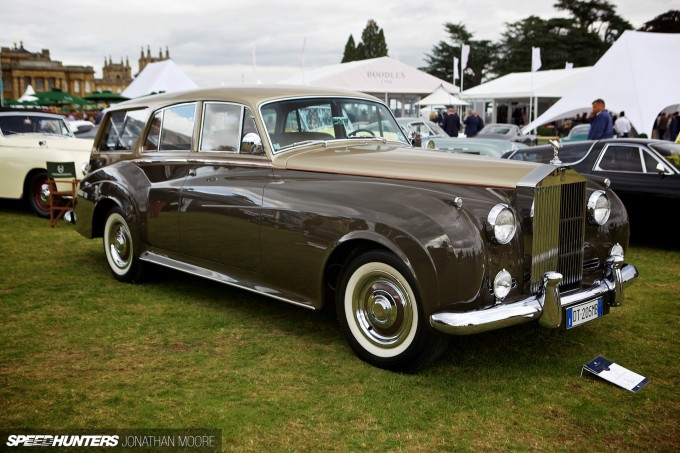 Now, making a Ferrari into an estate might be one thing, but adding a glass-house to the rear of a huge 1959 Rolls-Royce Silver Cloud is something else. HJ Milliner converted this big boat into an ocean liner.
Supercar Bulls On Parade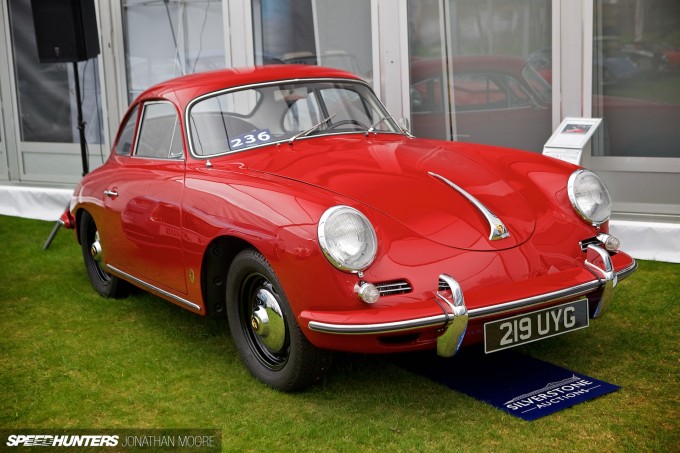 I'd never seen so many modern Porsche Carrera GTs and 918s in one place – you know things are a bit crazy when you almost stop paying attention to insane supercars – but at the same time my heart always lies with older fare from the iconic marque. In the auction marquee was this 1960 356B T5, Porsche's first production model and the progenitor of all that would follow. Its condition has been helped by the gentle Californian sun rather than rough European winters.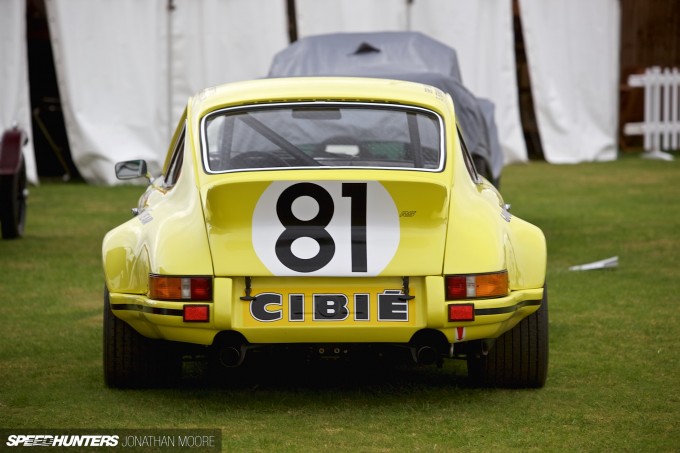 Bigger isn't always better – unless it comes to a 1970s 911. Add an R to the RS and you're adding more than a badge: you're adding epically wide wings and perfect poise. This 1973 RSR competed in the IMSA GT series in the States – the names on the roof included Elliott Forbes-Robinson, which is another name well worth looking up if you're not familiar with his exploits.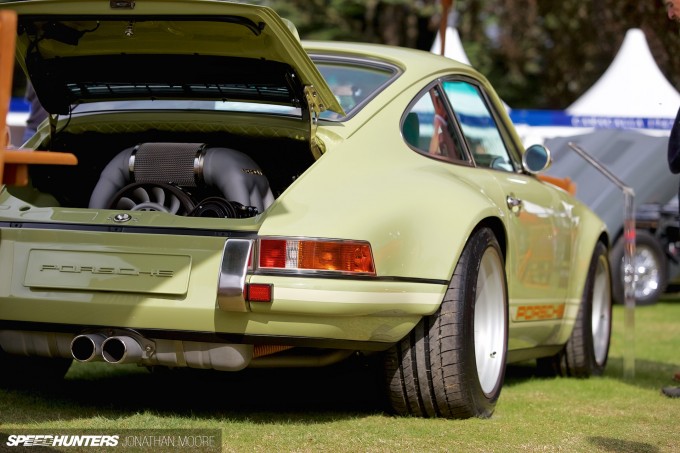 That wide-body look was echoed in this carbon-bodied Singer reinvention of a 1990 4-litre 911: we're finally beginning to see an increasing number Singers in the wild over here in the UK.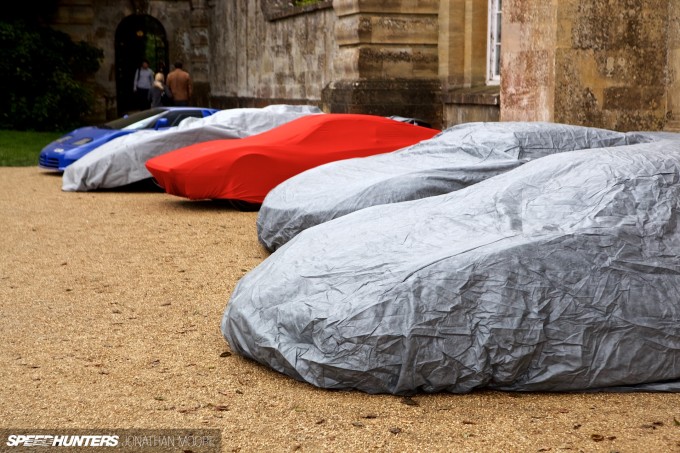 So inside the Salon was one thing, but as I mentioned you didn't have to possess the magic ticket to get a flavour of the event. Standing guard outside the imposing main gates was a host of cloaked machinery, outlines clear under the covers.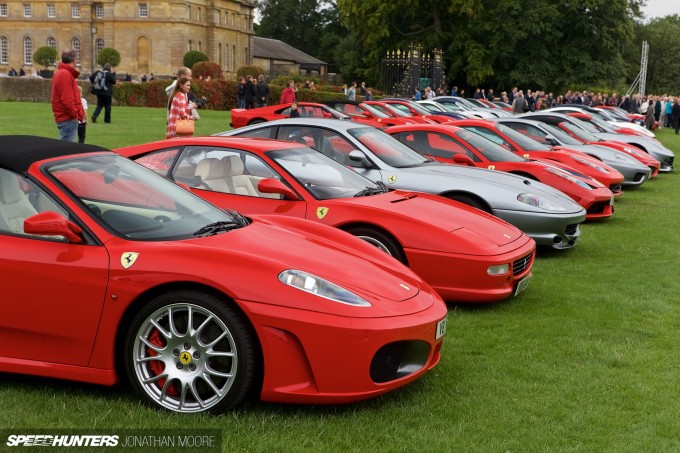 Their arrival was the precursor to Saturday's Pirelli Prestige & Performance Competition: a stunning collection of hundreds of guest supercars alongside a public concours in the expansive main courtyard of Blenheim Palace.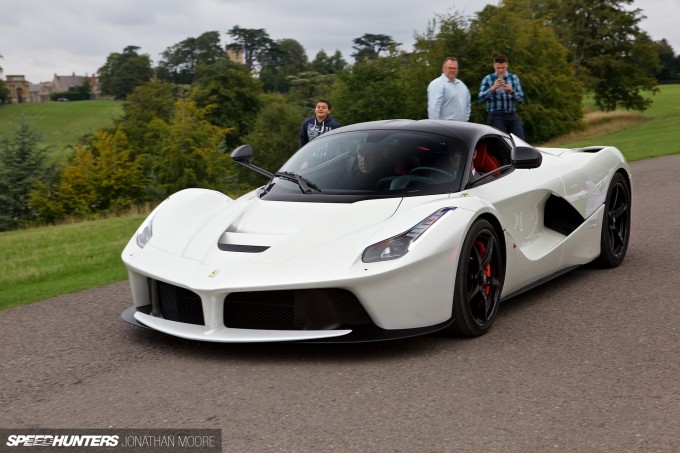 Pirelli might be suffering under the fickle will of the Formula 1 show, but it supplies bespoke tyres to around half the supercar and hypercar market – the LaFerrari and McLaren P1 GTR both wear its rubber. There are now over 1846 bespoke homologations in operation around the world for Pirelli tyres: that's a fact that seems much more exciting and relevant than than its current foray into the F1 circus…
So, as mentioned earlier, this was where you could let yourself be caught up in the moment, let the cynicism melt away and delight in watching groups of adults and kids alike running after a LaFerrari or whatever was coming past.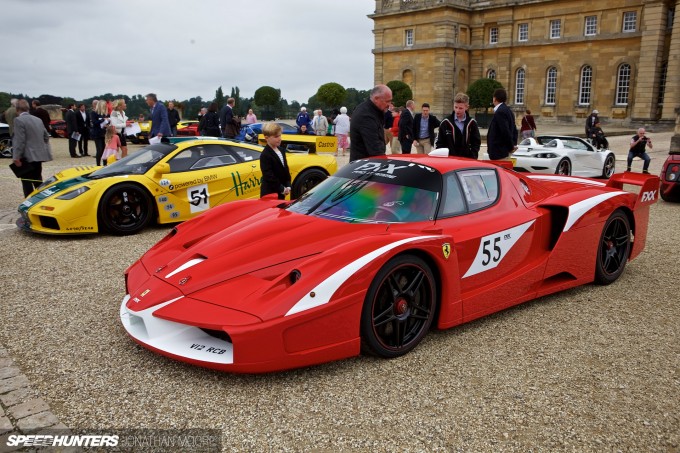 With a constant stream of guest cars filling up the approaches to the Palace like a besieging army, the courtyard paraded an incredible advance guard. A Ferrari FXX next to a McLaren F1 GTR? Perfect.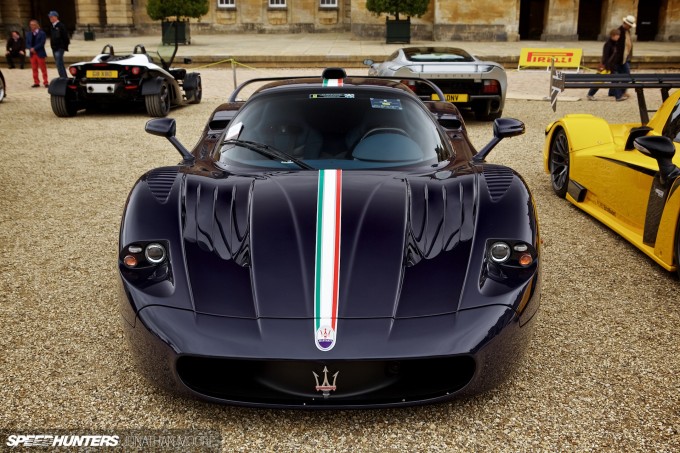 Next to them, the cheeky homologation special that was the 2007 Maserati MC12 Stradale, backed up by a Jaguar 220 and Radical RXC 500 Twin Turbo amongst others.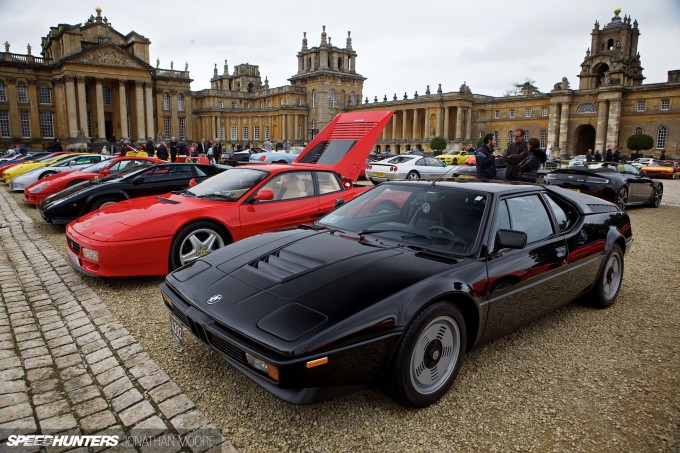 My two favourites were these, however. Firstly a 1981 BMW M1, one of just three black examples, but for me more importantly the car that led to the M1 ProCar series: that's another thing to add to your post-reading homework.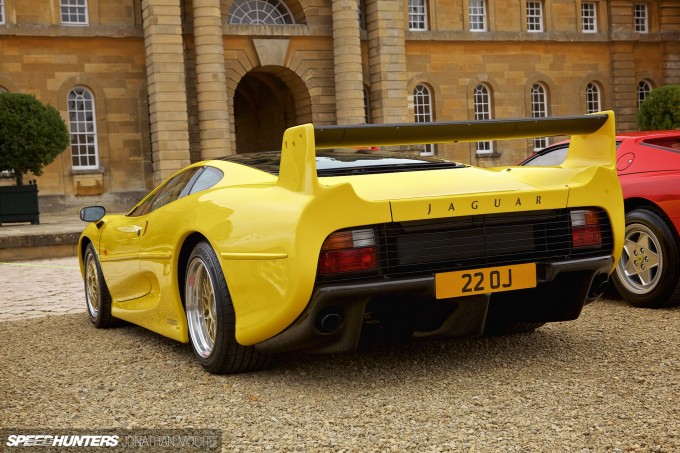 Finally, a yellow bombshell: a Jaguar 220S from 1993, one of just six road cars built, with three further 220s converted for GT racing. As if a standard 220 wasn't extreme enough, the S had stratospheric performance: a top speed of 228mph, 680hp from its twin-turbo V6 and a savage weight reduction programme with carbon panels replacing the standard aluminium.
Jonathan Moore
Instagram: speedhunters_jonathan
jonathan@speedhunters.com
Cutting Room Floor