FC3S Straight Shooter
I think the key to happiness in life is simple: ensuring that reality exceeds your expectations. The reality of my recent trip to the tropical island state of Okinawa, about a three-hour flight south of Tokyo, was that typhoon winds and rain replaced my expectations of bikinis and sun-soaked beaches. When it came to cars however, my expectations were torn to shreds, thrown out and made completely redundant several times per day.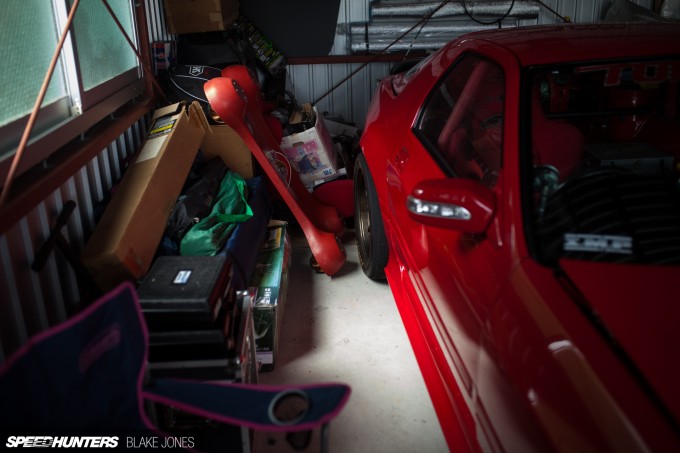 I honestly didn't know what to expect when the roller door was lifted to the small shed at the back of a used car lot, but any concerns were dashed when I saw the dappled light falling across an expertly-blistered guard stretched over well-used Hoosier slicks.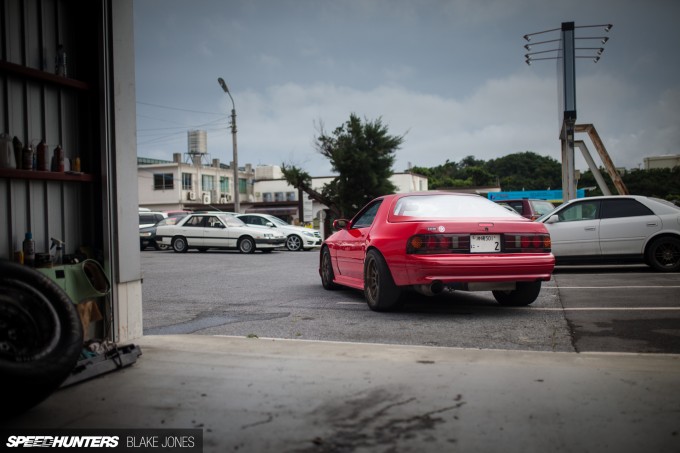 Drag racing in Okinawa has been in serious decline in recent years, which mirrors the situation in the rest of Japan. The island's only drag strip was shut down last year due to development pressures, and now any quarter-mile enthusiast who wants to race needs to load their car onto a ferry bound for a nearby island, which is both a costly and time-consuming exercise.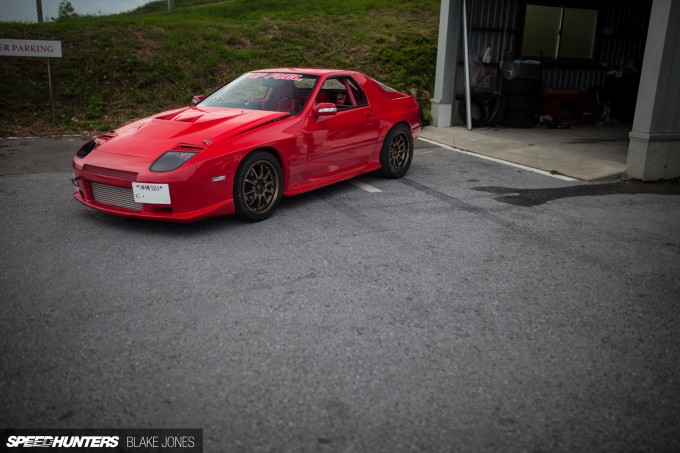 The owner of this car, Ken, has quite a storied history of racing rotaries in Japan and the US, and now as an established business owner he's started to build a seriously-enviable stable of rotary-powered racers. In fact, the cars I shot are merely the tip of the iceberg. Ken's not prepared to let Okinawan drag racing die a quiet death – he wants to inject the excitement and passion back into the local scene one crazy rotary at a time. That's something I can definitely get behind!
Hilariously, one of Ken's staff told me the boss' preferred method of stress relief is taking his red FC for a quick blast on the local roads, then tucking it back into the garage before the neighbours have time to realise what just hit them. I guess those license plates do come in handy…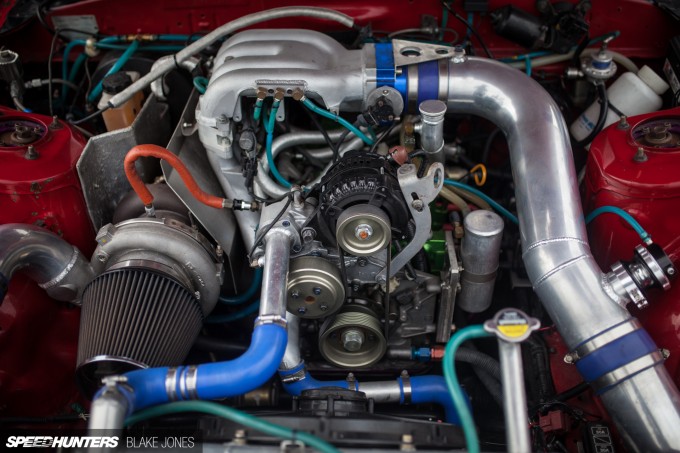 It's always interesting popping the hood on a rotary-powered Mazda, and it's also easy to forget just how small these engines actually are when you get down to the housings. Beneath the web of piping is a bridge-ported 13B featuring goodies such as lightweight rotors and low-friction ceramic apex seals, not to mention an AEM water/methanol injection system.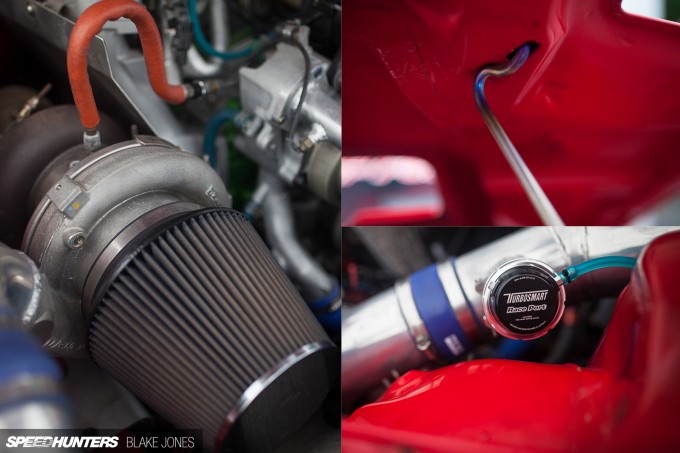 Providing positive pressure is a Garrett GTX4202R turbo running a TiAL wastegate and custom piping to and from the huge front-mounted intercooler. It was also great to see a little bit of Australia under the hood in the form of a Turbosmart Race Port blow-off valve. All up, the engine package is good for 500hp on the current high-octane pump gas tune. Oh, and how great is the titanium bonnet/hood prop!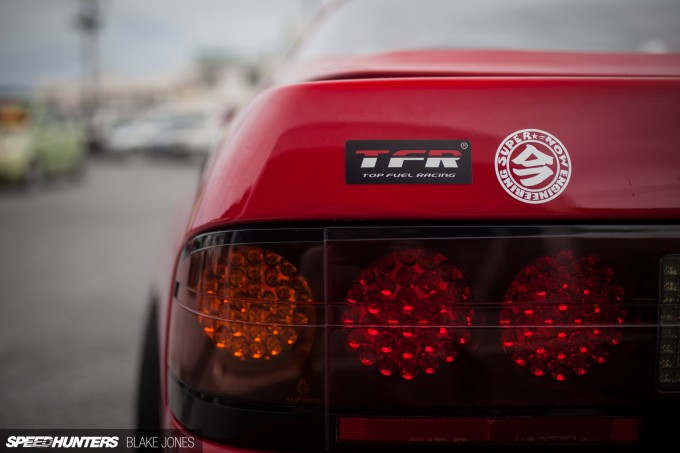 Top Fuel Racing (TFR), a workshop based on Japan's mainland mainly known for its rotary time attack builds which often run sub-60-second laps at Tsukuba, is responsible for most mechanical aspects of the FC3S's current state. When Ken talks about TFR it's akin to hearing a religious convert speak of a preacher, and I guess that only makes sense considering rotary engines are powered by a mix of Illuminati-shaped componentry and voodoo magic. Jokes aside, TFR is the domain of one Toru Kumaki – owner, mechanic and tuner, and these days is the only man Ken trusts to build his race cars.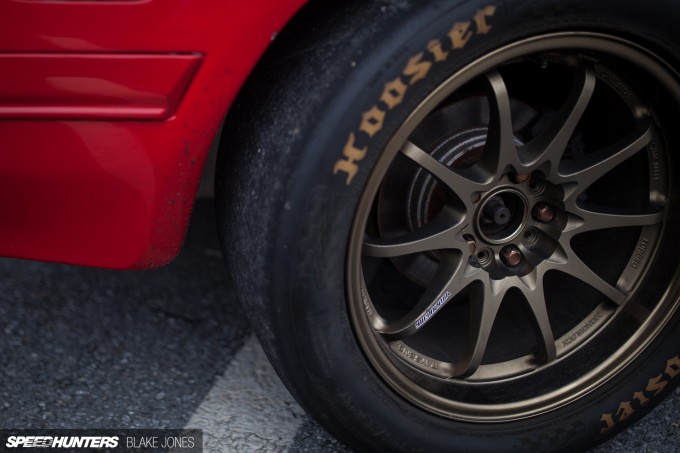 Ten-spoke RAYS Volk Racing CE28Ns are usually associated with time attack builds, but here they look the part wrapped in Hoosier slicks. Stock discs and callipers remain at the rear, because as we all know, brakes are only good for slowing you down.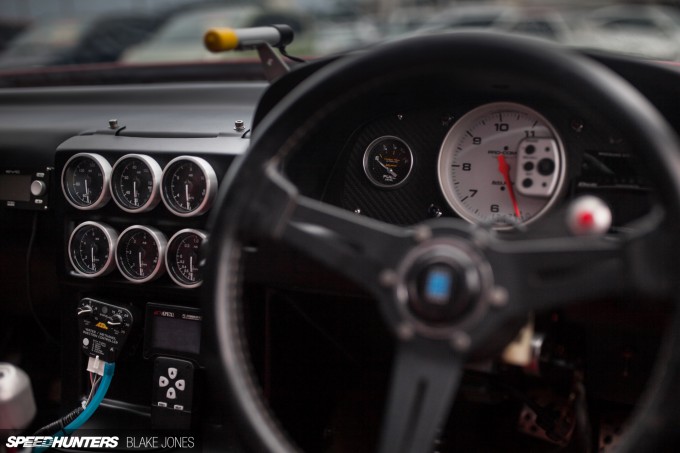 The interior is a place of business. The FRP dash holds a bevy of gauges, pride of place belonging to the 11,000rpm Auto Meter tachometer, and the lightweight centre console houses the AEM water/methanol injection control unit next to an A'PEXi FC Commander for the Power FC engine management system. The lightweight approach has been carried through to the rest of the car, with side and rear acrylic windows, an FRP bonnet and an RE Amemiya front bumper. I hate to go spec-crazy, but the HKS 5-speed dog box, R200 1-way LSD and HKS drag dampers are also worth a mention!
Here's a short video of the 13B's lumpy idle. That sounds never gets old!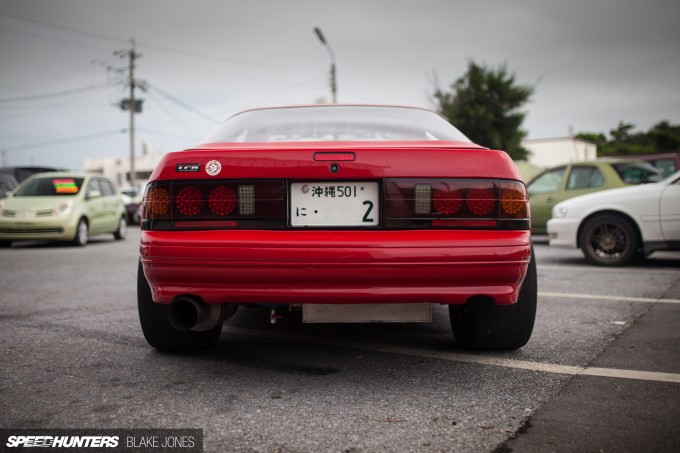 This is a refreshingly-clean drag build with no corners cut, and plenty of inspiration from Japan's rich street tuning culture. I can only hope someone sees the light and provides a venue for Ken and his FC3S RX-7 to drag race on Okinawa once again.
Blake Jones
Instagram: blaketjones
blake@speedhunters.com
Cutting Room Floor