Enter Sandman
With this being my second time driving (and my third time covering) the idlers 12-hour endurance race at Twin Ring Motegi with the RWB crew, I felt like I knew exactly how the day would all turn out. But regardless of how many times you do it, there is always a point when it hits you: 'holy s**t, I'm driving a 911 in a damn race!'
And yes, it was much the same this year. After meeting up with Nakai-san at his shop in Kashiwa and getting to know all the local and international guests and customers who had signed up to be a part of the event, myself and Speedhunters' Editor in Chief, Peter 'Pedey' Kelly, who was experiencing this circus for the first time, then spent the next hour convoying up the highway to the massive race facility at Motegi.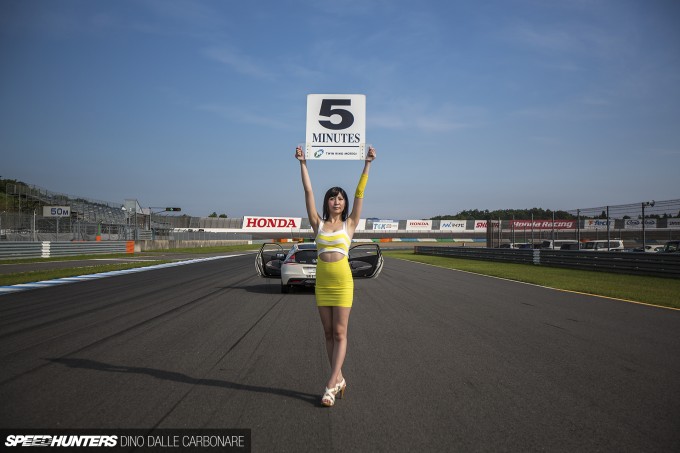 Arriving at the track in the middle of the night is somewhat surreal; the image and sound of 50-plus cars and teams working away amongst the mist and floodlights. You try to help, grab some pictures and then once things calm down you attempt to get a bit of shut-eye in your car before the driver's meeting at 5:00am. With a towel wrapped around my eyes to block out the Japanese morning sun (which rises at 3:30am in summer) and the A/C blasting, trying to ignore the snarling noises of a snoring guest in the back seat, I probably managed to get 30 minutes of sleep in this time around, Yep, it's rough, but that's all part of the experience – something I attempted to explain to Pedey as we walked from our cars to the paddock at 4:59am. This would be his first experience driving an air-cooled 911 and participating in an endurance race, so his adrenaline was probably doing a much better job of keeping him awake after the sleepless night. But I'll let him give you his take on it all…
PK: I'm not a good sleeper at the best of times. I'm sure many of you know that horrible feeling of lying in bed consumed by a certain desperation as you try to will yourself to sleep – which only serves to ramp up the stress levels and push shut-eye further and further out of reach. 'I've got to be up in three hours, what the hell am I going to do?' This, however, was different. I had fully resigned myself to the idea that I was going to be awake for the next couple of days, and that knowledge actually ended up helping considerably. Although I've spent a bit of time flogging Porsches around a circuit, Dino is right. Up until this point, I'd never driven an older 911 or even been to Motegi, let alone been behind the wheel in a proper race situation.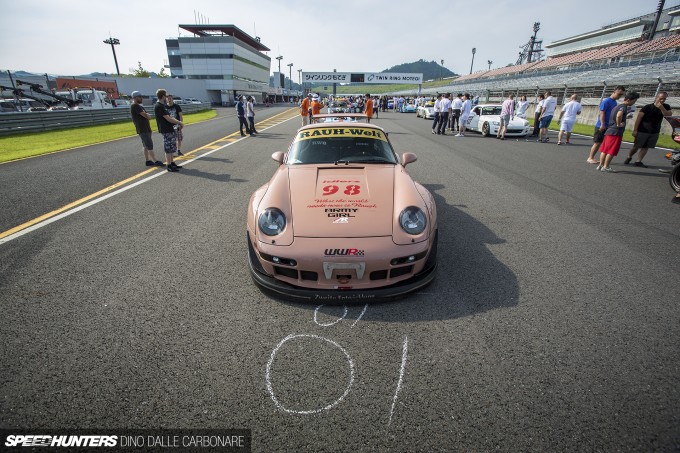 DDC: Pedey and I were in the same team driving the curiously coloured #98 car, or as Nakai has named it – Adriana.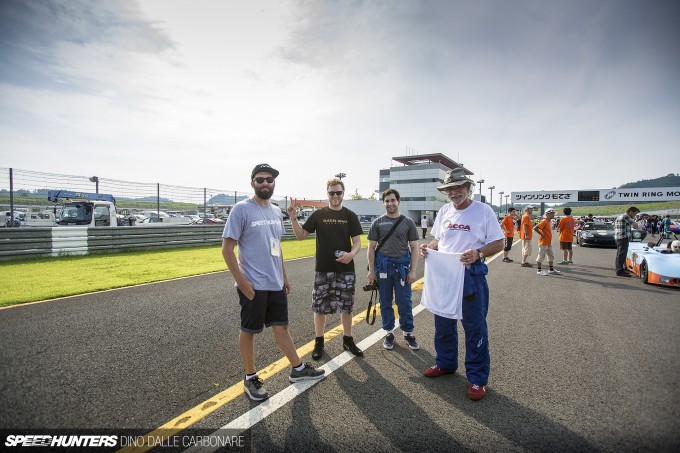 And this would be our team, which luckily for us included James Brewster, a Jaguar/Land Rover test driver who had flown in from the UK. 'Sweet,' I thought – we at least had someone who would be able to make up the time the rest of us would inevitably lose during the course of the race.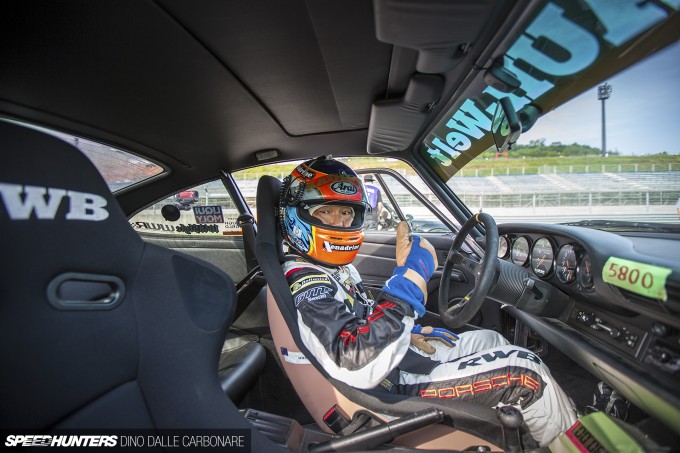 At this point, our sixth team member, Toshi – who handles RWB's international business – was already strapped into Adriana's bucket seat, and ready to begin the race with his first 30-minute stint. Toshi has plenty of experience in competitive racing, including Super Taikyu, so we definitely had some balance-raising talent in our ensemble.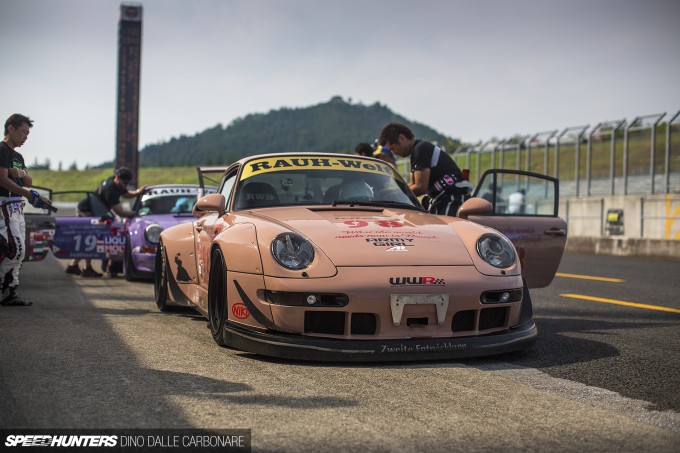 Compared to the 2014 event where the fastest cars started last, the order was reversed and we began the race in 10th position. It was nice starting quite high up in the field, but we would soon understand that this was of zero advantage in an endurance race lasting 12 hours.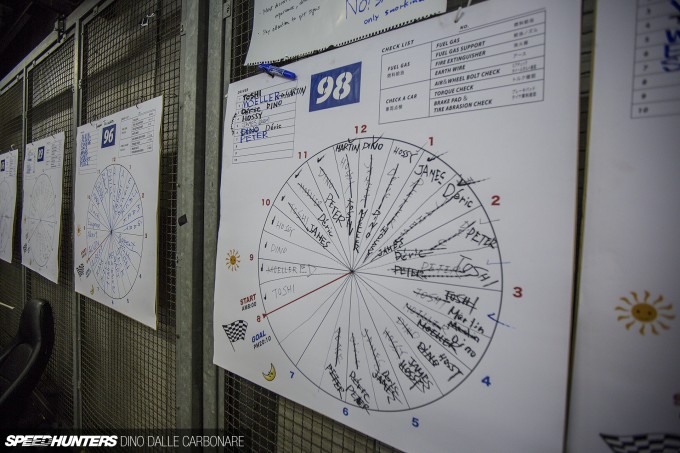 We planned out our driver changes for the entire day which would give each driver three 30-minute stints. As the five other RWB teams participating in the race did, we had a few simple rules to follow too. For longevity's sake, a 5,800rpm rev limit was imposed, so as to not strain the engines too much and help cut down on fuel consumption. Believe it or not, the aim here isn't to win – it's to finish. You can drive your heart out, but if you kill the car two or three hours into the race, it doesn't really matter how long you held your position in the top 10. We were also asked not to use second gear, as the extra shifts would put more pressure on the gearbox and clutch, and the engine would drink more fuel. So it was third and fourth all the way, with only two points on track where you would slip it into fifth momentarily before going hard on the brakes.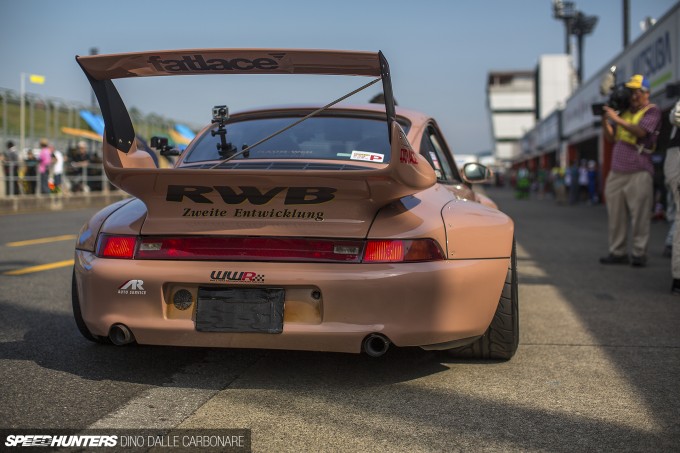 After 30 minutes, Toshi came in; Adriana was running good, but sitting a few positions down from where it started. I put that down to some of the other drivers out there who were pushing unnecessarily hard – perhaps more to do with adrenaline than anything else though. But once your hormones stop impacting your judgment, you begin to realise the error of you ways. At least that's how it works for me!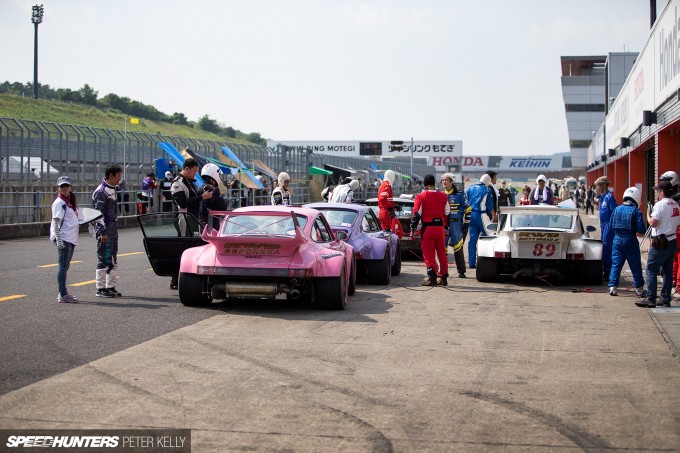 Most of the other RWB cars came in at the same time for their first stop, so there was some serious traffic in front of our pit.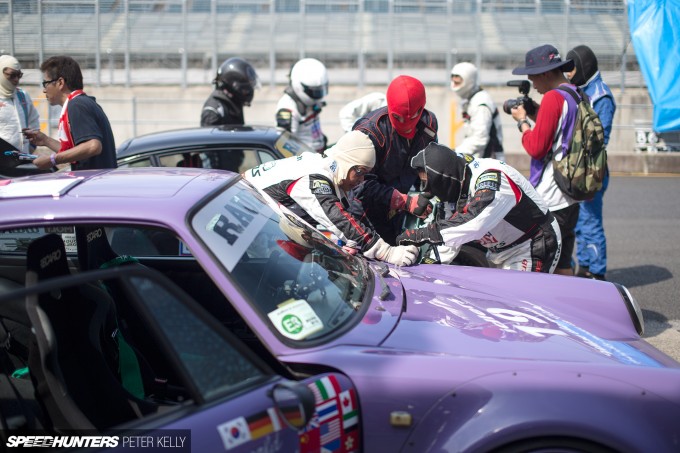 With each stop we had a minimum of 4 minutes in order to complete a driver swap and refuel the car with 20 litres of petrol, which would suffice for the next half-hour stint.
PK: To be honest, I was probably more nervous about screwing this up than heading out into the race for the first time. I desperately didn't want to be that guy who gets the order of things wrong, or trips over a wheel and proceeds to set the entire pit lane on fire before running around in flames like Ricky Bobby. It sounds far fetched, but these are the sort of situations I'm pretty good at getting myself into. Once I had a couple of pit stops under my belt though it was fine, although it meant you could never really rest, because as soon as you started to relax the car would be coming back in for its next refuel and driver change.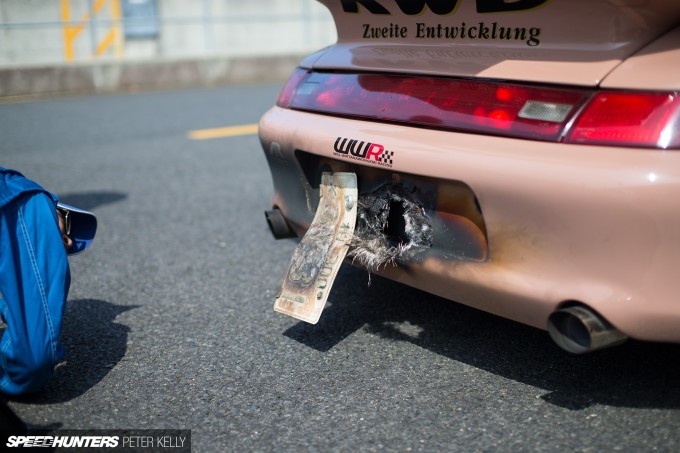 DDC: I was third in line to drive, and spaced far enough away from Pedey so there was time for each of us to shoot track-side while the other was behind the wheel. See, the things we do for you guys! Except when our second driver came in, it looked he had just gone Back to the Future with the rear bumper burned through, and plumes of smoke still coming off the FRP panels and the baked number plate.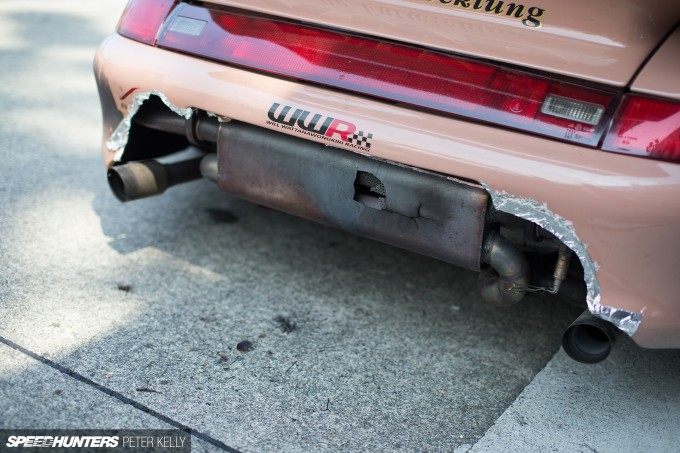 The rear silencer had cracked causing some serious heat to escape and the consequential damage. Nakai didn't think much of it, quickly cutting out the center section of the bumper and exposing the entire exhaust system. I thought that was really cool, except the prolonged stop didn't do much for our race position.
Disaster Zone
Again, where we ended up wasn't the main point of the race, but it's hard not to feel a little competitive when you're in this sort of situation. So after the rear end was temporarily repaired, I jumped in the car – once again wearing a race suit borrowed from the awesome people at RWB Thailand – and got to work. Once you take off down the pit lane you have to make sure you don't exceed the 40km/h speed limit, and the race officials have a speed gun pointed at you the whole time to enforce it. Break the speed limit and you earn yourself a drive-through penalty on your subsequent lap. I spent the first 15 minutes of my initial half-hour outing getting used to the car. Despite the ambient air temperature being around 38 degrees Celsius, I was amazed at how cool the tyres had got after the 25-minute pit stop. Check out how the rear Advan Neova AD08Rs gave up all traction as I tackled the infield right-hander under the bridge. Talk about a butt-clenching surprise!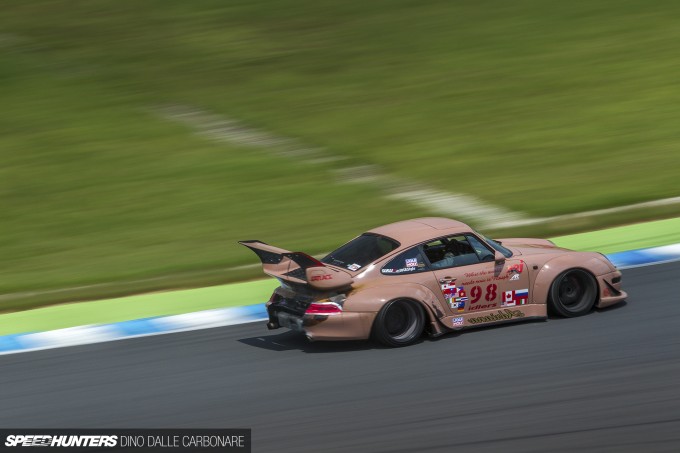 That immediately taught me how these 911s can bite back if you don't treat them with respect. Keeping smooth is just as important as maintaining a consistent pace, and once the Neovas had warmed up again I had no such problems anymore – despite having a quick spin during an overtaking manoeuvre that I should never have attempted in the first place. Nakai-san's words echoed in my mind after that – if it's not safe and you don't have plenty of space, don't go for it, wait for the next corner or even the next lap to try it again safely. Keeping my Italian blood from boiling is always the toughest thing for me to do, but I eventually settled into a comfortable pace and glided through the rest of my 30-minute stint.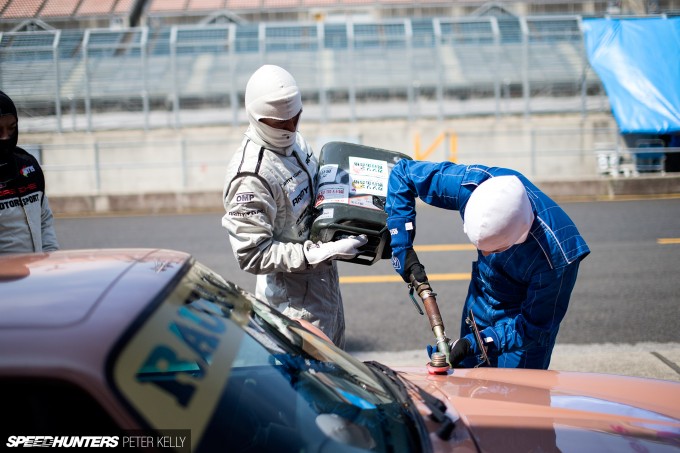 Once I came back into the pits it was more fuel and then the next guy took over.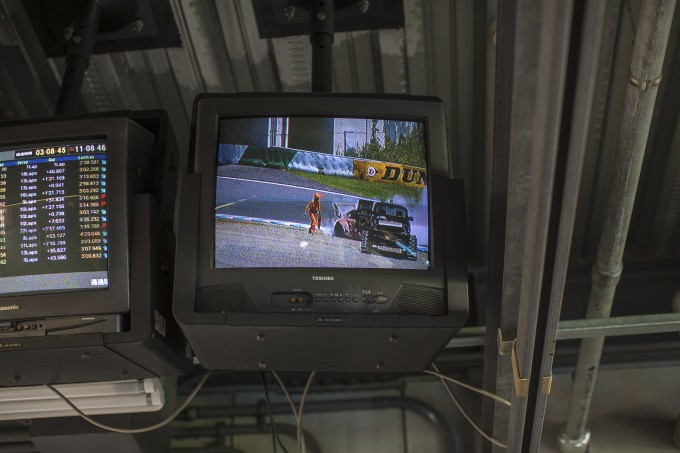 However, when you least expect it, things can suddenly take a turn for the worst. As I lay on the pit floor, attempting to cool off next to one of the fans, we all noticed a familiar car on the TV screens. Is that our Adriana? Is it smoking? Oh s**t – it's on fire! In almost exactly the same place the car had snapped sideways on me when I didn't modulate smoothly off the brakes while turning into the corner, Adriana had spun and was stuck in the kitty litter.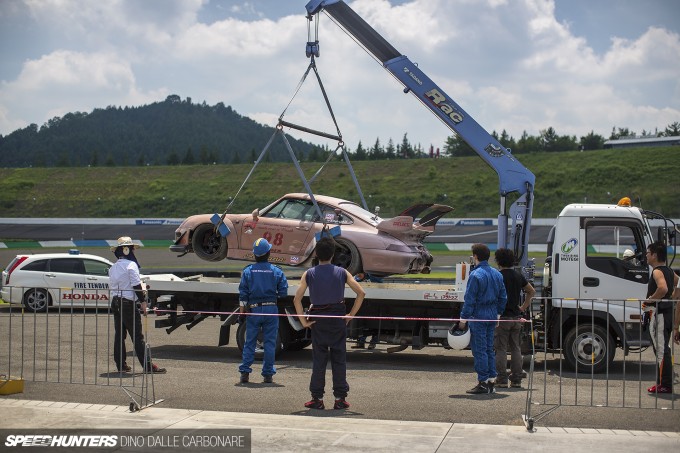 The theory is that as the car careered backwards, the already super-hot and fire damaged engine compartment got a huge extra shot of oxygen and the whole thing went up.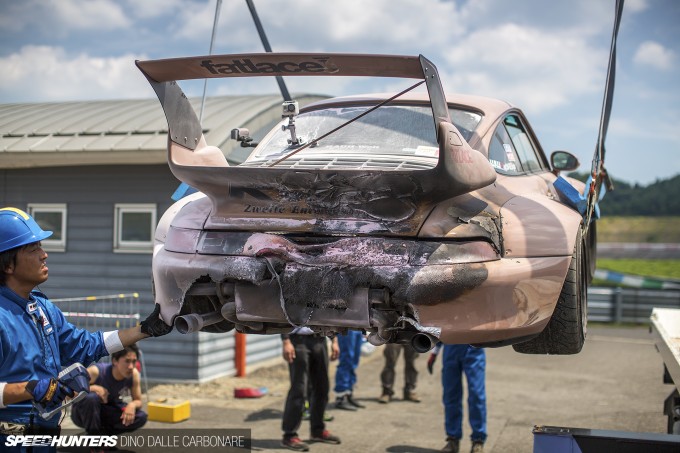 Before towing the 911 off the track and placing it on a flatbed, the marshals had unleashed a few fire extinguishers on the back of the car, making a big old mess in the process. For some reason, it took close to an hour to get Adriana back to the paddock.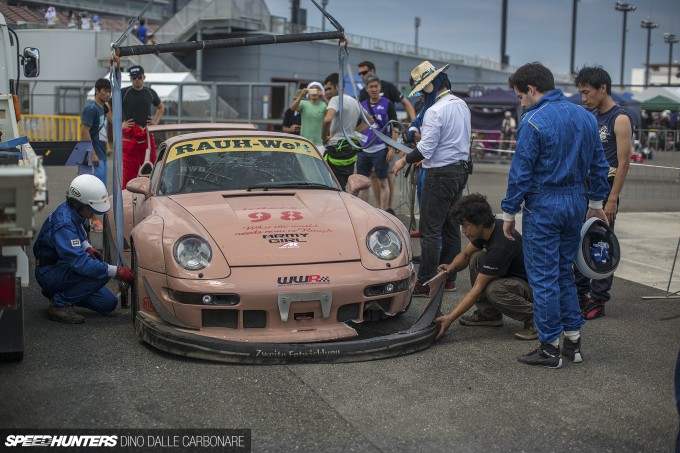 It looked bad, but Nakai-san didn't even flinch. You could tell that while he was looking at it, he was making a mental plan on how to tackle the damage and have the car ready to go again in the shortest possible time.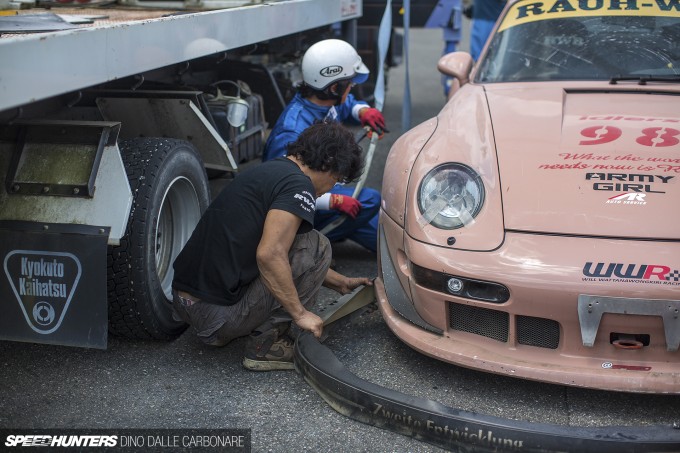 Without saying a word, Nakai-san immediately ripped off the front lip section, as the front bumper had also suffered some corner damage as it sank into the kitty litter.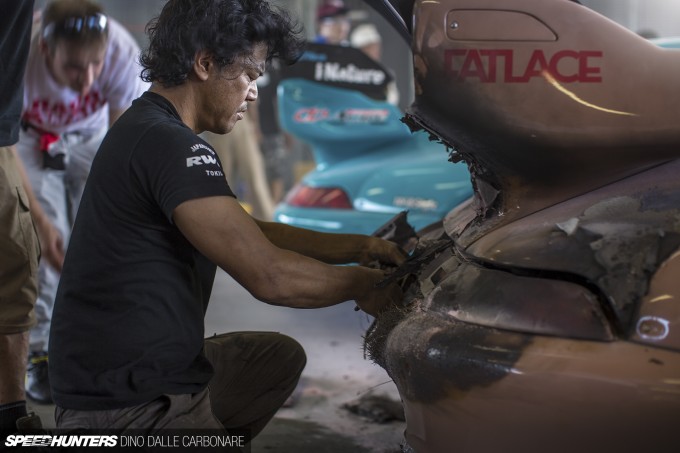 Within minutes of it being unloaded off the flatbed, the car was back in the pit and Nakai and his crew were into it.
It was at this point that I realized no amount of photographs would properly convey the repair process, so hit play above to see the teamwork that went into getting Adriana all fixed up and back out on track.
Is It All Over?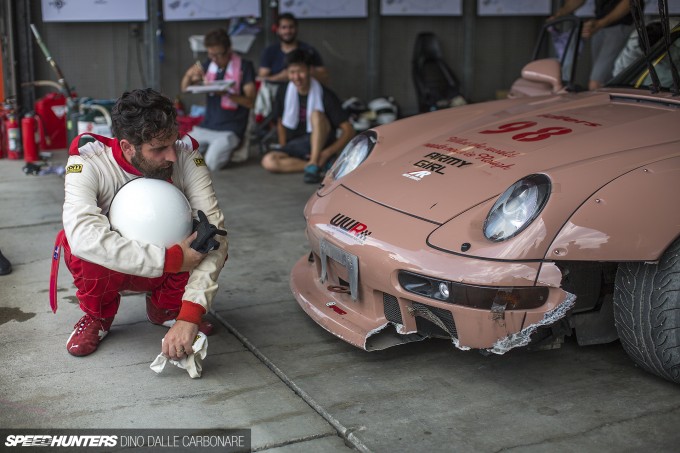 It was an especially tough moment for Pedey as he was the next scheduled driver. At this moment he didn't know if the car was able to be fixed and was doing his own surveillance of the damage.
PK: I'll admit, I was panicking a little bit when I saw the car smoldering on the live feed. I was the last driver on the roster so I'd already been waiting three hours for my first stint. Had I been living (and feeling) like a meth-head for the last 24 hours, absolutely cooking in almost unbearable 38-degree heat (100 degrees Fahrenheit) and 96 per cent humidity for absolutely nothing?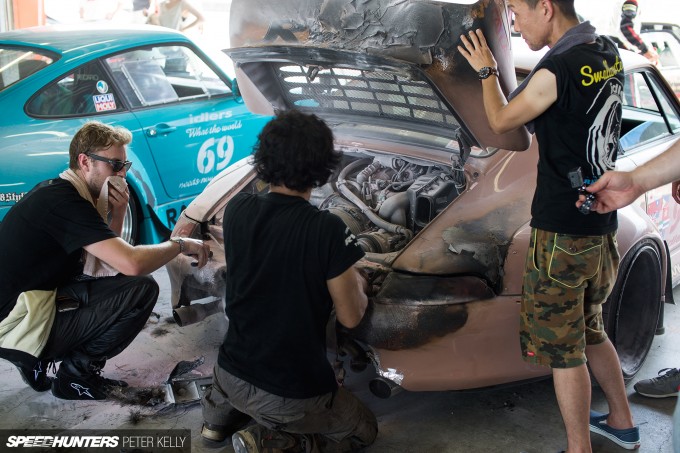 PK: It looked pretty bad, but my next pass of the rear end revealed a swarm of people, mouths covered in an attempt to filter out the choking extinguisher dust that swirled around the bay as they ferociously hacked away at the burnt bodywork. I couldn't really do much to help, so simply watched, took photos, and hoped for the best.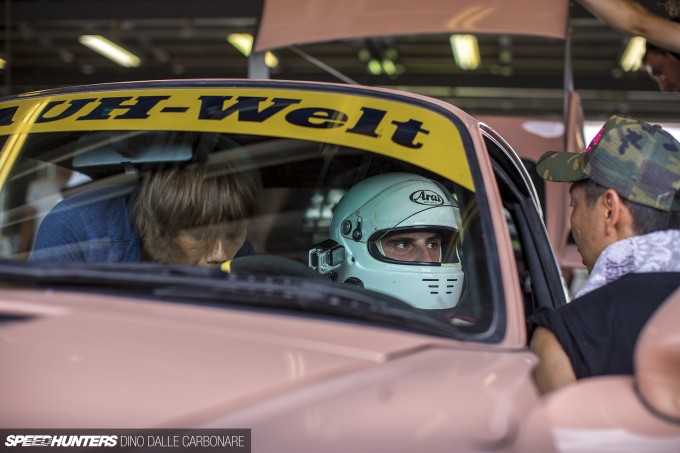 PK: Within 20 minutes, I was told to get my helmet and gloves on – it was time to fire Adriana up and pray. This shot perfectly captures the mood of the moment. Toshi-san is telling me to keep a close eye on the vitals, to take it easy for the first few laps and to look out for smoke and flames. Meanwhile, all I can think about in my sleep-deprived, borderline heat-stroked brain is how crazy it is that I've never even driven this car before this moment, and here I am about to cruise down pit lane and out onto a crowded Motegi Twin Ring, crammed with crazy race cars and even crazier drivers. To say it was a rush and a mind-f**k would be a gross understatement.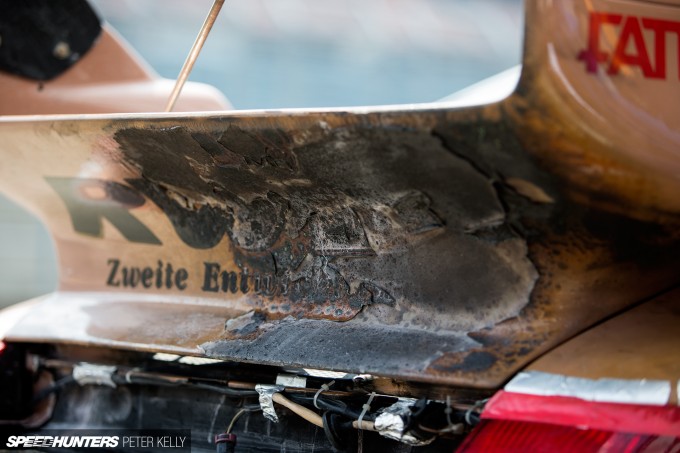 PK: But in the end, all I could see from my spot in the Bride seat was some dials, a gear stick and a steering wheel – and that's all that mattered. The exterior state of the car soon became irrelevant as I throttled the flat-six into life.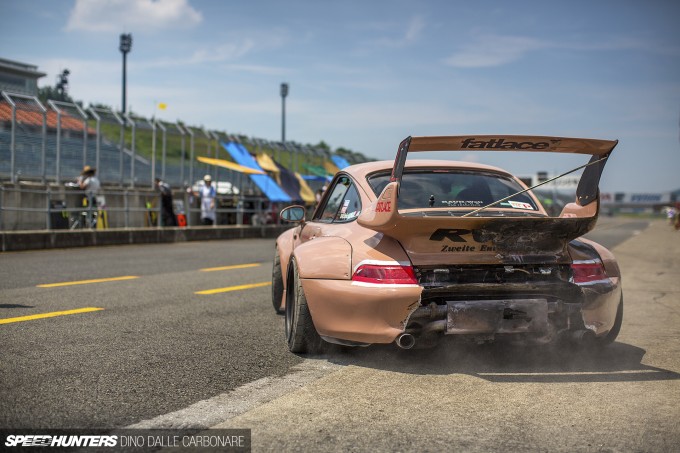 PK: I know I'm supposed to be a professional journalist and all that, but I was laughing when this photo was taken. Laughing like a god-damned idiot. Within moments of setting off from pit lane, I was barreling headfirst into turn one, instantly tussling with a WRX and an NSX for position in the wide corner. With Toshi's warnings ringing in my head, I took things pretty slow for the first few laps – after all, I didn't even know what the track looked like, irregardless of the fact that the car might burst into flames behind my head.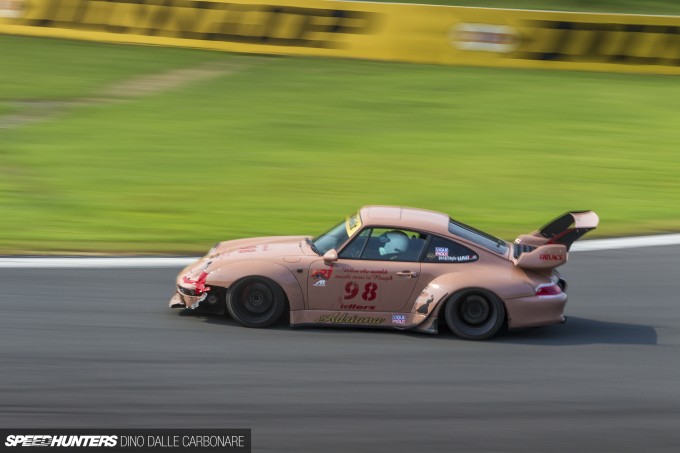 PK: After a few laps, the car seemed to be okay, so I began to pick up the pace. Adriana runs a stock engine, and while these flat sixes certainly wail up in the higher revs, the combination of not being able to use second gear, and having a 5,800rpm rev limit, really slowed progress and made it tricky to carry speed through the tighter corners. I wasn't there to set lap times though, and I'm sensible enough to realise that as a complete virgin to the circuit, the car and endurance racing, I was never going to be the fastest guy out there.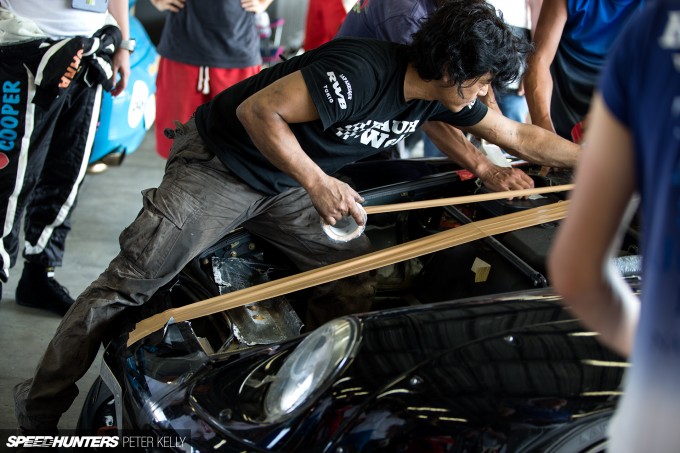 DDC: Of course, we weren't the only RWB team that was having some issues. After one car cracked its exhaust and hard to be stripped of its silencer, another car suddenly pitted with no bonnet. It had detached itself mid-track, so Nakai quickly taped the gaping hole up so that the trunk trim wouldn't fly around. That was a good temporary fix, but eventually it was called in and an RWB customer ended up donating the bonnet from his street 911 so that the race car could continue on.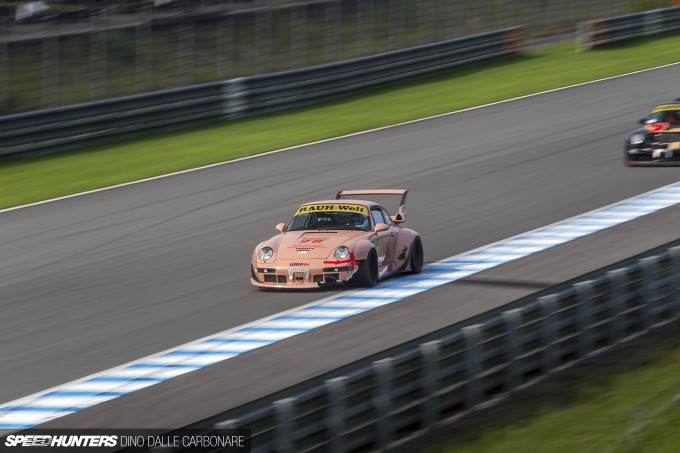 Pedey managed to make up some lost positions during his first stint, but towards the end of his outing something seemed amiss.
PK: At around the 25-minute mark, the car began to suffer from some serious oversteer. At first, I honestly just thought I was getting faster and finding the limits of grip, but a few corners later, I was passed by an MX-5 mid-corner as he dived inside and railed around the apex whilst I spent the entire time desperately trying to get the rear under control. Something clearly wasn't right.
PK: This footage from my helmet cam captures the perfect 'aha' moment, after I made a quick dash for the pits. As I pulled in, I took the frantic hand motions to shut down the engine as a bad sign, and once I scrambled out and looked at the right side of the car, things became pretty clear. I love Toshi's nonchalant head nod at the end, a silent version of; 'yeah, that's why you almost crashed five times in the last lap.'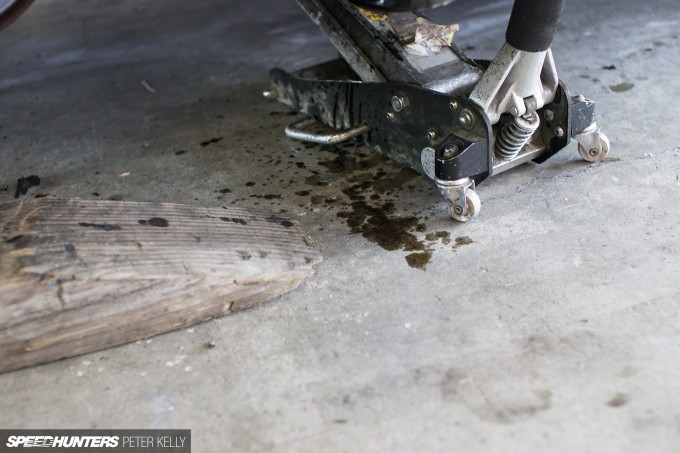 PK: Adriana was rushed back into the pit bay. With oil leaking heavily from the right rear wheel well, things were looking pretty grim.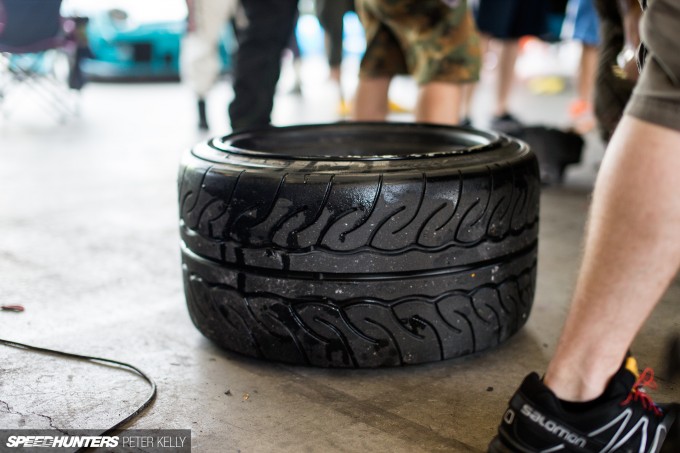 PK: I'm so lucky I didn't bin the Porsche… But besides that, although I had been keeping a close eye on oil pressure, what if I had missed something and the engine had been damaged from the loss of oil?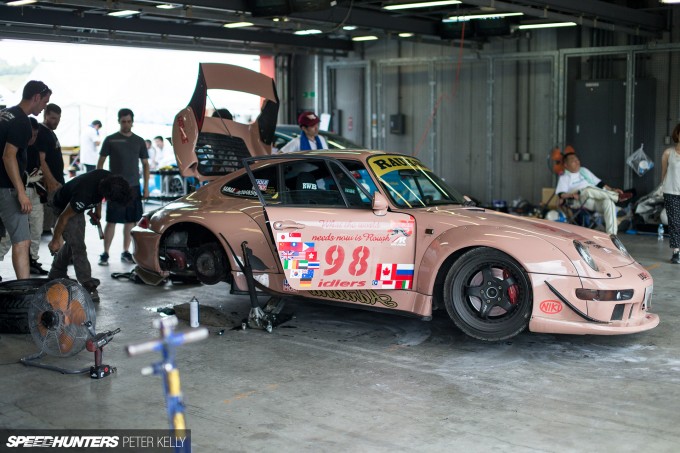 PK: This time, it was surely over for Adriana, right?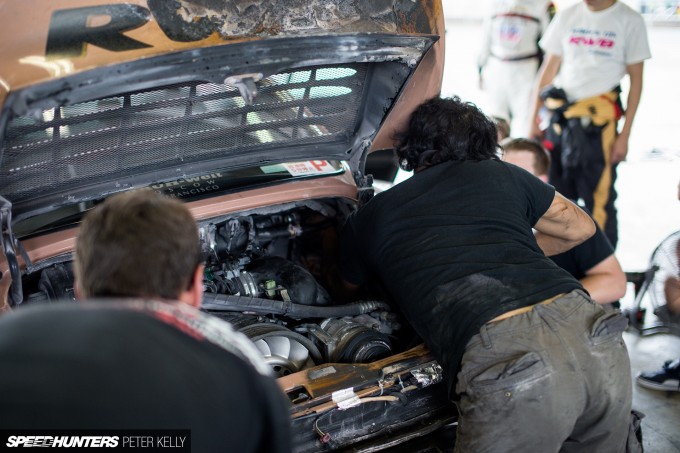 PK: Nope! Nakai-san and team were once again elbow-deep in the engine bay, and quickly discovered the cause of the leak.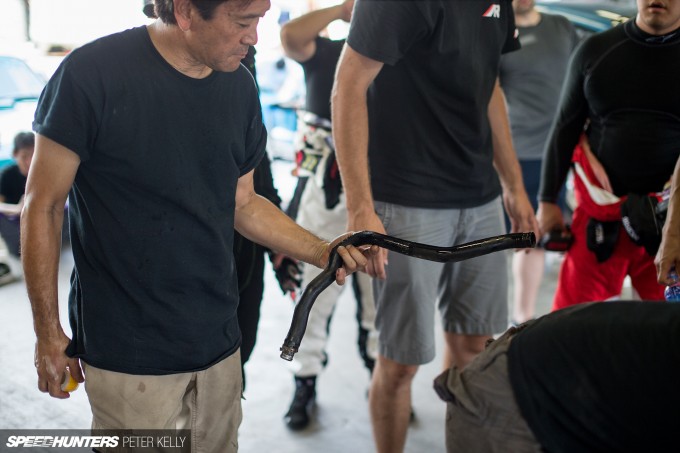 PK: This line had been damaged in the fire and had been spraying oil everywhere.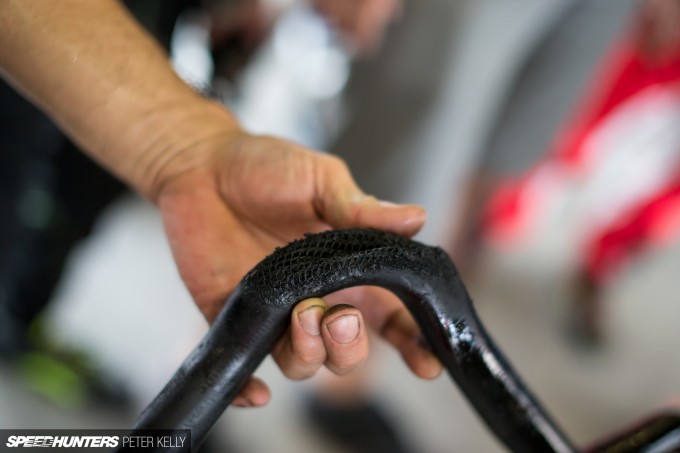 PK: Despite the gaping hole, the team got to work producing a temporary fix.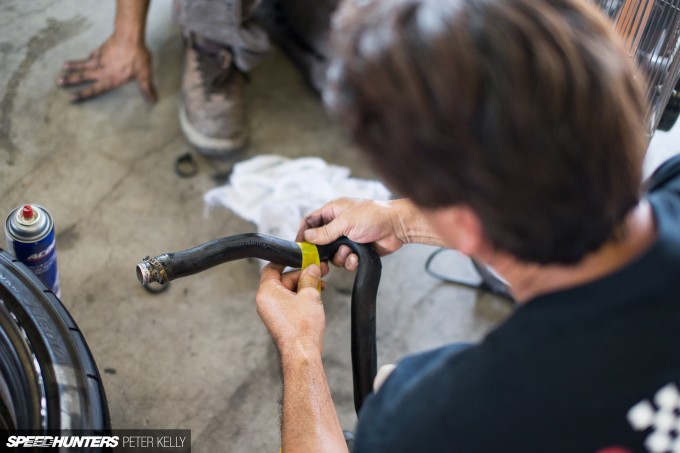 PK: That involved a whole lot of tape and quite possibly a few crossed fingers. With the pipe back on and the car fired up, the repair held and oil pressure was healthy. Phew!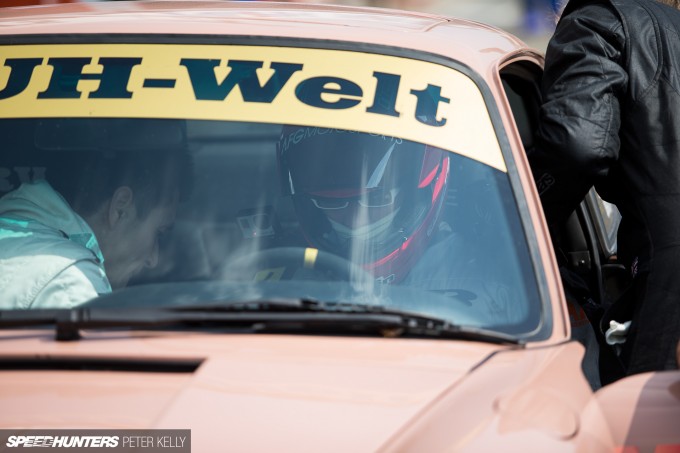 DDC: It was then time for my second outing – right during the hottest part of the day.
Fatigue Sets In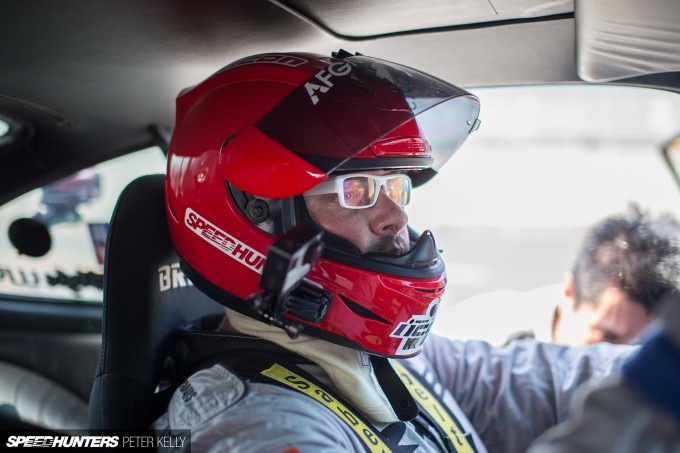 Dressed up in a Nomex race suit, with gloves, balaclava and a full-faced helmet, I can safely say I had never experienced such an intense level of heat. The hardest time was actually those few minutes sitting in the hot cockpit as some of the RWB crew helped me get my harness on. Imagine being in a sauna, fully dressed and wearing helmet – that's what it was like.
Once you're driving though, you no longer notice the discomfort and just concentrate on the job at hand. Above is a lap taken from my middle stint, and I have to say I was a lot more comfortable with driving the car a little harder. I was leaning on the brakes a little more into the corners and really pushing the car towards the high level of grip that the Neovas were now generating.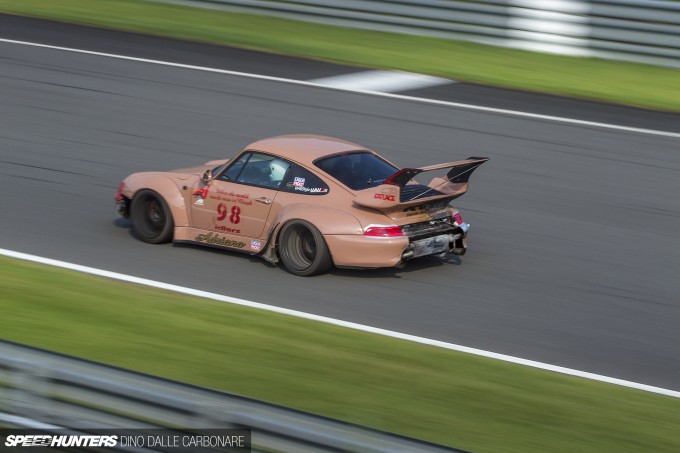 The car was very neutral in its behaviour – the RWB setup adding more grip at the front and rear due to increased tracks and tyre contact patch. It almost makes the car feel foolproof. If you went into a corner too fast it would understeer, so you just back off and speed is quickly scrubbed, drama free. Since the base car is a stock Carrera, there isn't really enough power to upset the rear end too much, and certainly not enough to break traction mid-corner and drift the car under power. Definitely not in third gear, that's for sure! The only thing that would kick the tail out would be coming off the brakes too violently into a corner (as I experienced), or lifting off the throttle aggressively mid-corner. But the latter actually helps trim our line if you go in too wide, so it can be used to your advantage.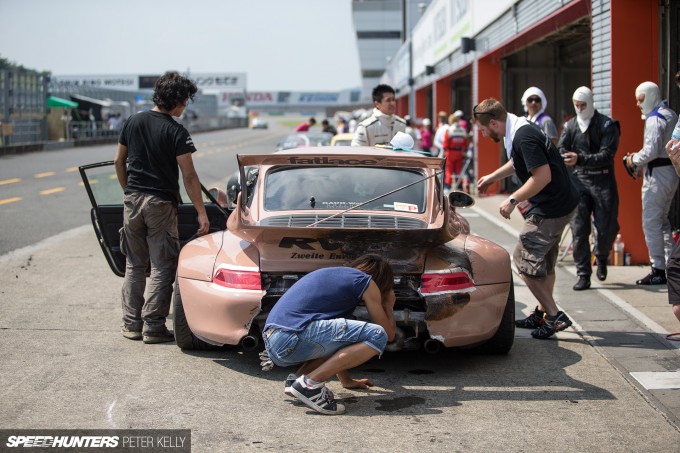 I actually pitted with couple of laps still left to run in my stint as I was smelling some funky plastic and FRP fumes coming in from the back of the car, so rather than risk it I brought her home to have Nakai take a look. The car was given a clean bill of health and it was out again for the next driver.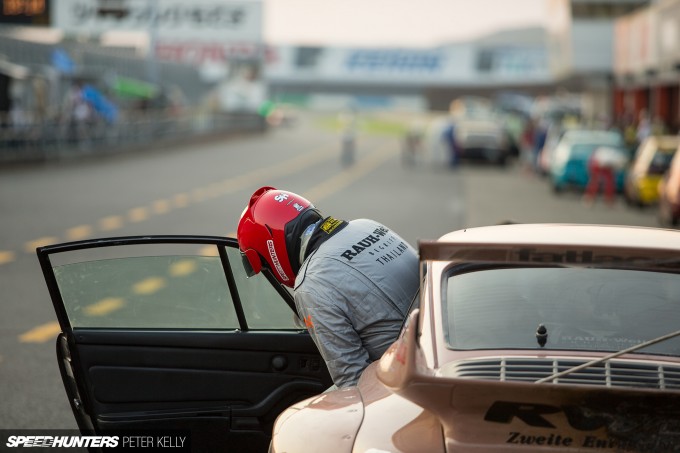 I took a bit of break between that time and my final drive as the lack of sleep and heat was beginning to get to me.
With my final drive much later in the afternoon the heat wasn't so much of a problem and I felt even more at ease with how the car behaved. The tyres had definitely lost their edge by this time so the car moved around a lot more under you, but not in a negative way. I actually preferred it like this, as it was easier to place the car on the track and made the drive more exciting. I had a ton of fun in my last 30-minute session, which is why I put up two laps on the video above. On the first lap you can see how there was a crazy guy out there with a brand new 991 Turbo S (understandably taking it easy!)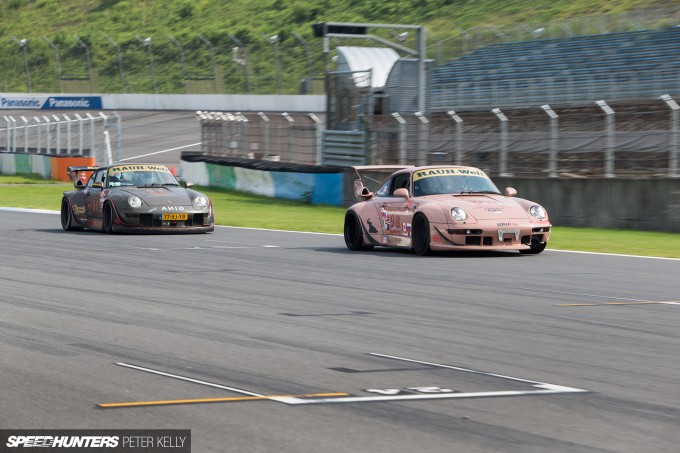 And on the second lap you can see how desperately I tried to stay with another RWB 911, which was suspiciously a hell of a lot faster than poor old Adriana (and obviously better driven!). Either that or someone wasn't sticking to the 5,800rpm rule, which truth be told, I had a tough time sticking to myself. That's when the flat-six really got on cam and started to push hard, so at times I just had to sneak in a couple more hundred RPM at the top of fourth in order to set up for an overtake.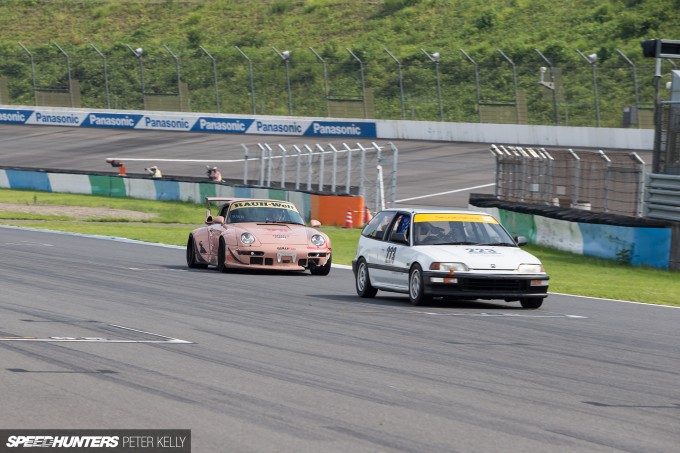 It was funny how every time I went out I ended up overtaking this incredibly loud Civic.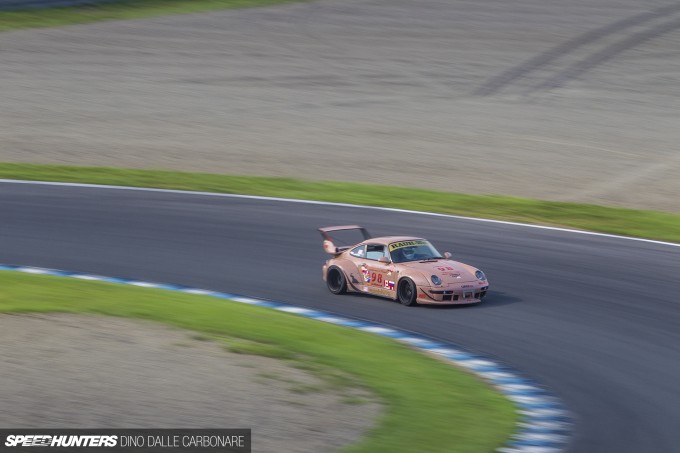 For Pedey's next stint I grabbed my road car and went all the way to the in-field hairpin to get some action shots of him setting up for the long straight that leads into the right-hander under the tunnel. It's one of the easiest places on the track to make up a few positions hard under brakes.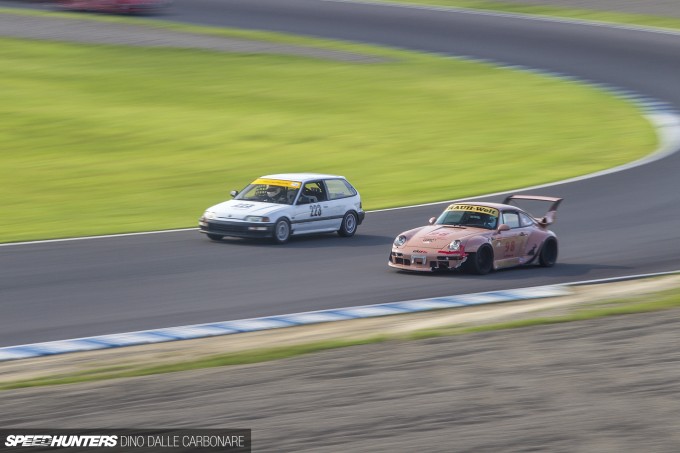 Pedey had his own encounters with the little Civic too!
PK: At this point, I was just so damn happy to be back in the car for another stint after thinking it was all over more than once earlier in the day. Like Dino mentioned, it's amazing how quickly you forget about the heat and the tiredness as soon as you roll out of that pit lane and into the muck. This second session I began to get a lot more comfortable with the car and push it a little harder – though still not nearly as fast as I would have liked. I'm just too damn sensible and wanted to not be the guy that finally killed chances of a finish for my team, more than I wanted to set quick lap times. Still, for someone like me who has never been in a real race situation before, I was completely besotted with getting into tussles with other drivers. Sometimes there would be four of us all diving into a corner at once, door to door, jostling for position – what an incredible rush! 
Crawl To The Finish Line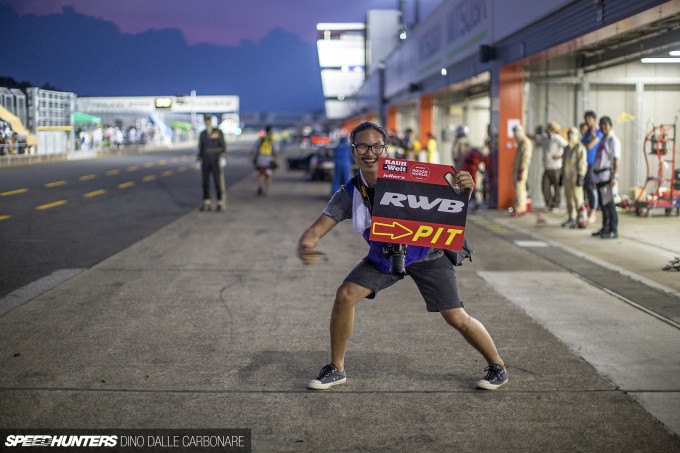 DDC: At every pit stop our faithful crew were there to signal us from afar on where to actually bring the car to a halt. This is when Haang Kim, who had flown in with his friends from the UK, served us well by ensuring we hit our mark every time. It was service with a smile too!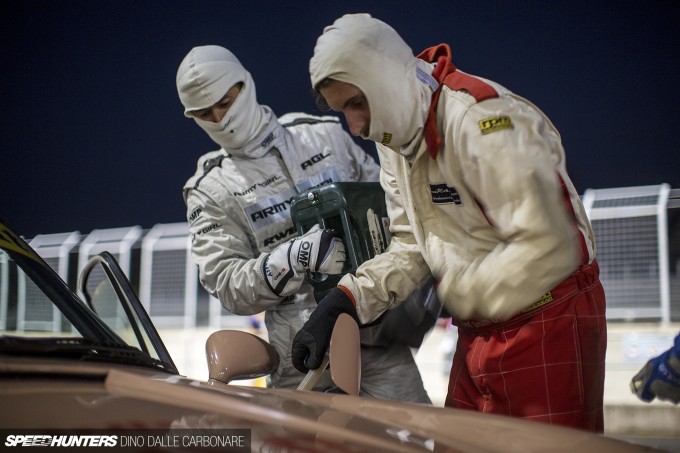 PK: By 6:00pm I was somehow still functioning okay. I think it was the constant pit stops and the time pressures that kept my mind from falling apart in the evening heat. That, and the way the driver's schedule had worked out. I was keenly aware that it looked like I would be the driver to ensure Adriana crossed the finish line at 8:00pm.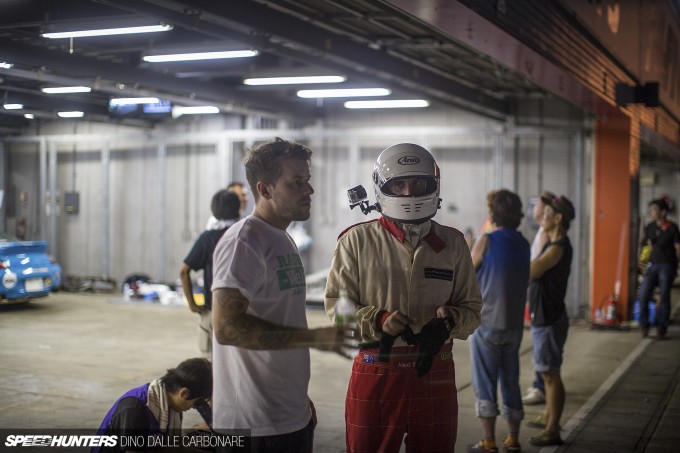 PK: I'm already ticking off so many firsts at this point, so why not add to the list and be the guy to finish a 12-hour enduro for his team. Oh yeah, and the sprint to the chequered flag on a circuit in complete darkness.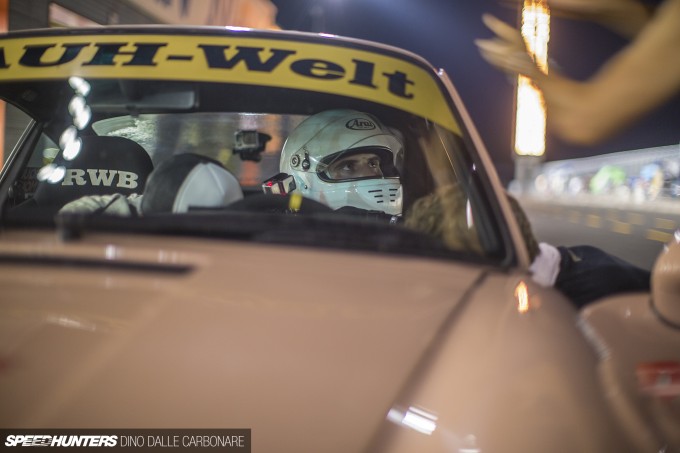 PK: Some much-needed words of wisdom from Toshi, just before I head out. "Everyone's going to be pushing hard to the finish, don't get tangled up in it – it's more important to bring our car home in one piece."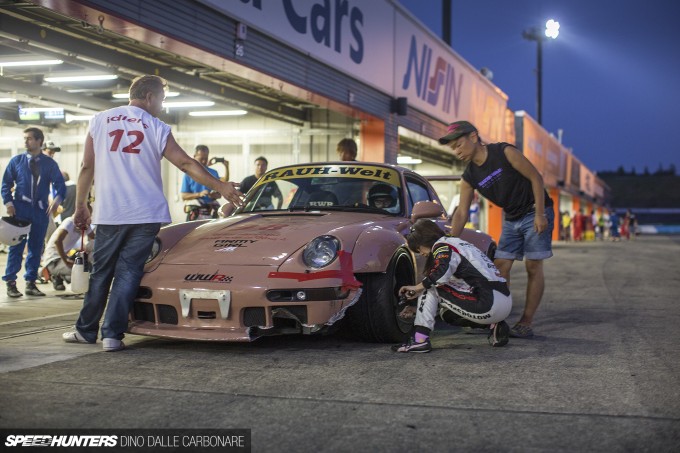 PK: Sitting in the cabin and waiting for those final checks to take place was excruciating. But I was so ready as the last gasps of sunlight faded from the sky in front of me.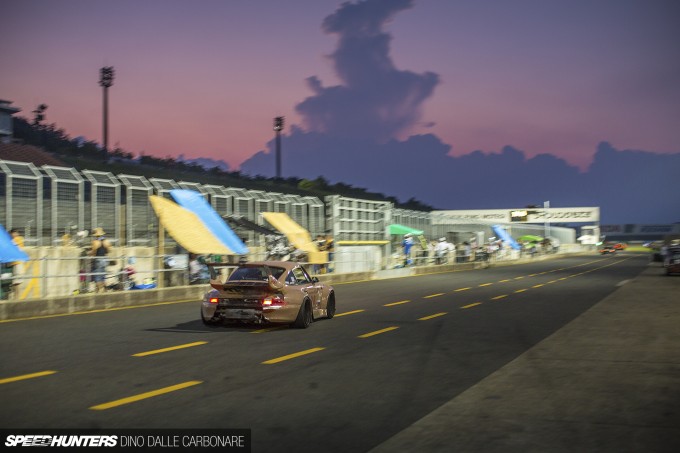 PK: Heading out into pit lane for the final time, the atmosphere was electric. I'm sure there's some seasoned racers reading this who might be used to it, but for me, this was a moment that made the hairs on the back of my neck stand up and is something I'll never forget. 
PK: As for racing at night, well, I can tell you that it's a completely different experience – it's much sketchier, for one, with visibility way down. It's also extremely hard to see what's rapidly approaching in front of you, let alone what's fast closing in from behind. To me, perhaps in my slightly delirious state, the whole thing felt a lot like a computer game – like a simulation of sorts. You might also notice how much I'm leaning into the corners, this is because Adriana had the wide-boy seat for the bigger-boned man, and I was doing my best to brace myself against whatever I could find in an effort to stay planted. By this point, the tyres were completely gone and poor old Adriana just wanted to cross the finish line in one piece, so I picked my battles carefully in this last session, spending much of the stint avoiding multiple crashes as drivers pushed too hard.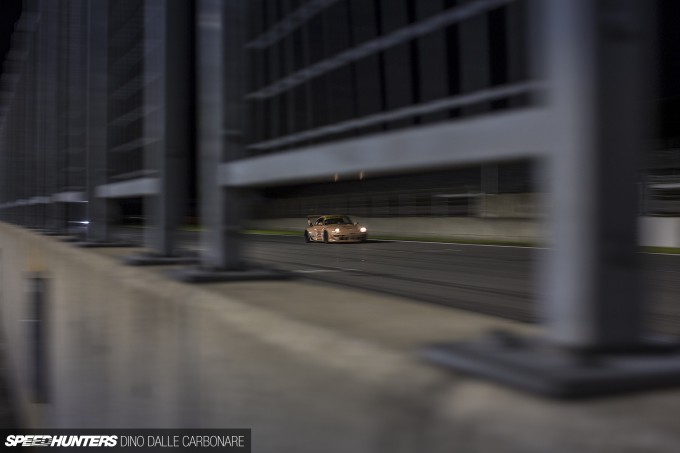 DDC: I grabbed a few last shots of Pedey as he tackled the Twin Ring Motegi in near complete darkness. This is something I experienced back at the 2013 race, and all I remember from that time was close to zero visibility and tyres that couldn't have been any more expired.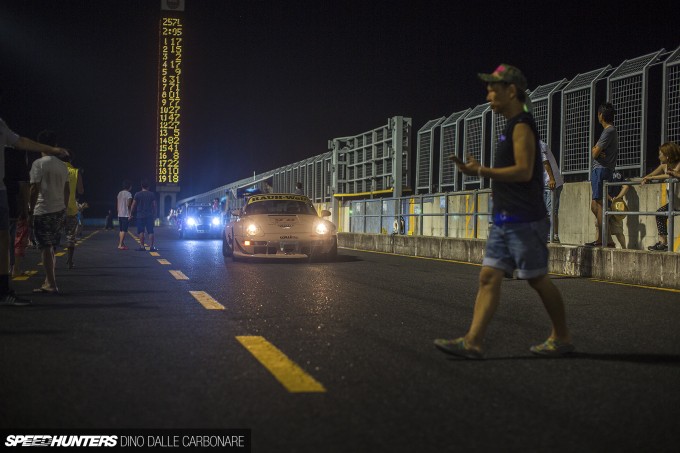 So Pedey did an exceptional job of staying focused, keeping the car on the black stuff and bringing the team home safely.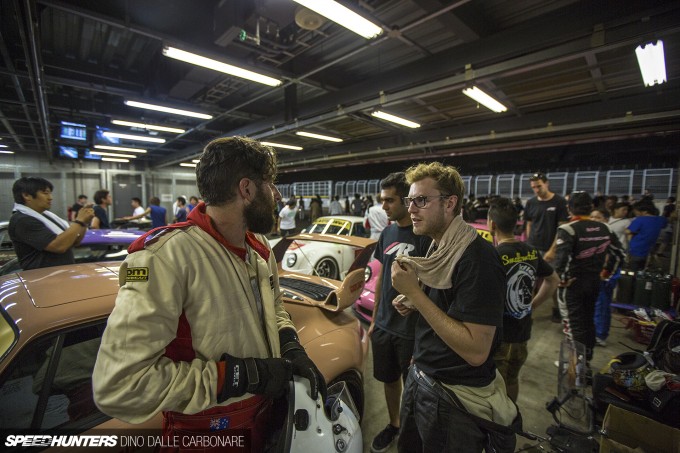 The coolest thing is that all of the six RWB cars entered had successfully – although not without their little problems here and there – completed the race. This couldn't be said for a lot of other entrants, that during the last few hours had either thrown in the towel or been involved in an accident.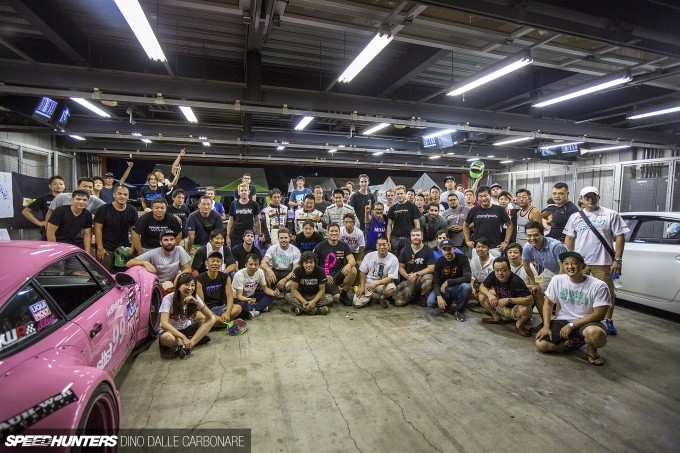 Once again the idlers 12-hour race turned out to be an amazing experience. And not only from the satisfaction that comes from driving a car in a competitive race, but predominately from the feeling of brotherhood that keeps the RWB crew united across the globe. That, for me, was what made this race so special.
PK: I think back to the weekend before last with a weird mix of excitement, fondness and a little dread. For me as a complete first-timer to all of it, the entire experience was so overwhelming. The noise, the heat, the adrenaline, the camaraderie and the stress are all blanketed in a hazy memory of the slightly sick feeling you get when your mind and body is desperately telling you to lie down and stop whatever you're doing. Regardless, I wouldn't hesitate to race again next year if given the opportunity. I passed cars, I made some new friends, I nearly destroyed a Porsche and learnt just how different track driving and actual door-to-door racing are. Most importantly, I gained a new appreciation for a comfortable bed and a cold shower. 
A huge thank you to RWB for giving us the opportunity to be part of the experience, and to our team members for keeping the dream alive, despite the odds. 
Dino Dalle Carbonare
Instagram: speedhunters_dino
dino@speedhunters.com
Peter Kelly
Editor-in-Chief
Instagram: speedhunters_pedey
pedey@speedhunters.com