For our entire careers both Larry and I have been stealthily moving behind the scenes at races to capture their real essence, be it in the pits or as the action unfolds out on track. Being on that other side of the fence is fun; seeing your favorite drivers put cars that you love through their paces and bring home awesome results. But as you might imagine, not one event goes by where we wonder what it would be like to be in the driver's seat, and out amongst the fierce competition. Well it just so happens that Larry and I were able to experience just that this past Sunday at Twin Ring Motegi in the idlers 12-hour endurance race. Nakai-san at RAUH-Welt was kind enough to offer us two spots in a pair of his cars, joining a number of his local and international customers racing a total of six different RWB 911s. To make things more interesting…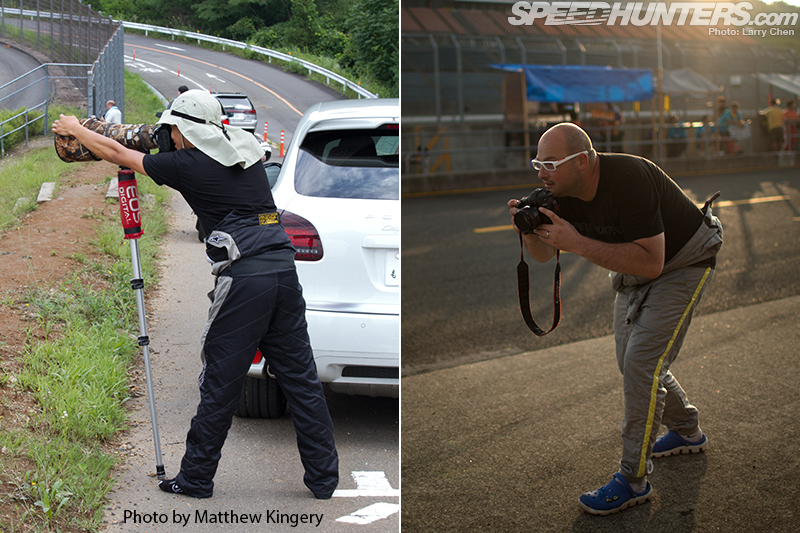 … Larry and I would also be covering the race, which is why you see us shooting above dressed in our race suits. We aren't quite sure if this has ever been attempted before, but we'll go out on a limb here and say that we're the first photojournalists to ever do this. Was it fun? Absolutely! Was it exhausting? To a level we have never experienced before!
To bring our unique experience to light, Larry will be telling the story with me…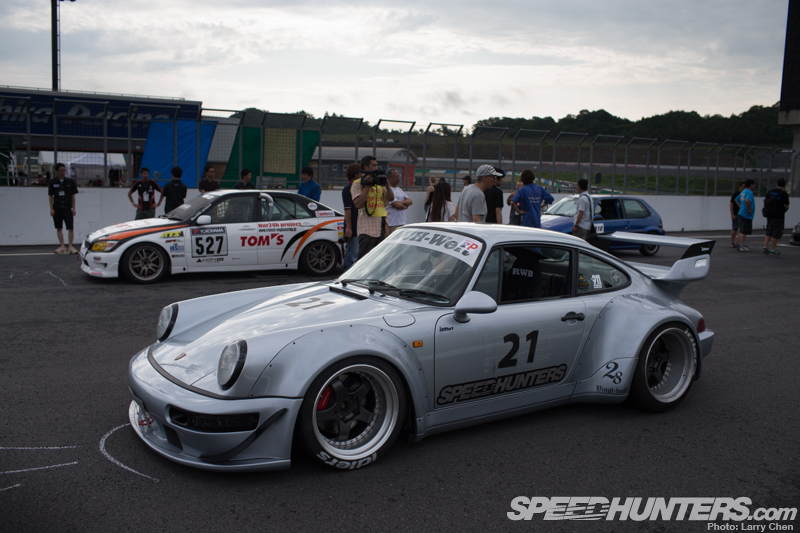 Dino: Now that you're back in the US are you still grinning as much as I am? I still can't believe we got to do all of that on Sunday!
Larry: I feel like my career in Speedhunting has brought me to this high point, and I am asking myself could it possibly get any better? Maybe?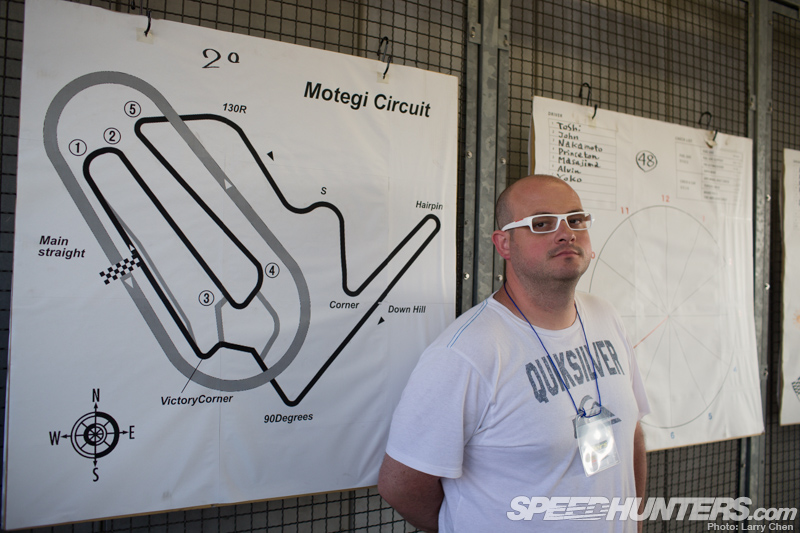 Dino: It all started so damn early that day – well actually the afternoon before – when we went to the RWB shop in Kashiwa to meet everyone.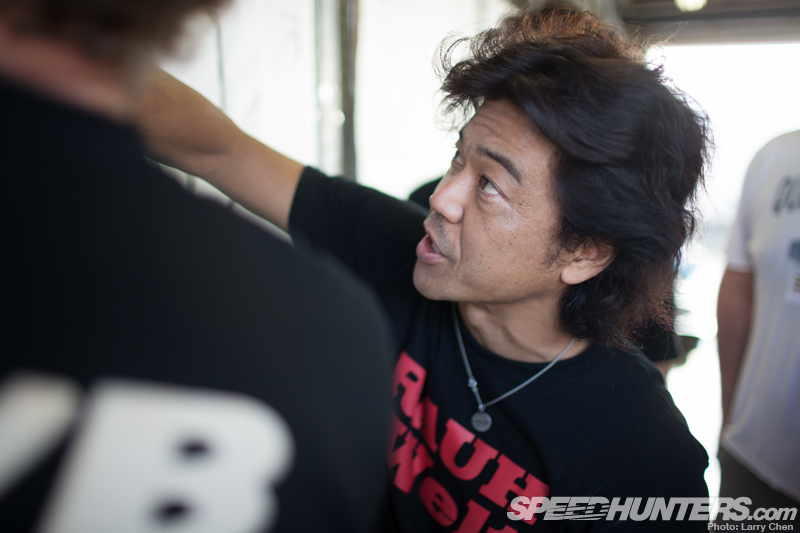 It was your first time at RWB and meeting Nakai-san, so what did you think of it all? Were you concearned that we wouldn't be getting any sleep at all that night –the night before our first endurance race?
Larry: Honestly, I feel like it was more a 24-hour race than anything else. We were up for nearly that amount of time, and the best part is we didn't really have to be. Much of the time we were just taking photos of these guys as they prepped the cars. I guess that's the Speedhunters way isn't it.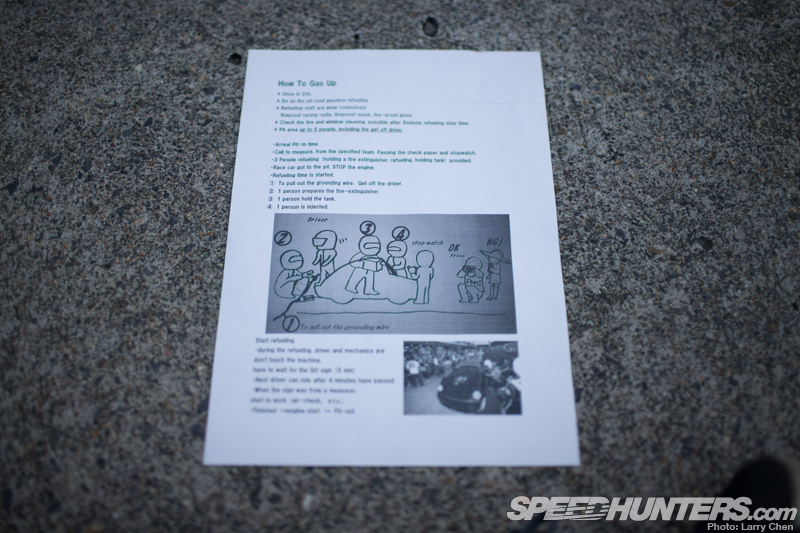 Dino: I loved how everything was so well organized by the RWB crew!
Larry: Yes, there were even step-by-step instructions for pitting, driver changes and refueling. Everything was fairly simple, but being new to endurance racing, there was still much to learn.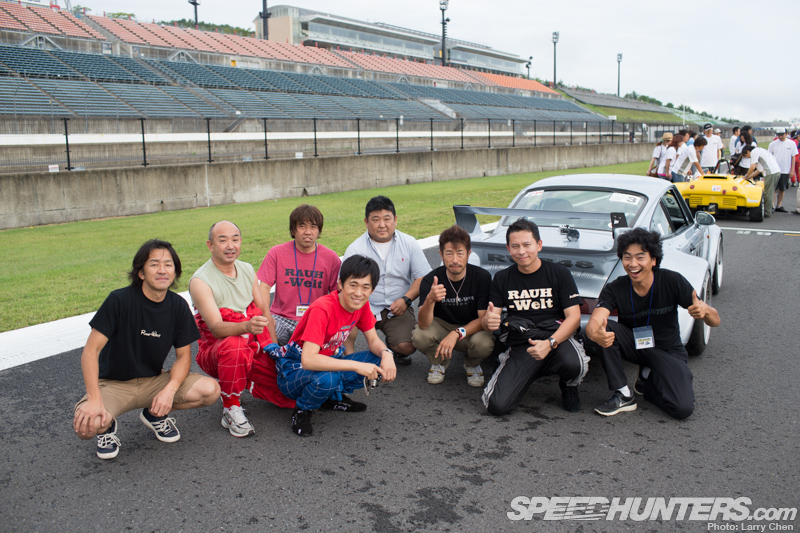 Larry: We had the slowest car out of all the teams, but to be honest I don't think it really mattered. It actually helped having a near- stock 964 due to the better fuel mileage. My team consisted of six drivers, although there is seven here because someone really wanted be in the photo.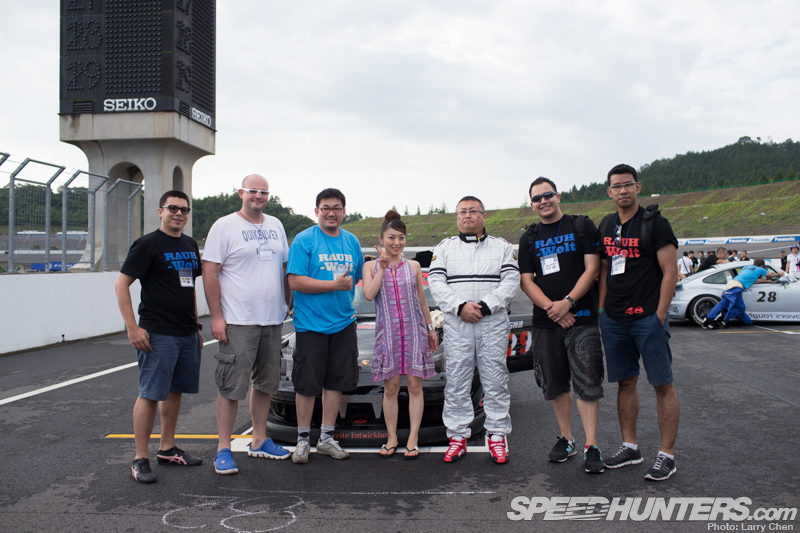 Dino: And this was my team – well most of it. We called ourselves 'Team Big Boys' as our 993 "I AMsterdam" had been set up with a slightly more accommodating bucket seat. The seat was also set as far back as it would go, which I was quite happy about. Finally I could get a perfect driving position in an RWB Porsche! By the way, somehow we are missing our Dutch member of the group 'The Capitan' in this picture – the owner of the only RWB in continental Europe, which just so happens to be based on a RUF!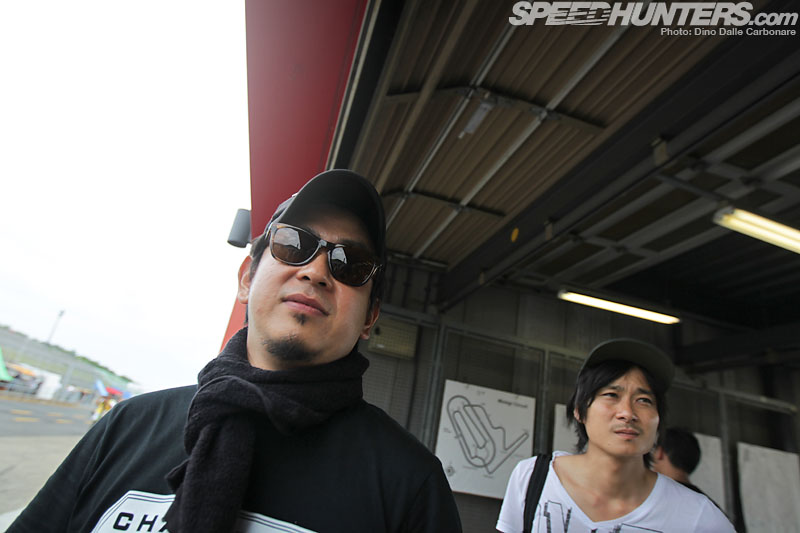 Dino: The great Ko-hey Takada, editor of Motor Head magazine, was also racing along with three staff and doing his own report on the race. That will be one to look out for in the upcoming second birthday special issue.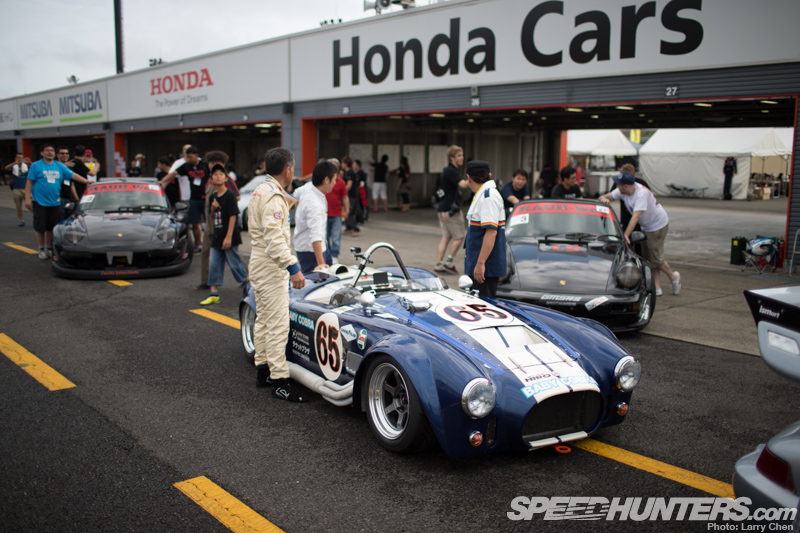 Larry: The variety of cars that were racing was absolutely amazing – including this Cappuccino-based mini Cobra. I constantly saw this car in the pits, so there was no surprise when it ended up retiring with mechanical failure early in the race.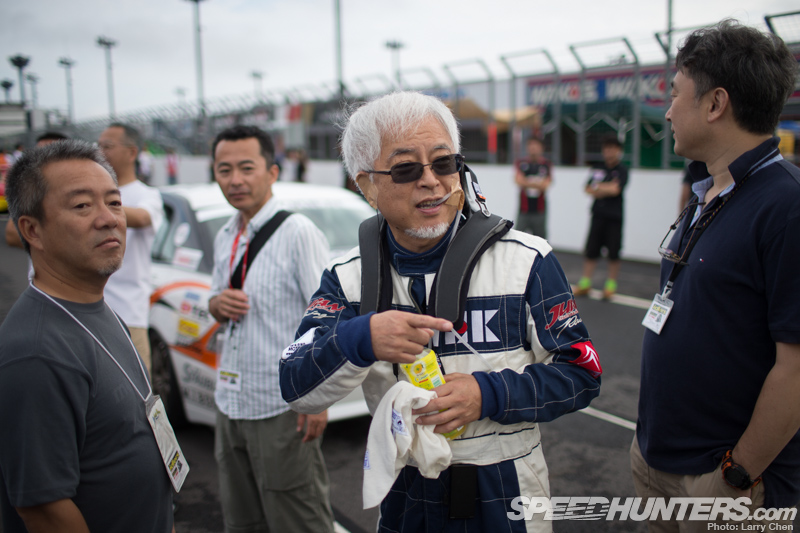 Larry: This gentleman had the right idea, I wish I thought of that earlier! I was half-temped to bring in a sports bottle of some kind with me in the car so I could take secret swig when the safety car was out.
Dino: It was all those HANS devices that I was jealous of! I can't believe how accessorized the Japanese are even at an amateur racing level.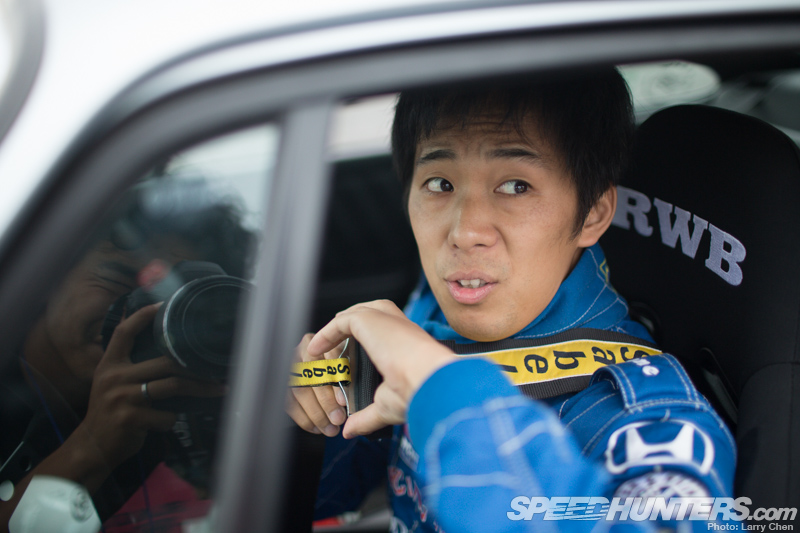 Larry: The race started at 8.00am and my first stint was at 9.00am. Because of our inexperience we let all the ringers start the race.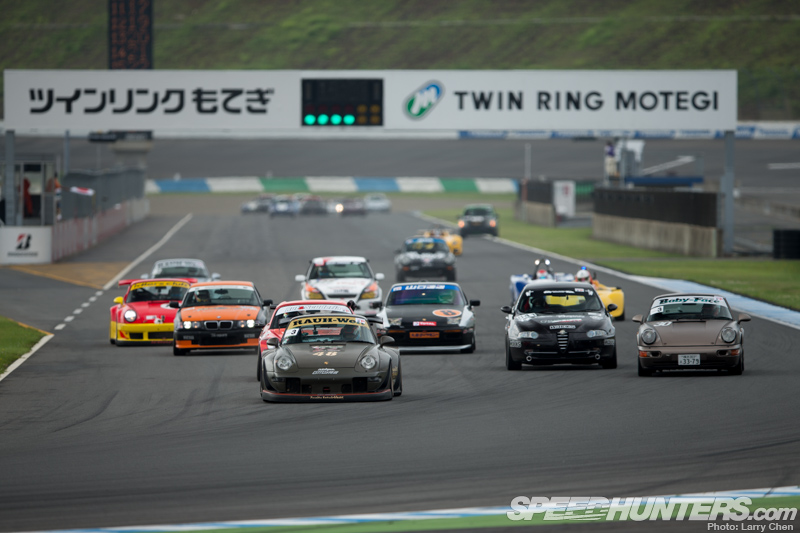 Dino: That was a good thing as it gave us the opportunity to jump in our monster-powered Cayenne Turbo S press car and drive to the outside of Turn 1 to do some shooting. Larry, this was your first time at Motegi, what did you think of it?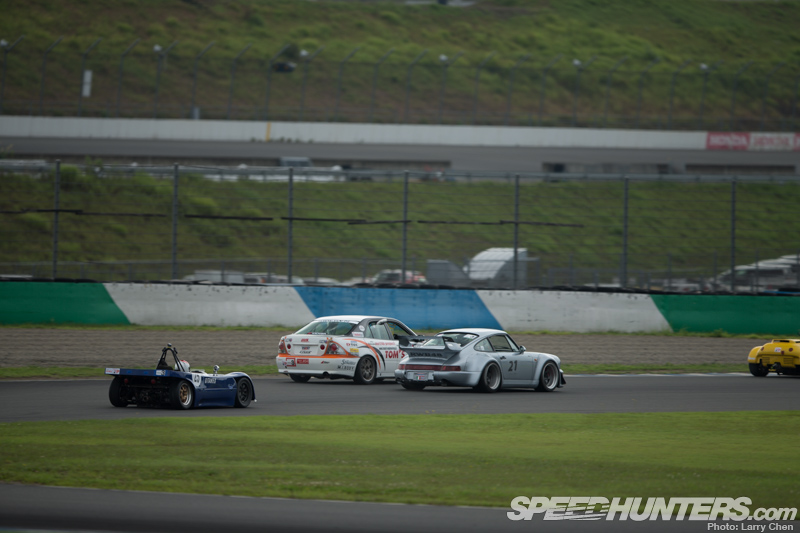 Larry: It was a weekend of many firsts. The first time doing wheel-to-wheel racing as I've only raced in SCCA Solo2 before. The first time endurance racing, and the first time driving at Motegi. Just to give you an idea of how many cars were on track, this pack was just starting the race but the cars at the rear are already about to start on their second lap.
Dino: Did you like the track's layout?
Larry: It's interesting because I had only driven it in video games before. If anything, I found it much smaller than I imagined it would be.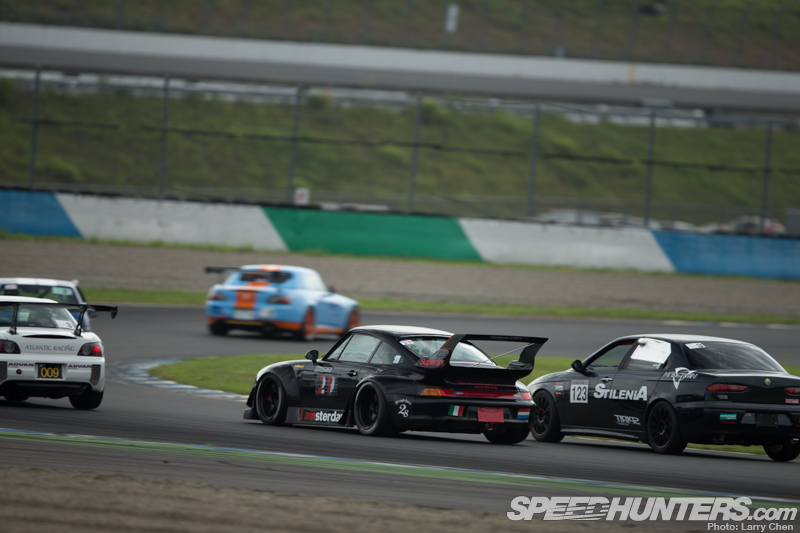 Dino: Yeah, well I drove it way back in 2000 and spun my car!
Larry: In the video games it feels like the straightaways take forever to get through, but in real life the next corner arrives much sooner than you think.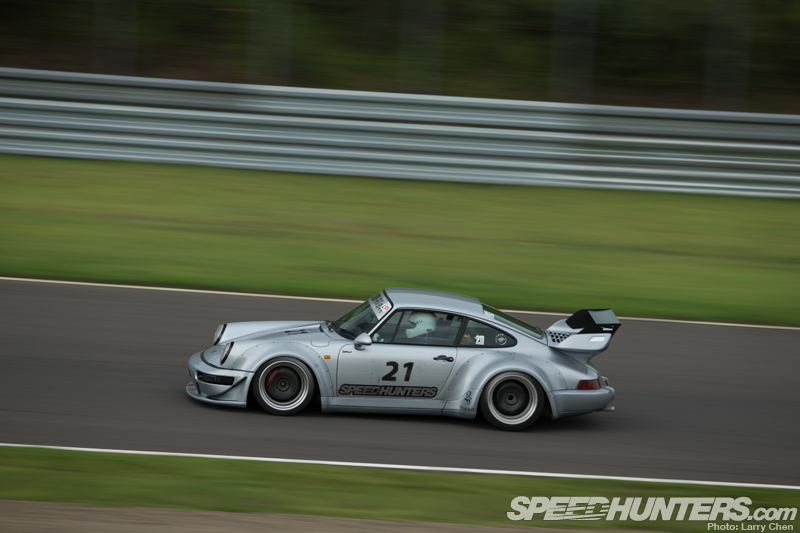 Larry: I was driving the #21 car and it seemed like we got a great start. But then something happened and we had to pit early, which ended up pushing us back to last place.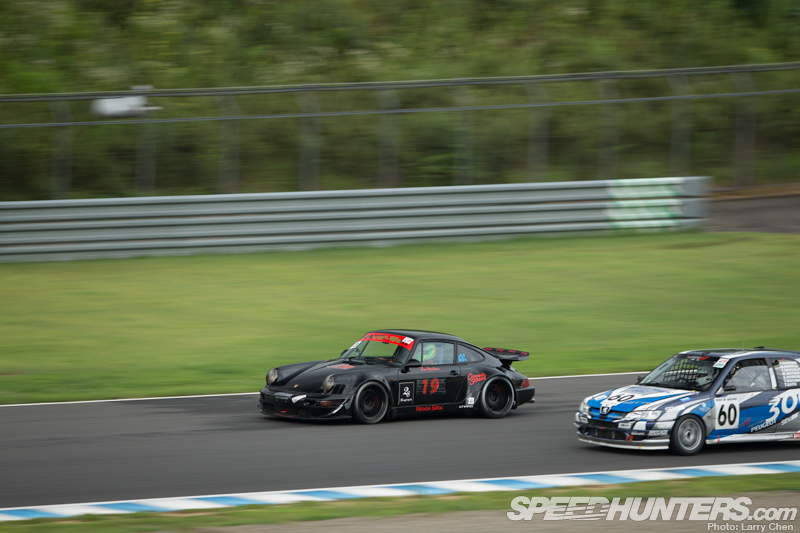 Larry: Although, the pack of six RWB cars all pretty much started in the rear, and I honestly I think it made for really interesting racing. There was a lot of passing going on.
Dino: Yeah, sometimes it was hard to figure out who was in what position!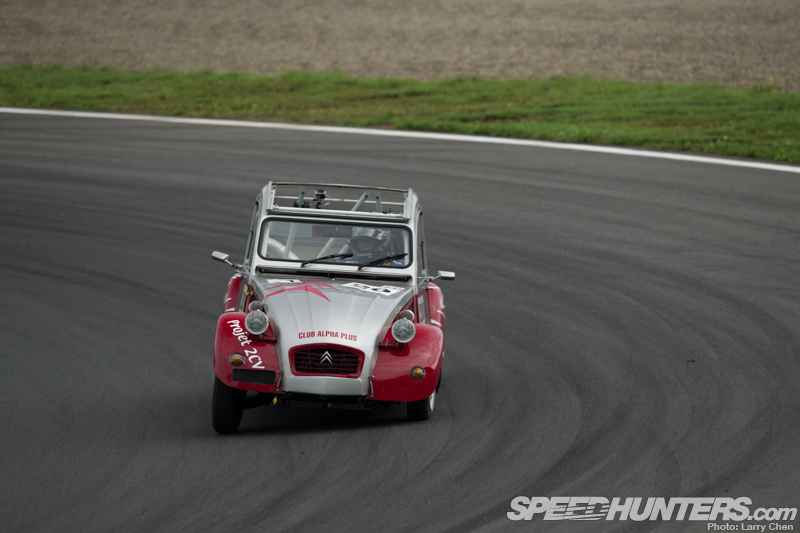 Larry: I really have to hand it to these guys – they were being lapped every two to three laps by all the RWB cars.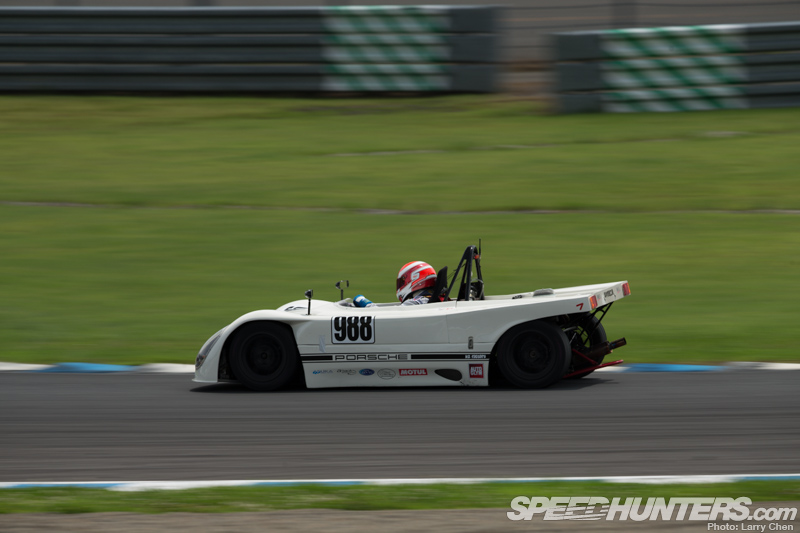 Larry: This mini-sized Porsche 917 was really fun to drive with. It didn't have as much power as our super-wide RWB cars, but its braking and handling ability was amazing.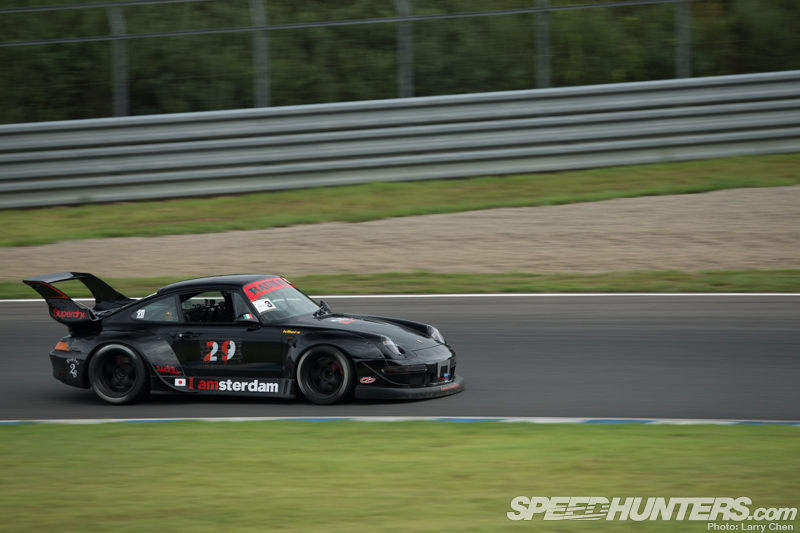 Dino: Our team started off pretty slow, dropping a few places. But with the first couple of driver changes our standing improved all the time. We were lucky and got a very nicely-prepped car with an awesome StopTech brake package. It was all about late braking with this thing!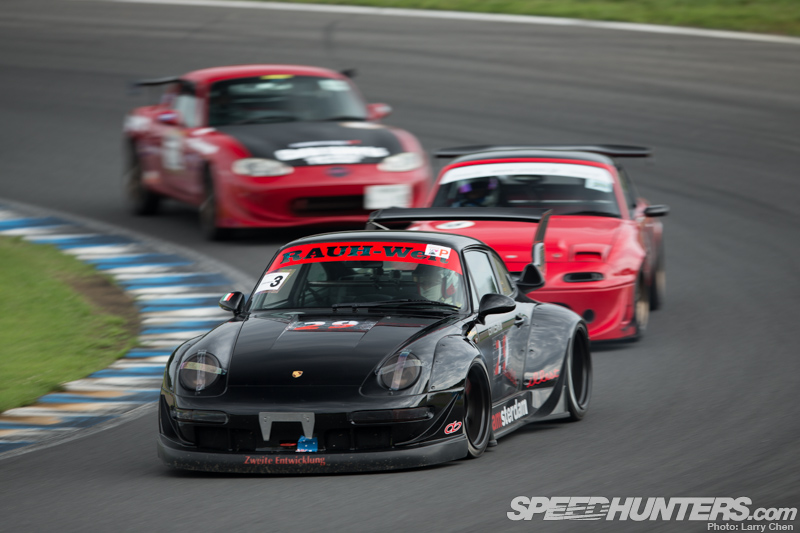 Dino: The overtaking continued, but boy was there traffic at some points!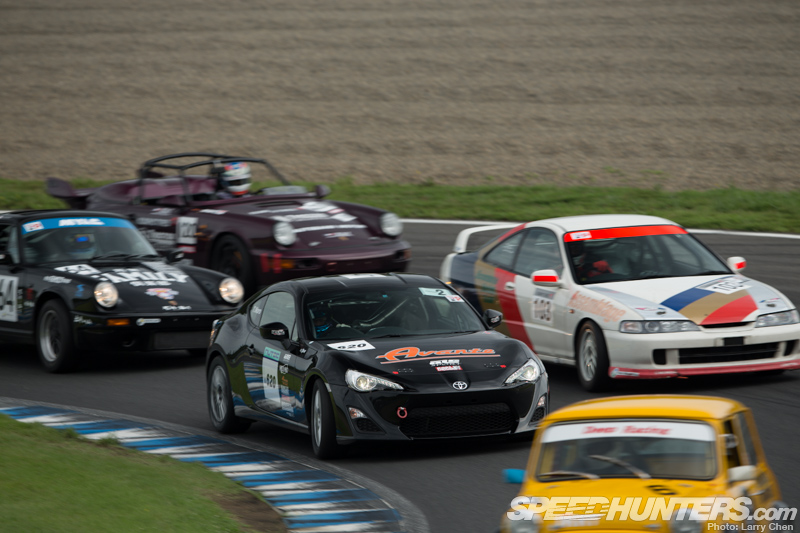 Larry: Yeah, this sort of scene was pretty normal. The traffic was super-intense and you constantly had to battle three, sometimes four-wide going down a straightaway.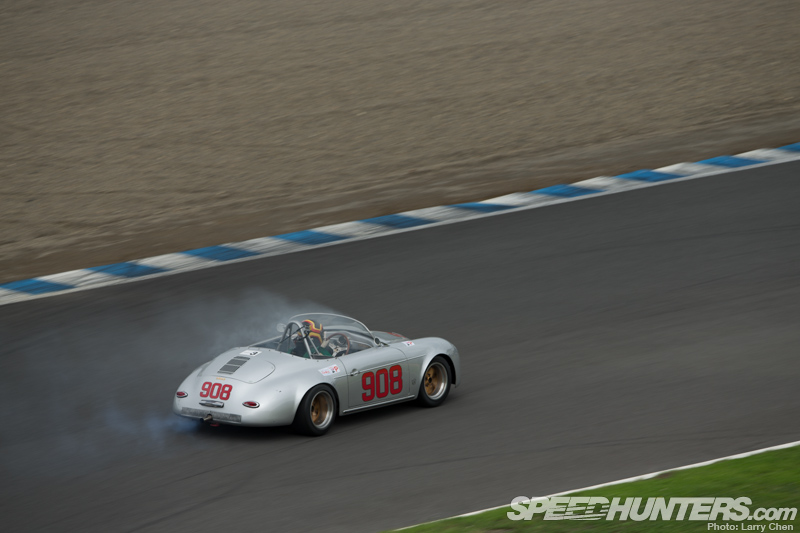 Larry: Dino, did you hit any oil or stones when you were driving? I got pushed out to the marbles a few times, but I never went off the course. It was not my car, so I figured I shouldn't wreck it.
Dino: I had no choice but to take a wide line at times, but that is when the 'Italian fury' descended and I usually was able to take revenge and overtake the guilty parties within a turn or two.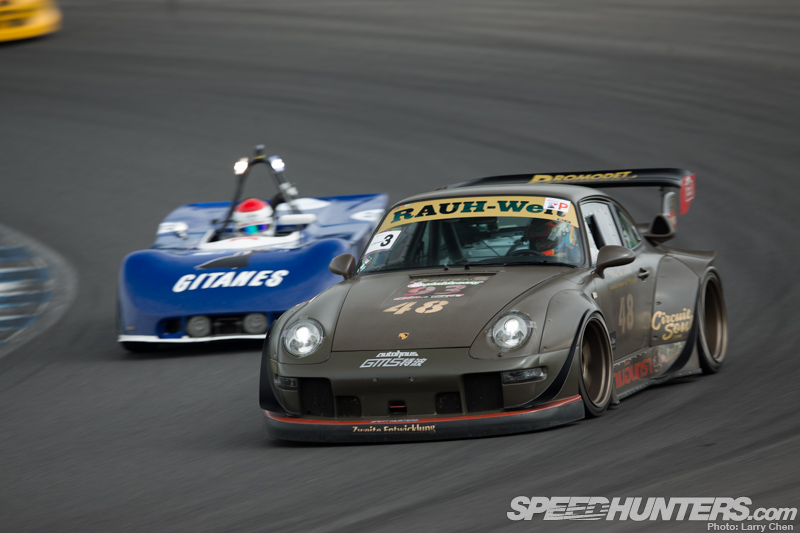 Larry: This was the ringer car – all the experienced drivers were in this brown 993. Boy was it fast!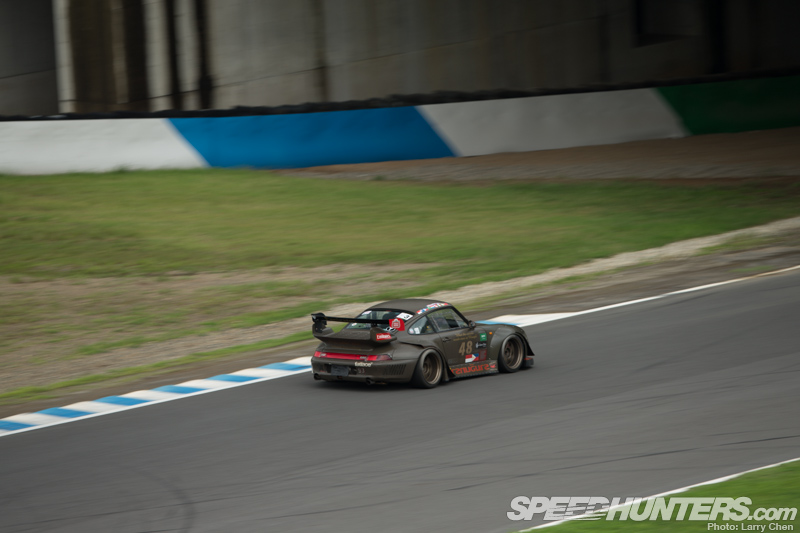 Larry: Pretty soon it lapped the rest of the RWB cars, but it did not stay that way for long. It came into the pits numerous times for fuel pump issues among other things, and that significantly slowed it down.
Dino: Yeah, this thing was a beast but the drivers were all insane too! I attempted to keep up with it during one of my stints, but as soon as the cams came on boil it just shot away!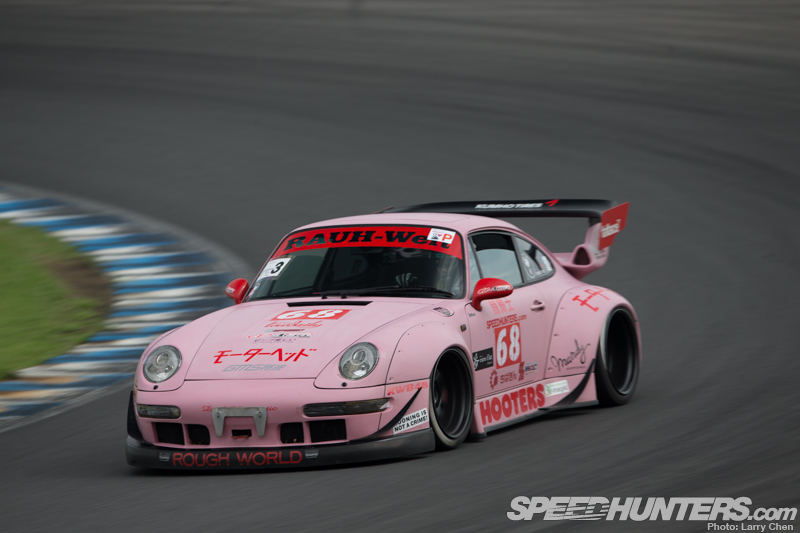 Larry: Honestly, at this point we were just out there to have fun and experience something new. We certainly were not trying to break records or win the race. Our main goal for all six cars was to cross the finish line after 1000km of driving.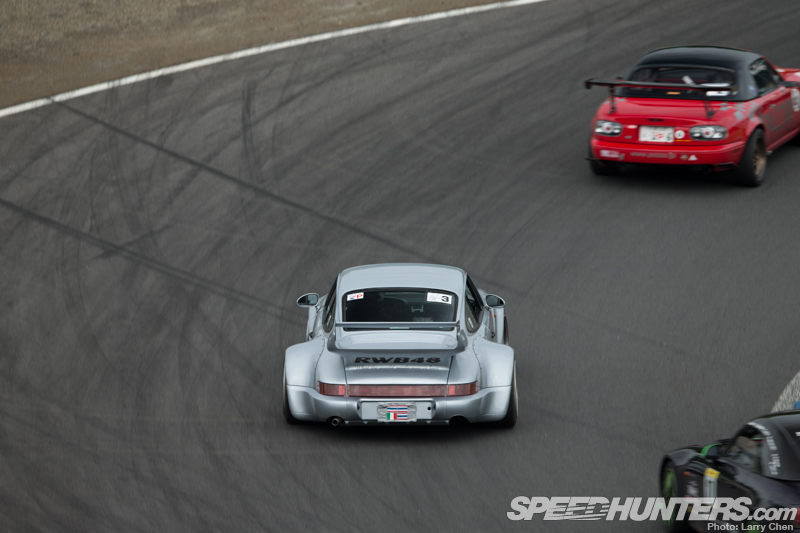 Dino: Absolutely! This sort of racing is much more about team work and keeping the car reliable throughout the whole race than setting a new lap record. That's why we had all imposed limits to shift up at 5800rpm, and never to use second gear to save the gearbox. This worked most of the time, but every now and then you needed to let the engine really sing to complete an overtake.
Larry: As the race was well underway I think we were both getting more and more anxious about getting behind the wheel.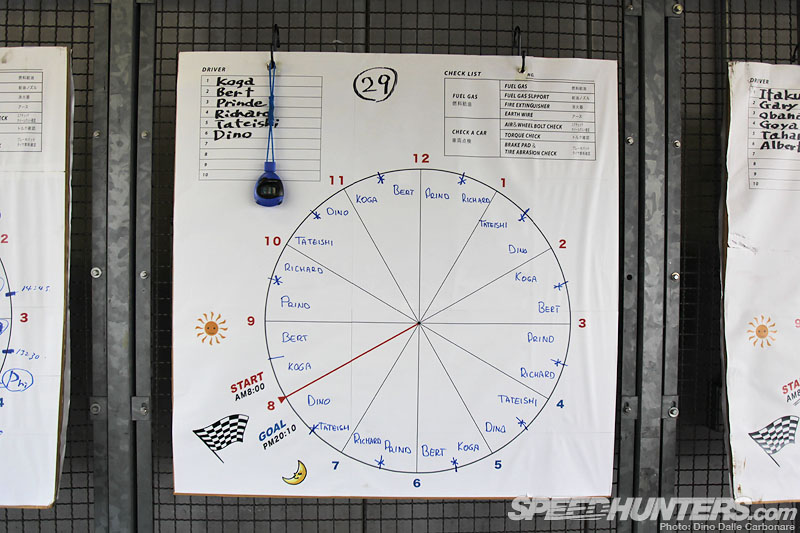 Dino: Well I definitely was. Nakai-san along with Toshi-san and Yoko-san – both loyal RWB customers who help out with PR and dealing with international customers – had created a pie chart for each of the six cars to show when everyone would be driving.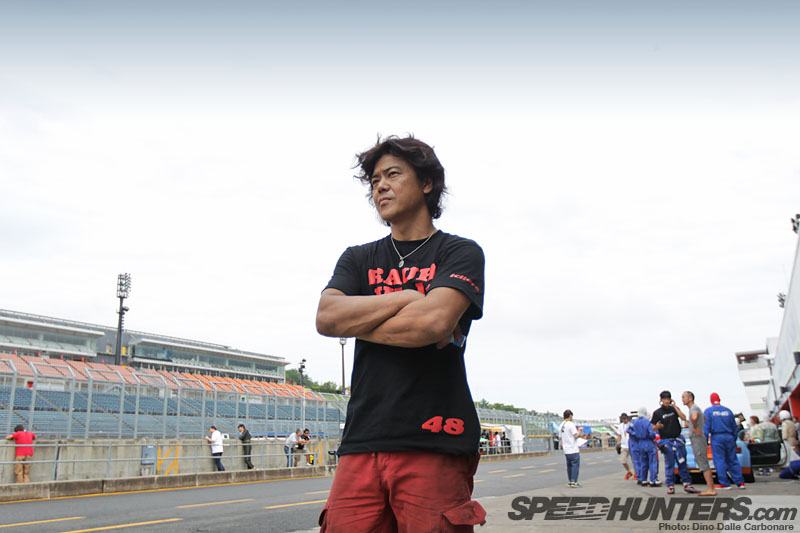 Dino: I wasn't due to start my first stint until 10:30am, but while Nakai-san waited for the second round of pit stops to commence it was your turn to suit-up and prepare to jump in the hot seat.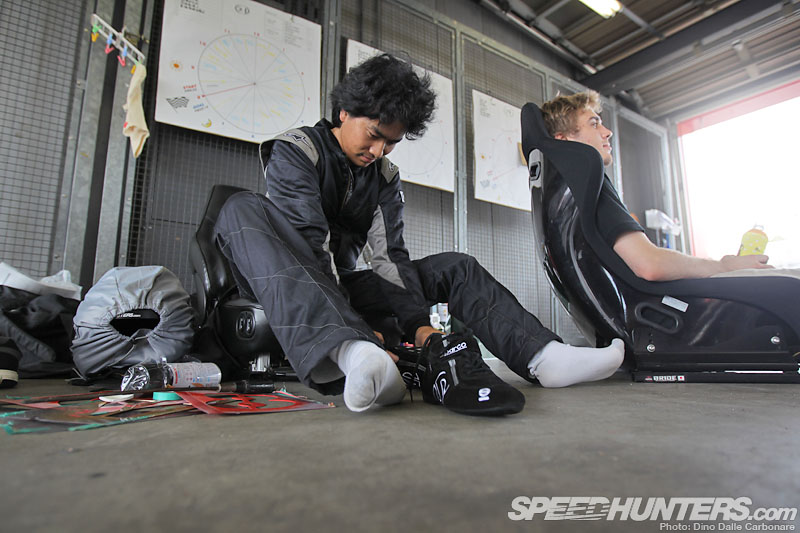 Larry: My race suit is very worn out, but sadly not from racing. I have to wear it when I am at ALMS and some FIA GT races shooting from within the pits.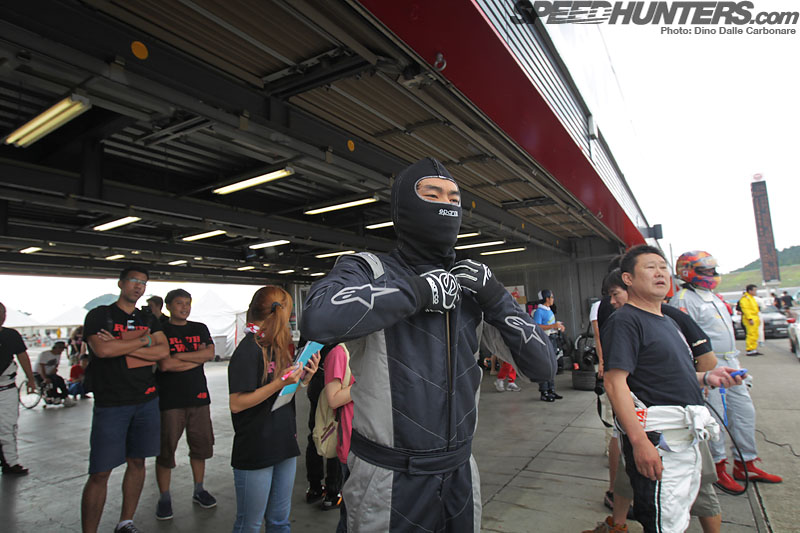 Larry: This was the first time I had put on my race suits for the purpose it was actually intended! Thanks to Alpinestars for supplying it.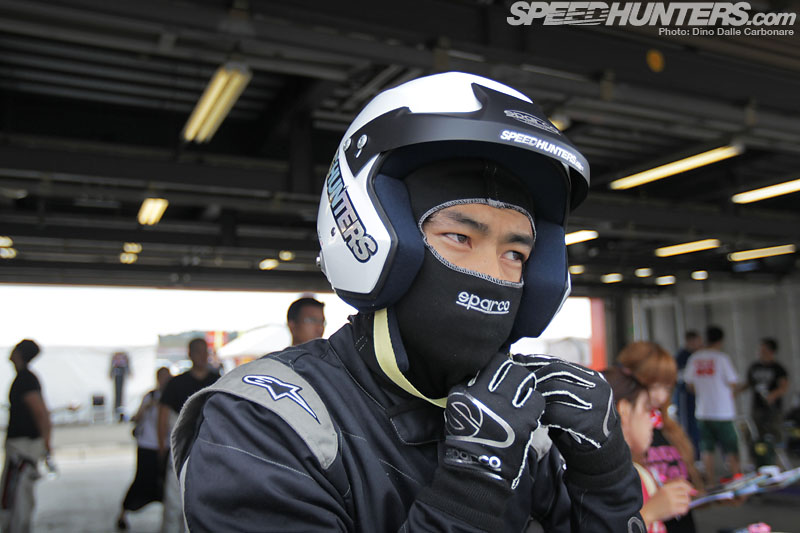 Larry: At this point I had not actively competed in any kind of racing for more than six years, so I was feeling a little bit nervous. I always ask drivers in interviews, "What goes through your head before you get in the car"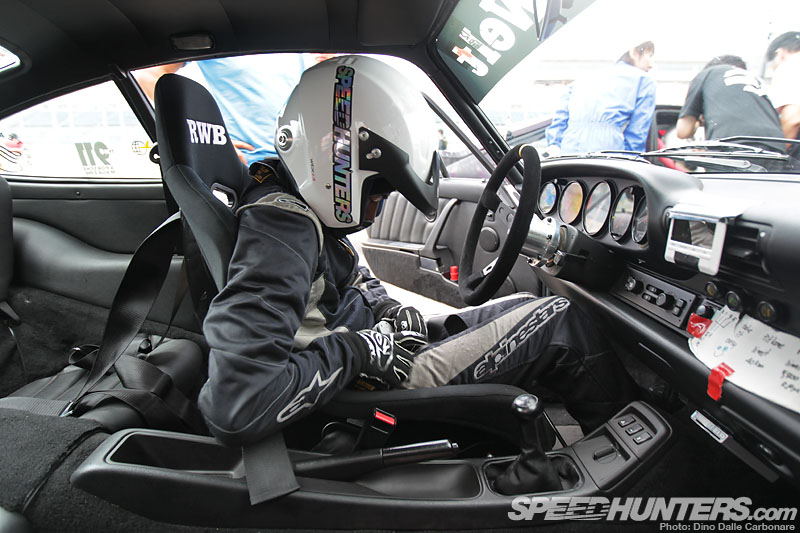 Larry: I honestly just tried my best to remember all the advice that I learned over the years from friends who are professional endurance racers. There was 11 hours to go when my stint started, so the main goal was to save the car and finish the race. But I didn't want to be a slouch.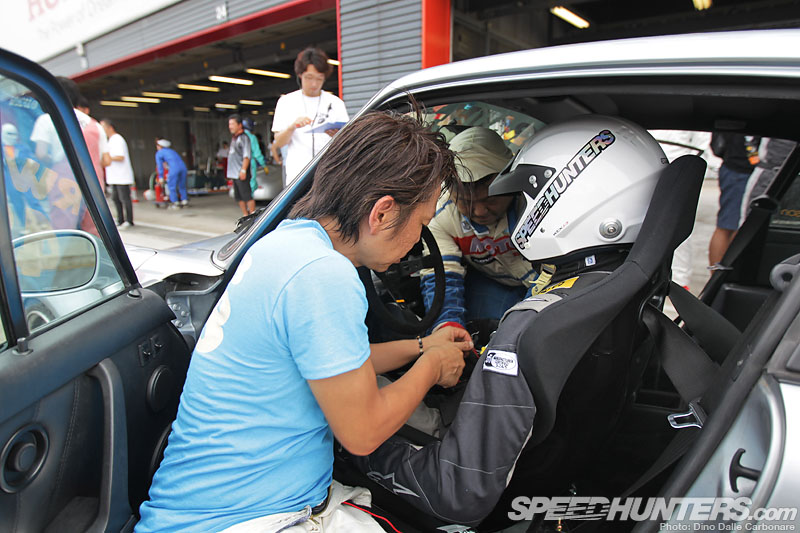 Larry: Previously I've had issues with coughing after driving for over 30 minutes. It would happen because I was breathing really deeply and so focused on what I was doing that I'd forget to swallow, making my throat really dry. Then my eyes would water-up making it very dangerous.
Dino: Yeah, you told me that you had made a mental note to remember to swallow your saliva!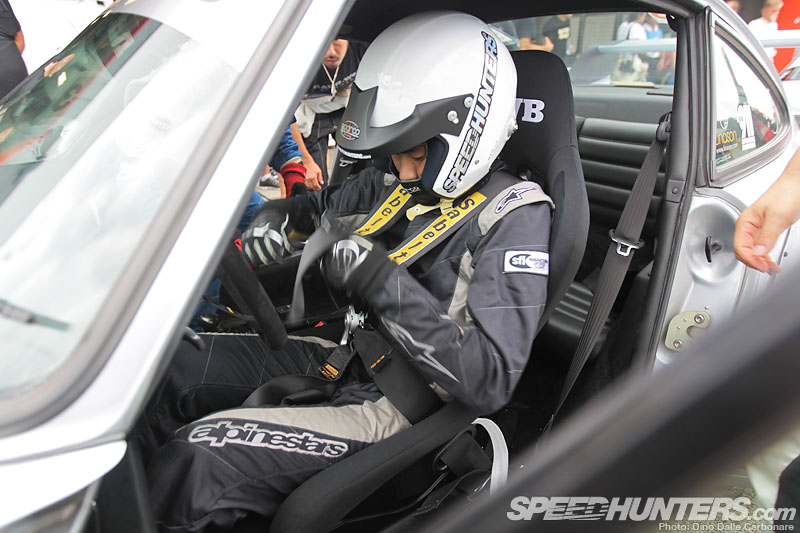 Larry: I just made a point to remember to swallow every few corners and I drank lots of water. It was super-humid and very hot outside, so I knew I was going to lose a lot of fluid. In SCCA Solo2 the runs don't last longer than two minutes, so driving for nearly an hour was something that I am not used to at all.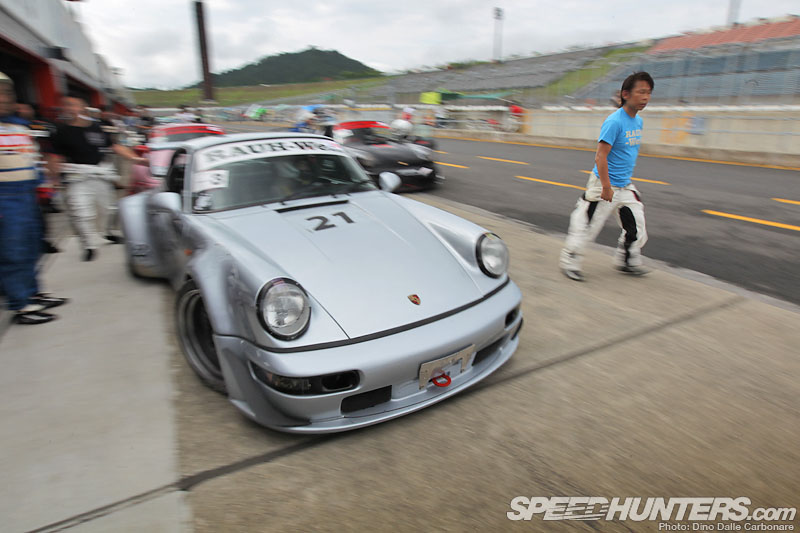 Larry: Everyone had to make sure they didn't exceed 40km/h in the pits, otherwise you would have to wait in your car, in the penalty box, for 15 minutes. Totally not worth it.
Dino: Yeah, screw that! I was impressed at how all the pit stops went down without any issues – everyone respecting the five minute rule.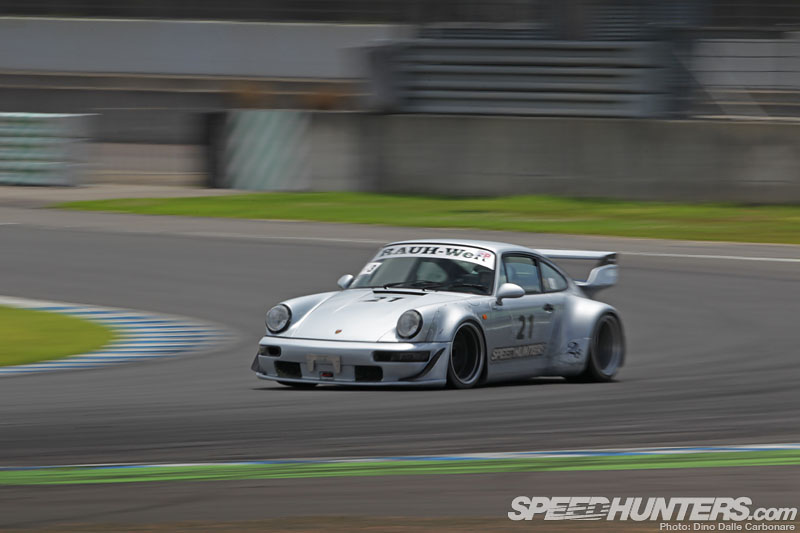 Dino: As soon as you shot off in your car I headed out in the Cayenne Turbo armed with my camera and your 400mm lens. I was hoping to get a few cool angles – especially from the nice spot on the outside of Turn 3. But seeing I had forgotten my press pass and I was wearing a race suit, one of the marshals looked at me sideways and then told me to leave. But you were looking pretty good out there!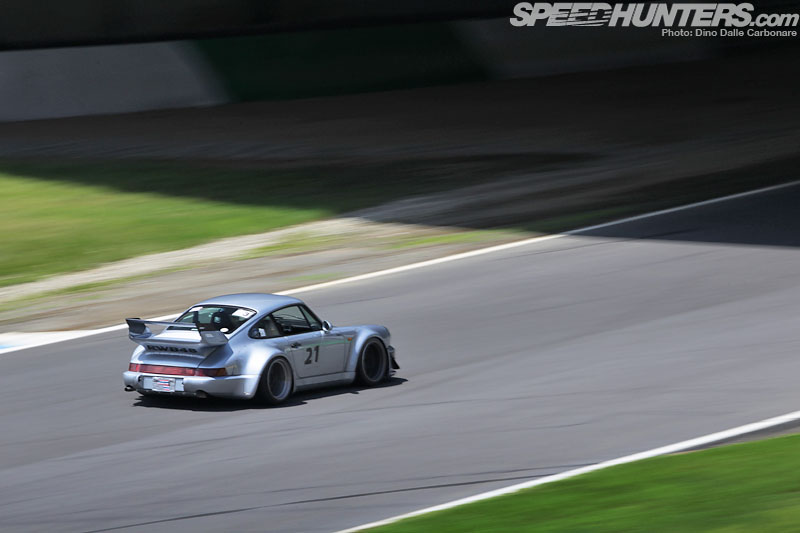 Larry: After a few warm-up laps I got more and more comfortable in the car. I noticed how easy it was to push it in the corners. On the street these cars were a bit too stiff for my taste, but when I unleashed #21 on the track it was such a pleasure to drive. I could not believe how deep you could dive into corners, or  how early you could plant your foot on the throttle coming out.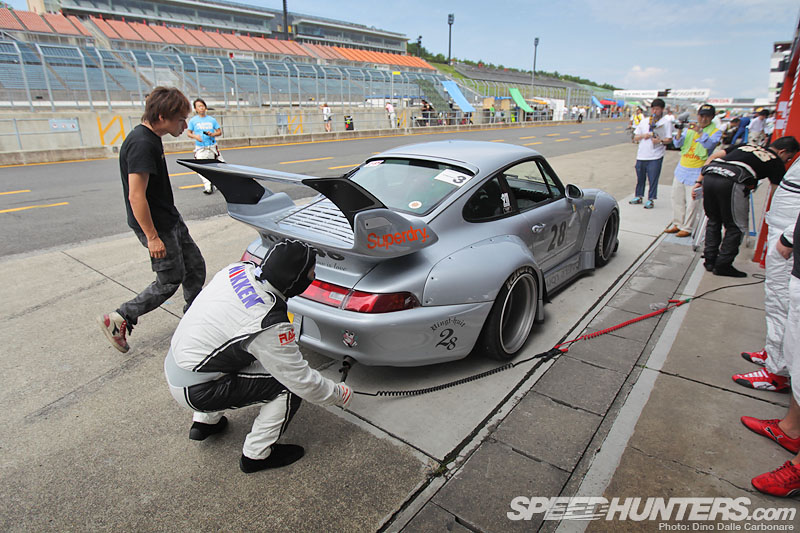 Larry: Before I knew it my first stint was over. The rule is you can only fill up 20 liters of fuel per stop, so we tried to limit our stints to a smidge over 30 minutes each.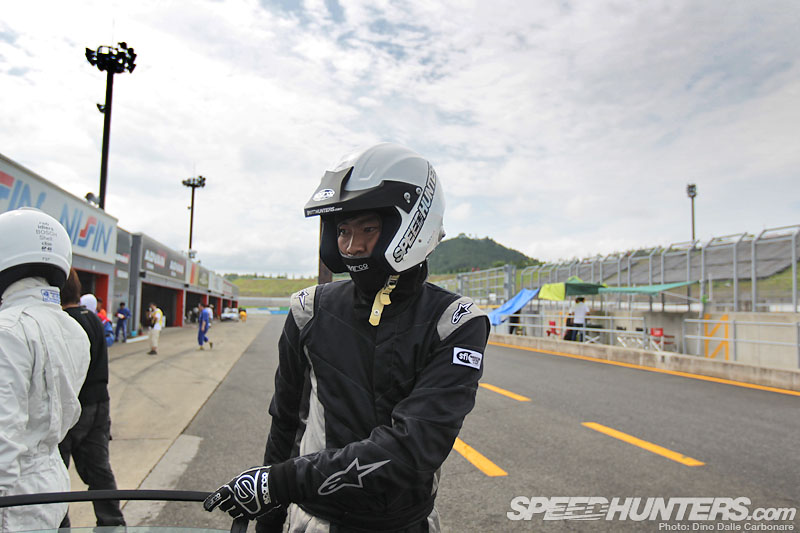 Larry: I was so exhausted, but I was very satisfied with how my first drive went. I made up only one place, but at least I was not losing positions for my team.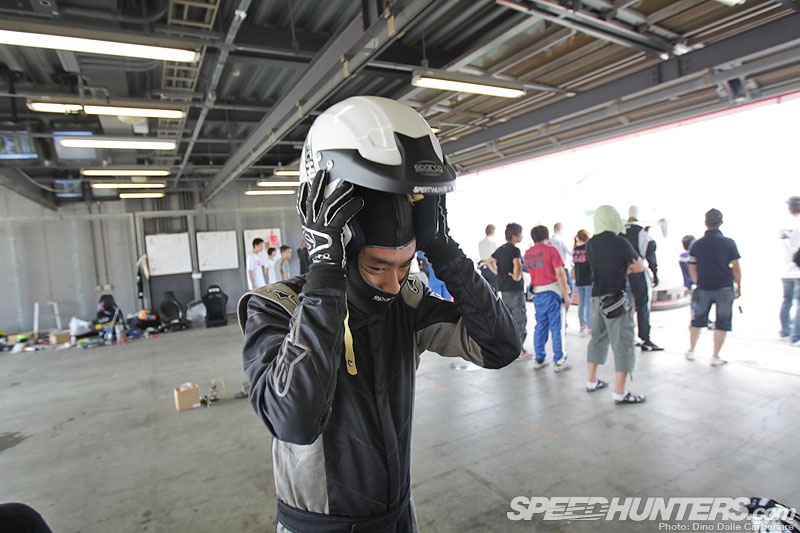 Larry: I had to hurry up though, as our dear Italian Speedhunter was ready for his first stint with the 'big boned' team.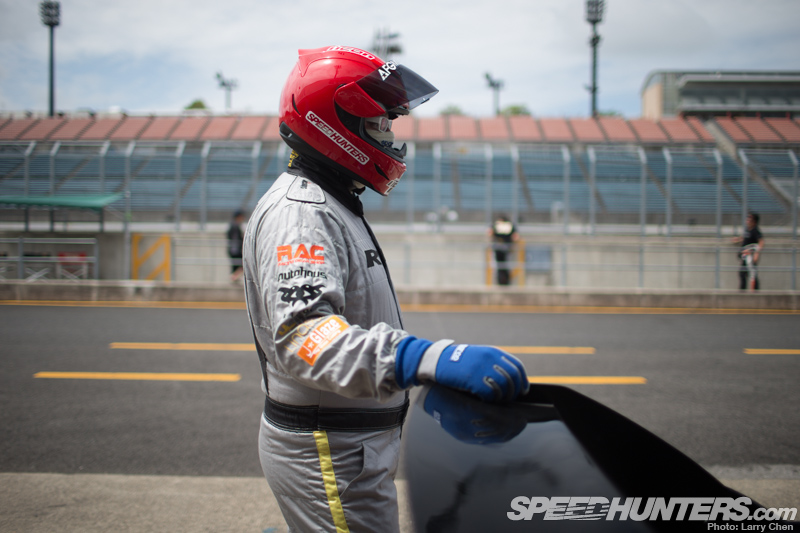 Dino: Seeing everyone come back into the pits so pumped after their drives made my wait even more unbearable! Eventually though my turn came, and I zipped up my borrowed – and obviously slightly-undersized – race suit, put on my helmet and gloves, and waited out the painfully-slow driver change time rule before jumping in.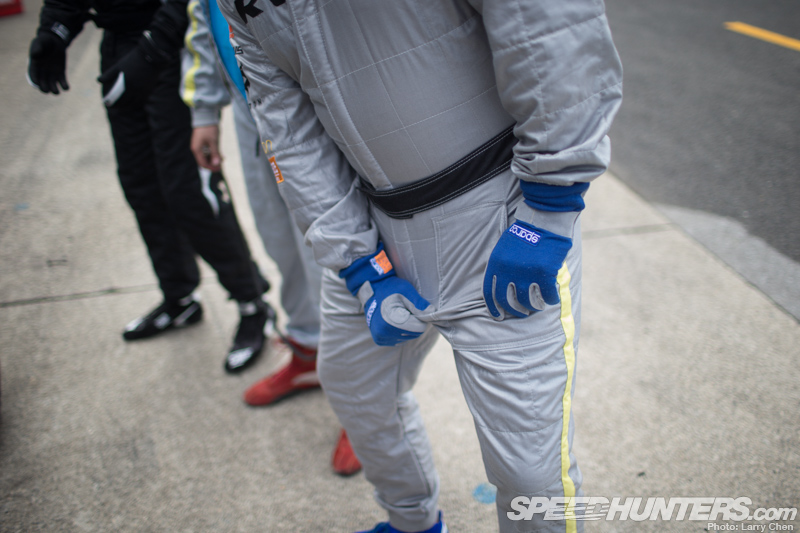 Larry: I don't know man, I actually liked your suit! It had so many features, including SelfWedging technology. I know that was your favorite part.
Dino: Yes absolutely! All I had to do is stand up straight and I'd inflict instant crotch agony on myself. It was actually a good way to wake myself up before a drive.
Larry: How refreshing!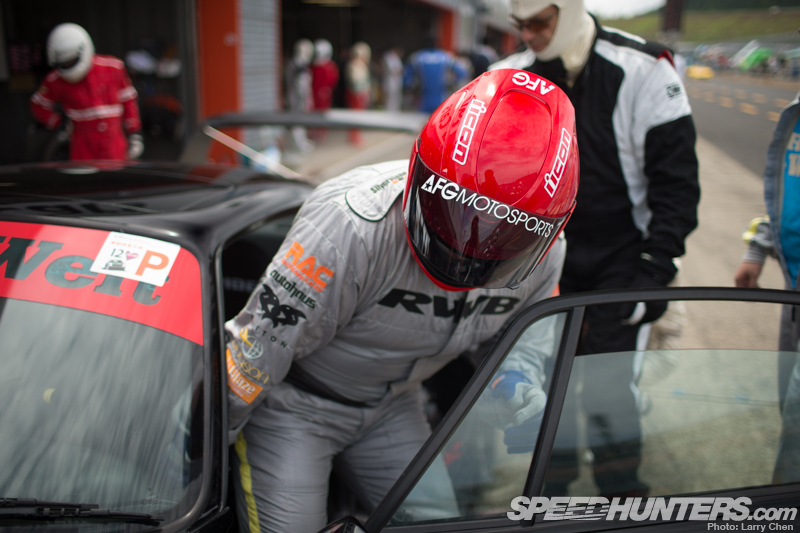 Dino: The most painful part was actually getting in and out of the car.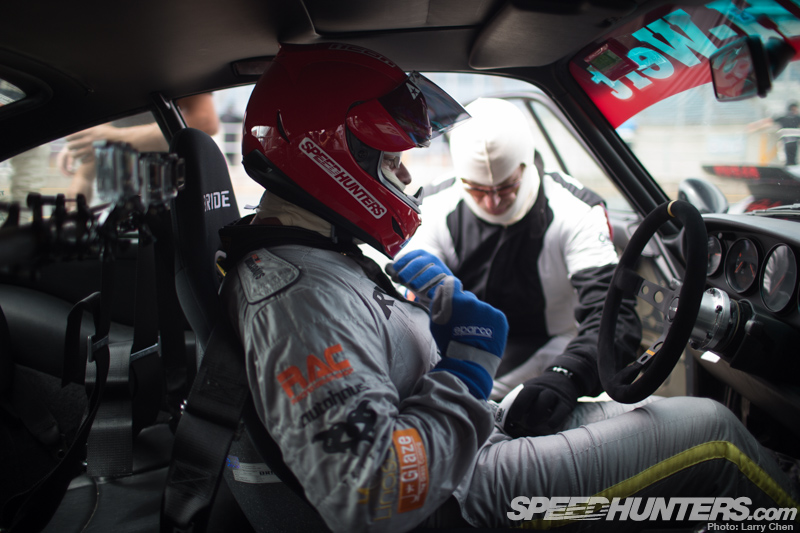 Dino: But jokes aside, it was great feeling to have the team work around you. As I sat in, the other guys helped me strap the five-point harness down.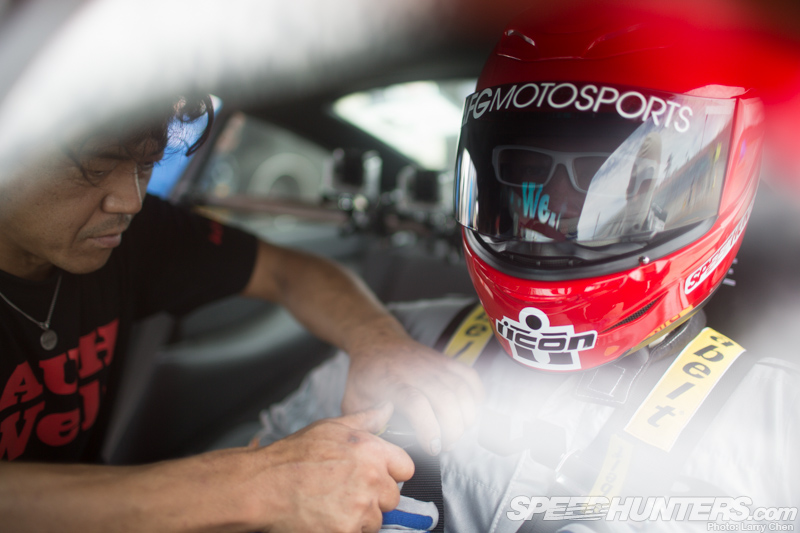 Dino: I can't tell you how much of an honor it was to have Nakai-san himself lend a helping hand and giving me a reassuring pat on the shoulder!
Larry: I think he wanted to personally strap you in so you didn't fly out the window.
Dino: Yes I do carry a lot of momentum…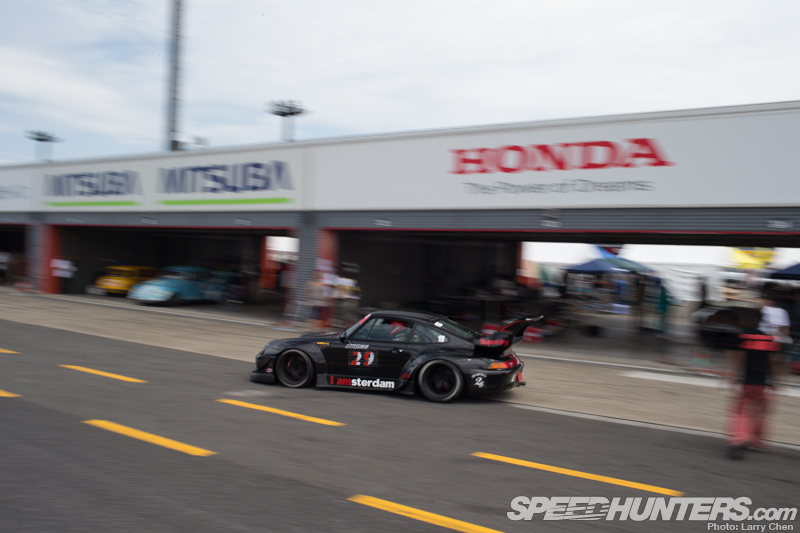 Larry: And like a bat out of hell Dino went o-40km/h!
Dino: Yeah that was lucky, I almost forgot of the speed limit in the pits…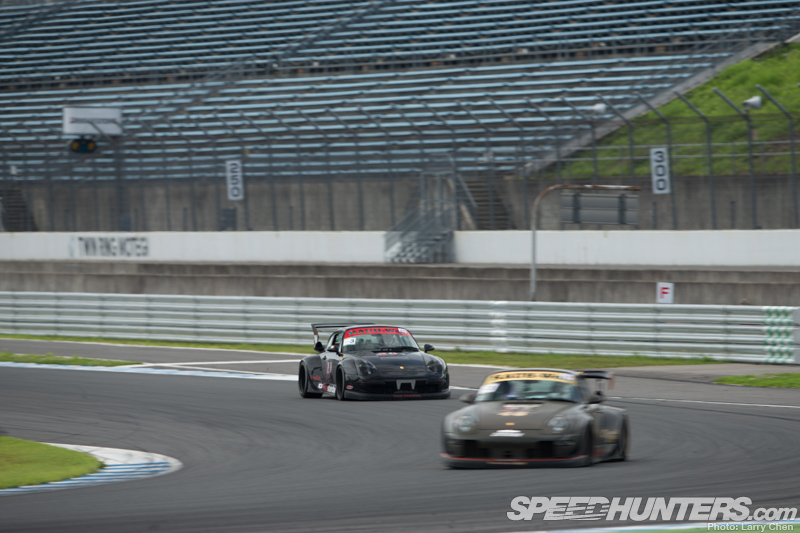 Larry: I know you have driven the track before, but it seemed like you were out for blood! You passed everyone, including the car with all the ringers.
Dino: I had only driven here once before but I guess remembered it well. I followed the ringer car for the first couple of laps, just to get a feel for braking points and lines, and then I went for it. Our 993 just begged to be leaned on. The setup was absolutely perfect and there was so much grip you never get yourself caught out. So much fun!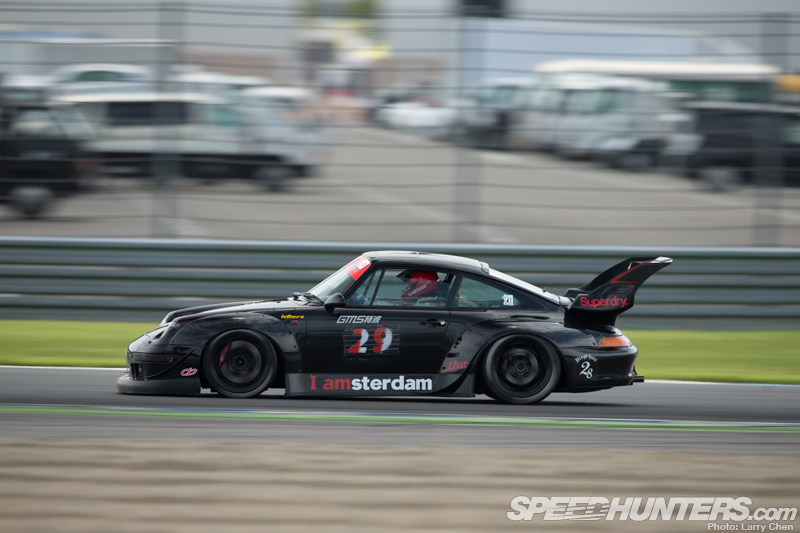 Larry: How many cars do you think you passed in that first session?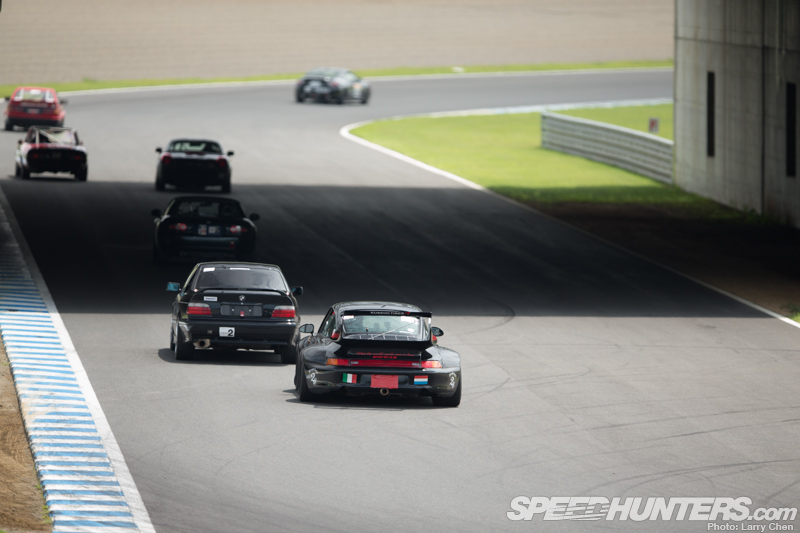 Dino: I'm not exactly sure, but it must have been around 20. Most of them were just slower cars that we were all lapping though.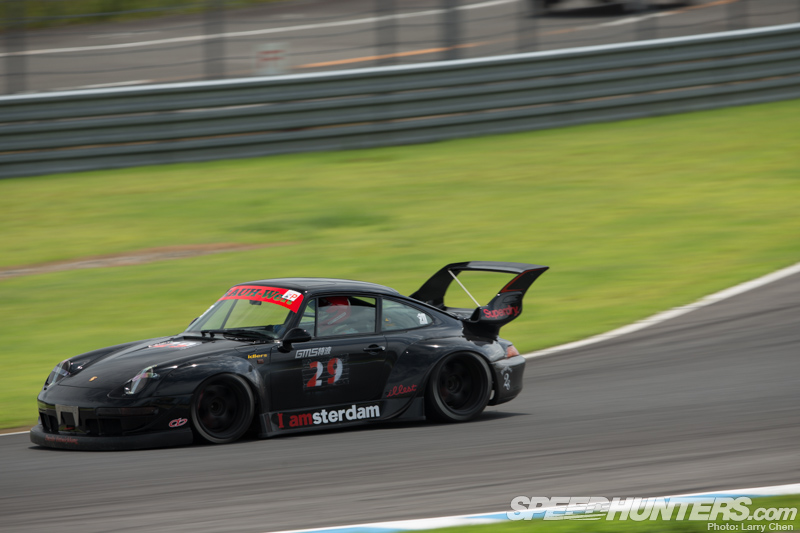 Dino: That doesn't really matter though, as any overtake is fun and satisfying!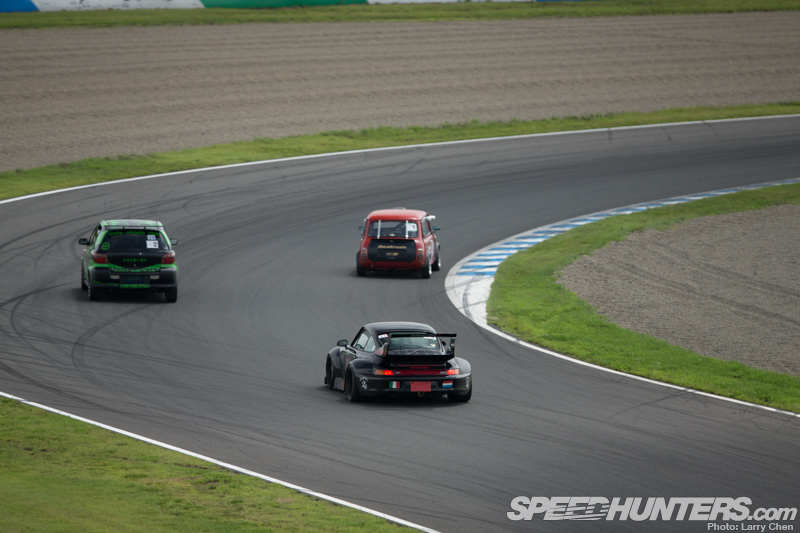 Dino: My first 30-minute stint was over so quickly I couldn't believe it. Once you get in the zone nothing really breaks your concentration, and the heat and all the sweating you do all dressed up in Nomex soon vanishes. You become one with the car and concentrate on overtaking and safely lapping as many cars as you possibly can without pushing the car too much. After all, the most important thing was to keep good pace without excessively overworking the engine, gearbox, tires and brakes.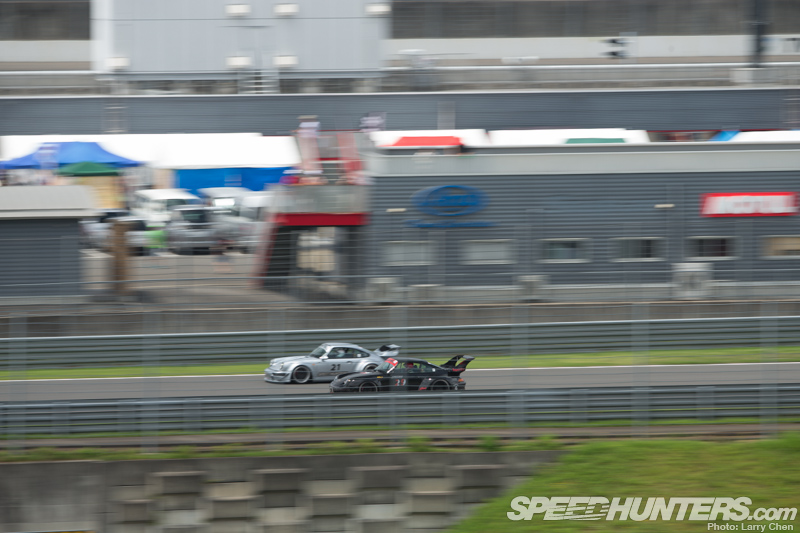 Larry: It was embarrassing to watch you pass our dear friend Jeab for the position as if he was standing still. Actually, this part of the course was where I passed the most people.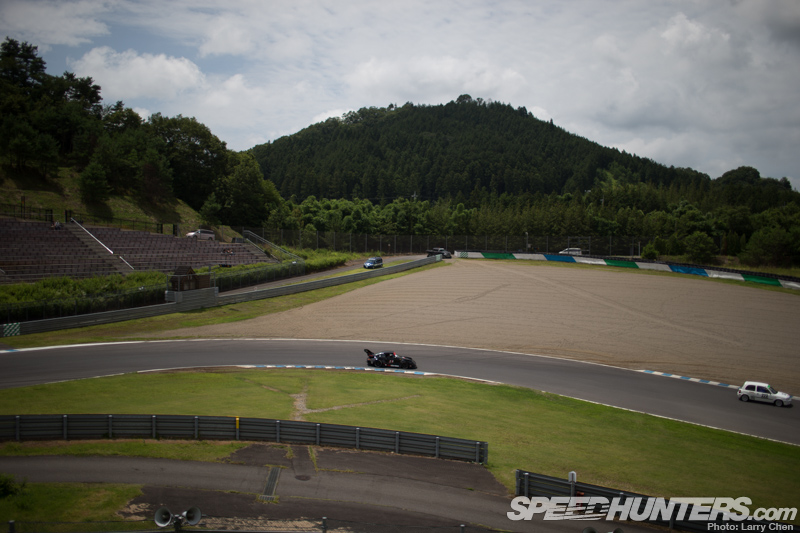 Dino: My favorite corner was also the one I feared the most: the tight right hander that leads you under the second bridge right after the back straight. I got up to fifth gear here every time – trying to pile on as much speed as possible before leaning hard on the brakes. They refused to fade no matter how hard I pushed them, which definitely helped me to pass so many cars. If I was trying to overtake I'd step on them late, hold the inside line, and then release them when I threw the car right into the apex. At one point in the day I manage to pass four cars in one go using this technique. It was so satisfying!
Larry: I always ventured on the safe side with this corner, as you'd have a huge off if you missed your braking point. That said, I think our cars always had an advantage going into this turn.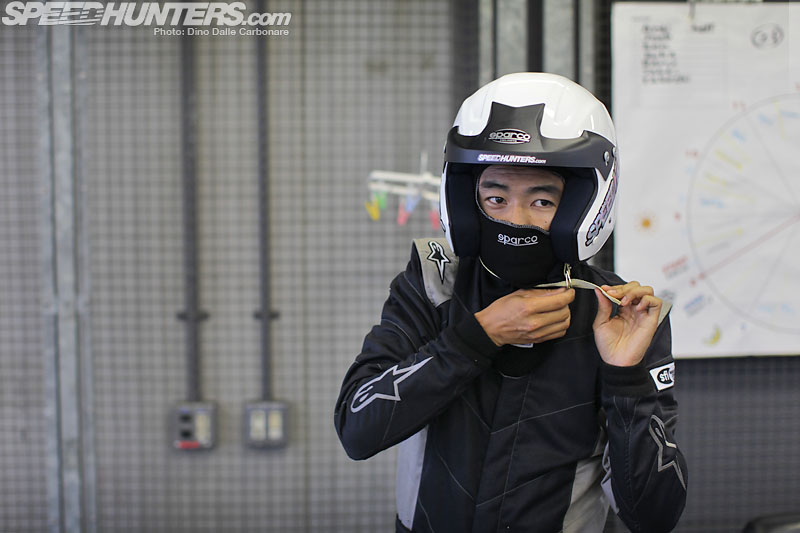 Larry: You know, I'm sad that we never had the chance to battle. Although your car did had much more power and ABS brakes.
Dino: Yeah it was a pity. Our car was a little stronger yes, but we were all big and fat so the power-to-weight ratio was probably about the same! Oh, and our ABS stopped working towards the end of the day, I found out the hard way when I almost went off at T1.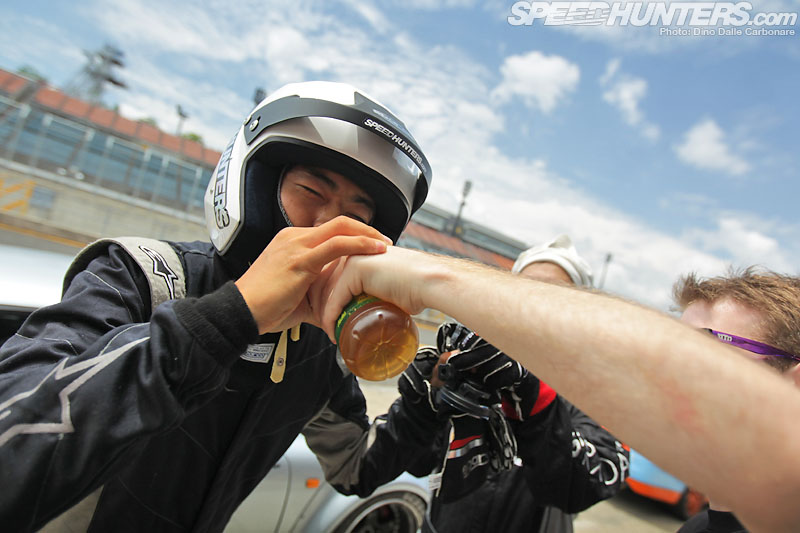 Dino: Topping up the fluids here Larry?
Larry: Well it was quite hot and I needed some liquid refreshment in the middle of a driver change, so someone shoved a bottle of iced tea in my mouth.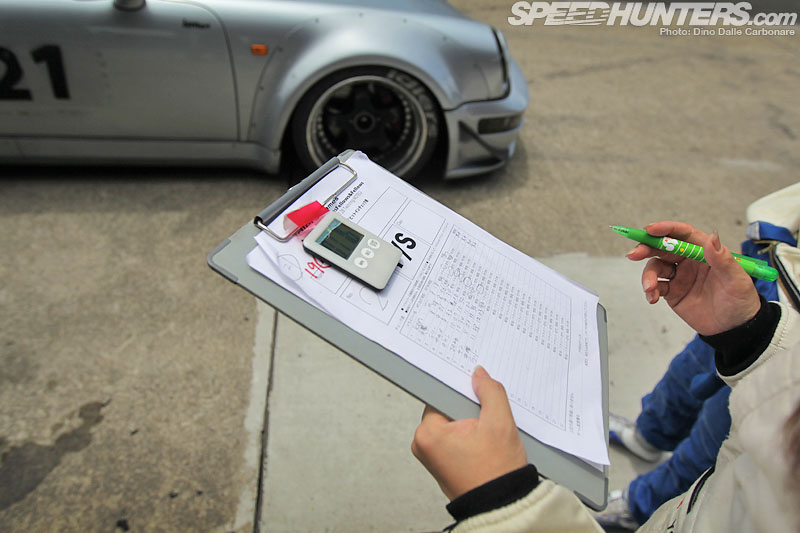 Larry: To keep things fair every pit stop was timed at five minutes. That way, no matter how few crew members you had, you always had enough time to do what you needed to.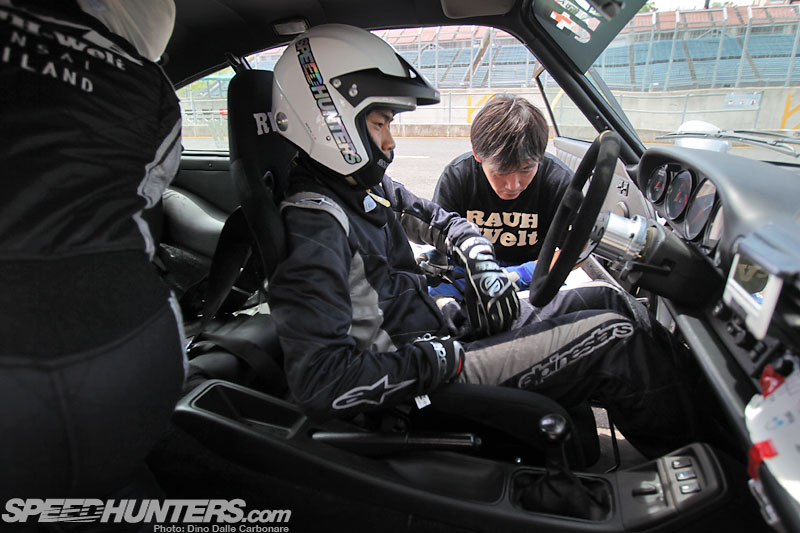 Larry: It was also a lot safer as the crew did not have to rush while they were refueling and you could take your time getting strapped in.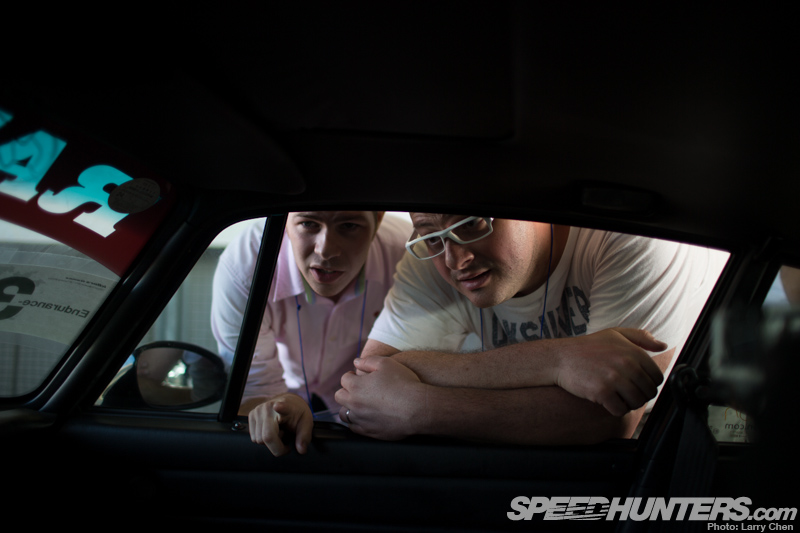 Dino: It was also a good time to talk about strategies and discuss what was happening out on track.
Larry: You guys look like two peas in a pod.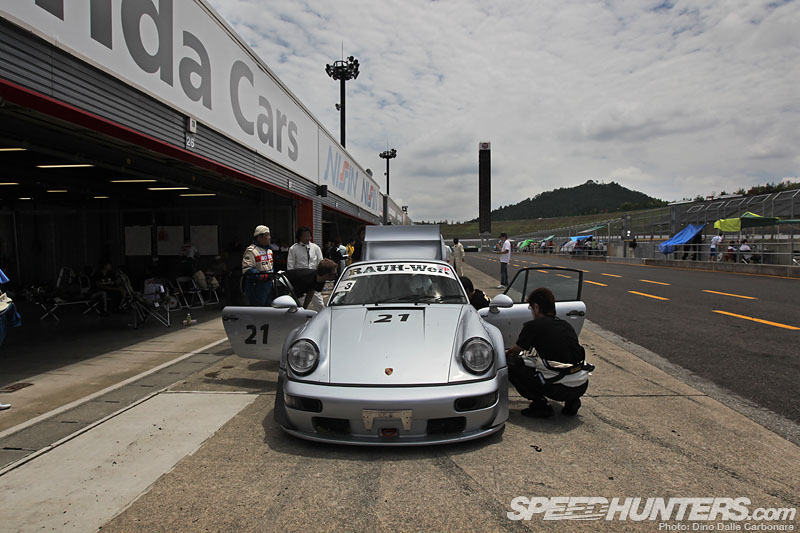 Larry: One of the things I practiced was looking through the cars ahead of you. In Solo2 I've learned to look ahead two or three corners. It was very important to drive your own line and not let the people in front of you dictate where you wanted to place the car.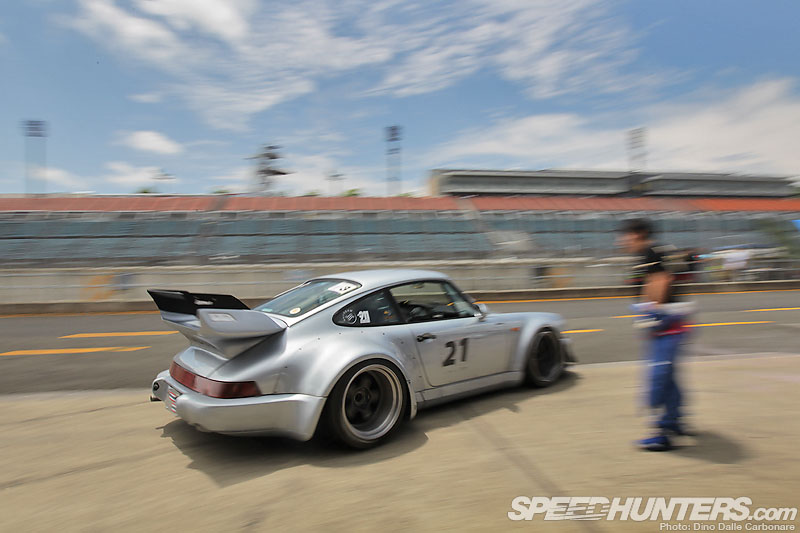 Larry: The problem was, no two laps were identical because there was always traffic. So it was not possible to get a clean lap in, and I always found myself stuck behind a Mini Cooper or some Kei car. The interesting thing is, there are some cars that I was passing all day, but by end of the day I could drive as hard as I wanted to and there was no way I would be able to pass the same car. It really showed what different drivers could do behind the wheel of the same car, even though it was getting more and more tired.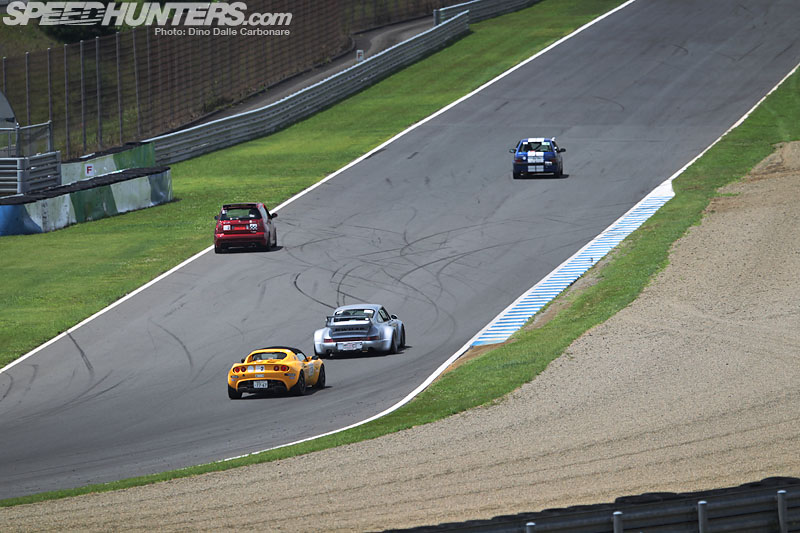 Dino: I was looking at you from this high vantage point from the center of the track and it looked like you were a man on a mission! I can't believe you passed that Elise so easily coming out of Turn 2!
Larry: Yeah, but he passed me right back the next lap and I had to fight tooth and nail to get back that position! Although, in the process I passed your teammate and made up that position too. It was only my second stint and I was getting much more used to the car – but I still didn't want to push it too hard. You have to remember that the 964 I was driving had a stock motor, which means just 247hp to the crank. I can't believe how reliable that motor was though.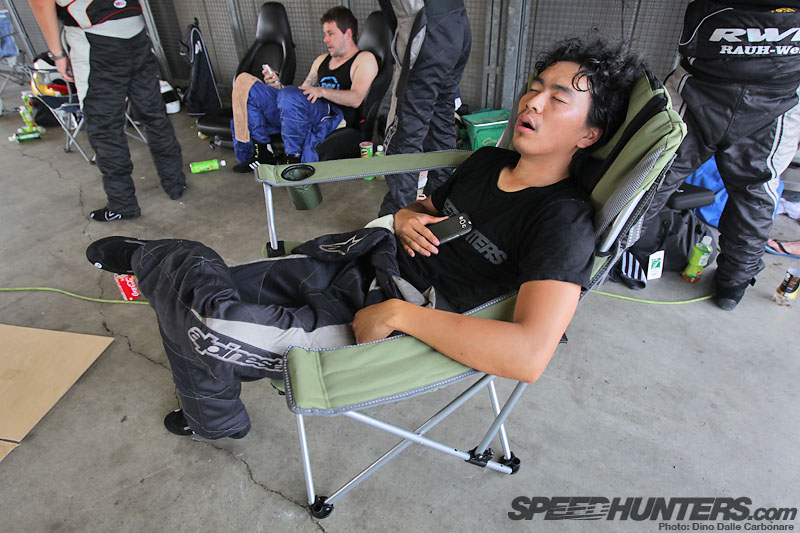 Larry: In between sessions I made sure that I ventured trackside to grab as many action shots as possibly could. Then I'd sprint back to the pits to help other teams with their driver changes,fuel and tires.
Dino: Yeah, you look like you are grabbing lots of action here!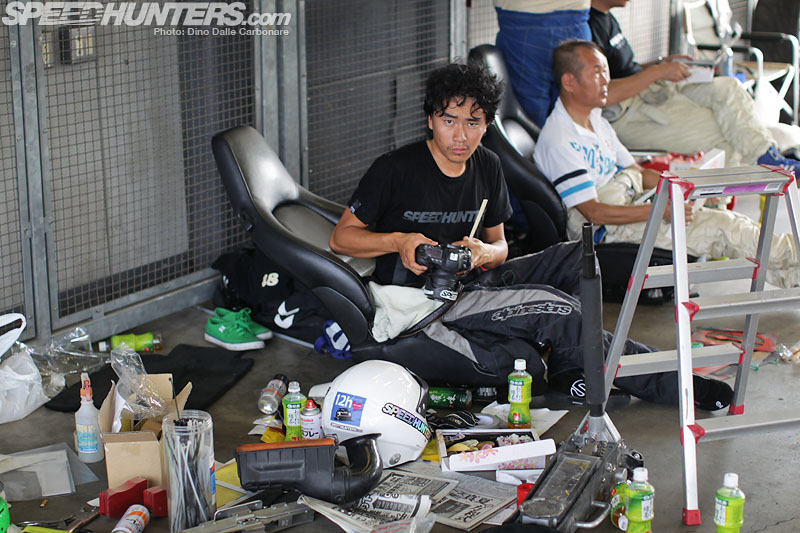 Larry: I like the fact that the six RWB machines turned up to the track as street cars. That meant we had six passenger chairs to sit in in between sessions.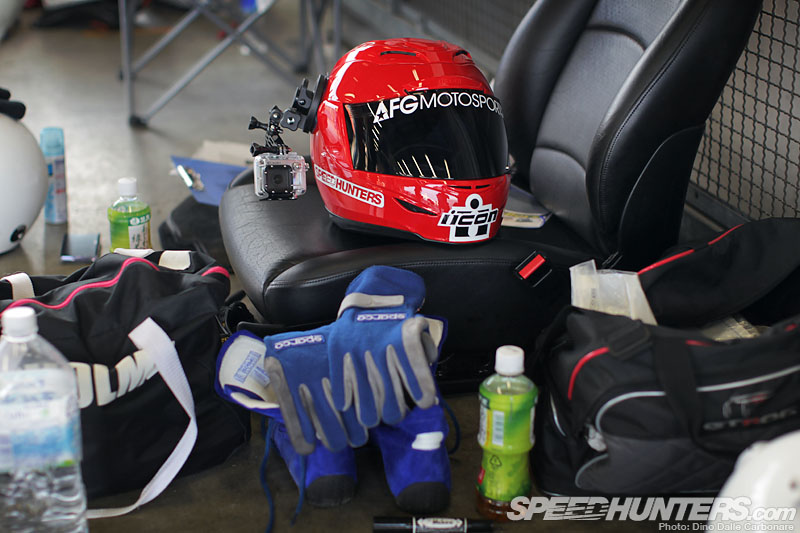 Dino: Yeah, it was really nice and you could dump all your stuff there while you went shooting with no fear of anything disappearing.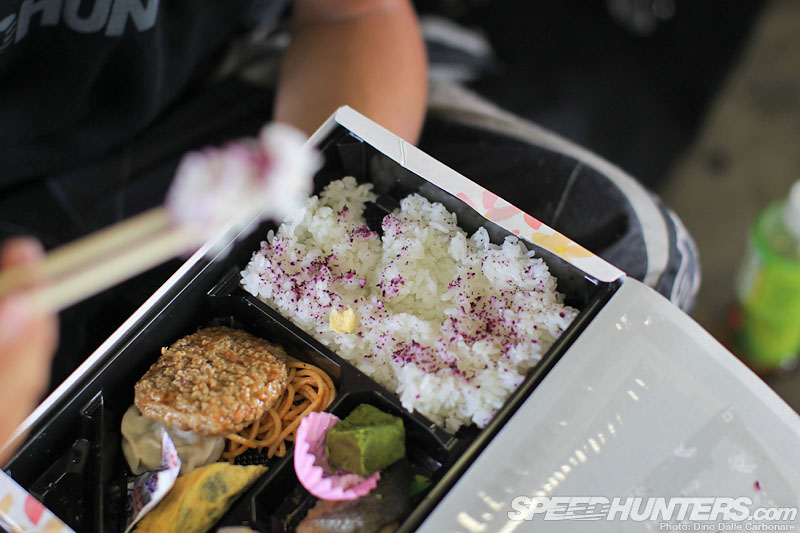 Dino: The whole day was so well organized that before we even had time to realize we were hungry bentos were brought in. It sure looked like you were enjoying your JDM meal in a box Larry!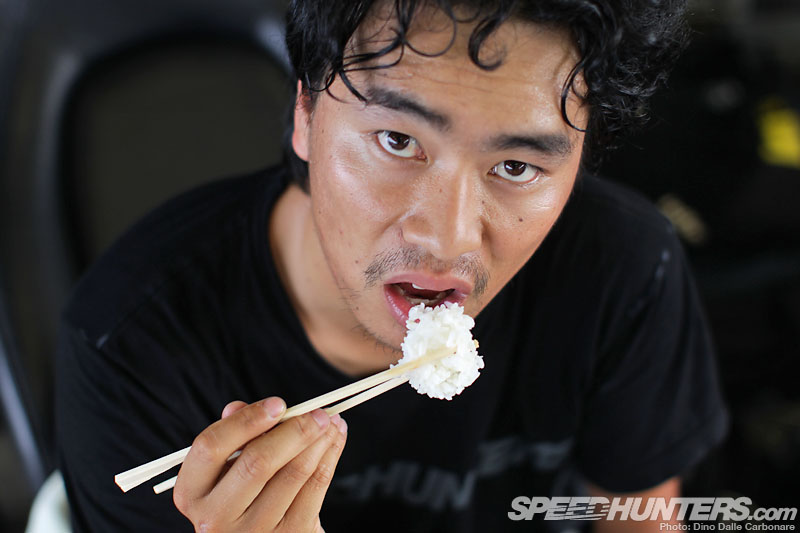 Larry: I may be American, but don't let those large eyes fool you. Inside that soul is a Chinese man fueled by rice.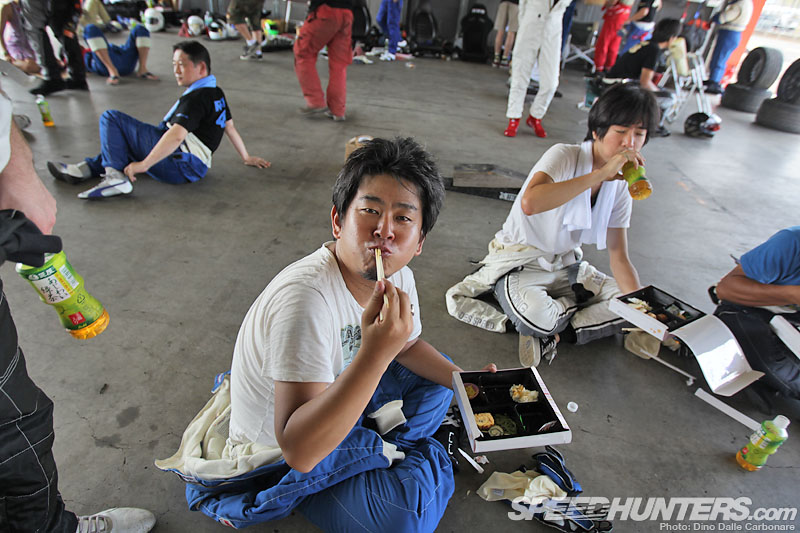 Dino: Takada-san and the Motor Head crew seemed to be enjoying their bentos too!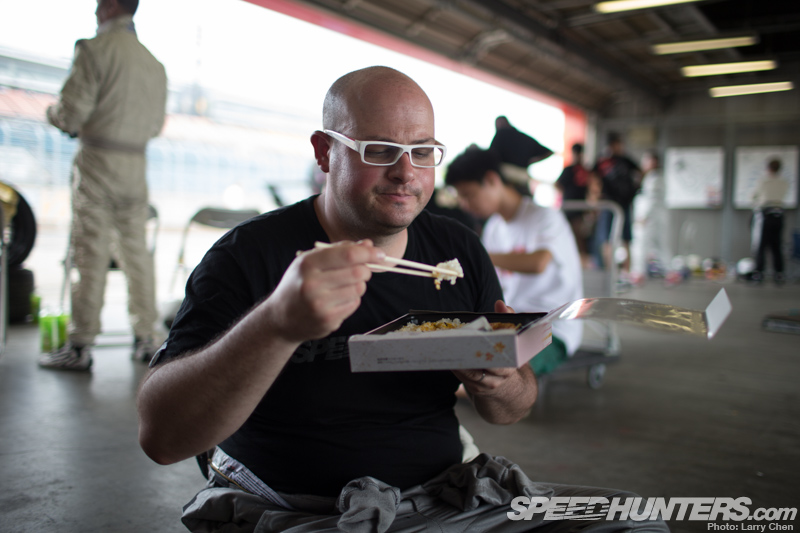 Larry: You didn't seem to be enjoying yours very much. Why the frown?
Dino: I'm Italian, which means I must complain about non-Italian food all the time. But of course I scoffed down the whole thing…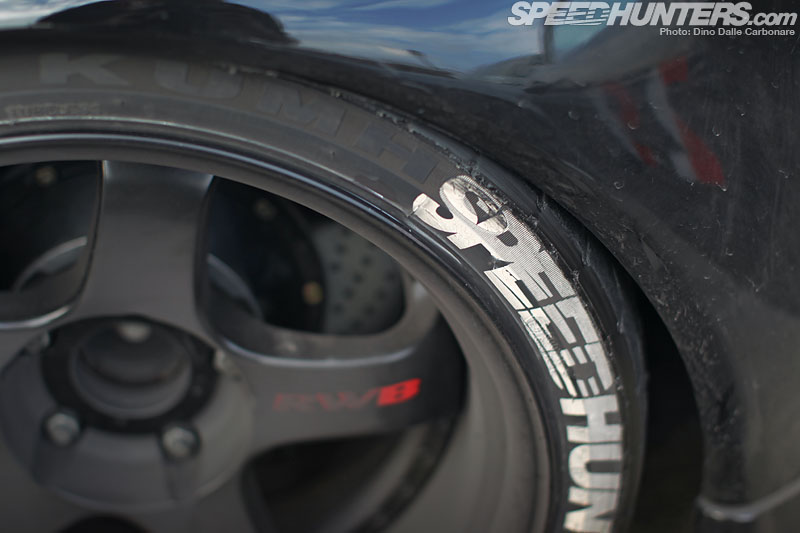 Larry: Before the race Dino was tasked with spraying Speedhunters logos on the tires of our two cars. I will go into more detail in my own post.
Dino: As cool as these stencils are they are the last thing you want to be using in the pits at 3.00am in the morning! Still, I did a superb job of it, if I do say so myself..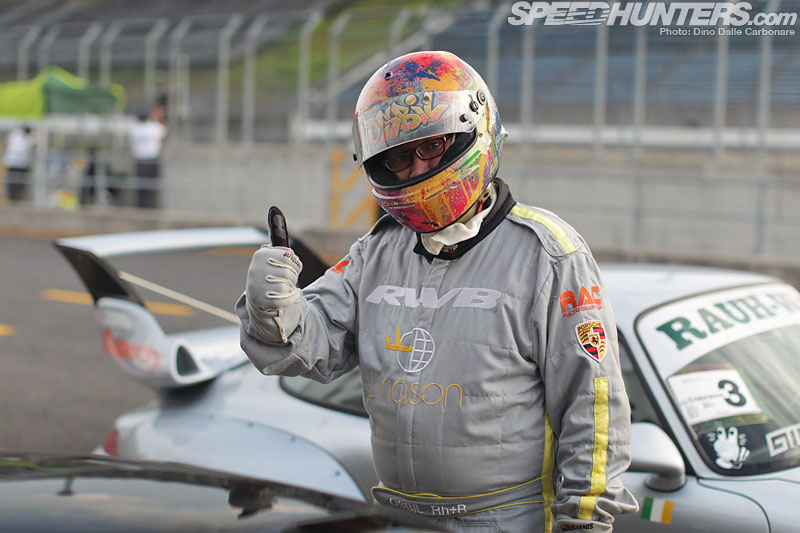 Dino: I've got to give a big special thanks to this guy, Prind from Thailand, who donated his spare RAC suit for me to use during the race. And big thanks to Jeab for setting it all up. I guess this the RWB 'Brotherhood' everyone refers to.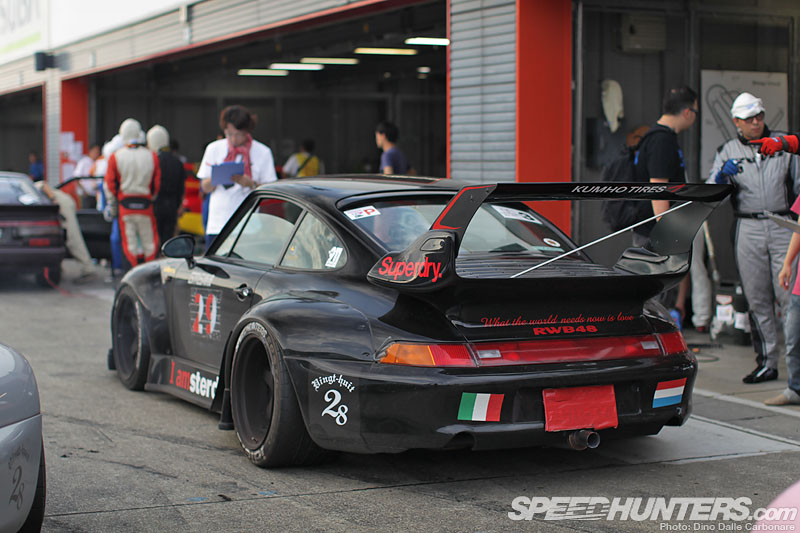 Dino: I thought it was really cool that Nakai-san had made up flags representing the nationalities of all the participating drivers.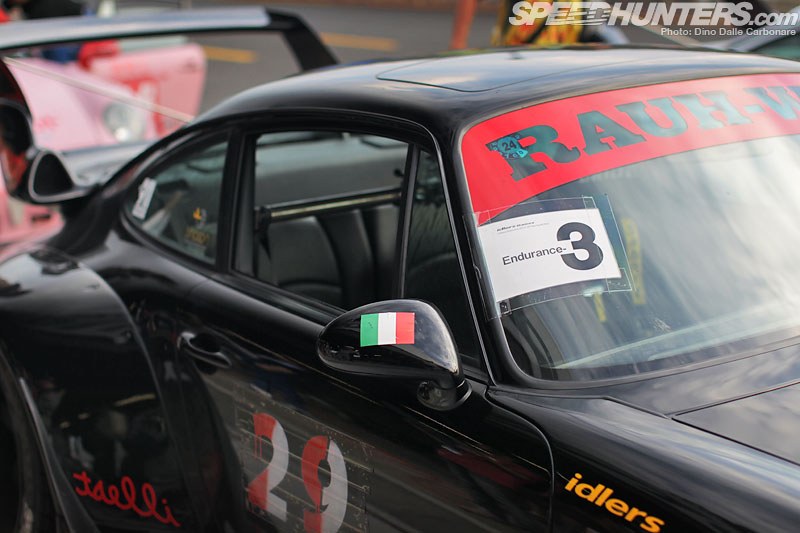 Dino: Of course, I couldn't help but add an extra one on the wing mirror. It's not every day you get to represent your country in a race! Sort of.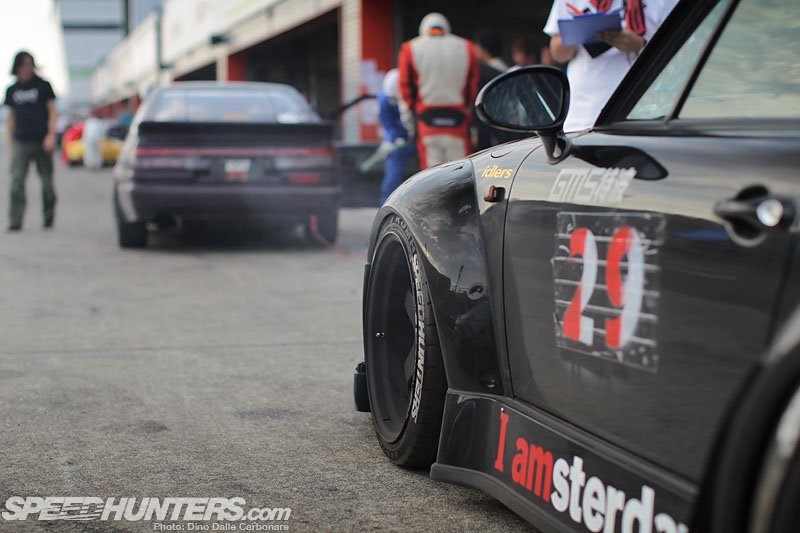 Dino: This is how Bert the 'Flying Dutchman' – aka 'The Capitan' – delivered the 993 back into the pits after his third stint. Smoking brake pads are a definite sign that the car was driven hard, but he did manage to move us up into the mid-30s. That was pretty good effort considering there were around 80 cars in the race and we started right at the very back of the grid.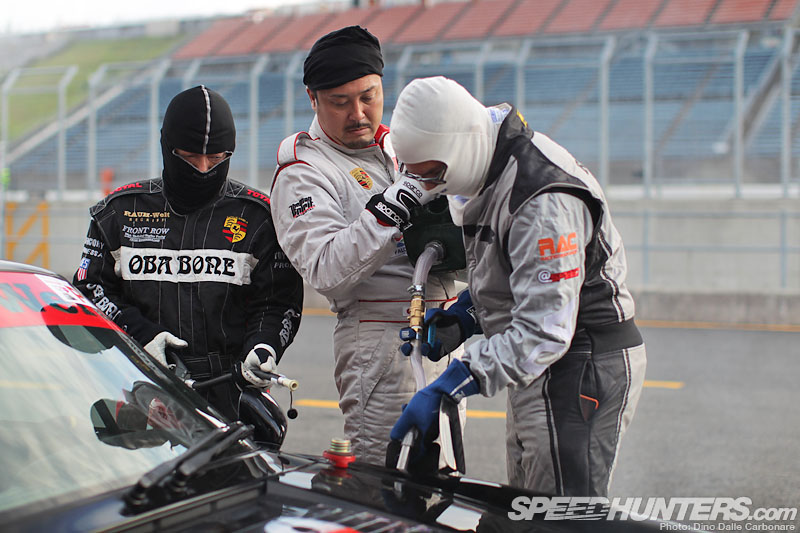 Dino: The 20 liters of fuel that we were allowed at each pit stop required three people to be present and all wearing Nomex for safety. It was one guy's job to open fuel filler cap and the valve on the hose, another's to hold the fuel can, and the third to be ready with a fire extinguisher, just in case.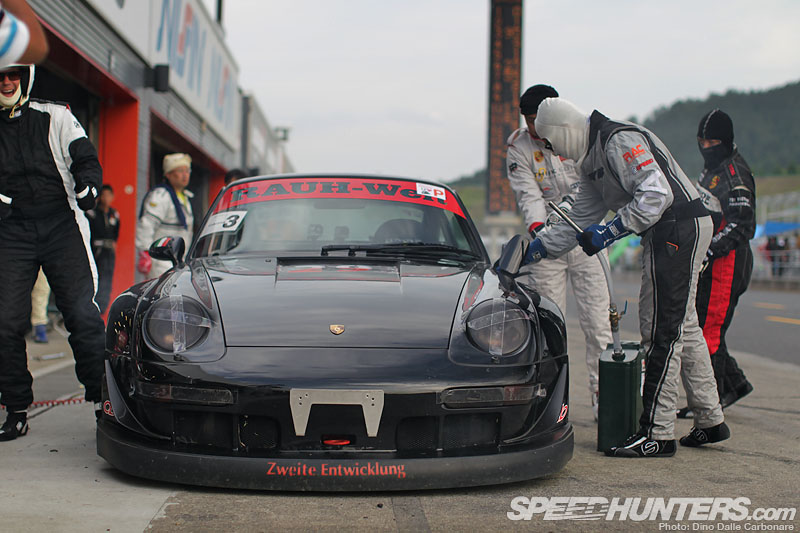 Dino: Once the refuelling was complete we had to wait it out until four minutes ticked over on the stopwatch. At this point the driver could sit inside for the final minute of the pit stop.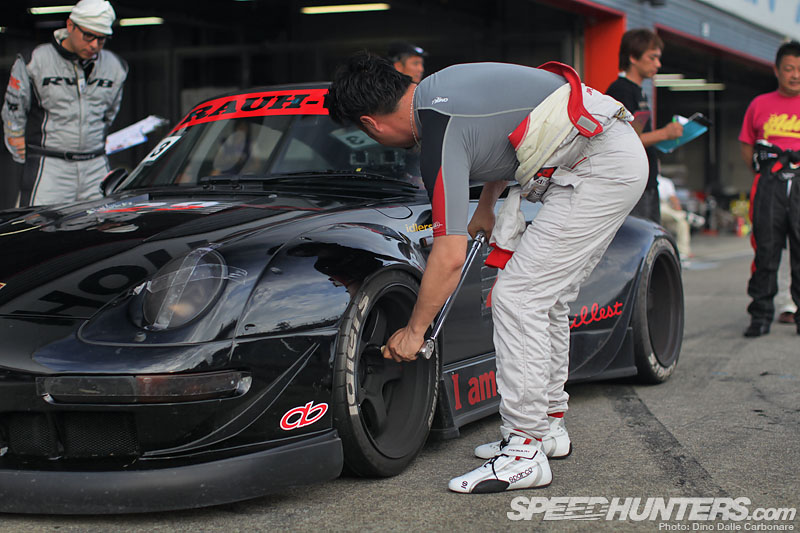 Dino: After that additional checks, like air pressure and lug nut torquing was made.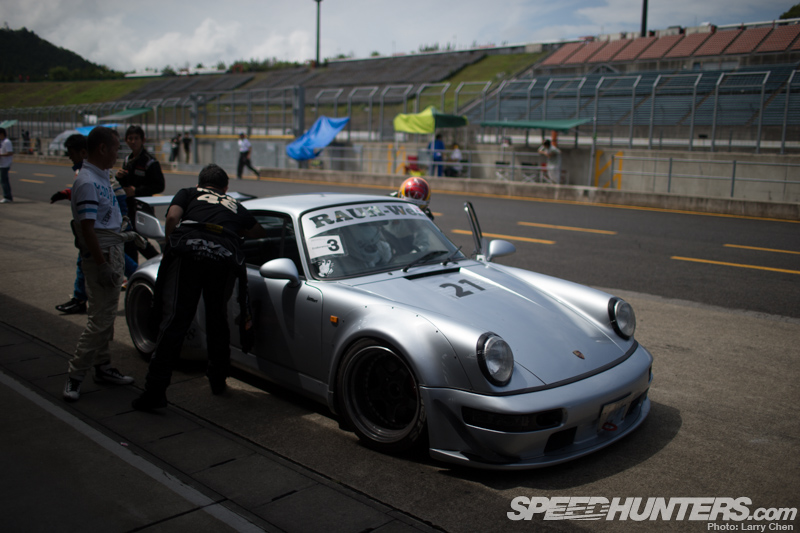 Larry: In total I drove four stints and I was in the car for two and a half hours. It was only my first time, but it gave me a real taste of what endurance race drivers have to deal with.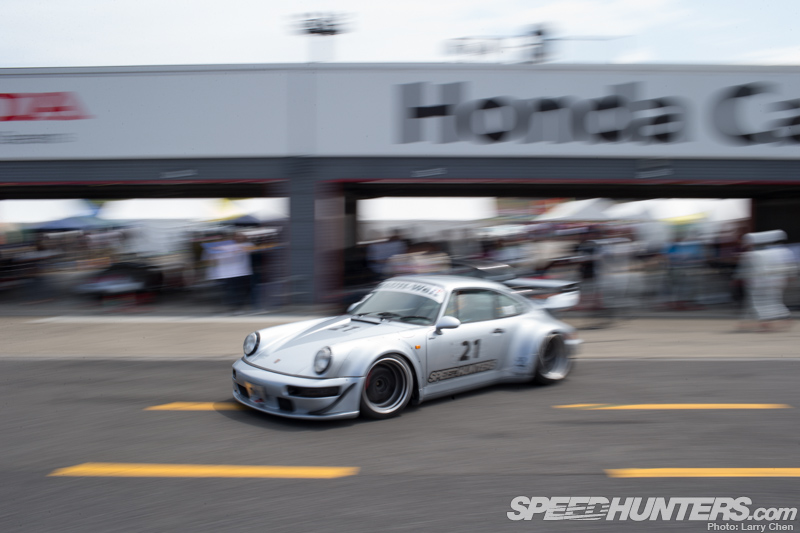 Larry: By the halfway mark we were really in the groove. In my first stint I made up one position going 72nd to 71st, in my second I went from 54th to 49th, in my third I went from 47th to 41th and in my final stint I went from 45th to 39th.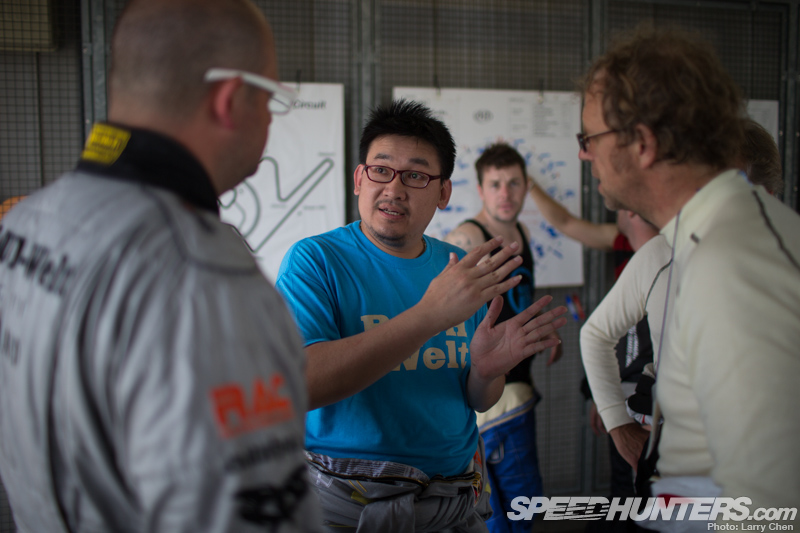 Dino: Since we were only six drivers in our team (some had seven or even eight) Prind came up with a cunning strategy where we would extend our stints to 45 minutes each. That meant we would end up taking one or two less pit stops, giving us a chance at moving up a few additional places. Of course, we would be pushing things when it came to the range of the fuel – just 20 liter fills remember – so we all had to keep a close eye on the gauge. Larry, did you guys come up with any sort of strategy, or change things around during the race?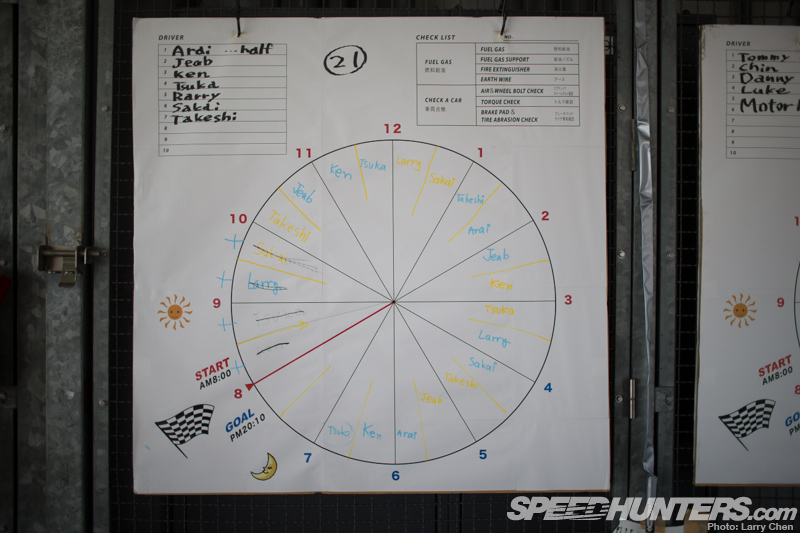 Larry: We took on a different strategy as our car was much more fuel efficient. We could drive 30 minute sessions with fuel to spare, but each time we stopped we'd still add our allocated 20 liters. So by the end of the race we were doing much longer stints without having to worry about fuel.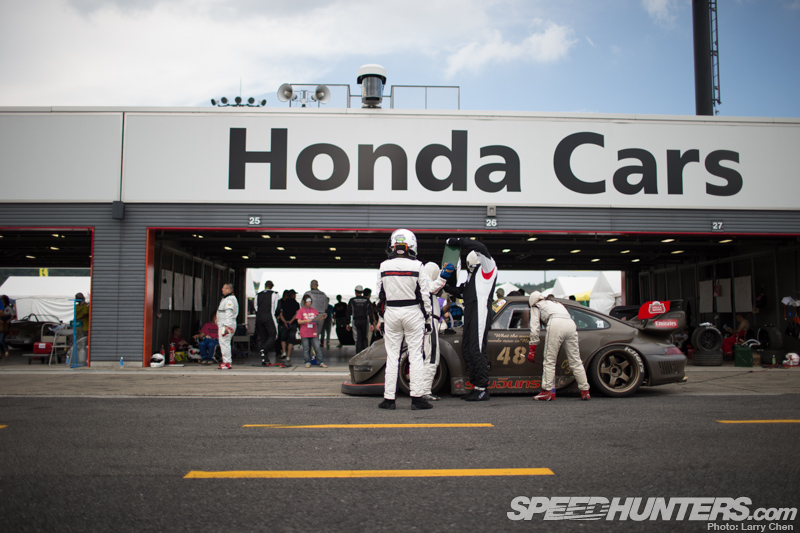 Larry: Some of the teams were running into a fuel issue, so Dino's team let them pit, fuel-up with 20 liter, and then drive one lap just before pitting again to put in another 20 liters. With 40 liters in the tank they were all caught up.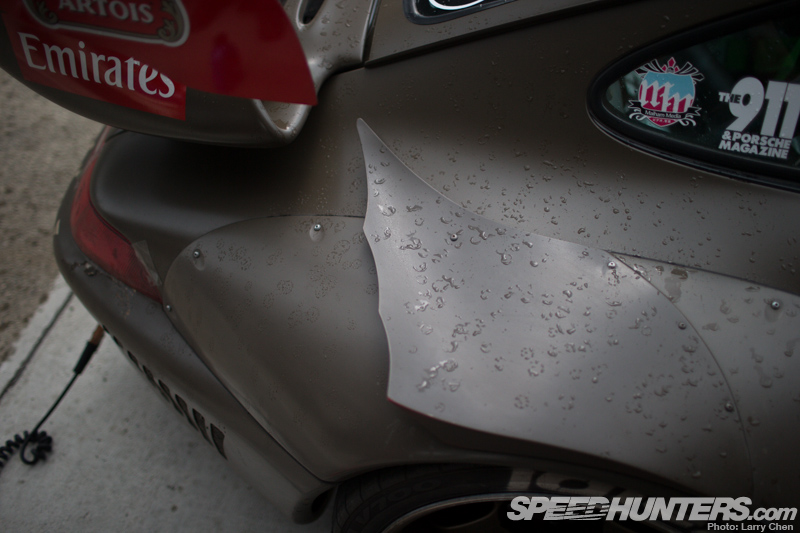 Larry: And that is when the skies opened up. Interestingly enough, it never rained on pit lane. All the rain was on the far side of the track.
Dino: Yes, the fuel pit stop strategy didn't end up hurting us so bad and the rain had only drenched the back straight. But after about five or six laps it had all dried out.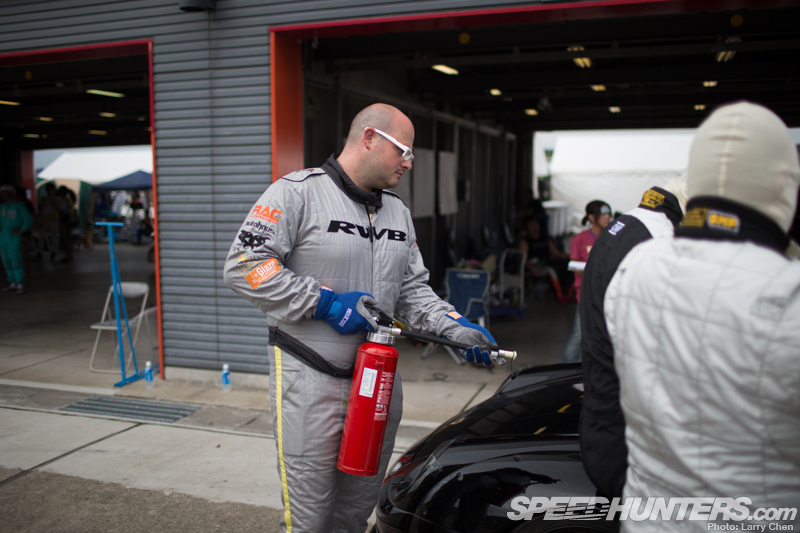 Dino: This was the last fuel stop before I would embark on the very last stint of the day to bring the car safely across the finish line at 8.00pm when the chequered flag would be waved. I was honoured that they all trusted me with this, but at the same time I was anxious as I would be fighting a car with pretty much dead tires (yes we used the same set for the whole 12 hours!) and literally no fuel. No pressure then!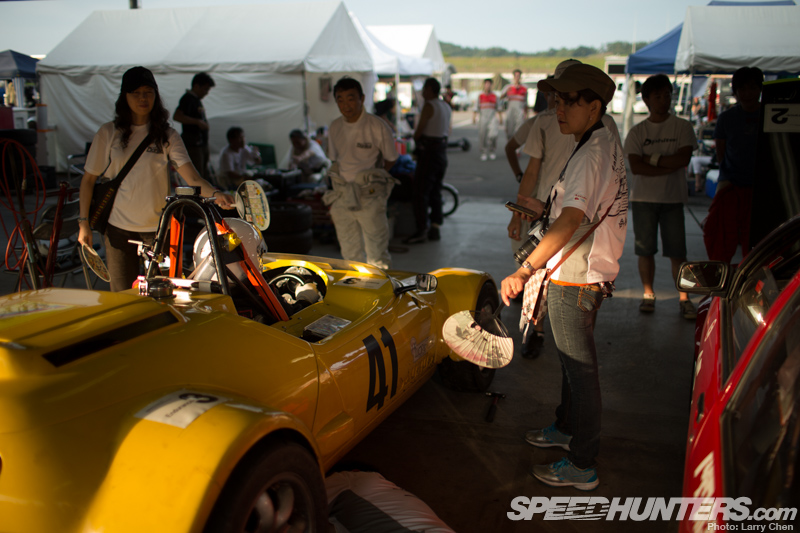 Larry: It's interesting because as we walked around the paddock we were photographing our competitors.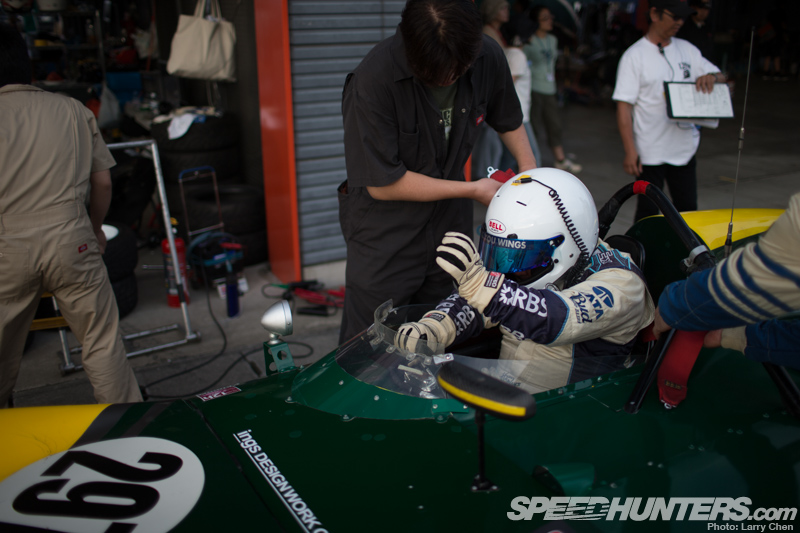 Larry: I just saw this guy in battle and now I was shooting him getting out of the car. How cool is that?
Dino: It's crazy right! Racing and shooting at the same time. It's always fun trying out new things.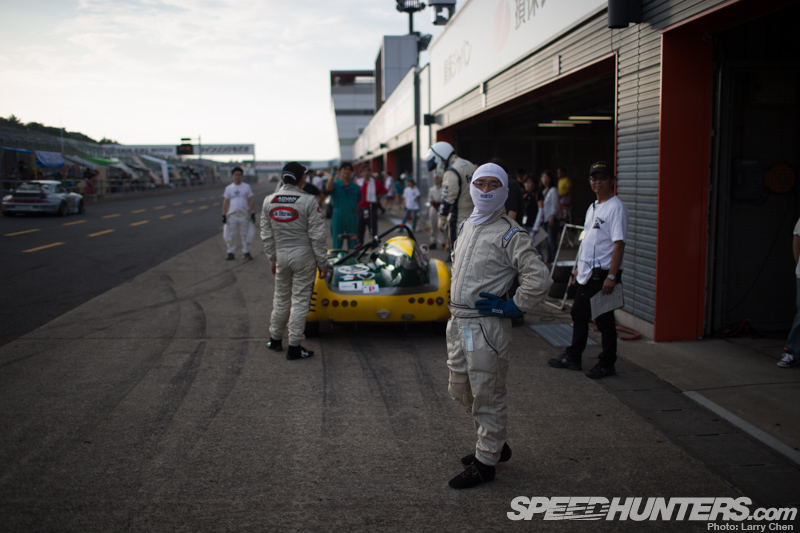 Larry: My last drive was a long one. I was to drive 50 minutes and eat away as much time as possible before the final stint. When I exited pit lane we were in 45th position, but after pushing the car hard for almost an hour we ended up in 39th place. In the process I passed four of the five RWB friendlies. Although, going into my stint the Kumho VictoRacer V700S were so worn they had pretty much become super-greasy slicks. Also, it seems like some of my teammates had locked-up the brakes going into a few corners, because now on the back straight there was a very harsh vibration when I reached the top of fourth gear. I braked super-early for the downhill hairpin as I knew that there was a good chance I would go off if I tried pushing it any harder. I also noticed that there was a lot more debris on the track going down the straightaways, which meant more obstacles to avoid. After fighting hard to get into the 30's, I handed the car over to my teammate to bring it home safely. We ended up finishing mid-pack in 40th place. Dino, what was your last stint like?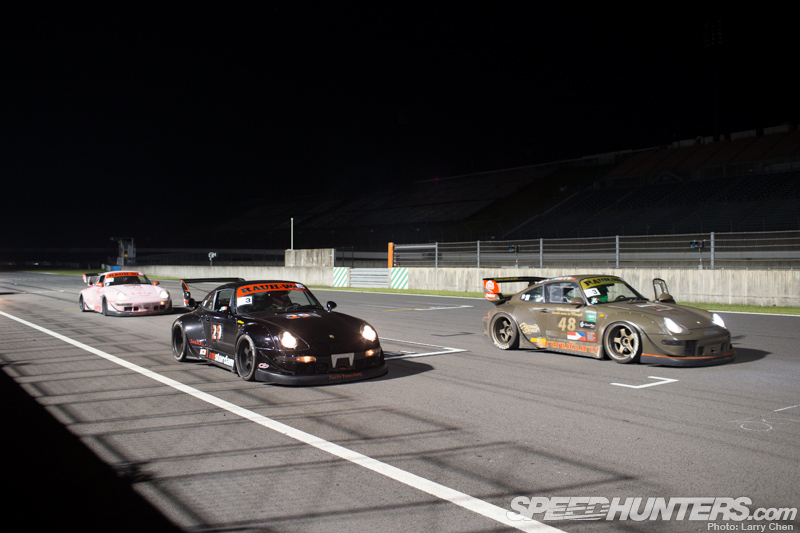 Dino: After three laps out on track someone went off and the safety car was brought out. We cruised around the circuit under a yellow flag for about six or seven laps I think. This was both good and bad; the caution laps allowed me to save fuel as I stuck the gearbox into fifth on all but the tighter corners, and stayed glued to the rear end of the car in front. However, this meant that everyone caught up to one another so as soon as the green flag came out with about 20 minutes to go before the end of the race, everyone gunned it! I can safely say I have never driven a car so damn hard in my life. The rule to stick to a 5,800rpm went straight out of the window as I had to fight back and try to overtake as many cars as possible, while defending my position. I had no idea what position any of the cars around me were in so I just tried to pass every single car that was out there. It all happened in what seemed like a split second, and before I knew it the race was over. By this time Nakai had come out in the #48 car and all the other RWB cars followed him round for a slow parade lap where we revved our engines and waved to thank all the marshalls.
Larry: Now that I think about it, this was the first time I've driven hard on the track at night. I found it really hard to see where I was going, so I just did my best to let others light my way. I'm sure you loved that your headlights were blacked out!
Dino: I couldn't see a thing!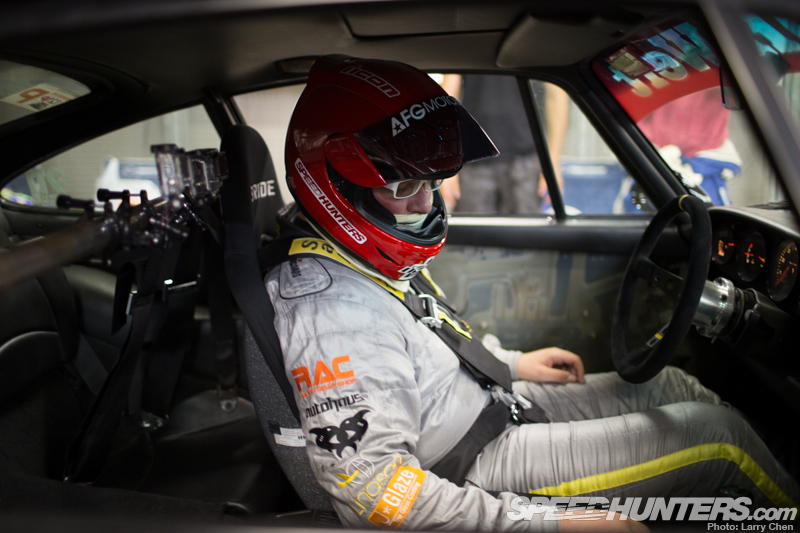 Larry: It must have been such a honor to be able to finish the race and bring the car across the finish line safely, and in formation no less?
Dino: It sure was – I felt so good that I had not let my team down. The feeling I got, ending a long race like this and bringing the car back to the pits following Nakai in the ringer car – WOW! That's all I have to say…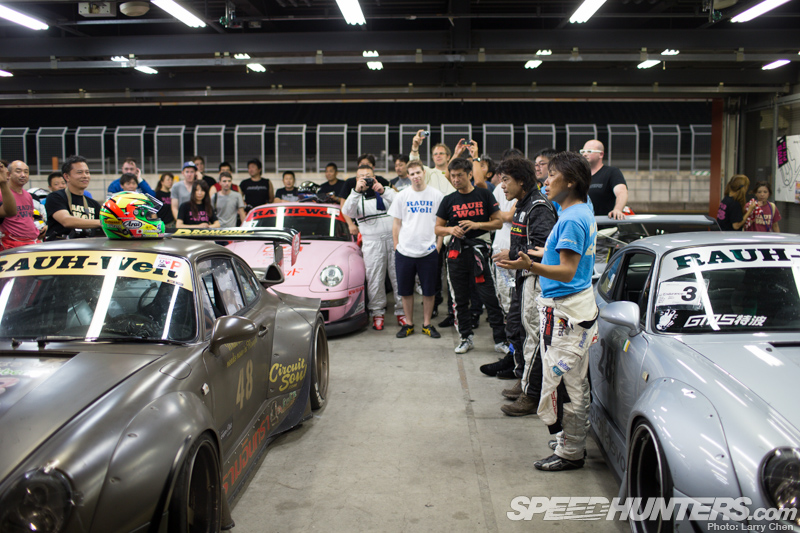 Larry: Nakai thanked everyone one-by-one at the end. At this point that man had been up for 40 hours straight – what an absolute trooper!
Dino: He is a true legend. Nakai and his big RWB support crew did so much for us. Thank you all!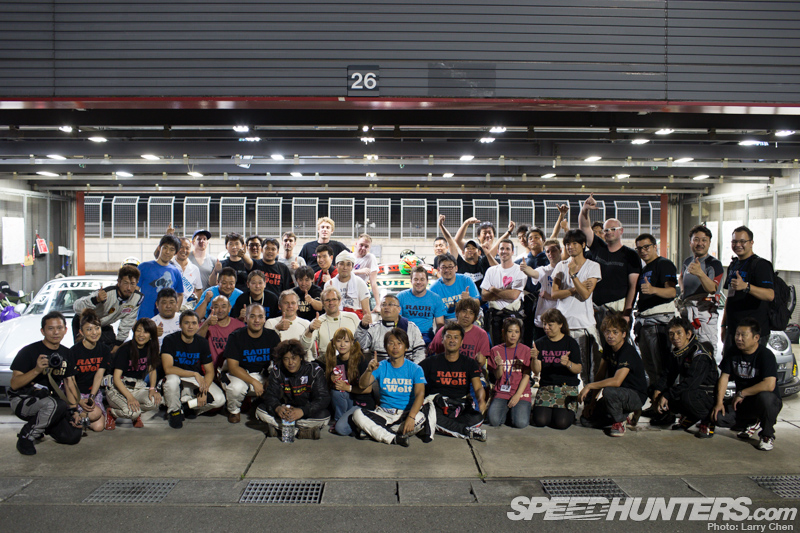 Larry: I am so glad that I had the opportunity to experience this. That's one off the bucket list for sure! What do you say Dino, should we do a 24-hour race next?
Dino: It was great to have been given the chance to notch up this accomplishment. A 24-hour race next? Hell yes! But please can we sleep the night before the race?
Larry: Don't you remember the rule? Speedhunters are not allowed to sleep!
Dino Dalle Carbonare                                    
Instagram: speedhunters_dino
dino@speedhunters.com
Larry Chen
Instagram: larry_chen_photo
larry@speedhunters.com
More RWB stories on Speedhunters