The Personalities
I've said it time and time again that the best part of this job is not the cars – it's the people you meet along the way. Sure, the machinery we point our cameras at is fantastic, but the cars would be nothing without the human beings who build and drive them.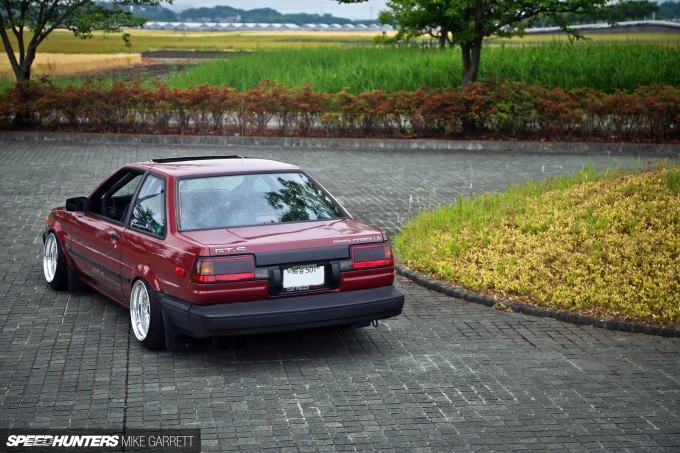 When I traveled to Japan recently, I set out for Car Peace in Gunma Prefecture, mainly to shoot Sakurai-san's yellow AE86. When I arrived however, I was pleased to find another amazing AE86 that would make for a perfect photoshoot subject.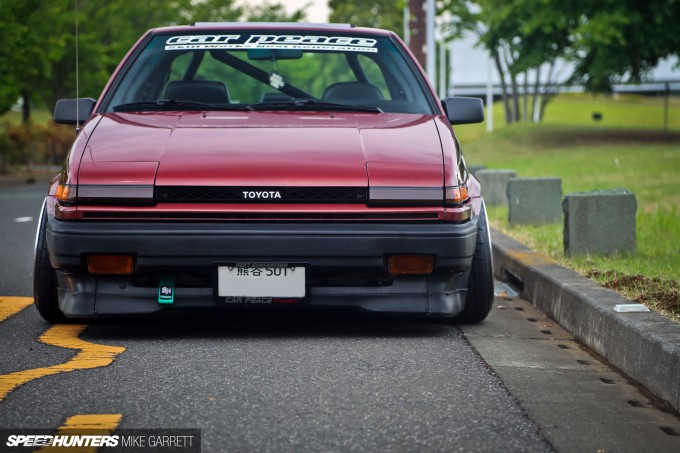 The car belongs to a man by the name Kousuke Mori. Mori-san is the kind of guy that exemplifies Japan's privateer builders – passionate and incredibly skilled at his craft. He spends his days as a fabricator at one of Nissan's large factories in the Kanto region, and his passion for working with metal also overlaps into his hobbies – more specifically, vintage cars.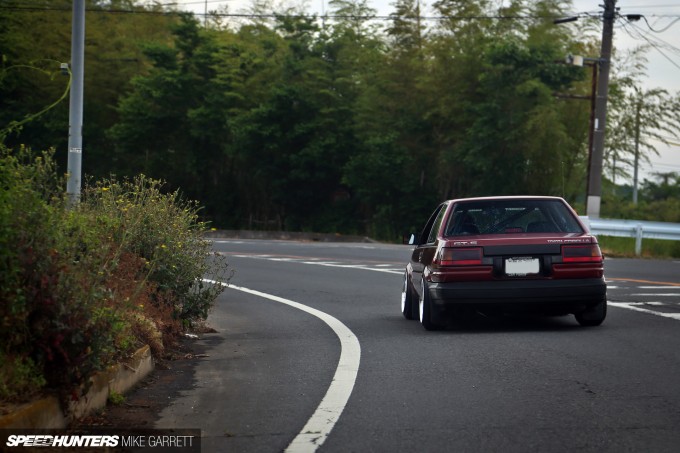 Mori-san has built and owned many classic cars over the years and he's currently working on a customized two-door Hakosuka Skyline. Based on the build photos I've seen, it's going to be quite a special machine when it's finished.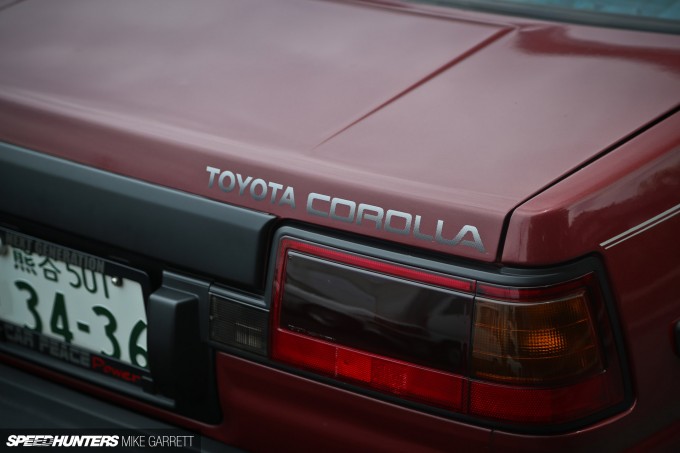 But right now let's have a closer look at his AE86. Like his good friend Sakurai, Mori-san is a big fan of American-influenced 86s and his car certainly reflects that. And like Sakurai's yellow car, Mori chose to build his 86 project from a left-hand drive USDM base car – in this case a kouki SR5 model Corolla coupe.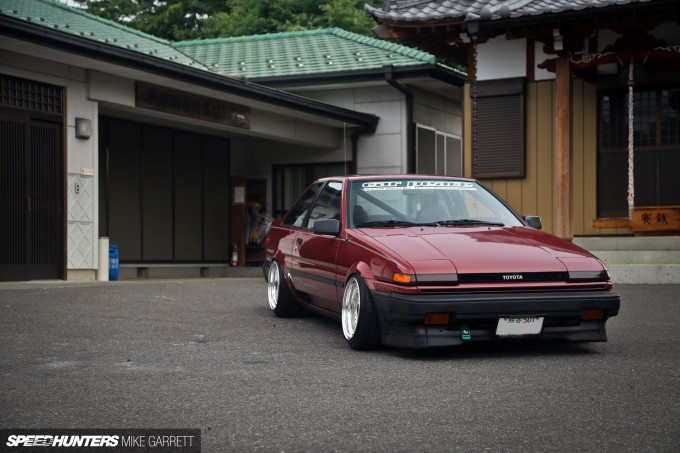 In America, the SR5 sat on the bottom of the AE86 line-up, lacking both the 4A-GE twin cam engine of the GT-S as well as the limited slip rear end. The model is most commonly used in builds where all of the running gear is swapped out for better stuff. That's more or less what Mori-san did after his USDM machine arrived in Japan.
California Cool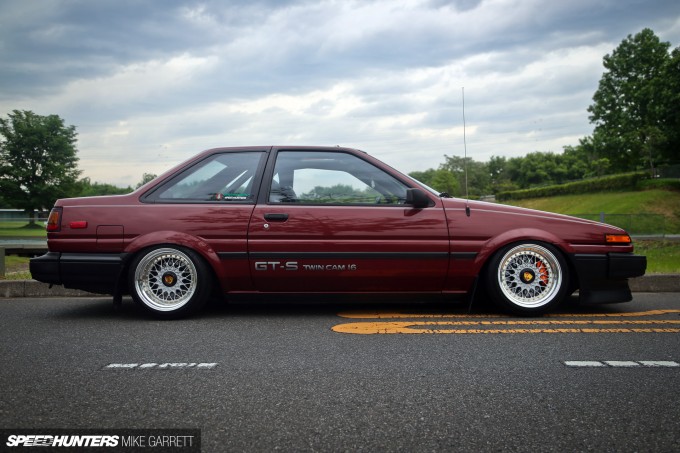 Of course, the biggest reason he chose this particular car was because of its amazingly-clean interior and typically rust-free Southern California body.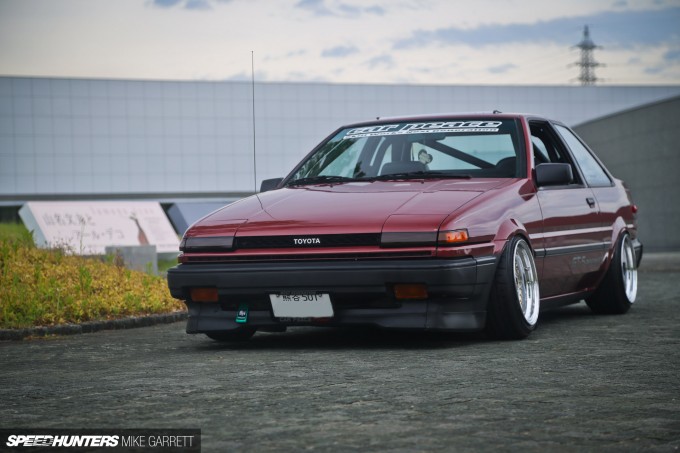 It's not surprising then, that he decided to leave the exterior of the Corolla in original form. Mori-san is unsure if the car is still wearing its factory-original paint job, but the body remains exactly as it did when it came from the States.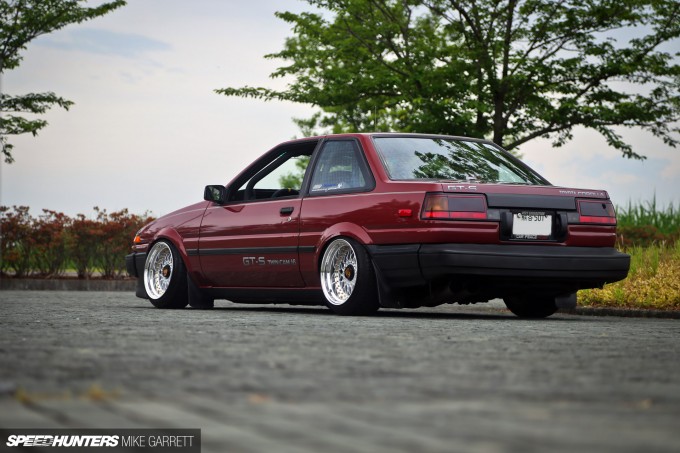 Instead, he chose to focus on the car's engine bay as well its wheel and suspension setup to build an AE86 that manages to stand out in a very crowded field.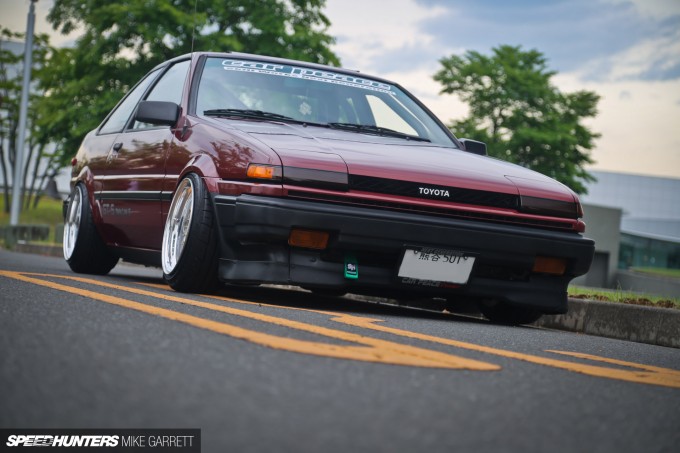 Exterior modifications have been kept to an absolute minimum, and as I just mentioned, the body remains untouched – right down to the maroon paint, sunroof and add-on pinstripes. It's all part of the simple SoCal street look that Mori-san was going for.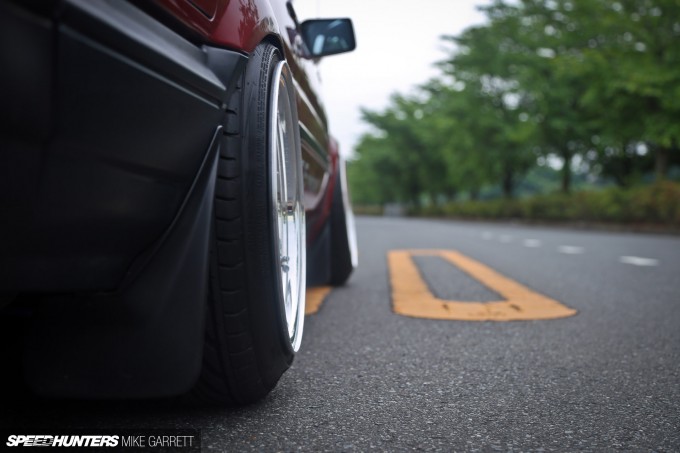 Things start to get a lot more aggressive when you look at the suspension. Keeping the AE86 slammed to the ground is a set of Trust coil-overs with Eibach springs up front, and Craft springs in the rear. Mori-san's wheel of choice is the classic BBS mesh in a 15×8.5-inch fitment up front and 15×9.5-inch in the rear with offsets deep into the negative range. Also note the hint of static negative camber in the rear, which was achieved through a bit of custom fabrication on the solid axle rear end.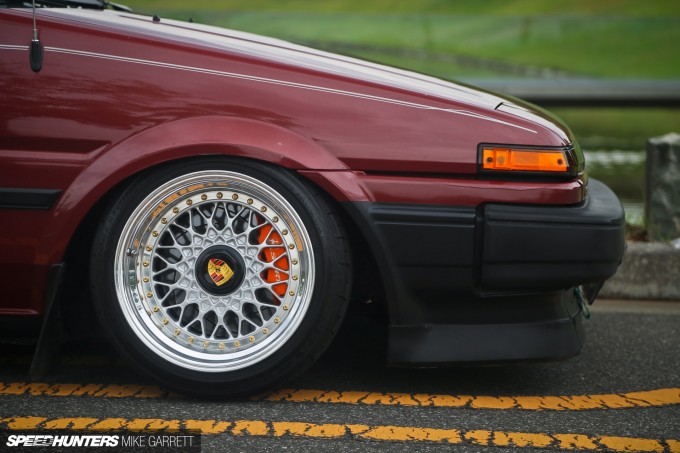 Look closely and you'll see other things like 6-piston front calipers behind the mesh spokes and the Porsche center caps that Mori added as a cool little Easter egg.
4A-GE Art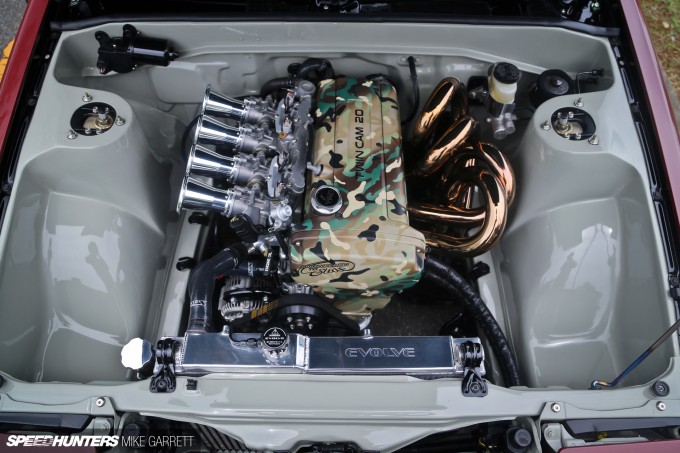 Like Sakurai's yellow hatchback, Mori-san's Corolla is truly defined by its engine bay – and what a bay it is. While Sakurai chose to stay with the 16-valve 4A-GE for his build, Mori has gone with the newer 20-valve version of the motor. In this case it retains its fuel injection and individual throttle bodies, rather than the carbs that Sakurai runs.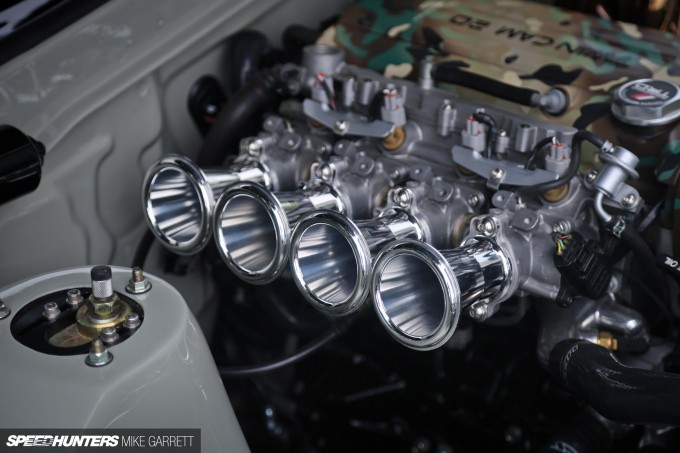 The 20-valve motor features a balanced crank, ported head with a metal head gasket and a pair of upgraded camshafts. But it's not those internal parts that people remember most…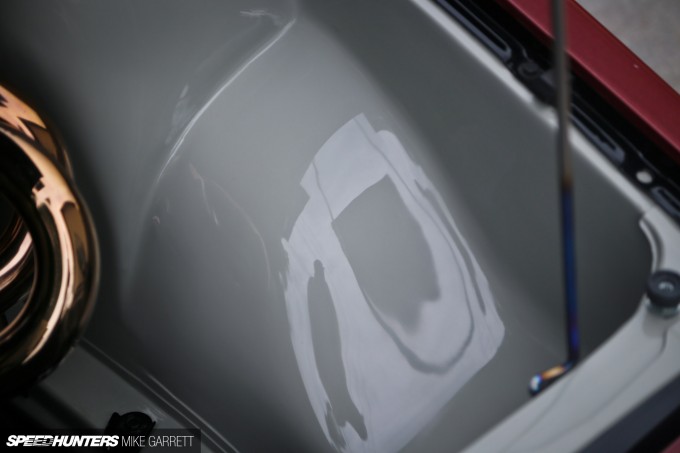 Instead, it's the incredible cleanliness and preparation of it all. Being a metal worker by trade, Mori completely smoothed and shaved the engine bay, almost giving it the look of a die-cast model. It's also the one area of the car that he repainted for a bit of contrast.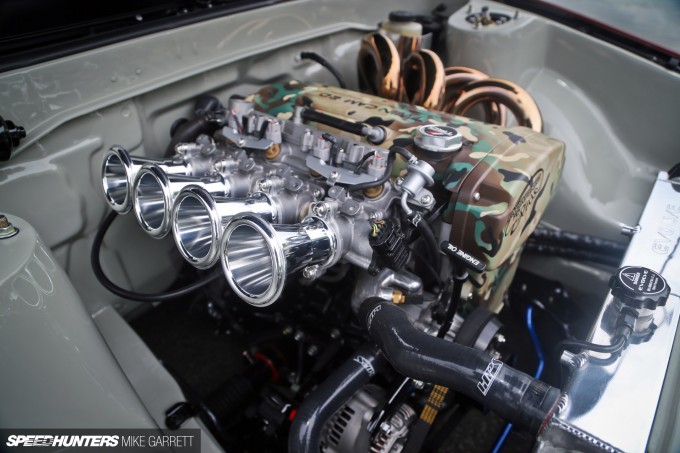 There are other eye-catching things too, like the camouflage-painted valve cover and the one-off exhaust manifold which gleams beautifully in the light. You can just stare at it endlessly.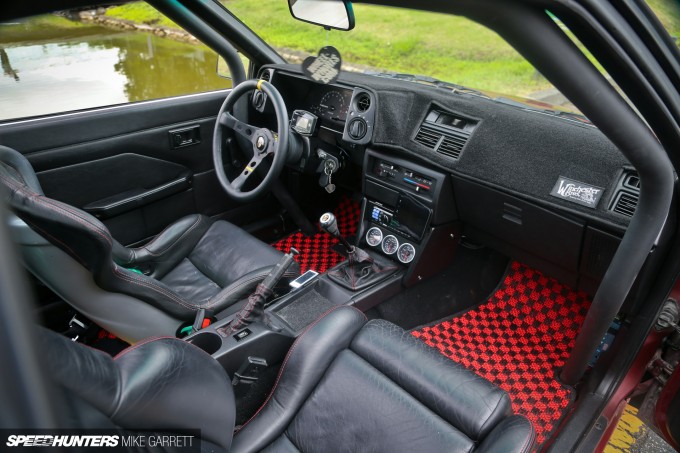 When it comes to the cabin of the AE86, everything is pretty straightforward. There's a 7-point rollcage, a pair of reclinable bucket seats, a TRD shifter and instruments from Defi. Don't forget the requisite checkered floor mats either.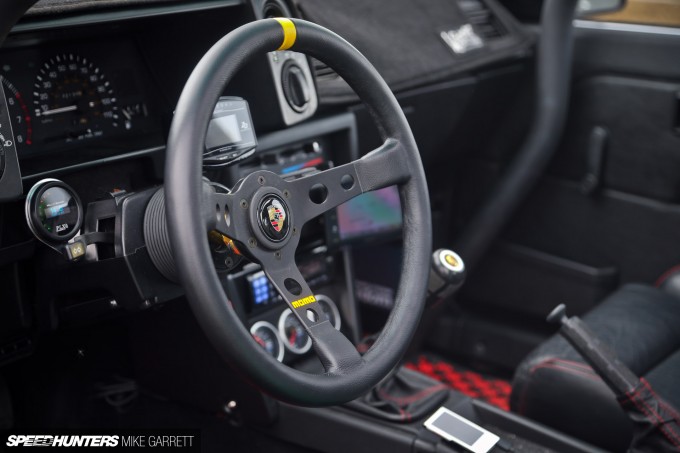 Another neat touch is the Momo steering wheel, which like the BBS wheels features a touch of Porsche. You can't help but smile when you see it, and it's just one more cool thing on a car that's filled with little details.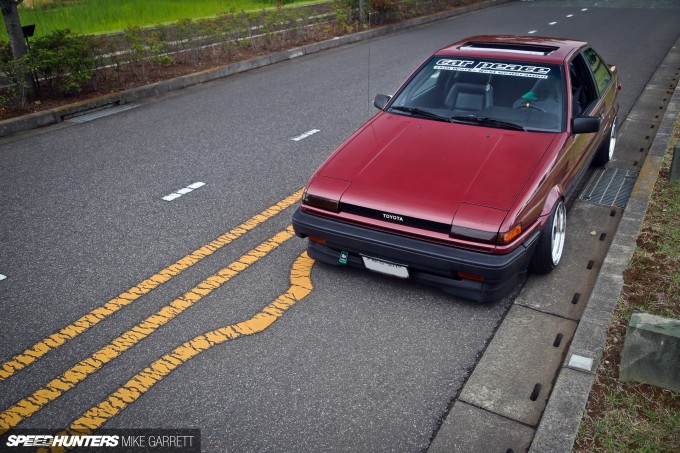 Perhaps the most interesting thing about both Mori's car and Sakurai's AE86 is that these guys didn't just bring over USDM Corollas to be cool. They were both well aware that the US-spec AE86 exterior is generally considered undesirable compared to the sleeker Hachirokus that were sold in Japan.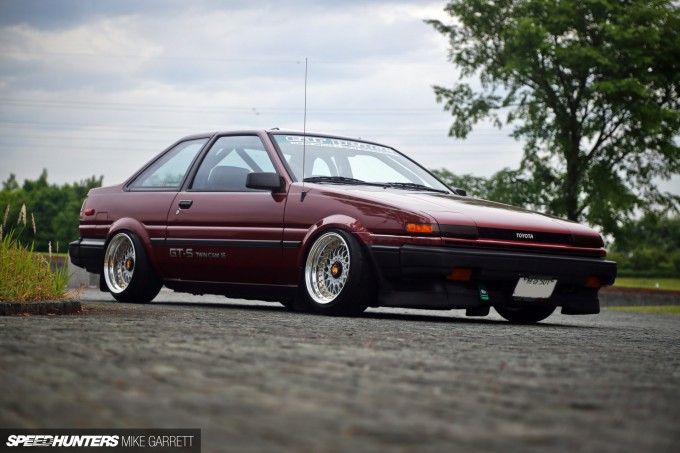 What they wanted to do is take these 'ugly' big-bumpered cars and create something that was truly beautiful. For them it was all about the challenge, and based on the overwhelmingly positive response to both of these cars, they've more than accomplished their goals.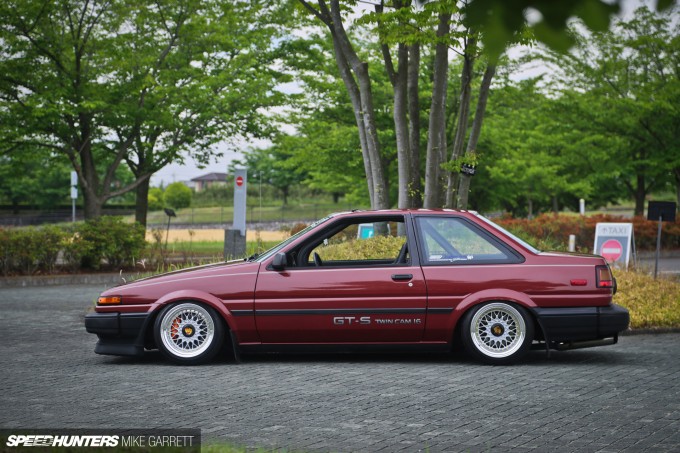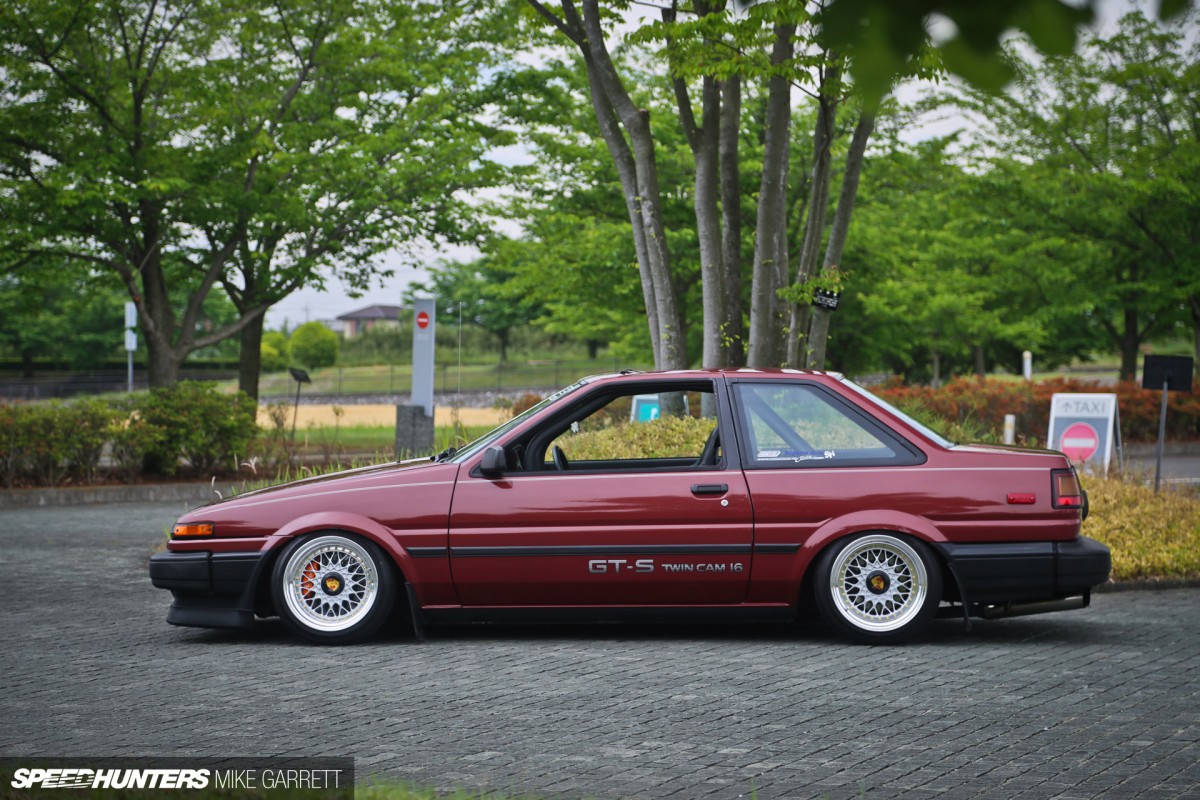 Now, I wonder how many American AE86 owners are going to be ditching their expensive JDM parts and reverting back to their big USDM bumpers?
Mike Garrett
Instagram: japanifornia_media
mike@speedhunters.com
More AE86 stories on Speedhunters
Cutting Room Floor