It feels like an eternity since I first watched James Deane drifting his Ford Sierra estate in Rosegreen many years ago. Since then he's made a bit of a name for himself. Three times Irish champion, three times European champion, an unbeaten streak in Ireland that stretches back over three years at this stage and even a couple of runs up the prestigious Goodwood Hill. Yet, for all his success it's his polite and friendly demeanour that impresses the most. His personality outside the car is a complete contrast to his unforgiving driving style whilst behind the wheel. If you even think of making a mistake with James behind you, he will punish you for it.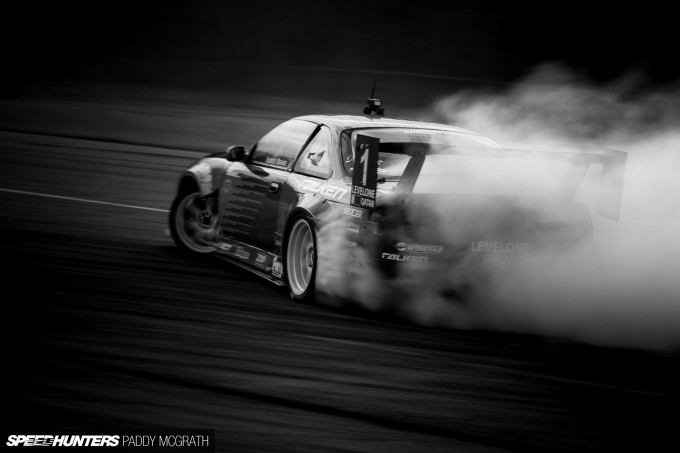 While this is just a simple spotlight to give you a quick look at his championship-winning S14, it's one of those occasions where both man and machine are intrinsically linked. Where the car is an extension of a ferociously talented young driver.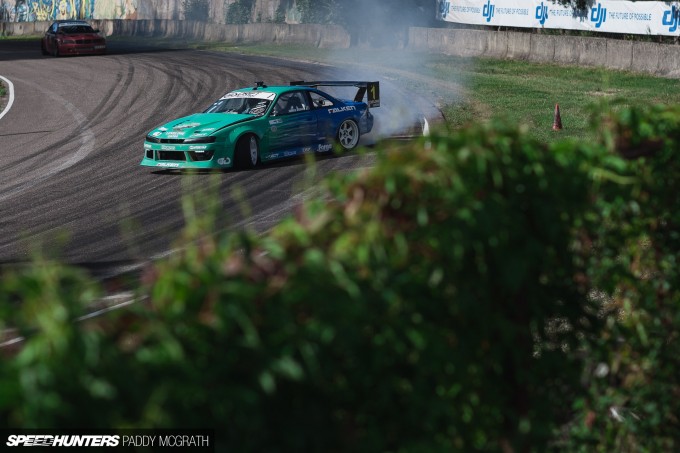 Fresh off the back of James' recent win at the third round of the 2015 Extreme Drift Allstars series, I managed to grab a quick couple of shots of the Nissan in order to give you a little bit more insight into this S-body.
Motorsport is the family business, so it'll come as no surprise that James' 2JZ-GTE was built by DeaneMsport. The bottom end features Wossner pistons and ZRP conrods, but it's the ported and polished head that has attracted the most attention. 264-degree HKS cams, 1mm oversized Supertech valves and retainers, and 1,000cc injectors are all part of the package.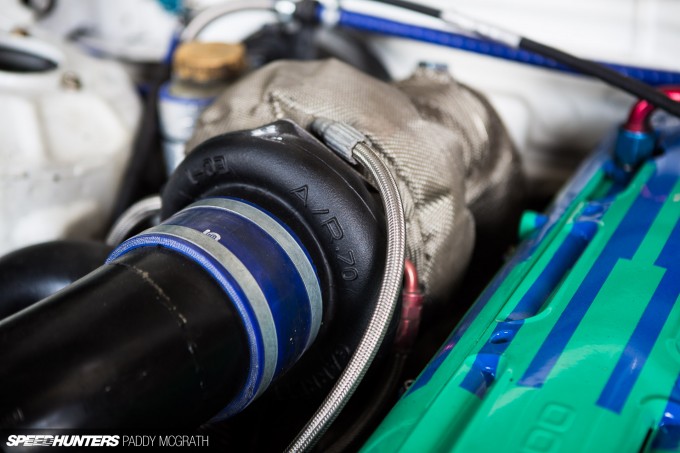 The Owen Developments GT3788HT-Z M-Spec turbocharger and a custom WCP V-band exhaust manifold play their roles in allowing the Toyota motor to make a reliable and drivable 700hp with 650ft-lb to boot.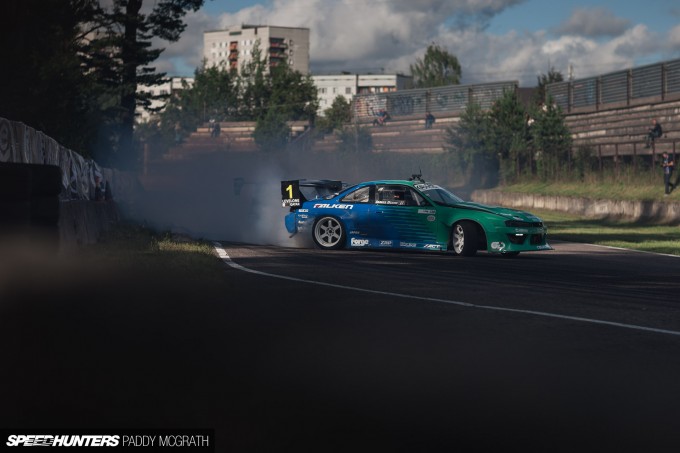 Of course, there's no point in having all that power and torque if you can't deploy it effectively.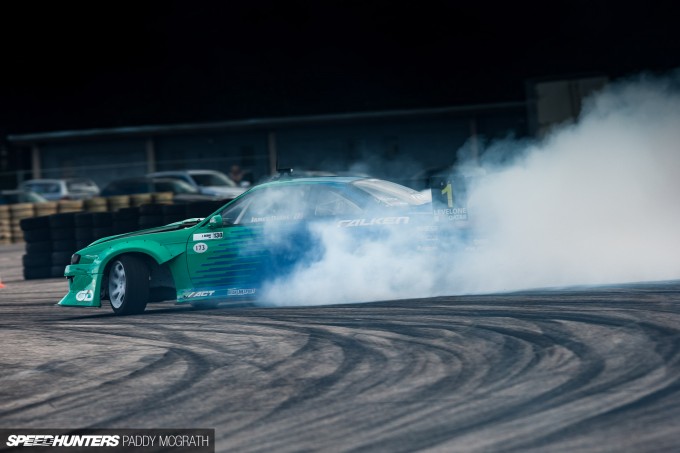 With sticky Falken rubber, James uses Wisefab components front and rear with BC Racing coil-overs. The Wisefab extra lock kit offers around 65 degrees of steering lock with the rear setup providing a significant weight saving (around 10kg of unsprung weight) and improved strength, whilst delivering optimal kinematics for a lowered car.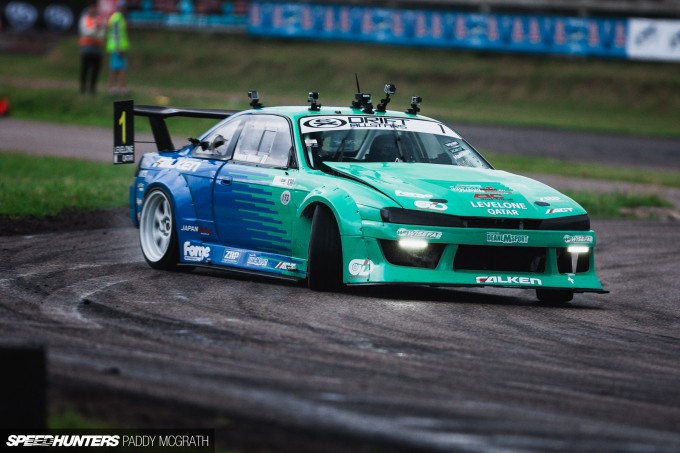 New for the 2015 season is a Winters Performance Quick Change rear end, allowing the replacement of final drive drop gears in about 15 minutes or so. This allows James to run the perfect final drive for each event. It's just one part of a transmission setup that also features a Tex Racing T101A 4-speed dogbox and an ACT triple-plate clutch.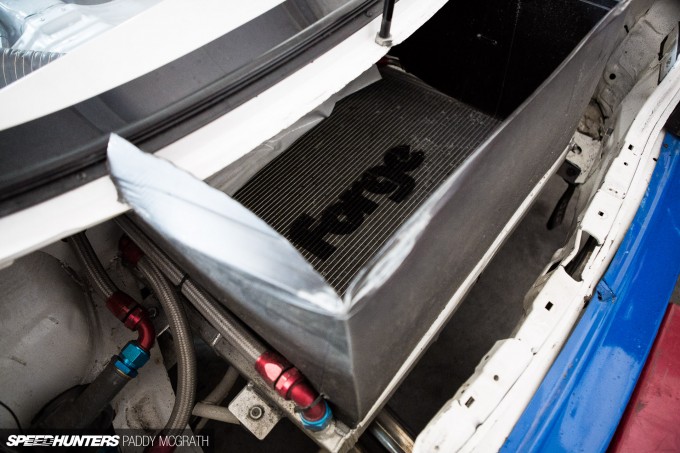 Forge Motorsport products take care of the car's cooling requirements, and that is indeed a plastic 'clipping point' sign that was hastily crafted at the previous event to drive more air into the rear-mounted radiator setup. I'm a big fan of track-side improvisation.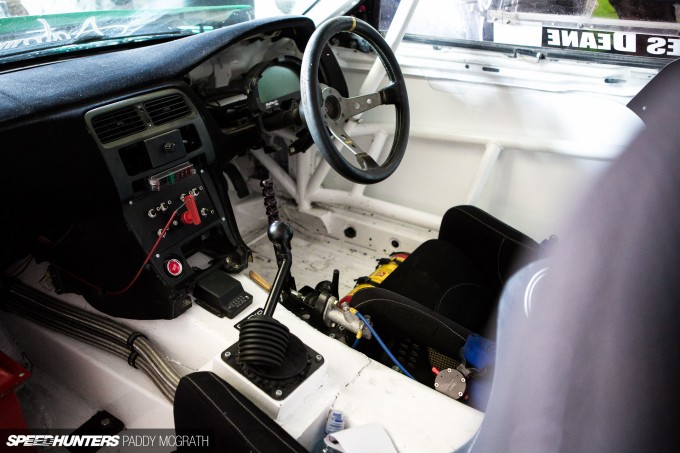 Typical drift car office is, well, typical. Here you'll find the Haltech ECU and Racepak digital meter, a flocked dash, Corbeau seats and Luke harnesses.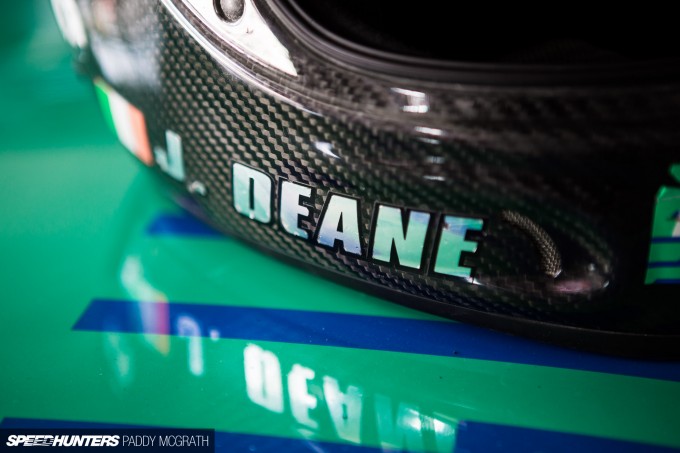 This is only a 30-second look at a car that has been dominating Europe for two seasons now. Despite James being at a horsepower disadvantage against some of his rivals, the reliability and predictability of the 2JZ setup has proved its worth time after time.
You can catch some of James' highlights along with some killer ride-a-long footage in this season half-point review which dropped just before the Riga event. He also did pretty well at the fourth round of the Drift Allstars series over the past weekend, where he placed third.
Only two questions remain. When does James Deane tackle a full championship across the Atlantic in Formula D? And does he even need to?
Paddy McGrath
Instagram: pmcgphotos
Twitter: pmcgphotos
paddy@speedhunters.com