Joy Of Machine
Do you ever think that sometimes people take cars a little bit too seriously? I'm not talking about elite level motorsport where lives are on the line, but rather your typical car guy, like you or I. I can only speak for myself, but the main thing I aim to take away from my love of cars is enjoyment.
Enjoyment is completely subjective of course, but it's something that I hope a lot of you can relate to. I mean, otherwise, what's the point? If you were to examine what we do objectively, it would never make any sense. Spending huge amounts of money and countless hours working on our cars to build them just how we like them, only to likely sell them eventually and start all over again from scratch.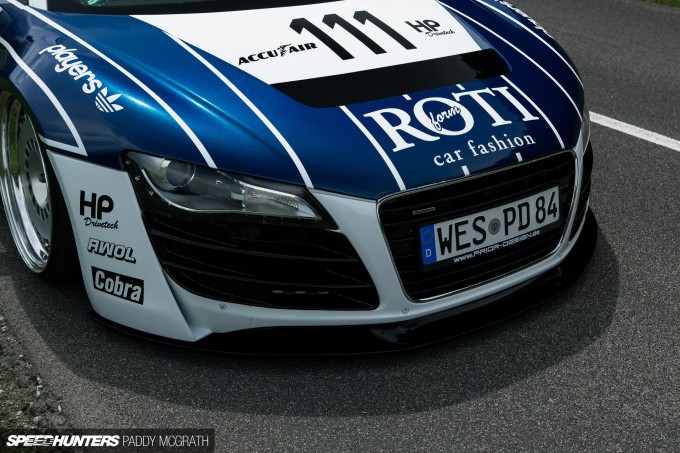 It's difficult enough to have to explain ourselves to non-car people, I can't even begin to think how it all looks to an outsider. "You spent how much on wheels? Were the old ones broken? They weren't?!" But, I don't expect them to get it like you or I do.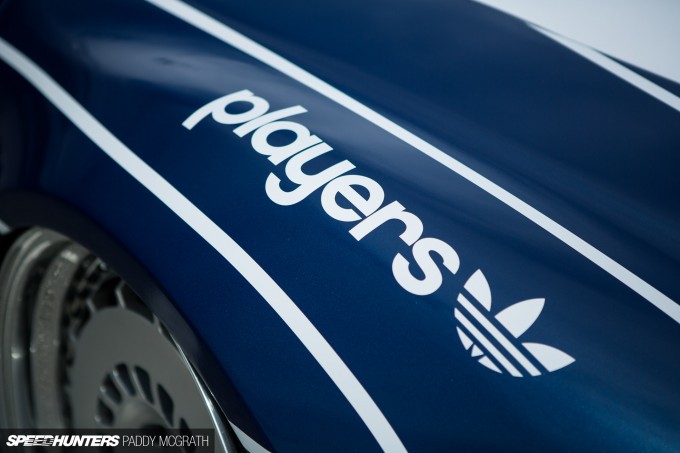 The big issue for me is when you have to defend yourself, against your own kind.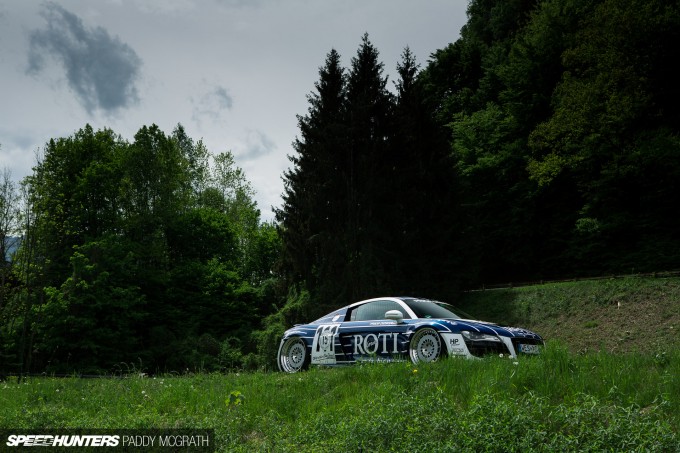 Because quite honestly, these are the people who you would most expect to 'get it' and to understand you. I mean, you don't even have to like something else, but the very least you can do is respect that everyone has different tastes and will go about things in different ways. Would you start shouting abuse at a kid walking down the street because he's wearing DC Shoes instead of your preferred Nike Air Max? Of course you wouldn't.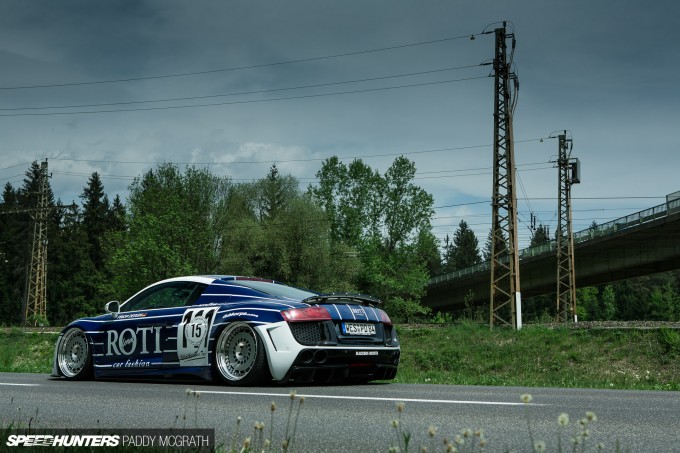 Unfortunately because of the anonymity offered by the internet, certain groups of people feel the need to make themselves feel better by putting down others. Sometimes it's in a predictable and often boring manner, but other times with such vitriol and venom that it makes me wonder have these people ever been outside. I've read comments before wishing death and serious harm upon people, just because someone has followed their own ideas and built something that they love.
Fair enough, these sort of hate-filled rants are more a reflection of those who spew them rather than those that they are aimed at. But, are we all sometimes guilty of taking things too seriously?
Speedhunters Regular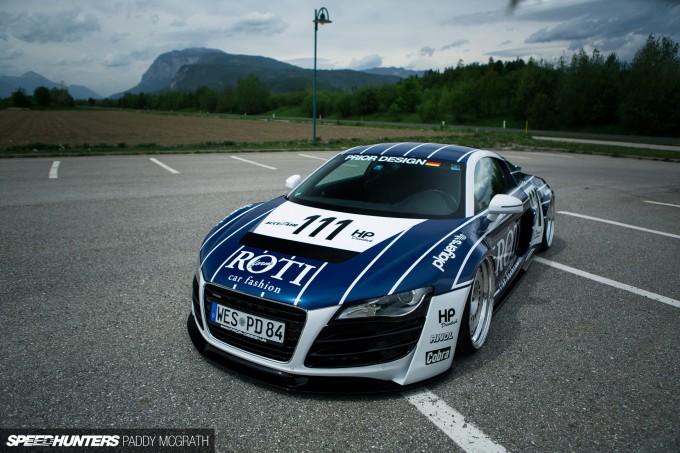 Brian Henderson is a man who is no stranger to these pages. Being the co-founder and driving force behind Rotiform, he's certainly familiar with the car scene and how it all works. But rather then being the out-of-touch business man in a suit, trying to keep up with trends, Brian has been busy for the last few years setting them. It's because of Brian's love for cars that his business and the Rotiform brand exists.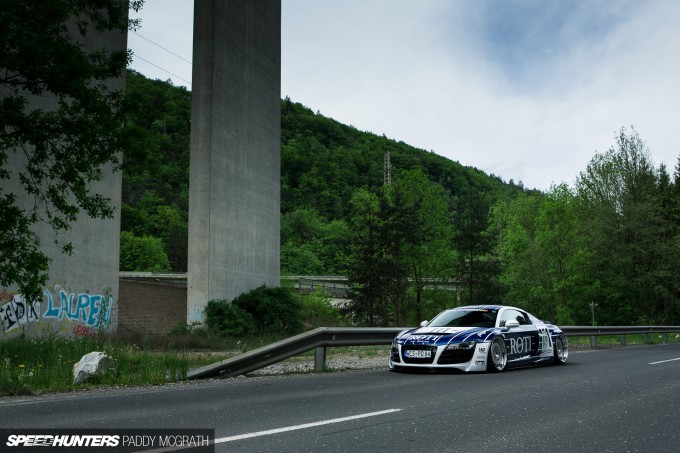 An event that Brian deems to be one of the most important on the calendar is the annual Wörthersee Treffen in Austria. For the last few years, Brian has always unveiled a new build on the streets of the sleepy Austrian lakeside resort, and every year – without fail – he stirs a conversation. From his 964 to last year's twin art car inspired E36s, his cars are always worth taking a closer look at.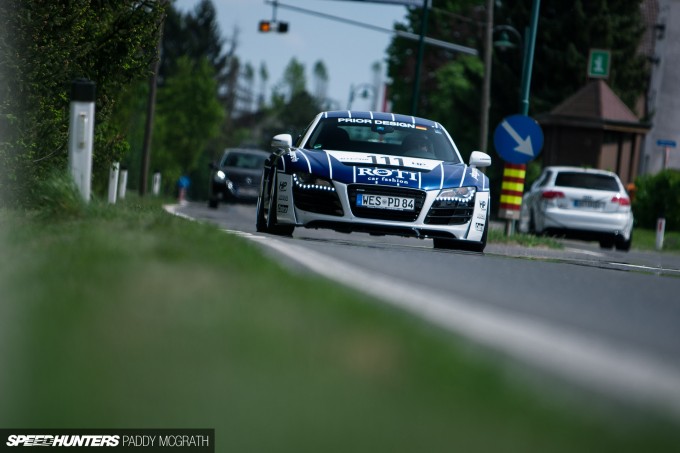 When I first spotted the R8 casually cruising around Velden am Wörthersee, there was no mistaking who the car could have belonged to. Having had the chance to sit down with Brian and talk about the build, I felt there was a certain amount of tongue in cheek when it came to the final build.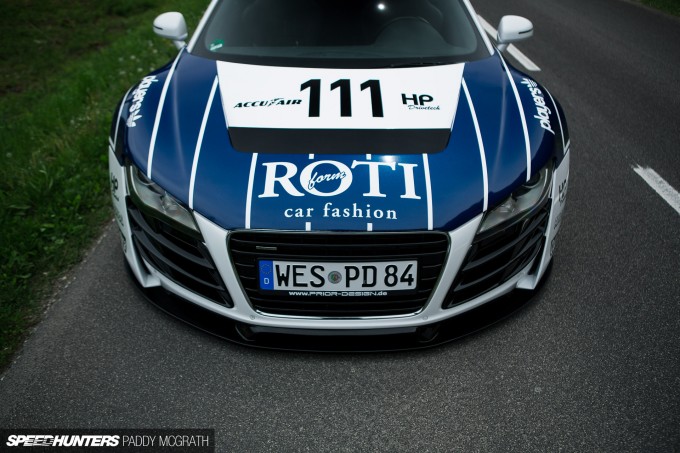 But first, let's start with the base car.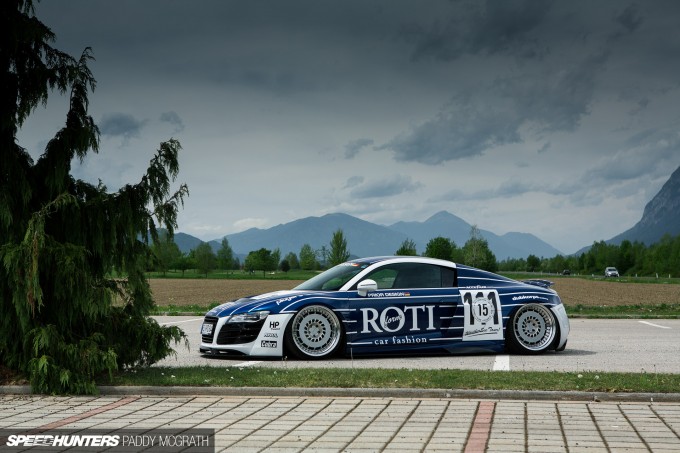 Since the introduction of the V10 R8, prices of the V8 model have slowly been coming down. I've always felt that the standard R8 was missing something in stock spec, but that's not to say that they don't have a lot going right for them.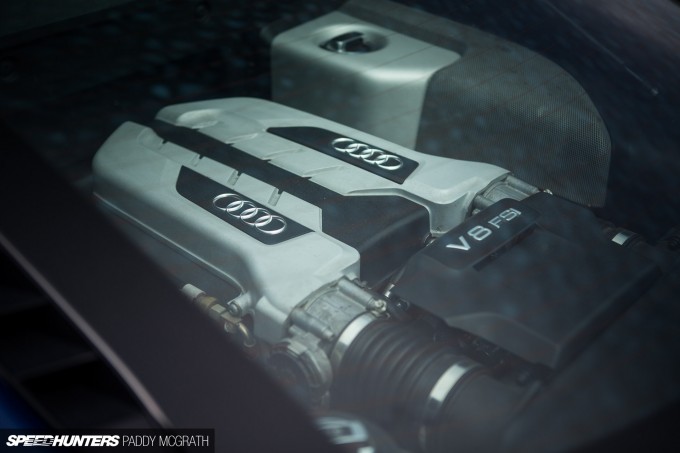 Even in factory V8 form, the 4.2-litre FSI makes around 414hp, which is quite honestly plenty of performance. I think we've been spoiled a lot in recent years with supercars and hypercars embroiled in all-out horsepower wars, that we sometimes forget that you don't need 1000hp to be put a smile on your face.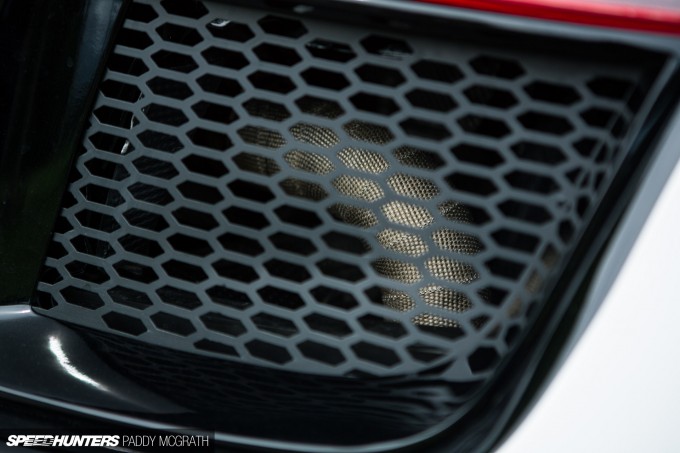 Still, the modern VW Group engines are incredibly tune-able. With simple modifications such as a custom intake and exhaust, followed by some ECU tuning, Brian has been able to extract another 60 horsepower from the Audi's mid-mounted V8 without huge investment or adverse risk to the engine's reliability.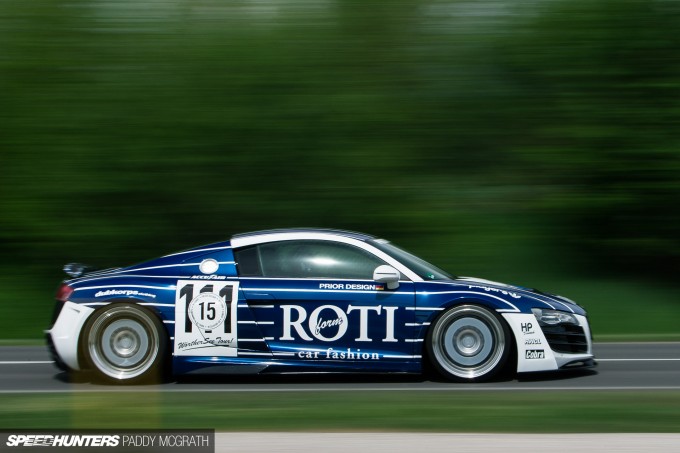 With power figures currently at around 475hp and 400lb-ft in a package that weighs 1475kg, that's enough performance by anyone's standards – especially for a street car.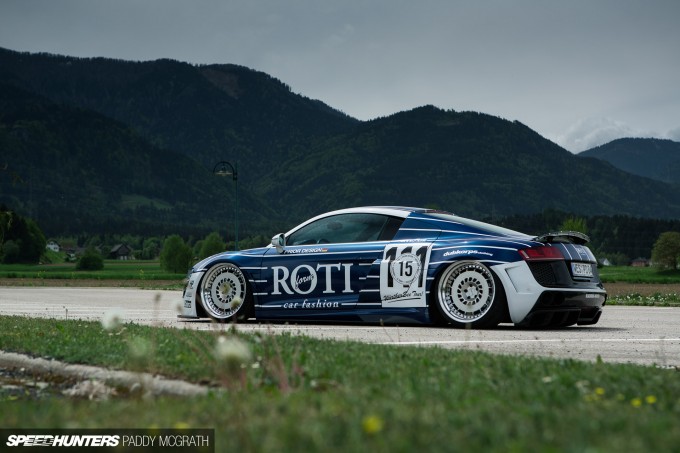 However, this isn't a car that's about outright performance. It wasn't built for track days or for breaking lap records on the Nordschleife, although I'm sure it would surprise a doubter or two if given the chance. It's car built to be enjoyed. It's a car built to grab attention and it's a car built to put a smile on people's faces.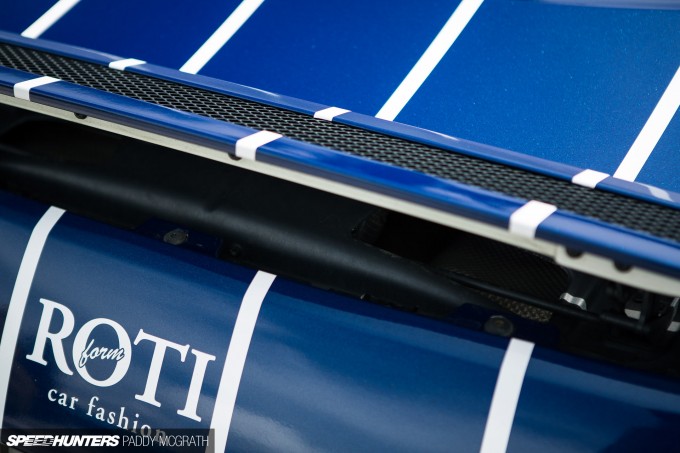 This is something that it has no difficulty in achieving.
Simple Stripes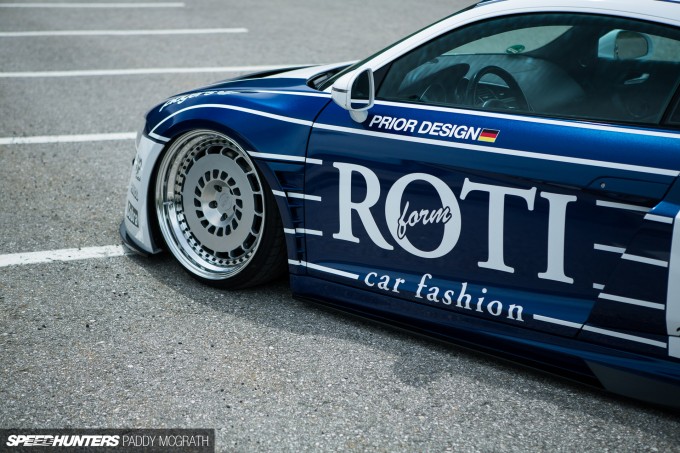 I've seen many people dismiss this car online as 'just' an R8 with a wrap, bags and wheels (as if that would be a bad thing). What these people have failed to notice is that the only original panels remaining on the car are the doors and roof, such is the extent of the transformation the car has undergone.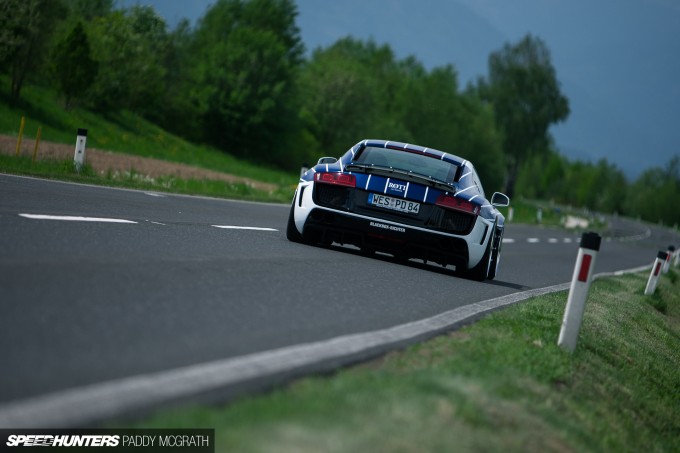 The car has been converted to a full wide-body with Prior Designs' own GT850 wide-body kit. This is comprised of everything from front and rear bumpers, side skirts, splitter, diffuser, quarter panels, front fenders and hood in a fibreglass/Duraflex composite.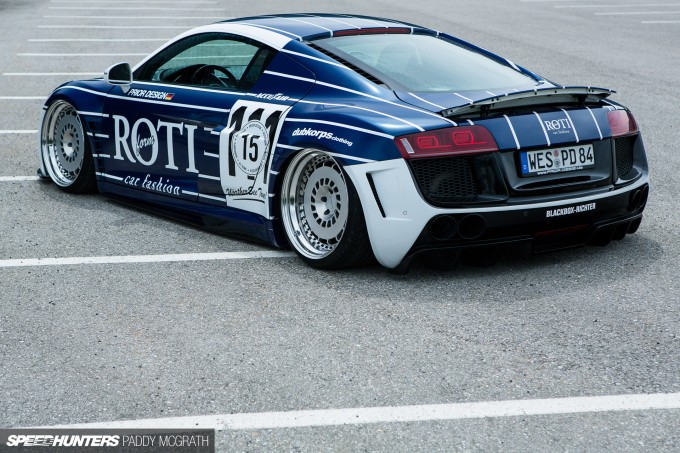 Even the wrap itself hasn't just been copied and pasted onto the car either. Brian had originally planned on running the Boss M1 inspired livery on an A6 Avant, but when the opportunity came up to use it on the R8 he wasn't going to say no. However, the livery required modification to help it flow better with the R8s curves, something I think has been dealt with quite well.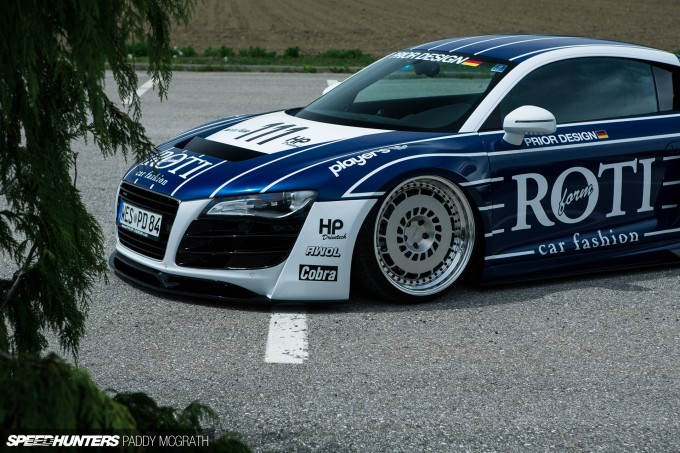 Abbreviating Rotiform to mimic the Boss logo and adapting the tagline to 'car fashion' was always going to get under people's skin. Brian simply laughs it off, stating that it's just in the name of fun. There's a part of me that still thinks that it's a smile and a wink towards the trolls and keyboard warriors of the world wide web.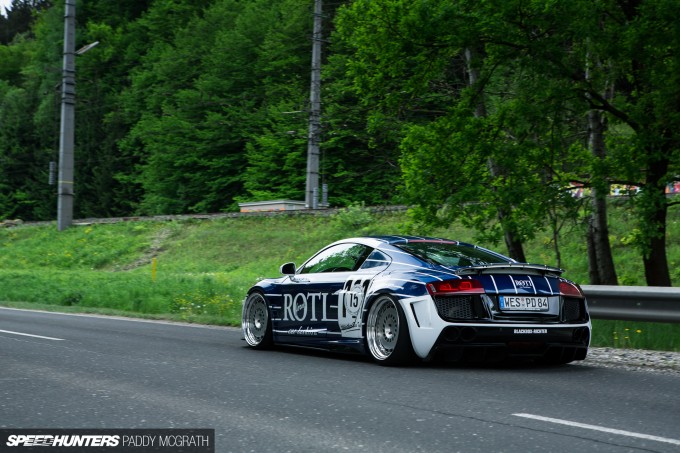 Aggressive wheel fitment and the use of airbags continues to be a source of irritation for some. Speaking from a personal point of view, I'm much happier to see a car with aggressive stance on air these days, than a static setup. It just means there's less sacrifice – if any – in the overall performance and experience of the vehicle.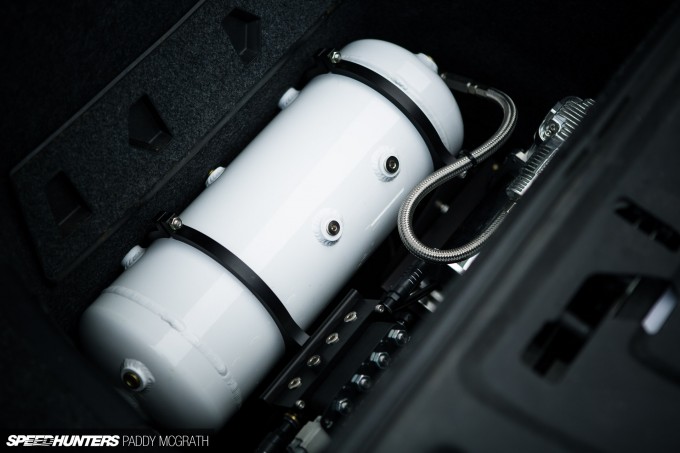 It might seem strange for some to see the words 'air' and 'performance' in the same sentence, but with the rapid evolution of technologies, it's going to become even more prevalent in the coming years. This R8 is running a HP Drivetech Clubsport kit, which is based on Bilstein adjustable Clubsport dampers with AccuAir's e-Level management system.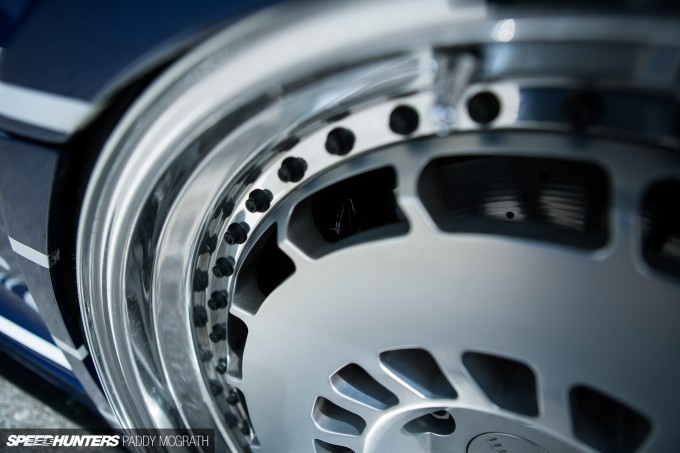 The R8 was never going to wear anything else but Rotiform's own stock, and the 20-inch CCVs are 9.5-inch wide at the front and 13-inch wide at the rear. Their full-faced design with a slight twist are reminiscent of iconic '80s race car wheels with their turbo fans to aid brake cooling. A retro style on a futuristic body.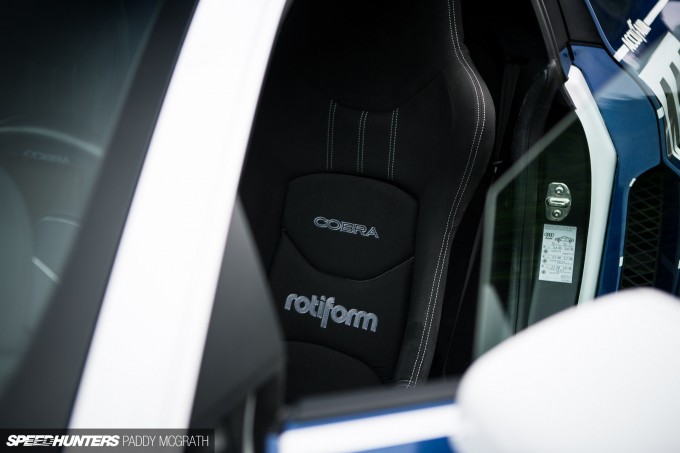 Again, there was no need to reinvent the wheel as such and Brian has made a good decision in retaining all that was good on the R8. The only interior modification is a pair of custom embroidered Cobra seats and the controller for the aforementioned AccuAir management system.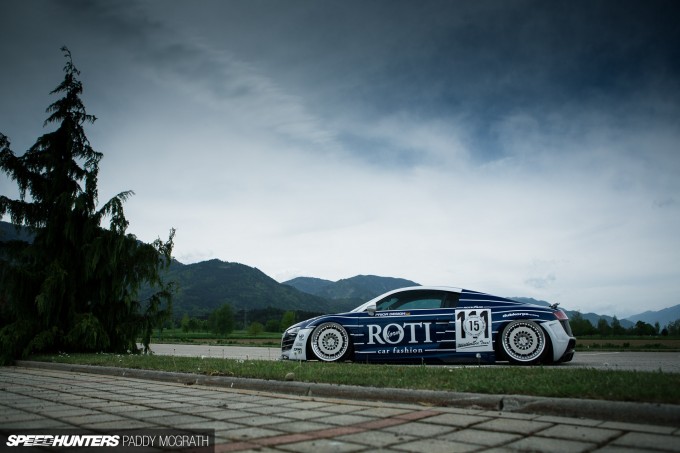 There's a very simple idea behind this car, but in true VW scene fashion, it's a much more difficult thing to pull off than it may first appear. There's a lot of thought and consideration behind the details – things that would easily go unnoticed if you choose to overlook them.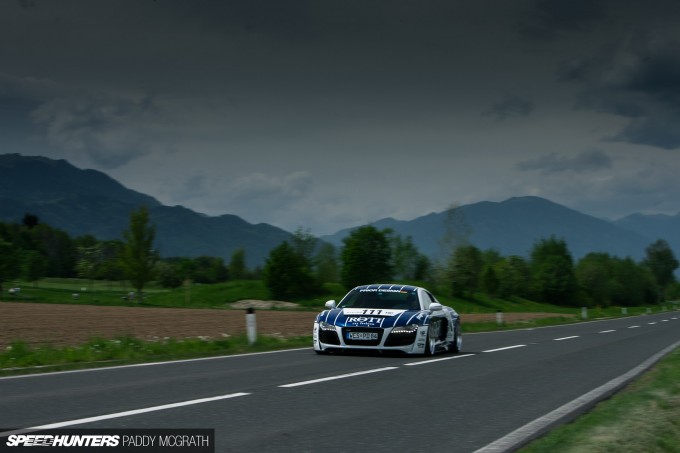 If this doesn't appeal to you – and I know that it's going to split opinions – then that's fine. It really is. Just don't be that guy who has to take sh*t on someone else's pride and joy so they can feel better about themselves. Instead, why not turn that negative energy into positive energy and make something useful with it. Get out into your garage or driveway and build something which you deem to be better.
Ultimately, it all comes down to that feeling when you slide behind the wheel, turn the key and leave the world behind. If you can do this, and do it with a smile on your face with the knowledge that you've done this for you and no one else, then you've done the right thing in my book.
When Brian fires the R8 up, I'm sure the last thing on his mind is what someone on the internet thinks about his car. And rightly so.
Paddy McGrath
Instagram: pmcgphotos
Twitter: pmcgphotos
paddy@speedhunters.com
Bonus Video & Images