Rotary Icon
The early to mid-1990s were a great time for Japanese sportscars in the United States. We may not have been blessed with JDM icons like the Evo or GT-R, but we still had a full line-up of turbocharged sportscars that became icons for a whole generation of car enthusiasts. Mitsubishi offered the twin turbocharged 3000GT VR-4, Nissan offered the twin turbo 300ZX, Toyota gave us the legendary fourth generation Supra and Mazda marched to its own beat with the rotary-powered FD3S RX-7.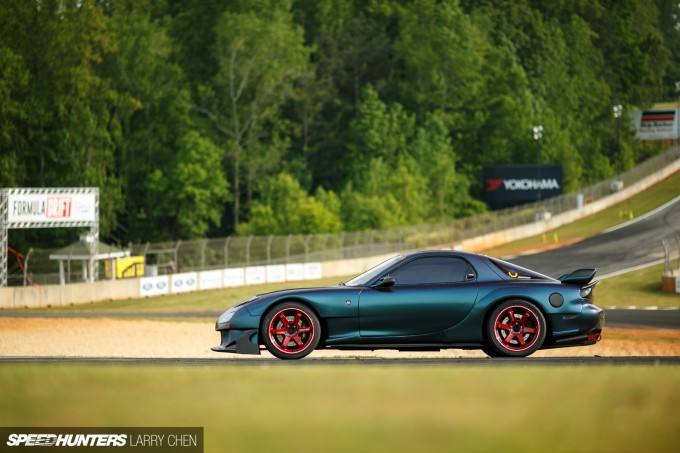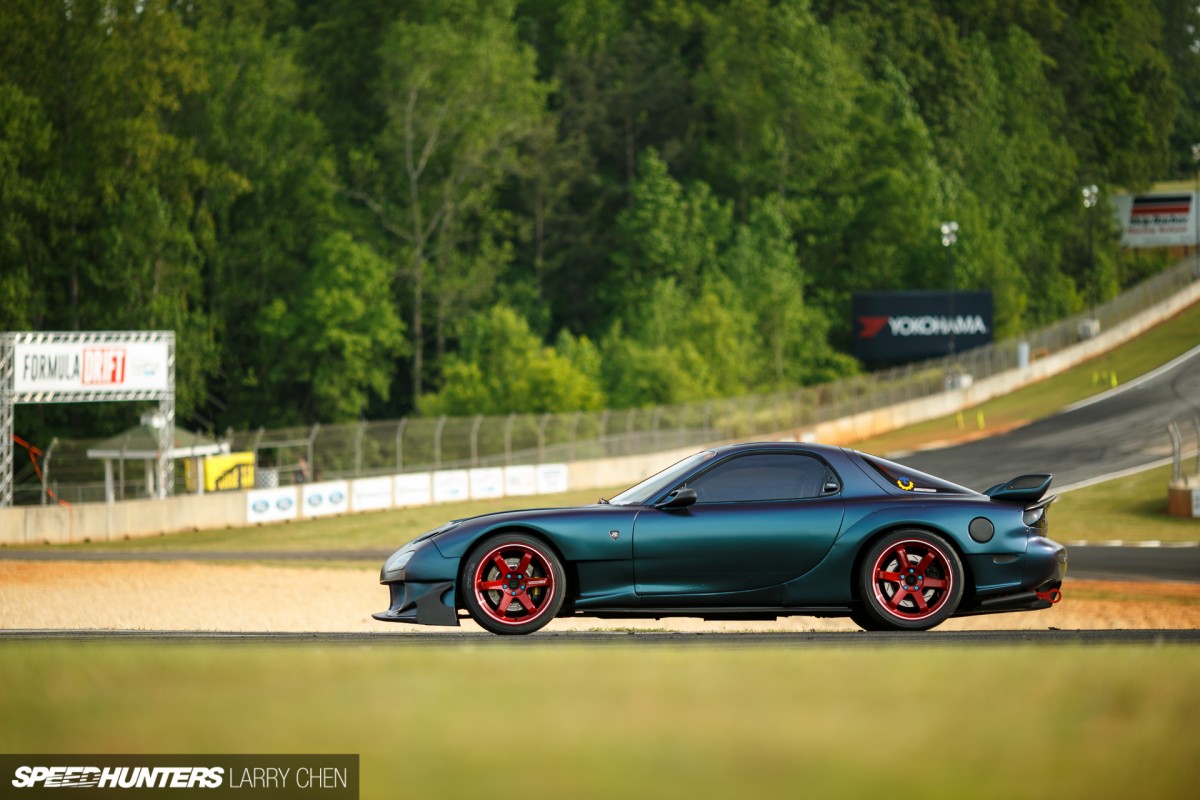 And while all four of those cars were special in their own way, there was something different about the RX-7. While the others sported heavy curb weights and 3,000cc engines, the RX-7 set itself apart from the crowd. Sure it had its turbochargers, but they were affixed to a rotary engine and powered a car that was smaller and lighter than its competition. The FD quickly became known for both its power and its incredibly balanced handling.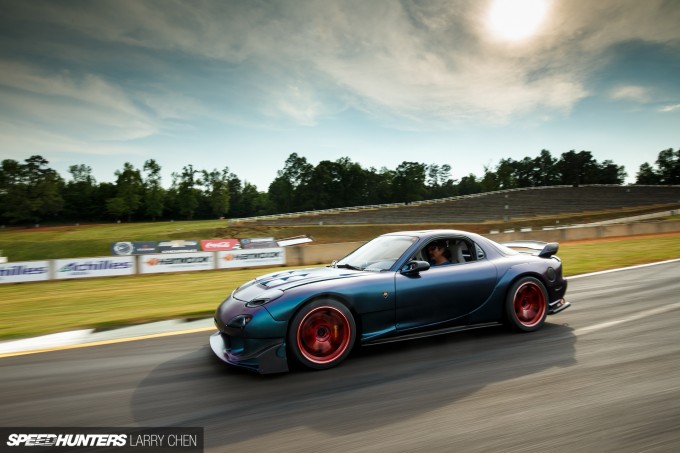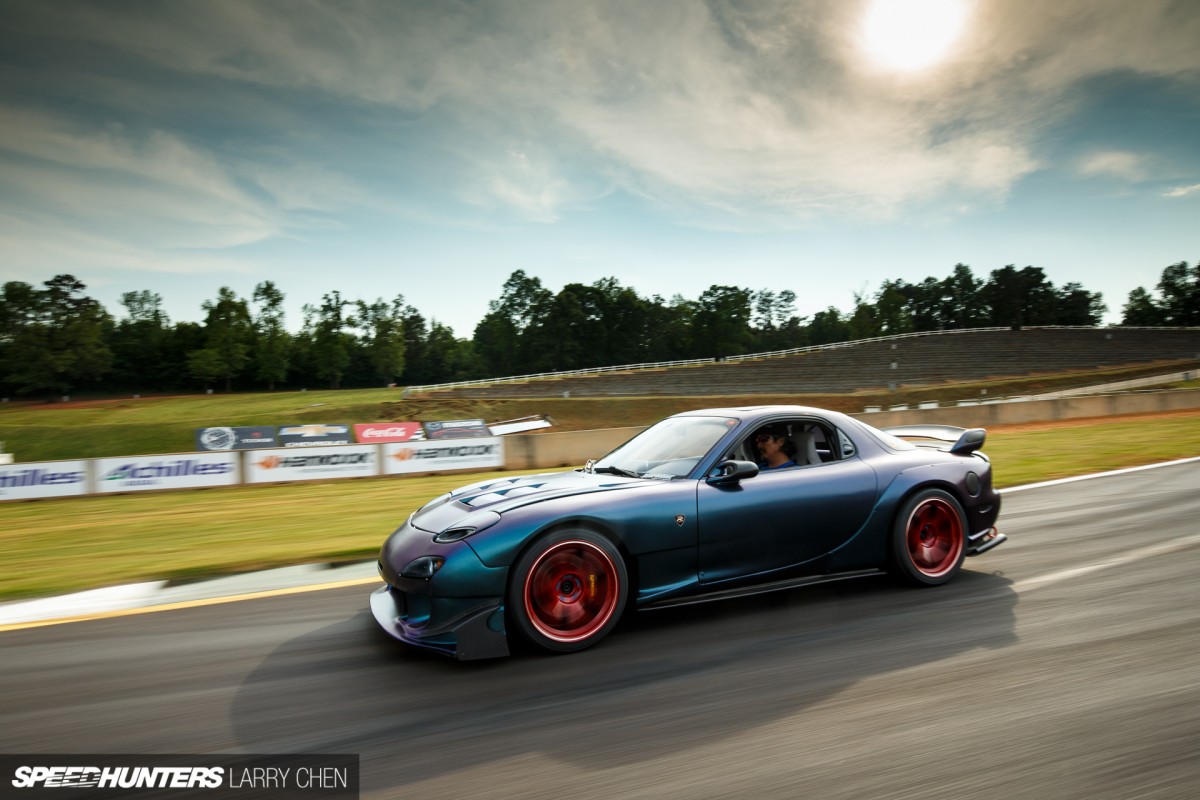 Then there was the styling. Yes, the others looked good – but few will deny the home run that Mazda's designers hit with the third generation RX-7. It looks every bit as good today as it did in when released in the early '90s.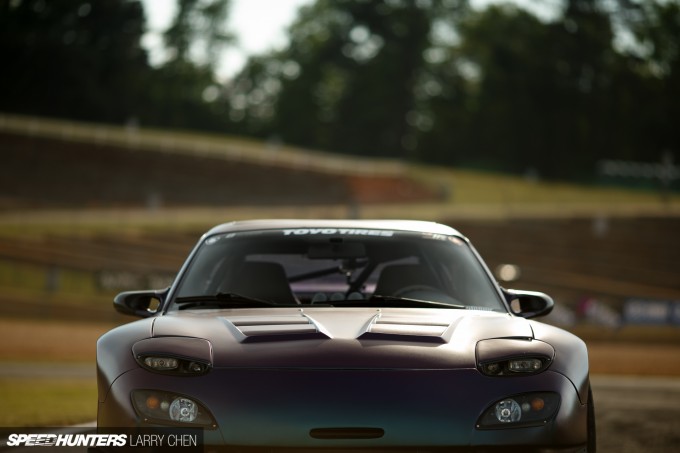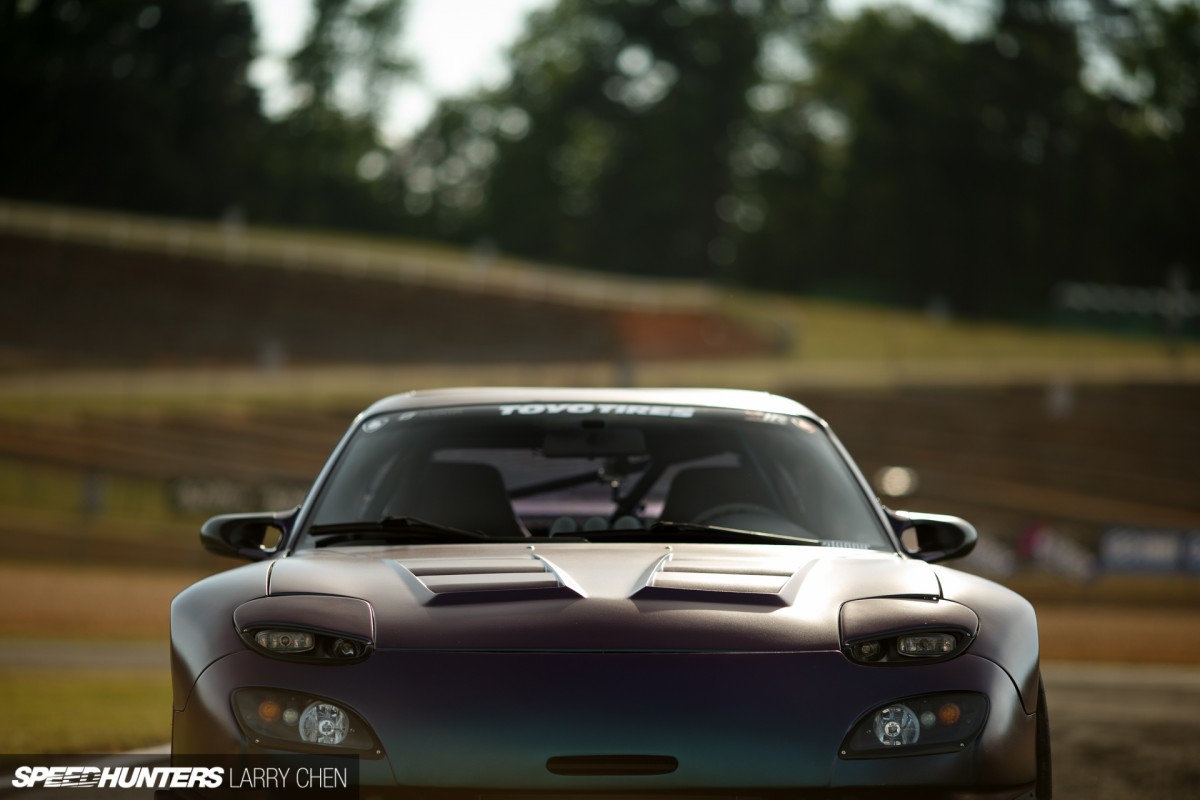 While the FD received plenty of praise when it was introduced, it would only be sold in the USA for three model years. In other countries like Japan, RX-7 sales would continue through to the end of the decade.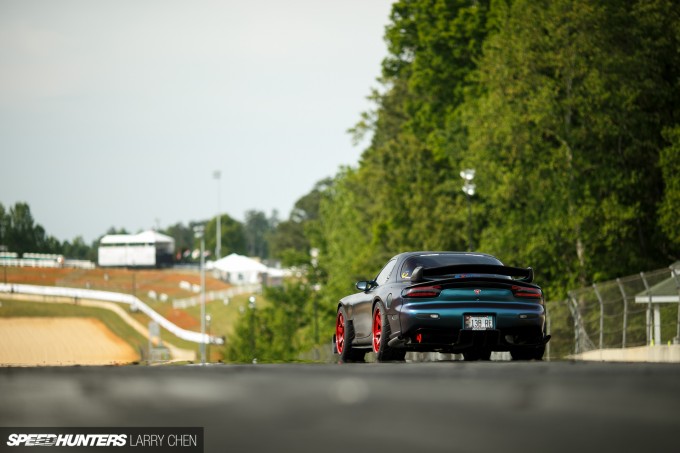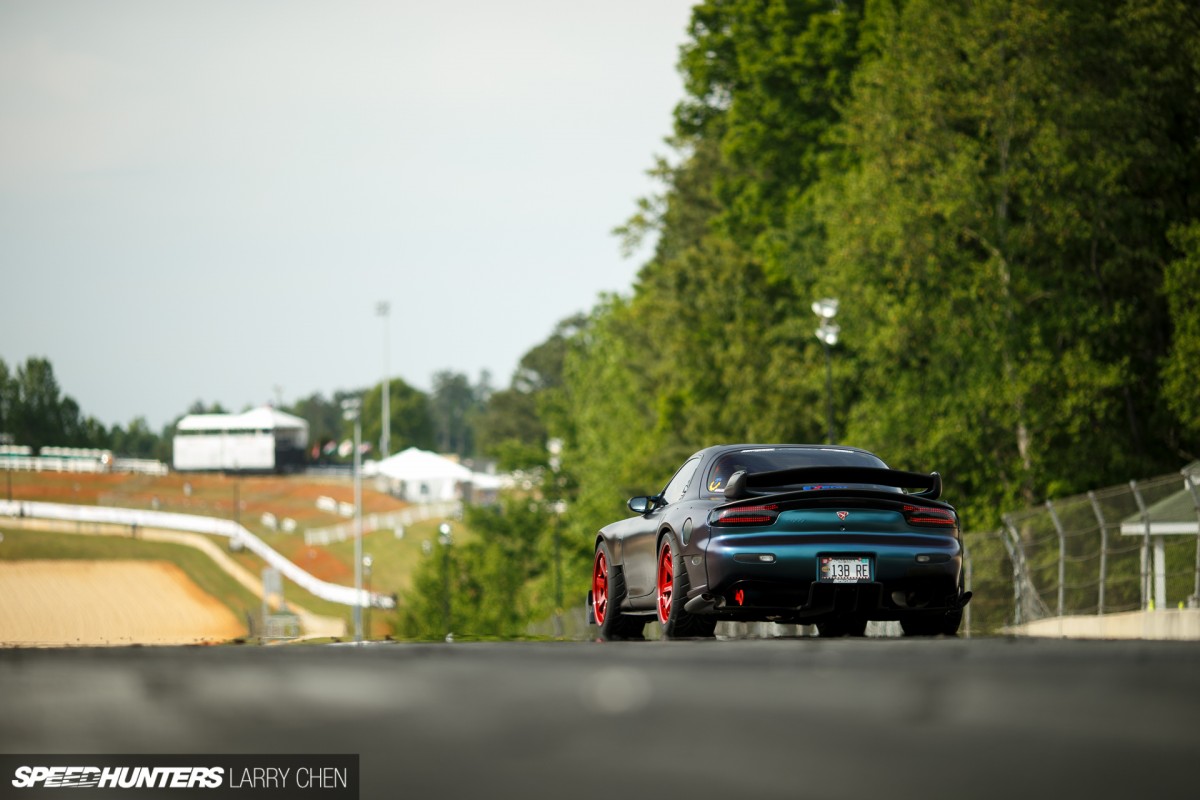 So, despite being one of the most acclaimed Japanese sportscars ever to hit American shores, its unconventional powerplant and limited production numbers have kept the FD as a bit of cult machine here in the US. If you see an FD3S in the States today, there's a strong possibility it has a V8 or another piston engine under the hood rather than the original rotary.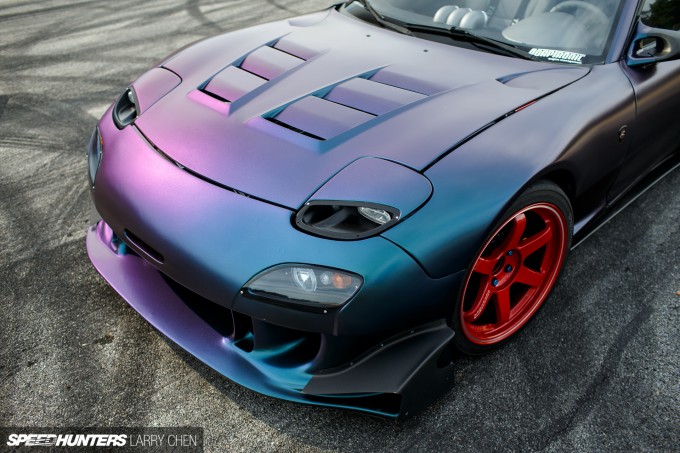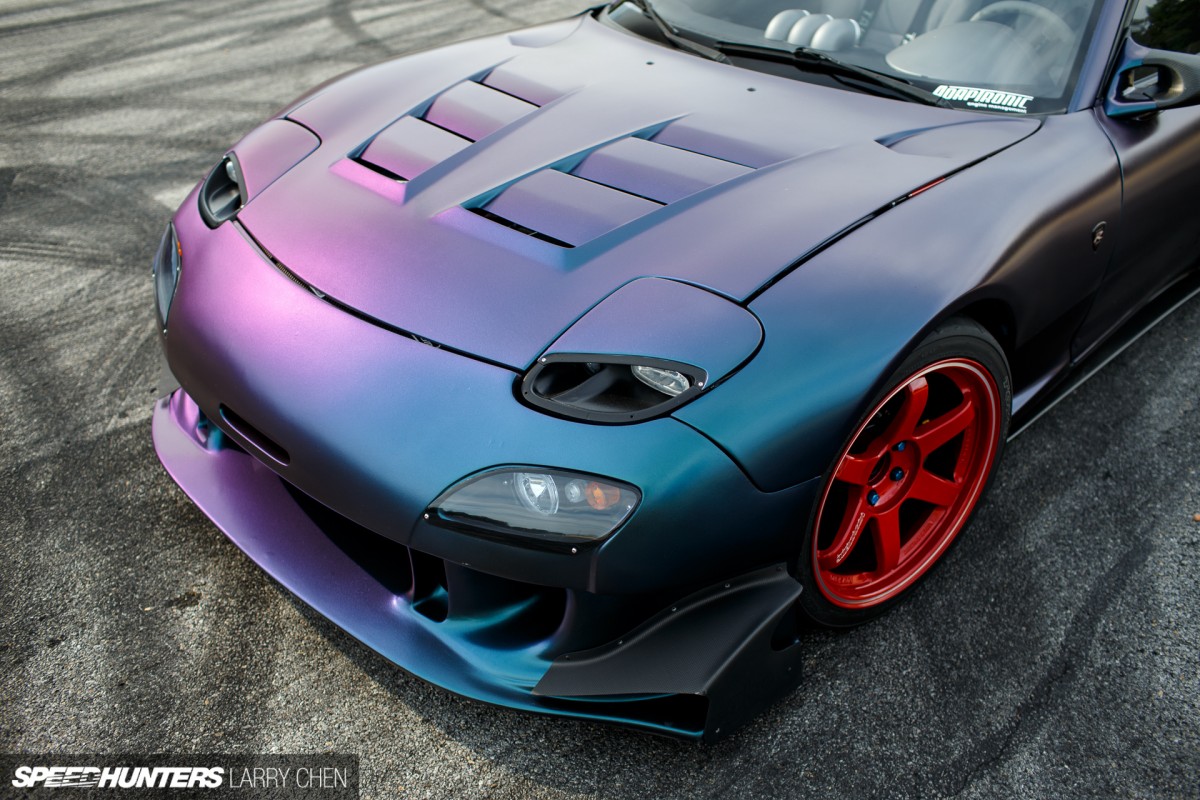 But there do remain a group of American FD3S owners and enthusiasts who have stayed true to the car's rotary roots. One of them is Phil Sohn of Alabama – the owner the 1993 RX-7 you see here, and the winner of our #FeatureThis prize at Offset Kings Atlanta.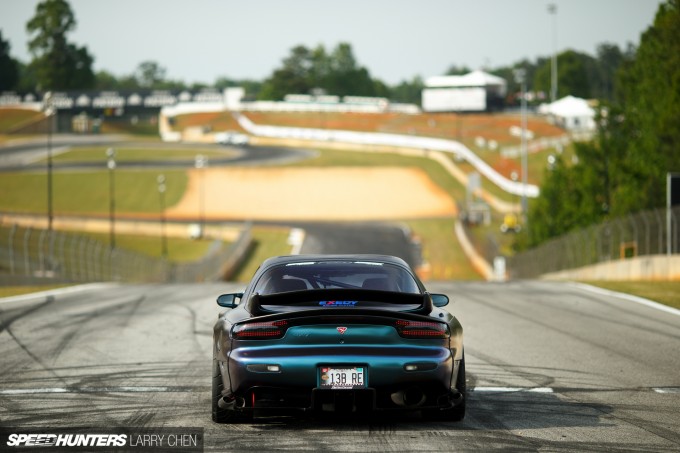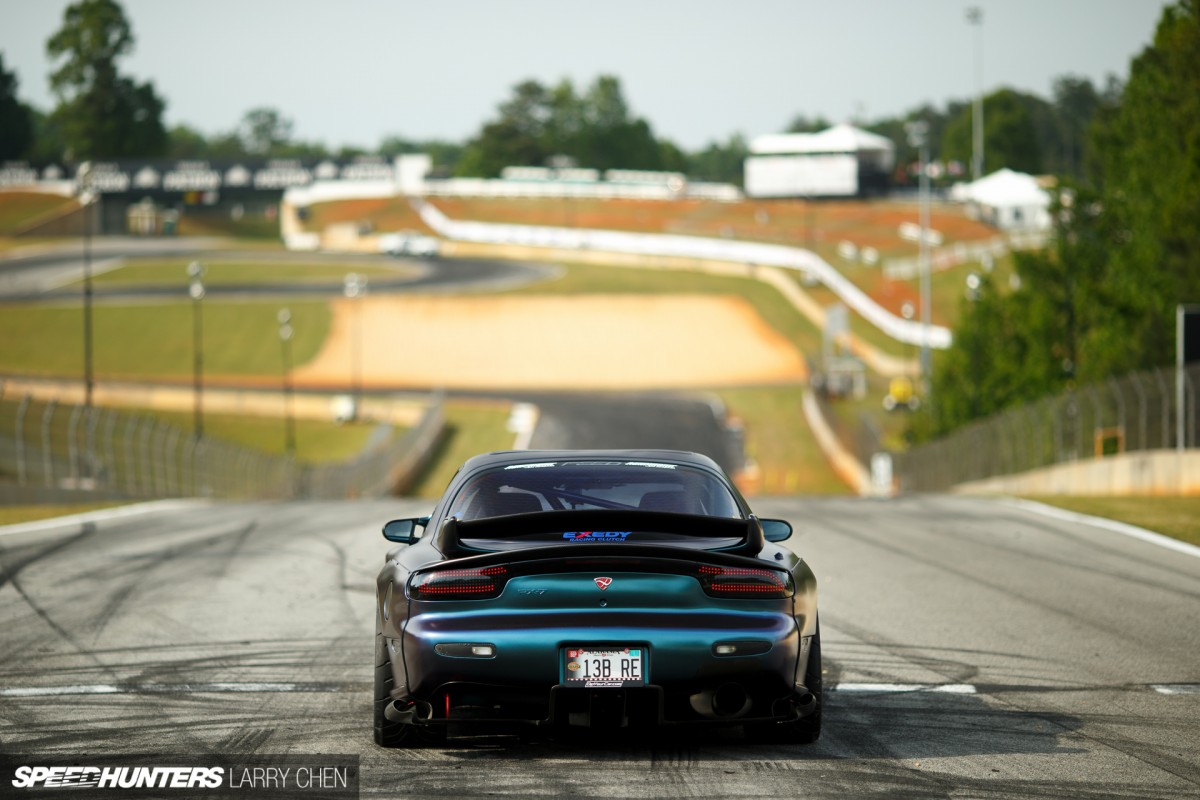 Phil has owned many rotary-powered Mazdas over the years and he first fell in love with the FD3S in 1992 when he saw a brand new one driving through his town. He'd just barely graduated high school at this point, but he knew he had to own one.
FD Mania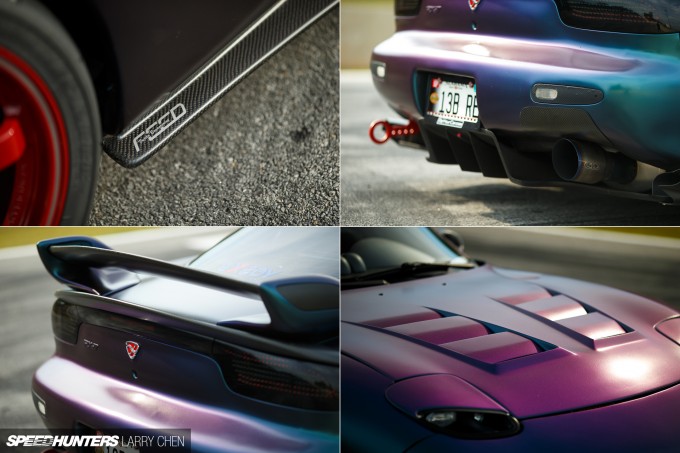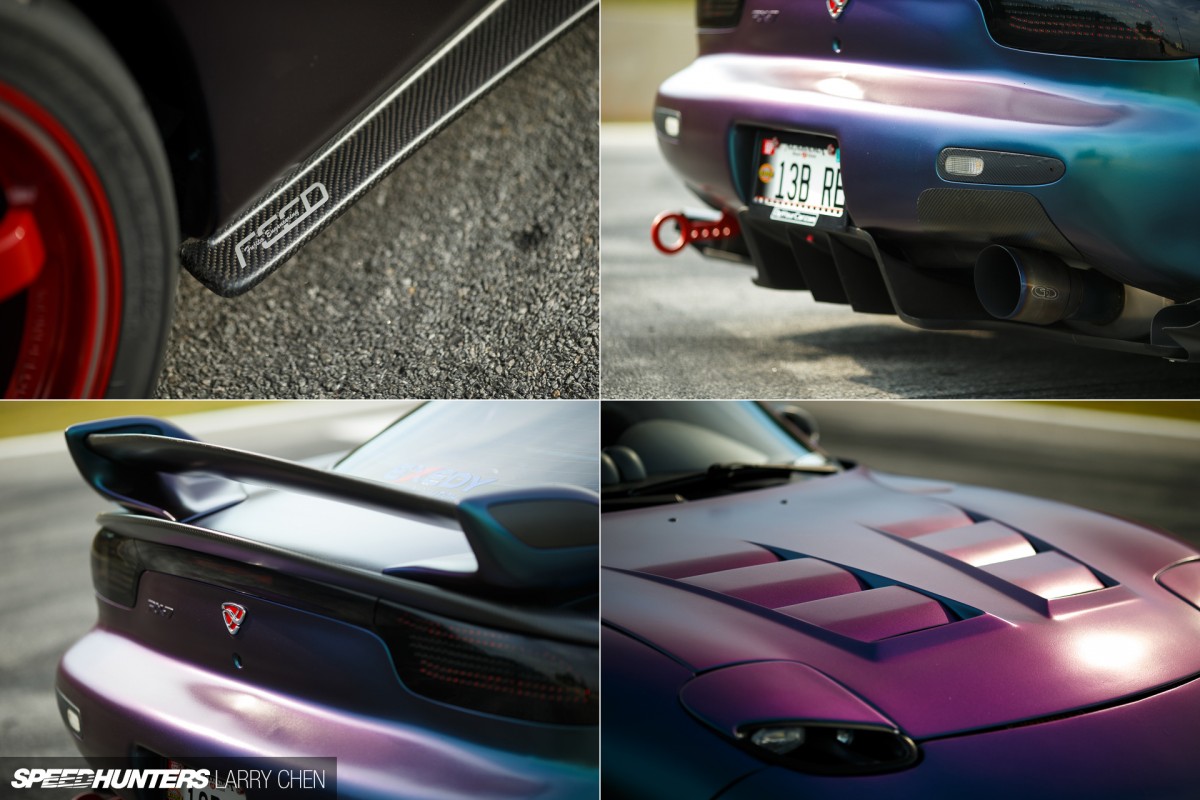 After graduating college he got the chance to ride in a modified FD and this only strengthened his desire to own one. Moving to Cincinnati, Phil paid off his student loans and finally became the owner of an FD3S –  a black 1993 base model to be exact. And thus a love affair was born.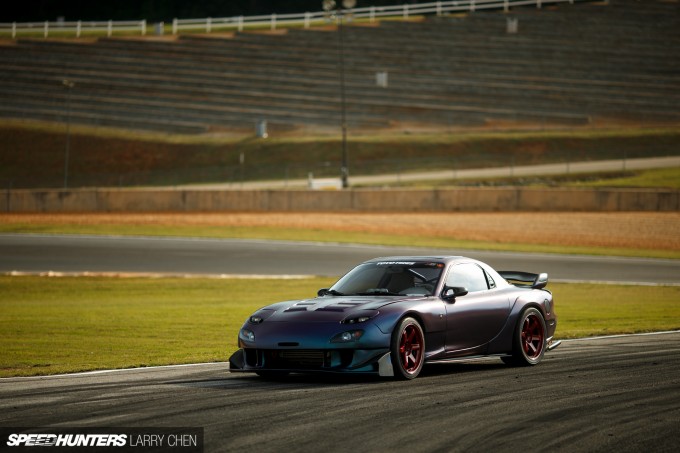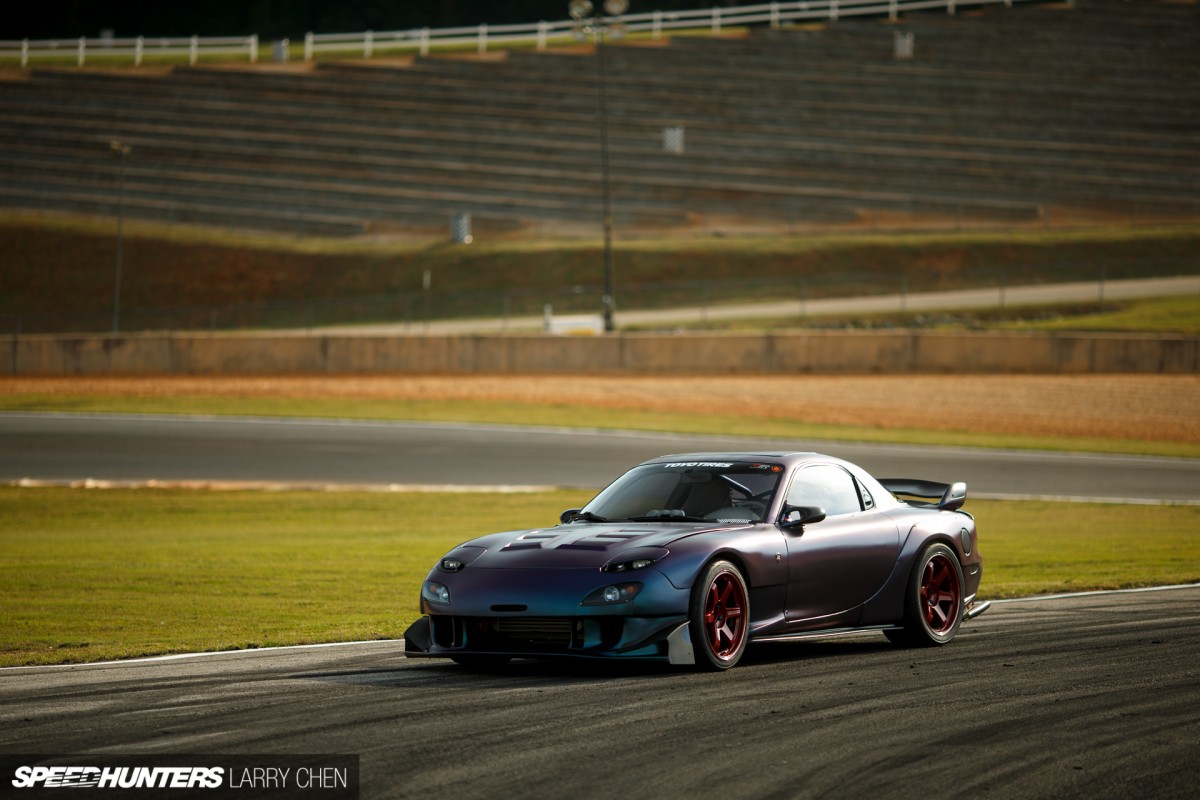 He's gone on to own no less than 15 different examples of the FD over the years and he can be considered one of America's most dedicated rotary enthusiasts. While in Ohio he met a group of fellow rotary fans who would give him tips and assistance while working on his car, and this sense of camaraderie didn't stop when he relocated to Alabama.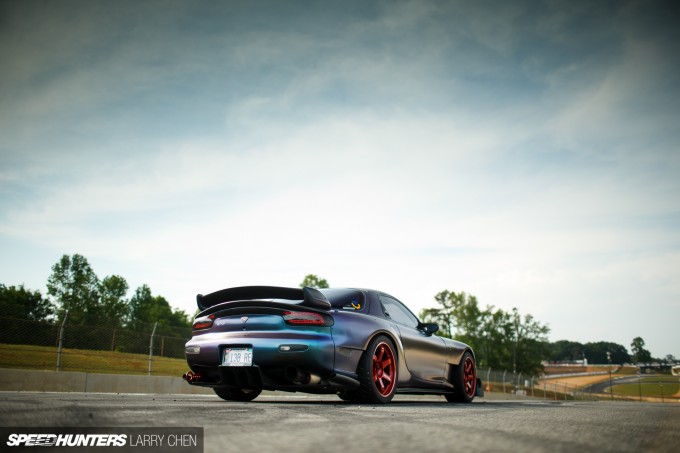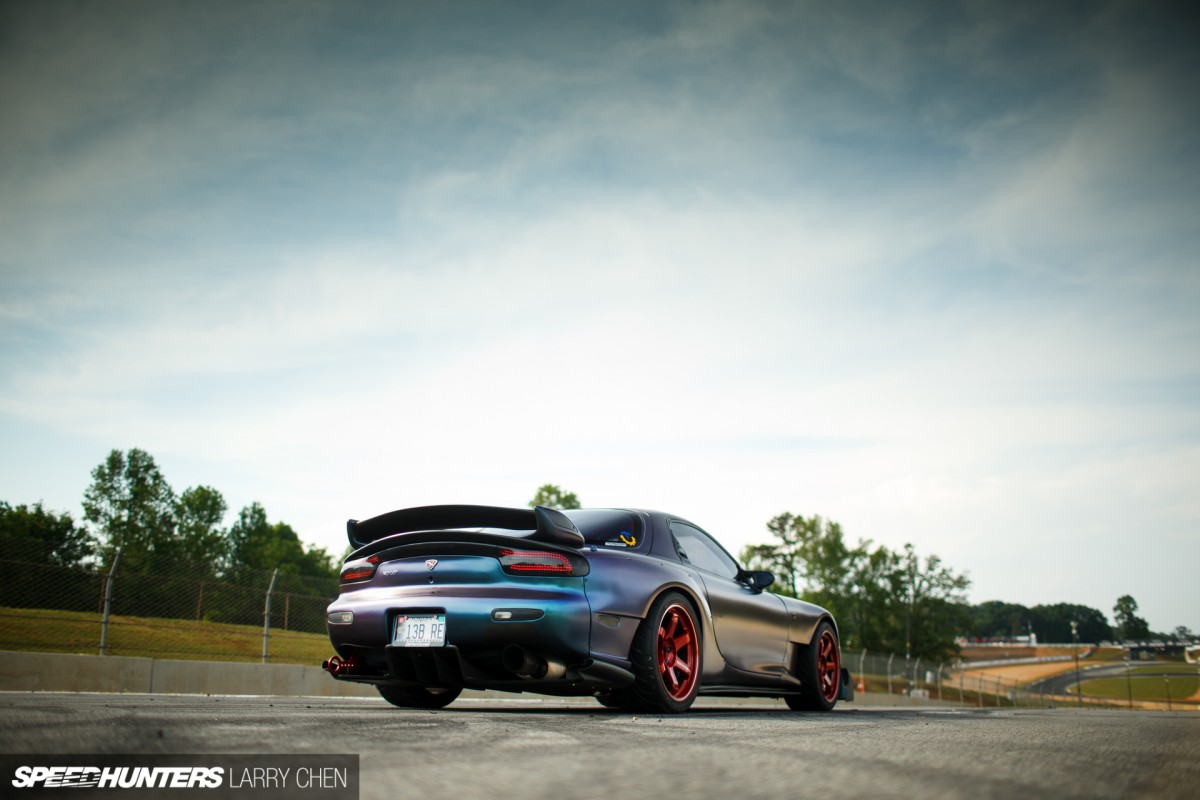 Phil has lived in Alabama for 13 years now, and in that time he's not only founded a site called RotaryCarClub.com, he also started an event called the Deals Gap Rotary Rally where Mazda enthusiasts and rotor-heads gather in the picturesque hills of the Southeast every year.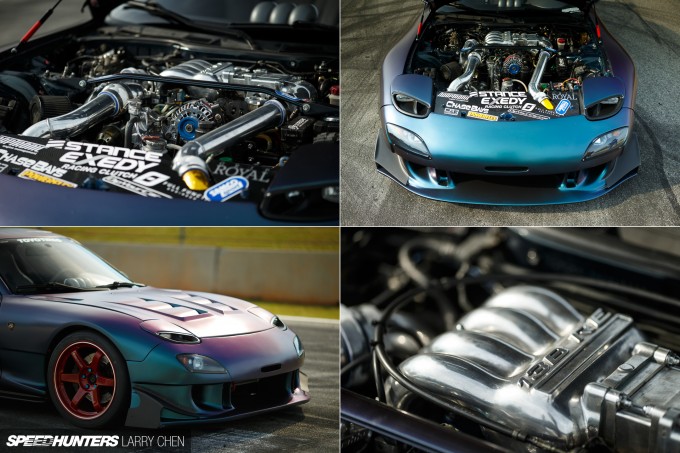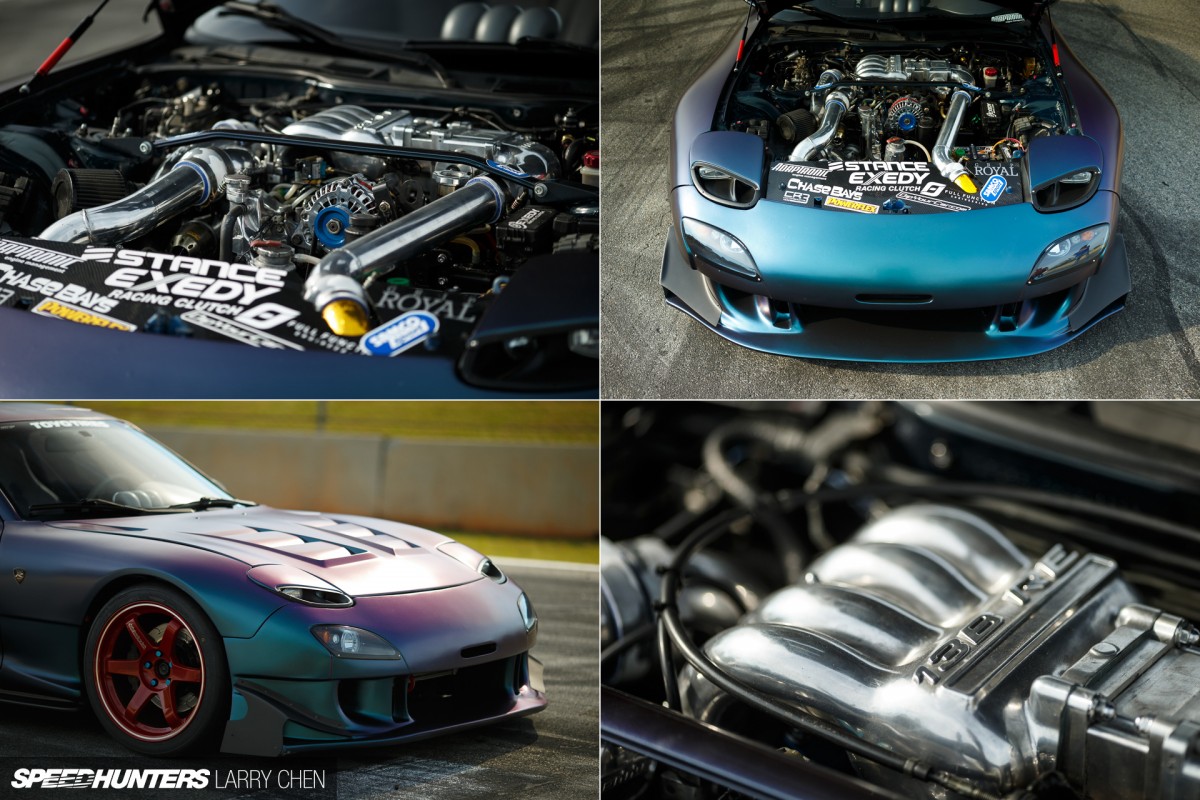 This particular project of Phil's is certainly one of the more impressive FD3S builds on US shores, and is loaded with custom one-off touches and a whole lot of rare equipment imported from Japan.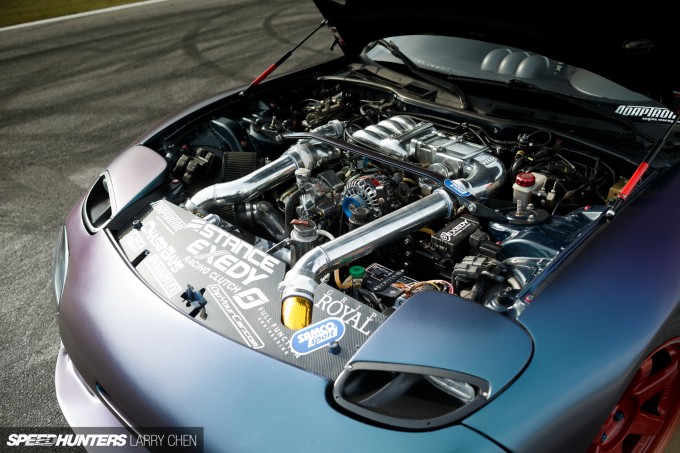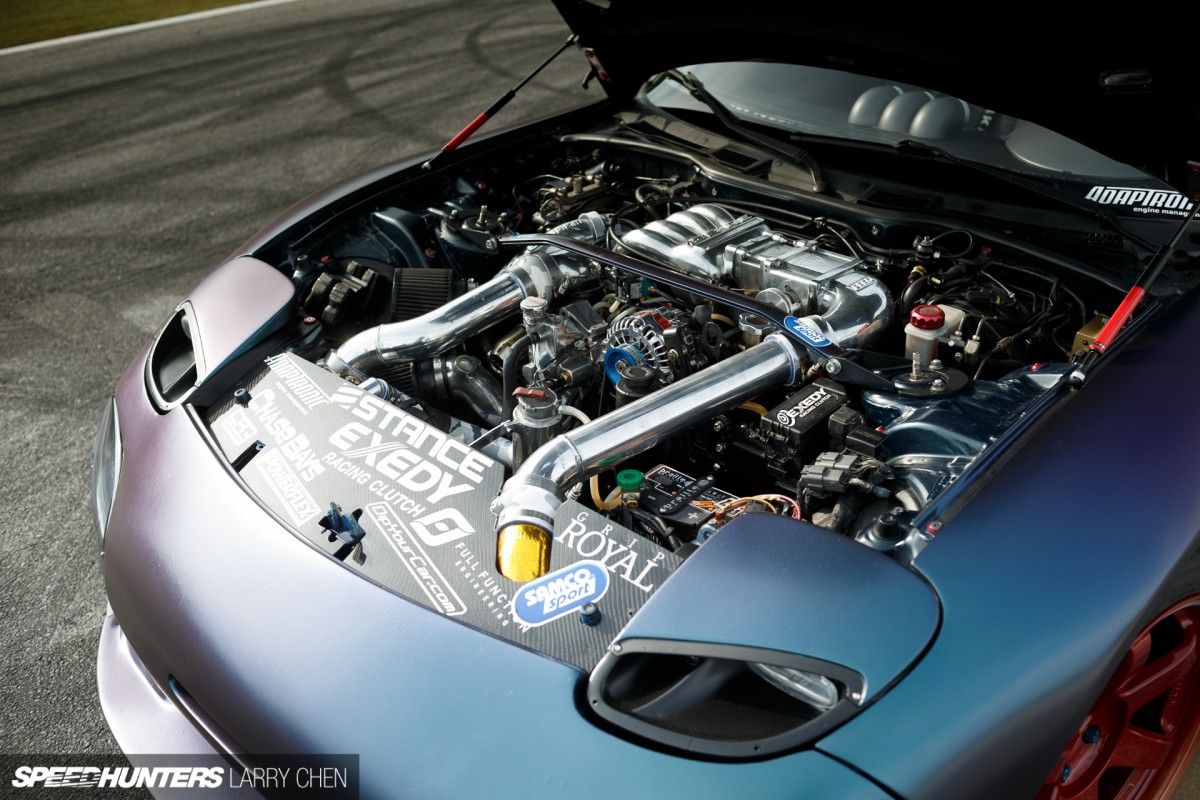 Lift up the vented hood on the RX-7 and you won't see an LS1 or anything else that could be deemed sacrilegious by the rotary faithful. Instead, you'll find a fully rebuilt 13B-REW with a full array of performance upgrades, including BNR Stage 3 twin turbos and all of the supporting modifications for power and reliability on both the street and the race track.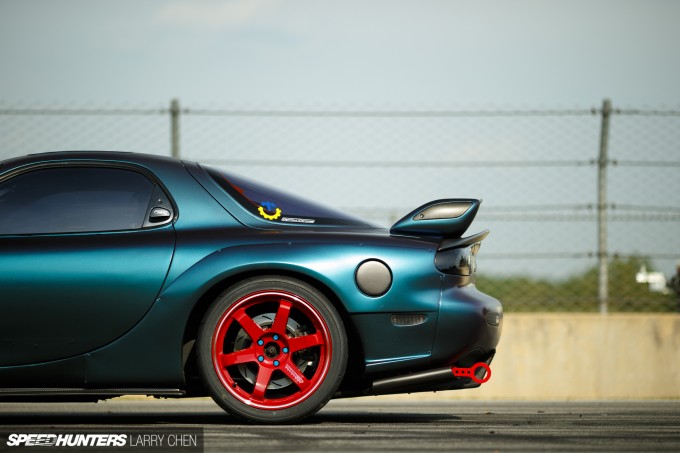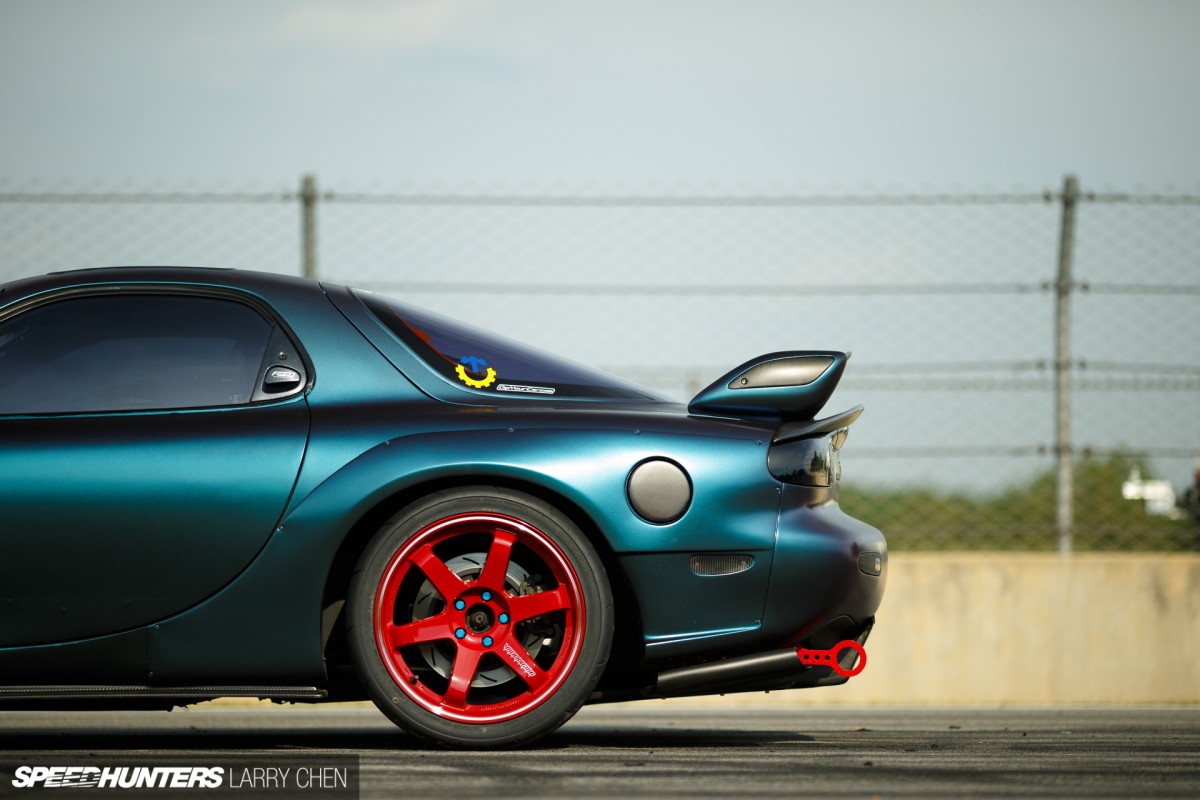 Phil has treated all areas of the car with equal attention, including the suspension which includes upgrades like Stance Super Sport coilovers, sway bars and bracing from Racing Beat, Tri-Point Engineering and Cusco – as well as fender braces from R-Magic in Japan. Braking is handled by an AP Racing kit up front with a Racing Brake kit in the rear.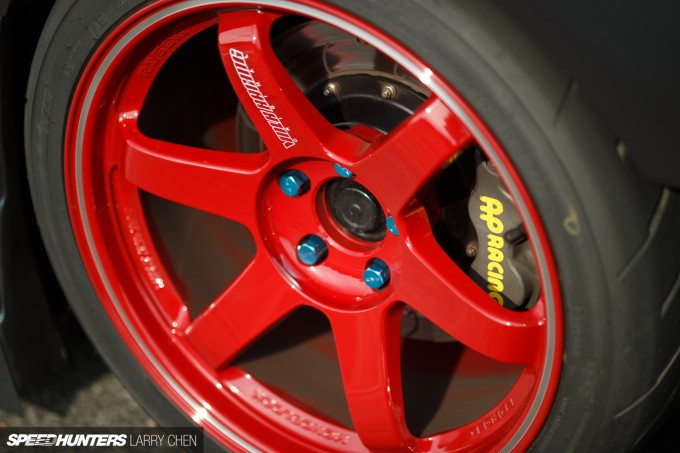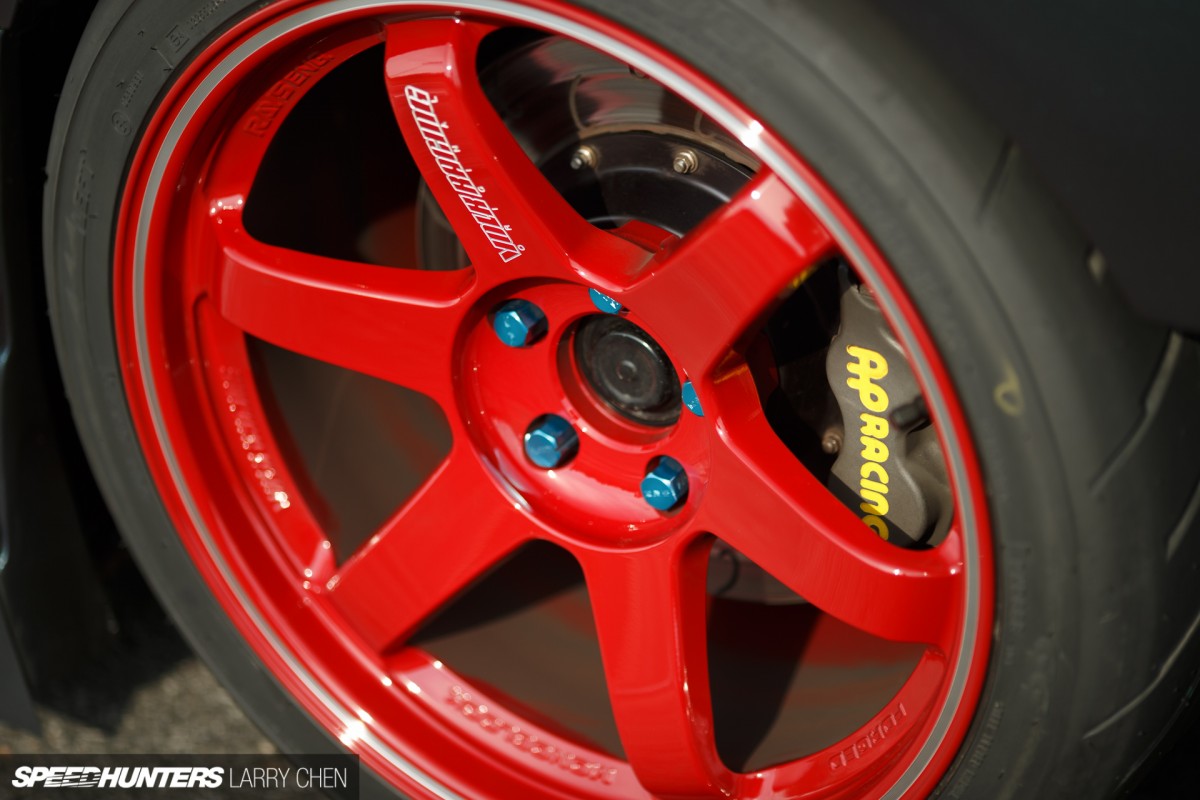 With Phil going for a look that's clearly inspired by the tuned RX-7s that hunt the streets and racing circuits of Japan, the selection of RAYS Volk Racing TE37 RTs was not a difficult choice. They measure 18×10-inch in the front and 18×10.5-inch in the rear with grippy Toyo R888s all around.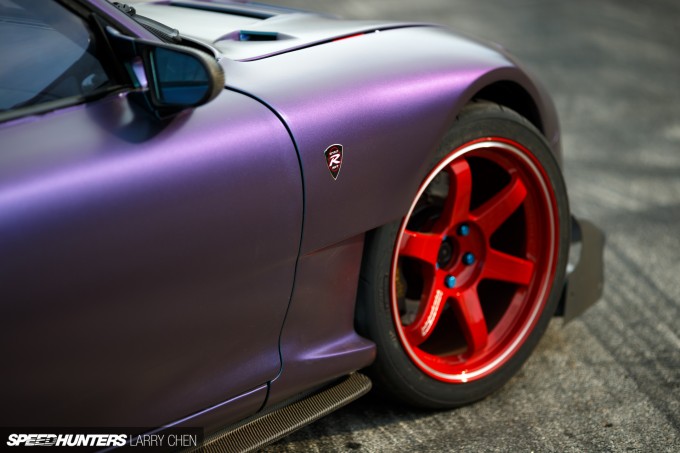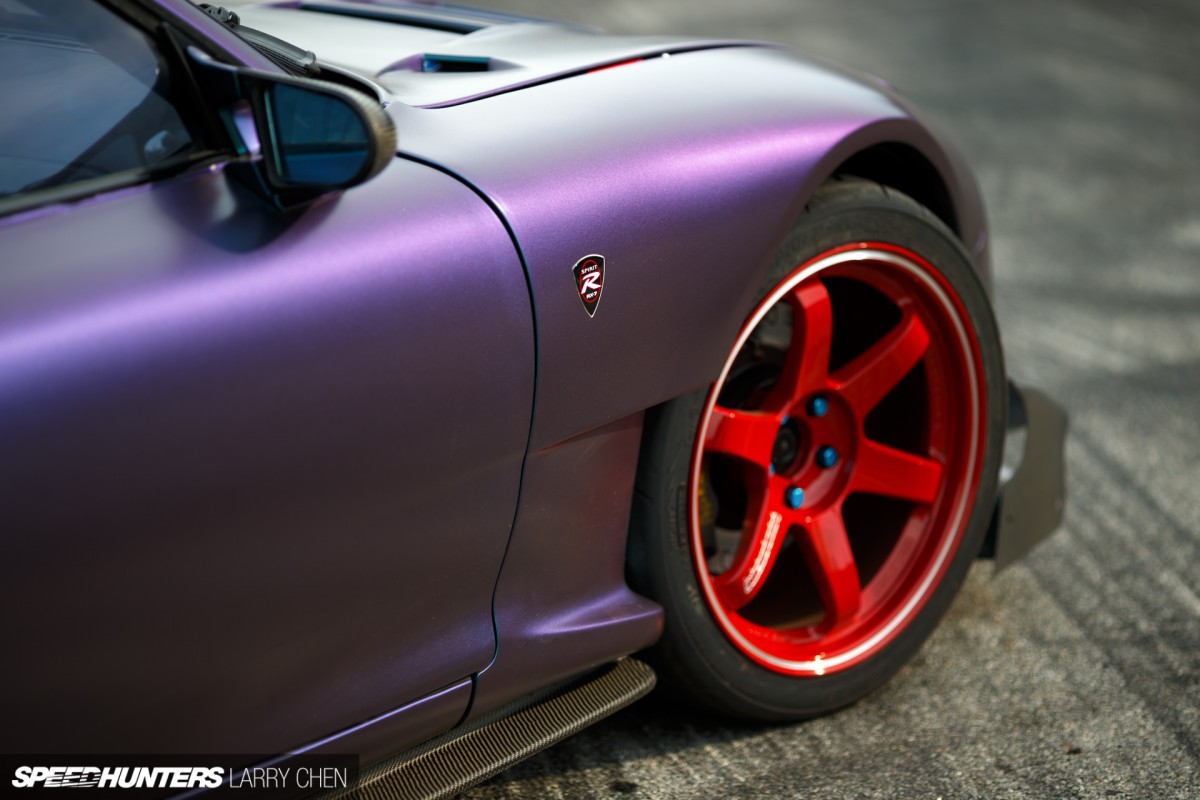 The exterior of the RX-7 features a mixture of Japanese market FD parts, sought-after JDM tuner parts and some one-off stuff for good measure. The result is a style that looks equally at home on the street or at a track day.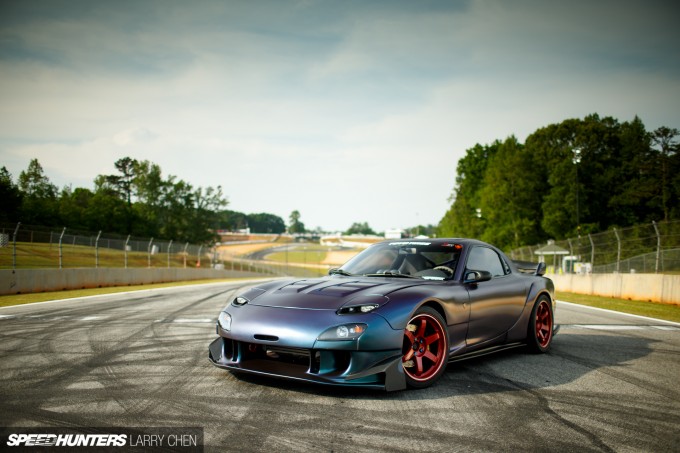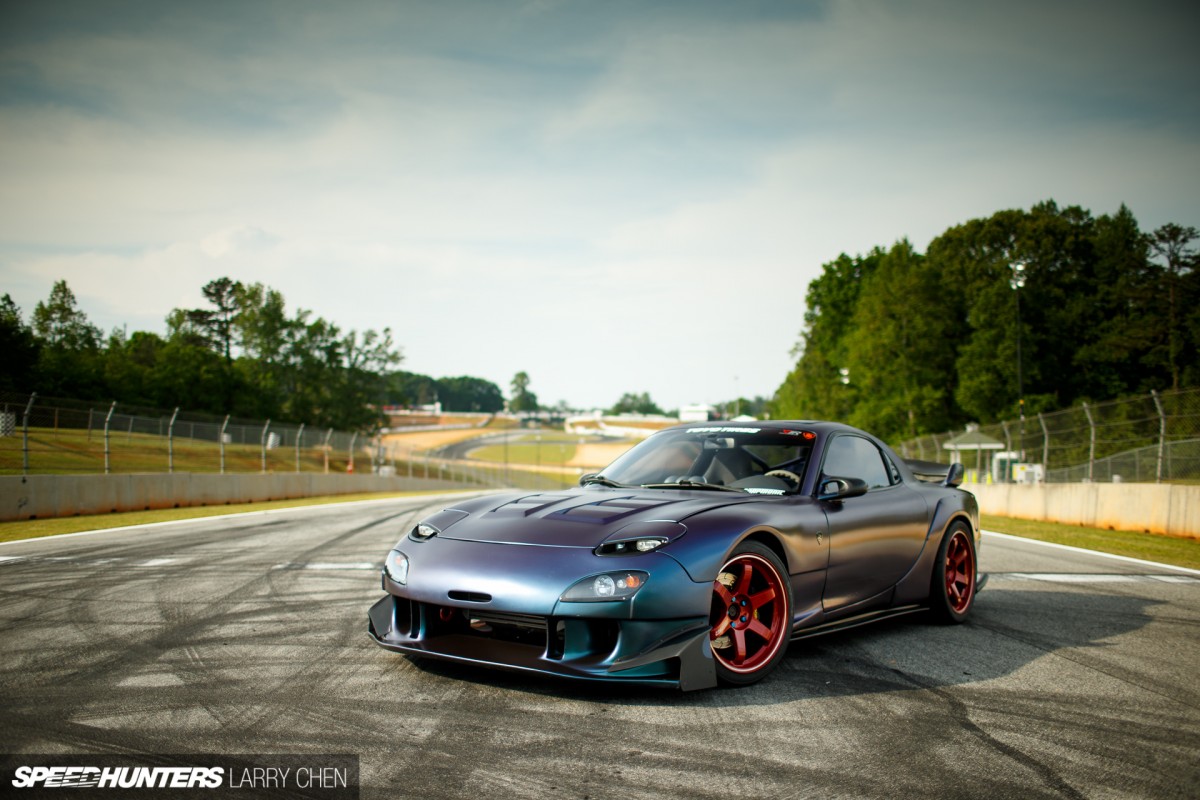 Among the more notable parts on the exterior are front and rear wide body fenders from FEED with carbon fiber side skirts to match, an R-Magic HID headlight conversion, and the requisite Ganador side mirrors.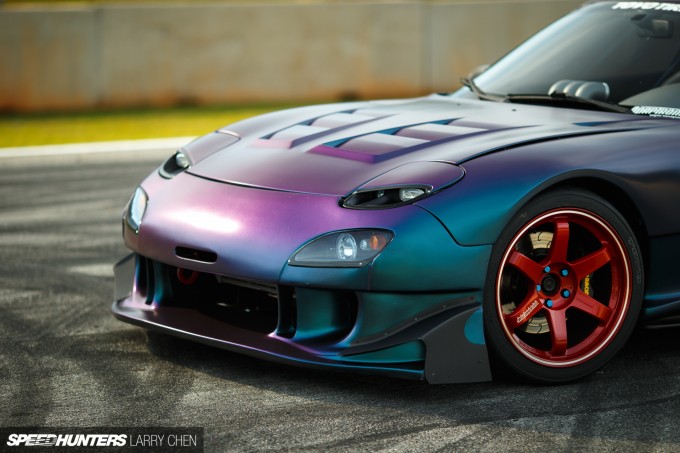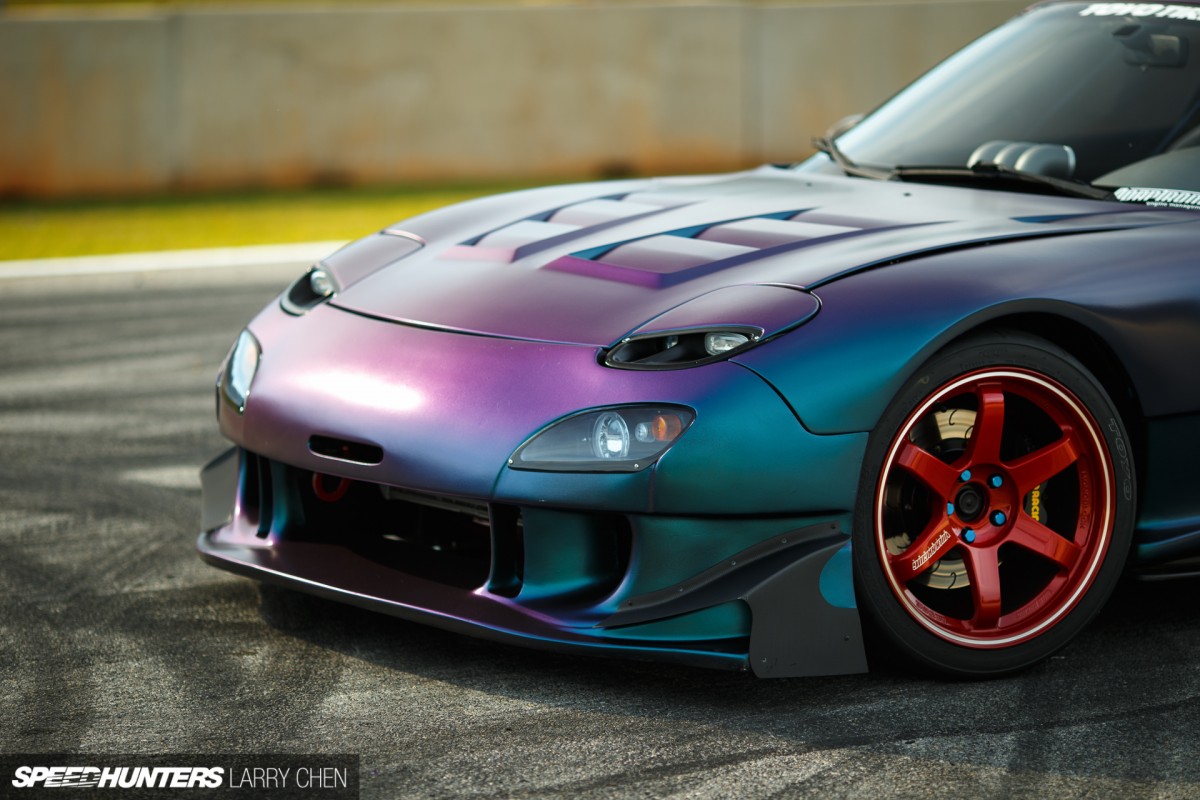 Of particular interest is the front bumper, which Phil actually built himself using the top portion of a FEED bumper and the lower portion of an RE Amemiya N1-05 bumper to make his own design.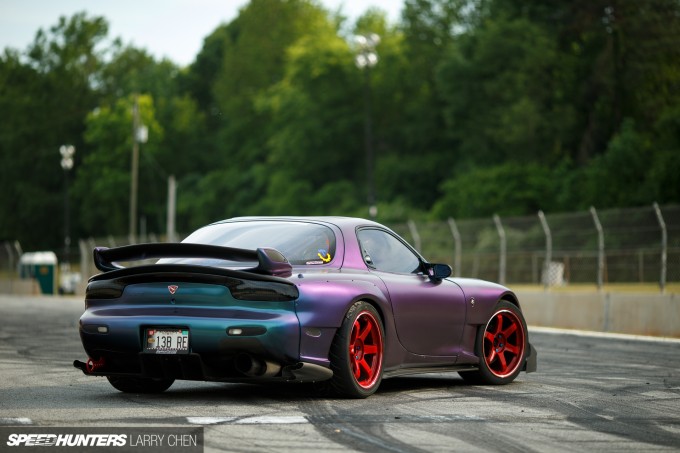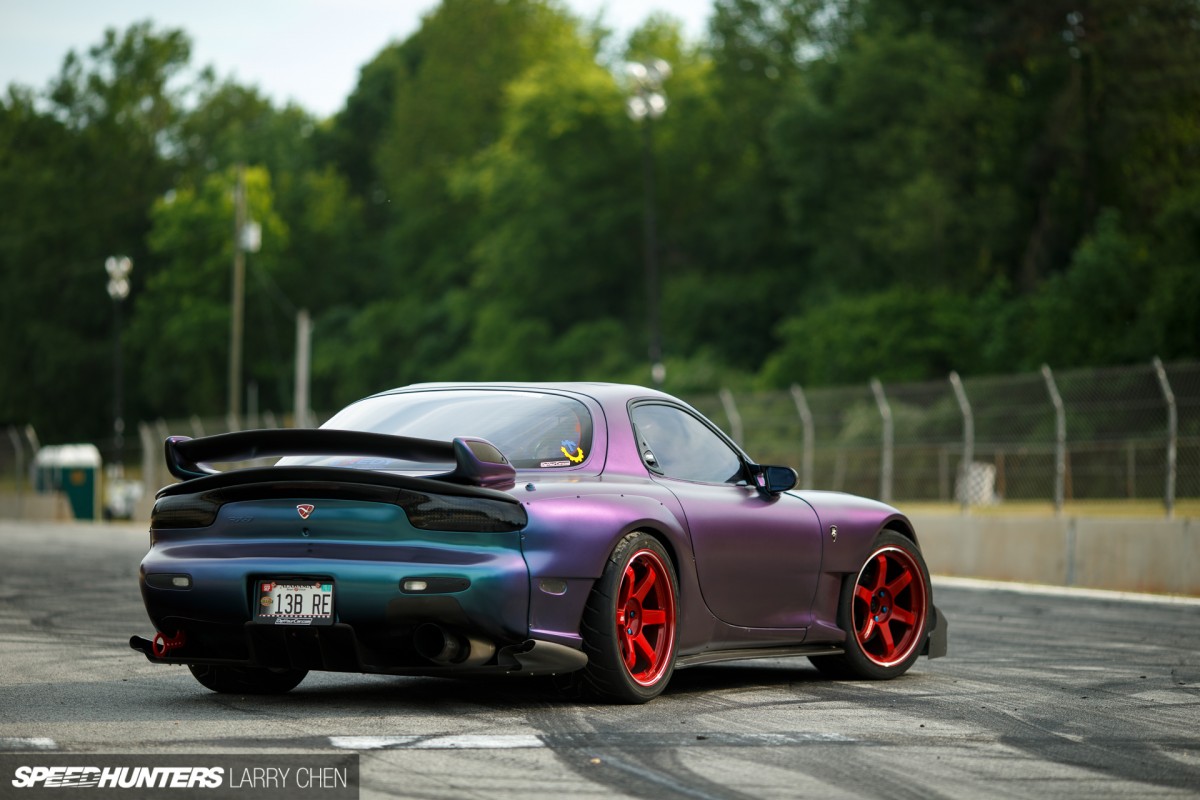 Out back you'll find a subtle rear spoiler rather than a big GT wing, along with an RE Amemiya carbon fiber diffuser, and a set of LED taillights from Car Shop Glow to help modernize things.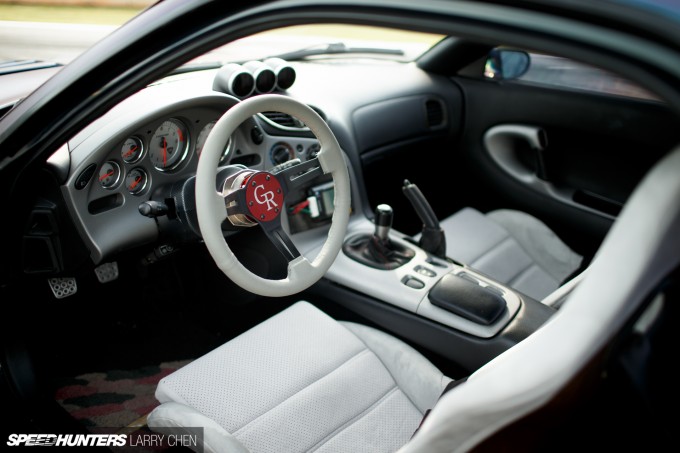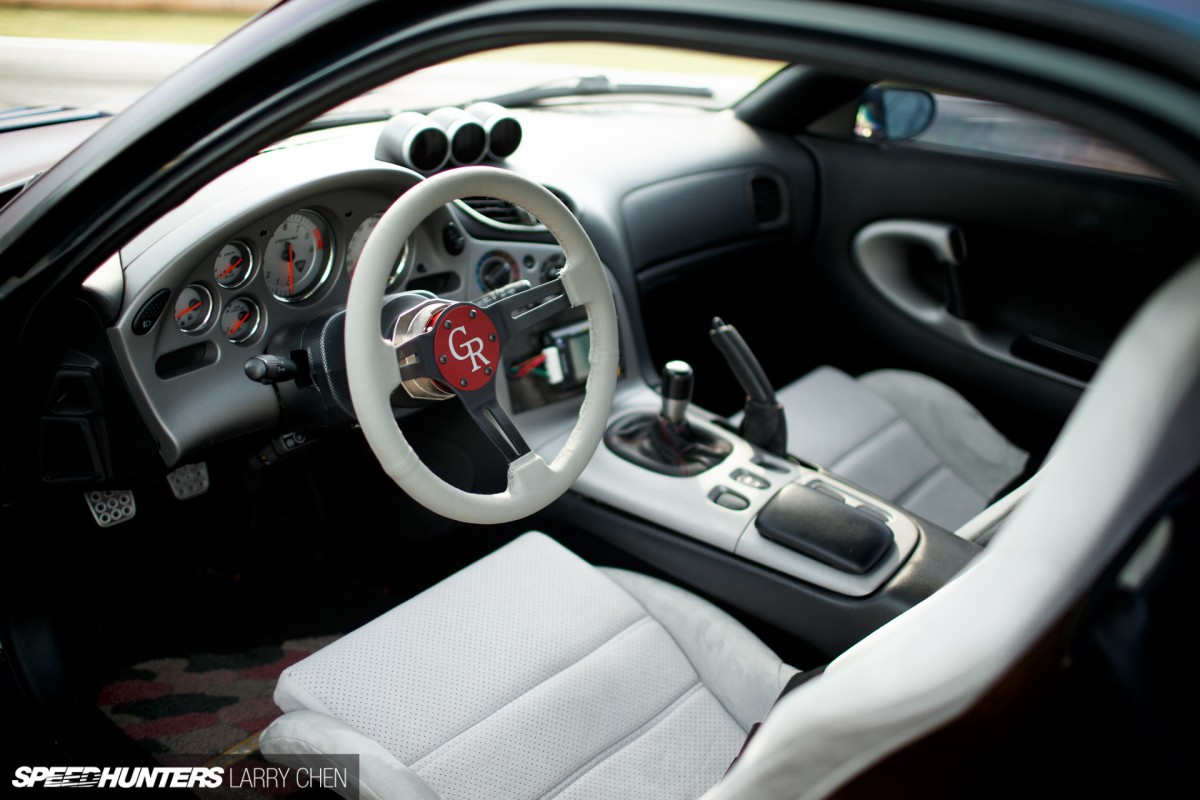 Likewise, the interior is full of rare parts of both the aftermarket and OEM variety. The seats are carbon-Kevlar Recaro RZs with custom gray suede upholstery, the steering wheel is a Grip Royal piece and the gauges are from Defi.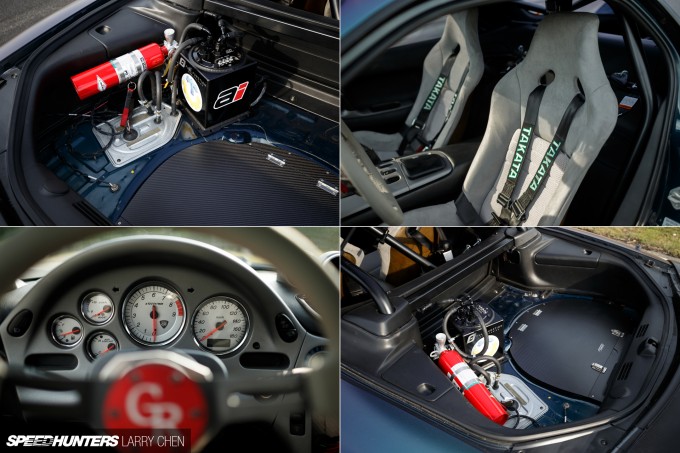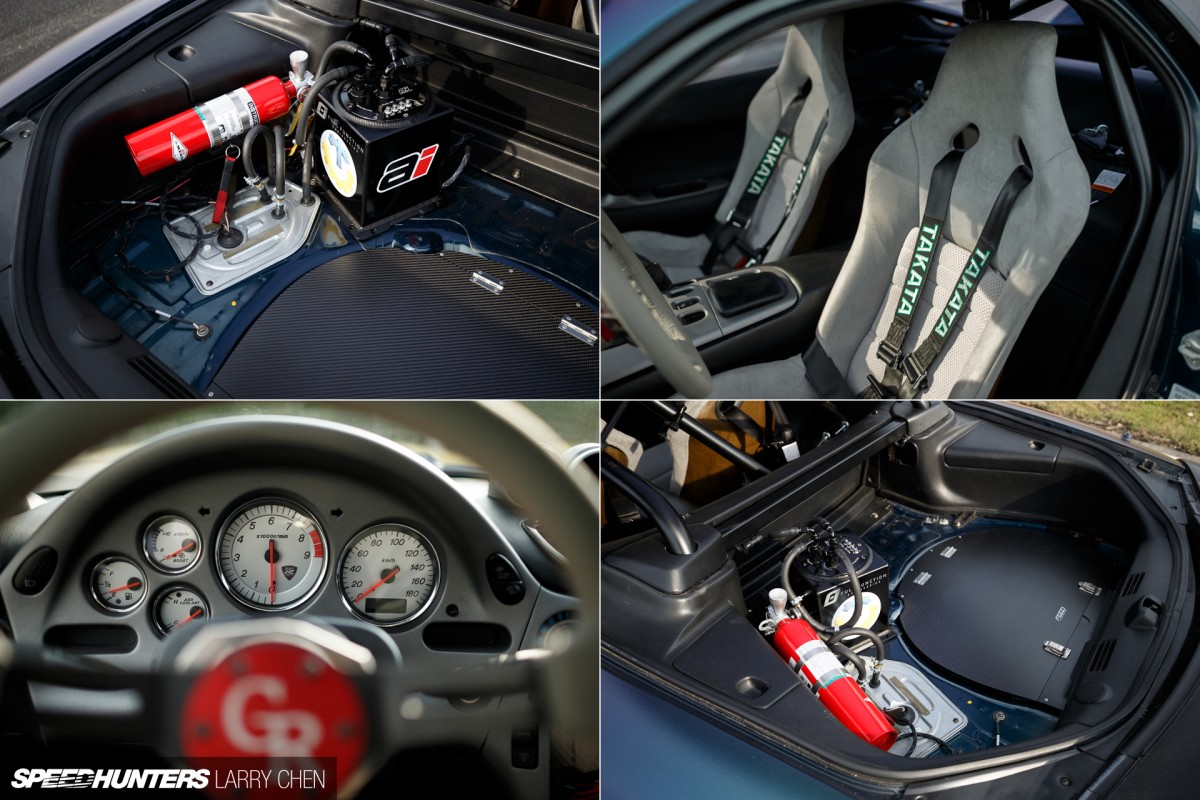 Other touches include an OEM Spirit R gauge cluster, Takata harnesses, a FEED shift knob and carbon fiber FEED door steps.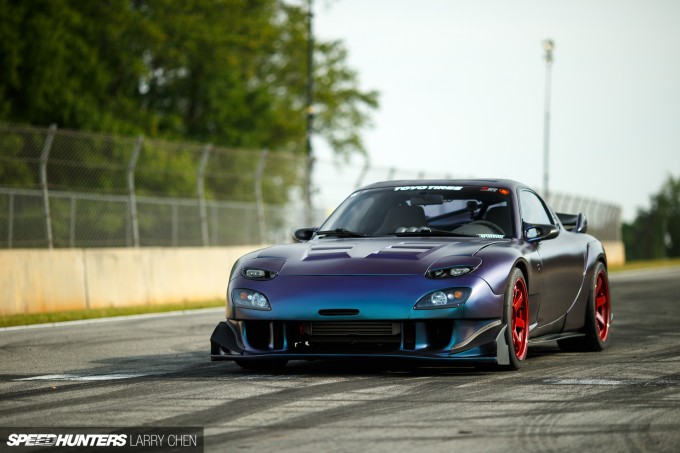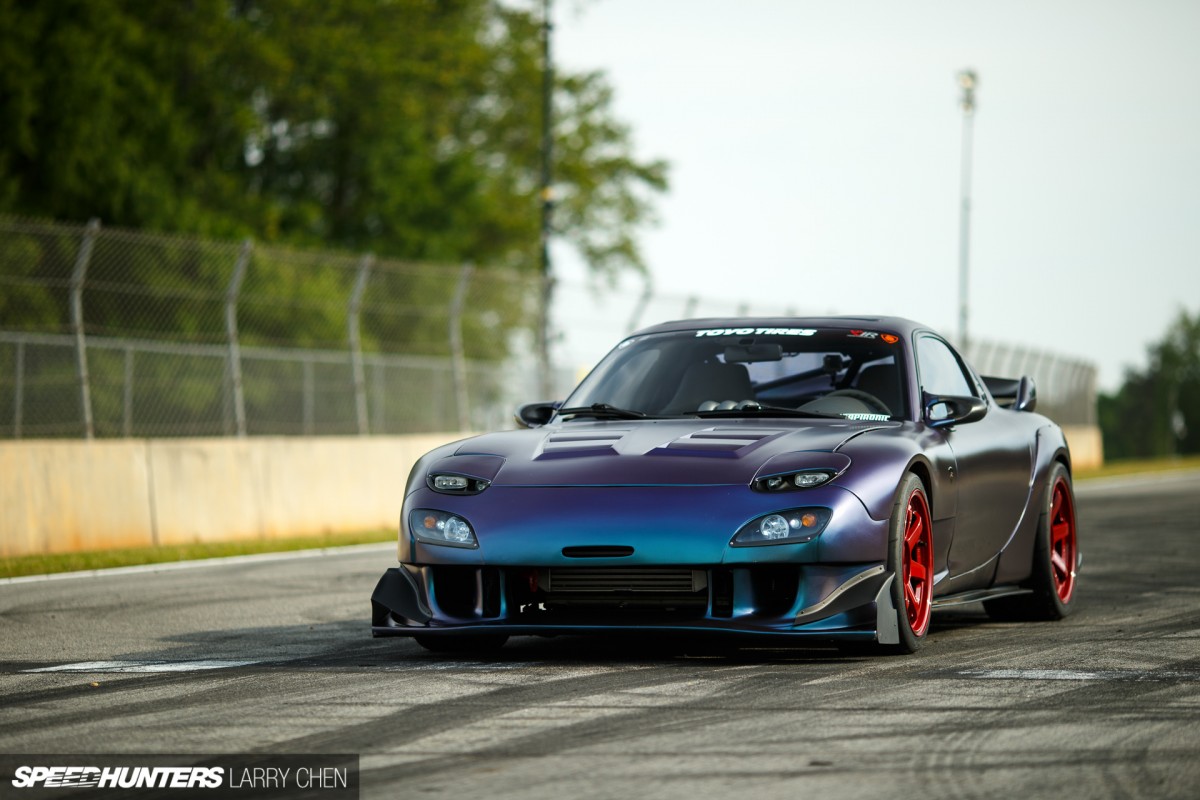 It's been over 20 years since the turbocharged Japanese supercars of the '90s first broke onto the scene, and we've seen lot of changes from Japan's automakers in that time. Sometimes it's hard not to have nostalgic feelings for those days.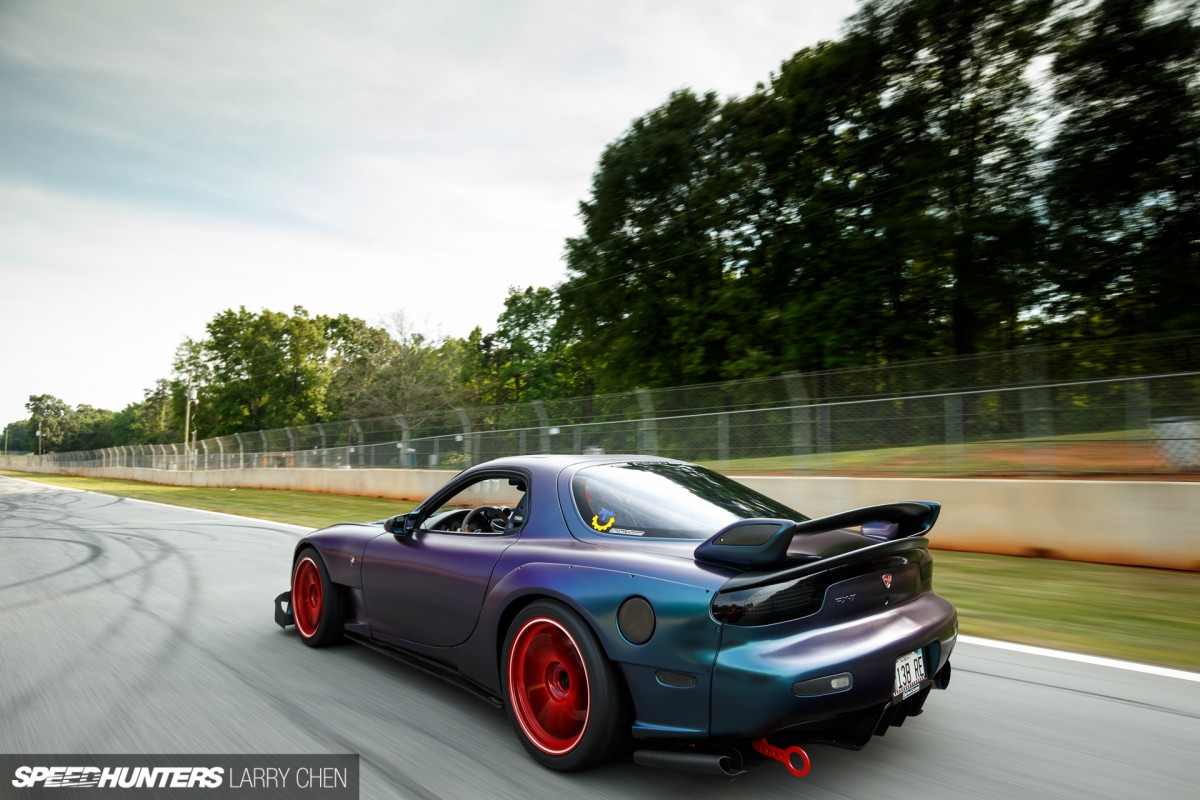 Don't get me wrong – there's still plenty of good stuff coming out of Japan these days, but I'm not sure if we will ever see another sportscar quite like the third generation RX-7.
Thankfully we've got passionate enthusiasts like Phil who will be sure to keep the rotary dream alive for generations to come.
Mike Garrett
Instagram: japanifornia_media
mike@speedhunters.com
Photos by Larry Chen
Instagram: larry_chen_foto
larry@speedhunters.com
Phil Sohn's 1993 Mazda RX-7

Engine
Mazda 13B-REW rotary, 13B-RE (twin rotor Eunos Cosmo) intake, polished 13B-RE lower and upper intake manifold, 2x BNR Stage 3 turbochargers with ported wastegates, polished 90mm Rotary Works throttle body, polished FEED elbow, A'PEXi GT Spec front-mounted intercooler, custom polished intercooler piping, HKS SSQ blow-off valve, HKS Twin Power ignition amp, HKS RS intake with K&N filters, Full Function Engineering fuel rail, Injector Dynamics 1300cc injectors, Adaptronic Plug & Play specific for FD3S RX-7, Full Function Engineering adjustable motor mounts, Pettit Polished AST, Koyo N-Flow radiator, custom carbon fiber cooling panel, fast acting air temp sensor, custom grounding kit, polished, SS Pettit downpipe, Efini Y-pipe, FEED stainless steel resonated mid-pipe, GanAdor titanium cat-back exhaust, SakeBomb Garage spark wires, FEED oil filler cap, FEED coolant filler cap, SakeBomb Garage Setrab 25-row dual oil cooler kit, Braille light battery, Braille mounting kit, GReddy alternator pulley, Turblown EWP kit, Davies Craig EWP 150 with Digital Controller, 2x 4-blade fan setup, Radium competition oil catch can, Chase Bays coolant overflow tank, Samco Sports camo intercooler couplers and coolant kit, Aftermarket Industries SP1200 fuel surge kit with Walbro 400 series pumps, Full Function Engineering oil filter pedestal with Defi temp and pressure sensors, Full Function Engineering trigger wheel kit, Full Function Engineering fuel kit (lines, fittings, and fuel filter)
Driveline
5-speed manual transmission, Exedy twin-plate clutch
Suspension/Brakes
Stance USA Super Sport Plus coilovers, R-Magic fender braces, Racing Beat sway bar brace, Racing Beat rear sway bar, Tri-Point Engineering front sway bar with support bracket, Cusco strut tower brace, SakeBomb Garage AP Racing front big brake kit with Ferrado DS2500 pads, Racing Brake rear brake kit with Hawk HT10 pads, braided SS brake lines, Racing Beat sway bar bushings, PowerFlex Black Series bushings for all suspension parts
Wheels/Tires
RAYS Volk Racing TE37 RT 18×10-inch (front) 18×10.5-inch (rear) Toyo R888 tires 255/35R18 (front) 295/30R18 (rear)
Exterior
Custom made front bumper from FEED/RE Amemiya components, carbon vented hood, custom splitter, FEED carbon fiber side skirts, FEED wide front fenders, FEED rear wide flares, AutoExe hood dampers, FEED front tow hook, Adam Griffith rear tow hook,  RE Amemiya Pro Carbon rear diffuser, Carshop Glow LED tail lights, custom rear bumper CF signal covers, glass moon roof,  LED signal lights in FEED signals, HID FEED signal lights, Spirit R fender badges, Efini rear badges, carbon look rear bumper lights,carbon fiber FEED gas door (one off), FEED carbon fiber side mirror covers, Ganador side mirrors, custom carbon fiber cooling panel, R-Magic HID headlights, FEED door handles,  ShineAuto carbon fiber rear tail light lip
Interior
Raceshop roll bar, Grip Royal steering wheel, Works Bell short hub, Works Bell quick disconnect, Works Bell hub lock, converted black interior, RZ floor mats, carbon-Kevlar Recaro RZ seats covered in grey suede by Neira Auto Upholstery, custom painted interior plastic panels, FEED shift knob, red leather stitching shift and E-brake boots, LED interior lights, custom 60mm center speaker gauge pod, Defi BF series gauges with Link II controller, Davies Craig Digital EWP controller display, Mazda Spirit R cluster, FEED carbon fiber rear trunk add on, base model hatch cover, carbon FEED door step