Attitude & Aptitude
When we ran the Creators theme back at the tail end of last year, one of the things that really stood out for me was the #IAmTheSpeedhunter submissions post. I'm sure I wasn't the only who was incredibly impressed by the standard of builds and the passion demonstrated across the board. There was phenomenal craftsmanship on show and some simply stunning creations.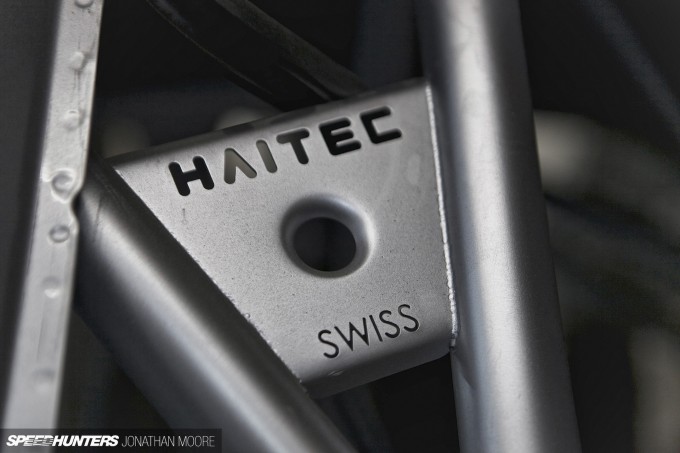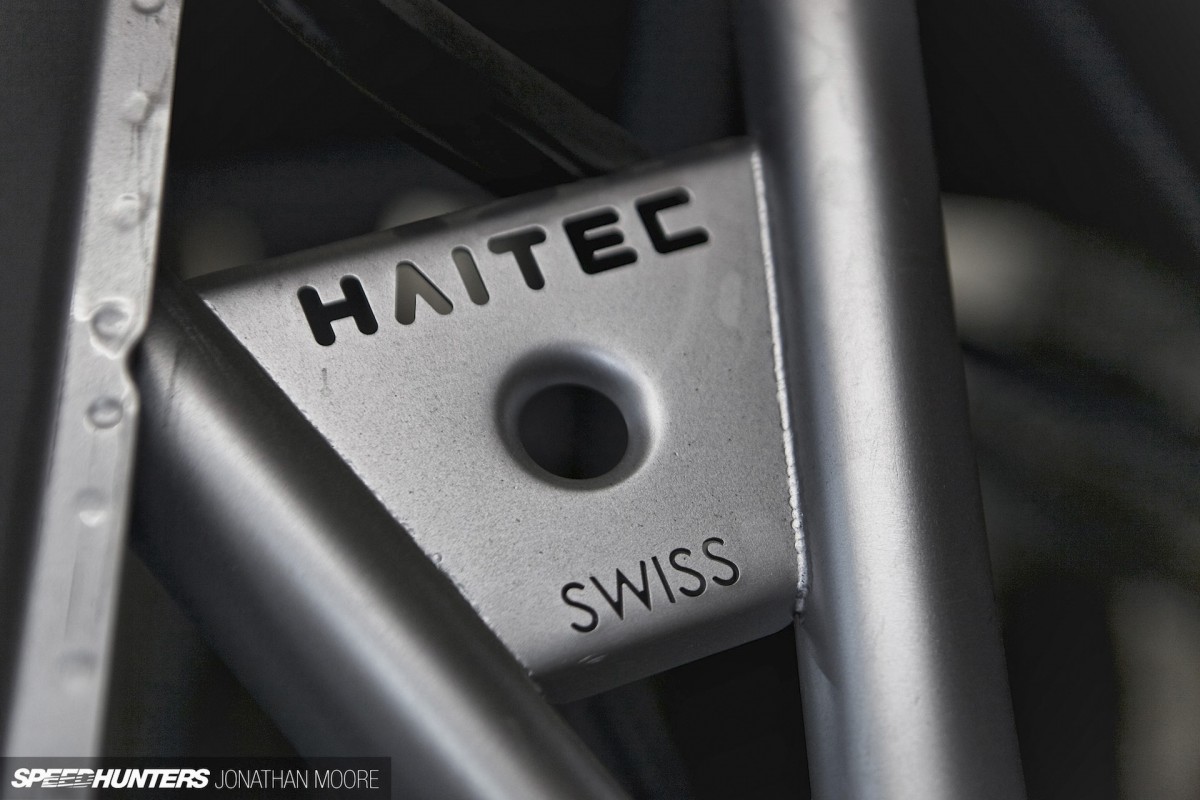 I'm never surprised by the skills that are demonstrated out in the wider tuning community, but it was great to shine the spotlight on areas of the world that wouldn't necessarily be top of the list if you were thinking of hotbeds for automotive development. For instance, there was Switzerland and the most meticulous of Mitsubishi Evo builders: Rodrigo Rüttimann at Haitec Engineering.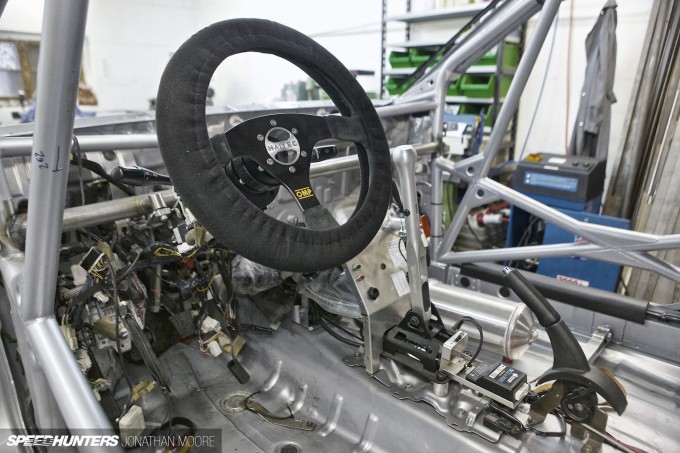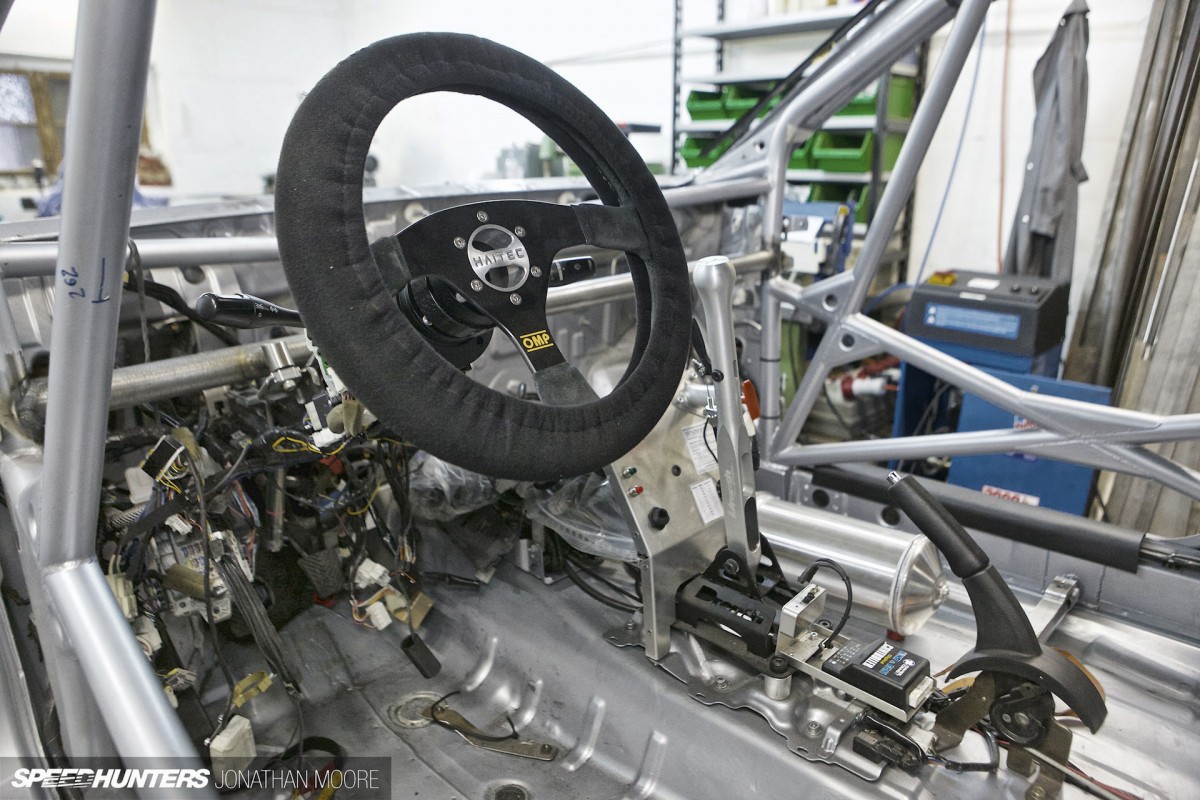 His work on a dedicated time attack Lancer Evolution VIII really caught everyone's attention, showcasing some beautiful finishing and practical solutions that showed unwavering dedication to quality.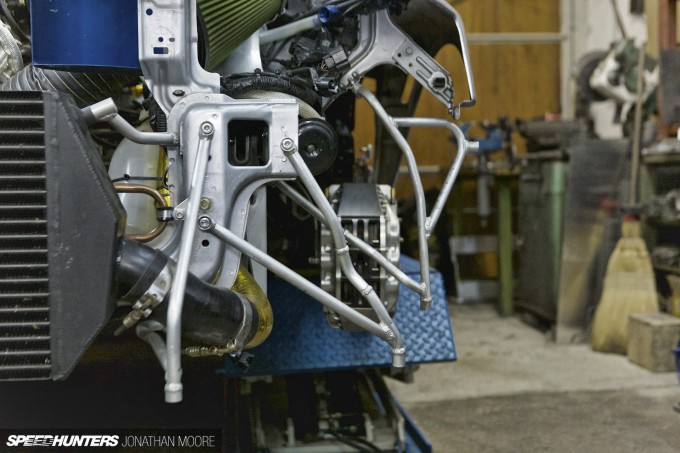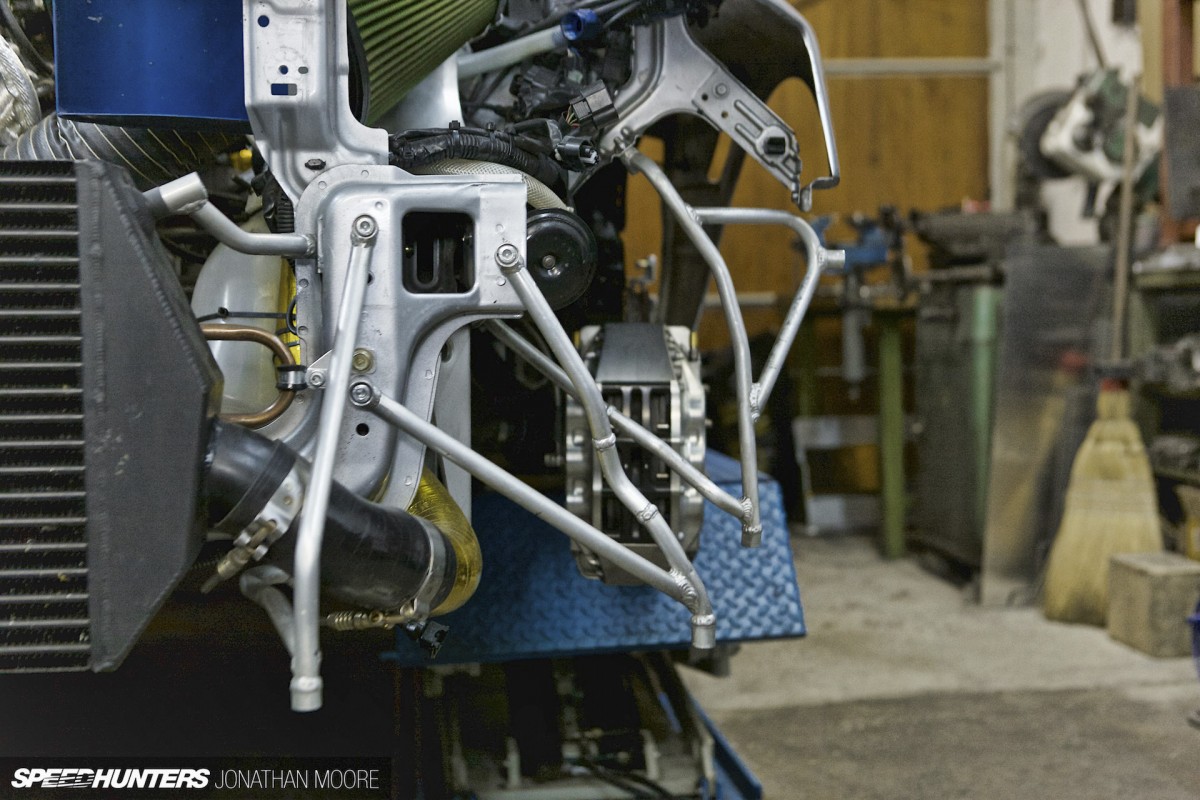 Here on Speedhunters we naturally spend a lot of time concentrating on complete cars, poring over wheels and wings, discussing power and performance. But behind every car – or at least car we'd be interested in – there's always an idea. And behind that idea a person. Sometimes we're all so busy looking at cars and judging the results that it's easy to underplay that human aspect.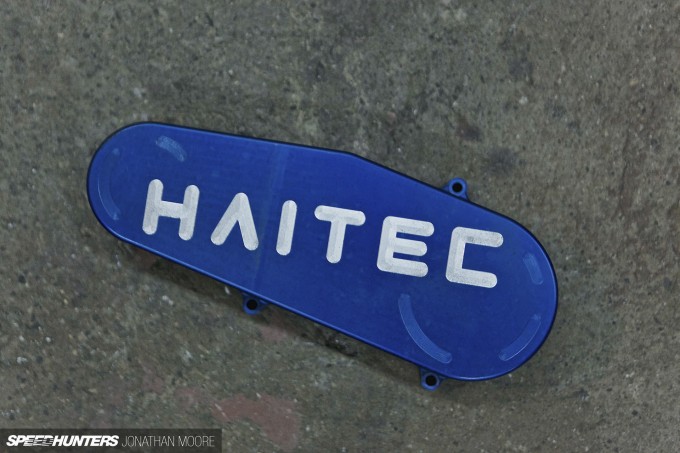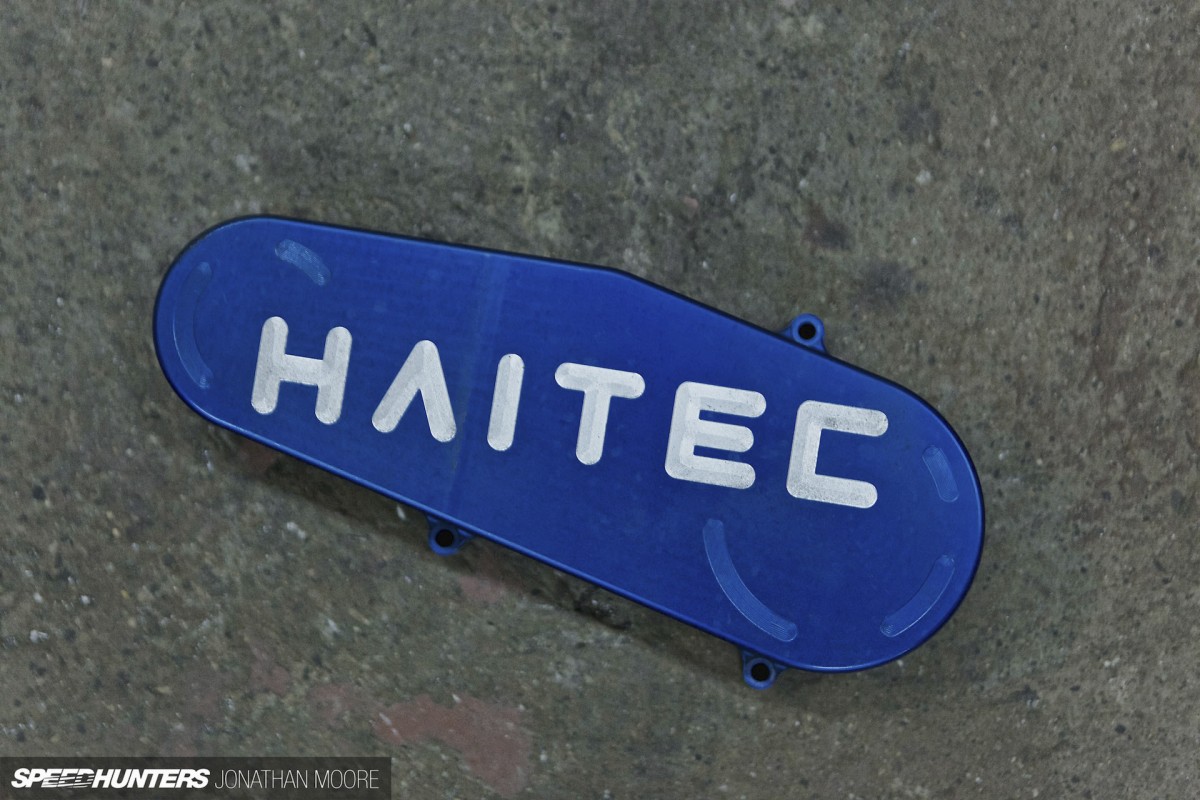 But it seems the more focussed an individual is, the more modest and unassuming they are – and I've met few people as focussed as Rodrigo. I had the pleasure of catching up with him at his workshop near Zurich to talk through his work and how his love for Evos has developed, but more importantly to better understand what makes him tick.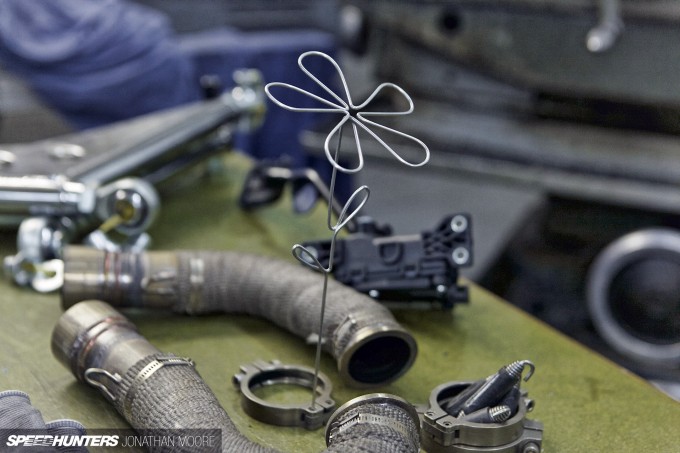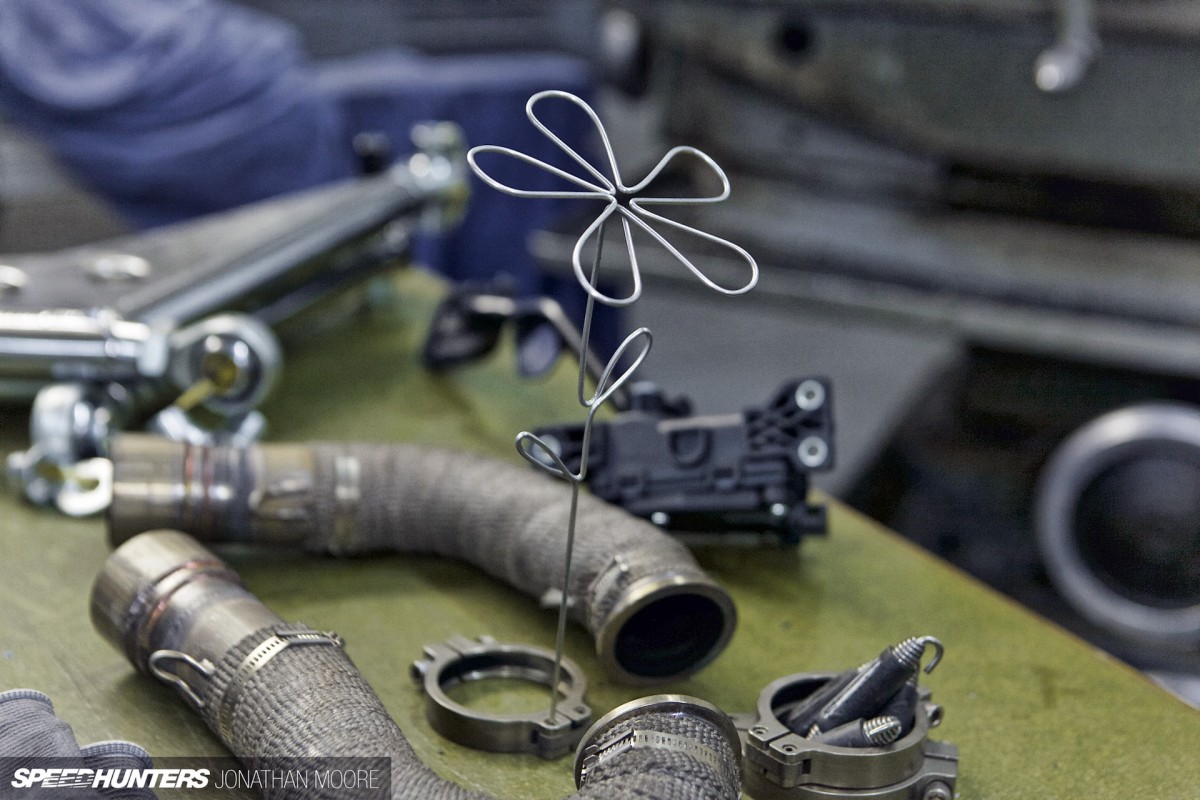 This article is about a specific approach to modifying cars – typified by Rodrigo, but present in numerous workshops across the world. It's a celebration of the individual and the lengths people go to in search of perfection.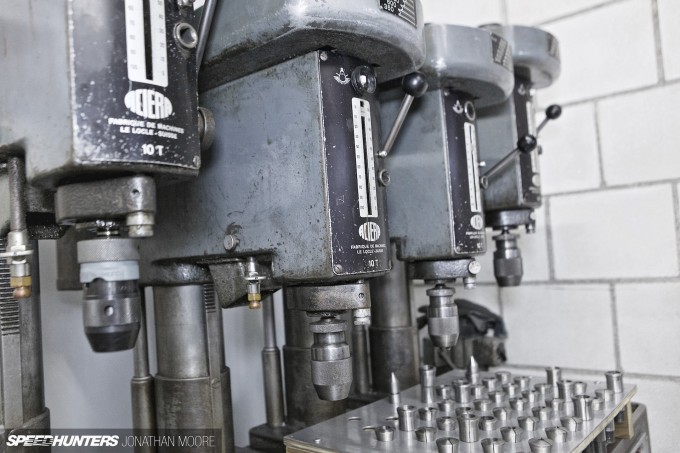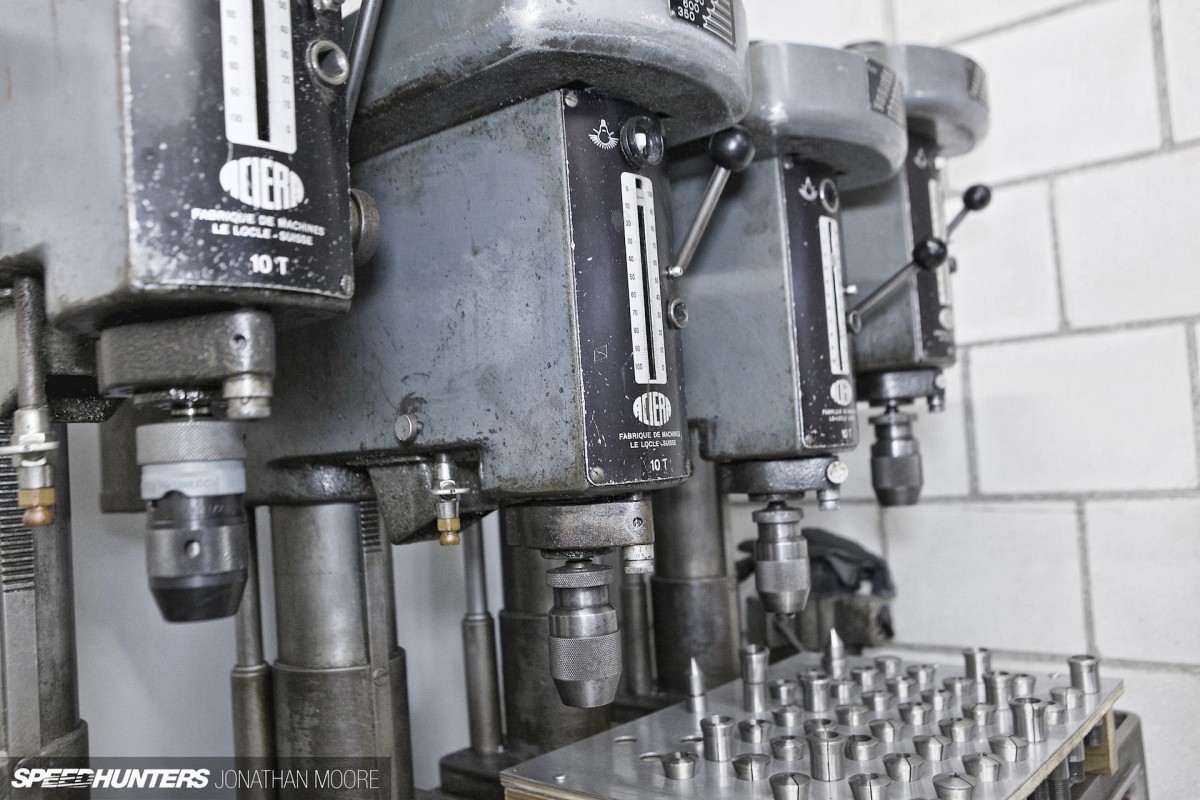 I have no problem in admitting that I'm rubbish at all things mechanical – I can barely use an electric toothbrush. I can rattle off race results and identify countless obscure race cars, but the practicalities of engineering? I leave that to the pros. It makes me in awe of engineers and mechanics, and I delight in being shown around workshops and talking through how people create their automotive art.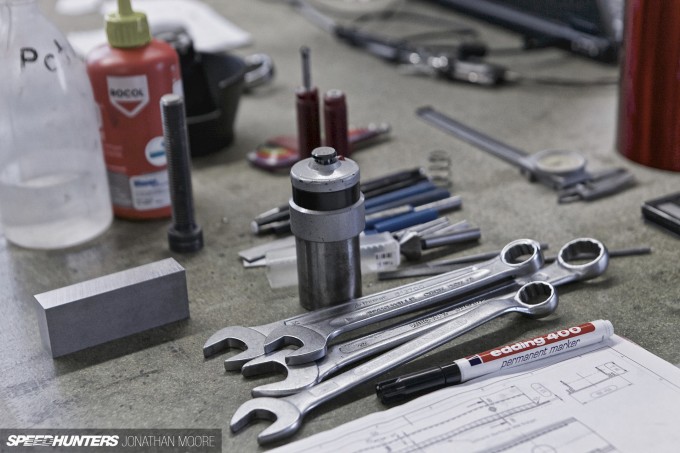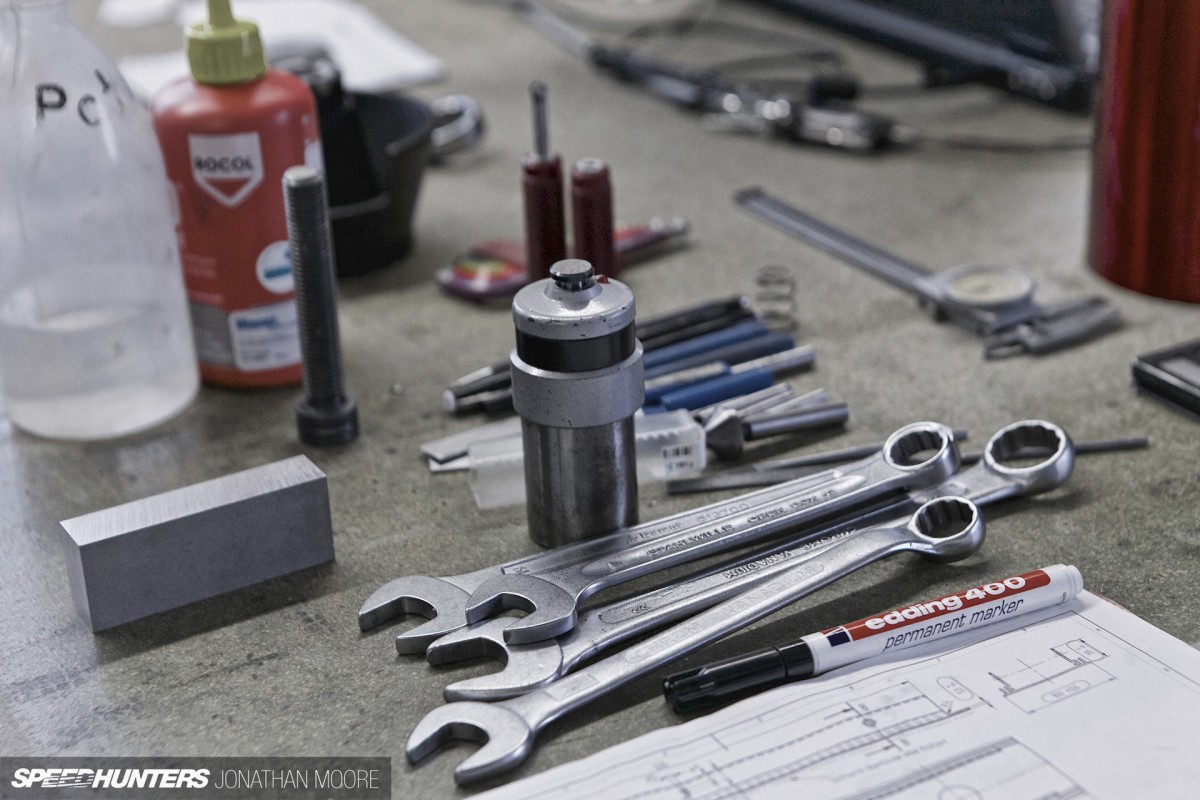 Most pros are slightly shocked when I want to see the darkest recesses of where they work: how will that be interesting? But like artists' studios, car workshops can be incredibly individual places. They might all contain tools and components, but it's the specifics of those items that define the people who work within. Wrench as paintbrush; chassis as canvas.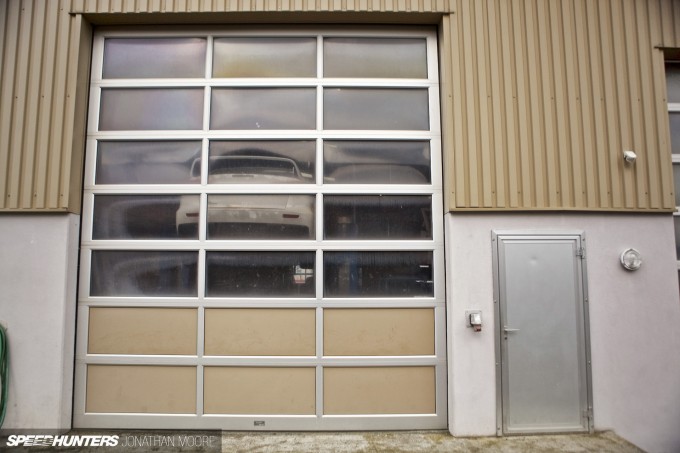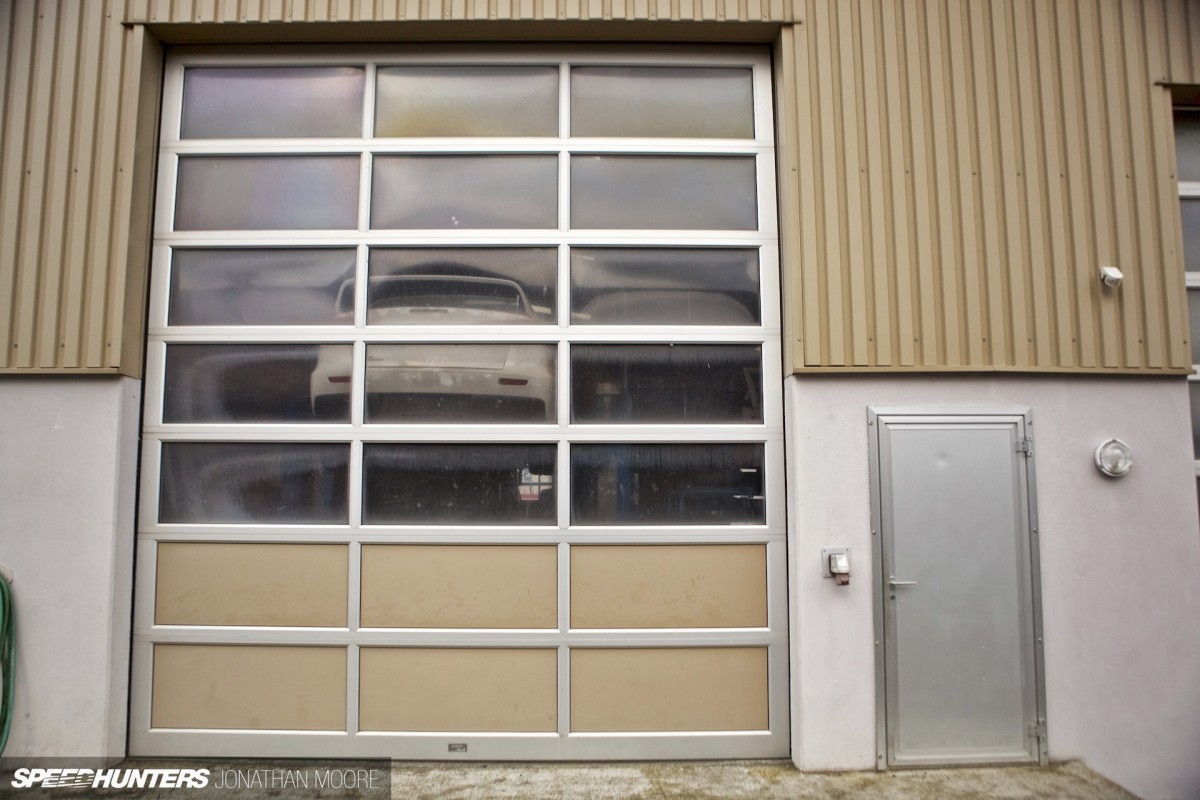 Rodrigo works alone, using a couple of units located in the stereotypically remote Swiss countryside amongst rolling pastures, snow-capped mountains in the distance. Peace and quiet. Zero distractions. But with the back-sides of various Evos just about visible through the glass windows of each unit as the giveaway to the incongruous activity happening within.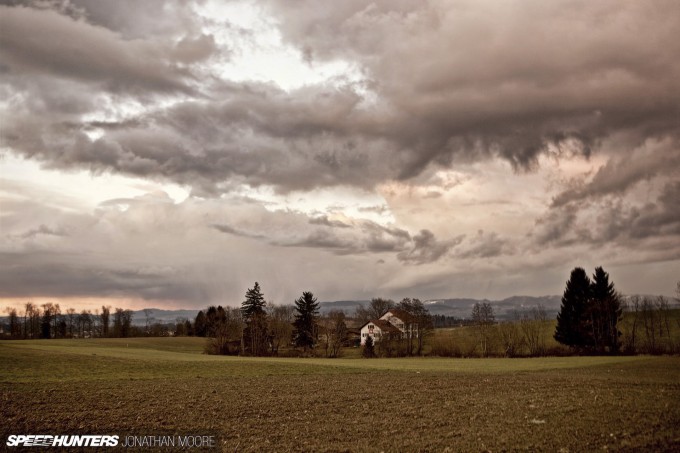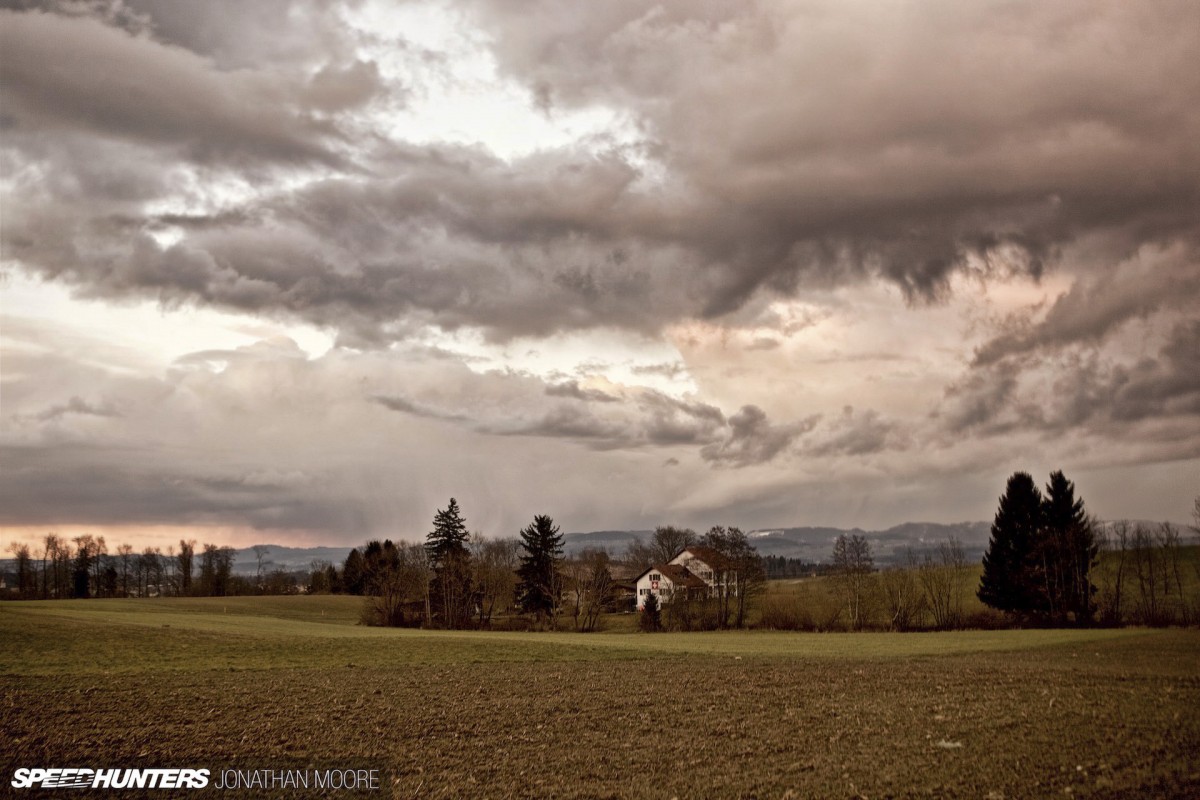 It's funny to think of this serene environment being shattered by brutal Evos bursting out of Rodrigo's workshop…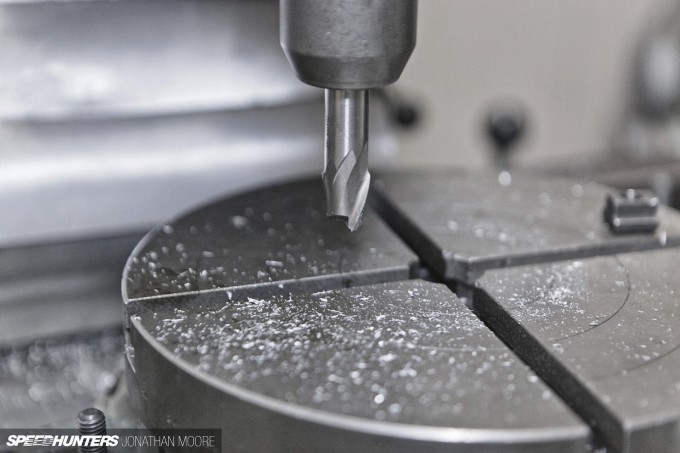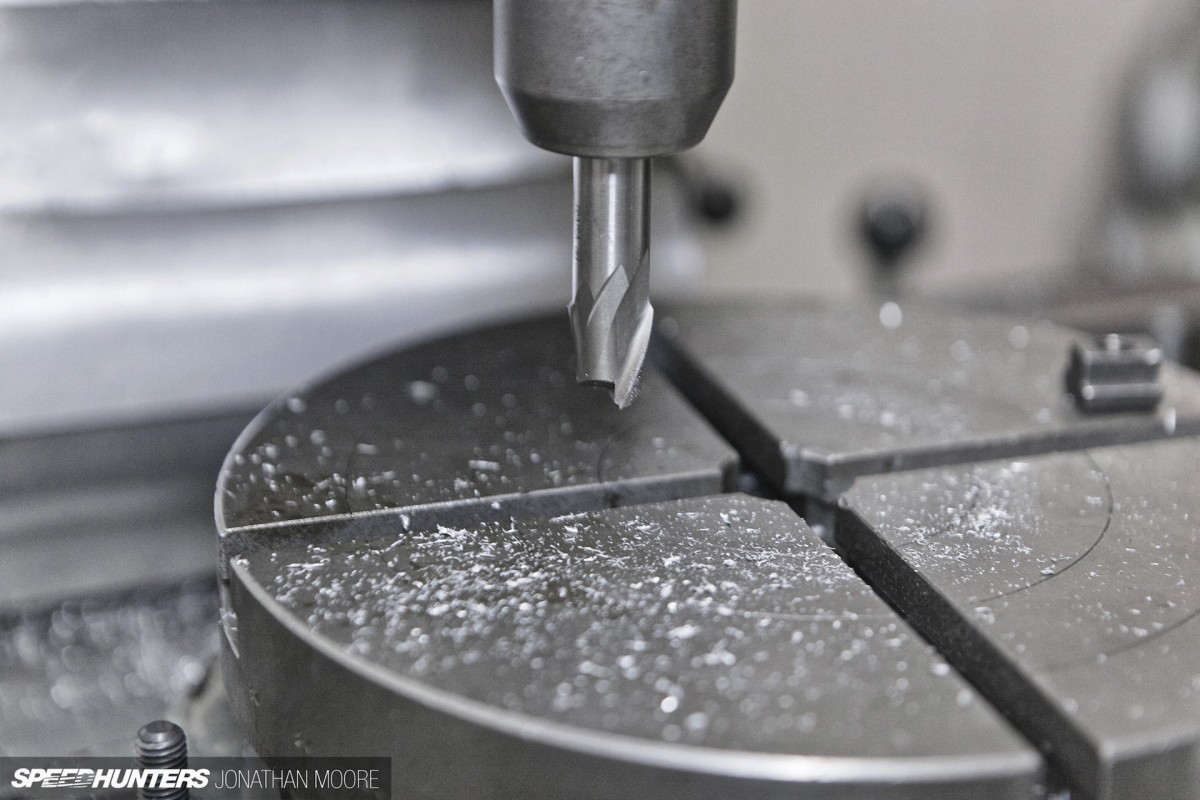 Starting out, Rodrigo attended the Federal Institute of Technology and had a long apprenticeship in industrial manufacturing at the Swiss Federal Aviation company. There he built up his knowledge of CNC and CAD technology, which led to to a job with GG-Technik working on some pretty crazy Ducati- and BMW-engined trikes and quads.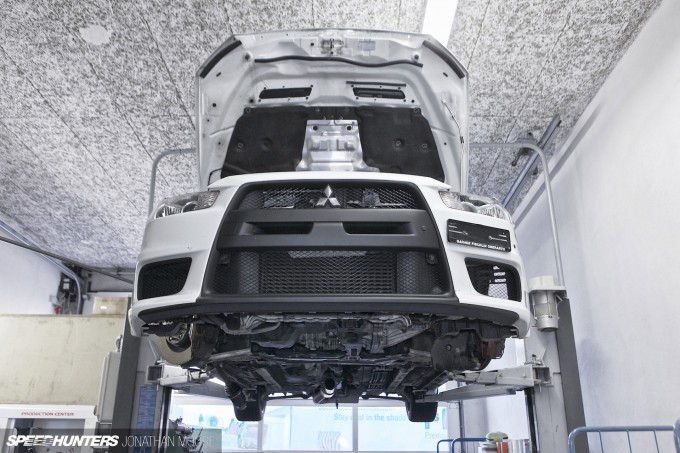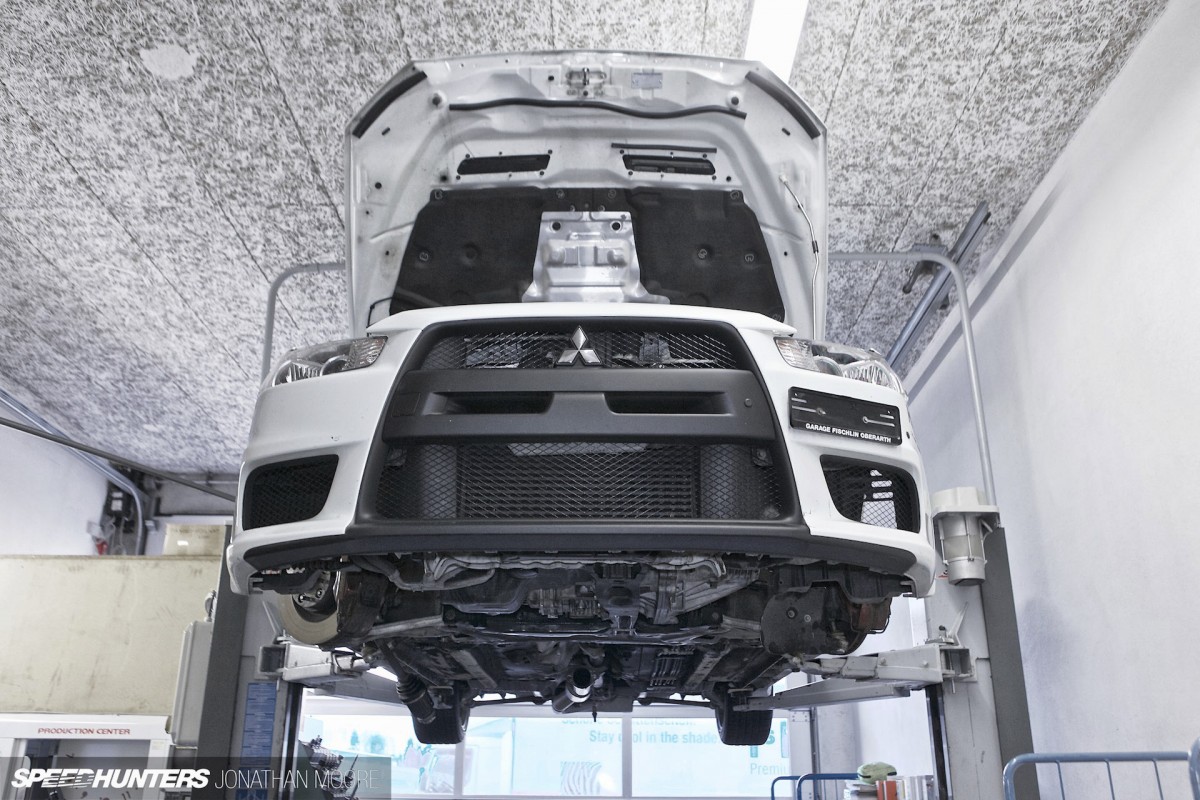 Although he didn't work that much on cars in his early days as a profession, he did as a hobby – and specifically Evos. His father had owned a Mitsubishi Galant, and after the VR-4 famously won the 1989 1000 Lakes rally in Finland the bug really bit.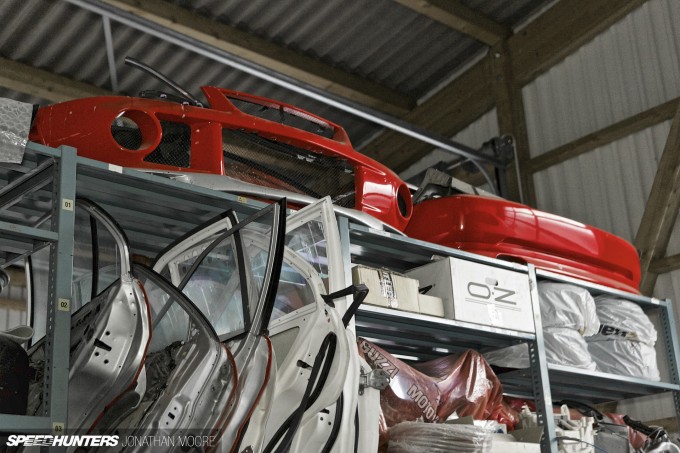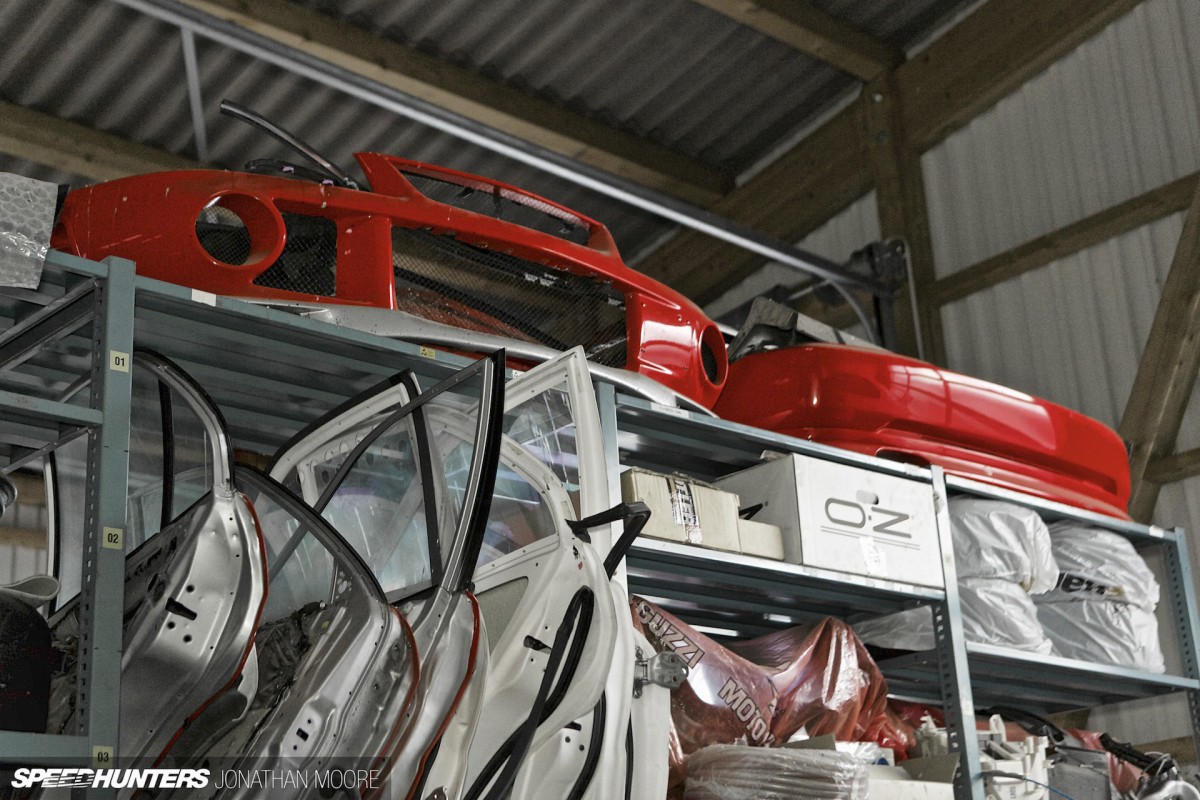 Information always needs to be teased out of modest people. It turns out that Rodrigo bought his first Lancer Evo, a VI, back in 2000. He still has it: it's in pieces in the barn he rents out the back of the workshops, the ubiquitous project awaiting that ever in short supply resource, time. He might profess to be more interested in the mechanicals and technology, but he does get behind the wheel. In fact, the VI is off the road following a dropped valve whilst attacking the Nordschleife.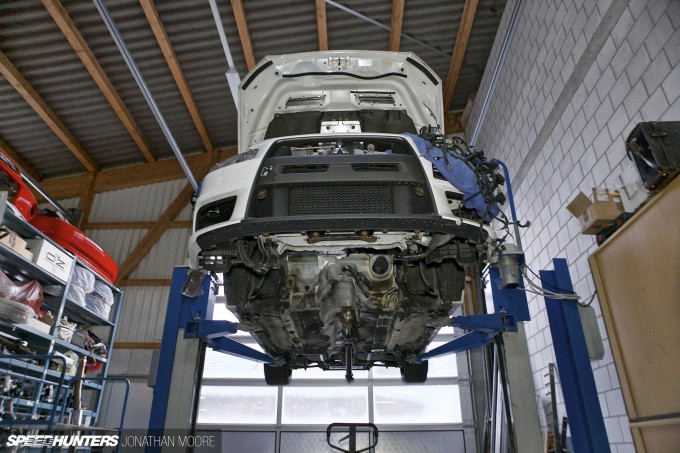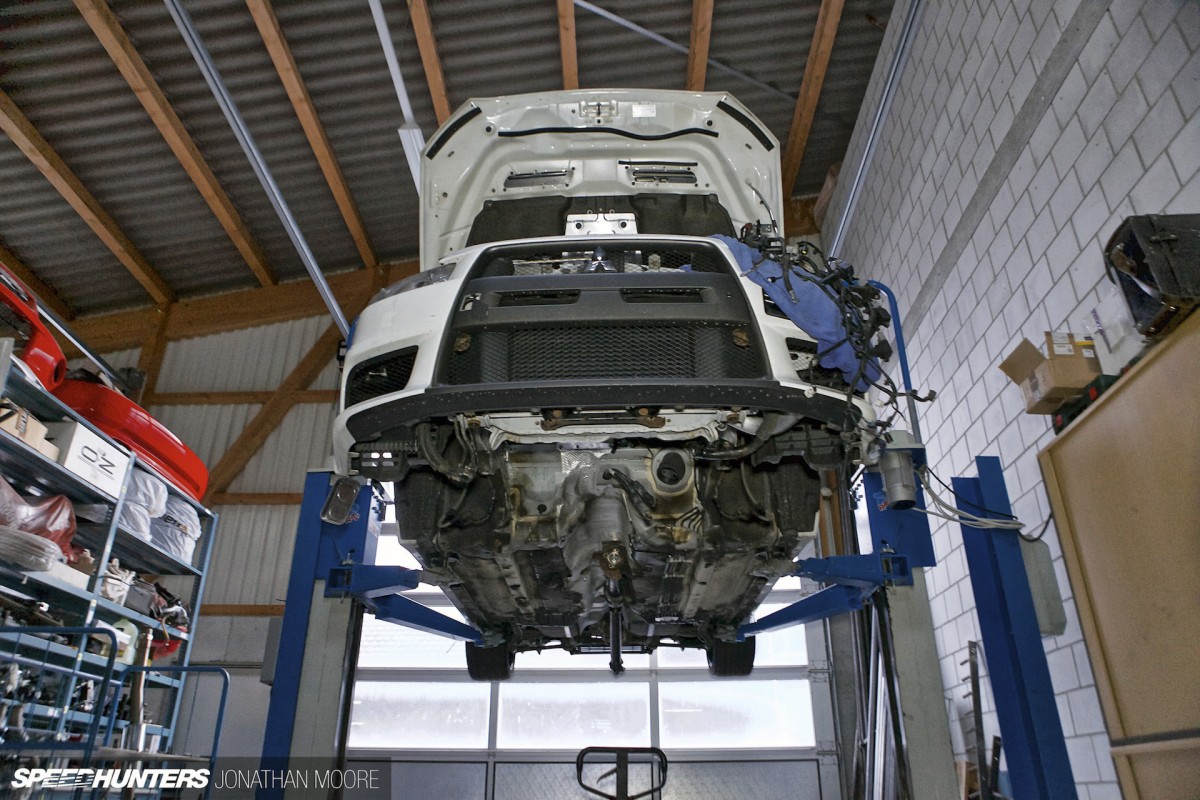 Then there's his own Evo X as well, up on a lift in front of the VI. And a classic Honda 750 Four motorcycle, its components parts scattered across a couple of crates. Oh yes, one unfinished project is never enough, is it?! You can't help but laugh. Petrolheads. Always the same.
Cutting To The Core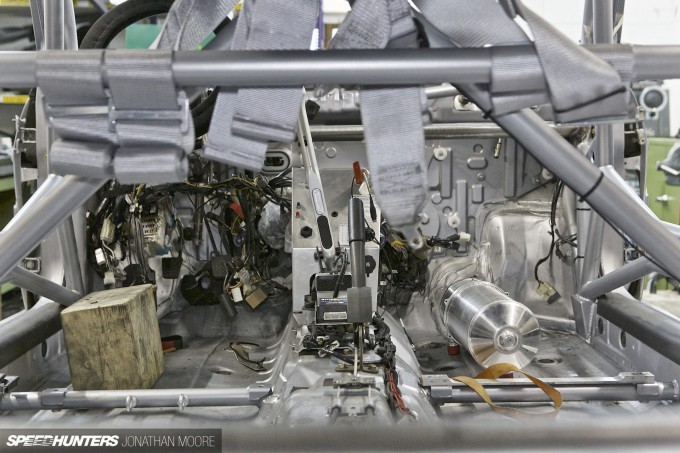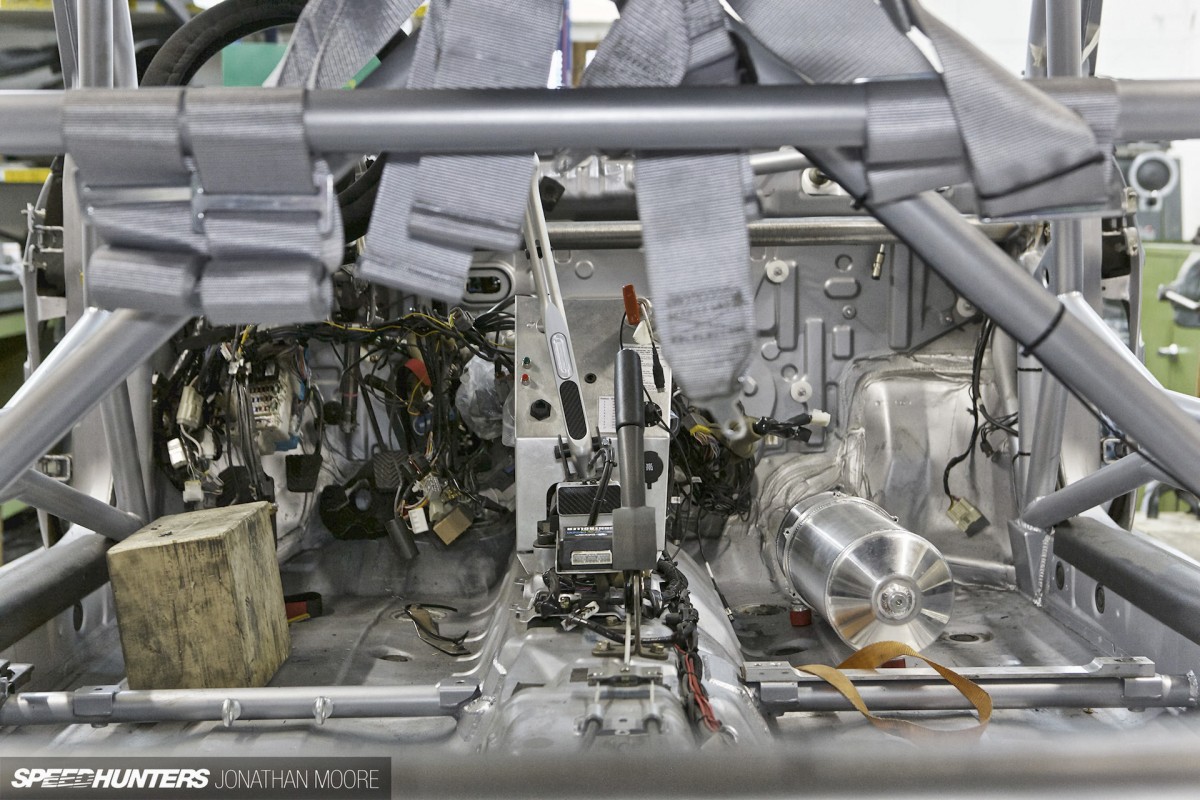 Rodrigo has such a disarming honesty about his work, believing all the things that are like pixie magic to me are just normal. Logical. Why would you do it any other way? I'm sure those you out there who work on cars all the time share and understand that feeling – it's a natural thing for every professional, after all. But then there's a subset, of which Rodrigo is definitely a part. A single-minded approach that means that 'good enough' means it's just not good enough.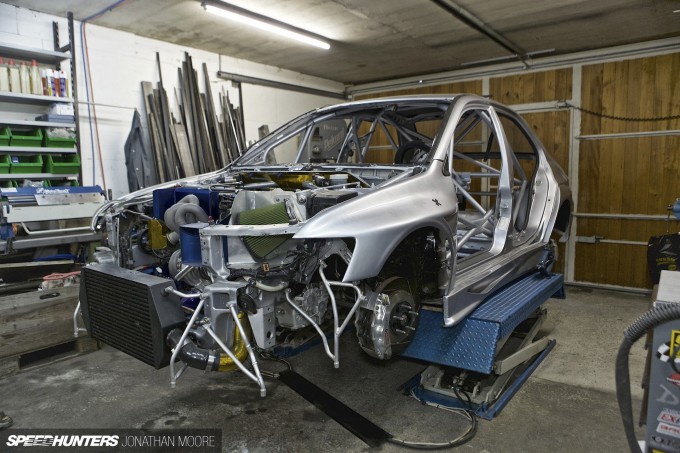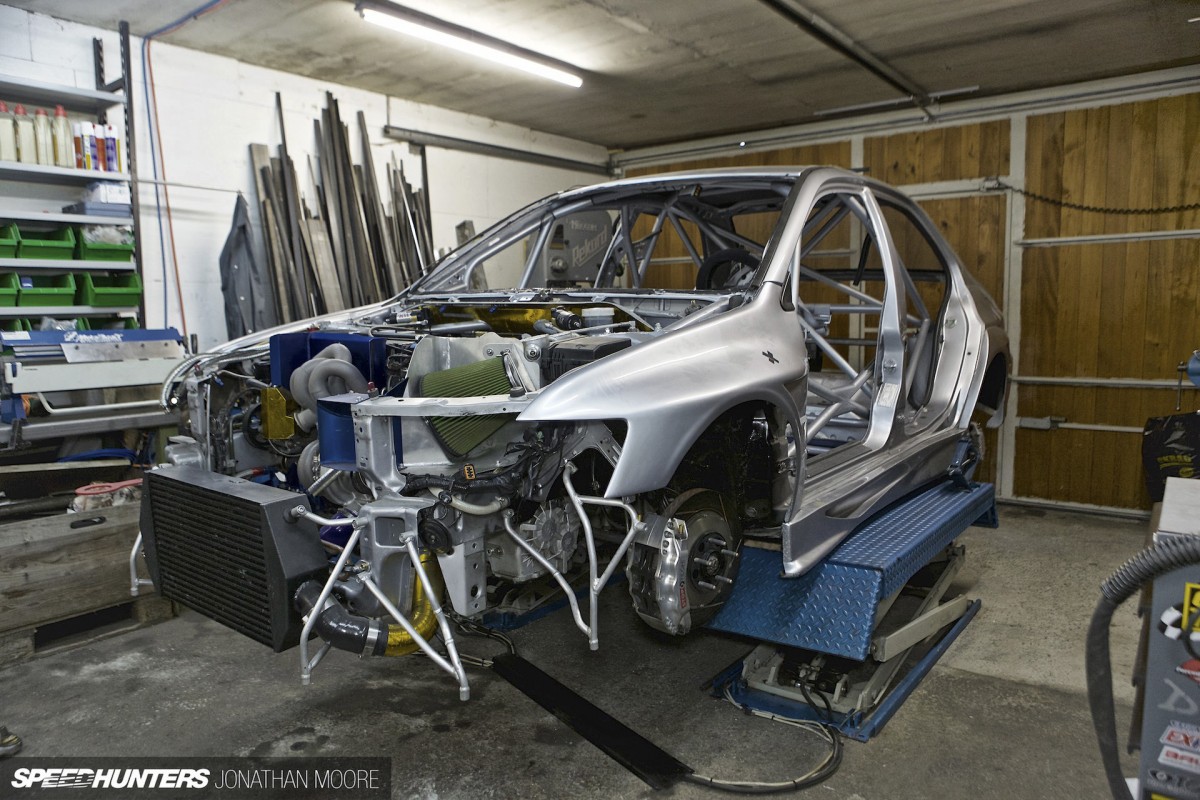 When fed the set-up question of what cars he's prefers to work on, the reply is – naturally – Mitsubishi, but it's said with a languorous tone and a huge smile that conveys his obvious love for the brand. It's the same when asked about any project he works on, although a more considered edge comes into play. "It's just basic technical concepts and physics," he'd constantly say. 'Basic' is relative, I suggest…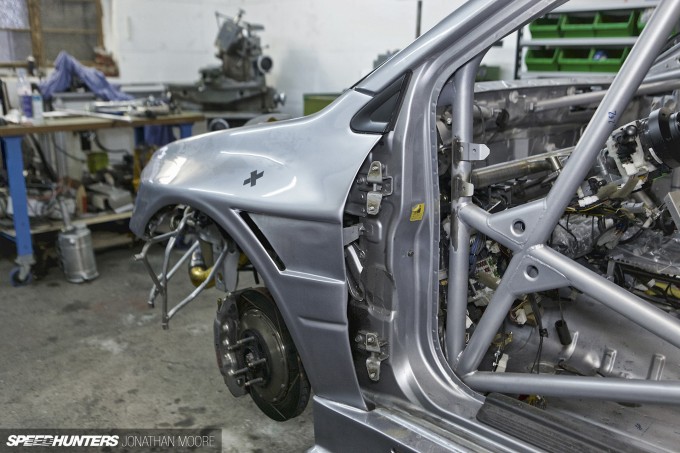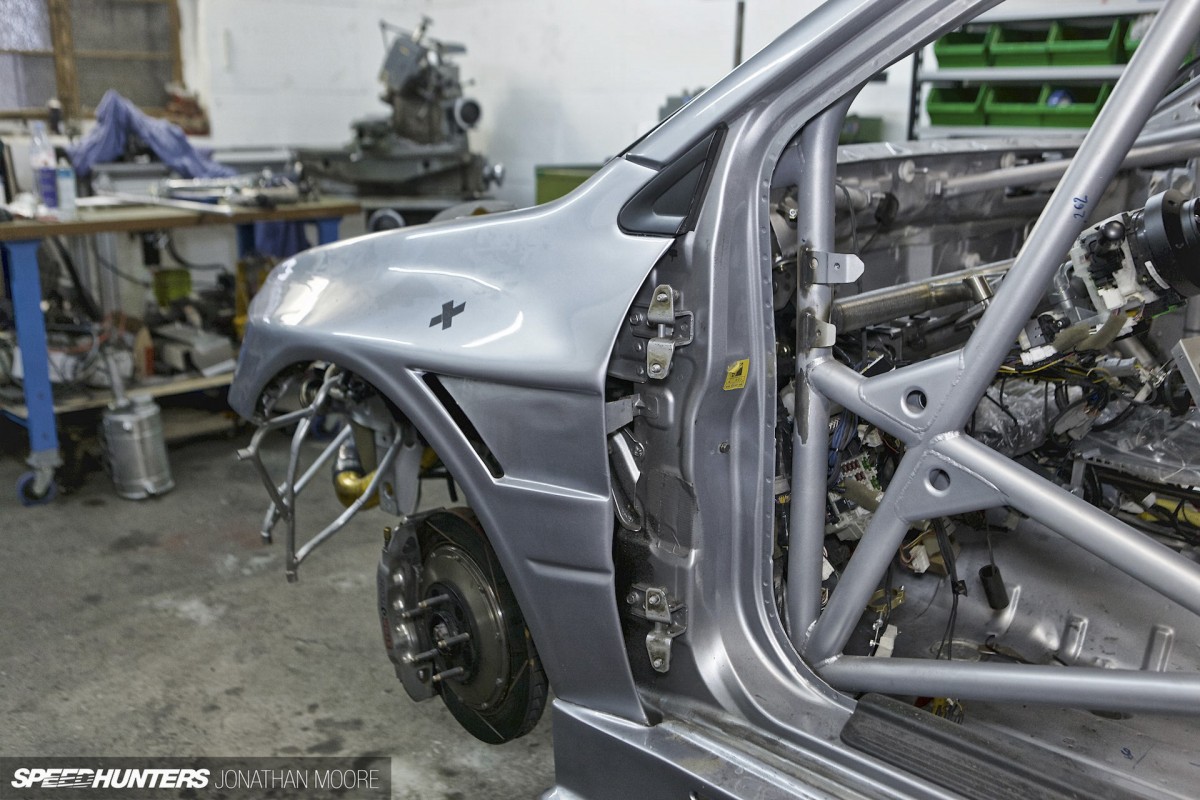 He's one of those people who looks at a car and doesn't see a collection of metal and cables but an organic whole. I think he's more akin to a surgeon, able to visualise the car holistically, identify problems and enact solutions. Especially when he talks about cutting things up.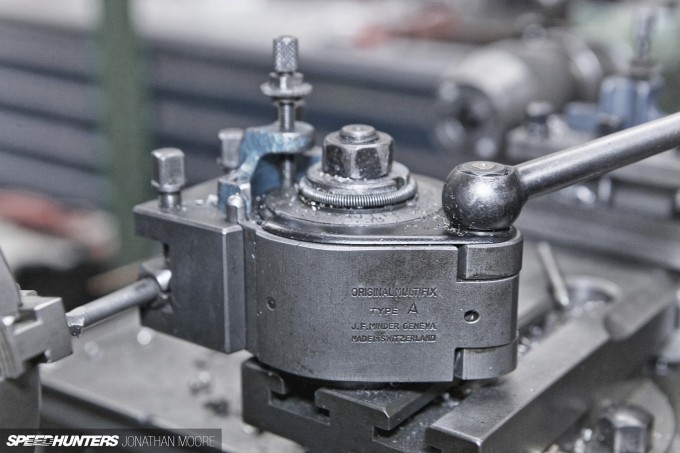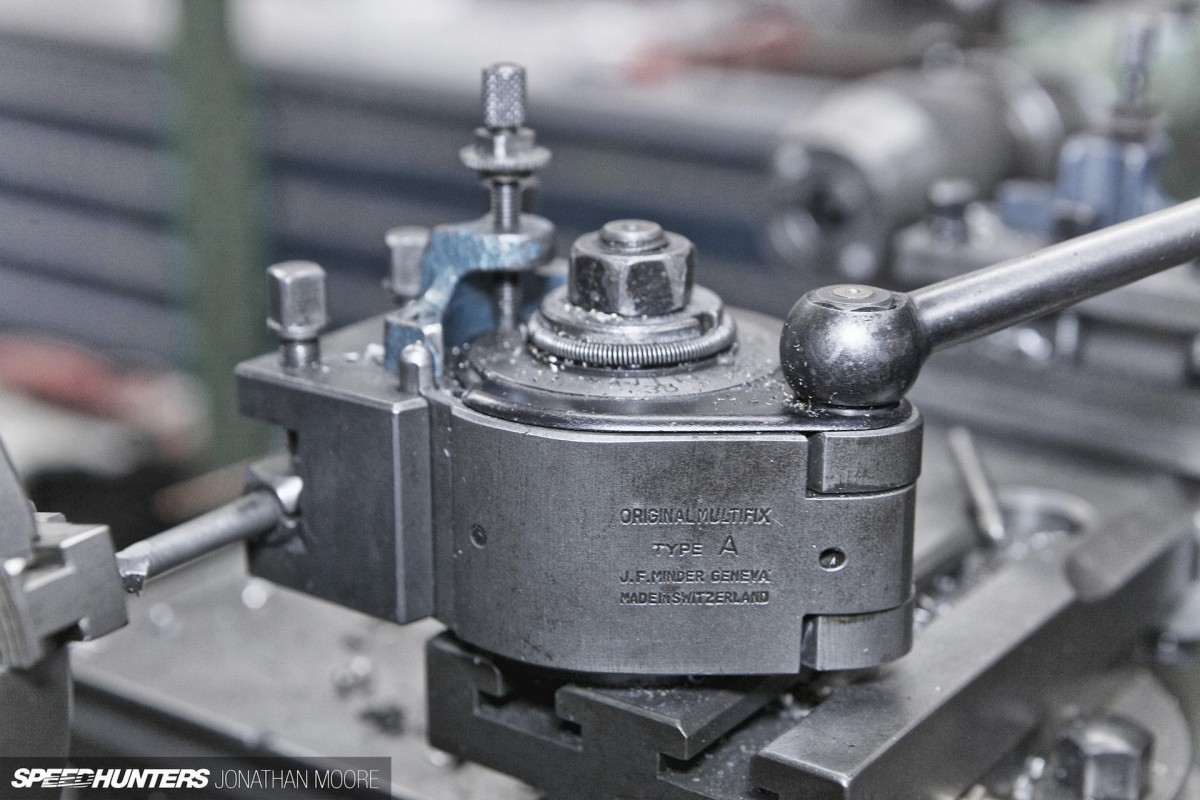 "My brain is always working. I see quickly if something is well done or not. Some people have good taste in food, for me it's engineering," he says.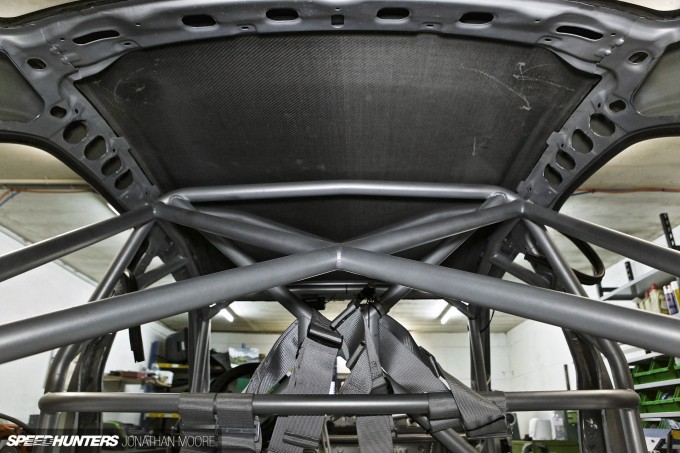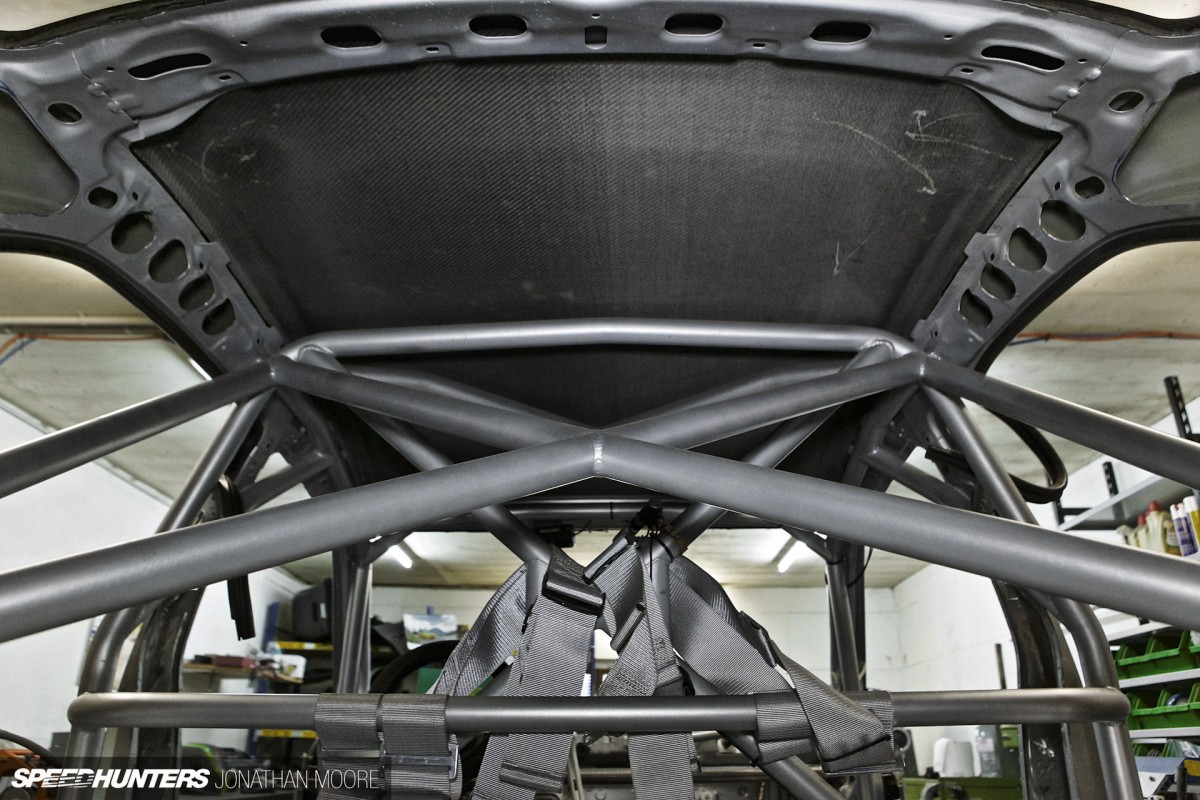 Rodrigo is the go-to man for Evos in Switzerland, and he has an exclusive clientele who seek out his services. As with any fast car owner, they're easily persuaded by someone who not only knows what to suggest but the best way to do it.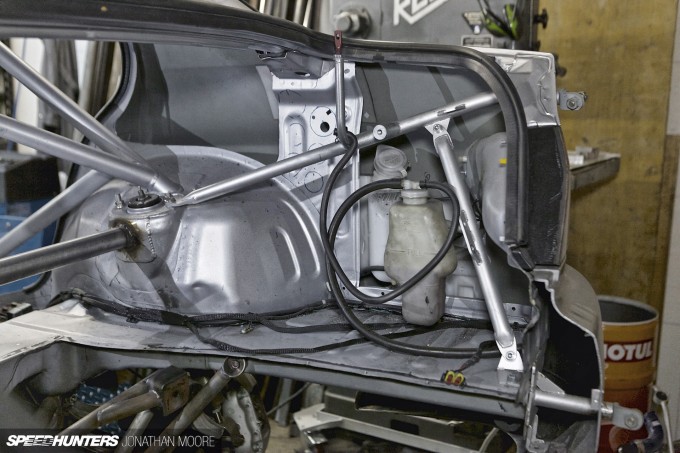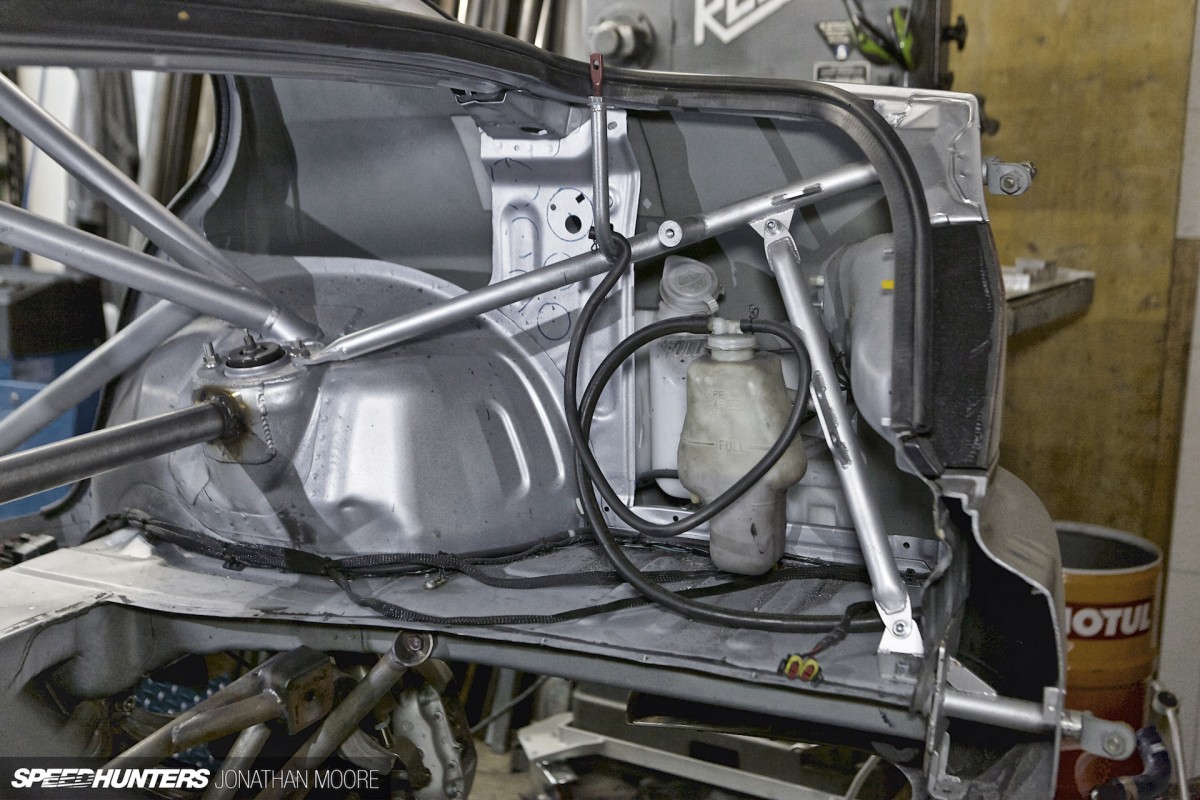 This time attack Evo VIII started out as a request for a bolt-in cage. It's difficult to convey the disdain Rodrigo holds for that solution… That cage idea was quickly converted into a full-on bespoke creation, beautifully TIG-welded with picks-up from the front and rear axles for complete rigidity across the dynamic section of the car.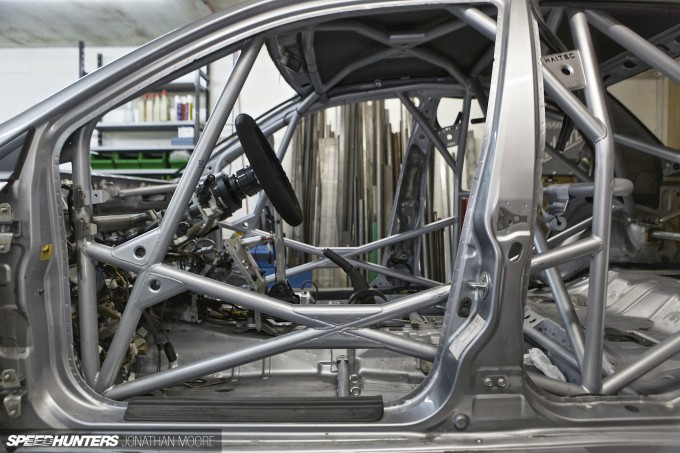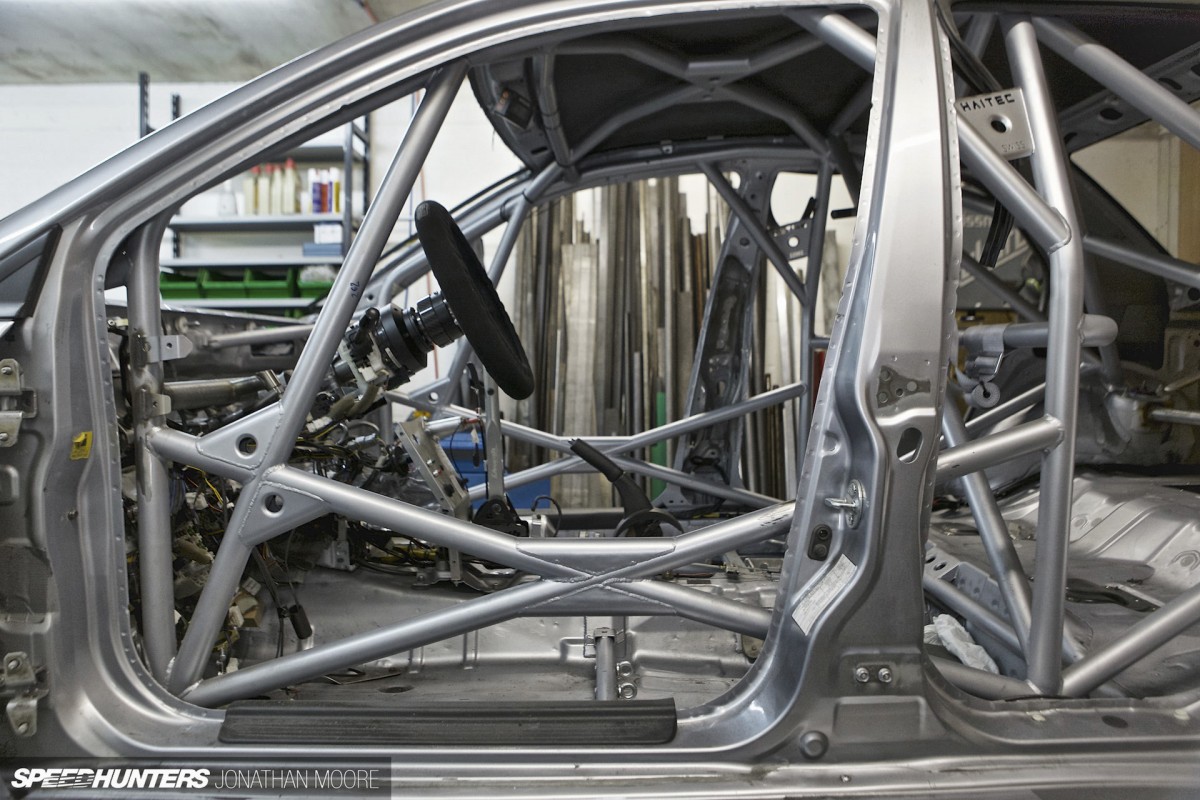 The Evo's skeletal cage is a geometrical joy, triangulated and reinforced, conceived as an organic part of the car. He might enjoy sculpting his hand-crafted cages, but admits finding the process draining and that he always wants to work on something completely different for a while afterwards.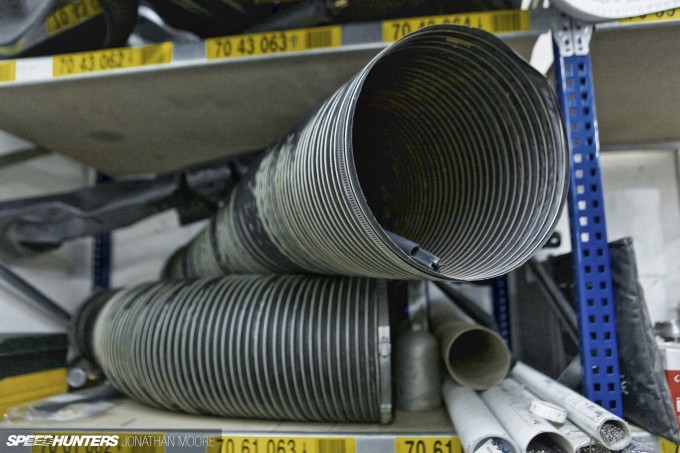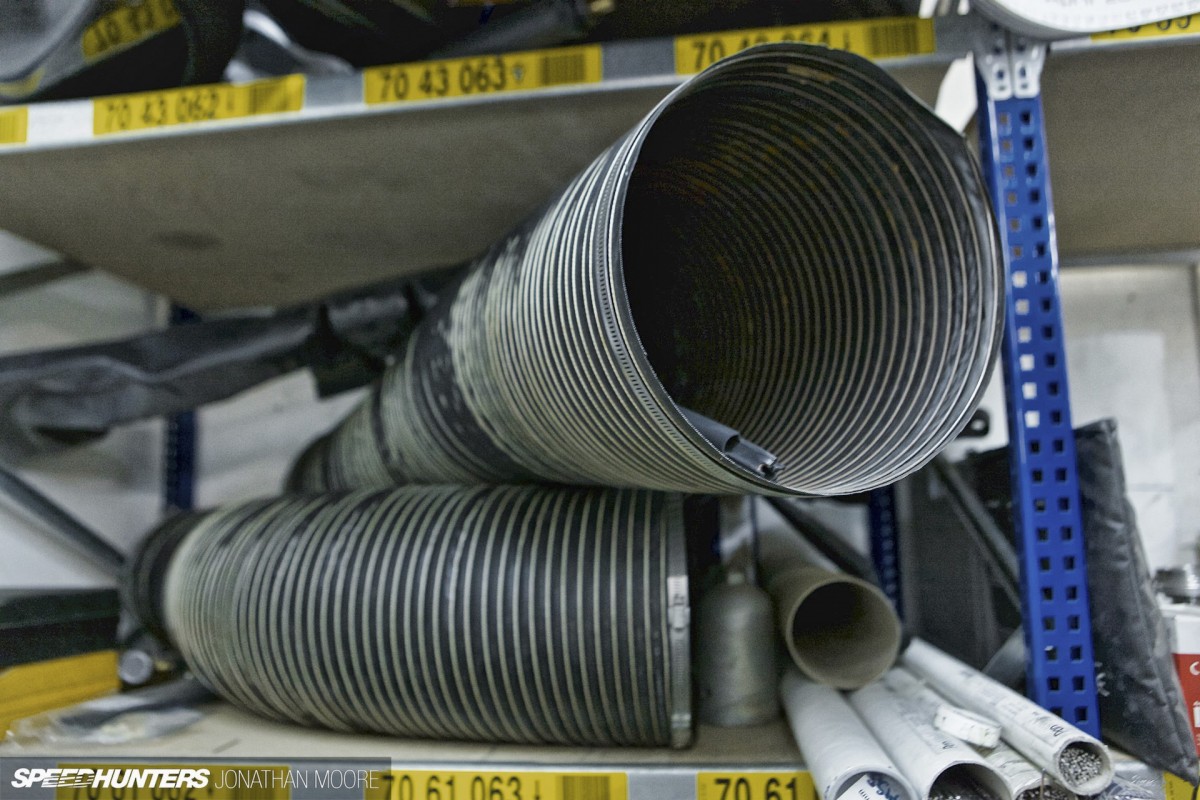 ECU programming and bodywork aside, Rodrigo attends to every aspect of a project, though he'll bring in specialist partners when necessary. For instance, Stehlin Motorsports have had a big input, Anthony from Indigo-GT flew over from the UK to help with the engine electronics and Rodrigo worked closely with KW on the revised suspension and geometry. KW's engineers told him that the time attack VIII has the most rigid Evo structure they'd ever seen.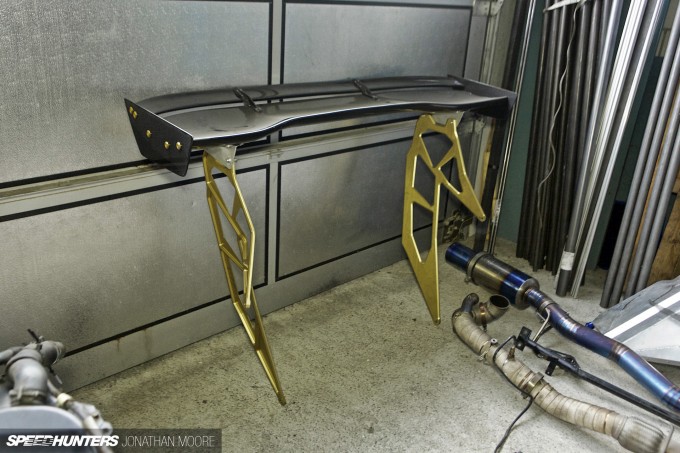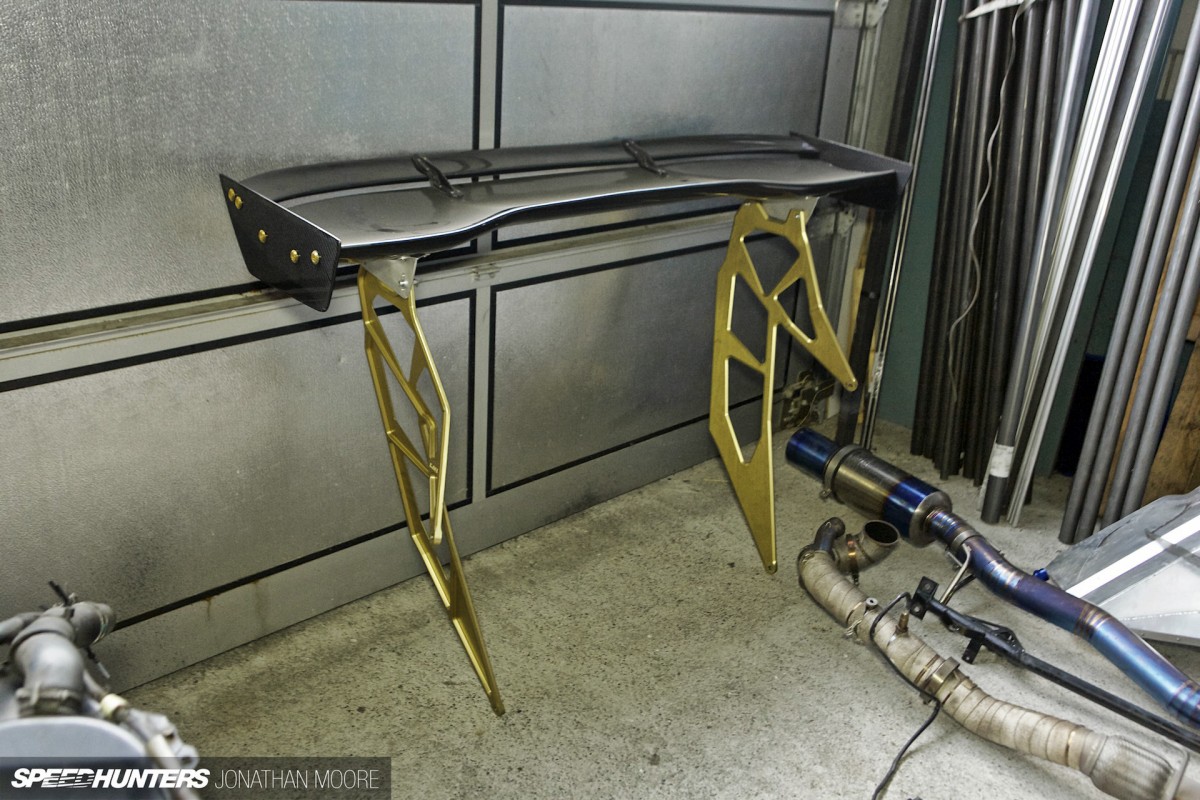 The VIII's engine has been completely upgraded by Rodrigo with new cams, pistons, rods and a BorgWarner turbo. Brakes, exhaust, suspension… down-pipe, paddle-shift, fuel cell. The integral cage and associated subframes, the massive rear wing mount. Cooling and the moving of the radiator from front to rear-mounted.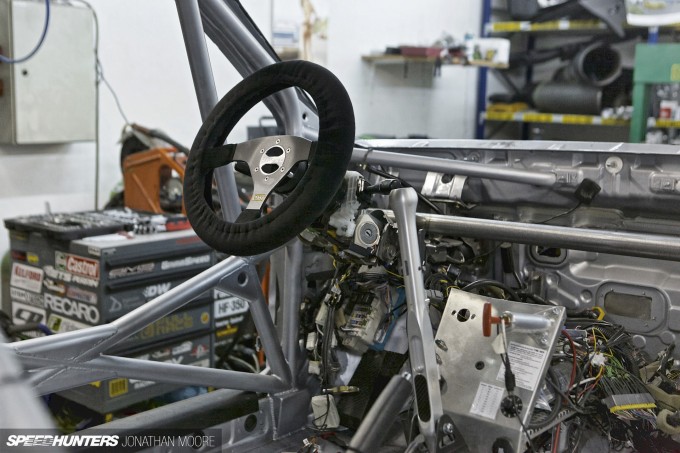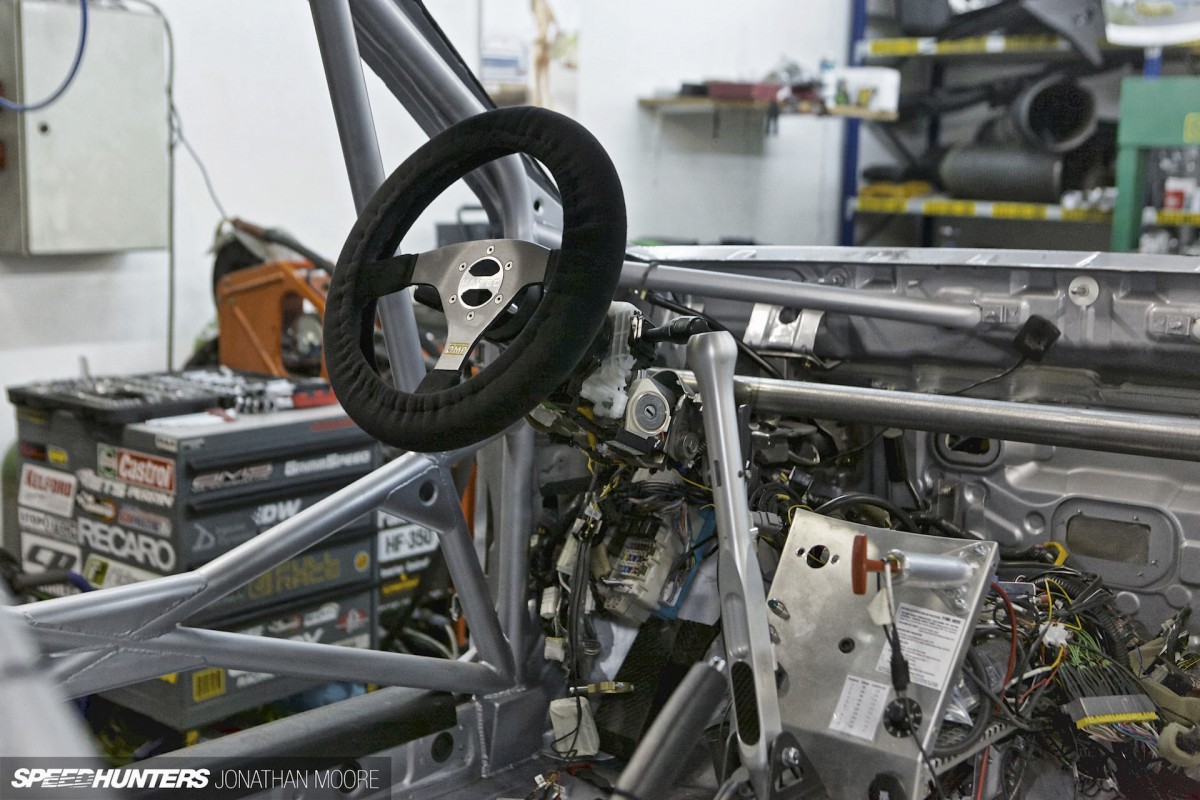 The core shell aside – and even that's been under his knife – it's all his work. Though he almost sounded disappointed when explaining that the series rules meant that the Evo VIII shell couldn't be cut up in the way he'd wanted to.
"But it's not that hard! It's all logical. That's the beauty of the mechanic. If there's a fault, you see it. If someone messed it up, you see it. There is no delete button. This is what I love. It's honest."
I'm sure the engineers out there can share that sentiment. Me, I respect it.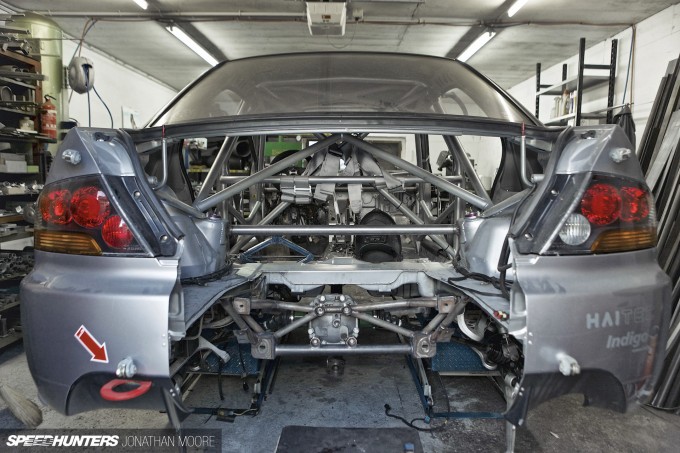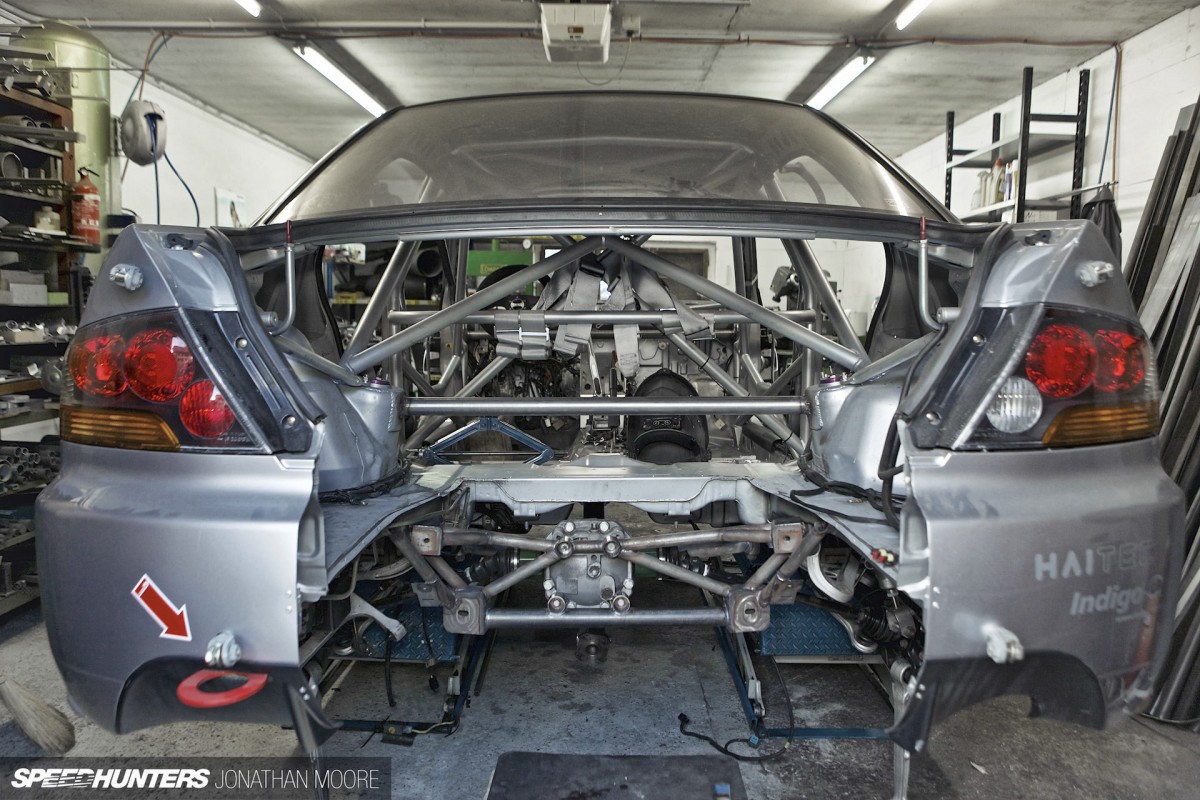 His only issue with the VIII project is how it's evolved – in too many individual stages perhaps, which hasn't allowed a complete beginning-to-end plan to be executed. But with each change there have been no compromises. Strip down, plan out and build back up. The most recent change was the radiator, and even that's now evolving, with a new subframe to save weight, requiring new bracing.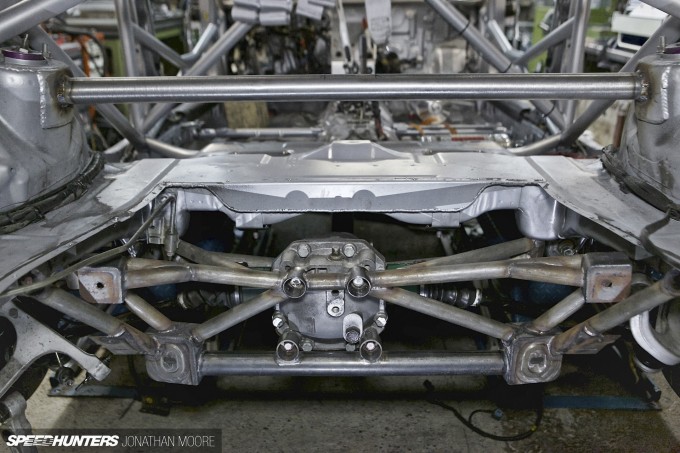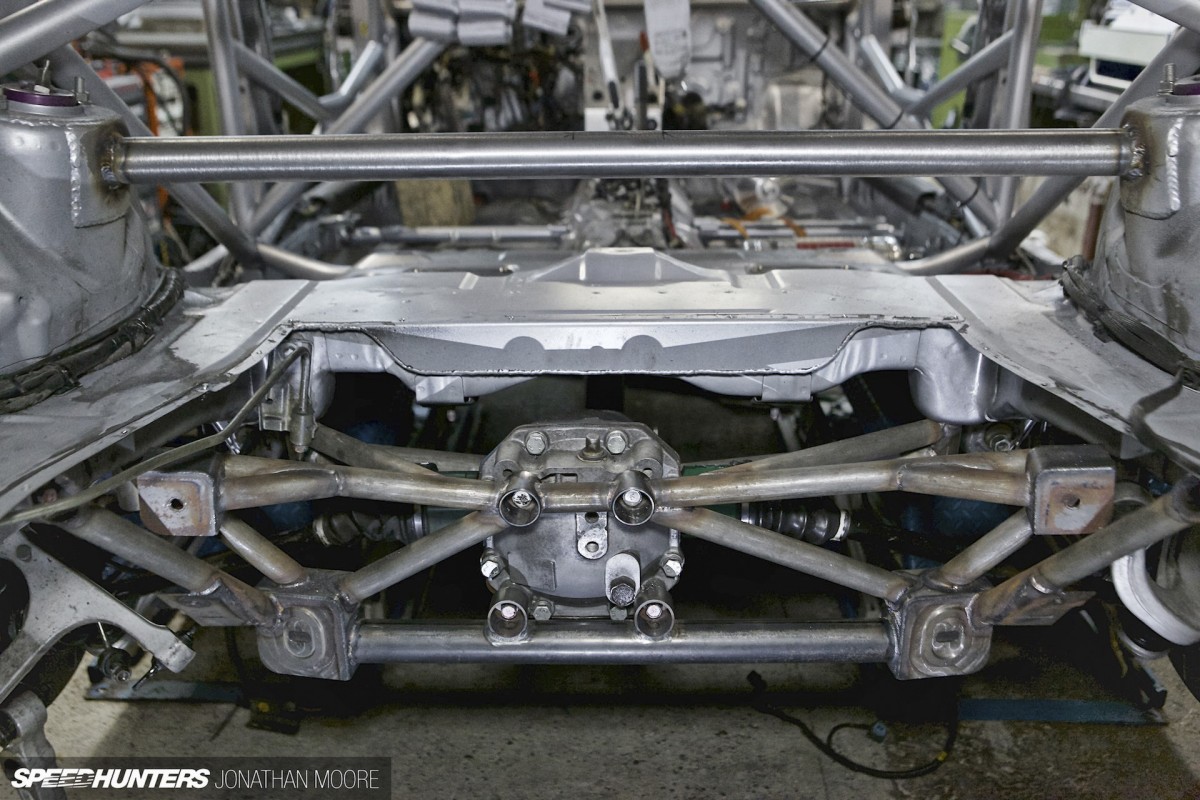 He explains that he's not happy with the standard Mitsubishi solution around the rear axle, and that the Subaru setup is much better. For next season he's planning on a new design based around that concept. Once more – remove it all, start again. Never compromise with short-cuts. Time has been the eternal enemy, but even so his work in the season build-up removed over 80kg.
Exist To Create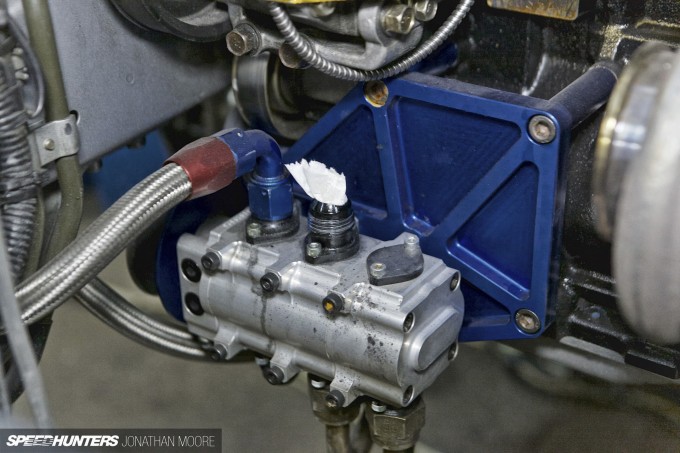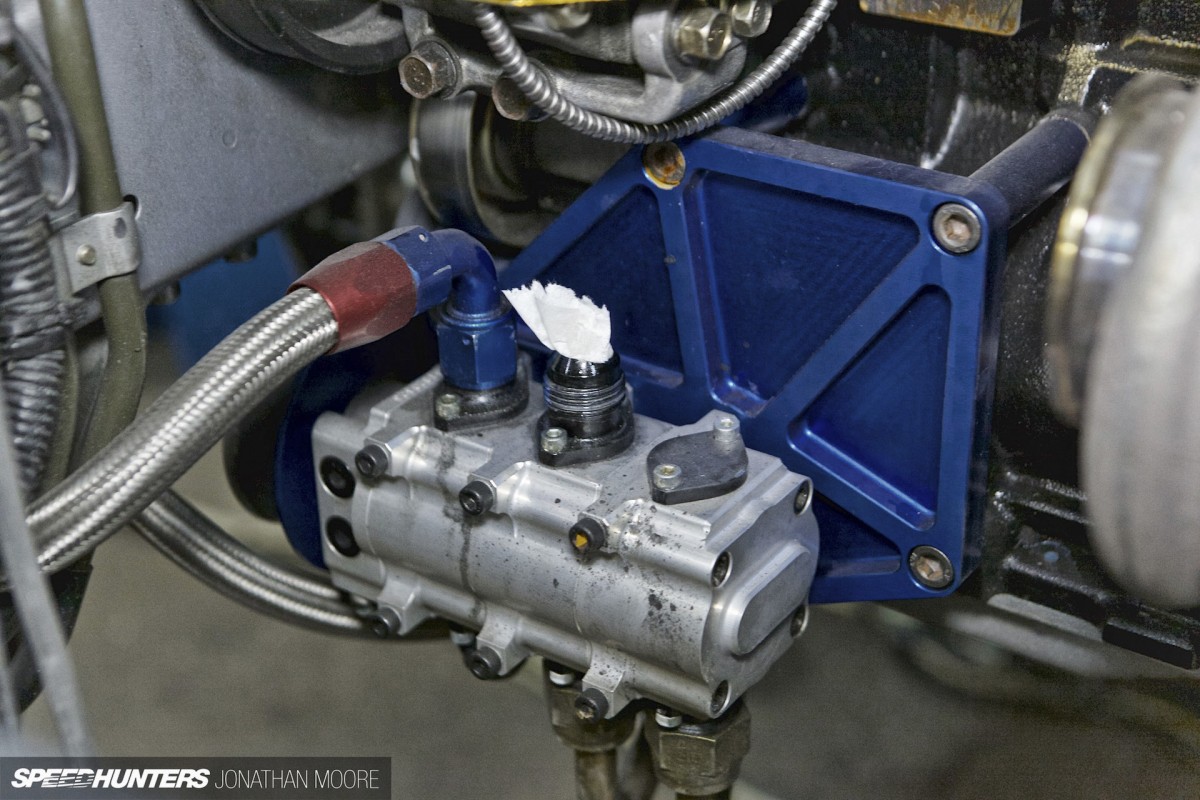 Like any creative person, Rodrigo is never satisfied. Any part that comes through the door is scrutinised, analysed for deficiencies, considered and modified before installation. A stock part being installed at Haitec must be like the Holy Grail for any manufacturer…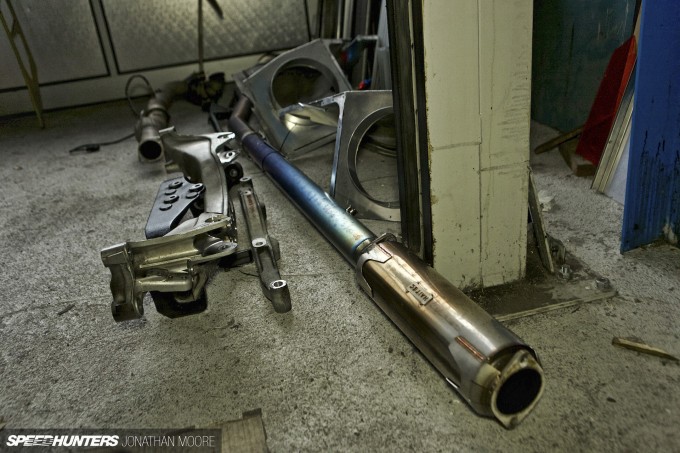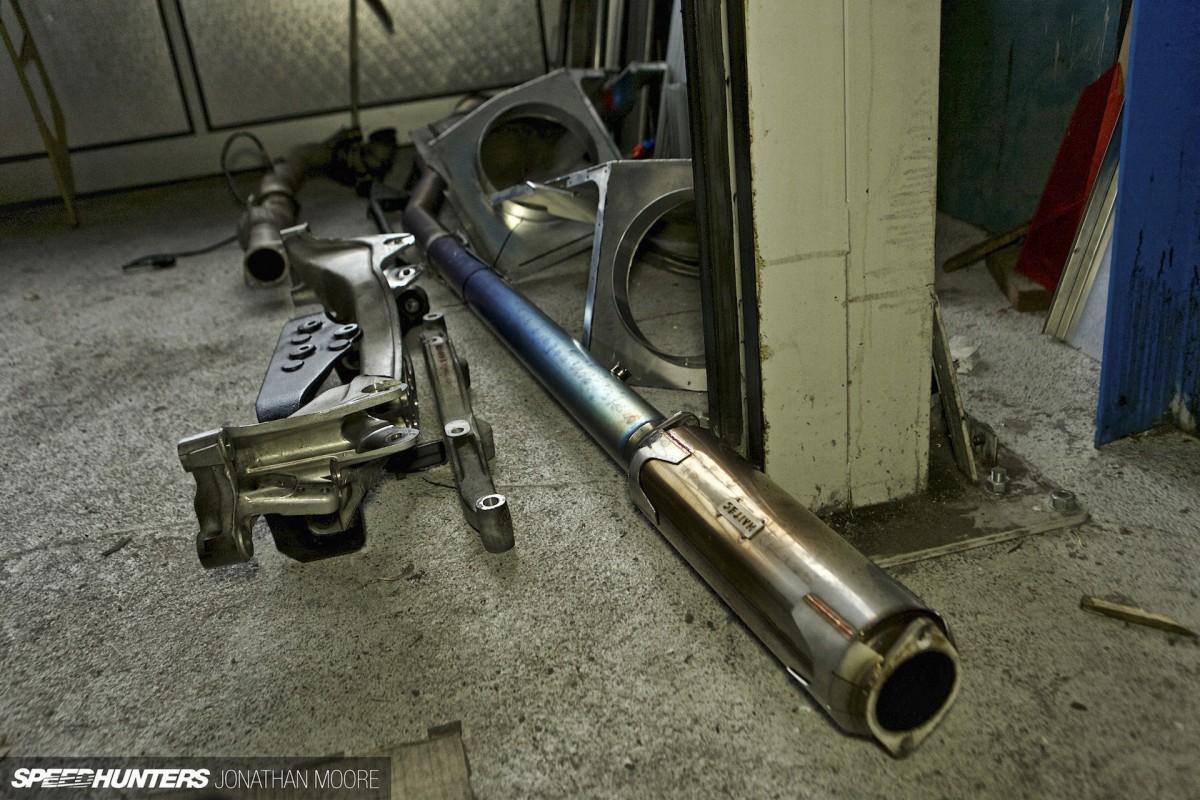 From complete cars ("The X is the best Evo from a build and technology side, but the poorest in quality") to the smallest parts, everything can be improved on. Everything is strengthened and re-welded by default. The only thing he seems to be content with are the OEM Mitsubishi bolts!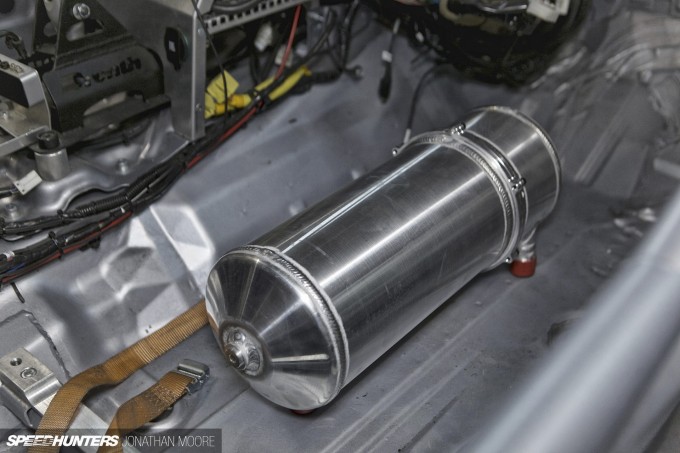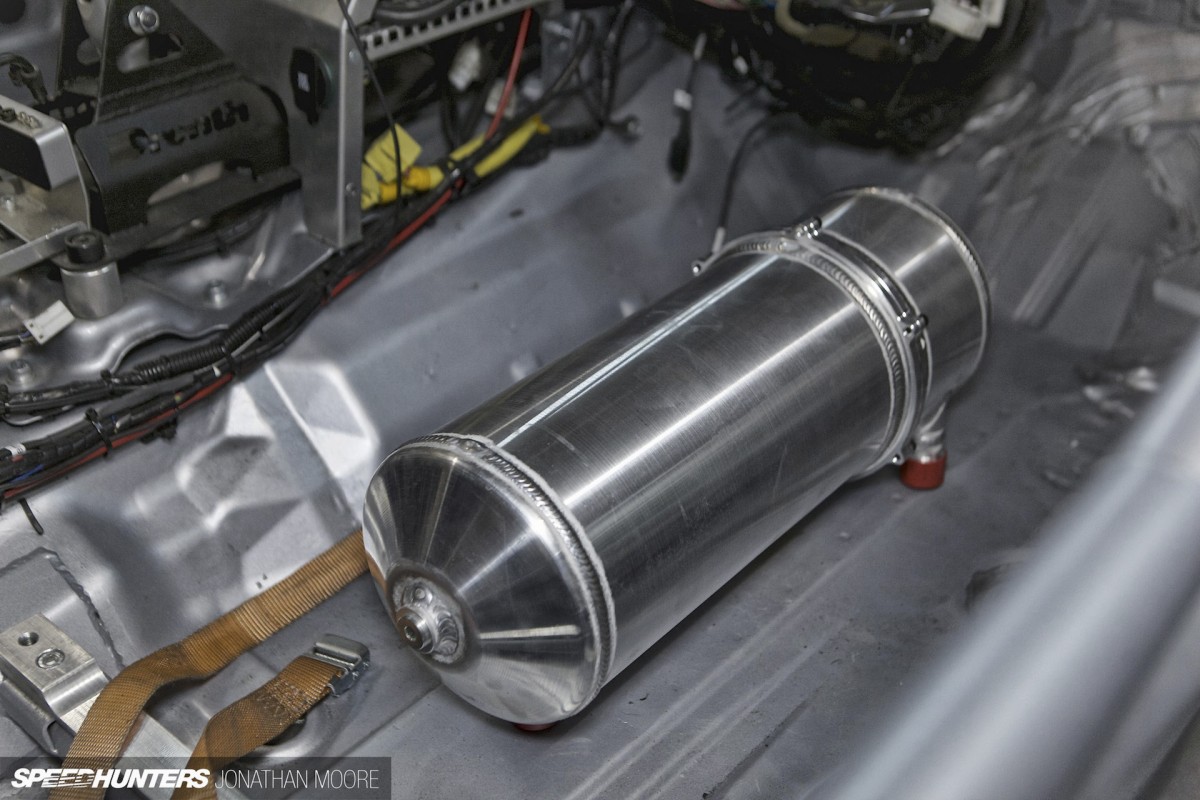 The latest work on the time attack VIII has involved a new dry sump system, with the tank located in the cockpit. It's double-skinned and vented so it doesn't leak heat – a relatively straightforward idea but complicated to execute.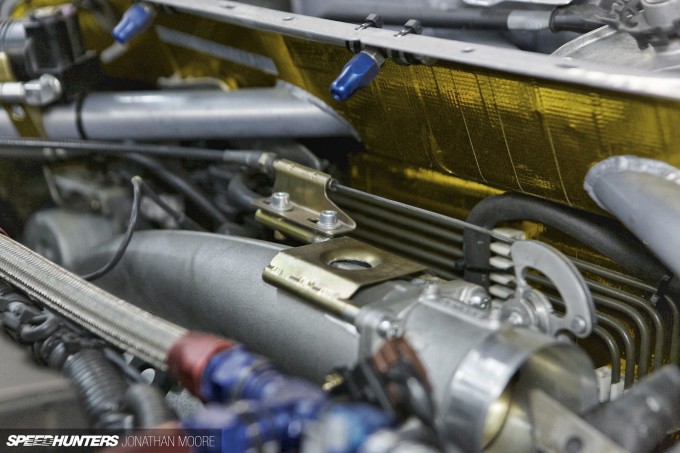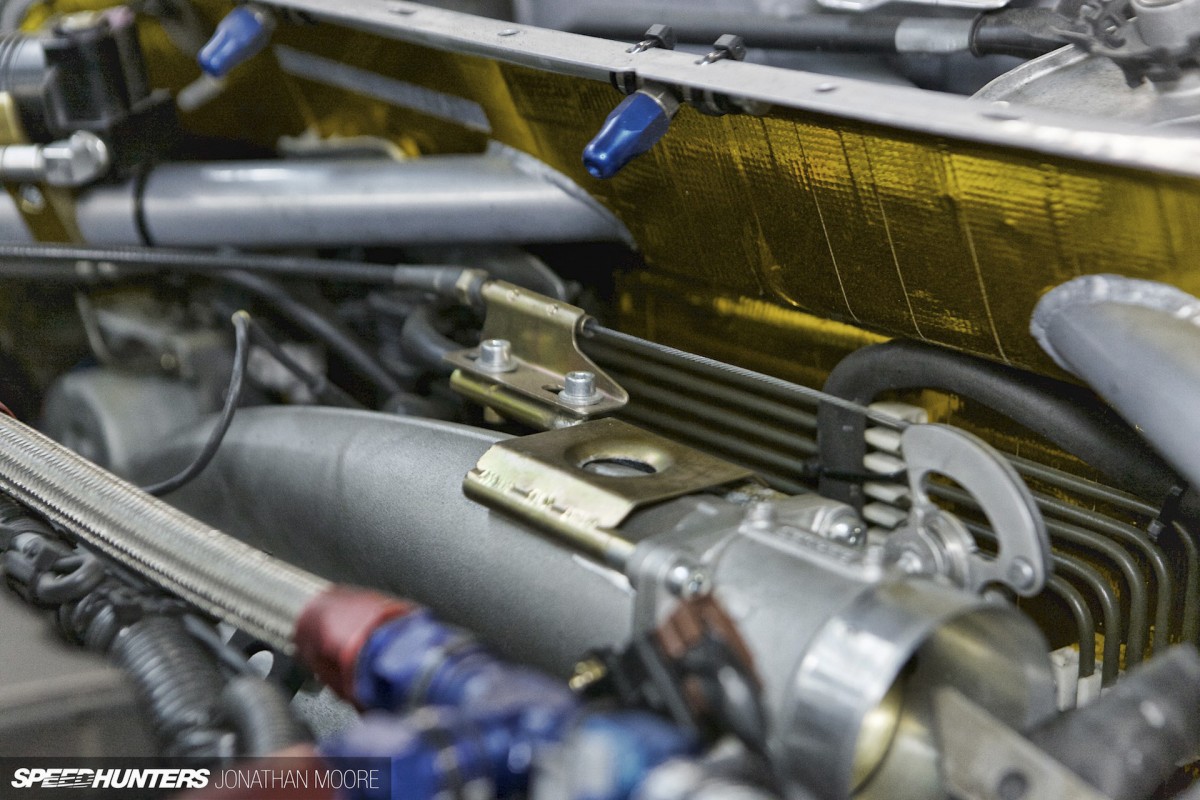 His handiwork is visible all over the car, from the guide for the throttle cable to the pulleys for the dry sump pump.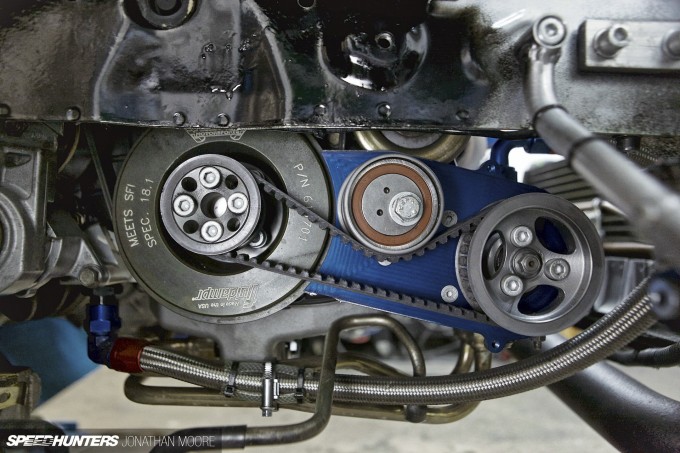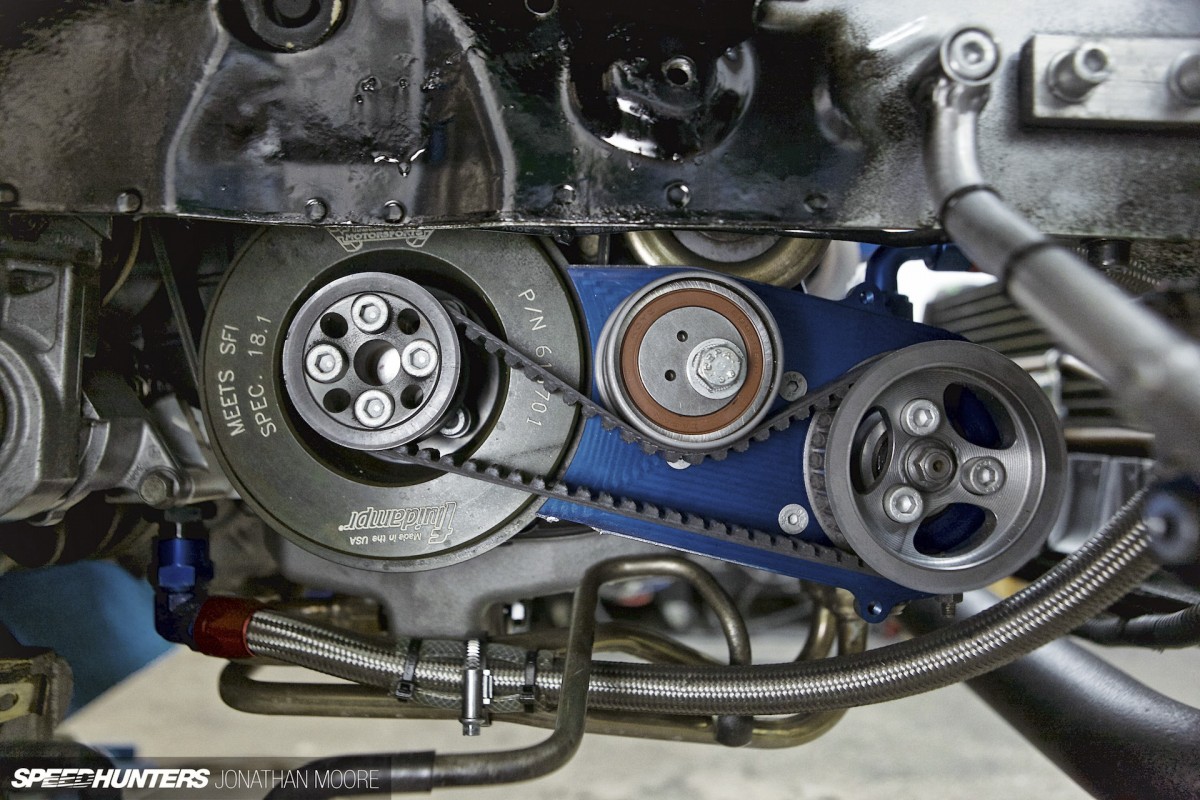 The supplied setup was not only insufficiently stiff in Rodrigo's eyes, but also could be subject to torque because of its single, centrally-located mounting. Now it has four bolts and an added tensioner, all hand-built and protected by a new anodised cover.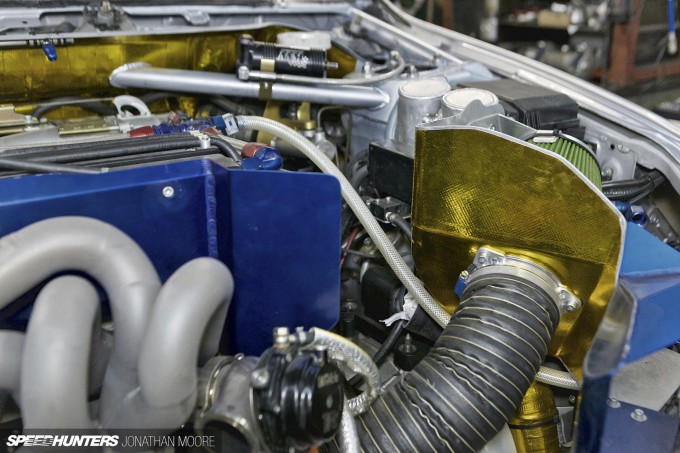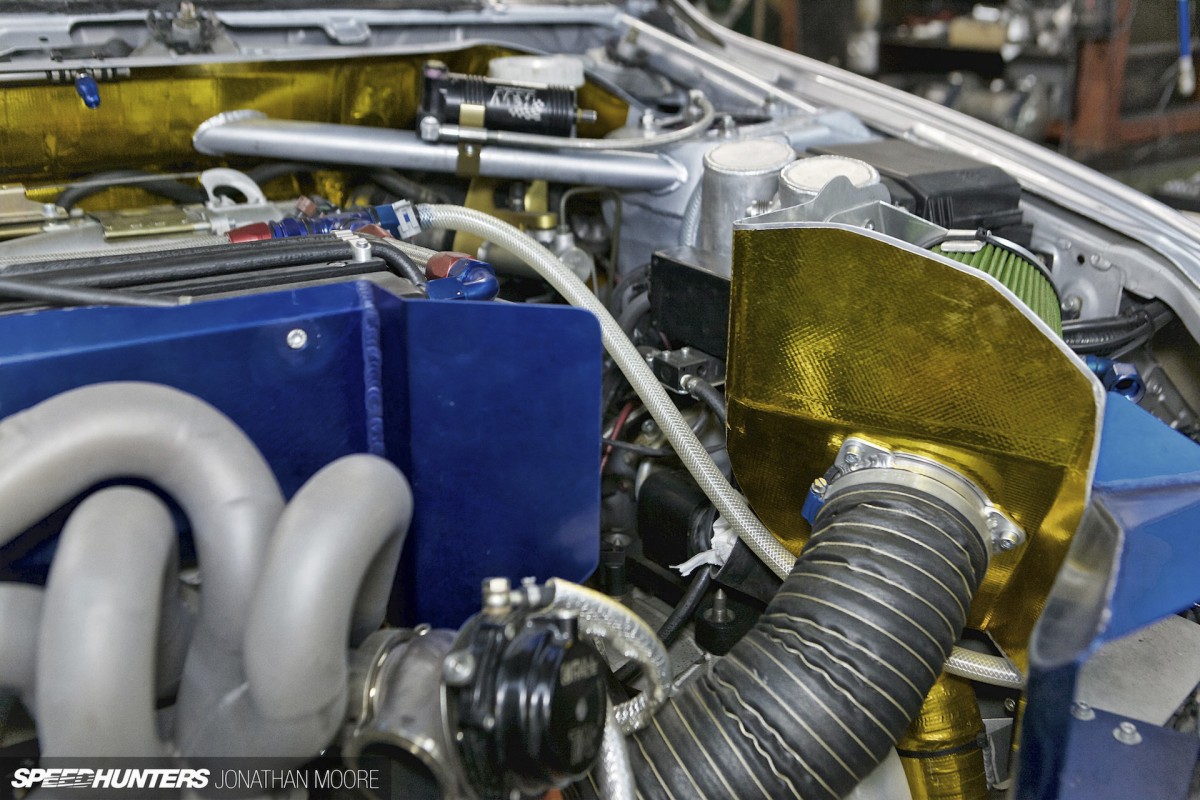 He's also looked at every point where components have significant temperature differences, such as with the down-pipe. It's all about managing those joins and creating a kind of clutch to prevent cracking.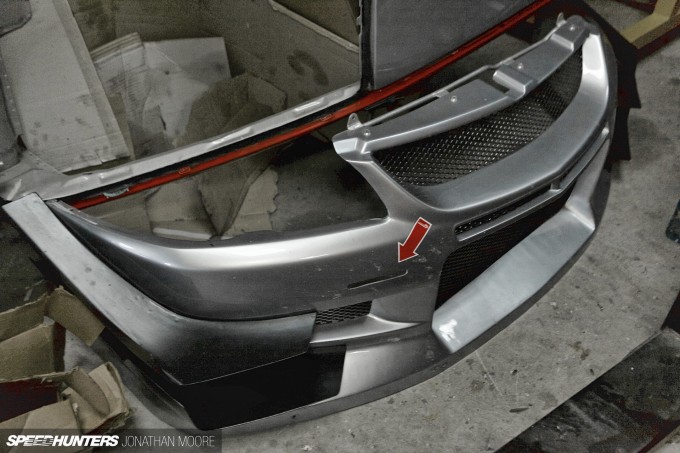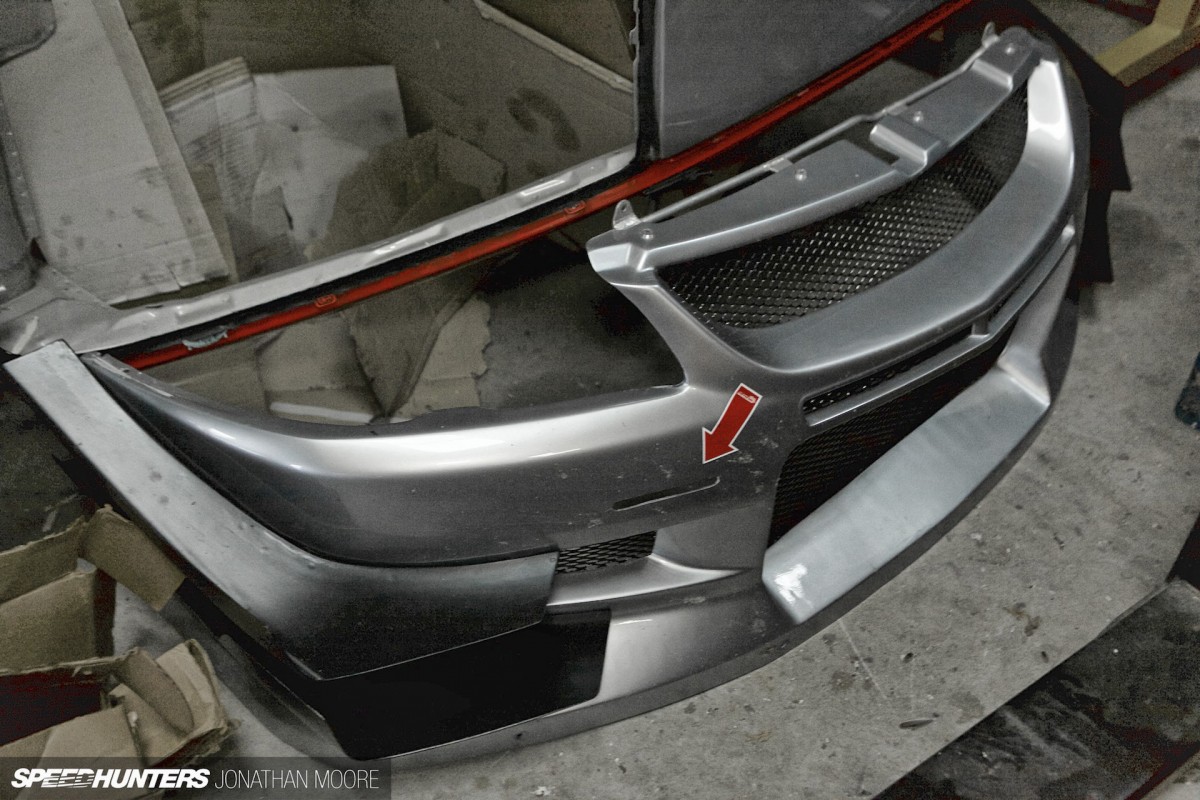 Most of the Evo's bodywork components are stored in the barn whilst Rodrigo's concentrated on the latest upgrades. The barn is again revealing: it's packed with bits and pieces – Rodrigo freely admits to being a massive hoarder.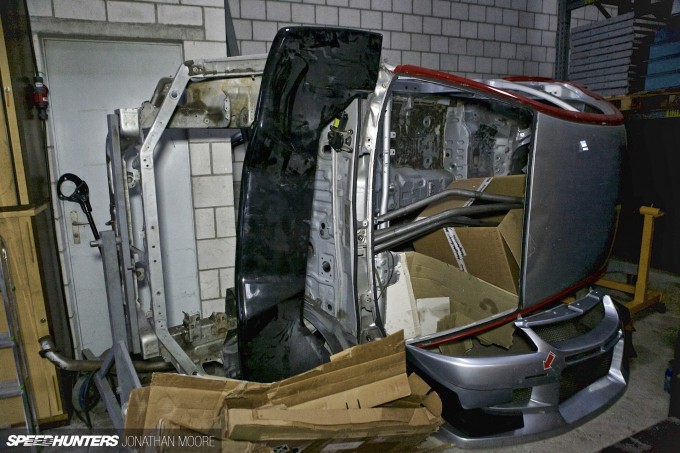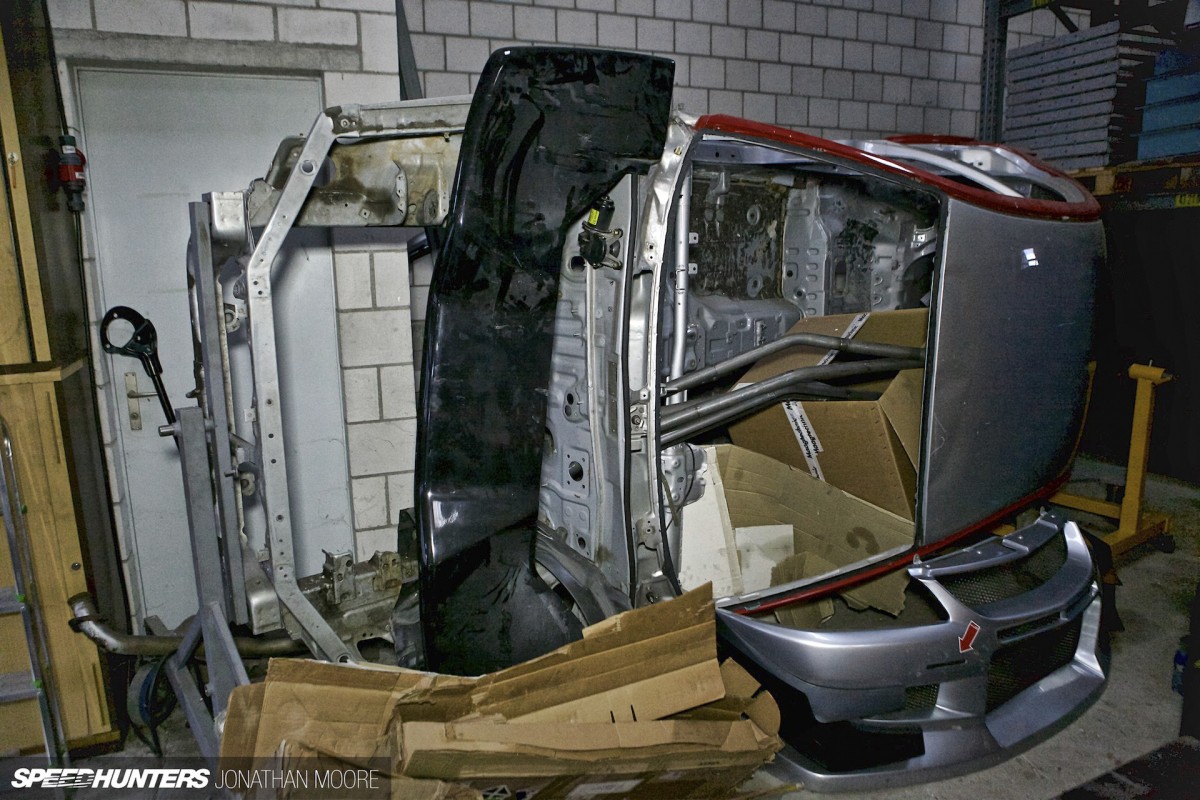 Rodrigo's own Evo VI is mounted on a rotating chassis jig – something he made himself. You get the feeling that he just likes excuses to make stuff.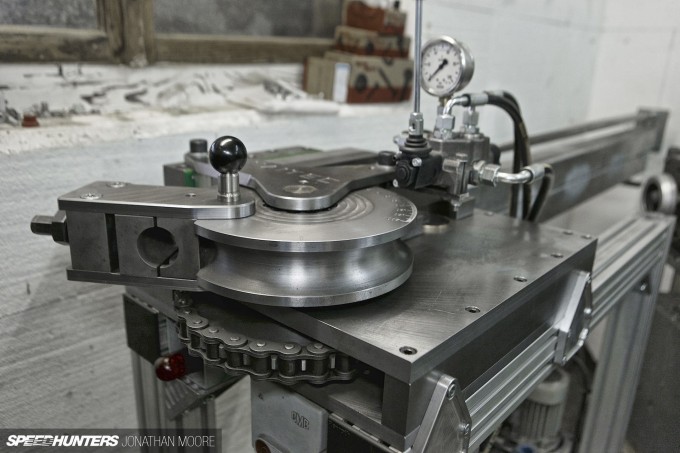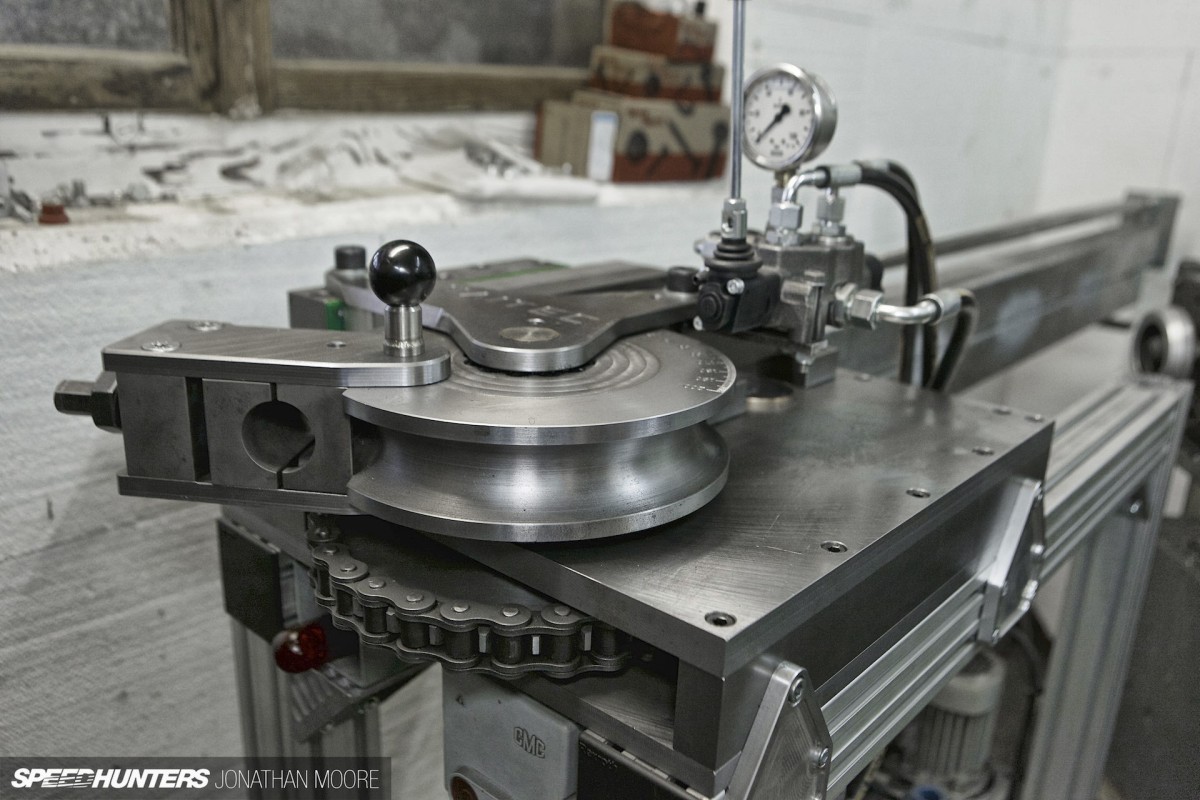 That's evident back in the main workshop, where alongside his old school tooling is a tube-bender of his own construction that is the core of his rollcage work. His reason for building his own hydraulic bender was that he originally couldn't afford to buy one, but admitted it's probably ended up being more expensive in the long run as he's evolved its design. Cold bending requires time and finesse, and he's installed a valve system to fine-tune the process and allow him to modulate the pressure.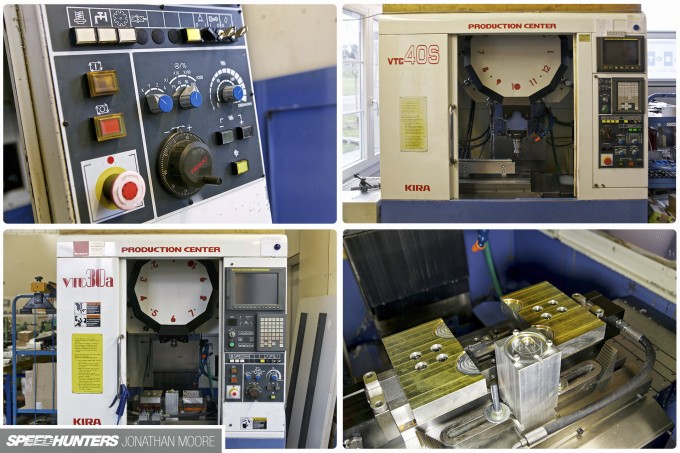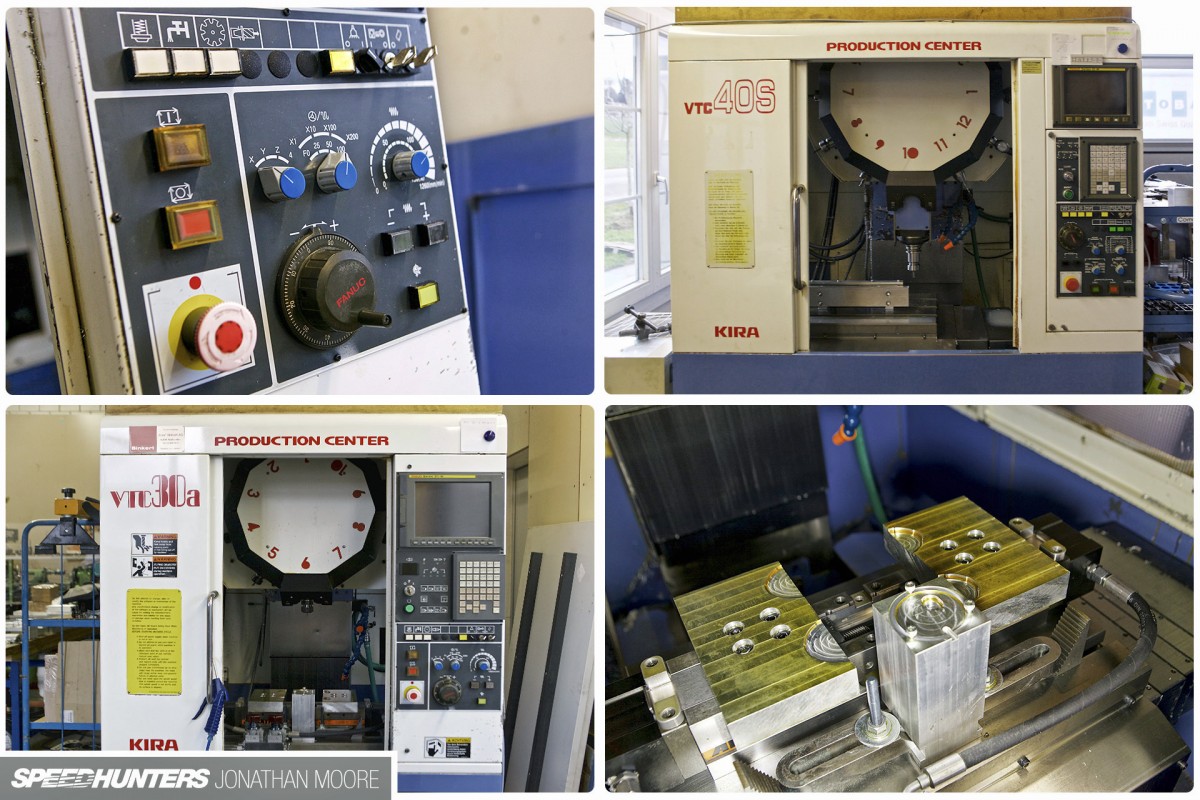 His machine shop contains two CNC machines, a VTC30A and VTC40S. Every surface was covered with the results of his redesigns and improvements.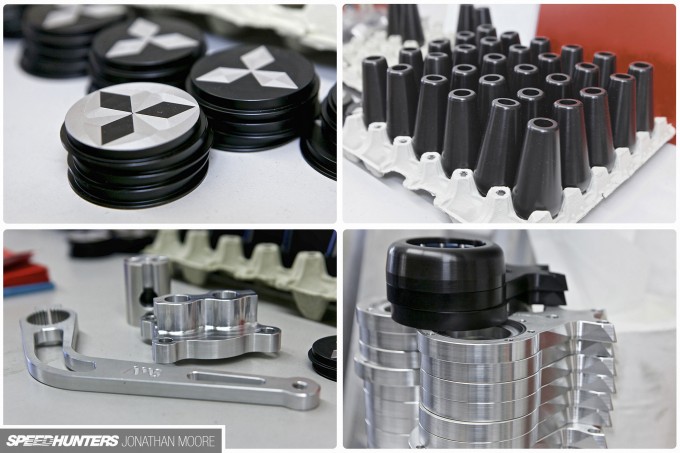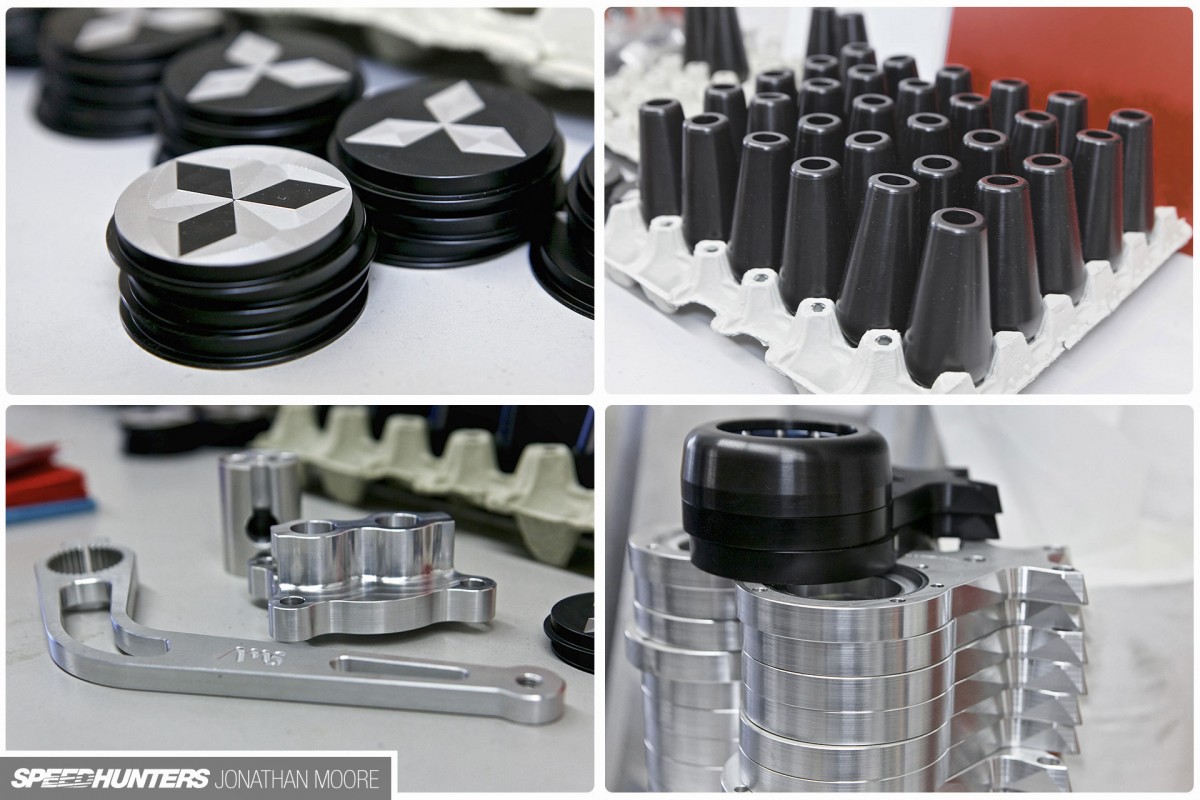 Some are purely practical, like the the shift knobs (created through some CNC hacking) and replacement centre caps for Lancer 2000 Turbo wheels. Others are more bespoke, like custom parts for a Skyline-engined S13 time attack car he manages.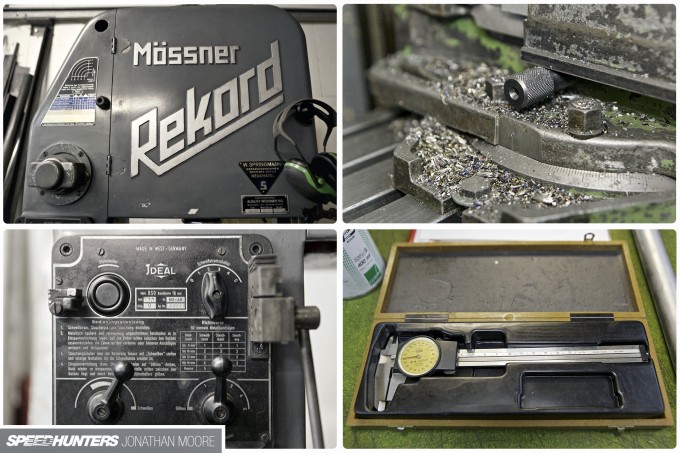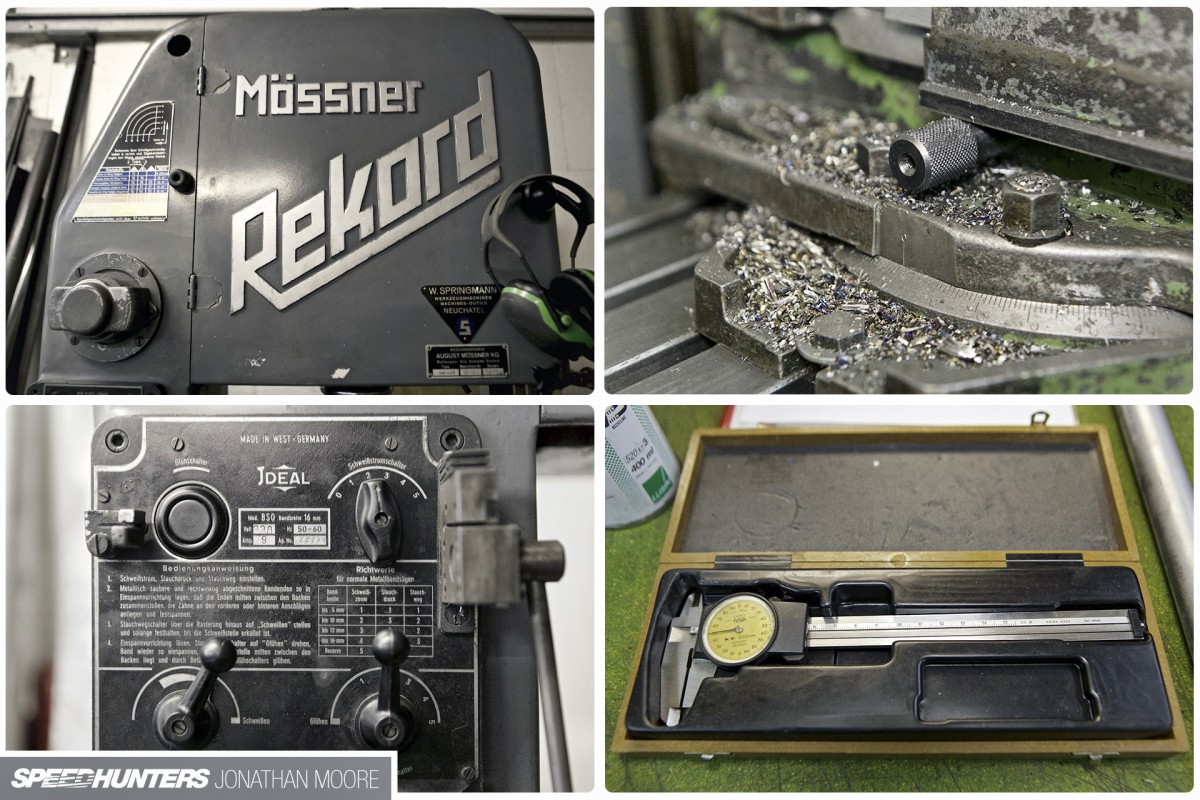 Cutting edge automation is useful, but his love is obvious for the much older equipment he owns. It's something I see a lot. There's a trust in the accuracy and reliability of simpler machines made decades ago, from a time when parts didn't get mass manufactured overseas. You know that in 100 years from now they'll still work, and still work exactly the same as they do now.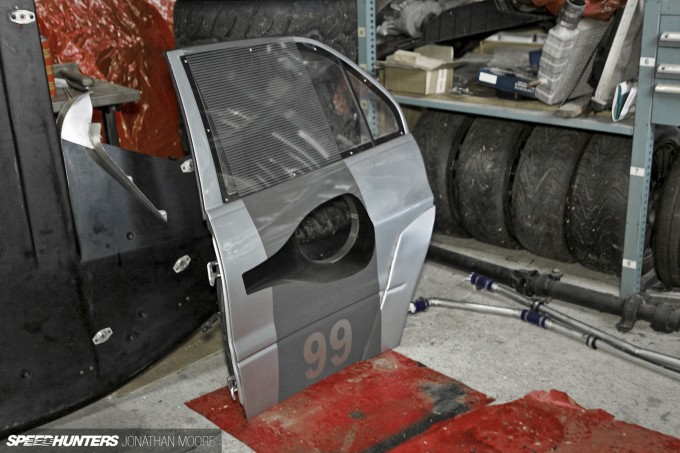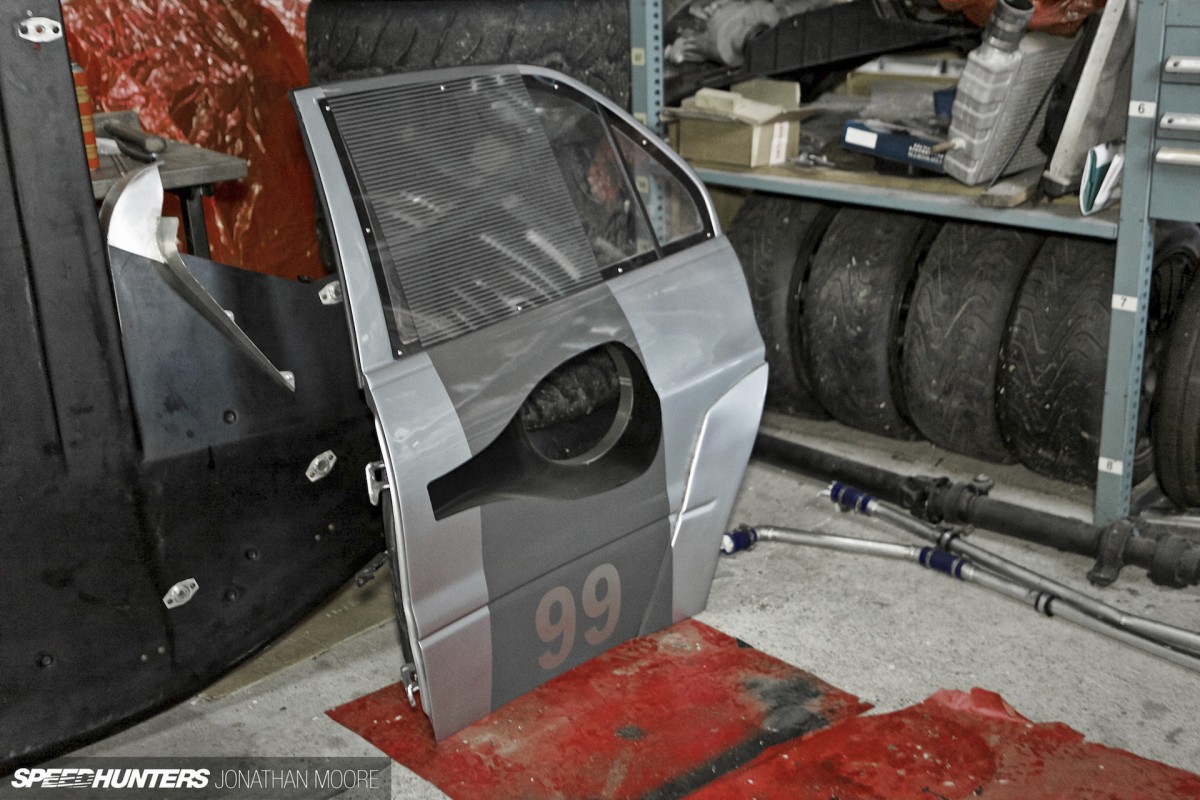 Rodrigo has worked solo for some time now, and has a very clear vision of how he likes to manage projects, but says he's been considering taking on an apprentice. The only thing is that his perfectionism could make or break any possible candidate!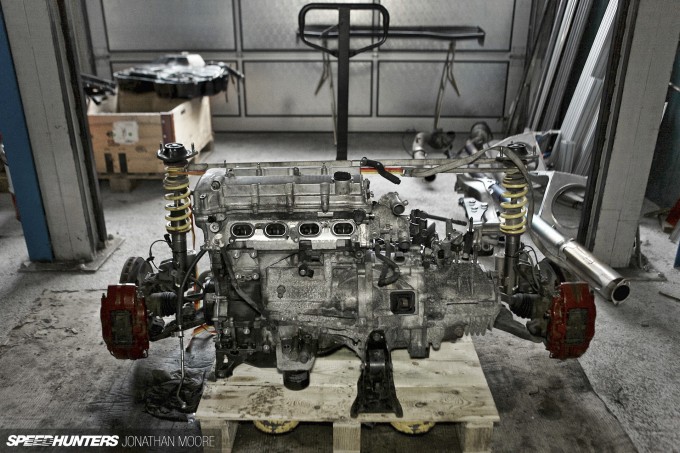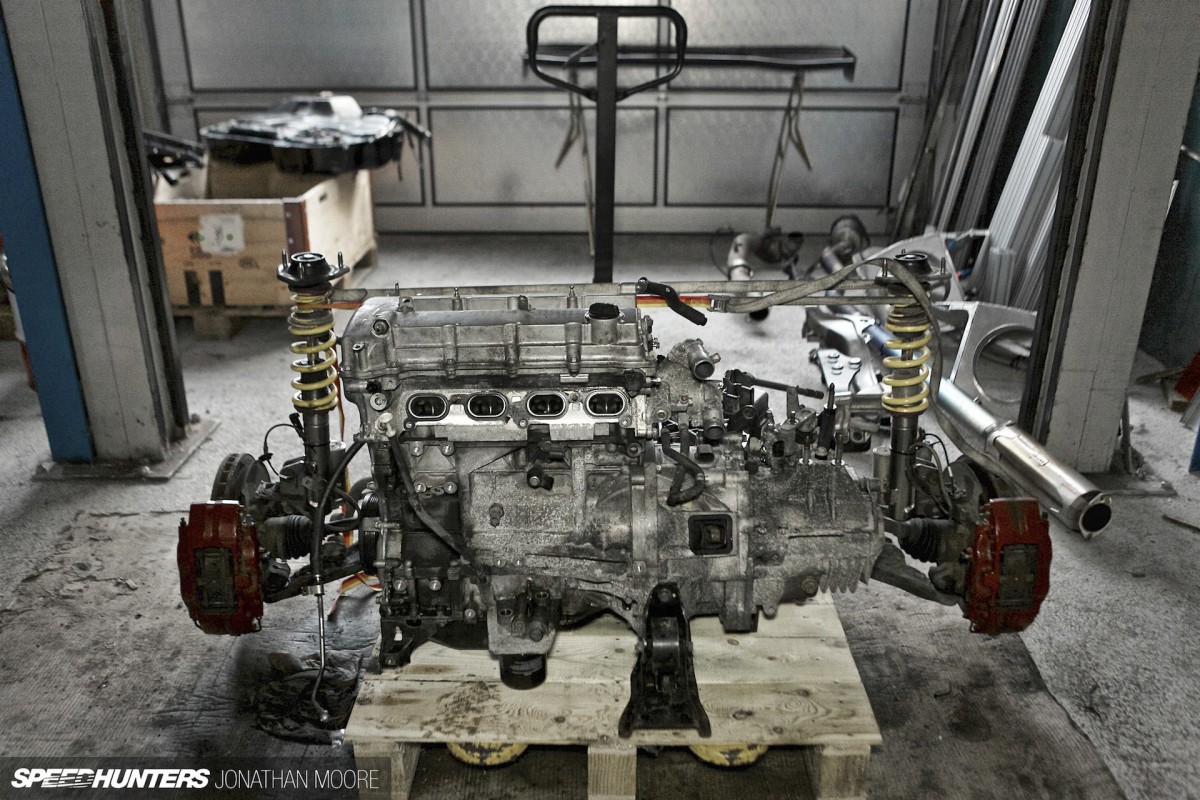 Age is mellowing him though. When he was younger he was all about Japanese cars, specifically Mitsubishi, but now he'd consider working on something different for the challenge – even a more traditional sportscar. Imagine what he could do…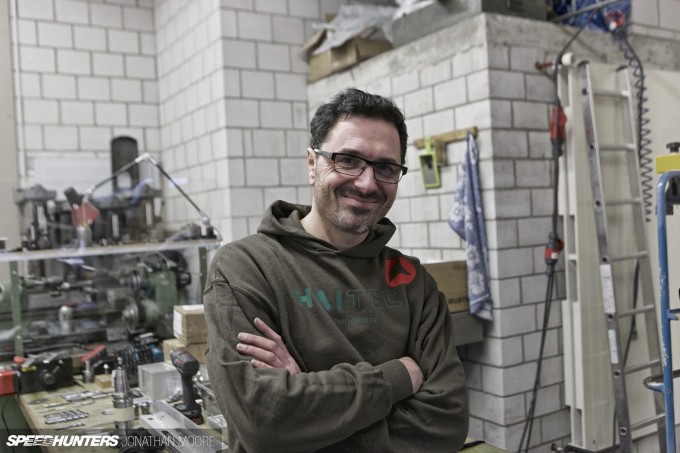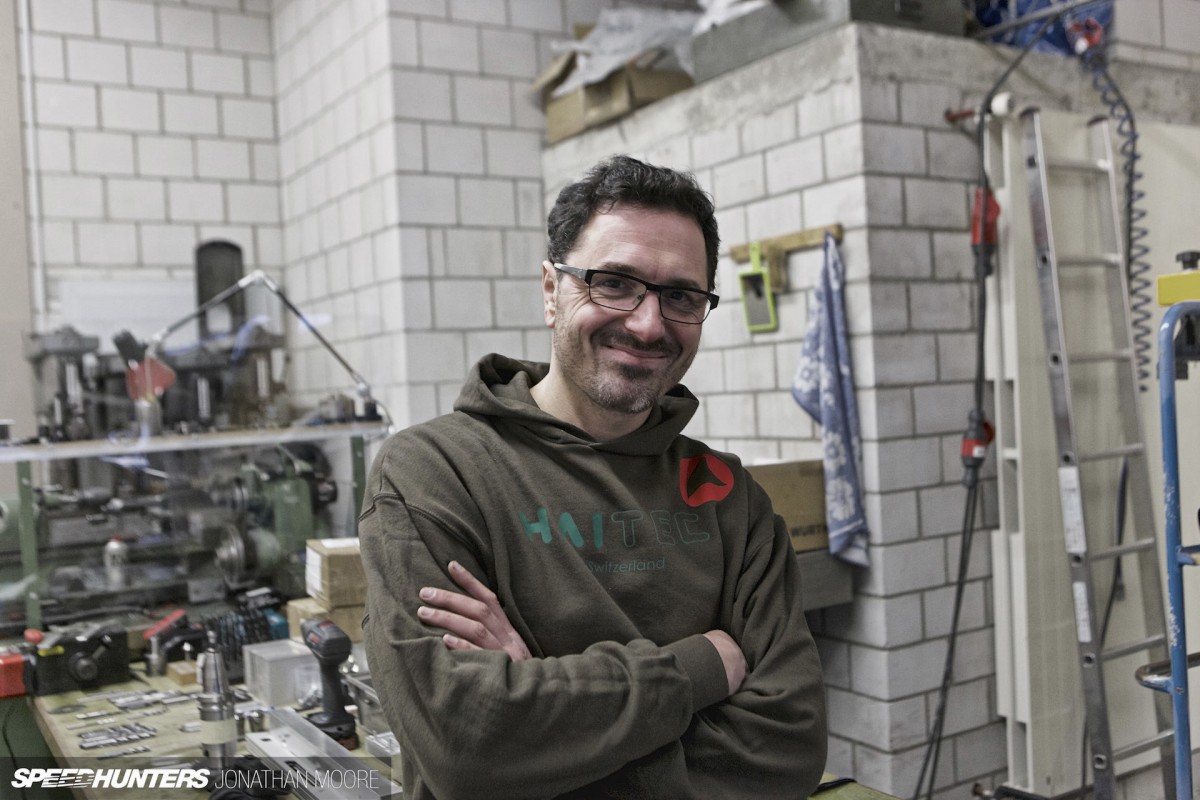 I've written this story about Rodrigo, but it's effectively about all the pioneering engineers and builders out there around the world who dedicate their lives to this shared passion we have. People who take the more difficult options, the route less travelled, who refuse to accept the status quo and who constantly strive for improvement. Maybe that's you: in which case, I raise an oil-stained glass to you. Even better, perhaps it's someone you want to be.
Jonathan Moore
Instagram: speedhunters_jonathan
jonathan@speedhunters.com