Pure Porsche Vision
Can the world get enough of the Porsche 911 right now? Between the latest 991 Turbos and GT3 RSs dominating road tests and the air-cooled market verging on a bubble, Porsche's undeniably backward but charismatic design goes from strength to strength. Literally every car enthusiast I know is watching online classifieds like a hawk in the hope of the right 911 for them materializing from the shadows of a forgotten garage.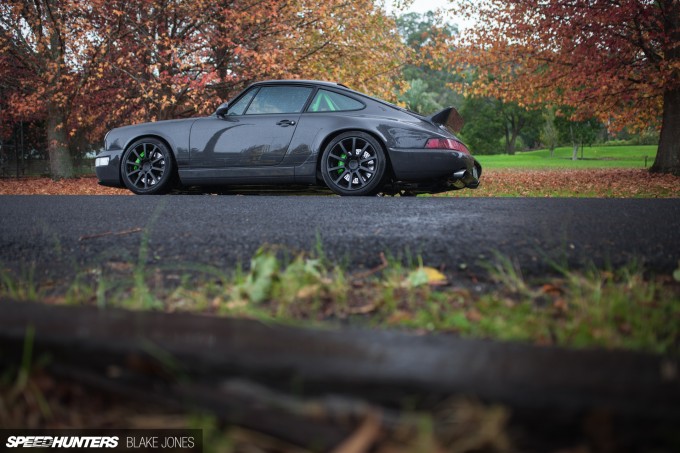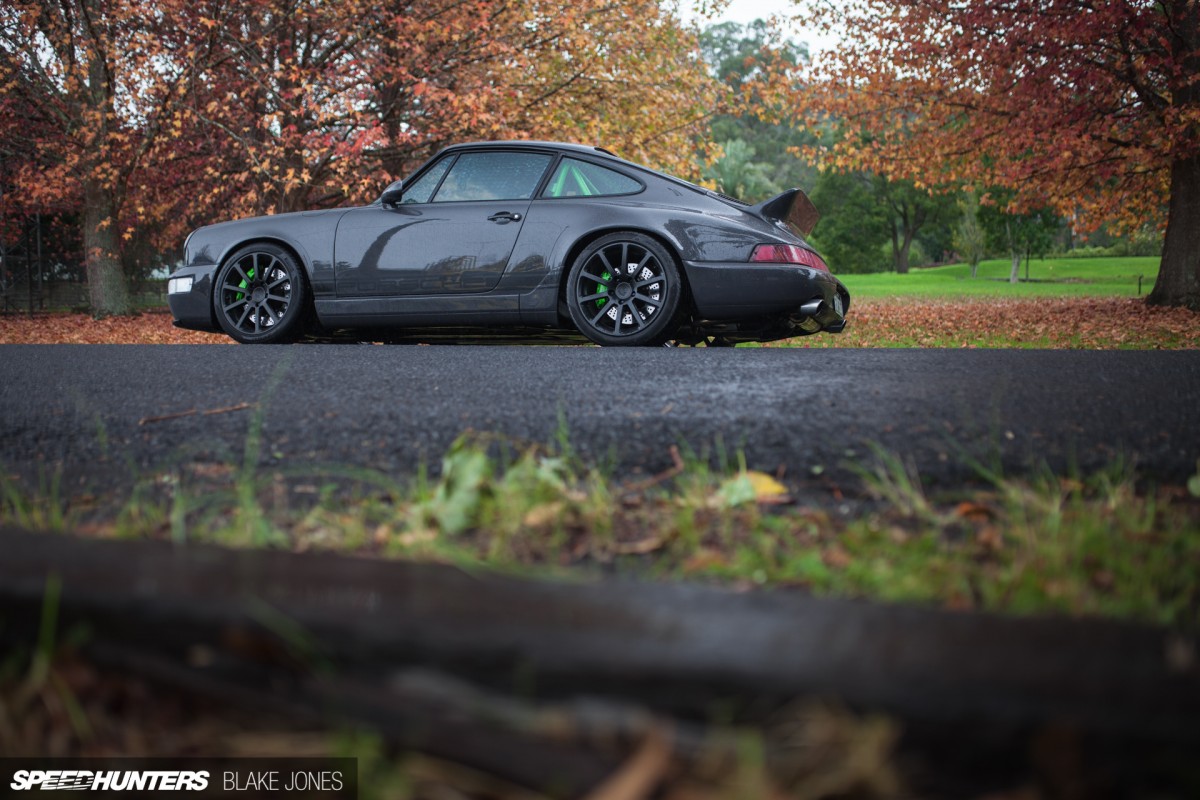 The 911 occupies a relatively unique territory of both being highly collectable yet plentiful enough that owners can make modifications and not feel the need to spend their Sunday mornings in a confessional. In fact, if you modify a 911 'right' you might just create a global phenomenon: cue Magnus Walker and his Outlaws or Nakai-san's aggressive RWB builds.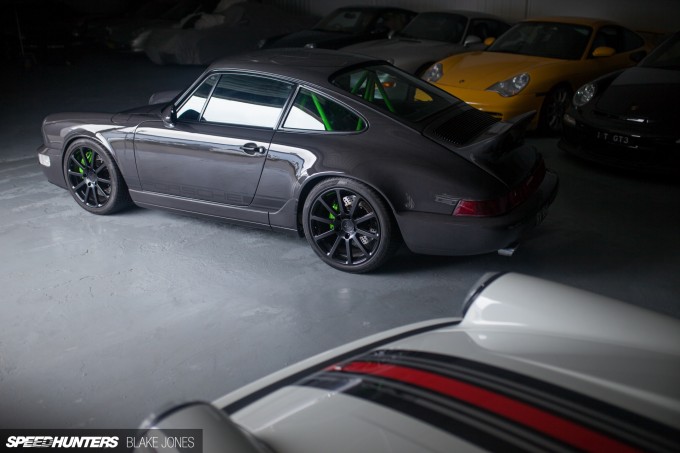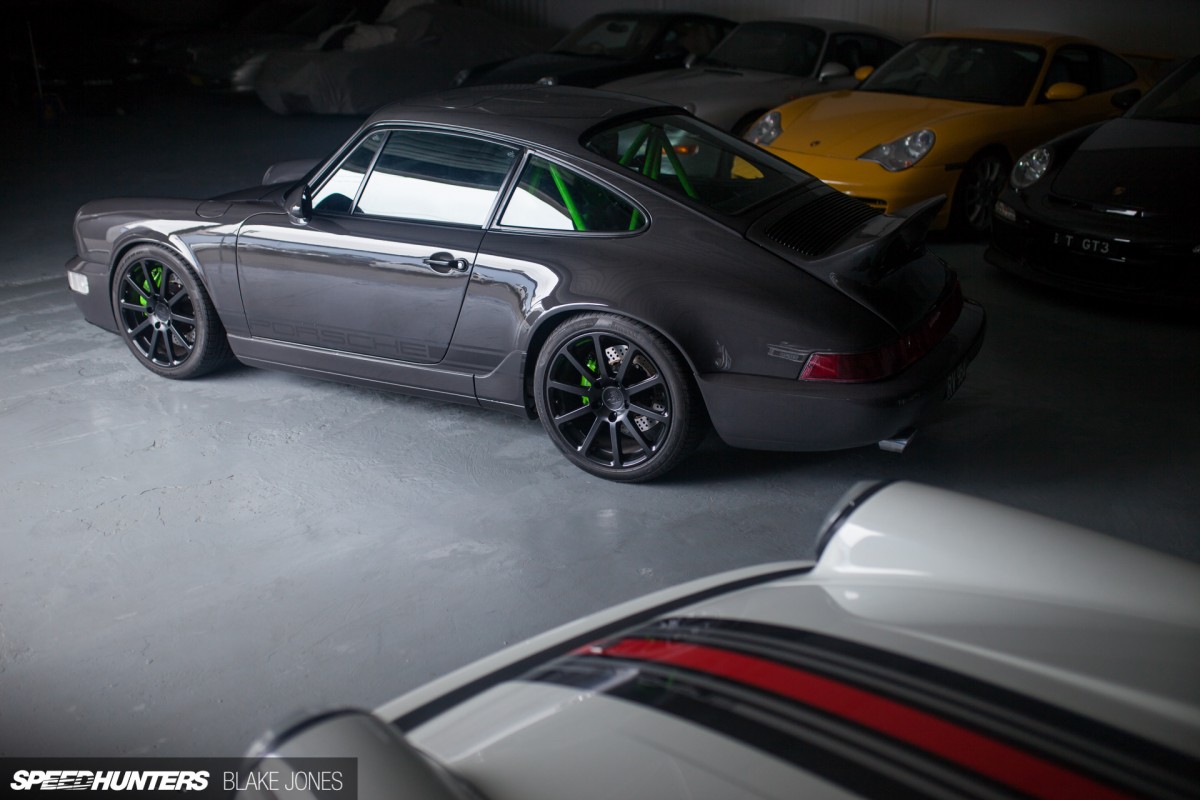 I must confess that as a self-proclaimed Porsche guy it's mildly infuriating to witness the boom in air-cooled prices off the back of the 911 resurgence. For every extra dollar I save, it seems the price of a 911 increases ten-fold.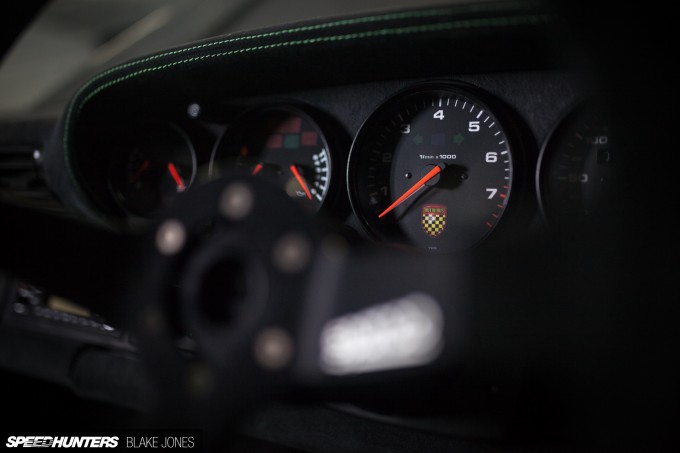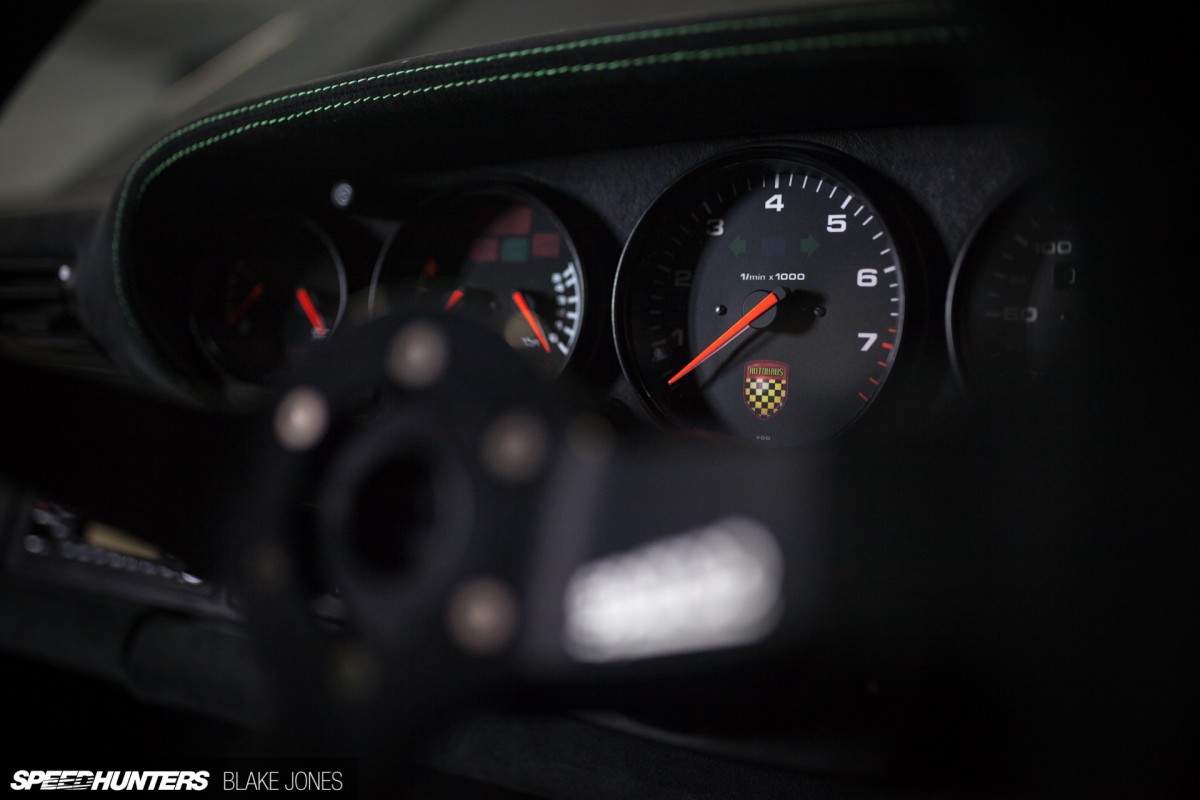 Personal sob story aside, it's exciting to witness the renewed creativity being applied to these rear-engined machines over the last few years. I can't think of many other collector cars where owners are so open to modification and customisation, apart from the original Mini.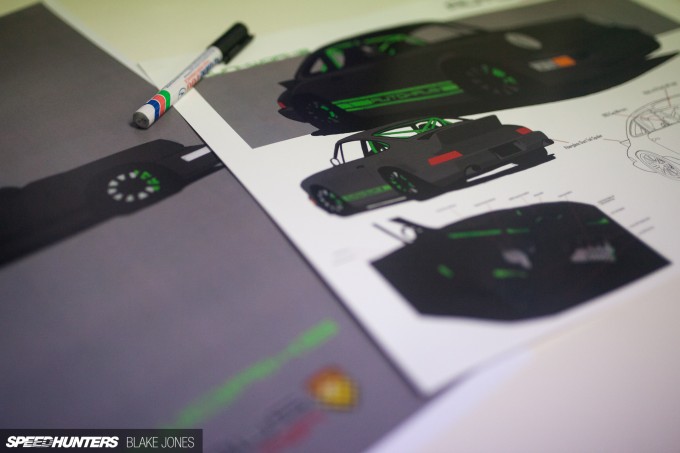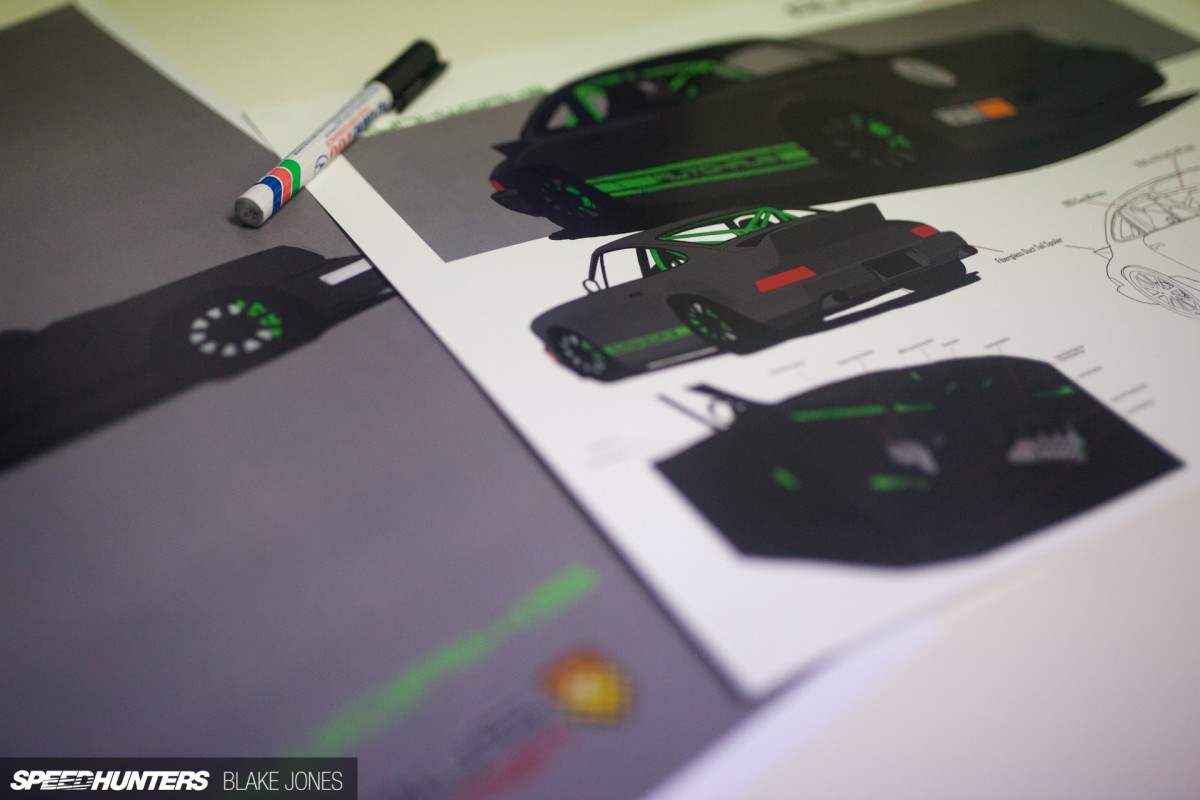 This was something that Jeremy – the owner of this particular 964 – took issue with. How to create something that stood out from the crowd when it's seemingly all been done before.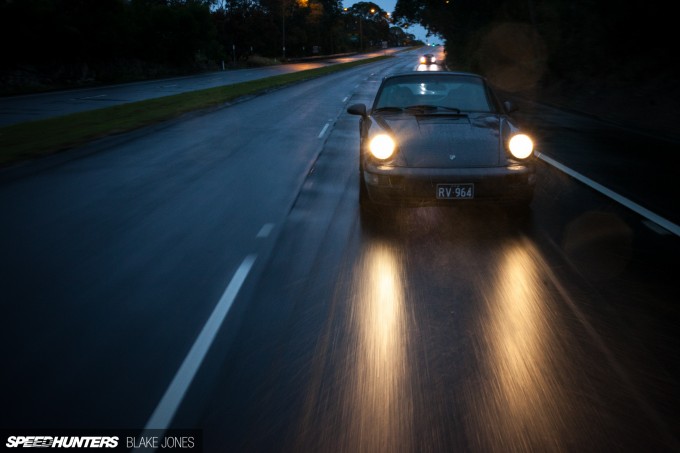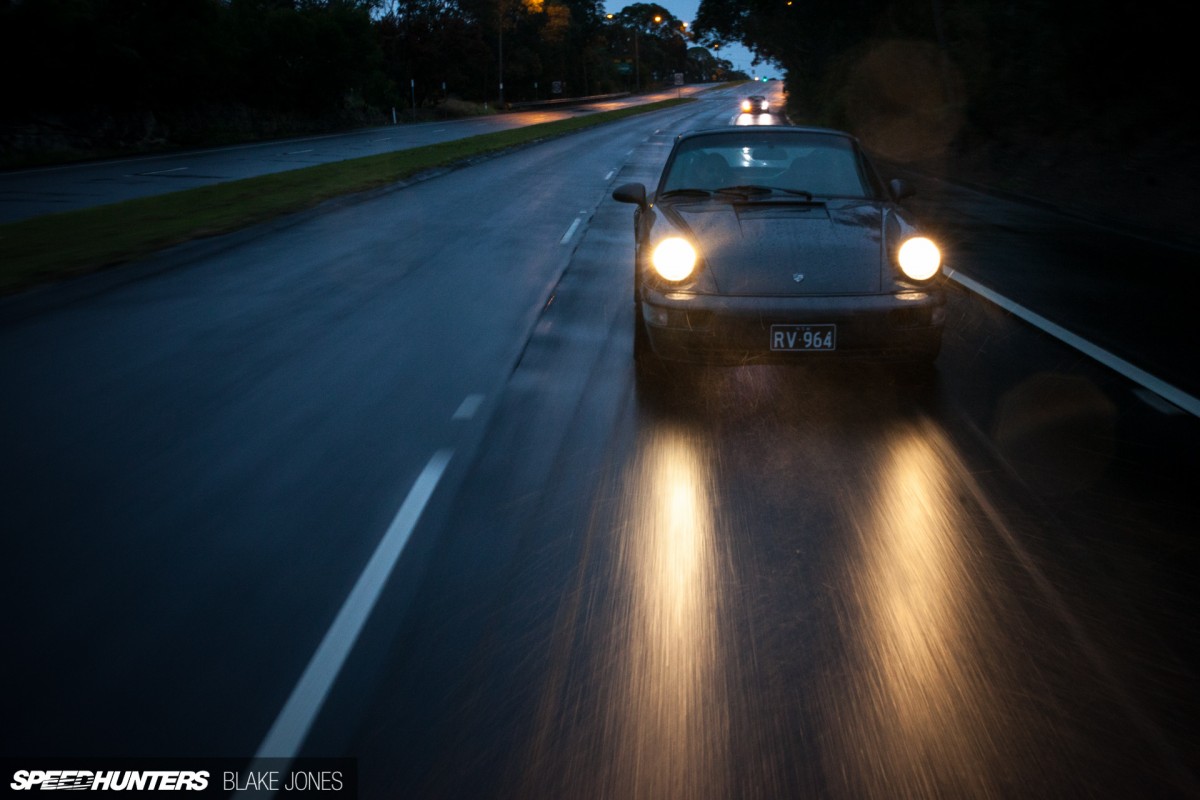 The solution was to remix a few distinct themes into a complete package where no single element shouts any louder than the others.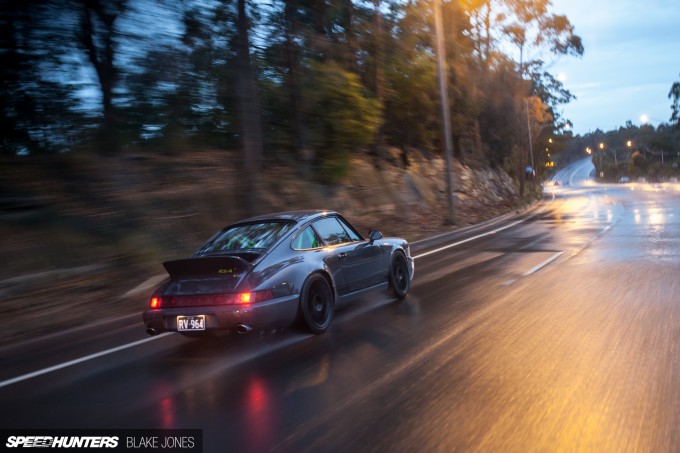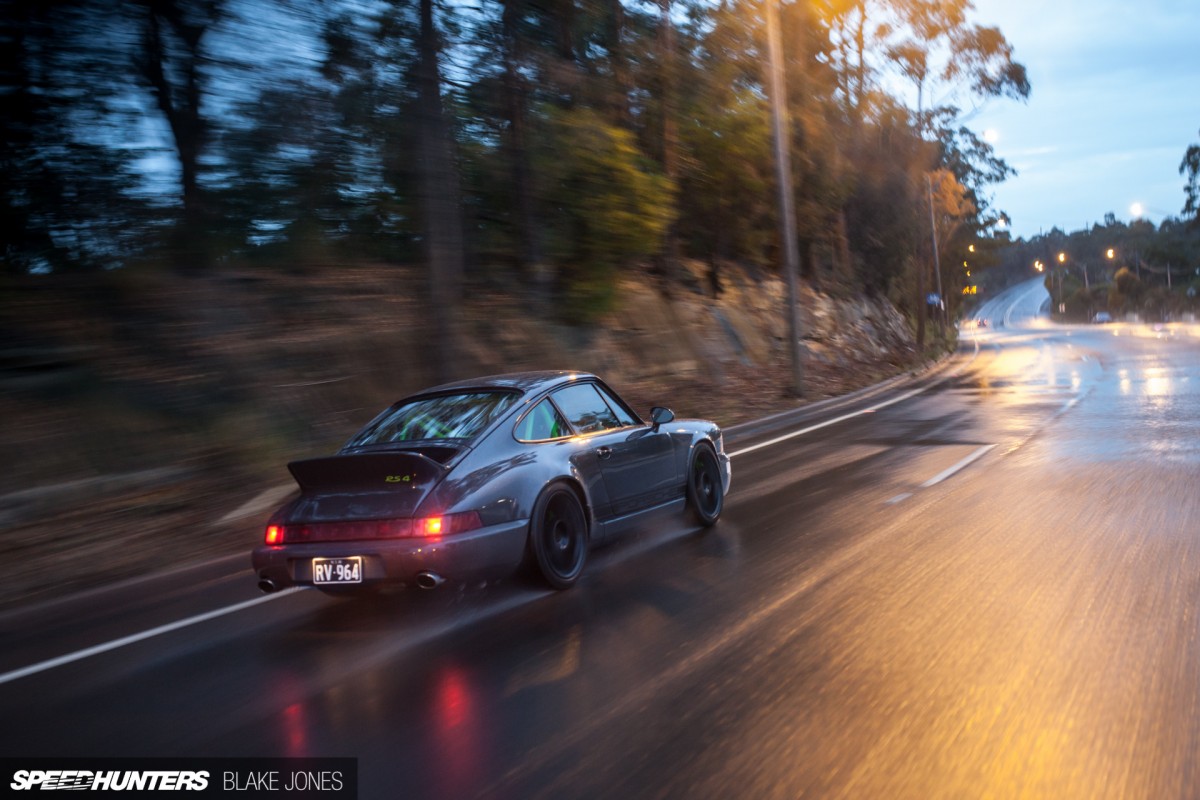 This is not a car that smacks you in the face with its originality. Instead, it prefers to draw you in and impress with the attention to detail and multitude of custom-made touches. It would be easy to write this 964 off as just another pretty 911 from a distance, but when the builder casually mentions that every part on the car is either brand new, reconditioned or custom, it's time to start paying attention!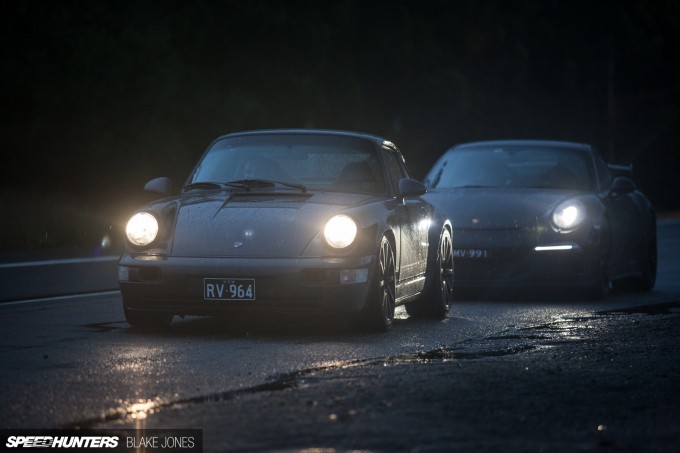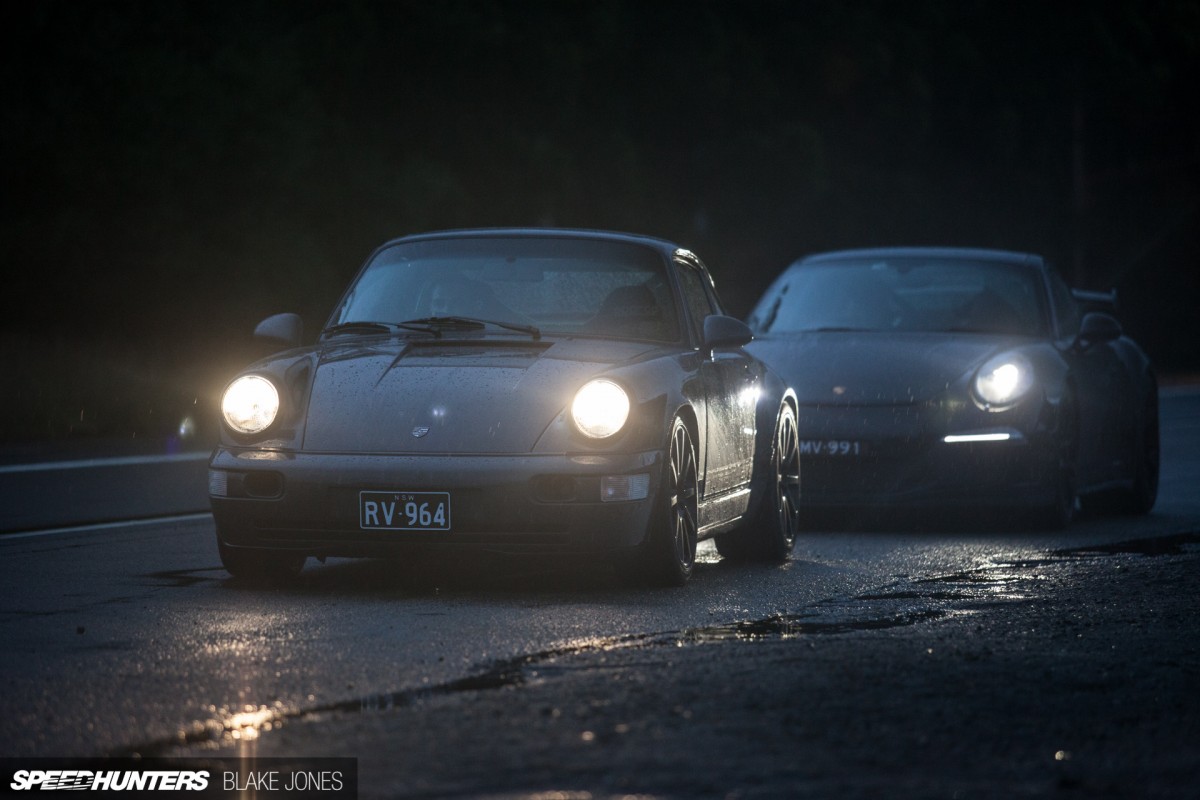 The final result has undoubtedly improved upon every aspect of Porsche's classic formula without diluting the purity of the original product. The 'Skunkworks' moniker neatly sums up the approach that Jeremy and the talented team at Autohaus Hamilton have taken with this creation: high performing and innovative with an aura of secrecy and stealth.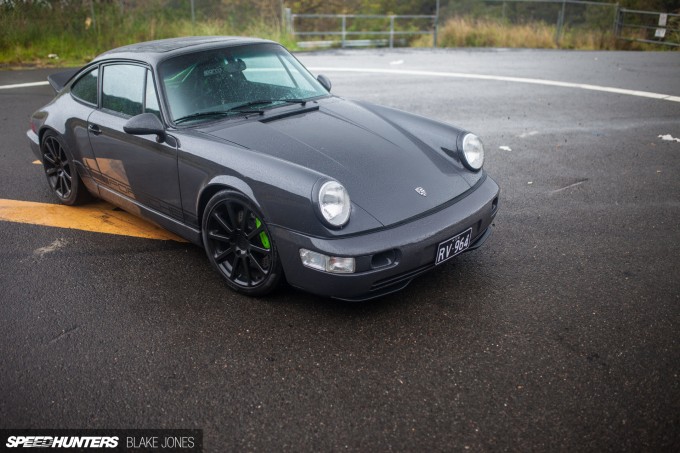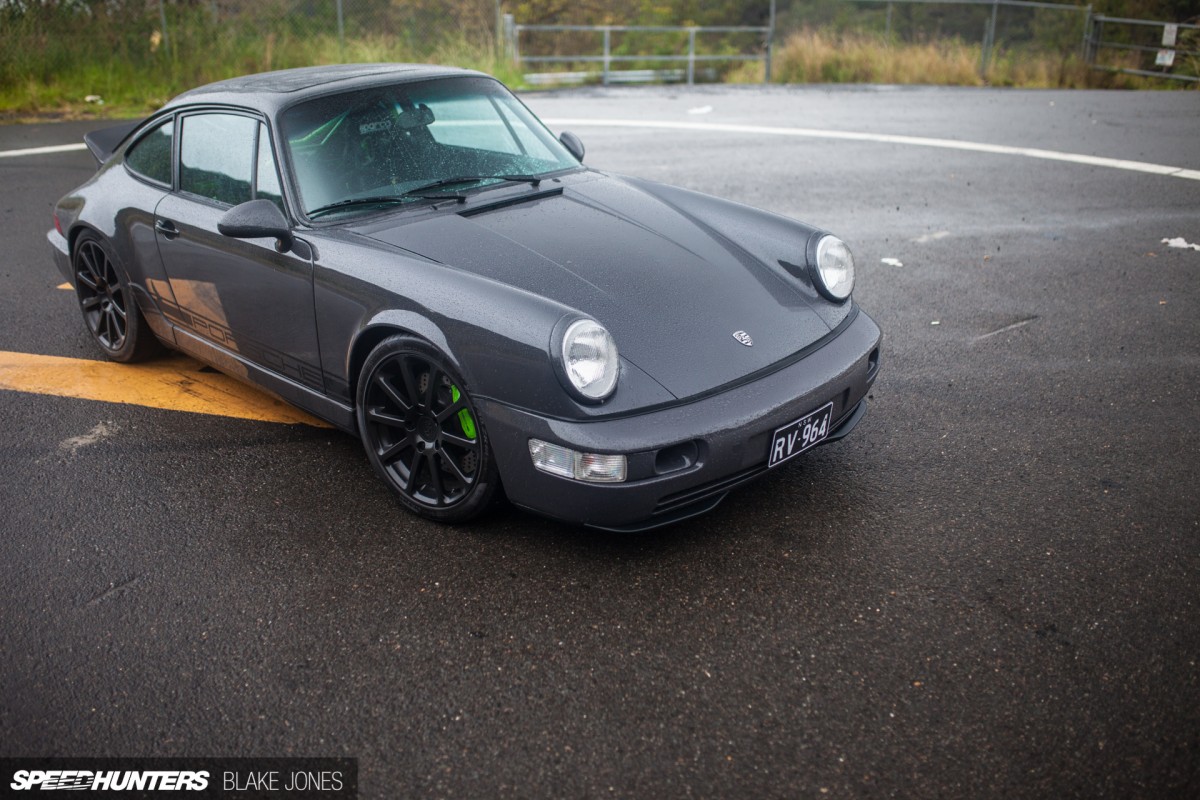 Autohaus Hamilton is a name synonymous with Porsche in Australia, touching all facets of ownership: sales, service, motorsports and today's focus – custom builds. From an understated workshop north of Sydney, a loyal customer base has been established over the past 40-odd years, and for many owners there is simply no other option once they have joined the Autohaus club.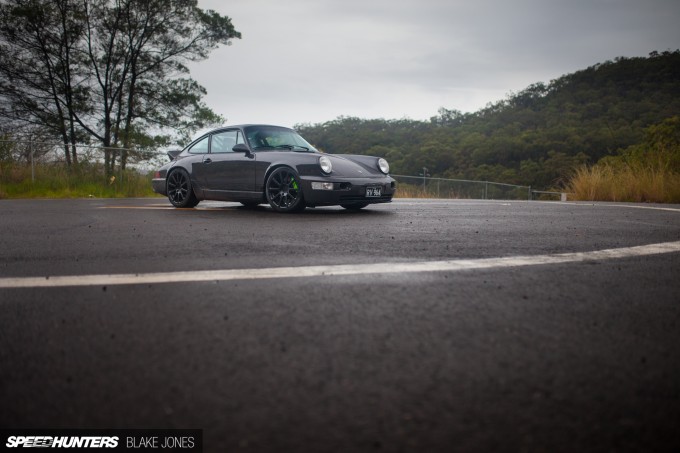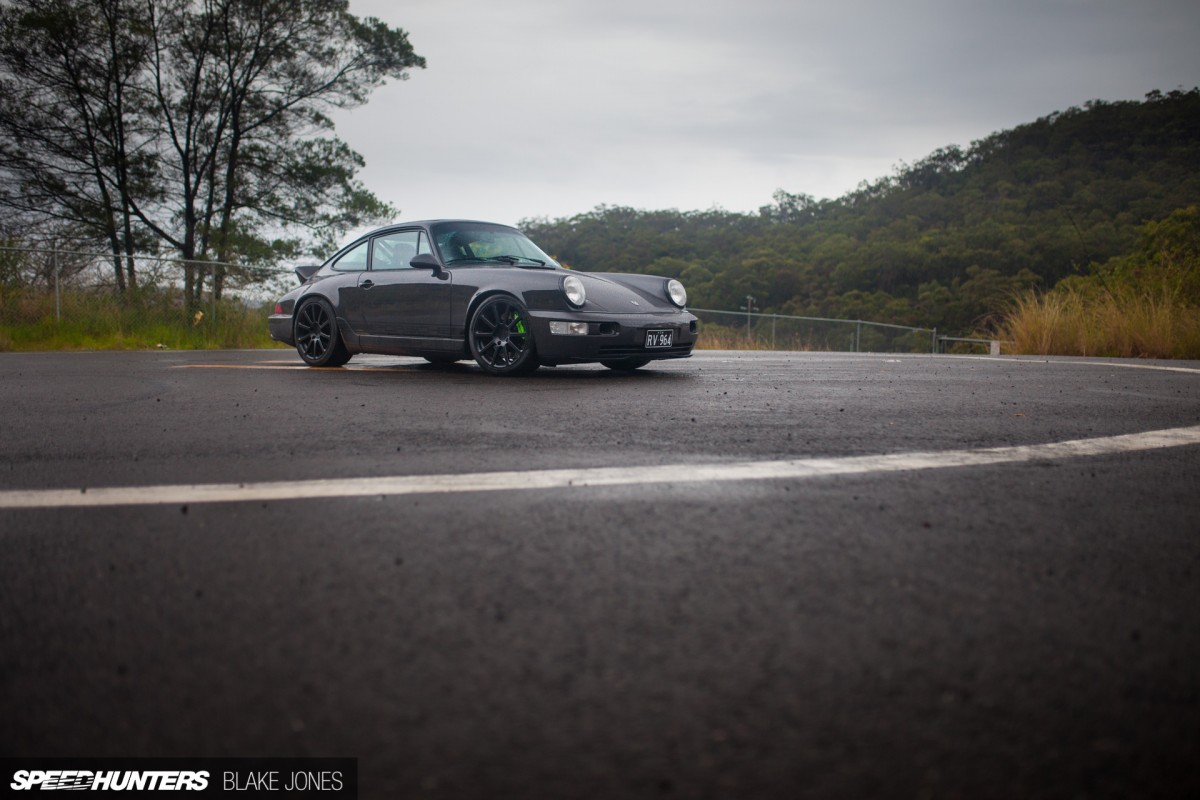 The first time I tried to shoot this car #SydneyStorm was starting to trend on Twitter – it was literally the worst weather Sydney had seen in decades. Two weeks later we had picked out one of Sydney's best driving roads – the Old Pacific Highway – for an early morning blast, but it seemed the battleship grey exterior of the 964 had once again summoned the cold and wet.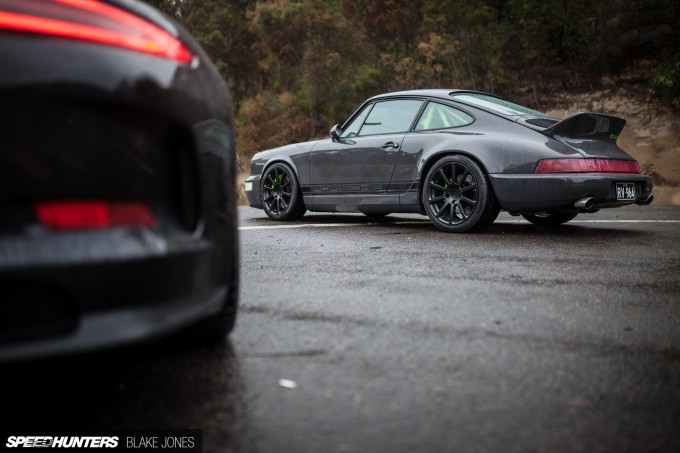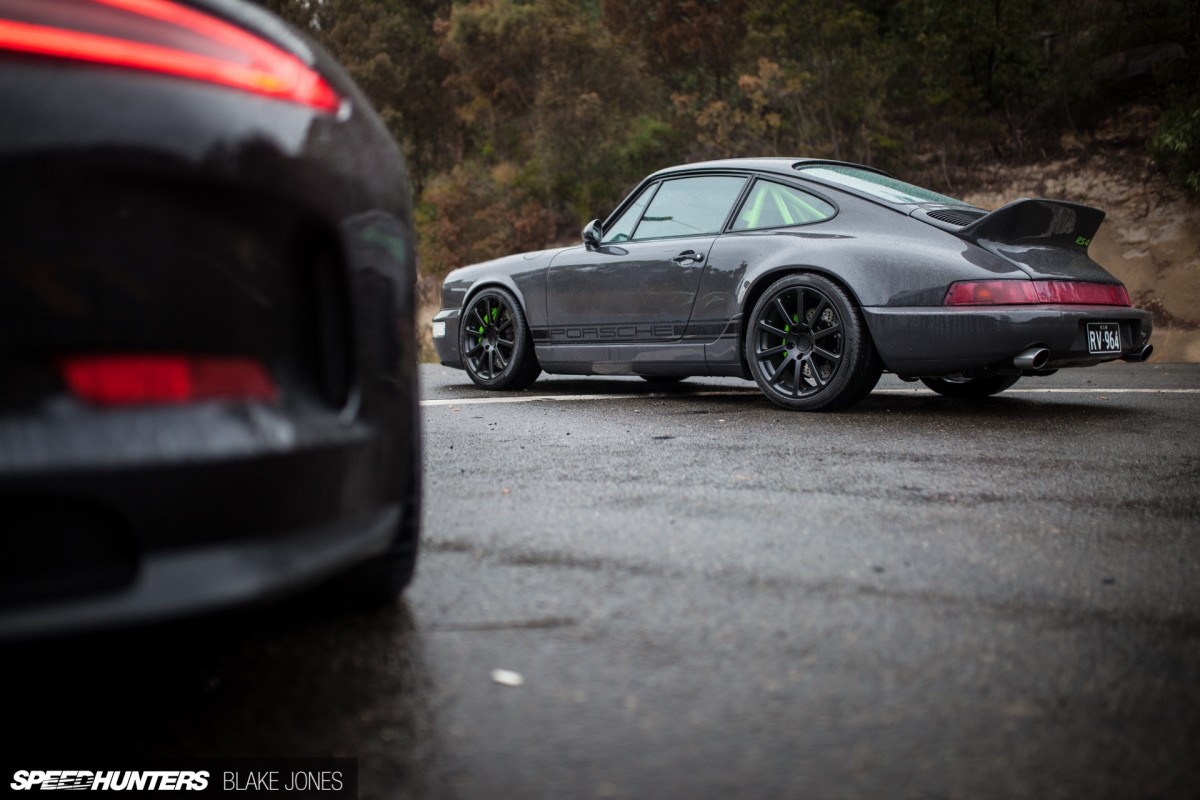 A classic 911 wouldn't be many people's first choice for a fast drive on a rainy Sunday morning – the infamous lift-off oversteer being exacerbated by the rearward weight balance. It wasn't a problem here though – the Skunkworks RS-4 is based on a 964 C4, so all four wheels are driven and would provide a sure-footed drive even in the damp conditions of our shoot day!
More Than The Sum Of Its Parts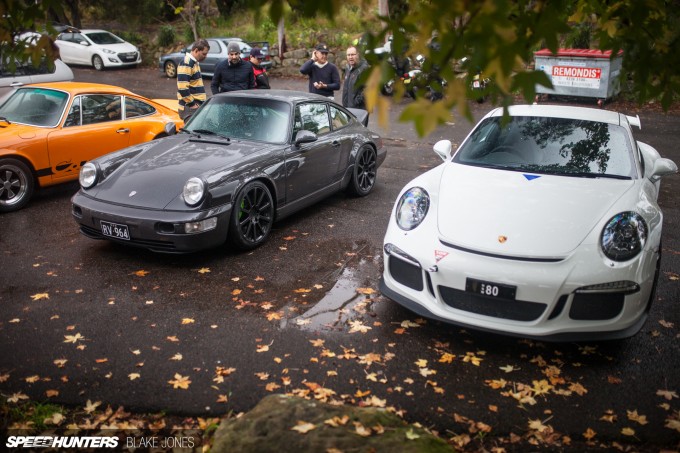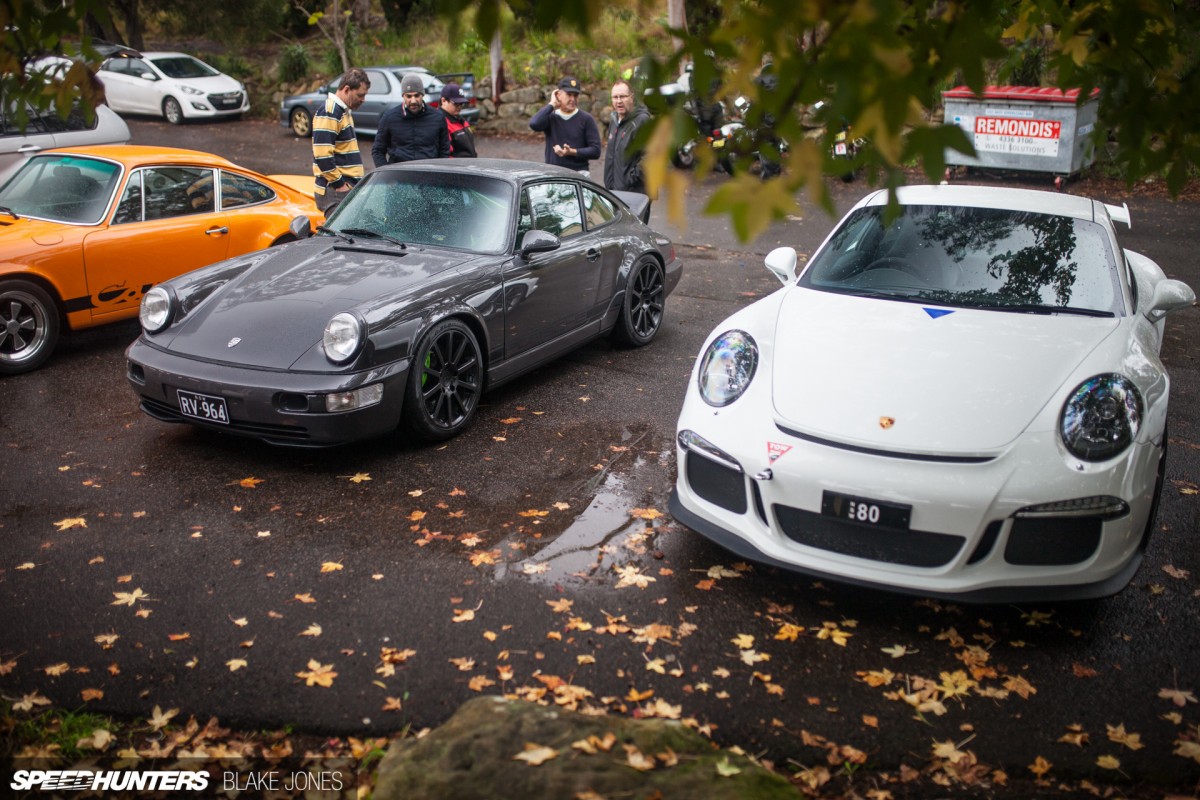 Within five minutes of parking 'Skunky' and retreating under cover at a local coffee shop (and beacon for Sunday drivers and motorcyclists alike) for a warming drink, our ears pricked up to the sound of Stuttgart's latest and greatest 991 GT3 crawling into the car park behind us. Before I could finish my coffee, four more Porsches had arrive – all of whom had been somehow involved with Autohaus Hamilton. I made Sergio and Grant from Autohaus both swear that this wasn't a set up!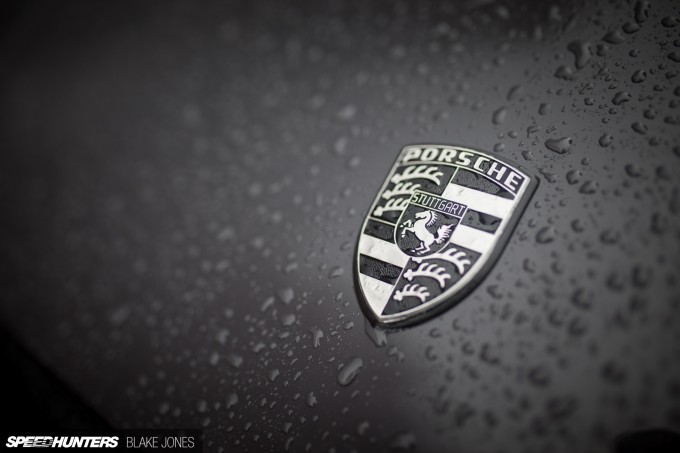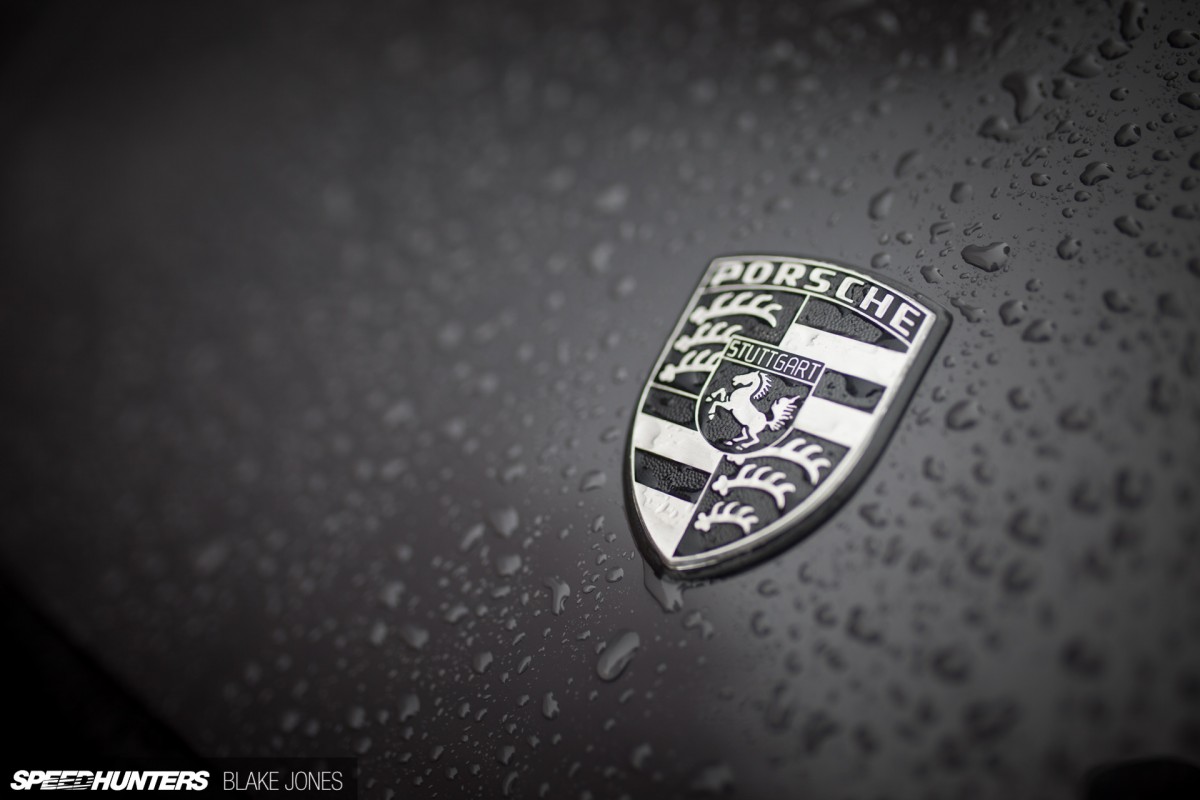 Magnus Walker's 'get out and drive' mantra is drilled into Autohaus's customers by the passionate team who love nothing more than to see their inbox full of photos of smiling owners and well-used Porsches on a Monday morning, and it seemed our driving route is a popular one.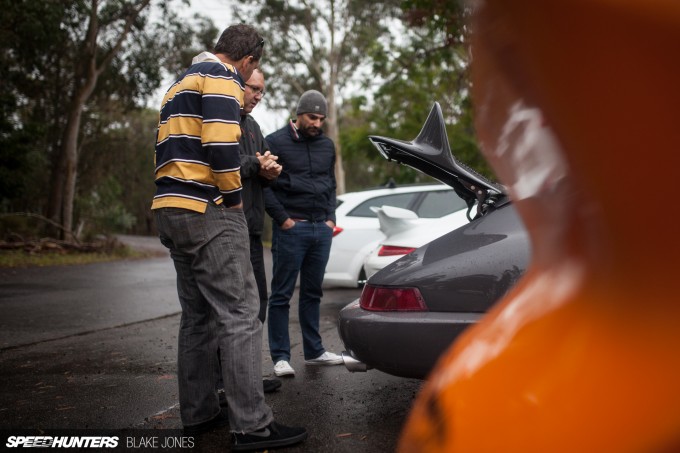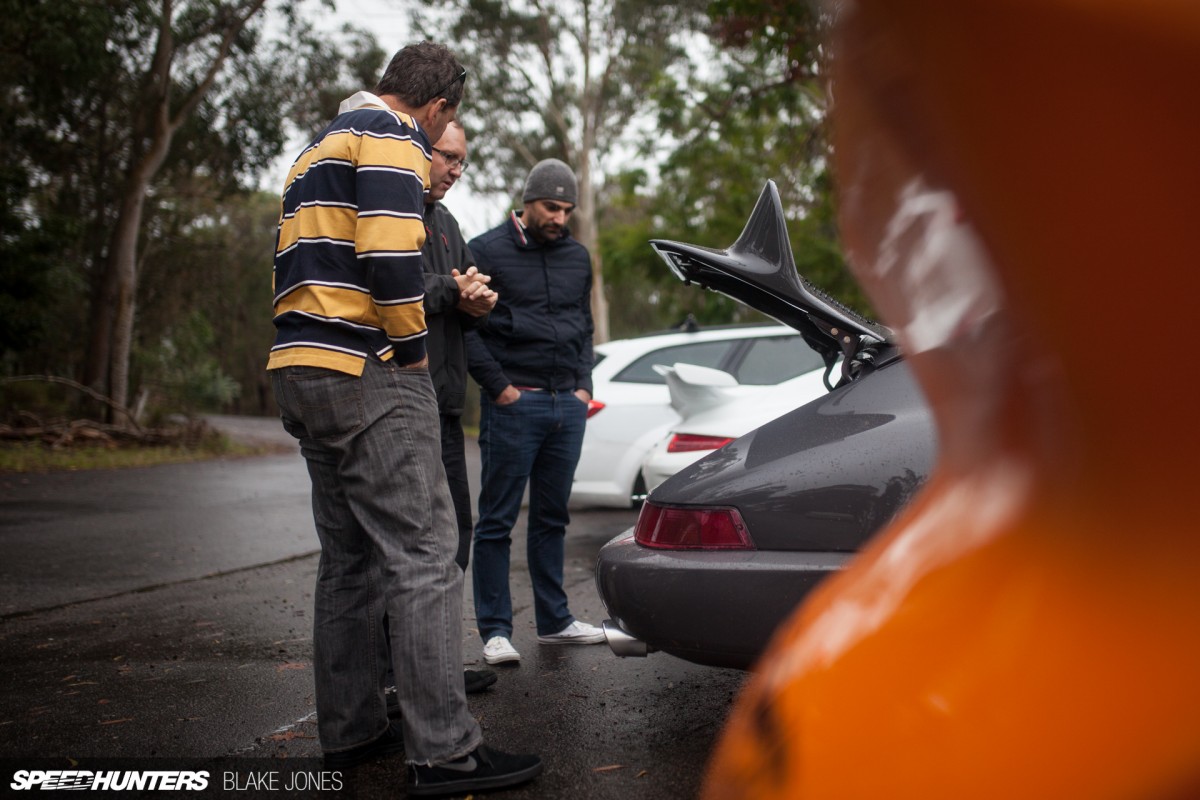 The other owners were keen to check out Autohaus's latest creation, and Grant and Jeremy were very obliging in discussing the finer details.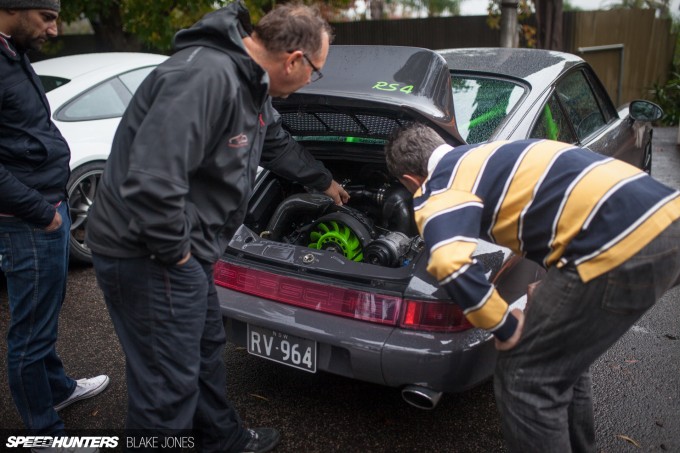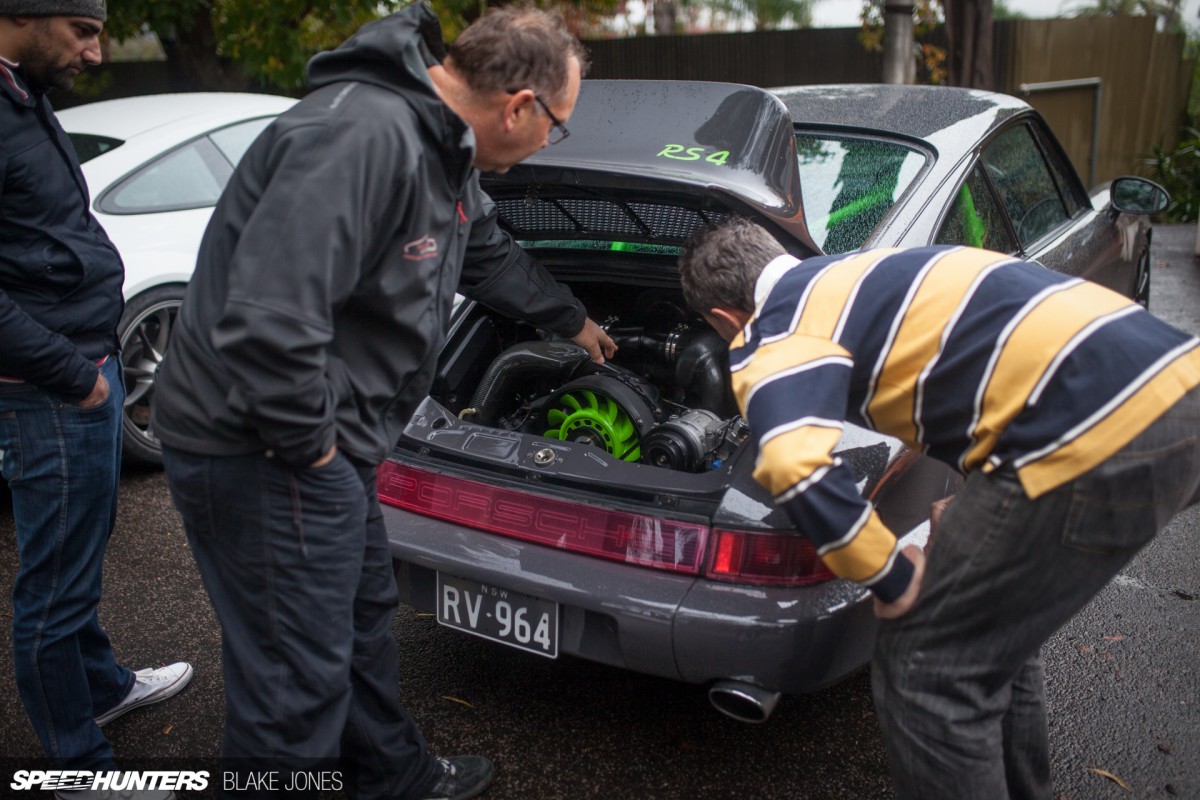 Although 911 engine bays are as photographer-friendly as a North Korean prison camp, everyone seemed impressed by the work that had been done. The centerpiece is six independent throttle bodies fed by a carbon fibre intake manifold.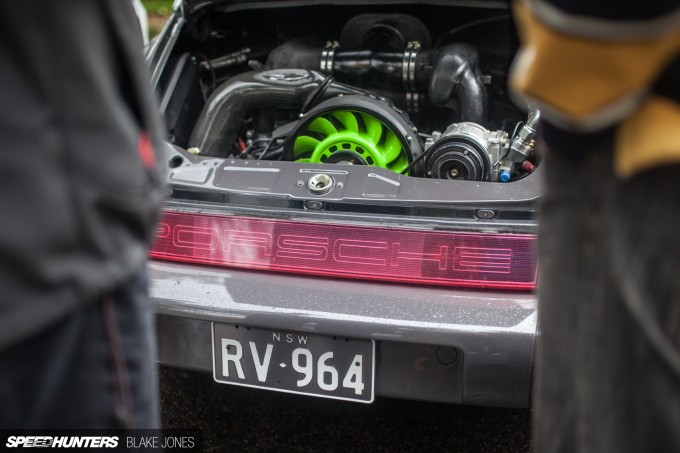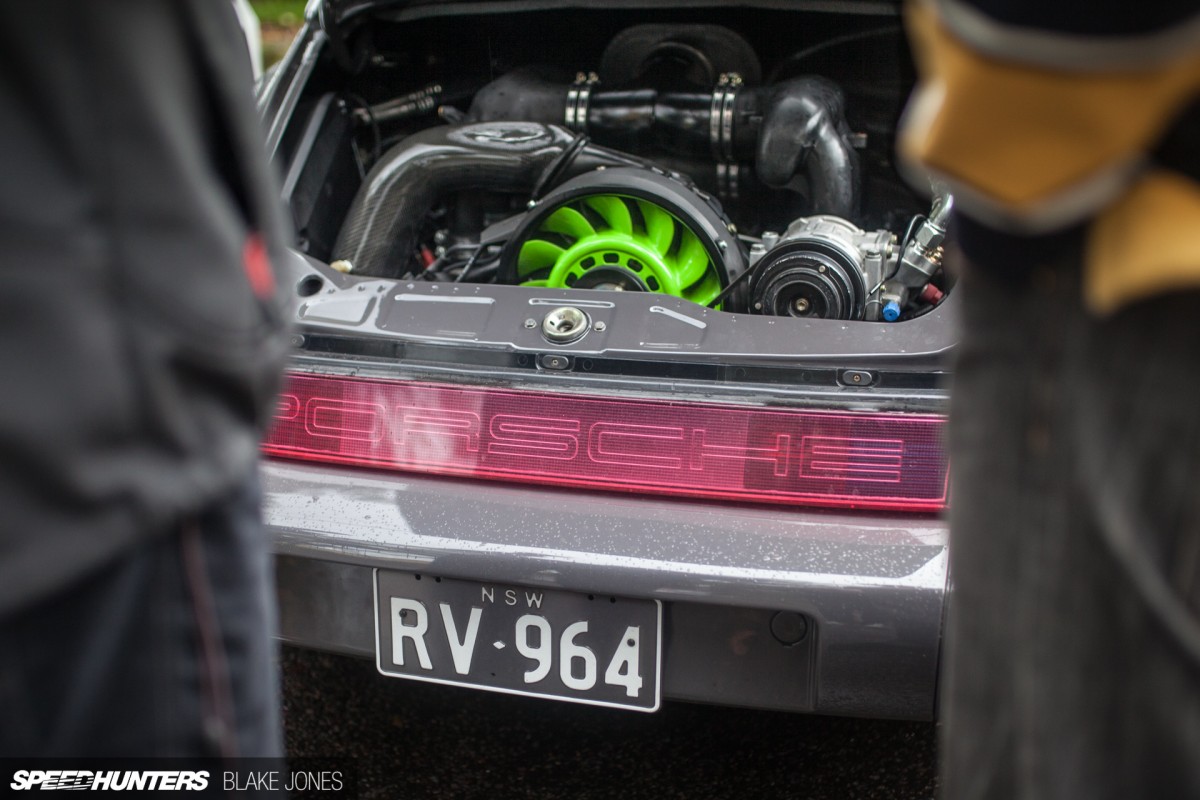 It's a real shame that everything else remains so hidden as I've seen the behind-the-scenes photos of the build and it's clear that not a stone was left unturned in creating a 'better than new' power unit for Jeremy to enjoy.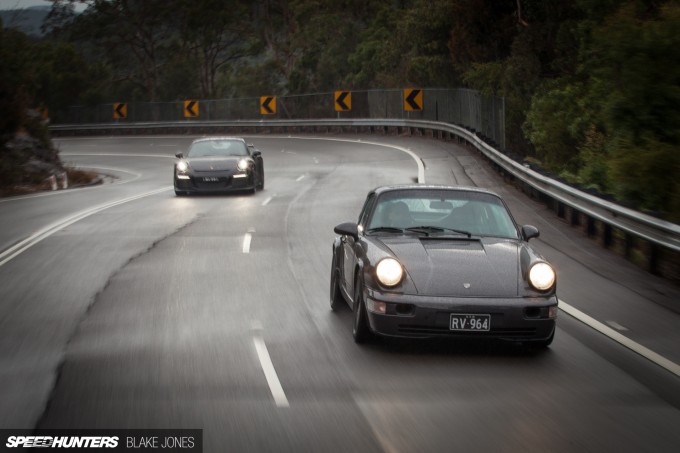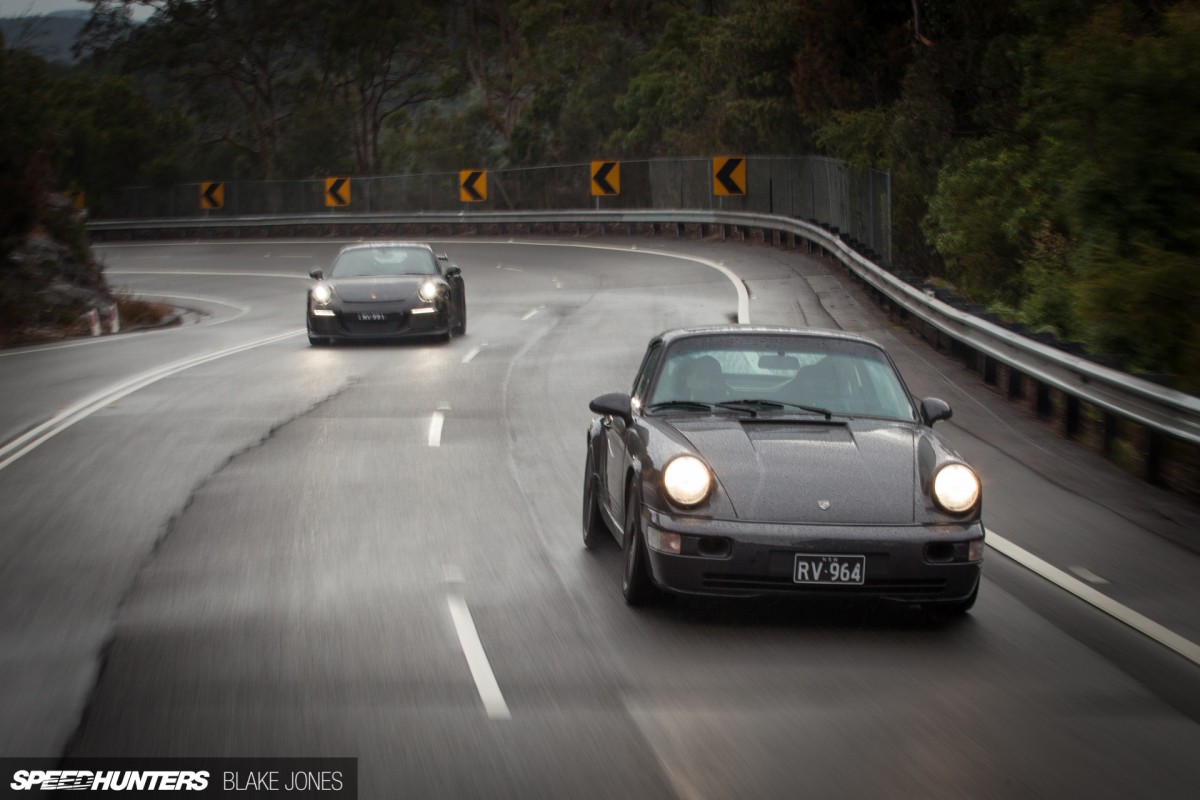 Starting with a blueprinted 3.6-litre block, forged high compression pistons, performance camshafts and race valves were installed. Ported heads are fed by the aforementioned individual throttle bodies and exhaust gasses are managed by a full Fabspeed dual sports exhaust. A 964 RS lightened flywheel ensures that the revs rise and fall as briskly as possible and a MoTeC M84 is employed for engine management duties.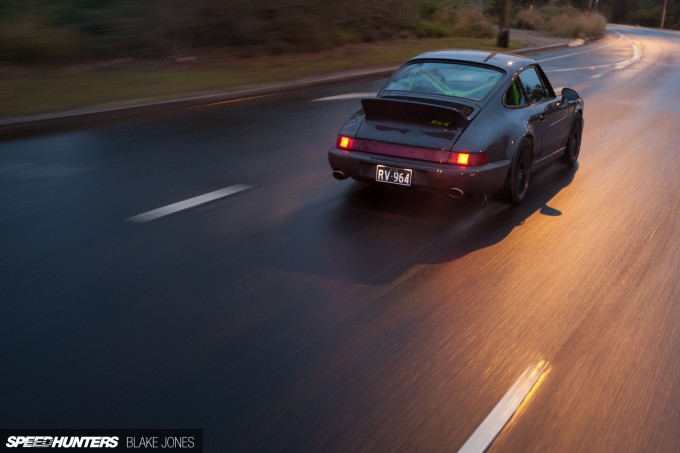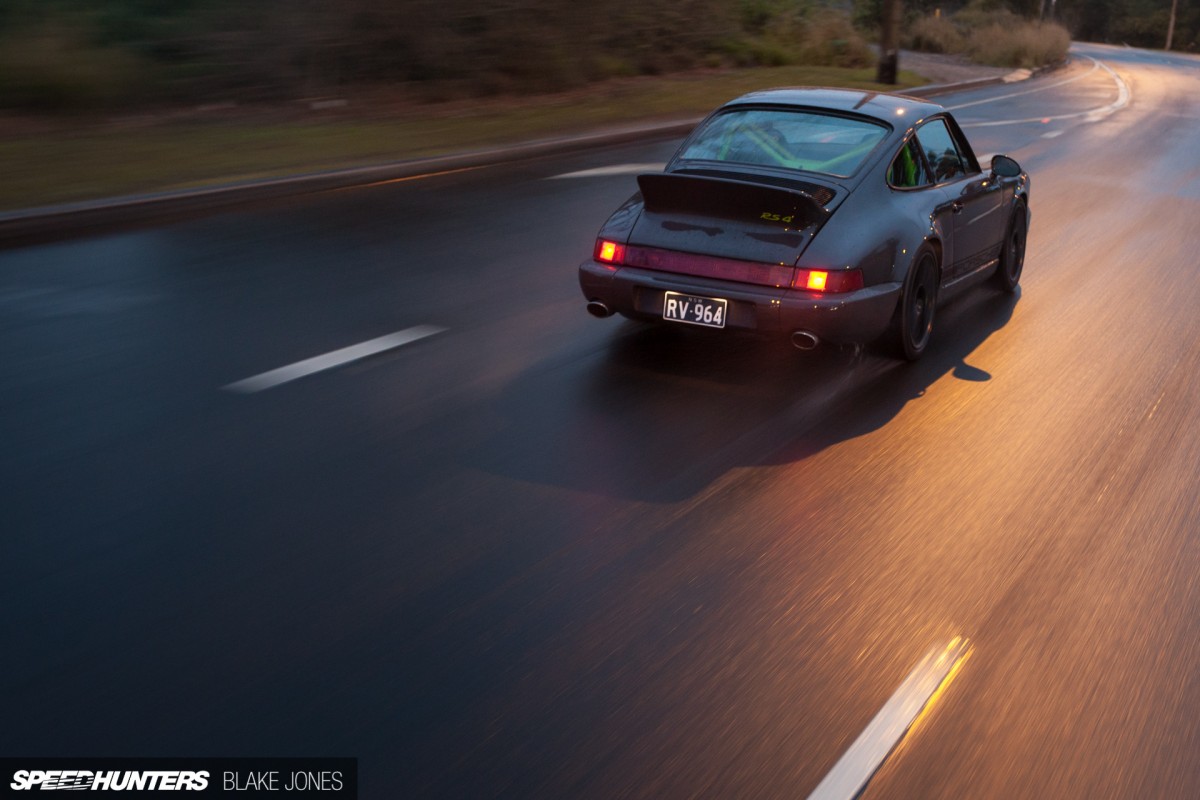 The end result is a torquey and soulful engine that punches low down and builds into a furious mechnical roar in the upper RPM ranges. For the most part Jeremy was wisely taking it easy in the slippery conditions, but the low-speed manners were relatively in-check, which I hadn't expected from such a performance-oriented engine build.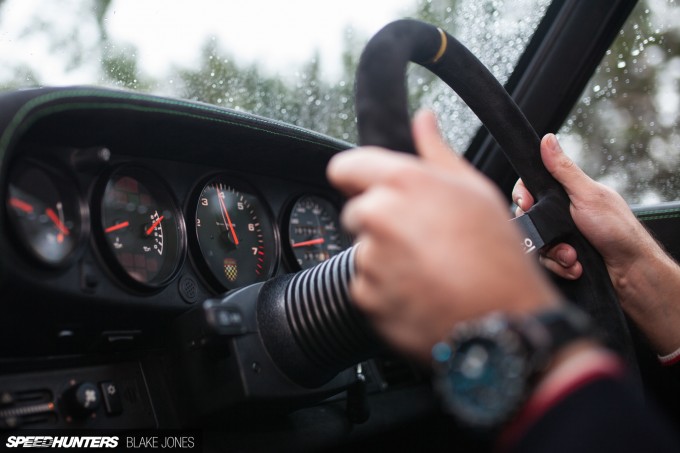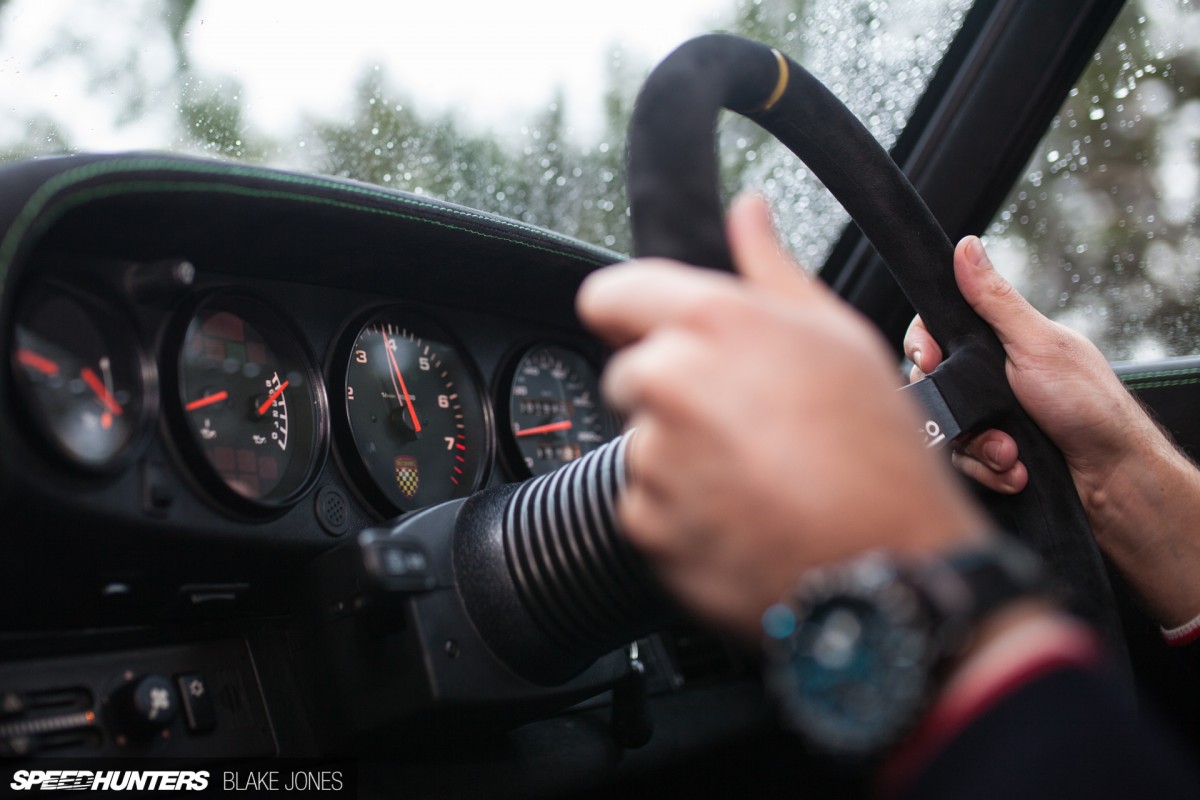 911 interiors are functional, driver-focused spaces, and Jeremy saw no reason to meddle unnecessarily with the overall look and feel. Calling the interior 'stripped' doesn't do it justice – RS-style door panels have been custom upholstered and the way that the carpeting meets the rollcage is of a standard that even Stuttgart's finest would surely give the nod of approval to.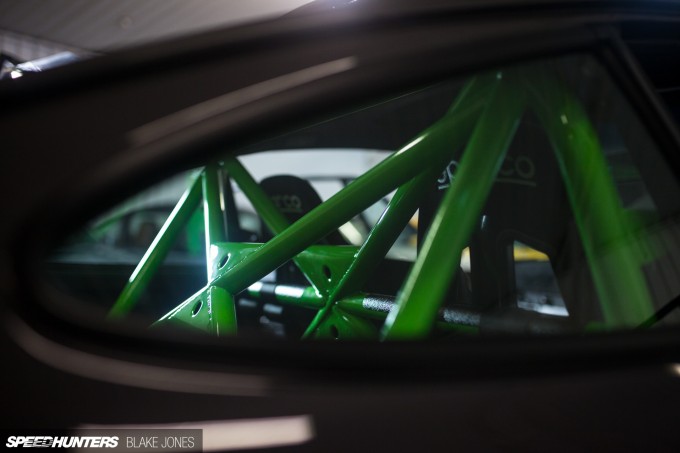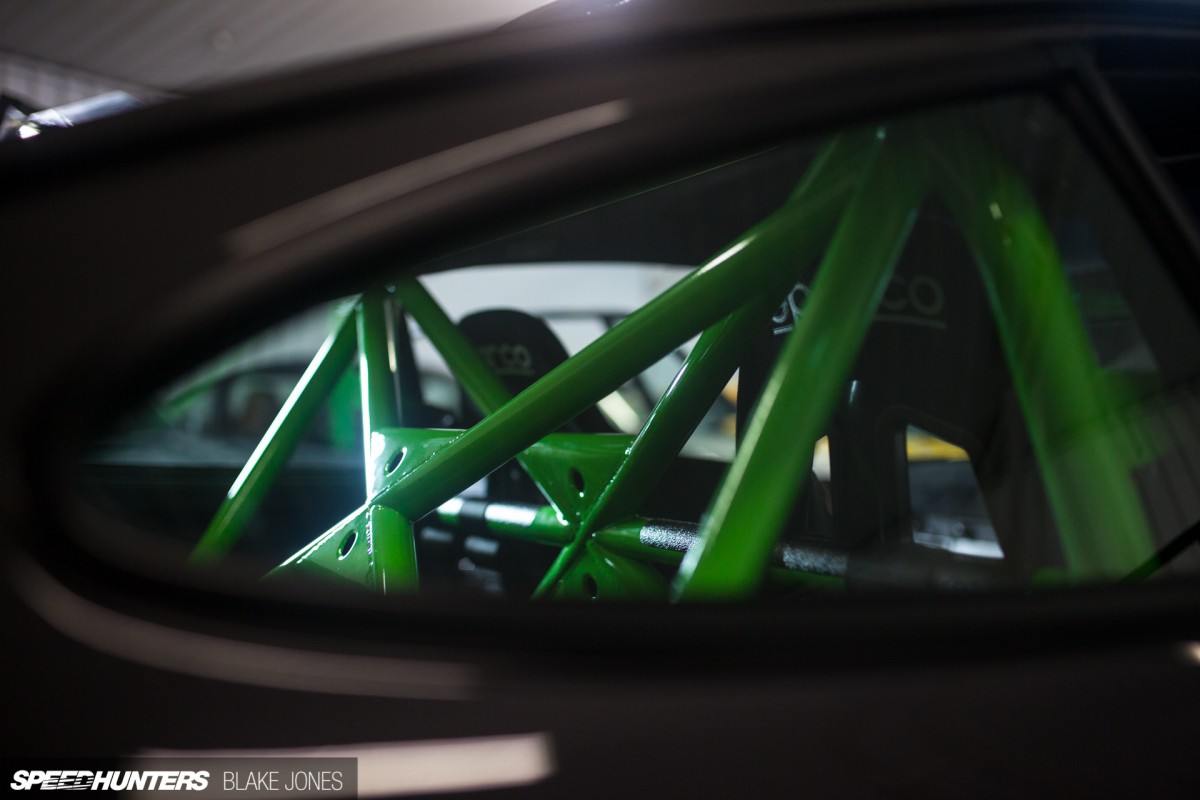 Driver and passenger are held in place by Sparco Evo 2 fixed-back seats and Schroth harnesses – although the original retractable belts are retained for the sake of convenience. A custom 4-point rollcage was treated to the thematic electric green before taking the place of the rear seats.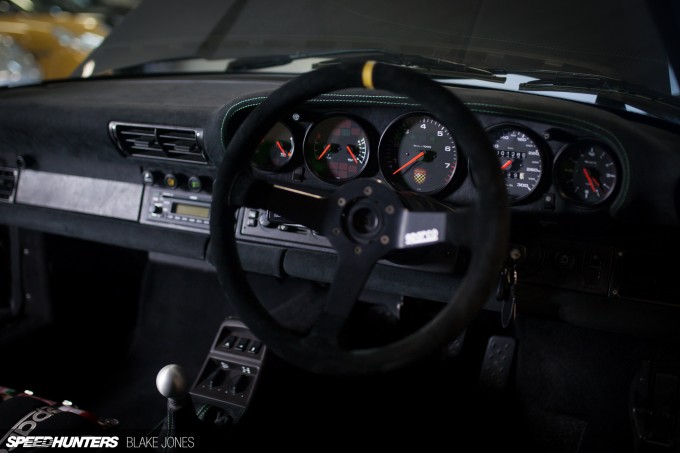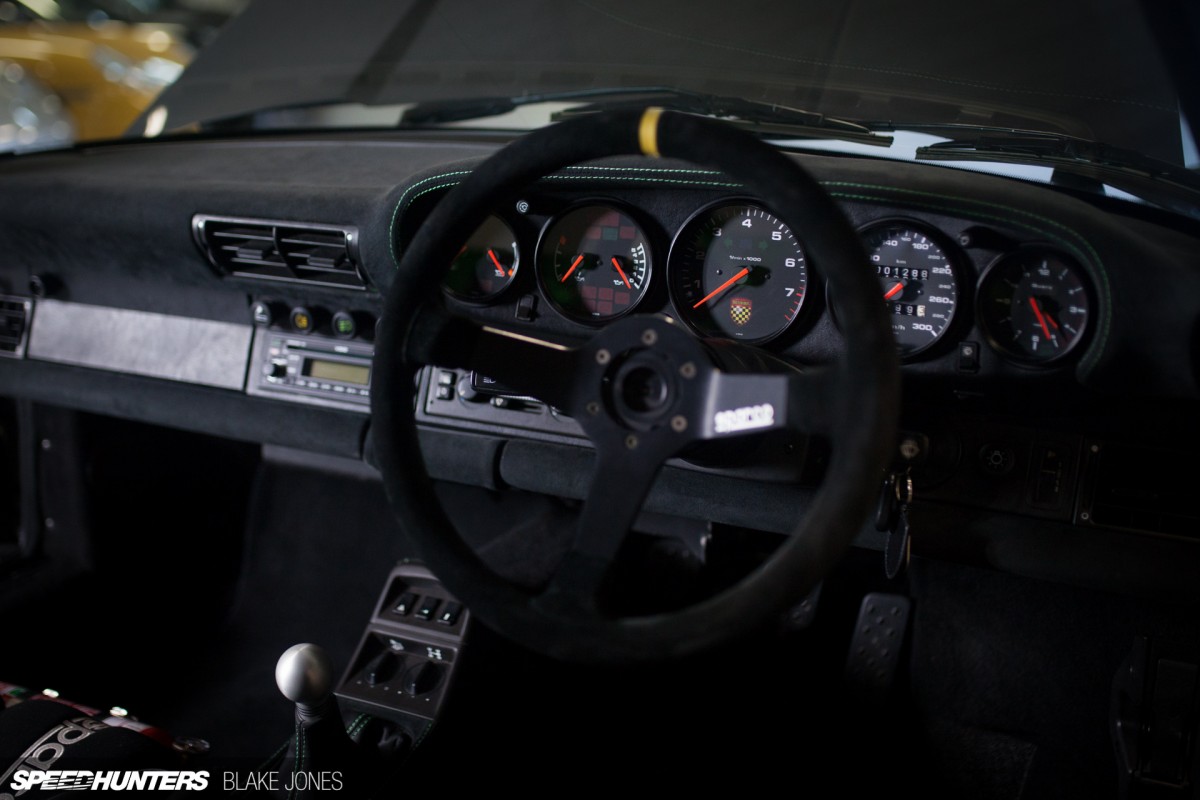 The green has ever-so-subtly been carried across to the Alcantara-wrapped dashboard in the form of custom stitching around the instrument binnacle and shift boot. Air conditioning remains, and there's a trick audio unit that mimics the look of '90s tech but is loaded with modernities like Bluetooth in case Jeremy ever grows tired of the sonorous flat-six soundtrack. A quick-release Sparco wheel and aluminum gear knob ensure the 911's renowned tactility is transferred directly to Jeremy's fingertips.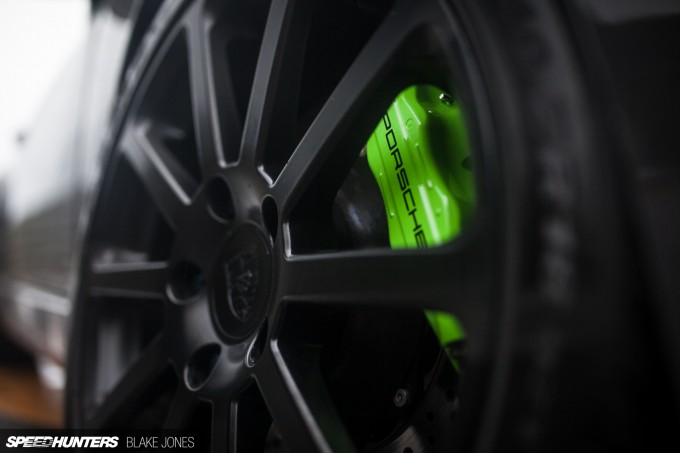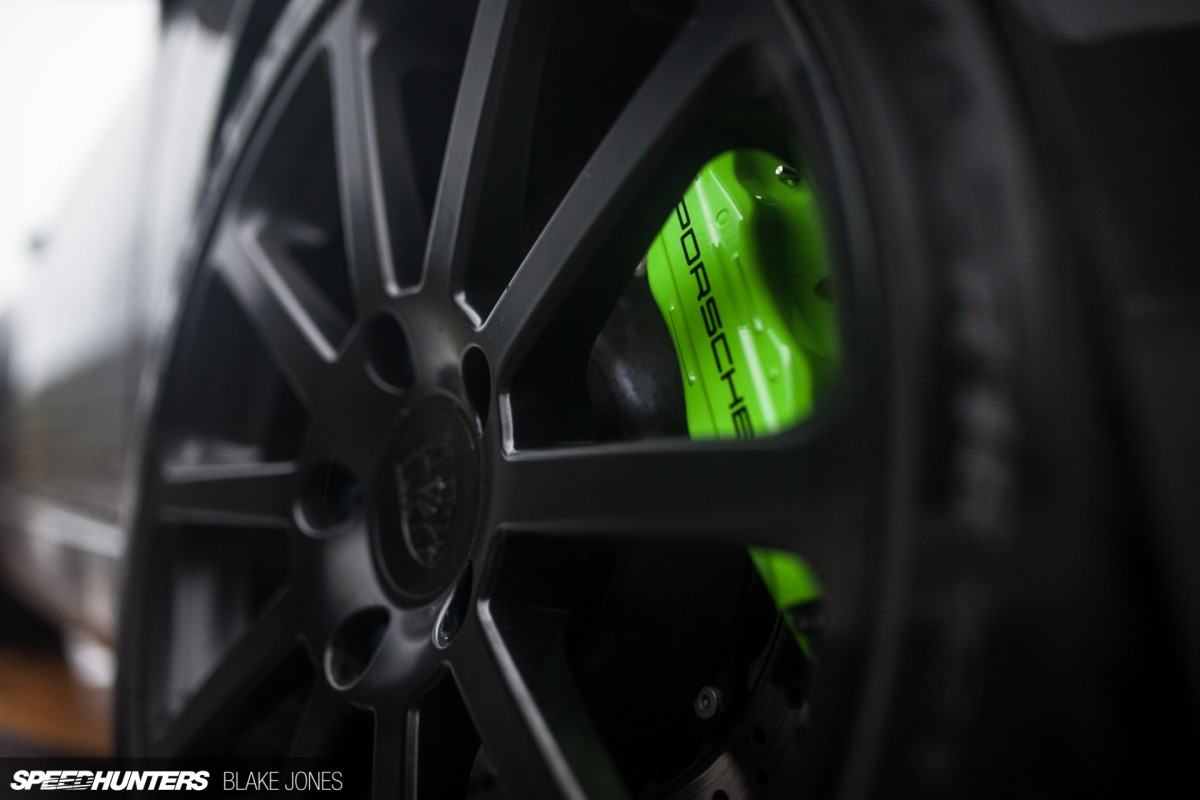 In the brake department, 4-pot Brembo calipers clamp 365mm front and 328mm rear slotted rotors. We have the 918 Spyder to thank for making green calipers cool, but they are used to great effect here, tying together the interior highlights and the naval jet grey exterior.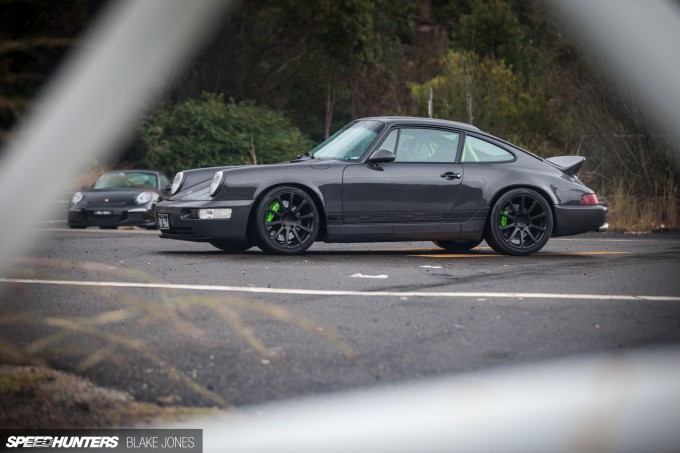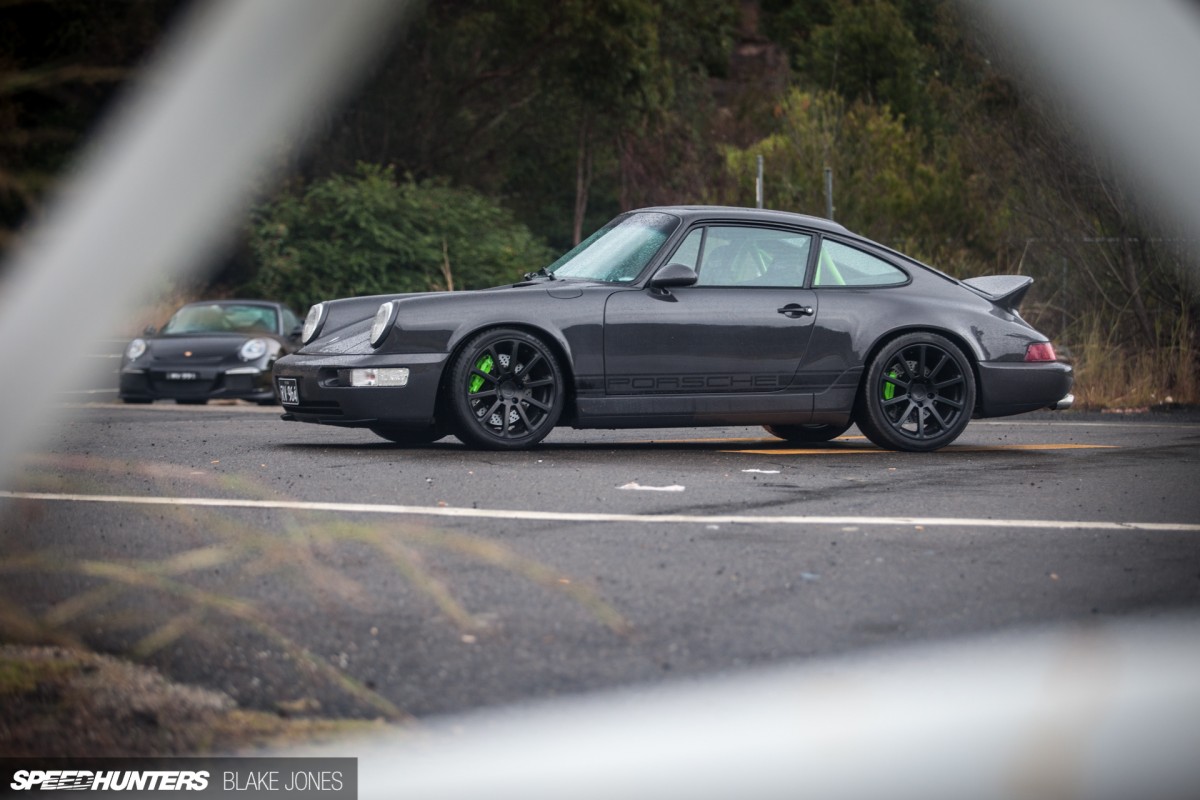 As a Speedhunter I feel a responsibility to be fairly savvy when it comes to aftermarket wheels, but the handsome 18-inch, 10-spoke wheels on the Skunkworks RS-4 had me drawing a blank. The simple spoke design originally had me thinking they might be factory options from a later model – but they in fact come from an aftermarket Porsche wheel specialist based out of the US called Victor Equipment. Jeremy opted to wrap them in Pirelli P Zero tyres, staggered front to back in typical 911 fashion.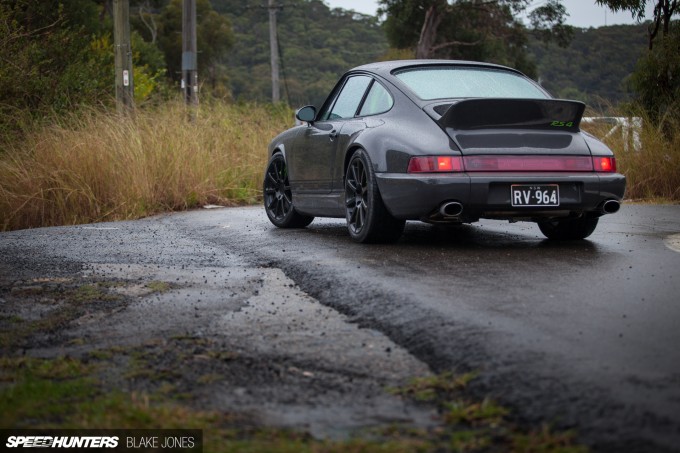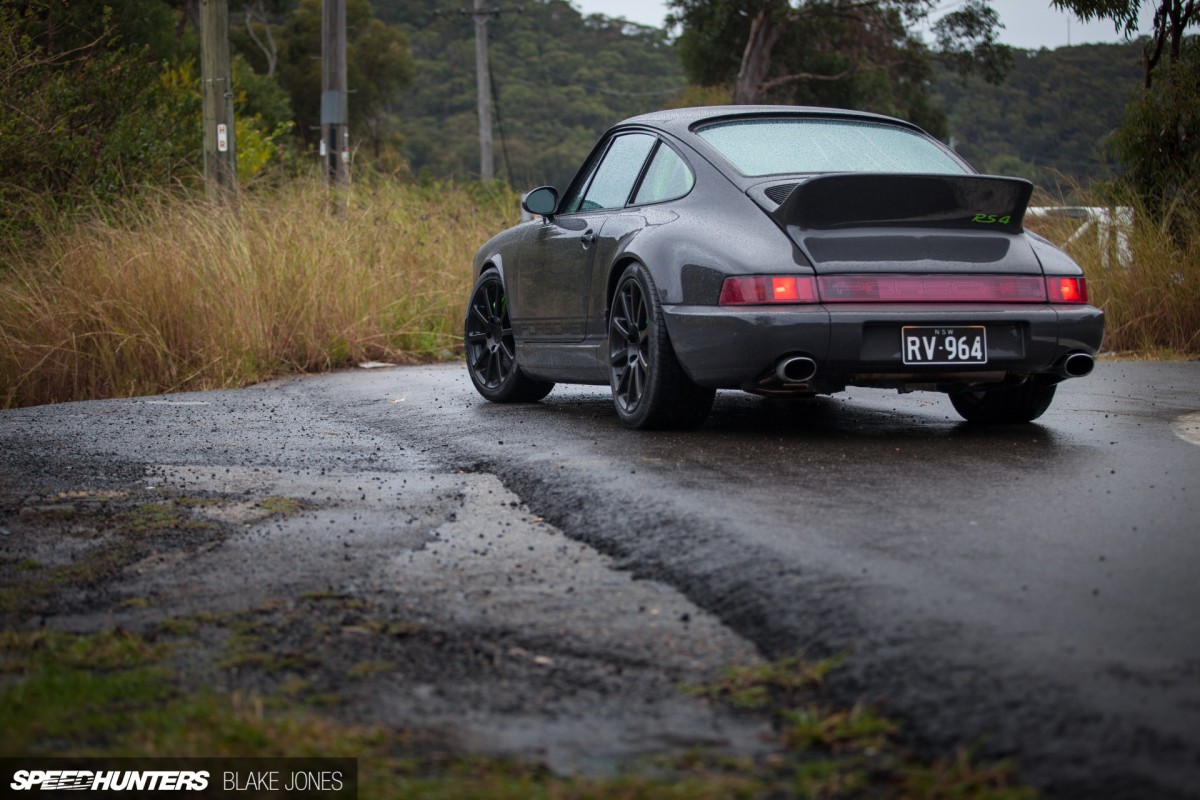 Fully adjustable Bilstein PSS10 coilovers provide a nice increase in road holding and overall stiffness without making the ride crashy or harsh.
Family Ties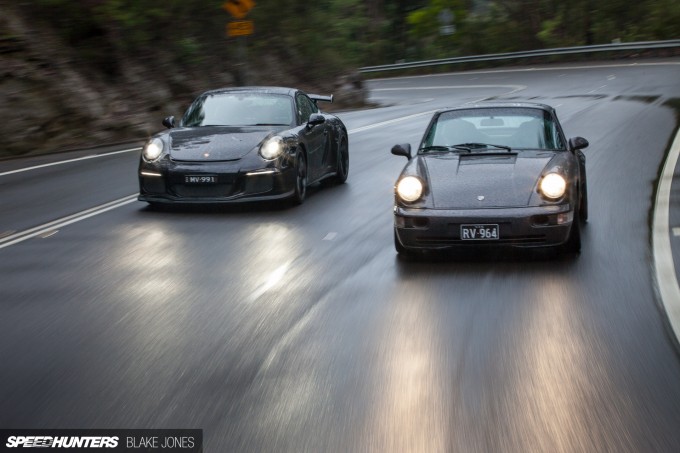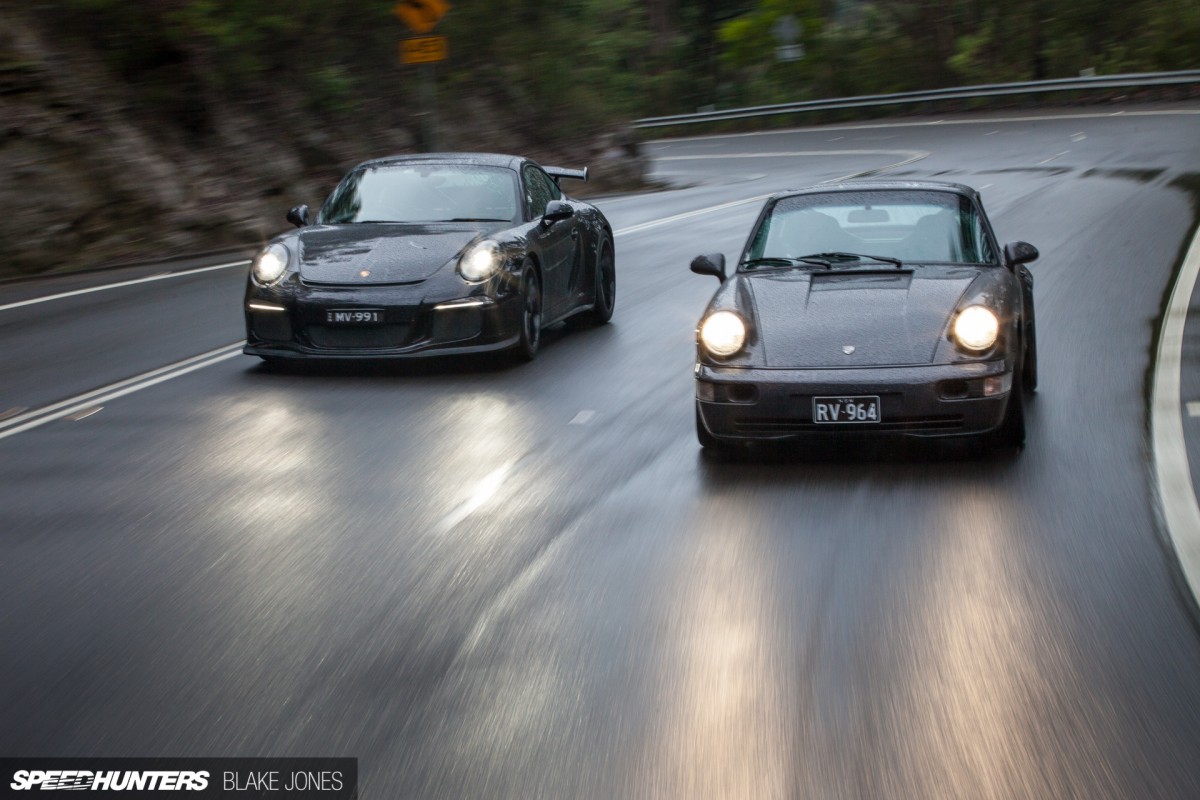 By this point you've no doubt noticed the black 991 GT3 lurking menacingly in the background of some of the shots. It actually belongs to Jeremy's brother, so capturing the two cars side-by-side on this silky ribbon of tarmac was an opportunity I simply could not pass up!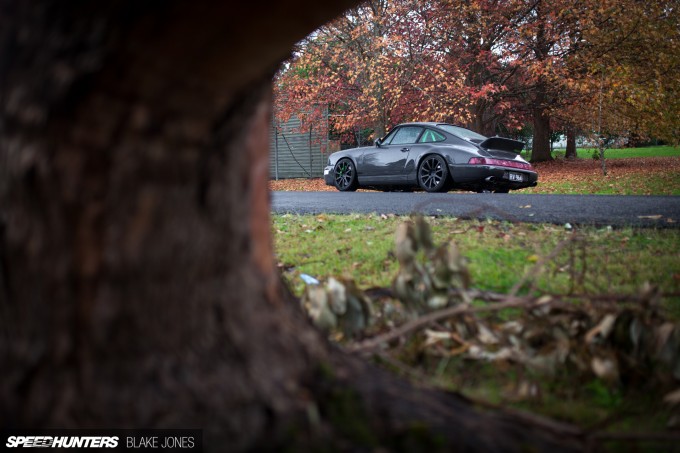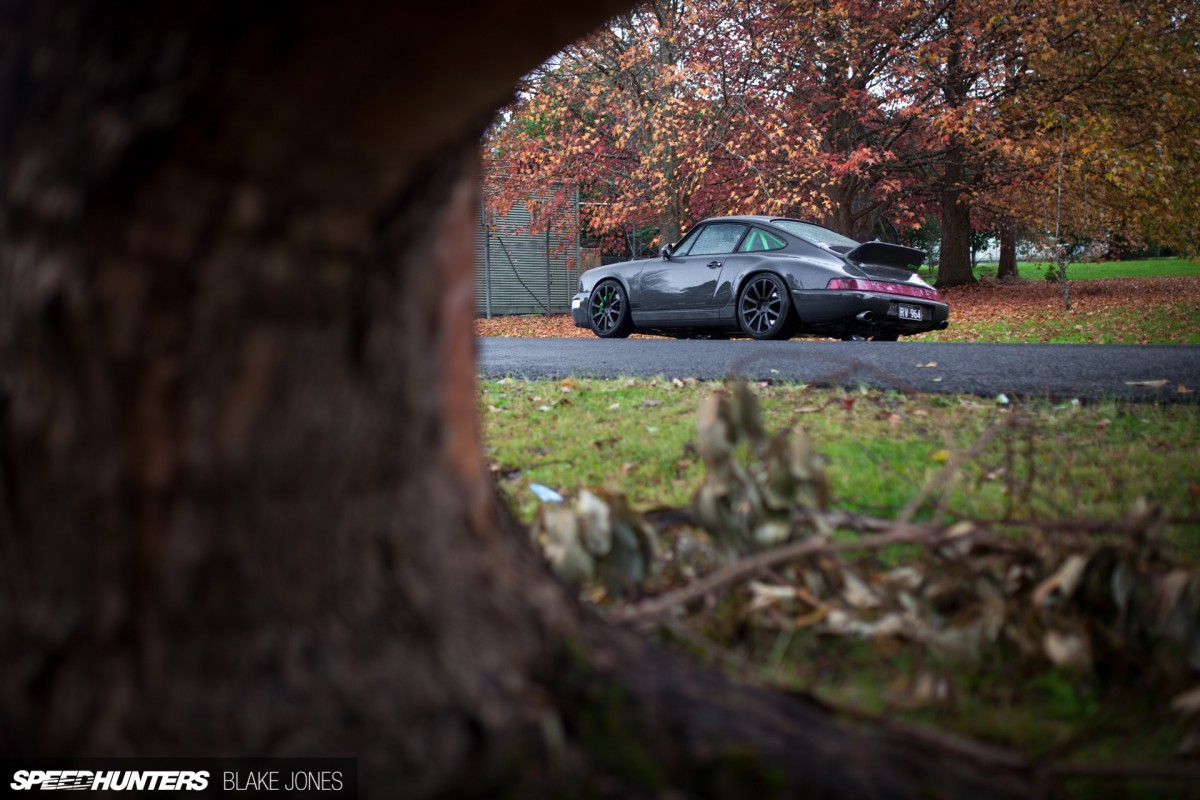 I'd suggest that the GT3 has also provided some amount of inspiration for this build. The way everything comes together is reminiscent of Porsche's 'race car for the road' approach to developing GT3 variants of its more recent vehicles.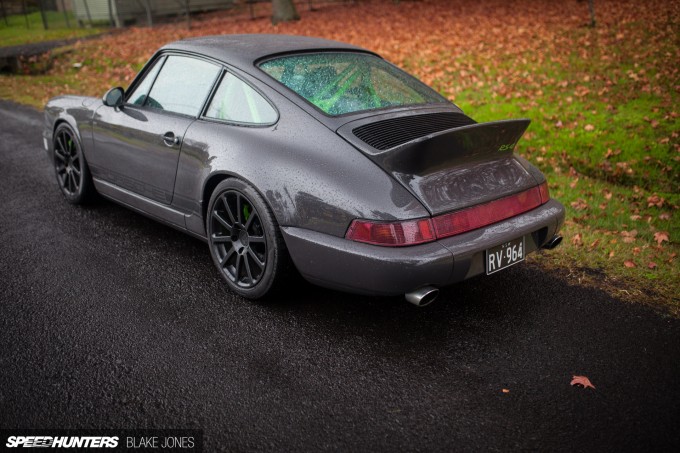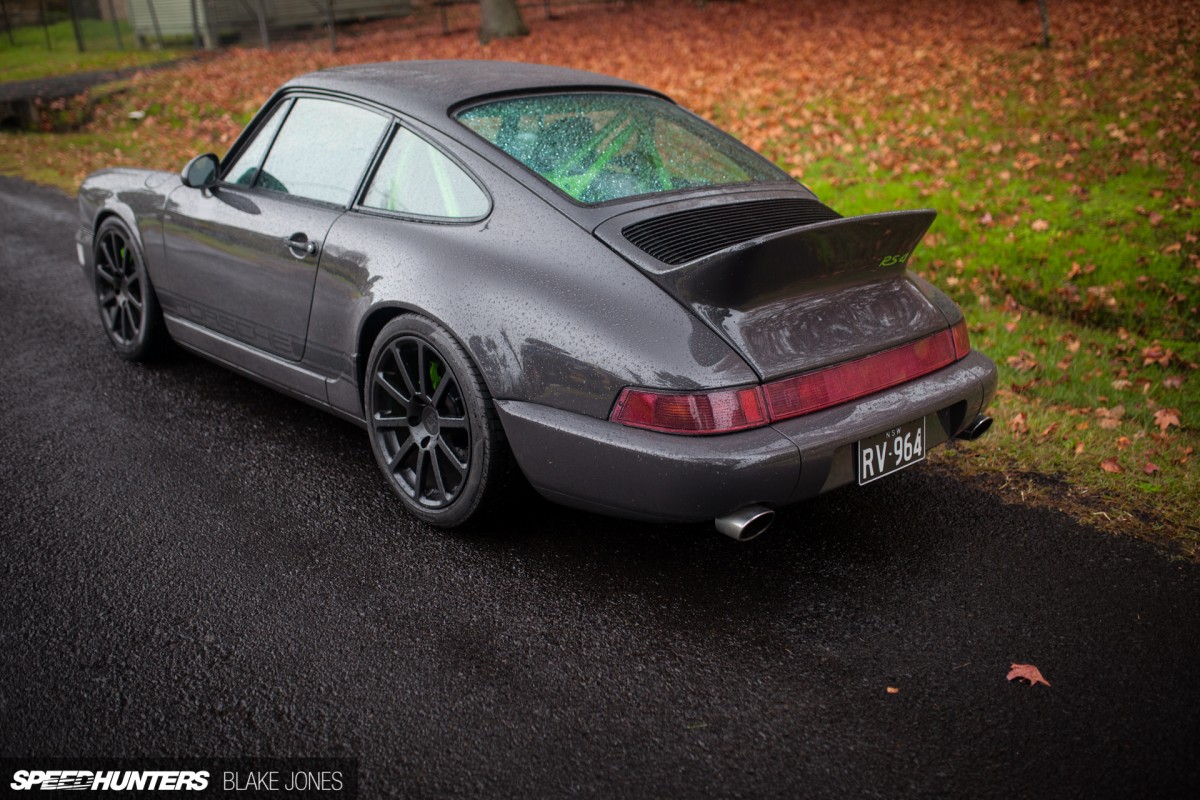 Considering that Jeremy intends to use the Skunkworks RS-4 as both a road warrior and track day toy there could be worse benchmarks than the GT3!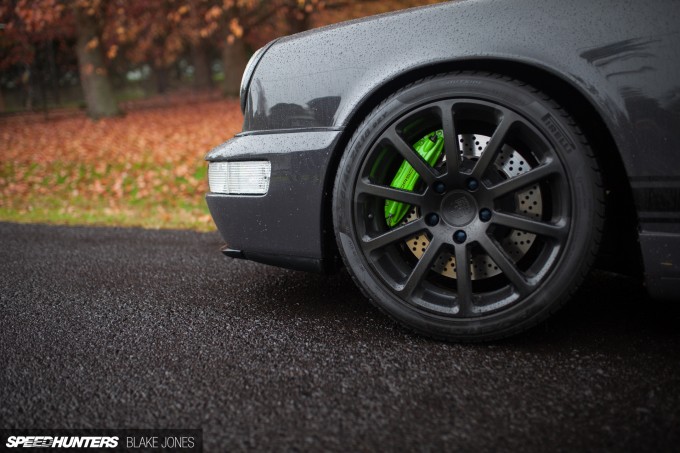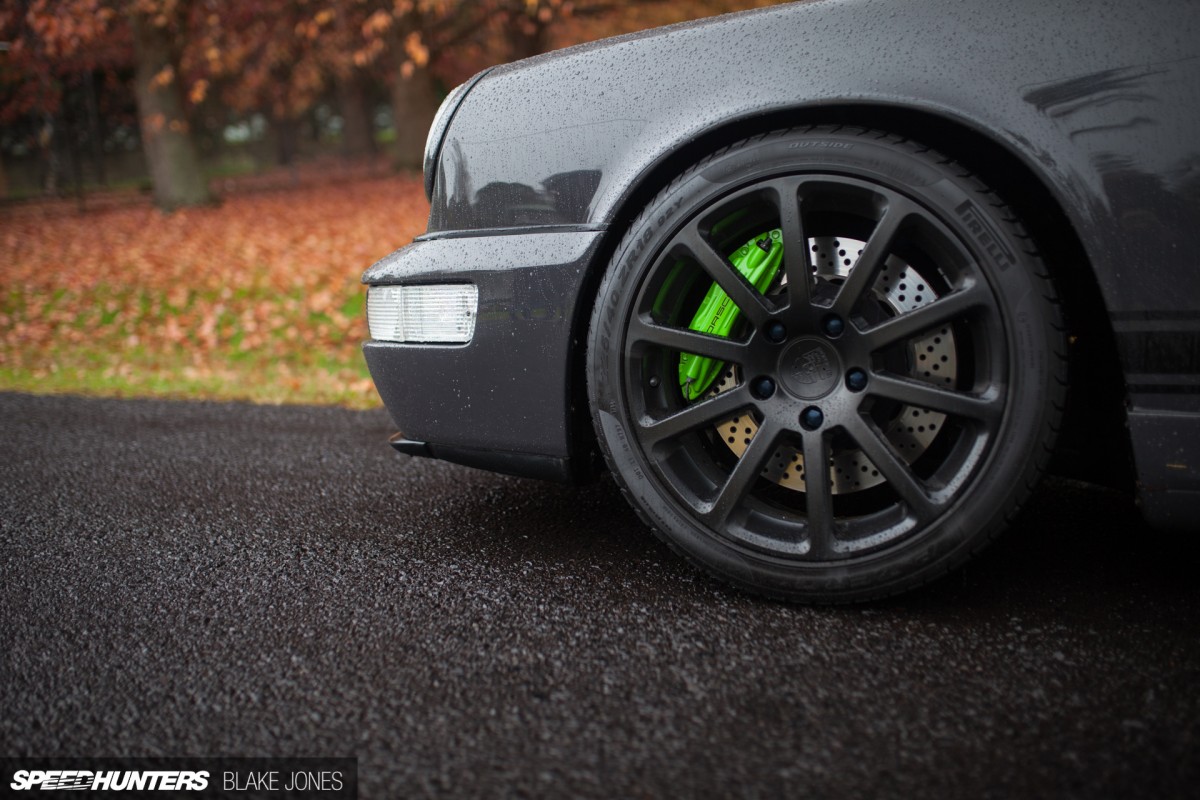 Future plans? I had to smile when Jeremy said the only thing he wanted to change on the car was the odometer reading. There will be a few very minor visual tweaks to ensure the car is perfectly aligned with his mind's eye, but otherwise it will be all about driving enjoyment from here on out.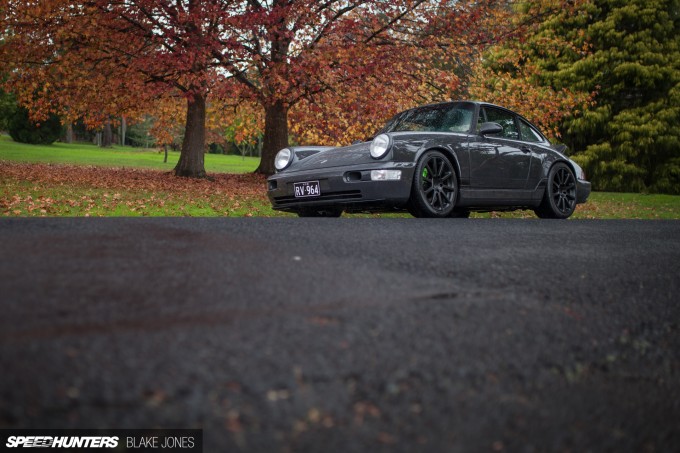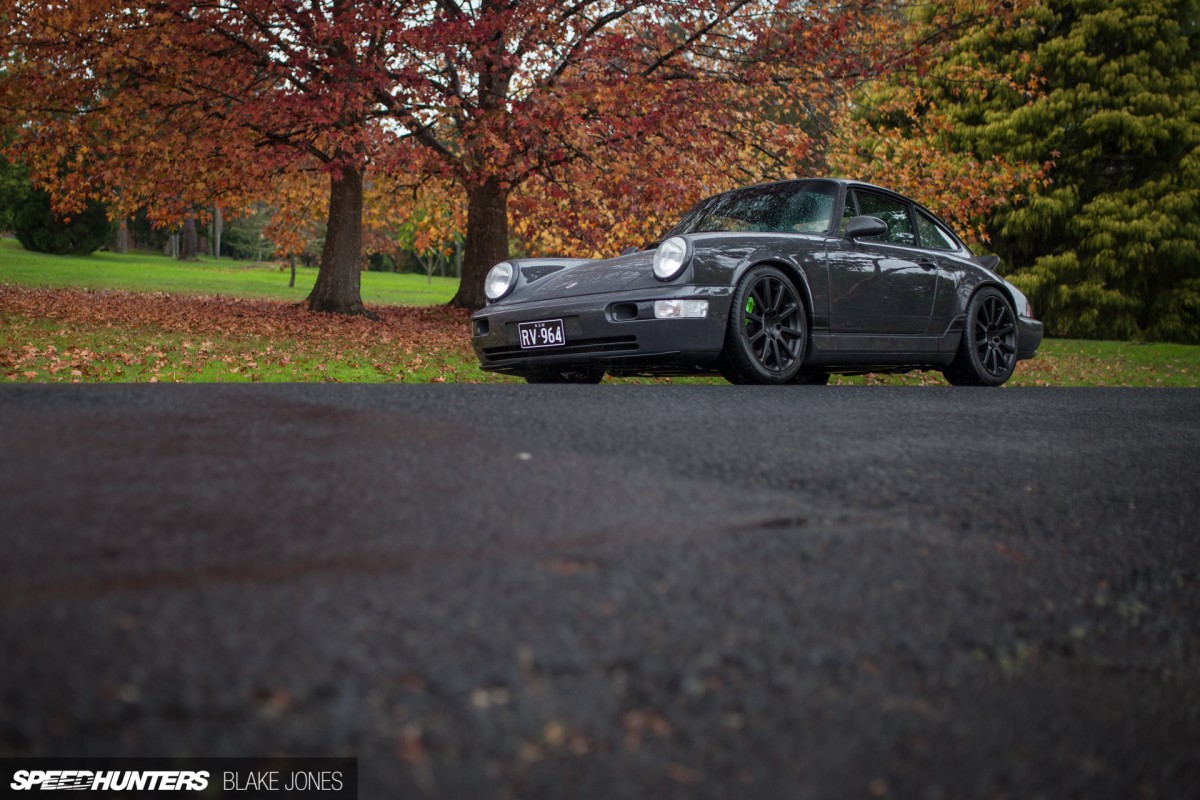 Autohaus Hamilton deserve credit for not only building a car to such a high standard, but managing to execute a customer's vision so faithfully. I'm pretty excited to see what's next from this bunch – no doubt it will be something that a lucky owner will be very proud of (and this writer will be very envious of)!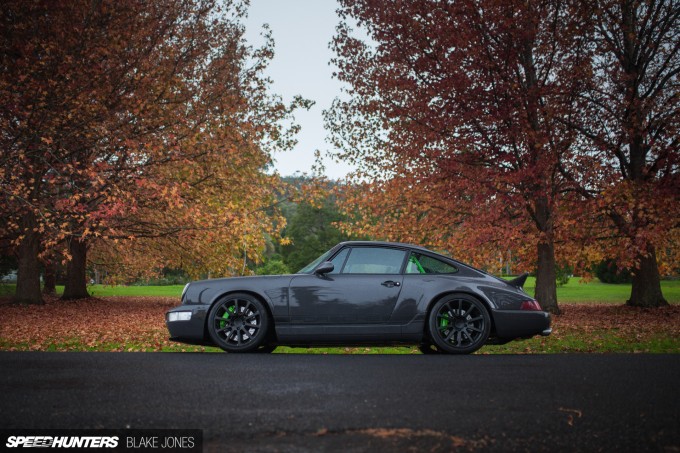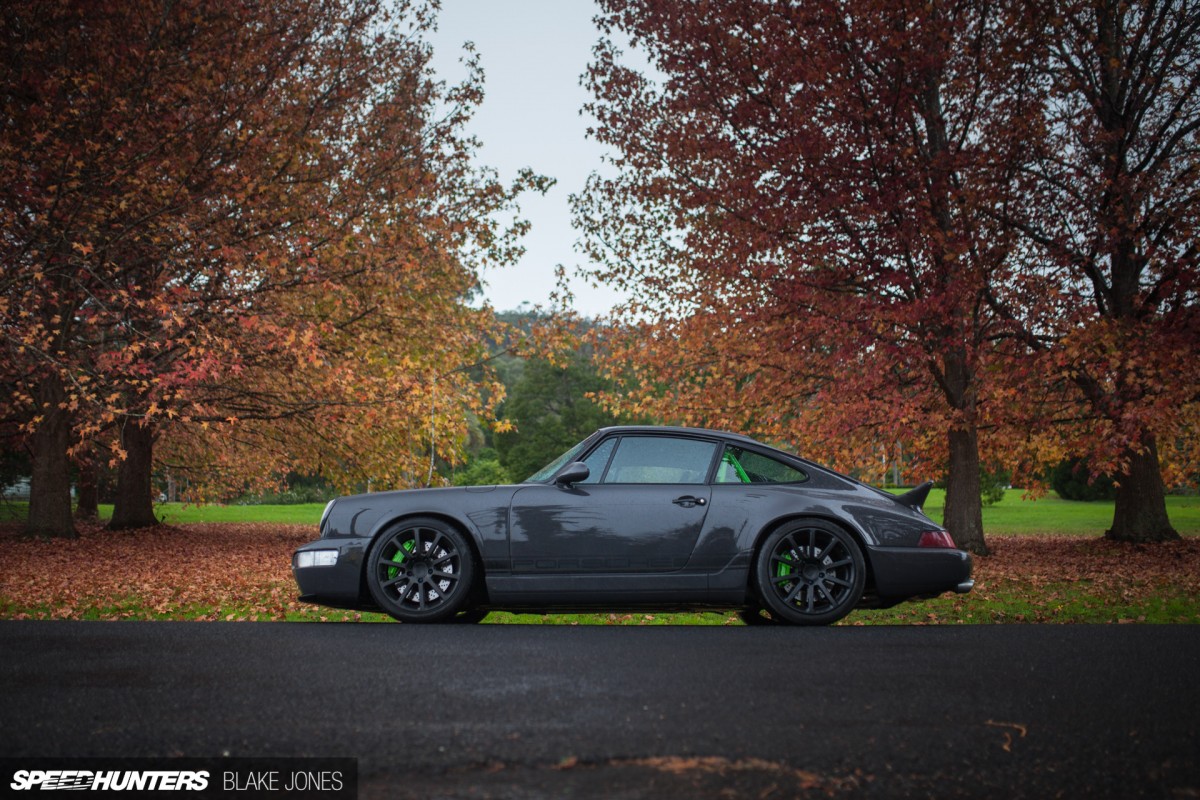 The Skunkworks RS-4 has only served to crystallize my commitment to execute my own interpretation of the perfect 911, and no doubt it will do the same for many of you who read this article. 'Everything is a remix' says today's modern artist – but originality of execution will always be the definition between creating a replica and genuine innovation.
Blake Jones
Instagram: blaketjones
blake@speedhunters.com
Porsche 964 Skunkworks RS-4
Engine
Porsche 3.6L flat six, blueprinted/balanced, custom grind Elgin cams, titanium valve springs and retainers, ported heads, 993 head studs, 993 RS valves, ARP rod bolts, high compression & moly-coated JE forged pistons, MoTeC M84 ECU, Rothsport/Jenvey ITBs & plenum, GT3 oil pump, billet rocker covers, carbon RS heater pipe, uprated fuel pump, Wevo semi-solid engine & trans mounts, Fabspeed RSR headers & muffler
Driveline
964 5-speed gearbox, heavy-duty clutch, RS flywheel, new driveshafts
Suspension/Brakes
Bilstein PSS10 coil-overs & rear strut tops, corner balanced, Brembo 4-pot calipers, Brembo 355mm & 328mm 2-piece rotors, braided lines, 993 steering rack brace
Wheels/Tyres
Victor Equipment Zehn 18×8-inch +45 (front), 18×9.5-inch +49 (rear), Pirelli P-Zero 225/40R18 (front), 265/35R18 (rear)
Exterior
993 Cup mirrors, rolled guards, resprayed in 997 GT3 RS grey-black, ducktail, clear indicator lenses (front bar), brake ducts (front bar), side indicator delete, headlight washers deleted, HID upgrade, new rear bumper for dual exhaust
Interior
Half roll cage, Sparco Evo seats, Sparco R-345 steering wheel, Rennline quick release, Wevo shift coupler, RS door trims, RS carpet, dash, knee pads, door tops & centre console retrimmed in Alcantara, Rennline billet gear knob & door locks, leather gearshift boot, carbon fibre console inserts, Rennline pedal pads, Rennline floor boards, Schroth 6-point harnesses, fire extinguisher, VDO head unit, refurbished gauges
Cutting Room Floor