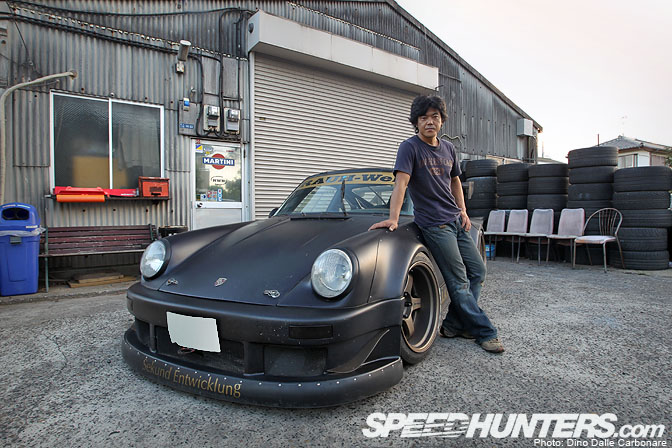 It's been close to three years already since Speedhunters took their first look inside Rauh-Welt Begriff. Rod, Mike and Antonio were among the first to show the western world inside this dark, corrugated iron workshop on the outskirts of Kashiwa city. Since then, Nakai and his creations have become a household name among enthusiasts, creating some of the most uniquely styled Porsches, as well as other cars, anyone has ever seen. They are an either love it or hate it affair, often criticized by purist but equally loved by those that can appreciate something bespoke and so far from the norm.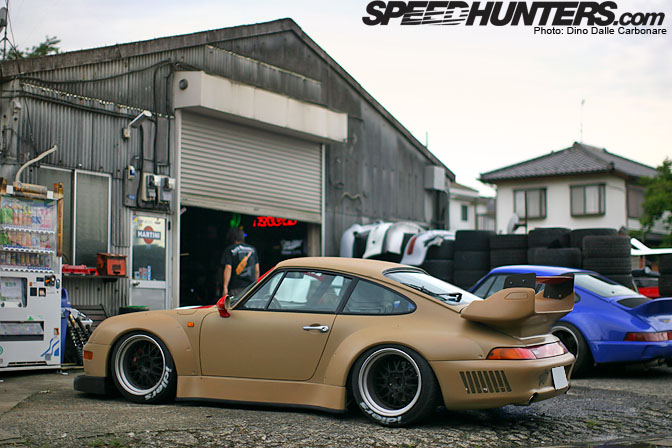 After having shot the green Rough rhythm earlier in the afternoon, Toshi had to get on his way and tackle the close to 400-mile drive back to Kobe, so I decided to stay over and chill with Nakai-san and Nojima-san and grab some more pictures of the workshop and the cars that littler the area surrounding it.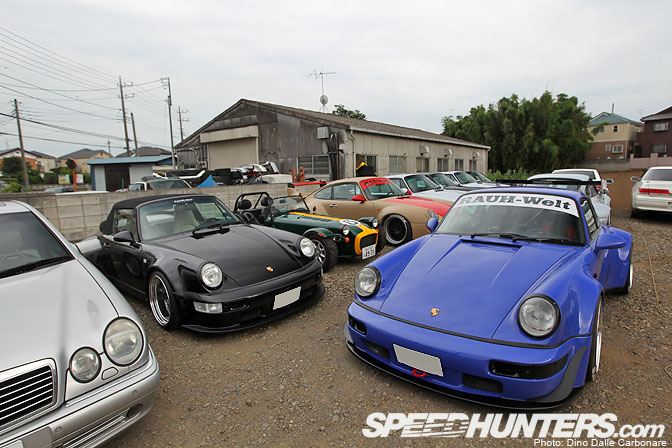 I figured than since our initial visit back in 2008, there are enough new things to warrant an update tour of the shop…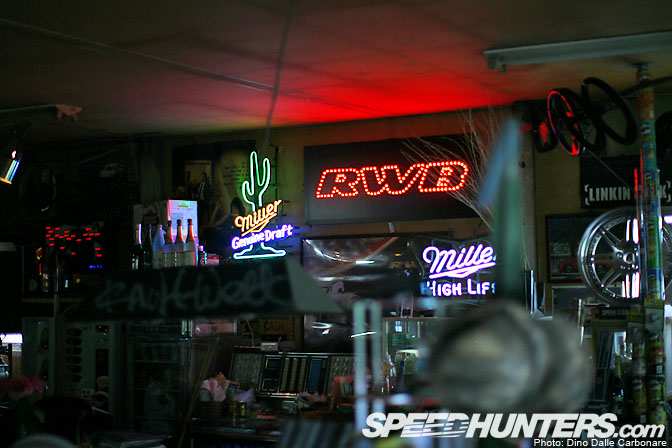 …and I was definitely not wrong. Over the last years Nakai has been beyond busy. The attention his cars have been getting internationally has allowed him to not only accept more orders from overseas but also begin thinking about bigger ventures to promote RWB around the world. On top of this however, demand for his cars in Japan continue to be very strong and no matter how often I stop by his workshop he seems to be working on a new car each single time.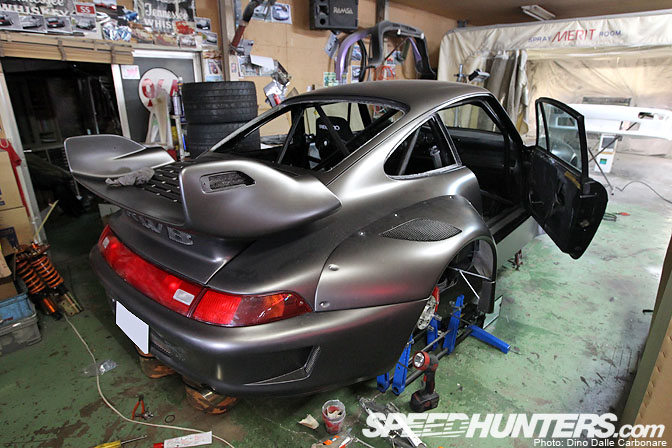 This time he was putting the final touches to yet another mega-widebody 993, a car that was built for a customer of RWB-Kansai and was due to be picked up by a transporter the next day.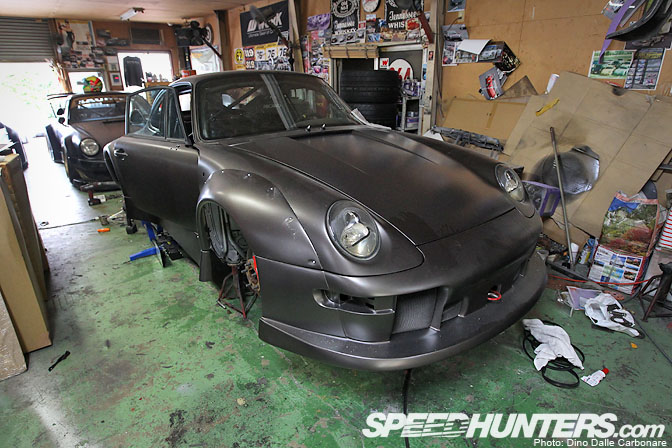 The slightly bronze gunmetal stain finish is certainly unique and I tried to check it out in detail without getting in Nakai's way.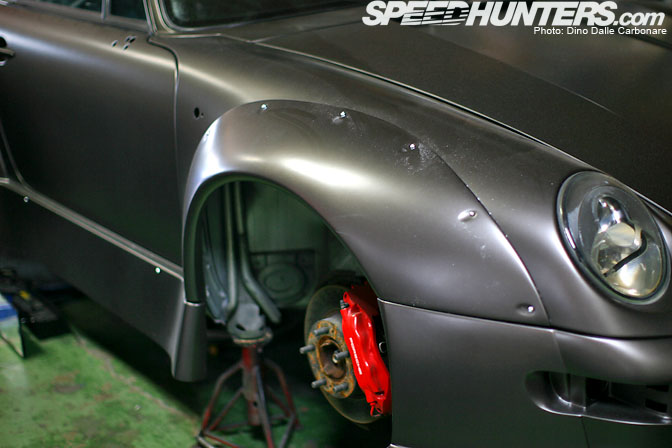 Massive overfenders…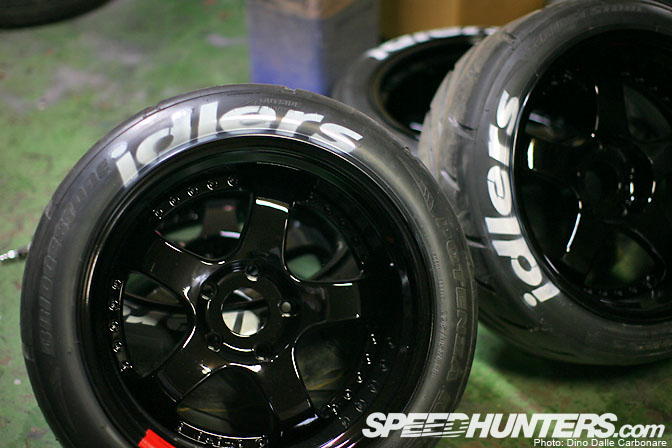 …ready to receive some glossy black and extremely wide SSRs, shod in sticky Bridgestone RE55S semi slicks, the same tires I've coincidentally just fitted to my BNR34.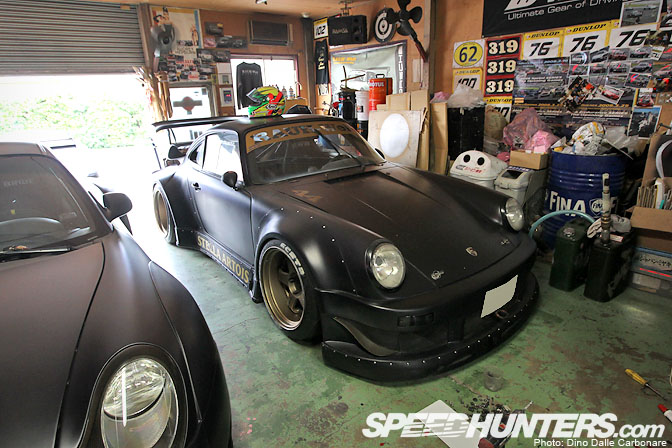 Behind it was the very first Rauh Welt car ever made, Nakai's own 930 Stella Artois, the epitome of what a RWB car should look and sound like!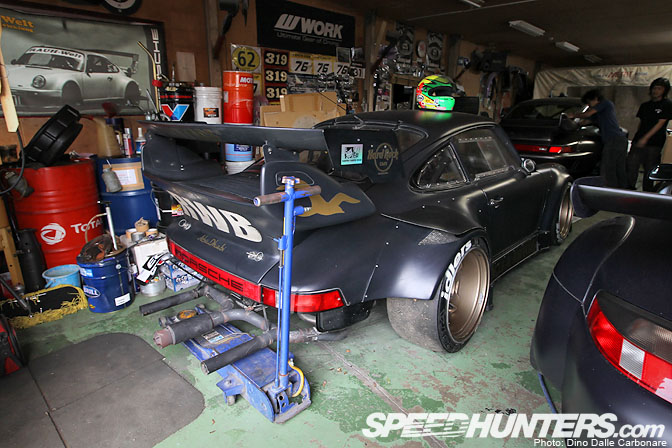 The 3.8L carbed beast can always be found parked in the workshop, sitting there with its half-cut rear bumper and curious looking exhaust system. Nakai has put the car on sale several times, but I think he is just not ready to see it go. Check out those monster rear slicks!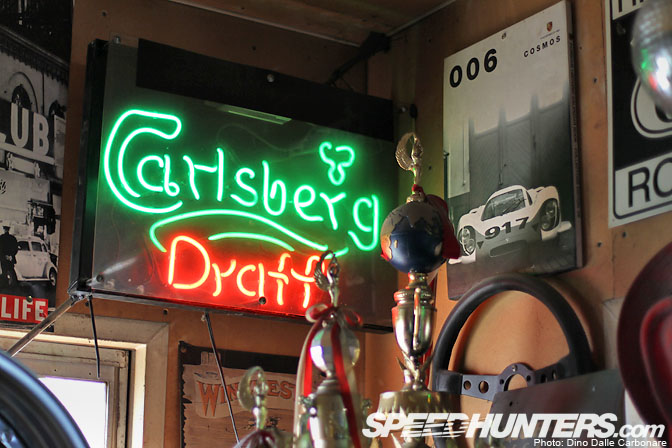 The Rauh Welt HQ is as much about the cars as it is about the decor. Nakai is a man with very firm ideas and tastes and this is shown on how he has decorated and transformed the place over the years.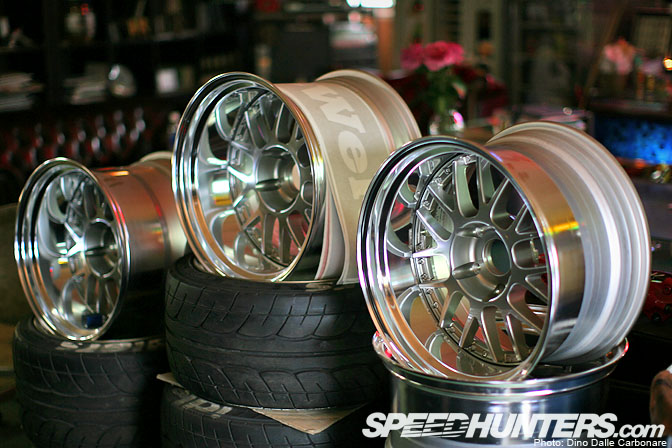 Got dish?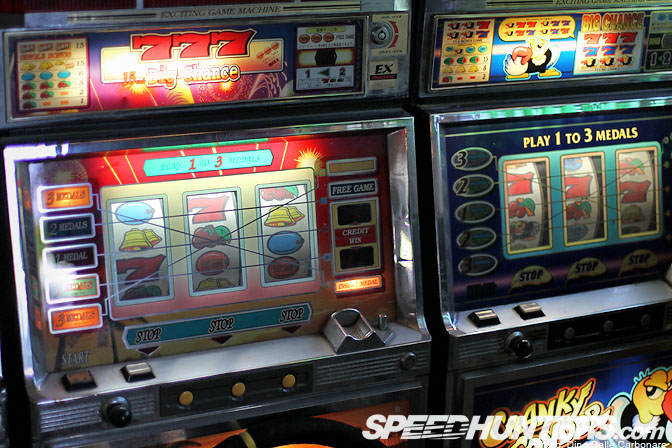 Yes he even has a couple of slot machines in there!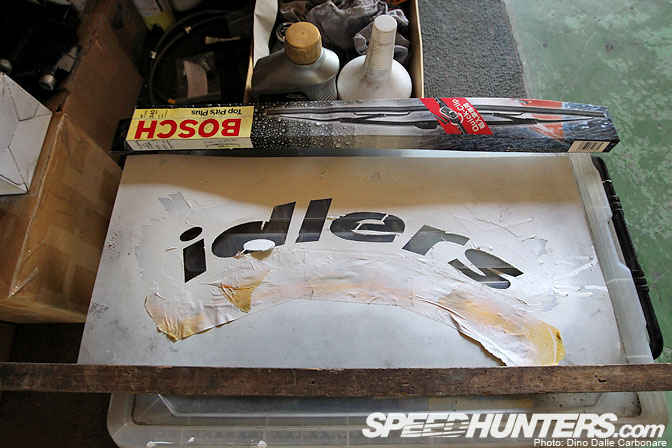 RWB cars have for years been participating in the idlers track events and this is the stencil Nakai uses to imprint the idlers logo on the sidewalls of tires of competing cars.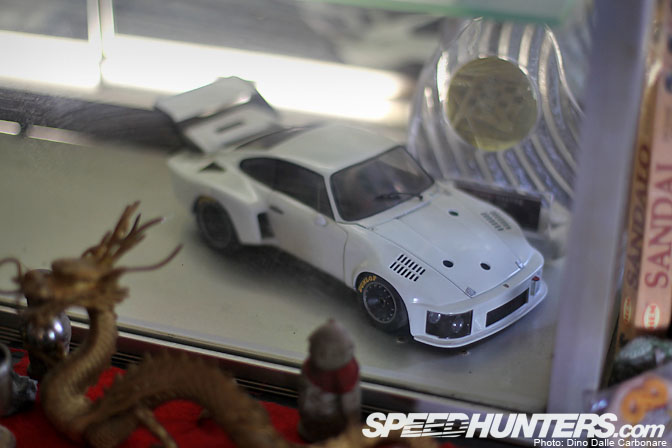 Check out this cool model of a 935 slant nose racer. Inspiration maybe?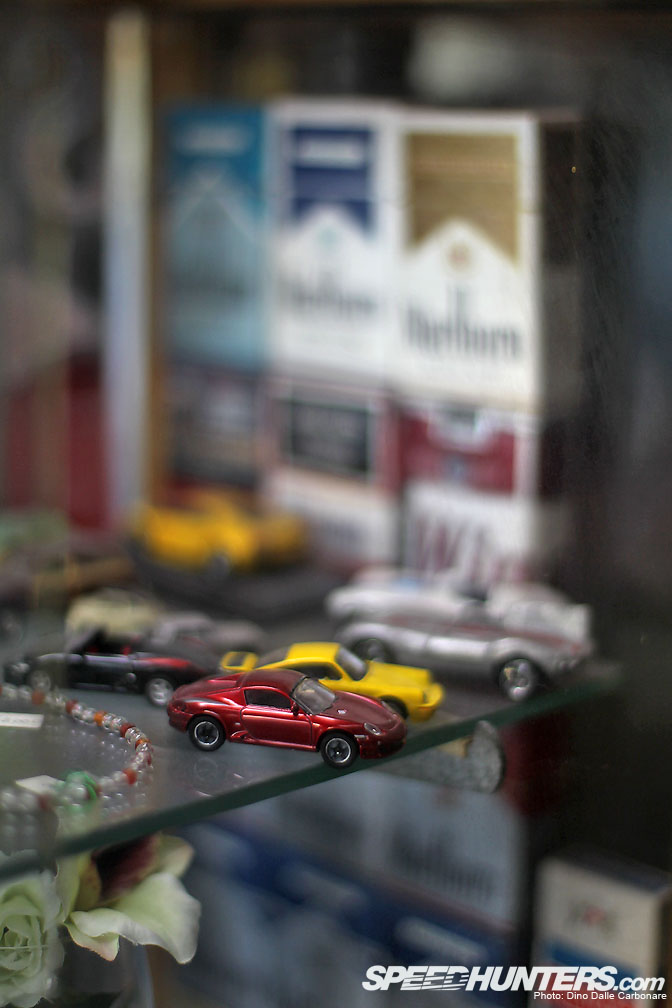 Nakai likes to collect a lot of stuff from his travels and everything is on display around the office area. Smooth music is always pumping through the massive speakers that have been fitted around the workshop; music is something that he can't do without as it helps him to relax and at times inspires him.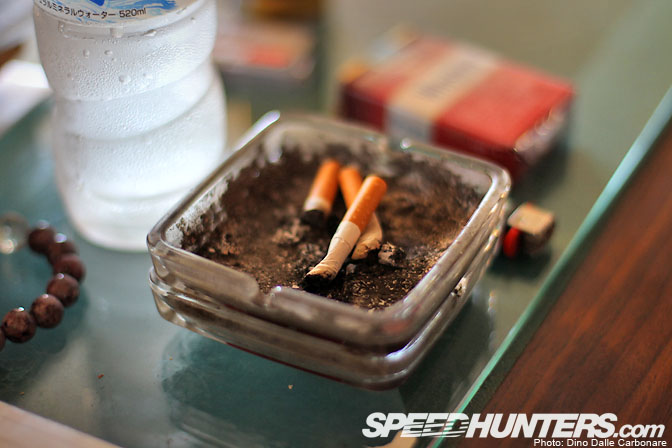 Cigarette break anyone?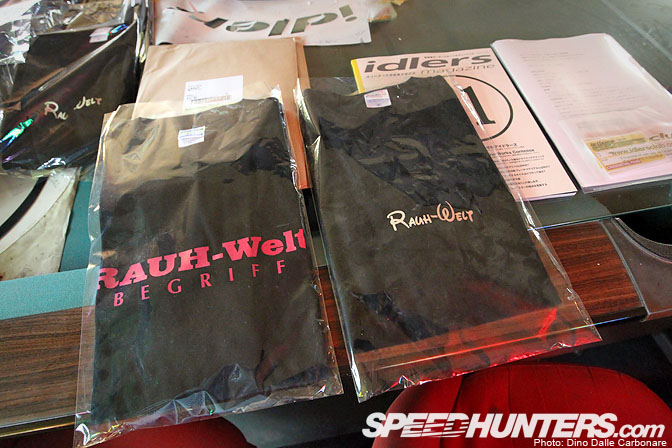 Spotted some cool new RWB t-shits on the big pool table that over the years has disappeared under miscellaneous parts and collectables. How cool is the Disney-like fonts for the tee on the right!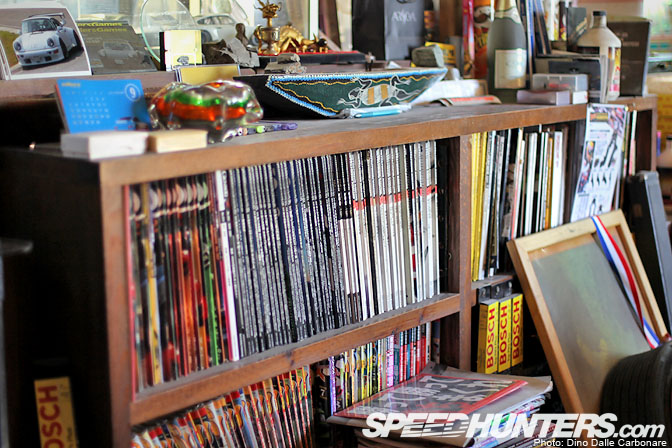 No workshop would be complete without a proper magazine and book collection.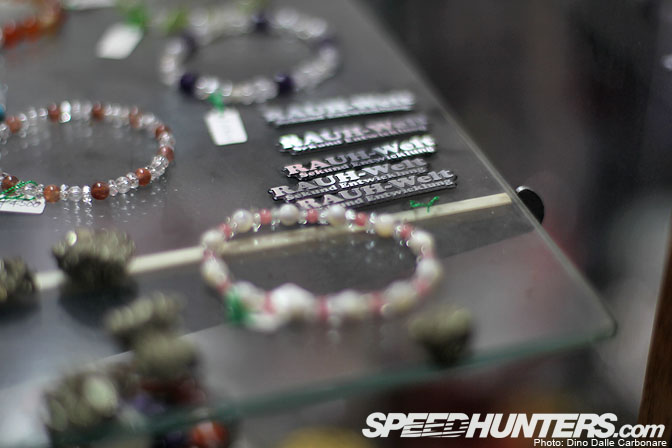 These Rauh Welt plastic logos are the ones that are usually fitted onto the steering wheels of complete cars.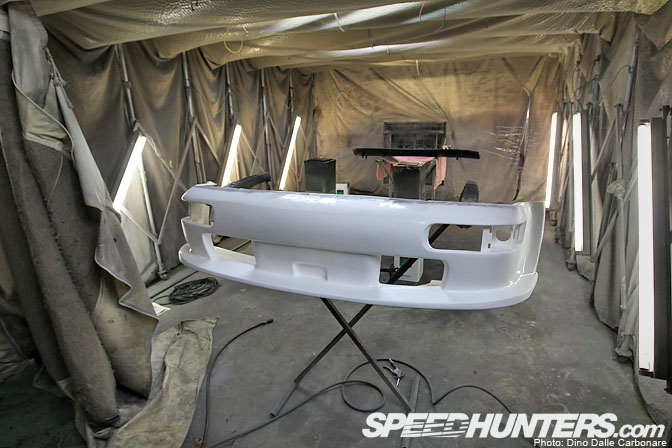 One corner of the workshop is taken up by a small paint booth. This is where Nojima-san of Nojireal does his thing with the paint gun, painting all the cars that have rolled out of RWB. He's the man behind all those famous satin finishes!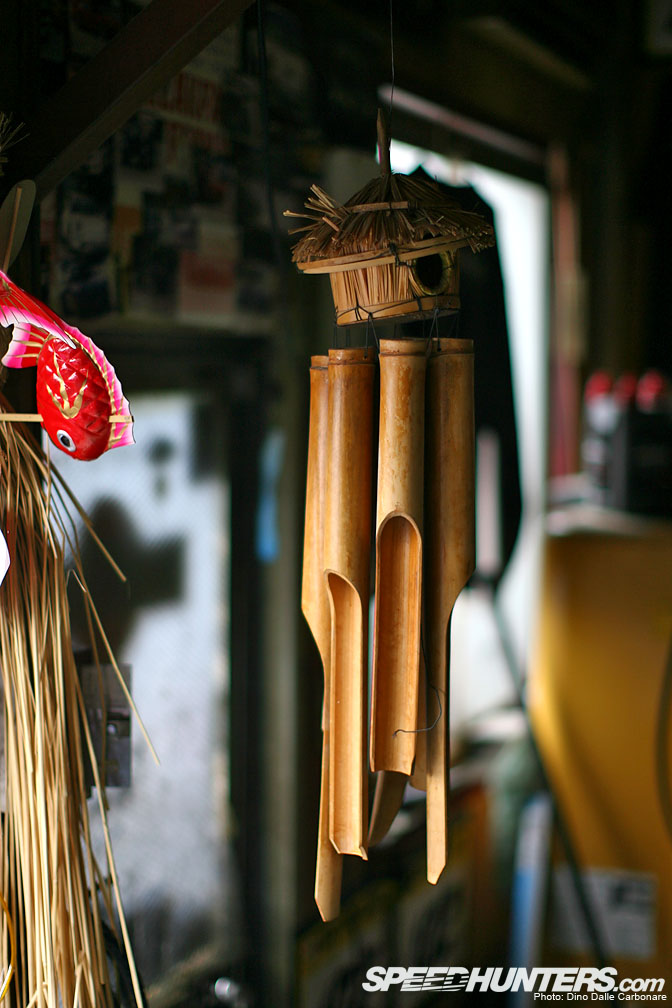 This bamboo wind chime is a new addition to the unique and mixed decor and I bumped my head against it countless times when trying to get wide shots of the garage!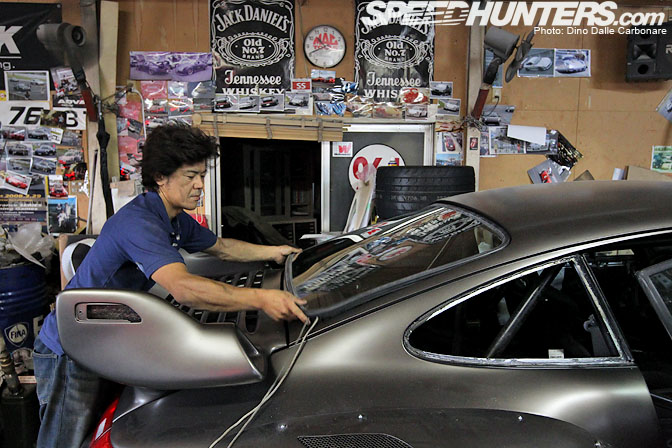 Nakai was busy fitting the rear glass onto the new 993 so I decided to go for a walk outside to take a closer look at some of the customer cars.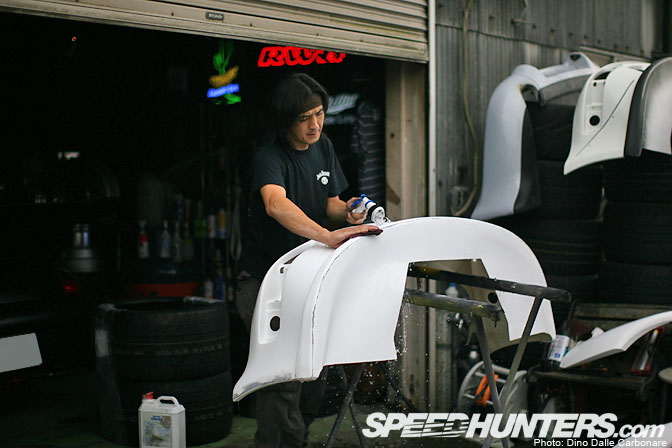 Nojima-san was back out in front sanding down and rinsing the rear bumper, prepping it for paint.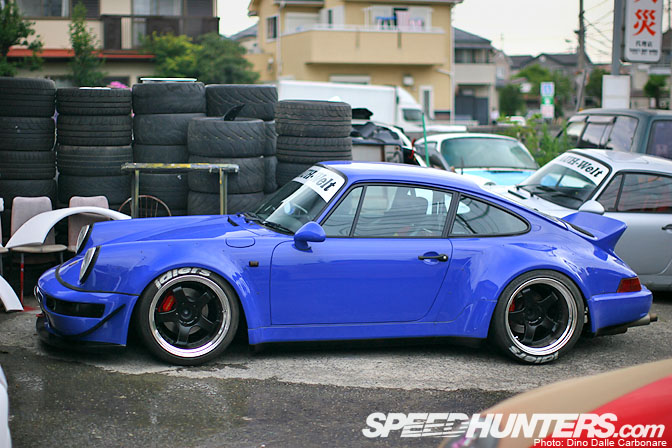 What a lot of people don't understand about RWB is that it's predominantly a bodyshop, where cars get transformed. Some mechanical work obviously needs to be done to get the cars to sit the way they do and sound a little more special than a stock 911, but if you want big power Nakai will refer you to Porsche engine specialists like Promodet, a short drive away from Kashiwa.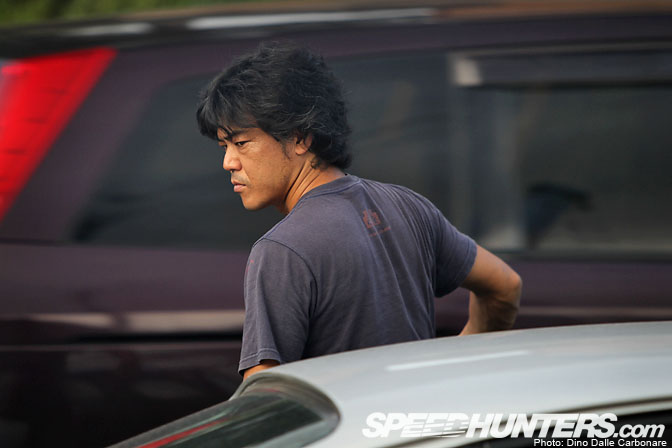 Nakai was nice enough to move a few cars around for me so I could grab at least one car spotlight, which will be coming…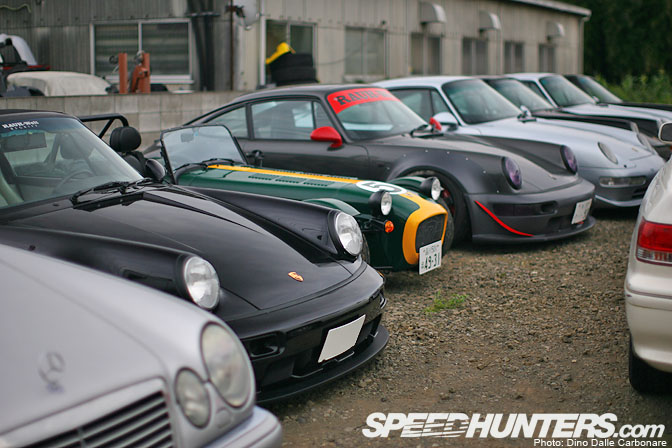 …after the second part of the shop visit. That little Caterham is the car I drove up to RWB on the day, blasting through the Tokyo highway system on a 35ºC summer day sweating buckets in my helmet. But more on why I was driving the bathtub on wheels after I wrap up things at Rauh Welt!
-Dino Dalle Carbonare