Back in 1999, when Eddie Jordan's eponymous Formula 1 team were at their giant-killing height, engine supplier Honda produced a limited run of 500 tweaked EK4 Civic VTIs. They were unmistakeable: the bright yellow paint and Jordan logos saw to that.
It's not uncommon for manufacturers to stick some racing stripes or a famous racing team's name on the side of a car, as though that alone will add power and performance. There have been some shockers – but then thankfully some pretty phenomenal machines to balance them. In the former camp are cars like the Häkkinen edition Mercedes-Benz A-Class and Fiat Seicento Michael Schumacher. Of the latter, I'm thinking of the Williams Renault Clio in particular.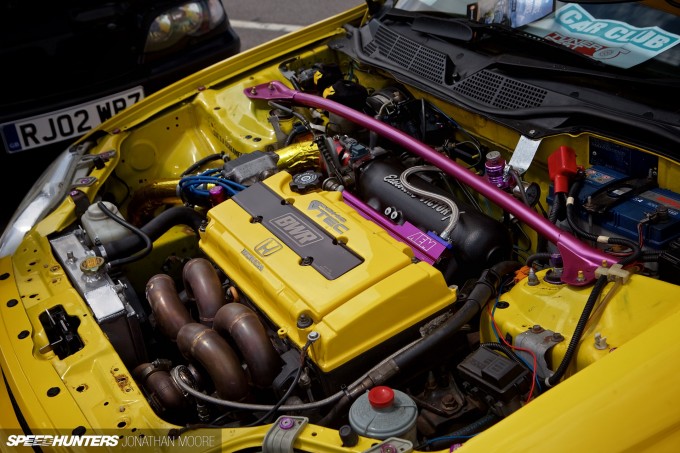 The Jordan Civic sort of fell in between the two extremes on its release. It came with some of the EK9 Type R body kit (minus grille and hatch spoiler) and the standard 1.6-litre VTi-S engine, which was handy if not overwhelmingly powerful. But a Civic is the perfect thing to build on (ref our EP3 build for instance) – start with the solid Honda platform and then add power. Plenty of power.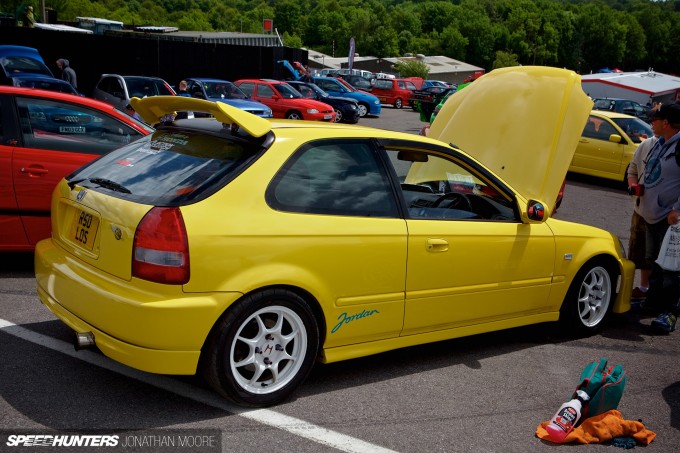 Back in 2009, one of my first stories on Speedhunters was from Japfest, and I remember seeing around 30 of these limited editions Civics lined up. You hardly ever see two the same now. There are plenty of options for internal upgrades, but everyone keeps their Jordan in that yellow. Walking through the car clubs at Tunerfest, it was impossible to miss this one from the rear – but it was at the other end where the real work had gone on.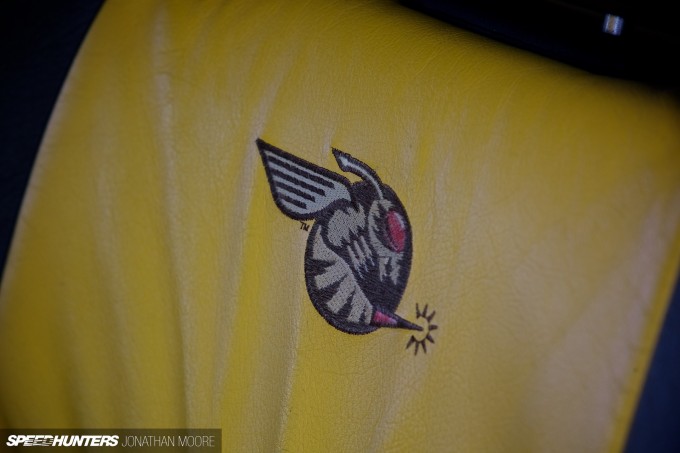 Martin Adams owns this particular example, and in the scant couple of months he's owned the Jordan Civic, he's transformed it from pretty much stock to a turbocharged beast with a sting in its tail. How he bought it is the usual story: a late-night web search followed by a snap decision and a nine-hour train trip from his home to where the seller was based. Car #164 was his.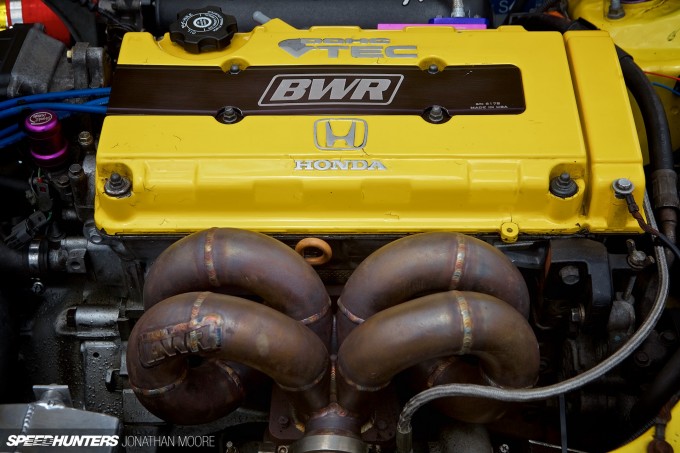 Martin had a specific goal in mind with the engine. He changed the original block from a B16A2 to a B18C4 and added an Edelbrock inlet manifold, Injector Dynamics injectors, CP Carillo pistons, Manley rods, ARP studs and bolts, and a full set of ACL bearings. The big bang comes from a Holset HY35 turbo, using an Mishimoto Gold Edition intercooler, Blox 2 turbo cams, TiAL wastegate and Blackworks ram-horn manifold and racing down-pipe.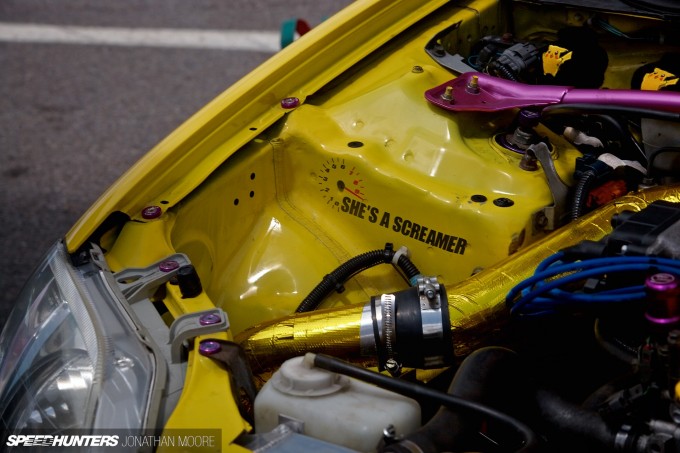 After final tweaks from Romain Levesque at Eurospec, power is up from the standard 160hp to a far more agreeable – and slightly insane in the context of a front-wheel drive car – 390hp.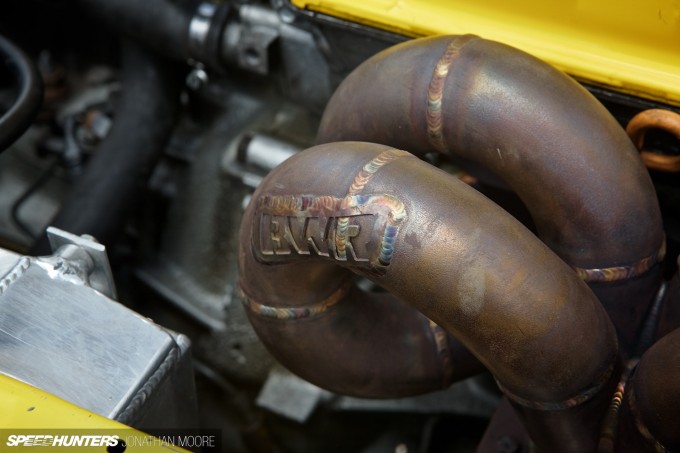 To handle all that extra power there's an SB9 gearbox with a stage 4 competition clutch, and Martin's car sits on D2 coilovers. Stopping power comes from a 282mm brake kit with StopTech discs and Ferrodo DS2500 pads.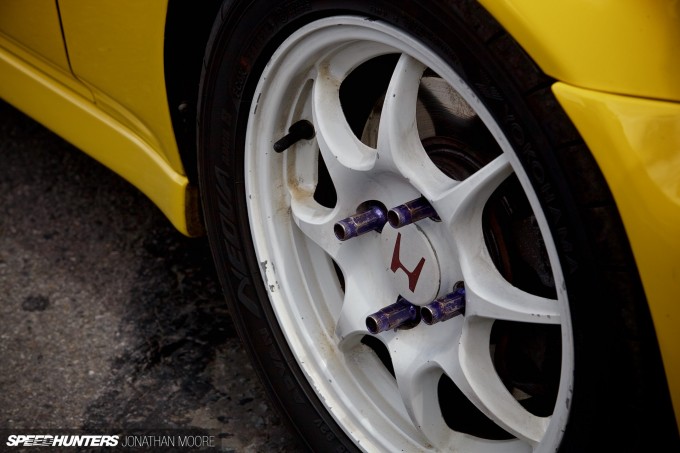 It features alloy wheels from a '96 Integra Type R (after a 114.3 hub swap), which really do add to the look without compromising the original lines. The aftermarket front bumper and an EK9 Type R rear wing on angle-adjustable mounts are more aggressive add-ons than standard, but still in keeping.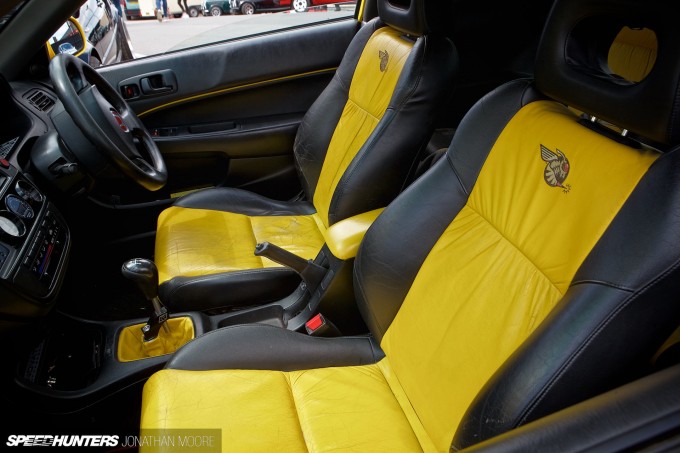 Currently the interior is pretty much as is, with the seats showing the honest patina of its 16 years of life. Martin's installed some new AEM gauges, an EP3 30th Anniversary wheel and a K-Tuned short shifter, and plans to add a rollcage and will likely store the leather seats to save them from further wear, replacing them with trimmed Recaros. This Civic is about adding performance not show. It's one of those upgraded Jordans that more truly matches the spirit of the original model, representing what the car perhaps should have been from the start. More like the racing team: maverick, on the edge, buzzin' like a hornet.
Jonathan Moore
Instagram: speedhunters_jonathan
jonathan@speedhunters.com