Getting On The Air
A trip to the legendary Brands Hatch circuit in Kent is like going home. My local track, I've spent so much time there over the years, pressed up against the fences as a spectator, shooting from behind the barriers, trekking through the forest in the midst of the Grand Prix layout or even driving around it from time to time. But for once, what was happening on track was secondary to the main reason I was at Brands: Tunerfest.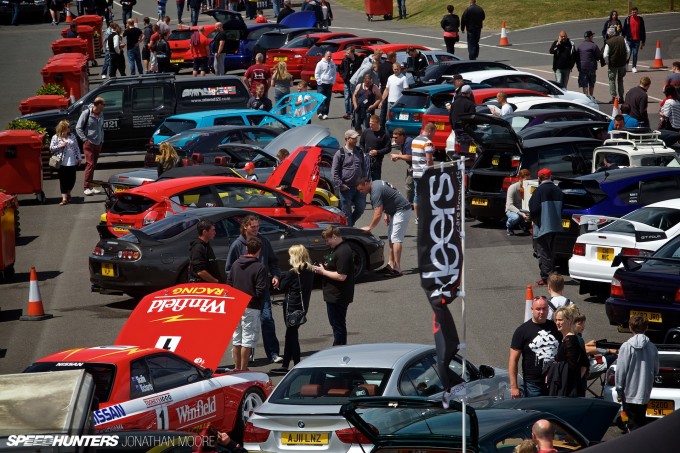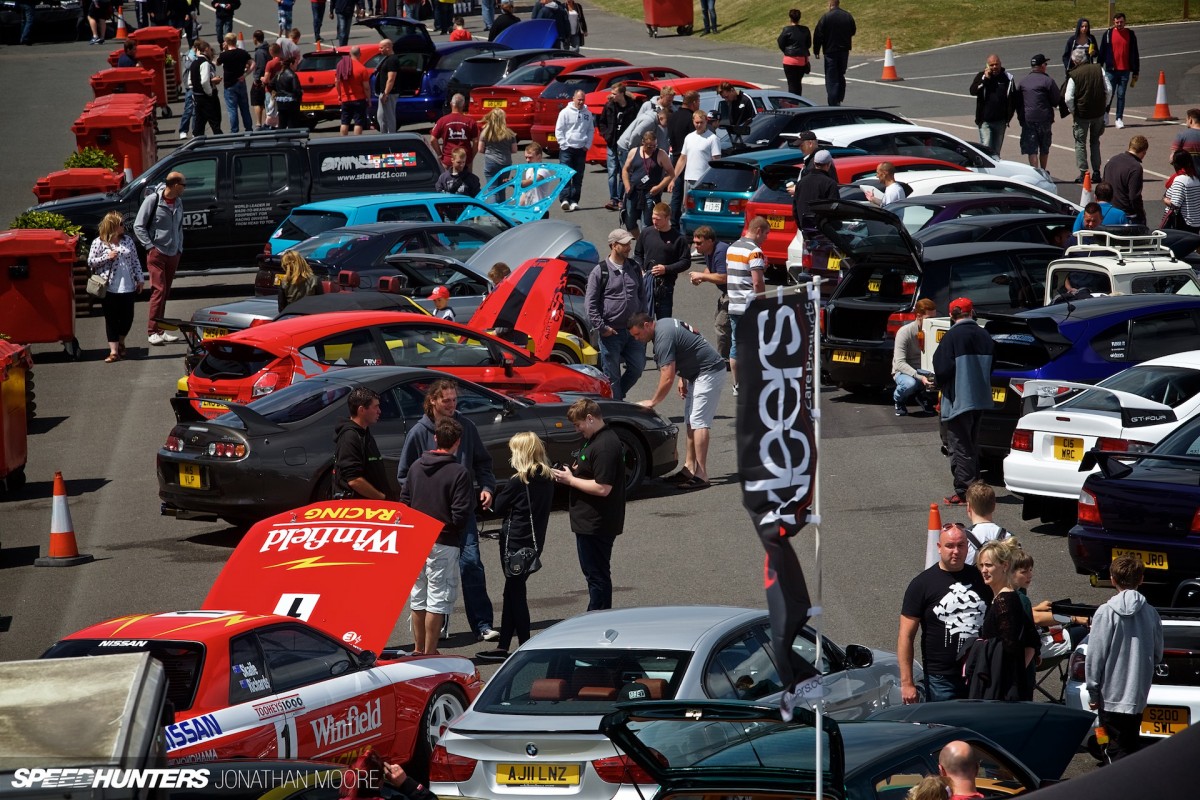 Tunerfest is another new show on the UK block, and it took up residence around Brands for its inaugural running whilst the UK Time Attack series, drift demos and F1 cars blitzed the track. It was actually quite a strange feeling to be looking out rather than in… This would be the opening play for a double-hit of shows, Brands hosting Tunerfest South, with Tunerfest North taking place at Oulton Park on July 11.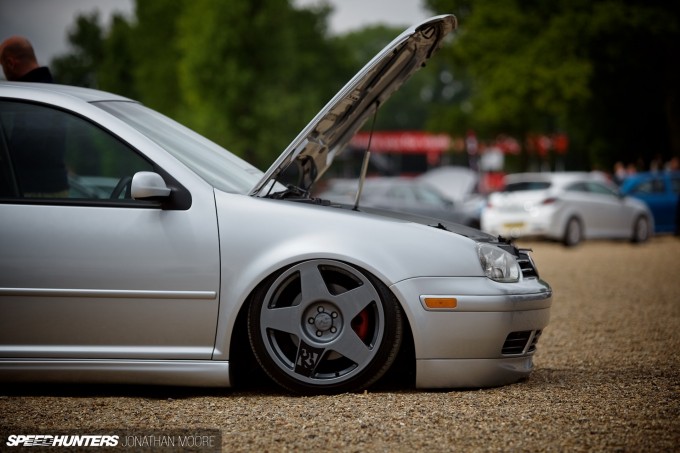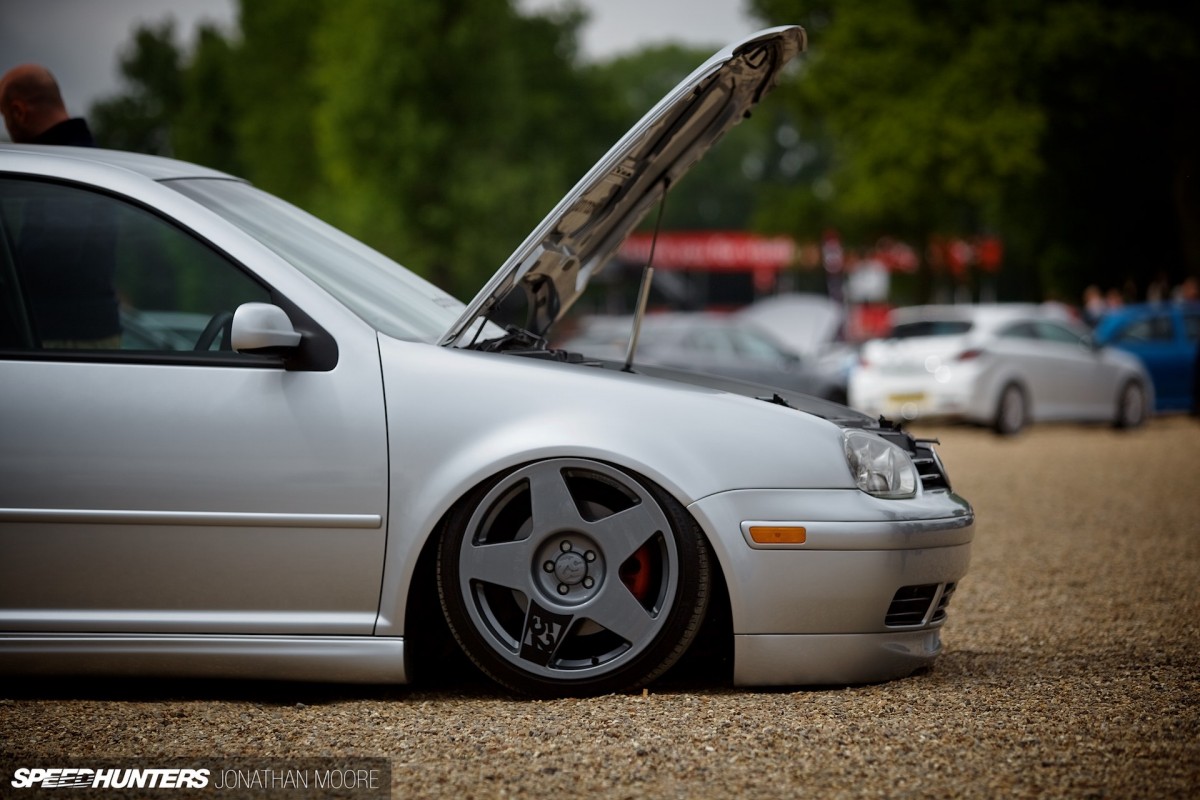 More than ever the over-riding (under-riding?) theme seemed to be air. I don't think I've ever seen so many cars at a British show ploughing this much gravel in the parking areas.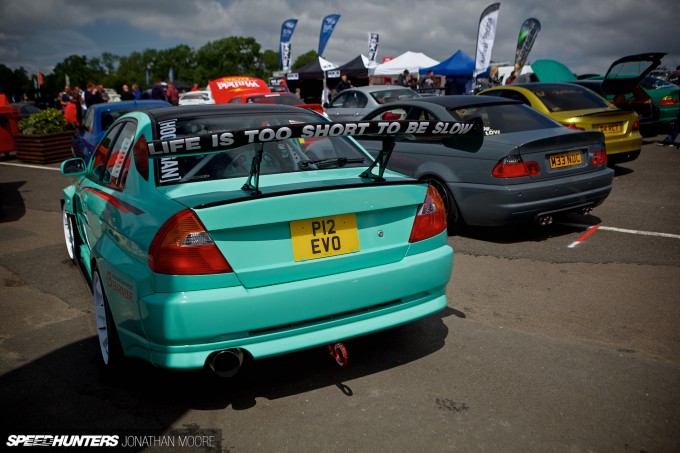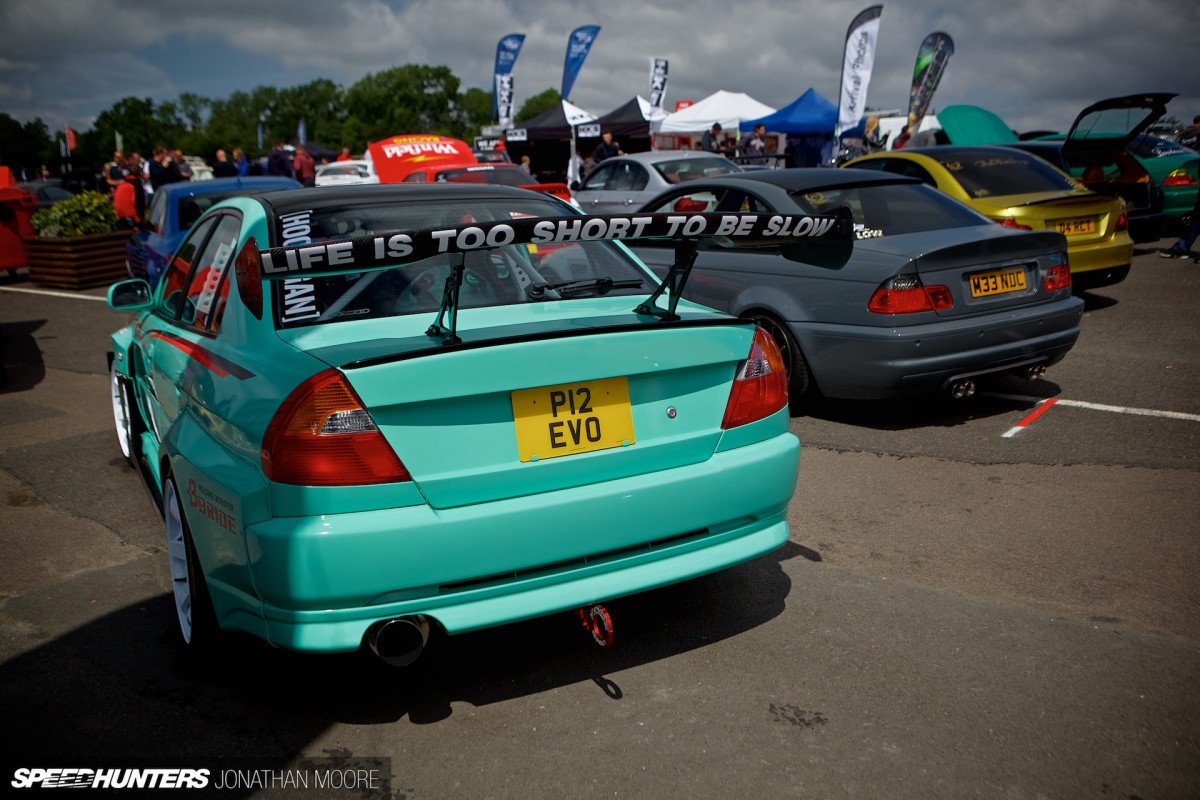 Building a car is as much about sending a message as it is assembling a collection of metals and plastics, as the cars of Tunerfest went out of their way to demonstrate. I'm always looking for variety, and with what I came across in the club zones I came away from the day more than happy.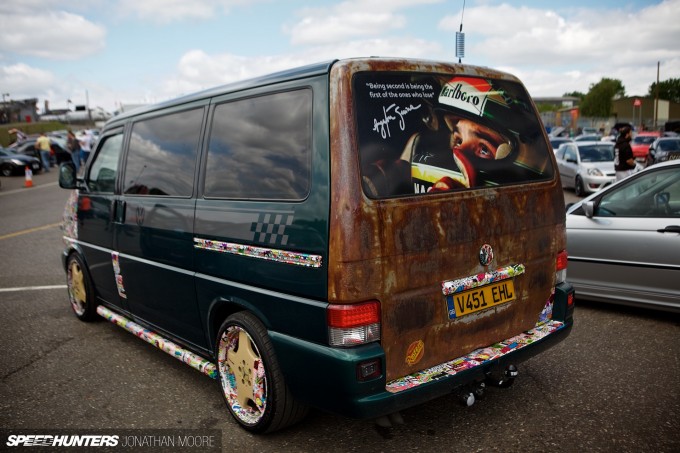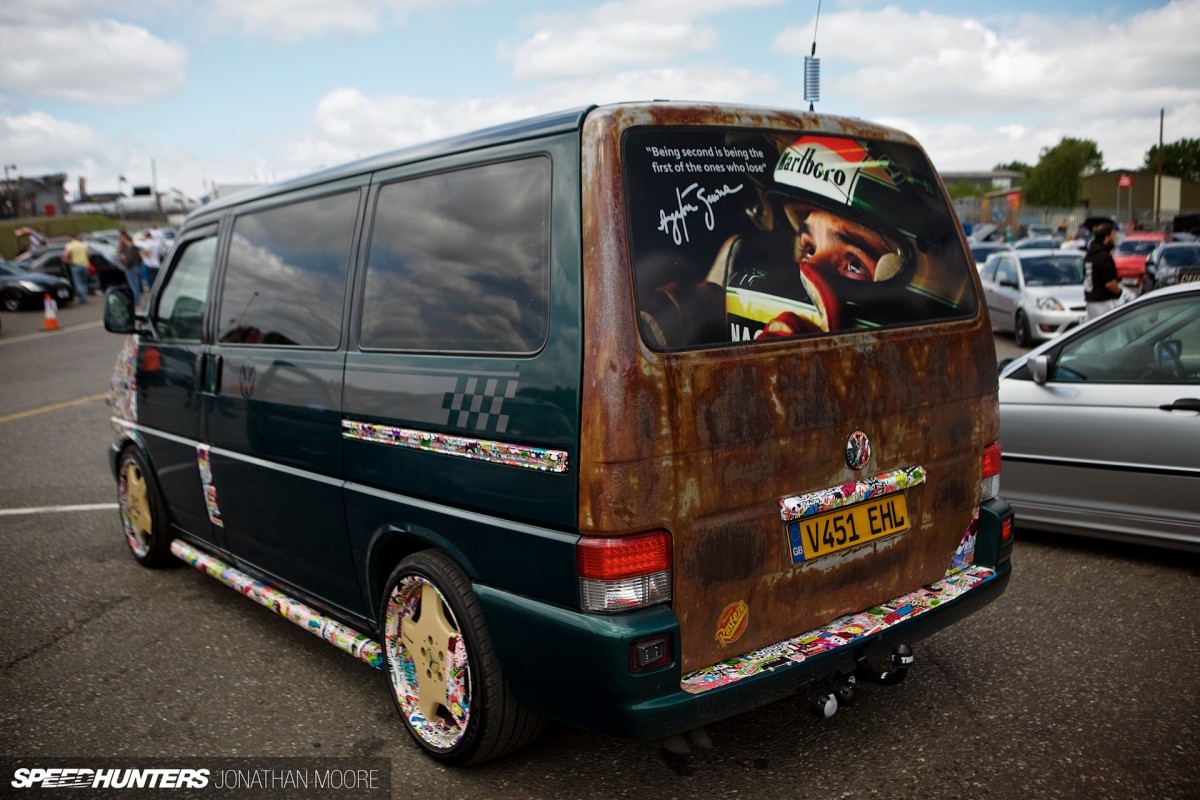 We're lucky that the automotive world has no shortage of inspiration, and I always appreciate a bit of mixing and matching. Why bow to one style only when there's so much out there? This VW Transporter carried a holy trinity of targeted sticker bombing, a rat tailgate and half-bonnet, plus a Senna quote.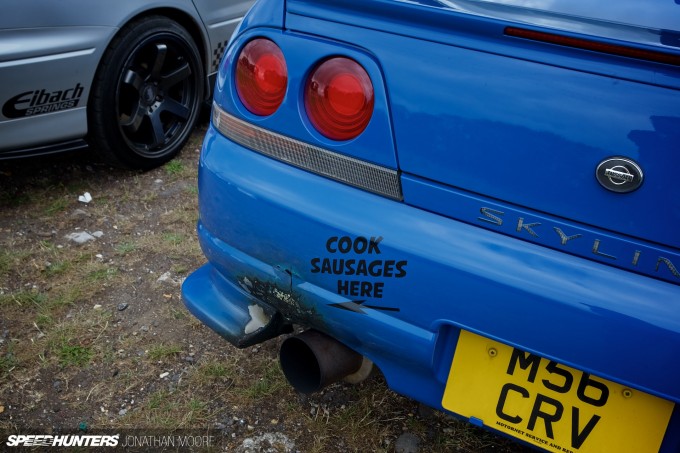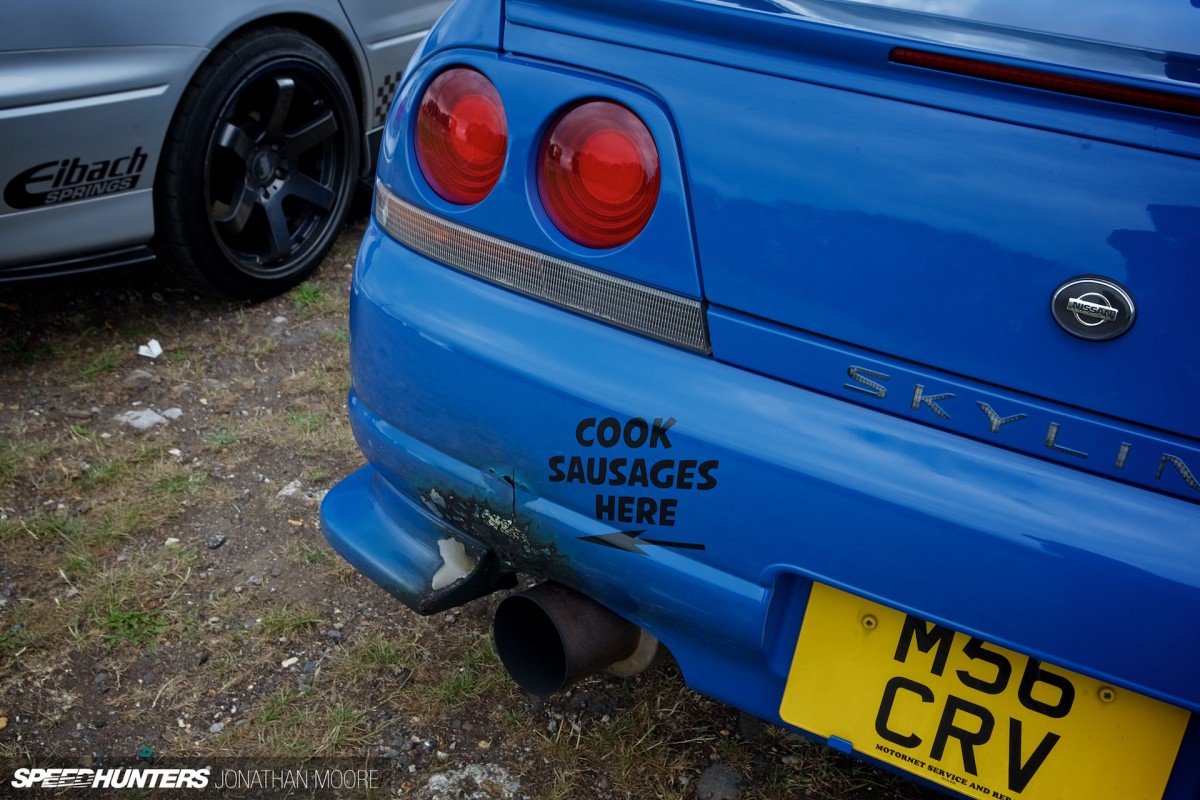 With no purist bone in my body and a general love for irreverence, I appreciate owners who don't take their passion too seriously. Actually, stet – more accurately I mean owners who concentrate on the important stuff, but who also then go out of their way to highlight and celebrate things that would make show 'n' shiners faint.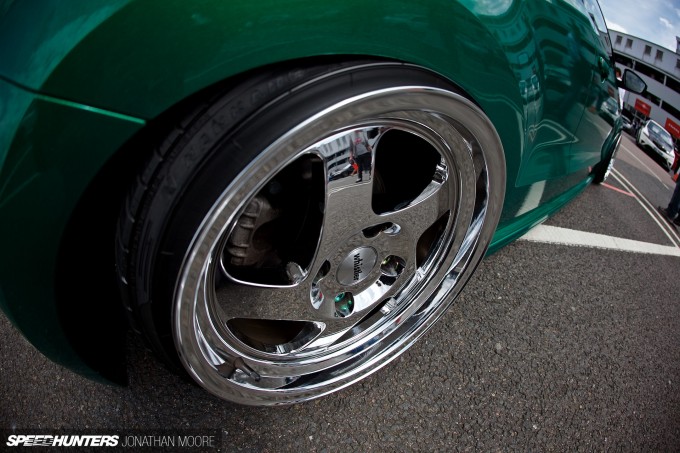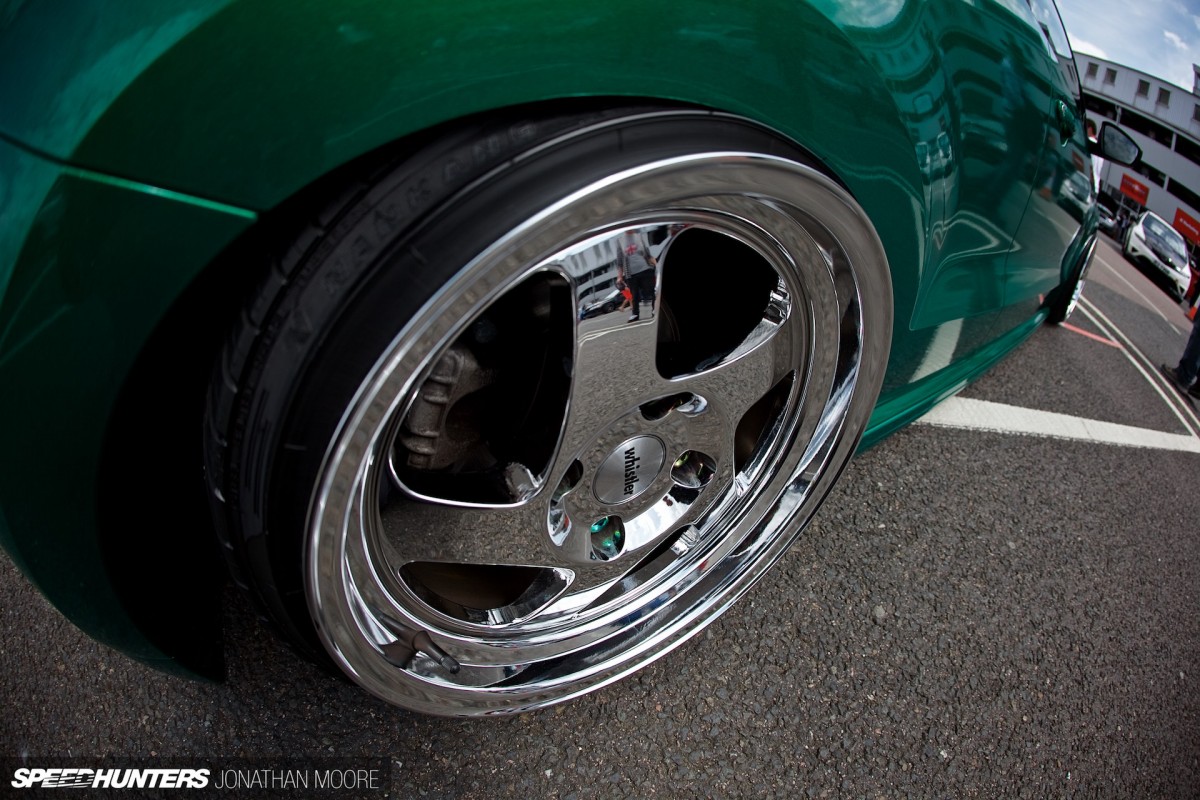 Of course, I'm not suggesting there's anything wrong with chrome shining like the sun and engine bays that are so clean you could eat you dinner off them – I'll be there with everyone else gawping at them in admiration. I think I'm just looking for excuses about what a state the chrome inlets on my should-be-lovely 3-litre Alfa V6 are in…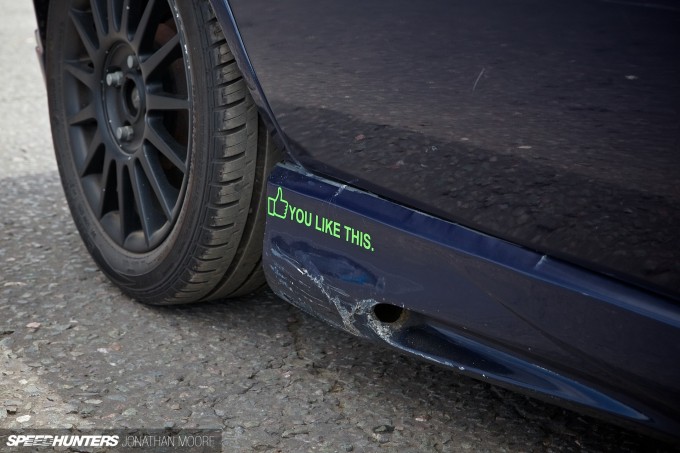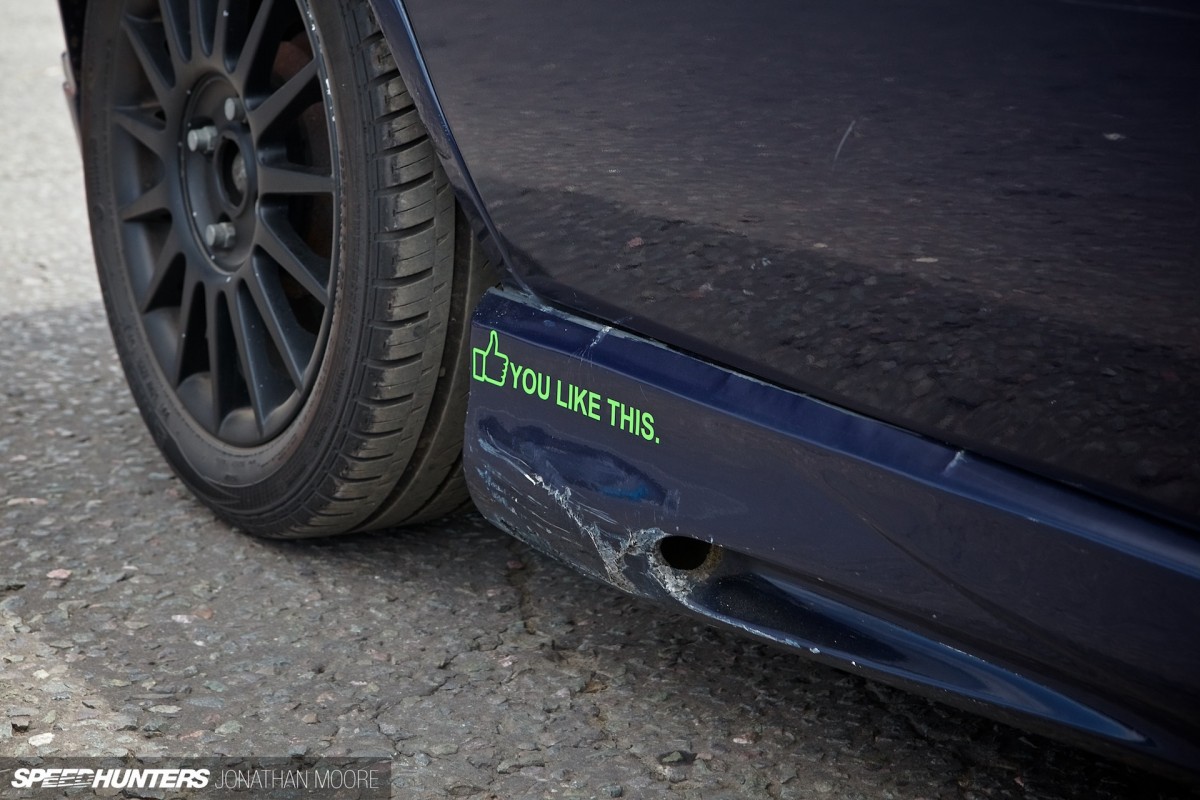 Why do things like this? Because you can and should. Obviously we all want people to like our cars as much as we do, but at the same time nothing should be more important than individuality. Personality and selfish pleasure need to be front and centre, otherwise it just becomes about fashion.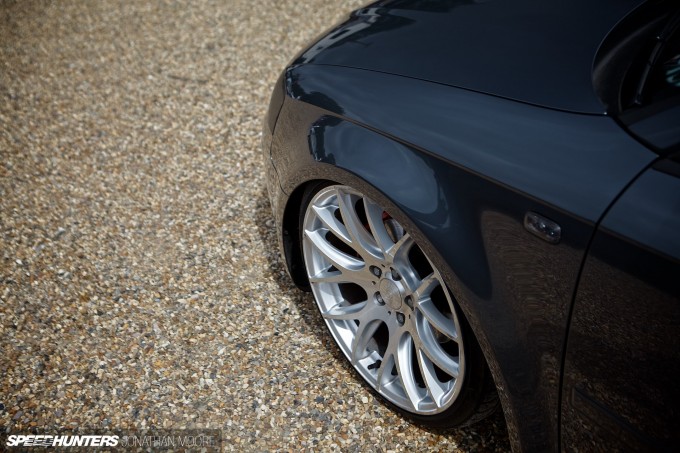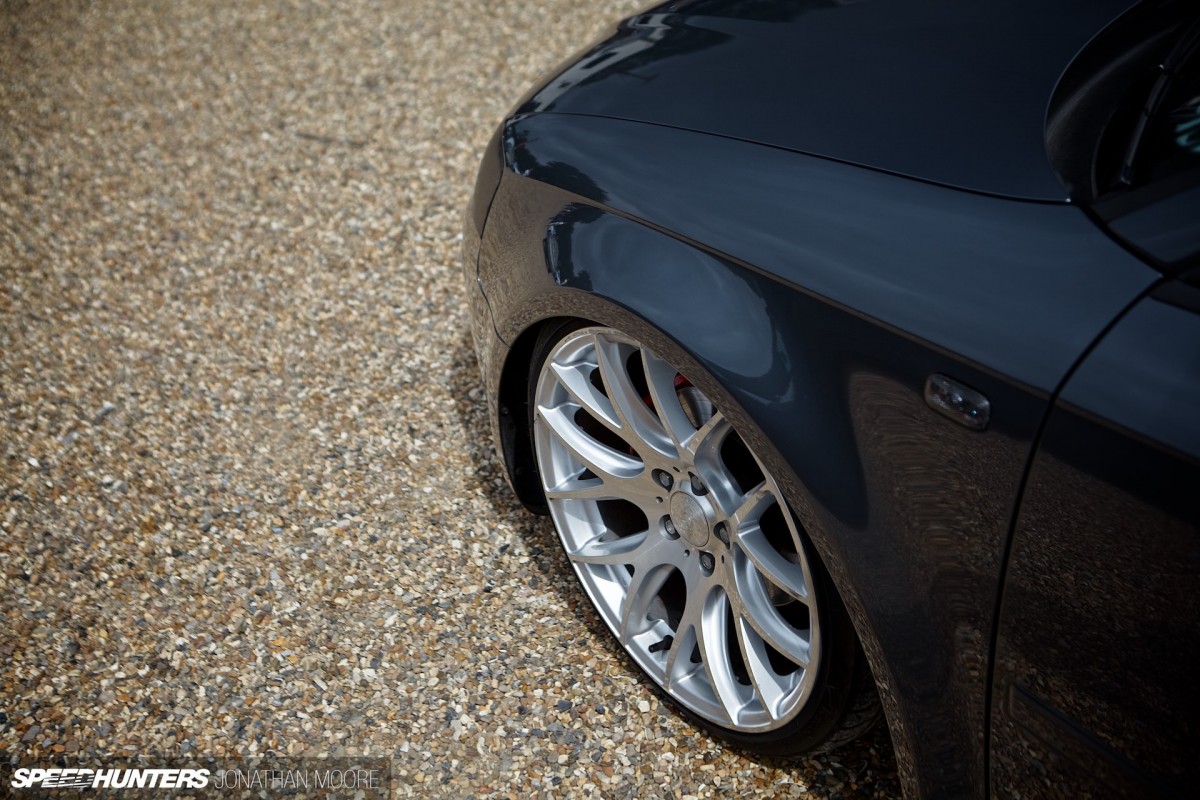 Brands Hatch's upper parking was rammed with clubs from across the counties, showing off a slew of cars from across both the decades and gamut of styles – just how I always like it.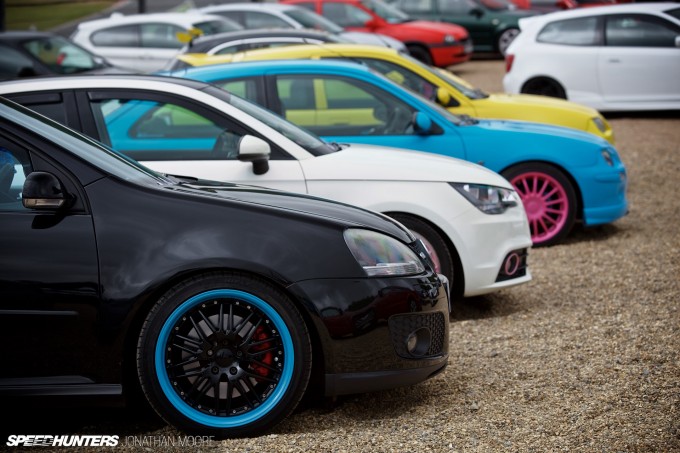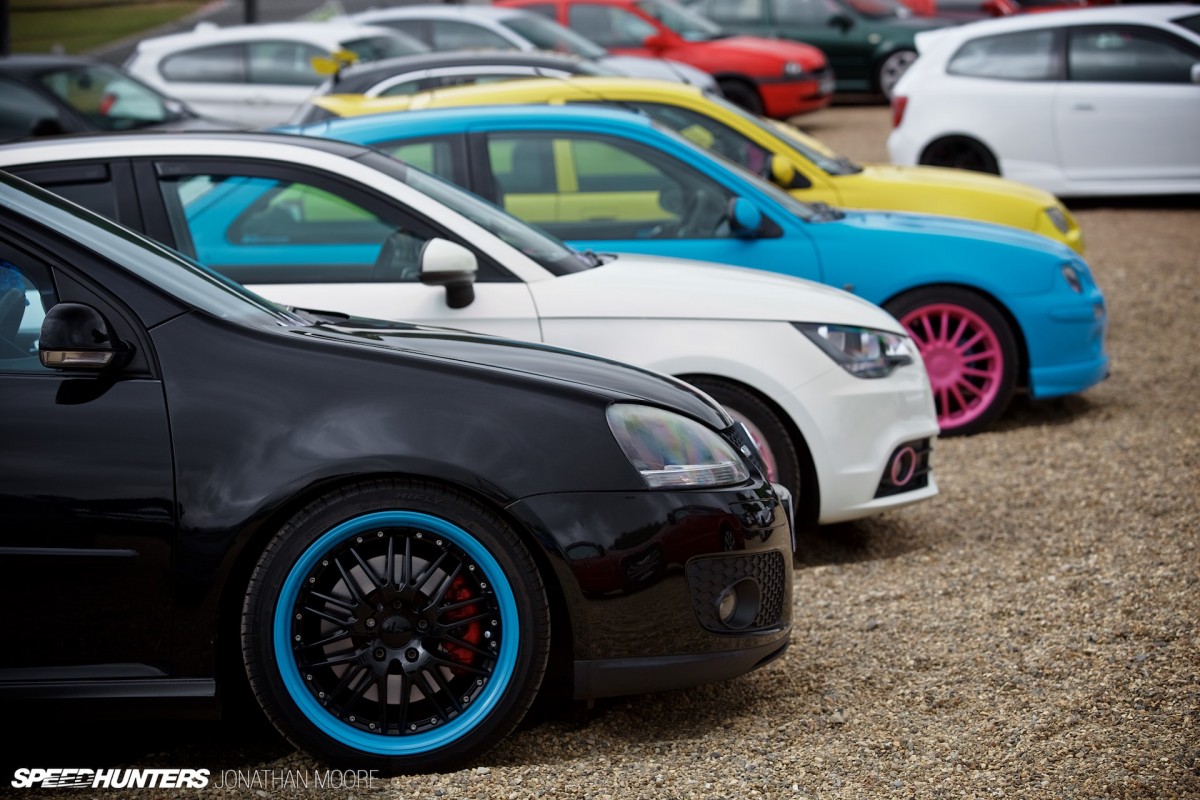 Wheels are a common starting point of course, and often a contentious topic. Although personally I prefer more of a performance, racing-style rim, there was very little to complain about at Tunerfest.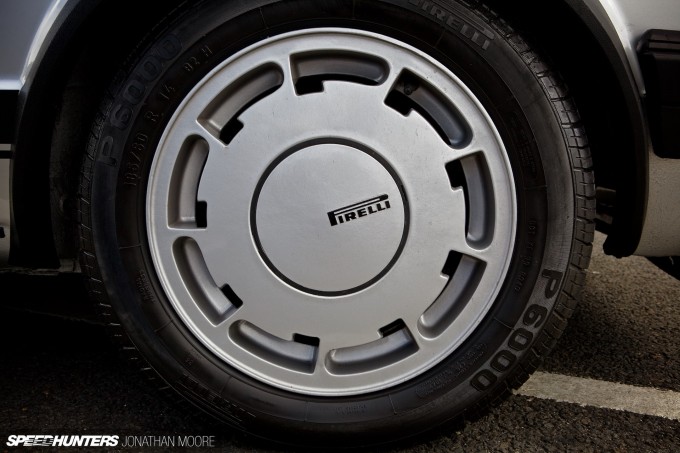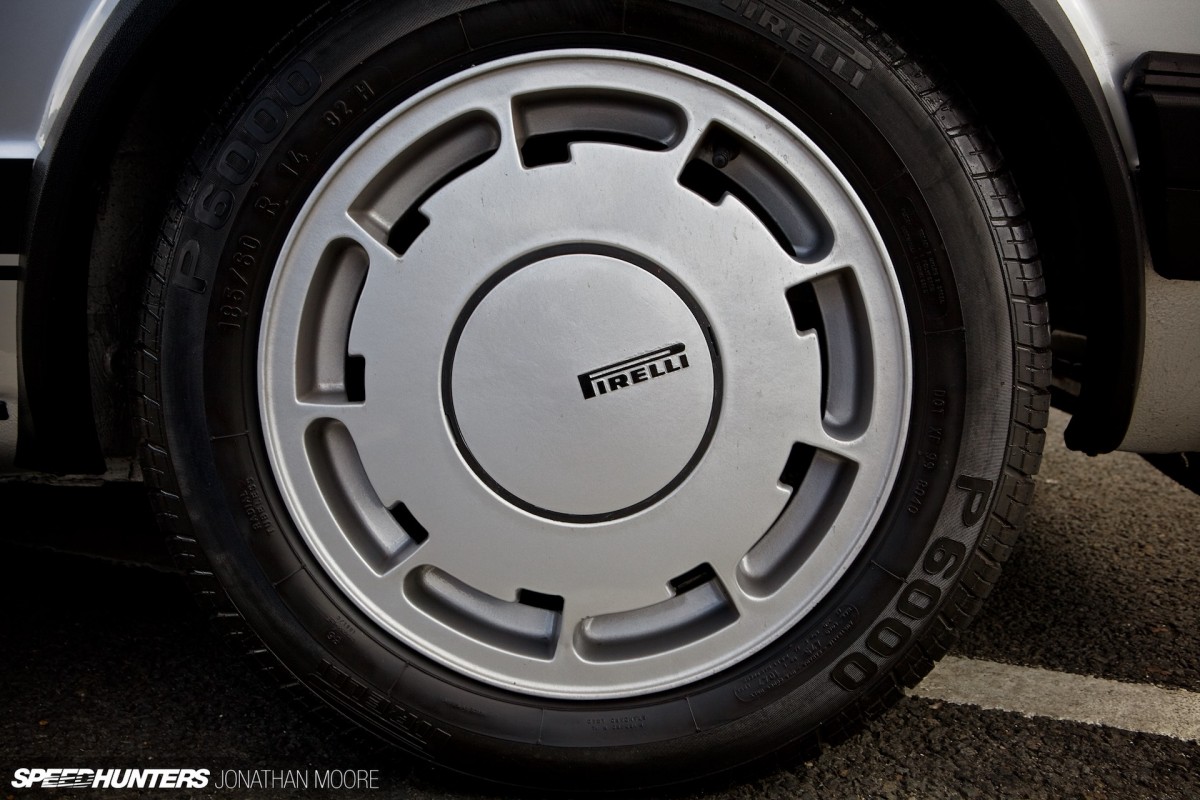 Tuning might have been the focus for the day, but that didn't prevent appreciating some beautiful icons from the past in concours condition.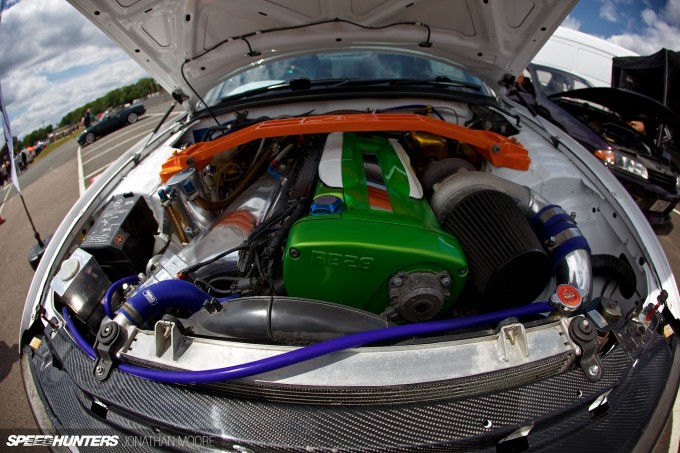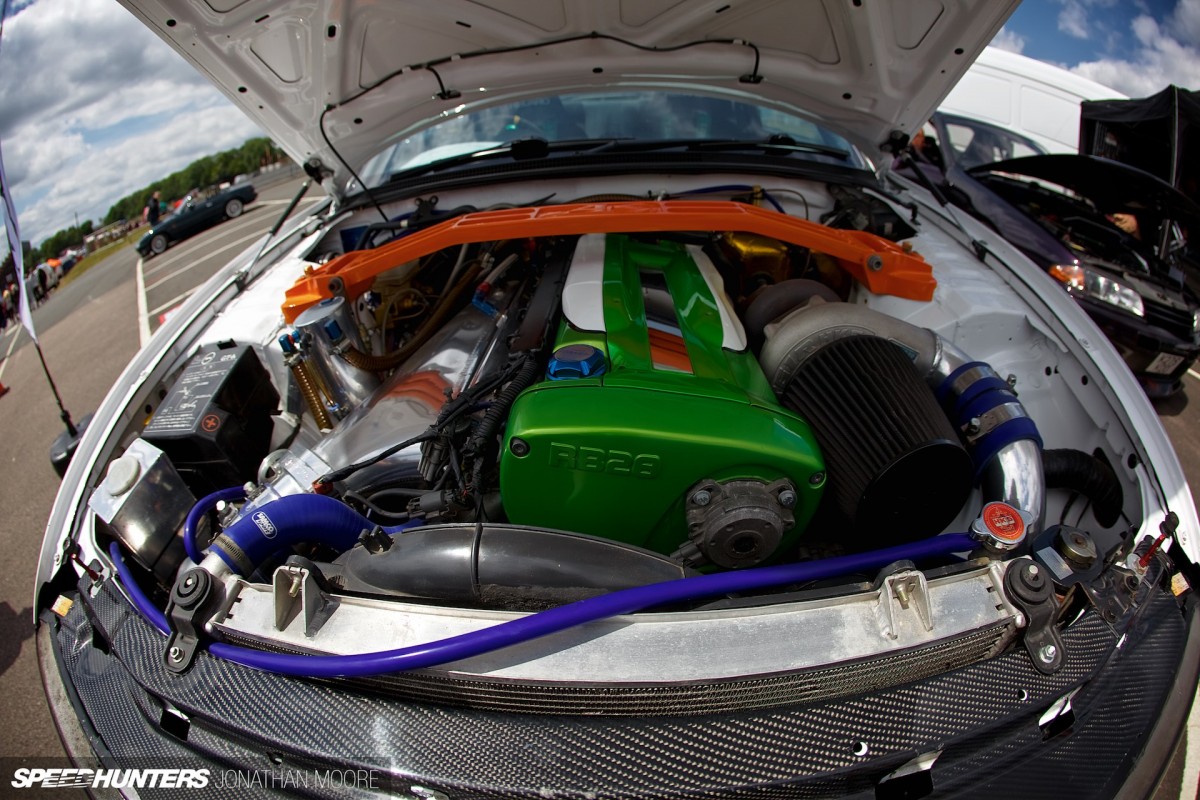 Wandering through the clubs, what was going on under the bonnet was sometimes familiar – at least with starting points – but the end results pretty much always showed the different paths individuals take. Inspiration can often come from a similar concept, but two engines are rarely the same.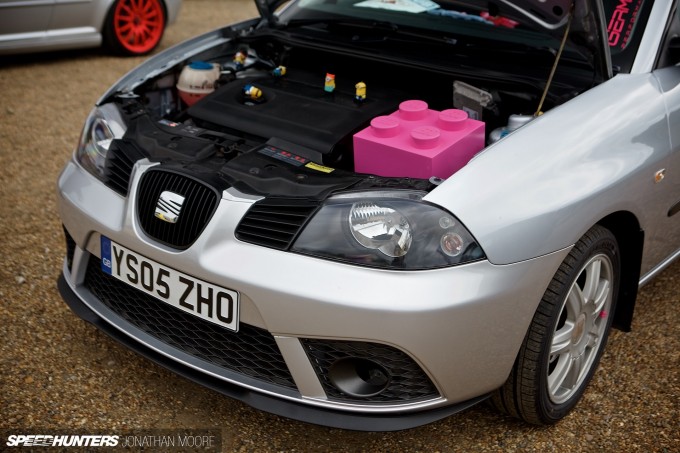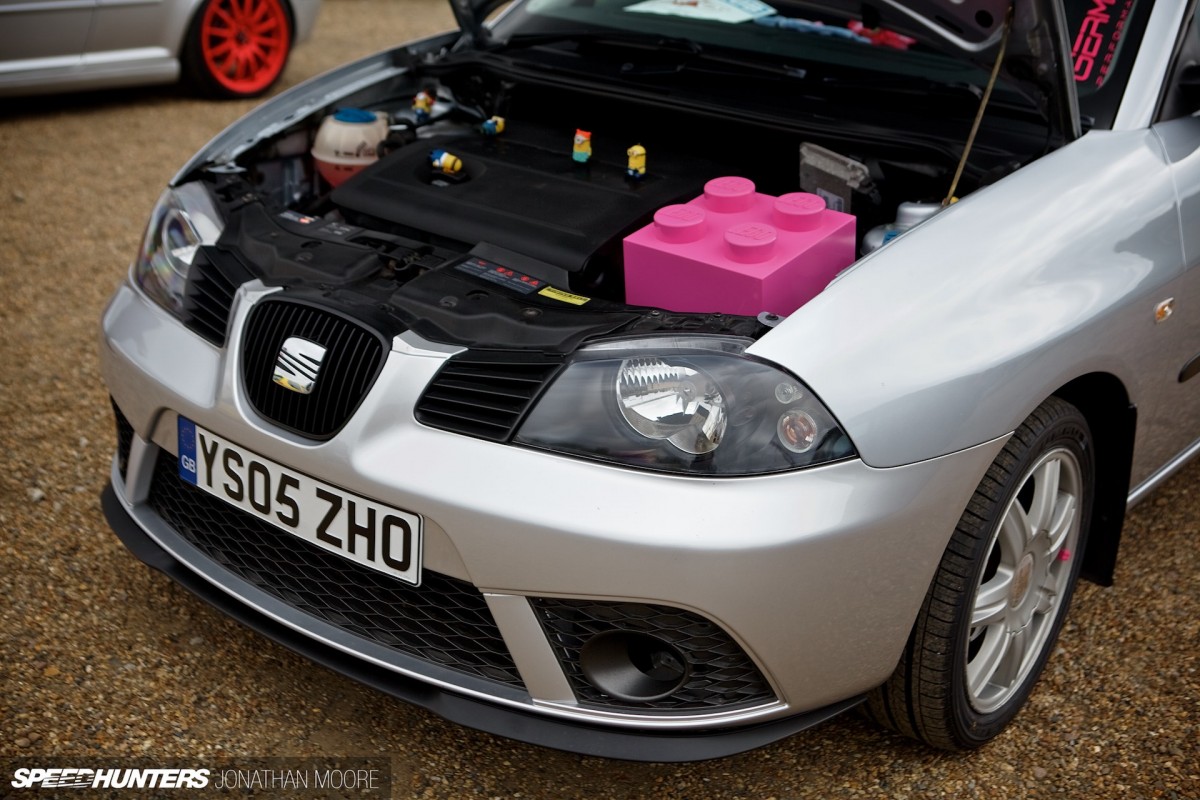 It's a question of what you want to achieve, though tuning an engine is hardly like just sticking together some Lego bricks. Serious thought has to go into what your end point is – power or shine, response or reaction.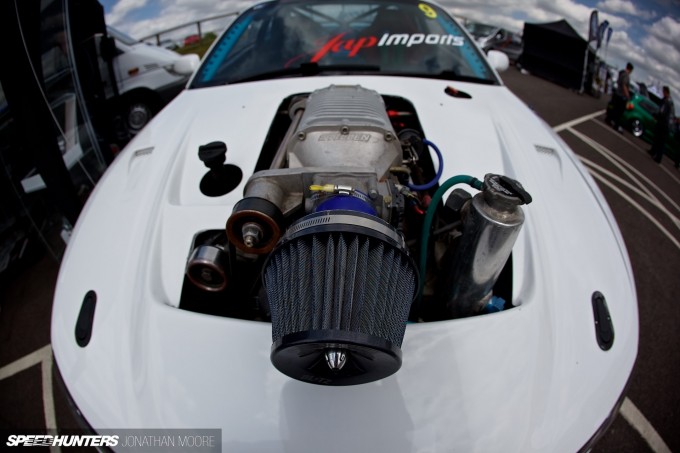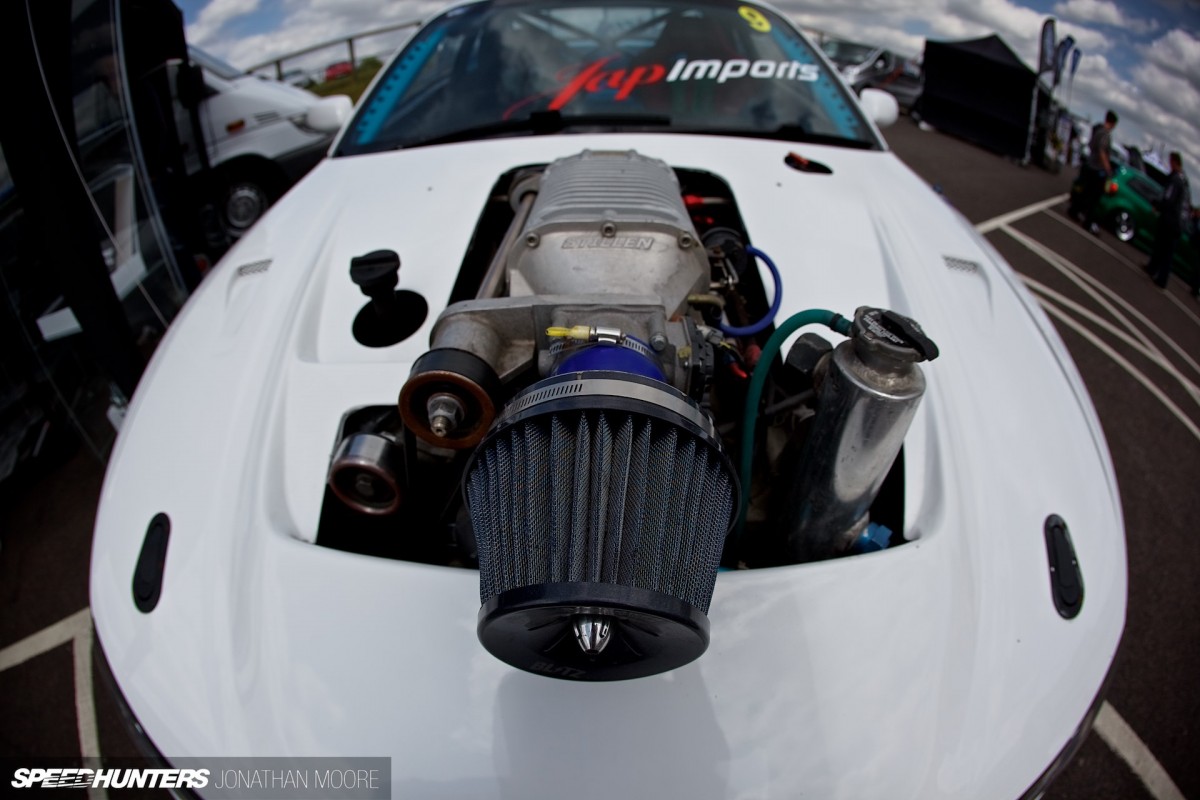 Subtlety comes into it – or a lack thereof. JDM Garage's weaponised Silvia had its alien-baby Stillen supercharger bursting out of the bonnet, the Titan V8 host buried underneath in the S15's bay.
Bagging The Best Spots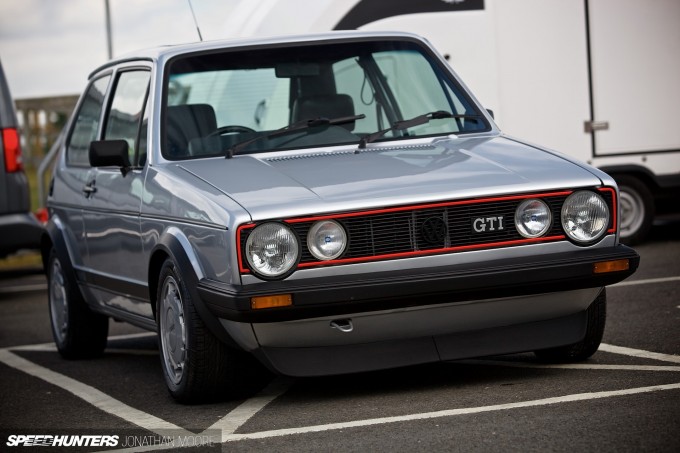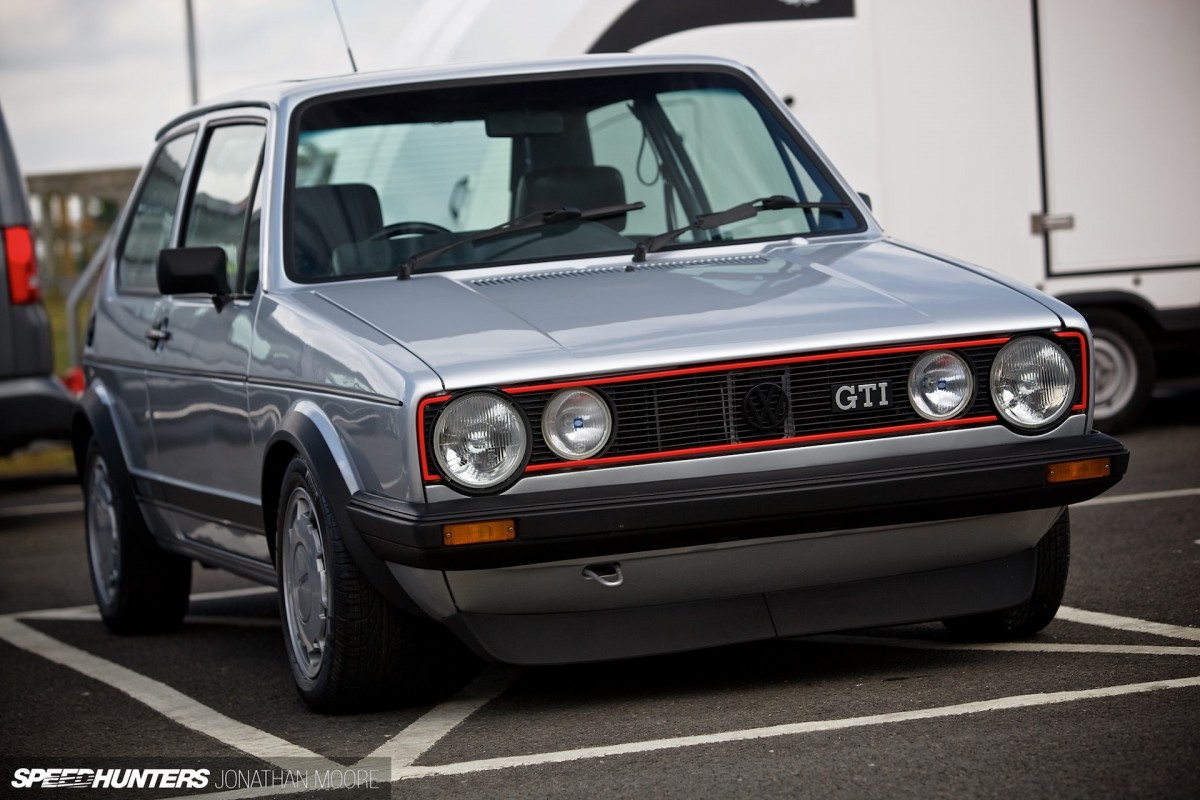 Typically, my head was turned by a retro classic. First I clocked the iconic lines – and condition – of this stunning MkI GTI, but then I noticed the beautiful Pirelli rims shown in more detail earlier. That marked it as a Campaign model – something I'm sure is obvious to the VW aficionados out there, but a glorious revelation to me. It's what I love about car shows: asking questions, researching the rare and discovering new facts to bore my friends with.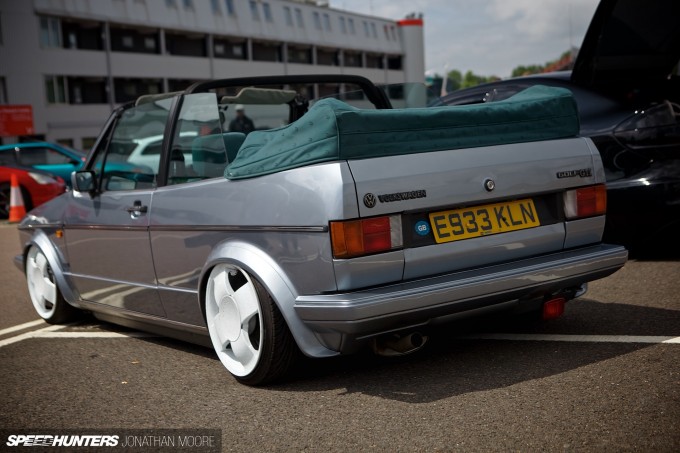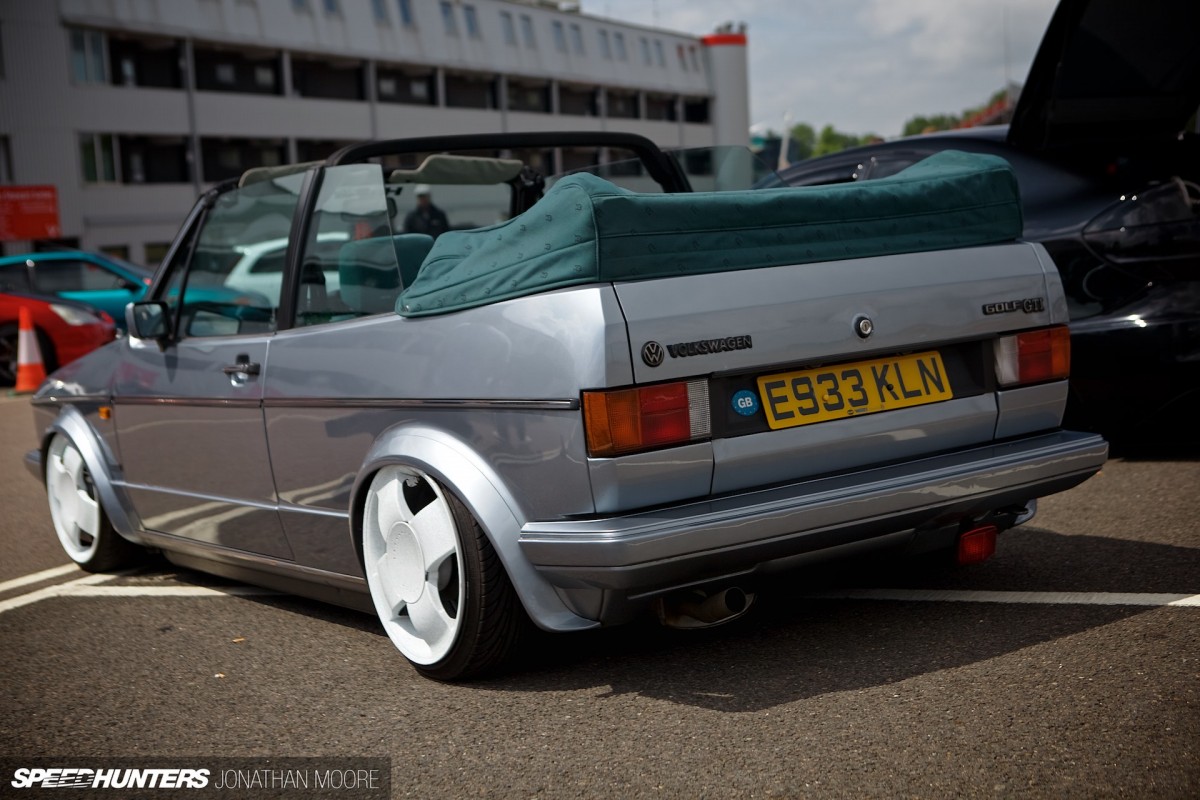 The classic angular lines of old model Golfs just lend themselves to subtle mods, but even being banged down on air and with these bold rims filling the extended arches they look great. The rising waist-line on the convertible GTI also nicely offset this low-ride look.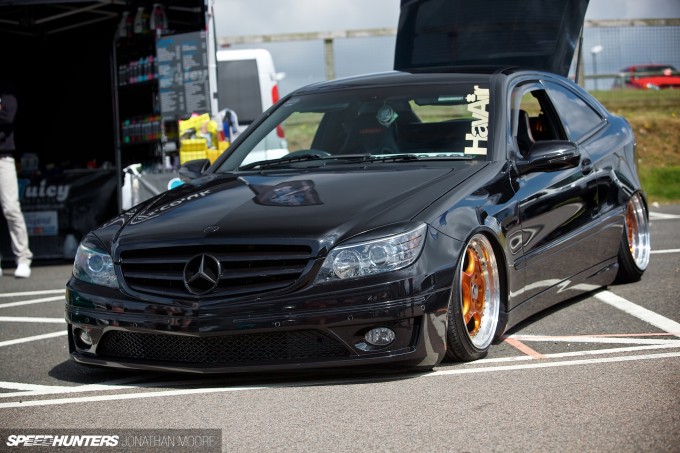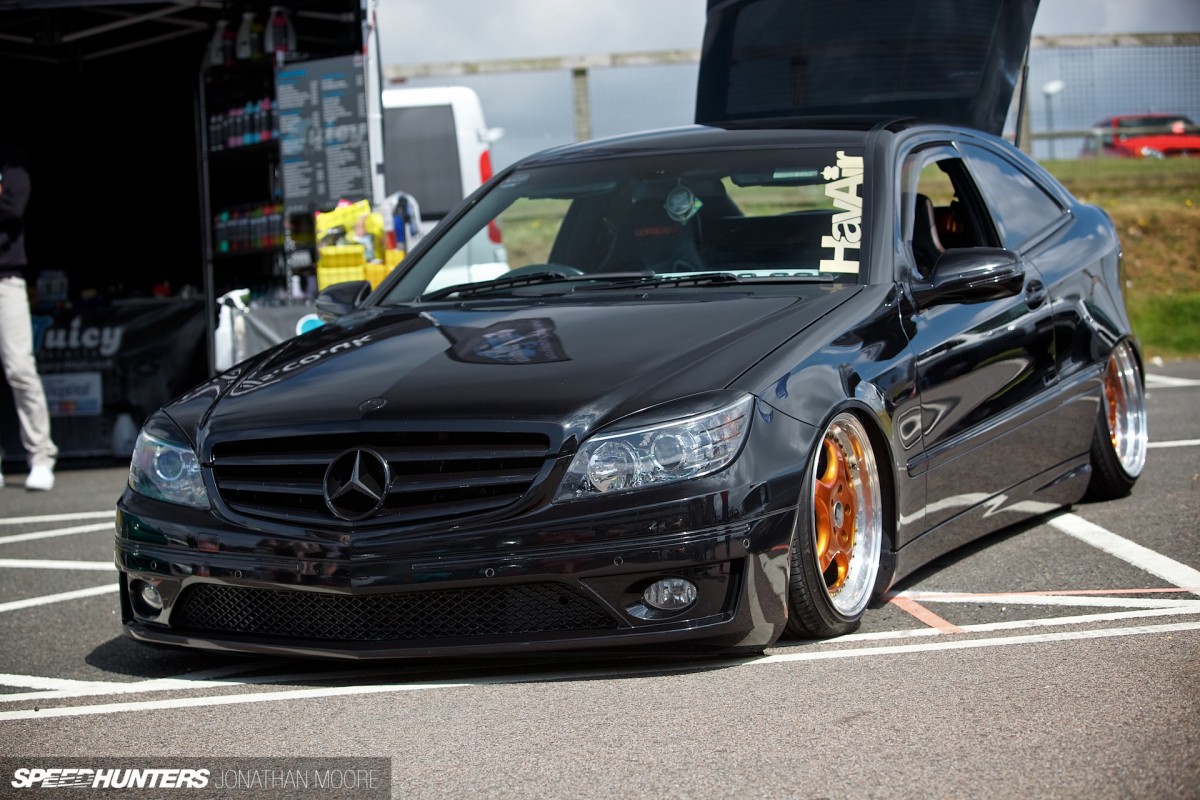 The Golf sat next to this stealth Merc, also nailed to the ground with a HavAir system. The blacked-out body was a counter-point to the less restrained, bronzed three-piece RH wheels – especially with the rear tuck.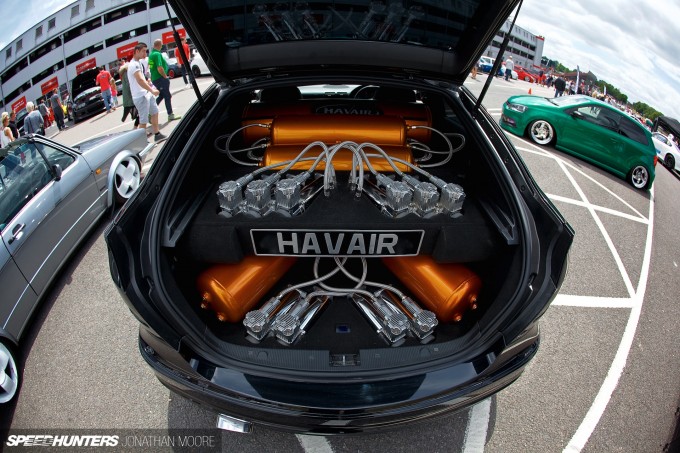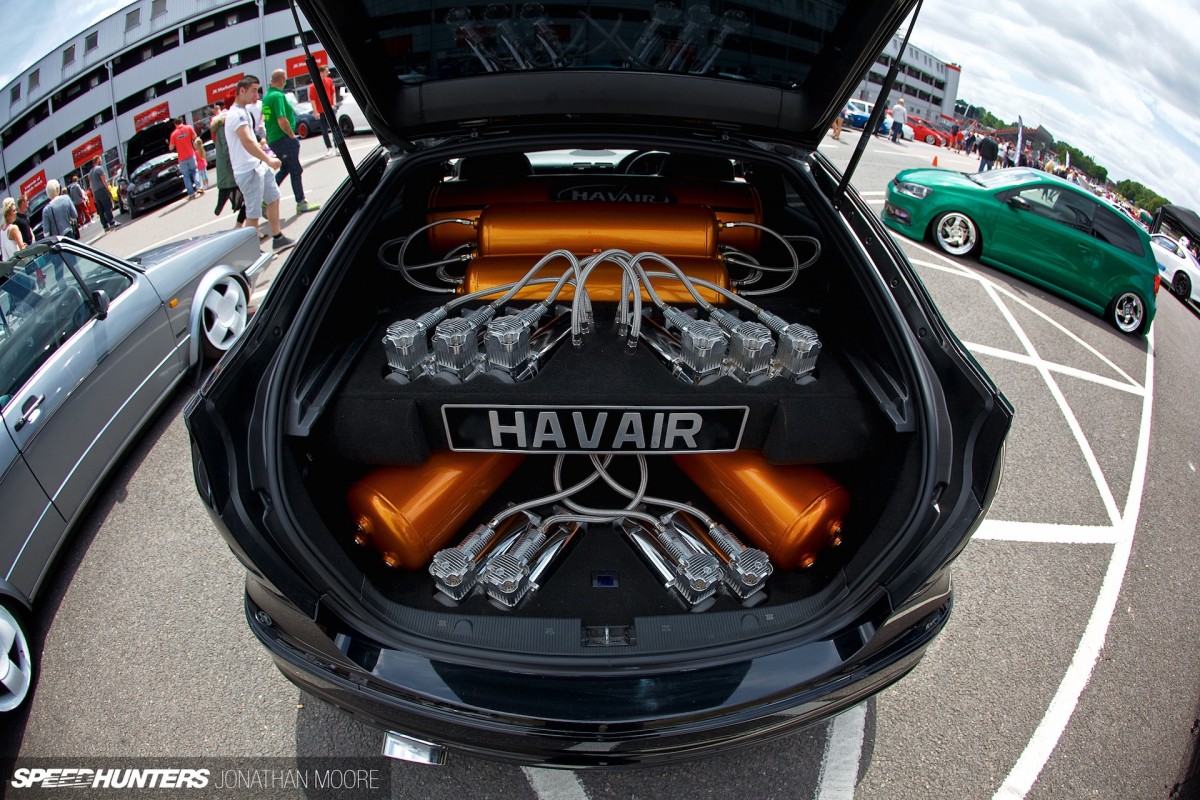 But the real deal was out back where the boot was filled with this military-grade hardware. Supression through compression.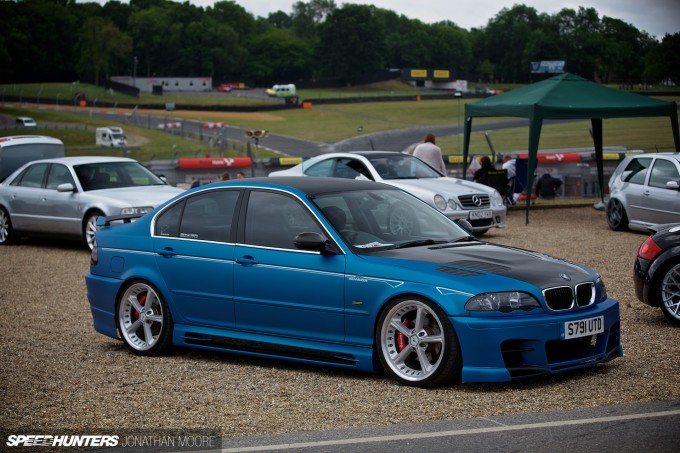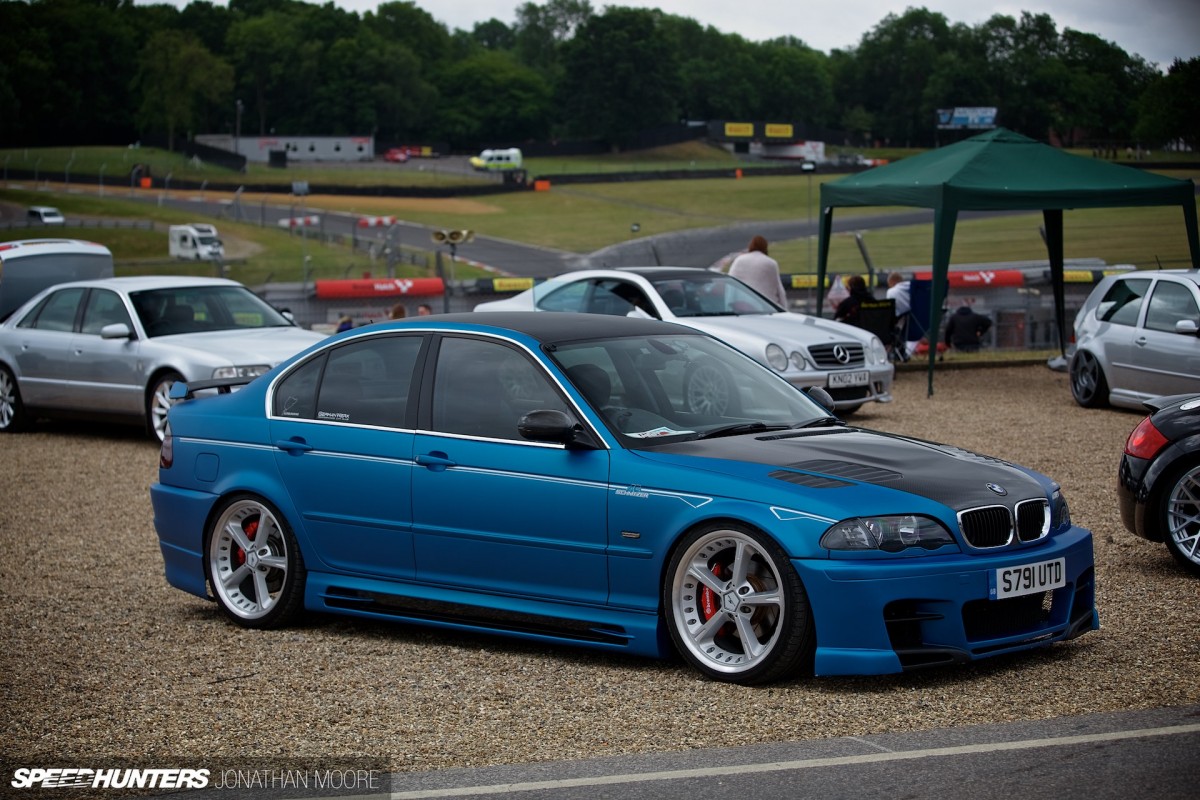 It was good to see a fine proportion of European cars at Tunerfest – VWs have always been the staple of the UK modified scene, but Audi are on the rise and BMW's 3 Series are always a solid choice. The flat-metallic blue wrap suited this AC Schnitzer-ed 328i, plus it was refreshing to see a car that's kept its original width. The E46 is surprising narrow, something that was particularly apparent from the front and rear aspects with the ground-hugging aero additions.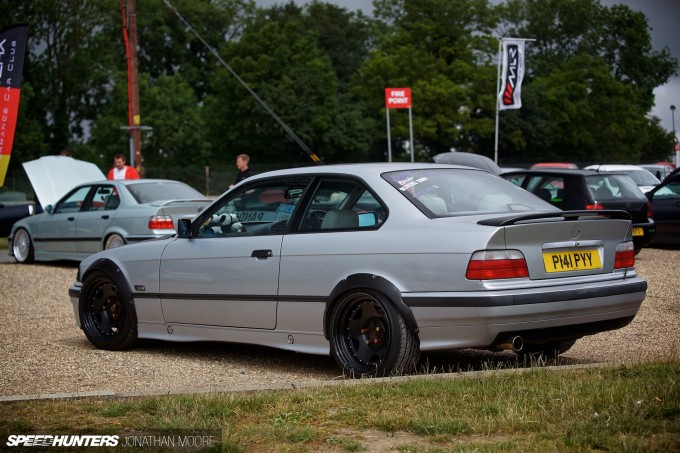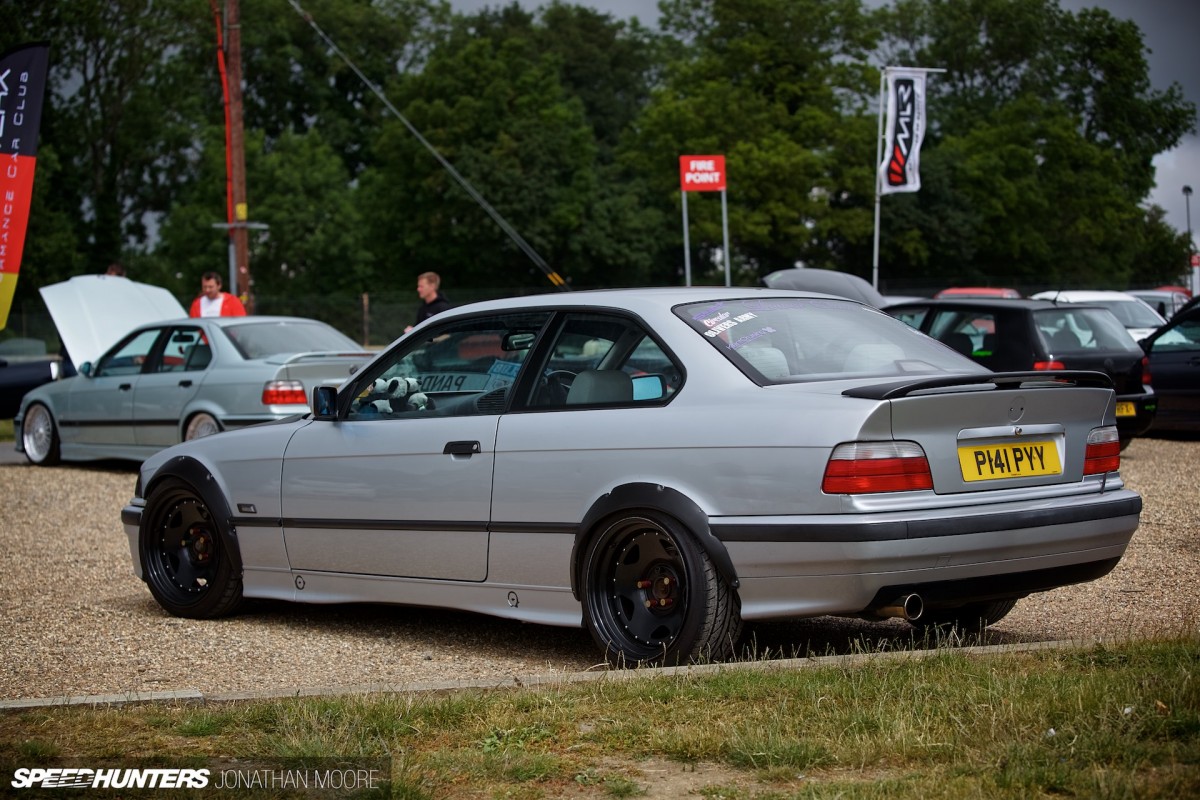 But even if you go back a generation you can do good work with a model that's available in plentiful numbers and ripe for performance mods. I liked how this E36 carried through the black detailing to the over-fenders and split rims, even with the adornment of the shotgun cartridge studs!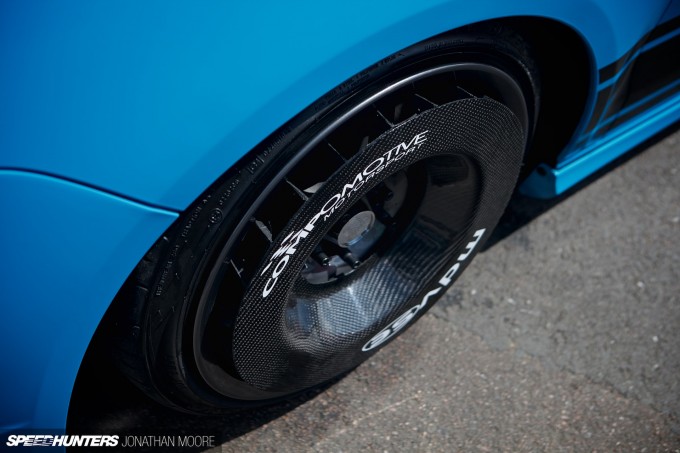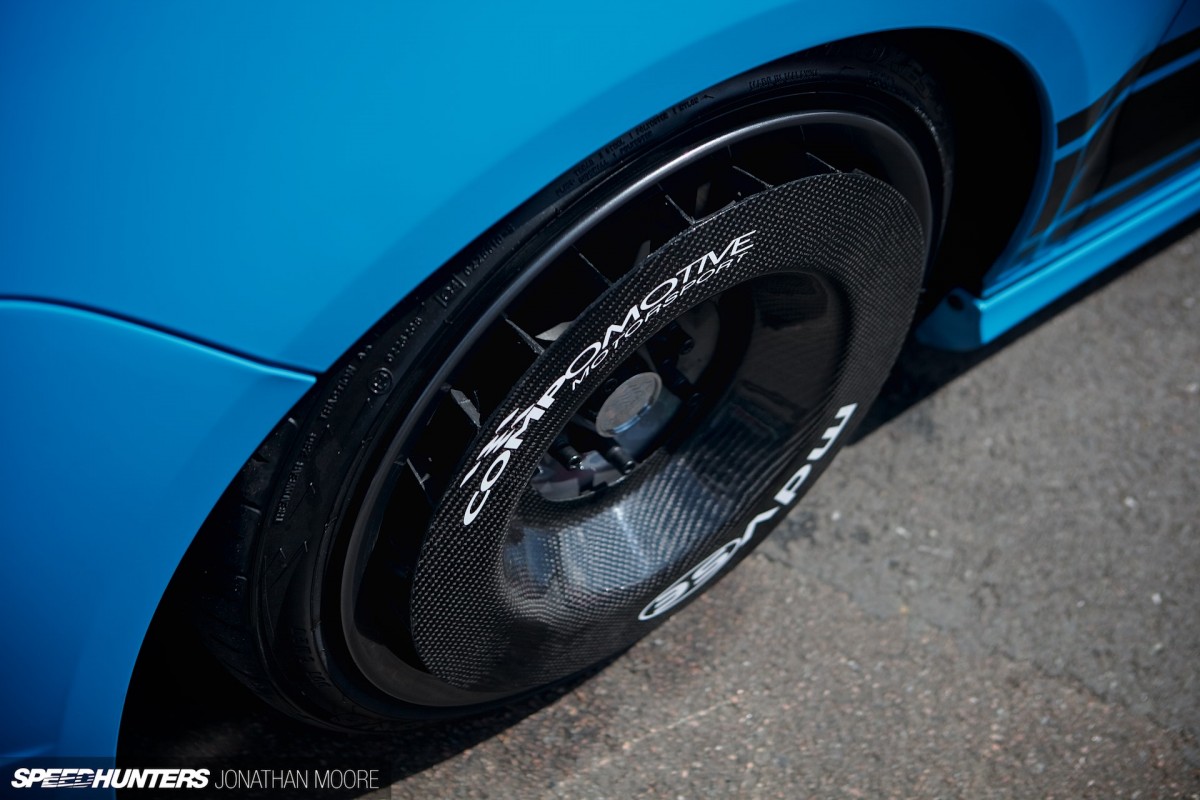 Nobody puts baby in the corner – not when they look like this. I'm not normally that drawn to miniature hot hatches, but this Polo was fantastic. Yes, the Compomotive MO6 wheels and bespoke carbon fans (complete with a chromoly race stud and nut conversion) helped, but there was much more to it than that.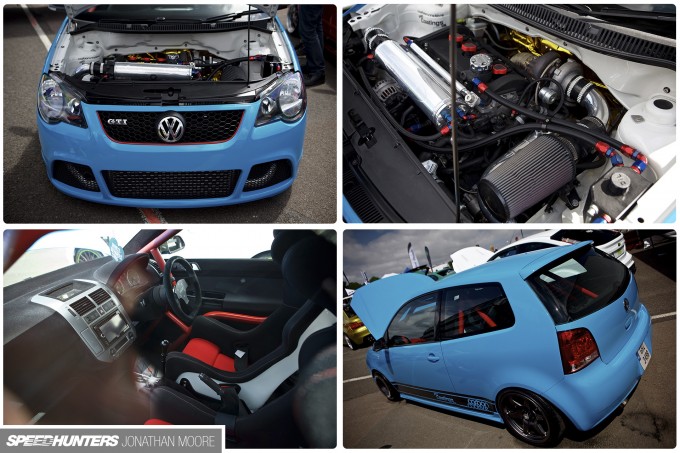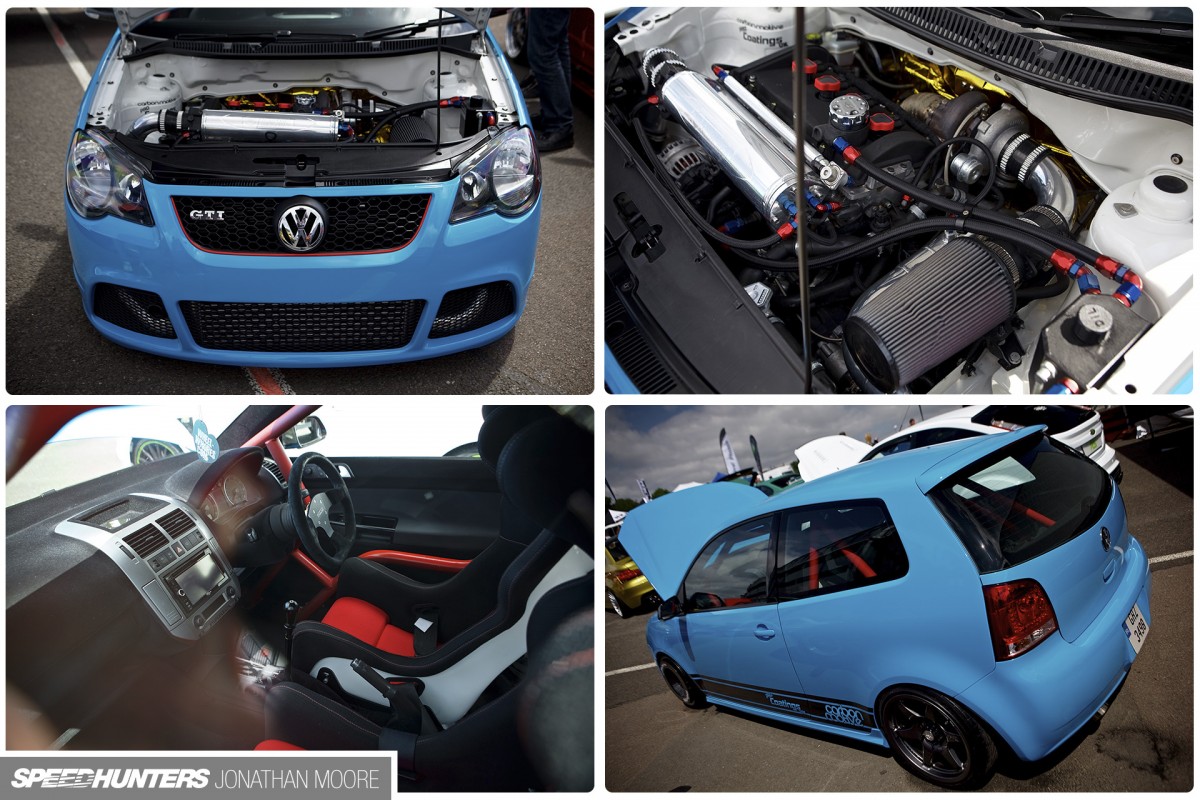 CarbonMotive have made it into a true pocket rocket: turbocharged up front, stripped out inside with a substantial-looking full cage and race seats. It looked like a serious piece of kit – a proper destroyer of supercar owner's egos.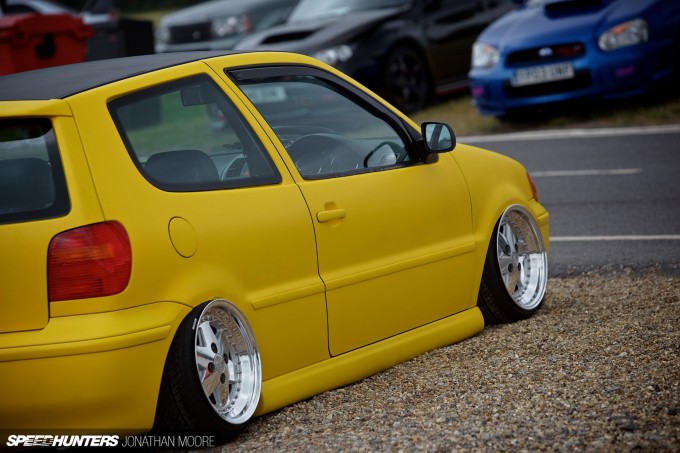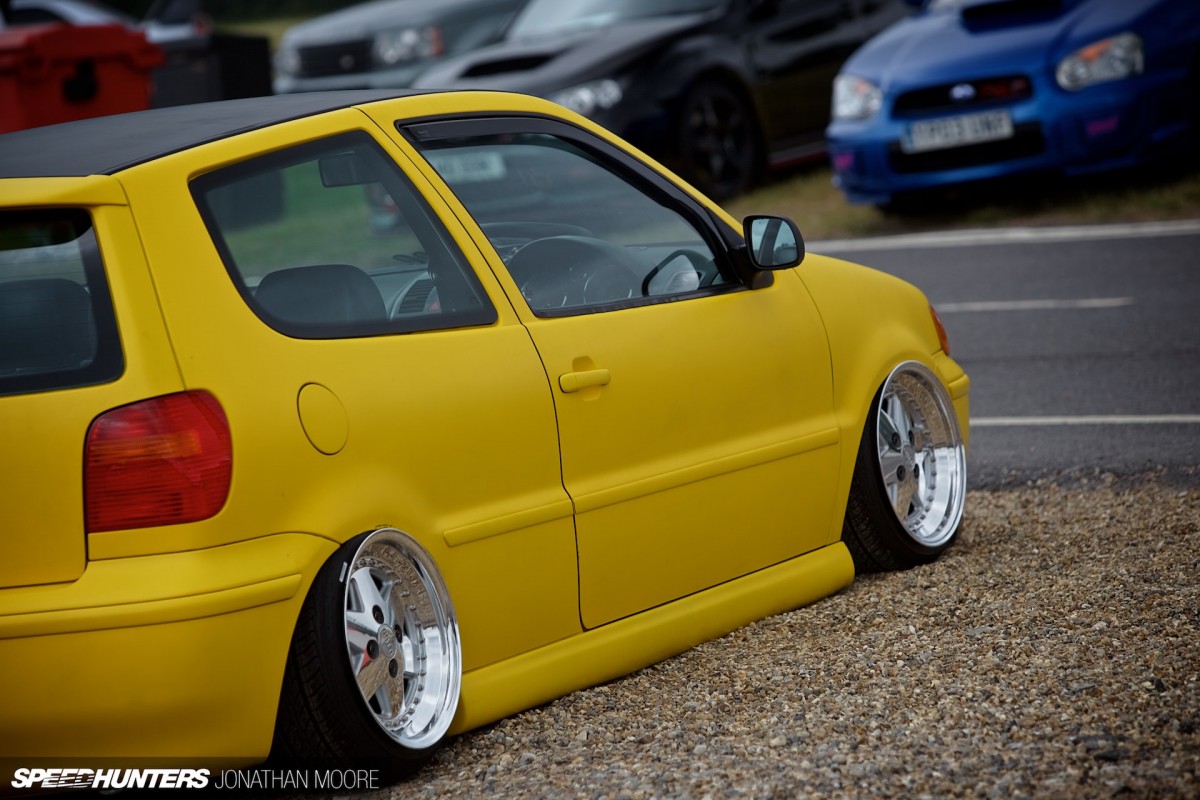 That just made seeing a Polo at the other end of the scale even sweeter – the rims of this bagged, banana yellow beauty truly showing the meaning of fender-scraping.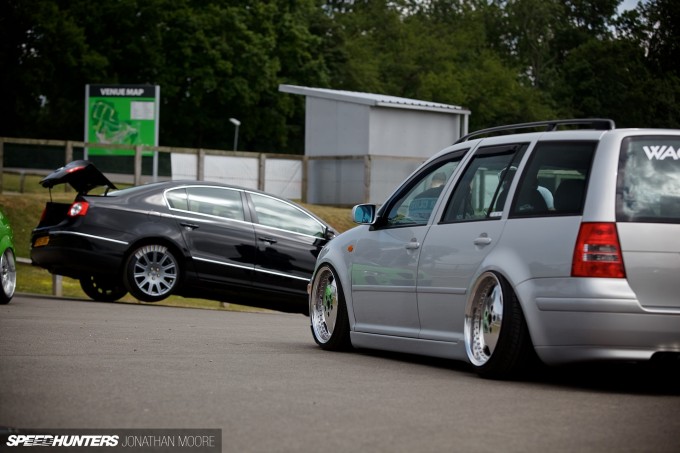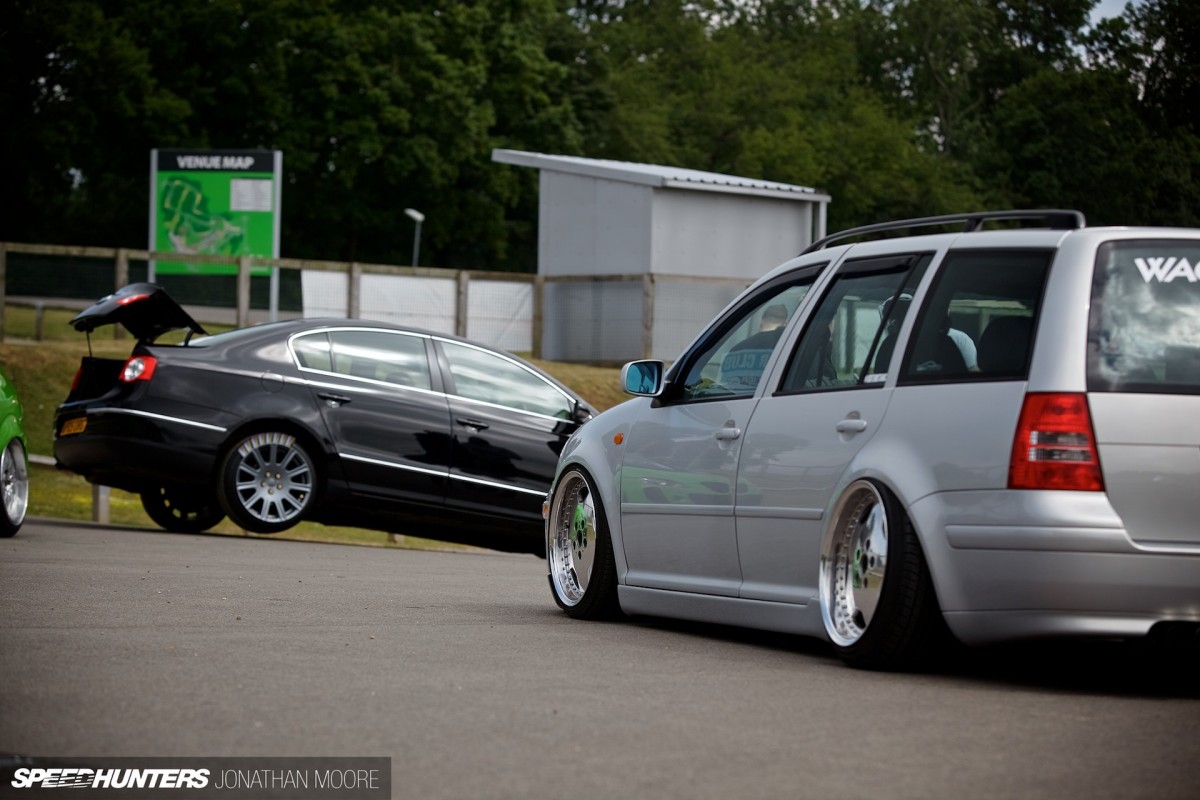 Air, air everywhere! Walking up to one of the upper club corrals, it did look like I'd caught this Passat mid-accident as it showed off the power of its Airlift system.
From Mexico To Godzilla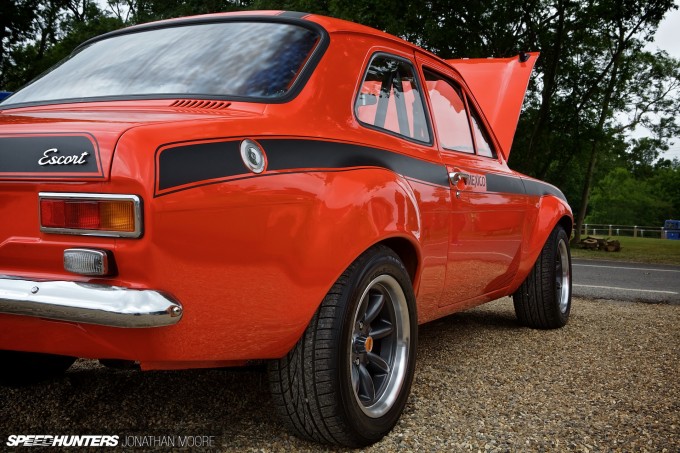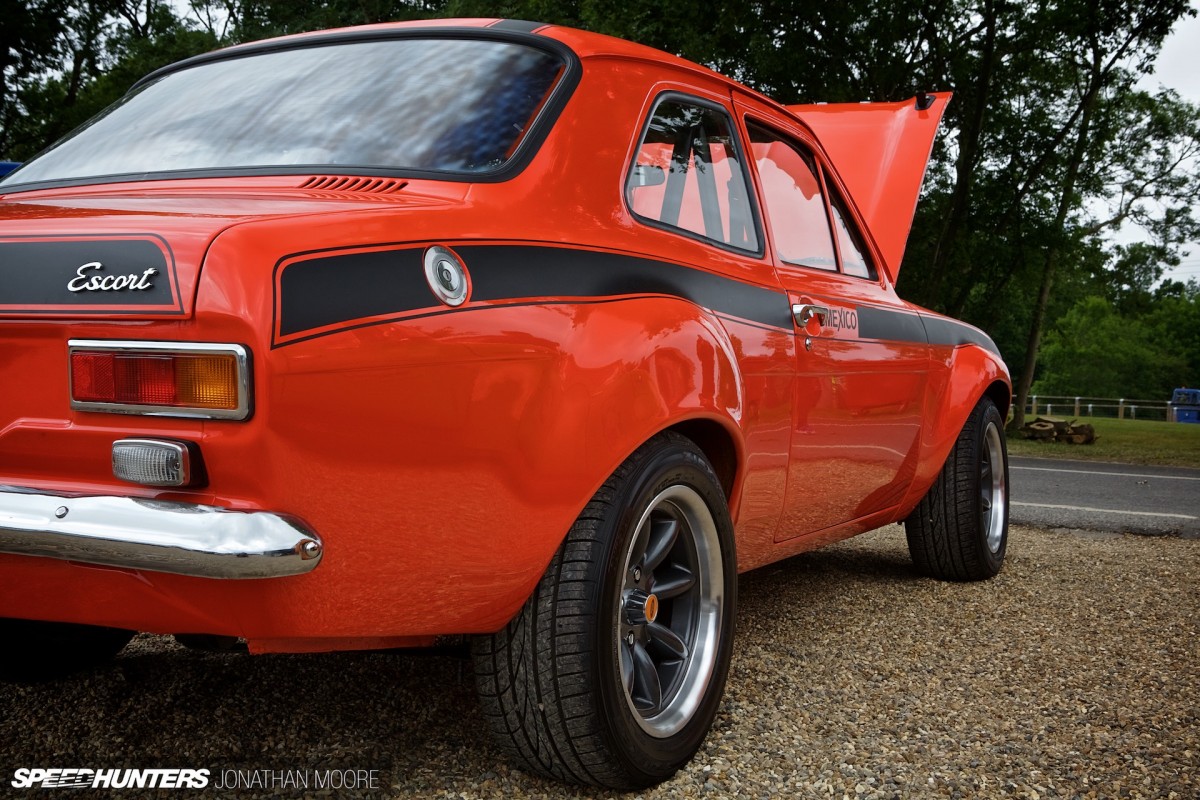 Rock up with a Mk1 Escort Mexico and you're pretty much guaranteed an appreciating crowd all day. The body? Touch it at your peril – those power bulges and flared arches are still the perfect look for an Escort of this vintage, as are the period decals. It's one of those rare cars that is just timeless, Europe's Hakosuka if you will.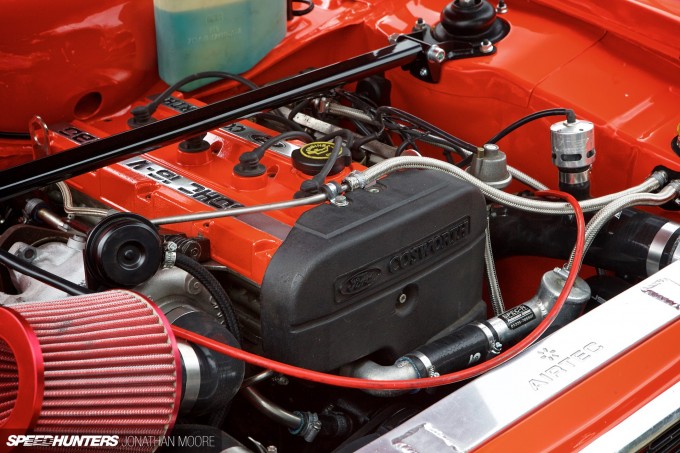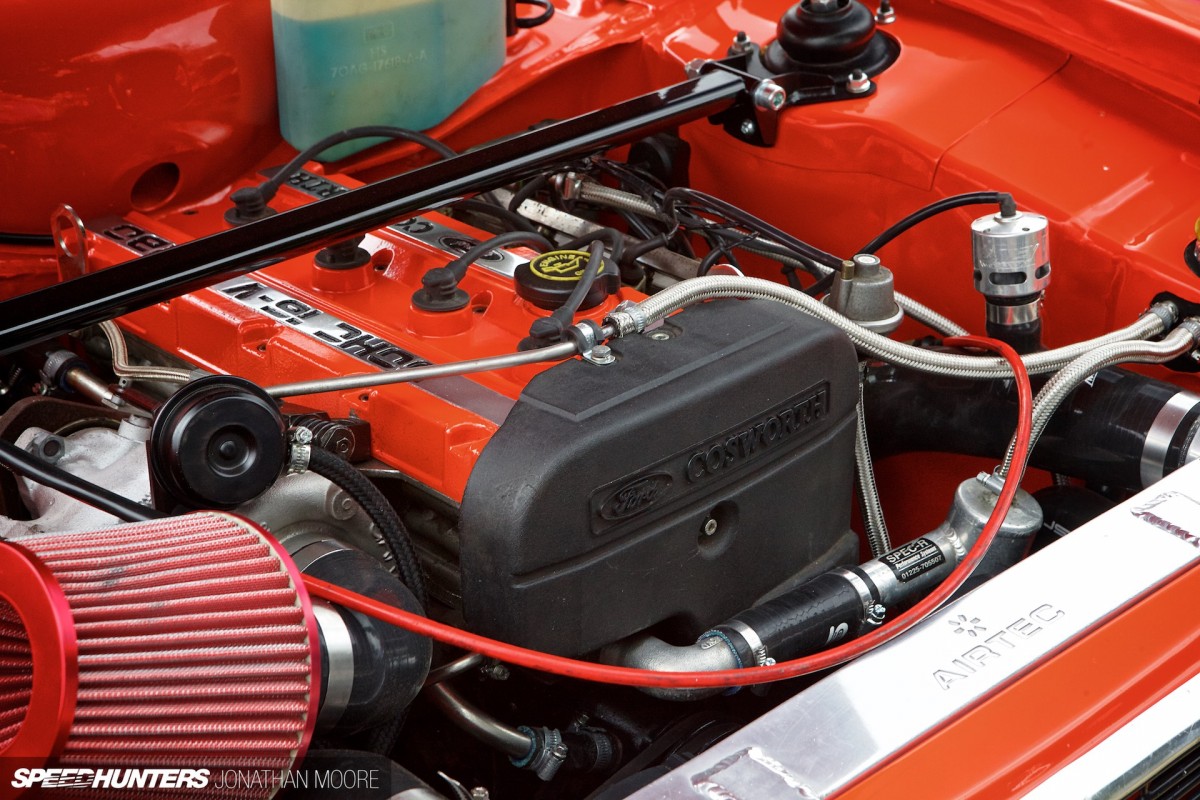 This Mexico had more than just classic good looks, its Cosworth had been tech-ed up with modern breathers and ancillaries, making it even more fearsome than ever. Power sliding heaven.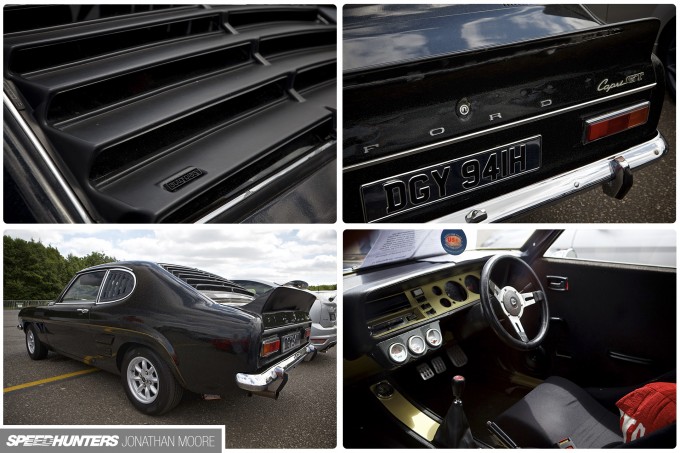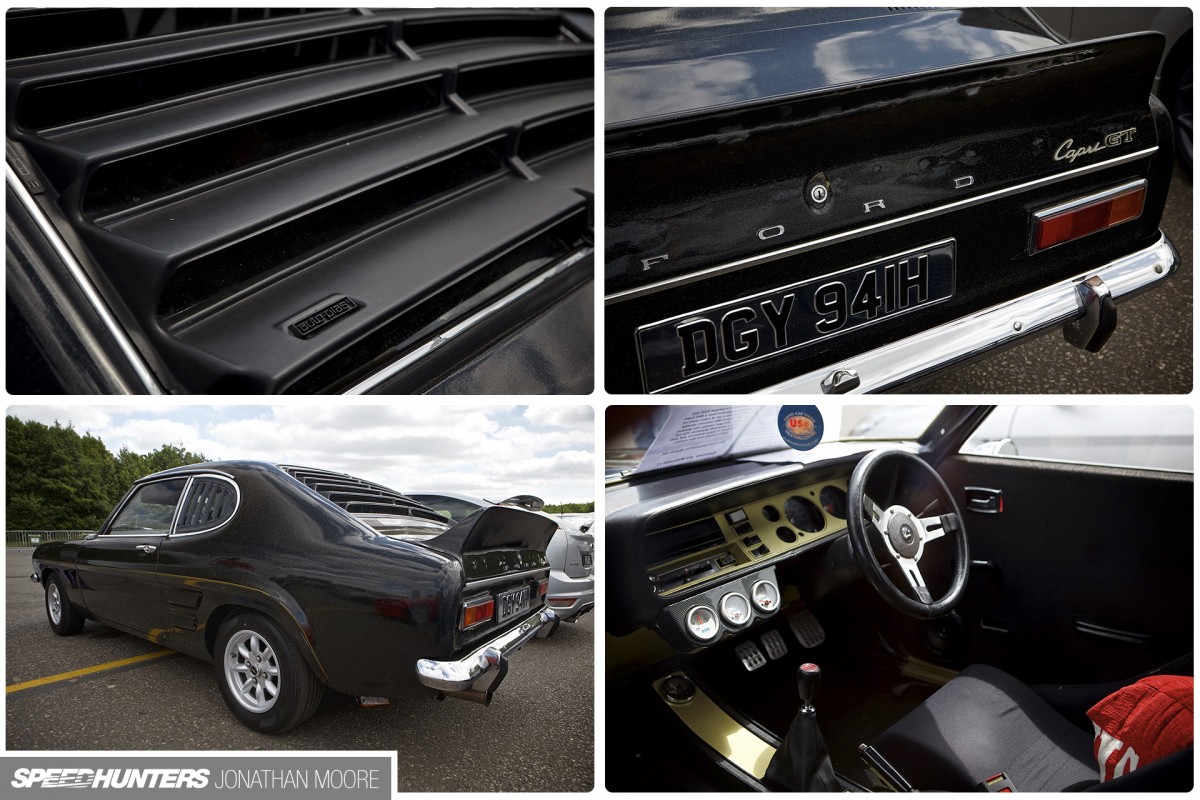 I'm surprised there aren't more Capris about really, but maybe the majority really were thrashed to death in period. The gold exterior detailing and fascia on the dash of the stripped-back interior was carried through to the engine bay; the original block had been retained, but uprated with a Powerflow exhaust system and Dellorto carbs. The oversize ducktail spoiler and slatted rear window cover gave it an authentic boy racer feel. Ah, I want more Capris!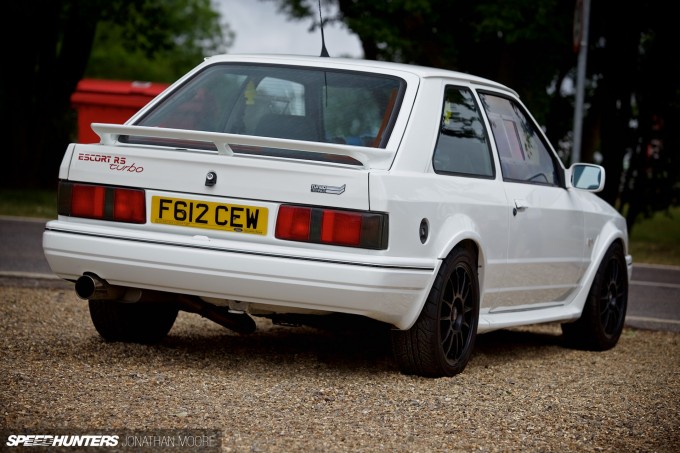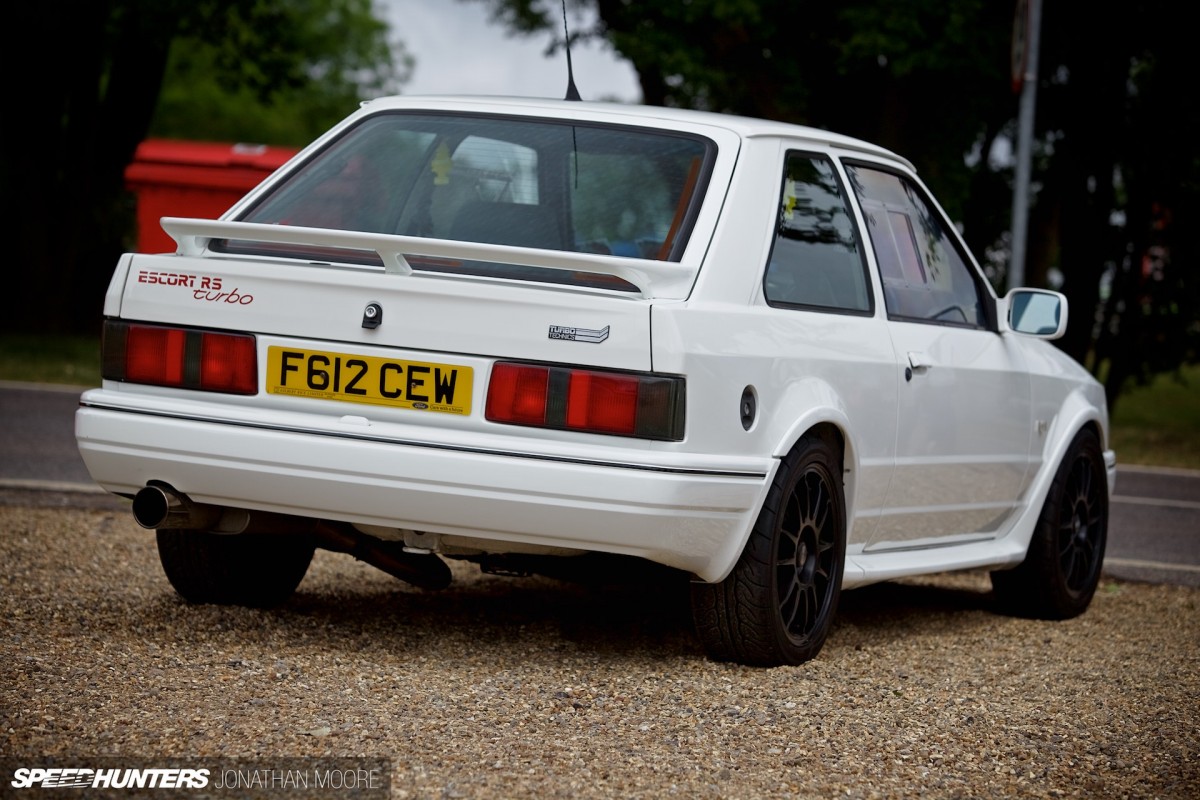 I've previously talked about how the RS Turbo taught me the meaning of haste when I was a child, and even now the child in me covets one of these. Not as beloved as the preceding Escort models, to me it's still the last example of a truly believable Ford performance saloon. Until recently that is…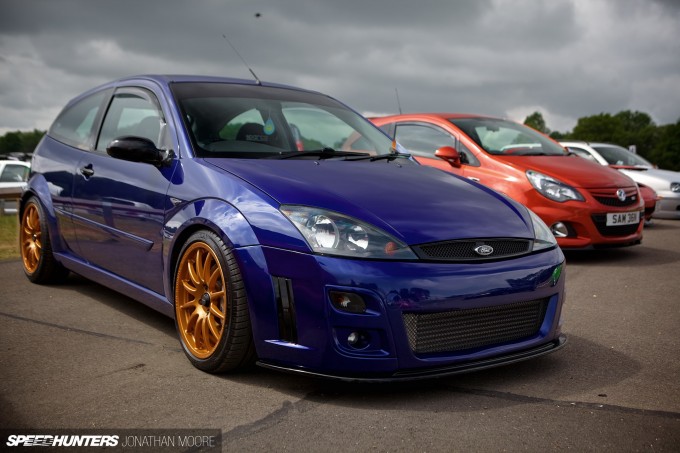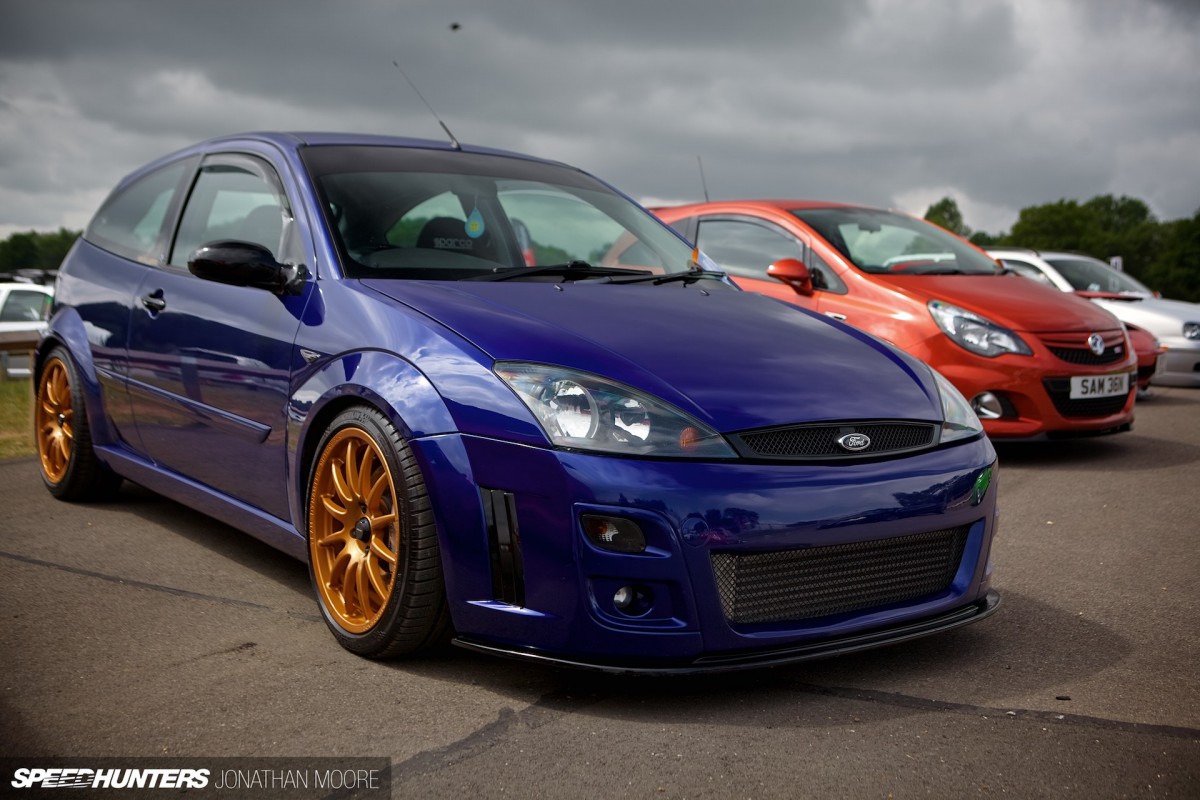 I'm sorry to admit that I became pretty much Ford-blind for a long time, but the Fiesta and Focus RS models of the last decade actually deserve to carry that hallowed badge. The new Focus RS MkII is a monster even straight out of the showroom, but the RS MkI is a tidy little thing as well – especially when it looks like this.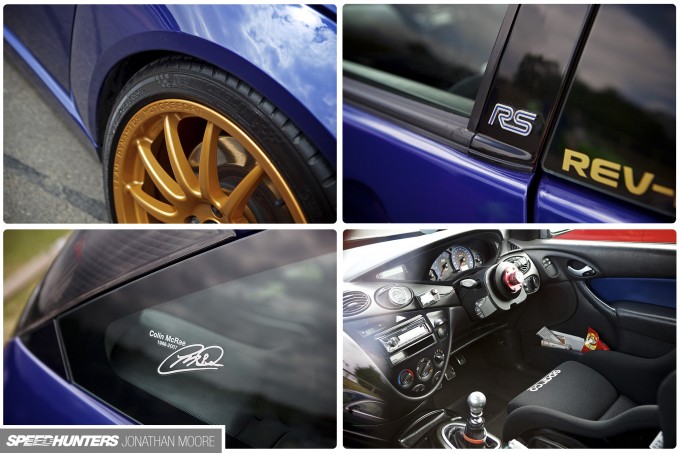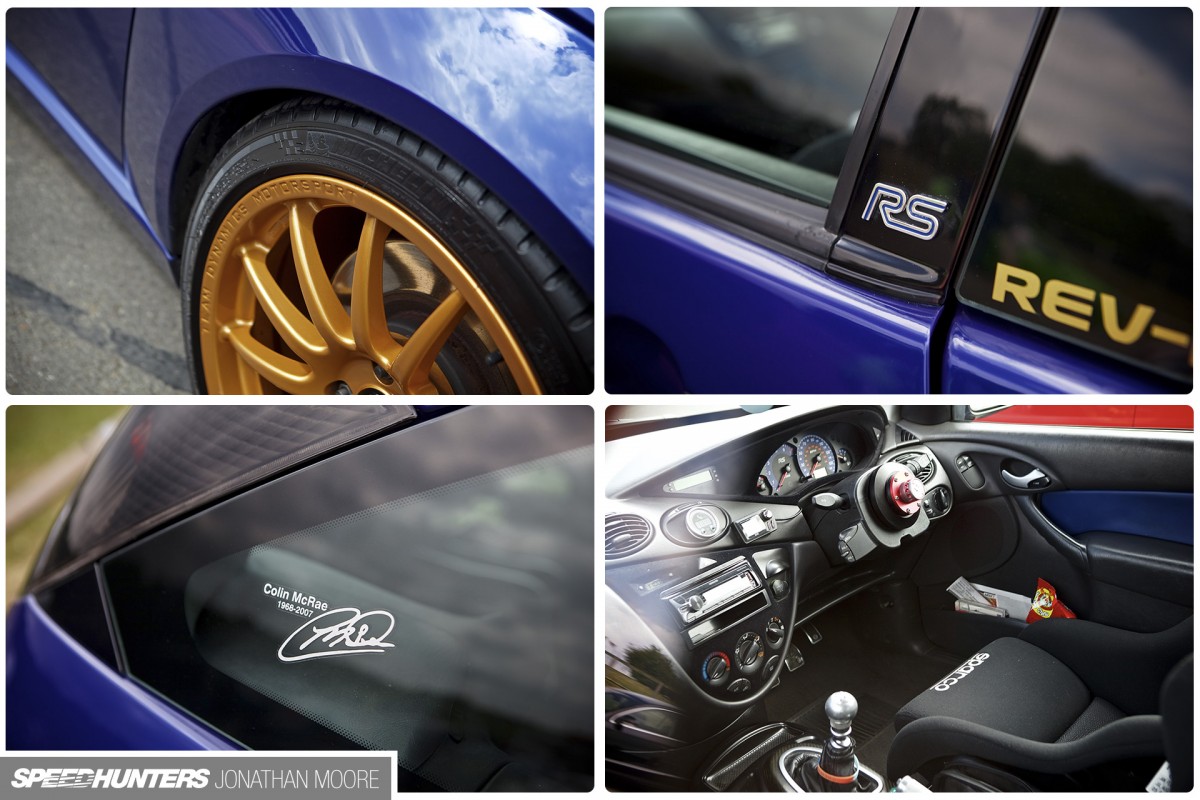 This one had all the right upgrades, subtly applied to make it just that bit sharper. Dynamics rims and new front and rear packaging; Sparco seats and pull-off wheel; an all-important homage to our Colin. All a fast Ford should be.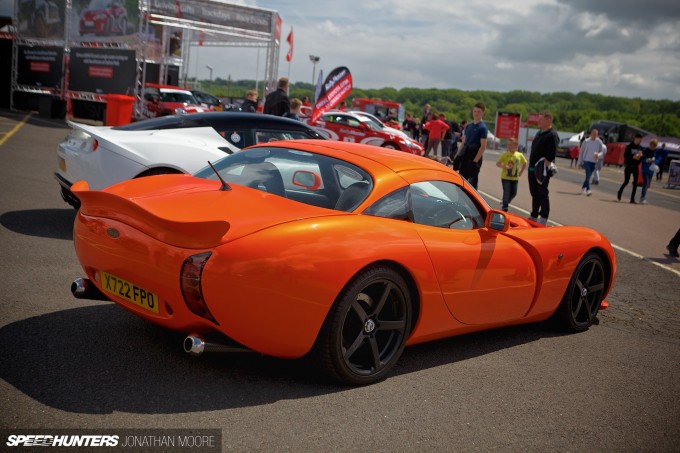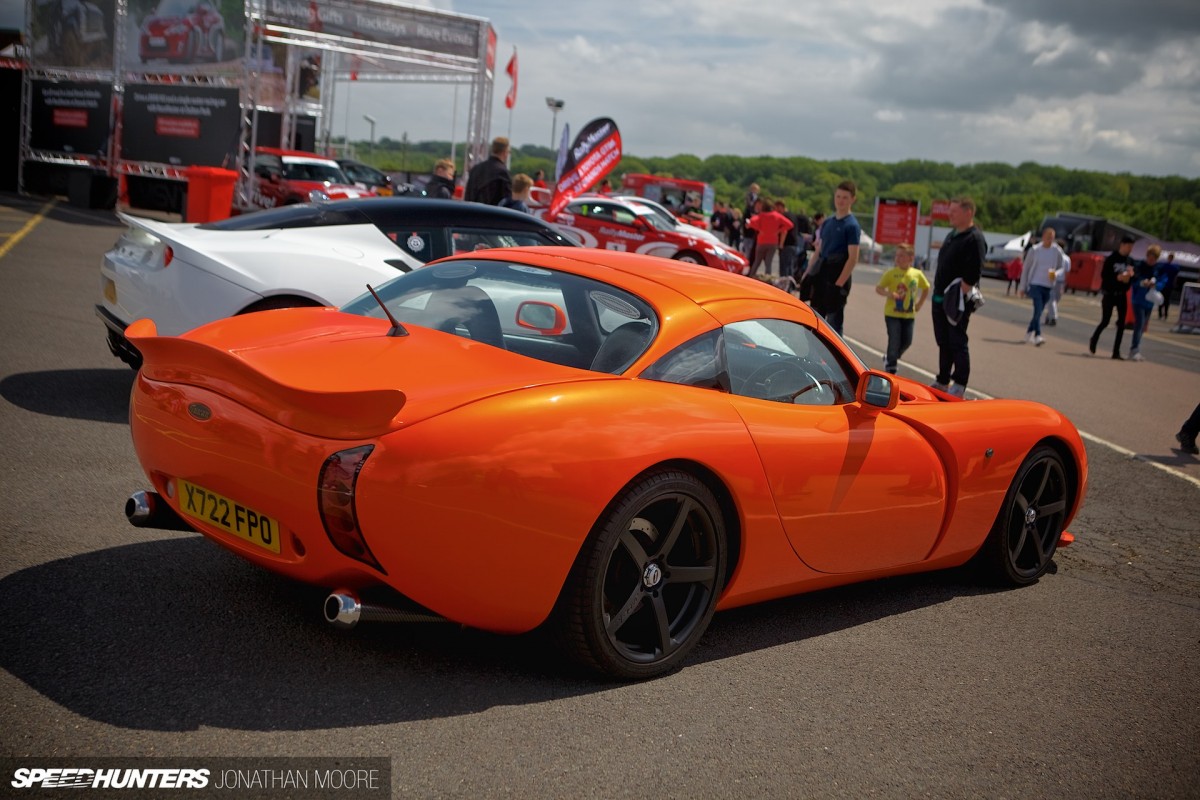 I'm sure you've heard the good news that TVR are coming back – and with a serious business plan. A world without TVR is a poorer place, but these uncompromising monsters have so often been compromised by mediocre direction and the stereotype of unreliability. Like Nobles though, TVR niggles are all well known – and usually easy to sort, which leaves you with something like this. Something that will rip your head off and terrify children at a hundred paces.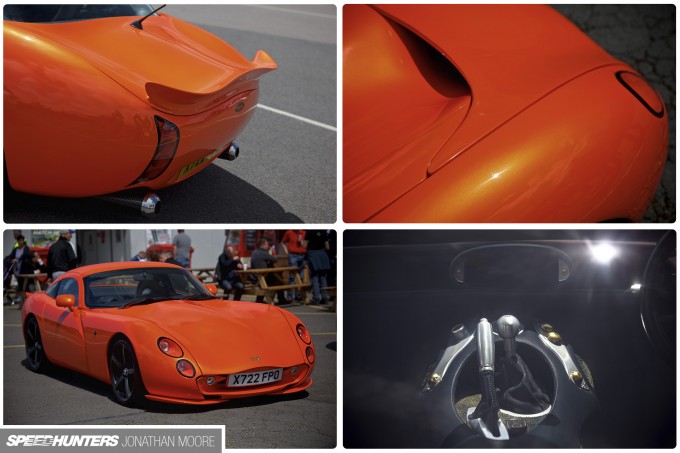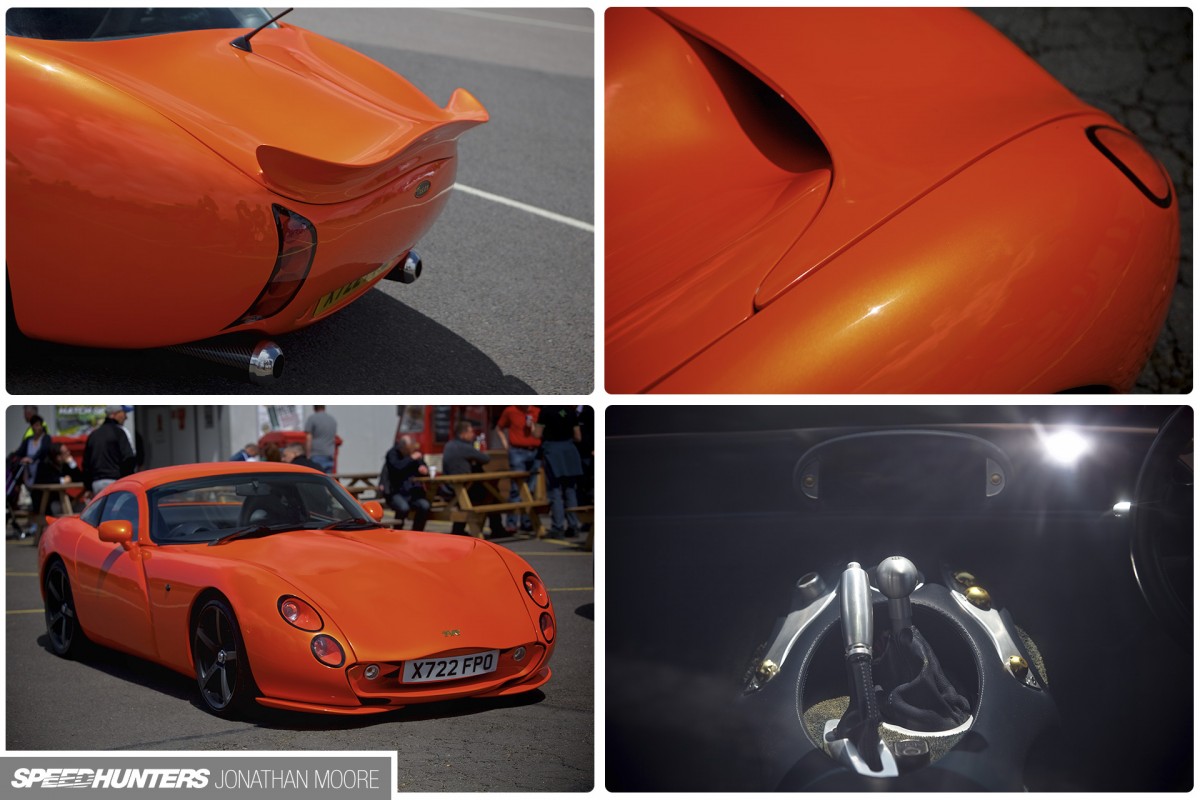 A Tuscan is a glorious thing by default, but this was just on another level. The burning orange accentuated the lines and that mountainously vertical rear spoiler. There's always been a sculptural quality to TVRs as well, both inside and out; it's good to see a healthy tuning scene emerging, especially as the cars provide such a ferocious base.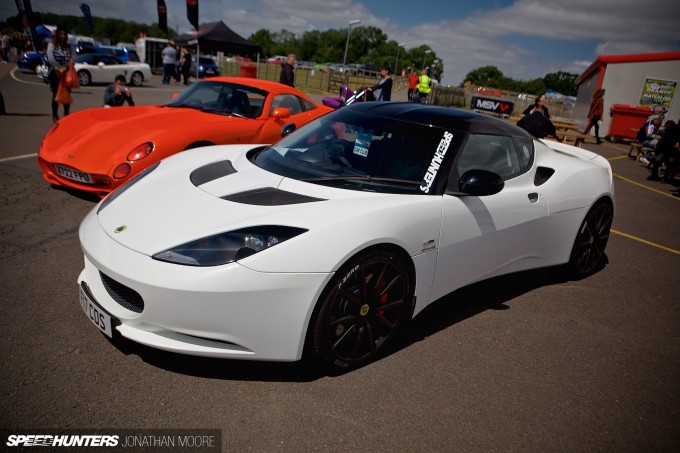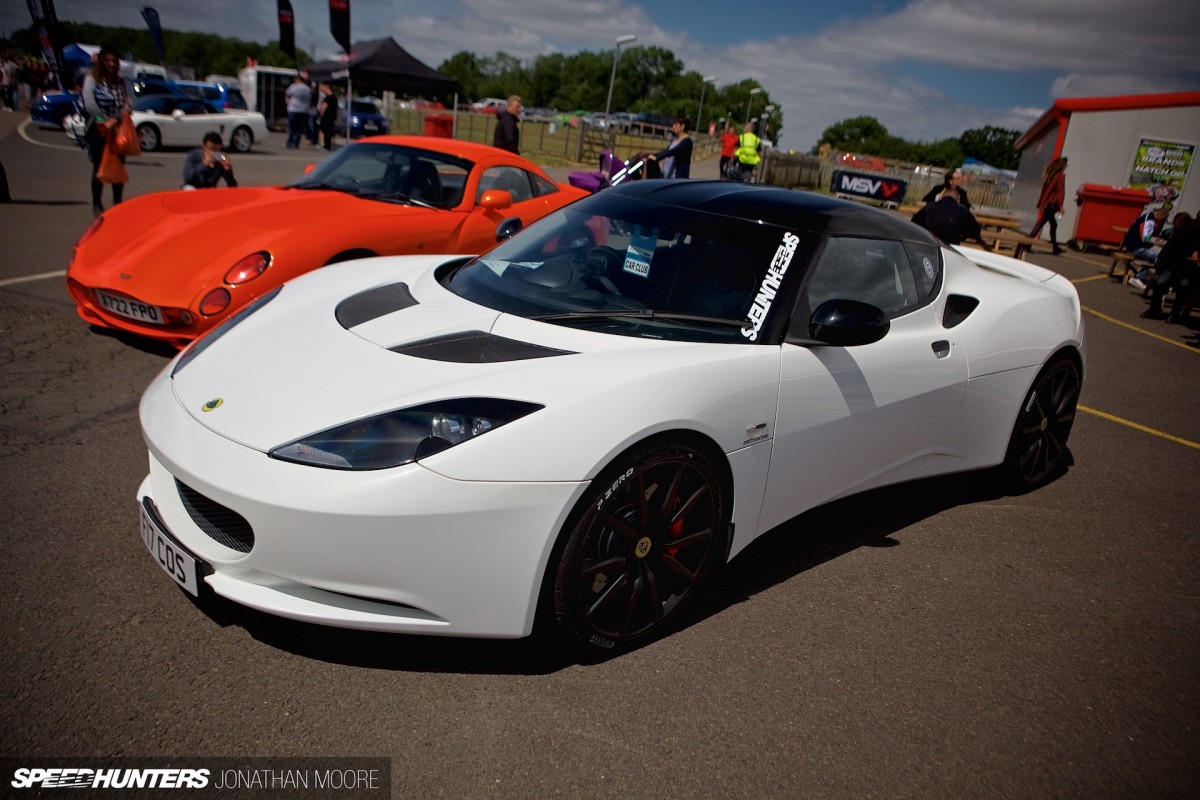 Next door, this svelte Lotus Evora proved that sometimes you can go faster just by representing…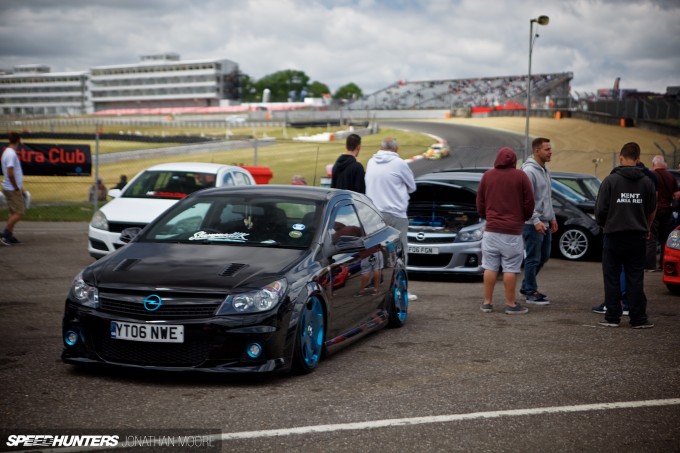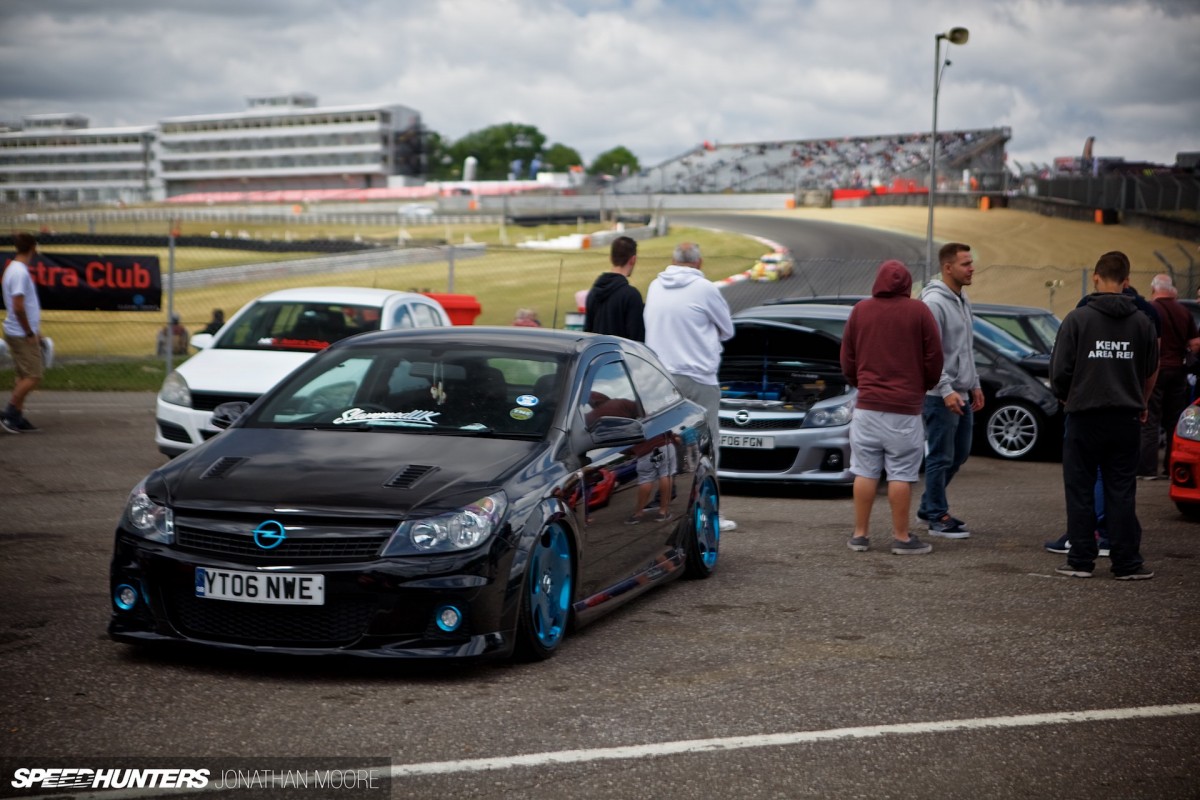 The club displays ringed the top of the track and then cascaded down the hill outside Brands' first turn, filling the lower race paddock. Turn to watch the Time Attack, F1 demos or public track time, turn back to check out the next batch of cars. Vauxhalls are huge sellers in the UK, second only to Ford, so it's only right that they do have a healthy tuning thing going on.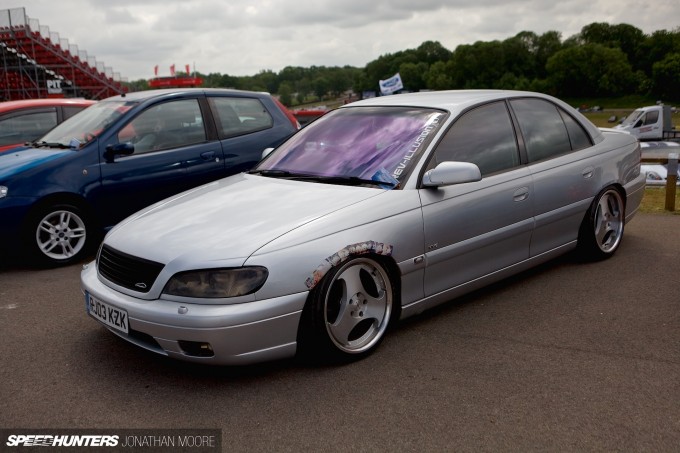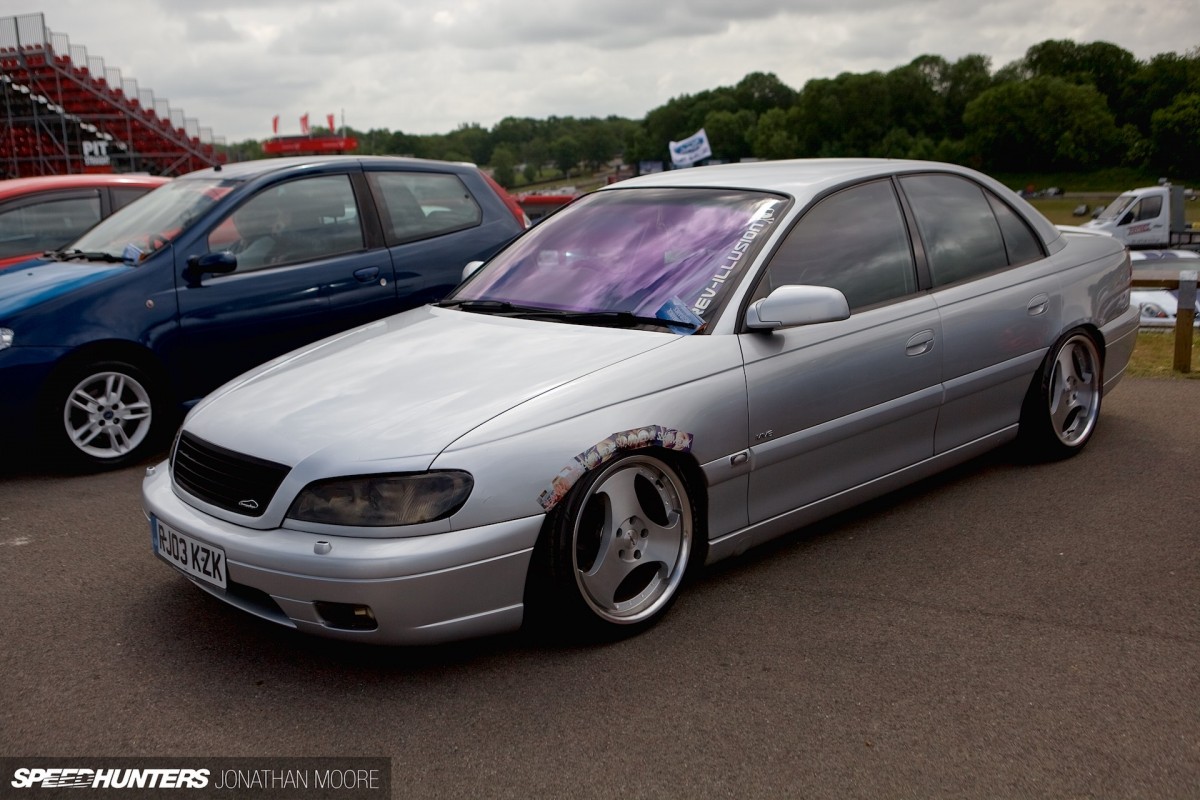 My preferred option is with some of the older, larger saloons – especially if there's a sign of Irmscher involvement. The bluff, three-spoke Calibre CRIIIs really suited this Omega V6.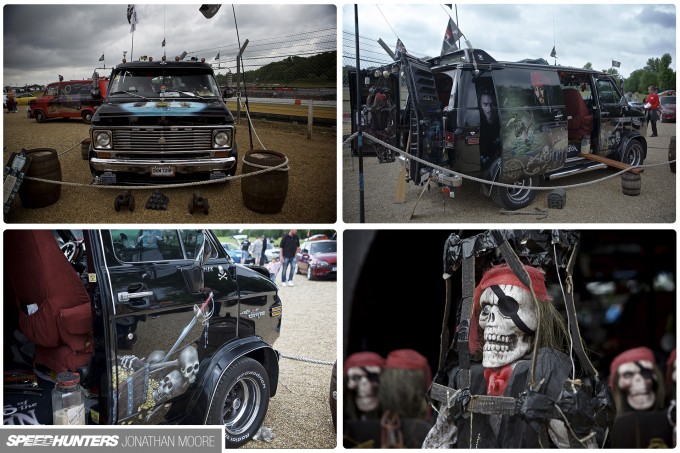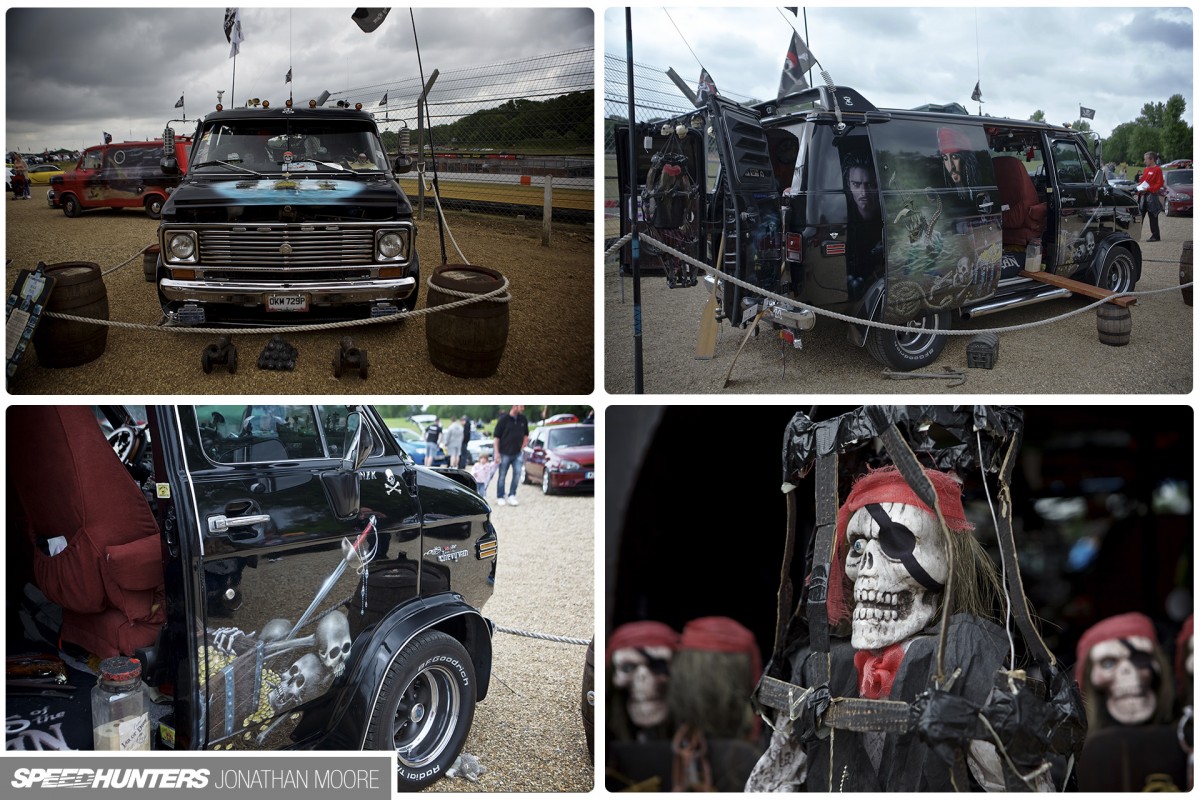 But like I've said, appreciating people's personality being reflected in their cars is key. For instance, if you're going to make a living being a Captain Jack Sparrow impersonator, you should have the wheels to match. Air-brushed by the owner and awash with pirate kit, this '75 Chevy 'shorty' is rare enough. Its small-block ZZ4 crate V8 would deliver a broadside to any unwise enough to try and board…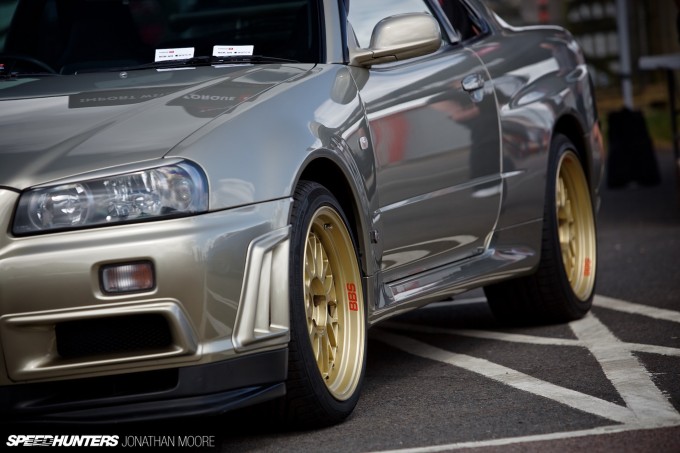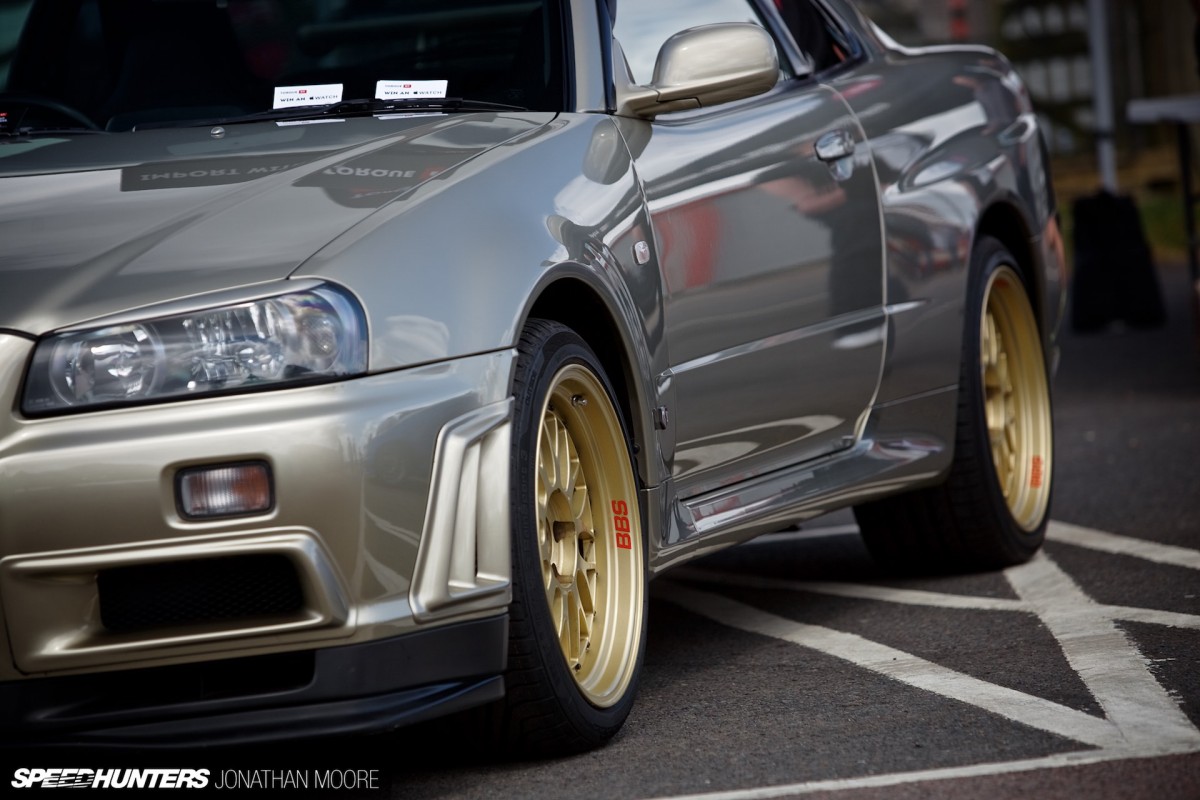 Picking out the small number of cars we can cover in a story is always a tough gig, and I've deliberately looked at more European models than anything else. But naturally there was a huge contingent of Japanese machinery at Tunerfest. Japanese car import specialists Torque GT brought along this beautiful R34 M-Spec as well as an original and ultra-rare (for the UK) white Honda NSX-R.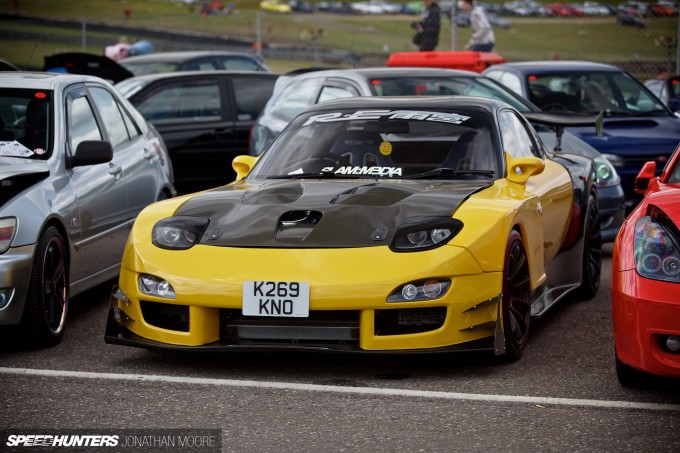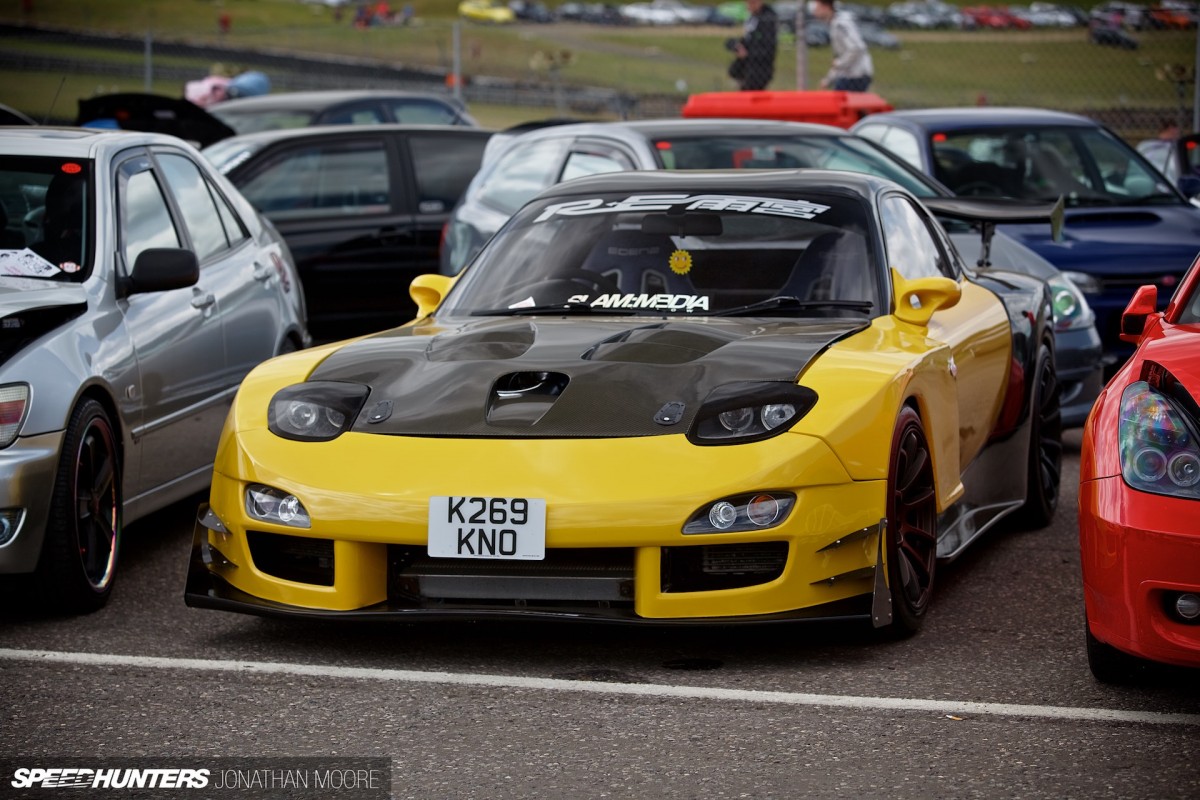 Tucked away in the race paddock was this brutal-looking FD3S Mazda RX-7 rocking a full-on time attack style body kit, complete with trick aero formers front and rear.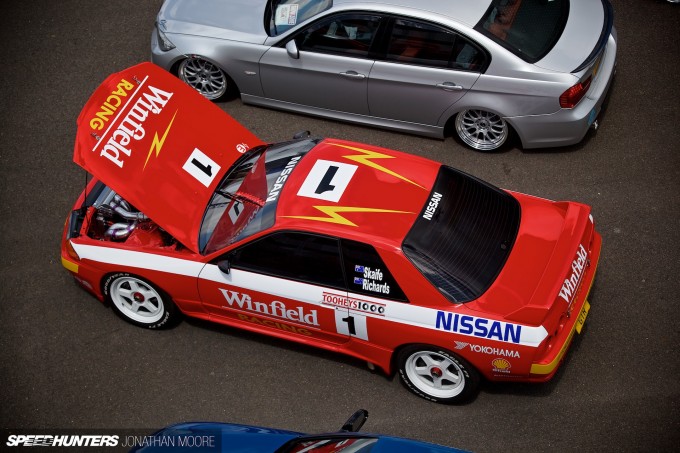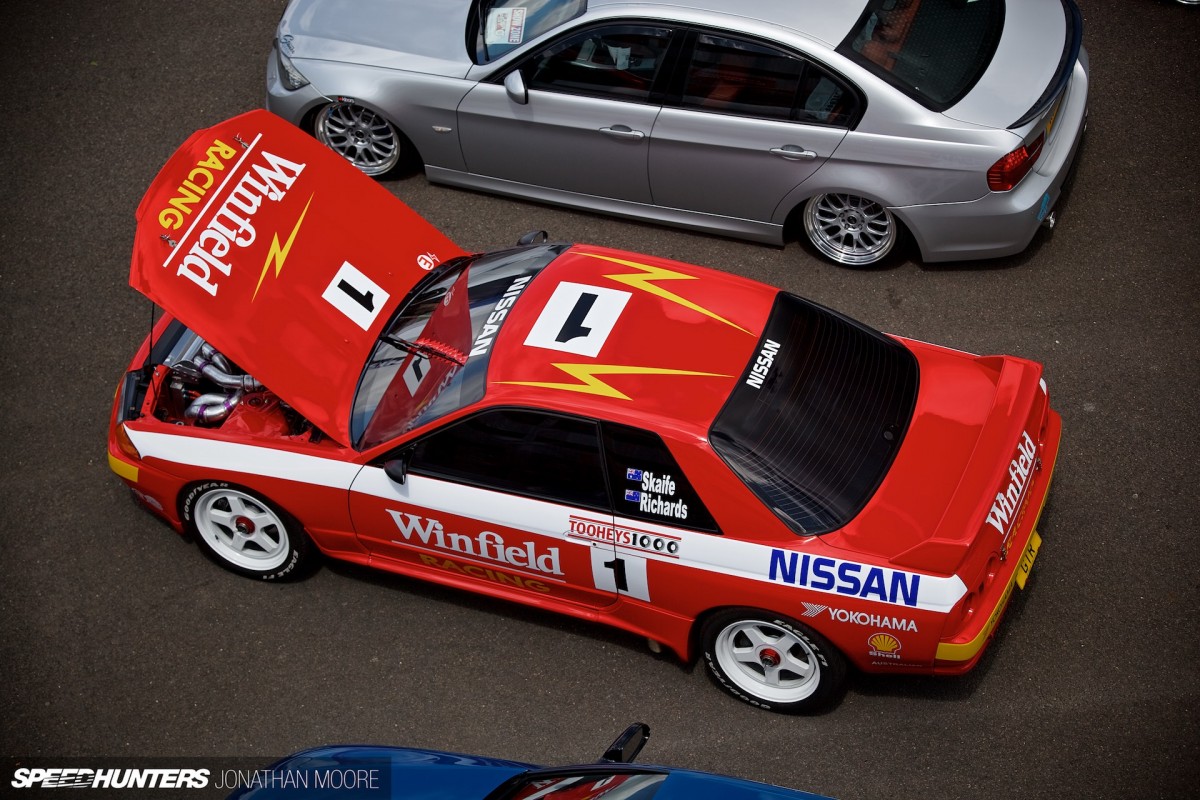 There's always debate about replicas and recreations, but my chances of seeing an original Godzilla that raced around Bathurst are remote. So I'll take this like-for-like recreation of the R32 Skyline GT-R that Aussie legends Mark Skaife and Jim Richards dominated the '92 1000km with.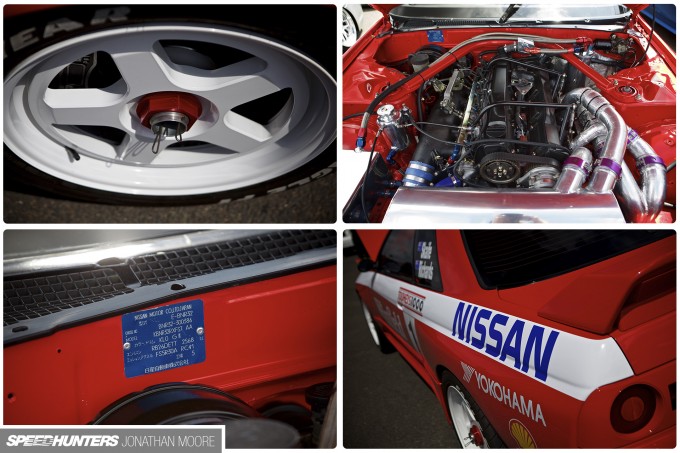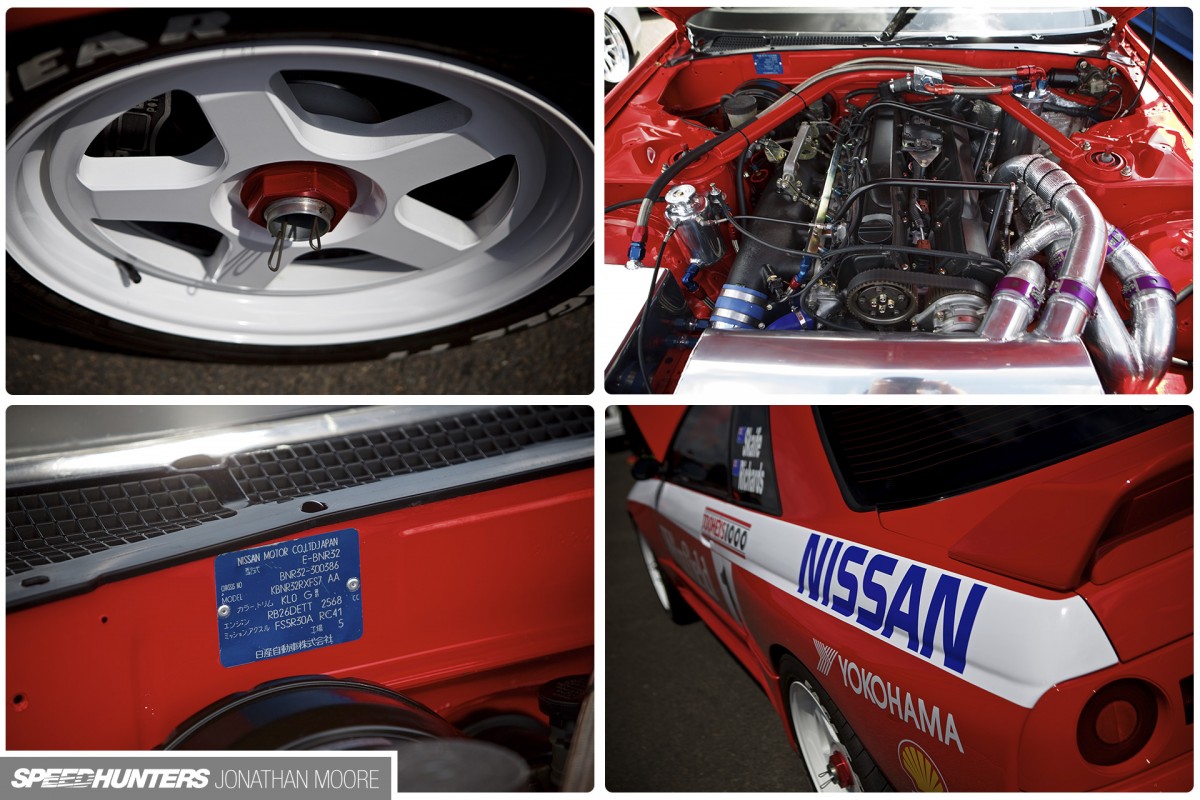 RK Tuning's homage had everything in the right place on this BNR32, from the spotless RB26DETT nestling under the bonnet to the centre-lock wheels and logos. This was its UK debut: another awesome Skyline from the GT-R specialists.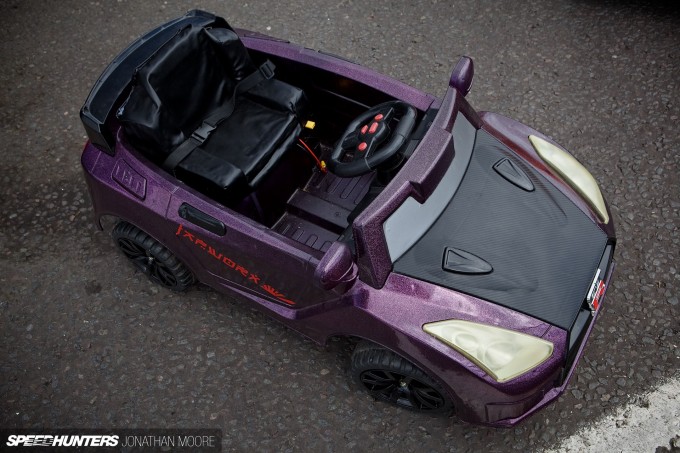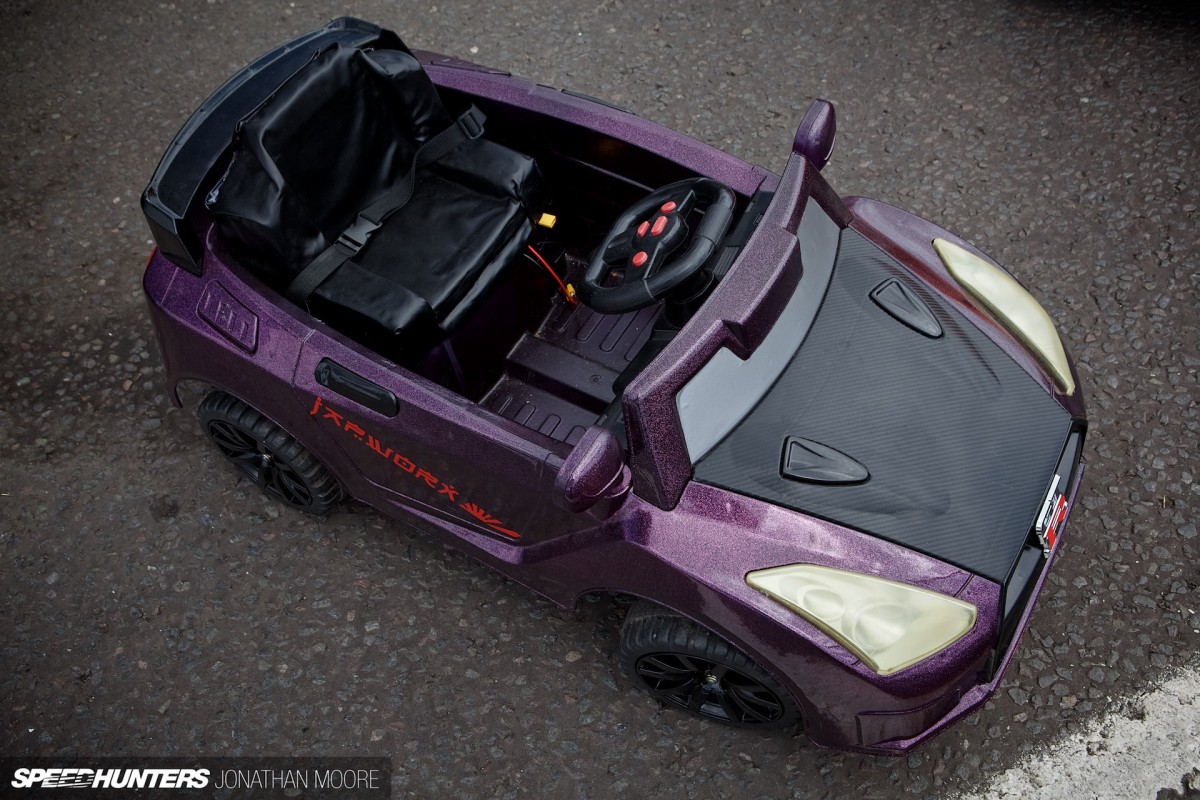 There will be two spotlights coming up next, featuring a pair of cars that stood out for me – in very different ways. In the meantime, I hope you enjoy some bonus images from the day in the chapter below.
Jonathan Moore
Instagram: speedhunters_jonathan
jonathan@speedhunters.com
Cutting Room Floor