The Connection
I think the last couple of weeks have reinforced the idea in my mind that car culture is the perfect leveller. Our common interest in burning gasoline and annihilating tyres at any given opportunity unites us in a way that not many other things can. Regardless of where you come from or what colour your skin is, if you're a car guy or girl, you're a car guy or girl.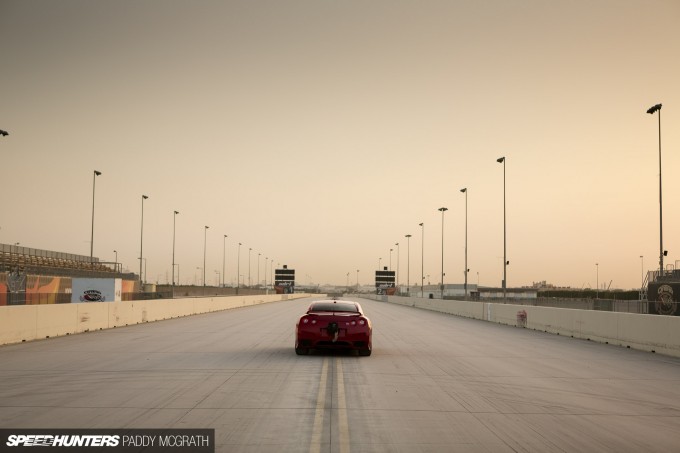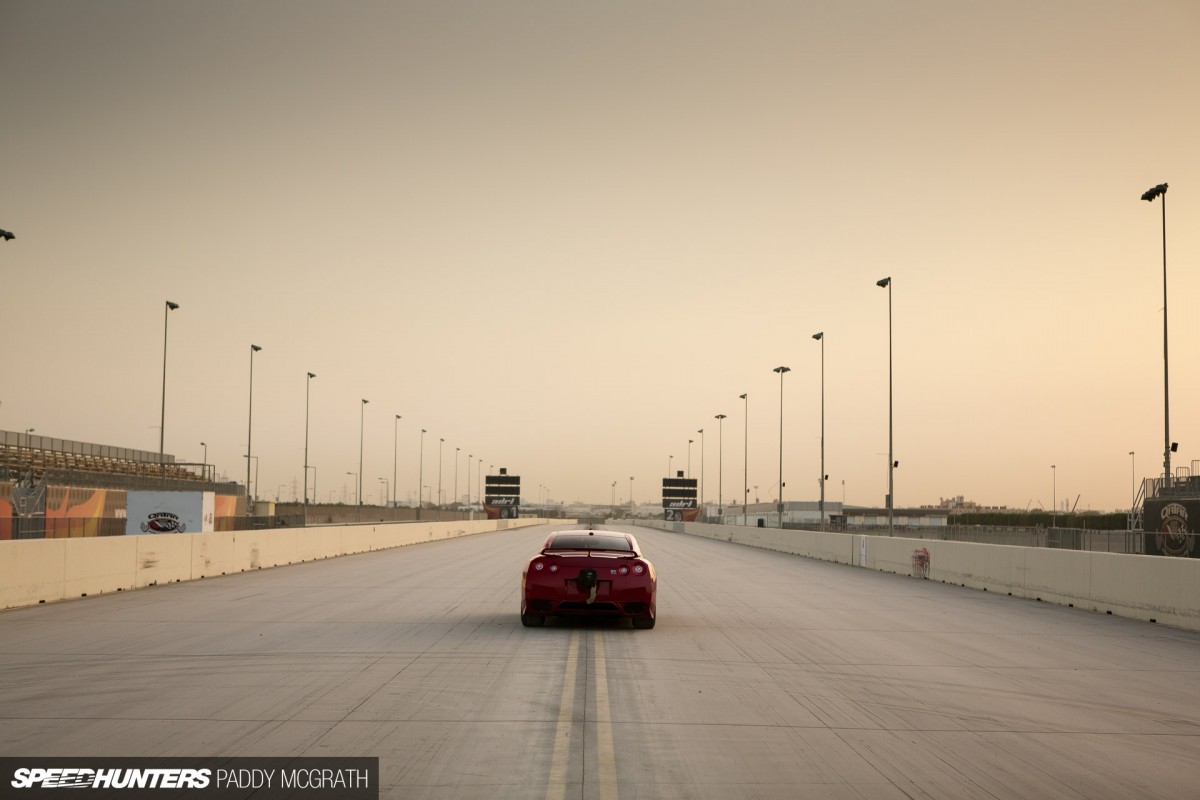 I've been very lucky to have travelled to parts of the world that I probably never would have if it wasn't for my love of cars. It's an incredible feeling to be in a foreign land meeting someone you never would have met otherwise, and before you even talk, already have a common interest and instant connection.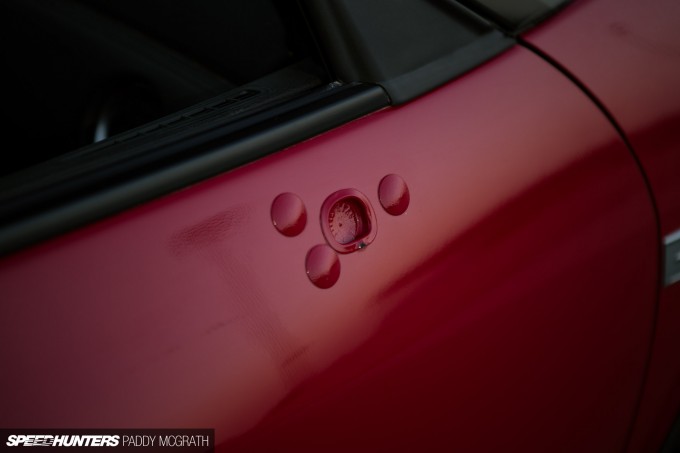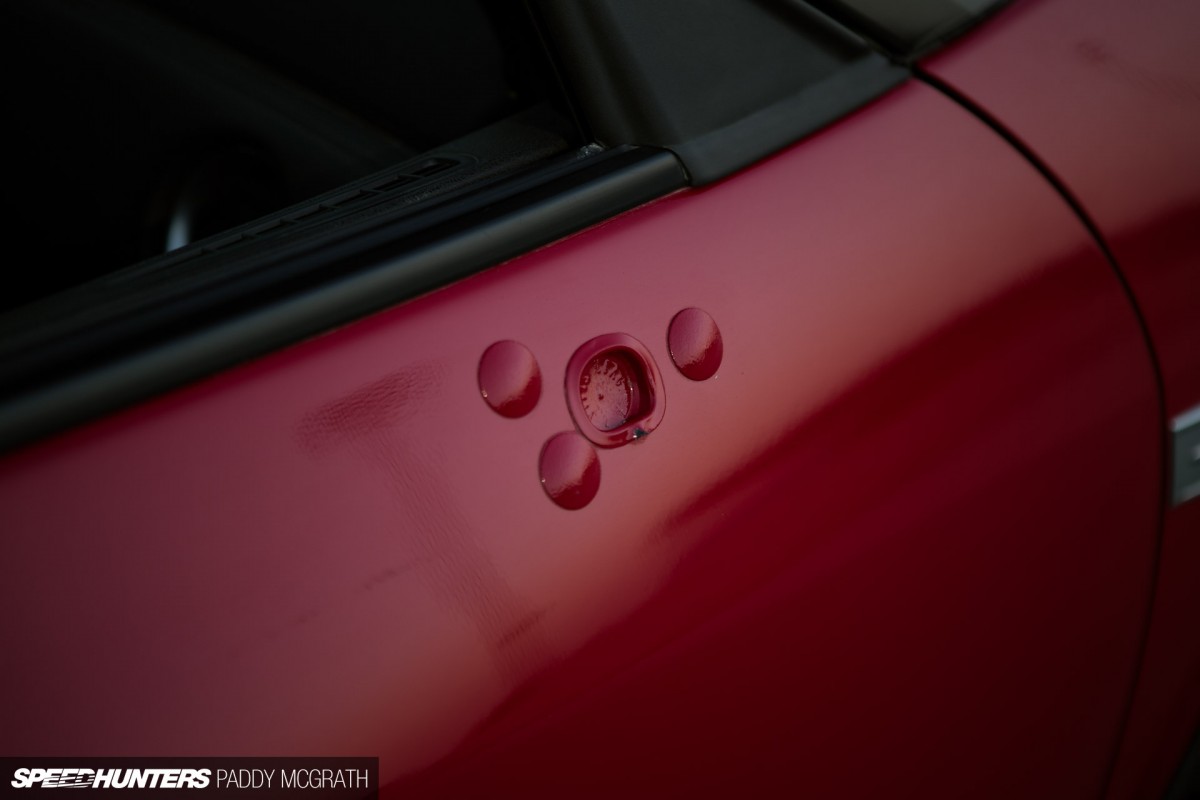 In an era where online message boards and forums are full of increasing levels of hatred, harassment and bigotry, it's a relief to know that the world beyond the web is still generally a place of respect and where real friendships can be forged.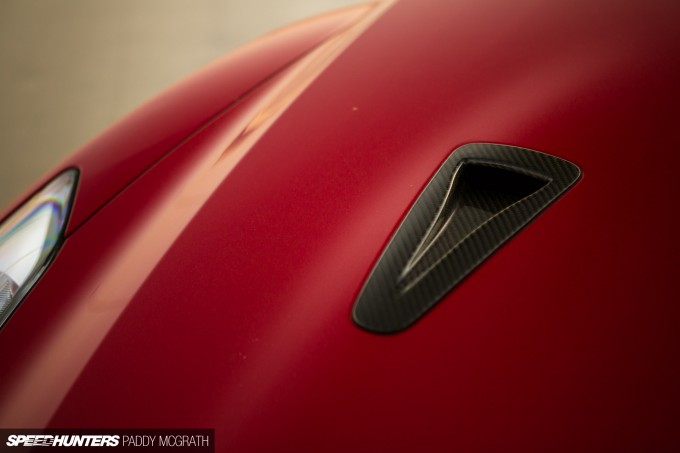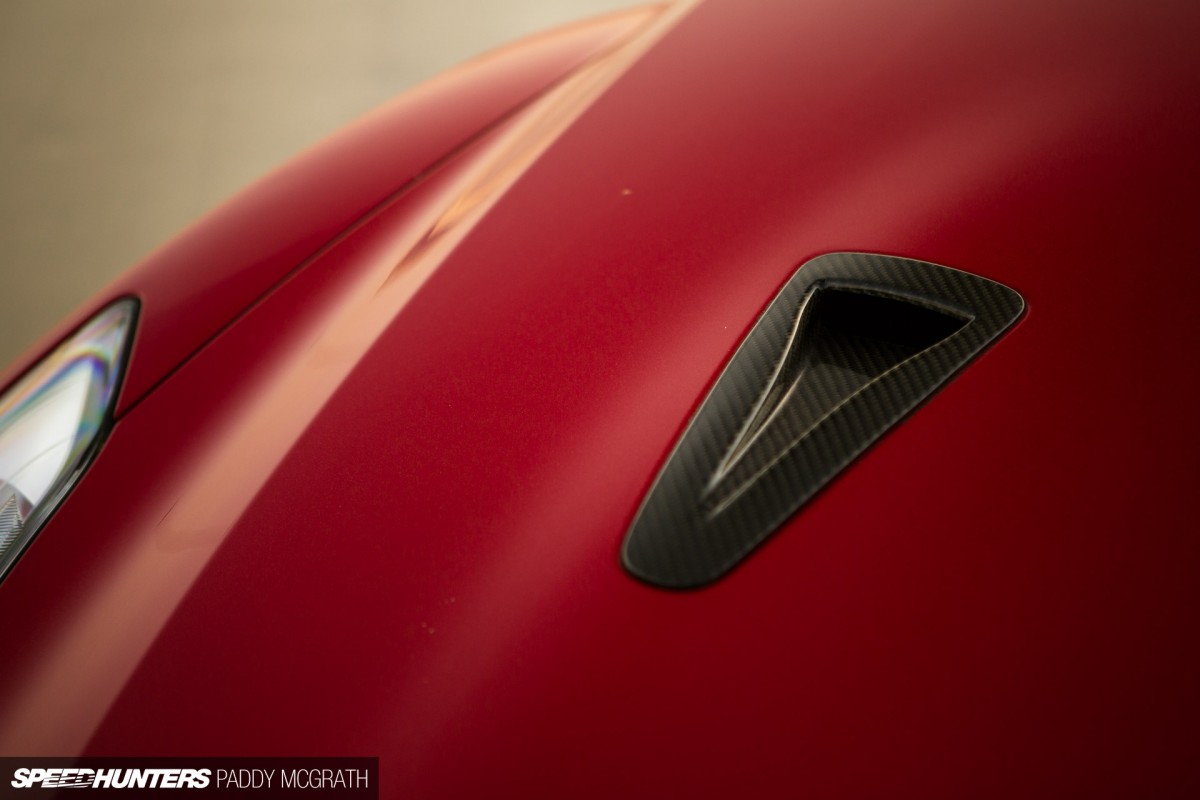 I'm sure you're already thinking 'what the f**k is he talking about' but there's a connection about to be made…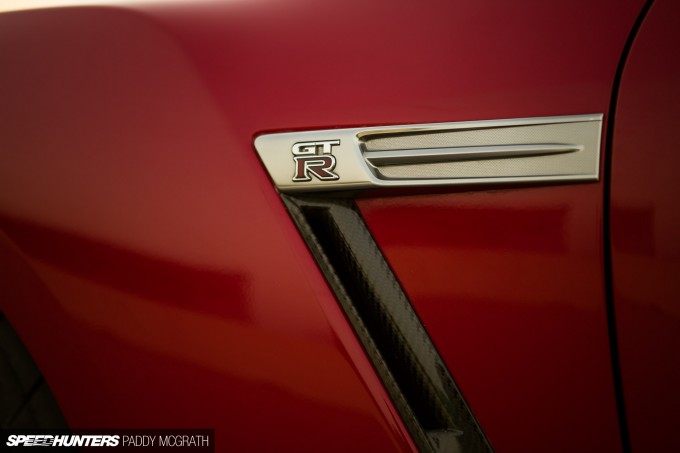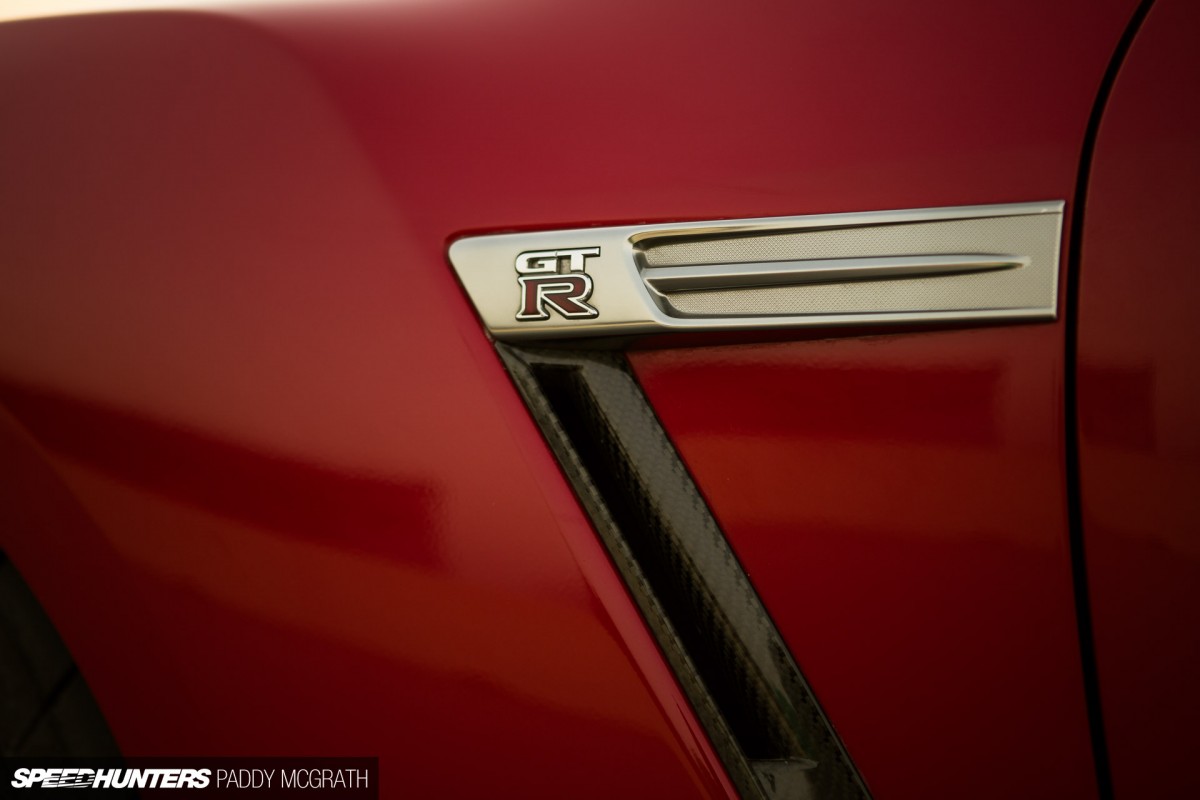 Usually, when the United States and Middle East are mentioned in the same conversation, it tends to not end well. A history of conflict and misinformation between both sides have resulted in feelings of resentment and aggression. I've already seen it in the comments section of a recent article which documented Qatar's car culture.
I don't want a repeat of that.
Instead, I want you to read a story about what happened when Qatar and the United States joined forces in the name of hunting speed…
The Coalition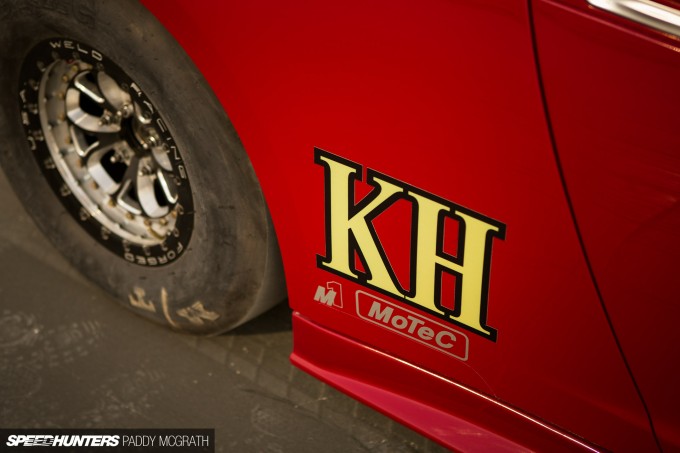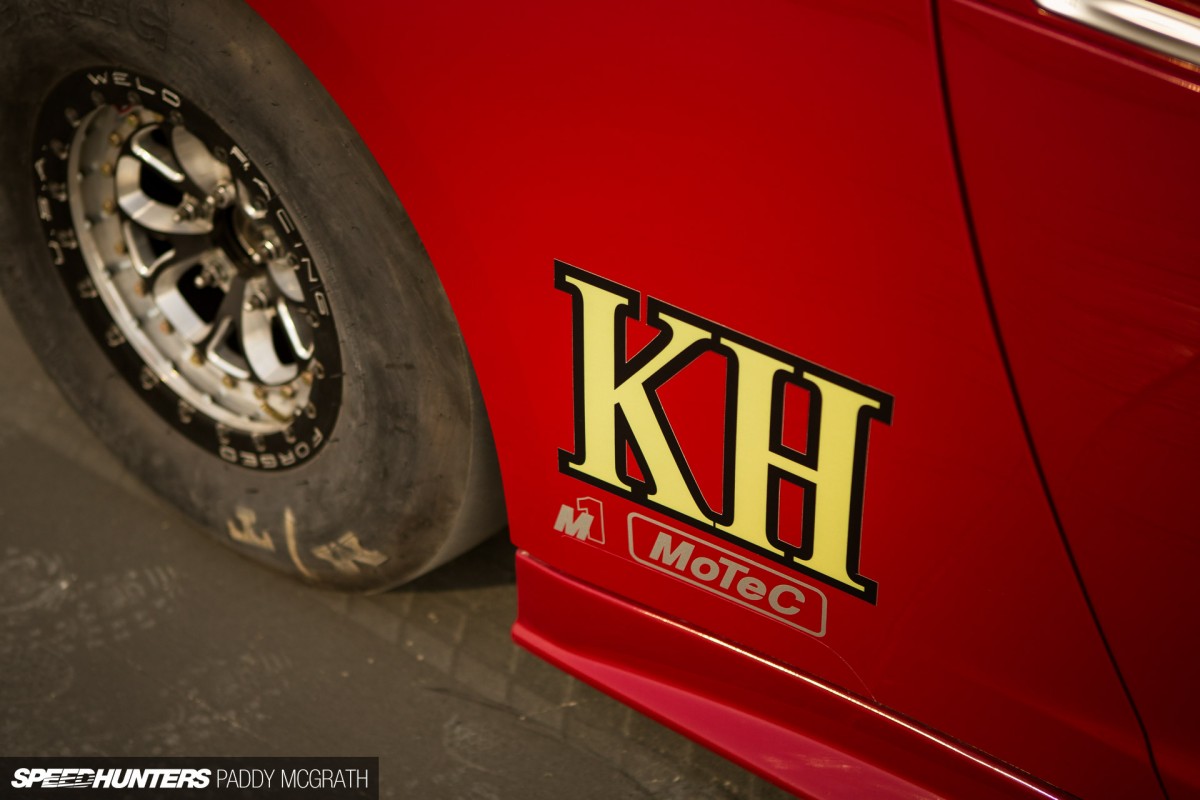 To get the full picture of this incredible GT-R, I need to go back a little bit in time. As you might know, motorsport in Qatar is still in its relative infancy and it's only recently that facilities have begun to open to allow Qatari car enthusiasts to express themselves. One of the main supporters of Qatari motorsport is Qatar Racing Club, based outside of Doha, Qatar's capital city. QRC was founded by HE Sheikh Khalid Hamad, as a place where Qatari motorsport can grow organically.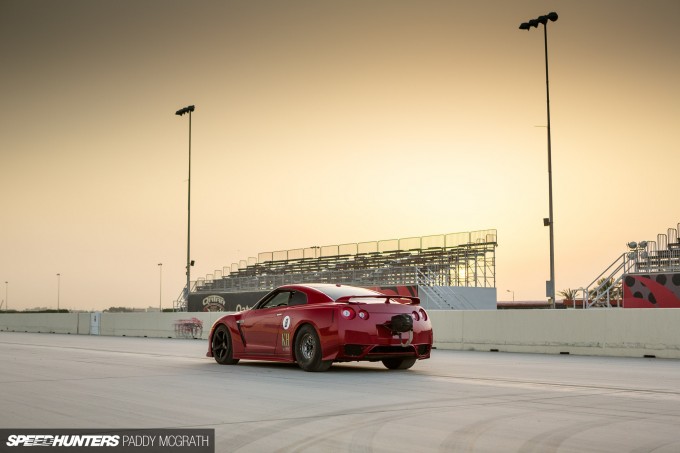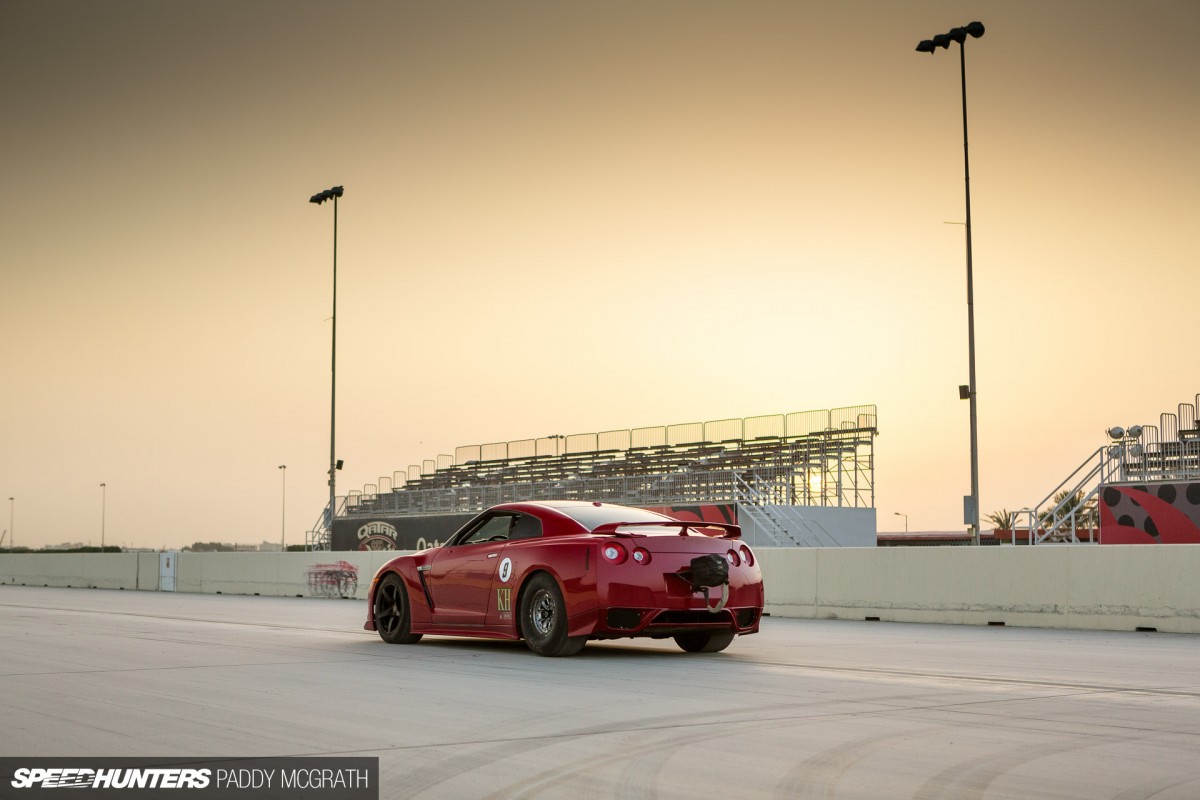 It's also the home of Al Anabi Performance, a name those who follow the NHRA may be familiar with. Al Anabi previously ran a hugely successful two-car Top Fuel team in the US under the leadership of drag racing crew chief extraordinaire Alan Johnson, out of a base in southern California.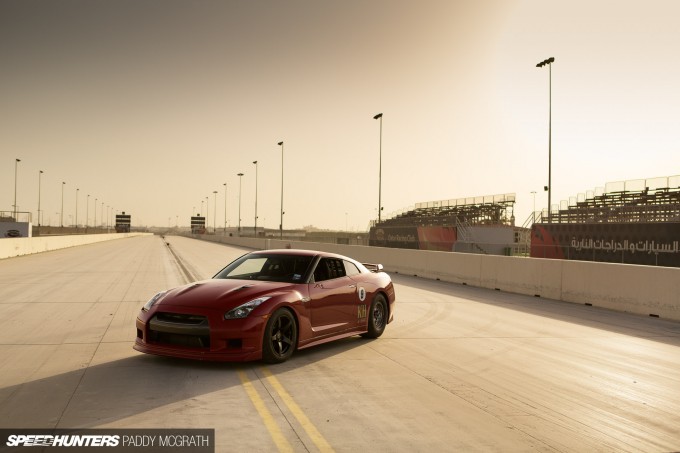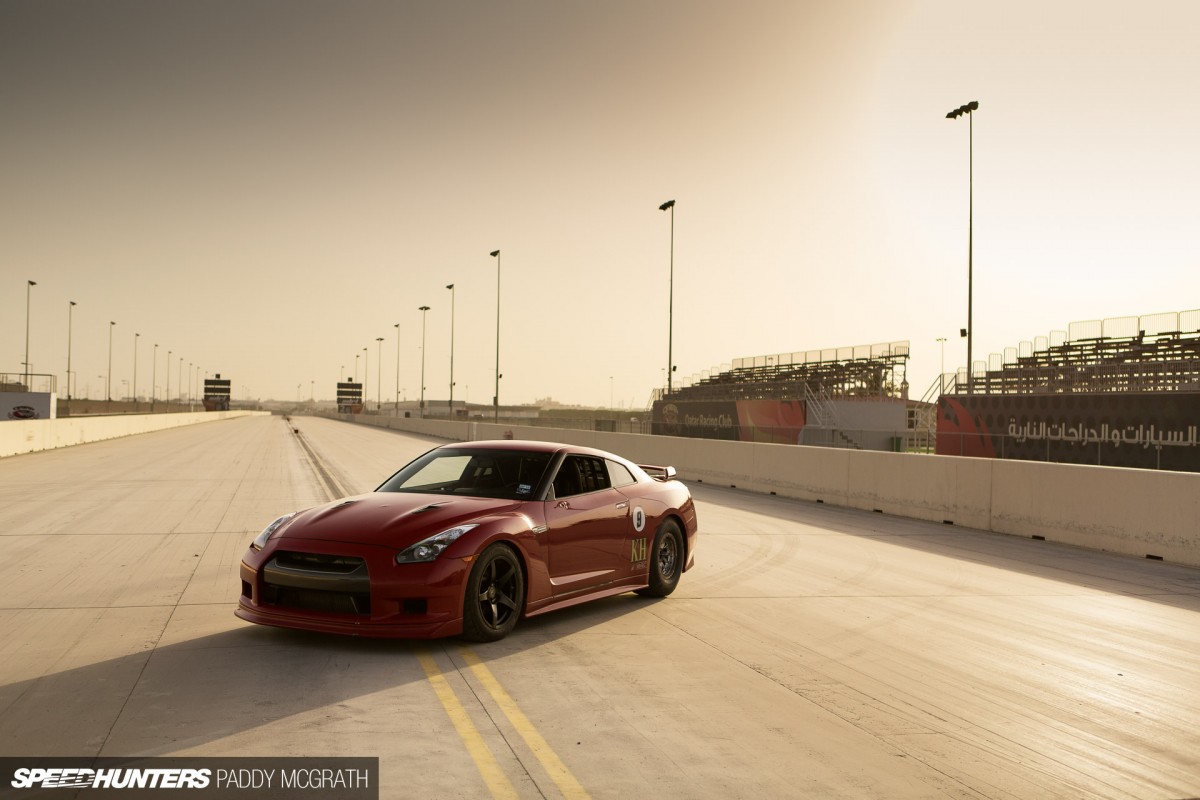 With drag racing hugely popular in the Middle East, it didn't take long for standing mile events to grow in popularity too. It was for this purpose that Sheikh Khalid wanted to build the ultimate GT-R.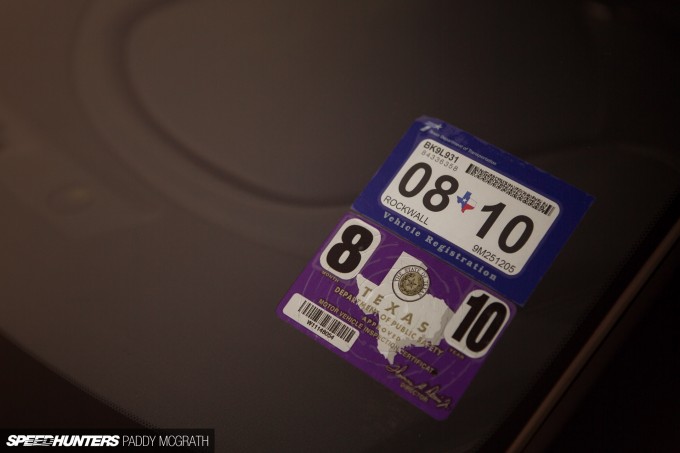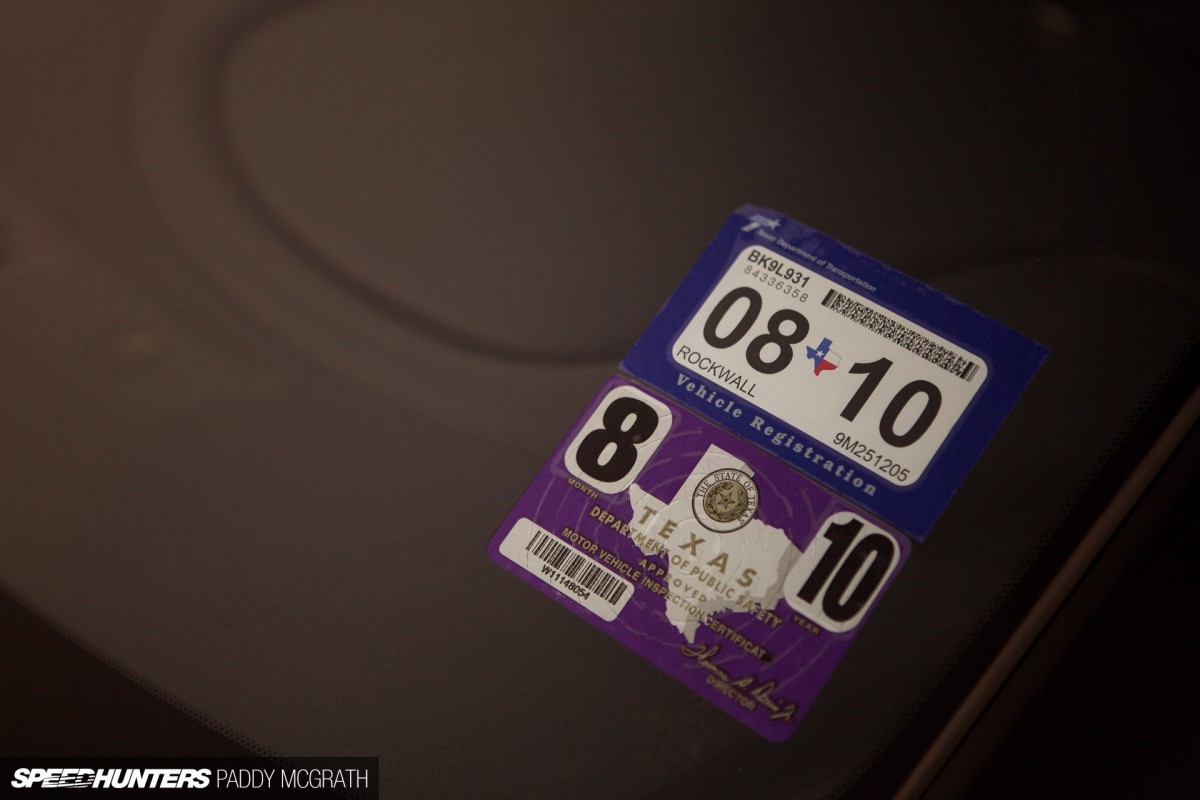 However, it couldn't just be any GT-R. It had to be stupidly fast, but it also needed to be exceptionally reliable and able to withstand Qatar's almost unbelievable temperatures. In the beginning, Al Anabi partnered with Texan company Boost Logic to get the project off the ground. At the time, the most powerful customer cars were running in the circa 1500hp range. Al Anabi's aim for this build? 2,200hp. Plus.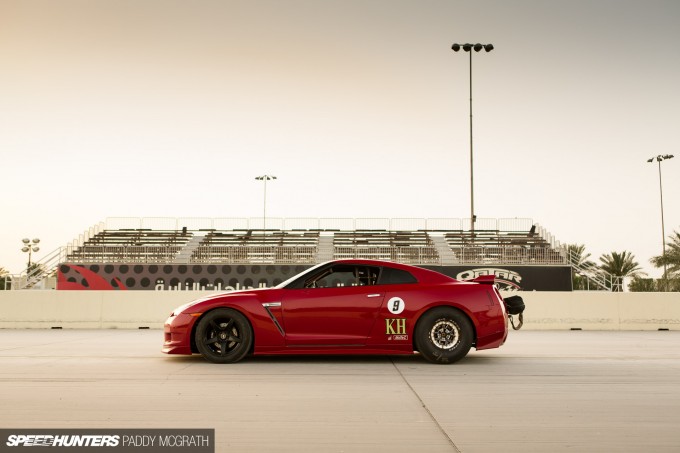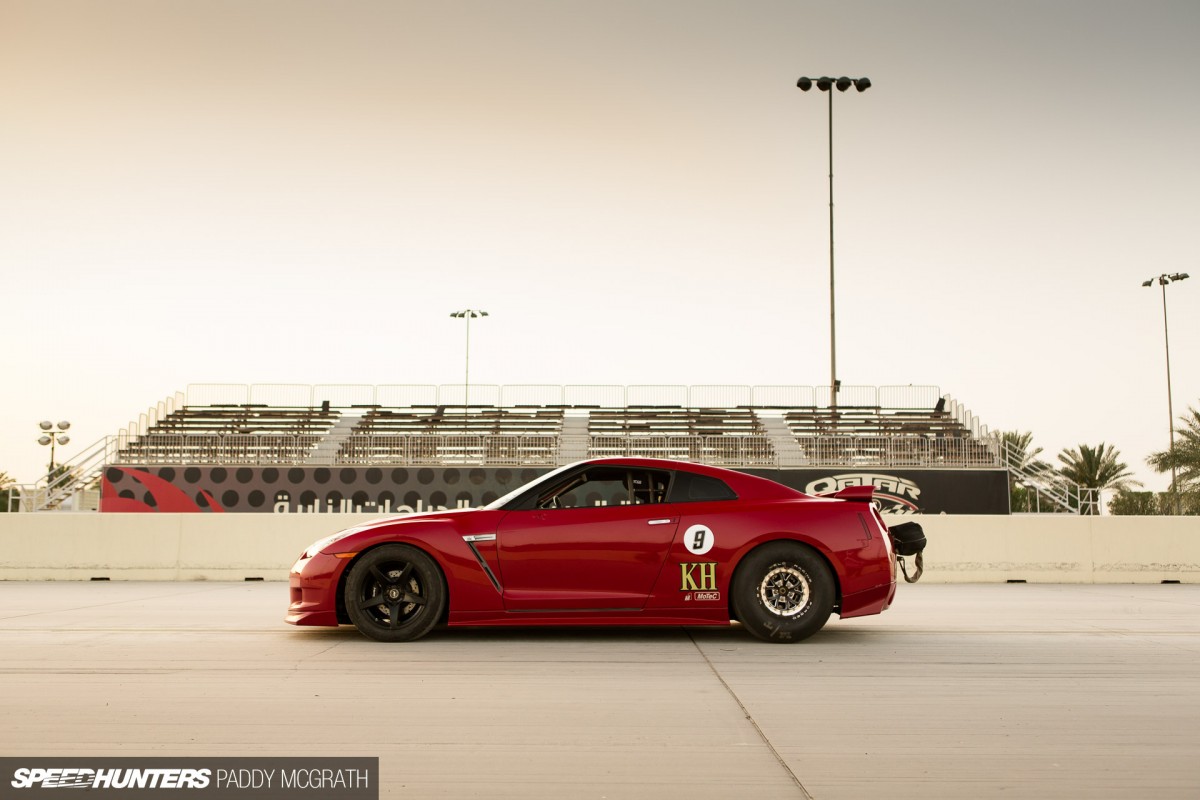 What makes the build all the more special – for me at least – is that this is a full-bodied GT-R. It's not some Frankenstein tube chassis with a GT-R composite body shell dropped on top.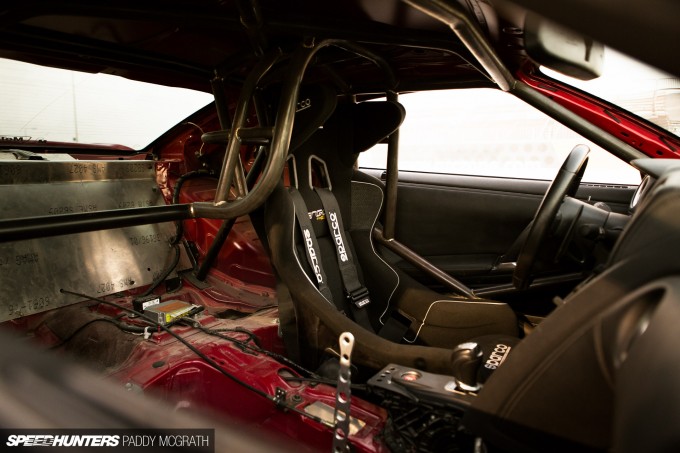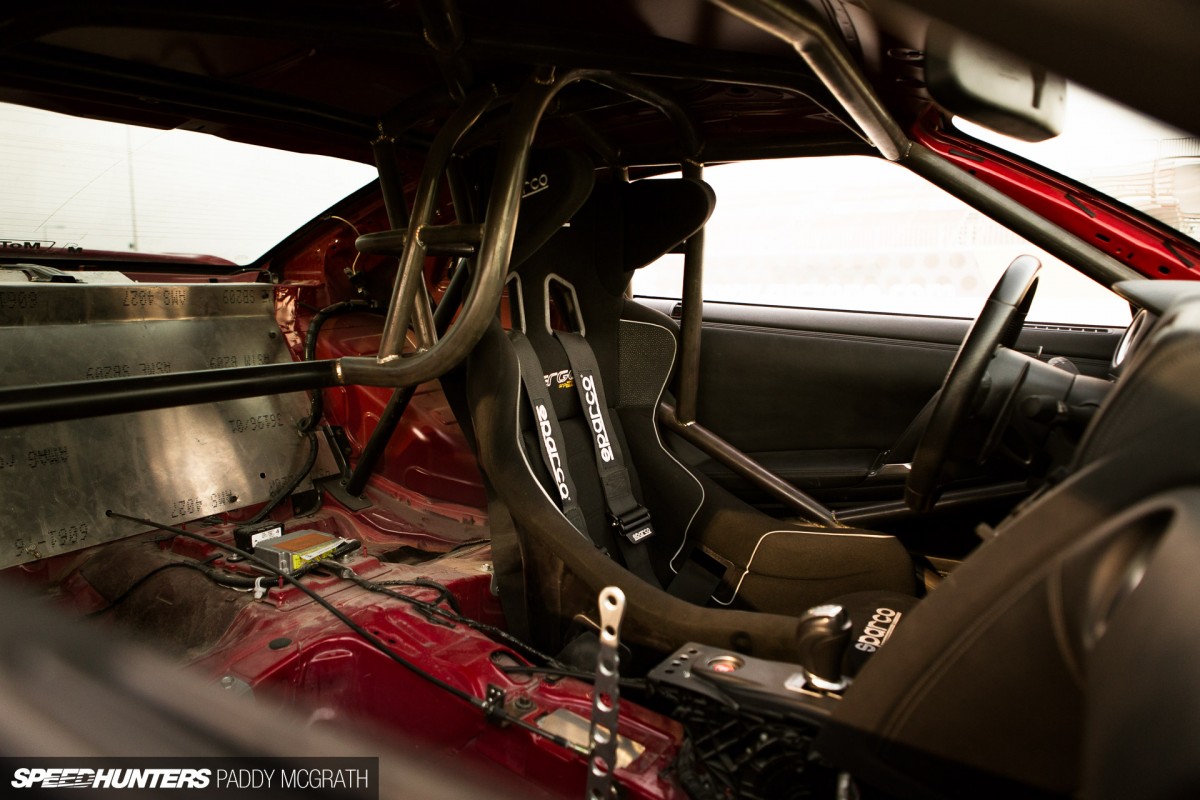 Yes, the interior has been stripped and a Funny Car style multi-point rollcage has been added by Al Anabi for driver protection, but that's pretty much the extent of the chassis modifications.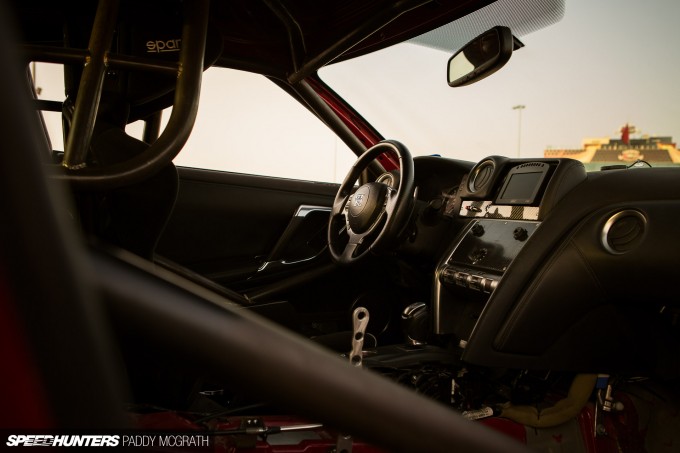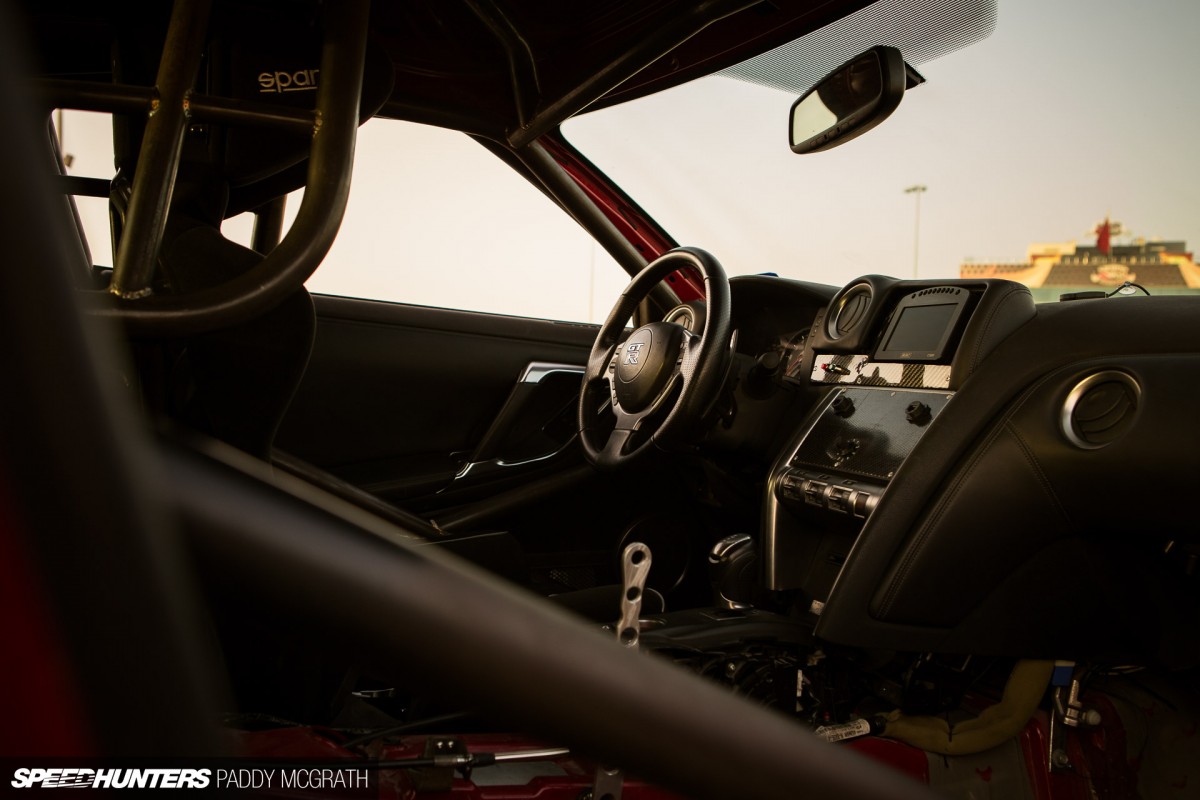 The fact that this is so close to a stock GT-R – at least in terms of appearance – makes it hugely appealing, in my opinion.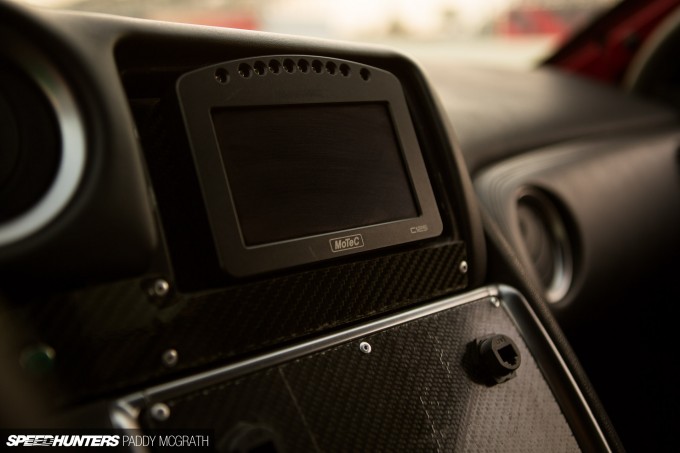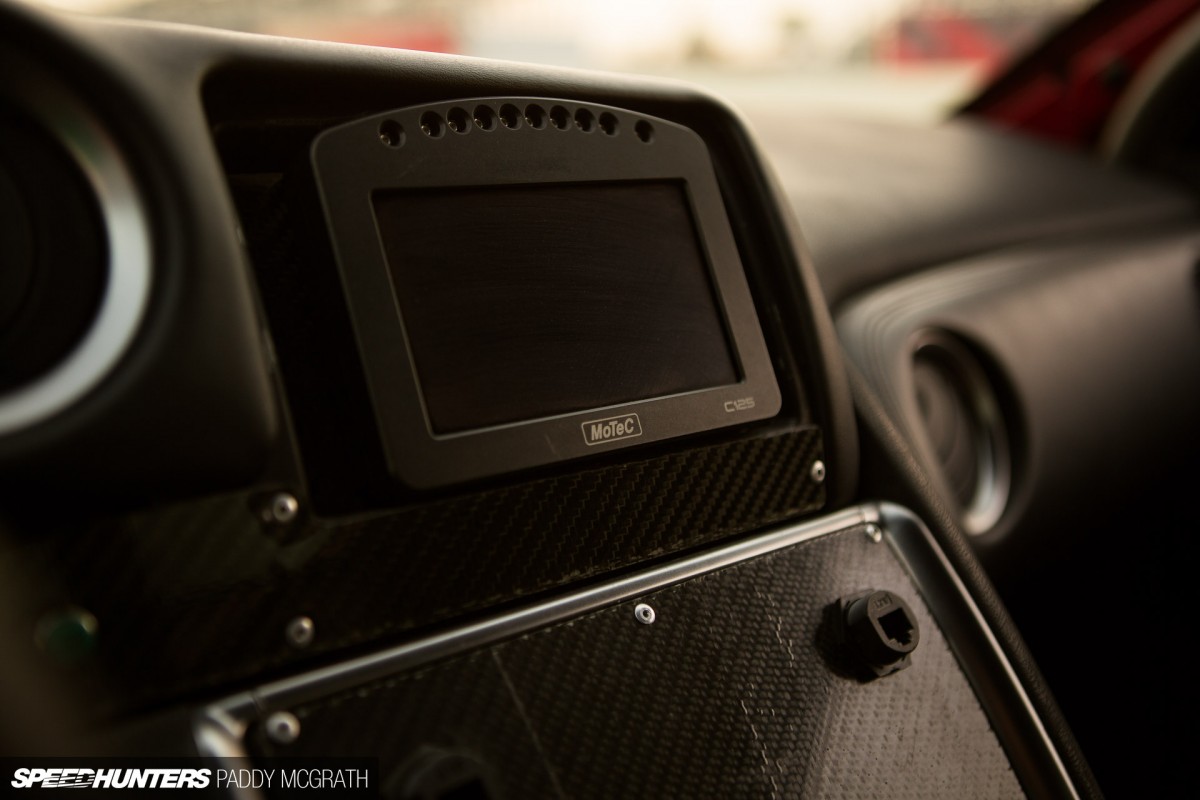 The OE display has been replaced with a MoTeC C125 and the stock heater controls have given way to a carbon blanking plate which features a port for downloading telemetry.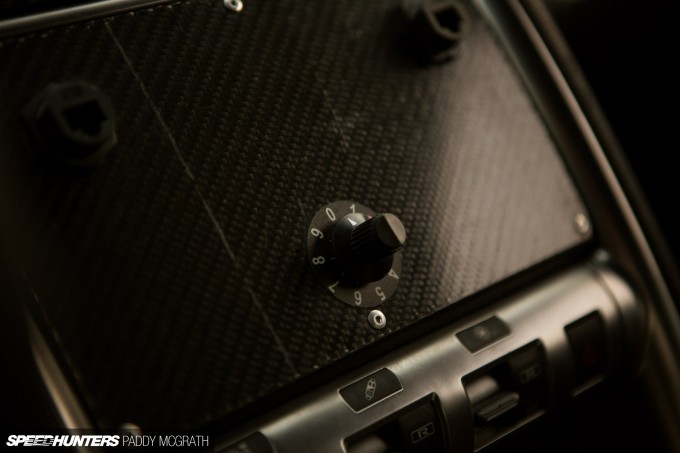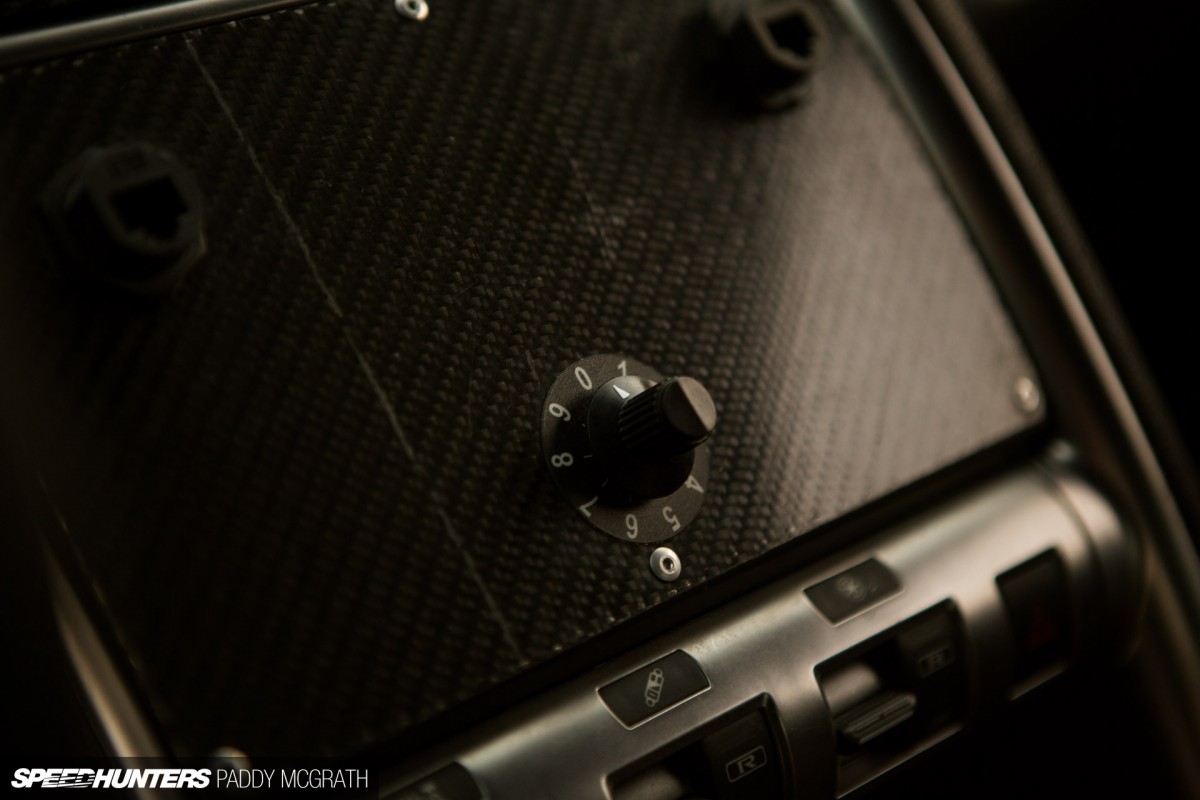 Here you'll also find a simple dial for controlling boost, which as you might imagine is usually always wound the whole way up. The whole way being somewhere around an incredible 60psi (4.1bar).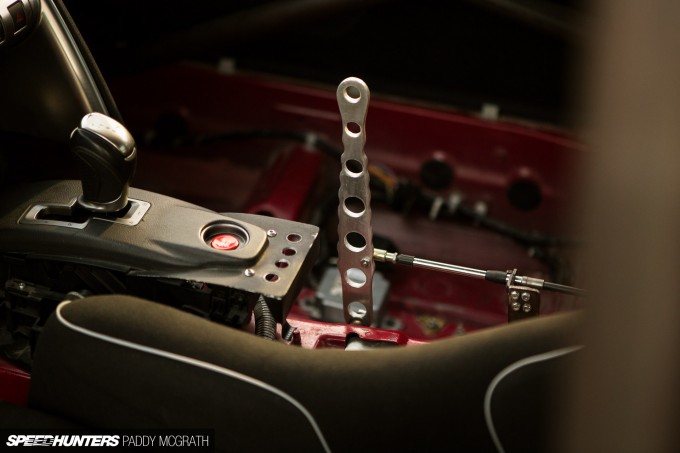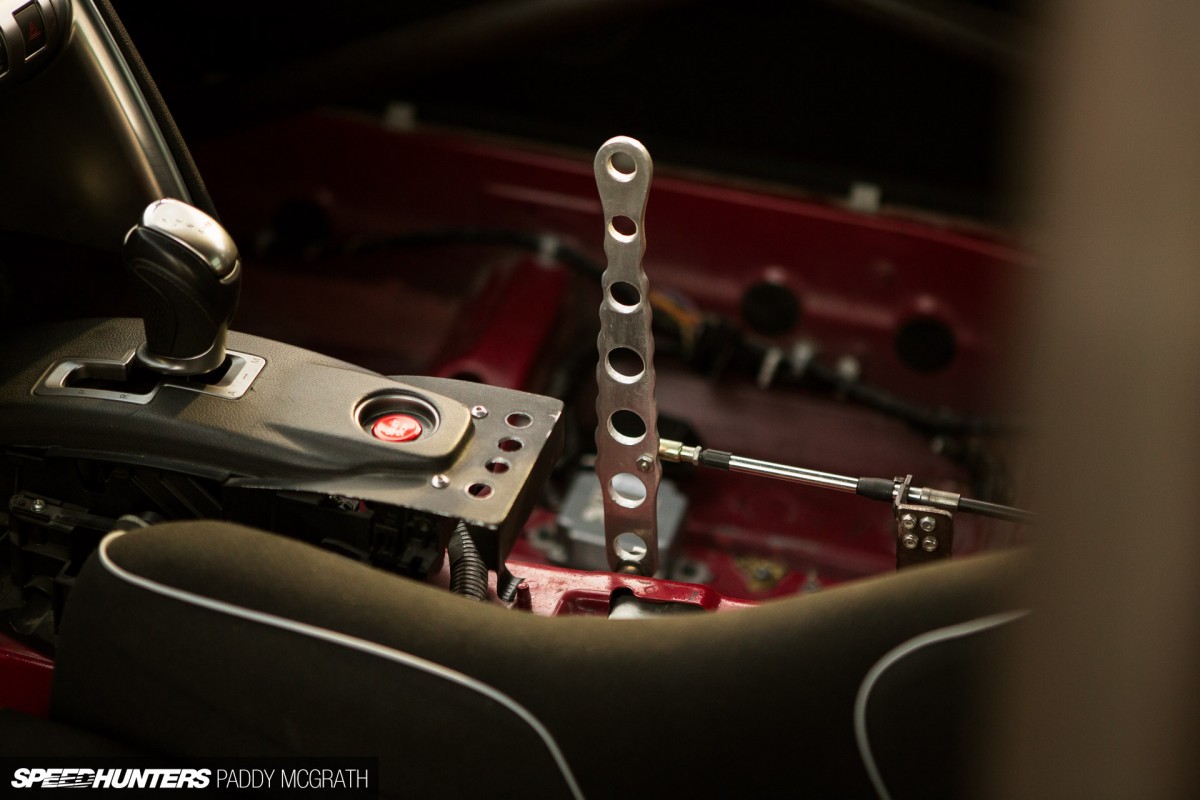 The only other real addition to the interior – which still features the original steering wheel and shift paddles – is this aluminium lever which deploys the rear parachute. Thing are getting pretty serious when you have one of those…
The Chase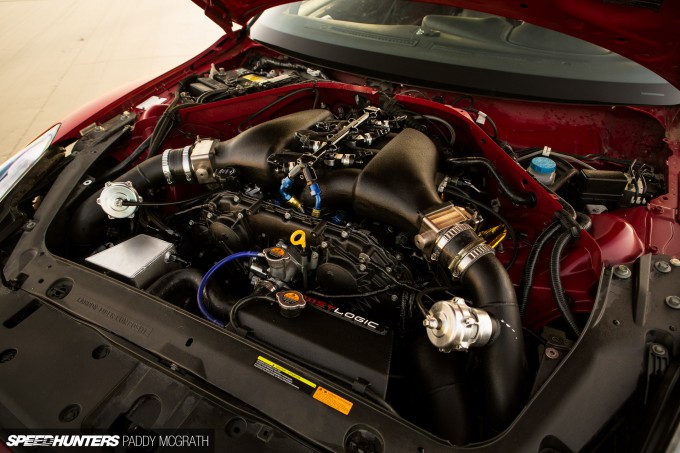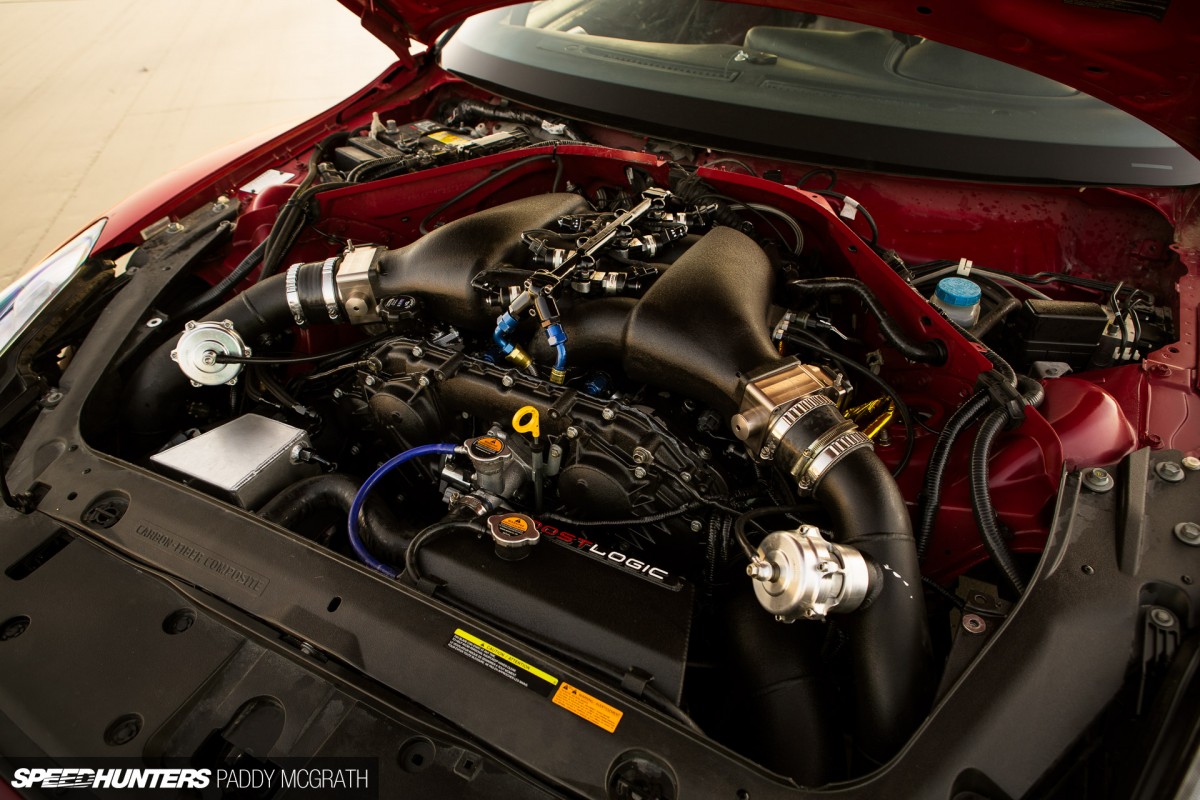 When a car is this stock looking on the outside (it's even more inconspicuous in its standing mile setup) you know that the party piece is tucked neatly away under the stock bonnet. As is the way with R35 GT-Rs, it's actually a tame-looking vista when you open the hood for the first time. In fact, if you weren't that familiar with the VR38DETT, you would need to be talked through the changes as nothing is immediately obvious.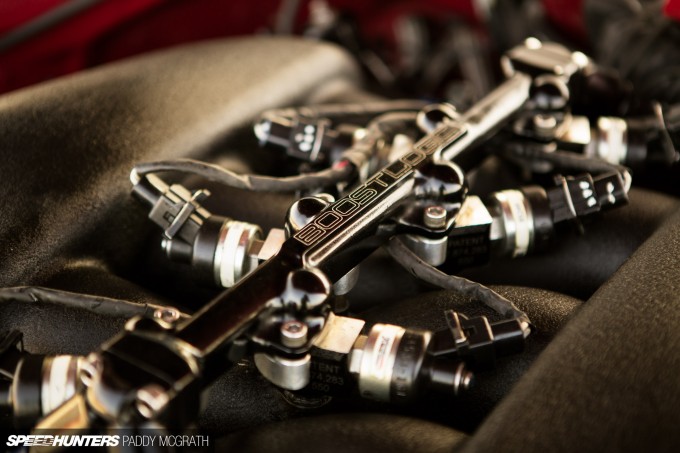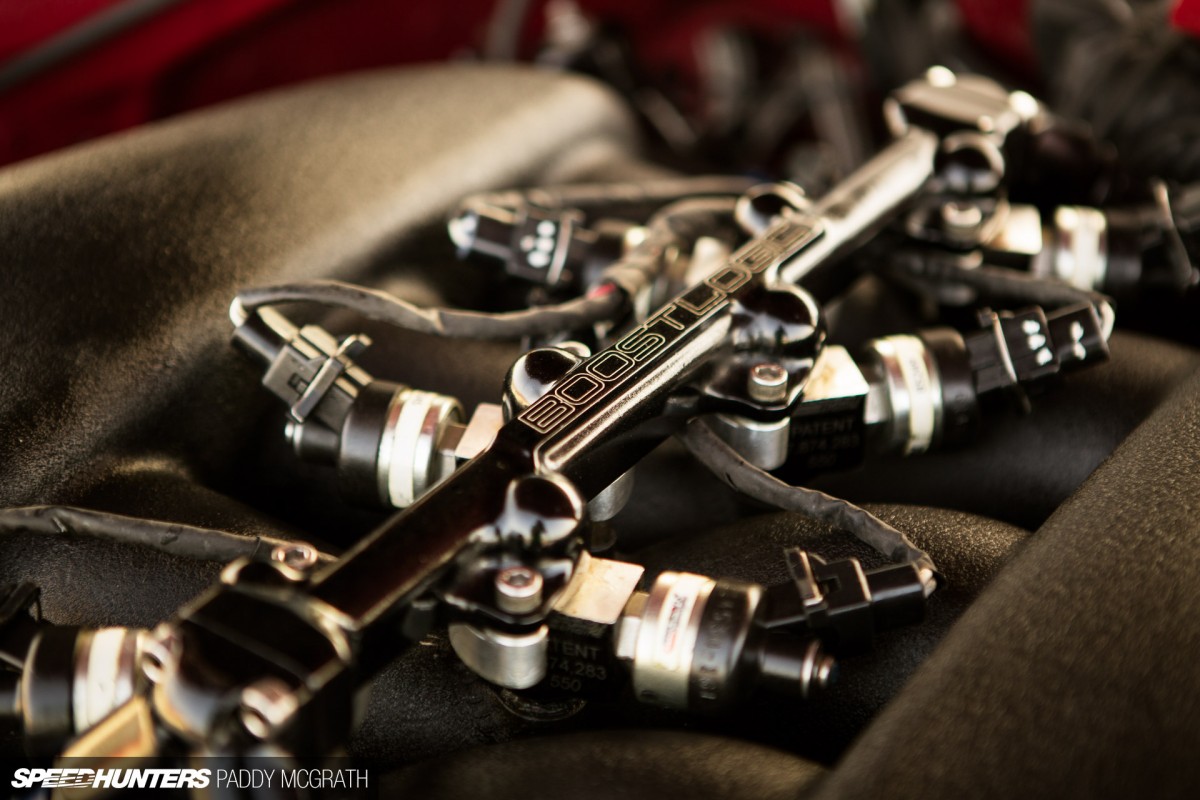 Cherry picking the very best parts available on the market, Al Anabi set about re-building the engine to their own specifications in pursuit of those magical numbers.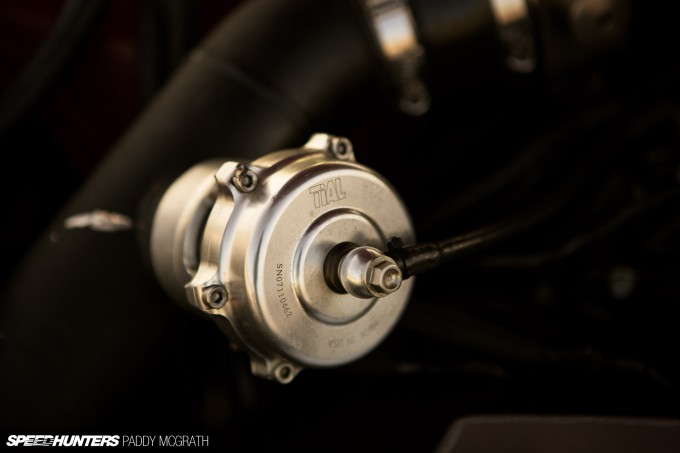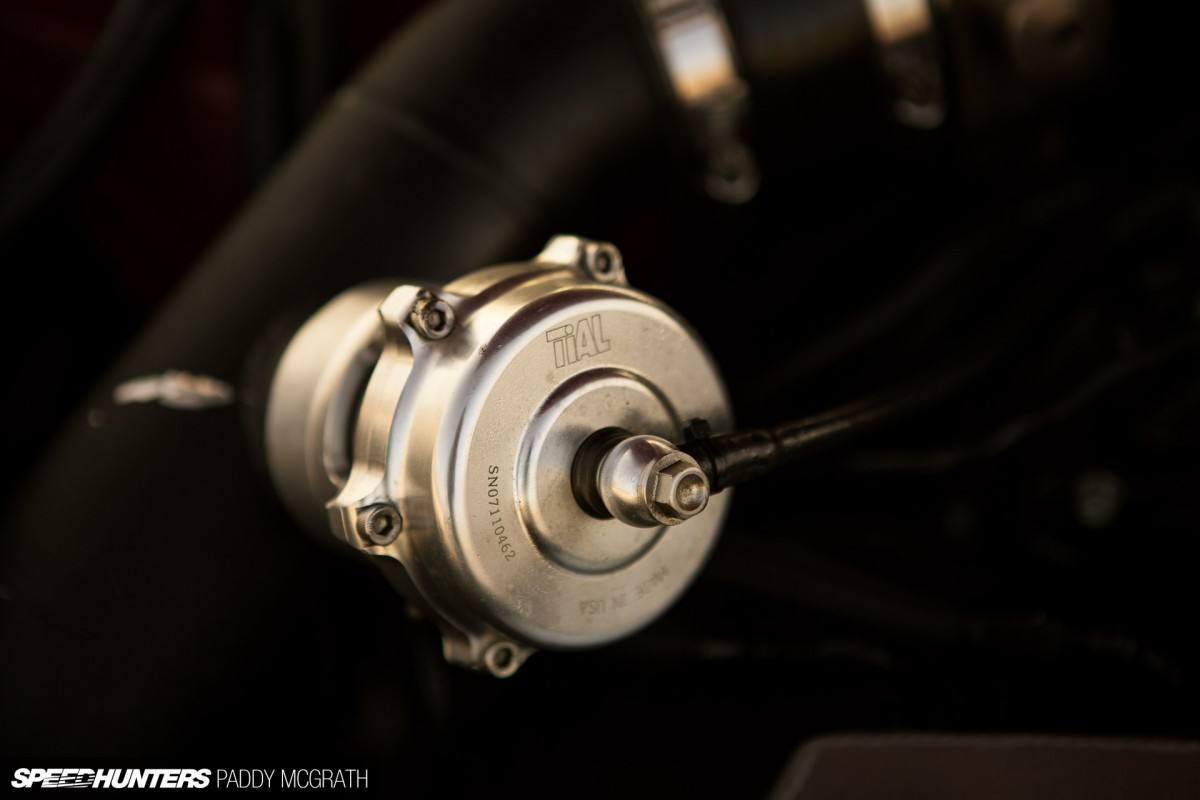 Such is the quality of the end product, this package which is capable of over two thousand horsepower could almost pass off as stock. Okay, there are some giveaways such as the TiAL blow-off valves and the much larger 4-inch inlet and downpipes, along with the Boost Logic race cooler and extra injectors. Like the rest of the car, it's the level of understatement that impresses so much. It may talk quietly, but it's carrying a very, very big stick.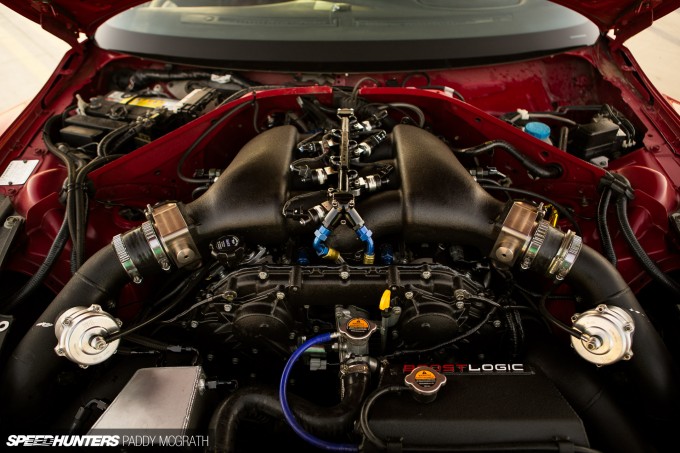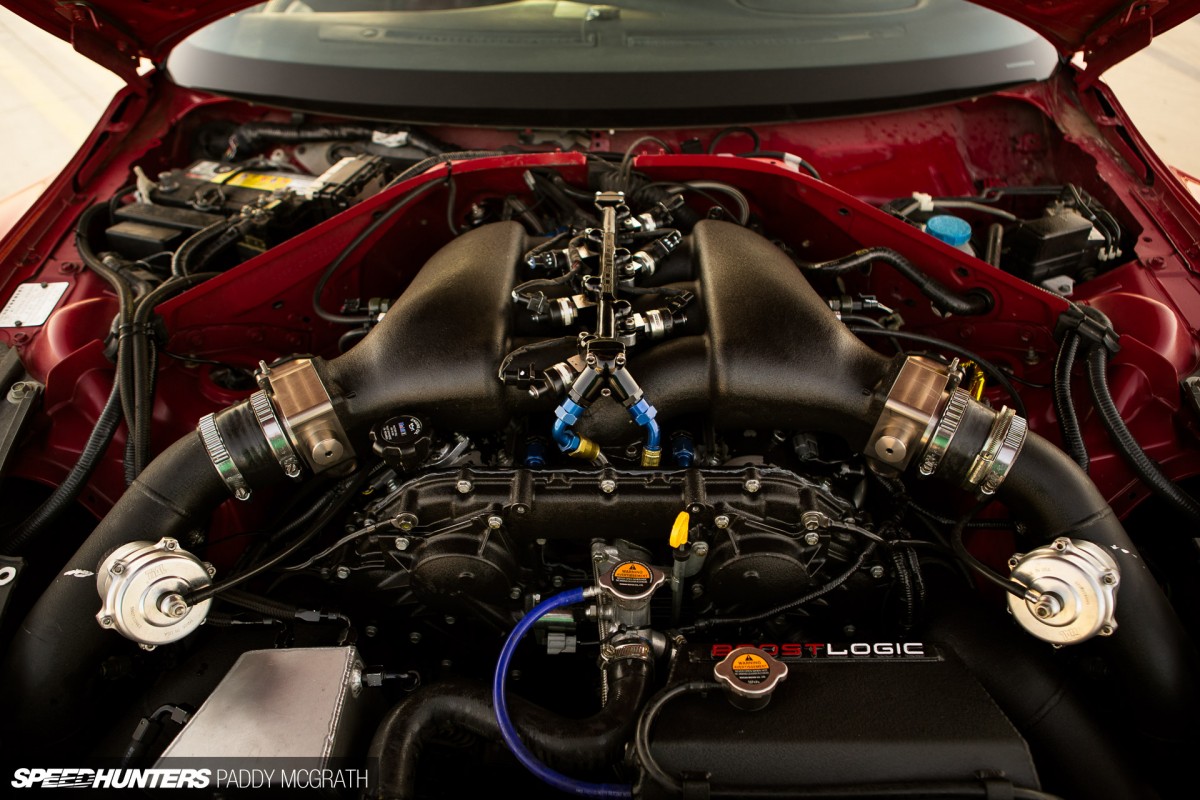 The engine has been stroked to 4.0 litres and Al Anabi have also taken care of the headwork themselves, allowing the GT-R to breathe easy and deliver power in a more linear fashion via Boost Logic's 2200 turbocharger system.
Remember when I mentioned reliability? The engine has put down over 100 quarter mile runs, over 25 half mile runs and countless dyno pulls without issue. That's impressive.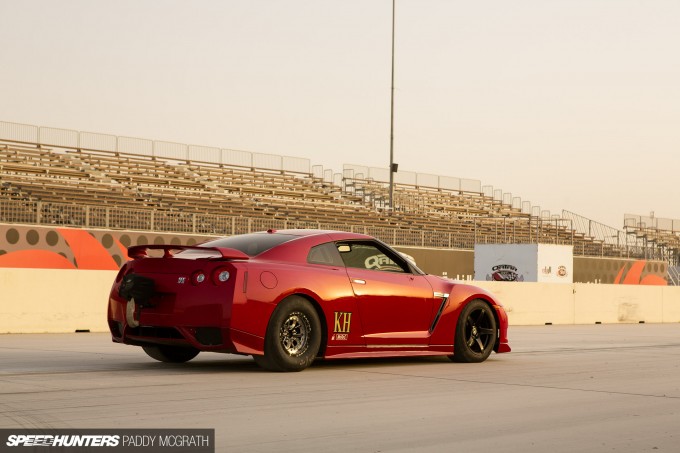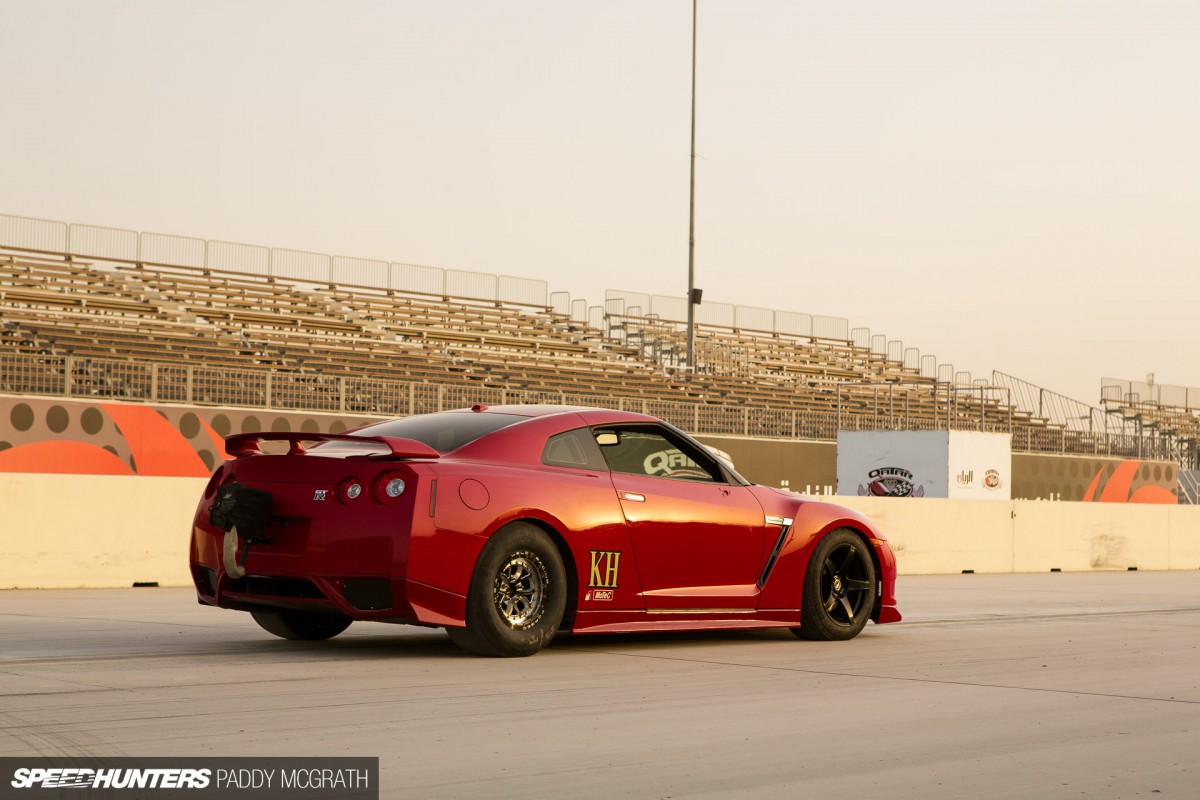 When we shot the car on QRC's drag strip, it was in the midst of being tuned and setup for drag runs, hence the huge Mickey Thompson slicks out back. It still runs the same Penske 3-way adjustable suspension all round for both setups, however.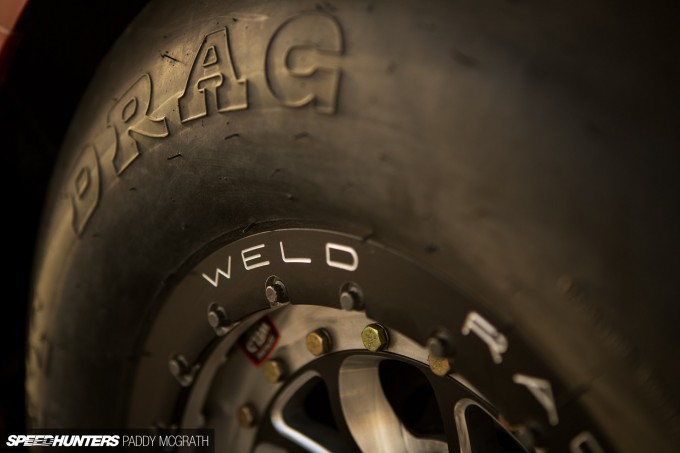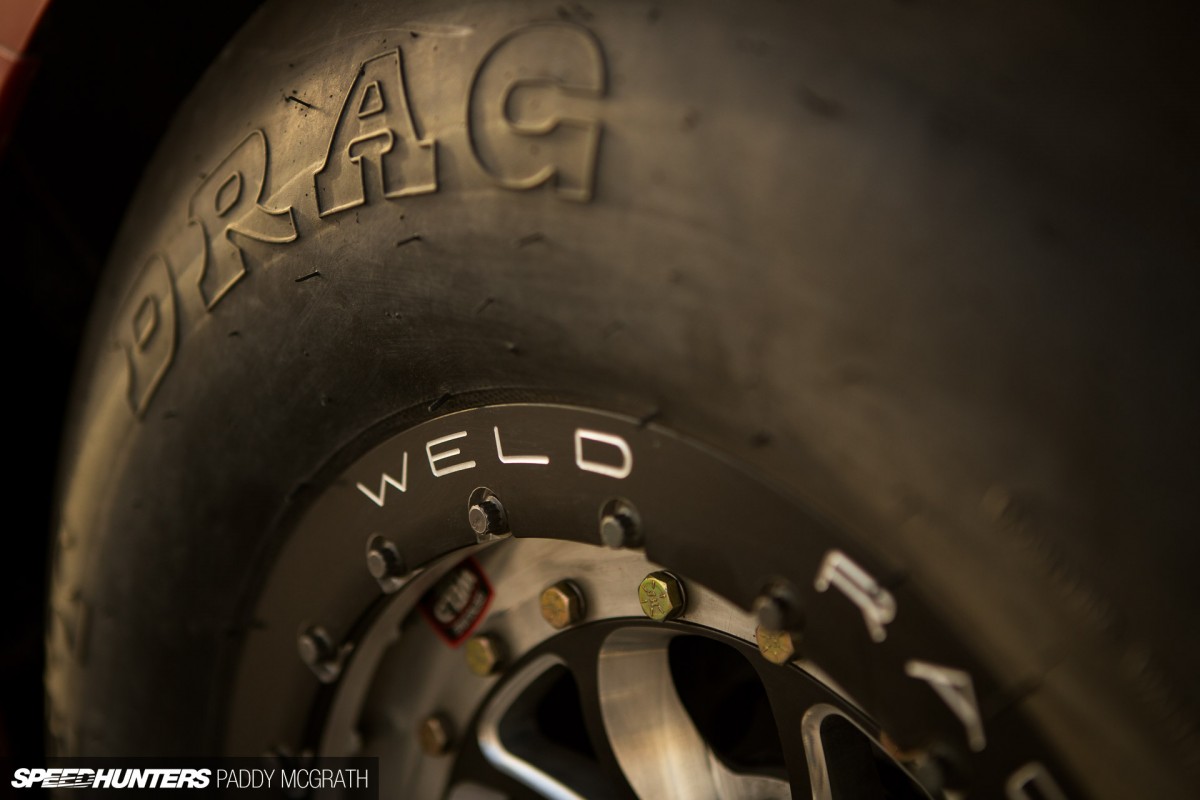 Whilst it's a dual purpose car, the GT-R remains incredibly competitive in both disciplines. In its drag setup, low 8-second passes are the norm with the Al Anabi team aiming to break into the 7s in the coming season.
In standing mile trim, the car ran 354.33km/h (220.2mph) over the half mile at the first round of last season's Qatar Mile. This was whilst only running at circa 40psi (which results in a power figure of around 1700-1800hp). That made it the second quickest half-mile car in the world at the time.
Less than a month later it ran 359.42km/h (223.3mph) which gives you an idea just how serious they are of leaving their mark on the standing mile world. At this point, every single extra mile per hour will require countless hours of tuning and tweaking to ensure the GT-R keeps marching forwards.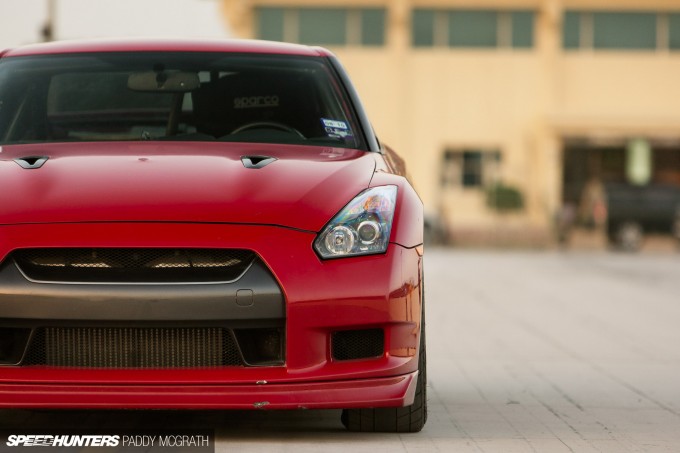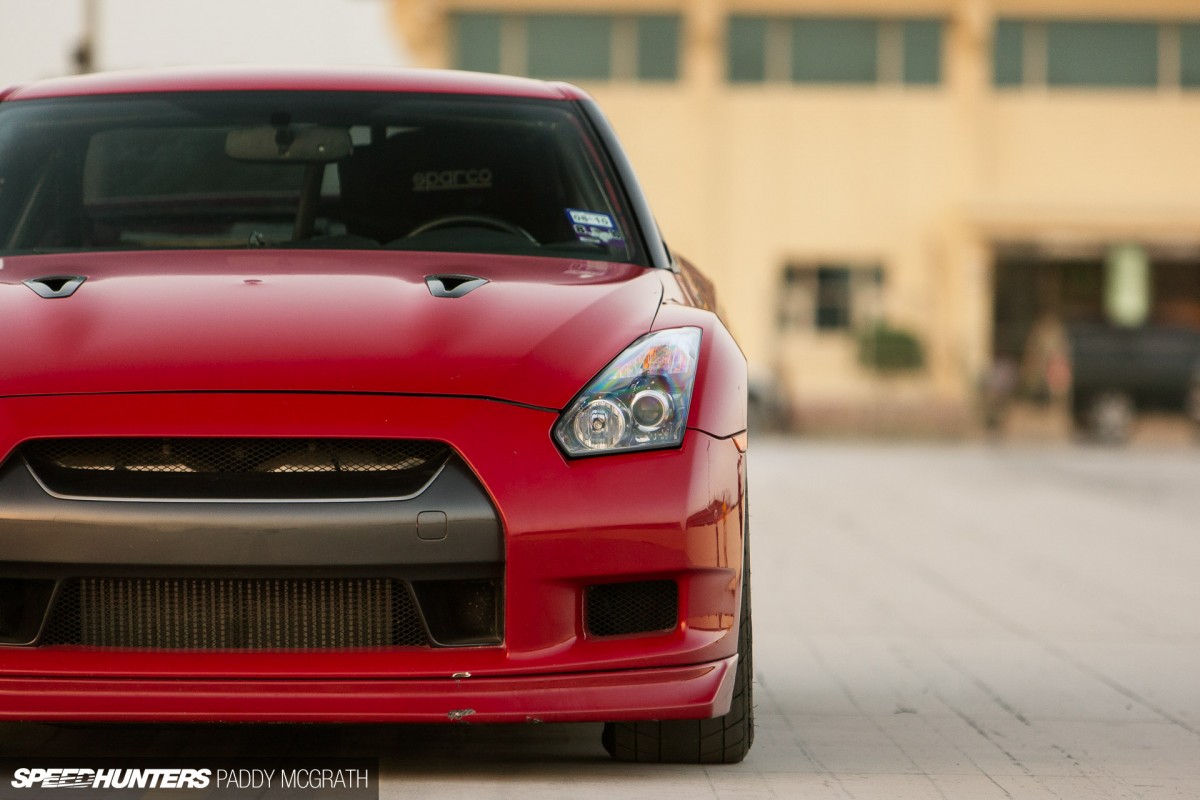 Al Anabi will be seeking out the overall world record later this year, and with the car continuing to evolve over the summer break (it's far too hot for competition in Qatar), it will certainly be a battle worth following over the coming months.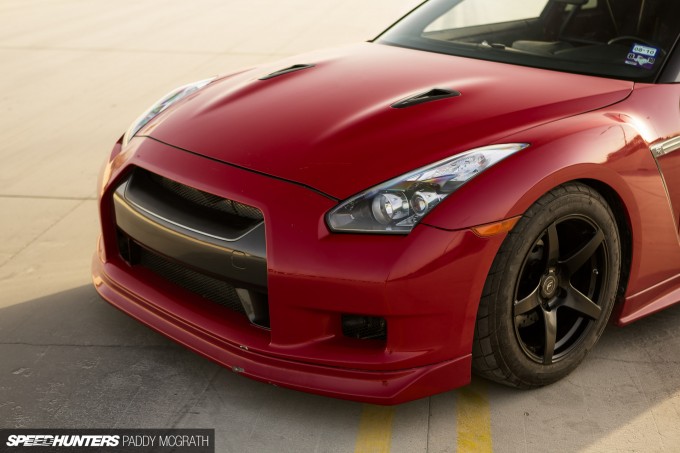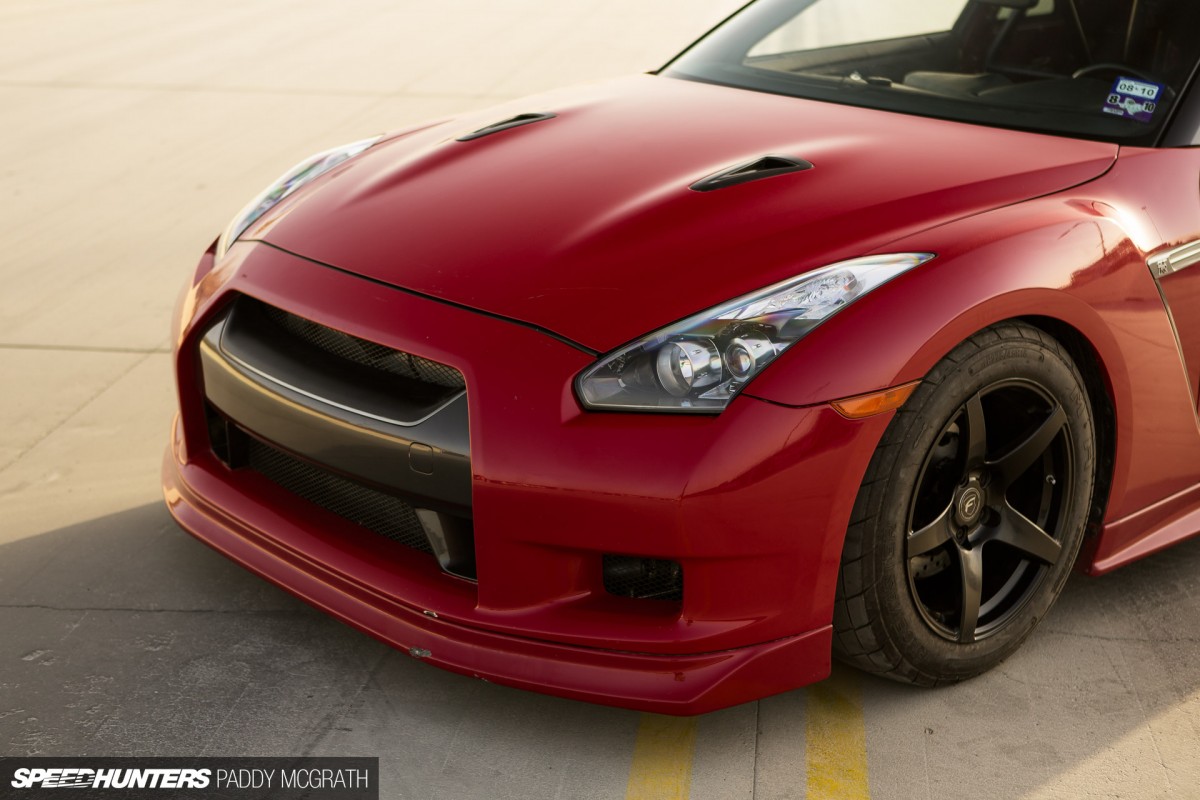 This is a car capable of more too with traction currently being its biggest enemy, especially in such a dusty environment. Can you imagine what it's going to be like when a full-bodied GT-R hooks up over 2,000hp?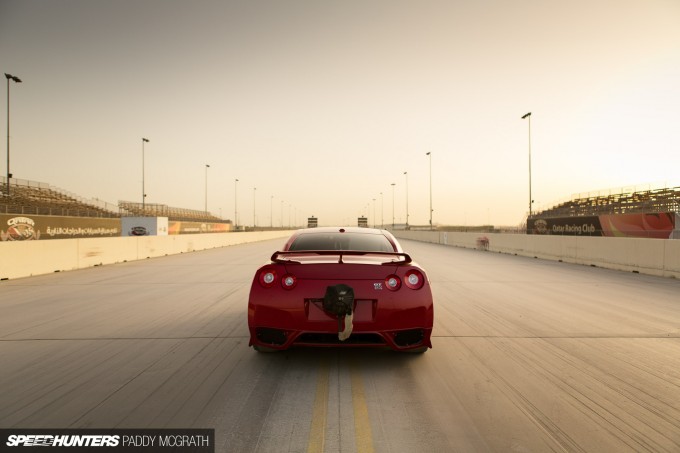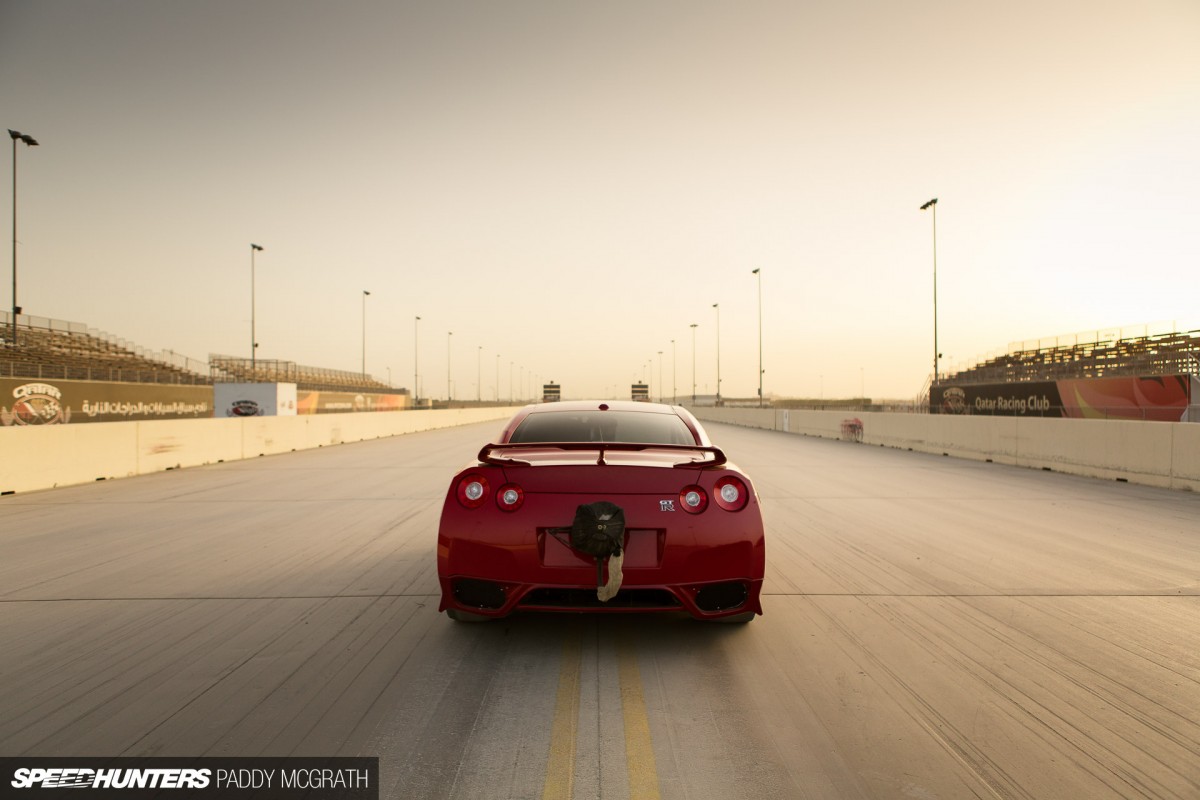 So, this is what happens when two nations unite in the name of horsepower and all-out speed. Co-operation instead of division, help instead of hindrance and respect instead of scorn. It's the way forward. Rather than letting prejudices and tired cliches get in the way, we as an entire community need to work together to encourage this exact sort of relationship.
Instead of ridiculing another's taste in cars, we should take the time to appreciate things from their point of view. If someone is doing something wrong, we should offer a friendly hand in support and show them the way forward. None of us are perfect and we all had to learn from somewhere. Be the one who helps, not the one who hates. We will all be the better for it.
Paddy McGrath
Instagram: @pmcgphotos
Twitter: @pmcgphotos
paddy@speedhunters.com
Al Anabi Performance Nissan GT-R
Numbers
Max Power: 2000hp+, Max Torque: 1032lbs/ft (1400Nm), Weight: 3930lb (1783kg)
Engine
Al Anabi Performance specified Boost Logic 4.0-litre engine, Boost Logic intake manifold, Boost Logic 2200 turbo kit, Boost Logic race cooler with piping, 550lb secondary injectors, 240lb primary injectors, mechanical Weldon fuel pump, Boost Logic cams with AAP head work, Boost Logic reinforced block, MoTeC M150 tuned by Mario at AAP
Driveline
Al Anabi Performance Stage 4 transmission, Dodson straight-cut gear set, billet selectors, Dodson locks, bearings, shims and drag anti-surge plate, Dodson 12+12 clutch, Cusco front & rear differentials
Suspension/Brakes
Penske 3-way suspension, Boost Logic Wilwood small brake kit, external parachute
Wheels/Tyres
Drag Setup: Forgestar Wheels (front), Weld Racing custom double bead lock 11in (rear) with Mickey Thompson 10.5-inch tires
Standing Mile: Volk TE37, 18×10-inch (front), 18×11.5-inch (rear), Mickey Thompson ET Streets
Exterior
Stock GT-R, mirrors removed
Interior
Stripped interior, 8-point rollcage with Funny Car style driver protection, MoTeC C125 dash
More Nissan GT-R related stories on Speedhunters
Cutting Room Floor