Overwhelming Force Projection
In the olden days you'd use brutal engines of war and overwhelming force to take a castle, and it turns out that not much has changed. It's just that today the engines involved are even more powerful – the horses involved number in their thousands. So, incongruous as it may have seemed, the picturesque medieval background of Leeds Castle in Kent played host to this modern reimagining of force projection: a Supercar Siege.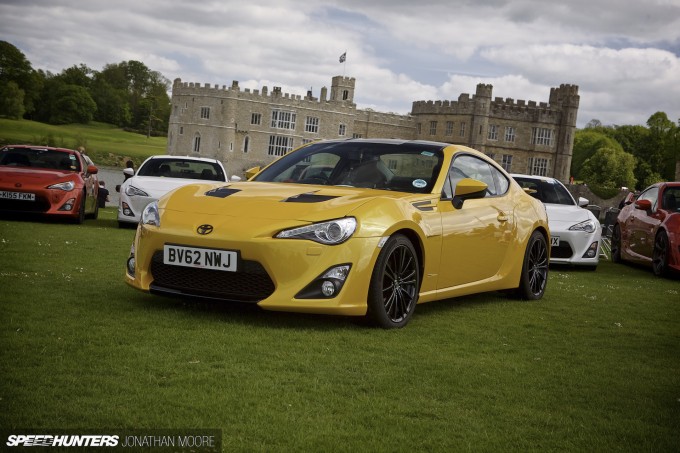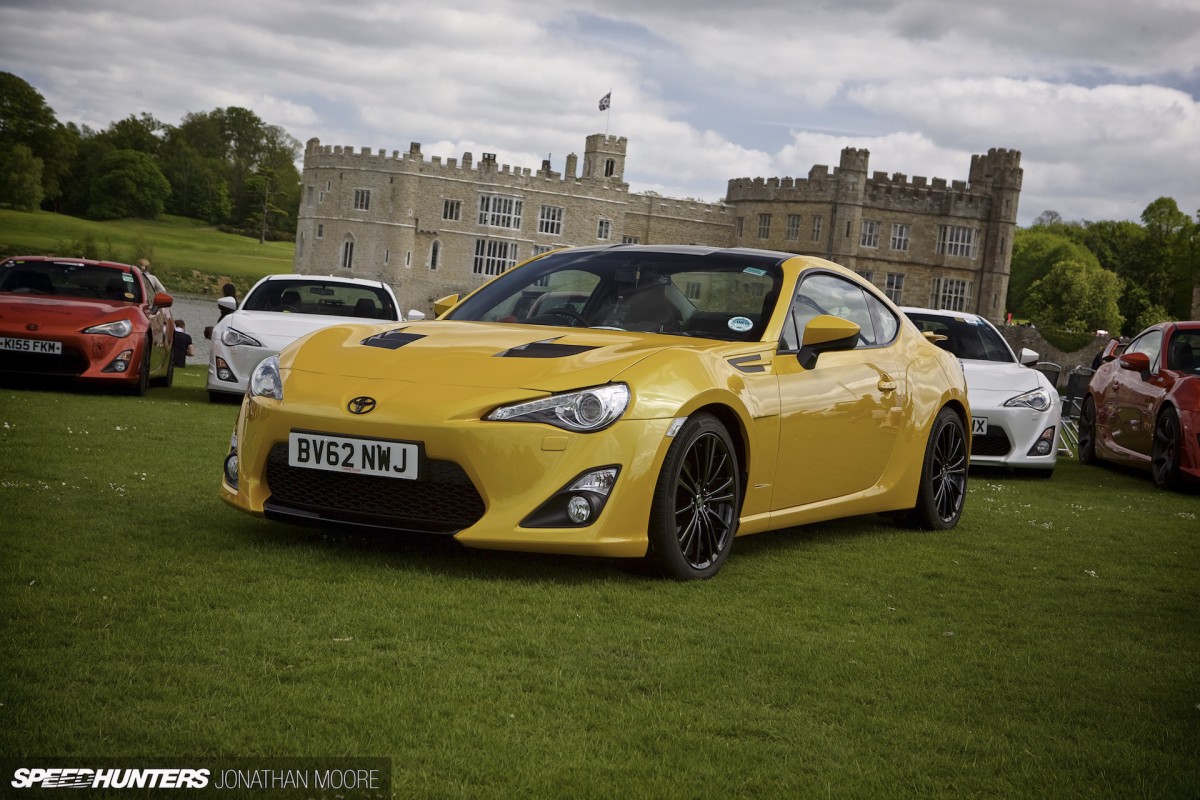 The attacking forces were drawn up in ranks along the banks of the moat surrounding the castle. Here I found automotive soldiers from all round the world, gathered together and fighting for a single cause.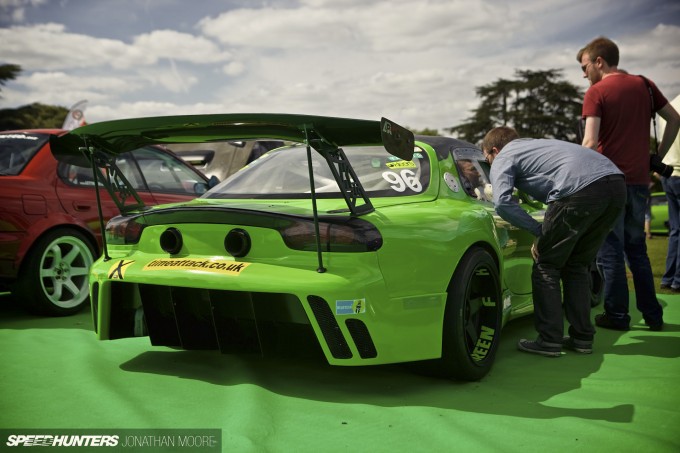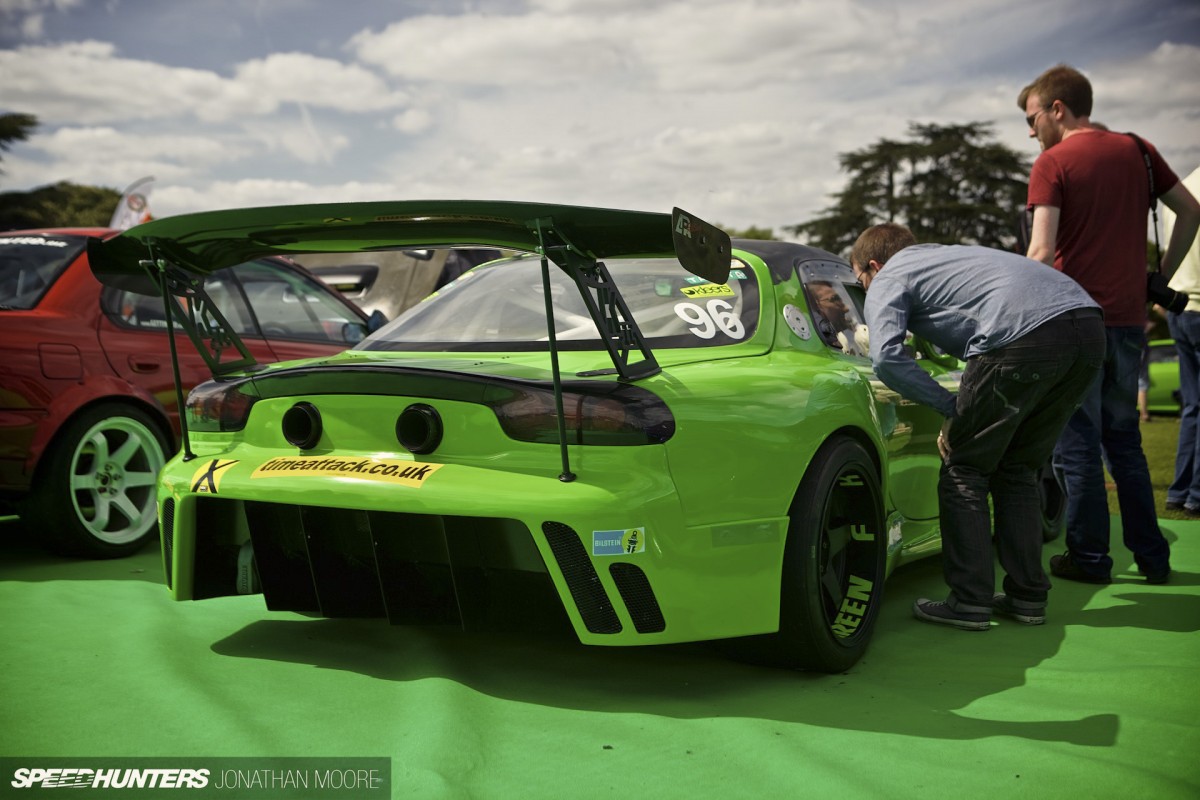 Every kind of weapon specialisation was deployed. Massive rotary cannon, camouflaged to blend into the background.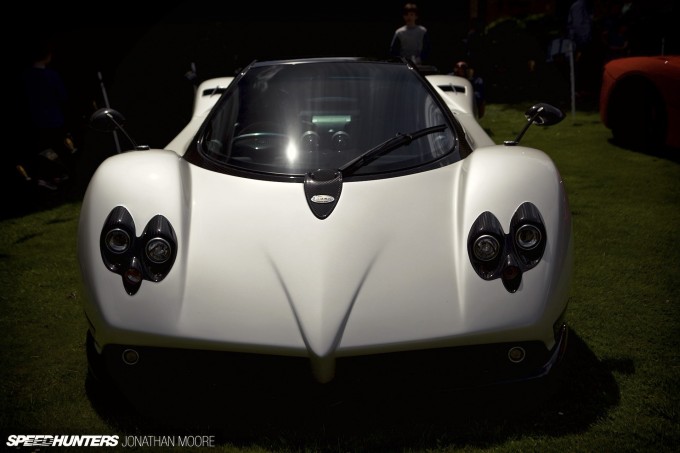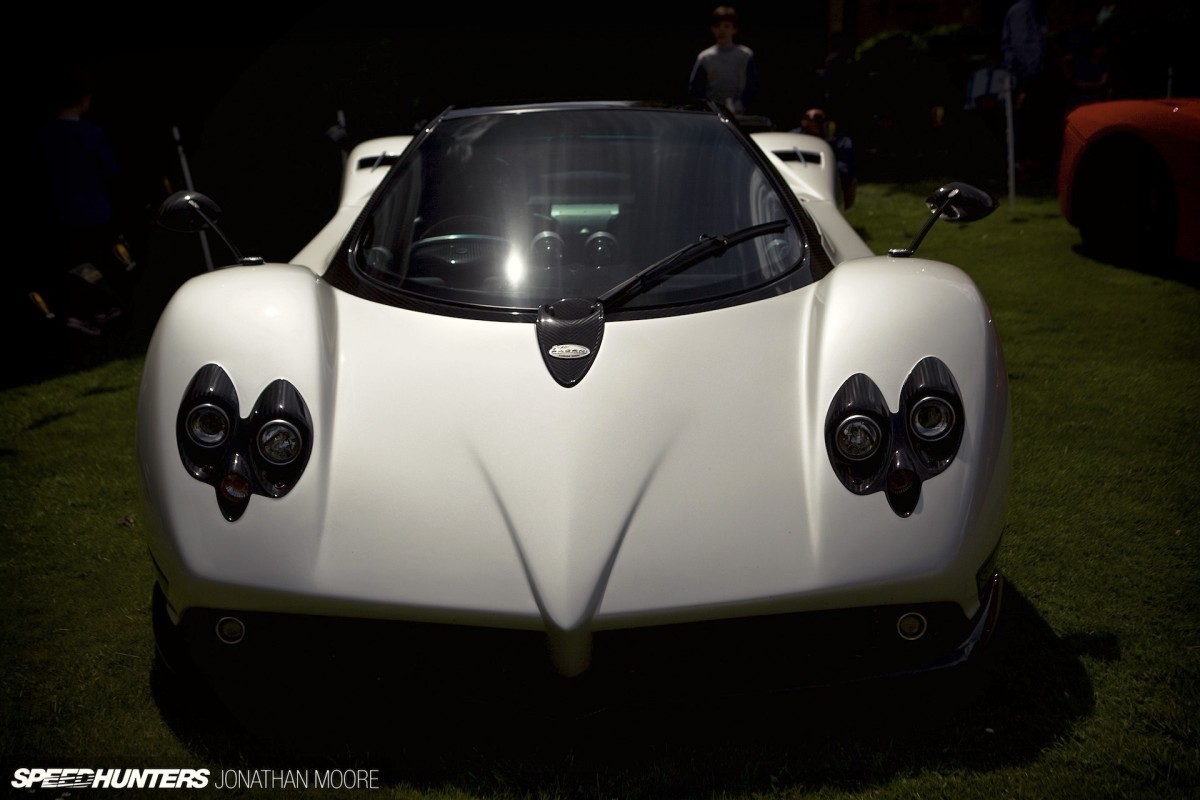 There were hyper-expensive cruise missiles, fired directly into the castle courtyard.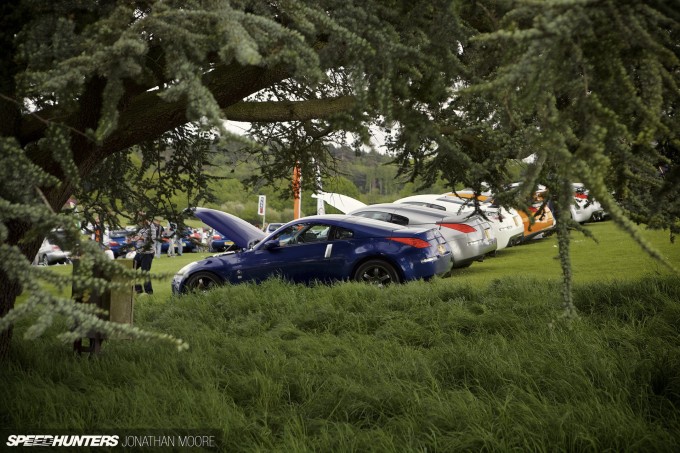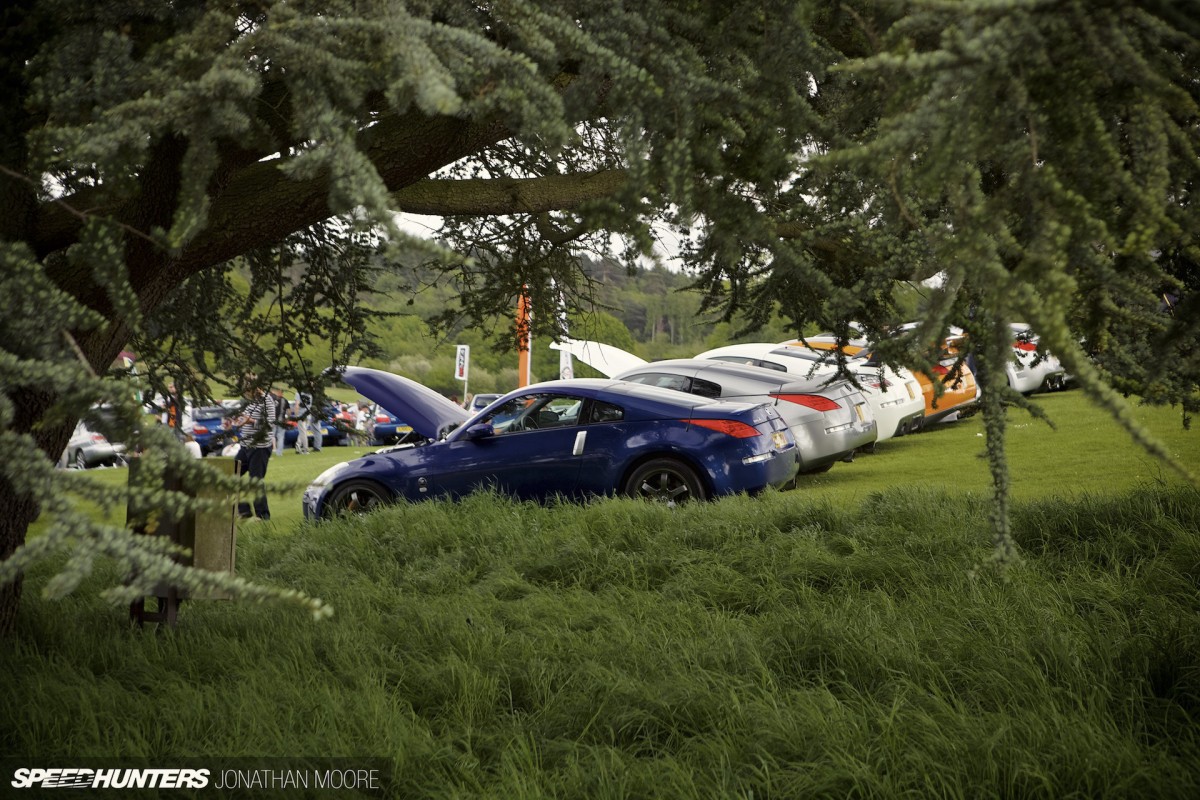 Mass reinforcements were hidden under the trees, ready to move in at a moment's notice. This was a very different kind of siege – one I think most of us would happily throw in our lot with.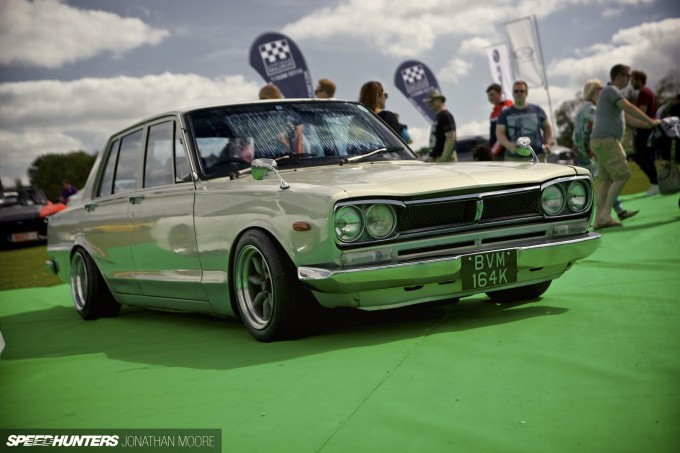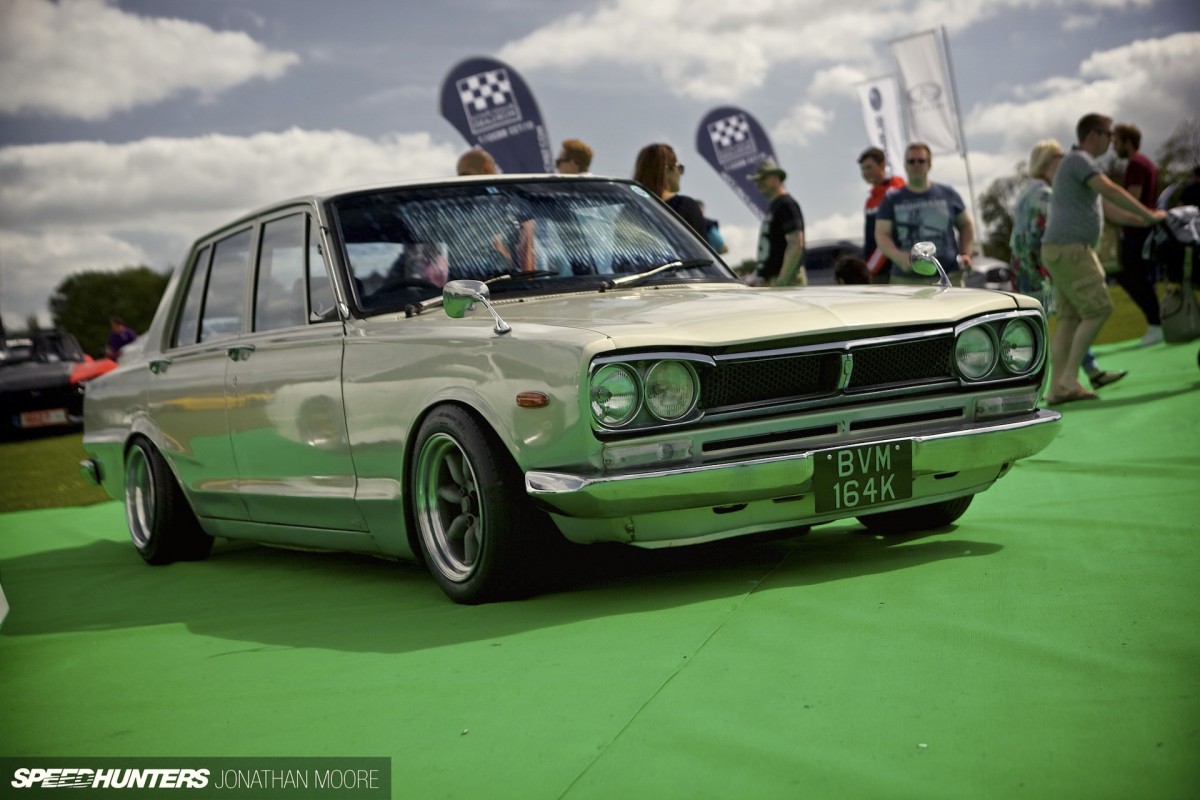 This was the third running of the Supercar Siege, supported by the Mulgari Automotive tuning team, which featured an amazing line-up of almost 500 cars of all stripes parked up in and around the castle. Even better, the cause they rallied to was an undeniably worthy one: the Royal Navy and Royal Marines Children's Fund charity.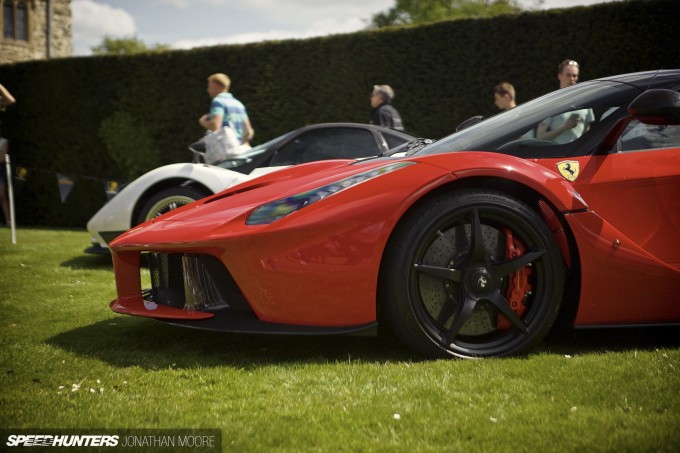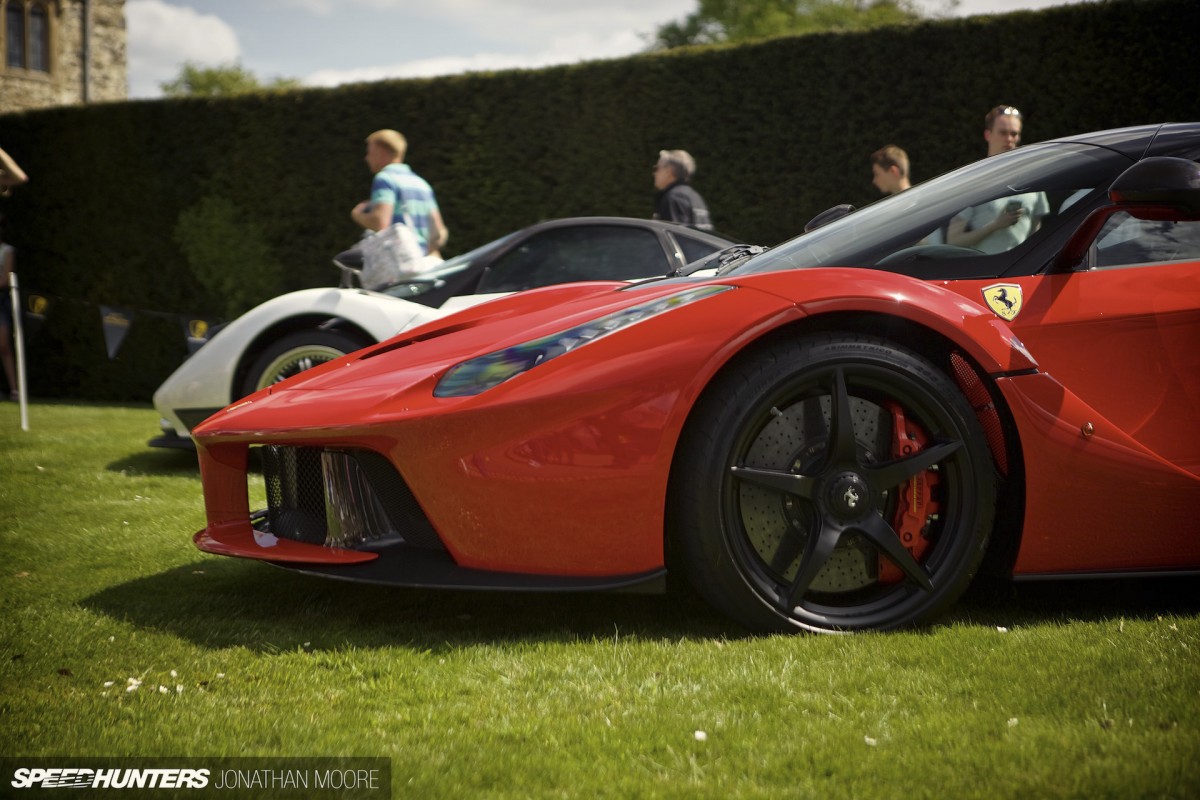 30 car clubs plus numerous individuals backed up special appearances by an elite group of rarities inside the castle's fortifications, a Zonda F, Koenigsegg Agera N and Ferrari LaFerrari the spearhead wowing the crowds in the inner courtyard.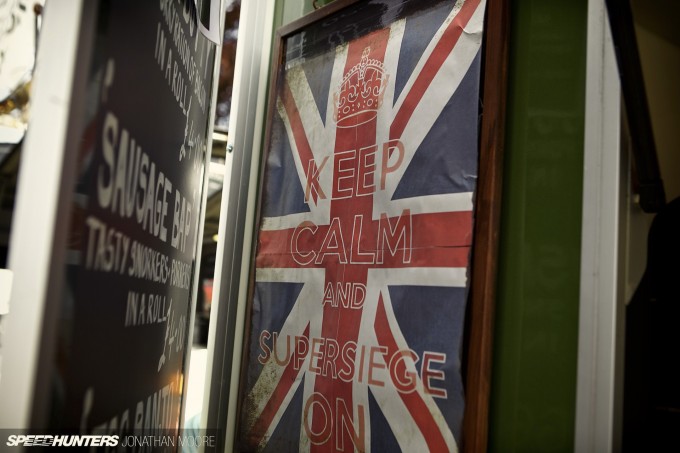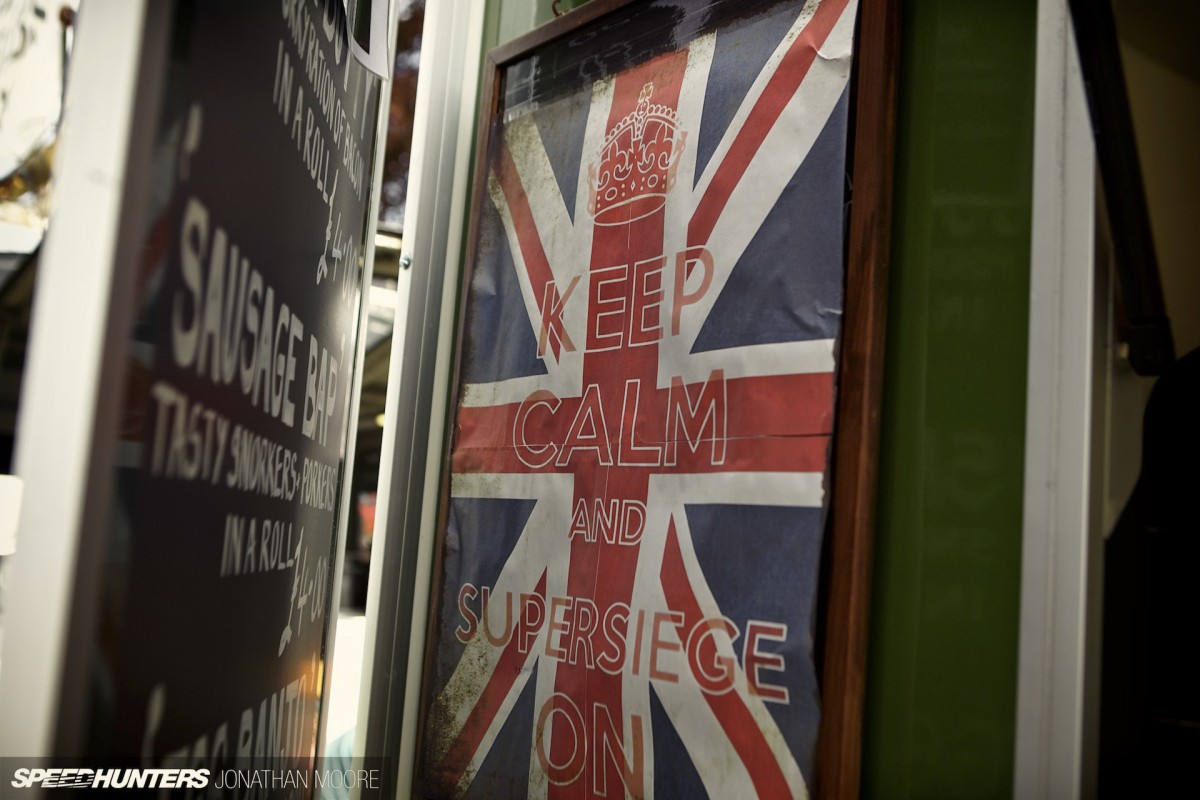 The most modern of hypercars in the most medieval of settings: cars and castles – with a sausage bap thrown in. A none-more-British backdrop to a truly international line-up.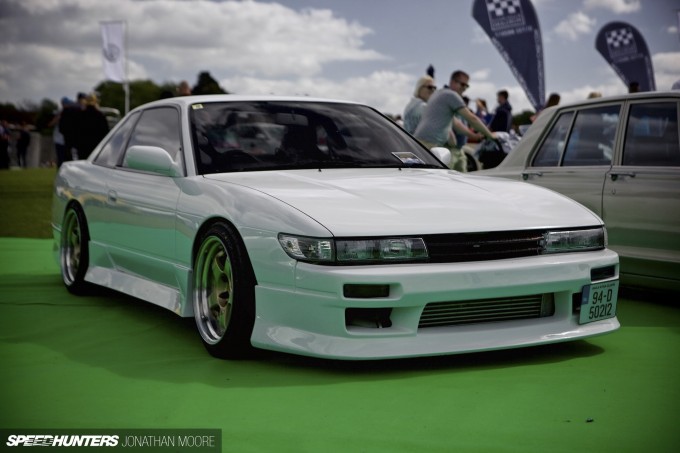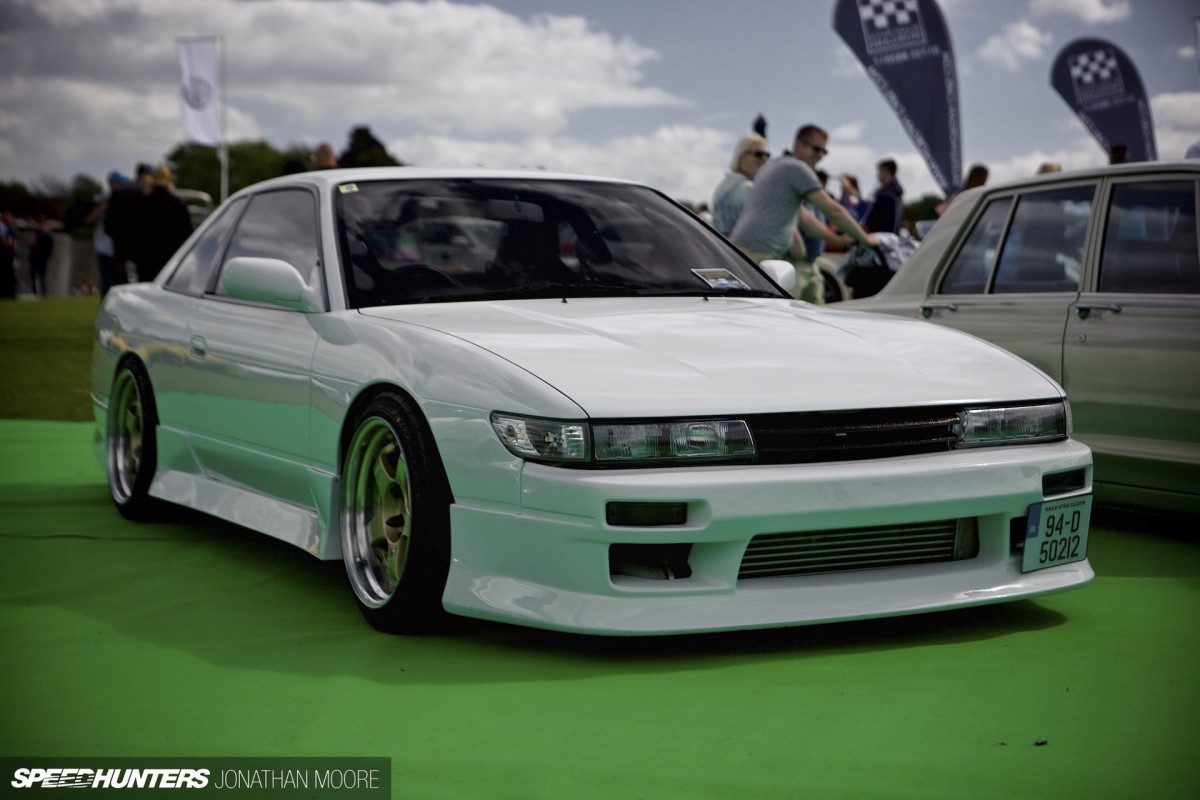 The fact it was called Supercar Siege was maybe a bit of a misnomer, which I mean in a very positive way. The car clubs presented a broad church of machinery from across every genre and period.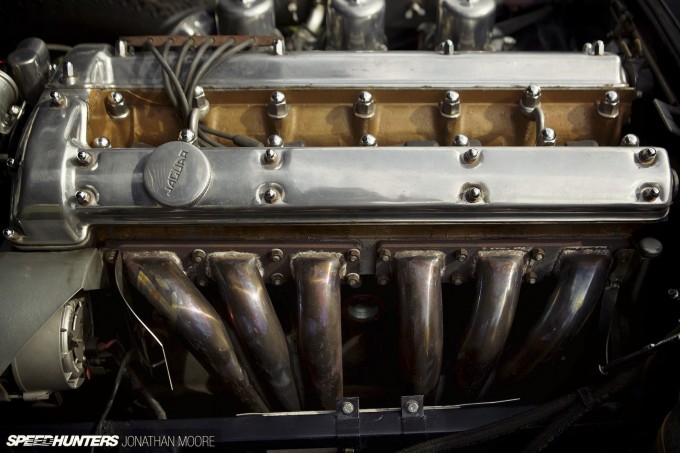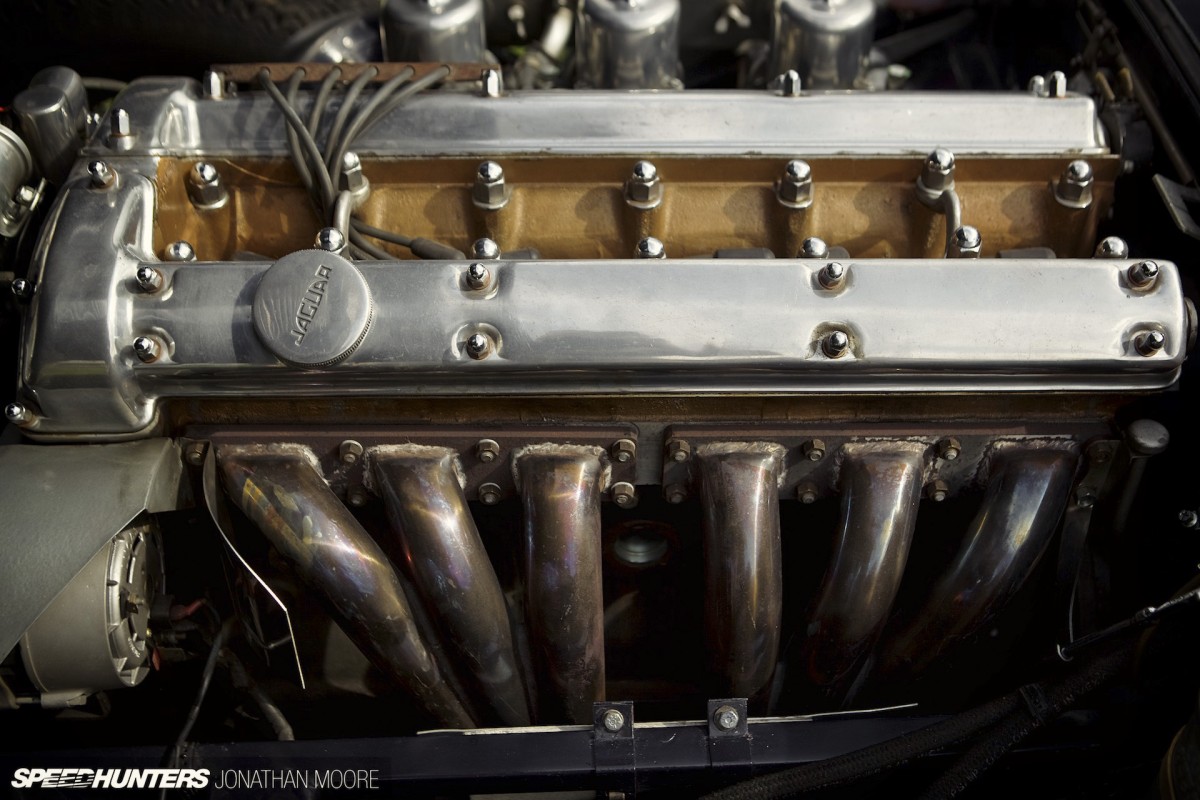 Heavily modified and JDM-inspired machines stood shoulder to shoulder with classic Jags and Astons. Inline sixes turbocharged or old school, separated by 40 years. V8s, four-cylinders, V10s, American muscle to lightweight Lotus – there was truly something for everyone.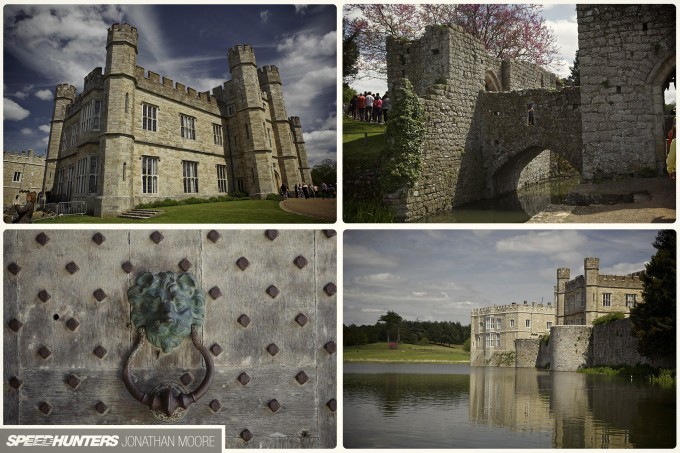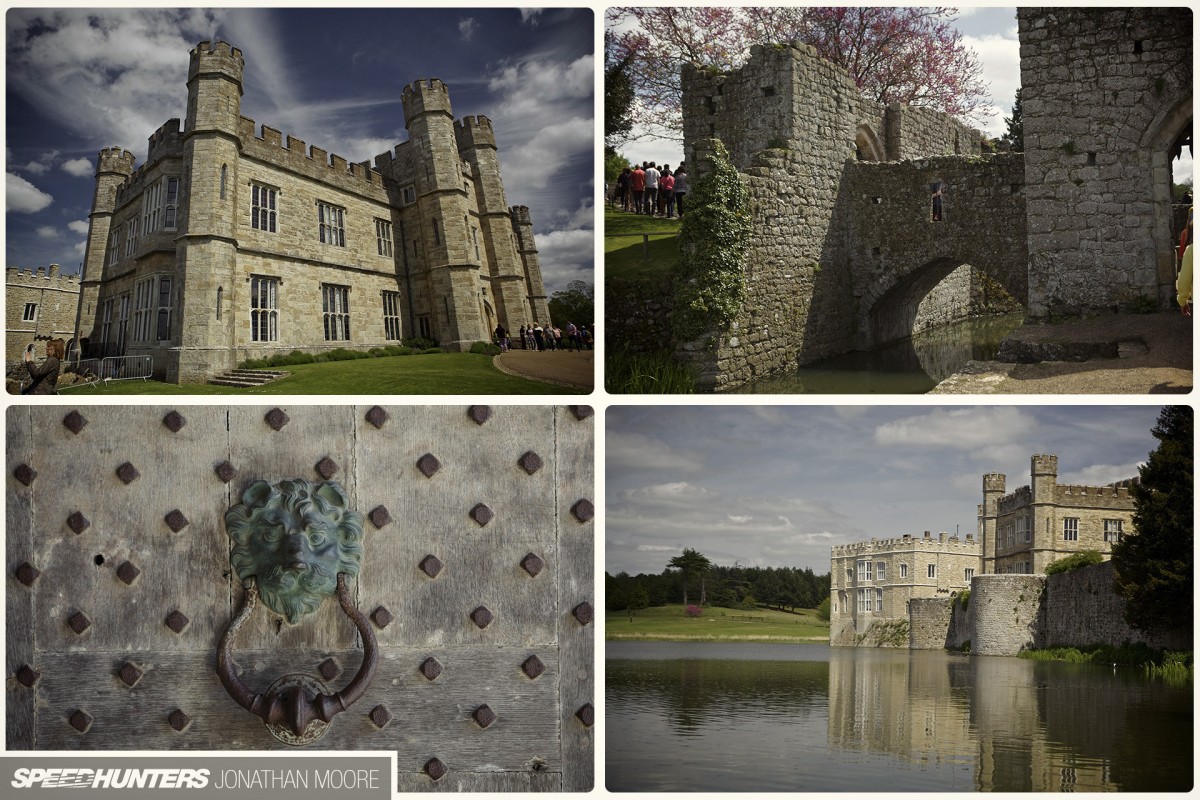 There's been a castle here in Kent since 1119. It was home to several English kings and Henry VIII's first wife, Catherine Of Aragon, was installed at Leeds. It's been open to the public since 1976, though the incredible number of cars that covered every inch of ground opposite the castle must have been a bit of a shock to regular visitors more used to the geese and ducks.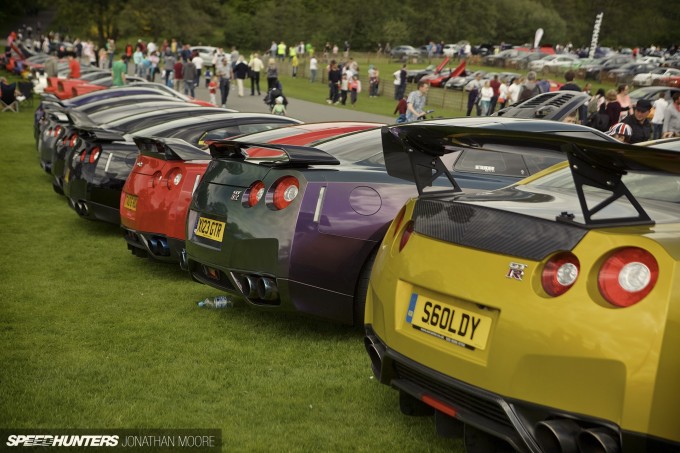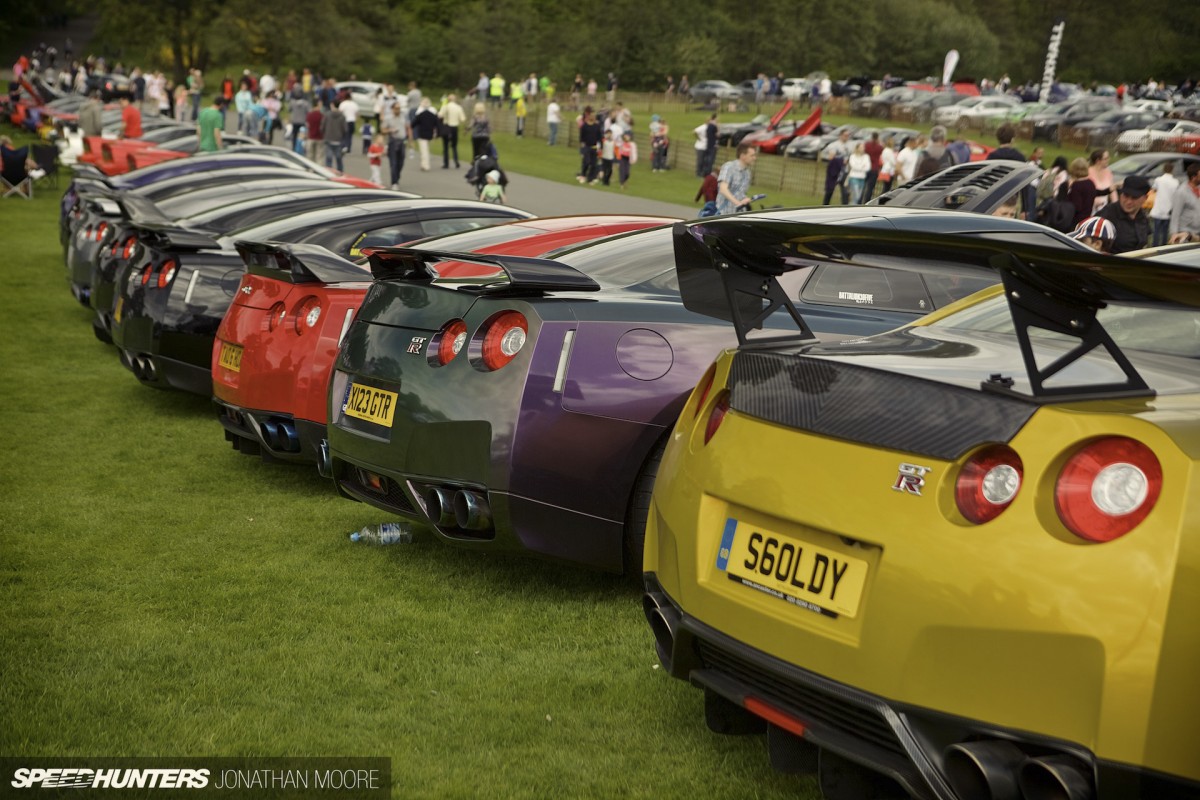 Similarly, the lush castle grounds must have made a change for clubs maybe more used to being spread out over wind-swept stretches of tarmac in race track paddocks. A harmonious combination they made.
Leading The Attack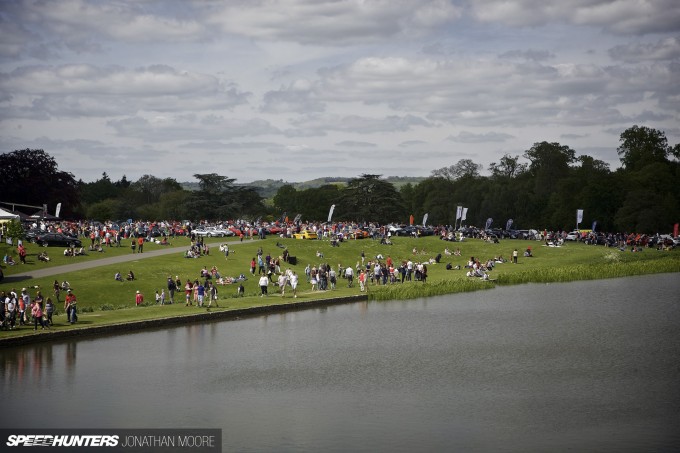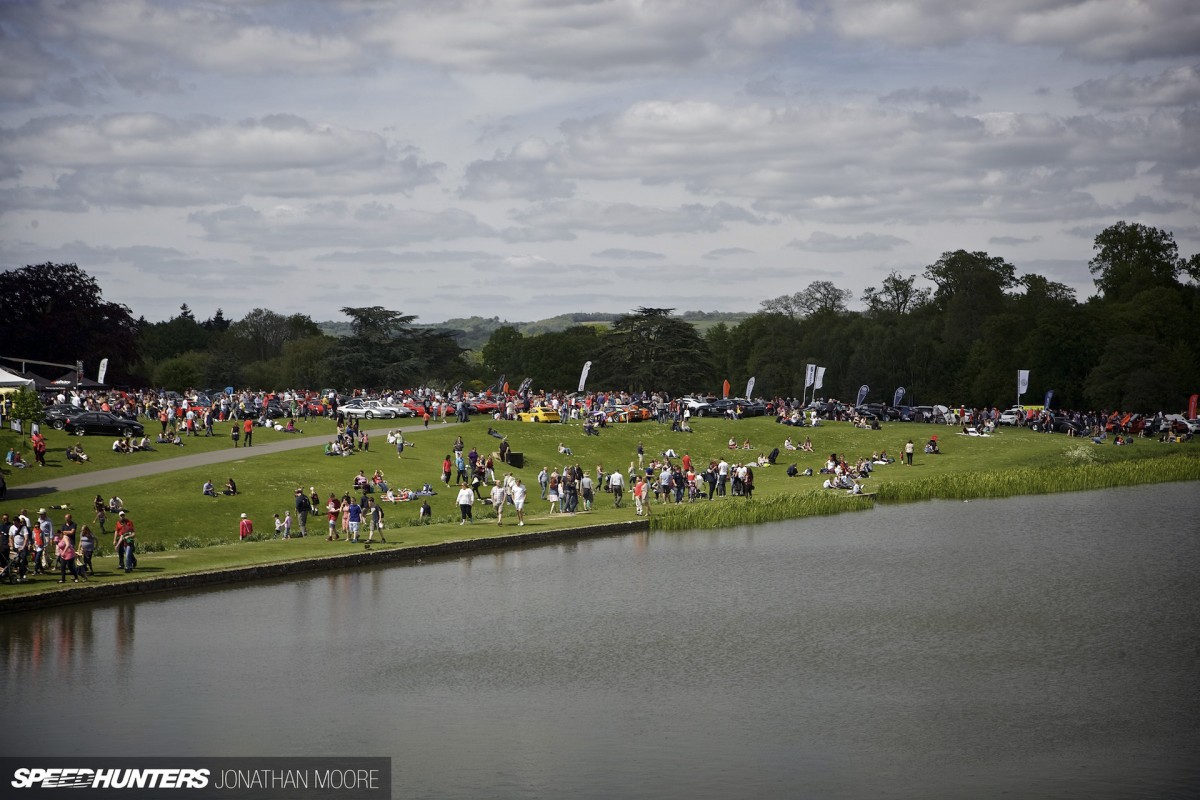 The setting of Leeds Castle was inspired. With the sun peaking through clouds for the most of the day, a big crowd turned out which was dominated by families.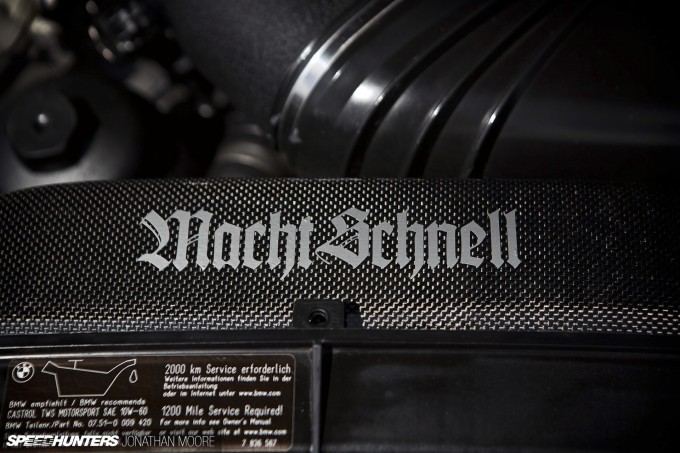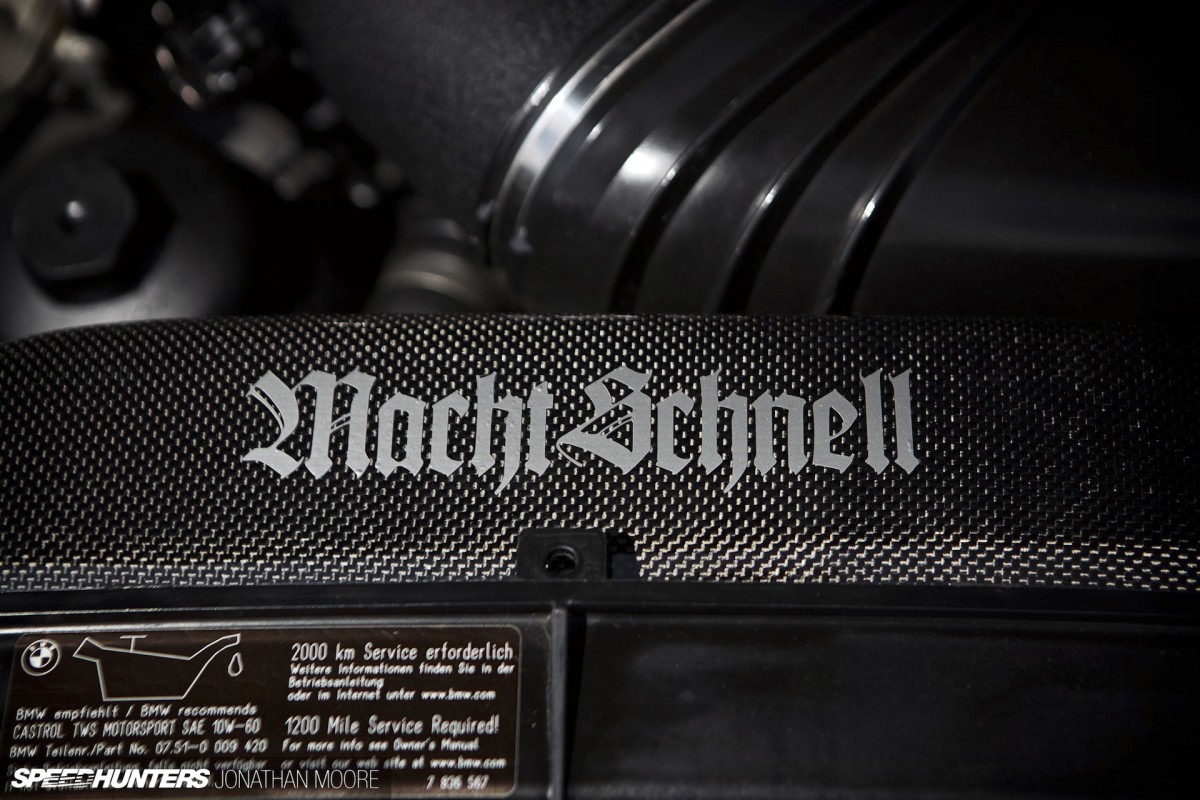 Last year I had a fantastic time at the Bromley Pageant Of Motoring, and the Supercar Siege was a similar kind of event. I love shows like this – they're outside the automotive hardcore, with an audience who are just as likely to be walking around the gardens as poking under a bonnet. These are local shows, probably drawing the majority of visitors from the immediate surrounding counties, but attended by cars from all over the country.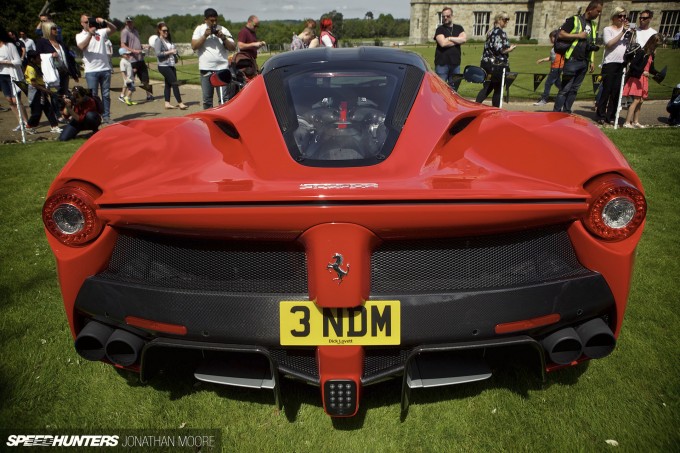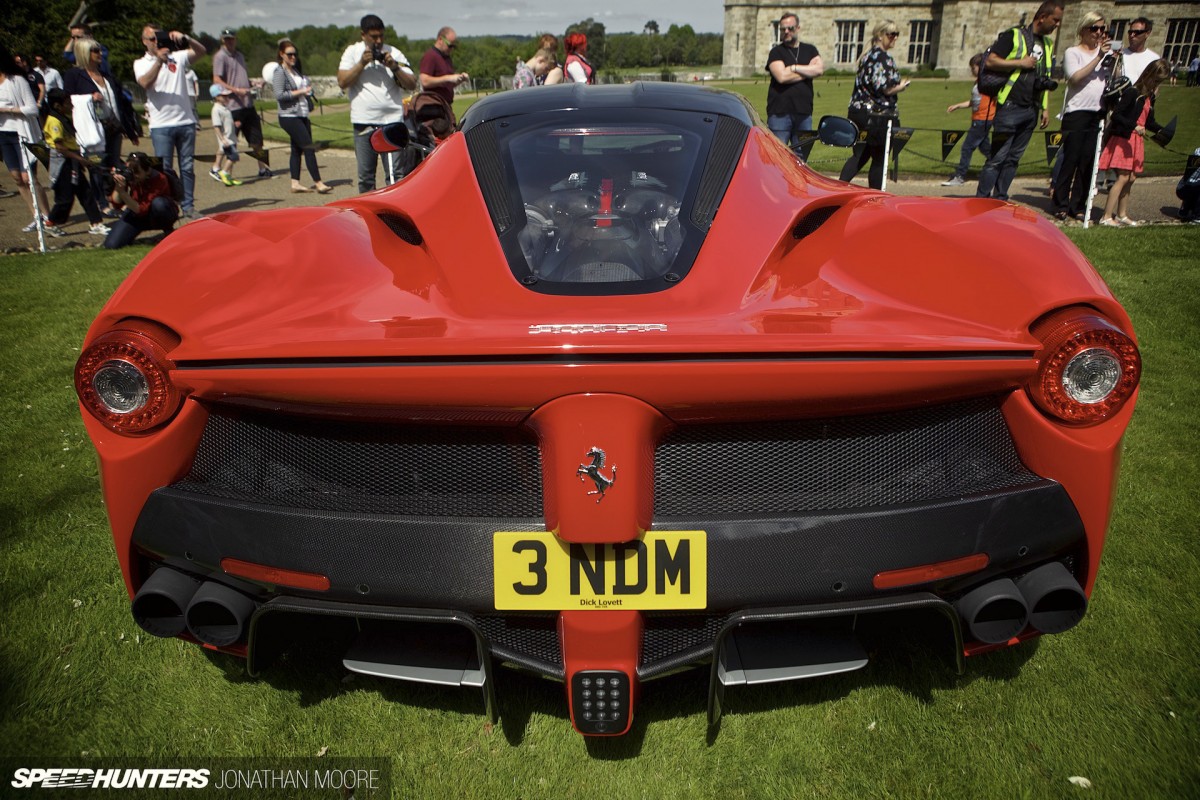 I see events like Supercar Siege as gateway drugs. You and me might know about the small specialist shows, but this is exactly the kind of experience that knocked me out when I was a kid. I mean, how often do you get to see a real LaFerrari? Or the Skyline you normally only drive in a computer game in the metal?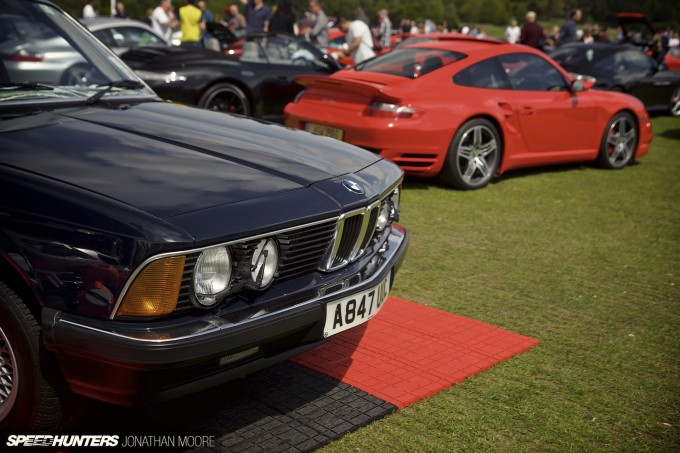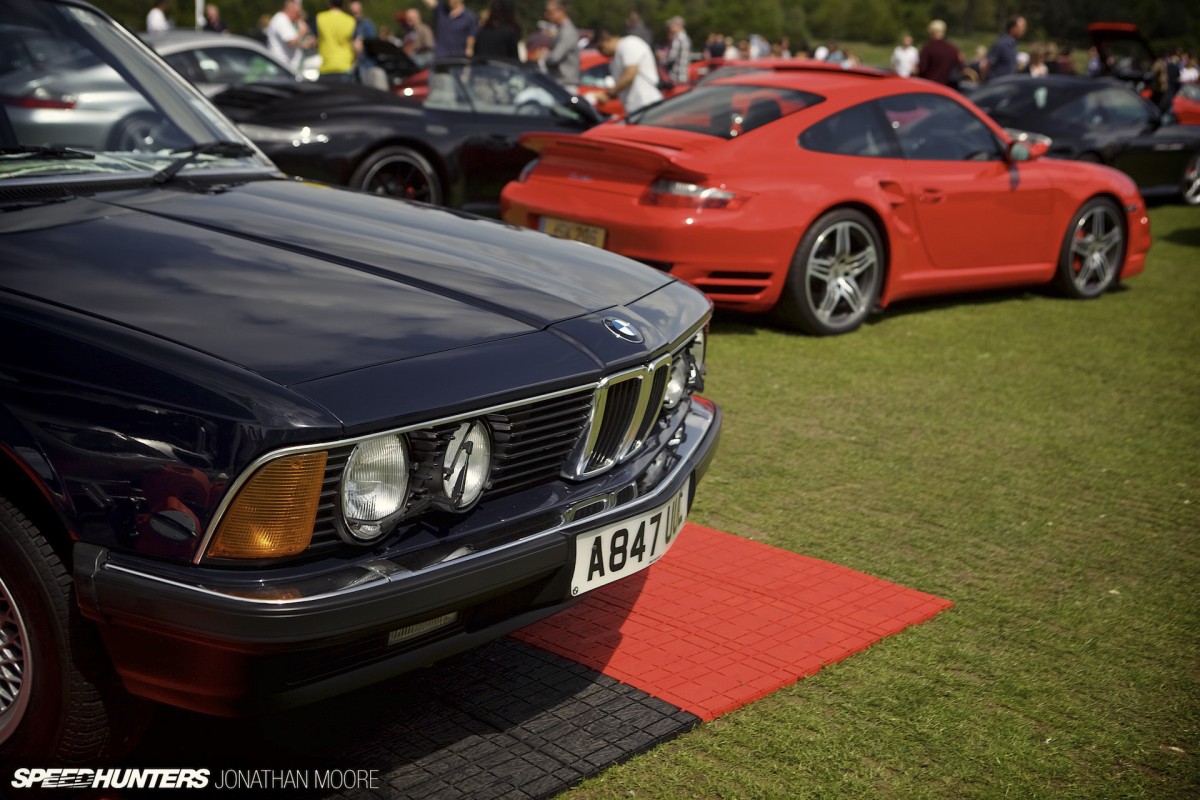 Several friends of mine brought their children and reported exactly that effect on them too. Job done – the next generation seem safely hooked.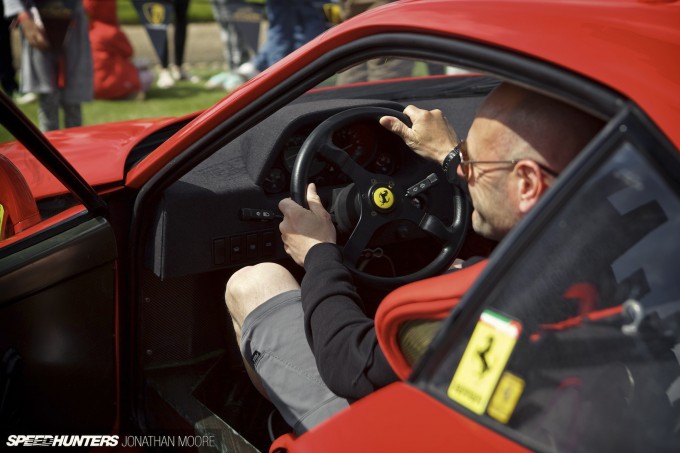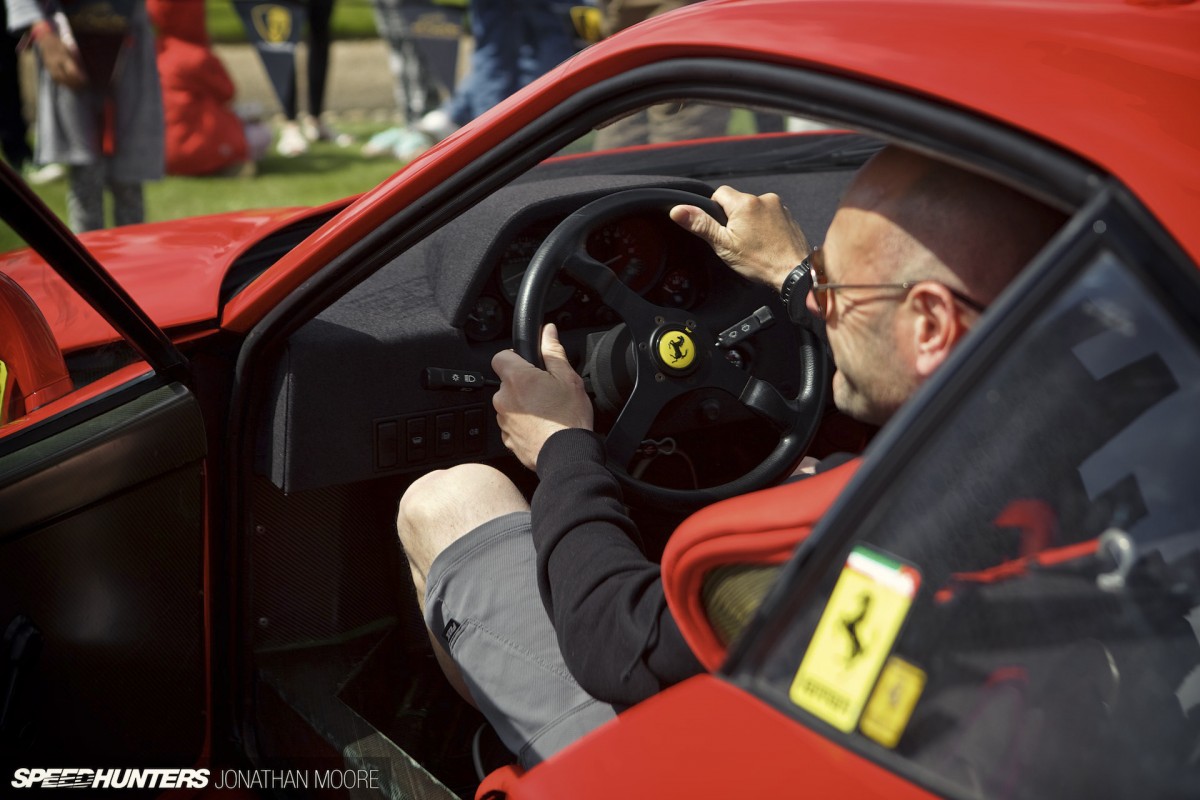 That was helped by just how open the whole event was. Once through the gate, everything up to and including the castle was free to wander around – no closed doors or VIP-only access – with the bonus being the line-up of cars that kids both young in age or young at heart could climb into.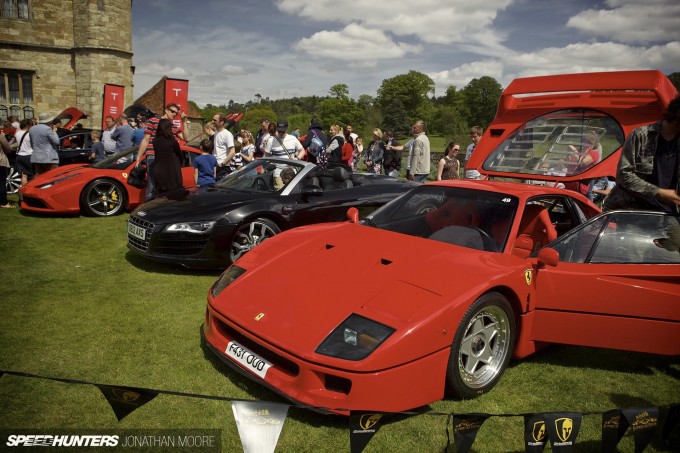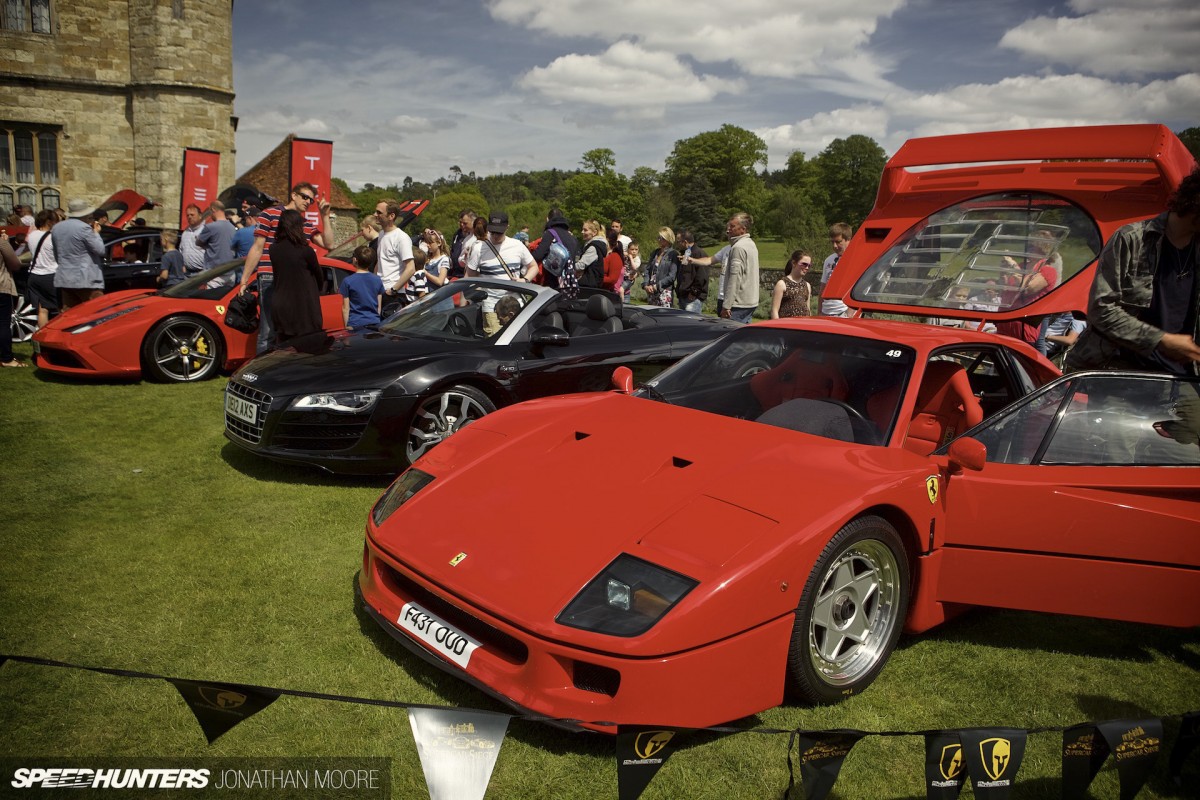 Yes, that even included the F40. Although some cars were provided by dealers – such as the Tesla – a number were brought along by individual owners who graciously allowed people to share in their prides and joys.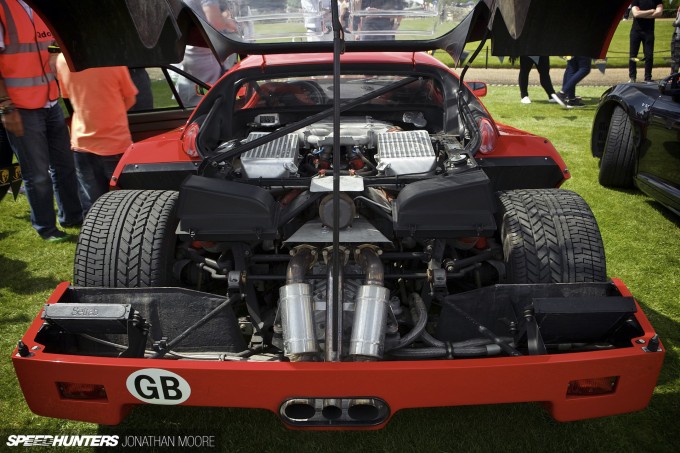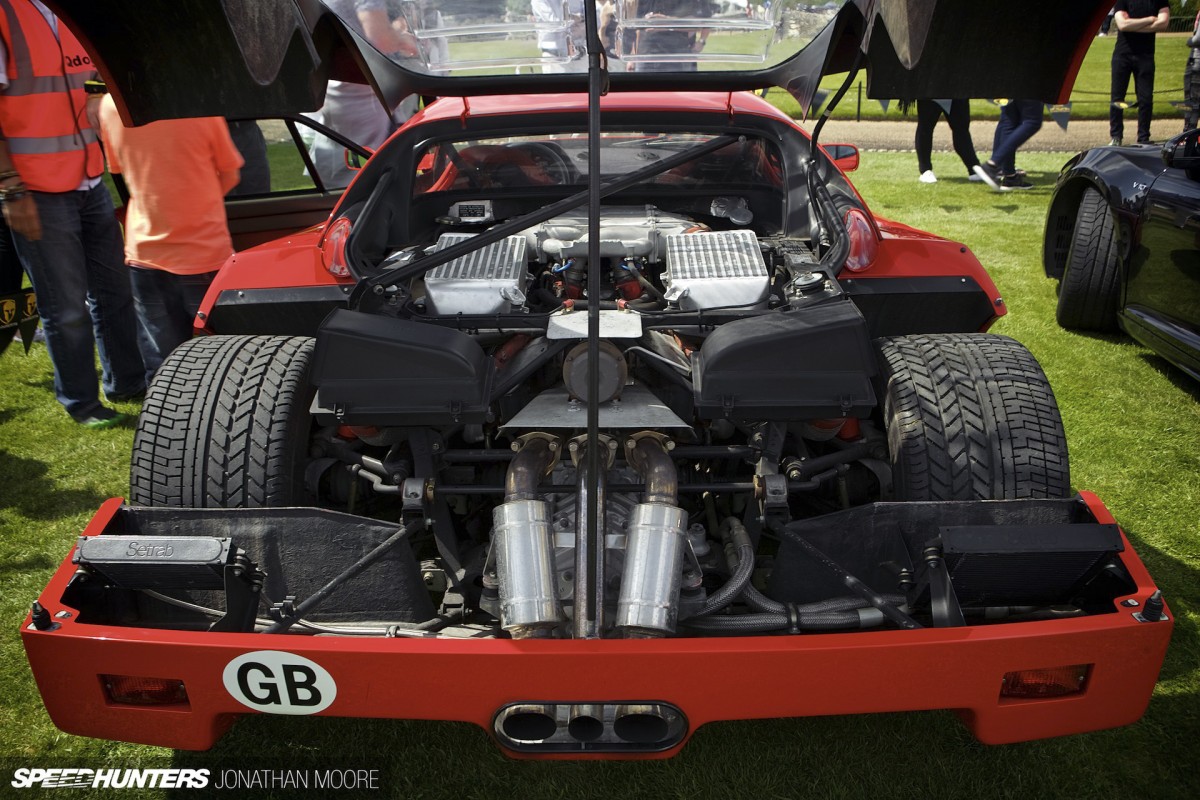 With the rear deck manhandled up – no hydraulic posts or anything so refined in such a racecar-derived monster of course – we could all appreciate the F40's twin turbo V8 in its raw glory.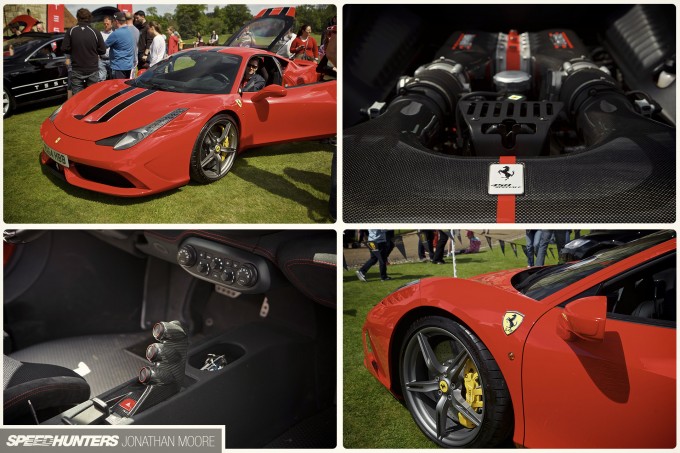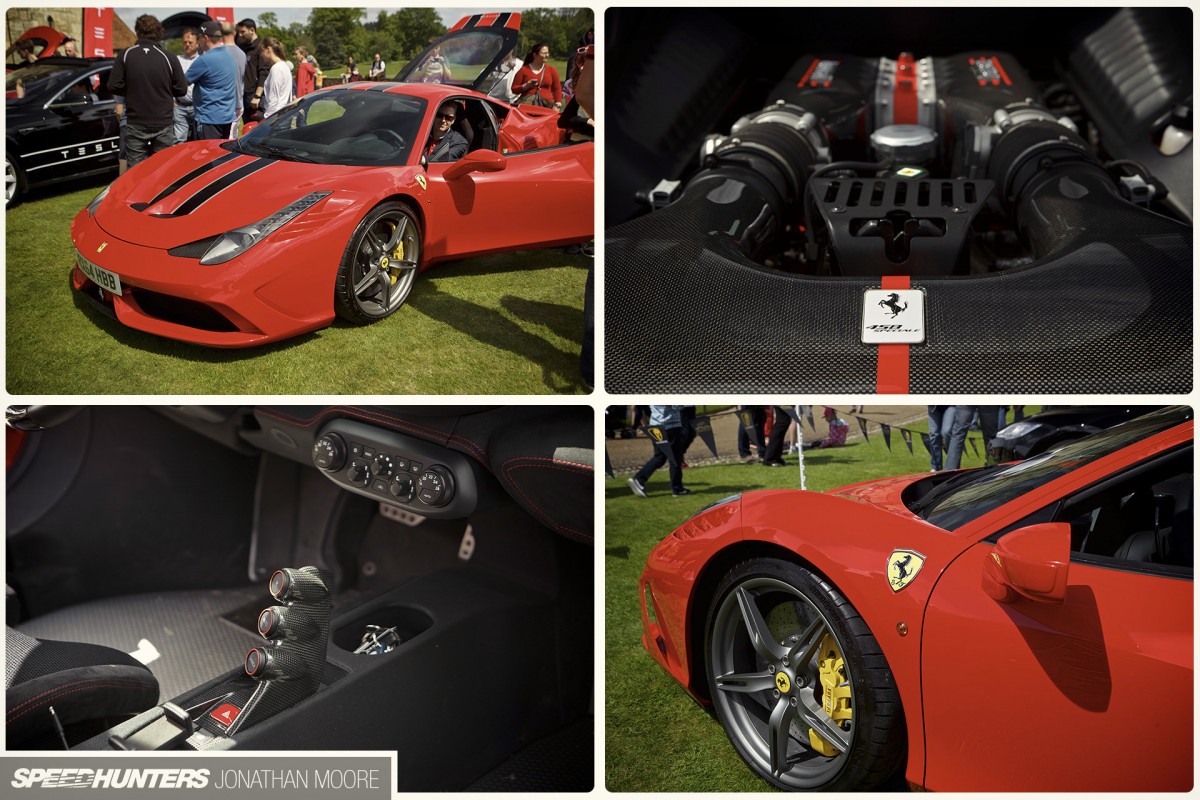 At a combined value of millions of pounds, you could completely understand the trio of the Zonda, Agera and LaFerrari being roped off – whilst being within touching distance. A constant stream of people joined the orderly queues to hold the wheels of the adjacent supercars and appreciate the fine details of these incredible machines, ones that most of us likely only catch rare glimpses of.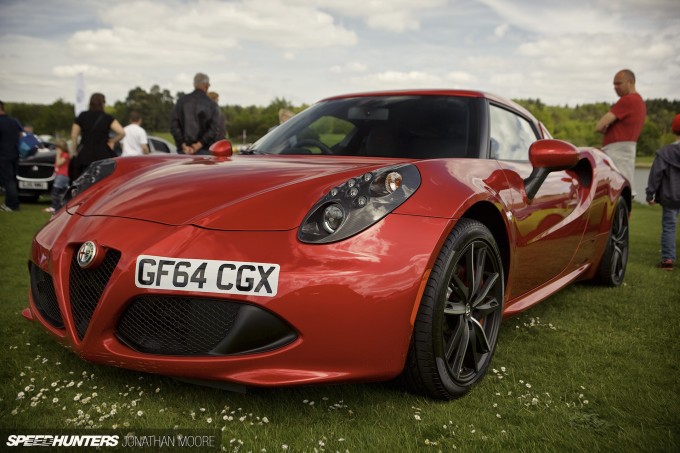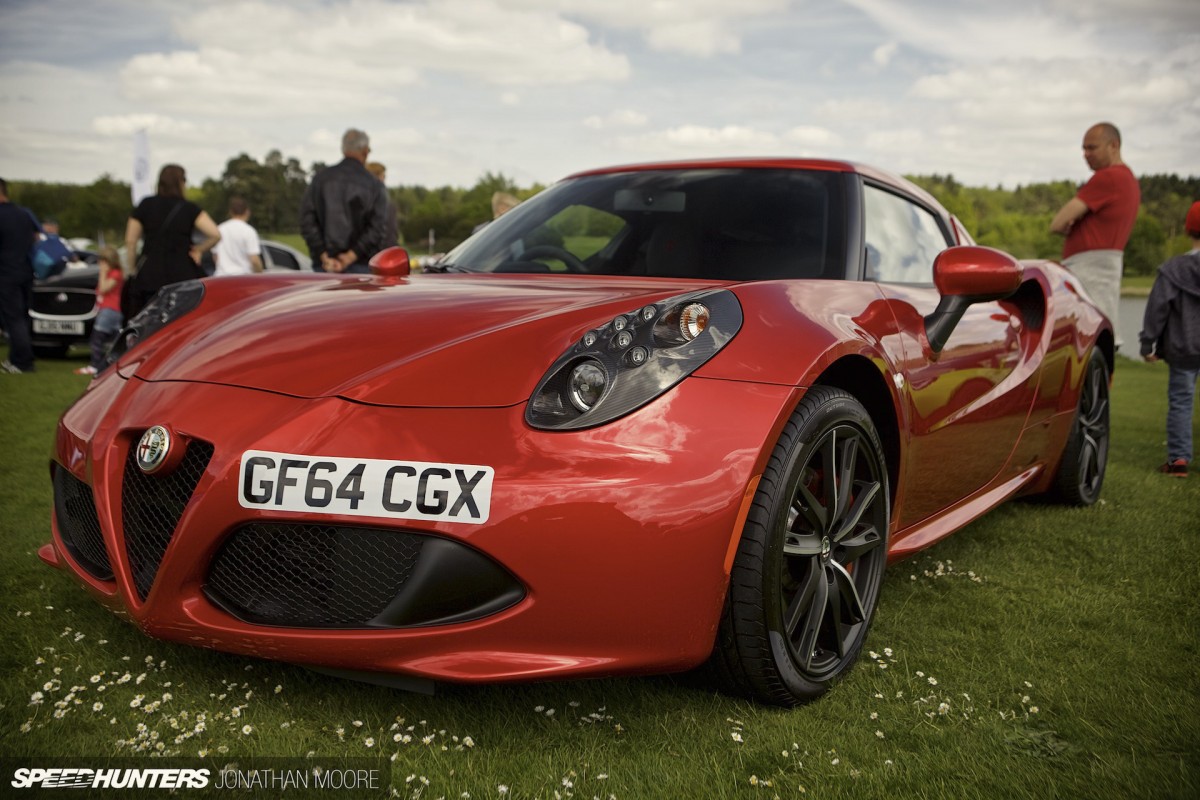 Modern supercars dotted the club areas as well. It was great to see the carbon-tubbed Alfa 4C under natural light, as I've mostly seen them under the lurid yellow sodium floodlights of car shows, and it's so much more pretty in real life – and compact. Still, I would change those light clusters…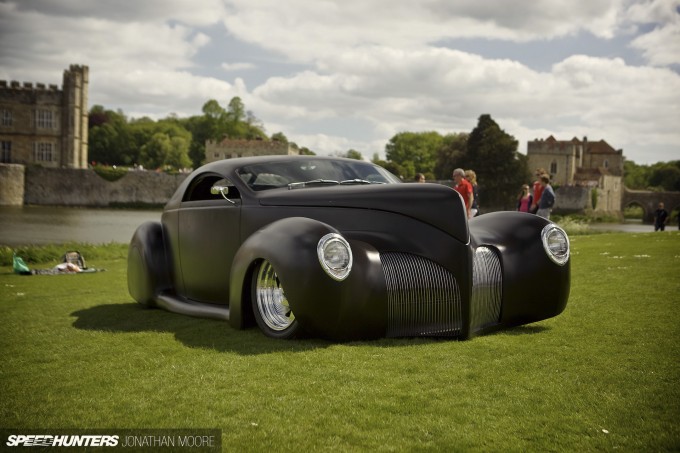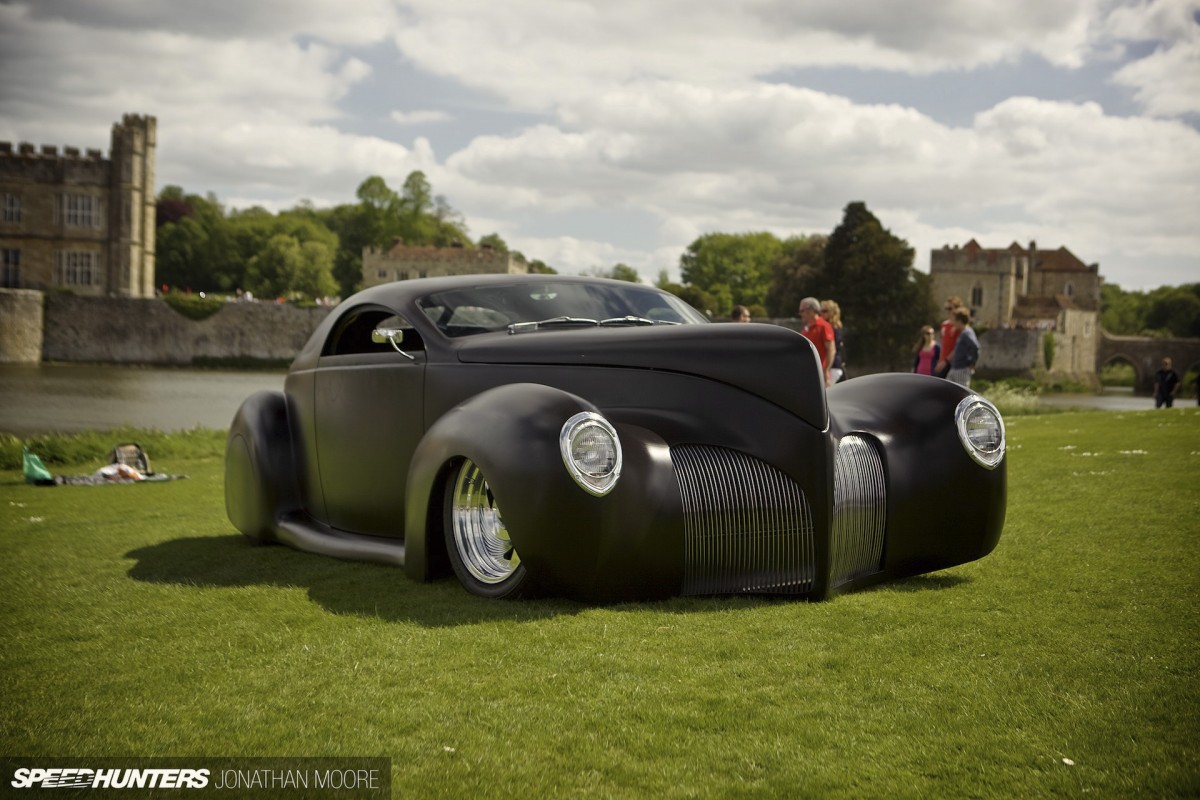 The swarms of car clubs were more than mere support for the supercar vanguard though – this was where the real richness of the Siege was clear. As with shows like the Bromley Pageant, you got a taste of every kind of car show in one place.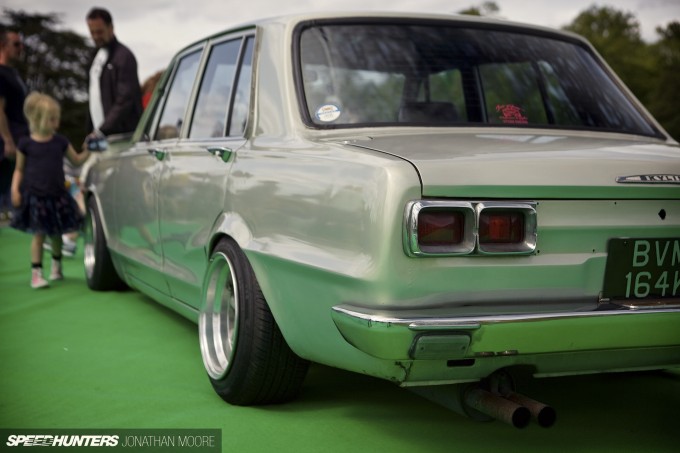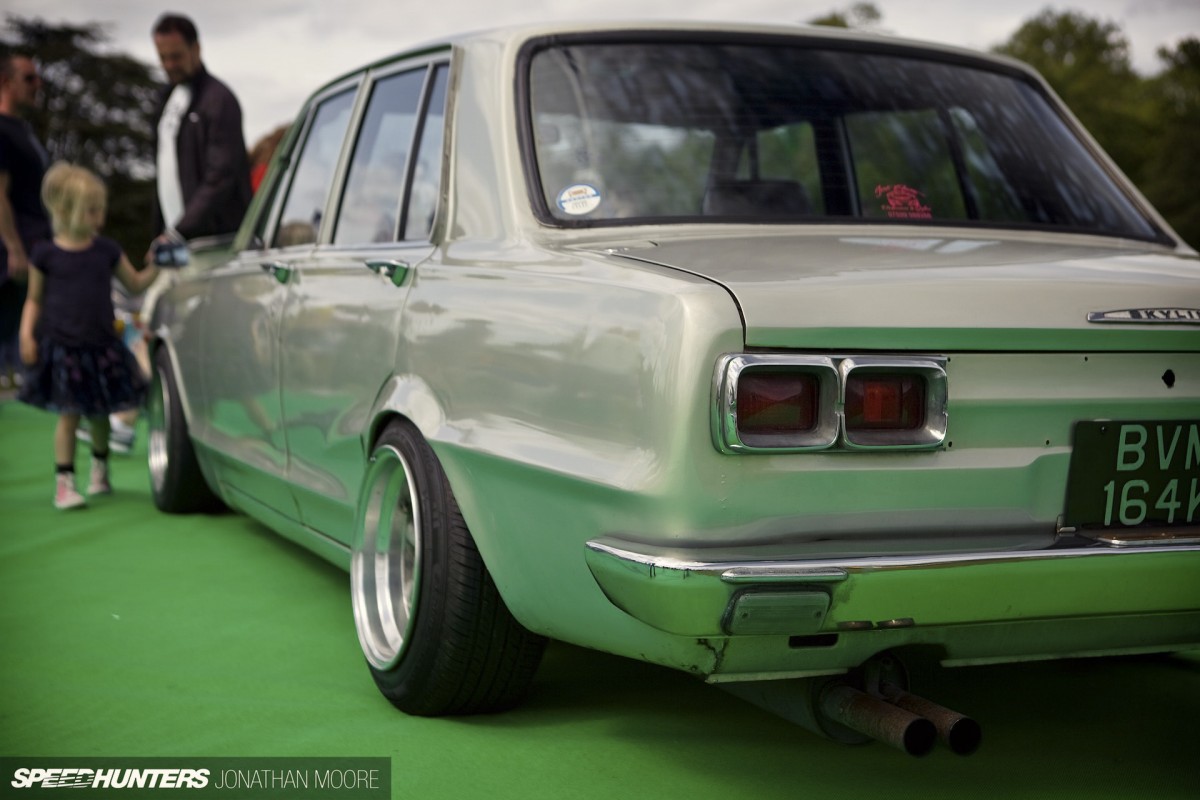 The demarcation between styles and genres was beautifully blurred. For instance, Cobras faced Zs; BMWs stood by TVRs; Morgan roadsters faced off Nissans, with this lowered four-door C10 Skyline a highlight.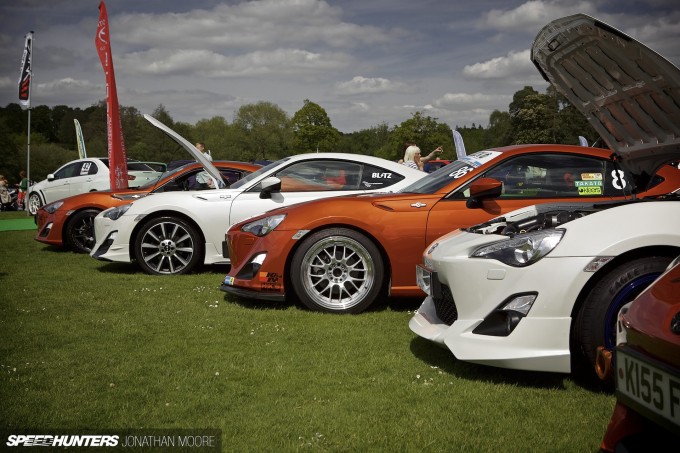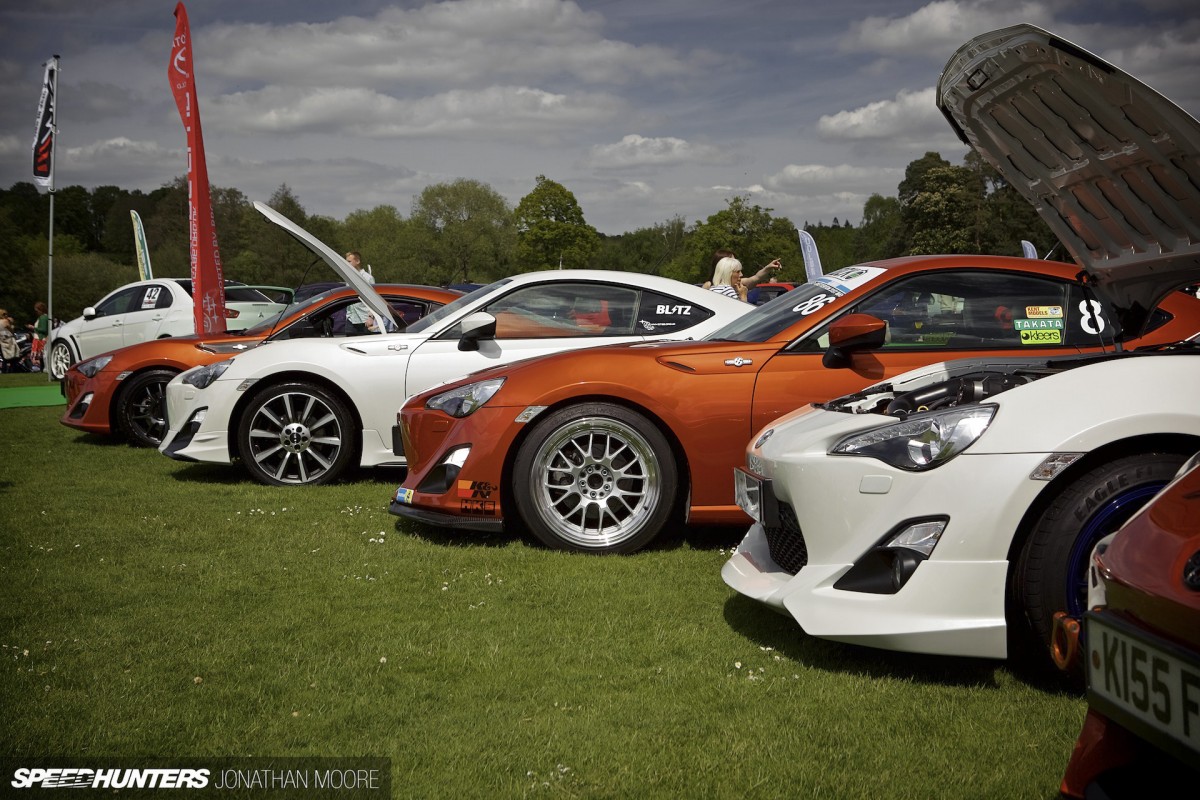 86s are still a relatively rare sight in the UK – the price over here just never hit the sweet spot for mass take-up – but the UK GT86 Drivers Club provided a fantastic line-up of cars with no two alike. The secondhand market is beginning to grow, and the range of mods engine and bodywork mods showed that the UK scene is taking off. Just behind the Toyotas, the Mitsubishi Lancer Register's regiment stretched off into the distance with a massive collection of Evos.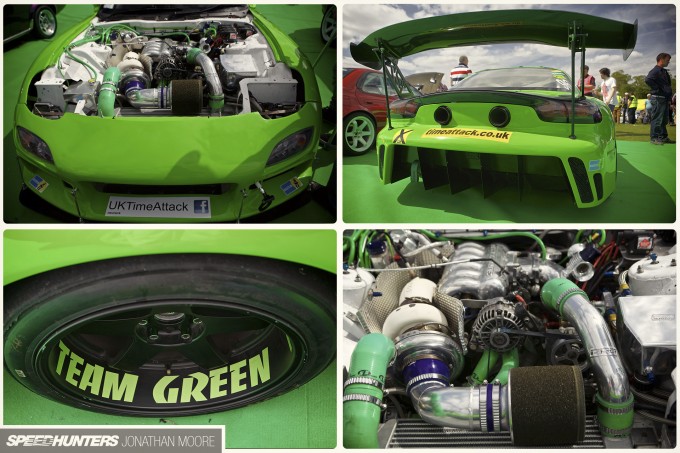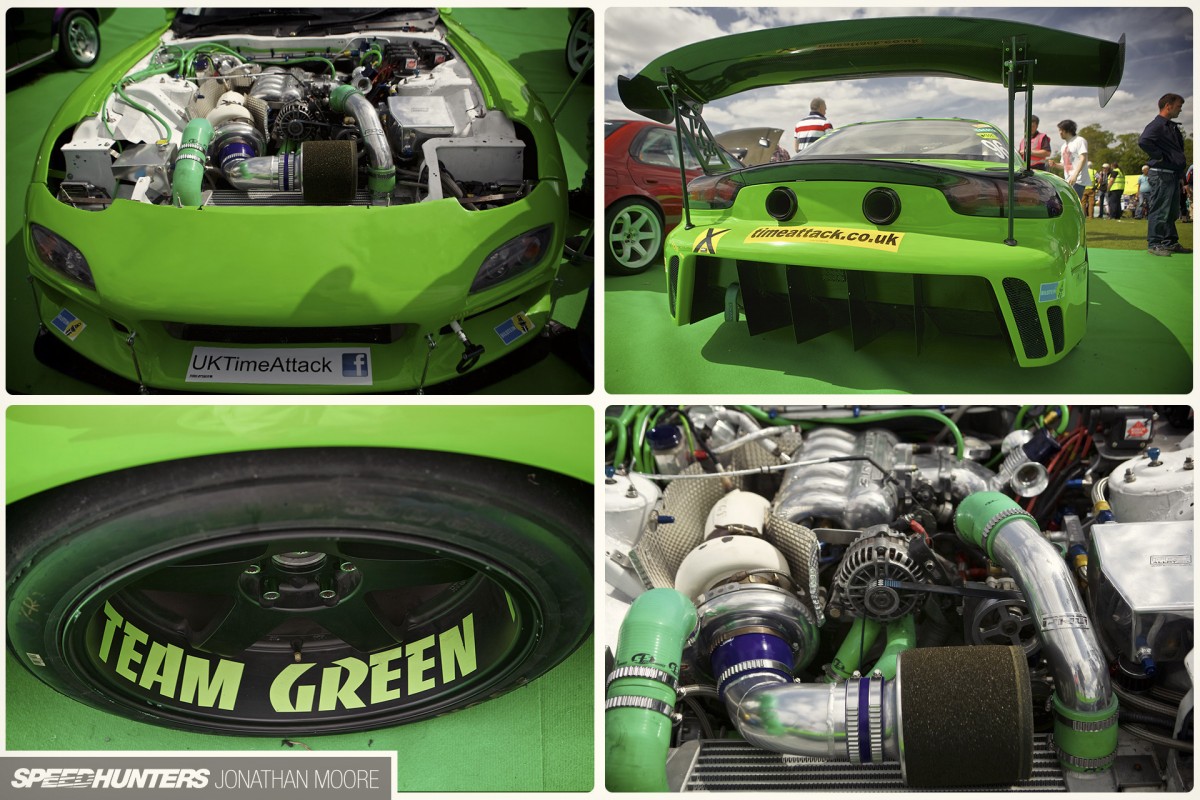 This FD3S RX-7 UK Time Attack machine was getting a lot of deserved attention. Kermit II was built by Dave Thompson and the Torque Zone Motorsport team and is powered by a single-turbo 20B. It had its first outing at the season-opening UK TA round last month, running on low boost and limited revs, but the flame is going to be turned up from round two onwards…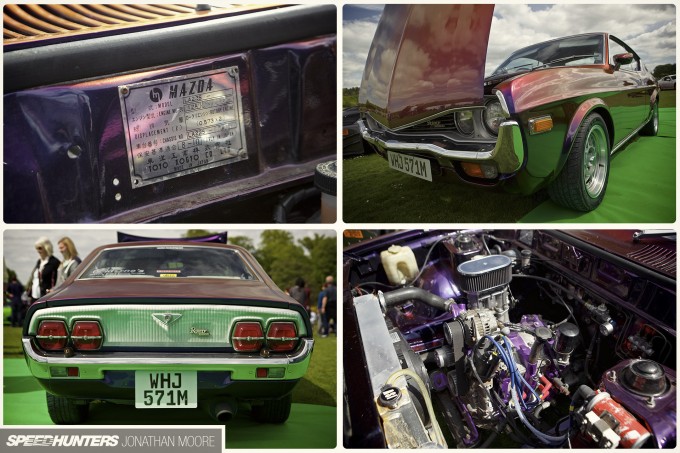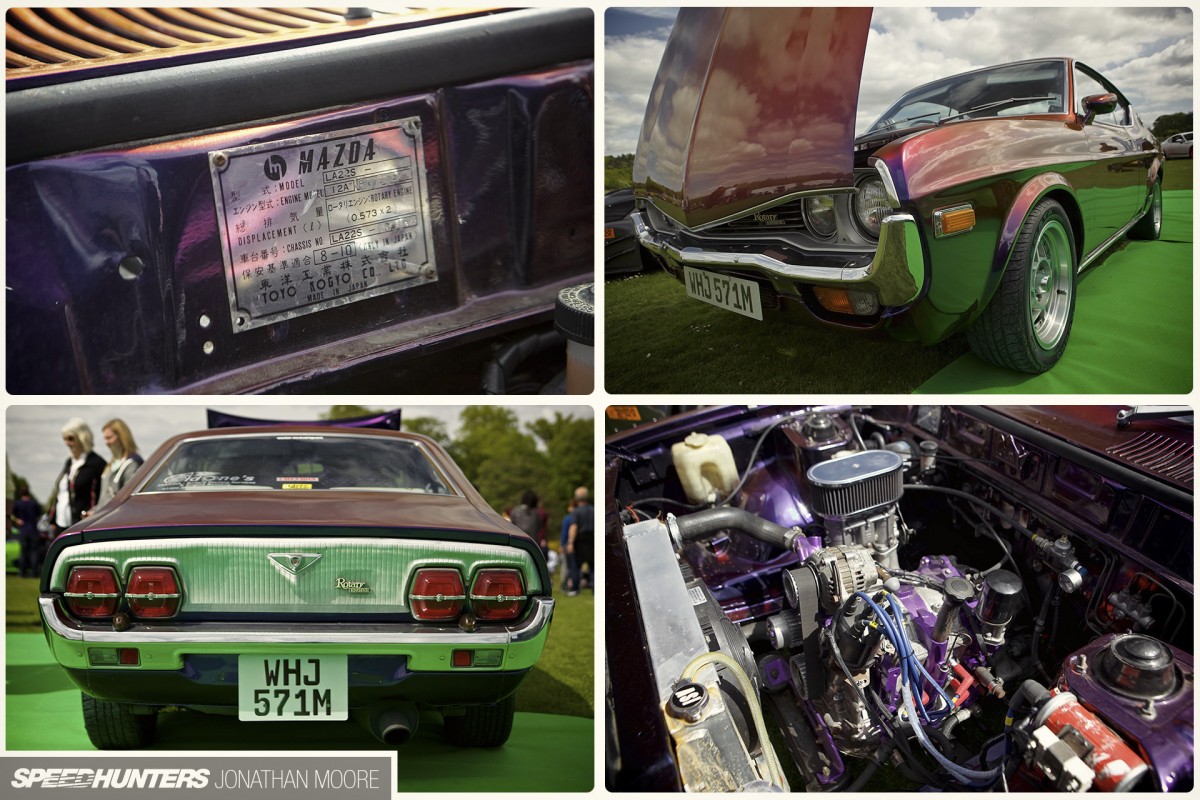 More rotary goodness stood next door in the form of this glorious LA22S RX-4 coupé. Under the bonnet, a pristine 12A, always surprisingly diminutive in its standard form.
Reviewing The Battle Line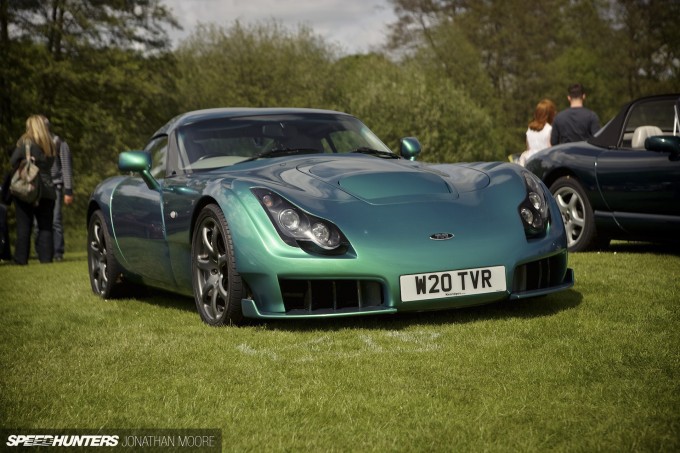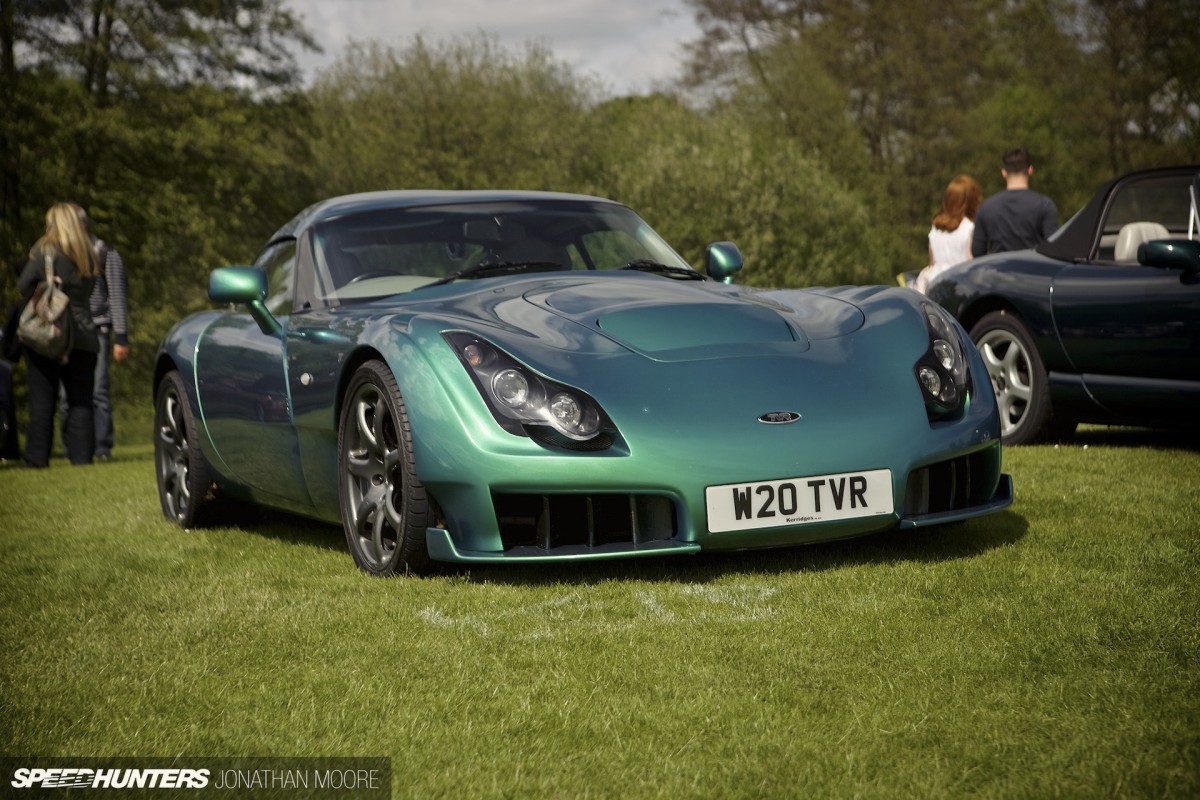 The best way to enjoy the Siege was to simply wander from row to row, area to area, taking in whatever presented itself to get a properly random and joyous experience. Prior to turning up, my knowledge of the event was limited to the name and the location, so it turned out to be a far deeper and richer experience than perhaps I expected, easily taking all day to take in.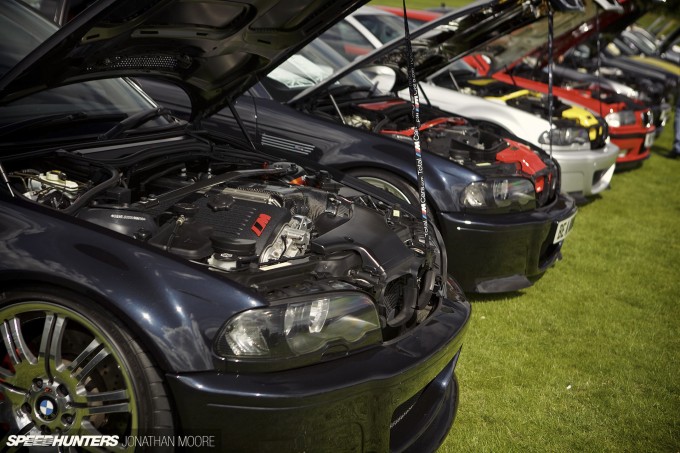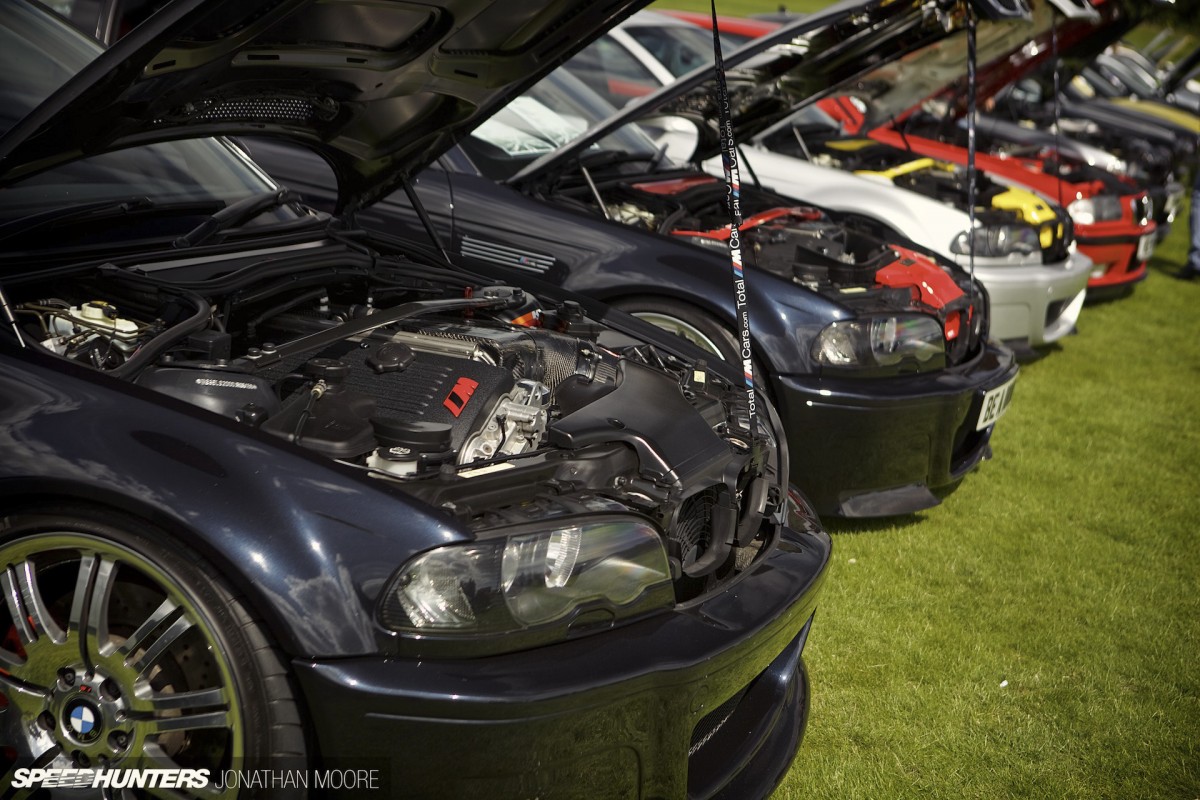 Quantity was always backed up by quality. The well-attended club turn-outs had universally strong content – viz the long lines of Evos, Lotus, M3s and more.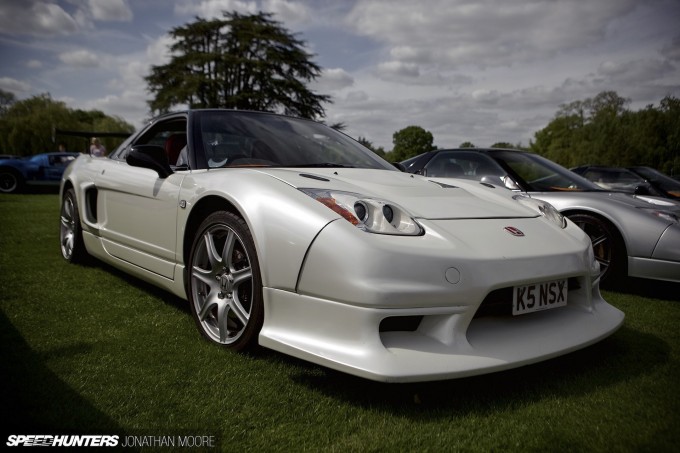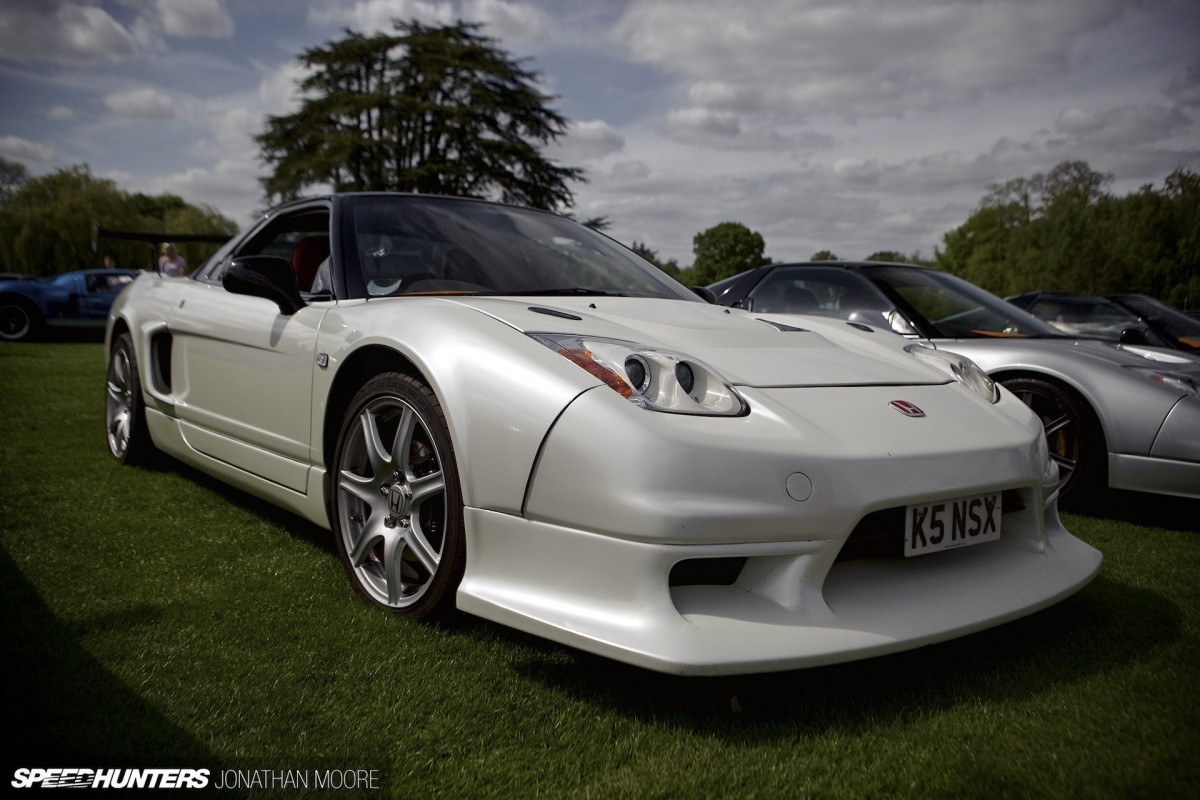 Who knew so many NSX would turn up, for instance – or that there were even so many in the South East?! I'm used to seeing the odd one or two, but there there was a neat row of NSX that went well into double figures, including stock first-gen, later facelift and modified versions.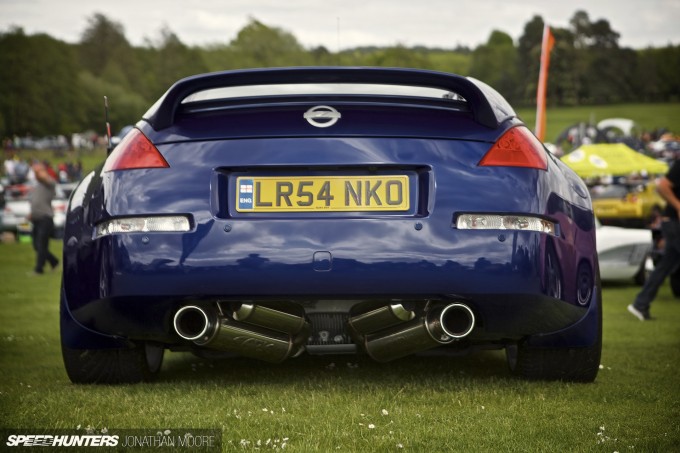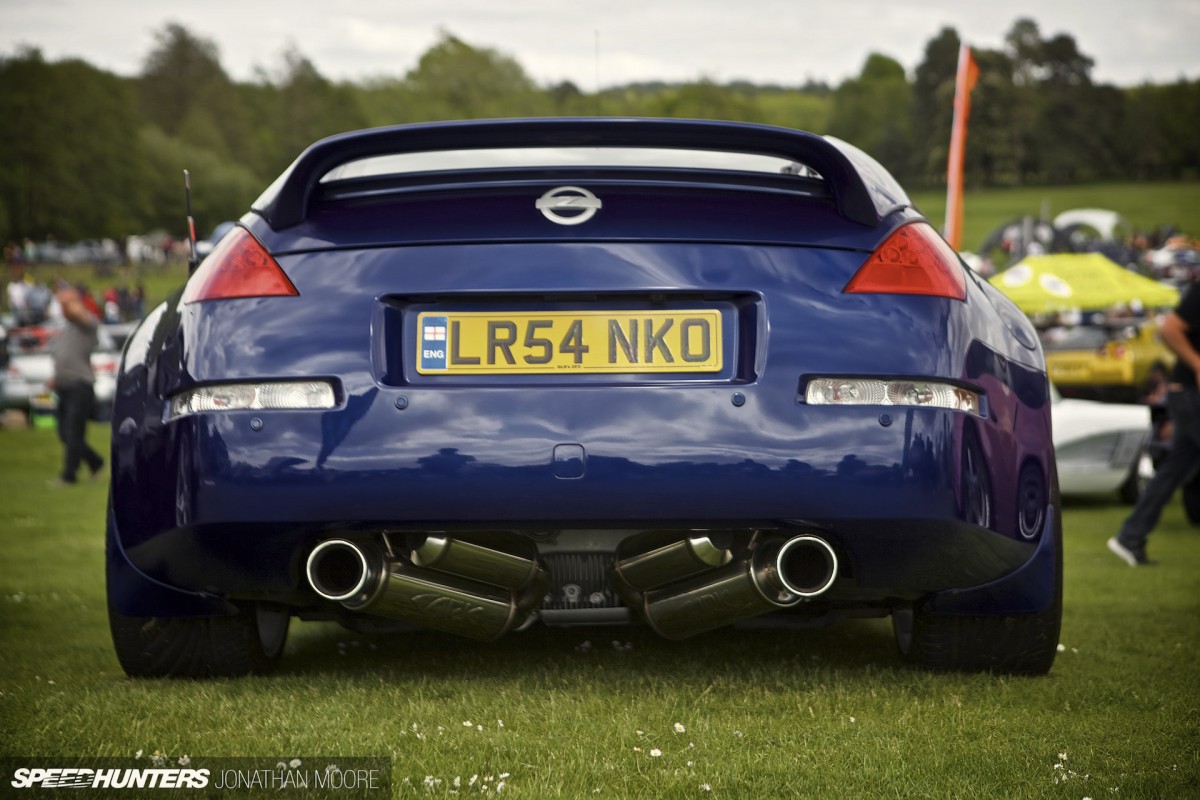 350s and 370s were out in force, demonstrating everything you can do to your Z: simple exhaust upgrades to full race-spec makeovers.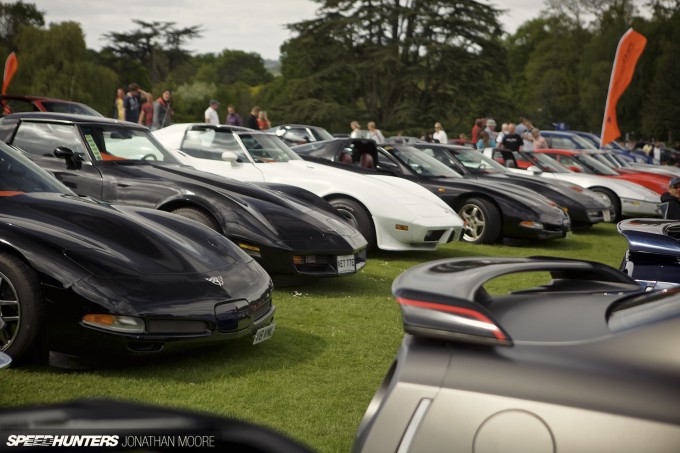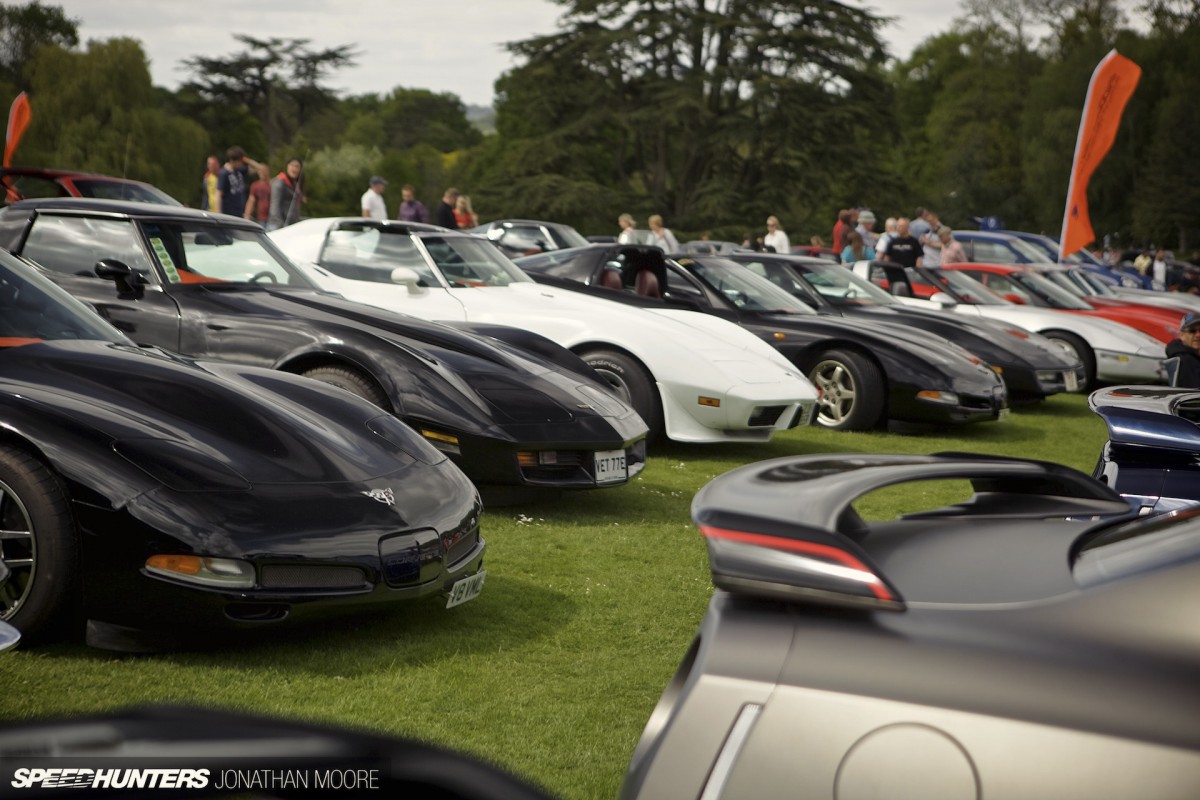 Wandering past the GT-Rs and Zs, the next surprise – a massive contingent from across the Atlantic, Corvettes of all vintage that actually didn't look out of place next to their power-hungry Japanese cousins.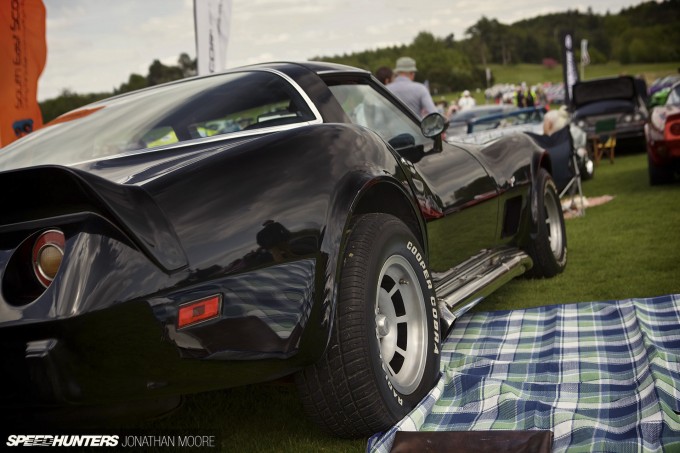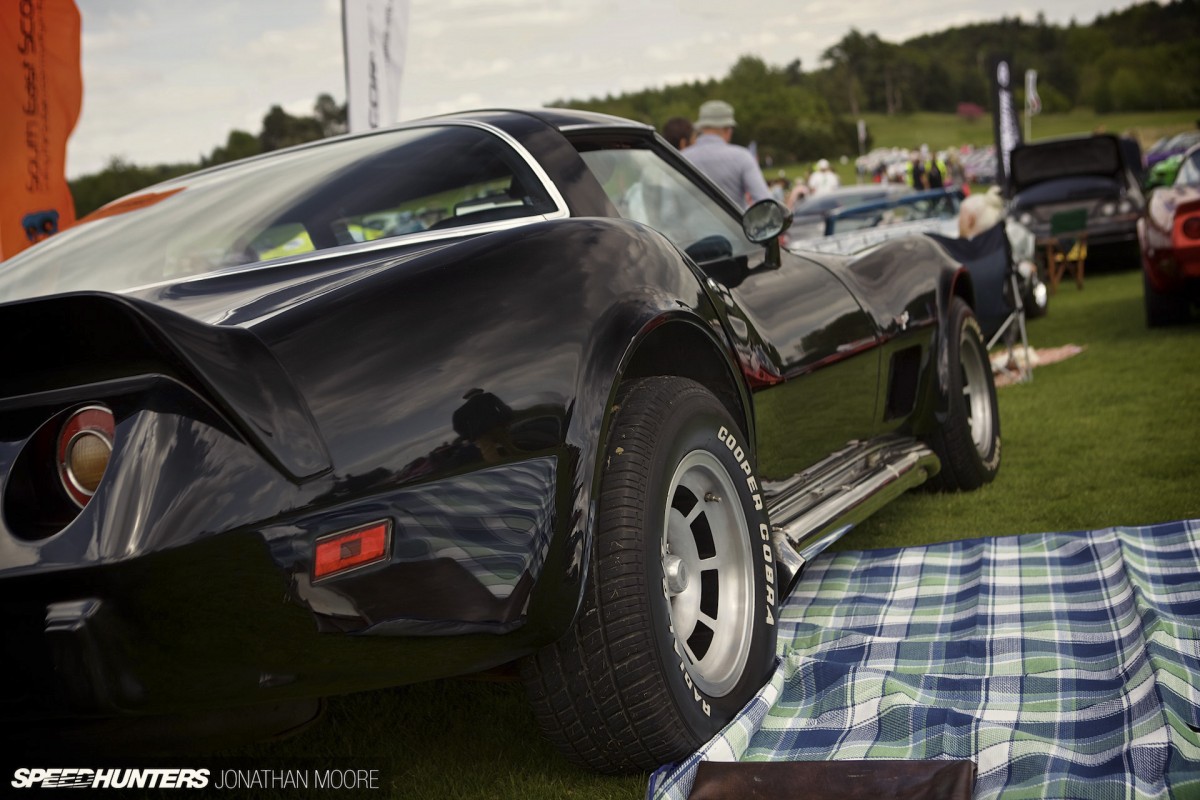 Everywhere, welcoming owners ready to chat through their cars with all those interested, stretched out on picnic blankets in between taking their own tours of other people's machinery.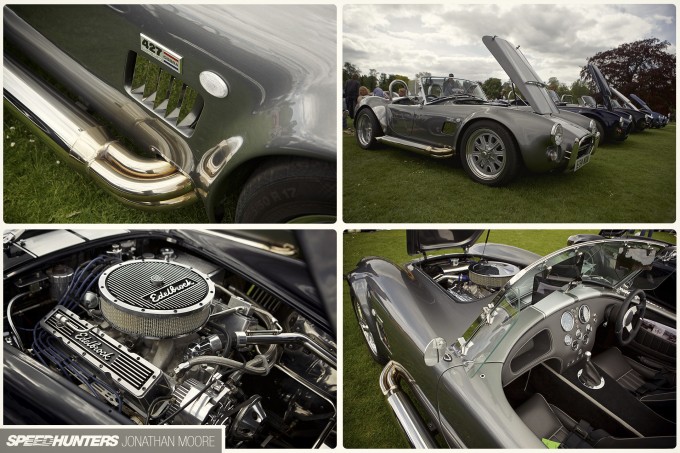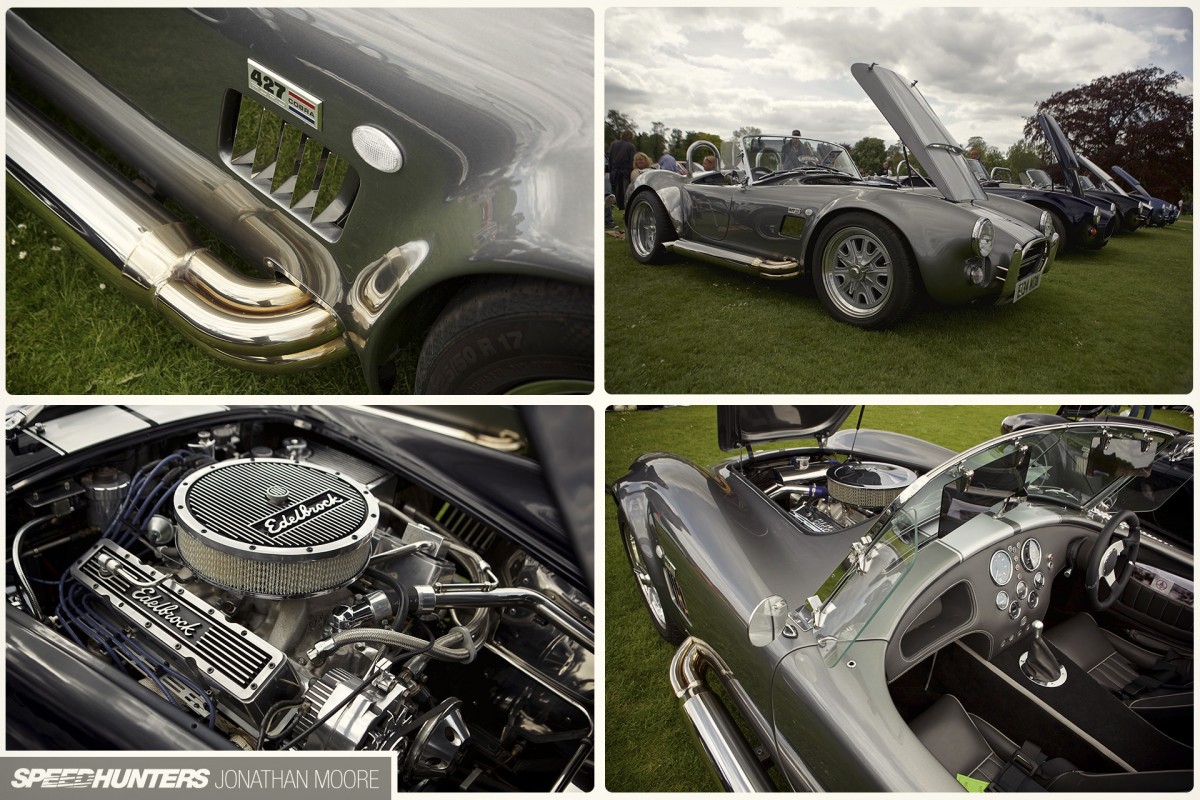 I'm a sucker for Cobras, so this nearby nest of half a dozen sparkling snakes was most welcome: a combination of ACs and new builds, sporting those huge side pipes and massive V8 firepower.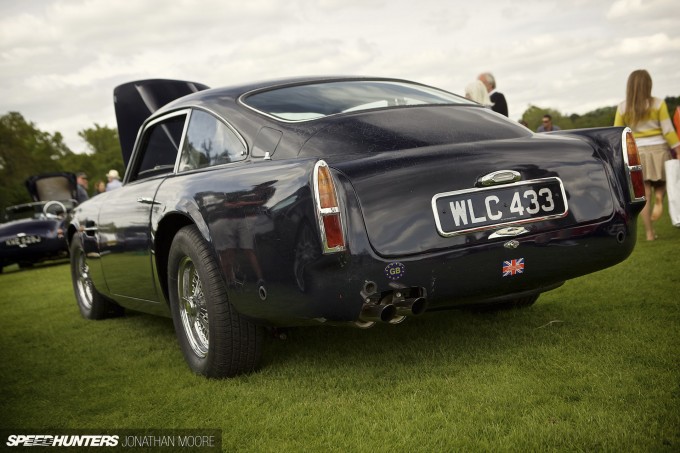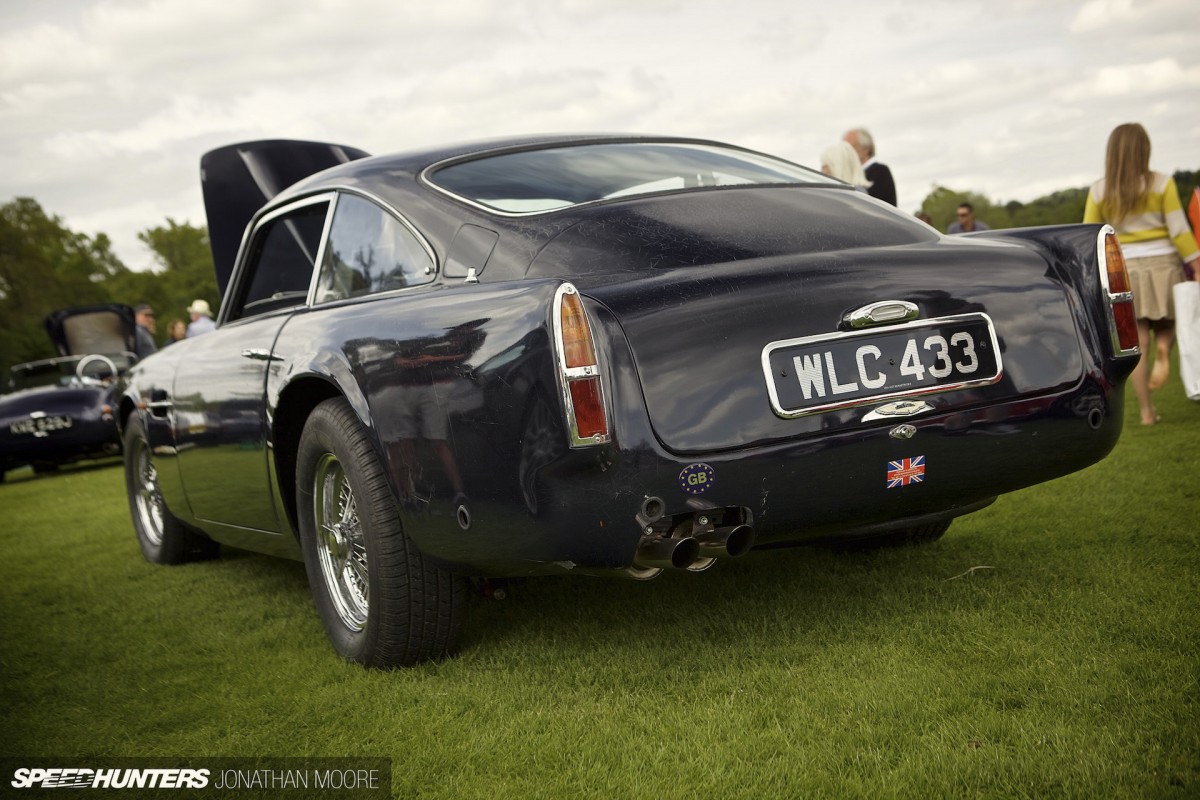 The Aston Martin Owners Club had a fine display of DBs of various vintage, but I loved this DB4. I'd caught it before – at Bromley, coincidentally – and it was unmistakeable.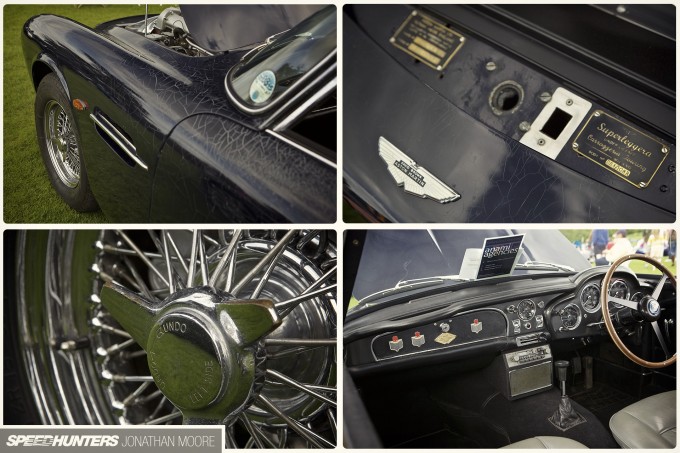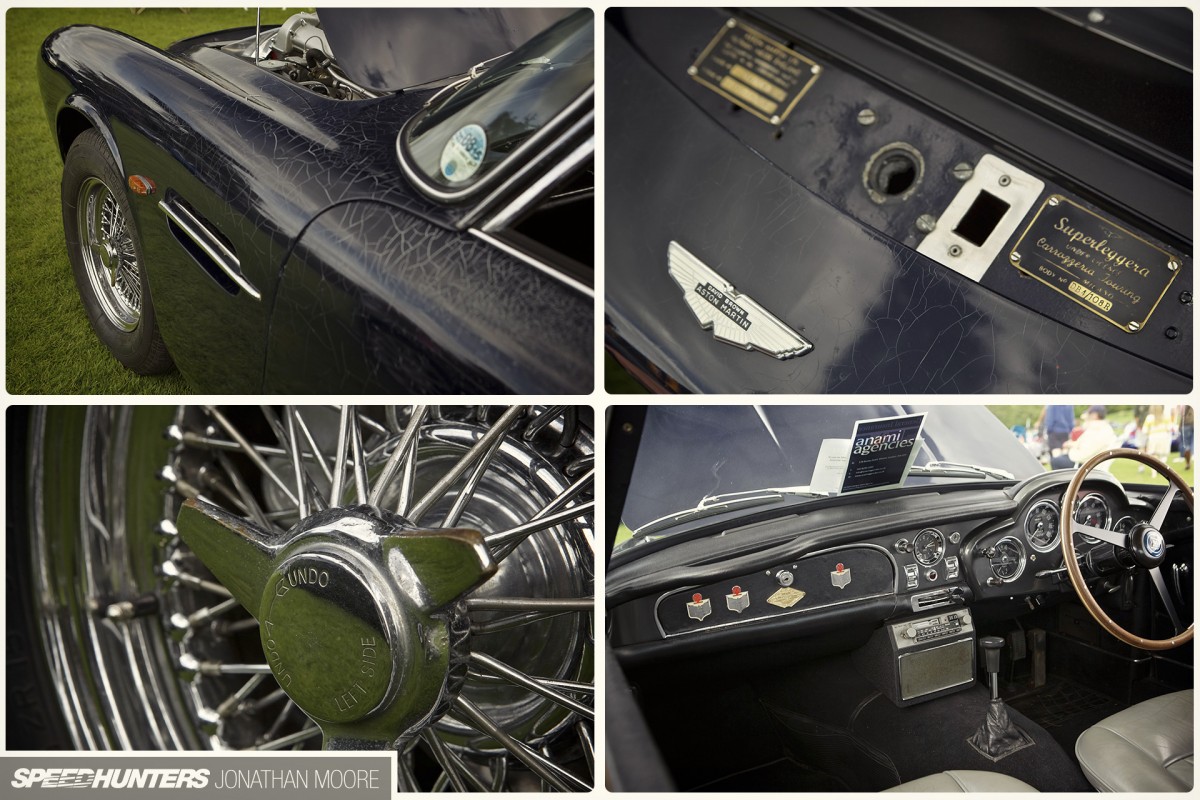 Running low and with subtly teased-out arches, the cracked patina of the deep blue paint has such an honesty about it, highlighting the car as a driving machine rather than a collector's piece. Yet it doesn't devalue the car in my eyes – quite the reverse.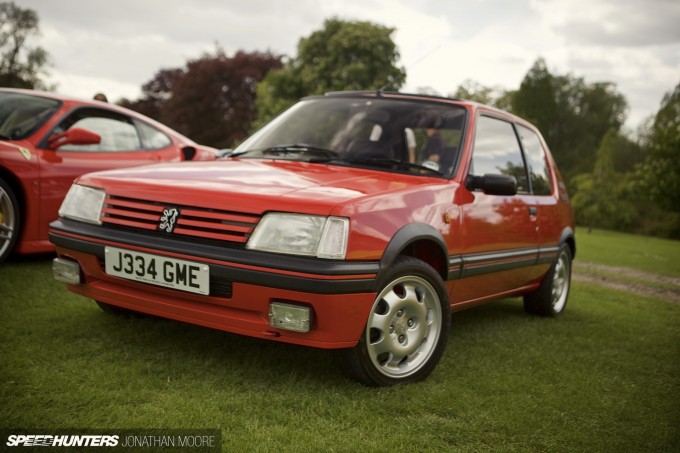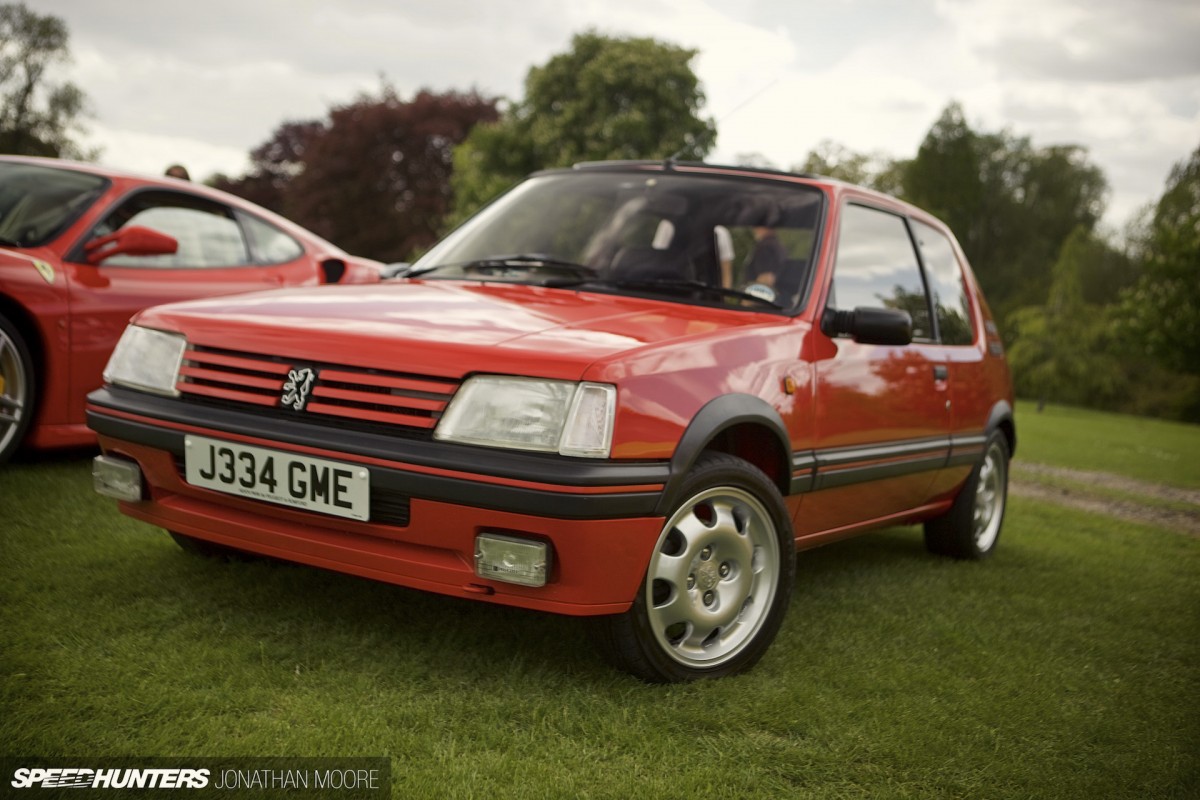 Around the top of the park was a far more disparate collection of individual cars, a mish-mash of automotive awesome. With a Porsche on one side and a Ferrari on the other, I was far more taken with this utterly pristine Peugeot 205 GTI: the definite hot hatch from the '80s.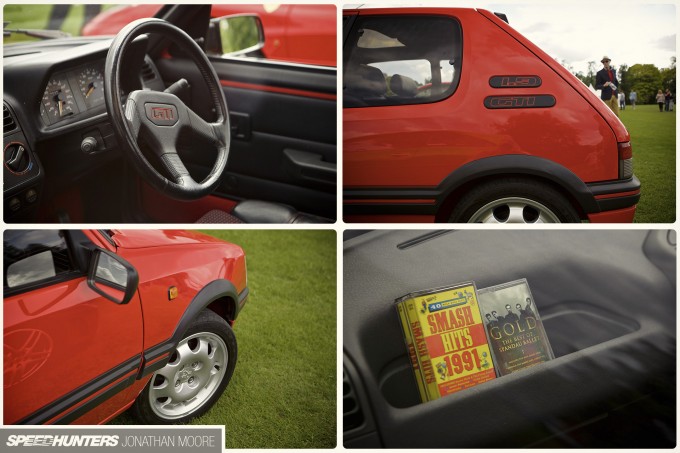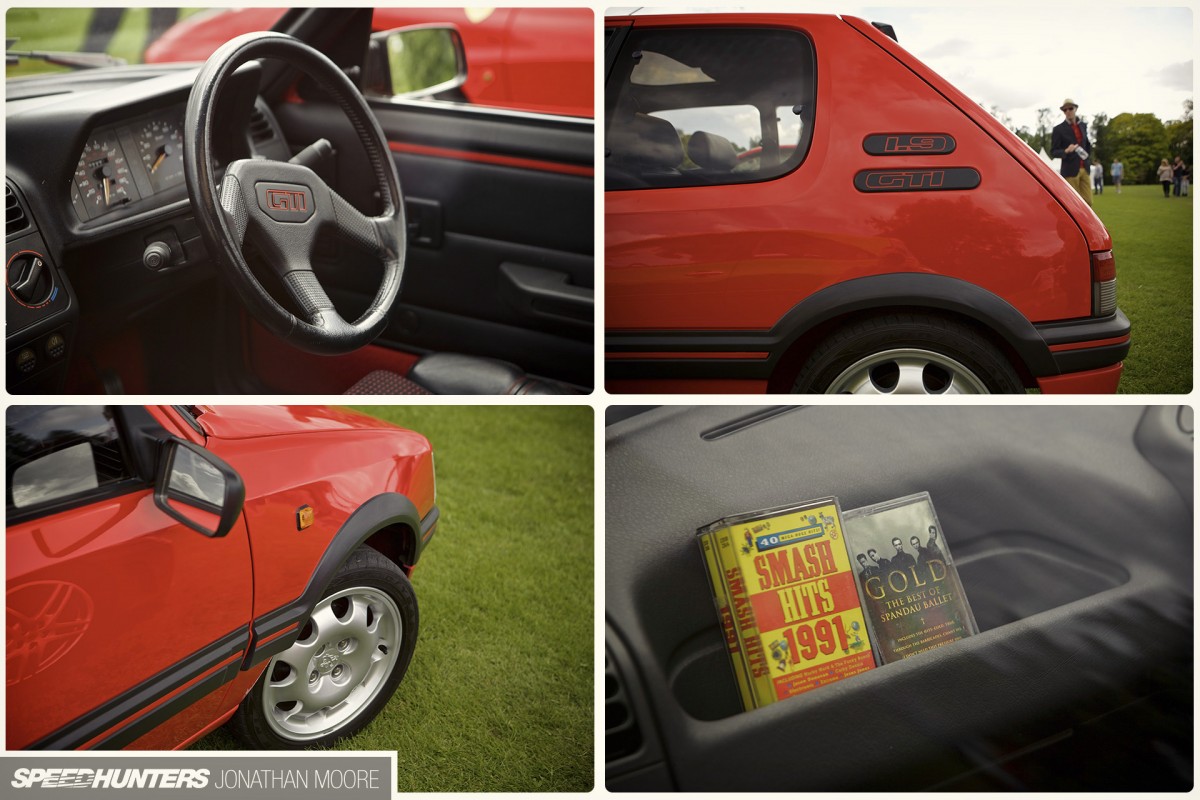 This one was spotless, with its period authenticity even stretching to the music choice for the cassette player!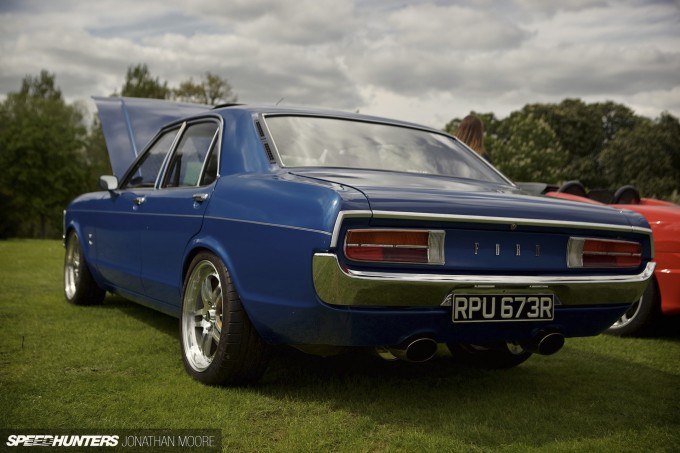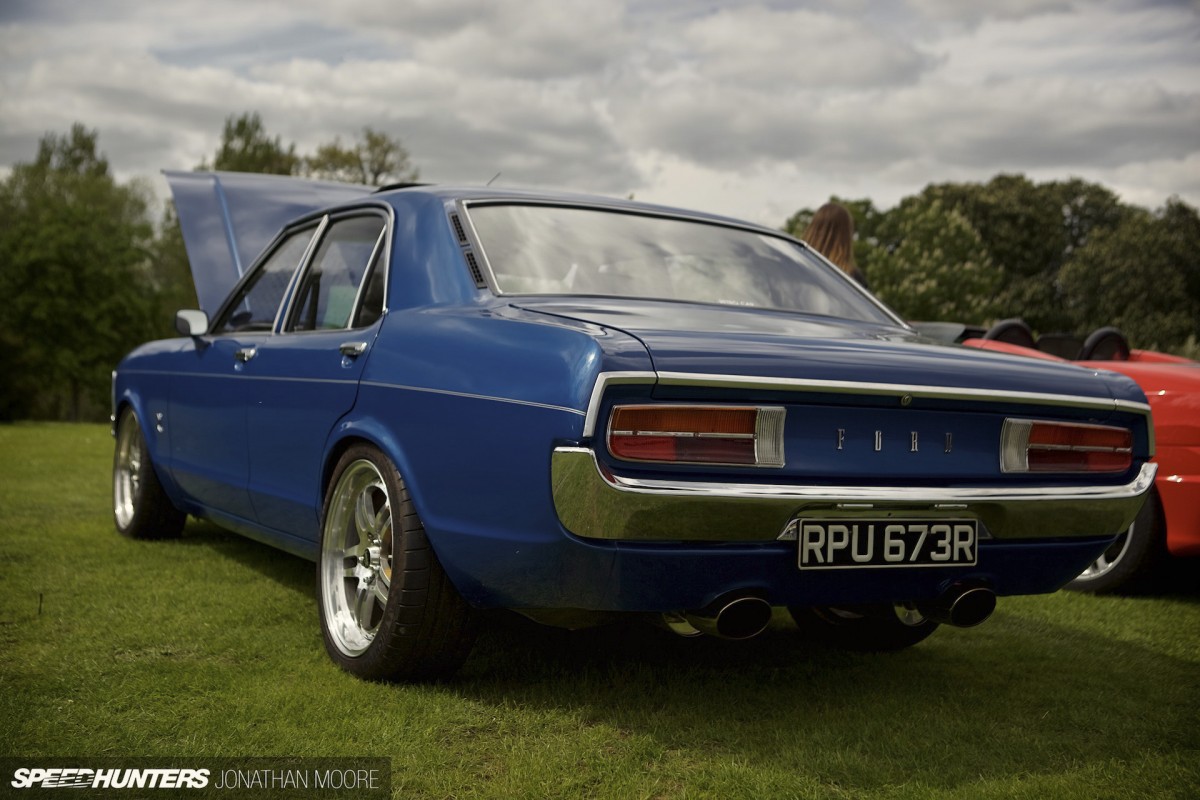 Now, I have to admit to almost walking past this Ford Granada after only admiring its rear – but then something struck me as different, even beyond the shimmering paint. These imposing four-door saloons are from that period where British companies like Ford and Vauxhall were paying homage to American muscle cars, in style if not with the gas-guzzling engines. There's the slight rise of the haunches behind the C pillar, the blunt nose and moulded-in bumpers.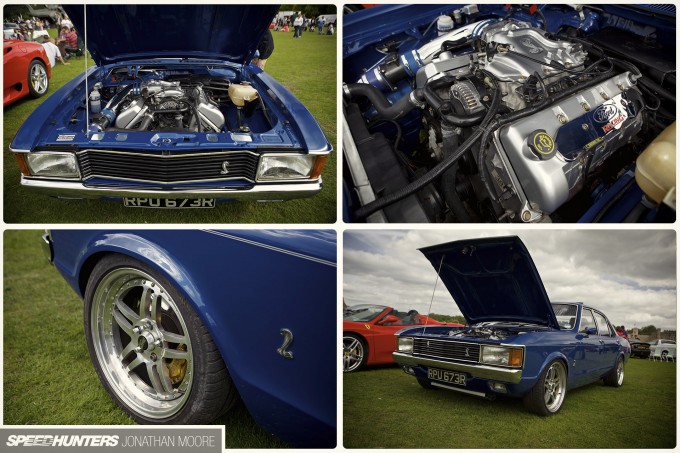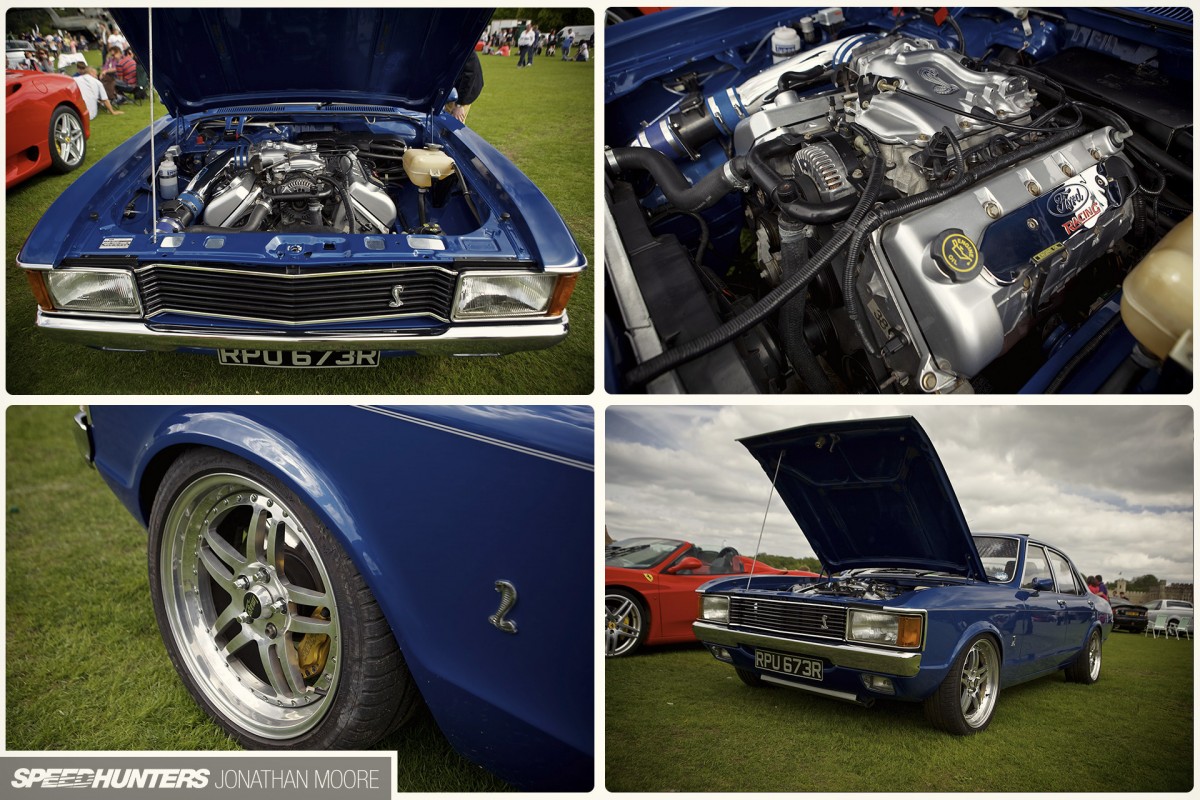 But this Ford's trick was curled up under the bonnet. We've featured a MkII Granada with a Koenigsegg engine before, and this '77 MkI was also a league above standard spec. The snake emblems on the wings indicated at what was to come: a massive Ford Racing V8. Image wheels and HiSpec brakes hinted at the uprated underpinning necessary to deal with the extra power.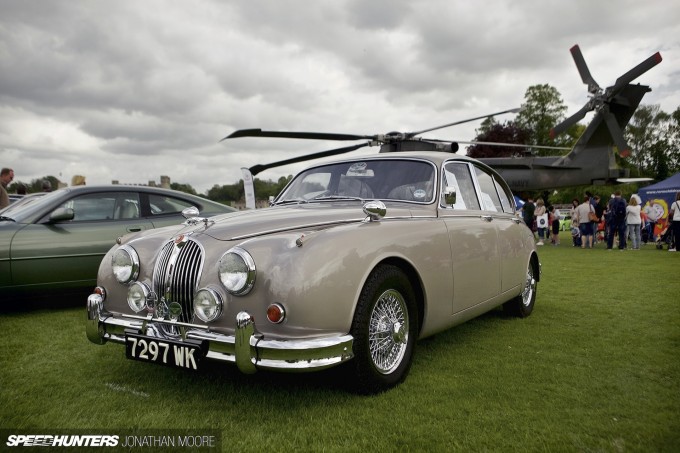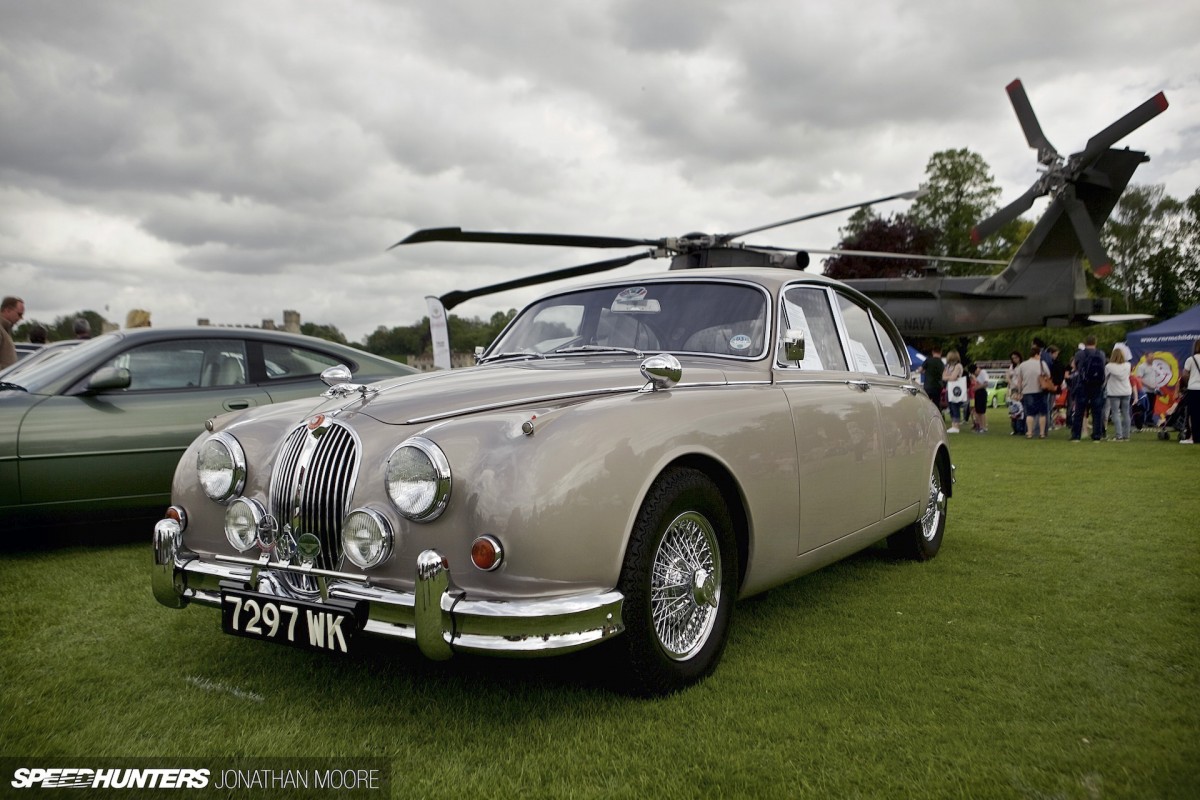 Down from the Astons was a healthy pride of Big Cats: a vintage D-Type road racer and several E-Types book-ended by another big saloon, a MkII – which I seem to have accidentally turned into a helicopter. This MkII sported a badge I'd never spotted before: the rear bumper had an embossed chrome emblem with a red hazard triangle and the words 'Disc Brakes': all to warn other cars on the road that this Jag would likely be able to come to a halt far more quickly than the mostly drum brake equipped cars of the time!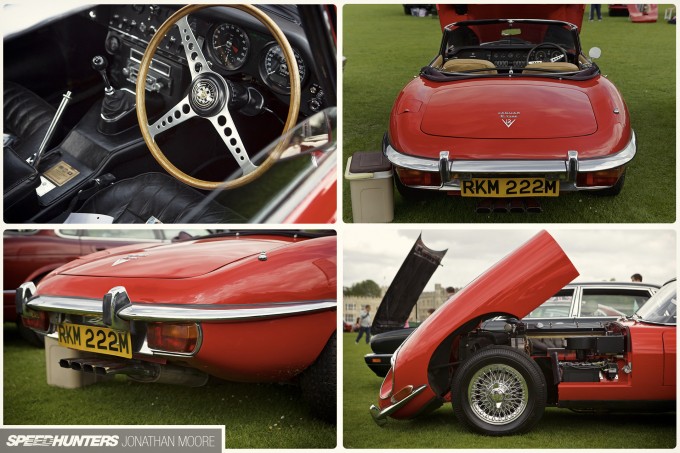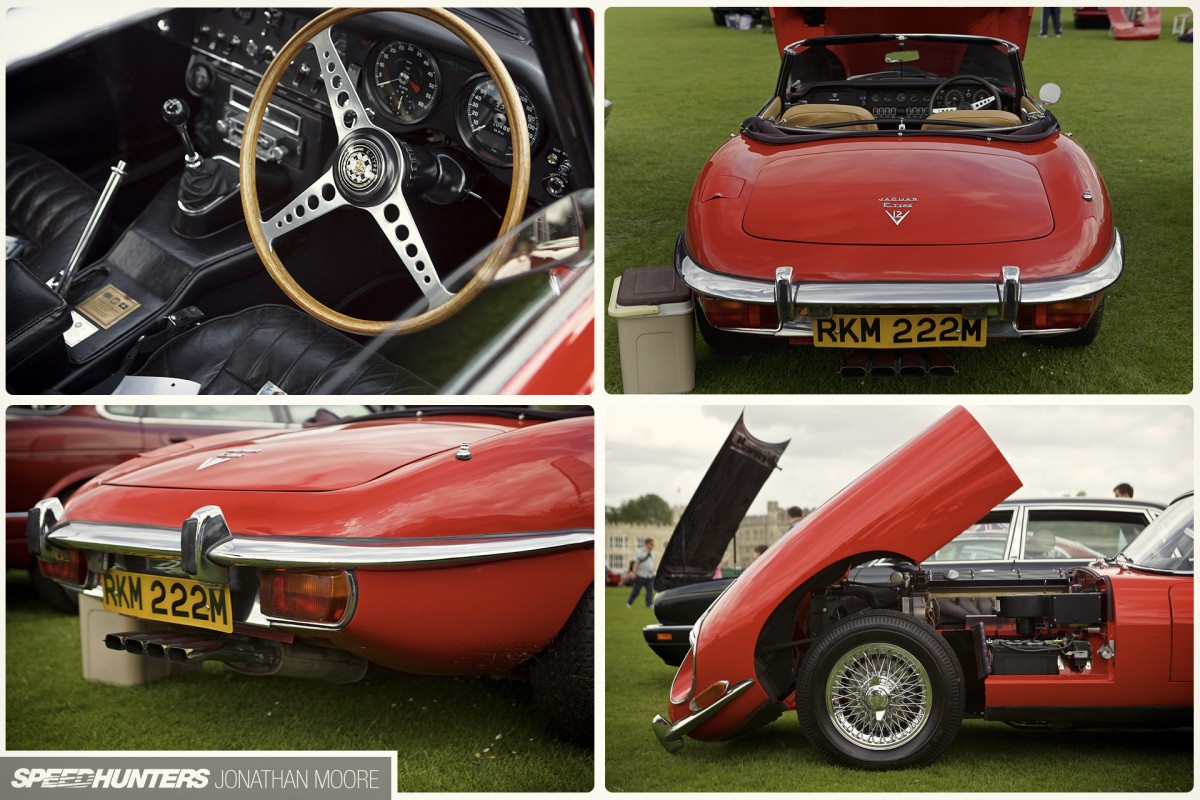 Finally, a car I still – rightly – believe to be the most beautiful car ever made. There was a combination of drop-head and coupé, twin-piped inline-six and quad-piped V12 models to enjoy. This beautiful red drop-head was looking immaculate. It's always a slight surprise to realise how narrow E-Types are, accentuated as that is by their length.
Certainly a day was barely enough to cover all the ground – let alone take advantage of the ride-alongs in around 30 supercars that were offered for charity donations. You normally want a siege over quickly, but this was one I'd happily have drag on for months.
Jonathan Moore
Instagram: speedhunters_jonathan
jonathan@speedhunters.com
Cutting Room Floor