If you run in the traditional hot rod circle, then Webb and Taulbert are names you already know. You can hardly pick up an issue of The Rodder's Journal without reading about Cory and Ashley Taulbert, or her father Dan Webb.
Simply put, this family has been cranking out innovative, quality builds that respect the past for quite some time.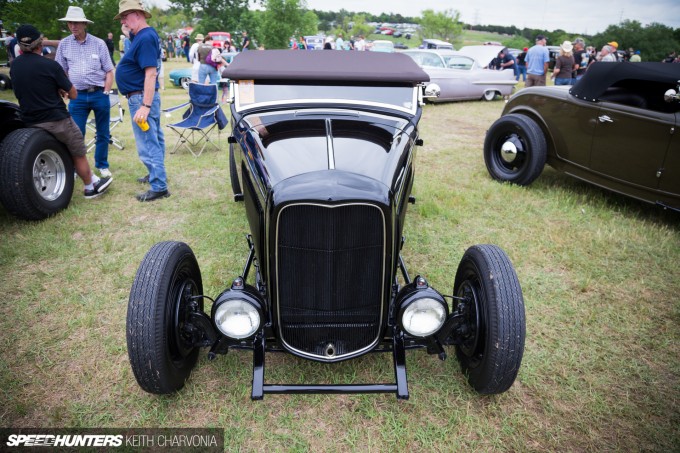 Cory and Ashley live in Detroit, so when they cruised their '32 roadster to the Lonestar Round Up I knew it was my chance to take a closer look. Starting with a Brookville body, they shaved the handles and curtain rod holes, then installed a 25-louver hood that never seemed to fit quite right. That was the first time around, when they built the car from 2010 to 2012.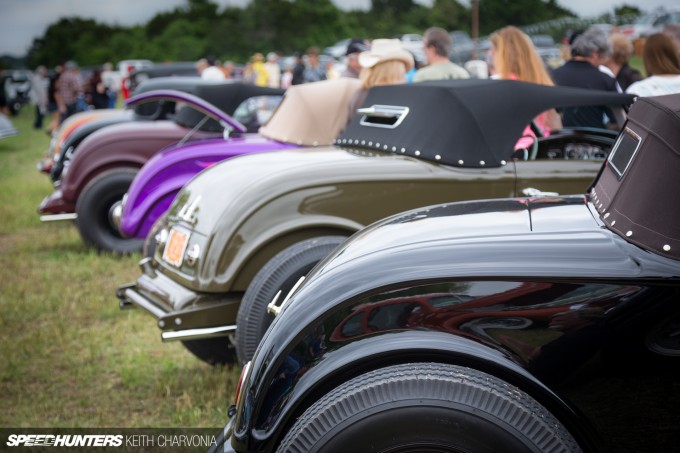 After logging around 7,000 miles in the summer of 2012, Cory and Ashley decided to tear the car back down to fix the hood and have it repainted by Darryl Hollenbeck in California. With the refresh complete, the Taulbert's are much happier driving around in what is surely a dream car to a lot of hot rodders.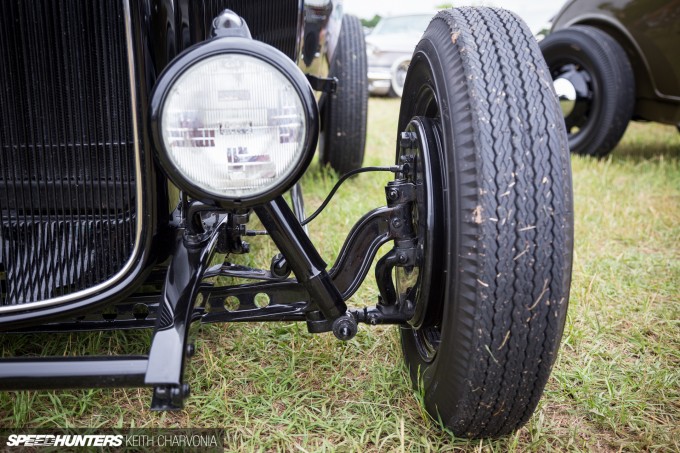 Cory is especially pleased with the chassis he built for the car. He's a suspension engineer for GM by day, so you can bet it's put together right. Starting with reproduction Deuce rails and Model A crossmembers, he tucked everything up tight so nothing shows beneath the frame. A dropped '32 Ford axle is mounted using split '34 Ford wishbones with custom machined ends that Cory manufactures and sells under his brand Taulbert Chassis Components.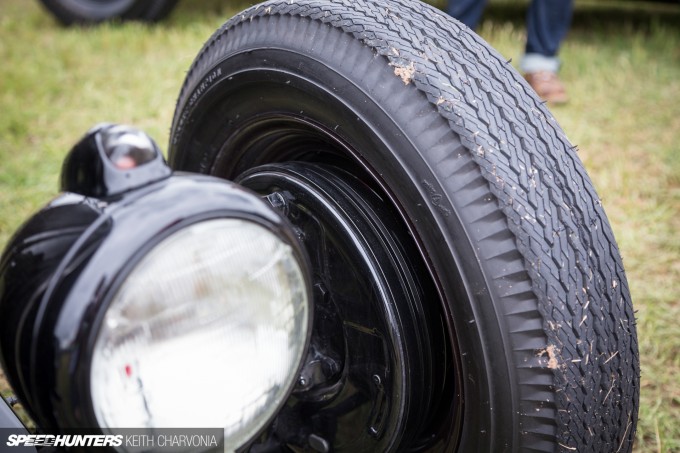 The front uses 16×4-inch '40 Ford wheels while the rear wheels are Ford Accessory (aka Divco) 18×4.5-inch with Firestone Champion Deluxe 7.00-18 tires. These tires weren't available for a time, until Cory talked Coker Tire into manufacturing a limited run of them!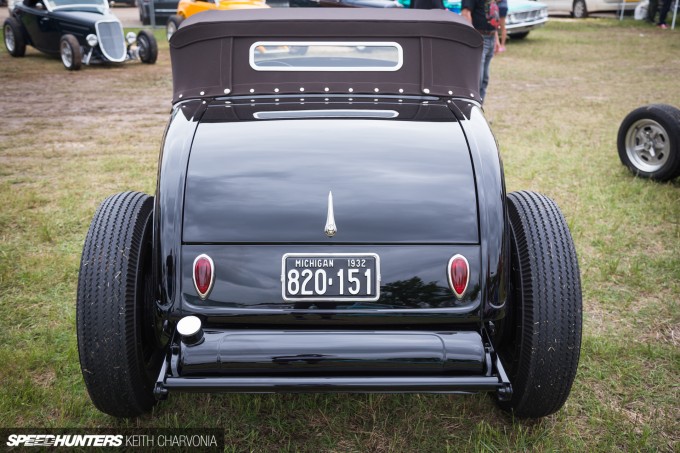 A 4.5-inch chop was accomplished by cutting down the reproduction soft top and reworking the wood bows inside.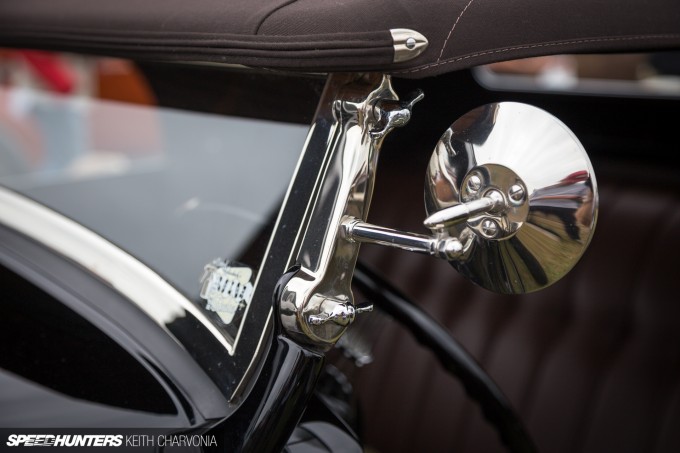 For the windshield, Cory cut and re-welded the stainless stanchions, then leaned them back 10 degrees to give it some rake.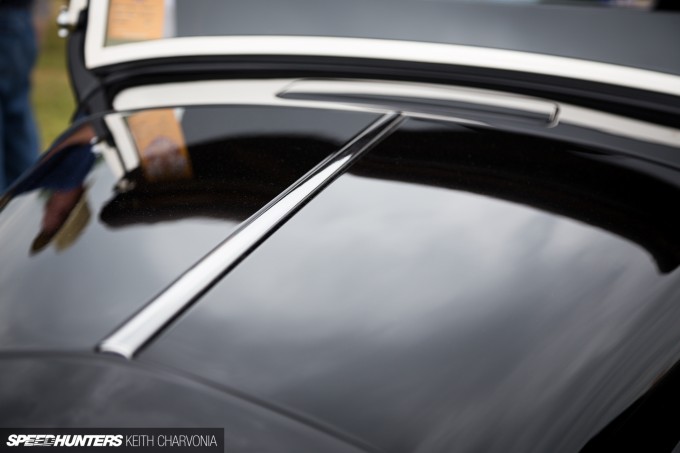 As you can see, the hood fits quite nicely now, and the Hollenbeck paint job is nothing short of flawless. Fortunately Cory was standing nearby when I shot the '32, so I got him to lift the hood.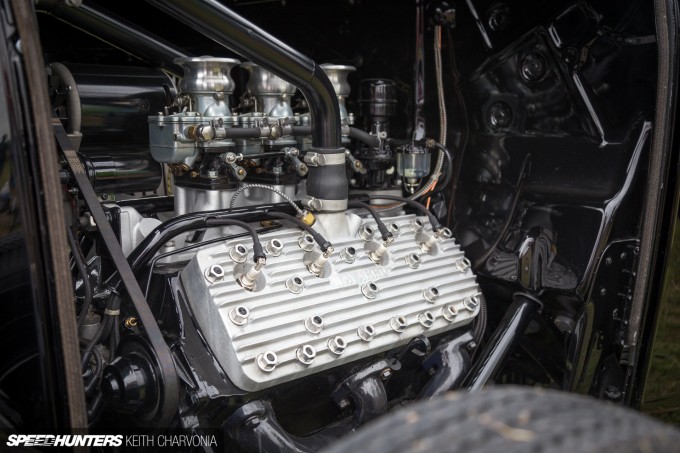 Inside sits a '39 Mercury Flathead, bored and stroked to 284ci by H&H Flatheads and topped with a trio of Strombergs. A Cornhusker bellhousing adapter allows the use of a T-5 trans and there's an original Halibrand Quick-Change in the rear.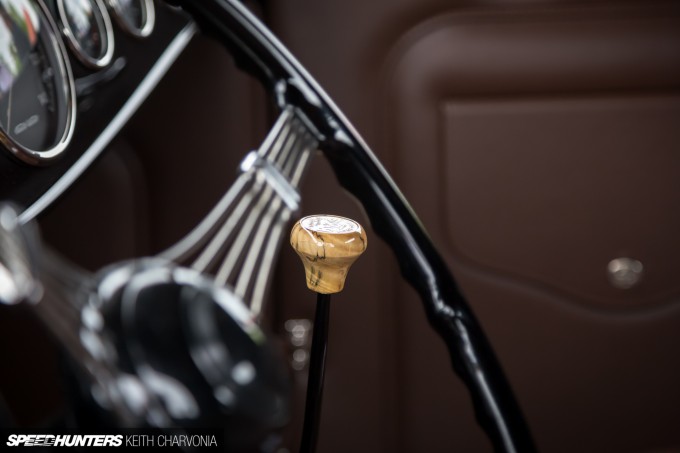 The '41 Ford pickup shift lever is topped with a one-off knob made by the Cory and Ashley's friend Kirk Jones.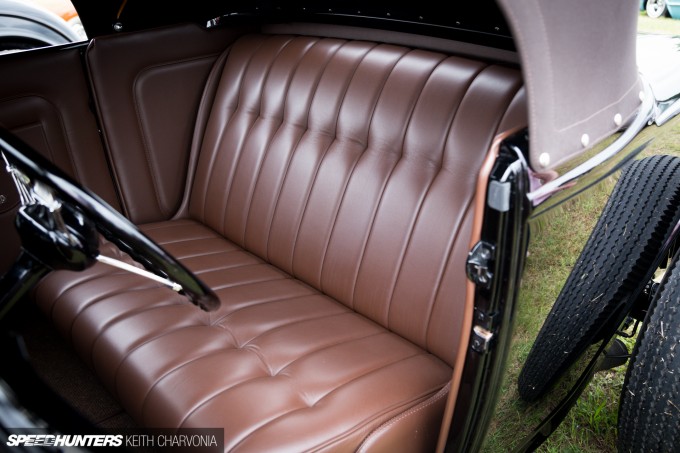 Sid Chavers trimmed the interior using Garrett leather and square weave carpet, creating a simple, period look.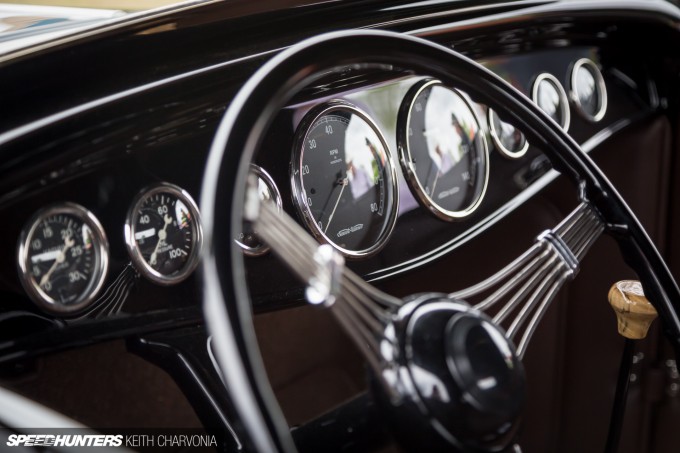 As part of the recent refresh, Cory also changed the dash to house a full set of restored late-'40s Stewart Warner accessory gauges.
If you want to see the man in action, you can watch a timelapse of the dash fab here.
Well done, Cory and Ashley. We can't wait to see your next project!
Keith Charvonia
Instagram: SpeedhuntersKeith
keith@speedhunters.com
Everthing's Bigger At The Lonestar Round Up
More Hot Rod stories on Speedhunters
Cutting Room Floor