The Evolution Of VIP
You either get it or you don't, or you can like it but not get it… But either way, VIP is a love it or hate it kind of style. Does that make any sense? Sure, it isn't straightforward – it took me years to appreciate what these guys were doing with their big sedans, but then again, back in the mid-'90s when I first came across this style it was all pretty much in its infancy and far more simple. Now, you could almost say that VIP has lost control, but it's done so in a good way as it's grown, matured and exploded in so many new directions.
And that's what makes it a fun side of JDM car culture to follow. It's also why every few months or so I find myself shooting some crazy new Bippu ride. Except this time around it wasn't a slammed Cima or Crown, but something slightly different…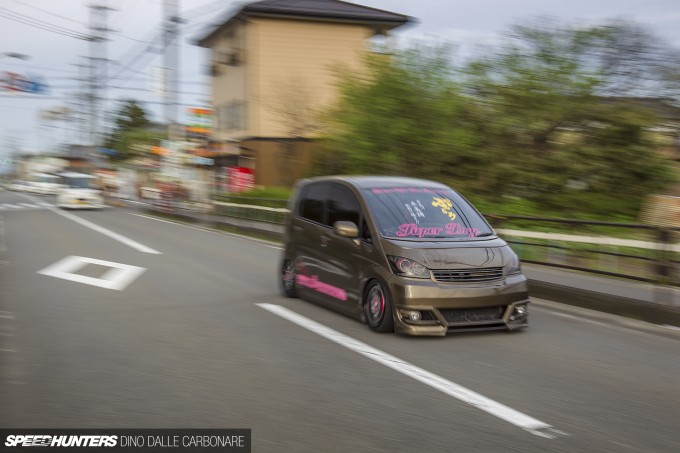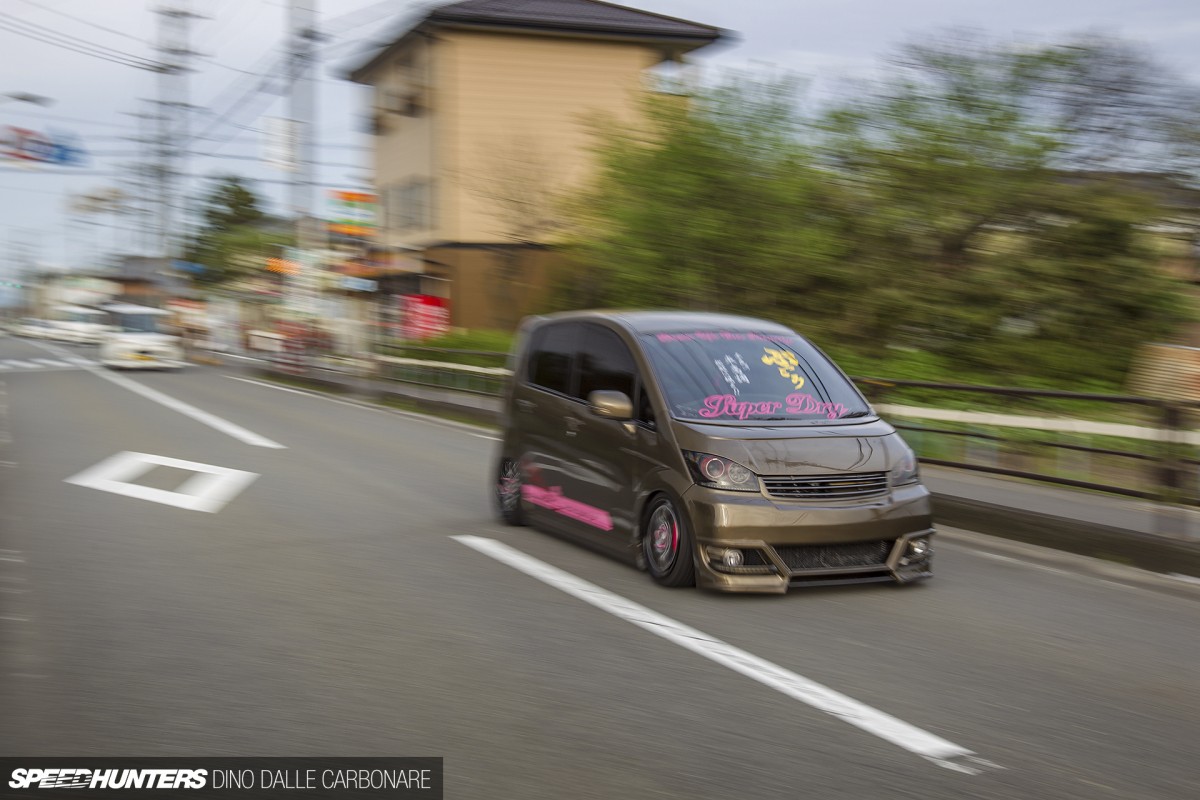 A while back Imamura-san of Bee Dragon mentioned to me that he fancied doing something different from the norm. Sedans are of course cool, and the biggest single vehicle type that VIP revolves around, but lately vans have become popular in this genre too. And that goes for vans of all sizes – micro-sized Kei machines included.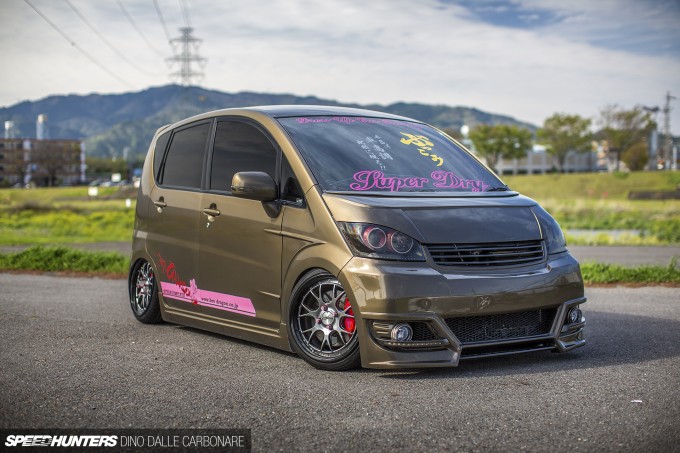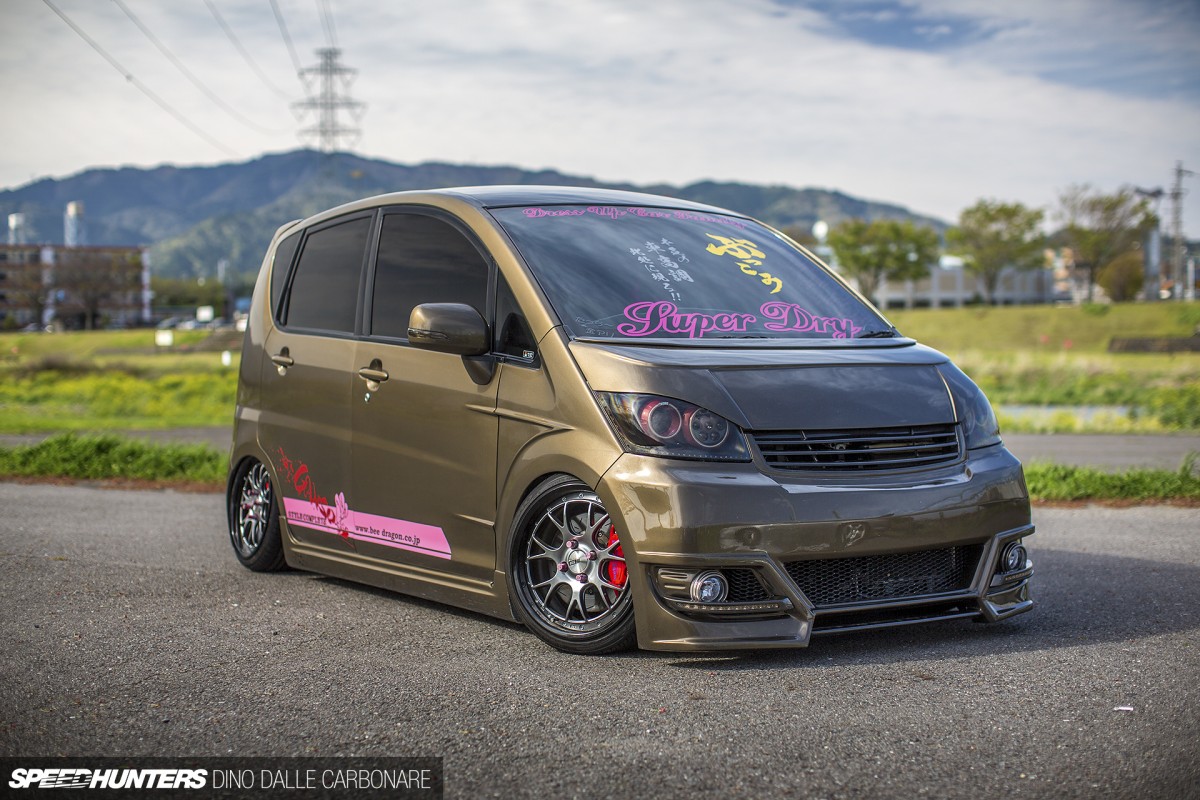 While casual visitors who spend most of their time in Japan on a sightseeing tour bus around Tokyo, Kyoto and Osaka probably wouldn't really notice, the Japanese love and adore Kei cars. These cars are especially popular in rural and country areas, and are cheap to buy, cheap to run and cheap to maintain and insure. Since they've always been great sellers for manufacturers, they're continuously evolving too, and today's new Kei class machines feature super fuel efficient engines, funky designs and high-spec equipment.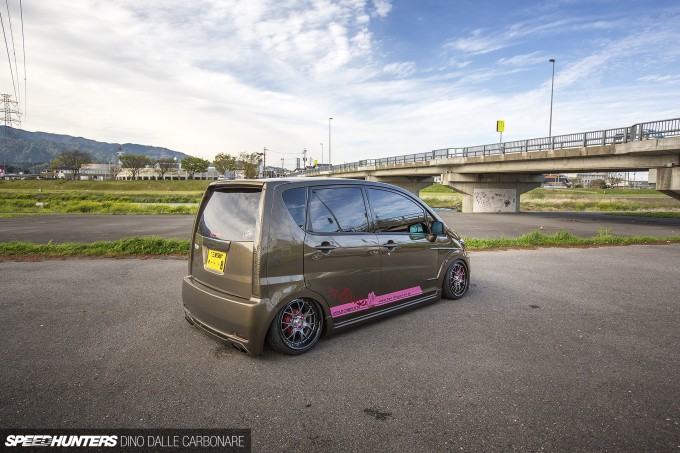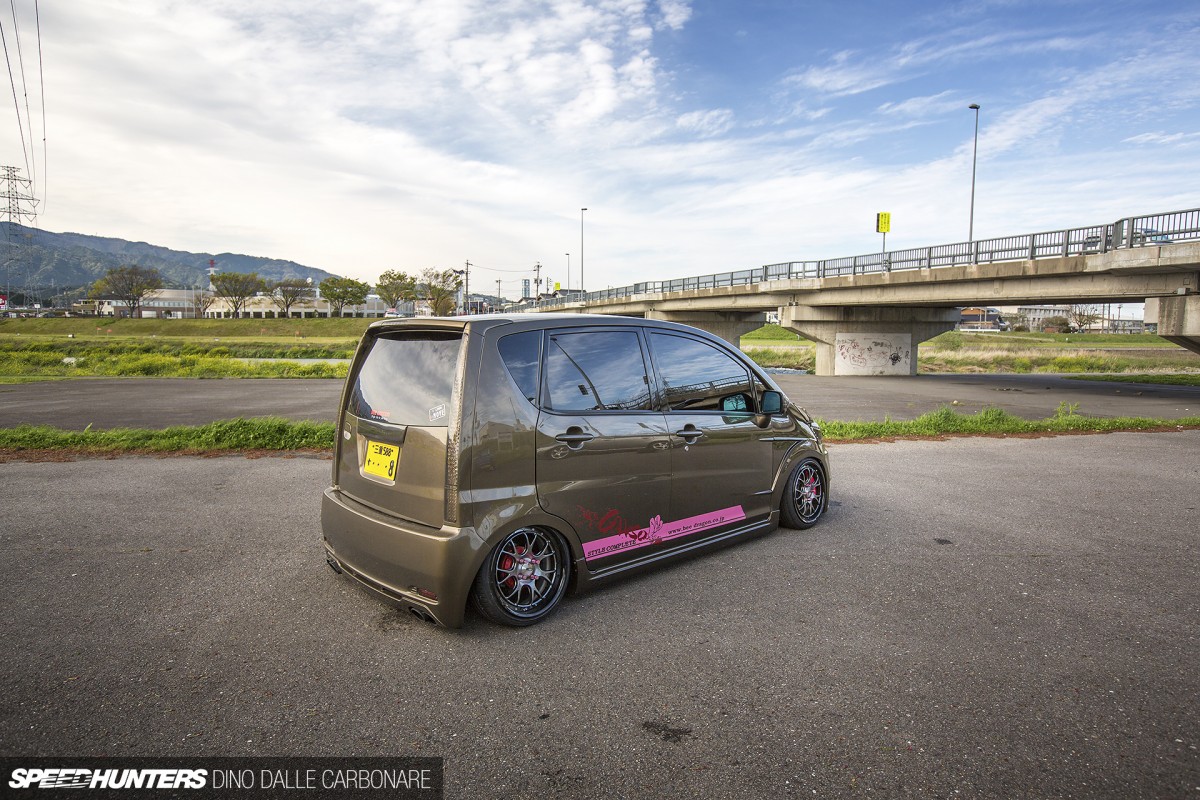 They really do make sense, and as Honda is proving with its new S660, some can even make an argument for themselves in the sportscar realm.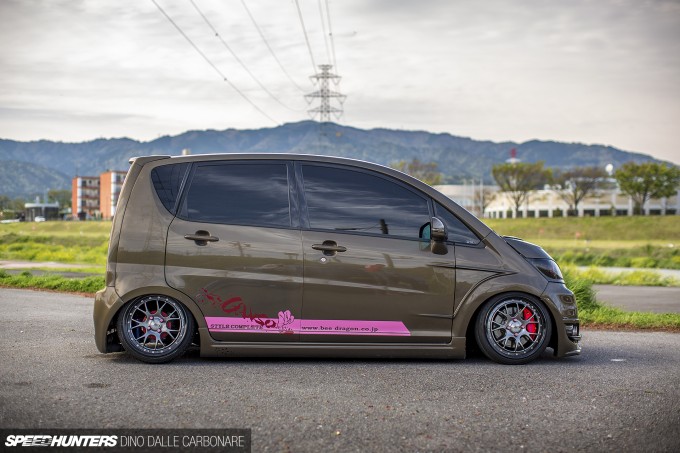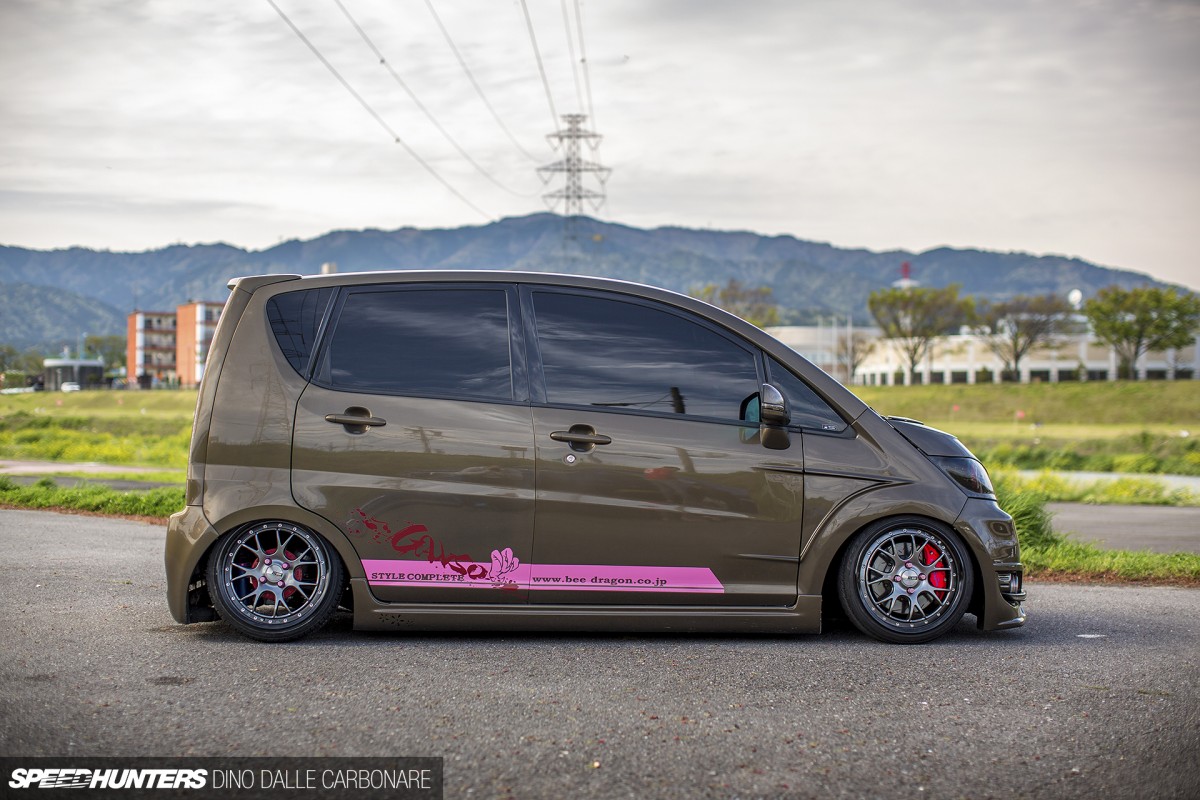 Which brings us to this particular Daihatsu Move – Bee Dragon's latest full-custom creation, built for a young local lady that lives in the Gifu countryside. The idea was to go full-on and transform the little people mover into something that would be both feared and admired on the street. Let's take a look at how it all came together…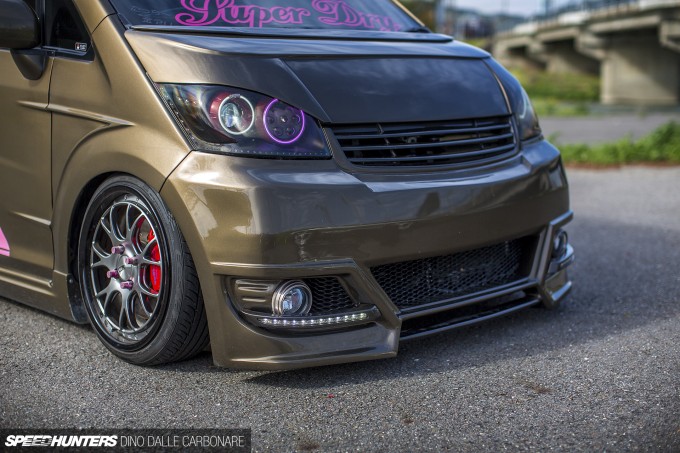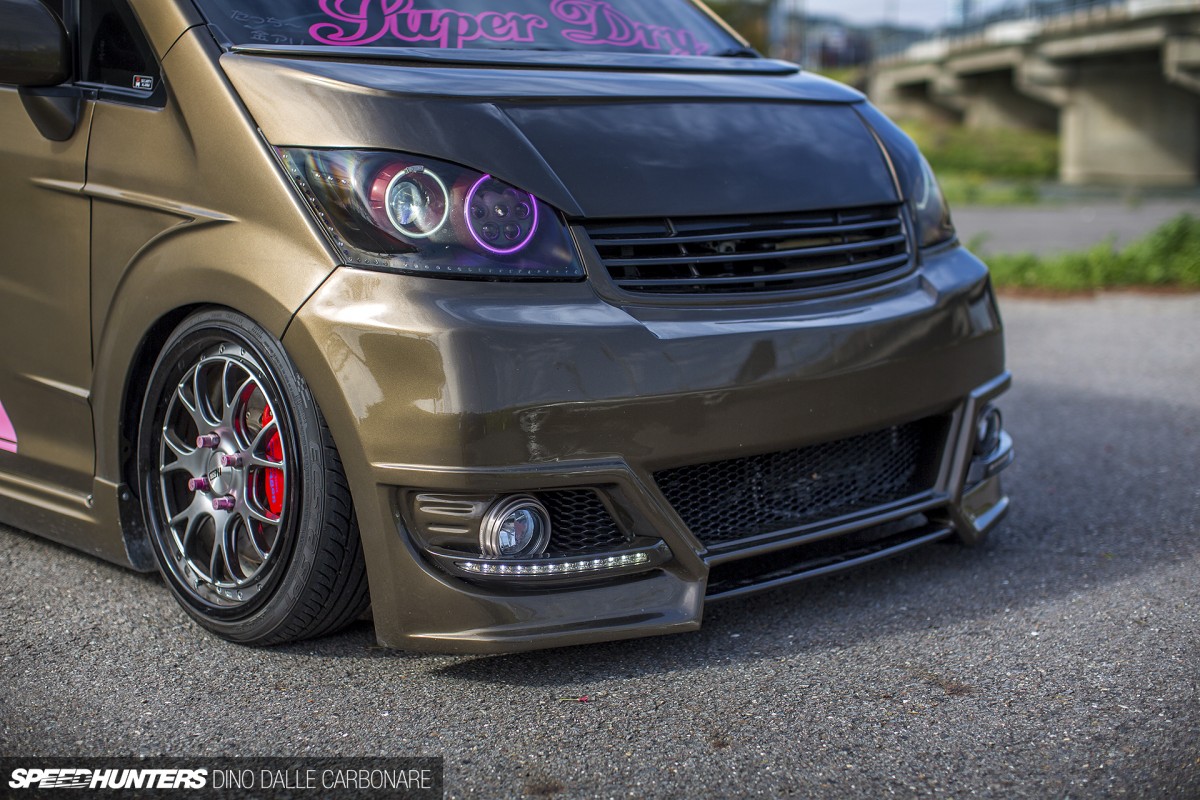 Up front the entire bumper and lower spoiler section was removed and cut up, then reformed with FRP into a bespoke shape that injects some serious presence. That included creating a louvered grille by cutting the center portion of the bonnet away, and extending the two corners over the headlights to give the pocket van an angry stare.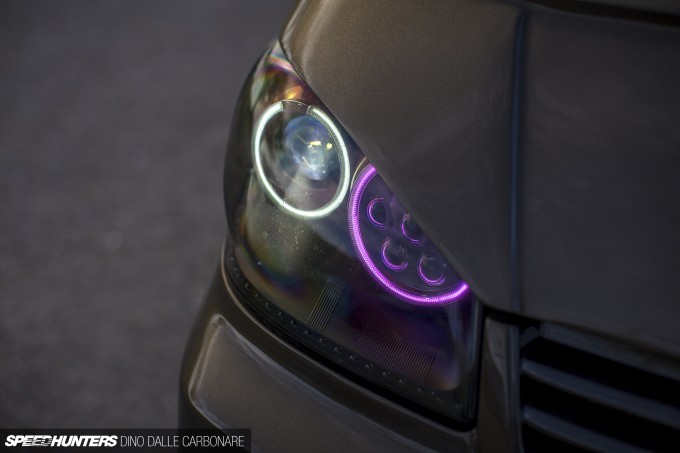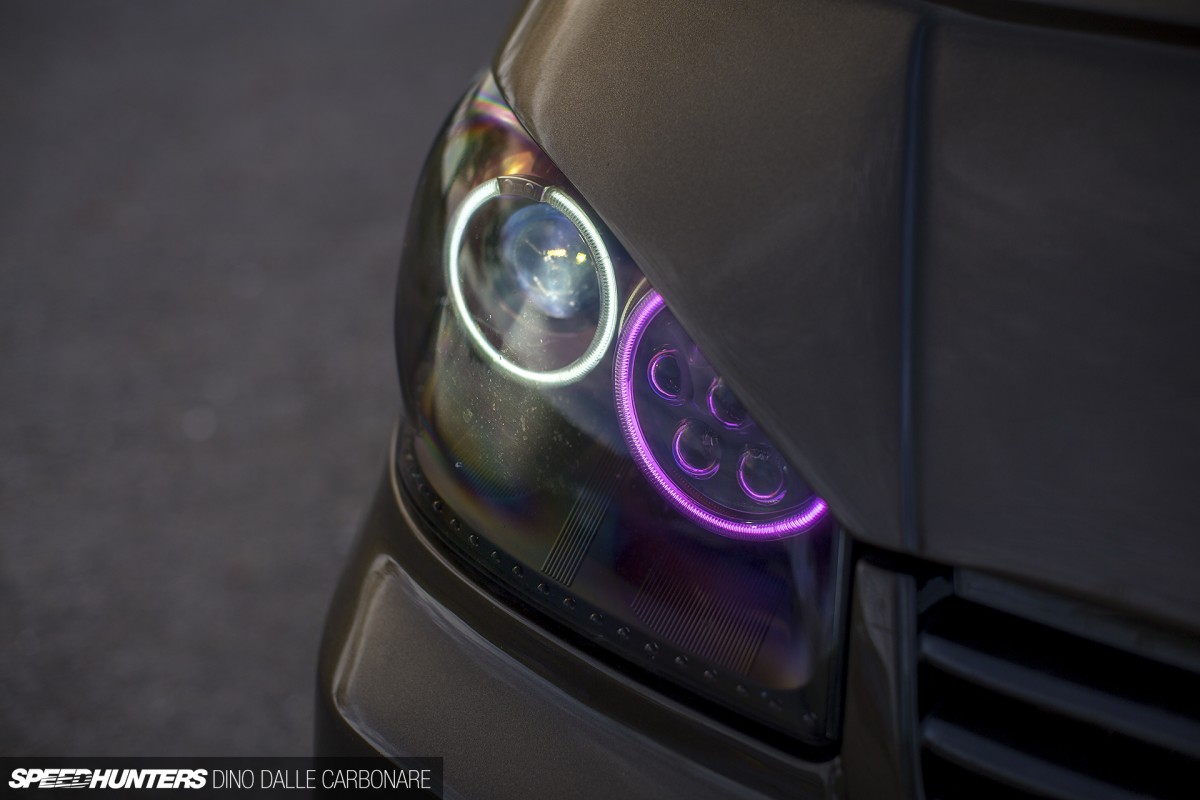 Speaking of lights, as we've seen on many VIP projects of late, no build is complete without a complex custom headlight assembly. In this case the Move's sporting BMW-style angel eyes and uses multi-lens projectors lifted from a Nissan Cima.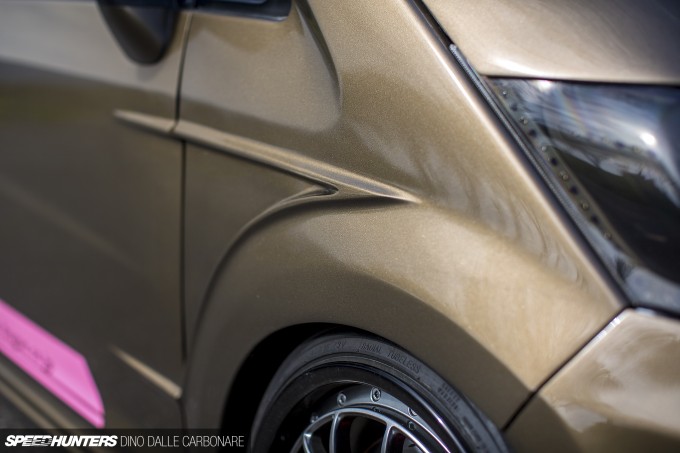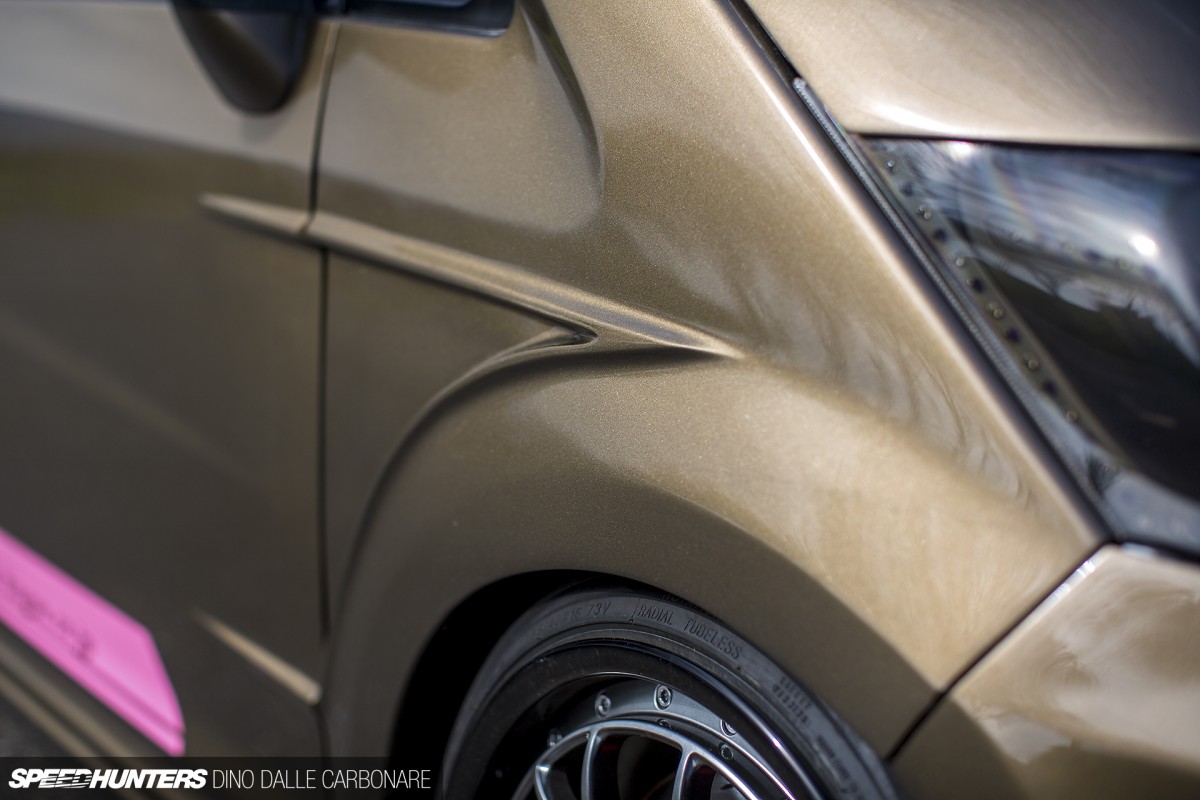 With the FRP stuff taken care of up front, custom metal work was next on the list. Imamura prides himself on the fact that all the fender and related modifications he does are executed in steel, and the little Daihatsu was no exception to the rule. Here the widened fenders feature a nice notched-up groove detail that extends into the doors.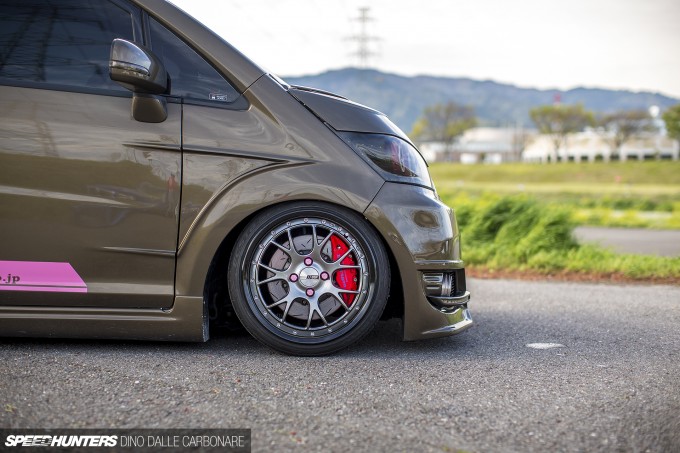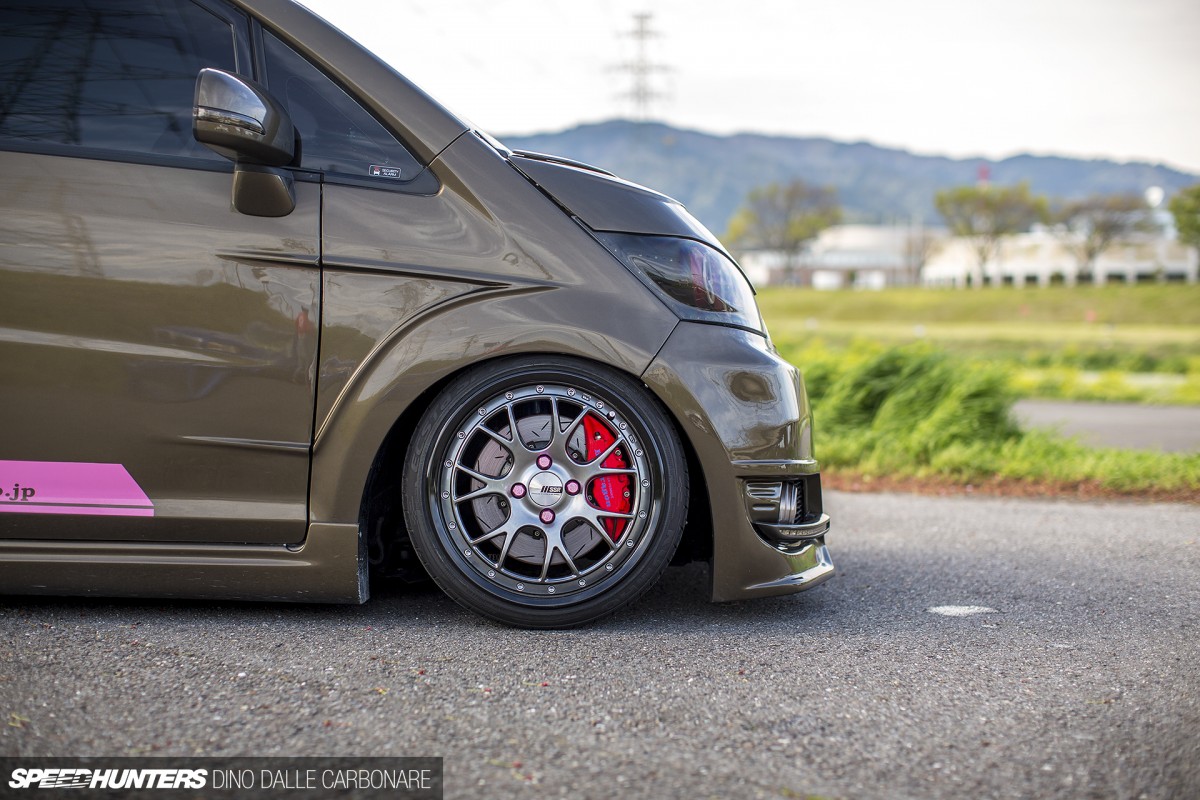 It all makes for a Move like we've never seen before.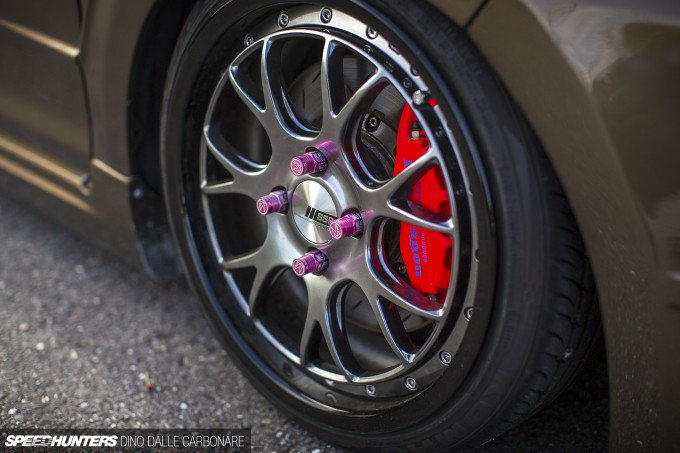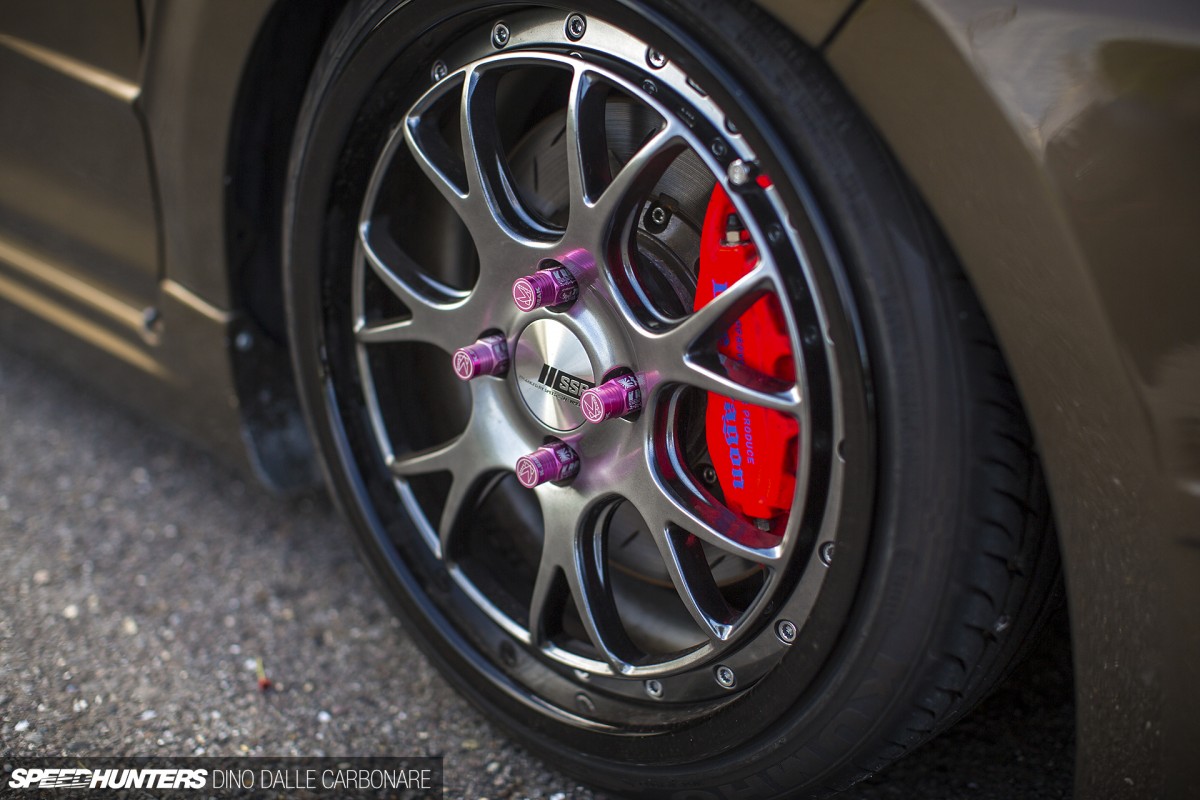 Judging by the ride height you'd be forgiven for thinking that the Daihatsu rides on air, but in reality there's Bee Dragon coilovers in the mix that provide a static drop with around 20mm of ground clearance. The 16-inch SSR Professor MS3Rs are a superb match for the car's exterior and are shod in Kumho Ecsta 155/40R16 all round.
The Details Hide All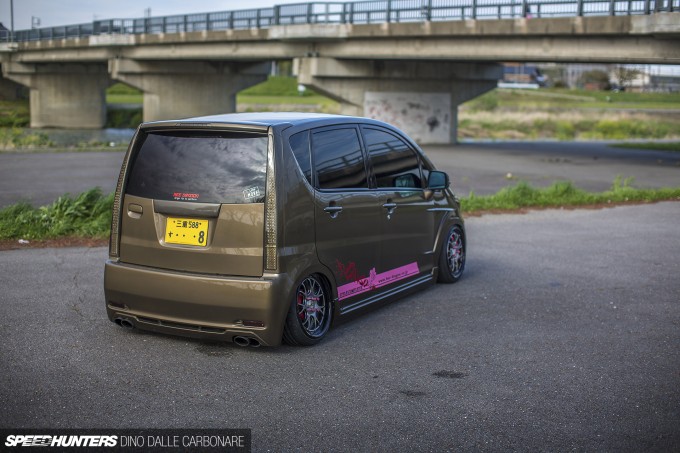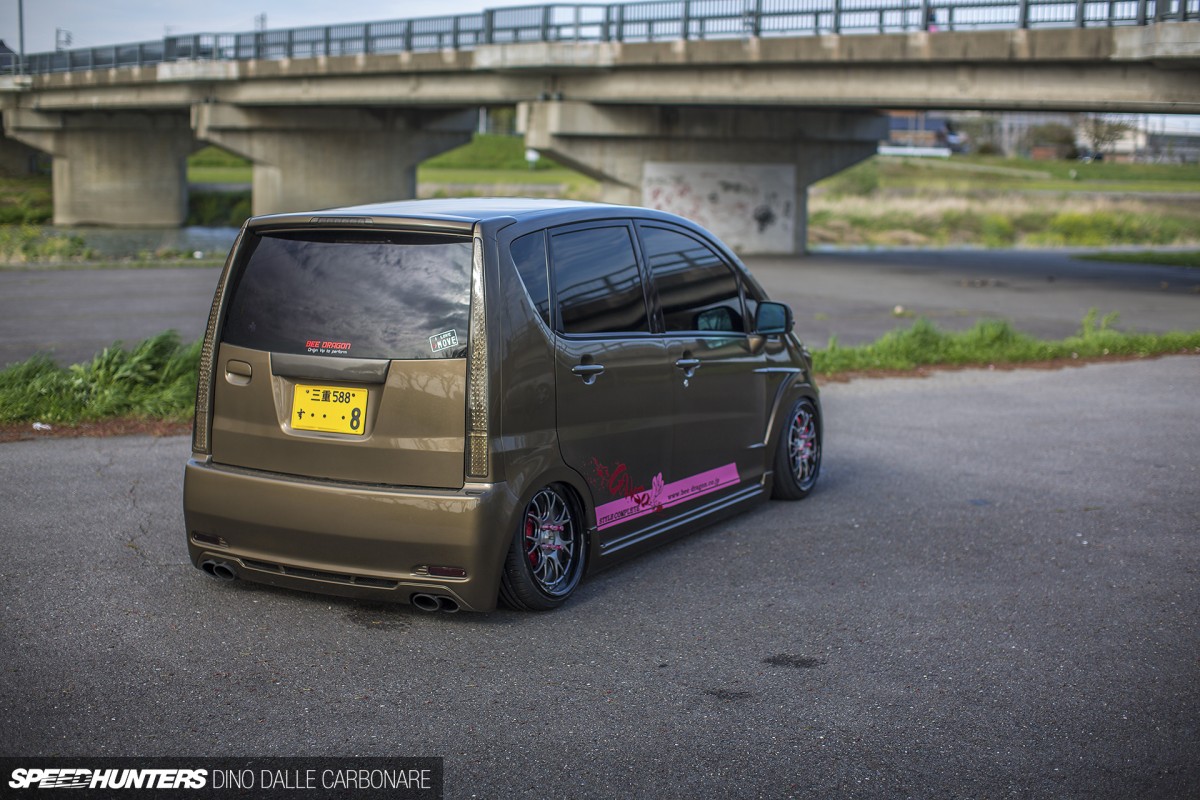 Along with custom extended skirts the rear fenders have also been gently blistered. That modification allows the SSRs to accept the five or so degrees of negative camber that the special Bee Dragon suspension setup is capable of.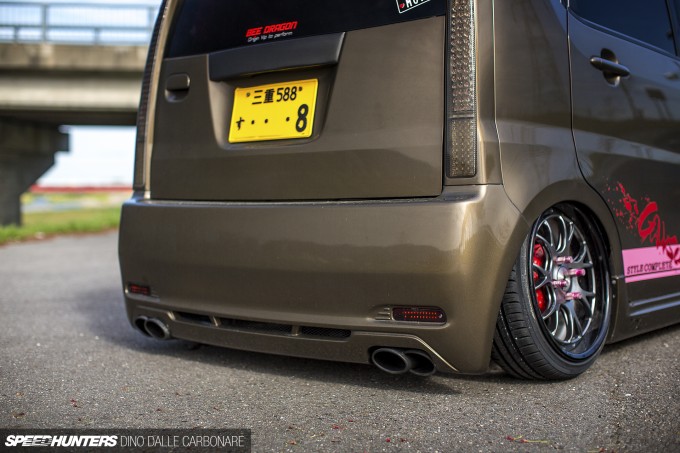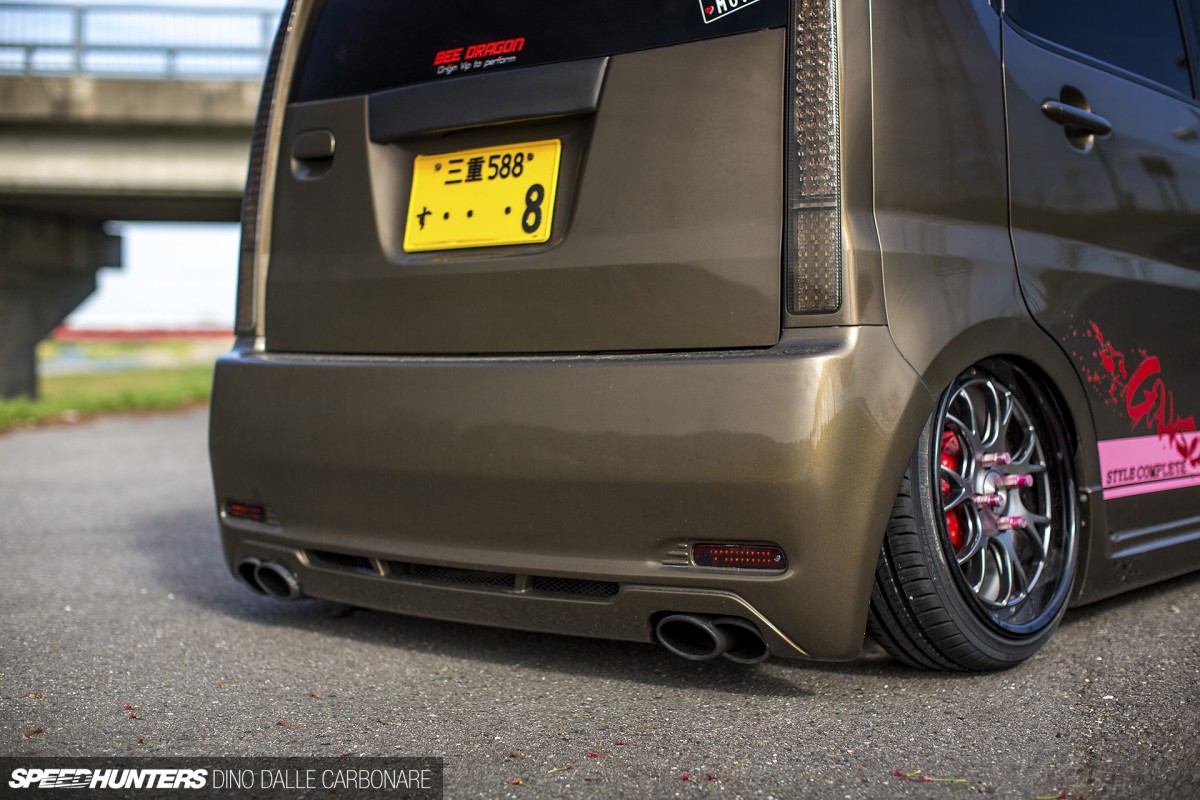 The sign of a well-executed VIP car is when the details are hard to pinpoint, and that's very much the case with this Move. The rear bumper is completely custom made, extending outwards in a more rounded sort of shape and rid of its central number plate recess. That has freed up more space for a lower diffuser-like section to be carved out, as well as the appropriate exits for the quad tail pipes. Yes, four exhaust outlets on a 660cc micro-van! A lot of work went into relocating the number plate recess on the center section of the side-hinged rear door, which helps give the whole rear end a cleaner and smoother look.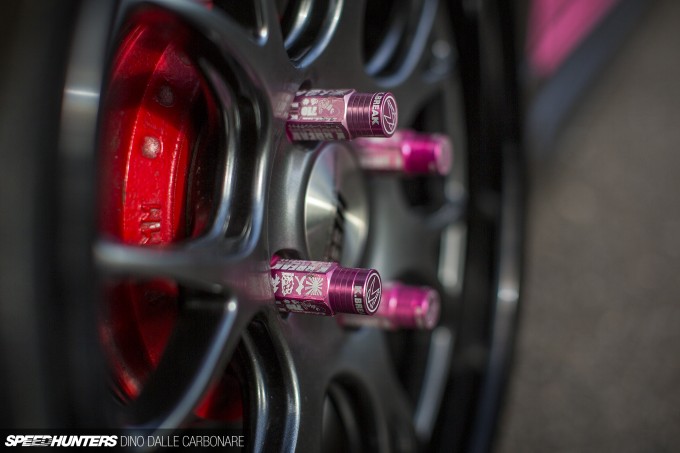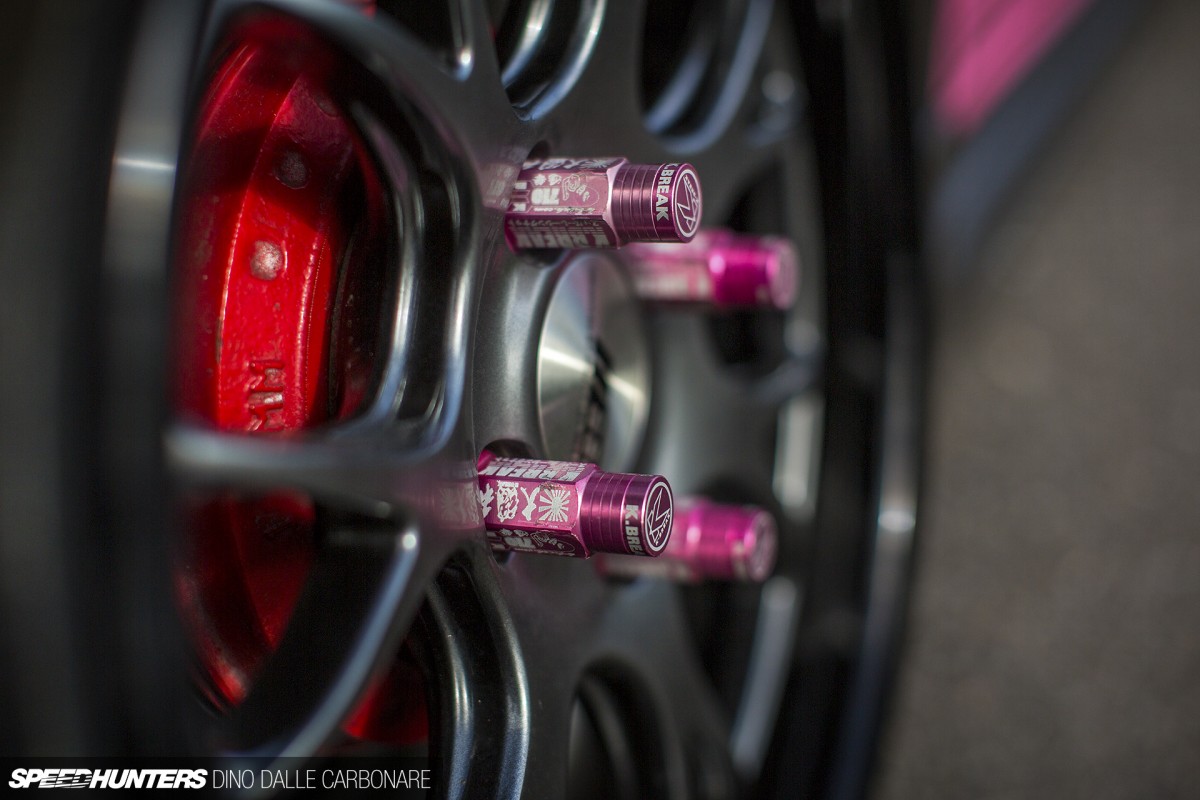 Check out the K-Break lug nuts! It's all in the details as they say…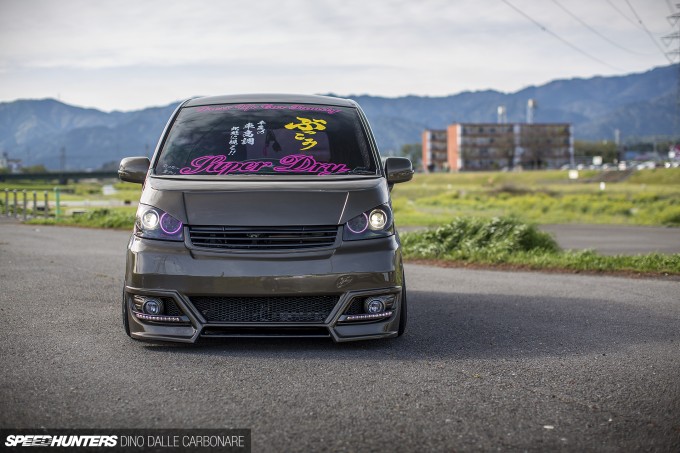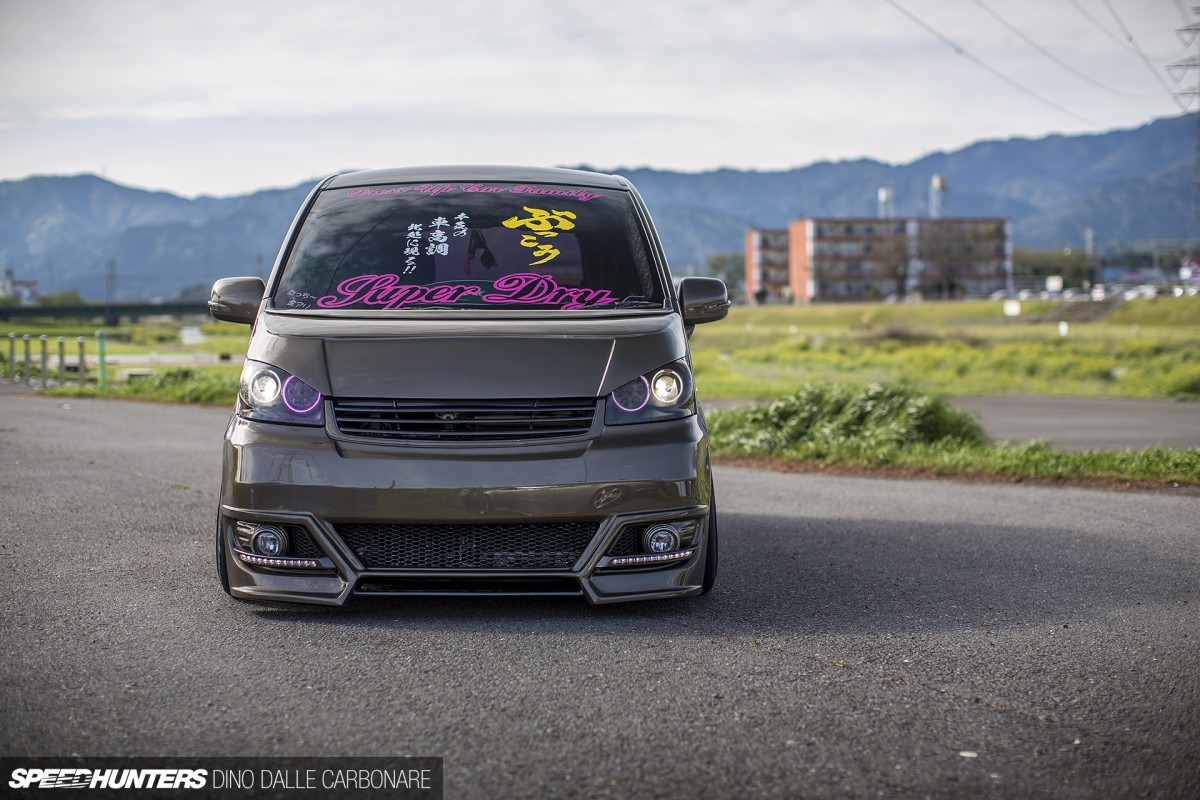 The owner of the Move belongs to a local club called Super Dry (yes, just like the JDM beer we all love so much!) and isn't shy about showing it off. Since the deeply-tinted windscreen is already illegal enough, a few stickers here and there weren't going to hurt either.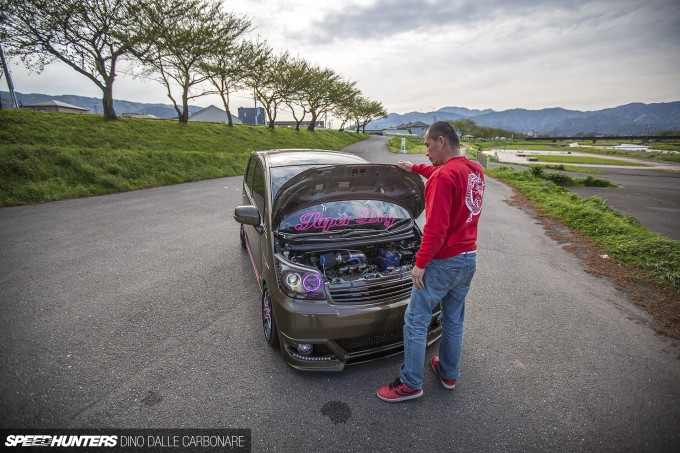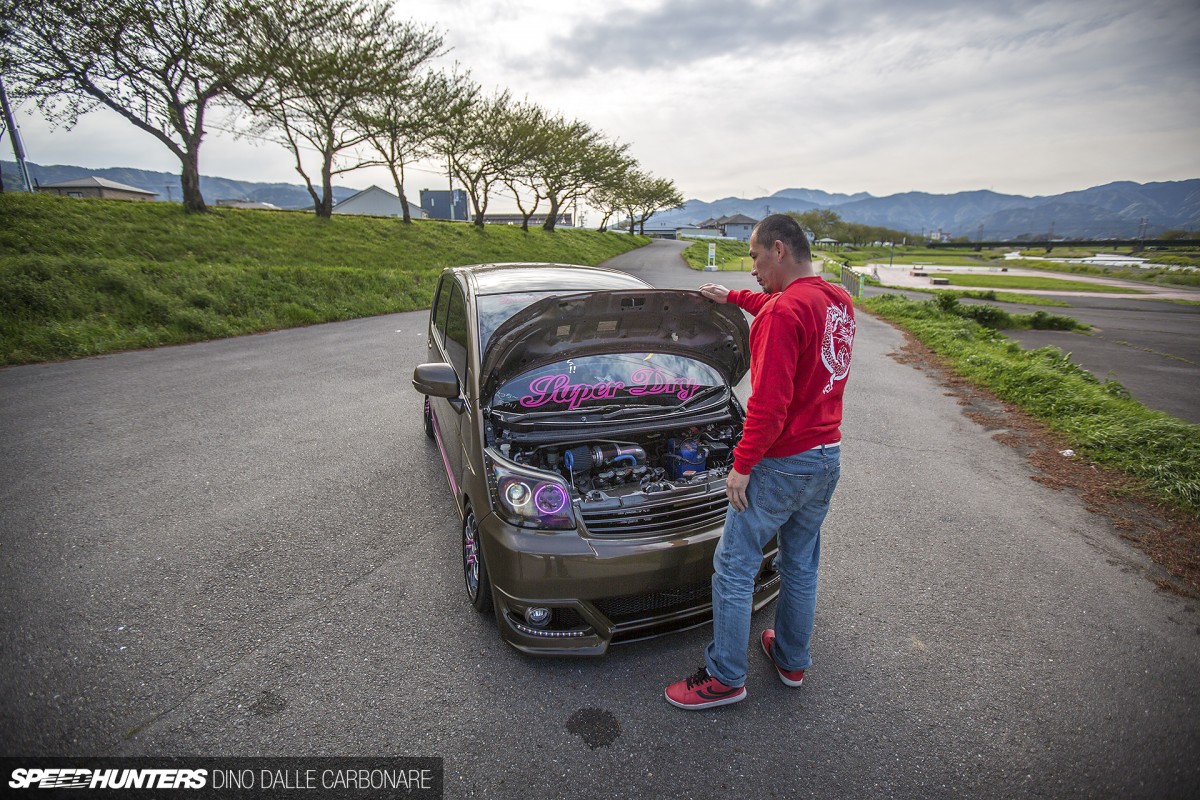 With a somewhat comical tone in his voice, Imamura told me that there was even some mods made to the engine. Of course, I just had to see!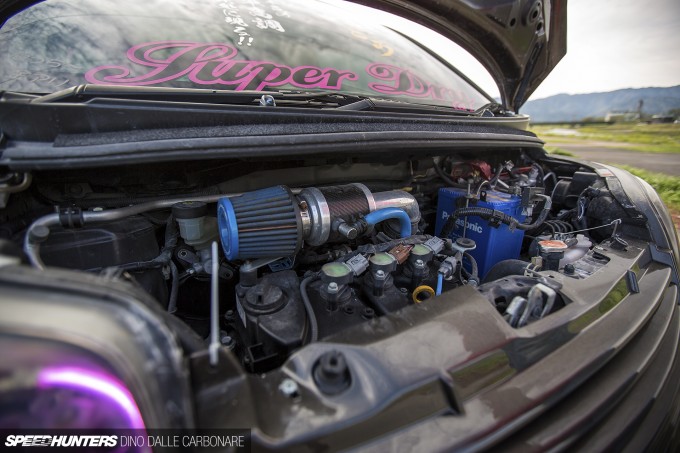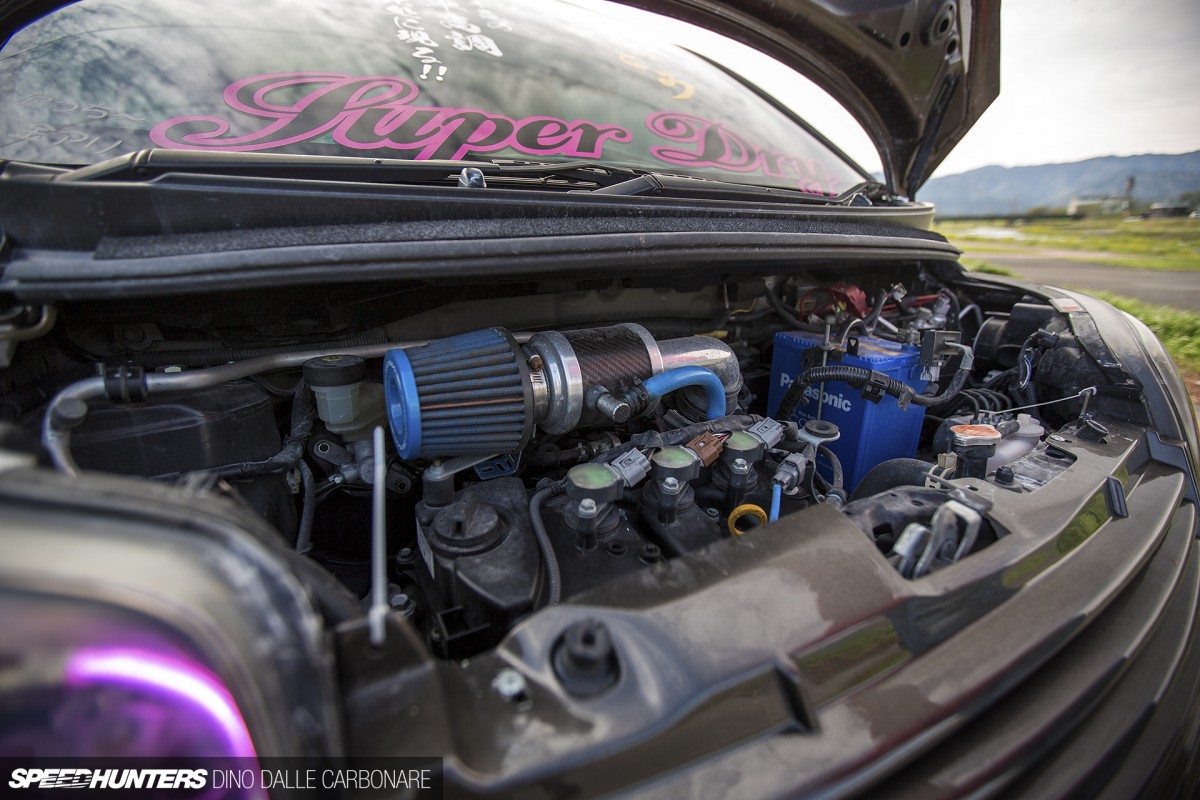 It's not much, but the little 660cc three-cylinder turbo motor now breathes a little more freely thanks to the addition of a Top Fuel Zero 1000 Power Chamber intake.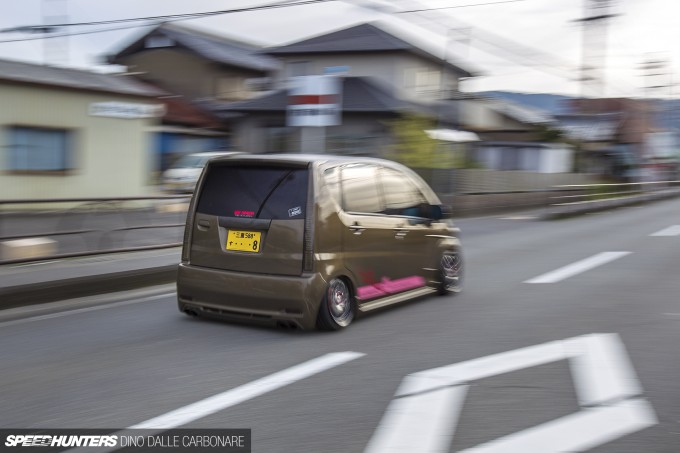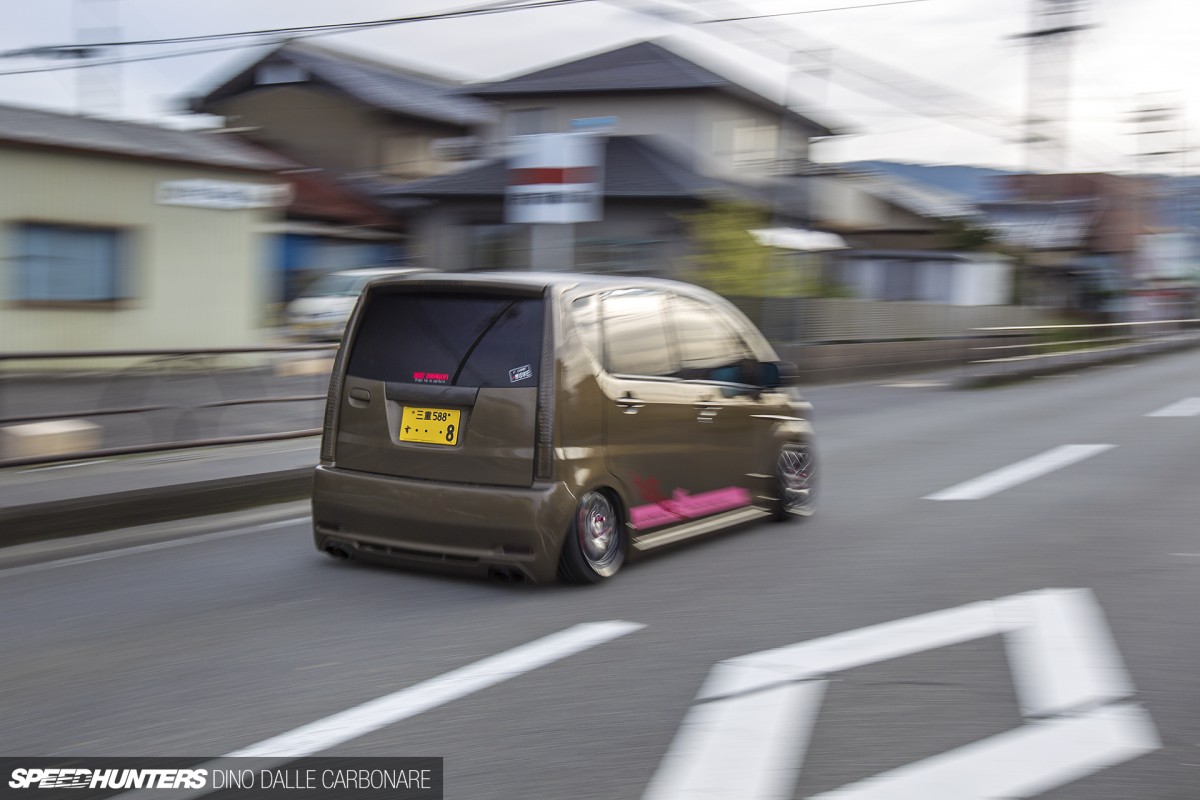 Of course, it's debatable whether this upgrade will boost power in any way, but it at least introduces a few cool whooshing turbo sounds into the cabin when you really step on it. Add the throaty blare of the barely-silenced exhaust and you have an interesting sounding Kei van!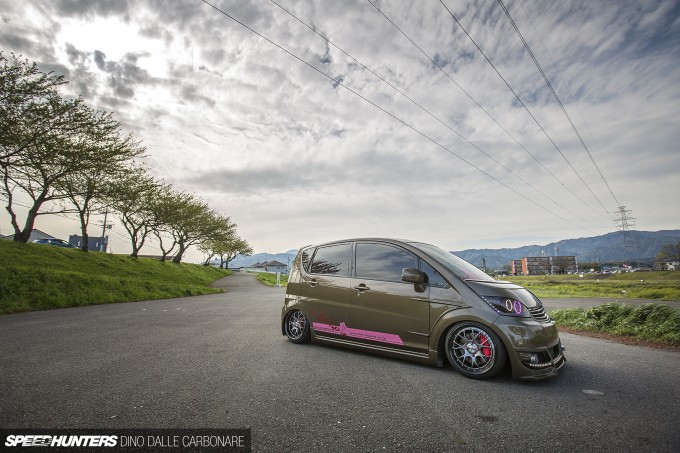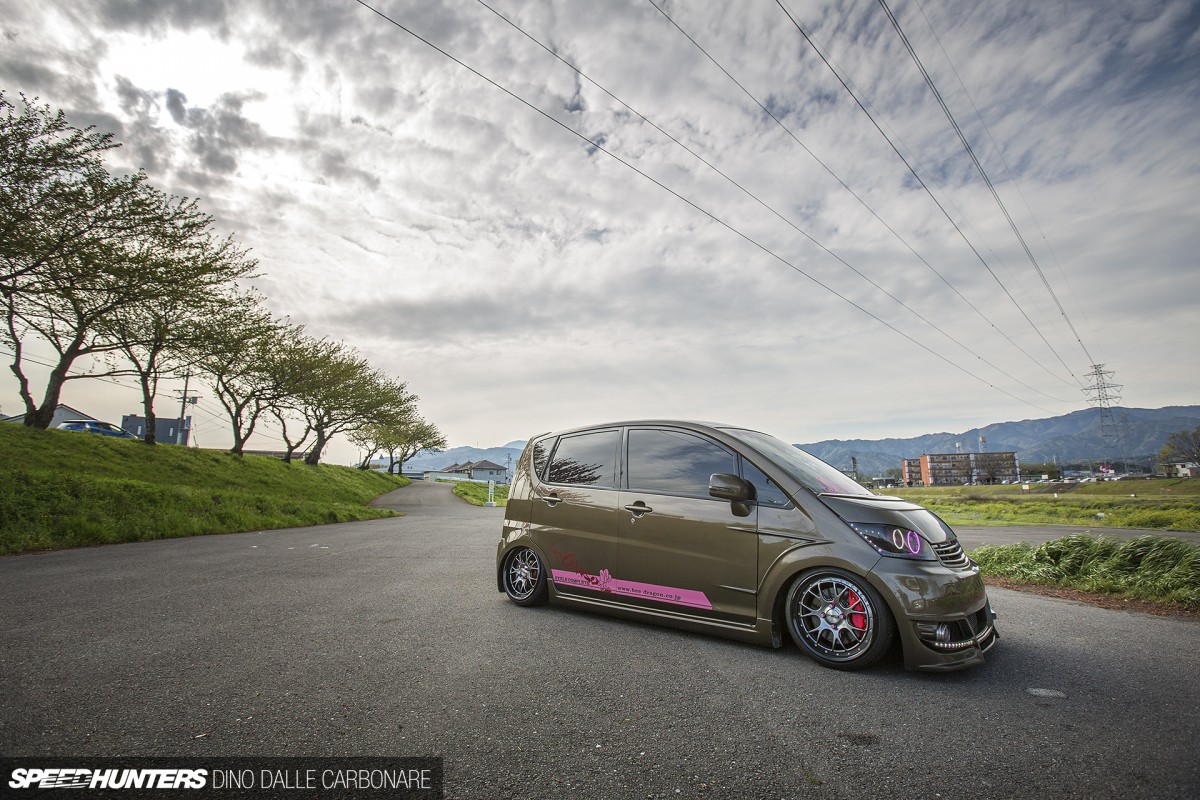 Apart from the kintsuna 'golden knot' and a few pillows here and there, the Bippu style of old never really extended to a car's interior. But these days the VIP set take their interiors just as seriously as the outside appearance of their cars.
You Can Never Go Wrong With Lace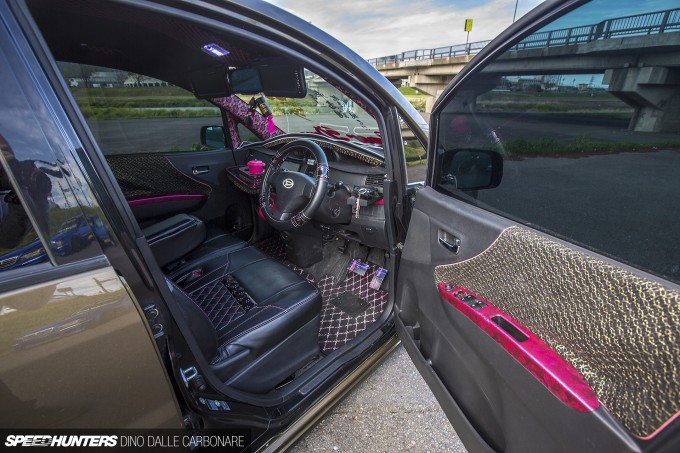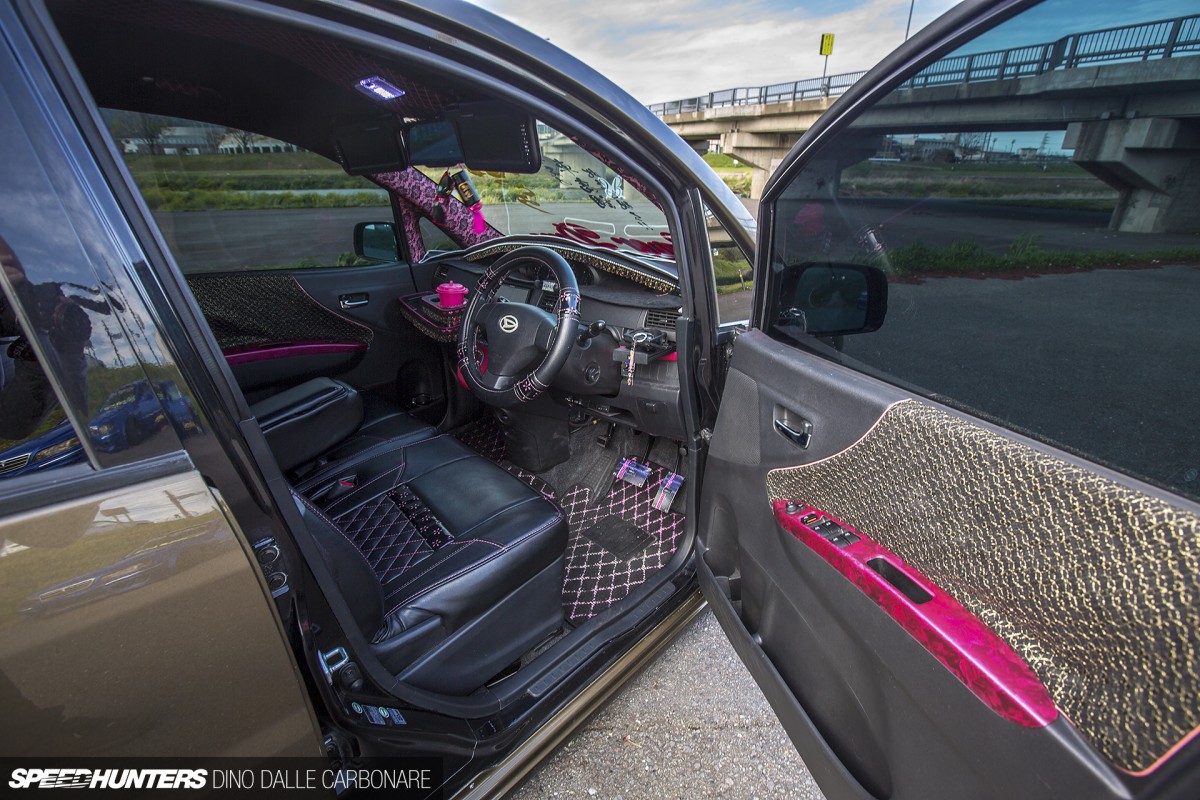 The interior is another area where this Move doesn't do things by halves.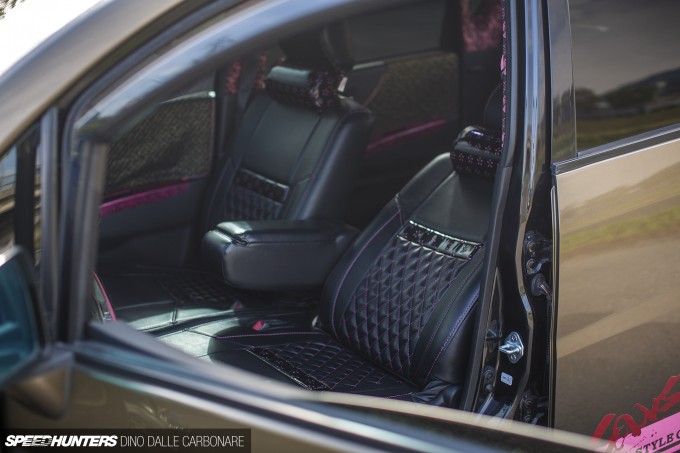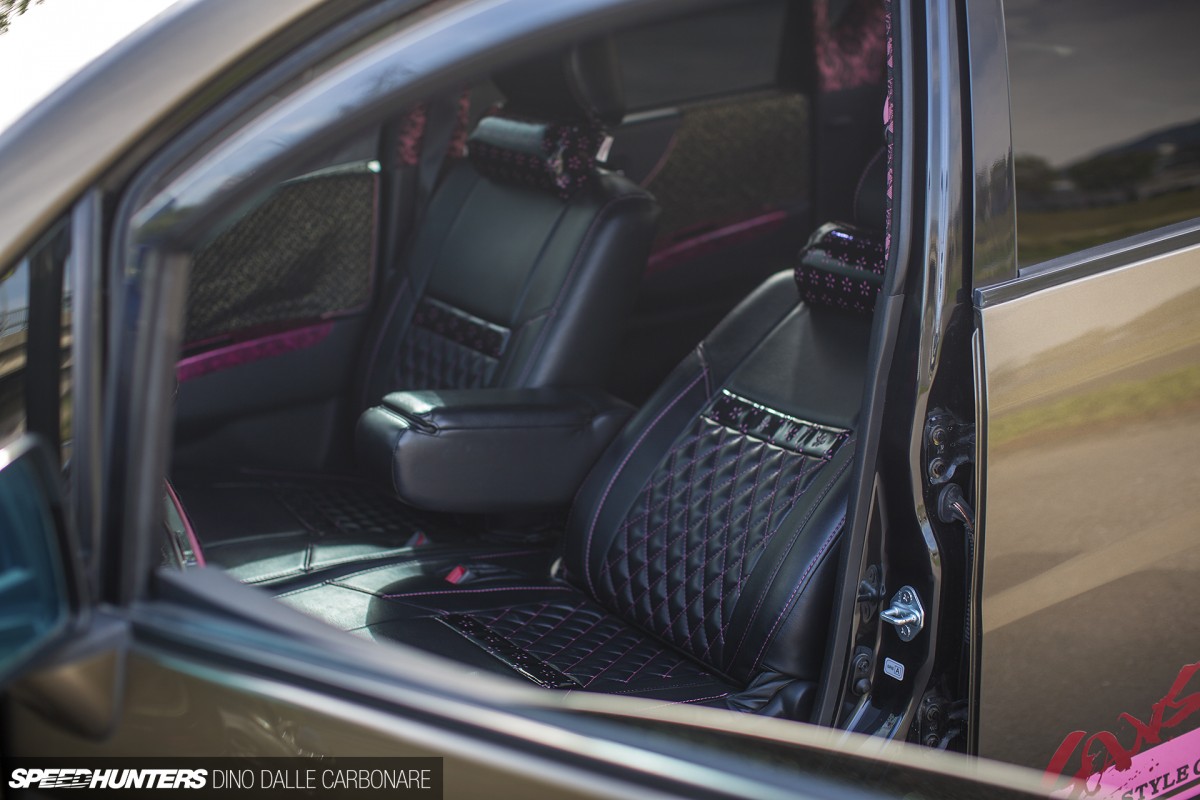 A lot of custom work has gone on in here starting with the leather and vinyl, purple-stitched upholstery.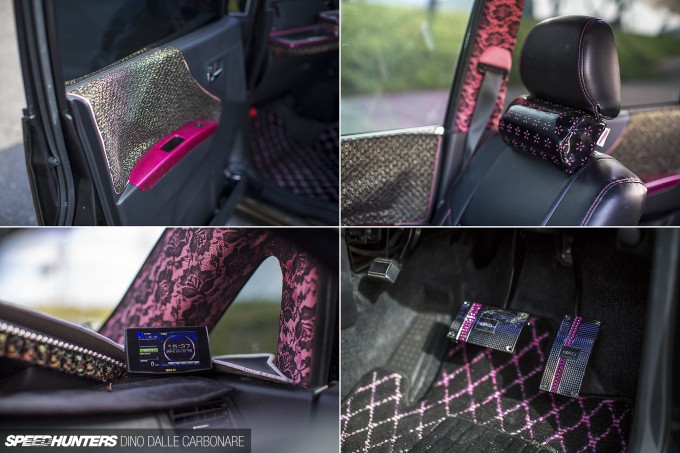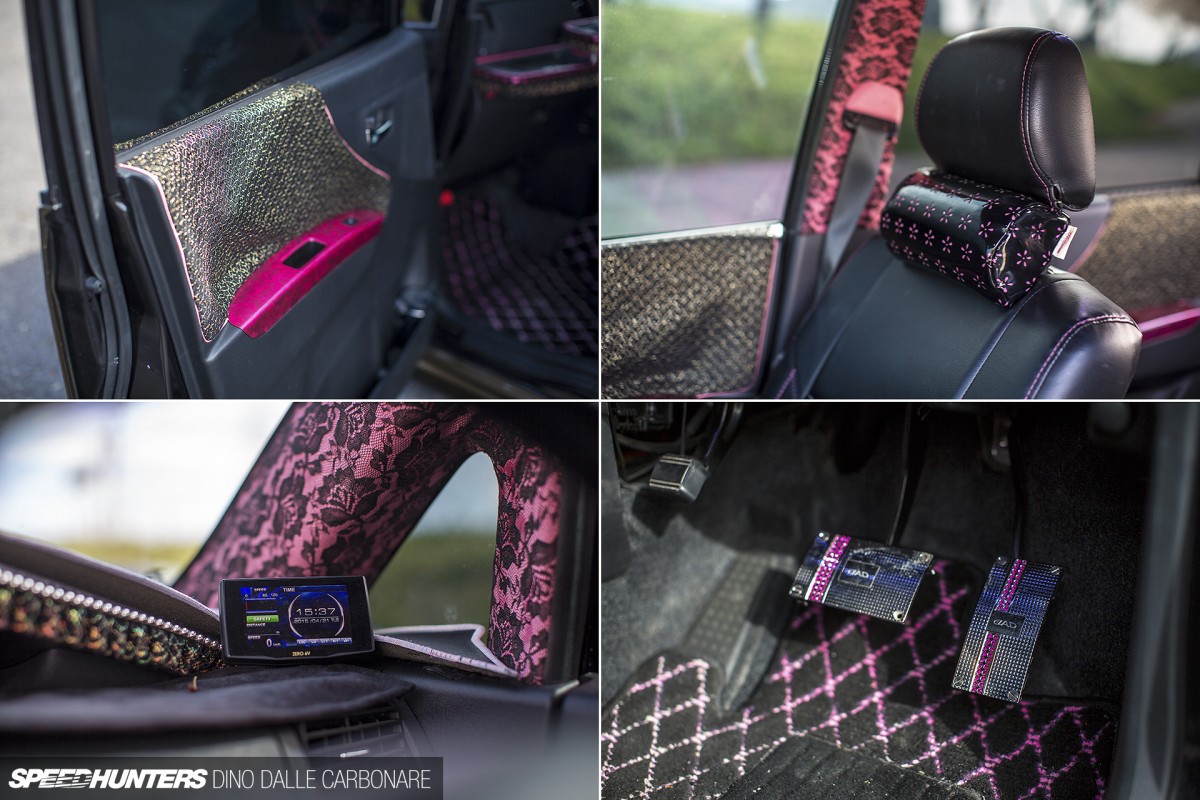 The door cards, pillar trim and headliner have been treated to a classy lace covering, in an attempt to give it a similar ambiance to say, a hostess bar.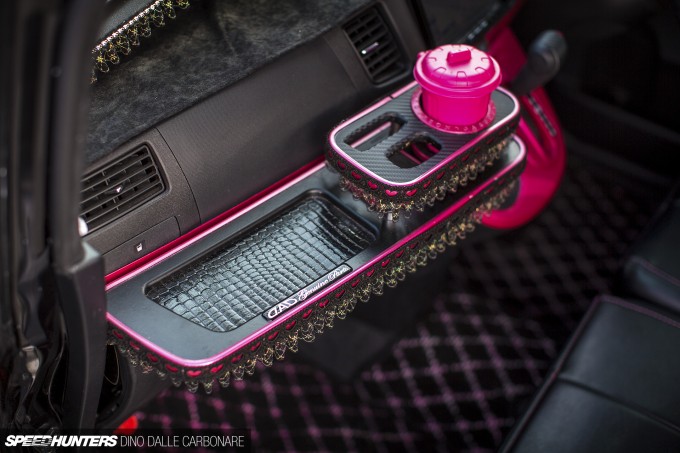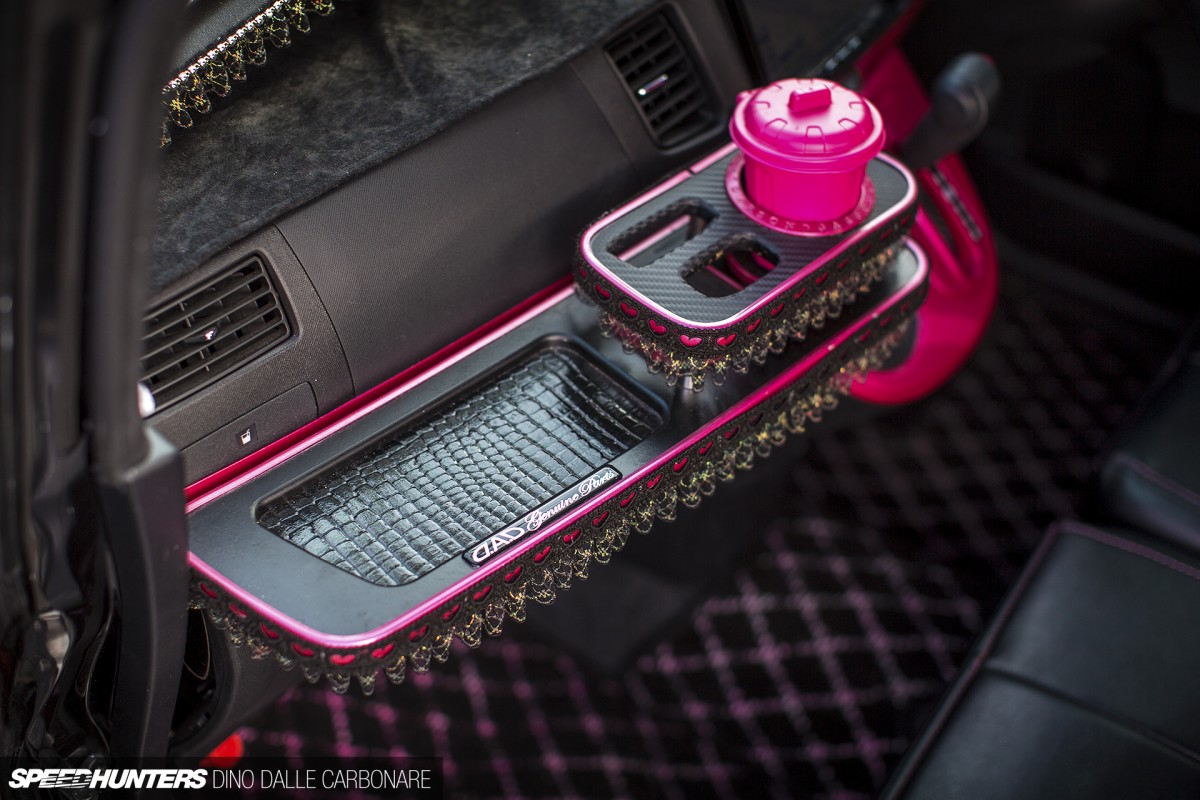 Even the passenger-side D.A.D courtesy table has been treated to pink and lace detailing and topped off with a pink micro rubbish bin. This is accessorising to the max!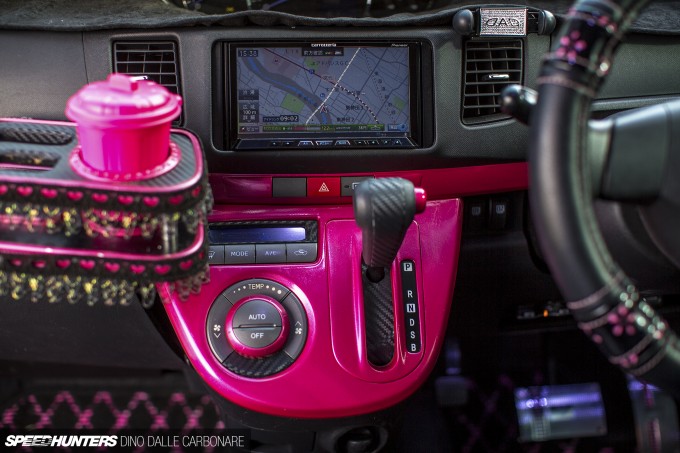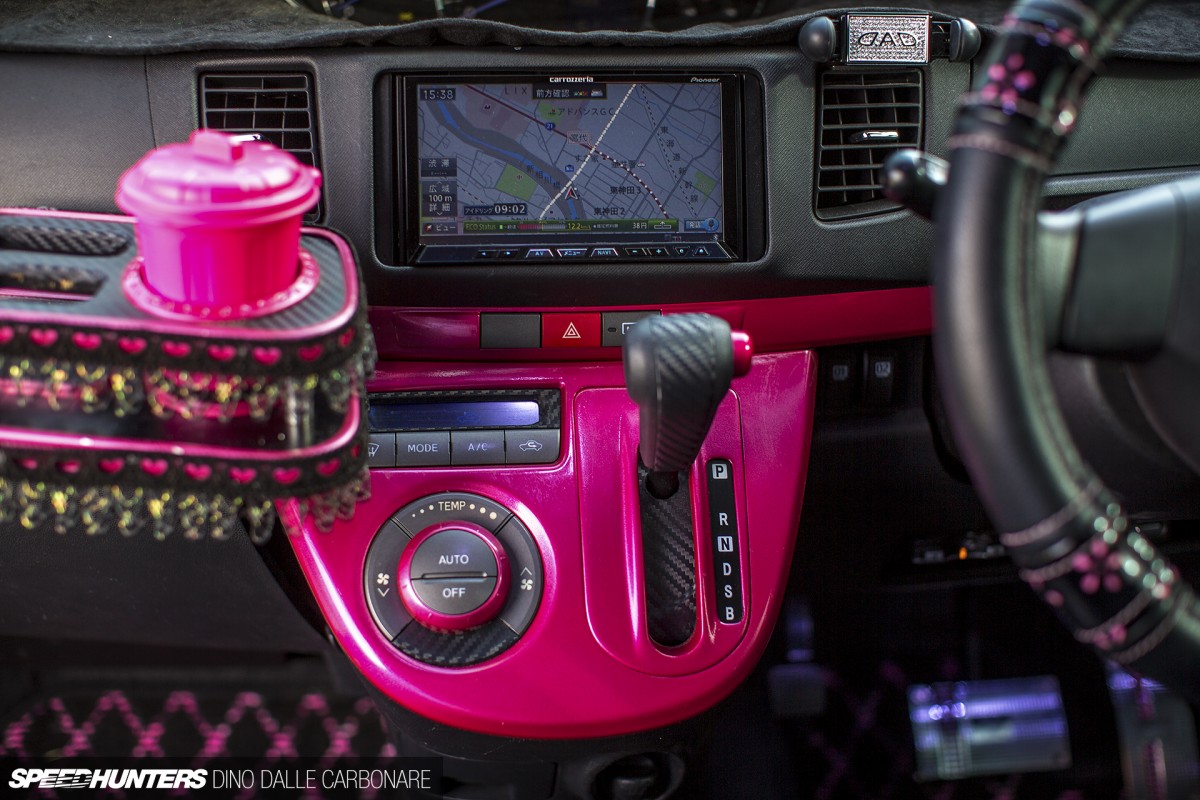 Cheap black center console plastics look rather horrible most of time, but the addition of metallic pink really turns things around. Note the carbon vinyl wrapping of the shifter and other console details, which keeps in line with the overall 'sporty' feel of the car. No sarcasm implied whatsoever…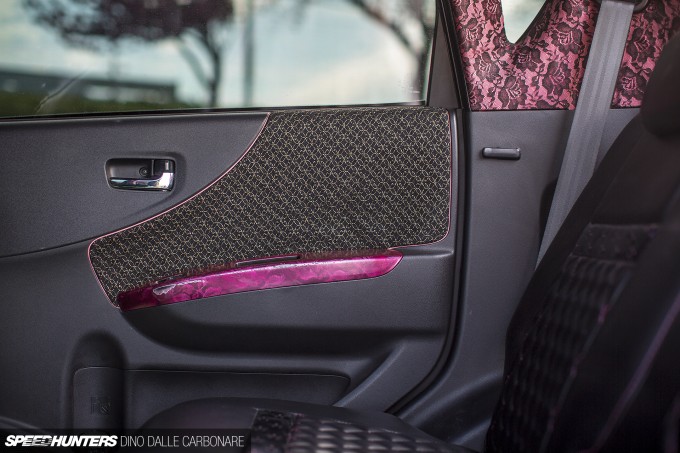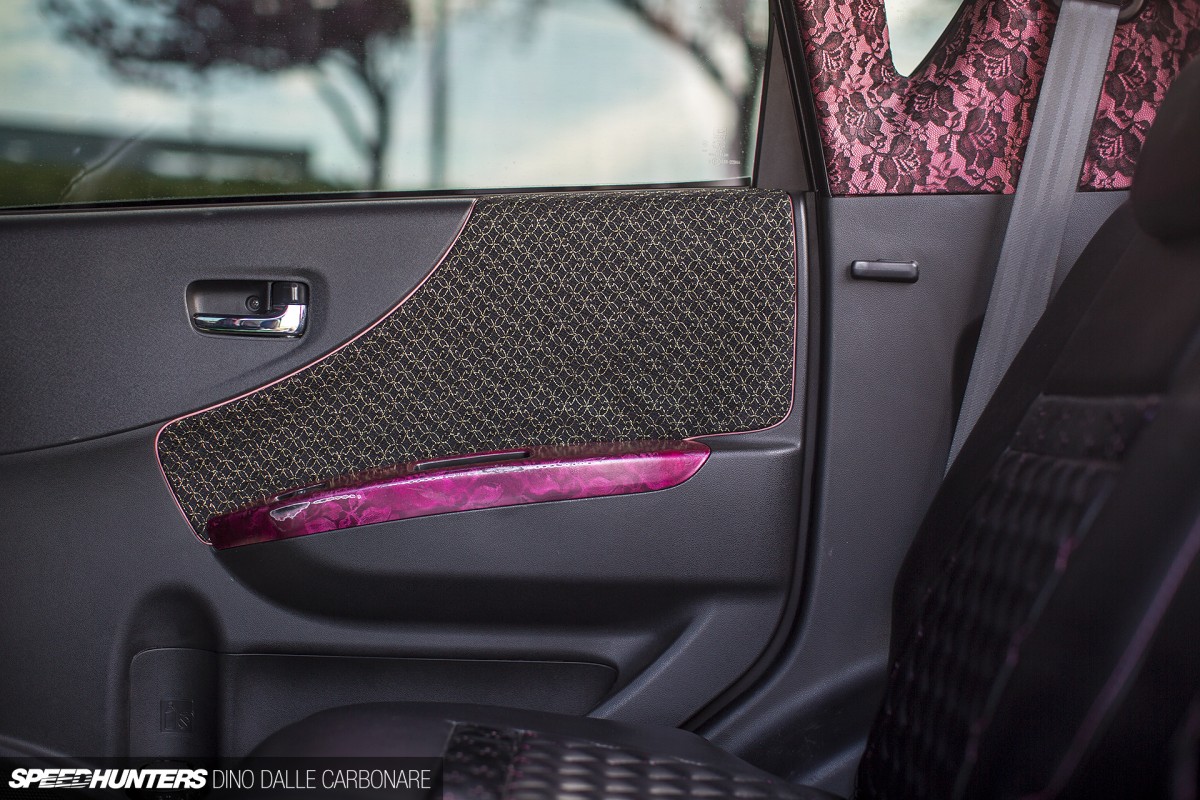 Rear seat occupants aren't spared custom details to enjoy either.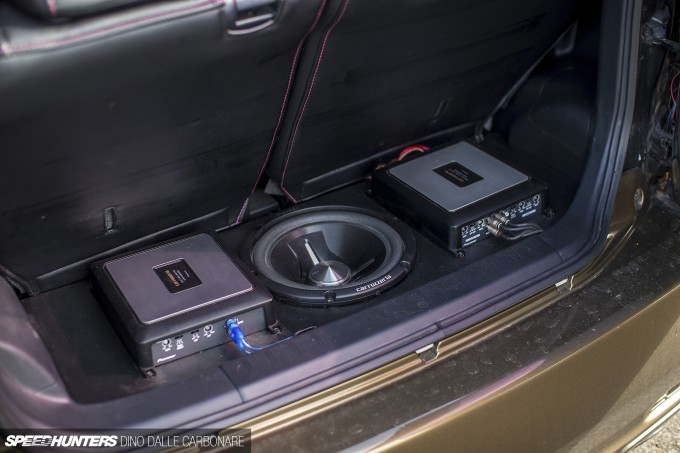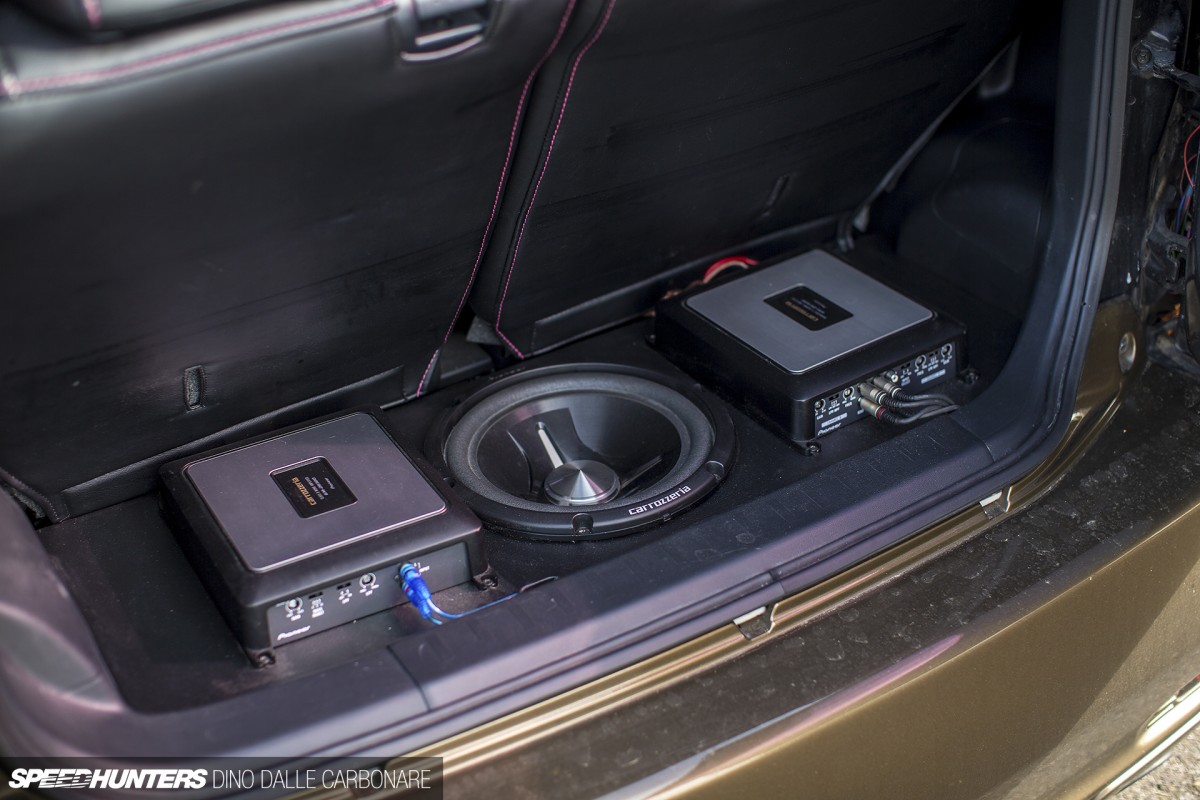 Trunk space was sacrificed to house the Pioneer Carozzeria amps and subwoofer that help bring the needed power to the system and truly turn the Move into a J-Pop concert hall on wheels.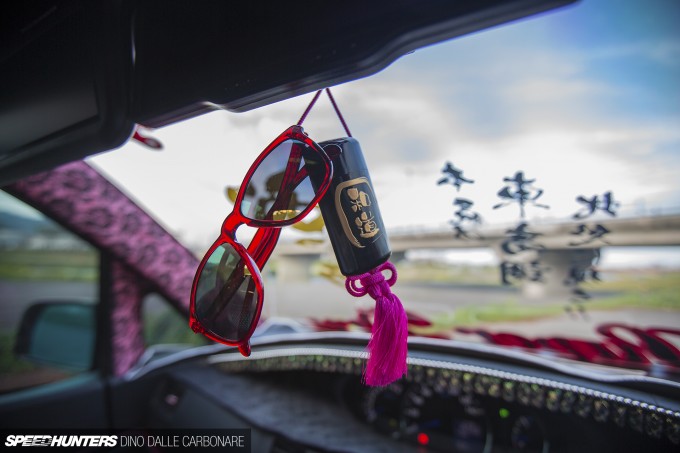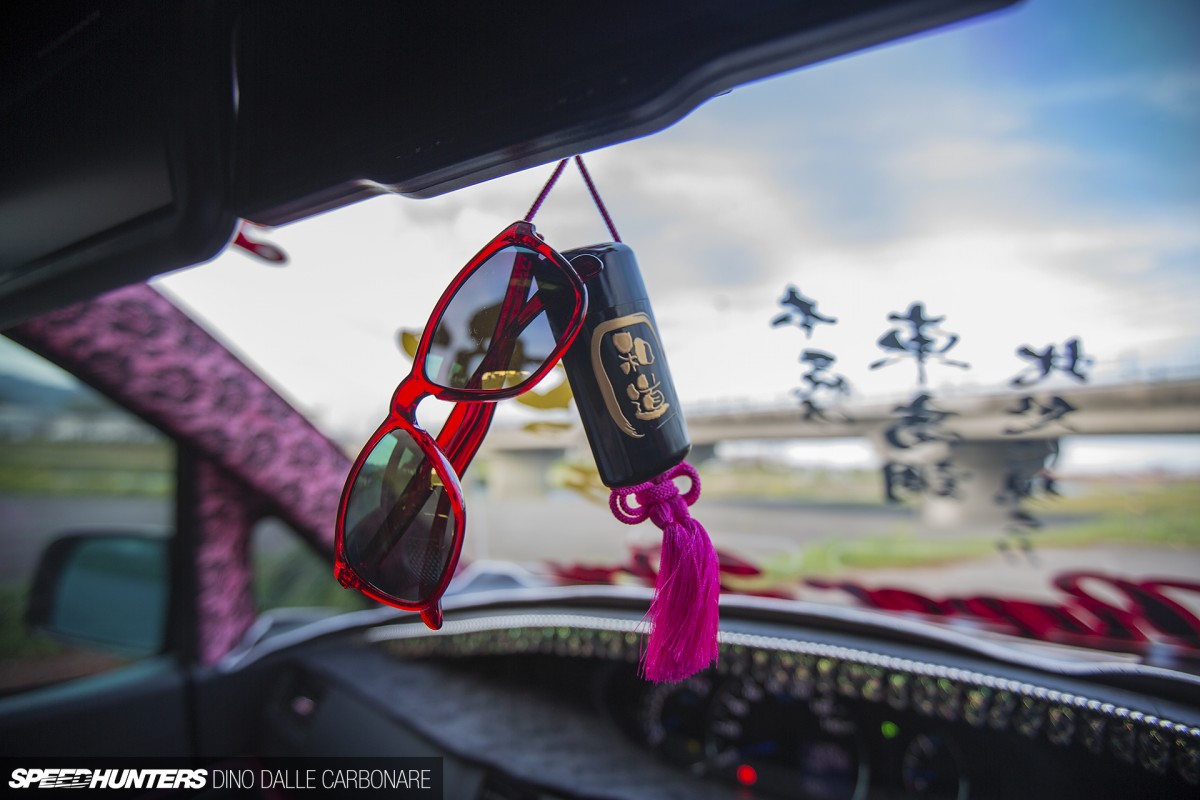 Who doesn't like a woman's touch, after all!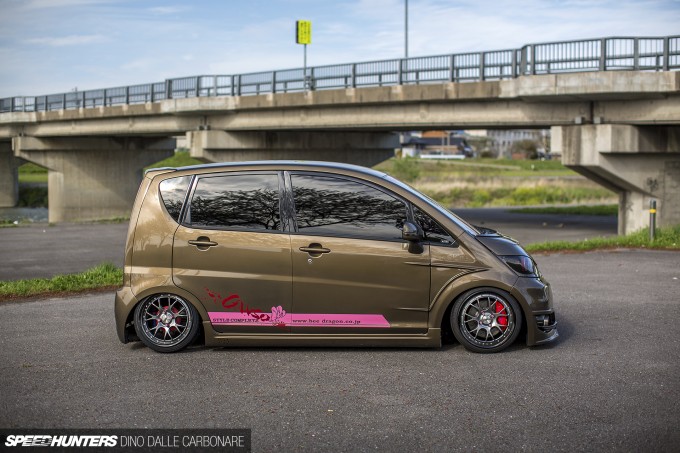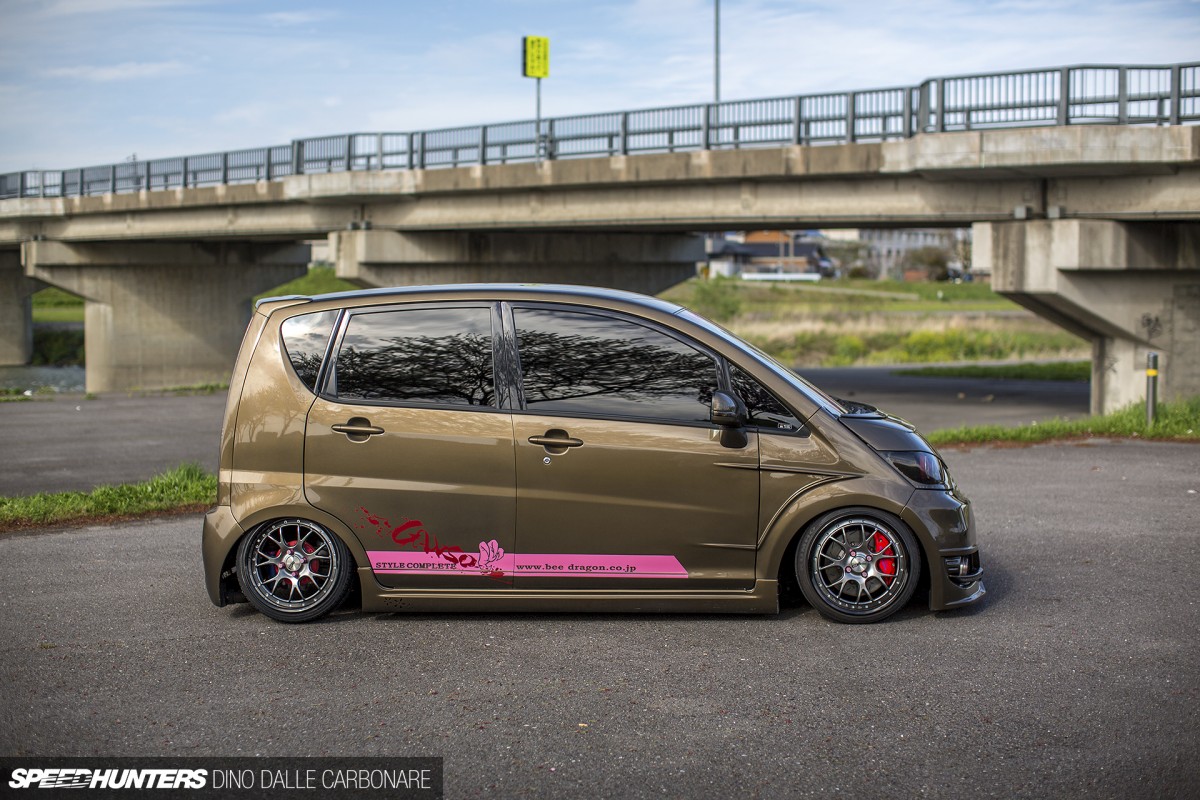 But tongue-in-cheek comments aside, you have to take these sort of VIP cars with a pinch of lightheartedness. They are built to have fun and the owners really make this a priority with their builds.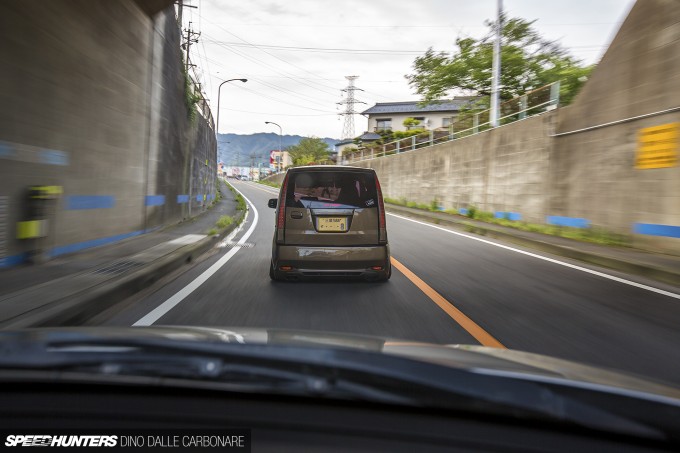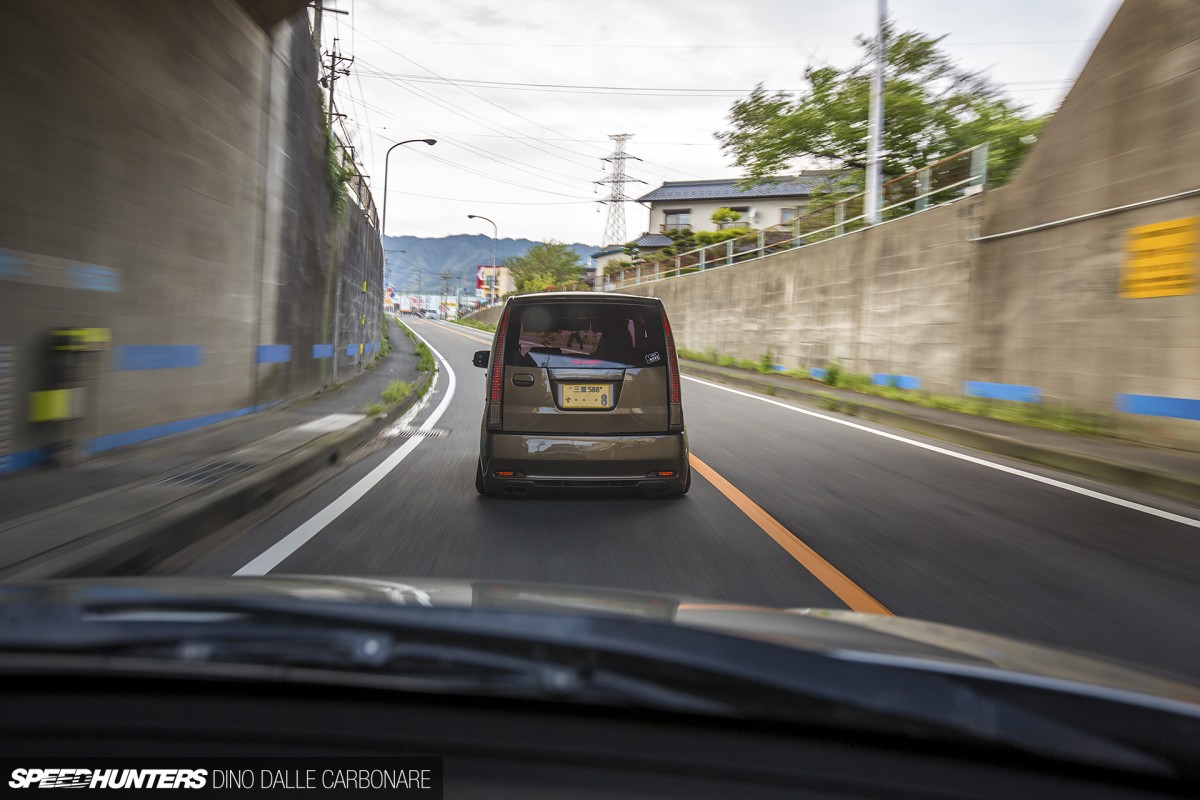 At the end of the day it's all about standing out in a crowd of similarly tuned and modified cars of every flavour imaginable. There is no debating that this Move doesn't do just that.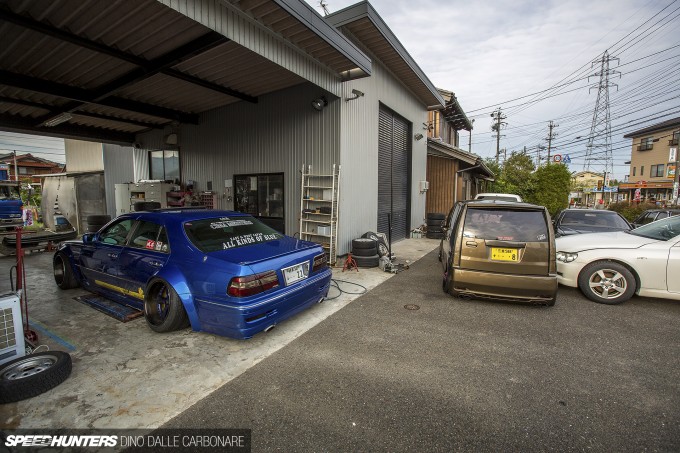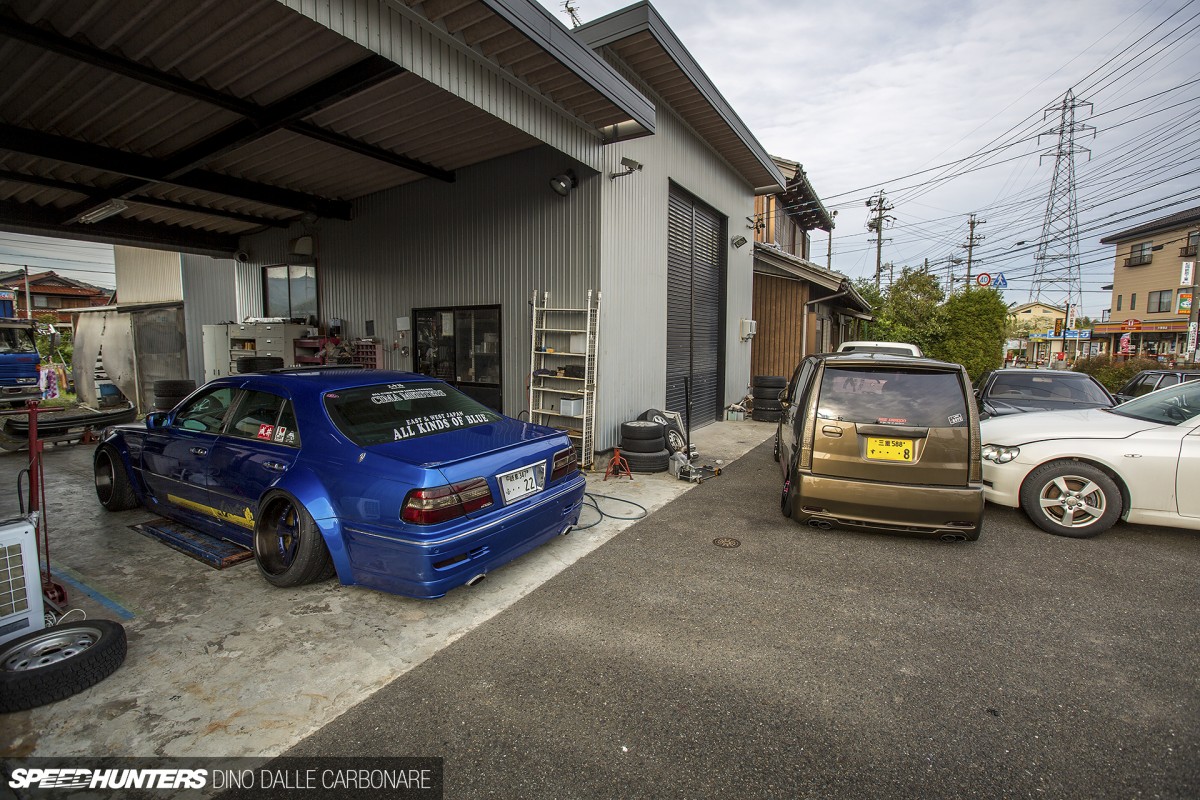 We headed back to the Bee Dragon HQ down the road and chatted with Imamura about what he's got planned next. Wilder and louder seems to be the order of the day and his blue Infiniti Q45 I featured a few years back will be going under the knife once again. The goal is to have it finished in time for the 2016 Tokyo Auto Salon and you can expect it to be far more extreme in every way possible.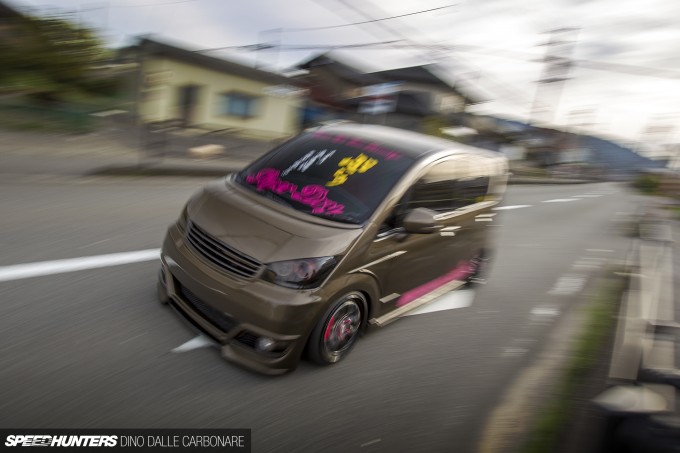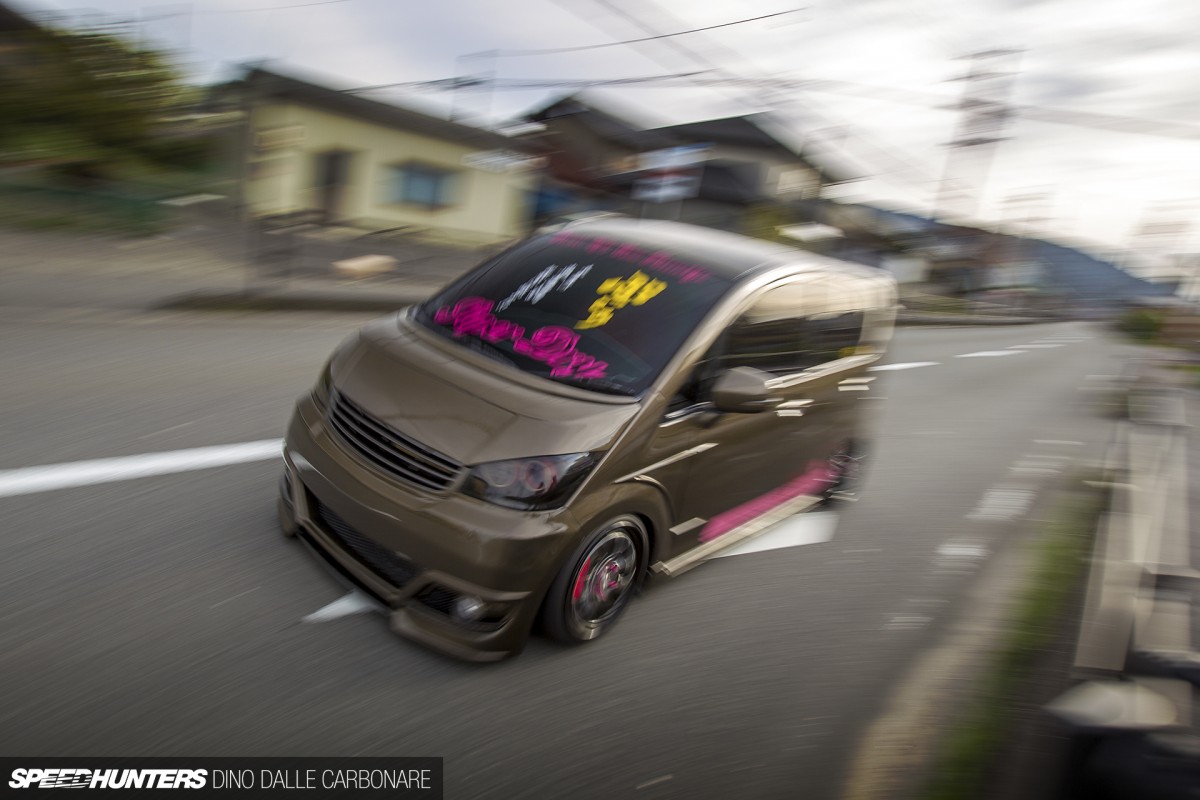 The Move will be going down the same road too. The second run of modifications will see it customised with wider and more pronounced fenders and a healthy dose of onikyan, or devil camber as it's translated. It's the Bee Dragon way!
Dino Dalle Carbonare
Instagram: speedhunters_dino
dino@speedhunters.com