And so the debate of form over function continues. I suggest that you don't bother reading on if your aren't prepared to expand your horizons, because we are diving very much head first into the realm of the VIP ride. And as you have probably gathered from the bright blue Q45 in these pictures, this isn't your ordinary type of VIP style either; this is bippu done the Bee Dragon way.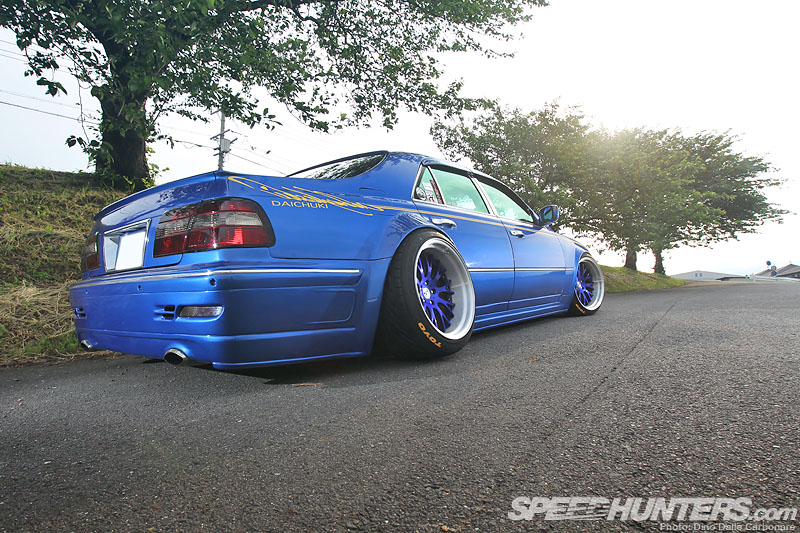 Ever since seeing two of their wild creations at the 2011 Tokyo Auto Salon I have been intrigued with Bee Dragon's take on the whole VIP scene, one of the quickest growing and evolving forms of Japanese car culture. We know VIP is all about the visual impact but what I was seeing was unlike anything I had come across, the cars dominated by massive fender flares that seemed to struggle to contain the aggressive offset and camber of the wheels. Slammed low to the ground they just looked so menacing and, well, so right. I kept going back throughout the weekend for additional looks and to grab more pictures.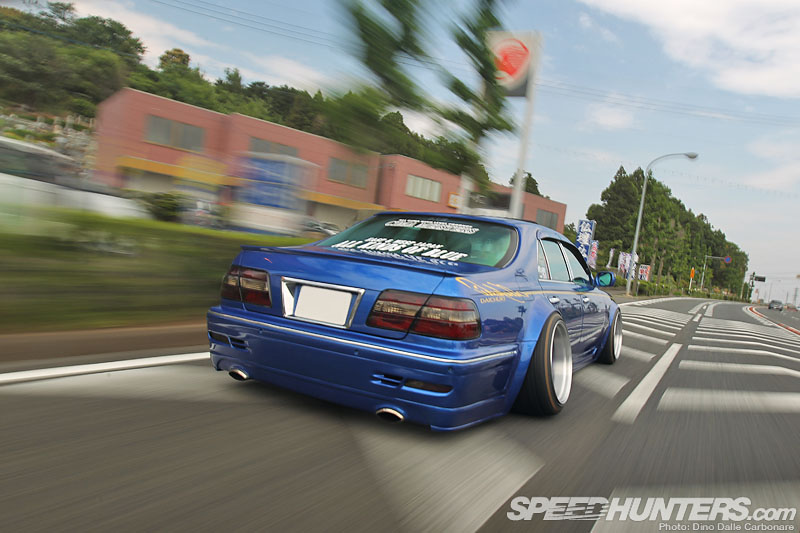 Fast forward 18 months and I'm sticking half of my body out of the passenger side window of a new F30 BMW 328i, attempting to take pictures of an impossibly loud Infiniti Q45 as it bounced and scraped along the countryside roads of Gifu-ken.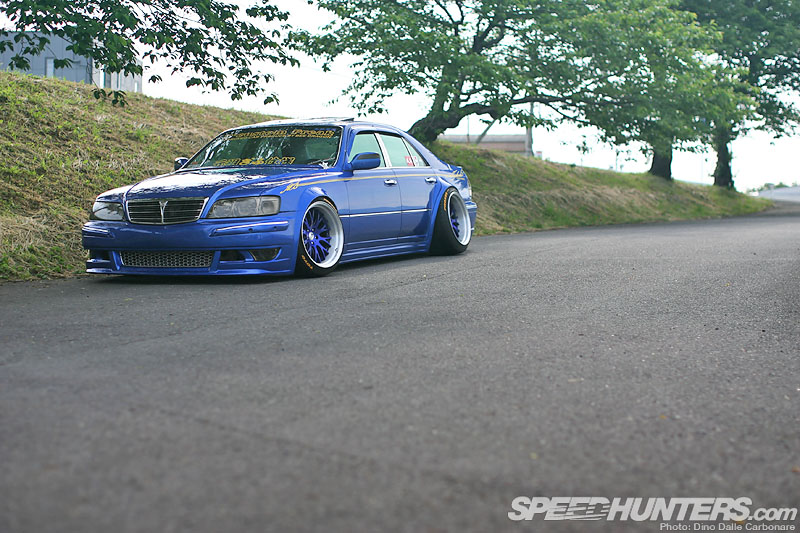 As Imamura-san of Bee Dragon tells us, VIP style has so many interpretations it has almost become hard to categorize all the different schools of thought it has branched off into. Sure, the original and almost, dare I say, sedate style that Taketomi-san at Junction Produce started remains one of the most popular, with sleek black sedans lowered onto silver or polished rims and sporting subtle aero modifications. Imamura goes on to explain that no matter what you end up doing with your particular sedan, the end result should always be a menacing looking car, one that attracts looks for its extreme style and of course sound. So I guess you can kind of understand where the whole onikyan thing has come from.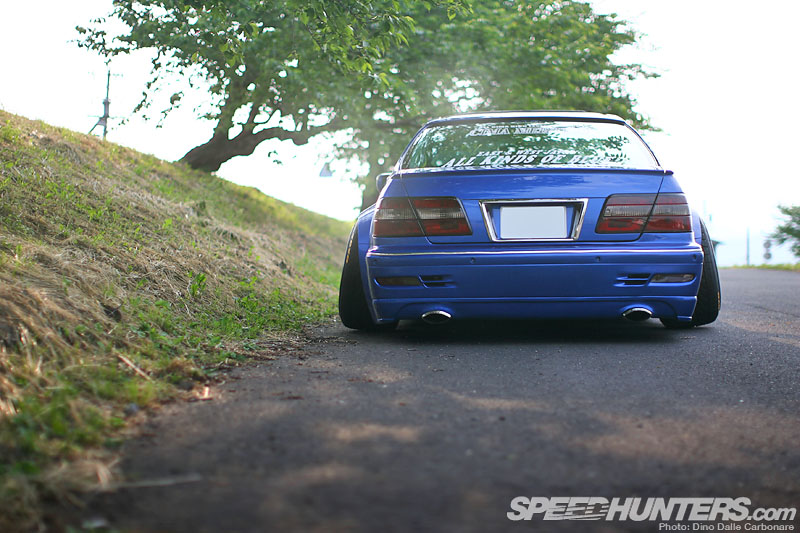 Initially, negative camber was an unavoidable and at times unwanted result of lowering a car so drastically, until one day someone somewhere wondered, hey, what if we go a little more extreme. This particular style has split away into its own tangent with some people taking it to the very limits of practicality, with some running up to -30 degrees for that UFO look. Imamura however has incorporated the aggressive "demon camber" into his cars combining it with his unique sports-oriented feel of the car. Back last year when I first dropped by the Bee Dragon shop Imamura was busy at work fabricating the Q45's front and rear fenders…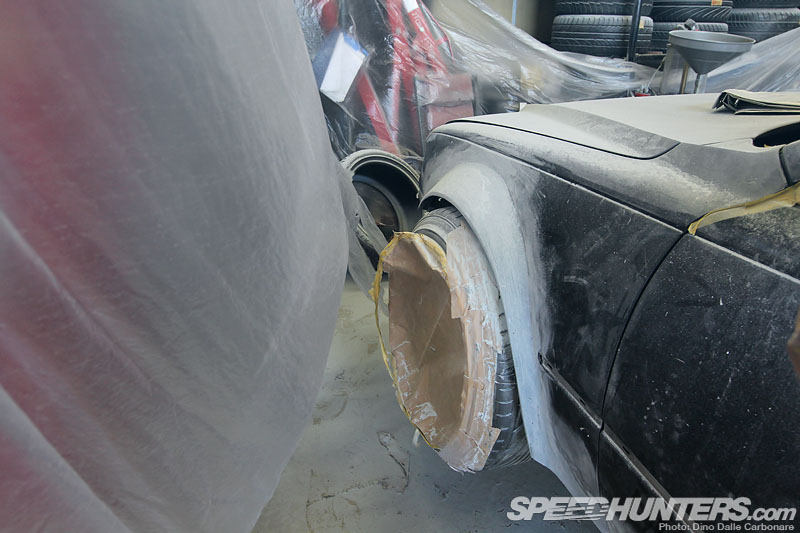 …all done with metal, where a shaped fender extension is welded onto the body panel and then smoothed over before being shaped and refined with putty.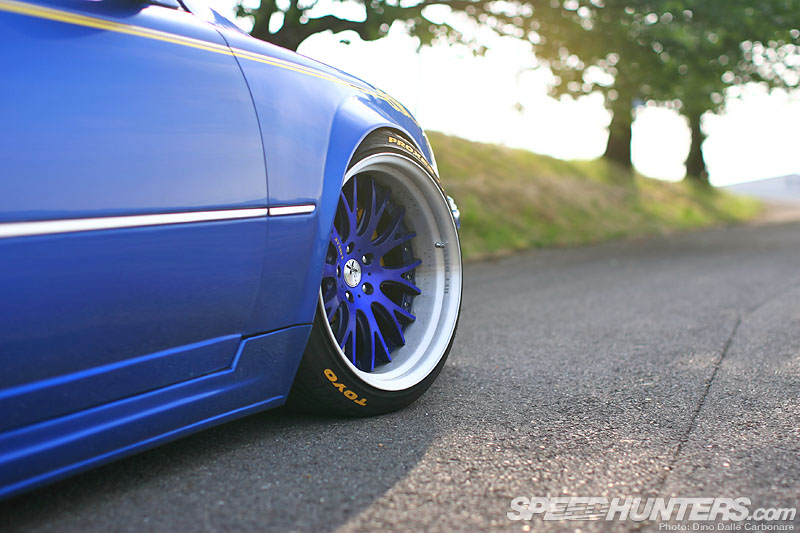 The result is stunning, a flowing and beautifully created blistering that wraps around the stretched tires creating that shorudazuri look, meaning the fender is flush with the shoulder of the tire.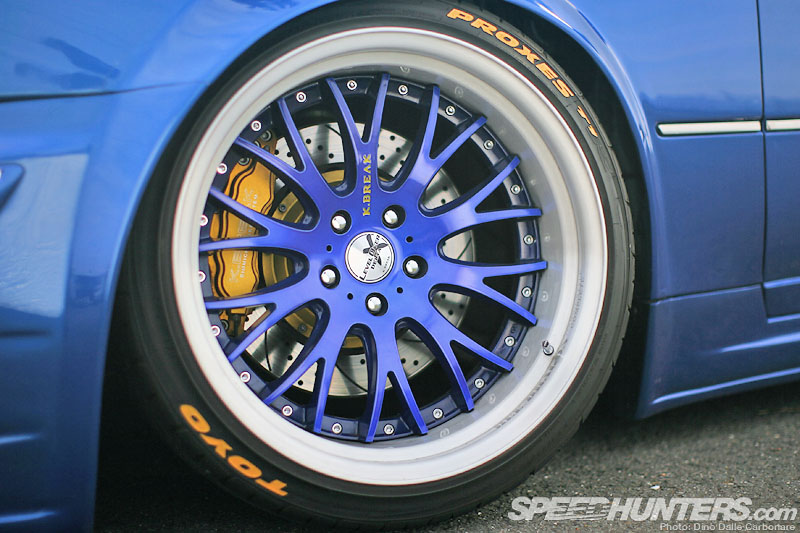 The Q45 runs custom painted 19-inch K-Break Level Over Delta split rims, sporting a +3 offset boosted by a 25 mm spacer. 225/40ZR19 Toyo Proxes are stretched over the 10J wide rim. The car sits on a set of K-Break Kai adjustable dampers and runs custom modified lower arms to obtain the desired level of negative camber. K-Break also supplied the brake upgrade, made up of 6-pot front calipers and 2-piece slotted and drilled discs with a similar set up at the rear running slightly smaller 4-pot calipers.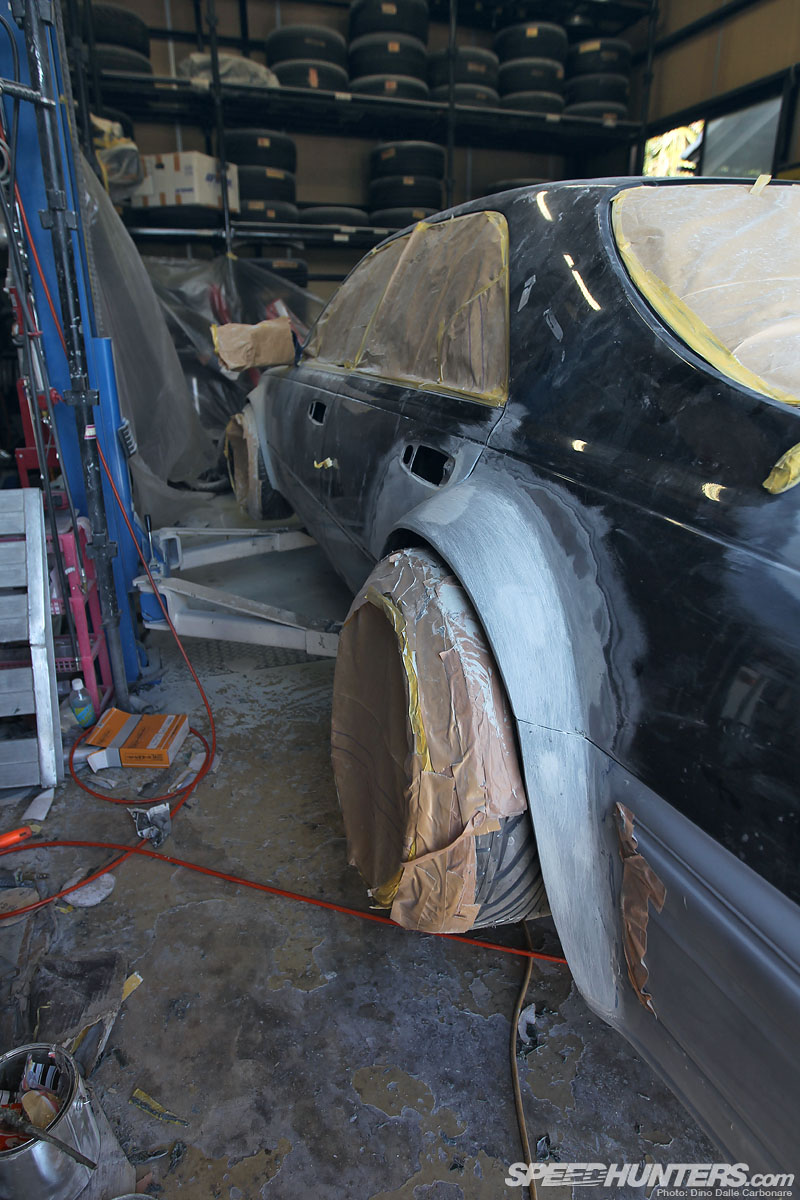 Of course it's the rear where the widening has really been exaggerated. Again it's all done in steel, meticulously shaped and smoothed over…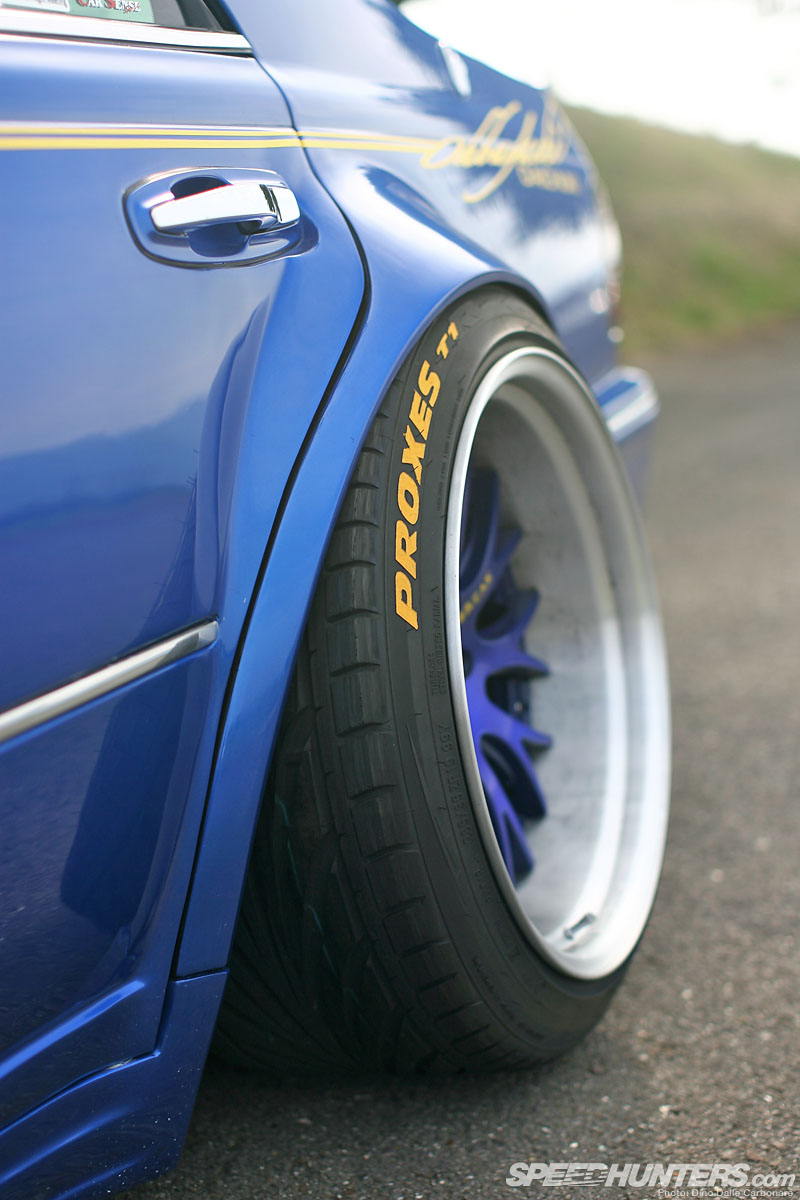 …prior to being painted.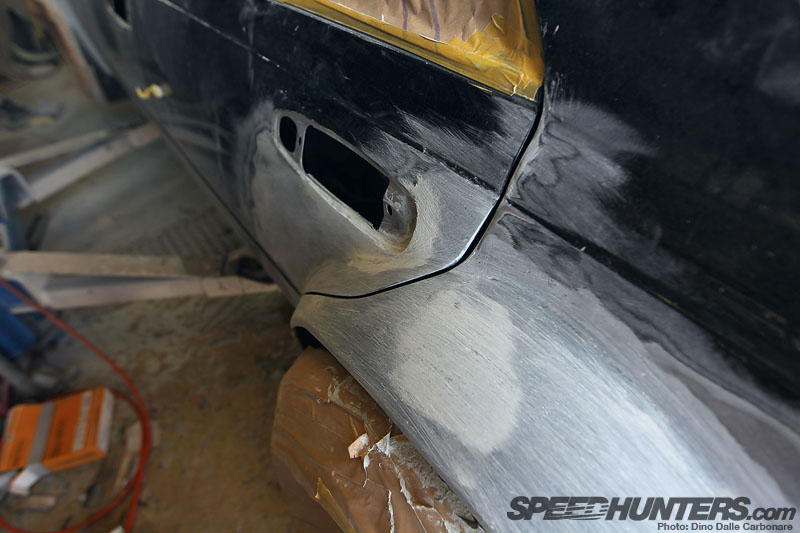 What one may overlook is the attention to detail, as the widening is taken into the rear door itself, requiring a lot of work around the panel gap/shut area.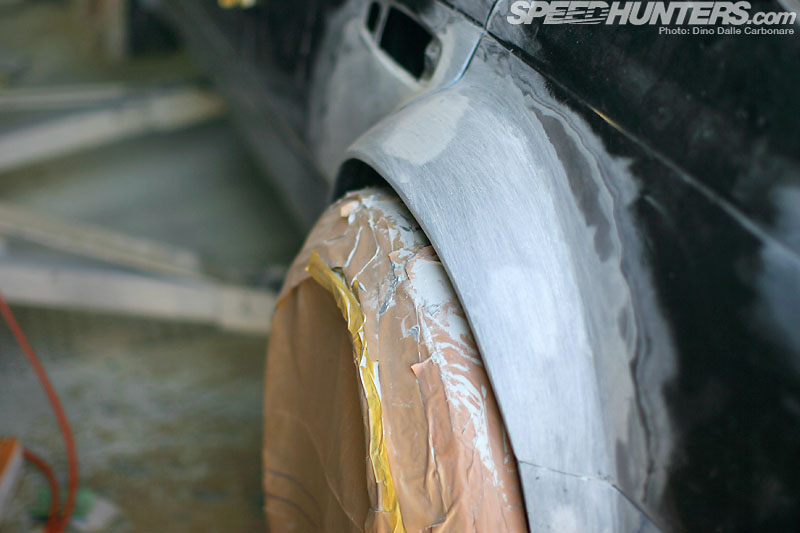 Imamura does all the work with the wheels fitted so that he is always aware of how the fender will sit and can fine tune as he goes.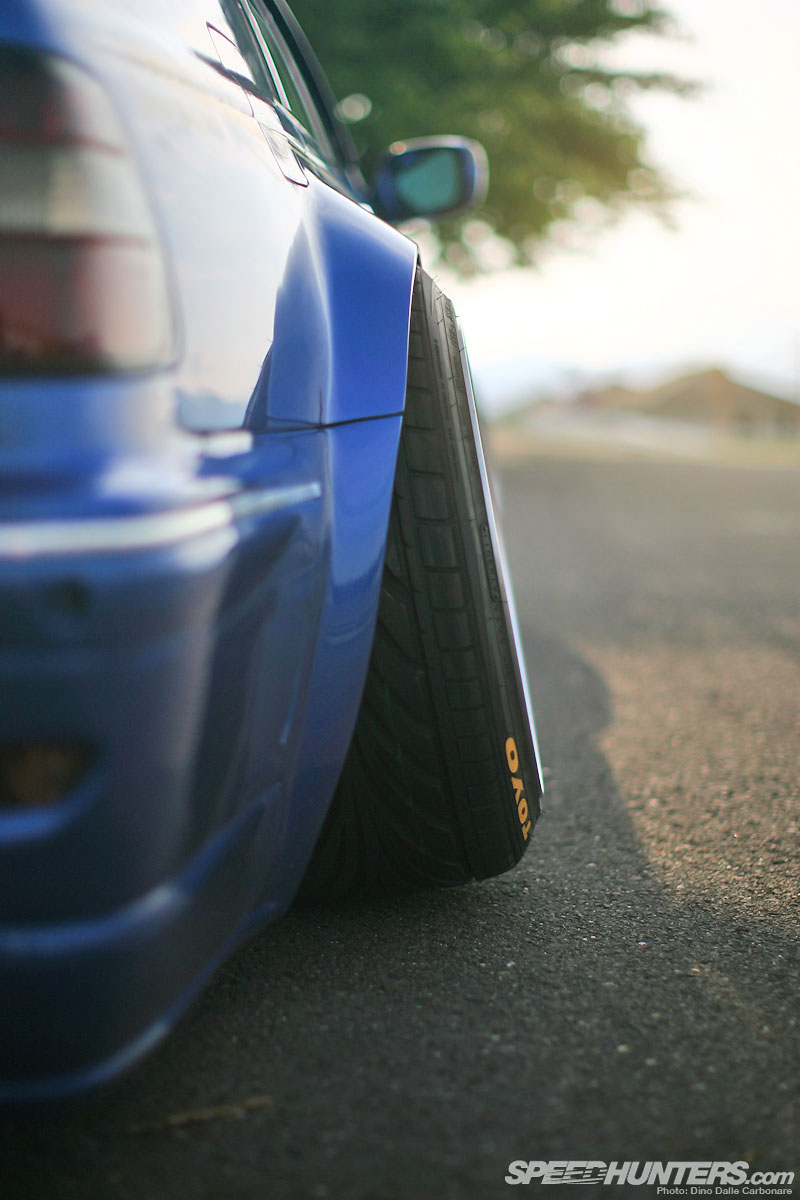 Shorudazuri perfection. The rear K-Break wheels measure 12.5-inches across and are fitted with 285/35ZR19 rubber. The "zero" offset is boosted by an 80 mm hub extender and like the front, extended lower arms give the required amount of negative camber.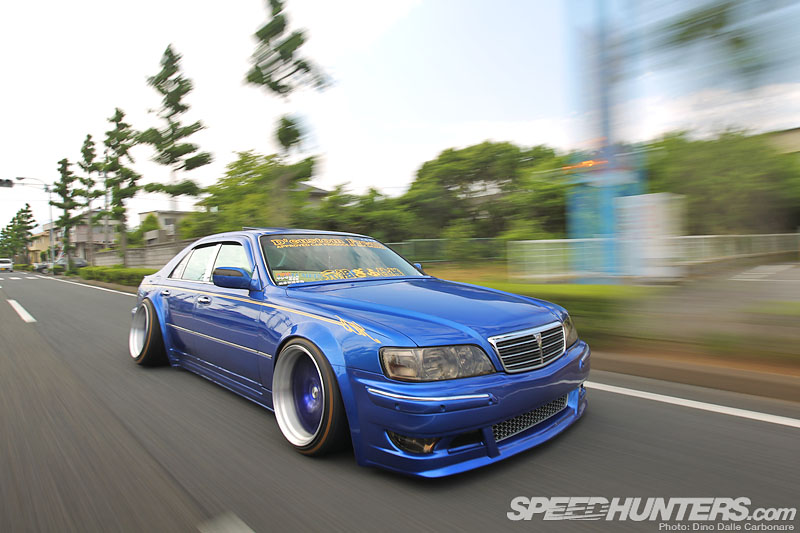 Out on the street this thing is wild! Imamura has to slalom through the smallest imperfections, manhole covers, potholes and anything that the car might scrape on. It's quite the experience following this thing around, the unsilenced V8 rumble coming from the custom exhausts serving as a sort of warning to other users to get the hell out of the way.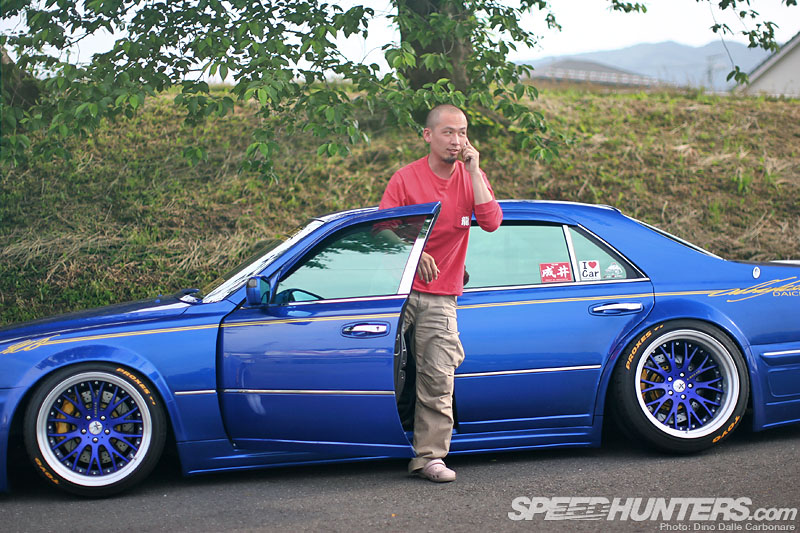 While the origins of the whole bippu style have obvious links to organized crime, these days VIP has pretty much began its move into the mainstream side of things, becoming a large part of the huge car culture that exists in the country. Imamura, seen here getting out of the Q45, has helped get more people interested in these sorts of cars by making it all more accessible and explorable. Before, the negative connotations the style may have had, may have stopped some, but now it's becoming a fashionable way to make your big sedan stand out.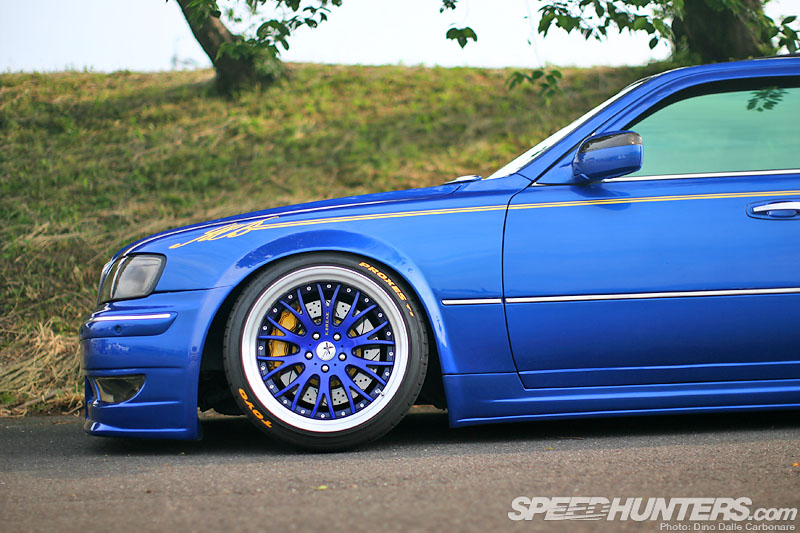 A full custom Bee Dragon aero kit spices up the lines of the Q45 (initially I thought it was a Y33 Cima, the tinted glass making it hard to see what side the steering wheel was on!)…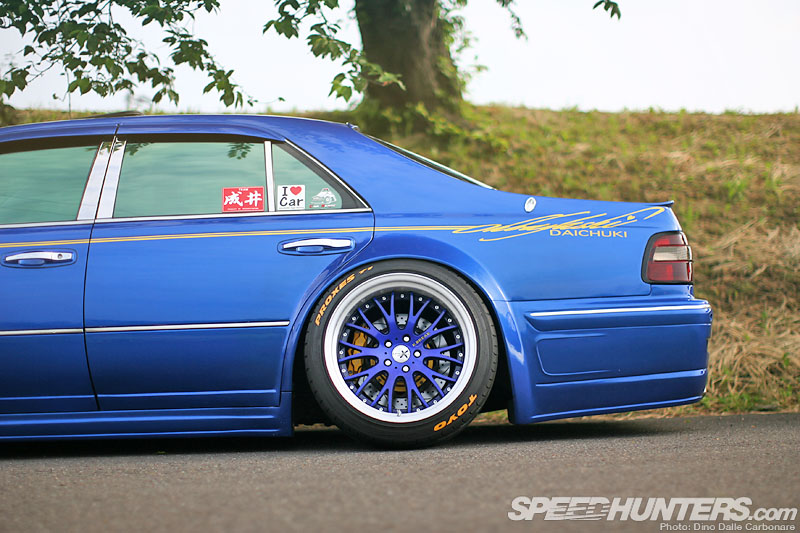 …which includes front and rear bumpers as well as skirts that help make the body of the car sit even lower.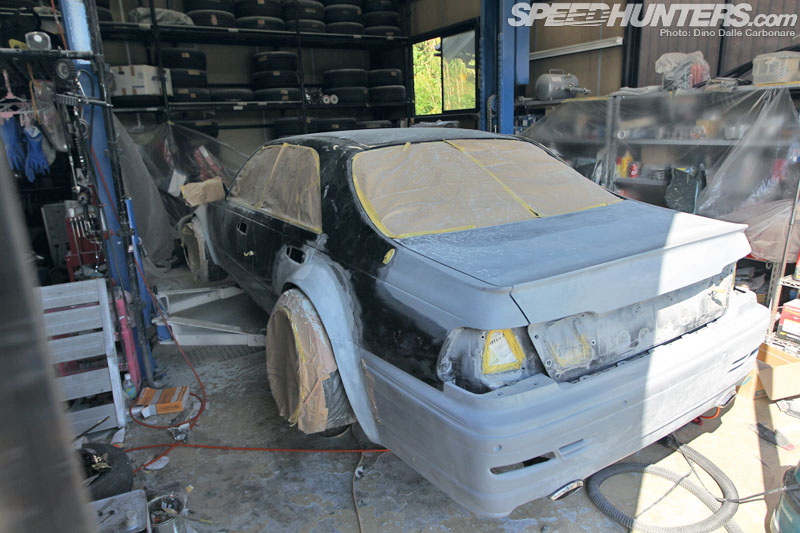 Attention to detail is the key to any VIP car, and the more custom work you do the better as you get far more kudos from those in the scene. That's why Imamura went all the way to the trouble of incorporating an integrated trunk lip spoiler…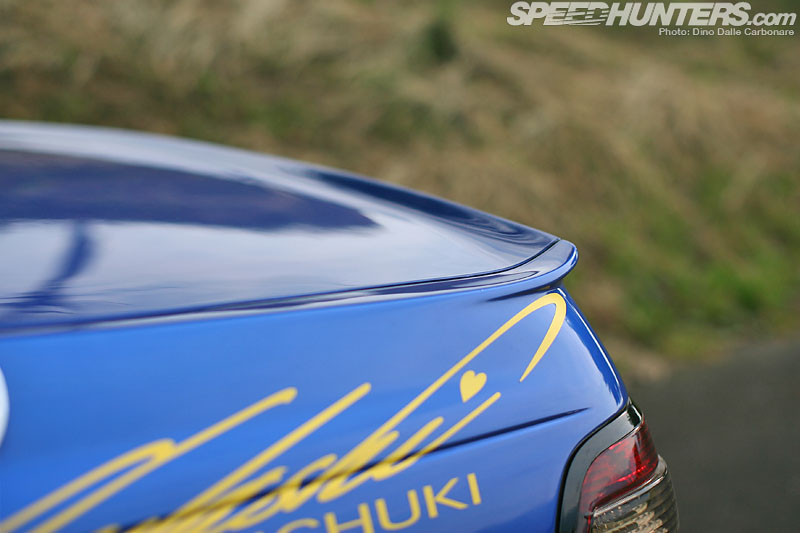 …that seamlessly fades away into the rear fender sections. And like the fenders it's all done in steel.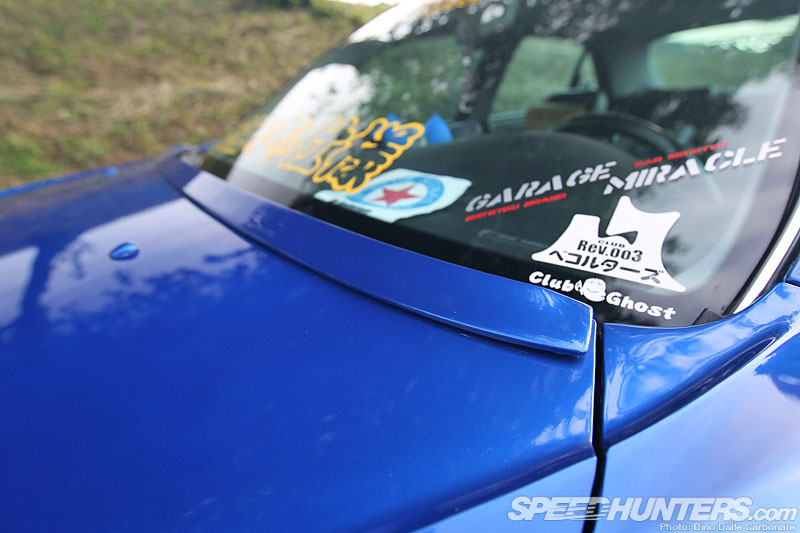 Even the lateral profiles of the hood have been extended upwards to form bigger creases, joining other additions like the customized F50 Cima mirrors and the hood spoiler, a must on any VIP car.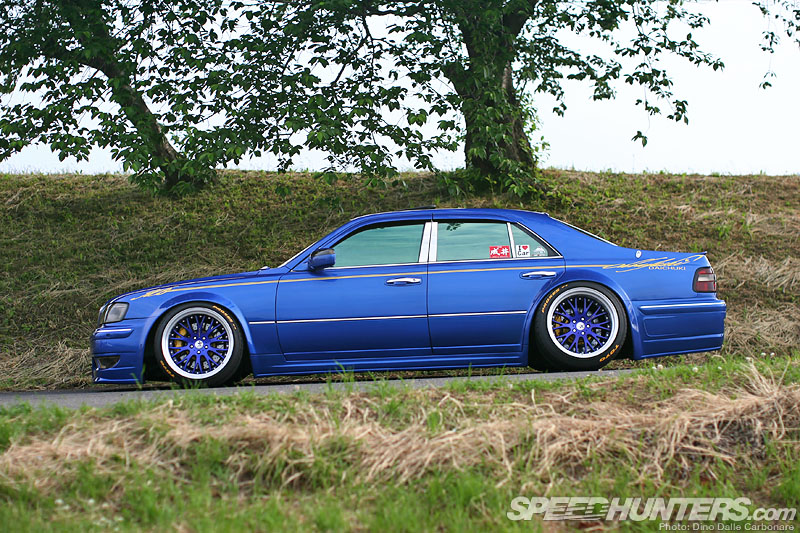 Custom head and taillights followed, incorporating complex and modern reflectors for the front and LEDs for the rears. The car was then painted in Dragon-blue, a custom mix of metallic blue that Imamura mixed up for this project.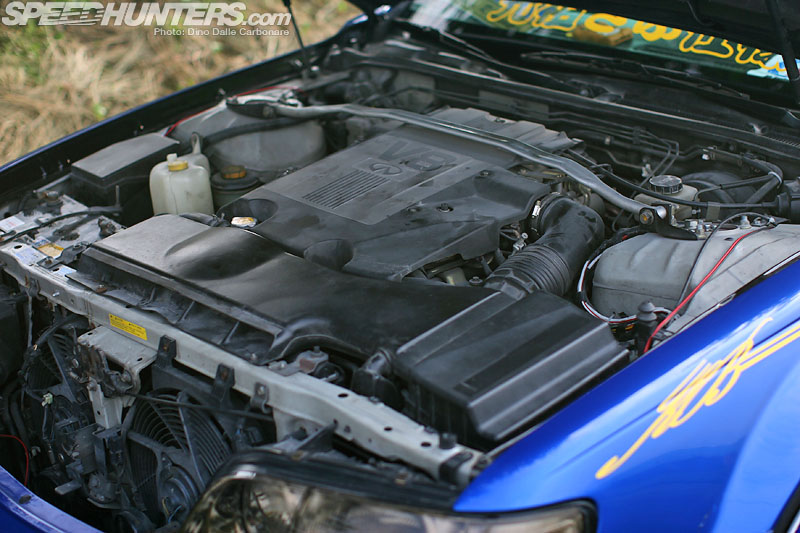 There isn't anything to see under the hood, like most bippu rides the engine has been left stock, the 266 HP VH41 4.1L V8 joined only by a straight through exhaust system…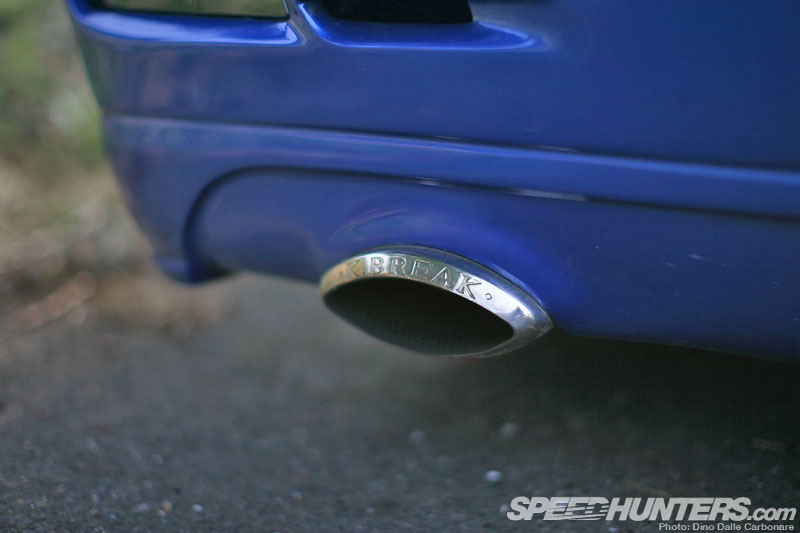 …doing away with any type of silencing and ending with a pair of K-Break oval tips.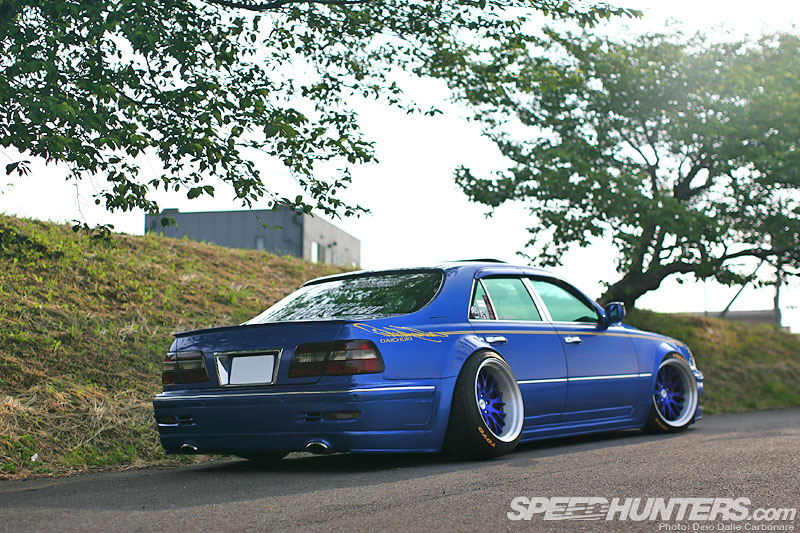 The goal of making the Q45 stand out and attract curious glances from passers by is very much a success, especially when viewed from this angle.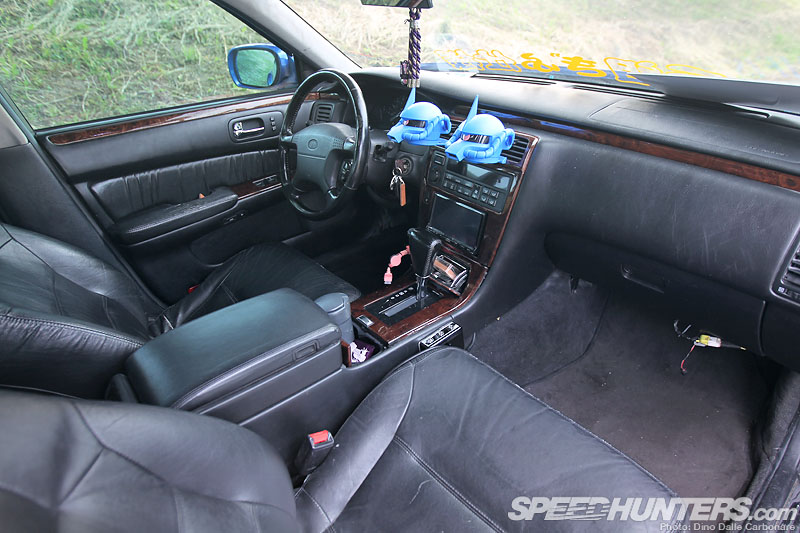 Imamura has kept the interior stock, enjoying the comfortable stock leather seats and only adding a fusa to the rearview mirror…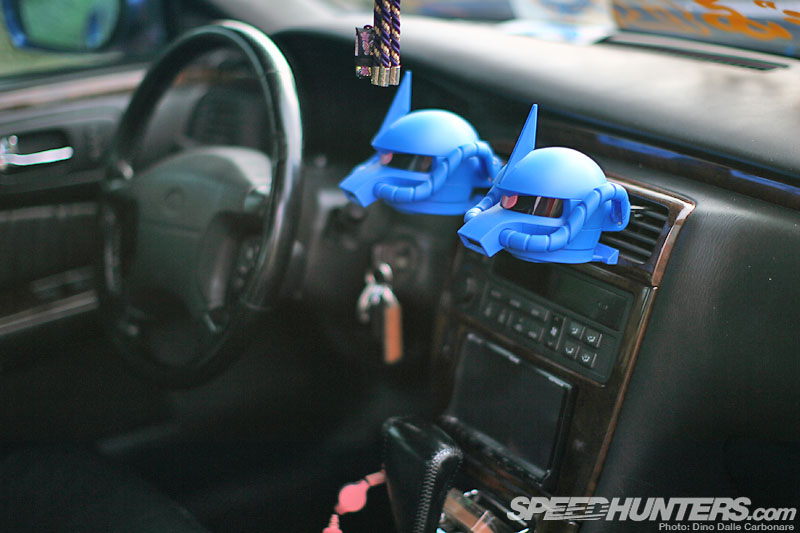 …and a pair of Gouf Gundam cup holders that help keep his canned coffee nice and cool in the summer and warm in the winter. Imamura is a diehard fan of anything to do with Gundam, attributing his influences and style to the popular Japanese anime.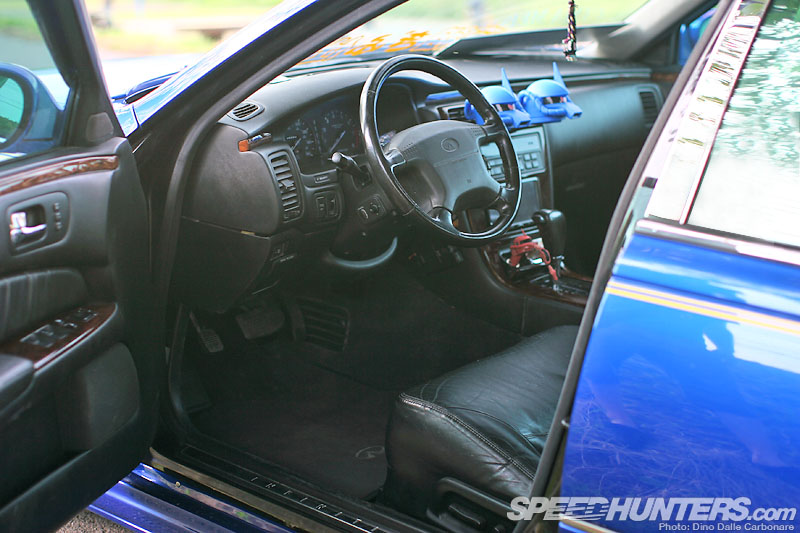 If you look close enough he also has a pink Gundam charger for his mobile phone!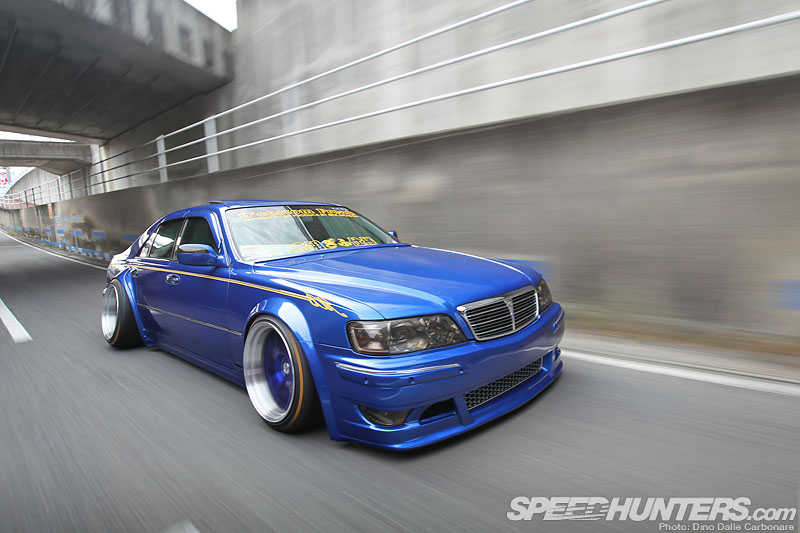 The sporty twist that Imamura gives his cars has done quite a lot for the scene, not to mention gain further international attention from those wanting to know more about these strange cars from Japan. And trust me, no matter how set you may be in your "function over form" state of mind, something I strongly believe in myself, when you are confronted with something like this Q45 you just can't help but throw down your guard and appreciate it. VIP is just as important as time attack and drifting; it's a defining factor of the vastness that is Japanese car culture and as Speedhunters we should always bow down and take our hats off to the crazy guys that devote their lives to it.
You can expect to see a few more crazy bippu rides from Bee Dragon in the next few months. In the meantime scroll down and embrace the way of the VIP and download some desktops!
-Dino Dalle Carbonare