The Motherland
I've got a confession to make – I'm kind of burnt out on drifting. Or at least I was burnt out on drifting…
That was until I spent a day recently hanging out at Fuji Speedway Drift Park with some of Japan's coolest amateur drifters and their badass machines.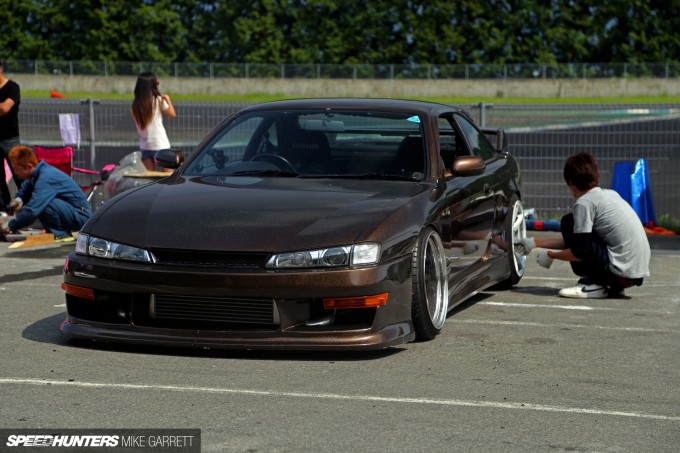 I'm not sure whether it's because my tastes have changed or I'm just getting old, but it's been a long time since I've covered a drift event here on Speedhunters.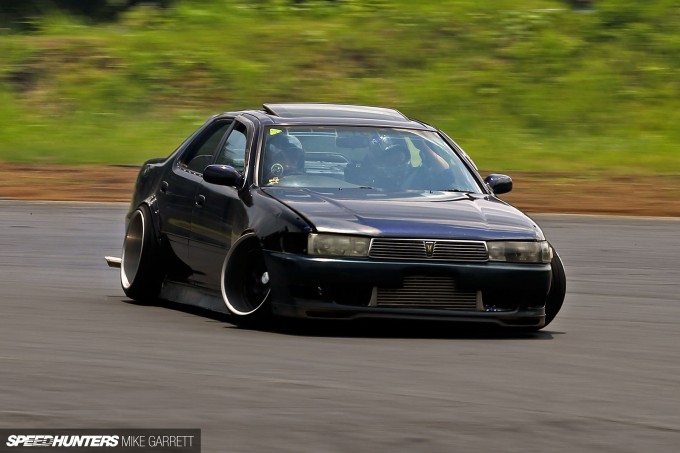 It's not that I dislike drifting, but for any number of reasons I just haven't felt as excited about it as I did in the past. Well, it turns out I just needed to step back to the roots. You know, that place where it's more about fun and style rather than championship points, wowing sponsors and reaching massive audiences.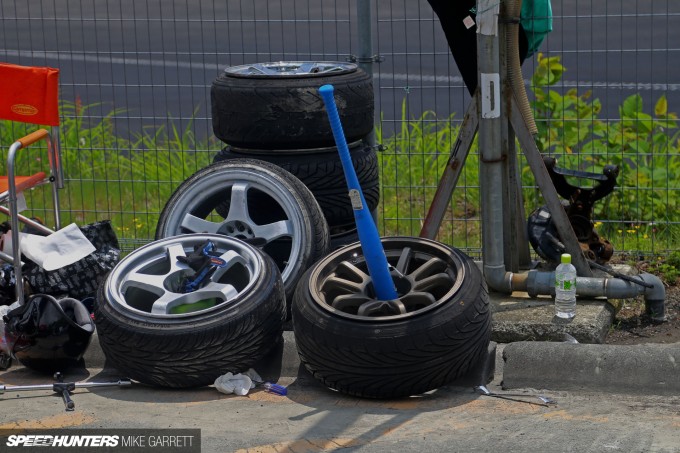 And what better place to reignite the spark than in here Japan where all this crazy stuff originated. After spending the day shooting the action on the track and surveying the bitchin' vehicles in the paddock, I was taken back to a decade ago when I used to spend hours at a time watching Option and Drift Tengoku videos with my friends.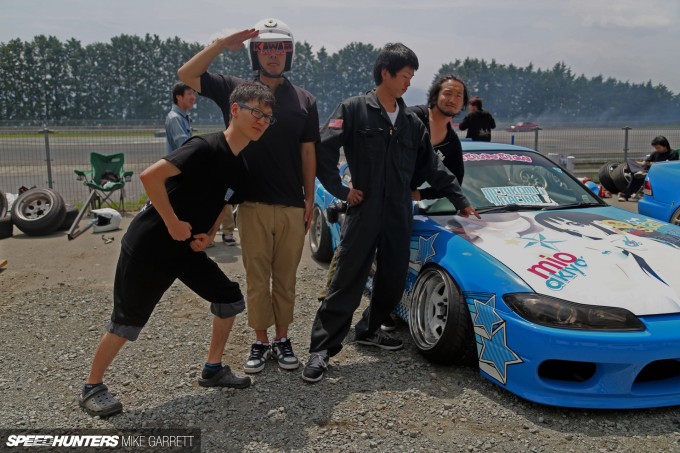 All it took was a few minutes to be reminded of the good old days and those things that got me hooked on drifting in the first place. Namely the cool cars, aggressive driving and a relaxed, fun-loving spirit.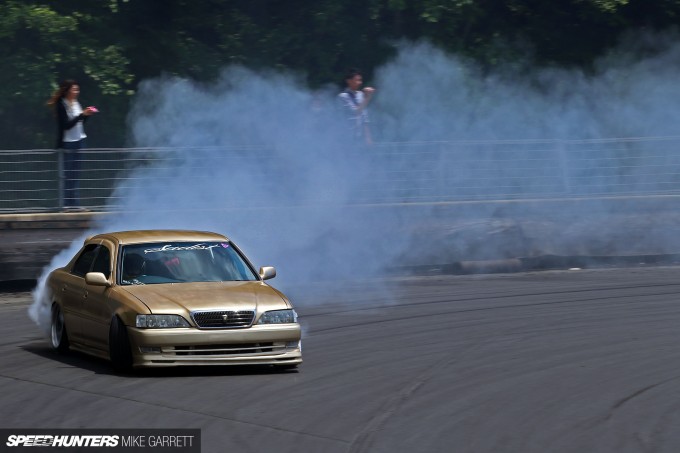 It helps that this wasn't just a regular practice session, but a much talked about meet hosted by Sera Wheel & Tire which gathered some of craziest and most stylish drift cars from the Kanto region and beyond.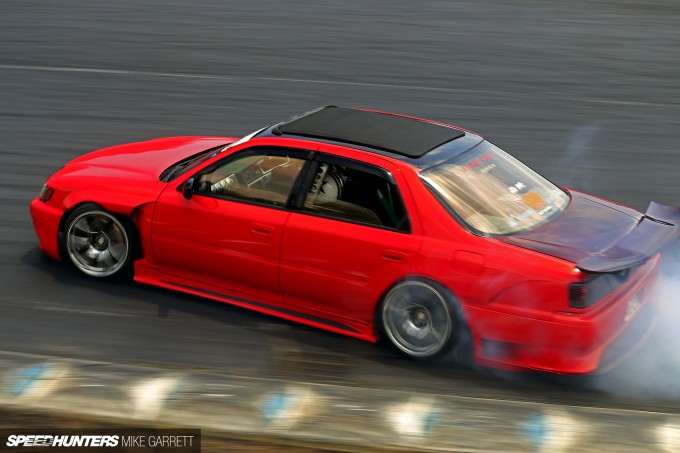 From a driver's standpoint, drifting is fun no matter the car you are in. But from a spectator's – and more importantly, a photographer's standpoint – the cooler the cars the look the better it is. Fortunately for us, this gathering had as many cool-looking drift cars as I've ever seen in one place.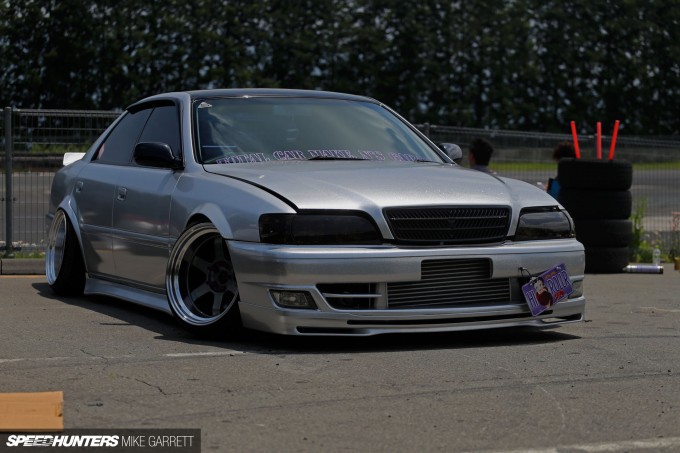 There were Silivas with shakotan ride height and sparkly paint, tough sedans and screaming AE86s. There was even a Honda Civic, but I'll save that one for another story…
Style Points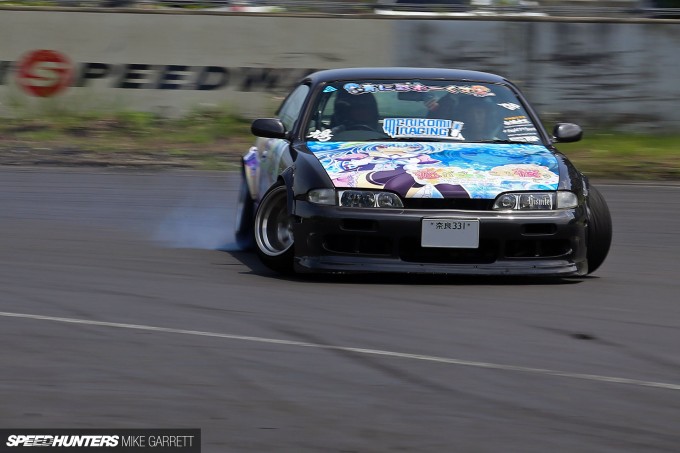 Japan's Itasha movement is showing no signs of stopping, and lately the style has been making its way over to drift cars. This slammed S14 belongs to Naotaka Yoshikawa who drove all the way from Nara Prefecture to get in on the fun. You might also recognize this car from my Wekfest Japan parking lot coverage.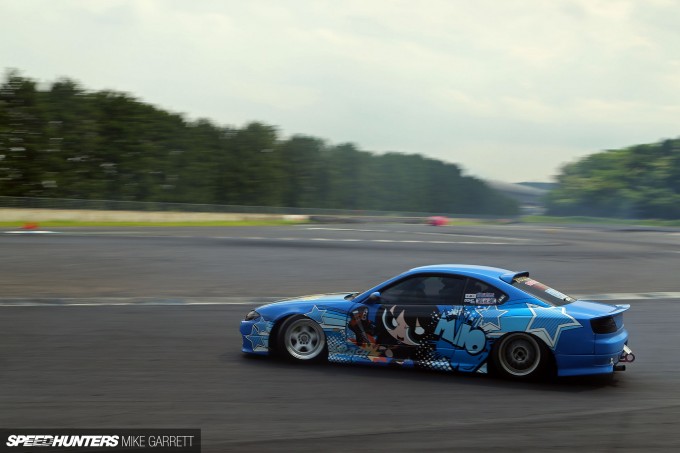 Yoshikawa-san was joined by his buddy who has an S15 Silvia with a similar anime scheme and equally low ride height. It's also cool how both cars are rolling on 15-inch wheels.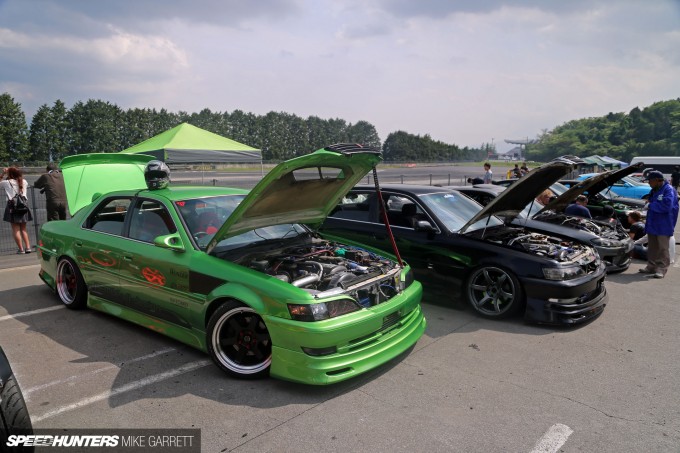 While there were no shortage of Silvias and 180SXs to see at the event, the big story for me were the sedans. If you fancy a mean-looking Toyota JZX90, JZX100 or JZX110, this was the place to be.
Mark II, Chaser, Cresta and even Verossa – they were all accounted for. And better yet, all of them were rocking that gangster street style that Japan does so well.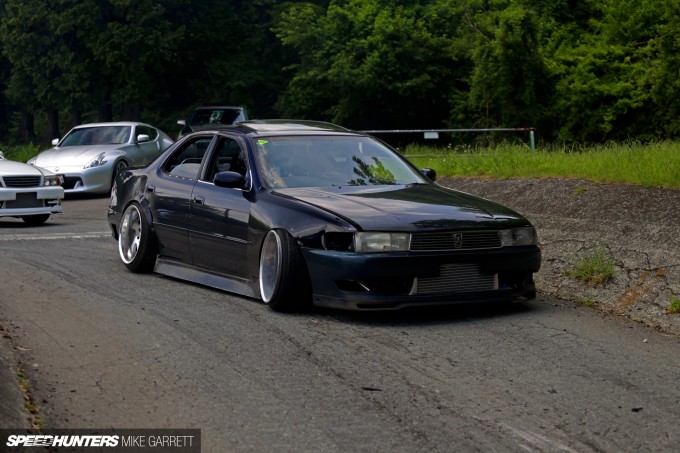 We're talking cars with dumped suspension, radical camber, radiused fenders and plenty of custom bodywork. Machines spitting the kind of style that'll put many dedicated show cars to shame.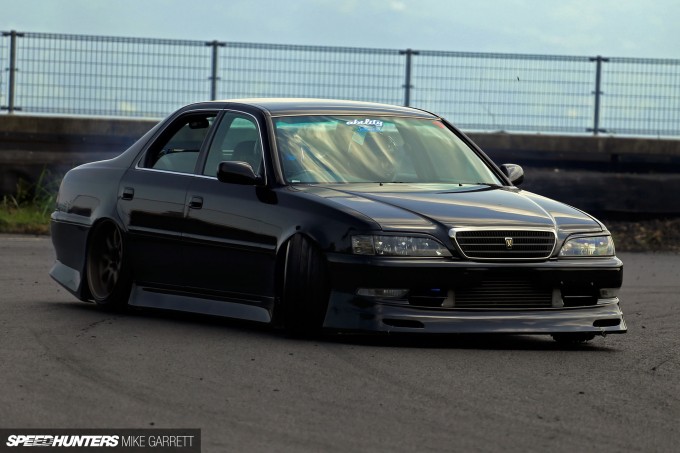 Only these things aren't show cars – they're the polar opposite. In typical Japanese fashion, the drivers were out there throwing around their turbocharged sedans with reckless abandon and nary a worry about damaging low-hanging bodywork or dropping the back end through the dirt.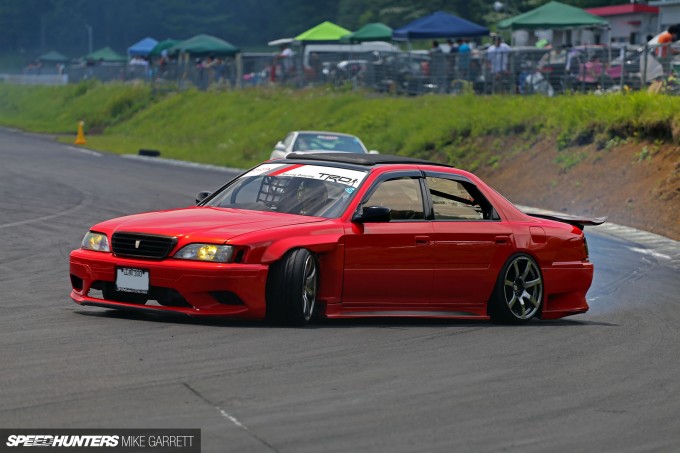 One especially radical JZX100 that you might recognize is this heavily customized Cresta. It's the 396 Motoring machine which I shot back in 2013, and here it is rocking a new paint scheme, new wheels and a few other changes.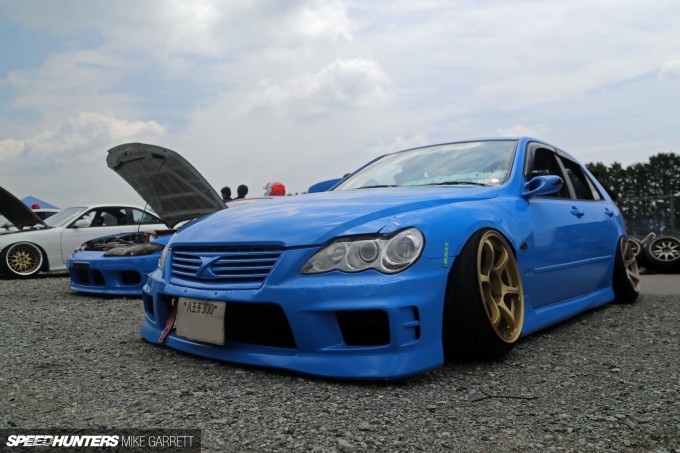 Also joining the four-door fun brigade was this SXE10 Altezza – although it might not look much like an Altezza because the owner's treated the car to a full Mark X front end conversion. And don't worry about the pebble-scraping ride height or 'excessive' negative camber – this thing was out there sliding around with the best of them.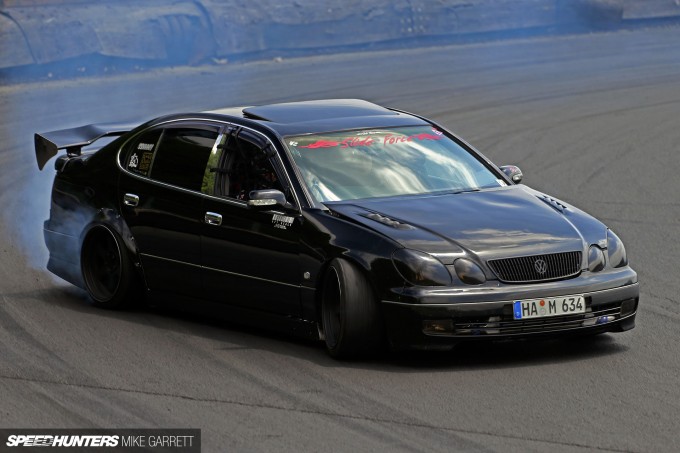 The JZS161 Aristo might still be known primarily as a VIP platform, but these 2JZ-powered sedans also make for awesome drift machines once you swap out the standard automatic transmission and add a bit (or a lot) of power. Hamakai's black monster machine was among the handful of Aristos attacking the course, although a fire in the afternoon ended his day prematurely.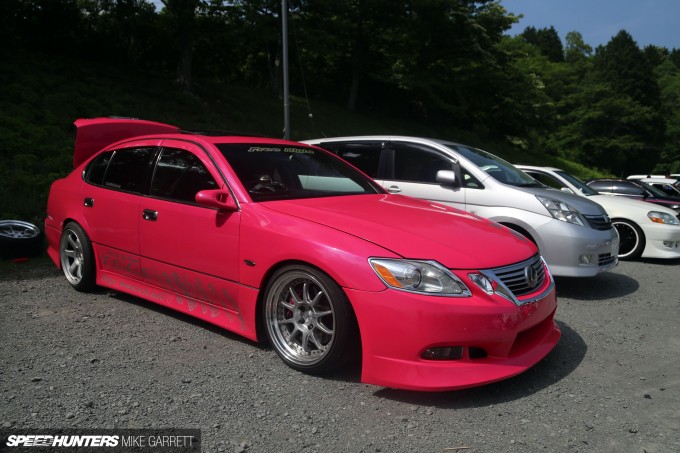 Looking for style? This pink JZS161 with a Lexus GS front conversion has plenty of it. It's another one of those show-quality machines that just happens to be built for going sideways.
Luxury Meets Drift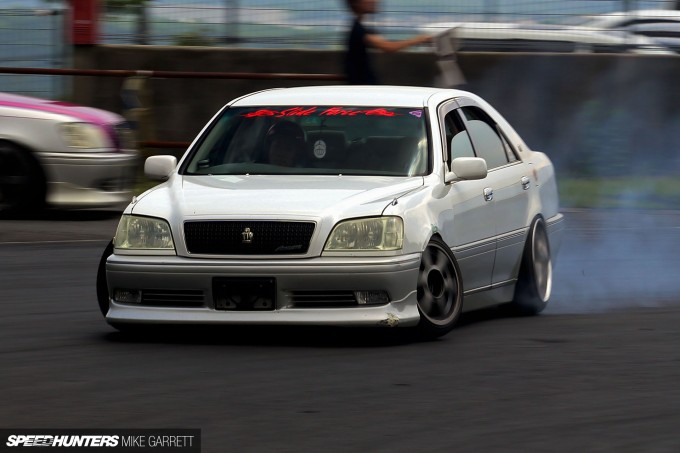 I've seen a handful of S170 Toyota Crown drift cars over the years, but this event was packed with them. They may have been designed with comfortable and mature motoring in mind, but with a long wheelbase and factory 1JZ-GTE turbo straight-six specification in the Athlete V model, they also make for great drift machines.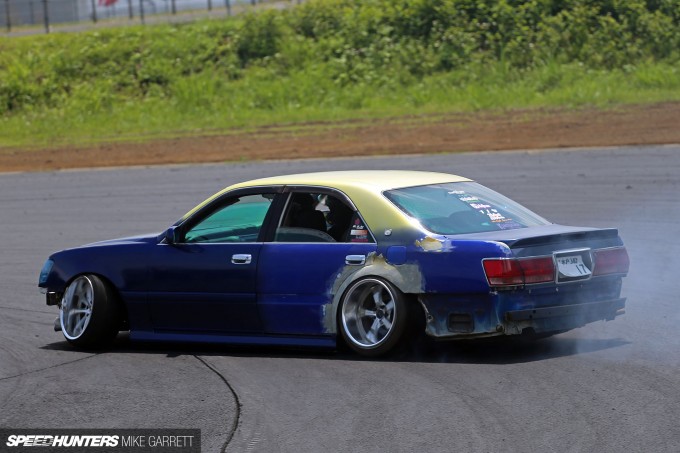 VIP cars are sweet, but what's even better are VIP-styled cars that can do stuff like this. It's hard to tell if this S170 from Ibaraki is a work in progress or just a car that's seen a lot of action. But either way, I dig the raw style.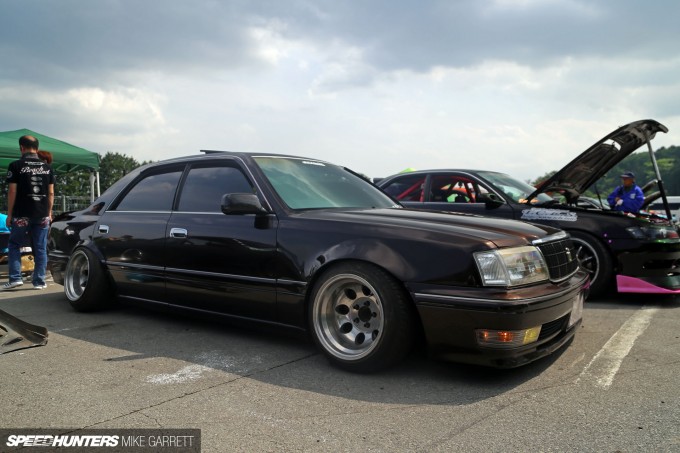 Perhaps the most unusual of the Crown drift squad was this S150 out of Tokyo. From the outside it looks pretty standard, with the exception of its smaller-than-usual 15-inch off-road type wheels.
But when you look under the hood you'll find this naturally aspirated, individual throttle body equipped 2JZ-GE rather than the turbo motors that are commonly found in these cars.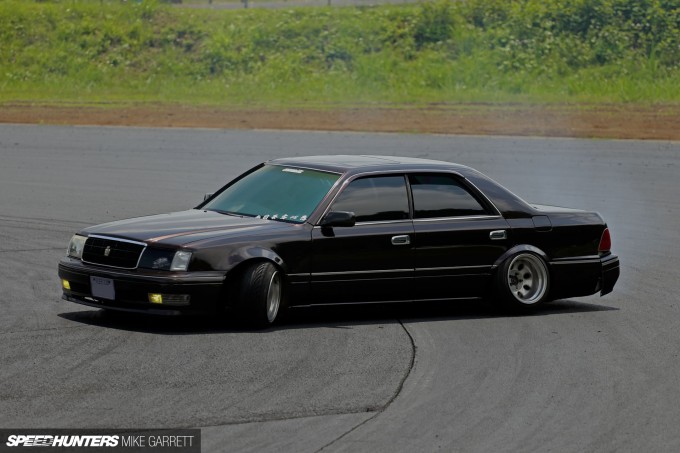 Despite the fact that it was down at least a hundred horsepower on most of the other sedans at this event, the naturally aspirated Crown had no trouble maintaining aggressive slides and sounding quite good while doing it. A big thumbs up from me on this one.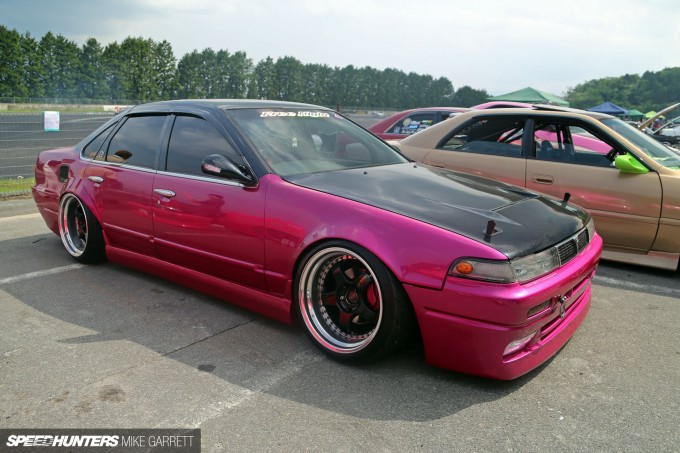 Of course, Toyota isn't the only maker that has drift-friendly sedans. There were handful of Nissan Laurels and Cefiros running, including this beautiful pink metallic A31 owned by Takatsugu Mineda.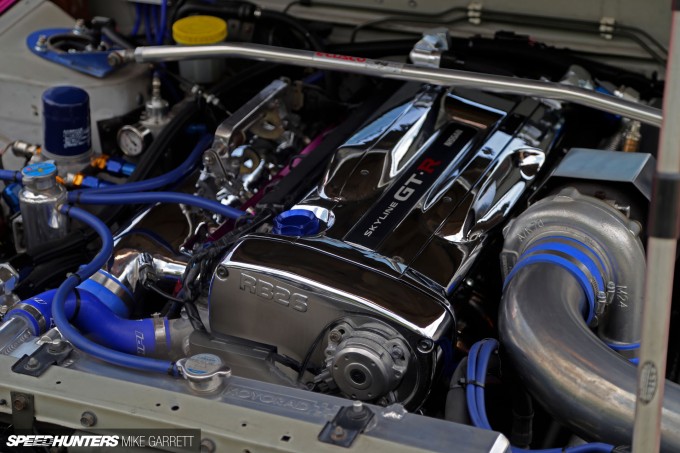 And if you thought for a minute that this machine was all show and no go, check out the single turbo, 2.8-liter stroked RB motor under the hood. Cars like this are exactly what makes Japan's grassroots drift scene so damn good.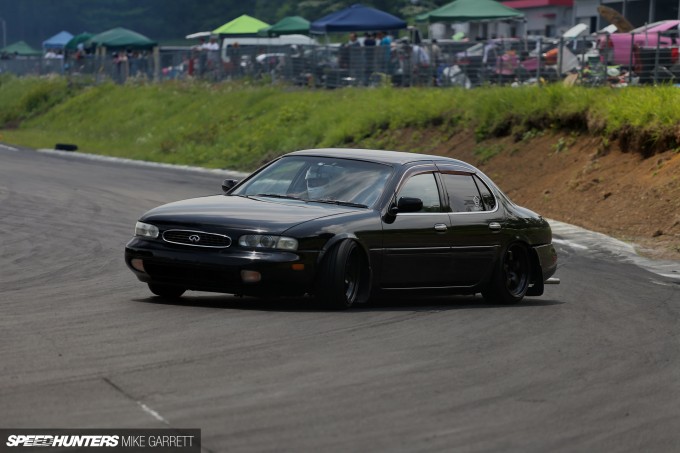 Looking for a rare drift car? How about this Y32 Nissan Leopard – better known in the US as the Infiniti J30. Now that I think about it, this V6-powered sedan might have been the only car at the event not running an inline engine configuration.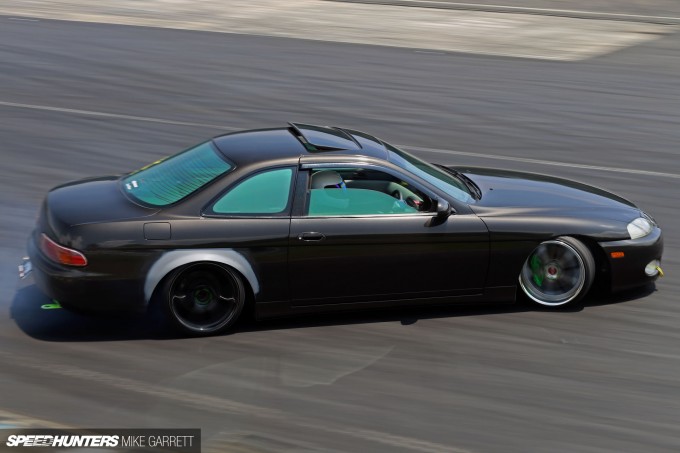 I still consider the JZZ30 Soarer/Lexus SC to be one of the best looking coupes of the 1990s, so it was cool to see a couple of Soarers out there having fun with their four-door 1JZ cousins.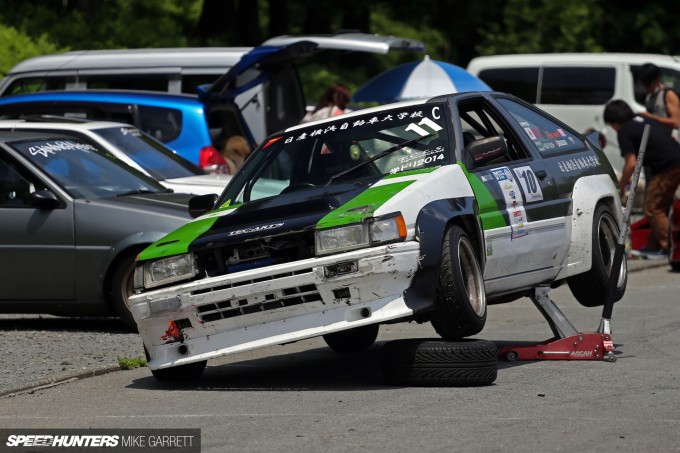 And how could a drift event be complete without a couple of AE86s with screaming 4A-GEs and lightweight reflexes. Check out this one wearing N2-type bodywork and throwback paint.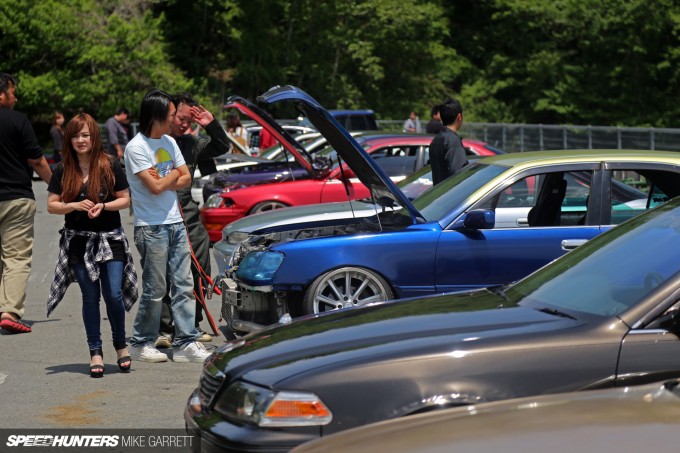 But for as great as the cars and driving were, what I enjoyed most about this event was the casual atmosphere and carefree attitude that everyone seemed to have. People were goofing off and cheering on the drivers with brightly colored plastic baseball bats all day long. It was great fun, and this is what drifting should always be about.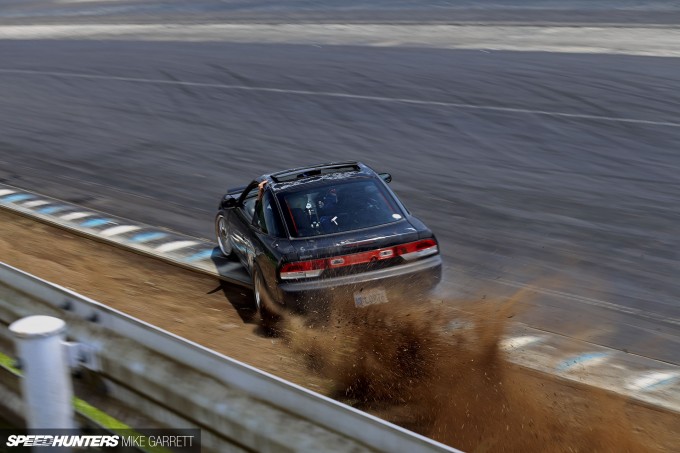 From my perspective this meet was about getting back to the core of what made drifting so exciting way back when. So a big thank you goes out to all the drivers and participants for making me feel like a teenager again.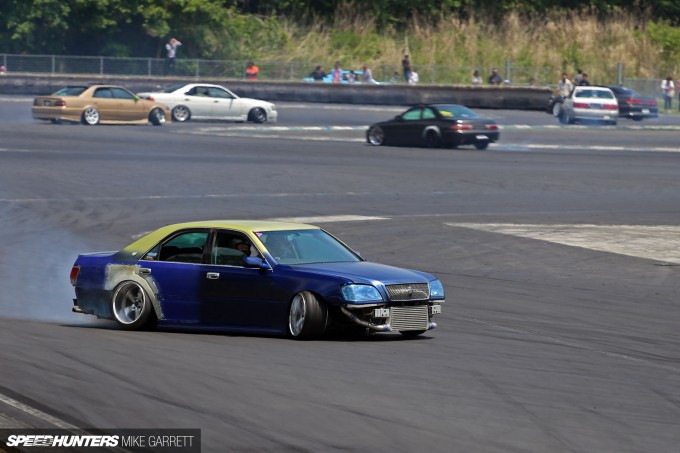 In the end it's cool-looking cars doing crazy things and people having a whole lot of fun.
And really, what more could you need than that?
Mike Garrett
Instagram: speedhunters_mike
mike@speedhunters.com
Cutting Room Floor