Changing The Recipe
When we search for feature cars, we have to look for something that stands out. We have to find something that will make people talk and sometimes we have to find cars that will split opinions. Usually, within the VW scene, we don't have to look too far. Sure, we could feature one of countless immaculate MKI Golfs prepared to the familiar recipe of clean, smooth and low.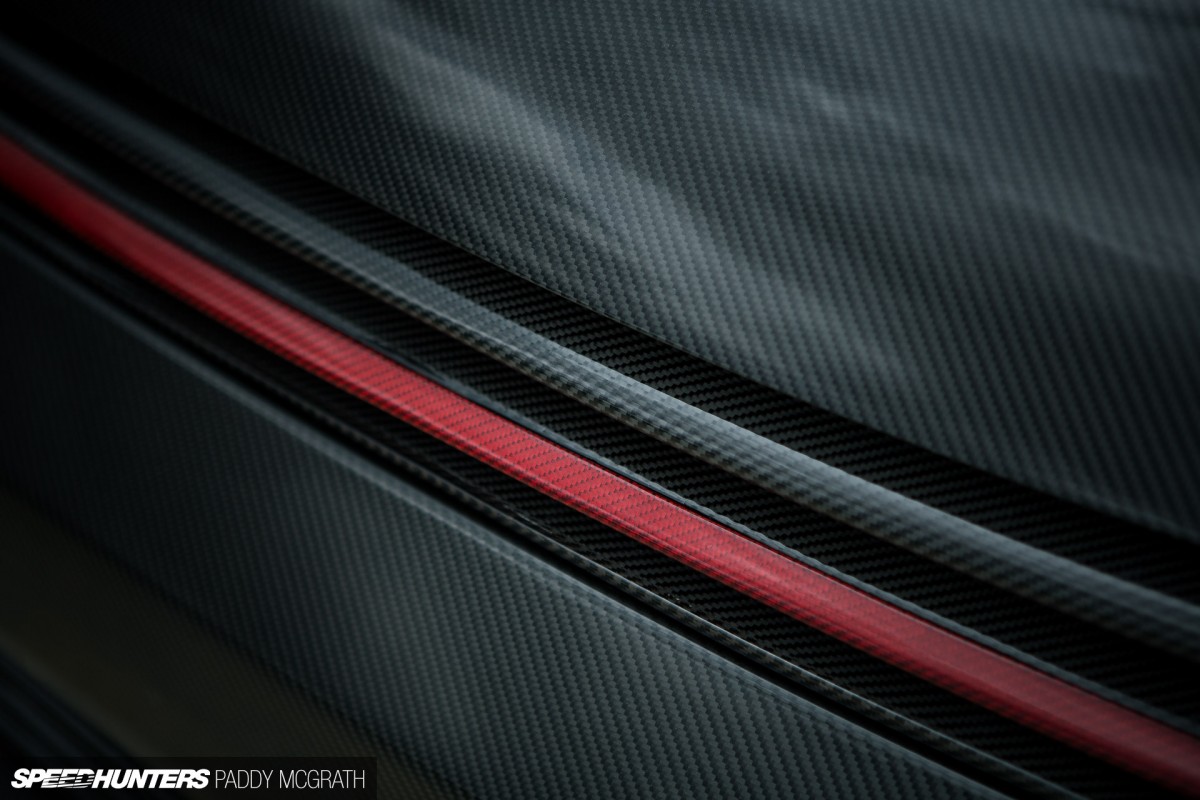 There's nothing wrong with this recipe, it's tried, tested and has been proven over many decades. It has produced great cars and will continue to produce many more.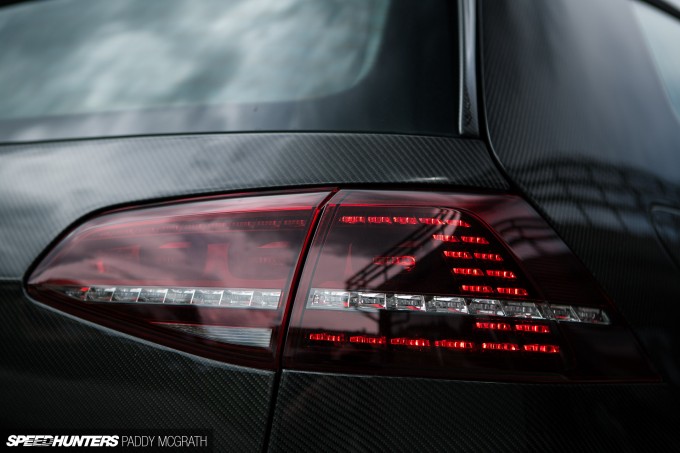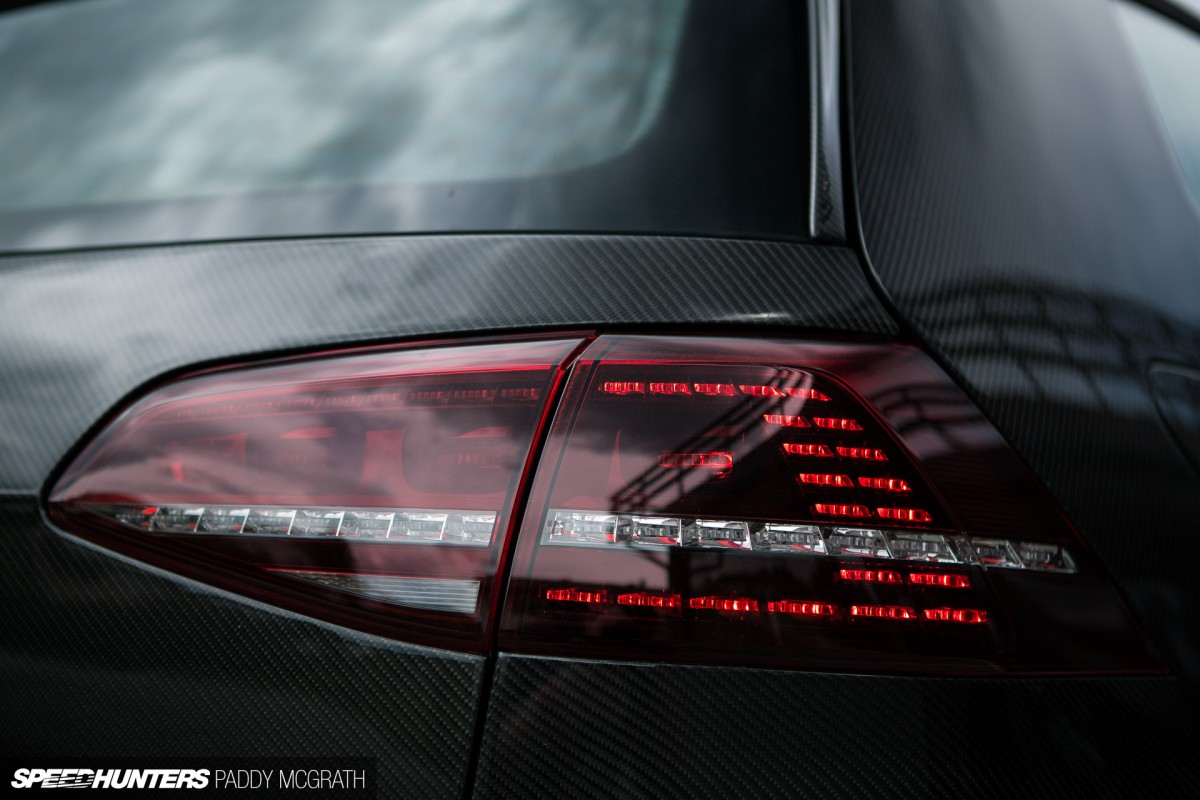 Sometimes though, it's nice to see something different.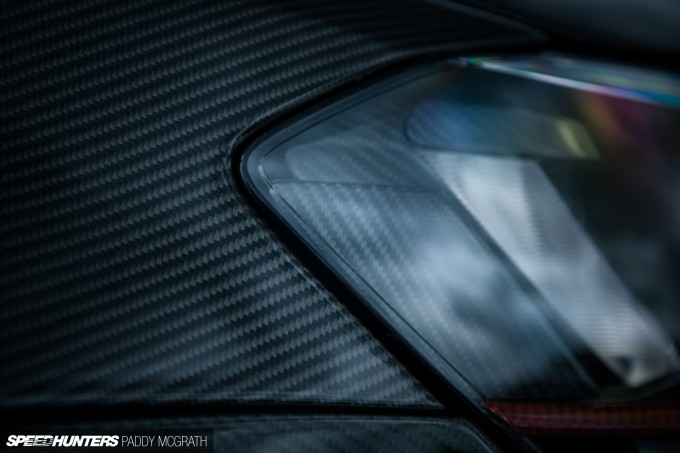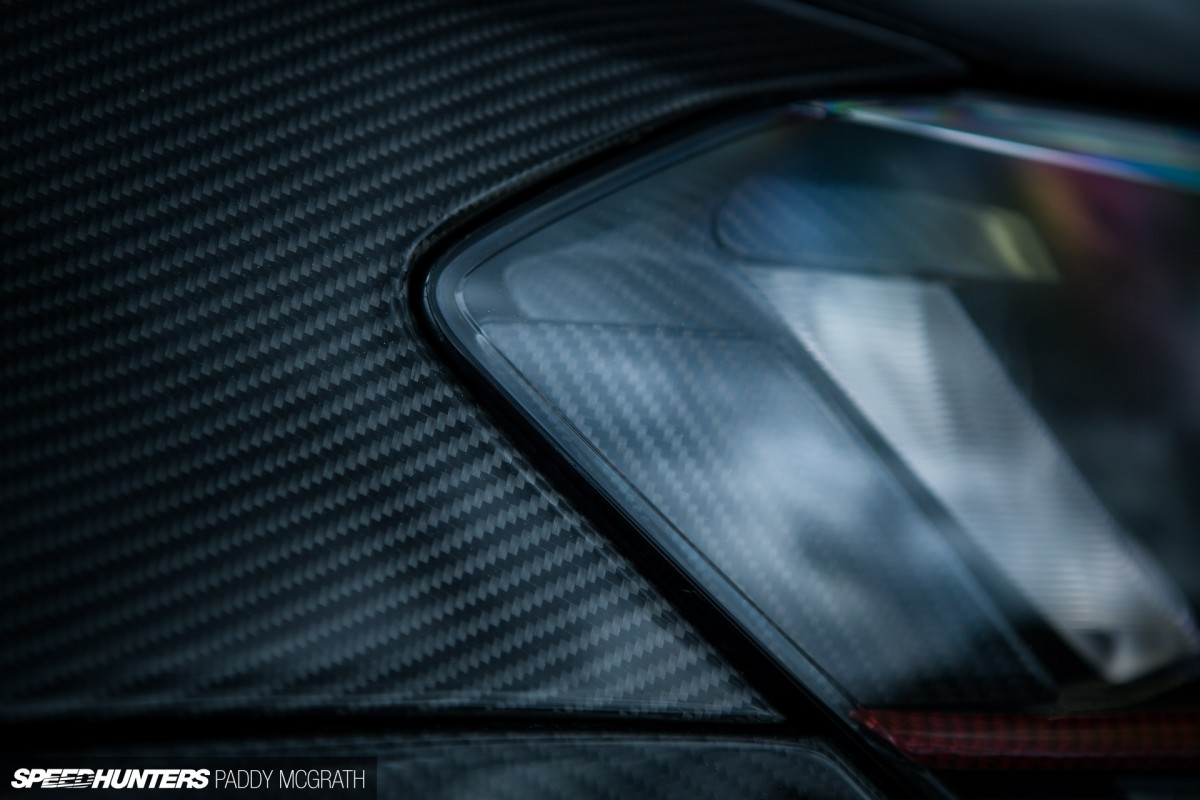 Even if that something different still follows the same methodologies and unrivalled attention to detail, but applied in a different way.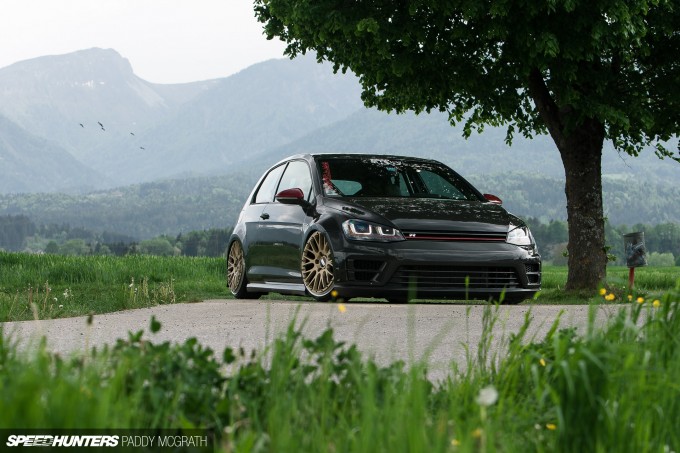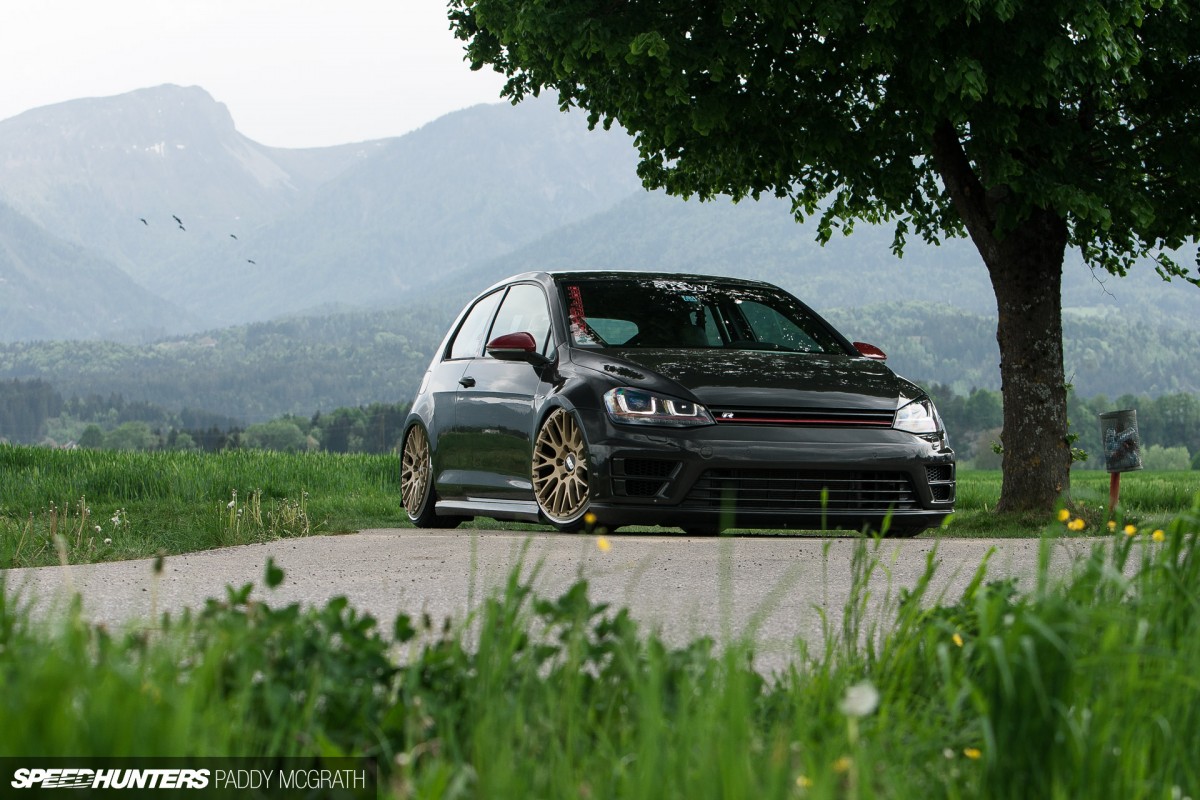 Andy Pfeffer's Golf MkVII GTI epitomises these ideals in a modern chassis. It is the complete package in terms of the Volkswagen scene and was one of the most talked about cars at Wörthersee this year – a feat in itself. But what exactly sets this car apart from the rest? Let me explain…
Understanding The Scene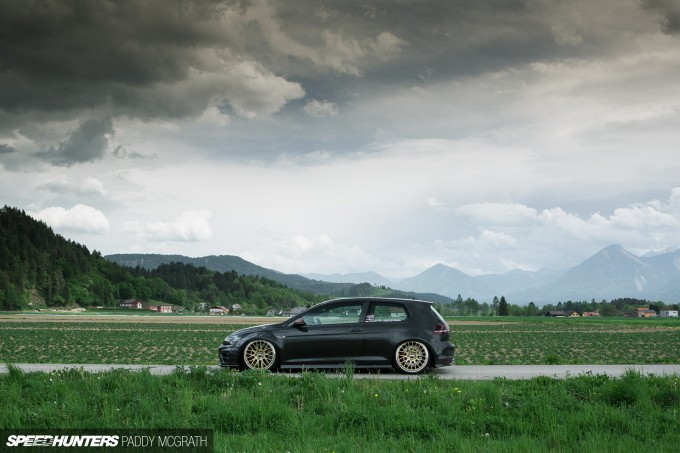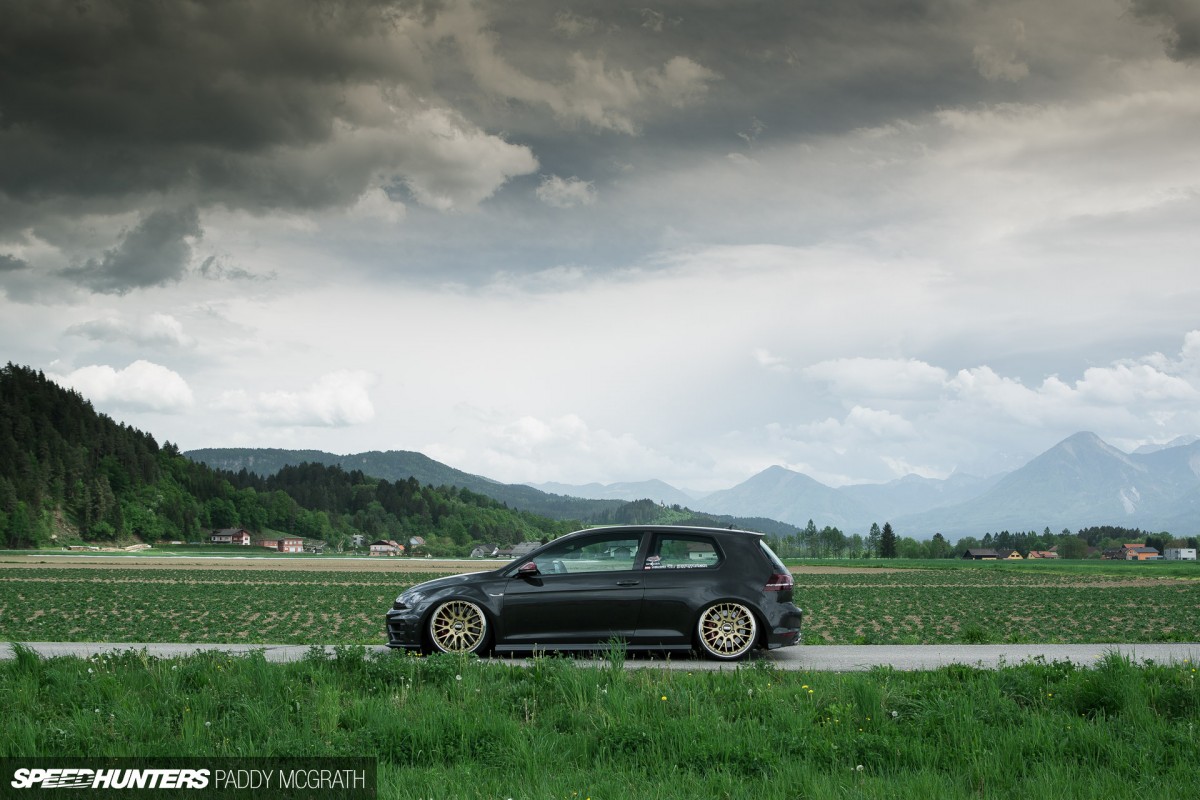 I think the first misconception about the Volkswagen scene is that building a car which stands out is easy. Sure, there are cars that are just 'bags and wheels – but these aren't representative of the quality that this scene represents at the very top. And it's the cars at the very top that we should be using as a measure of the scene itself, in my opinion at least.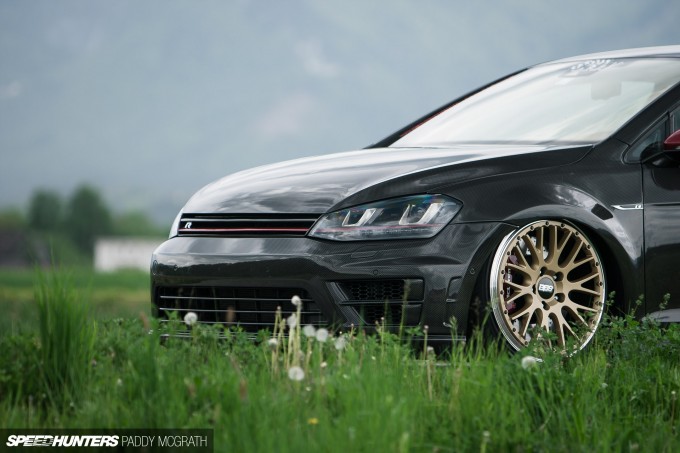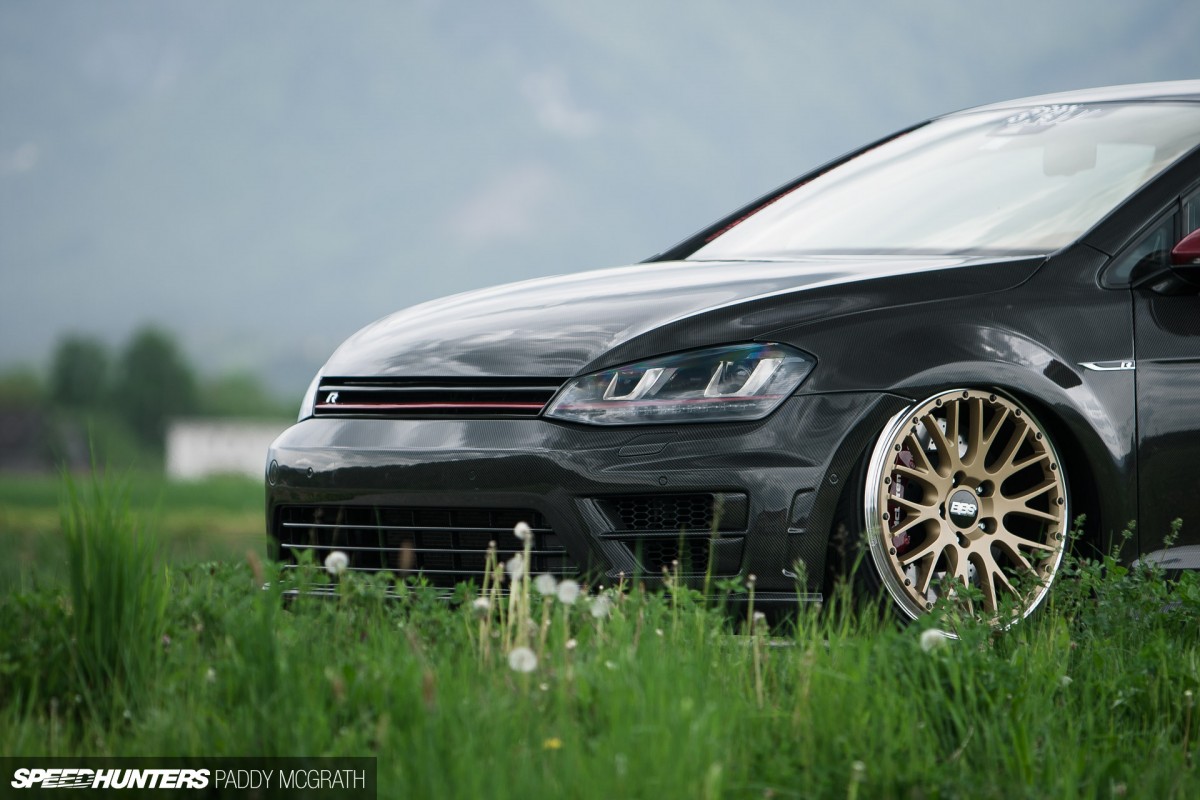 Just as the guy who turns up at a local track day in a clapped-out car with a fart-can exhaust and ignores the marshalls' instructions isn't an accurate representation of your typical and respectful track day goer, neither is the guy who arrives at a stance meet in a stock car with cut springs and over-stretched tyres and fouled bodywork.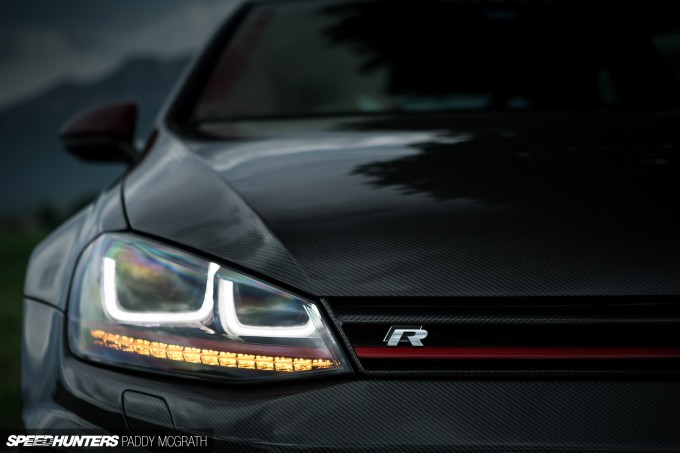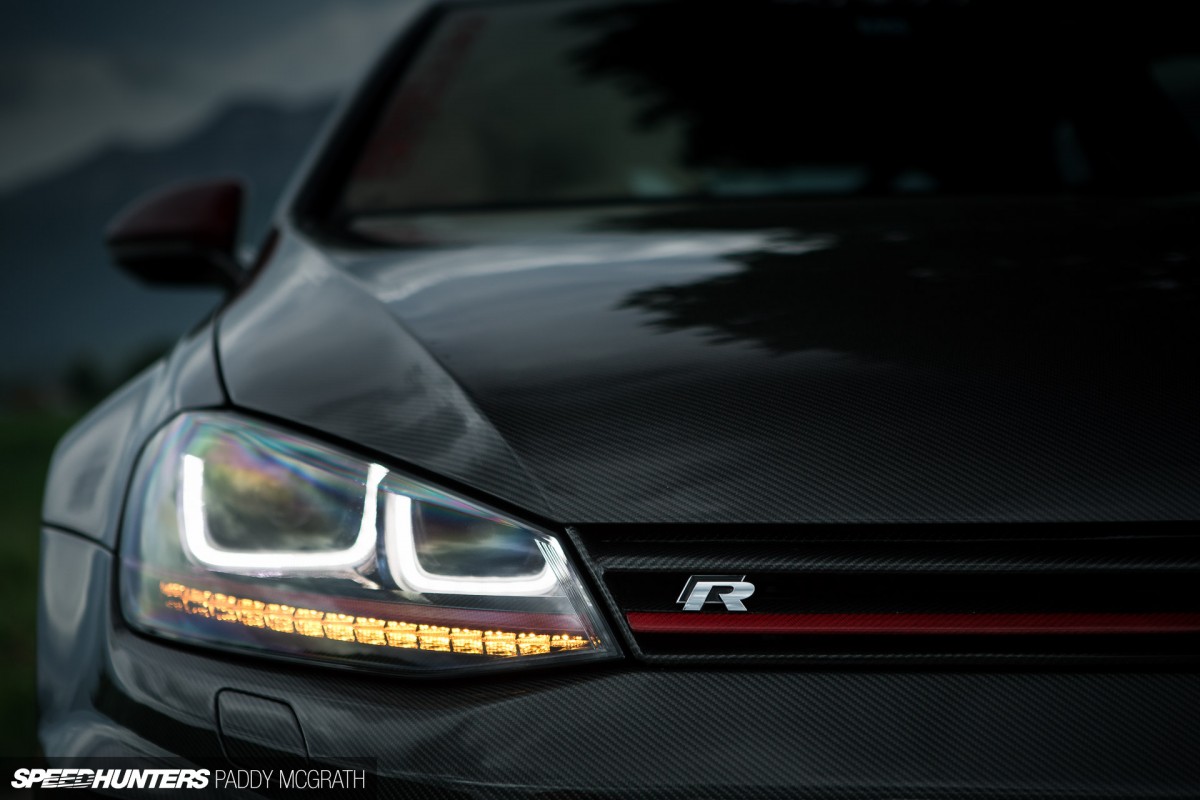 I think it's important that we can all make these distinctions regardless of what sub-culture of our automotive world we're viewing at the time. We need to be able to tell the difference between the good and the bad if we're ever to develop a mutual level of respect between the varying scenes. Because even if the intended use is completely different, it doesn't change the fact that similar amounts of work and passion are poured into the top level cars. If this GTI was built to lap the Nordschleife, or built to lay down the fastest ETs over a quarter mile, it would still have received the same amount of love and workmanship, albeit in different areas.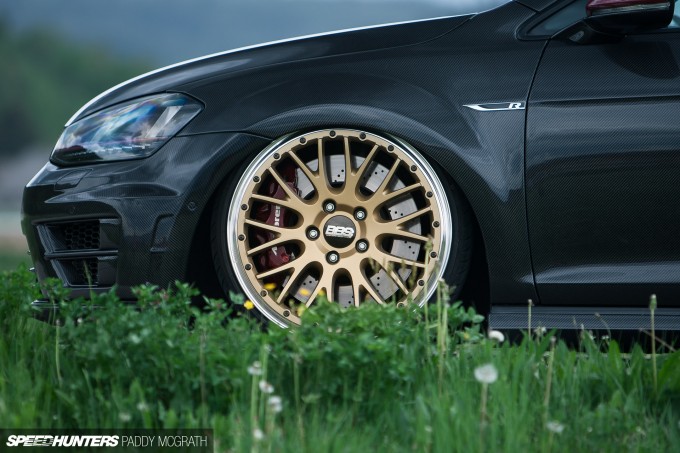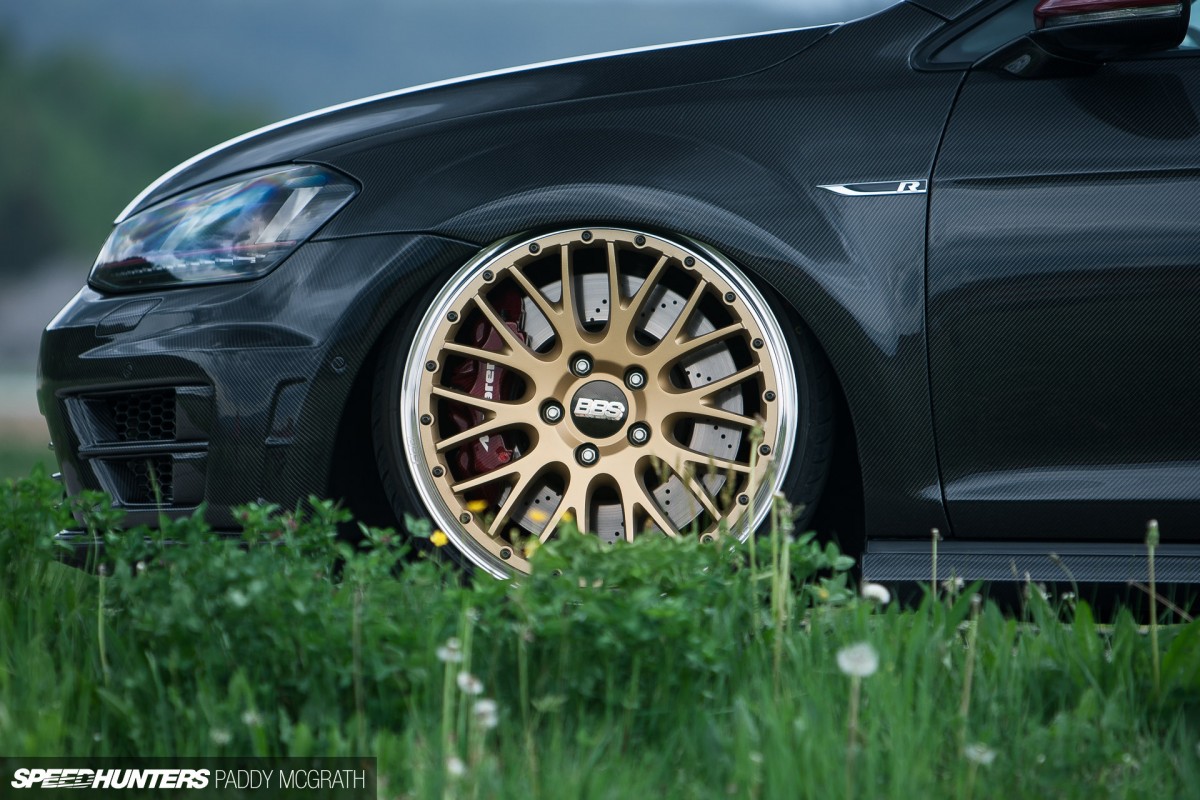 It's usually at this point I get all emotional and try to plead with you to all get along (yes, I'm aware), but instead I'm going to take a different approach. I'm going to talk you through what I see and why I think this is a car worth reading about.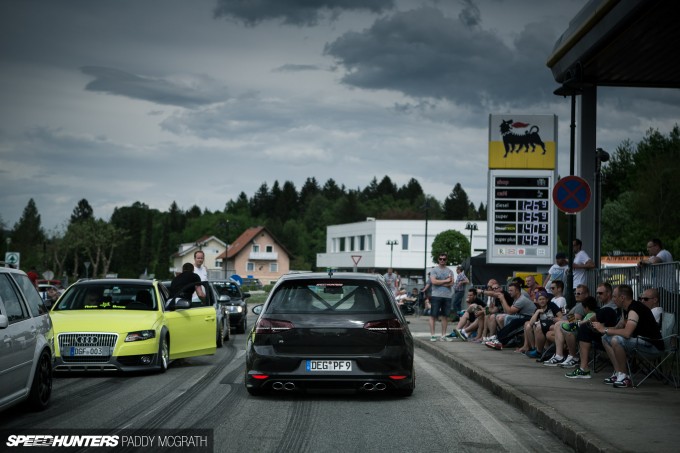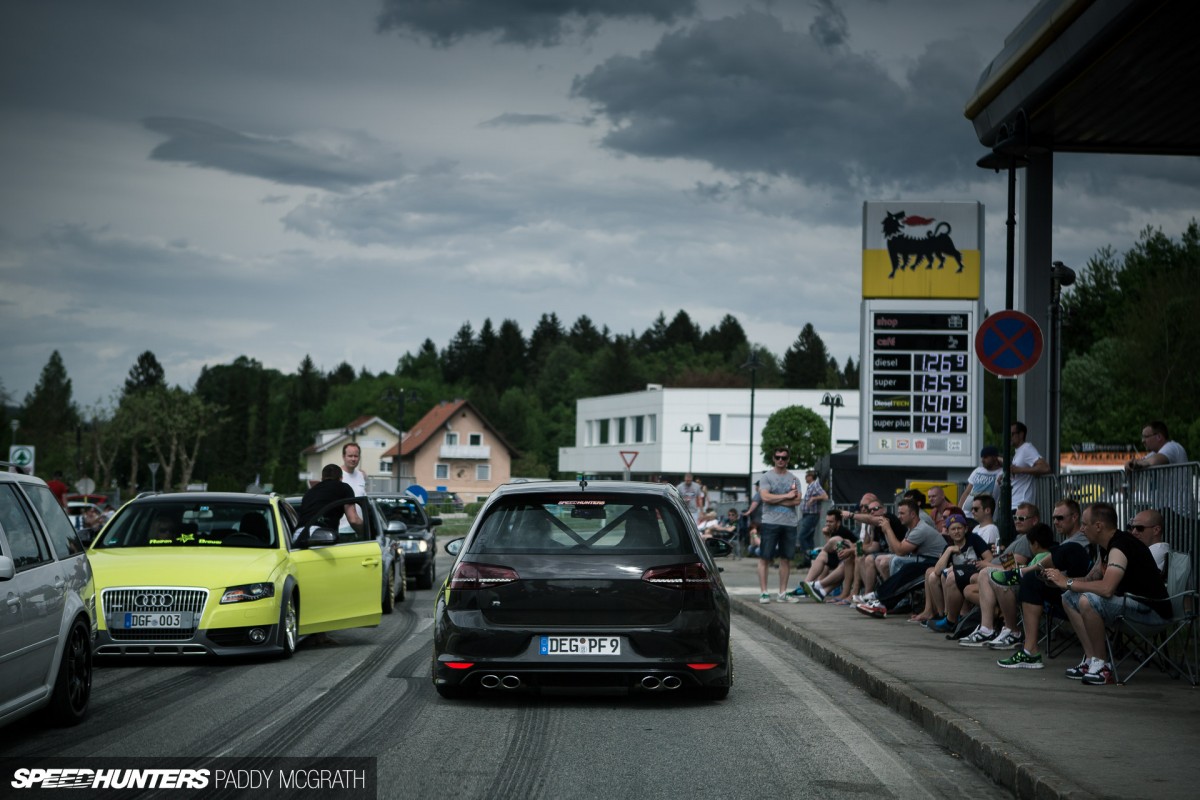 When I first spotted this car at Wörthersee, I almost missed the biggest part of this car. From a distance and under cloud cover, the Golf takes on a gloss grey colour.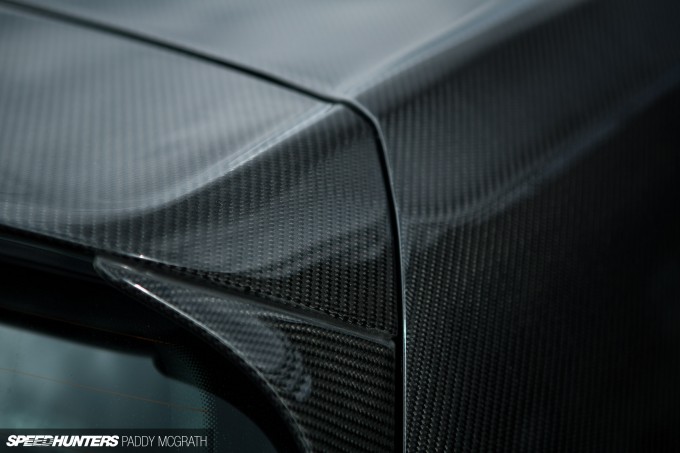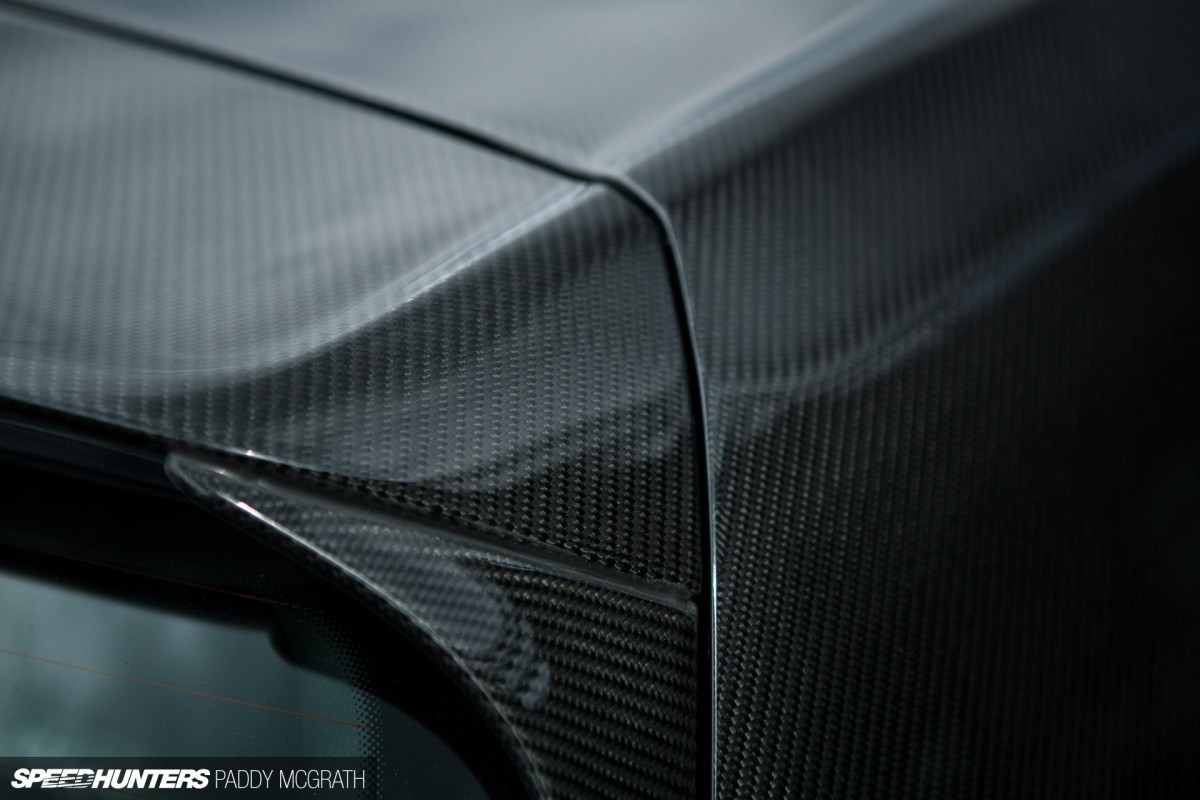 It was only when the sun shone that I noticed the familiar pattern of the weave.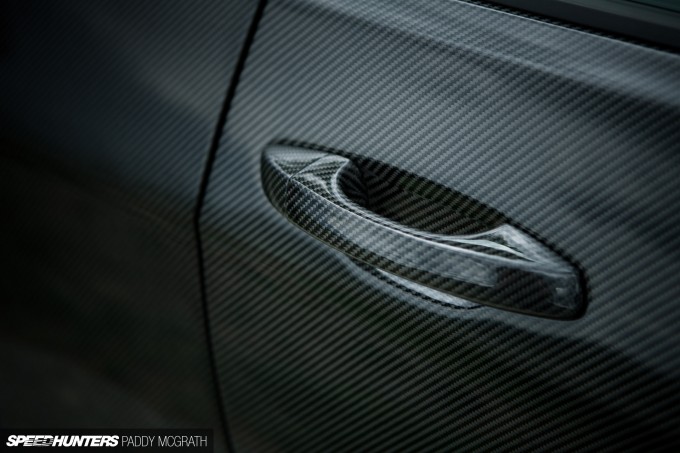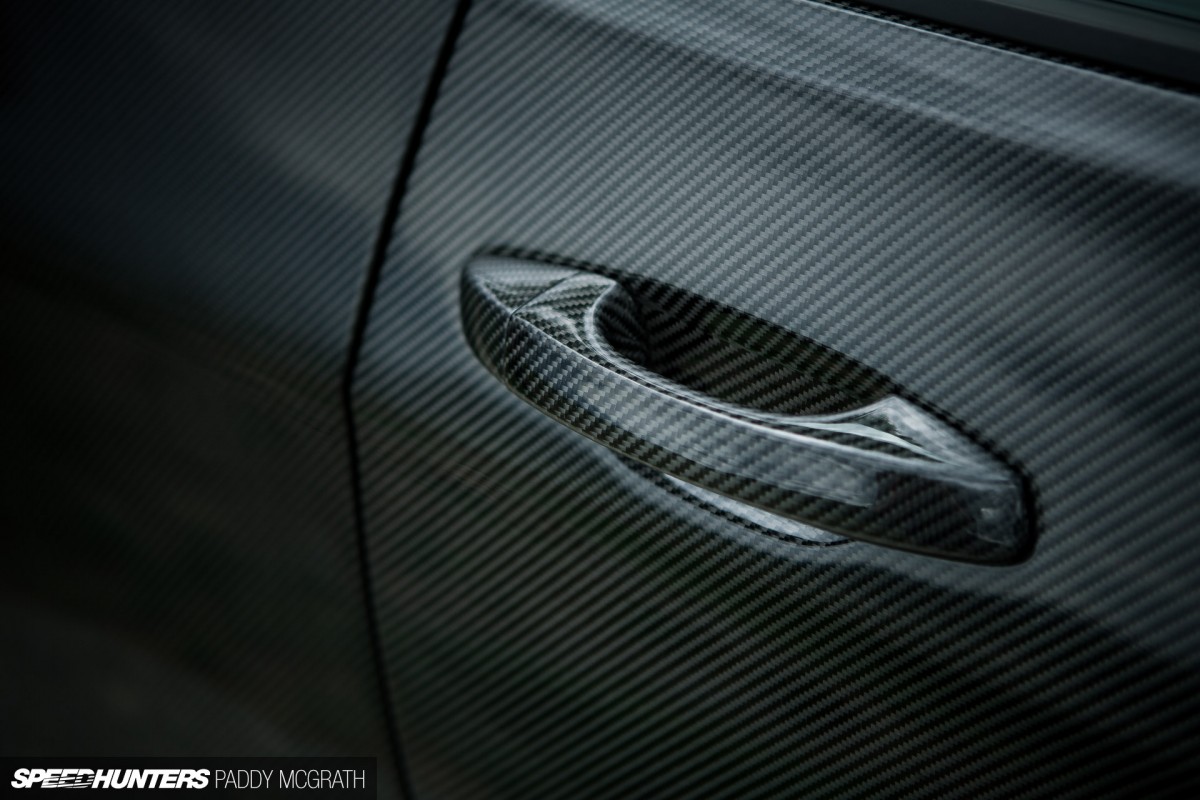 It was only when I got closer that I noticed that the entire exterior was covered in carbon fibre. This isn't a wrap by the way, it's bonafide genuine carbon fibre sitting behind a perfectly applied clear coat.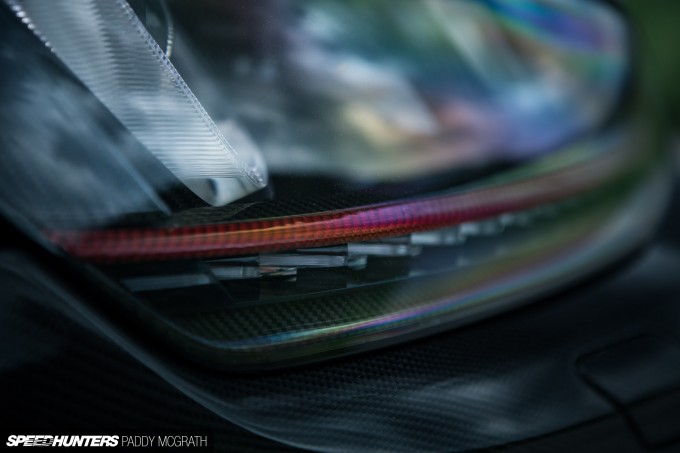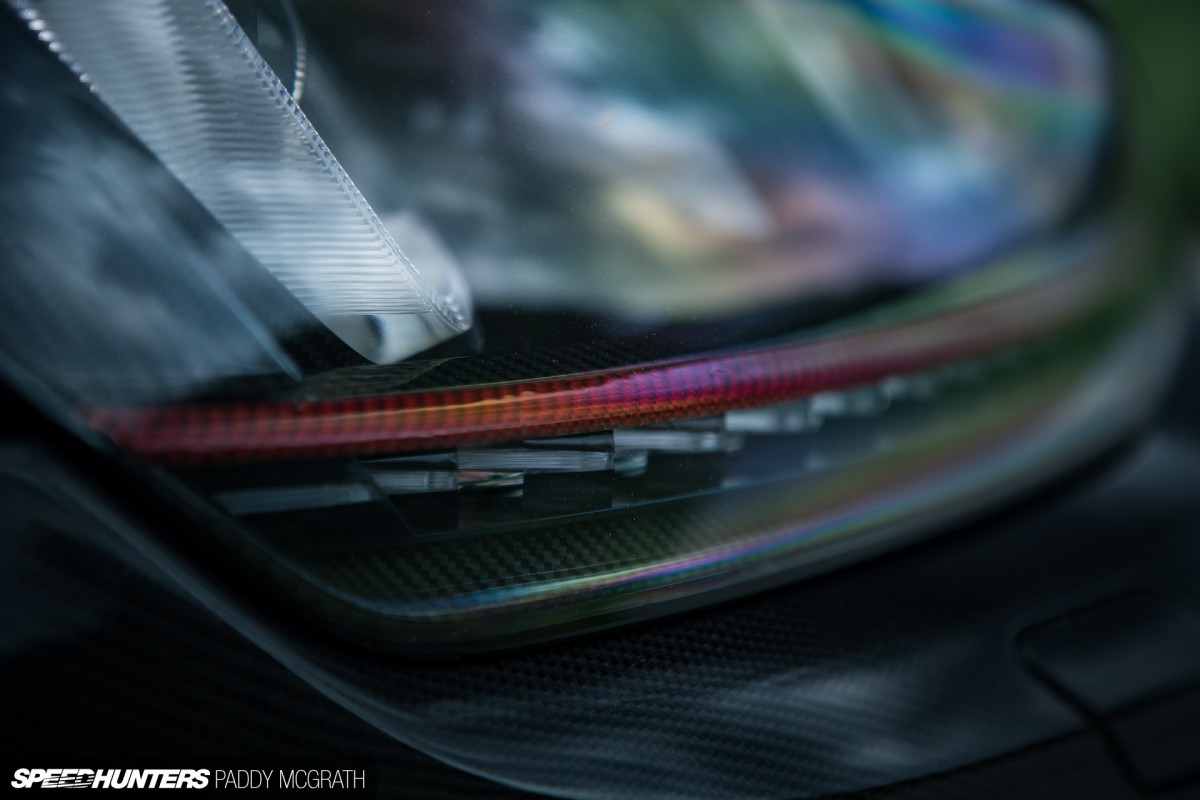 What made this all the more impressive was how the carbon fibre flowed almost seamlessly through every piece of the exterior of the car, even into the headlights where red carbon fibre was used to retain the MkVII's signature red streak.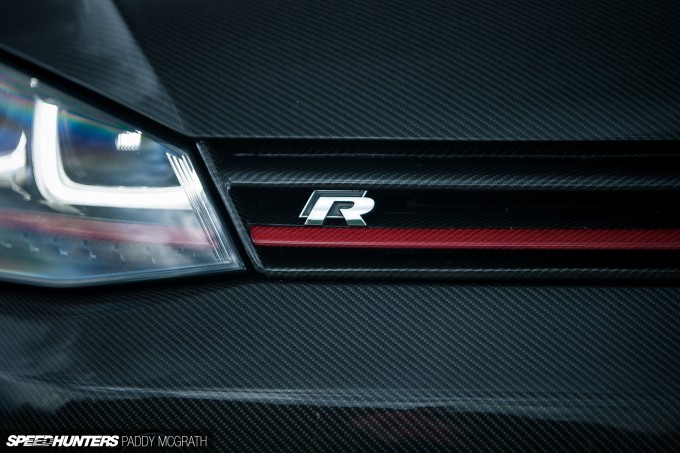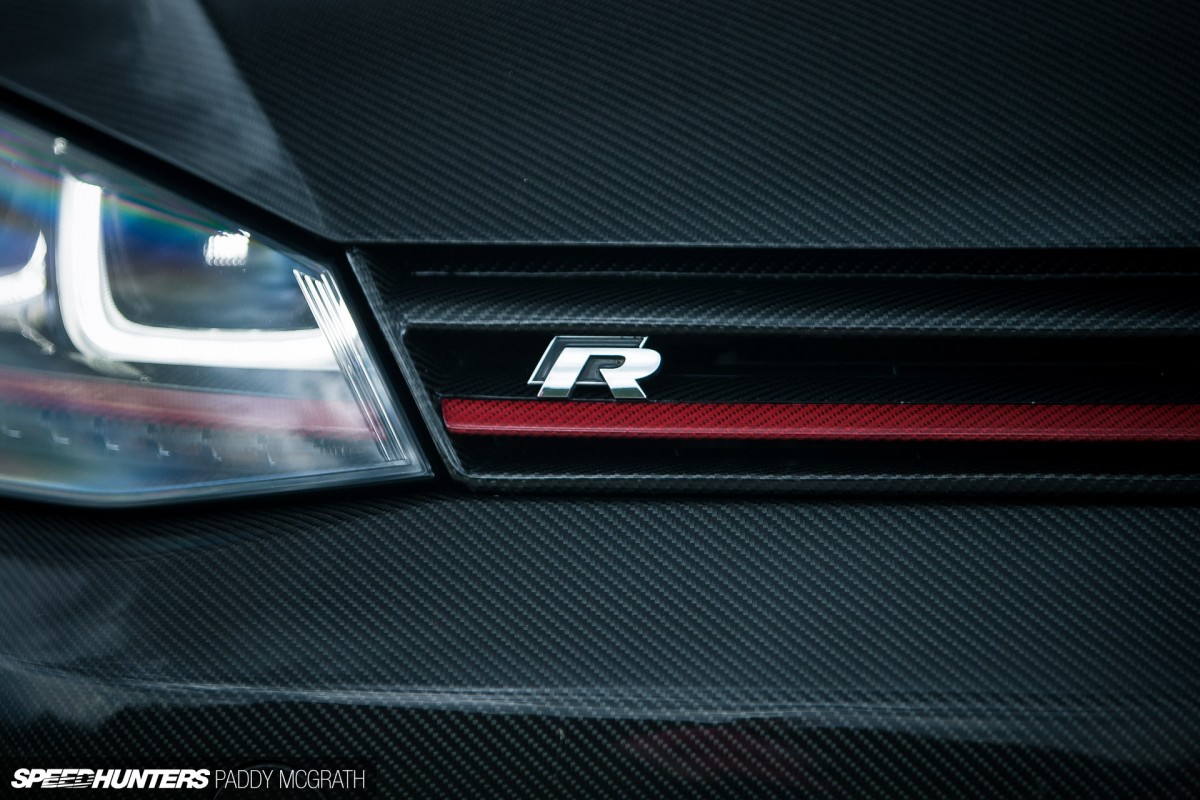 The stock grill has been replaced with an R-style equivalent, where the carbon weave runs in the opposite direction to that on the bonnet and bumper, just to break the lines up slightly.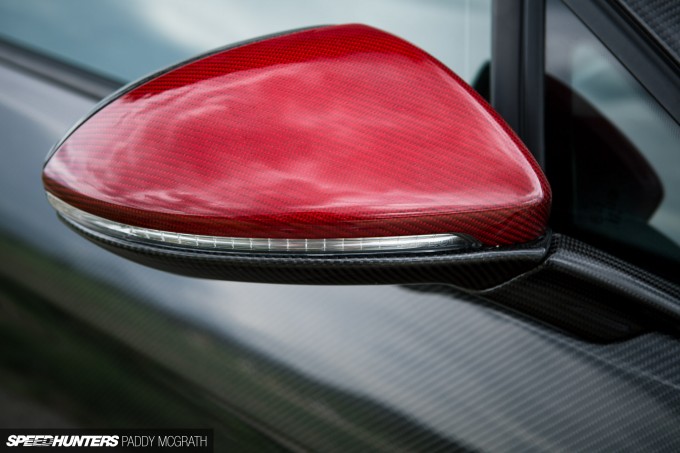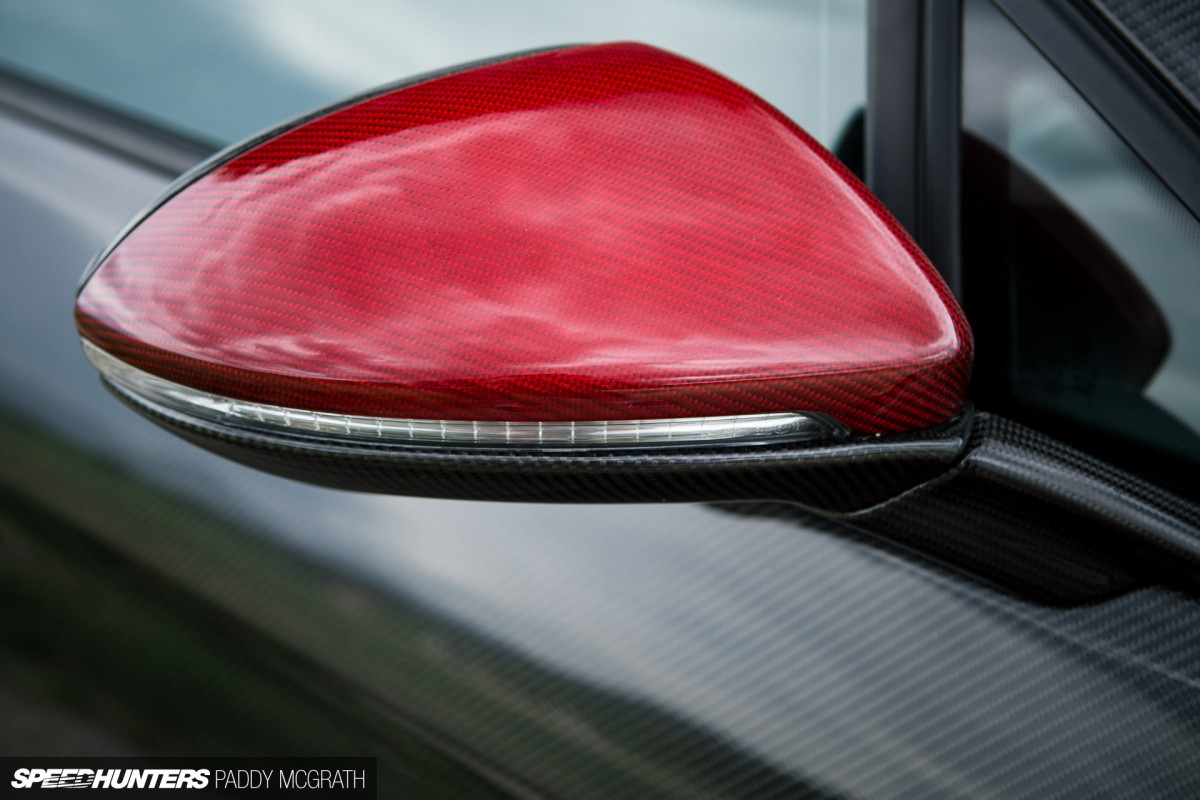 The application and implementation of the carbon fibre is simply top drawer. You find yourself exploring every inch of every panel to see how it all adds up, thinking that there must be somewhere it comes undone. But it doesn't. Have you ever tried to even just vinyl wrap a trim piece or the likes? Now imagine just how much patience and time is required to do a whole car, but with real carbon fibre. I get itchy just thinking about it. Andy on the other hand is quite chilled about it and doesn't really make a fuss. 'It's a cool look' he states, matter-of-factly.
Go With The Flow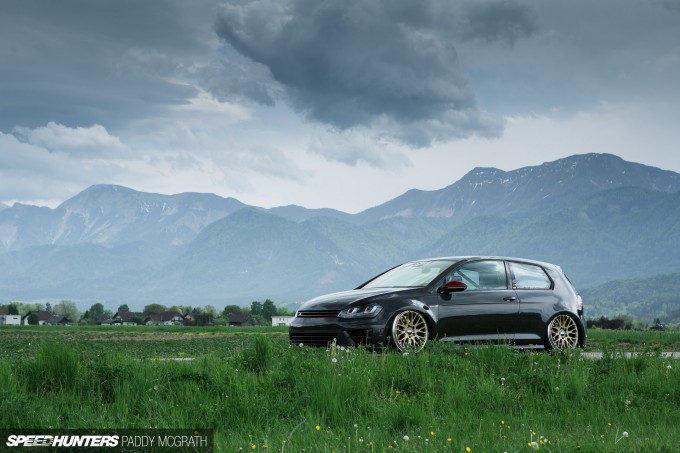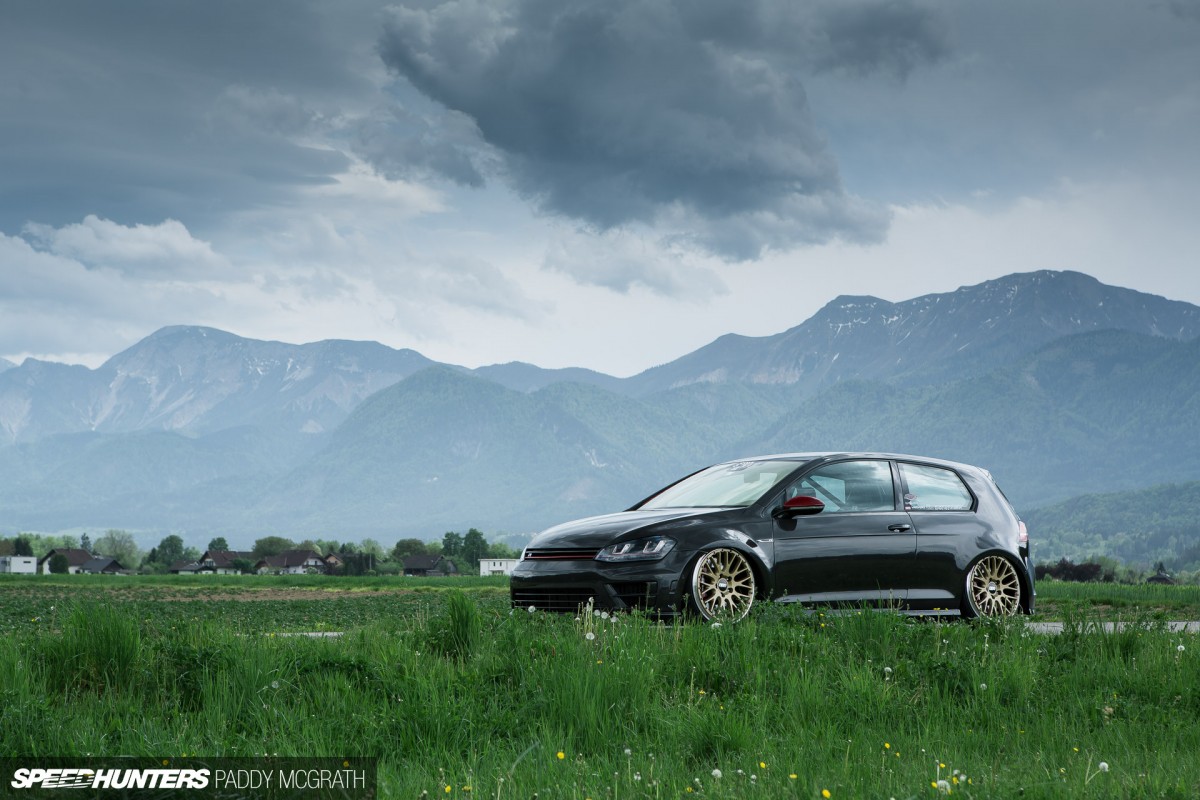 After I had finished salivating over the exterior, my attention was drawn to the stance. In the US, poke and stretch is the order of the day, but in Europe, it's all about tucking rim and has been for several years. This is likely down to the fact that multiple police forces here will issue fines for those where the rim pokes beyond the edge of the bodywork. Nobody wants that attention from the police, but tucking has its own advantages too.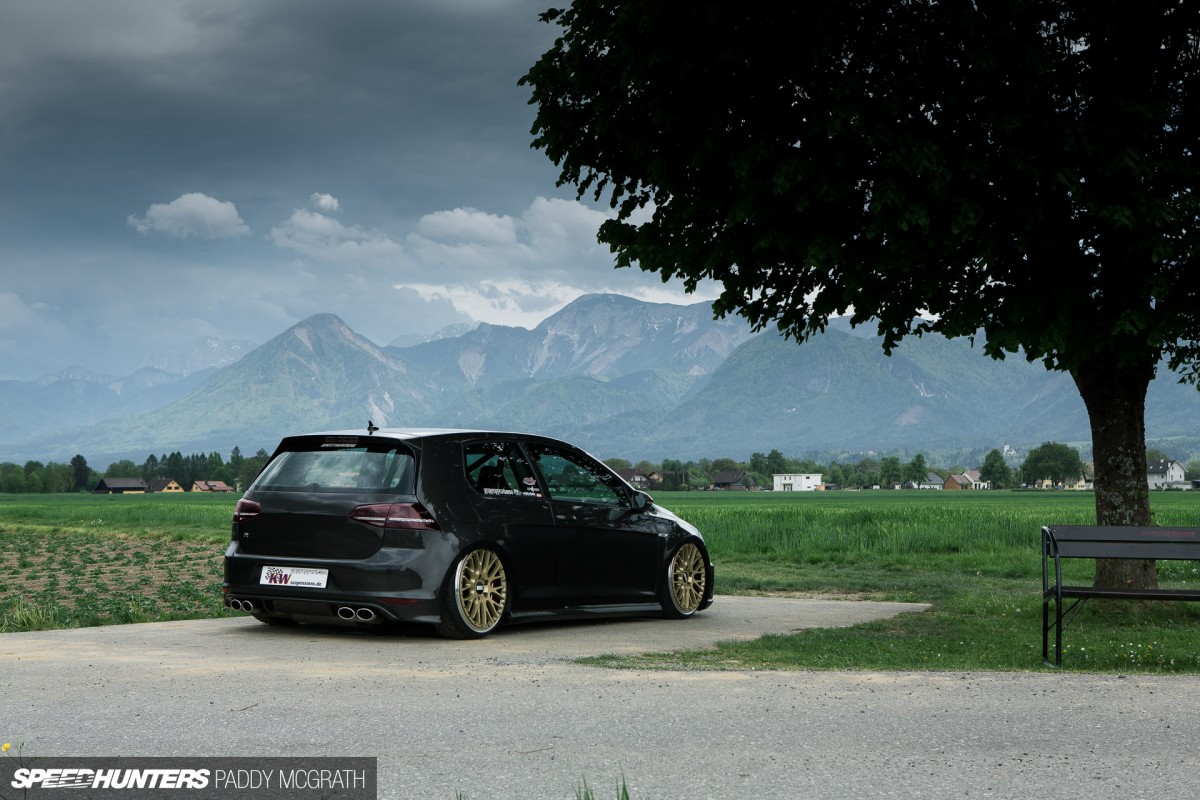 Because you're not trying to sit the lip of the arch on, or just behind the lip of the rim – a desirable trait within the stance scene – you can run a decent sized tyre.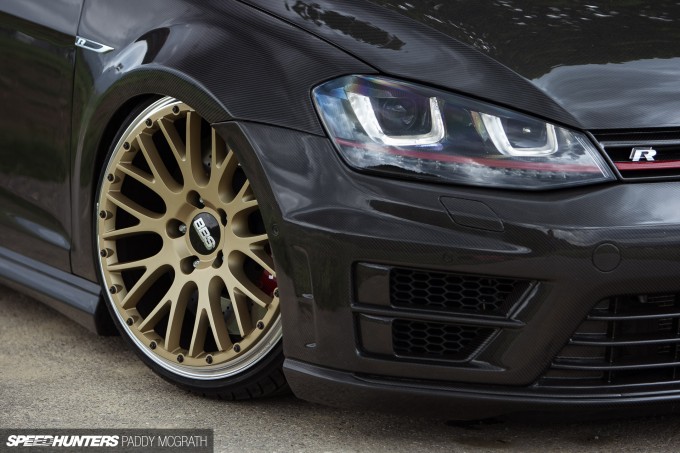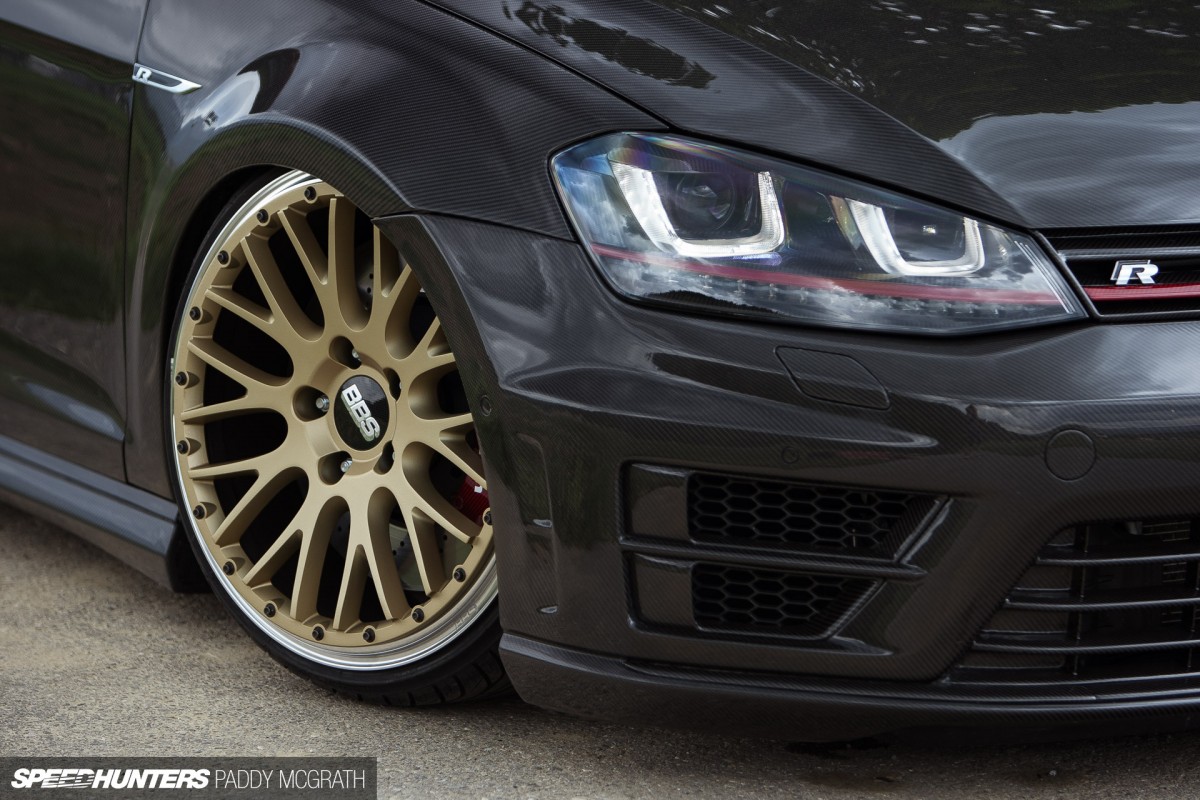 What's really striking about Andy's setup though is that the car is static. Well, sort of.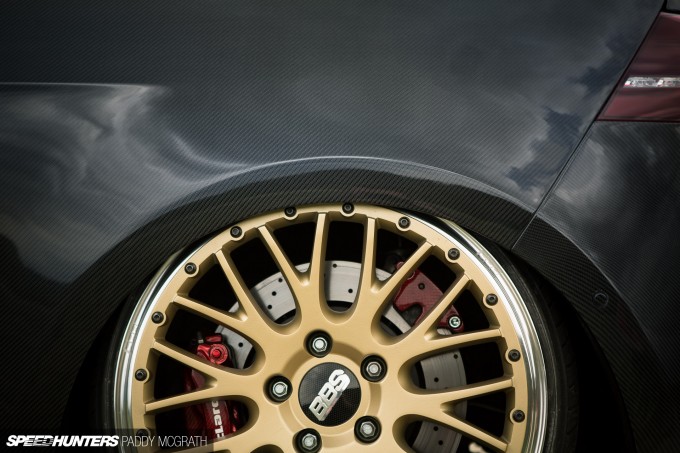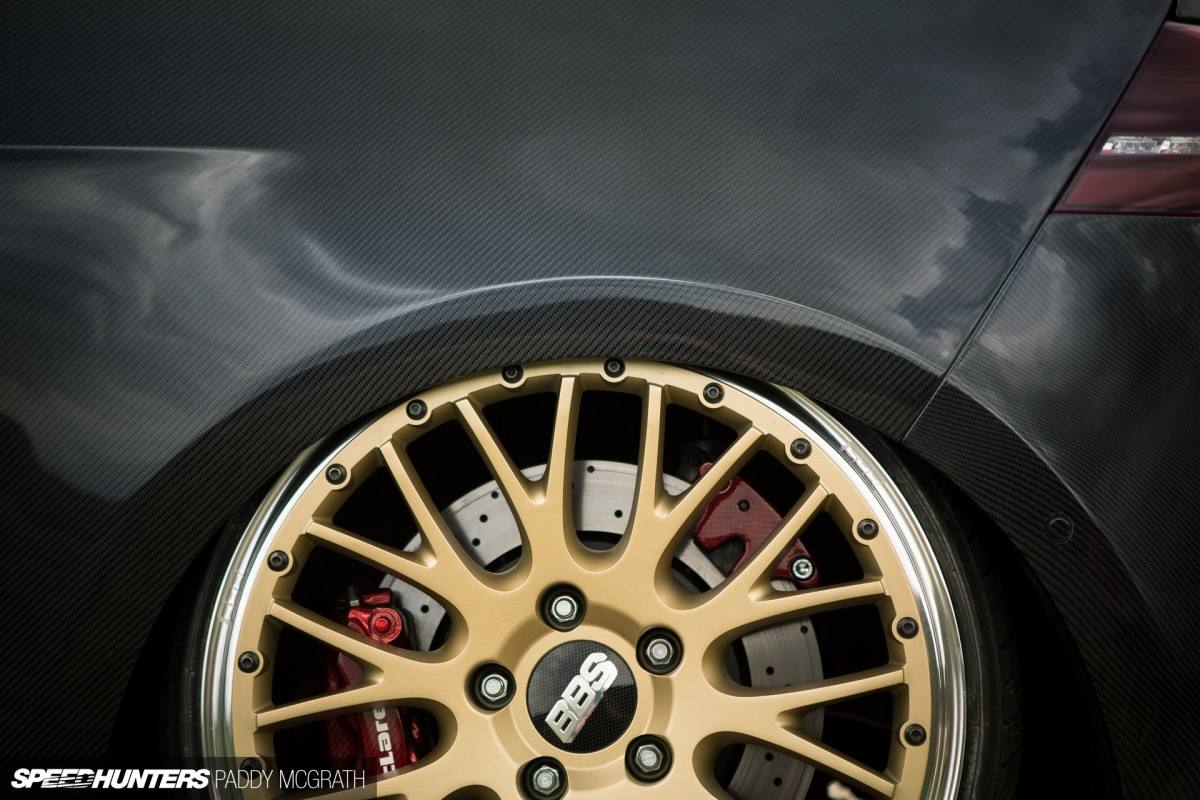 Andy is the main man behind Gepfeffert, a company that works closely with KW Suspension to develop so-called 'deep low' suspension systems. By using a much shorter coil-over body and custom damper and spring rates, Gepfeffert can achieve a significantly reduced ride height whilst minimising loss of performance. By tapping into KW's experience in performance and comfort applications, the Gepfeffert by KW suspension systems retains around 75 per cent of the performance and comfort when fully slammed compared to the same setup at maximum ride height.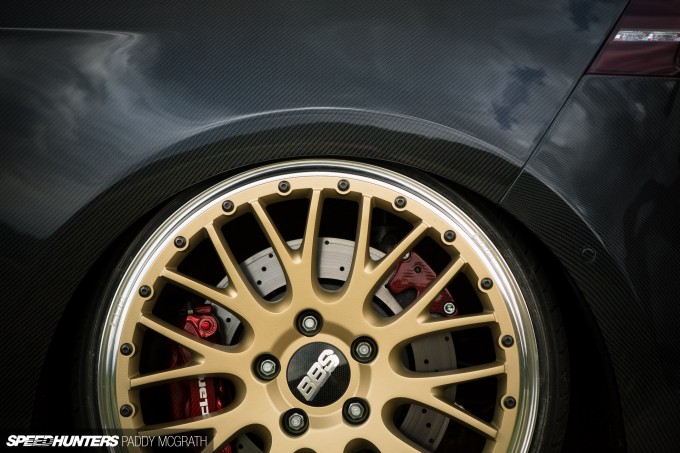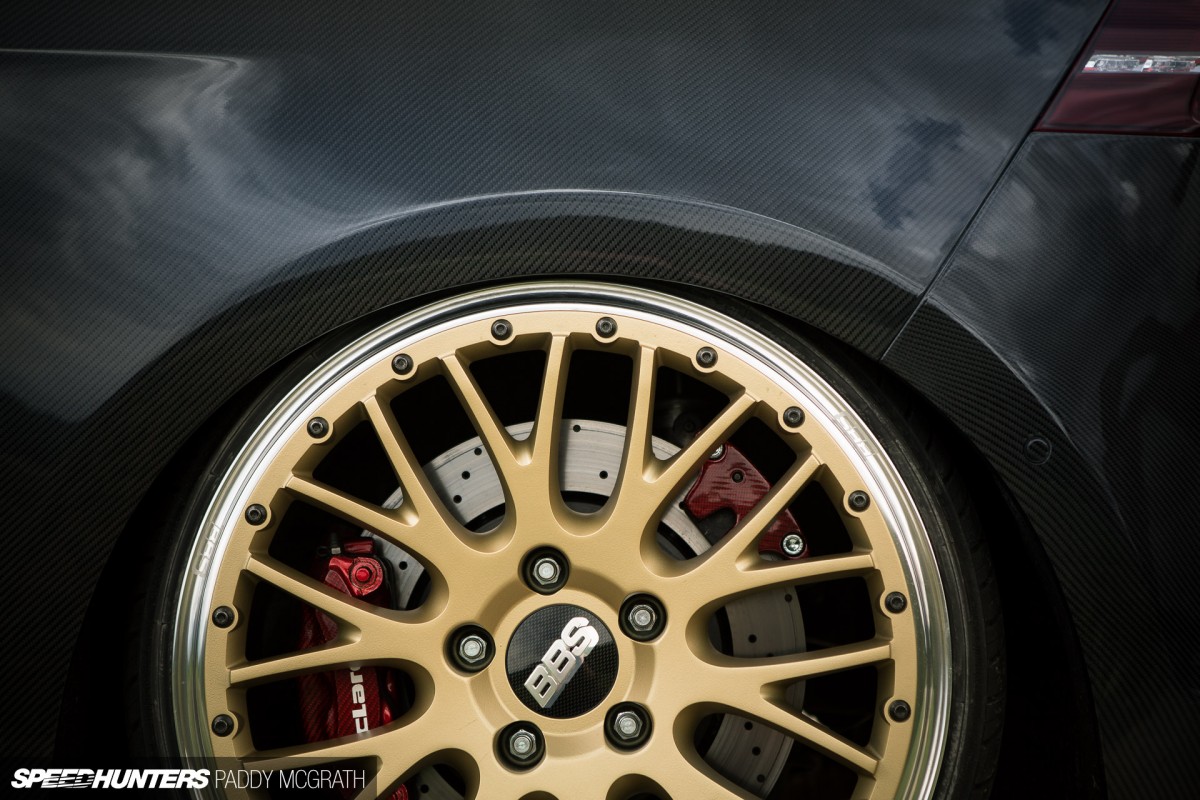 This setup is further optimised by the addition of KW's Hydraulic Lift System (HLS) which can raise the car by approximately 30mm at all four corners with the simple press of a button. Nobody is ever going to complain about an extra inch, right? This means that the custom three-piece BBS Speedlines – which have now been face mounted – can be plunged inside the arches without fouling the bodywork.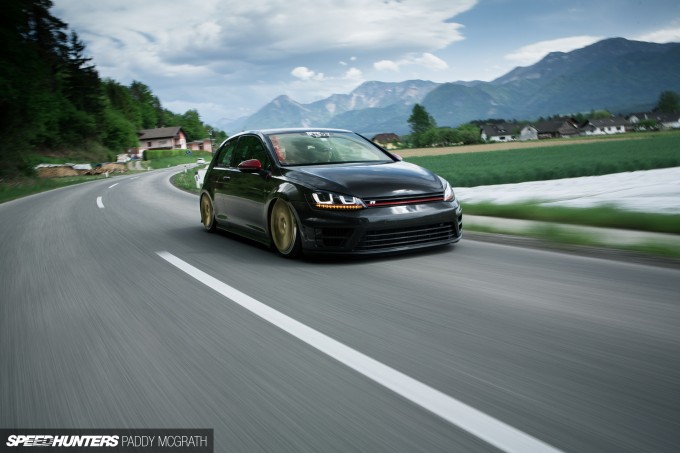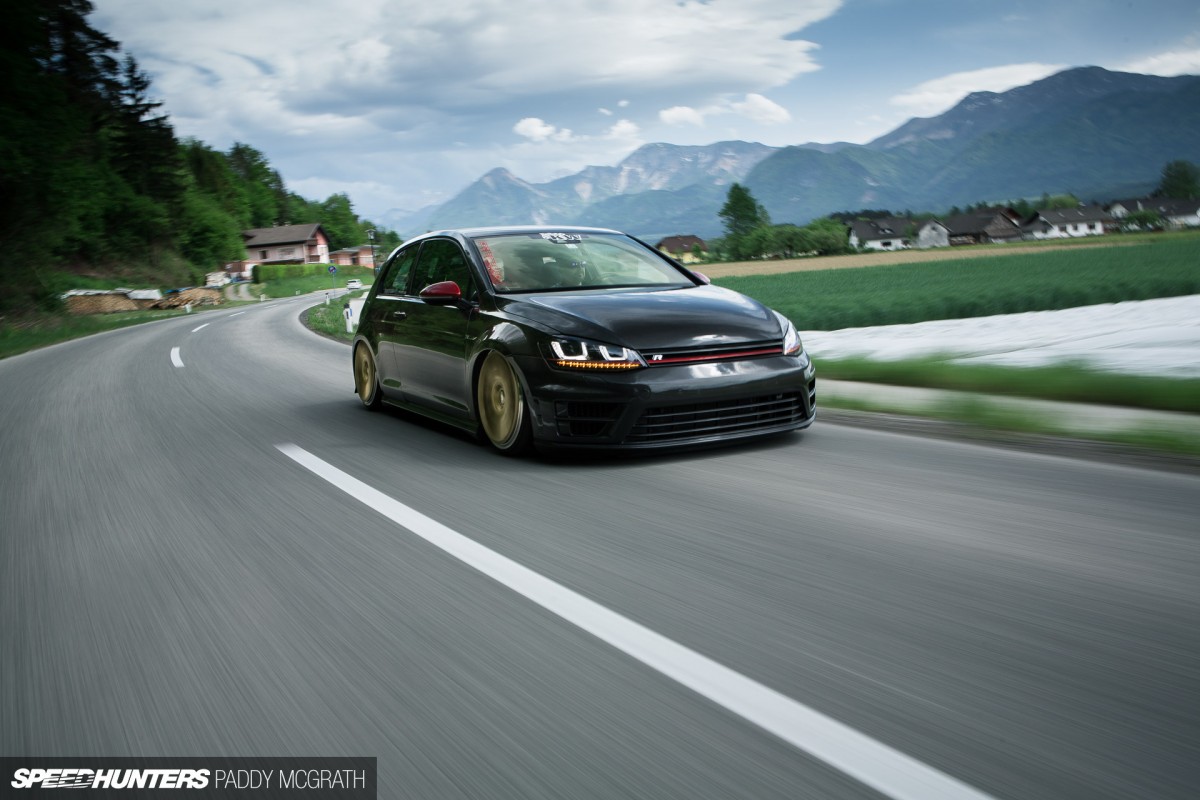 So whilst the car is extraordinarily low, it can still be driven in a spirited manner with minimal loss of performance. It certainly had no issues keeping up with our stock MkVII GTI press car, which was being driven rather enthusiastically by fellow photographer Nick Williams.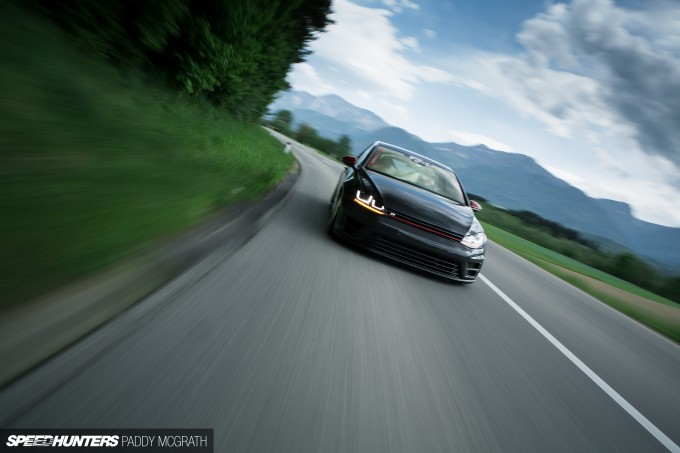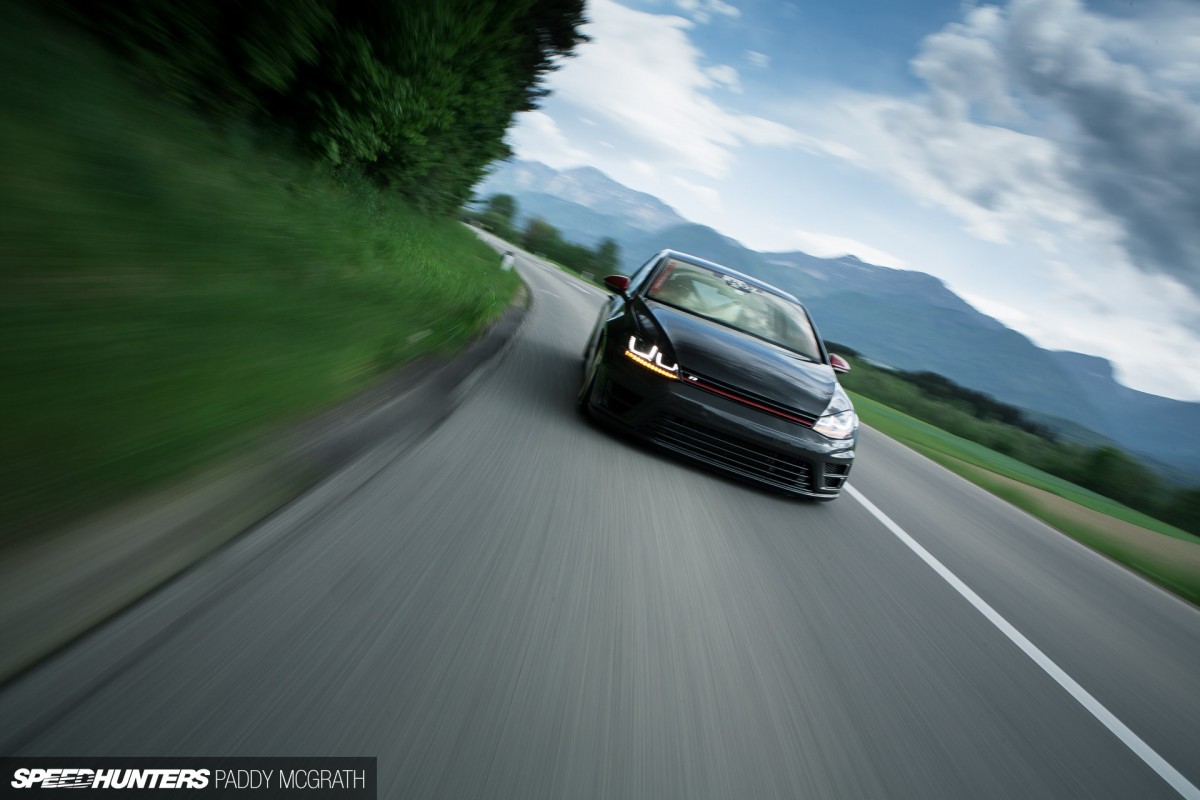 I'm sure the light tuning of both the engine and DSG gearbox, now laying down around 314hp, through the Performance Pack's LSD helps a little in this department too.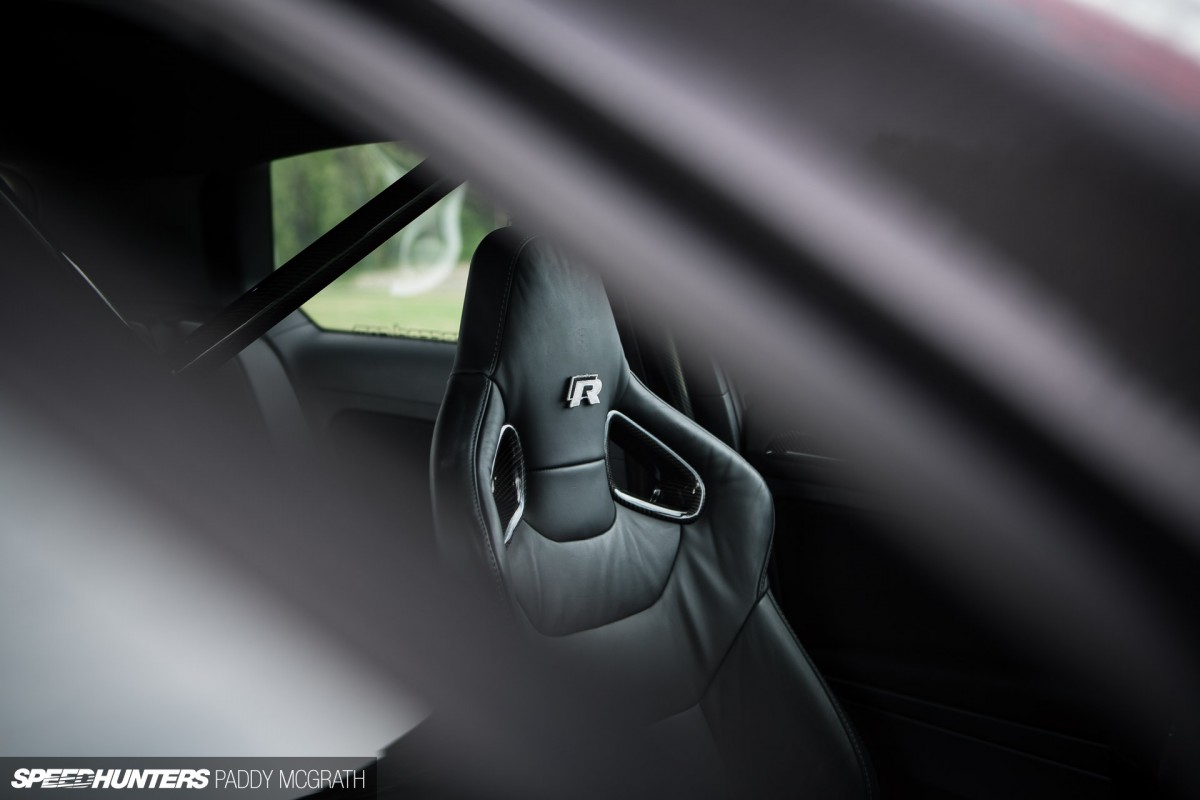 The interior too has been considerately modified too. The stock GTI seats are gone and in their place are Golf MkVI R leather buckets.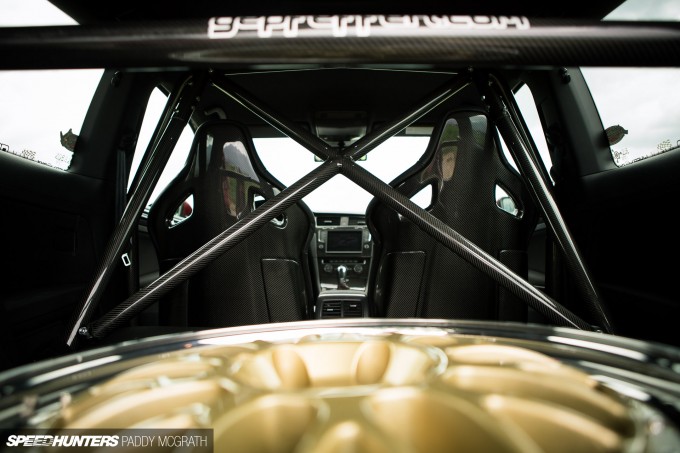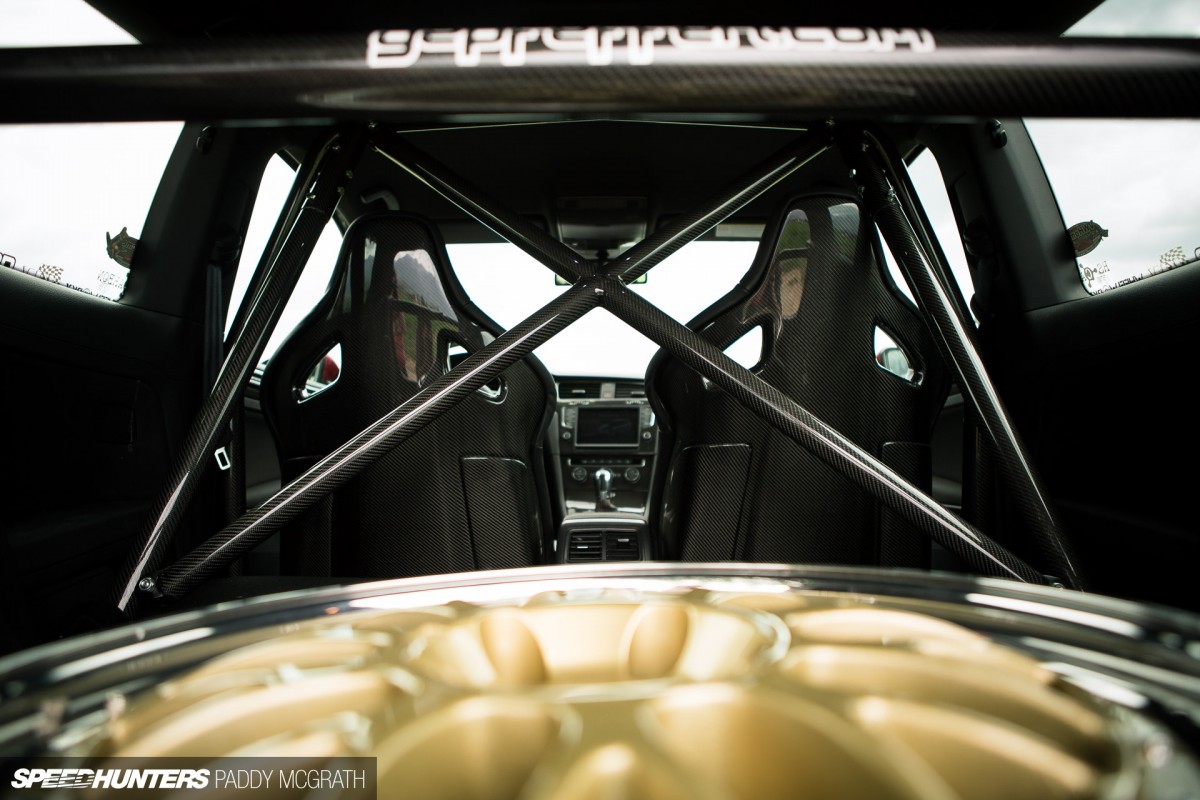 You probably guessed that the carbon fibre theme stretches in here too, and you would have guessed right. From the seat backs, to the cage, to the complete interior trim – the weave is everywhere.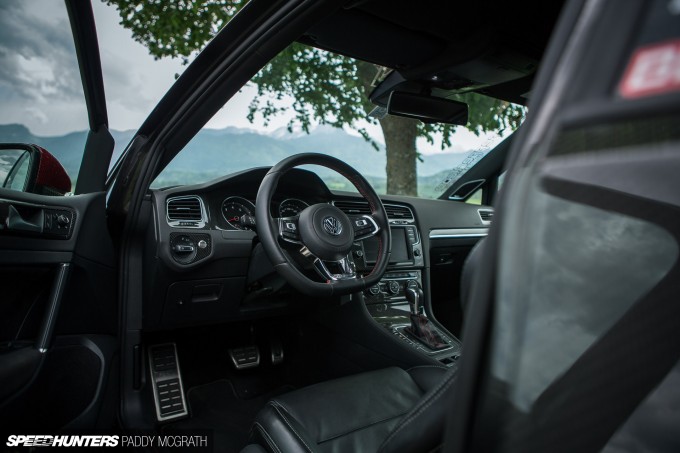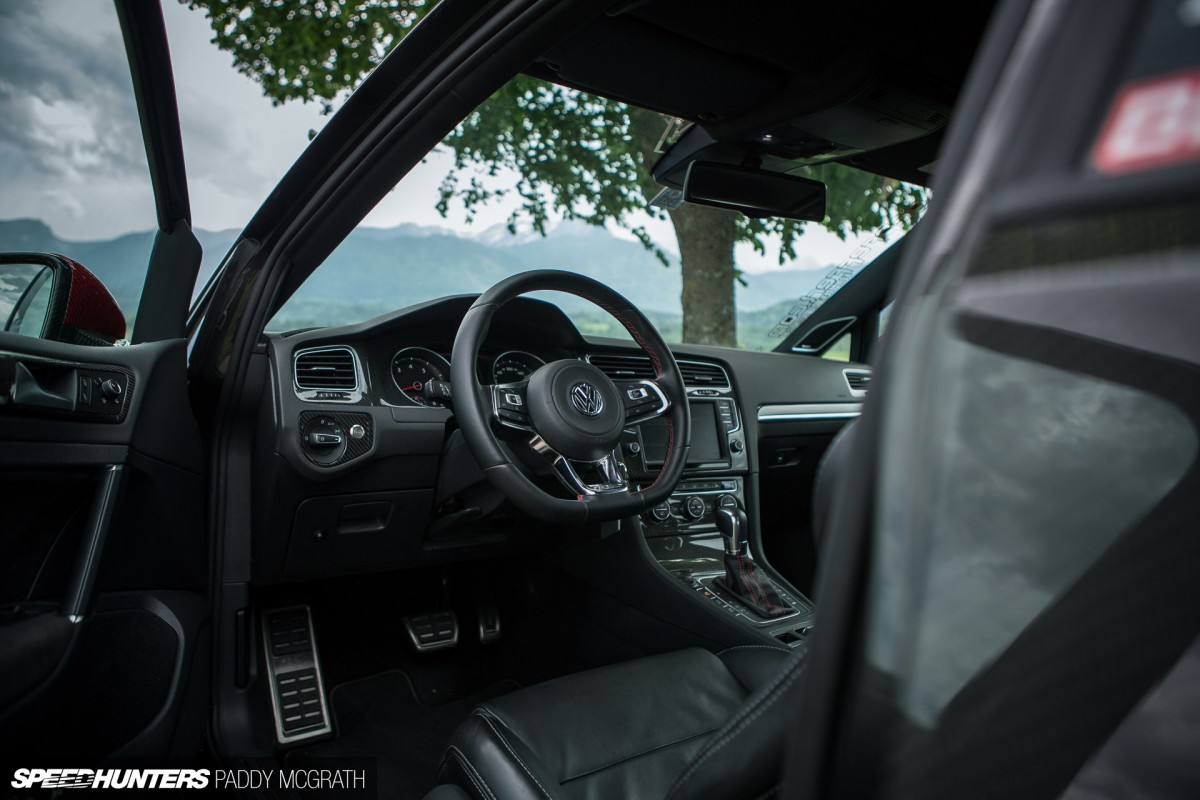 What I really like about the interior though is that Andy knew when to stop. He's took note that the stock interior in the new GTI is actually really good and has chosen to enhance it rather than completely reinvent it. He still has all the creature comforts he could ever want, along with the support of the Golf R seats and ease of use of the intuitive OE entertainment and navigation system. If it's not broke…
Respect Amongst Peers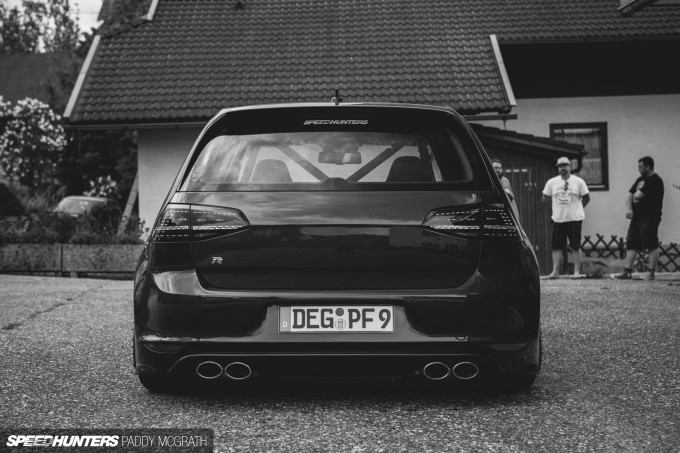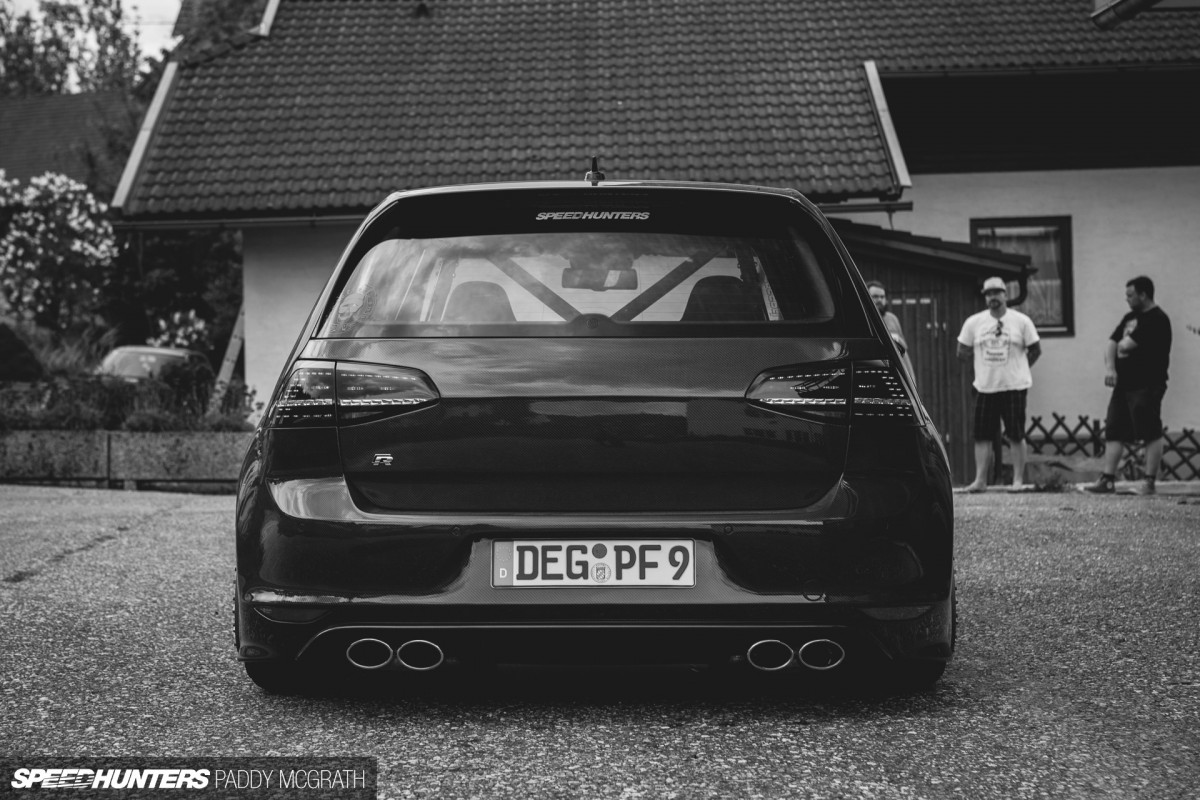 Whilst the finished product is smooth and simple, anyone who knows will tell you that it's rarely a smooth and simple process.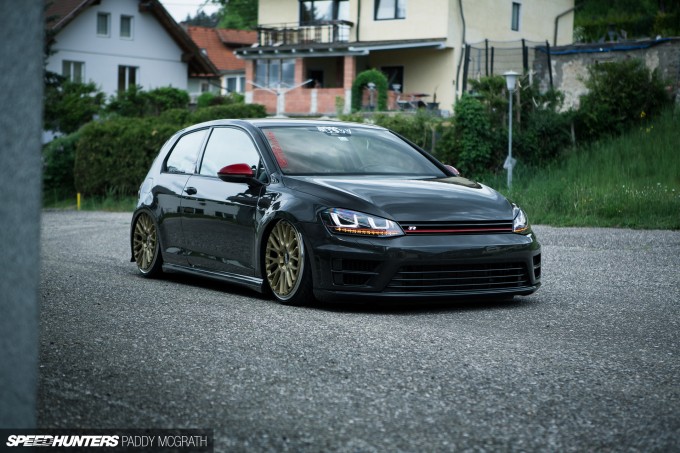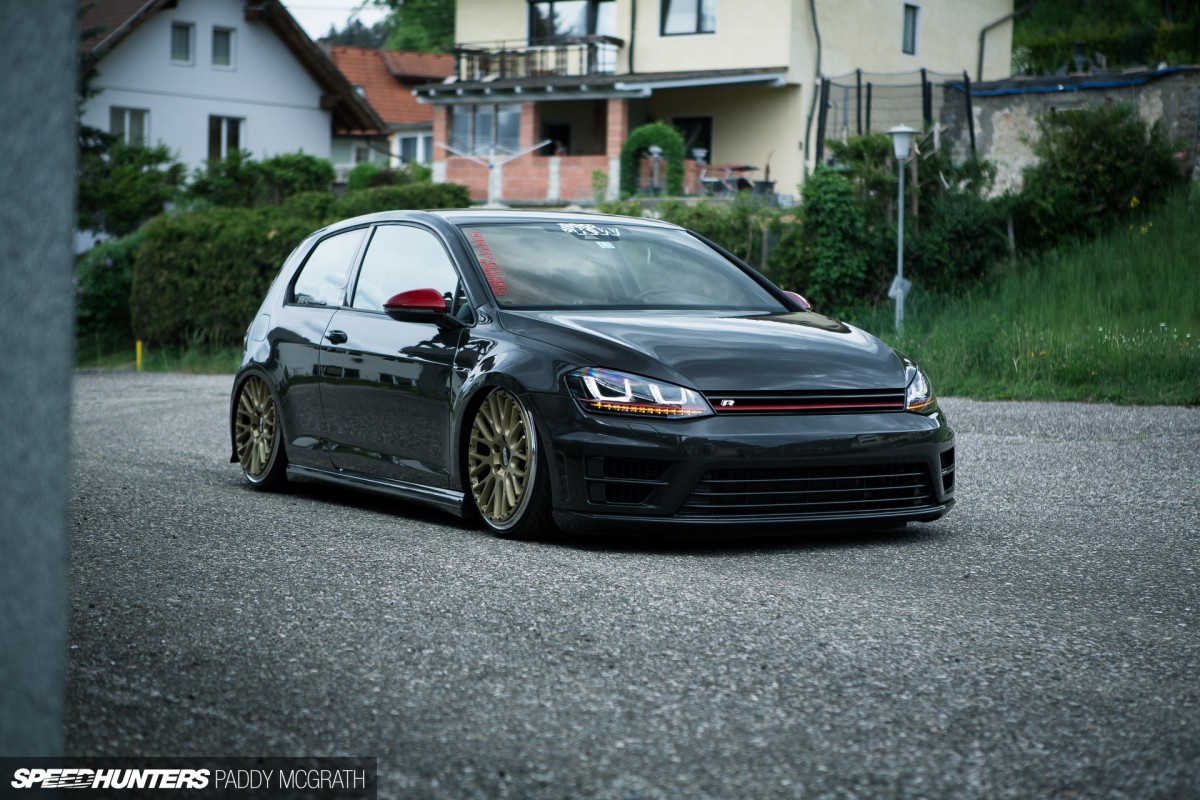 I really like this car. When I look at Andy, it's obvious that he really likes it too and that it was worth the effort and hours that went were poured into it. From creating a concept on paper or in your head to executing it and arriving at the finished product is a long and often arduous process.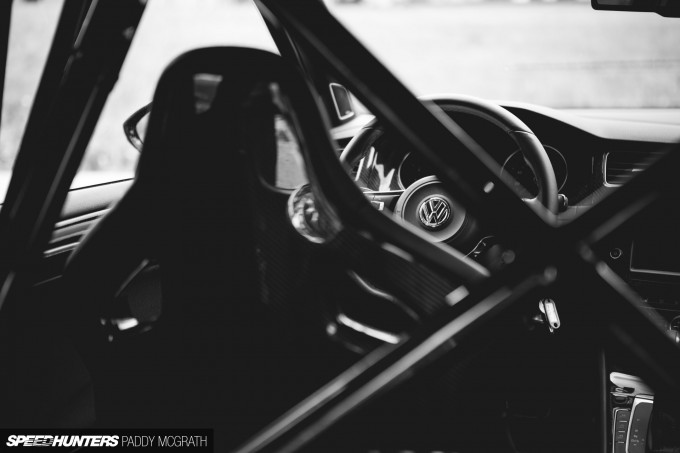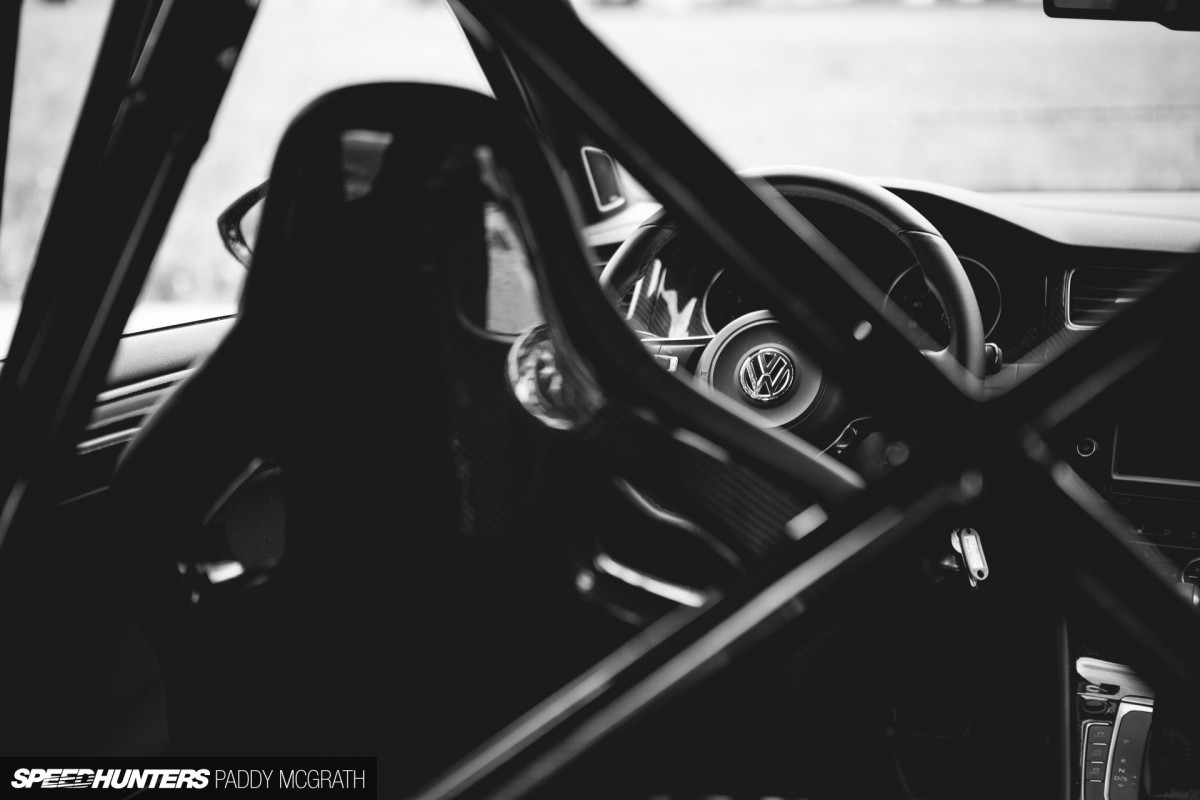 The same can be said if you were to build a competitive time attack car or a period-correct vintage restoration or countless other ways of approaching an automotive project. It's always hard work, no matter what your intended goal is.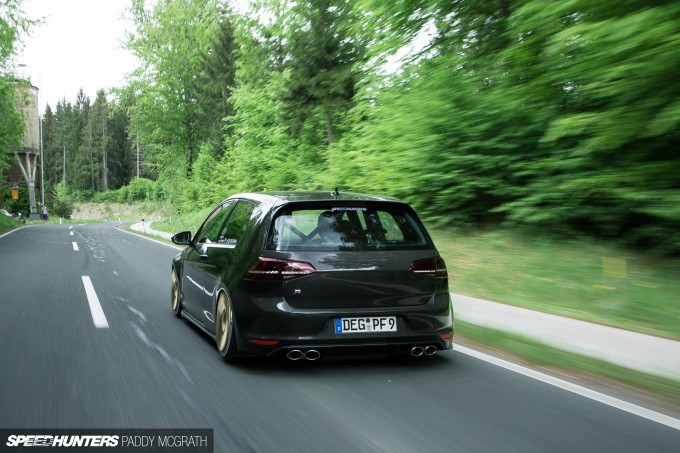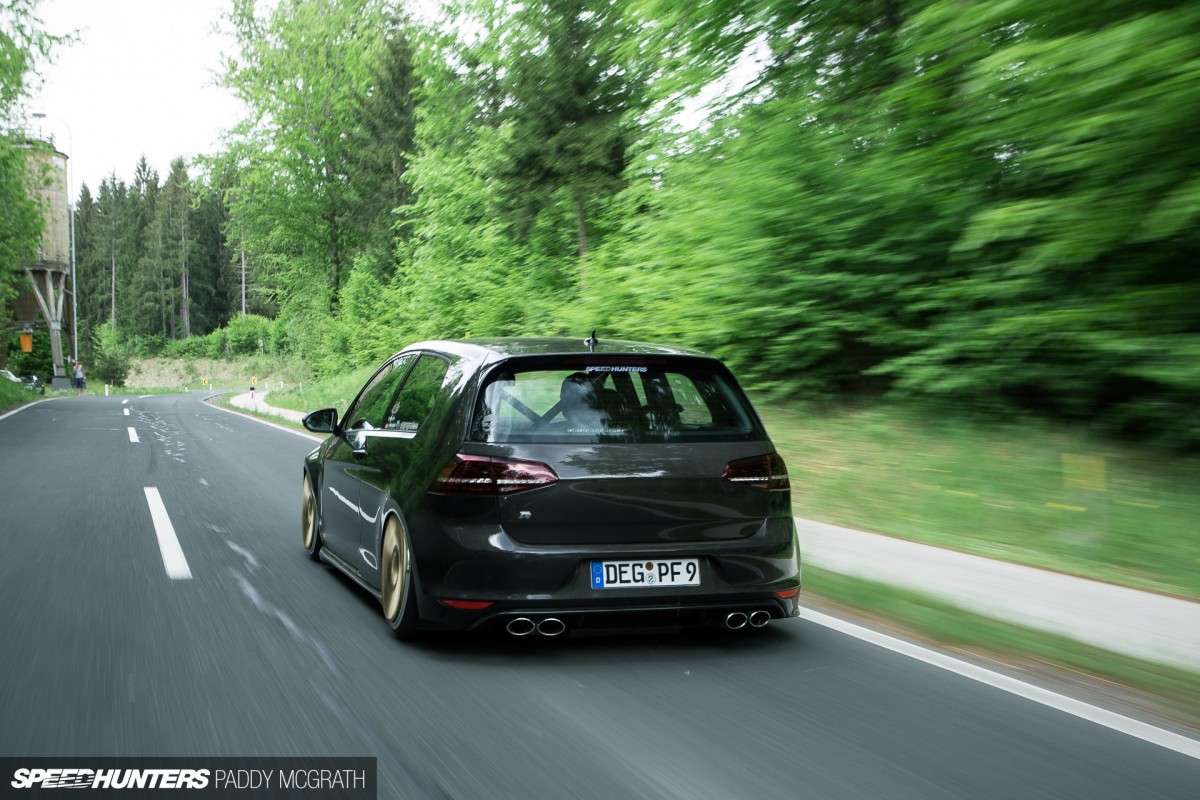 In my opinion, this hard work should always be respected at the very least.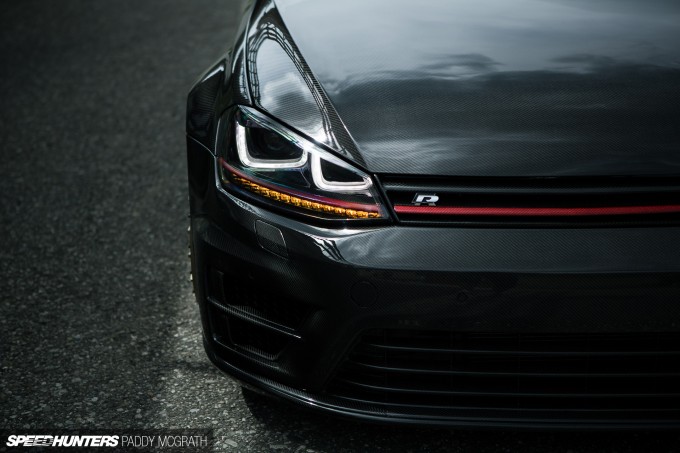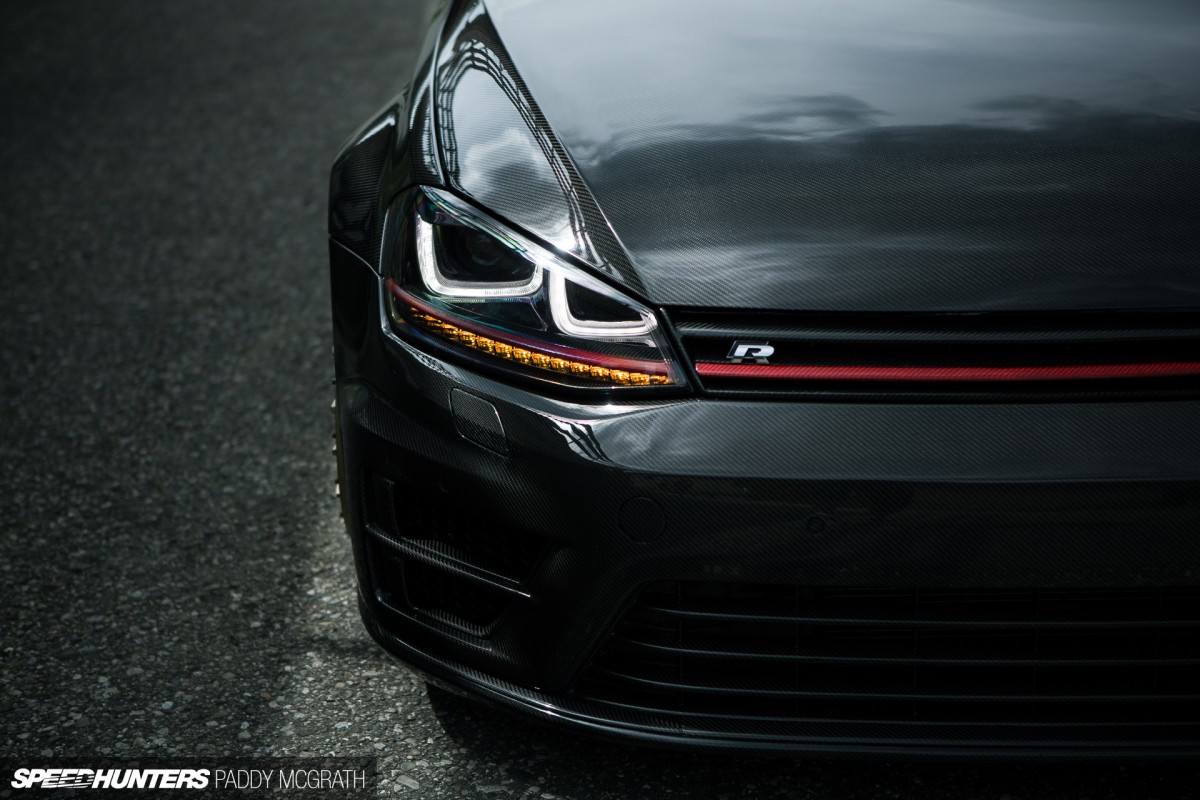 You might not realise it, but as car guys and girls we're in the minority. Our love for burning fossil fuels and obsessing over mechanical components makes us outsiders to mainstream society. If we don't at least respect each other, then our whole world will come crumbling down and what a tragedy that would be.
Let's stick together then, shall we?
Paddy McGrath
Instagram: @pmcgphotos
Twitter: @pmcgphotos
paddy@speedhunters.com
Cutting Room Floor