The Joy Of Wheels
Wheels are awesome. So awesome in fact, that if you're anything like me you've probably spent almost as much time thinking about wheels as cars themselves.
Well before I even picked up my 2015 Ford Mustang EcoBoost project car, I was scheming and making crappy Photoshop renderings to try and figure out what sort of wheels would look best on it.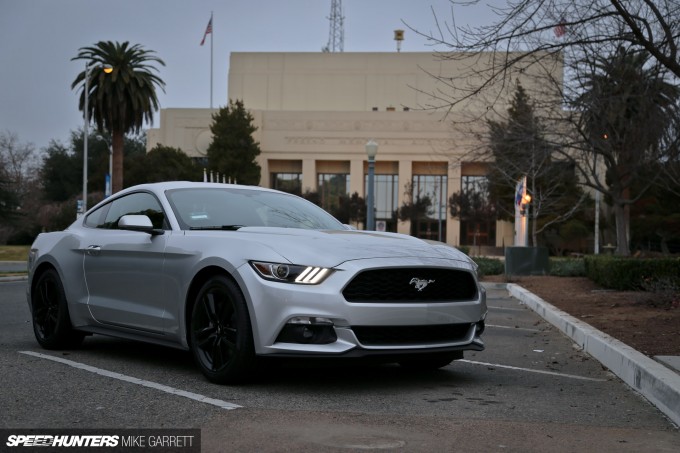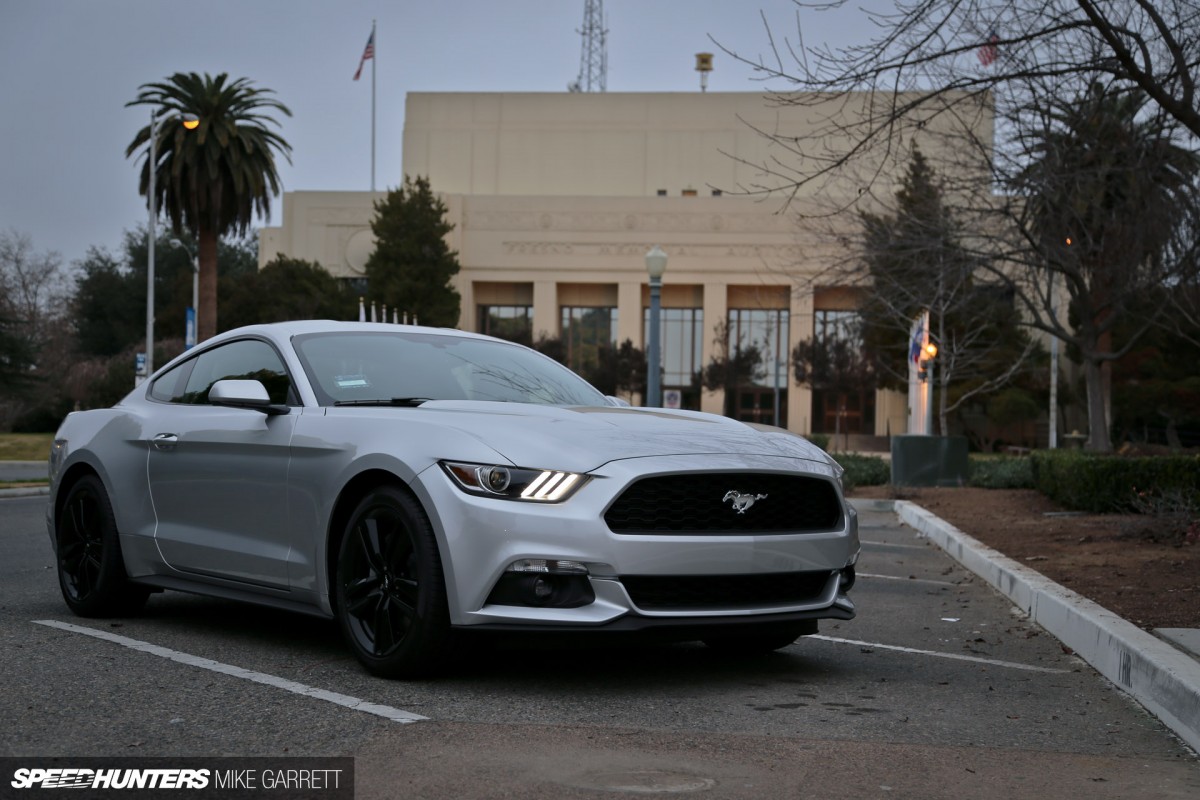 As I've covered in my past project car updates, the EcoBoost version of the Mustang is really a whole new entity. It's part iconic American Pony Car and part European/Japanese-esque turbocharged sports coupe. I even wrote about how in some ways the Mustang EcoBoost can be seen as an
American version of the Nissan Silvia.
With that in mind – and considering that I'm still a huge geek for Japanese car culture – I thought a set of Japanese-made wheels would be the perfect way to give Project EcoBoost some unique flavor.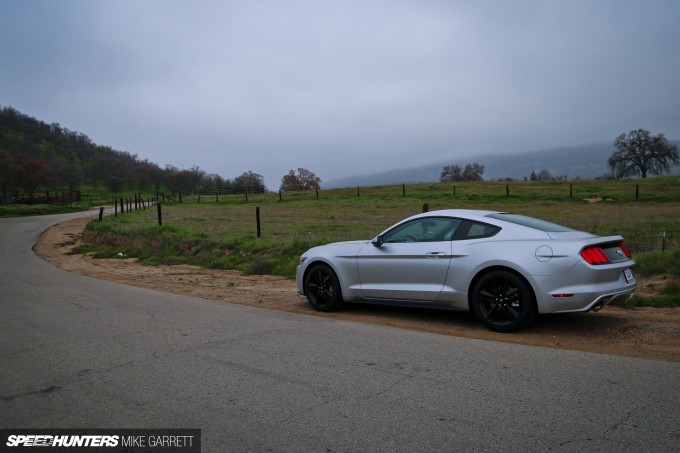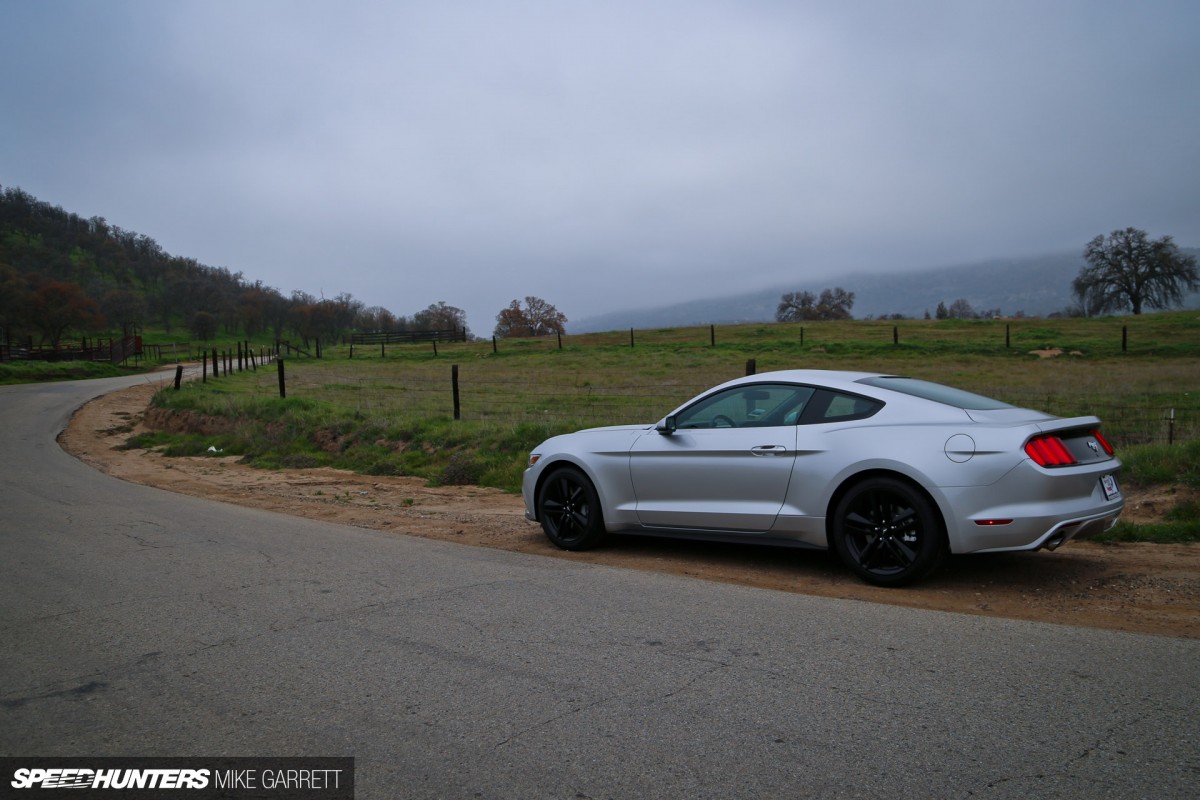 And when it comes to Japanese wheels, there's really no model more iconic than the Volk Racing TE37. From the moment the idea of picking up a new Mustang crossed my mind, I had visions of bronze-colored TE37s filling the fenders. So almost immediately after taking delivery of my Mustang in January, I wanted to get in touch with our partners at RAYS Wheels to see if they'd be interested in supplying some forged Japanese goodness for this project.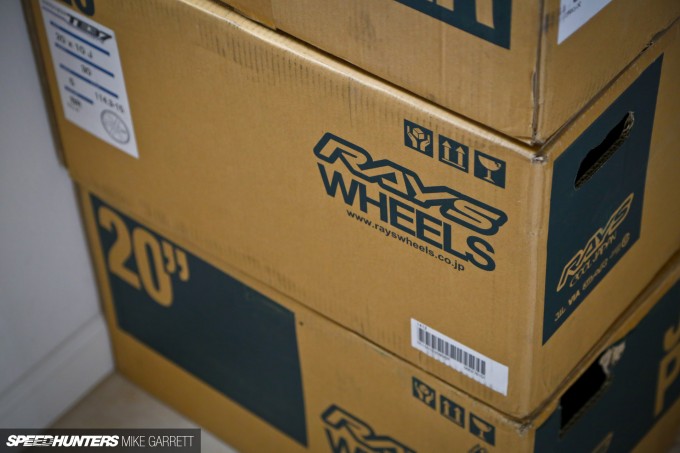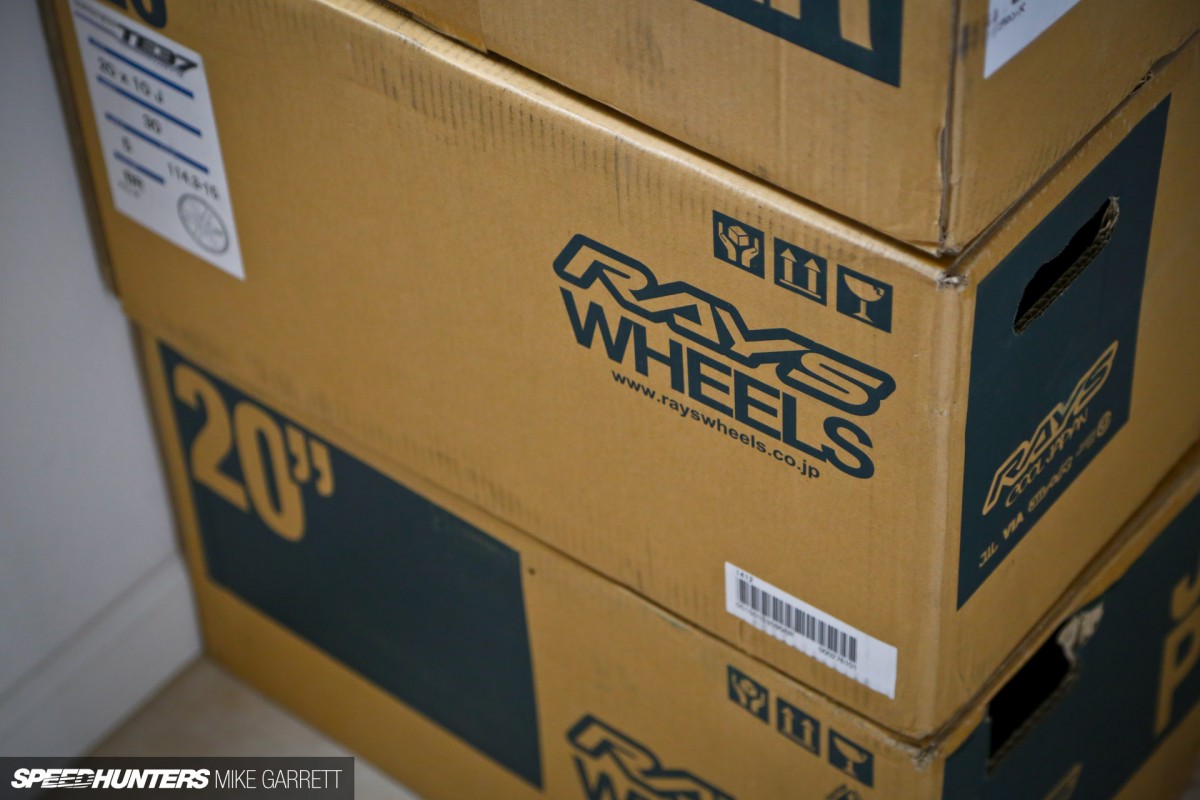 Once I learned that RAYS was happy to be onboard with my plan, I was ecstatic, but then came the difficult task of figuring out exactly which wheel and size would be best suited for this car. The factory wheels on the EcoBoost Mustang with Performance Package are 19 inches in diameter, and research told me that stepping up one size to a 20-inch wheel could easily be done. Once upon a time the notion of a Mustang with 20s would, to me, be out of place everywhere except a rap music video, but today it's a common wheel size for a number of performance cars. Oh how things have changed!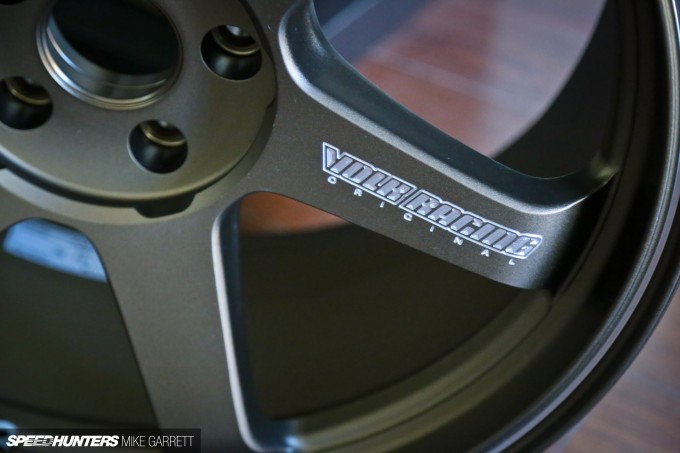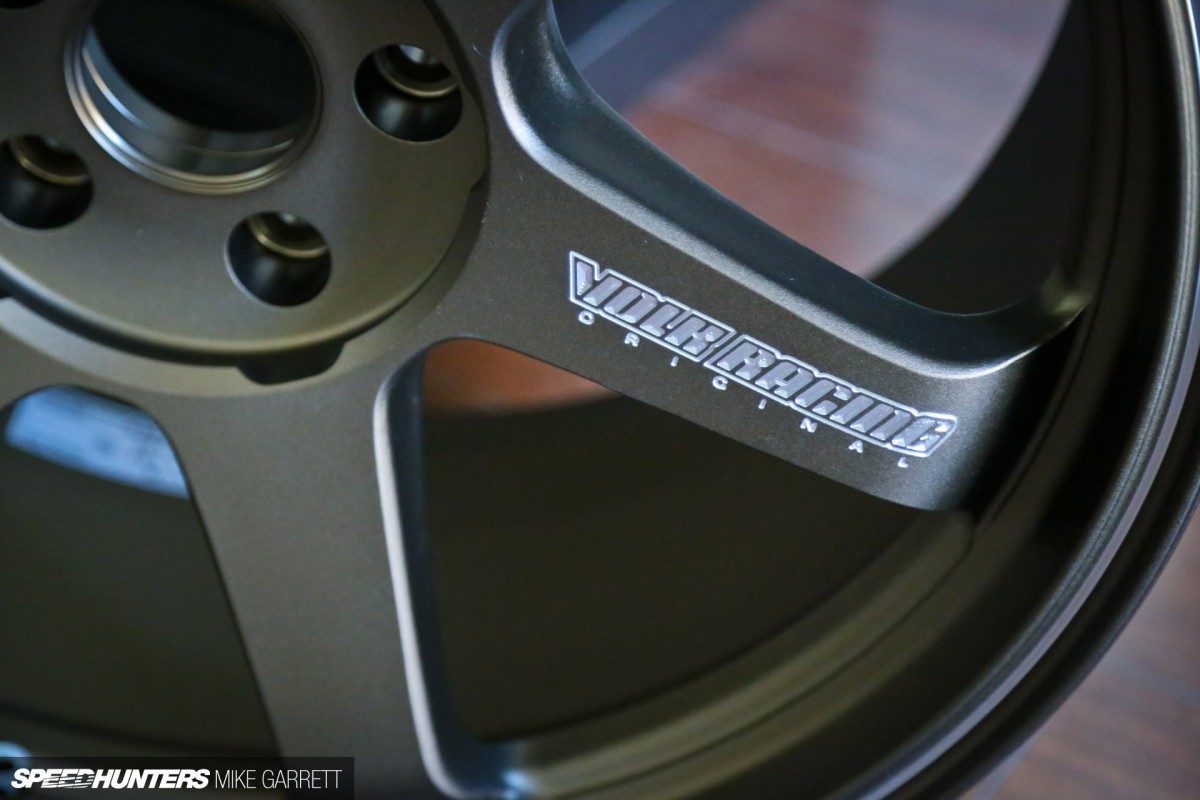 It's only recently that the TE37 has become available in a 20-inch size – and that's all thanks to the introduction of the new TE37 Ultra last year. While the 20-inch-only TE37 Ultras were originally designed for use on the Nissan GT-R, they've also become available in fitments for other cars, and I was pleased to find RAYS offering sizes that I thought would work perfect on my Mustang.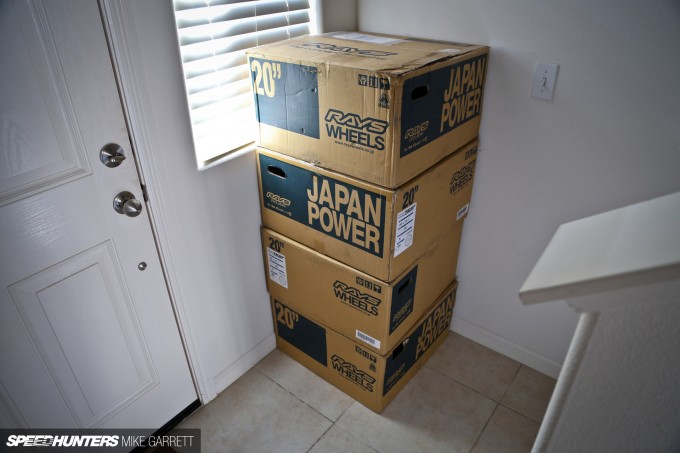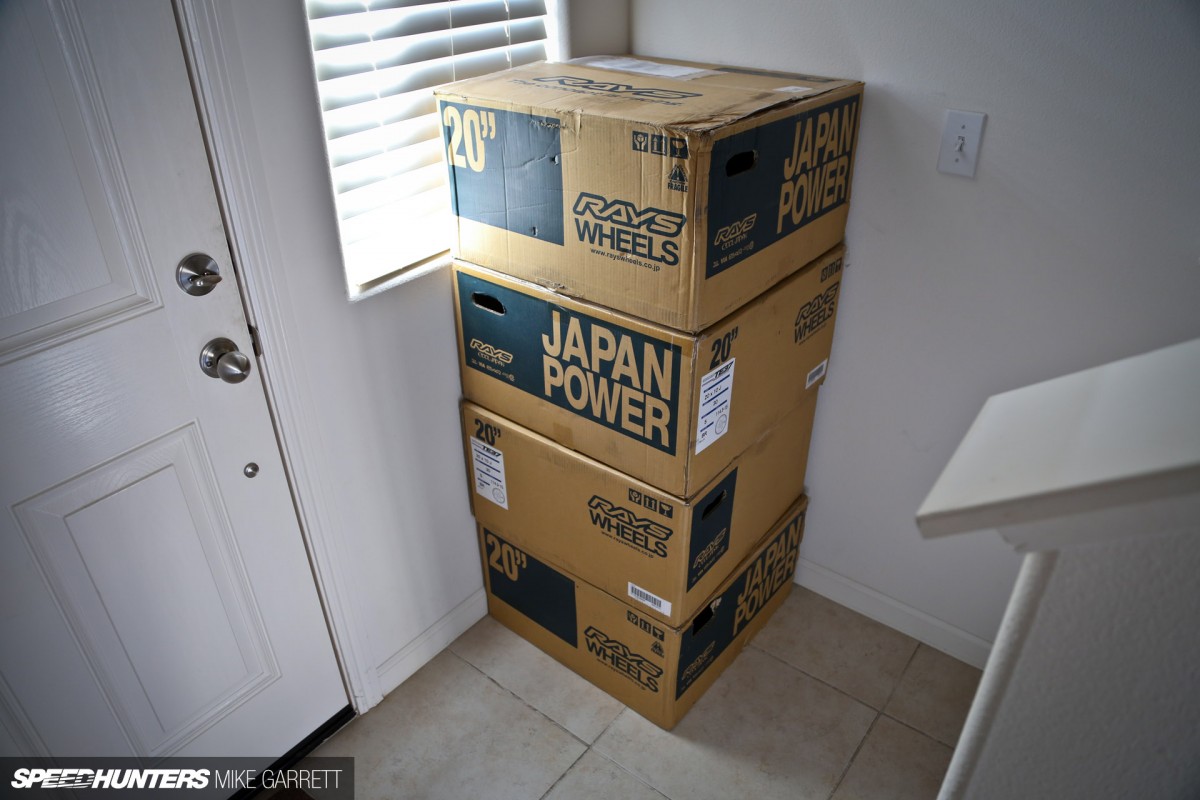 After finalizing the sizes and color I waited patiently for the wheels to arrive from Japan, and on the day the UPS guy showed up carrying these four boxes I had the same level of excitement as when I picked up the car itself. Of course, before I could actually put them on the car, I'd also need to find some tires to go with them.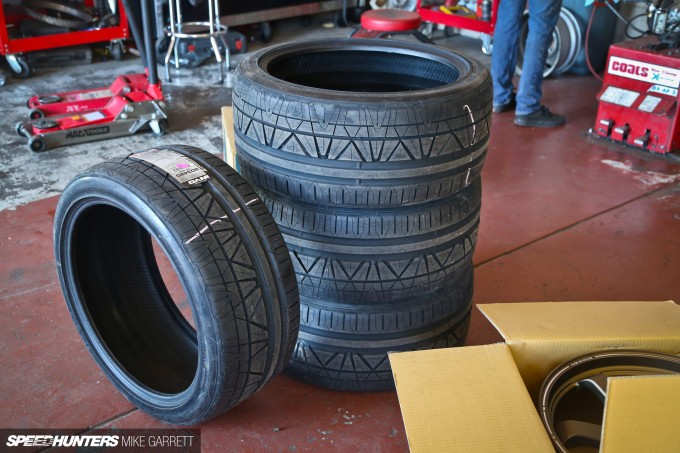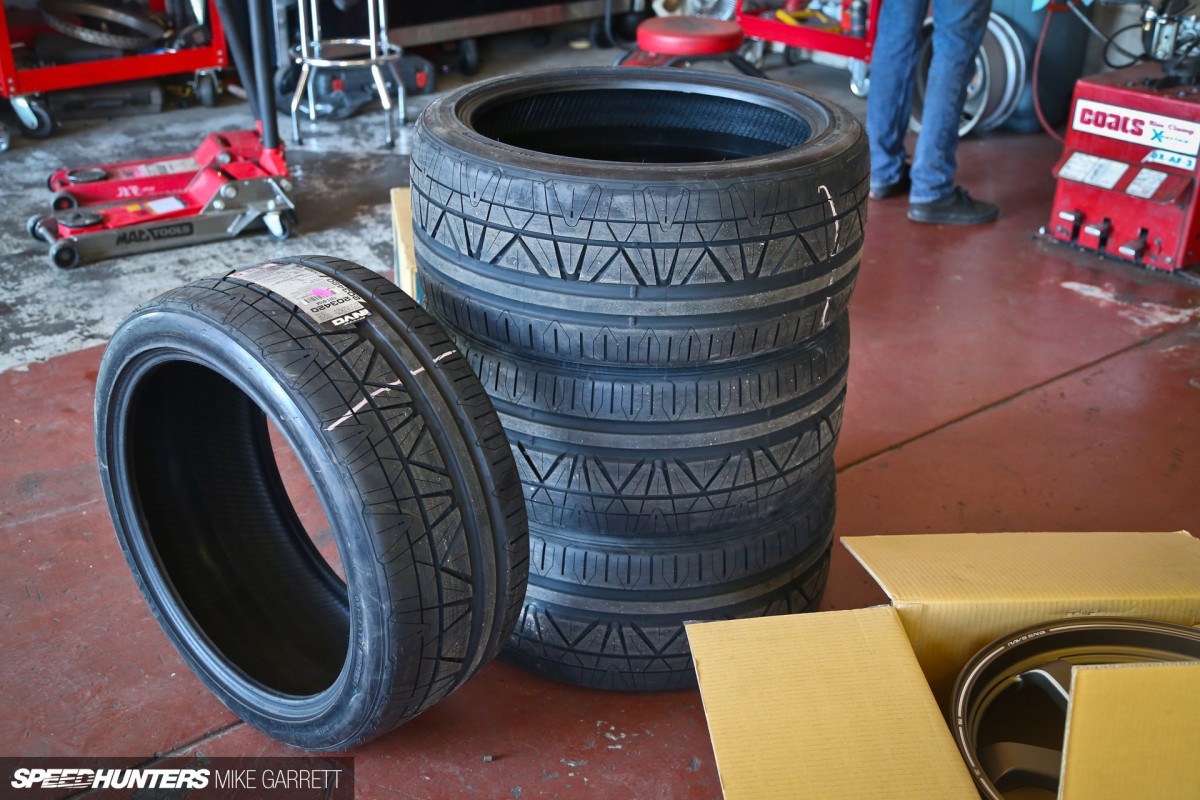 That's where our friends at Nitto Tire come in. After looking through Nitto's line-up and size offerings, it seemed that the Invo would deliver a good balance of grip, comfort and longevity for my daily driver Mustang.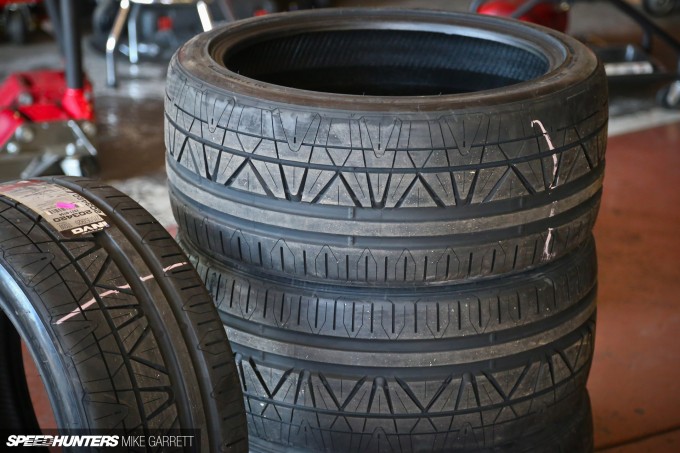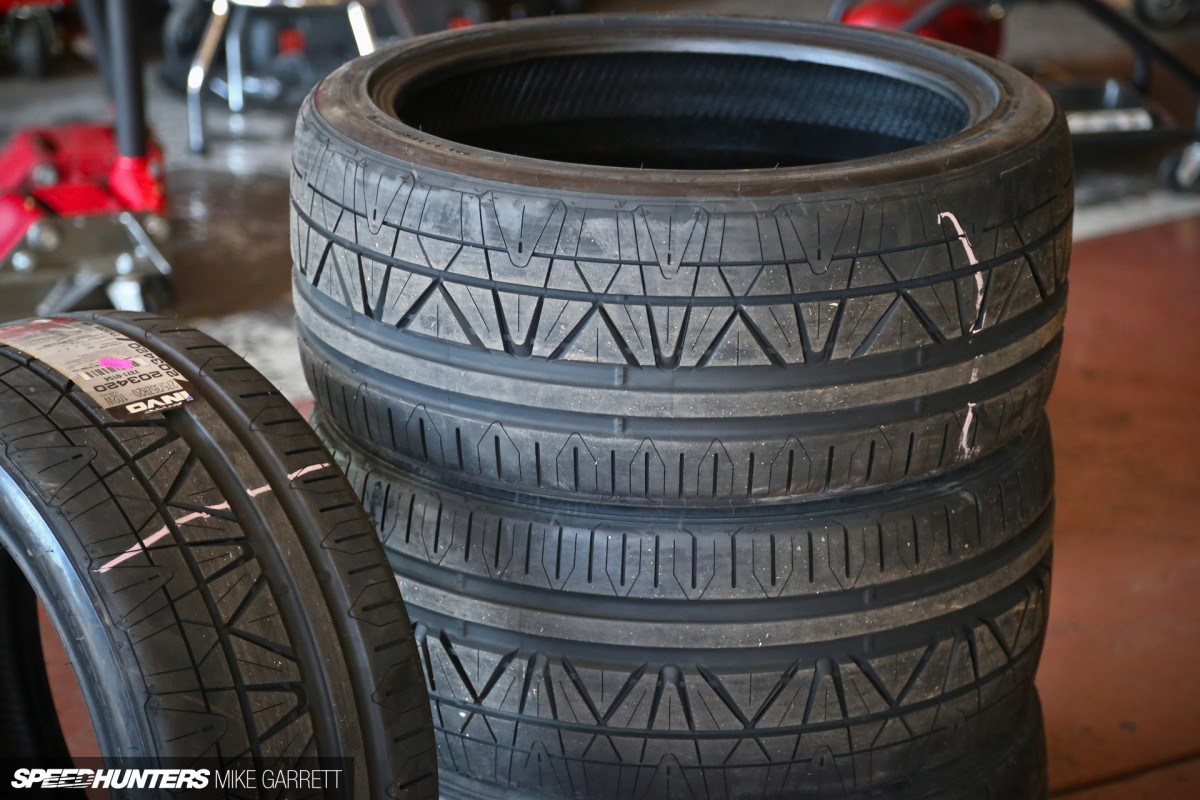 I was tempted to go with the grippier NT05 tire, but swapping over to those can always be done should the car start hitting more track days. For now, the Nitto Invos seem to be well-suited to the car's power and grip level in street driving. And how about that tread pattern?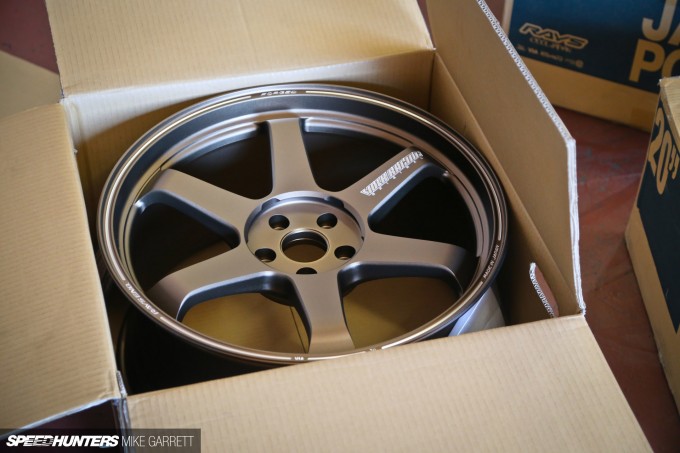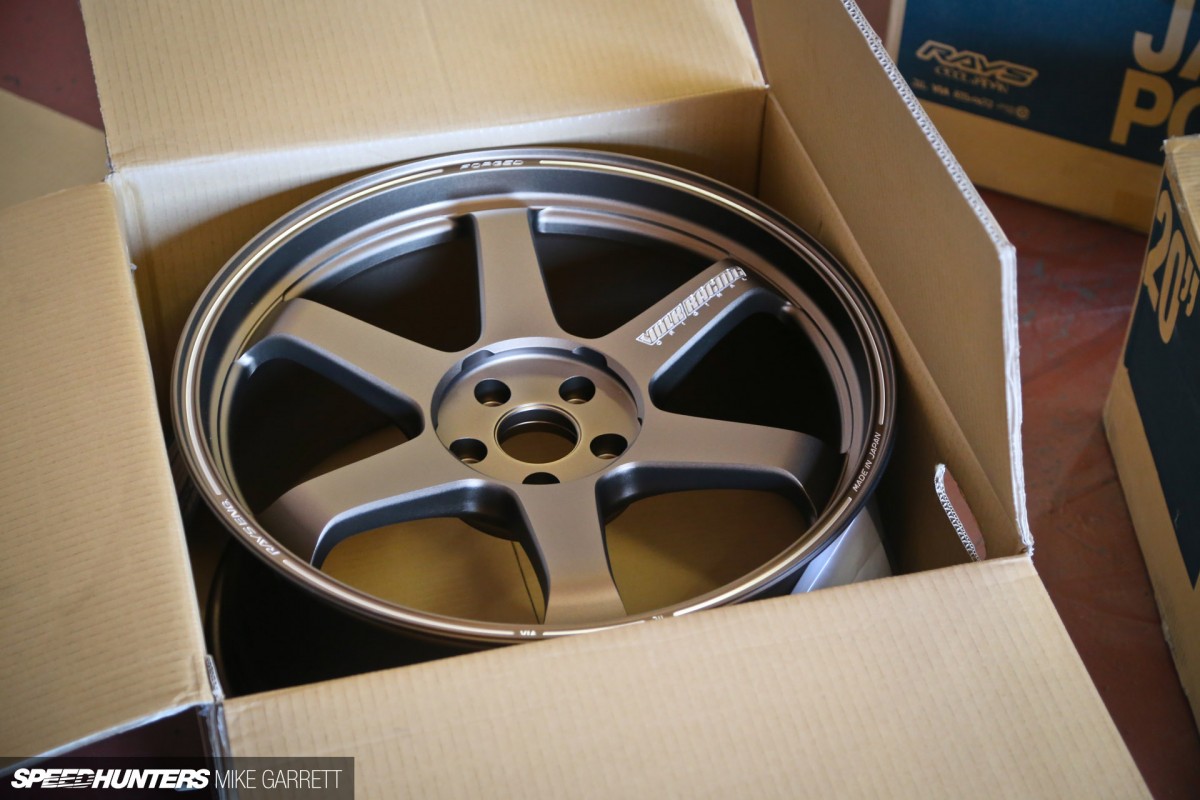 When I was choosing the specific sizes for the TE37 Ultras, I had a few different options. The majority of Mustang owners opt for a staggered setup with wider rear wheels to fit as much tire as the fender will hold. But I liked the idea of going with a square setup with identically sized wheels and tires on each corner.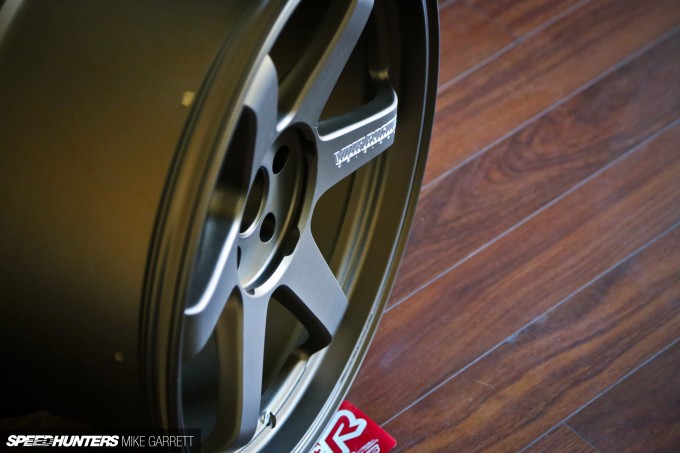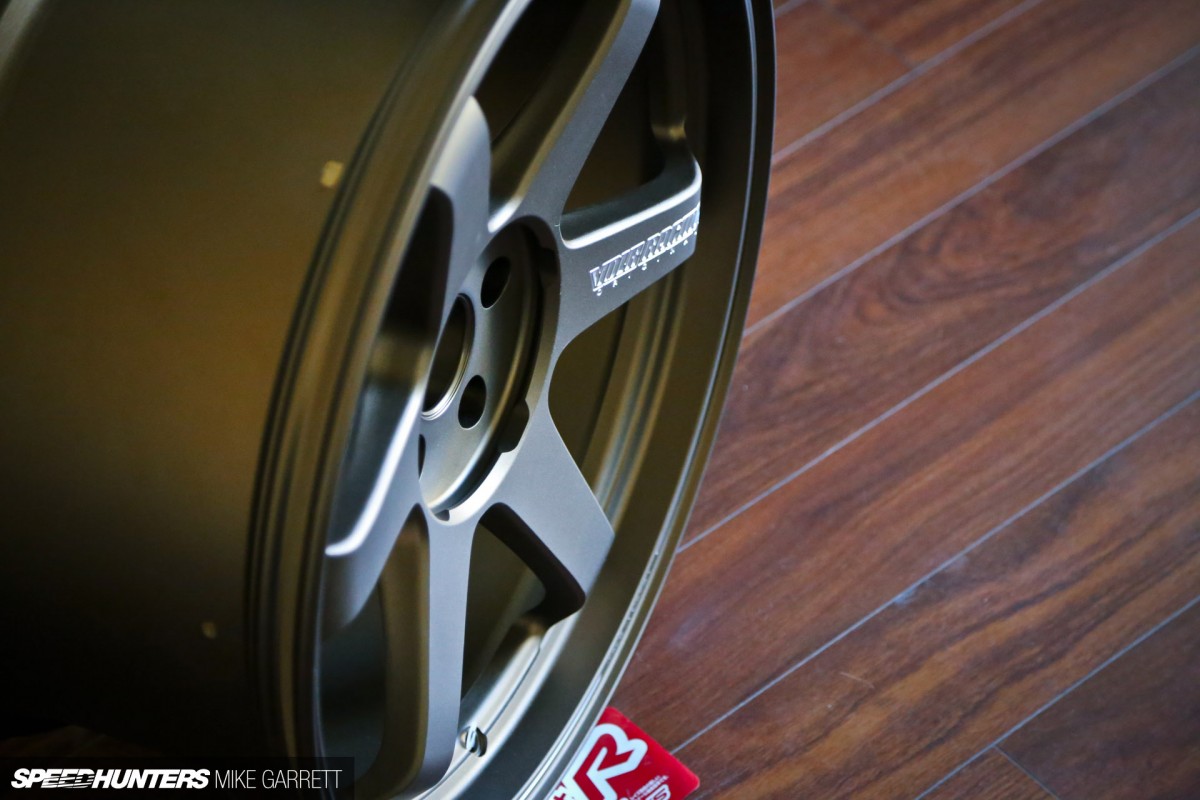 Even with performance upgrades I didn't think the 2.3-liter engine would need steam roller tires to put its power down, and I also favored the more balanced handling characteristics that a square setup gives. Each of the wheels measure 20×10-inch with an offset of +30, and while that's slightly more aggressive than the recommended fitment, I felt this size could be pulled off without looking awkward. In this particular size the TE37 Ultra also comes with the 'Face 3′ design, which to me gives the spokes the perfect amount of concavity.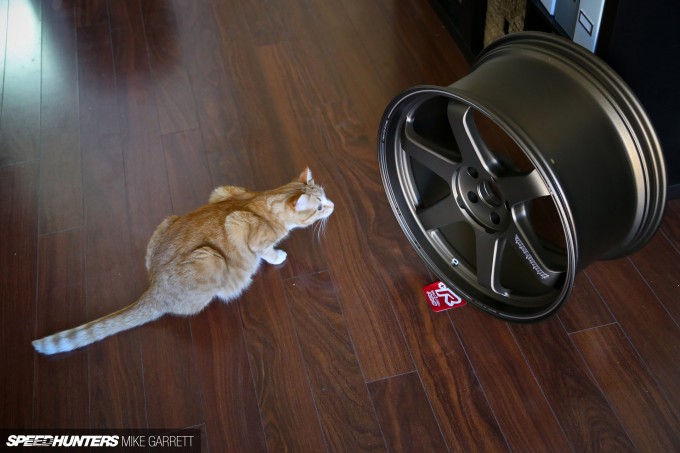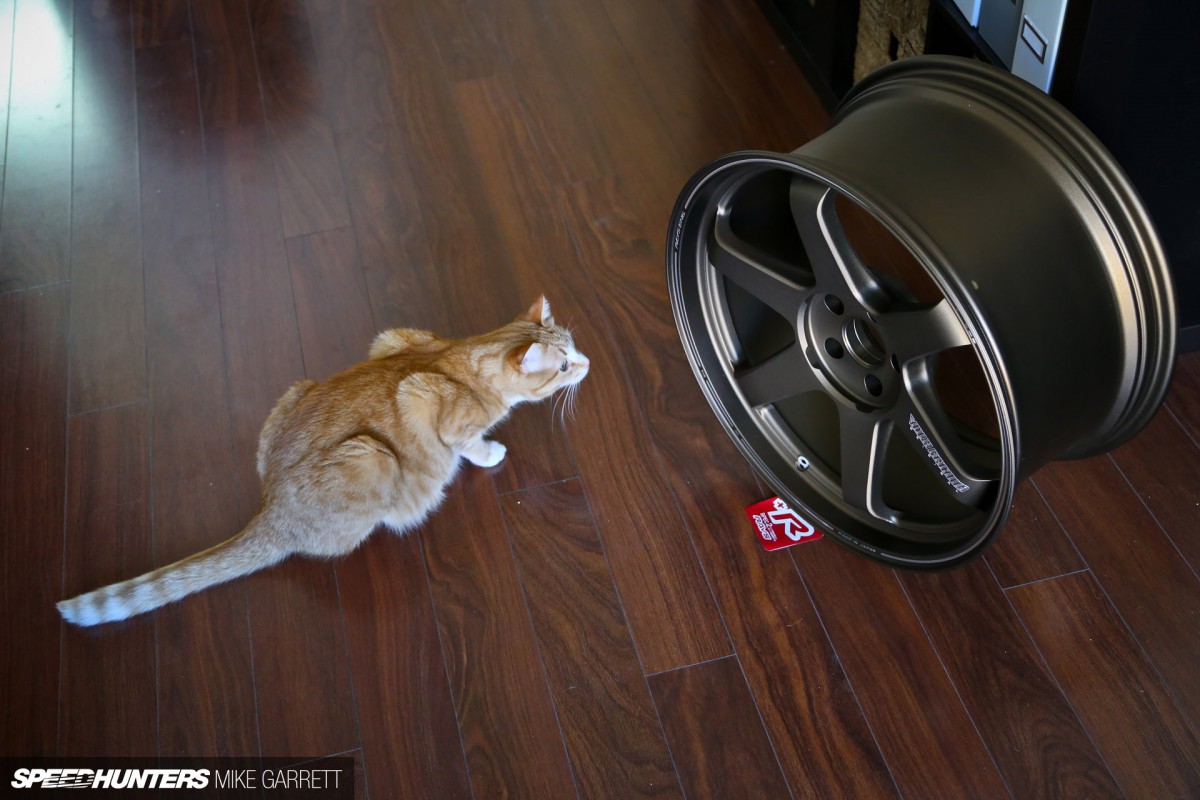 My cat also seems to approve of the wheel design, along with the RAYS classic bronze color. I considered going with the matte blue gunmetal, but in the end I thought traditional bronze was the ideal color for the TE37. Also of note is that in this size each wheel weighs in at 24lbs – not bad for a 20×10-inch!
Made In Japan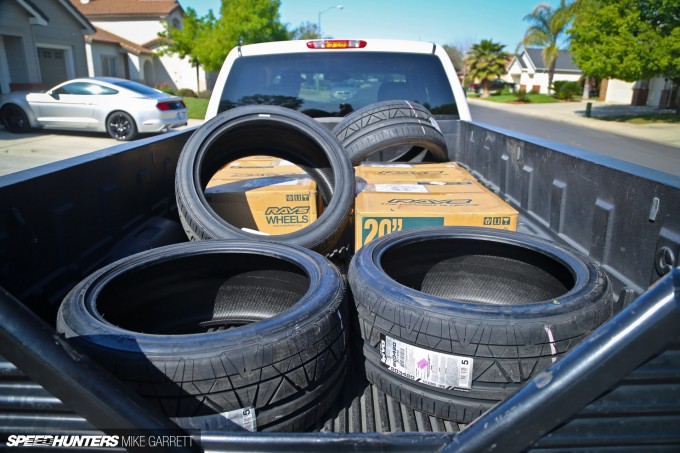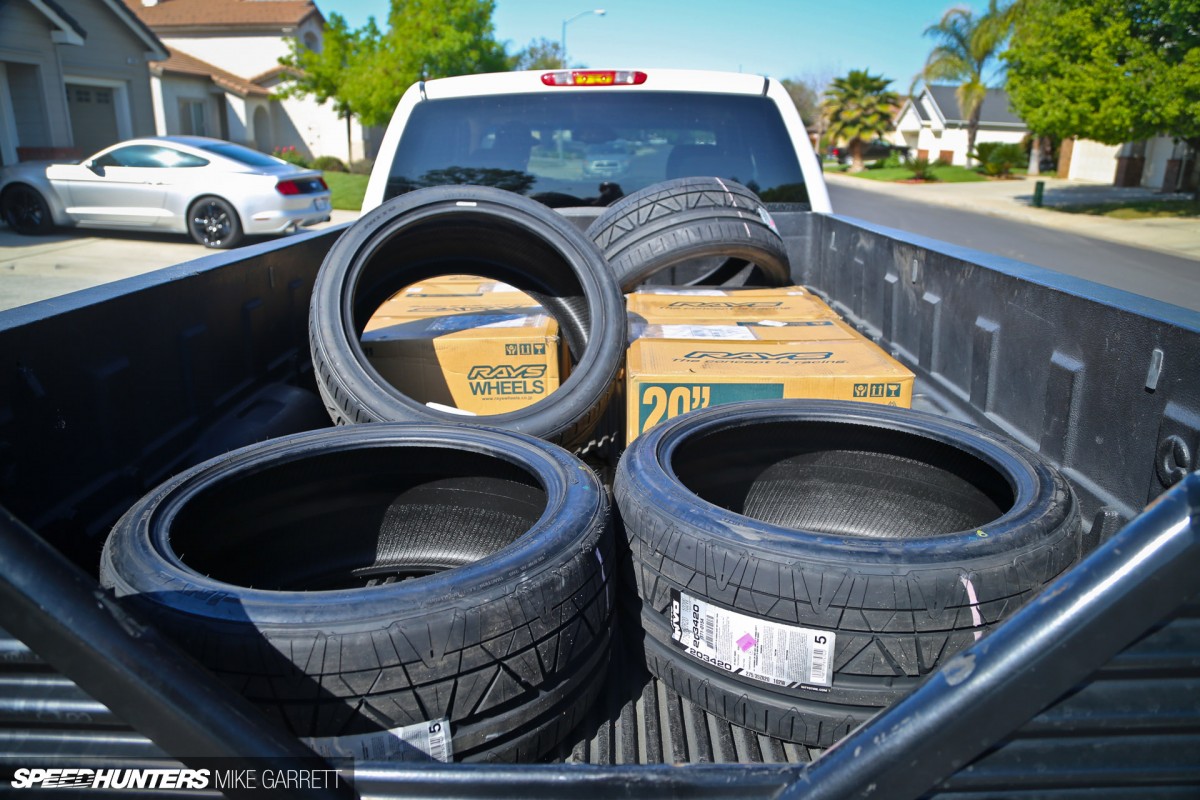 Once I had the wheels and tires, I loaded them in my brother's truck and took them to the local tire shop so they could finally be mounted and balanced.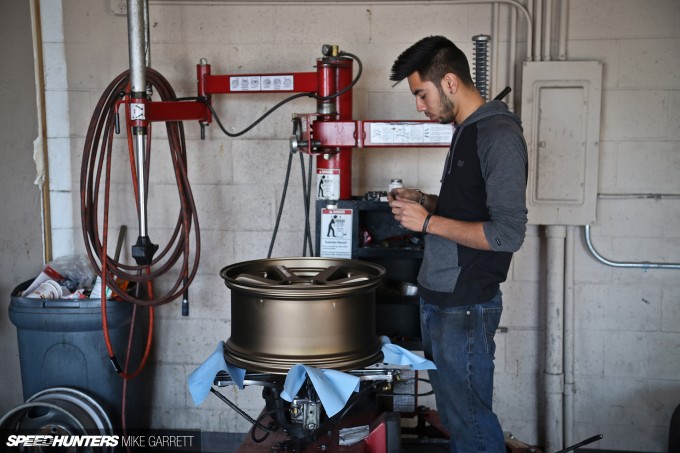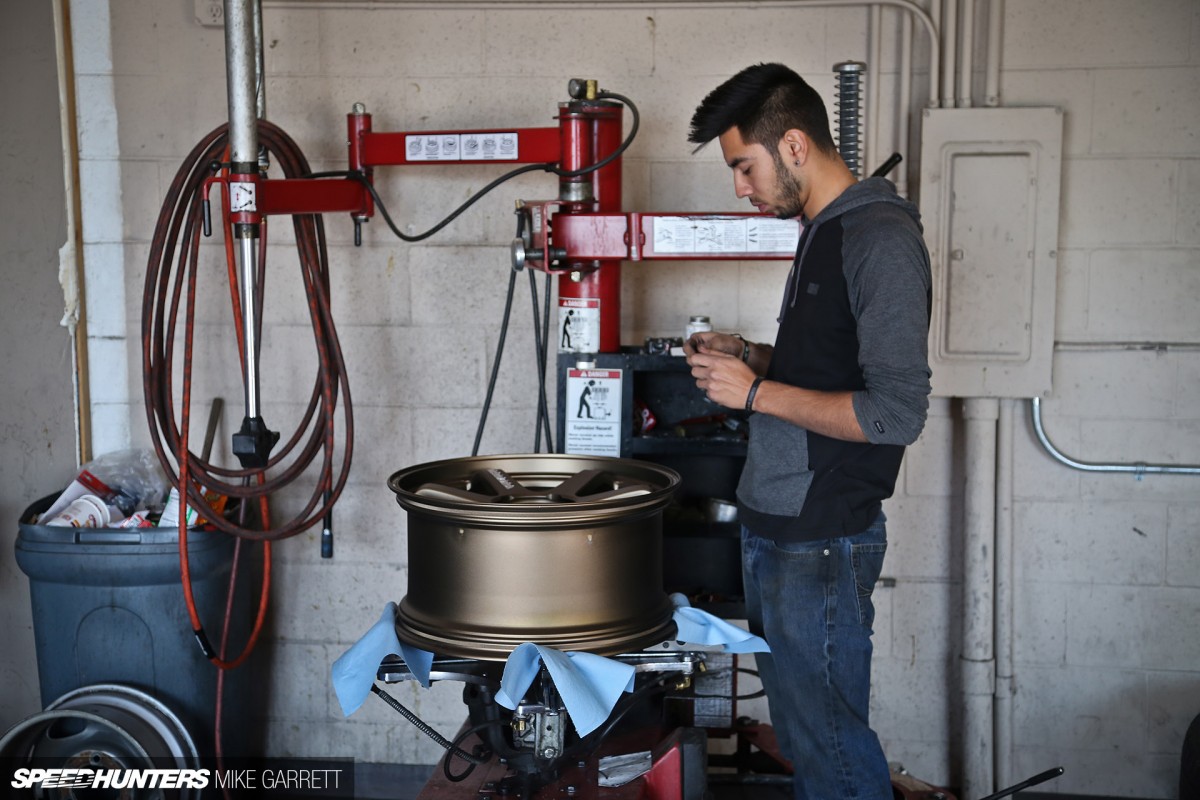 It's always a little scary watching someone mount tires on your brand new wheels and hoping nothing goes wrong, but once you find a tire shop you can trust it becomes a lot easier.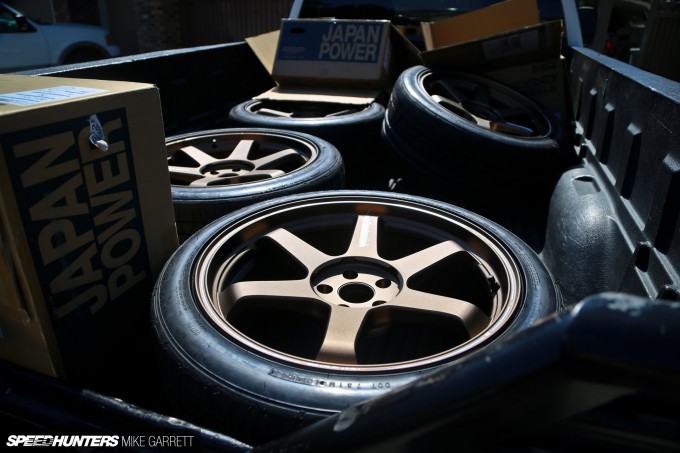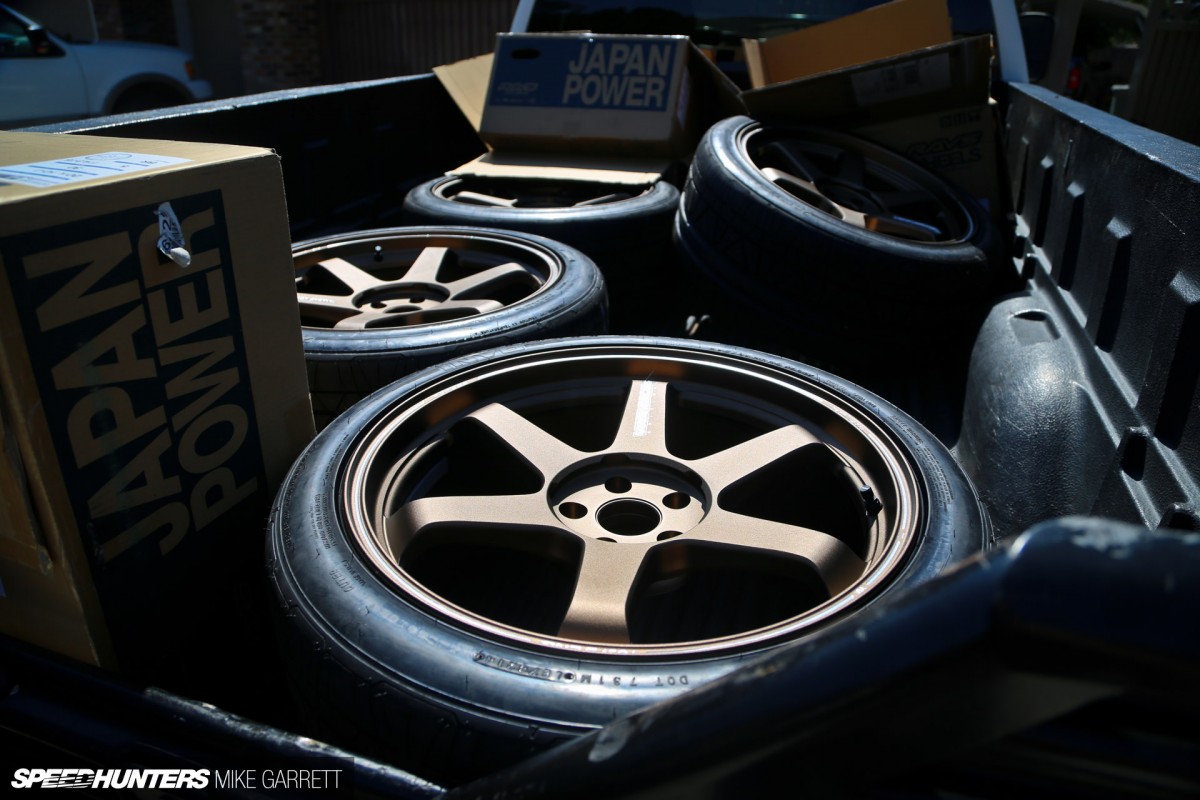 Before I knew it the TE37 Ultras were fitted with the Nittos and it was time to put them on the car.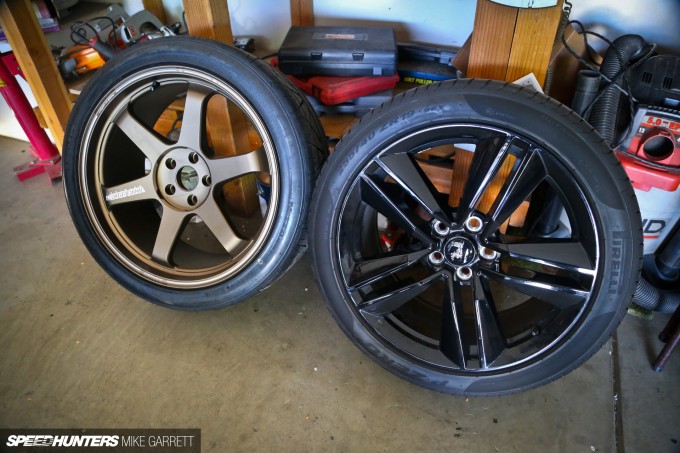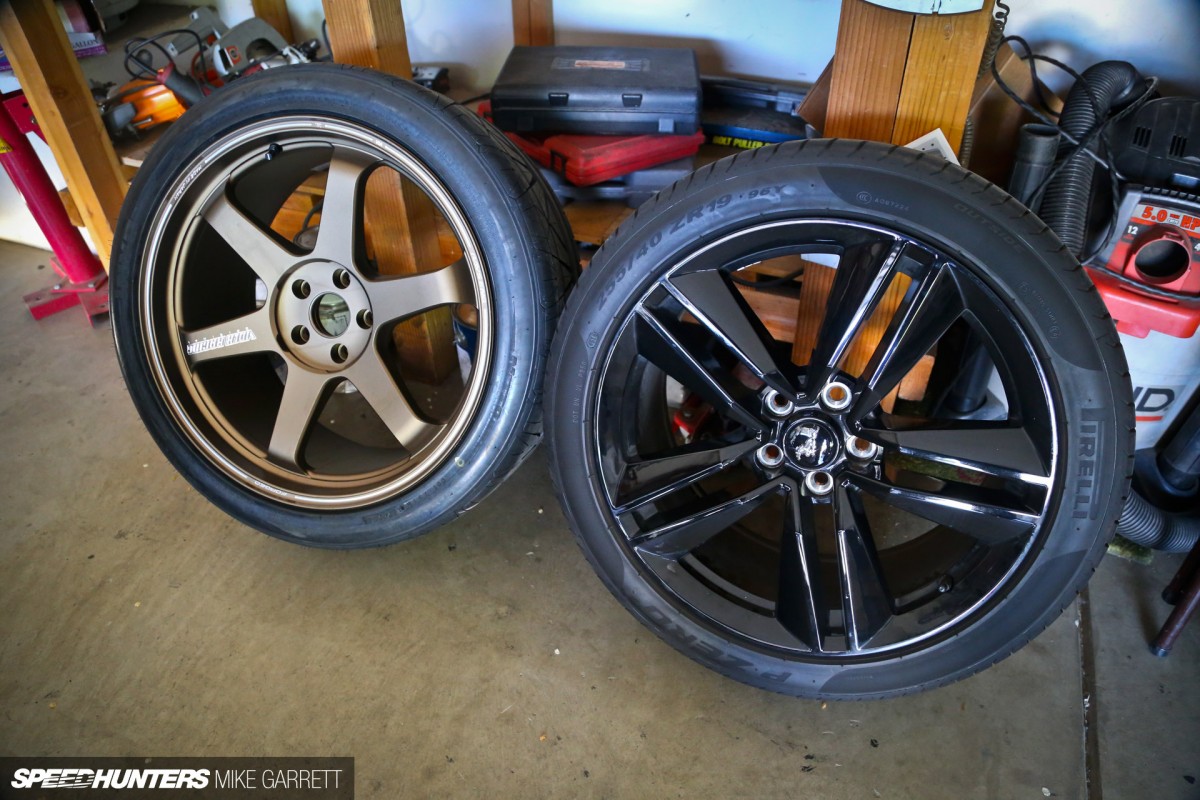 But before that I wanted to see the weight differences between the factory wheels and tires and the new setup.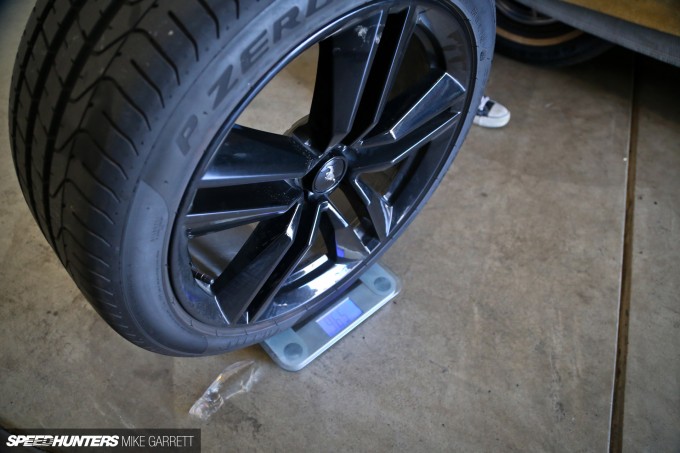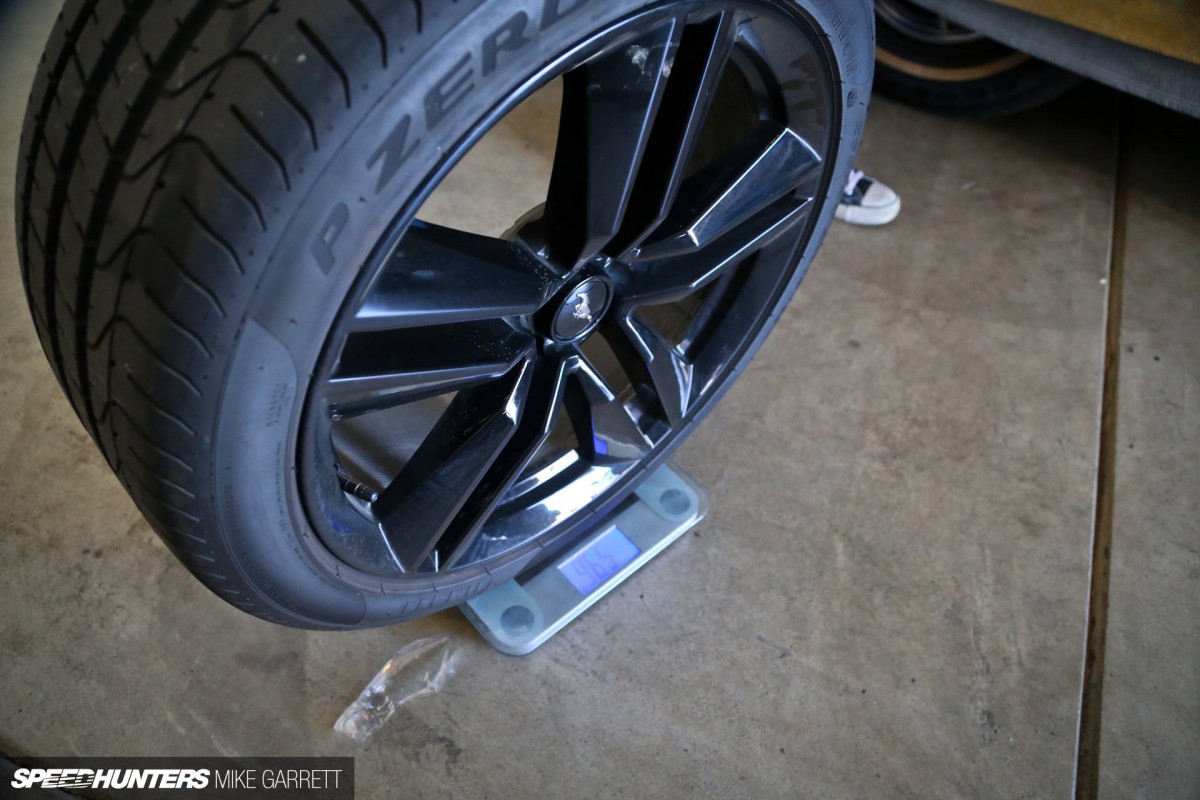 While the factory 19×9-inch Ford wheels and 255/40R19 tires are actually lighter than many OEM setups, I still hoped there'd be some decent weight savings between these and the TE37 Ultras.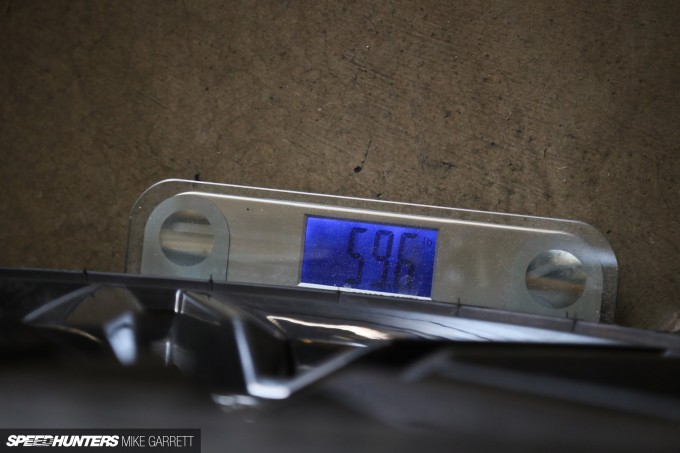 tr
As you can see, the stock and wheel and tire combo weighed in at 59.6lbs.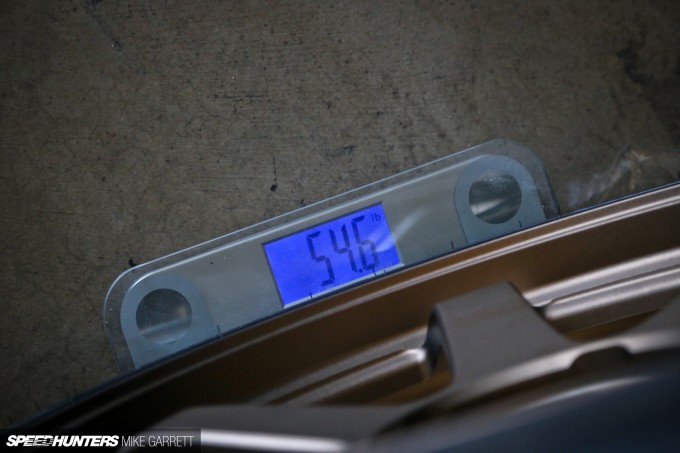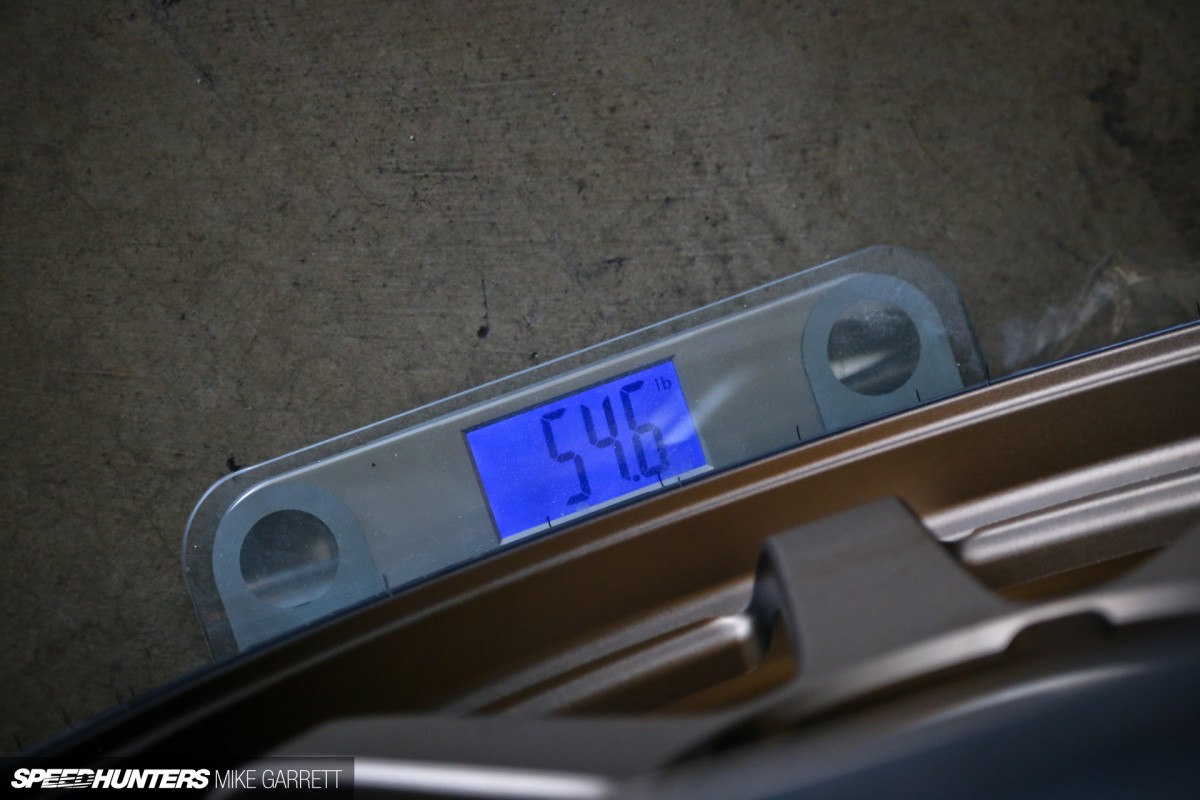 As for the new ones: 54.6lbs each. That's five pounds of unsprung weight removed from each corner, which is even more impressive considering the new wheels and and tires are significantly larger than the stock stuff.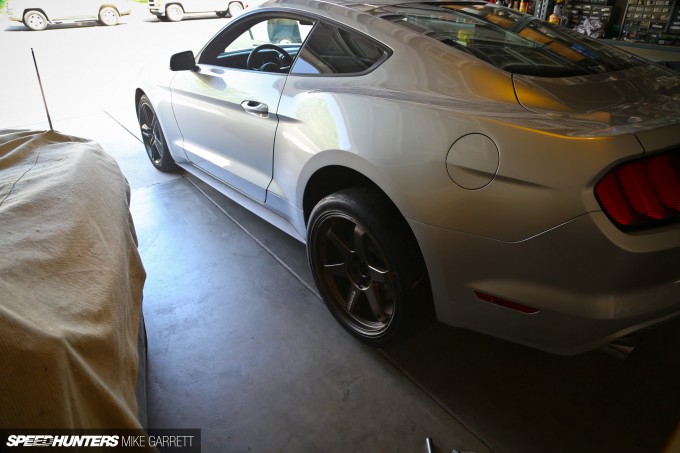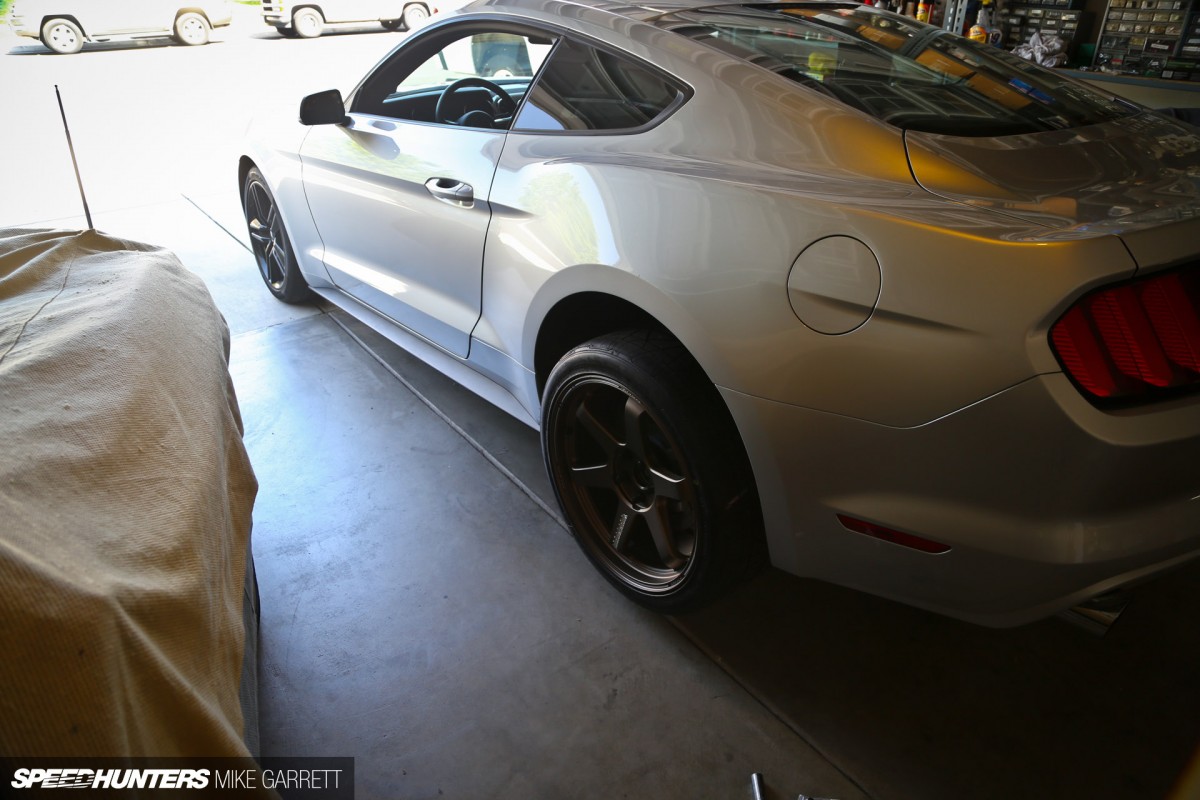 Once that was done, it was time to bust out my new set of Gorilla lug nuts and locks and see what these iconic Japanese wheels would look like on my iconic American Pony Car.
Dat Fitment Tho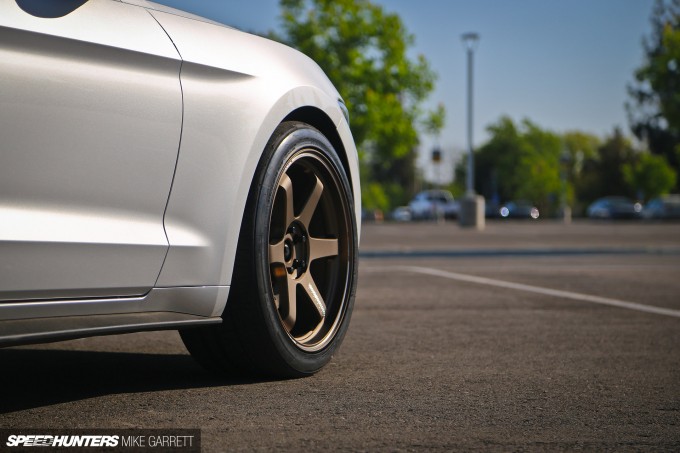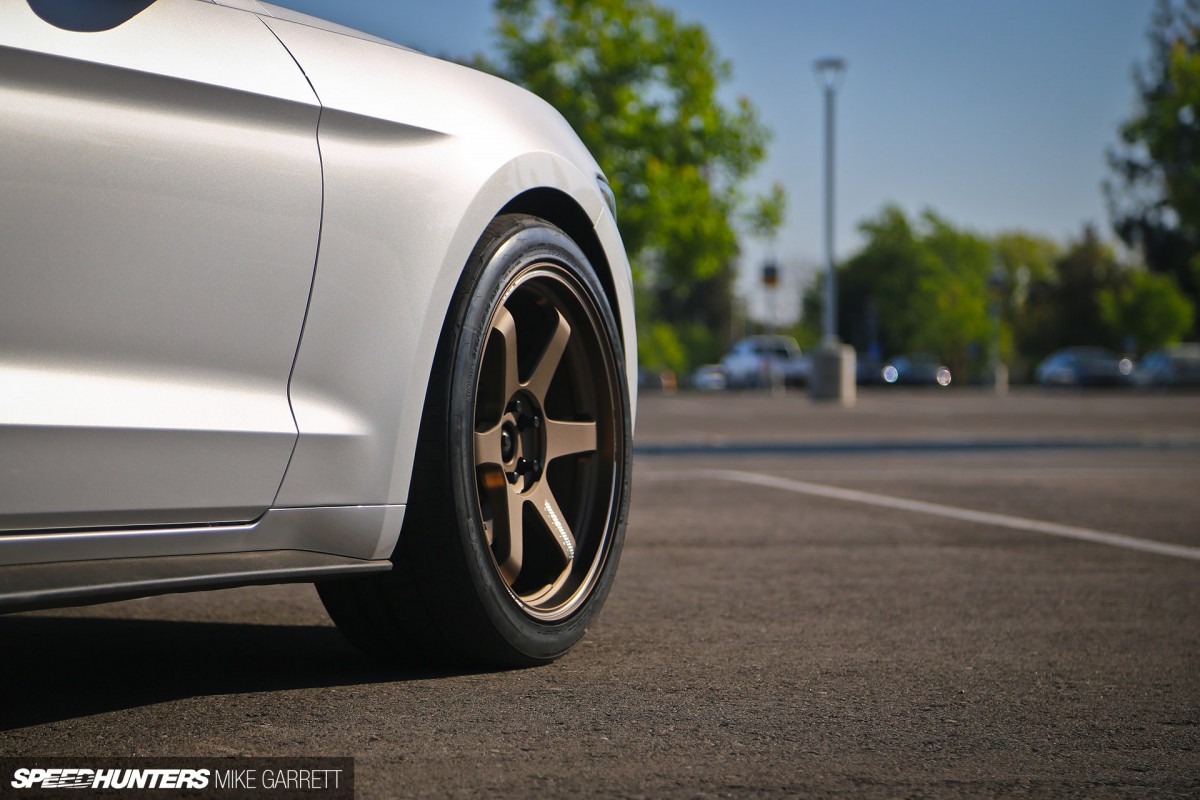 Boom! First up the fitment. While the 20×10-inch +30 size in the front and rear is slightly more aggressive than most of the Mustang setups I've seen, I'm quite pleased with how the wheels fit. There's no sunken feeling, nor is there much 'poke'. To me it's perfect – and just different enough to stand out without looking strange.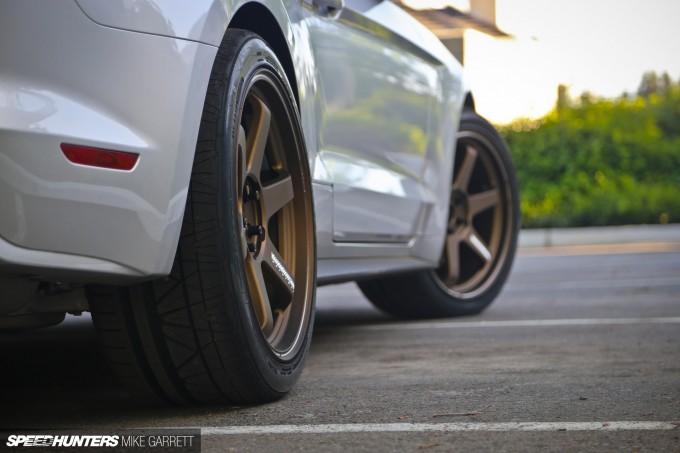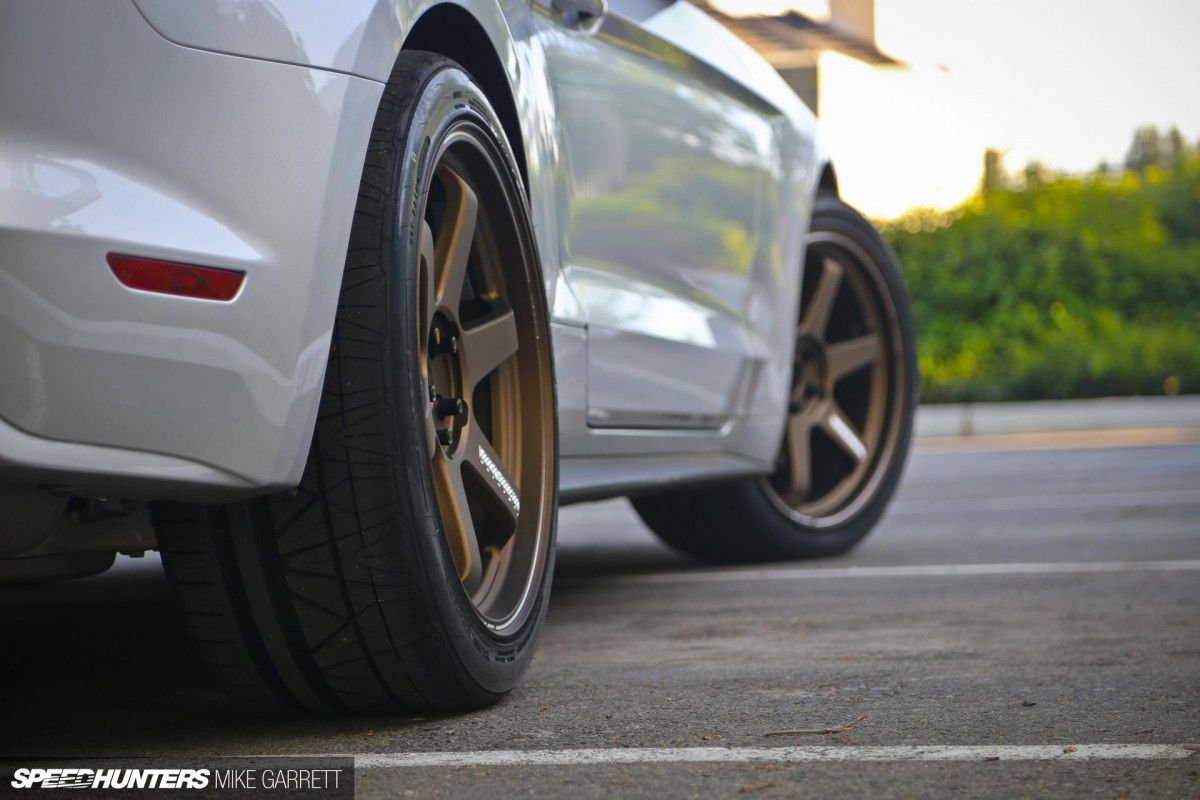 One thing that's a bit unusual about the S550 Mustang chassis is the rear fitment in relation to the front. Despite the fact the wheels and tires are the same size all around, the rears actually look a bit wider due to an increased track width.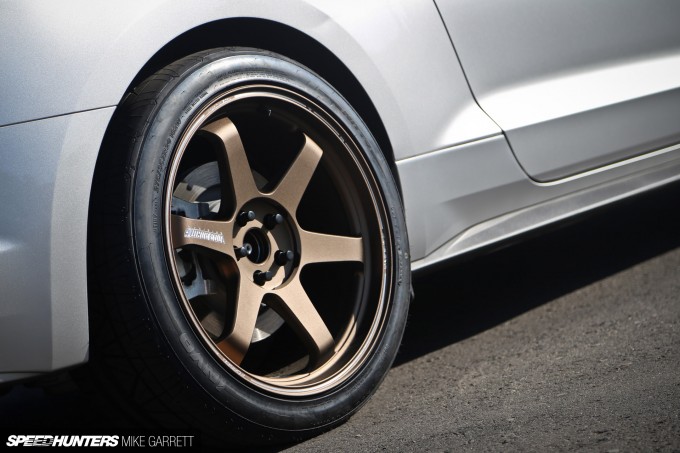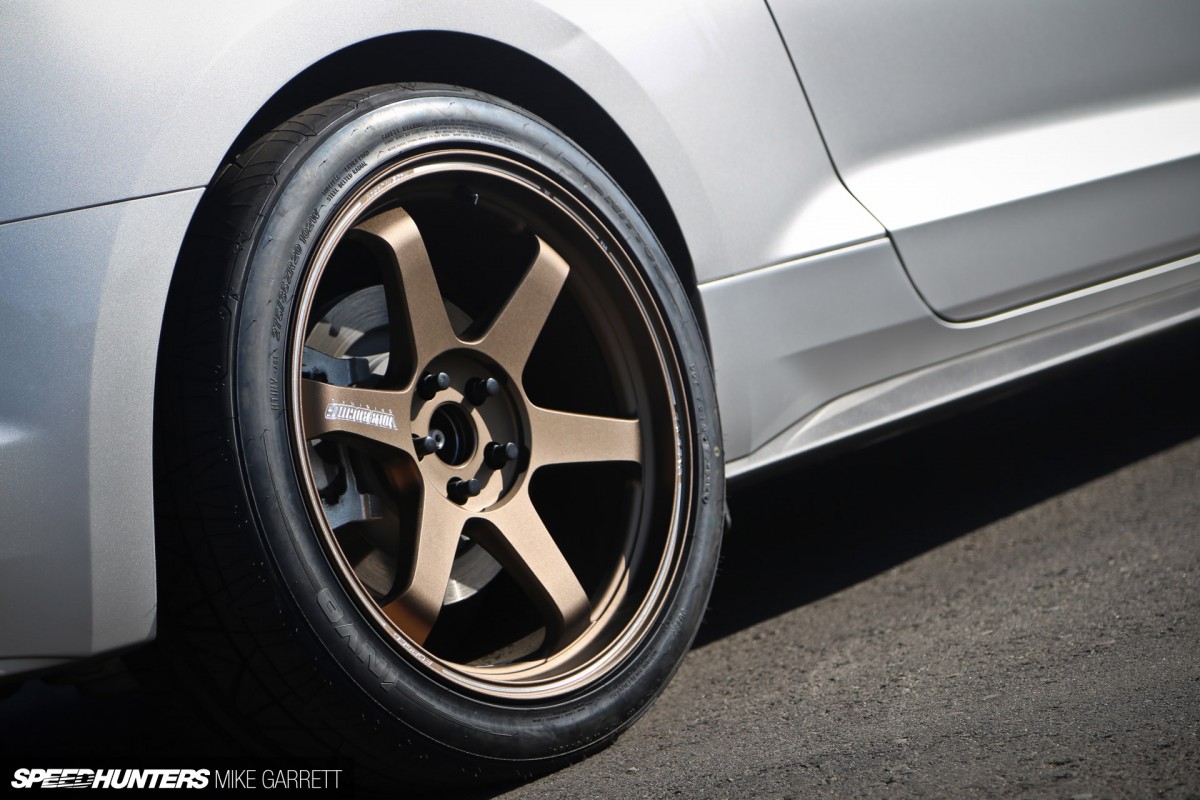 The tires measure 275/35R20 all around and to me this sizing makes for a perfect middle ground between thick and meaty and thin and stretched. It's all about balance.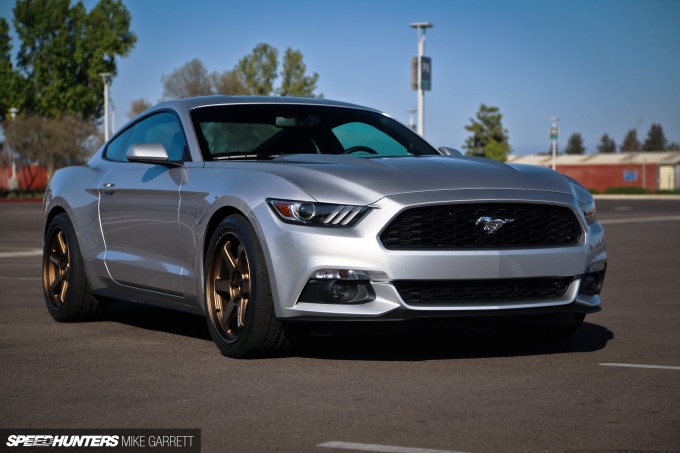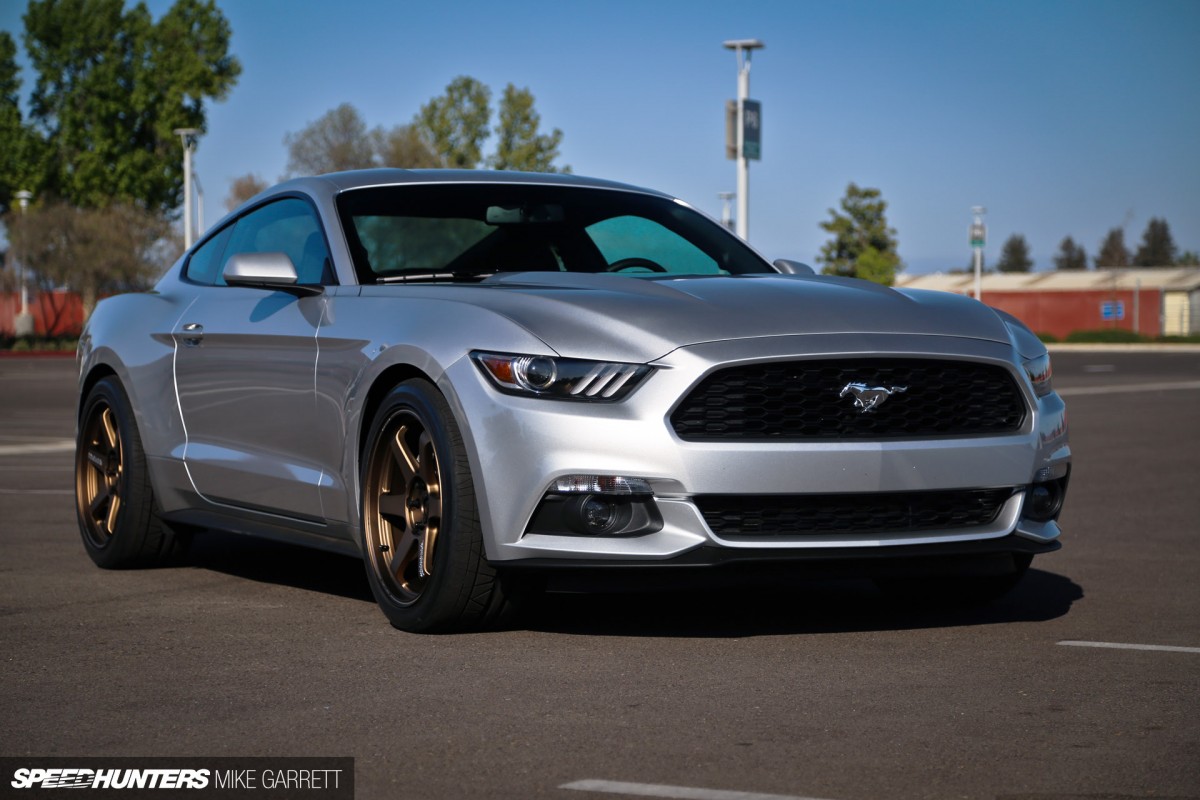 Because the car is still running the stock suspension, I was more than a little worried about the how the new wheels would look with the factory ride height. But it looks surprisingly good considering the car isn't lowered. That said, I'm still very much looking forward to dropping her down once the parts arrive.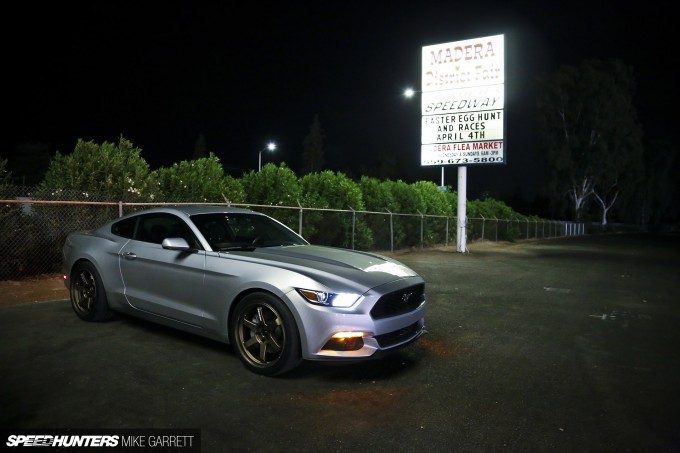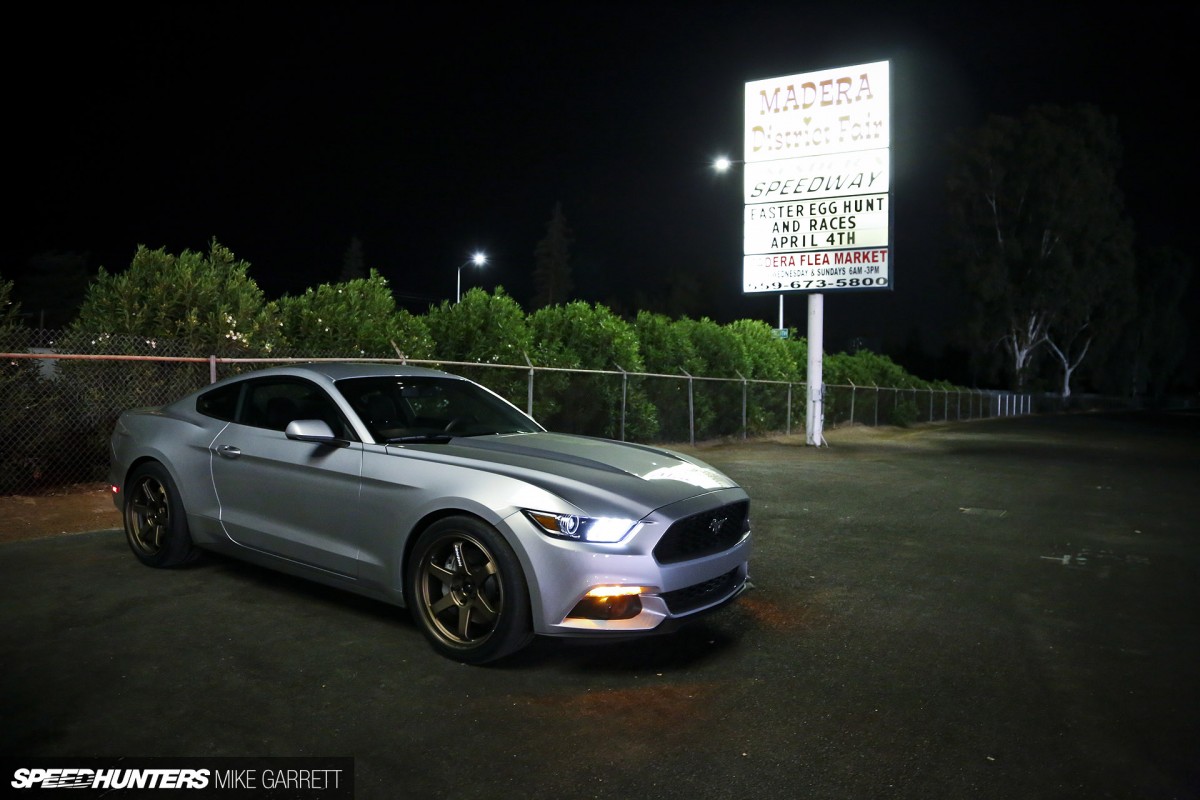 I was also curious to see what kind of difference I'd feel while driving the car. 20 pounds of unsprung weight savings might not sound like much, but it's immediately noticeable in terms of steering feel and response. Overall, the car feels lighter on its feet, and while I've yet to really push it, the added grip of the 275 Nittos on each corner is noticeable even during moderately spirited driving. I'm certainly looking forward to my next expedition into the hills!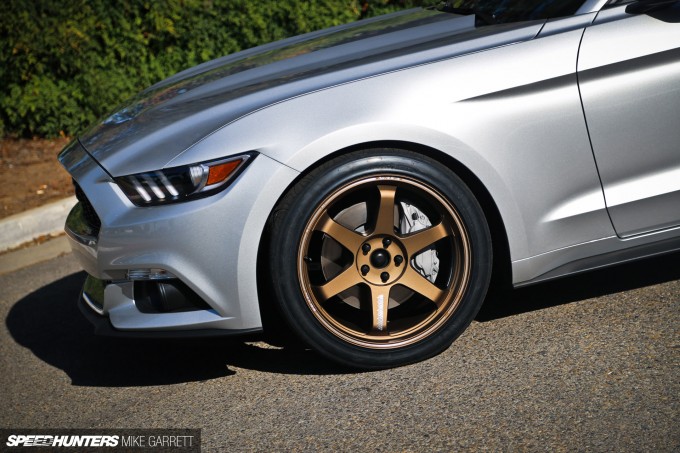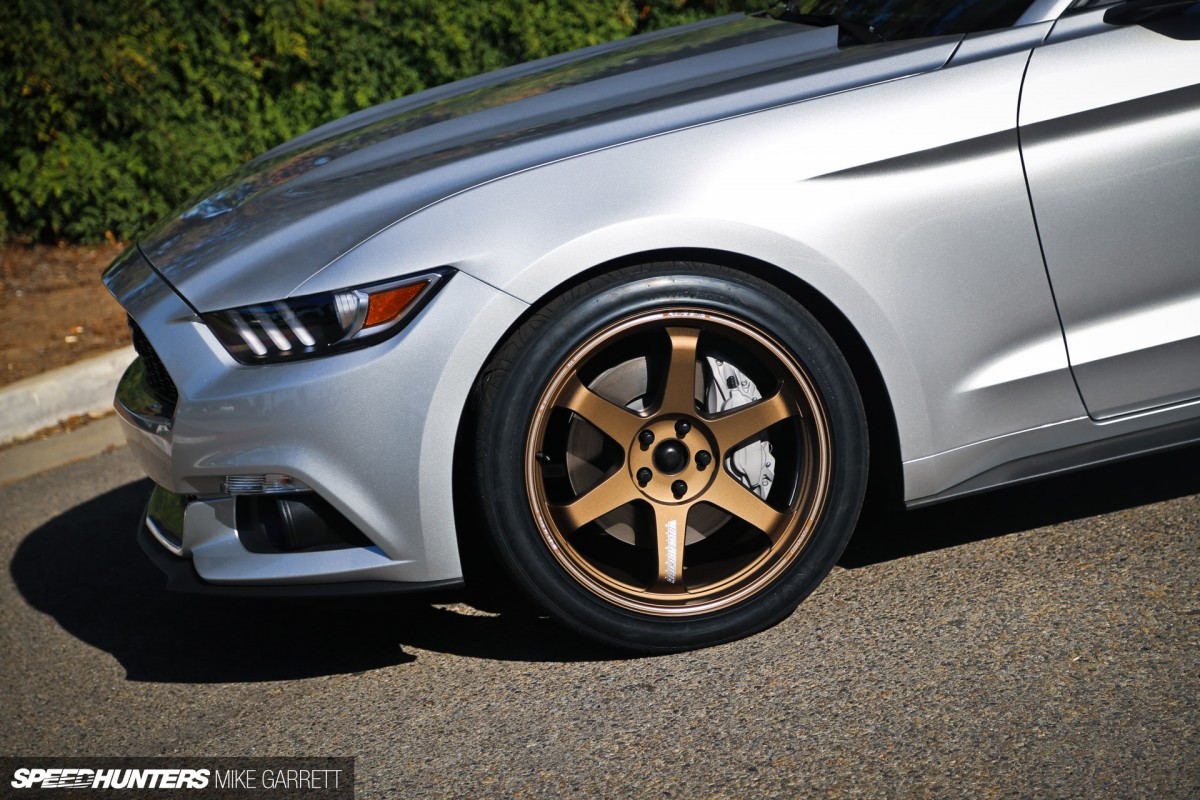 And how about the color? Well, not only do the bronze TE37s give the car an unmistakably Japanese look, they match up great with the Ingot Silver bodywork. It actually reminds me of some of the Camaros and Corvettes I've seen at Japanese track days wearing bronze TE37s.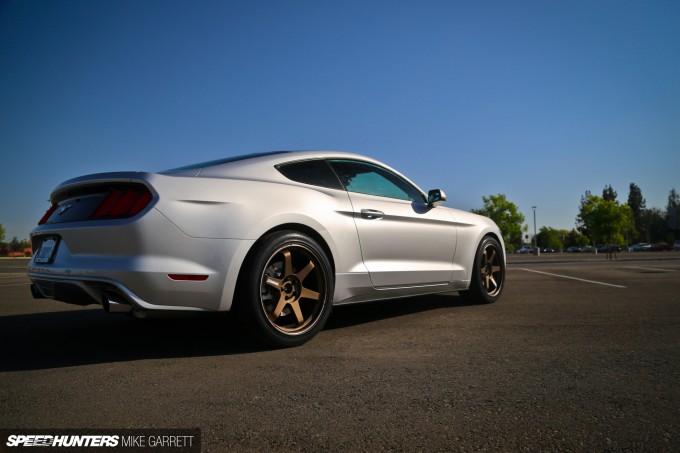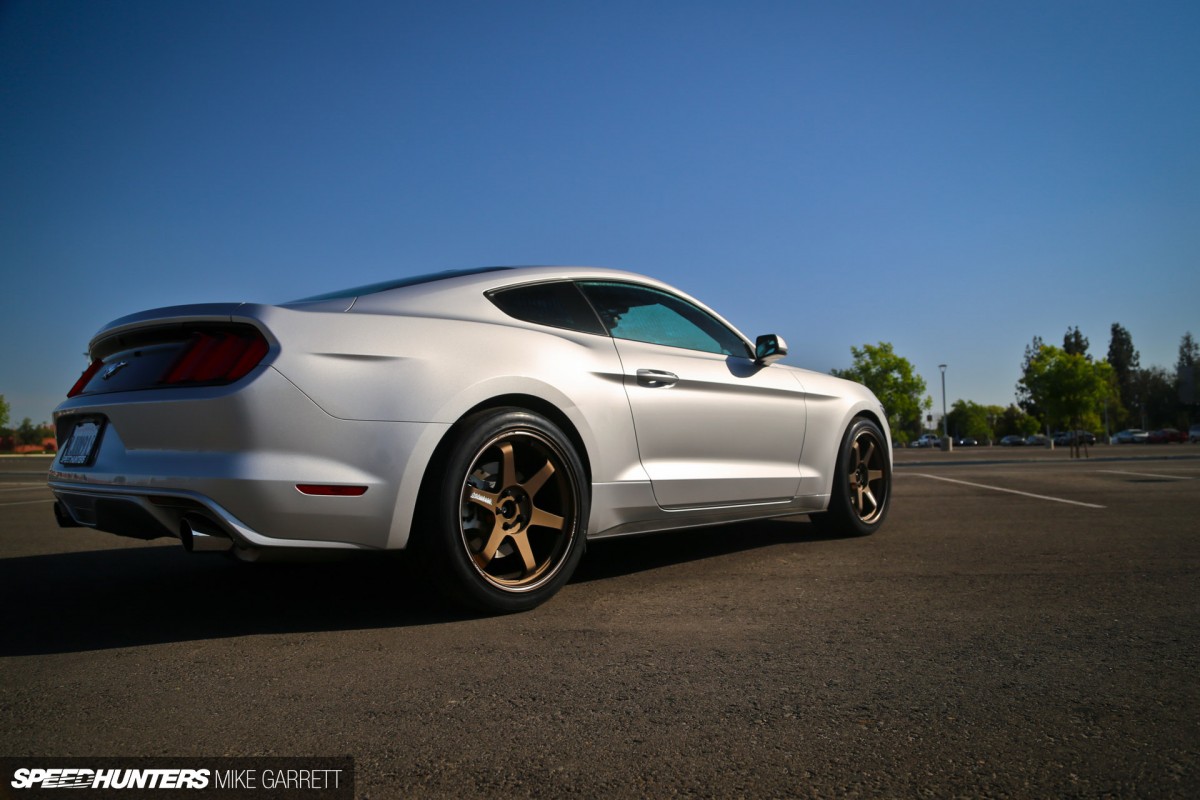 While I'm personally in love with the new look, I was curious to know what others thought about it. From what I've gathered so far, the reaction has been positive. It's certainly not the expected look from a Mustang, but at the same time it's not so different that it feels wrong or unnatural. I guess many of those things could also be said for the turbocharged four cylinder Mustang itself.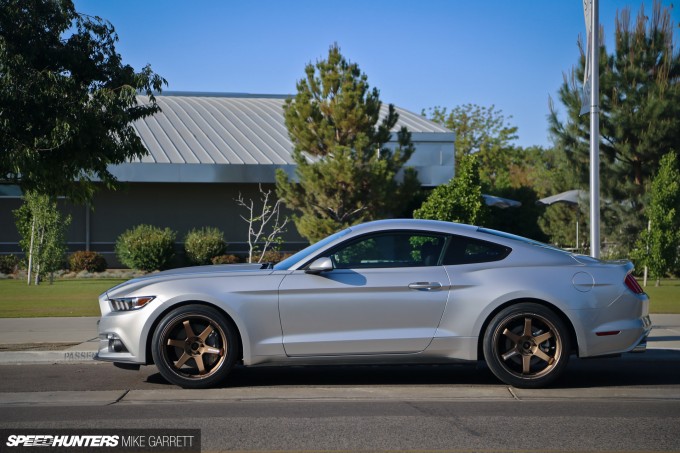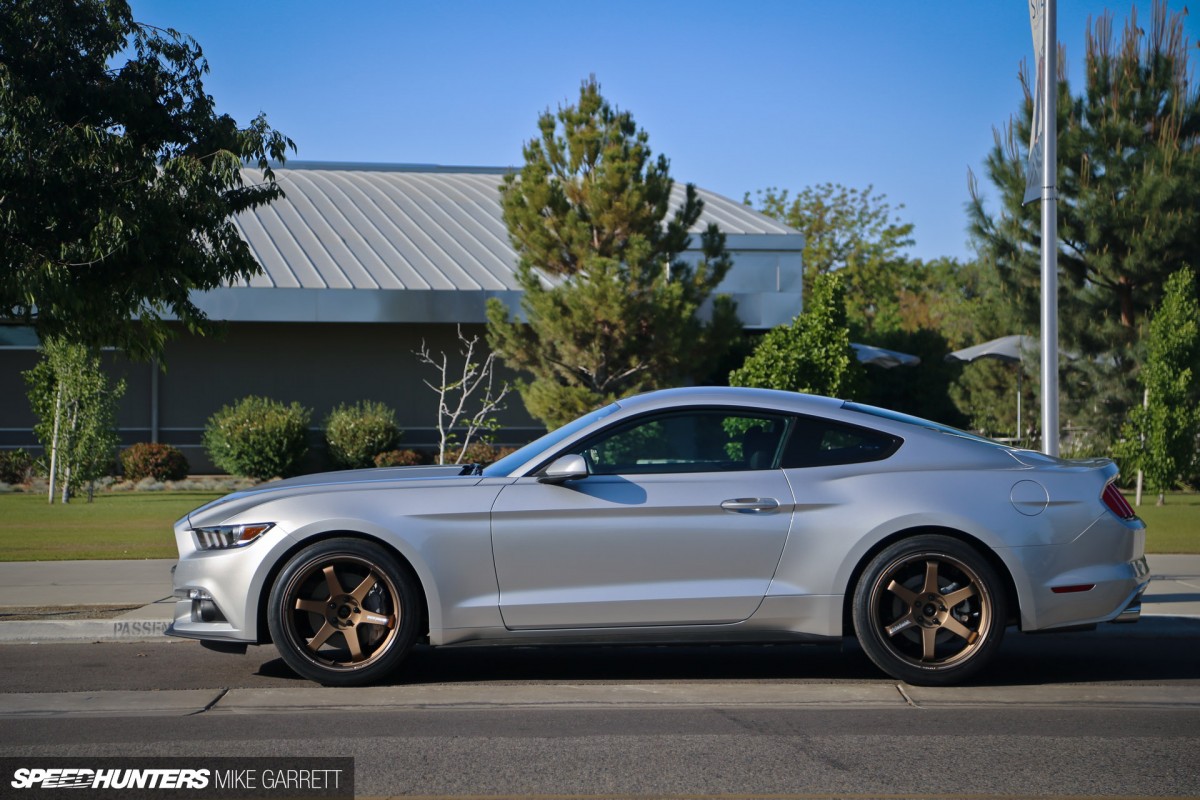 Of course, I'm also looking forward to hearing what you guys think about the new setup. Personally I feel like it's one of the most satisfying upgrades I've ever done to one of my cars.
So there you have it, a bit of Japanese style and quality for the new globally-minded Mustang. Stay tuned to to see what's next for Project EcoBoost.
Mike Garrett
Instagram: speedhunters_mike
mike@speedhunters.com
Cutting Room Floor