I've got a distinct memory regarding the Ford Mustang that I want to share with you. When I was about 15 years old I tagged along with my dad during one of his business trips to the Pacific Northwest. We were driving through some rural area outside of Portland in his company-issued Chevy Lumina when we pulled up at a light next to a teenager in a mid '90s Mustang V6.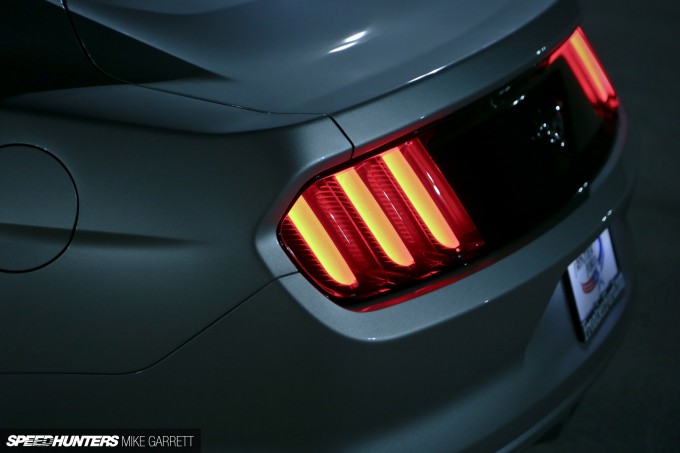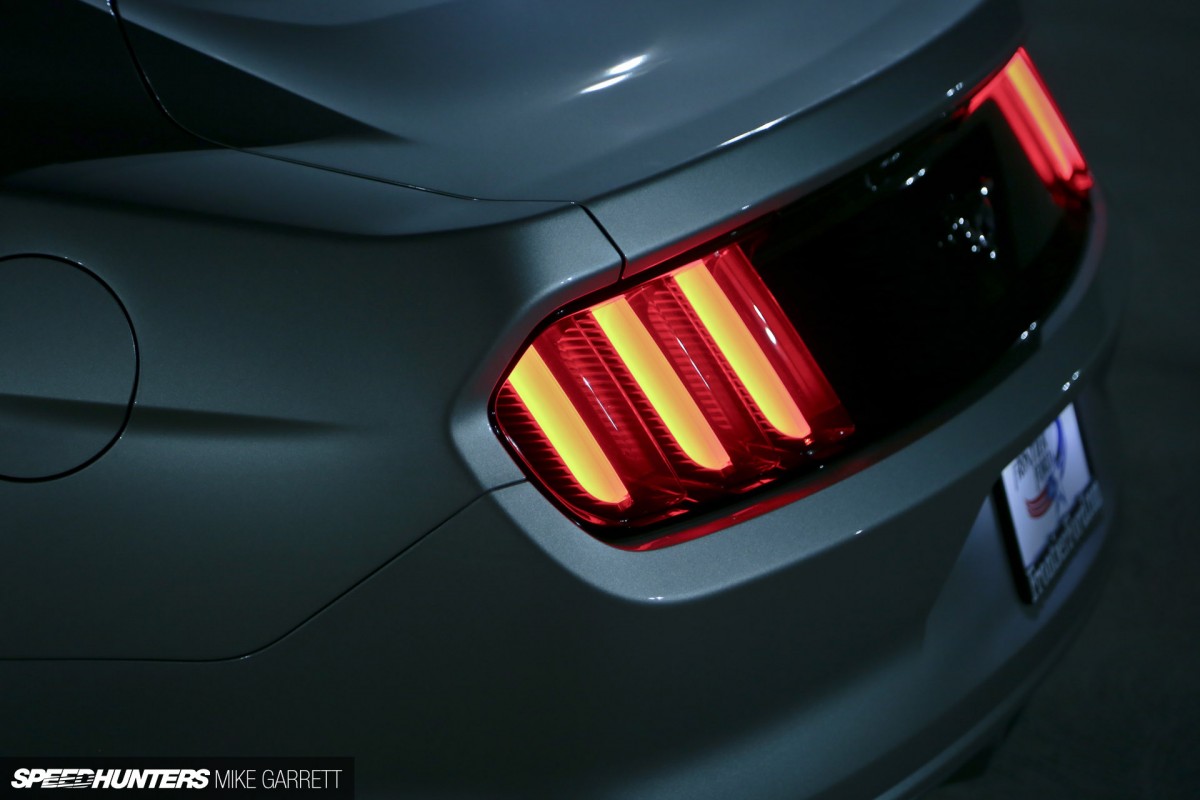 The teen, being, well – a teen – and driving a Mustang, decided he'd demonstrate to us the capabilities of his pony car. The light turned green and the Mustang kid stomped on it – and so did my dad. Sure, he was driving his company car, but he wasn't about to be shown up without at least putting up a fight.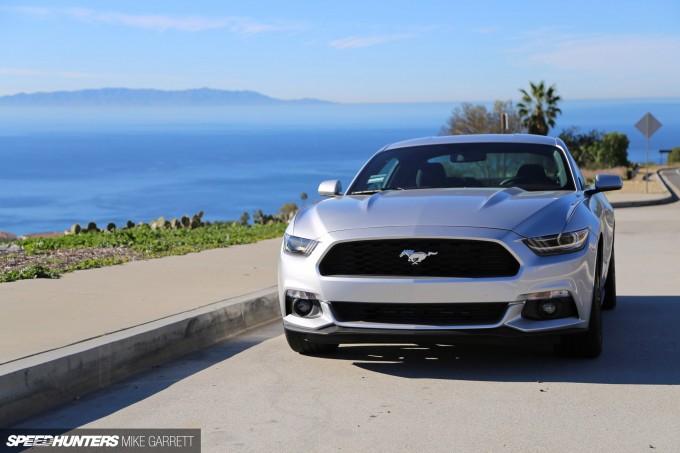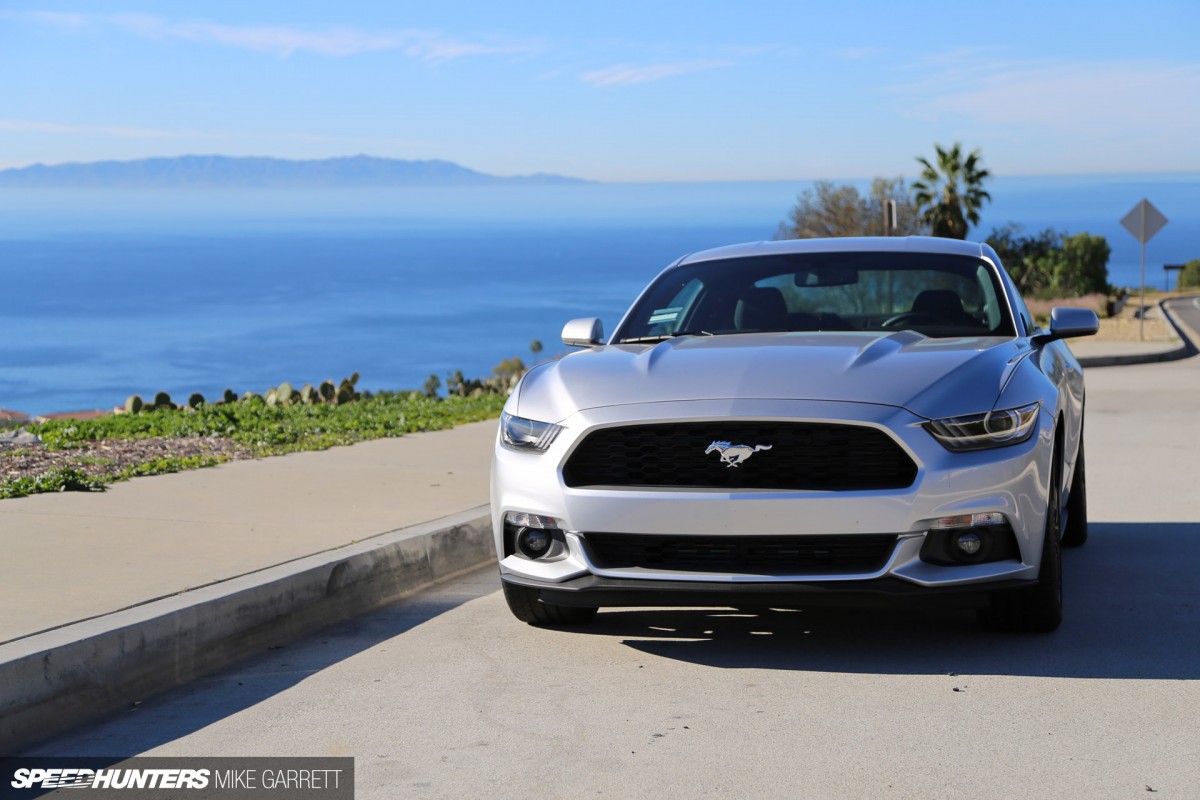 What happened next is something I'll never forget. And if you've ever driven an old V6 Mustang you'll know it isn't so shocking. The rental car-spec Lumina not only hung with the Mustang, but actually started to pull away just before the impromptu drag race came to an end. My dad and I both laughed hysterically, and the Mustang guy conveniently turned away at the next light. I think my dad also told me never to engage in such immature behavior myself.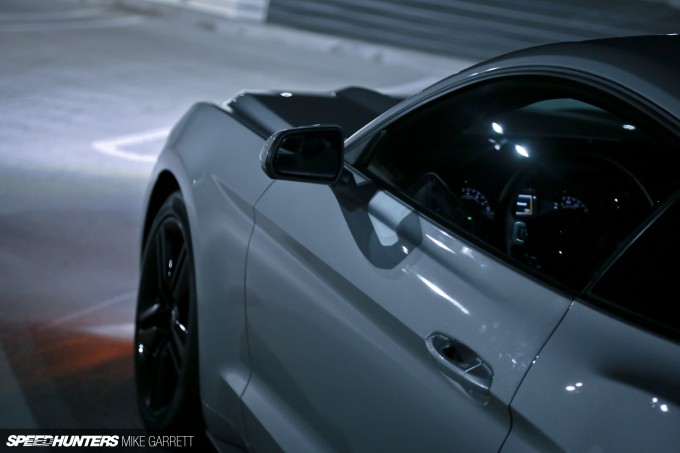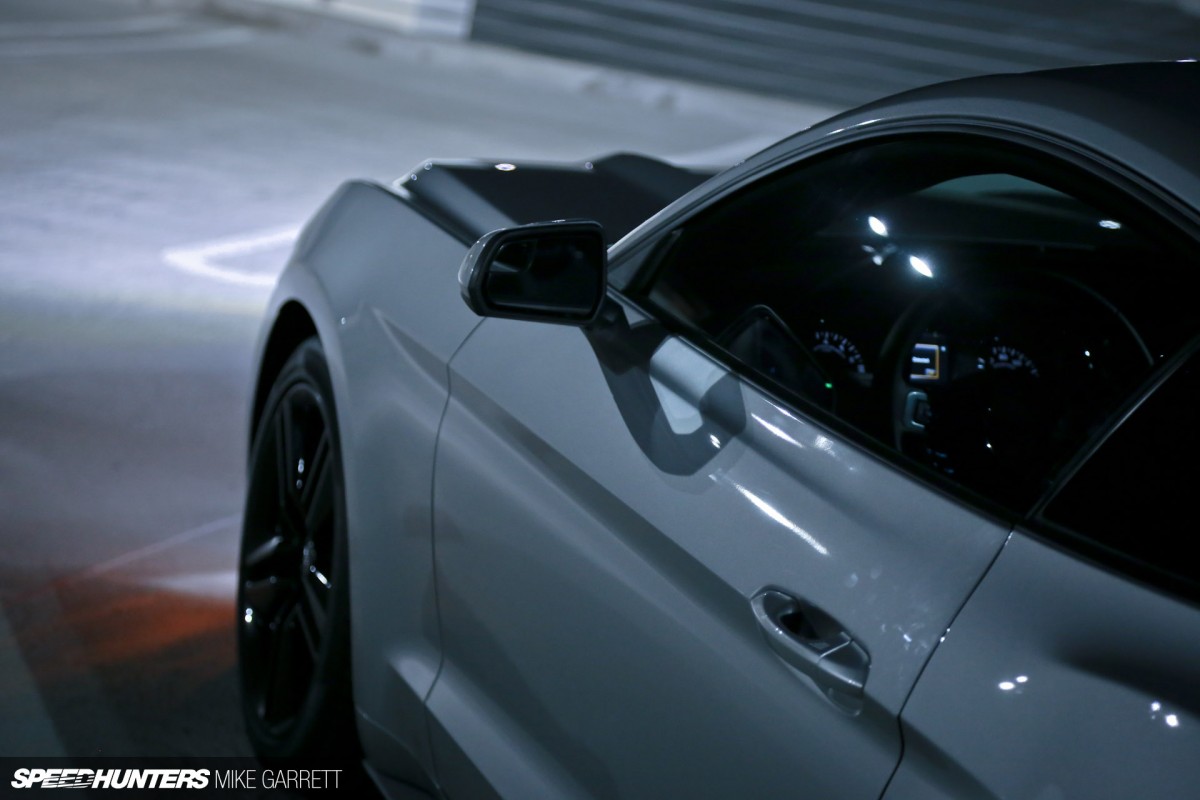 In any case, my image of non-V8 Mustangs was cemented. They might have looked the part, but their performance was disappointing – if not outright embarrassing. And the sound they made was no better. I've always thought that there's nothing sadder than a V6 Mustang with a loud exhaust – because why would you want to let everyone know that you have the most uncool version of the car? Should have got the V8, as they say.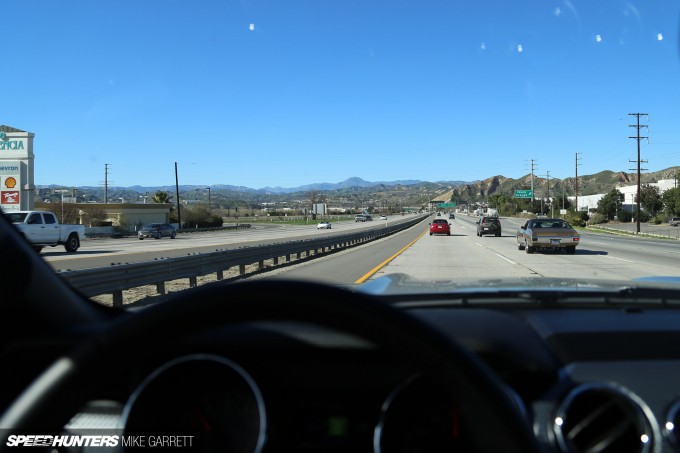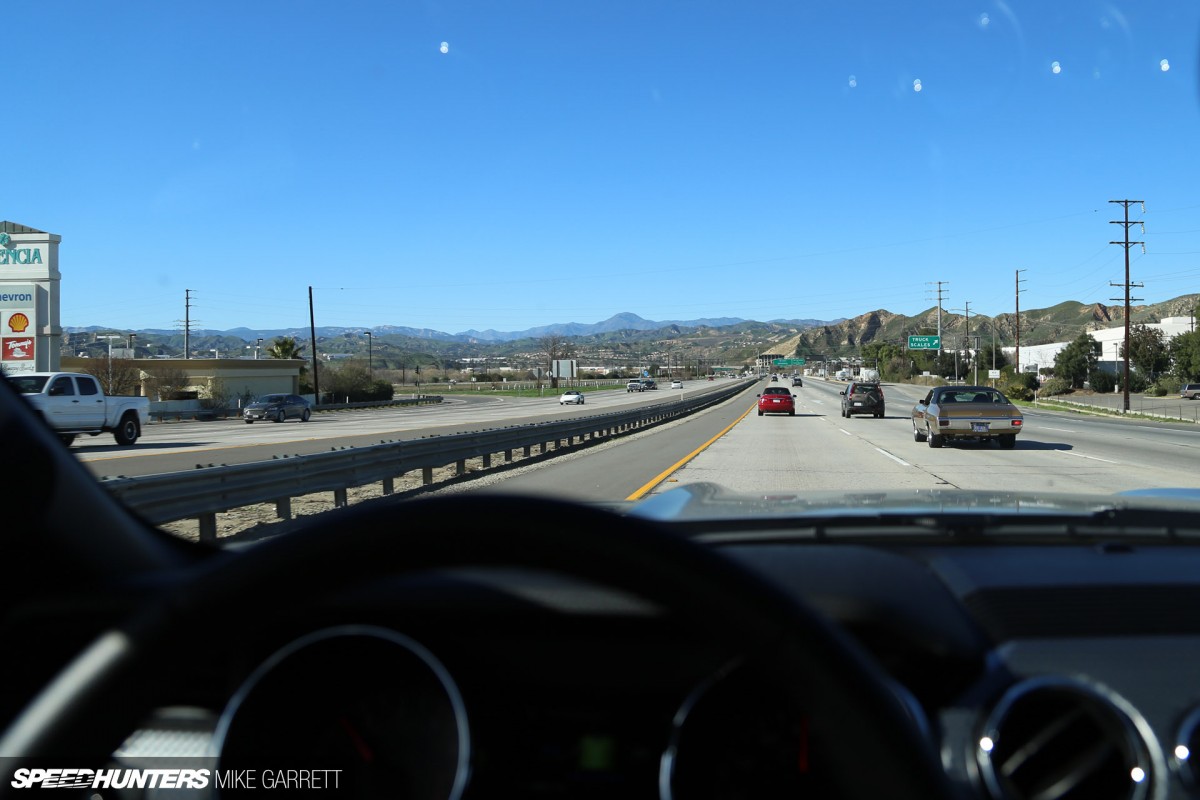 Now it's 15 years later and as you've read recently I've just become the owner of a Mustang that doesn't have a V8, and I don't think I've ever been this excited about a new car before. So how did this happen?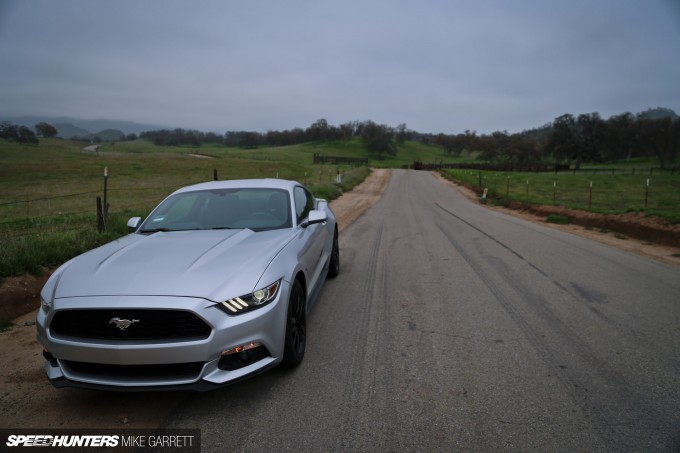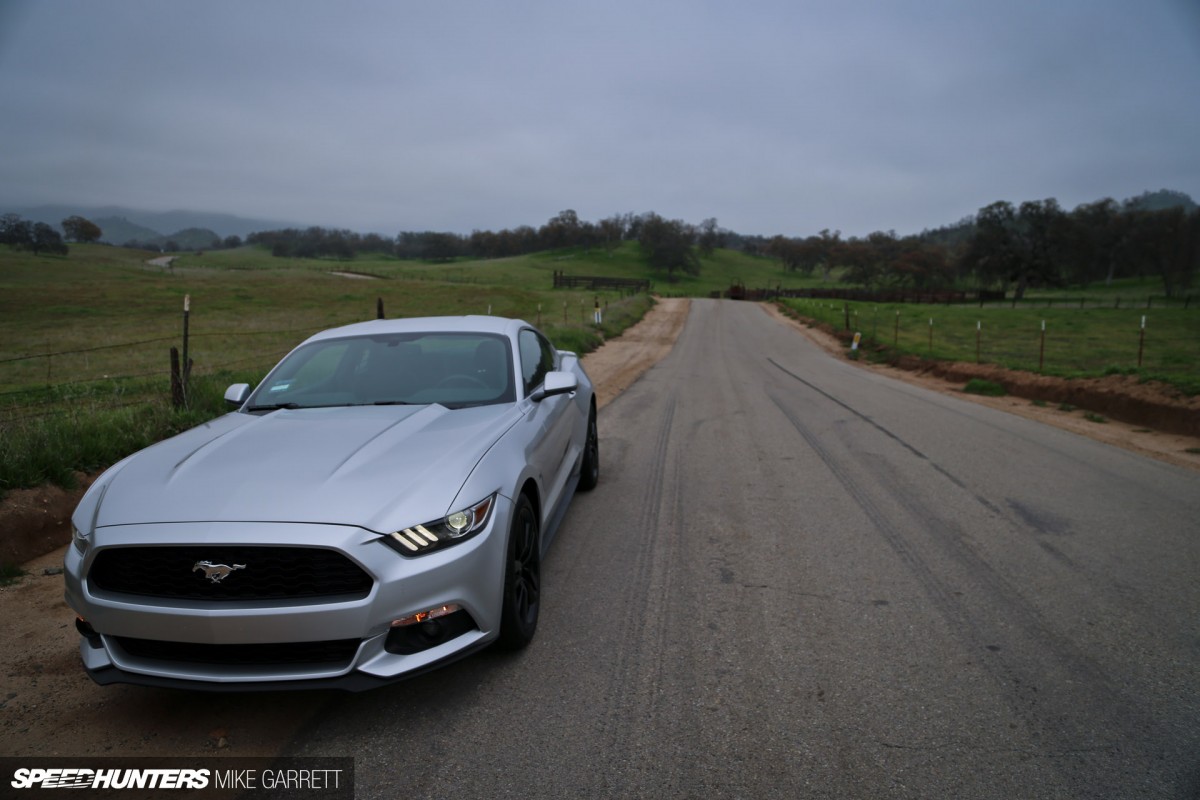 It almost started back in 2011 when Ford decided to give the V6 Mustang a major update. The car had been significantly improved with a new DOHC V6 that made over 300hp and could be had with a 6-speed manual and a limited slip diff. It was a major breakthrough for the base model Mustang as it now performed as well as many previous GTs did, while being significantly cheaper in terms of sticker price, gas and insurance.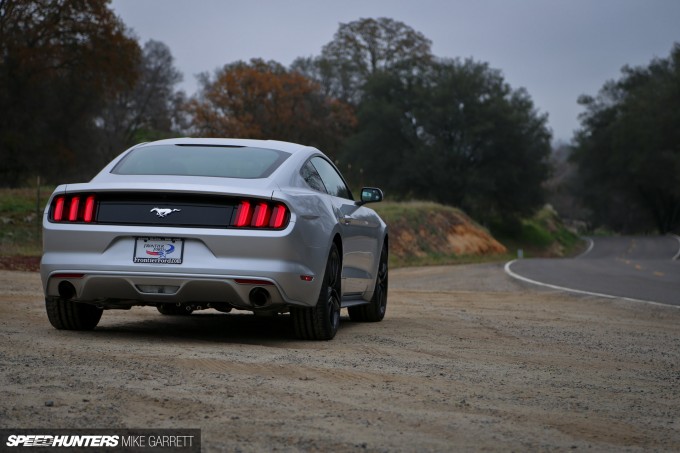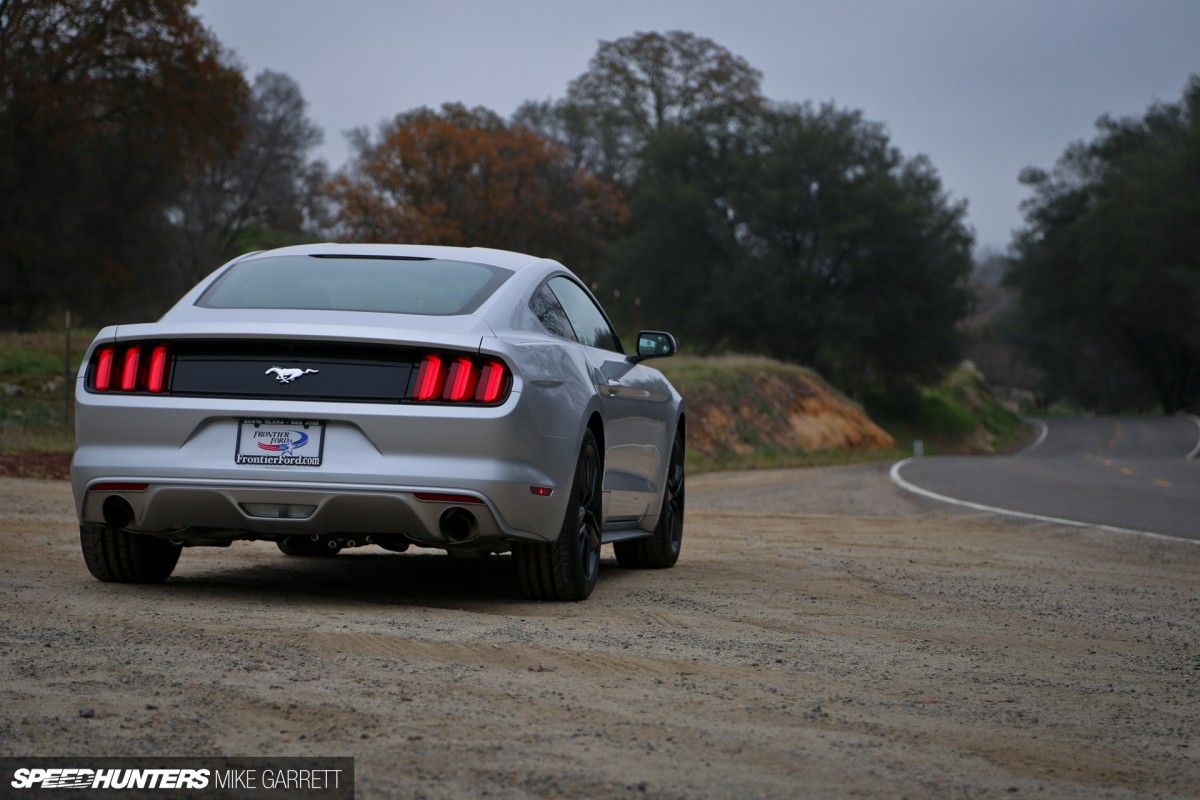 I've driven S197 V6 Mustangs on a few occasions and was quite impressed with their power along with the rest of the improvements made to the package – but I still wasn't completely sold. There was still the less-than-pleasing sound, and despite the fact that the V6 Mustang was no longer embarrassing, I knew that if I ever got one I'd always regret not stepping up to the V8.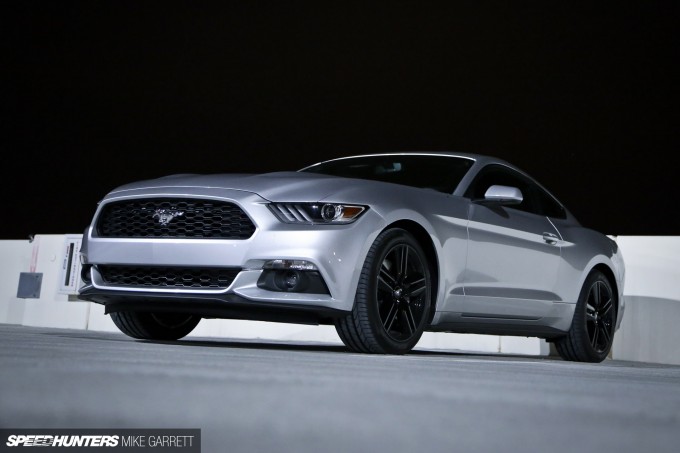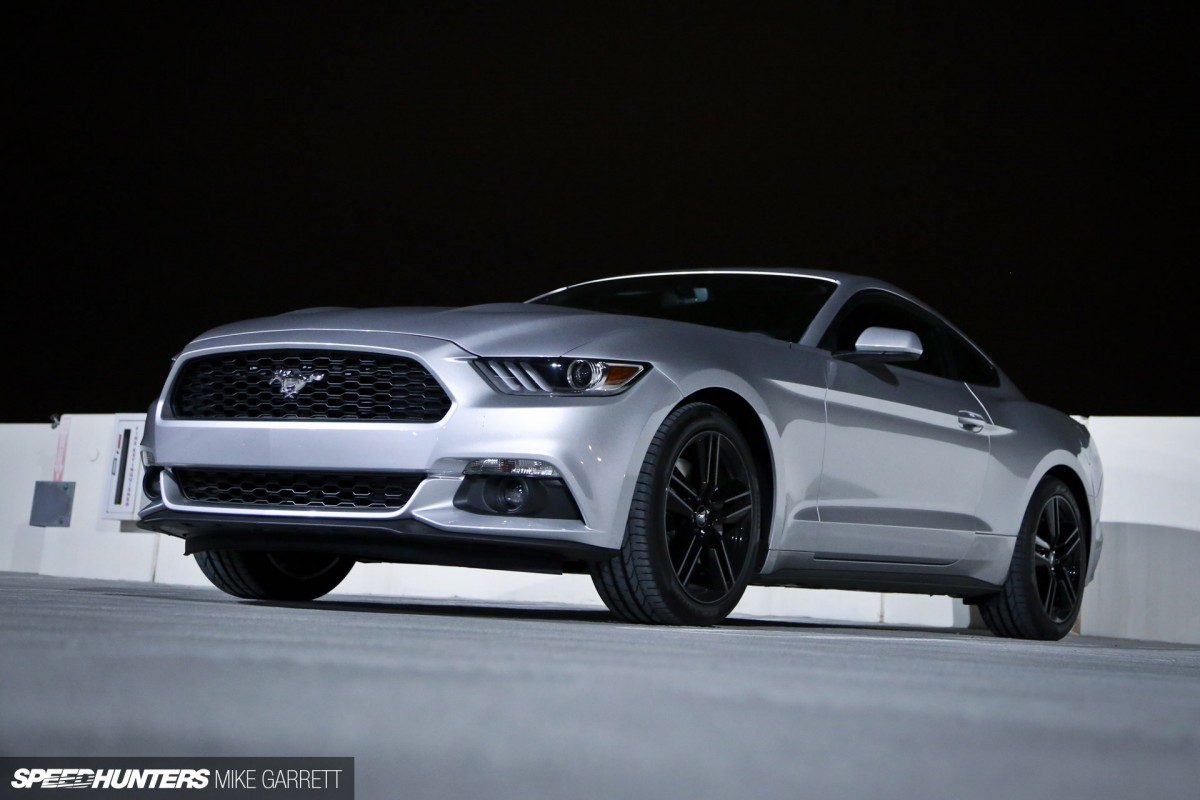 But a few years later with the redesigned 2015 Mustang, Ford decided to add a new engine choice to the lineup. It would be a turbocharged EcoBoost four cylinder that would slot in between the V6 and the 5.0 V8, and it sparked my interest from the moment I first heard about it.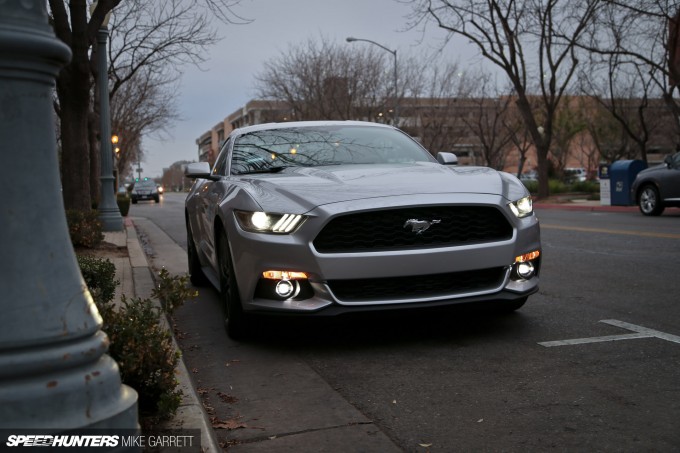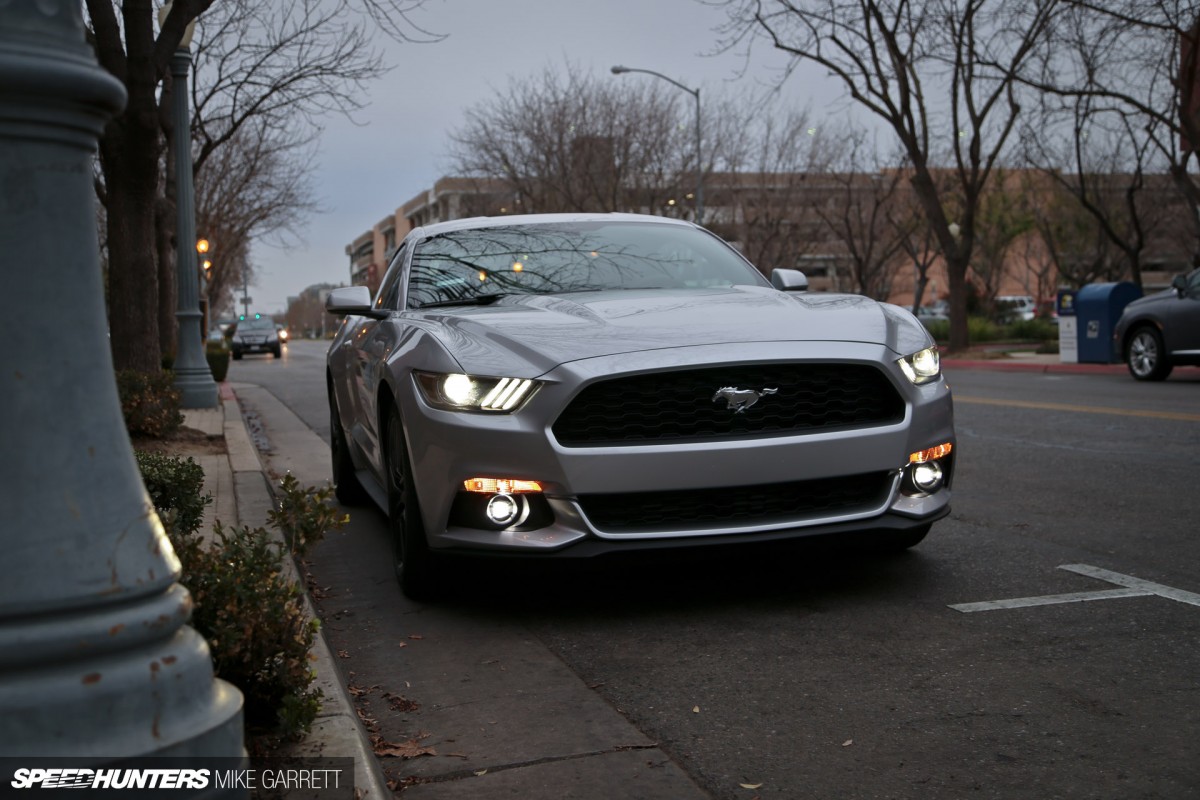 In my initial post I already went over the reasons why I decided to swap my 2013 Scion FR-S for a 2015 Mustang EcoBoost, so now I'd like to talk a little bit more about the car and what it's like to drive. But before that, I'd like to address the subject of V8 envy…
No V8, No Problem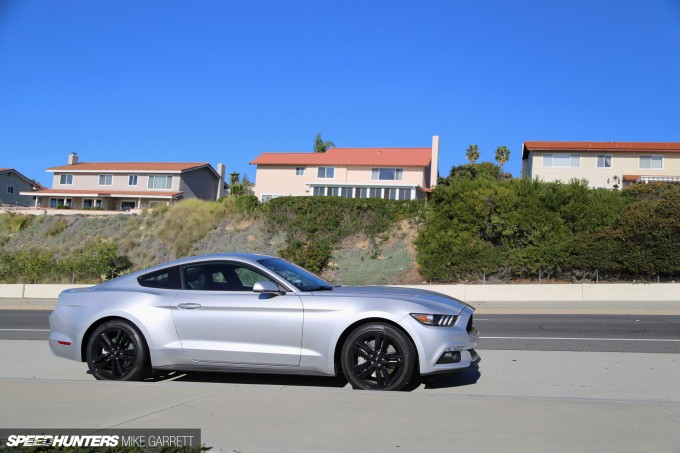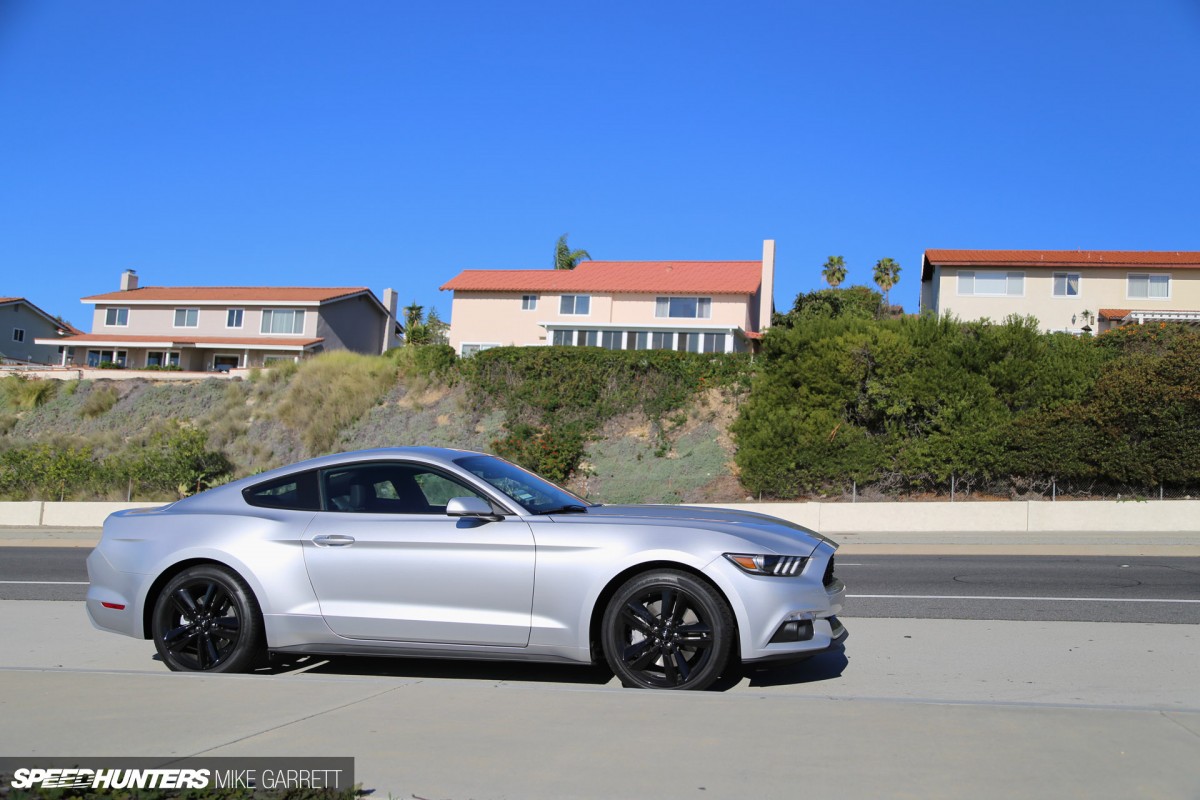 While everything I read about the EcoBoost Mustang suggested that it would be capable performer and would likely offer a lot of aftermarket potential in the future, I was still worried that the car would feel subpar compared to the GT and its Coyote V8.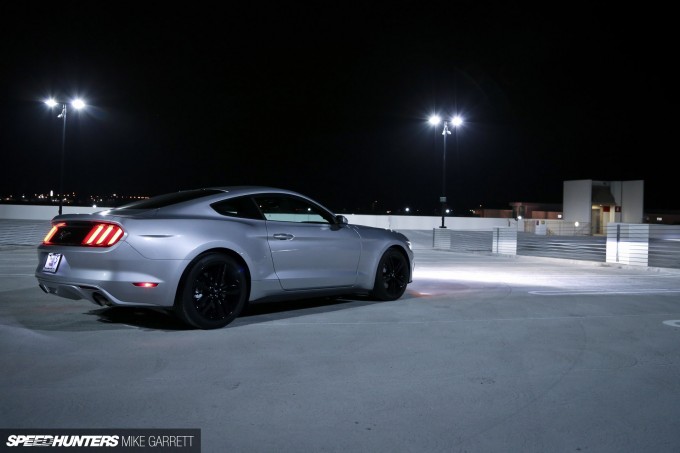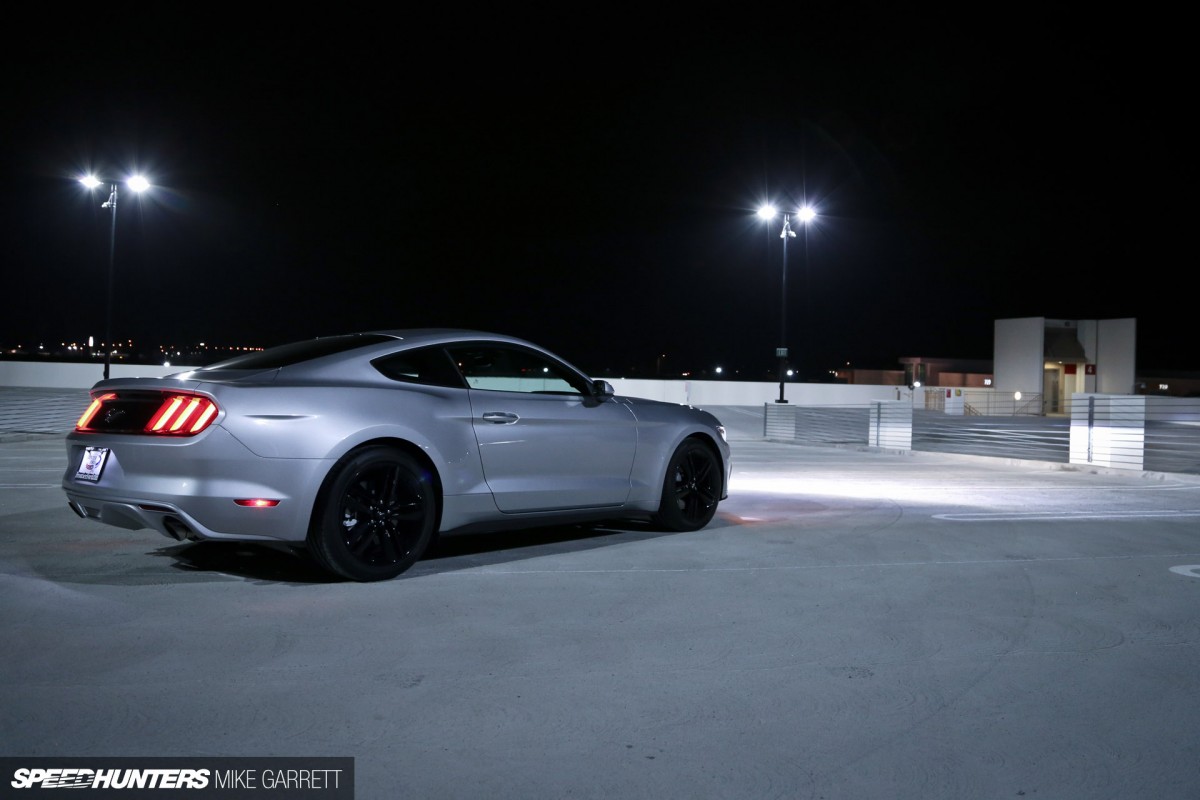 Even after I drove the EcoBoost and found myself very impressed with the power, chassis and overall feel of the car – I was still concerned I'd feel like I was in the shadow of the V8. But the more I thought about it, the more I began to realize that the EcoBoost stood on its own.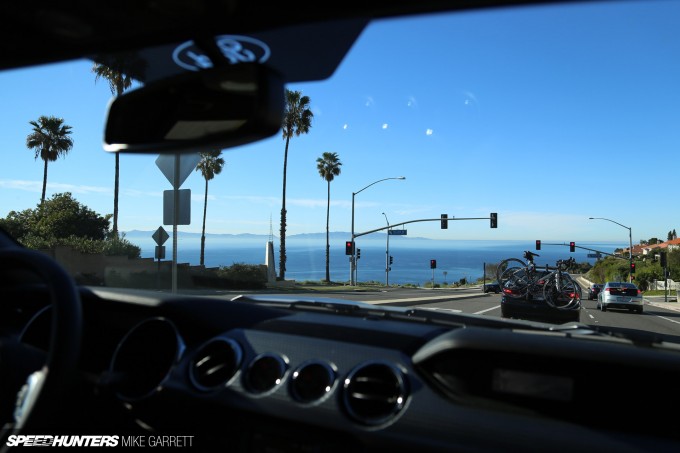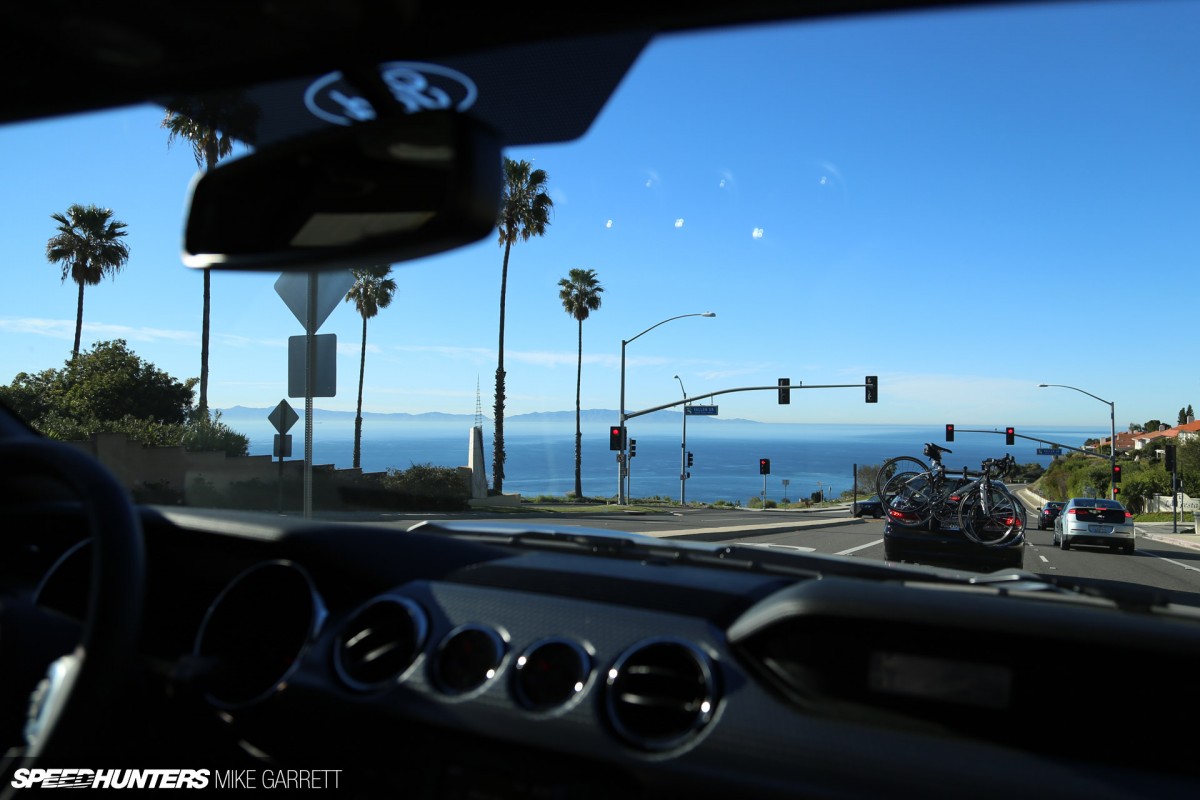 Even the sound didn't bother me. Sure, it didn't have that distinct V8 rumble, but the turbo had a soundtrack all its own. Having owned a several turbocharged cars in the past, I'll gladly take the noise of boost over that of the V6. There's just something fun about hearing and feeling the turbo at work.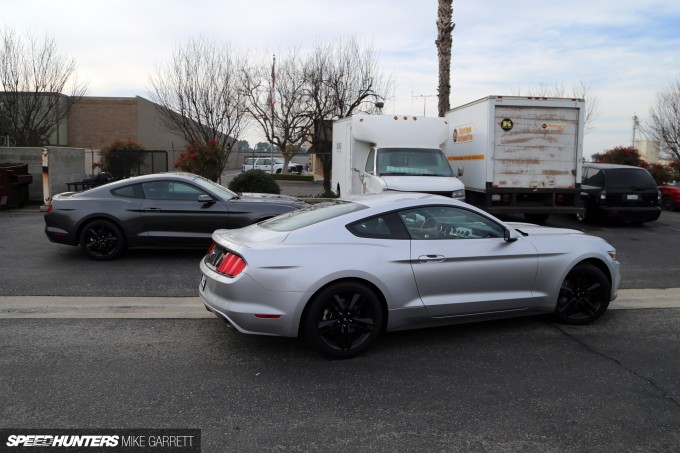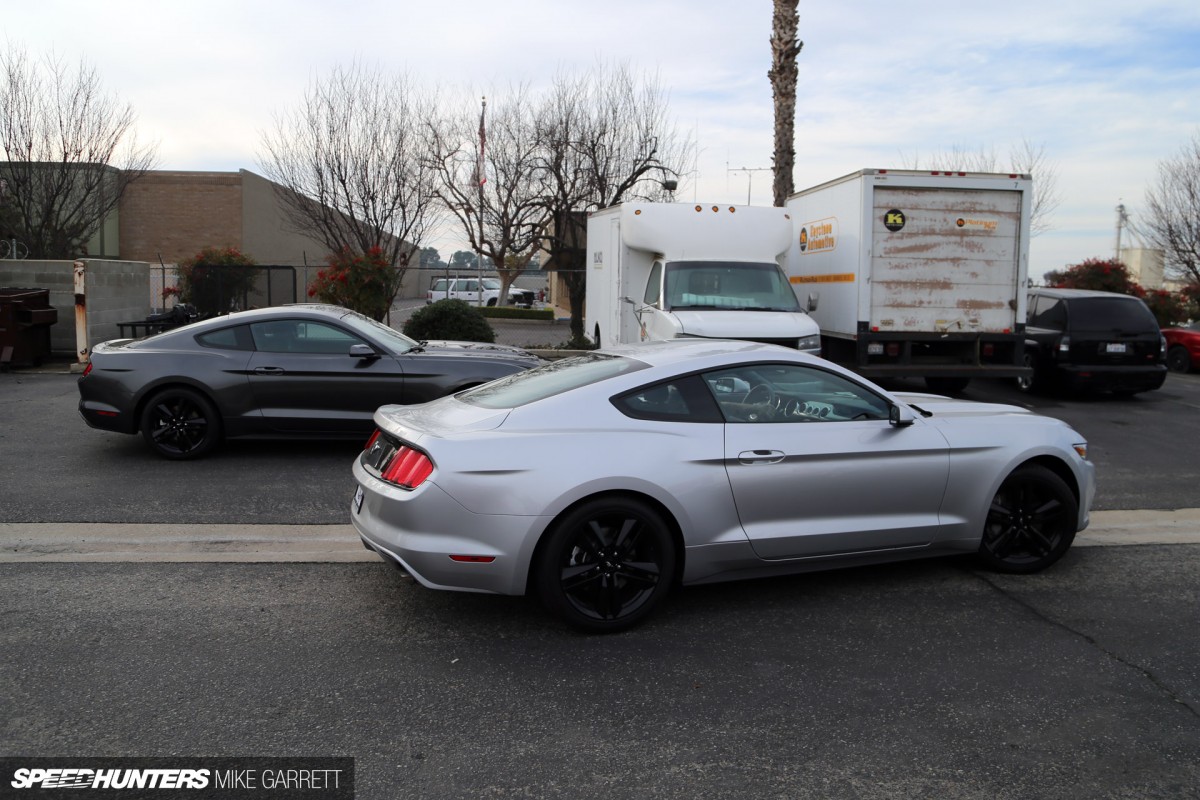 And while the base model Mustang always seemed like a car for those who didn't care about performance or couldn't afford a GT, the EcoBoost feels like something unique. No, it's not as powerful as a GT, and if you think a Mustang needs to emit a V8 rumble you'll be better off going straight for the 5.0. If ultimate performance is your final goal, then the 5.0 is still likely your best bet too. I still love a V8 Mustang and new GT is a better car than ever.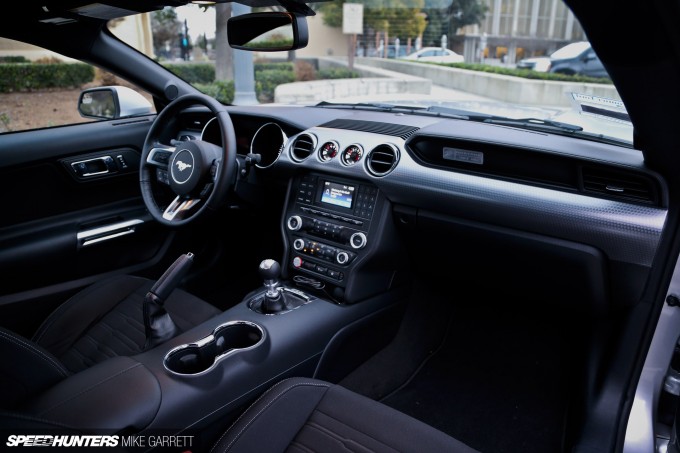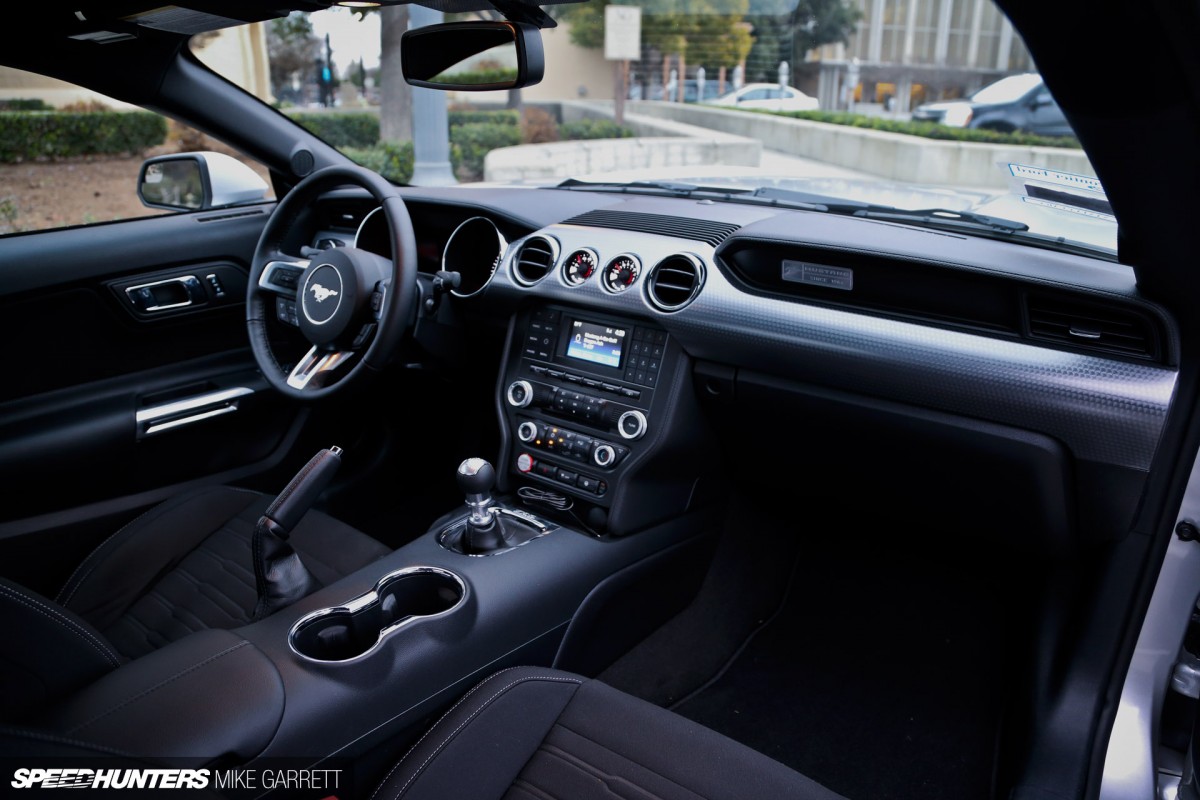 But what I personally like about the EcoBoost version is the way it feels like a different take on the Mustang experience. Part of it's the motor, and part of it's the sixth generation car's greatly refined chassis and interior, but the whole package just seems to work. Ford is going to be selling the new Mustang in countries across the world now, and the turbo option is a big part of that marketing strategy.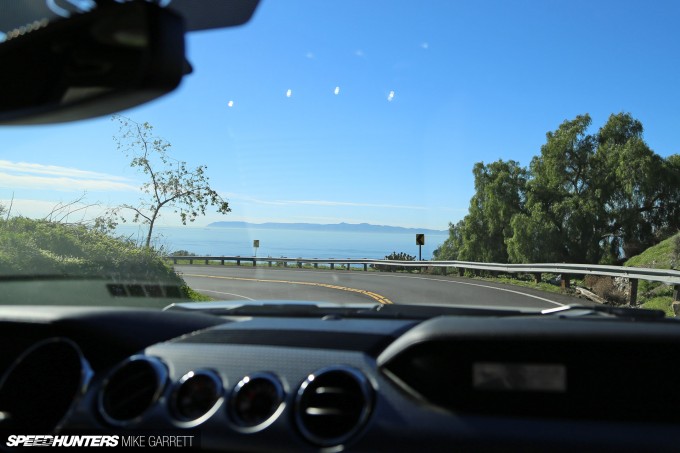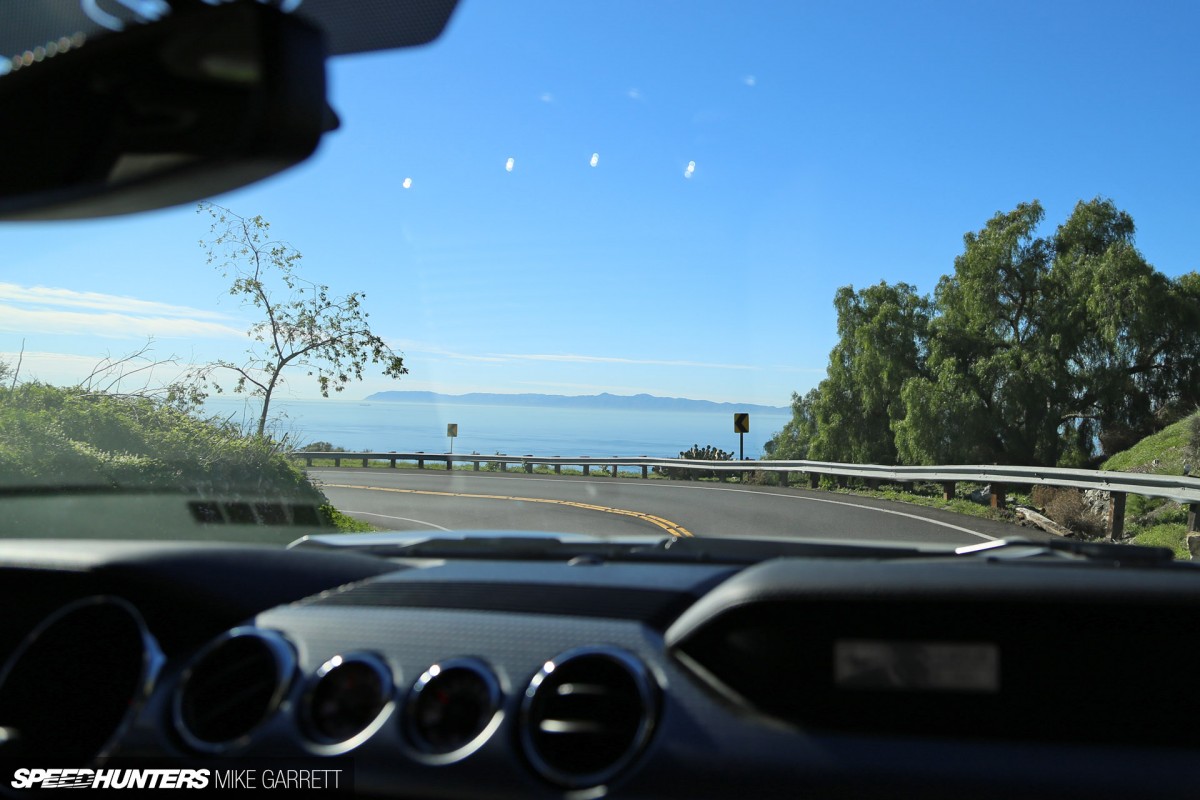 On one hand it has the styling and lineage that has made the Mustang so iconic over its 50 years of existence, but at the same time it feels like an entirely new car. From an enthusiast's perspective, the EcoBoost Mustang also feels like a throwback to a bygone era of performance cars. Not the V8 pony cars of the '60s mind you, but the turbocharged machines of the '80s and '90s.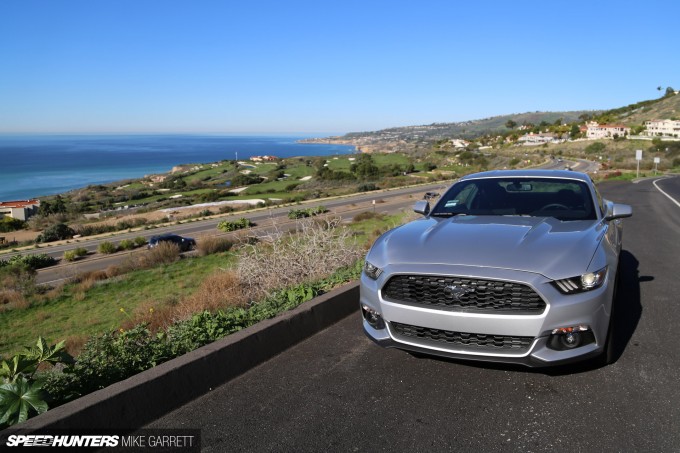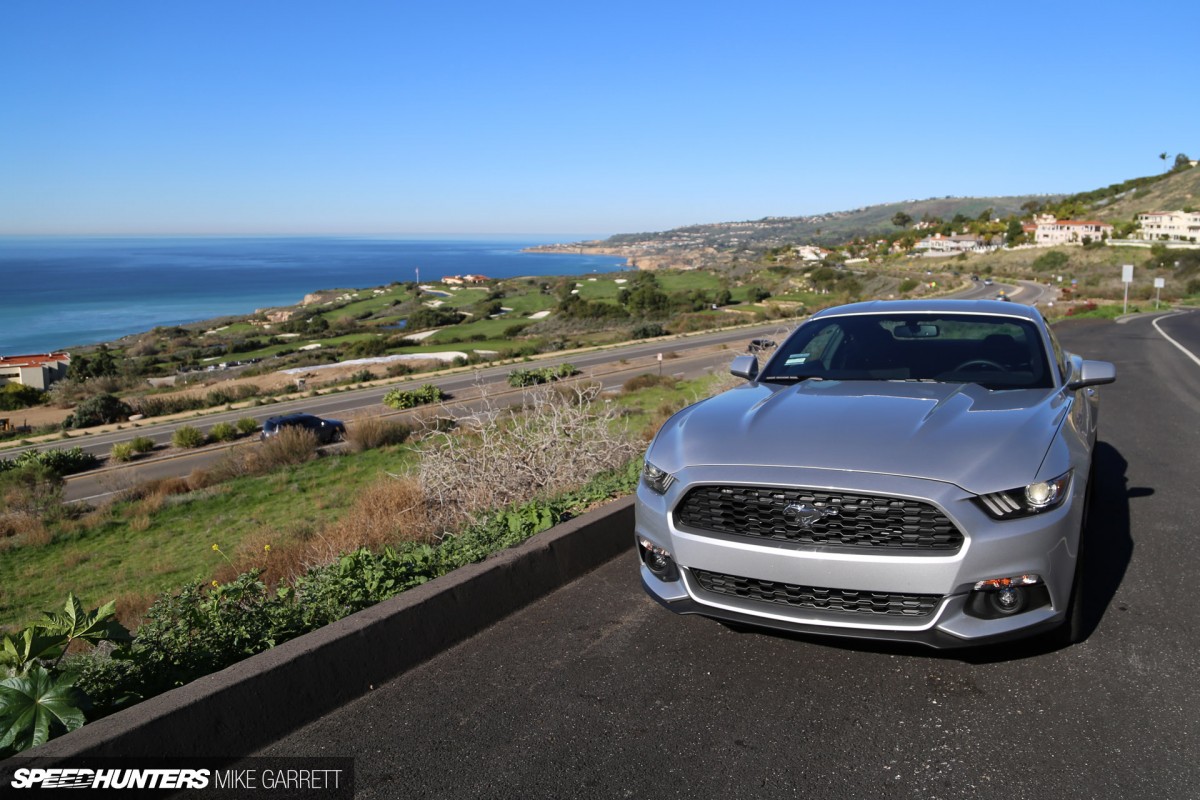 I'm not just talking about the EcoBoost's Mustang SVO ancestor, but cars like Mitsubishi Starion, Toyota Supra and Ford Sierra Cosworth. Even with all of the great performance cars being offered today, it's still hard to find an affordable rear-drive, turbocharged coupe with a manual transmission and a limited slip diff.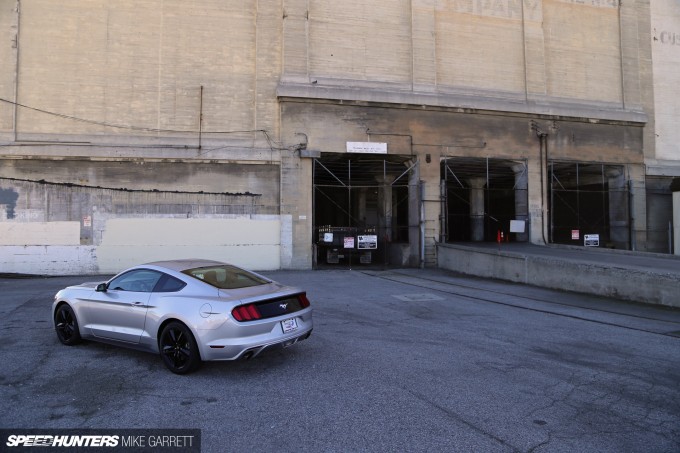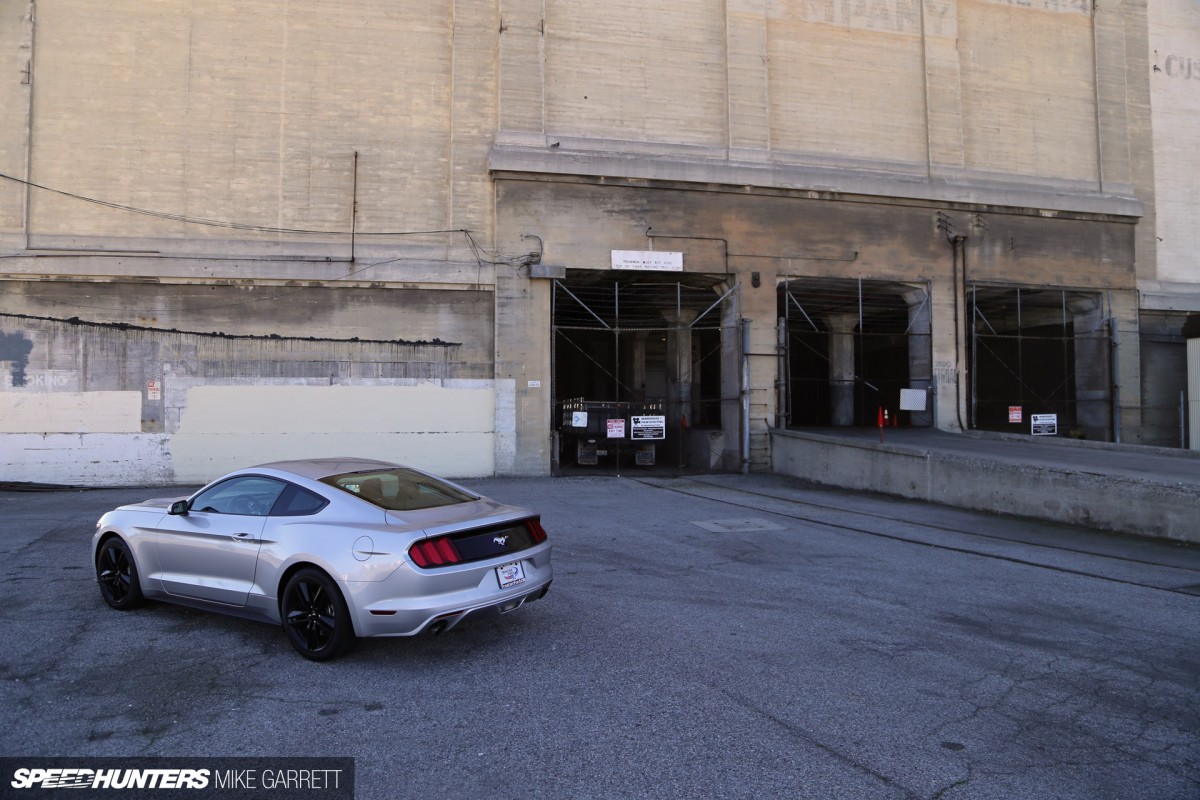 And as I've become more acquainted with the EcoBoost Mustang, the one car I keep drawing parallels to is the Nissan Silvia, which hasn't been sold since 2002. And sadly, despite the positive reaction to the IDx Concept, it seems that Nissan has no immediate plans to actually build a new rear-drive coupe. So the question I've been asking myself is, could the Mustang EcoBoost take the place of the the non-existent S16 Silvia?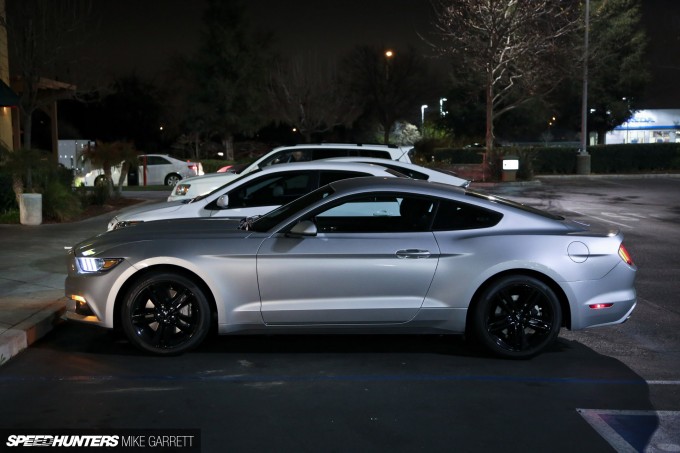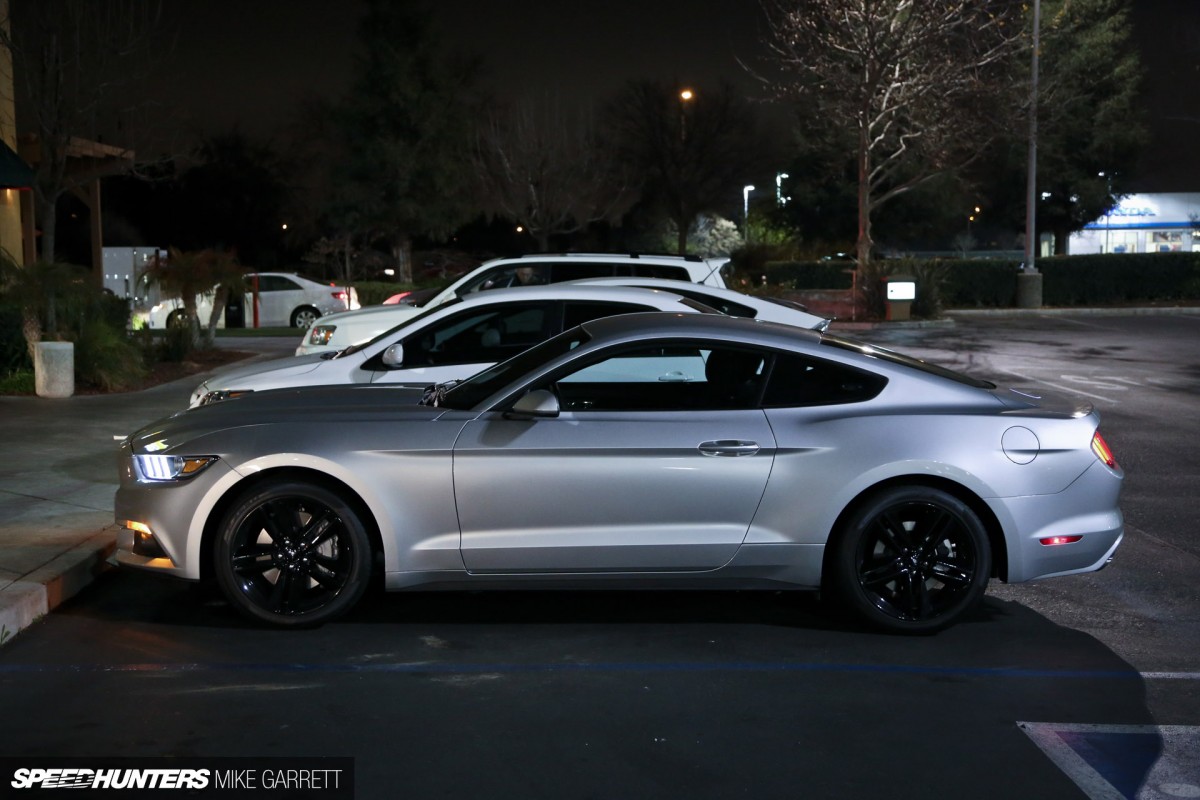 Initially, your answer might be 'no way', after all, the new Mustang is much heavier and larger than the old S15 and, even if Nissan did bring back the Silvia with modern conveniences it would likely be smaller and lighter than this car. But I still can't help but notice some similarities.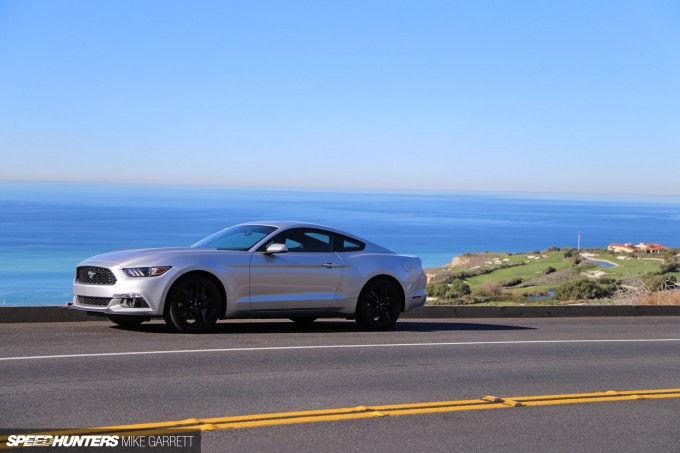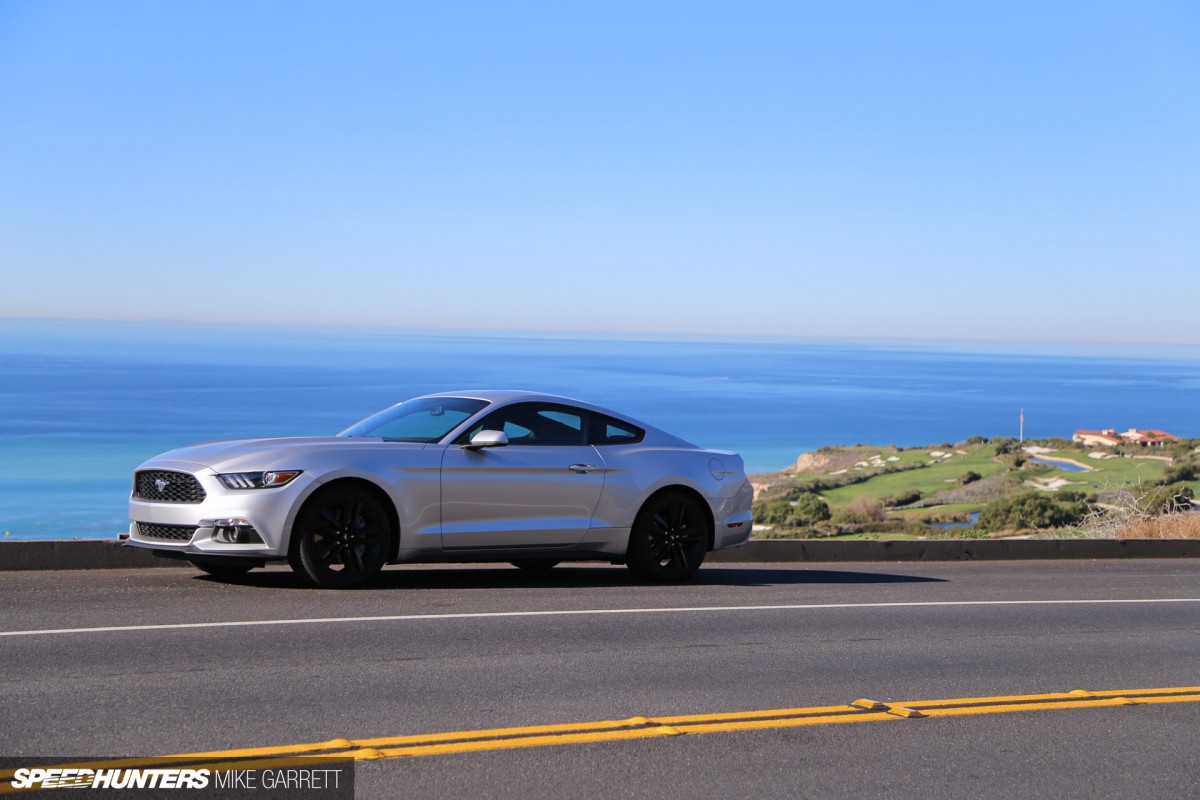 Given the affordability and massive aftermarket following that both cars have, I've always considered the Silvia to be Japan's version of the Mustang, and now that the Mustang has an independent rear suspension and a turbocharged four cylinder, the two cars feel closer in spirit than ever.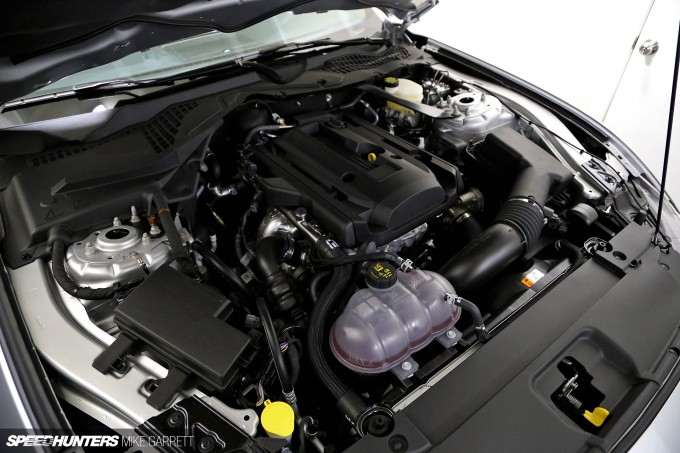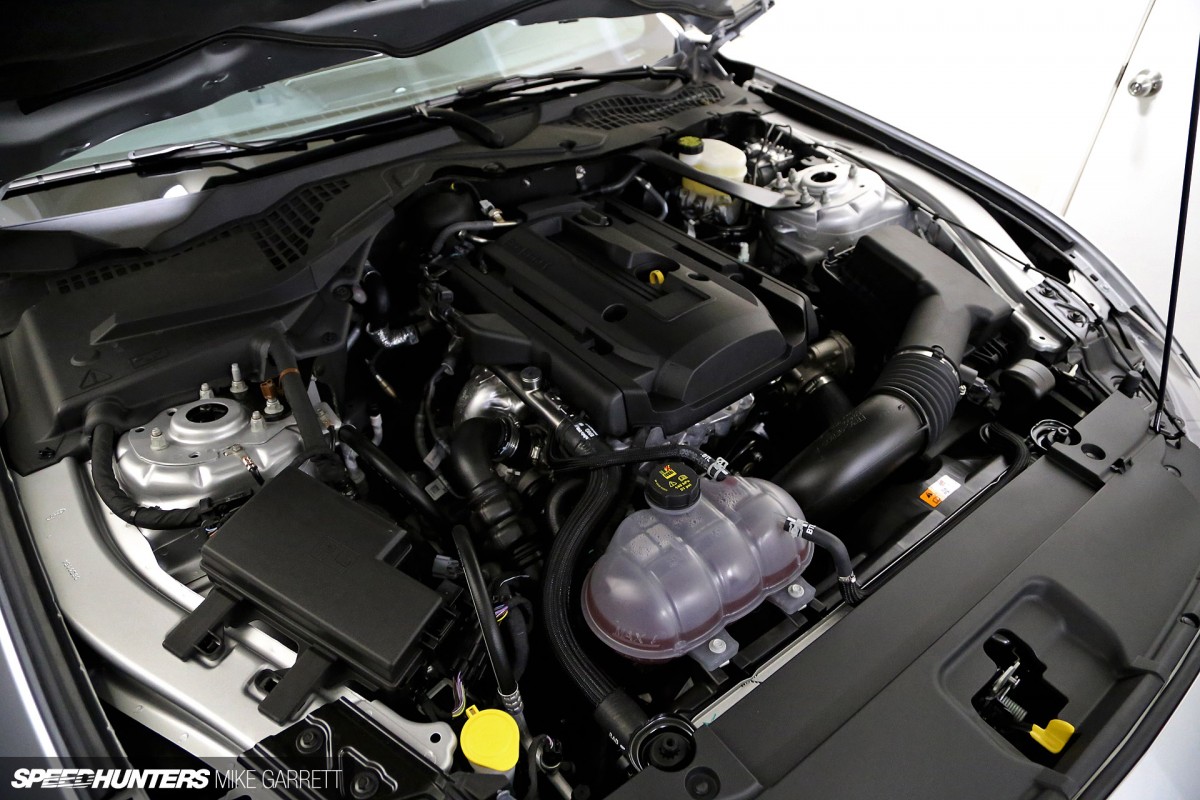 There's just something nostalgic and almost comforting about popping the hood and seeing a longitudinally mounted turbo four cylinder engine with a lot of open space around it. It's like it's just begging you start having some fun with it. When I look under there, I can't help but think about S13, S14 and S15 engine bays occupied by SR20DETs in various states of modification. It might be the newcomer to the Mustang family, but I have good reason to believe that the EcoBoost aftermarket support will not disappoint.
Off To The Dyno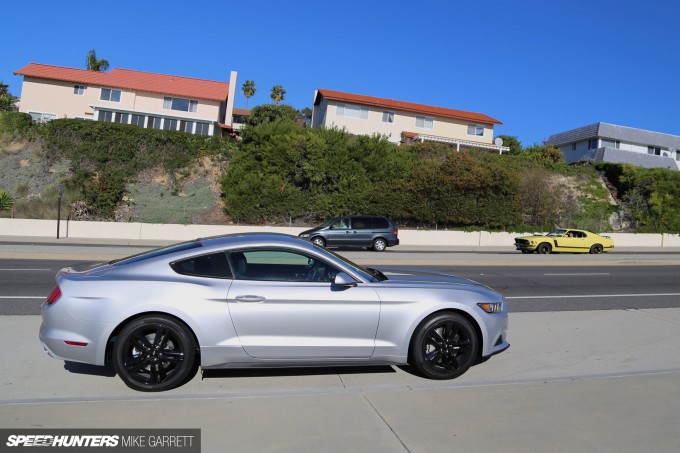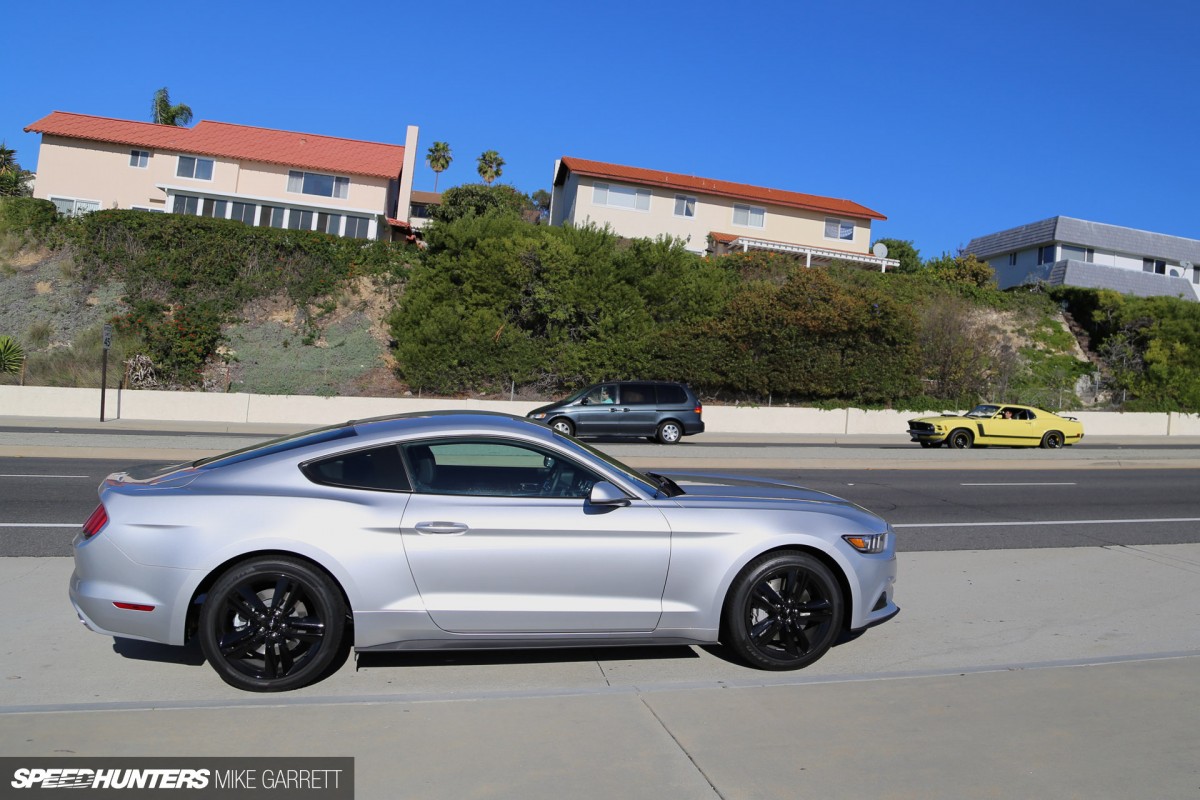 So rather than just being a big update to an iconic model, the EcoBoost Mustang feels almost like a whole new car – and an important addition to a segment that needs some more action. Aside from the Toyota/Subaru twins and the Hyundai Genesis, there isn't much out there in terms of affordable, rear-drive coupes that still deliver reasonable fuel economy and insurance rates. Believe it or not, the Mustang is actually a few bucks less for me to insure each month than the FR-S which had over a hundred fewer horsepower.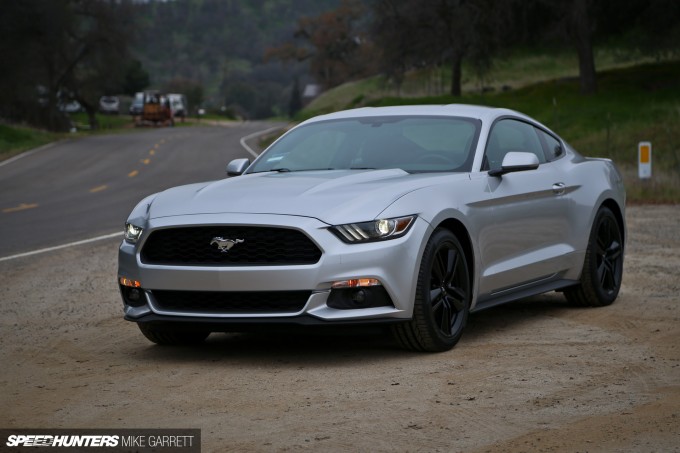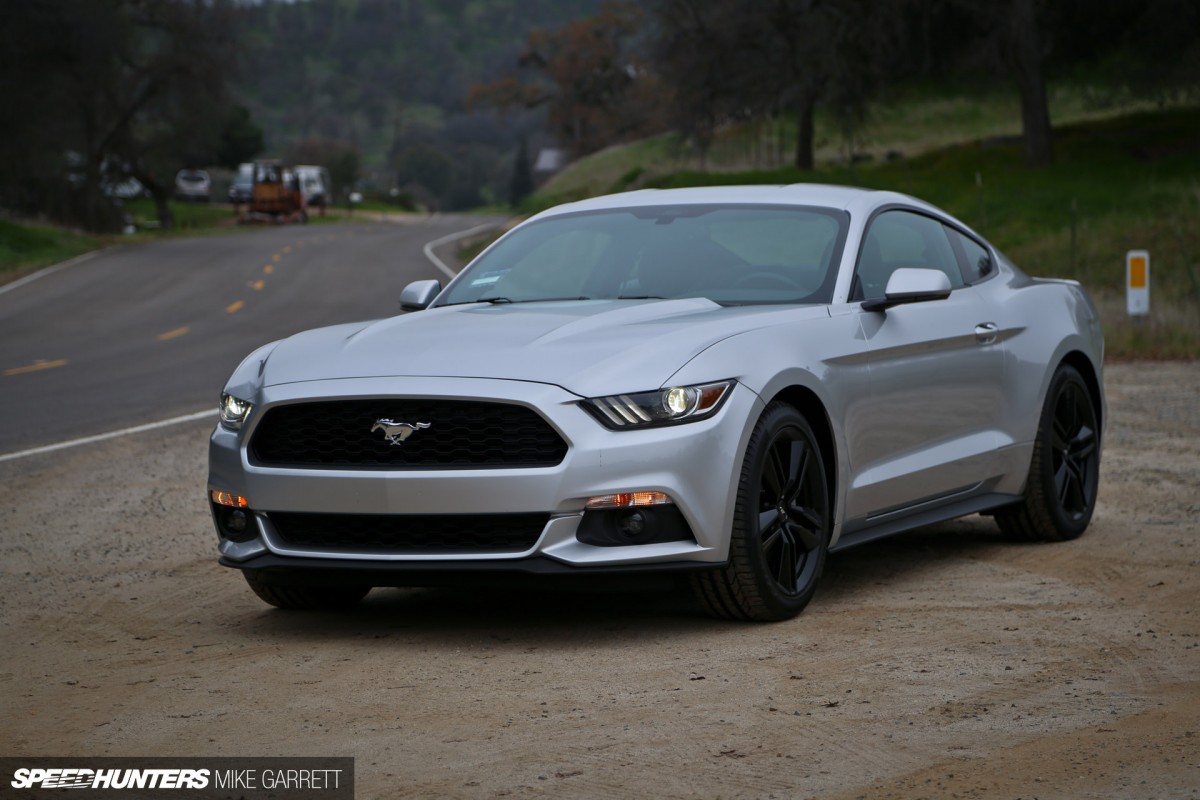 So while it might not be the exact modern version of the Silvia that everyone's been waiting for, the EcoBoost seems like it could be the machine to pick up the slack and help reinvigorate a genre of performance car that needs to be revived. It may come with a historic nameplate and a familiar shape, but the idea behind this car feels fresh and exciting – and that's one of the big things that sold me on it.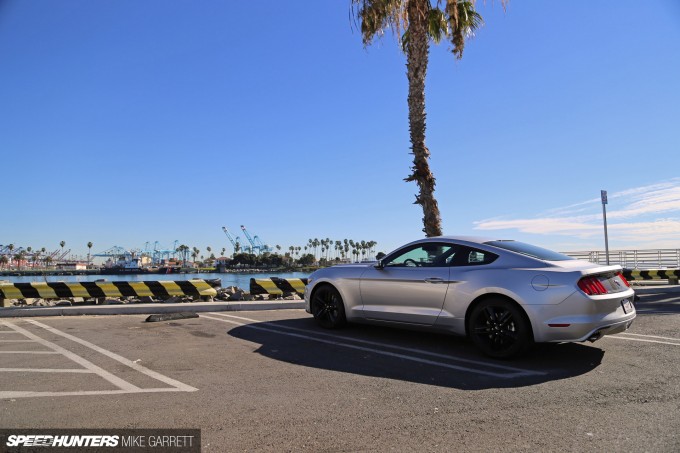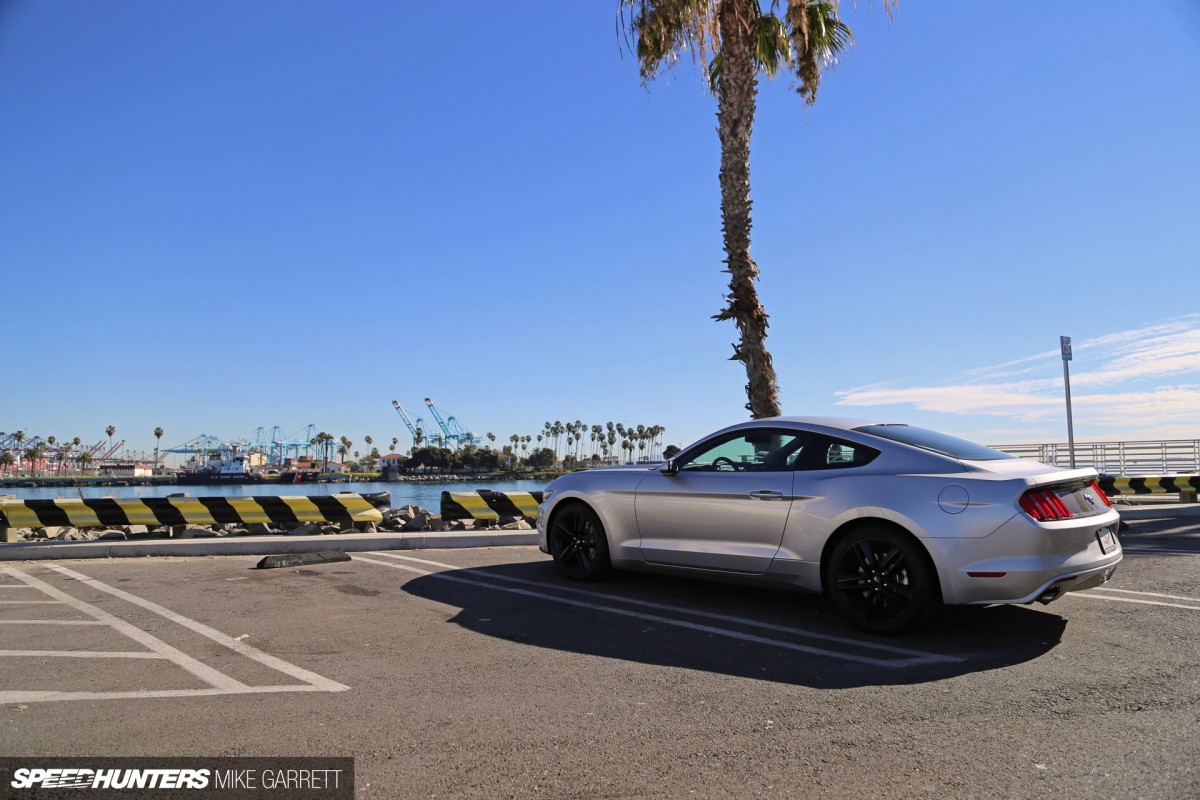 In addition to pondering the EcoBoost Mustang's place in the enthusiast car realm, I've also been spending a lot of time in the last couple of weeks thinking about how I want to approach the car as a project vehicle. The response I've had so far  has been overwhelming in terms of interest from both the readers and from aftermarket representatives telling me about their plans for the EcoBoost platform. It's been exciting to say the least.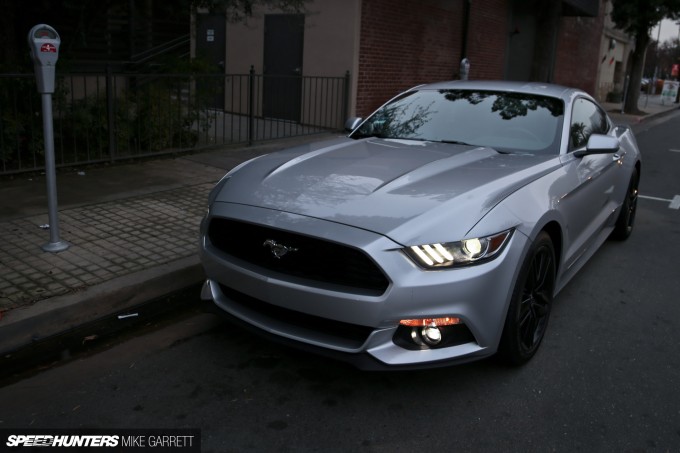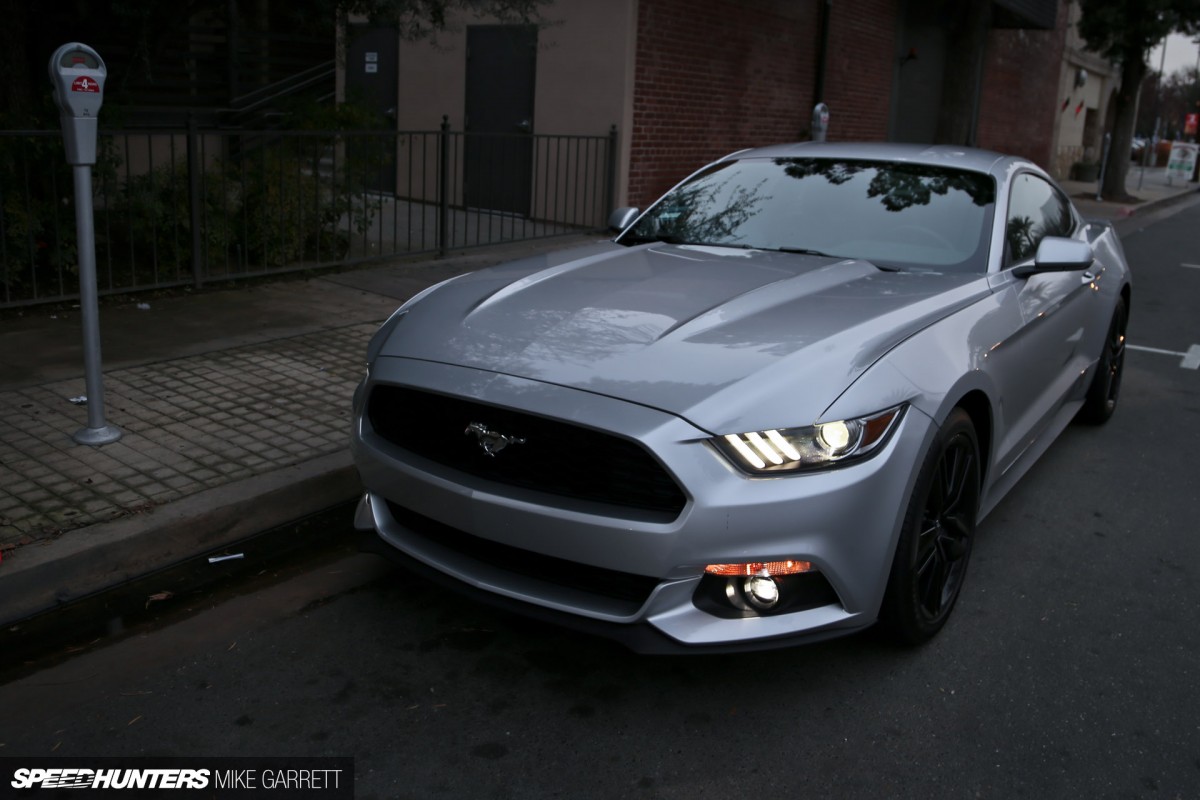 I actually have a few initial upgrades in the works already, and you can expect to hear about them soon. But before that I thought it'd be a good idea to get some baseline power numbers for the car. It would be important to have the information for comparison's sake later on, and I was also very interested to see what sort of numbers this thing was putting down straight off the showroom floor.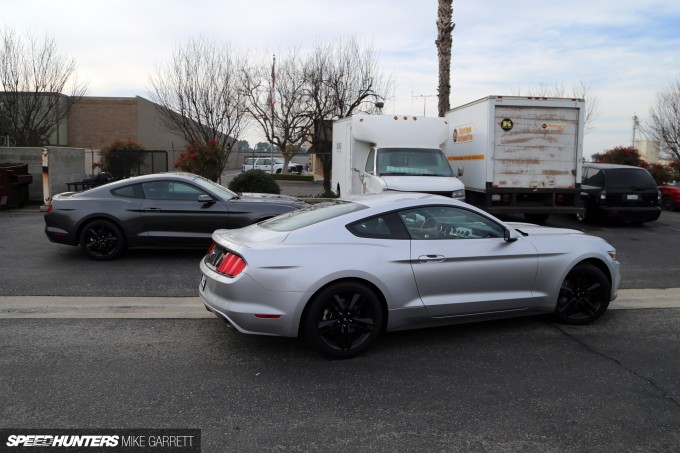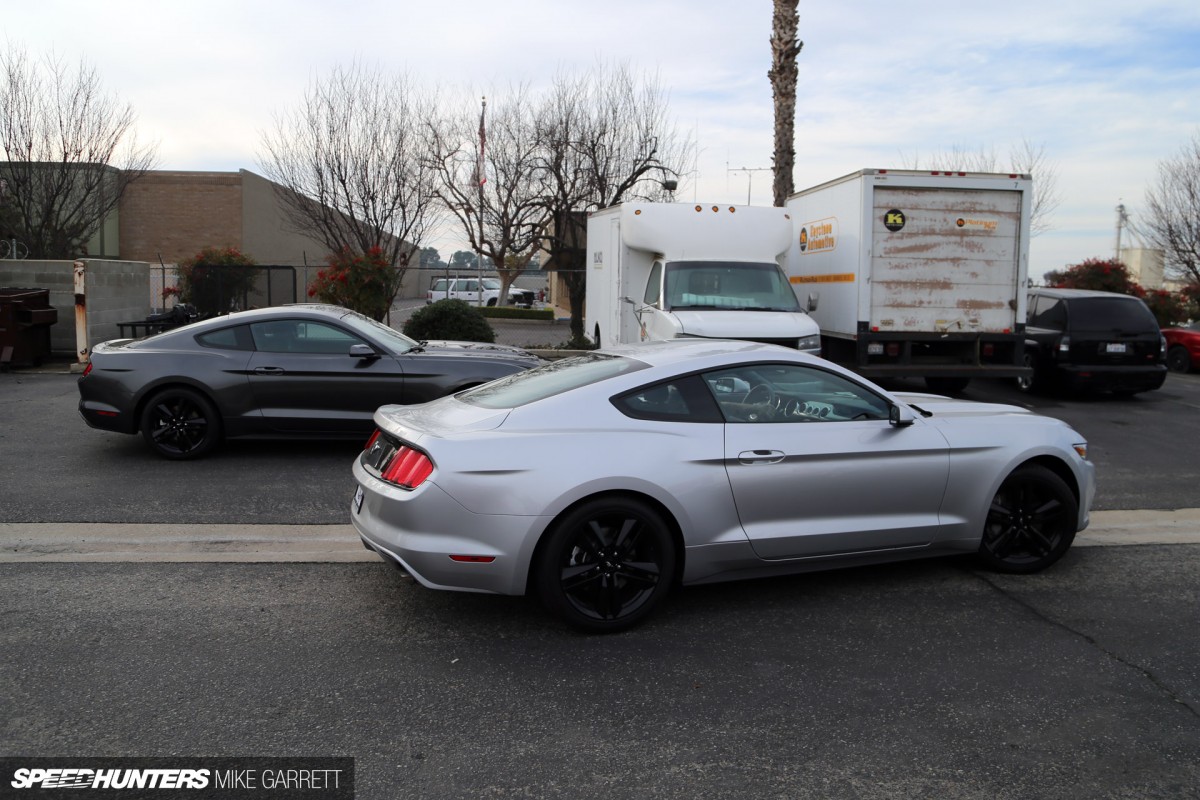 So last week I made an appointment to take the car to S.S. Motorsports & Fab here in Central California to run the car on their Mustang dynamometer. I was actually joined by another local EcoBoost owner named Nathan who was also looking to get some baseline numbers for his car.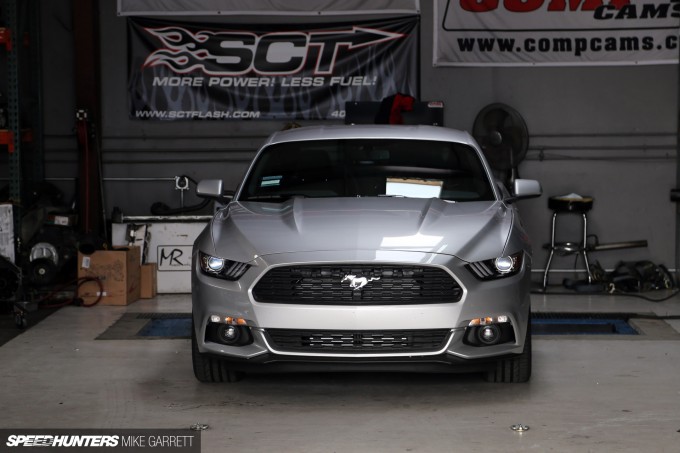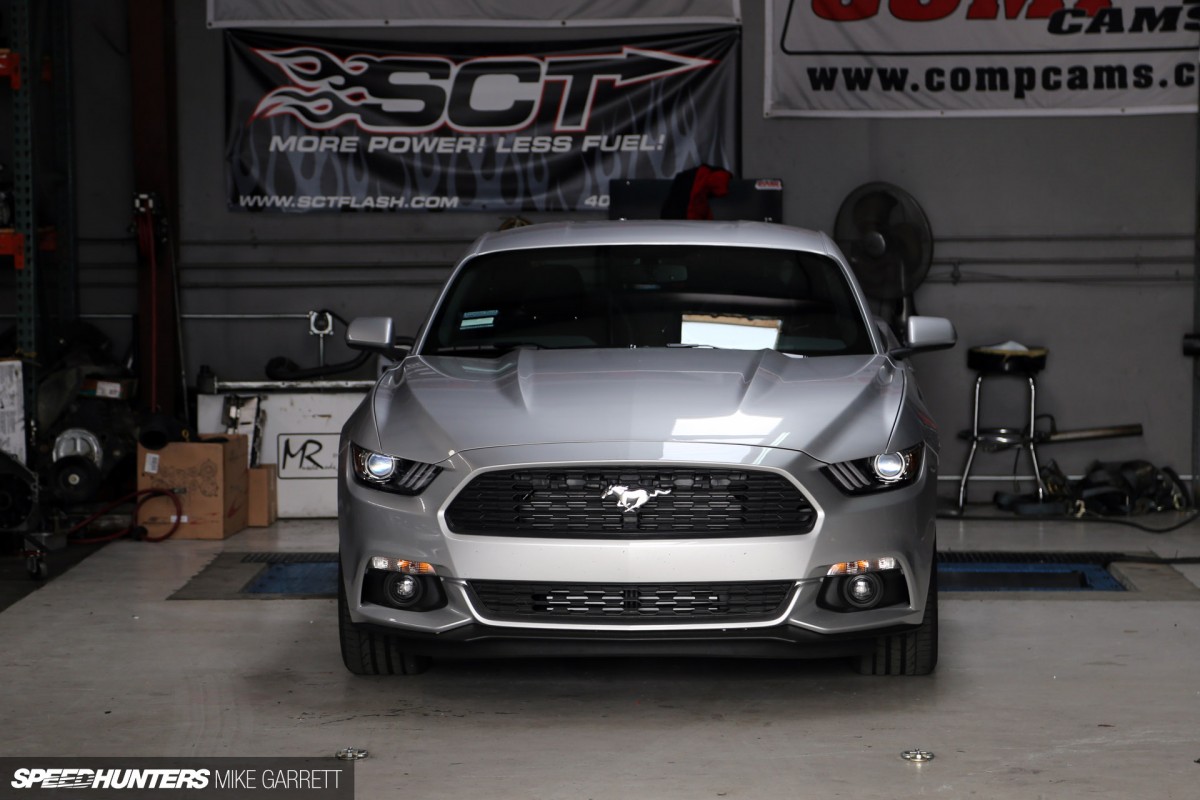 With 1,200 miles on the odometer, my car was strapped to the dyno for a couple of fourth gear pulls to see what the stock 2.3-liter turbo motor was putting out.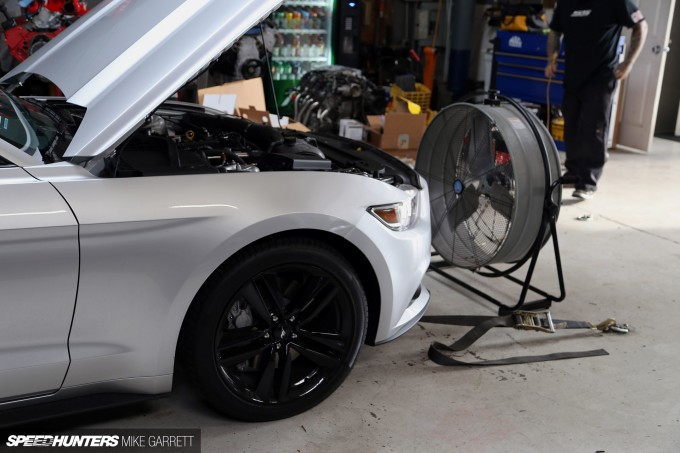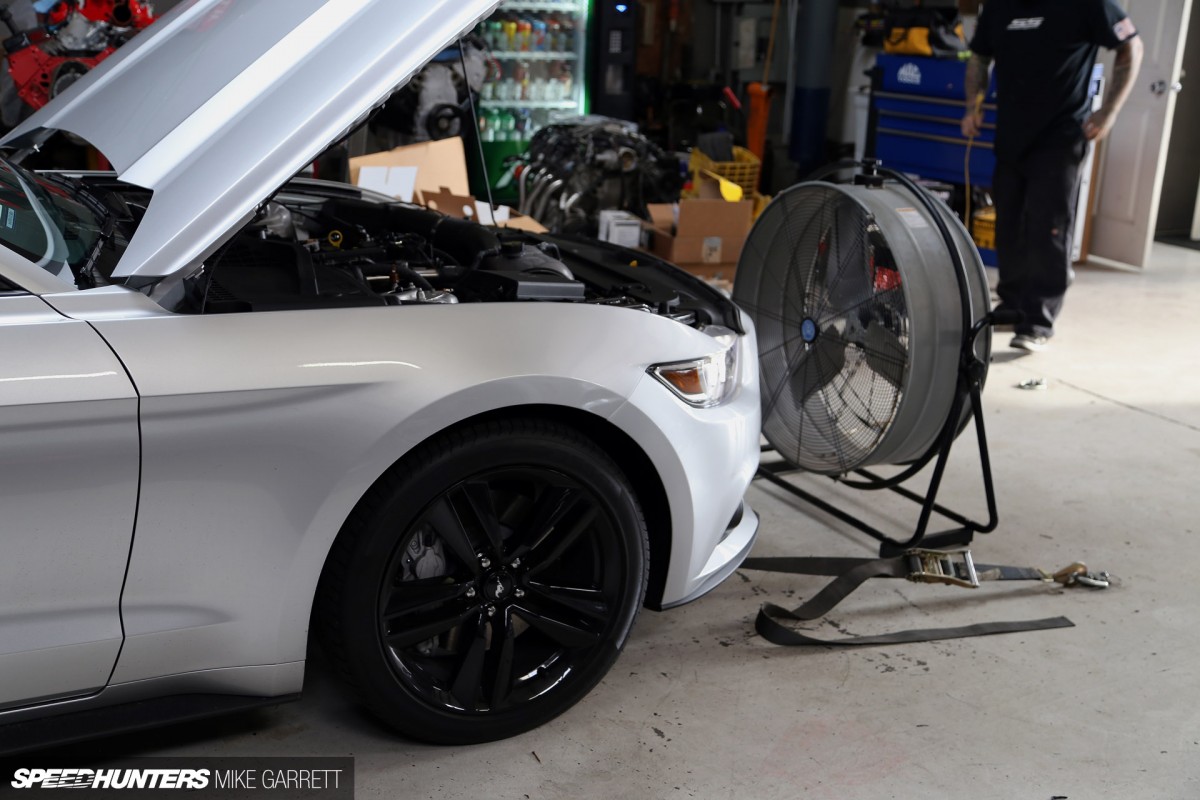 This was the first time for me to put one of my personal cars on a dyno, and I have to say it's quite the experience. It's actually something I think everyone should do with their car once, even if they aren't interested in power output or engine modifications.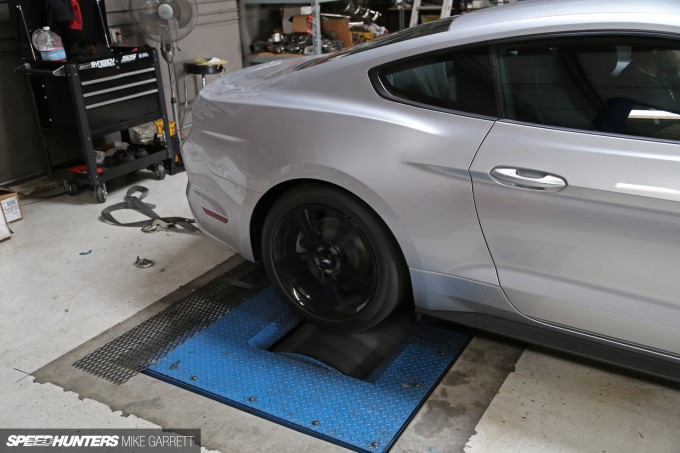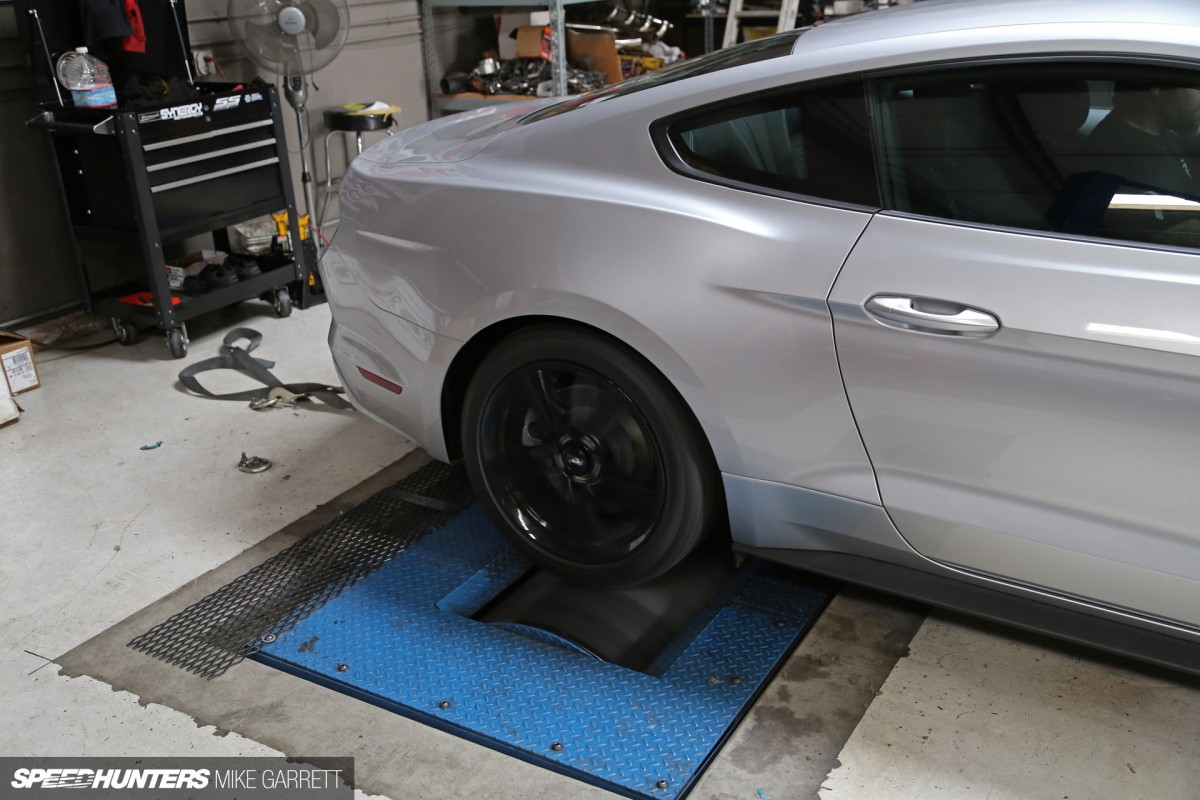 Having seen some results for other cars online, I had a rough idea of what to expect, but there was still plenty of anticipation as the Mustang made its way through the powerband and got the rollers spinning. What would the numbers say?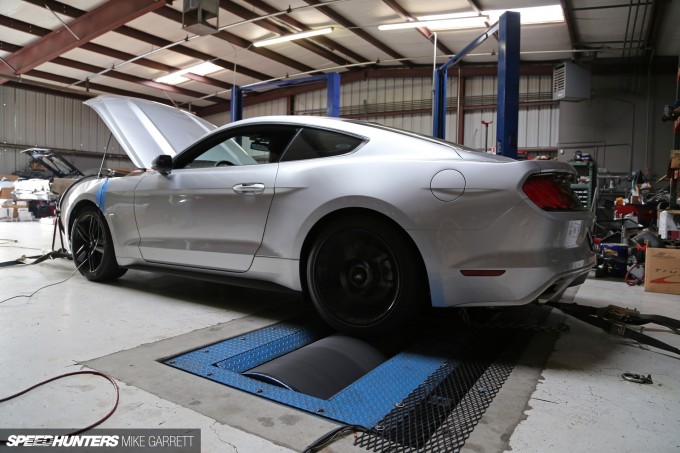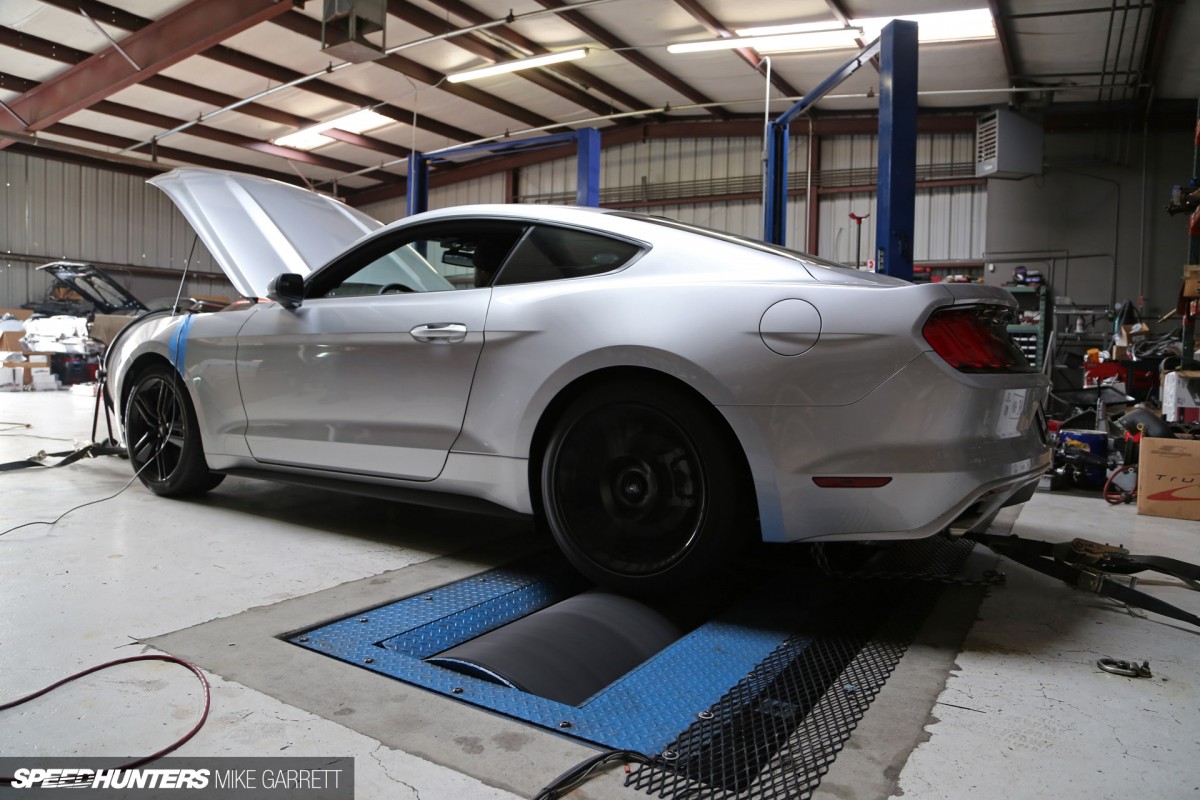 Well, in bone stock trim the car put down 263 horsepower and 273 pound feet to the rear wheels – not bad figures considering that this is a more conservative Mustang dyno and the factory crank ratings are 310hp and 320lb/ft. None of the guys at the shop had seen an EcoBoost Mustang yet, and were quite impressed by the little four banger's output.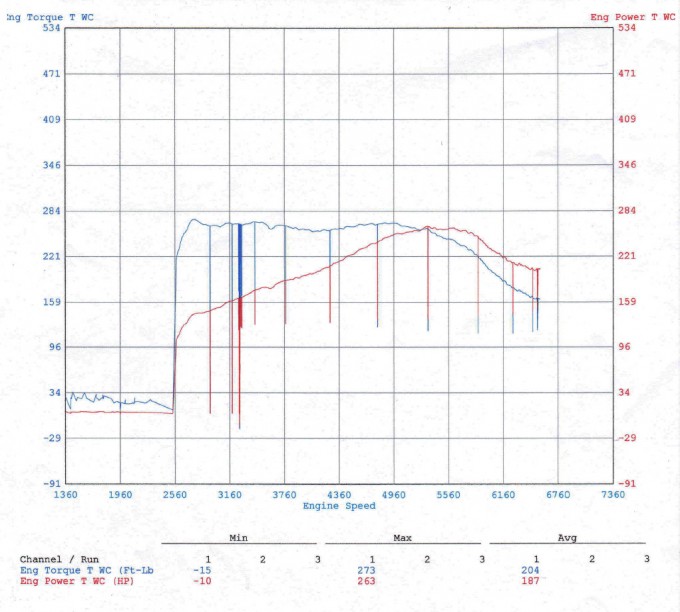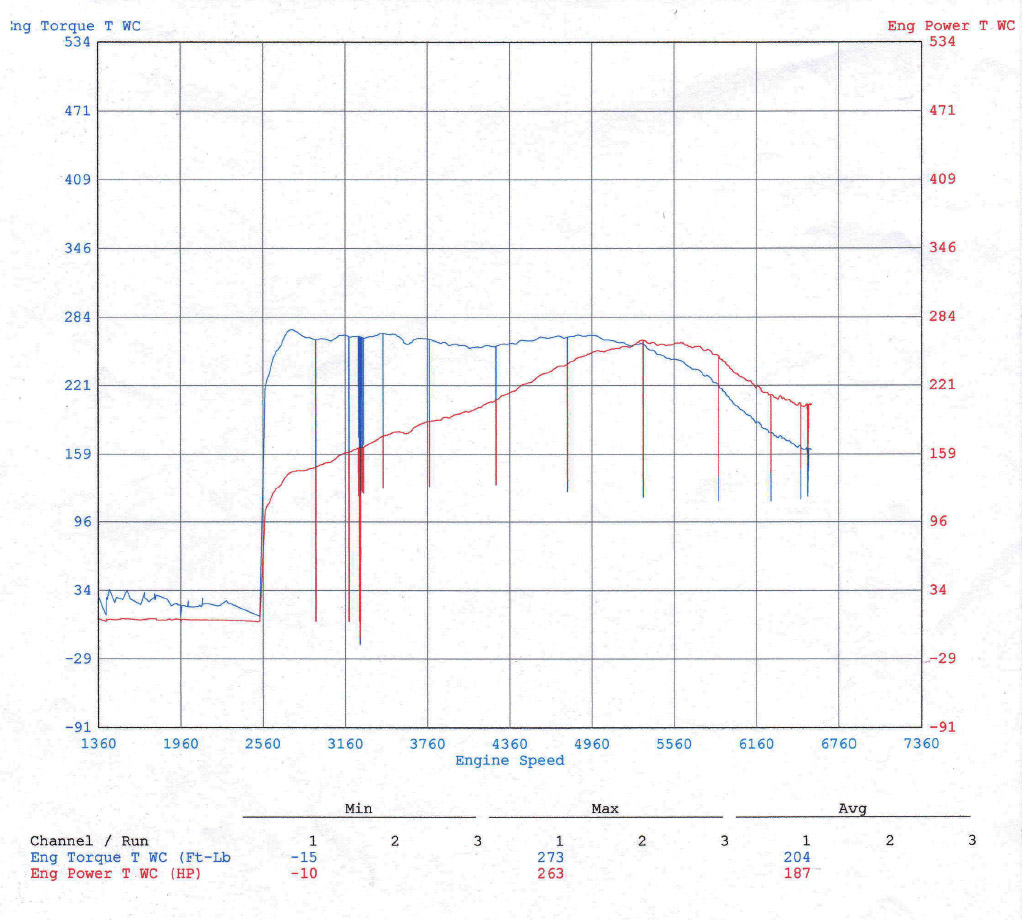 Here's the dyno graph so you can get a better idea of the car's power delivery. As you can see there's plenty of torque right up to 5,500rpm, which is where the factory setup begins to fall off. It will definitley be interesting to see if the aftermarket can improve power up top. If anything it's the polar opposite of the FR-S, in which you have to wind the engine to redline to extract its power.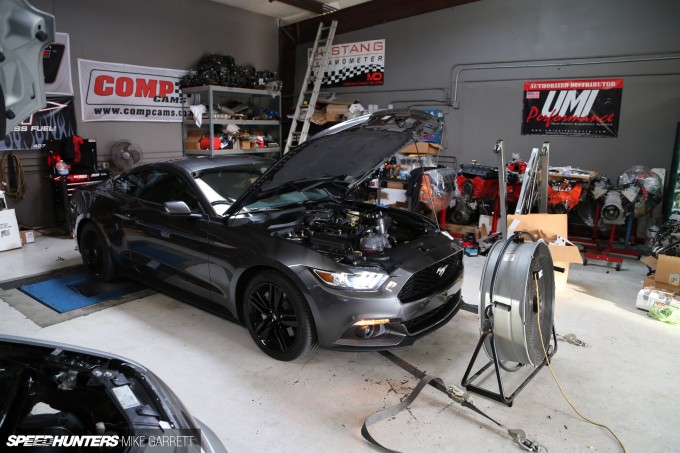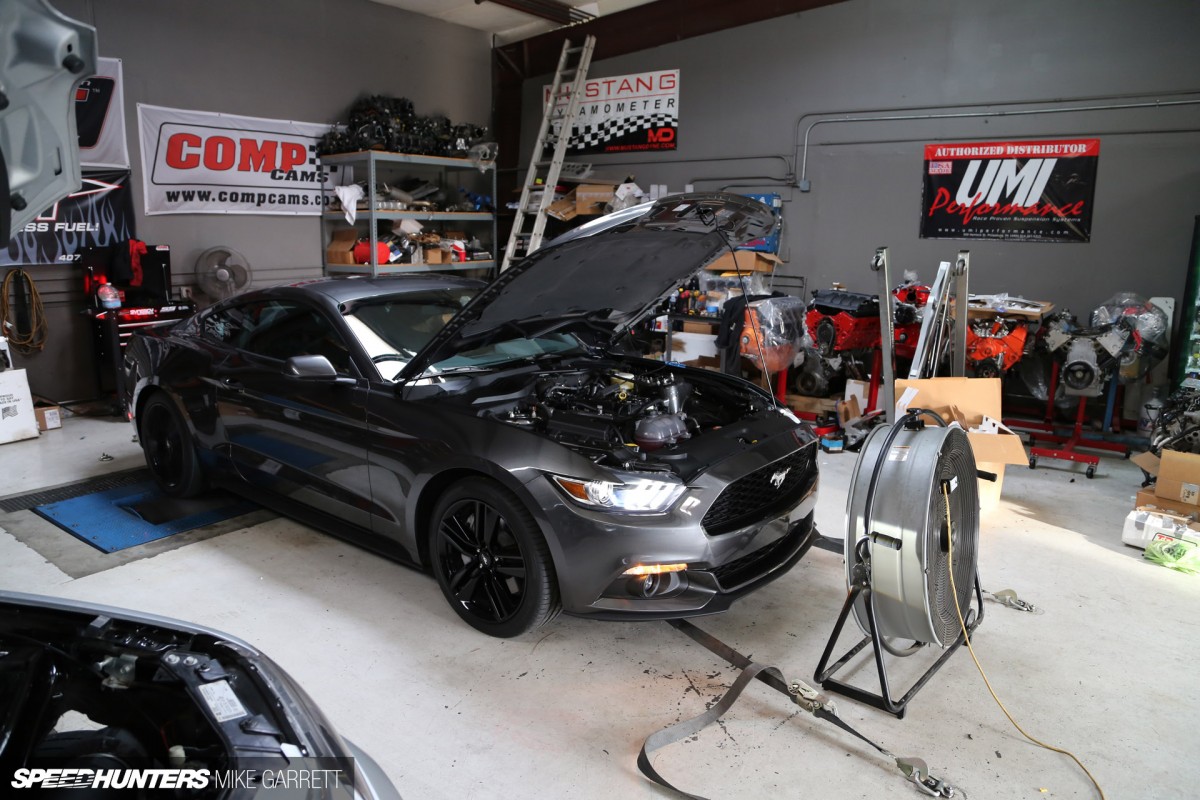 Nathan put his car on the dyno next and came up with a numbers almost identical to mine. The only difference was that his car had been equipped with a cold air intake system – albeit one that had not yet been adjusted for a revised tune.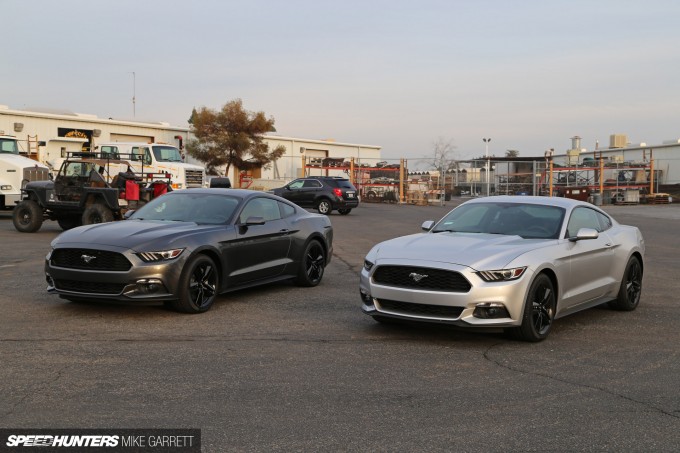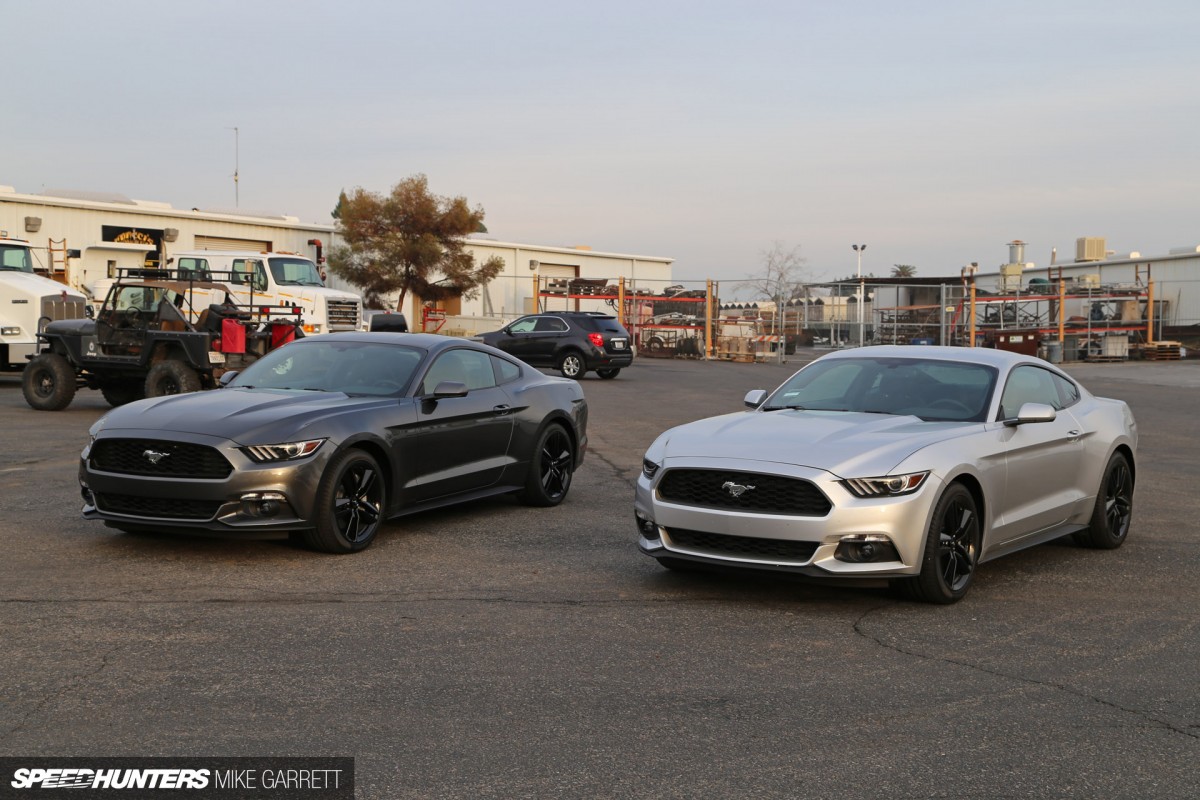 So there you have it. A whole lot of excitement and some decent baseline numbers which should soon be improved upon thanks to the help of the quickly-developing EcoBoost aftermarket. Things are moving fast, so expect another update soon.
Until then, let's just hope I don't get smoked by any dads out driving around in their company cars…
Mike Garrett
Instagram: speedhunters_mike
mike@speedhunters.com