Never Meet Your Heroes
When it comes to American cars built in the 1970s, there's really none more iconic than the Pontiac Trans Am. It had spoilers everywhere and a big scoop sitting in the middle of a hood with a 'screaming chicken' on it. It was a tough-looking car, and it was made even more badass thanks to its starring role in the Smokey & The Bandit films. Thanks to the on-screen exploits of Mr. Reynolds and his Pontiac, the Trans Am became the car to have in the late '70s – and it just had to be black and gold.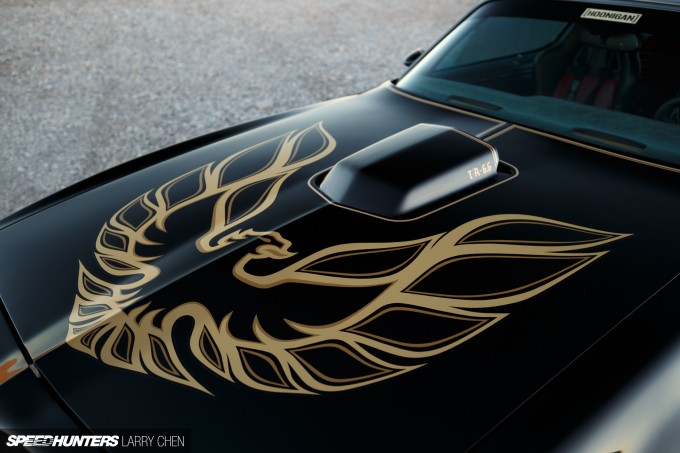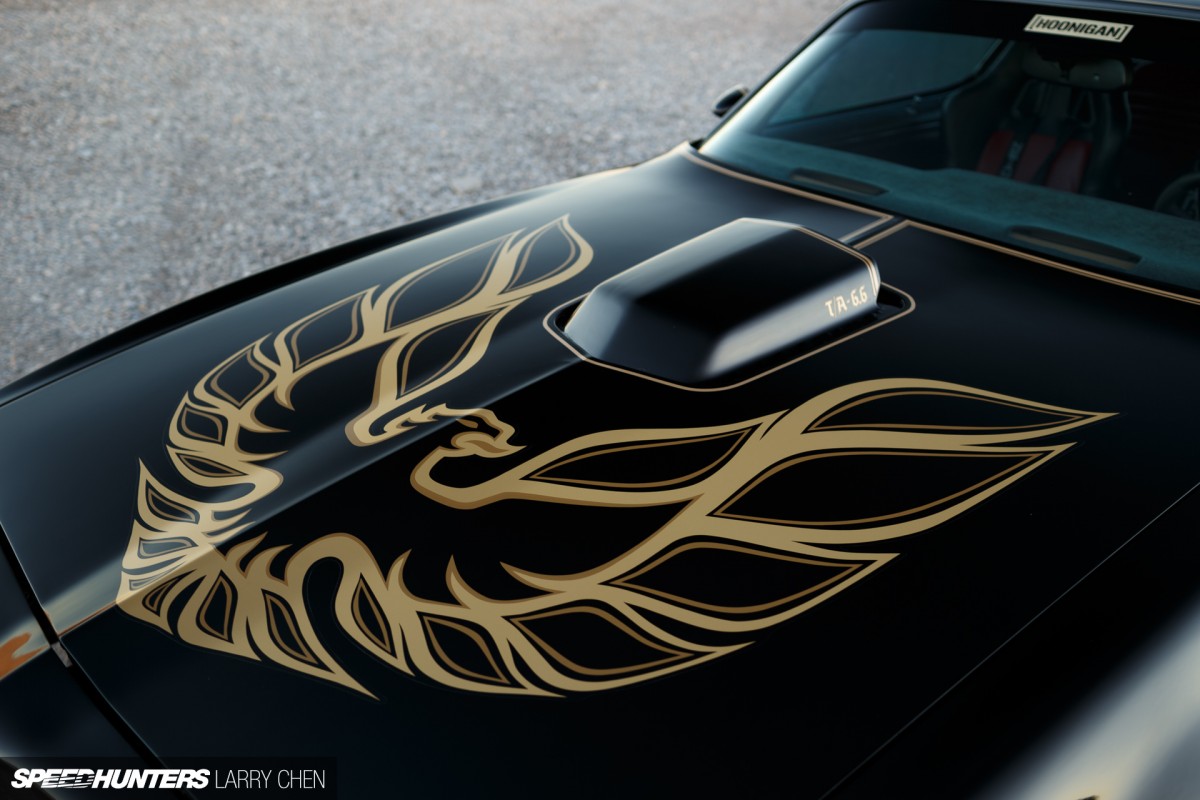 The Trans Ams of this era had style by the boatload, but the truth of the matter is they didn't have much performance to back up their looks. This wasn't really the fault of GM or Pontiac in particular, as almost all American cars of this era were pretty disappointing in the performance department. In the late '70s we had the Mustang II and Corvettes with less than 200 horsepower.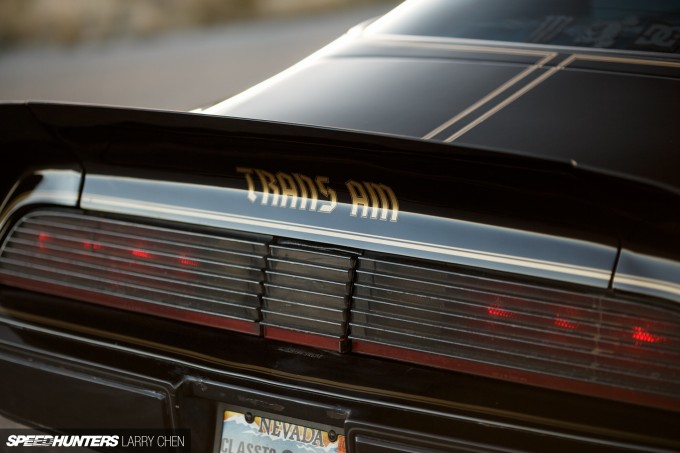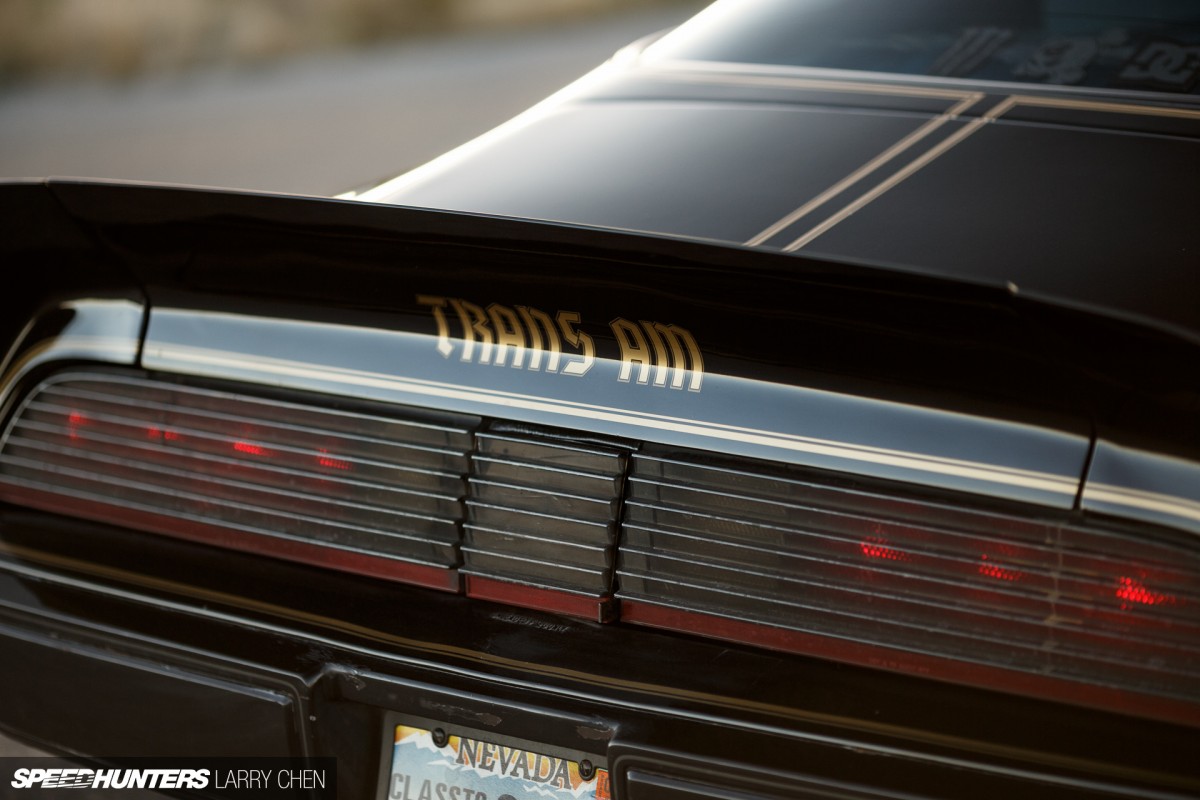 By this point the smog movement had neutered most of the performance that made the muscle cars so great, and despite being one of the most powerful cars you could buy at the time, a late '70s Trans Ams would easily be outrun by its older counterparts. Remember, this was a time with catalytic converters but no fuel injection.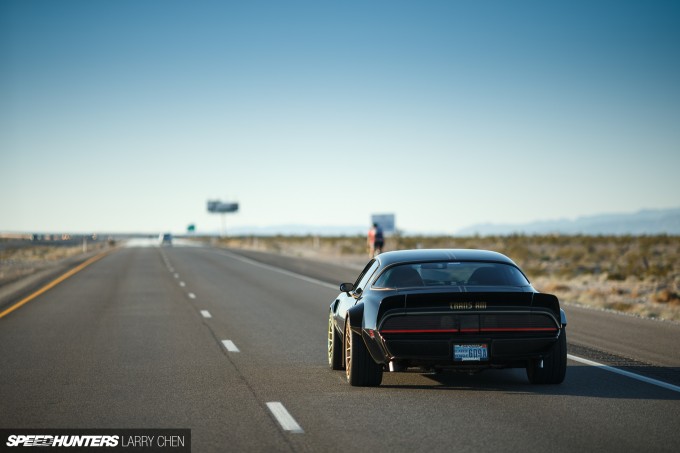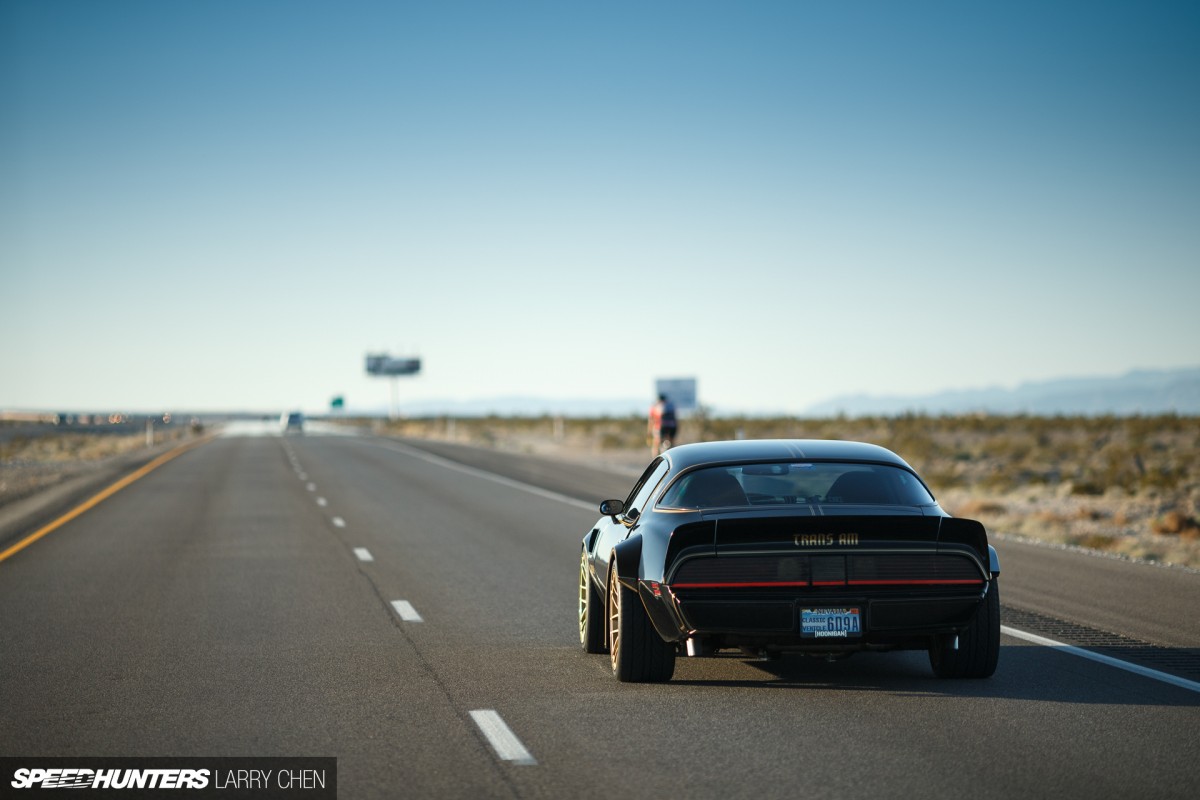 Of course, that didn't stop untold numbers of people from falling in love with the Trans Am after watching Burt Reynolds slide it across the silver screen. One of those people was Gregg Hamilton, a youngster from New Zealand who would grow up to have quite a career in the motorsport world.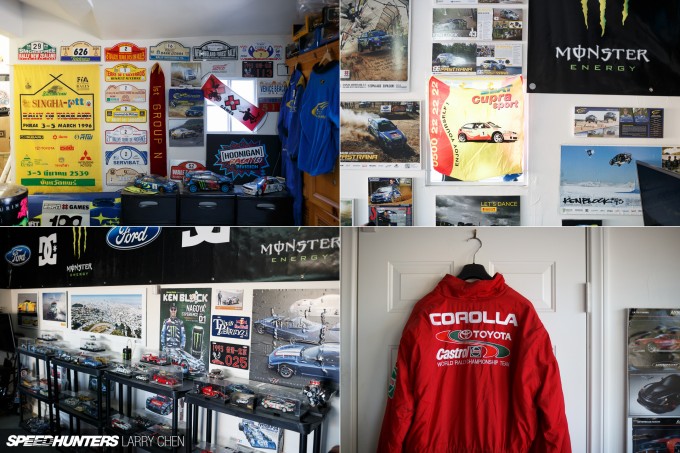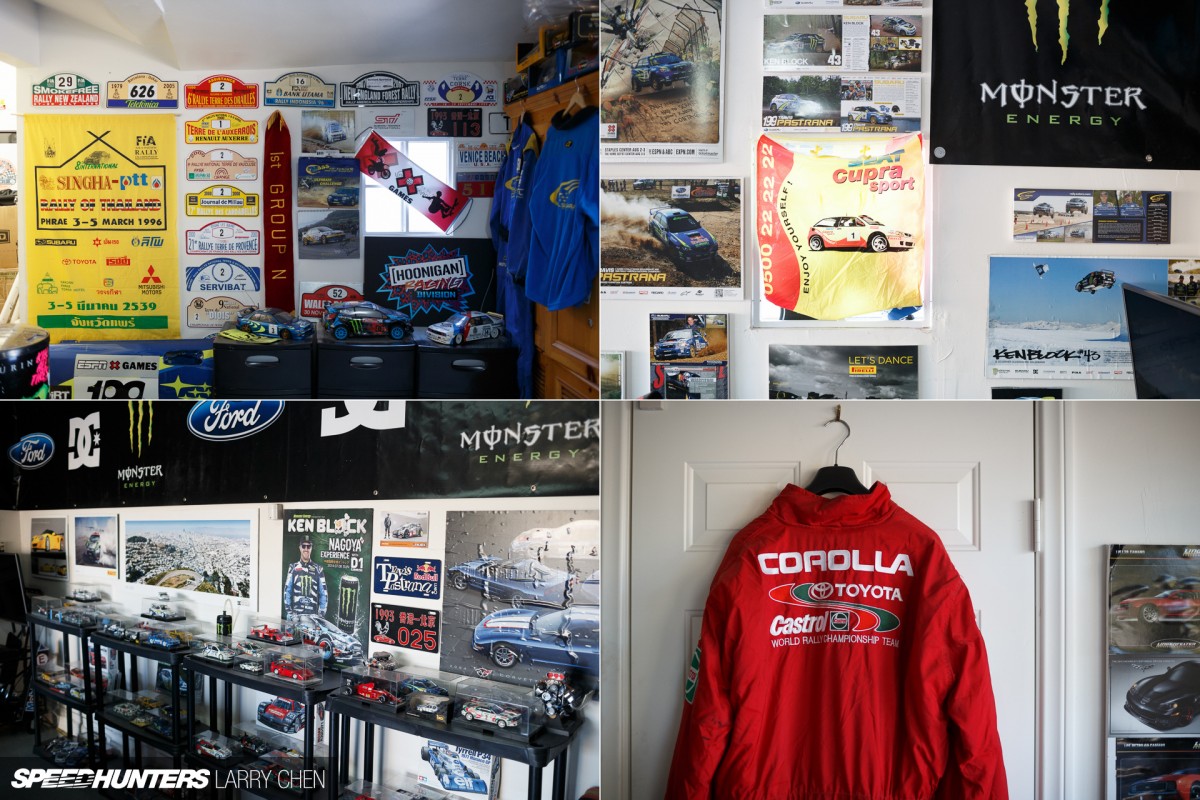 Gregg's specialty is rallying, and he's been involved with the sport for 22 years now. His resume includes stints in Japan with Tein's rally team, adventures with Toyota Team Europe in Germany, Prodrive in the UK and more recently he's become a pivotal figure in America's rally scene.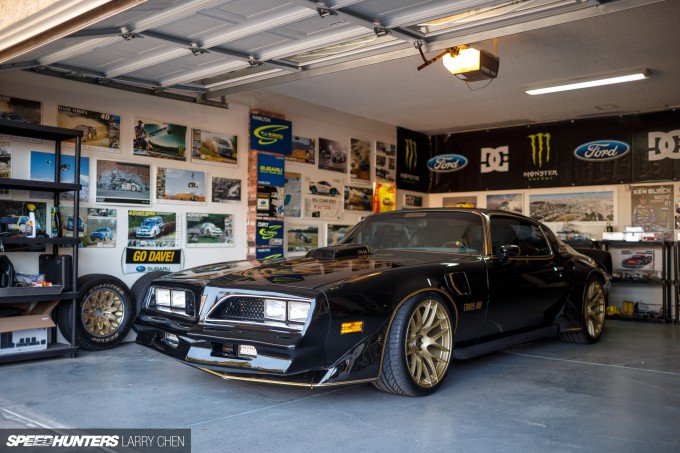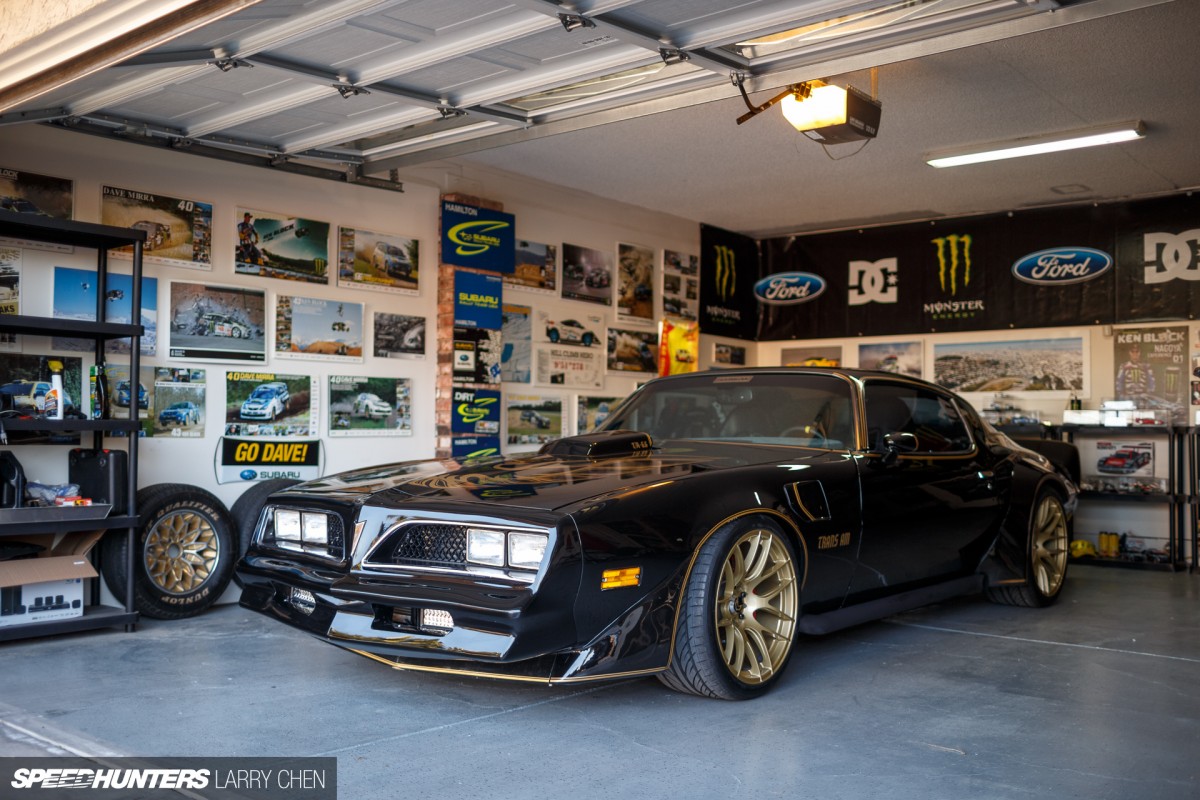 He's been in the States for a decade now, and in that time he's worked as a senior technician for drivers like Dave Mirra, Travis Pastrana and of course Ken Block. Gregg has actually worked with Ken on nearly everything he's done over the last five years and is now senior tech on the Hoonigan team.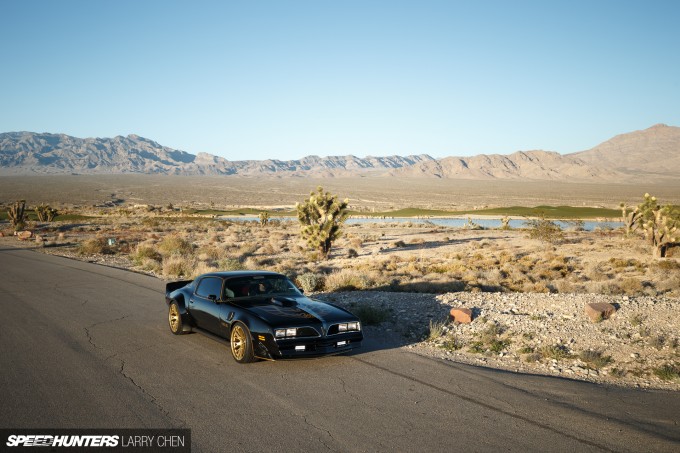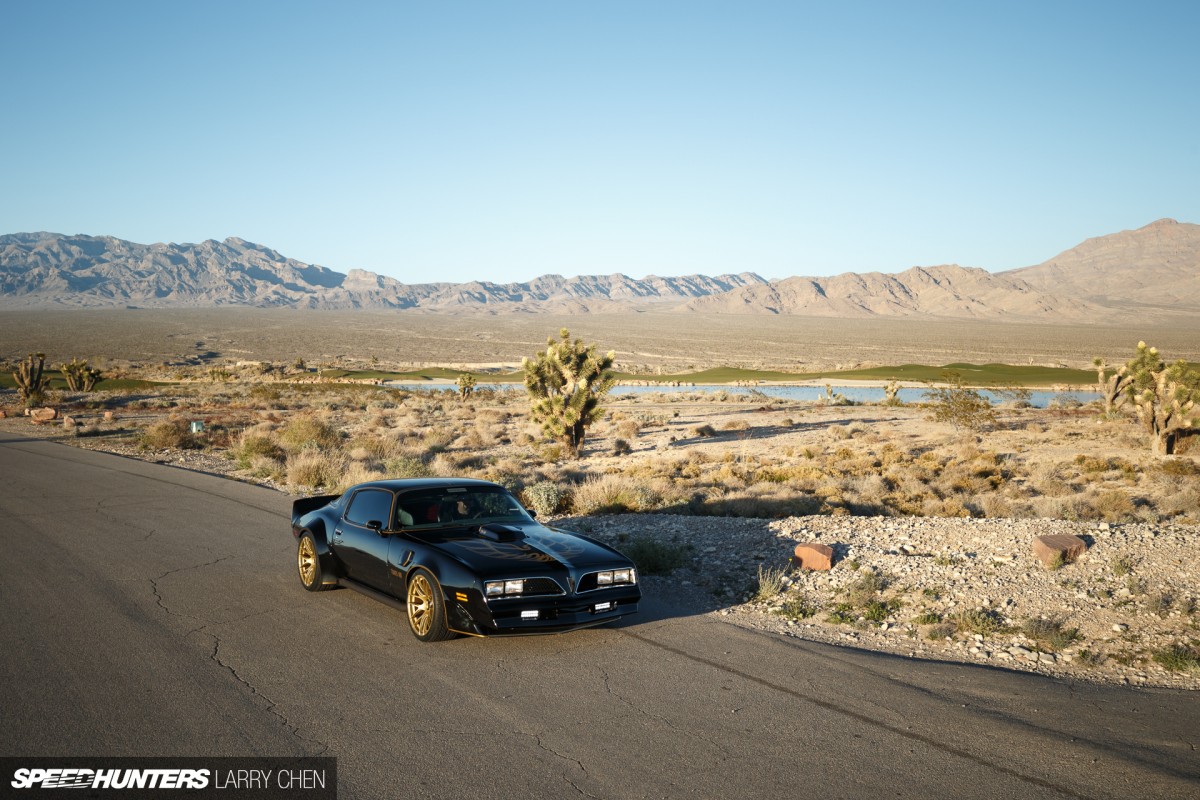 You might expect Gregg to be prowling the streets in some sort of rally-bred AWD machine, but he's actually been living out his American dream with a couple of V8 tire burners. His daily driver is a C6 Corvette Z06 and then there's his Trans Am.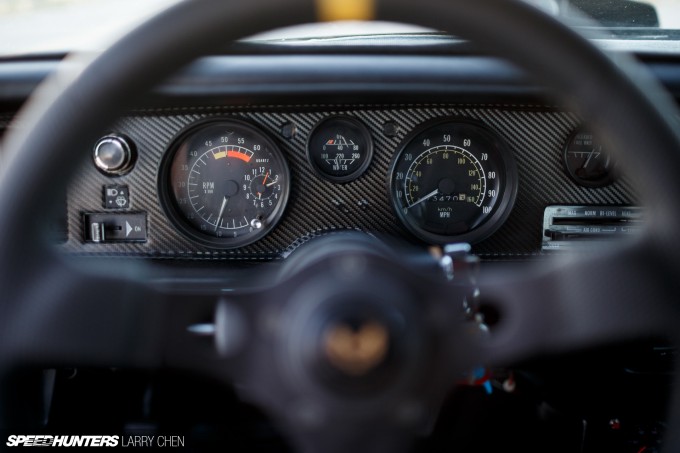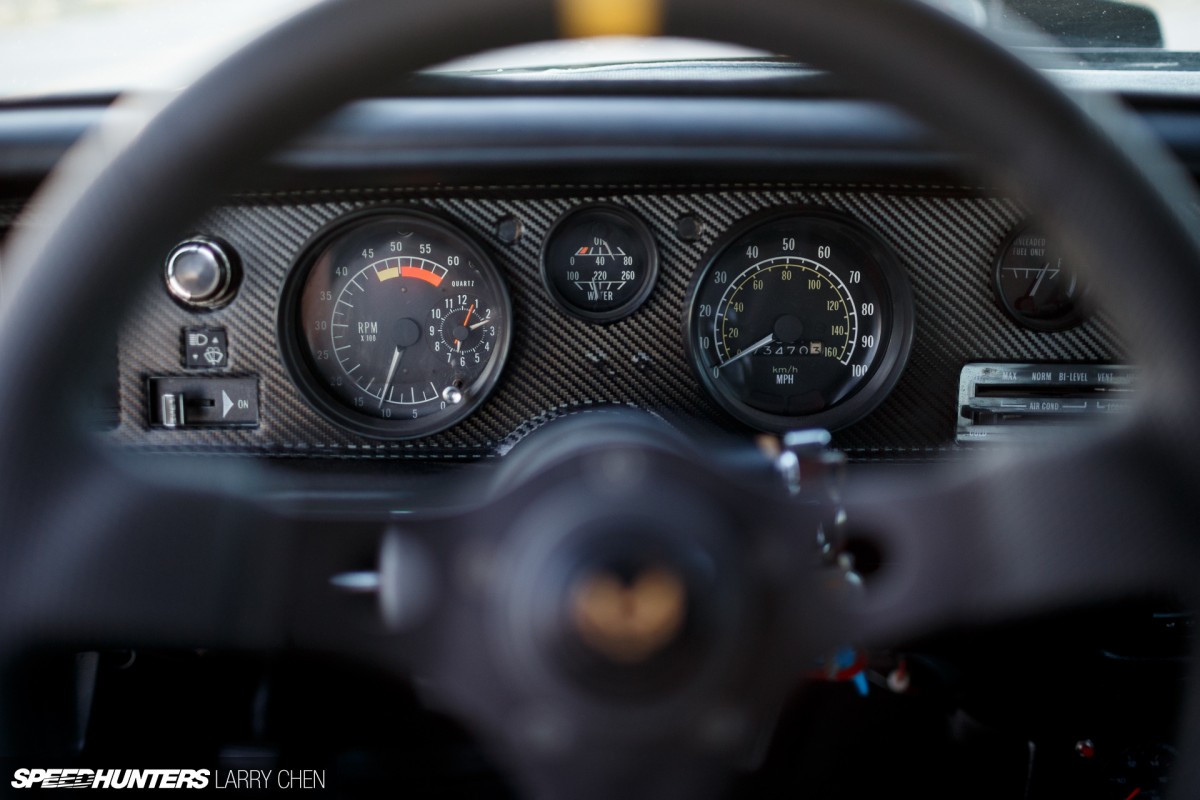 "Moving to America means I can have a Trans Am," Gregg says, and he picked up the car from a seller in Alabama right after he relocated from New Zealand in 2005. And while he loved the way his black and gold Pontiac looked, he wasn't as excited about the way it drove. "They sort of drive like a tractor" he says, and the power from the 403 cubic inch Oldsmobile-built V8 under the hood left a lot to be desired. Thus began Gregg's journey to transform the Trans Am into a car that drove as tough as it looked.
New Life For An Old Bird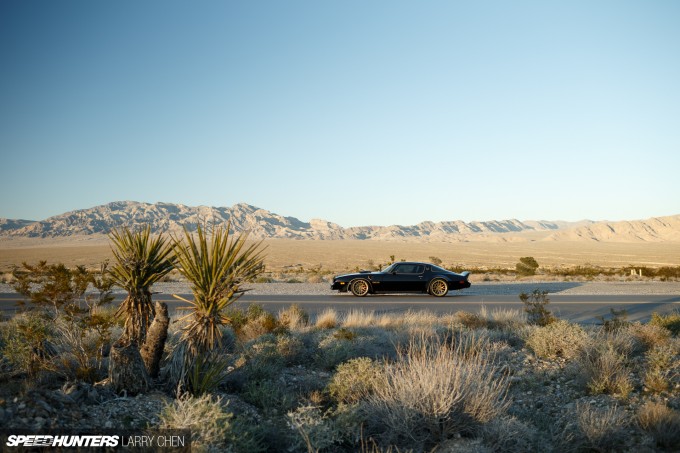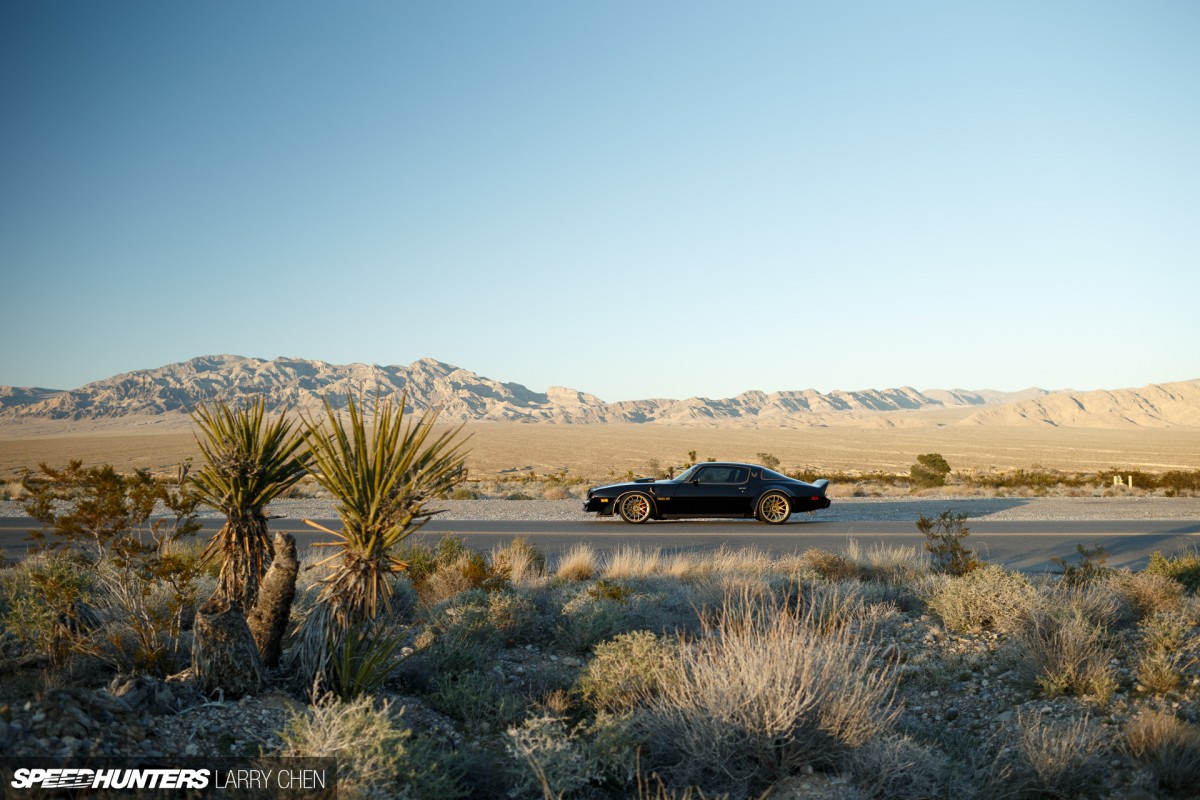 Gregg started off with basic stuff. He rebuilt the original motor with higher compression heads and a more aggressive cam and swapped out the stock automatic transmission for a manual gearbox. But the big breakthrough came when Gregg found an article in an old issue of Hot Rod magazine about a DIY ECU setup called MegaSquirt. He converted the motor to fuel injection using a custom manifold with a pair of ITB setups for a Hayabusa motorcycle. And with the new ECU and fuel injection he'd also be able to add a couple of turbochargers to the mix.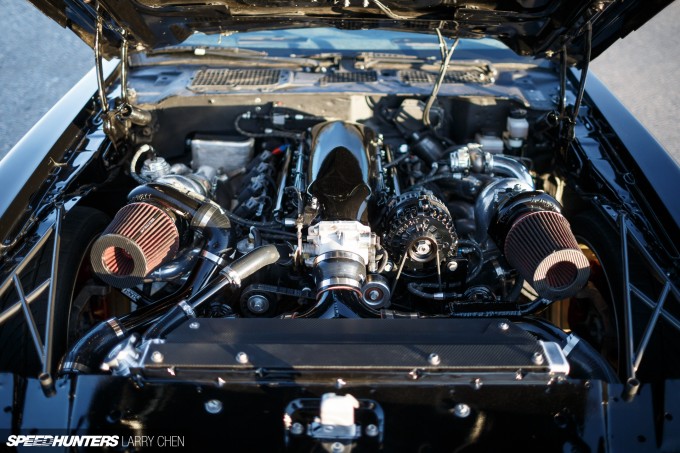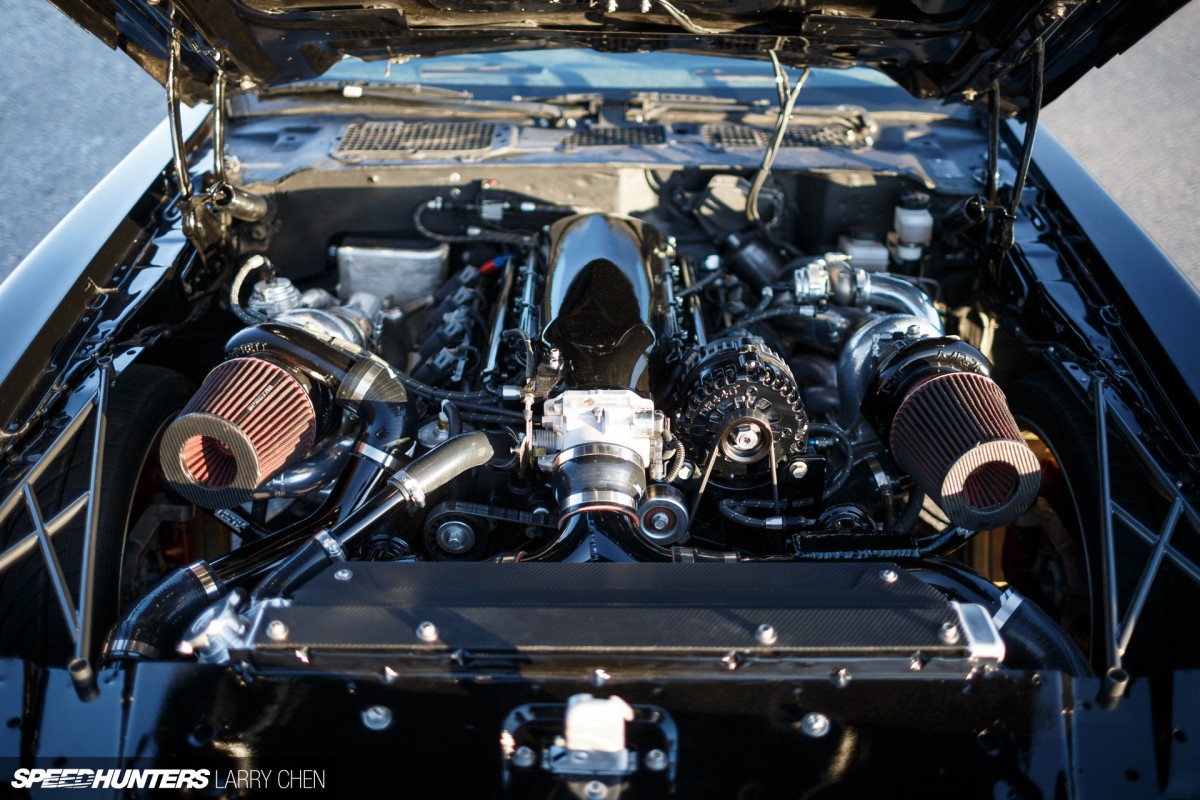 He's since changed over to a 5.3-liter LS motor setup he scored from a friend's dad's junkyard, and the Gen III small block's mod list includes forged pistons and rods, an LS9 cam, a Holley mid-rise intake manifold and Subaru 525cc fuel injectors.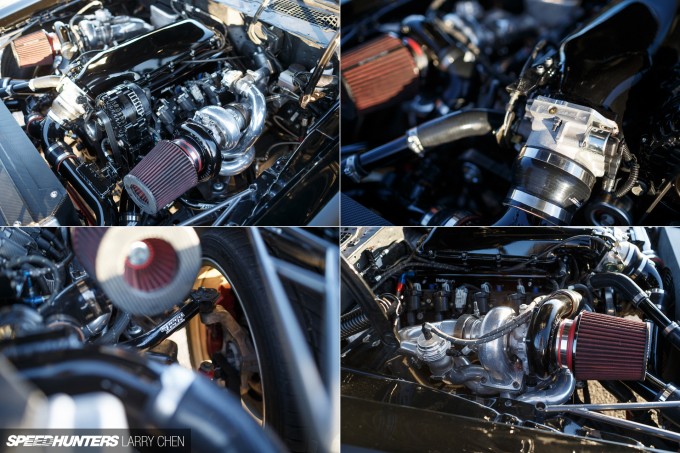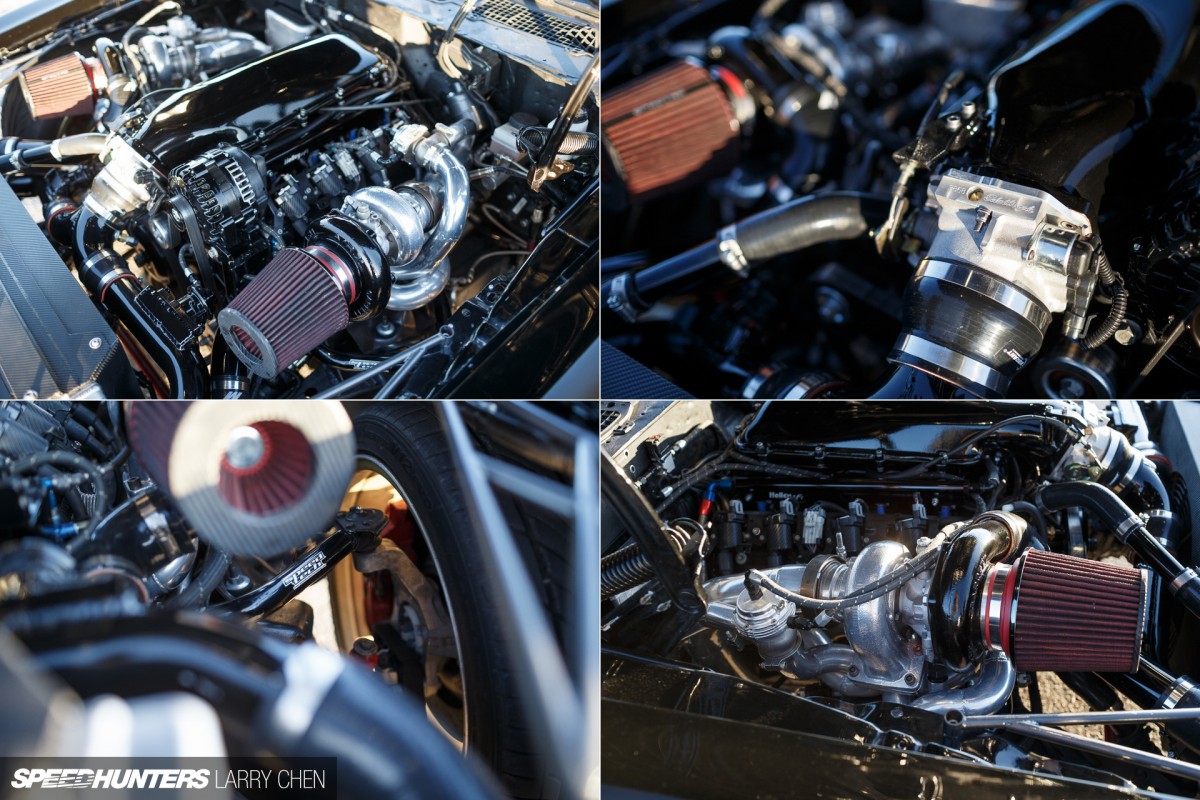 The turbo setup uses a pair of 68mm Garrett turbochargers with TiAL wastegates, custom manifolds, a custom intercooler setup, and a trick exhaust system with big sidepipes for the proper macho look.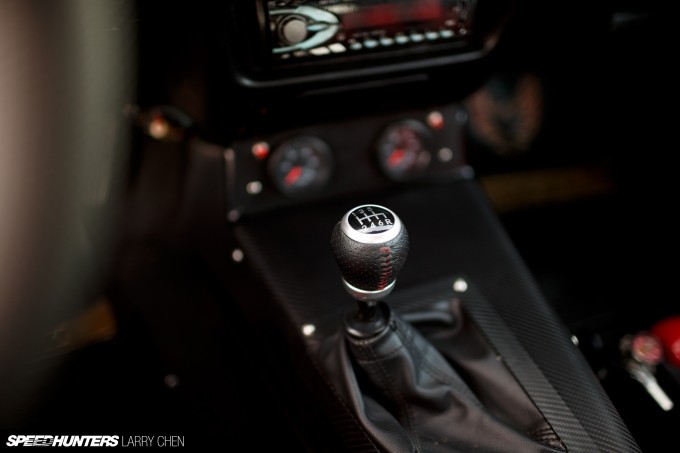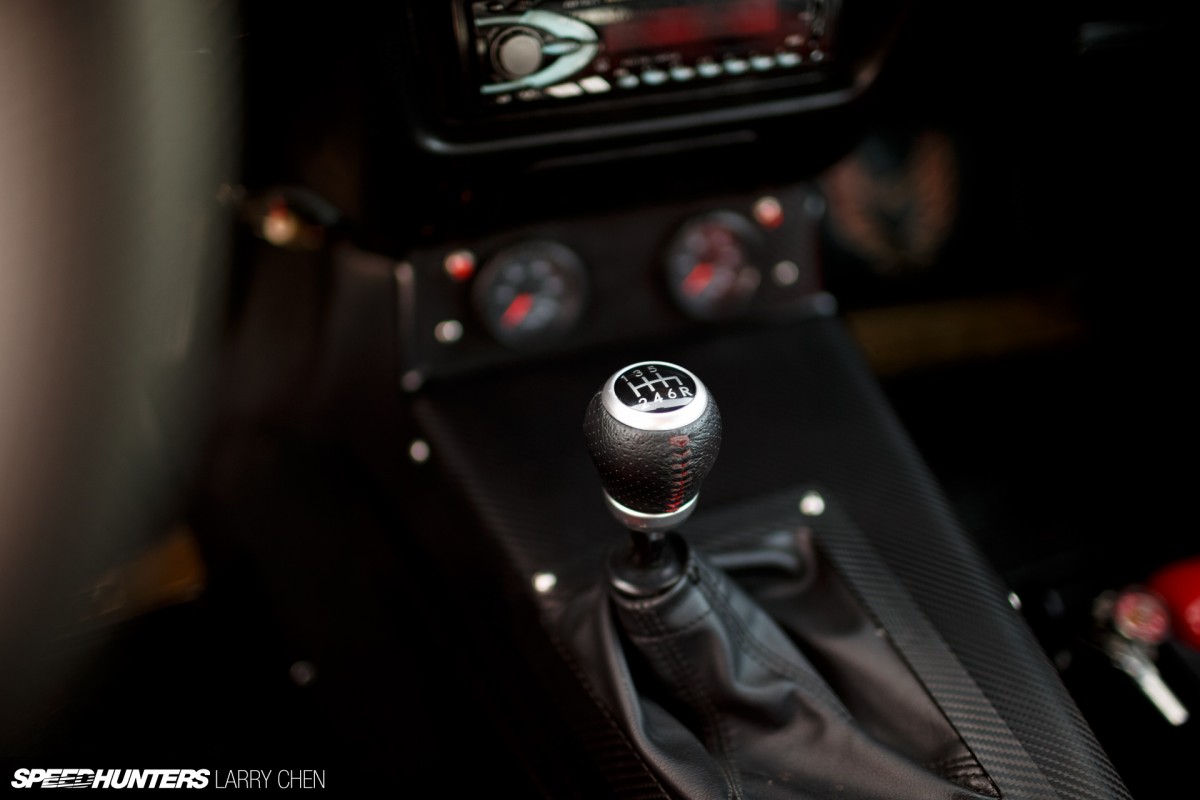 With the big increase in power, the drivetrain has also received plenty of upgrades along the way. The transmission is ZF 6-speed from a Corvette, while both the clutch and flywheel have been upgraded and the rear end houses a set of 4.56 gears.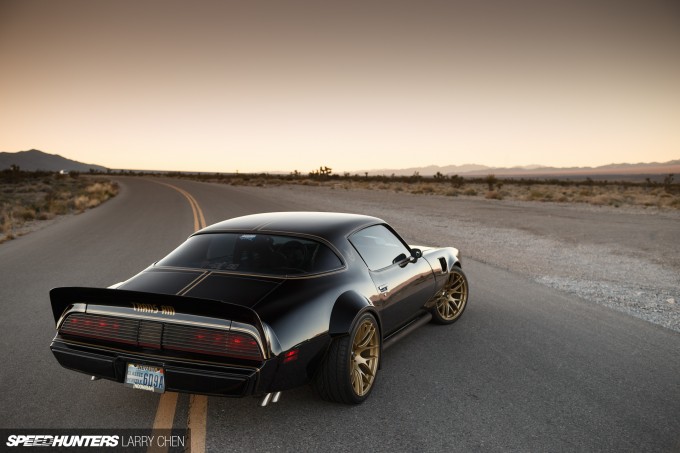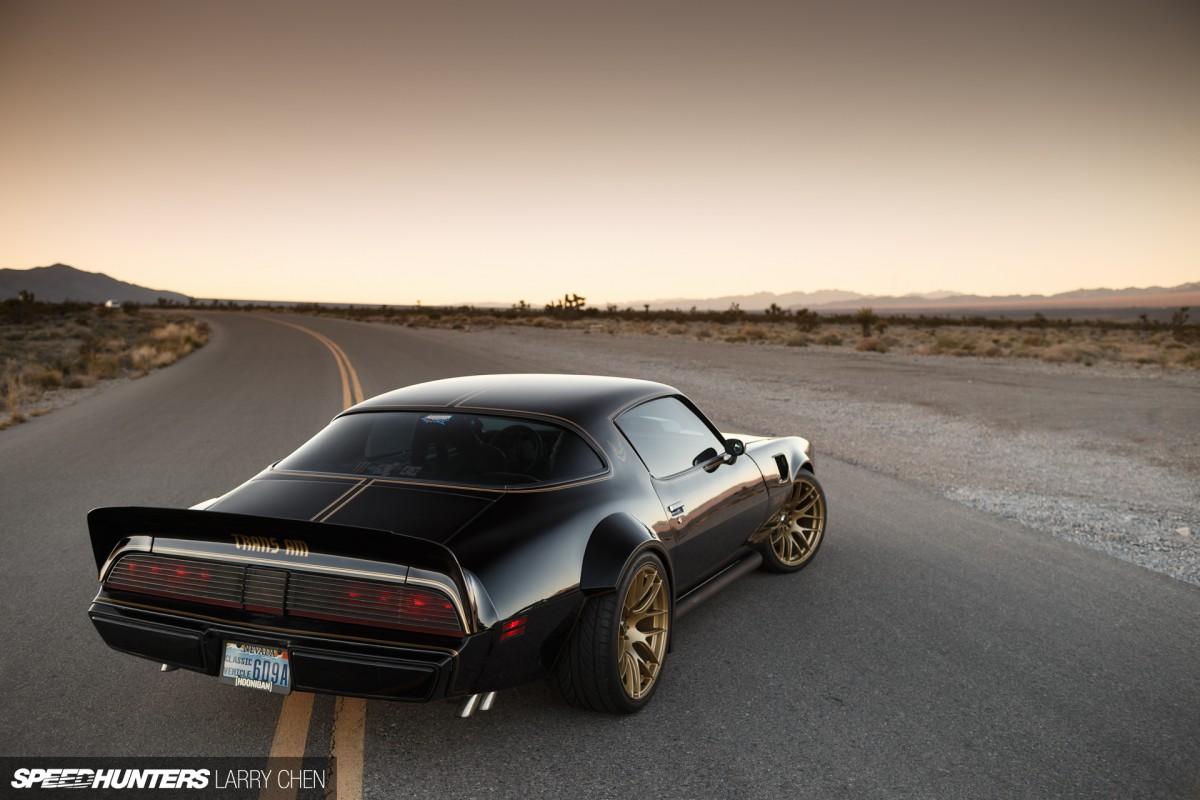 To get the Trans Am handling a little less like a tractor and a little more like a sportscar, Gregg's also made a number of improvements to the chassis and suspension including upgraded front control arms, adjustable front dampers, a Flaming River steering box and Global West rear springs.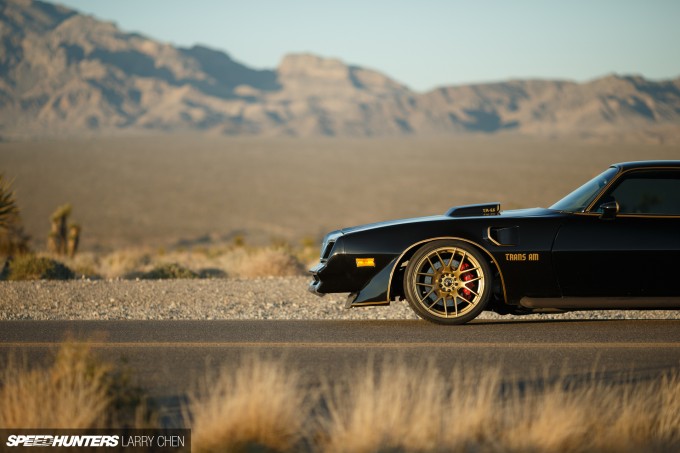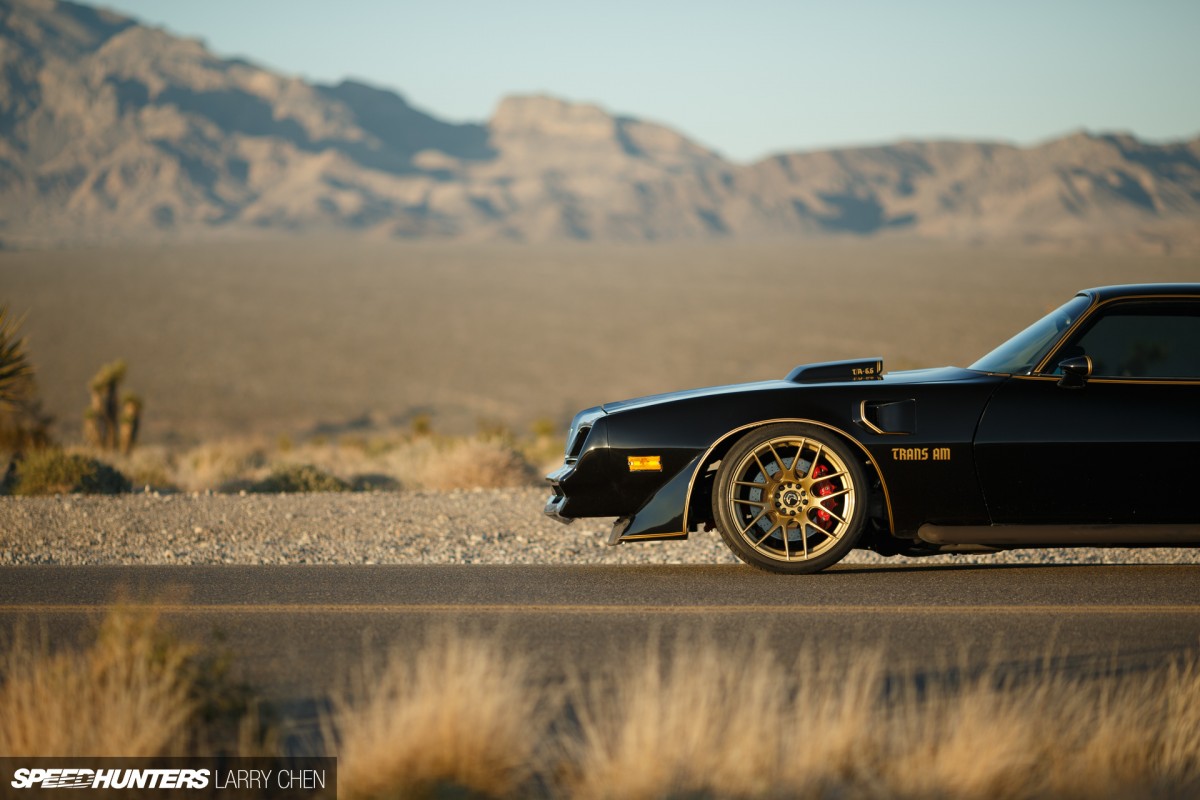 Stopping capabilities were also greatly improved with a set of C6 Corvette Z06 brakes all around – 14-inch rotors with 6-piston calipers up front and 13-inch rotors with 4-piston calipers in the rear.
Built By Hand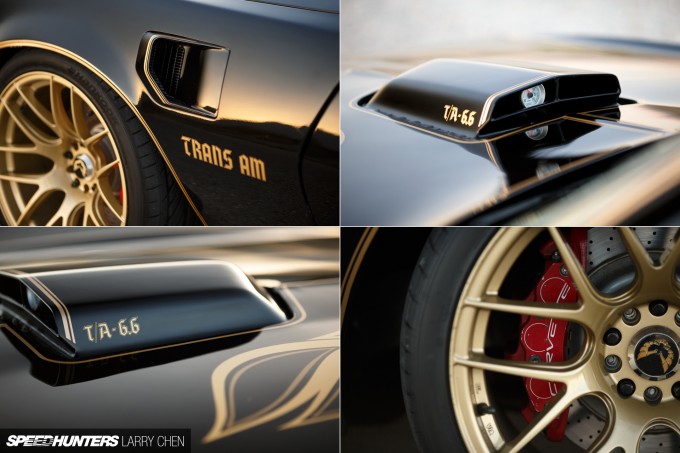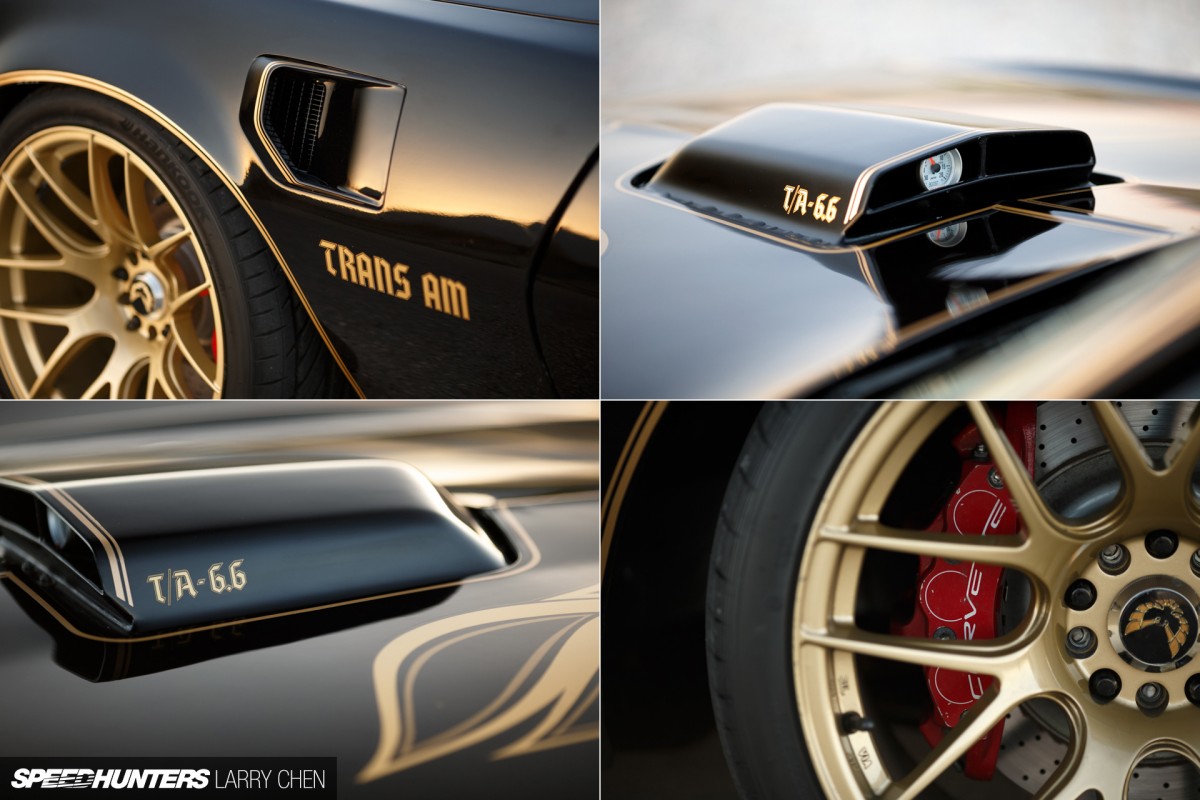 As for the exterior styling of the car, looks were the thing that drew Gregg to the Trans Am in the first place, so the changes made to the body have been kept at a minimum.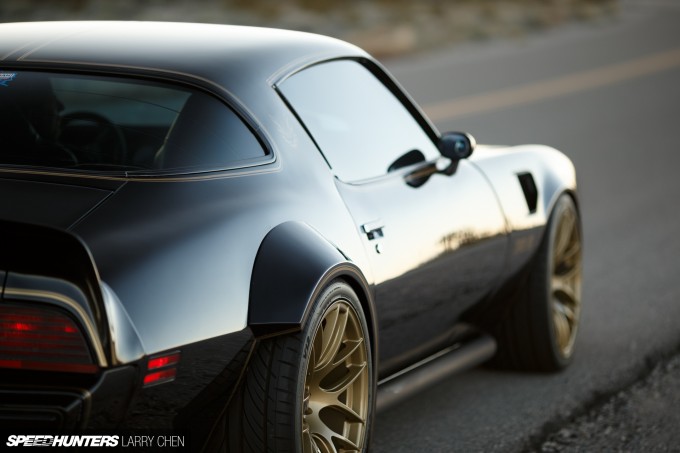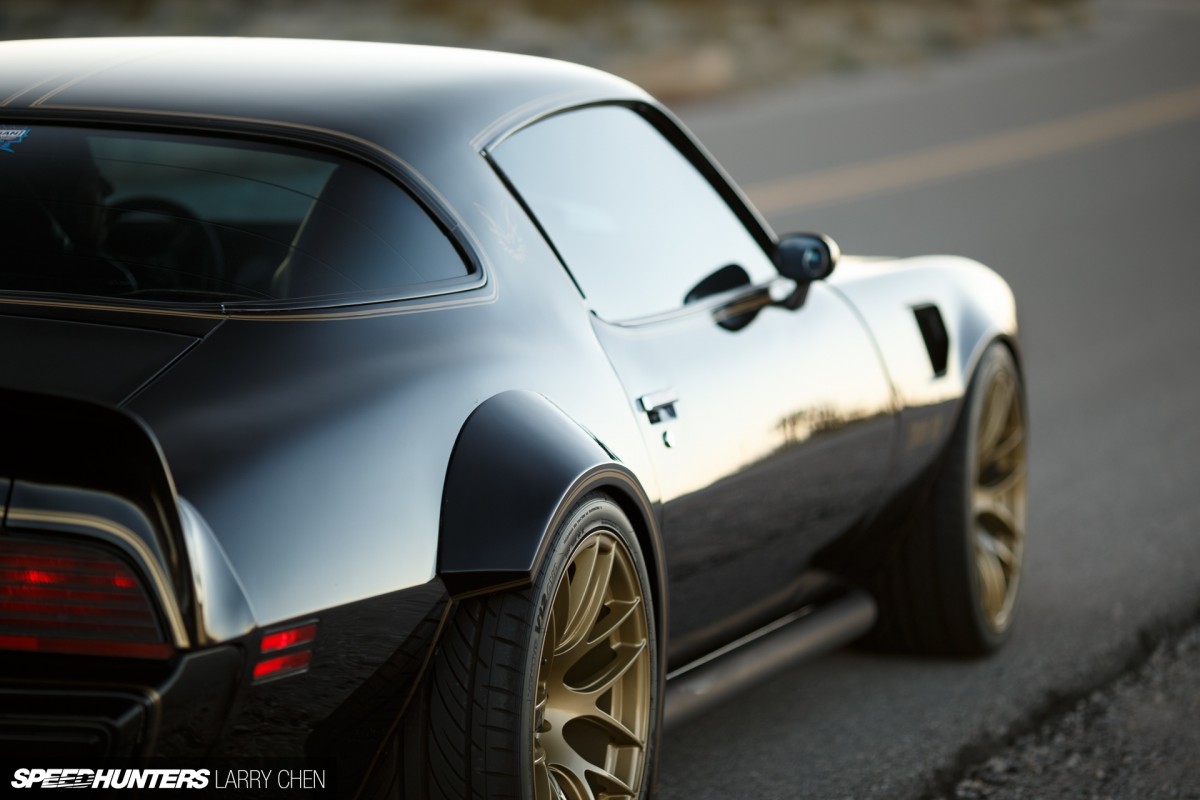 Key modifications include a set of custom rear fender flares which Gregg fashioned himself, as well as a taller factory-style rear spoiler which he also designed and built.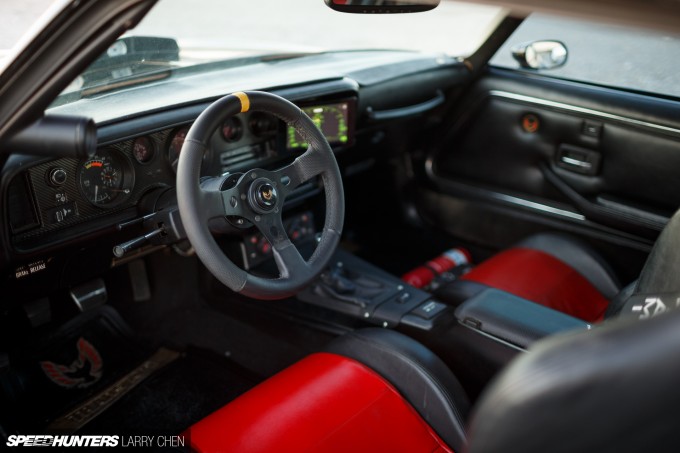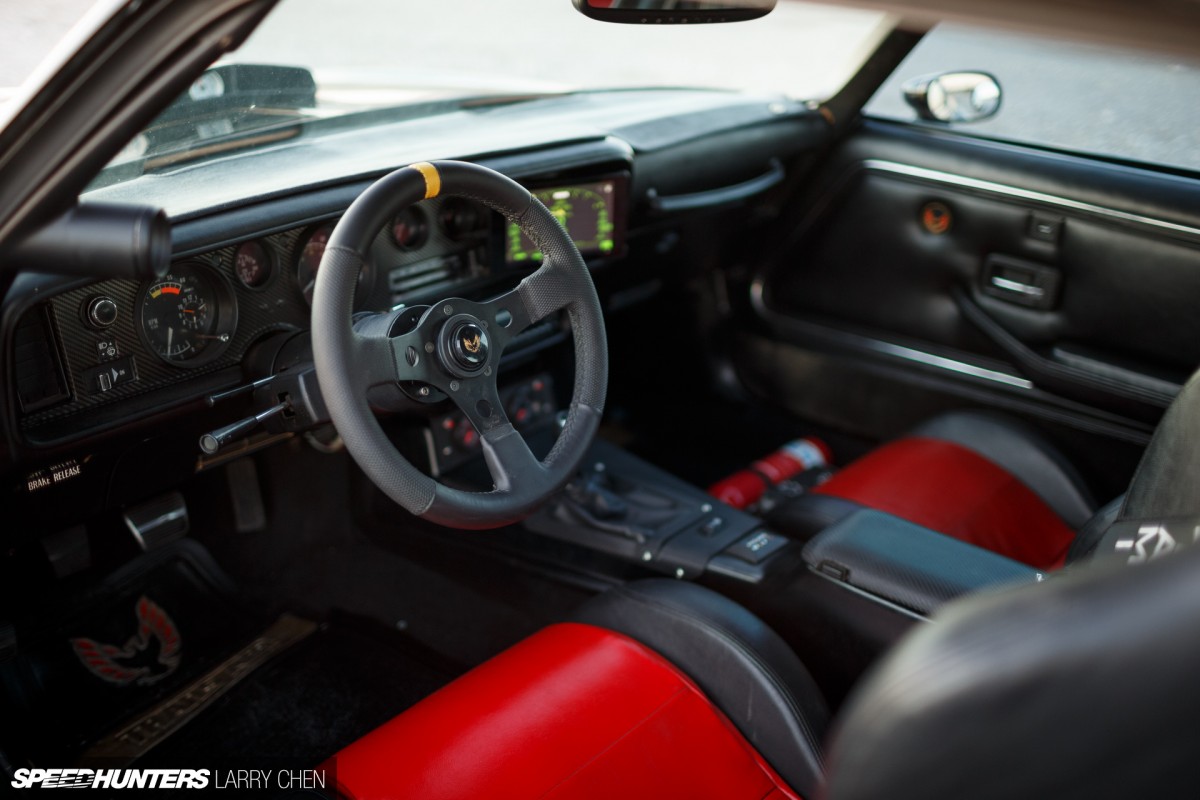 Inside, the Trans Am has received a few upgrades, but nothing so far as to diminish its usability as a street car when Gregg wants to go out for a cruise.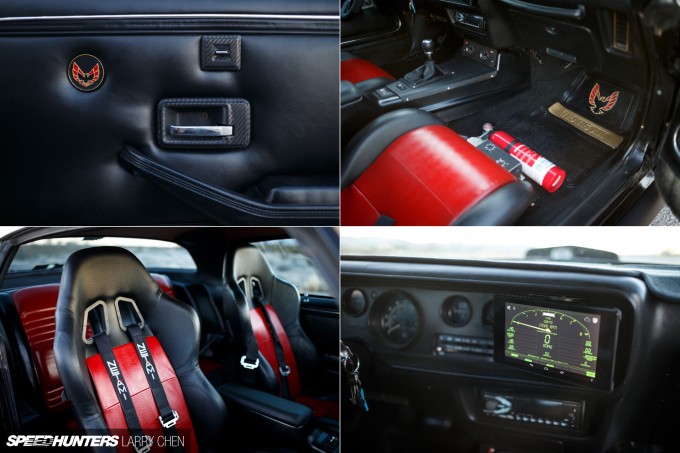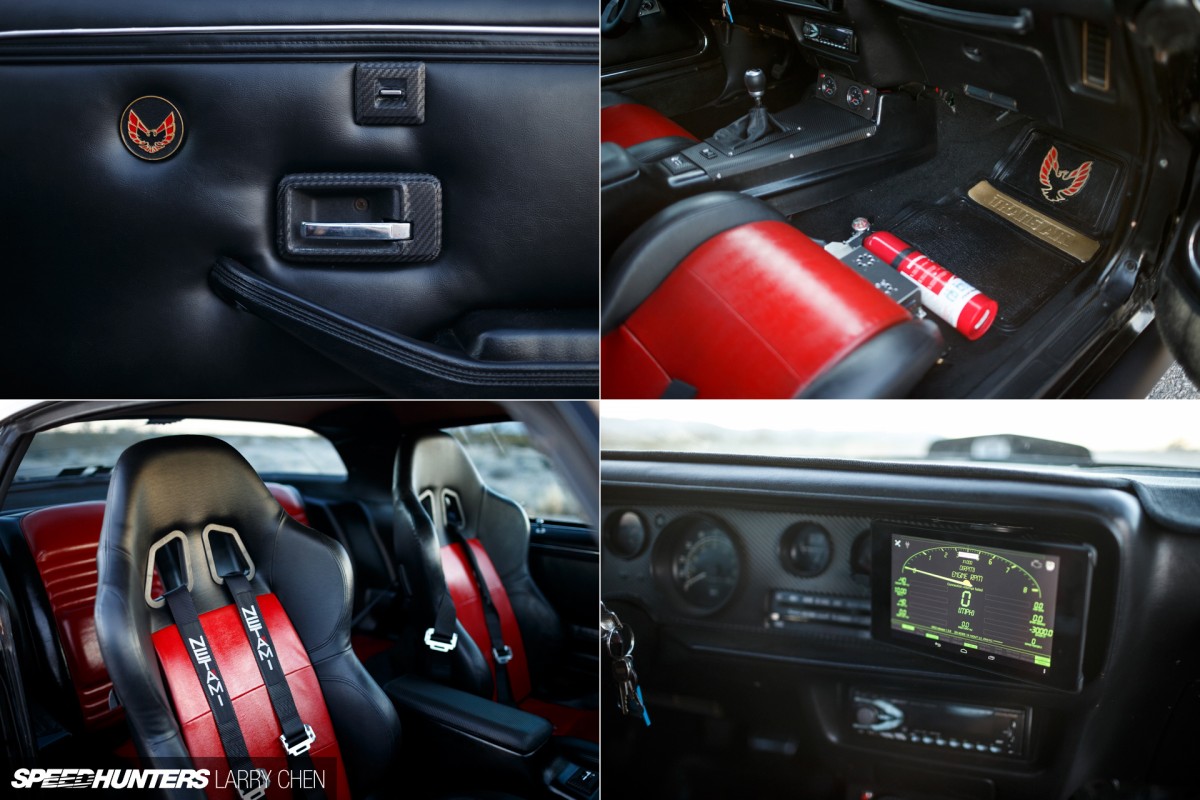 There are a pair of Summit Racing bucket seats with racing harnesses, and mounted on the dash is tablet display which helps Gregg keep an eye on the boosted V8's vitals.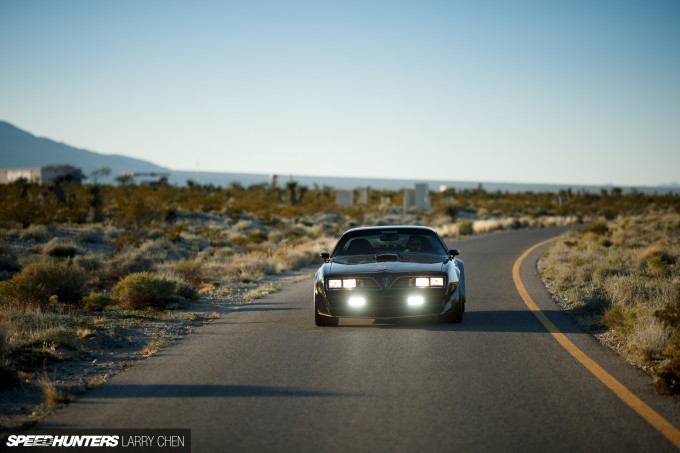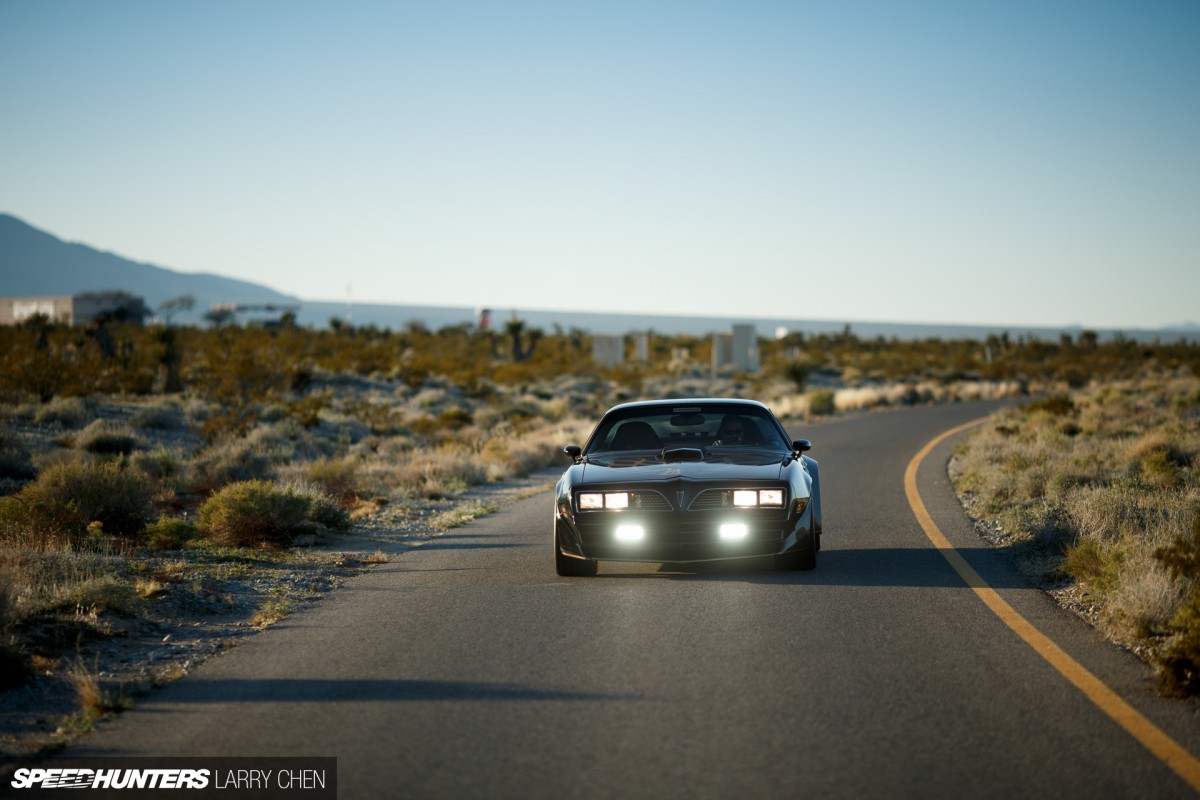 Despite the massive transformation the car's already undergone, Gregg's not yet done with the project. Next on the to-do list is an IRS conversion, which he plans to design using Corvette uprights. For now it's just a matter of finding time to work on the car outside of his busy schedule traveling with Ken Block. Even in its current form, Gregg says the car could give his Z06 a run for its money in the performance department.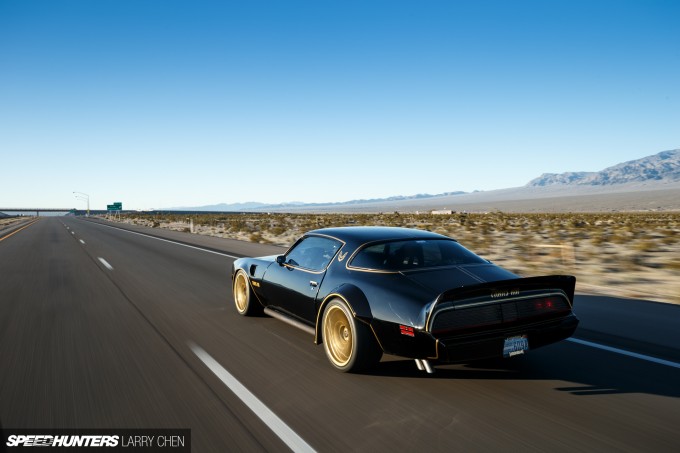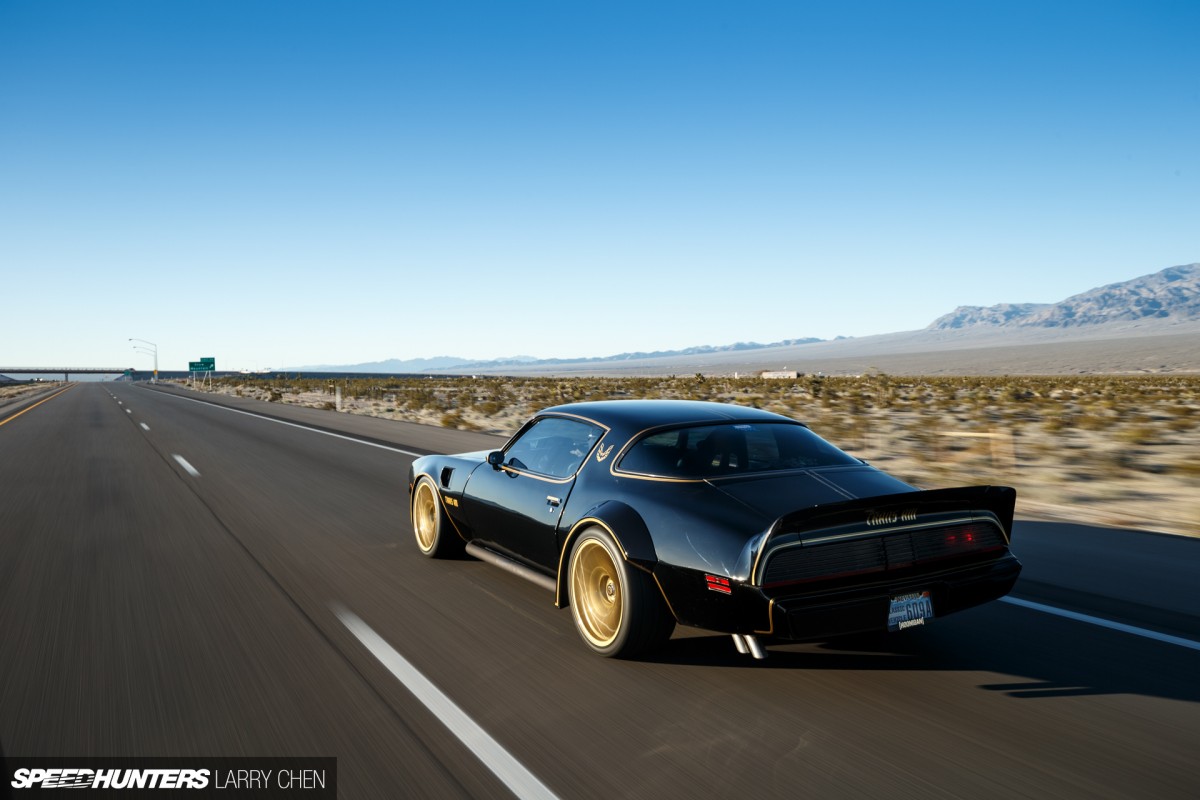 Not only is Gregg living out the American dream with a car he fell in love with as a kid, he's created something all his own out of it – building and designing everything he possibly could along the way.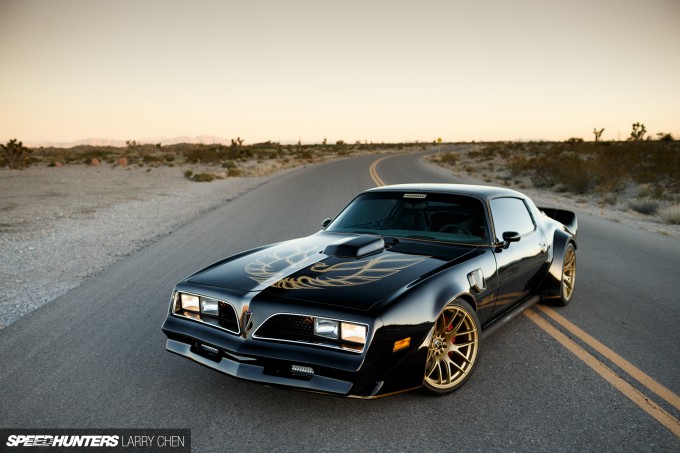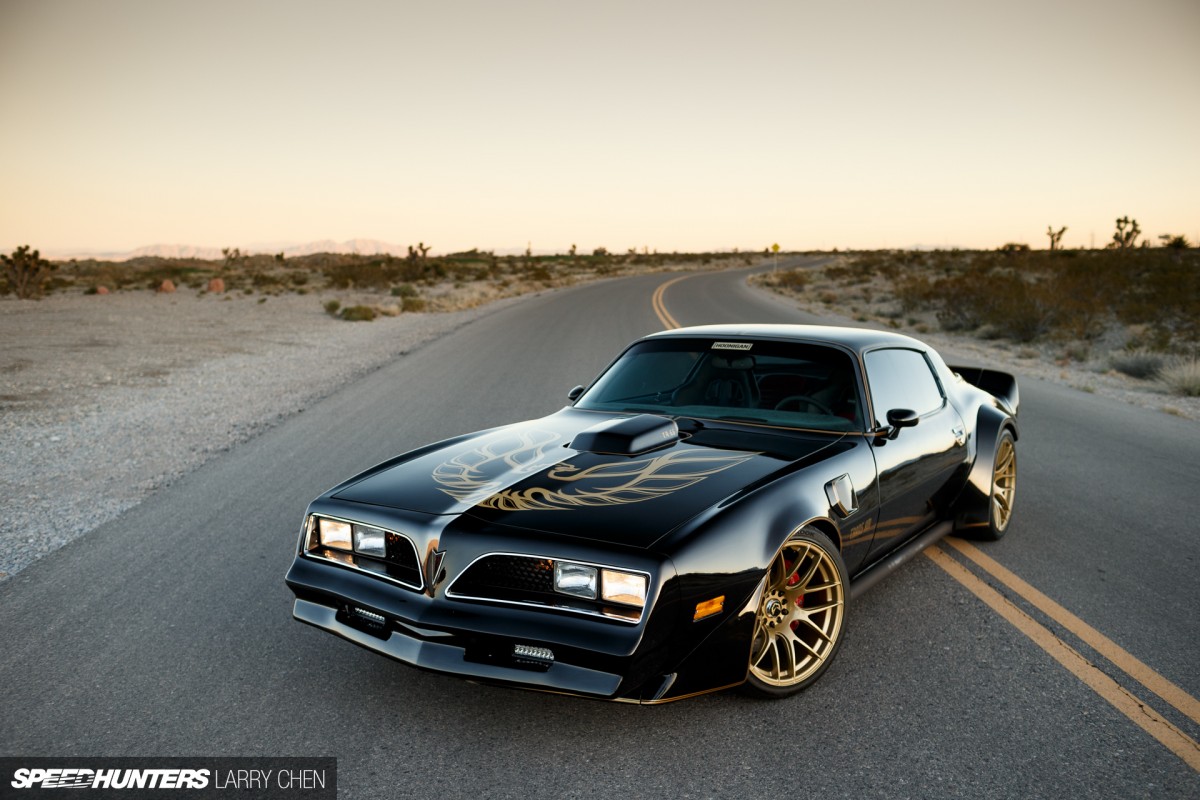 To us Gregg's Trans Am a perfect reimagination of an American icon, retaining the look that made the car so iconic in the first place while adding the performance its badass image has always been calling out for.
Now where's that cowboy hat…
Mike Garrett
Instagram: speedhunters_mike
mike@speedhunters.com
Photos by Larry Chen
Instagram: larry_chen_foto
larry@speedhunters.com
Cutting Room Floor