I Can Do That
About a month ago I mentioned to my brother in law that we were going to run a bike-engined car theme on Speedhunters; he's a car guy, so I figured it would be wise to see what he knew of. The thing is though, Shaun is a bit 'special', which believe me is a term of endearment.
Why? Because he simply said, "I'll build one – would that make a good story?" Err… yeah, that would work.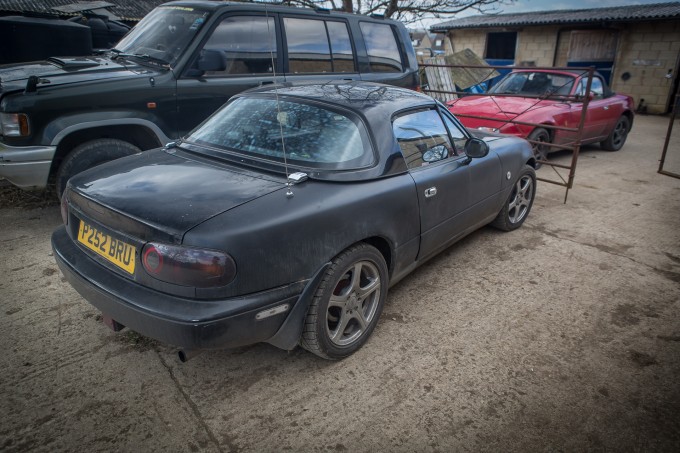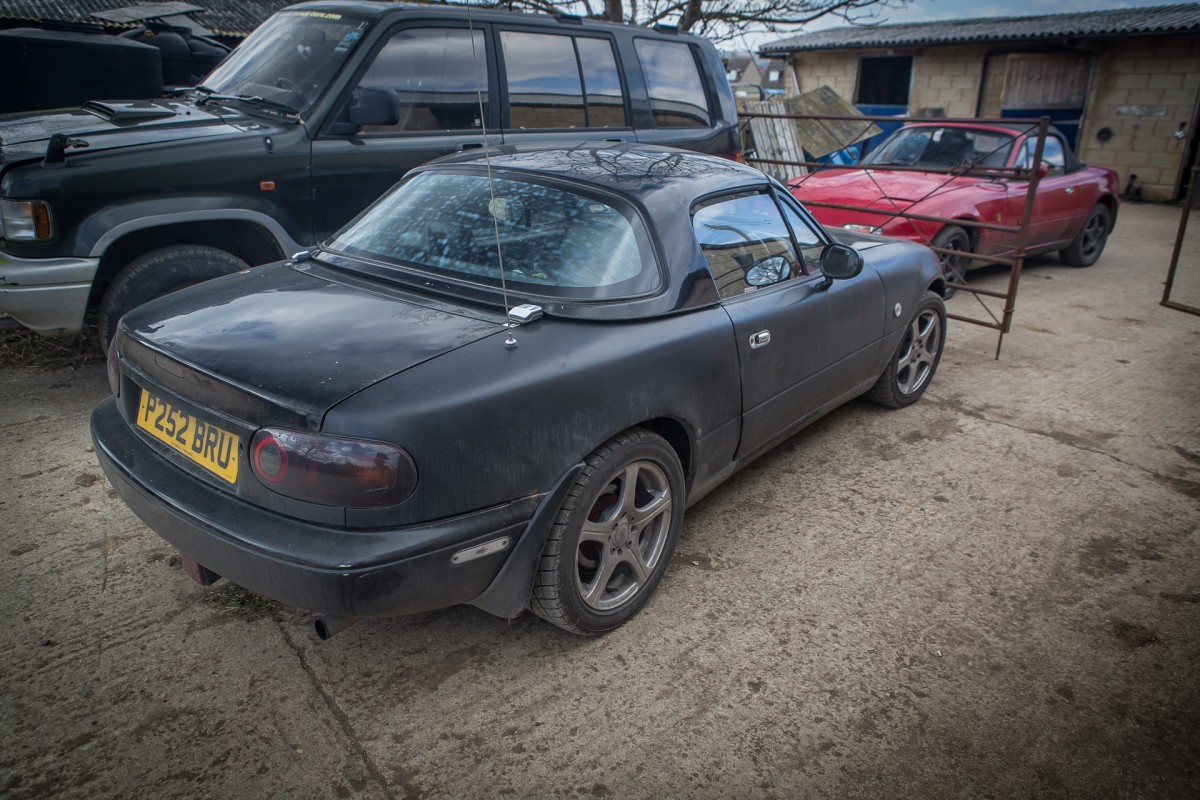 Let me explain a little bit more about Shaun… Imagine somebody who did in his head six months ago what his hands are only just catching up with now, and that should paint a picture. He simply can't keep up with the ideas that buzz around in his mind.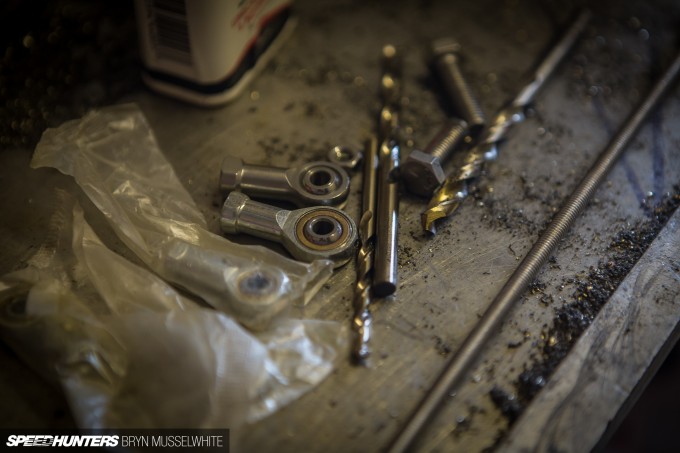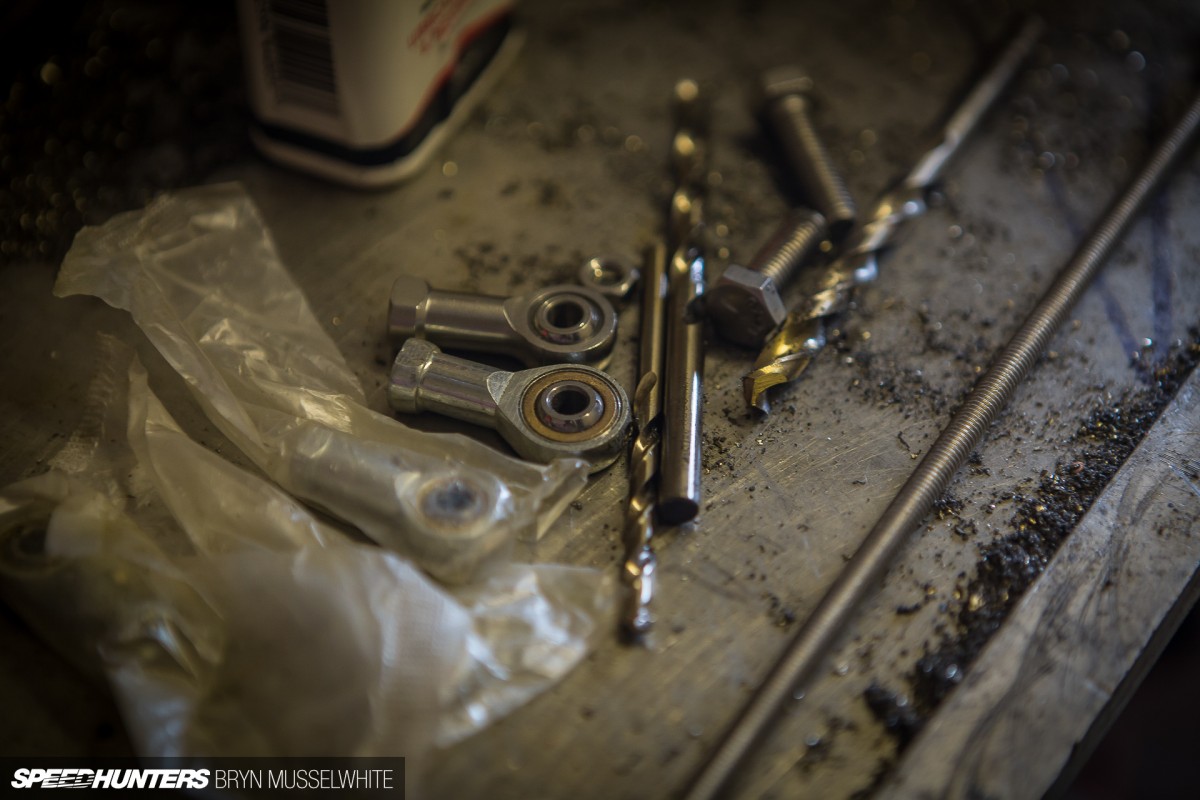 And like all busy types, he works best to a deadline – self-imposed or otherwise. With a yard full of Mazda MX-5s, for no other reason than they're his latest squeeze, it would be one of those getting the transplant.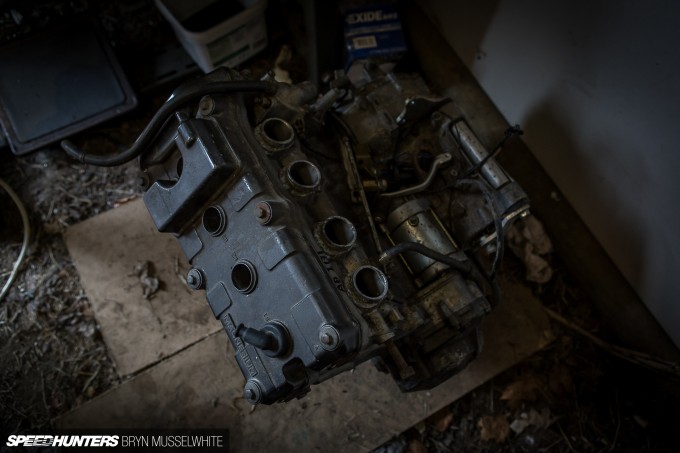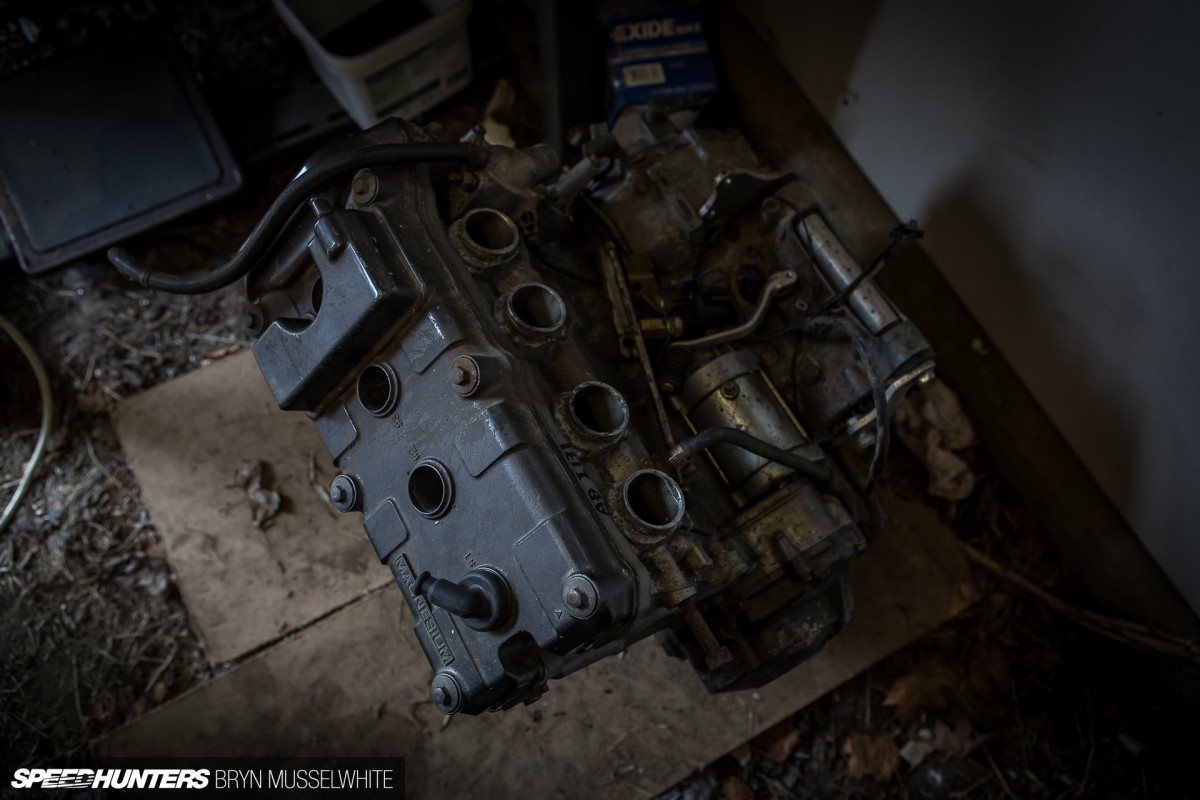 Okay, so it's confession time. Over the years Shaun has bolted bike engines into all kinds of cars, both road-going and not. In fact, he was one of the first people to legally register one in the UK well over 20 years ago, hence my original question to him about our Bike Powered theme.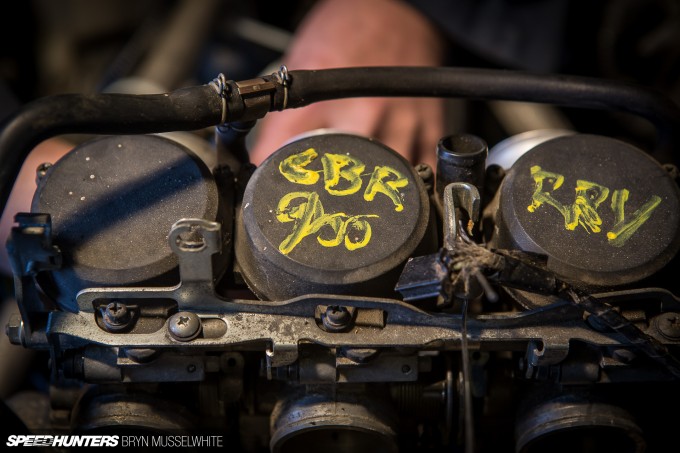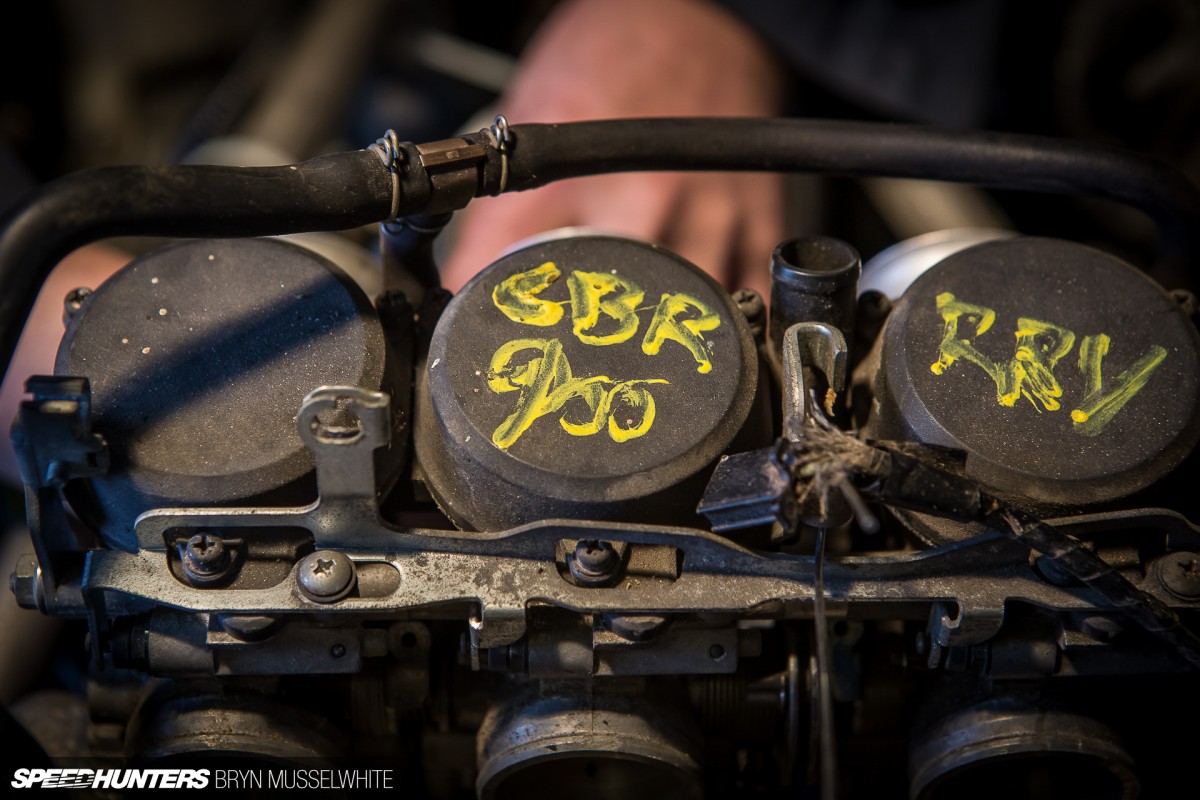 So literally lying around his workspaces are all the sorts of things you'd need to do a conversion, and then some. But automotive engineering isn't his day-to-day focus anymore, so we are looking at a number of small stable-type buildings, normal power sockets and a shed with an earth floor.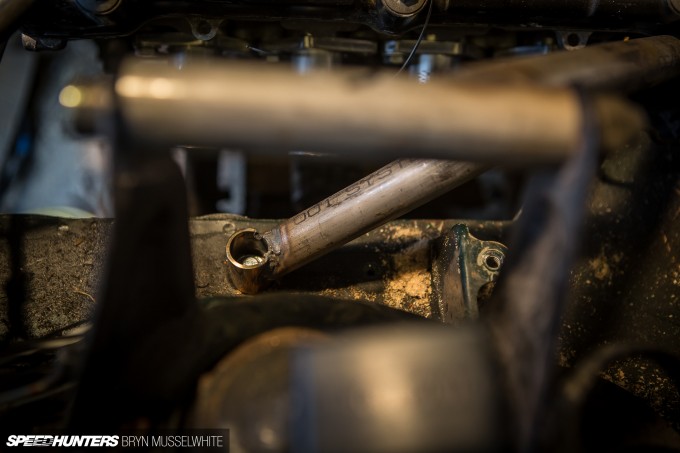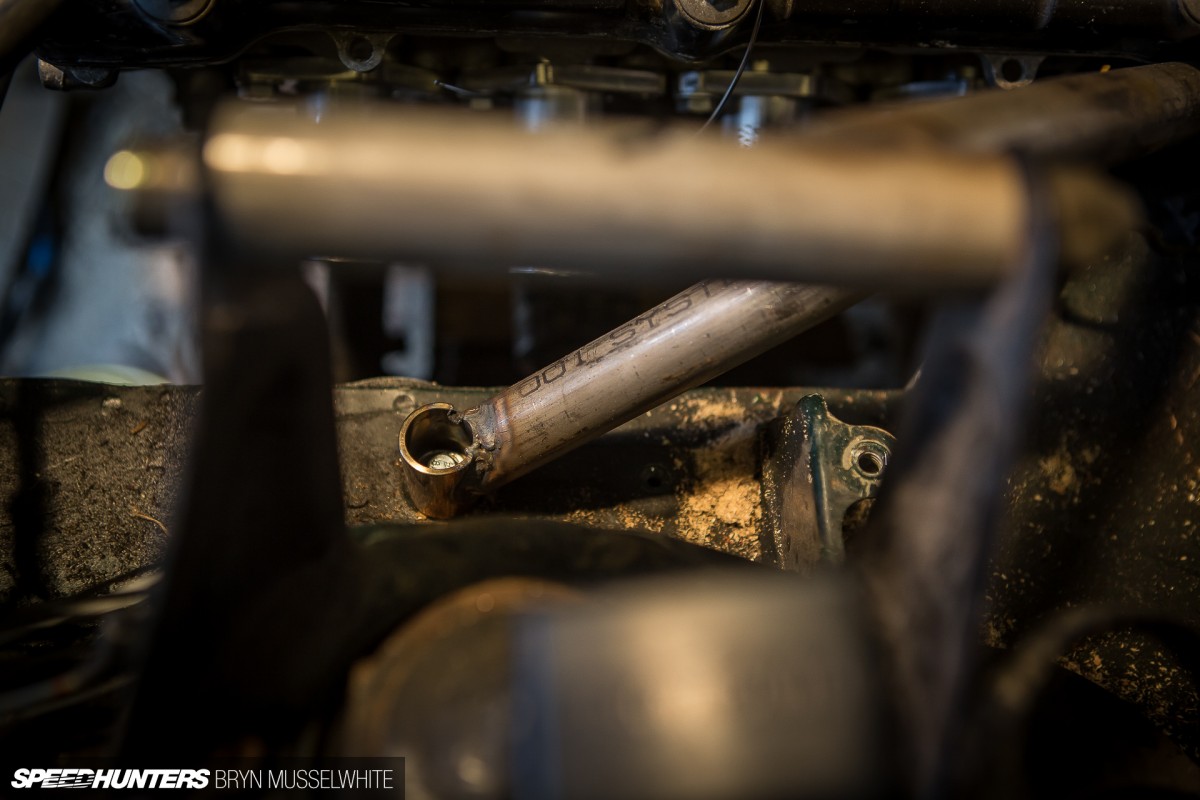 Furthermore, Shaun decided to do this conversion as a complete bolt-in kit, so that anybody could do it. As much as we all love seeing high-end workshops and multi-million pound facilities, this is as close as we can get to a real world exercise. But more of that later…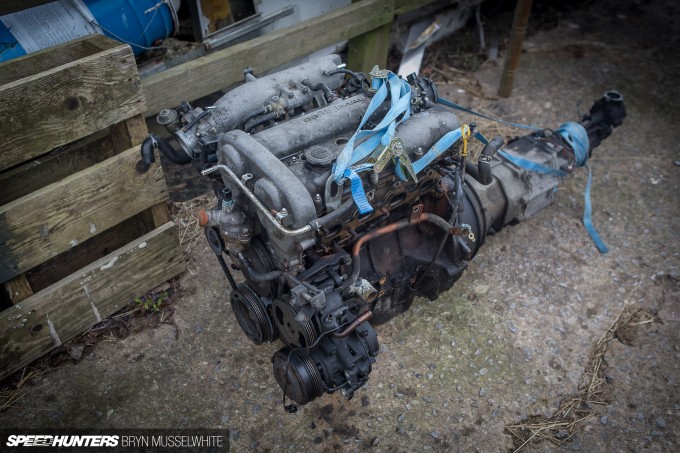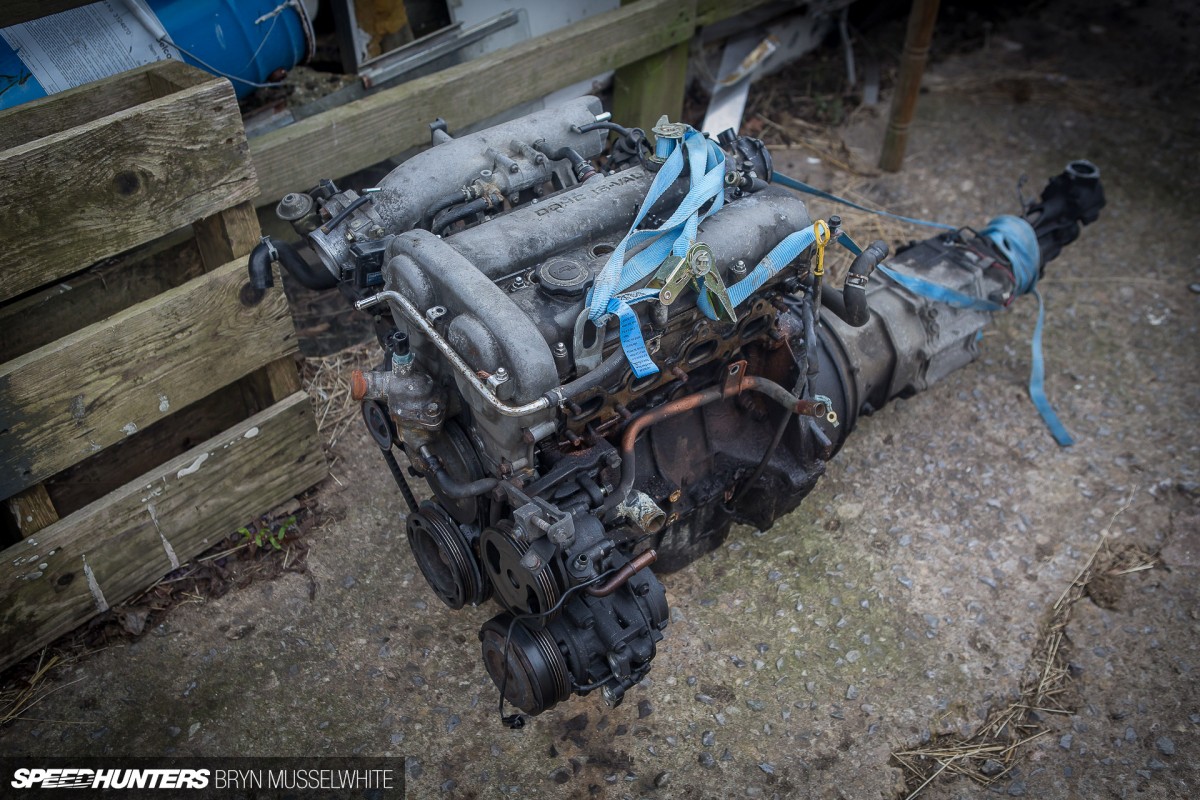 First up, why take out your original powerplant and replace it with a bike engine? The most common arguement Shaun has heard over the years is that they lack torque, and that's what you need in a car. He's got a pretty good answer for that one though…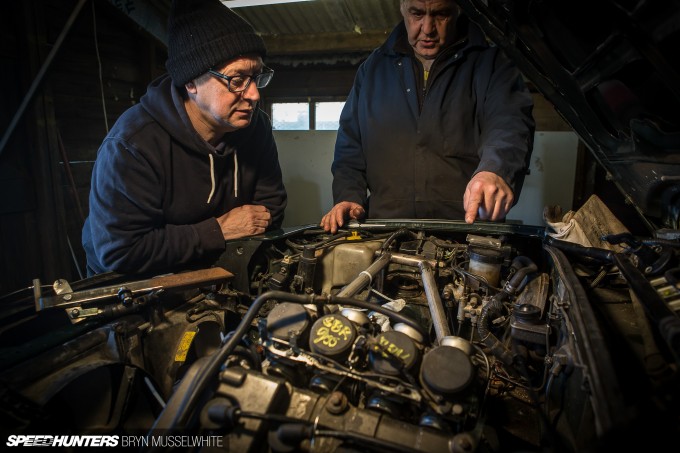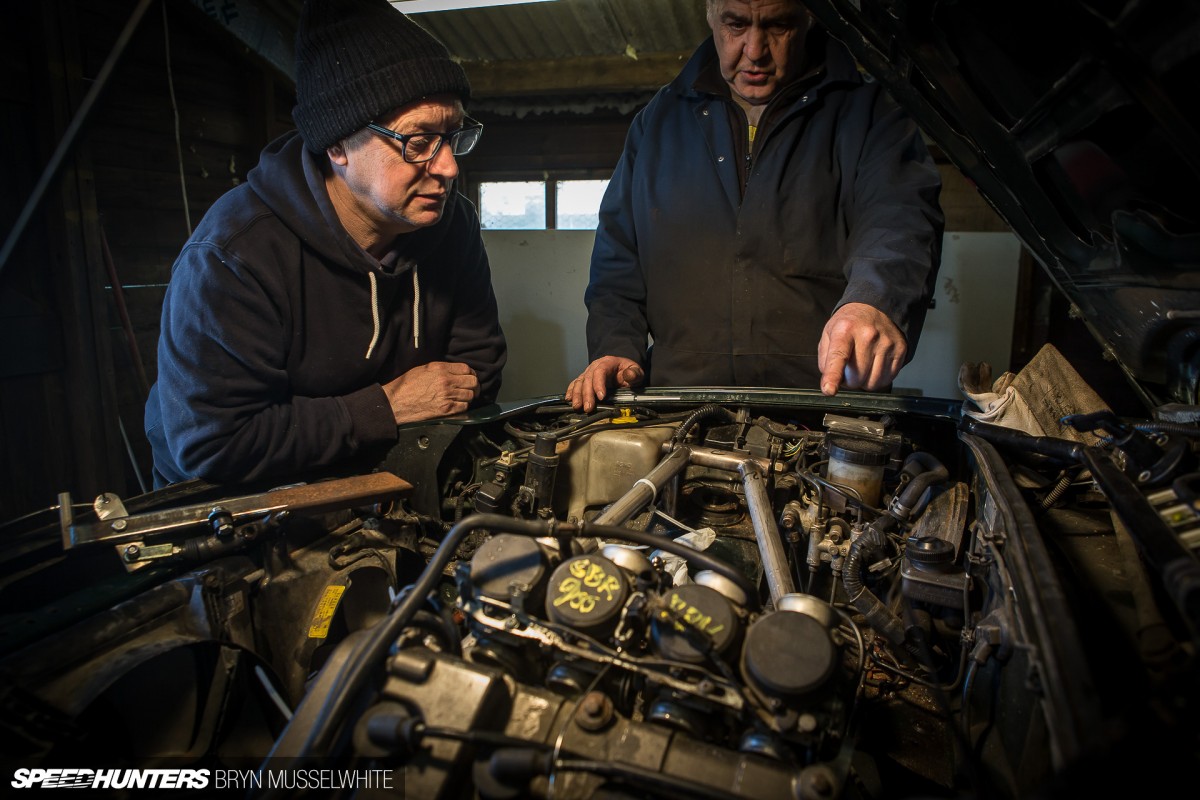 Shaun, on the right, says "Torque is a function of rotating mass. There's no flywheel on these engines, so the torque is produced solely by the motor. So it's only the weight of the motor and the power it's producing. A Fireblade motor makes around 130 to 140hp, so if you're rotating it fast enough it's going to give the same apparent torque at the other end as the Mazda engine."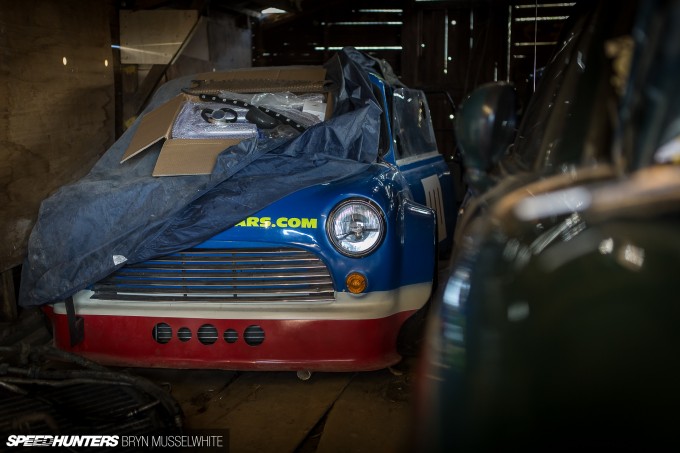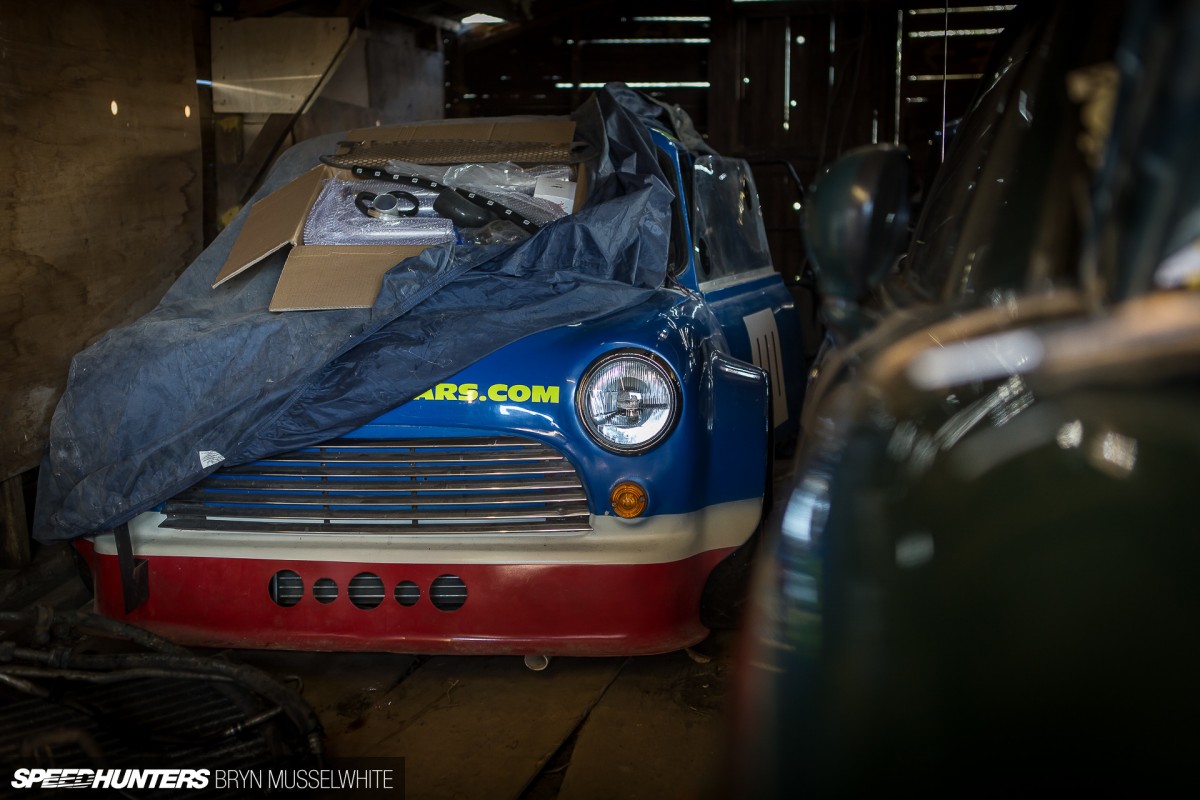 I hope that makes sense to you. Of course, you have to consider the increased revs of the bike engine, as often they'll rev to twice what car engine can. So what are the figures? "I think the torque on the Fireblade engine is about 115ft-lbs and the Mazda is about 98ft-lbs," says Sean. "I can remember sticking one of these in a frame 20 years ago and everybody saying it wouldn't pull the car along. I've got several in here that kind of rule that line of conversation out."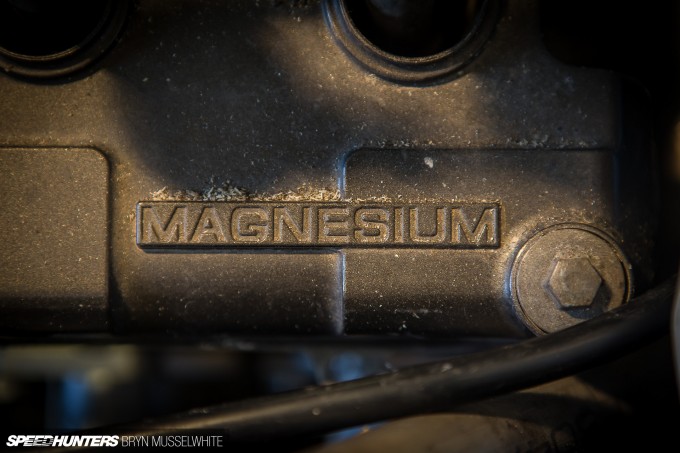 So you can see the figures stack up, but there is of course the weight loss to consider too. On that subject Shaun says, "You're throwing large amounts of engine and gearbox weight away, and putting a very small and very light engine and gearbox – in one unit – back in. The standard Mazda units weigh around 150kg, and I'm putting roughly 50kgs back in, plus the frame work."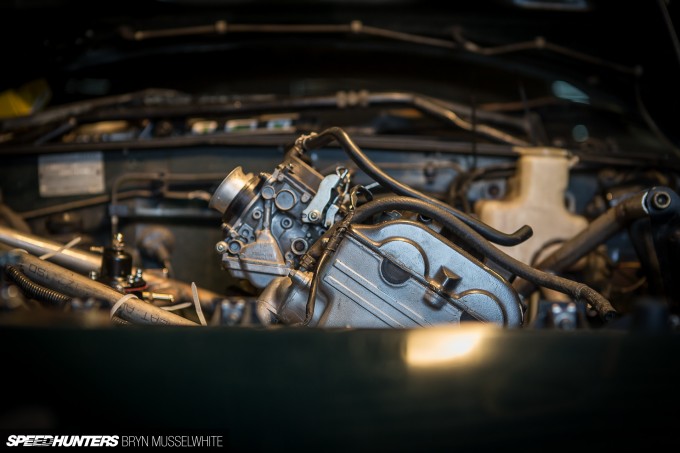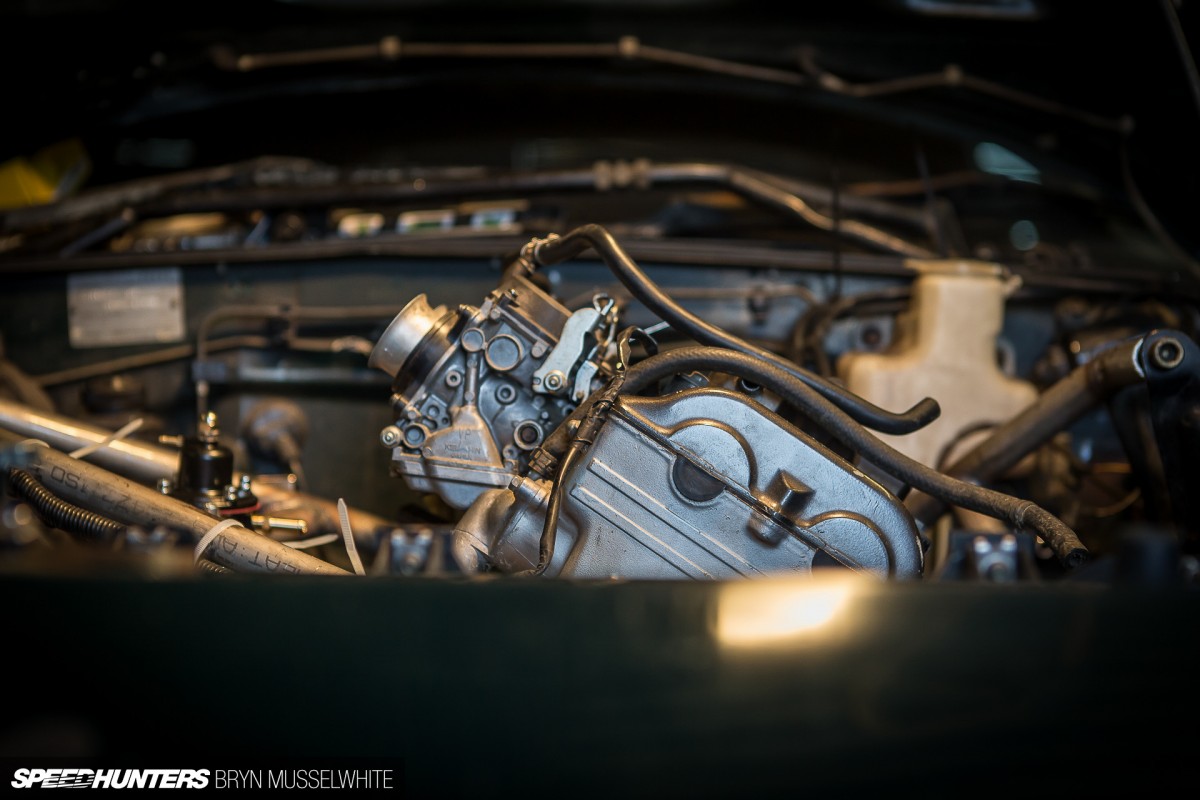 So exactly how is it mounted? First up Shaun sat the engine in the bay on a similar angle to how it was positioned in the Honda frame. The difference is, it runs front to back in the Mazda, so the gearbox can be directly connected to a prop-shaft. Sat like this, it just comes in under the standard bonnet line.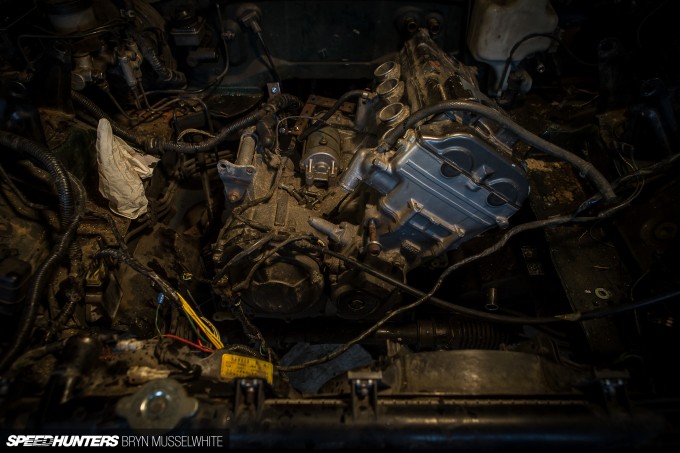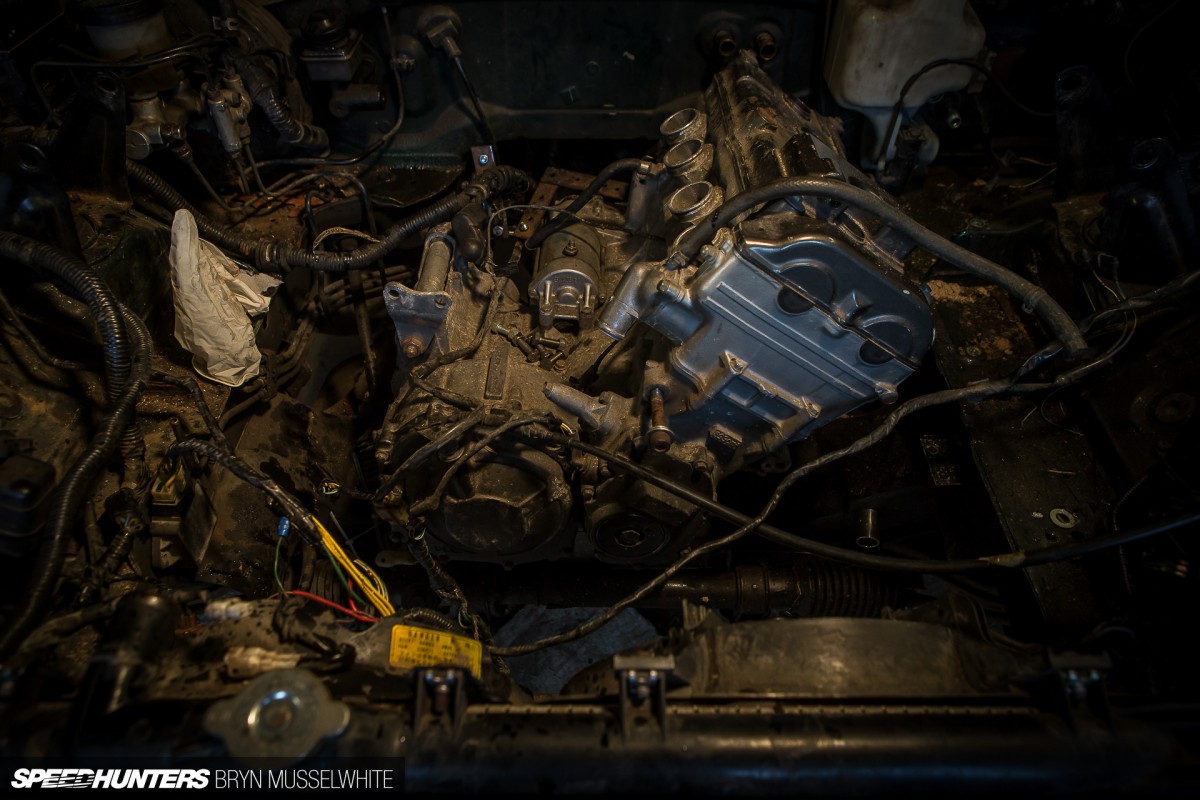 Here you can see the space there is to work with, and the fact it looks like an engine. I think that it's important to remember that bike engines aren't the work of the devil – they're just a different spin on something we all understand.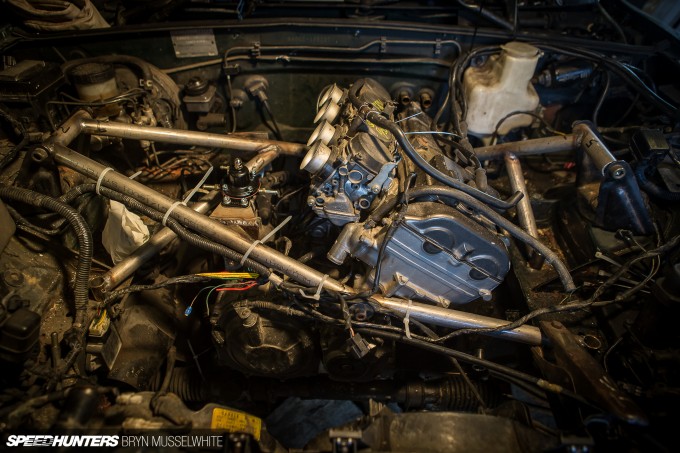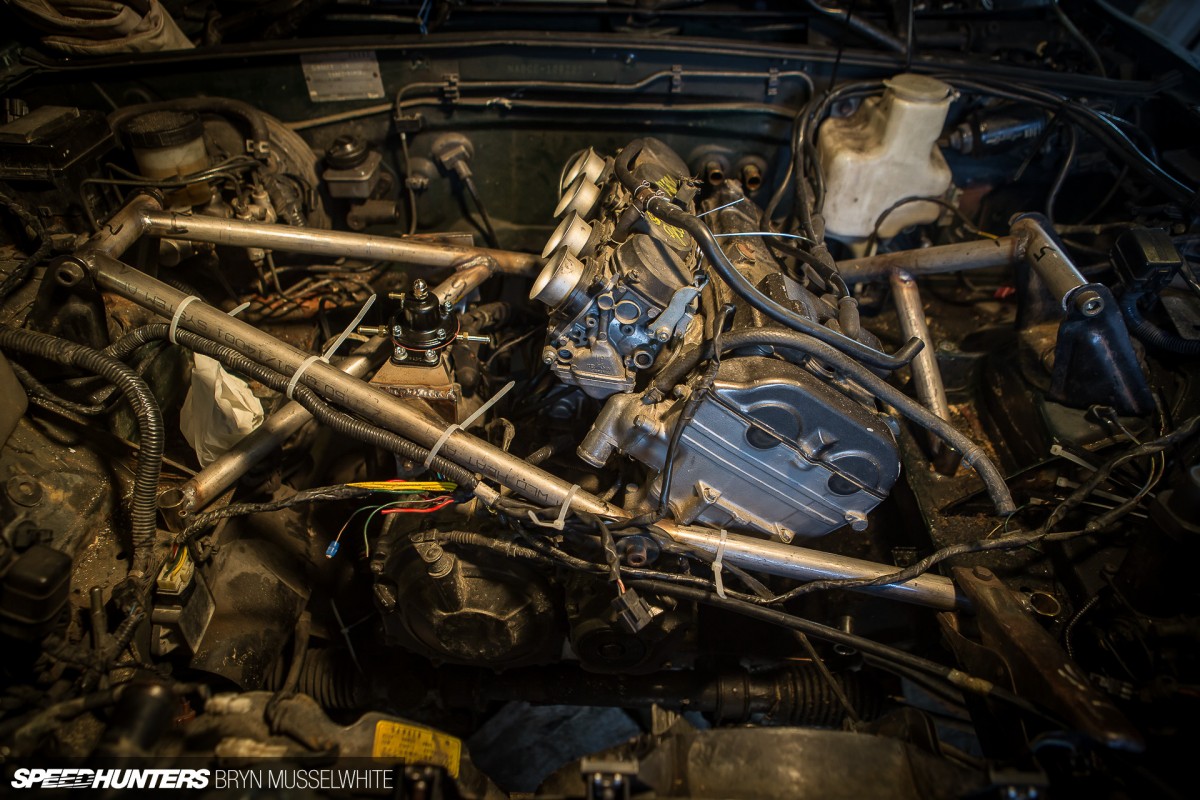 Now you can see the basic, bolt-in lower cradle Shaun has fabricated. I should probably mention that everything you see here is very much prototype, messing-about type work. Please don't think this is anywhere near a finished level of presentation! With that out of the way, looking in from the front of the car, the engine rotates clockwise, which means the torque is going to try and lift the engine from the front of the car and rotate it clockwise if you were looking in from above. So the lower bar that runs from front to back on the left side in this picture is under tension, and the other side is under compression.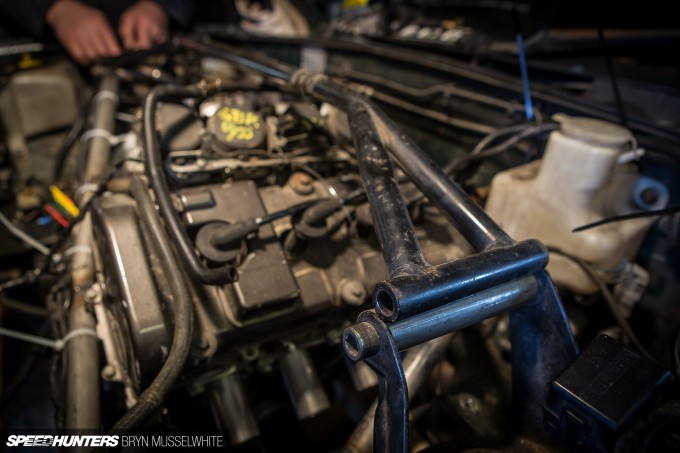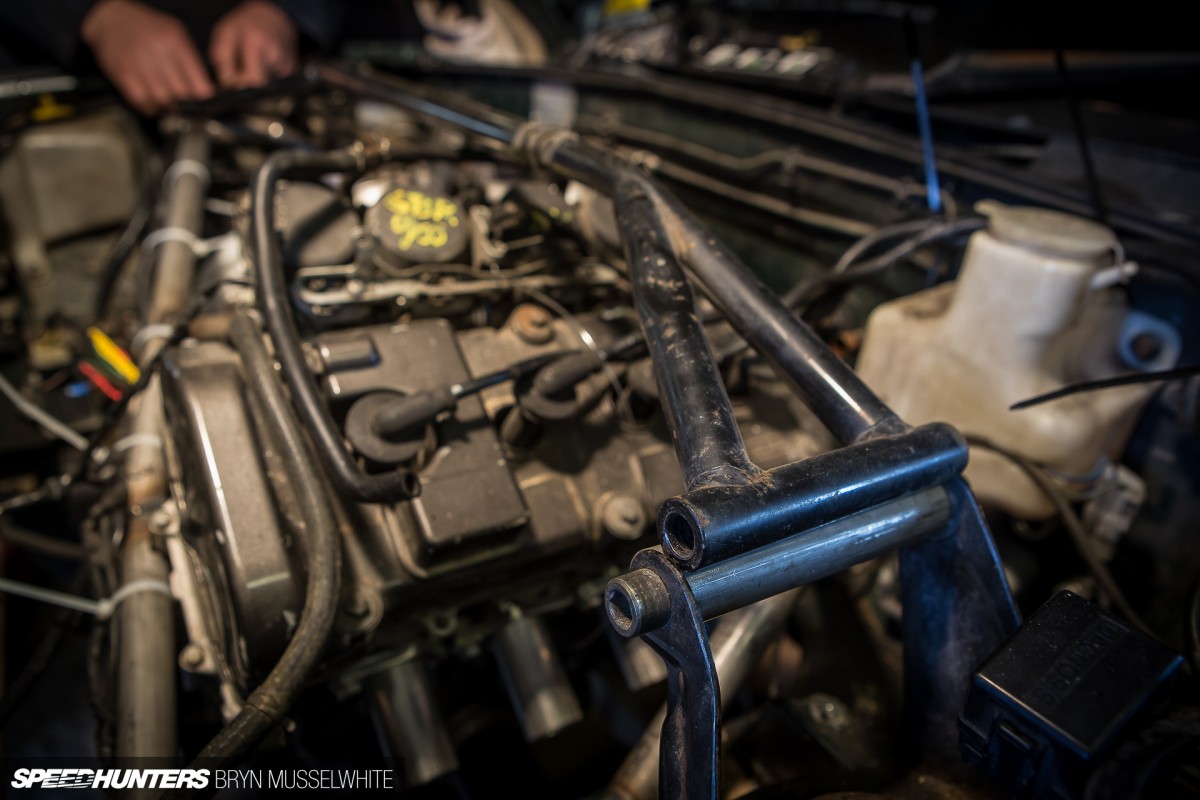 Eventually there will be a similar type strut bar design to the standard one fitted in a V-Spec MX-5, which will complete the egg-type structure around the engine and gearbox, and provide some more rigidity to the whole setup. Notice how with some simple modifications this original one could actually be used, as it still clears the bike engine. Again, this is all bolt-in stuff, because in the UK as soon as you modify the bodyshell it has to go through a special ministry test. This way we can modify and stay street legal.
Complicatedly Simple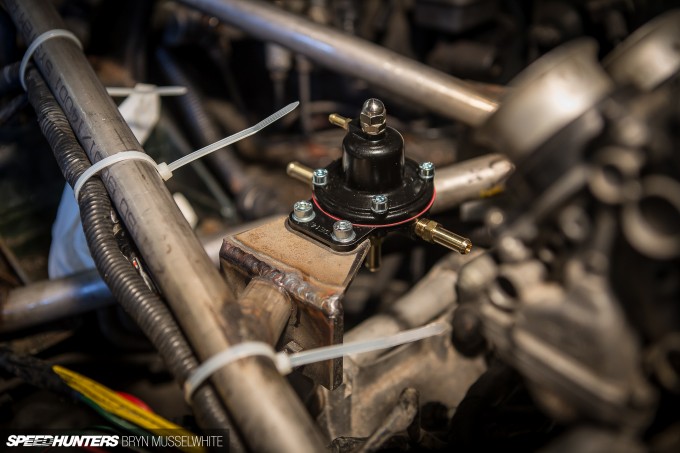 So we've got the power, the weight loss we love, and it can be bolted in without drilling a hole – but I'm still thinking this sounds complicated. Like, what's happening with the fueling for a start. Once again, Shaun has kept it simple. "Fueling is supplied by the original fuel line up until the flexi part in the engine bay, using a stock fuel pump," he says. "Then there's a fuel pressure regulator mounted on the cradle, which reduces the pressure required for the original injection engine down to a manageable level for the carbs. So we're coming down from something like 80psi to under 10."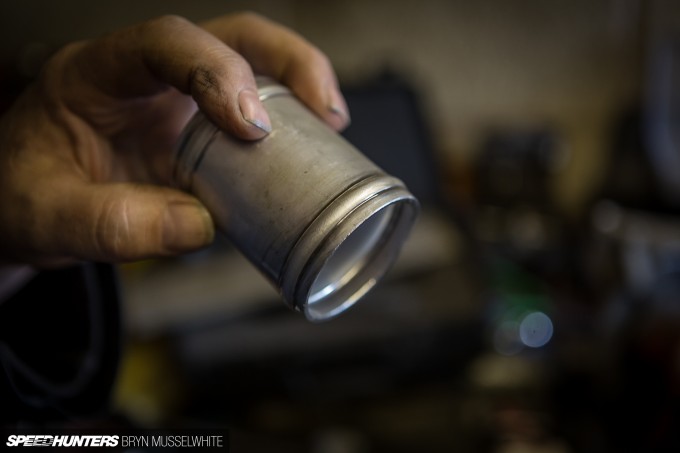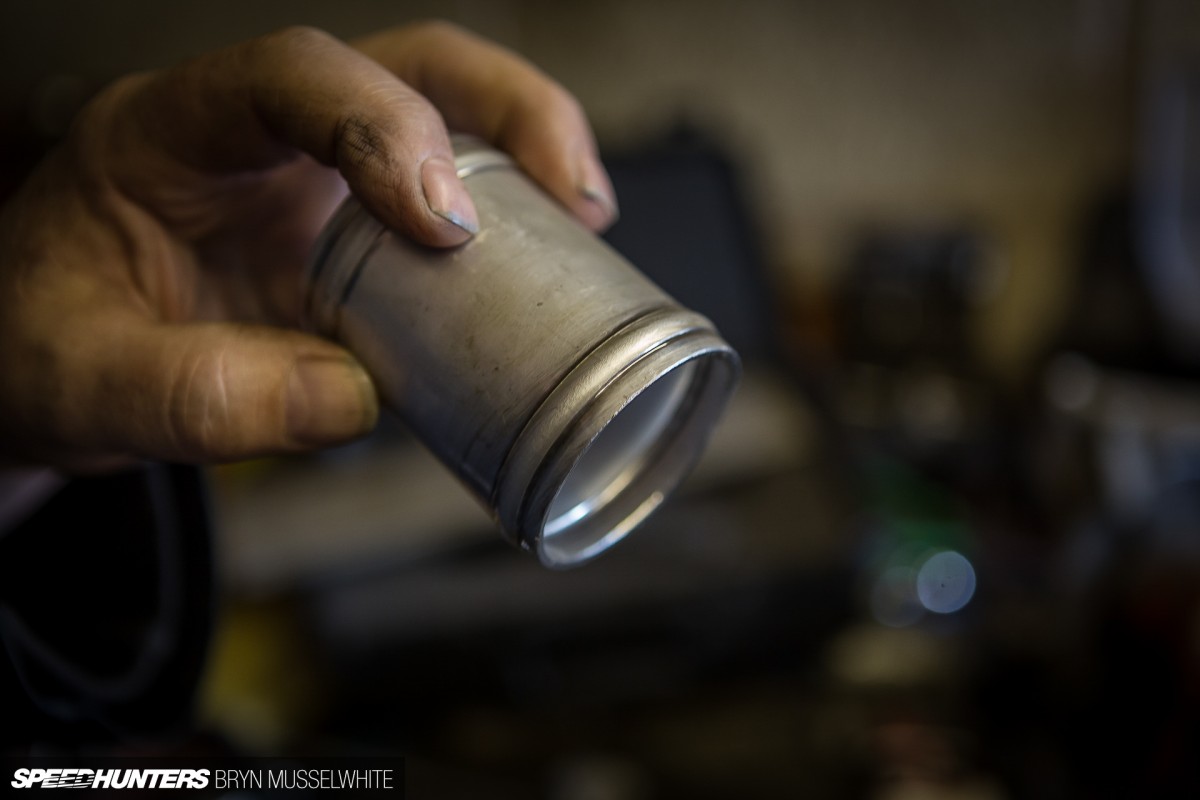 "We'll need to cool this engine, of course, and the Honda top hose comes out in a similar sort of area as the top hose on the standard Mazda radiator, which should be up to the job of keeping it all cool. The bottom hose exits at the rear of the engine, but the lower Honda pipe brings it under the engine and almost to the Mazda bottom hose." As you can see here, Shaun has made up an adapter for the different hose sizes.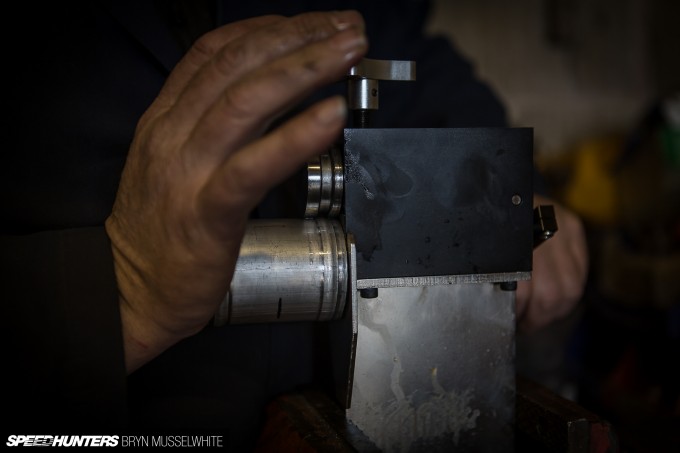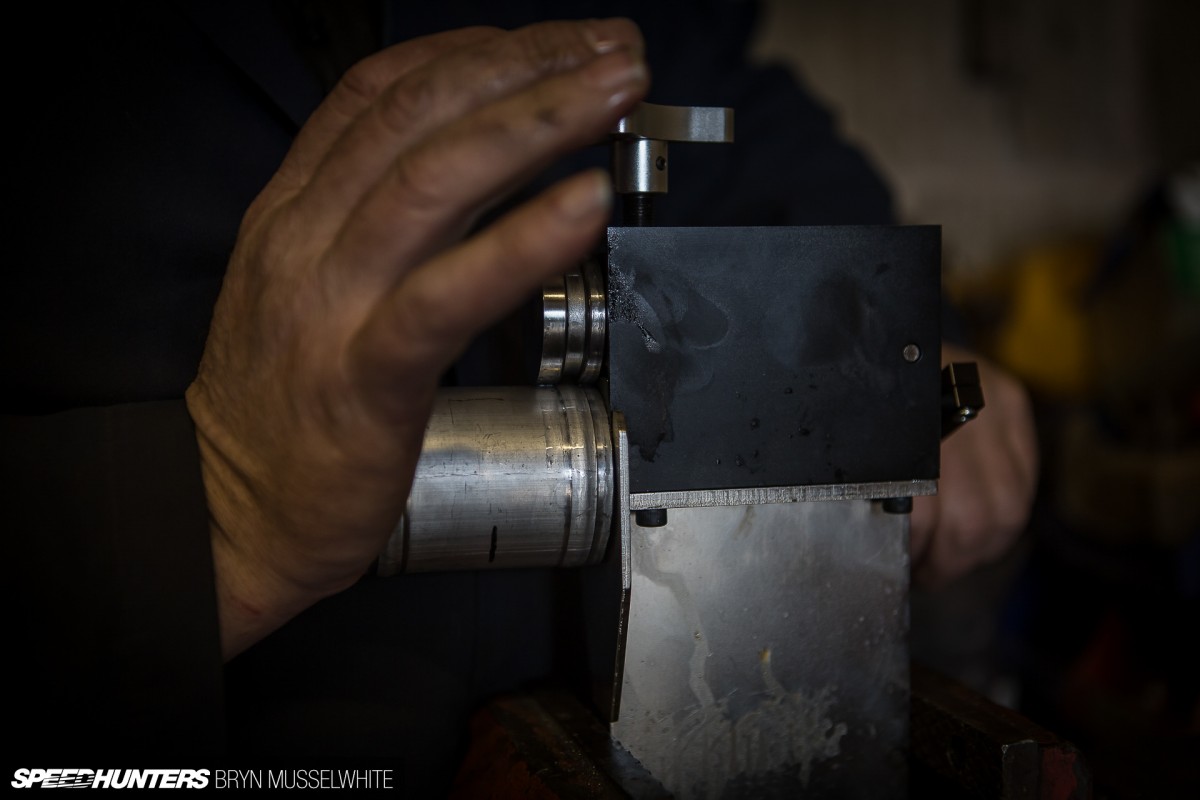 He's able to things like this as he's got special tools for the job. So although the conversion itself is relatively simple, the theory, thinking and fabrication work that have been put in over the last few weeks of evenings and weekends is based on years of experience and having access the right gear.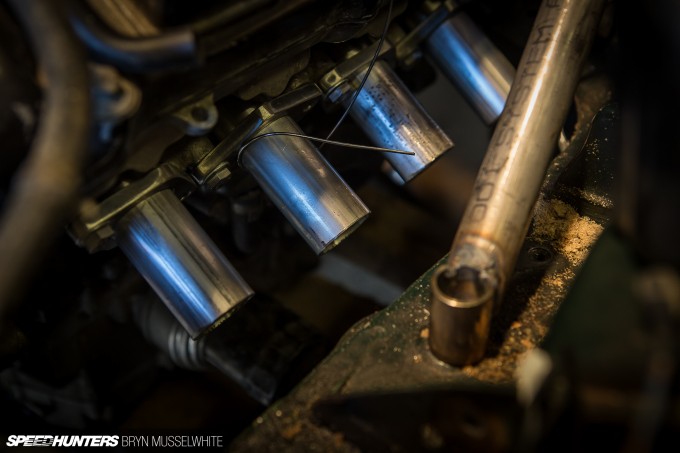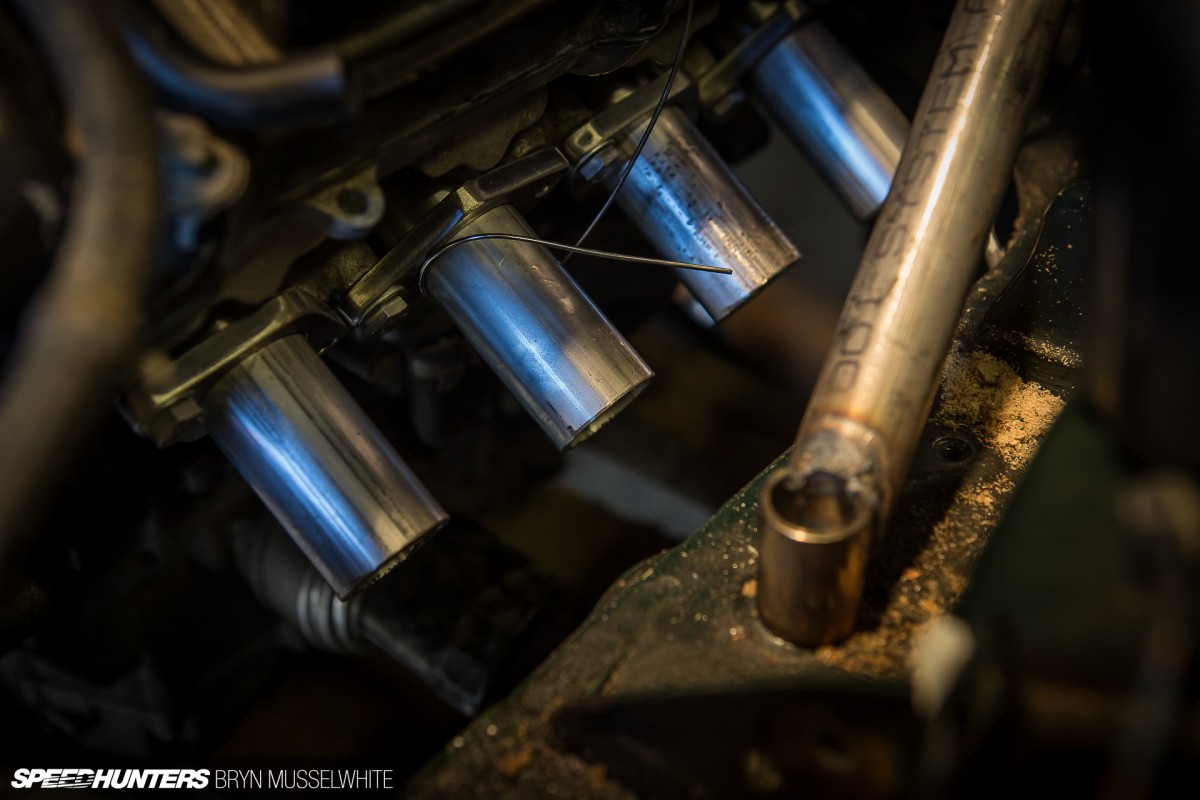 Which is why I think Shaun has tried to keep the solutions as simple as possible – because he knows what happens when he gets carried away.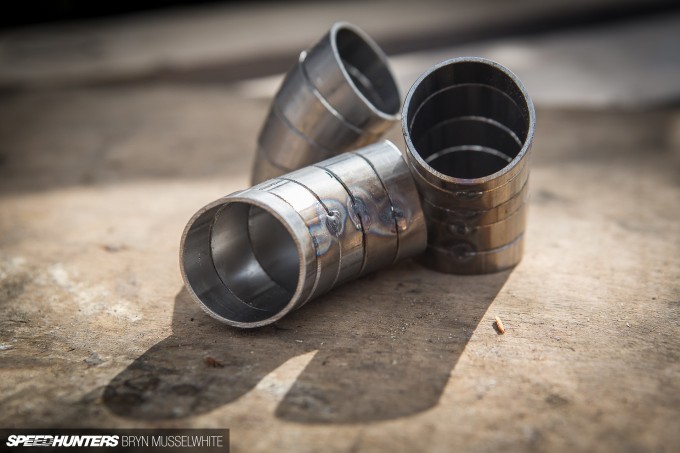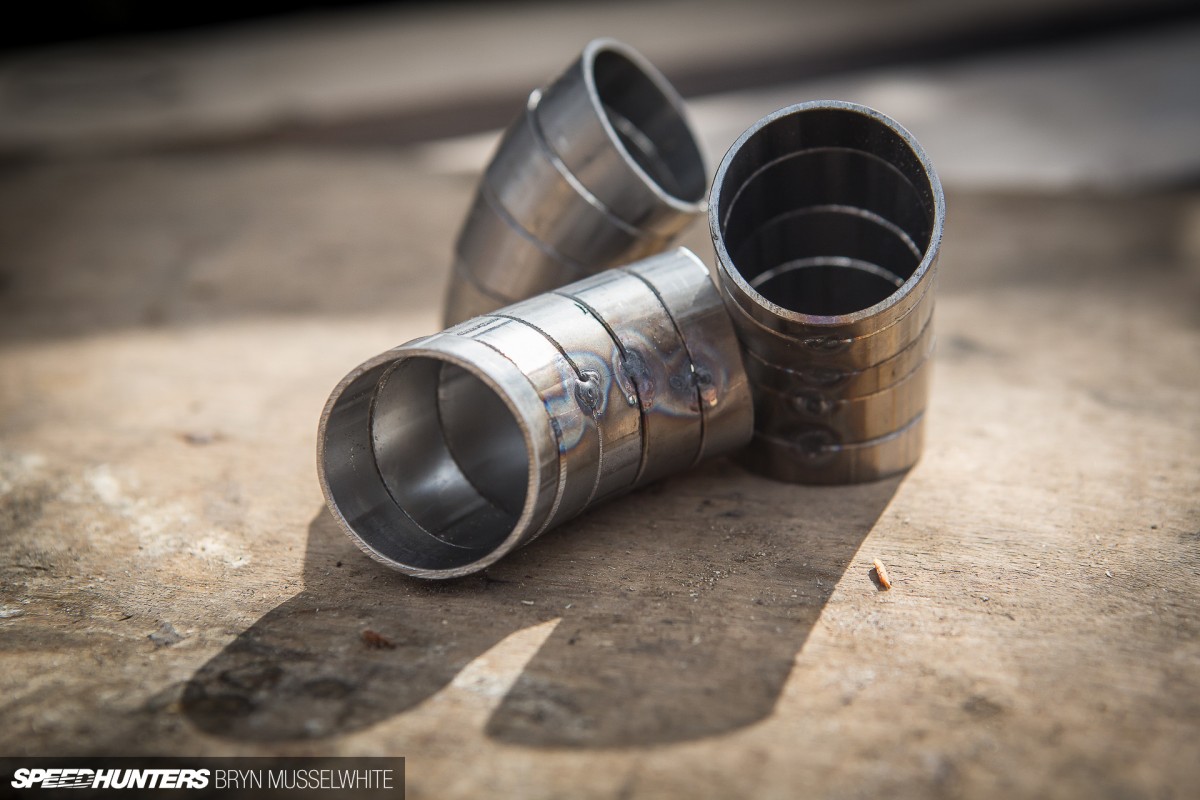 Take the exhaust for example. The original Honda primaries are very similar in size to the Mazda's ones, so a new manifold will be made up that mates to the existing Mazda system. I guess it will be interesting to see if 13,000rpm blows the contents of the back box out!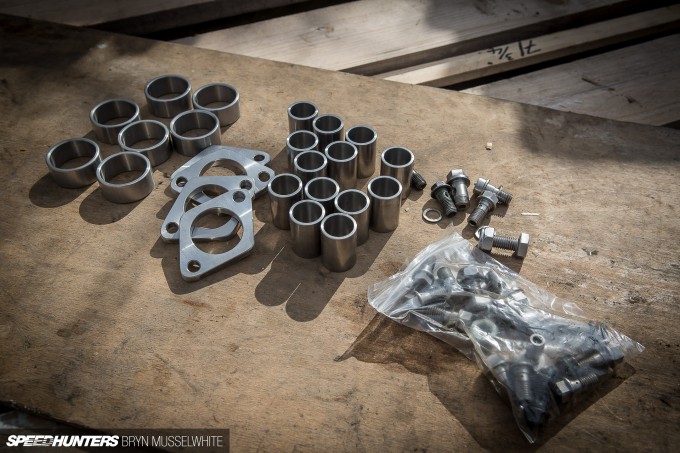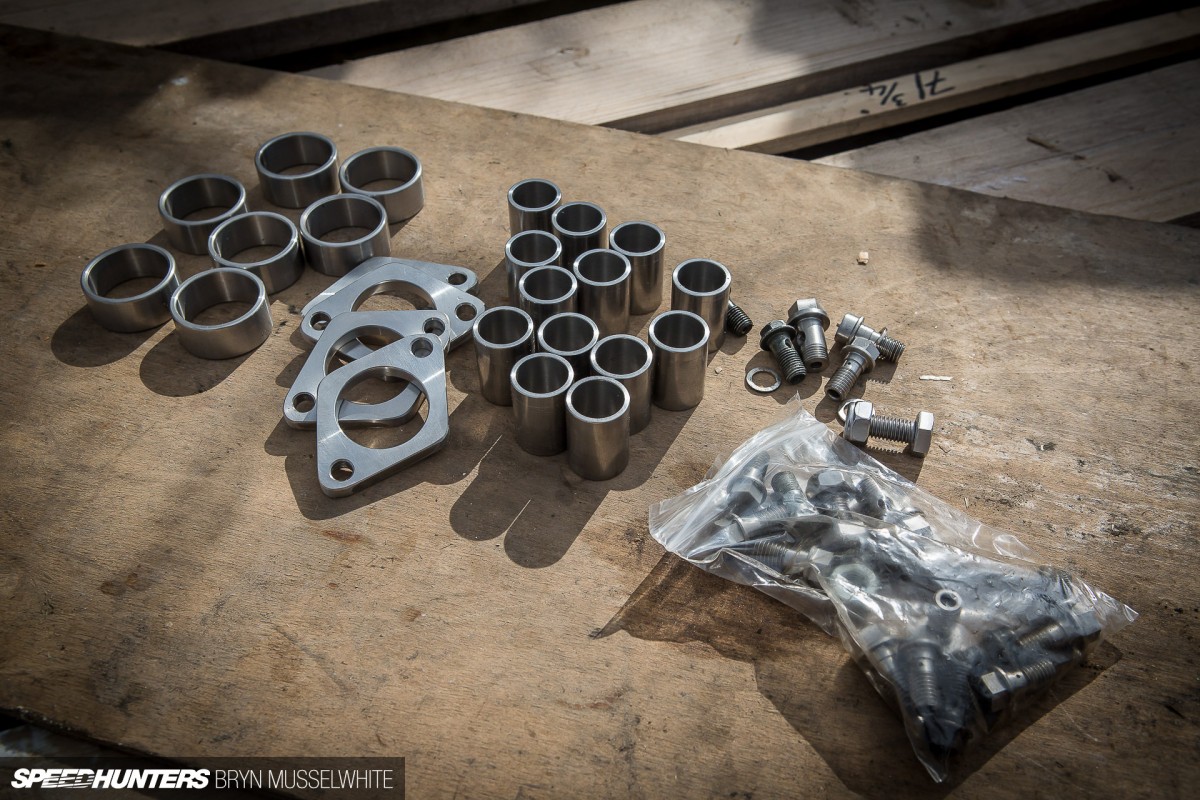 This pile of bits are here thanks to Shaun's other secret weapon, Stef, who is the other guy in the picture further back up this story. Being a master fabricator means if Shaun can think it, Stef can make it.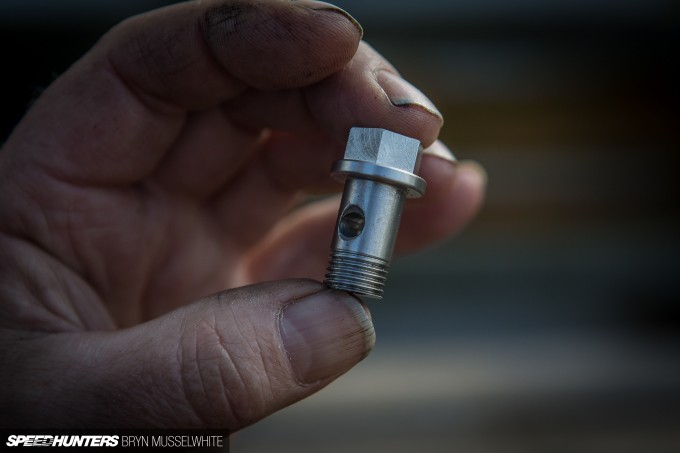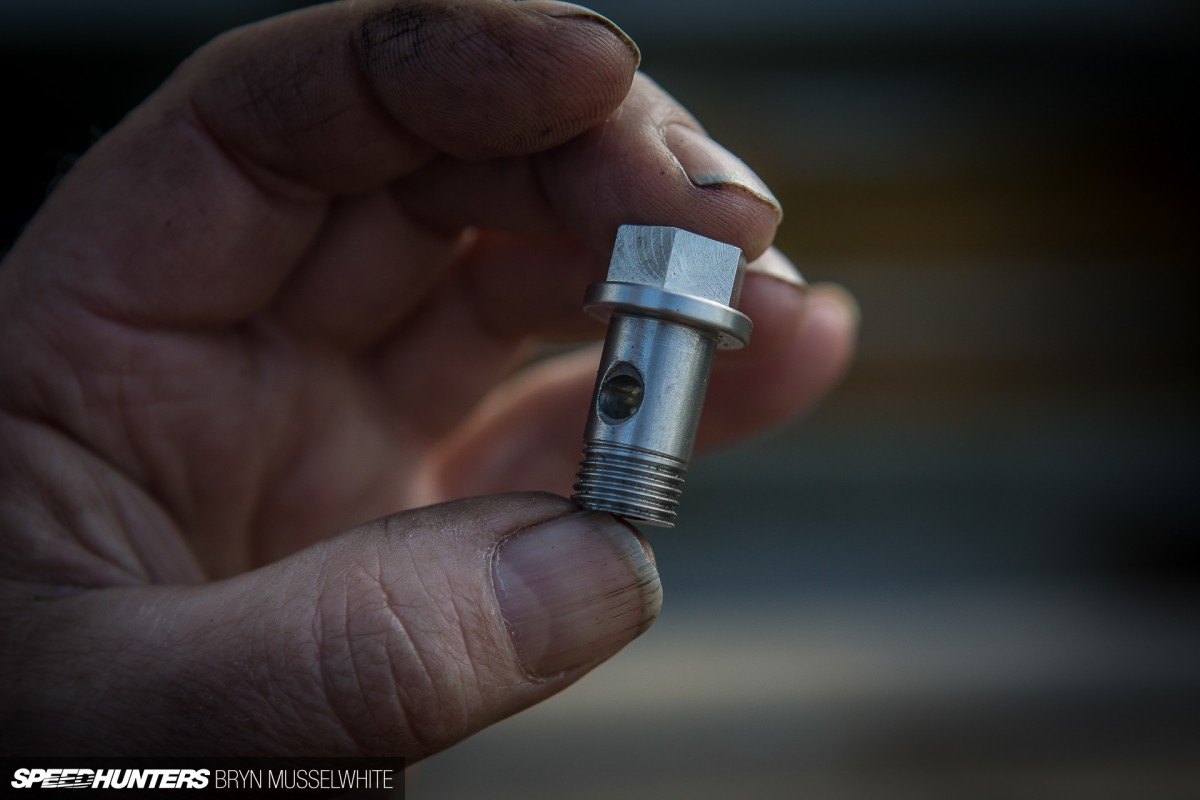 Custom-tooled banjo bolts made to his own spec should give you an idea of the level of finish this car will have one day.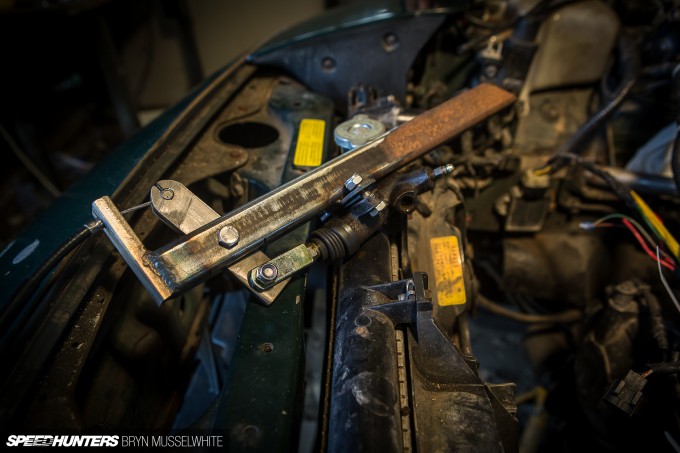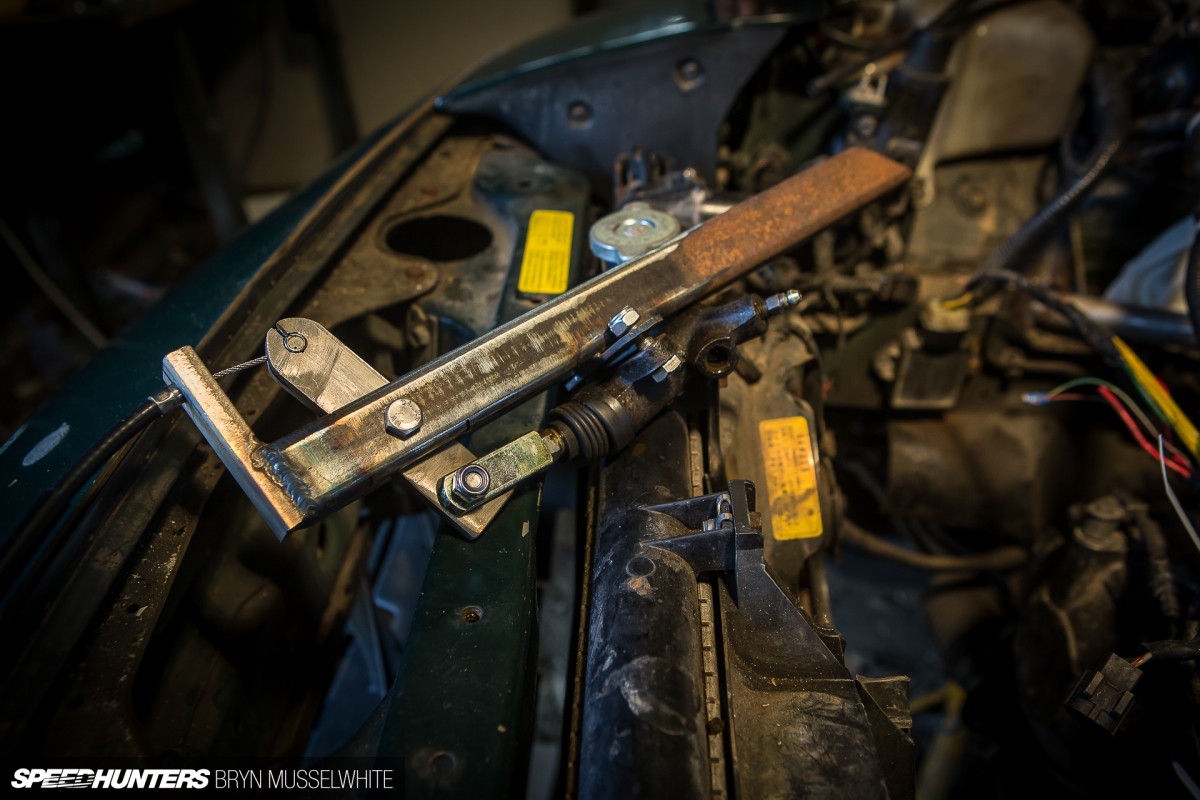 Keeping as many manufacturer stock parts is what this build is really all about, so the clutch runs the original Mazda master cylinder and slave, but the latter is mounted on a bar which employs a clevis pin and an original Honda clutch cable.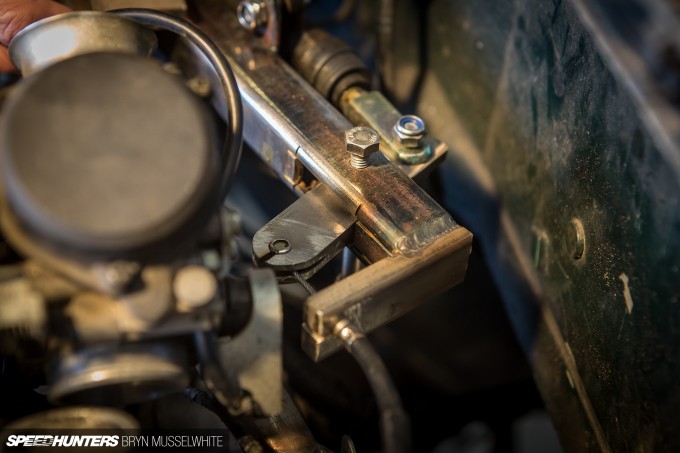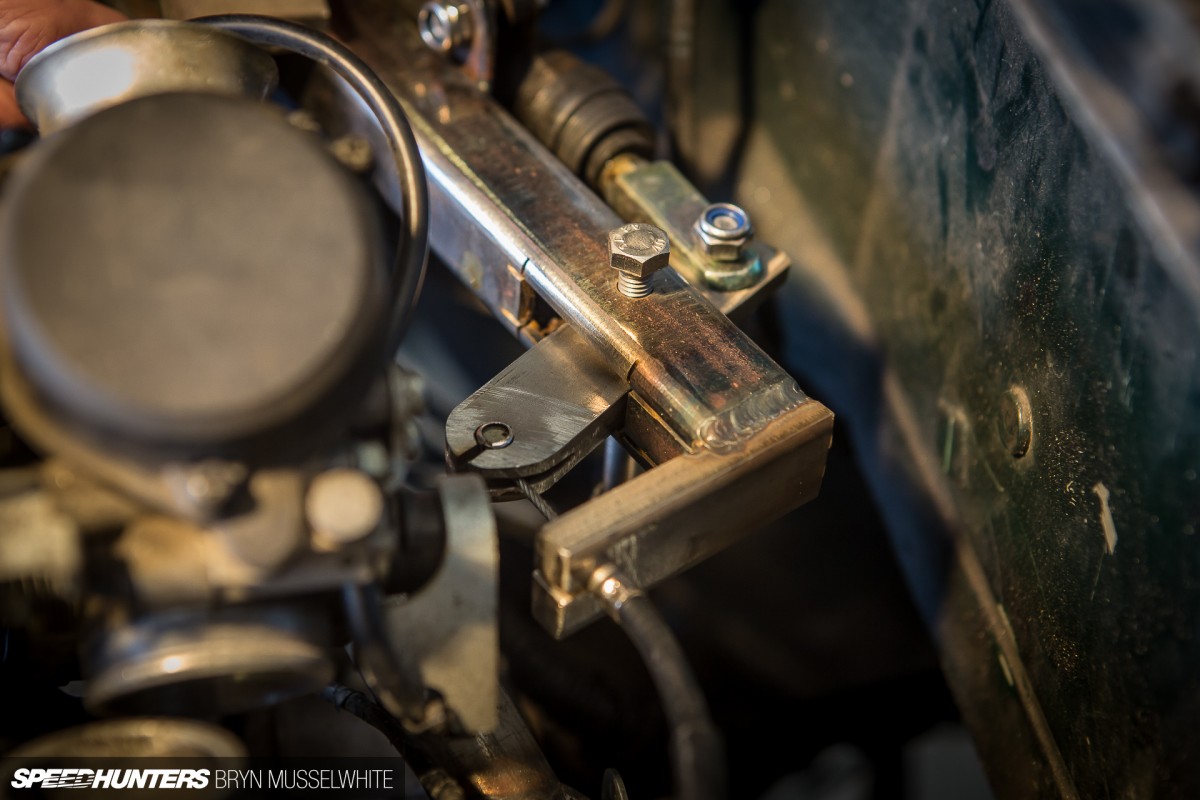 This finds a home at the back of the engine bay and get's TIG tacked to the frame work. The cable is routed cleanly and unstressed, so should perform perfectly here. When I asked if Shaun is going to finish off the slices that have been made in the bar, he smiled at me and said Stef was already lined up to make it in stainless steel.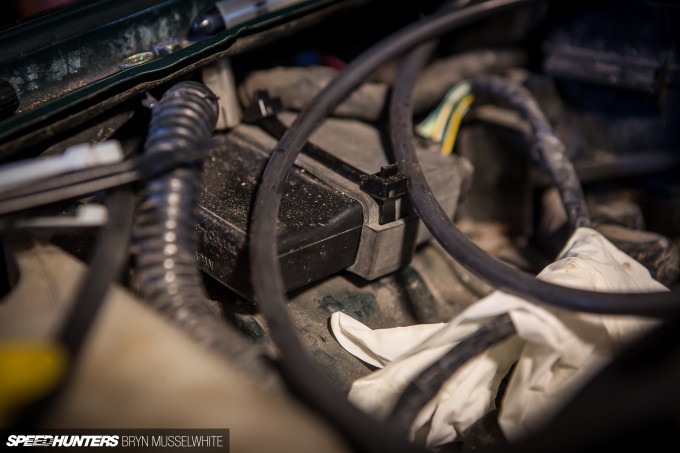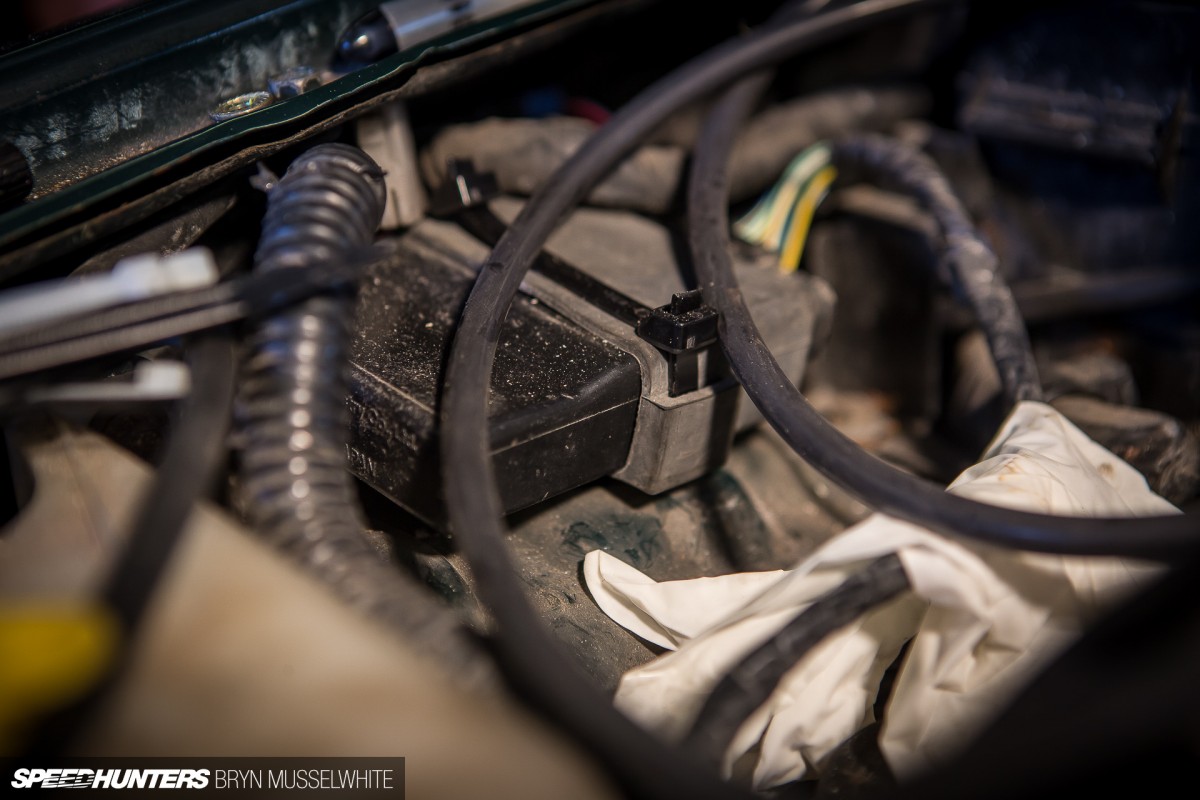 Elsewhere there is the standard Fireblade ECU, and on the other side are the standard coil packs with extended leads. Shaun says, "The loom is a bit special, but I've paired it down to four wires – one for the starter, one for main ECU, tacho light out and a neutral light out."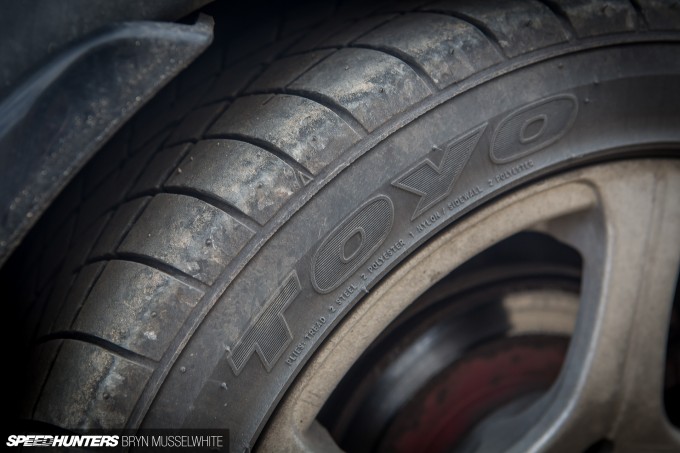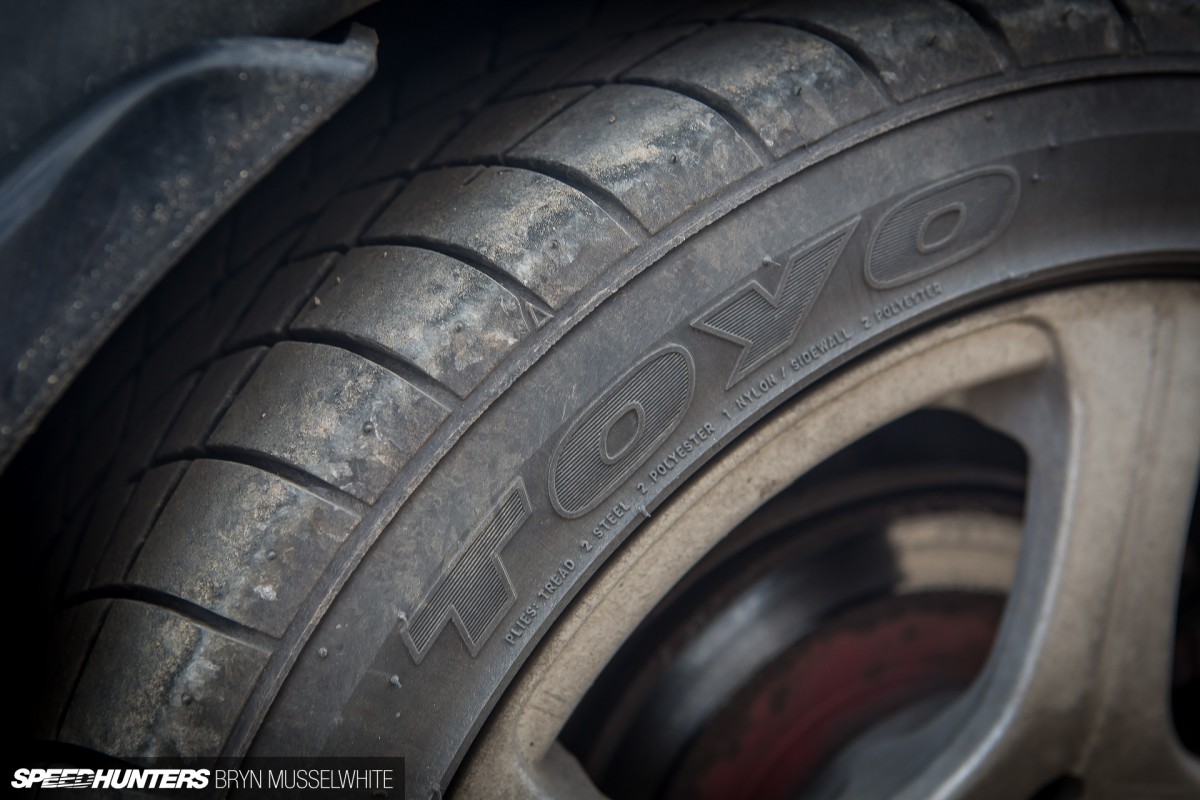 So what about gearing? Shaun laughs and says, "Mathematically? It should do about 150mph." Laughing, he adds, "About that… Unmathetically? Effectively the normal ratio of a Fireblade is about 3.3:1 and the diff is about 3.3:1, but the wheel size is different of course. So a Fireblade has a 17-inch or 18-inch wheel and then there's tyre size, which depends on the age of the bike. The result? This will have a lower top speed, but it will get there quicker barring the obvious weight disadvantage. This is running a 195/50R15 tyre so we're looking at about a 10 to 15 per cent reduction in rolling radius. So maybe 130mph? Plenty quick enough to be stupid!"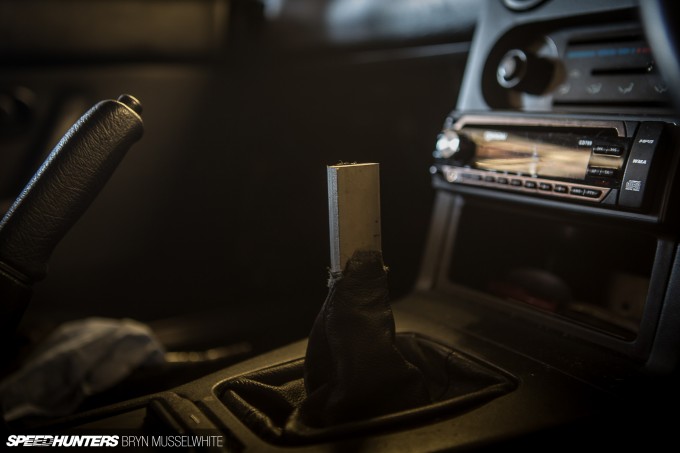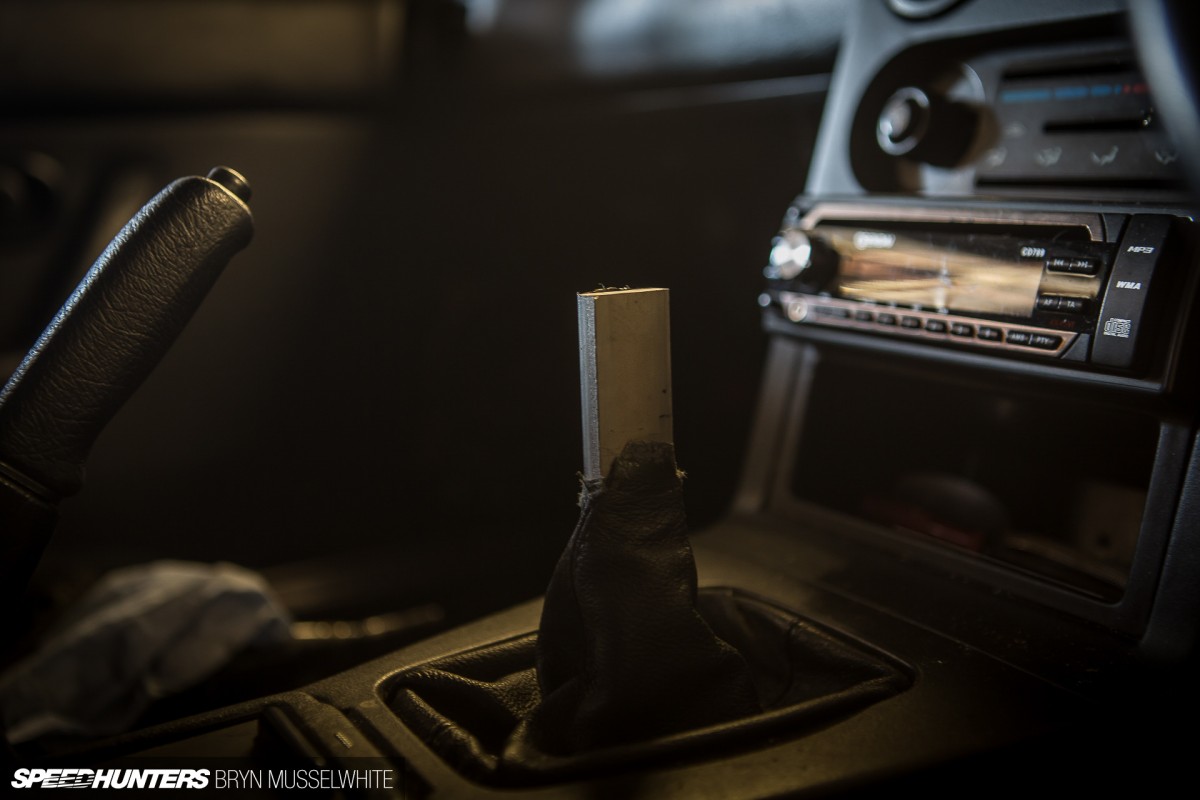 A custom two-piece propshaft with a centre support is being made up, but it's not here yet. And for now there will be no reverse gear – just the 6-speed sequential 'box to play with. There are reverse-equipped gearboxes available, but they would quadruple the current project budget. So for now it'll just have to spin itself around on the spot!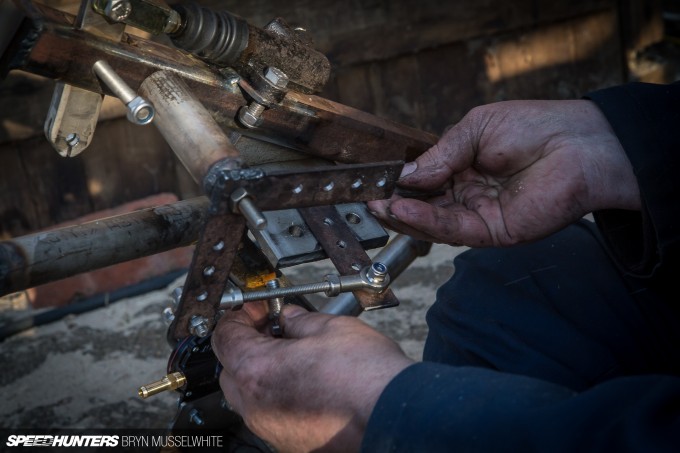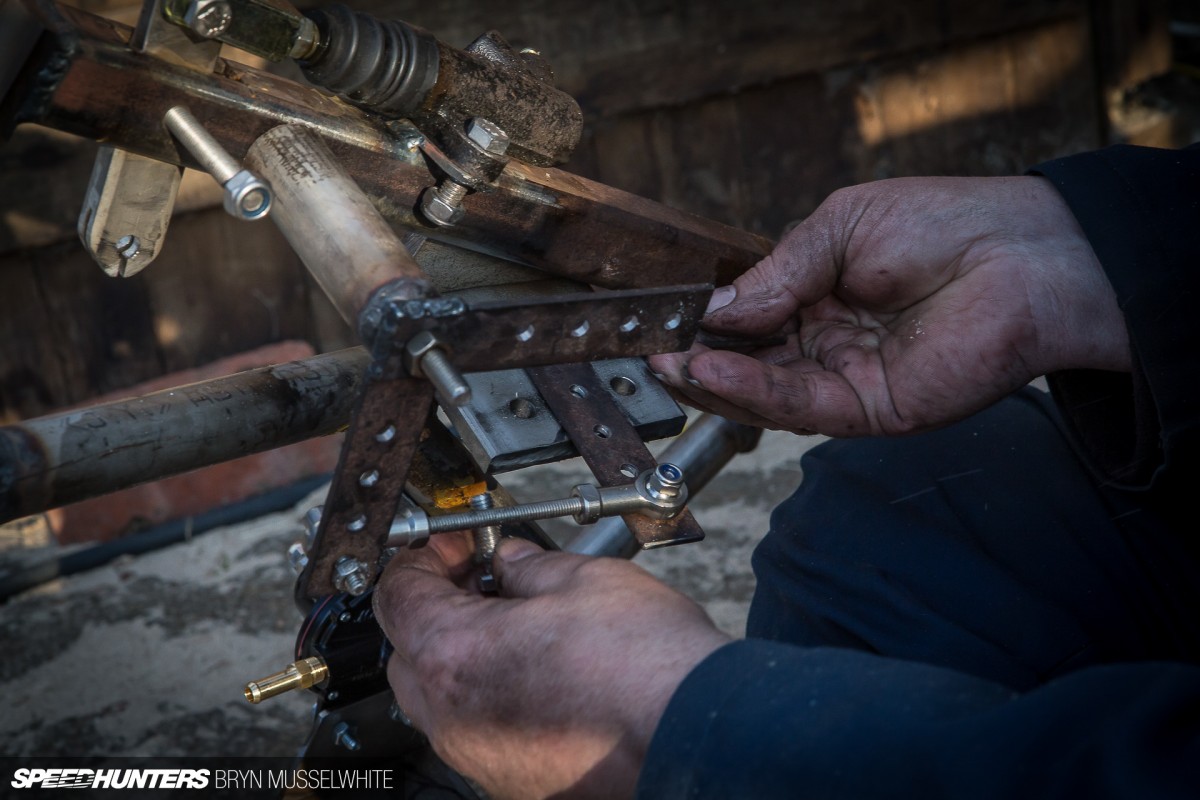 For the gear shift you'd usually use a Powershift cable, like you'd use on a boat, so there's no slack in the cable mechanism. But on this one there will be a connecting rod – again to keep costs down and because there were some materials lying around that leant themselves to the cause.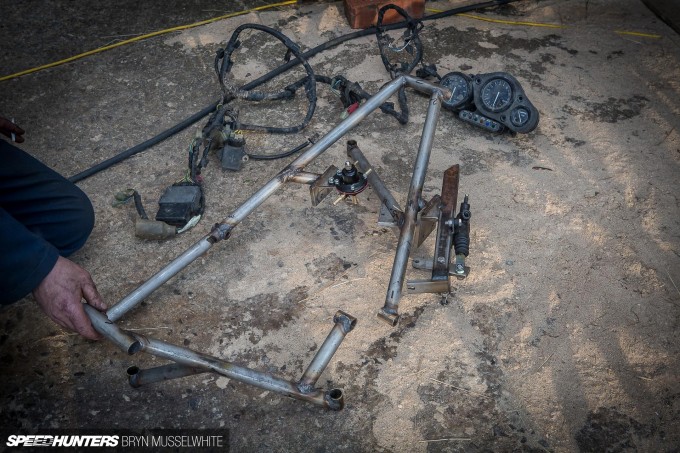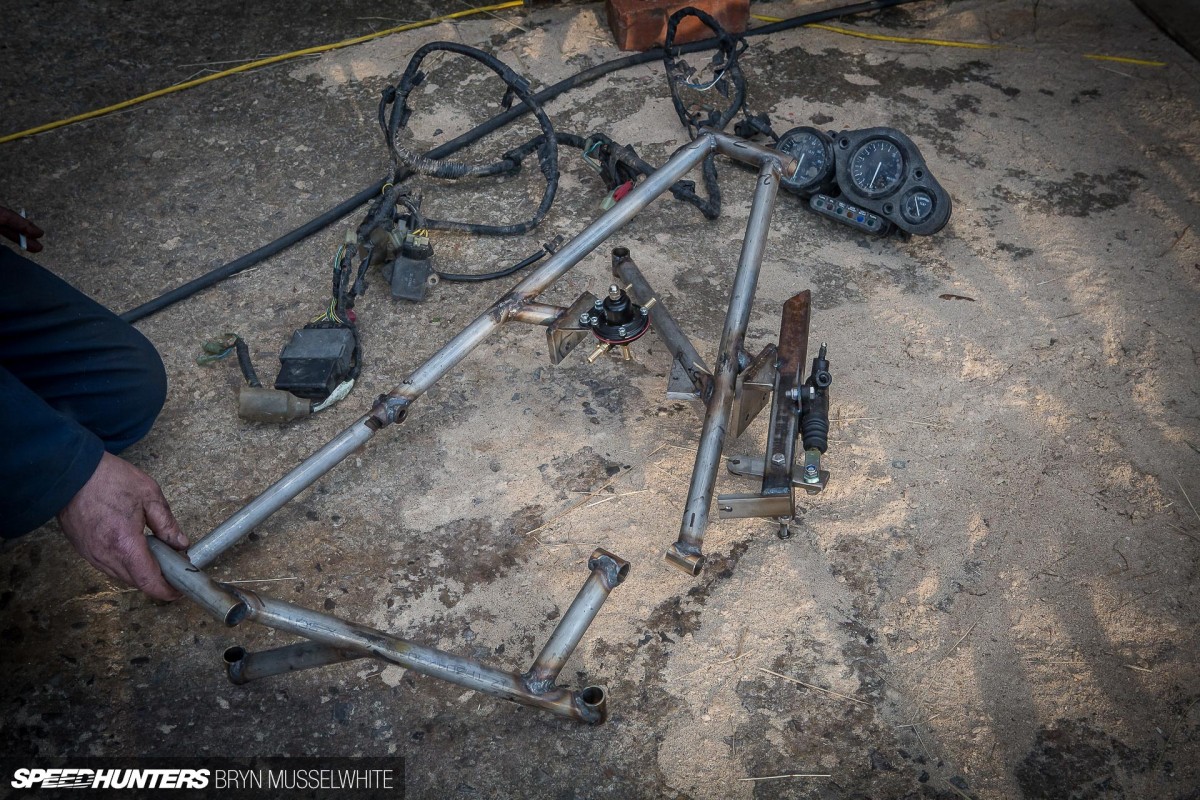 And this is where I'm going to leave it for now. I was surprised that what Shaun made sound so simple would take up so many pictures, so I'm going to come back to this one when it's finished and we can have a drive then too. The only problem I've got is that when I left he was waving his tape measure around saying there is just enough room in the front for second engine with twin radiators off to the side…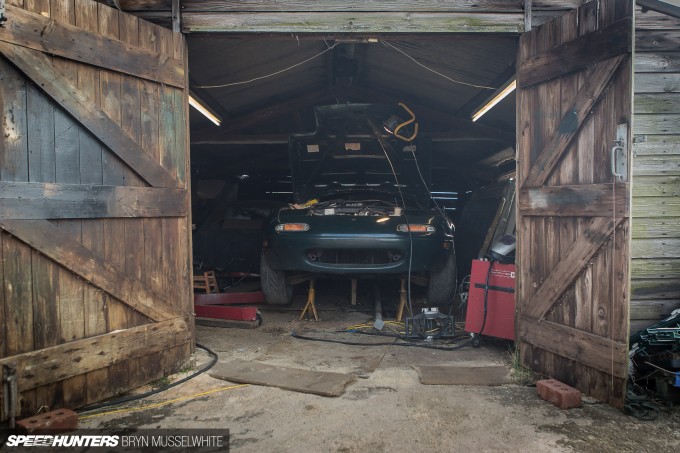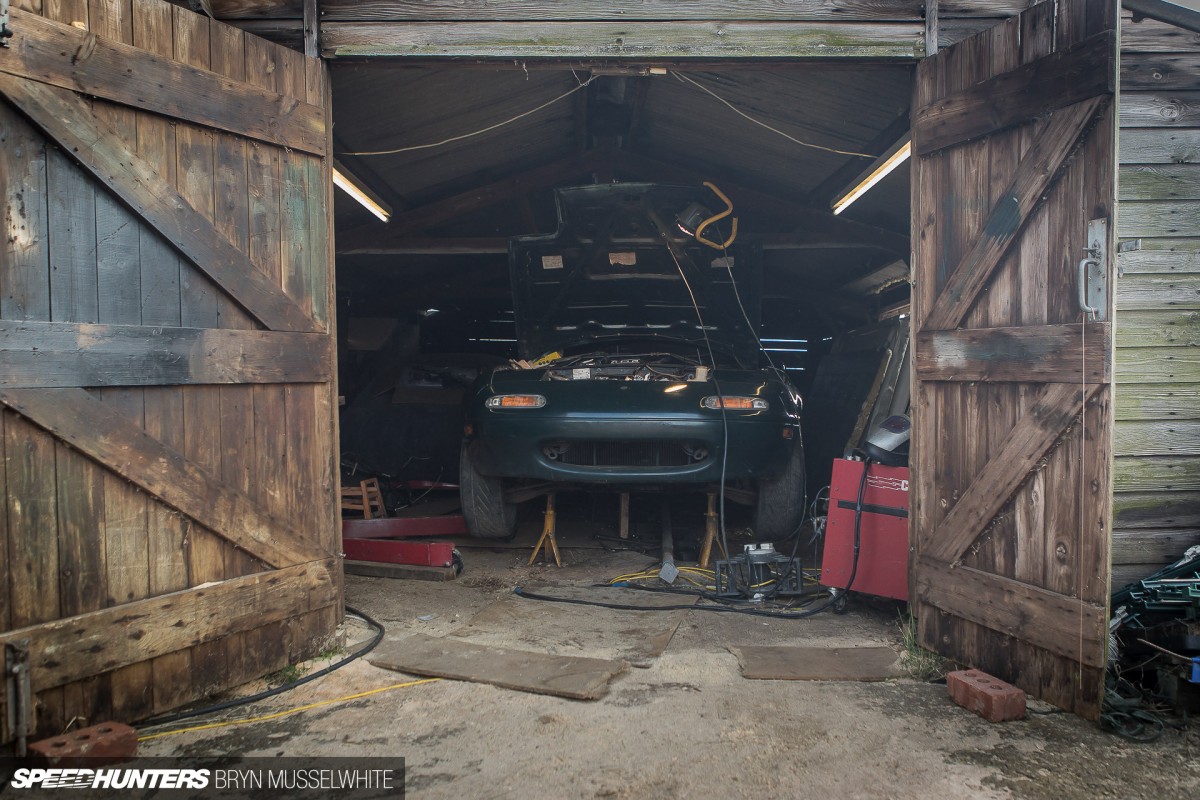 Looking back through, I'm trying to find a moral to the story so far, but I think I'm looking too hard. The bare bones are this Mazda conversion will be lighter and quicker than the standard car, it'll sound hilarious and once done will be a road legal, bolt-in conversion you could take with you from car to car.
To be honest, I can't wait. Best I give my special brother in law a call and see how he's getting on…
Bryn Musselwhite
bryn@speedhunters.com
Instagram: Speedhunterbryn
Cutting Room Floor