The Joy Of Technology
What are some of the most impressive things you can do with an automobile? You can bring a rusting hulk back from the dead with a full factory restoration. You can take a car that was already great from the factory and make it even better with aftermarket parts. You can go all-out and build a racecar capable of setting records at any track it goes to. All impressive feats for sure, but I'm not sure if any of those things will get people excited as much as the Chevrolet pickup truck you see here.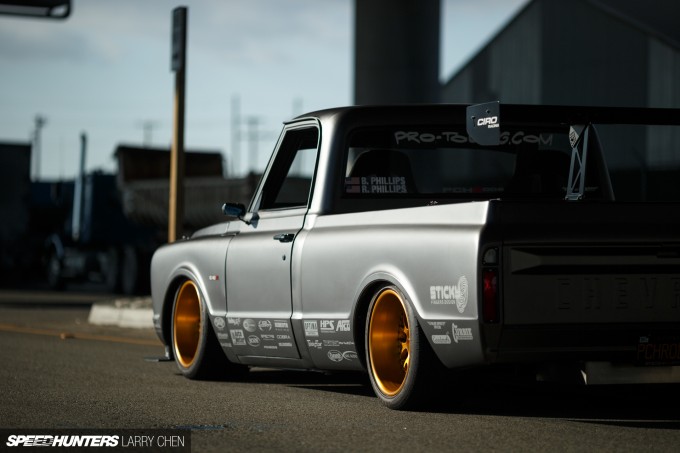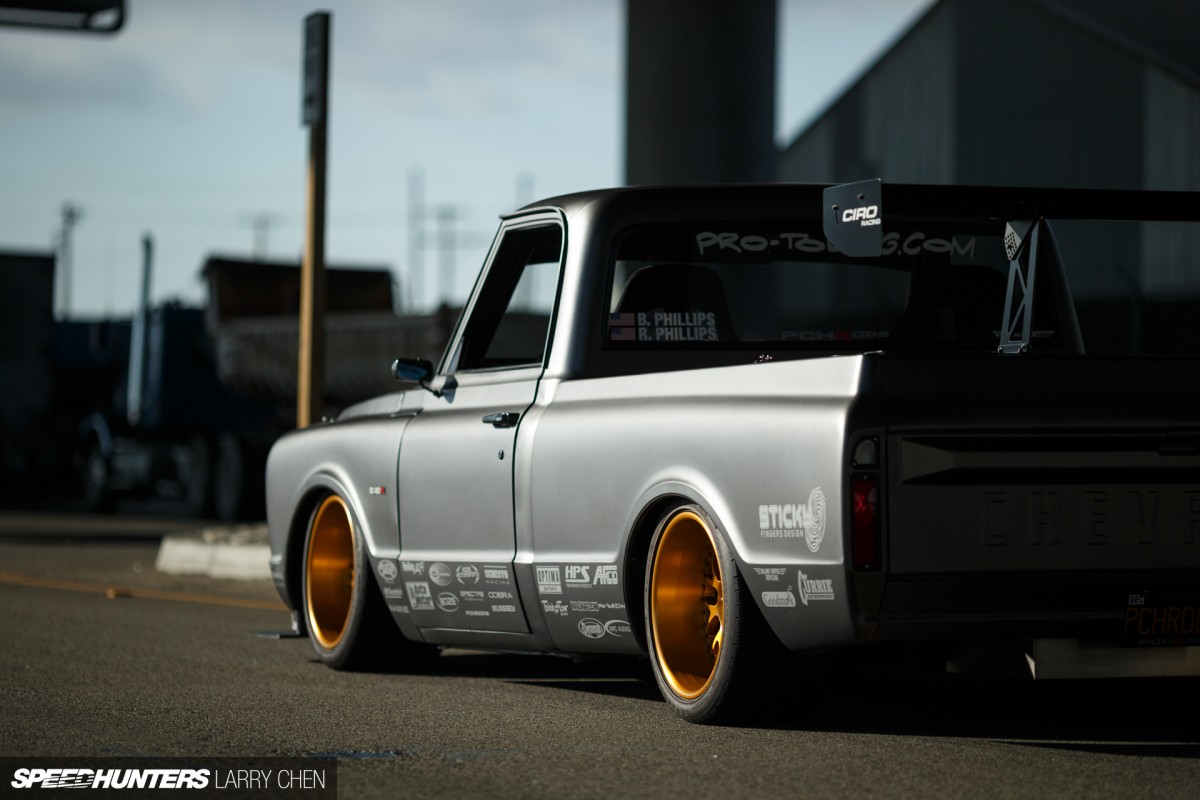 That's because this truck represents one of the most challenging things you can do with a vehicle – building it do something its original designers could have never imagined. Say hello to the PCHRODS C-10R.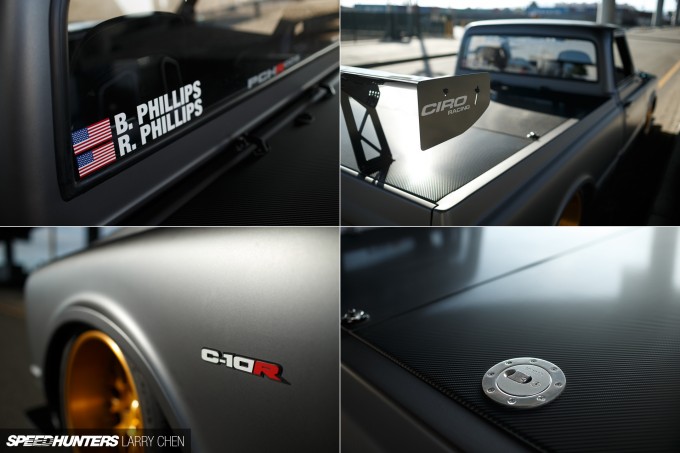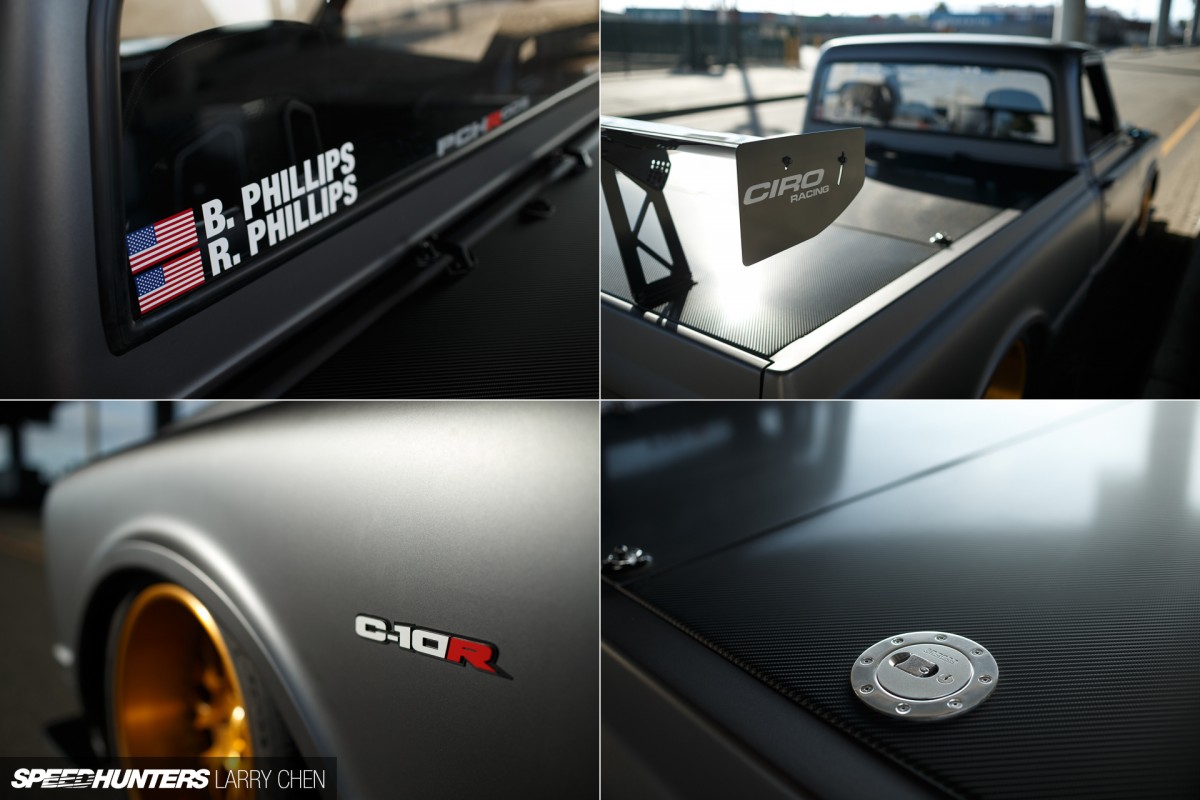 But before we get into what exactly makes this pro touring monster tick, let's take a quick trip back in time.
These days pickup trucks are everywhere in the USA. They usually top the best-selling vehicle lists and can be had with all of the comforts, conveniences and performance of traditional automobiles.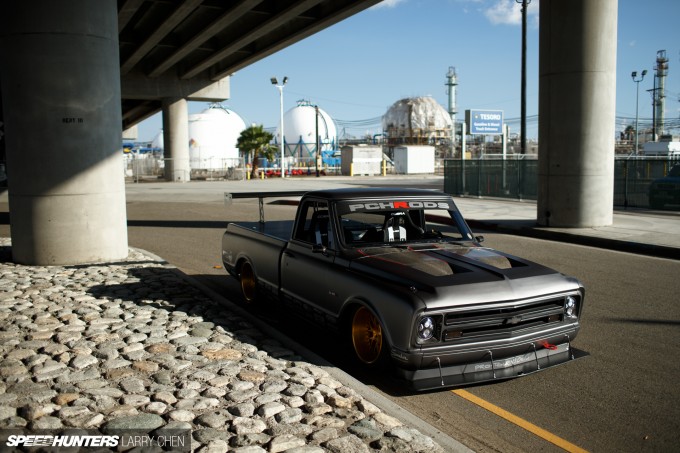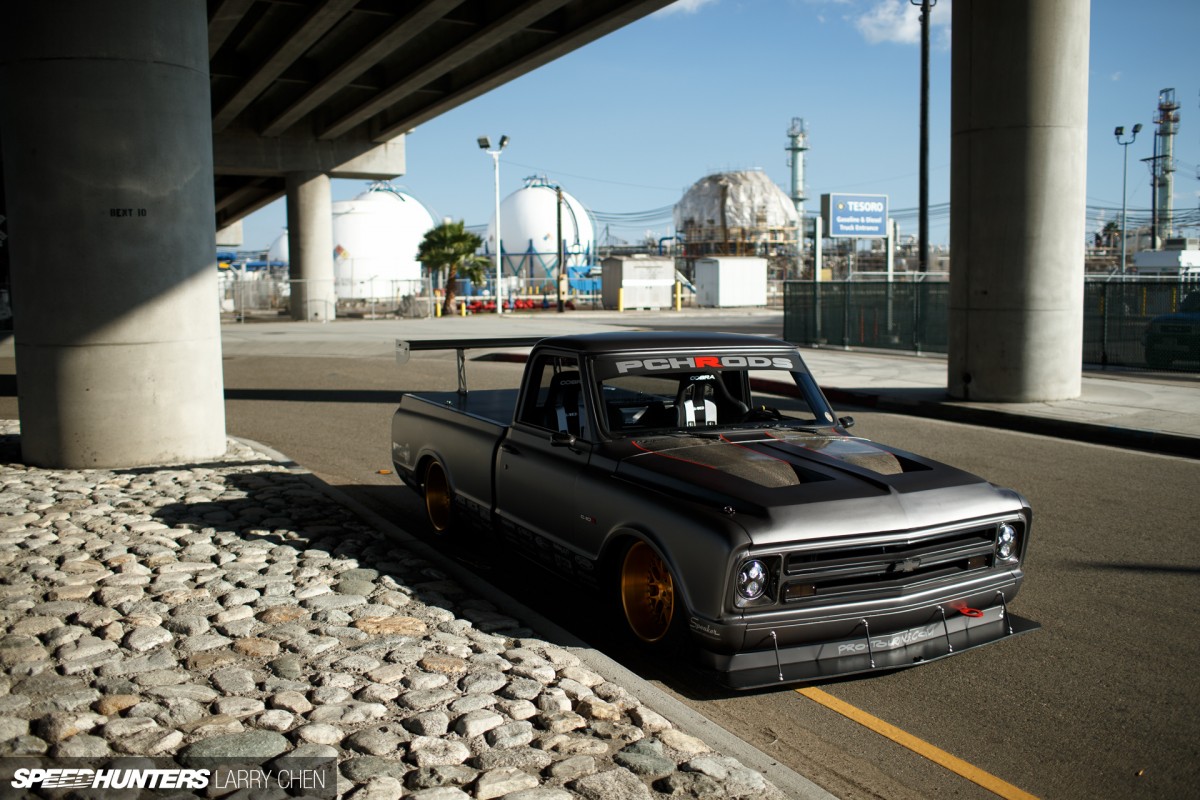 But it wasn't always like that. For decades, pickups were used first and foremost as work vehicles. If you bought one, it was most likely because you needed to haul stuff and do it often. Their designers never really intended for them to do a whole lot more than that, and combined with the antiquated technology of the time, it's safe to say that an old pickup is hardly an ideal base vehicle for a performance project.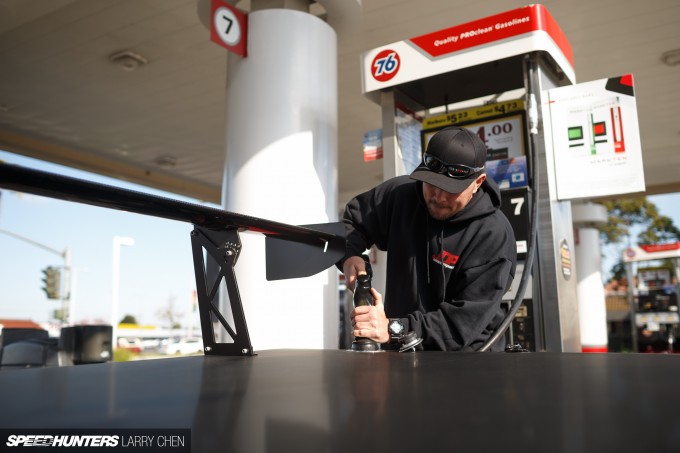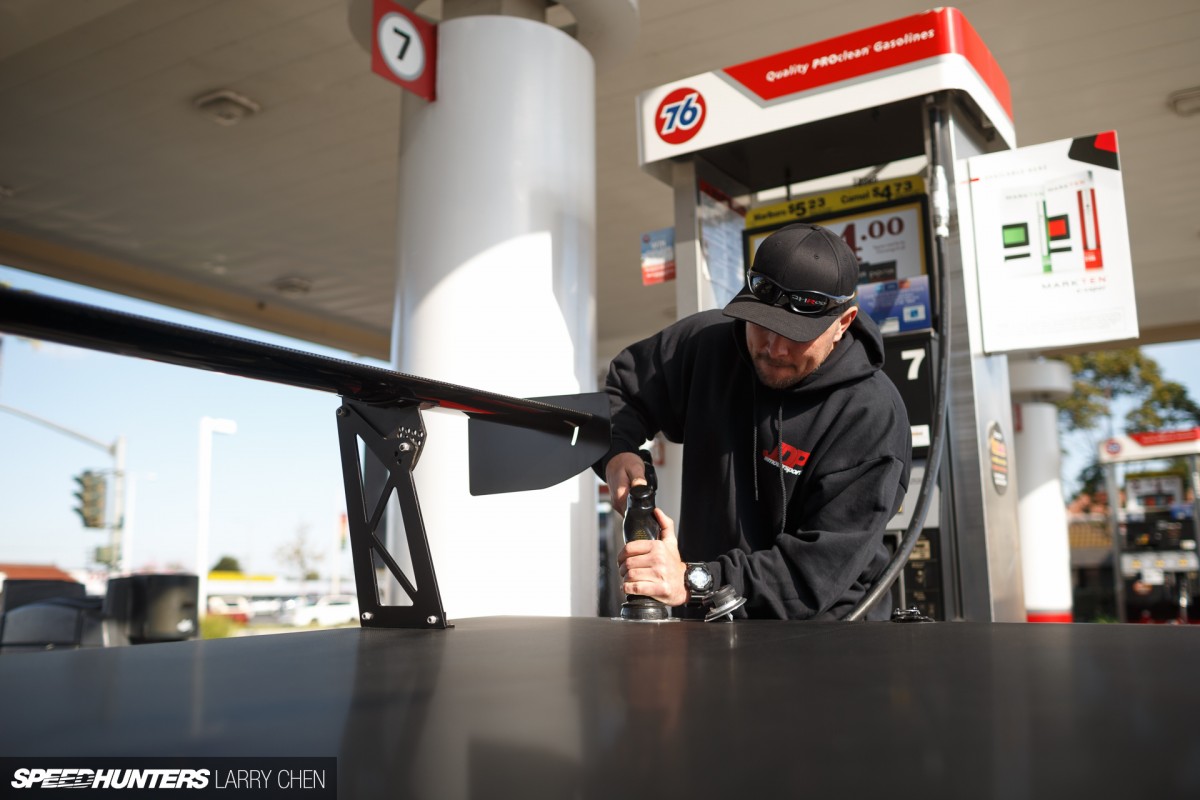 But Brandy Phillips and her husband Rob are no strangers to making ordinary old vehicles do extraordinary things. Brandy raced for Spectre Performance, driving cars like their carbon '70 Camaro, while Rob became one of the first to build a Chevy C10 pickup for autocross racing with his well known '69 C10 project.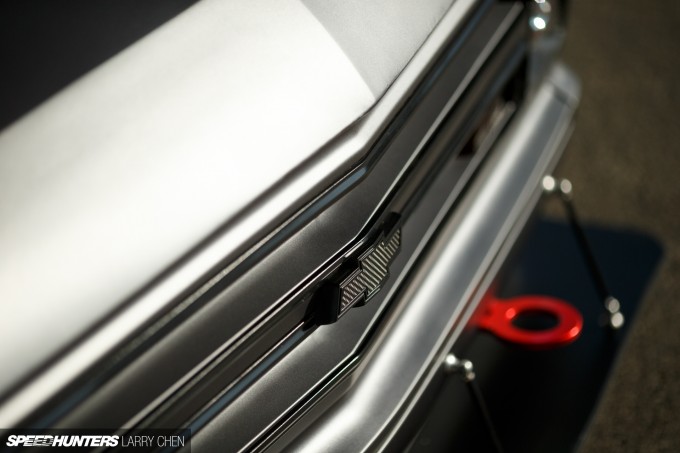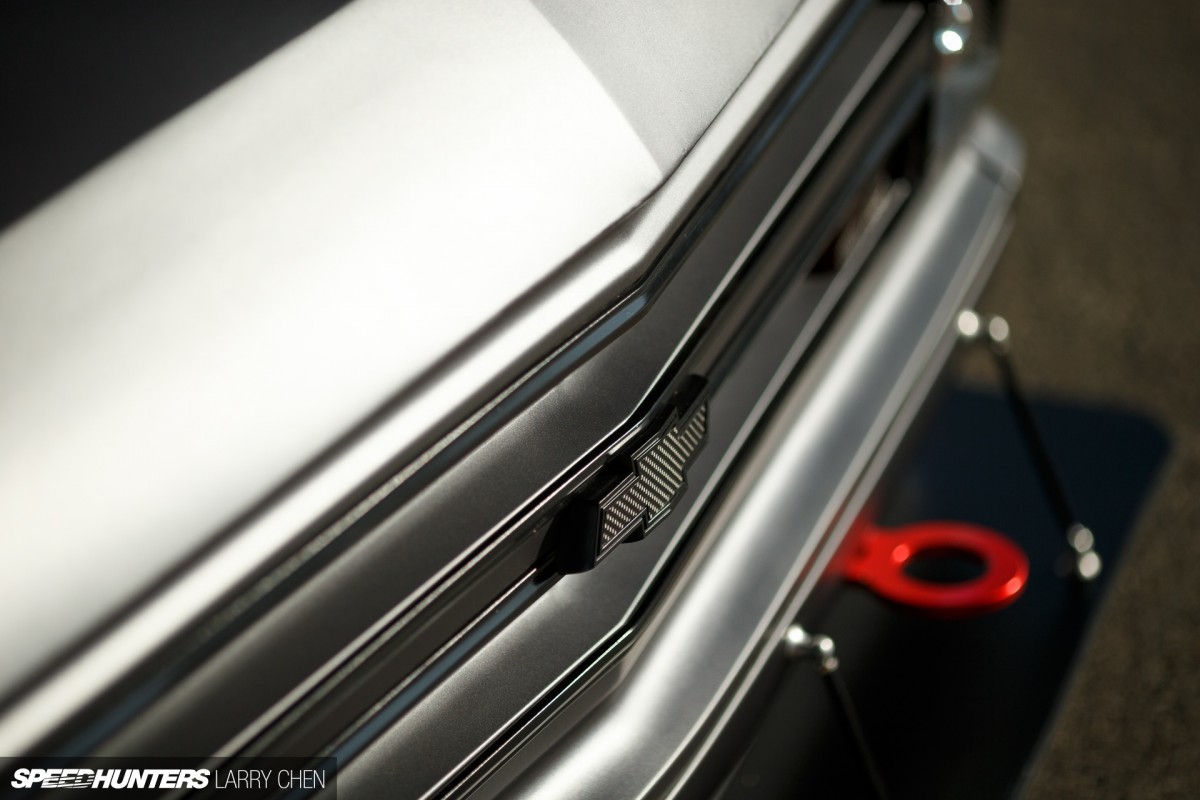 The pair actually met through the pro touring and autocross hobby, and after getting married and starting a family the Phillips' decided to build a new project vehicle so Brandy could get back to racing.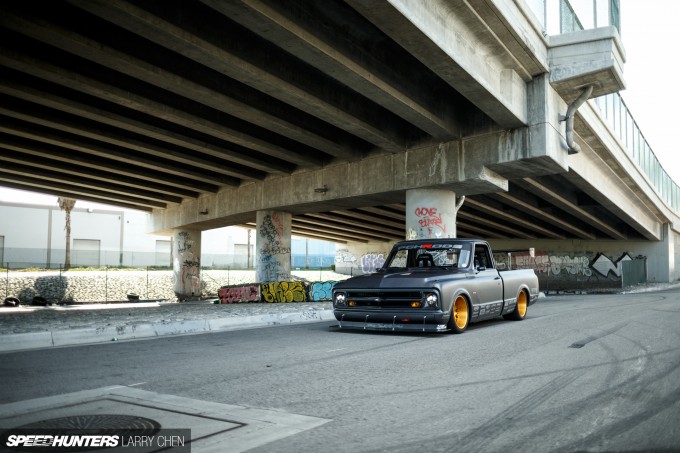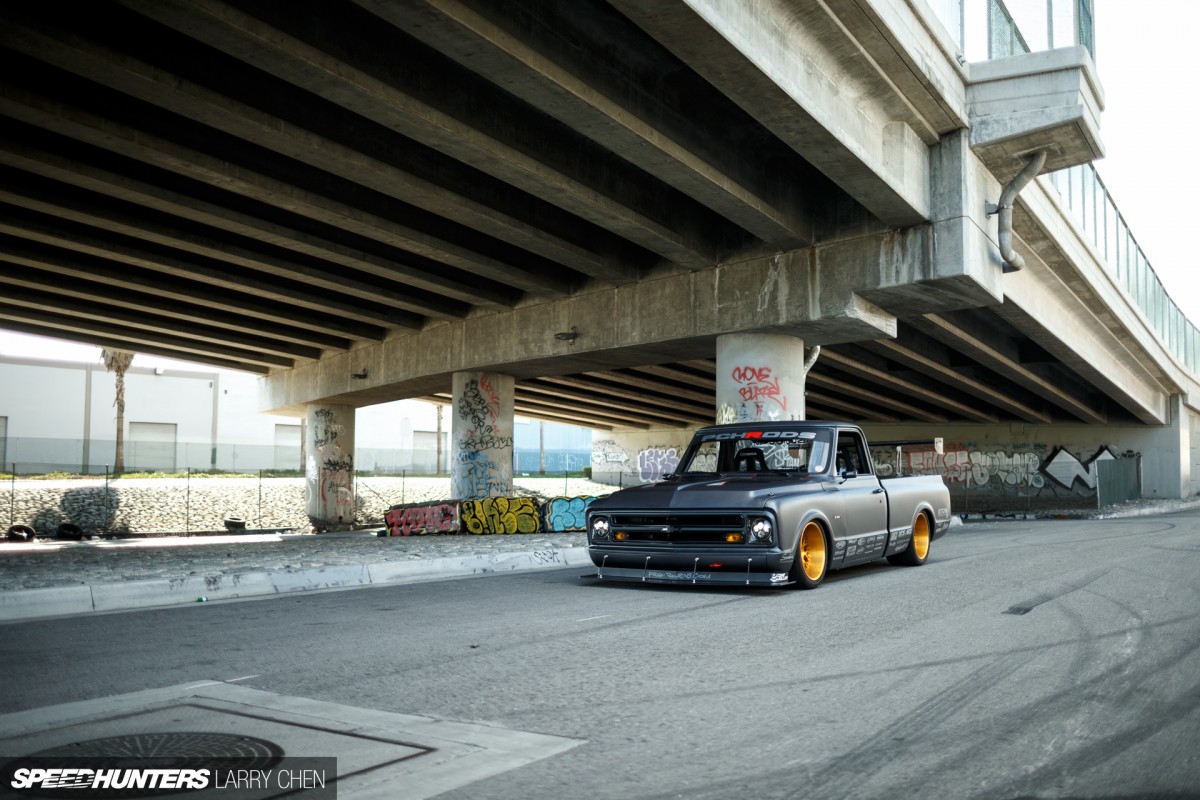 They spent nearly a year searching for the right vehicle, and entertained the idea of building a Chevy Vega before deciding on another C10 pickup. Not only did Rob have plenty of parts lying around from his '69 project, they liked the thought of a female driving an old pickup at autocross and track events – and then there's the whole WTF factor. A pickup might be much heavier and a lot less aerodynamic than a traditional sportscar, but that only added to the fun and challenge of the build.
The Transformation Begins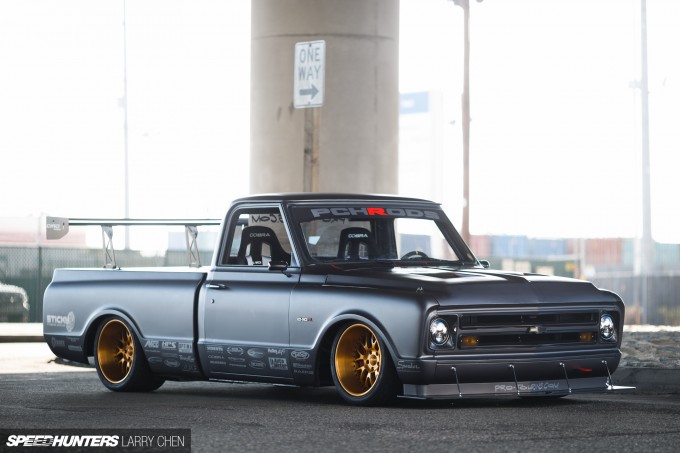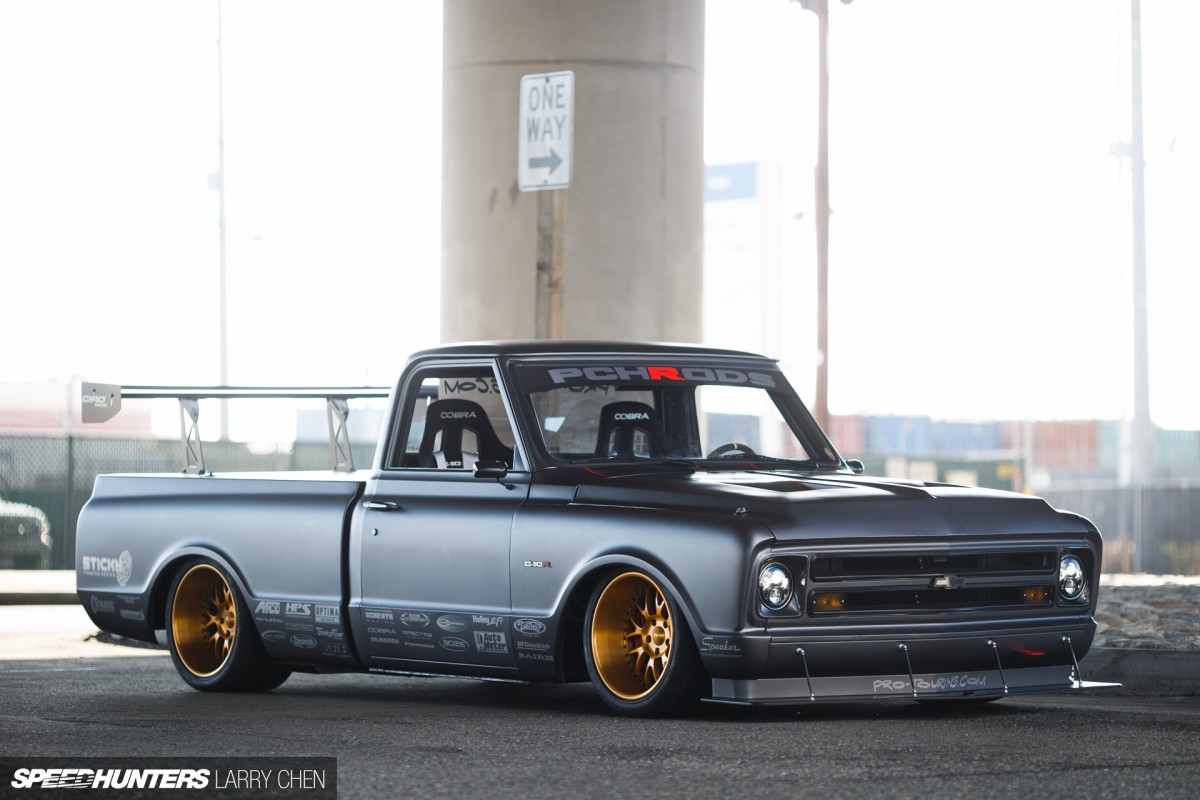 Rob actually had a 4×4 '72 C10 chassis sitting around, and he was able to trade a friend for a '72 2WD C10 that became the base for the C-10R project. The Phillips acquired the truck in August of 2012, with the build being completed in time for the 2014 SEMA Show.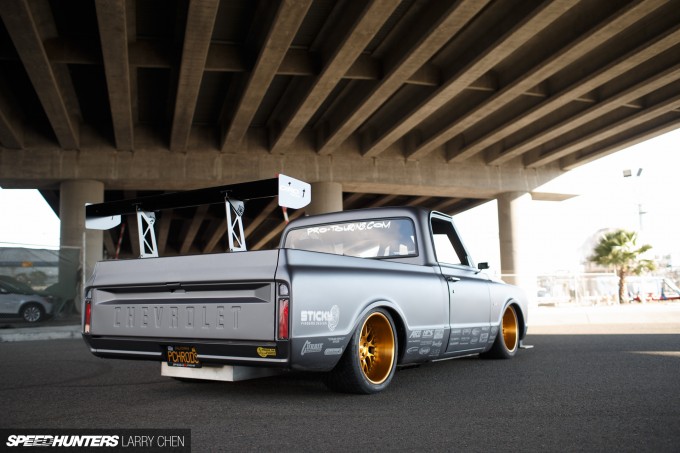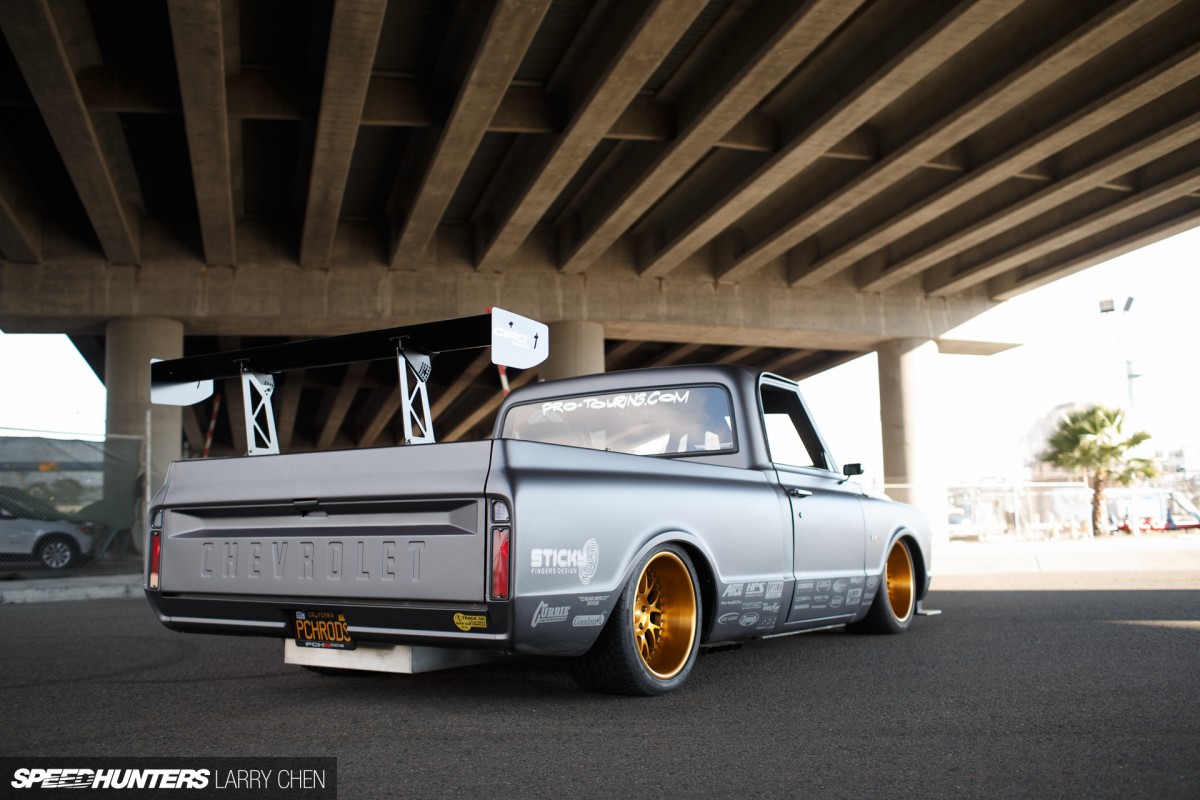 In addition to their small shop, PCHRODS, Rob and Brandy both have regular jobs and the C-10R would not be one of the those no-expense-spared projects. They reused old parts whenever they could, made their own brackets when possible and wanted the finished product to be something that everyday enthusiasts like themselves could relate to.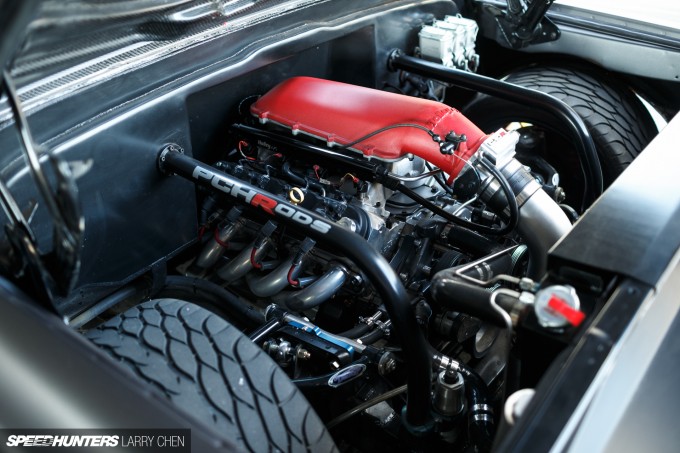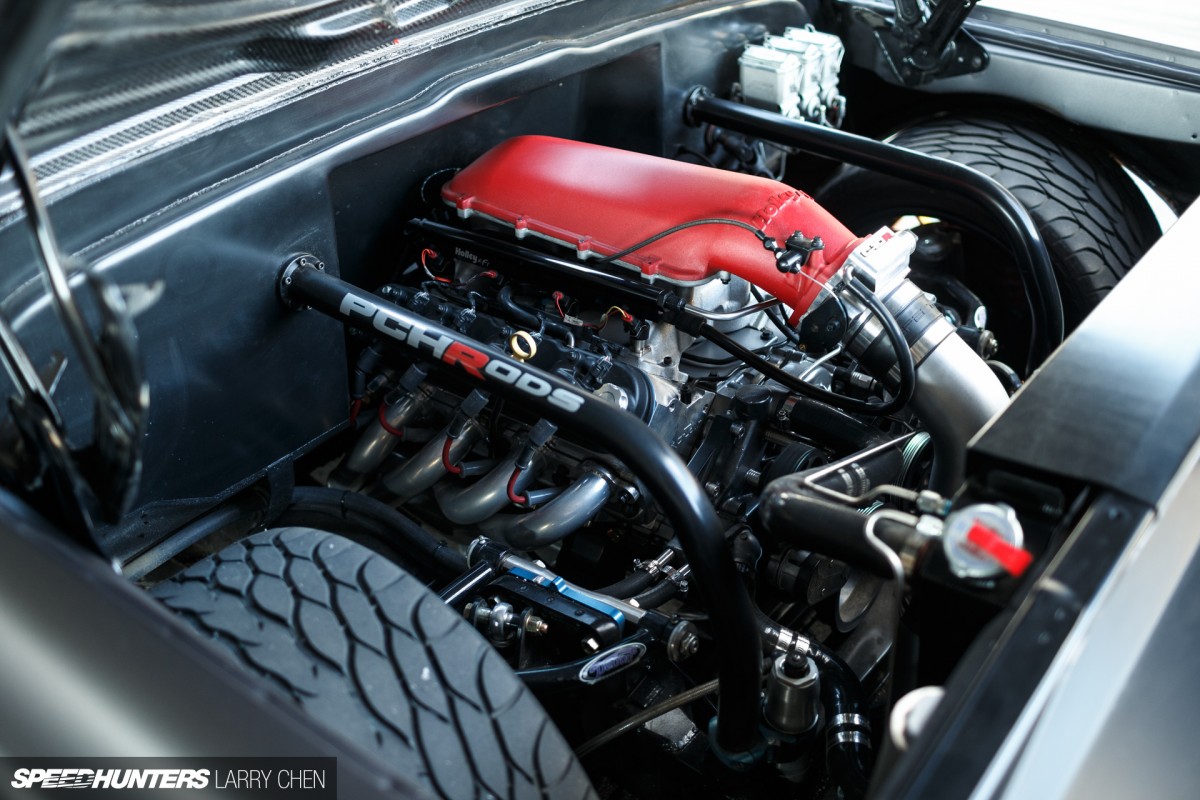 So how do you transform a 40-plus-year-old pickup truck into a track monster capable of out-handling sportscars? You start with a whole lot of chassis and suspension work. The problem is that there still aren't a whole lot of off-the-shelf suspension upgrades for a C10, so Rob and Brandy had do a lot of it on their own.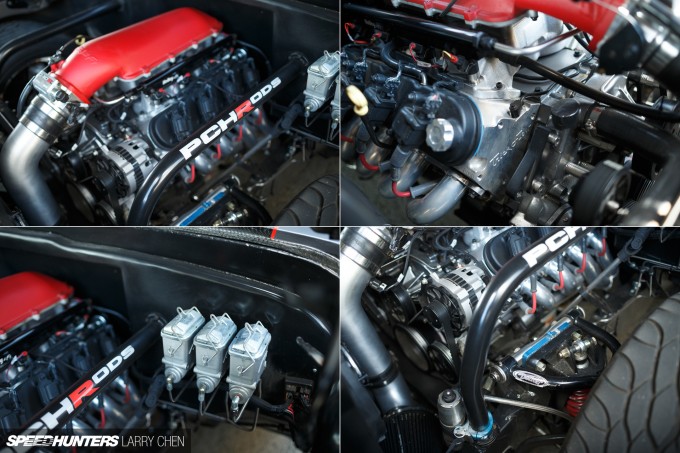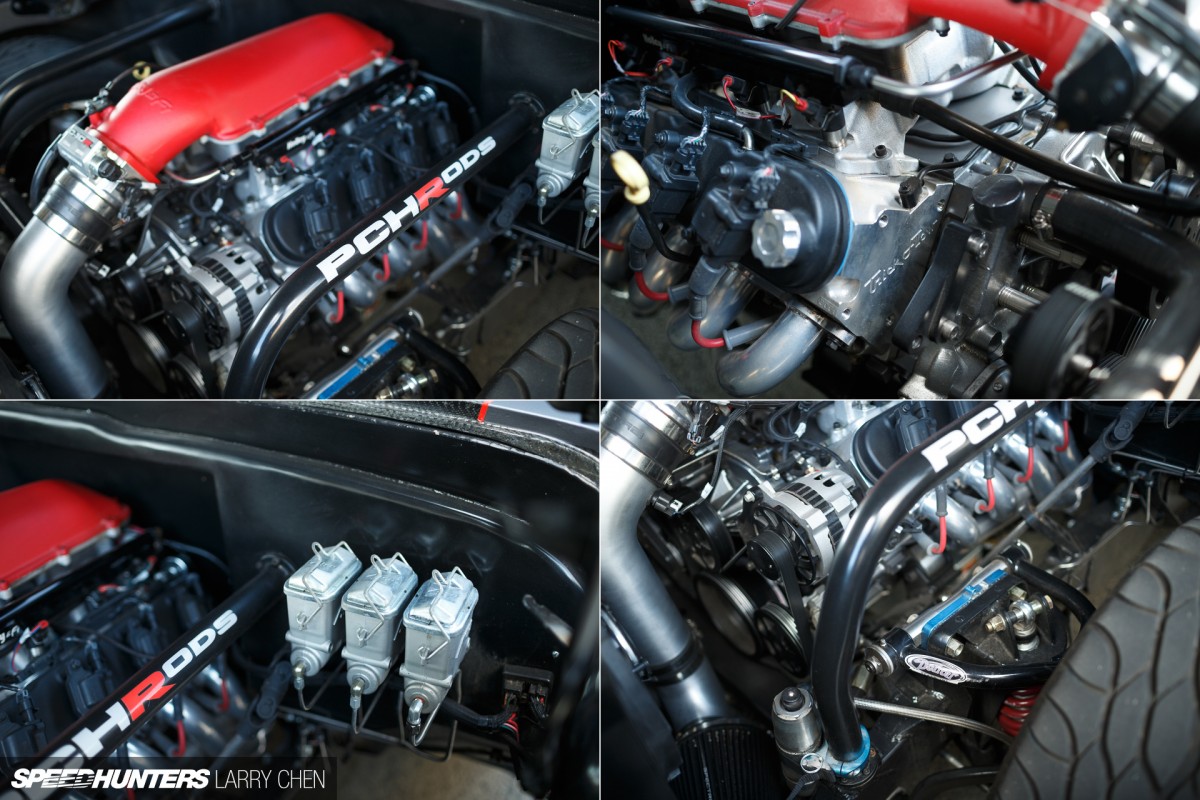 The front end for example, is equipped with a Detroit Speed Engineering 595X subframe modified from a Camaro application. The complete setup includes coilover shocks, tubular control arms and optimized geometry.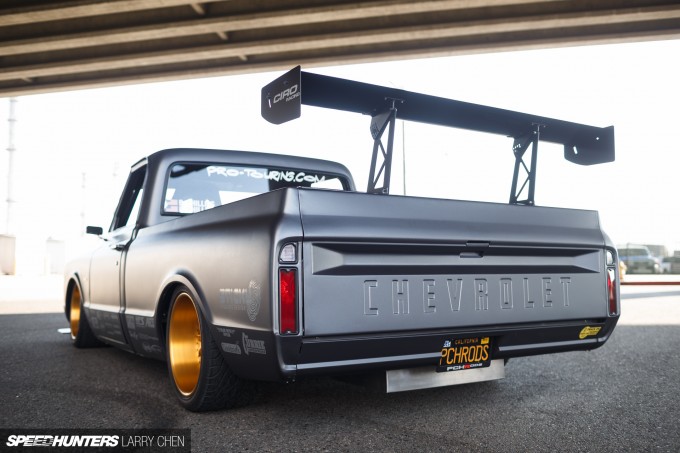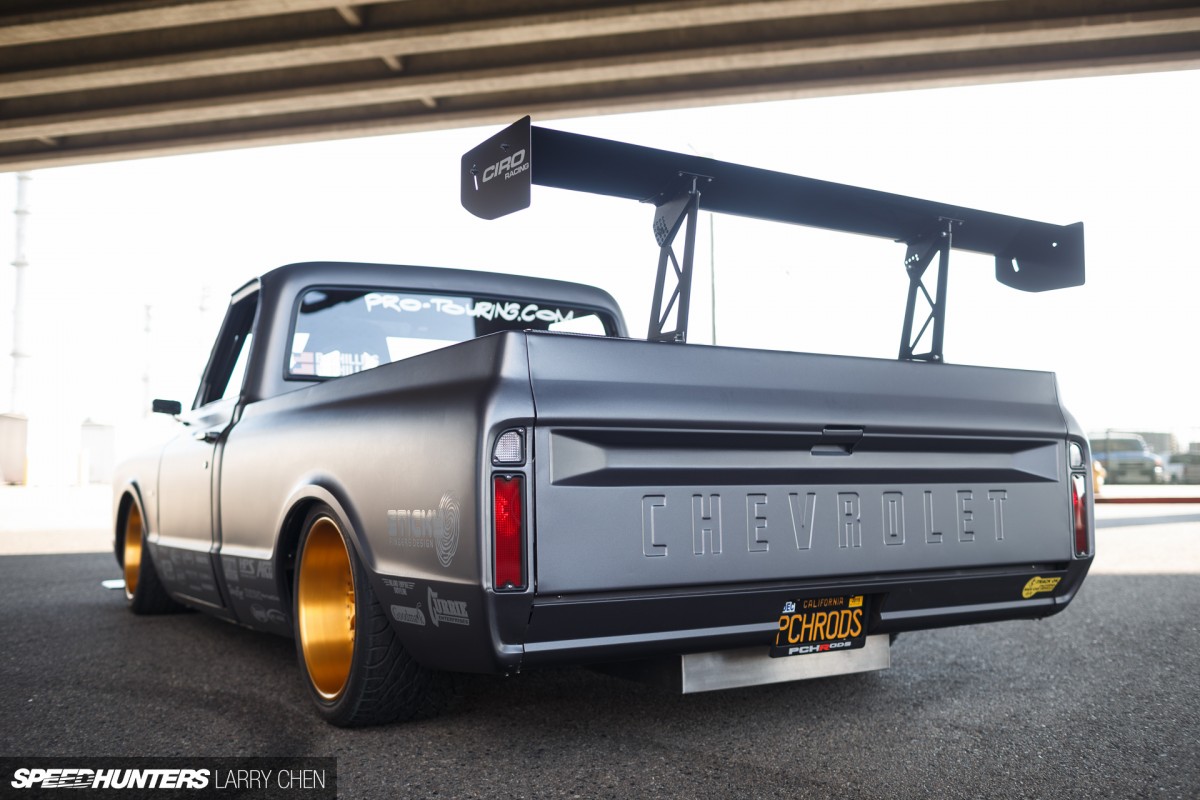 For the rear suspension, Rob applied his experience building the '69 C10 and came up with a custom setup that uses AFCO double-adjustable coilovers, custom Early Classic Enterprises trailing arms and a Hotchkis rear sway bar. The rear end is a Currie Pro Fab 9-inch with Yukon 3.89 gears.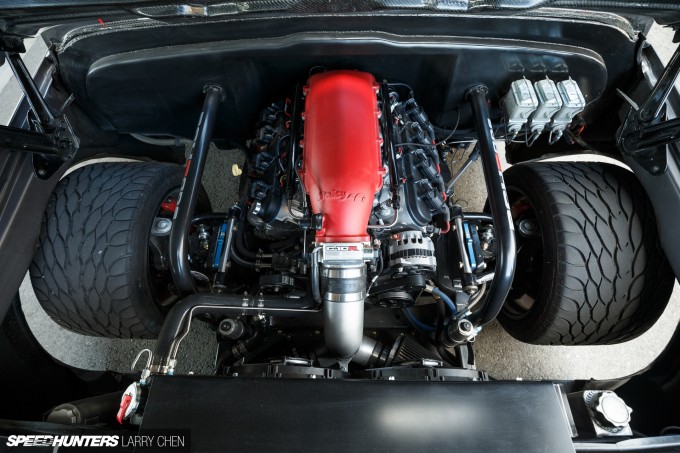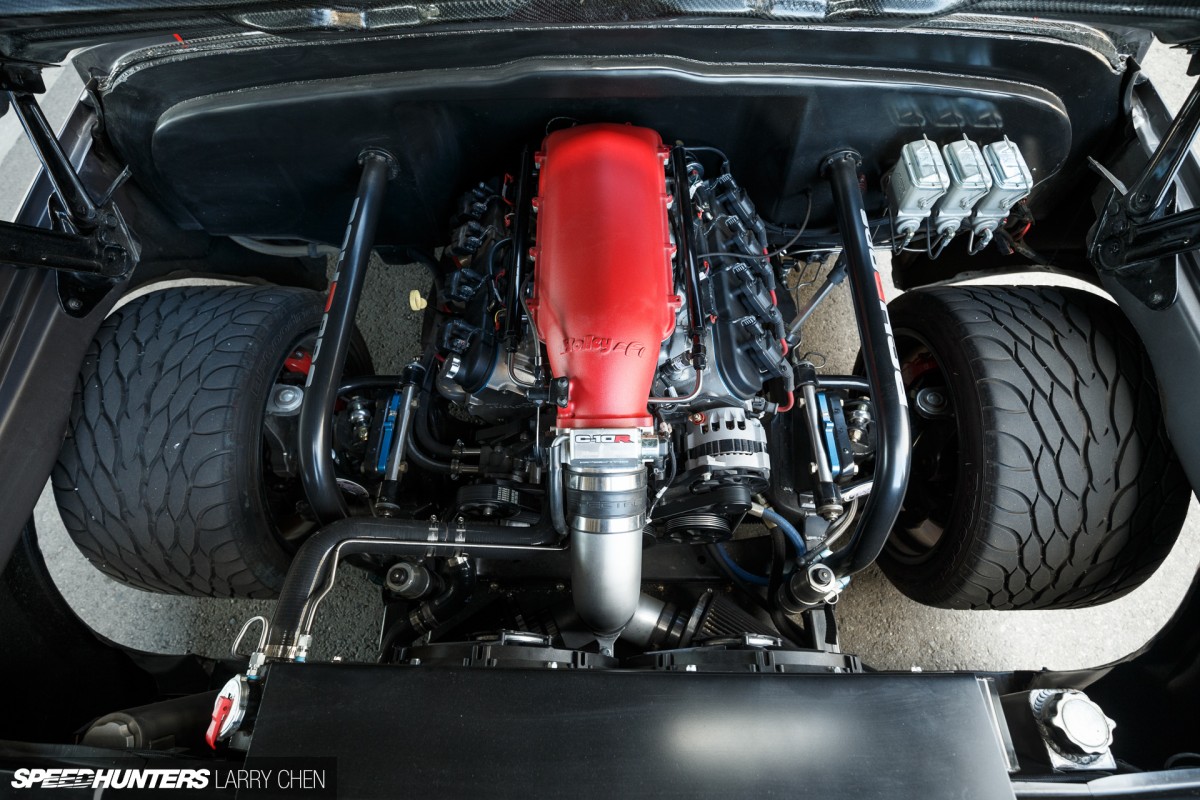 As for the truck's powerplant, it's hard to argue with a lightweight, compact and powerful LS series V8. This one displaces 5.7 liters and is equipped with upgrades like Trick Flow heads and cam, Holley EFI and intake manifold, Hooker headers and a three-inch NASCAR-style side-exit exhaust system. With tuning handled by Norris Motorsports, the motor is dialed in to make 585 horsepower and 575 pound-feet of torque.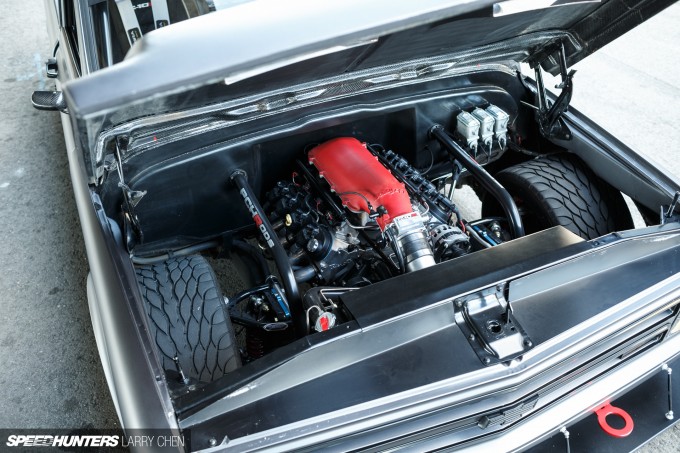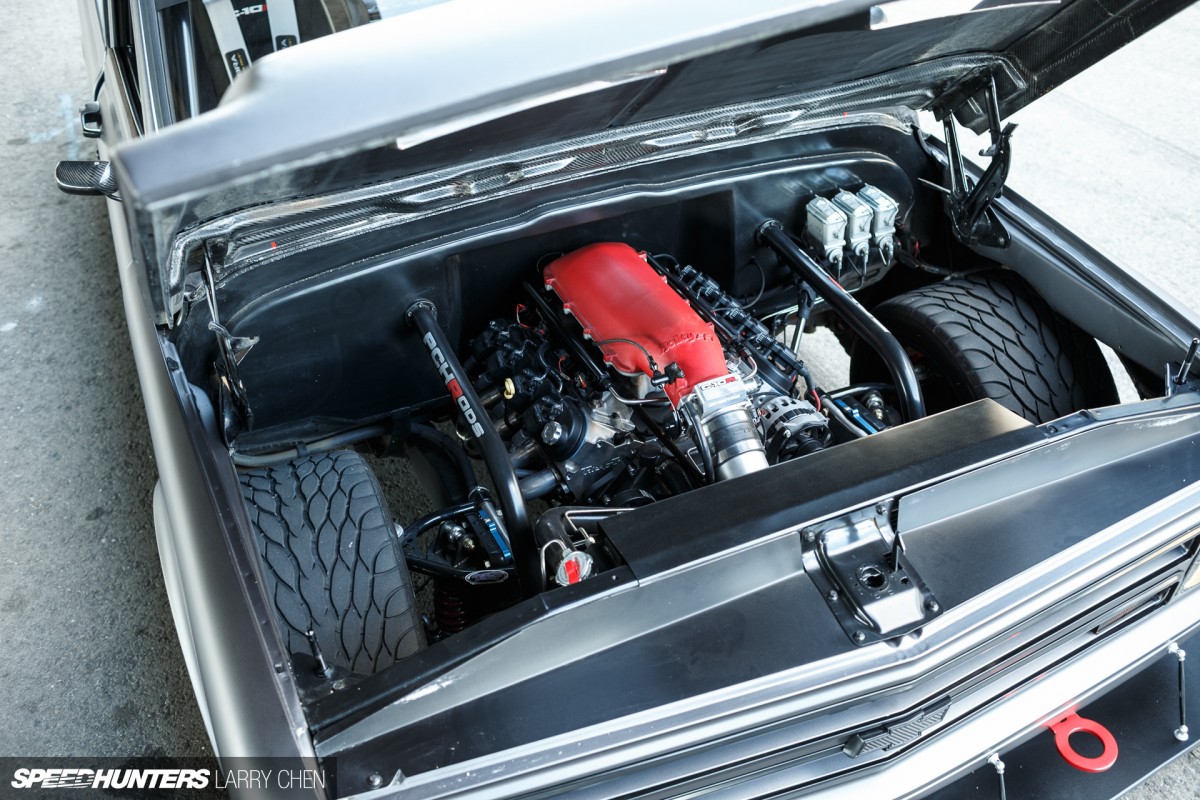 You'll also notice that the engine sits quite far back in the chassis – 10 inches to be precise. This front-mid engine layout is another key to making the C10 handle so well.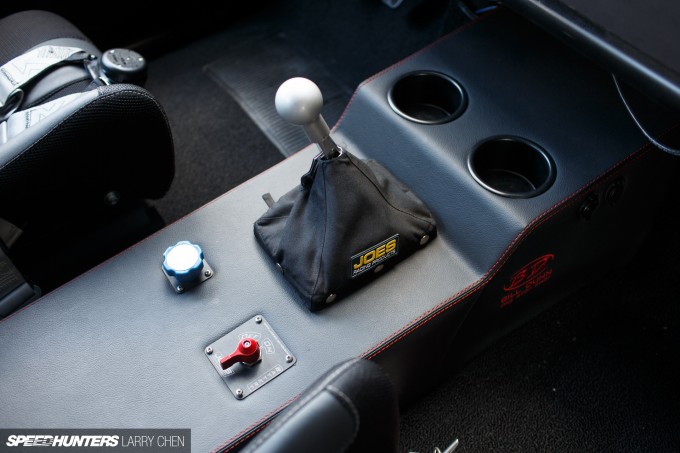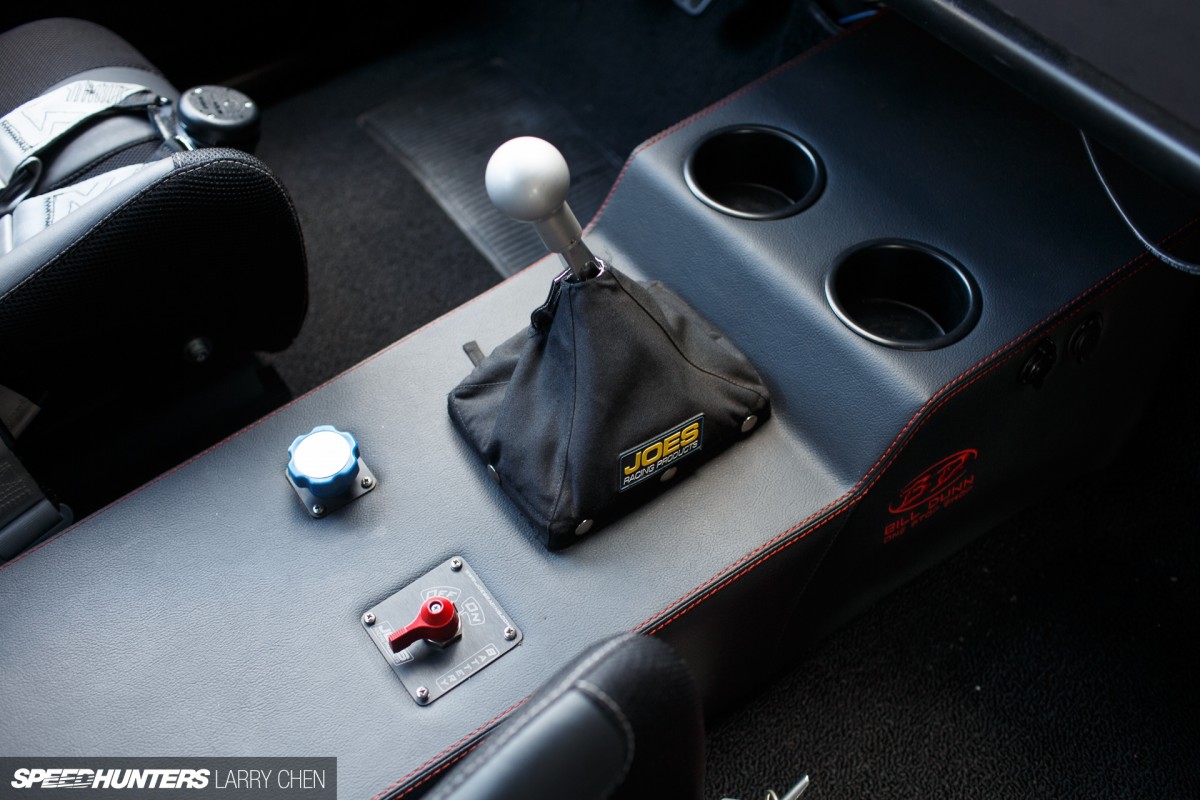 The gearbox is a Viper GTS-spec T56 6-speed with a Centerforce twin-disc clutch and an Inland Empire custom aluminum driveshaft twisting back to the aforementioned 9-inch diff.
When A Pickup Truck Goes Exotic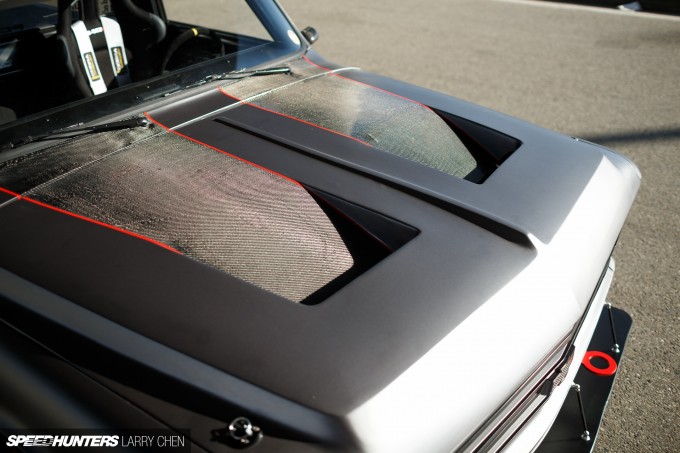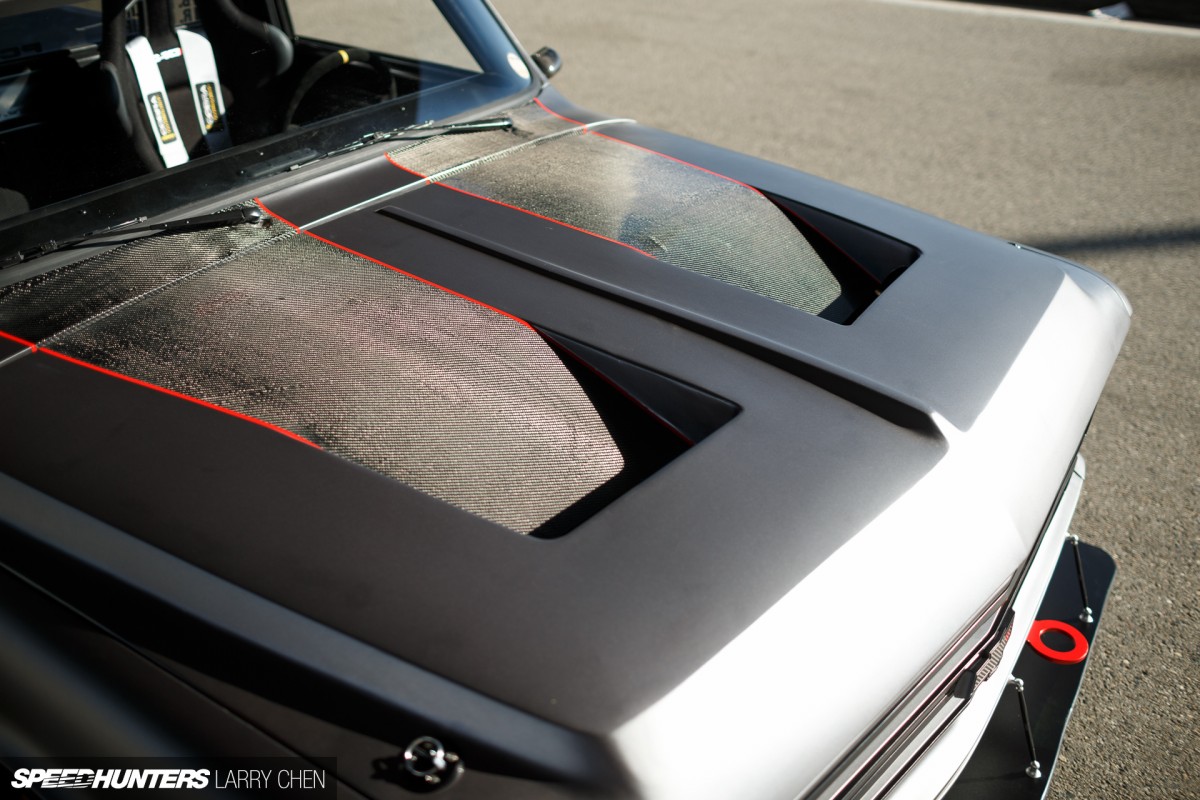 As for the exterior of the truck, there's a whole heap of functional upgrades, but through it all the C10's classic lines have been keep intact. The front end uses Goodmark '67-'68 C10 panels, and Munssey Speed & Design handled the trick carbon fiber extractor hood as well as the cowl panel and headlight bezels.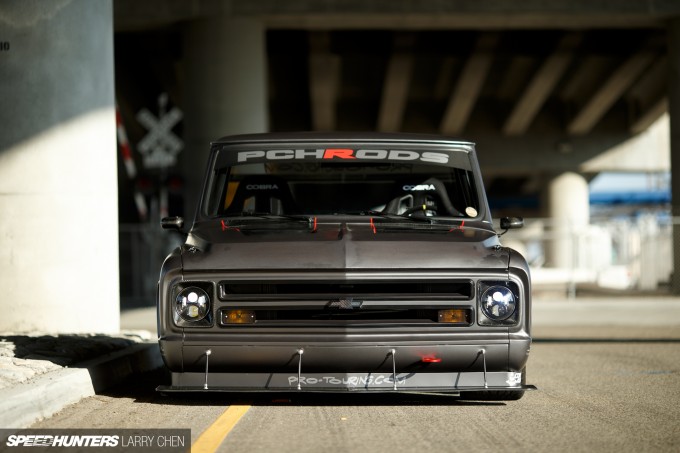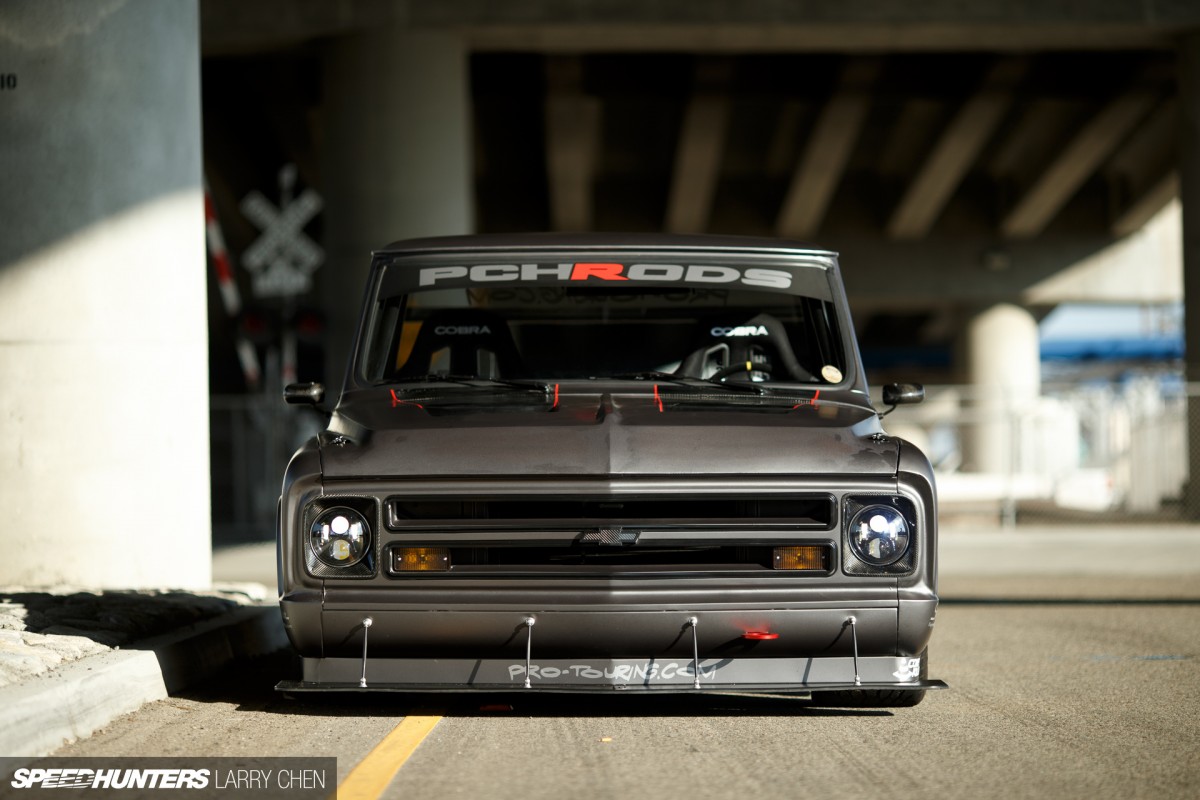 The headlights themselves are LED units from JW Speaker and in the front view you can also spot the custom PCHRODS front splitter and air dam.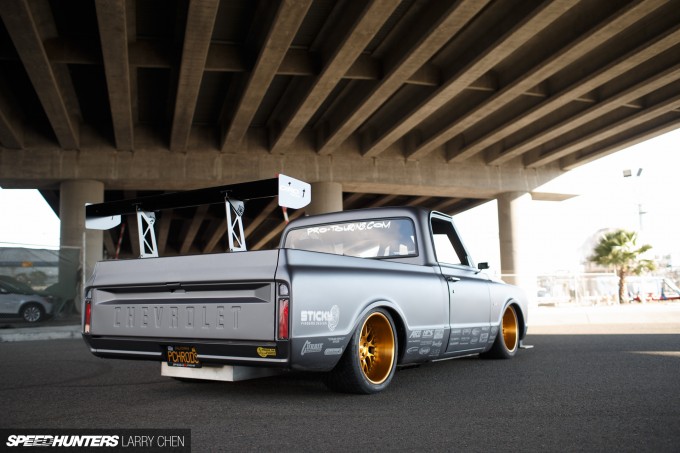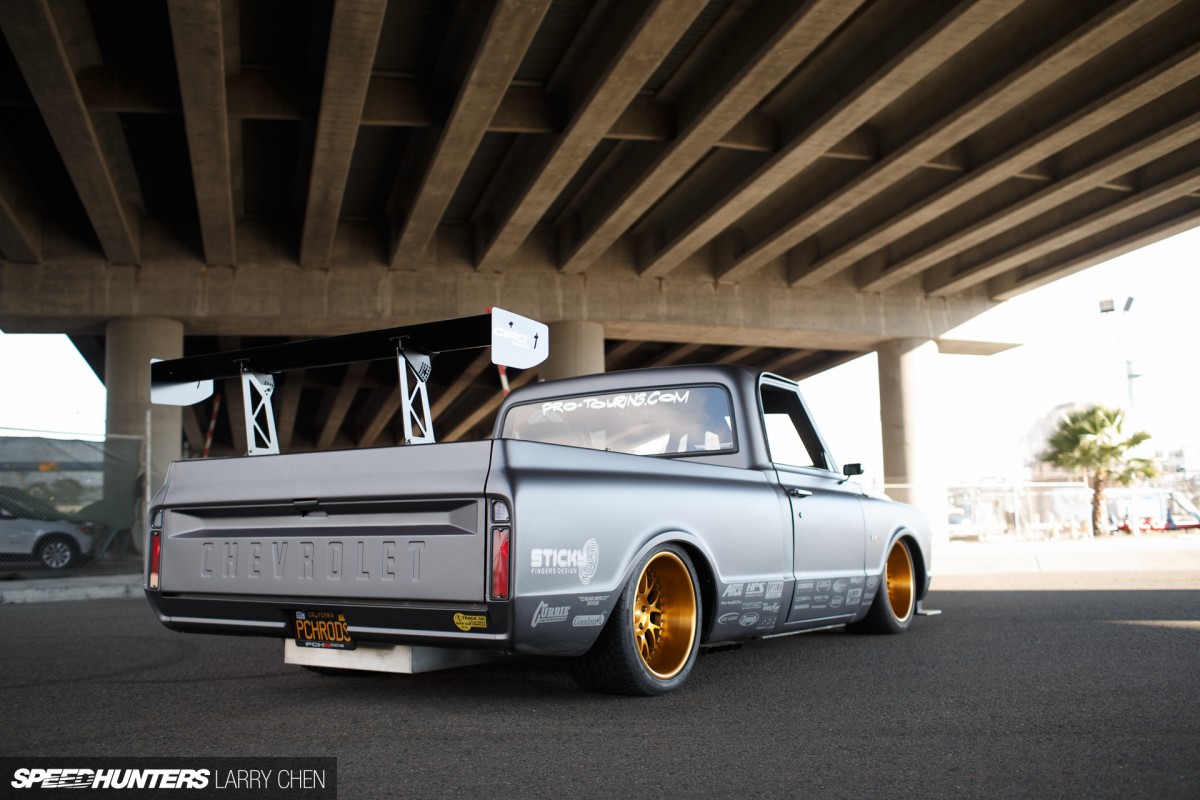 Brandy's brother Ryan had access to wind tunnel simulation software, so he drew the truck in CAD and not surprisingly found that the biggest deficiency would be the lack of downforce in the rear. A wing would help stabilize the truck at high speeds, and Ryan experimented with a few different designs before adding the current Ciro Racing & Design carbon fiber wing and aluminum tonneau cover. Brandy says she's received a few negative comments about the wing's look, but it – like everything else on the truck – is there for a reason.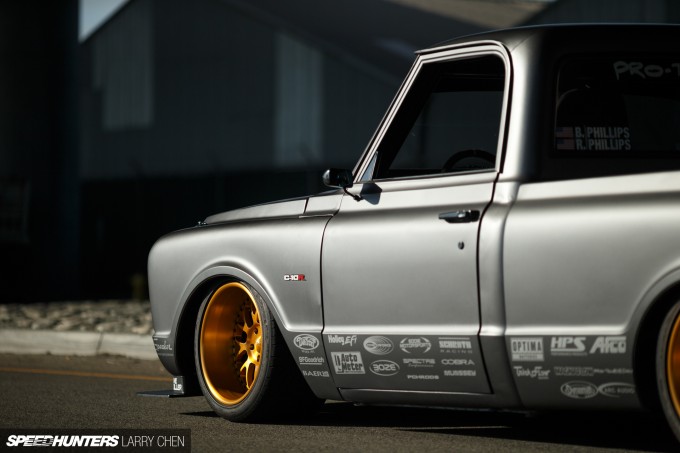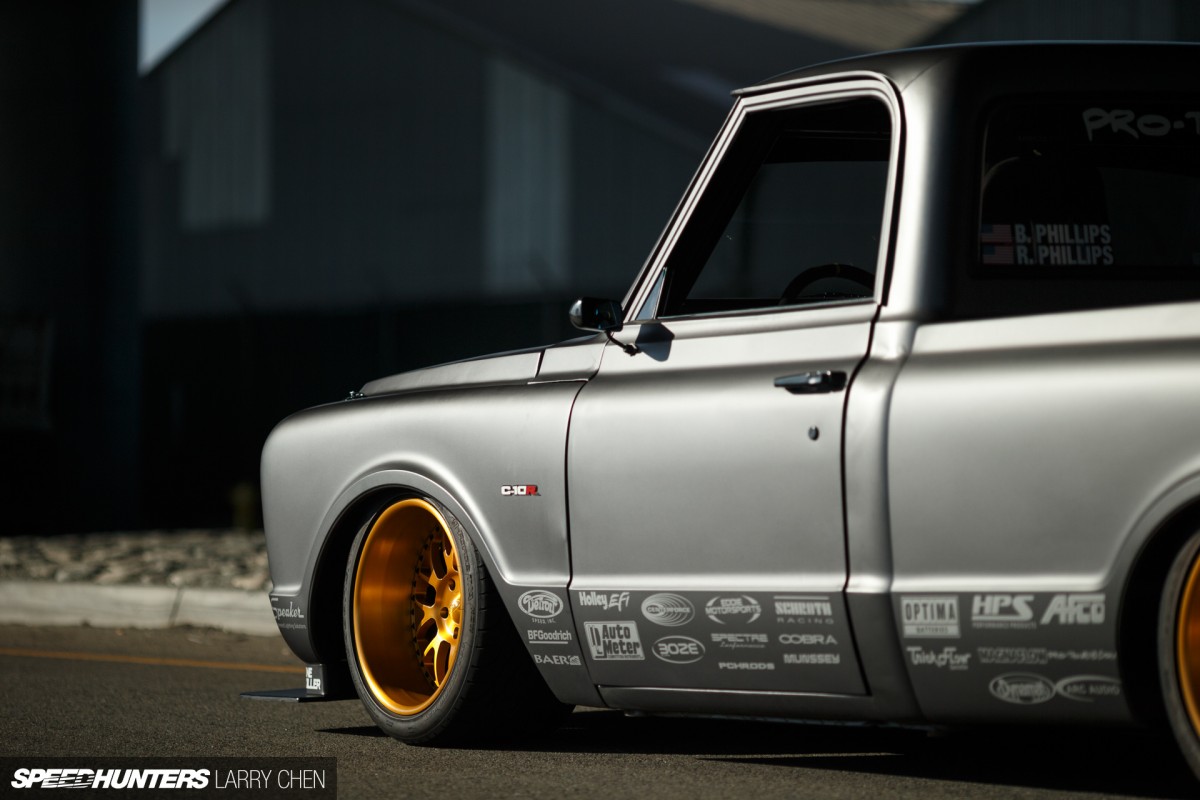 Rob handled the exterior theme for the C-10R and considered several different designs before choosing a look that was inspired by the Pagani Zonda R. The carbon accents, matte gray wrap and gold-finished wheels were all done as a nod to Horatio Pagani's iconic supercar.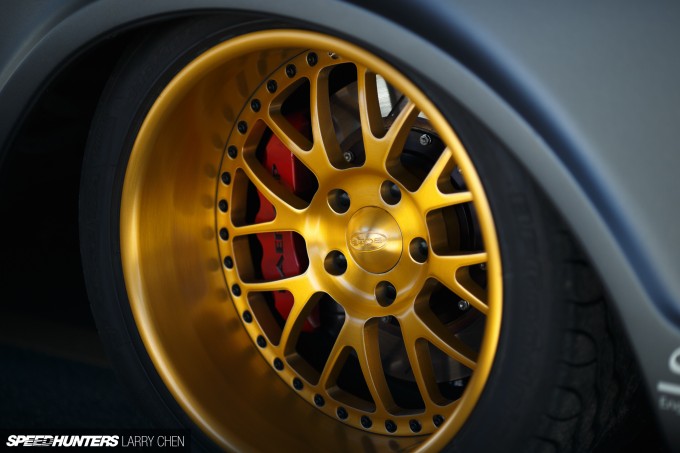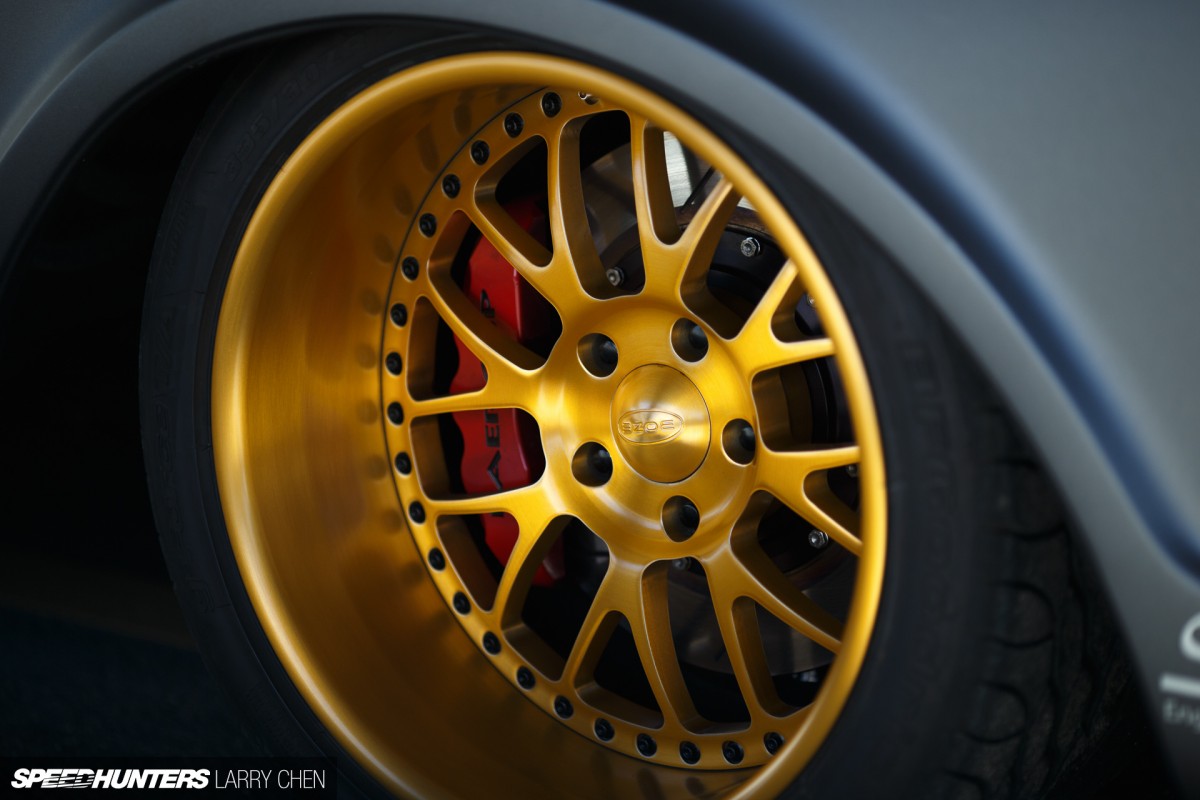 The mesh-type wheels come from Boze Alloys and measure 18×12-inch at each corner. The tires are BF Goodrich KDWS sized 335/30R18 all around.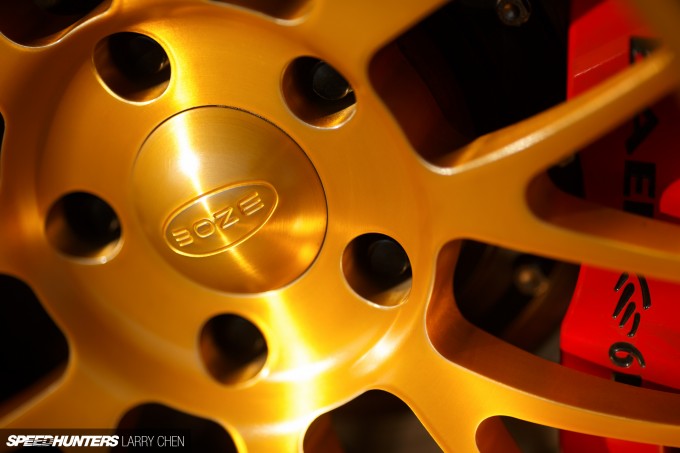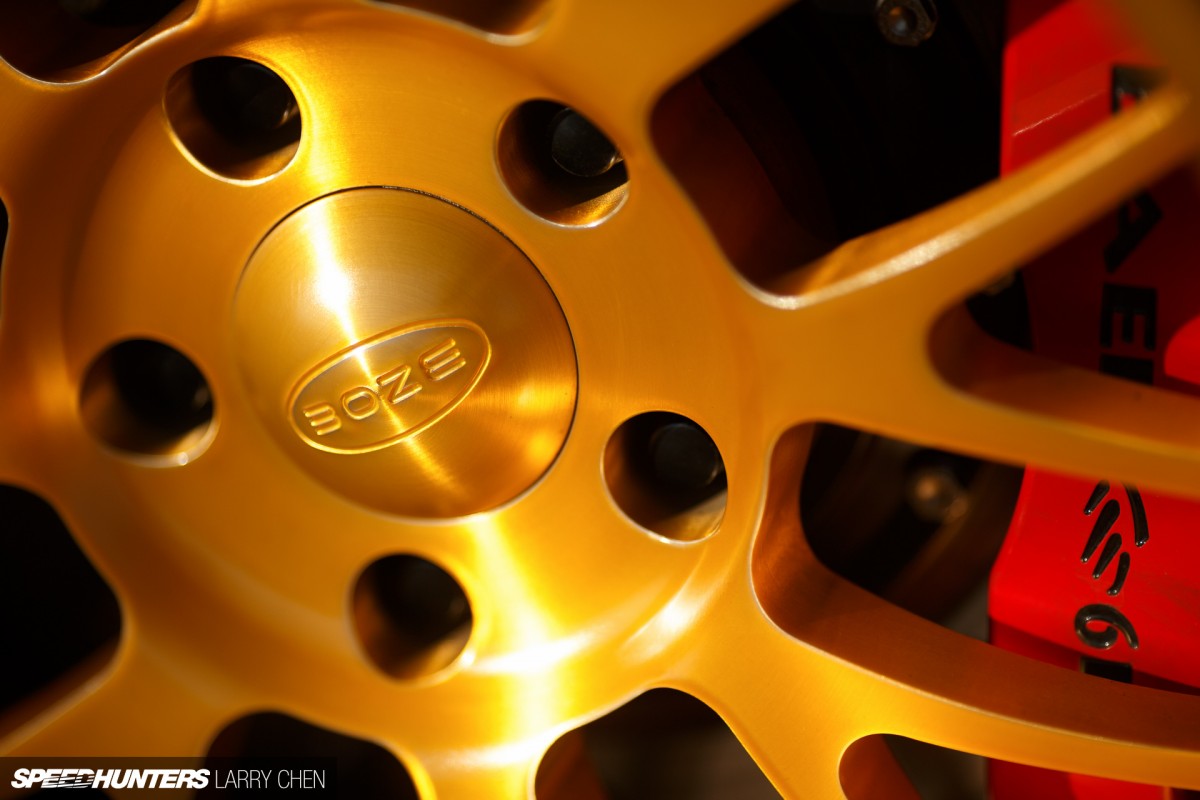 Also visible behind the spokes of the wheels is the truck's impressive brake setup consisting of 6-piston Baer calipers with 14-inch rotors in both the front and rear.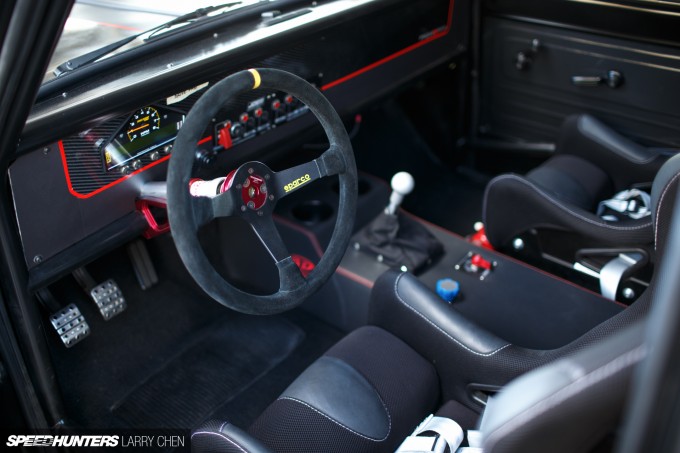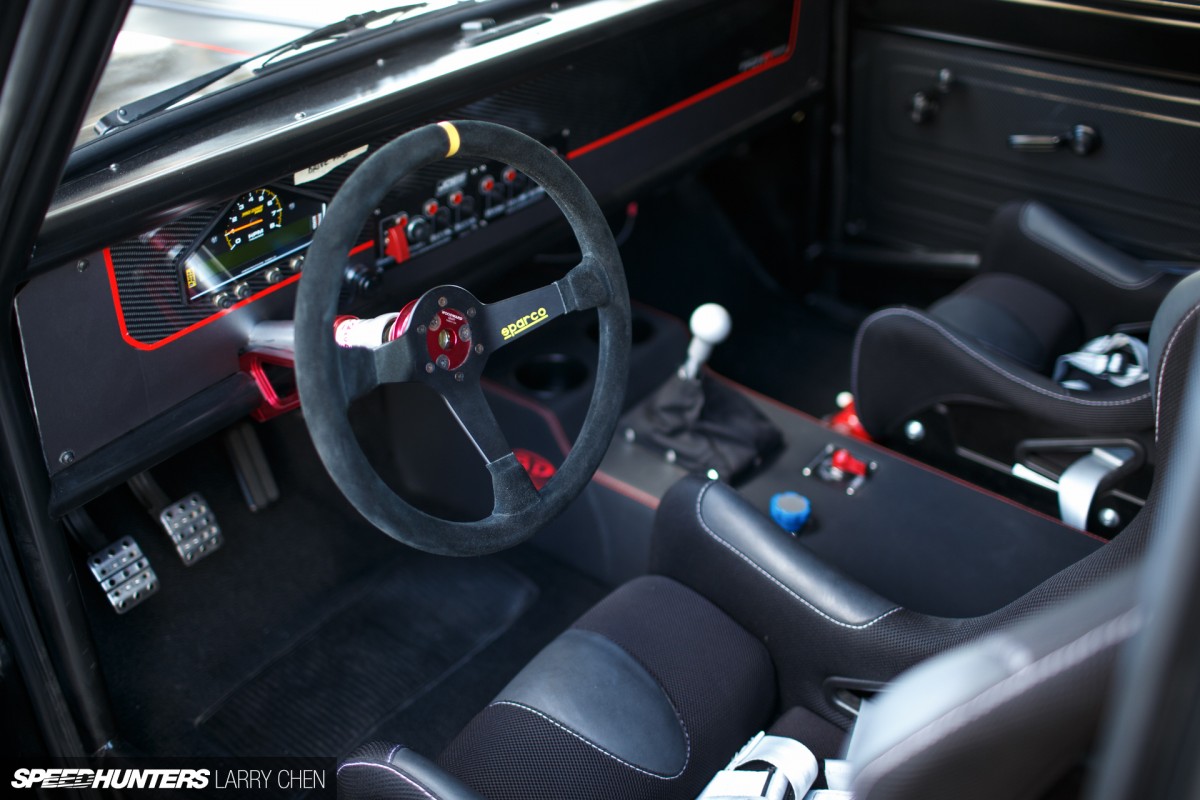 Inside the C-10R, the feeling is much more racecar than it is pickup truck. There's a 10-point rollcage, a NASCAR-type steering column from Woodward Steering, and custom-built dash and center console setups.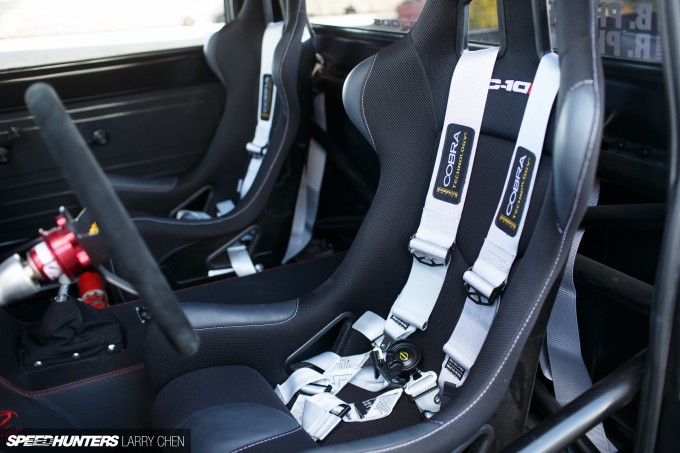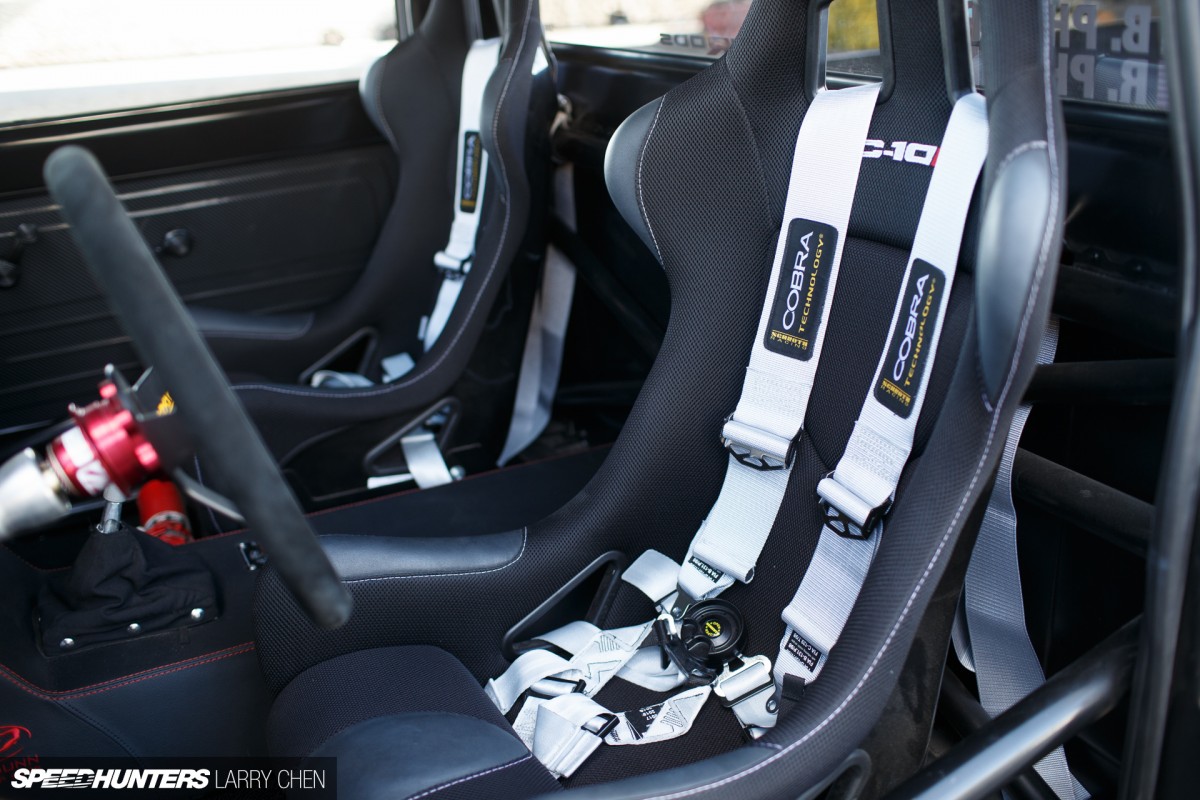 The seats are carbon-Kevlar Cobra Suzukas with custom embroidering, and the harnesses come from Schroth Racing.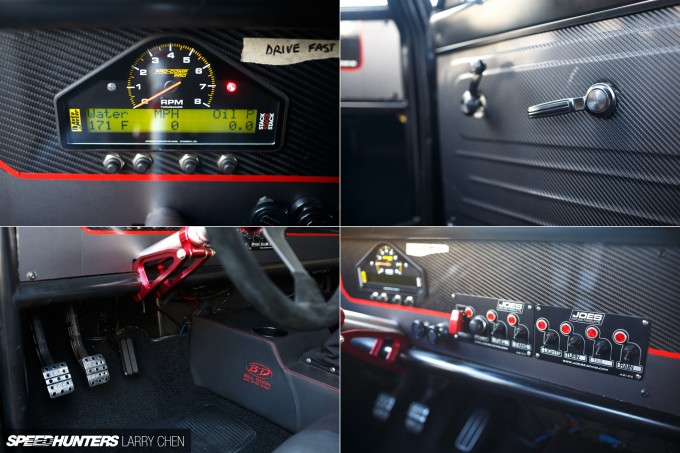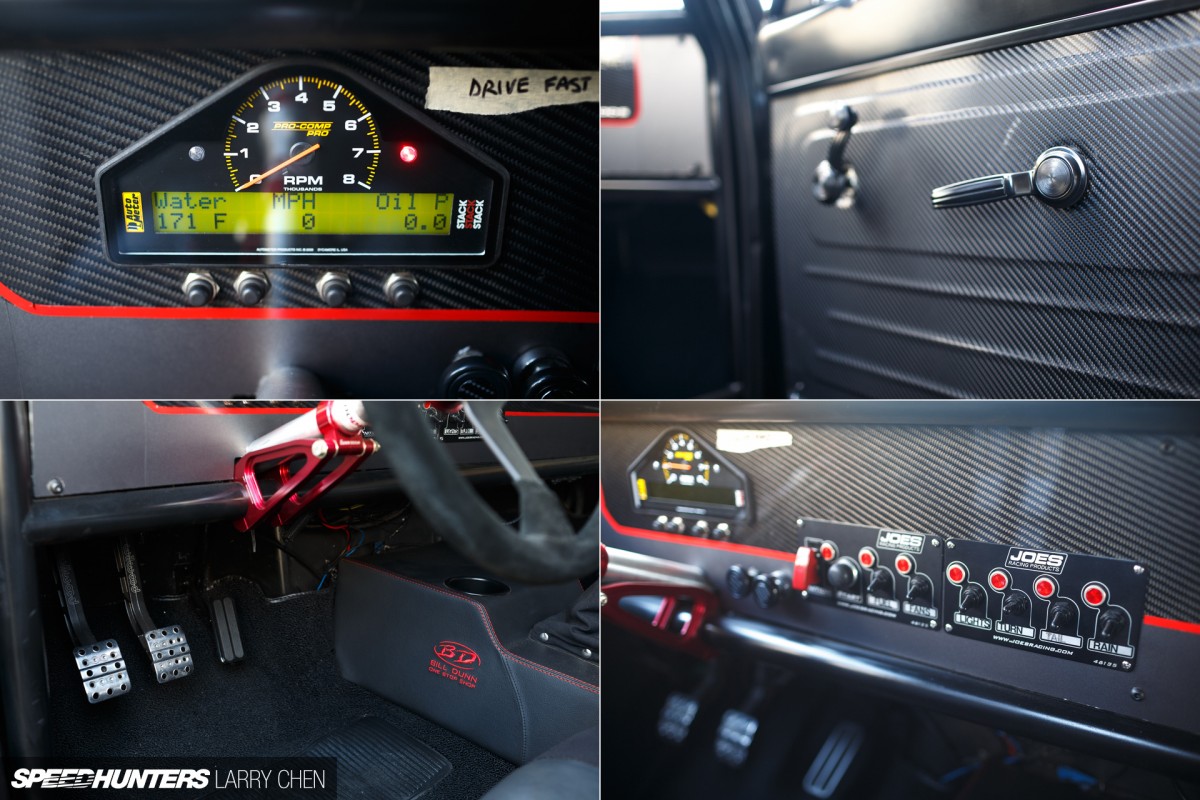 Other details in the cockpit include things like the Auto Meter Pro-Comp dash display, Wilwood aluminum pedals, an ARC stereo system, and carbon fiber paneling throughout.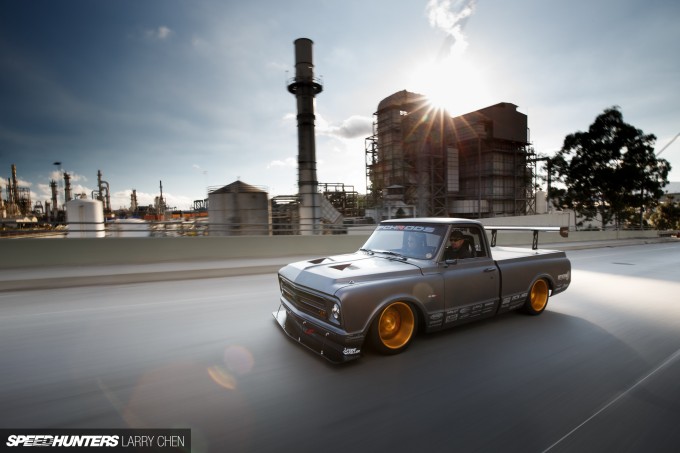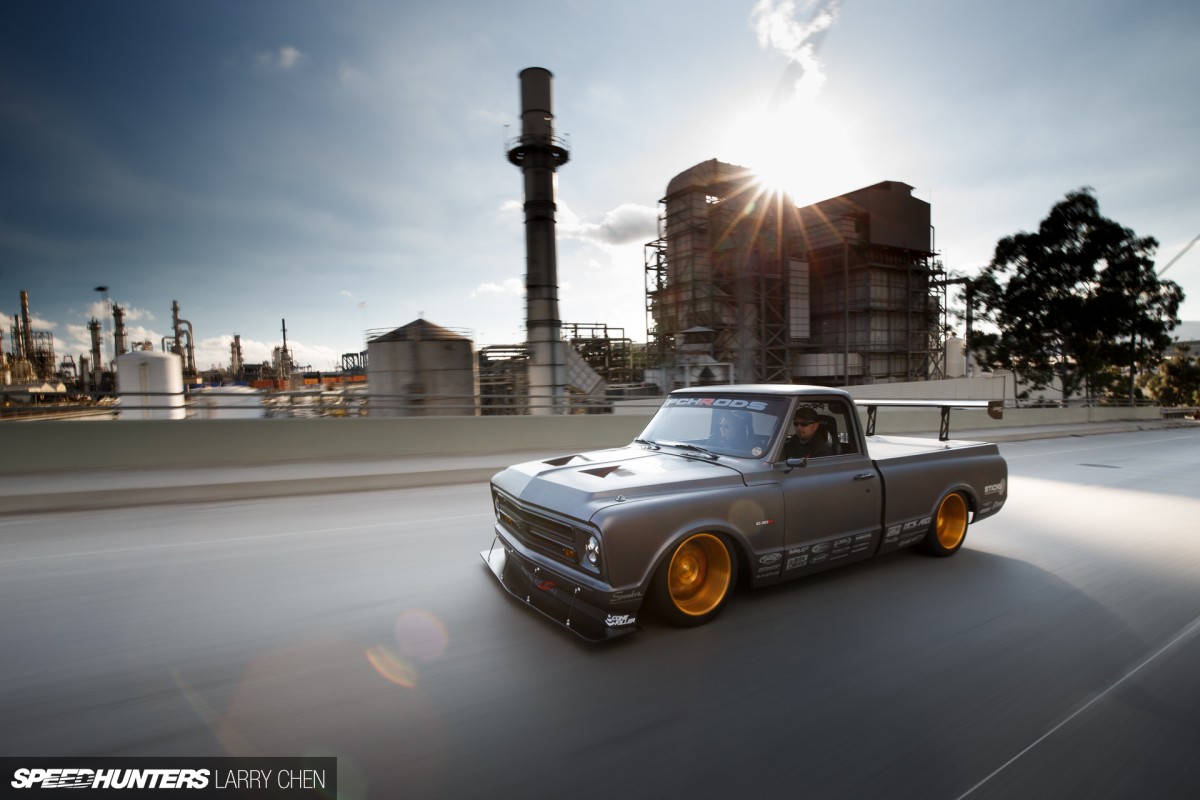 Immediately after debuting the C-10R at SEMA last year, Rob and Brandy took the truck to the Optima Ultimate Street Car Inviational for a shakedown run. They weren't quite sure what to expect, but Brandy says the truck performed great, easily outhandling the fully-built Camaro she had driven before.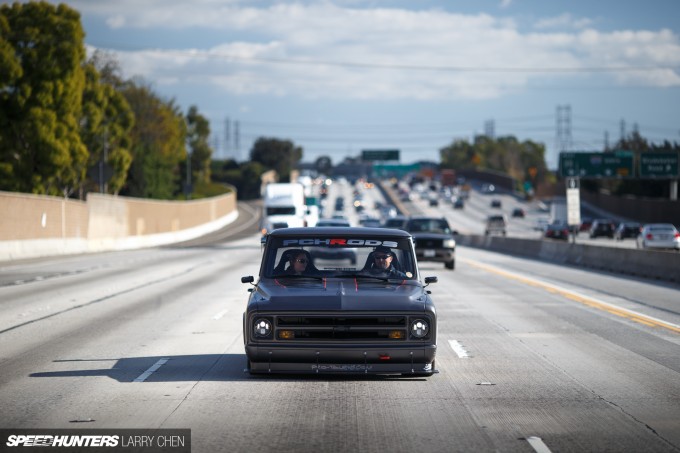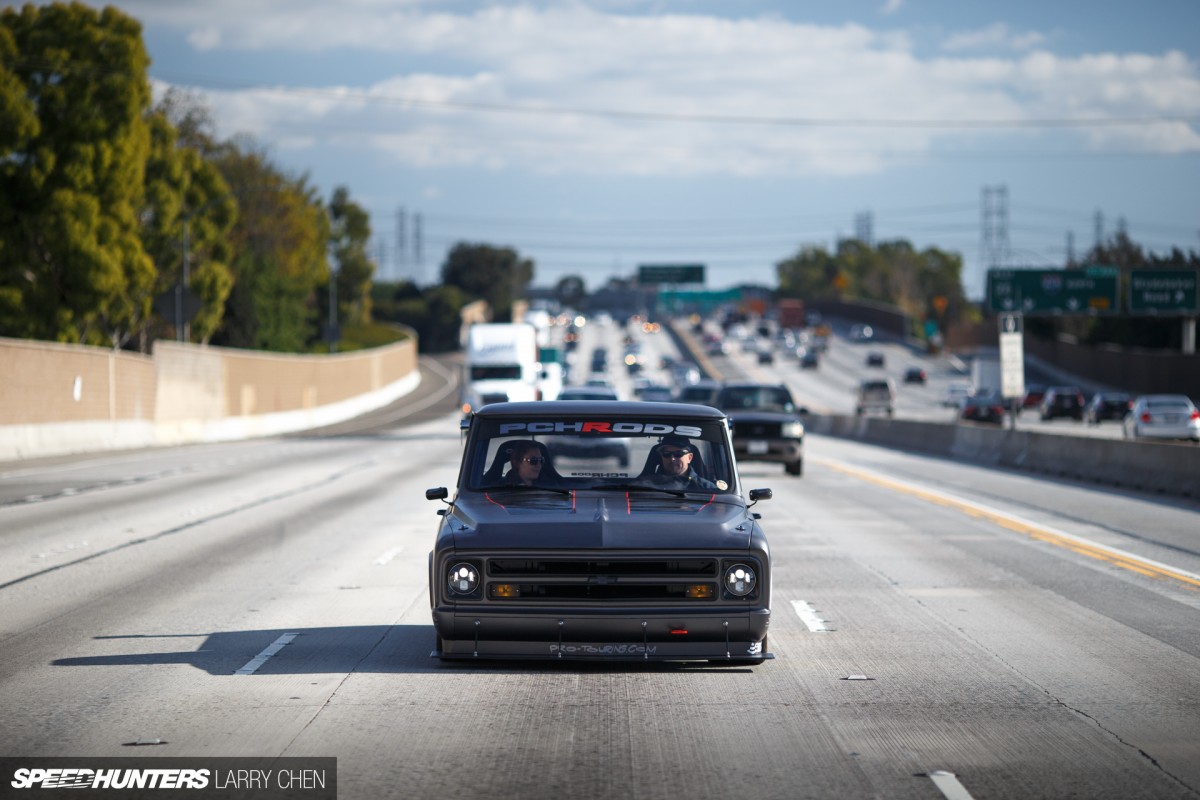 And performance really is what the whole project has been about. While the truck is easily capable of doing road trips, it wasn't designed to be a long distance tourer. For the Phillips family, the C-10R is all about showing what an old pickup has the potential for in terms of handling and track capability. They already have a full schedule of autocross and track events lined up for the year ahead.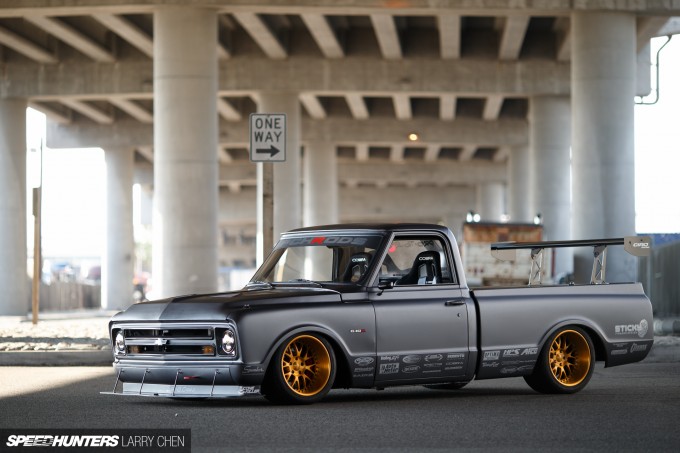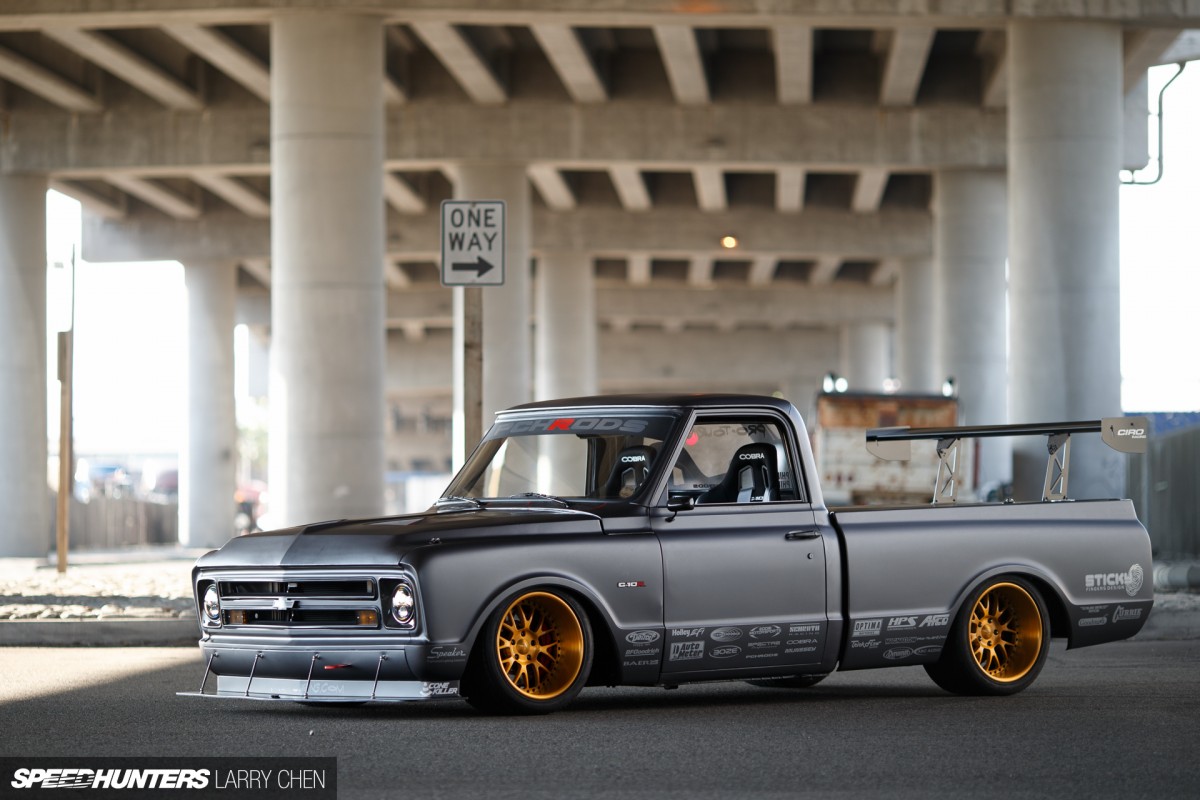 More than that, Brandy and Rob have started a campaign called Automotivation where they will visit SoCal schools to help promote auto industry careers to the next generation. And what better way to help get young people interested in the industry than with an incredible project like the C-10R.
Here's wishing them the best in their efforts to keep our hobby going strong.
Mike Garrett
Instagram: speedhunters_mike
mike@speedhunters.com
Photos by Larry Chen
Instagram: larry_chen_foto
larry@speedhunters.com
Cutting Room Floor