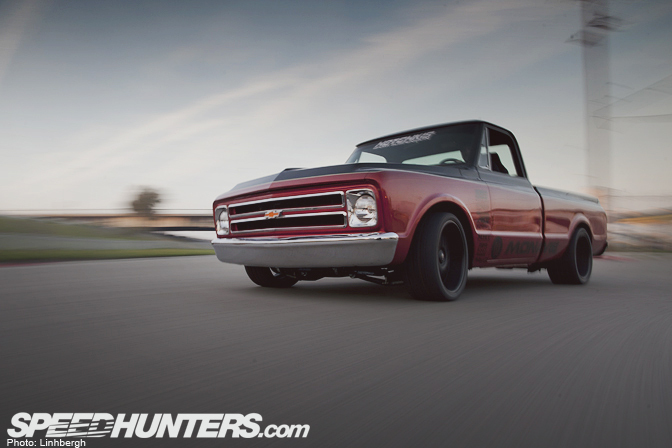 Like many other young boys, I grew up liking cars because of how they looked. In my ignorant, youthful eyes, some cars looked like spaceships, others looked like monstrous beasts and, of course, there were the cars that looked unexplainably cool. When that little boy transformed into a government certified automobile operator, the first thought was, of course, to buy a car and make it look as cool as possible. Driving functionality was secondary to visual aesthetics.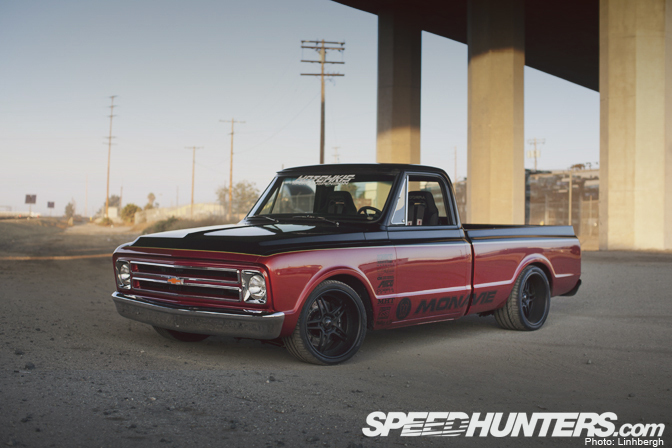 This was the case with hot rod builder, Rob Phillips. He built up a 1969 Chevrolet C-10 to be toured around at cars shows across the country. And like many show built cars, the performance aspect was left on the back burner.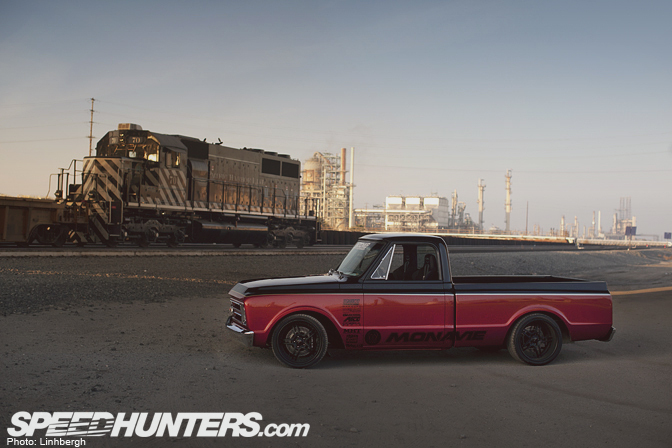 To make the C10 look as smooth and cool as possible. Rob shaved off the front turn signals (which he moved to head lights), the side marker lights, door handles, locks, the rain gutter and the stake pocket holes. He also chose to replace the bumpers with ones that have been smoothed and narrowed out.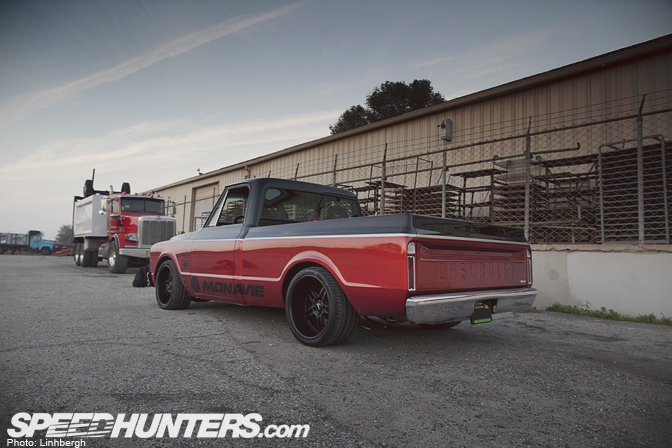 The tail gate door handle was moved to the inside to continue the shaved and smooth exterior look.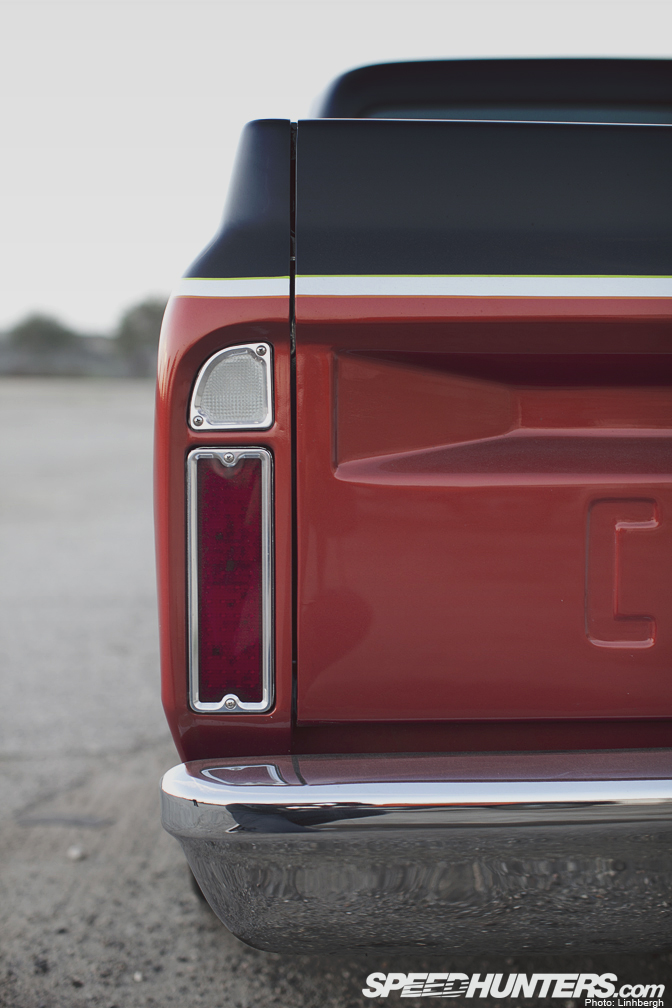 The rear taillights were replaced by a set from Marquez Designs.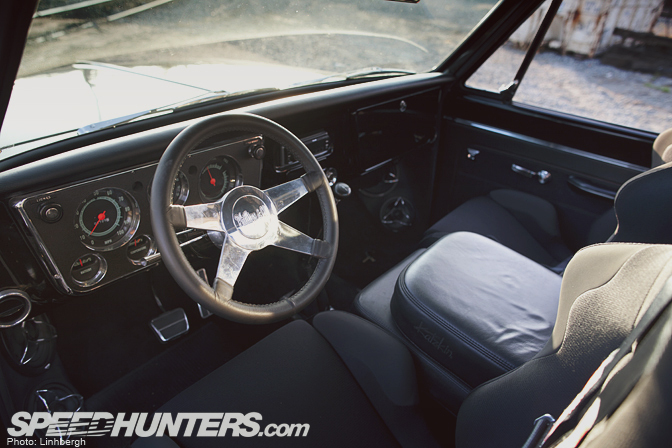 A show car is about the overall package of the car. So as the exterior was done up, so was the interior. The cabin is home to all the comforts a man needs, and well, a bit more. Classic Auto Air supplied the interior with a luxury not known to cars and trucks of the 60s and 70s: air conditioning. The original wheel was replaced by a Leccara wheel…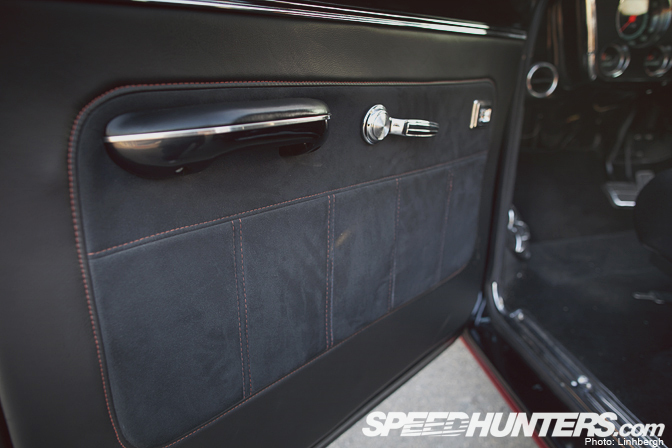 …and Katzkin leather is featured throughout.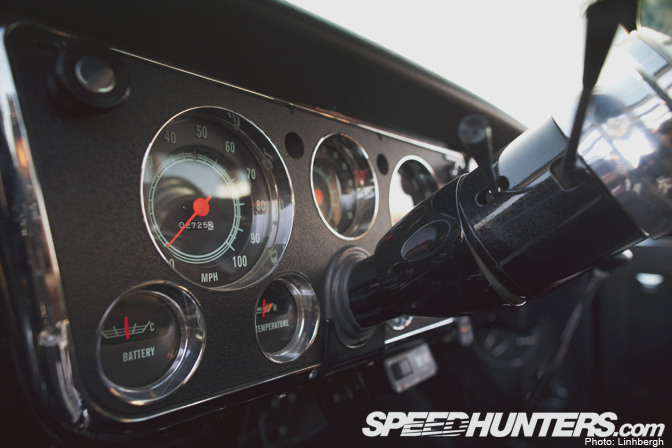 Can't dislike a good looking dash board and steering column like this one. In show car terms, this truck is tastefully tricked out.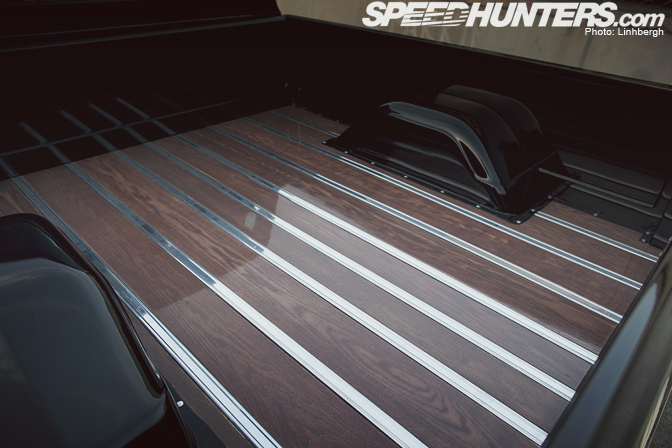 The original truck bed was replaced oak which was stained cherry wood then clear coated over to get that perfect shine.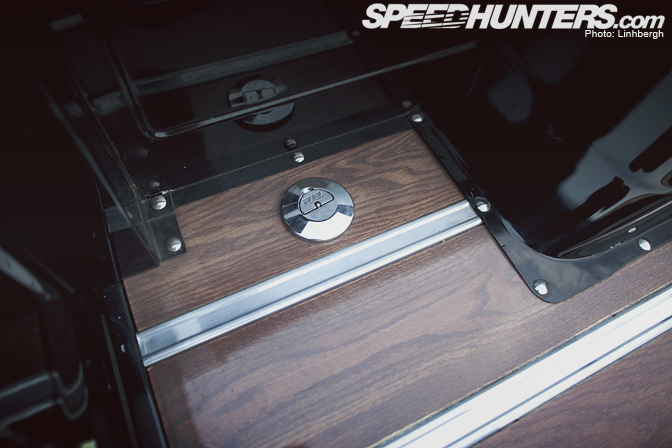 I just love the the placement of the gas cap.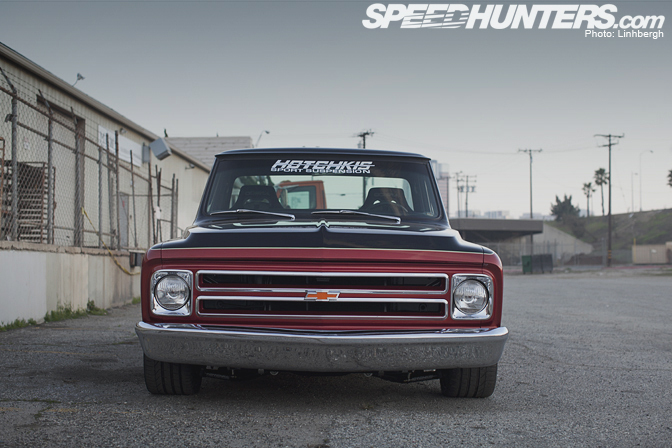 With the tasteful interior and exterior, you have to have an engine that complements all of that.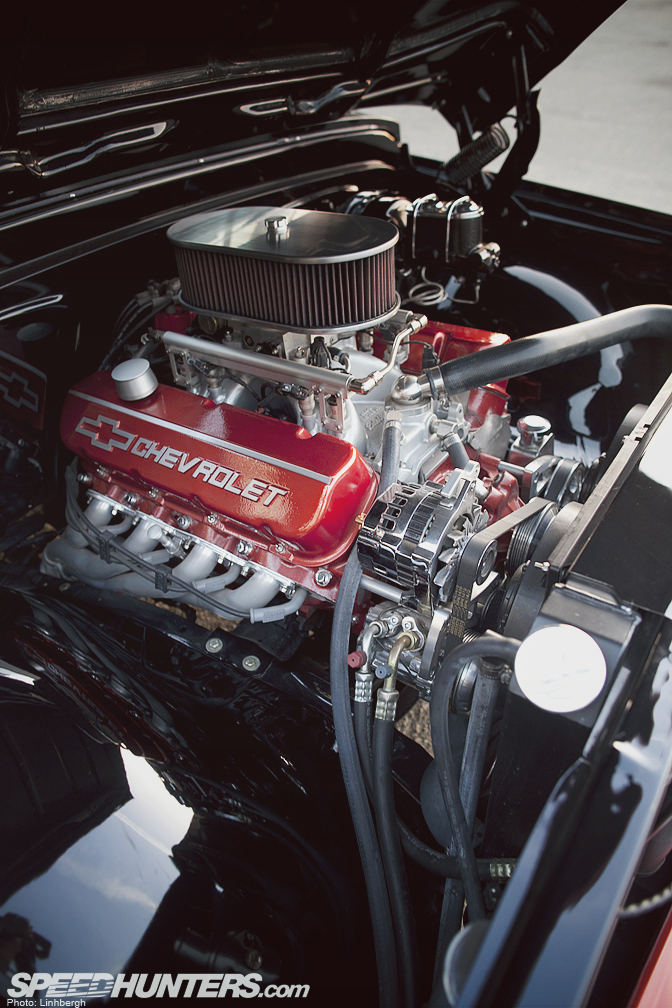 Under the hood is a 468 Chevy big block which produces 640 horse power and 630 foot pounds of torque! It features EFI multi-port fuel injection with Edelbrock aluminum heads, Edelbrock Victor Jr. manifold, Edelbrock hydraulic roller cam, and a – Hedman 3/4 length headers.
The rear end was beefed up with a GM 12 bolt Eaton Locker 3.73.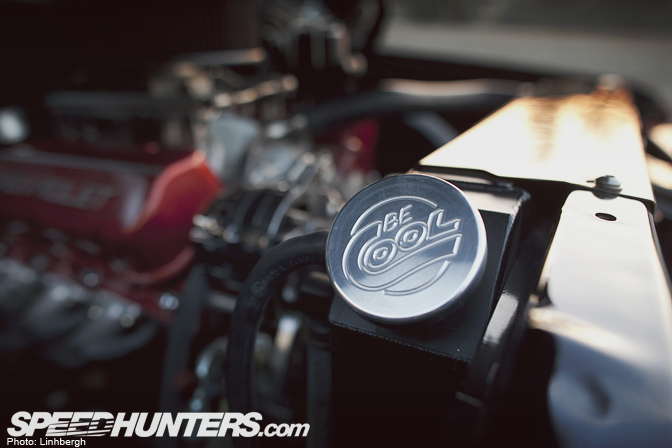 When producing that much power, some quality cooling must be in place. So Rob employed a Be Cool aluminum radiator. You can't hate on such a name for a radiator, can you? The radiator cap design is also something to be noted.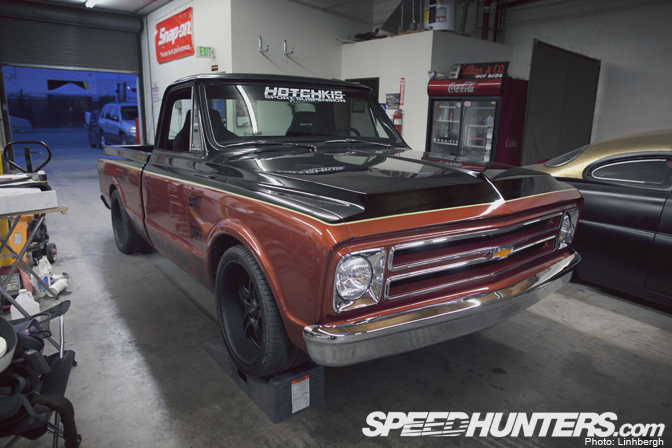 Rob's life changed completely when he was invited to drive his truck at a Pro Touring event that coincided with the car show. He took his truck out, flogged it like its never been flogged before, and was completely baffled how another C10 down better times than him.
After a bit of investigating, he found out that the other C10 was running on some upgraded suspension components. The corner carving bug bit Rob and bit him hard. From then on he's been transforming his show truck to become a cone dodger.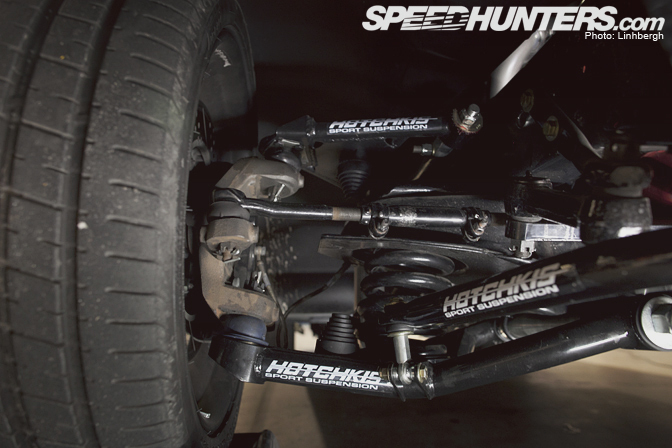 He went through a few suspension setups before he finally settled on the Hotchkis TVS kits.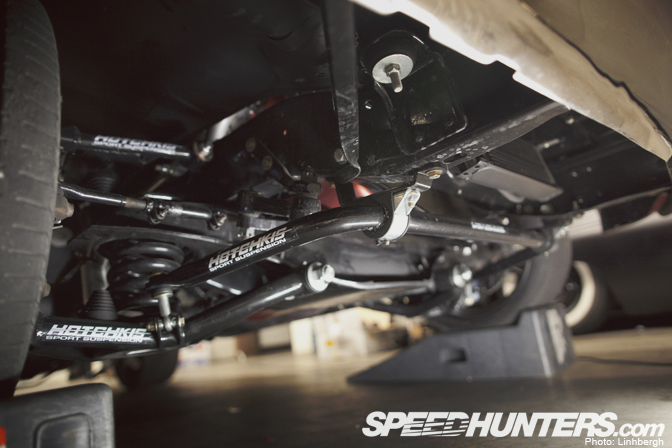 The kits included new control arms, sway bars, bump steer centerlink, front and rear shock relocaters, and a track bar kit.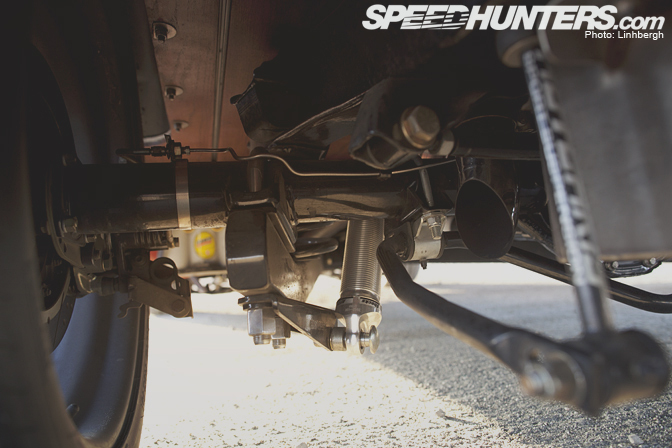 He opted for AFCO double adjustable shocks for both front and rear.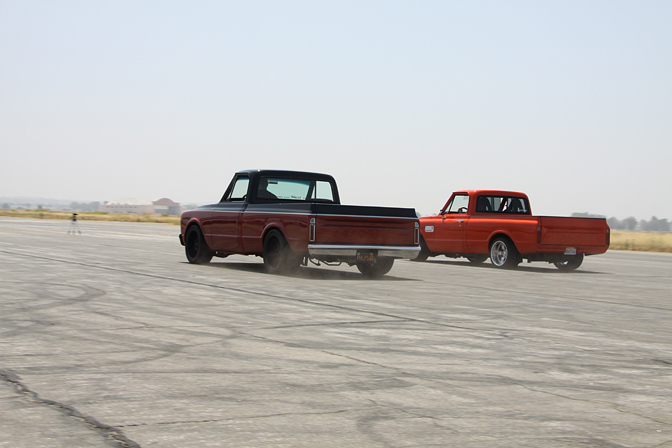 The result? A truck that goes like stink…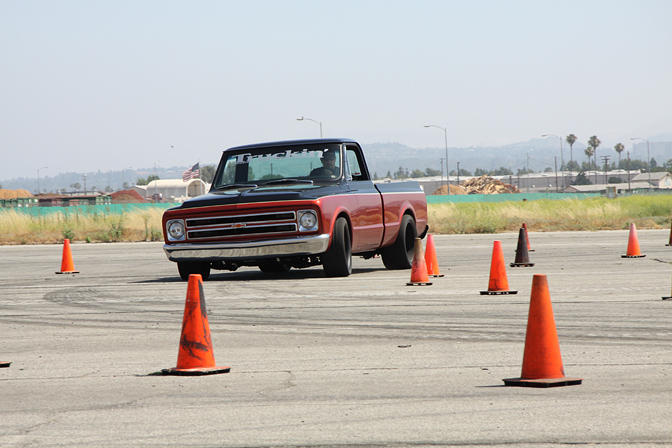 … and corners as flat as this.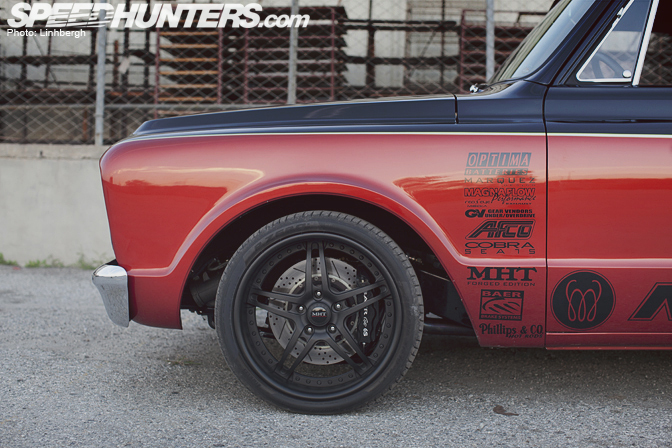 The Hotchkis kit dropped the car 4.5″ in the front and 6″ in the rear.
Of course, when you have a car that performs, stopping becomes a big issue. Rob employed a set of BAER 6 piston brakes. Problem solved.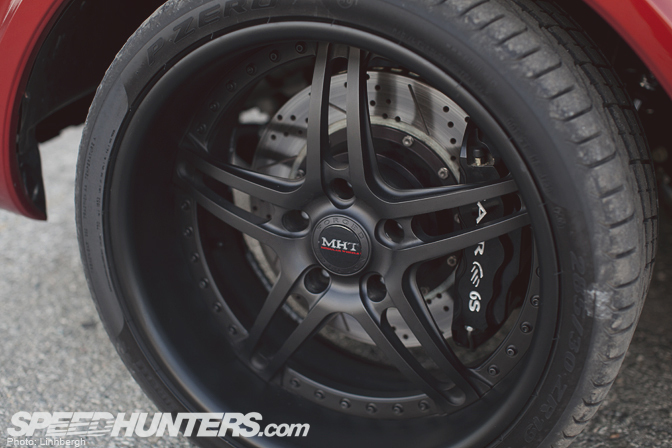 Rob's C10 used to rock a set of chrome wheels in its car show days, but it now rolls around in a mean, 3 piece, flat black, set of MHT Forged Mach X; 19×10 in the front and 19×12 in the rear.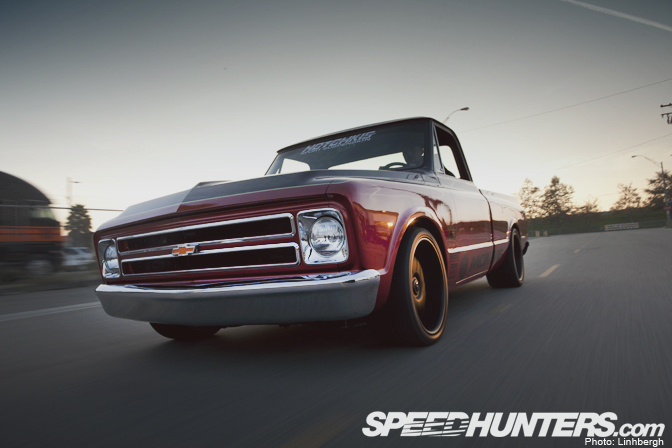 When he's racing the car during the weekends, he runs a set of beefy set of Kumho XS tires; 285/30/19 for the front and 345/30/19 for the rear.
A set of Pirelli PZero in 285/30/19f and 305/30/19r are used for street use and certain races when the stickier tires aren't allowed.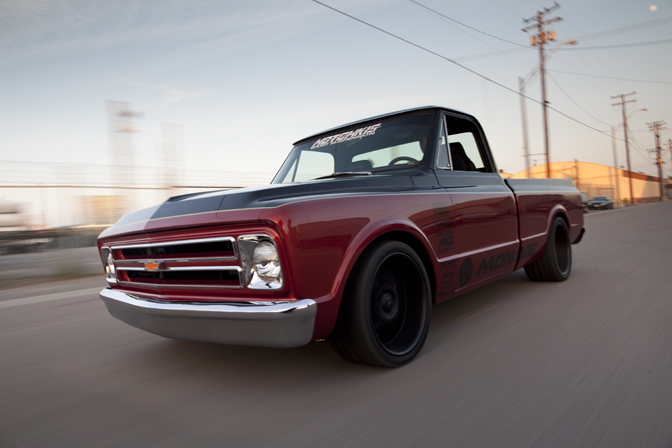 If you ever driven a classic American car or truck, you'll know how unresponsive the steering can be. So power steering was added and the steering was also quickened with the help of an AGR quick ratio steering box.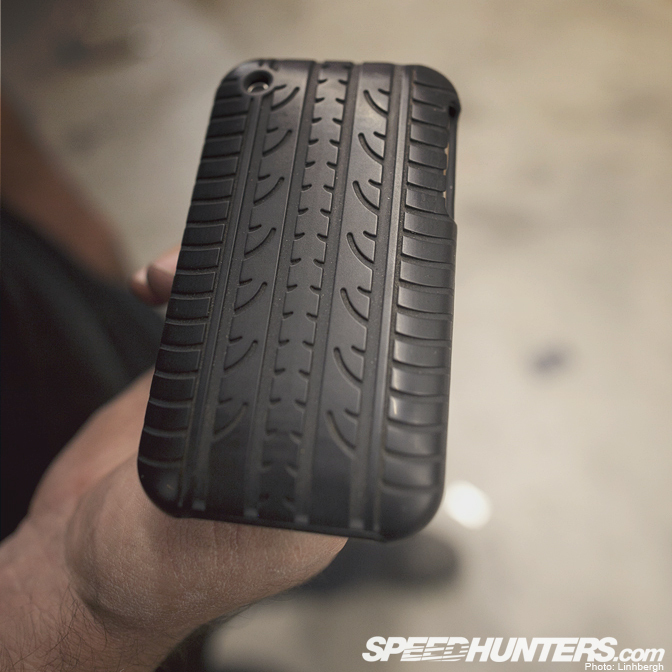 Rob now takes his racing seriously. He even opted for more grip for his iPhone.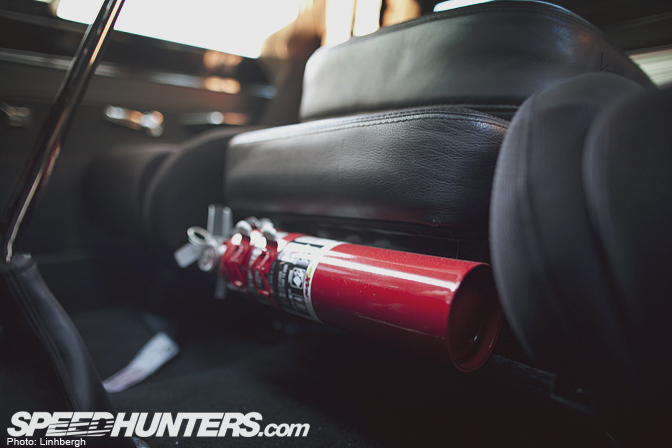 With the truck taking on a completely different identity, the a few additions to the interior had to be made: a pair of Cobra "Daytona" adjustable bucket seats, Simpson 5 way camlock belts, and of course, a fire extinguisher.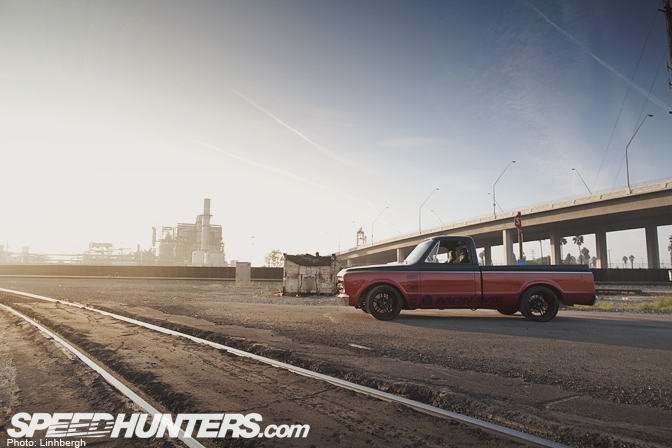 Rob mentioned that in the 10 years he's been been building hot rods, he's never had as much attention as the last 10 months when he started racing. It not only makes his sponsors look good by having a car out there performing, but also goes to show that Rob isn't afraid to build the truck of his dreams and then actually drive it.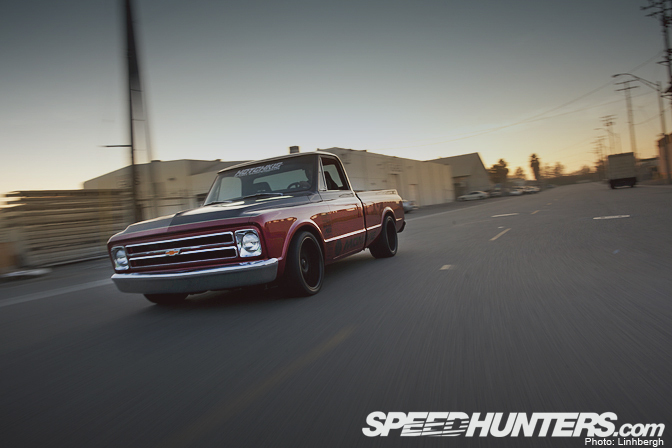 Next year, he plans to lower the truck even more with the help of a few more suspension modifications, adding a front splitter, covering up the truck bed then actually taking the truck out to a real track.
Along the way, he still wants his car to look as good as it does. This won't turn into a full out track monster, but the same truck Rob originally built –just a bit more grown up.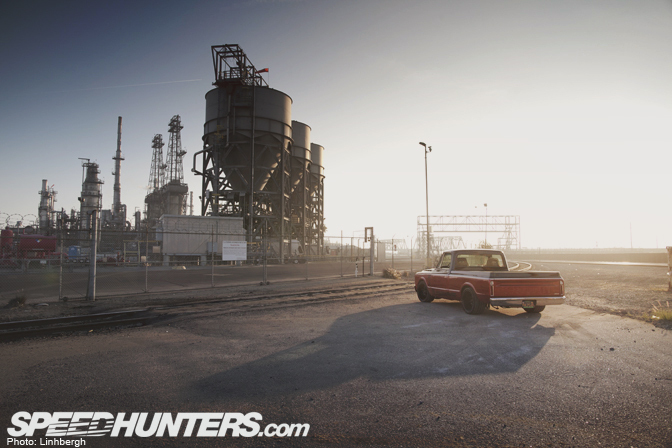 Building a automobile to look how you want it to look is a challenge in itself, but taking that same automobile you've envisioned and letting live as a
automobile rather than a museum piece is an even greater challenge to overcome.
Rob took the plunge and now he's hooked.
-Linhbergh
Complete Spec List:
1969 Chevrolet C10 "Phillips 69″
Engine:
- 468 big block chevrolet 640 hp 630 tq
– mass flow EFI multi-port fuel injection
– Edelbrock aluminum heads
– Edelbrock victor jr. Manifold
– Edelbrock hyd. Roller cam
– forged rotating assembly
– be cool aluminum radiator
– Hedman 3/4 length headers
– S&W transmission turbo 400
– Transmission with gear vendors overdrive
– Magnaflow stainless exhaust
– GM 12 bolt rearend eaton locker 3.73 gear
Chassis:
- 4.5″ front drop 6″ rear drop
– Stock 69 frame rails
– early classic enterprises: trans cross member, trailing arm cross member, and trailing arms
– Hotchkis TVS: control arms, sway bars f&r, bump steer centerlink, front and rear shock relocaters, trackbar kit
– AFCO double adjustable shocks
– BAER 6S 6 piston brakes 14″ rotors
– AGR quick ratio steering box with AGR super pump power steering pump
– ricks hotrods stainless fuel tank
Wheels & Tires:
- MHT Forged 3 piece Mach X 19x10f, 
19x12r
– Kumho XS 285/30/19f, 345/30/19r (race)
– Pirelli P-Zero 285/30/19f, 305/30/19r (street & some race)
Interior:
- Cobra "Daytona" seats
– Simpson 5 way camlock belts
– PCHRODS harness bar
– Kicker 5000watt stereo
– Classic auto air conditioning
– Katzkin leather upholstery throughout
– Leccara steering wheel
Exterior:
- BASF DIAMONT PAINT, copper (custom mixed) black & titanium silver
– Shaved: front turn signals (moved to head lights) side marker lights, door handles, locks, rain gutter ( 34′ ford style drip rail) tail gate, stake pocket holes.
– Marquez designs billet tail lights
– Smoothed and narrowed bumpers
– Oak bed floor (cherry wood stained and clear coated with BASF diamont clear)