There's So Much Room For Activities!
Judging by the reaction we received when we asked you to submit your wagons to us, we know that you've been looking forward to this special Readers' Rides feature as part of our much anticipated Wagon Week here on Speedhunters. Firstly, we must say that the quantity and quality of the submissions for these monthly #IAMTHESPEEDHUNTER features seems to be increasing dramatically. It's obvious that there are some hugely passionate wagon fans out there and we're very excited to showcase some of the awesome cars you sent through to us.
Competition was tough; so tough in fact, that we've had to include a Bonus Wagons section featuring some extra cars that we couldn't bring ourselves not to show off. So, in no particular order, here are the wagons that stood out to us:
Arild Dyrkorn, Fredrikstad, Norway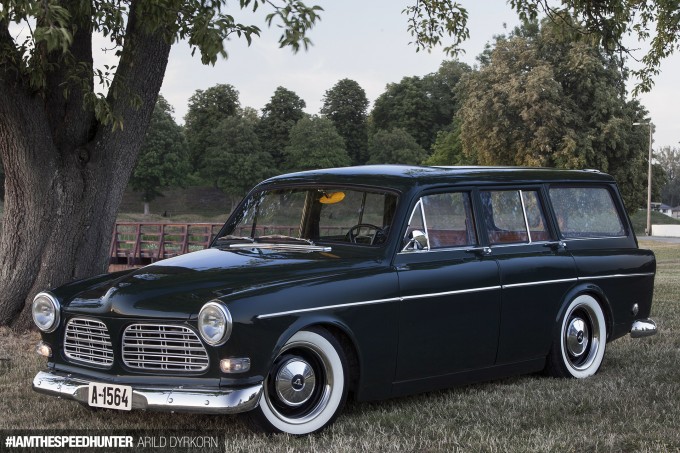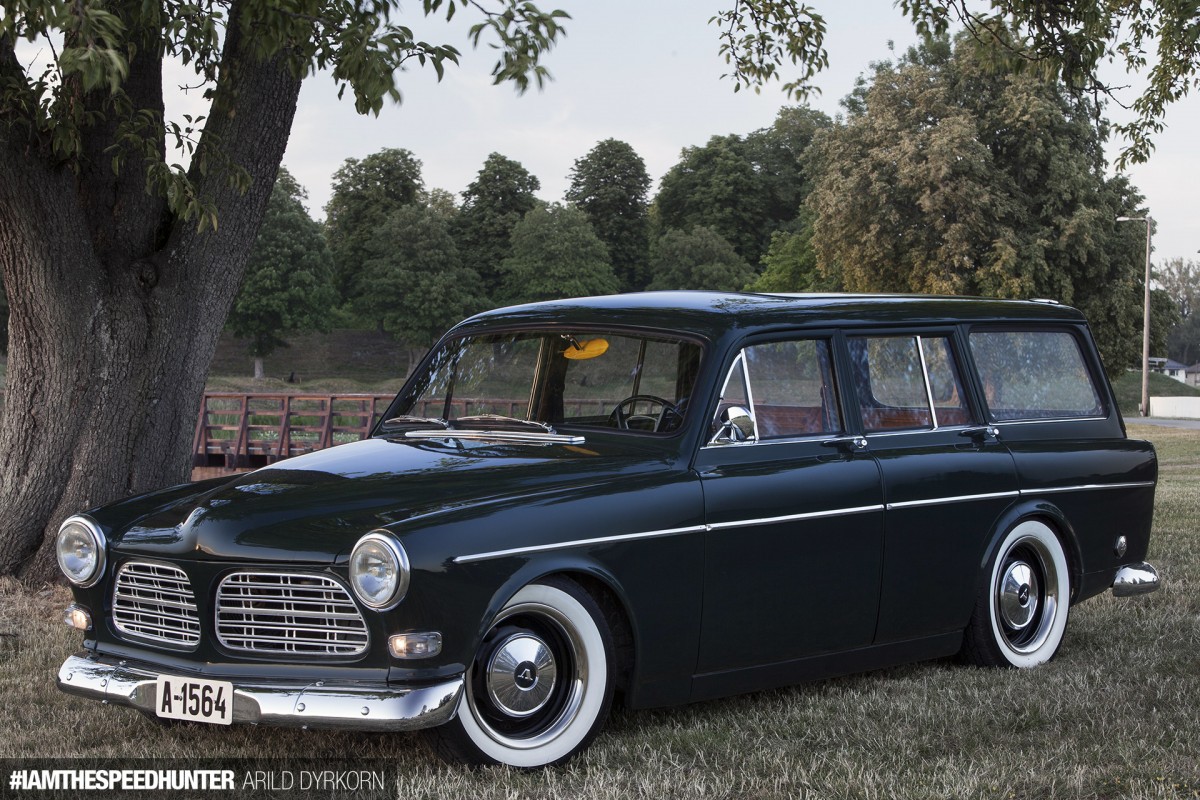 We're completely smitten with Arild Dyrkorn's beautiful '68 Volvo Amazon, which he picked up around 18 months ago in its original, unmolested form. Although the old 'Vo had been given a fresh coat of paint, it was still very tired and in need of a bit of TLC, so Arild fixed her up and added a few extra bits for style points. The Volvo is now lowered on coil springs modified by Milwaukee, the 15-inch Volvo steelies have been painted black and replica wing mirrors (from an early Ford Mustang design) were added. On the inside he's included some cool little touches, such as a Mooneyes surfboard rear vision mirror and a Nardi steering wheel with a wooden ring and polished spokes.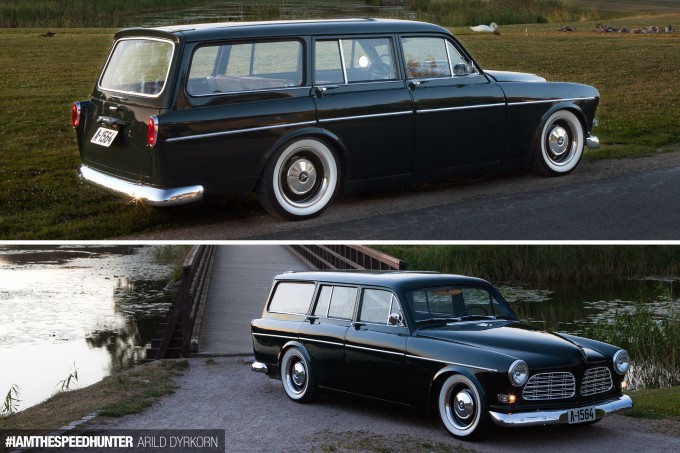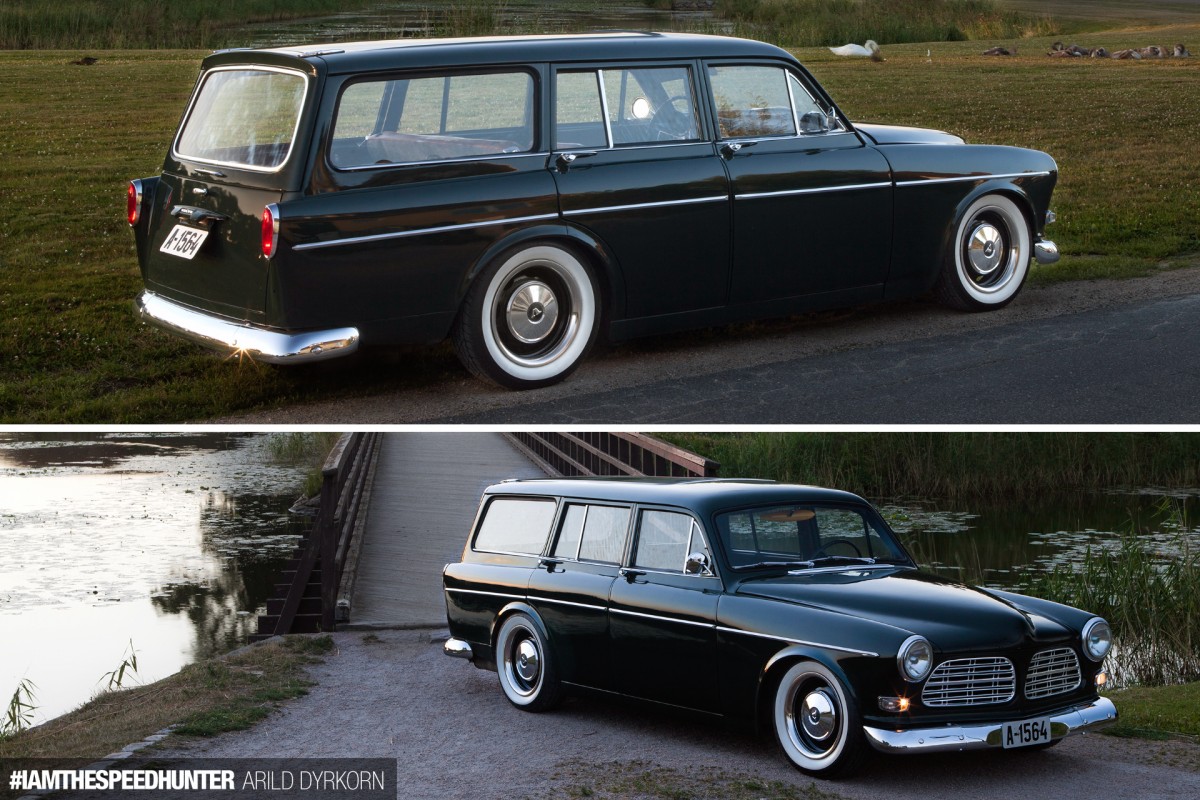 The overall look with the dark green paint, contrasting brown vinyl interior and stock hubcaps with the wide white wall tyres is simple, classic and quite stunning. Other subtle changes include the removal of the original bumper overriders and the lower rear reflectors, clear indicators added up front, and the rear lights have been swapped for all-red lights from a pre-1962 Amazon sedan. Serving as a daily driver during the warmer half of the year, Arild plans to take his Volvo off the road over winter to fit an engine and tranny from a late model Volvo 240. It won't be anything extreme, but having double the power and a 5-speed gearbox will make cruising in traffic a more pleasant experience, for sure. Arild tells us, "Contrary to popular belief, these cars are quite difficult to modify as nothing ever fits! So it's been quite a job to make it all to work, but with help from good friends we'll get there." That's the spirit!
Zach Green, Te Puke, New Zealand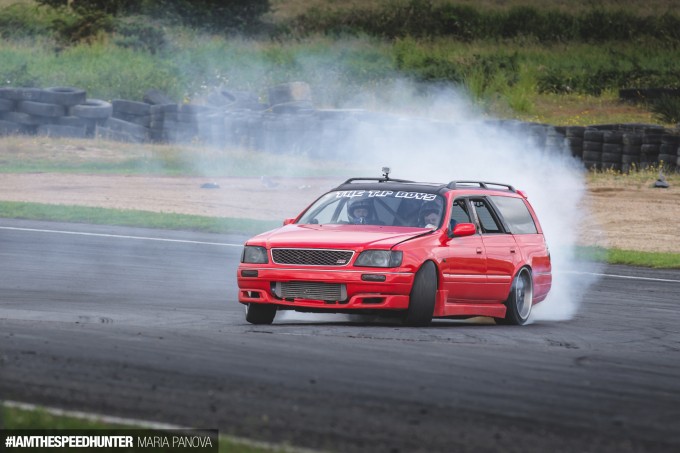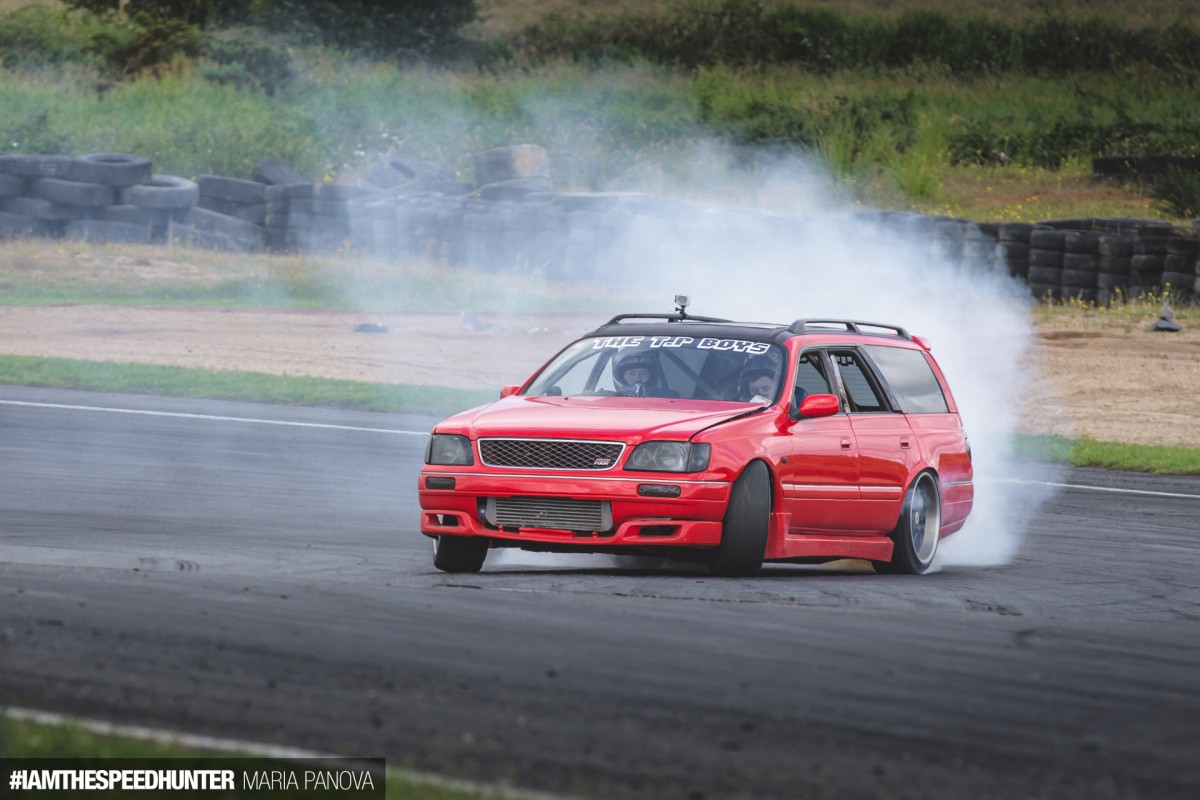 Next up, we've got something quite different: a fully dedicated Nissan Stagea drift wagon from New Zealand. Owner Zach Green tells us that he originally bought the car to use as a tow vehicle, as he had every intention of buying a Nissan Silvia to use as a dedicated track car. However, after taking the Stagea for a tune and realising that it made decent power, he decided to take it along to a track day to see how it performed. As you can see, things escalated rather quickly!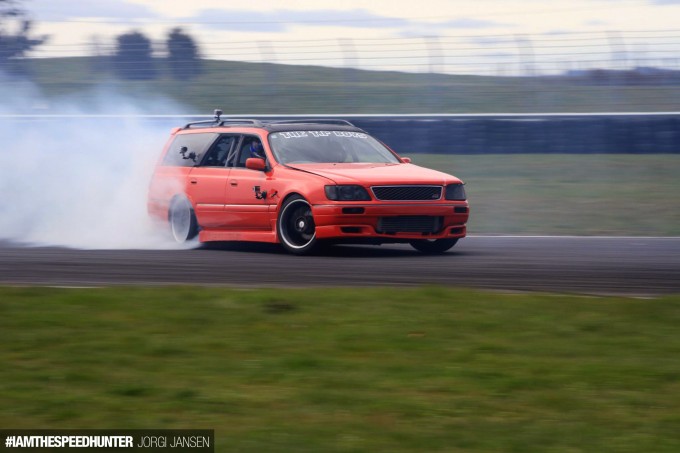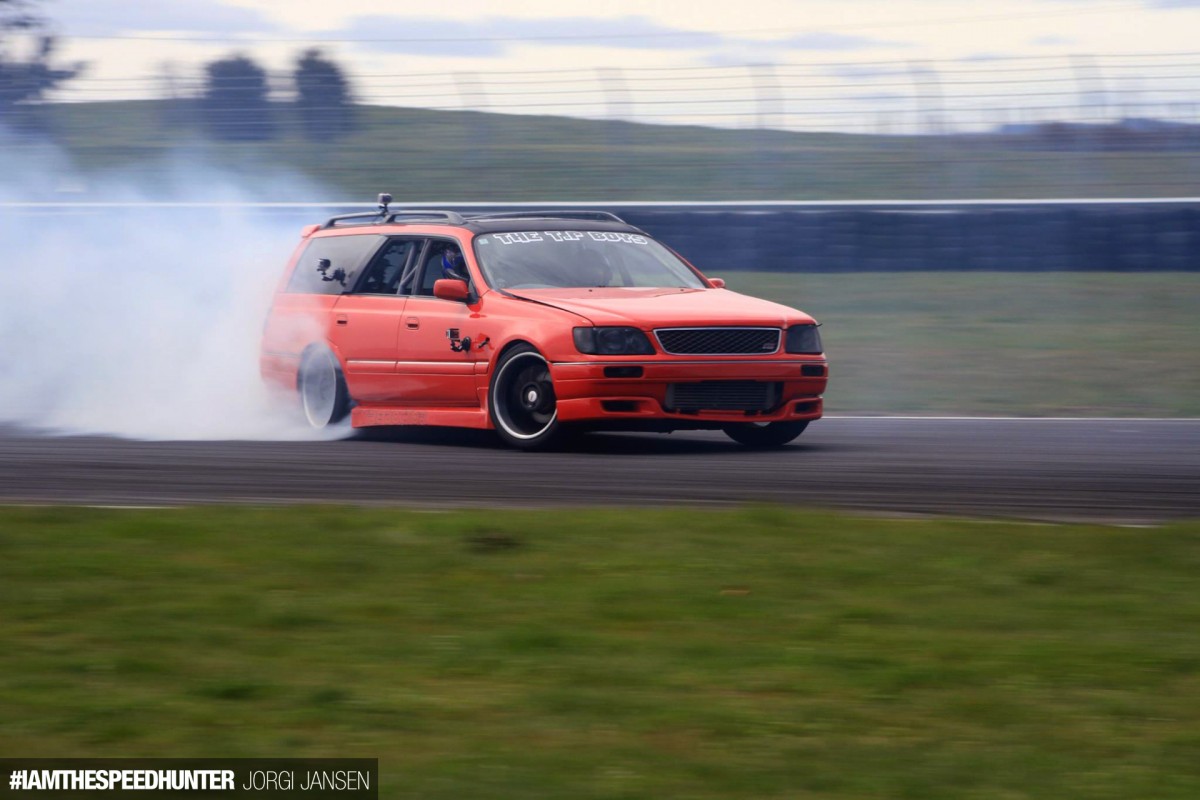 The sideways Stagea runs an internally-stock RB25DET with a Link G4 engine management system and produces 457hp at the wheels. This healthy figure comes by way of a Garrett GT3582R turbo and TiAL 44mm wastegate sitting on a Sinco Customs top-mount steam pipe manifold, front facing plenum, upgraded ID1000cc injectors, a Sard fuel rail and fuel regulator, and a Walbro 400LPH fuel pump. The wagon also runs an R33 5-speed gearbox, Racetech bucket seats and a hydraulic handbrake, Hardrace adjustable suspension arms, OZ Racing coilovers and a 6-point TIG-welded rollcage. Zach currently has the car in pieces in the garage, where it's being completely rewired and getting an all-new E85 fuel setup, plus full tube front and rear ends. You can follow his progress on Facebook here.
Reuben Bemrose, Wellington, New Zealand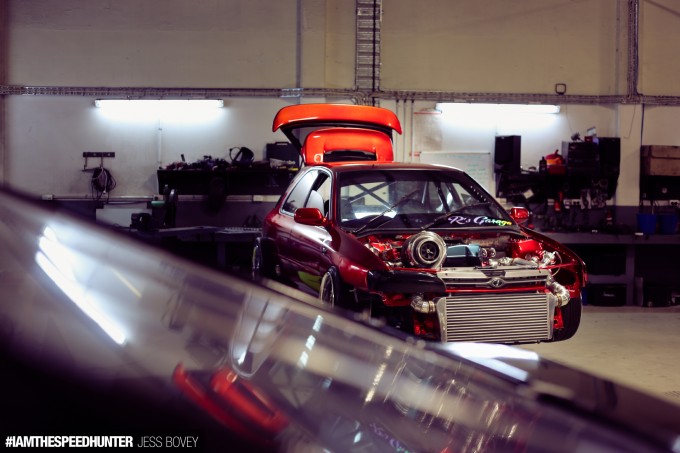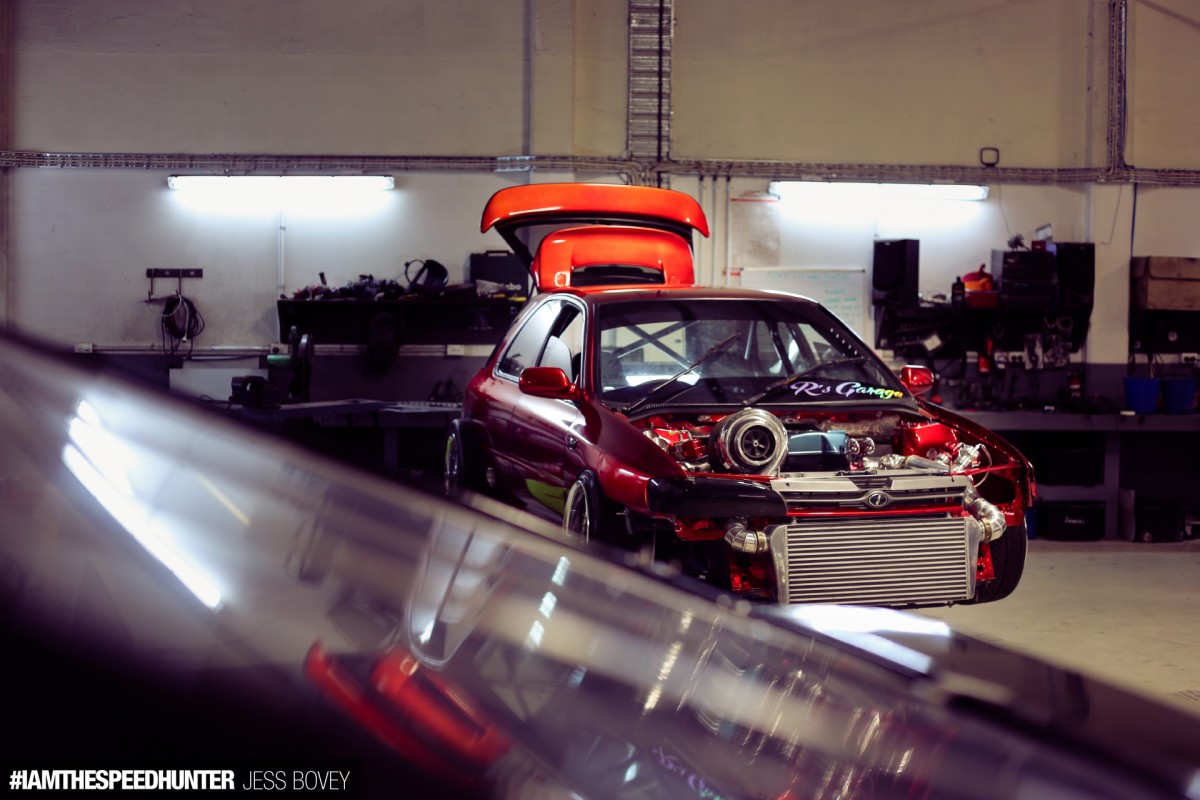 Would you like a WRX with your turbo, sir? We couldn't leave New Zealand before taking a peek at this very exciting Subaru Impreza WRX build from the capital city of Wellington. Reuben Bemrose's '95 GF8 wagon has been off the road for almost four years now, with the past 15 months having been dedicated to a 2JZ-GTE VVT-i engine conversion, which involved recessing the firewall by 400mm and having a completely custom floor fabricated.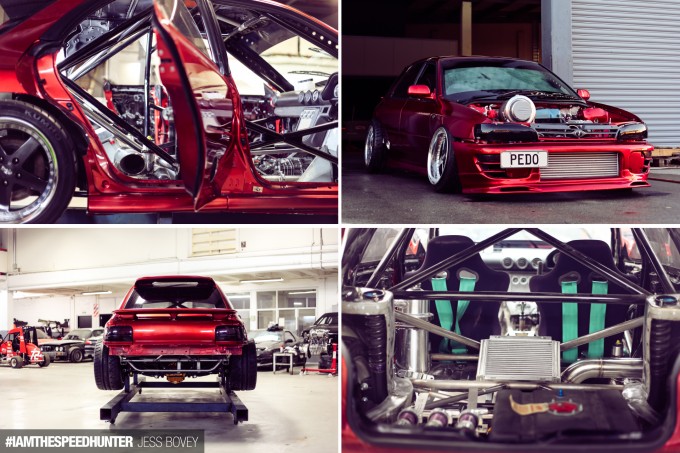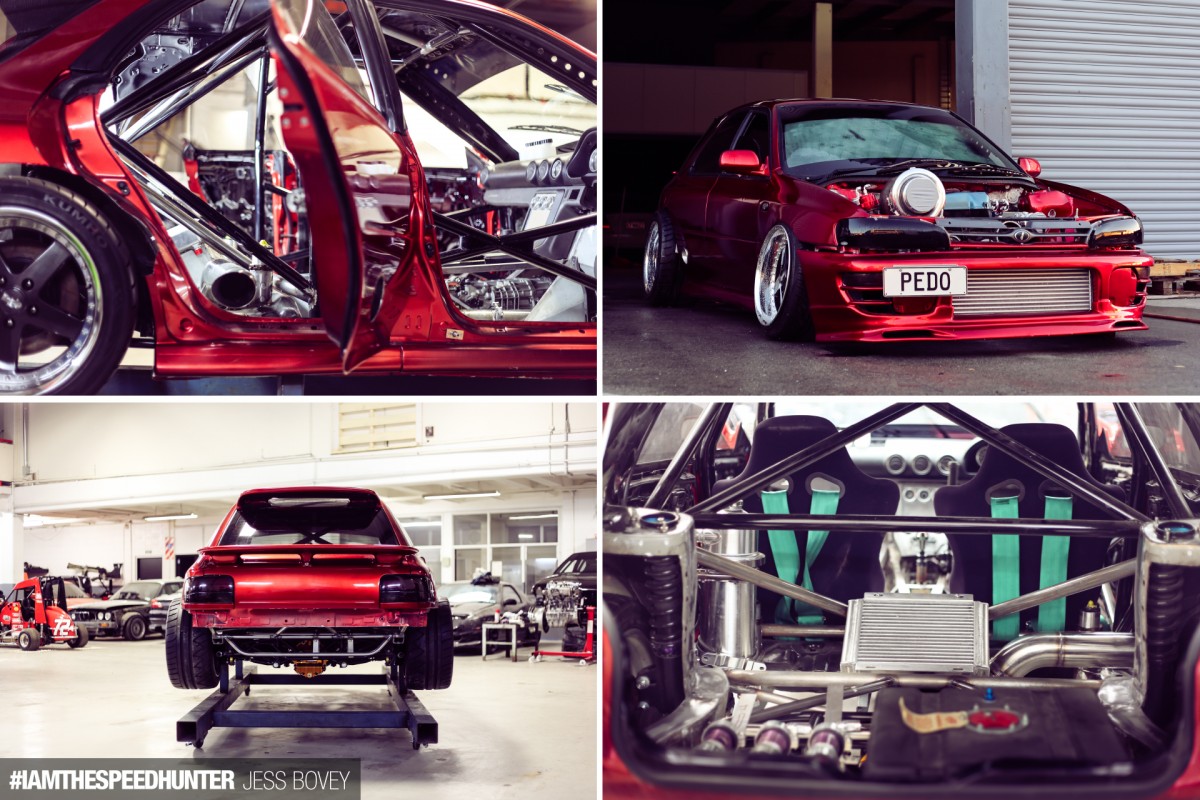 Along with the fully-built 2J motor, the WRX has had an enormous amount of work carried out on it during that time, including the installation of a Skyline rear differential setup, tubular subframes and chassis, and an extensive custom rollcage. Other modifications include fully custom suspension and arms, a Hypertune intake manifold, BAM exhaust manifold, a giant Garrett GT4788R snail, twin 60mm TiAL wastegates and blow-off valves, 12 ID injectors and a full Pederson dry sump setup. Those massive Work Equip wheels (measuring 17×9.5 -22 up front and 17×11.5 -27 at the back) will eventually fit under custom-made steel wide-body fenders.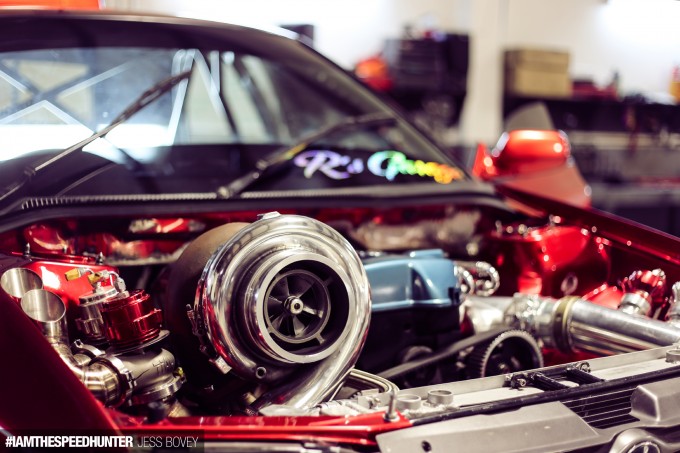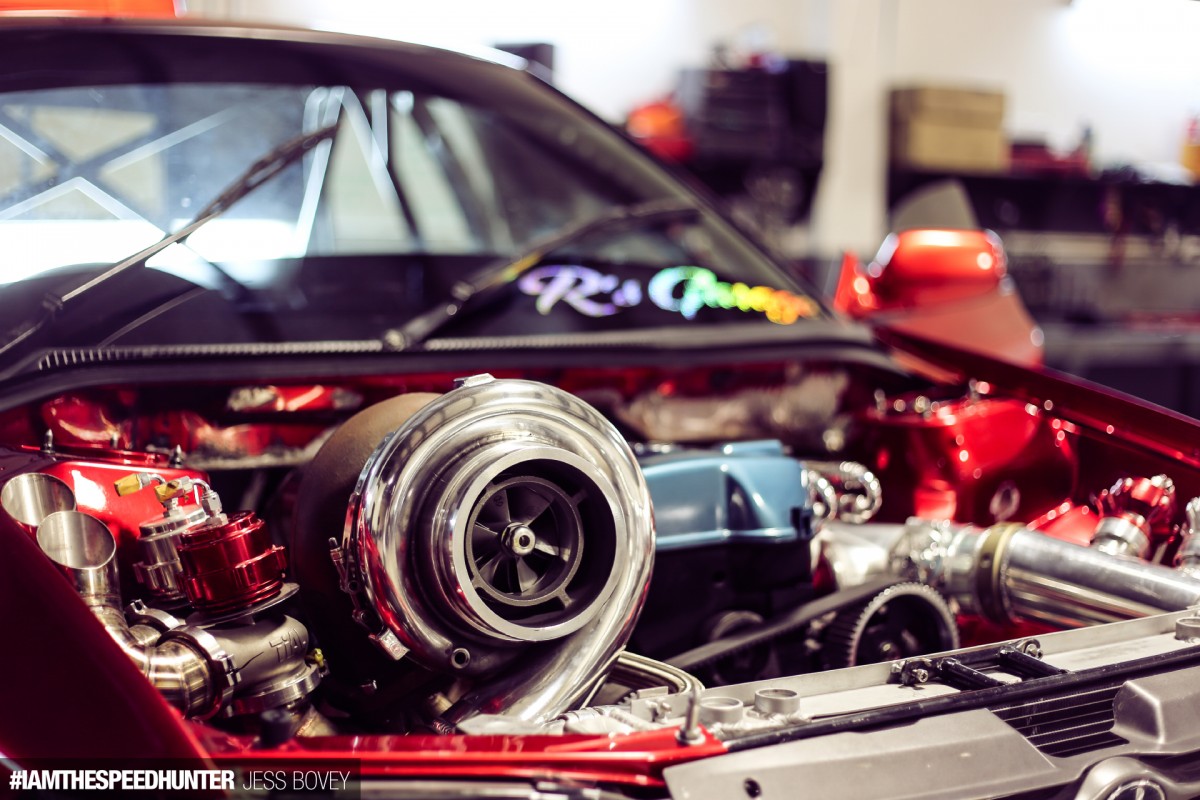 Weighing in at 1,100kg and with a power goal of 1,200hp on E85, Reuben's aiming to have the car finished within the next six months – although he's been saying that for the past two years! But with all the necessary steps having been taken to ensure the WRX wagon will be 100 per cent street legal, we think it might just be worth the wait. You can also follow his progress on Facebook here.
Mike Amezcua, Salt Lake City, Utah, USA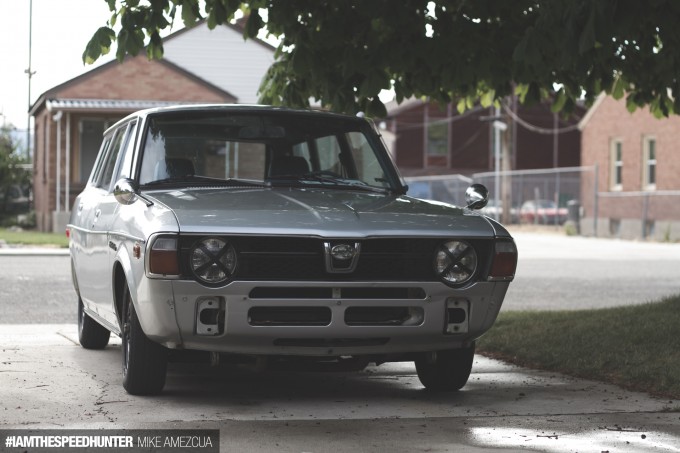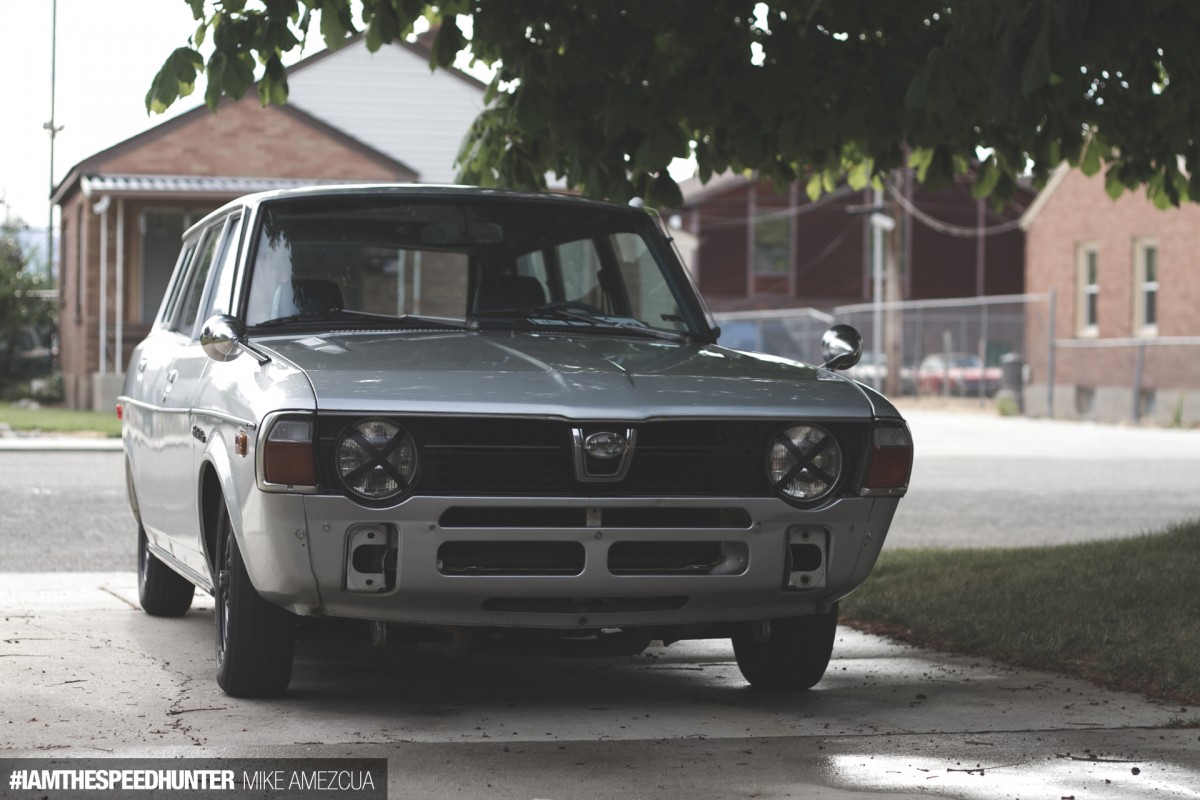 Our next submission also happens to be a Subaru wagon, but it's just a tad bit older. This is Mike Amezcua's 1978 Subaru DL wagon, which he's owned for the past three years. The old Subaru has a stock 1.6-litre flat four motor, FWD layout and a 5-speed manual transmission, and it served as Mike's faithful daily driver up until a year and a half ago when he decided to step things up a notch and push the project forward a bit.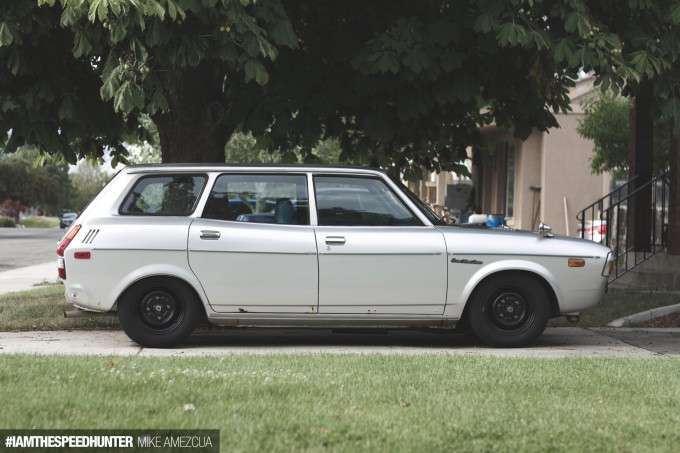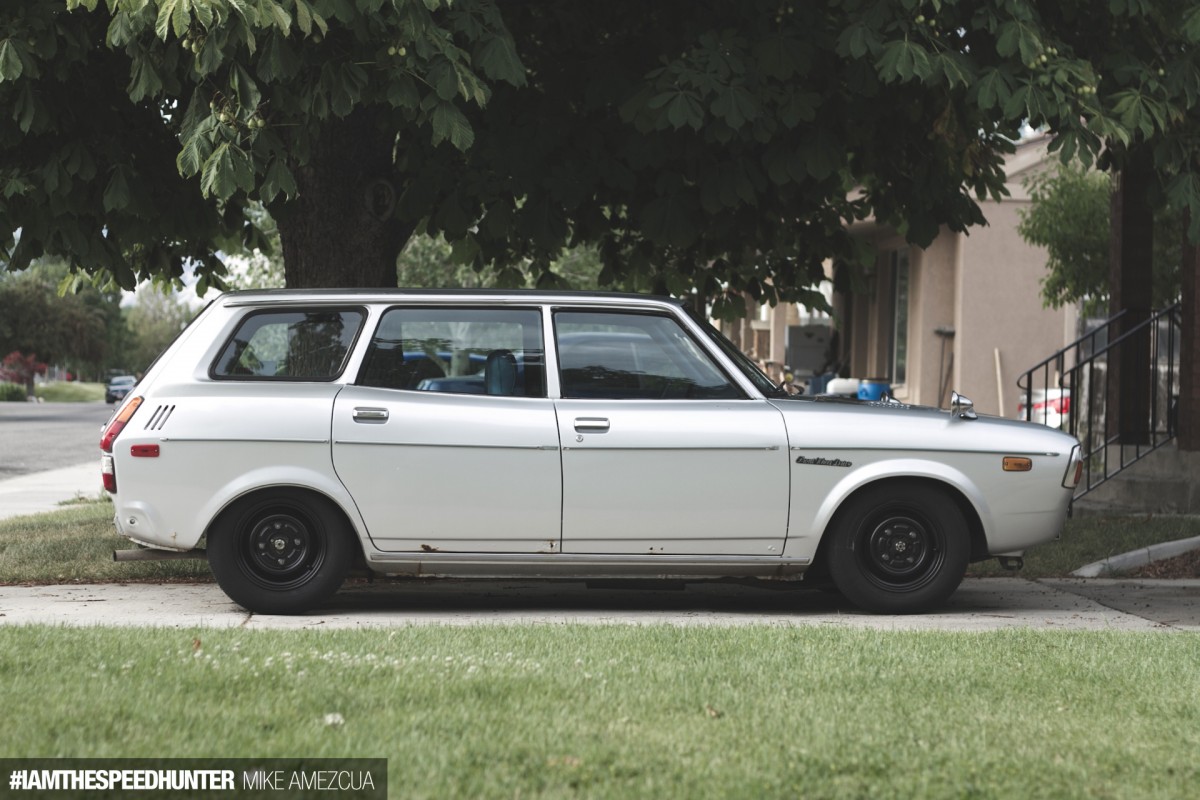 Mike says, "I've basically had to write the book on how to lower and modify these cars. They really aren't very common and if you find one, they're usually completely rotted out. Parts are limited, but some things are interchangeable, or at least usable on some of the later renditions of the DL and GL models. For example, the bolt pattern for the wheels is 4×140 if that gives you any idea how hard it is to find anything for it." Mike also tells us that he's also upgraded the exhaust since these images were taken, and wheels are next on the to-do list. The plan is to have custom steelies created so that the hubs don't have to be modified. Sounds good to us!
Steven Davis, Alberta, Canada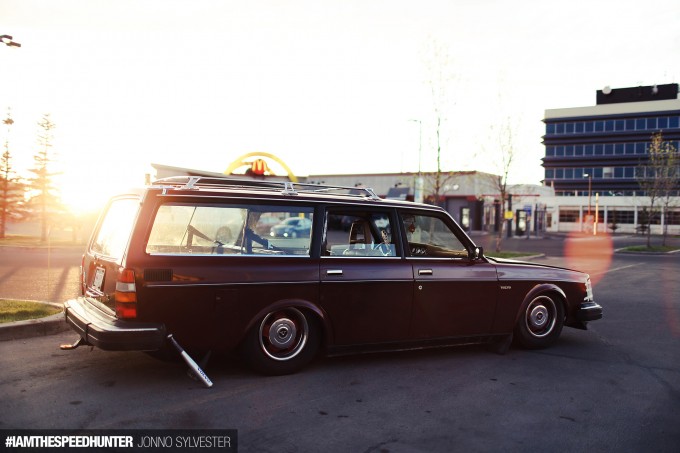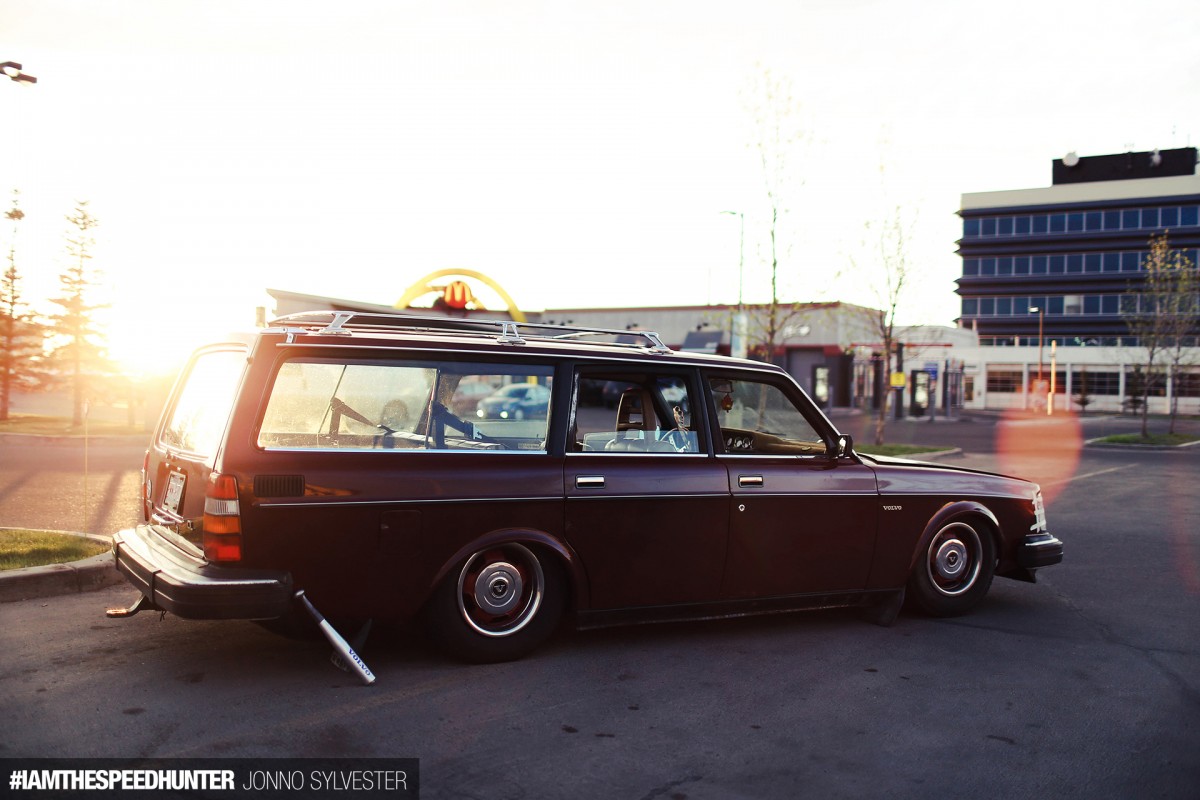 With the huge volume of Volvo wagon submissions we received, it was definitely hard to select just a few. Our second pick was this very cool 1982 Volvo 240 station wagon belonging to Steven 'Spiff' Davis. Steven explains that he can't take all the credit for the car as it was built by his good friend, Carter Bourgonje, and it was around 75 per cent complete when he happened to scoop it up for himself last year. So, why did we choose to show this particular Volvo, you ask? Let's just say that you should never judge a book by its cover…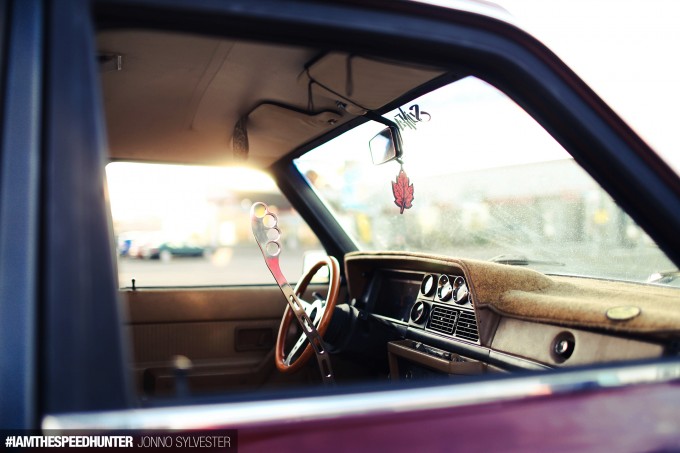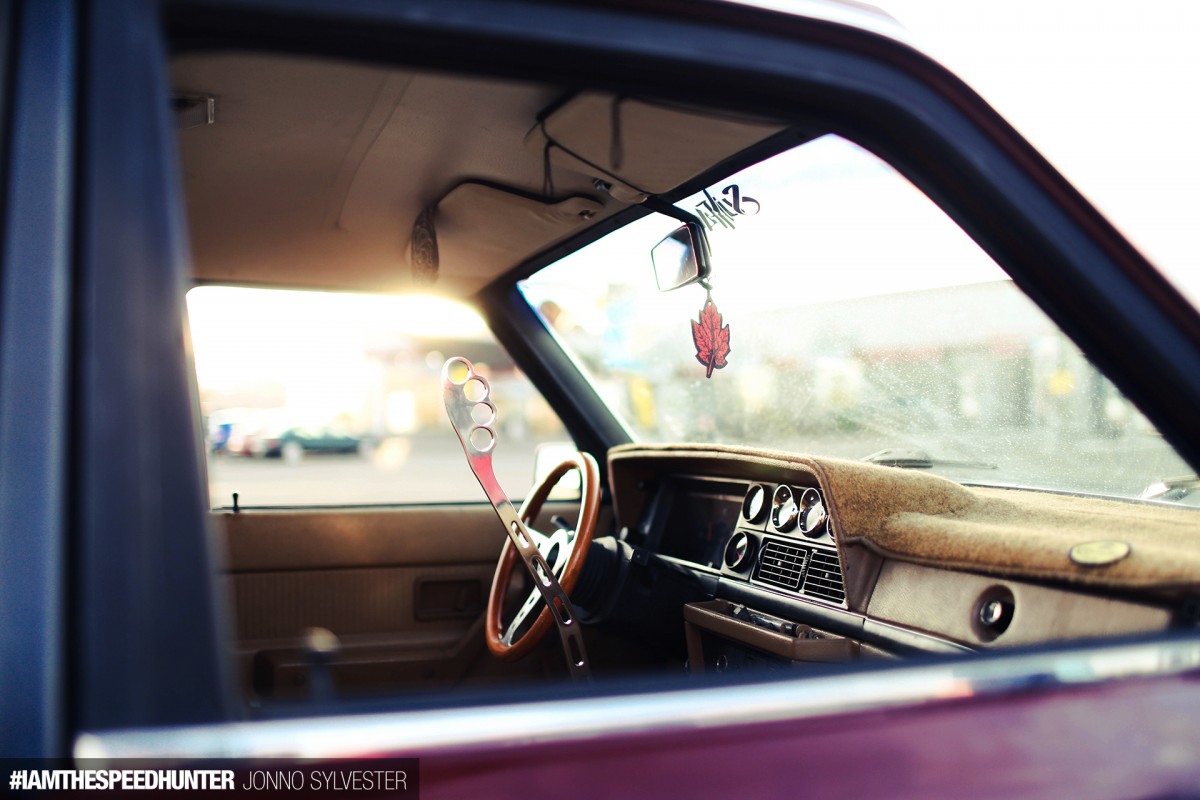 As well as already coming with the name 'Lolvo Baggins' (which Steven says he hasn't been able to bring himself to change), the 240 also came with a modified 5.0-litre small block Ford 302 V8 swap. Other goodies include Trick Flow heads, valves and hardened push rods, a Trick Flow cam, Ford Racing head gaskets and lifters, Scorpion 1.6 roller rockers, a Comp Cams dual timing chain and Edelbrock Performer RPM intake manifold, a T5 World Class gearbox and a King Cobra clutch and flywheel. Oh, and did we mention that it's on air suspension with a hardwood rear floor and custom air tank? We're starting to think that Steven might have deprived us of engine bay and interior shots on purpose!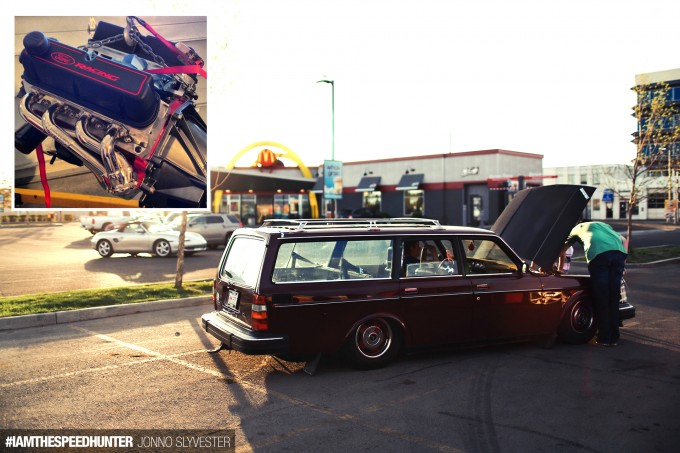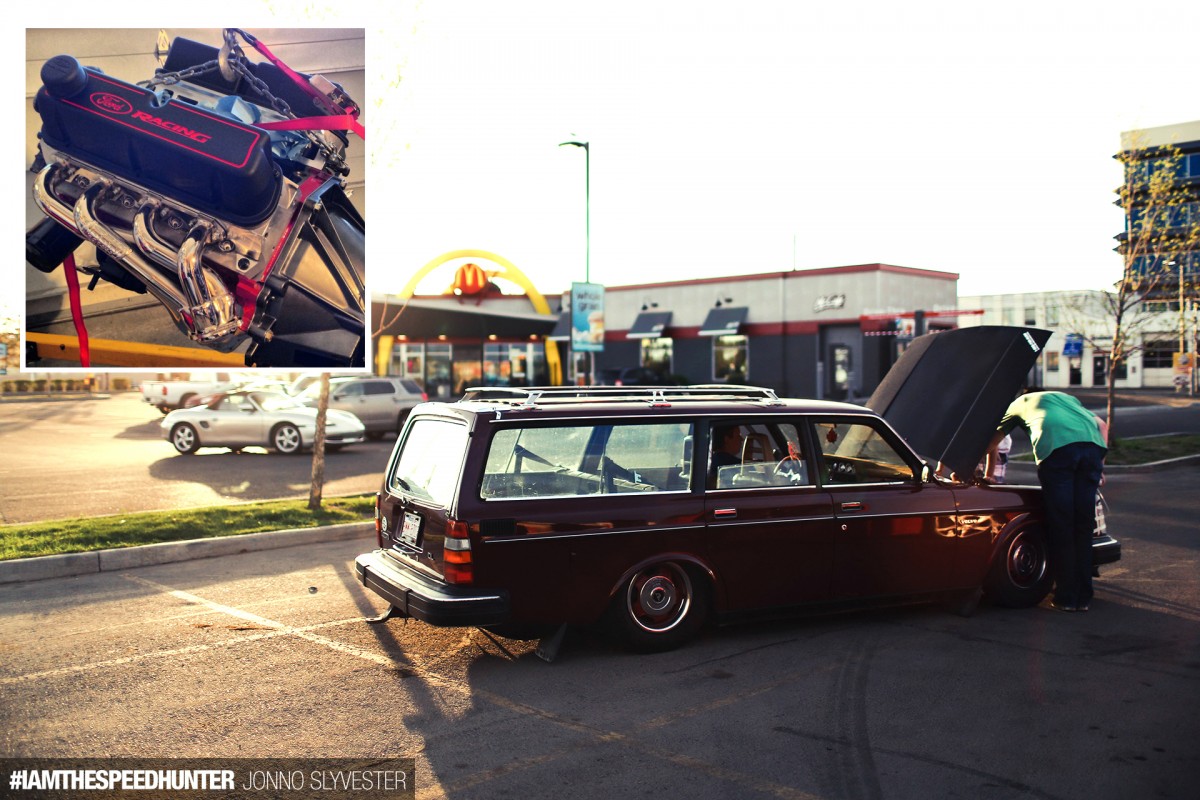 With its peeling clear coat, rust patches, cracked dash and worn seats, the old wagon certainly has a loveable charm about it, but the real appeal is how much of an epic sleeper it is. With BBK Shorty headers and Dynomax Race Bullet mufflers, Steven describes the Volvo's noise levels as "ridiculously loud." He adds, "It might look a bit shabby, but nothing's more satisfying than going wide open on the throttle and feeling like your ears are about to bleed!"
Luke Stitt, Canberra, Australia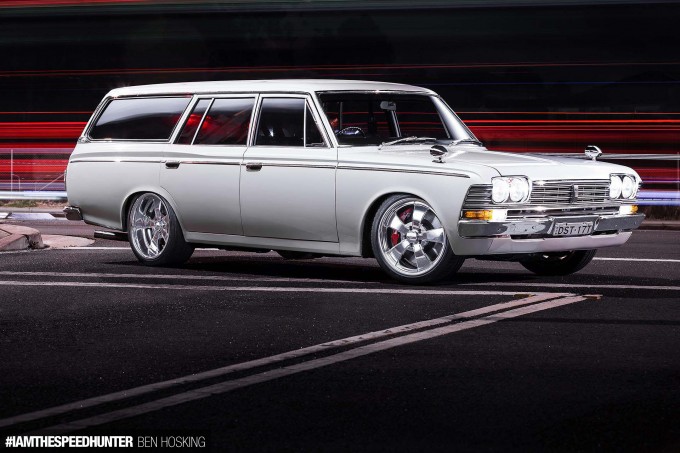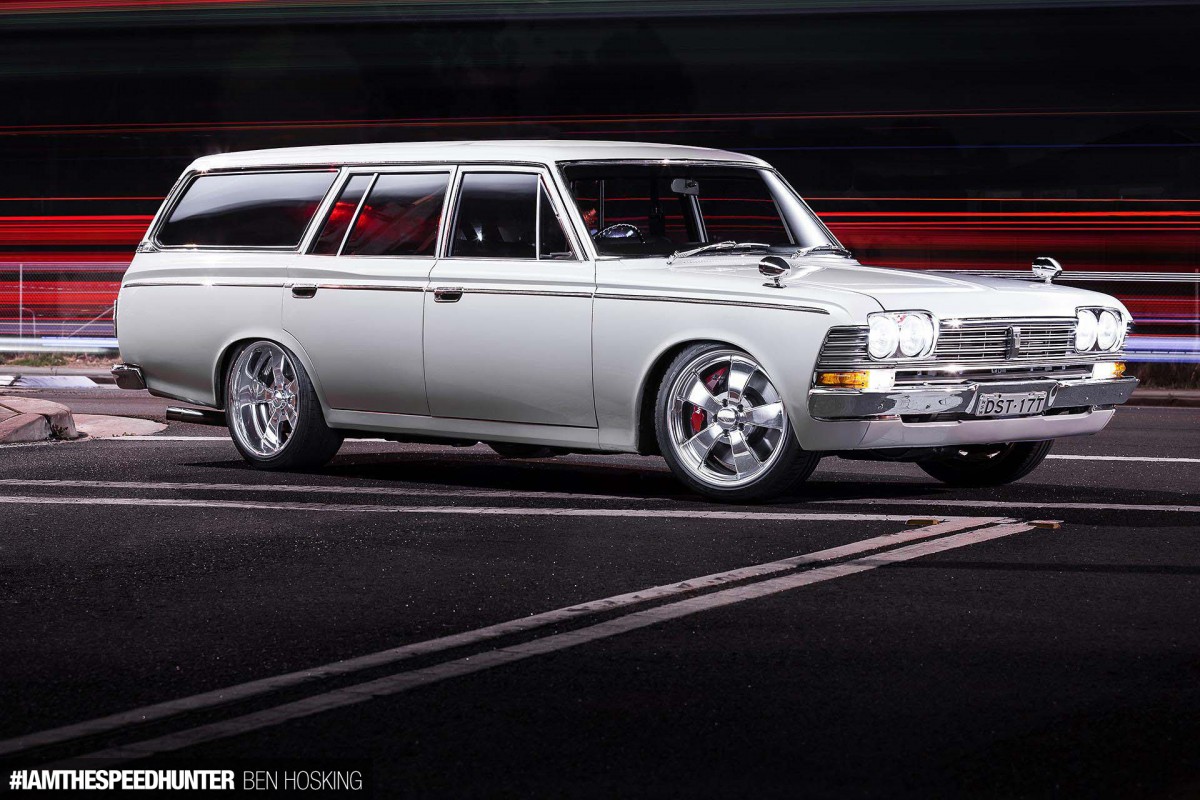 Luke Stitt has shared these images of his beloved '68 Toyota Crown Custom estate, and not unlike Steven's Volvo this car also has something interesting hiding underneath the hood. The old Crown was Luke's first car and he's had it for 14 years now, during which time it's been through numerous engine swaps, diff and gearbox conversions. As it's evolved over the years, the overall look of the car has become cleaner and it's still retained most of its period correct looks. But underneath things have gradually become more and more serious – to the point where it's now making 356 rear-wheel horsepower at 15 psi!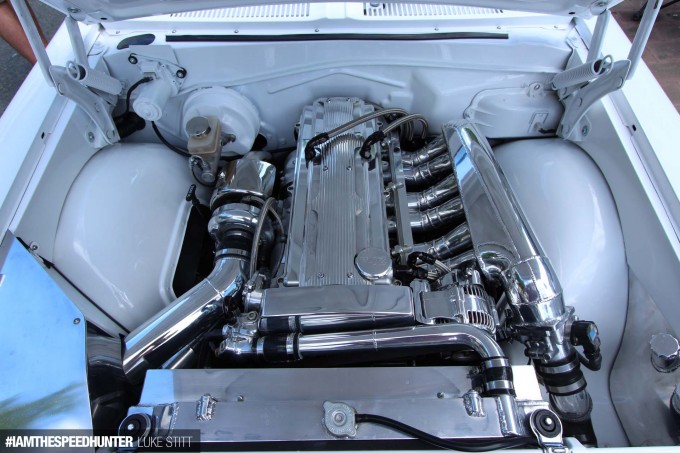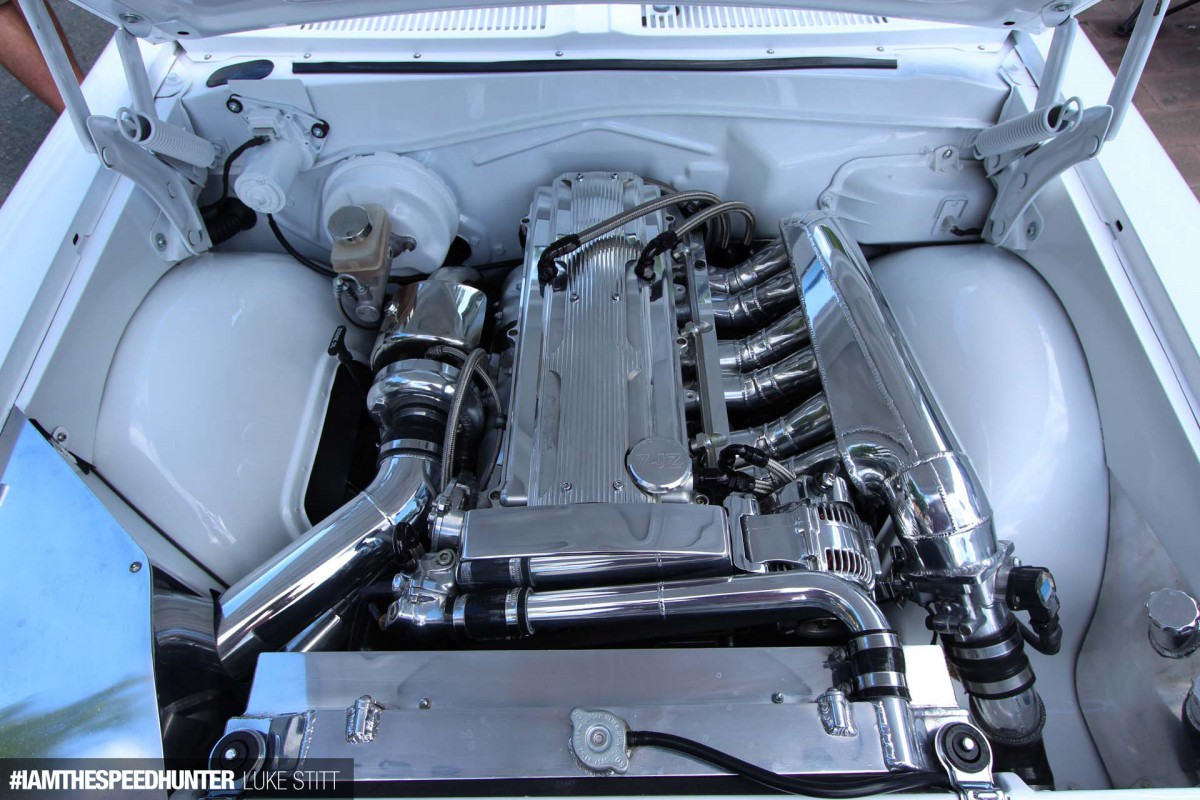 The Crown's current set-up consists of a 3.0-litre 7M-GTE Supra engine with a high-flowed CT26 turbo, custom polished pipe work and inlet manifold, hidden oil cooler and intercooler, billet cam covers and centre cover, custom alloy timing cover, all encased in a smoothed and deloomed engine bay. Backing the motor up is a 4-speed Supra A340 automatic transmission with a ratchet shifter, a single piece tail shaft, shortened RN20 hilux diff with a Truetrac LSD, while the brakes are a mash-up of parts from a 2013 model Ford Falcon GT, a JZA80 Supra and an Evo VIII. Luke tells us, "The car has a factory third row seat that you sit sideways in, so having people hanging out the back window while cruising makes for all kinds of funny situations. Driving my wagon is so satisfying now because I have the car that I always wanted and I really get a kick out of cruising in it!" Pretty much the wagon dream, right?
Wagons For Everybody
John Healey, Sydney, Australia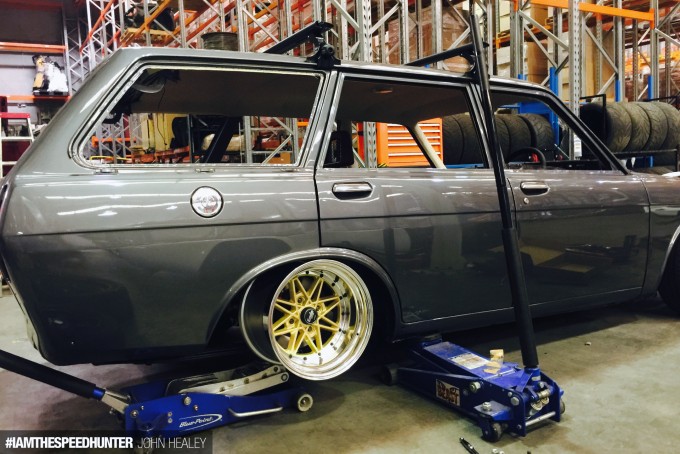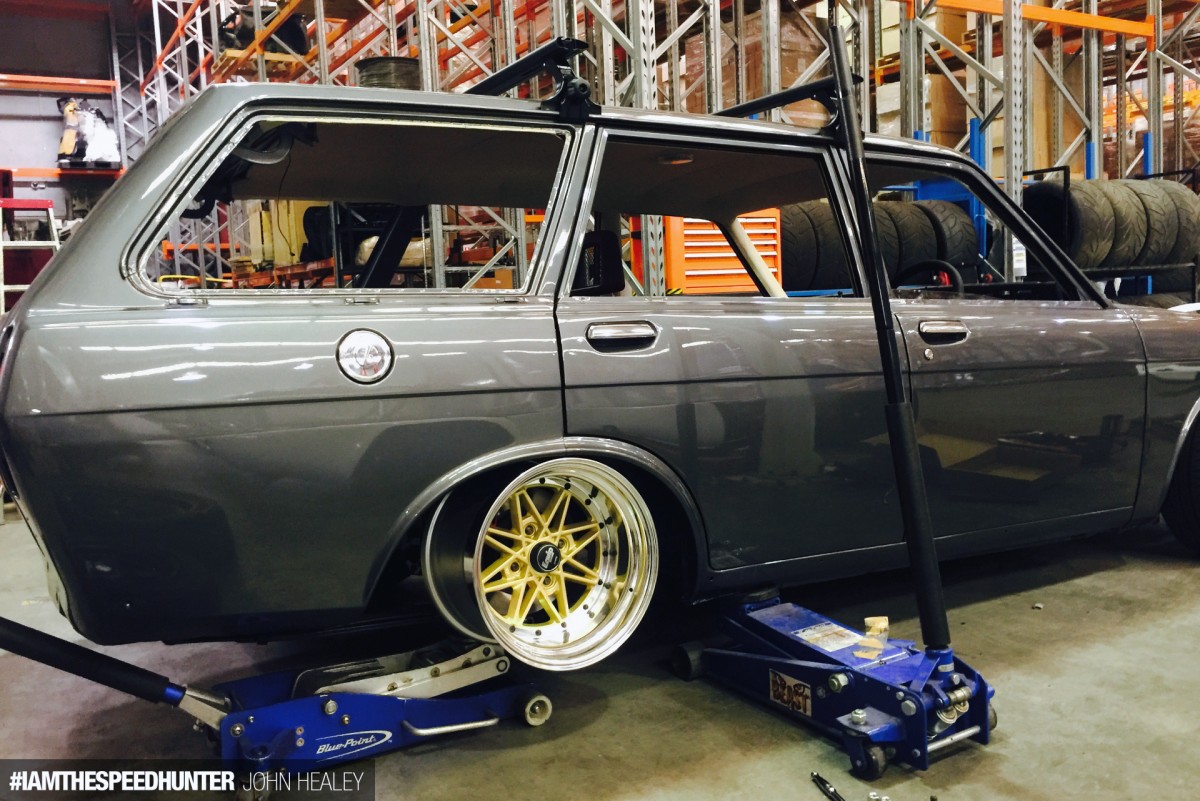 Another old school wagon out of Australia, our next submission is a very cool in-progress Datsun 510/1600 wagon build. Owner and keen Datsun enthusiast, John Healey, tells us that he's previously owned a Datsun 1200 wagon, and is also building a 1200 long-bed ute with an 09racing Hakosuka front end conversion. Although we haven't seen any photos of those projects yet, we have to say that we've already formed a bit of a soft spot for this one…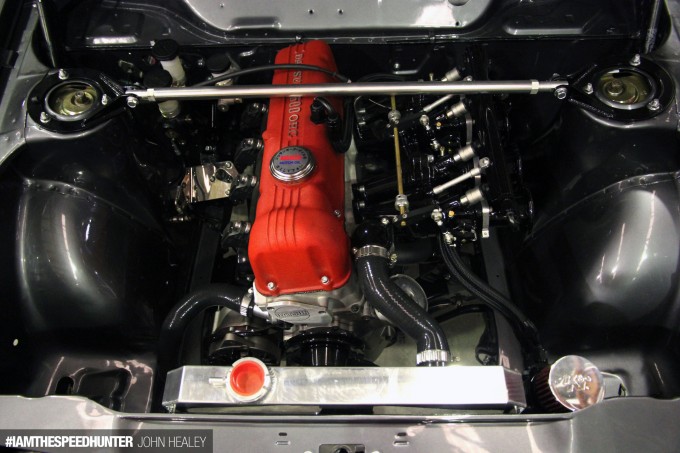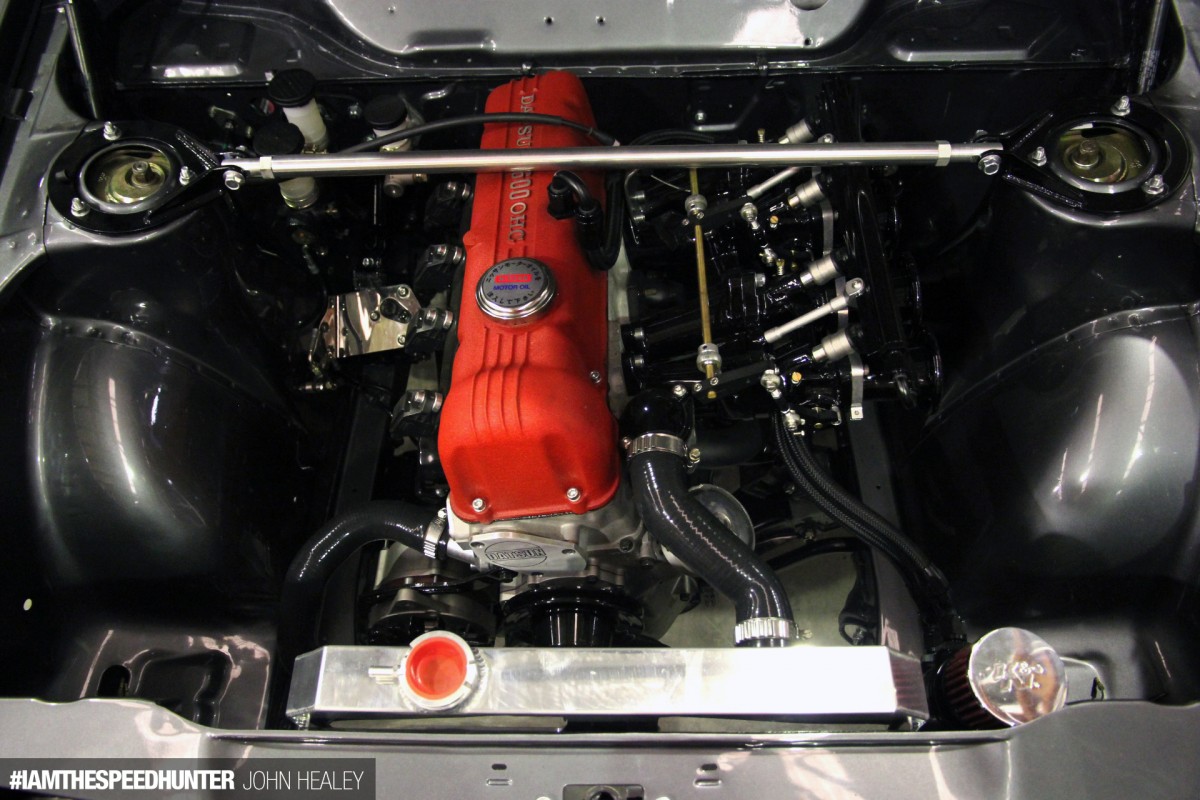 After almost two years in the build, John's Datsun 510 is relatively close to completion, and a high level of attention to detail has been paid throughout. The car has been repainted in R35 GT-R Gun Metallic and runs roof racks and Endless brakes, but don't go thinking that its beauty is just skin deep. It also has an extremely clean and detailed engine bay, containing a four cylinder L18 engine with EFI throttle bodies that's hooked up to a MoTeC engine management system.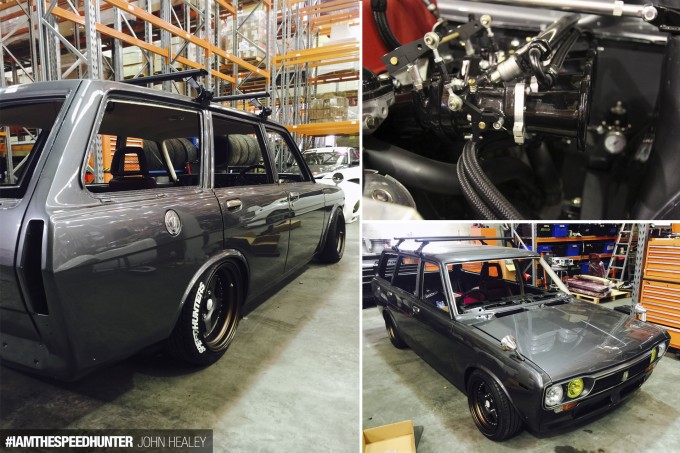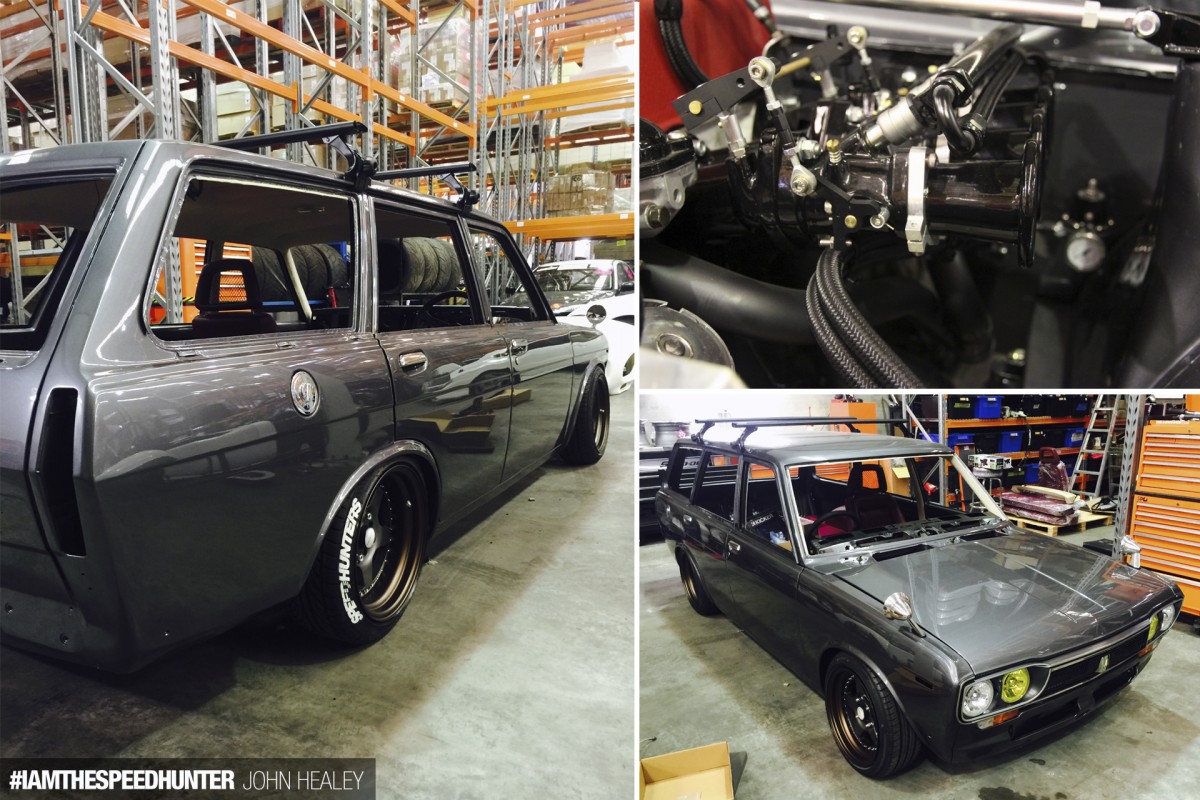 John is still trying to figure out whether to go for an air suspension setup or not. He explains, "Ideally, I want it to sit as low as it looks in the pictures, but I'm just not sure how drivable it will be without air bags." John also has to decide which set of wheels he wants to run with – the stunning gold Work Equip 03 wheels pictured in the first image, or the grey and bronze Work Meister CR01s pictured above. Talk about tough decisions – perhaps our readers can offer their thoughts to sway John's opinion? Overall, this wagon has a beautiful mix of looks and functionality, and a clever combination of modern parts and period correctness. We can't wait to see it on the road!
Gavin Hutton, United Kingdom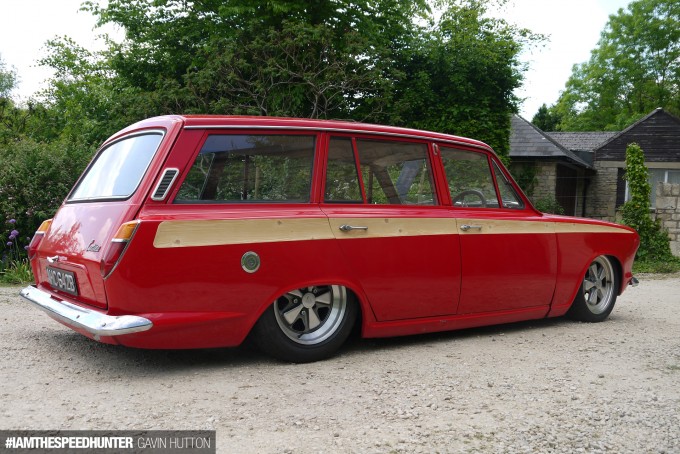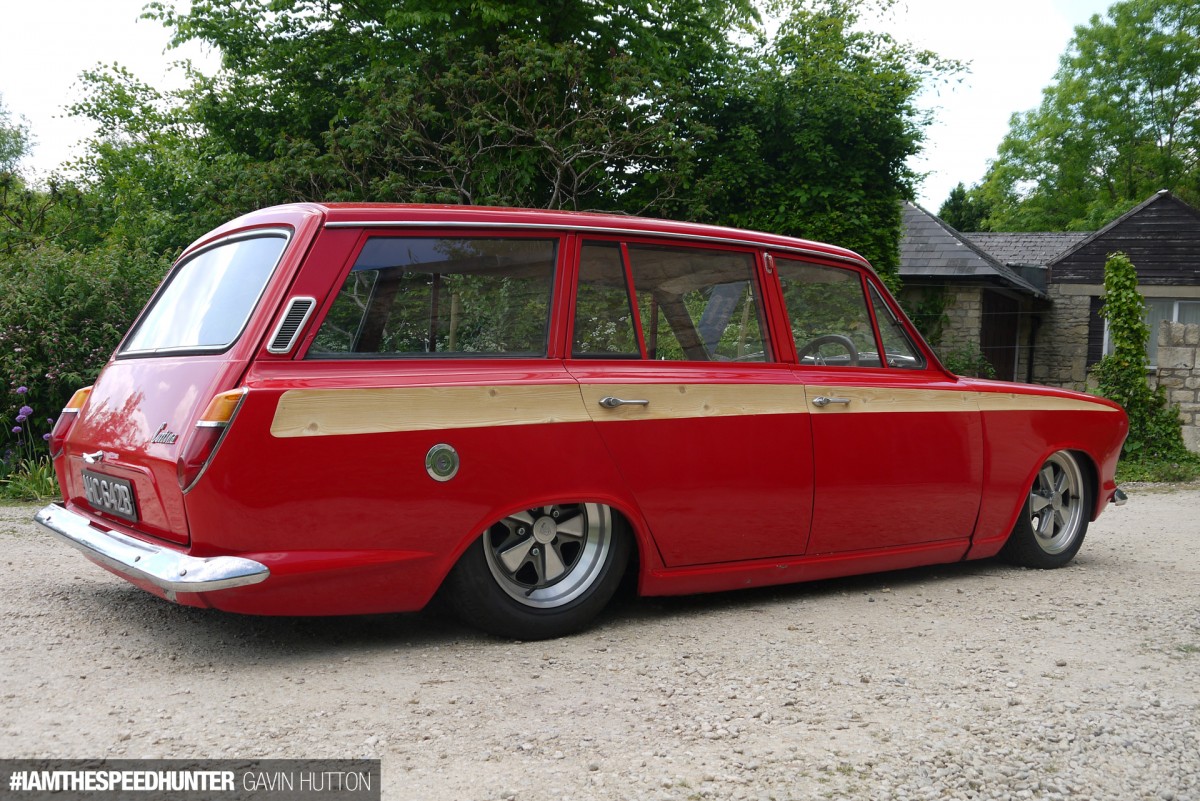 This next project comes to us from someone in England who's obsessed with wagons and he has way too many project cars. Nope, it's not our Editor at Large, Bryn, although we're sure he'd get along like a house on fire with Gavin Hutton, the owner of this awesome slammed Mk1 Ford Cortina estate. Gavin writes to us, "Most of my cars are Mk1 Cortinas, as I've been a fan of them for pretty much all of my life. But my biggest project is my bagged wagon, which I started a couple of years back."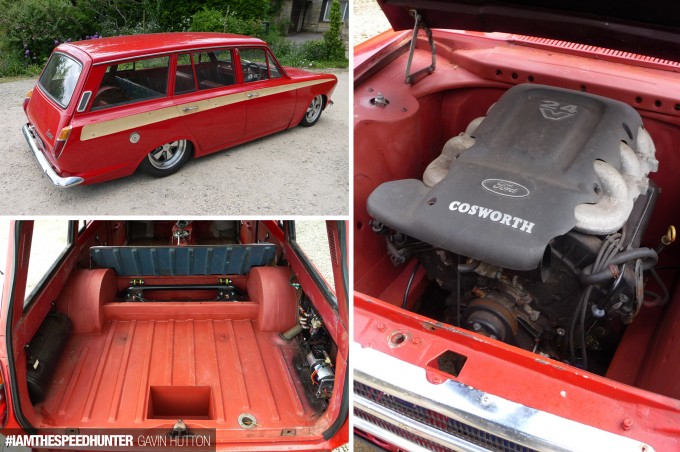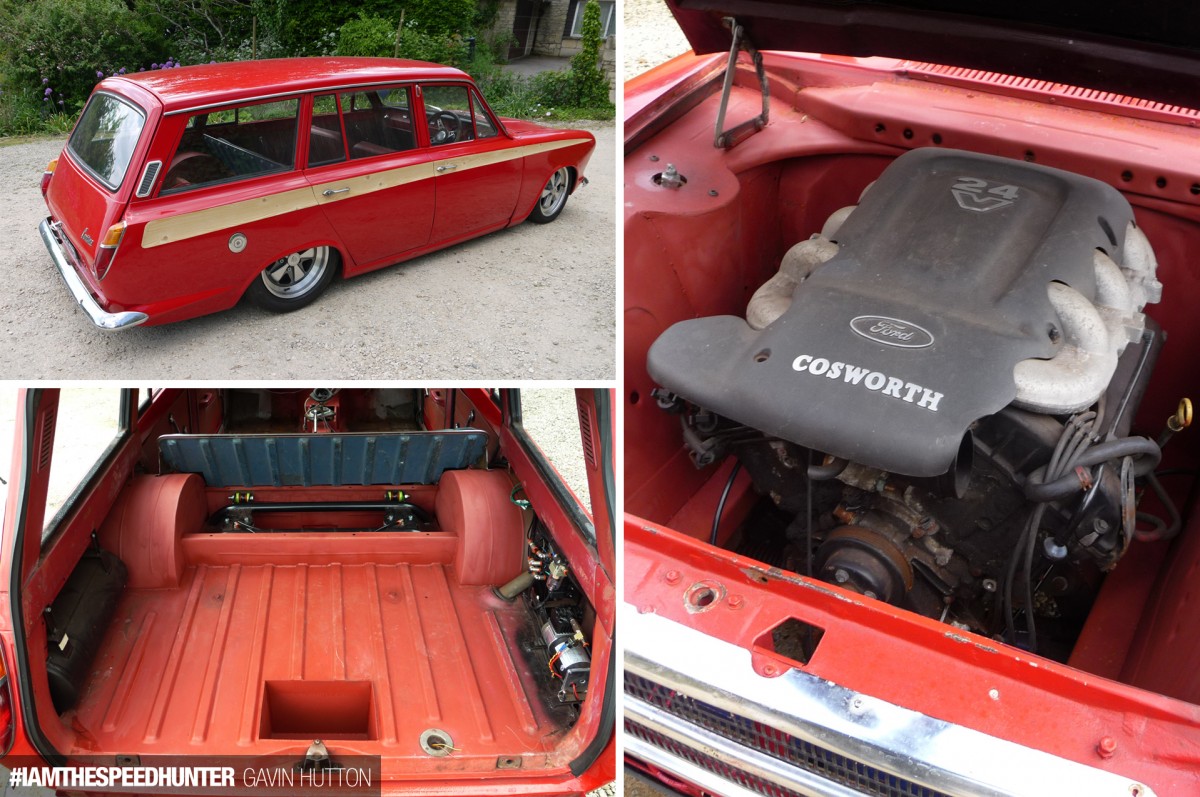 Gavin's already made some stellar progress with his project, including having the rear end modified to accommodate the Rayvern air bag install, adding Capri front struts, converting the steering rack and narrowing the Atlas axle, and performing a 5-stud hub conversion to American Ford PCD, which has allowed him to run a very cool set of Fuch wheels. It's also had a 24-valve V6 Cosworth engine (great choice!) with tubular headers dropped into it, although it's not running just yet. With its bright red colour scheme and wooden trim, Gavin's wagon oozes '60s-style and looks so damn right sitting that low to the ground. We're big fans!
Karl Degendorfer, Melbourne, Australia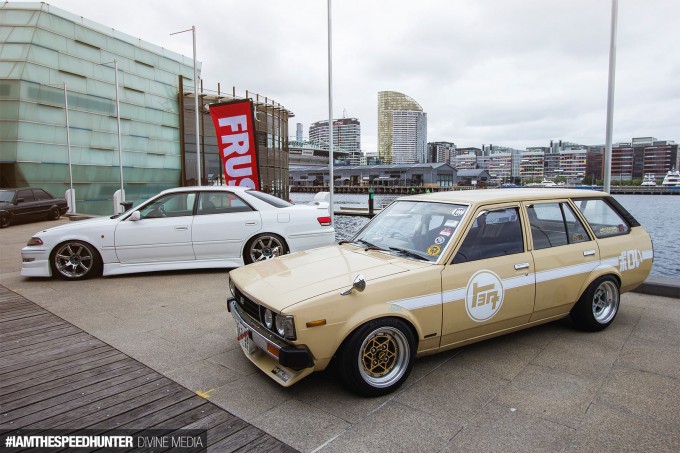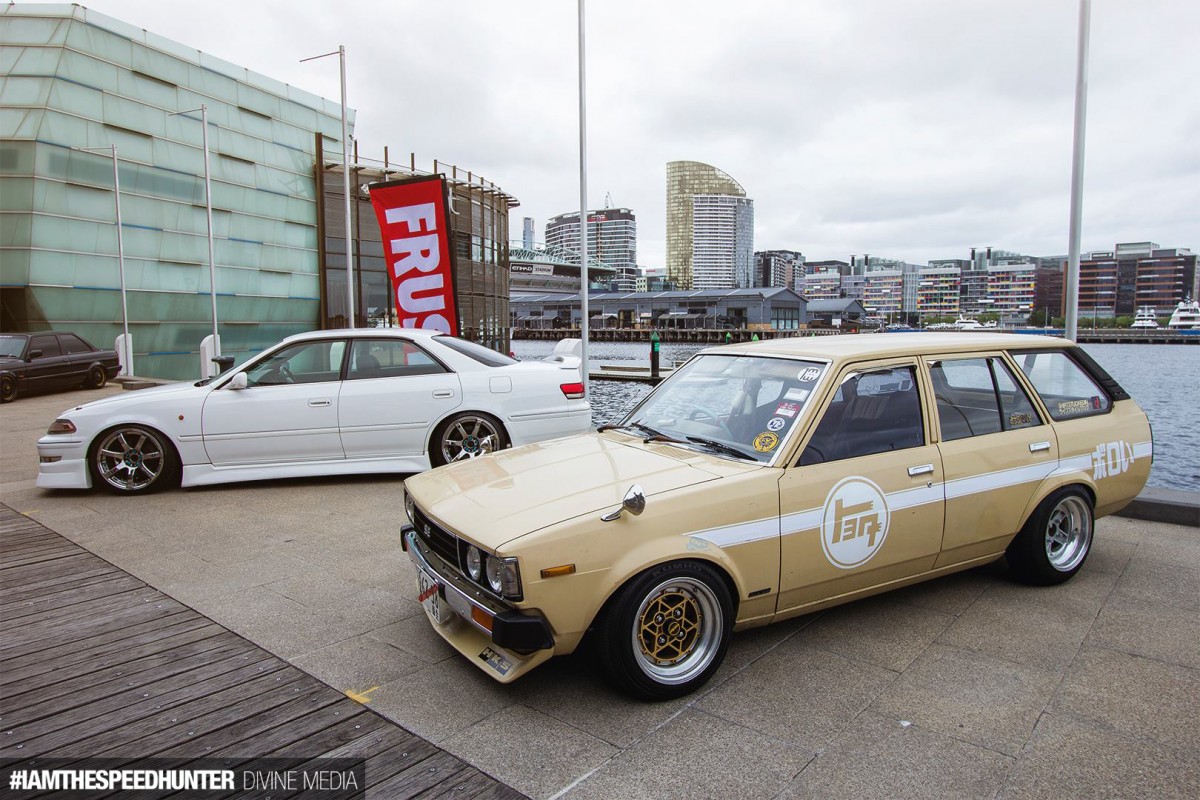 We saw some great examples of Toyota Corolla wagons come through our #IAMTHESPEEDHUNTER inbox over the past few weeks, but none that we enjoyed quite as much as Karl Degendorfer's KE70 from Melbourne, Australia. Karl explains that he originally bought the wagon to get him out of drifting, but ironically it's the reason why he's fallen in love with it all over again. He writes, "I just wanted something to build on the cheap to cruise around in, but the more I played around with it, the more attached I became." As they say, the rest was history…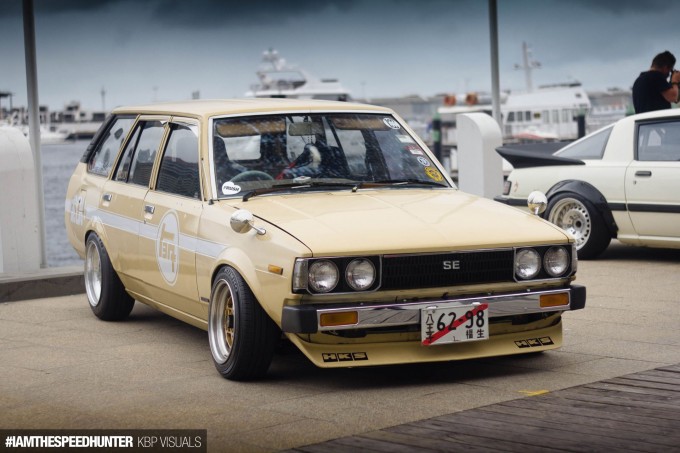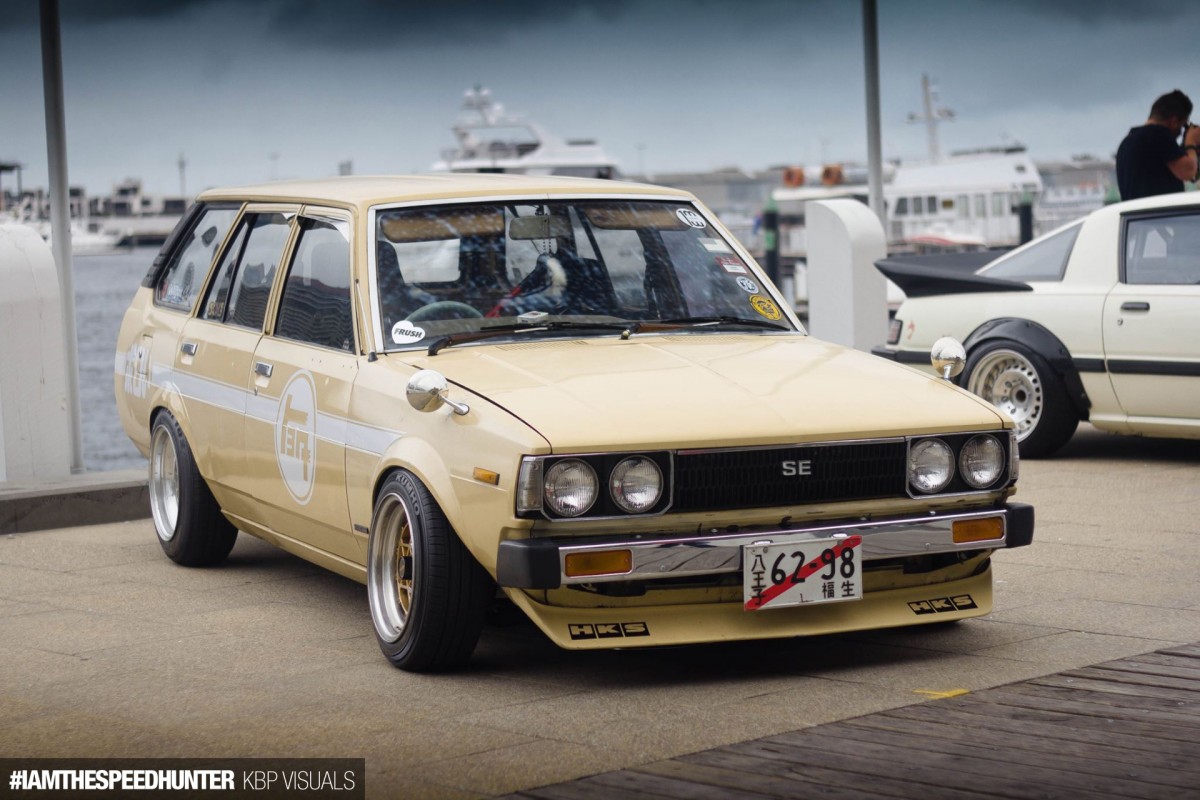 Over time, many hours went into making the old '80s 'Rolla as period correct looking as possible, with style and functionality both playing important factors as well. We could probably write a whole chapter just on Corolla's spec list, which includes a JDM AE70 quad headlight conversion including the grille and chrome bumper, a Madhouse front lip, T3 Ground Control coilovers and camber tops with Bilstein shocks up front, an AE86 steering rack and power steering arms, SRI castor rods, KYB Hilux short-stroke shocks and a Cusco panhard rod, a T50 gearbox and heavy-duty clutch, and a T-18 T Series differential with a Weir Performance 4.7 final drive. The interior has plenty of cool touches too, with an Omori 10,000rpm tachometer and gauges, and a 5-point cage. The front guards have been pumped and pulled to fit the retro Hayashi Bomber wheels (14×7-inch -25), with SSR MKIIs (14×7.5-inch -10) sitting under the rear arches. The body and paint is all original too. Karl admits, "There might be some dents hidden under a few stickers!".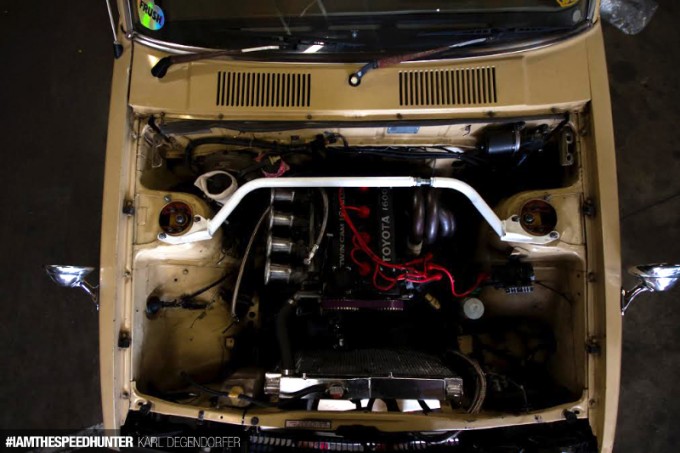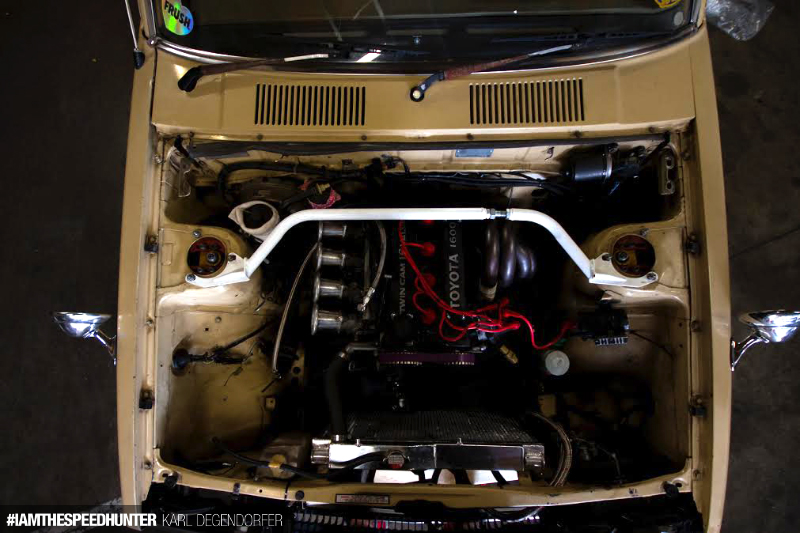 Karl's powerplant of choice is a trusty Toyota 4A-GE 16-valve, which breathes through 20V quad throttle bodies and exhales out of a set of genuine Power Craft N2 equal-length headers. With its custom straight-through exhaust and motorbike muffler, we bet Karl's wagon looks and sounds awesome out on track. Perhaps we're going to have to check out some grassroots drift events in Australia this year to see it in action for ourselves…
Ivan Mejorado, San Francisco, USA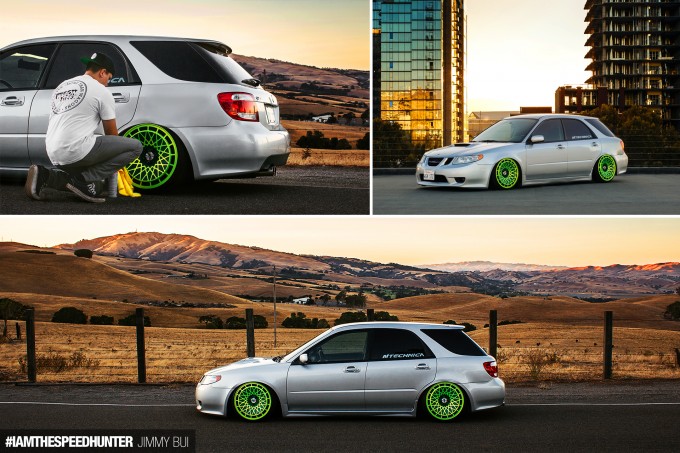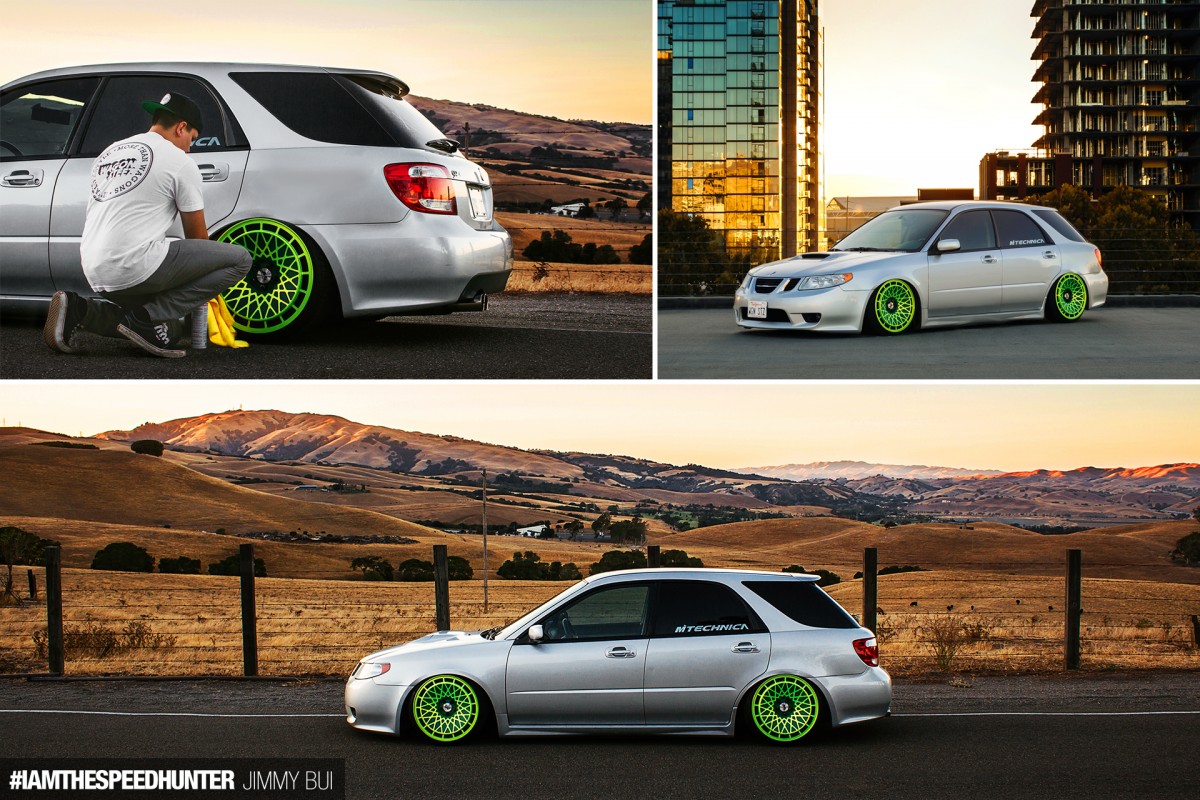 Just when you'd thought you'd seen every kind of wagon in the universe featured in our Wagon Week, suddenly a wild Saab appears! We love what Ivan Mejorado has done with his 2005 Saab 9-2X, which is complemented beautifully by this set of images by photographer Jimmy Bui.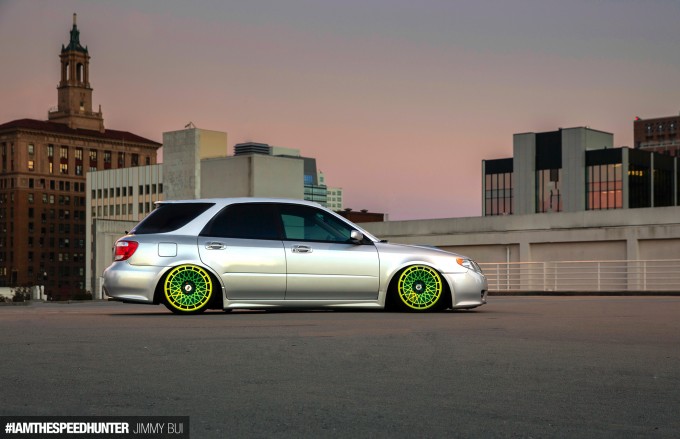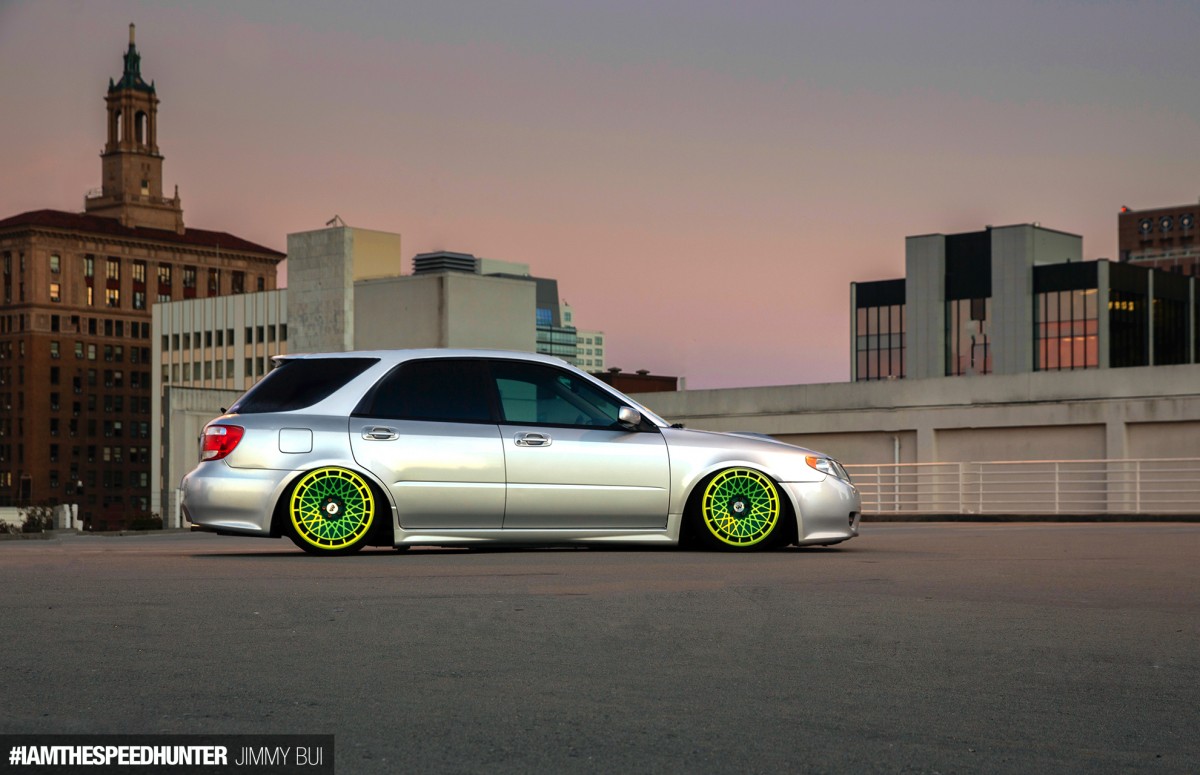 The 'Saabaru', which Ivan jokingly refers to it as, rides on Air Lift Performance air bags controlled by an AccuAir e-Level Management system, and has a custom Stage One intake tune and an STI interior. Ivan's owned the Saab for a year now and hasn't modified it to a huge extent, but there's no denying that it looks extremely cool at this ride height, and the 18-inch MTechnica turbo wheels certainly make a neat statement. The package is simple yet effective, and overall it makes for a great-looking daily driver. Nice one, Ivan!
Timo and Seppo Erhomäki, Finland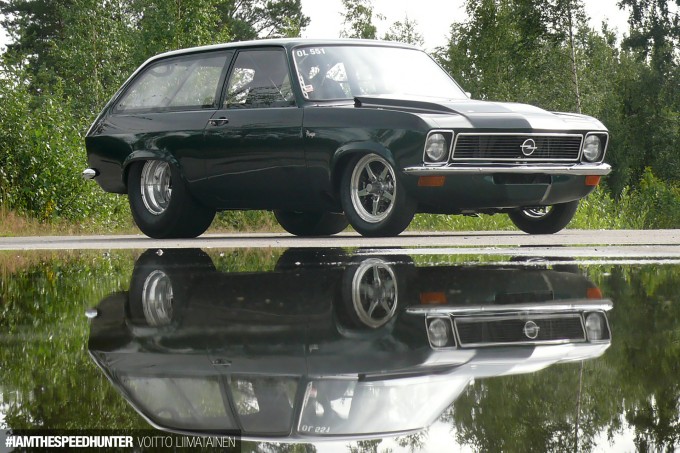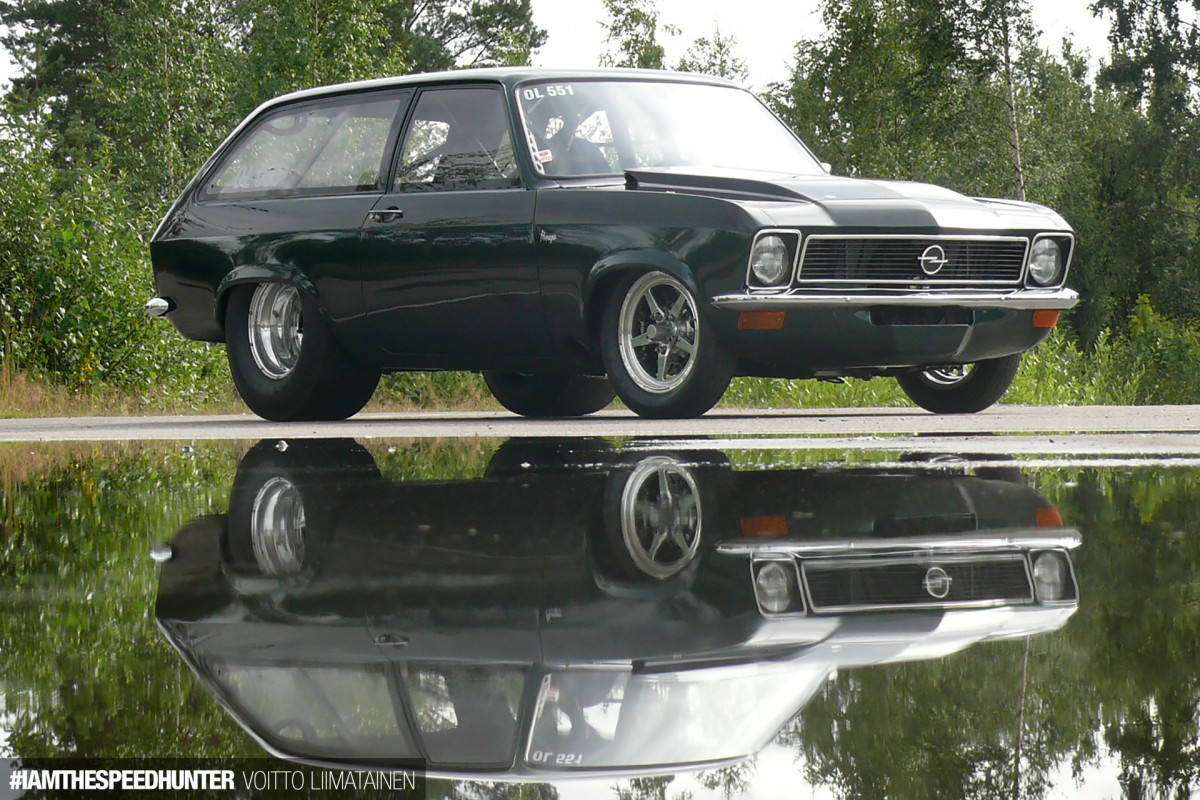 We all know how crazy those Finns are when it comes to horsepower, and this submission from Voitto Liimatainen has definitely reaffirmed that stereotype. Owned by brothers Timo and Seppo Erhomäki, this '73 Ascona Voyager is quite the lethal Opel weapon, making just over 1,000 horsepower at 2.5bar boost.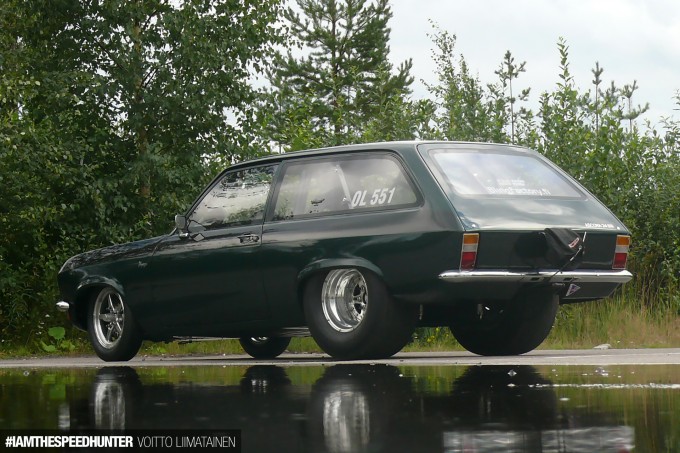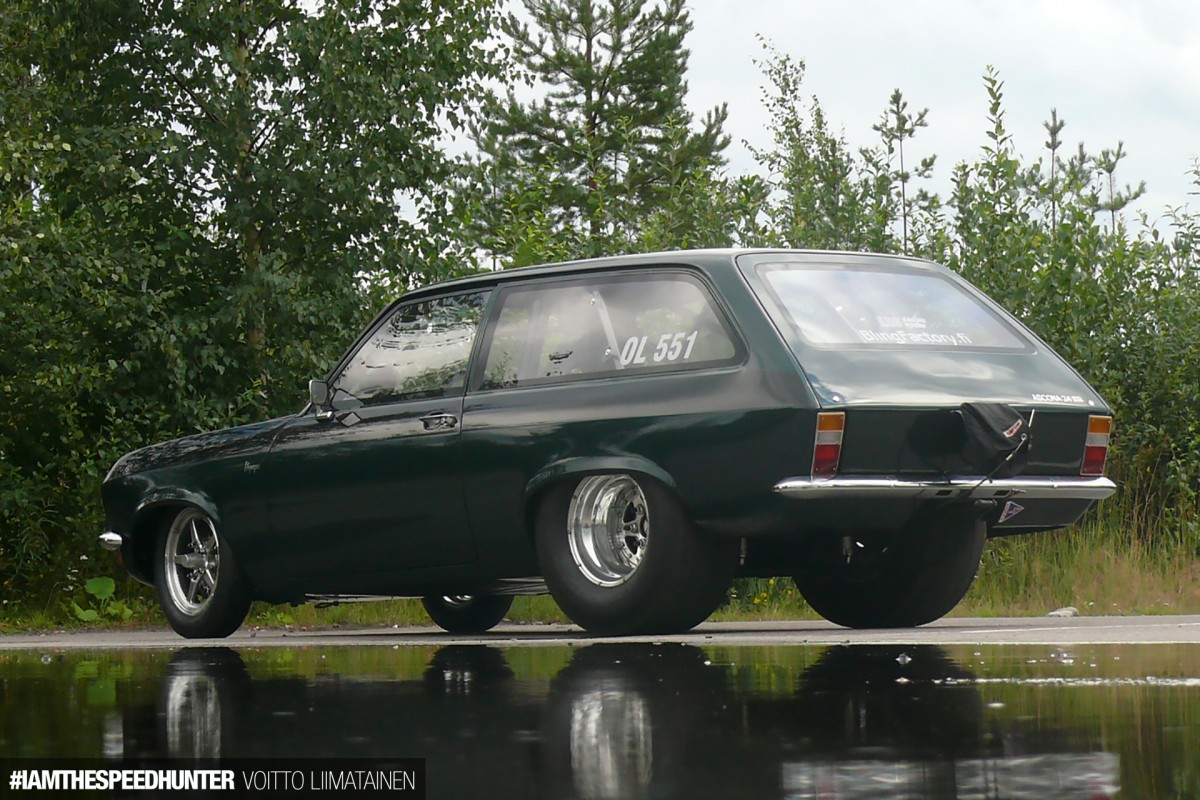 Using a 2.3-litre Opel 400 motor with a billet block and crankshaft of their own design, the Erhomäki brothers' best time down the quarter mile so far has been a 7.85 second pass at 285km/h. We managed to find a recent video of the car on the dyno here.
We hope you've enjoyed this Readers' Rides feature as much as we have, and we're still completely in awe of how many cool wagons there are out there. If you feel like you haven't quite had your fix yet, scroll down and have a browse at some more of the awesome cars that were sent in to us. Thanks everyone, and until next time, happy Speedhunting!
Taryn Croucher
Instagram: taryncroucher
Twitter: @taryncroucher
taryn@speedhunters.com
About #IAMTHESPEEDHUNTER
We created #IAMTHESPEEDHUNTER to allow you the opportunity to share your skills and car culture experiences from around the globe with the rest of the Speedhunters audience.
How do you get involved? It's simple…
Instagram – Follow us on Instagram at @TheSpeedhunters and tag your own car culture images with #IAMTHESPEEDHUNTER
Twitter – Follow us on Twitter at @SPEEDHUNTERS and share your tweets with the #IAMTHESPEEDHUNTER hashtag.
E-Mail – If you've been to a cool event and captured some amazing images, be sure to e-mail them to us on iamthespeedhunter@speedhunters.com and tell us a little bit about the event.
Did Somebody Say Bonus Wagons? 
Yes, that's right: more wagons!
Scott Paterson, London, United Kingdom – 1998 323i E36 Touring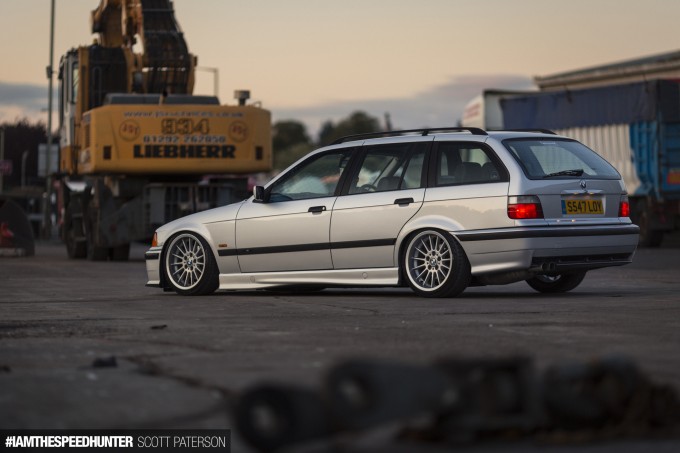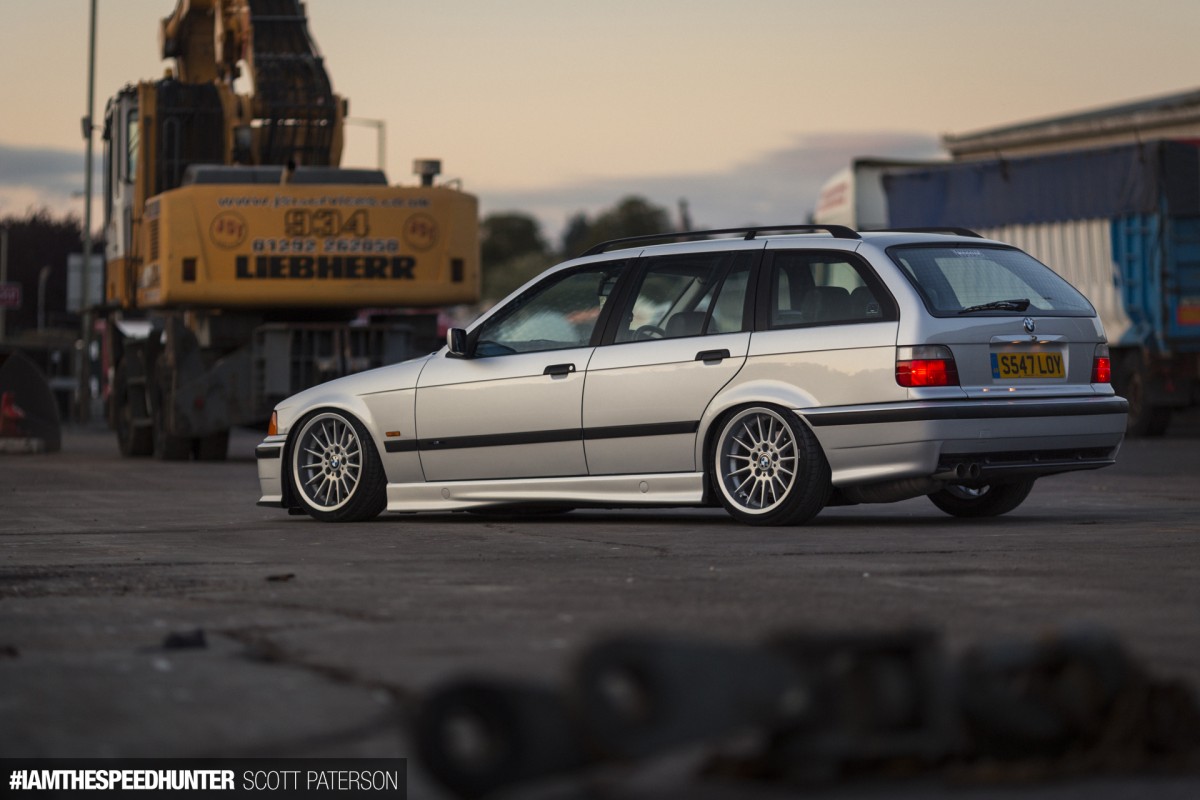 Paul Schuh, Maryland, USA – 1984 Volvo 245 Turbo estate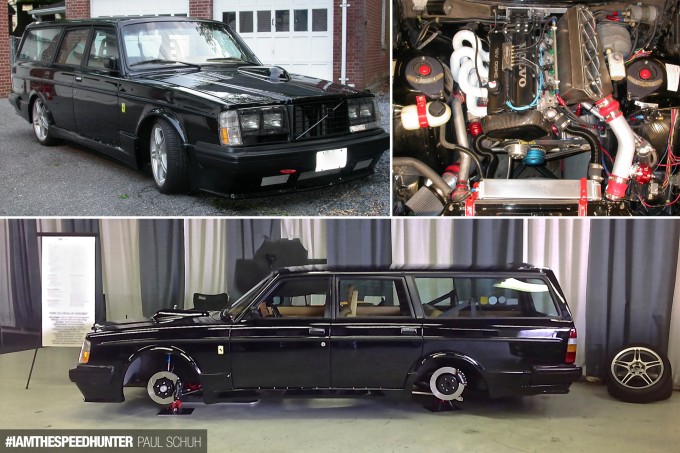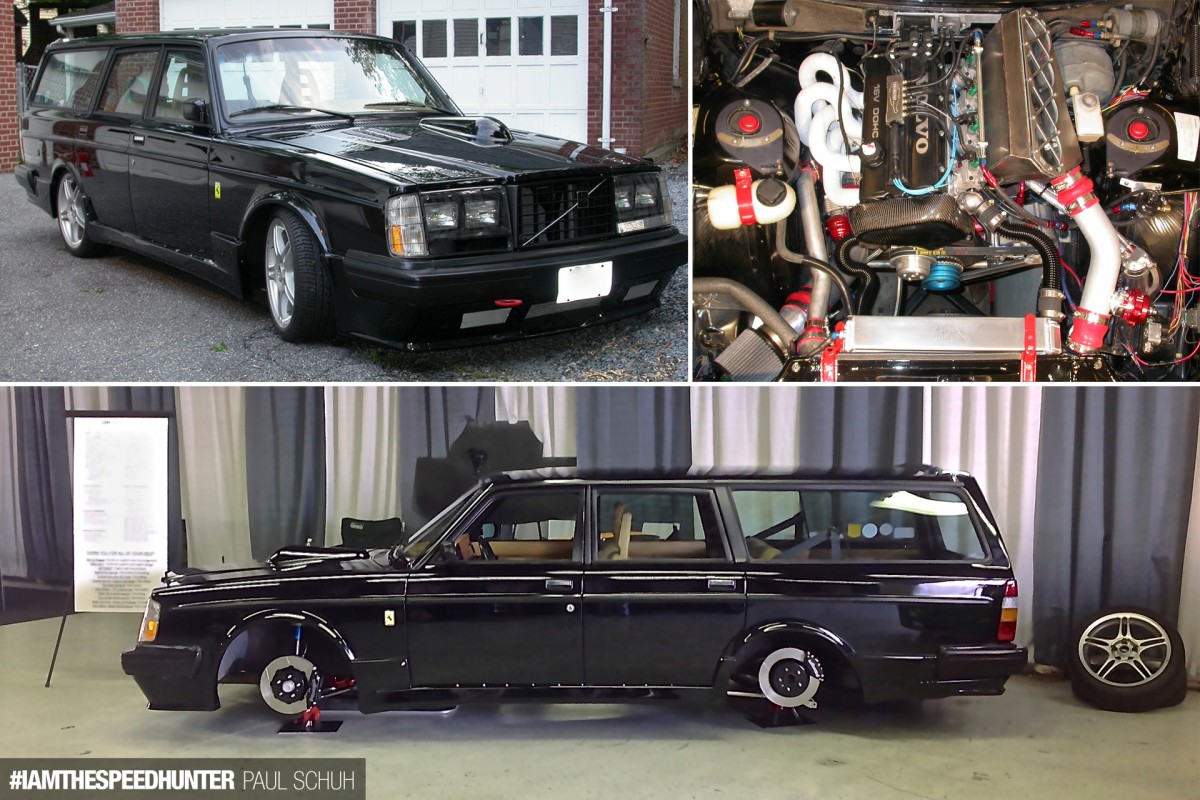 Chris Porter – '62 Chevrolet Impala wagon, modern LSV8 engine swap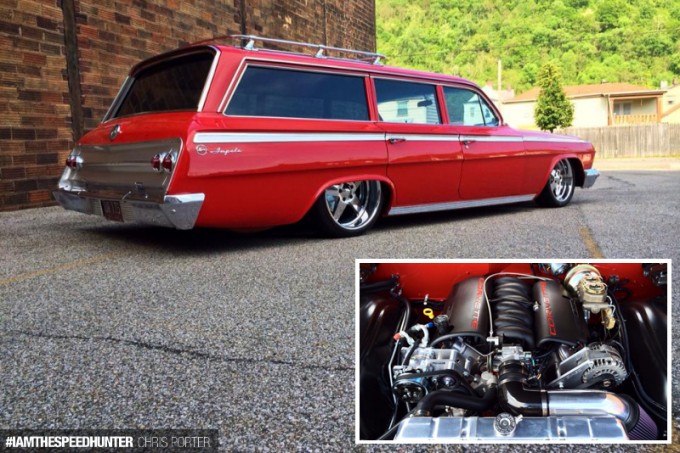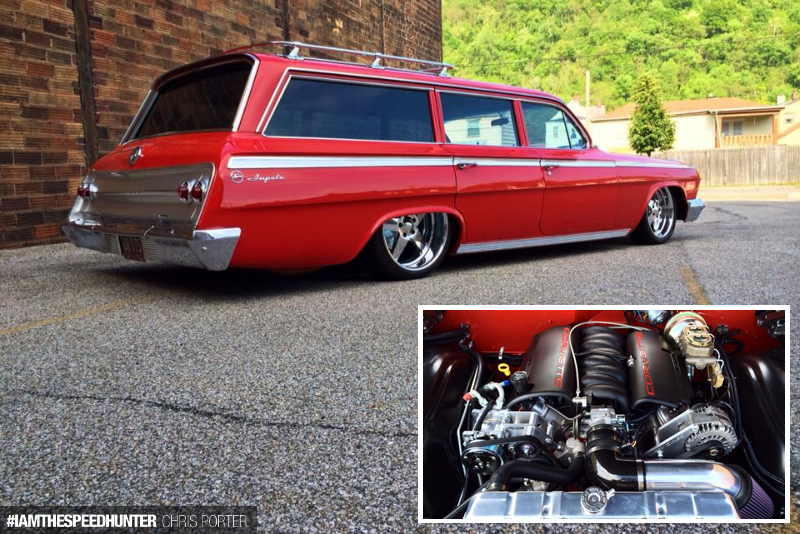 Mitchell Brock, Sacramento, California USA – '72 Toyota Cressida wagon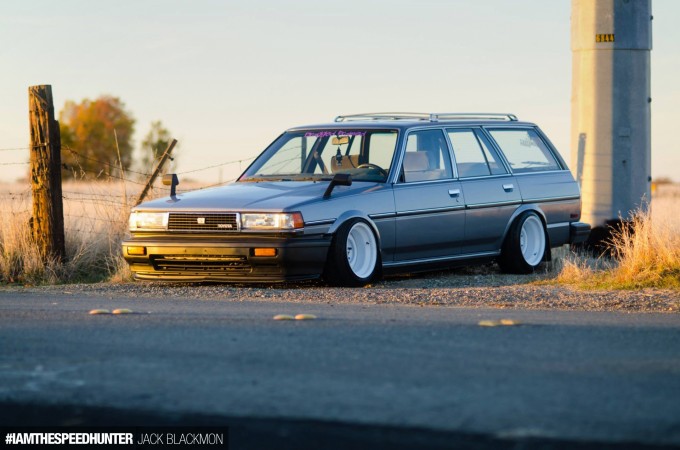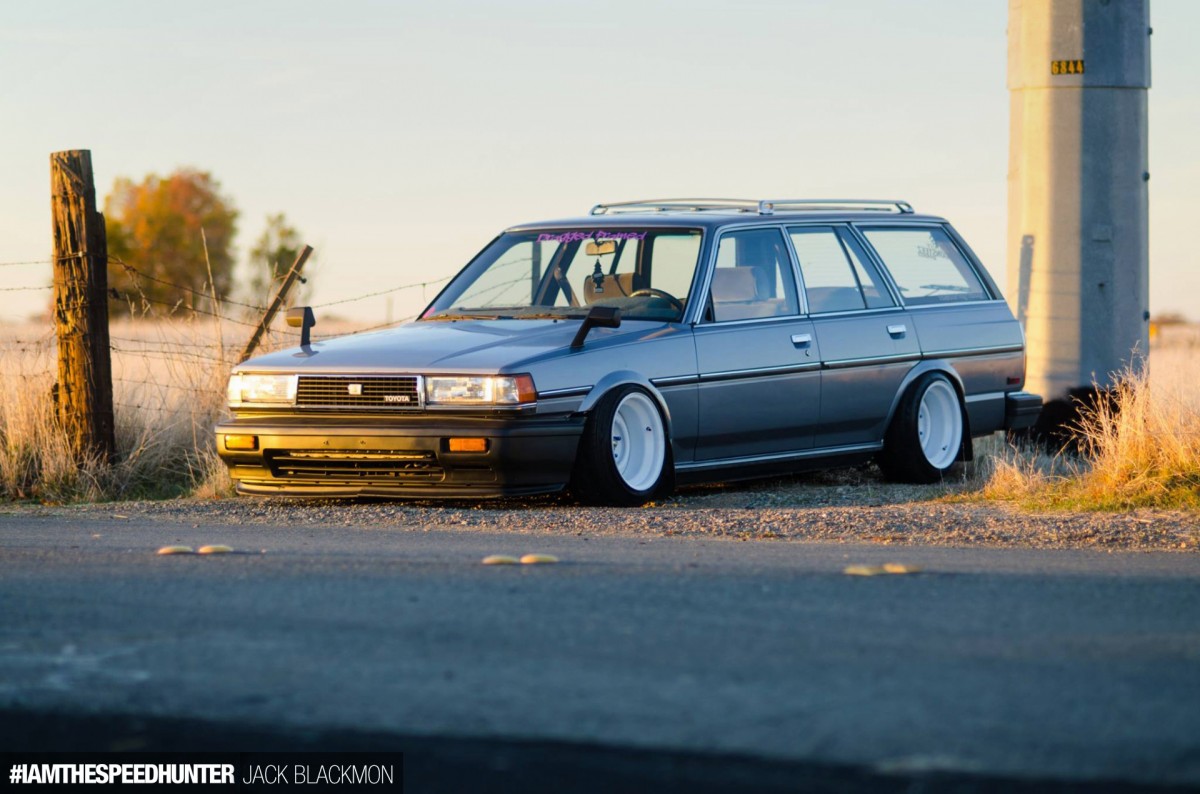 Aleksey Alekseev, Primorsky Krai, Russia – Nissan Stagea NM35 wagon, VQ25DET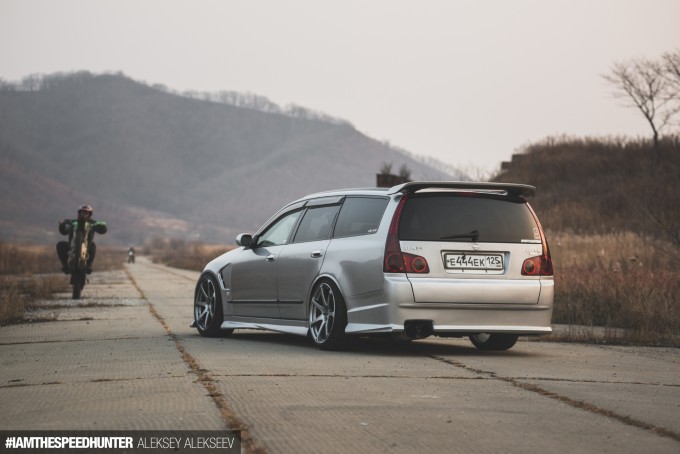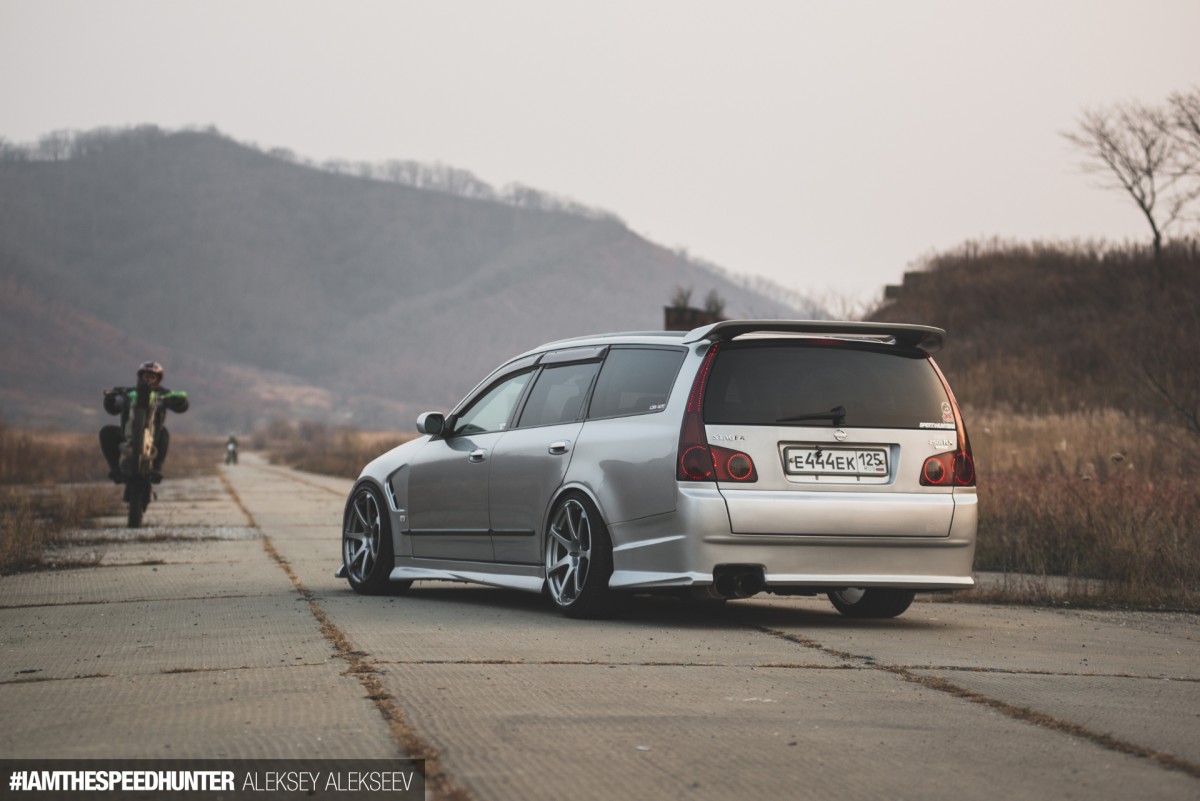 Petr Jeníček, Blatná, Czech Republic – '93 Mercedes W124 250D wagon, 2003 Ford Focus MKI wagon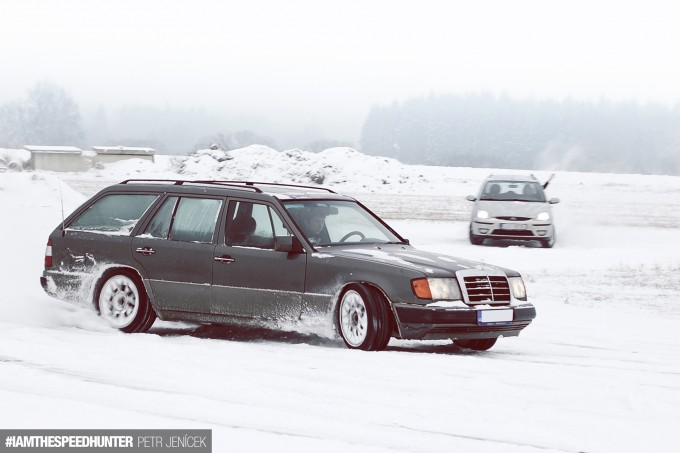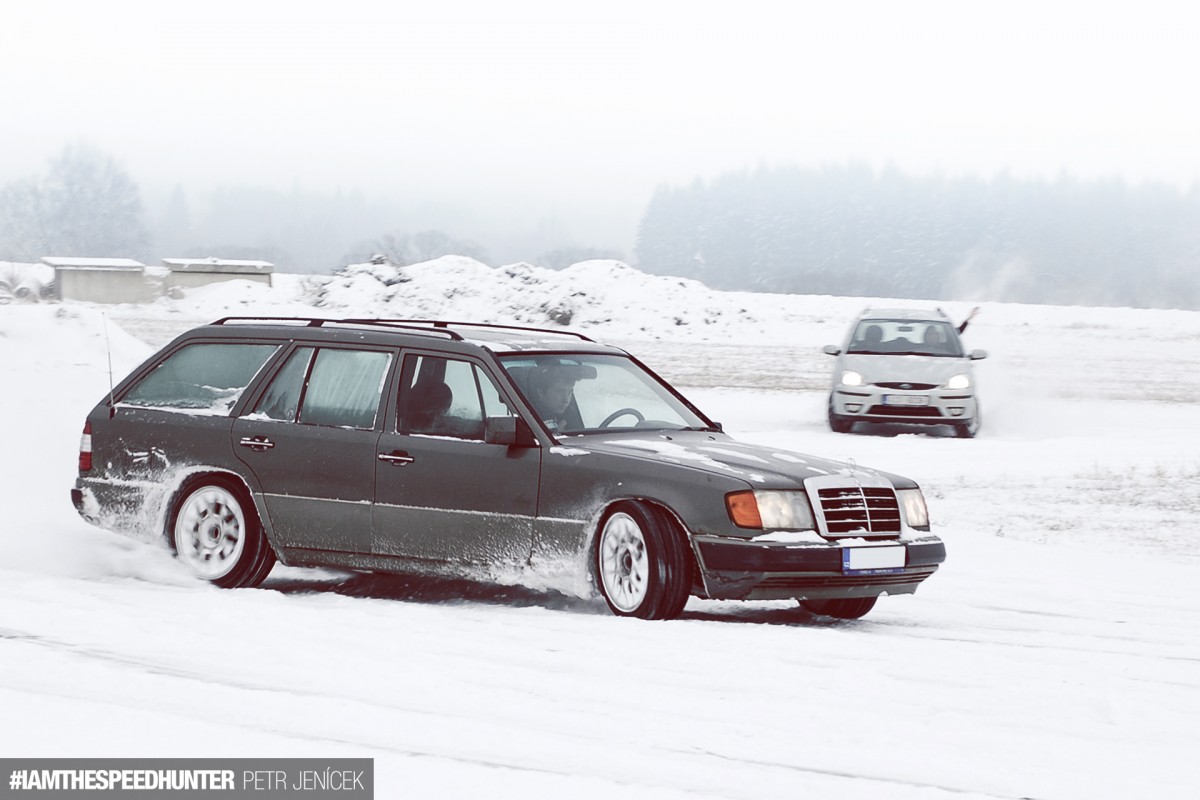 Jason King Salonga, San Francisco, CA, USA – '71 KE26 Toyota Corolla wagon, 4A-G 20V black top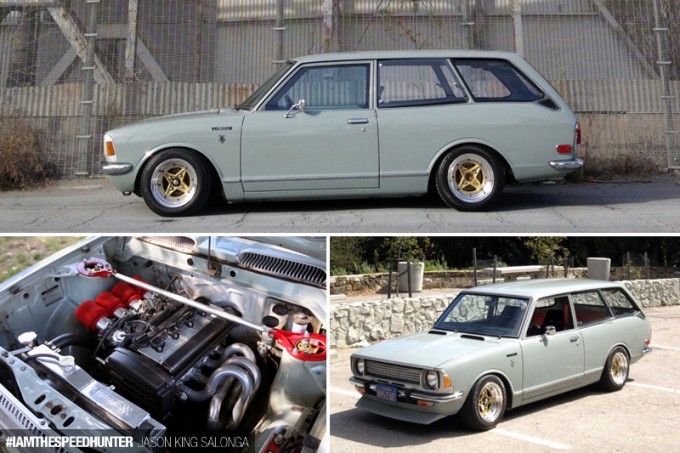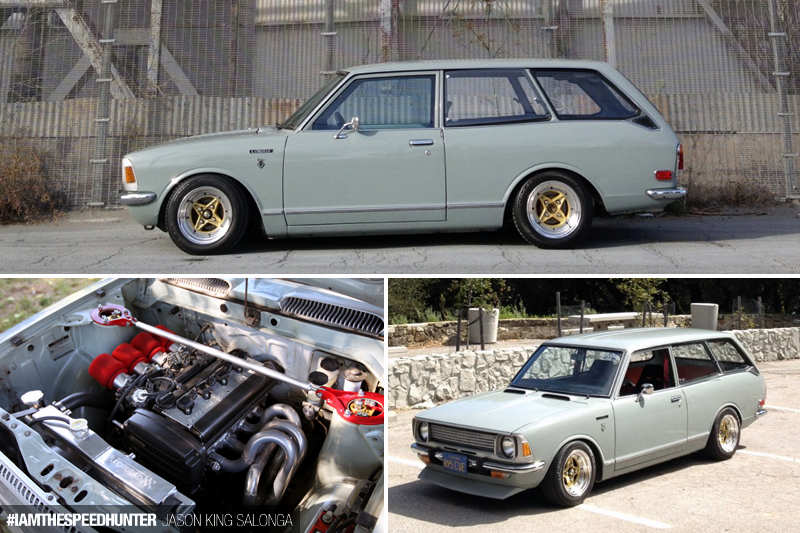 Geordie Johnston – modified 2005 Mercedes-Benz E55 AMG, 509whp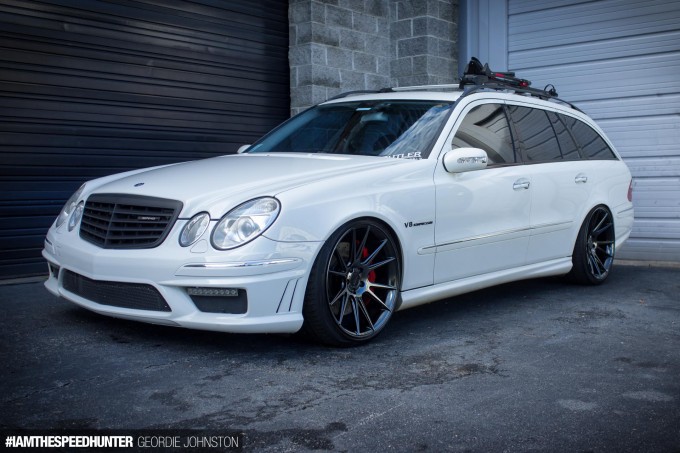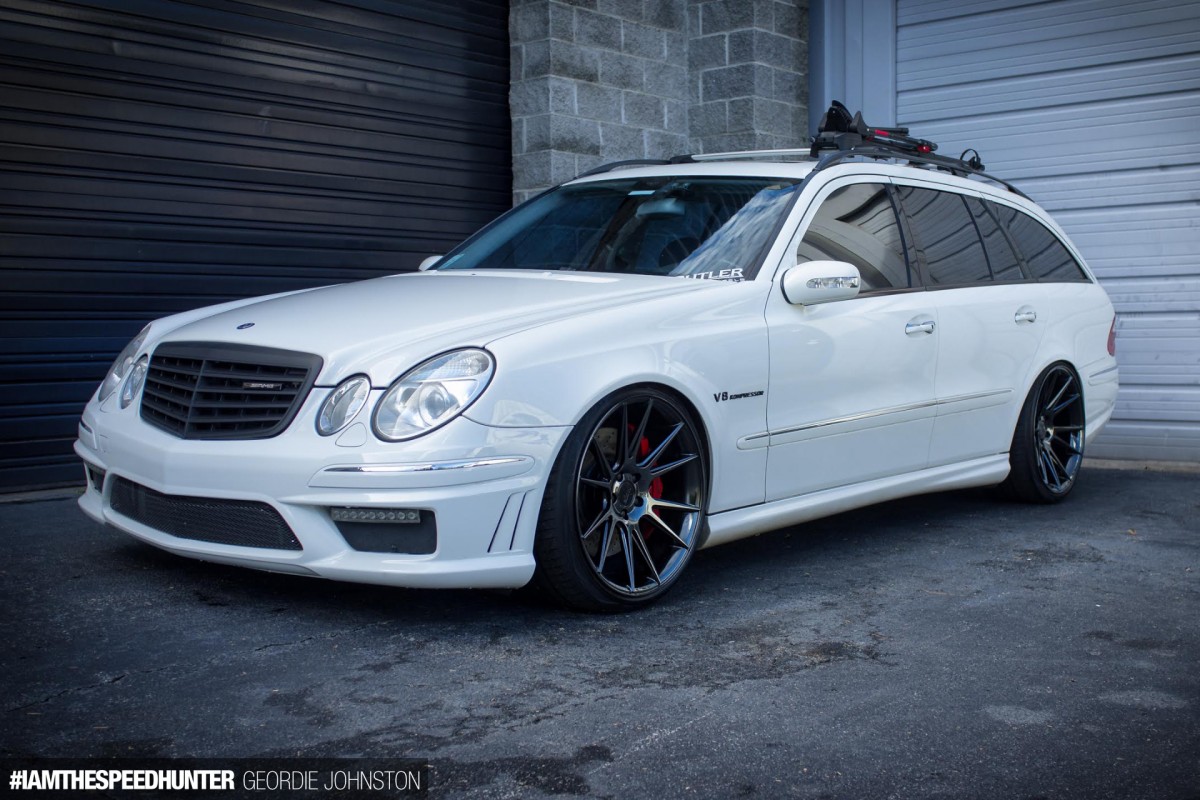 Roy Toshikatsu Sera, Bloomington, IN, USA – '86 PU11 Nissan Maxima Wagon