It's Not How You Think
Detroit; bankrupt, derelict, broken down. Well not quite. This is a powerful city. Industry and innovation is everywhere, and things are pretty lively. Cars? The place wouldn't function without them. There's an energy to Detroit that you don't find in a lot of cities. Where others have become stagnant and comfortable, Detroit is a sharp-minded, high court lawyer with the physique of a street fighter. It's even got its own race track.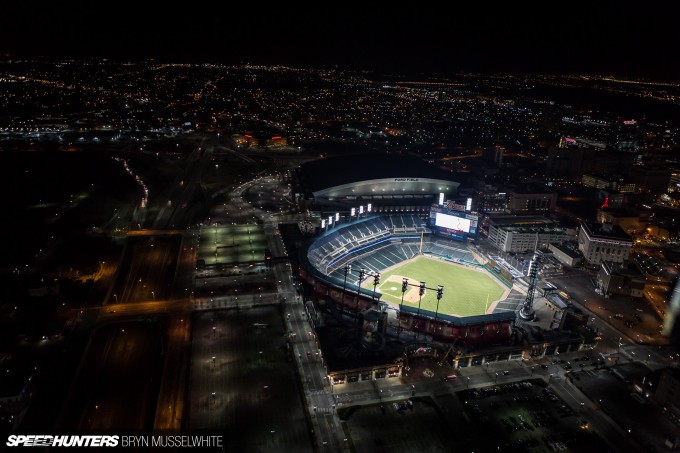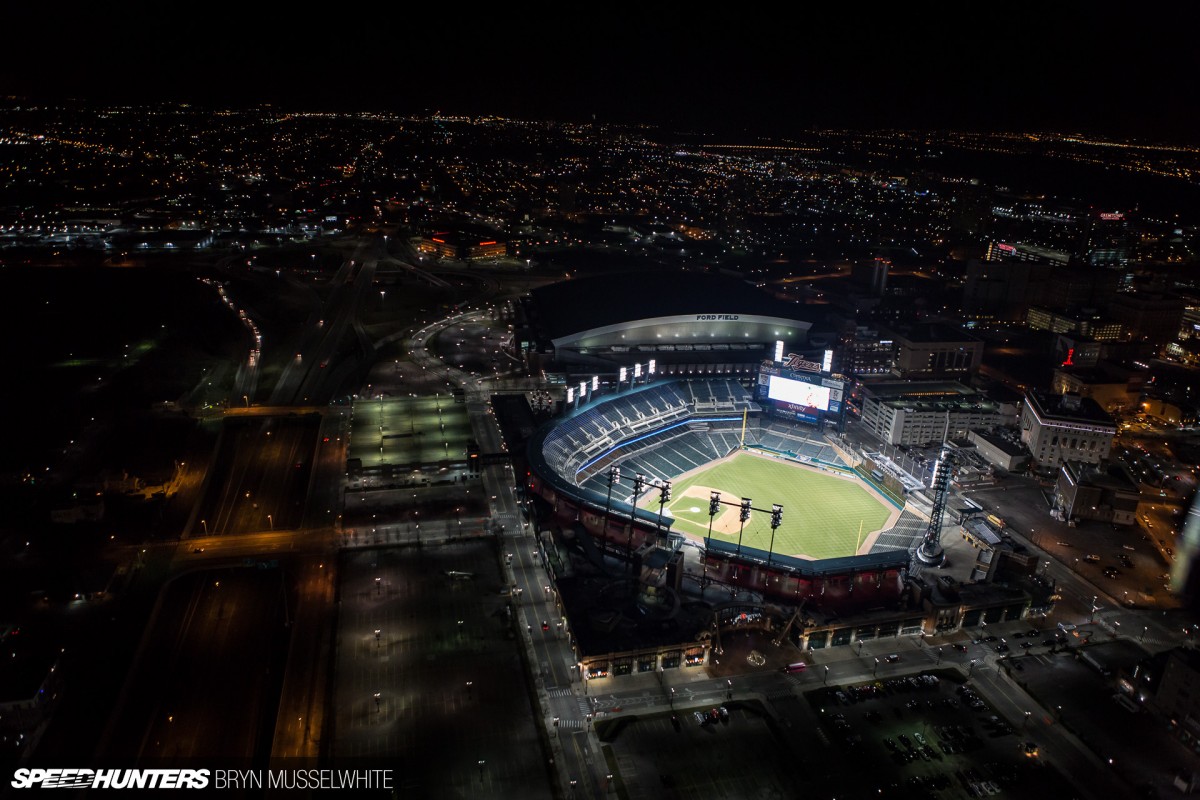 From the broken down factories to the enthusiasts, it's time we looked at this amazing city in a different way. This is Comerica Park, home of the Detroit Tigers, but just behind it you can see Ford Field, the covered football stadium wearing the name of a man who helped build the city.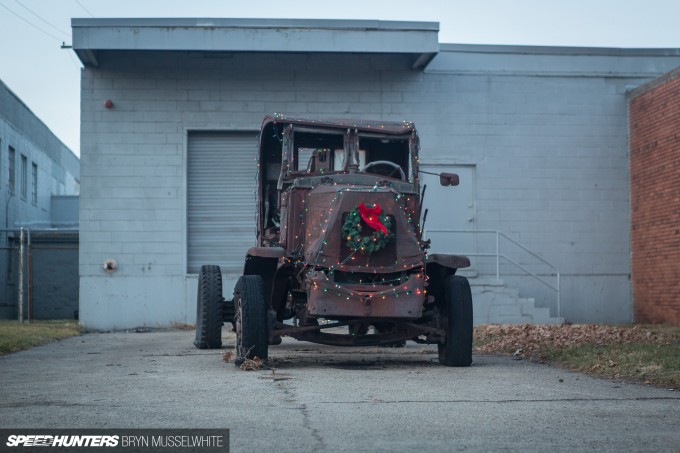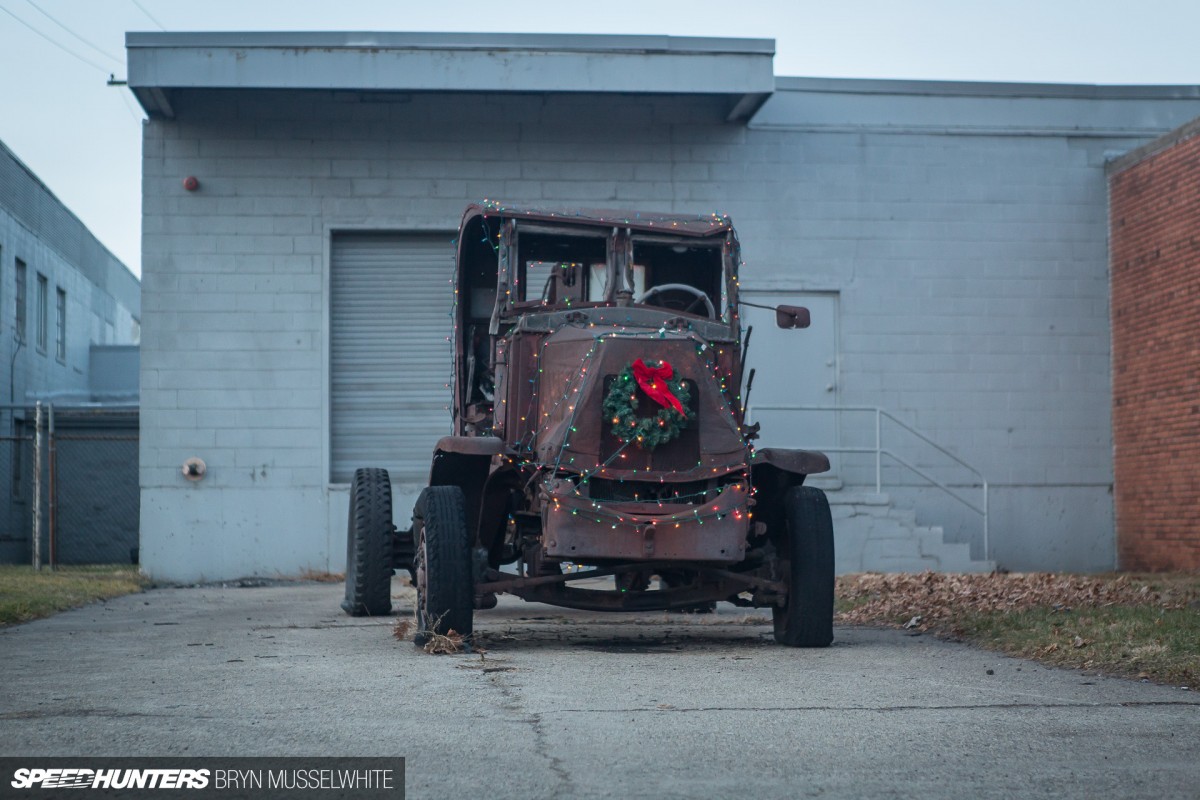 But why am I getting all excited about Detroit? Well, if you're in to cars and consider yourself a petrol head of any kind, then you'll know the name. It's synonymous with American car industry, the 'big three' call it home, and over the years it's been celebrated, admired, ignored and demonized in equal measure.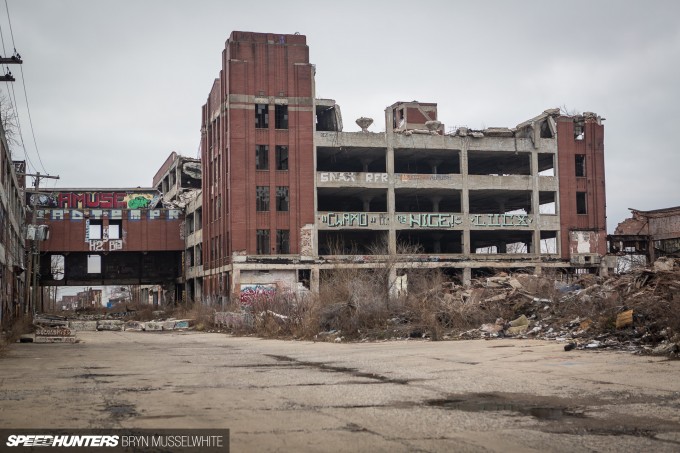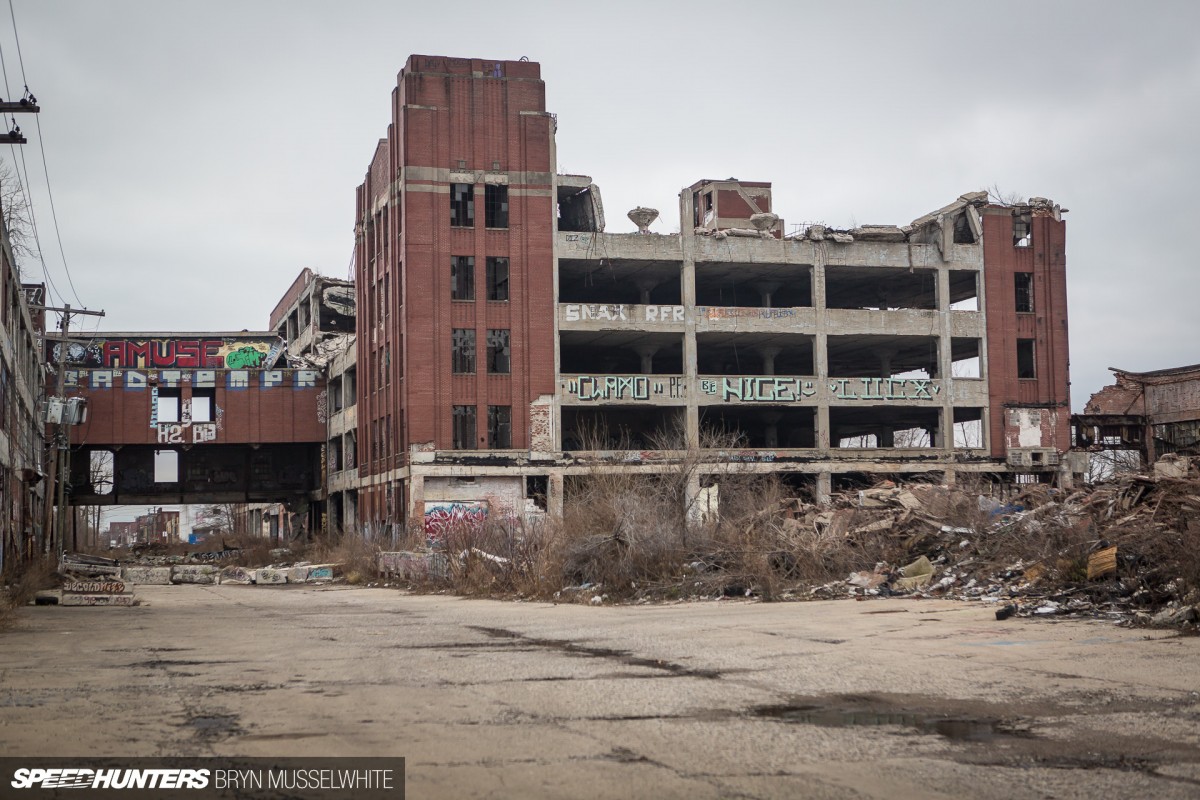 Personally, it's one of those places that has always been on my radar – like Bonneville or the Nürburgring. I passed through on a road trip in 1996 and didn't really get to see very much, but then I came back in early 2014 for the North American International Auto Show (NAIAS).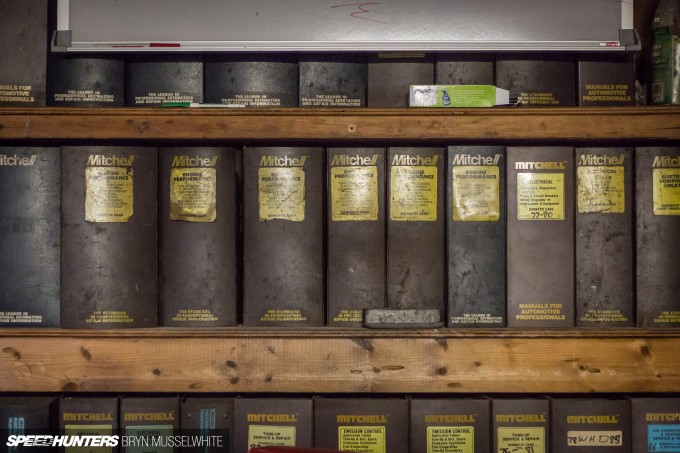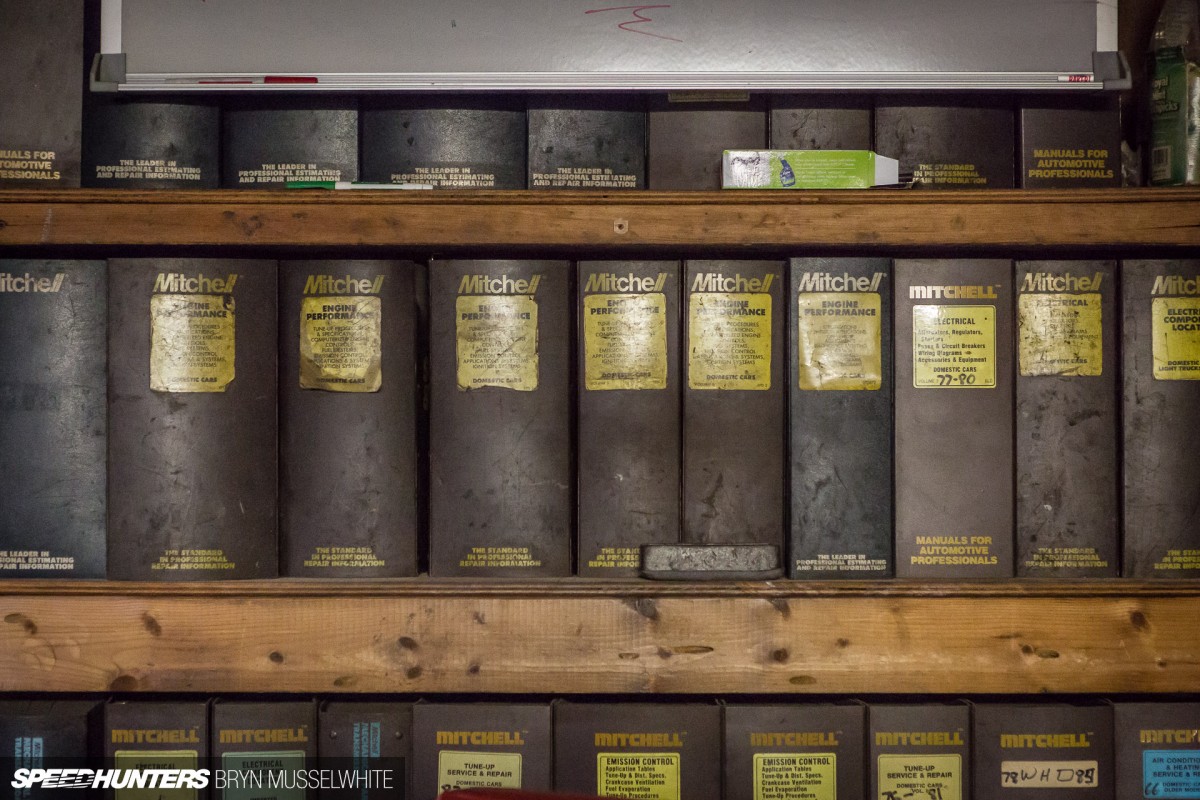 This is when my eyes were opened to what is going on in Detroit. For a start I was surprised by the size of the NAIAS, as it's actually quite small in comparison to other major motor shows. But everyone was there. By that I mean every major manufacturer had a large stand, and there was no room for anyone else.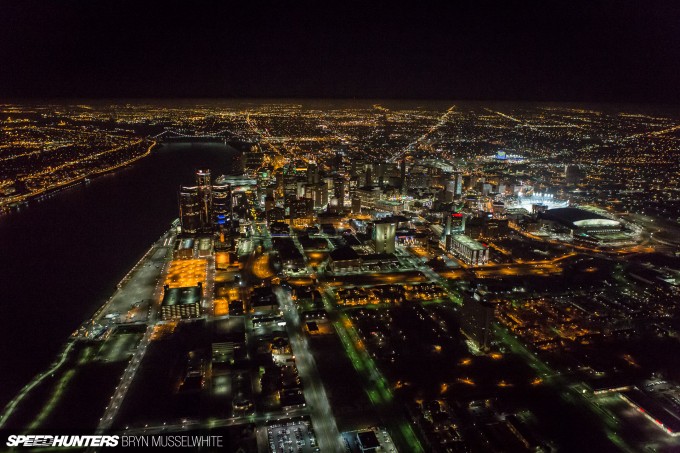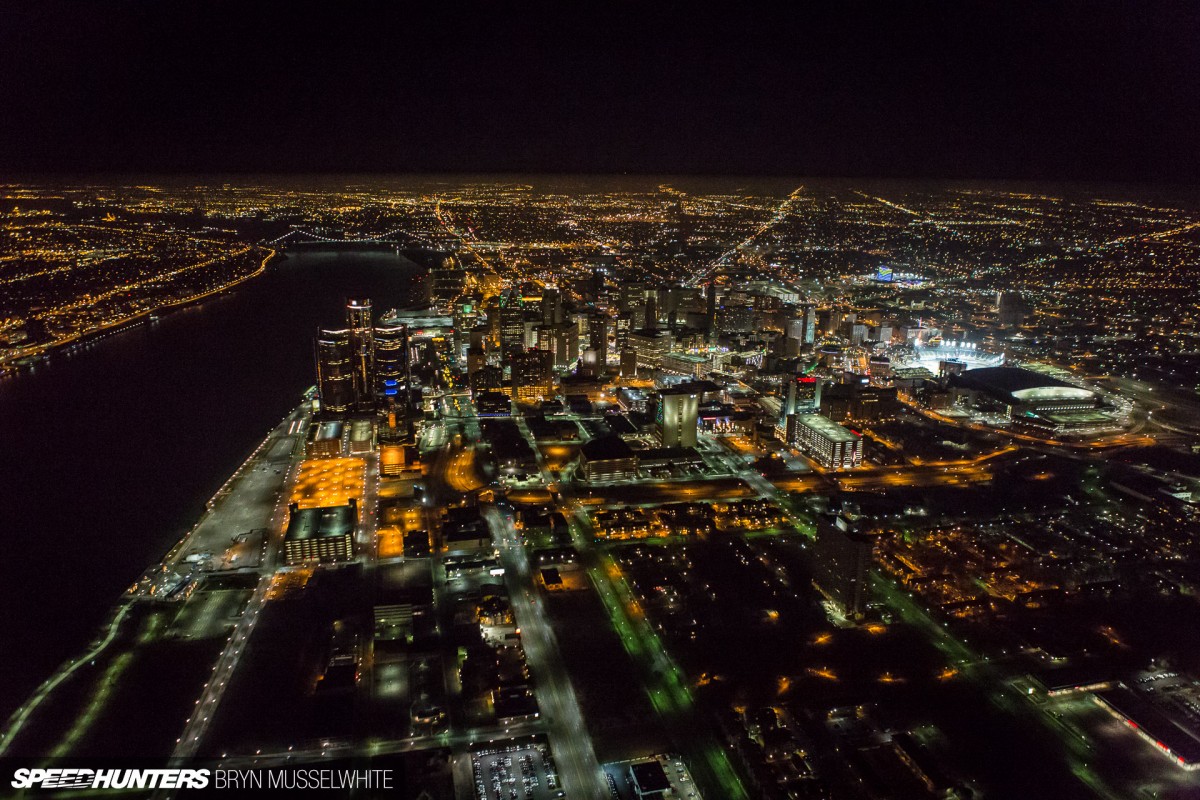 Serious players were unveiling new concepts all across the floor. They were housed in one hall of the Cobo Center, and it was as though all the big guns had brought out their best ammunition. The Toyota FT-1, Kia GT4 Stinger and Porsche 911 Targa were revealed to the public here. And although BMW had debuted their M4 concept at Pebble Beach, the production model was shown for the first time in Detroit alongside the M3 saloon. Those cars alone should give you an idea of how important manufacturers consider Detroit to be.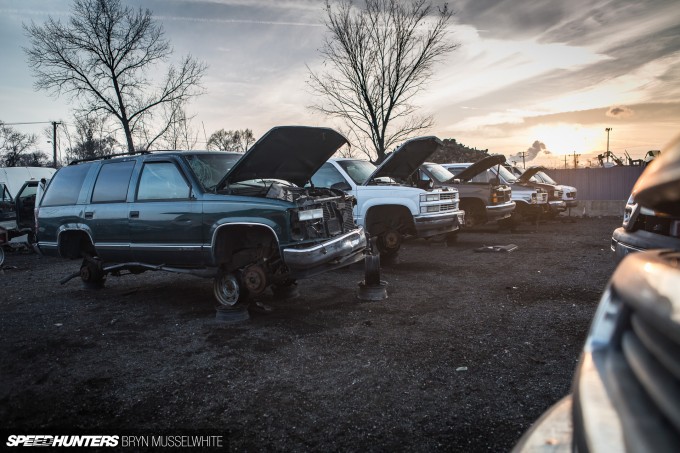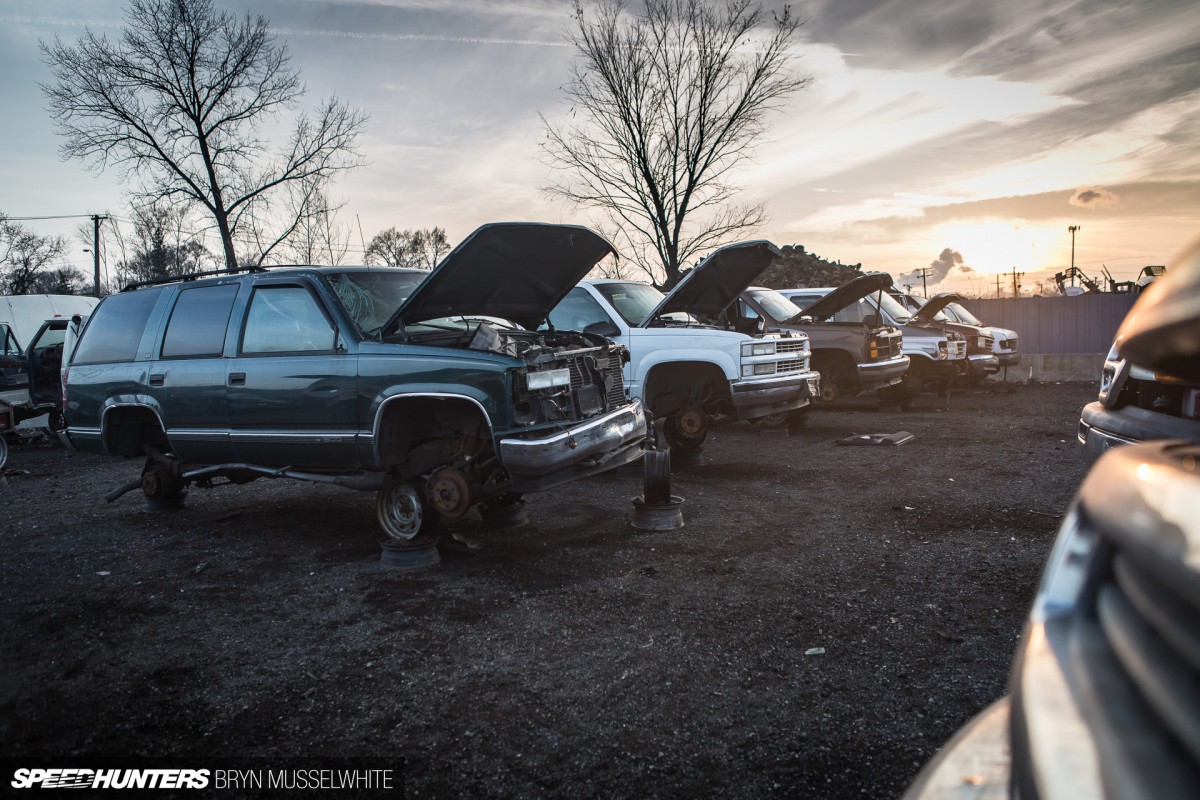 But you'd expect that from a major motor show, right? Well yes, but I also think it's a good sign of just how important the landmark of Detroit is in the history of the motorcar. Subsequently as a sign of respect, I think the motor manufacturers won't turn their back on the NAIAS like they did in the UK, where our annual motor show faltered and disappeared a few years ago. But maybe I'm just reading too much into it?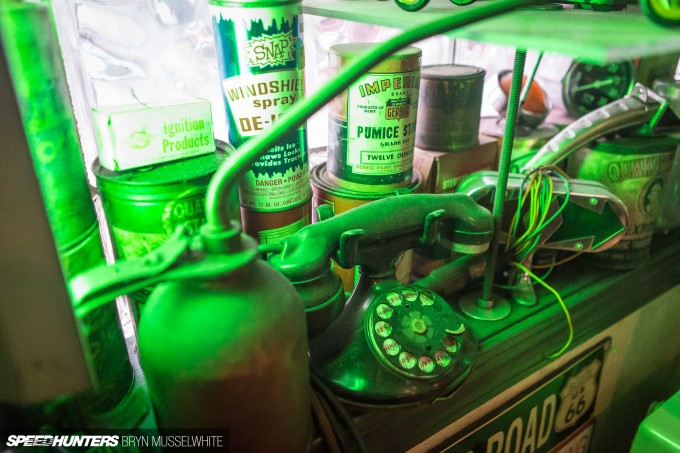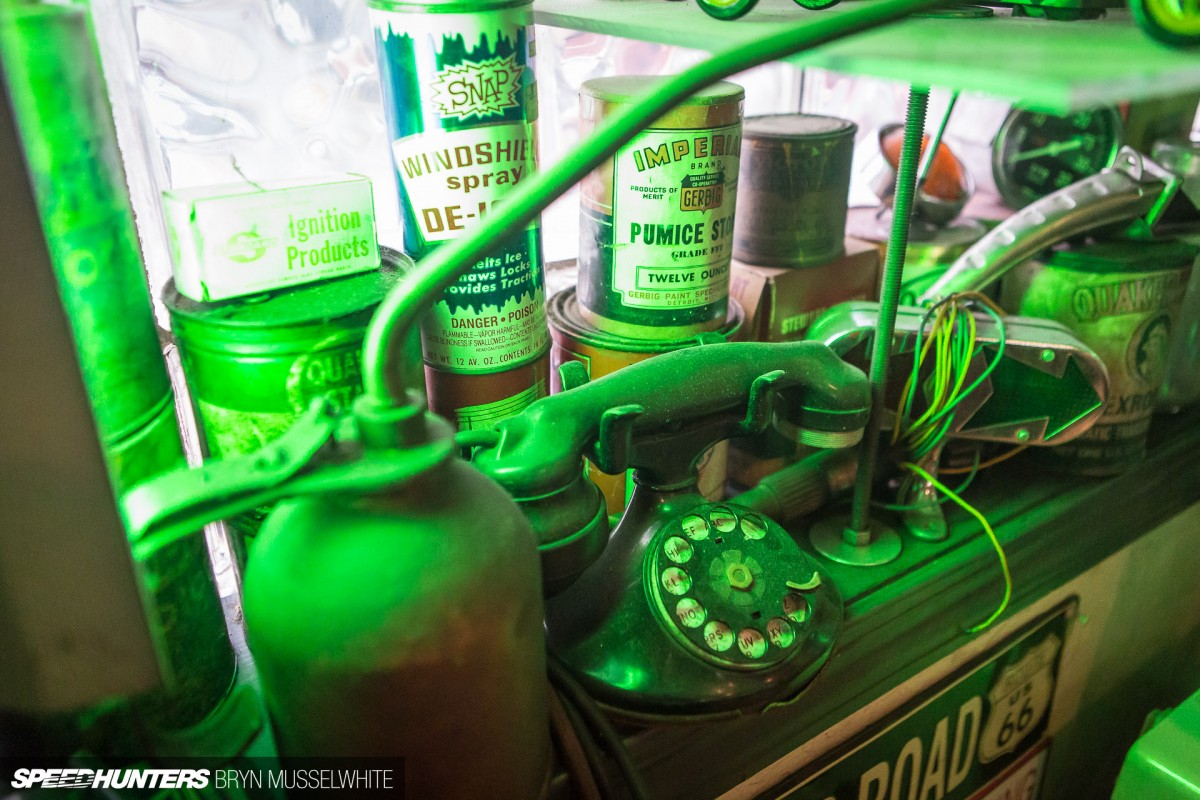 So what is it that keeps people here? In fact scrap that – what's making people come here? For roughly 50 years Detroit was jumping, expanding and multiplying – it was an industrial force to be reckoned with.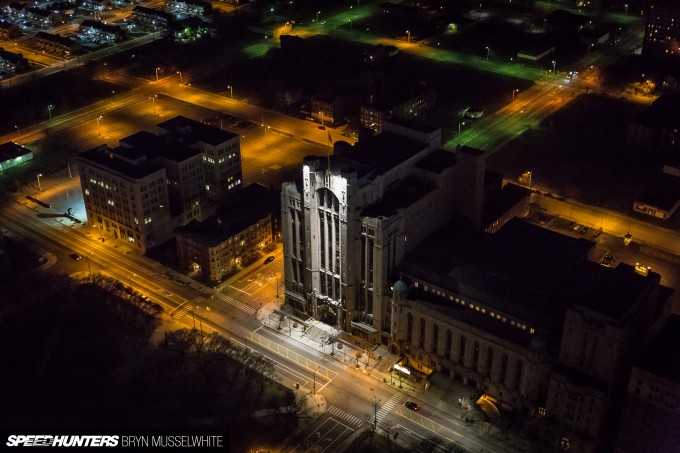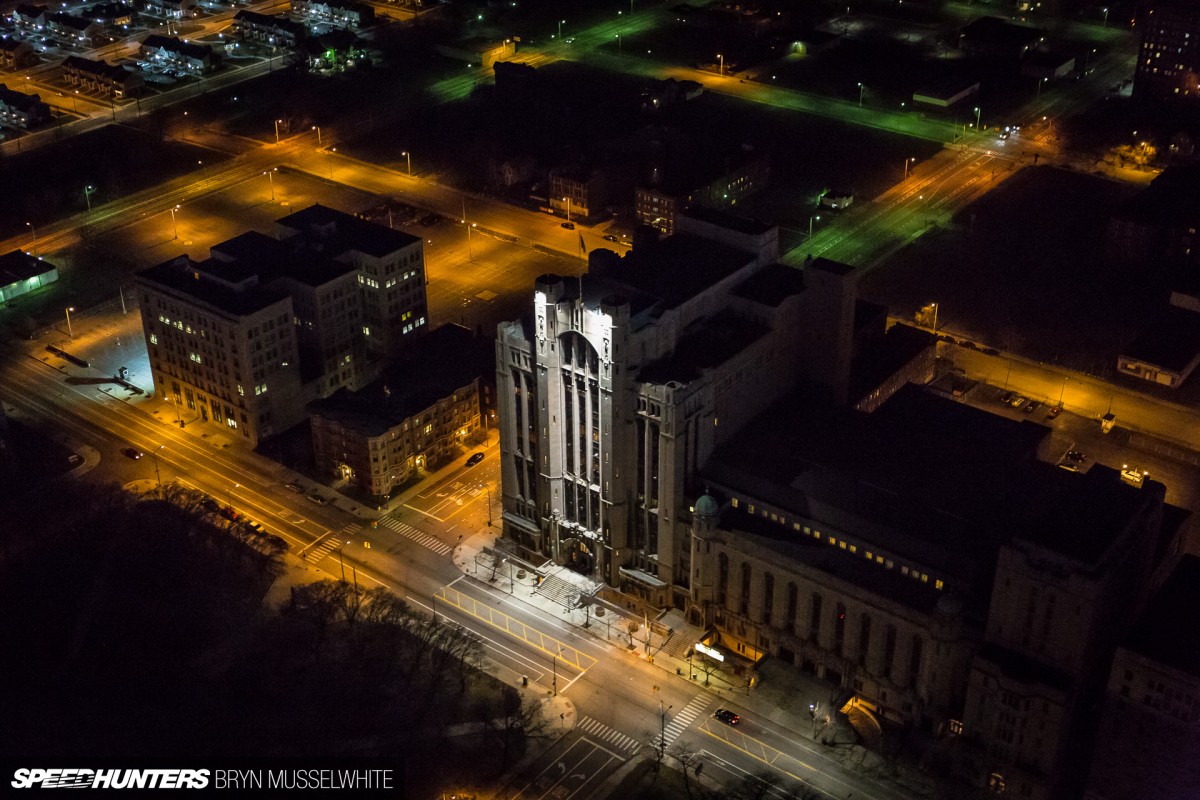 I've been to a few of the great American cities and honestly the architecture here is some of the most impressive. The grandeur is everywhere you look. Coming to America as a European, I'm used to seeing big, old buildings, and the downtown area of Detroit reminds me more of London than any other I've seen in America. Manhatten is possibly the closest, Boston even. But there's something special happening here.
Down But Not Out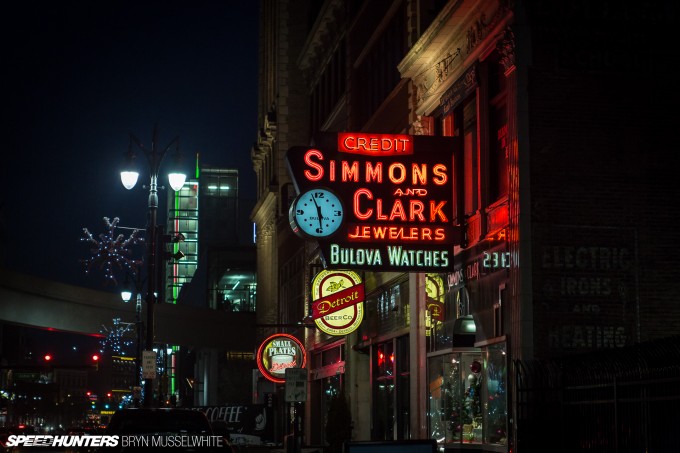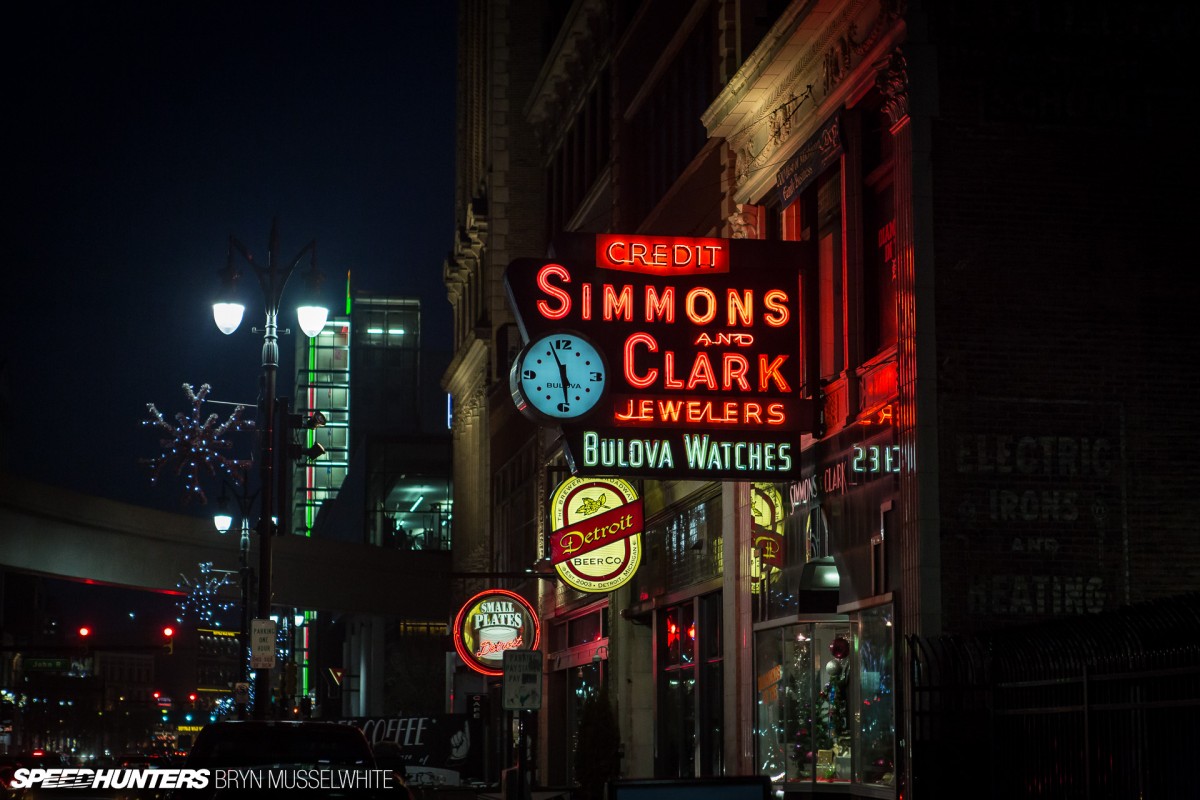 That's why I'm writing this story, so forgive me if it isn't about a particular car or workshop even – I still think it's relevant though. Because what's happening in Detroit is very cool. It's done with being the tired, old rundown city in the corner. It's had enough of that reputation. The time for sympathy is over.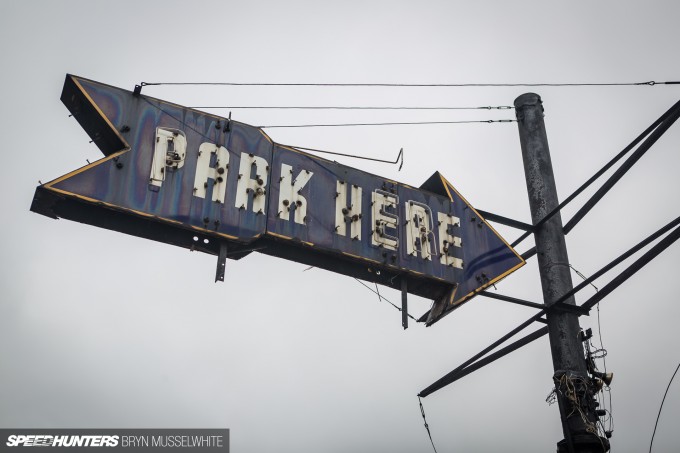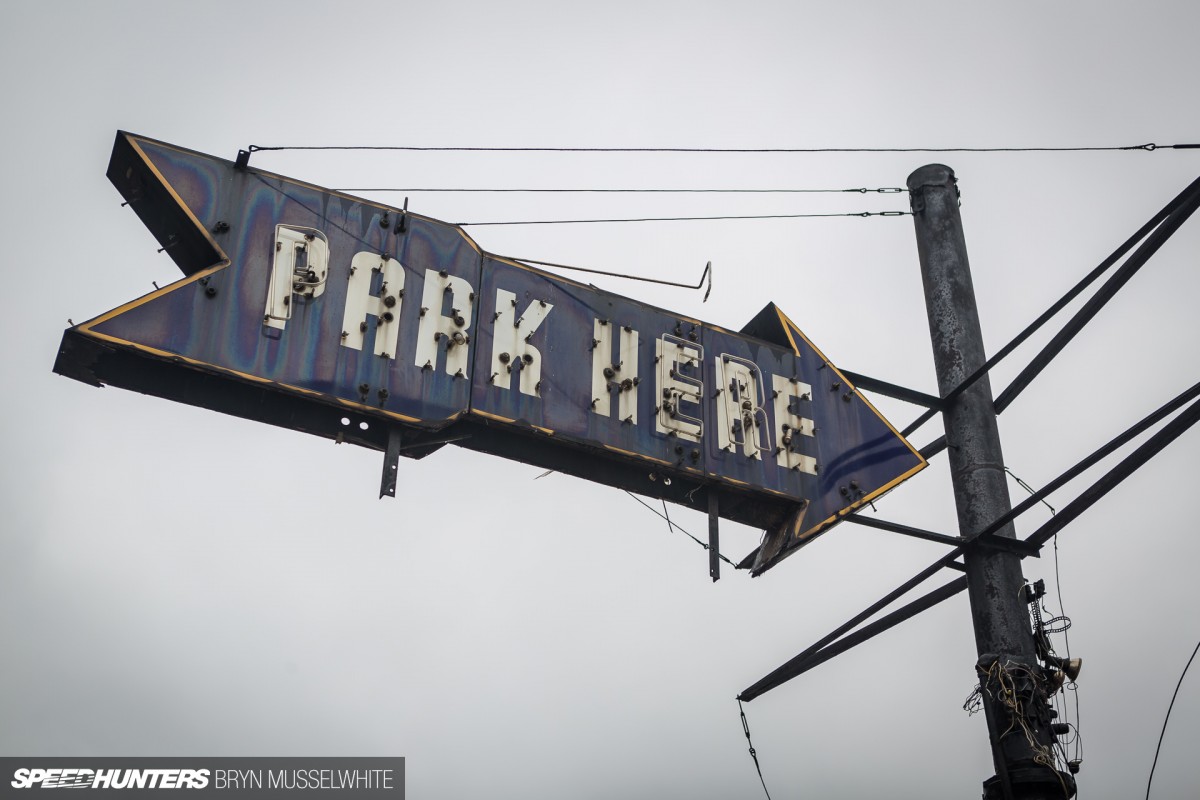 In mid-December I had the chance to spend a week in Detroit producing a film. We built in a couple of emergency days at the end just in case our planned schedule went out the window, but thankfully everything went to plan so I was left with a bit of time to take a look around.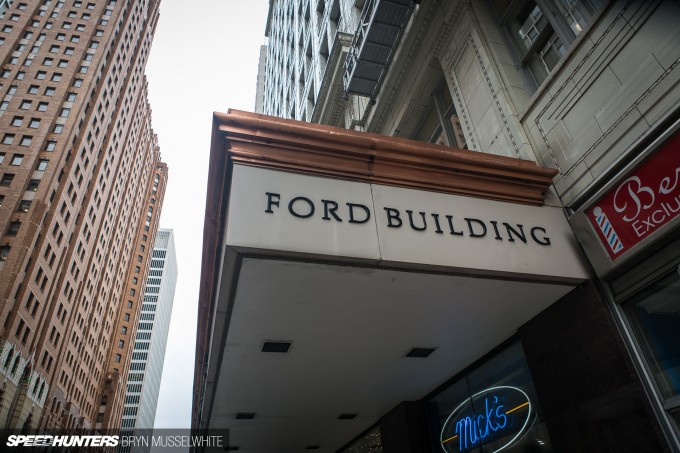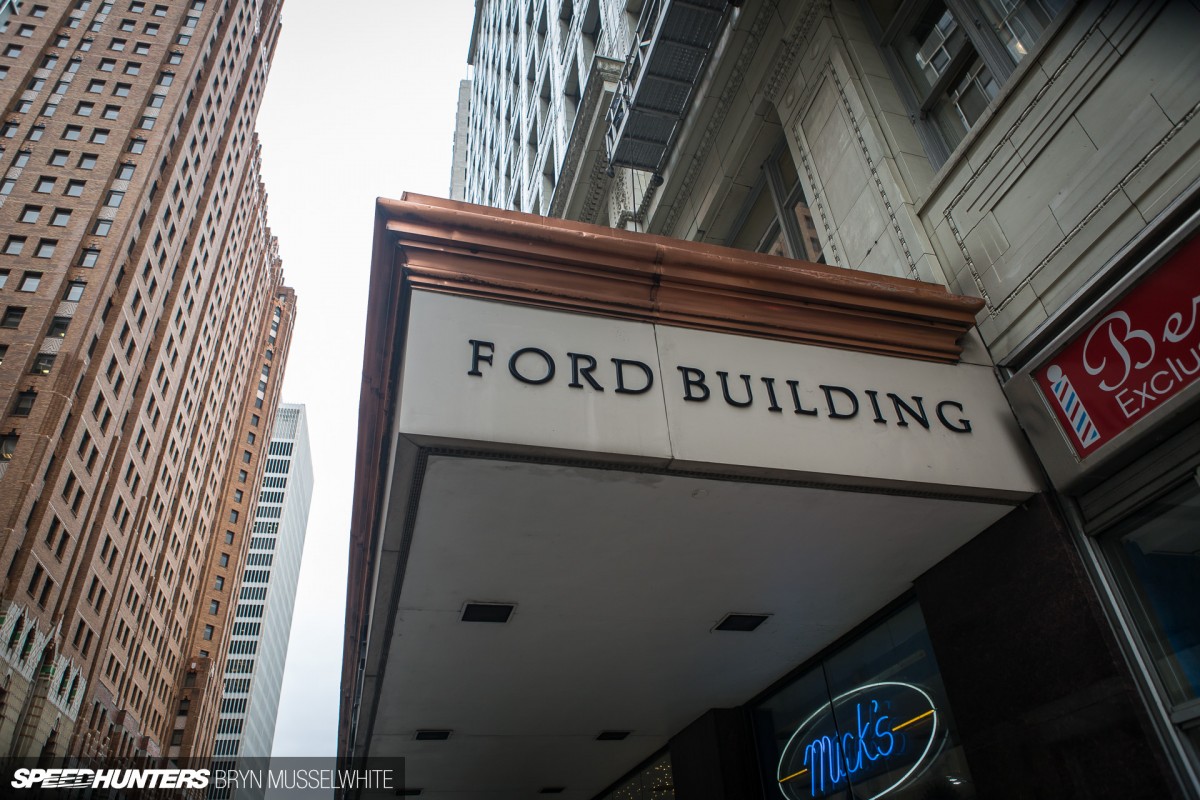 Like I said before, Detroit has always intrigued me and the short time spent here in January 2014 had just fuelled that fire.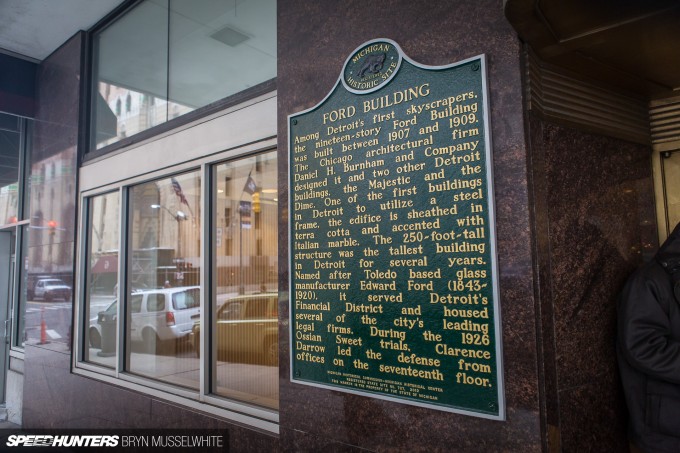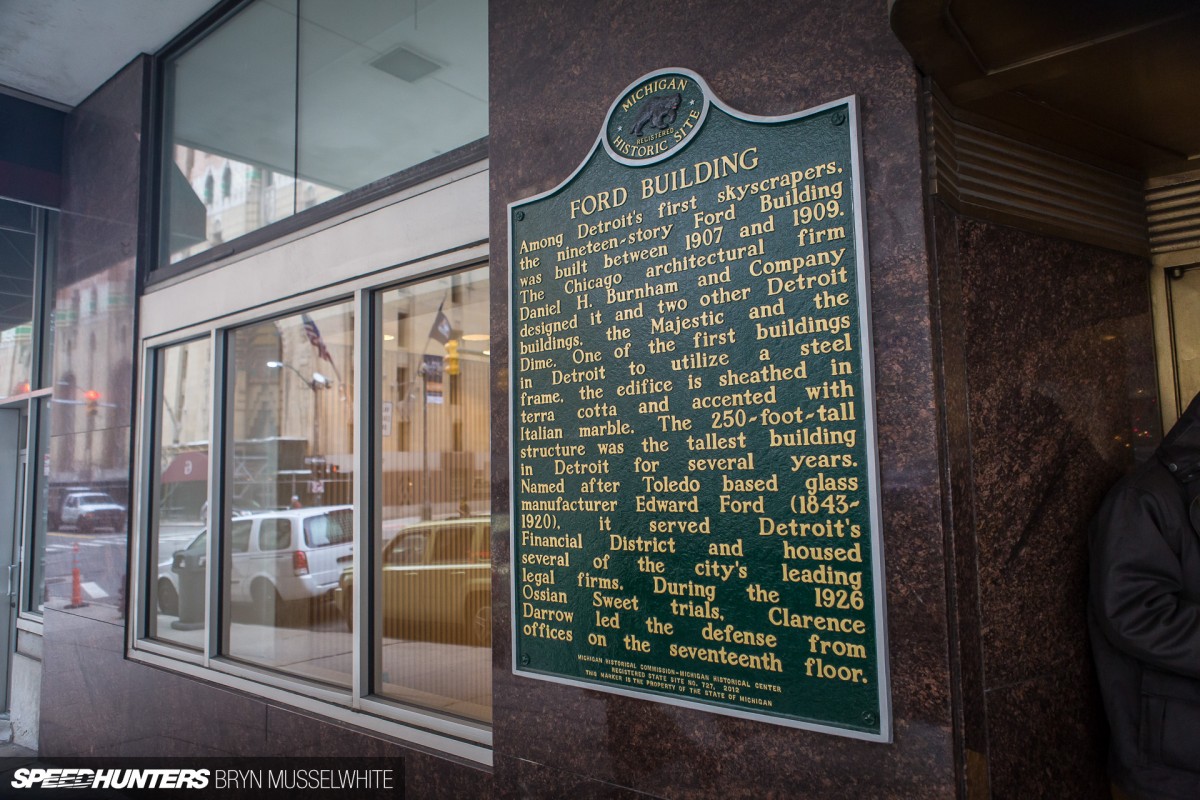 To get it right, you have to go back to the start – the wonder years of motor manufacturing when the money was pouring in from across the land and the industry was in full swing. That's when Detroit's downtown area was built. Big, imposing structures housed head offices, every one bigger than the next.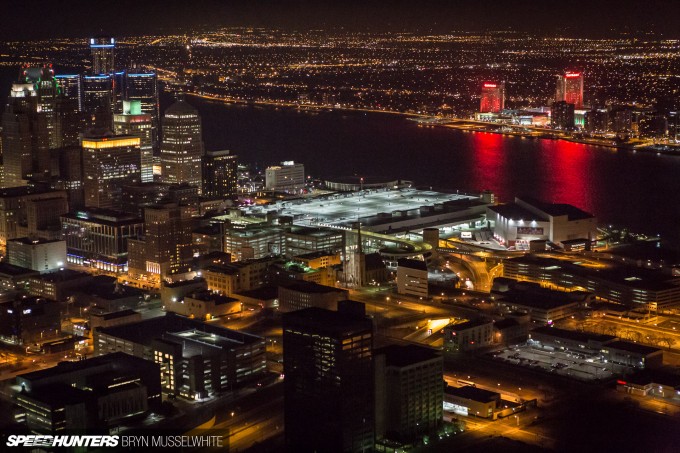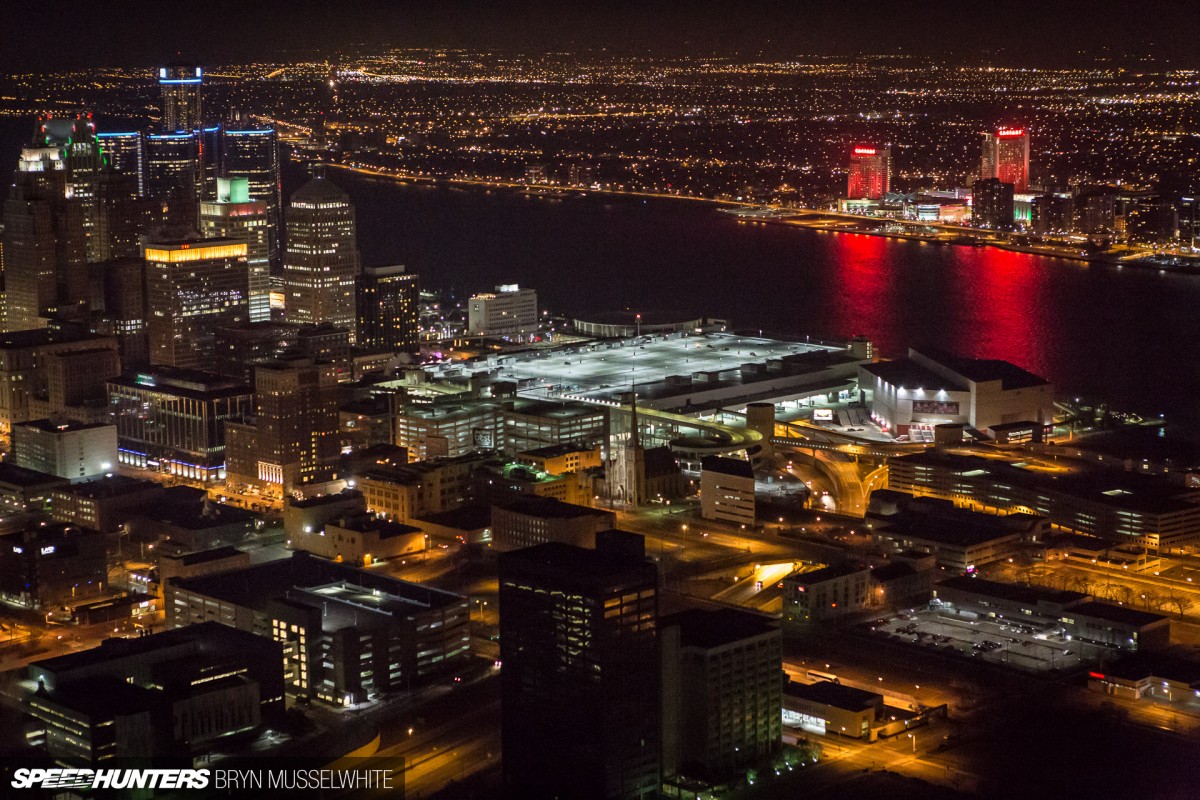 I genuinely don't think it was a game of one upmanship though. Sure, there's an element of that, but the main feeling I get is one of pride. This is looking south east over the downtown area across to Windsor in Canada, which is the other side of the Detroit river. Aside from the two casino buildings, the city is mainly flat compared to high-rise nature of Detroit. It's a big fat reminder of just how fast and loud Detroit was at one time.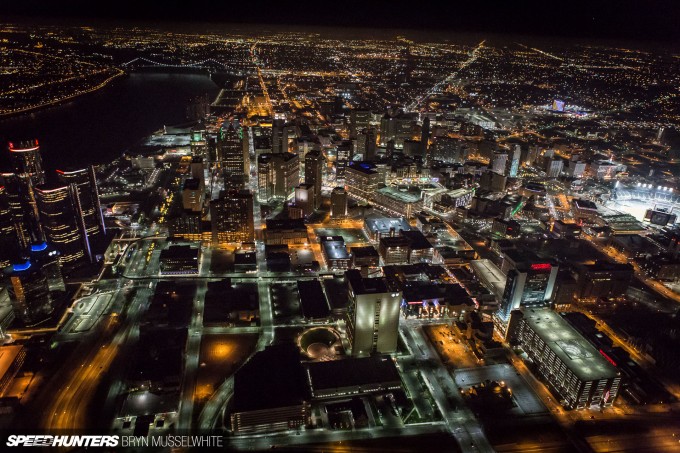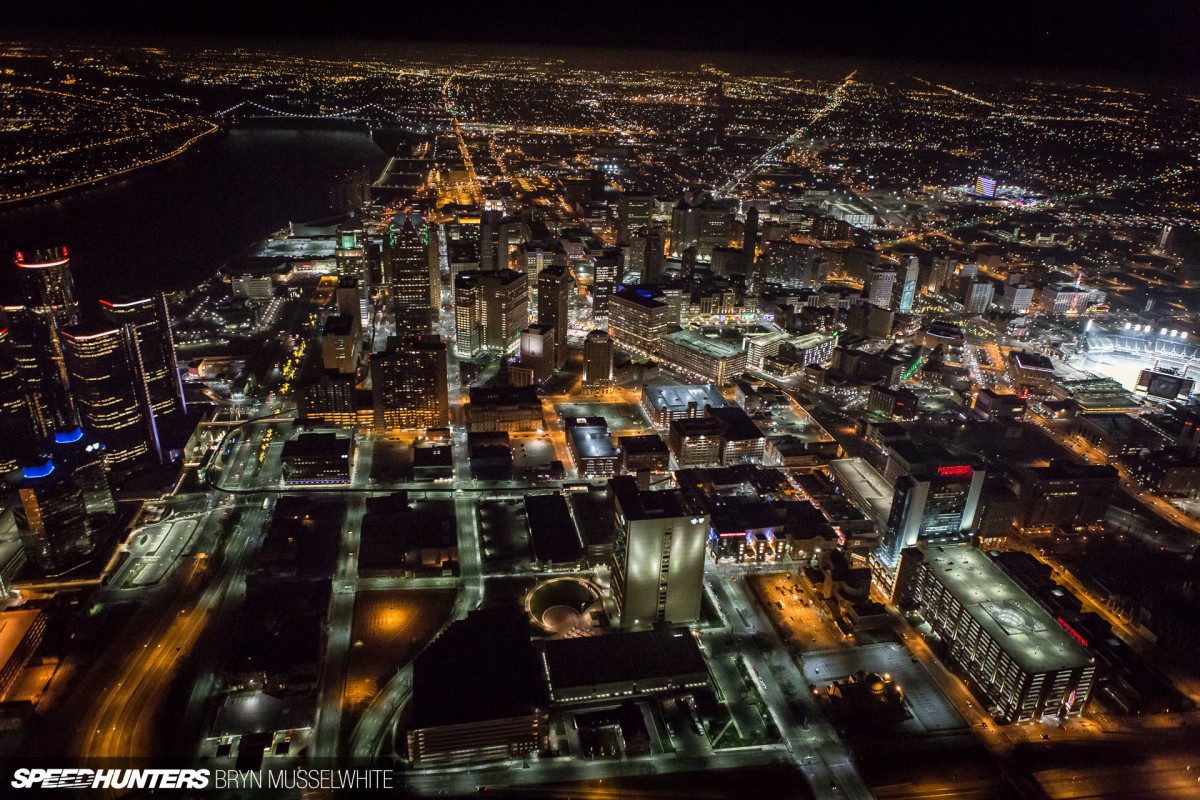 Most of the downtown area has or is being regenerated. A lot of the property is owned by one company and they are sympathetically regenerating as they go along. Because property is affordable here, prices are going up, but when things are cheaper more people can take advantage and have a go. A long-established art space is leaving New York and relocating here. Why? Because it's cheap and people want something new.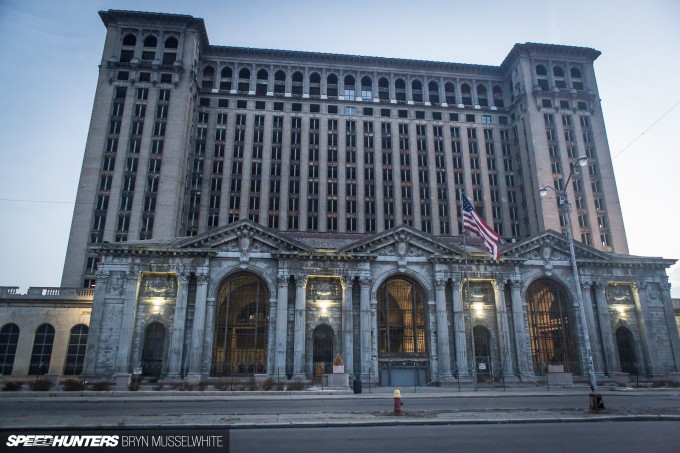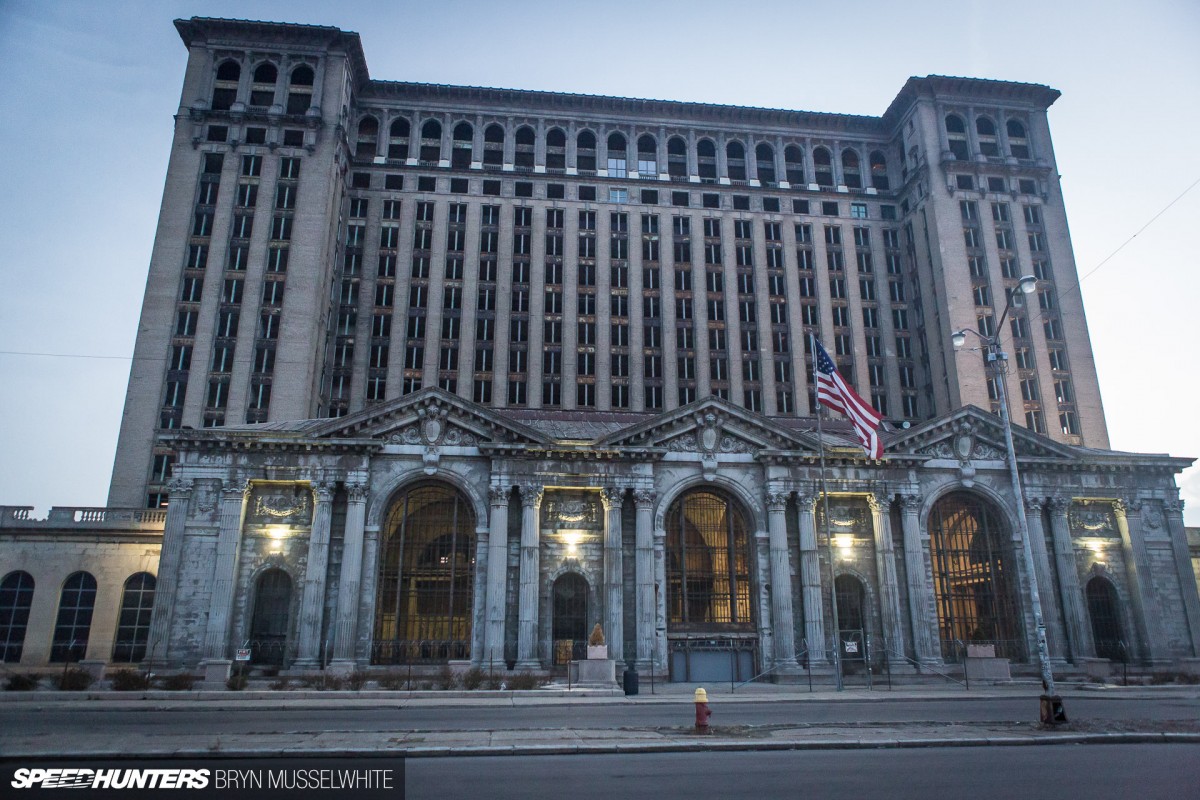 So the creative minds are moving in. After all, the infrastructure of entire city is all there – the sanitation, road network, power supplies and water are all laid out waiting to be made full use of again. This is the disused train station. Now imagine it brimming with people going about their business and it starts to feel a lot like the rest of the city, waiting for its time to come round again. These grand buildings are just too amazing to go down without a fight.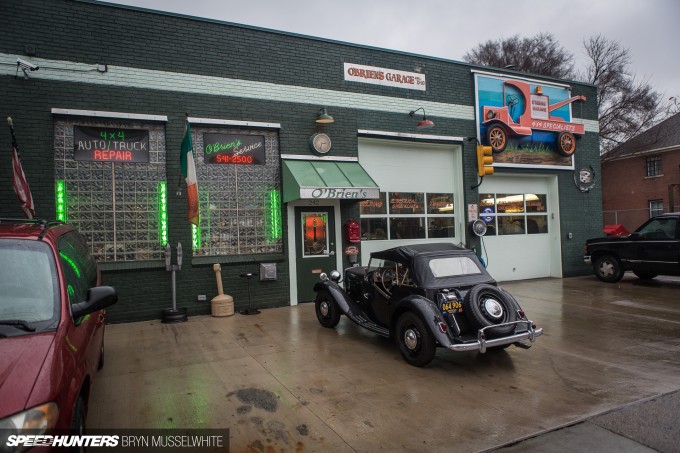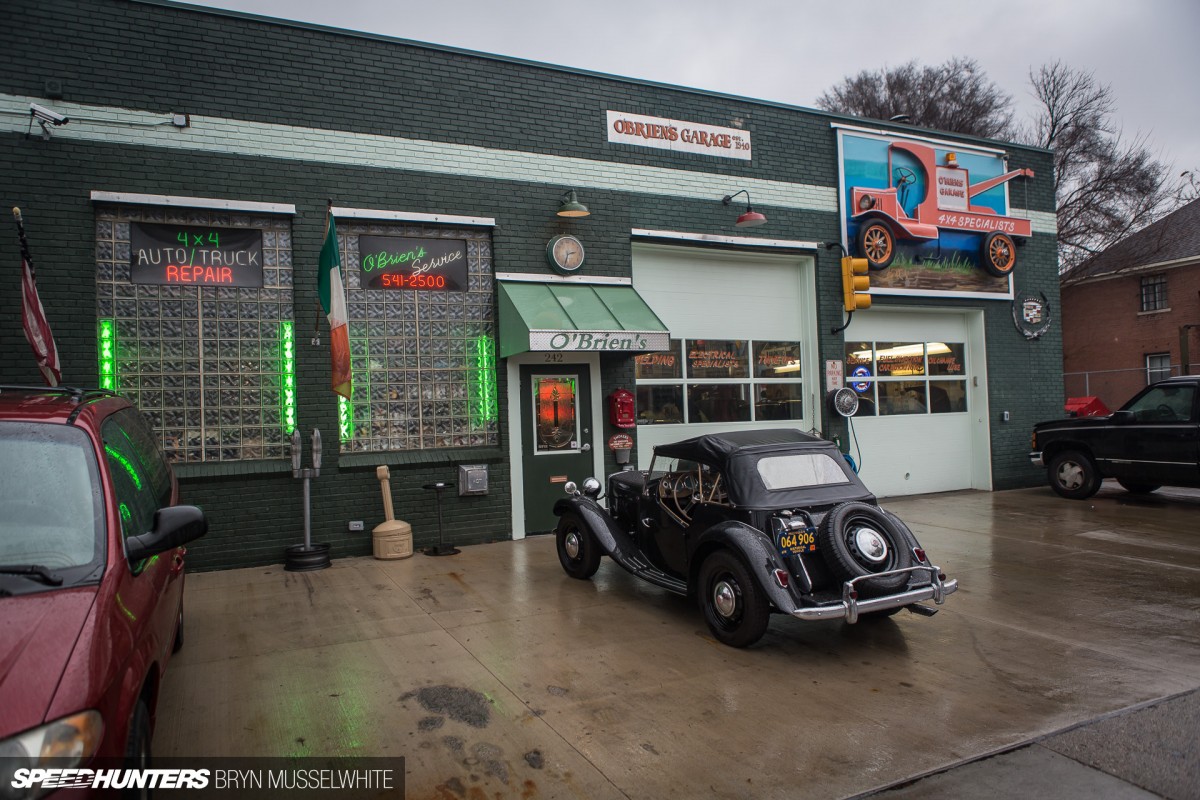 Whilst wandering around I ended up stumbling across O'Brien's Garage in between Eight and Nine Mile Rd, because of course, it's not all about the downtown area. There are plenty of people who call Detroit home and live their lives in the surrounding area. Seeing the eclectic frontage just naturally drew me in for a closer look.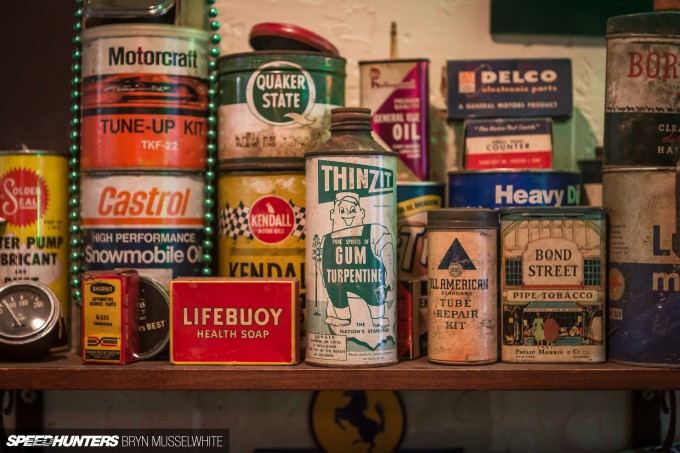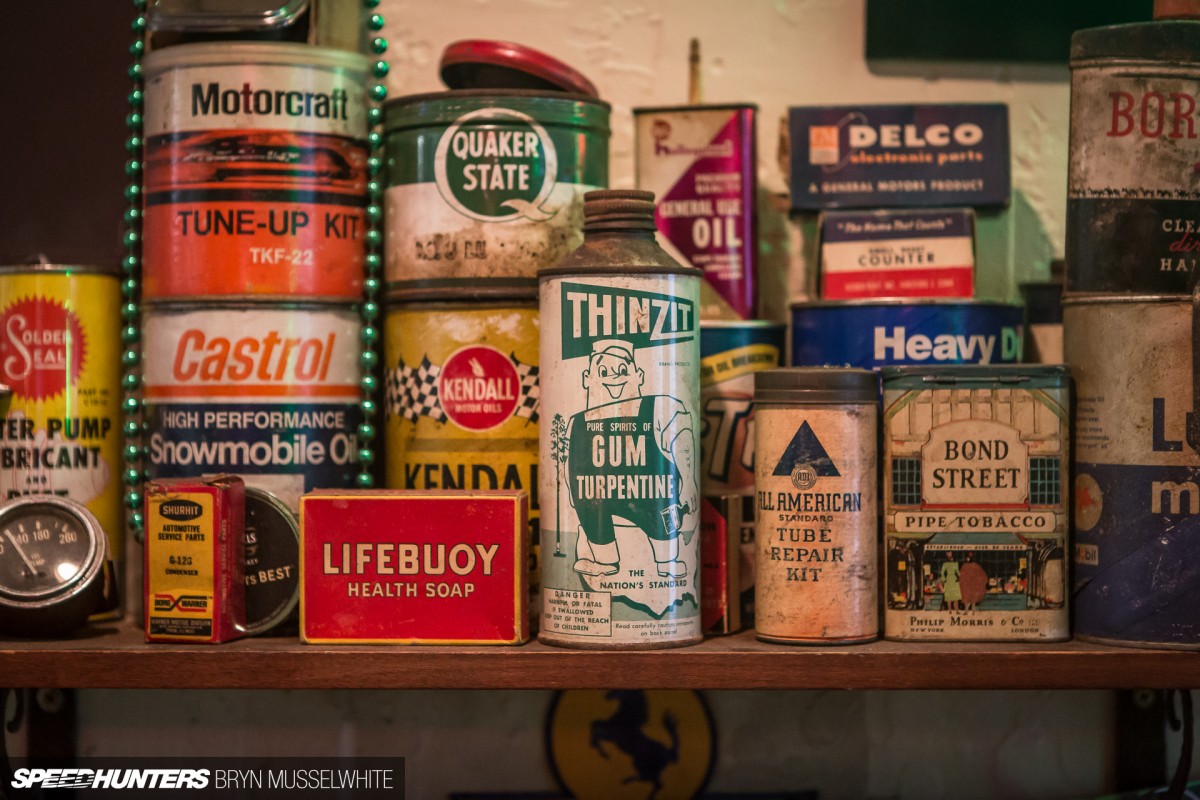 The waiting room was full of memorabilia, old tins and signs – the kind of stuff you find in your grandad's shed. I want to know how good that Motorcraft Tune-Up Kit will be after a few decades of sitting around? Display purposes only I'm guessing.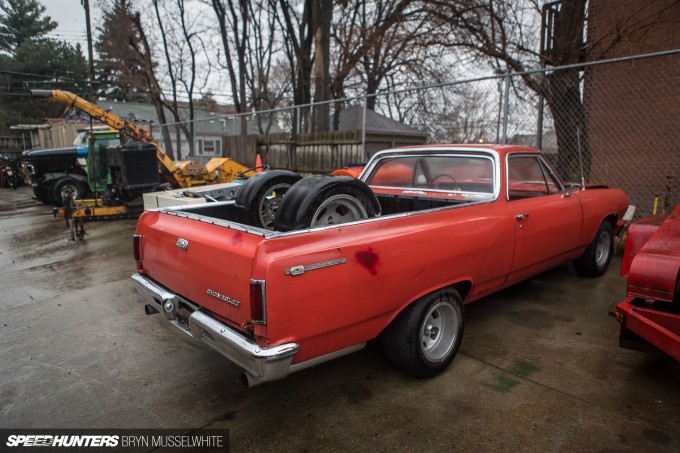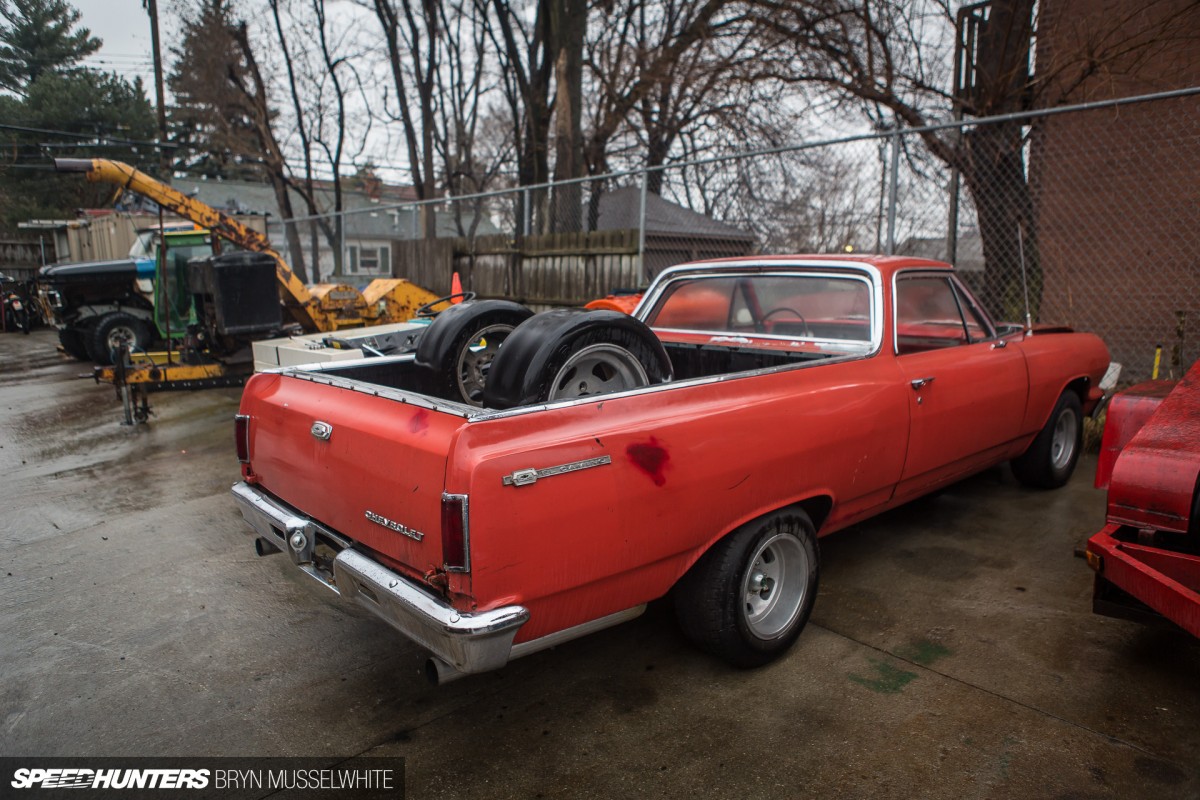 The guys welcomed me in let me take a look around. This is the kind of garage that keeps a whole neighborhood rolling. The late '60s El Camino was wearing a wide set of slot mags and another pair sat in the back with some old slicks mounted on them. Perfect for some Friday night heads-up action at the drag strip.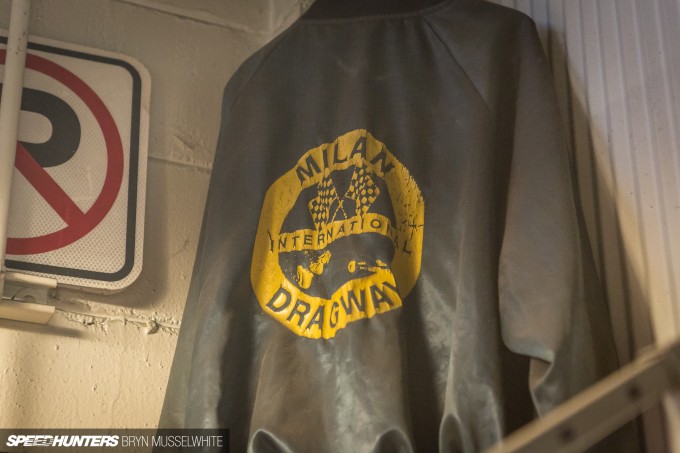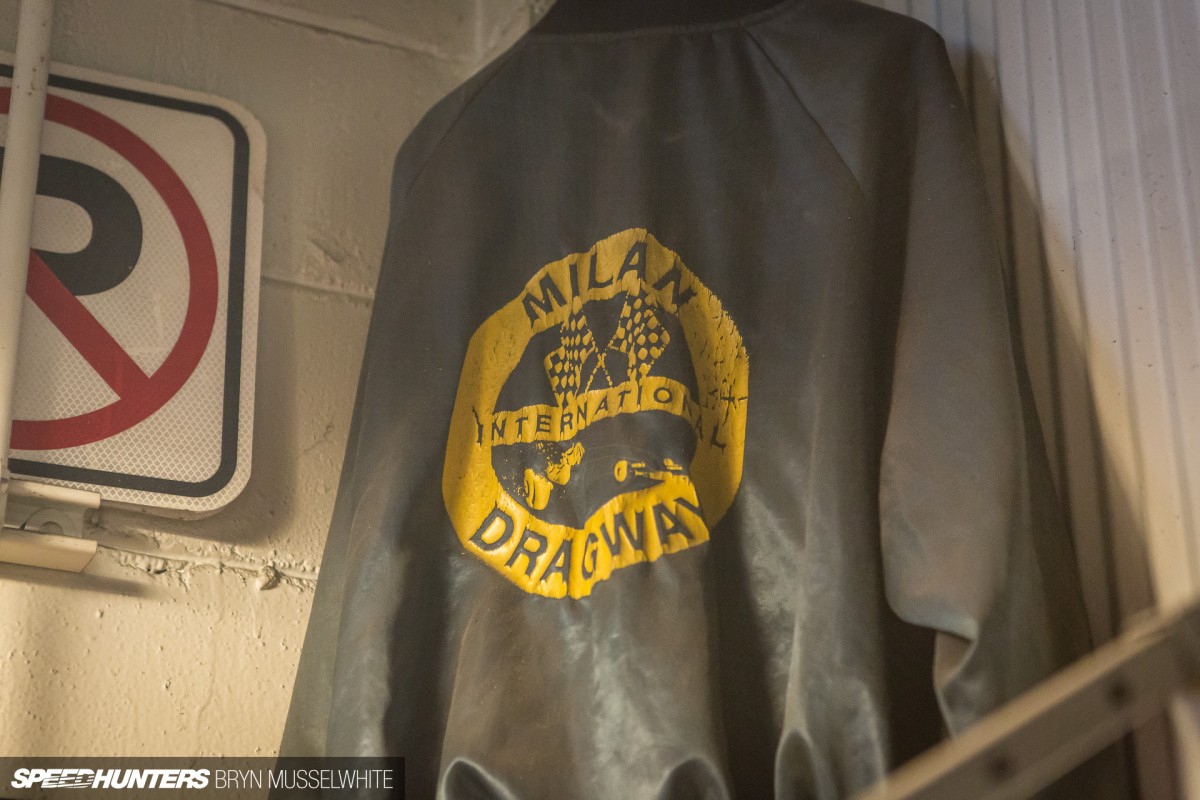 I thought of that after seeing this jacket hanging up inside. Milan International Dragway is still operational and you can find it southwest of the city. I love the abundance of places to race in the US, but I wonder why it's international? I guess if you roll in from Canada you're considered a foreigner!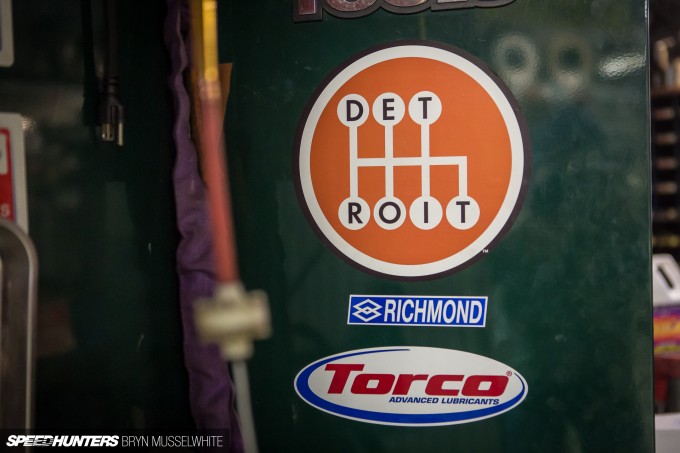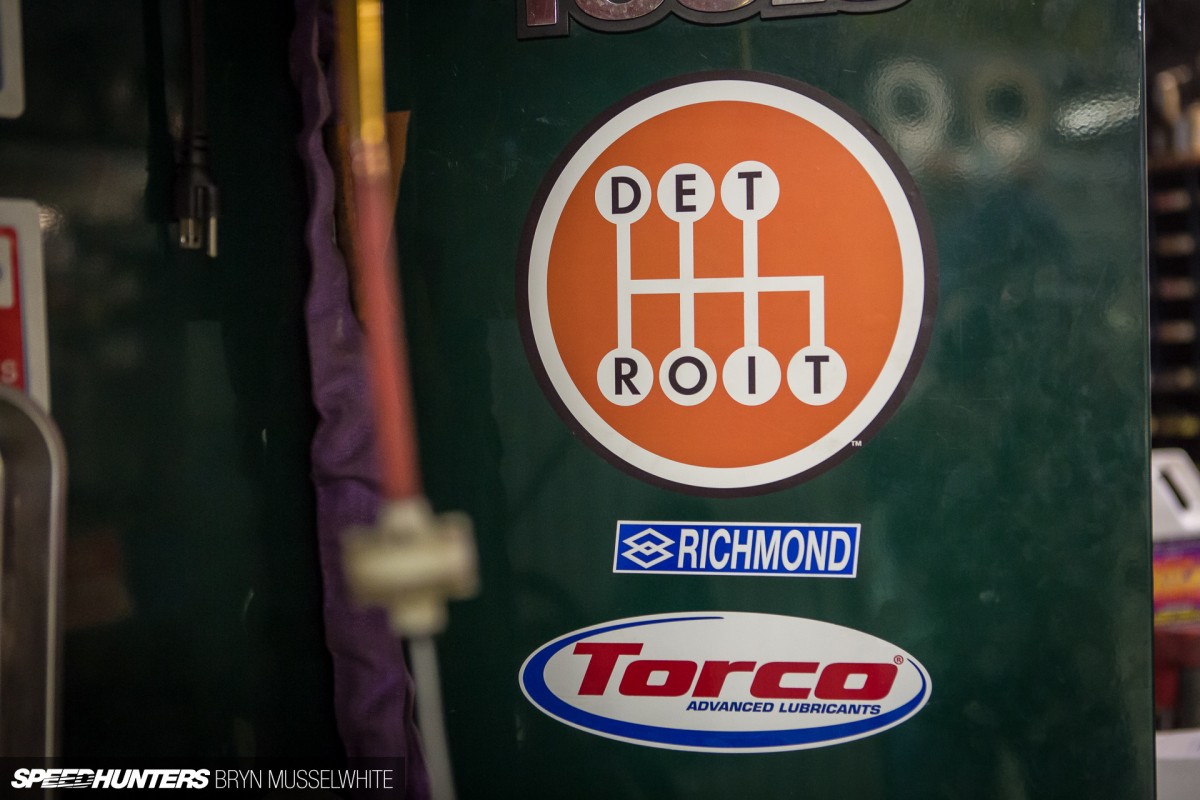 I also spotted a very cool sticker that reminded me of a similar one I bought at NAIAS. They come from a place called the Detroit Shoppe – a registered charity that makes sure all the profits go to help the places and people who keep Detroit moving. Even in the most unexpected places you find the grit and determination to turn things around…
Beautifully Wasted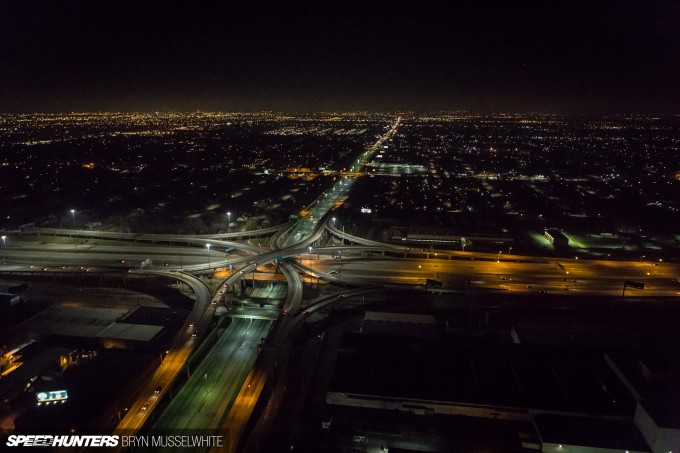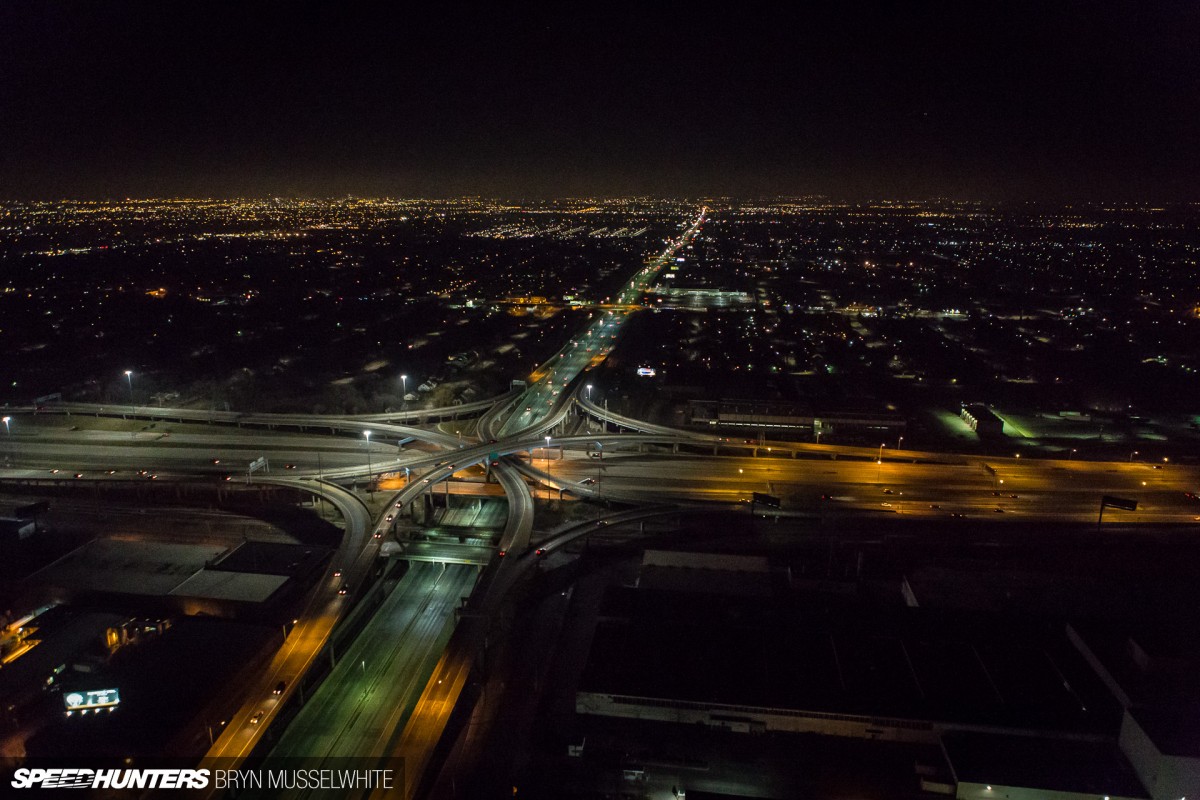 Detroit is a big place and for all the positivity, I'm not about to underestimate the daily struggle that some people go through to live here. Take a look at that freeway and see how little traffic there is on it. This photo was taken at about 10:00pm at night. Can you imagine the same freeway in LA? It would still be jammed.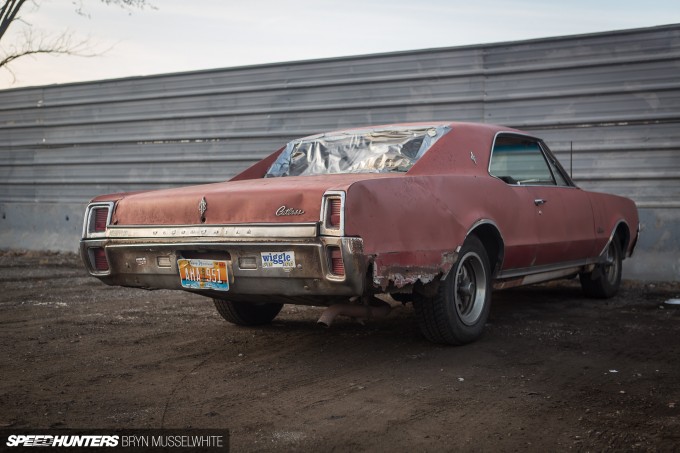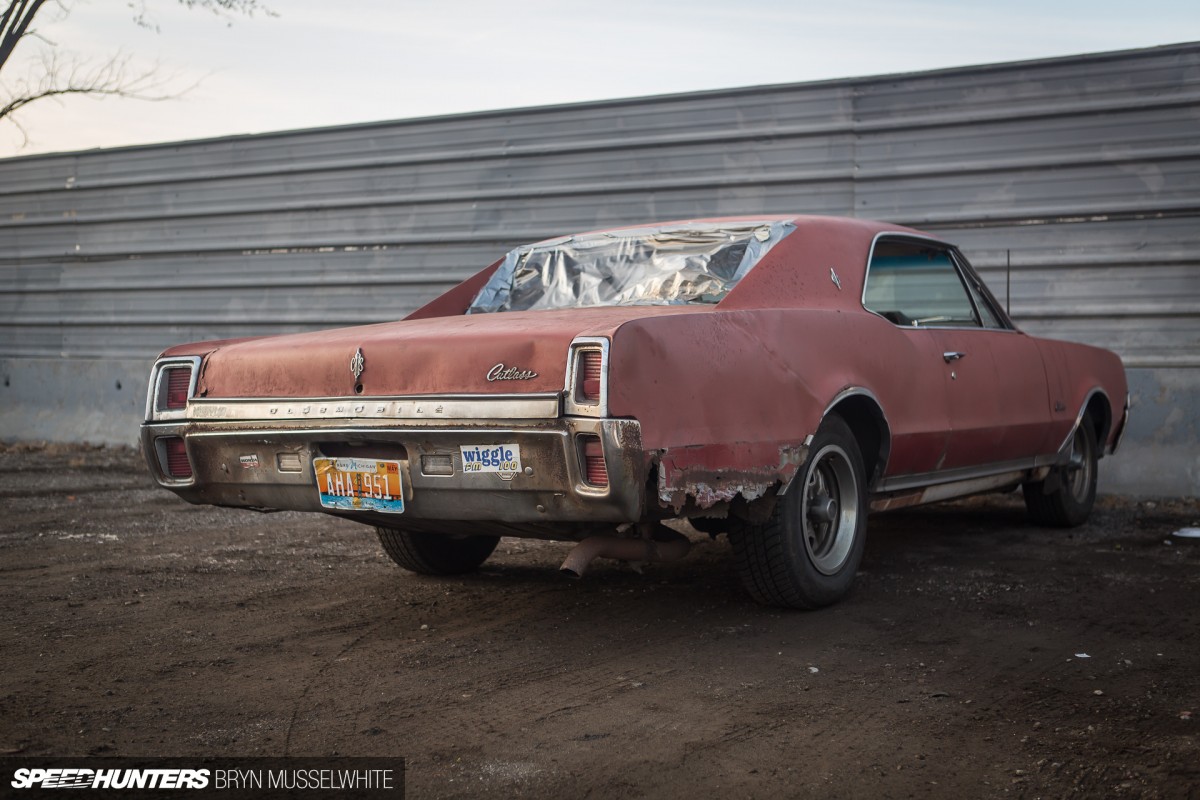 And yes, for every shiny new car there is a broken down beater still doing sterling service for somebody.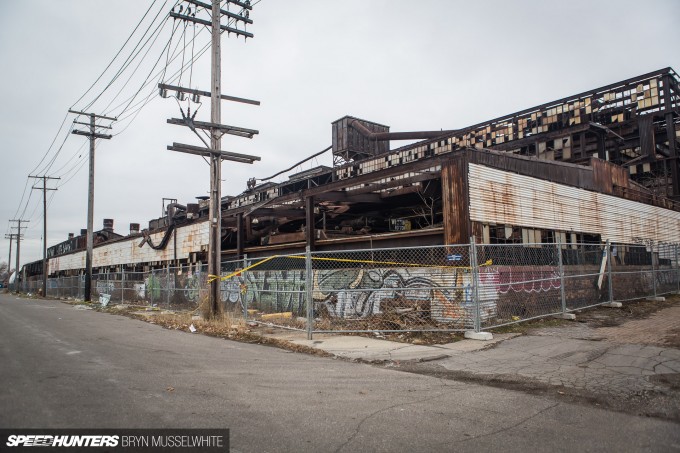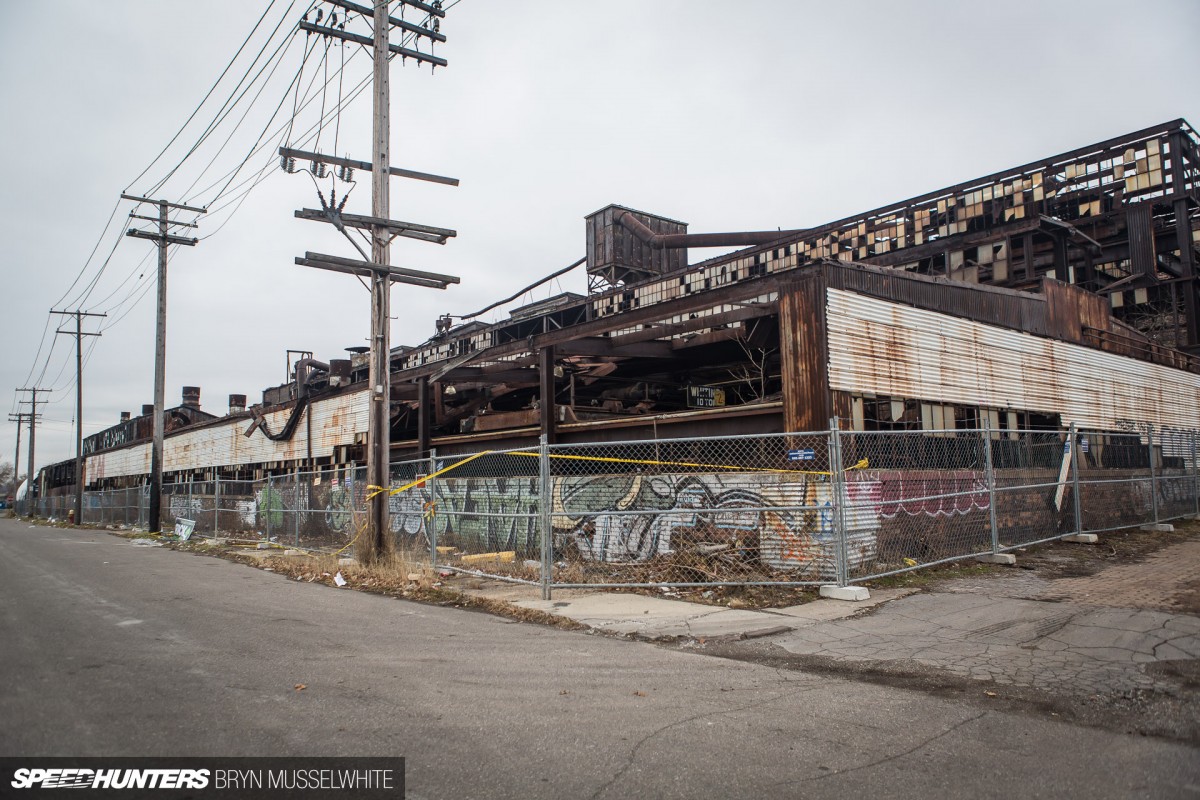 The reminders of what Detroit has gone through since the late '60s when things started to turn sour are everywhere. This old factory is down by the water looking out to Belle Isle, which I'll get to in a minute. Drive around the other side and you get a different take on the mess though.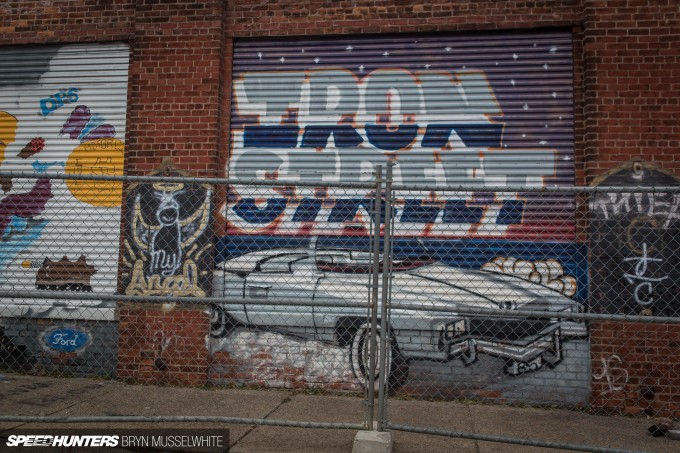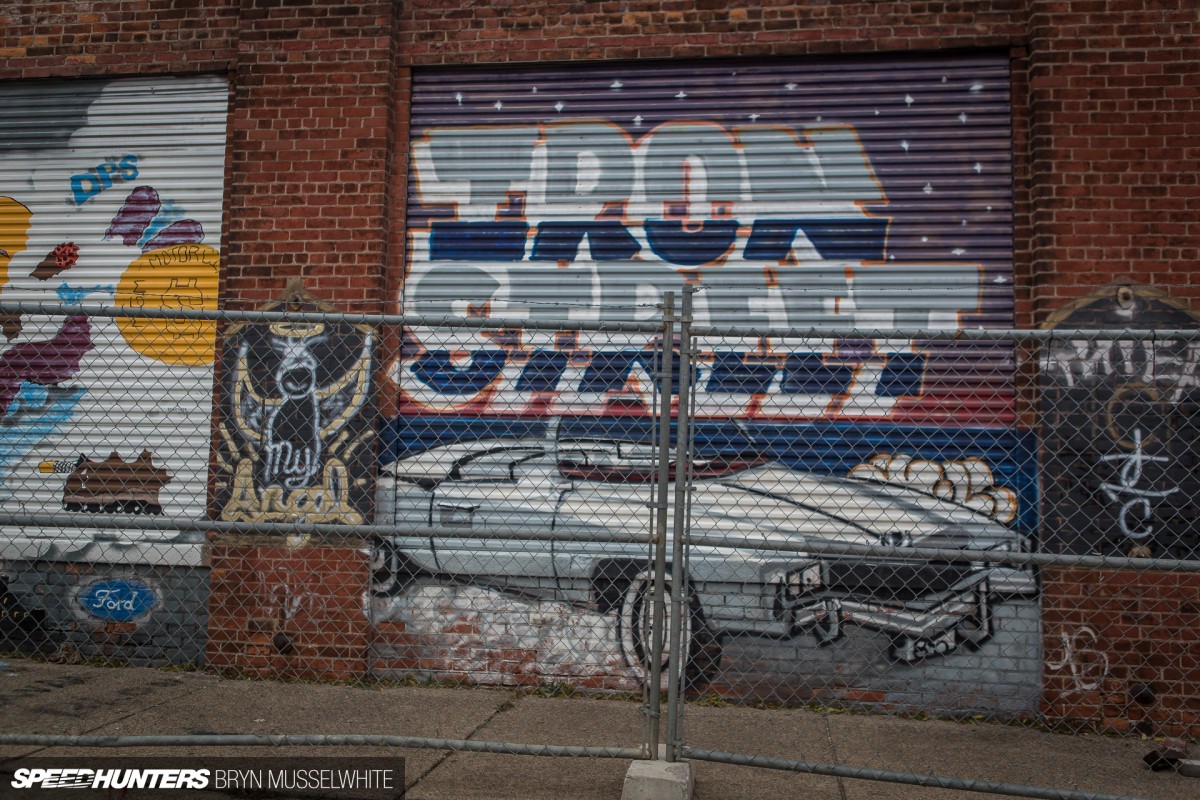 Here the disused, unloved walls have been turned into an art project. The mural stretches the entire length of the building and was created by 40 different artists and celebrates Detroit's strength. Their words, not mine. Iron Street? Pictures of a Cadillac? The stuff that Detroit was built on is something the residents are proud of.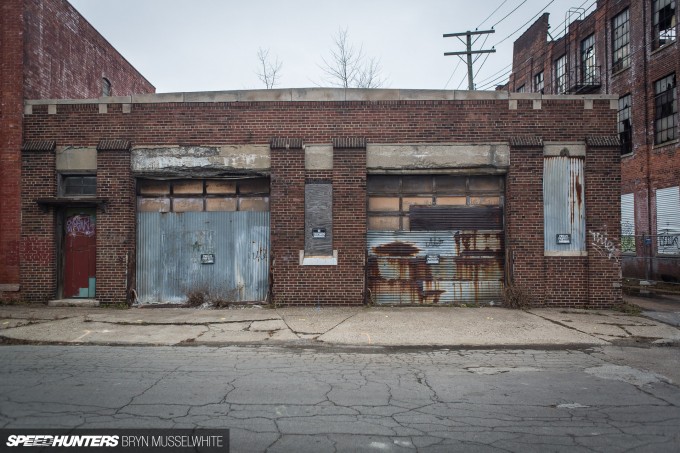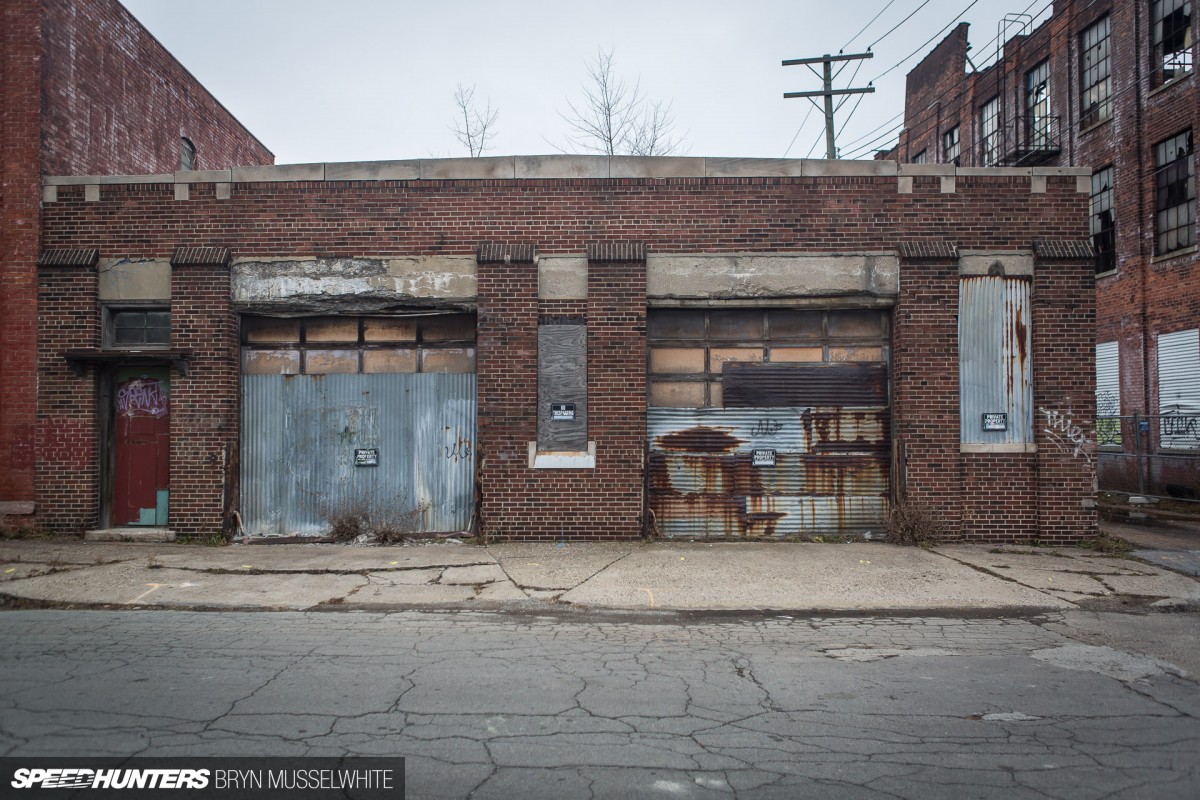 Right alongside it was this sealed up workshop/garage. My mind started to race… Imagine it as Speedhunters HQ, scruffy on the outside but solid, big old roller shutter doors and projects mixed in with living space. One day I'll come back and one day it'll be all shiny and worth $500,000. But for now dreamers like me are making Detroit their reality. This is attainable.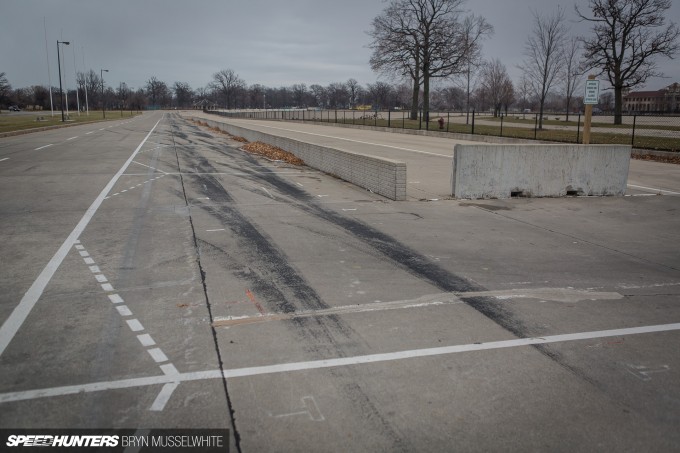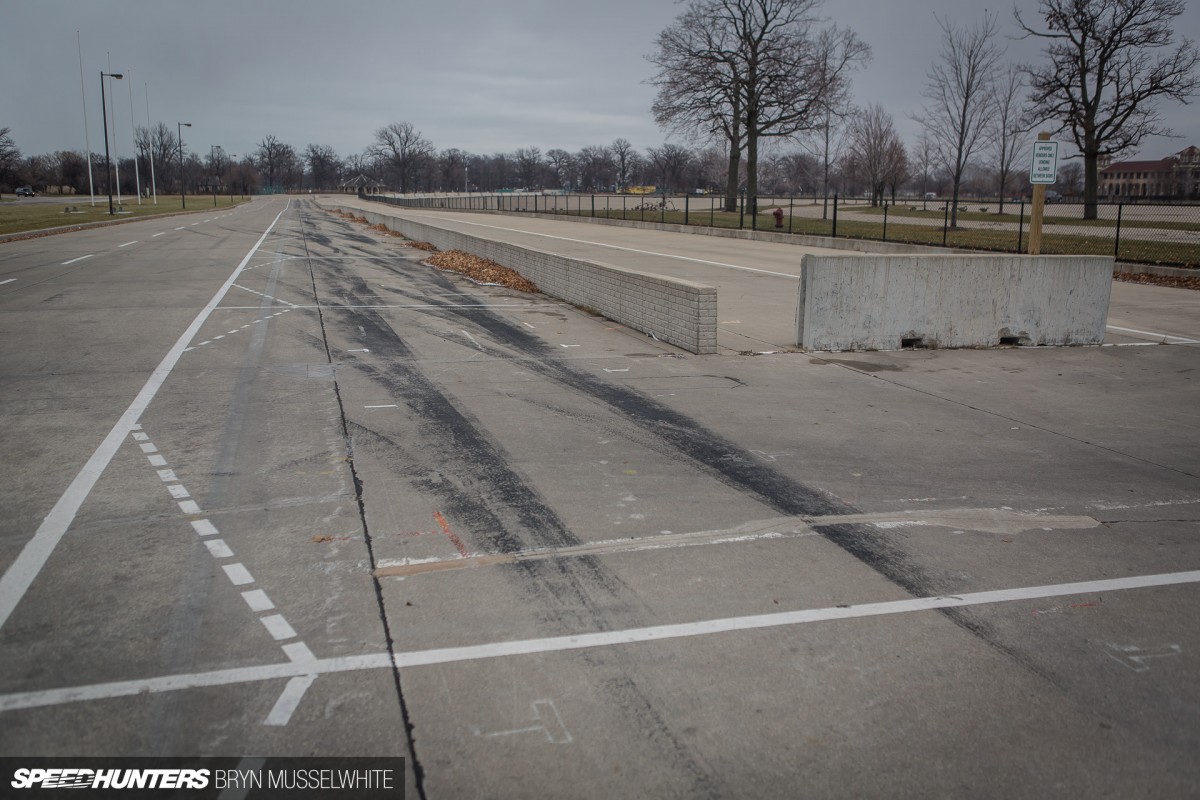 In the middle of the river is Belle Isle, where the families used to come and enjoy themselves. Large pavillions and an abandoned zoo are here now, with a race track for company. The signs of life in the pits make me smile, and even here the car has left its mark.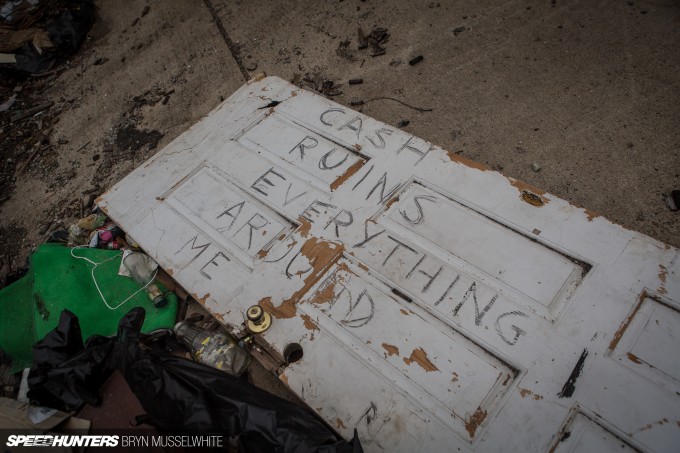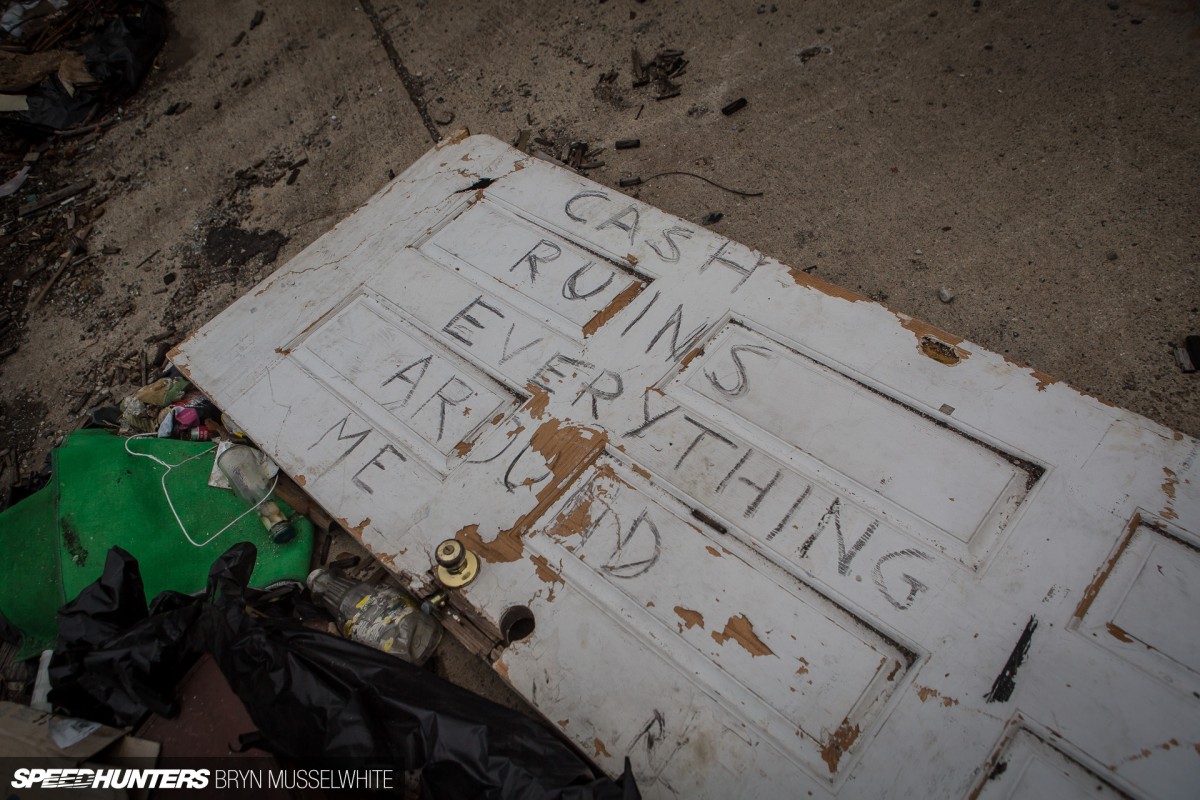 The population has dropped from around 2 million to roughly 600,000 depending on who you believe. No other city in the US has experienced this kind of shift. Because people have randomly left, it's not like one area got closed off, so as you move around there's space. It's as though somebody thinned out Detroit. I liken the streets of large detached houses to your teeth. Some will be good, some will be rotten, and some are just not there anymore.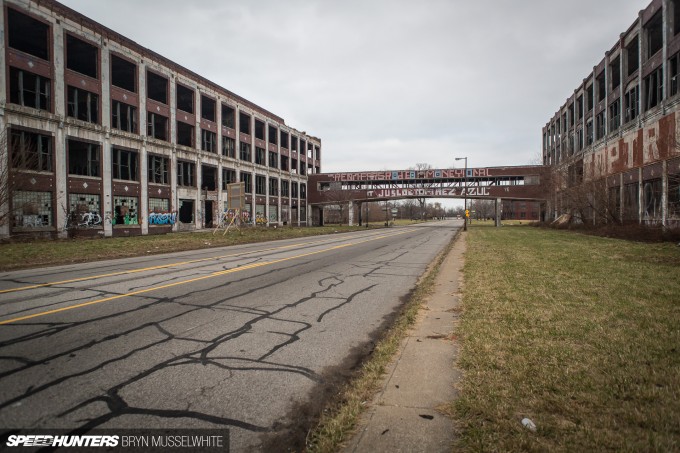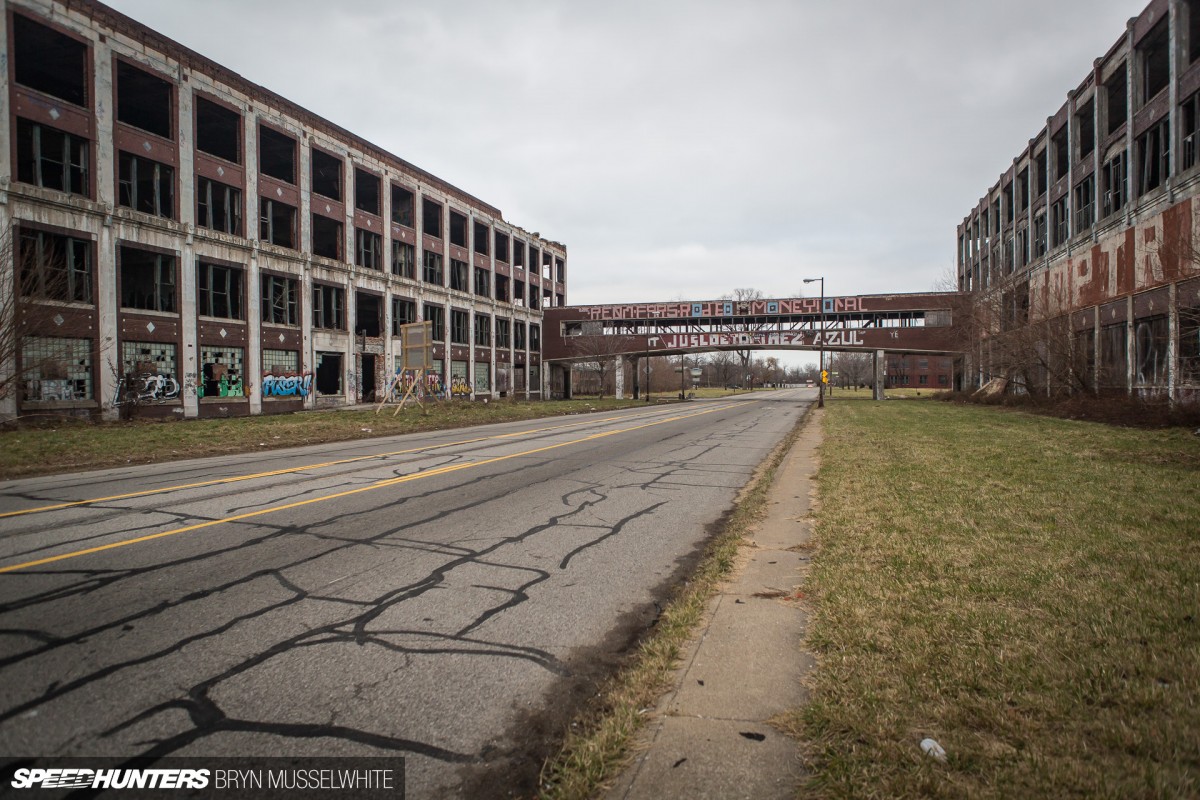 Of course, I'd be ignorant to say it's all daisies growing up through the cracks. Detroit has very real problems and I was told about no-go areas and the hazards of taking a look around. But in general I didn't encounter any more trouble or worry than I would in any large city.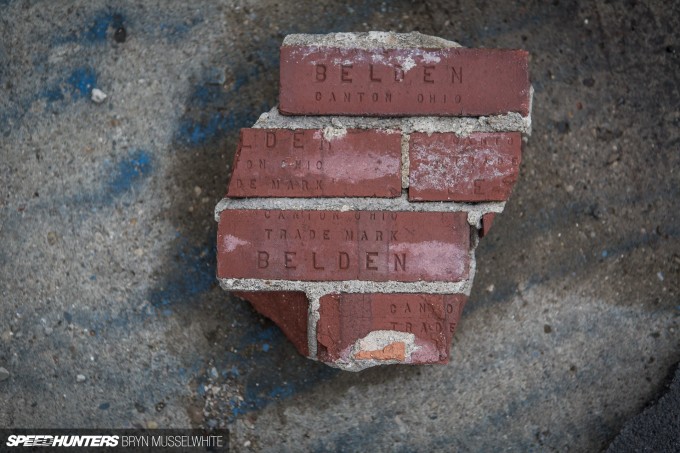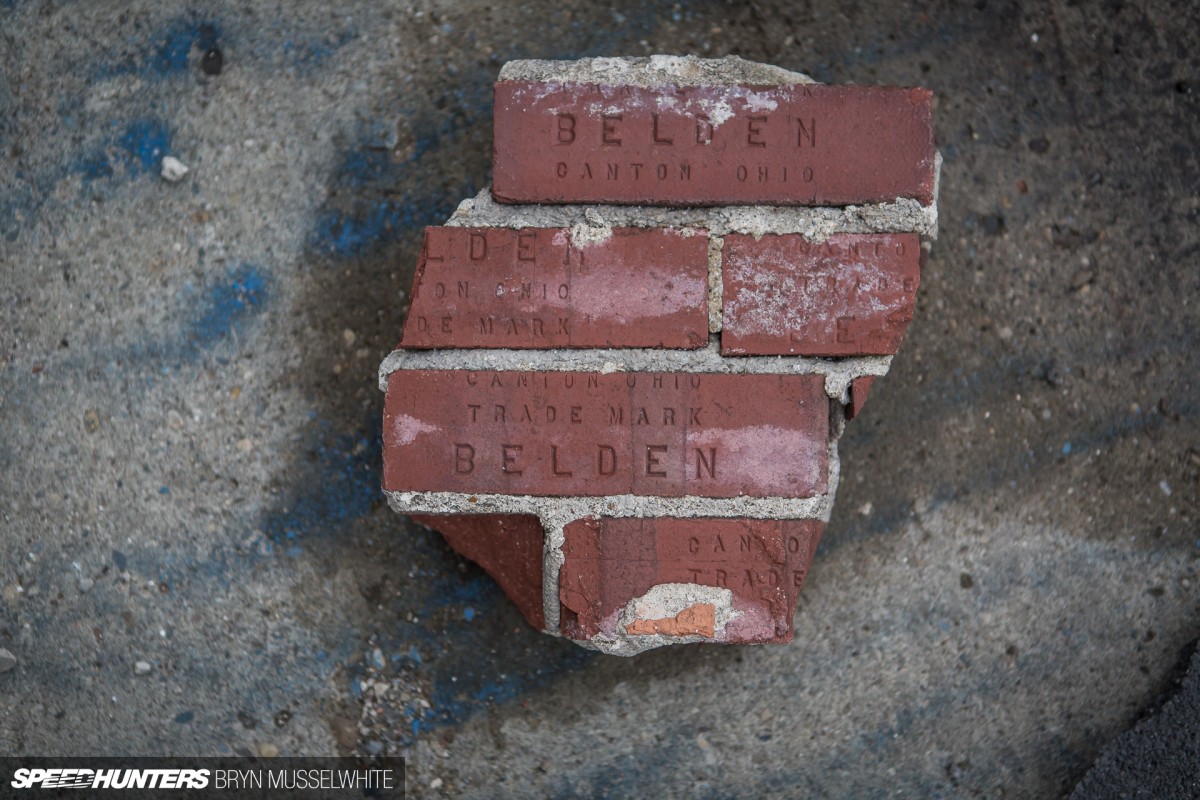 Take the Packard plant for example: a 40-acre landmark of how things went wrong. But even lying on the ground, seperated from the building, the bricks here proudly state where they're from.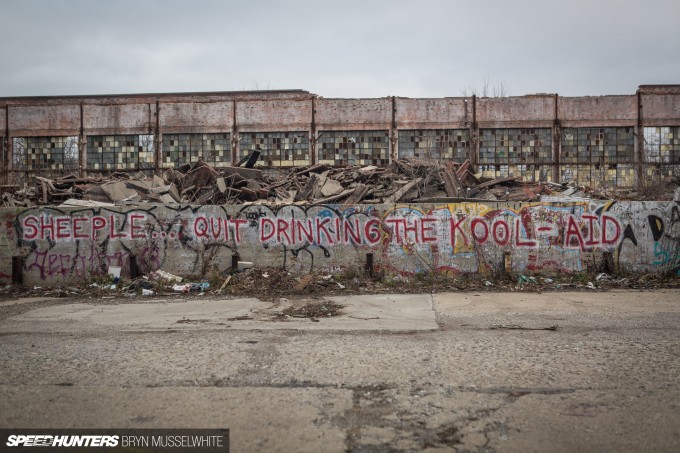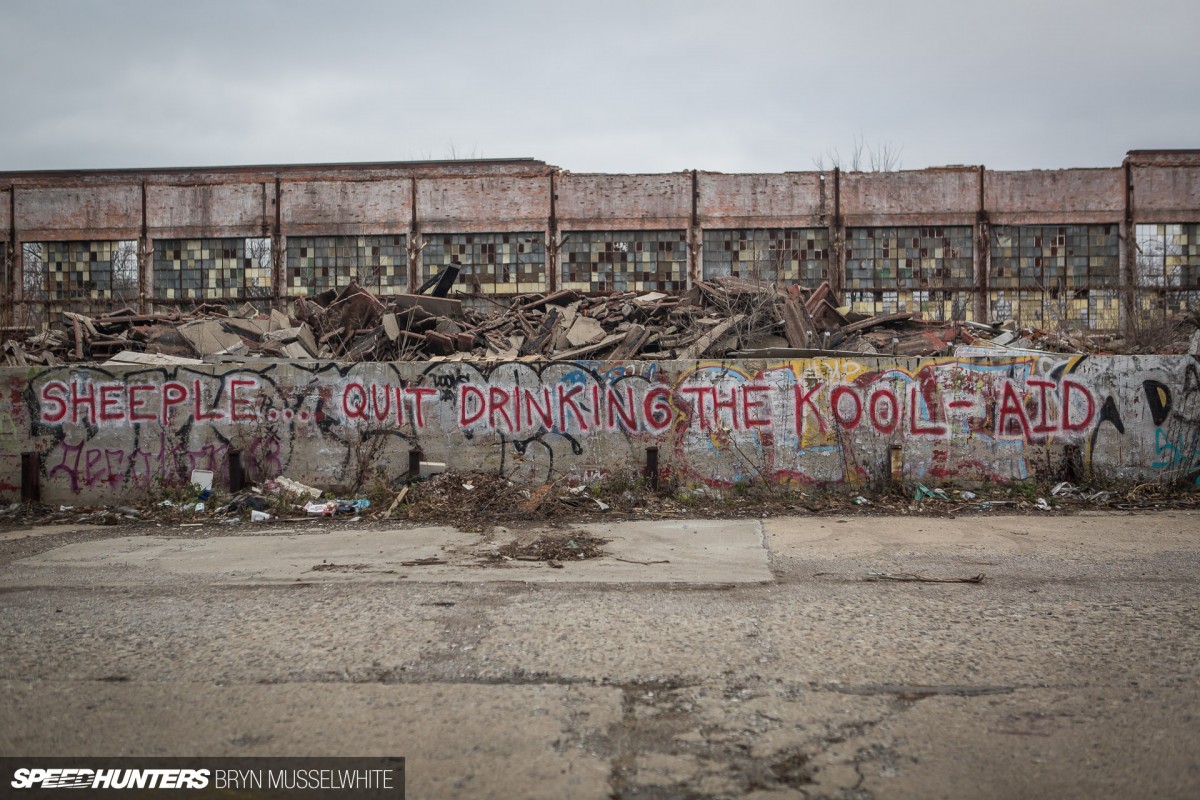 There's nothing left to take from here now though, so as I took a look around I didn't feel at all wary. There's nothing left to steal, it was bitterly cold with no real shelter, and in a city littered with abandoned housing you're spoilt for choice. Sure, maybe some shady stuff goes down, but it does everywhere – it's just better hidden. Then there was the graffiti. I saw it on houses, closed down schools and it generally had a message.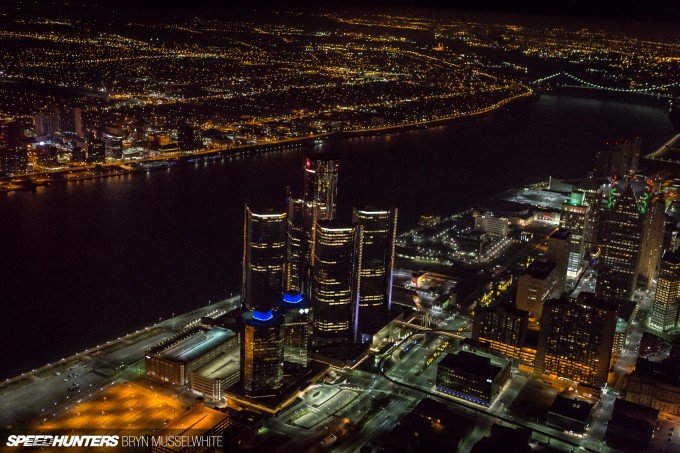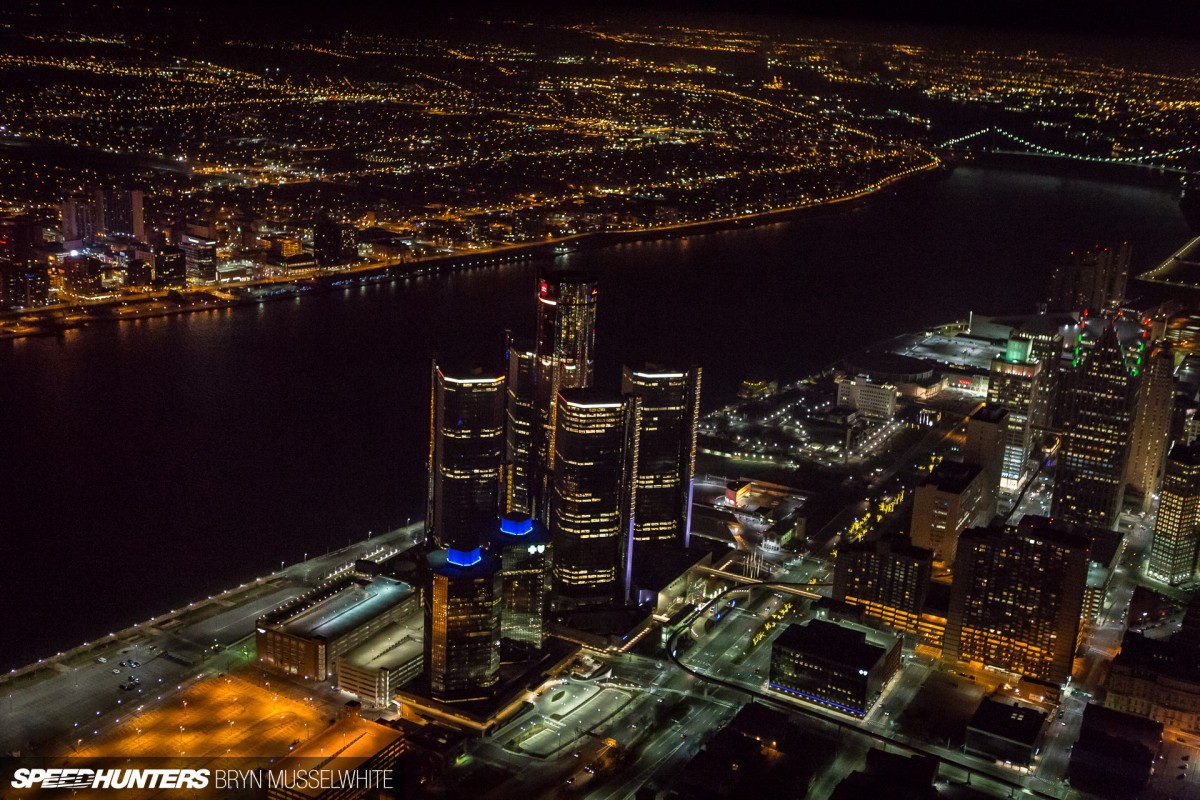 That message is one of perseverance. Detroit has been down and out for long enough and the slow recovery is happening. From the downtown bars to art studios and workshops in the suburbs, or the community projects that make sure the people aren't forgotten.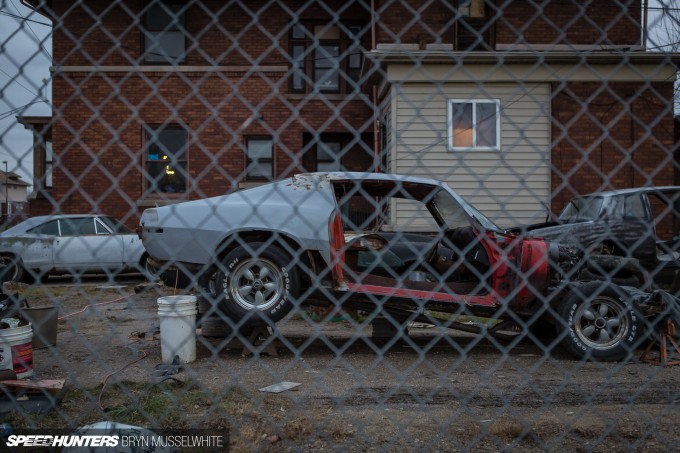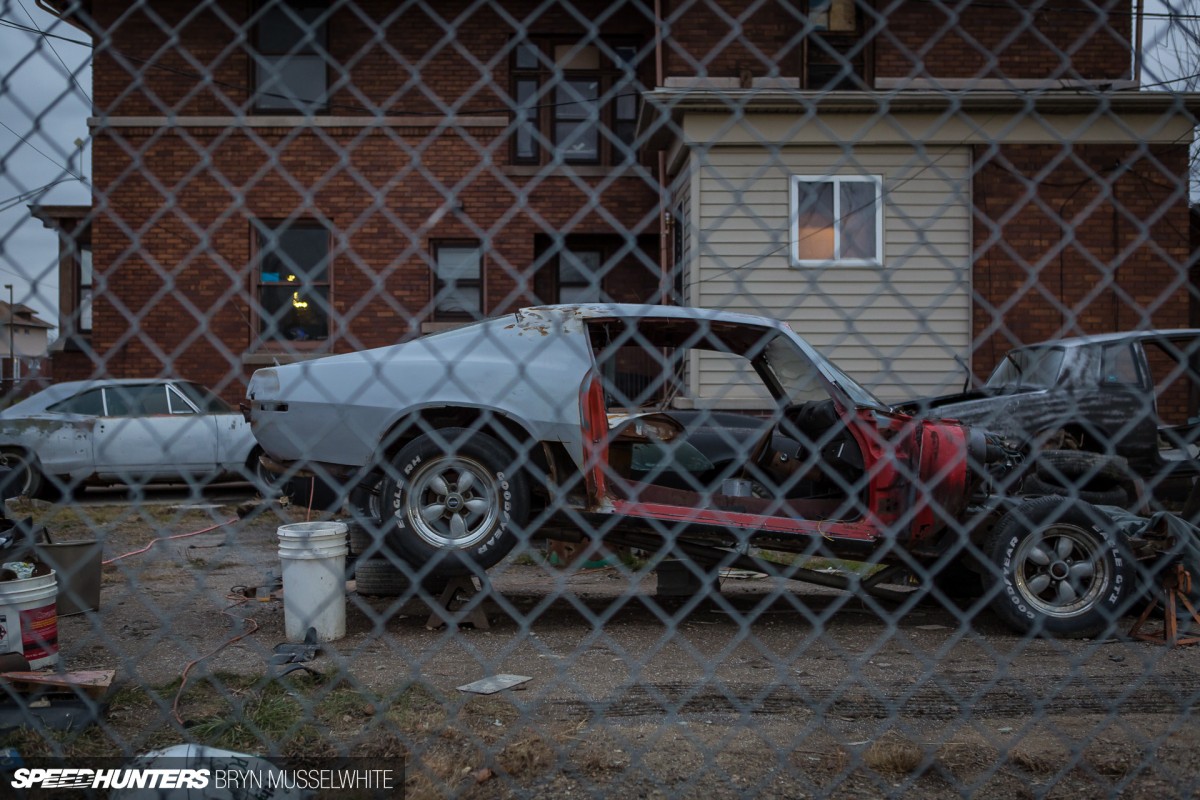 It will never be what it once was, but I truly believe in the long run it will be better. Like I said, there's an energy here – a positivity that can't be denied – and when you've been down so long, you learn there's only one way to go.
It's time to shift up the way we look at Detroit. This is the original Motorcity, from music to muscle cars there's a lot here to be proud of.
Bryn Musselwhite
bryn@speedhunters.com
Instagram: Speedhunterbryn
Cutting Room Floor