JUN Is Back
Just when I thought that nothing innovative could be done with the ZN6/ZC6 platform, this brightly coloured thing comes along! It's been years since we've seen JUN in the limelight (if you get it, pardon the pun) – a shop famed for not only creating some of the wildest and fastest cars to ever come out of the Japan performance tuning aftermarket, but one that never bolts on catalogue parts, Oh no, JUN created the catalogue, because as well as having their own workshop and garage, the long-established company has a machine shop that churns out forged billet cranks, connecting rods, camshafts and all sorts of other tasty engine components.
For their newest project, however, they have gone and done something completely different…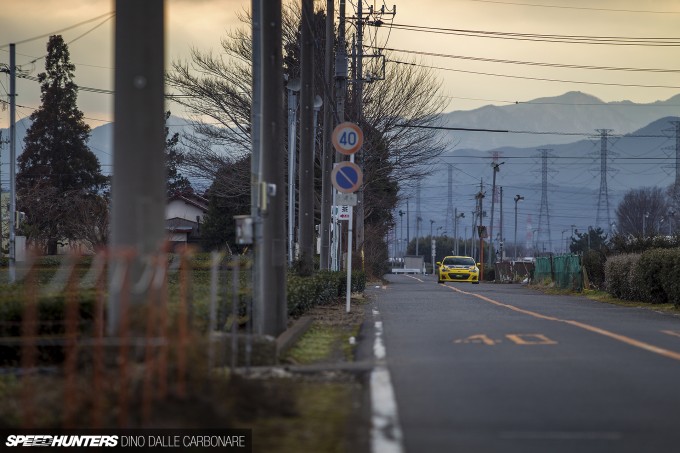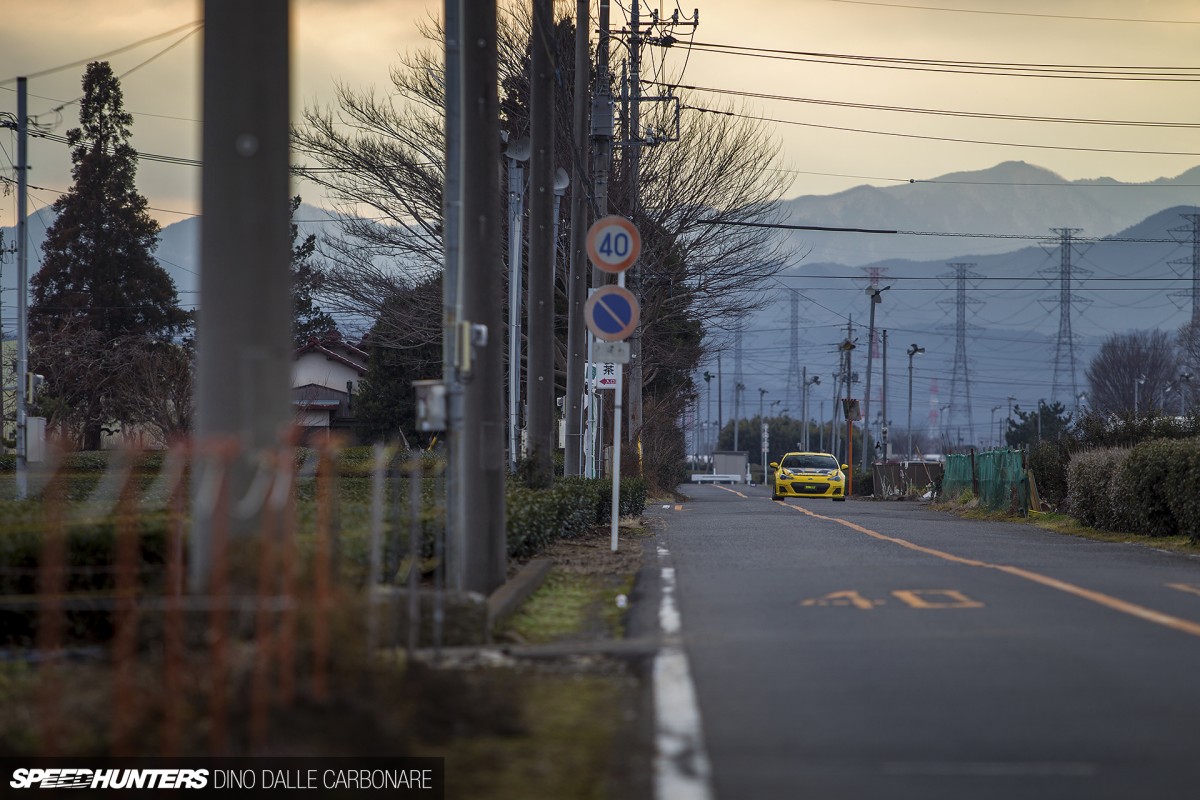 The JUN BRZ really screws with your senses. Look up at this image and imagine the compact little Subaru coming towards you. Being a tuner demo car you would probably assume it's running a less restrictive exhaust, maybe unequal-length manifolds for some old school boxer engine burble, or maybe the tell-tale sounds of forced induction. But all that couldn't be further from the truth.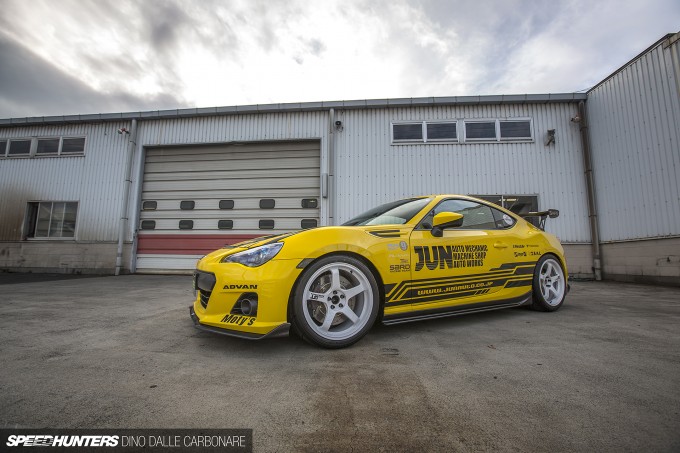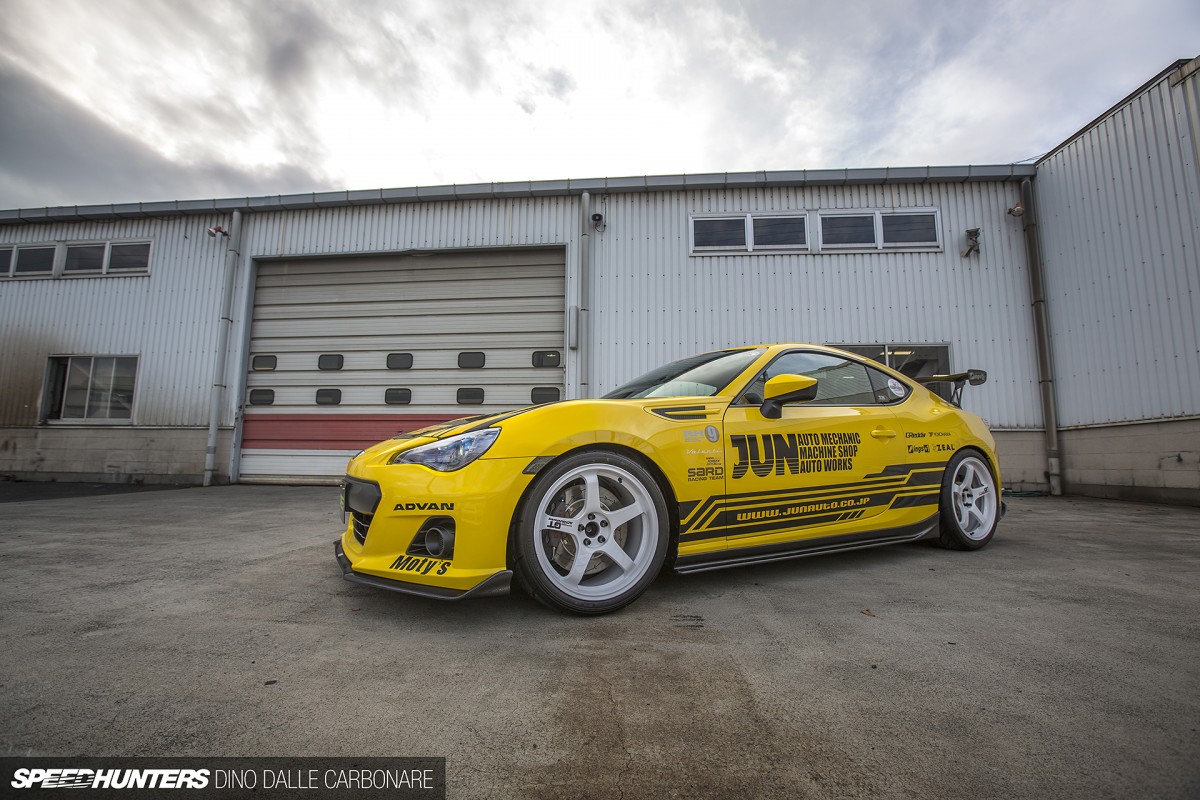 I'll return to that train of thought in a second, but first I want to talk about the look of the car. It often seems like style comes before function these days, but the first thing I thought upon seeing JUN's car up close was how fresh it looked. But wait, what – no overfenders? What an absolute travesty! Jokes aside, to me this BRZ has all the hallmarks of a JDM demo car from the '90s golden era – that is, factory-proportioned bodywork with a few select aesthetic additions to set it all off.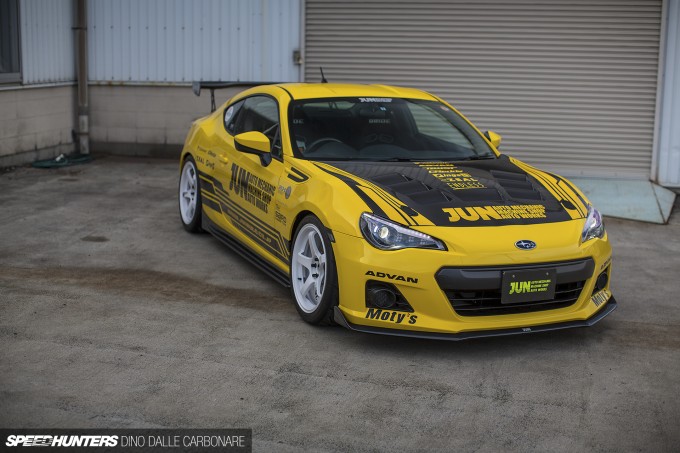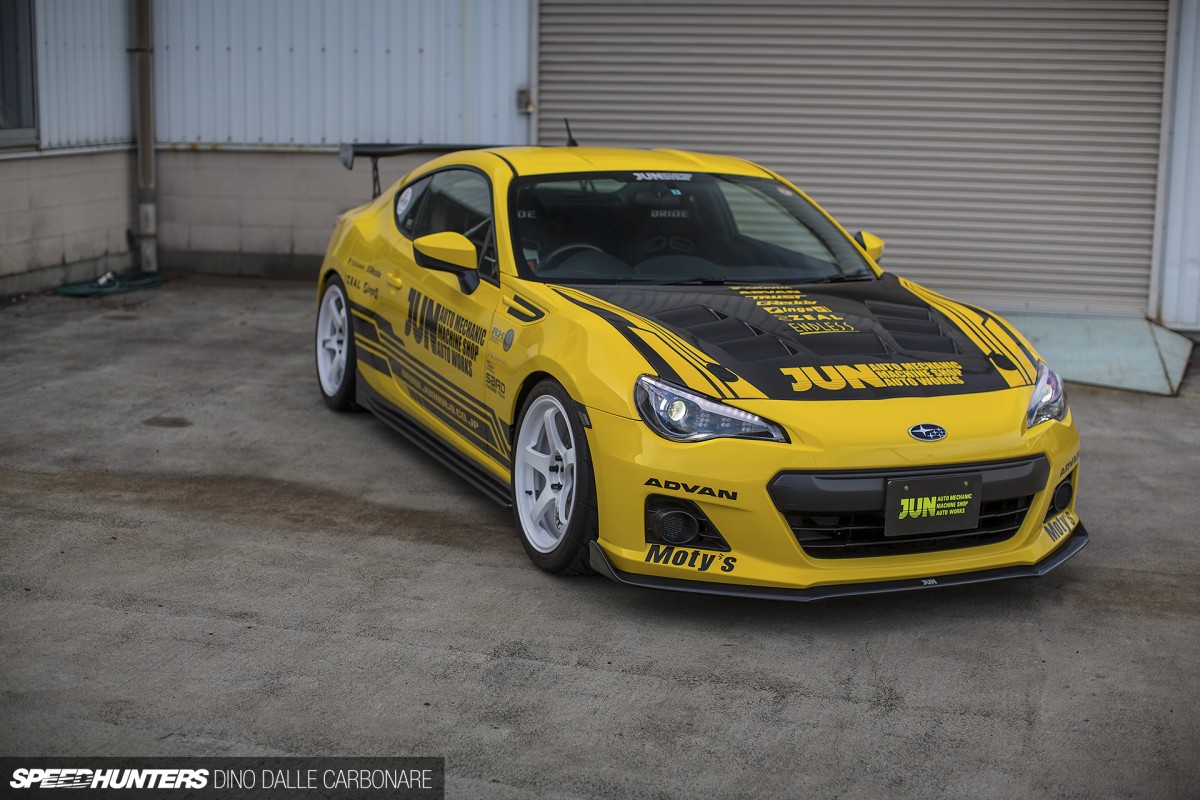 Simple is usually always best and I think that what JUN have created here looks so right. I mean, isn't this what 95 per cent of ZN6/ZC6 owners would do to their cars?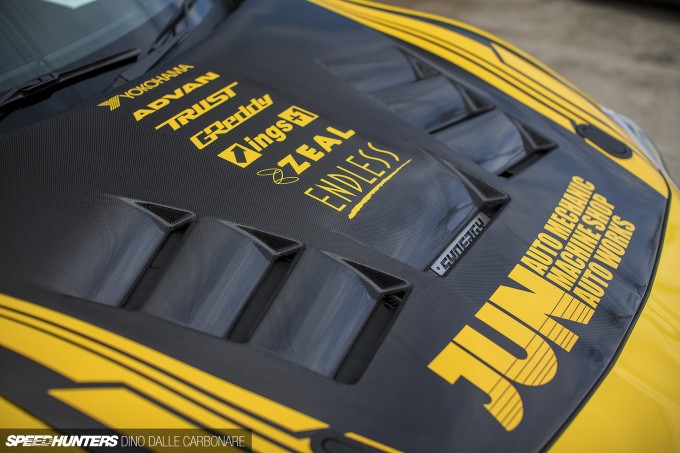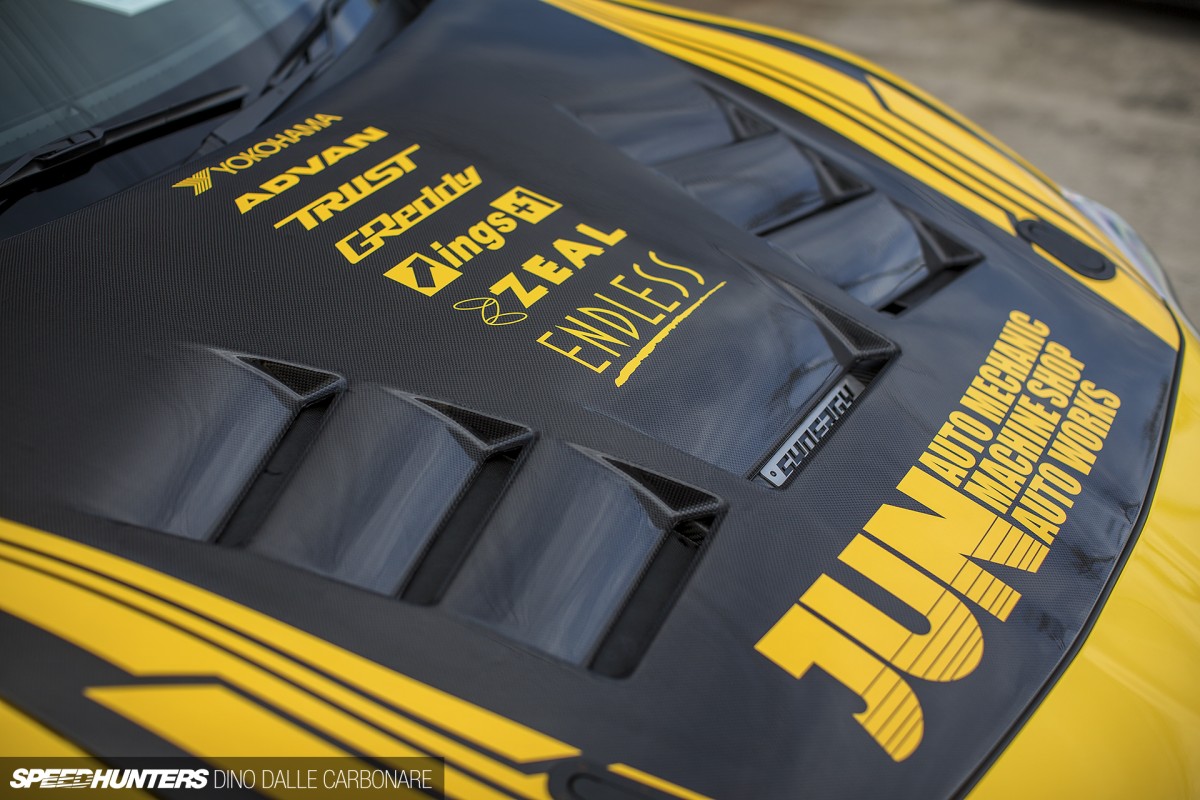 ings supplied the carbon fiber vented bonnet, which not only looks the part, but more importantly helps rid the engine bay of unwanted heat. Function dictates form it seems.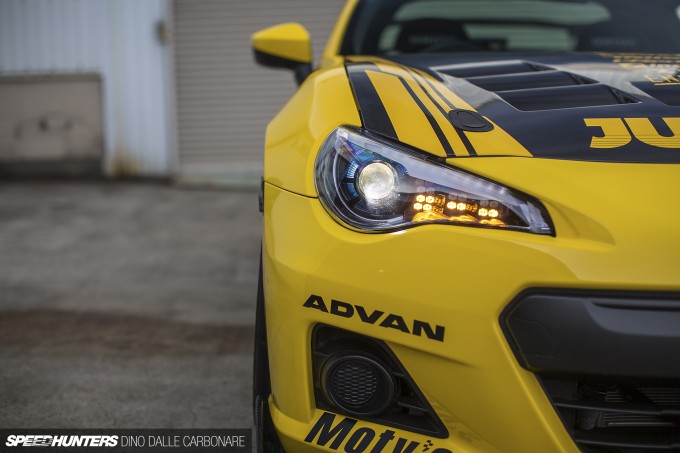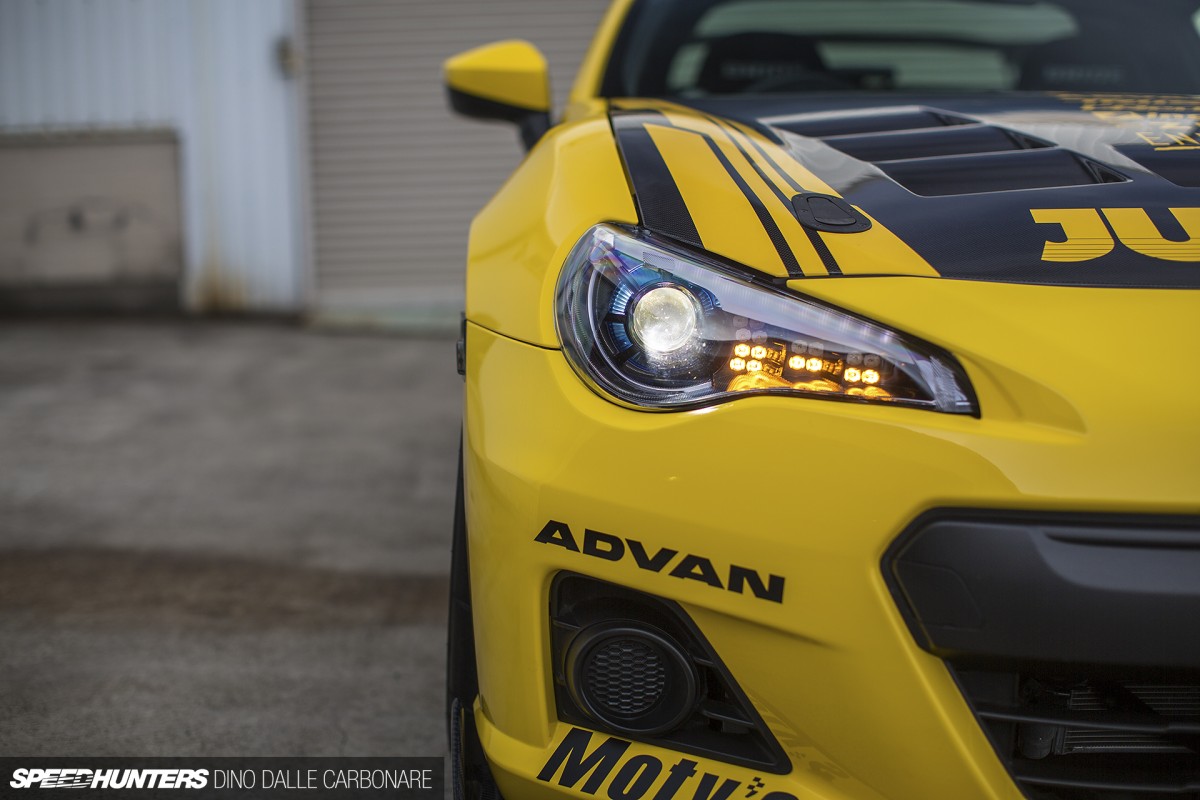 I keep coming back to this, but light customisation is enjoying quite the boom lately. Valenti collaborated on the project with JUN, supplying their new headlights with integrated orange LED turn signals.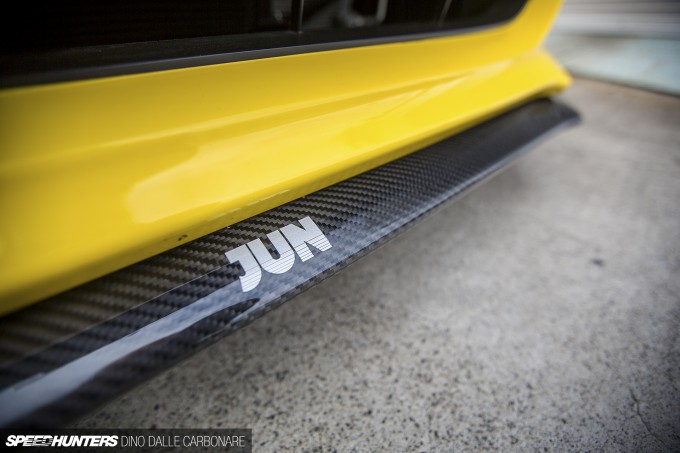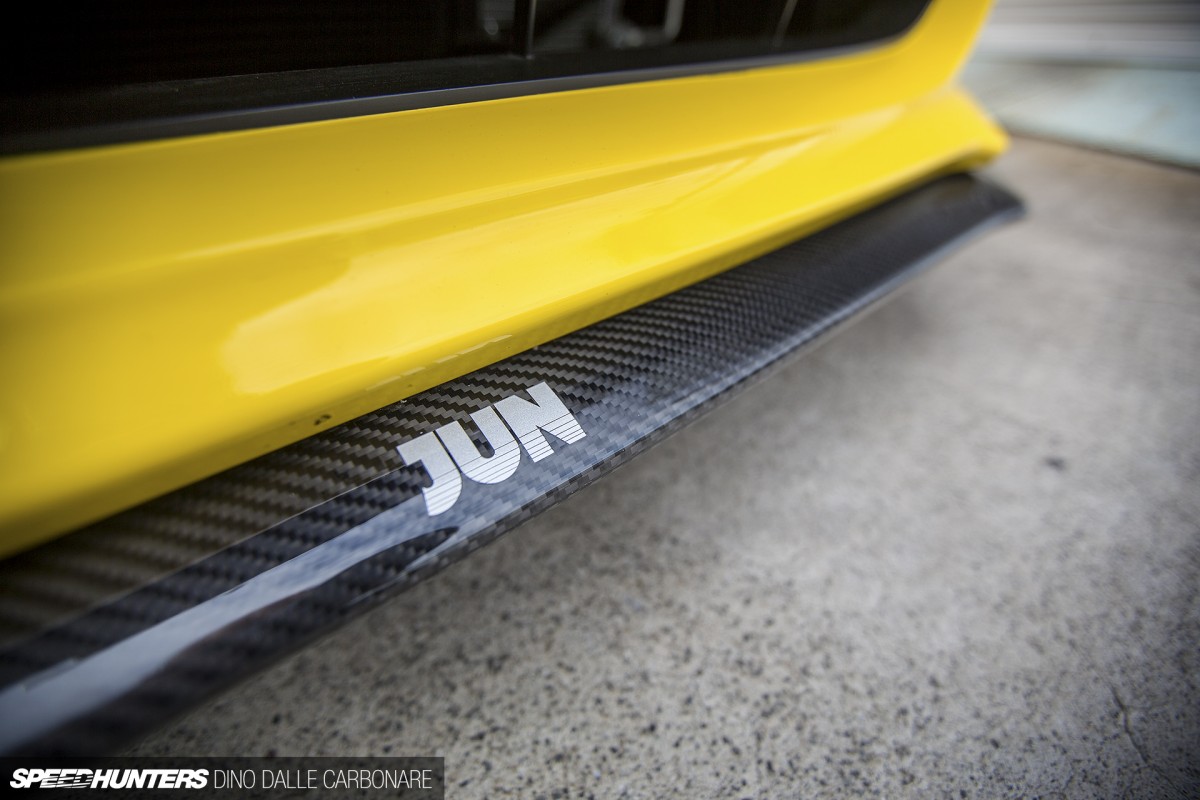 The stock BRZ front bumper remains, but its look has been improved upon with the addition of an exquisite JUN carbon fiber lip.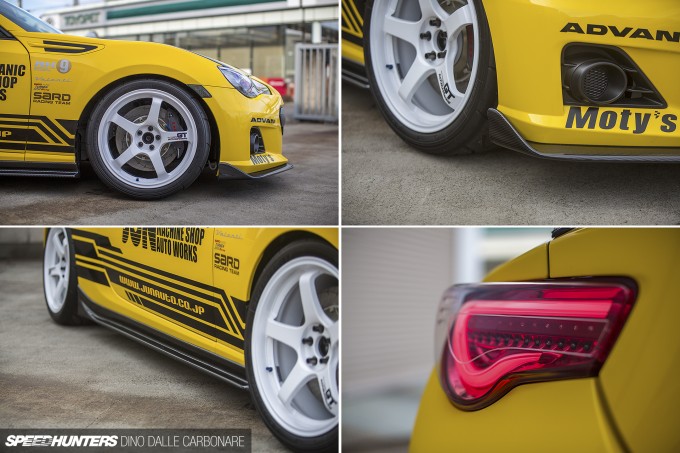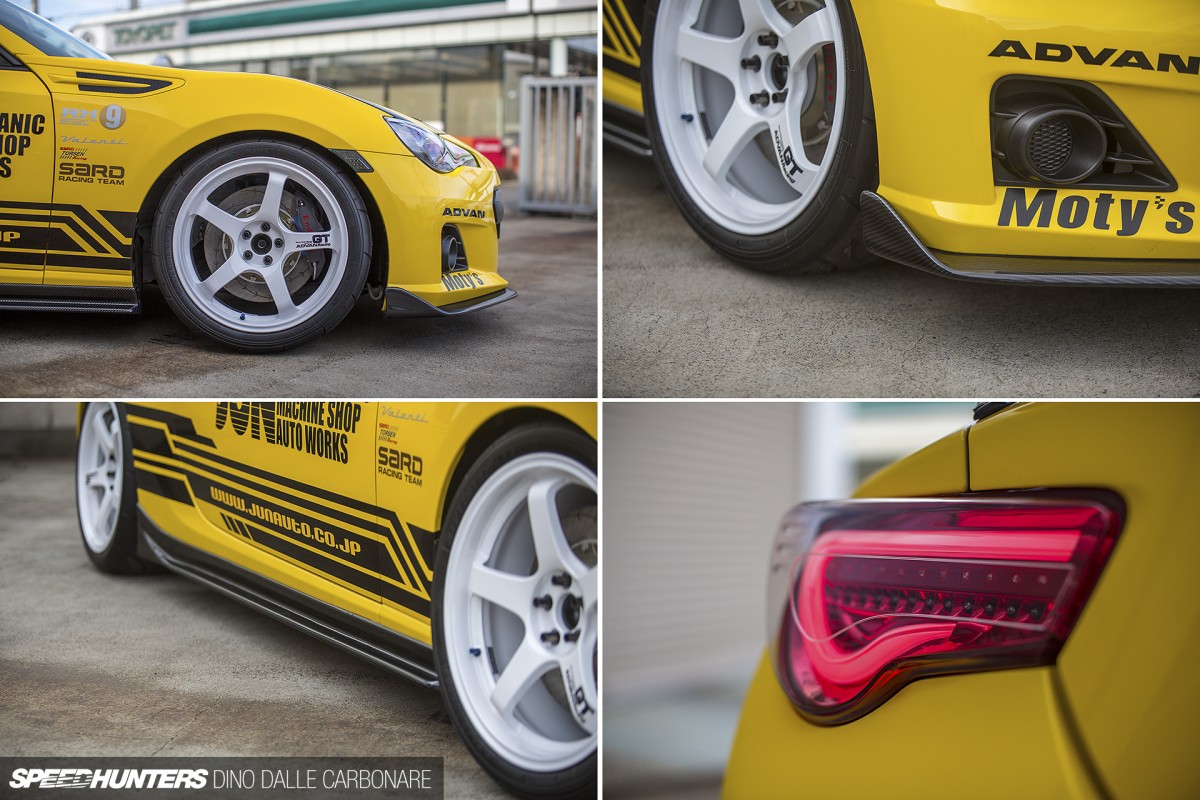 The lip flips upward as it makes its way around the corners of the bumper adding slight aerodynamic effect, and more carbon is used on the JUN skirts and the JUN rear bumper finishers. Again we find a Valenti touch, this time in the form of concept car style taillights.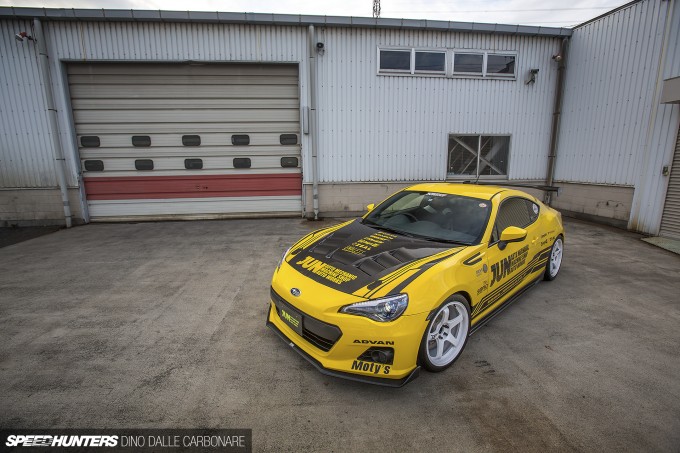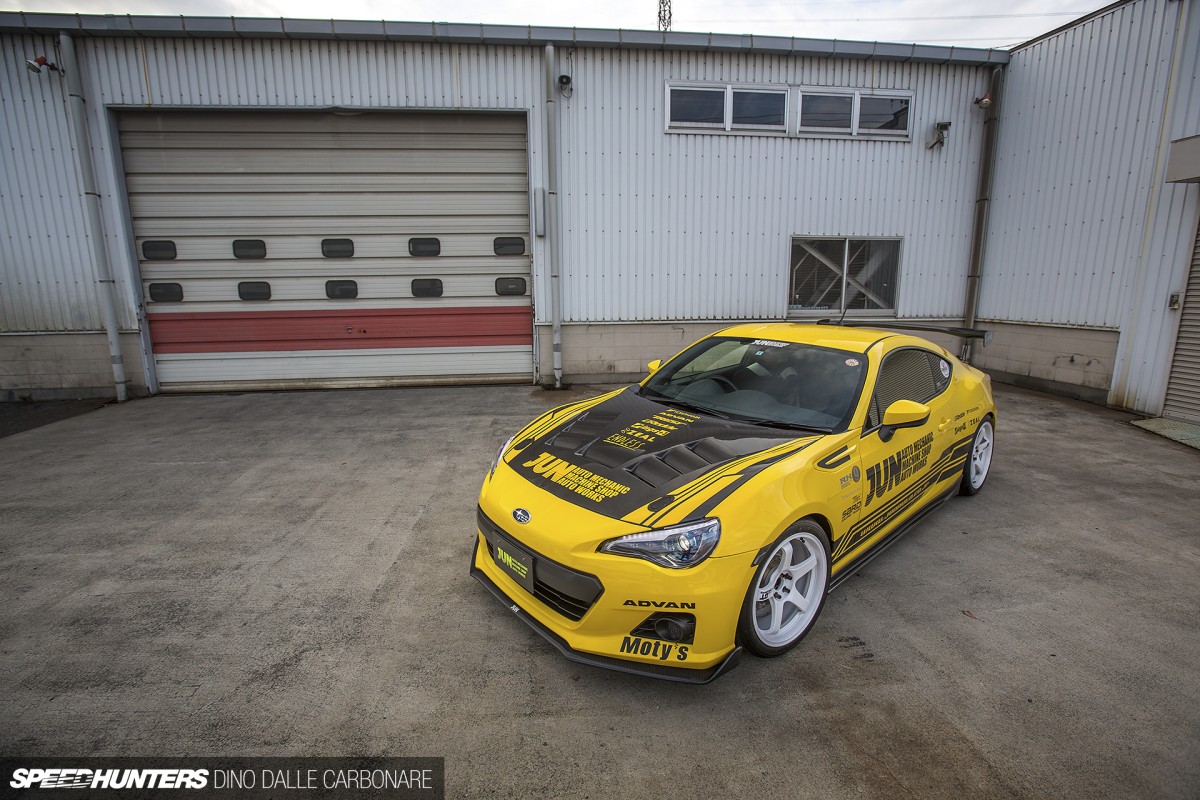 It's a nice ensemble of parts, all geared towards performance. And that was the intent, because this car was actually built to attack time at Tsukuba and Fuji.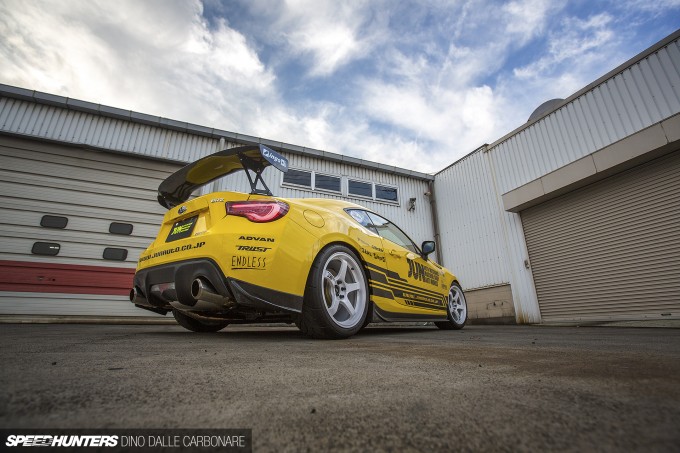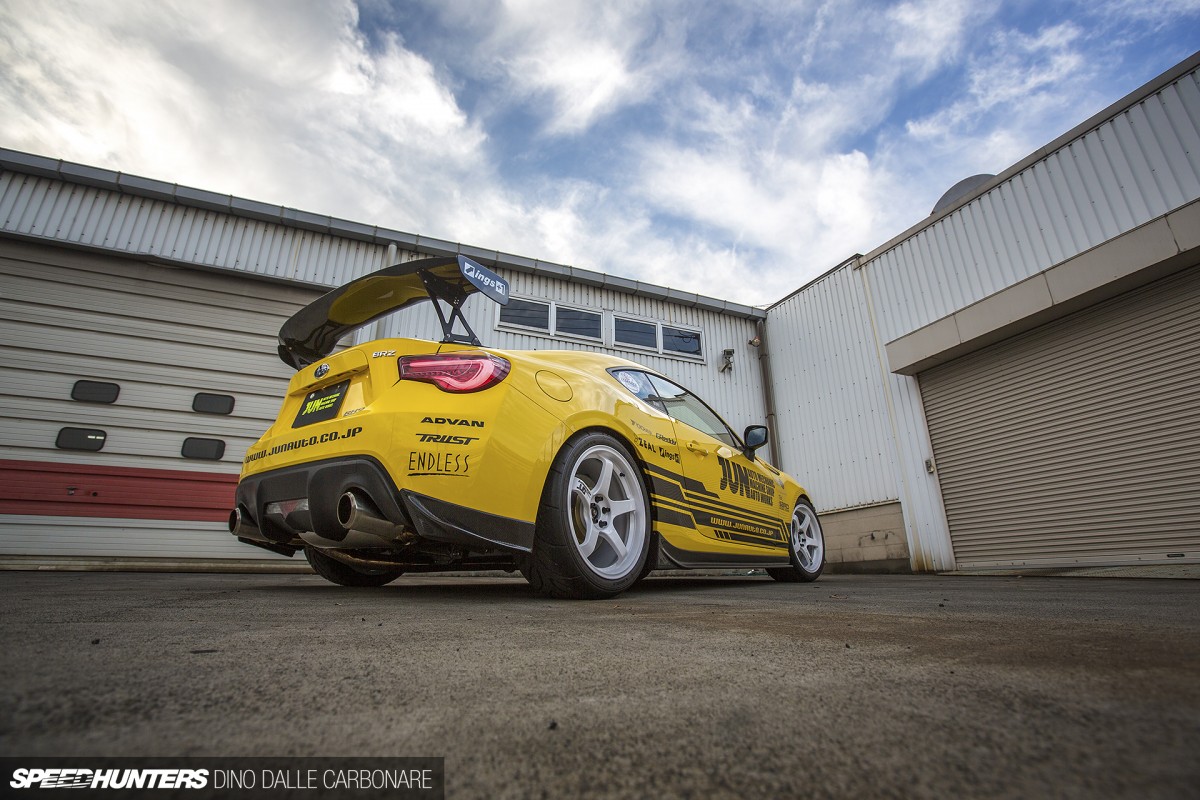 How low it sits is testament to this; the fender wells consumed by Yokohama Advan Racing GT wheels in a purposeful fitment. The 18×9.5-inch alloys run Advan A050 tyres, the stickiest compound available.
A Dream Engine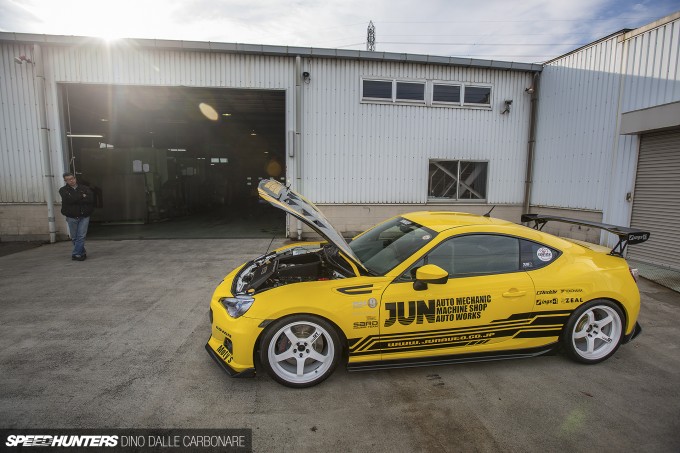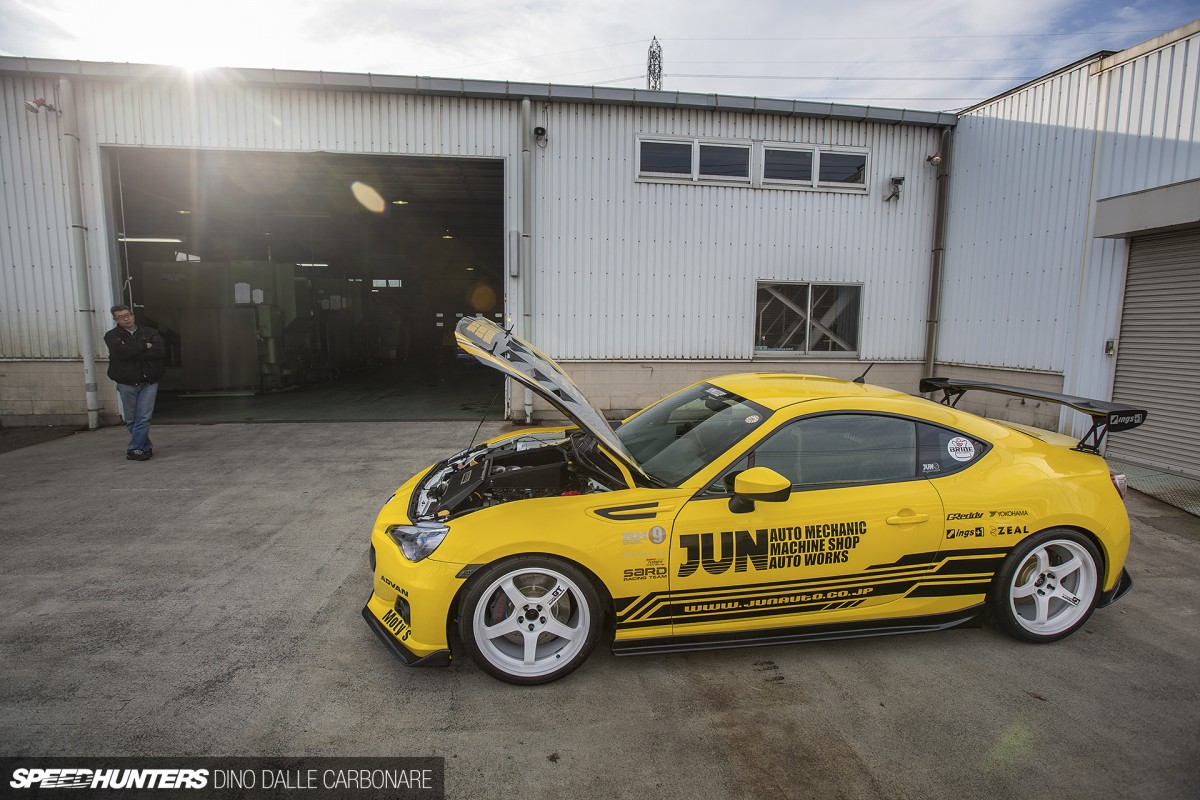 As JUN's Tanaka-san watched over his new baby, it was time to lift up the bonnet and reveal what this BRZ is all about.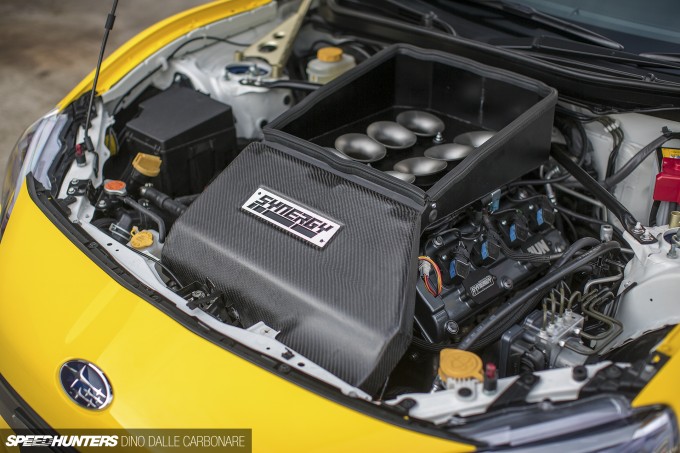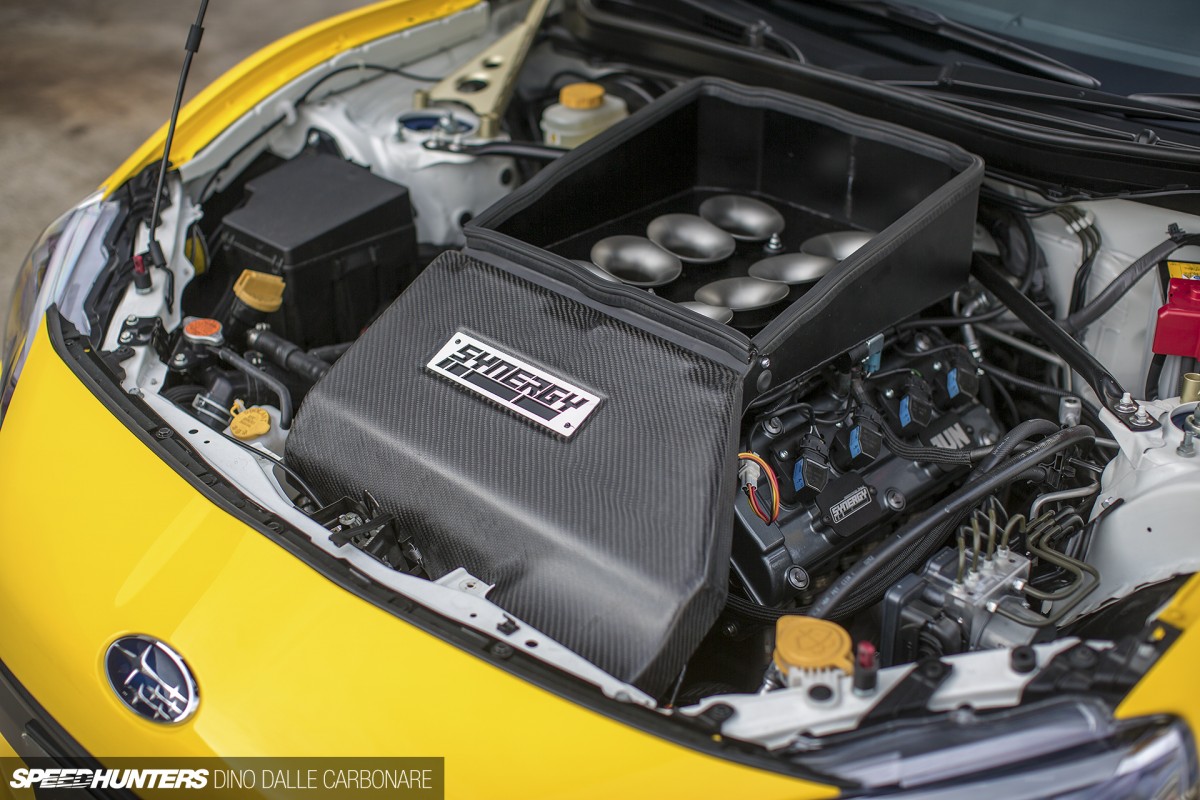 Imagine if you were tasked with coming up with the best engine configuration for a specific chassis. It would need to have all areas covered, which for the ZN6/ZC6 means compact dimensions, light weight, a high specific output and a decent amount of torque. Of course, a sweet soundtrack wouldn't go amiss as well. Now, what if I told you that this motor exists? Meet the Synergy V8 – possibly the ultimate 86/BRZ engine. Period.
So what on earth is it, and where did it come from you might ask. Well, to make a long story even longer – because it's just so damn interesting – this compact V8 actually hails from New Zealand. It was here that Synergy Power came up with a great idea to take two Kawasaki 1,200cc four cylinder motorcycle engines and combine them at the crank. As you might imagine, that's something easier said than done, which is why they have gone full out. This is no backyard hack job – it's a pure, top-level competition engine that features a billet crankcase with eight high-spec connecting rods and forged pistons, connected up to a fully-counterweighted forged billet flat-plane crank. Do I have your attention now?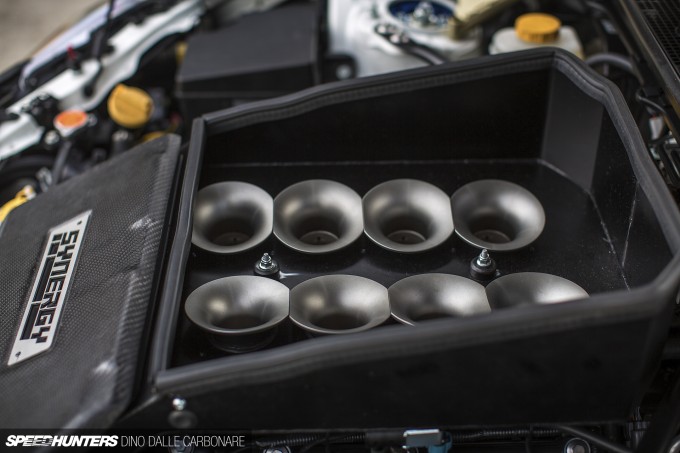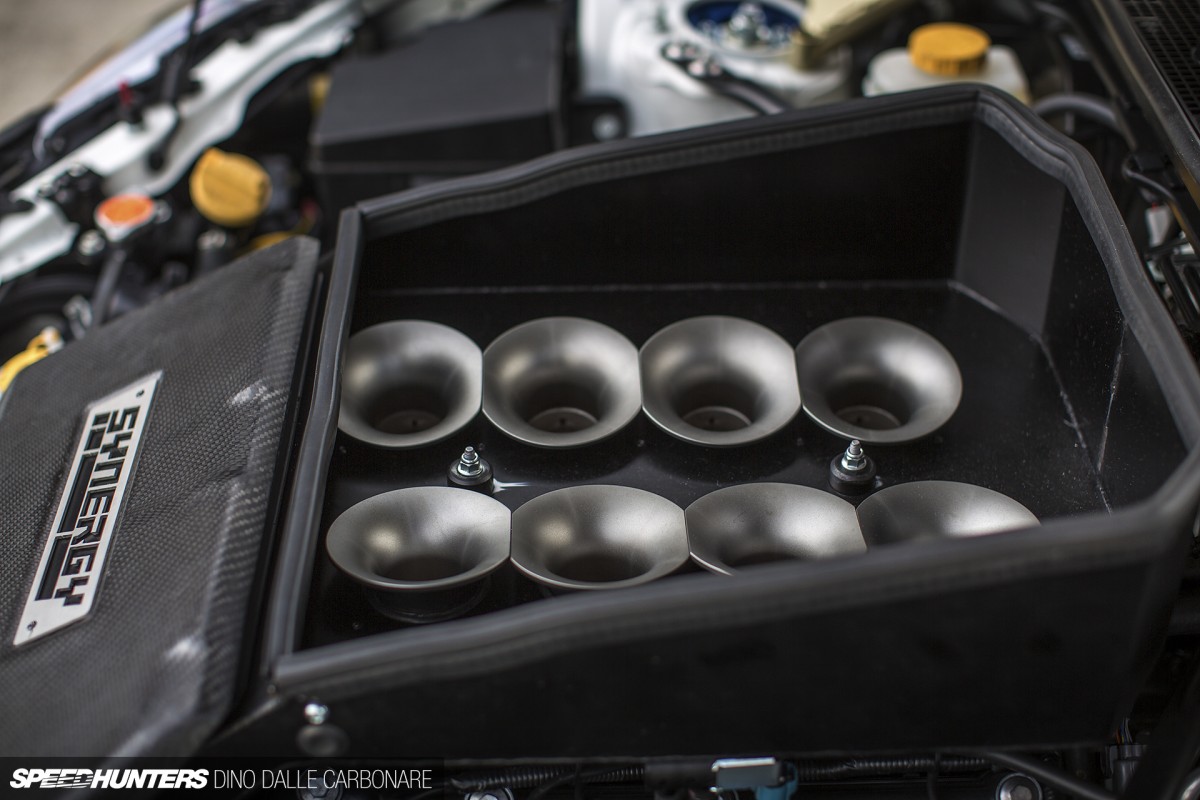 The engine was initially developed for midget car speedway racing in New Zealand, but the idea to drop it into a street car was always something that Synergy wanted to do. So after a good couple of years of testing, planning and development, they've come up with a 100 per cent complete, drop in and turn-key solution for the ZN6/ZC6. Imagine that, an engine swap that just slots in place, bolts up to the stock transmission and allows all of the electronics – ABS, traction control, cruise control (if you have it), stability control – to function just as they do in the factory-spec car. All of this is yours for $70,000 – a price tag indicative of its high-end components and hand built quality.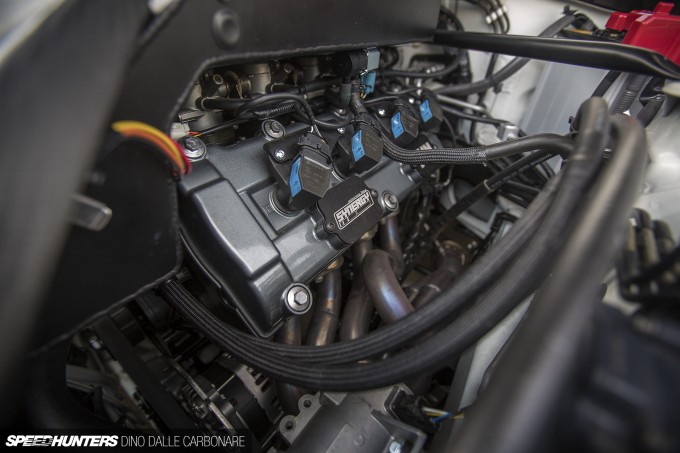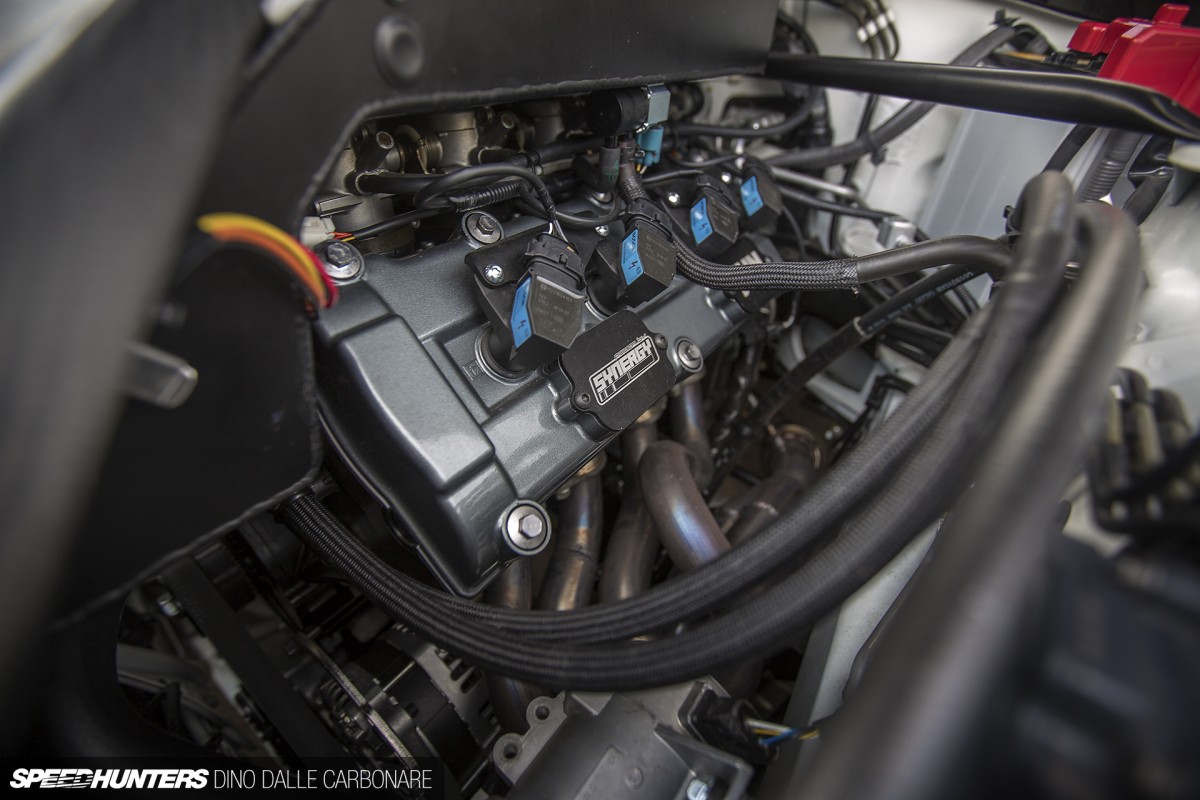 Fitting this little V8 in a stock 86/BRZ has multiple benefits. You shave 30kg off the factory curb weight, lower the centre of gravity, shift the front-to-rear weight distribution 2 per cent rearward, and of course have more power to play with. And this is where things get really fun, because this particular motor develops 356hp at 10,300rpm and 271Nm at 8,000rpm. The redline? 11,600rpm.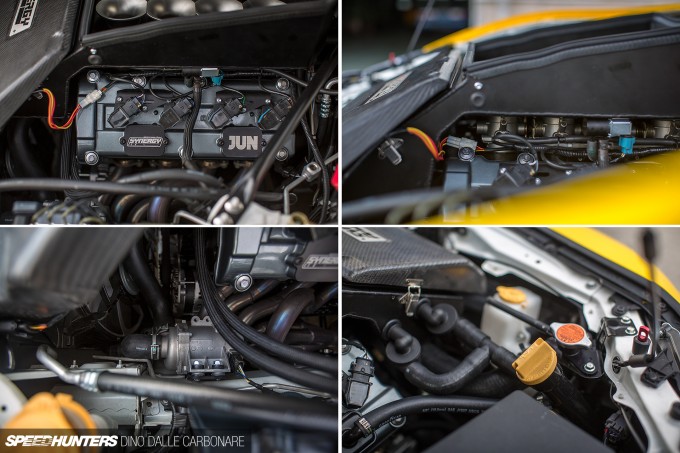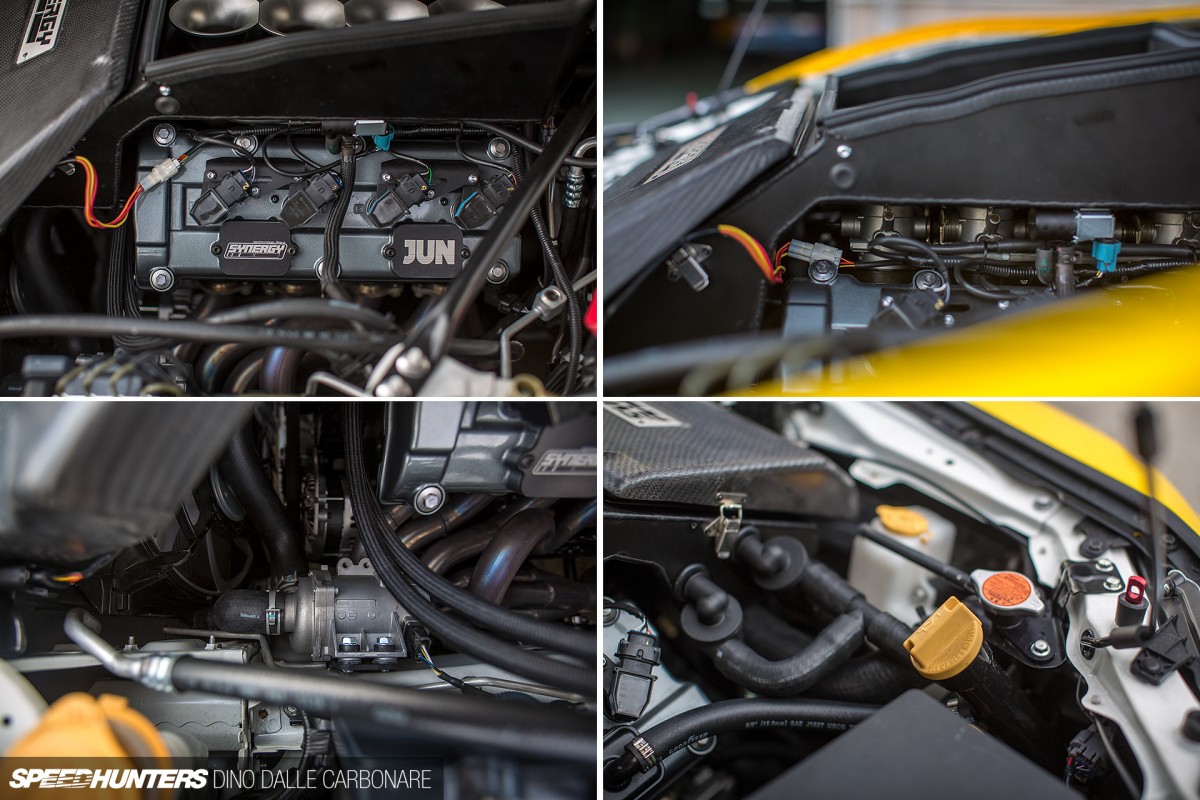 Are you frothing at the mouth yet? Thanks to an adaptor plate which is included with the kit, the V8 bolts up to the stock 6-speed transmission, but you do need to alter the final drive to align the ratios with the high-revving capabilities of the engine. That's unless you want to do 240km/h in third gear! JUN have addressed that aspect in this build with a SARD Torsen Racing LSD running a 5.125 final.
Looking at the above picture you can see just how compact the Kawasaki ZX12R heads are, and how easy it would be to change a spark plug in comparison to the FA20! The heads are fed air through eight 46mm throttle bodies breathing through beautifully crafted velocity stacks. On the lower left side image you can see the electric water pump that is employed in the system, and since the engine runs a five-stage scavenger pump for its dry sump the oil tank is positioned in the right corner of the bumper and can easily be filled up through the stock oil filler.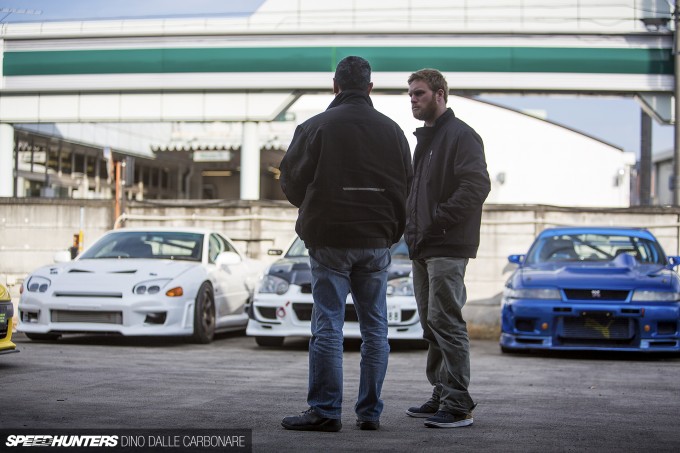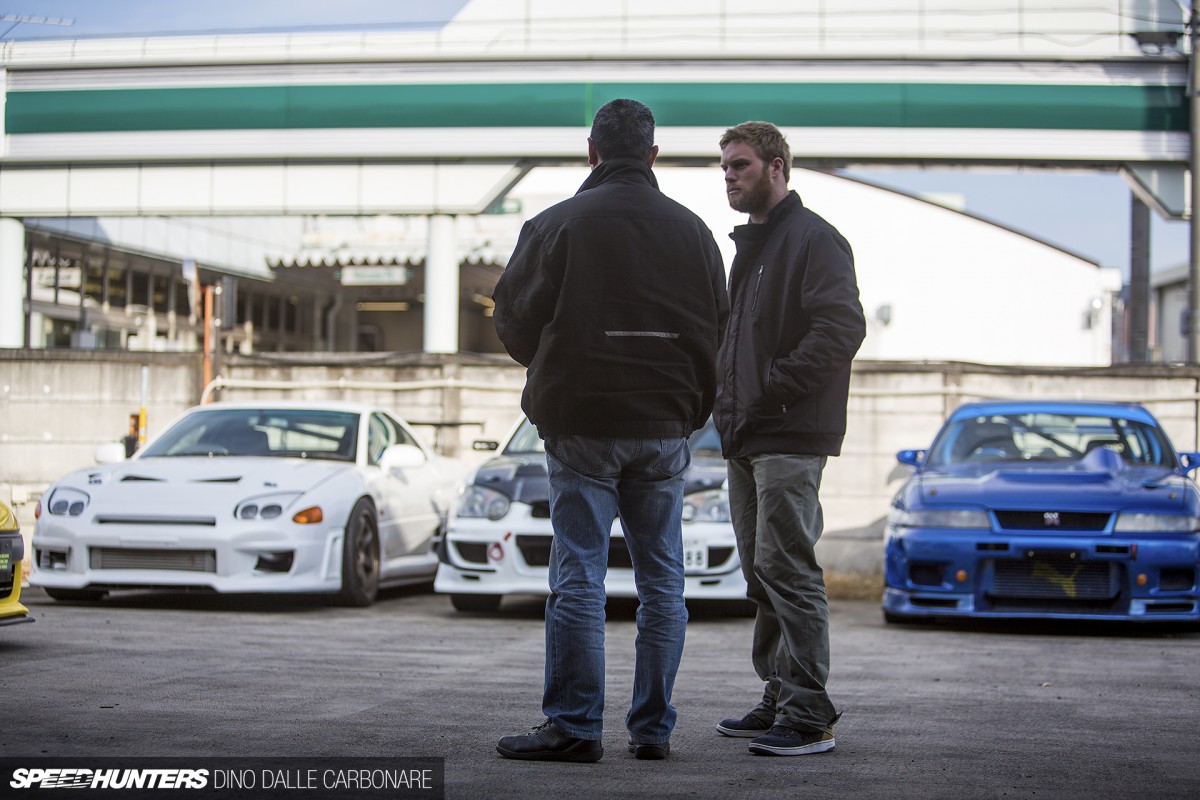 Nick Rogers of Synergy Power is currently over in Japan working with Tanaka-san to help get the Subaru running just right. Aside from their own development car back in New Zealand – which Speedhunters Editor Pedey will be borrowing for an all-out, limiter-bashing test on some classic Kiwi mountain roads next month – the JUN BRZ is the only other ZN6/ZC6 in the world using this unique engine.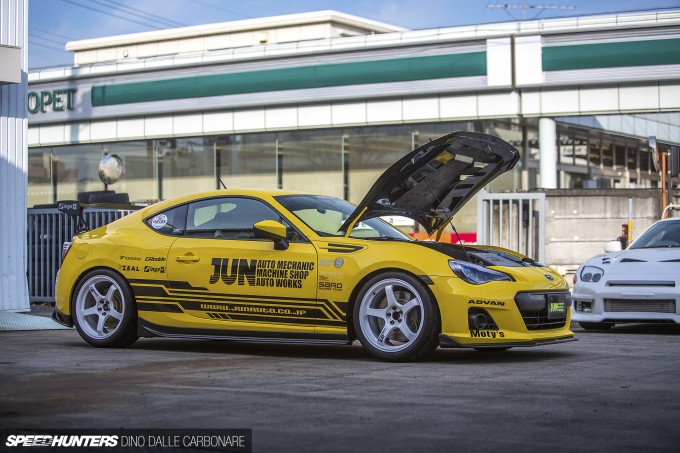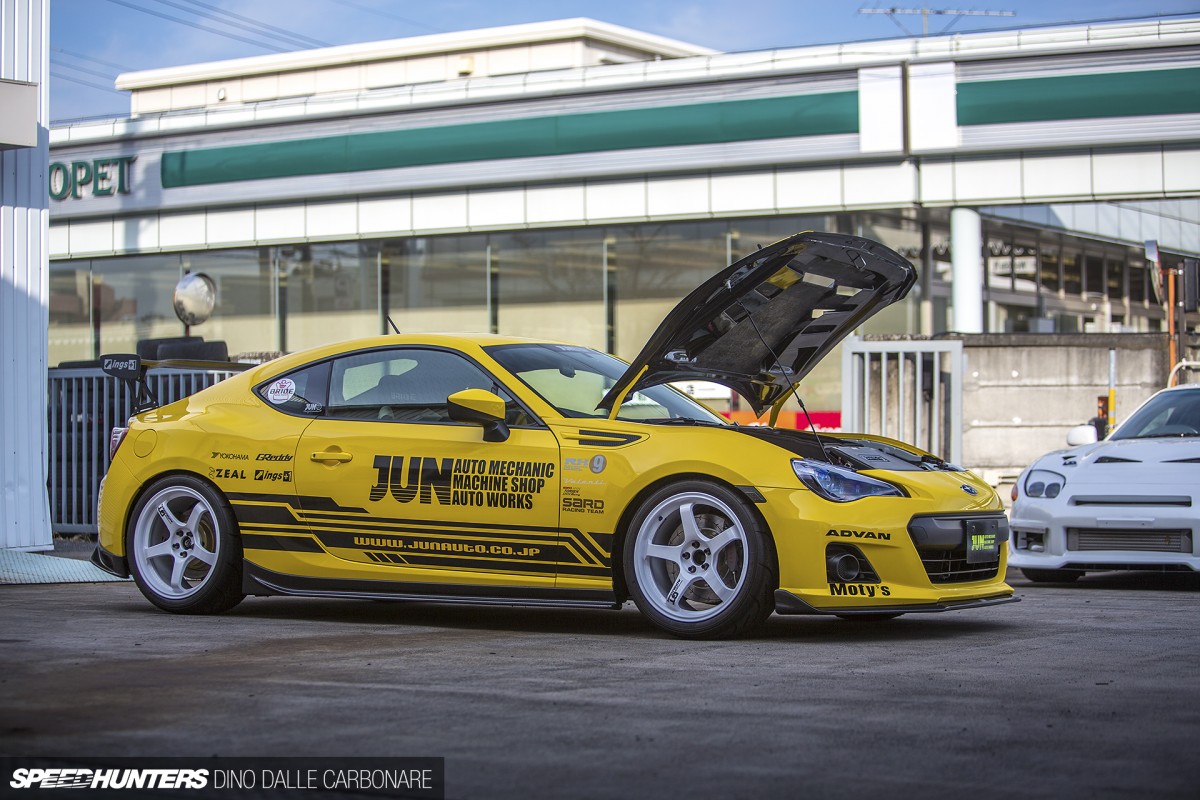 Which of course makes it a very special car.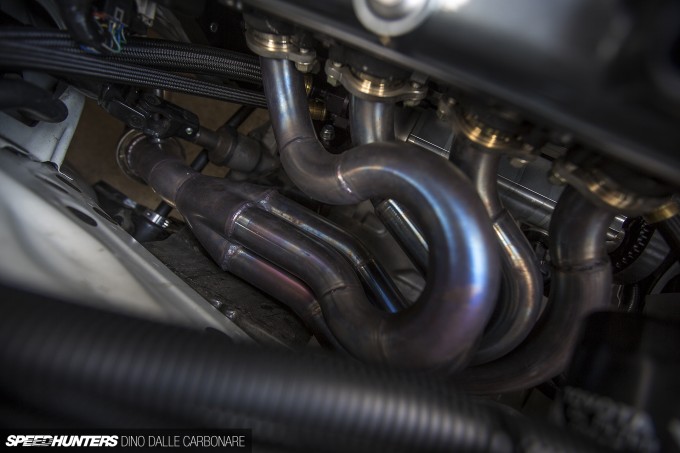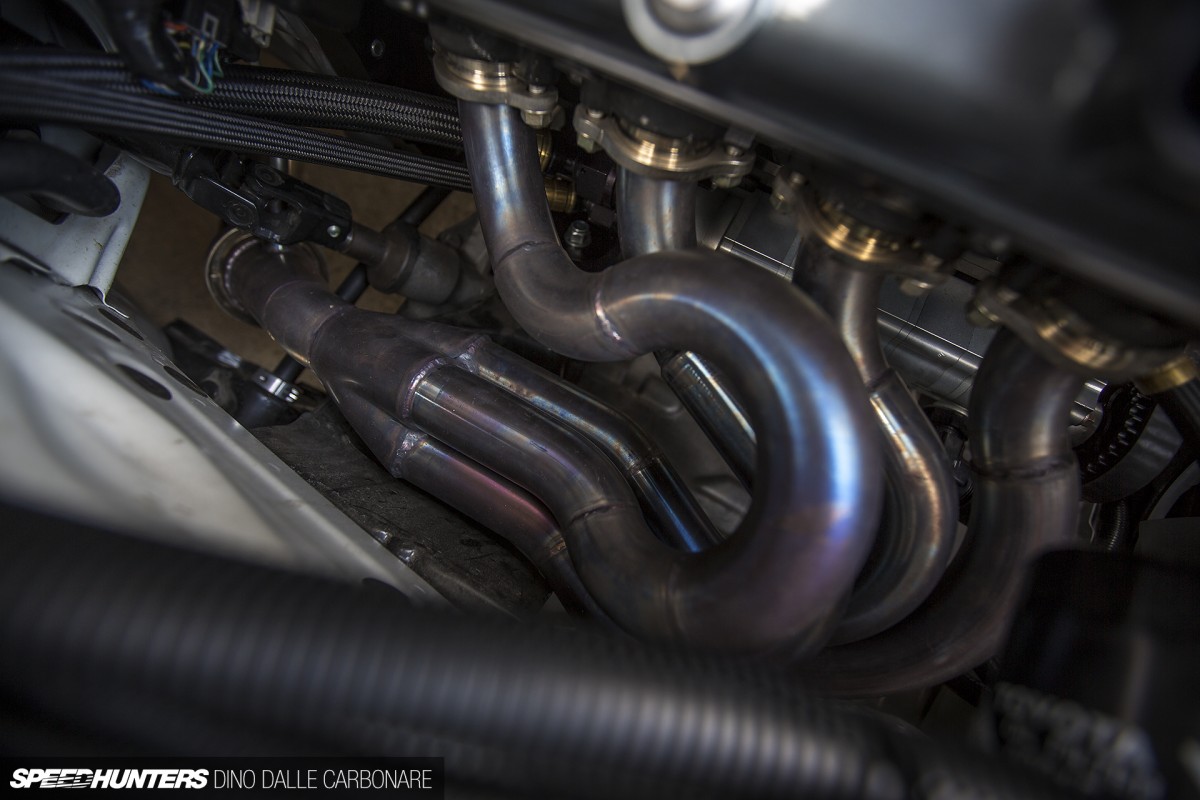 It's incredible seeing just how compact this unit actually is. I mean, look at the complex design of the exhaust manifolds, which are able to be used with plenty of room to spare. These dump gasses into a 3-inch stainless steel XForce exhaust.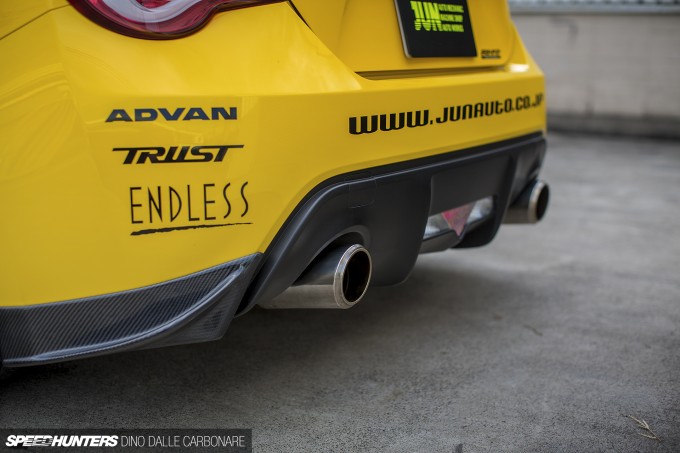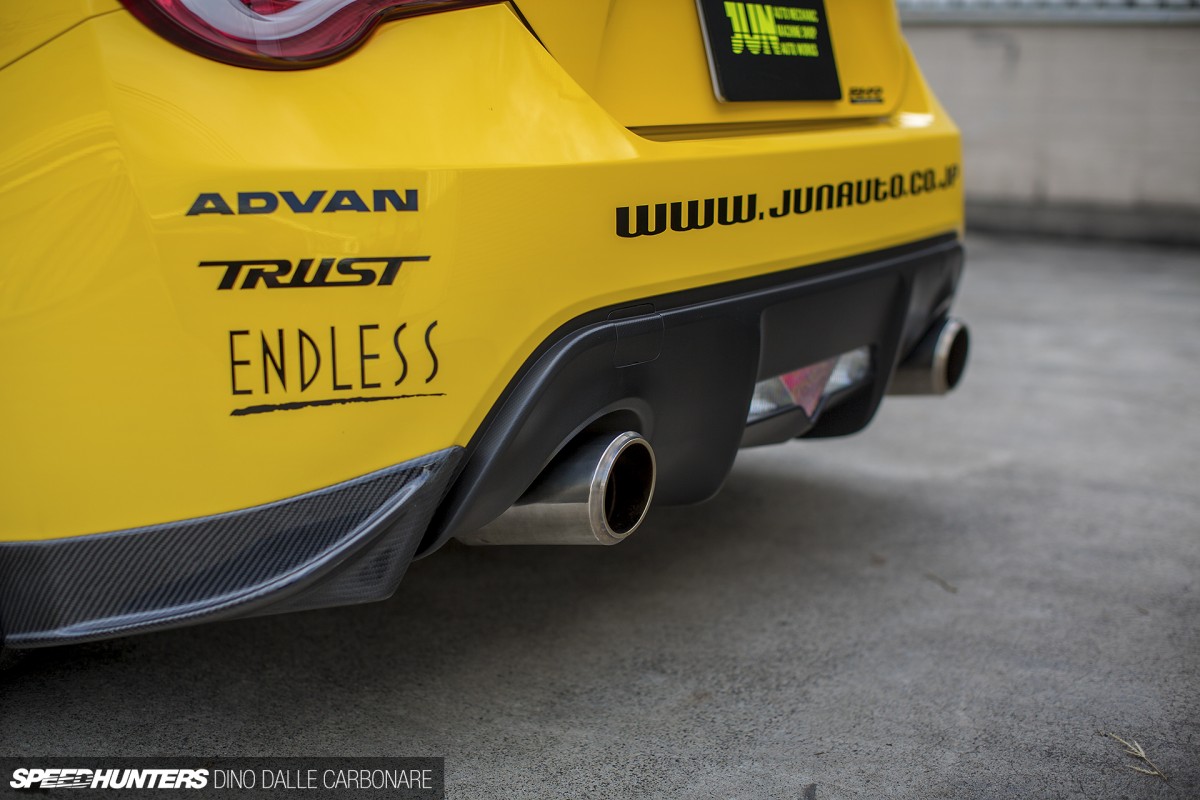 I really like how JUN has chosen to retain the stock tail pipes to emphasise the plug-and-play nature of this high-end engine swap.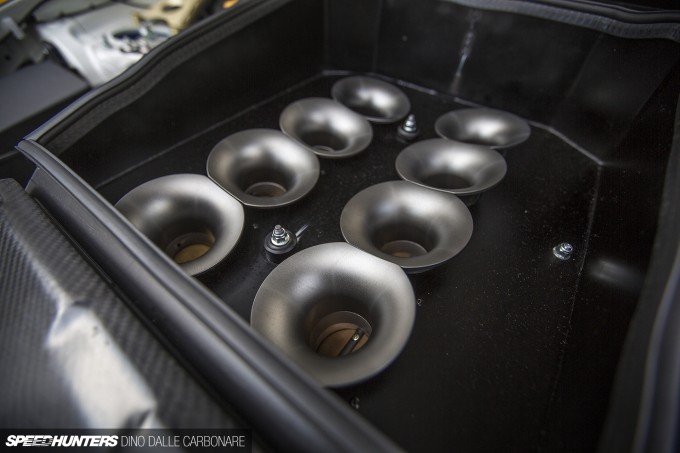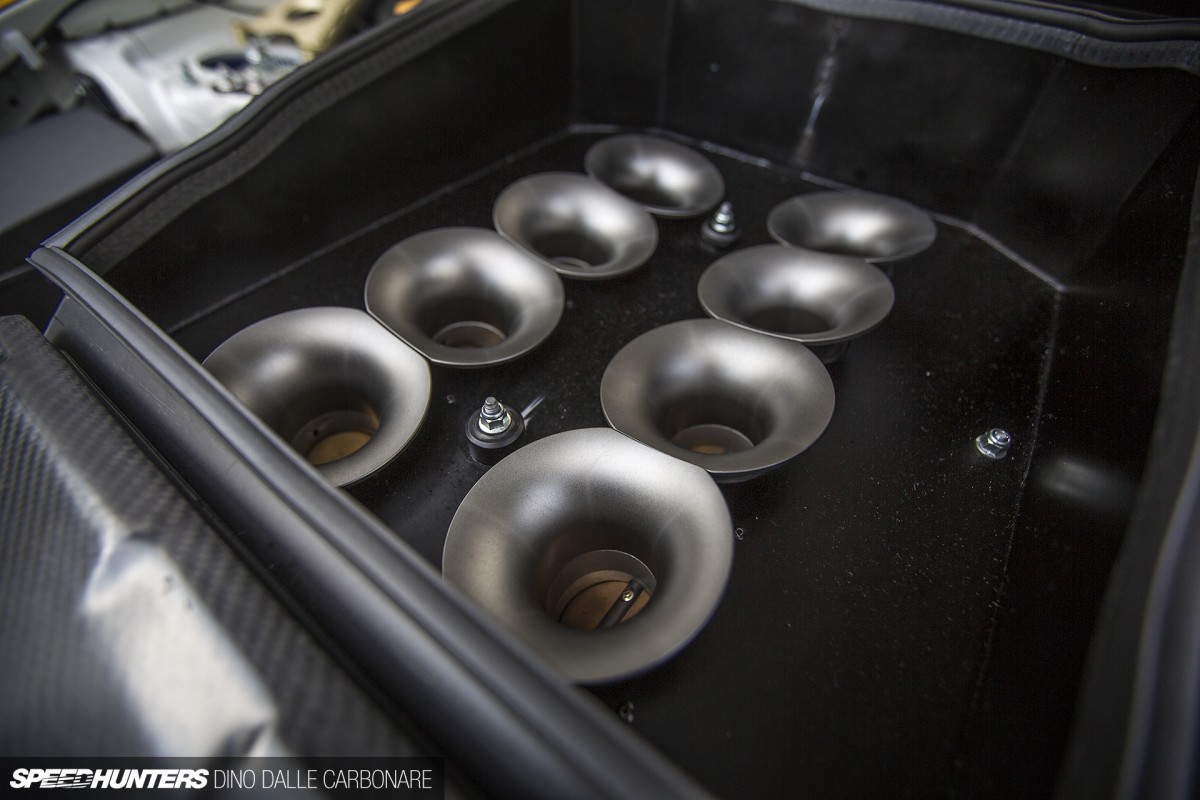 The induction noise, however, is just as intoxicating as what comes out the rear, although it doesn't really start to sing until around 7,000rpm. Mind blowing!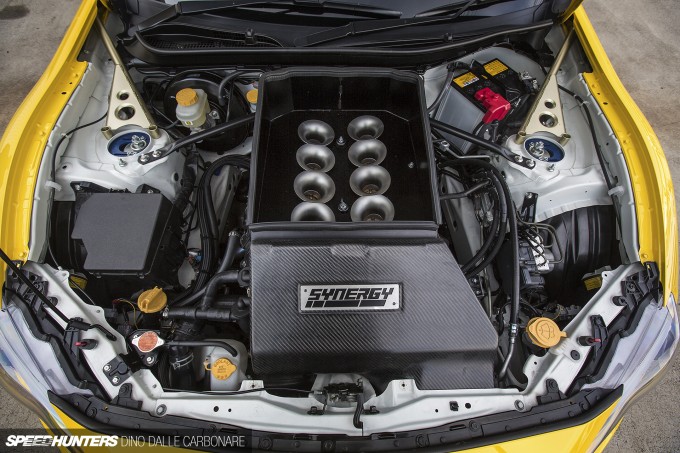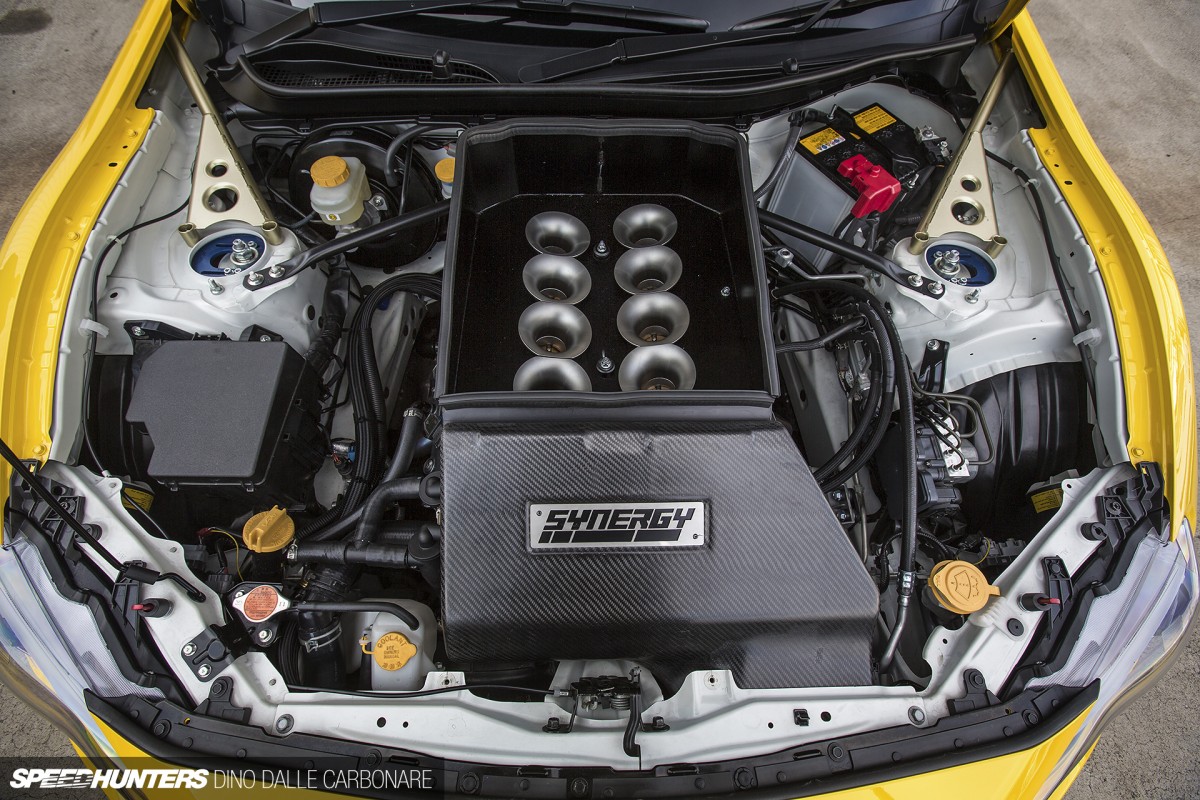 The velocity stacks are closed off against the bonnet and are fed air through a carbon fibre intake that connects up to the stock air intake in the grille. The throttle bodies are actuated though a modified GM motor and everything gets controlled via a MoTeC M150 engine management system. The latter explains how the car is able to run an engine like this, yet still retain all its stock features like traction and stability control.
You can hear what the car sounds like in this clip of it being set up on the JUN dyno around a month ago. The numbers achieved on this run are the ones I've quoted in the spec list below.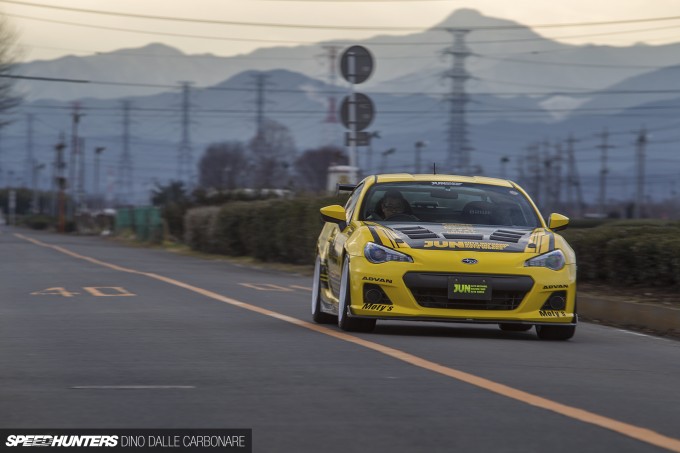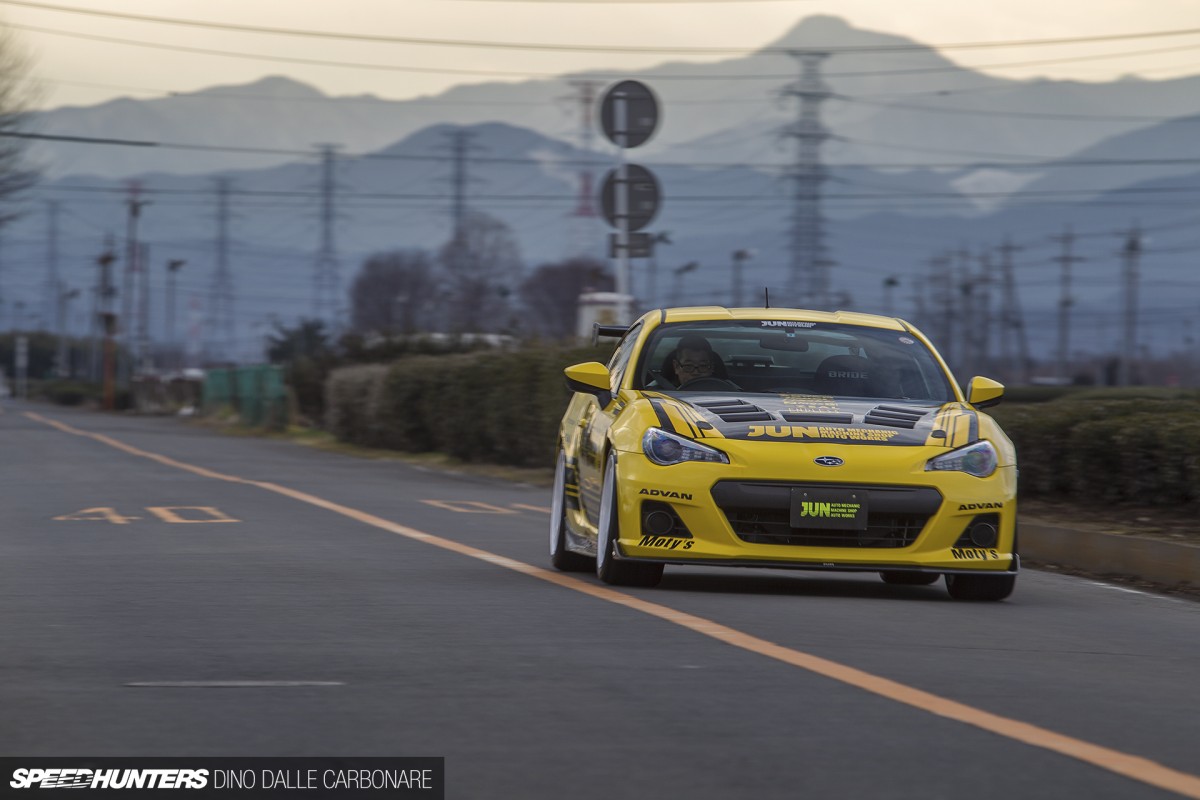 So, you can kind of imagine what the car sounds like at full chat. Forget all similarities to a flat four engine – it's like a pair of angry Kawasaki Ninjas coming at you!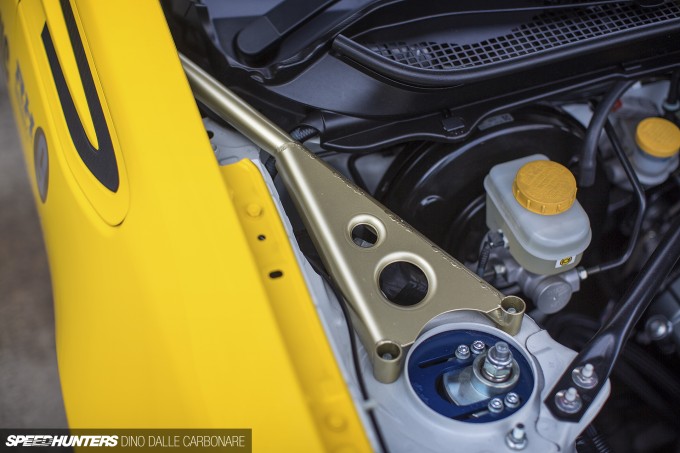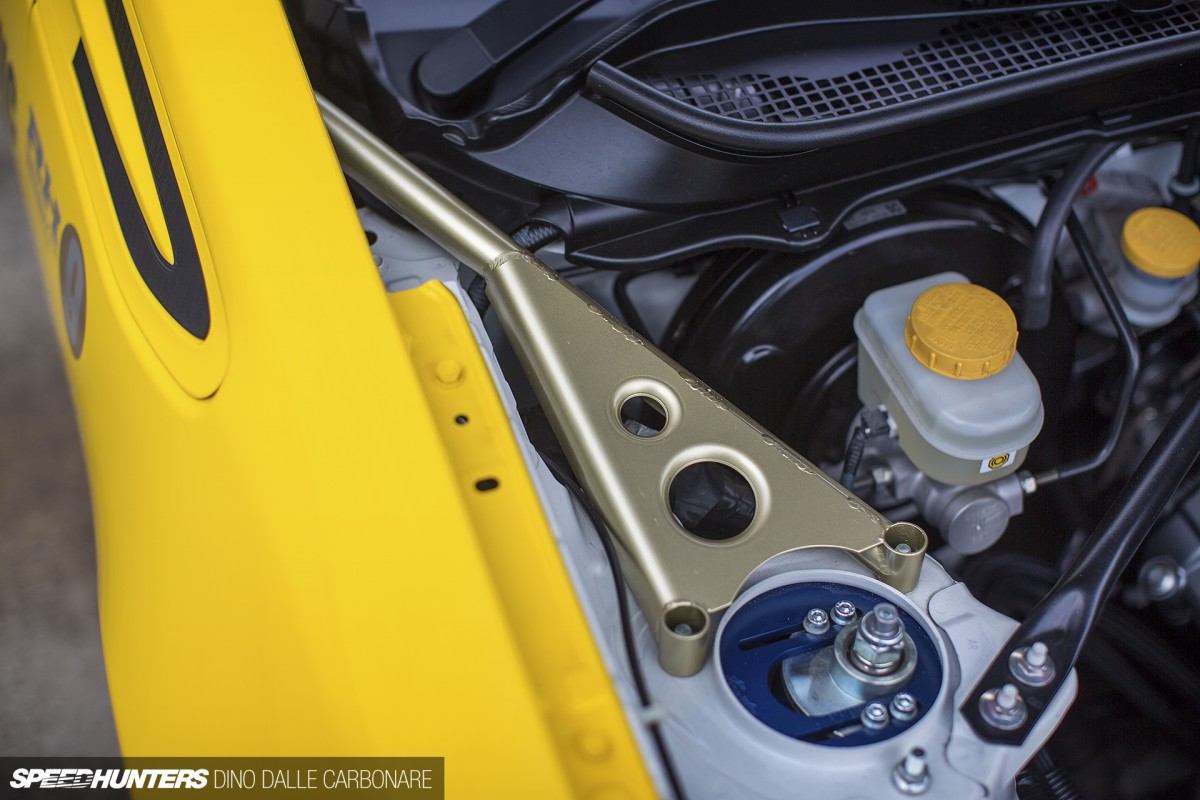 There are many neat details with the conversion, but I really like the strut tower bracing solution. With the airbox in the way a conventional bar couldn't have been used, so this is what's been come up with.
Built For The Track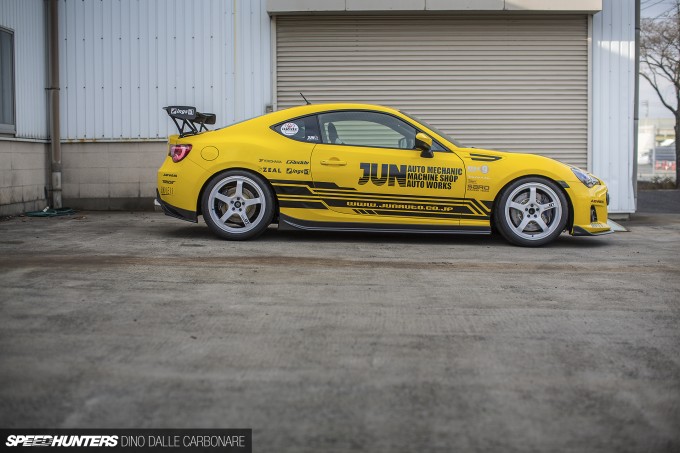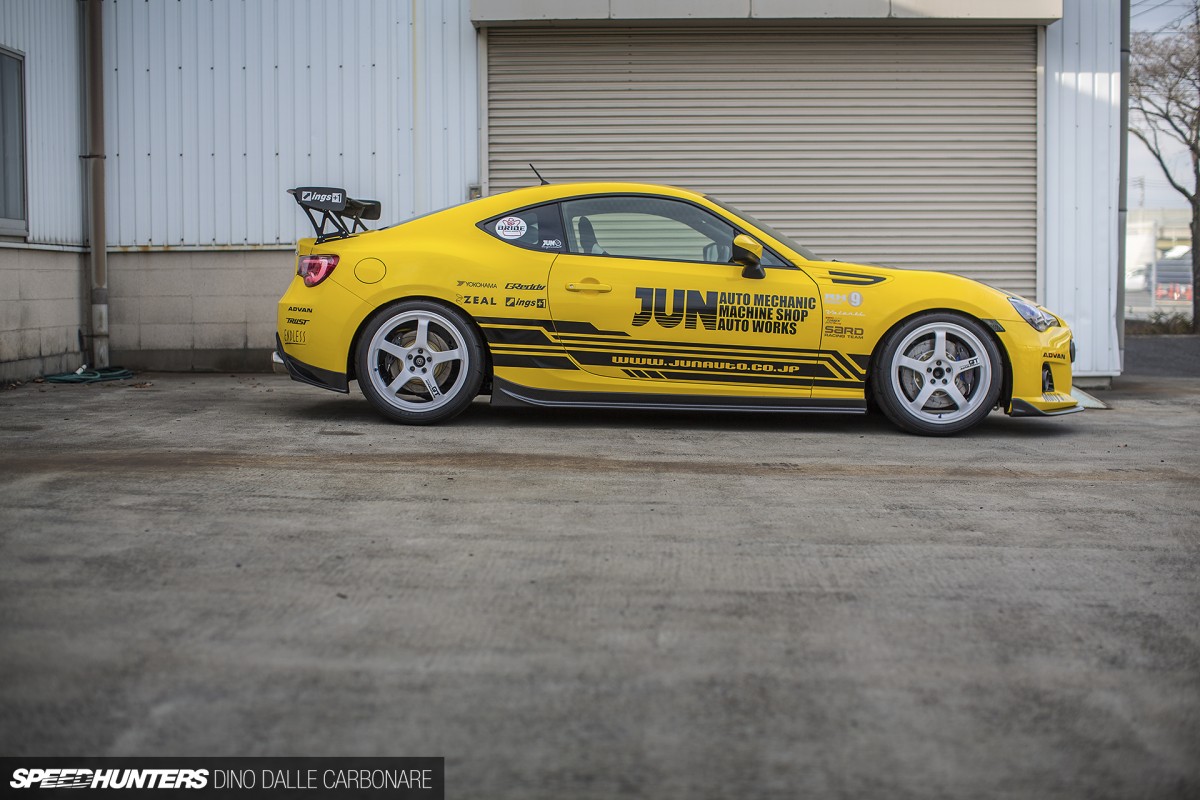 Like me, you are probably seeing this BRZ in a whole different light now, right? The idea is to take the car to Tsukuba Circuit late next month and see what it can do. Tanaka-san is pretty confident that it will lap in the 58-second zone. That would be damn impressive, but I'm just glad to see JUN getting back out on the track.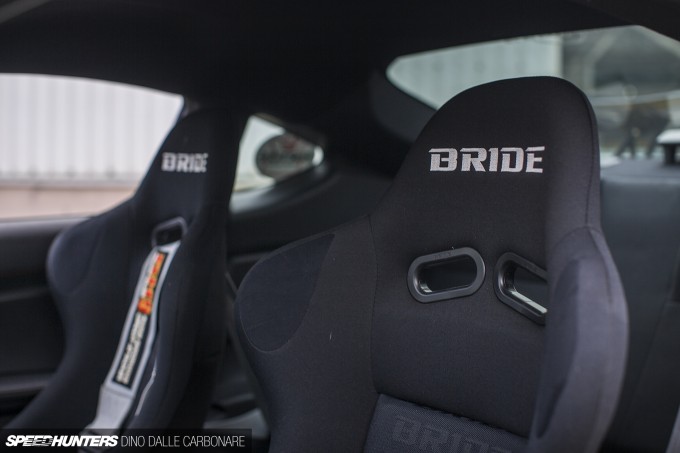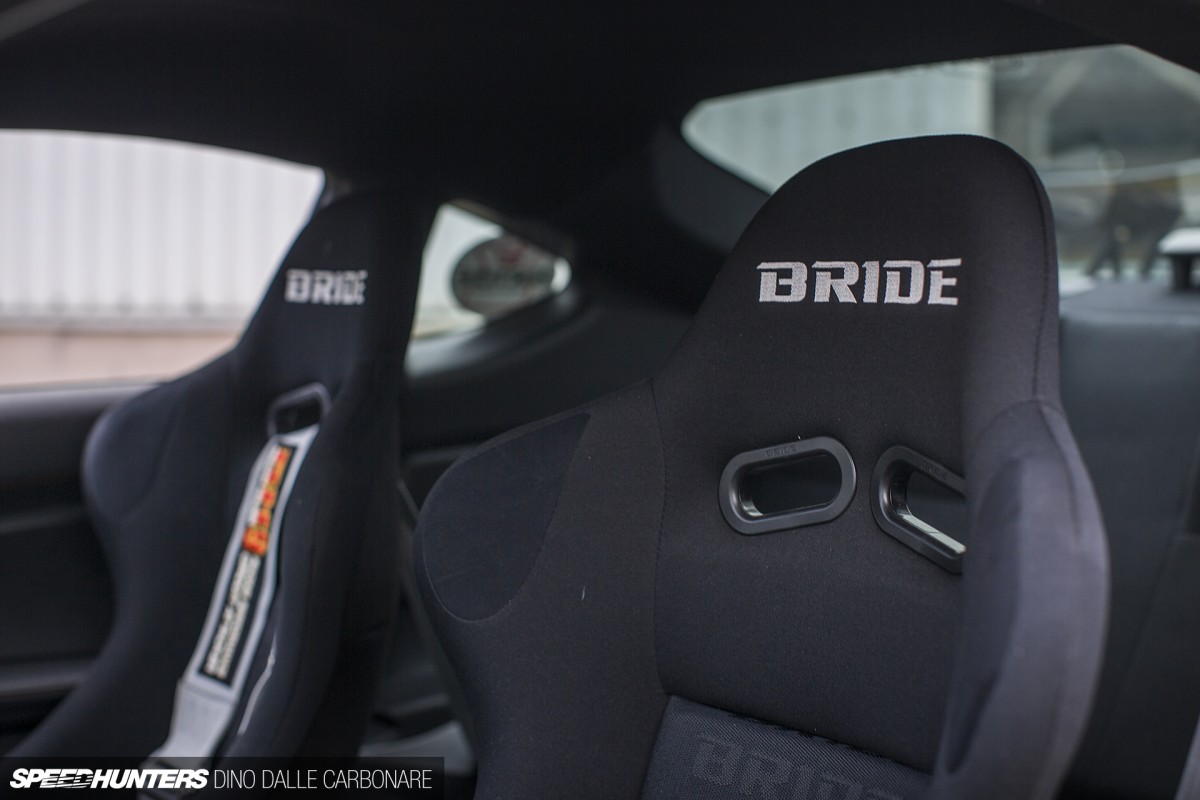 Tanaka-san has preferred to keep the car as stock and street-friendly as possible, which for the interior means modifications only extend to a pair of Bride bucket seats – the driver's side fitted with an RH9 harness.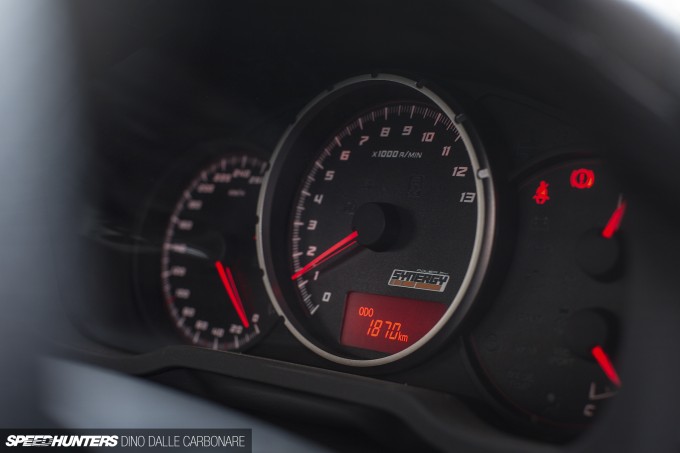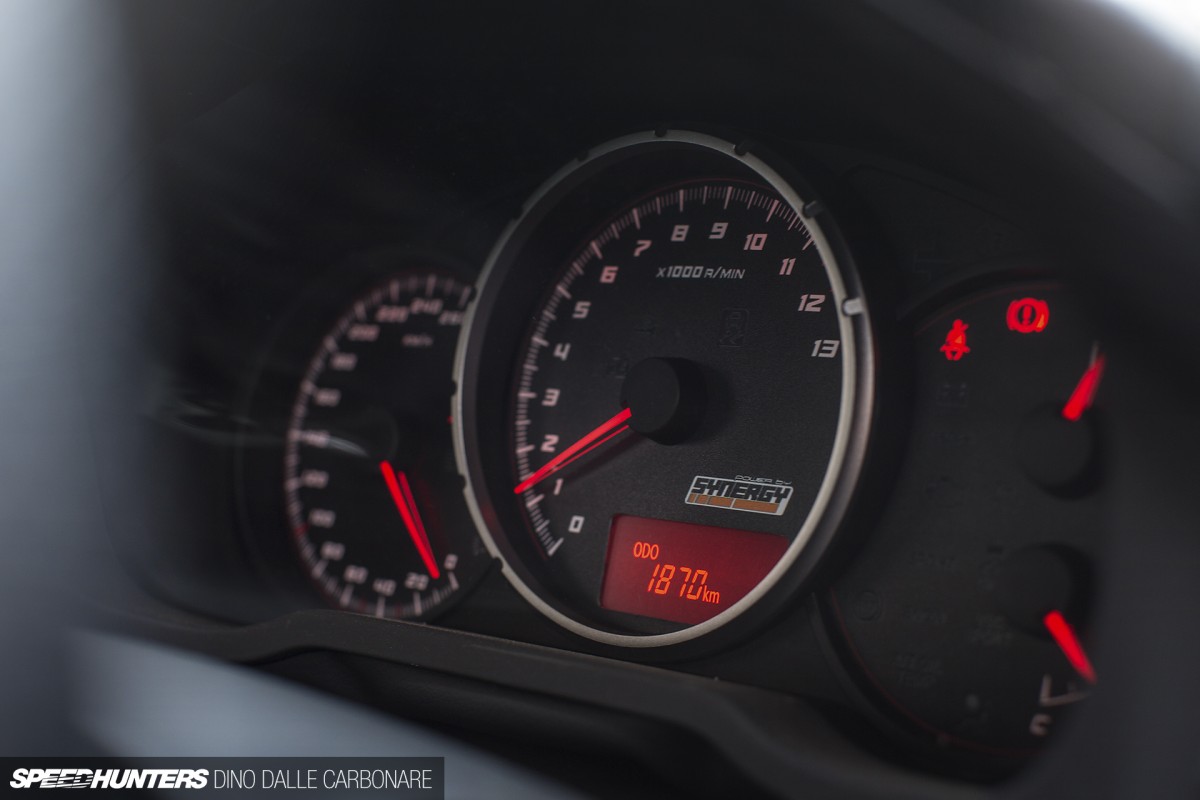 This may well be the second coolest addition of the kit – Synergy's 13,000rpm tachometer. Just what you want to show off to your friends!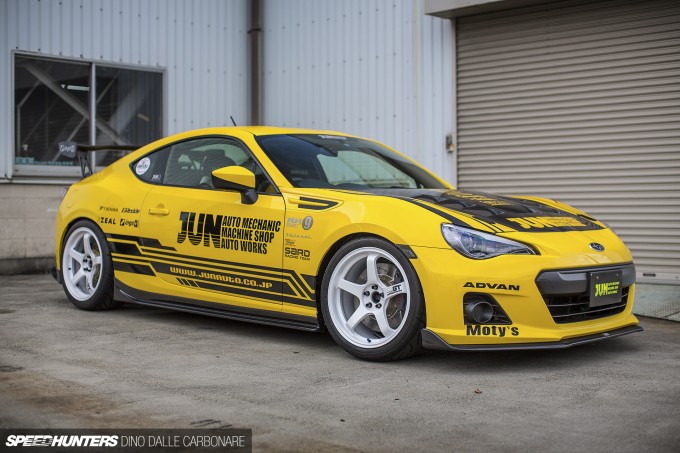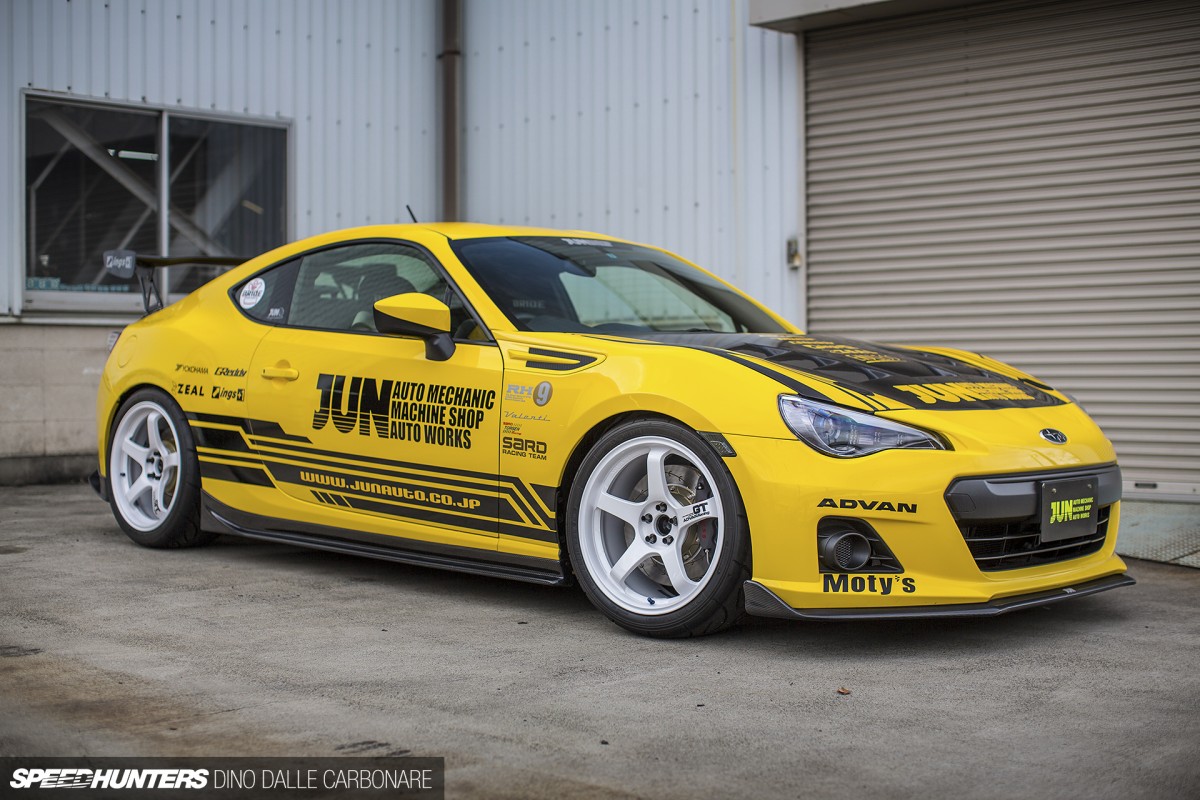 The JUN BRZ runs a set of race-oriented Zeal coilovers which have been set up to attack Tsukuba, taking into account the high levels of grip that the Advan semi-slicks will offer.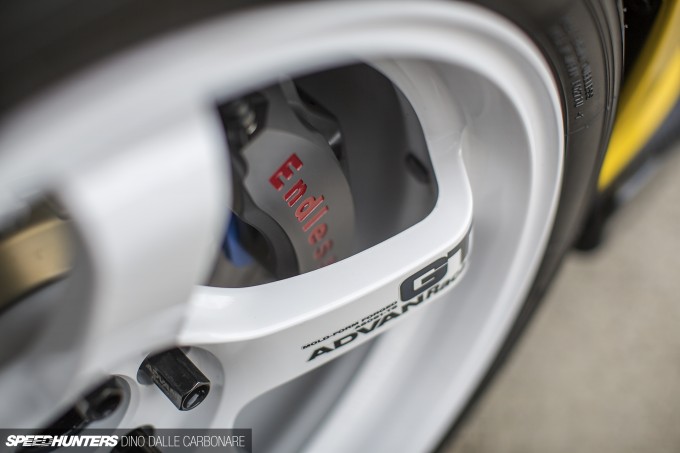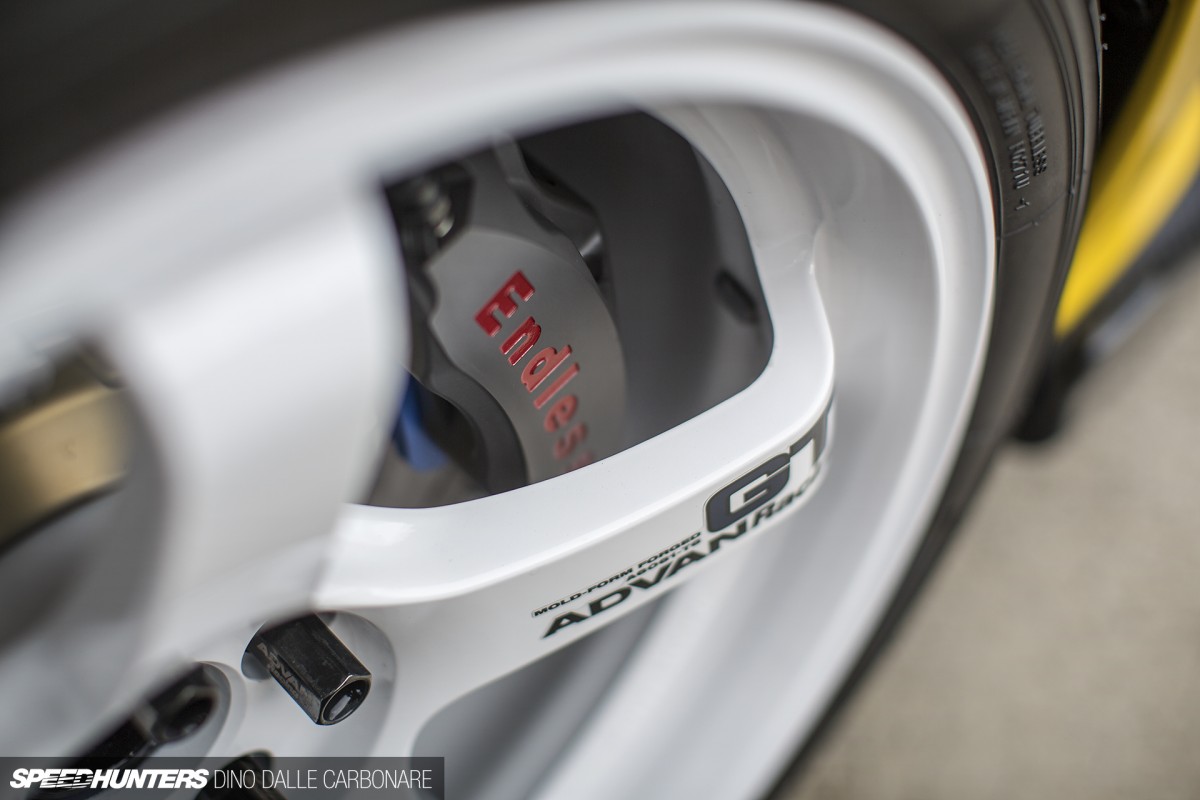 Since there are 165 extra horses to play with, it was obvious that a serious braking set up was needed. Enter Endless with their 6-pot monoblock calipers and E-slotted 2-piece rotors running high friction brake pads.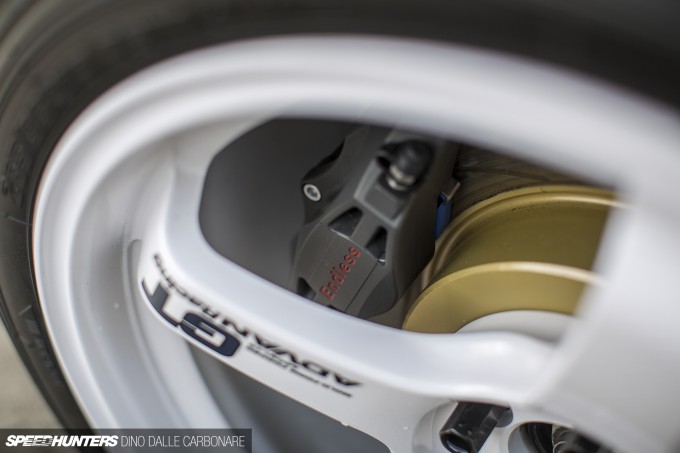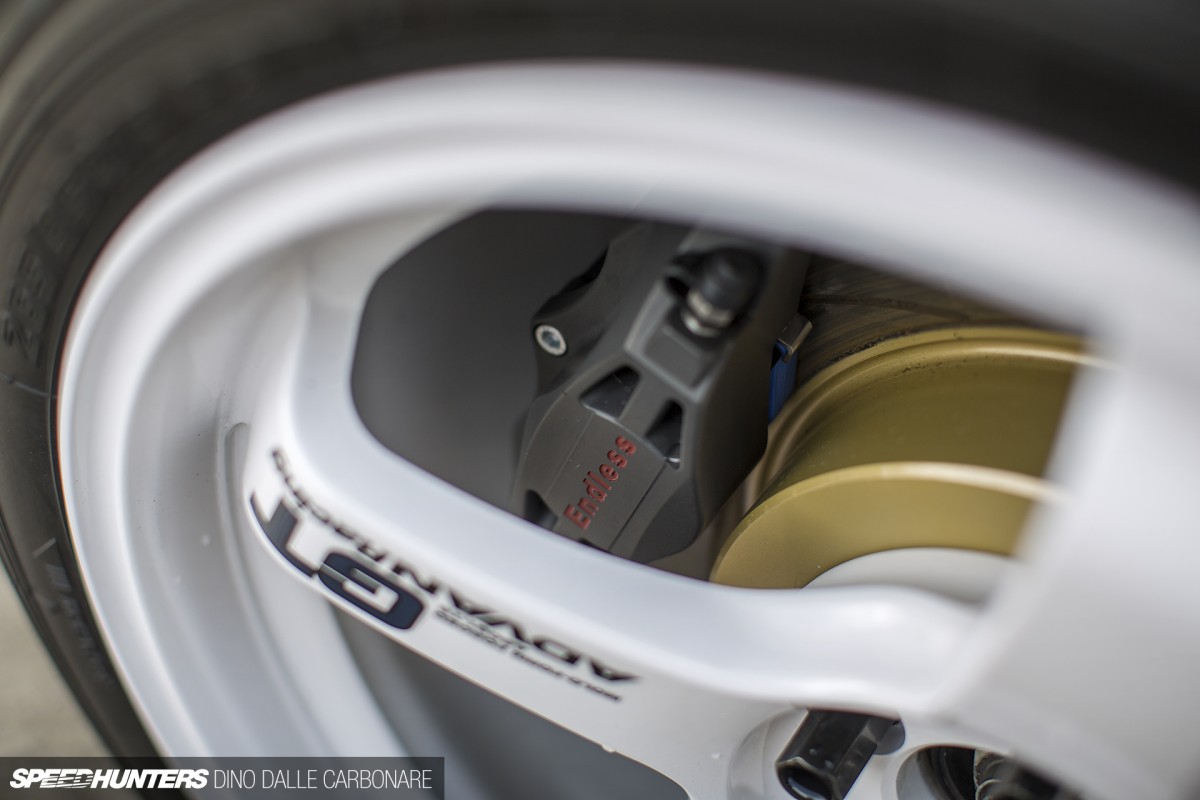 The rear gets Endless's yet-to-be-released 2-pot calipers, which were developed especially for smaller and lighter cars like the 86 and BRZ.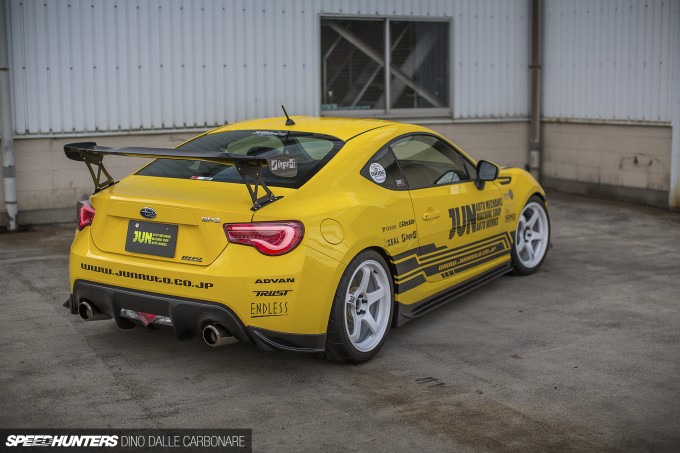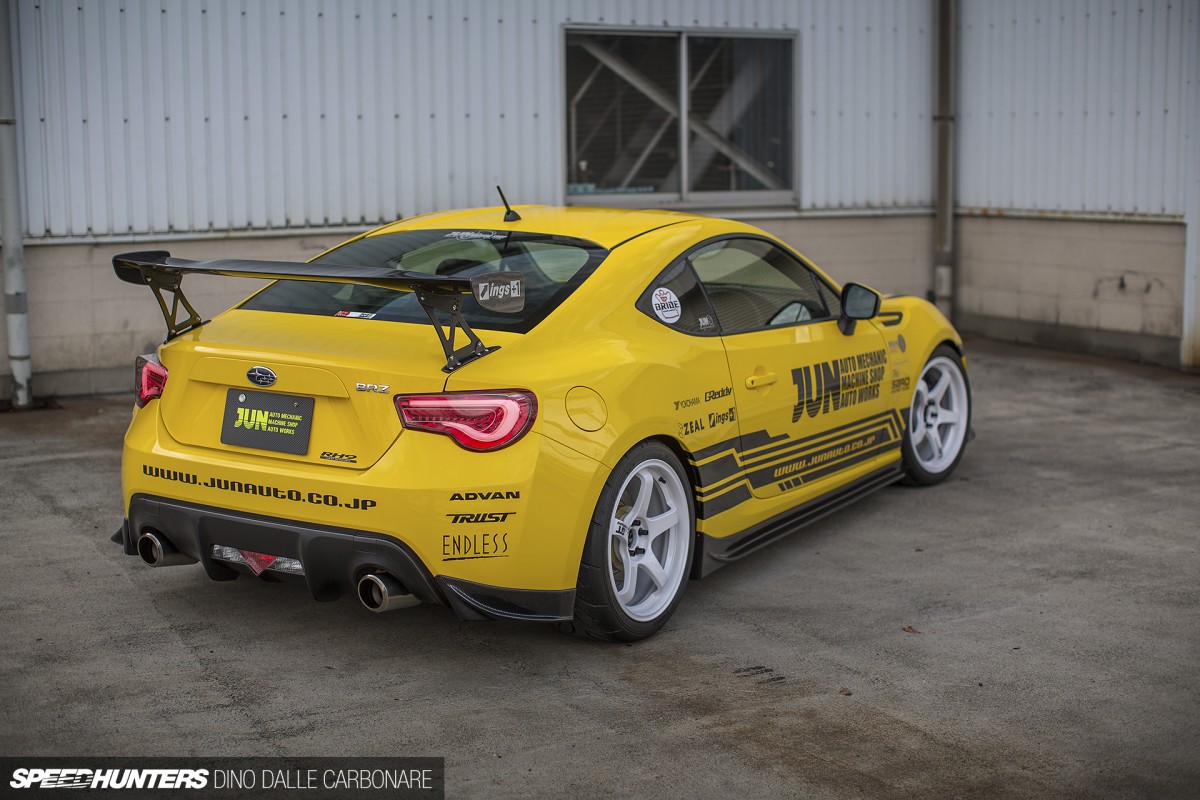 With high track speeds at Tsukuba a given, an ings carbon fiber rear wing has been fitted to add a little rear downforce into the aero mix.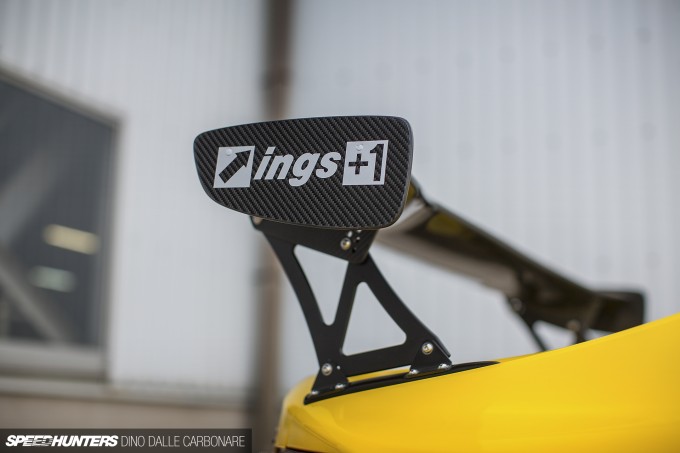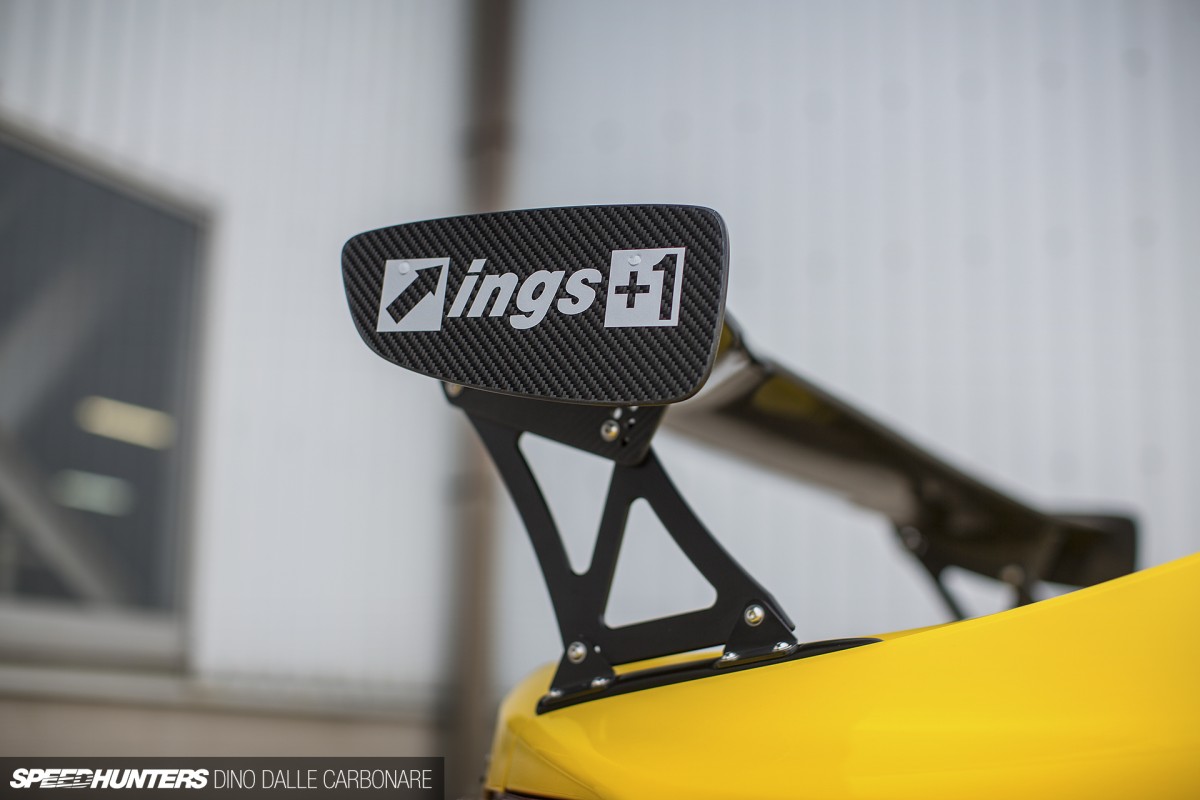 When perfectly nailed, a lot of time can be made up on the last corner as well as the section after the Dunlop bridge, so even if it isn't as big as some of the massive wing we've been seeing on more extreme builds, the ings item will definitely add some rear end stability.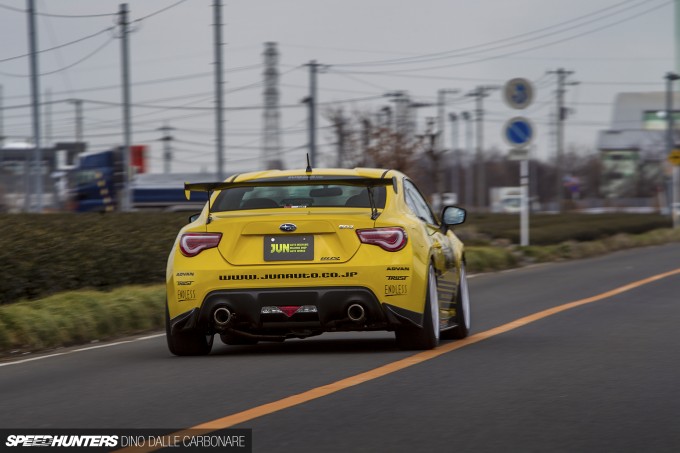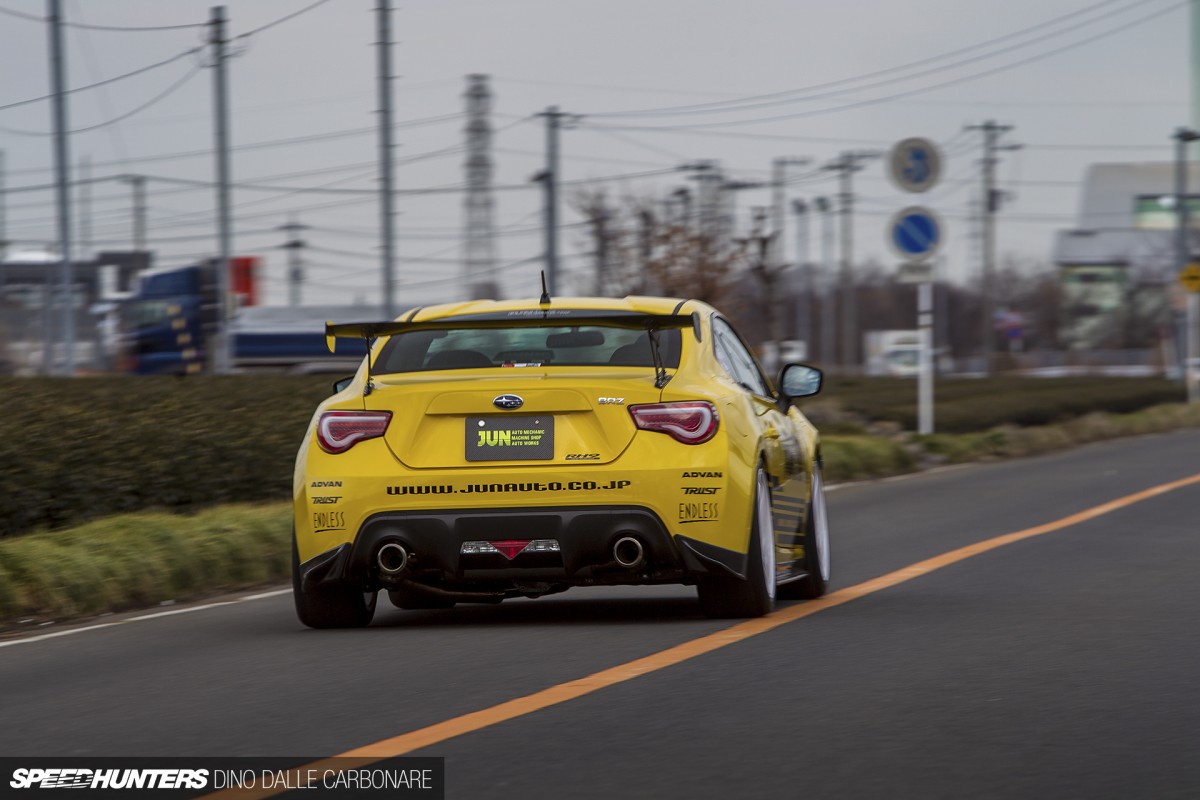 It'll be fun to see how this project develops and what sort of numbers JUN will be able to achieve at various circuits. For the time being at least, it does make this one – if not the - most unique ZN6/ZC6 in the world!
Dino Dalle Carbonare
Instagram: speedhunters_dino
dino@speedhunters.com