The Luxembourg Connection
It must be awesome to live in Luxembourg. With endless, traffic-free twisty roads that lead to nowhere, no fixed speed cameras and fuel costing around two thirds of what I normally have to pay in Germany, Luxembourg is one of my favourite places in Europe to spend some quality time hooning about.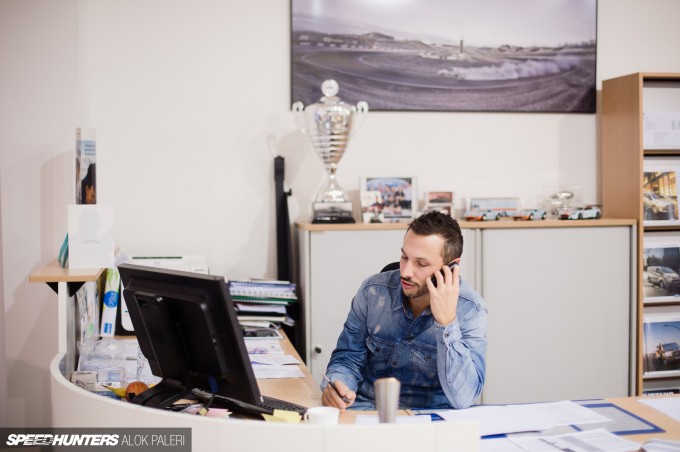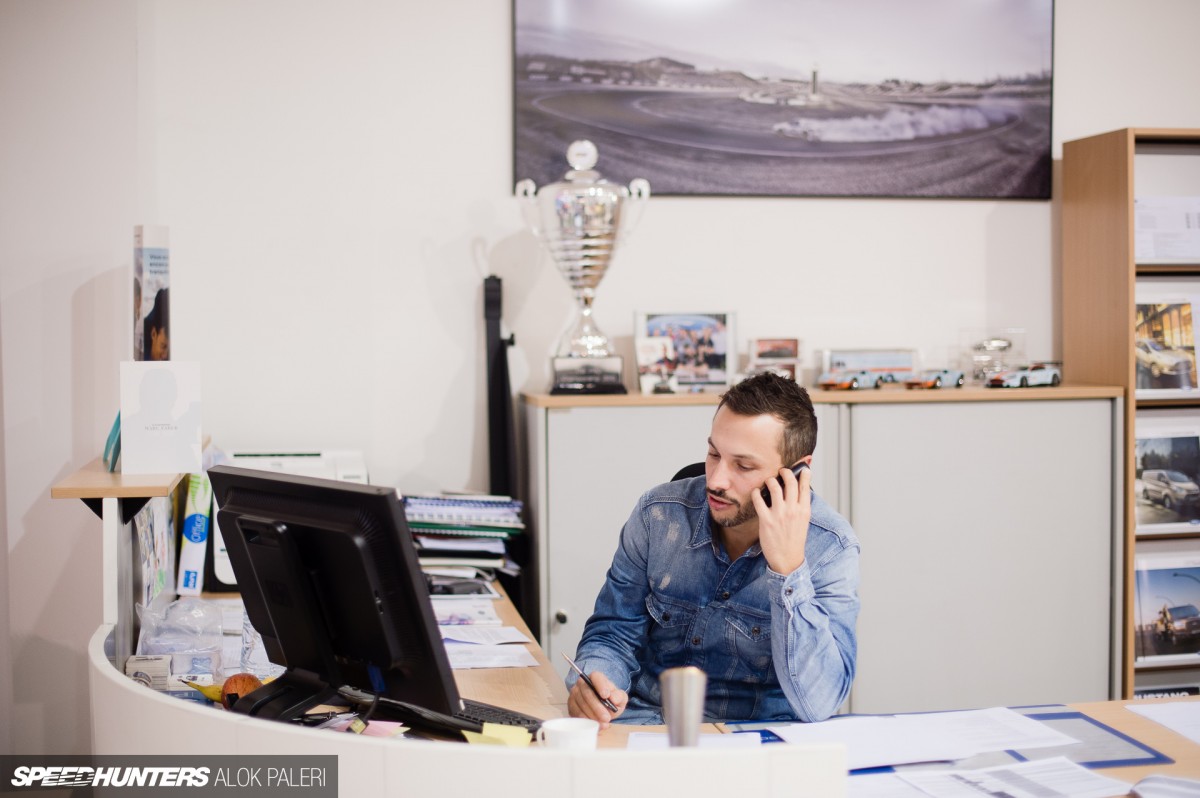 My Luxembourg connection comes from my good friend Yves Faber who hails from the little town of Bettendorf.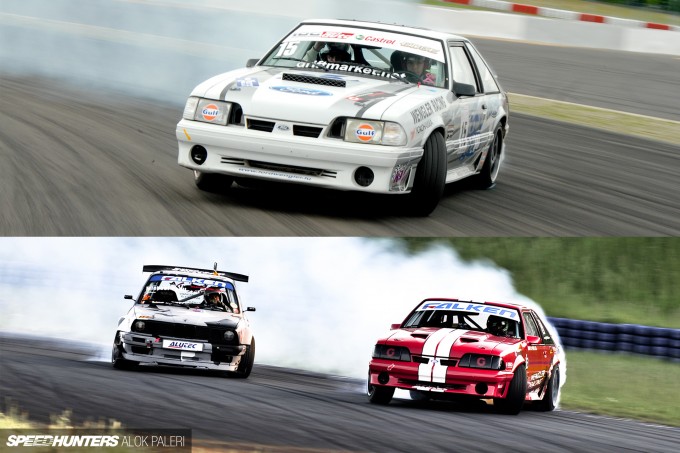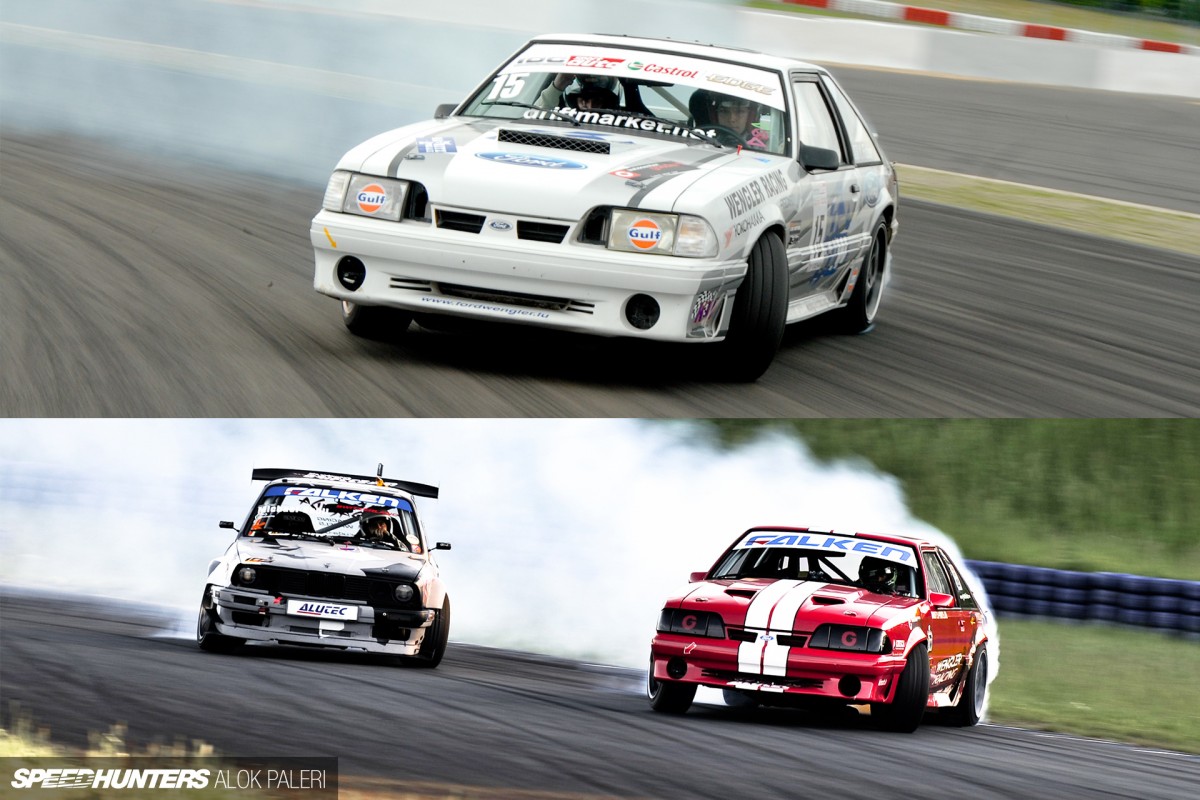 I met Yves many many moons ago when he was competing professionally in the International Drift Series in his Wengler Racing Fox-body Mustang. After winning the championship in 2010, Yves decided to retire from drifting to spend more time with his family.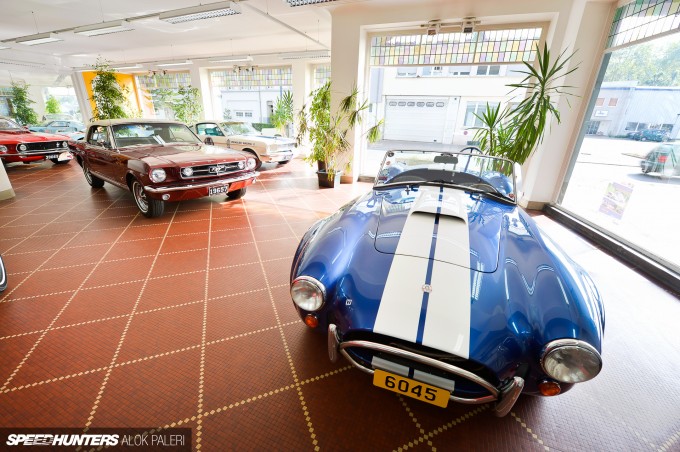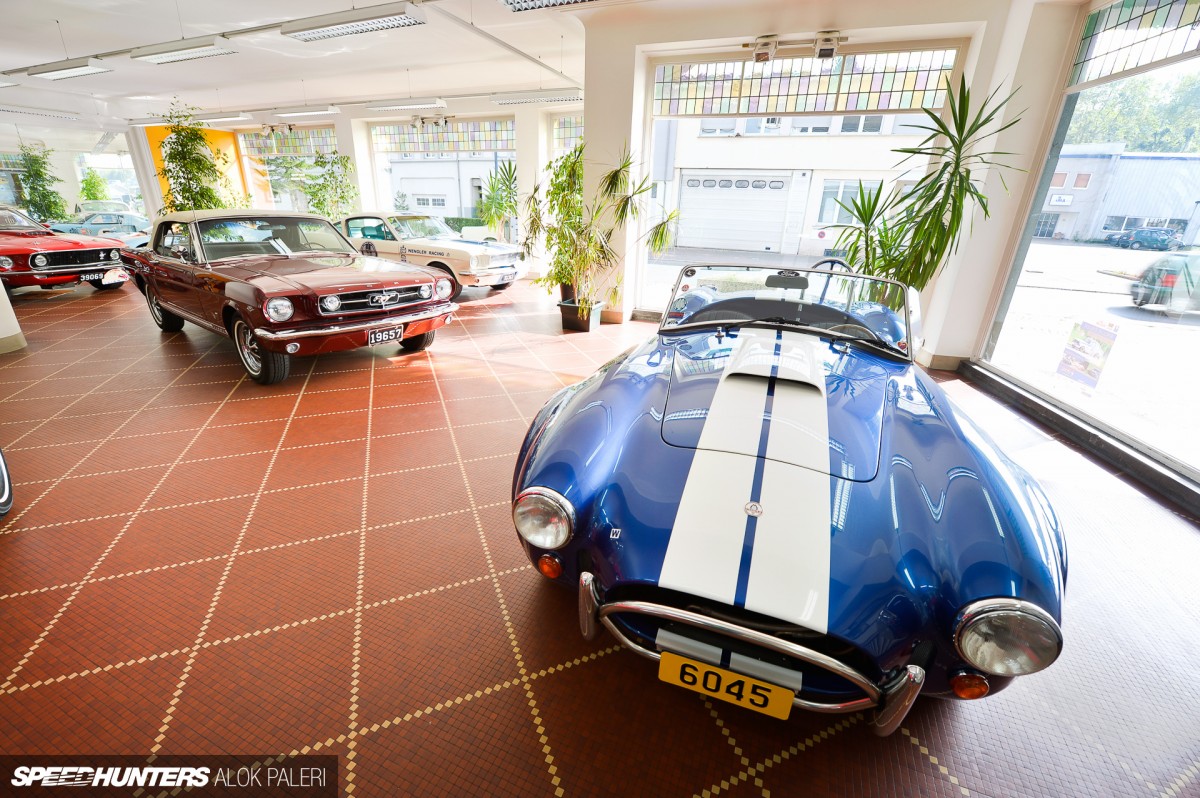 The thing is though, once a petrolhead, always a petrolhead. There is no 'off' switch to the car nut in you – especially when your workplace looks like this.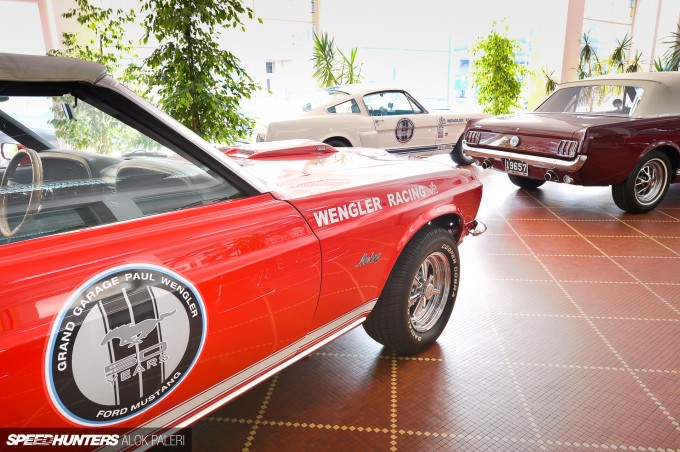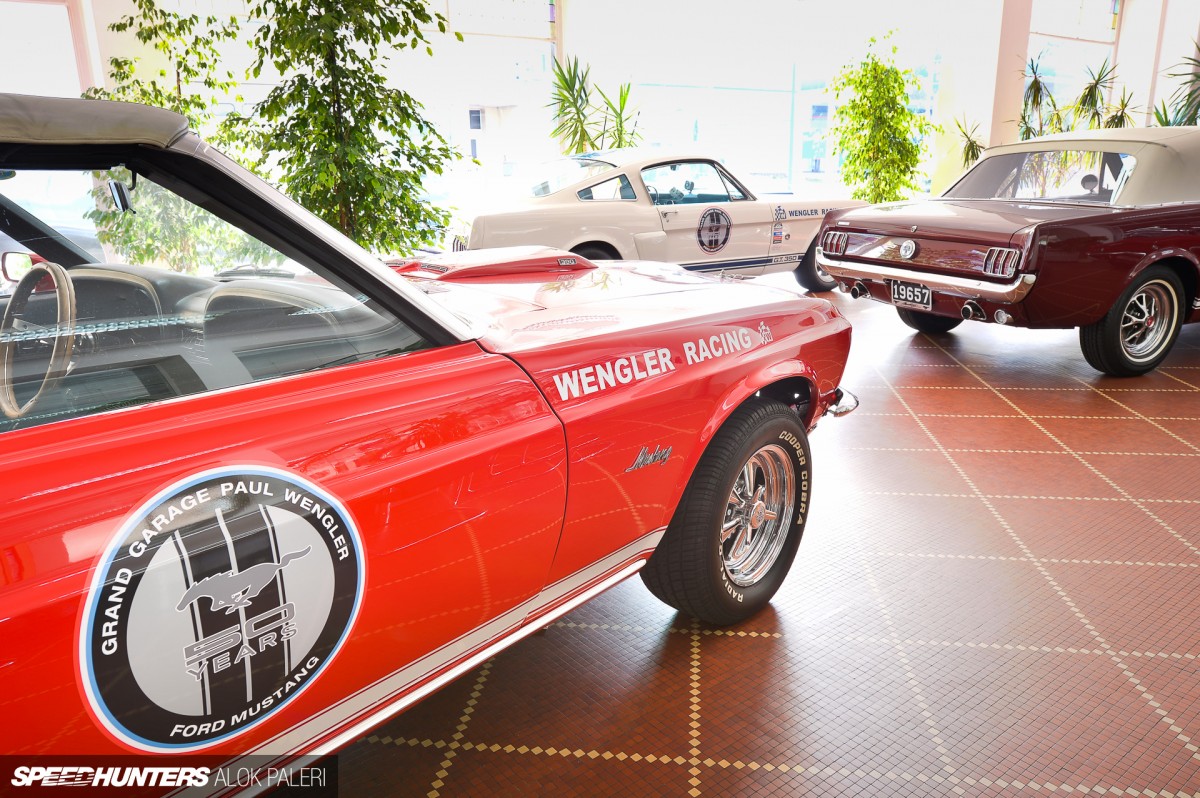 Wengler Racing is an outfit full of toys new and old and eventually the temptation got the better of him. Yves started picking up project cars whenever he could, and when he told me on the phone about his latest acquisition I knew good times at the wheel were ahead.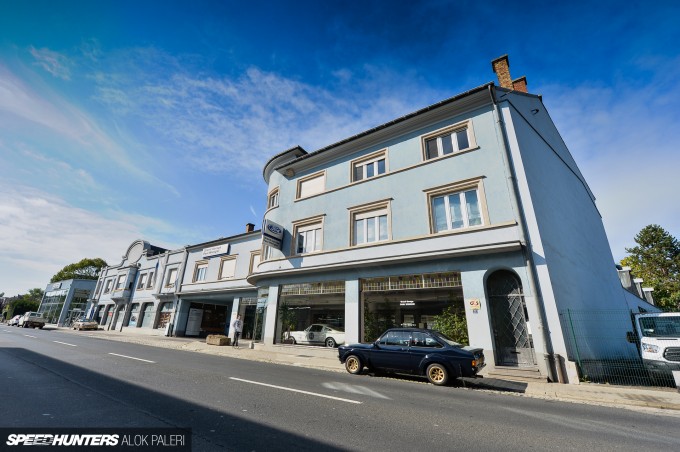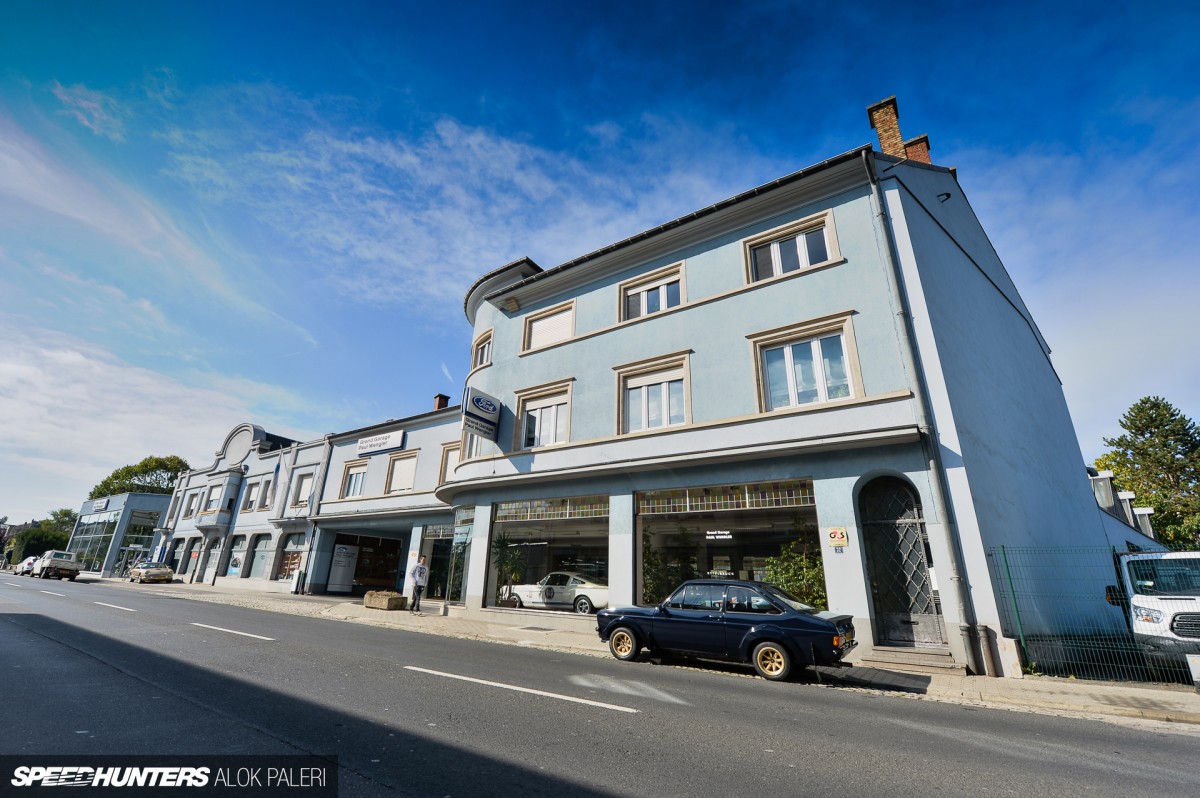 I arrived at Wengler Racing the next morning to be greeted the newest addition to Yves stable parked right up front in all its dark blue glory.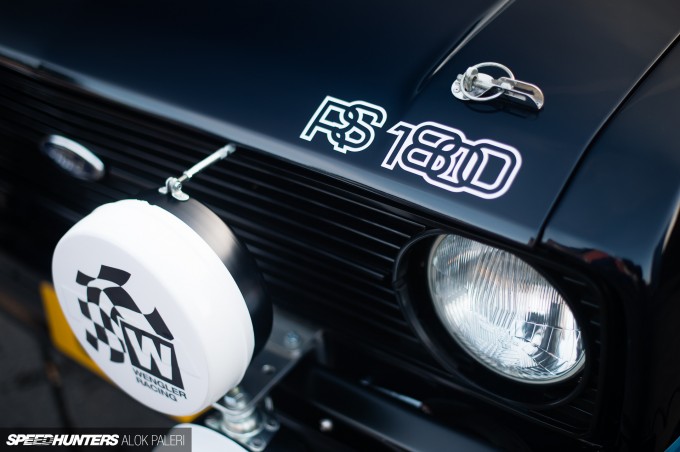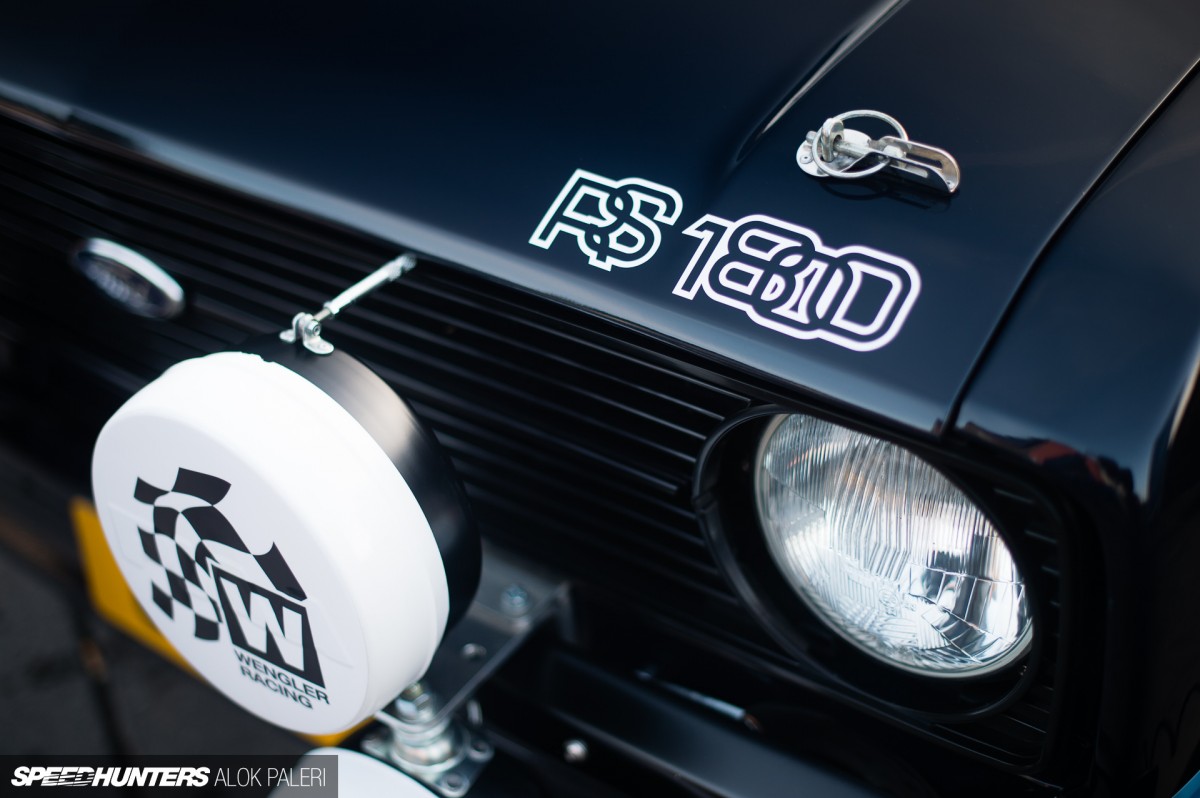 A mint Group 4 spec Ford Escort RS1800.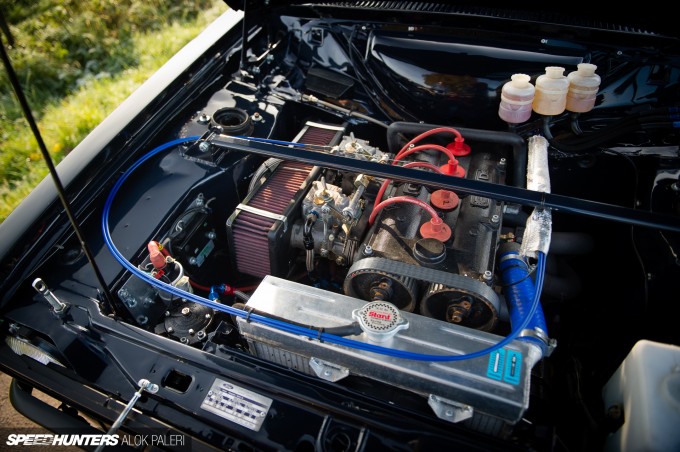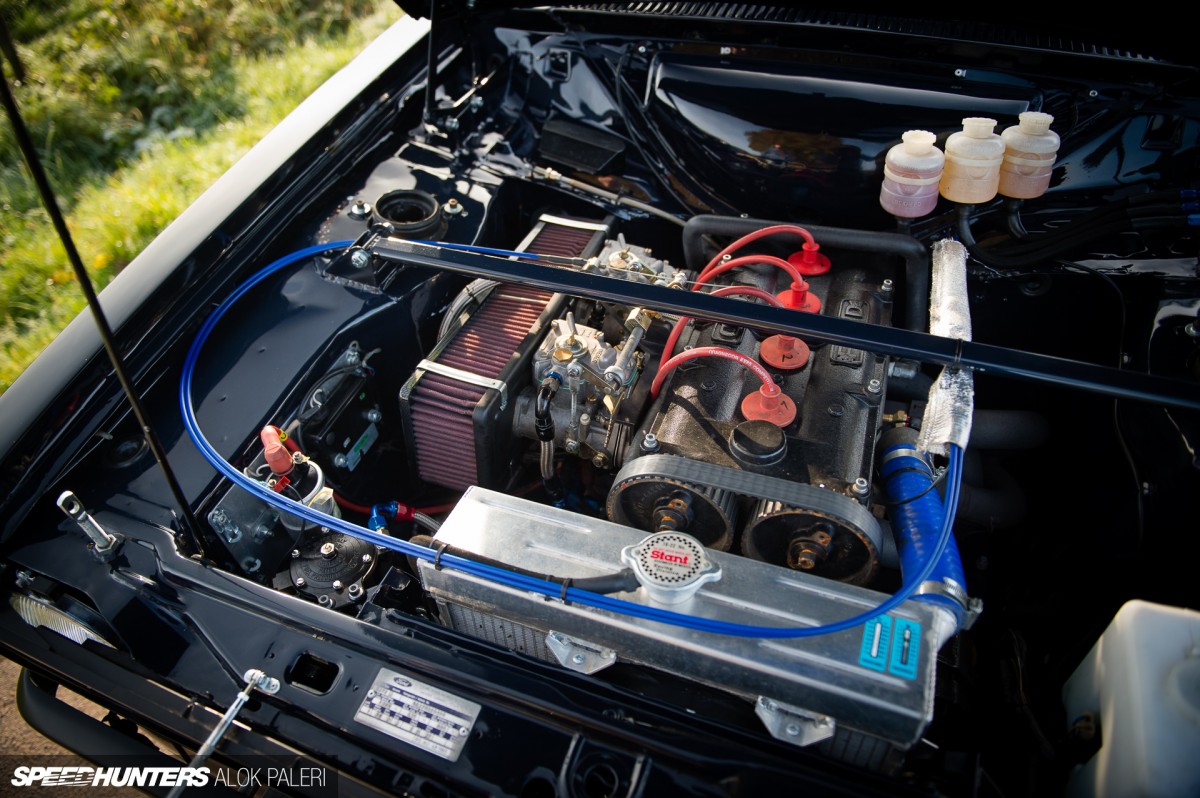 Under the hood is a Cosworth-built, rev-happy, 'Belt Driven Type A' motor – BDA for short.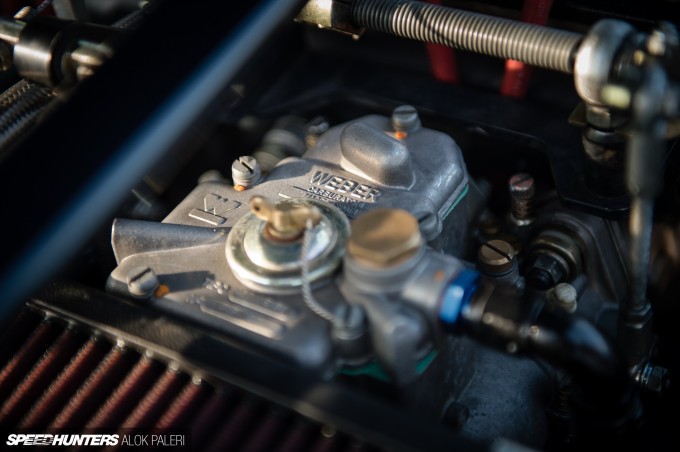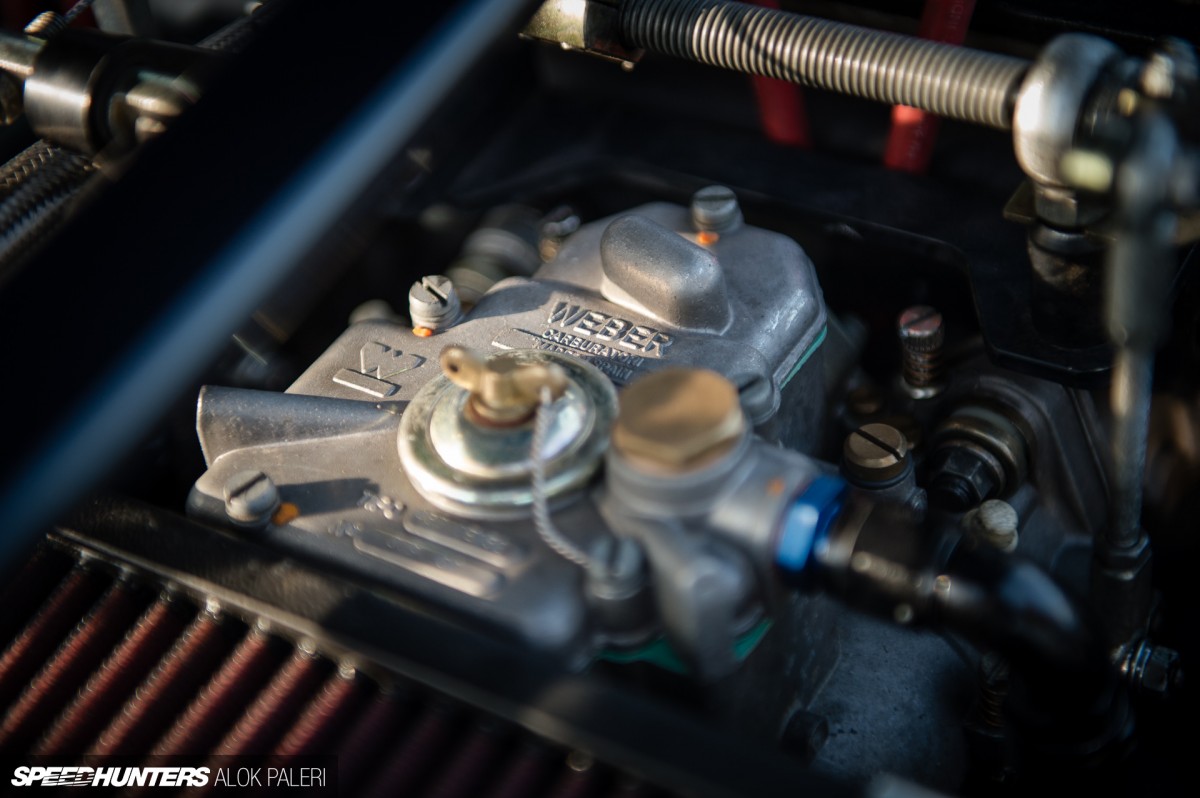 Sporting twin 45DCOE Weber carbs, the 1.8-litre, four cylinder motor outputs 204hp peaking at 8,085rpm and 185Nm at 6,986rpm. Since you don't really 'map' a carbed engine but rather adjust it, Yves took it to VGS Motorsports in Cologne. Mr. Moog from VGS is a guy who lives and breathes carbs and has been tuning them for over 30 years.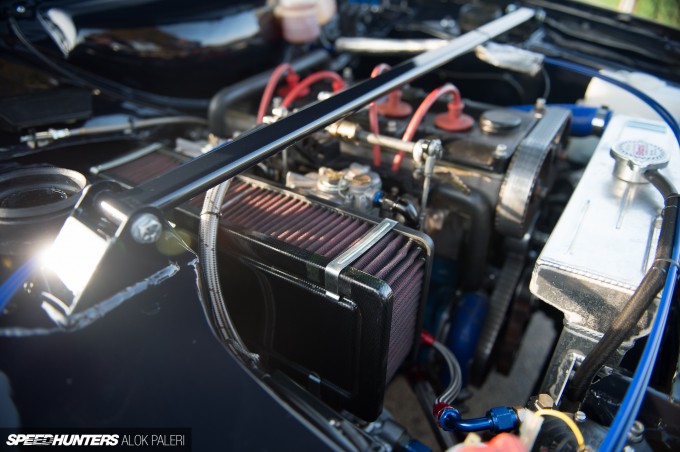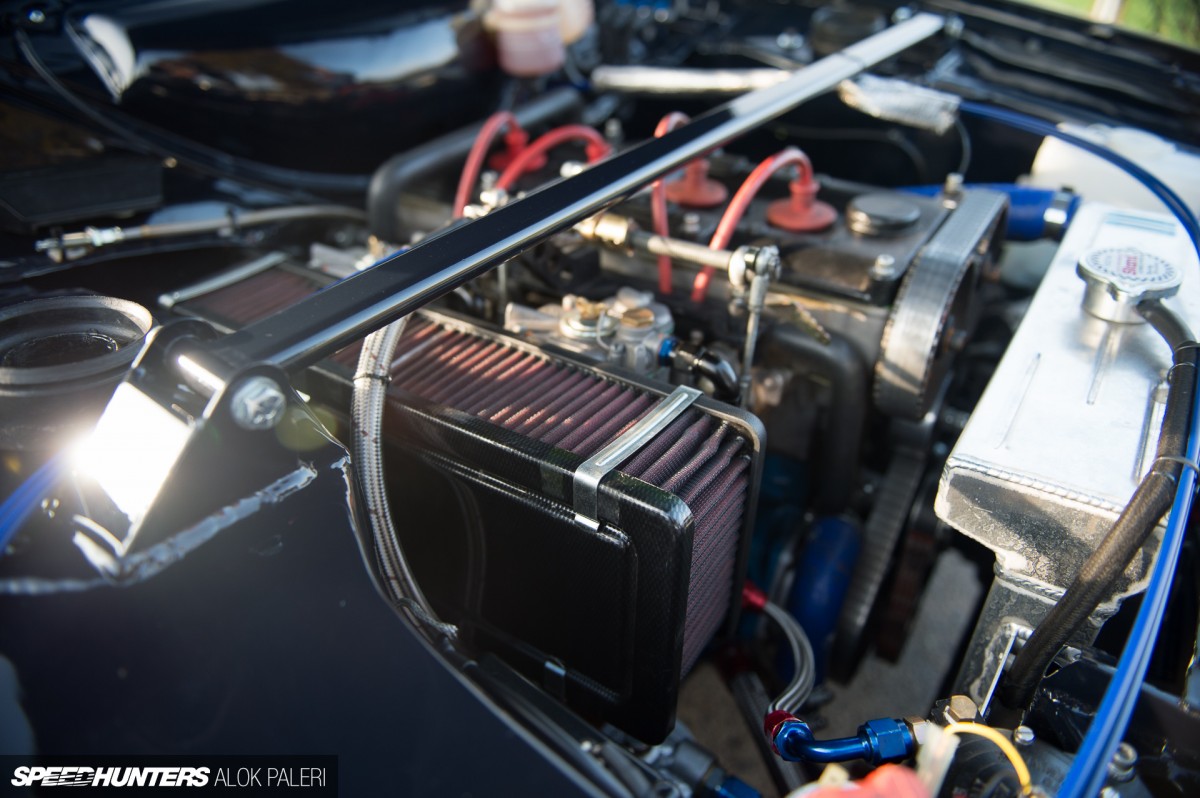 VGS did a lot of RS engine and carburettor development in the late '70s for Ford, so they knew what needed to be one. The first dyno run after rebuild of the carbs netted 194hp, but after a full day of setup that number was improved by 10hp.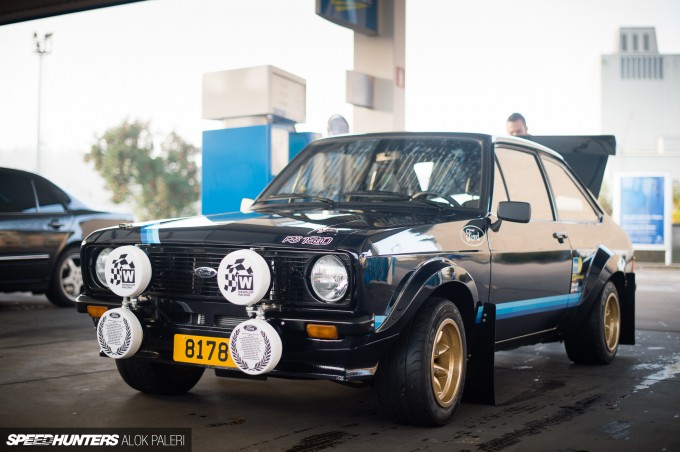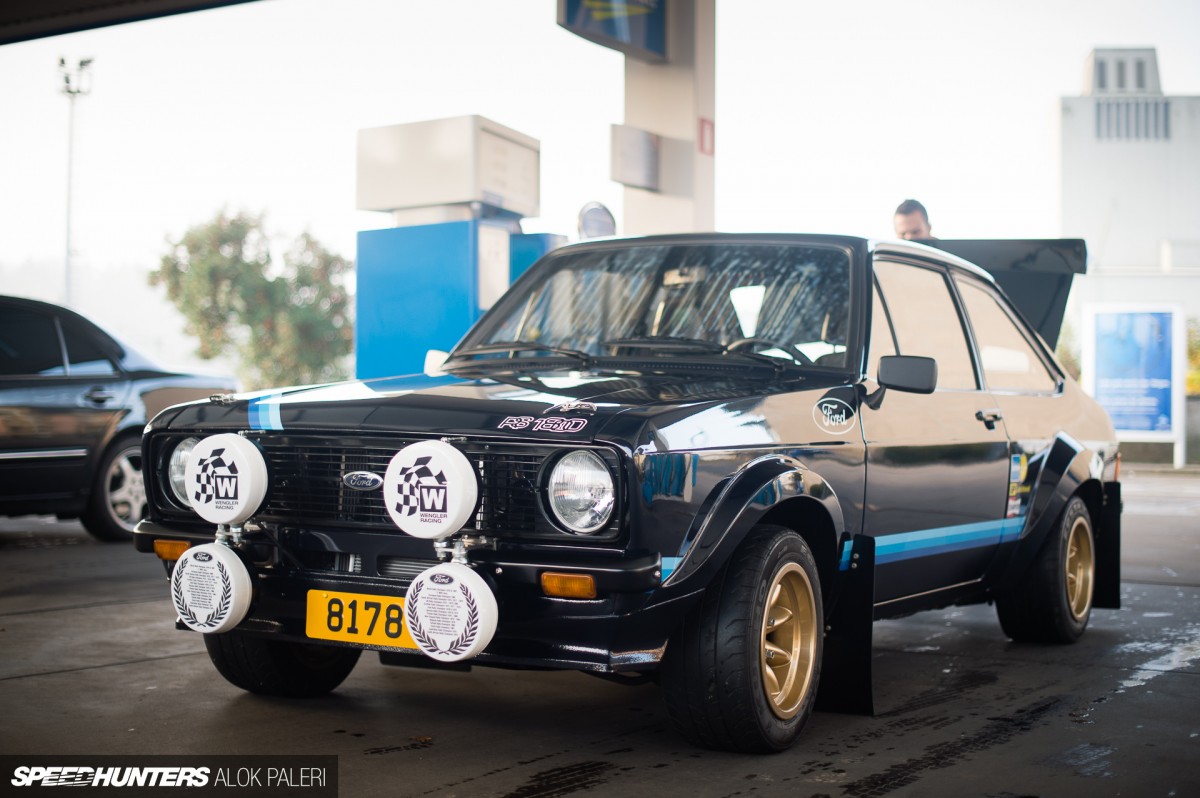 The car itself was built by the Group 4 Escort experts at Historic Rallysport, a company thats specialises in drool-worthy rally and touring car builds.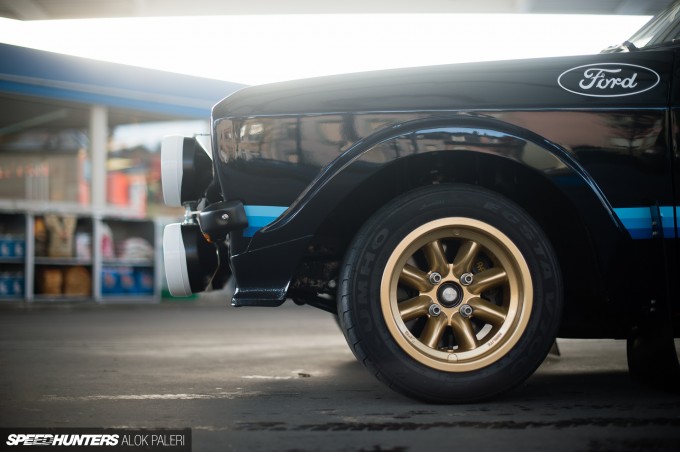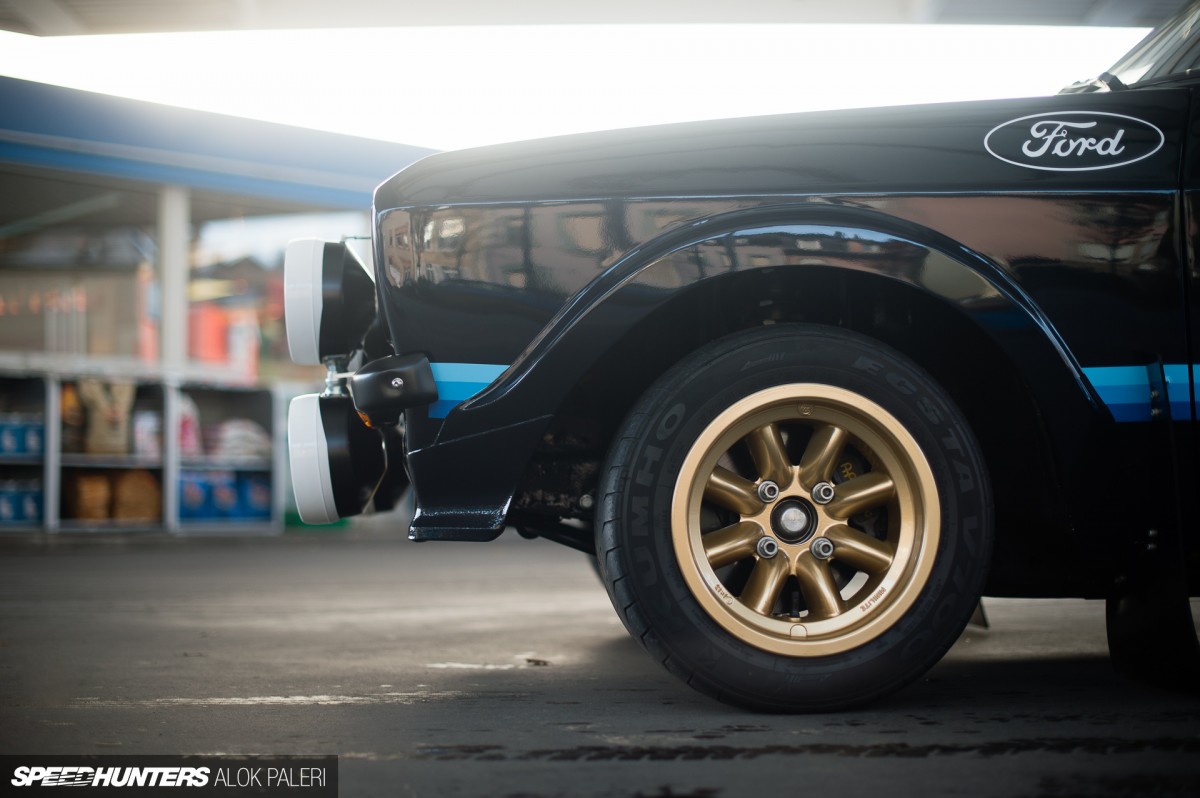 Yves had been eyeing this car for a while, so when the opportunity came up he grabbed the chance. I was properly excited when Yves let me have a go in it.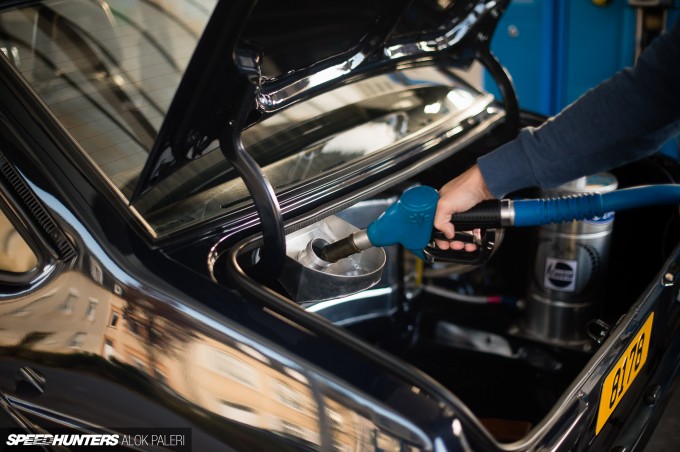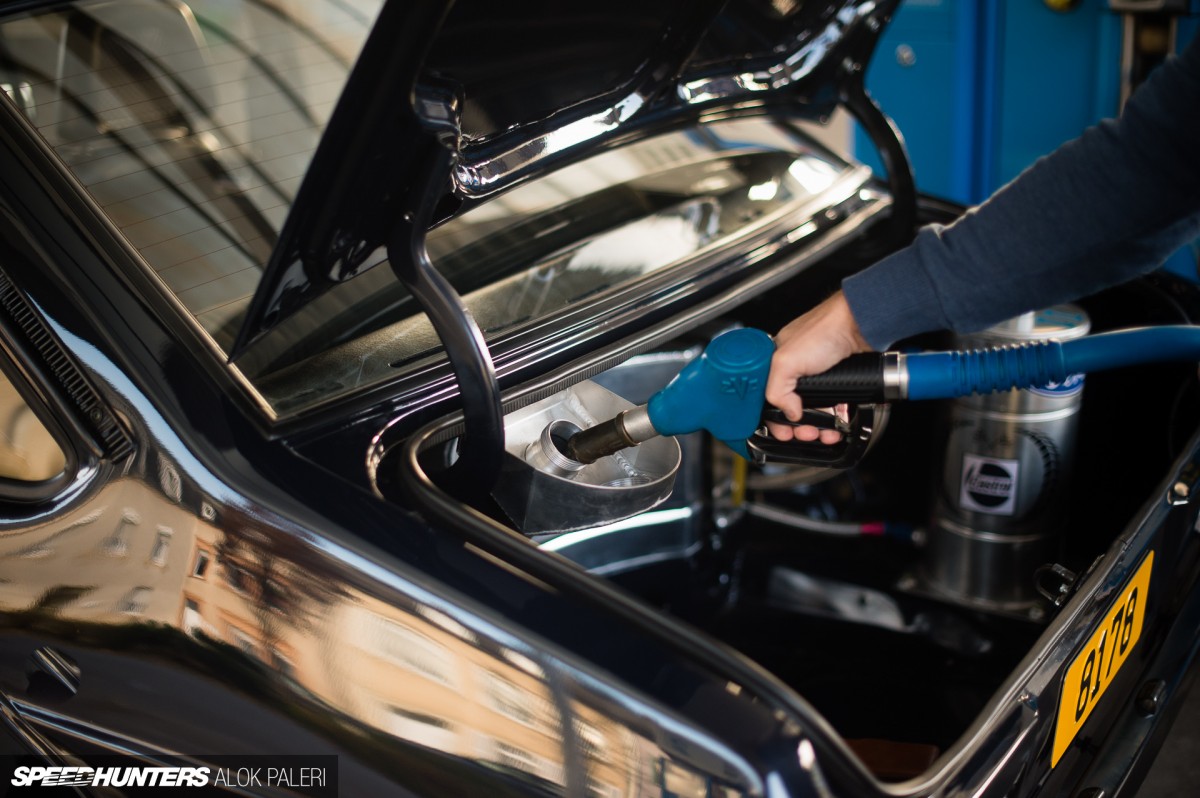 The girl first needed a drink, so we fed her the best of the jungle juice we could find. All of what we put in would be converted to automotive enjoyment during the course of the day.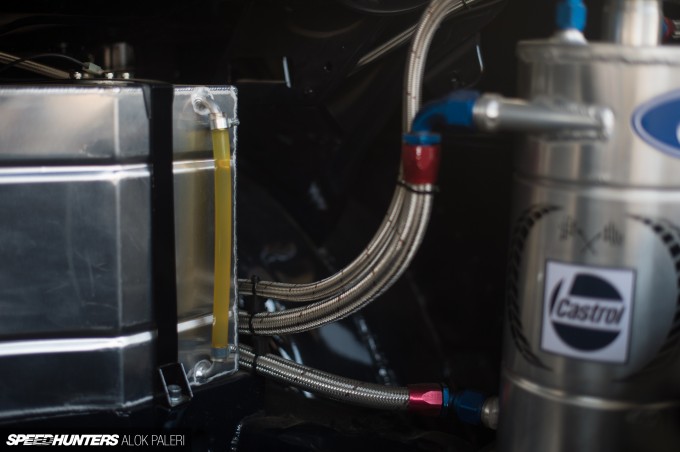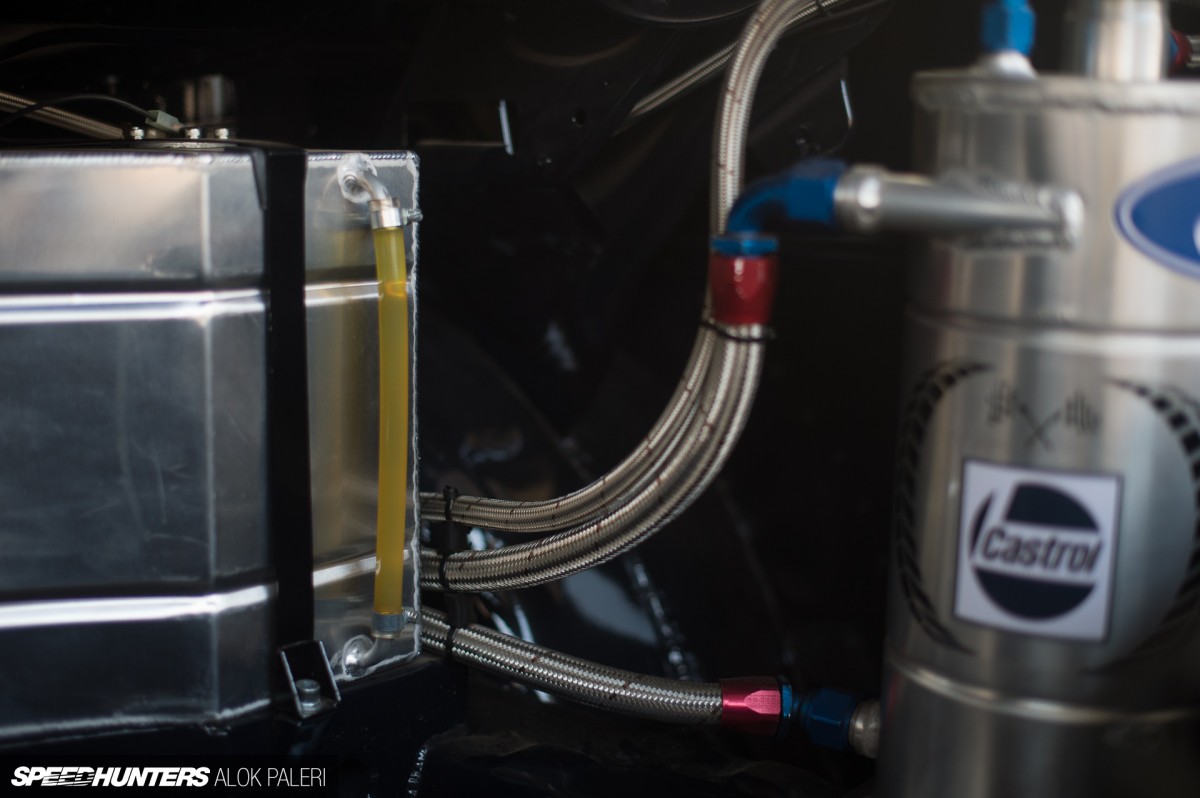 The car doesn't have a fuel guage, so the only way to check fuel level is to manually open the trunk and look at the fuel tube that shows the physical amount of gasoline in the 45L tank.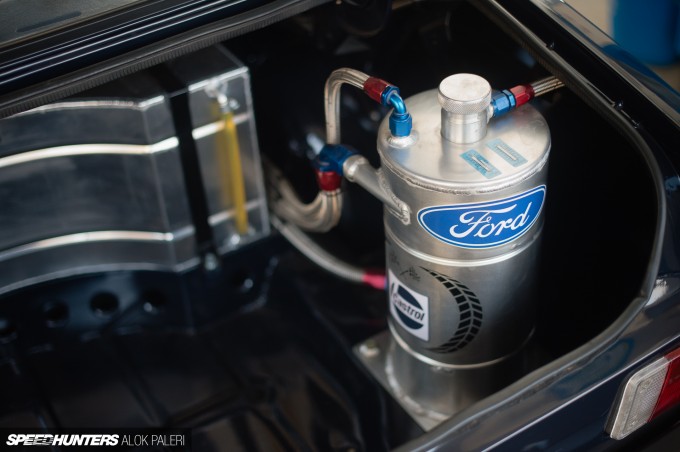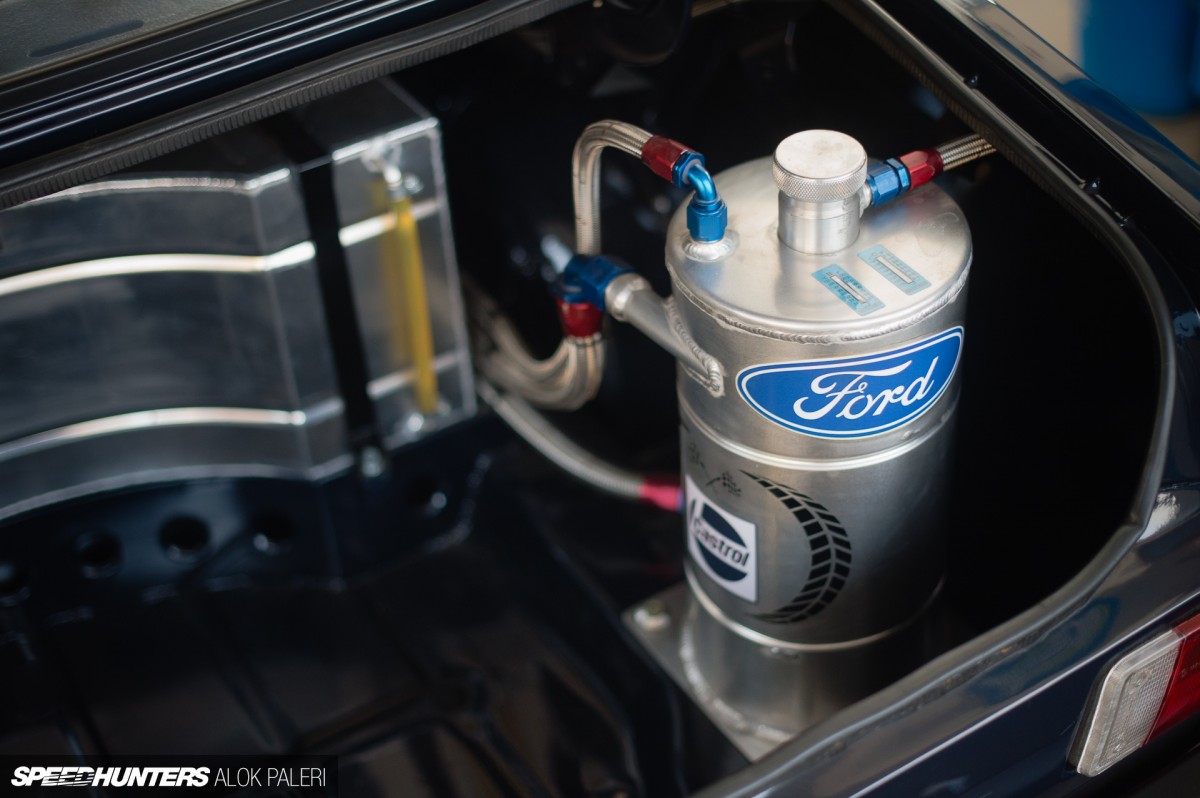 The Escort also comes with dry sump lubrication to provide the pumps with oil at all times and under heavy use.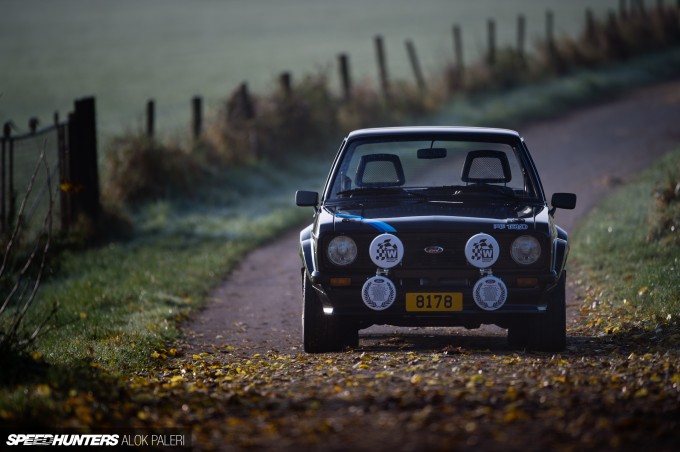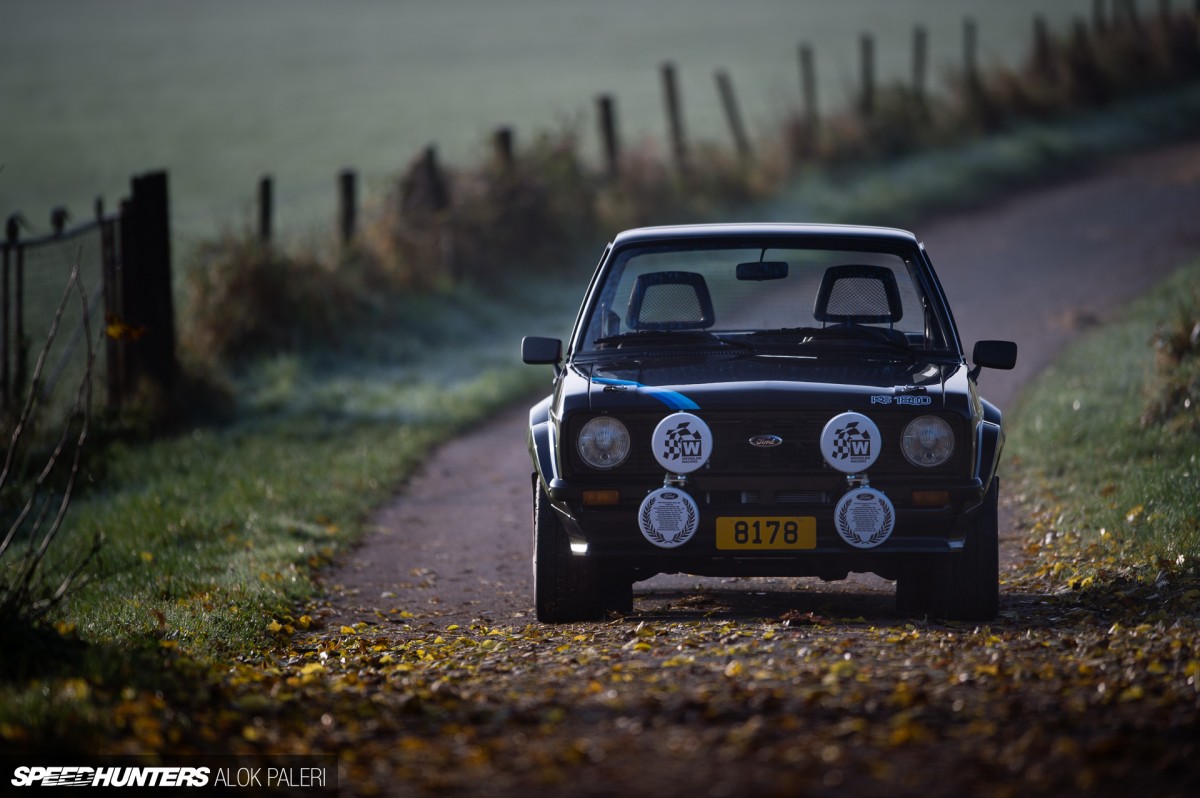 One of the first things I noticed about the Escort is just how tiny it is. Parked on a narrow-cut road it was astonishing just how much space was still left.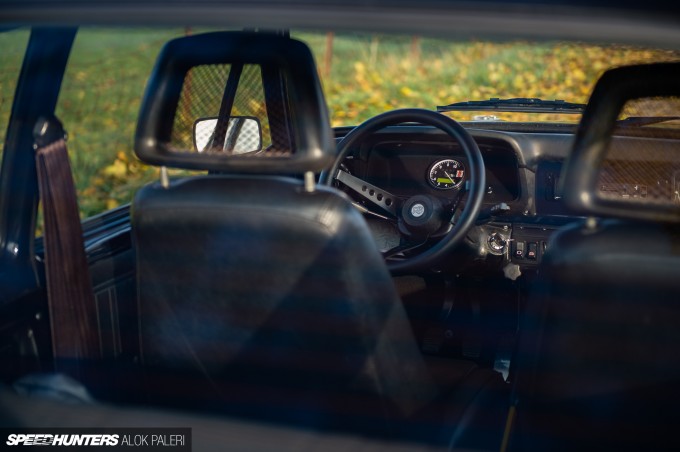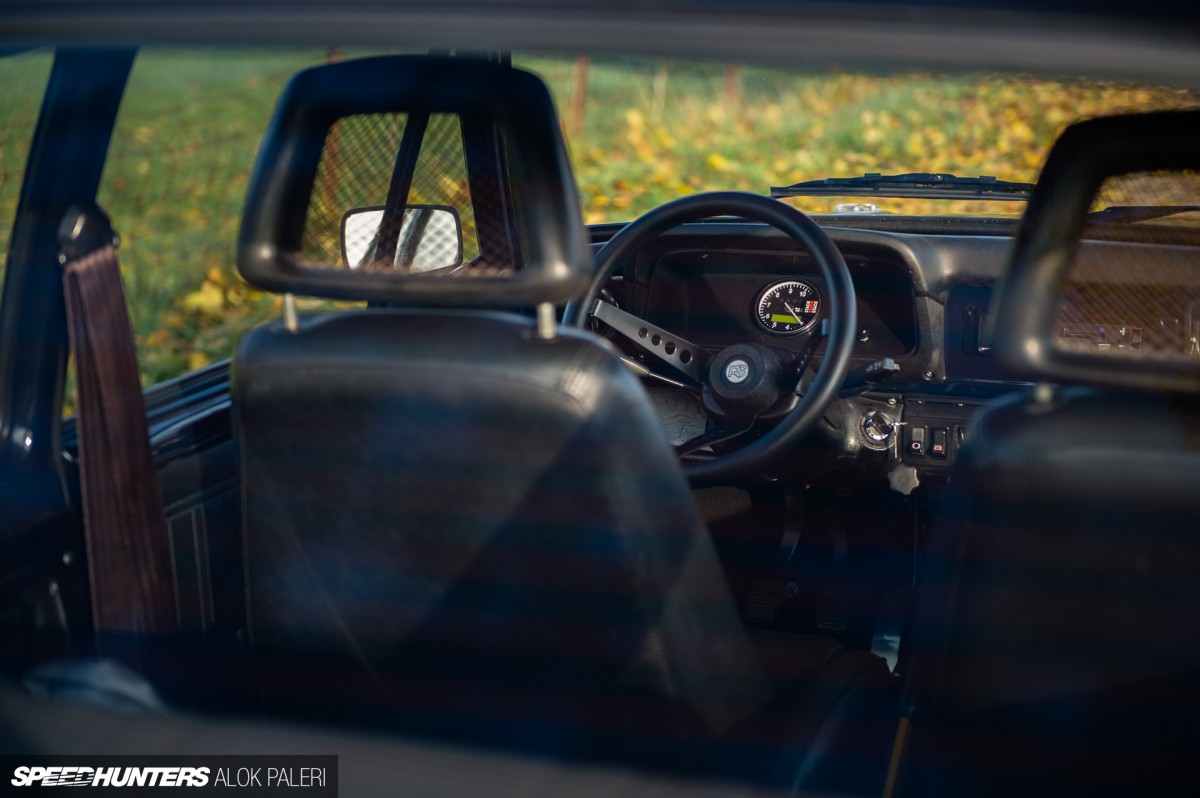 Yves wanted a fully streetable racecar – one that he could theoretically use to take his wife and three kids on holiday in. Because of this, the Escort has a full interior. Of course, I say 'theoretically' because this car makes an ungodly amount of noise. More on that shortly…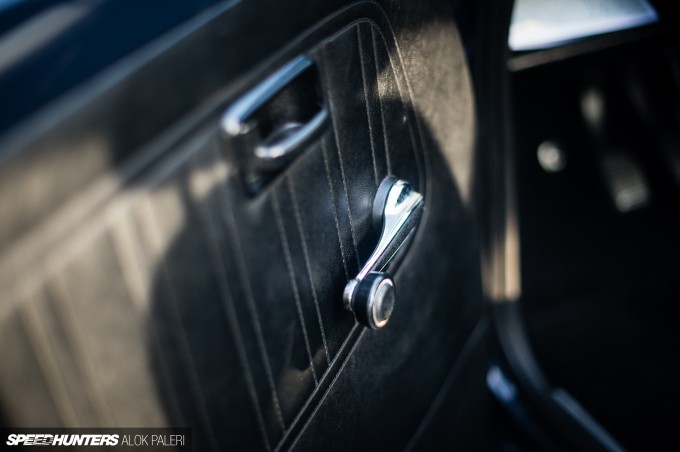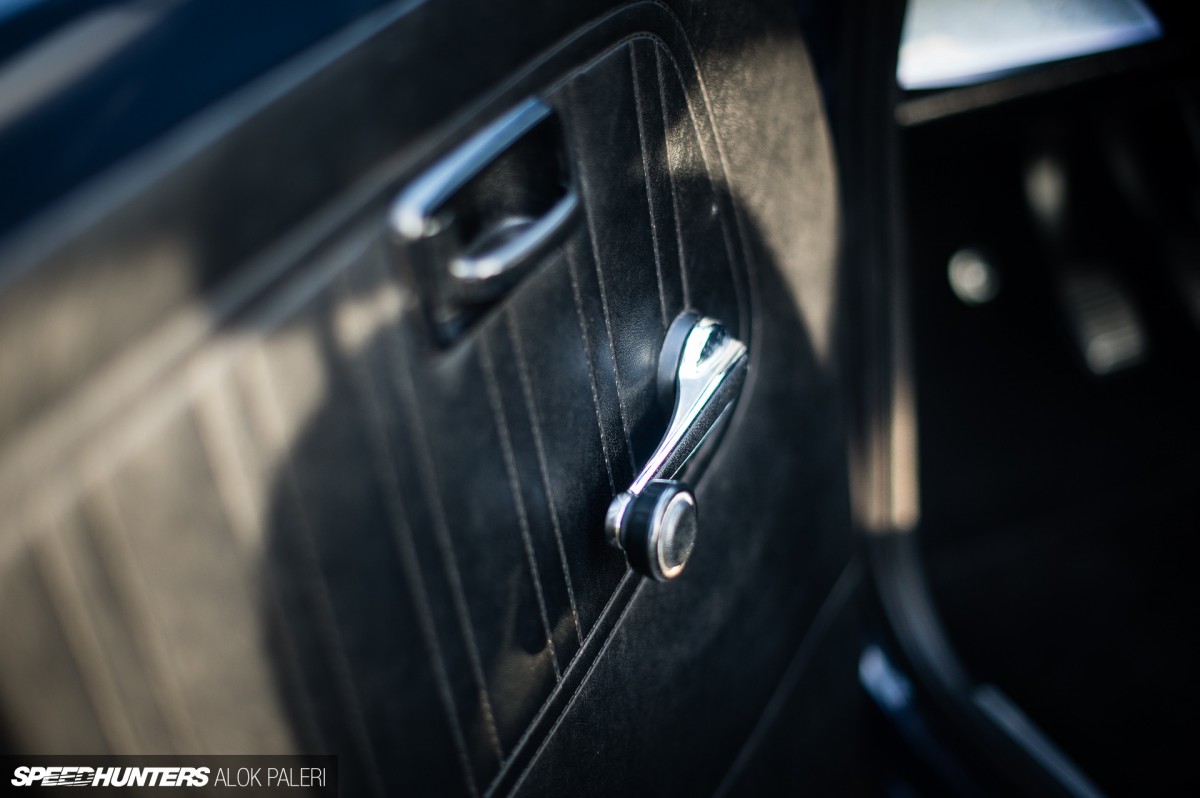 Power what? I absolutely love these beautiful stitched leather door cards and the old school wind down windows.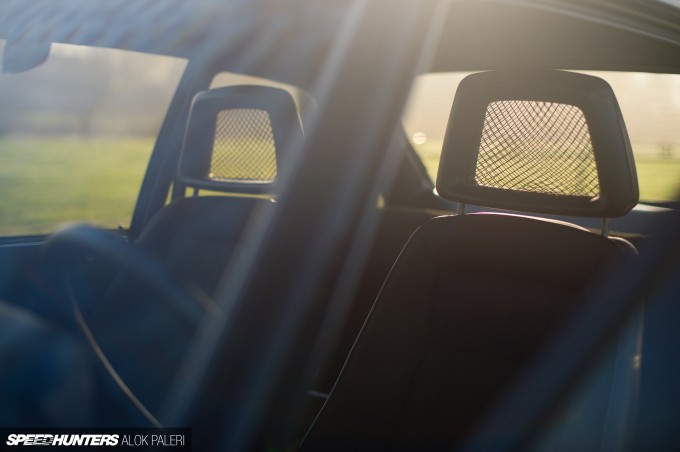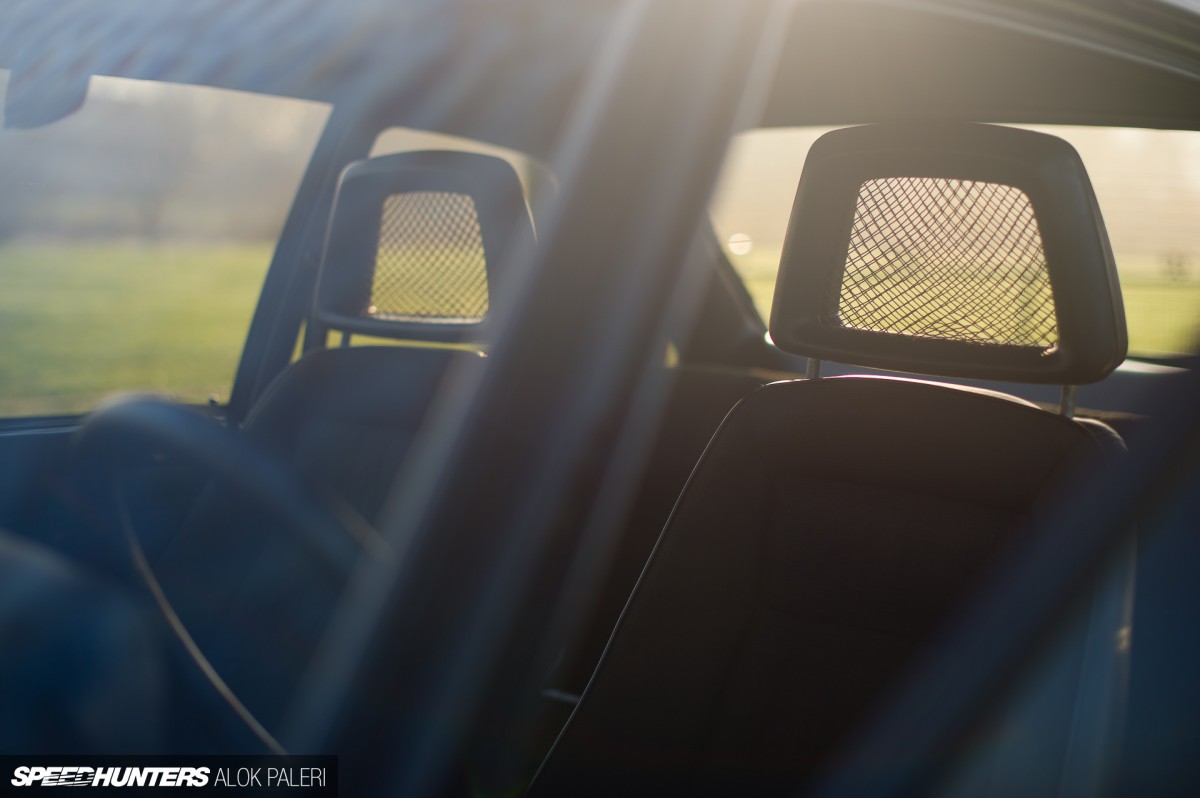 These vintage seats with mesh headrests are so cool too!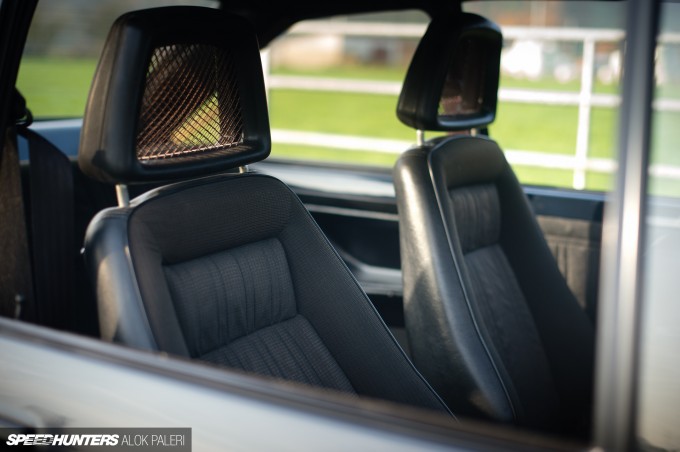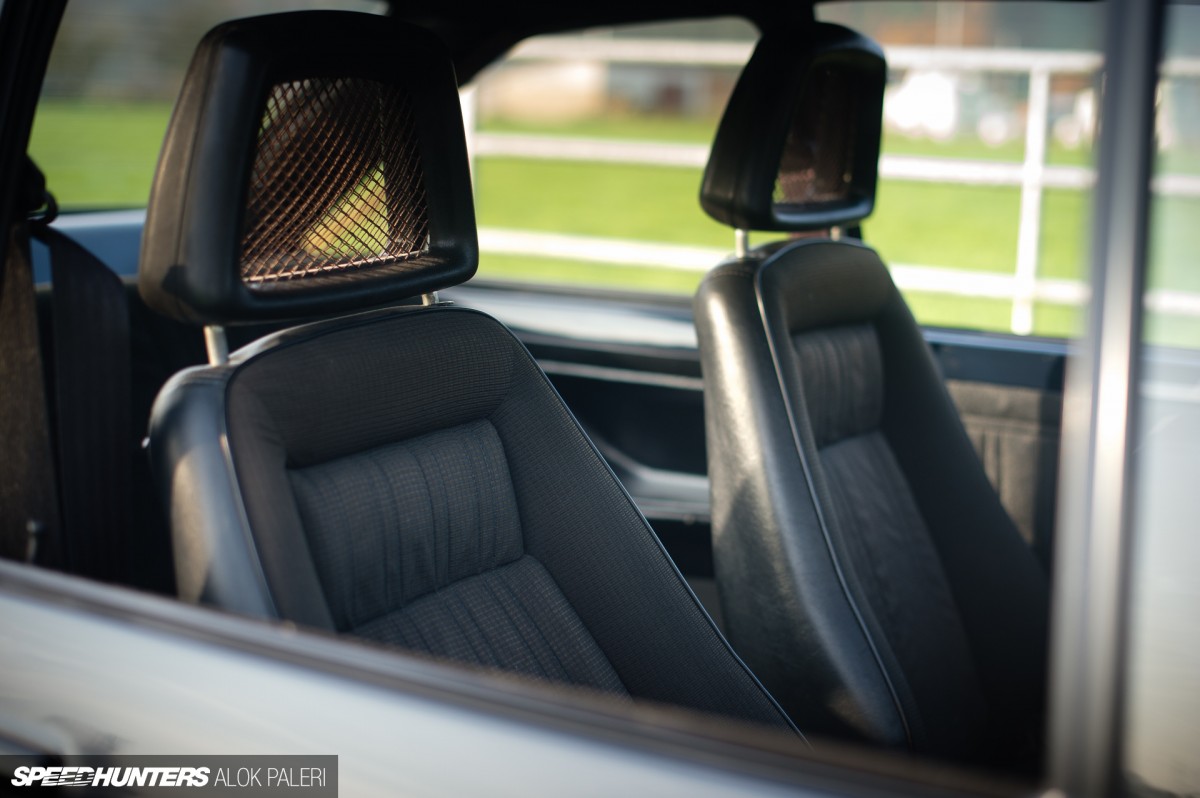 Being older seats, I expected them to be all wishy-washy, but they were surprisingly supportive – especially with their beefed-up side bolsters.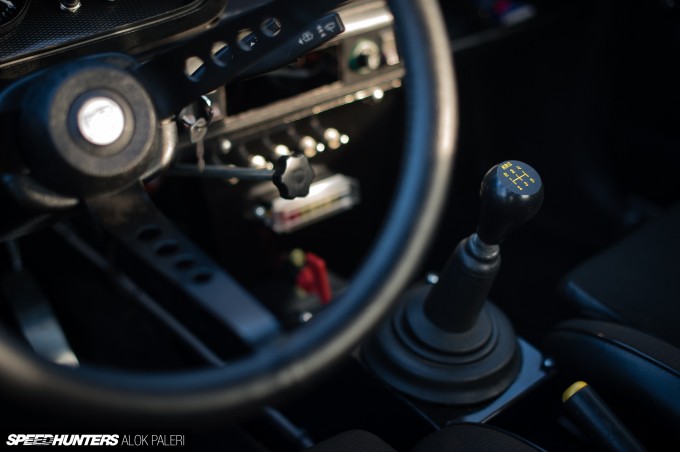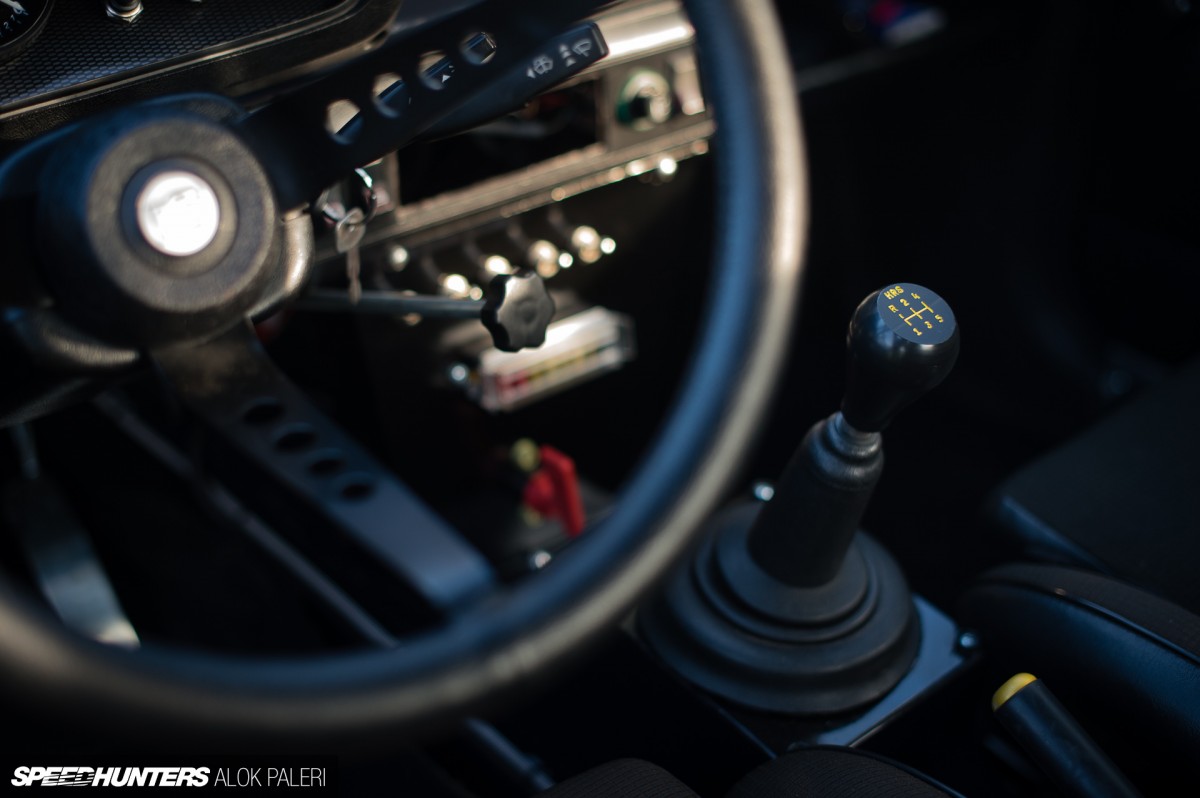 The Escort features a race-spec 5-speed ZF gearbox with straight-cut gears. These are inherently much stronger than helical gears of similar dimensions, but are also incredibly loud. What you see through the steering wheel here is the brake balance adjuster.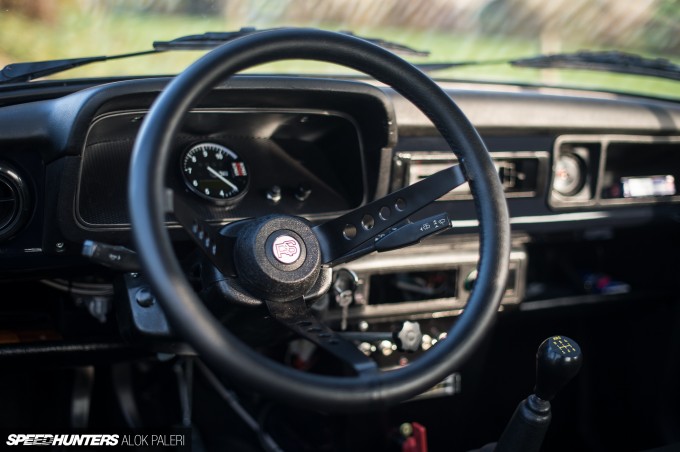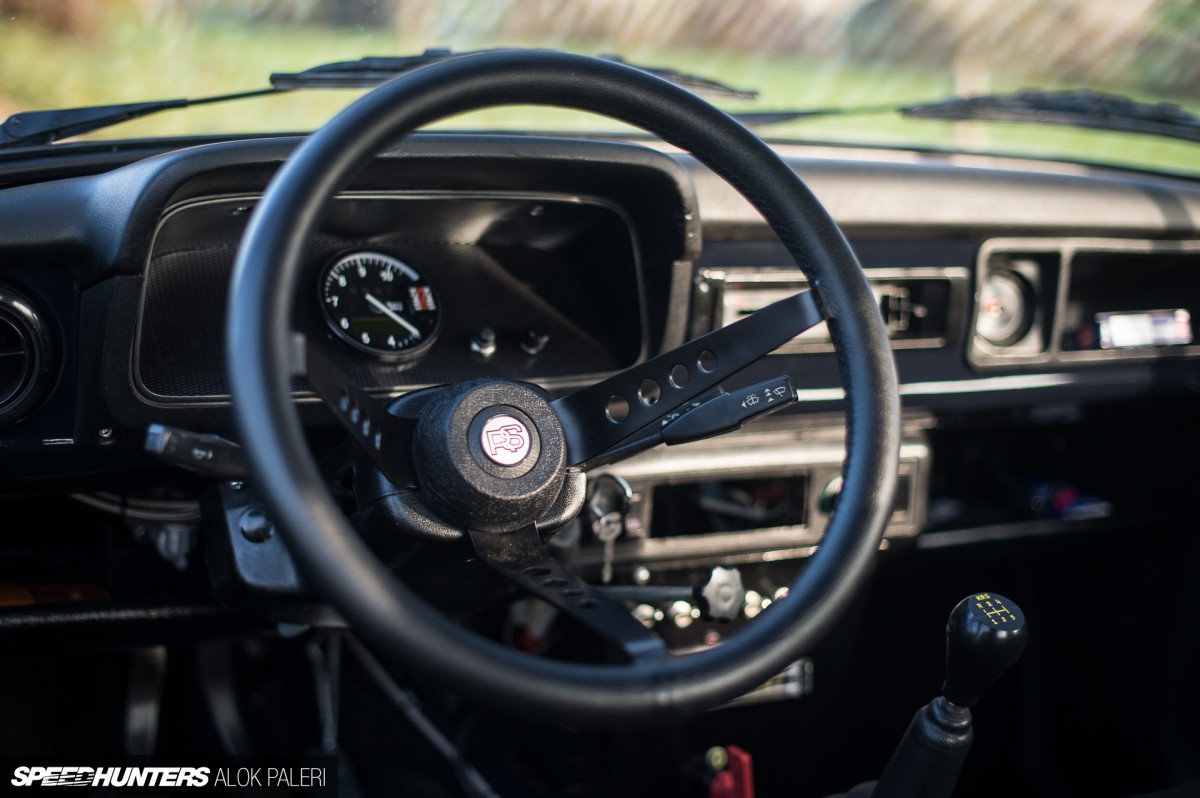 The dished wheel coupled with the unassisted and analog steering adds to a very lively experience darting from corner to corner on twisty back roads.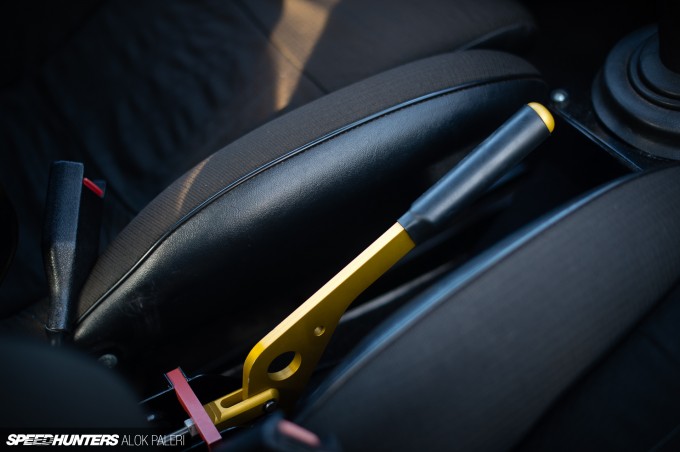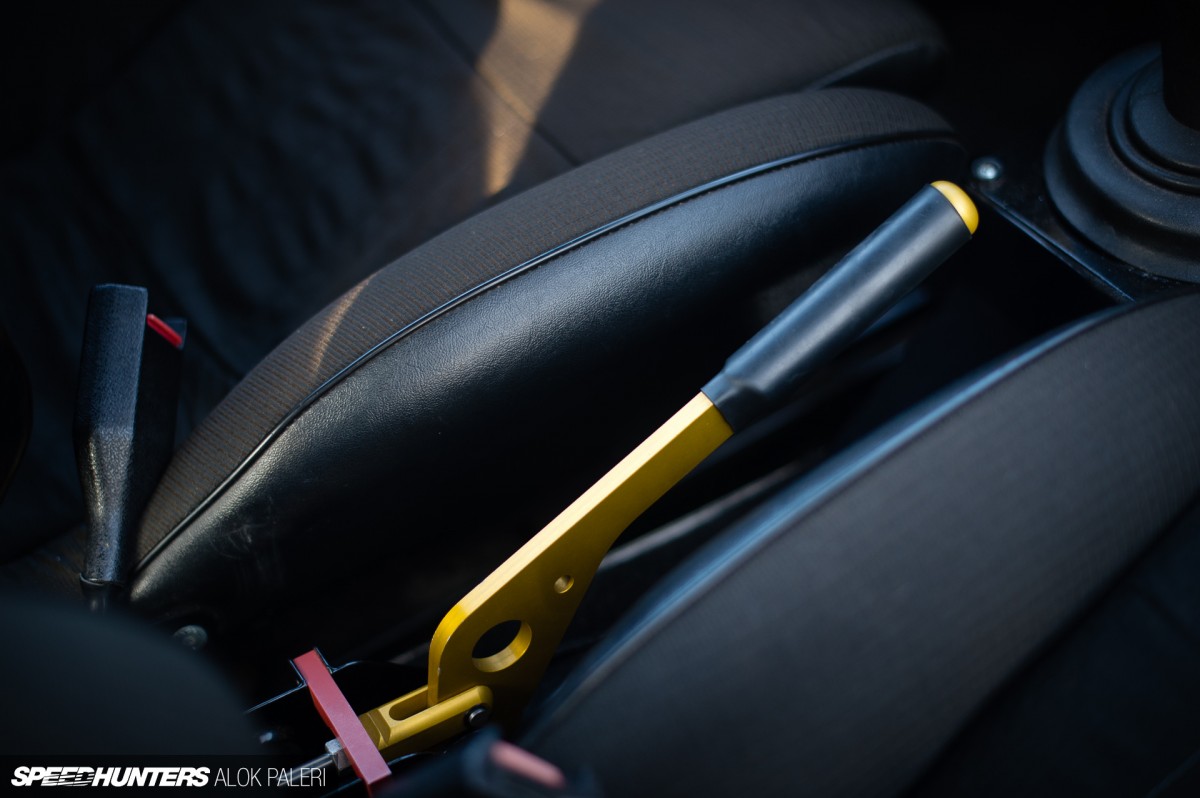 For that extra bit of tail-out hairpin cornering, there's also a hydraulic fly-off handbrake at bay.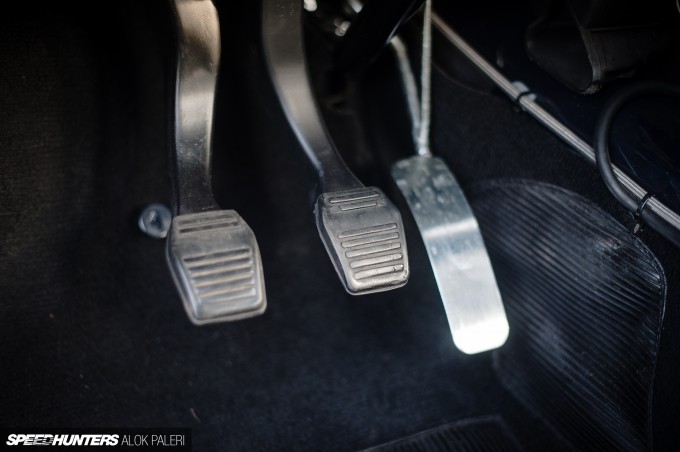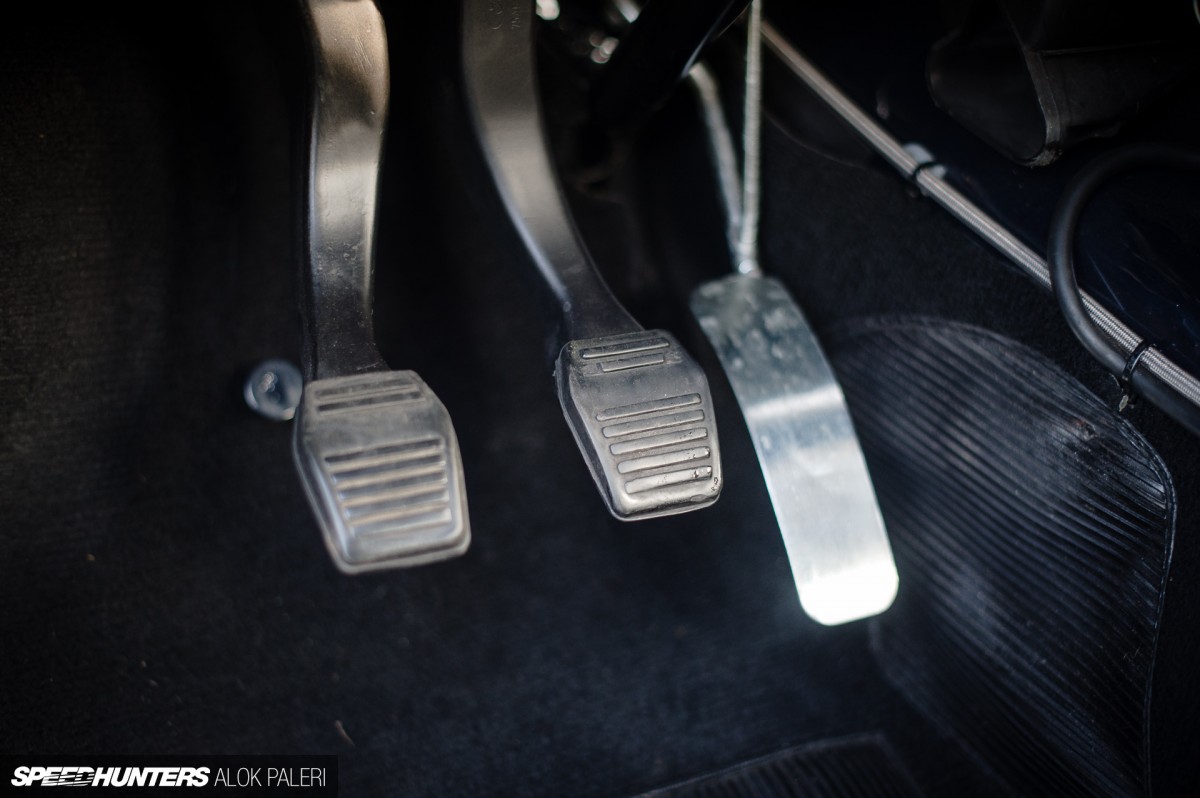 The closely positioned pedals took a while to get used to. There isn't much throttle pedal travel and it is also uncomfortably close to the transmission tunnel. I initially found myself accidentally depressing the brake and throttle pedal at the same time.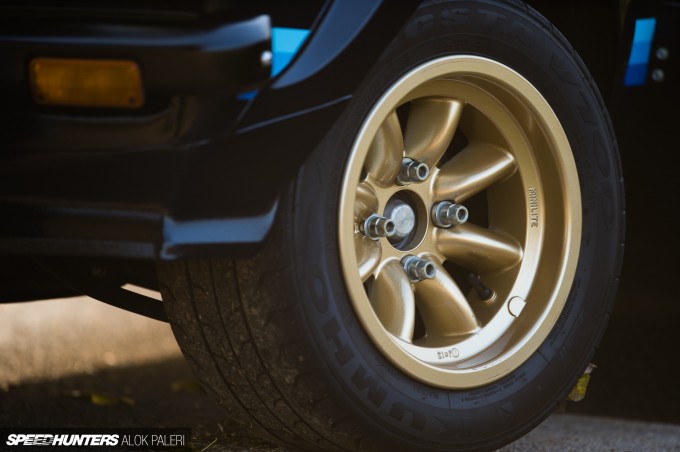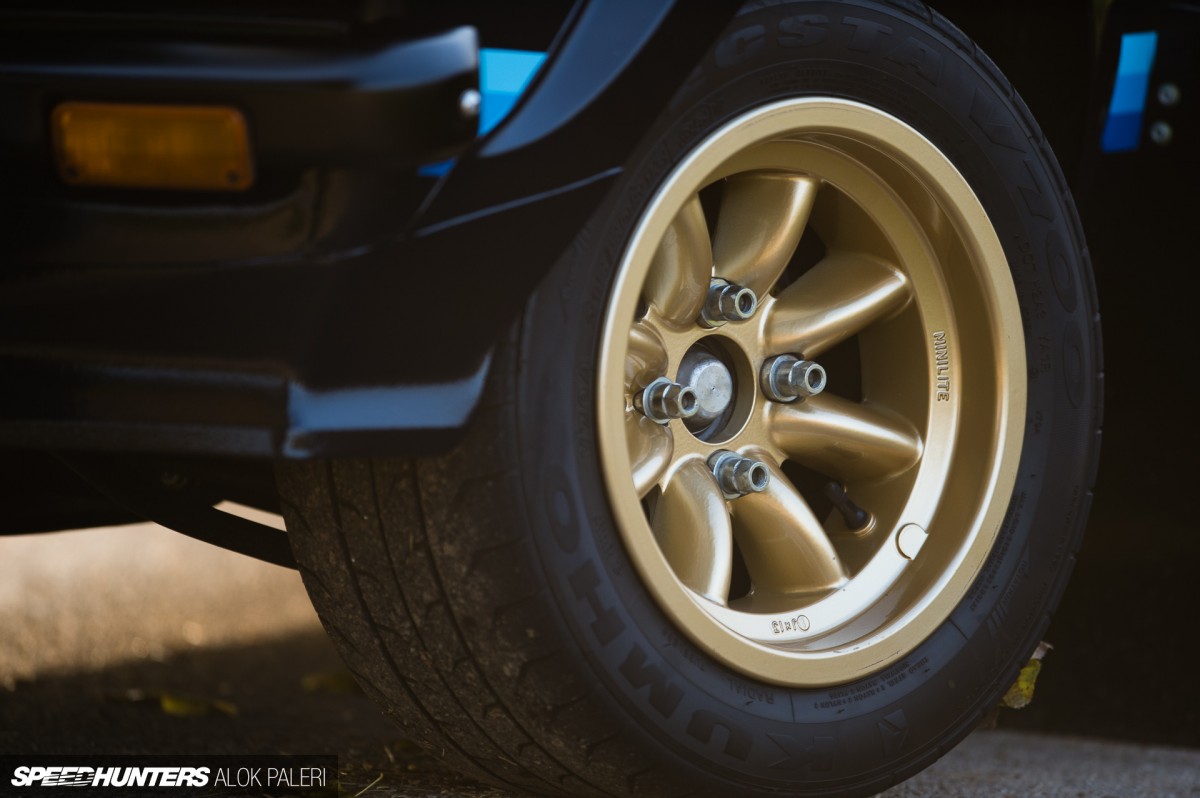 The brakes are AP Racing units and are flanked by beautiful Minilite wheels measuring 13×8-inch up front and 13×9-inch at the back.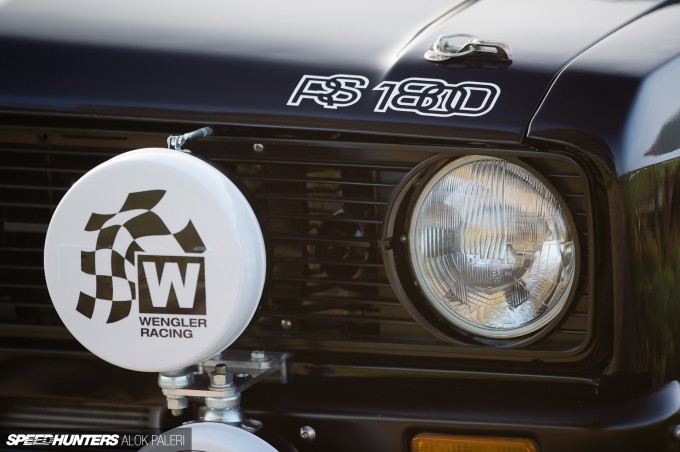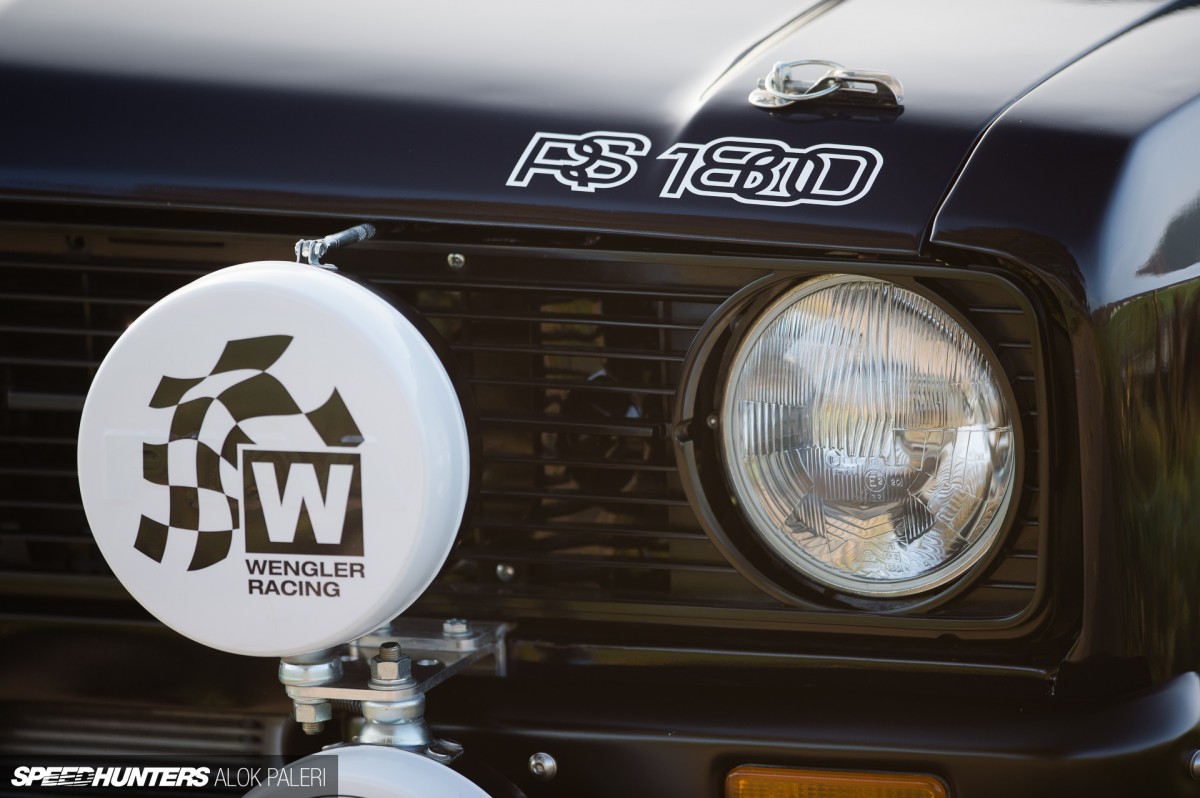 I've always wondered why most old rally cars have additional headlamps, and after driving this car in the dark using only the primary beams, I now know why. If you're used to modern cars, then prepared to discover a new benchmark in poor illumiation.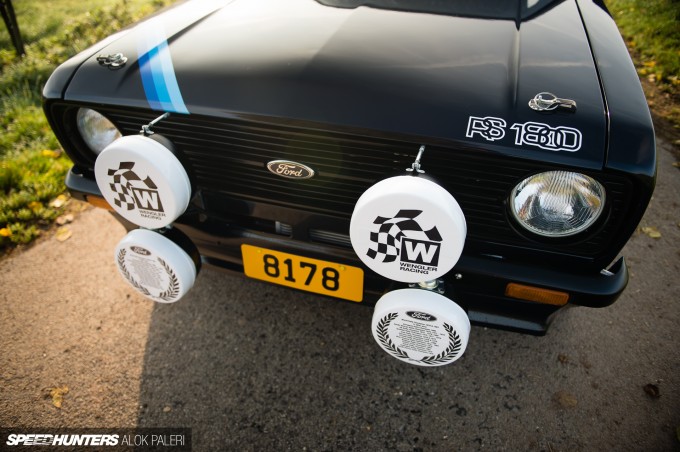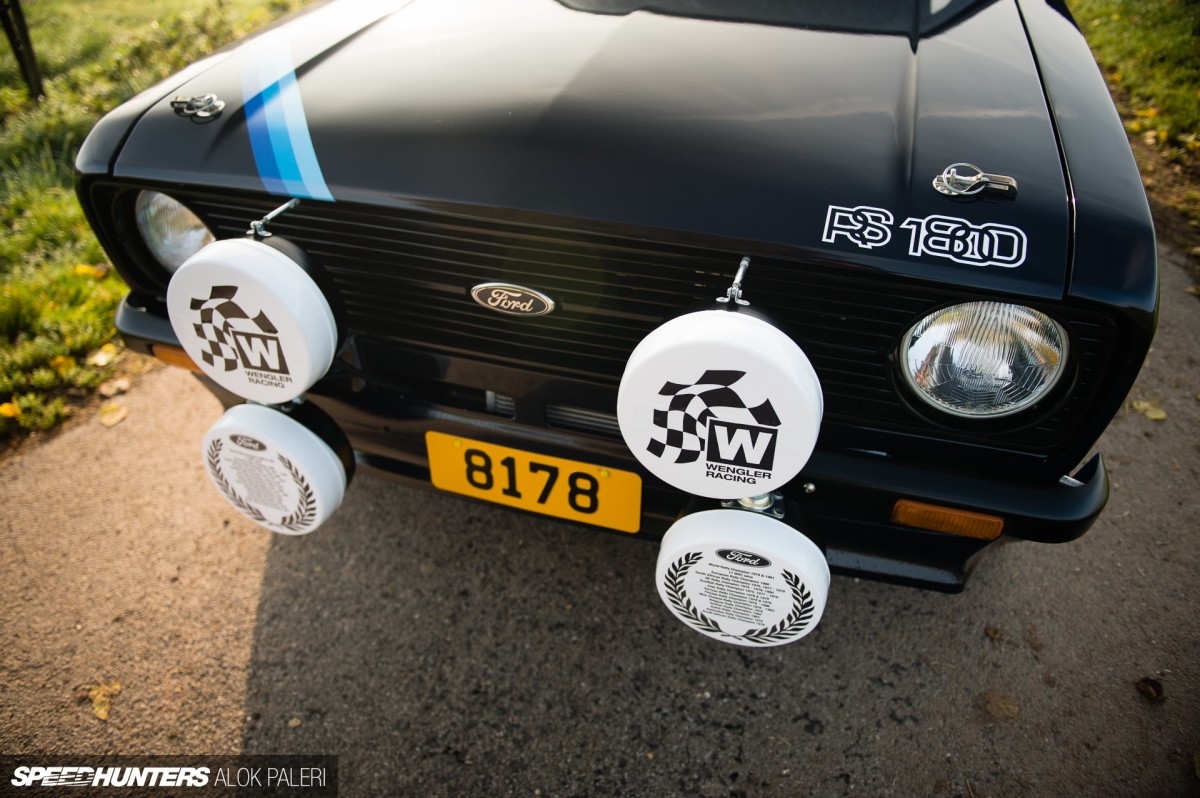 Yves has fitted the auxiliary headlamps with covers to protect them from daily use, with the bottom ones listing the Ford's major motorsport victories with the Escort over the past decades. It's a neat touch.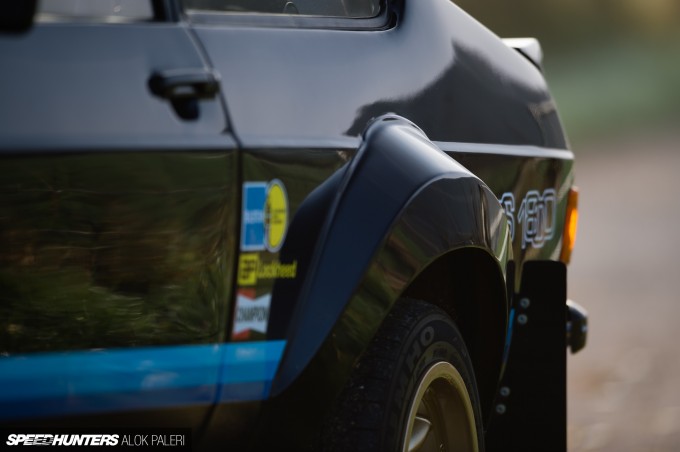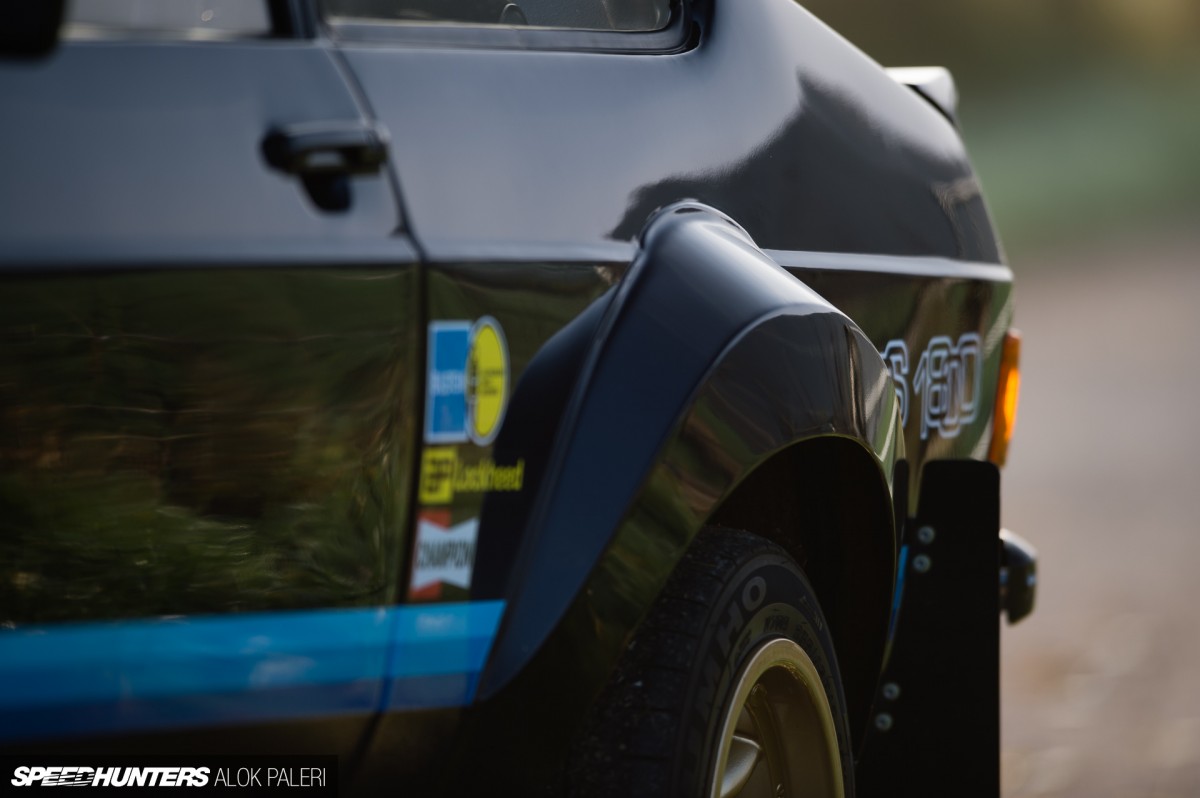 It's funny when you think about the current overfender craze that is taking over the automotive scene – this car is nearly 37 years old.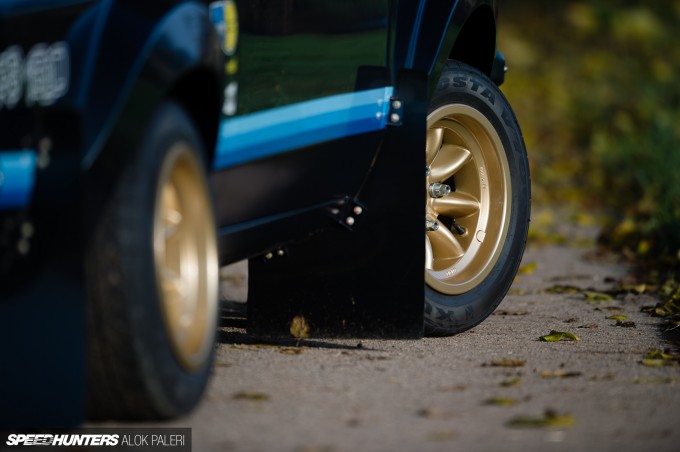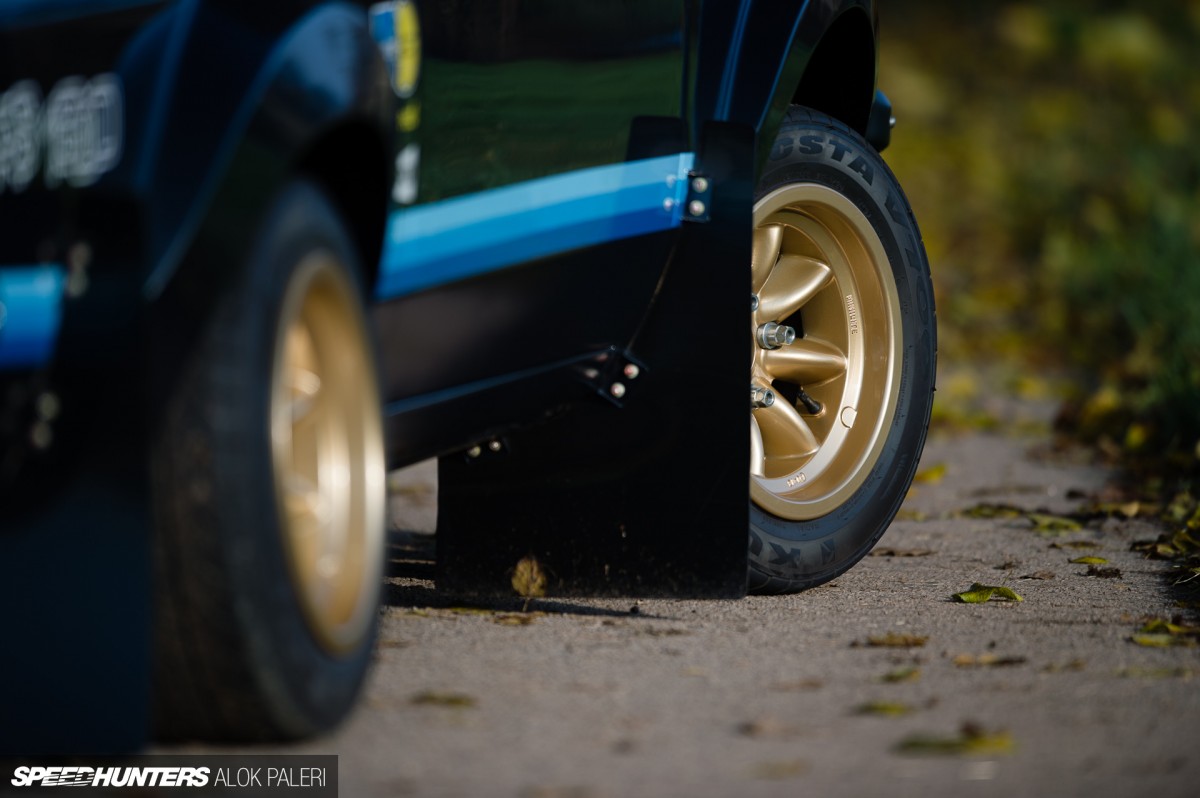 People tend to have a love-hate relationship with mud flaps. I think they work well with the Escort, seeing as this is pretty much a full-on Group 4 rally car, if not for the full interior and the lack of a cage.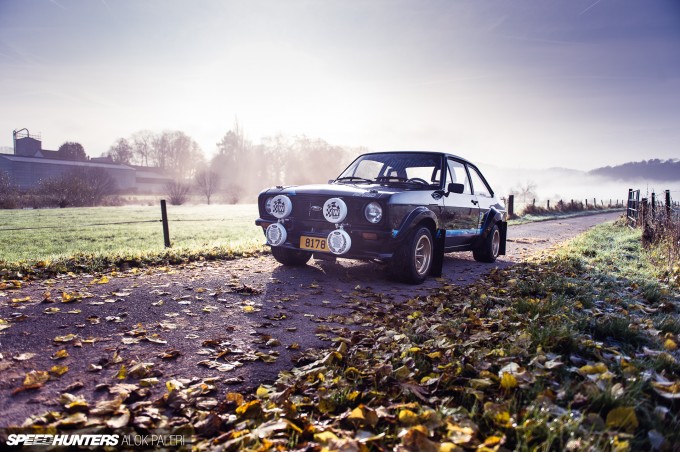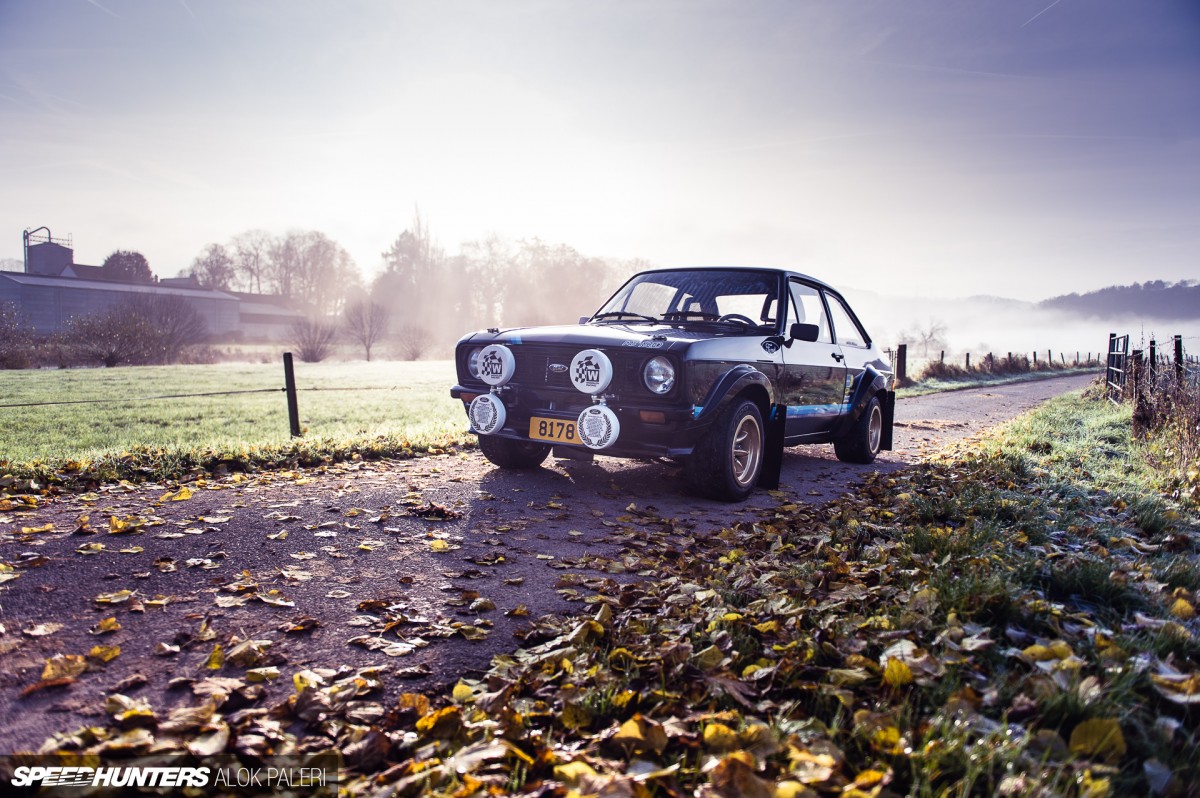 Of course, they're highly functional too and the car remained sparkling clean even after an extended hooning session on some Luxembourgian back roads covered with damp leaves and dirt.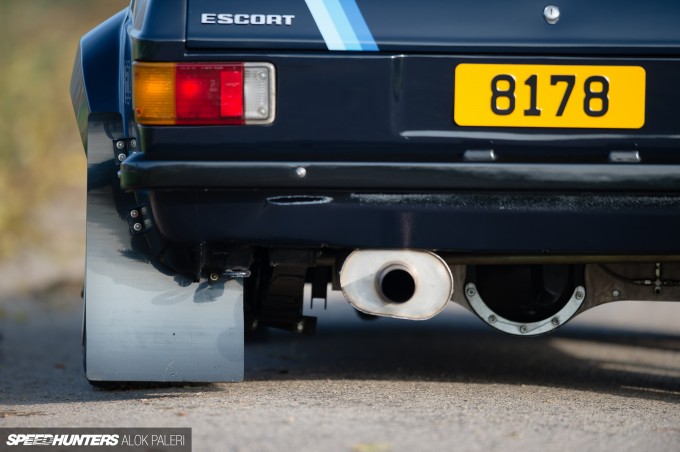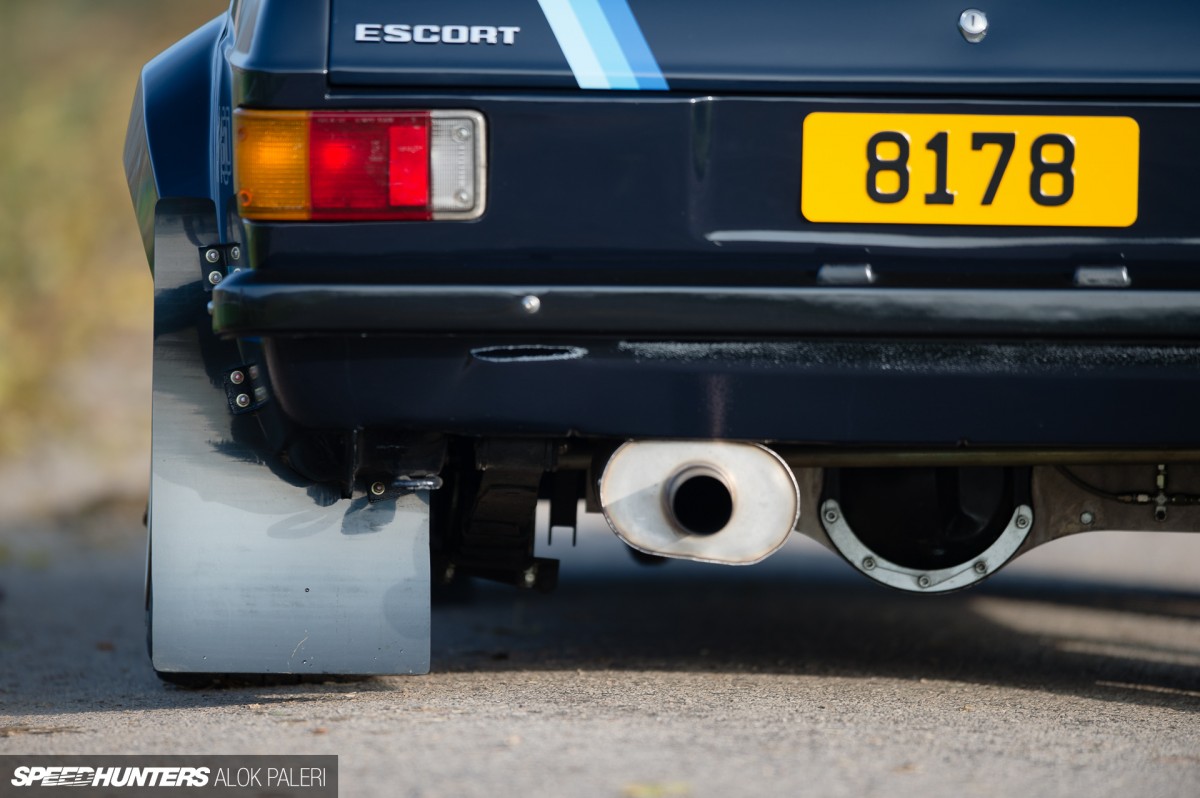 This Escort features a rare 'Baby Atlas' rear axle and a 45 per cent locking limited slip differential. This is one aspect of the car I was really looking forward to trying out…
Ready For Takeoff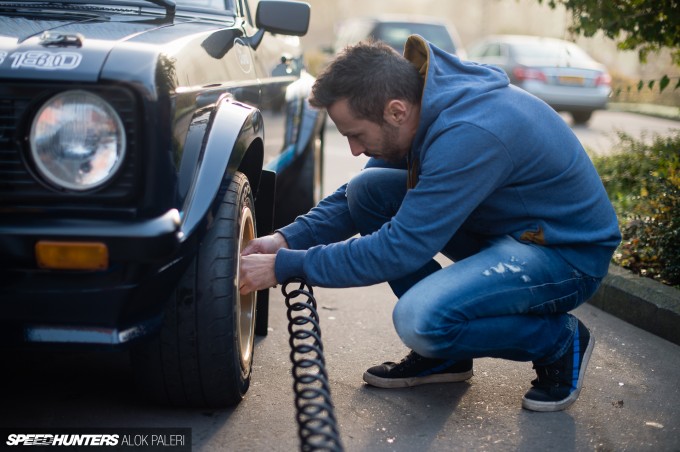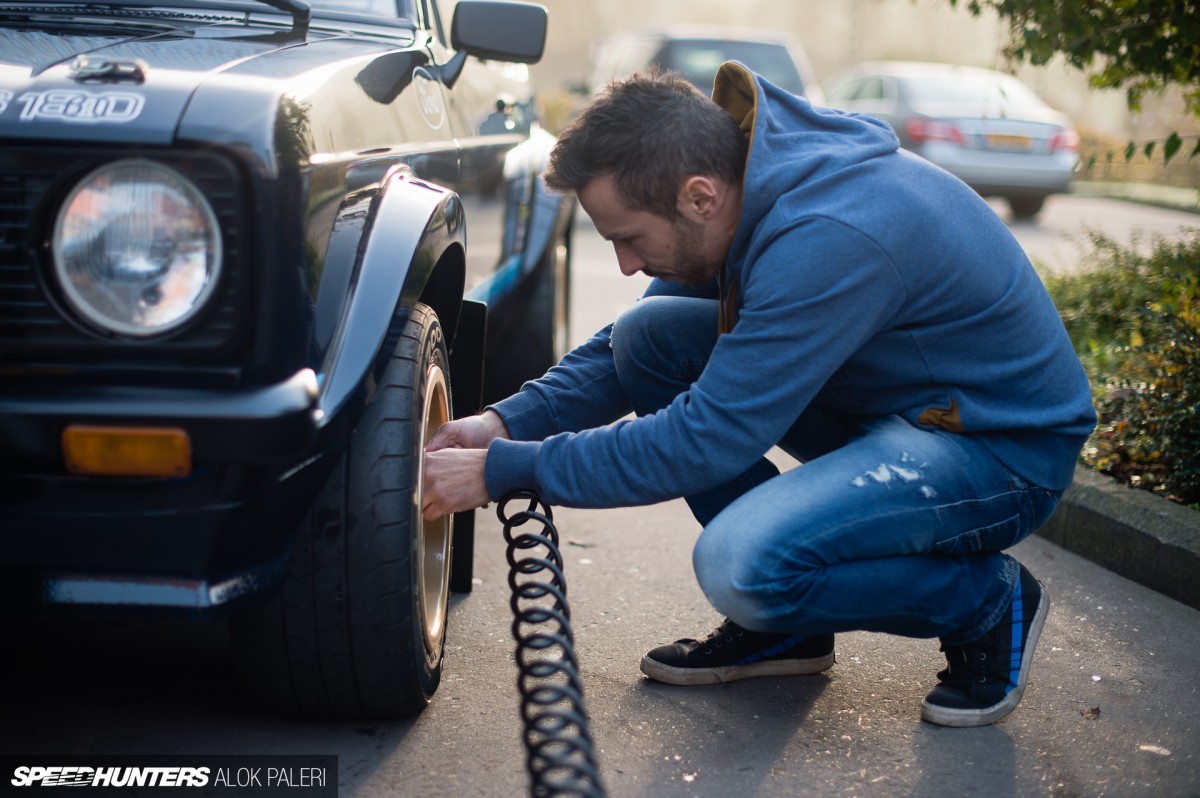 The last thing to check before we set off was ensuring that the tire pressures on all corners were correct. Even a 10 per cent variance in pressure across the tires can lead to a vastly different driving experience.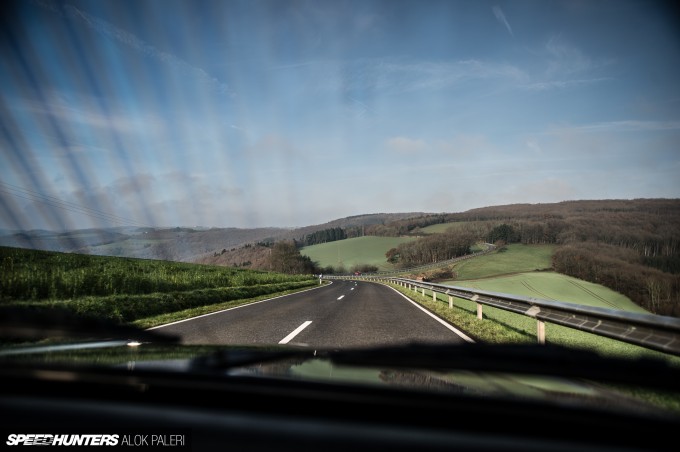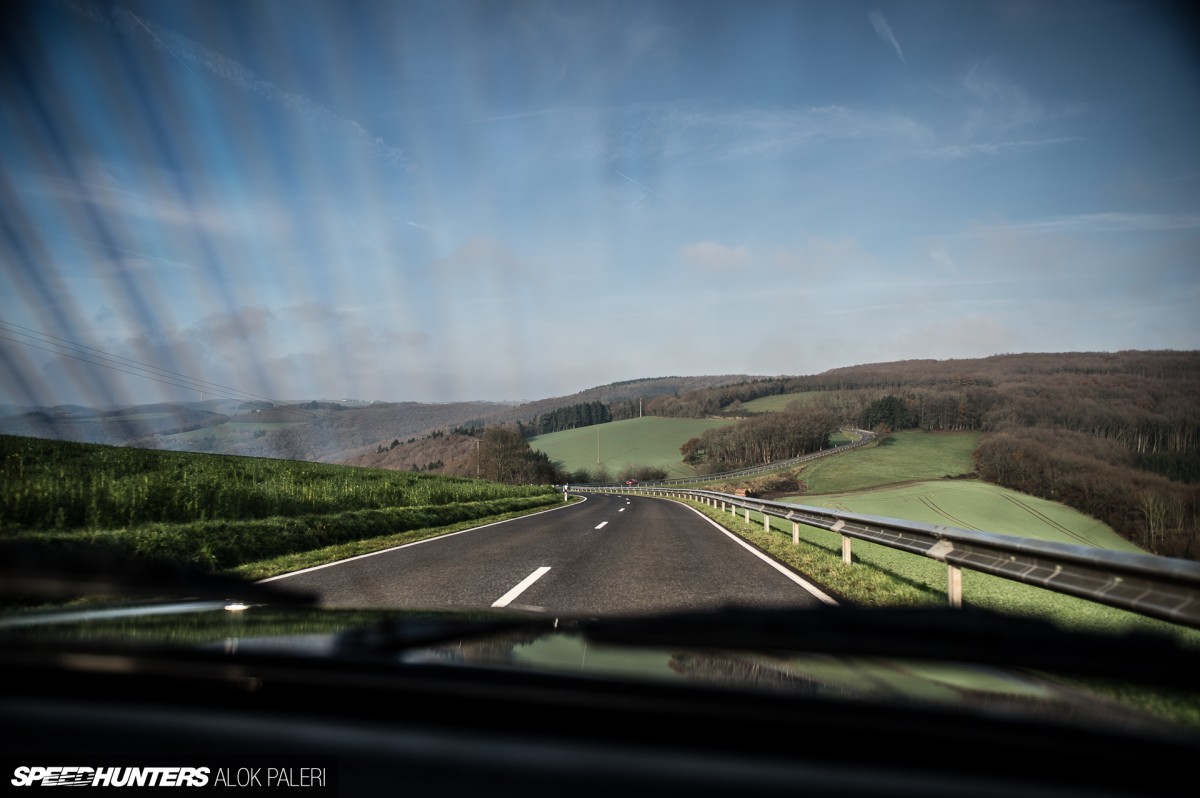 With all the pre-flight checks done, we headed out with no particular destination in sight. Luxembourg always has more than enough twisty, empty roads on offer, no matter which way you go.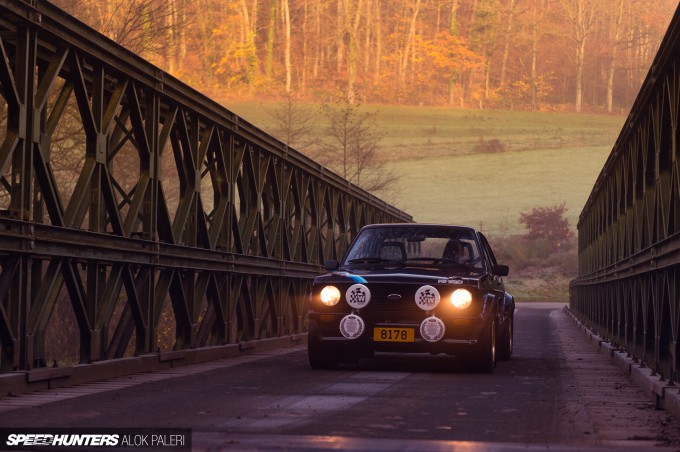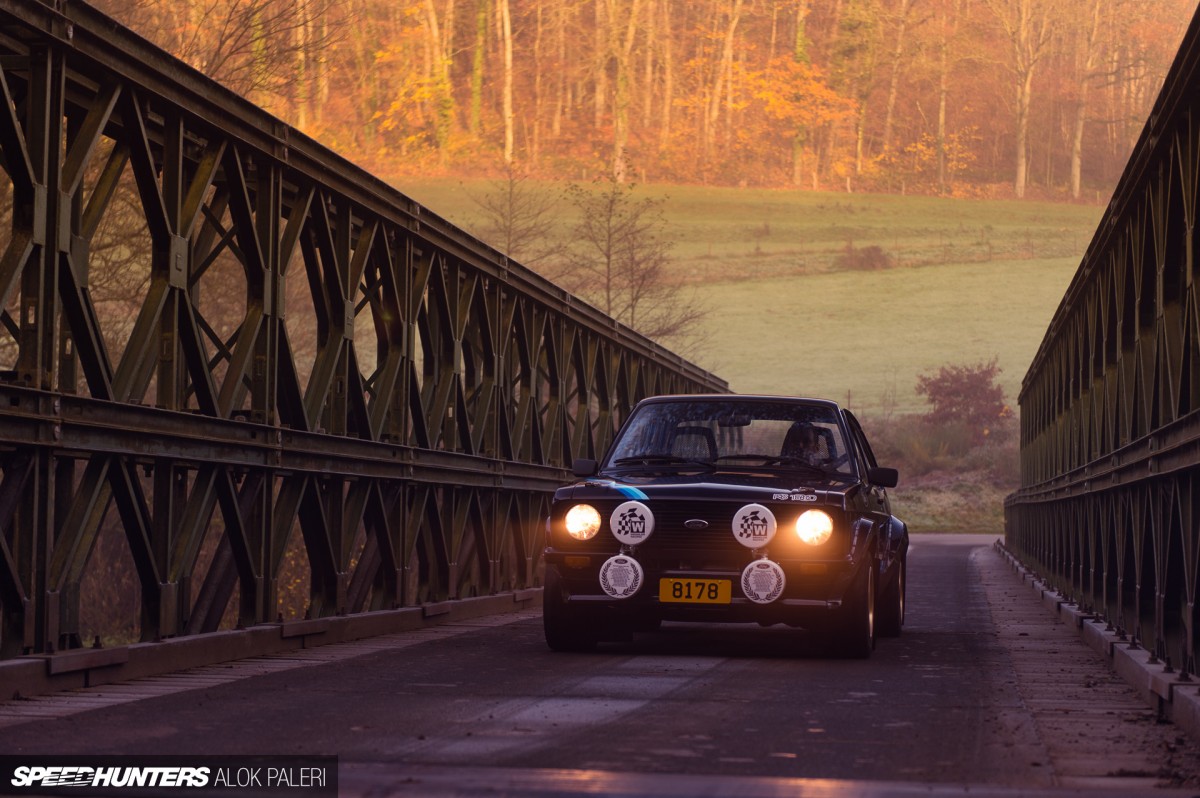 We came across this decommissioned bridge at the beginning. It was about to be dismantled but we managed to get a last couple of shots in before they took it down.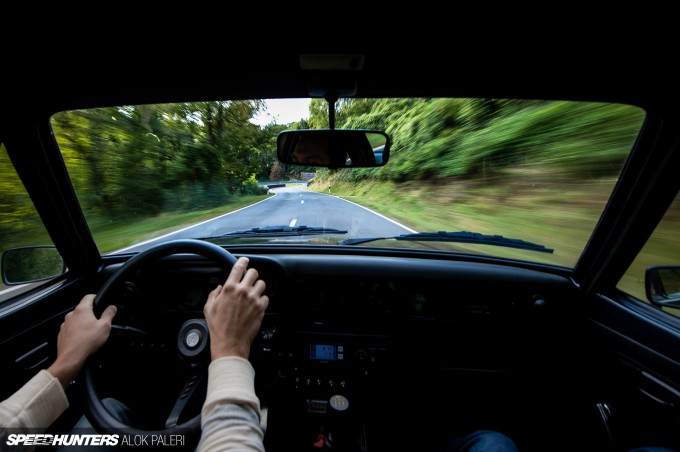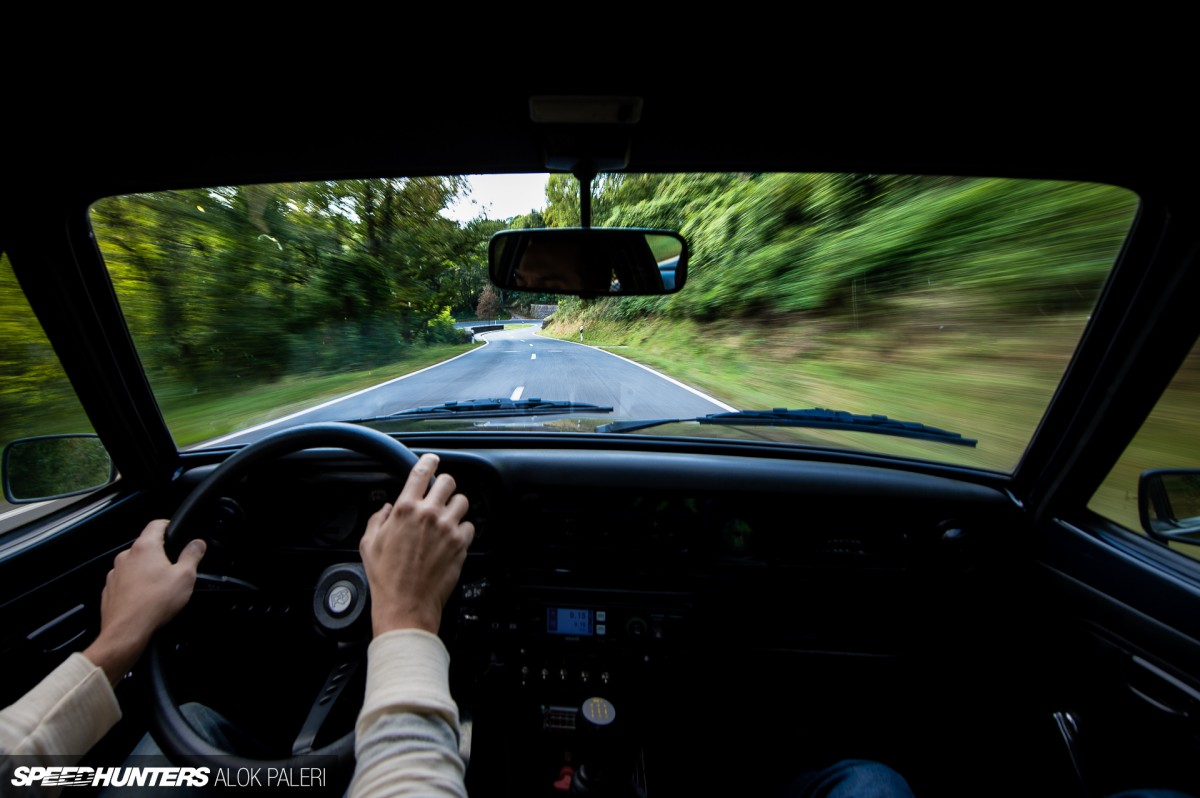 Prior to the Escort the only other '70s-vintage car I'd driven was the Lightspeed Classic that we featured a while back. I expected the Escort to have a similar personality, but boy was I in for a surprise.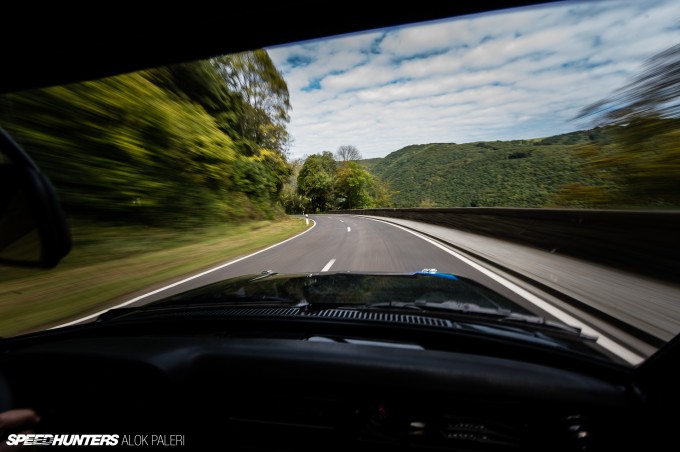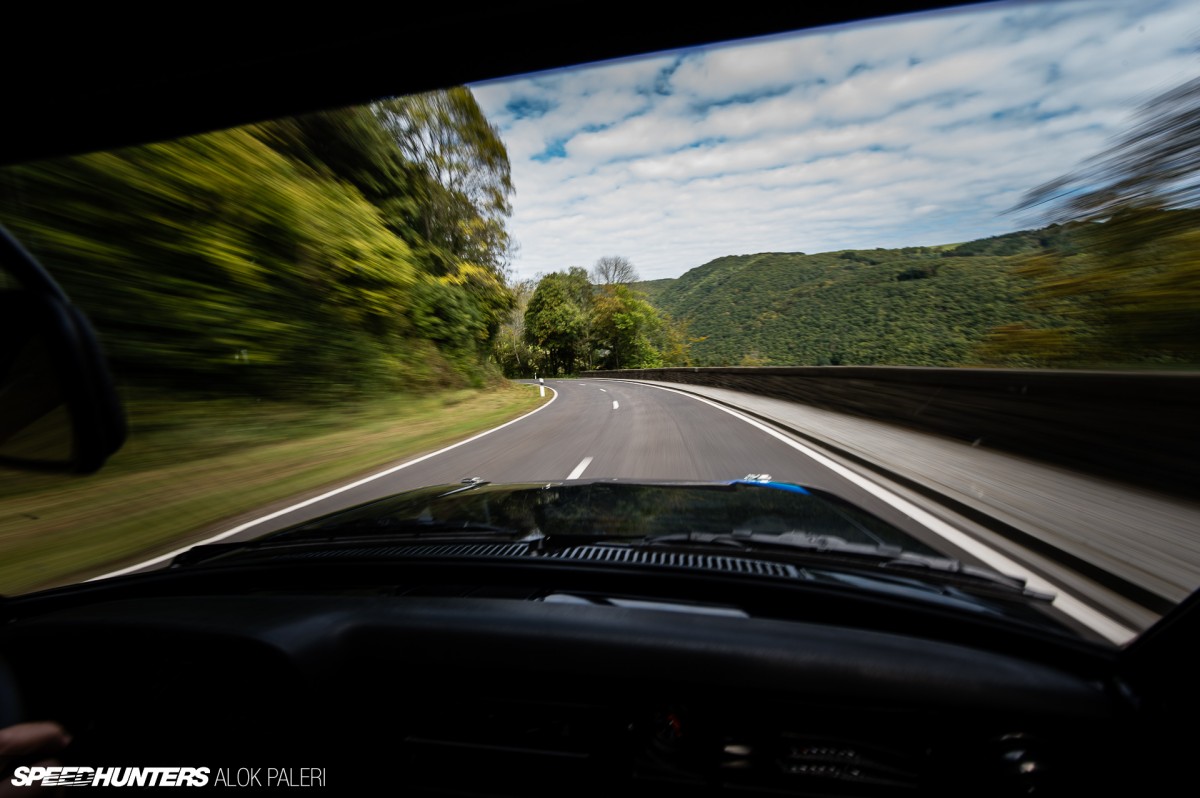 We started off on some open B roads and it was here that I quickly realised just how agile the car was. This Escort is the absolute opposite of a cruiser, it doesn't 'settle' at speed, but rather continually moves about as if it's sniffing out corners.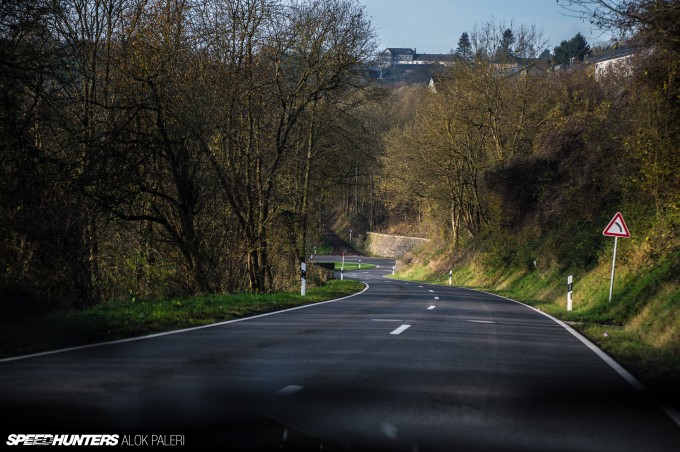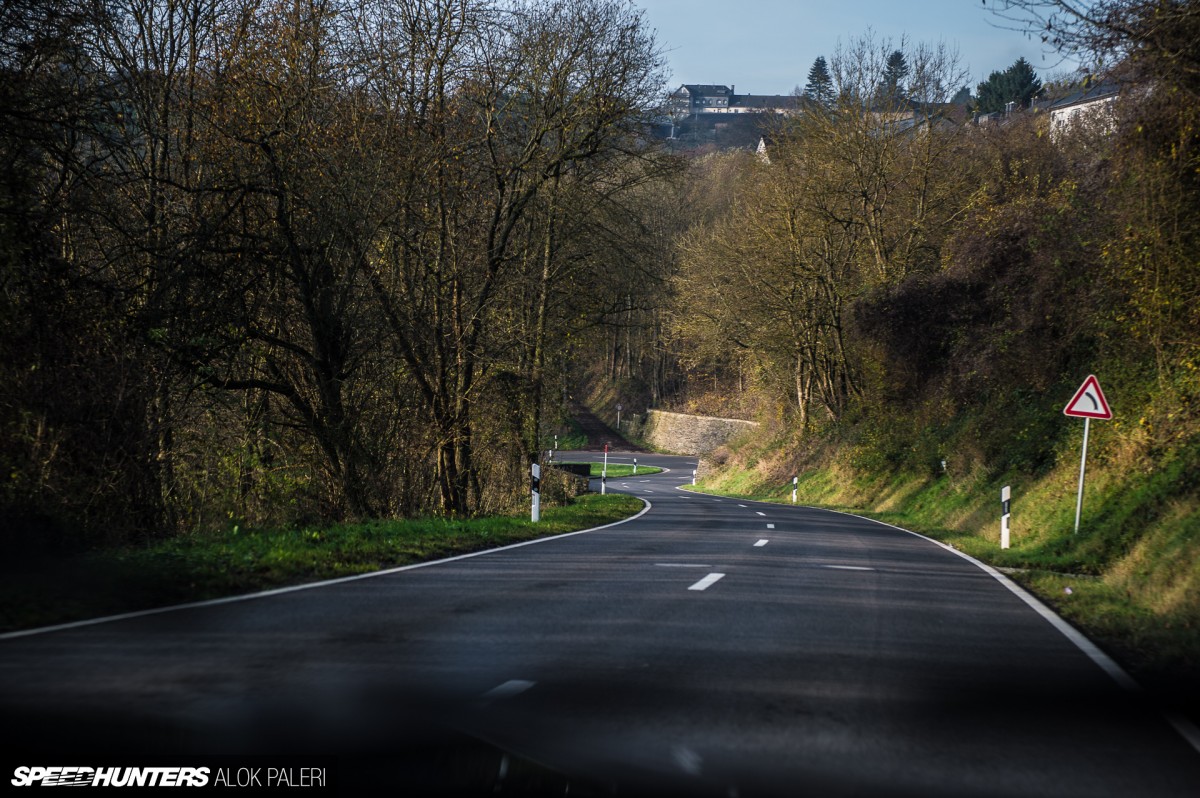 Trying to maintain a stable cruising speed of 100km/h felt somewhat difficult, so we turned off towards some of the narrower and more technical roads. And this is where the Escort really came alive.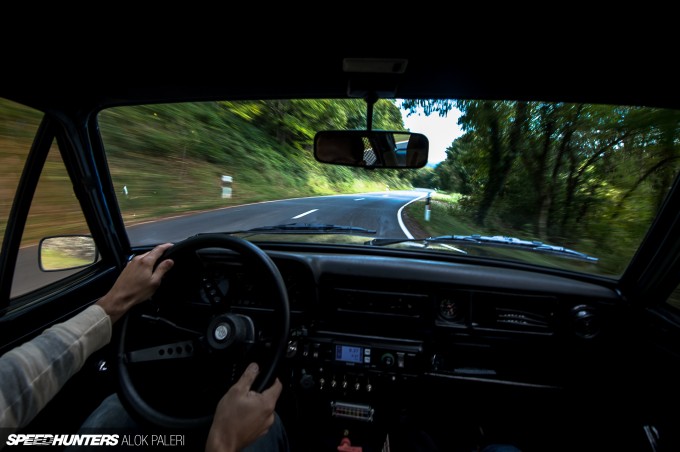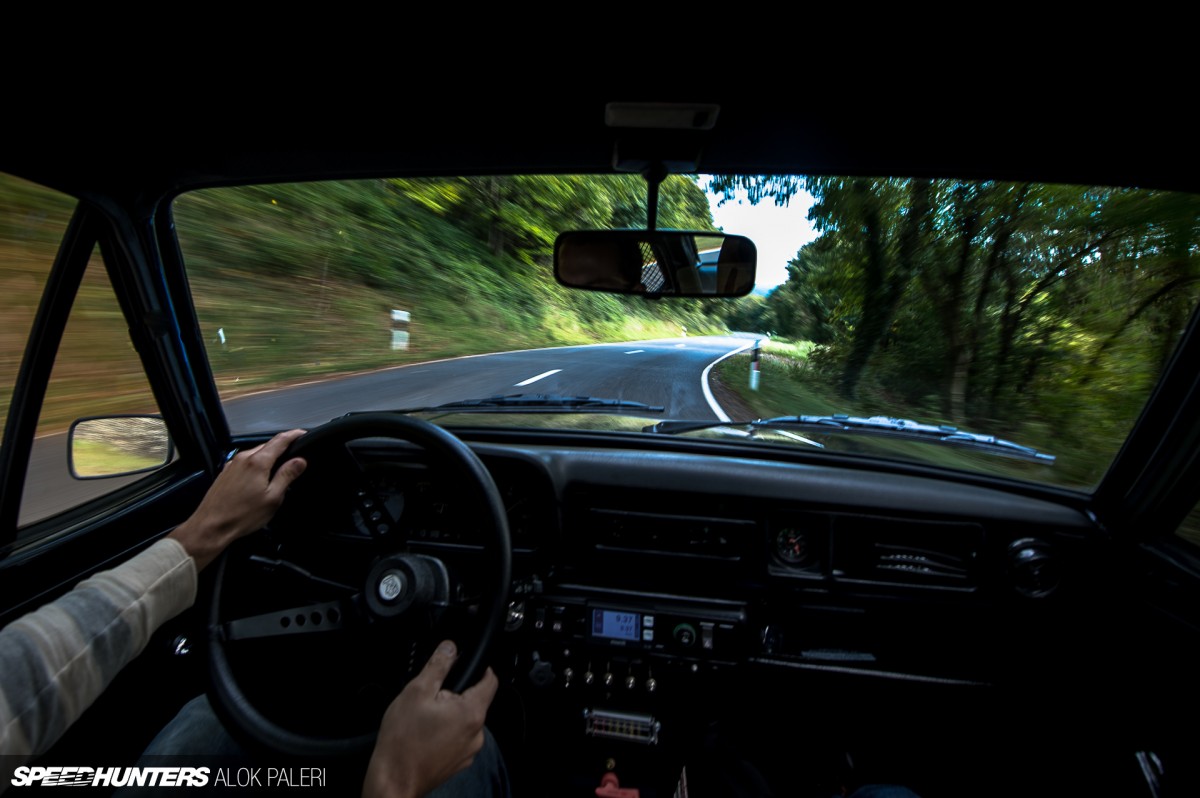 Surrounded by a thick blanket of trees, corners rushed towards me one after the other.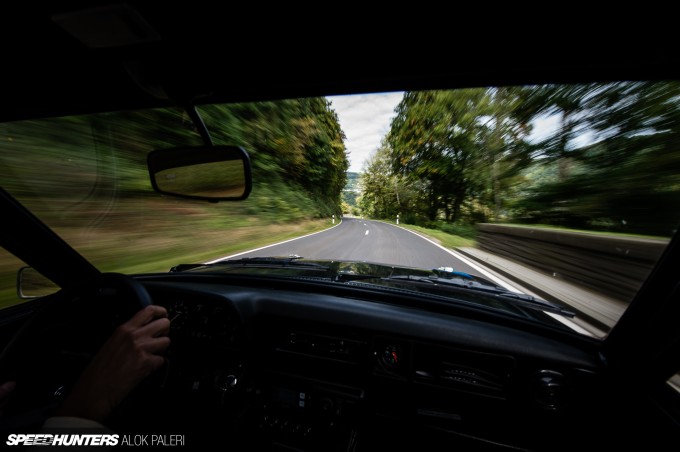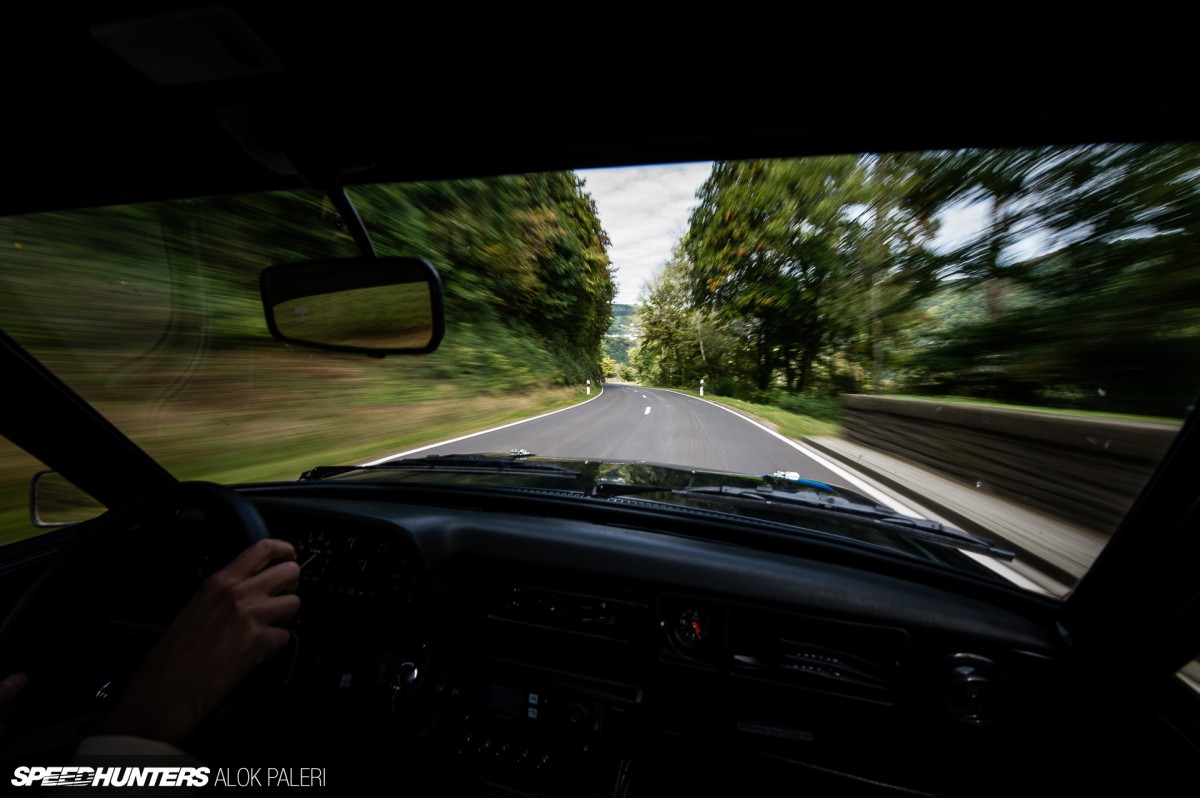 The all-consuming sound builds a cocoon around you and you completely zone in to the driving experience. At 4,000rpm part of your brain tells you to shift up judging from the noise, but you have to resist that urge and keep on piling on the revs.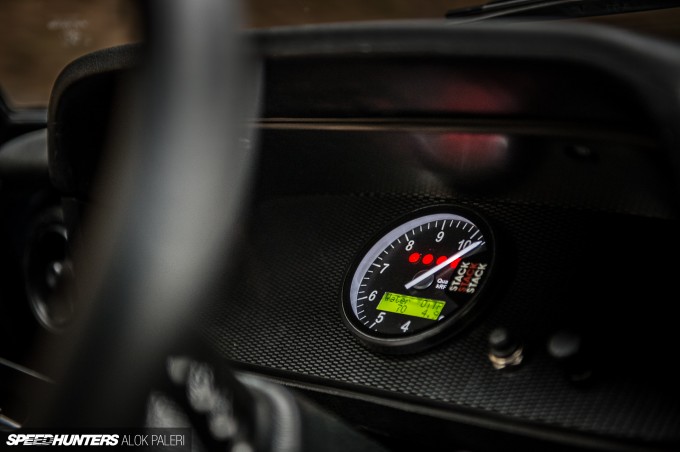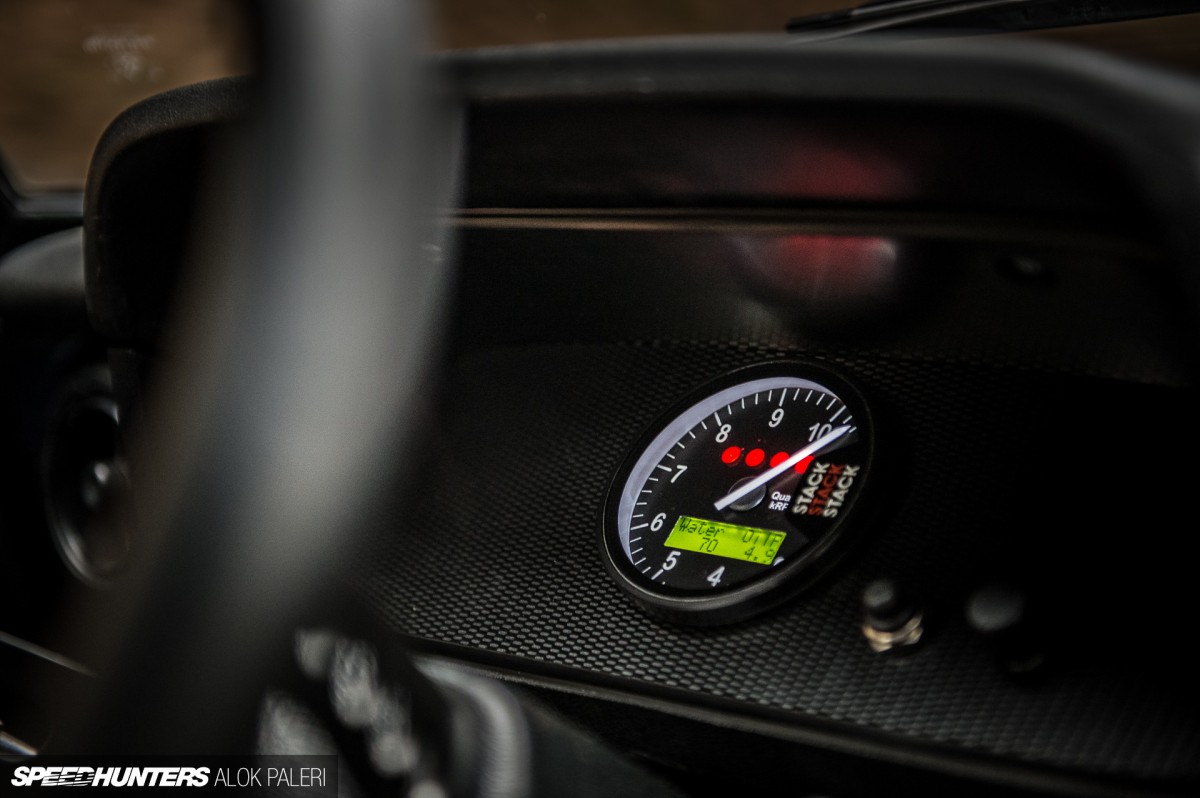 The sheer wail of the engine screaming its glorious heart out – this was driving nirvana. Pure, unadulterated, Joy Of Machine.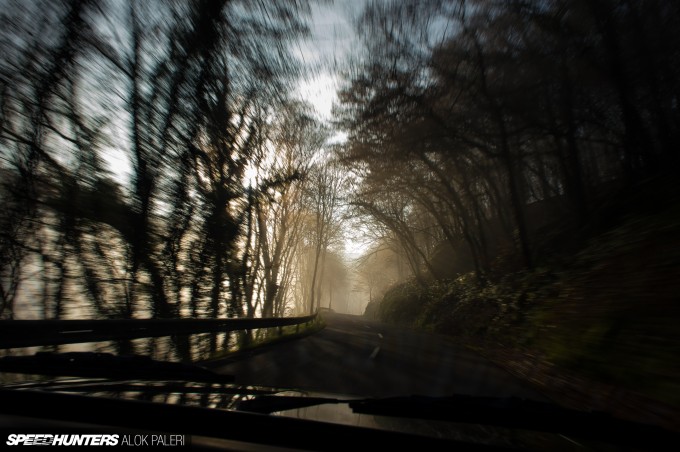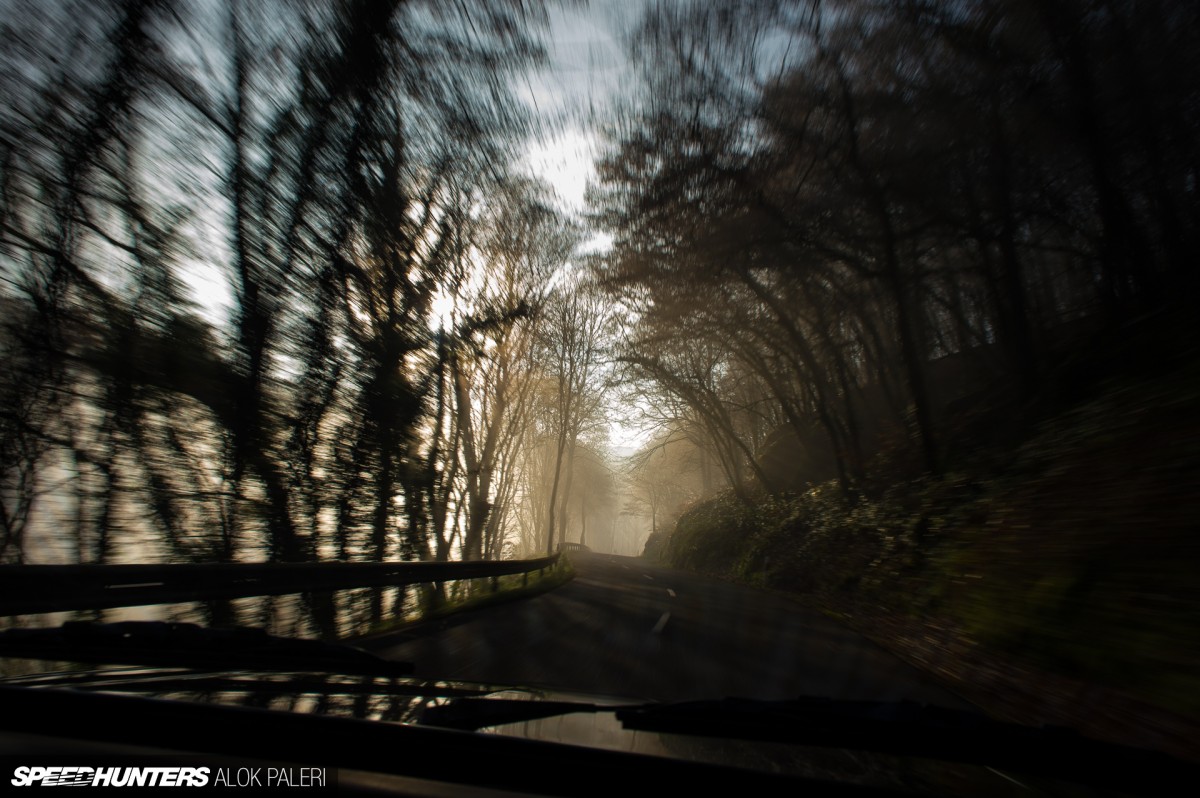 We darted up and down through the valleys dipping in and out of the fog blanket, which made it look like I'd just driven to an entirely different weather zone.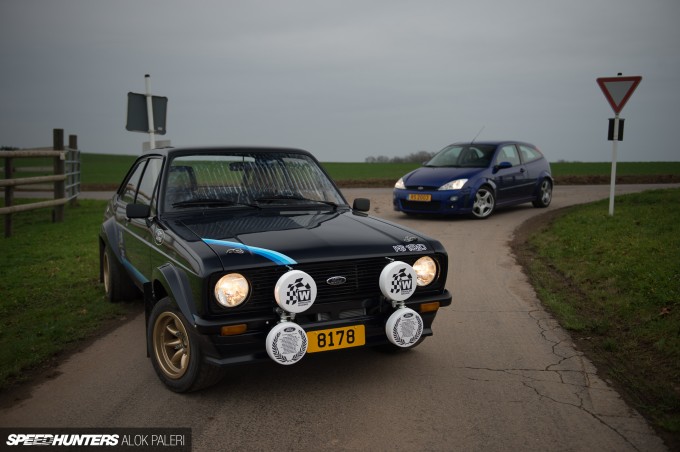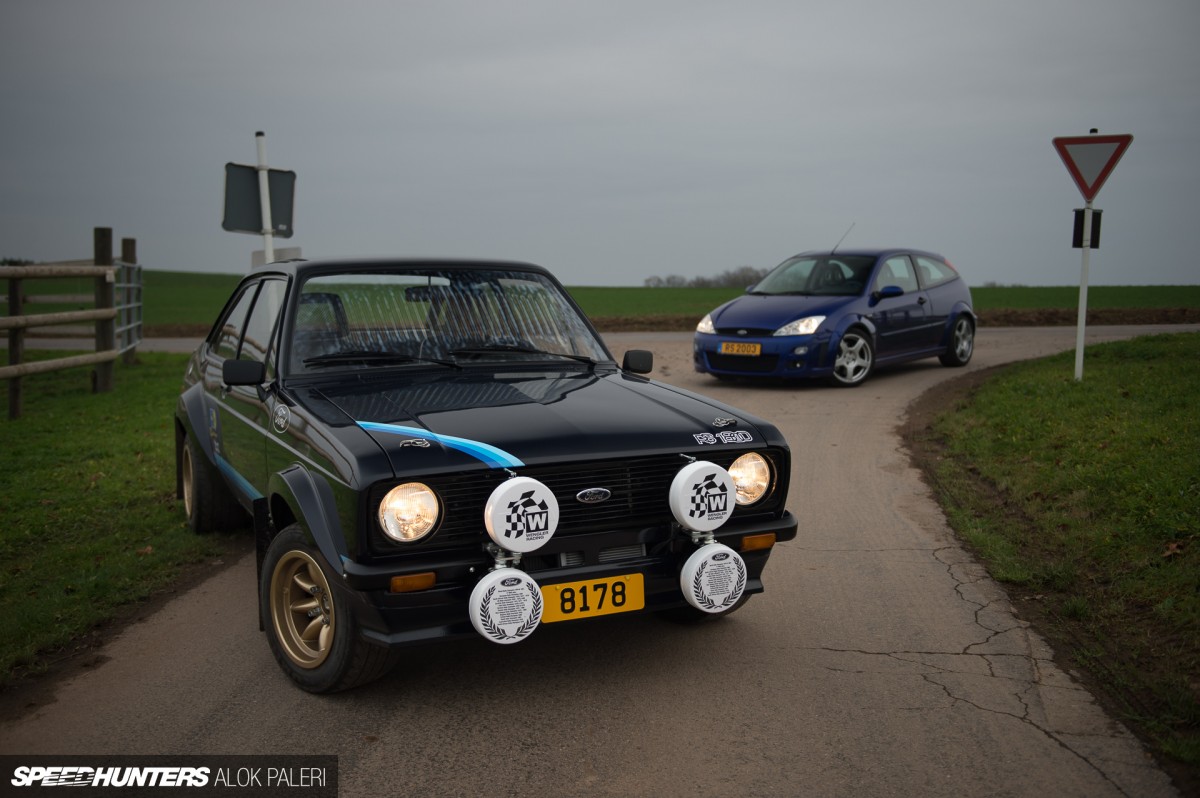 For this shoot we used Yves' other toy – a mint Mk1 Focus RS – as a recon car.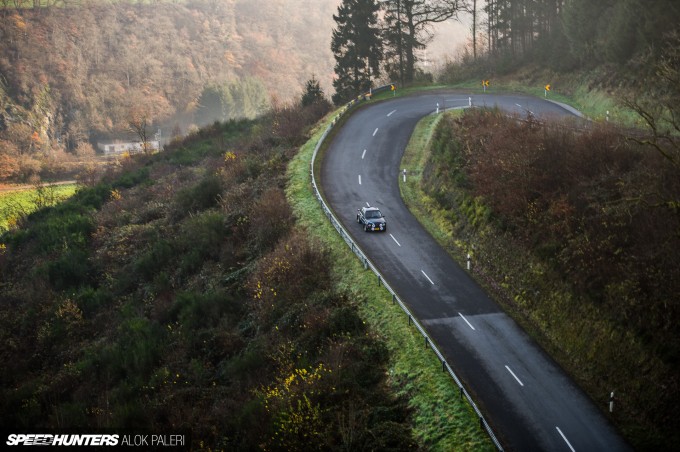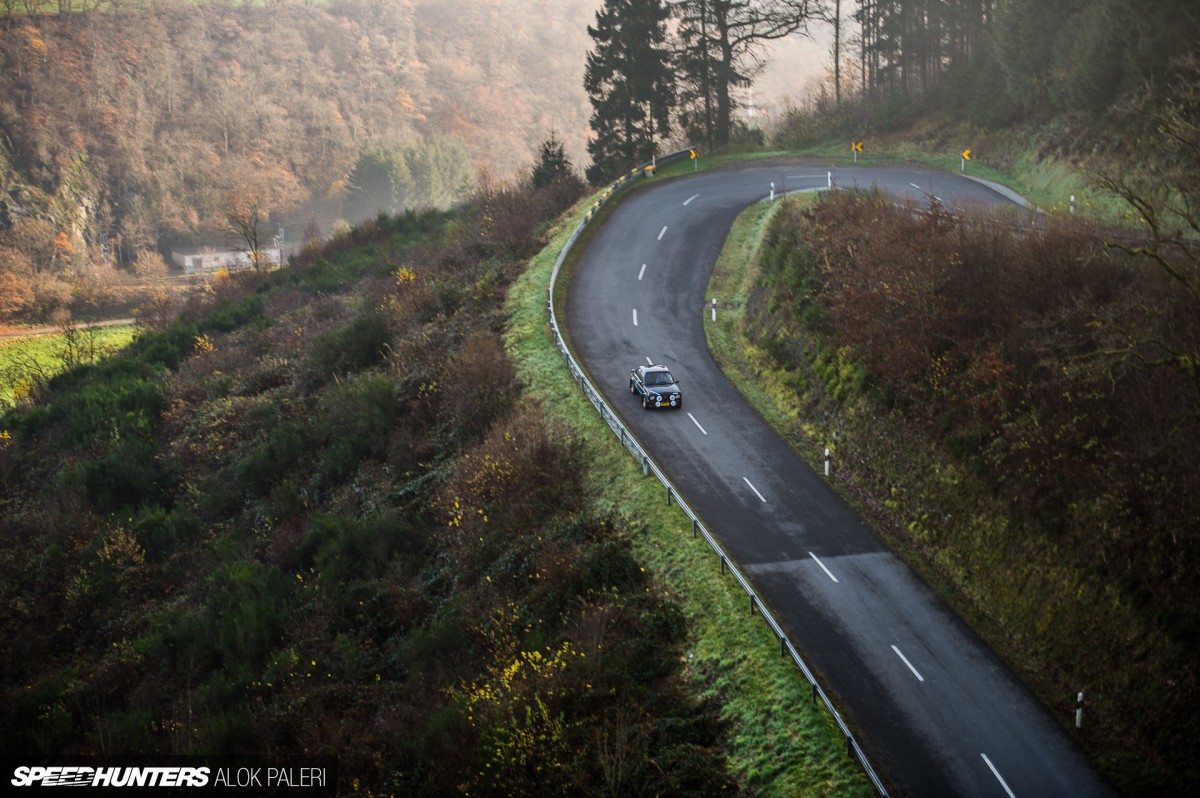 Once we found a brilliant stretch of road, we'd split up so that one of us could stand and watch for traffic and the other could really feel out the limits of the car.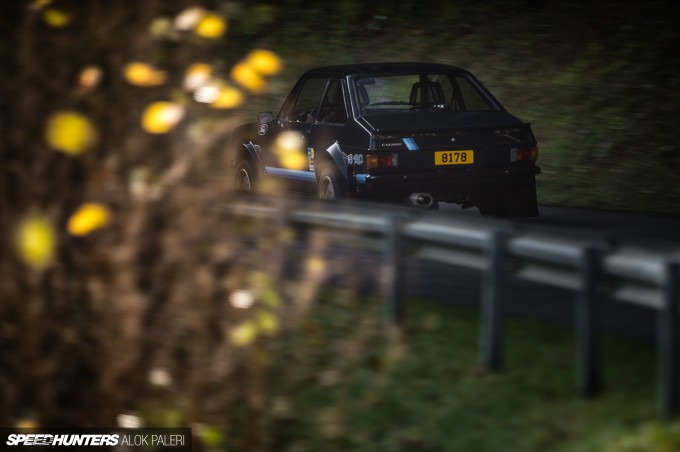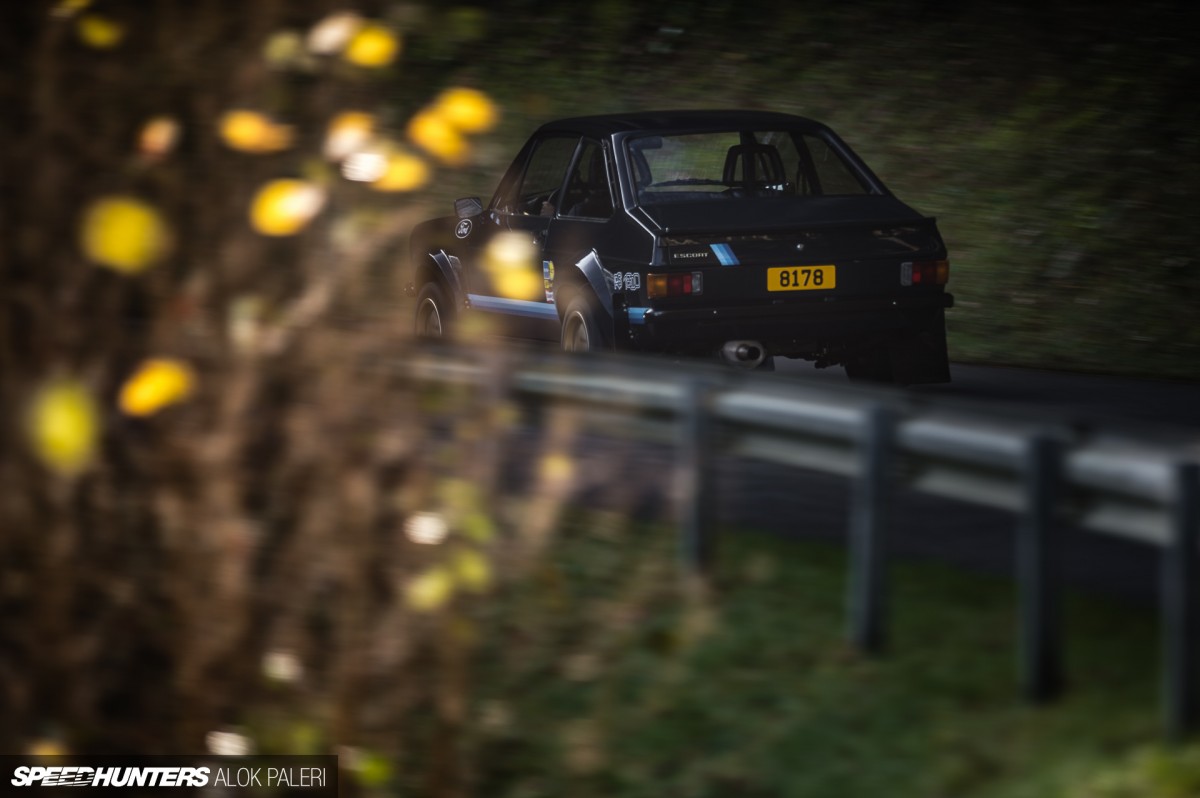 Standing at the top of a winding hill section as the lookout watching Yves row through the gears redlining each time – now that's a four cylinder symphony right there.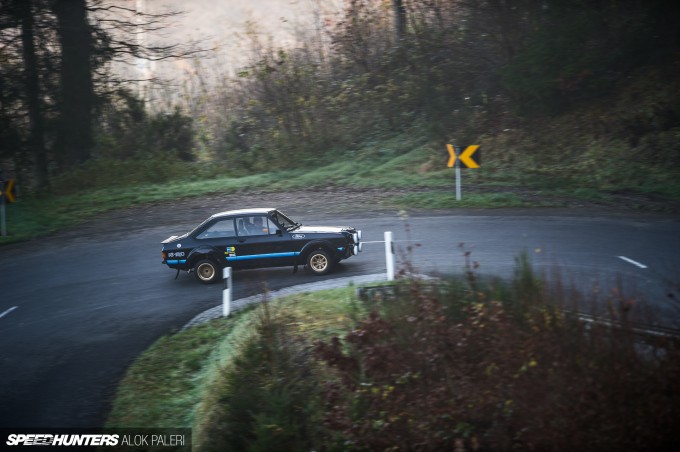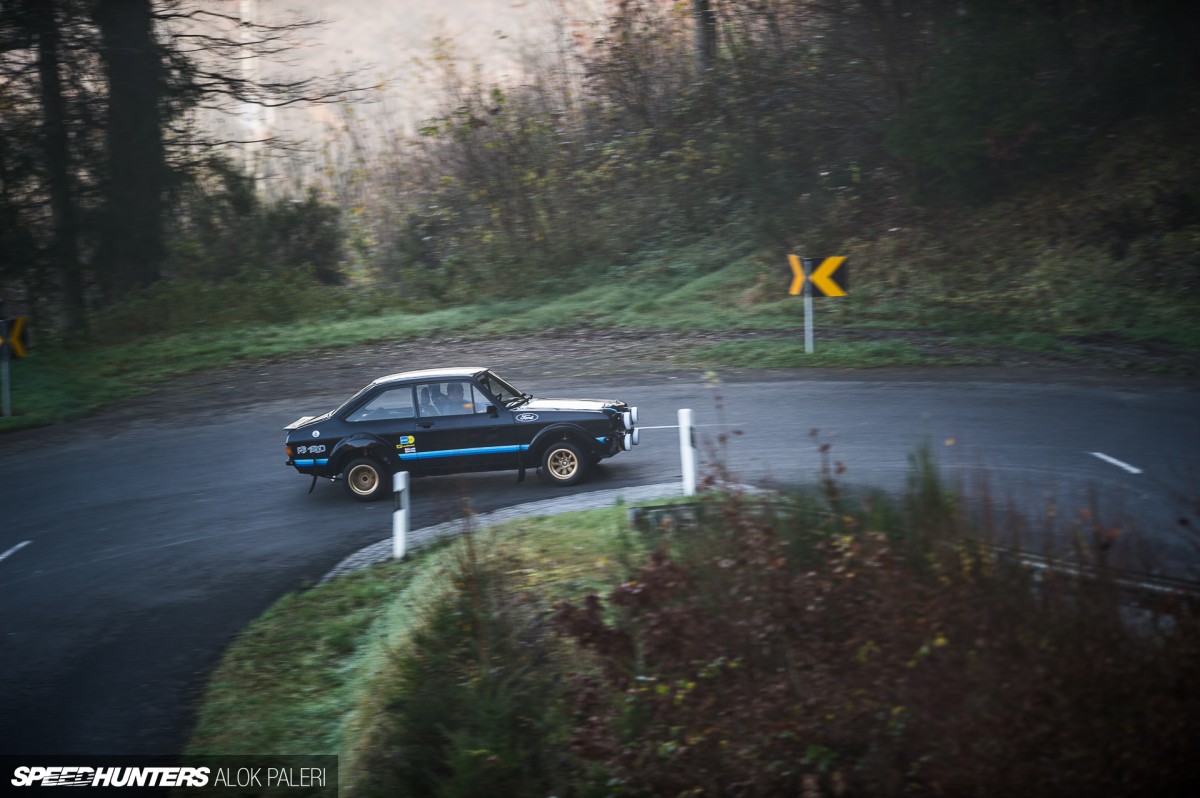 Normally friends are always wary when they give you their cars to play with. In such terms, Yves is no normal friend. With him there is no babying the car around. Pedal, meet metal.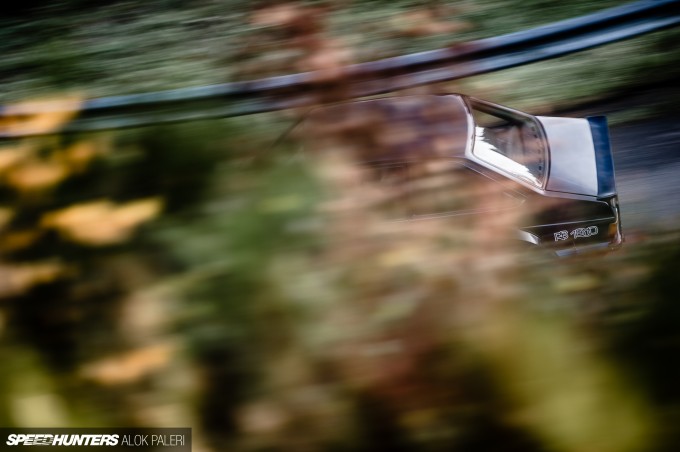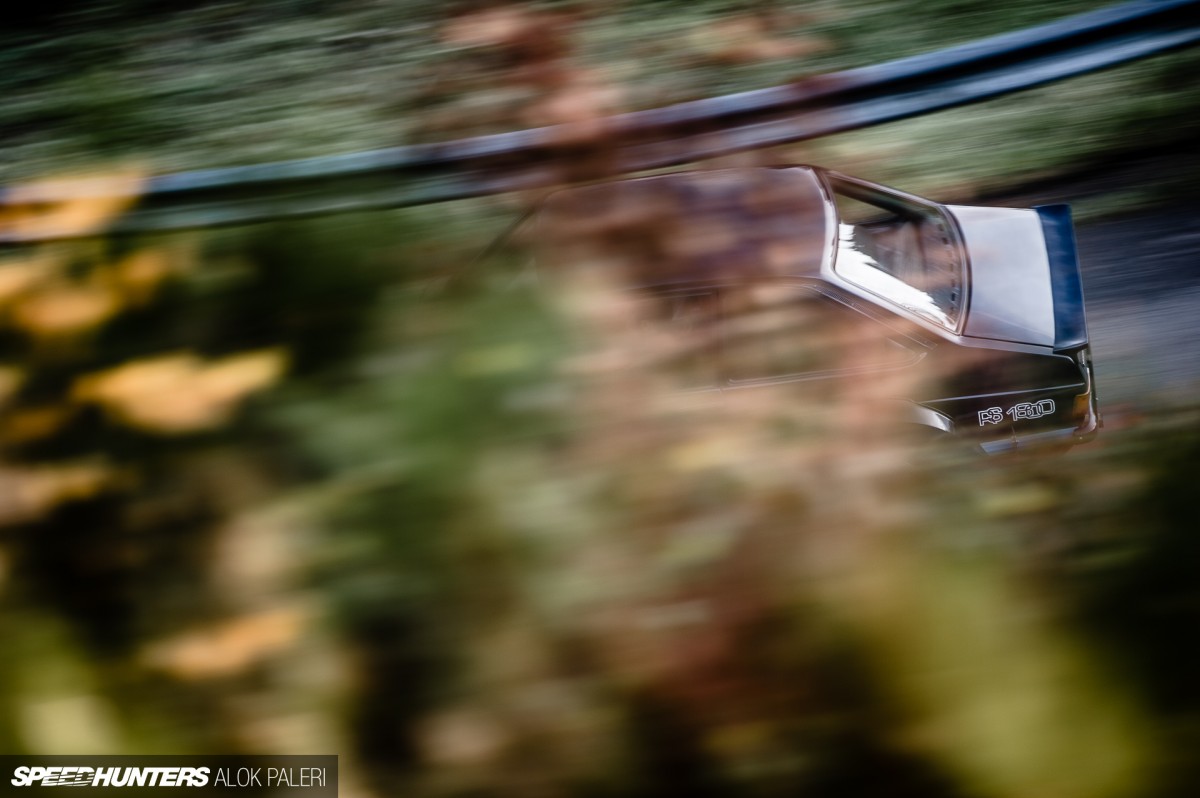 Initially, we'd radio each other when we were about to start from the bottom, but soon realised that the roar of the engine echoing through the valley did a good job of that.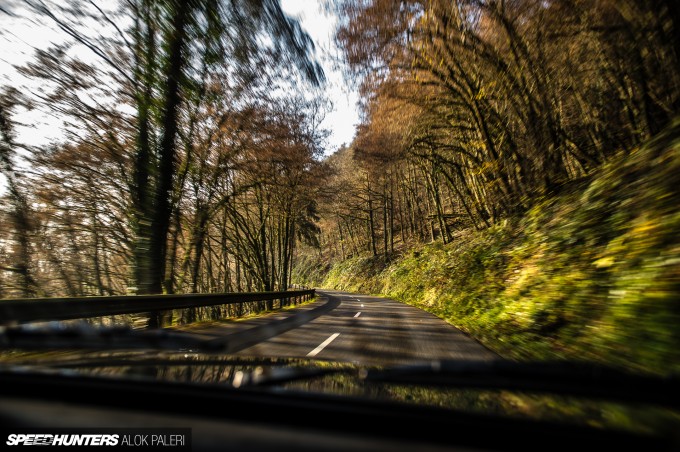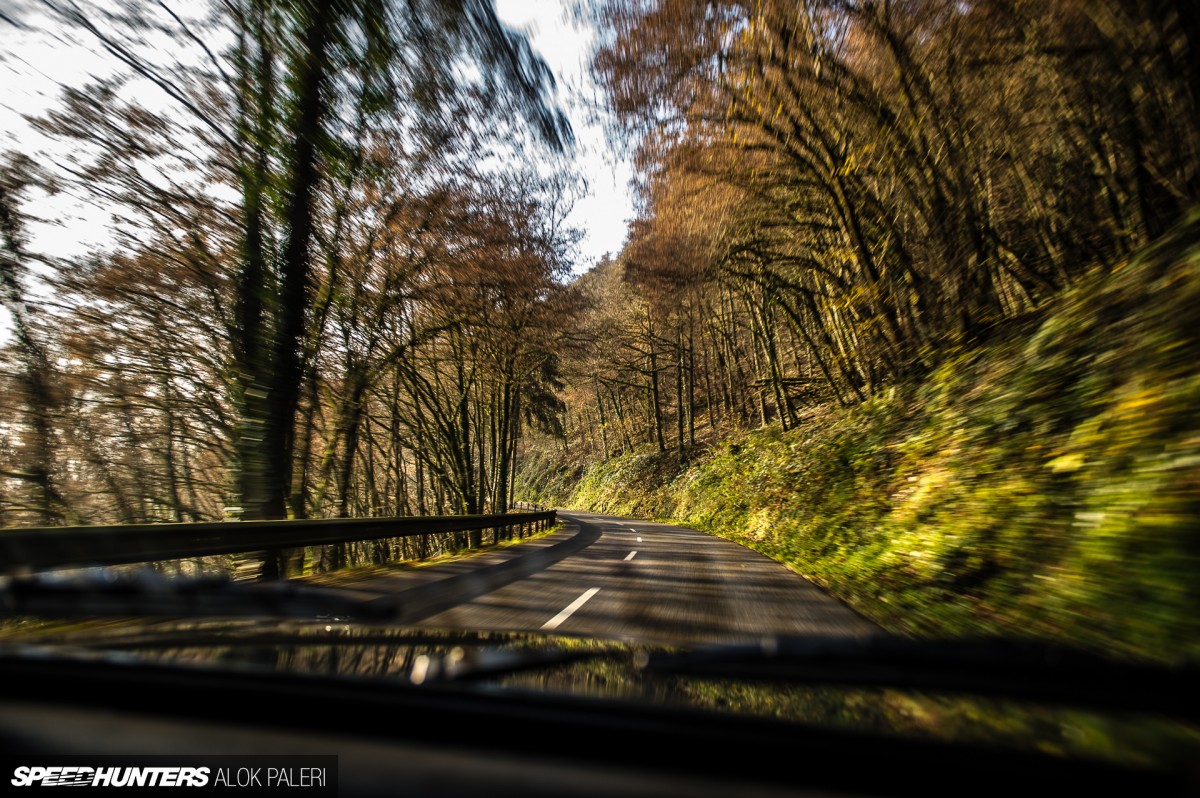 After a few runs we headed further out looking for more rally stage style roads.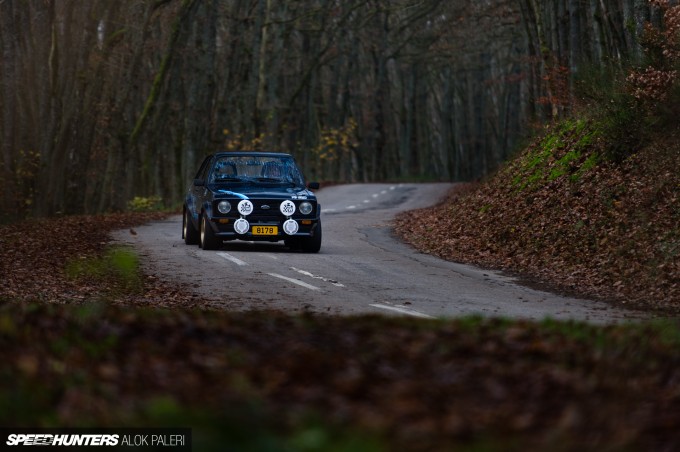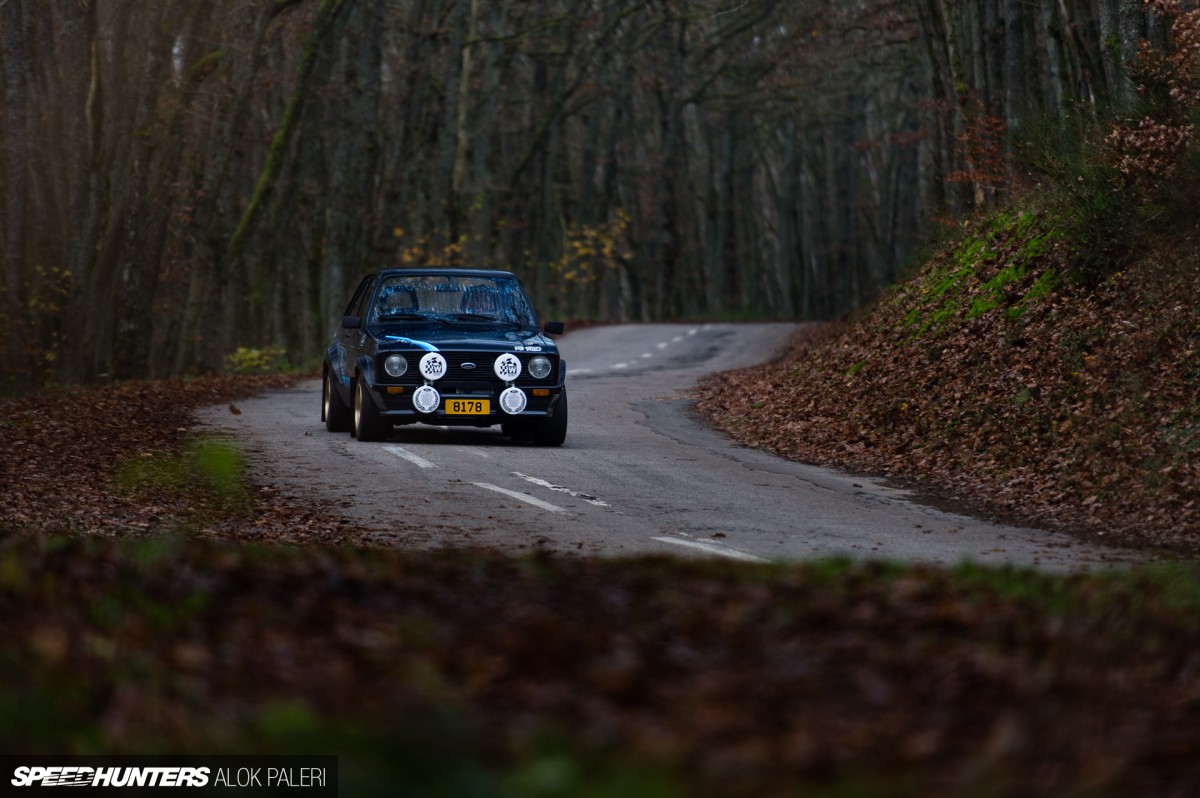 We eventually found a section that was completely devoid of traffic, because one end of the road was closed.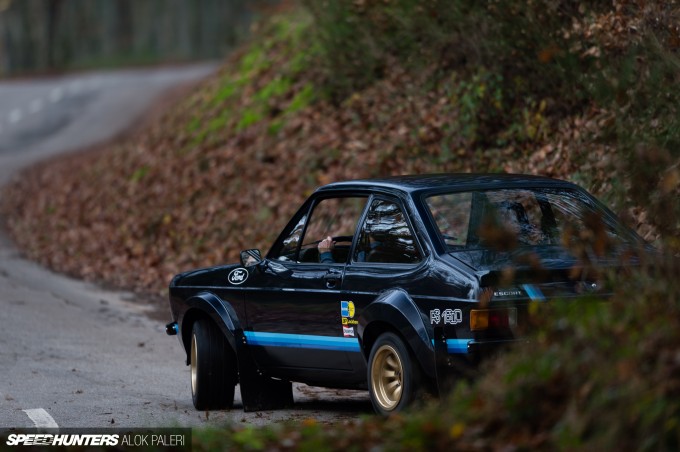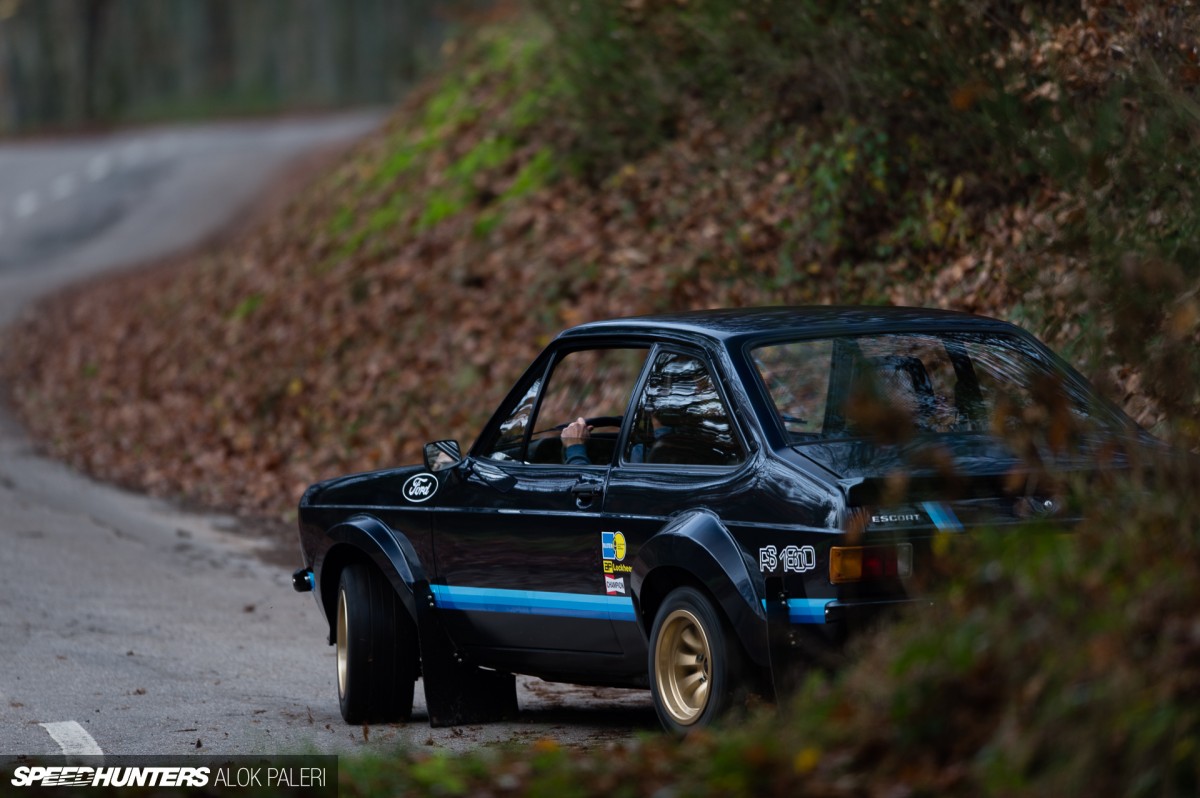 This was the perfect location to try out just how well that 45 per cent locking limited slip differential worked.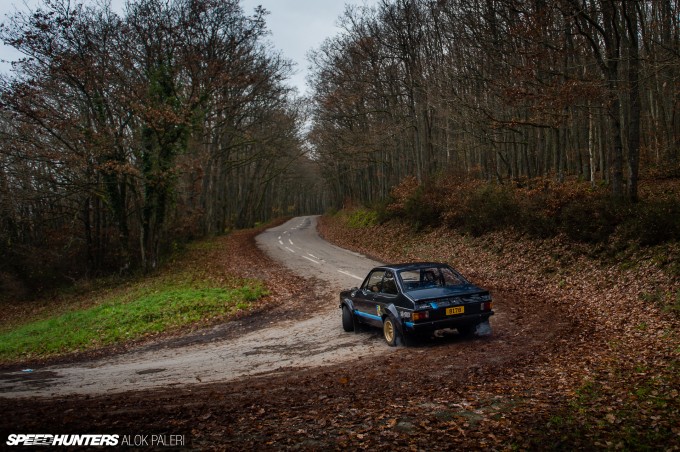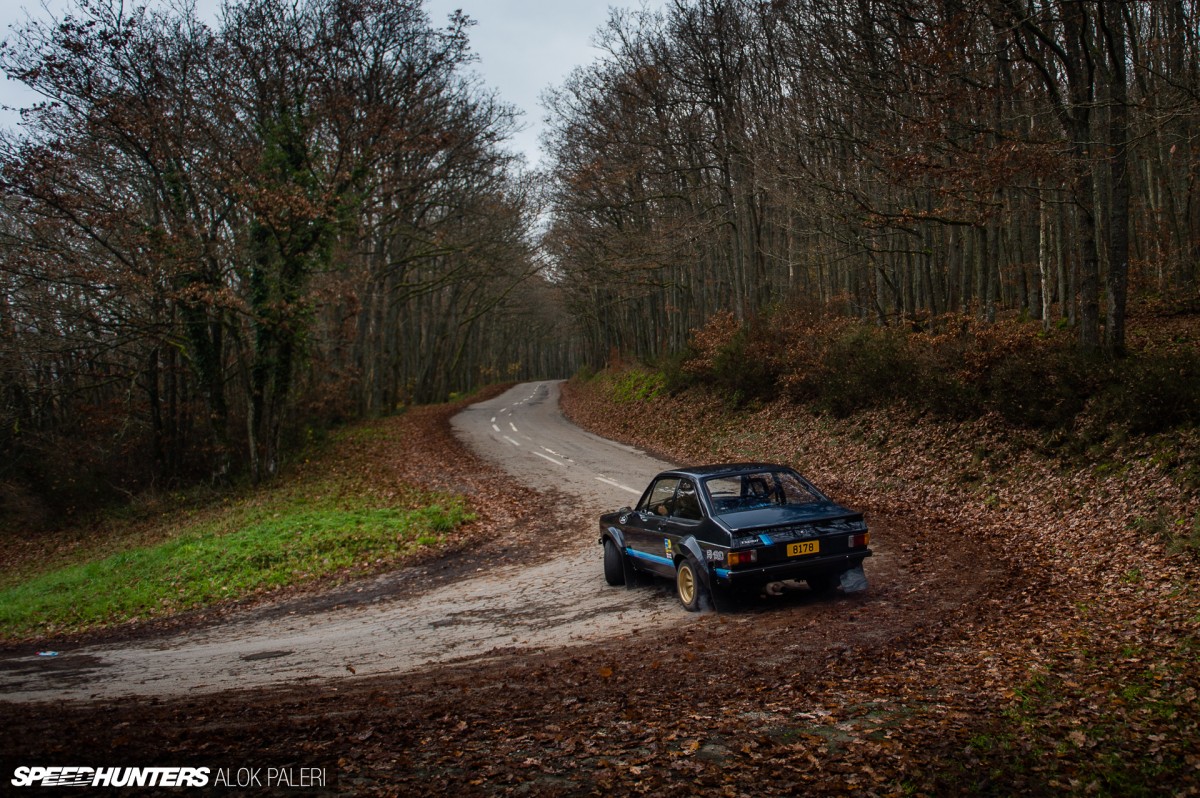 204hp might not sound like much, but in a car weighing just 925kg it's more than enough to throw it sideways. Again. And again. And again.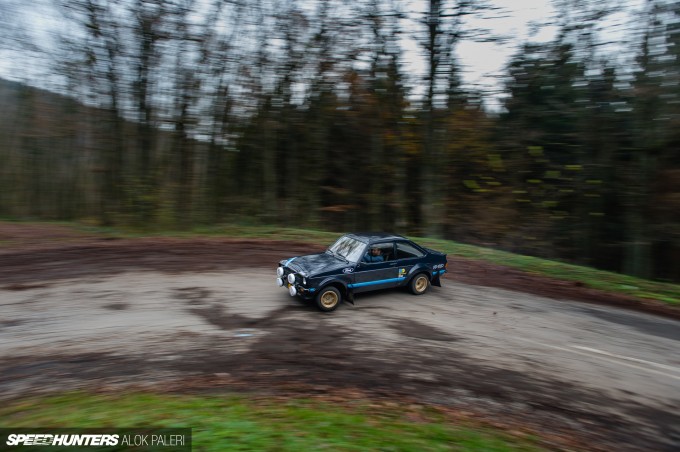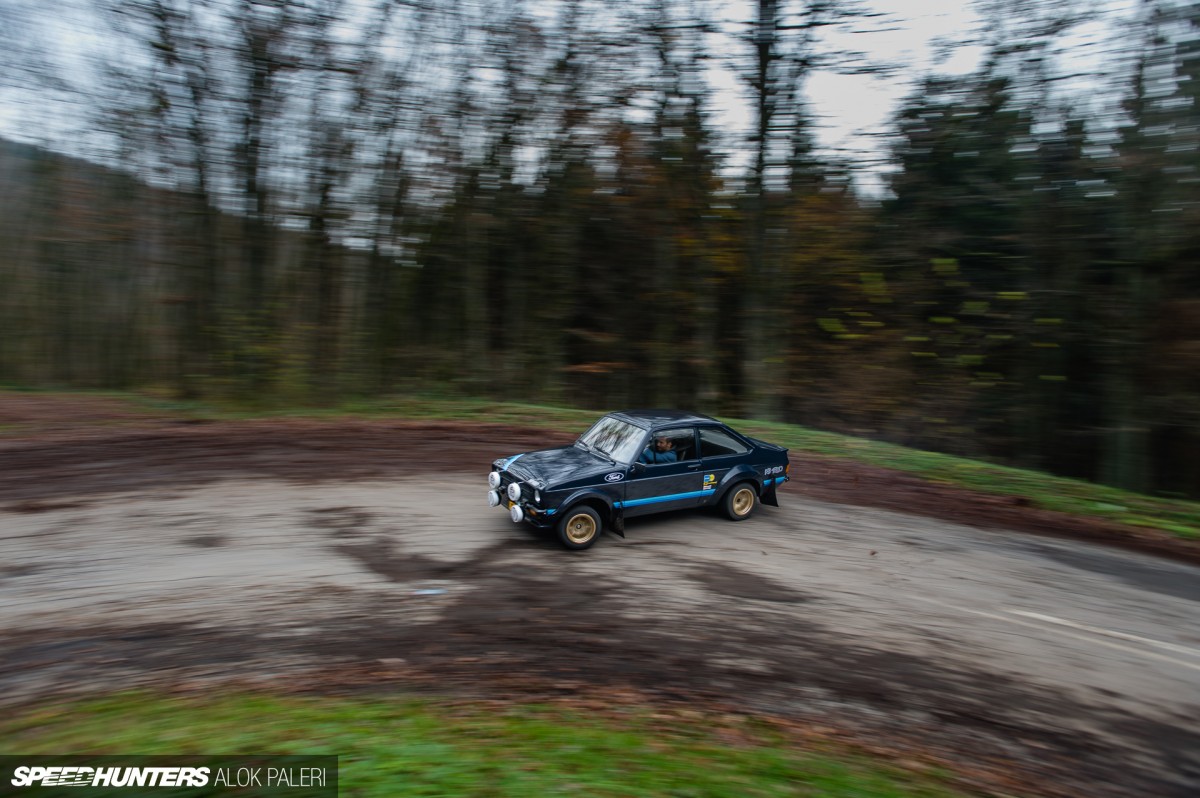 Is it really possible to get tired of sliding a car around? I think not – especially with an accompanying soundtrack as good as this.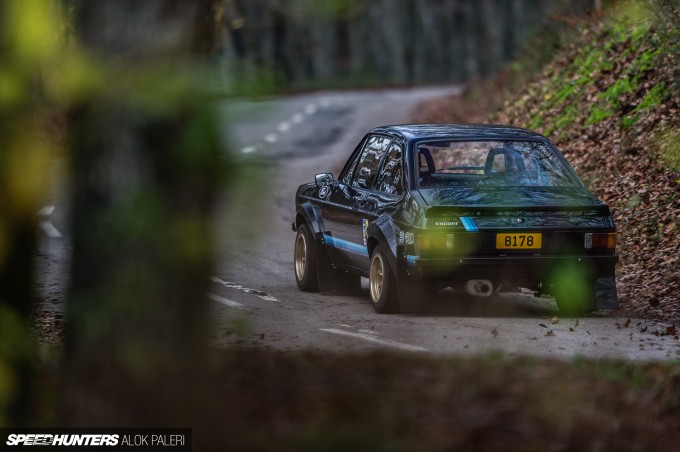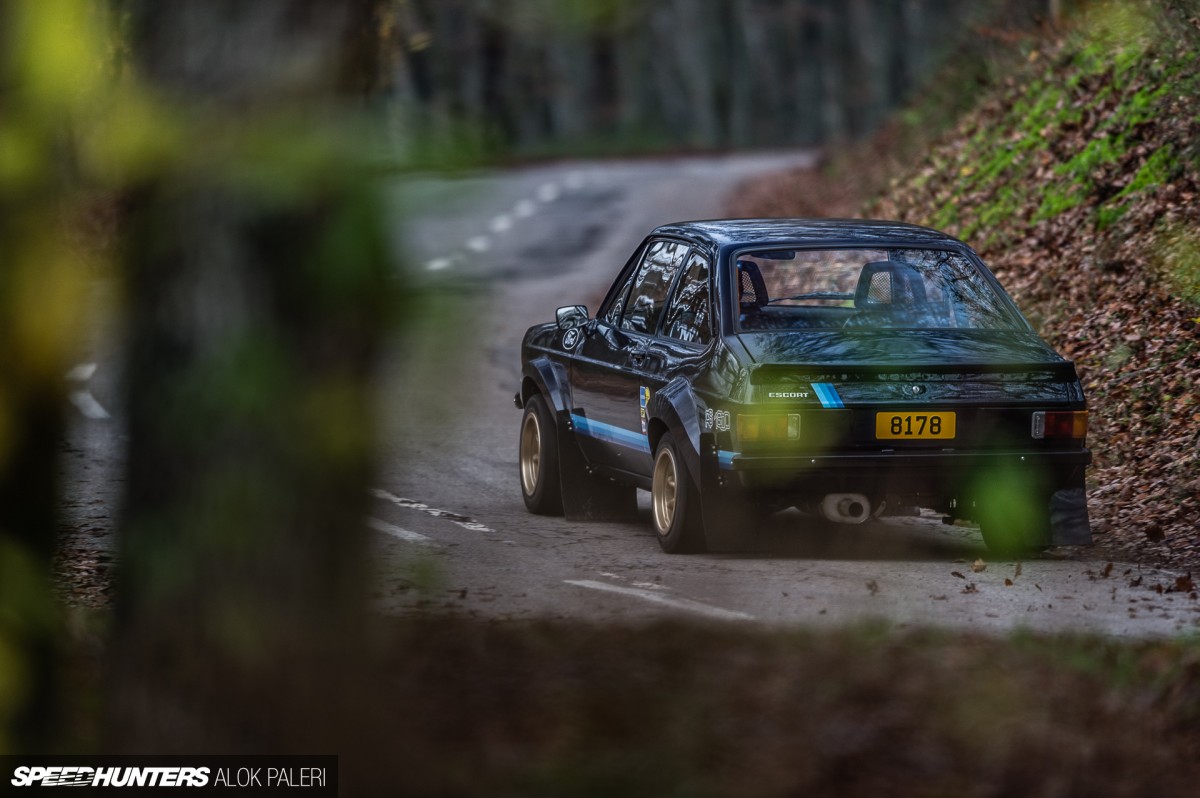 After a few hours of slipping, sliding and moderate shredding, we had gone through almost all of the fuel, so we decided to call it a day and head back home.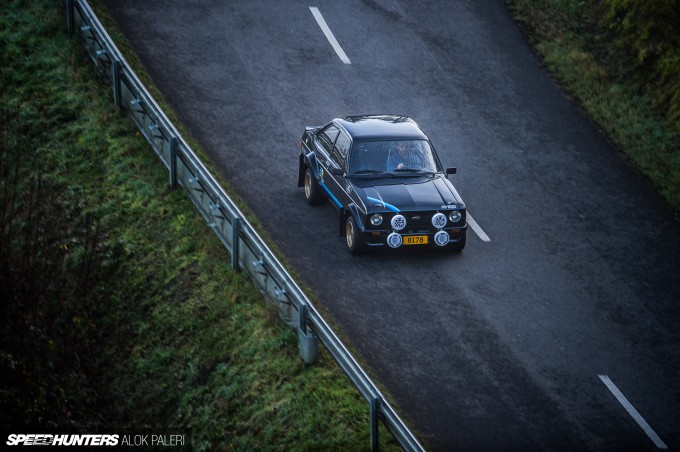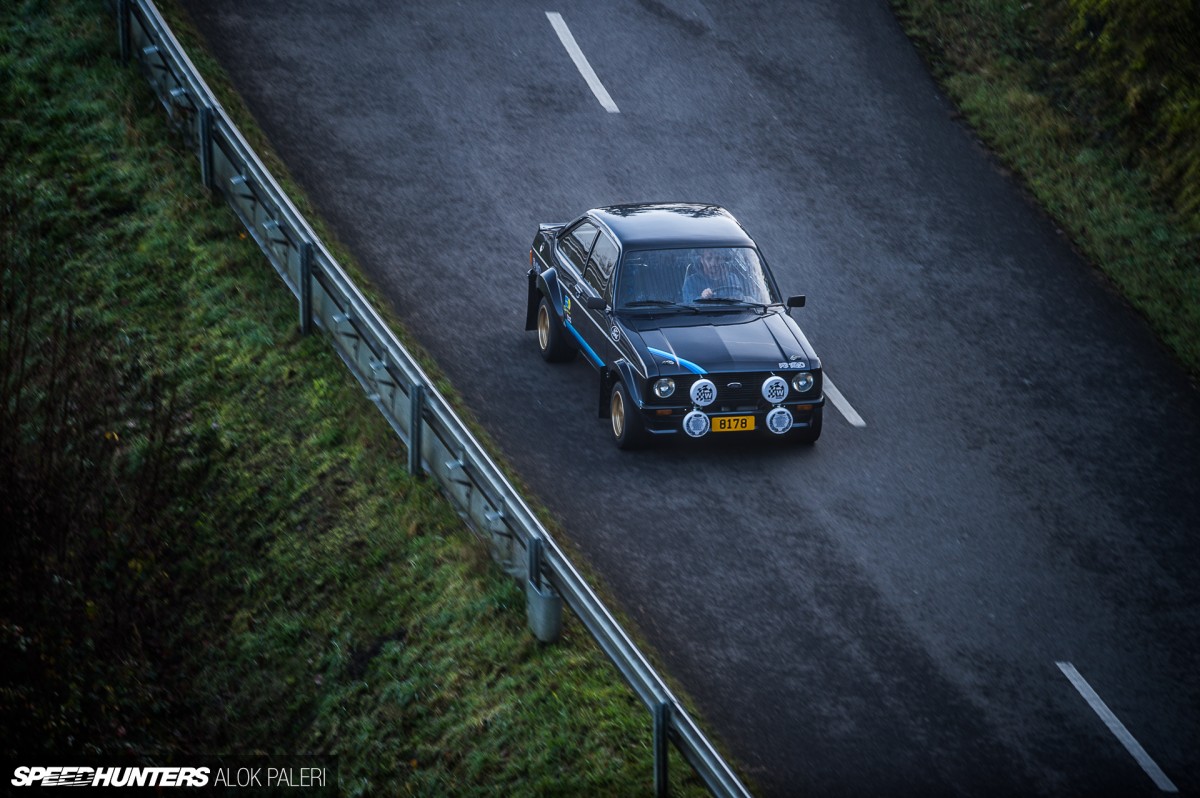 Trying to push a car like this to the limits was a real learning experience. Yves wanted the Escort to be absolutely period-correct so that all he had to do to take part in a historic rally was to rip out the interior and put a cage in it. This is one of the key things that make this Escort as edgy and exciting as it is.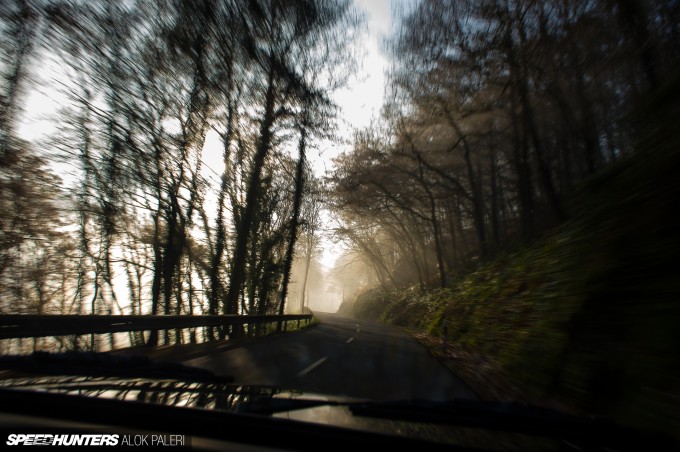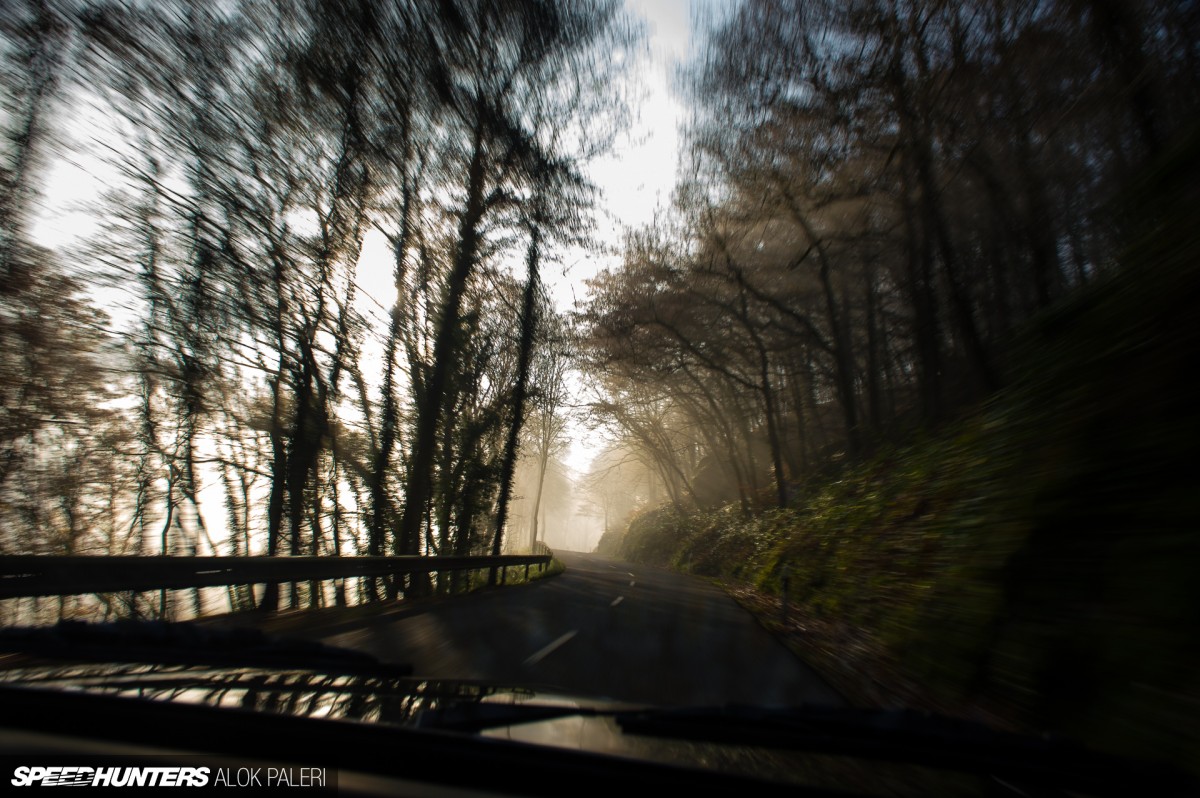 They say you feel most alive when you are closest to death. A couple of times during this drive – while the engine revved its nuts off and the tail end was snapping about – that's precisely how I felt.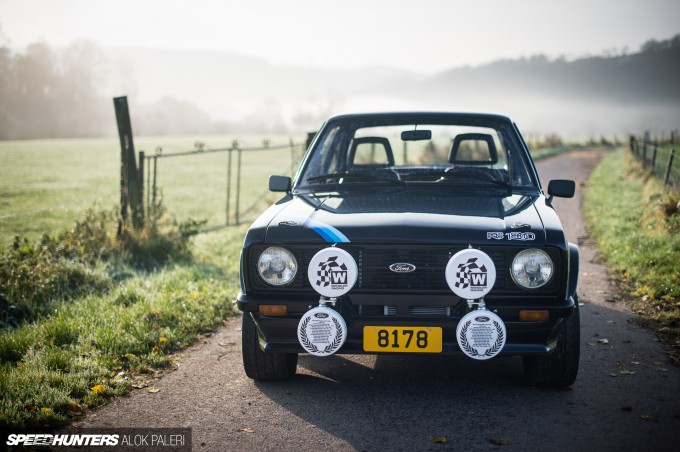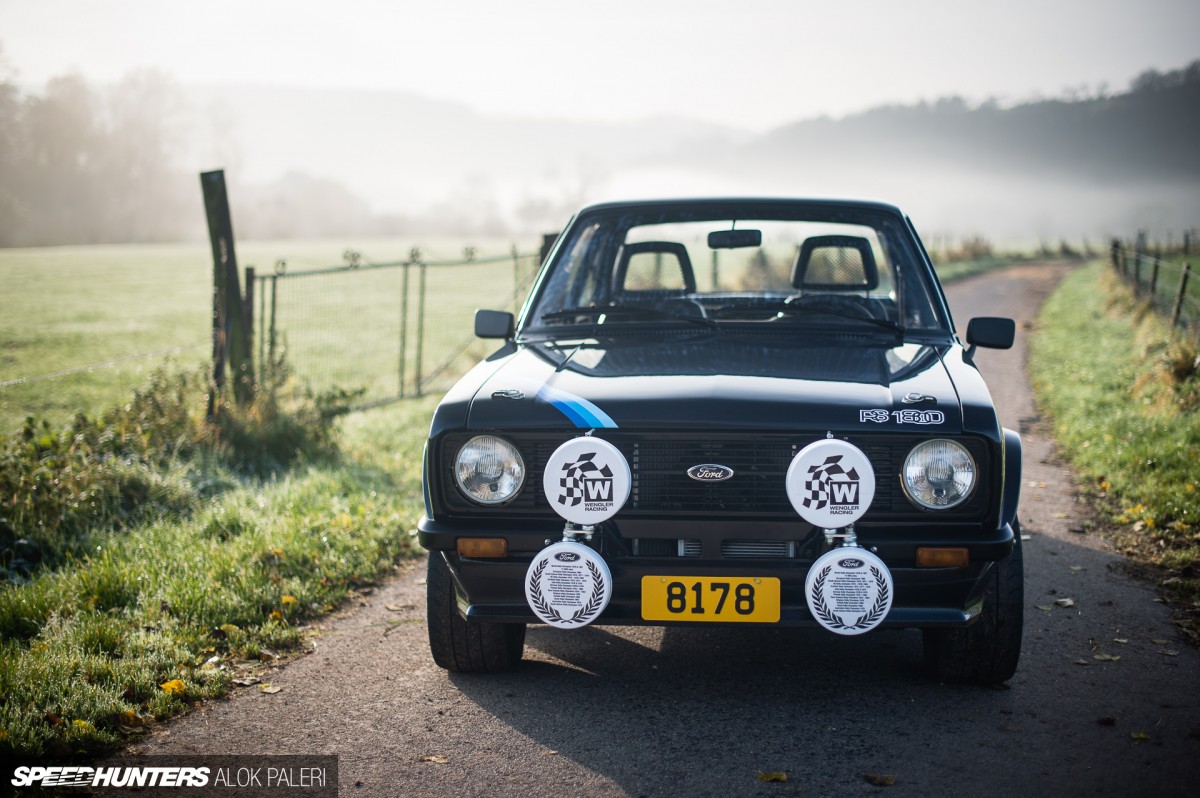 As someone who is much more accustomed to driving the latest high performance German muscle than an old school rally icon, my time behind the wheel of the Wengler BDA was a true eye opener and a lesson in just how much easier it is to drive extremely fast in modern vehicles compared to the simple, screaming machines of the '70s. All the more power to the heroes who raced these machines back then, and the guys like Yves who are still doing it now.
Alok Paleri
Instagram: rennworksmedia
alok@speedhunters.com
Cutting Room Floor