The World's Greatest
Barrett-Jackson has been one of the most popular car auctions in the world for many years. It's talked about by almost every automotive media outlet you can think of and is broadcast live for several consecutive hours on television here in the US. Started in 1972, it has grown into a spectacle of mammoth proportions.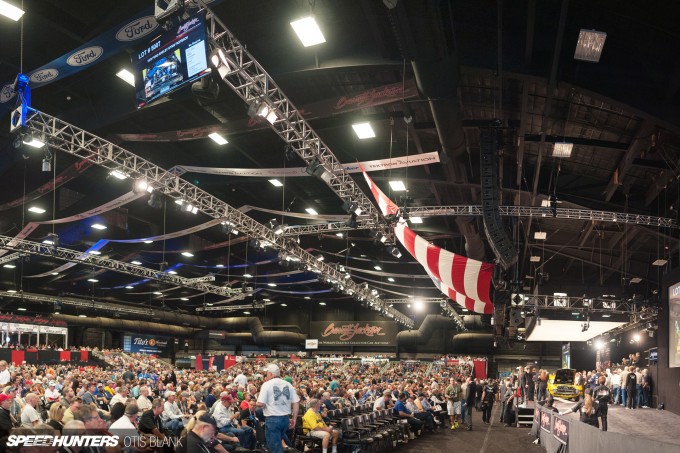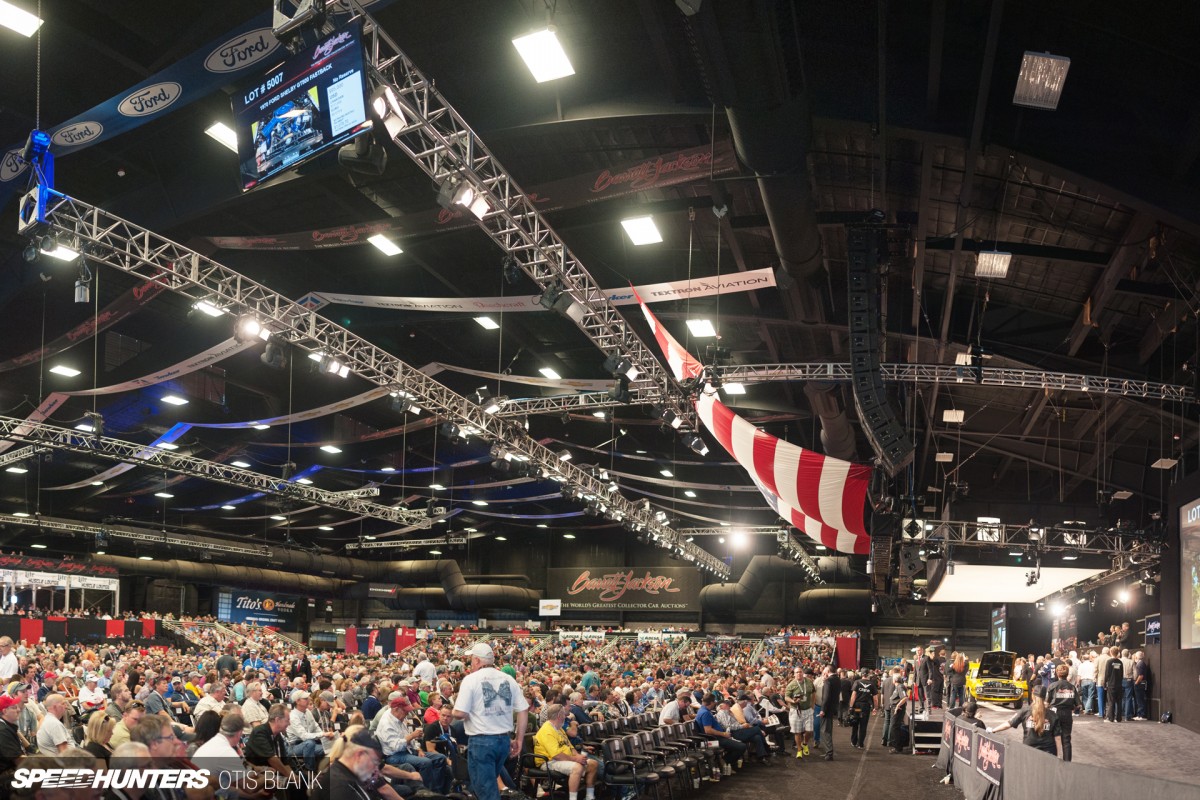 Scottsdale, Arizona, is where it all began for Barrett-Jackson, and it's always been the biggest event of the many 'World's Greatest Collector Car Auctions' they now host.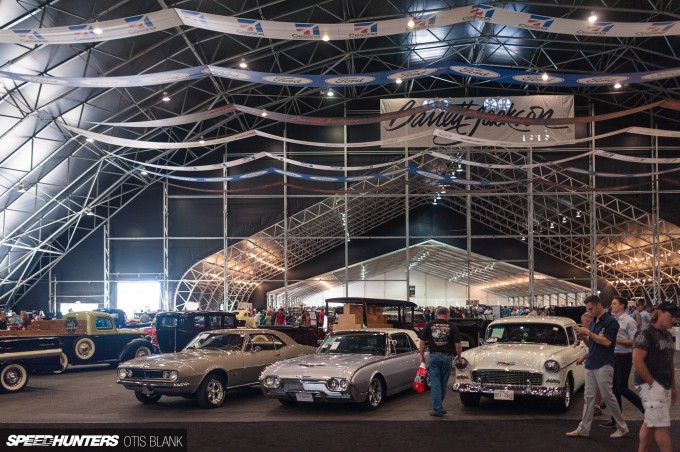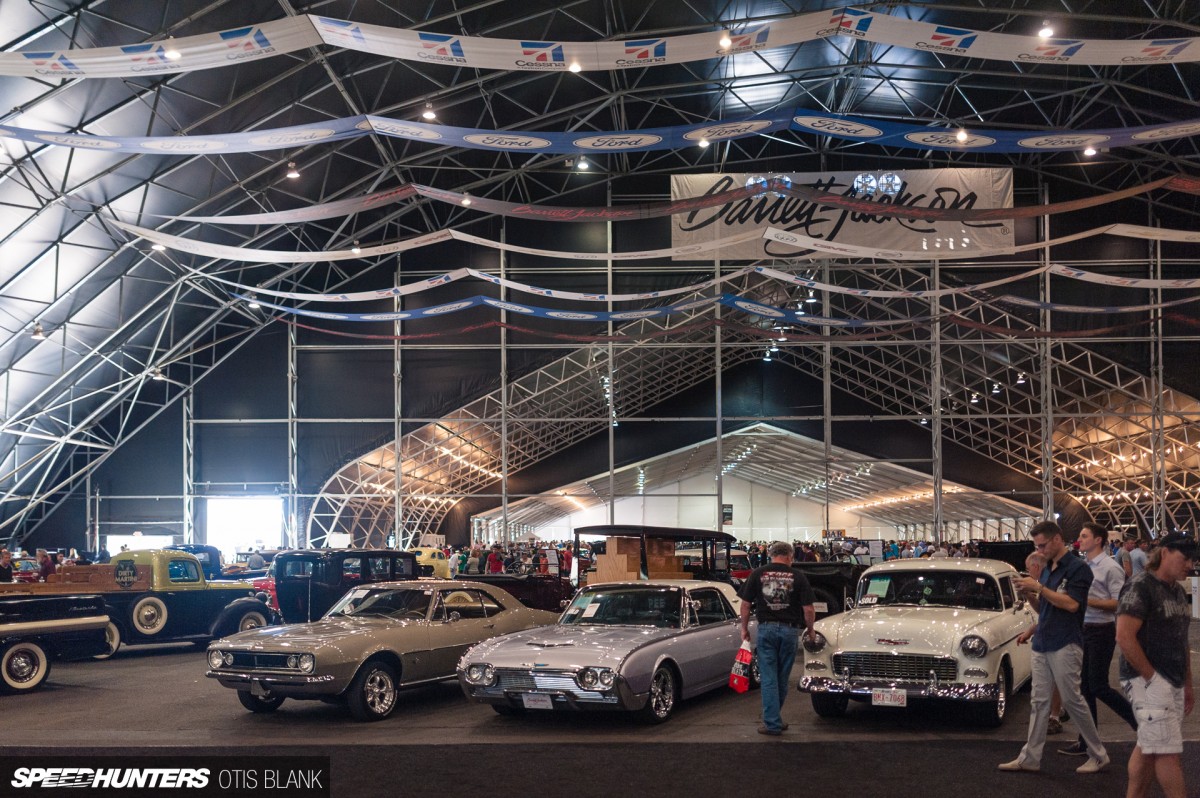 If you use one of the literal definitions of the word great, meaning very large, their trademarked slogan is objectively true. It is, in fact, the largest in the world. I don't even want to know how many square feet the Scottsdale event accounts for.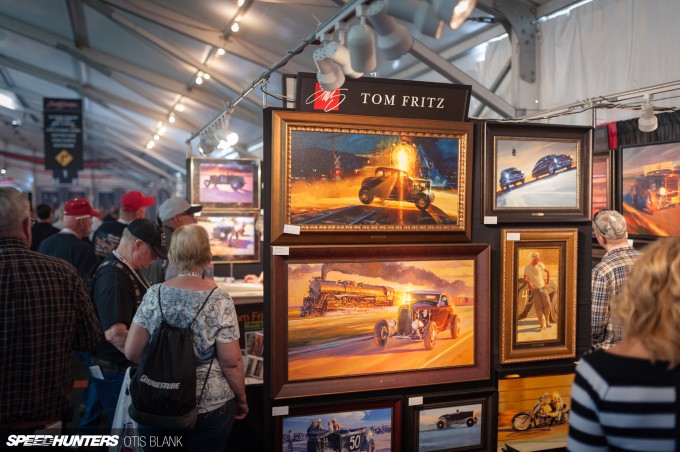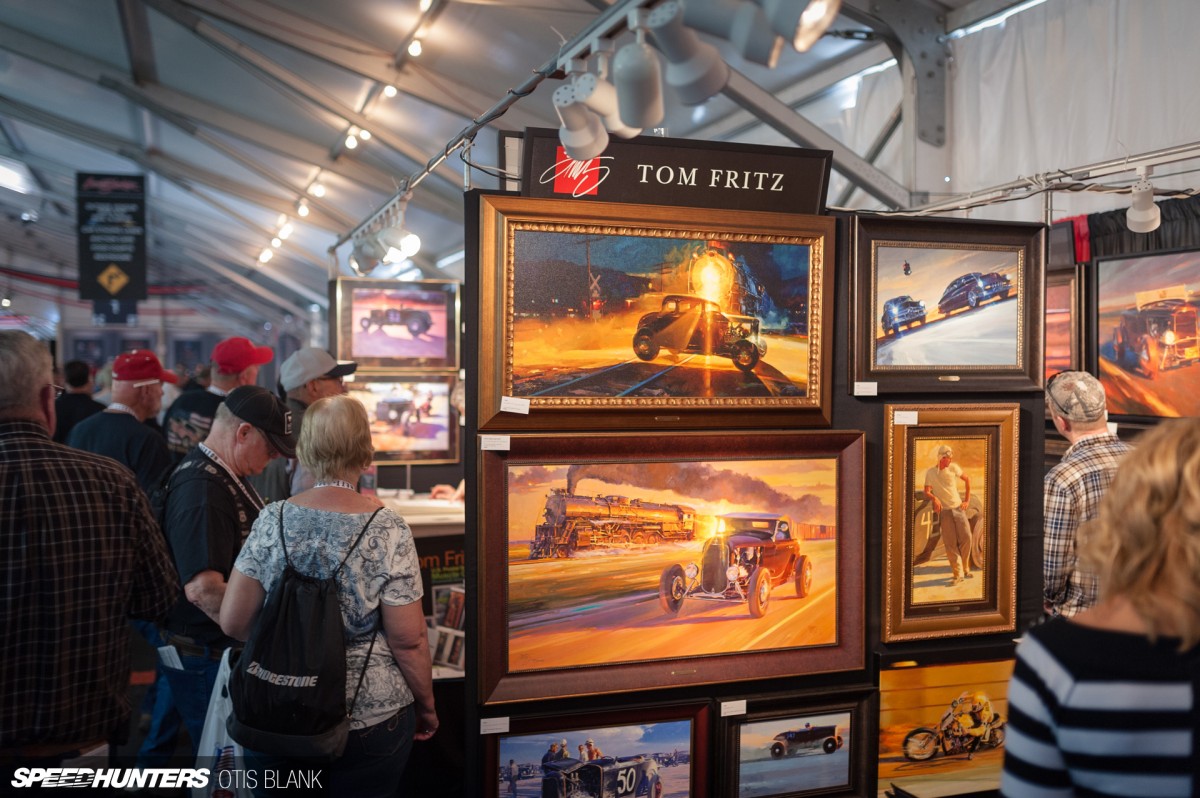 There is a whole lot to see, and it's not just cars. The sponsor and vendor areas are as jumbo-sized as everything else at B-J, and are quite special. There's lots of good, like what you see above, and then some displays that are less in line with the automotive realm.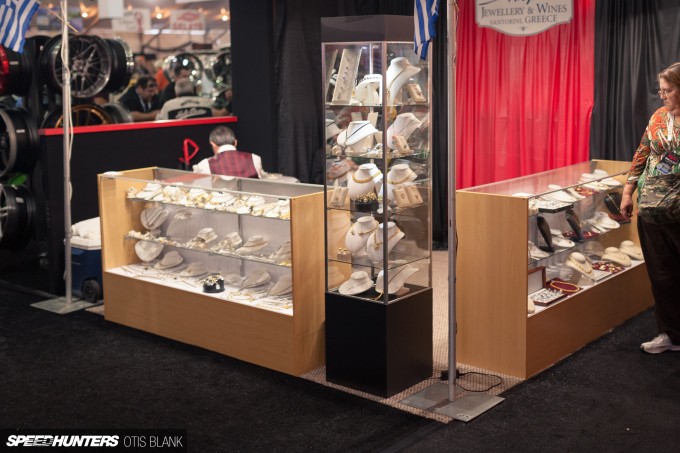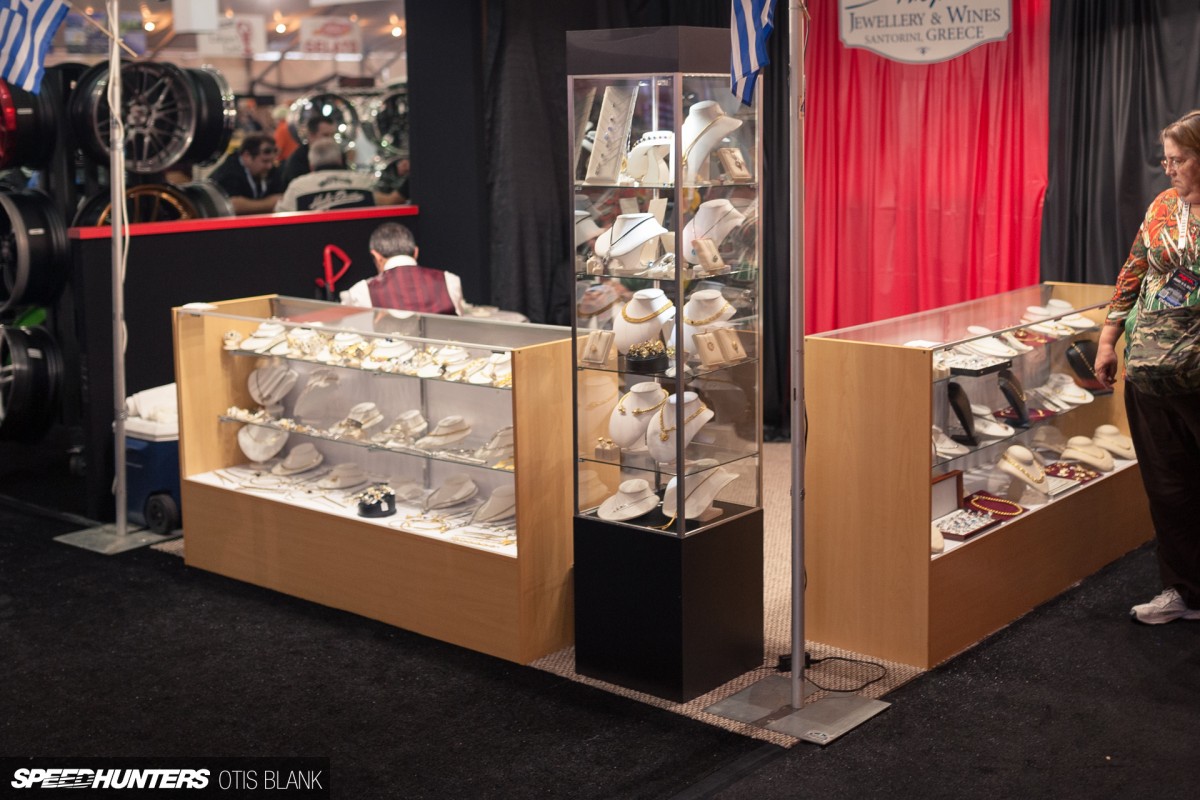 Now, I understand that there is a market for jewelry at Barrett-Jackson, and it makes sense that there would be jewelry vendors there in some capacity. But it's not just gold and diamonds – there was memorabilia, clothing, neon signs, timeshares, boats, helicopters, and even a couple of private jet vendors too, I think. I don't have issue with any of these things, but where I found frustration was with the fact that attendees of this car auction are forced to walk through the maze of all this relatively miscellaneous stuff to get to what everyone is actually there to see.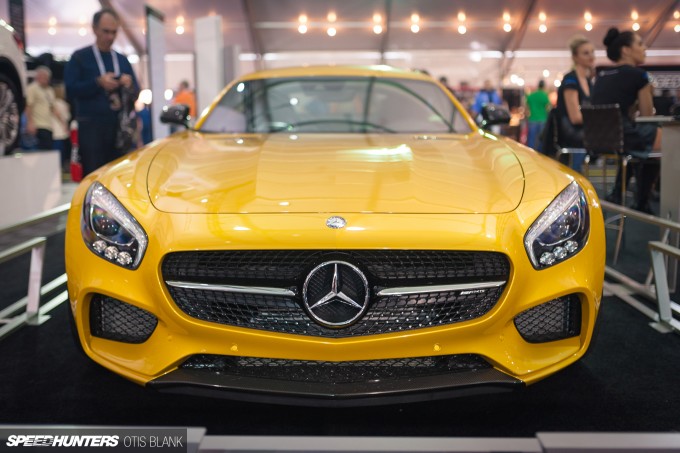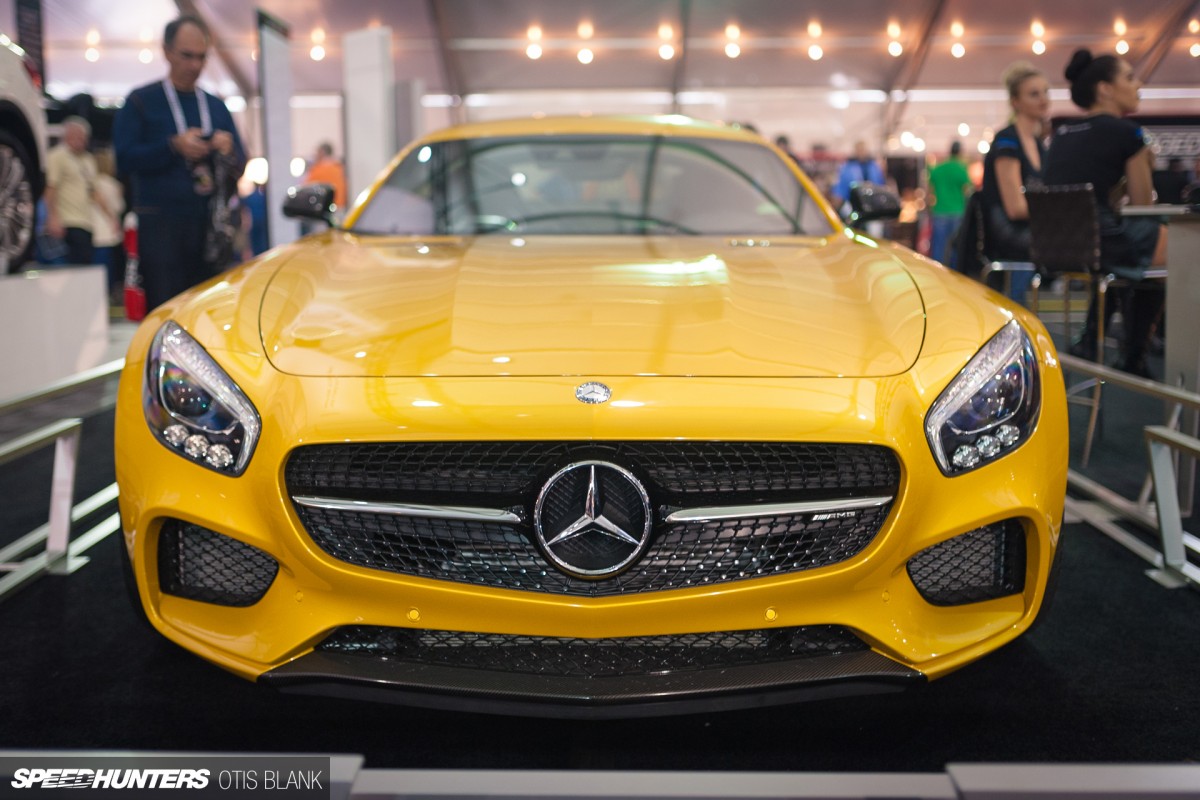 I don't mean to be bitter, it could be worse and it wasn't all timeshares and private jets. To be fair, there were plenty of cars appropriately strewn throughout the vendor and sponsor areas, like this AMG GT, the first one I've seen in person.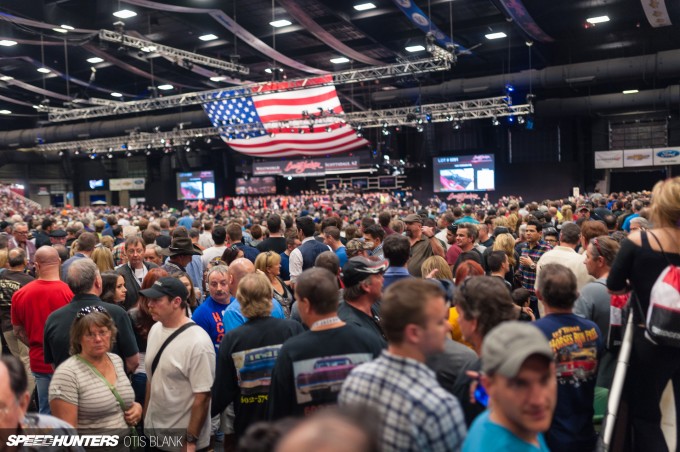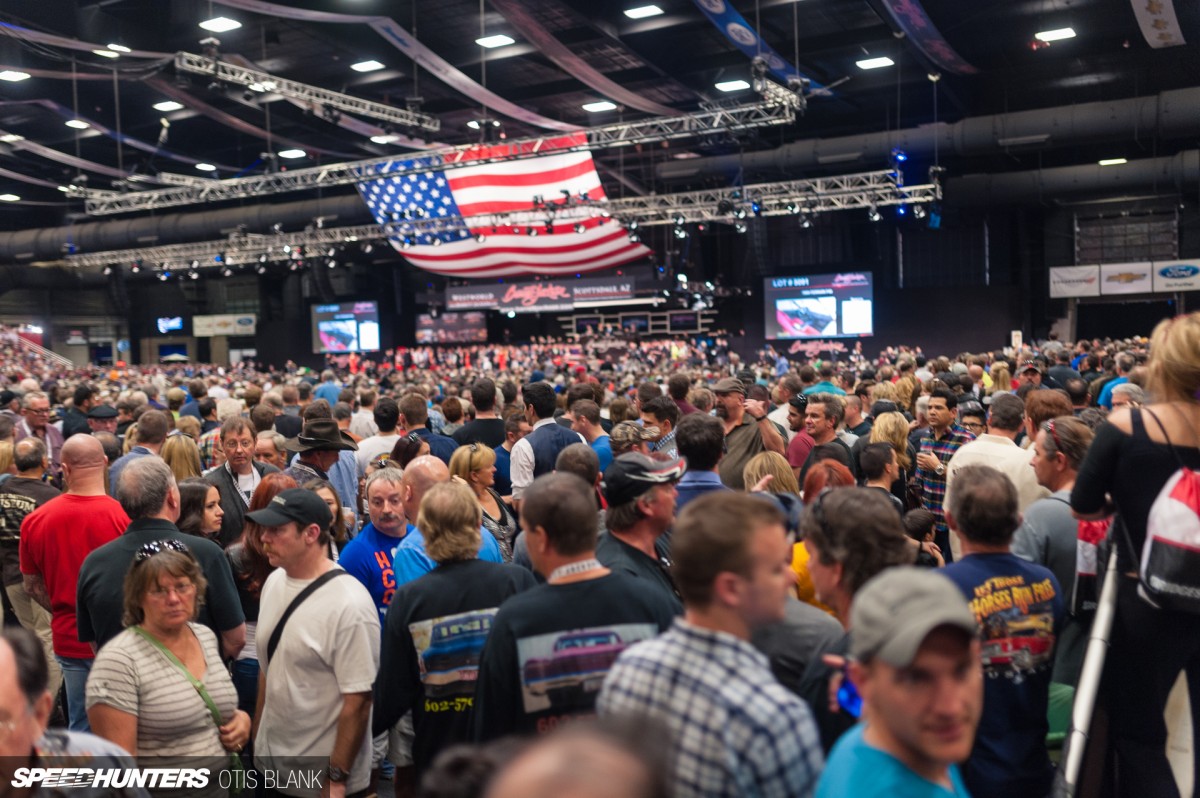 When you do eventually get past the sponsor area and to the main auction area you might have seen on TV (it took me 20 minutes of slight perusing) you find many, many people.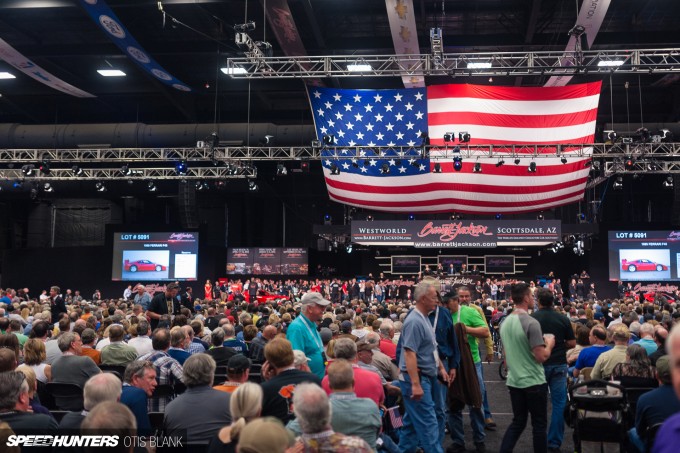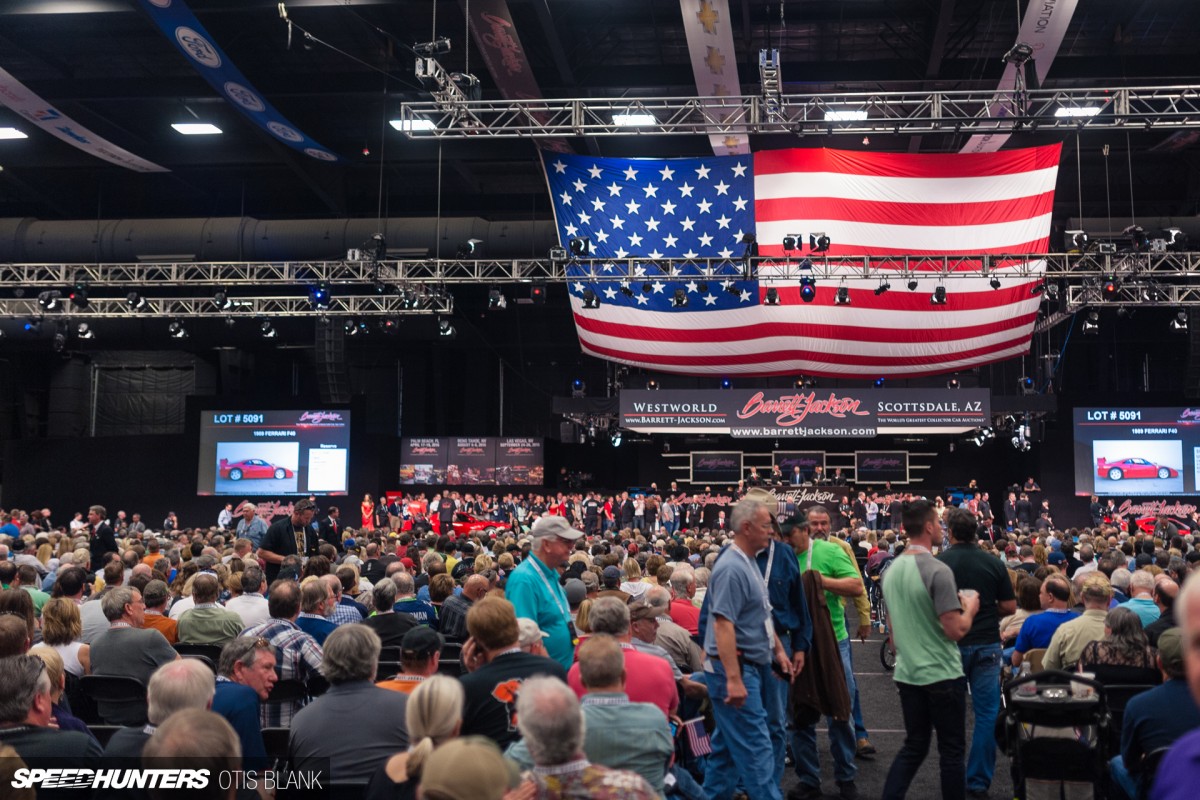 To non-bidders, the main auction area is an ever-flowing river of often rude, drunken and balding heads being ushered along by the event security whose main duty is to keep anyone outside the bidder's areas from standing in the same spot for more than a few seconds. The above photo was taken while in motion to avoid an exchange with the purple-shirted man you see poking in on the bottom right. In the interest of fairness, I did go on the second Saturday that B-J takes place (the event spans nine days) which is by far the most popular day for spectators and bidders alike, so this kind of crowding is to be expected.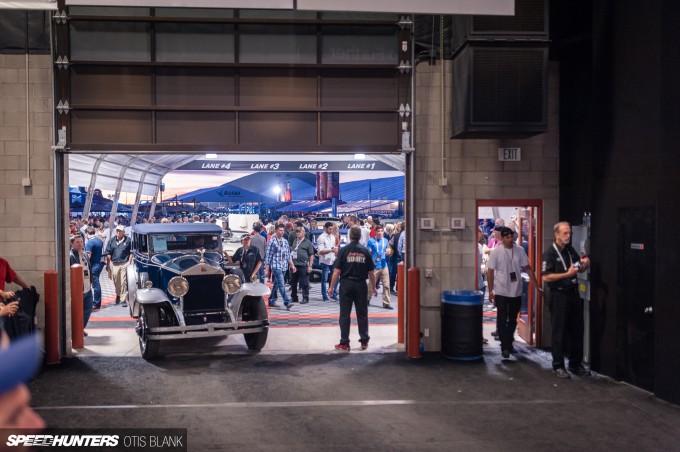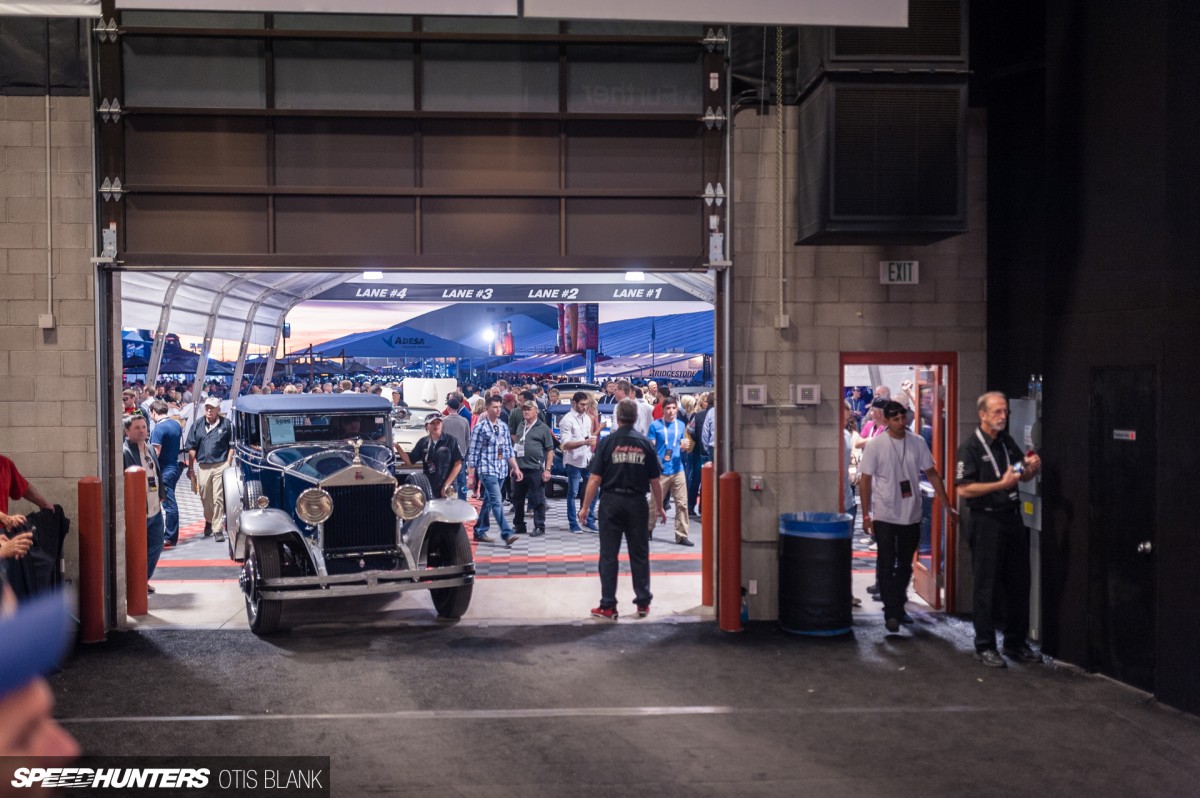 After circling the main stage I found my way around to the staging area where the cars are getting their final look-overs before going across the block. Only those with certain credentials are allowed in to this area, so the crowd is thankfully slightly less dense.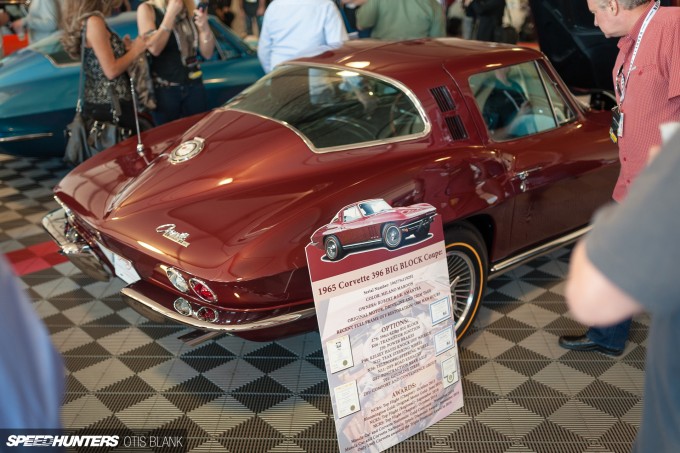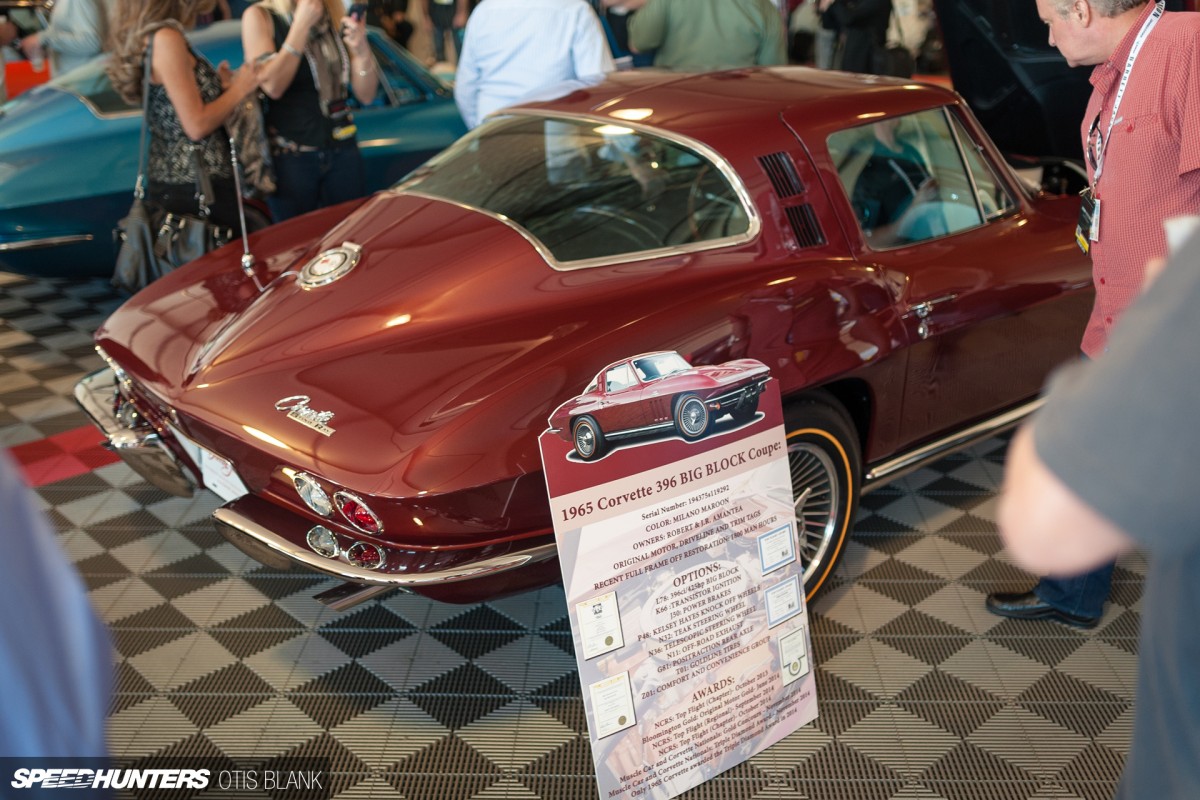 This is where the auction cars get their last shot at enticing bidders' attention, so they are looking their finest. You will find information cards all over, telling you every little detail about the history of these cars. While not photographer friendly, it's nice to know as much as you can as a bidder, especially when you might not have an opportunity for a test drive.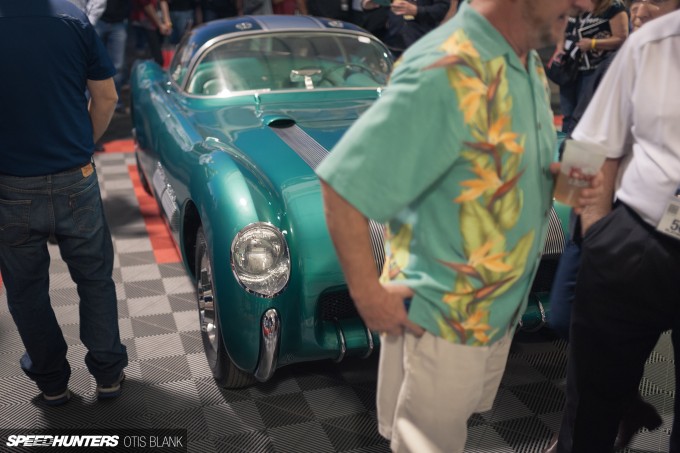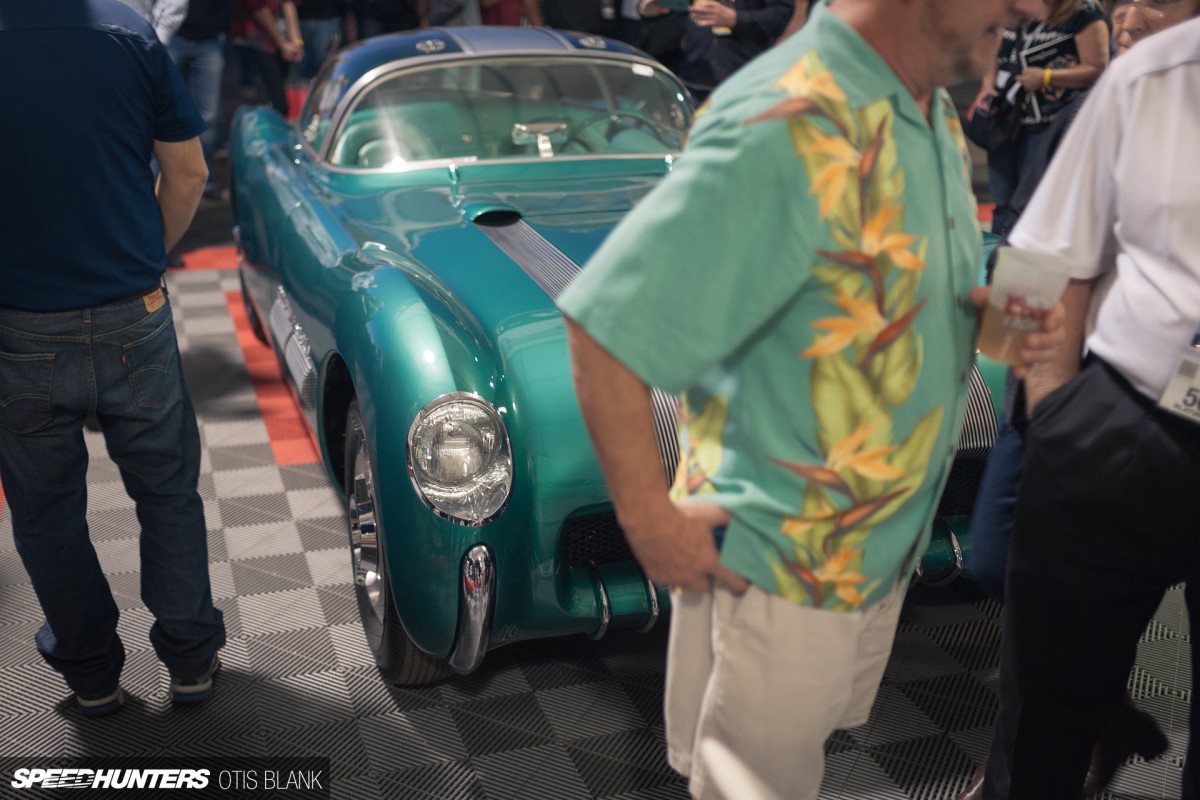 What you see above is what you see a lot at Barrett-Jackson – an incredible car obstructed by an equally incredible sartorial ensemble, often with a fine light beer in hand.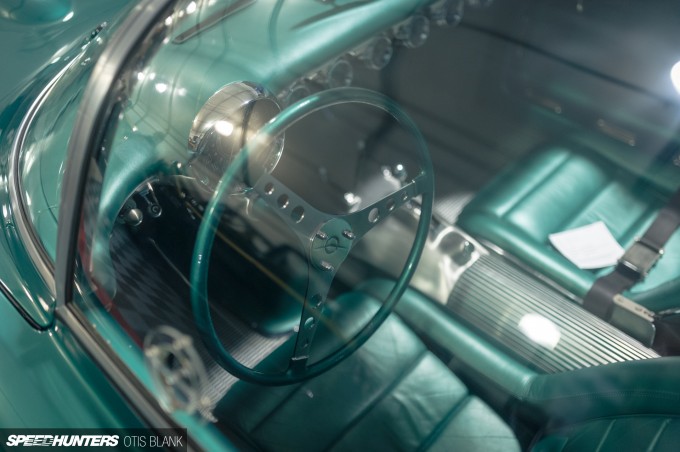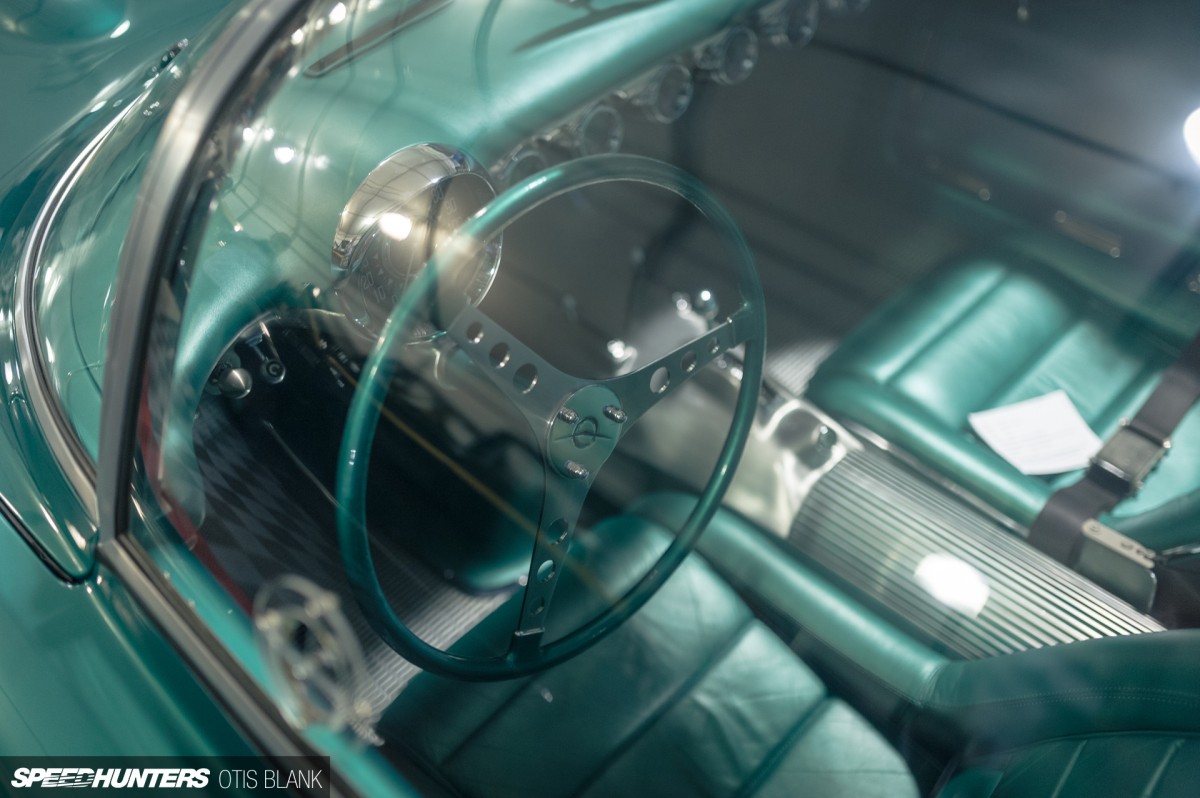 But hey, you do get to see the cars, right? There were some pretty fantastic ones out there. I have to stop with being photography-biased and curmudgeonly, suffice to say that this event was not designed with photo-taking in mind. No more whining from me, I promise.
The Good Stuff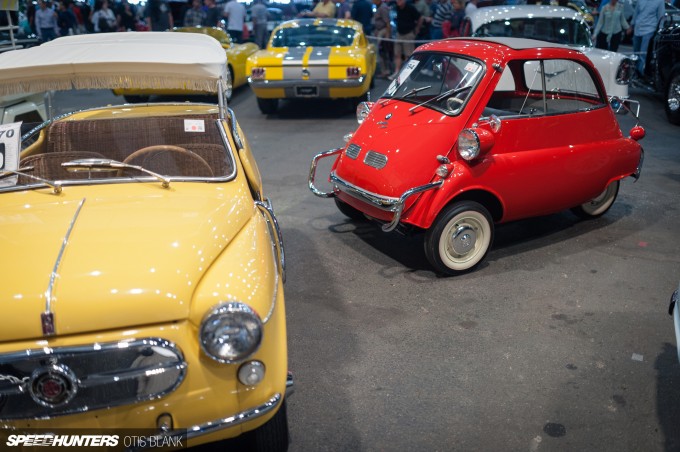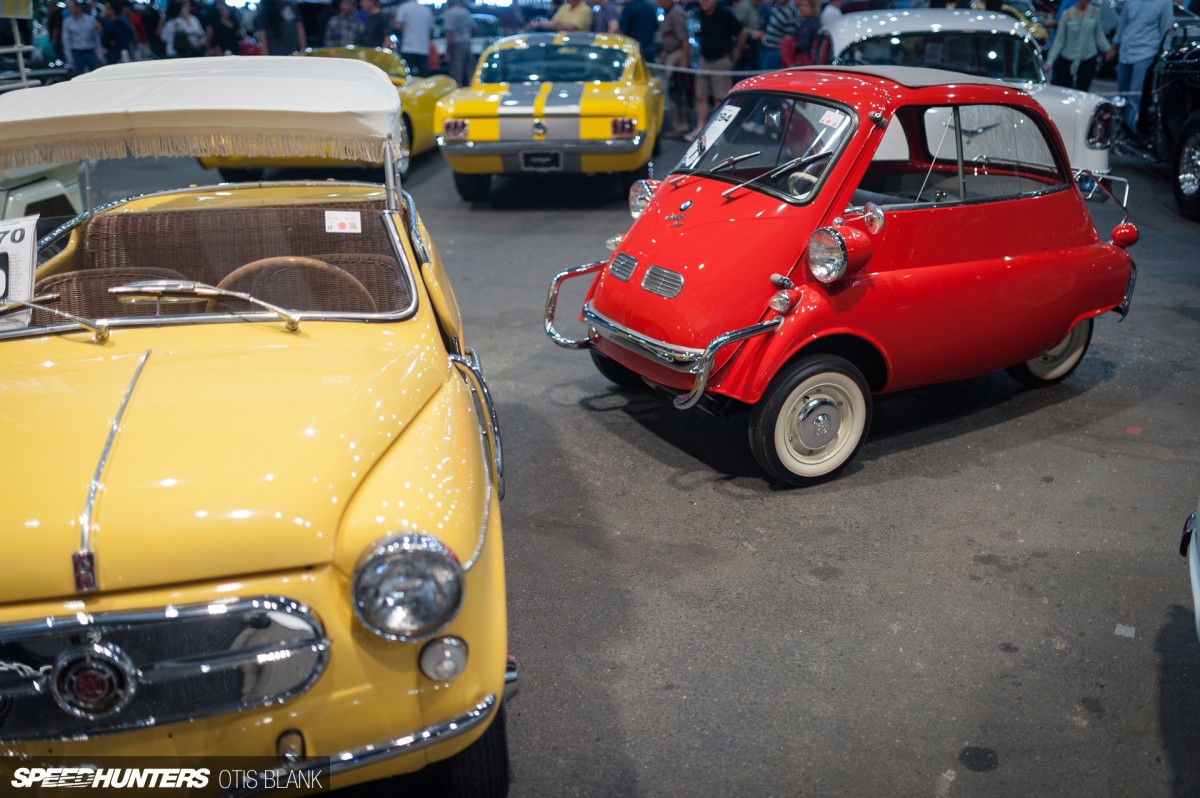 Despite some small complaints, I still had fun at Barrett-Jackson. I said it before, but there really is a lot to see and a ton of variety to keep even the pickiest car enthusiast interested.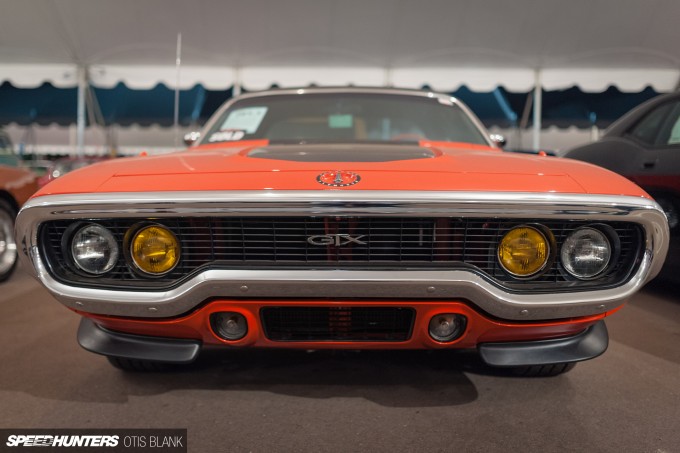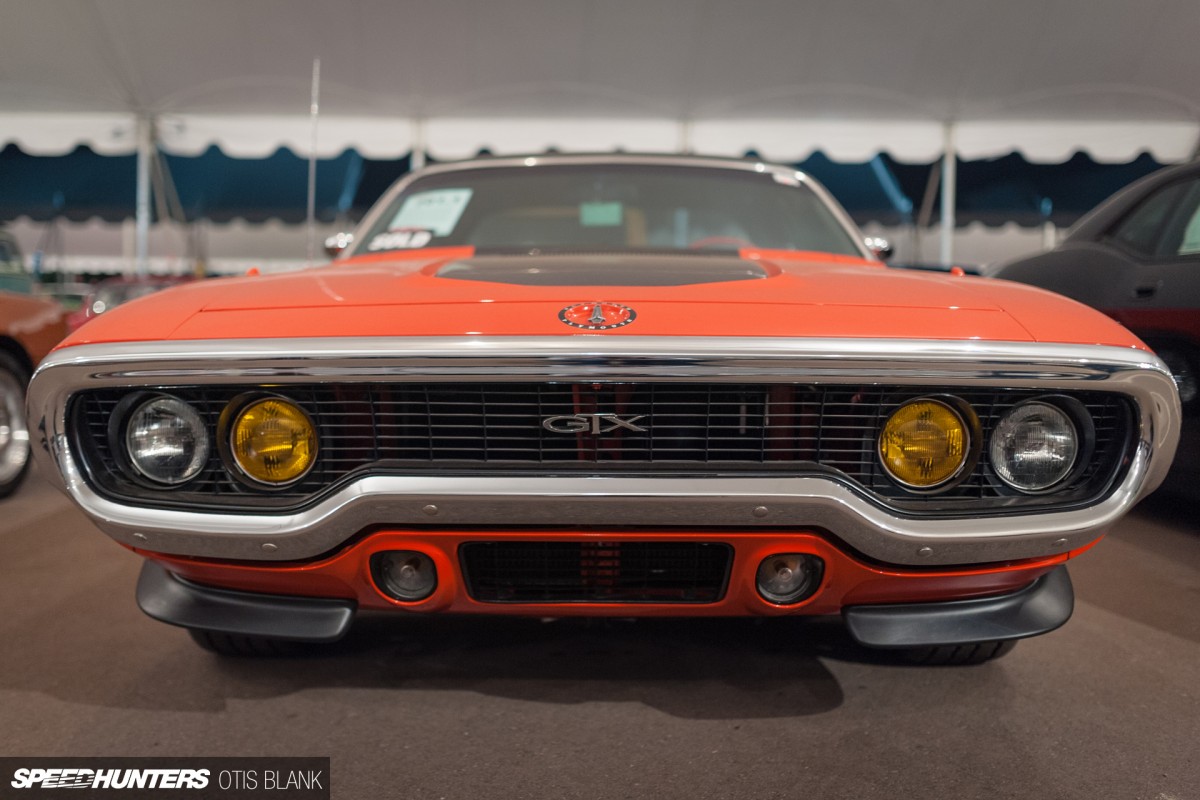 Those into muscle would be especially pleased. I love looking at these cars straight on, they have such character from this perspective. As someone who isn't too big on muscle cars, I can't help but find the vivid colors and slick design of old Mopar cars alluring.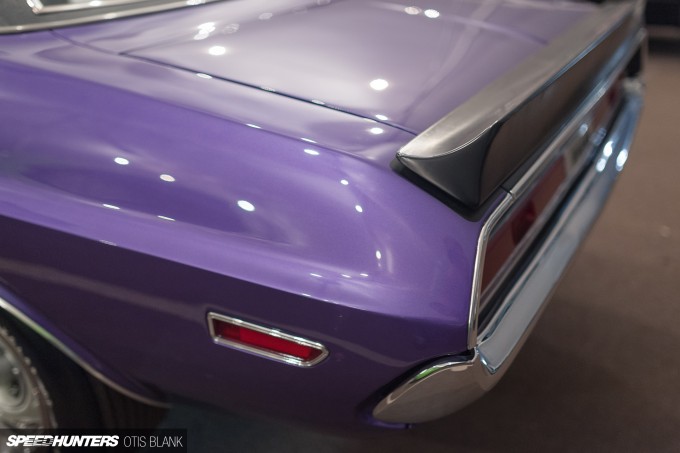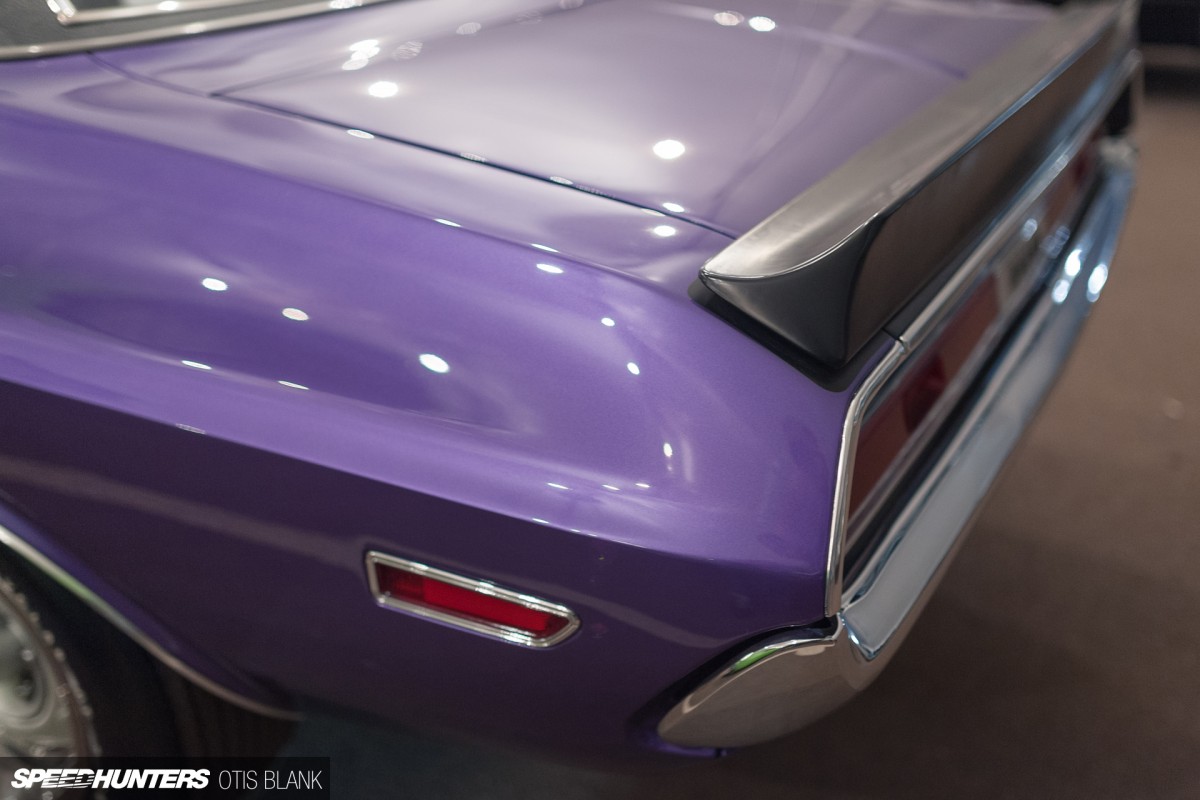 How great is Plum Crazy purple? I honestly wish it was available on more cars, I think it looks brilliant.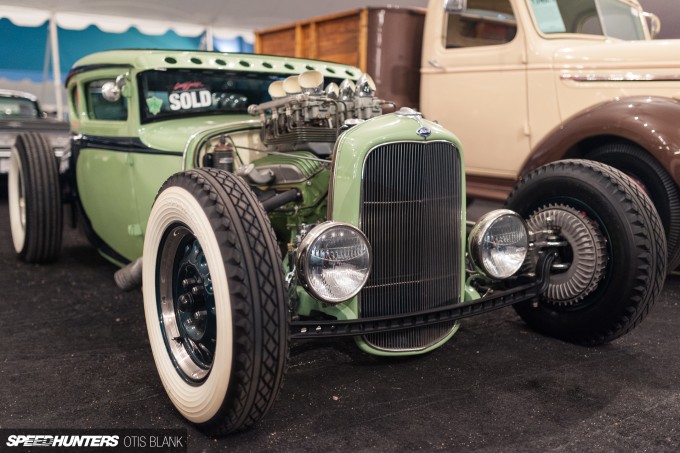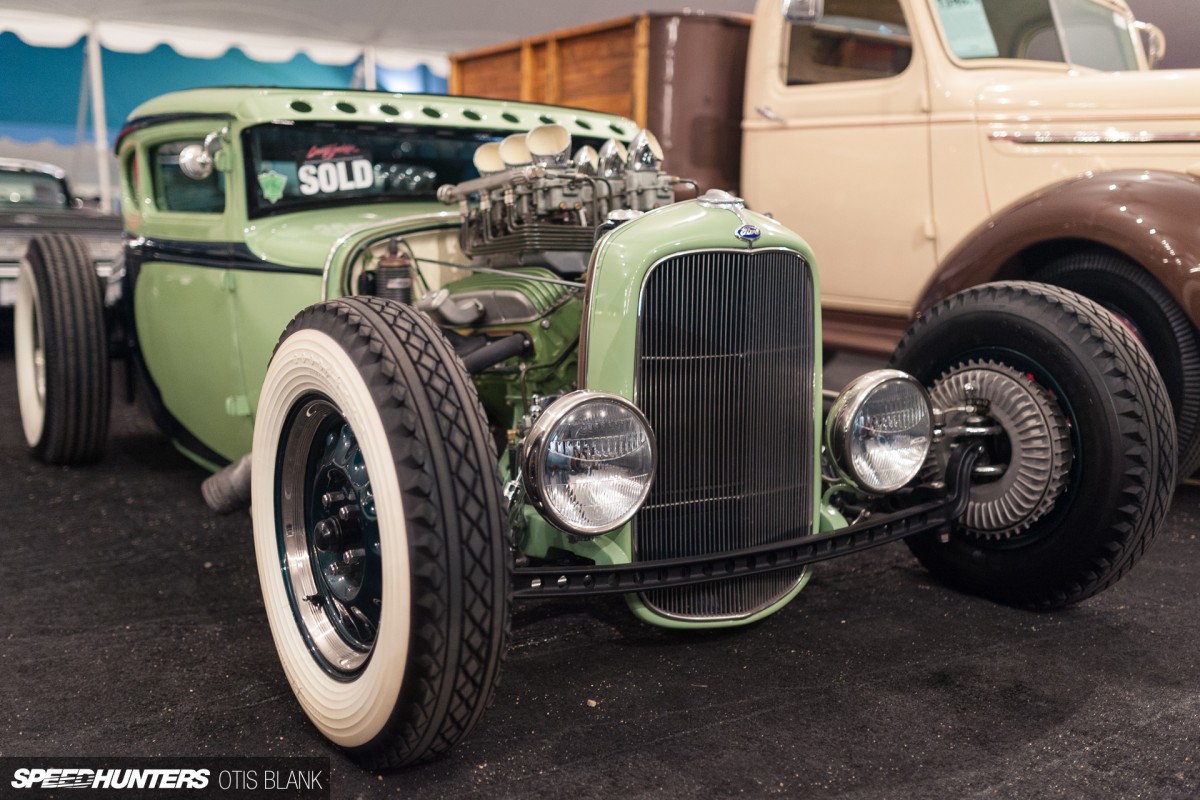 There were also a number of hot rods that really caught my eye – especially lowboys like this. I just love the way they sit and would love a shot at driving one. I bet it's a lot of fun.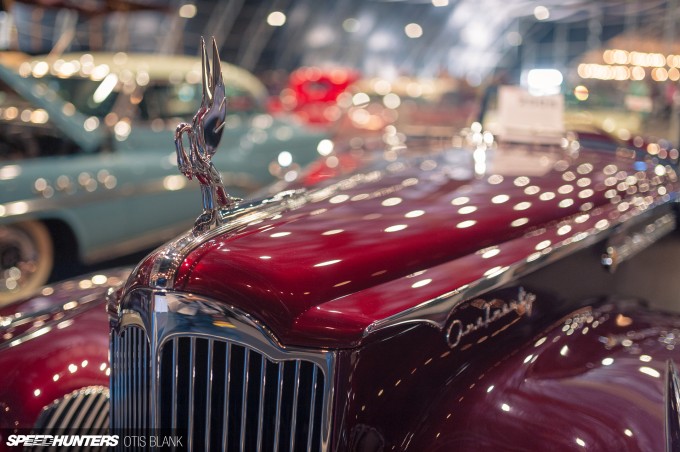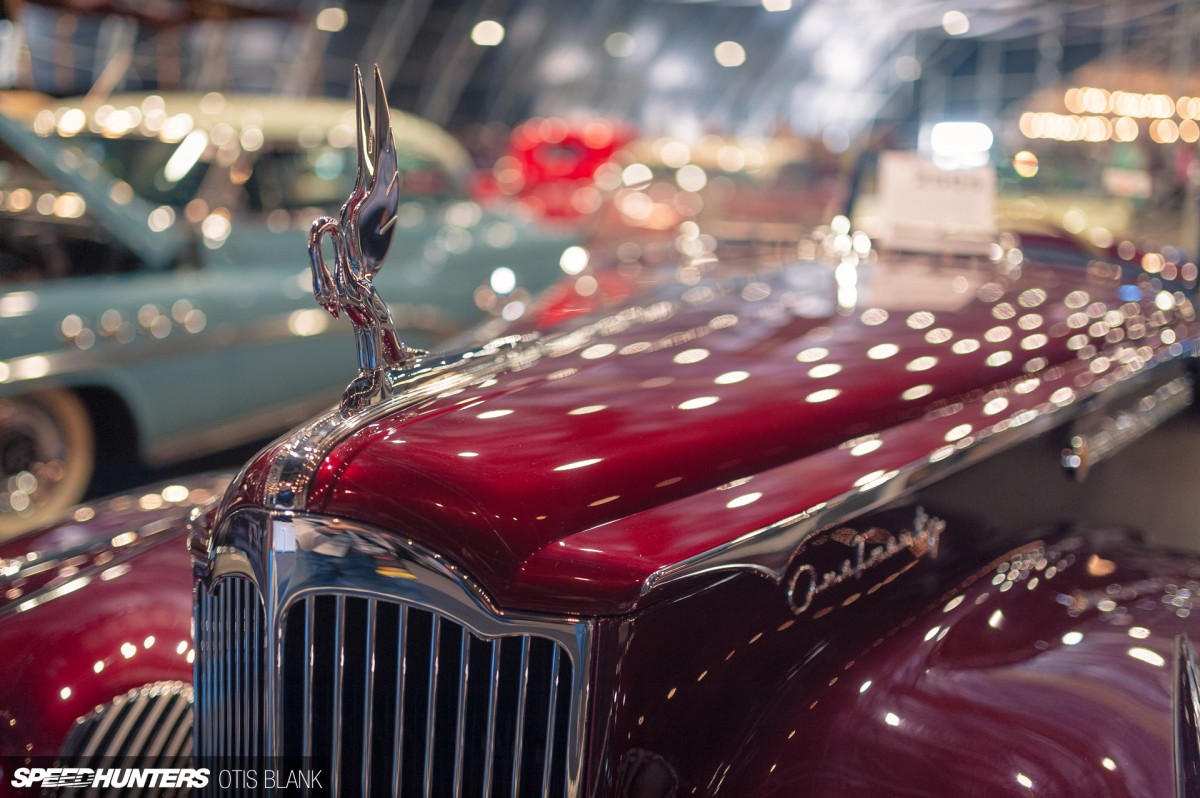 I also had a moment with this Packard One Twenty. Restorations like this usually aren't my style, but something about this one really did it for me.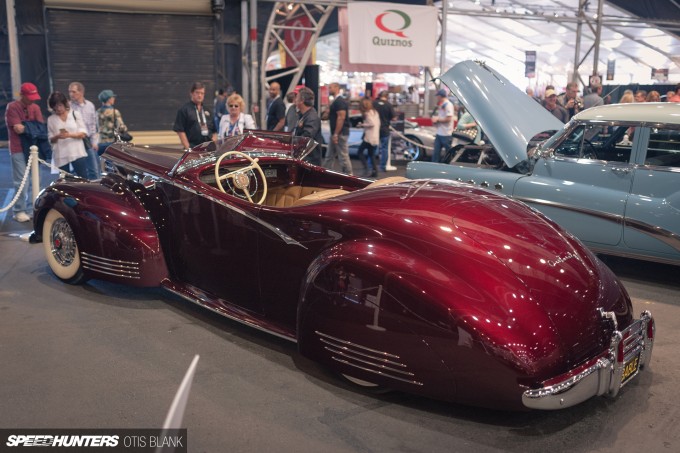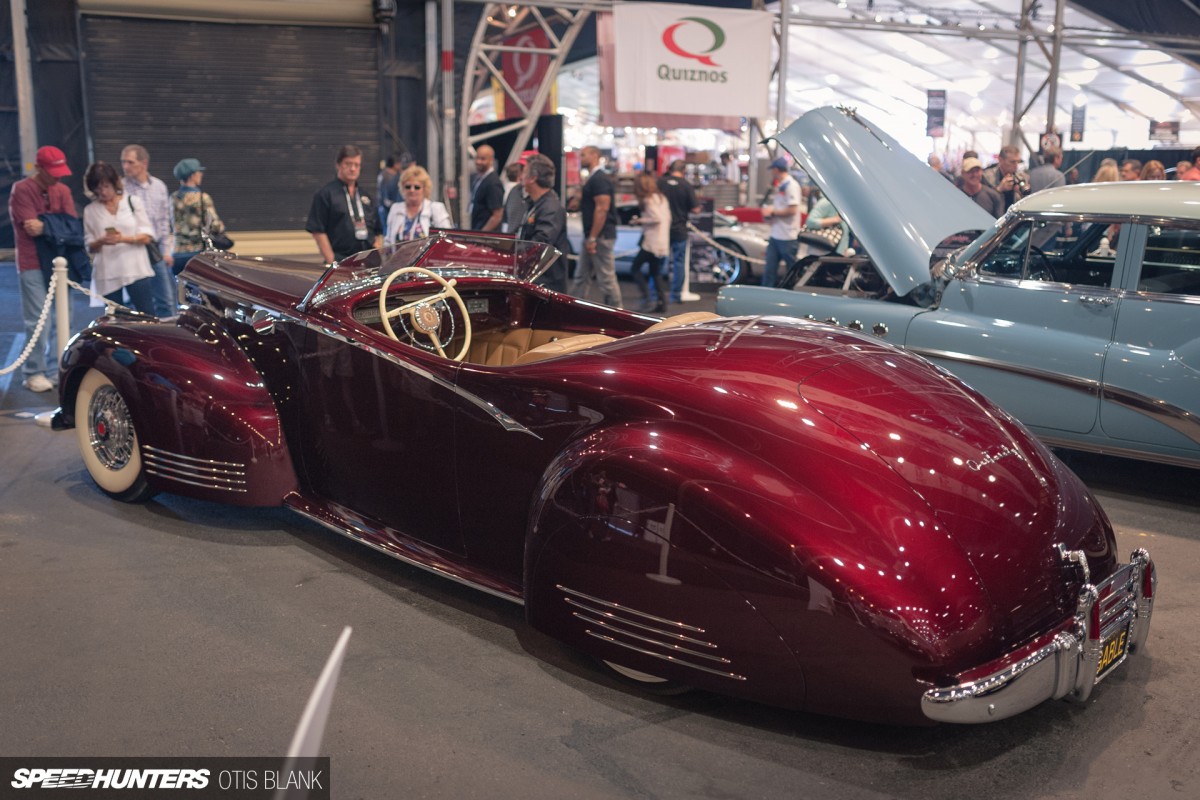 Everything has been modified just enough – a really clean job. I'd love to shoot it somewhere where the light is a little more friendly.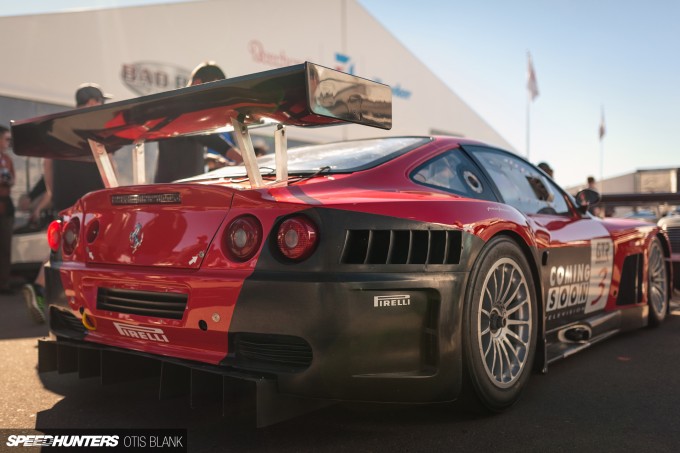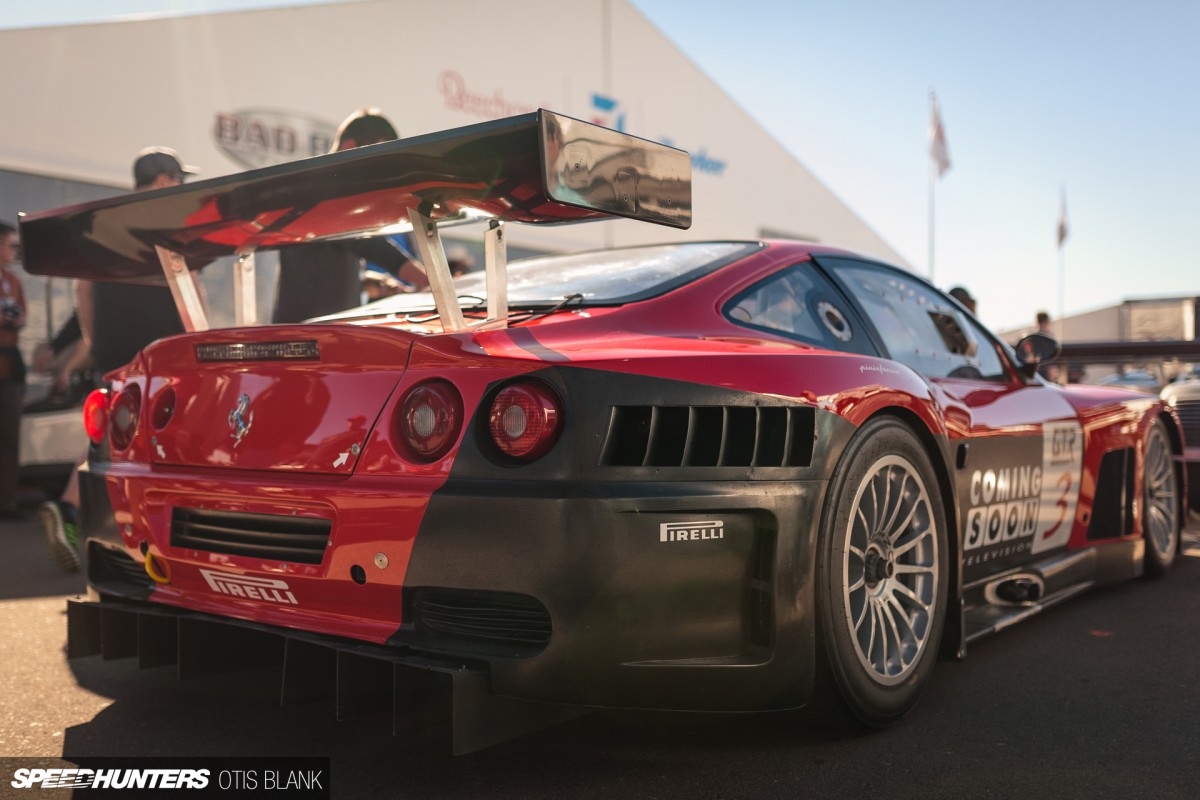 It's not all classics floating around B-J though, and this Ferrari 575 GTC racecar was one of the more interesting modern cars present. It's always cool to see the track-only counterparts of Ferrari's elegant road-going GT cars. The racing version of the 575 is particularly aggressively styled.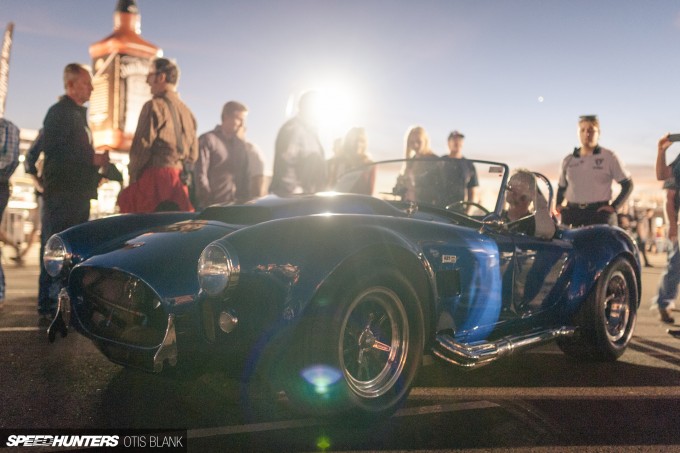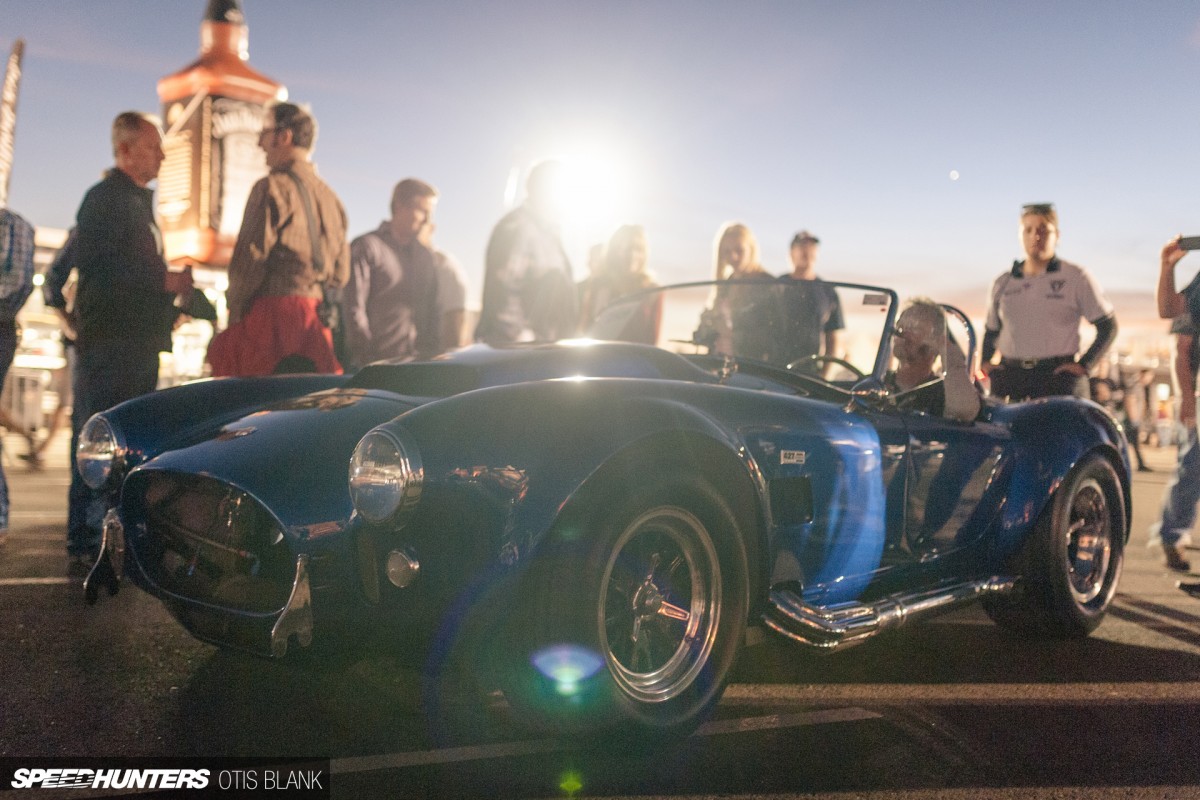 Another car that I was lucky enough to encounter outdoors away from the bigger crowds was one of the stars of the show – Carroll Shelby's own Super Snake. For those unaware, the Super Snake is a high-horsepower version of the already dangerously-fast Shelby Cobra. As you can imagine, it was quite potent. Shelby only made two and pretty much just for a laugh.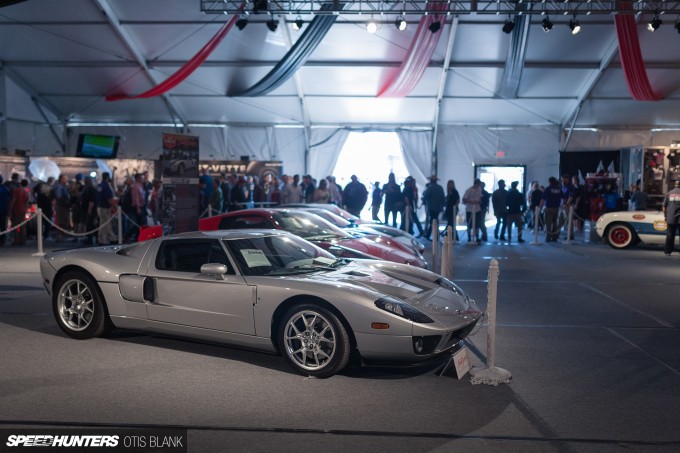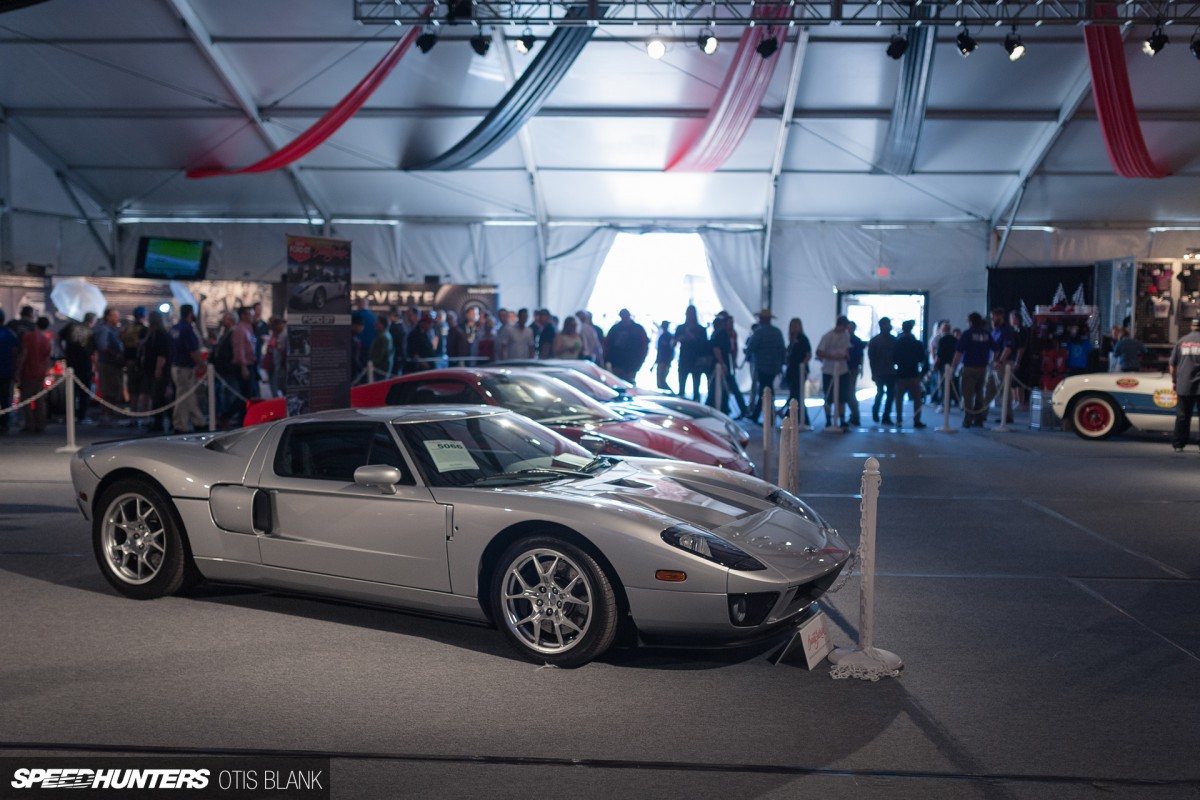 Another car touched by the hands of Shelby – and one of the more popular cars at auction – was the Ford GT. The GT is a personal favorite of mine for many reasons, and I'm certainly not the only one who sees value in these cars.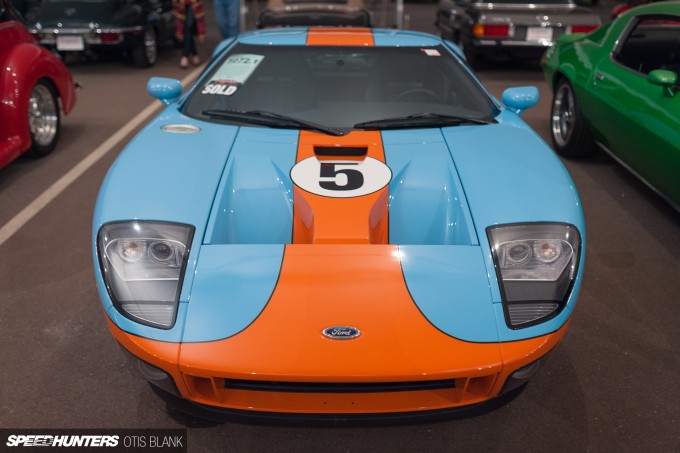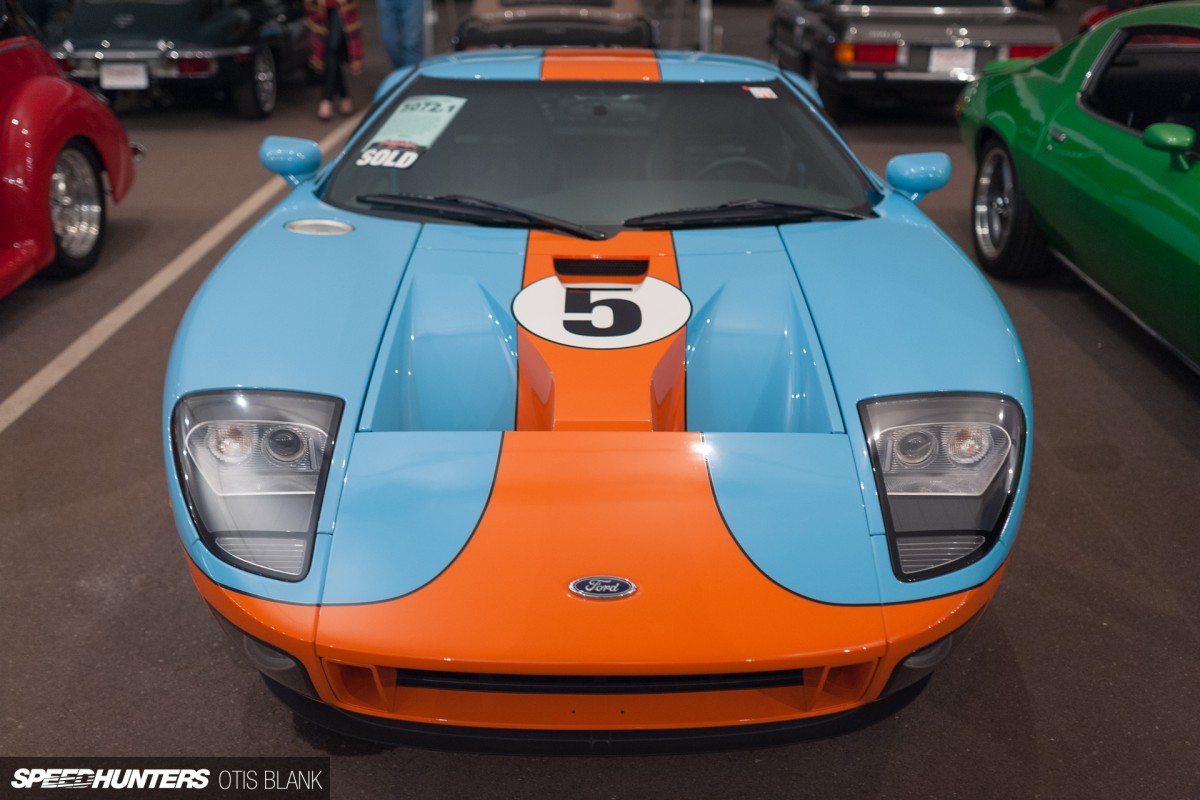 GTs are currently trading hands for close to double what they were originally sold for when they came out in 2004, and often more. Their values show no sign of slowing though, so now might be the time to buy if you have the means!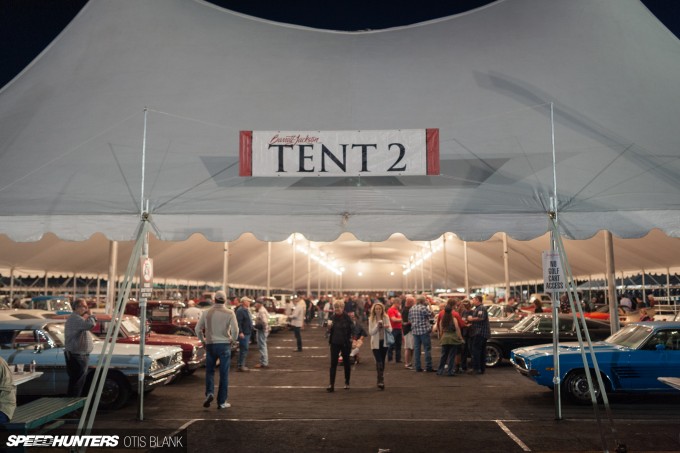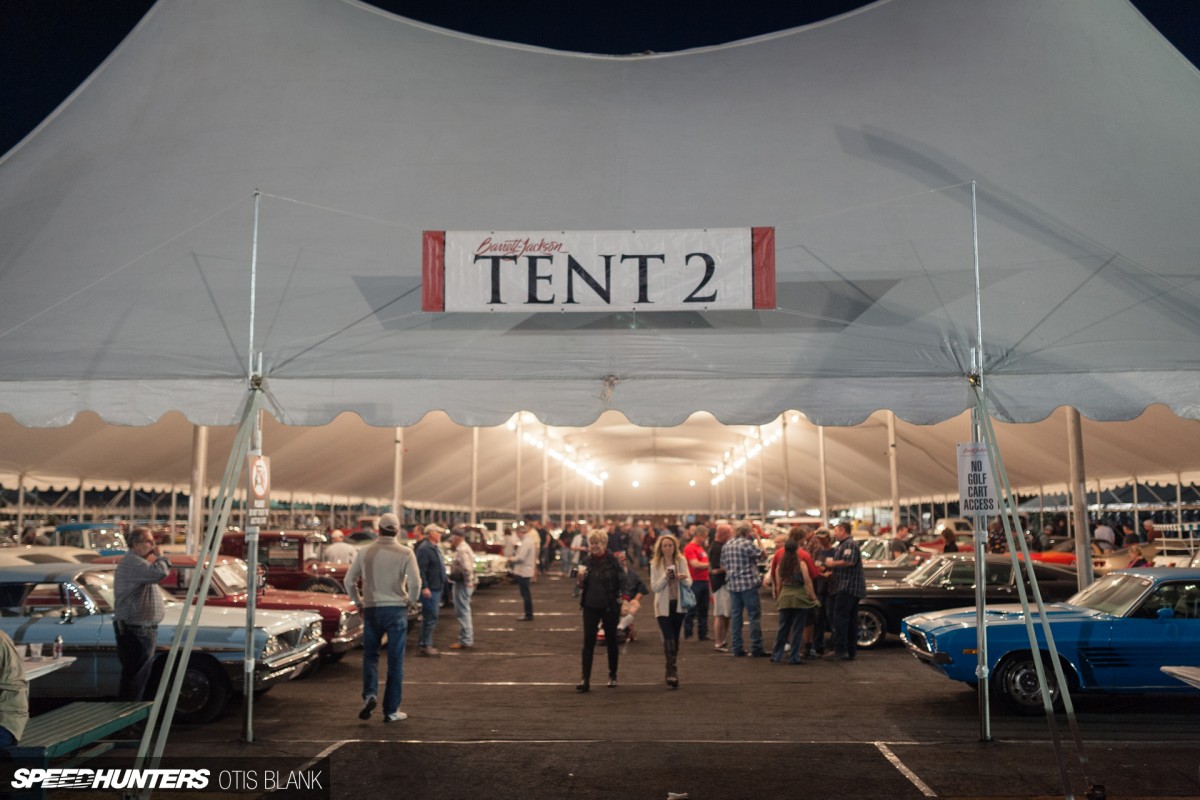 Remember when I said the event was huge? This is one of five outdoor tents where the majority of the auction cars are held.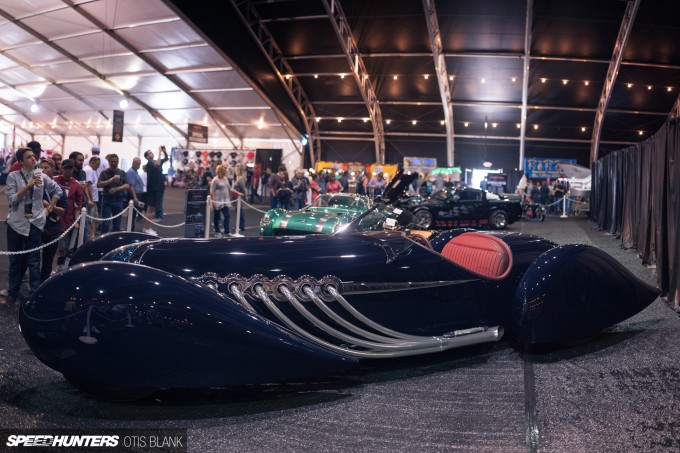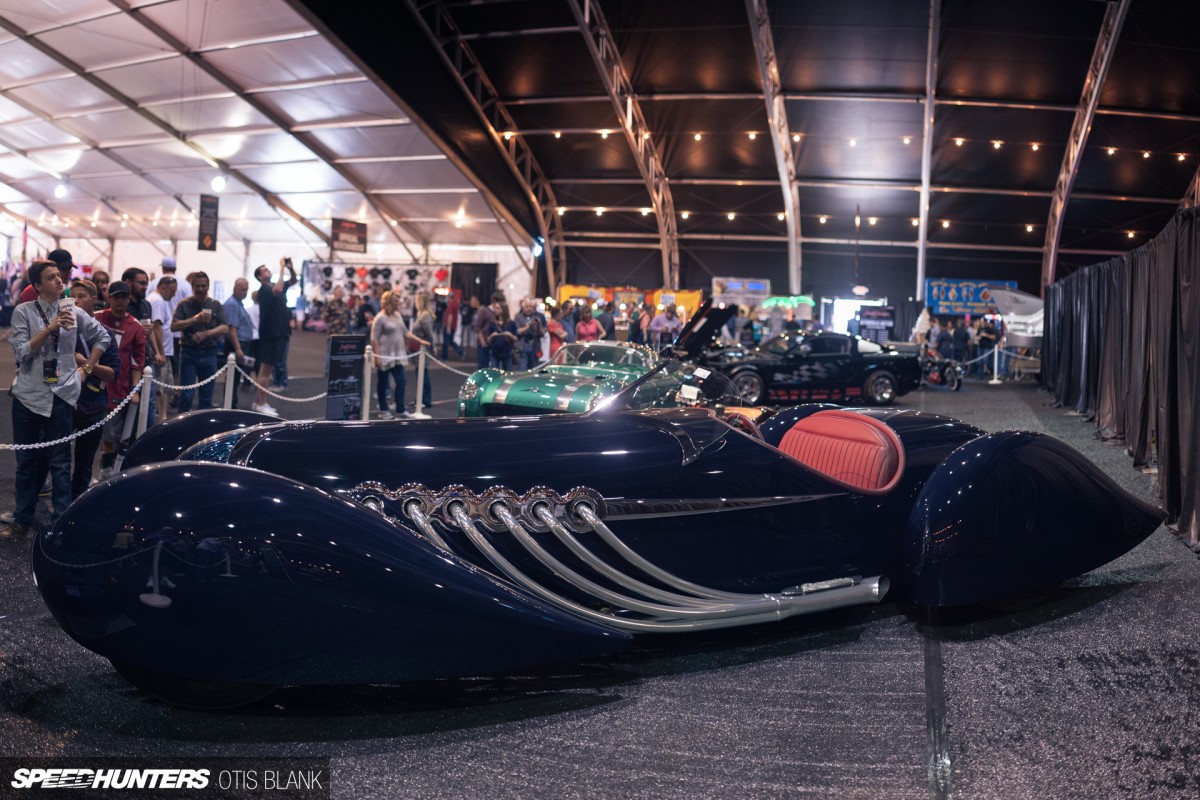 Speaking of huge, the mass of dark paint and elegant pipe work you see above is made by the mastermind behind Blastolene, Randy Grubb. I was going to say it caught my eye but how could it not…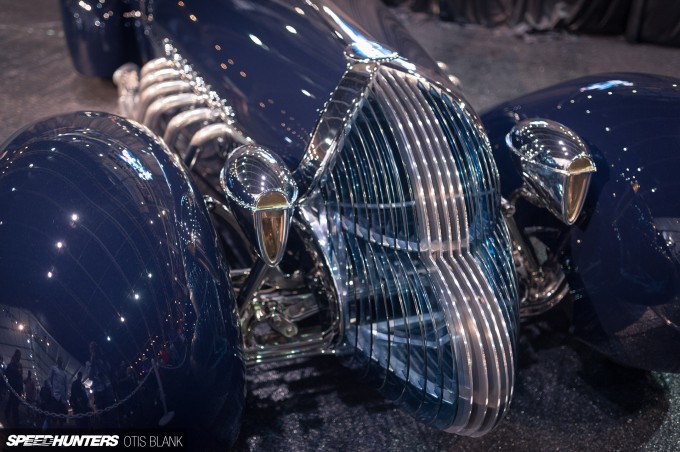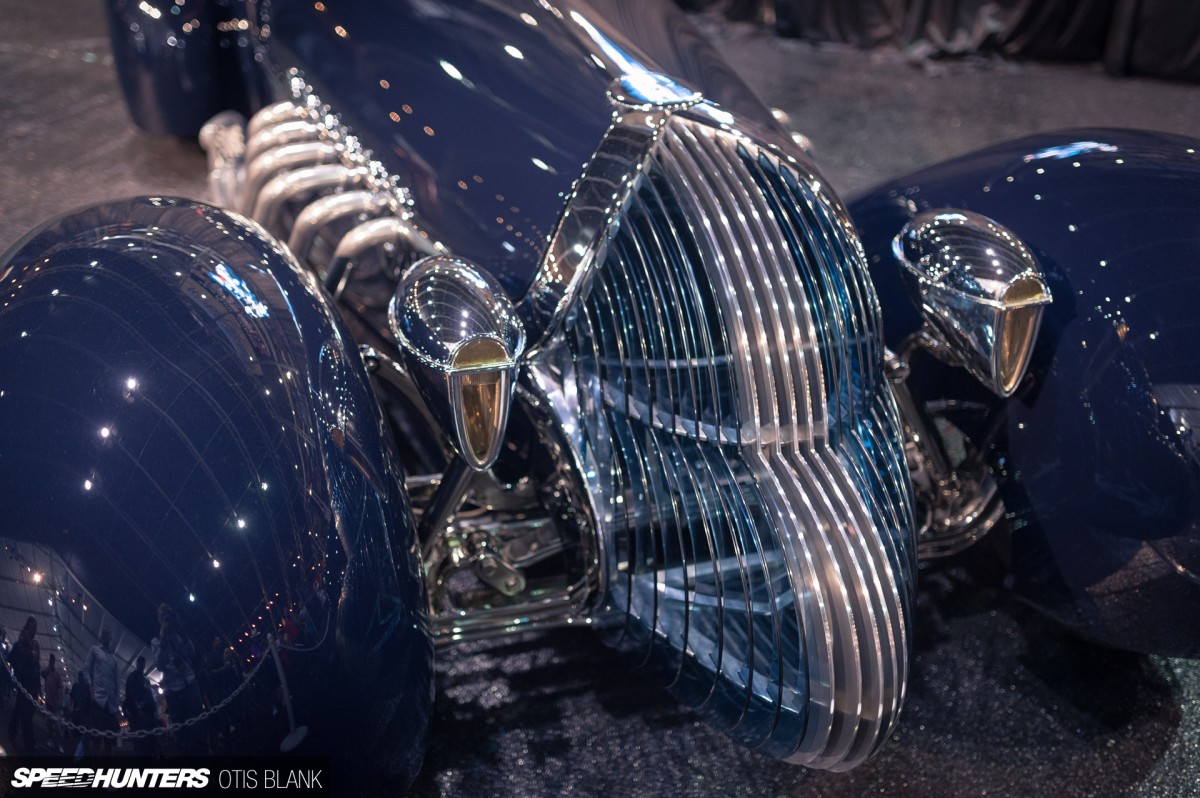 If you haven't before, check out Grubb's work. He does some of the most creative stuff I've ever seen.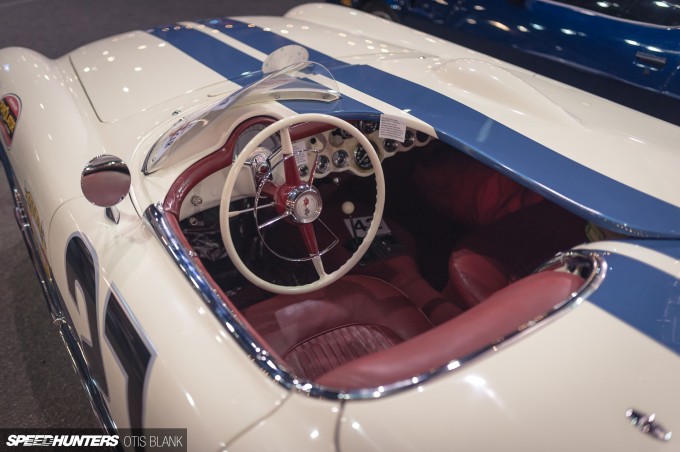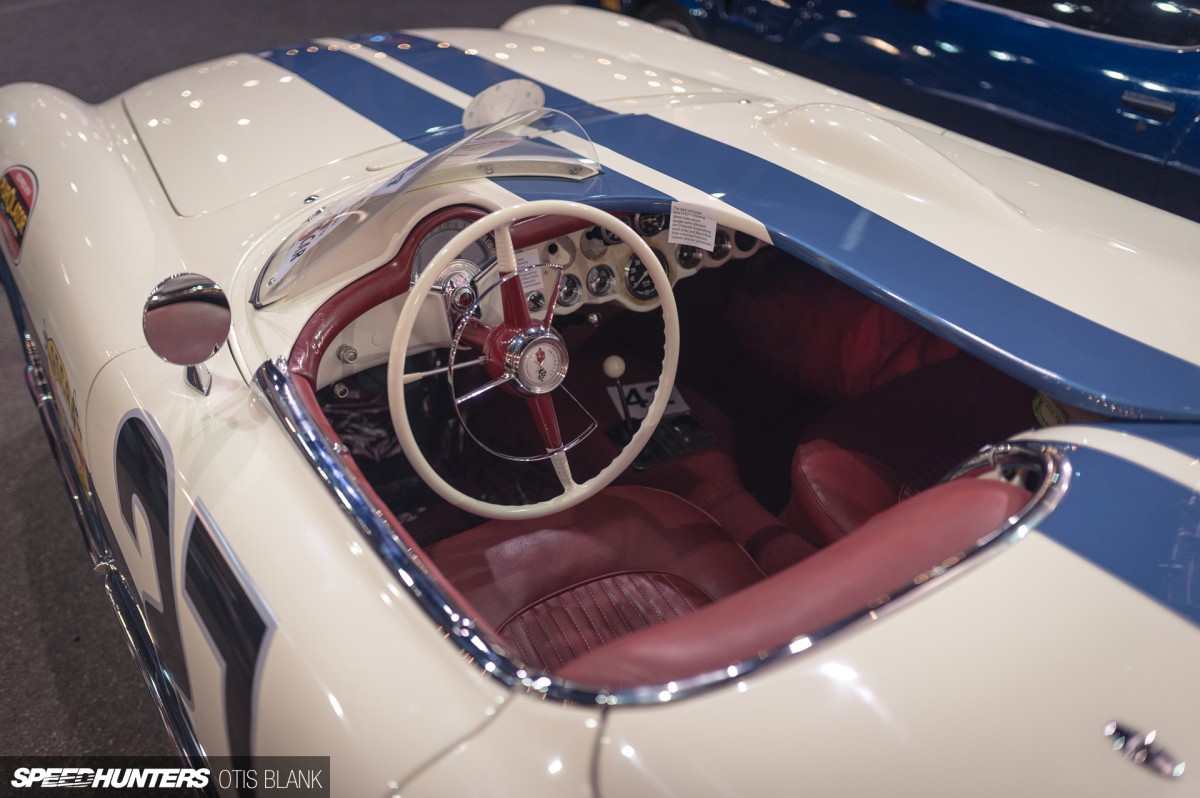 This early Corvette Racer was a standout for me. I loved the driver-focused nature of the cockpit and the fact that it retains so many design aspects of the stock version of the car.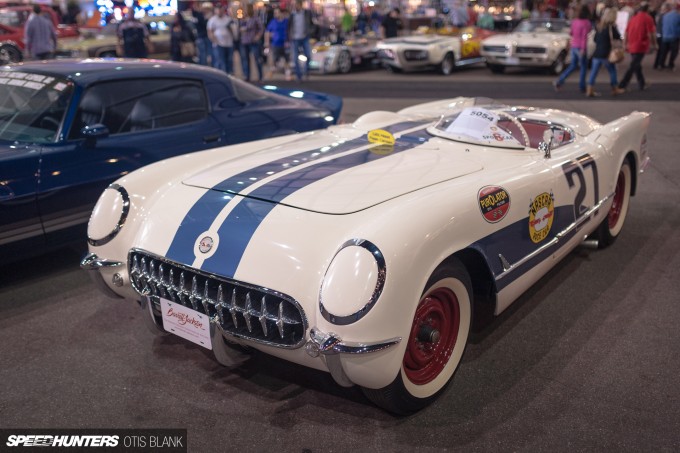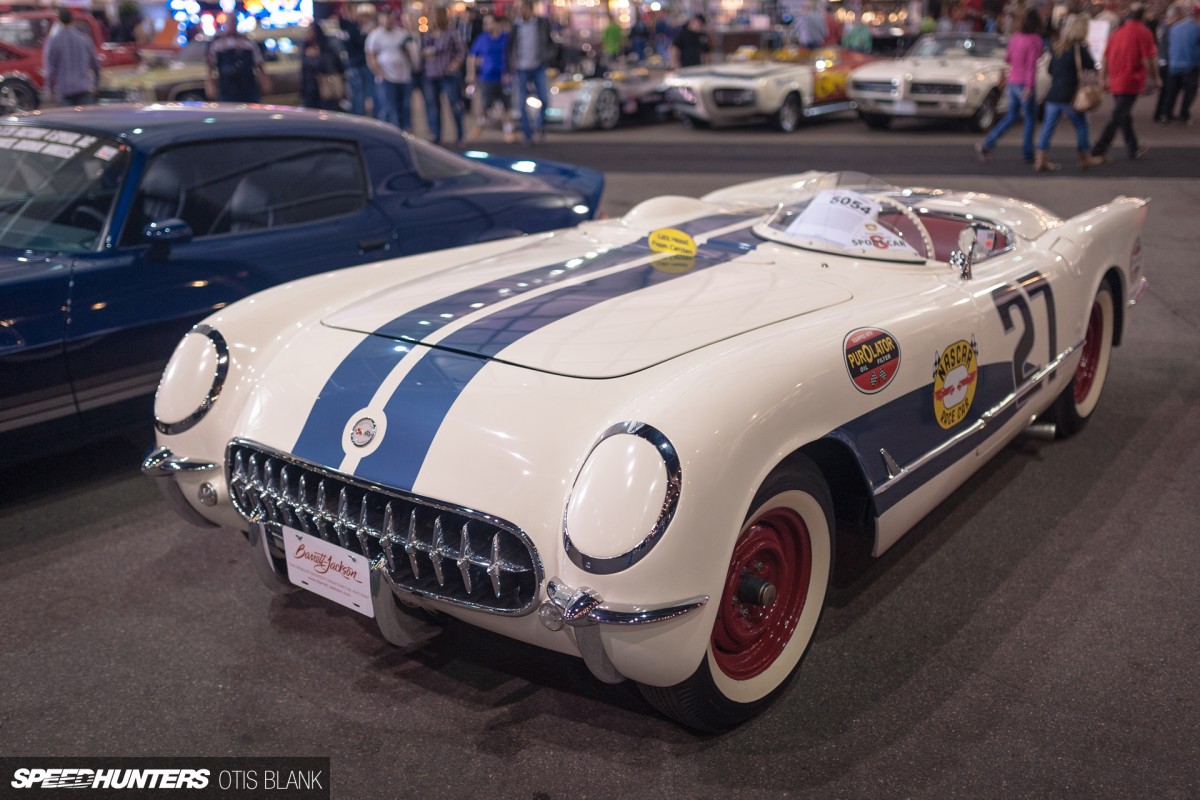 I was immediately drawn to its fantastic retro American color scheme and period-correct decals.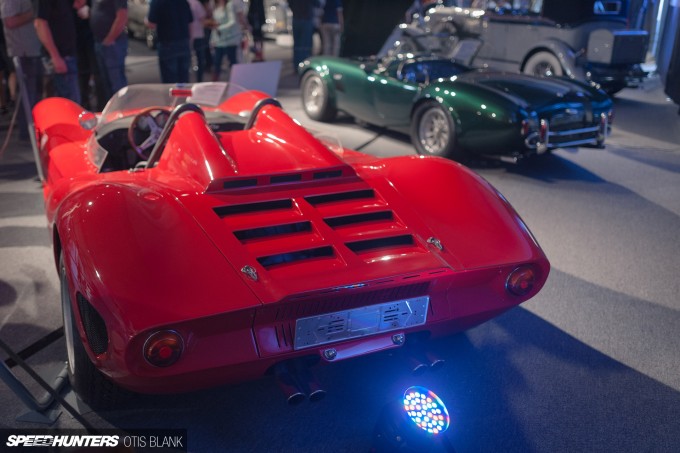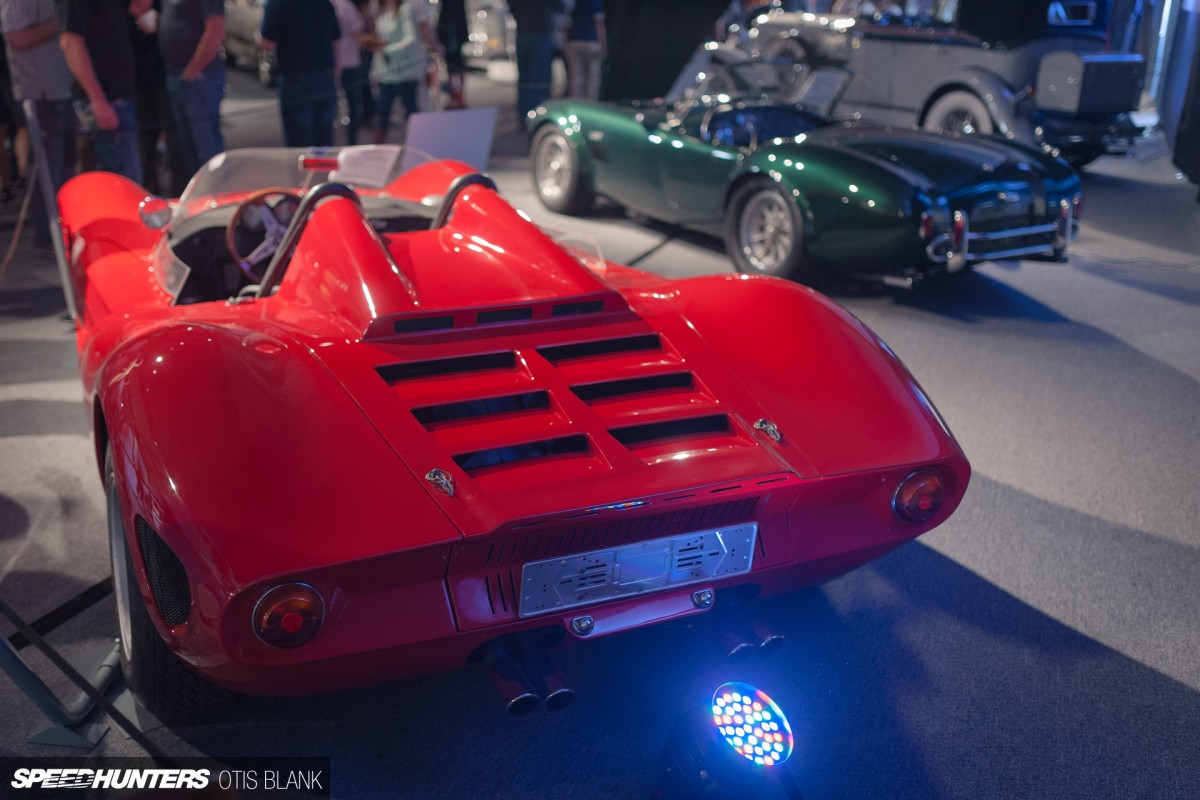 I also loved this Bizzarrini, another car company you should look into if you haven't already. They're from that great time in the '60s when designers were becoming more interested in aerodynamics, resulting in so many elegant yet purposeful designs.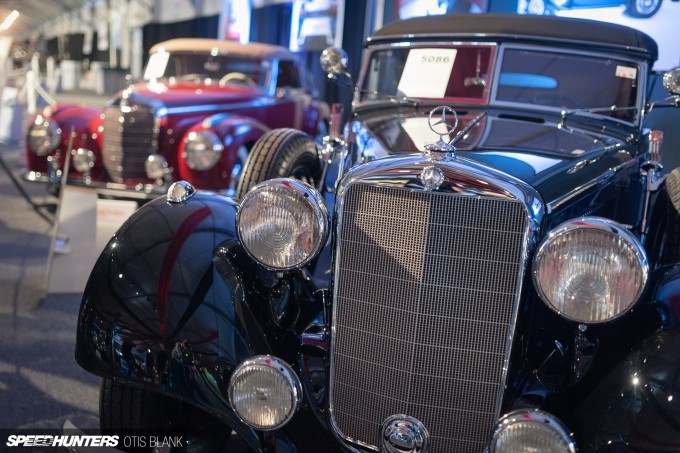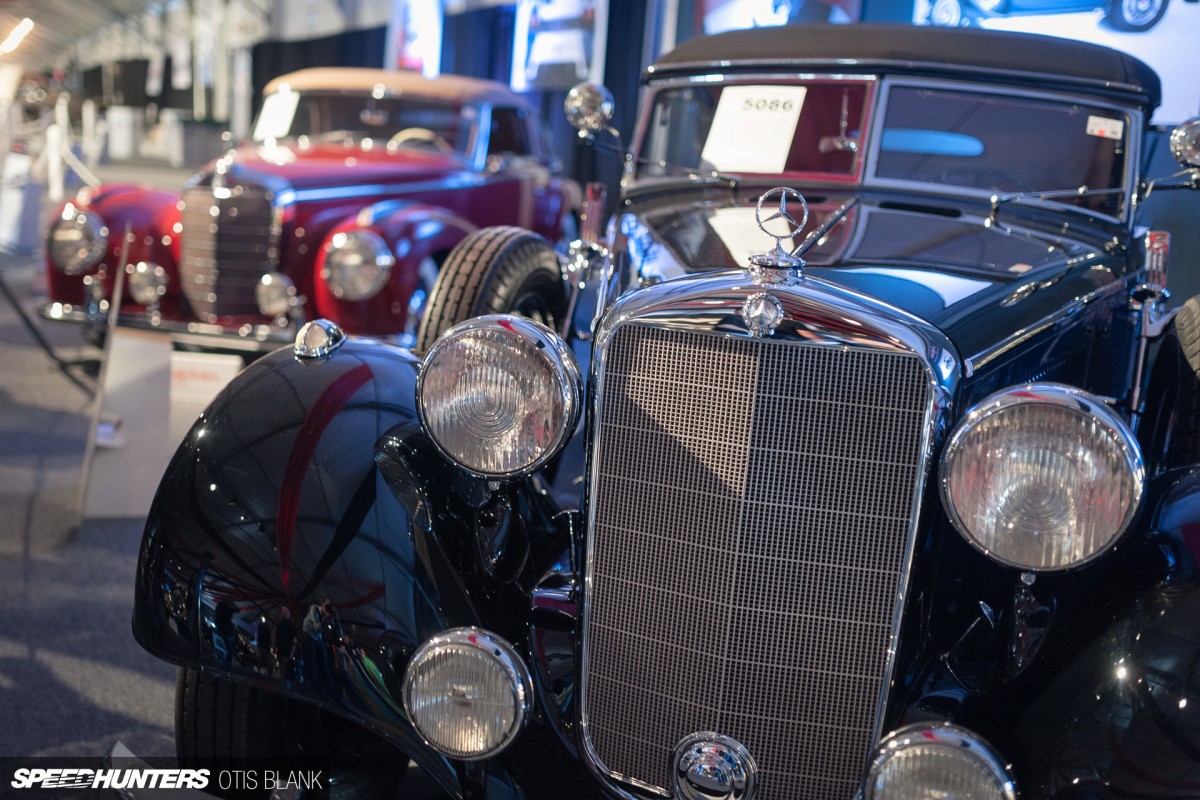 Two fine examples of pre-war Benz. You can kind of see the progression of design from Mercedes here – how the headlights moved from being next to the tall grille to being integrated into the fenders around a slightly shorter and more rounded grille, for a more elegant design direction.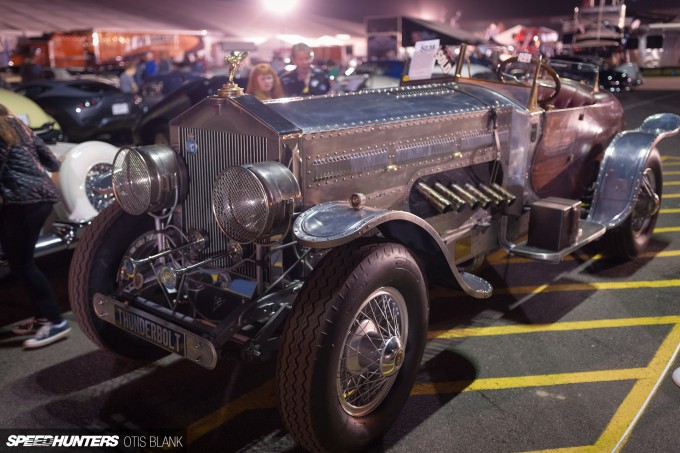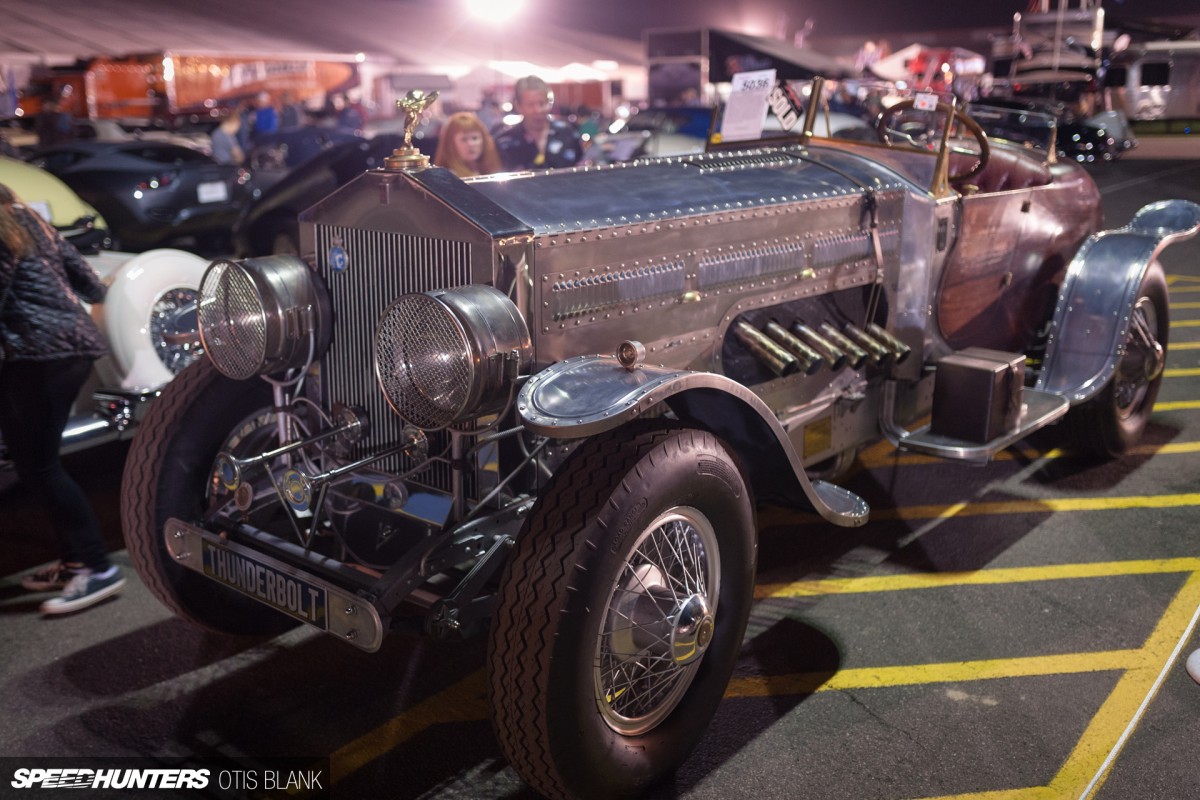 I'll end with this monster. Called the Thunderbolt, it runs a Rolls-Royce V12 that also powered tanks and airplanes. With a boat tail rear end, I doubt driving this beast is anything like a relaxing day on the lake.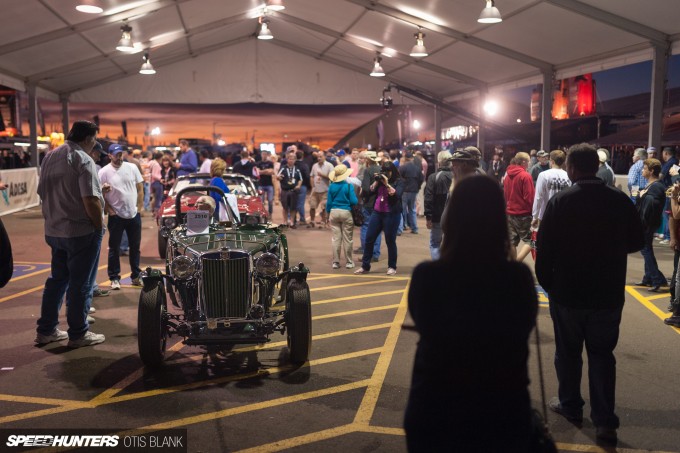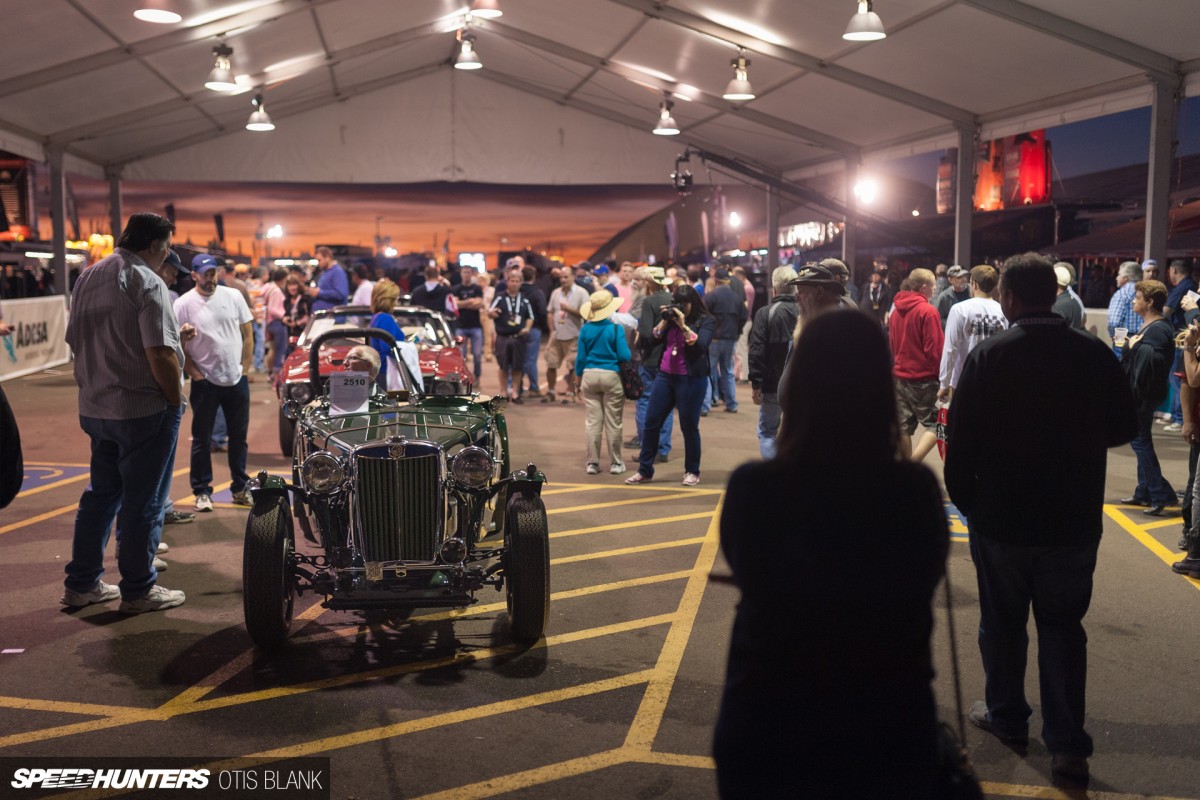 With the event now behind me I can honestly say that I enjoyed myself. It was a true spectacle and an experience worth remembering. Despite the organizational frustrations I might have had in the moment, I still wholly recommend checking it out if you haven't before – just pick the right day! I look forward to seeing what 'The World's Greatest' has to offer in the future.
Otis Blank
Email: otis@speedhunters.com
Instagram: @otisblank
Cutting Room Floor