Enough Is Enough?
Have you got boxes of car memorabilia that you haven't looked in for more than six months? Do you have multiple projects on the go that seem to morph into new ones without ever seeing the road? When I shot Steven Jarudd's Dodge Coronet back in the summer, I ended up with a few moments to wander around the premises of this family business. I was in heaven, there was 'stuff' everywhere waiting for me to discover it. I got so carried away I nearly bought a pickup truck there and then (no, really), but looking back at the pictures now makes me realise how easy it is to become overwhelmed by this car culture we love. Maybe that's happened to you? If not, then it's probably only a matter of time before it does.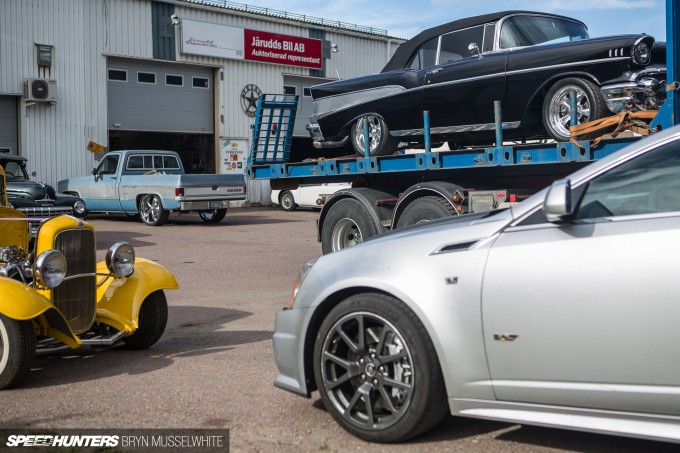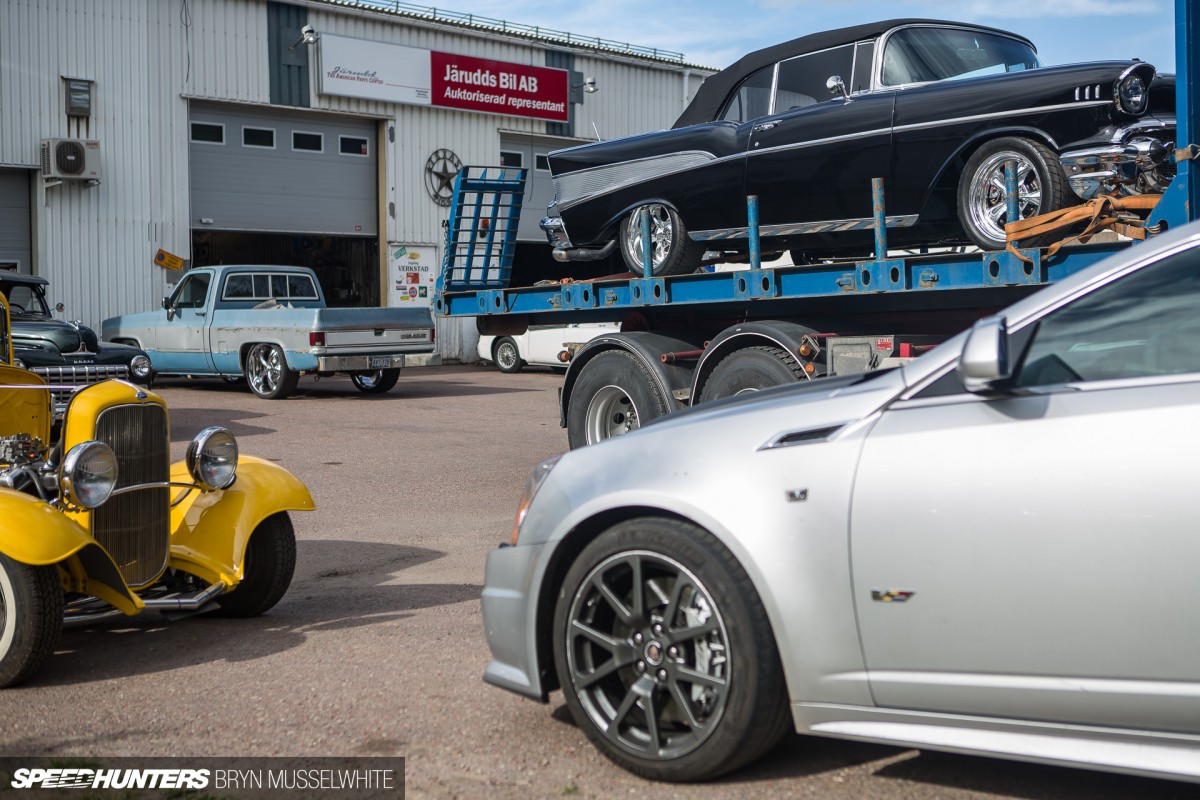 We're all the same, because we all think we're different – which can be a mighty big mistake to make. I remember at one time having projects that totaled over 330 years in combined age. Did I genuinely believe that I would get through the 10-plus builds I had planned? I can't remember failure ever entering my head, especially as I kept on buying more!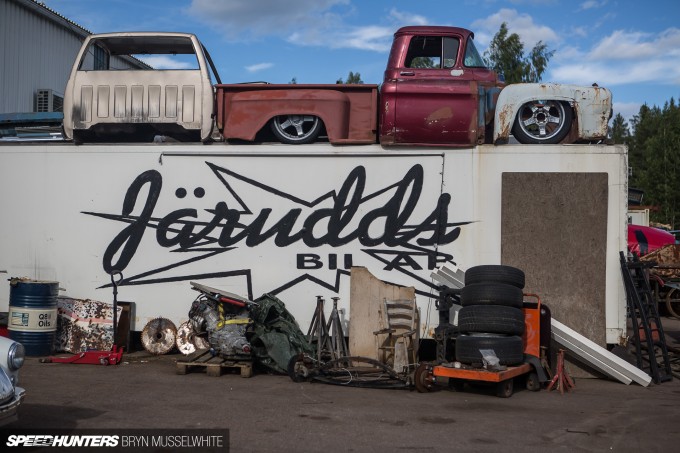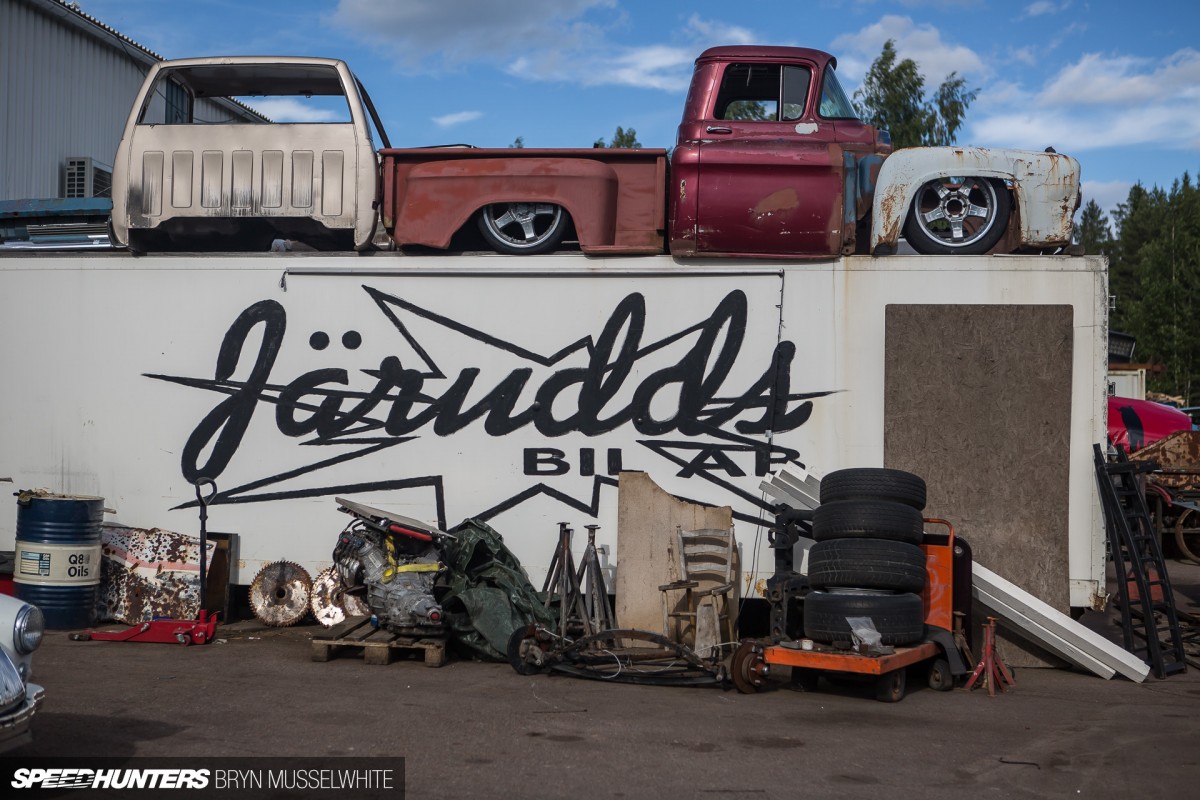 Before I go any further I should point out that the guys at Jarudds have got it pretty much dialed, which in retrospect also prompted my train of thought. As you'll see, there are parts of the workshop and stores that hide gems, whilst organised chaos seemed to reign elsewhere. This eclectic mix seemed to reflect their varied interests, whilst providing an insight into their methodology at the same time.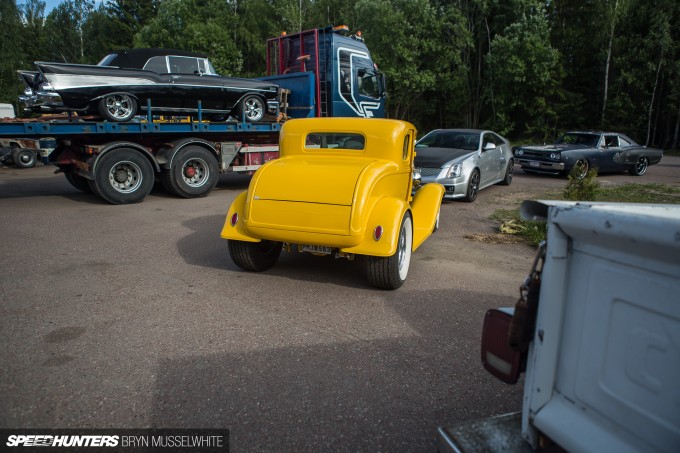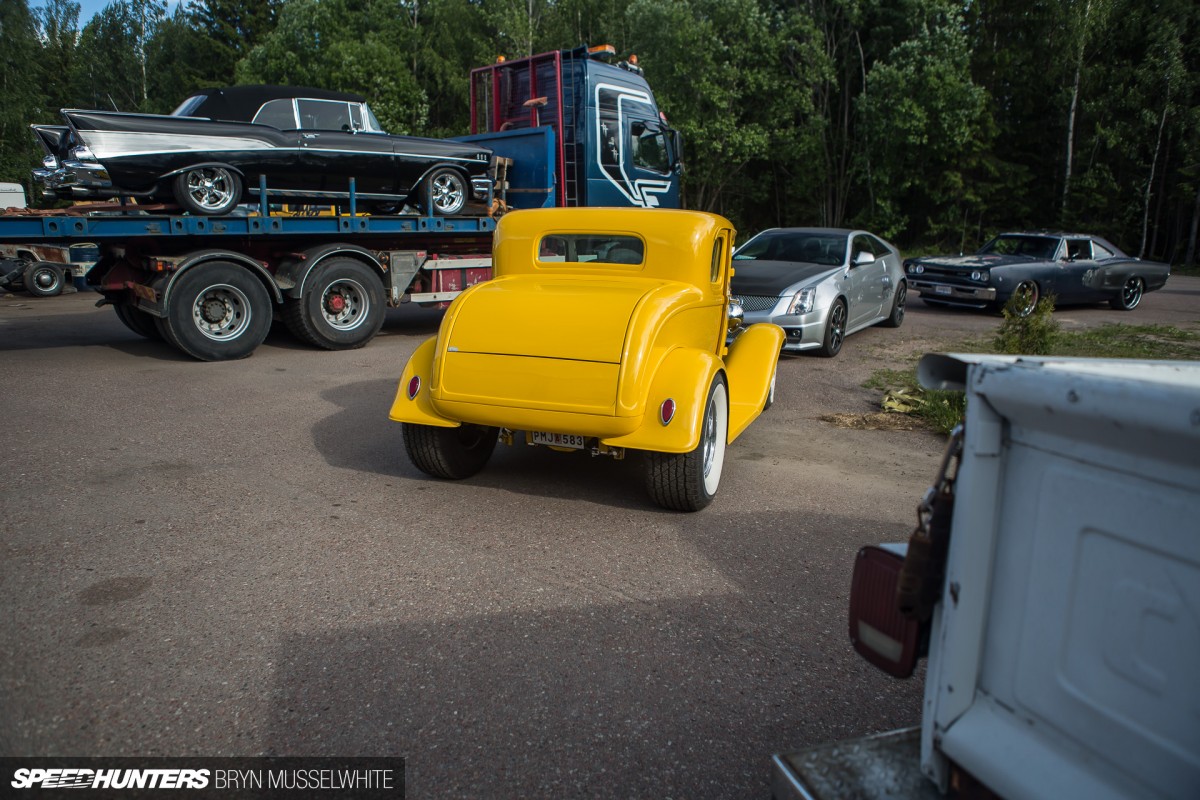 Regardless of whether you have limitless amounts of money and time, or your daily driver costs every penny you have and doubles up as a project car, it's all about priorities. Jarudds deal with all ages of American cars, as you can see from the customer-owned '57 Chevy (going home on the sturdiest solo car transporter I've ever seen!) to the modern Cadillac, with a pretty sweet Model A in the middle. So it's not about choosing a specific model, it's cool to like Japanese cars or American cars – you don't have to limit yourself to a specific model if you don't want to.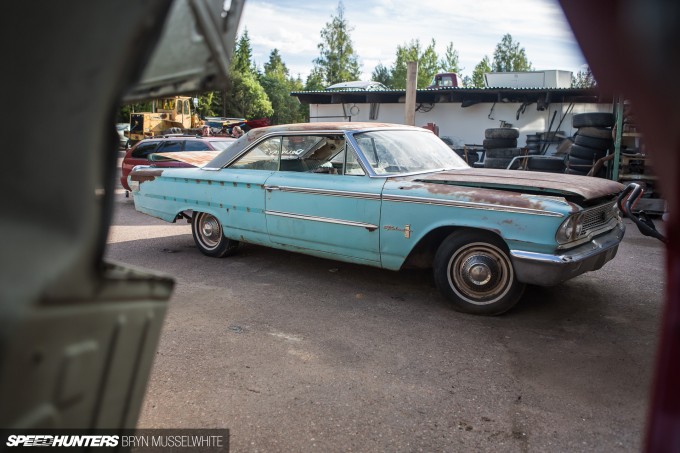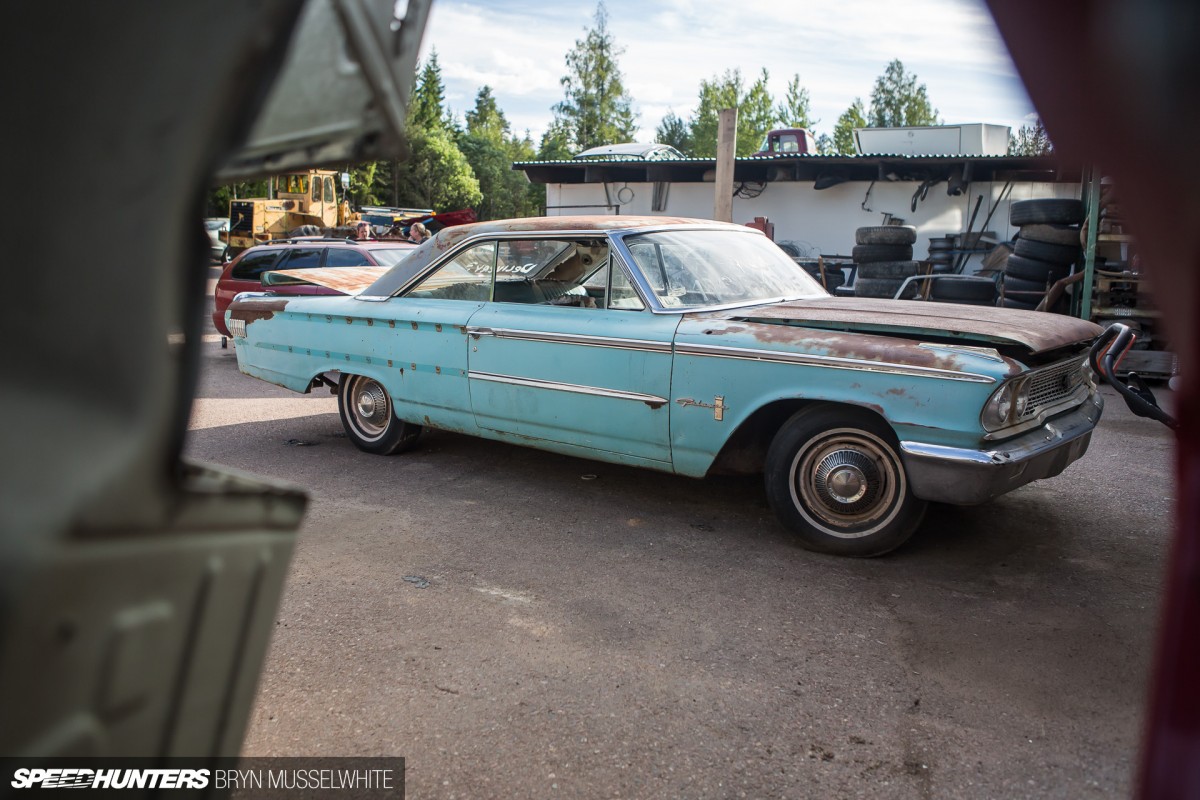 The thing to remember is to know what you're doing at all times. Too often people will buy a project because of something they might have seen in a magazine or online without fully grasping what they're getting into. Take this '63 Ford Galaxie for example. Walking around the yard it looked pretty solid from 10-feet – because it is – but then I took a look inside.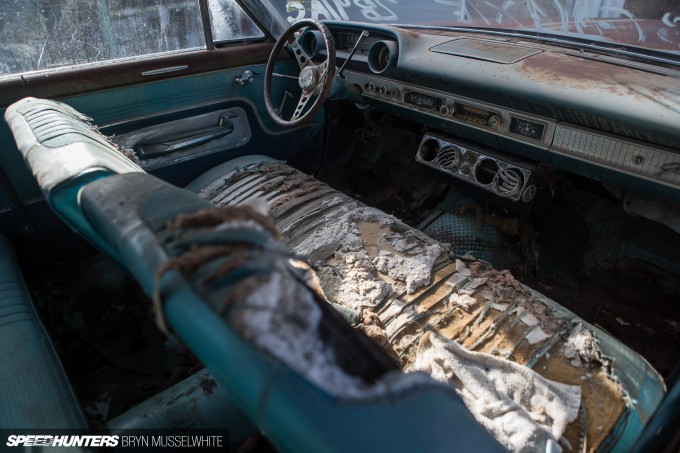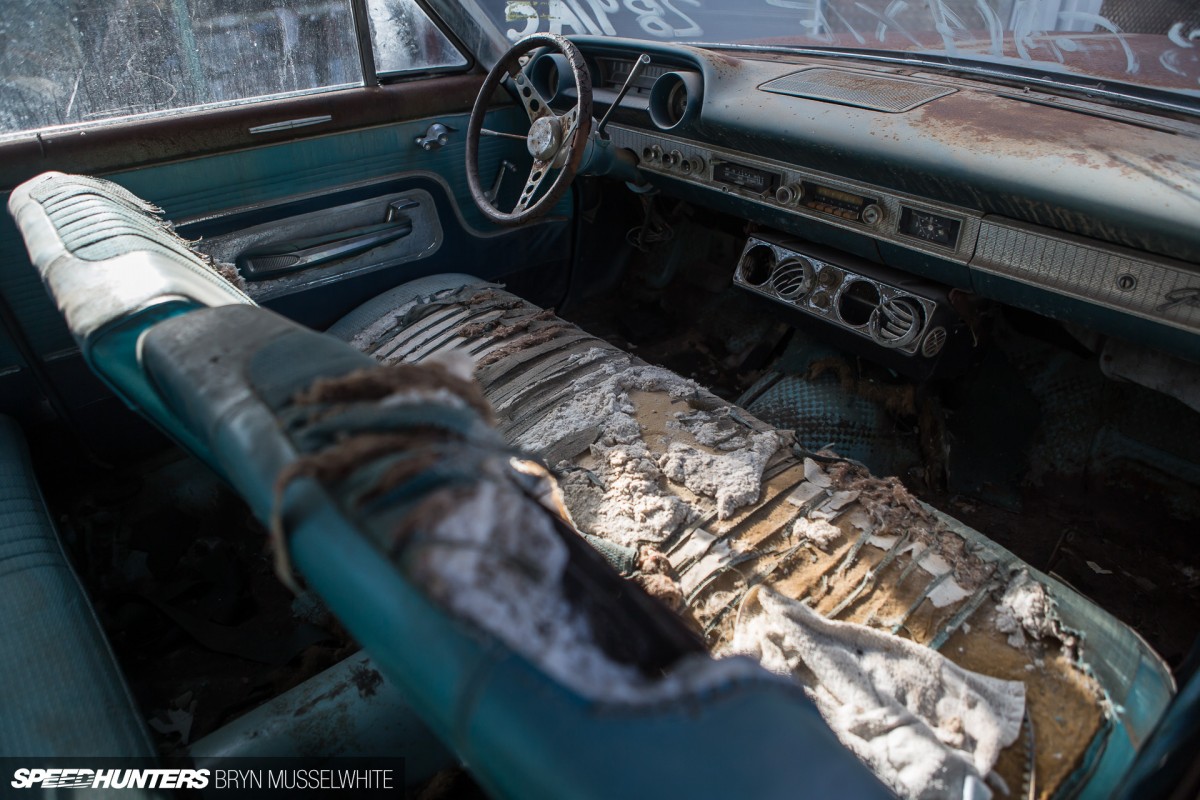 Yes, at first a deep clean and some Mexican blankets could sort that out, but you know most of those switches aren't going to work and the steering wheel would feel like gripping a slime-covered chocolate bar. Plus it smelt pretty bad in there. So what at first looked pretty good, could be better if it was an empty cabin. But then would it have the same appeal?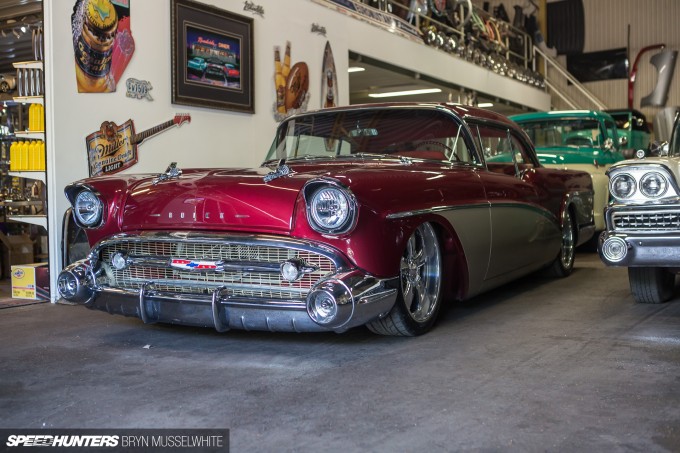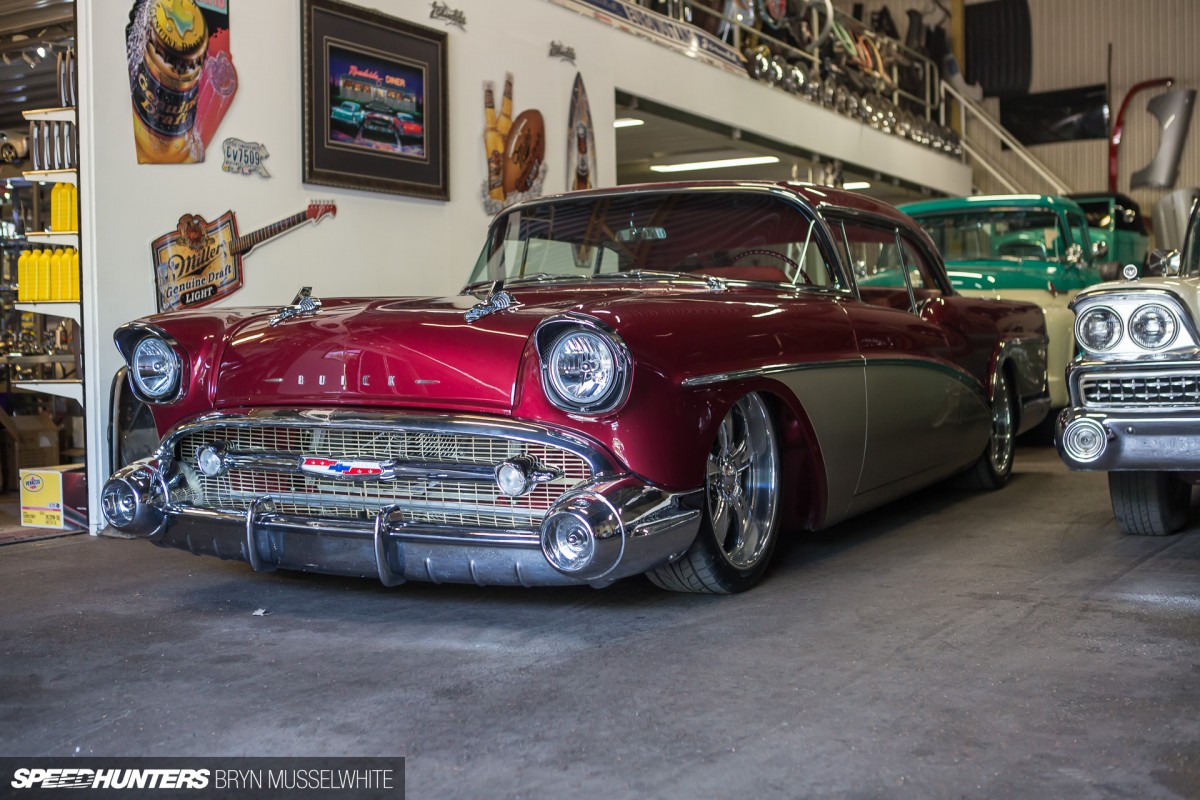 It seems I always naturally gravitate to the rusty metal lurking in the undergrowth, and I promise I'll get back to the surprises I found out back later on. But Steven wanted to make sure I checked out some of the family projects and parts store before I got too engrosed in my personal daydreams. This '57 Chevy fronted Buick is his elder brother's. To me it's a really subtle conversion – obvious when you know the base cars – but it really works, huh?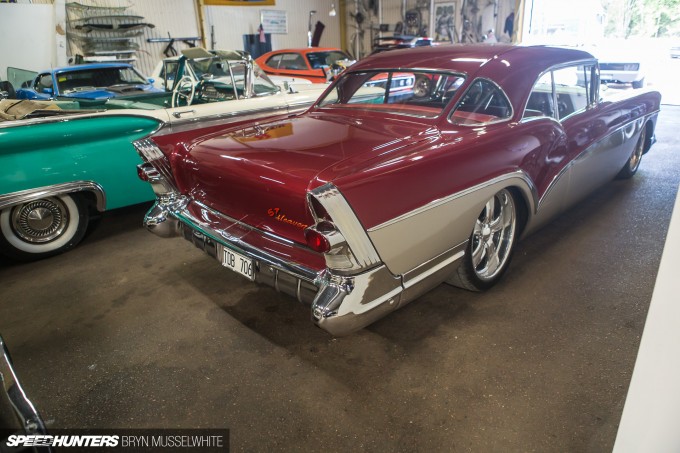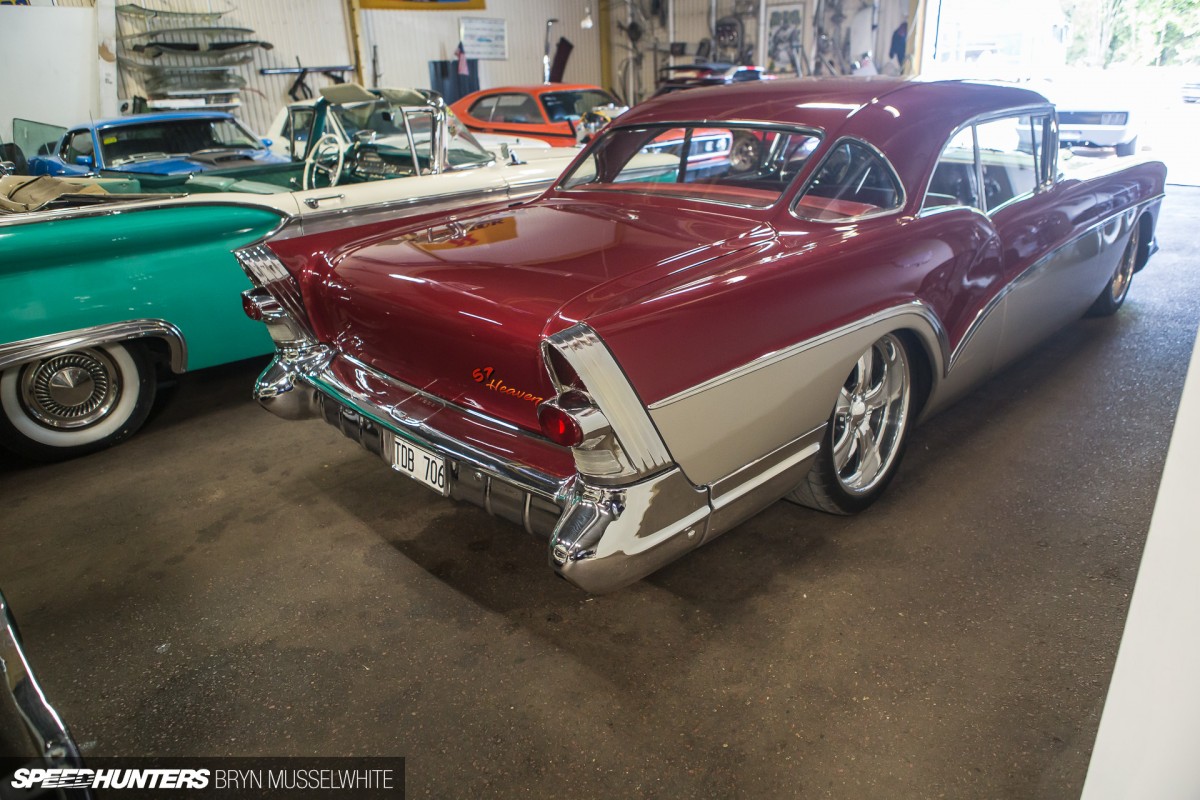 The work that had gone into it was very detailed. This is what I really love about looking around somebody else's project, it's something I really admire.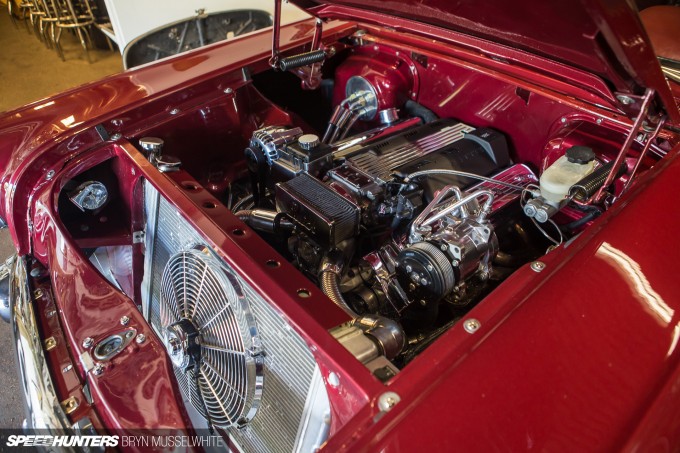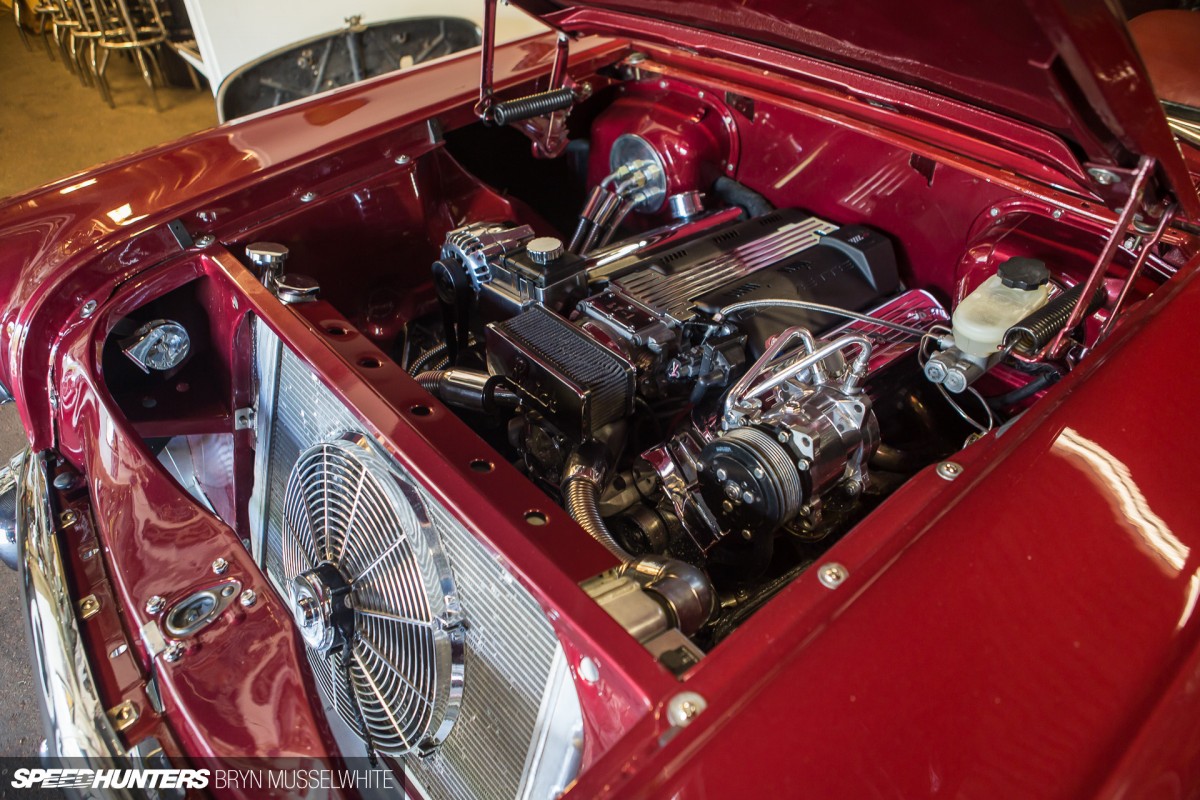 Whether you like the style of car or not doesn't really matter when you're looking at something like this. It's the quality that blows me away. Making modified metal that's nearly 70 years old look so good is a real skill and something I aspire to be able to do. Maybe it helps having so much inspiration around the workshop?
Getting It Right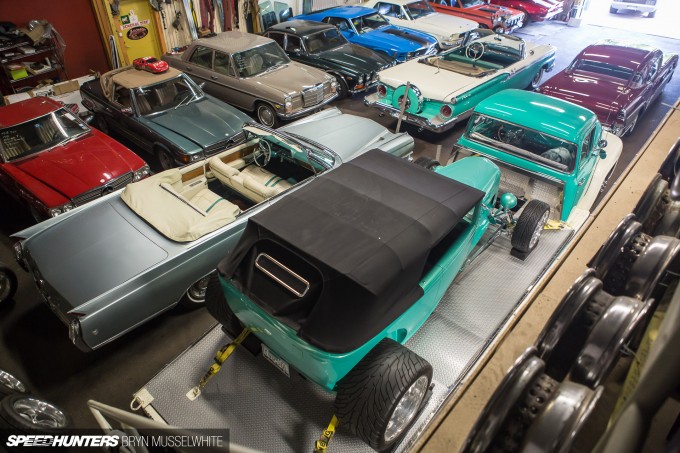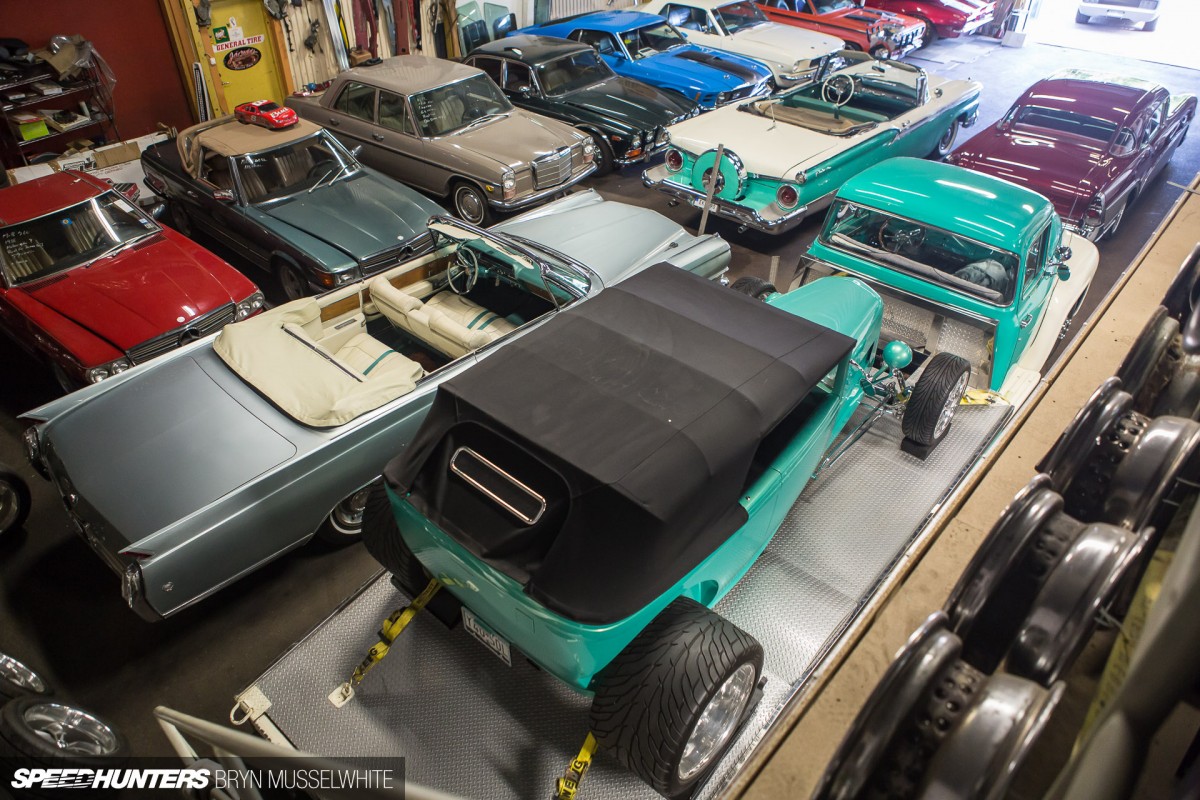 Steven's father and his uncle are responsible for starting the business and expanding in the way it has, so it's primarily their taste in cars you can see. The green '29 Roadster is a genuine Body Coddington 'Rodster' style build that they imported.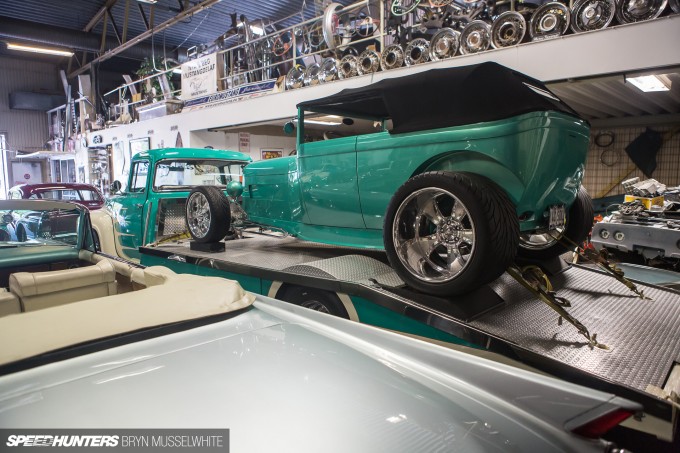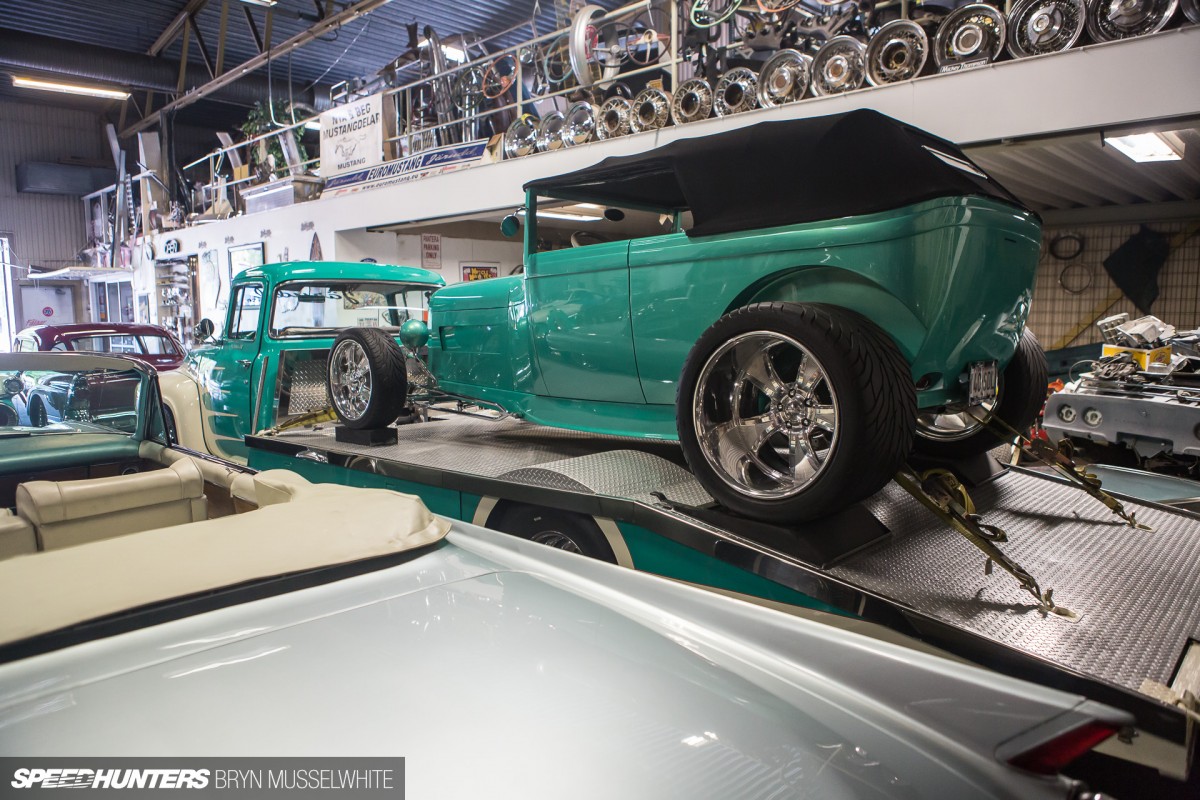 It's not to my taste, but then I don't own it! But I do think it's pretty cool that this is parked right outside the office on its own Chevy transporter. Imagine walking away from the computer and seeing this everyday?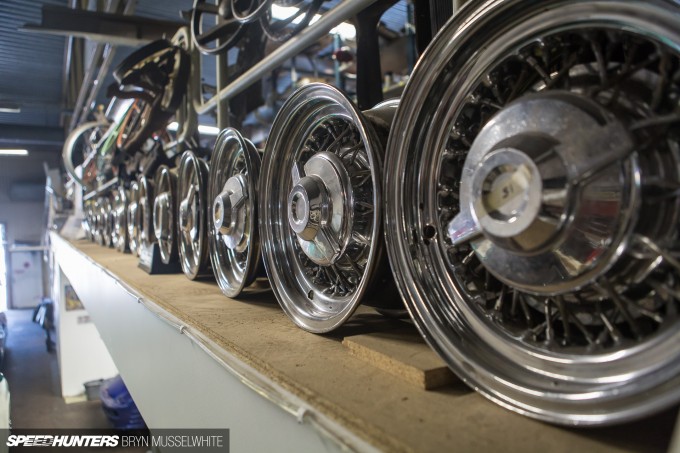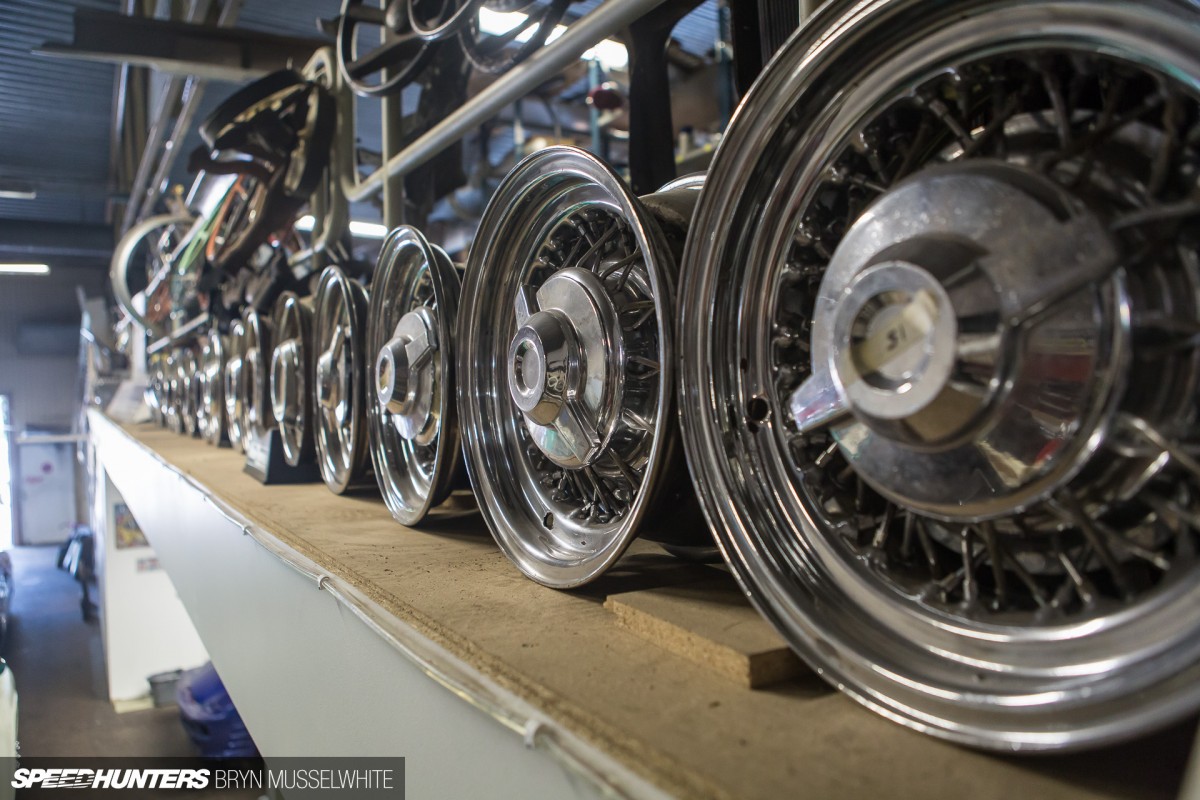 Sure enough, whenever you have a project car – or cars even – you're going to collect parts to go with them. And maybe even parts for cars you don't own. I have a set of wheels sat on top of my office that won't fit anything I own without a PCD change. So when does it become a problem? Well, not here obviously because this is all quality stock.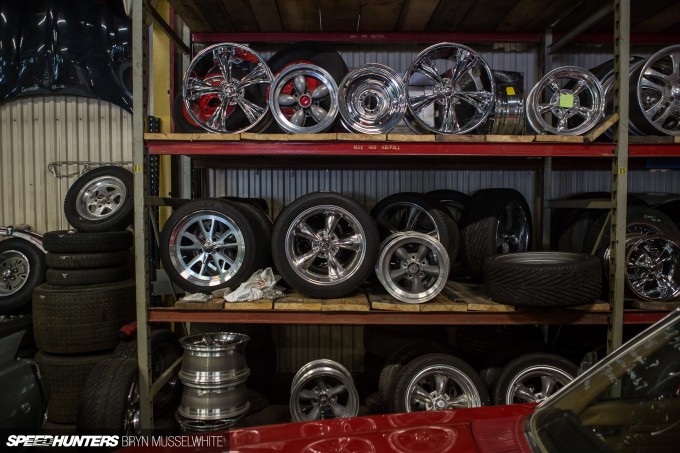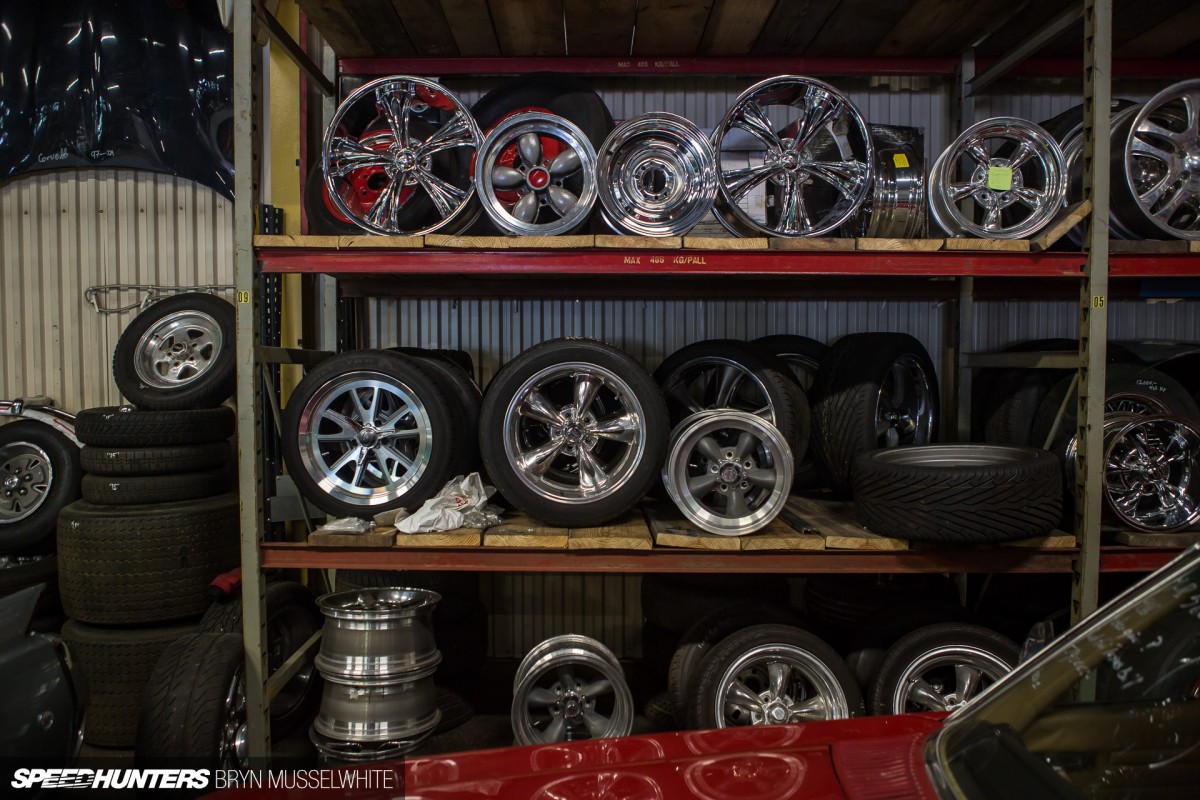 Everything I saw here could be picked up off the shelf and put to good use on a project. Which makes me think about all those wheels and tyres I have lying around at home, some corroded, covered in old paint or tyres that are bald and cracked with age. If I love having them so much, why not get them stripped and refurbished? Then I could stick them on a shelf like this.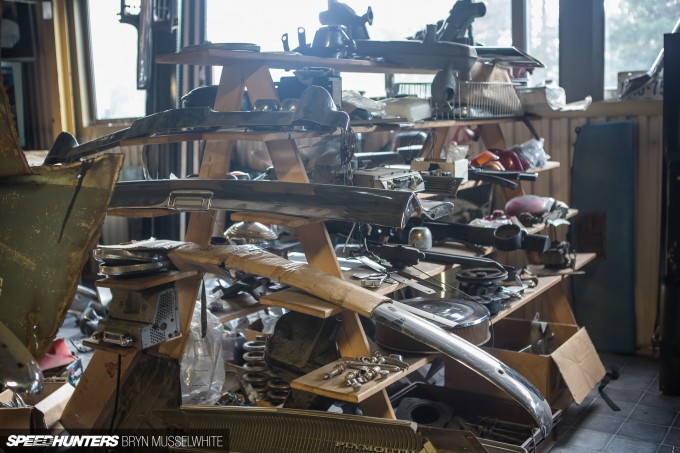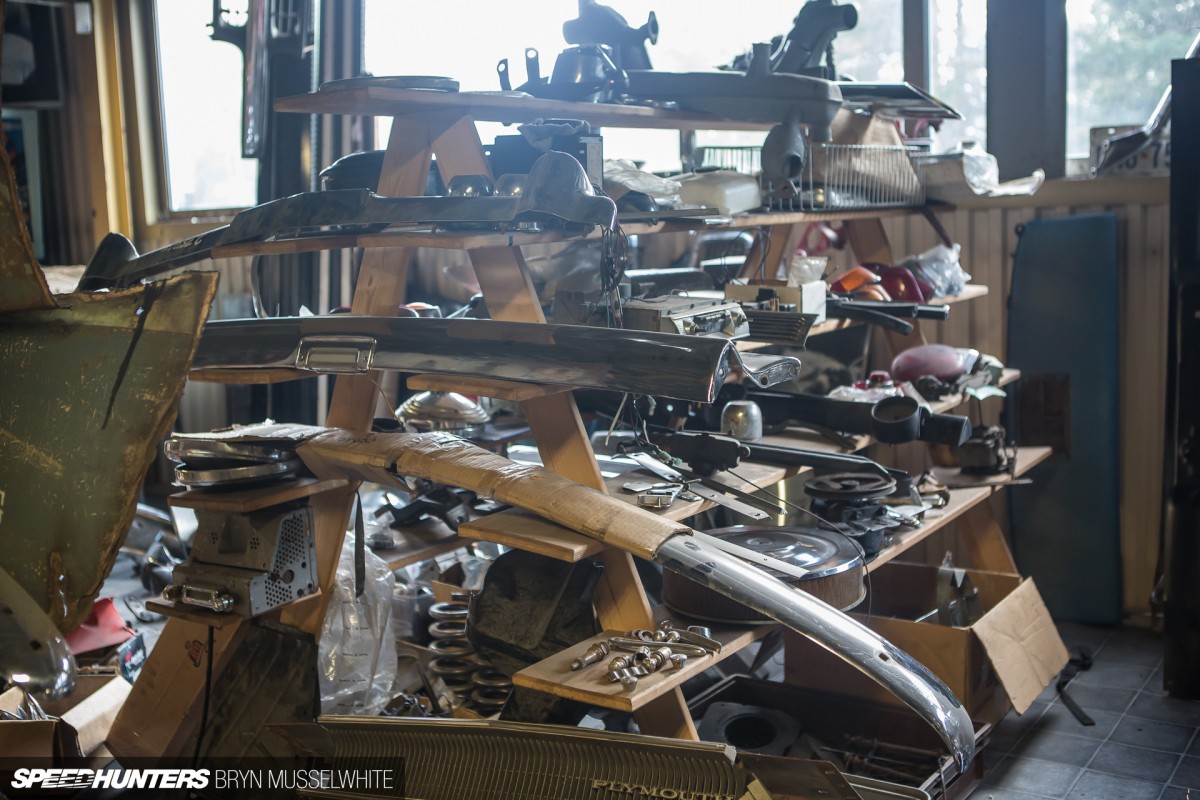 Except that's half my problem – I don't have a light, airy and well laid out area like these parts are in. Maybe that's where I should start?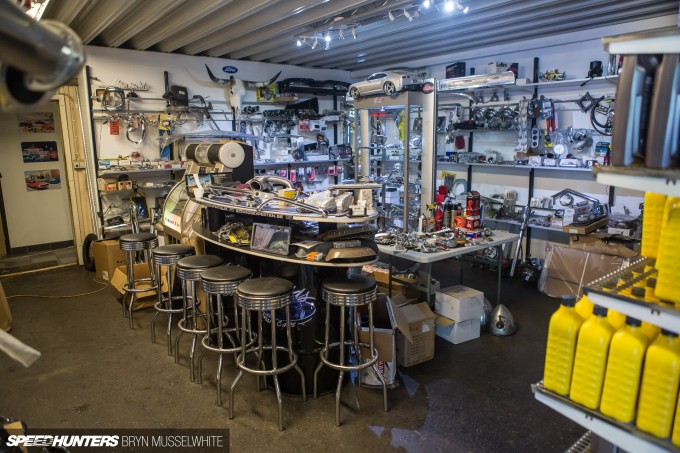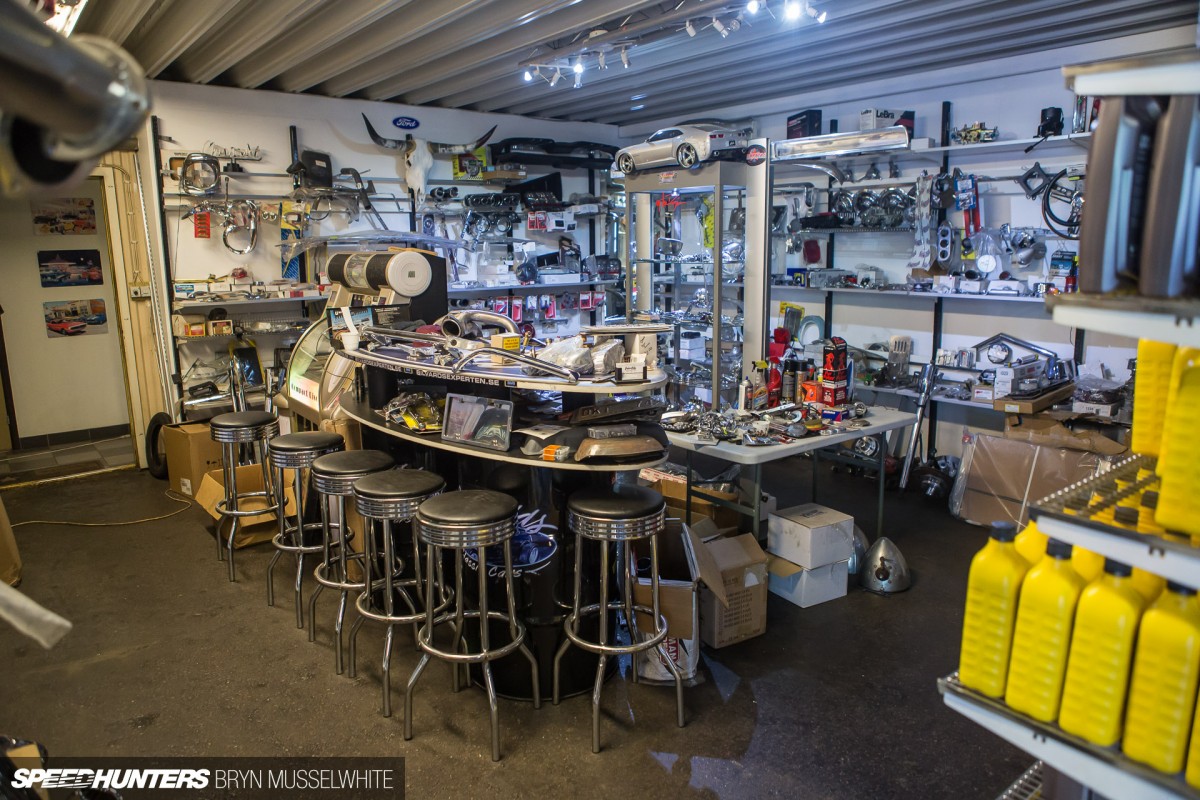 I'm not going to beat myself up over my lack of suitable space, but it is something to think about. Without getting too distracted by the structure itself, it must make a difference when you've got a cool room like this to chill out in with some friends. After all, a little bench racing never did any harm.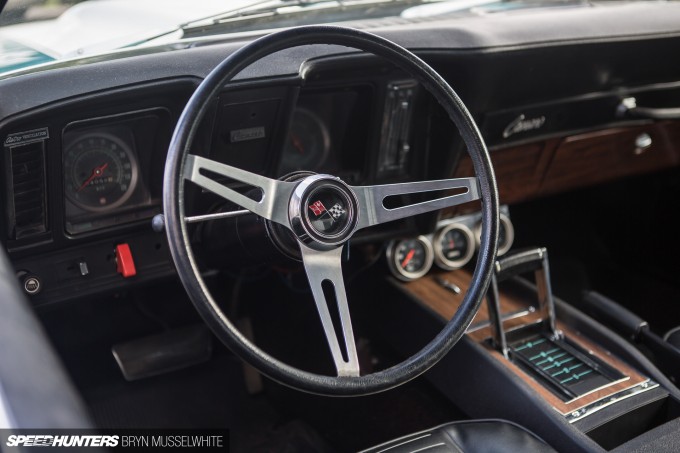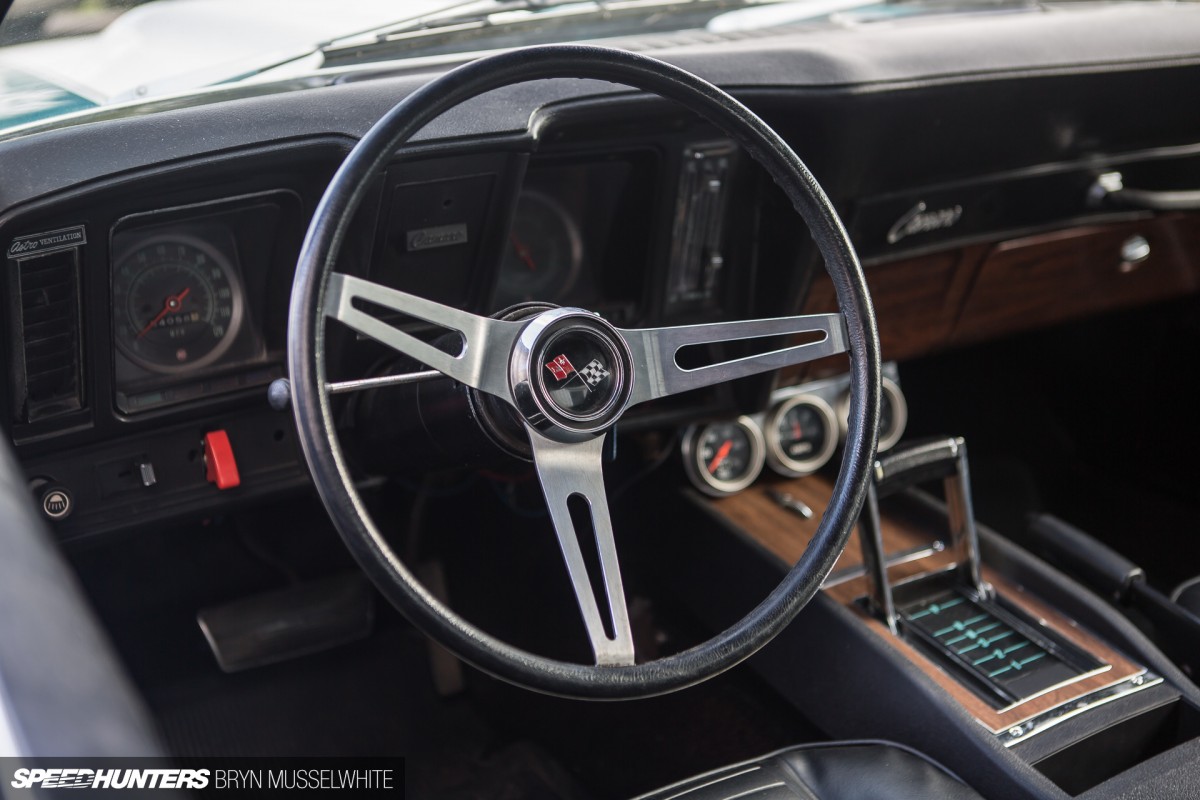 It's cheaper than the real thing that's for sure! Maybe there's something more suitable for my pay scale elsewhere – time to get back to the rustier end of things…
Sliding Scale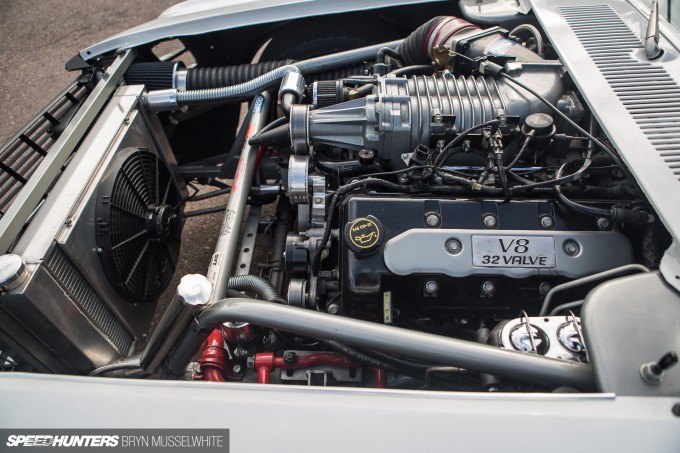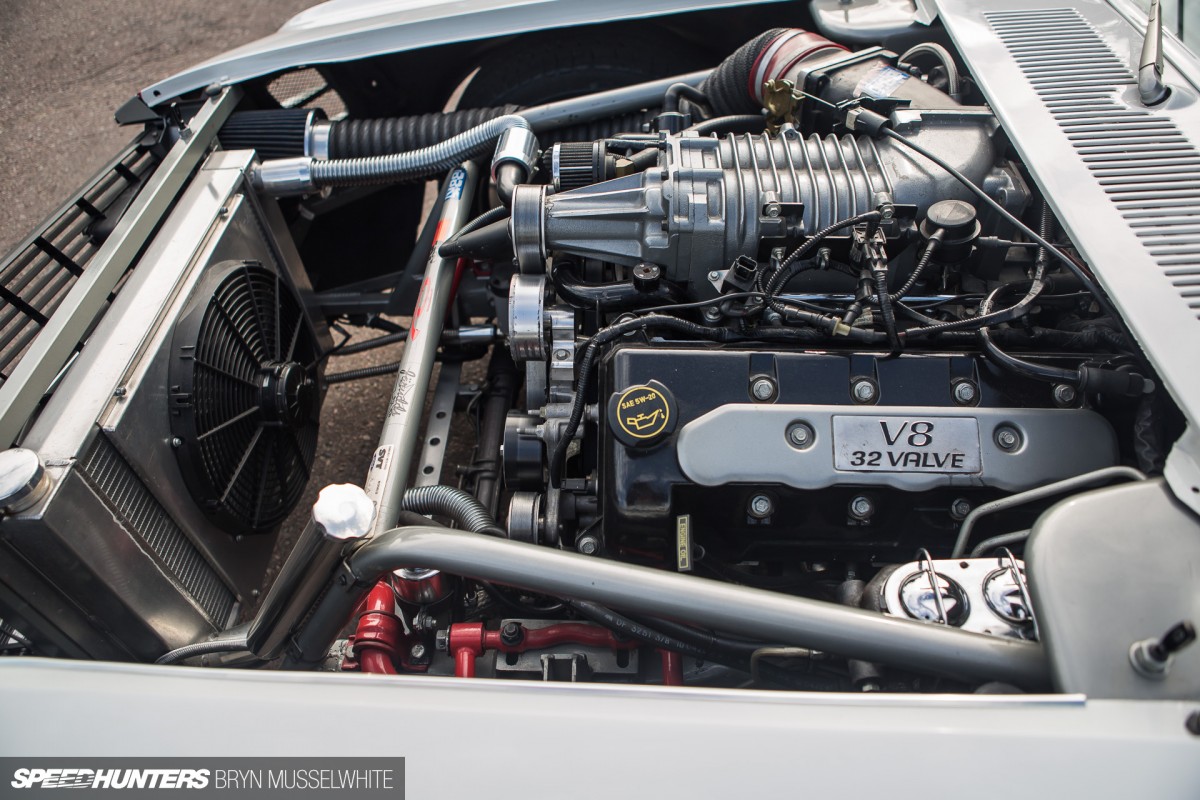 As I headed back out outside the main workshop, I found another of Steven's projects sat there – this time a '69 Mustang Fastback he built to take drifting. I reckon a blown, late-model Ford V8 should do the job.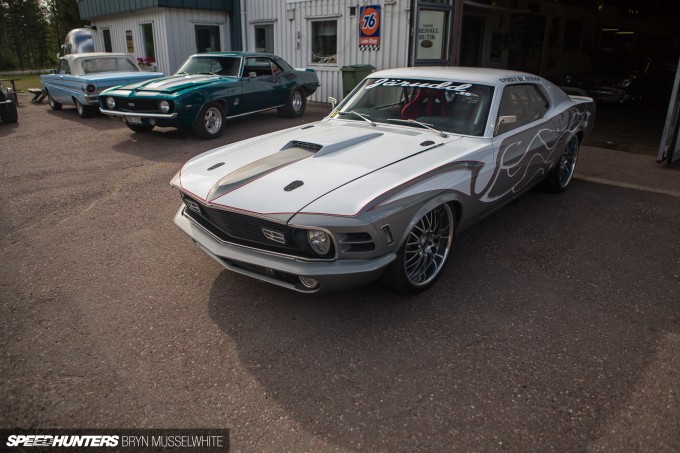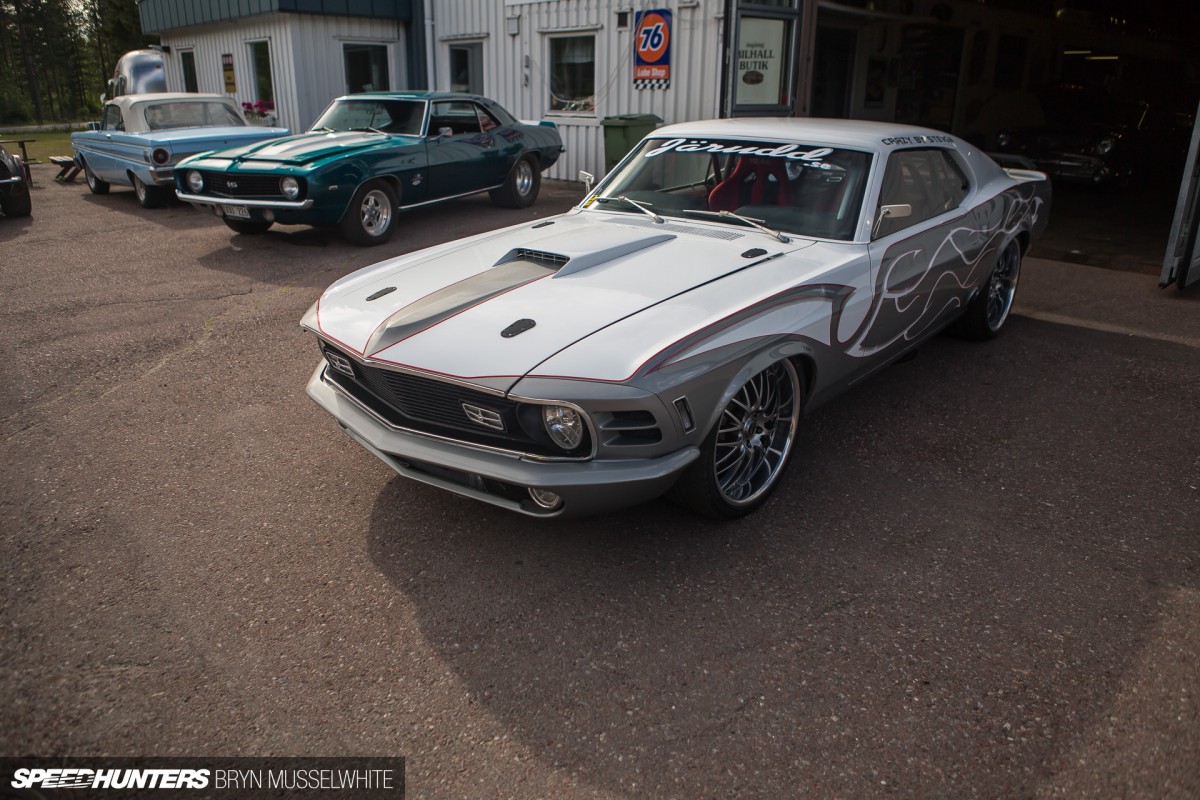 As I stood there looking at it, I thought about what I'd do differently, but caught myself. Yeah, it's cool to daydream and all, but what if that's all you do? Maybe that's not so good. I know I'm very guilty of it and here's Steven with a couple of kick-ass projects already completed and a whole load more waiting to go.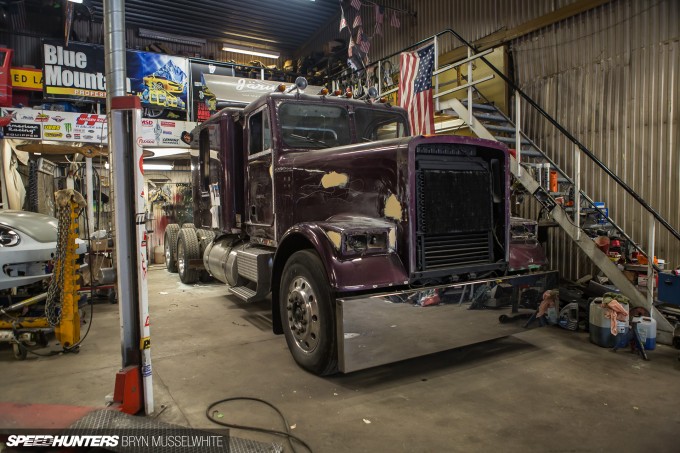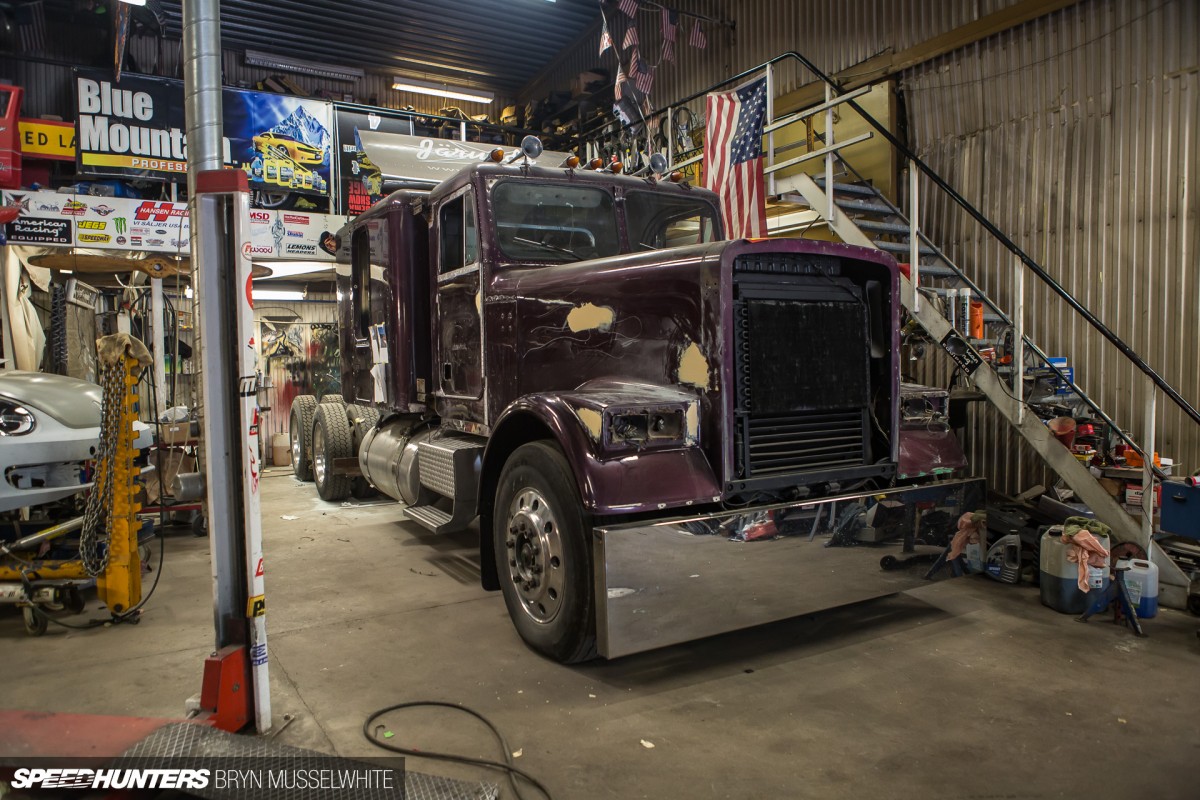 Being well-equipped with the right tools for the job as well as the right space helps of course. This truck was in for some mild modifications and new paint in preparation for hauling a whole transporter load of cars to a show. I guess nothing goes untouched around here.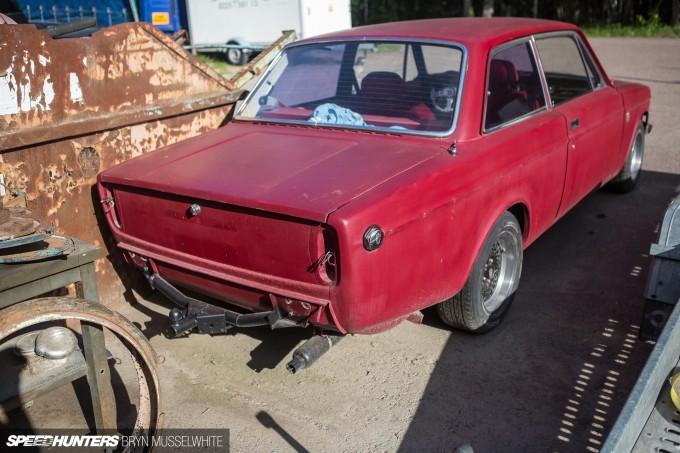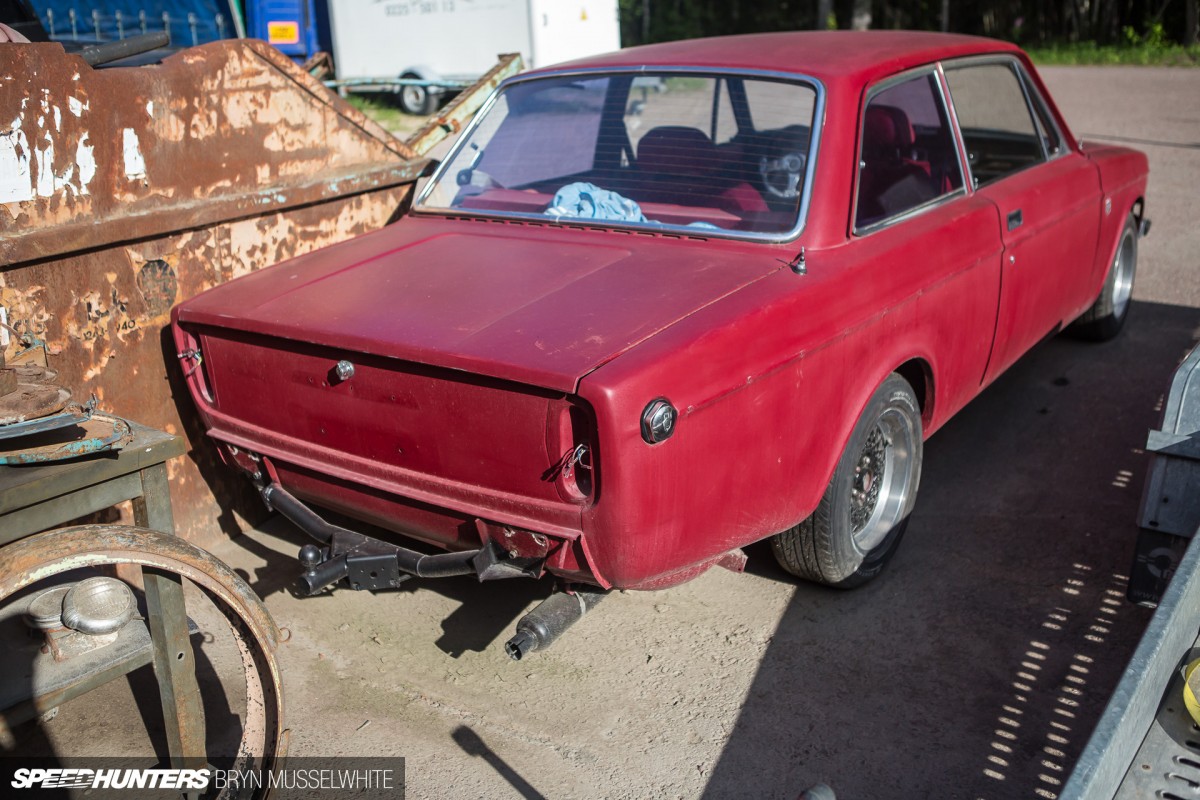 As you move further away from the epicentre of the operation, the projects get cheaper and more local. This Volvo 142 didn't look like it needed much to become a cool little runaround for somebody.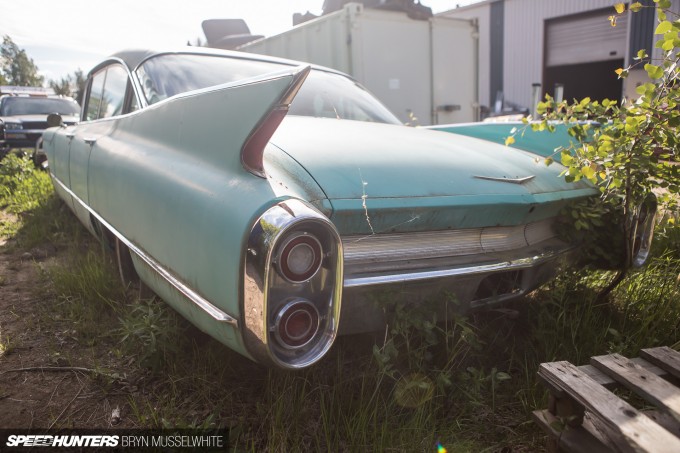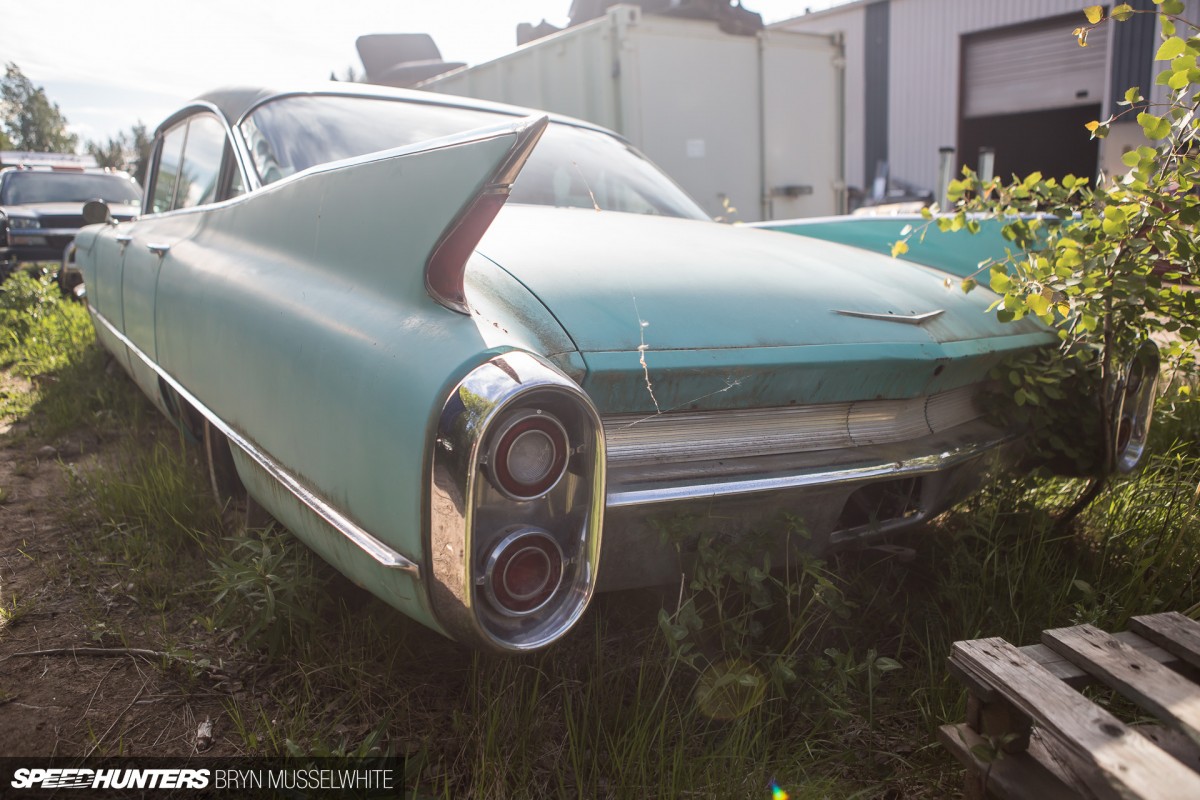 As well as the running and driving imports that Jarudds handle from the US, there are some more ambitious projects lying around. I love these big, late '50s Cadillacs, but man there's a lot of work right there. Physically getting it anywhere as a non-runner is going to be a challenge.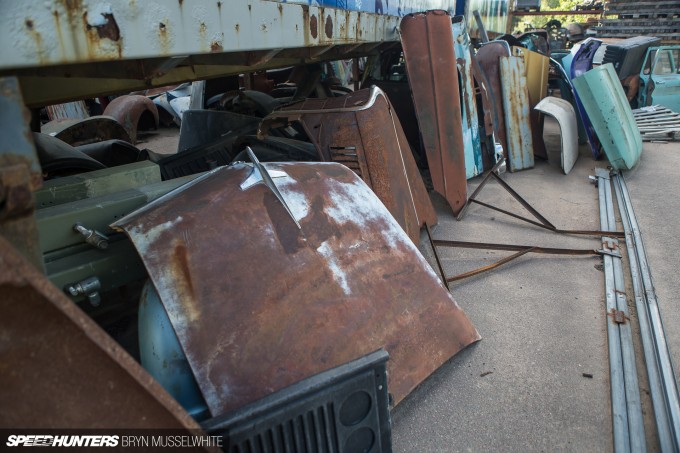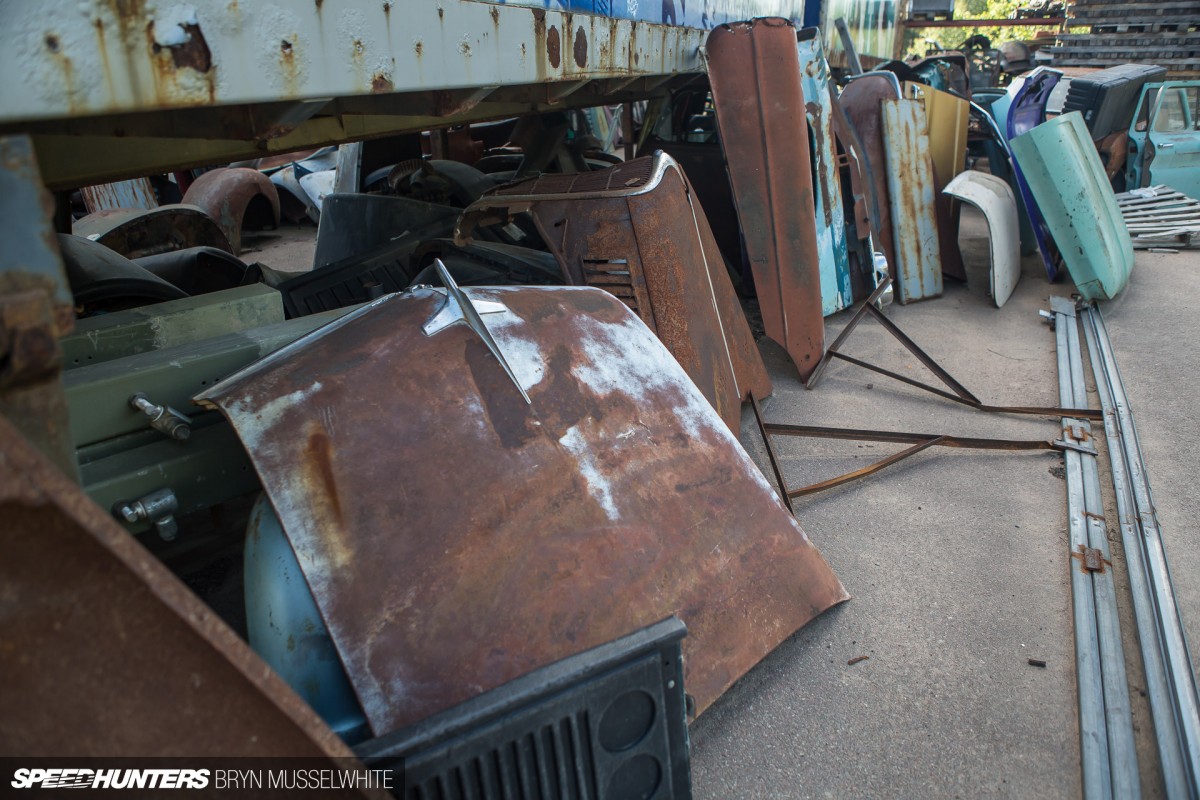 As I made my way around the back of the workshop I found this very cool line up of old panels. I love the combined history and age that's laid out here. Regardless of the fact that they're not attached or even allocated to a car, I still think it's no bad thing to have a few 'pieces' like this around you. Emblems, motifs and memorabilia is all the same. Maybe one of these bonnets would sit well above a garage door, or even make a desk with a frame fabbed up underneath it. Just as long as that happens of course, and it doesn't end up gathering dust somewhere.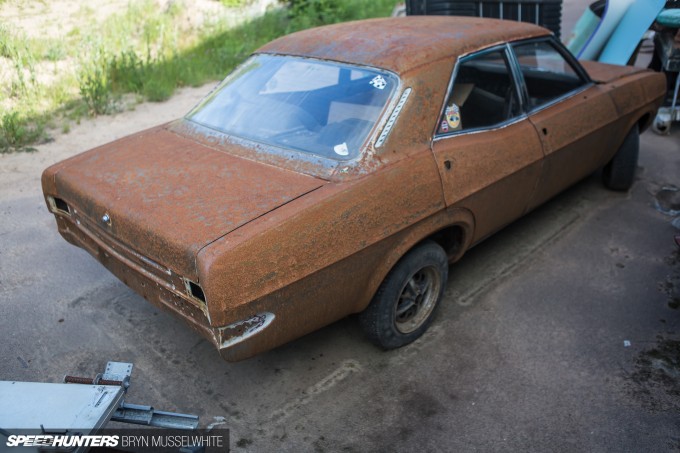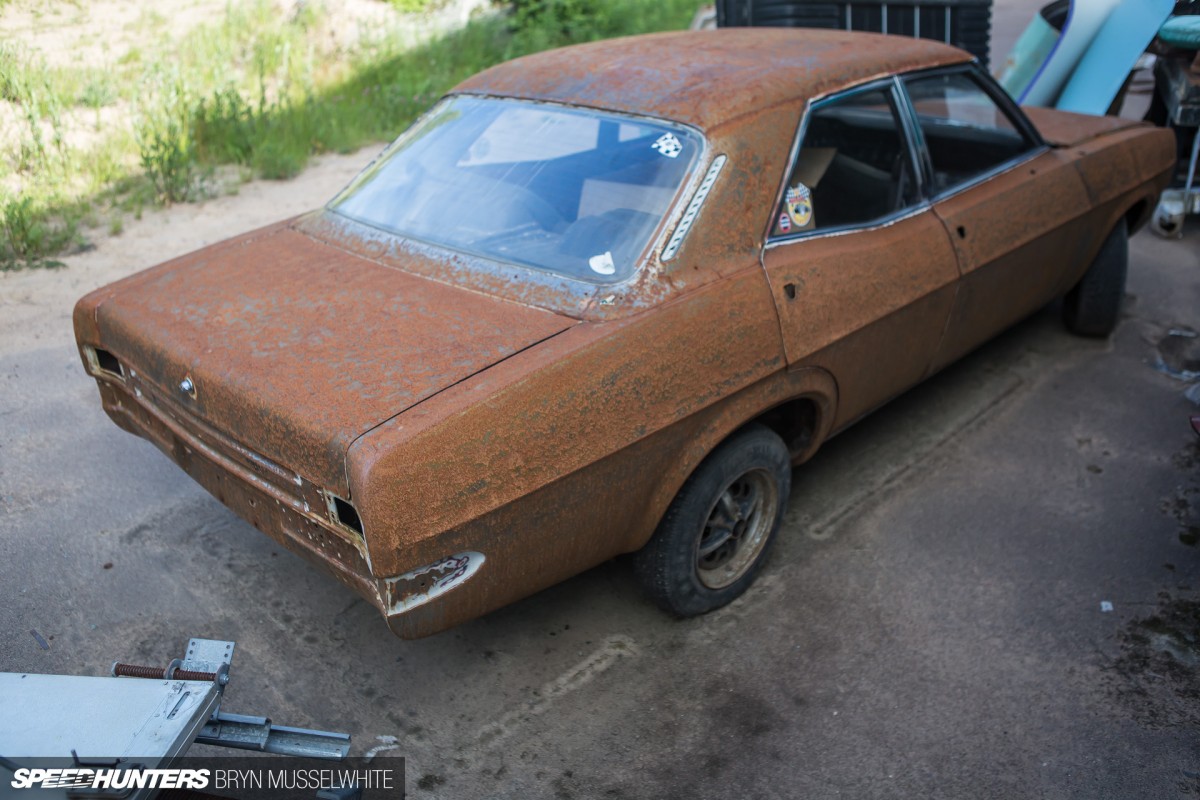 This sad looking Vauxhall Victor was sat nearby. It had previously been stripped to bare metal for a paint job a couple of years ago, but never progressed any further. An enthusiast must own this, but when life gets in the way you have to know where your priorities lie. Although they never would have admitted it, if they'd known the outcome before the work started, should they have sold it instead? Another couple of years and it'll be getting passed saving and only good for spares.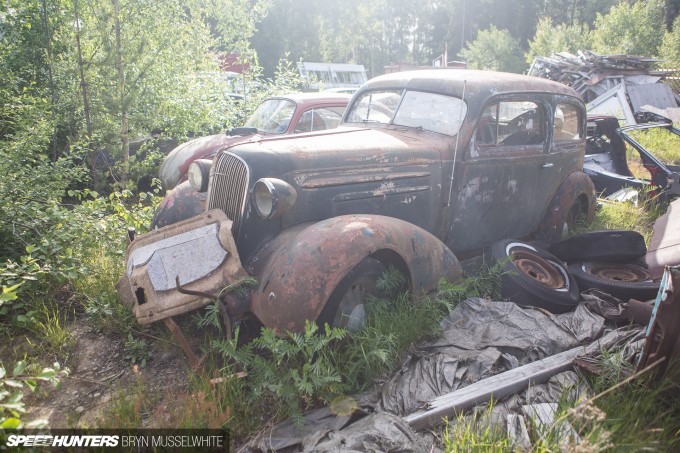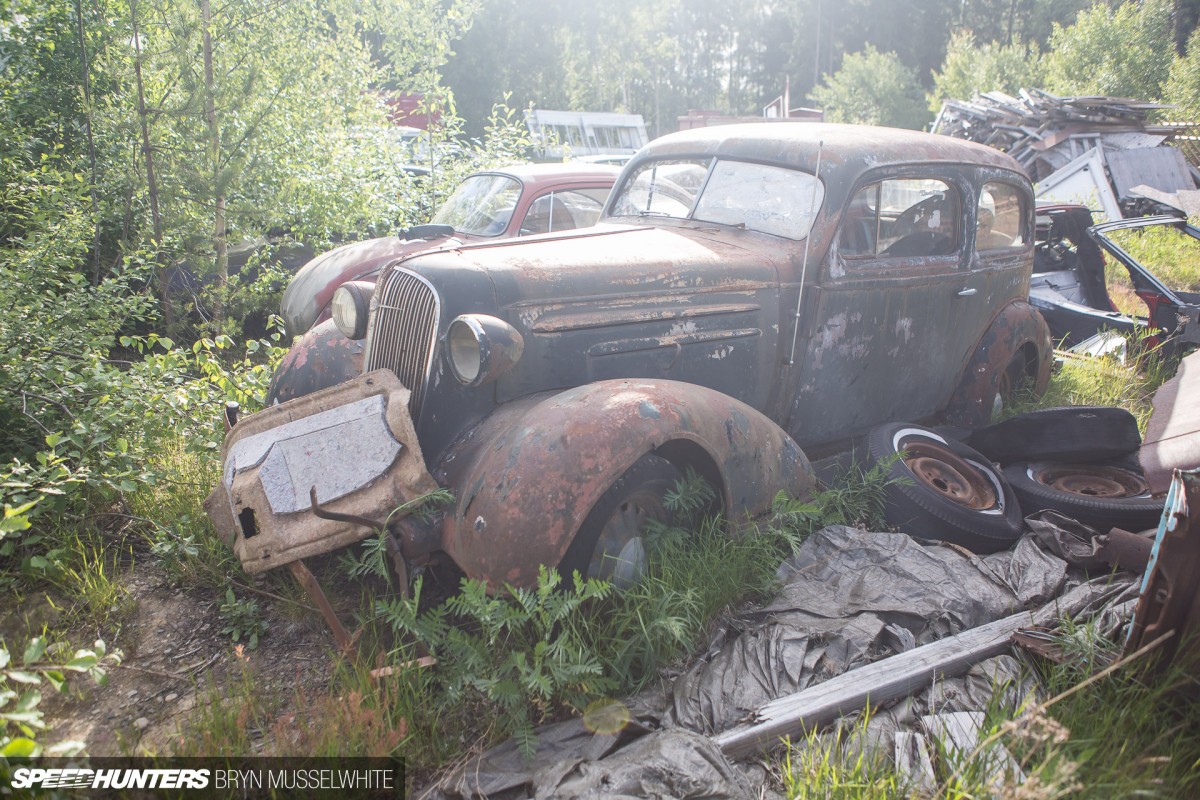 Thinking about it, what I learnt from wandering around Jarruds is that nobody can get it right 100 per cent of the time. But if you focus on doing one thing at a time, then you stand a chance. Make sure you have at least one nice work area rather than trying to make your entire space – no matter how big or small – look like an episode of Ultimate Garages. And it might sound obvious, but finish stuff. Having a running, driving project is worth so much more than two or three dead ones in storage.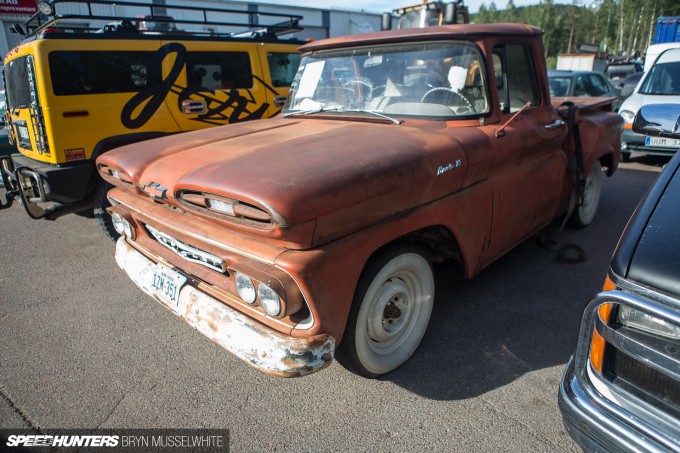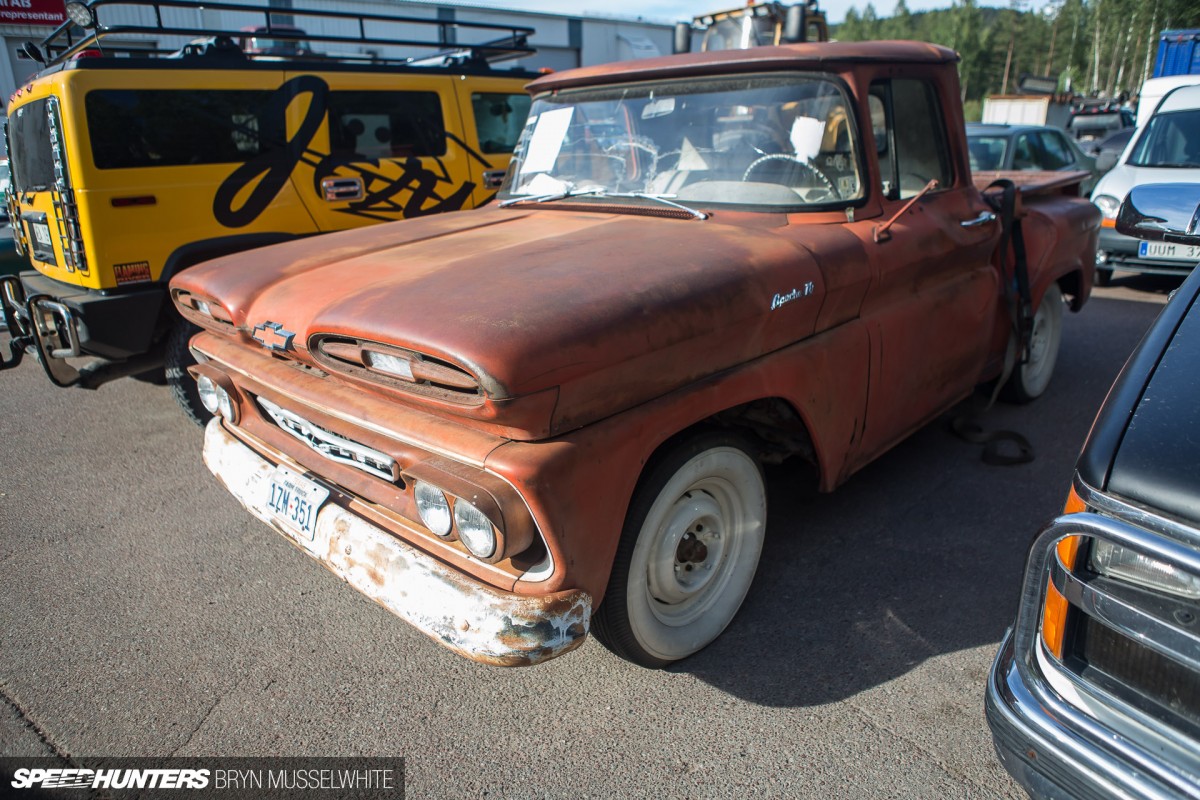 And here's the real reason why I'm glad I took some time out at Jarudds instead of blasting off to the next shoot. This is the '61 Chevy Apache pickup truck that I genuinely – hand on heart – nearly bought. It was cheap, solid, ridiculously cool and just needed a little bit of work. In my head it would look great on air, some big steels with a modern motor sat in between the front rails. You could keep the body as is and just drive it until the rubber falls off. Or not as the case would probably be…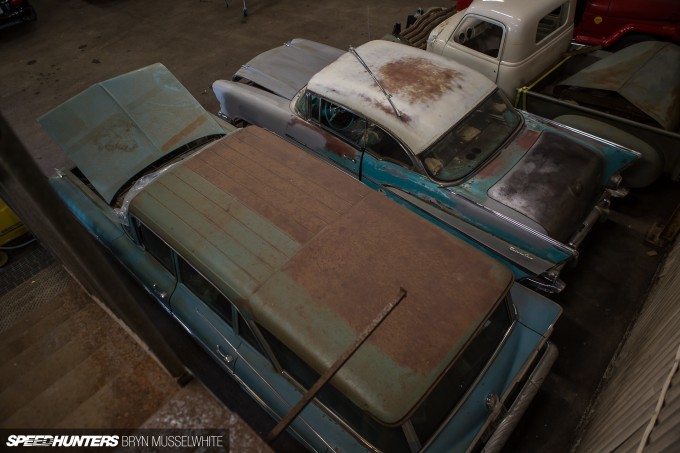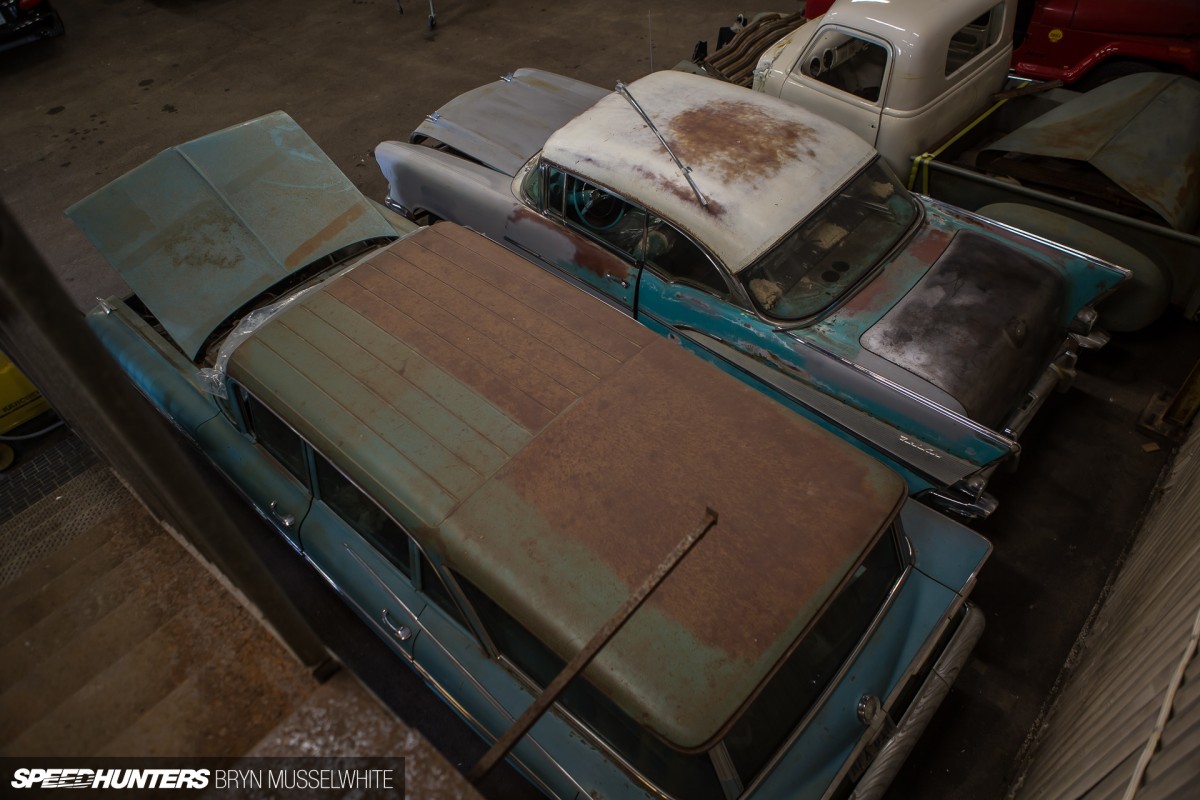 Because back home there's a Mk1 Ford Cortina I bought in Finland which still needs paint after a mile of welding was done. Then there's my beach buggy rebuild which at this rate will measure in decades, plus the Volvo and others. Oh, and a pile of parts which could stock an autojumble hall. I don't know about you, but I reckon it's harder to say no, than it is to say yes.
This car 'thing' is definitely an illness, but maybe I'm getting better at last? Or is that worse…
Bryn Musselwhite
bryn@speedhunters.com
Instagram: Speedhunterbryn
Thank you to Jarudds Bil SE for allowing me to wander freely!
Cutting Room Floor