Finding Satisfaction
When it comes to the world of cars, what is the most satisfying thing you can do? Finally buying your dream car after years of saving? Putting in a new best lap time at a track day? Successfully completing a difficult DIY project? Saving an old car from the scrap yard? The answer will vary for everyone, and that's the great thing about this hobby.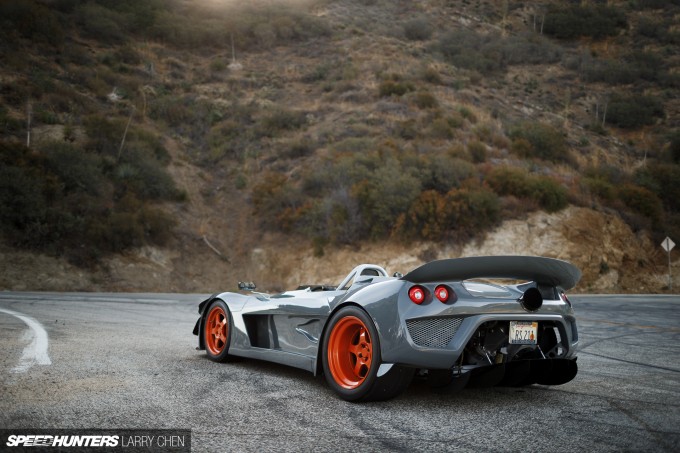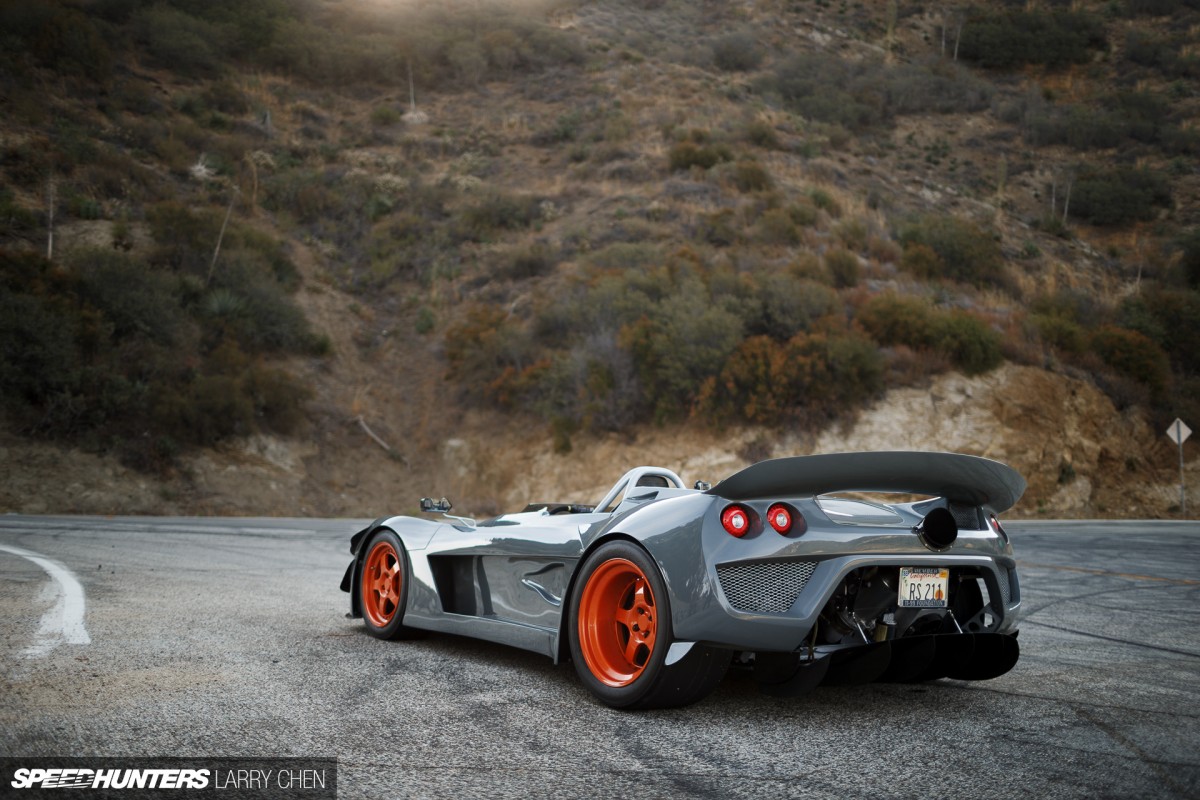 It's hard, however, to think of something more rewarding than building your own car. I'm not talking about simply modifying an automobile to suit your tastes. I'm talking about creating a one-off machine from the ground up – designing, fabricating, and finally driving a vehicle that no assembly line could ever produce.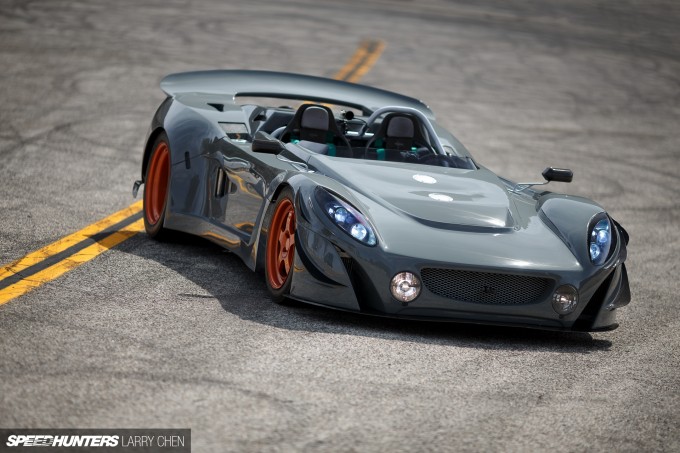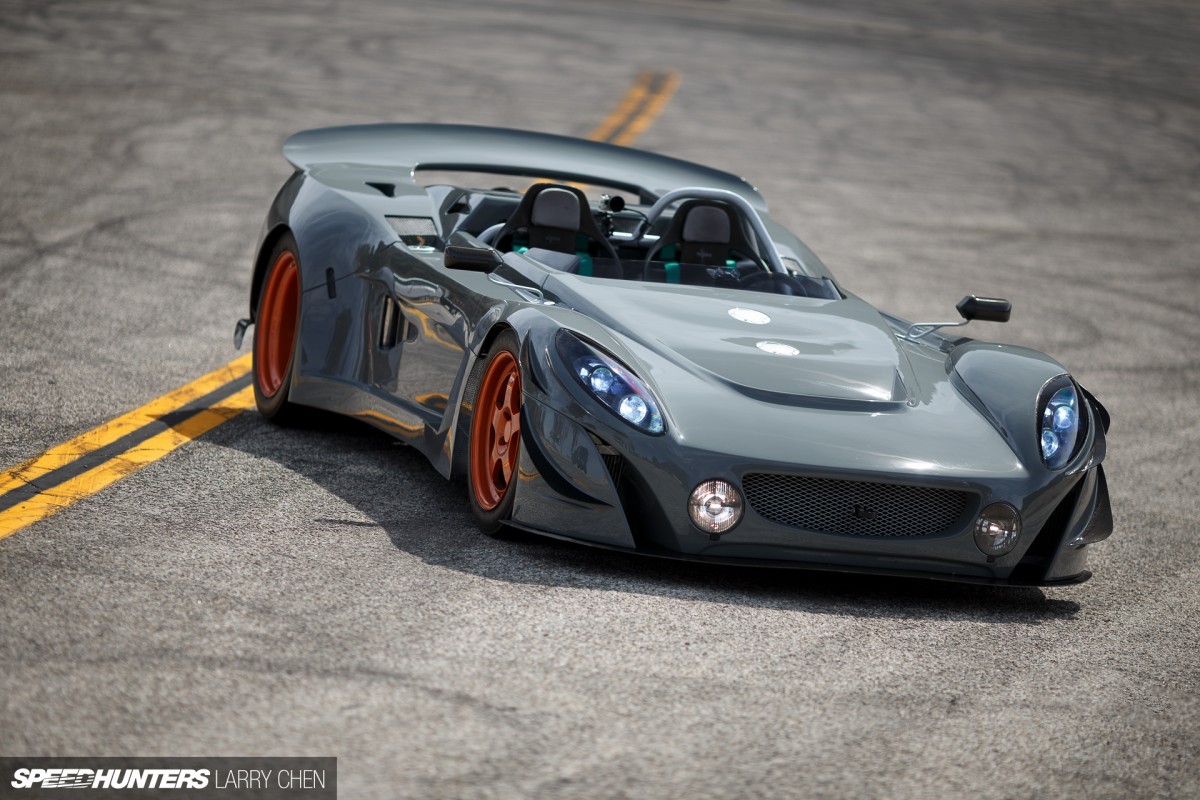 Now obviously this isn't something that everyone is capable of. After all, you need a lot of money, a lot of time and some serious mechanical ability – or at least some combination of the three. But if you are able to successfully do such a thing, the results can be magical. Just ask Frank Profera – the owner of the heavily-modified Lotus you see here.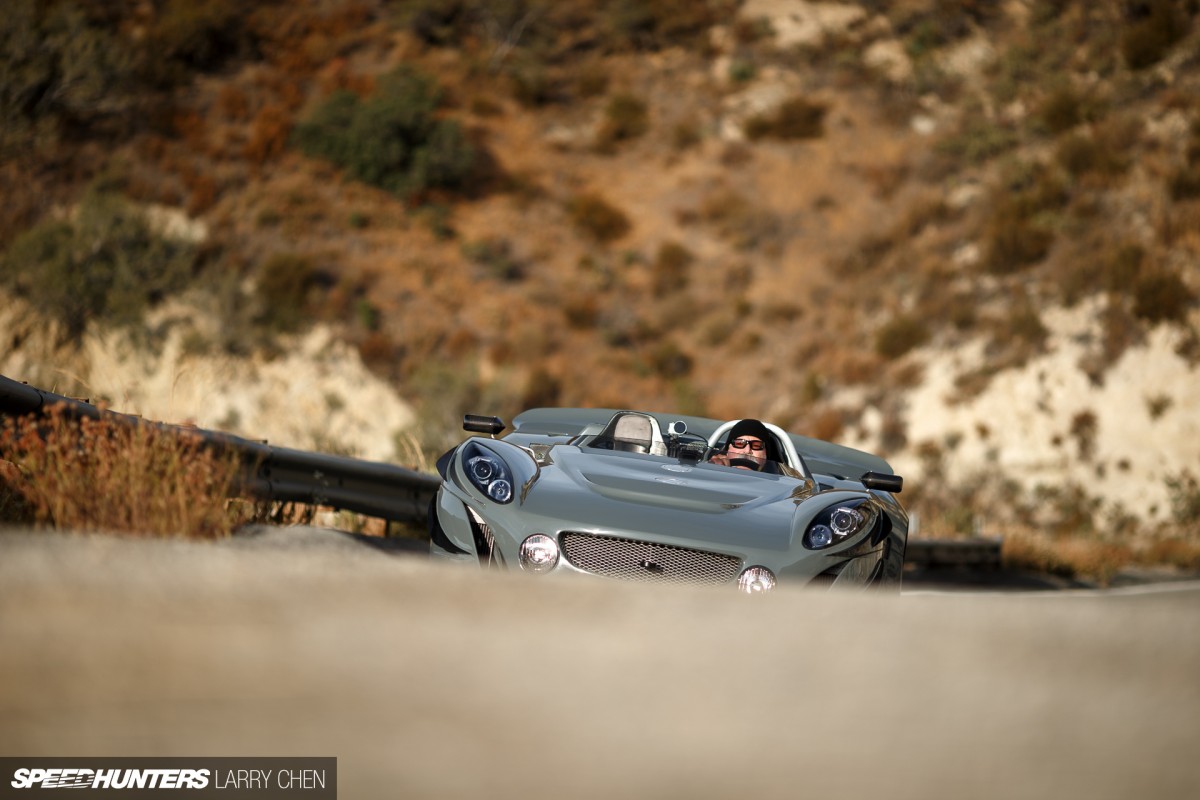 If you are thinking that name sounds familiar, you'd be correct. Frank is the owner of an amazing Lotus Elise that Larry stumbled across a couple of years ago – a machine that went on to win our 2012 Street Car of the Year award. Actually, the car you see here is the very same one – albeit in a very different guise now – which begs the question: how exactly did it wind up like this?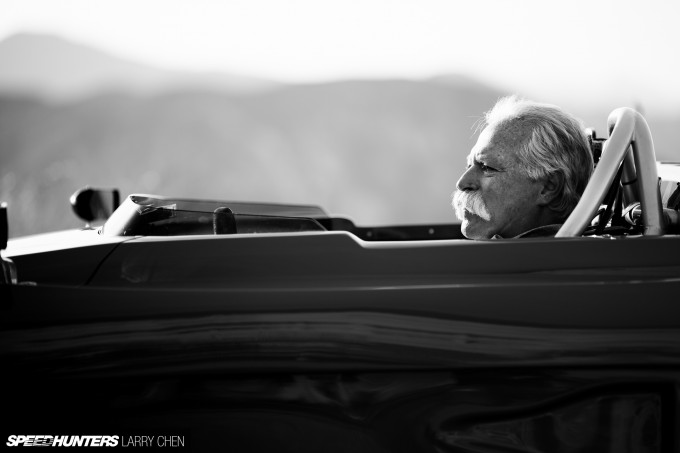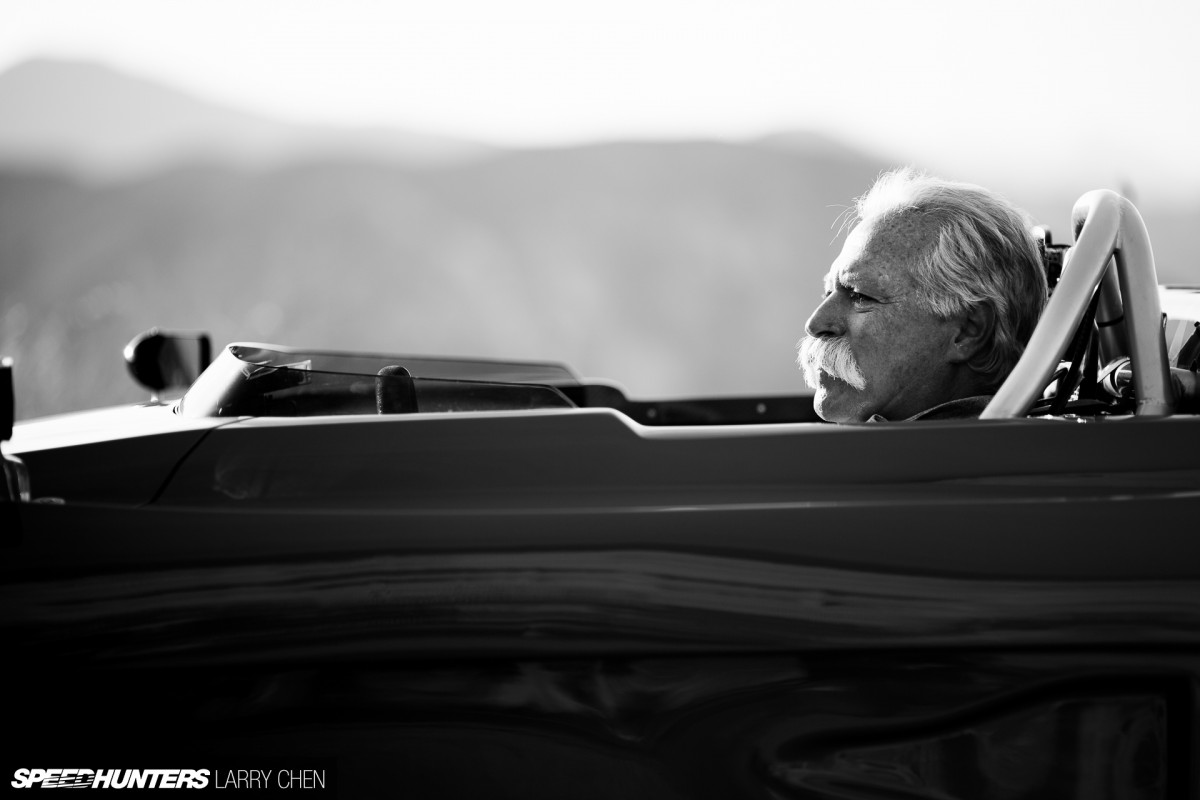 Well, not long after our original photoshoot Frank was driving the Lotus on the freeway when he was involved in a hit and run accident with a Porsche driver. The Porsche essentially clipped the Lotus, which sent it careering into a concrete barrier. Luckily Frank wasn't hurt, but the same couldn't be said for the Elise's customized bodywork which was significantly damaged.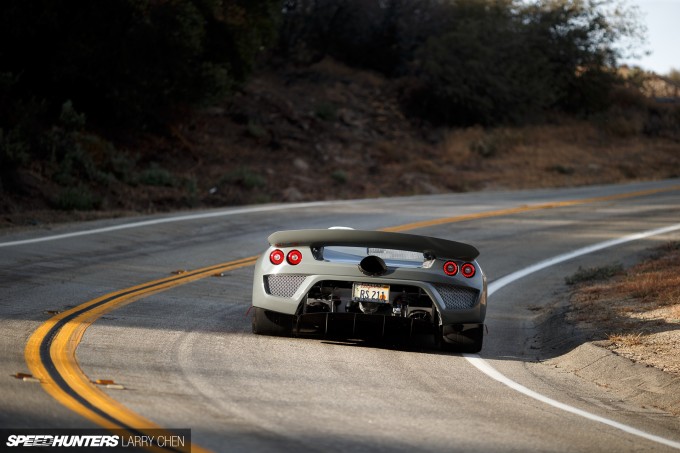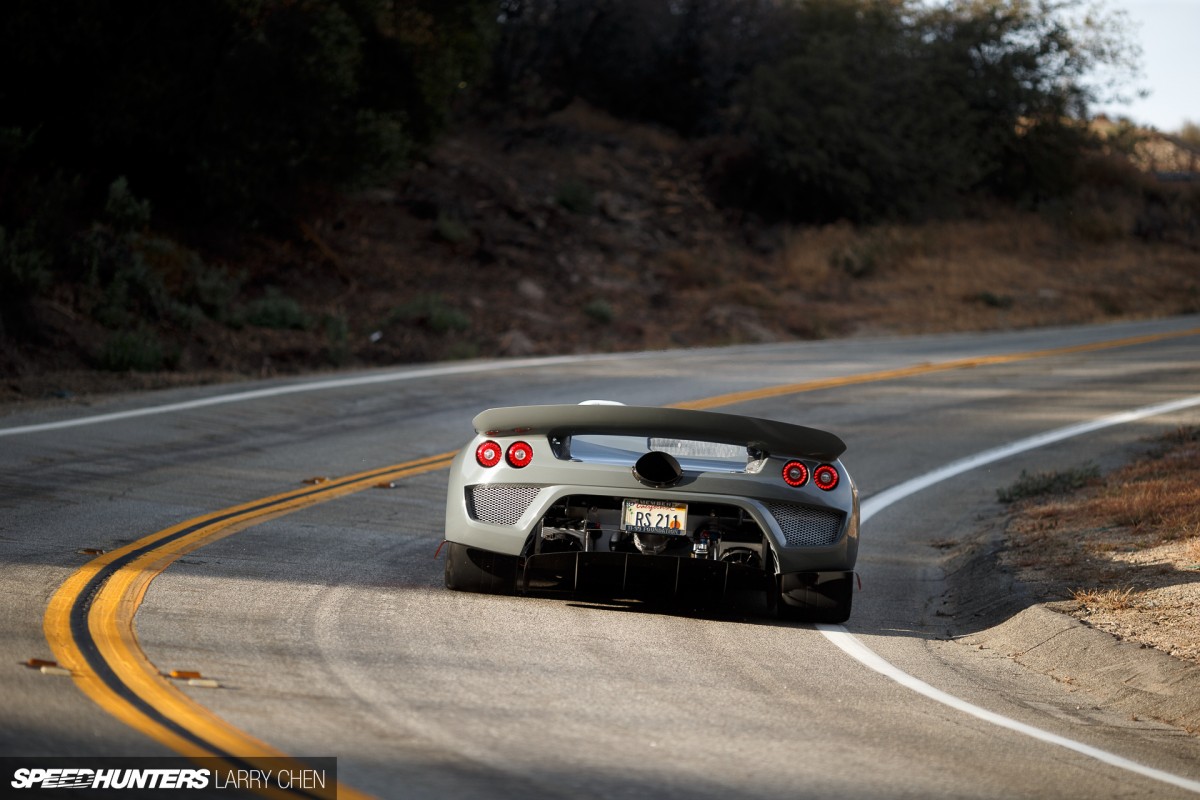 Given the amount of custom work on the car, repairing it would not be as simple as ordering some new parts and making a visit to the local body shop. So after surveying the damage, Frank and his friend Mike Stafford decided they would completely rebuild the car into an even more aggressive creation.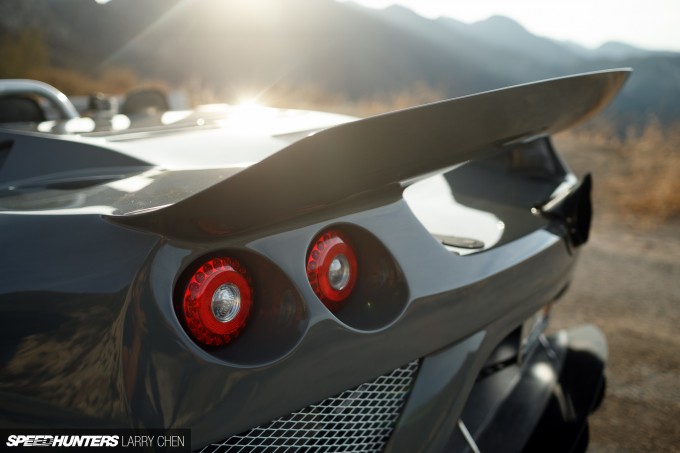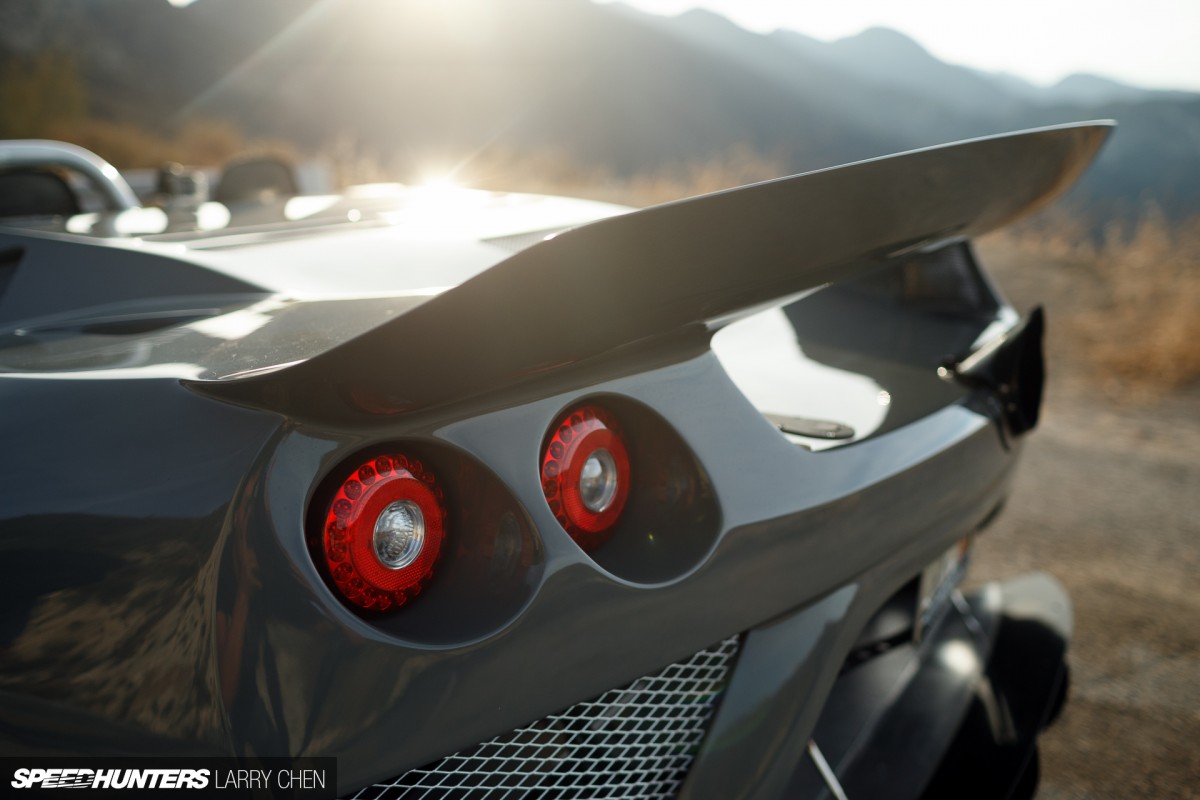 Unlike some builders, Frank and Mike did not have a specific vision of what the finished car would look like. There were no concept renderings or blueprints – instead much of the design was thought up during Frank's long drives from his home in Sherman Oaks to Mike's workshop in Lancaster. Once he arrived at the shop, he'd say 'Give me the saw' and the cutting and creating began.
Version Two Emerges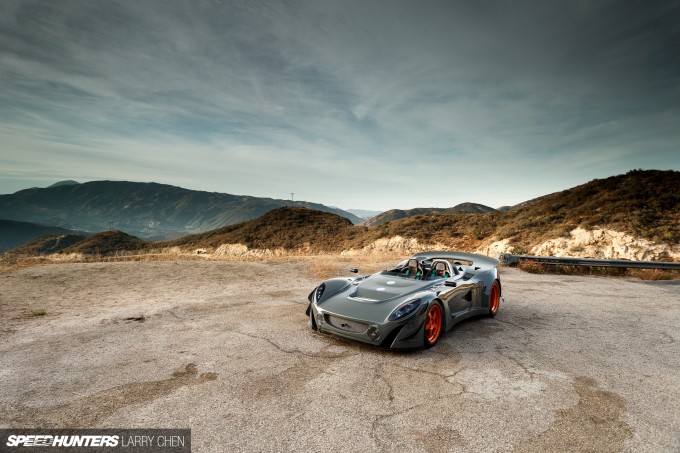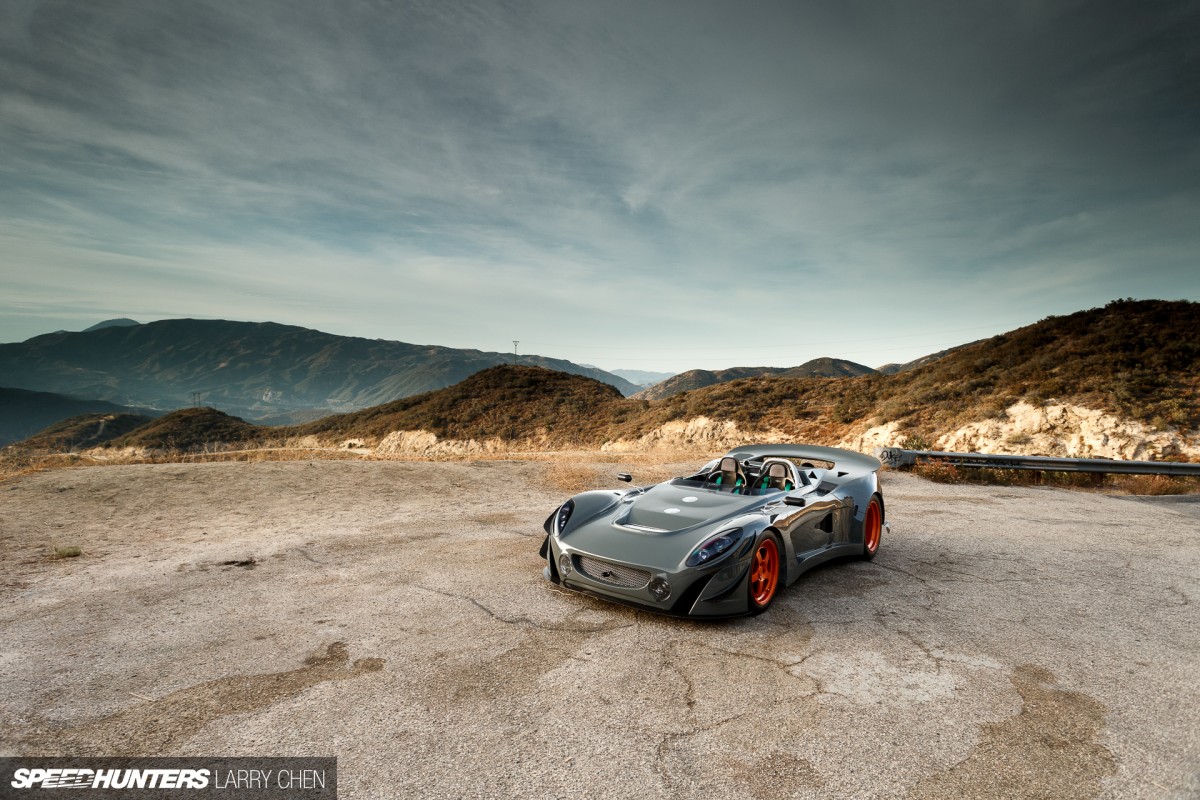 The basis for the new look came from Lotus 2-Eleven body panels that Frank sourced from contacts in the UK, but the final shape would be much more aggressive than that. Yes, he's somehow managed to make the body of Lotus Cars' dedicated track day special look tame by comparison.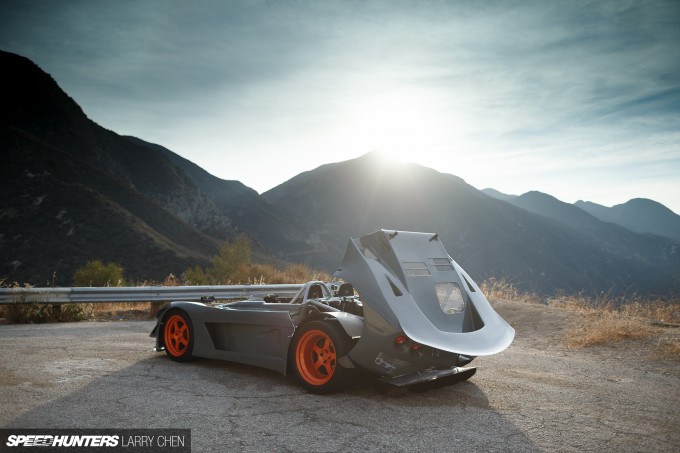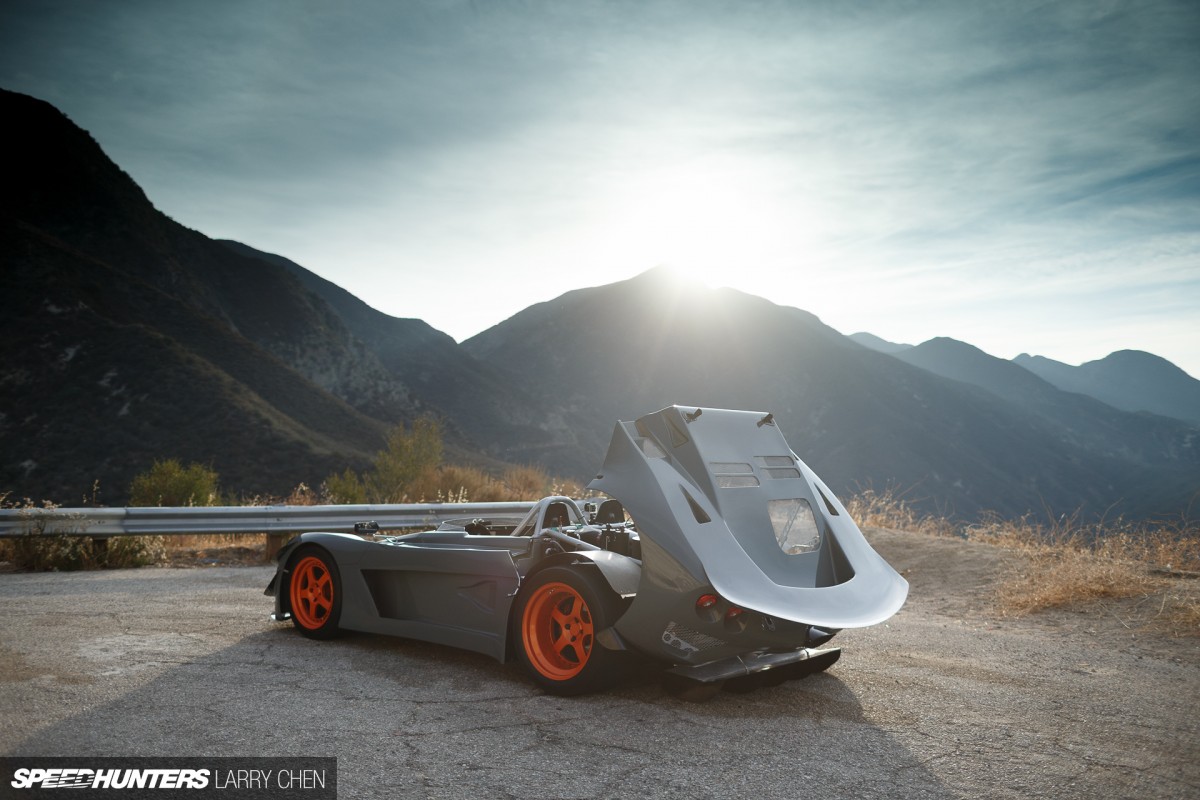 Frank actually describes the appearance as a modern day Can-Am car, and when you look at the ridiculously wide tail section and open cockpit body it's hard to disagree. The custom-fabricated carbon fiber wide body is both longer and far wider than a stock 2-Eleven, and by the time Frank and Mike finished the exterior work it had became hard for many to identify the car as a Lotus at all.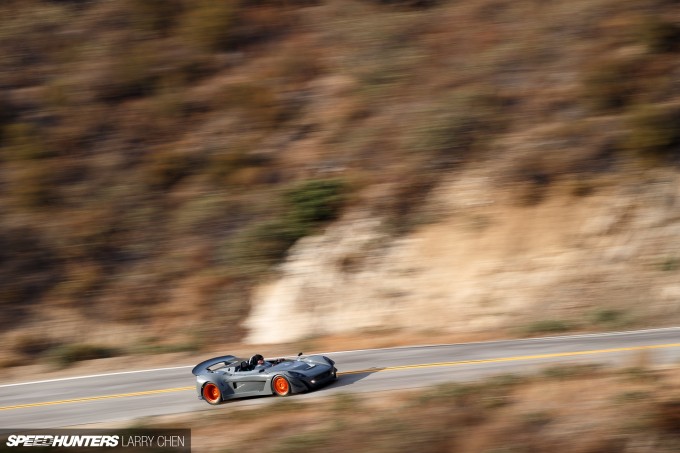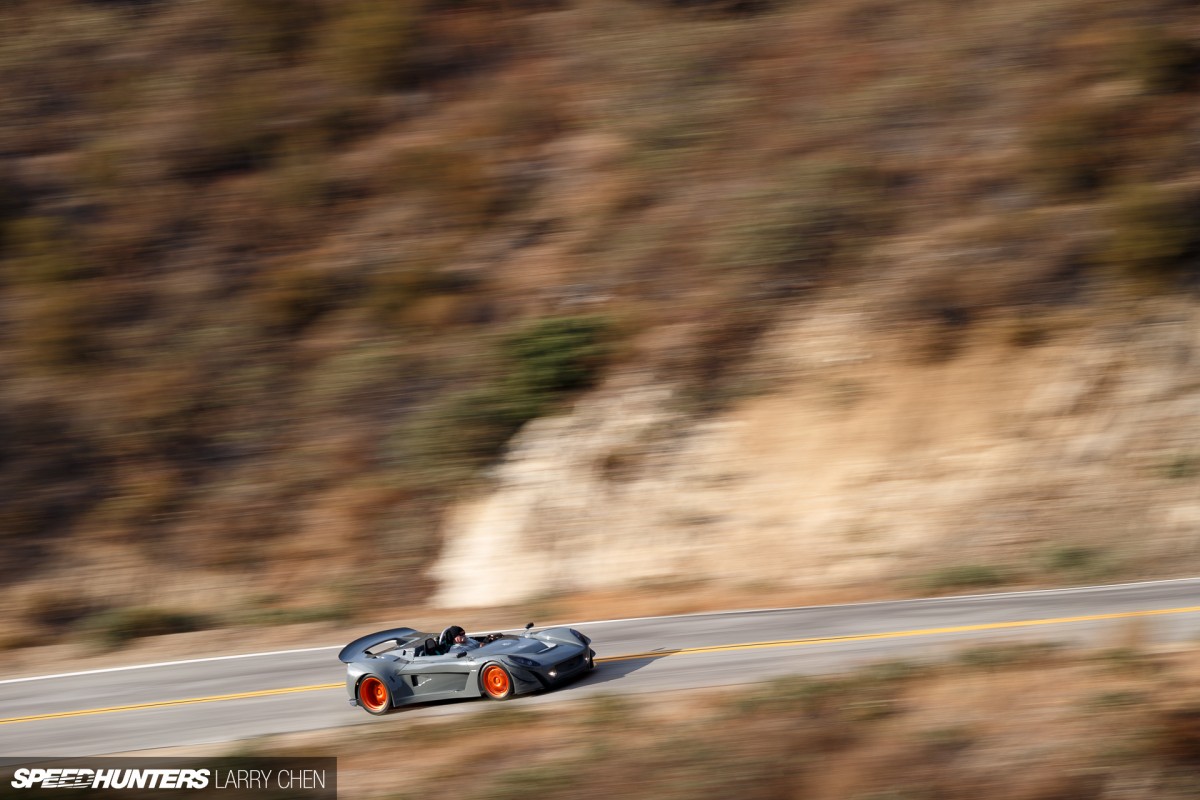 Of course, it becomes even harder to identify the car when you see it fly by on one of Southern California's mountain roads – and that's where so many people encounter Frank and his unique creation.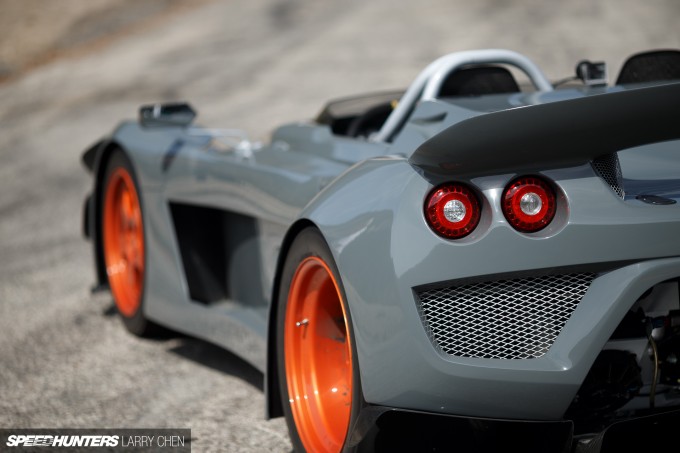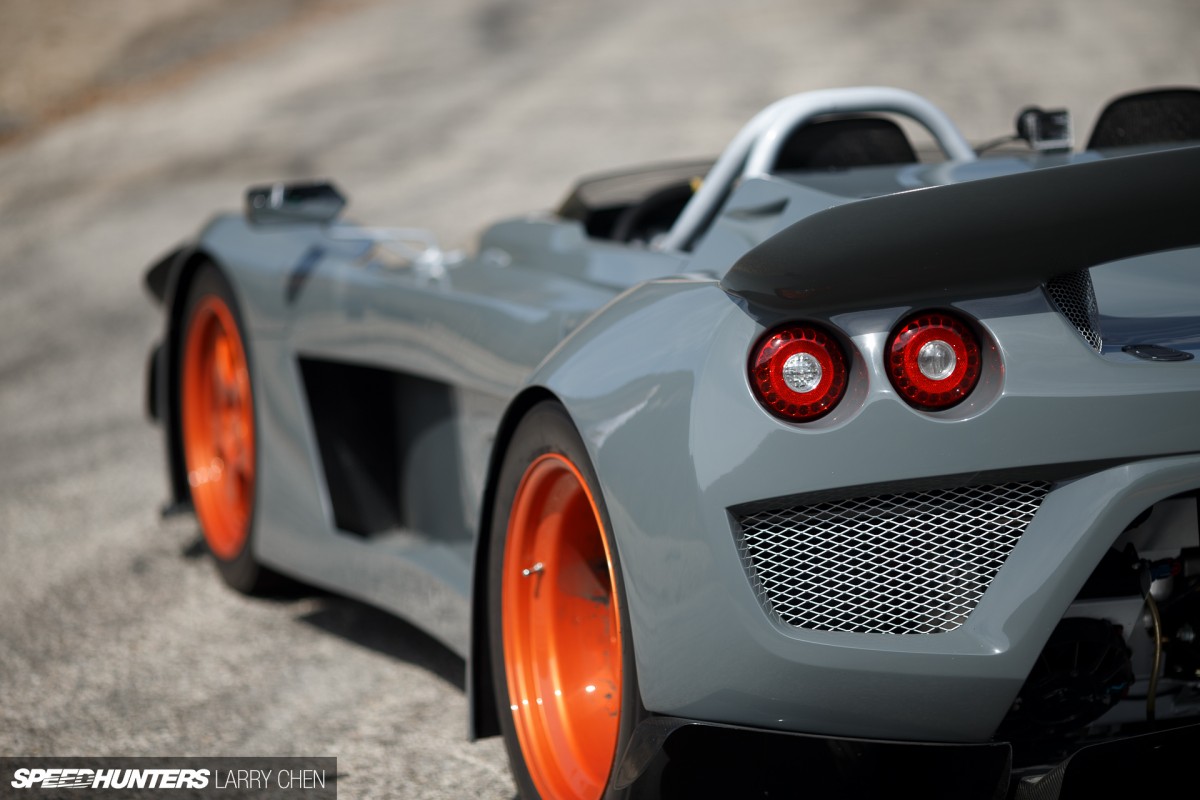 In its new stripped-down, open cockpit guise, the car tips the scales at just 1,700lbs – some 450lbs lighter than its previous iteration. At that slim figure even a modest amount of horsepower is enough to make for a thrilling ride, but the engine setup Frank's running is anything but modest…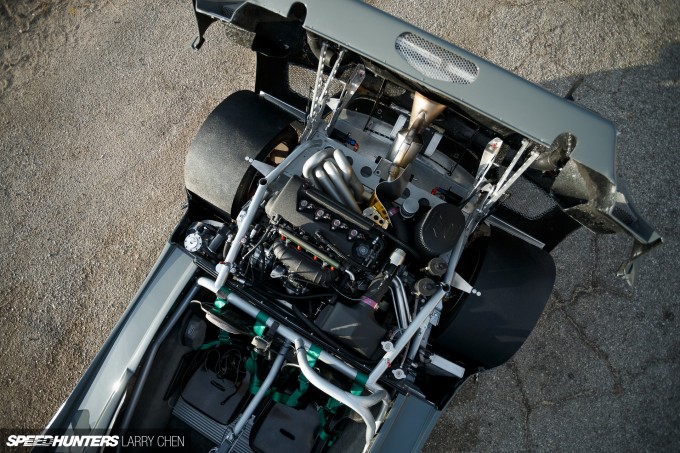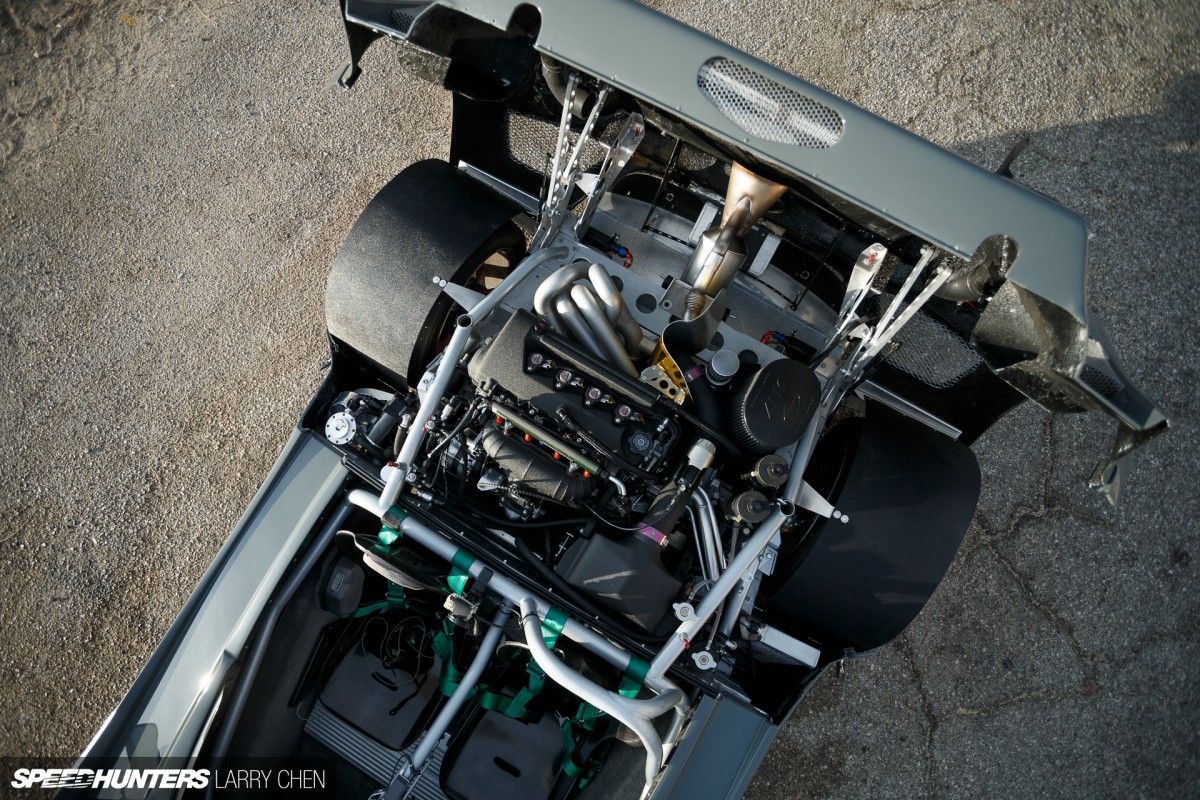 When we last encountered Frank's Lotus it featured a turbocharger and supercharger in a compound charged setup. But along with the exterior makeover the powerplant has received some changes too, and these days you'll find a more traditional turbo-only setup in the rear.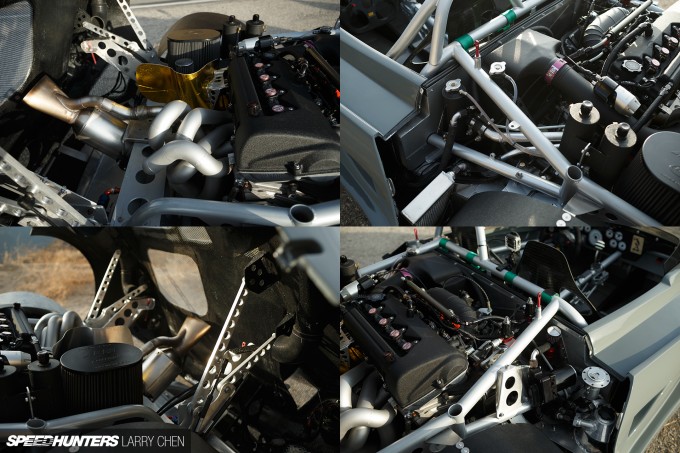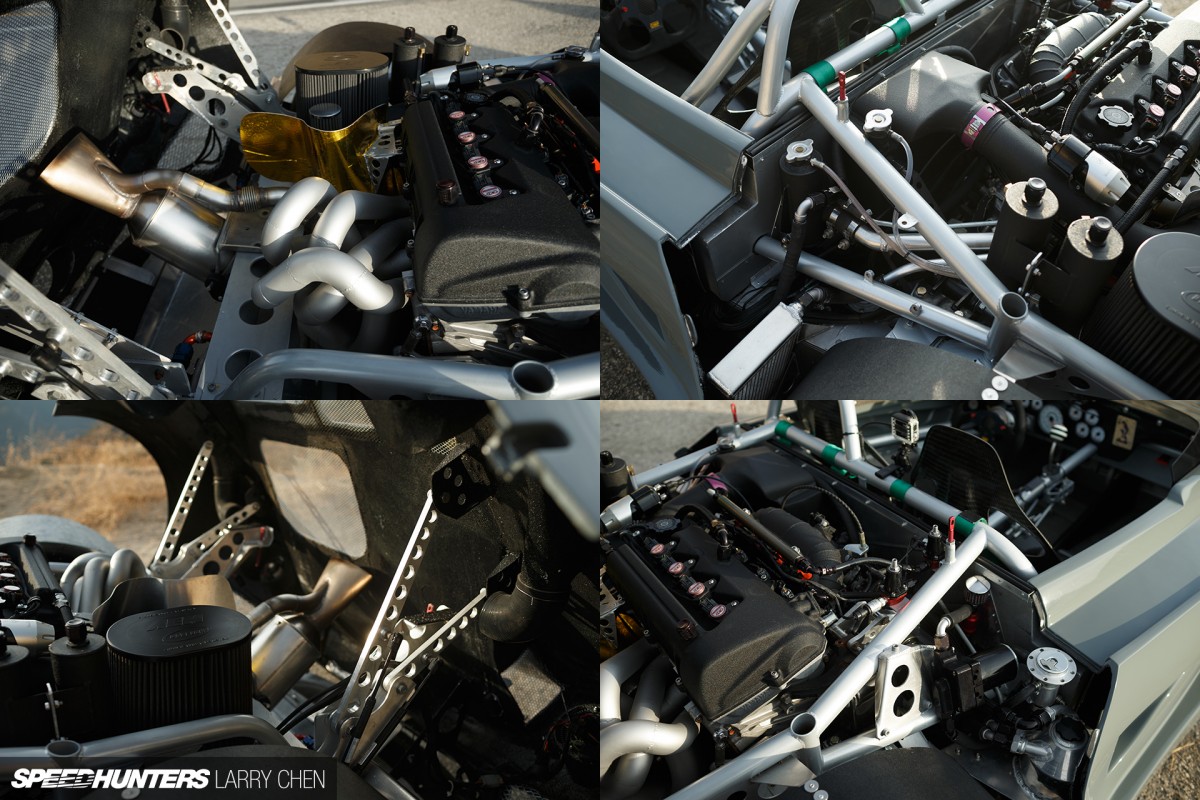 Although it was extremely responsive, the compound charged arrangement produced too much low-end torque for the 1.8-litre Toyota 2ZZ's rod bearings to handle, so Frank decided to remove the blower and allow the Precision Turbo 6262 ball bearing turbo to handle forced induction duties alone. To counter this change, he installed a Kaaz close-ratio gear set which helps keep the car in its powerband at the cost of reduced top-end speed. Removing the supercharger also shaved weight in the engine bay and reduced the load on the motor. The current setup makes 680 horsepower to the rear wheels and Frank says the car is smoother and more responsive than it's ever been.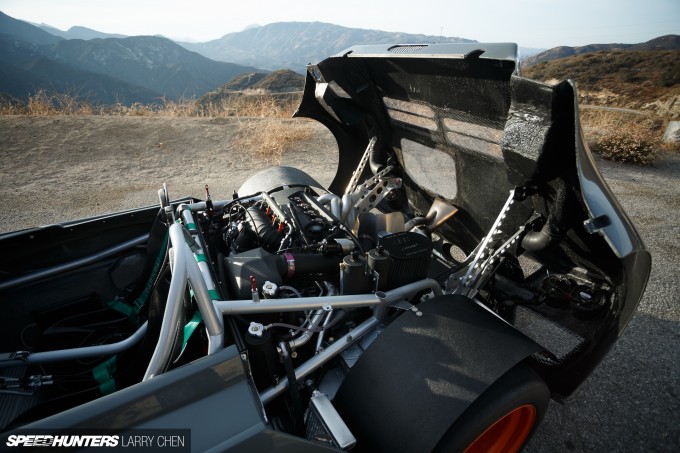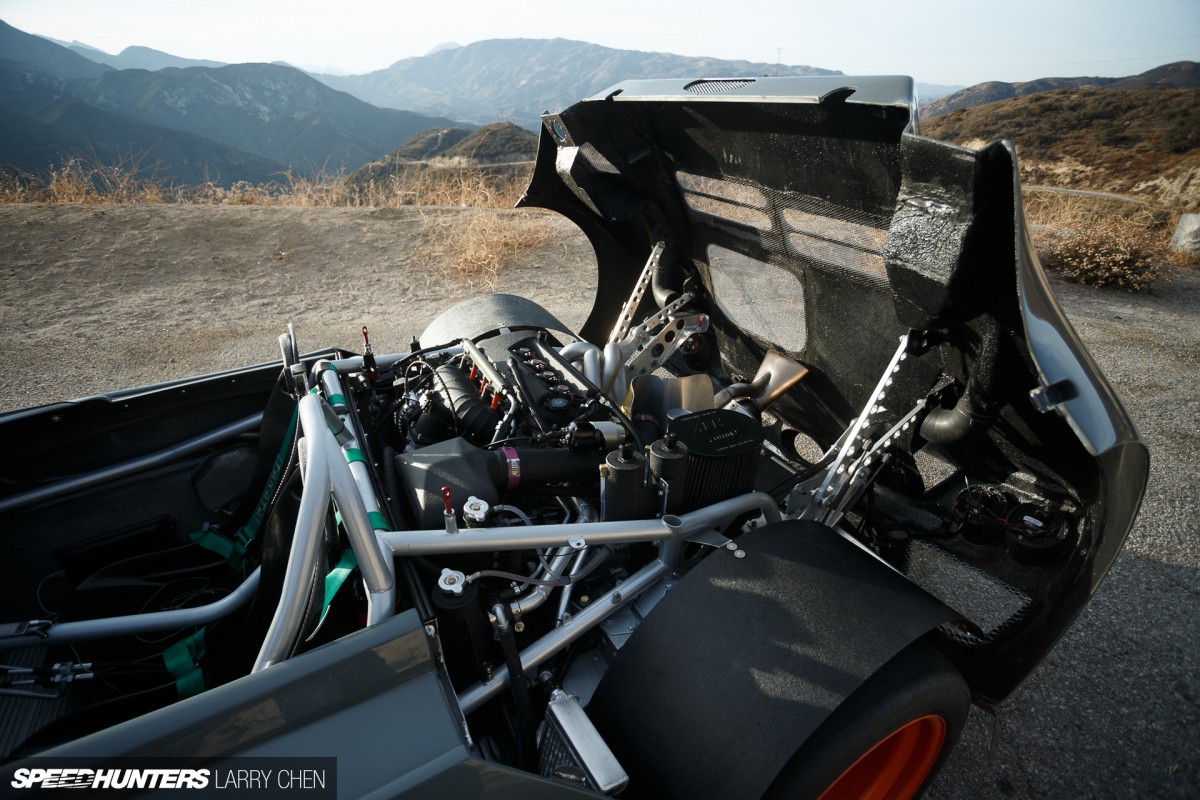 One of the really interesting touches when it comes to the engine is the fuel system. It actually uses a staged injection system which draws an alcohol mixture from a separate tank at high boost levels. This essentially serves as on-board octane booster that converts pump gas to 104 octane on the fly. This is important as the car was built with street driving and road trips in mind, and we all know race fuel isn't easy to come by roadside.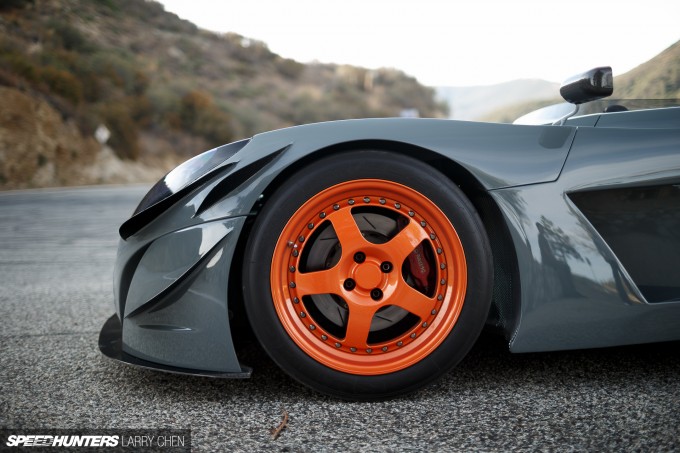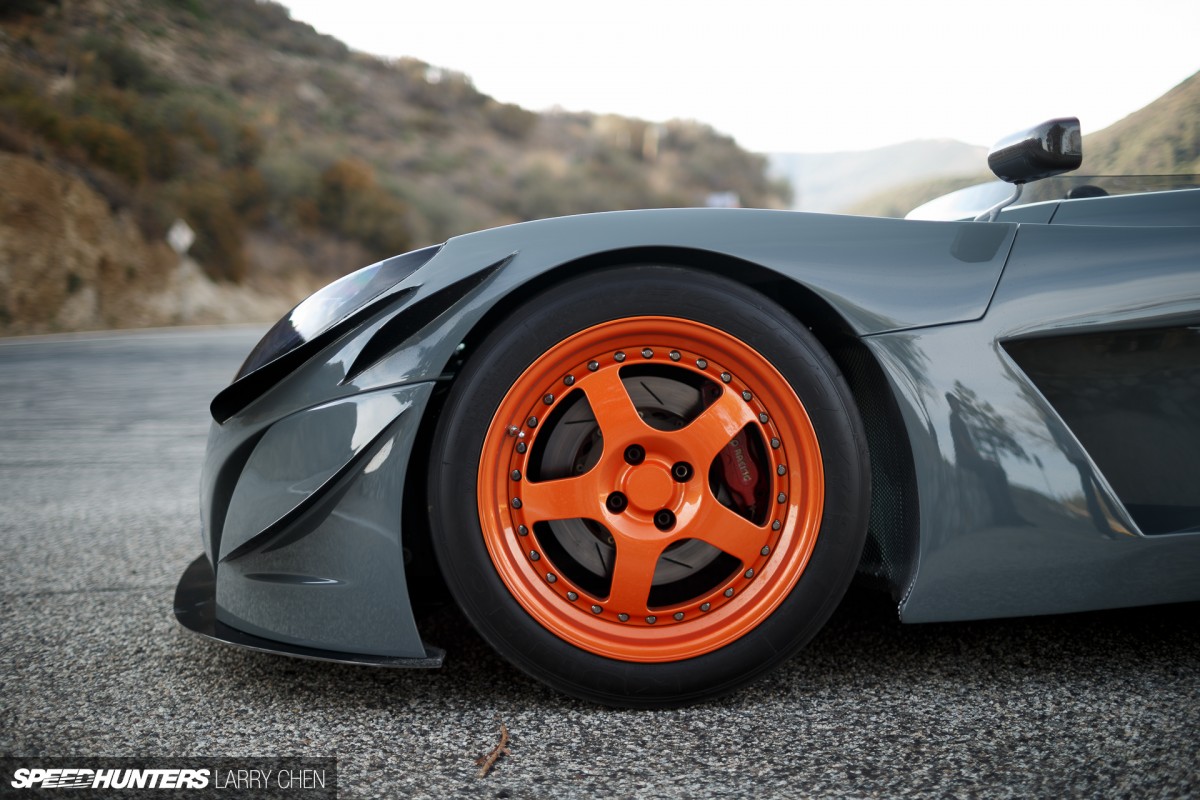 Of course, a well-rounded build is about more than just the power to weight ratio, and the Lotus is equipped with Nitron 46mm race shocks with Eibach springs along with custom A-arms and bushings.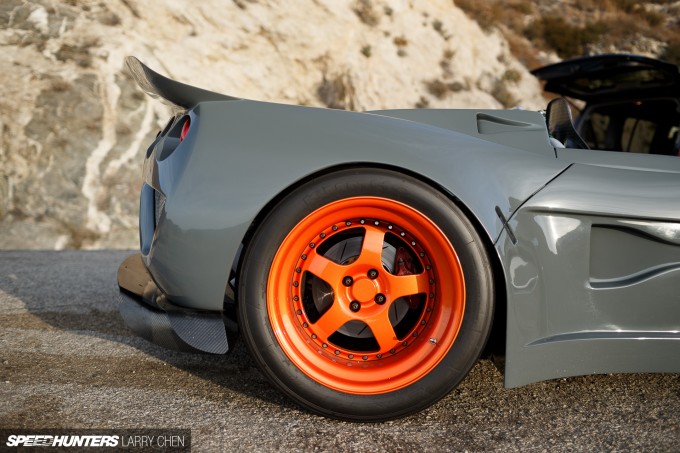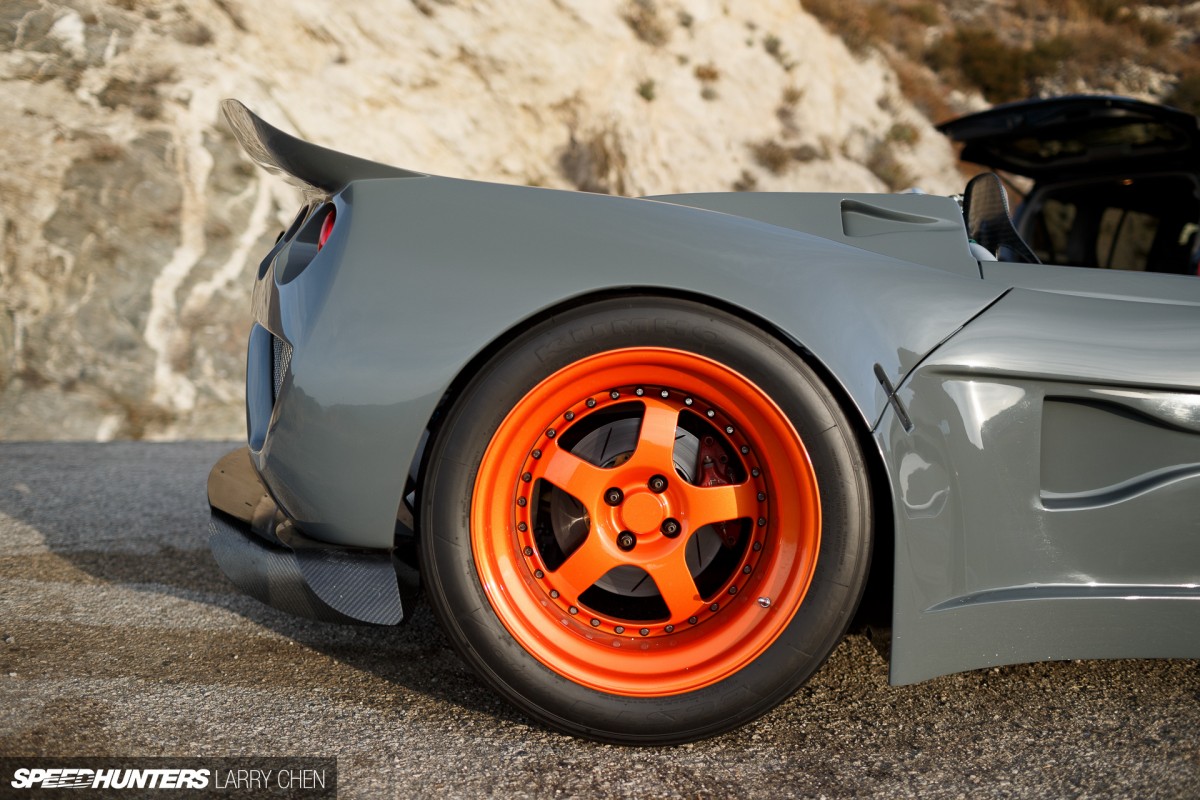 Getting all that power down to the ground coming out of tight corners was another challenge, but 345-width DOT slicks mounted on 18×12.5-inch wheels certainly help in the rear grip department.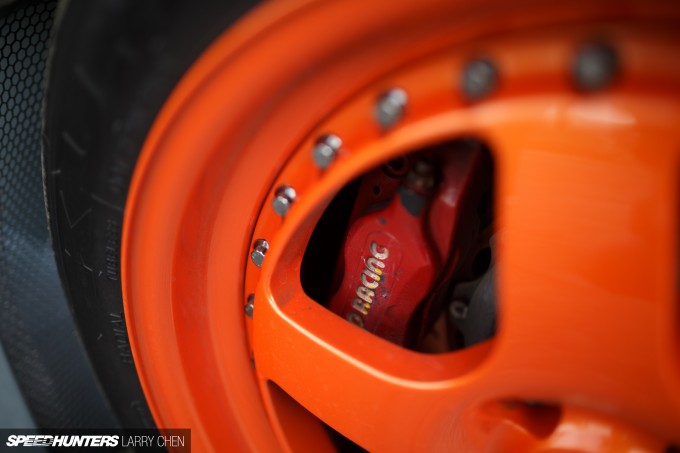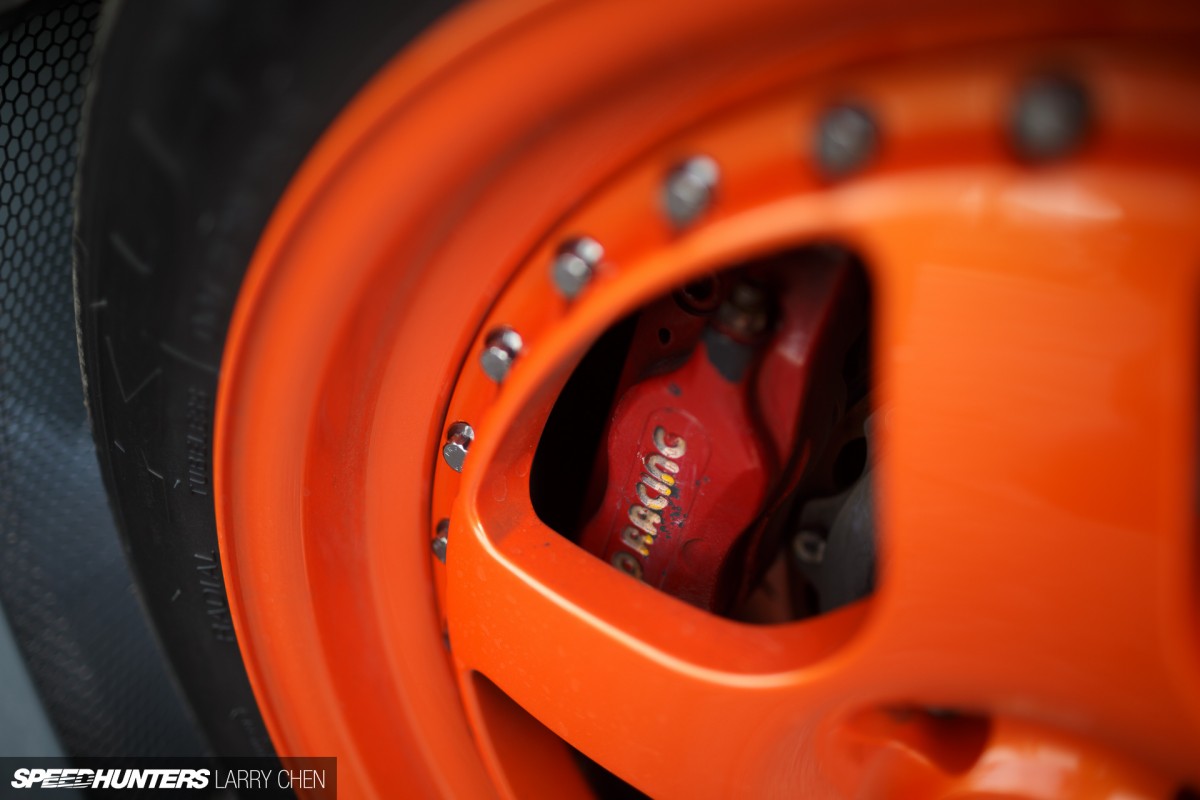 1,700lbs is not a whole lot of weight to slow down, but with so much power on hand the AP Racing calipers and rotors are a very worthwhile upgrade.
Nothing Compares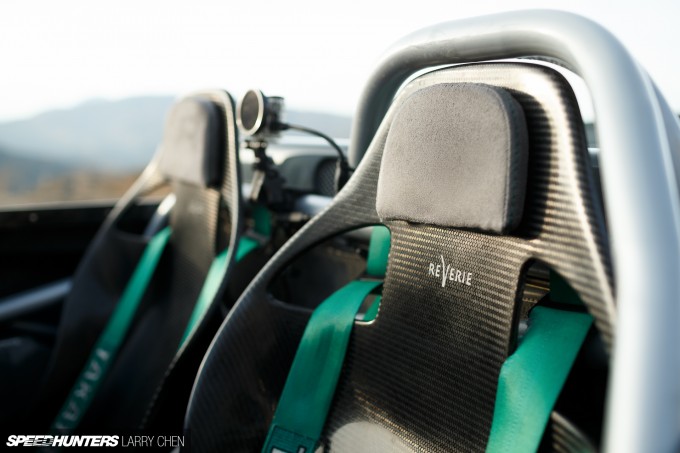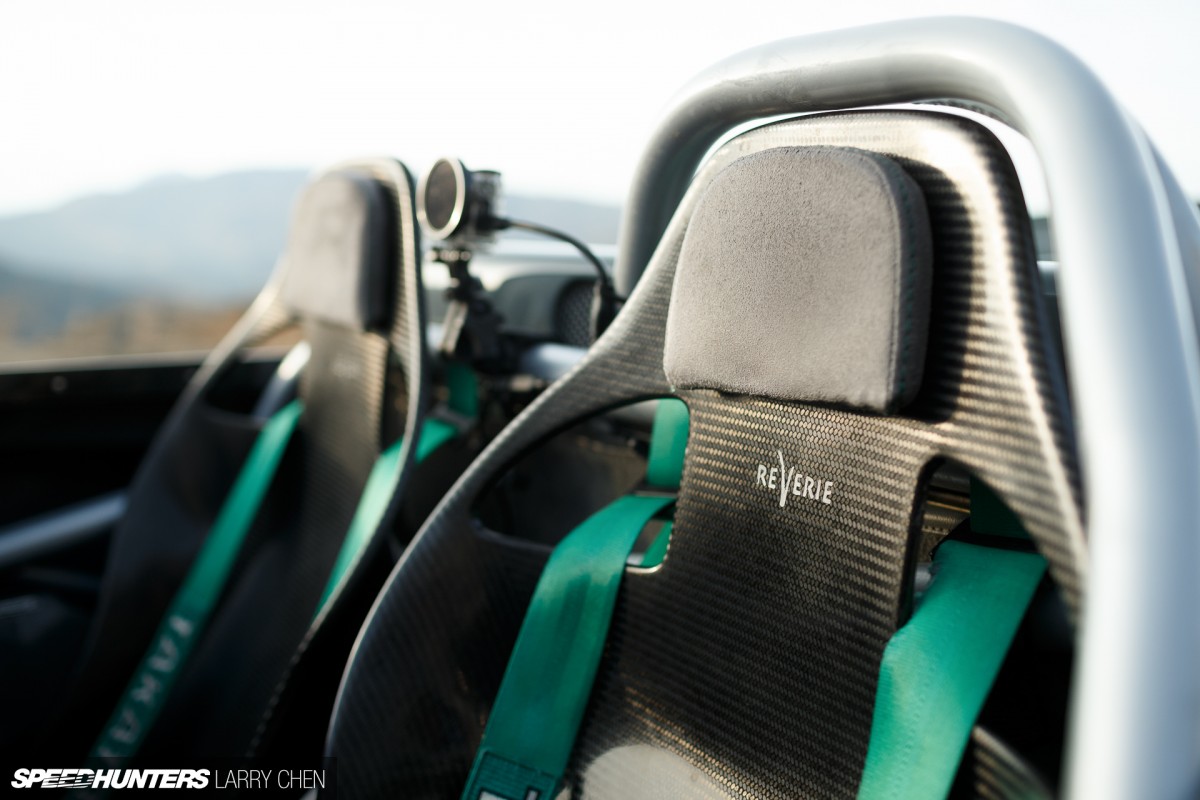 Part of the rebuild also included the installation of an integrated rollcage that not only helps in the safety department, but provides additional reinforcement between the front and rear sections of the chassis.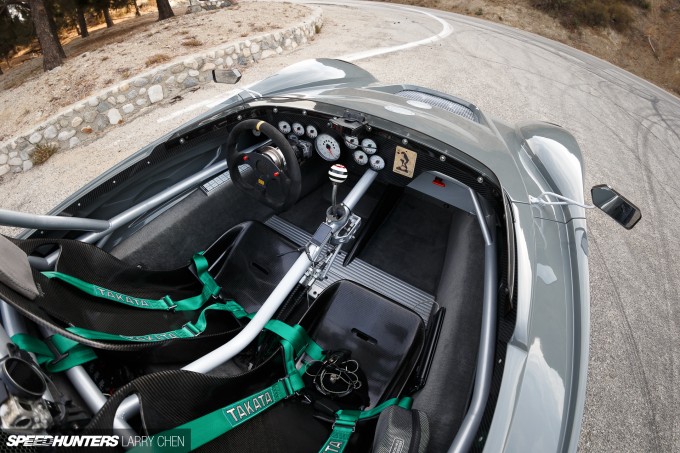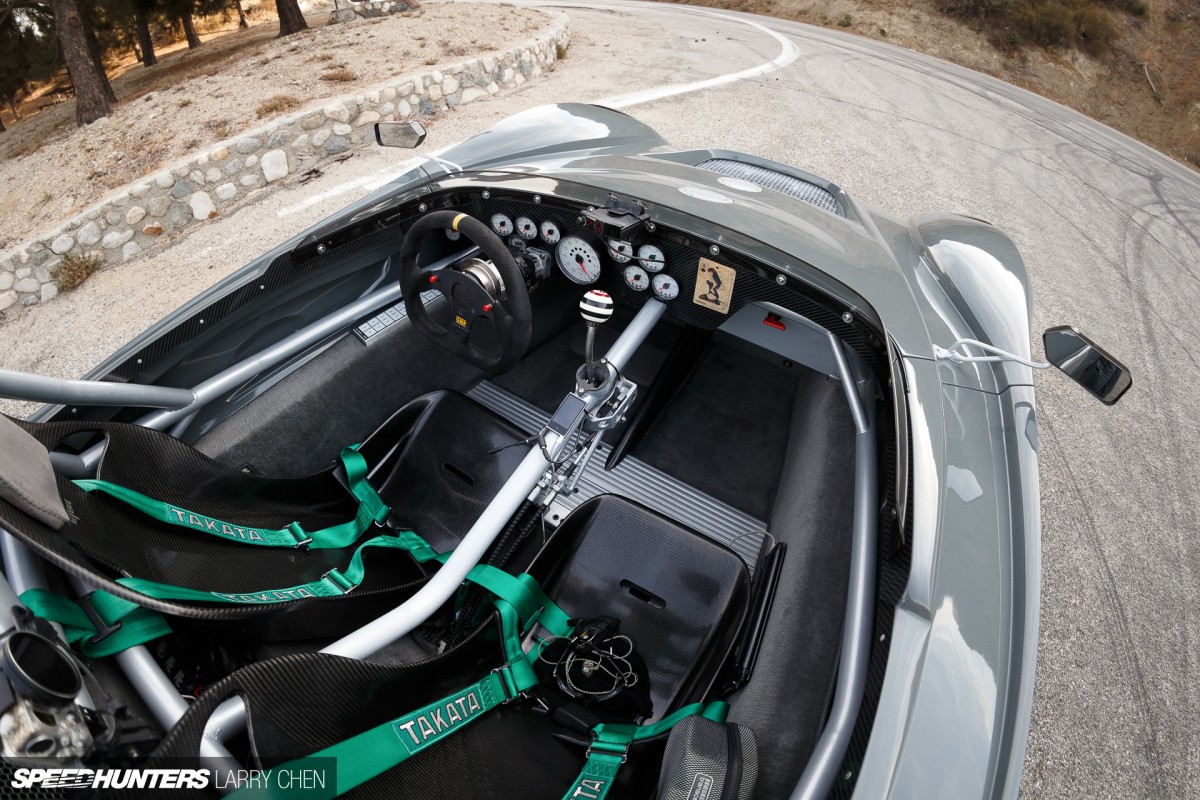 Elsewhere, the cockpit is more like that of a racing car than anything you'd expect to see on the street. There's a custom dash panel with all the instruments Frank needs to keep an eye on the car's vitals, and the seats are raw carbon fiber buckets, which I'm told are surprisingly comfortable once you strap-in with the Takata harnesses.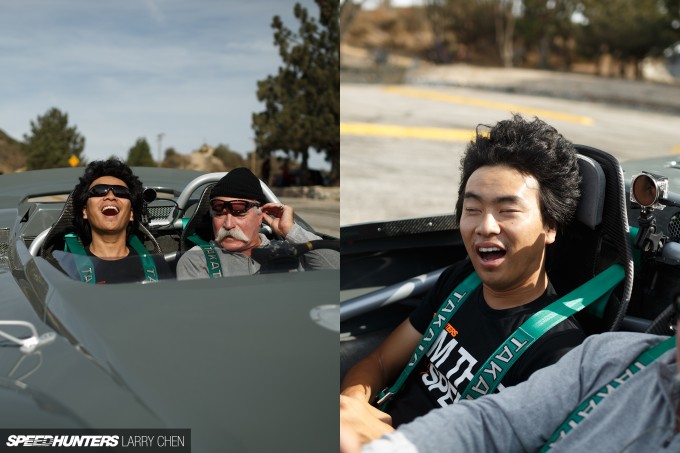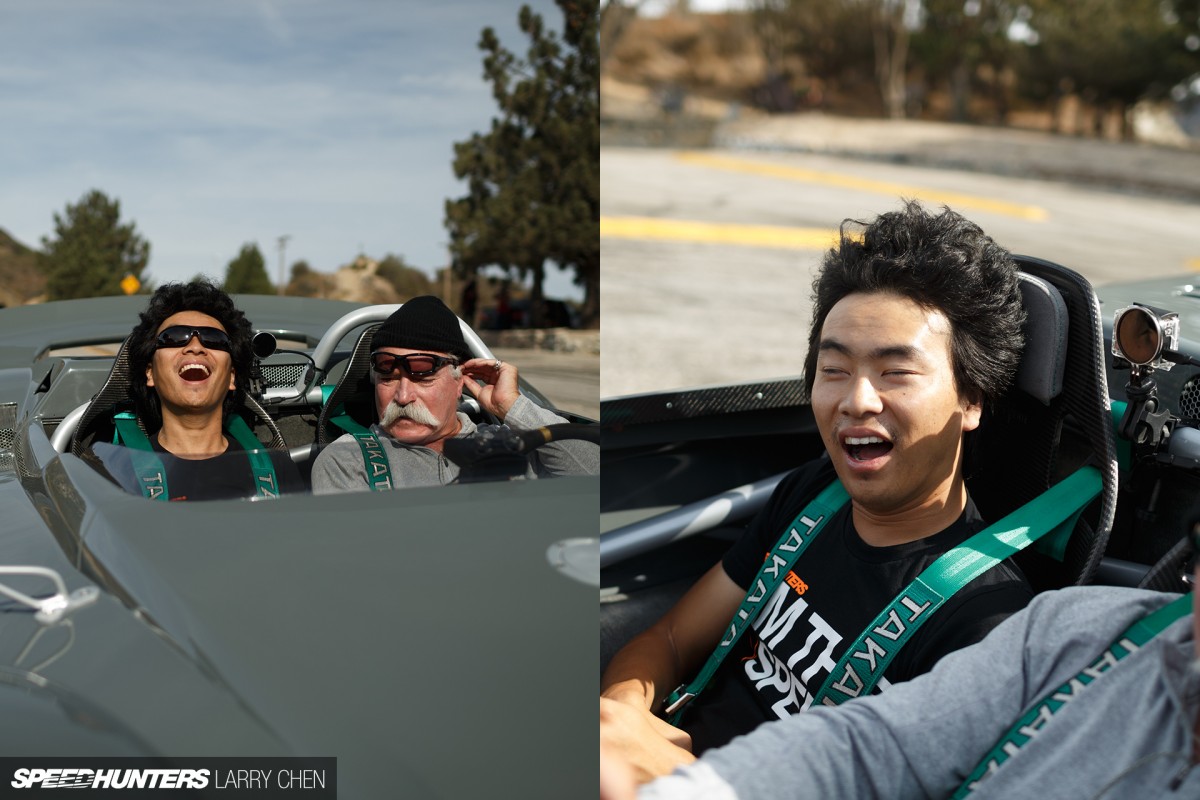 If there's one thing Frank likes more than taking the Lotus out for a day in the canyons, it's taking people for rides in his creation. It seems like Larry had a pretty good time during the photoshoot!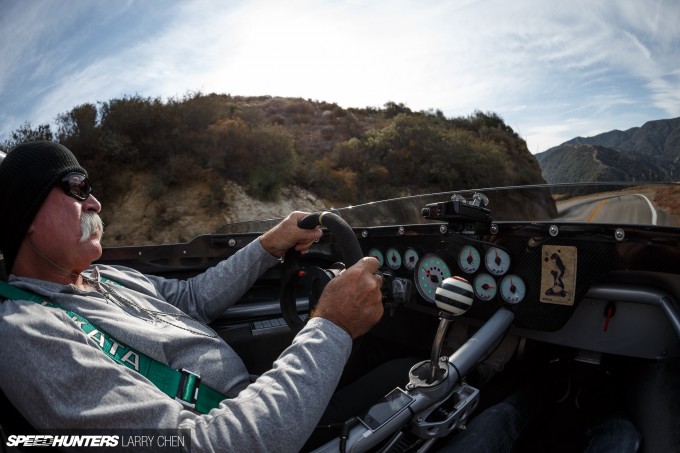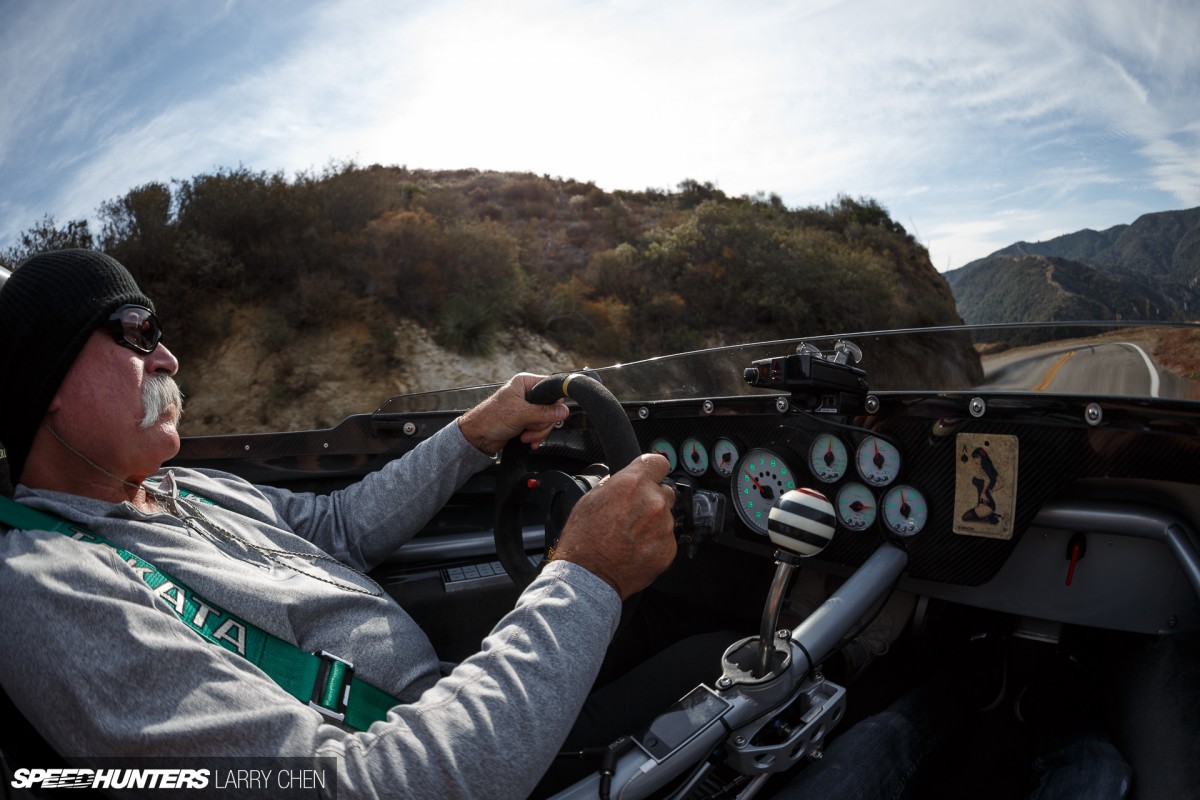 You're probably thinking that this car would make for an absolutely wicked track weapon, but Frank actually has no interest in lap times or other performance figures. Instead, he uses the Lotus exclusively for sunny weather weekend drives in the hills. The Lotus has racked up thousands of miles on the open road, which is where Frank finds the most joy.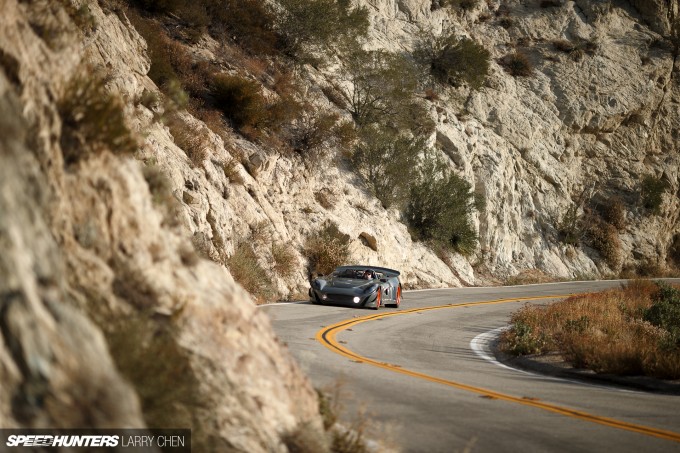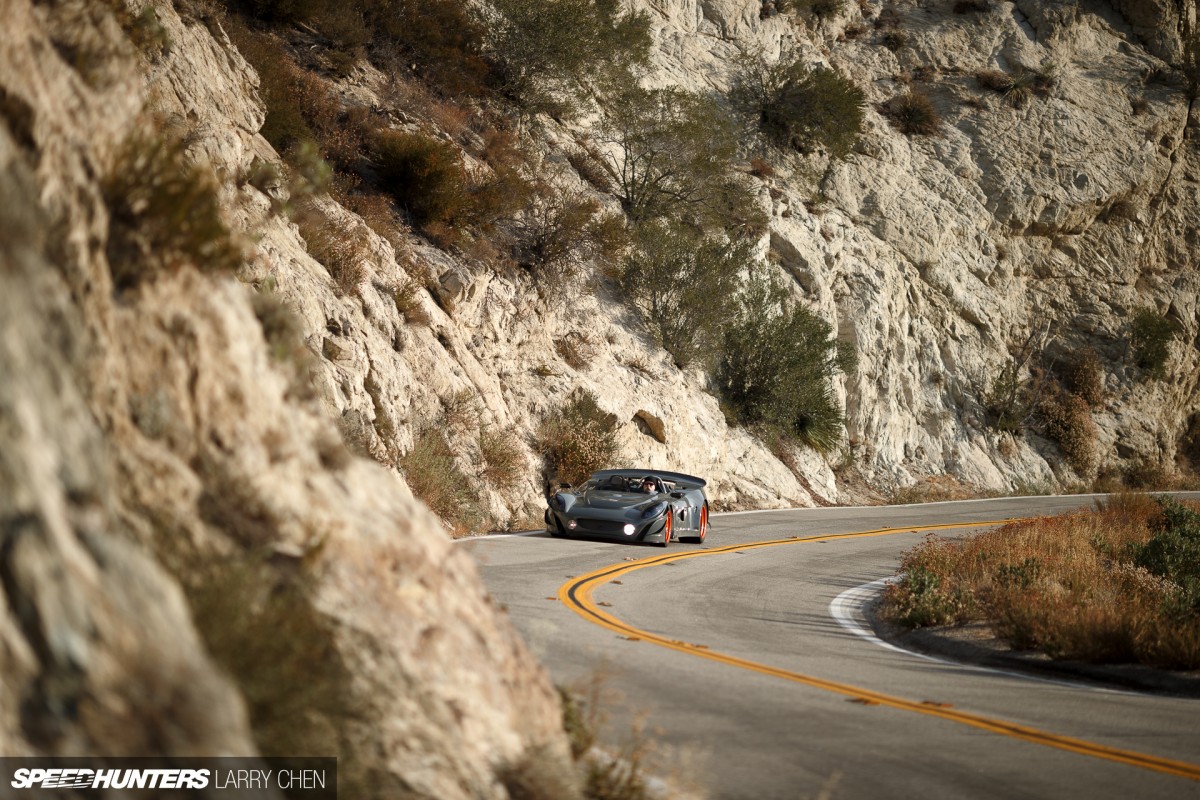 Driving such a radical and heavily-modified machine on the street, I was curious if Frank receives much unwanted attention from law enforcement. But he says the only times he's been stopped by cops is when they've simply want to check out the car.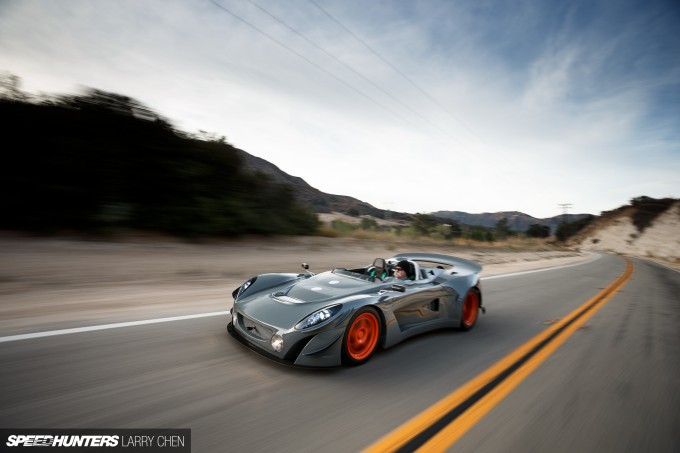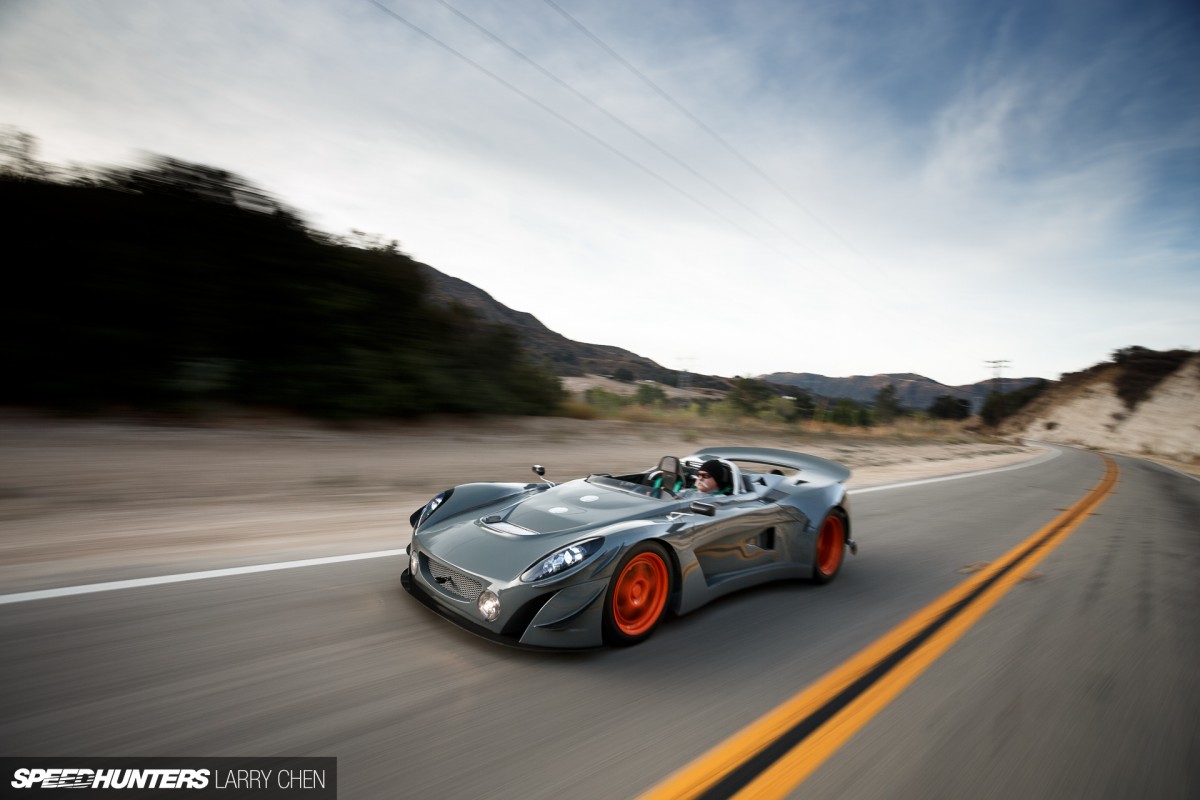 And that's pretty much the same reaction Frank gets from everyone. Despite the fact that the Lotus is painted in relatively subdued shade of gray, every time he stops for gas or a bite to eat, the car is instantly surrounded by people – most of them trying to figure out what exactly they are looking at. Frank wouldn't have it any other way. There's nothing he loves more than sharing his creation with others, be them fellow enthusiasts or just strangers on the street.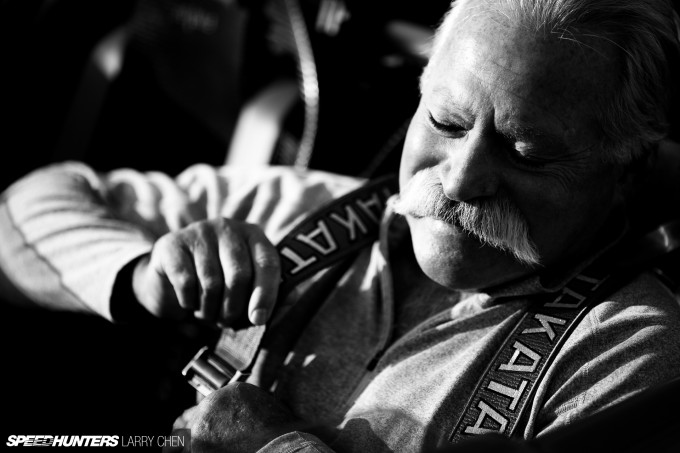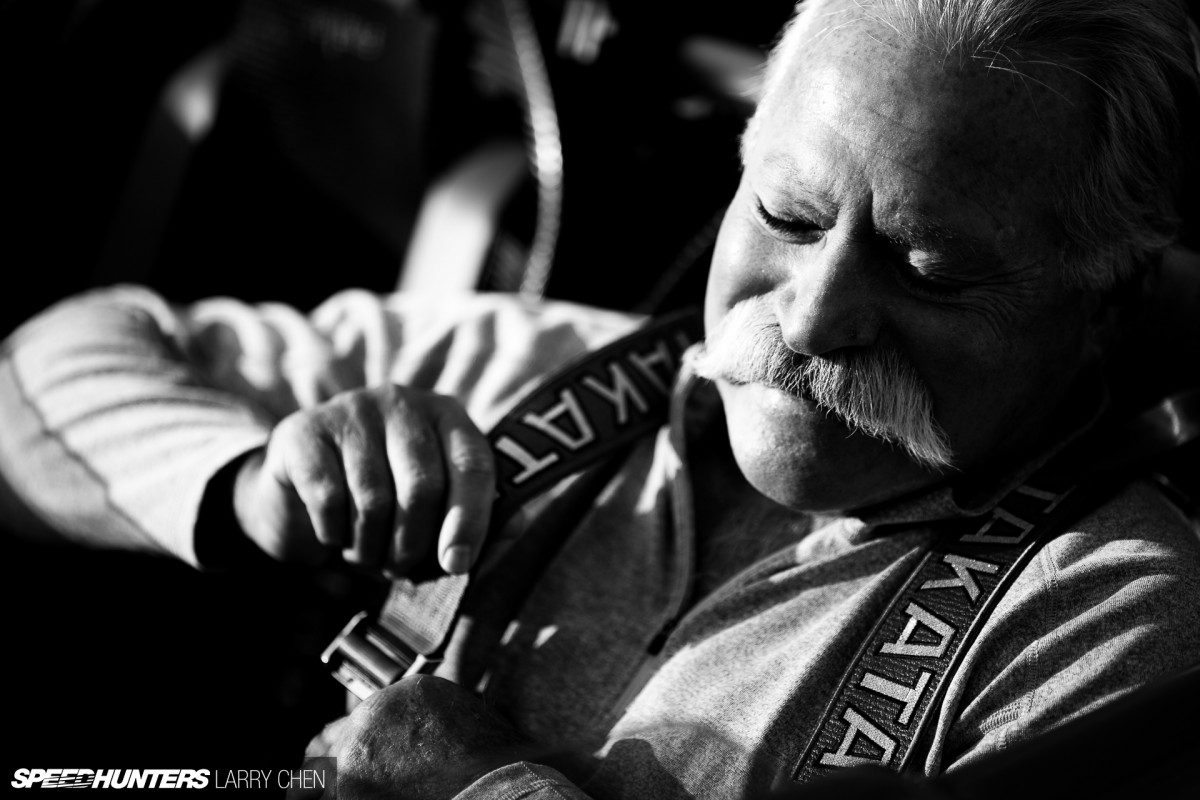 The list of Frank's lifetime of automotive adventures include everything from being a New York City cab driver to owning and racing Group B rally cars, but there's nothing that can compare to the satisfaction he gets from this machine. For Frank and his Lotus it's been a long journey full of ups and downs, but looking at it now it's hard to believe that this car began life as a bone-stock US market Lotus Elise nearly a decade ago.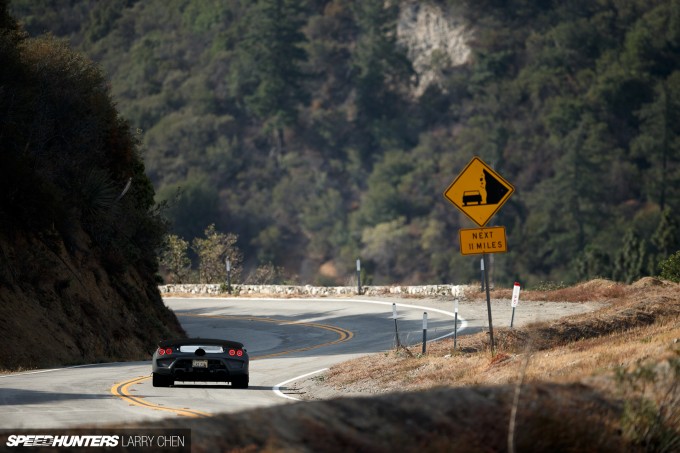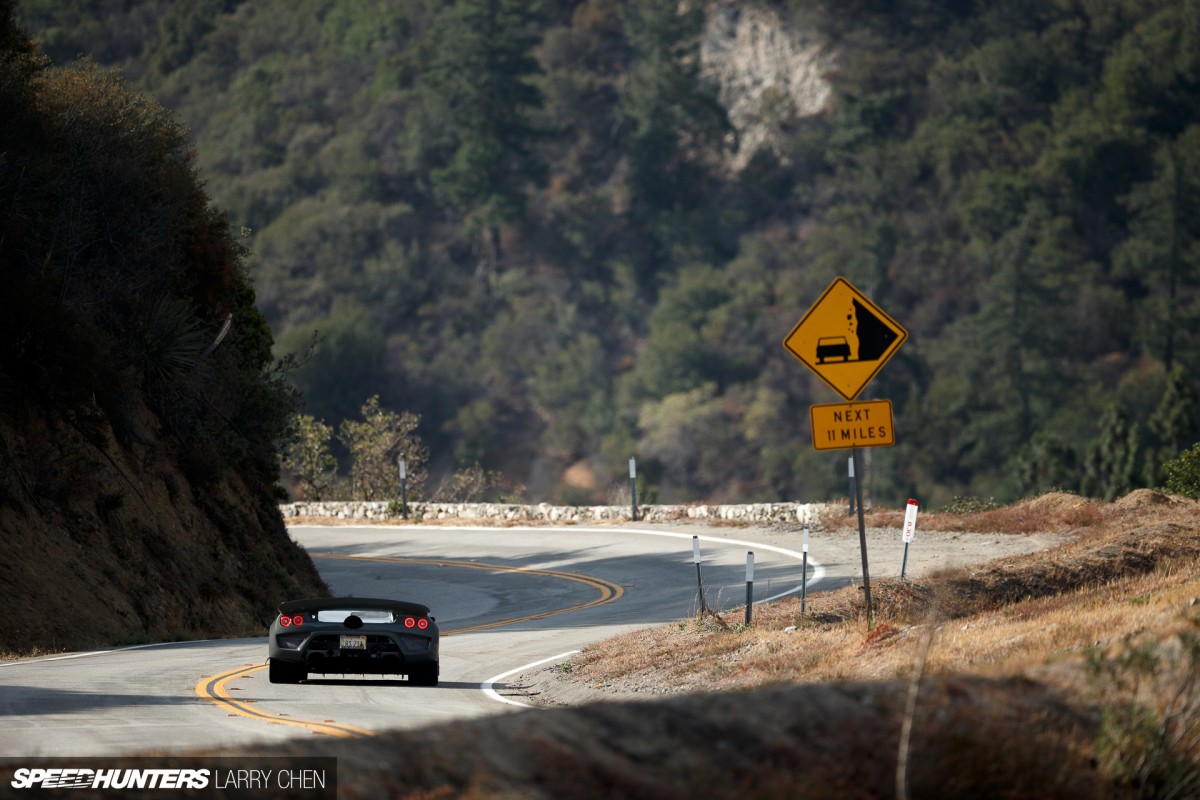 He's broken rules, he's broken parts, he's built and rebuilt – and he can't think of any other vehicle he'd rather have, at any price.
Why buy your dream car when you can build your dream car?
Mike Garrett
Instagram: speedhunters_mike
mike@speedhunters.com
Photos by Larry Chen
Instagram: larry_chen_foto
larry@speedhunters.com
Frank Profera's Ronin Lotus

Numbers
680whp (36psi boost pressure)
Engine
1.8-liter Toyota 2ZZ-GE, Darton sleeves, Carrillo rods, Wiseco 9:1 pistons, Ferrea valves, ported head, stage 2 cams, custom intake manifold, custom charge cooler with four Pro Alloy heat exchangers, two water pumps, custom exhaust manifold with equal-length runners, Precision billet ball-bearing 62/62 turbo, Precision 46mm wastegate, 3"-inch stainless exhaust, AEM Series 2 ECU tuned by Mitch Pederson, custom staged alcohol injection system, Pro Alloy fuel tank, two fuel pumps, 1,000cc injectors, one alcohol fuel pump
Driveline
Modified Toyota MR2 E153 gearbox, close-ratio Kaaz gears, custom axles
Suspension/Brakes/Steering
Nitron 46mm Pro Race shocks, Eibach springs, custom A-arms, custom bushings, AP Racing calipers/rotors
Wheels / Tires
Custom forged wheels 17×9-inch front, 18×12.5-inch rear, Kumho V710/BFG DOT slicks 245/40R17 front, 345/35R18 rear
Exterior
Custom hand laid carbon fiber wide body by Mike Stafford and Frank Profera, blown rear diffuser, front splitter, NACA ducts, racing mirrors, Paint by AR Auto Body in Lancaster, California
Interior
Custom-built rollcage, custom instrument panel, carbon fiber bucket seats, Takata harnesses
Canyon Carving King
More Lotus related stories on Speedhunters
Cutting Room Floor