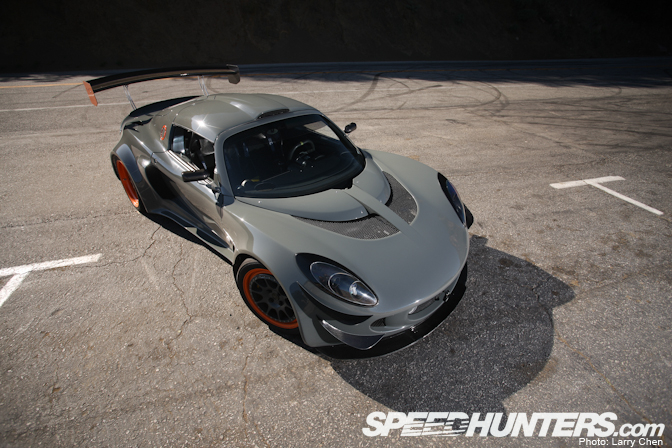 There are days where things just don't go your way. Then there are days like last Friday.
I was shooting near the beach in the beautiful Southern California city of Malibu, when I stumbled upon this marvel of a street car.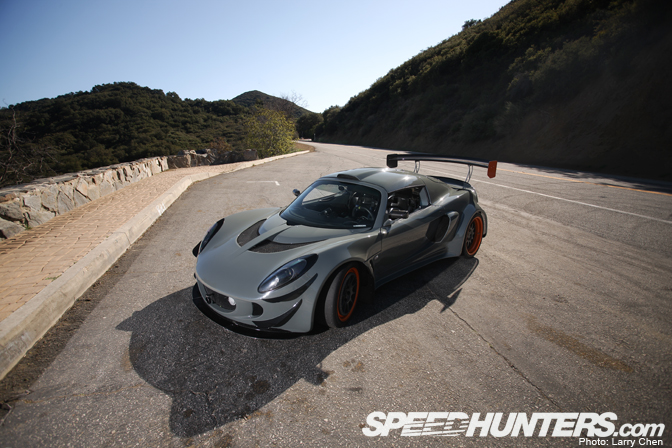 This 2005 Lotus Elise was simply one of the most extensively modified street cars I've ever seen on the street.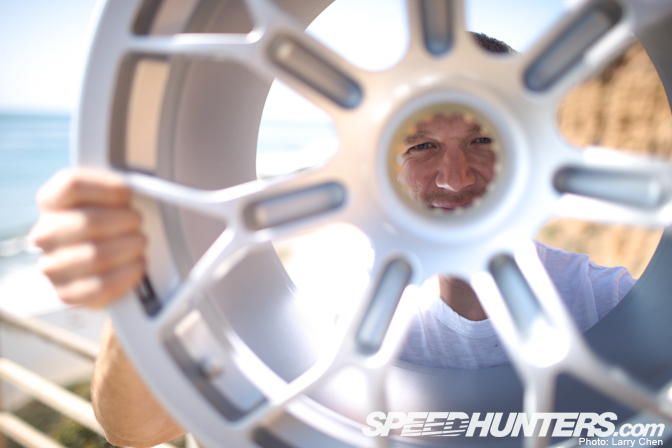 So let's back up a bit. Motegi wheels is a sponsor of Team Need for Speed drivers Fredric Aasbo and Matt Powers. They also happen to sponsor IndyCar driver Townsend Bell. He is a factory Lotus driver and will be driving in the American Le Mans Series this year for Team Lotus Alex Job Racing. I was out to get some shots of Townsend, along with a brand new Lotus Evora S.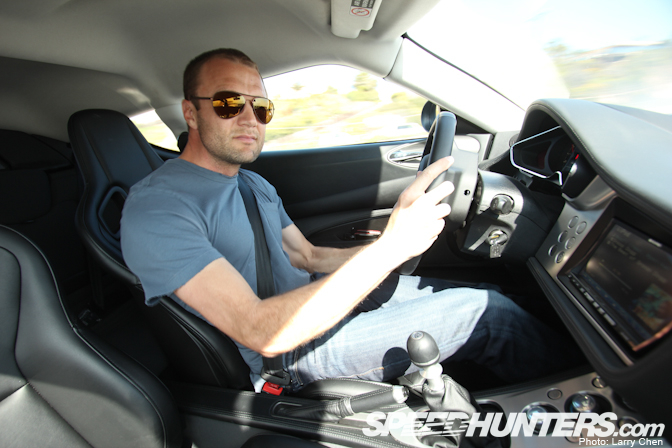 I thought it was interesting when Townsend told me he has not driven a manual gearbox in many years. I guess it's like riding a bicycle, you just never forget once you know how to do it. He did not stall.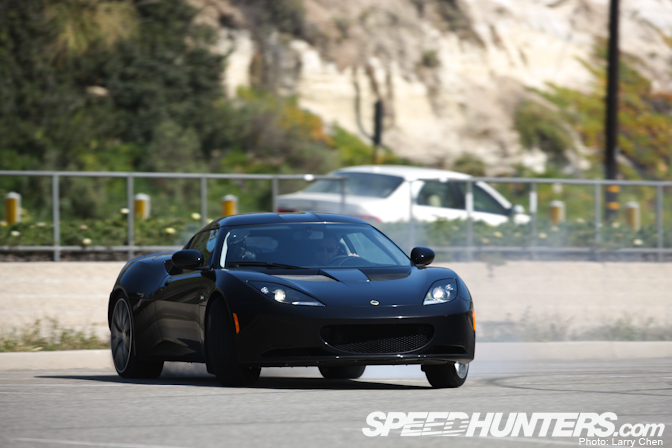 He may have gotten the Evora a bit sideways, but it was all in the name of good photography. Afterwards we decided to check out some more shooting locations and went for a nice Friday afternoon drive through the canyons.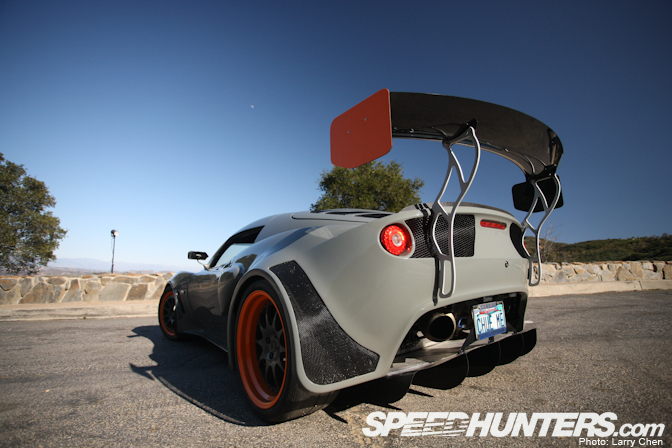 Lo and behold we came across this beast of a Lotus.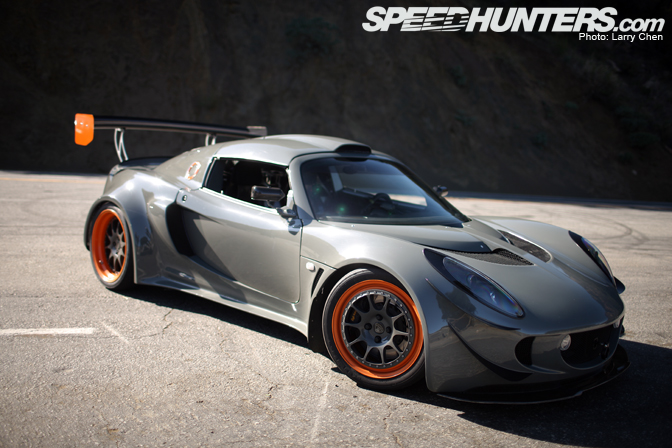 Naturally, we stopped to check it out. At this point we pretty much forgot about the Evora.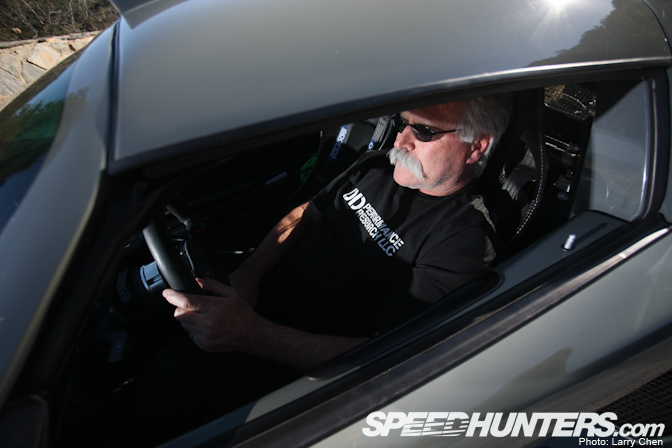 Frank Profera is the owner and he built this car from the ground up. He was super cool about showing us his pride and joy. It turns out he checks out Speedhunters every day.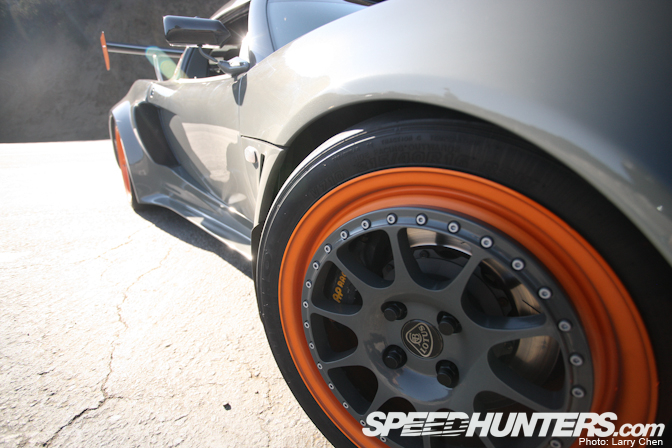 He told us about some of the amazing cars he has owned in the past,
including a Lancia Delta S4, Lancia Stratos and a 900hp street legal
Ford RS200E. This Lotus was all business and was built to tackle the twisties of the Southern California Nurburgring.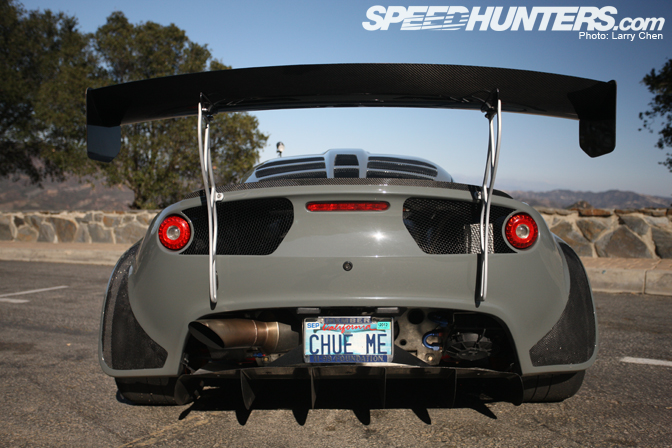 Frank admits this car is just too fast for him to handle at ten tenths on the track.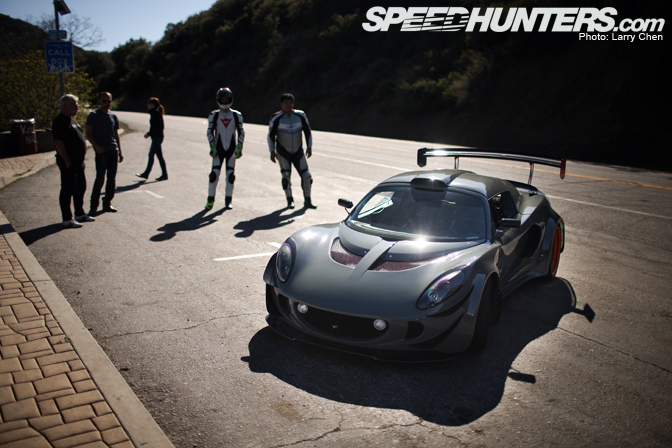 However, he enjoys driving it in the canyons, keeping up with knee dragging sport bike riders. He never ever crosses the center dividing line and he never drives past his limits.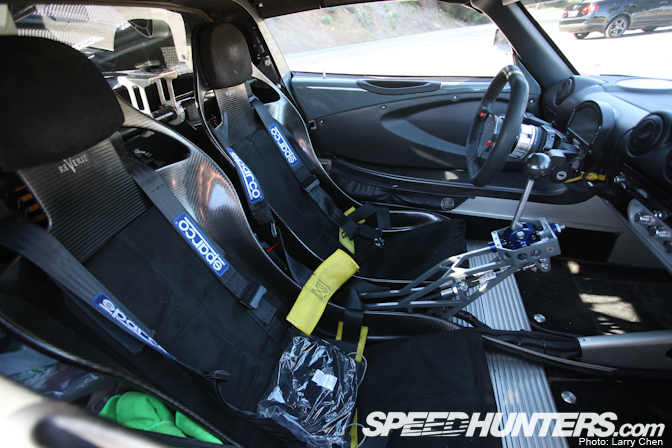 He bought the car brand new in 2005 and started to take it apart the very next day. He custom made many things on this car, including the shifter assembly, which connects to a 95′ MR2 Turbo gearbox.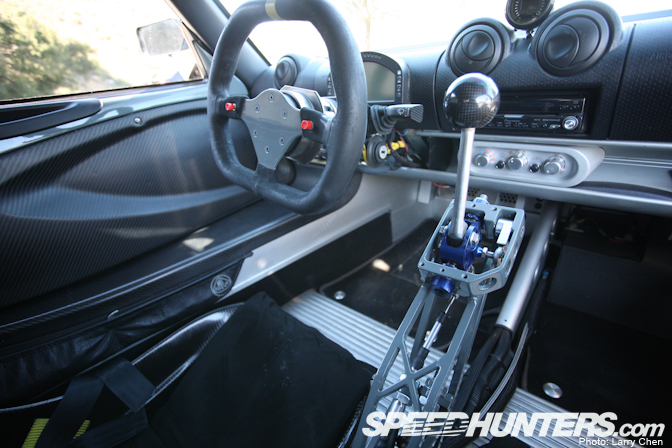 It's definitely an interesting story how this car came about. Frank sold his rally cars and hit the high seas with his sail boat for a few years. After eight years of not driving a serious performing car on the track or in the twisties, he decided it was time to build the ultimate canyon carver.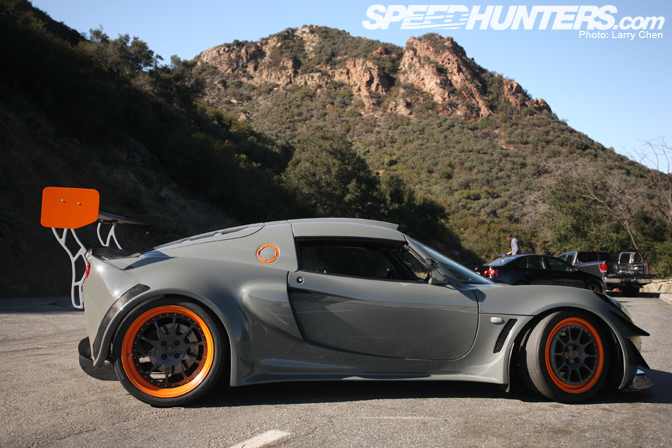 Nothing was compromised when he set out to build this dream Lotus.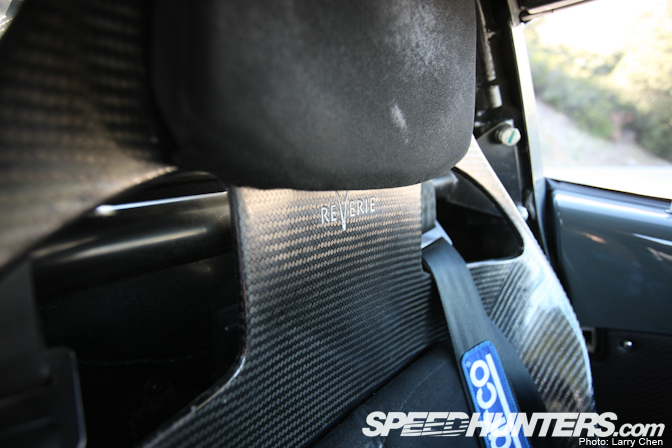 Even with air conditioning this car weighs just 2150 lbs thanks to the vast amount of lightweight dry carbon parts.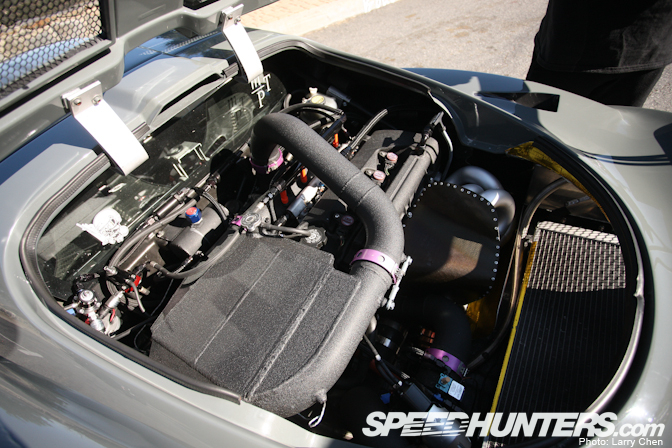 The mid engine monster is running a Toyota 1.8L with a Precision Billet 6262 Ball Bearing Turbo, which feeds into a Magnuson MP62 supercharger.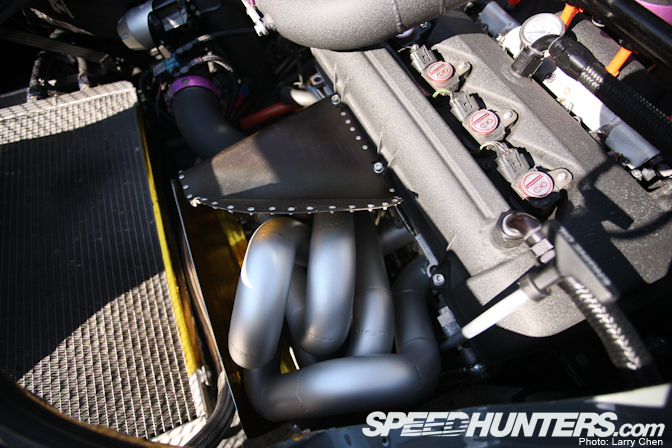 That's right boys and girls, this thing is compound charged, which means instant boost response at any rpm, and in any gear.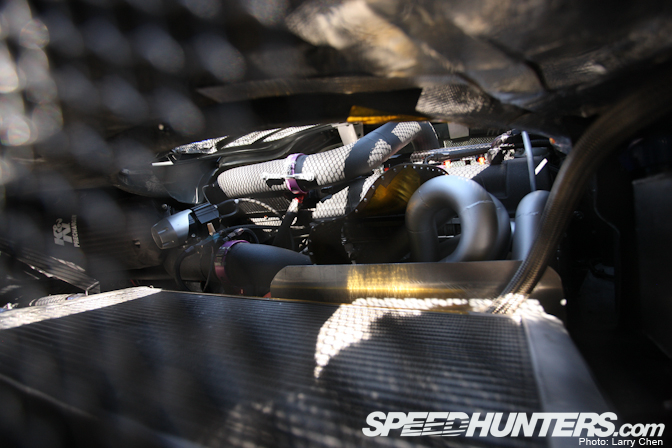 To keep the temps down on this bad boy, it has two radiators and six cooling fans.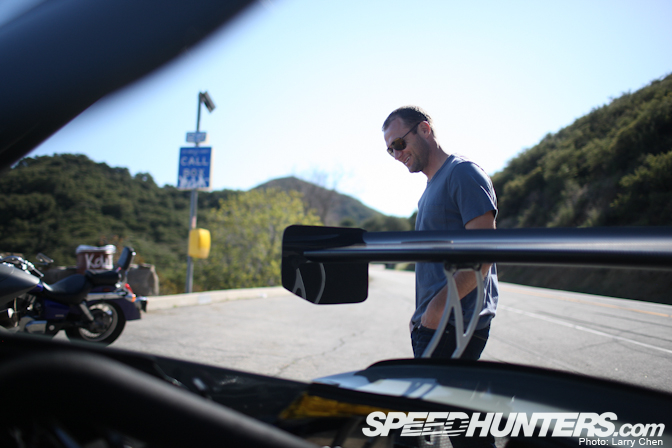 Townsend didn't really know what to say. He was impressed to say the least.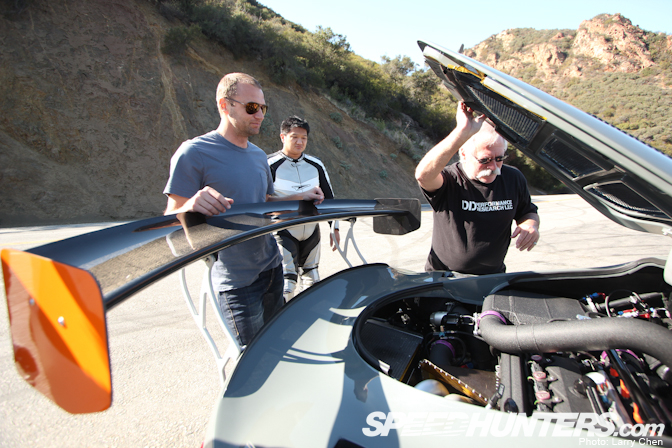 Being a factory Lotus driver, he had to drive the car. So he asked. Frank did not hesitate one bit.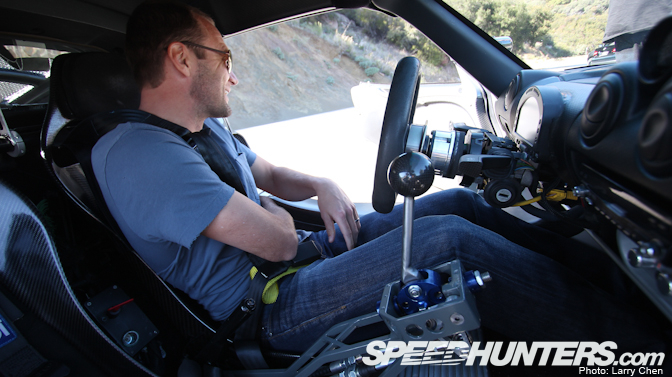 Needless to say, Townsend was excited, but I wondered how was it possible that he was giddy as a school girl from this street car, when he drives IndyCars for a living.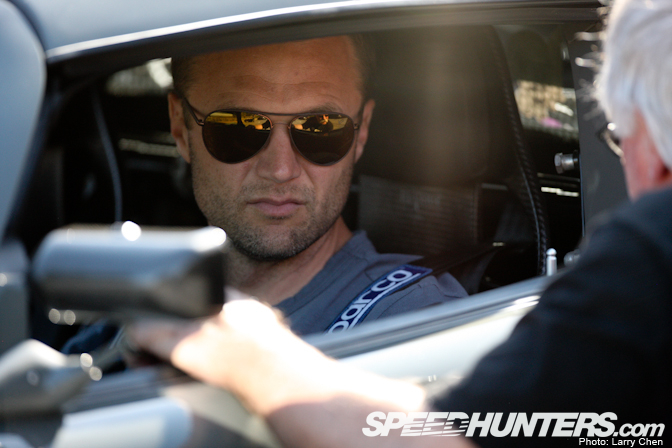 I just went along with it, and listened in on the quirky things that needed to be explained about the car before he took it out.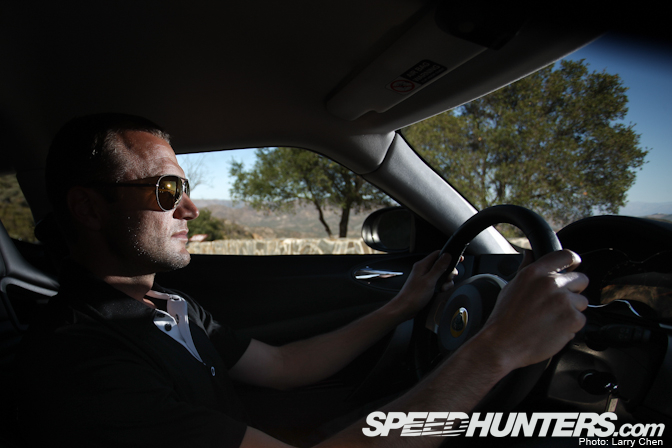 With the motor warmed up, Townsend had a whooping 680 wheel horse power at 36psi on tap and ready to go. He took off slowly, like the cool and calm professional race car driver he is.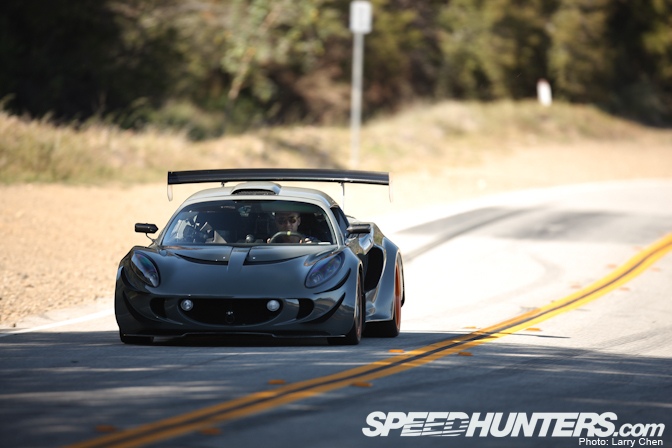 Let me tell you guys, this thing moved like a bat out of hell. It goes from 0-60 in about two seconds.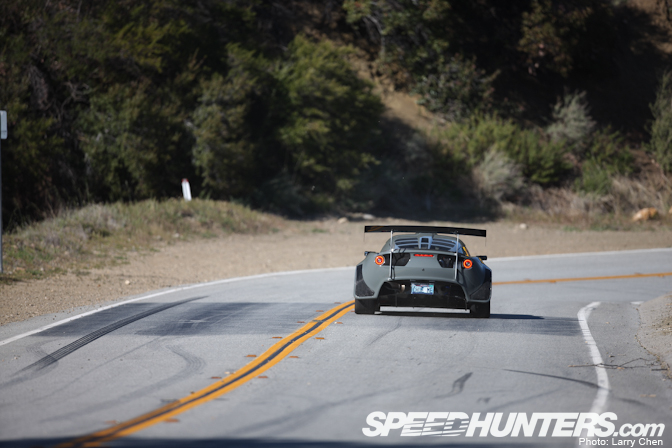 With UTQG 30 tread wear tires on all four corners, it did not take long for them to warm up.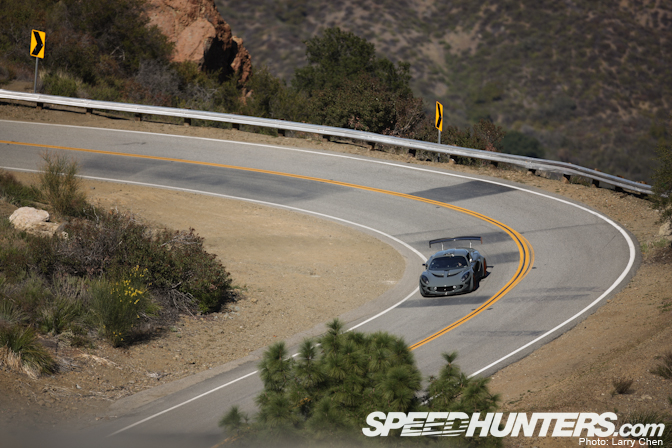 Within moments the car was gone…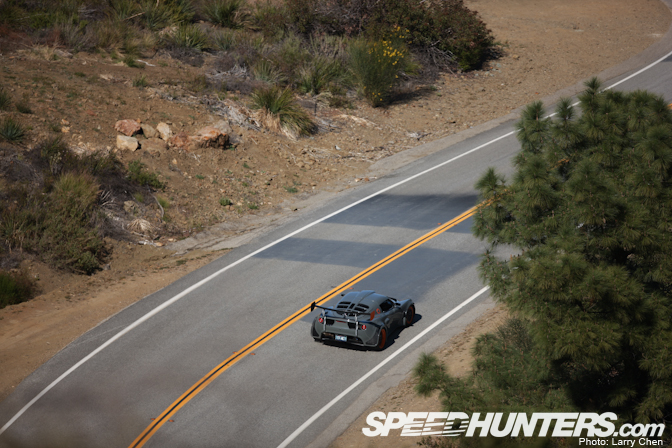 All we heard was the noise of the exhaust reverberating off of the adjacent mountains…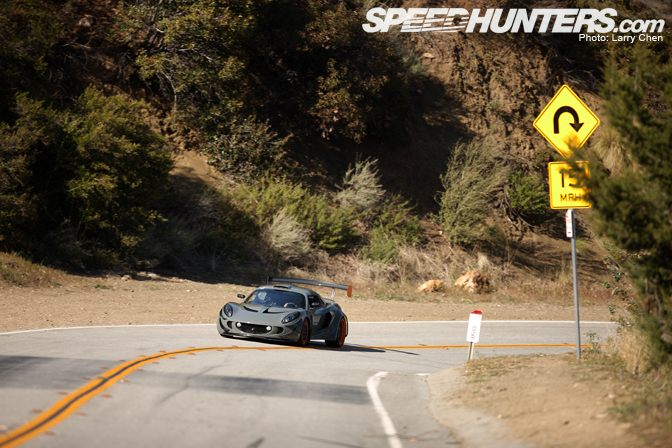 …then it reappeared, still in one piece might I add.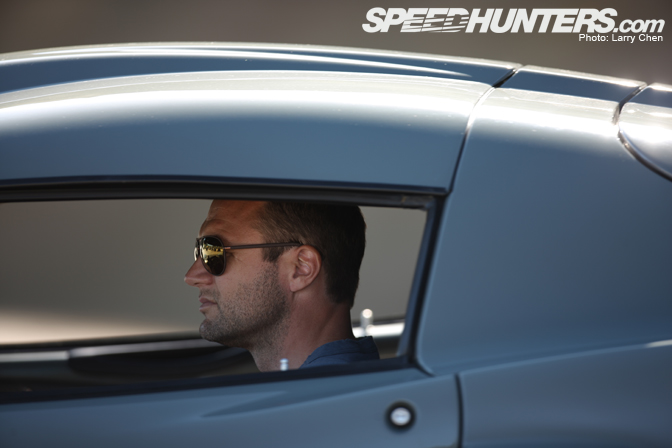 When he returned, he had an emotionless face. He climbed out and he yelled "This is the fastest freakin' thing I have ever driven."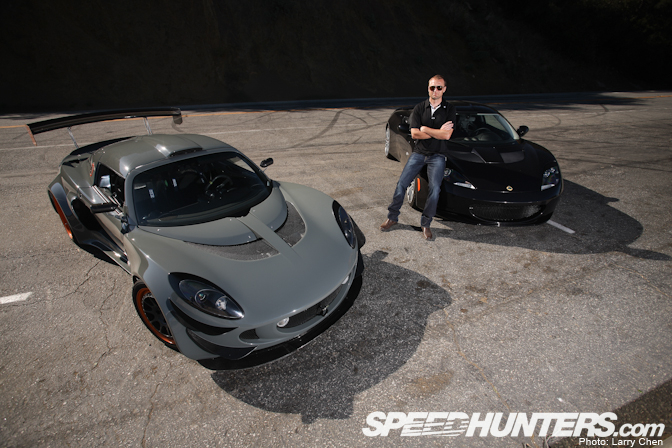 It's interesting to me when I'm with race car drivers outside of an event, because I always try to talk about things other than cars or racing. But some how our conversation always moves toward that direction. It shows just how passionate they are about car culture and racing. They live it, and breath it in their daily lives.
I very much see Townsend as just a guy who likes cars, kind of like me and the rest of the Speedhunters crew.
Make sure you check out the short clip of Townsend driving the beast for the first time.
Larry
2005 Lotus Elise
1.8 ltr. Toyota 2ZZ
680 whp @36 psi.
2150 lbs. with A/C
Dual staged fuel injection.
Alcohol/Gasoline
Mitch Pederson tuned AEM engine management
AIM MXL dash
9/1 Wiesco pistons
Carrillo H beam rods
RS Machine Darton wet sleeved block
Stock crank
Stage 2 cams
Ferra valves/springs
Ported head
Precision Billet 6262 Ball Bearing Turbo
Precision 48mm wastegate
Custom equal length manifold
Synaptic BOV
4″ stainless exhaust
Magnuson MP 62 supercharger
Custom A/W charge cooler with 4x heat exchangers
Two custom engine radiators to handle the heat.
6x cooling fans
Remote oil cooler with fan
Custom short shifter
Toyota E153 gearbox
Oil cooler
Custom axles
AP 4 pot Lotus Racing brakes
Pagid R14 pads
Kodiak Racing Wheels 7.5 x 16  10.5 x 18
Kuhmo V 710  front  215/40/16  rear 285/30/18
Nitron Shocks, Eibach Springs
Custom bodywork
Dry carbon fiber..
Canards, splitter, mirrors, seats, door panels, door sills, dash, roof, rocker panels, flairs, naca ducts and wing.
More car features on Speedhunters
More stories by Larry Chen on Speedhunters