Down To The Wire
The Irwindale Final Fight was an incredible end to the 2014 Formula Drift Championship – perhaps the best season ender yet. Chris Forsberg had led the series from the start in Long Beach all the way to the finals here in Los Angeles, but the title was still up for the taking.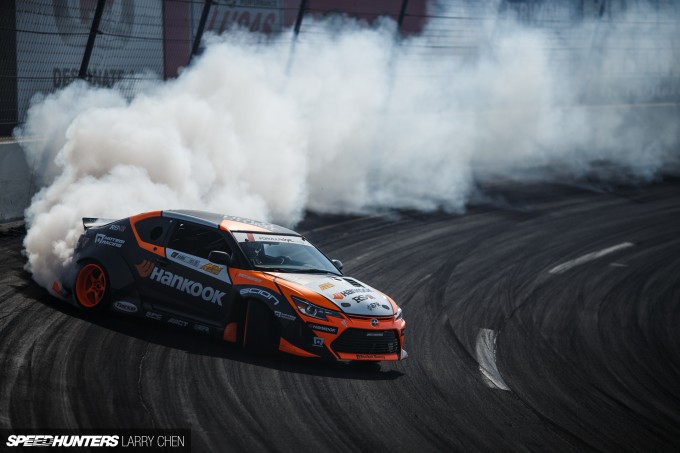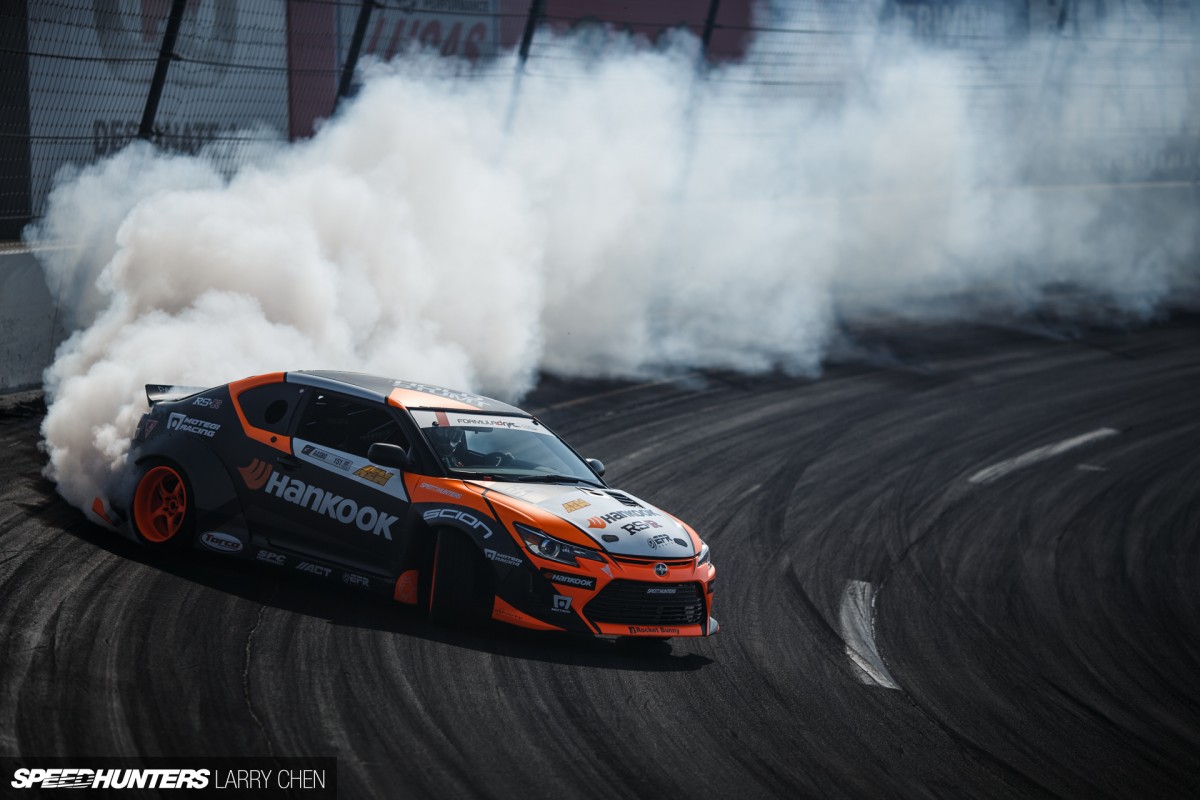 However, just like in previous years, there were rumors floating around that Formula Drift was all rigged and scripted for Drift Alliance drivers to take the championship, and whatnot. The conspiracy theories are certainly easy to find in this sport!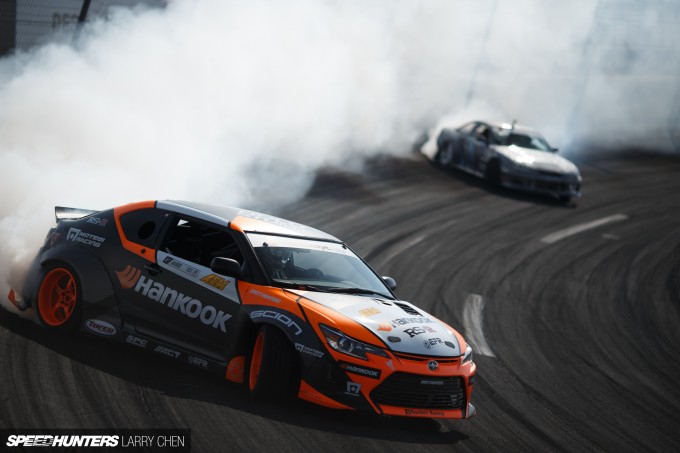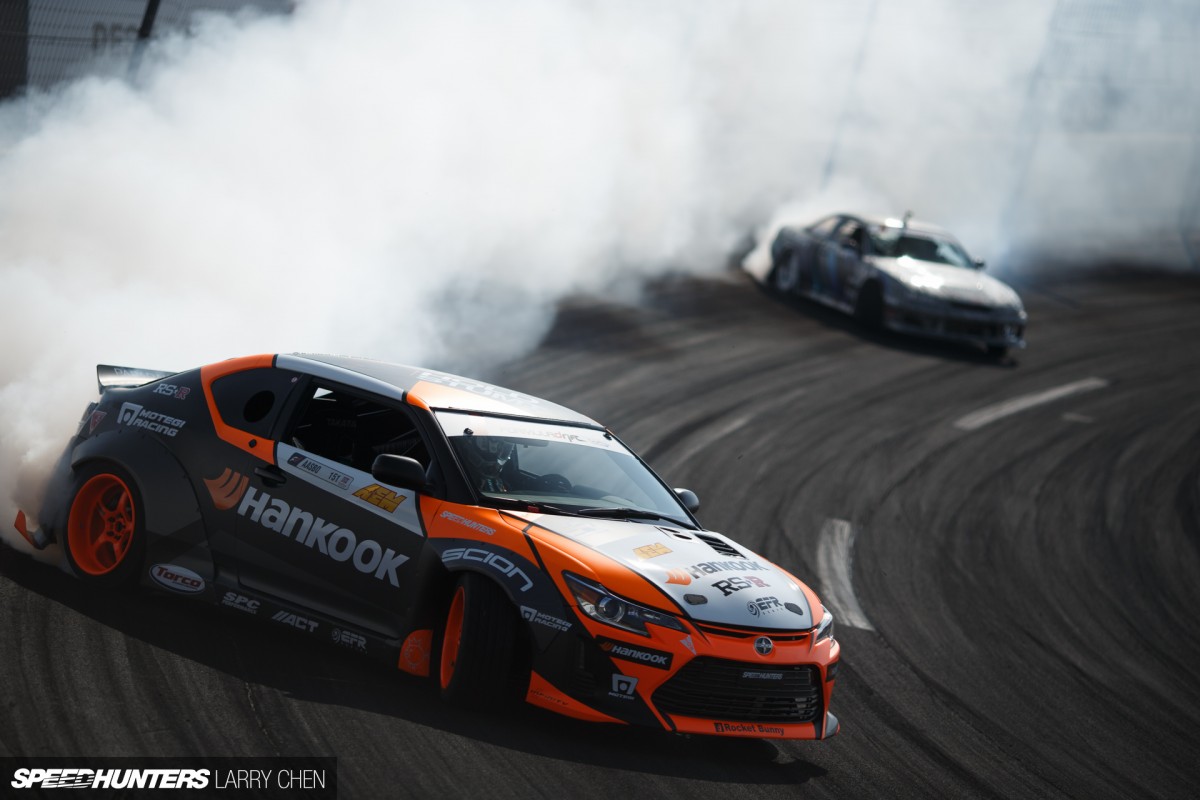 As the season moved forward, however, Papadakis Racing and I had been catching up to Chris Forsberg Racing, and as we got into the Top 4 at Irwindale Speedway either one of us could still take the title.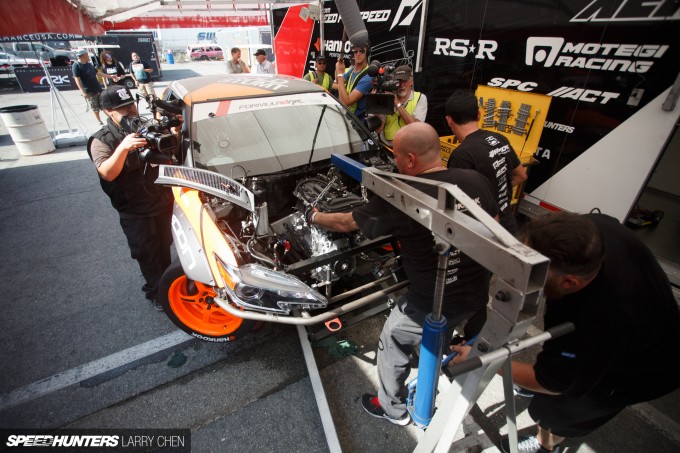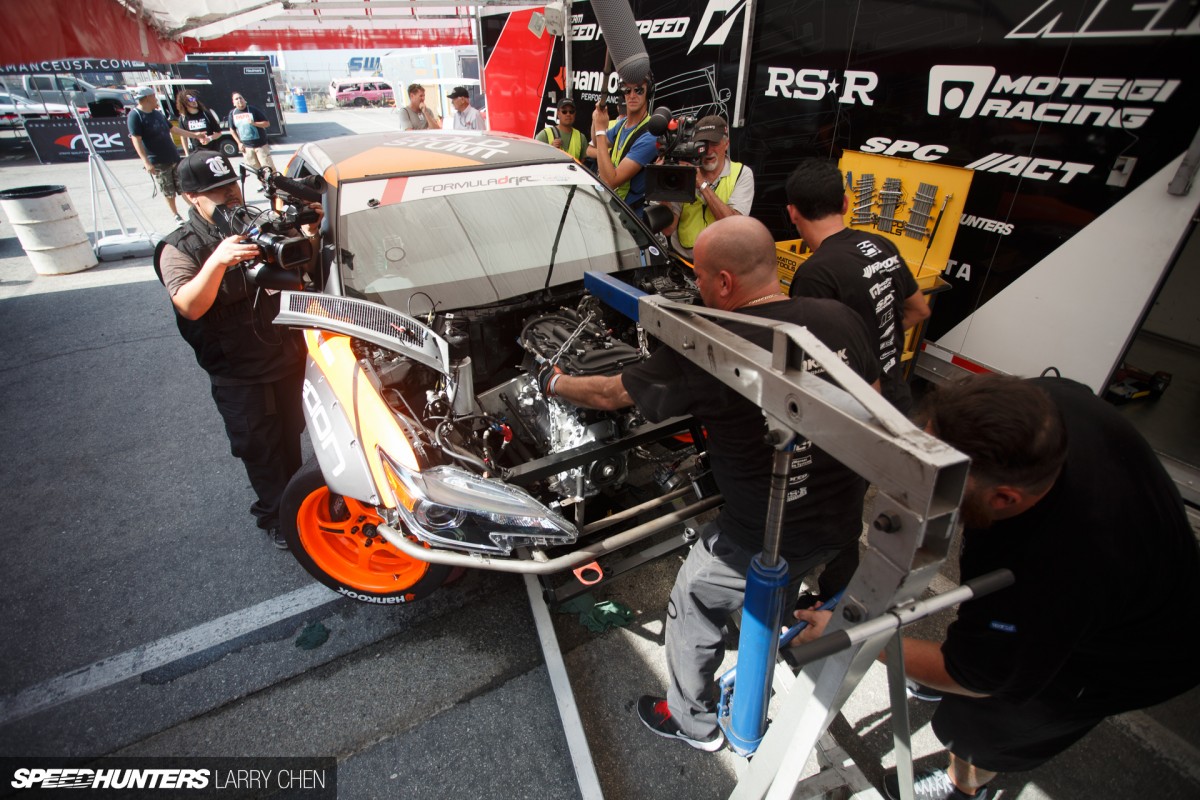 Papadakis Racing had put in so much effort evolving the car to my liking and keeping me on track, and I had been working very hard to become an ice cold, systematic, dialed competitor.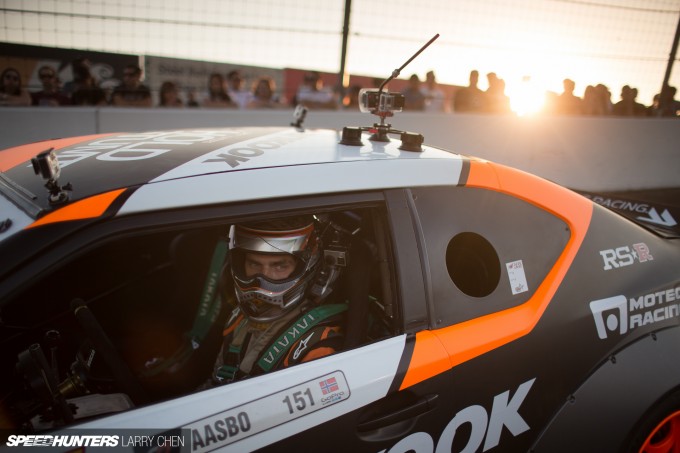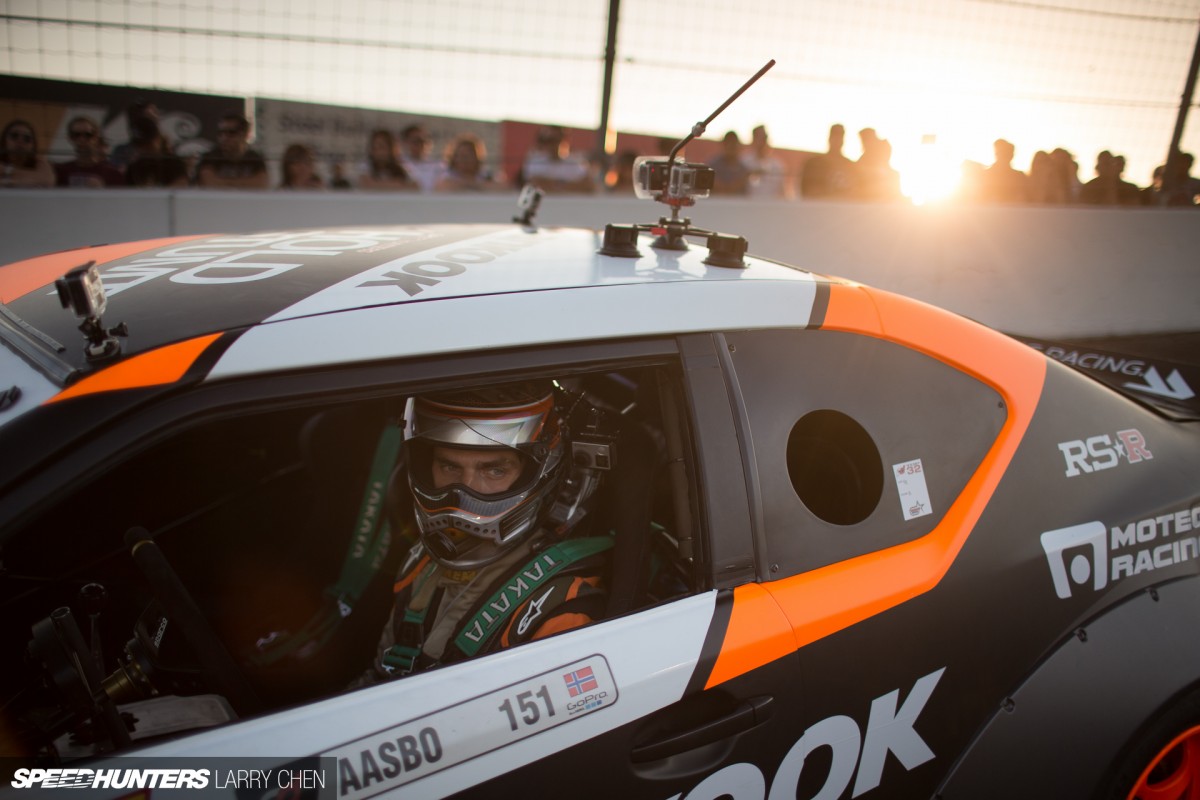 If I was able to take out Forsberg in the Top 4 and then go on to beat Daigo Saito in the Final Battle, we would take the crown by a handful of points. On the other hand, if I beat Forsberg and then lost to Saito in the Final, Forsberg would win the Championship by a margin of just over 10 points.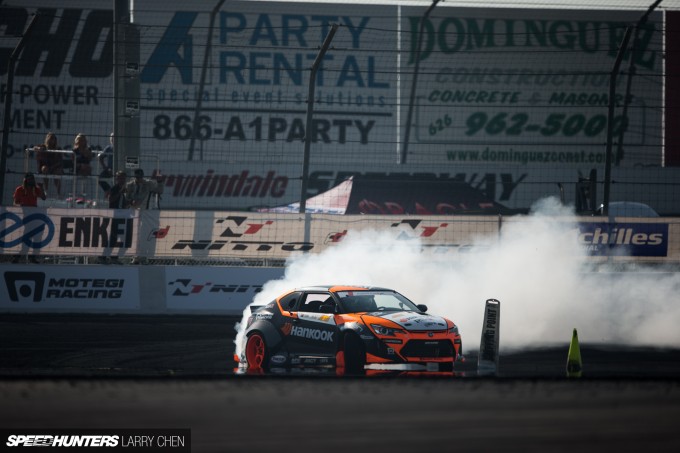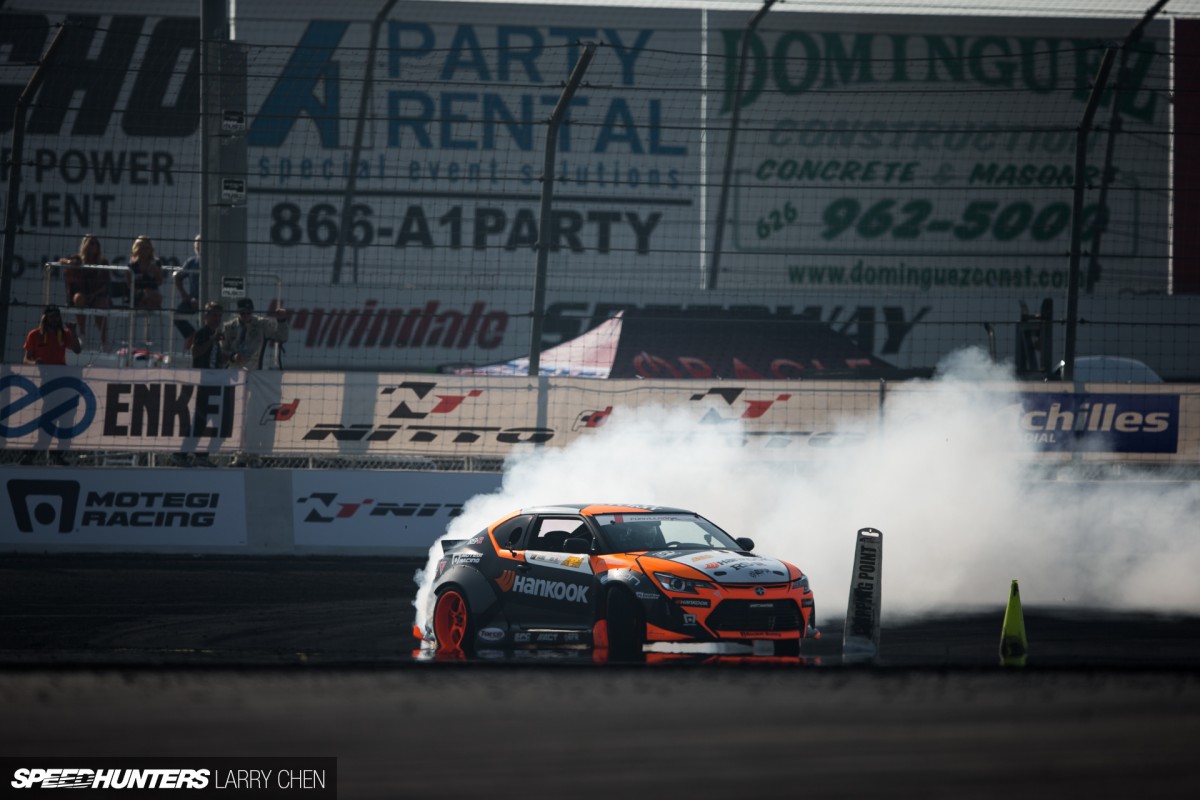 Needless to say, the seventh and final round of the year was an absolute thriller. Ryan Sage, co-Founder of Formula Drift, even said "You couldn't write it any better".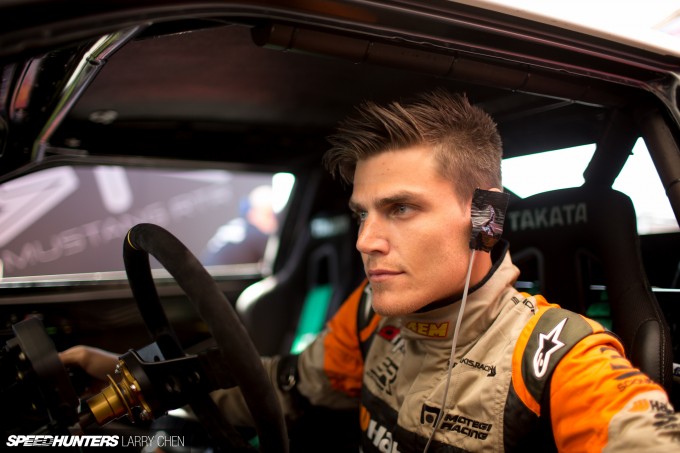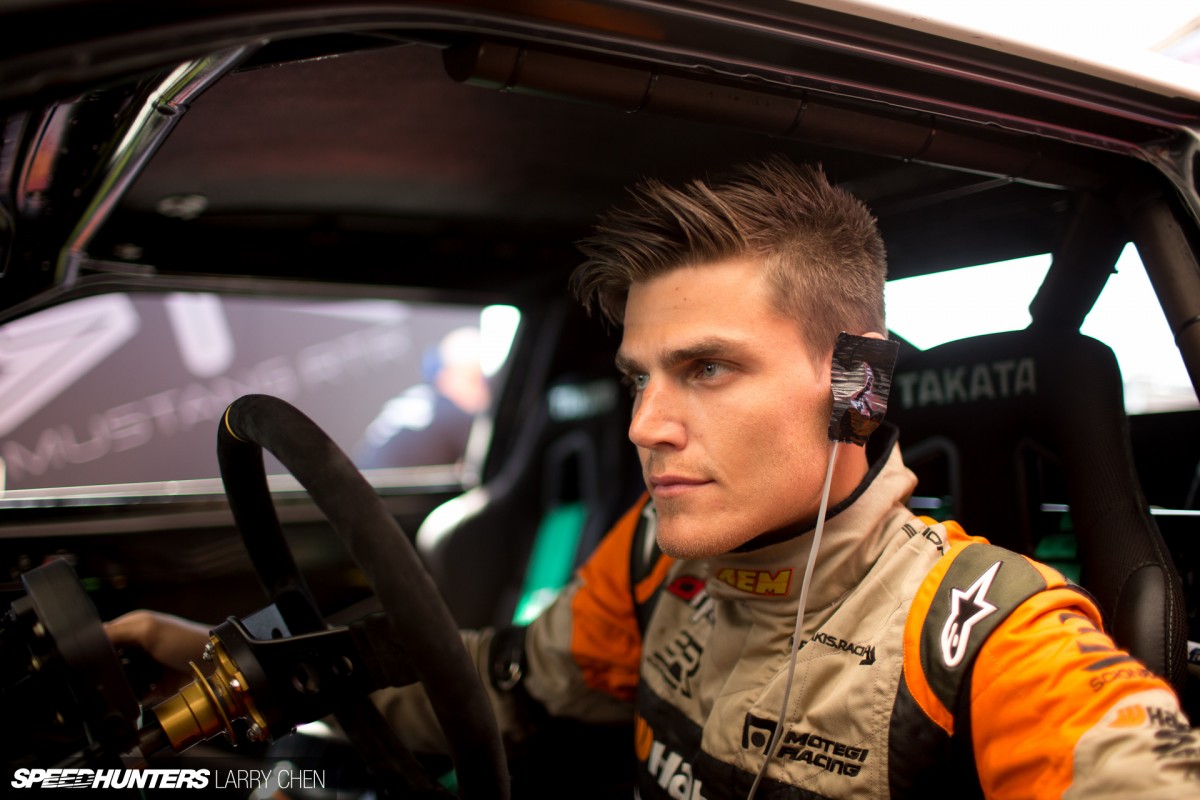 Either way, it would be the perfect ending for Hankook Tire regardless of who won, as the tire company was guaranteed its first Formula Drift Championship with either one of us.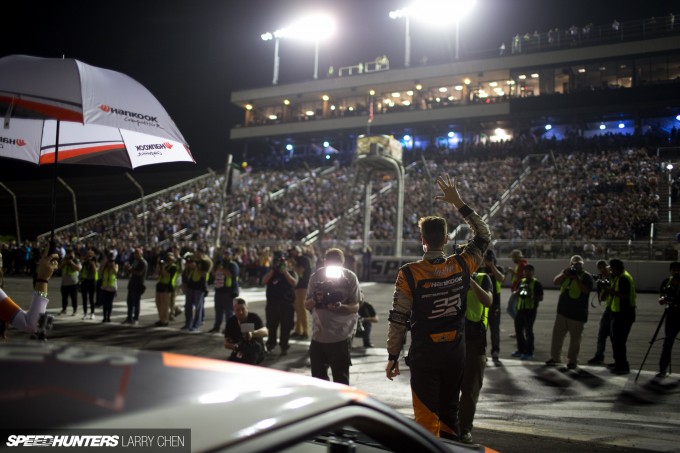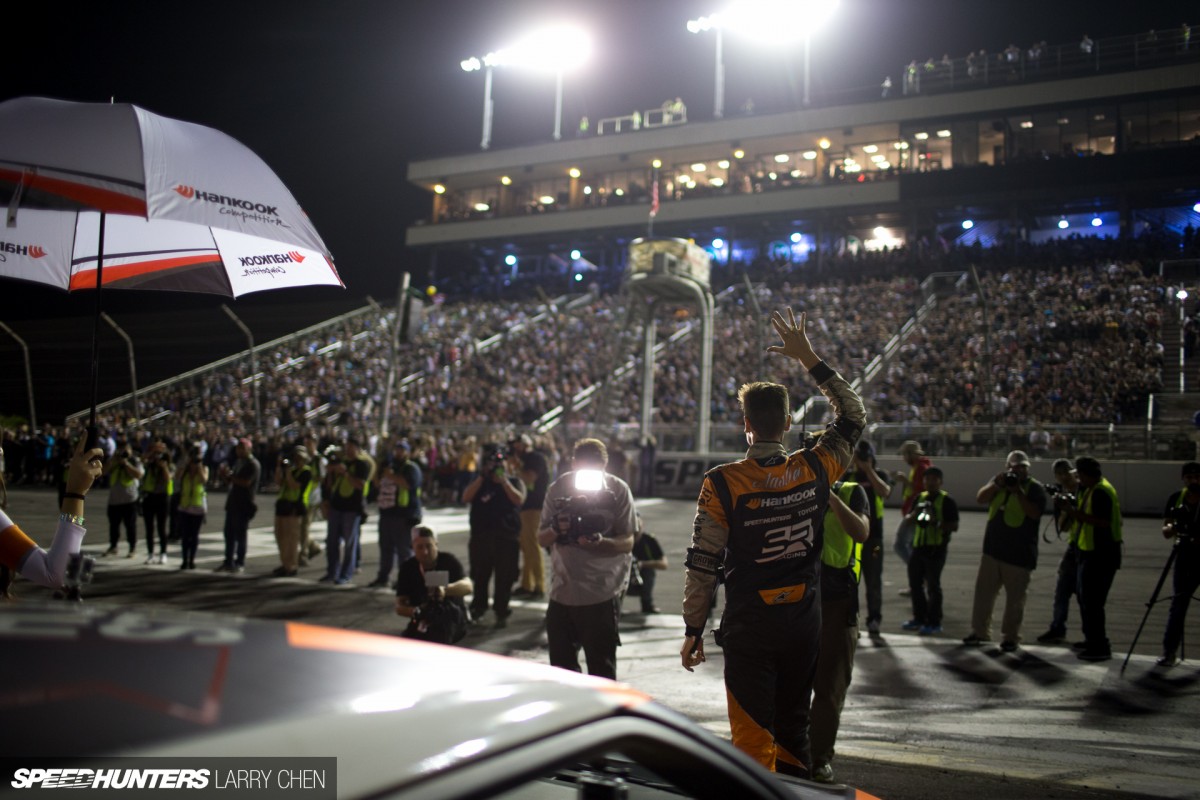 But the real nail-biter for everyone else was seeing who would take it.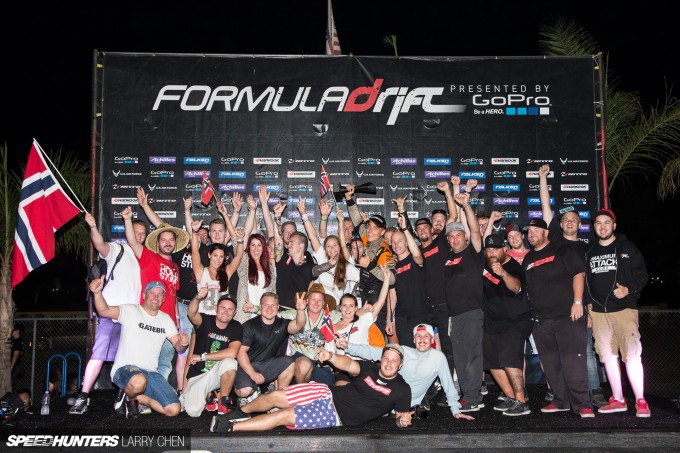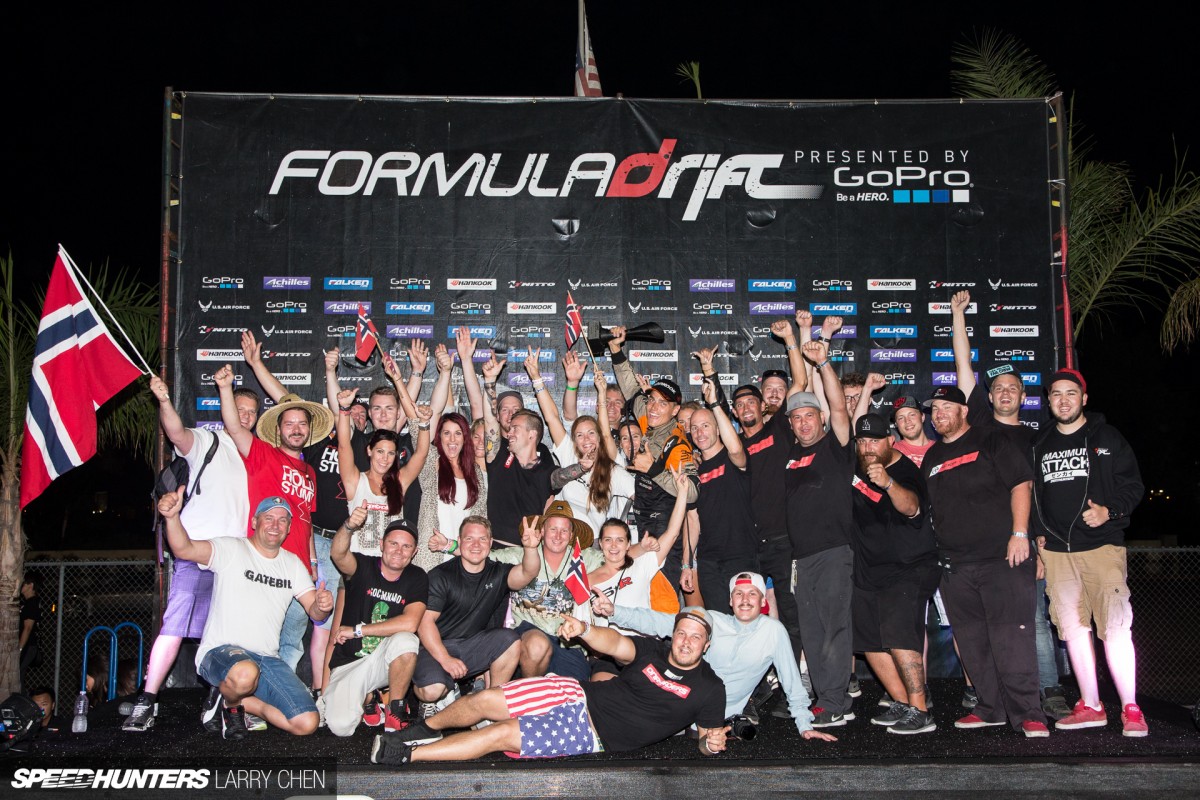 Would it be Team Forsberg? Or would it be Team Aasbø?
Crunch Time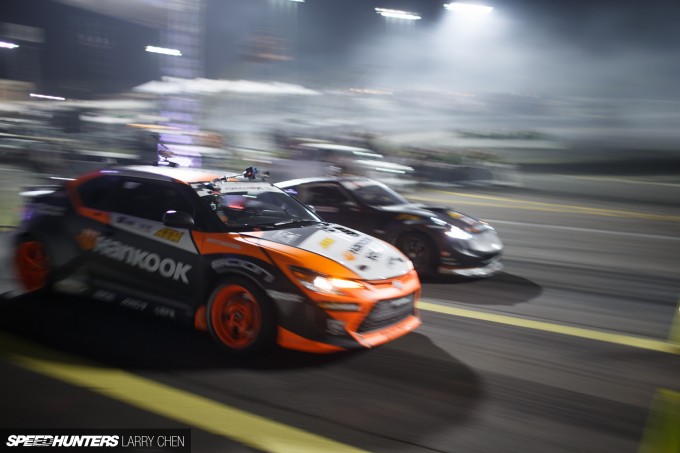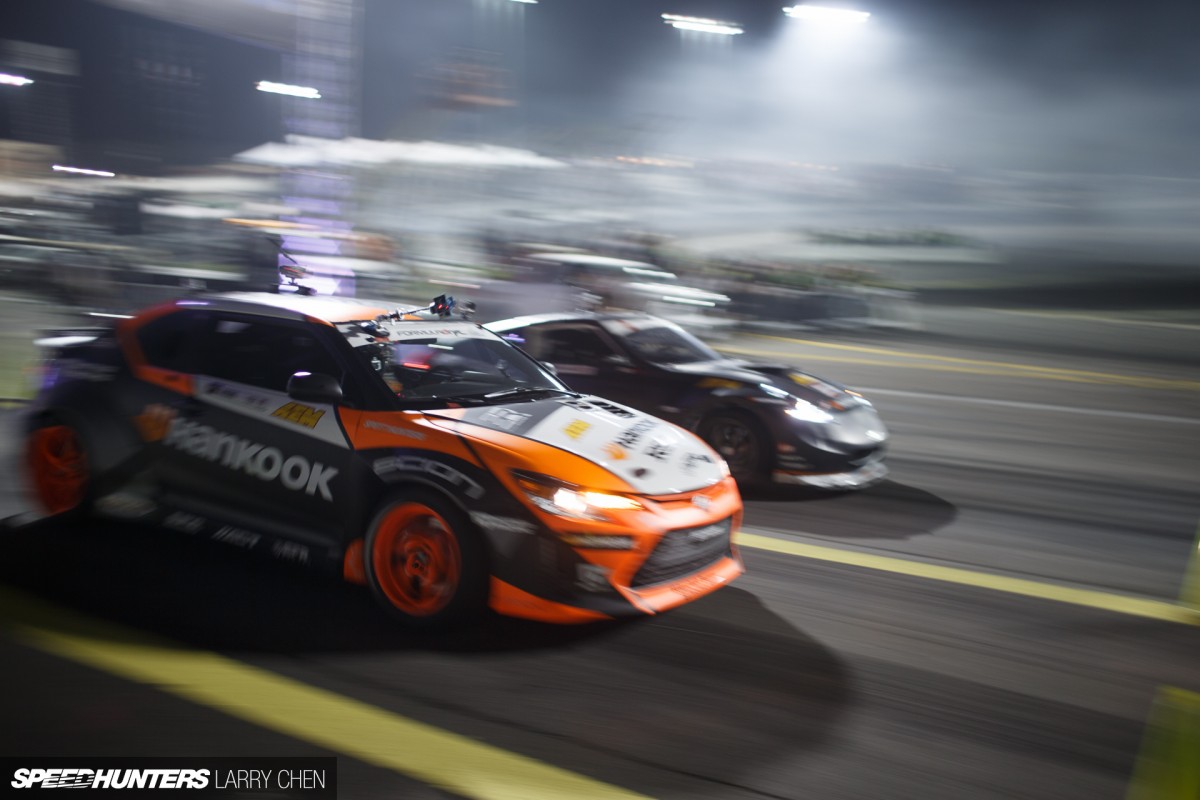 It was game time, and Chris and I set out on this historical battle. If drifting is all about mental strength, this was where it would be put to the real test.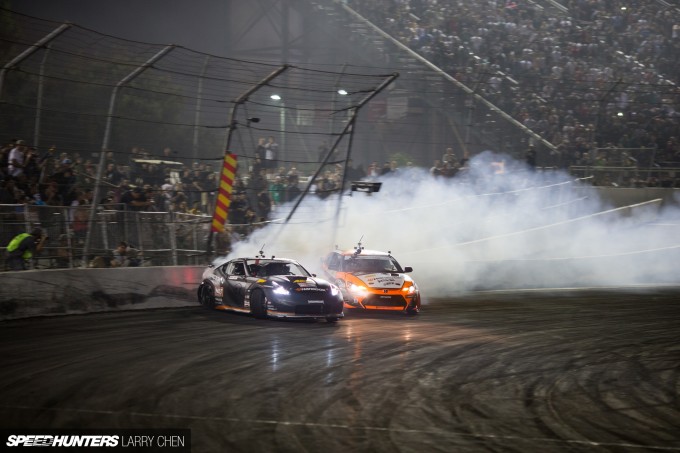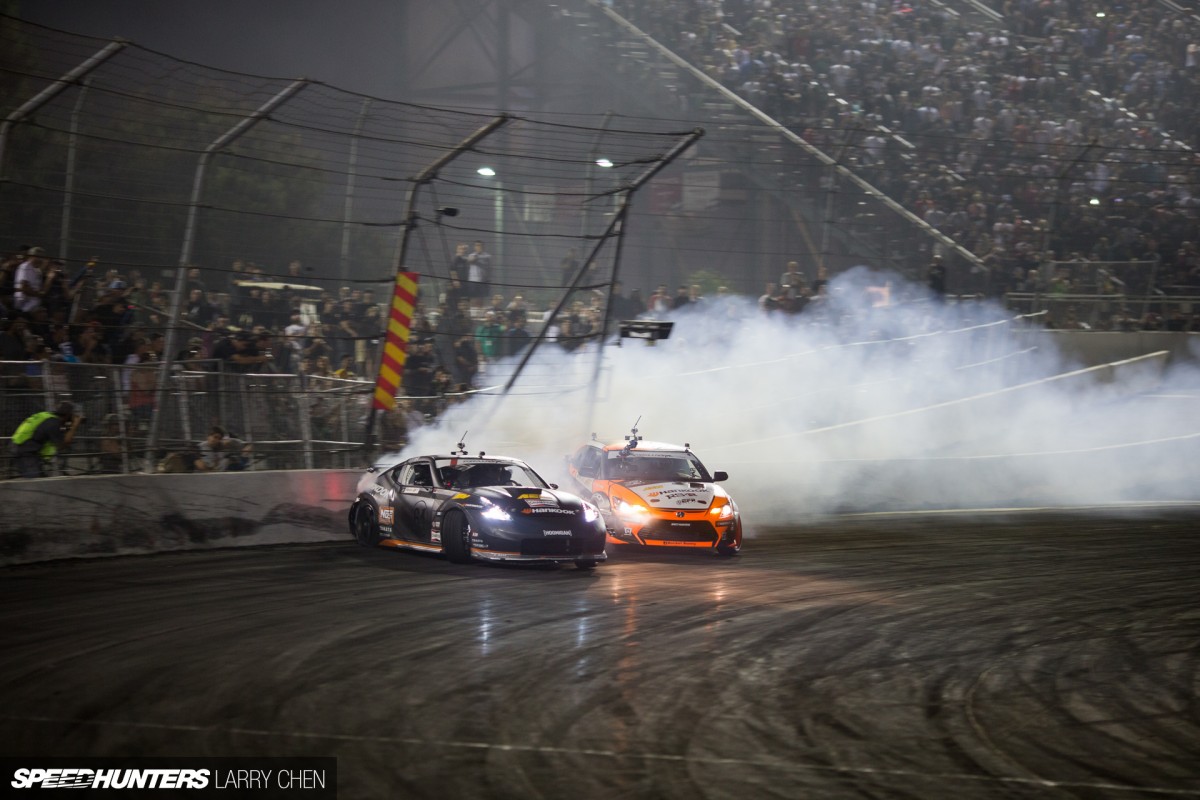 I went for it harder than I usually do, and perhaps harder than I ever had. I actually tapped the wall behind Chris coming into the inner bank. I had a very slight correction, but the judges like to see the chase car take the wide line behind the lead car so I think overall we earned an advantage in this section.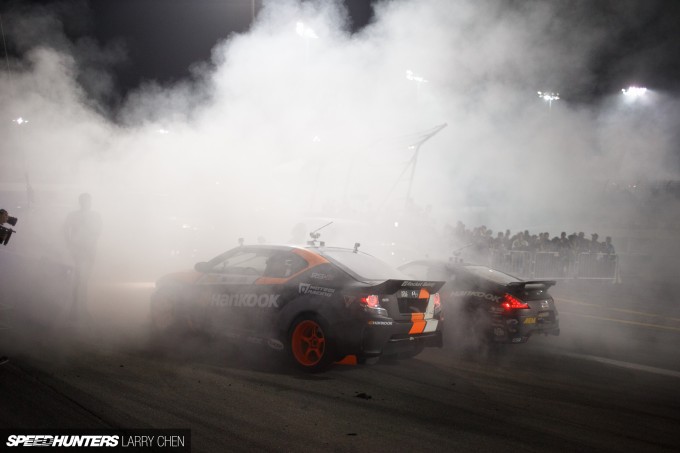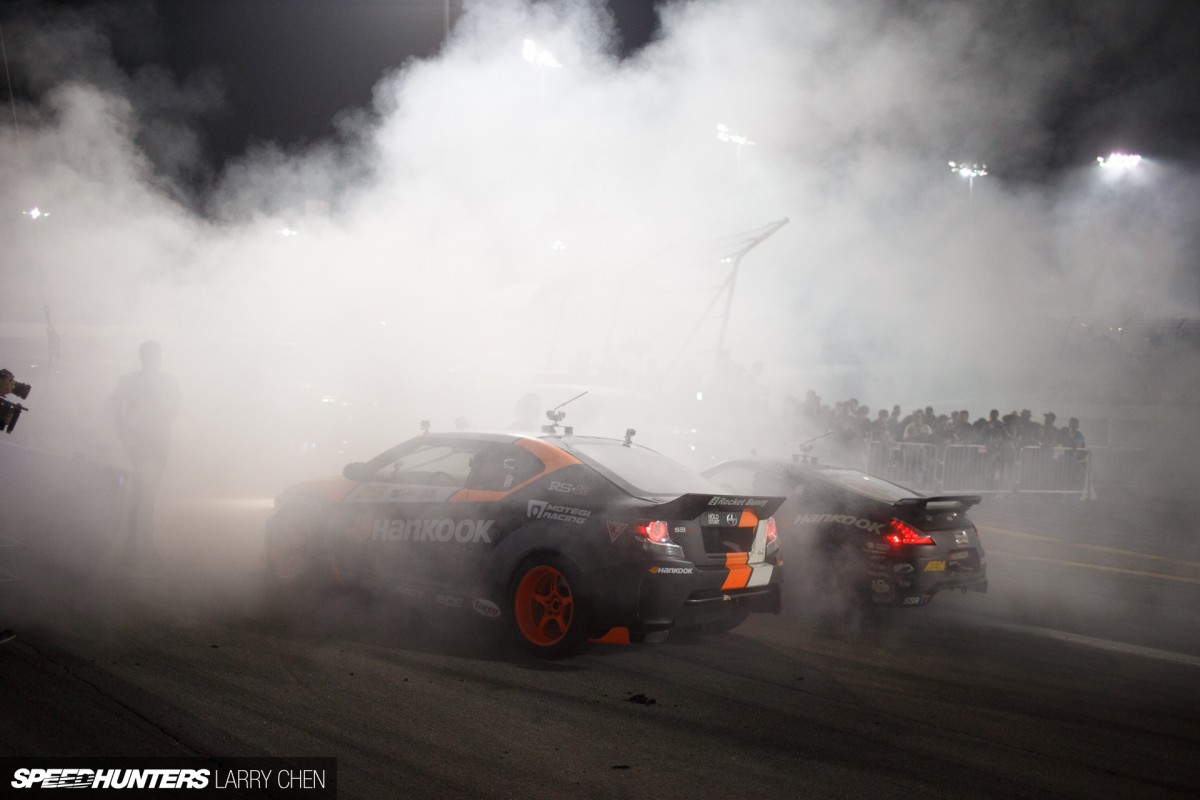 I was told later that the vibe throughout Irwindale Speedway was electric as we came in after our two runs. I couldn't sense or hear much of it though – I was just sitting inside the tC in my own little bubble, awaiting the result.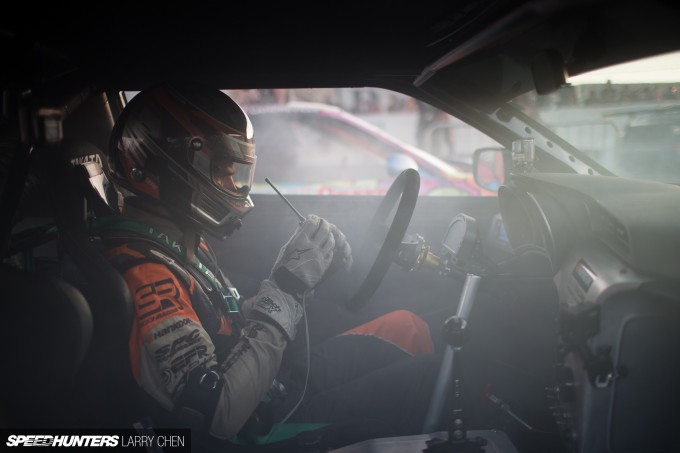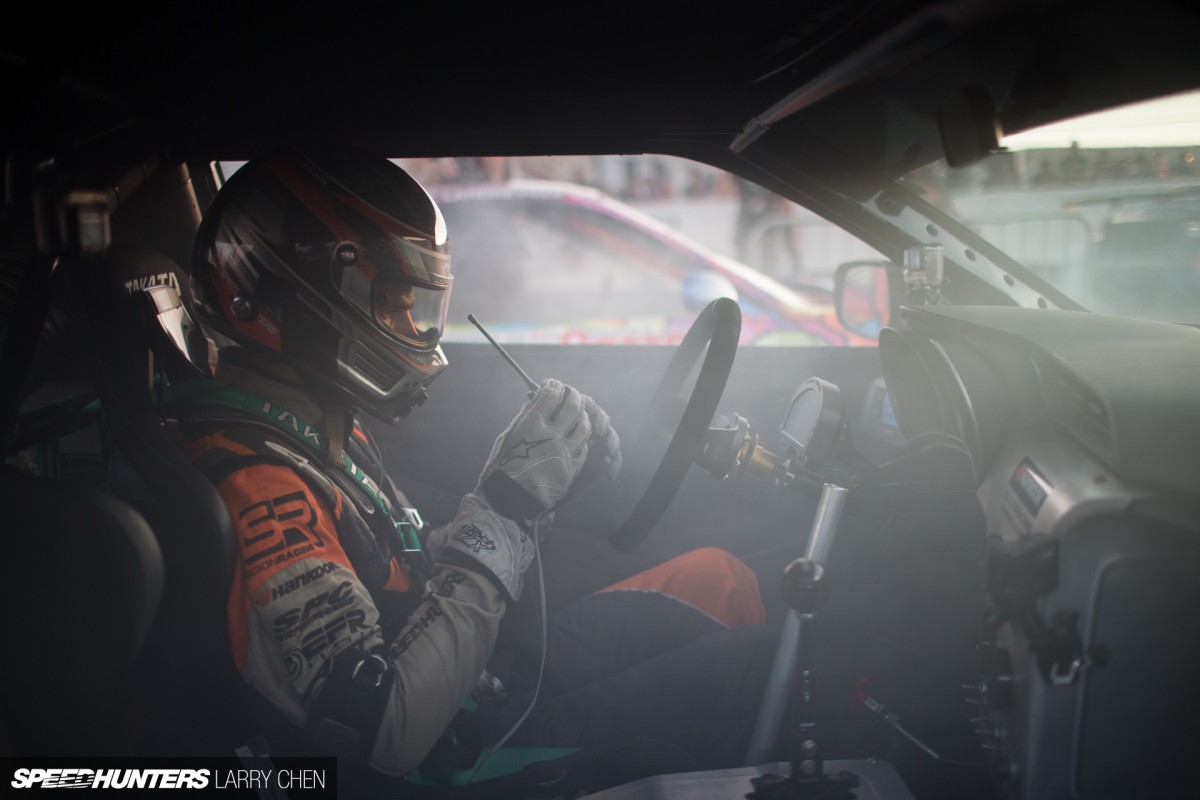 Even though I knew I had run what was probably the best chase I've ever put together on the infamous Irwindale bank, I felt completely free of any emotions. However, it was a close battle as Chris did a stellar job, so I couldn't possibly know the outcome. It was all up to the judges.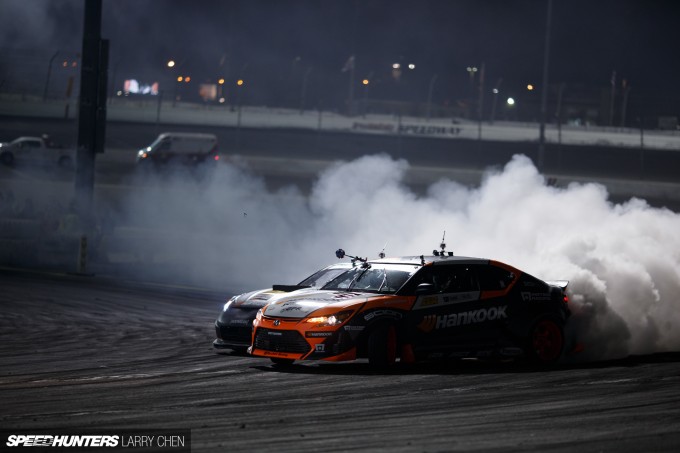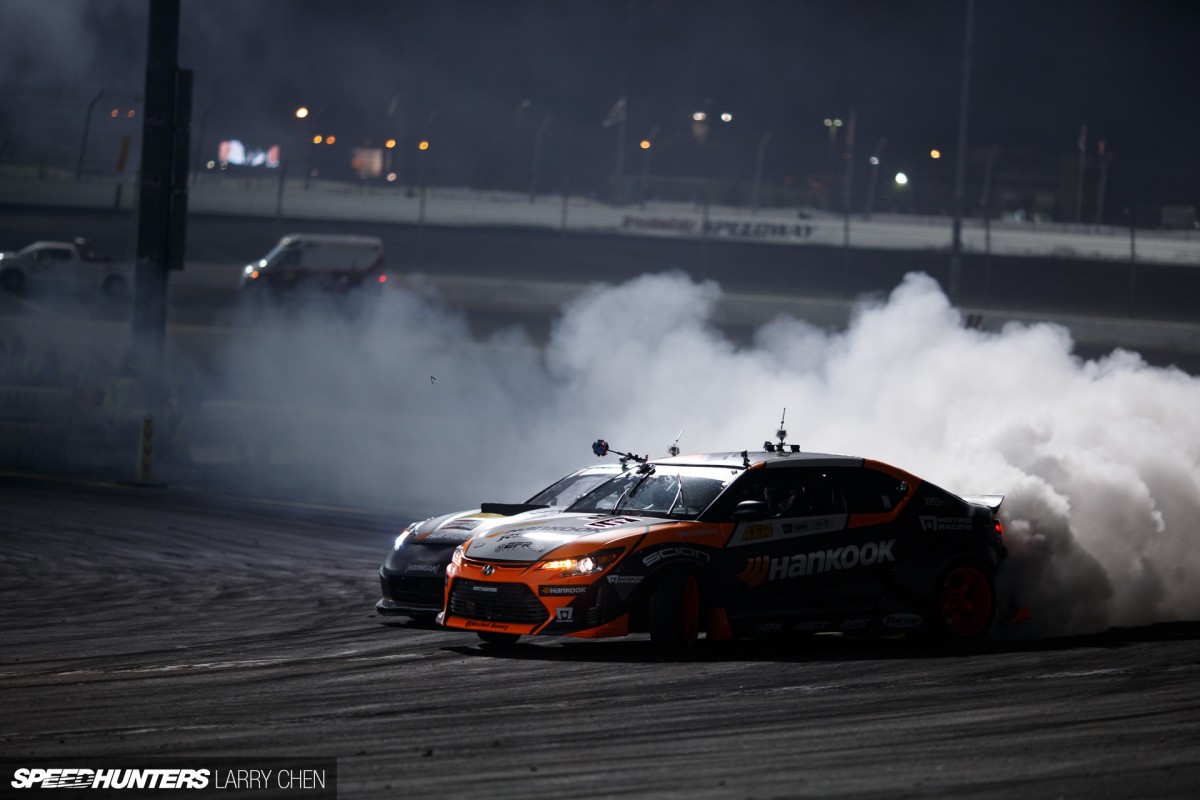 It felt like forever. It was a waiting game, and I had to remind myself to breathe. Check out this video of the battles below:
And then – boom! The verdict was in… It turned out that on my fourth battle with Chris Forsberg this season we had won! The crowd went crazy. After seven stops across the United States and a long summer full of fierce competition, it felt unreal to see the Championship was now going to come down to the very last battle of the season. Chris later said I had been his kryptonite all year.
I didn't have time to look back though, because now was the time to go to work… We were in the Final, against a certain Daigo Saito.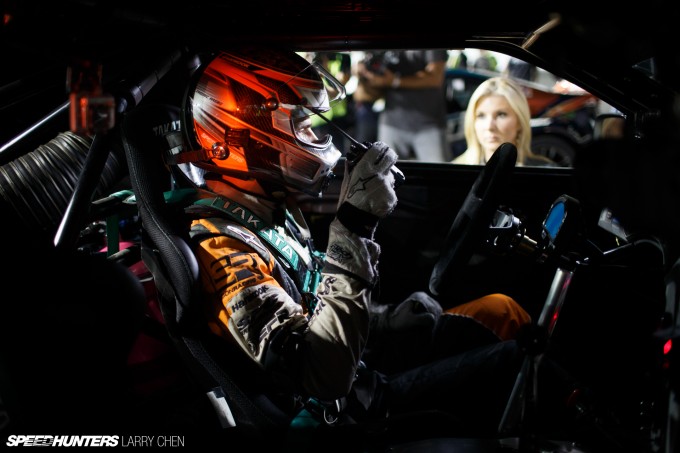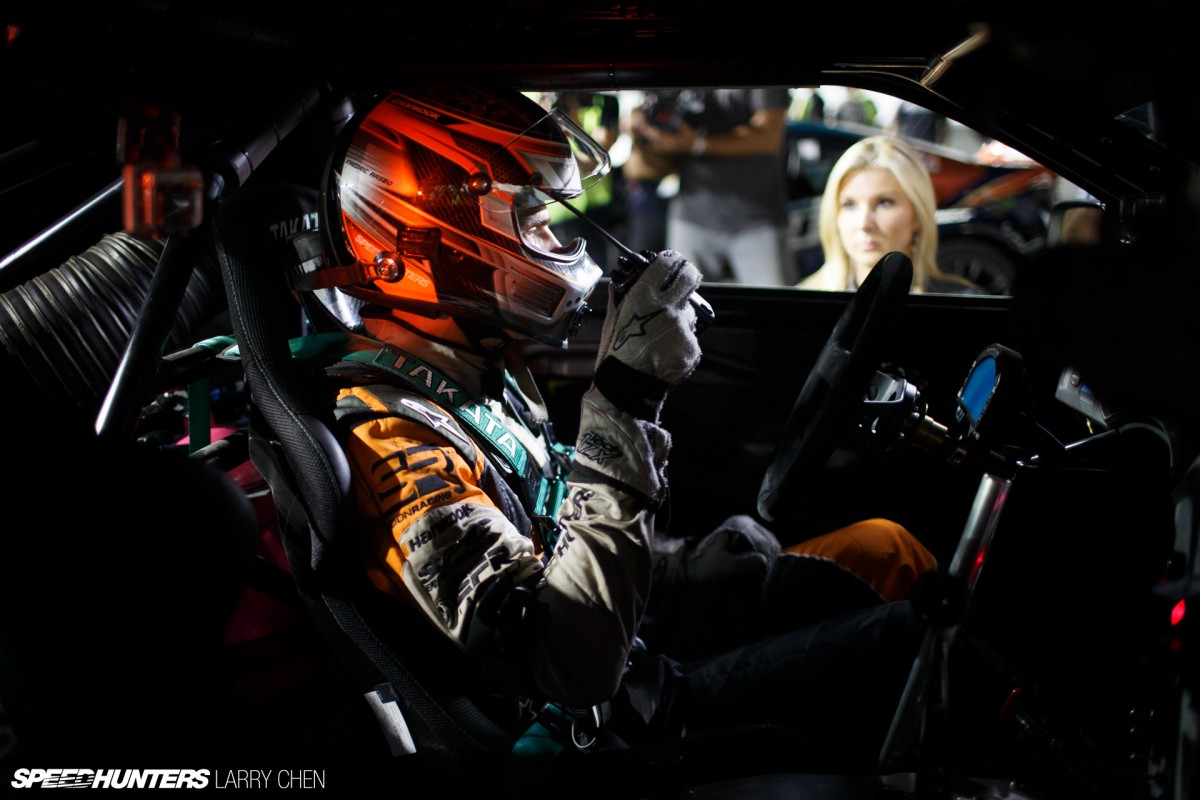 Here's Formula Drift TV interviewer Meghan Lamontagne patiently waiting as I talked Final Battle tactics with Steph up in the spotters tower.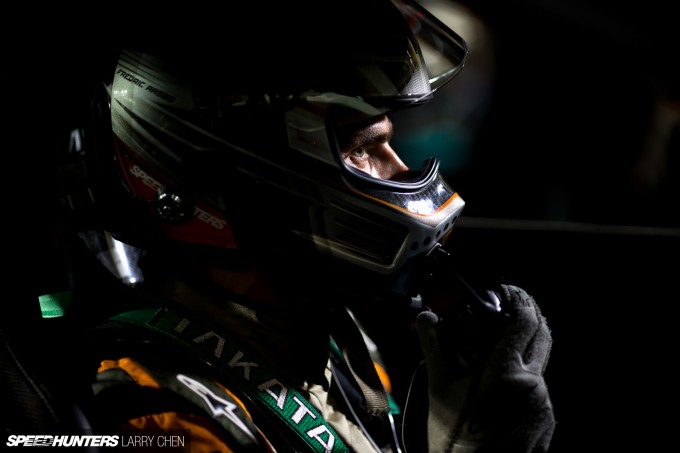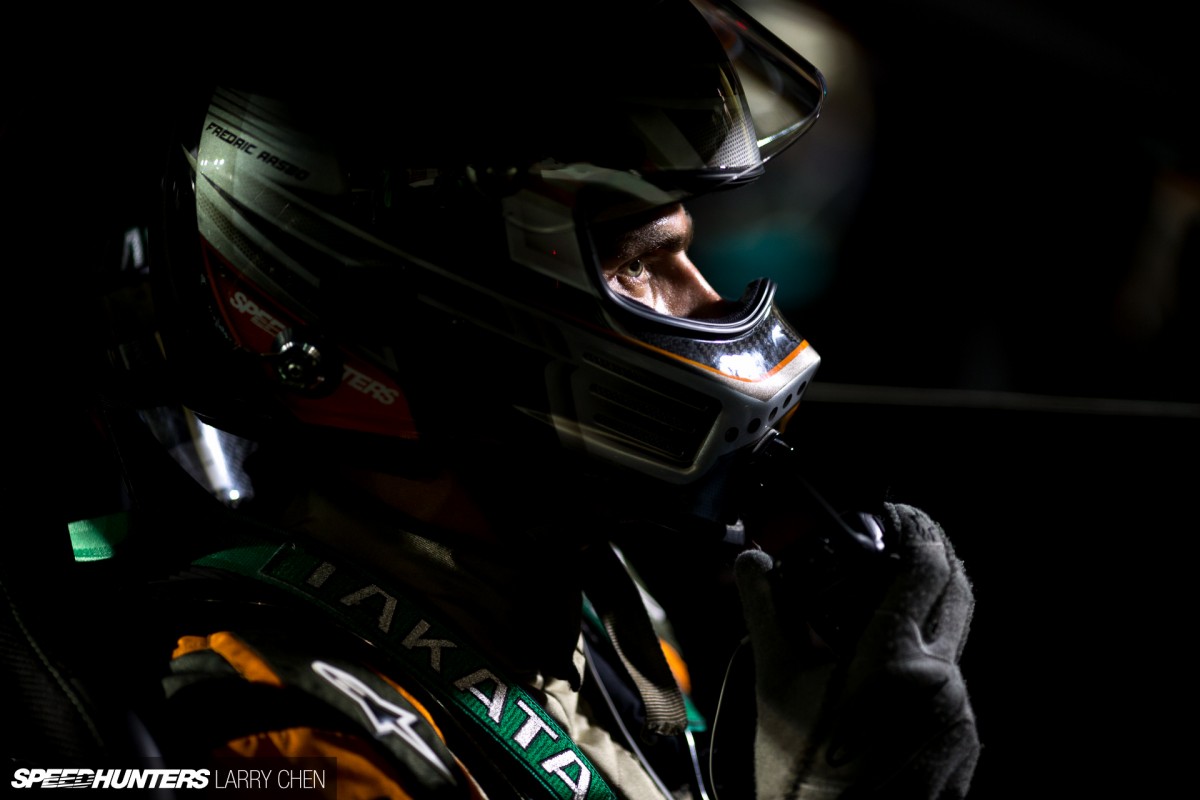 As you move into the Top 4 time starts to get really precious. If you win your battle you pretty much have to go straight out for the next one. Luckily, we were given ample time to do a tire change, which bought me a minute or two to clear my head and focus on the next battle. But with the pit stop speed my guys are at right now, a tire change is over in a matter of seconds. Staying focused when the entire drifting world is watching you is the key here.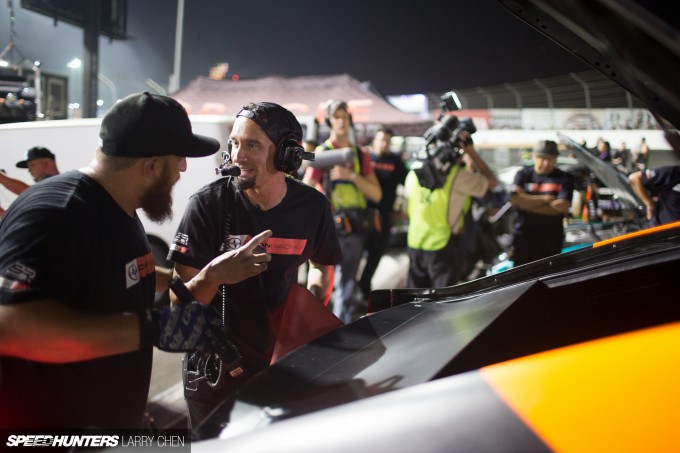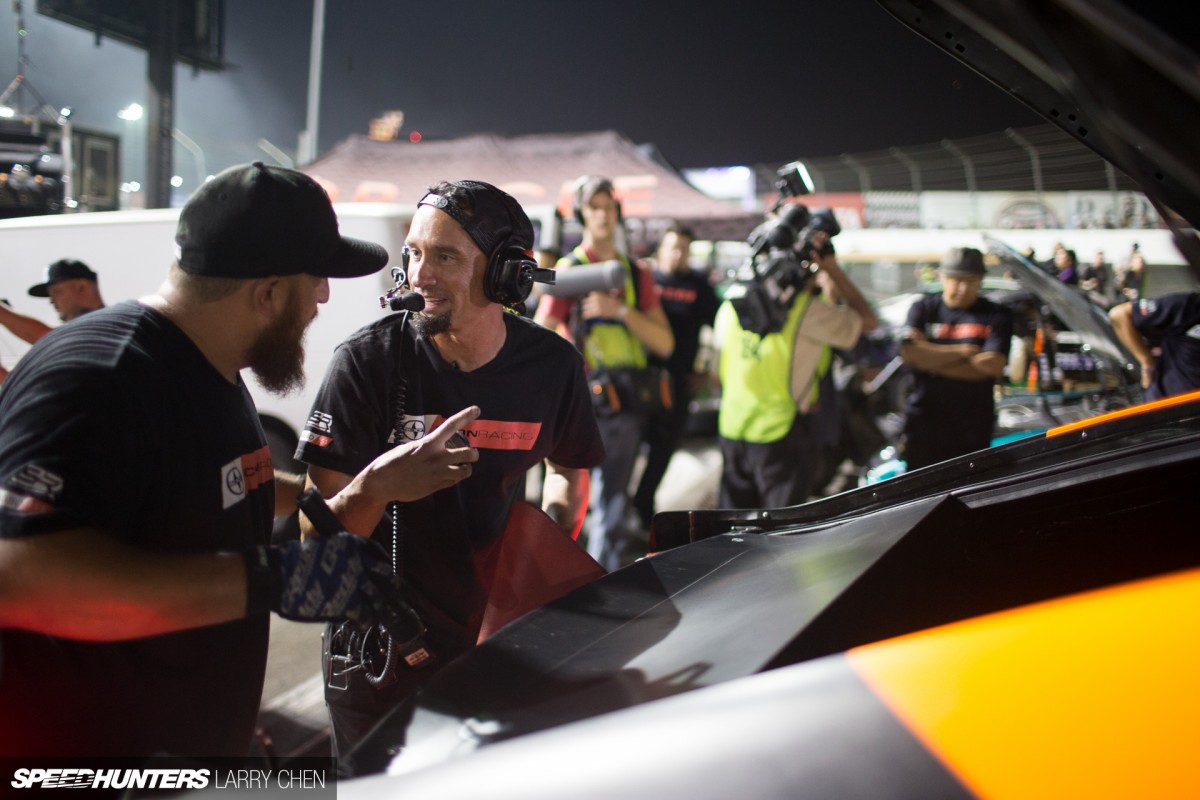 I've been told that it felt like every single person present at Irwindale Speedway (which was completely sold out) held their breath as Daigo and I lined up.
Everything On The Line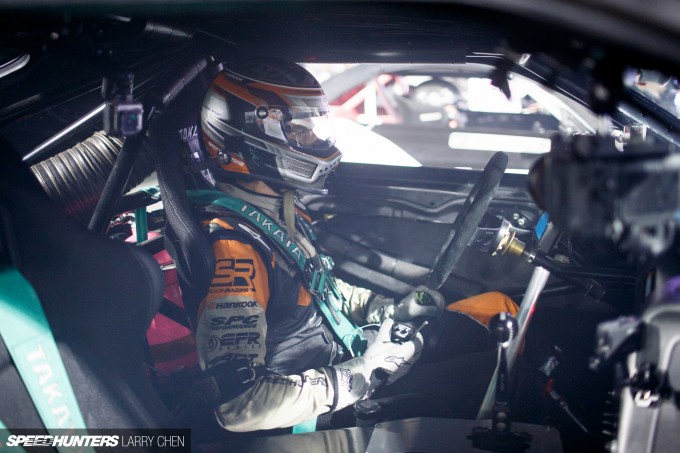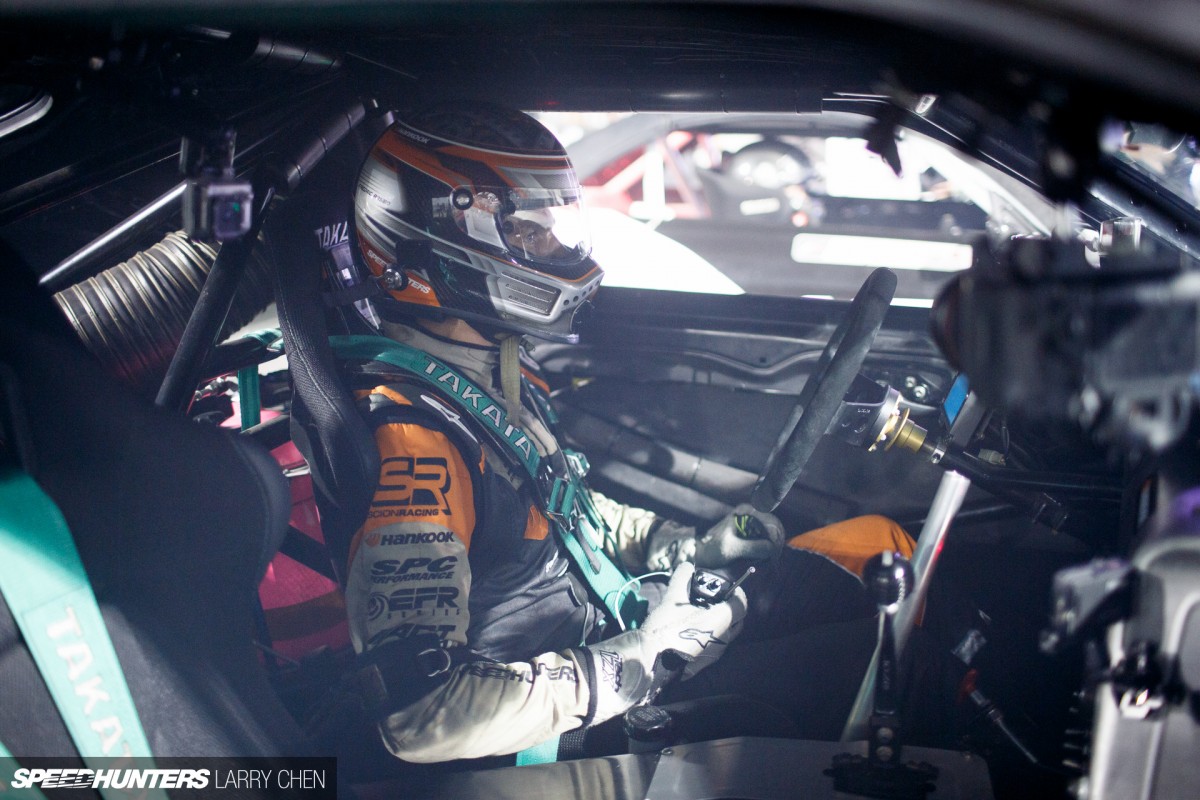 We've gone up against Daigo several times, and the stats go in our favor as we've been able to take him out a couple of times over the last few years. But Daigo has always come back, and with a striking vengeance. You see, Daigo has his own way of attacking the bank – not to mention the grip and power to match it. He had been undefeated at Irwindale for the last two years and was doing better than ever this time around, riding the bank super-high and posting some of the fastest speeds.
Could we match his speed?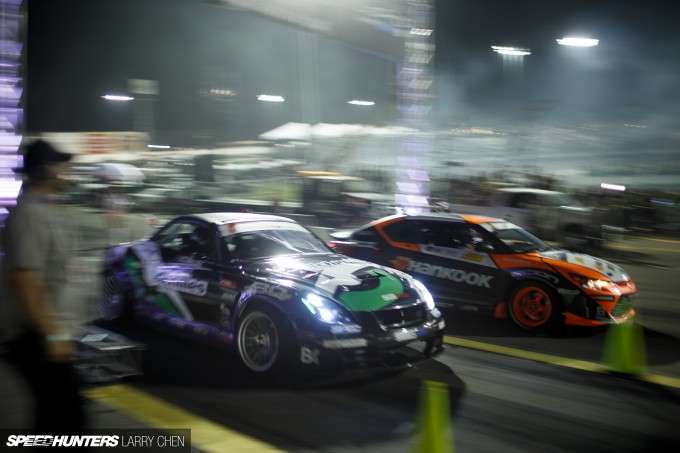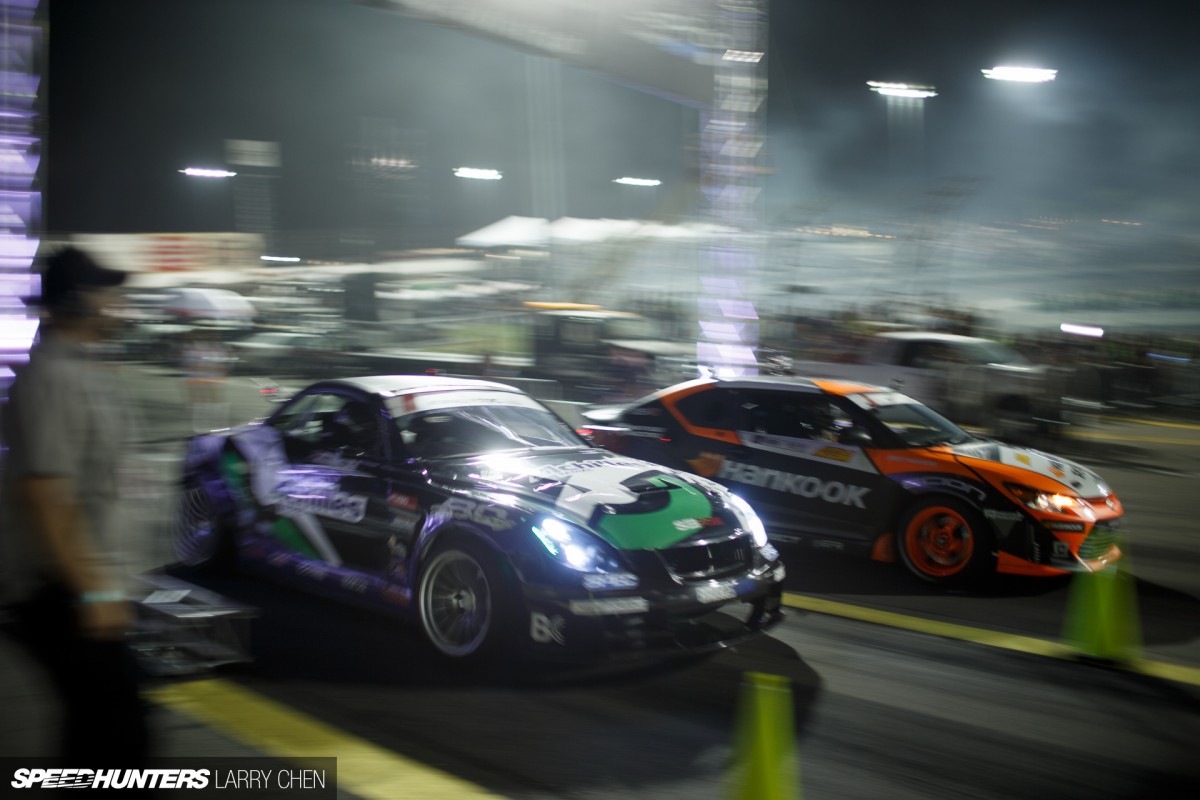 The short answer is, 'no.'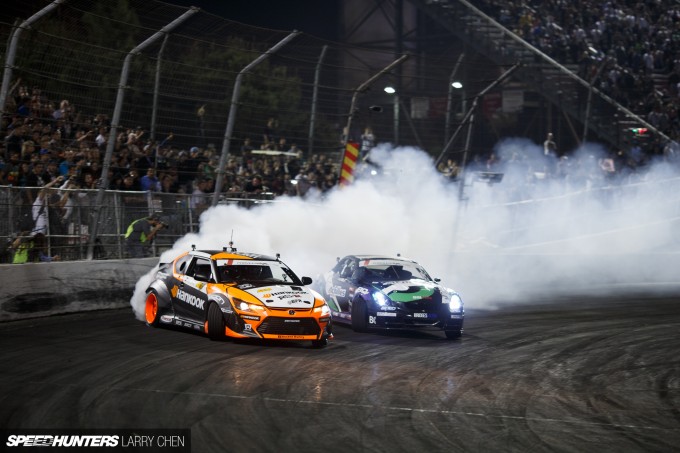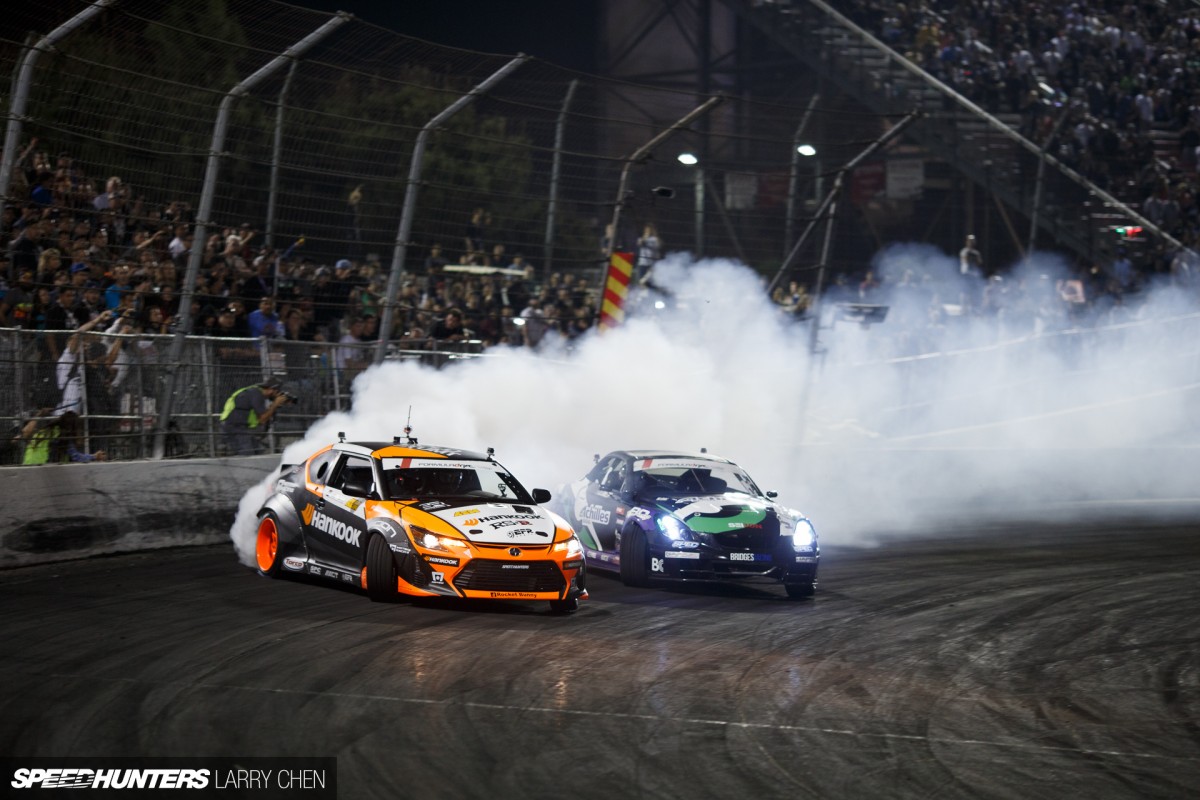 The longer answer is, 'not on this day.' I do know what to work on, moving forward. Check out the video below for a comparison of our two runs.
Daigo had some corrections on his chase, but he stayed very close. I, on the other hand, wasn't able to hang with him on the bank and also overshot the inner bank trying to keep up.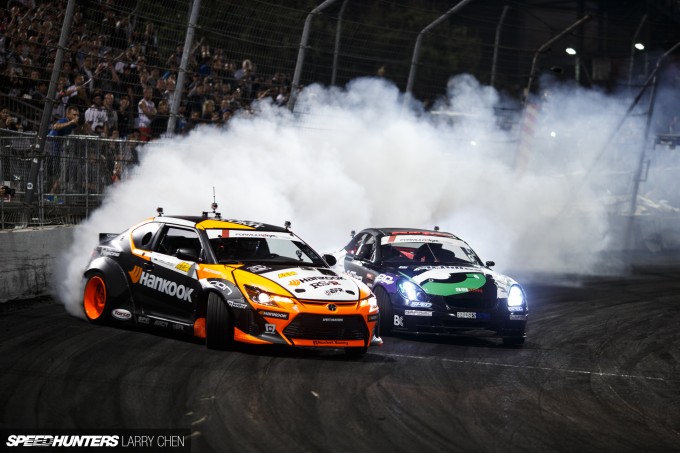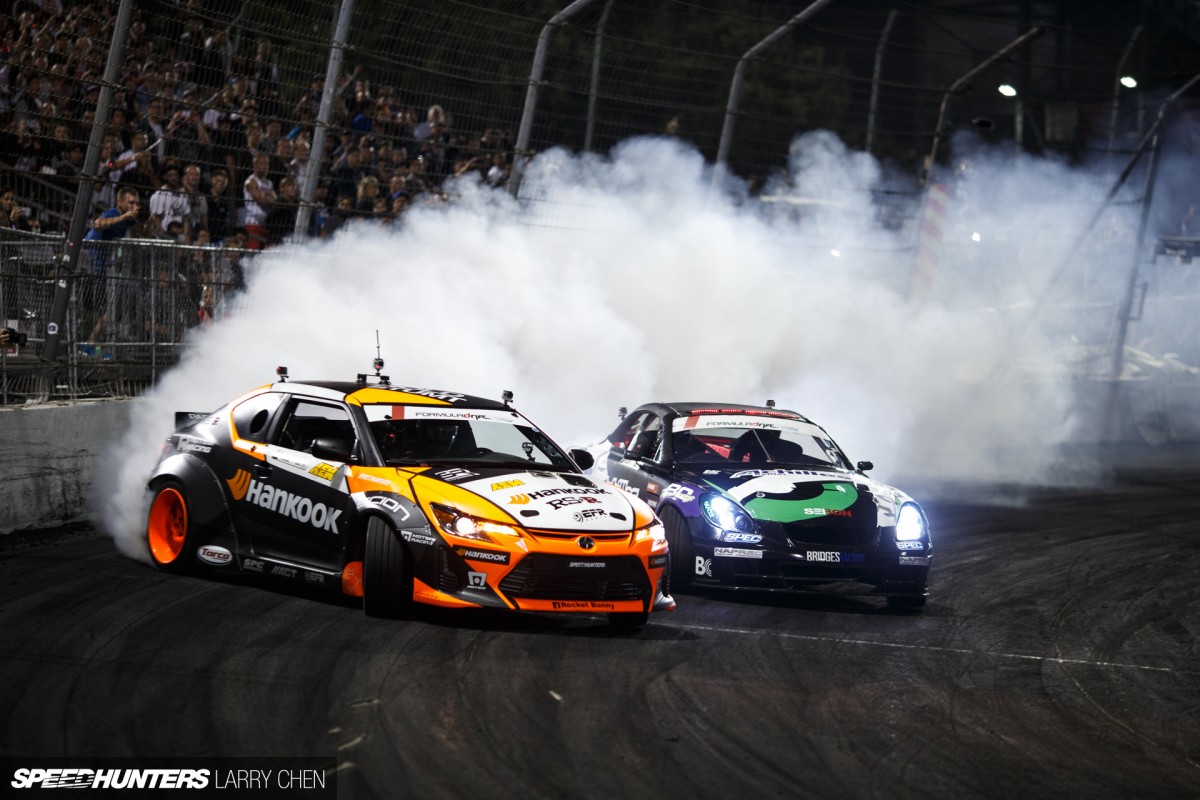 Daigo won, and we got second at Irwindale – which meant second in the Championship. But hey – I'll take it. It's been such a fun season and we've made great progress!
At the end of the day, that's what it is all about for me. The sense of progression, learning and growth as a competitor. I love the challenge, and even though it didn't play out all the way this time, we got pretty frickin' close.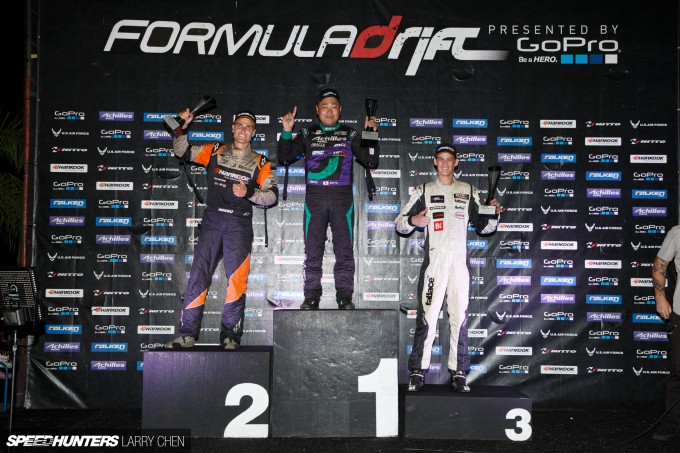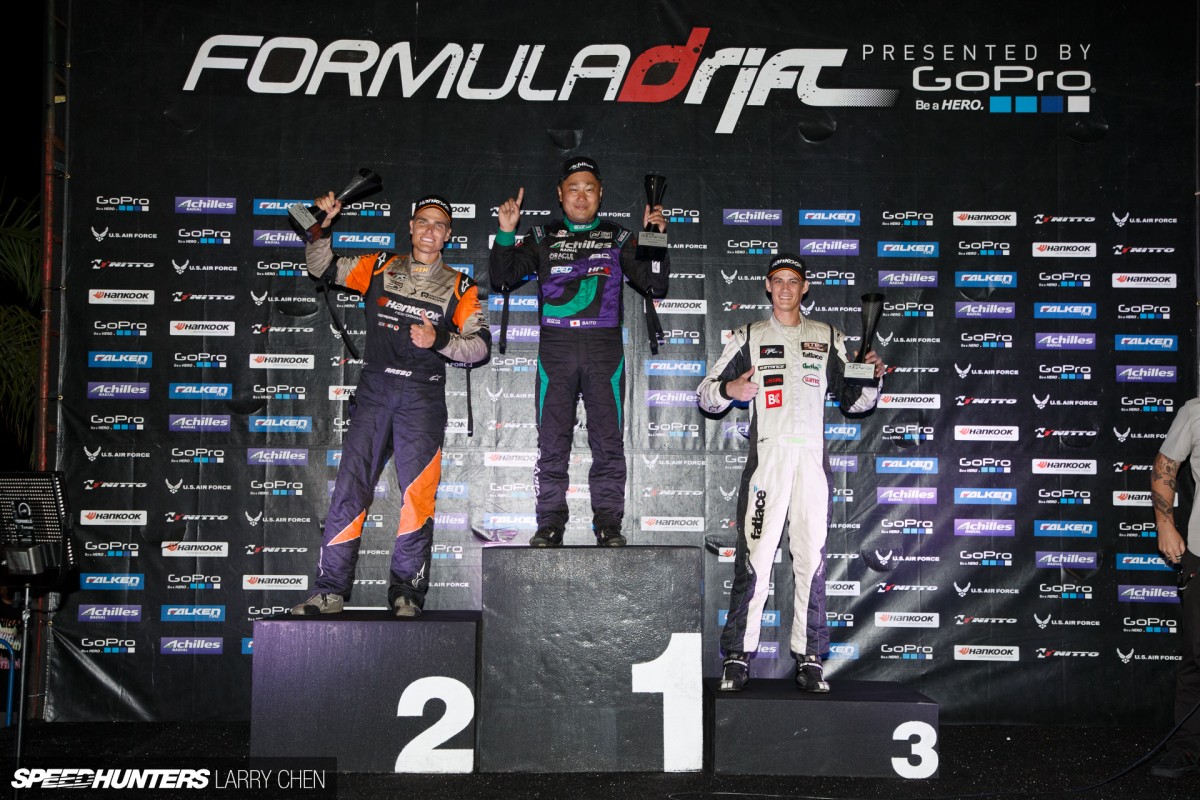 But I'll promise you one thing: you can rest assured that finding speed is high on our priority list this off season.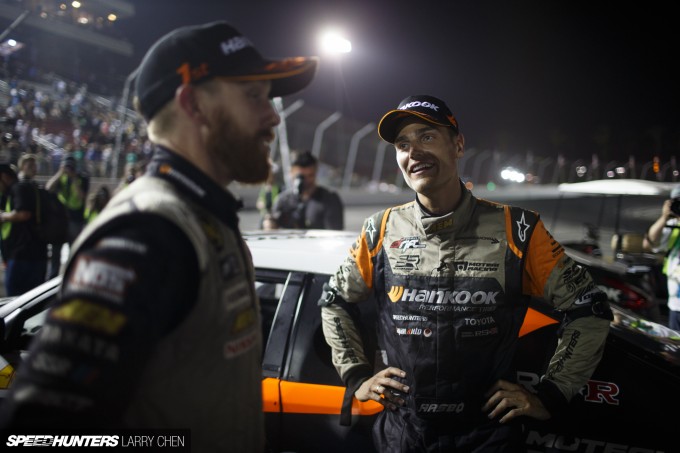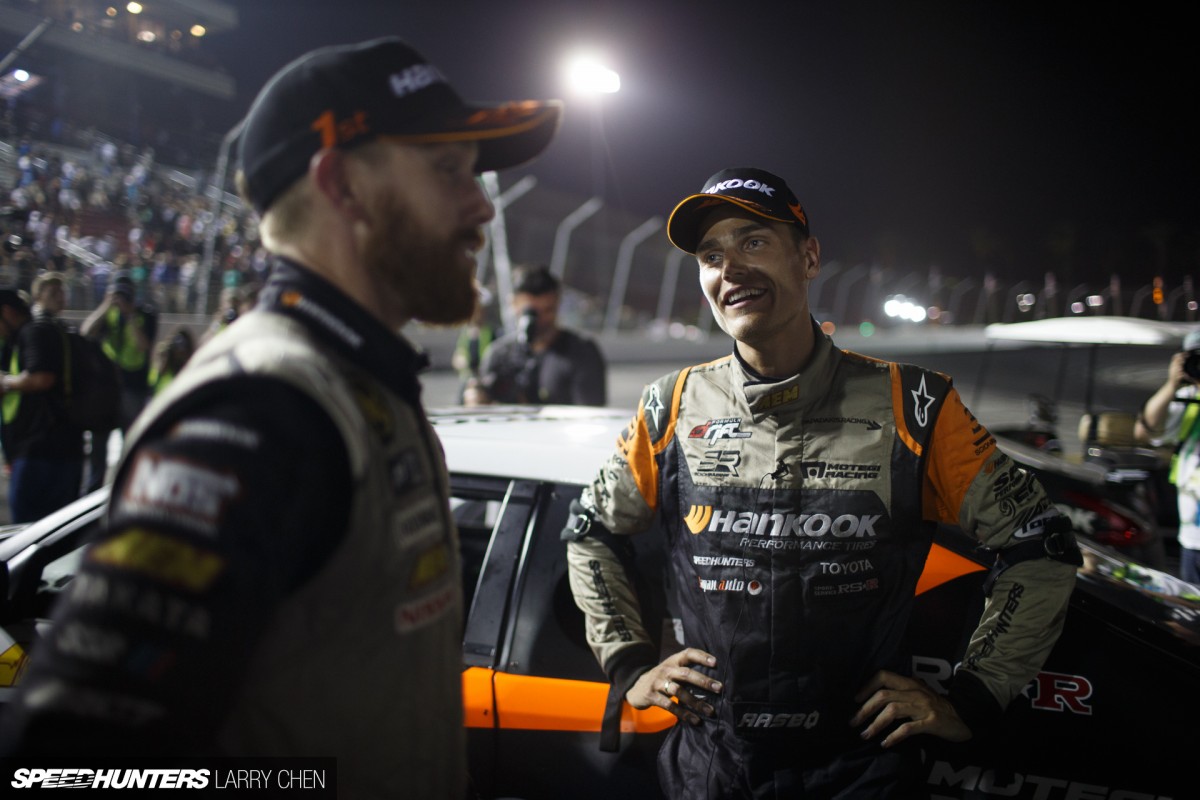 I'd like to extend a big congratulations to Chris Forsberg Racing for a highly deserved Championship title. No one has been able to match his consistency this year. But still, we were right there, helping to make it a truly nail-biting affair. And then you have the increasingly competitive field of drivers and cars that can take you out at any given time. This game is certainly not getting any easier…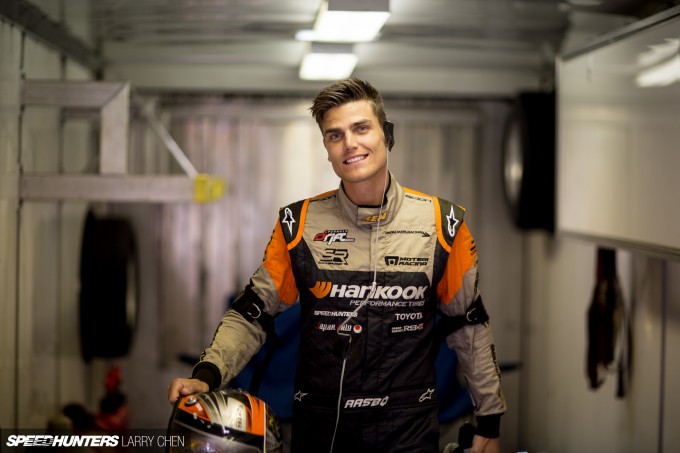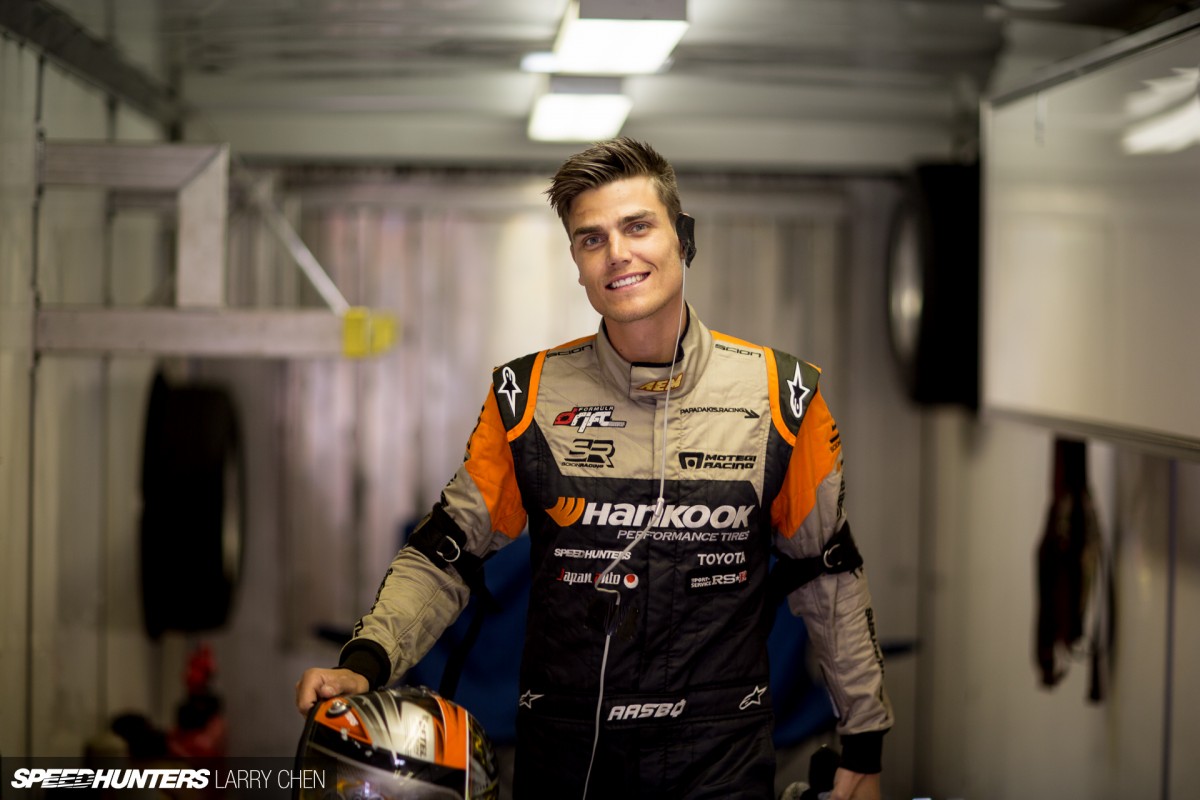 So when people hint to Formula Drift being rigged, turn the question upside down and ask yourself this… If it was rigged, would we – as drivers and teams – be able to follow the script that well?
You tell me!
Fredric Aasbø
Facebook: officialfredricaasbo
Instagram: fredricaasbo
Cutting Room Floor