The House Of Drift
They last for just a fraction of a second, then are gone forever – but at Formula Drift's Irwindale final last weekend I set out to capture as many defining moments as I could. In no particular order, here are my top 50 picks…
Above: Chris Forsberg Celebrating His 2nd Championship. This was one of those moments that I pictured in my head before it happened, however, it could easily have gone a different way. Initially I had my lens trained on Fredric Aasbø, but as soon as the result was announced I rushed over to where Chris Forsberg was standing. While I was shooting I remember someone – and it could have been Vaughn Gittin Jr. – yell, 'Pick that man up in the air!'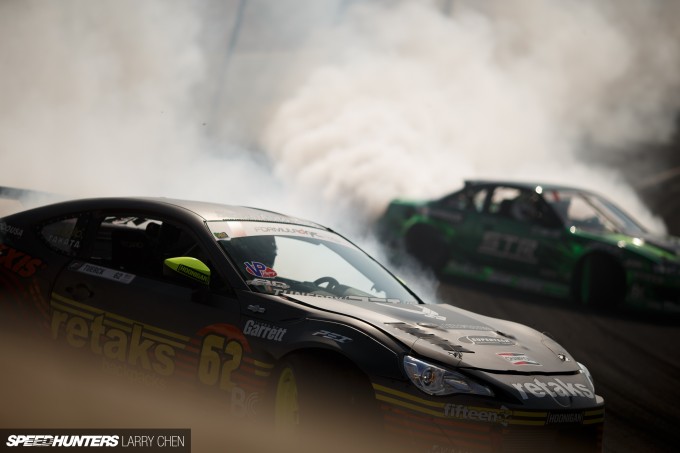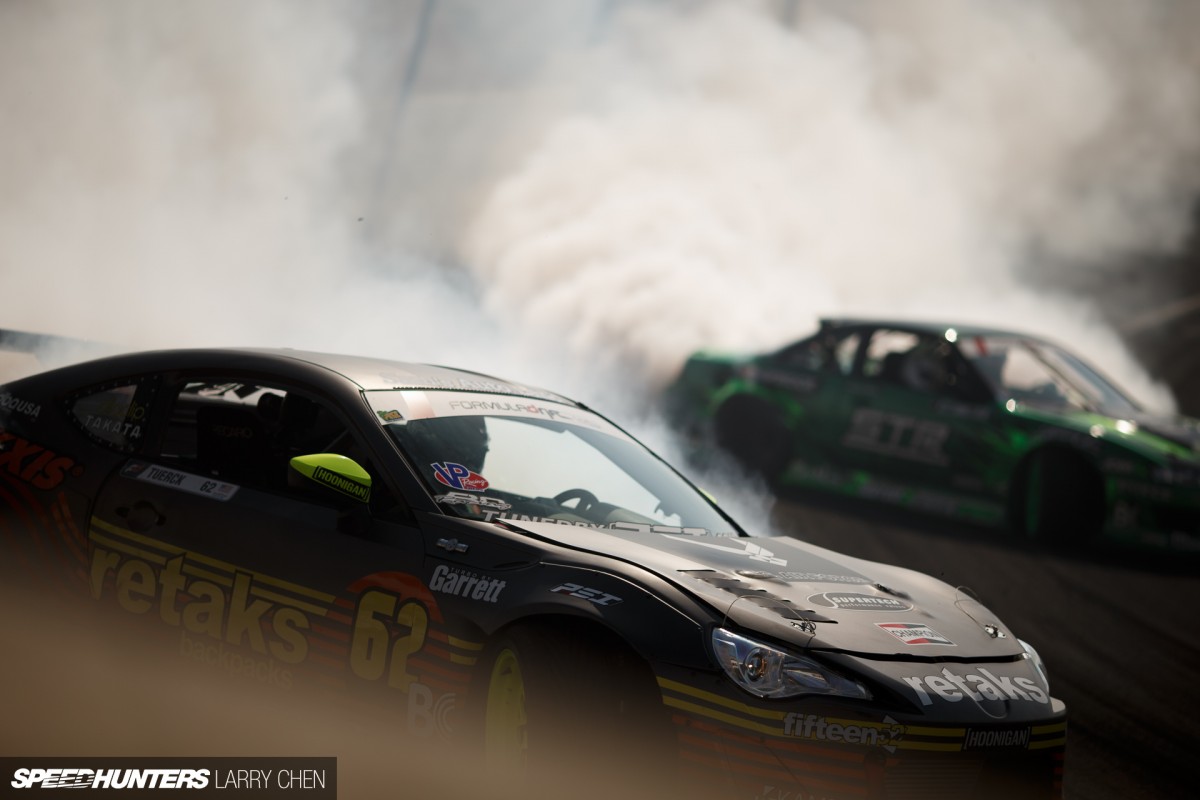 High On The Bank: When shooting video you have the advantage of motion, which allows for awesome crops that may look awkward if it were just a still photo. Recently, I have been going out of my way to find a good balance and shooting photos that have a cinematic feel. I'm very happy with how this one came out, because even though you don't see a whole car in motion, you can still tell that it's in drift.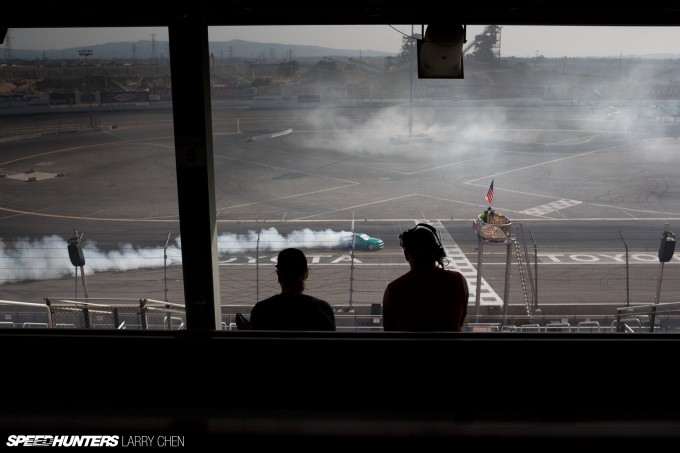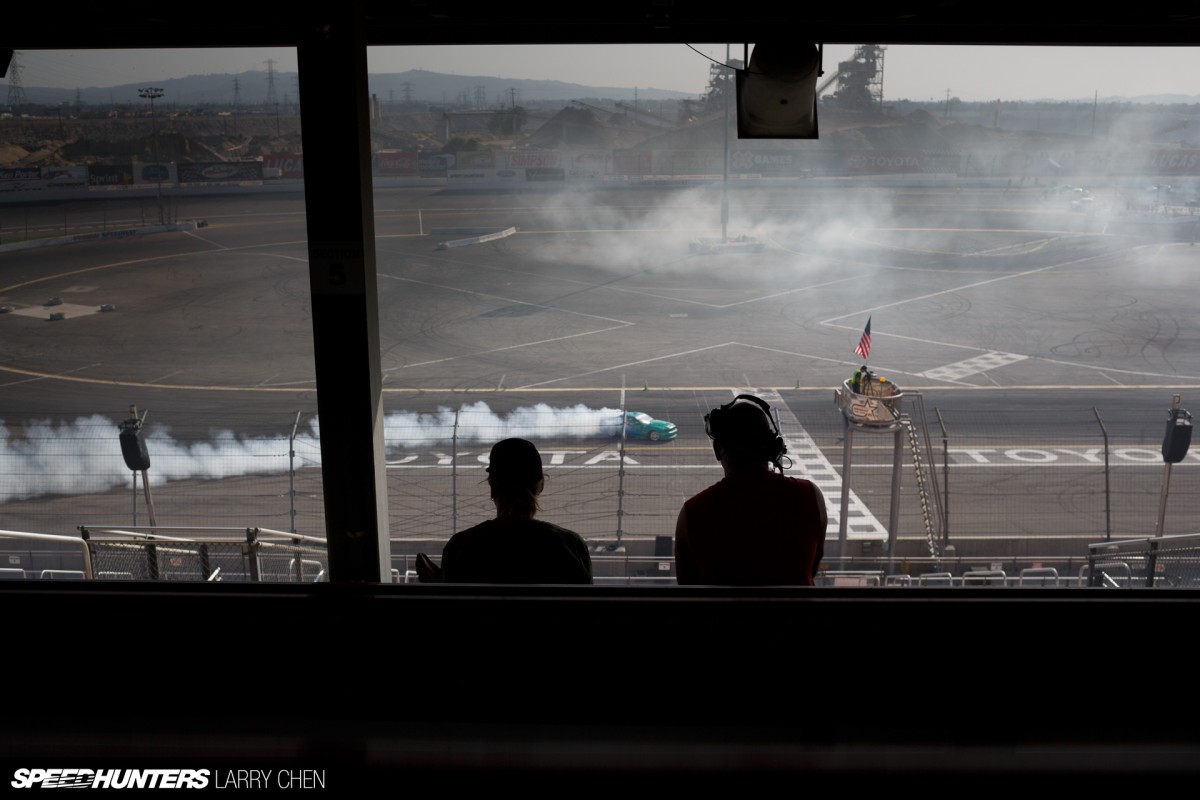 Spotters Watching Practice: The 'spotter' might work behind the scenes, but they are a crucial member of every team. Positioned in the spotter's tower or the stands, they watch every single run – taking notes on other competitors, then feeding the best advice they can to their drivers.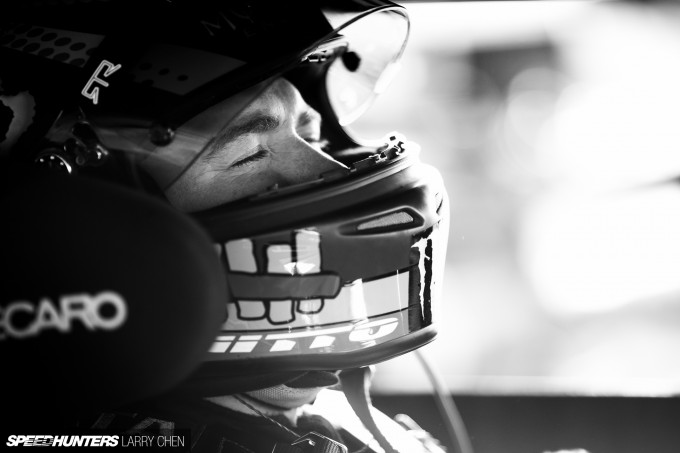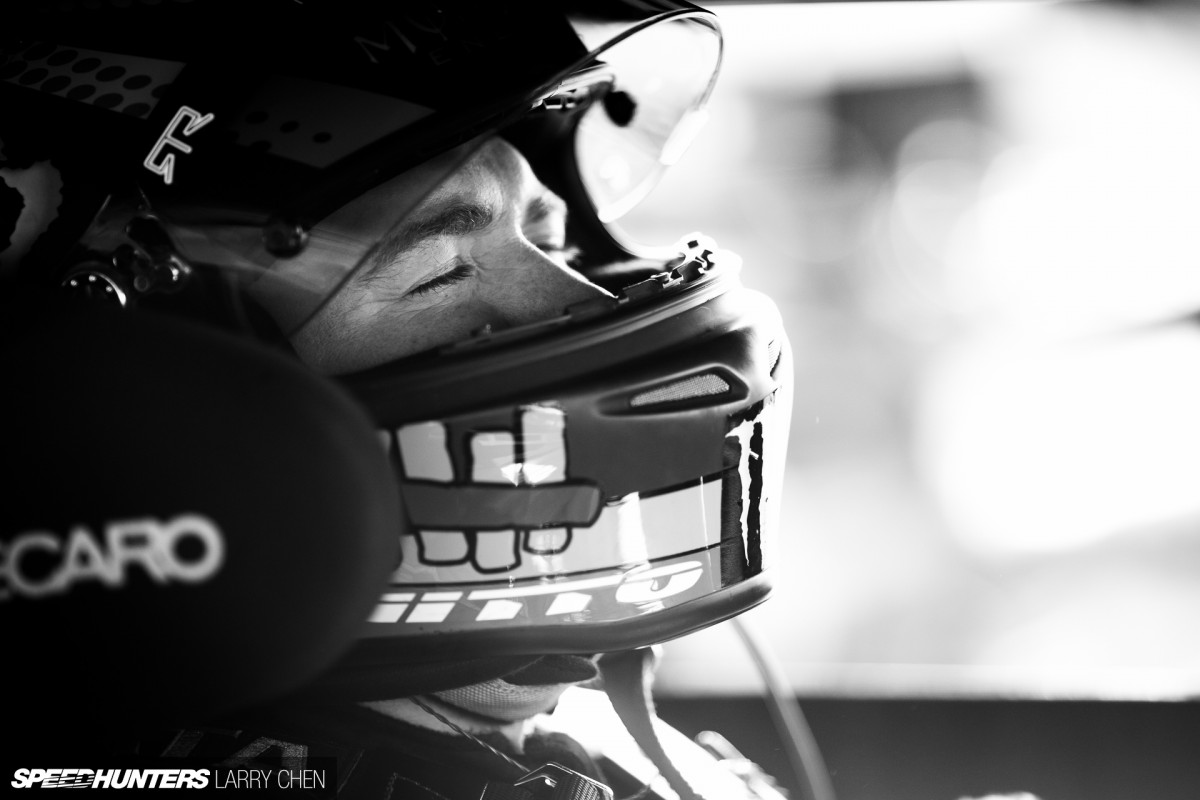 Vaughn Takes A Breather Before Qualifying: In my mind, one of the mistakes that rookies make all the time is not taking qualifying as seriously as they should. After all, it's just two solo runs that can make or break your weekend… There's no point in focusing on tandem battles if you're not going to get to that point in the first place, right?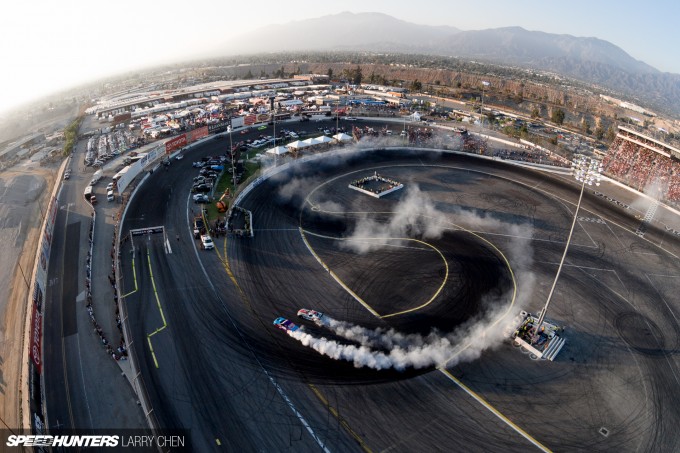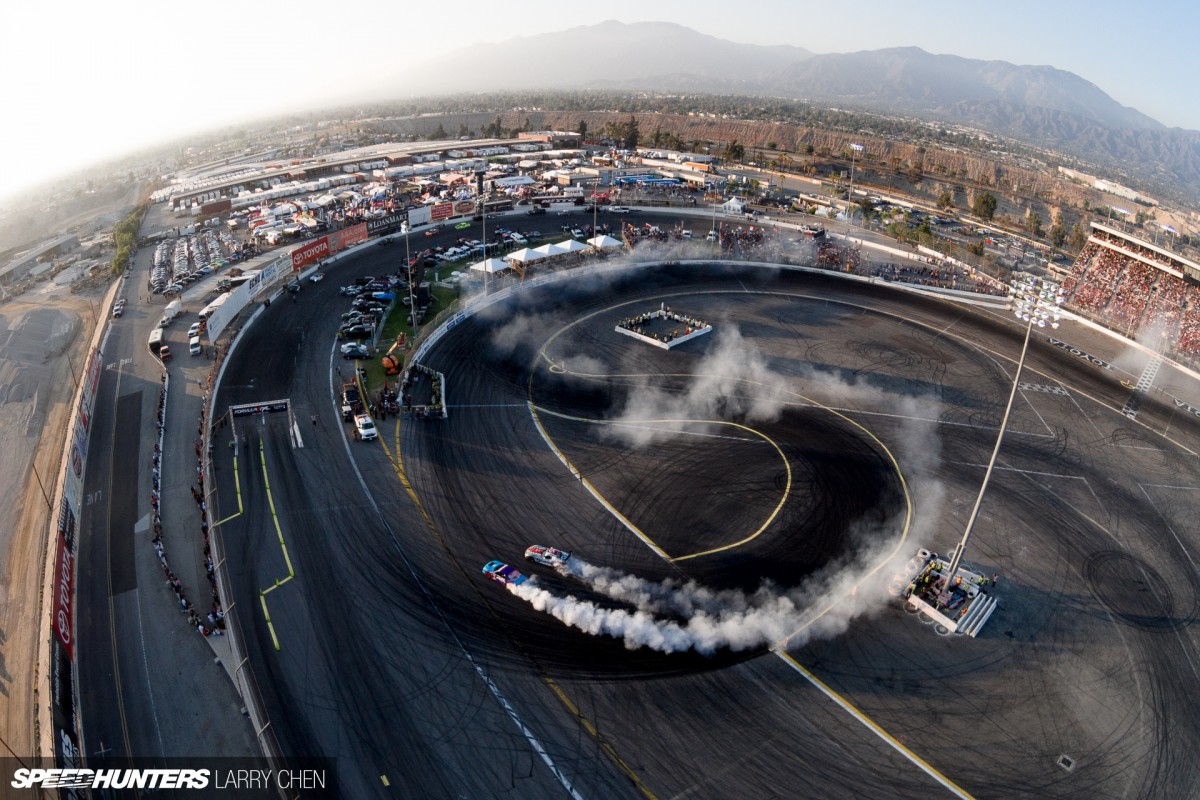 The Top 32 From Above: I love shooting Irwindale during the Top 32 – it usually runs into golden hour and you get that perfect sideways light.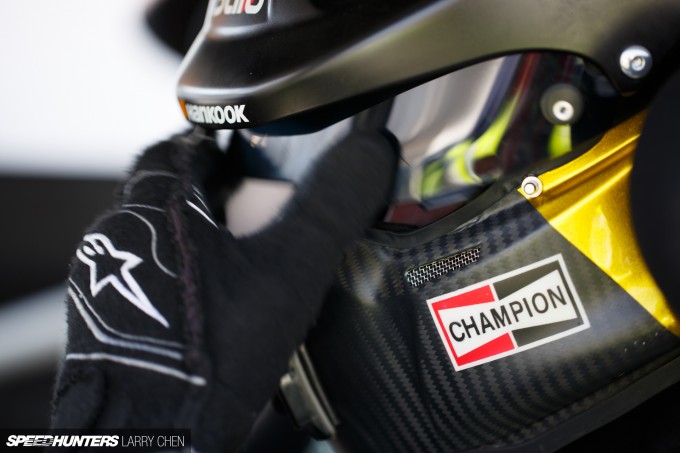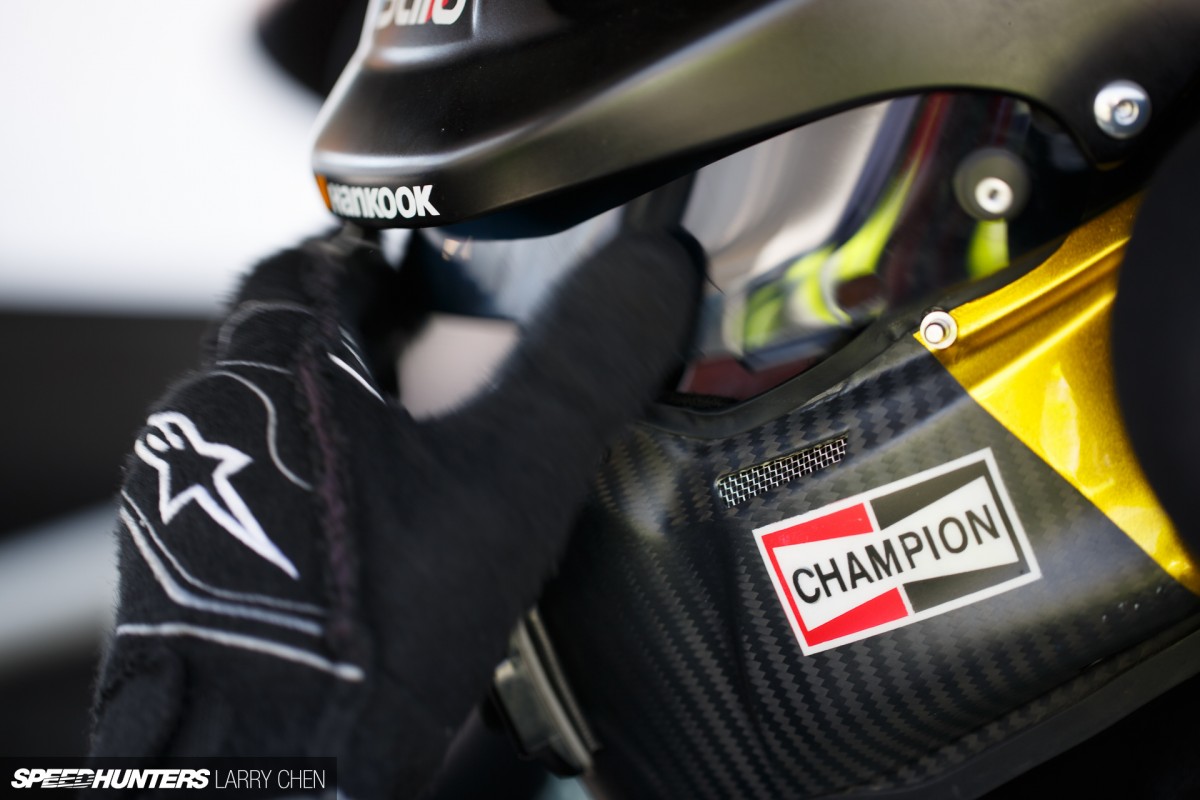 A Portrait Of A Champion: Chris Forsberg fought hard all season, but it all came down to the end. I'm sure he had a lot going through his head at this moment.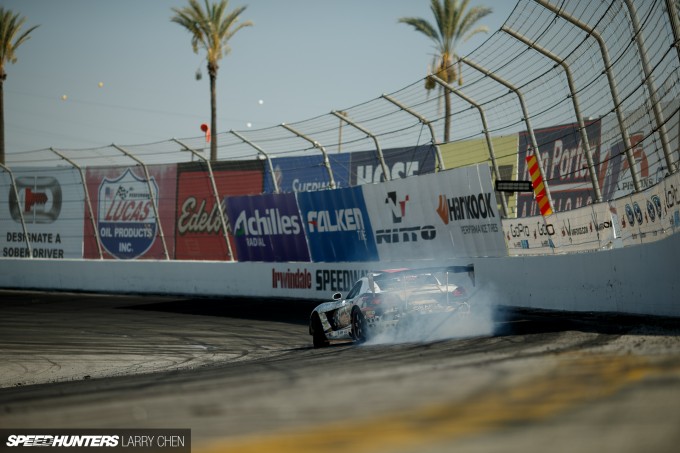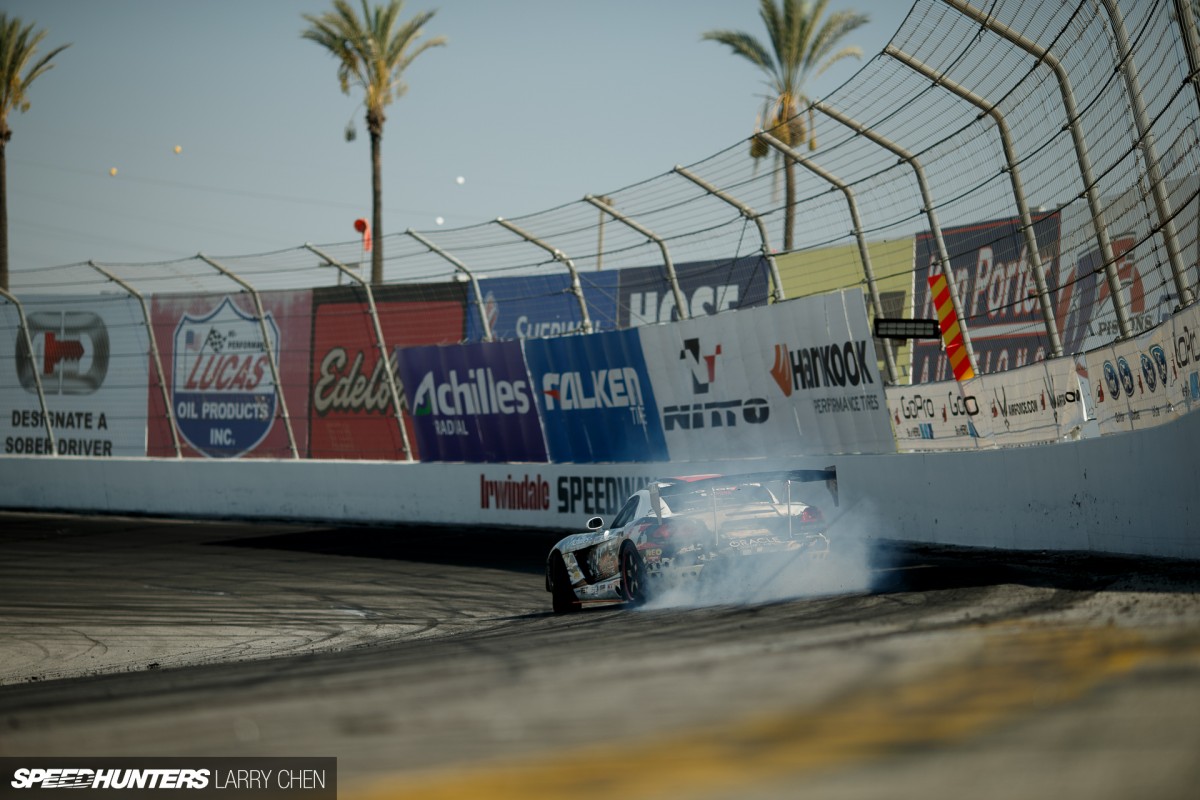 A Tiny Puff Of Smoke: Initiating towards a wall at 80mph is something that I will probably never do.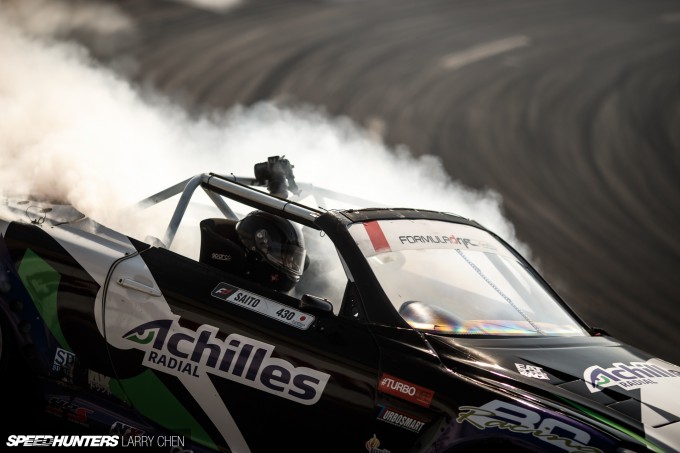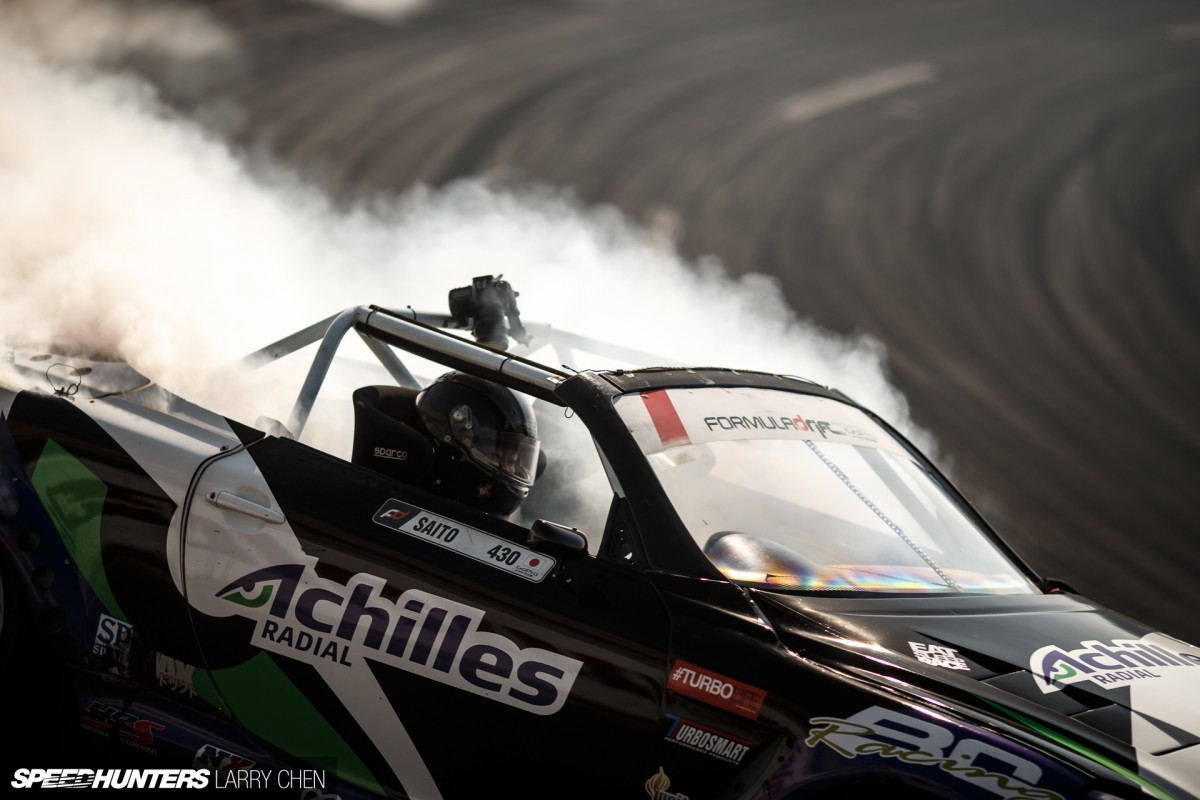 Extreme Concentration: What kind of face does Daigo Saito make when he's riding the Irwindale bank? Well, now you know.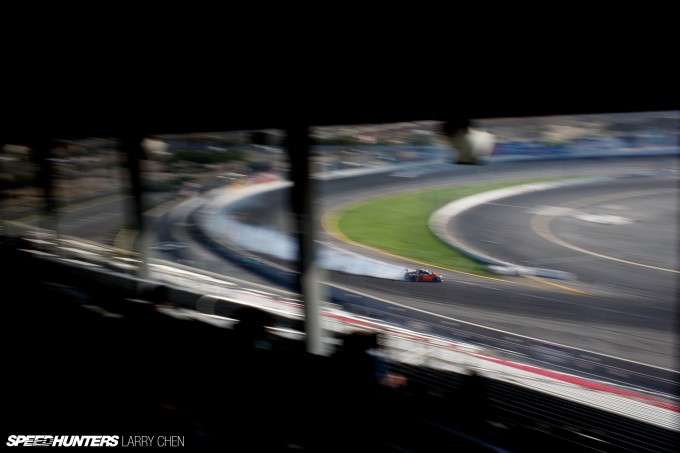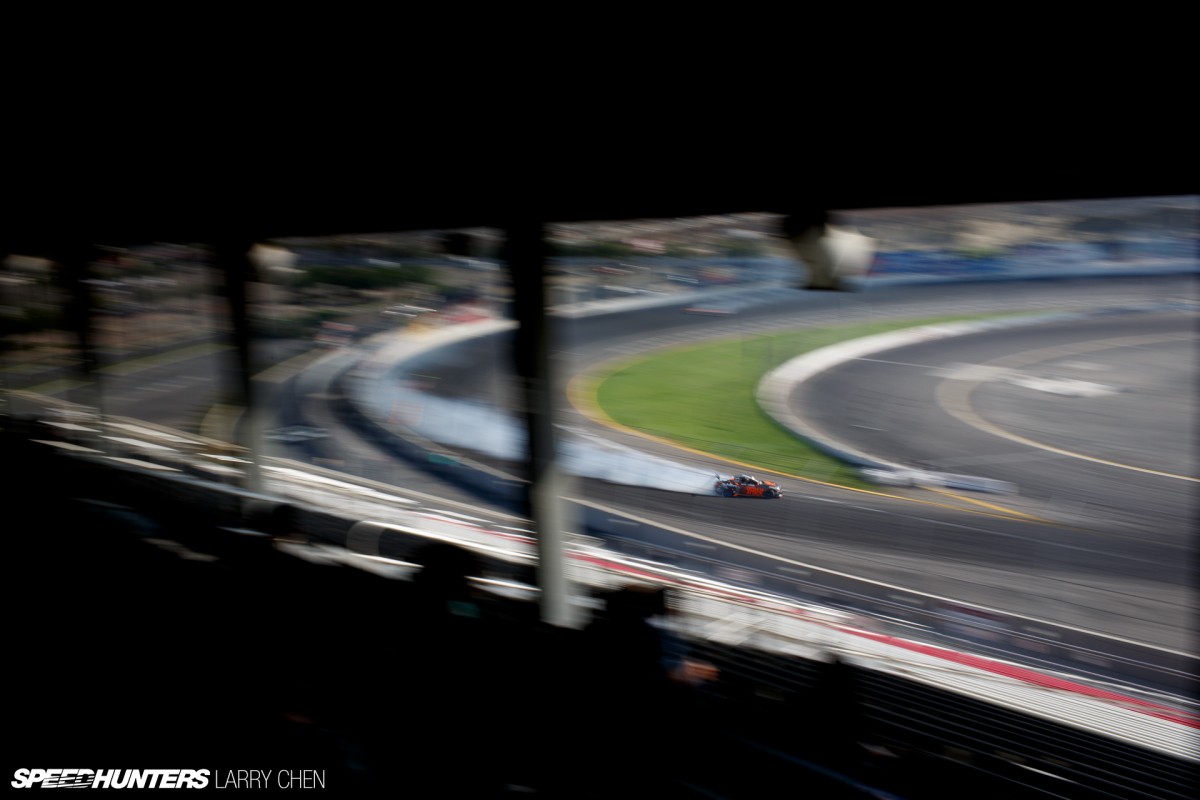 The View From The Stands: Charles Ng going #MaximumAttack during practice.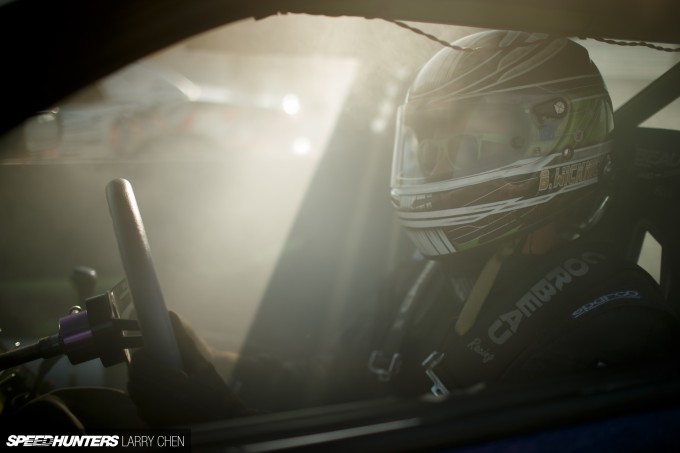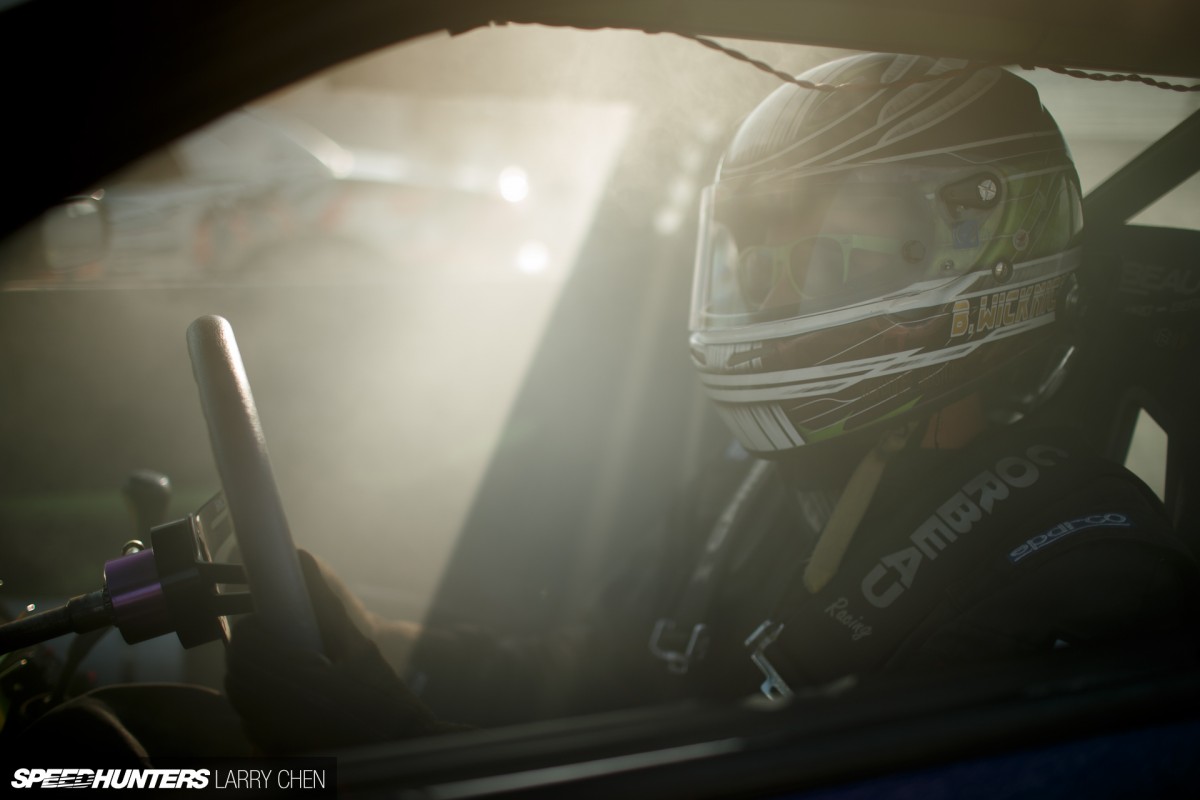 Breath Deeply: Sometimes, when the light is perfect, you just have to scramble to shoot before it disappears.
Final Fight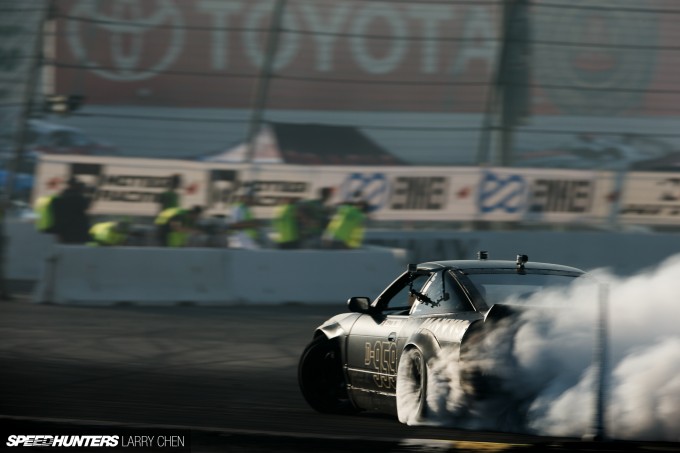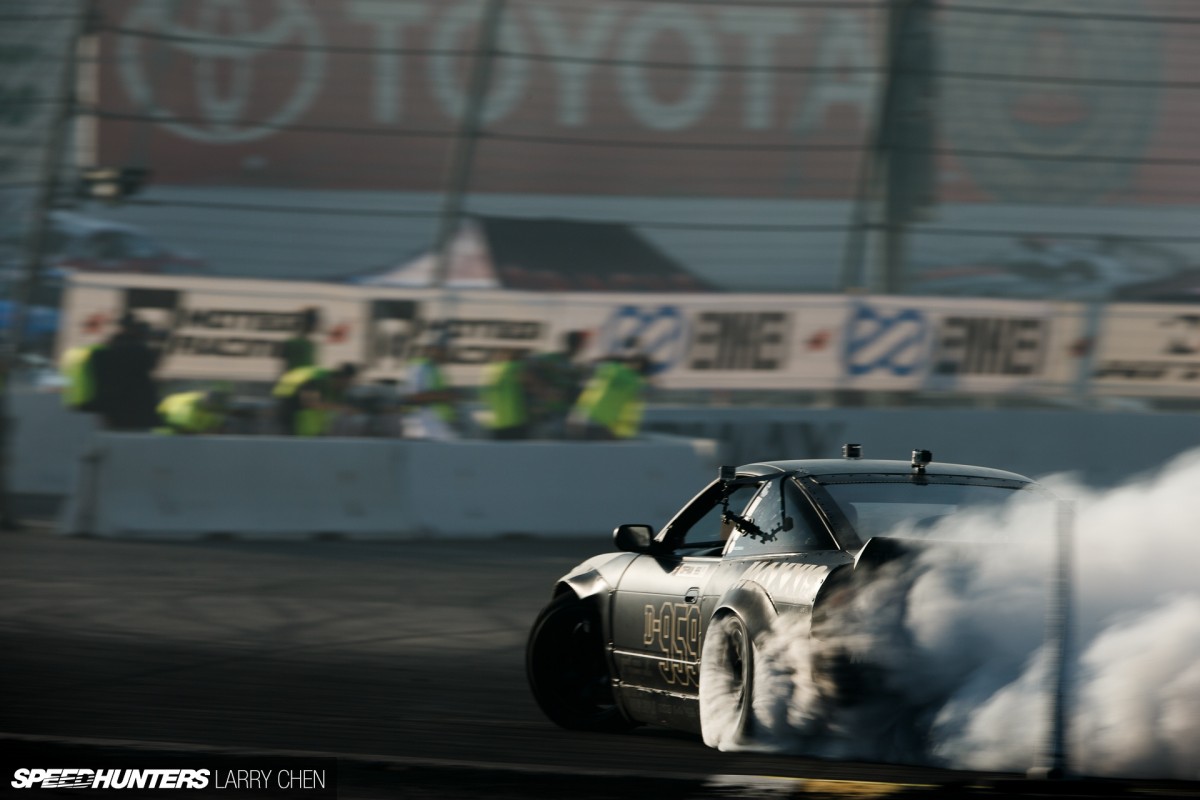 Short Course: It's unfortunate that this year's Irwindale final was run on the original short course. In recent years it was extended, allowing for some really big clouds of smoke, although this also meant that a rear pair of tires barely lasted two runs.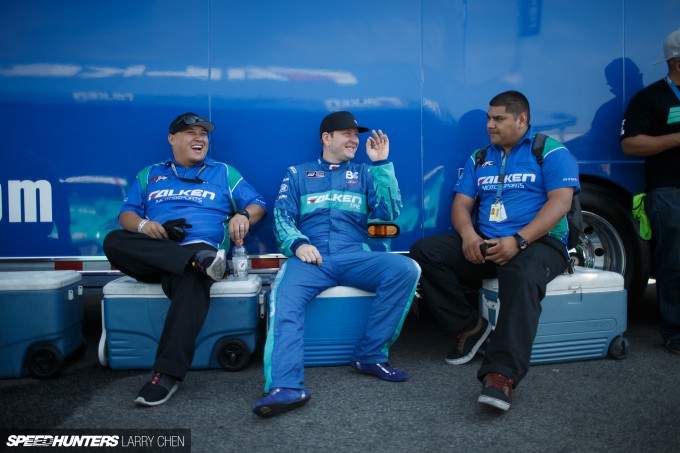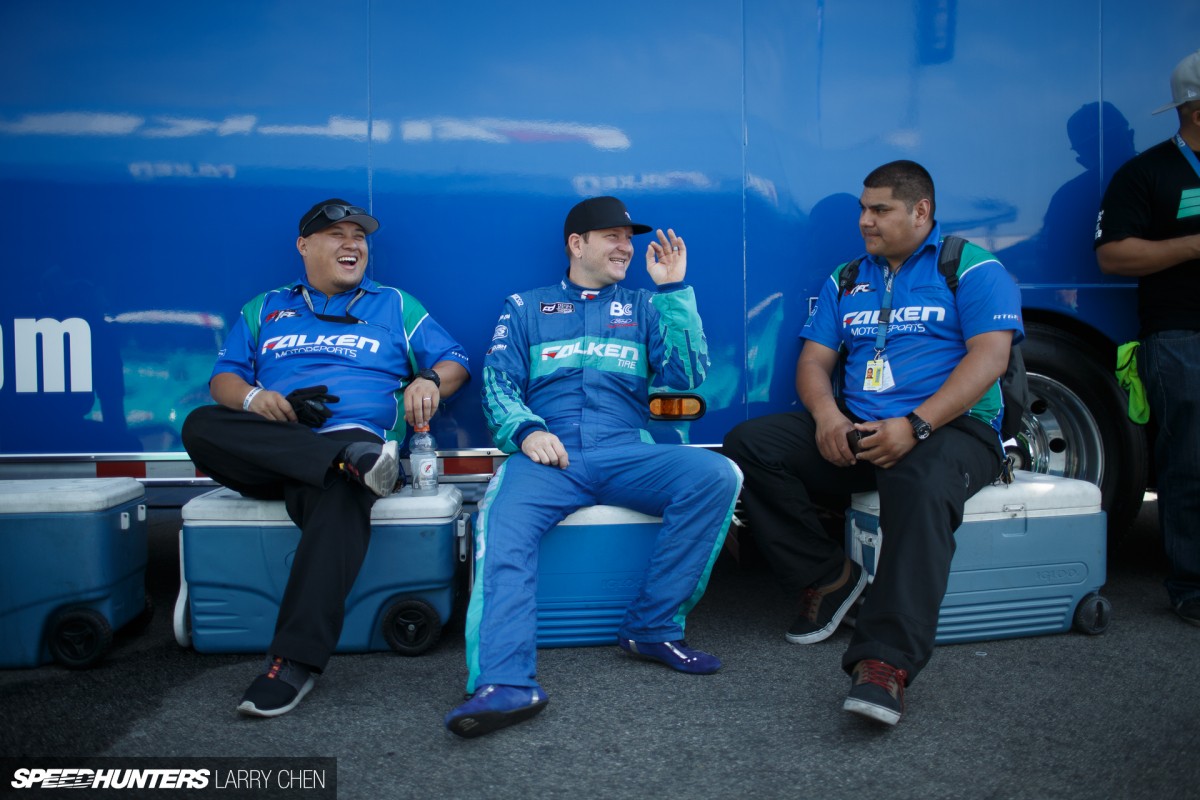 May I Borrow Your Pants?: I shot this as Justin Palwak joked about a member of the media forgetting to bring pants to the final (as media we are not allowed to wear shorts while trackside). Since Justin was wearing a race suit, he let the photographer borrow his pants.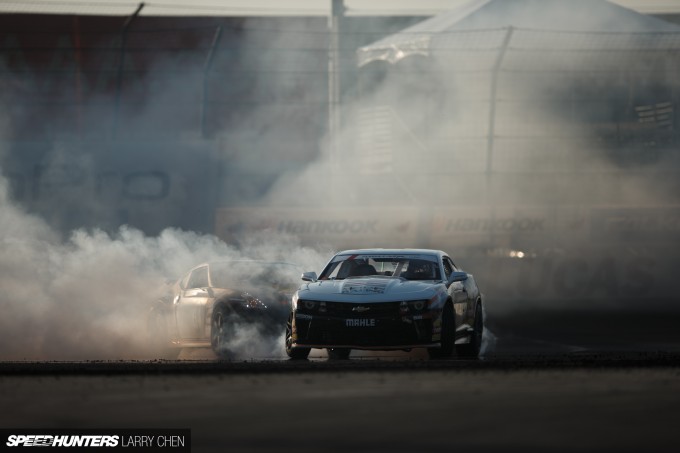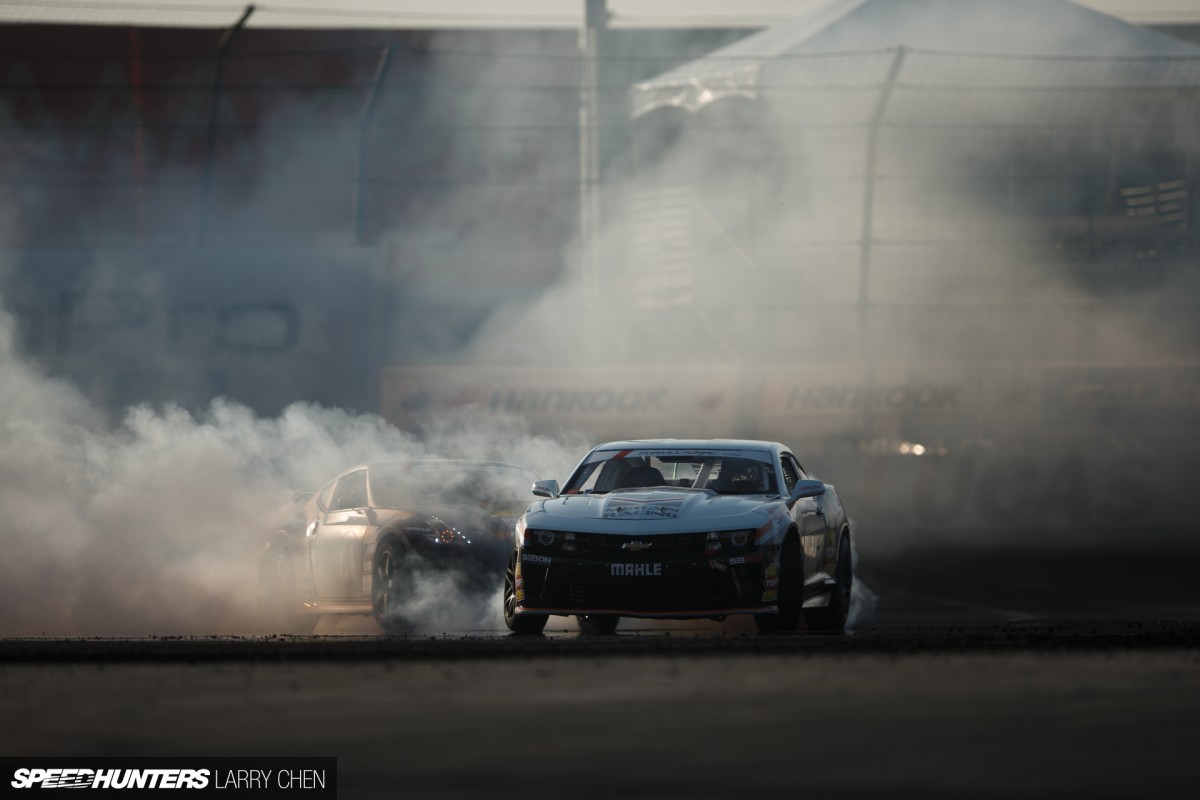 Dark Shadow: It has to be an uneasy feeling having Chris Forsberg breathing down your neck.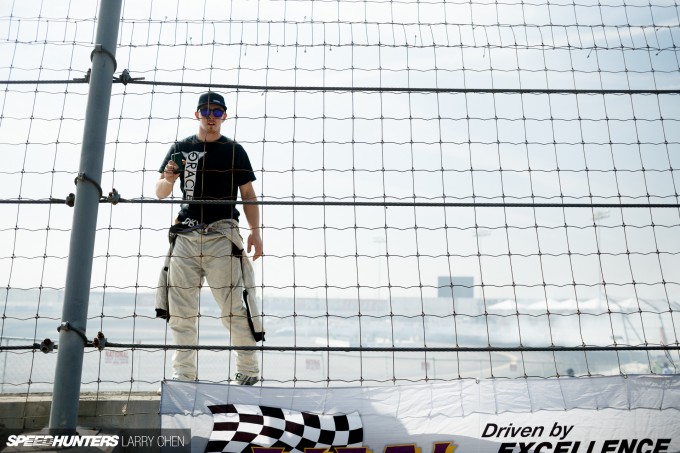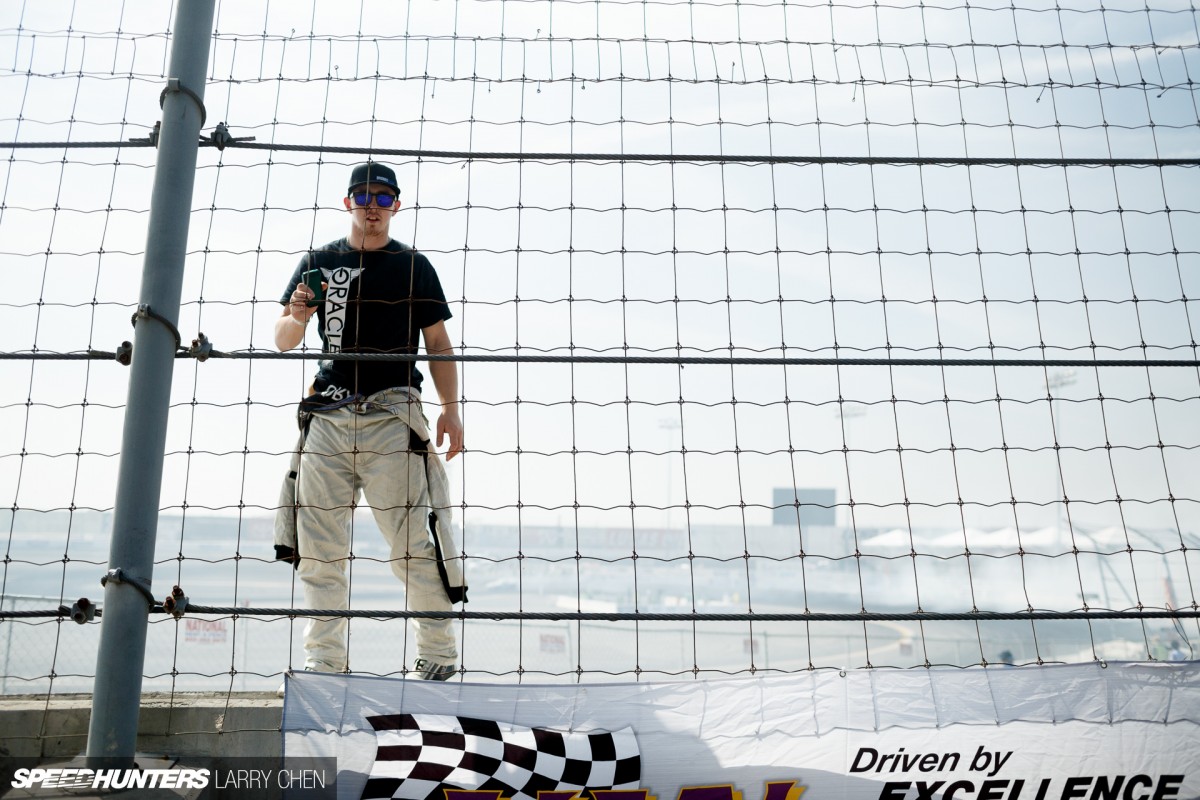 Talk To The Camera: I wonder what drivers think when they are talking to me and all of a sudden I stop listening and start taking photos of them?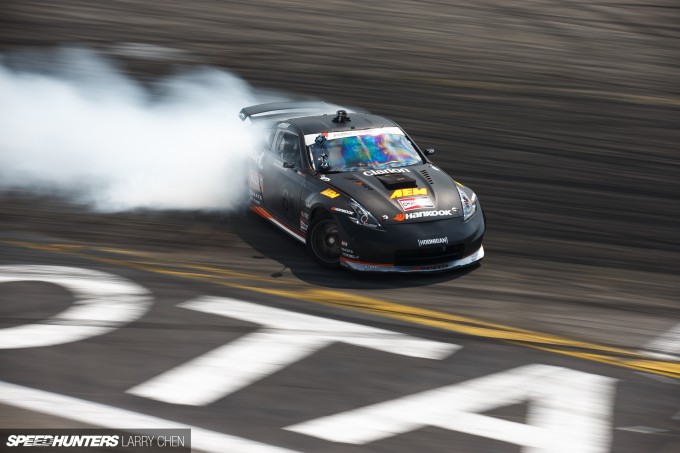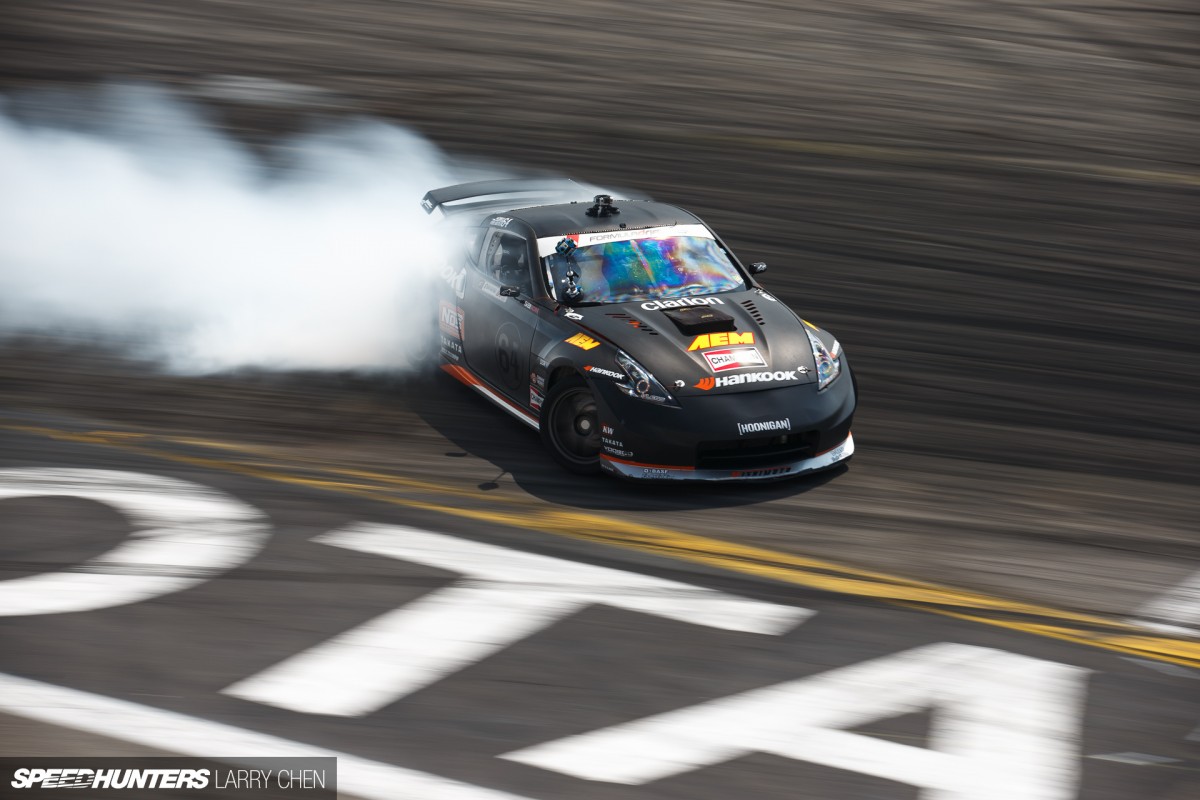 Flag Tower: This is a shot that I try to get every time I am at Irwindale. The flag tower is the perfect vantage point for the transition going into the inner bank.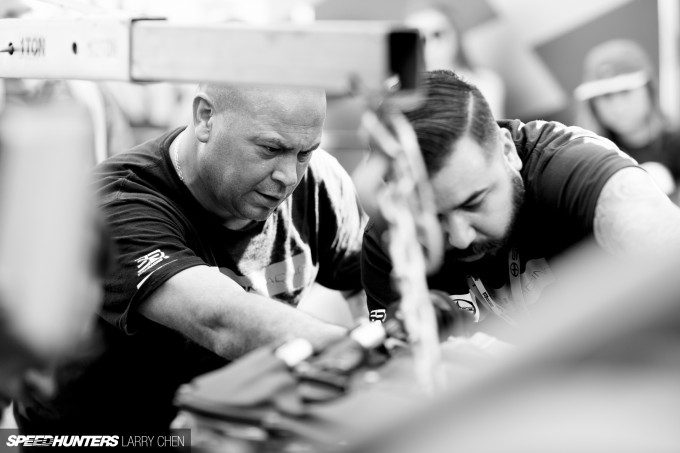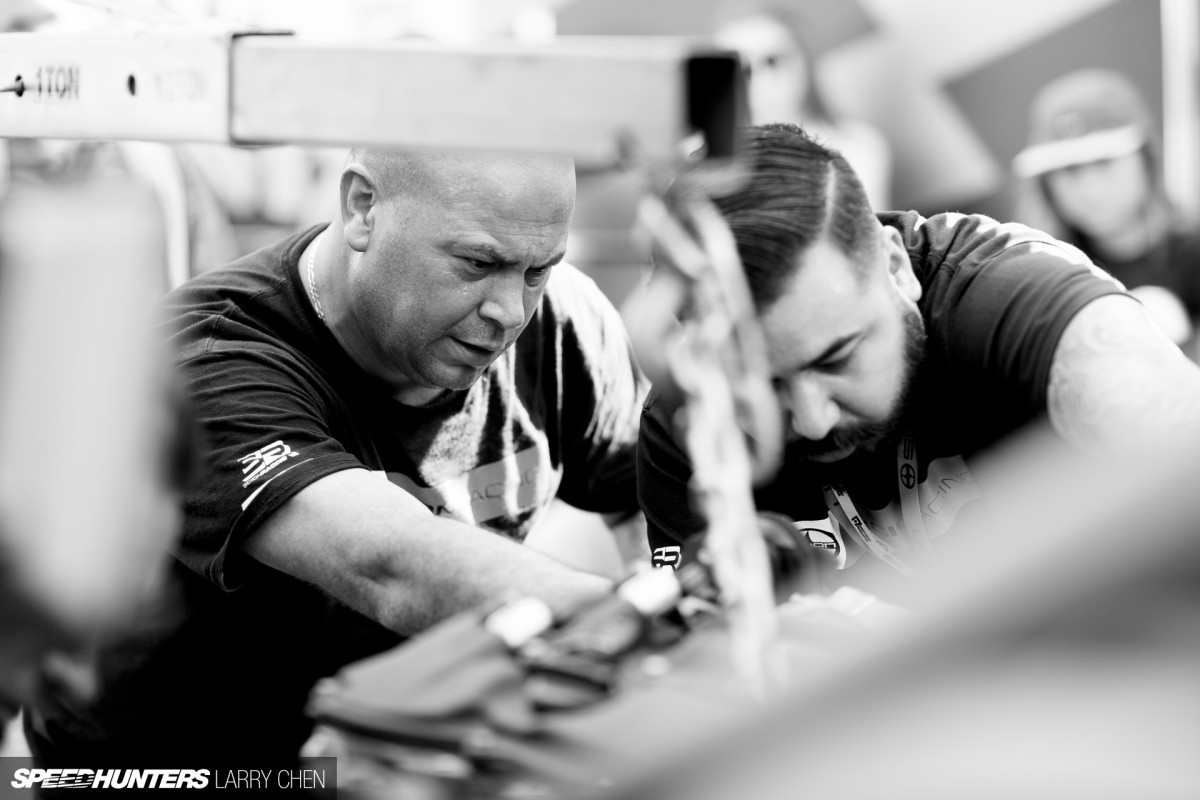 Quick Engine Swap: I snapped as many photos as I could while the Papadakis Racing team swapped out the Scion tC's motor between practice and qualifying. It took only 90 minutes to get the job done and Fredric didn't even miss his first qualifying run.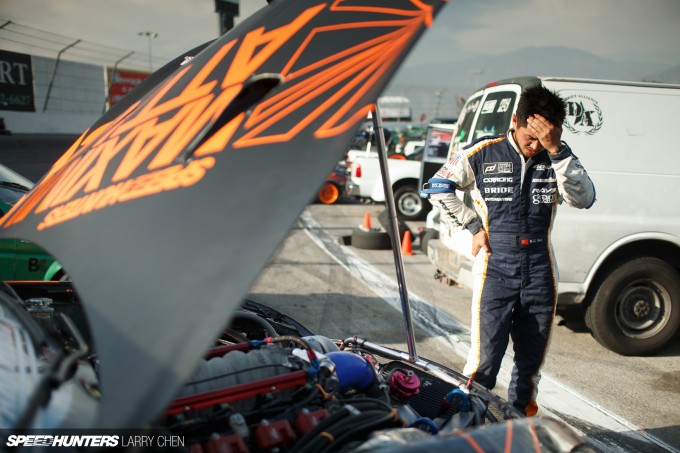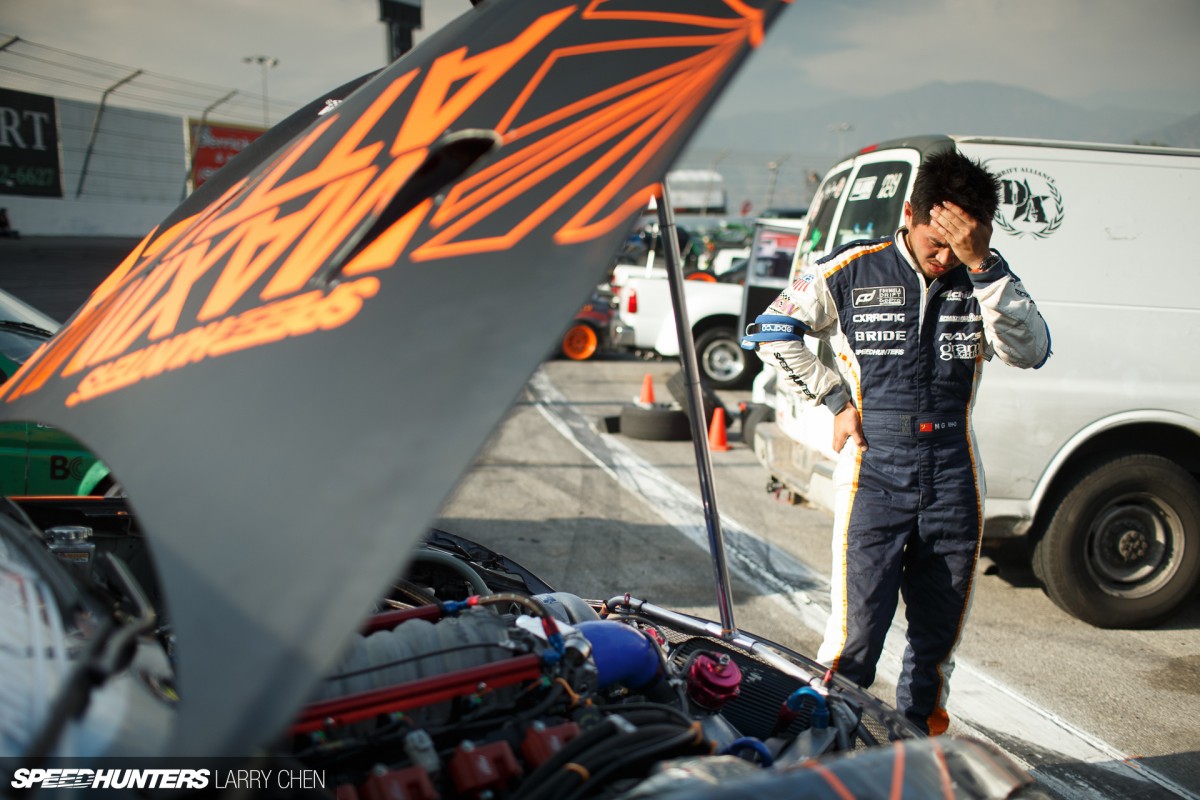 Tough Year: Charles Ng has had a very tough first year coming back into FD. During his second qualifying run all the water in his motor leaked out, and by the time he pulled into the pits there was not a single drop of coolant left in the system.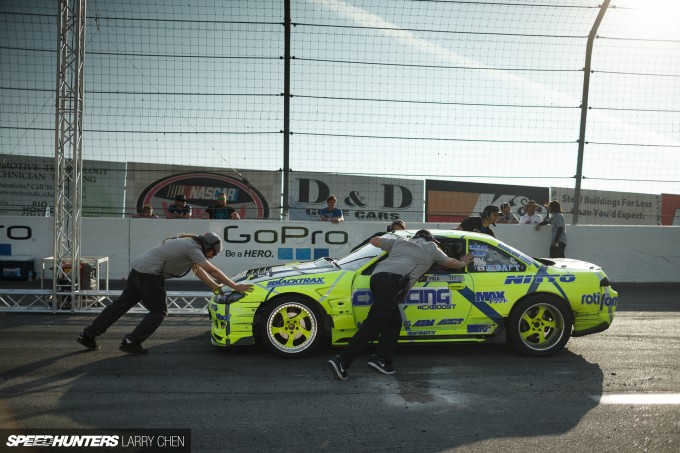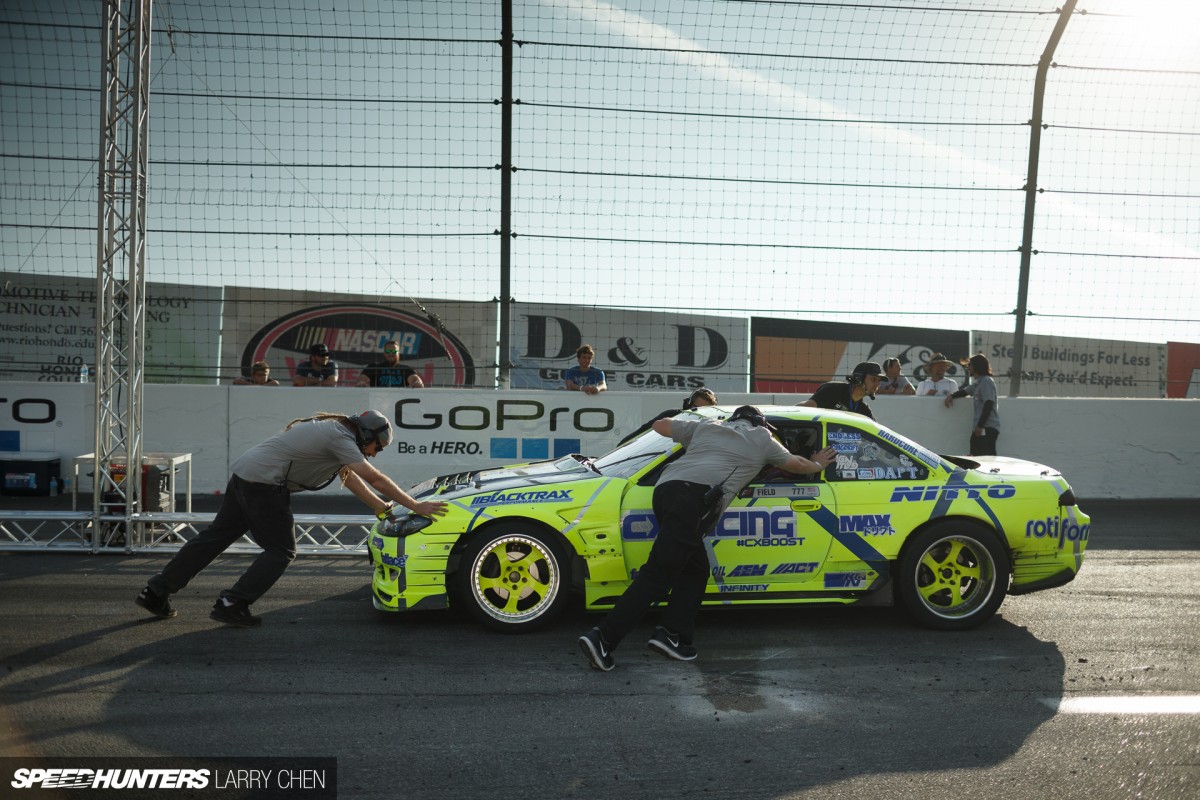 A Little Push: Cars often breakdown at the most unfortunate time, and when that's on the start line it's often up to the Formula Drift staff to push them off.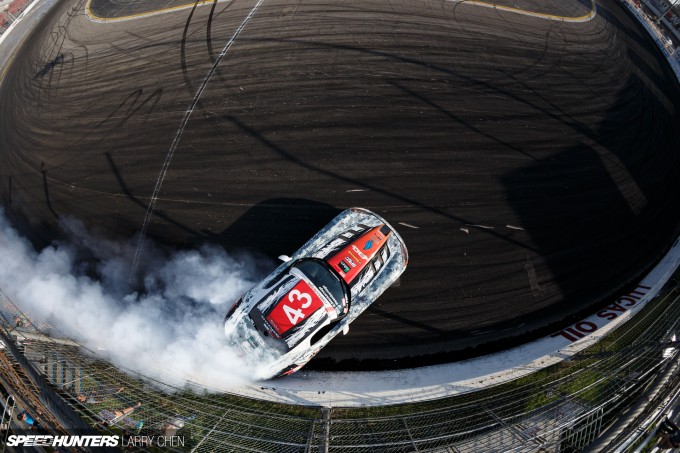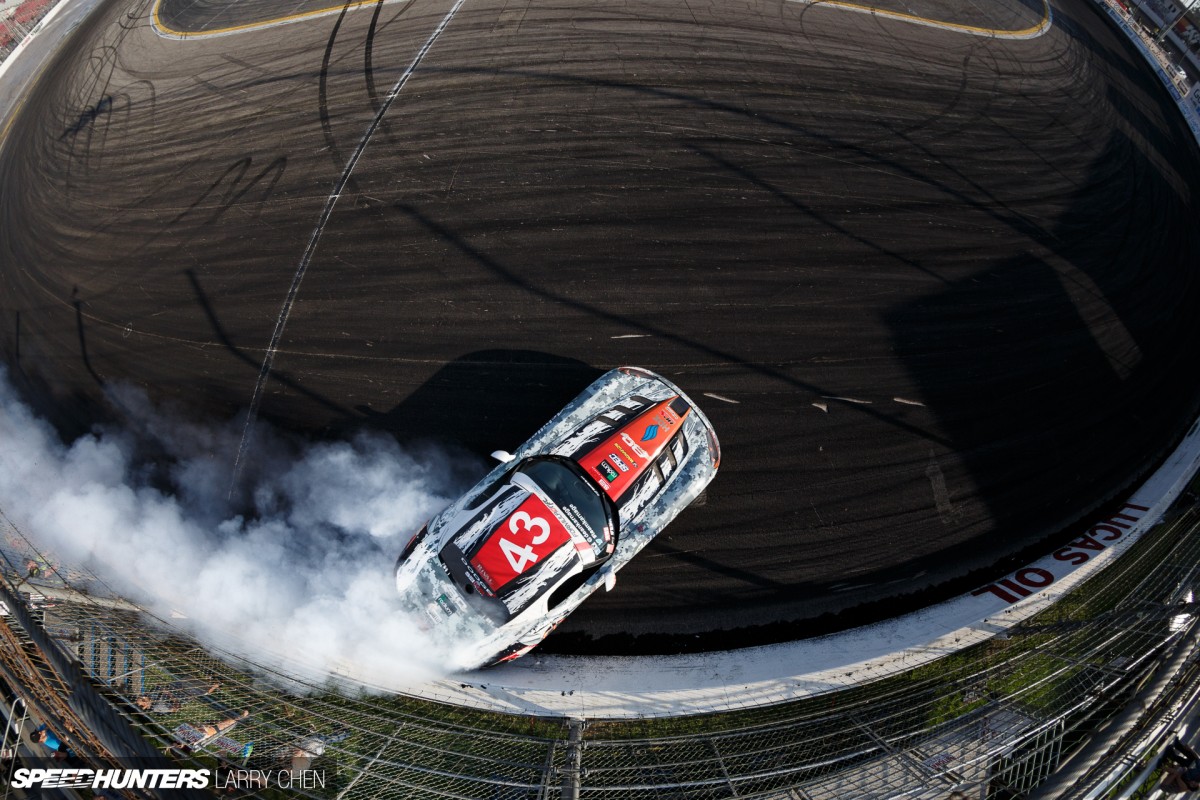 Riding Walls: Dean Kearney likes to leave no room for error. This was him riding the wall during qualifying.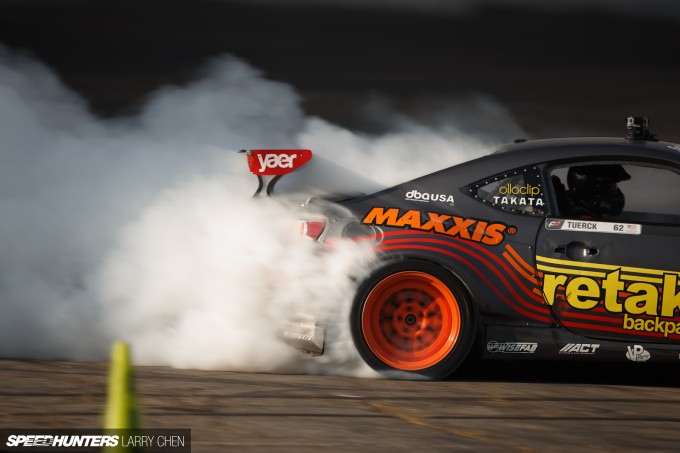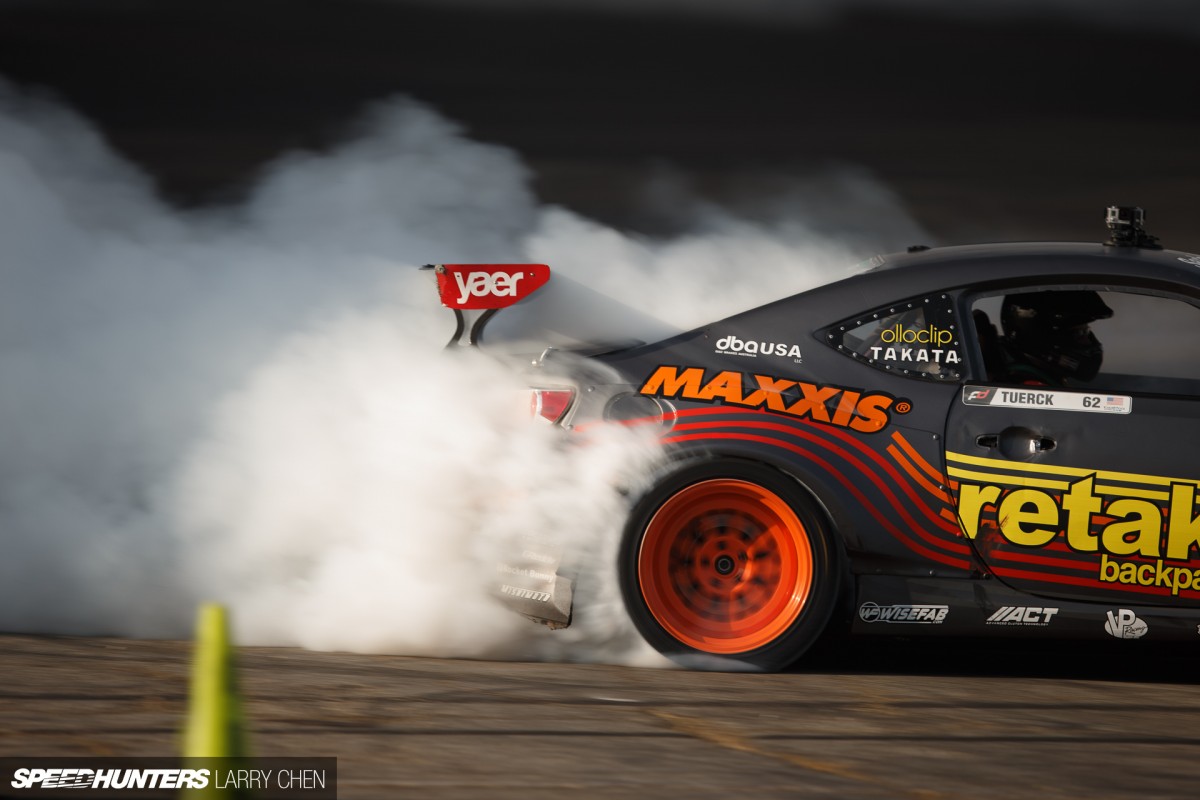 Come Into The Light: By total chance Ryan Tuerck drove slightly off line during one of his runs, exposing the rear of his car to the setting sun.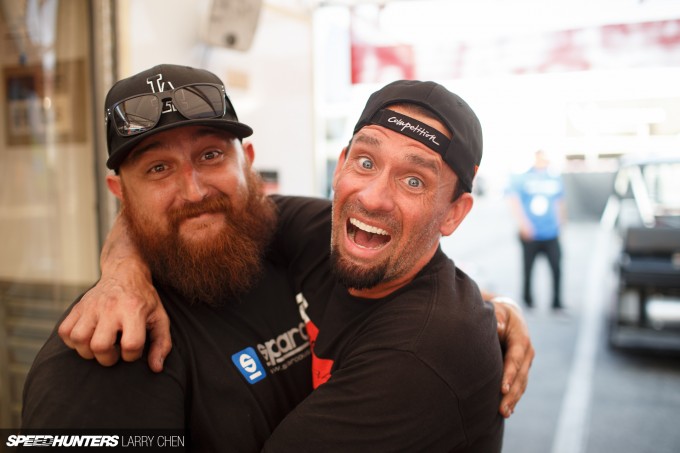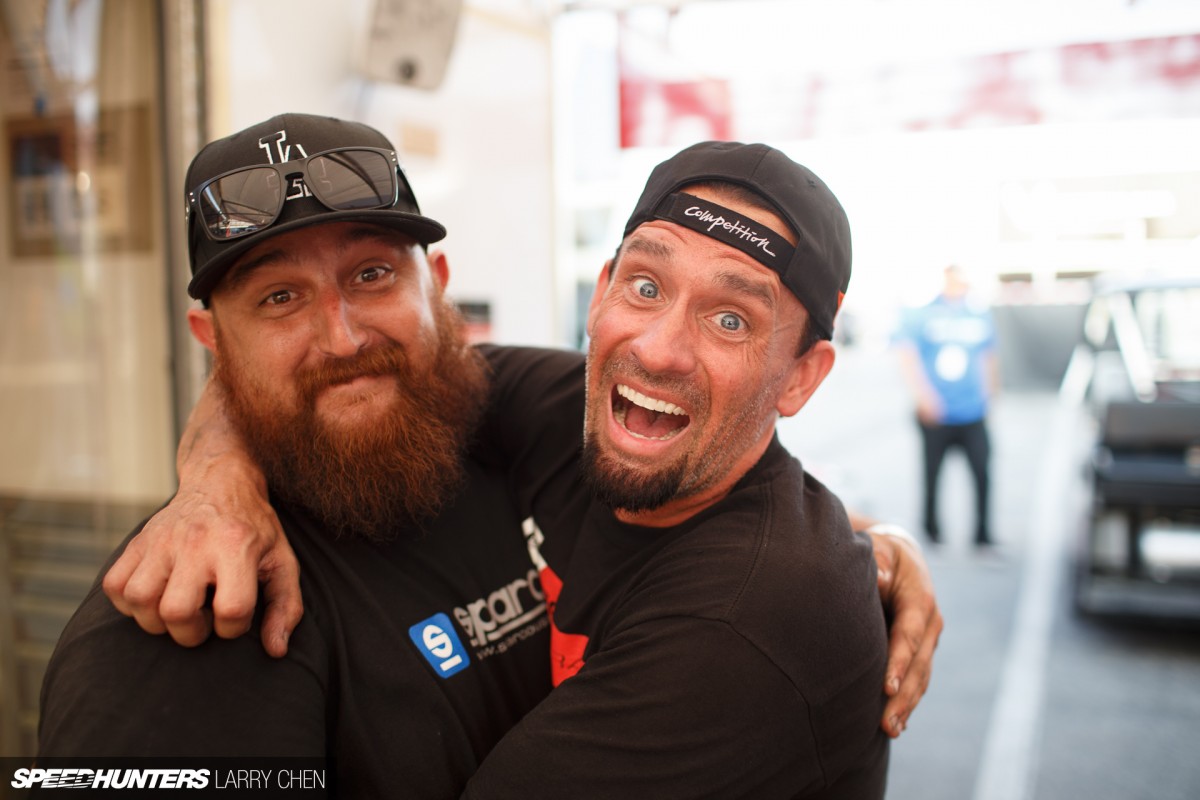 Best Friends Forever: Aldo and Shawn are reunited yet again. Aldo was on the Papadakis Racing crew when Tanner Foust was driving, but left to follow the Global Rallycross series. He was back at Irwindale to watch Fredric Aasbø compete, but when the team needed his help he became an honorary crew member for the day.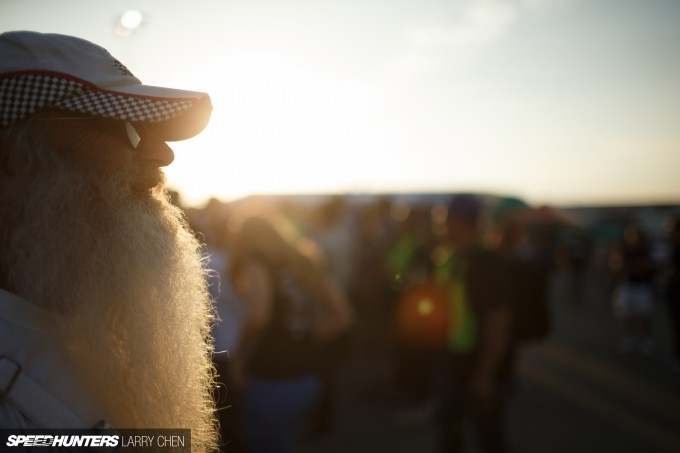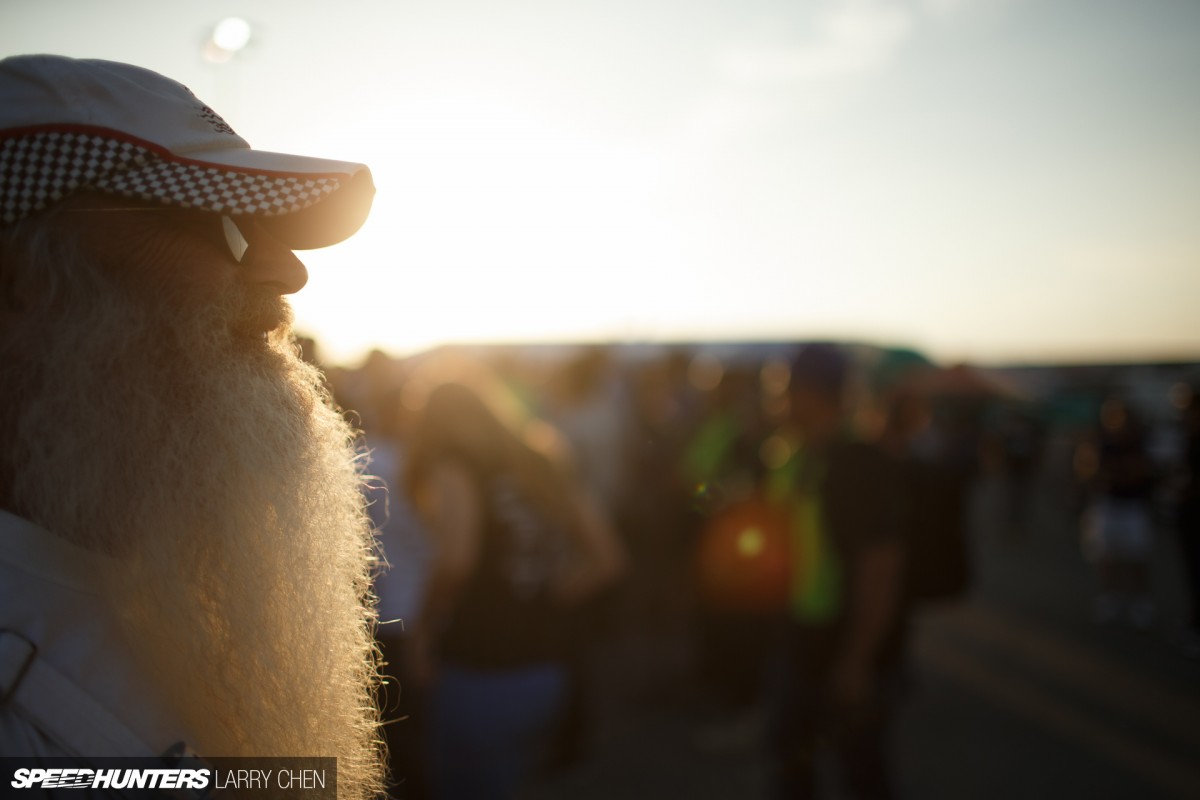 Santa Claus: It's always great to see Bil Baldwin on track as does his best to keep the drivers and track workers safe. He has become quite the drift world celebrity in recent years and I am honored to call him my friend.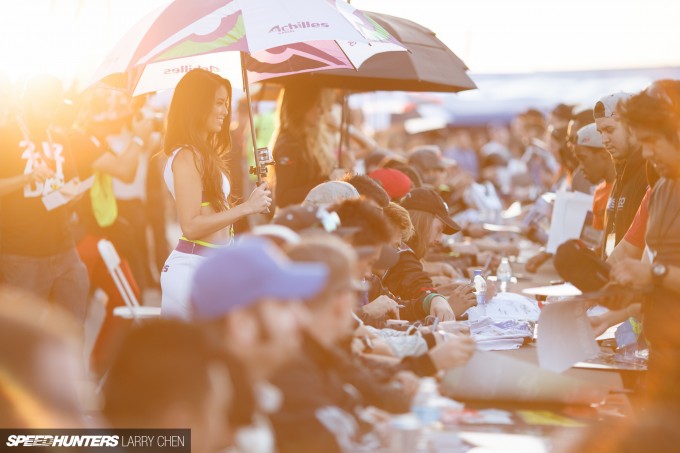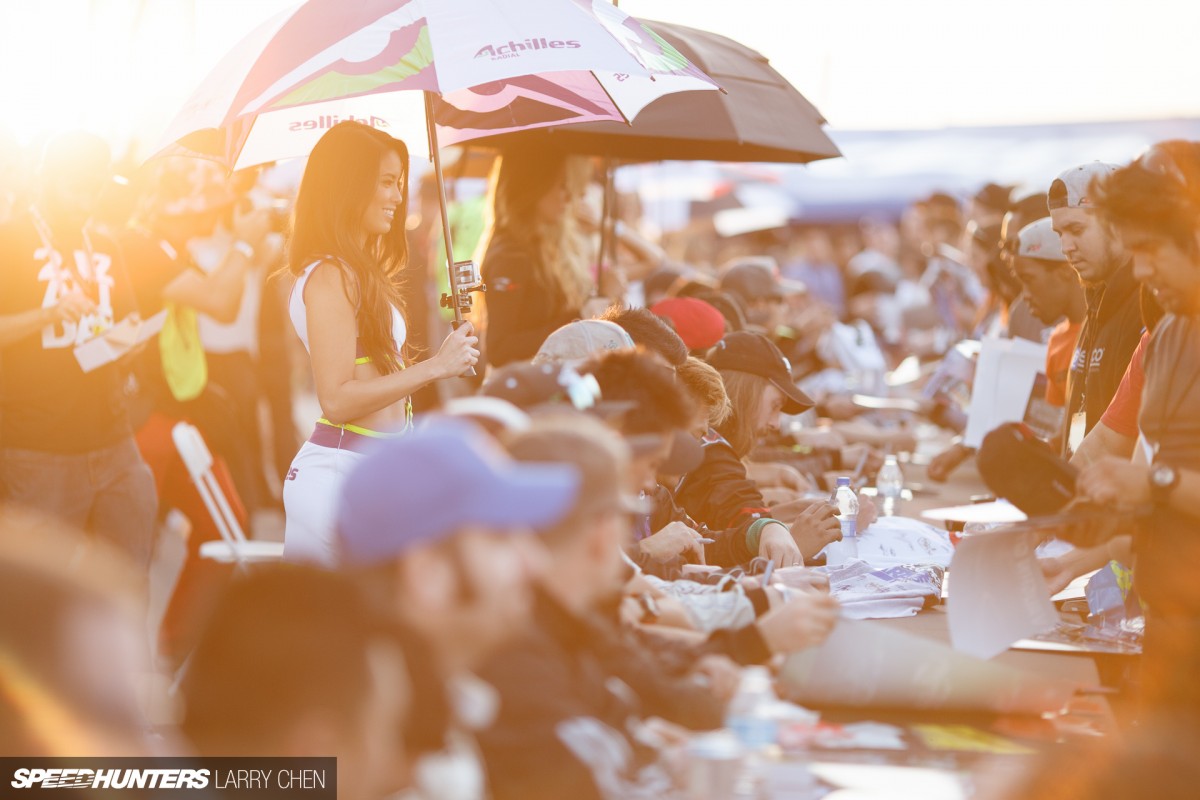 Autograph Session: It always amazes me how long some of the fans will wait in line just to be able to get an autograph from their favorite driver. I just want to know how many times these drivers have signed a buttock?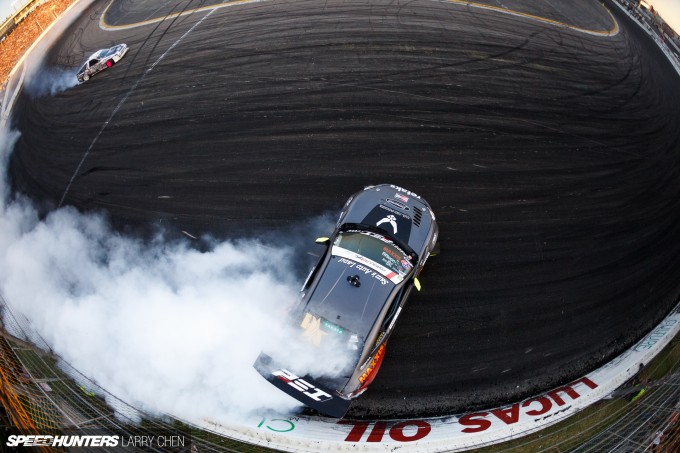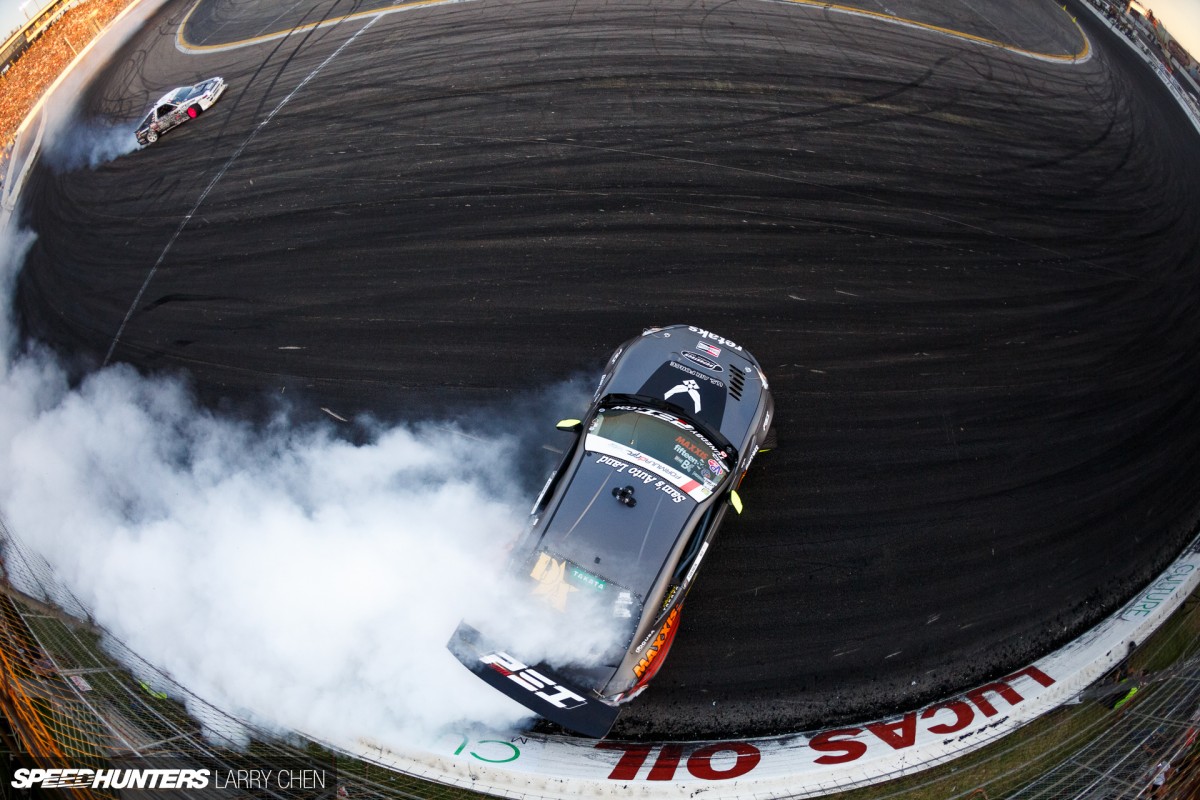 That Angle: The judges always talk about using angle to slow the car down, so is this what they are looking for?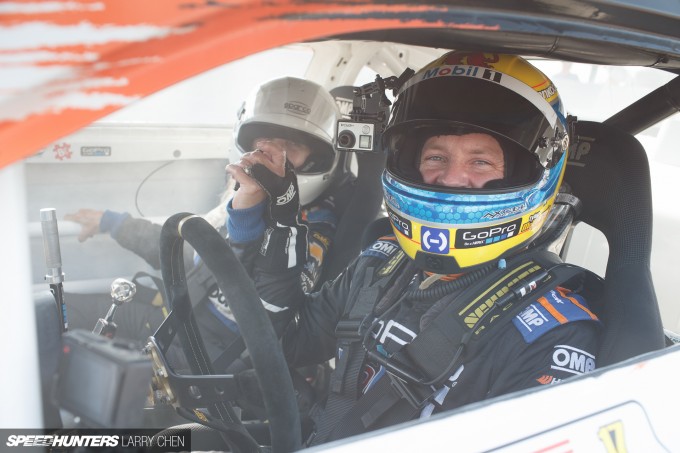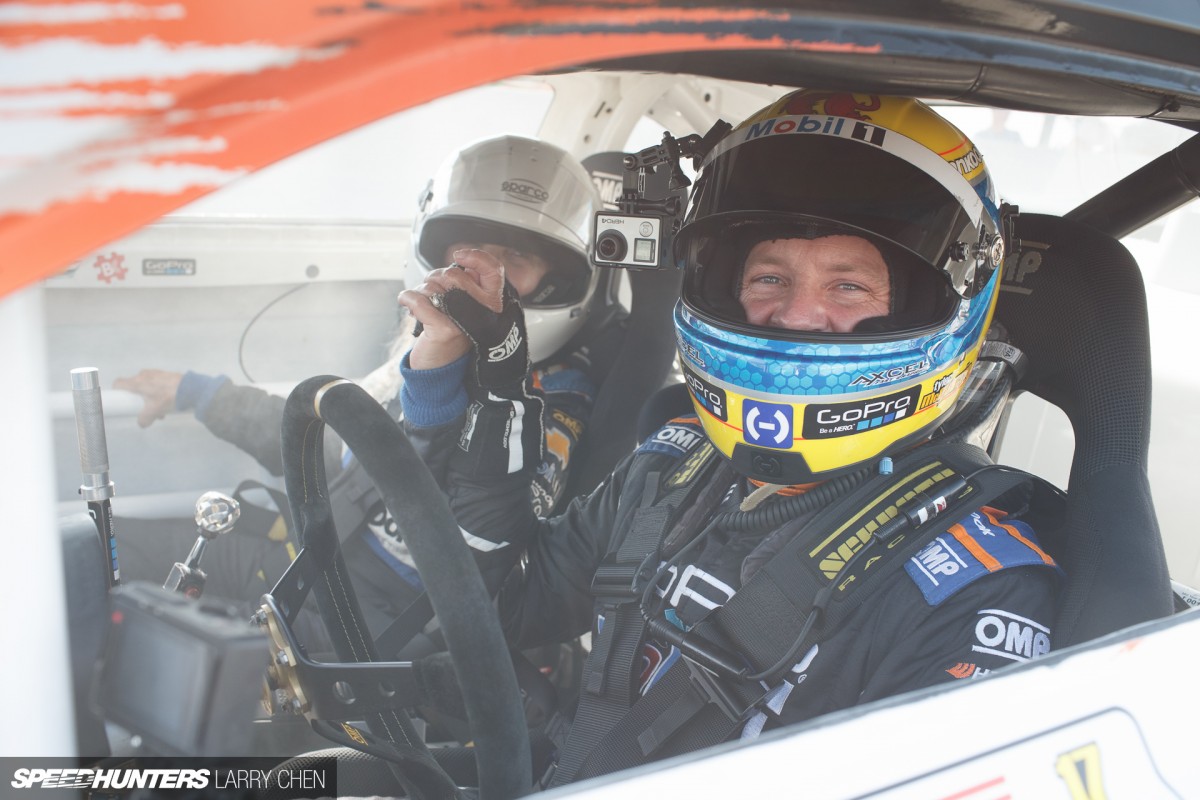 80-Year-Old Grandma: While this shot doesn't have the best composition, it's the subject matter that makes me love it so much. Tyler McQuarrie was giving his grandma a ride for her birthday – something I'm sure she will never forget.
Smoke 'Em If You Got 'Em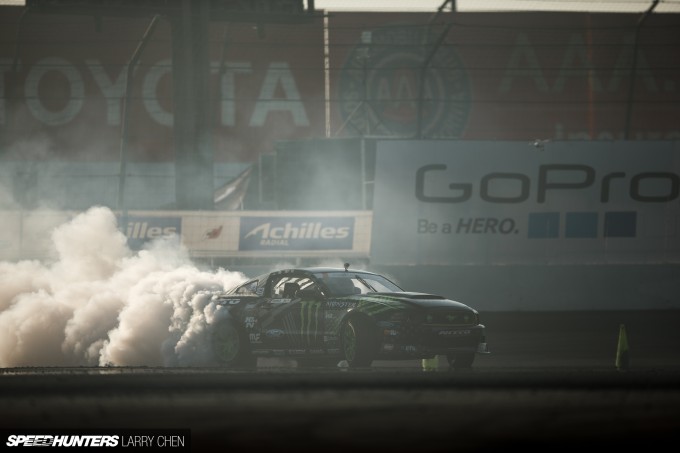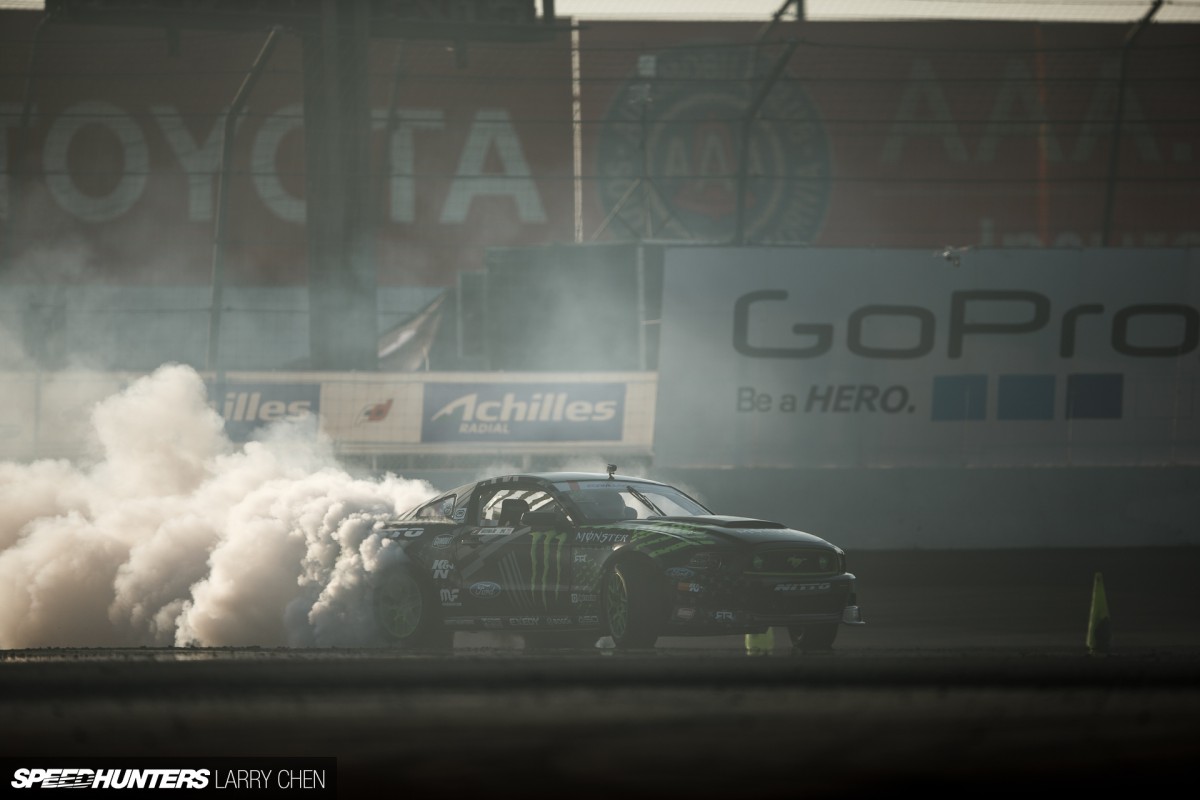 Exploding Tire Particles: There is a time when the light is just right at Irwindale, and when the cars drive onto the infield they break off tire smoke in chunks. I think it's one of the most beautiful scenes in motorsports.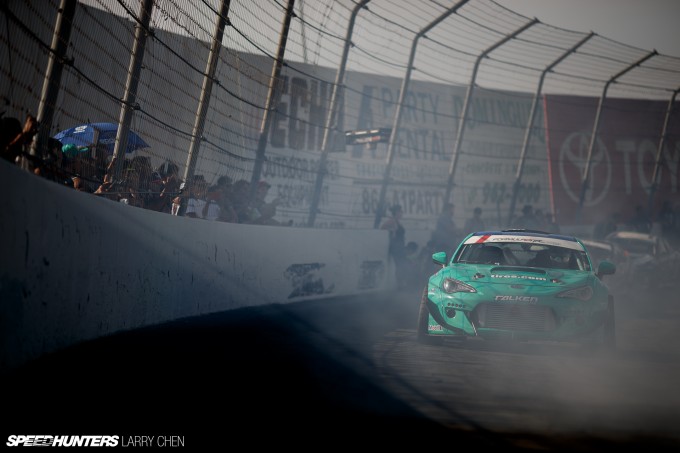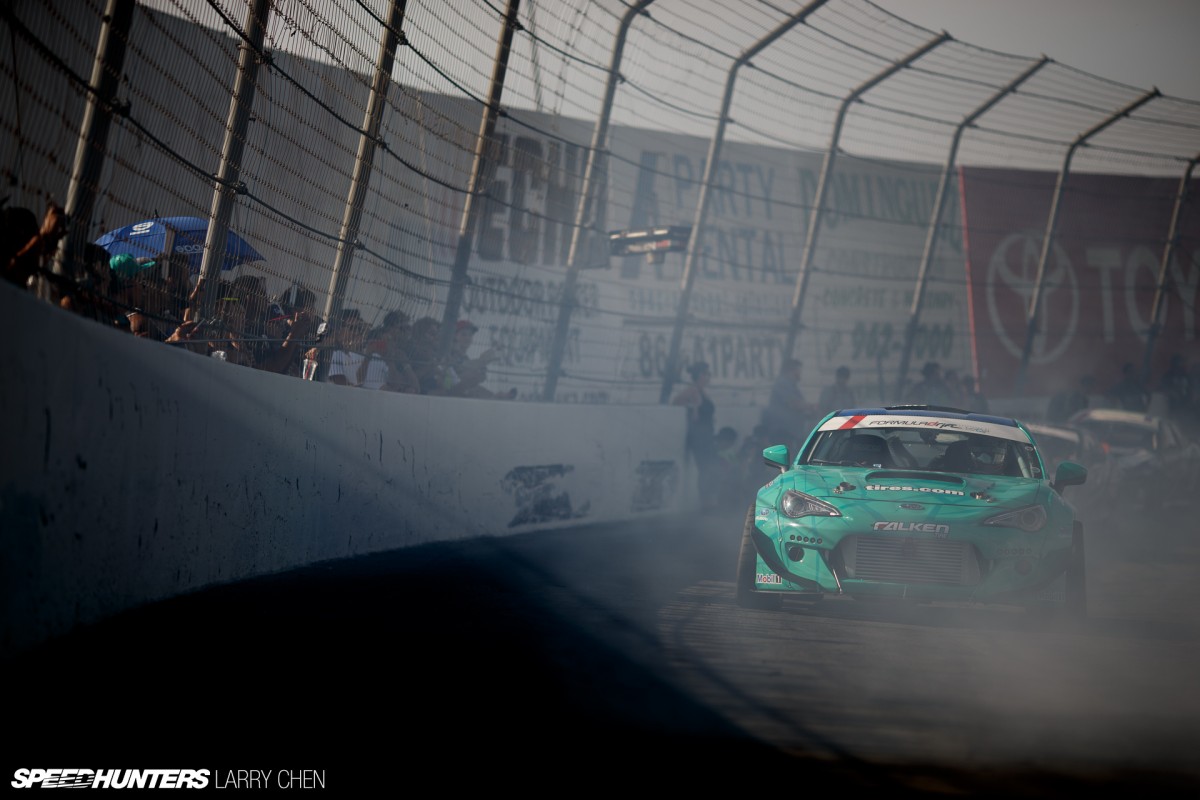 Lone Ranger: There many rumors going around about Falken Tire pulling out of drifting. But for this event I just wanted to document the team's effort as best as I could, despite what might happen for next season.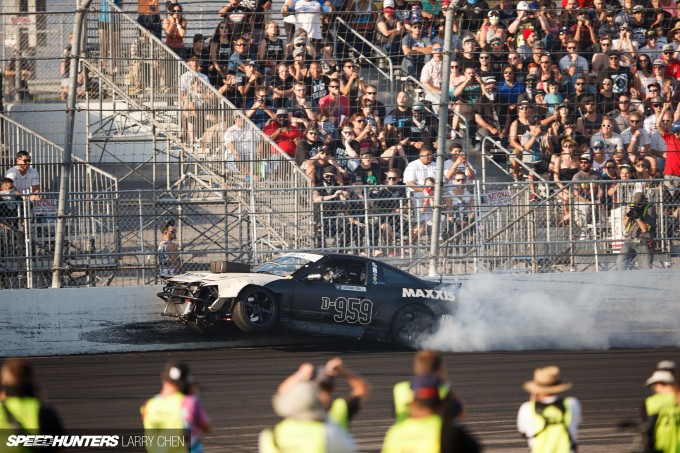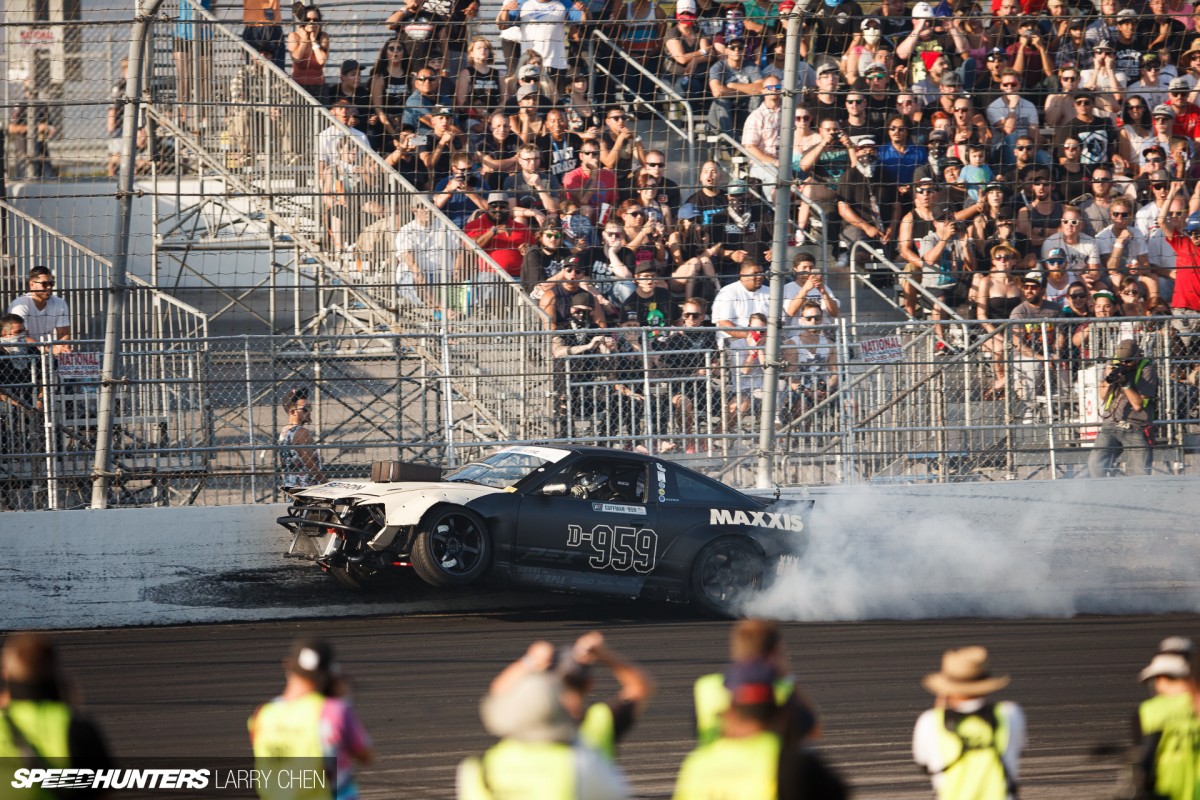 All Of Those Faces: What is happening in this photo is absolutely horrible, but I can't help but laugh when looking at the faces of the people in the crowd. Hit Presentation Mode to see it full screen.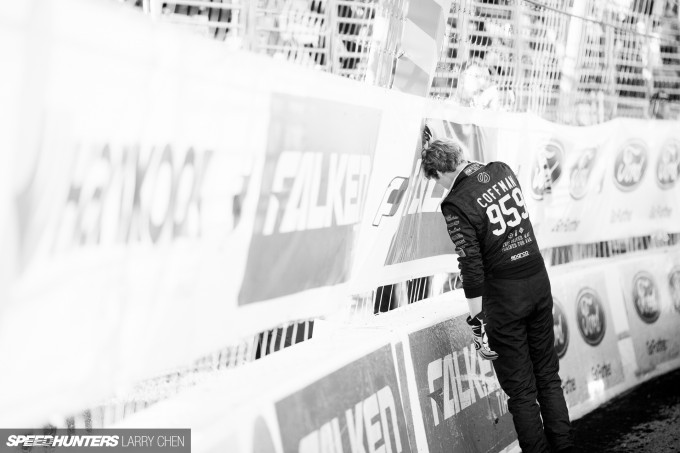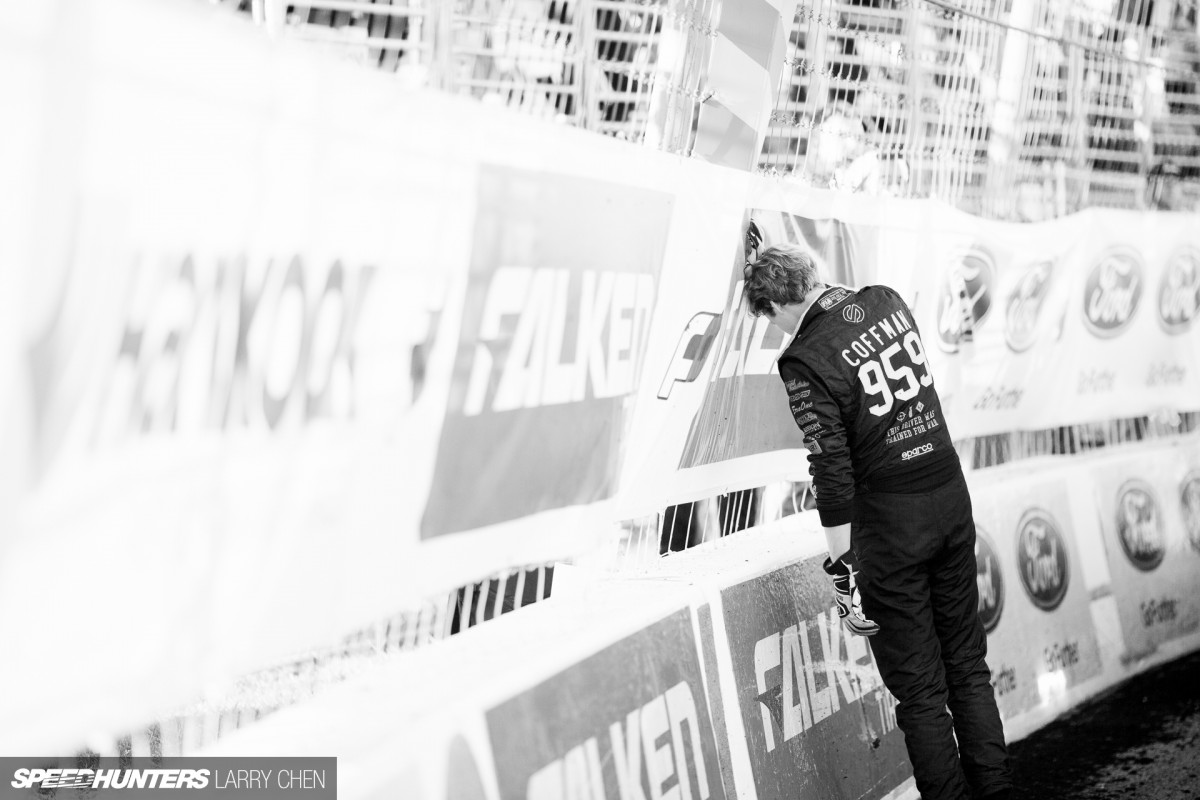 Tough Day: When you've put your heart and soul into something you love so much, it's never a good thing when you crash. I just can't imagine what kind of pain some of these drivers have to go through.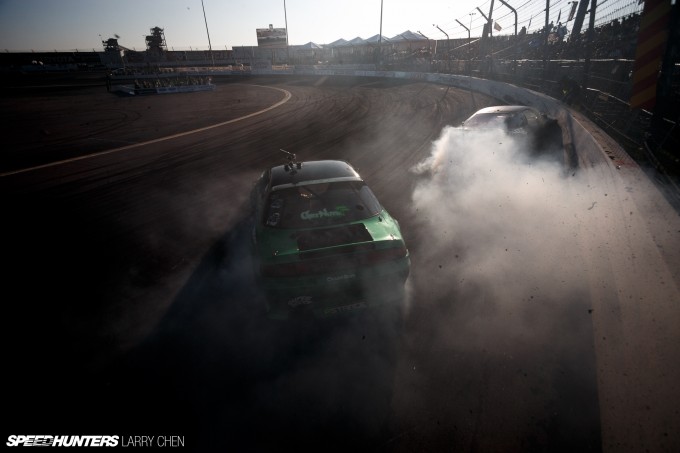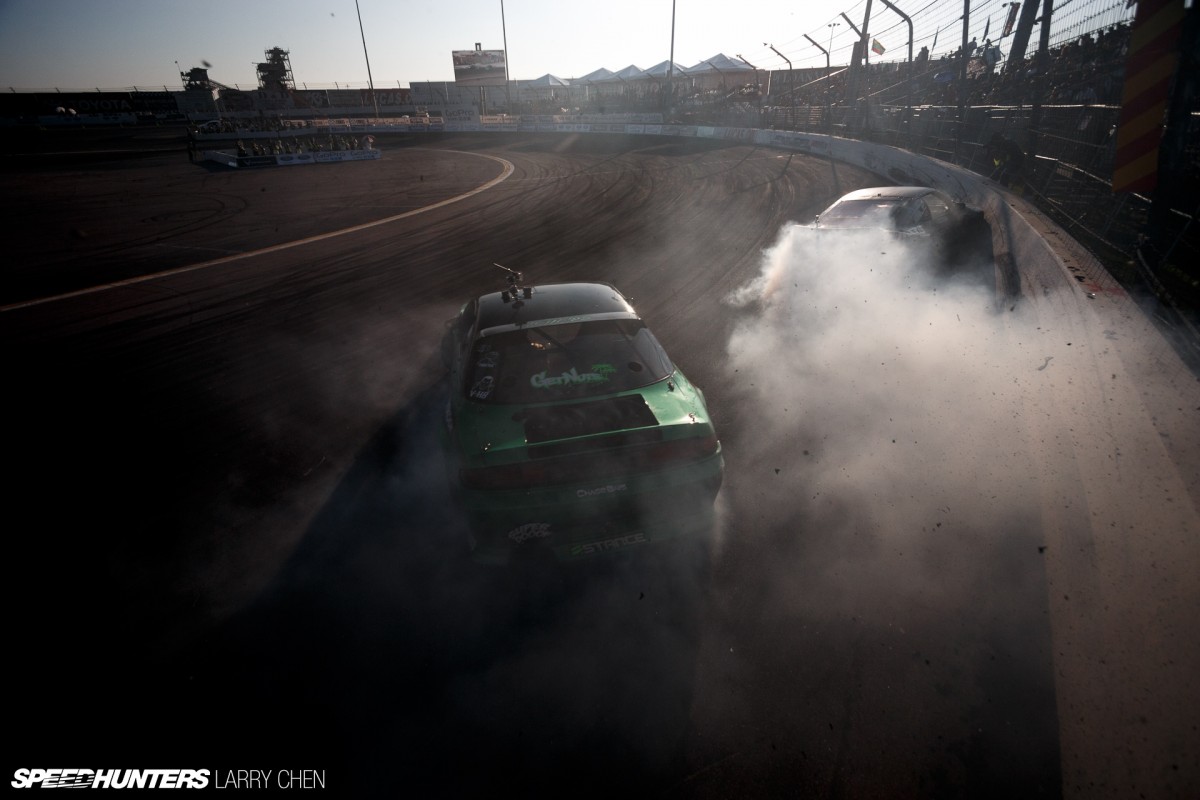 A Sliver Of Time: It's crazy to think about, but all of the pictures in this post don't even add up to one second of time captured by my shutter. This was literally just a microsecond before Matt Coffman made contact with the wall.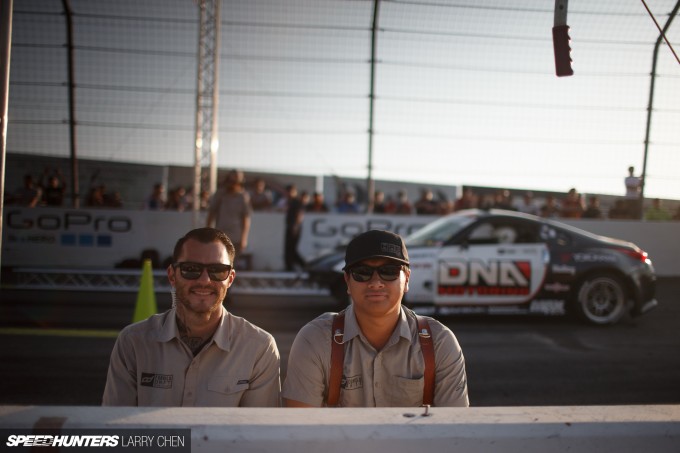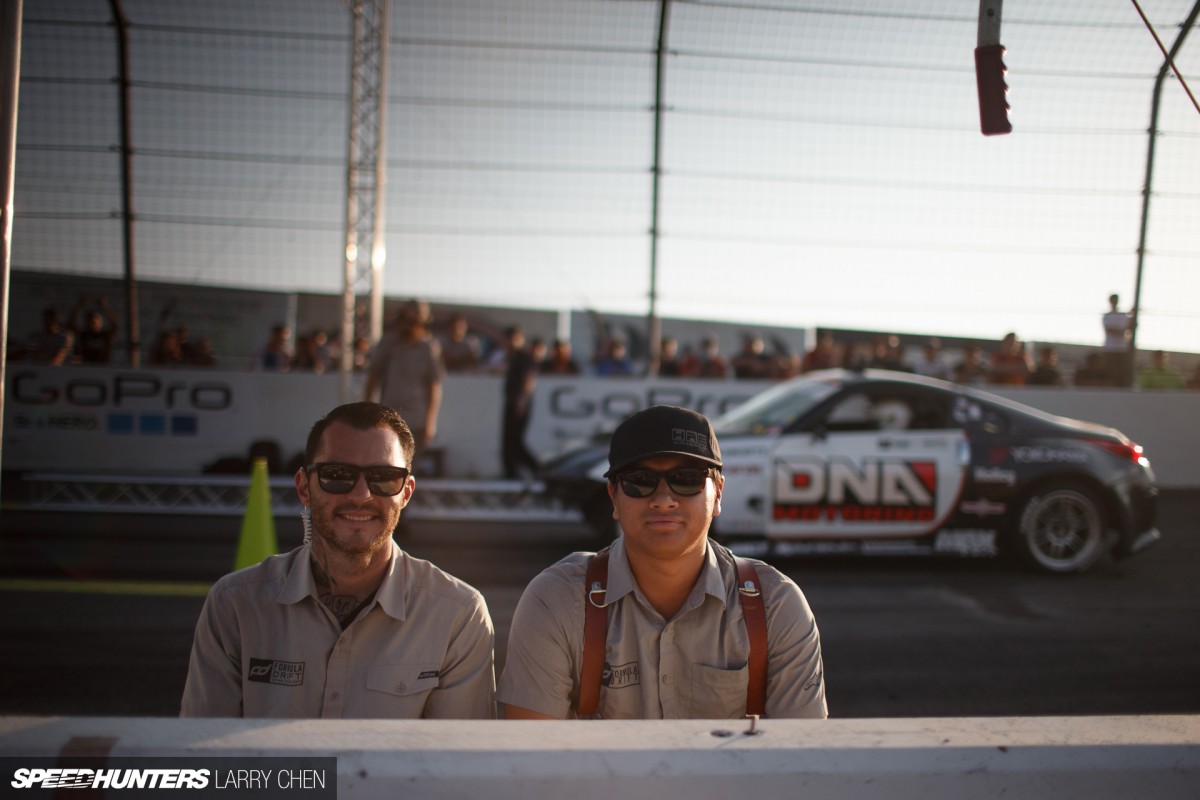 Friends On The Grid: I am so lucky to be surrounded by so many inspirational figures who push me to shoot better and to be more creative. Ryan Davis and Linhbergh are some of the most talented journalists on the grid.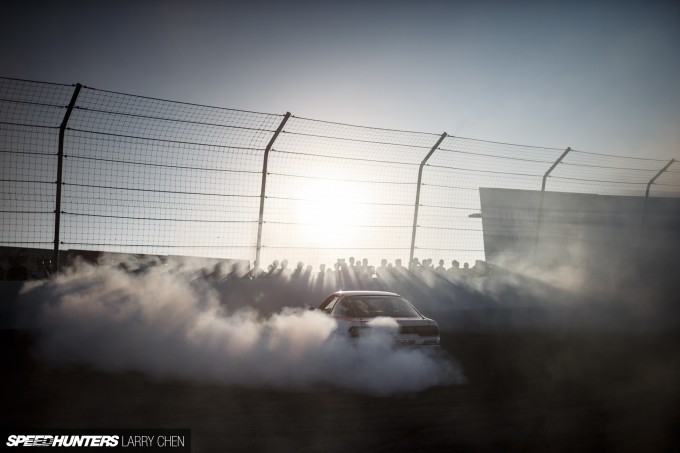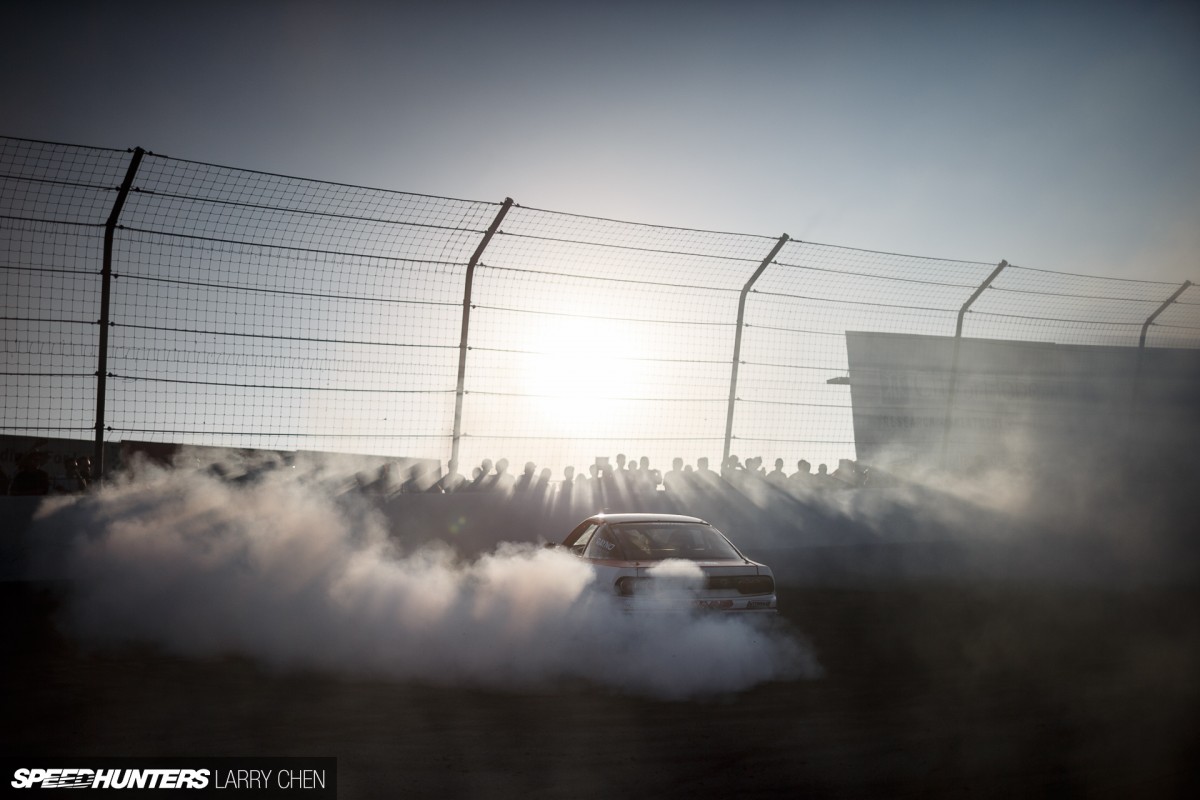 Smoke Show: Joon Maeng really likes to smoke out the fans. Considering how many burnouts he does while warming up, I'm surprised that he doesn't run out of tires before he even gets to the start line.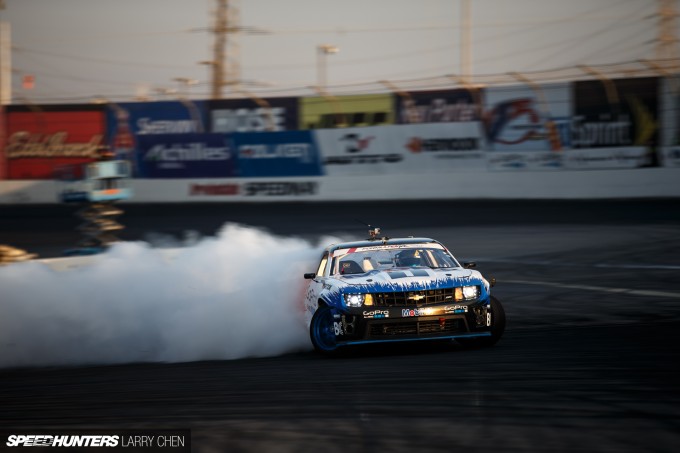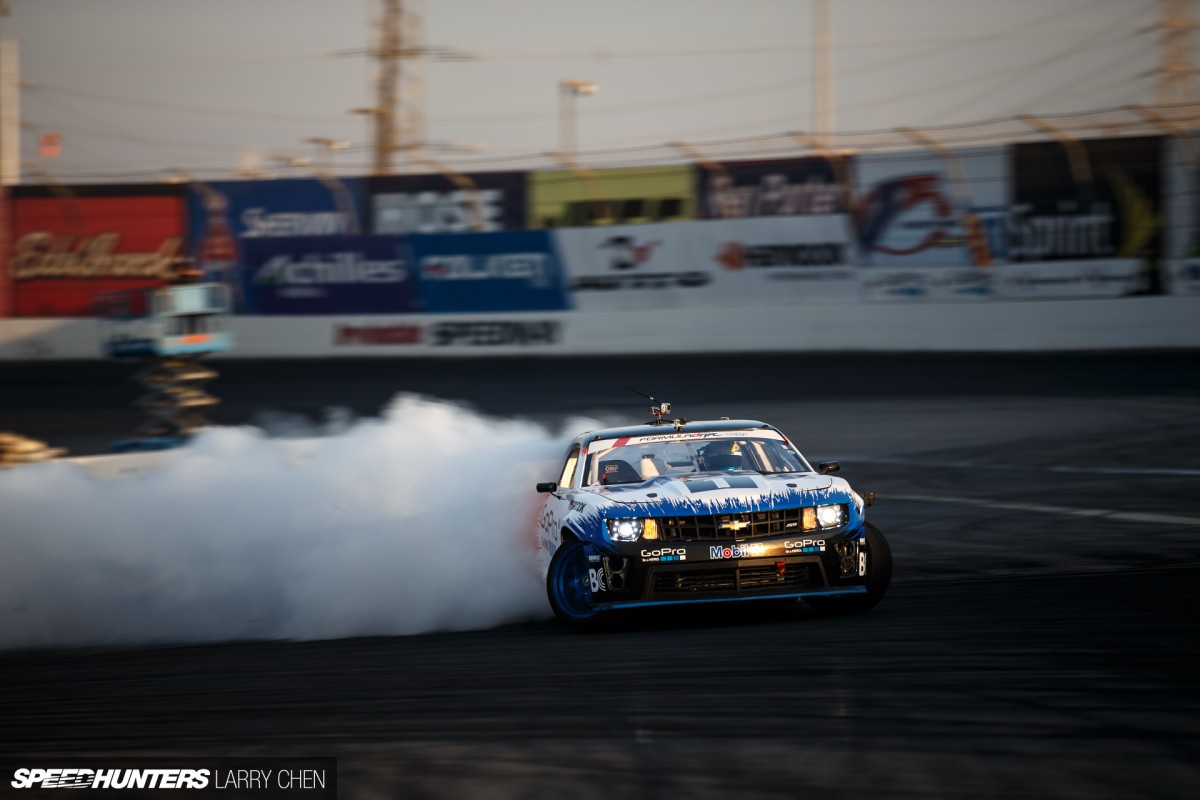 Typical Irwindale: This was my ninth year covering this event, and every time have to get my fill of the finish line shot. The drivers have finished their run here, but they still lay on the throttle for the show.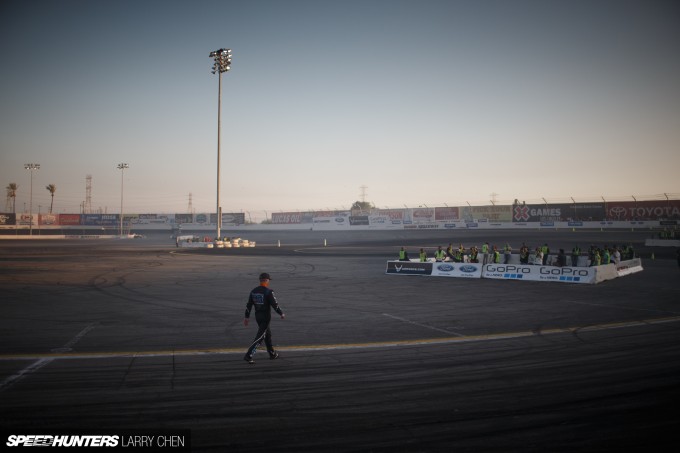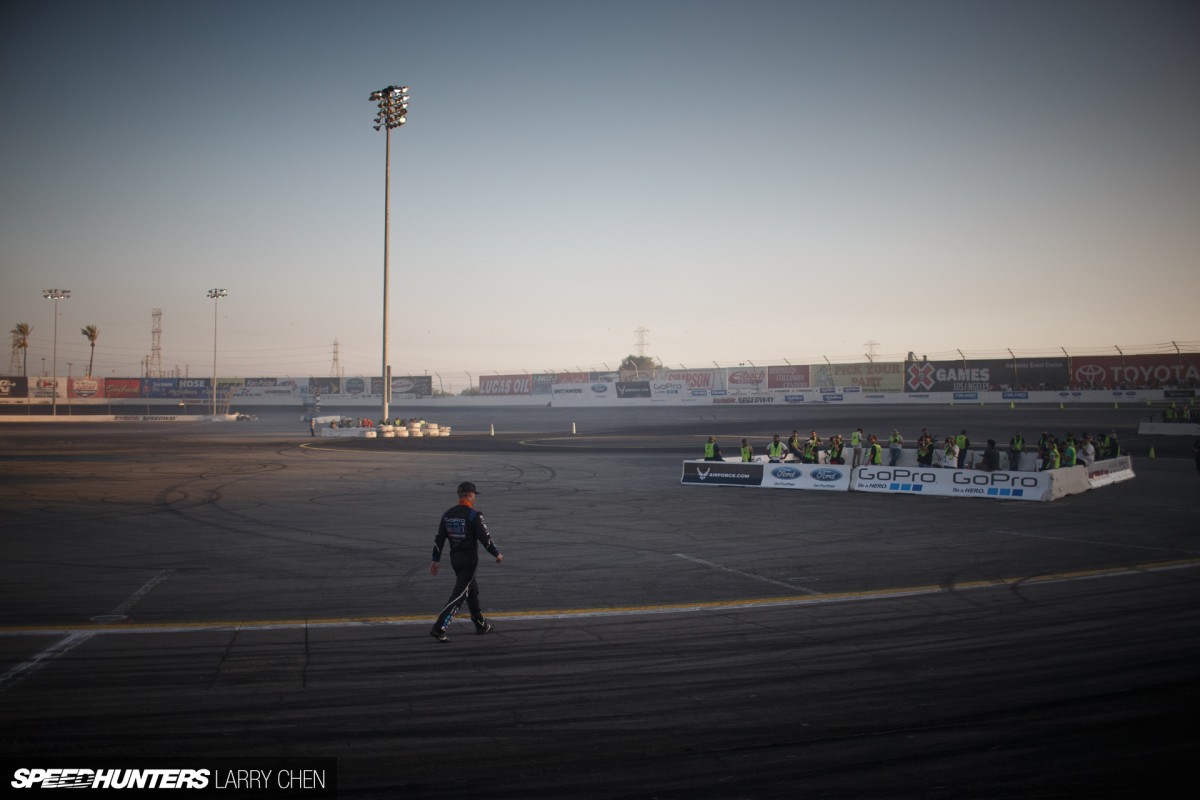 Walk Of Shame: It's very hard for drivers to return to the pits on foot. I think Tyler McQuarrie takes it more to heart than any other driver on the grid.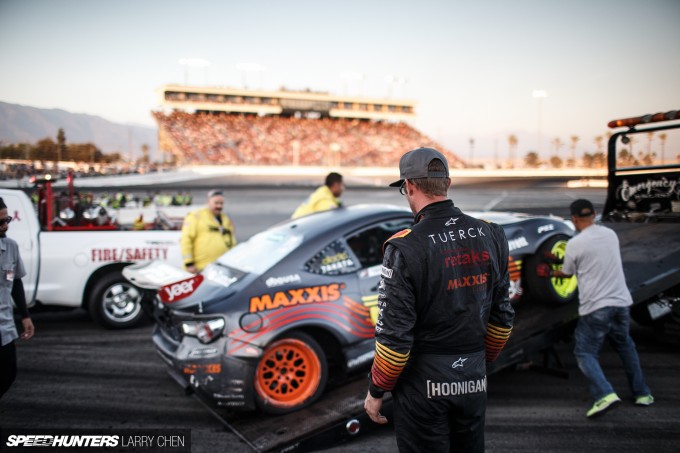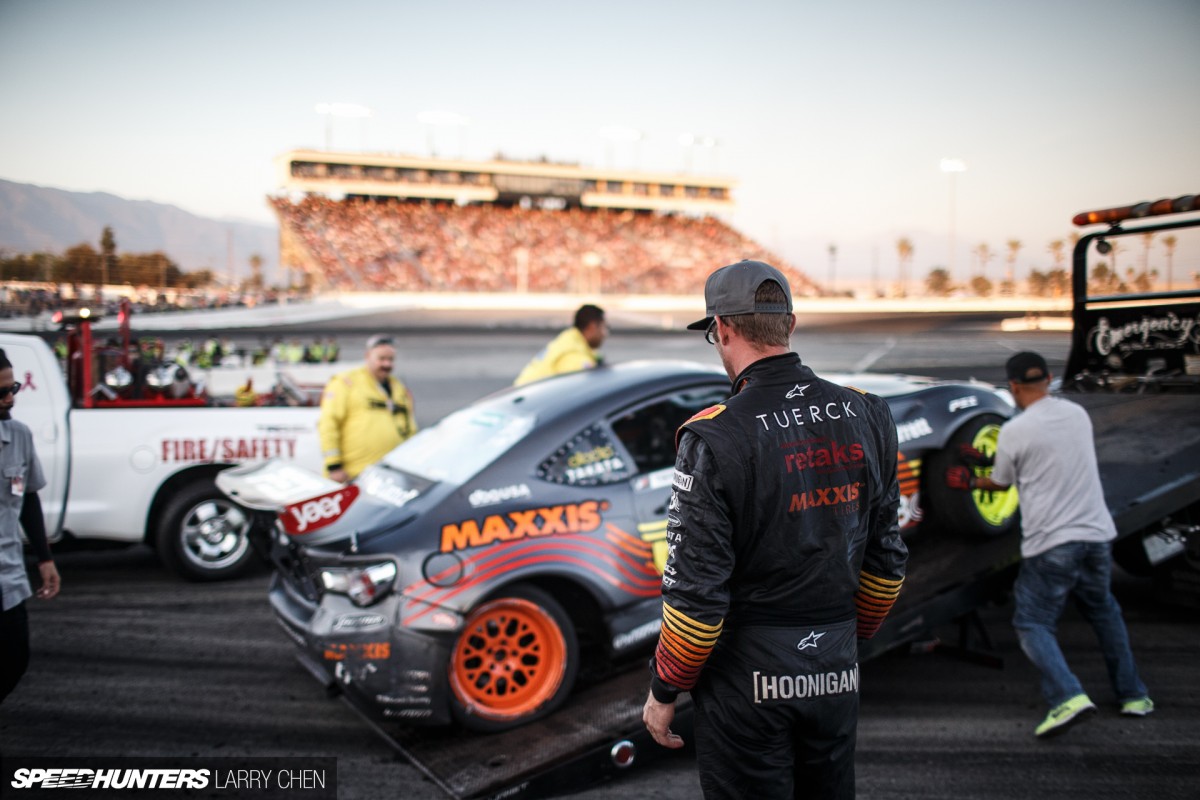 Overdrift: Sometimes you go into overdrift and you drift into the 'D' dimension. Other times you just hit the wall.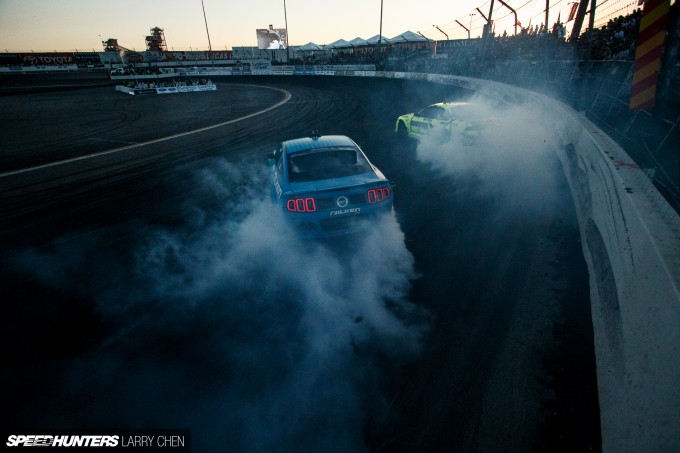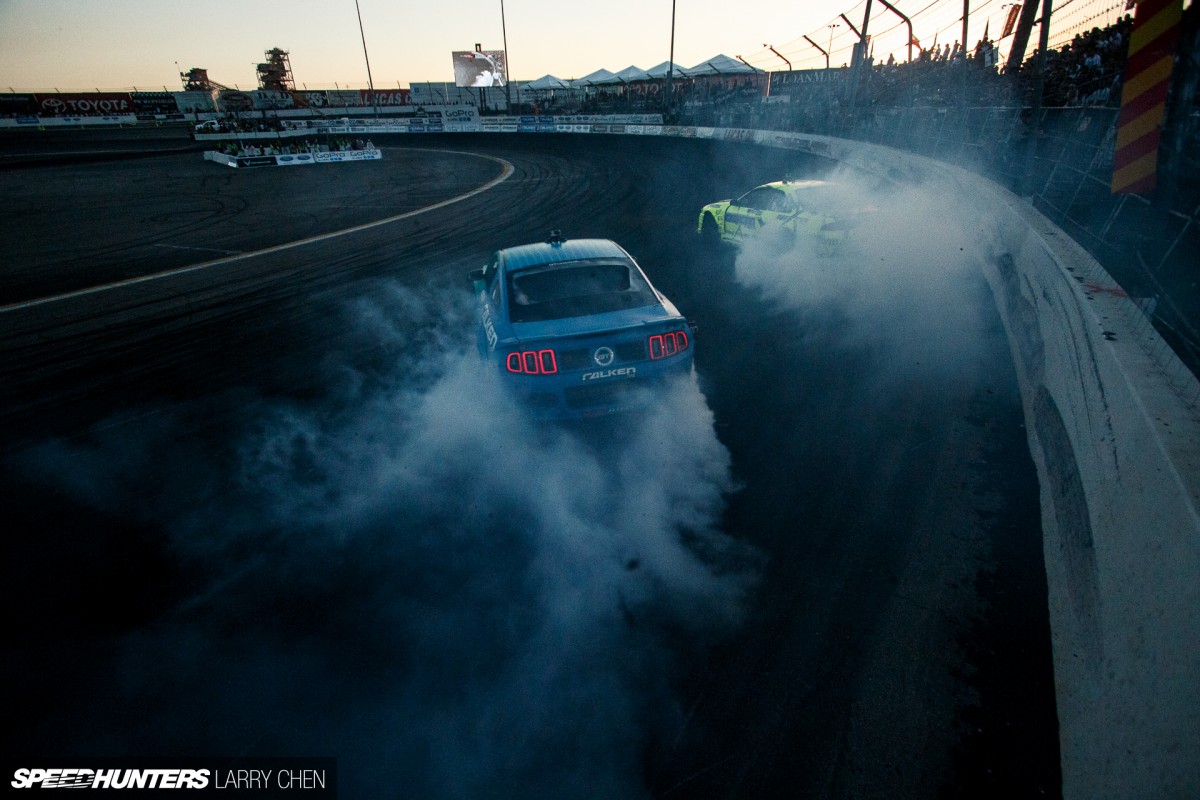 Epic Battles: Justin Pawlak and Matt Field had some of the most epic battles of the night in the Top 32. This could very well have been a final battle.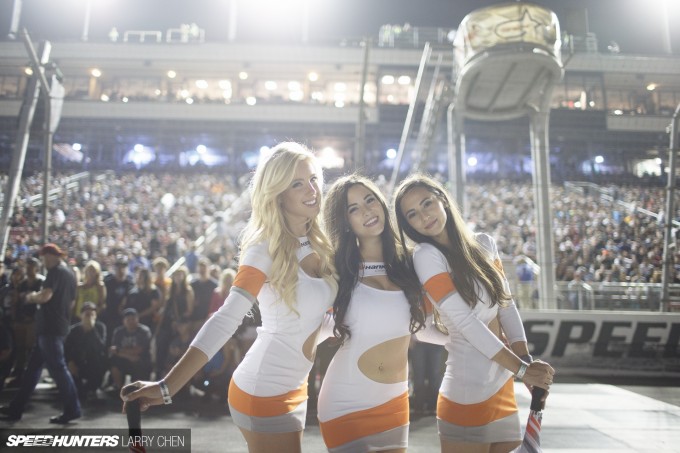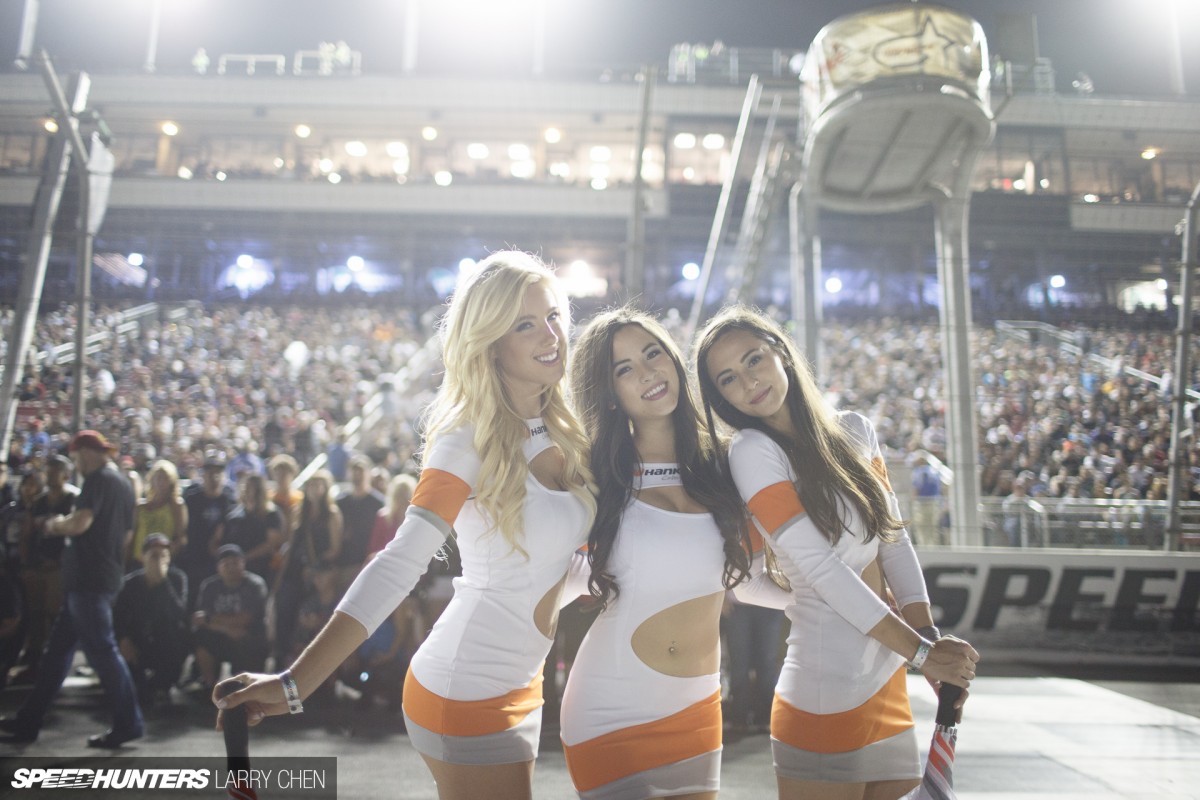 Eye Candy: Hey girls, get out of the way – I'm trying to take a photo of the stands!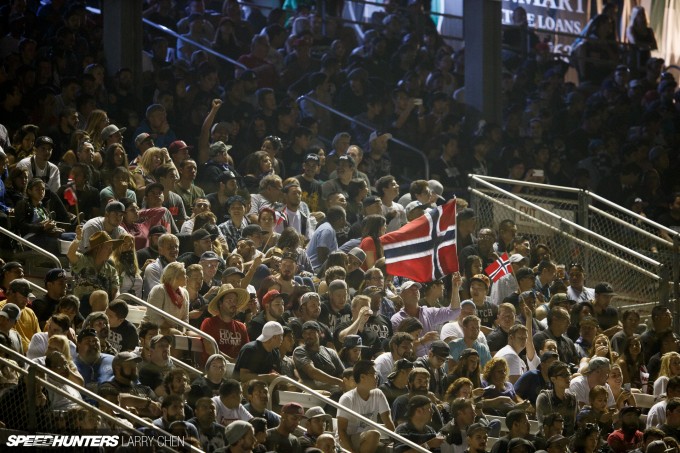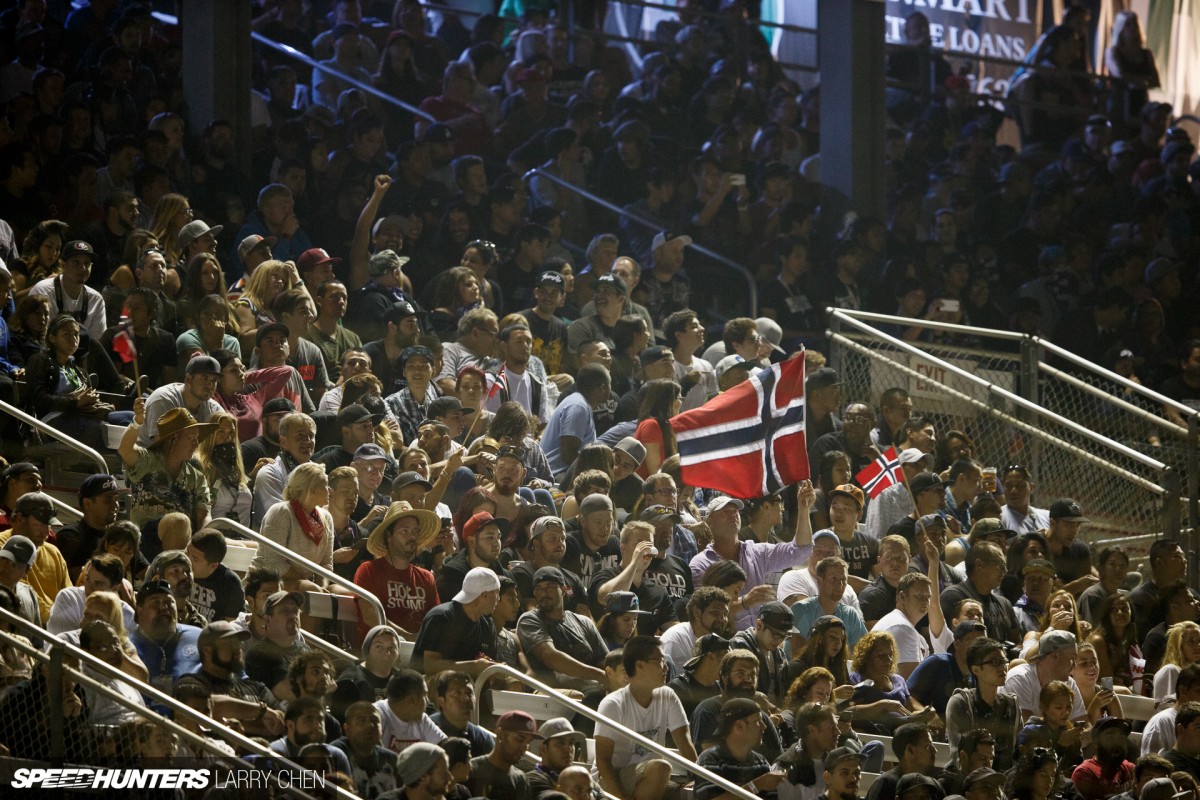 The Norwegian Cheer Squad: This entire section of the grandstand was occupied by Norwegians who had come all the way across the pond just to cheer on Fredric Aasbø and Kenny Moen. Talk about a dedicated group of fans.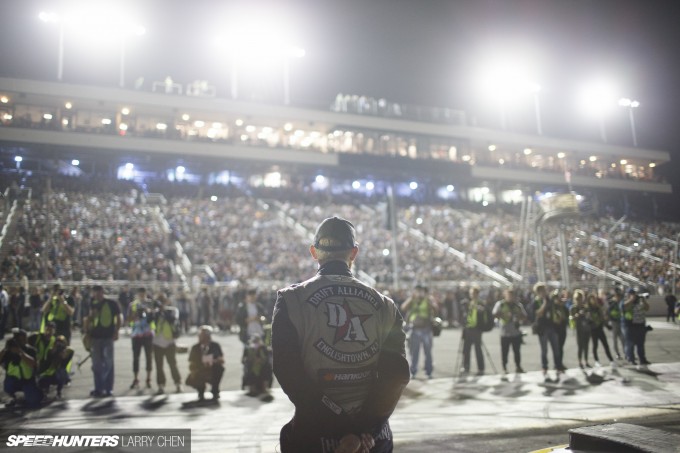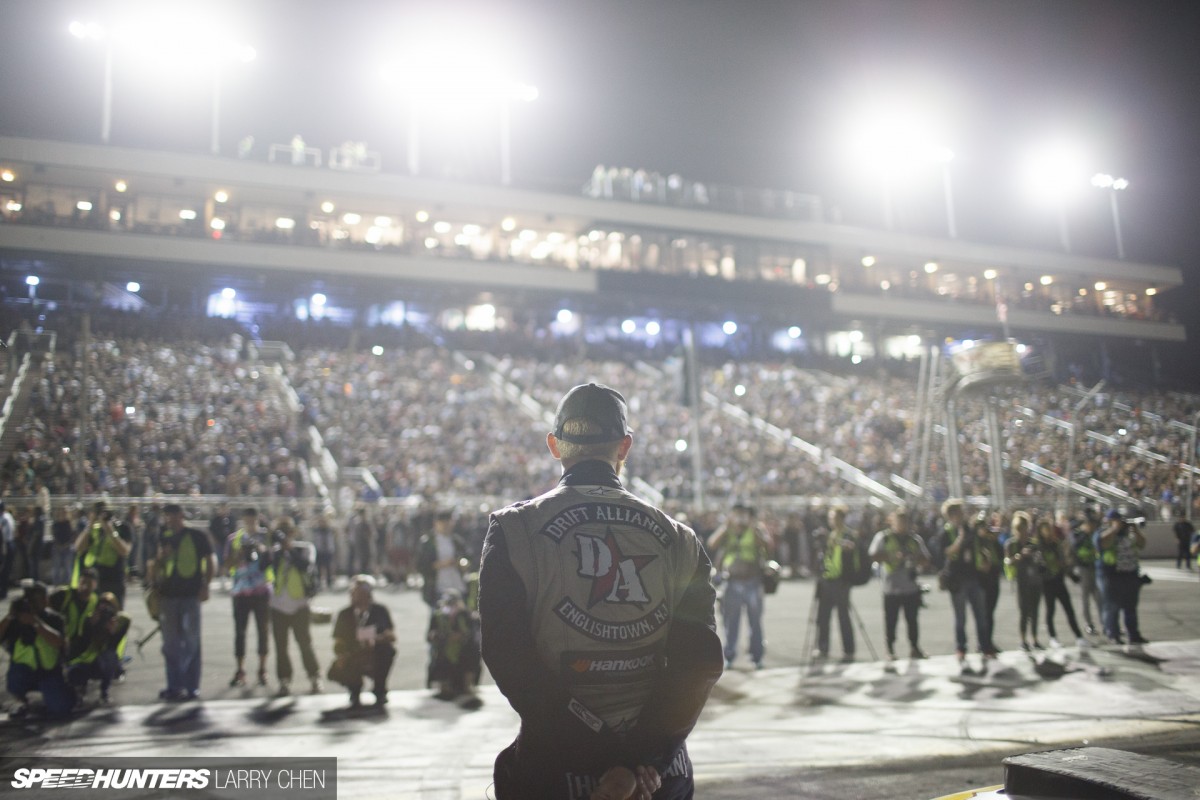 The Worst Has Yet To Come: I can only imagine the sort of things that go through the minds of the drivers as they wait through the Top 16 introductions. There are a lot of eyes are watching them.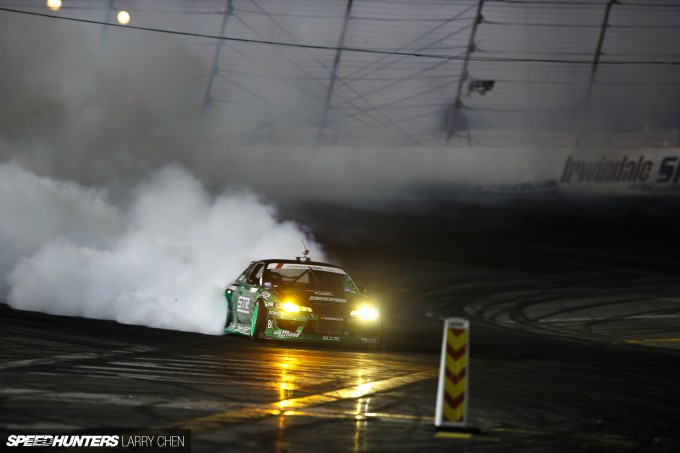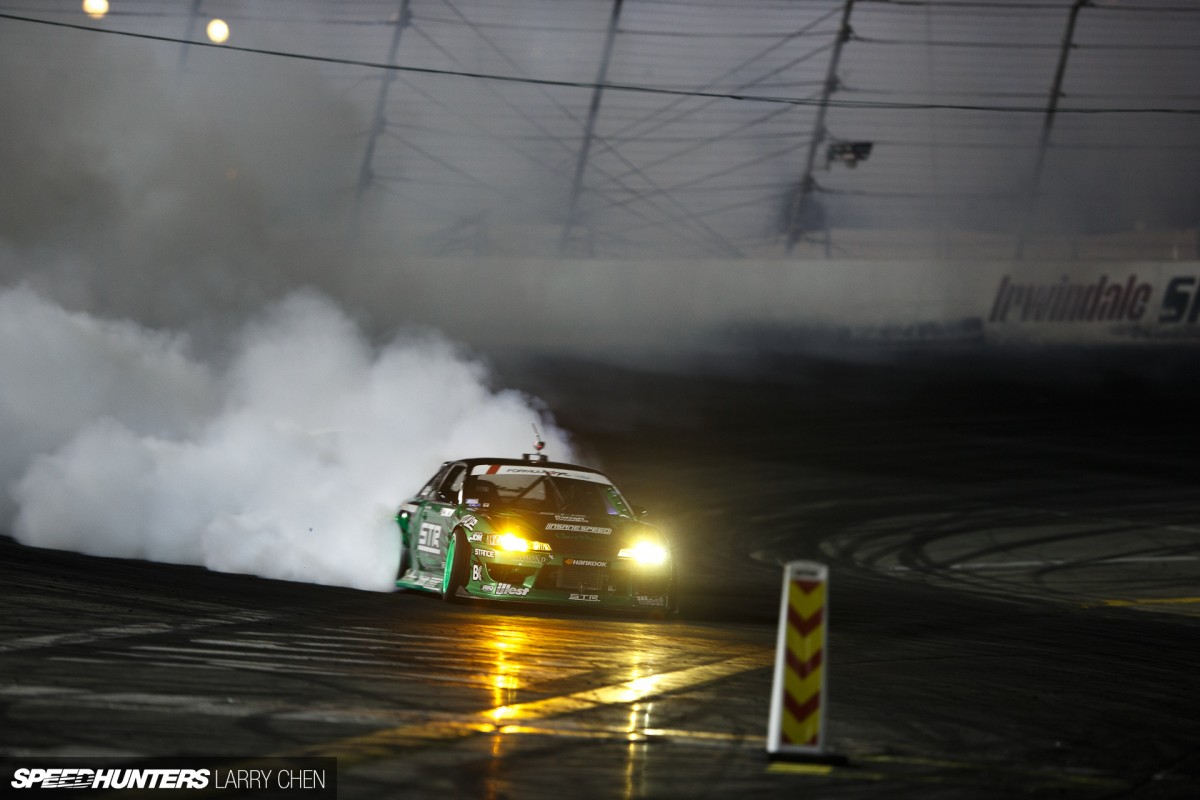 The Future Of Drifting: Forrest Wang has been competing in Formula Drift for years, and this was his second Irwindale event in a row where he saw the podium. He really is the future of drifting, and I'd love to see more competitors like him tear up the track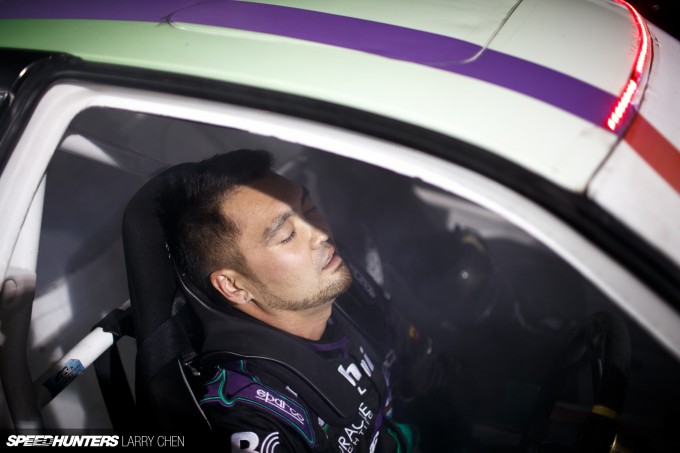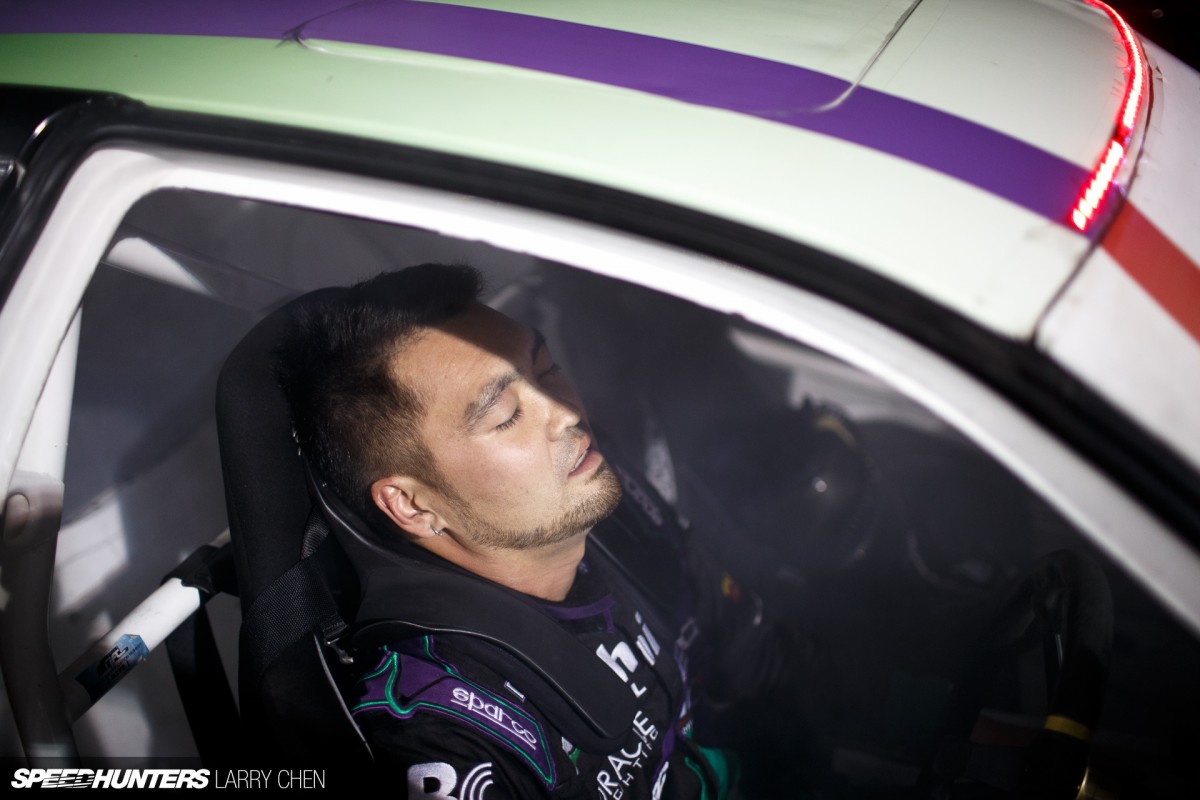 1000 Horsepower Nap: Sometimes there's so much stress leading up to a run that the drivers need to take moment to catch their breath afterwards.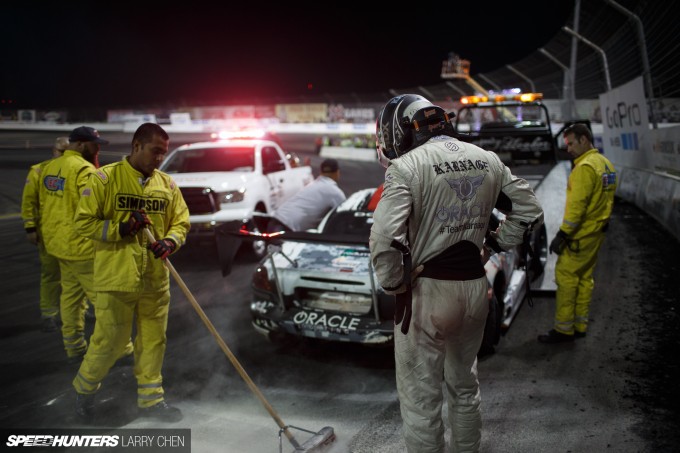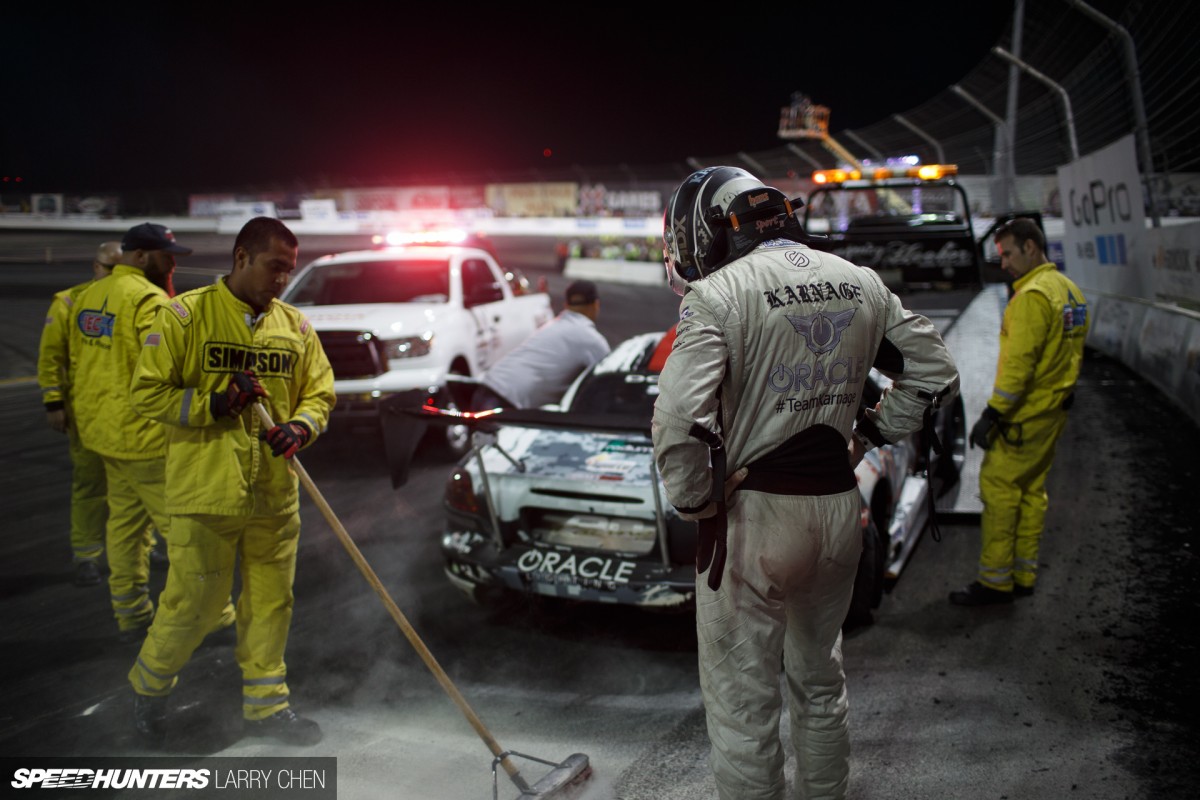 Walls Don't Move: This was the second time Dean Kearney got sucked into the wall at Irwindale in one day. Checkers or wreckers, right?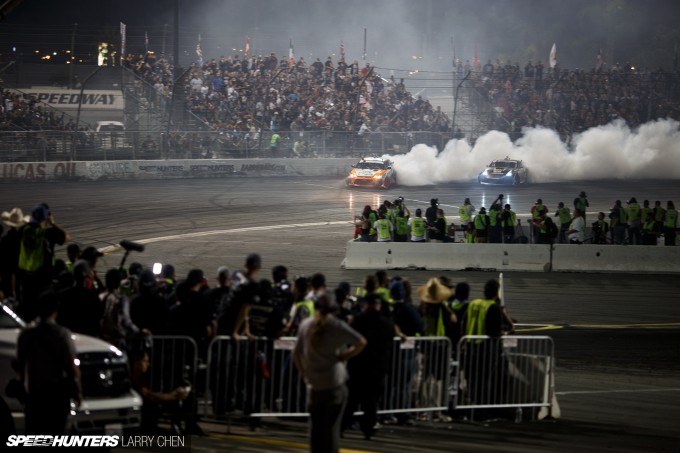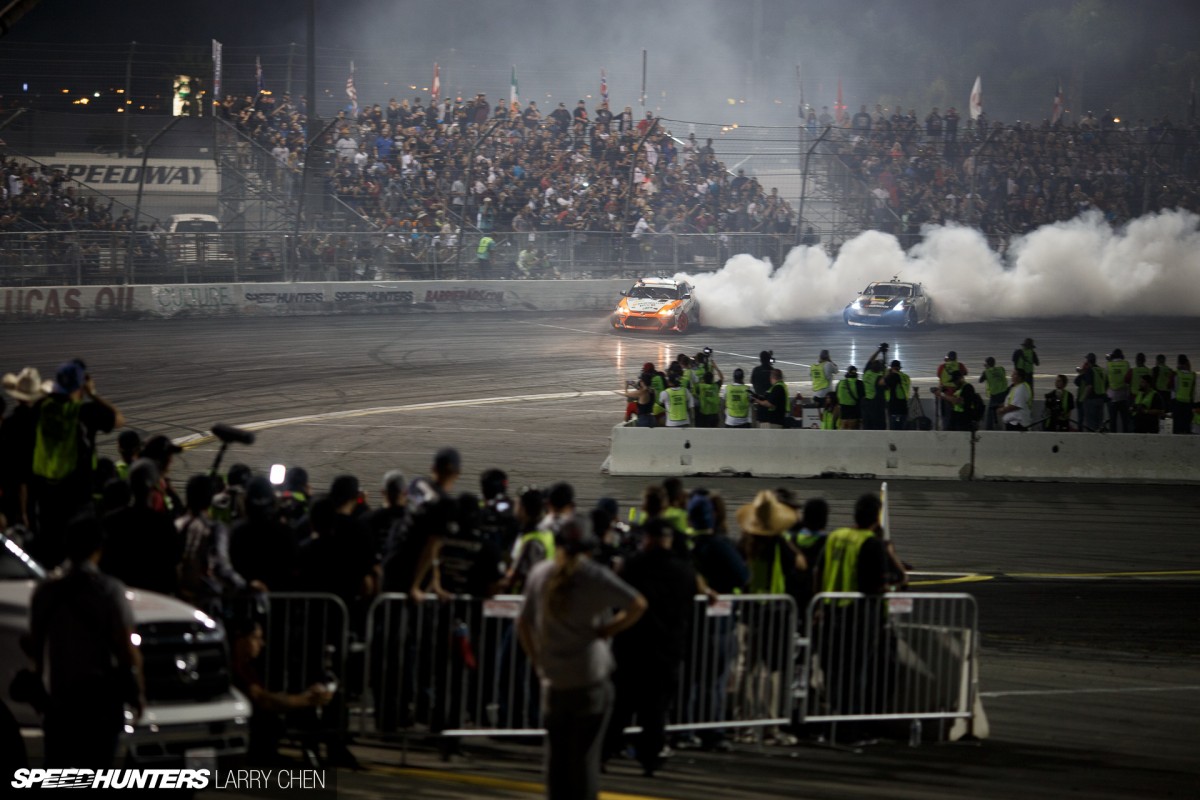 And The Crowd Goes Wild: I've never seen the stands so packed all the way till the end of an event at Irwindale. Usually by the Top 8 the crowd thins out quite a bit.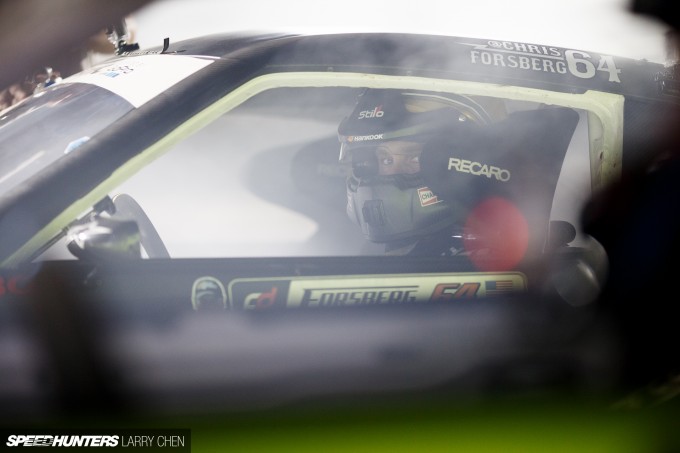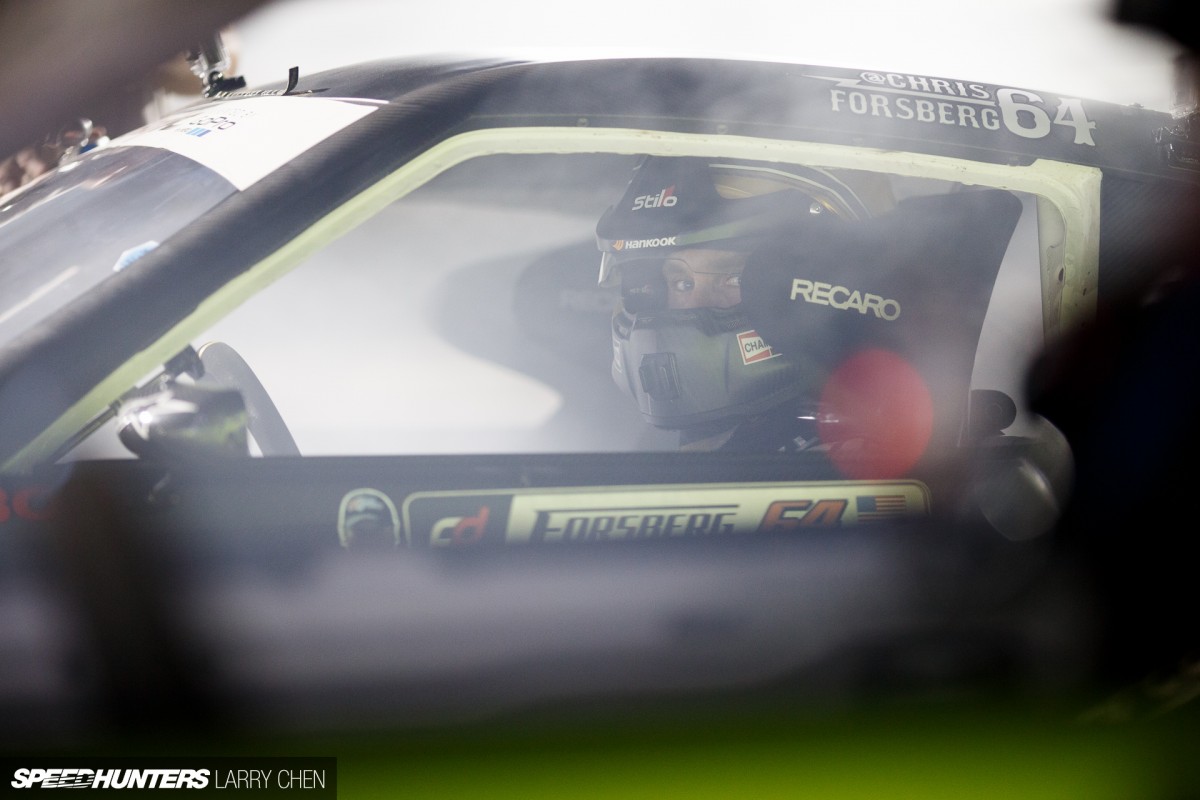 Death Stare: Chris Forsberg stealing a glance at his opponent after a hard-fought battle.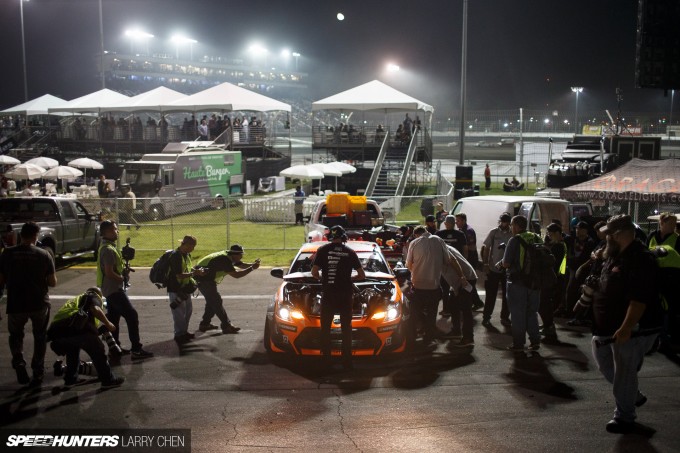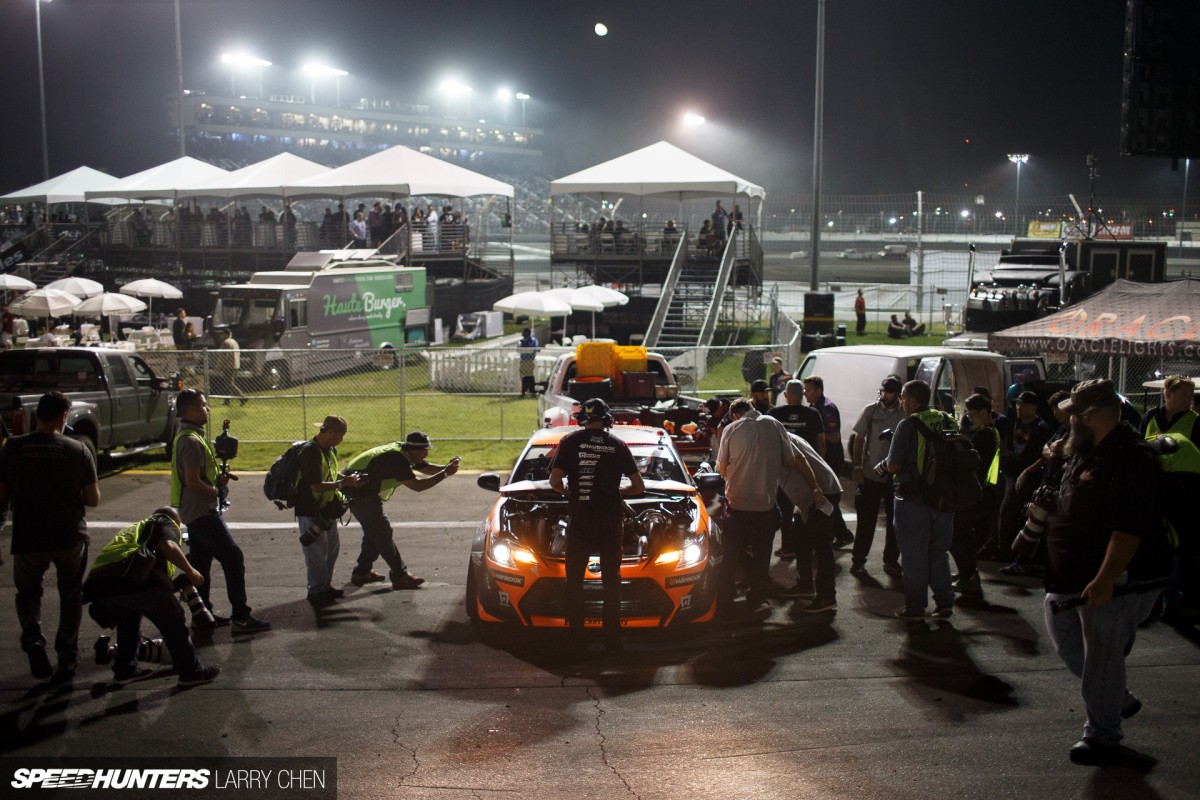 Check & Re-check: The Papadakis Racing team was checking every nut and bolt over and over again in between runs to make sure the Scion tC was running in tip-top shape.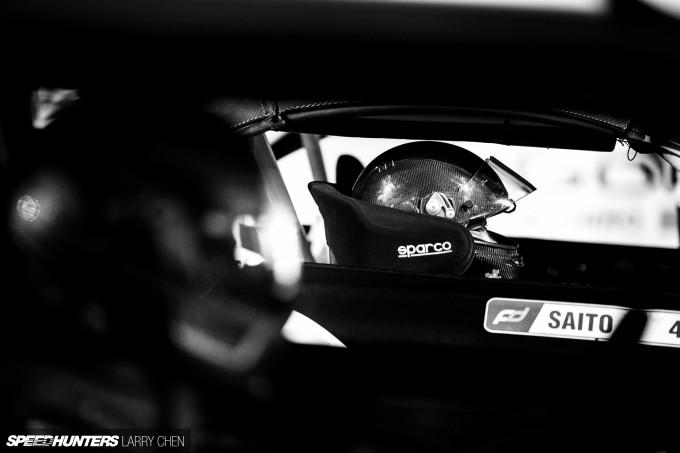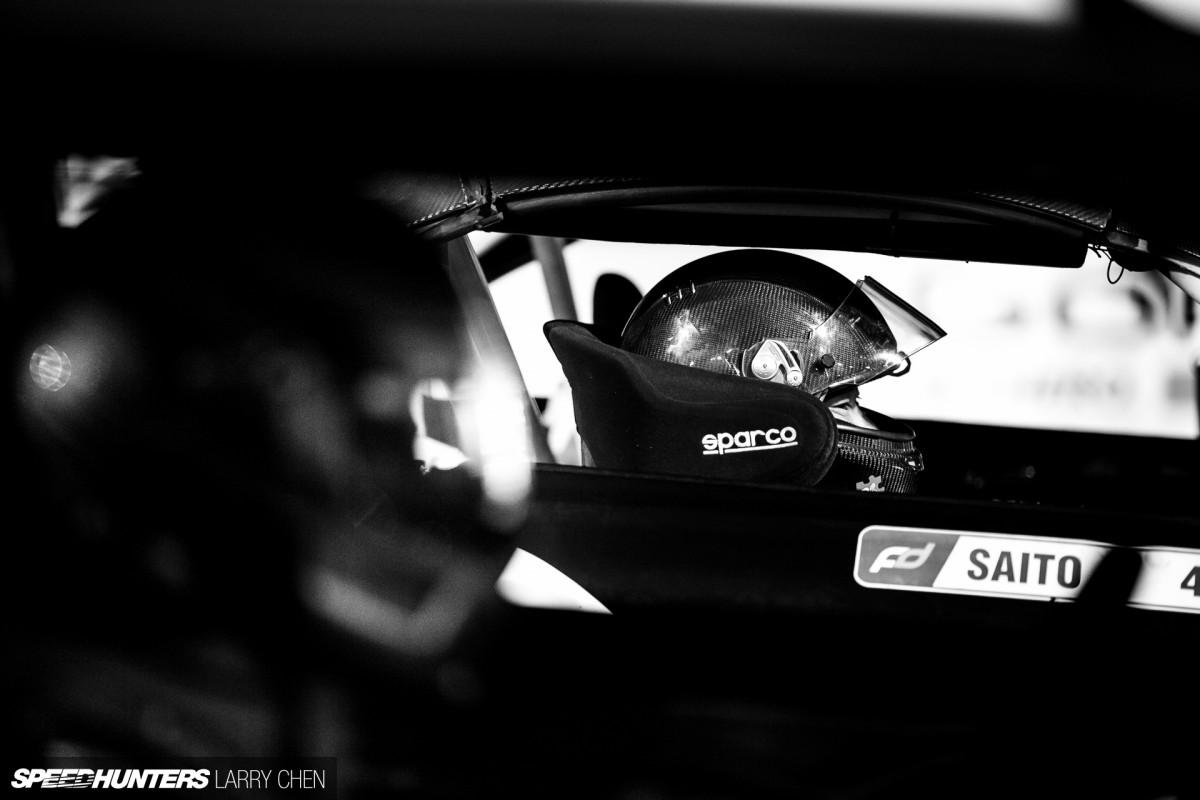 Face Off: Fredric Aasbø was about to face an opponent that he has beaten many times before, but once more won't hurt, right?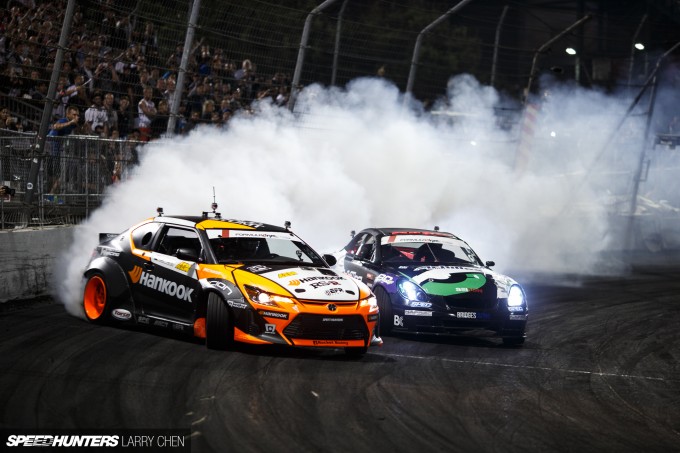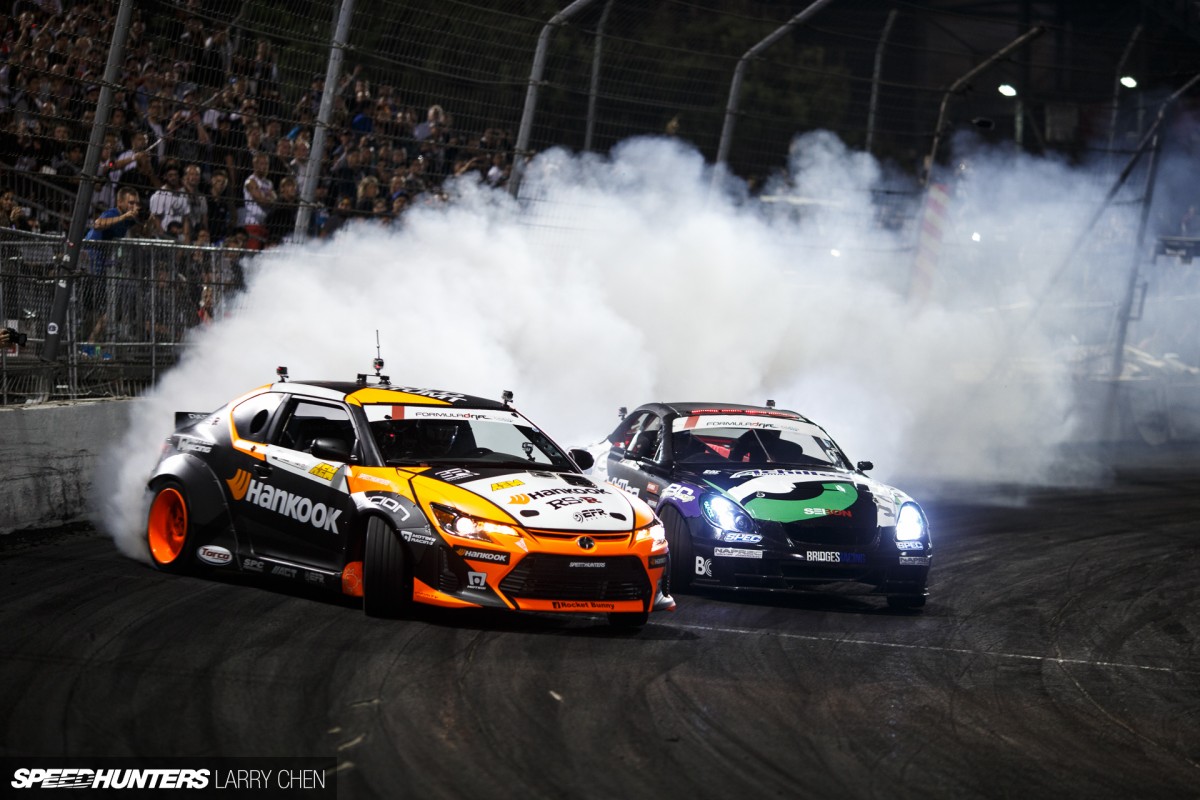 Final Fight: It's not often that a championship comes down to one final battle. I'm glad I was there to witness such a crazy event with some historic battles.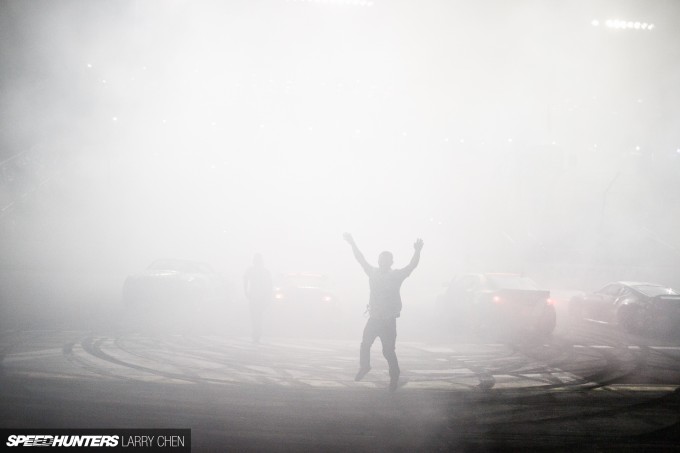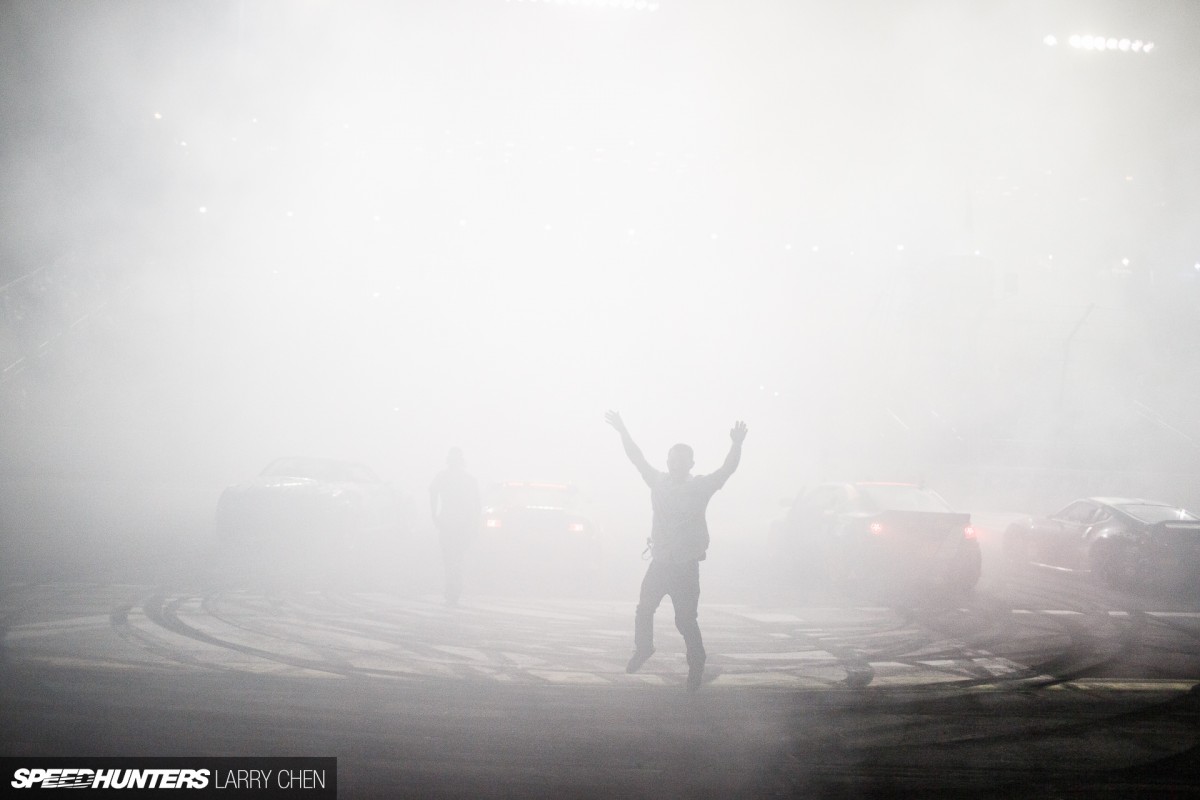 Fog Of War: When the final battle was over no one was sure who had won – but there was a sense of excitement that lingered in the air.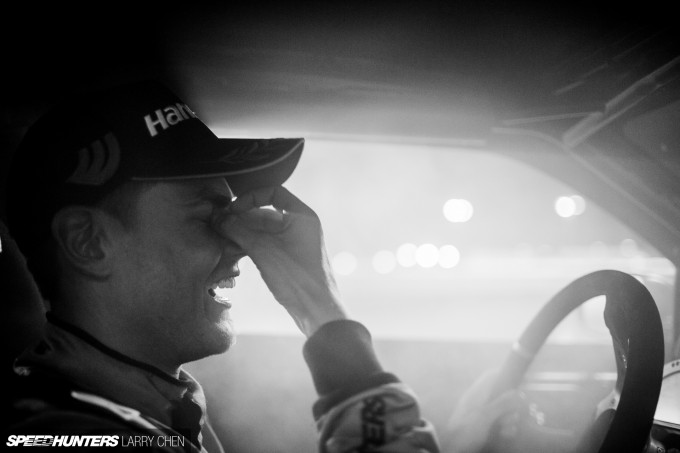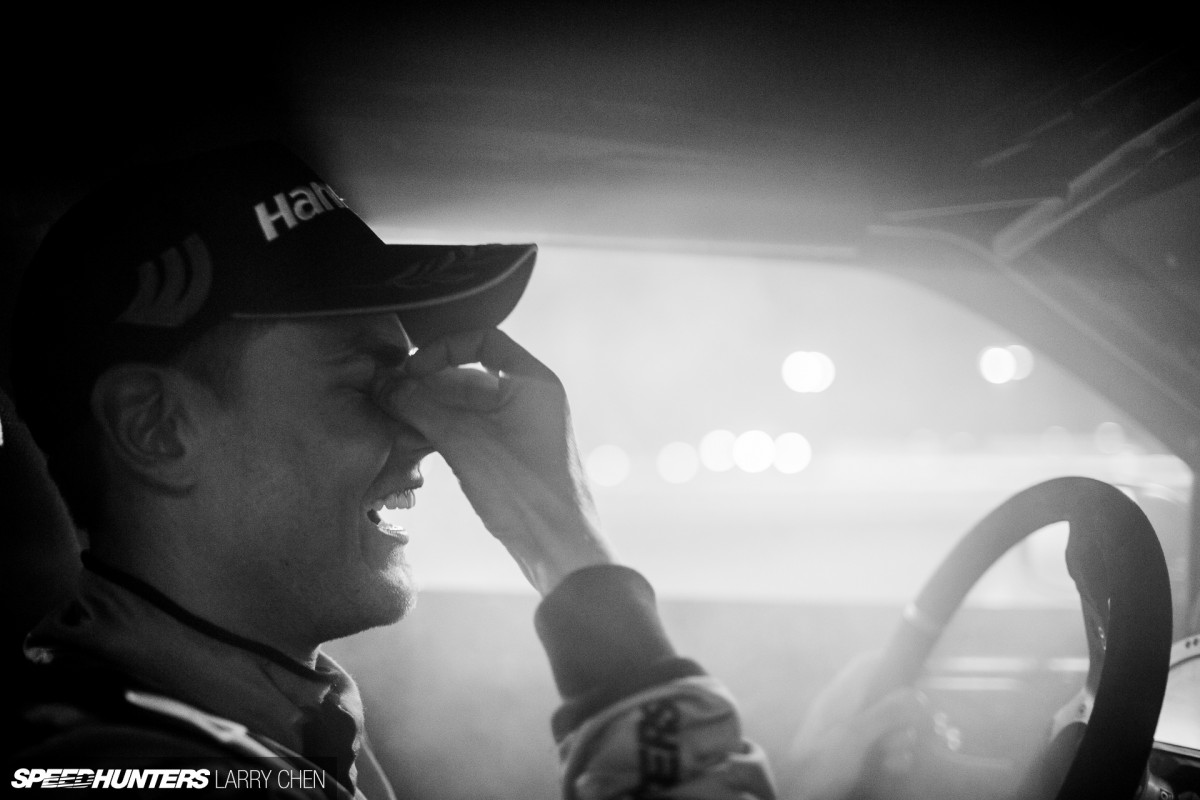 Mixed Emotions: When I asked Fredric what his feelings were after losing the championship by 11.5 points, he replied, "I have mixed emotions."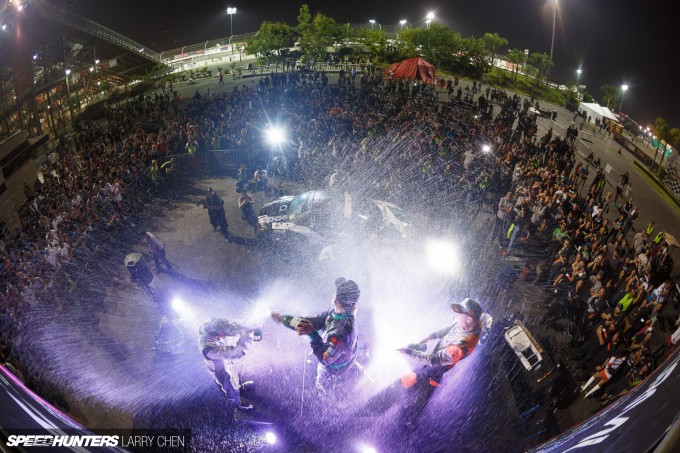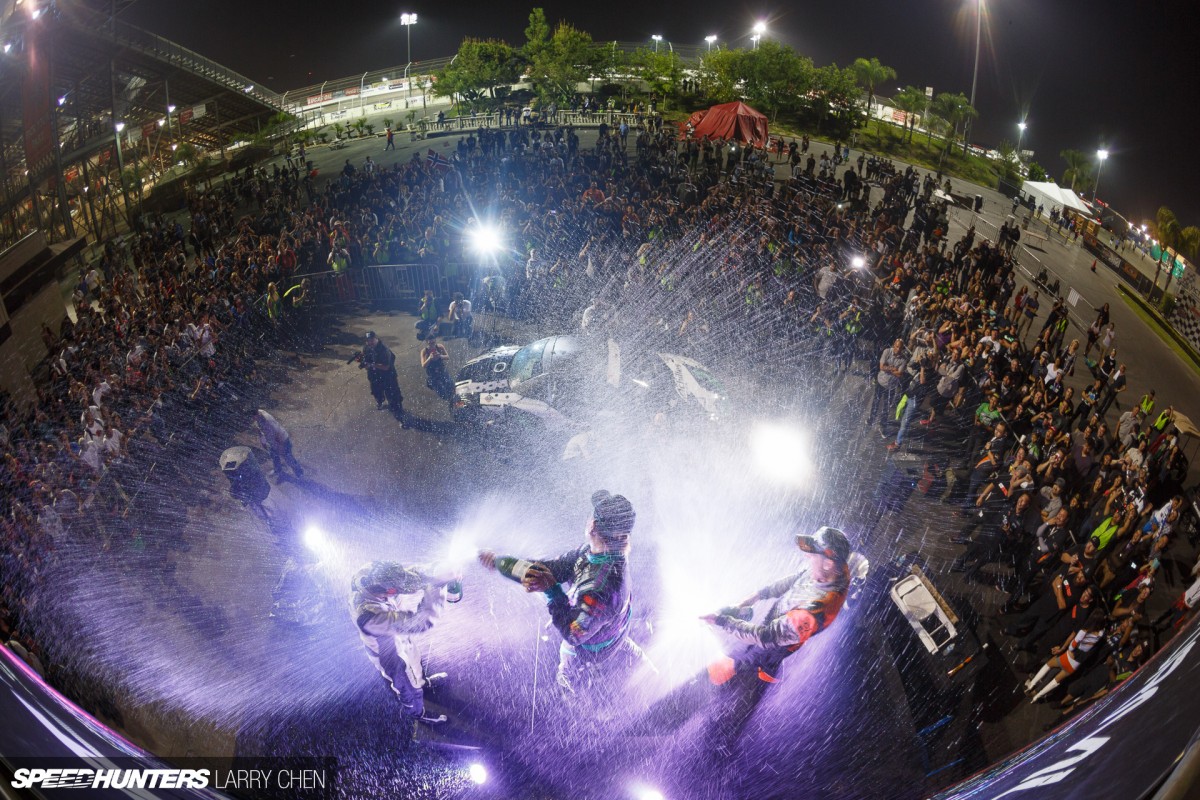 Winner, Winner: After a hard-fought season, there is nothing like getting soaked in a champagne shower. I can't wait for the 2015 Formula Drift season to start…
Larry Chen
Instagram: larry_chen_foto
larry@speedhunters.com