Stepping It Up A Notch…Or 2
If you saw my post on the Mustang RTR Spec 2 a few days ago, there's one question you might have been left asking yourself – what if you wanted more? The Spec 2 is an awesome and highly-capable street car in its own right, but just imagine what you could end up with if you upped it a couple of notches… Well, you don't actually have to imagine, because Vaughn Gittin Jr. didn't waste any time putting that car together either. Then he spent a week thrashing it outside the Las Vegas Convention Center during the SEMA Show…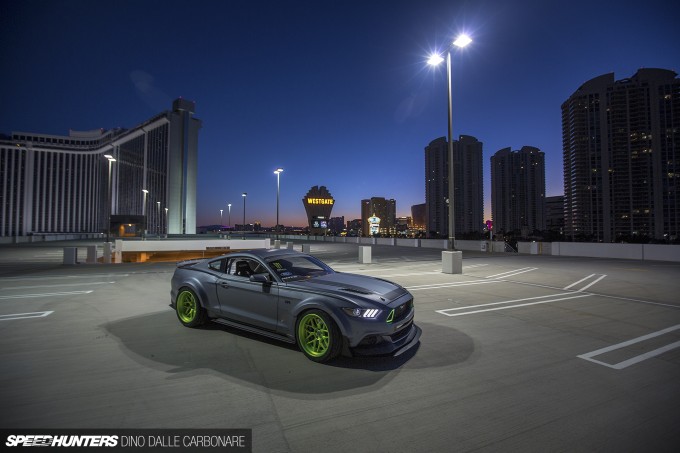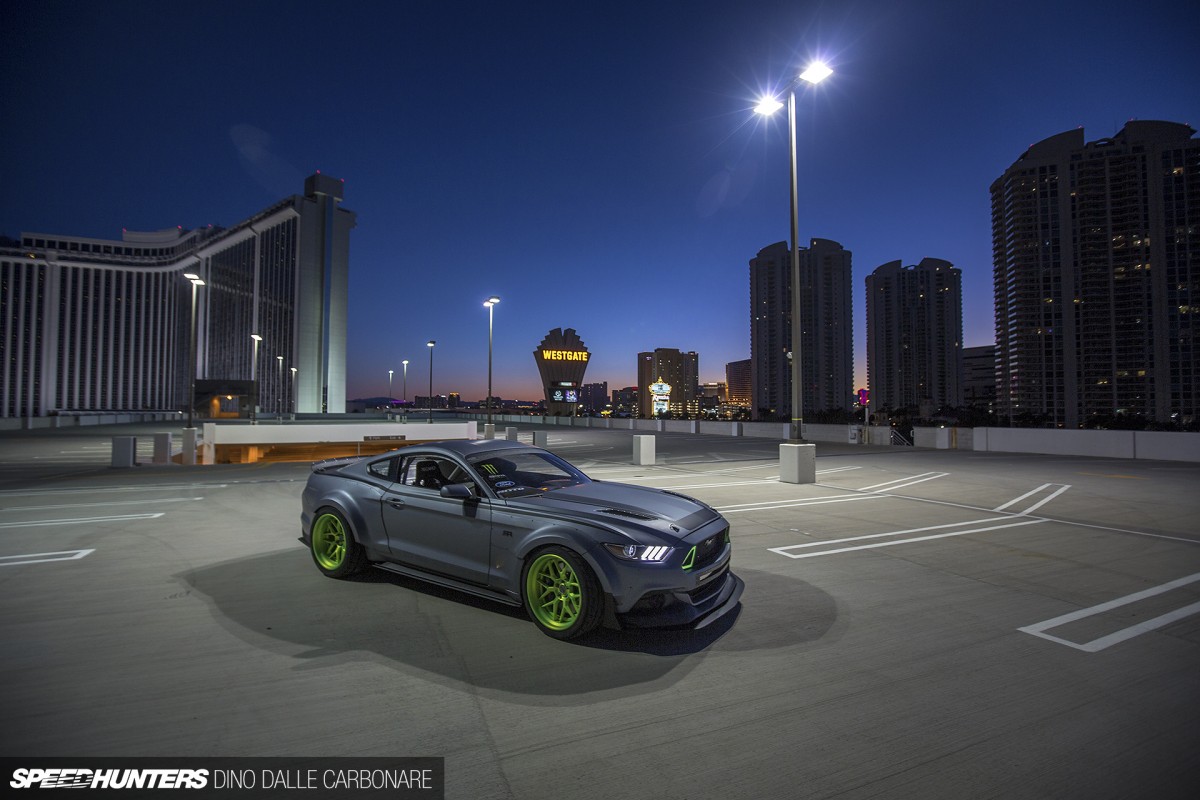 Seeing as how the new 2015 Mustang created such a buzz throughout the show this year, we just had to borrow the 'Spec 5 Mustang RTR' – our favourite hands down – and immortalise it against an unmistakably-Vegas backdrop. Coming from Japan, where moving a car from a show will require you to fax (yes, fax!) countless requests to the event organizers months in advance, and have them countersigned and approved by at least 25 people, I'm always impressed by how easy it is to do things like this in the States.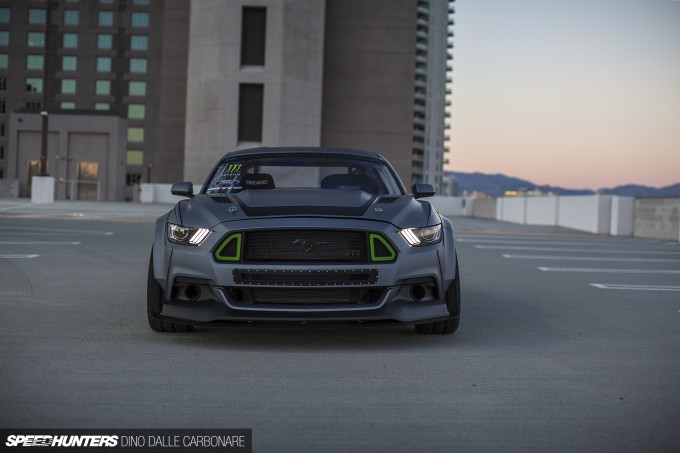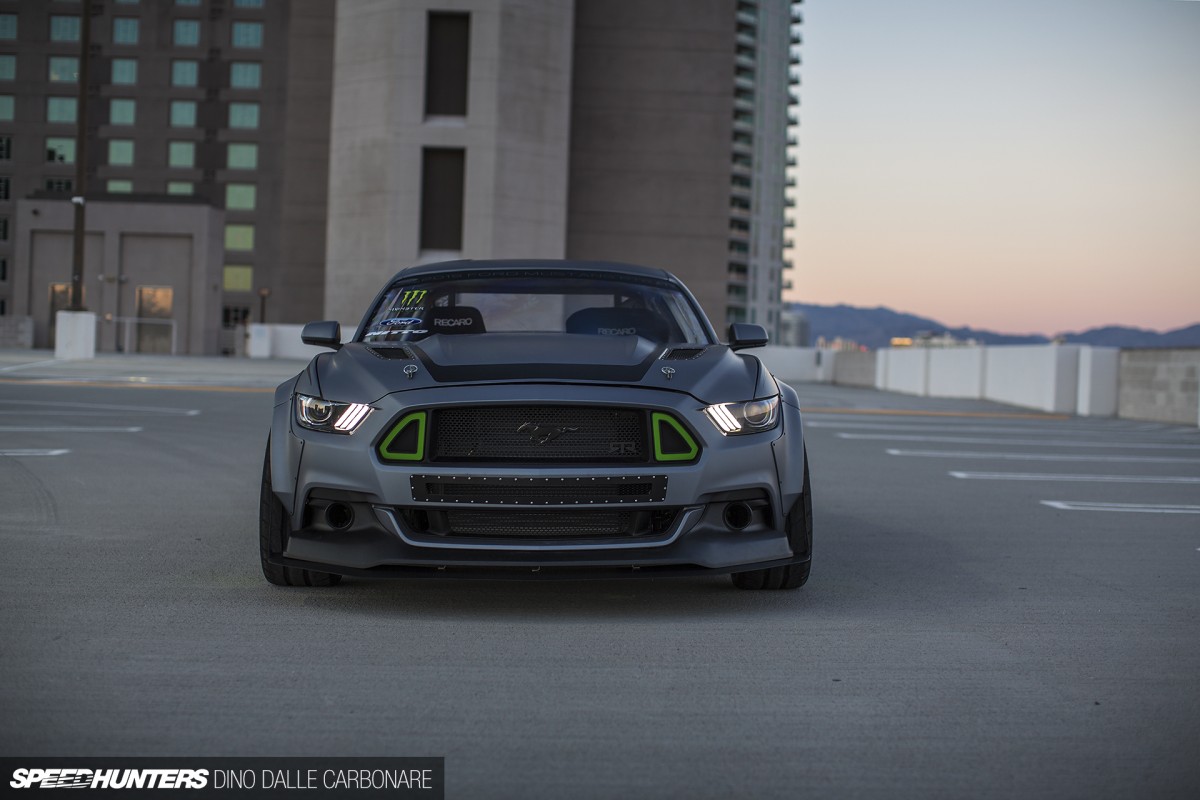 Larry got on the phone to Vaughn and told him to drive the car out of the Convention Center, across the back streets, and then meet us up on the top floor of a massive parking structure. Fast forward 10 minutes and this is the view that greeted us.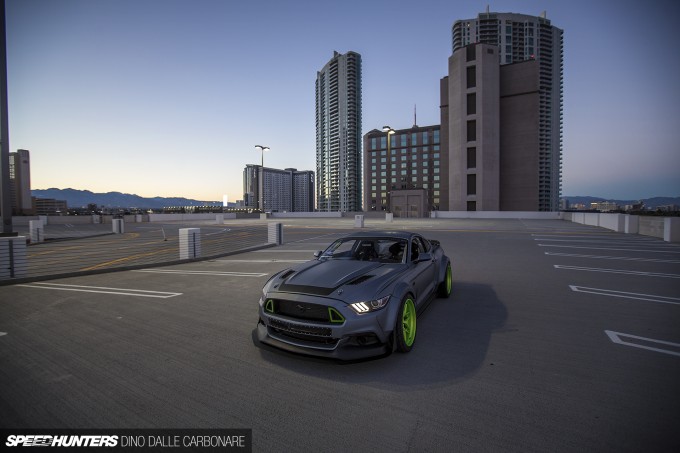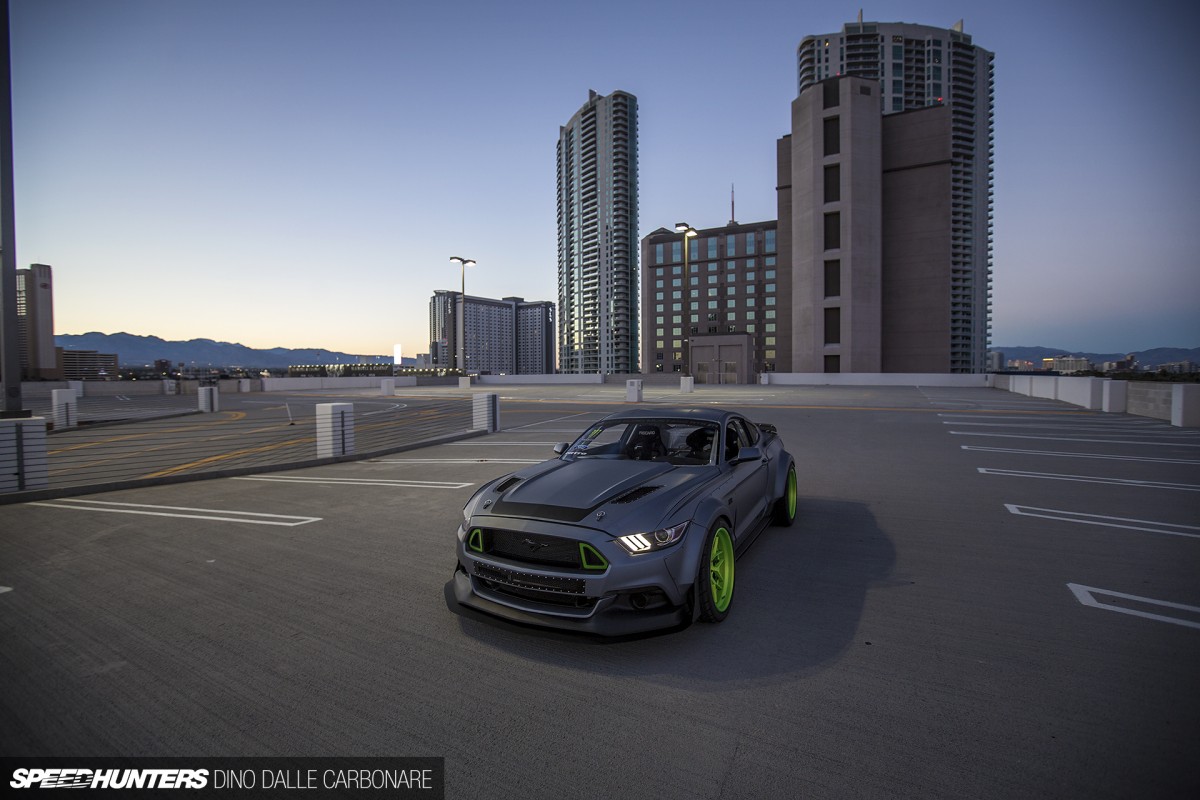 You have probably gathered that I am quite a fan of this new 'Stang. Ford has managed to create a design with bucketfuls of presence, and one that allows pretty much anyone with a remote interest in cars to instantly know what it is. But in the space of a few months, Vaughn and his crew have taken the base car and pumped it full of steroids to create the drift machine you see here.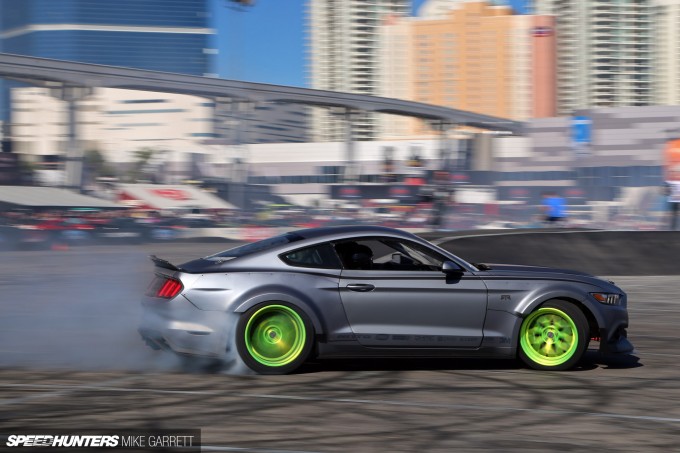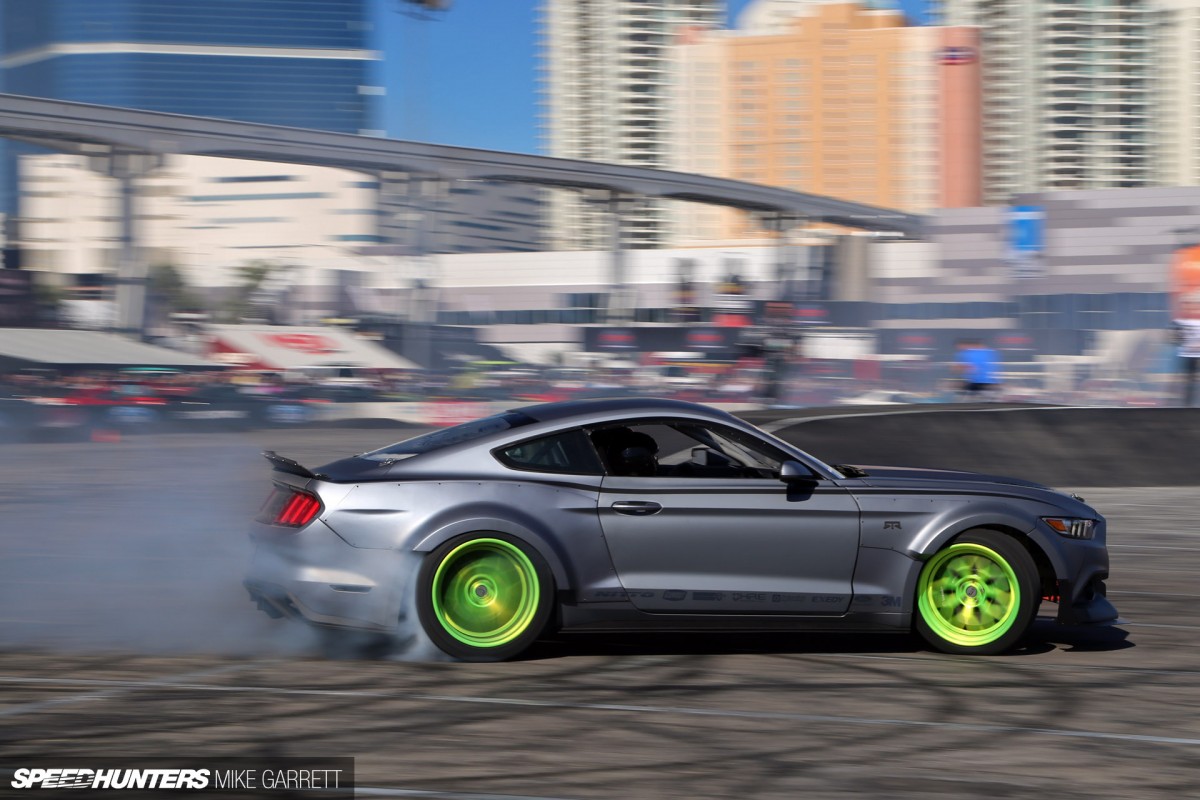 The car was built in a collaboration between Vaughn's RTR brand, MA-Motorsports and ASD Motorsports, and was put together with the purpose of having fun. That said, it not only had to look tough, but also have all the ability required to perform both as a grip and drift, a fully-fledged track weapon if you will.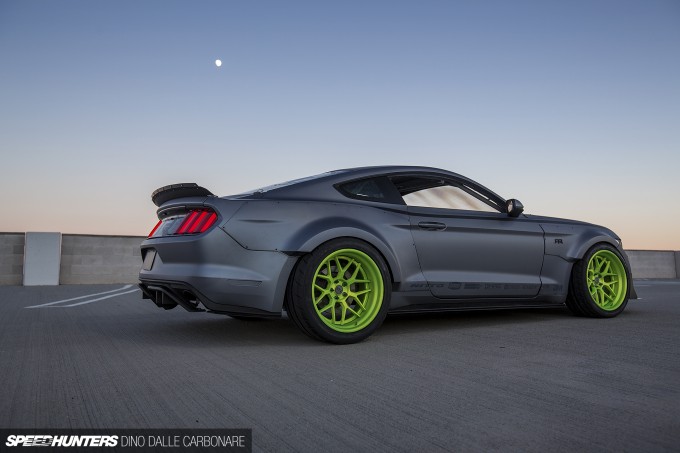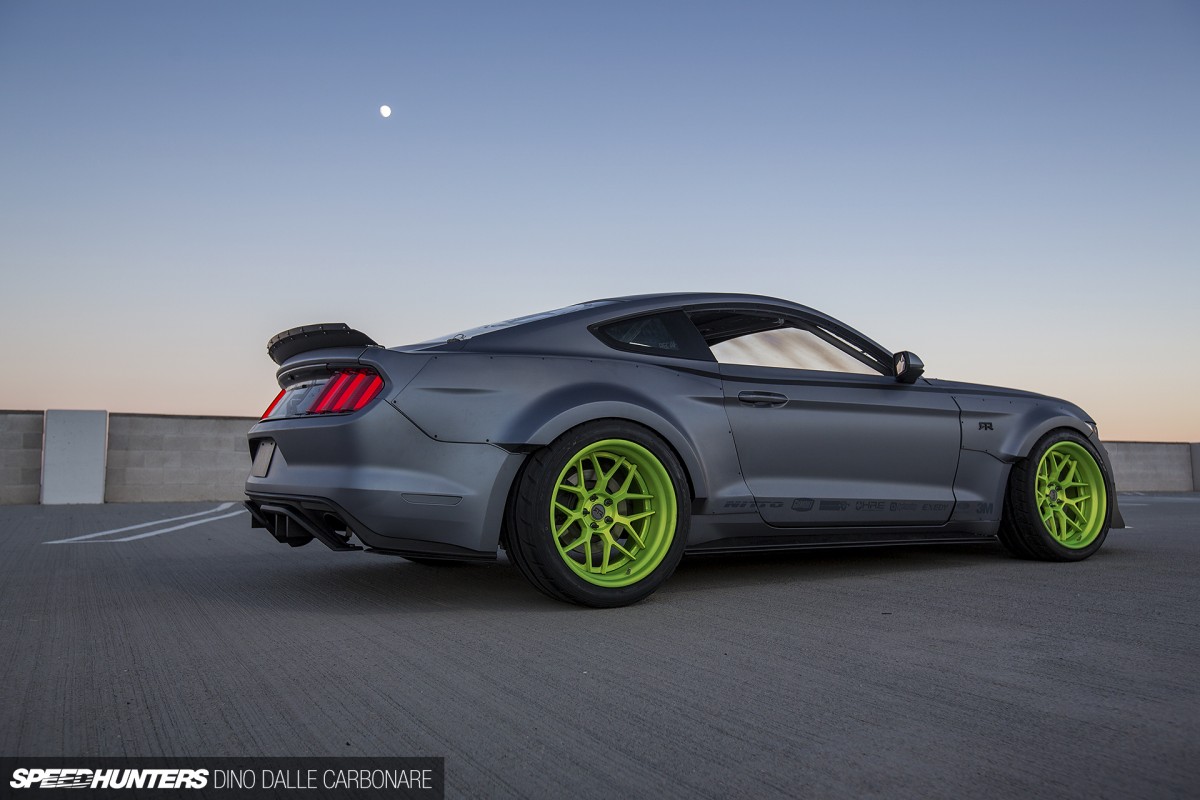 On top of the enjoyment that Vaughn had creating this car – and then driving the hell out of it at SEMA's exhibition – this Spec 5 concept is also serving as a development platform.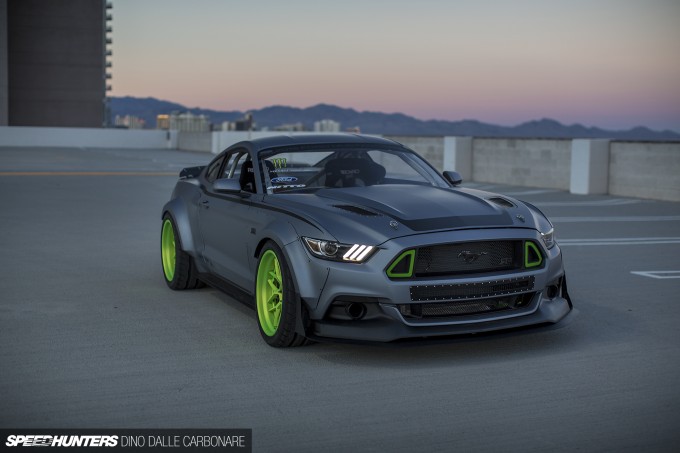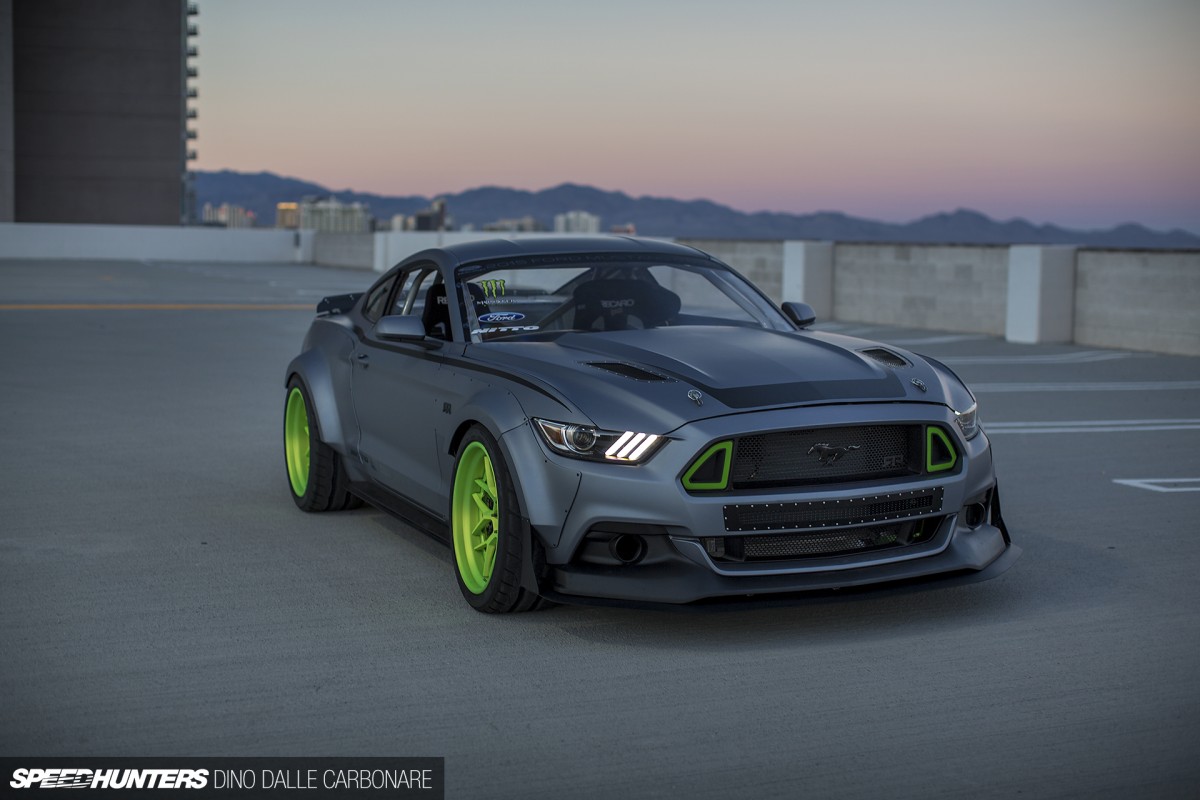 As you'd expect, the Spec 5's exterior is much more in your face than the Mustang RTR Spec 2 road car. The visual impact begins at the front end, where the RTR signature grille with back-lit 'nostrils' is carried over, albeit with green lighting to tie in with the other bright details and the Team Monster motif.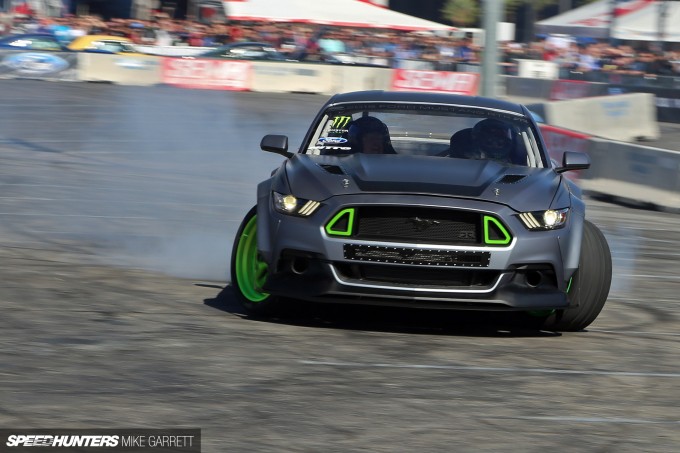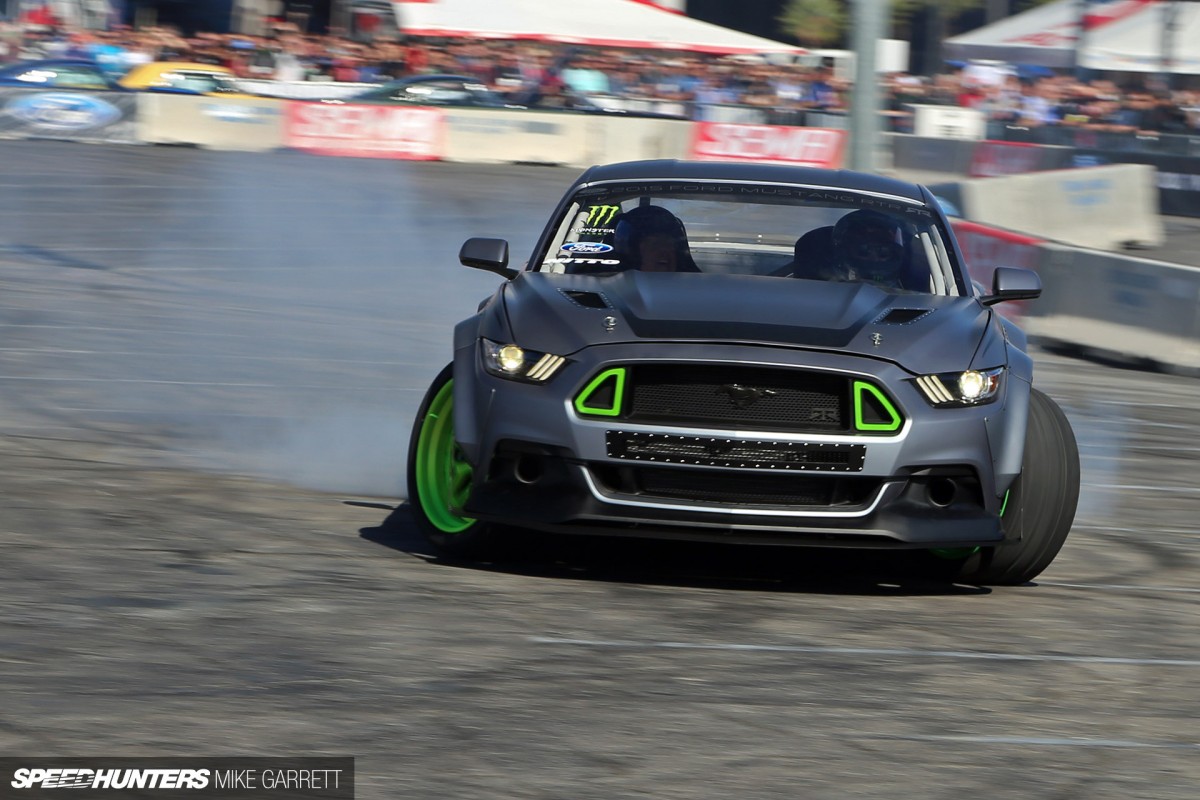 Efficient cooling is super-important in drifting, and to help direct more air to the radiator is a secondary grille cut into the bumper.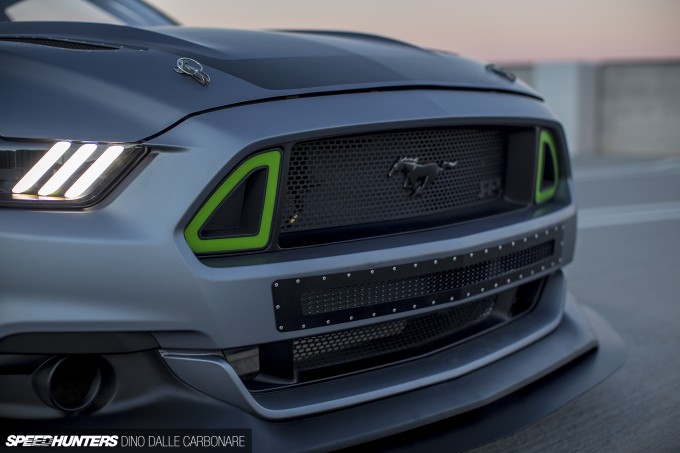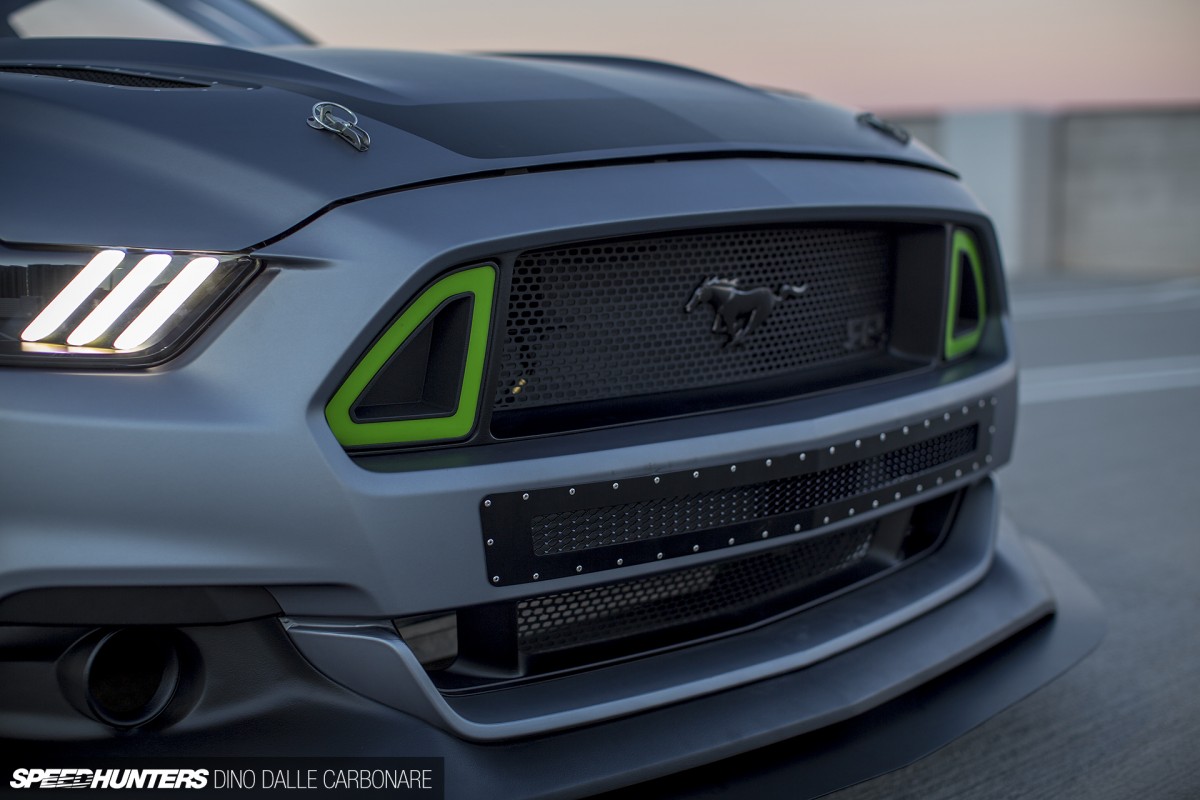 An aggressively-contoured chin spoiler is also fitted, and beneath that a thin carbon fiber splitter which protrudes further outwards to help boost front-end downforce.
Wider Is Better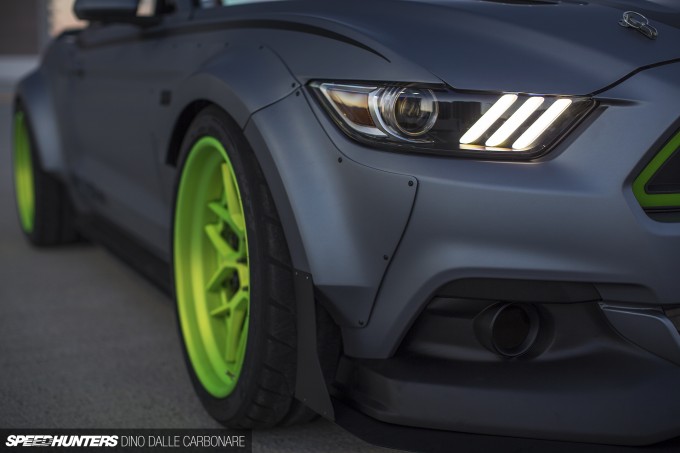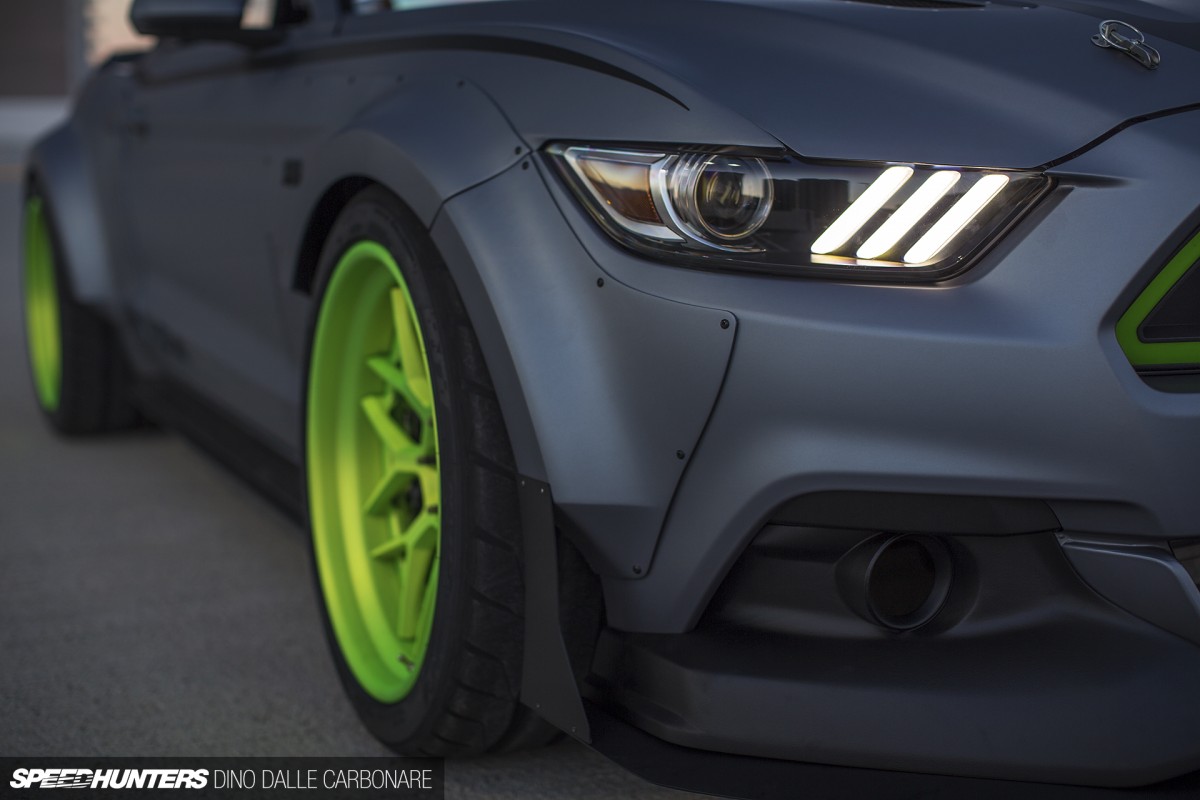 Each corner of the splitter is connected up with a canard that mounts directly onto the bolt-on over-fenders, and it's here we find the main selling point of the Spec 5 conversion.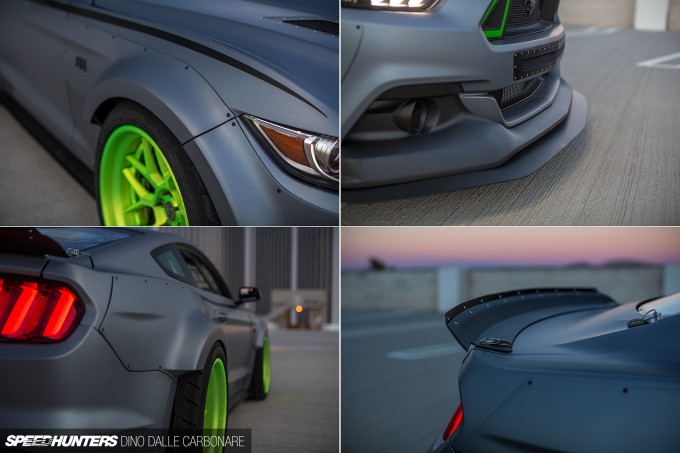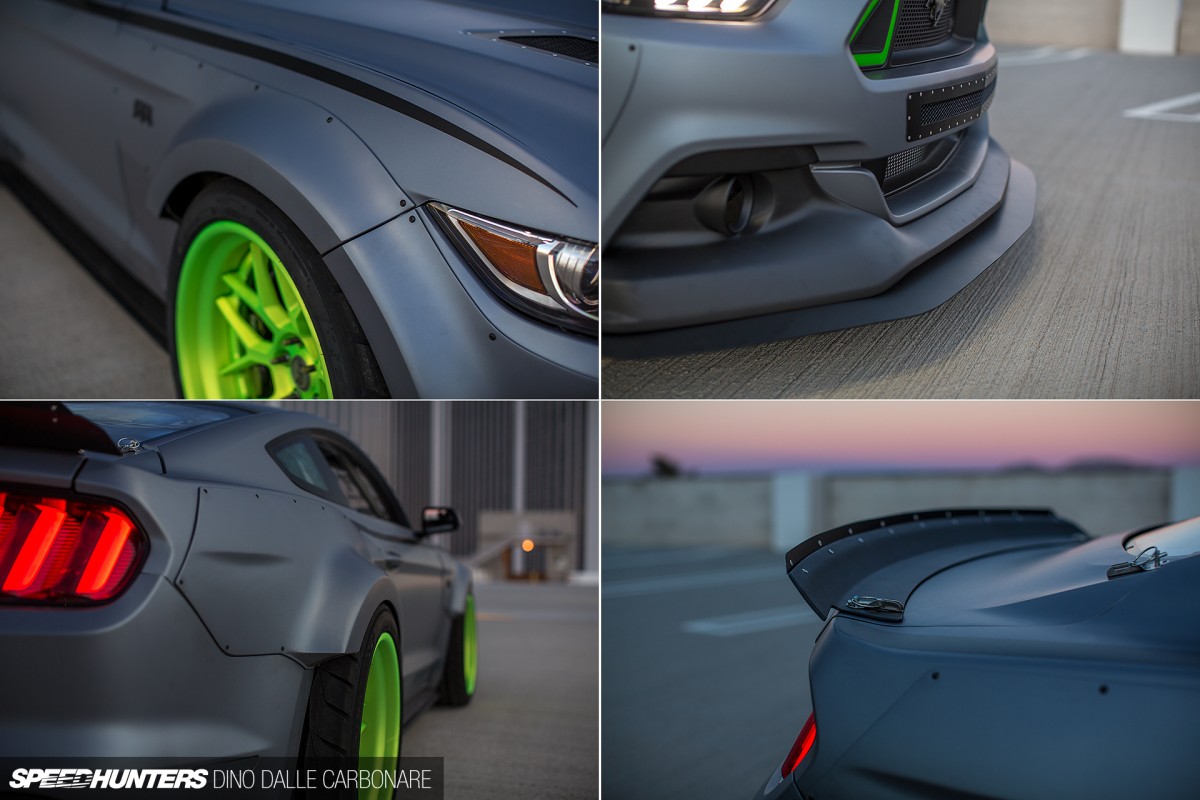 The over-fenders fatten up the Mustang by 50mm at the front and 75mm at the rear, and of course allow plenty of room for wide RTR wheels with an aggressive offset to widen the track and allow a number of suspension modifications to be made.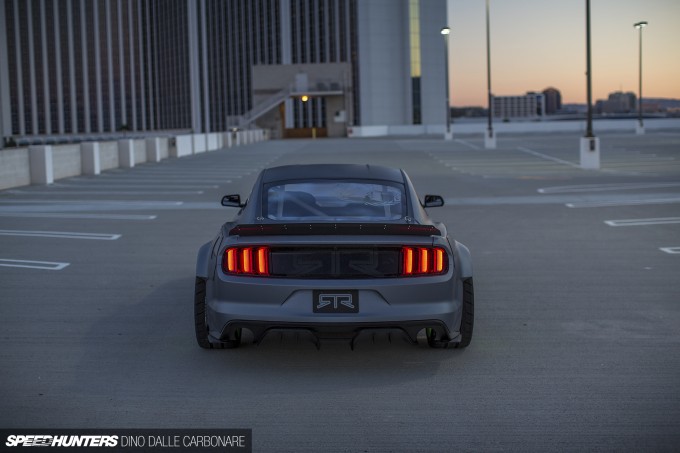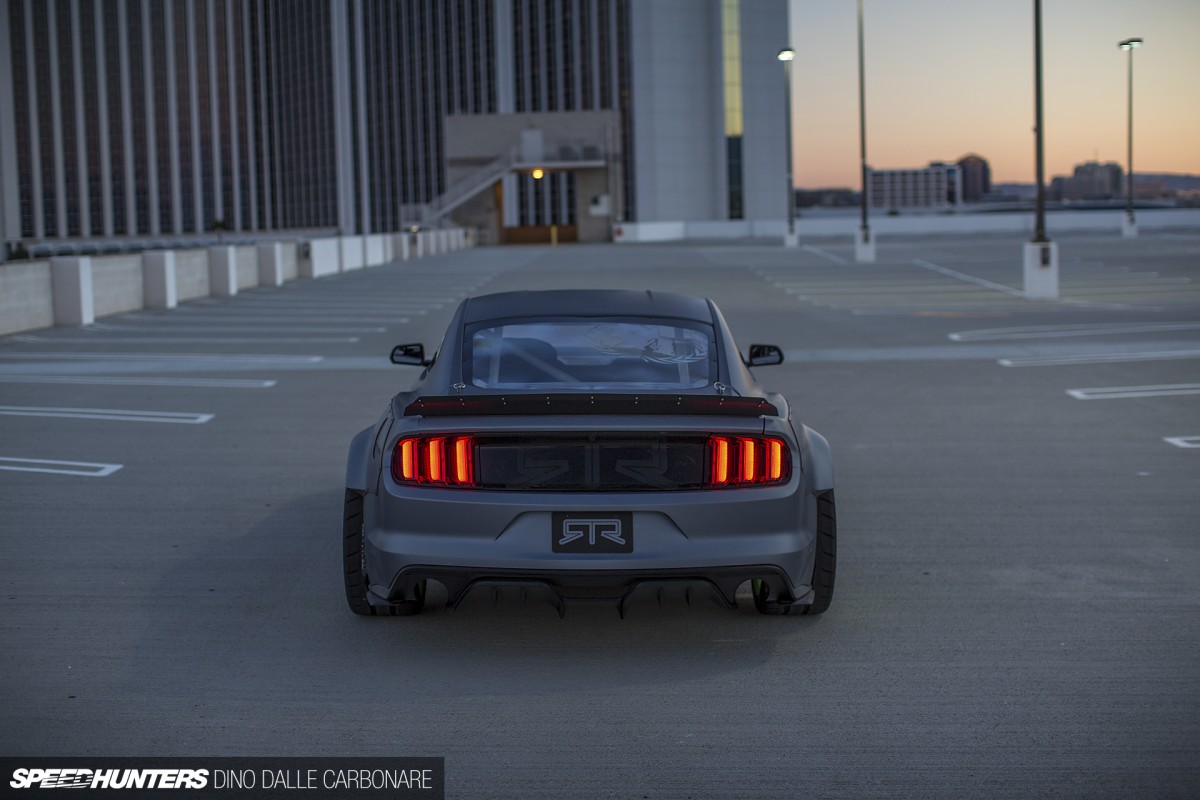 The extra girth certainly works wonders for the overall stance of the car, which is extremely aggressive from all angles.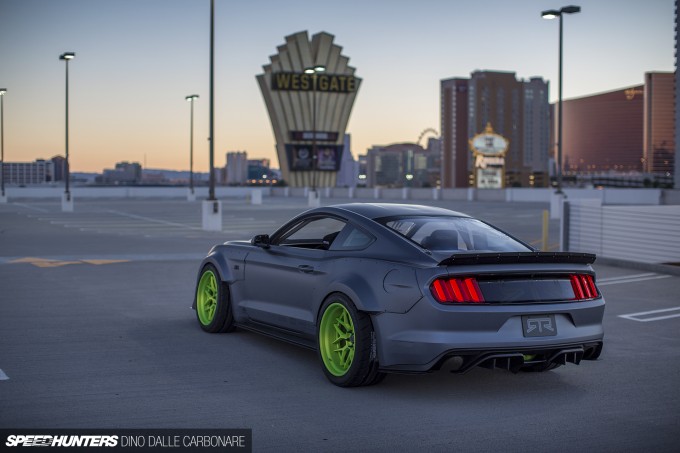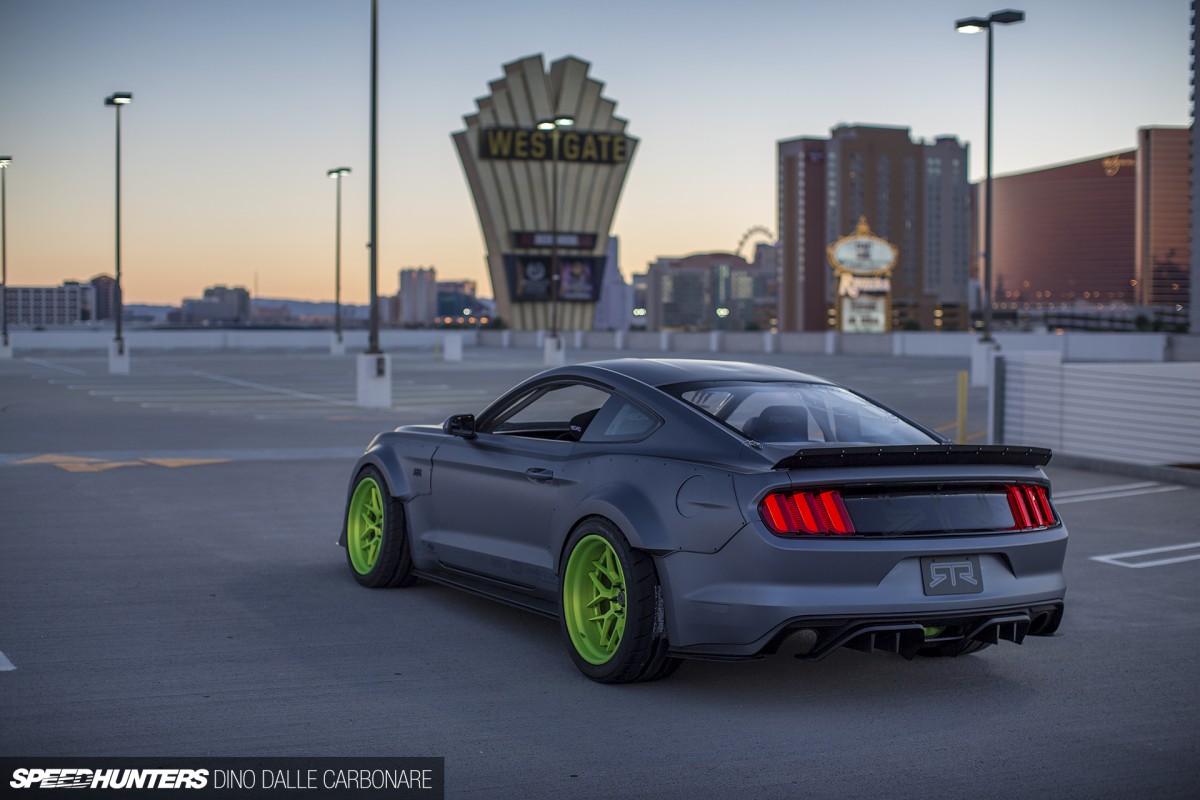 The rear end is complemented by a diffuser that's finished in black to provide contrast against the flat silver wrapped body.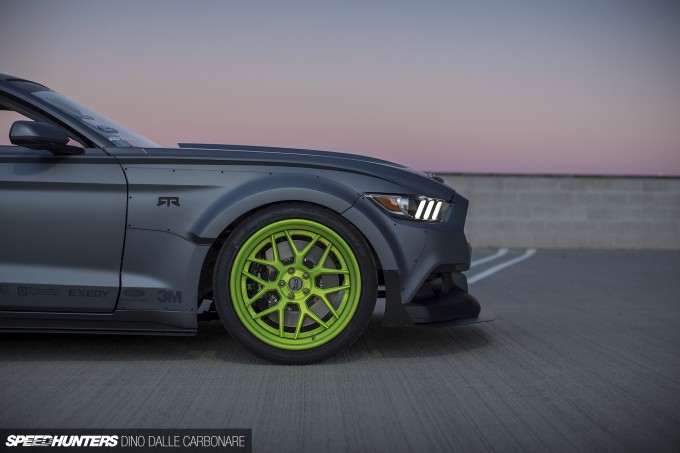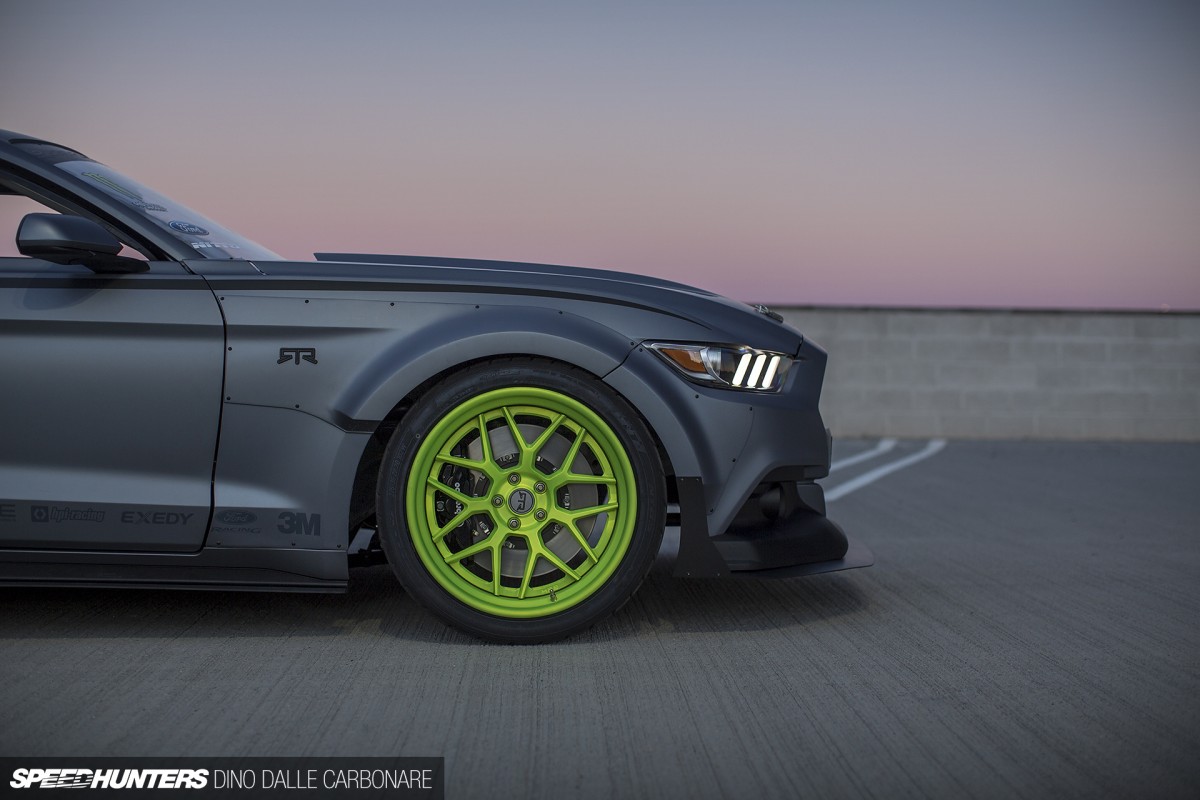 Fully adjustable coilovers are fitted at each corner to give Vaughn the ability to fine tune the car to any specific course or track, while ASD Motorsports front lower control arms allow for the right sort of steering geometry to balance the big coupé in full-lock slides.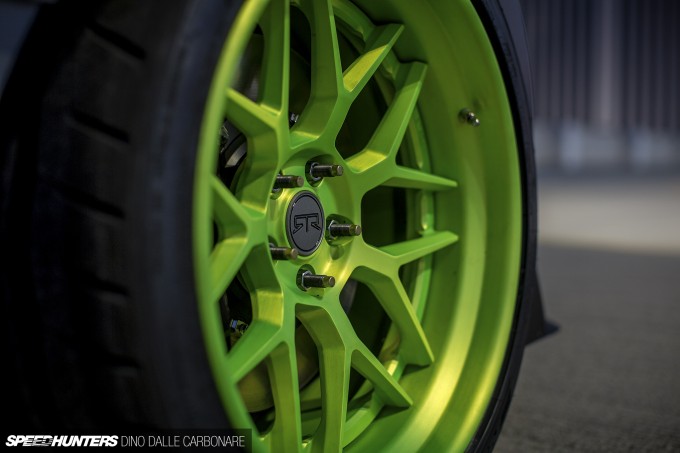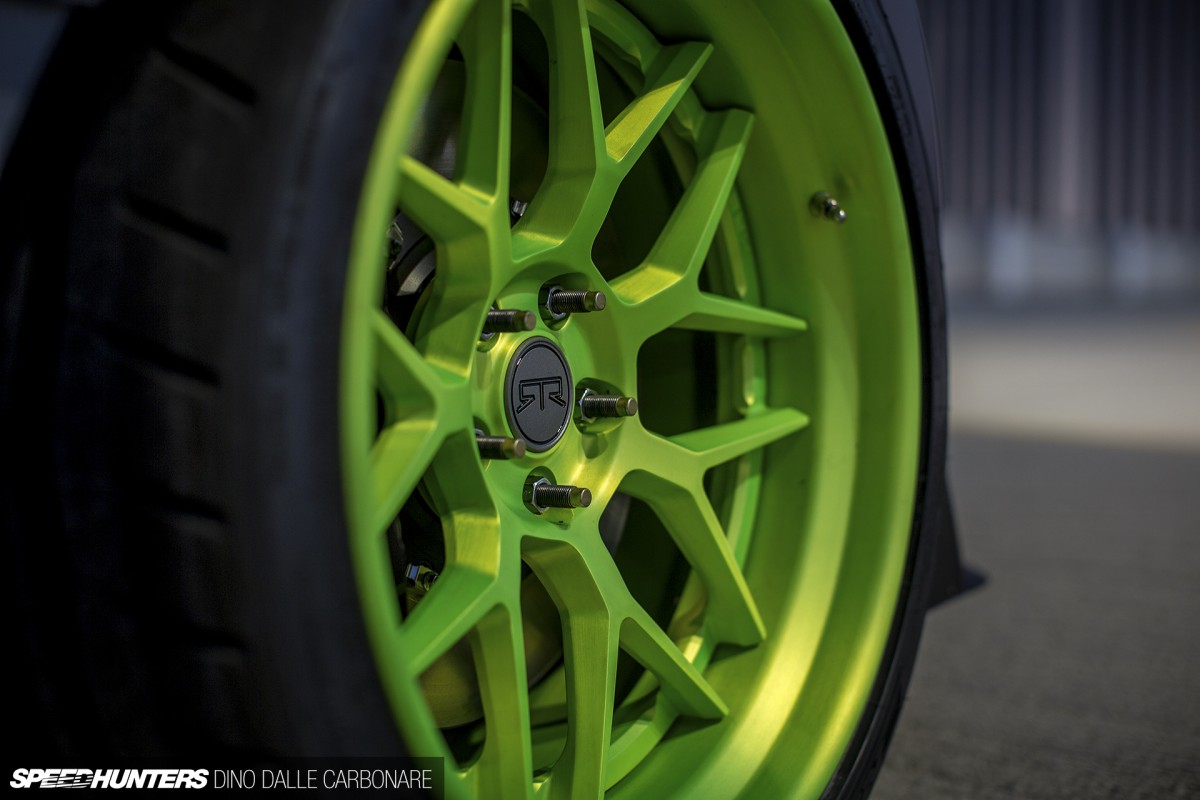 Then of course there are the massive 20-inch 3-piece RTR wheels made by HRE – 10-inch and 11-inch wide front and rear respectively, and fitted with Nitto NT05 rubber.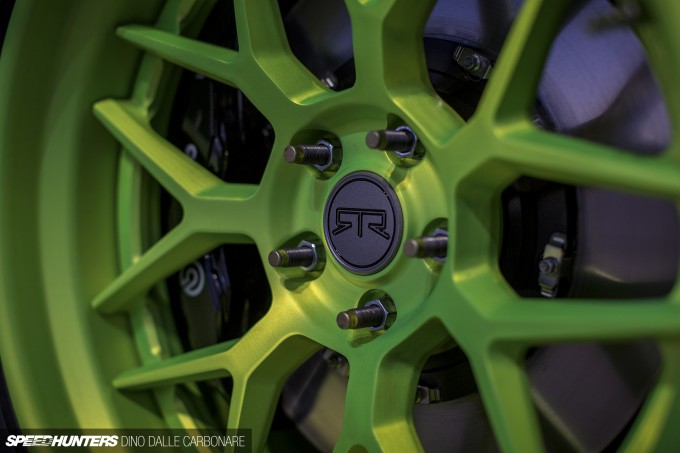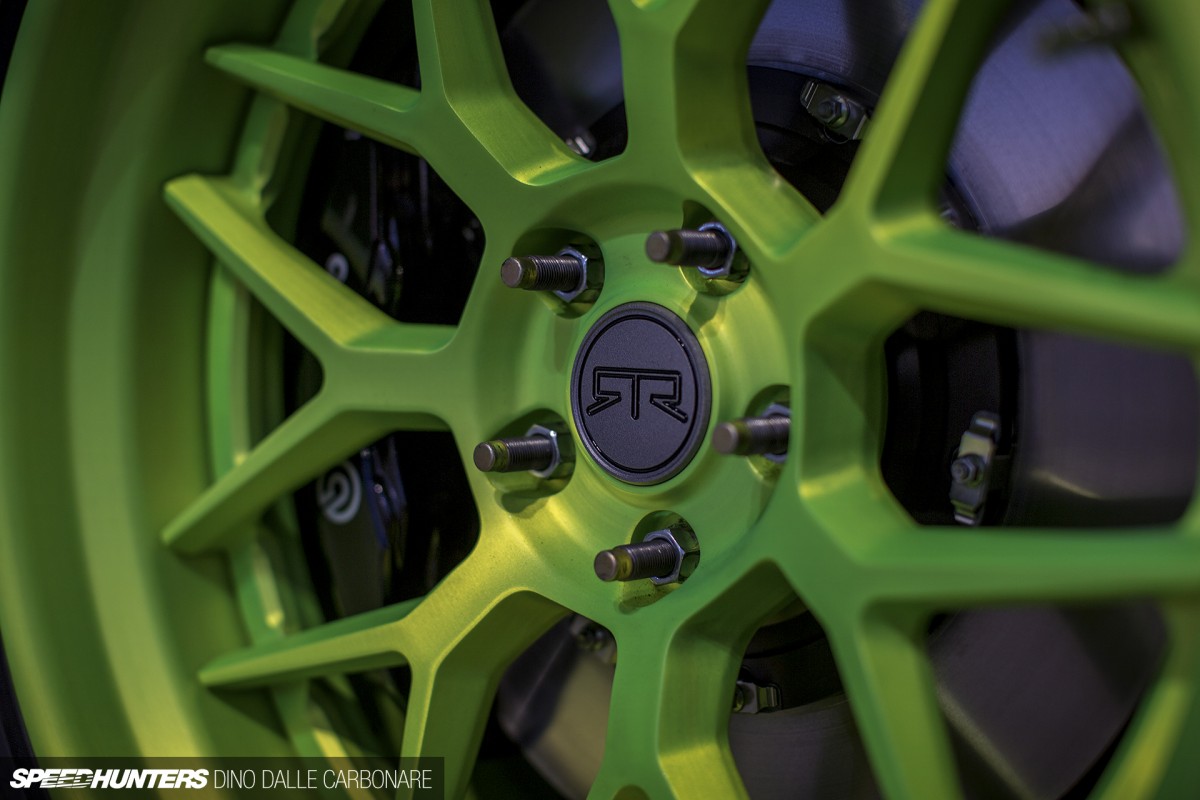 You can almost make out the big Brembo stoppers behind the wheels' spokes – 6-pot calipers up front to ensure there's no shortage of stopping power.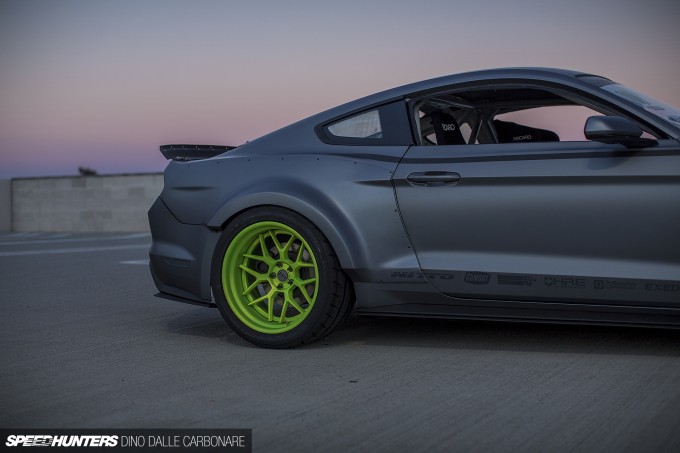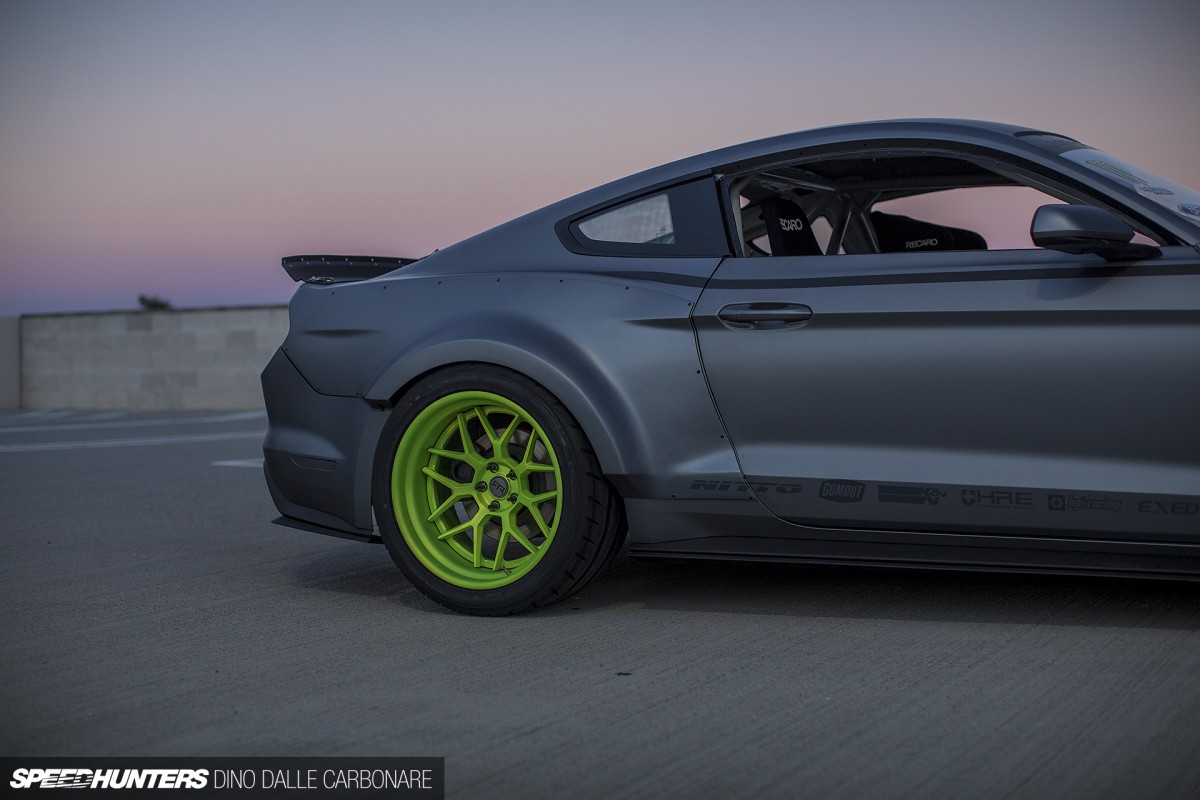 In my opinion, aftermarket side skirts are some of the harder aesthetic additions to design, but the RTR Spec 5 items add just the right amount of continuity between the pumped front and rear fenders.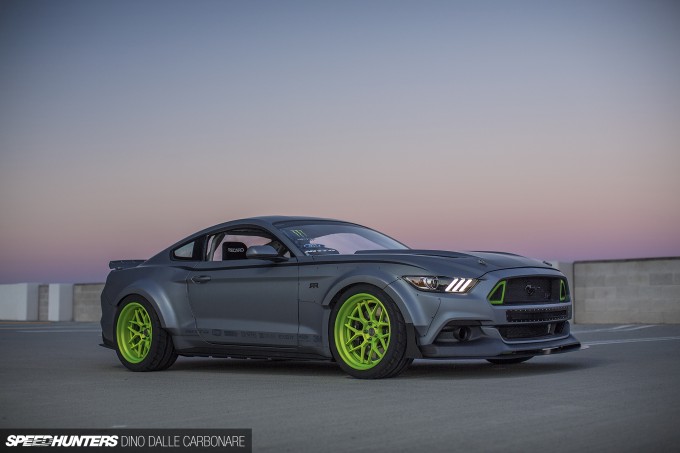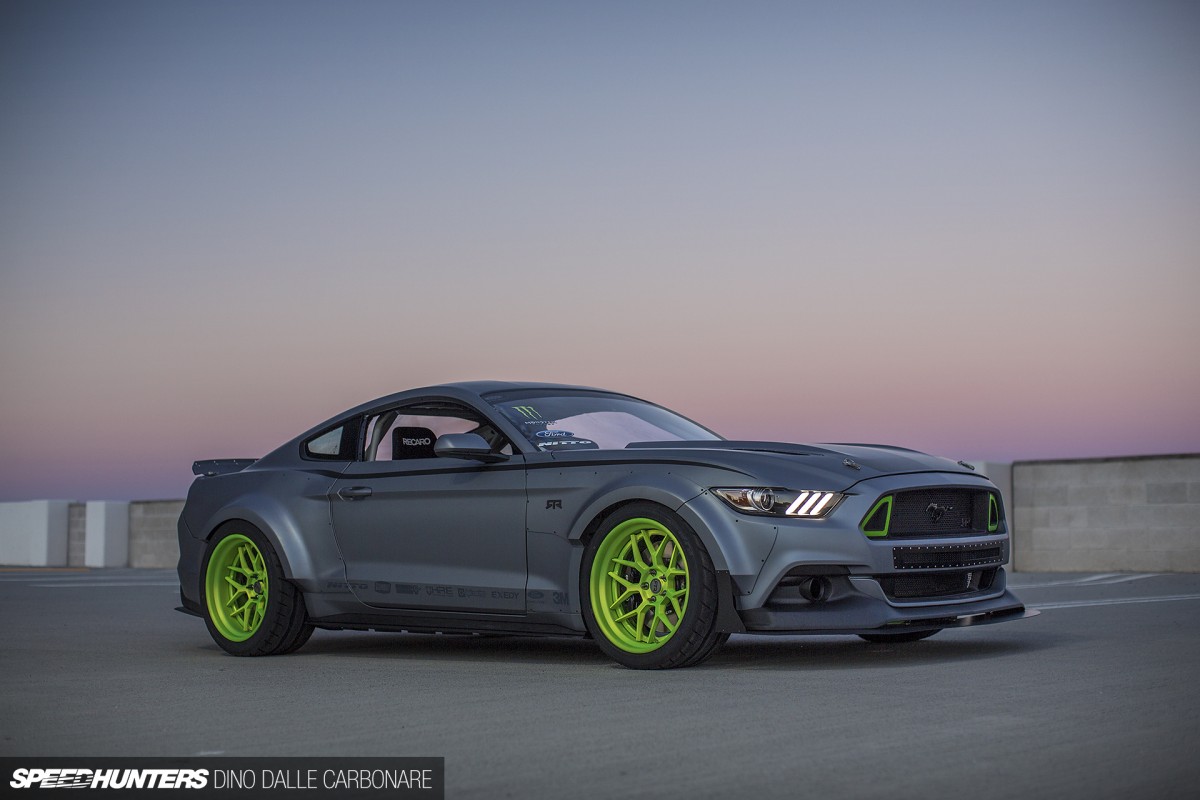 The car oozes presence and it looks like it wants to go completely sideways even when sitting still.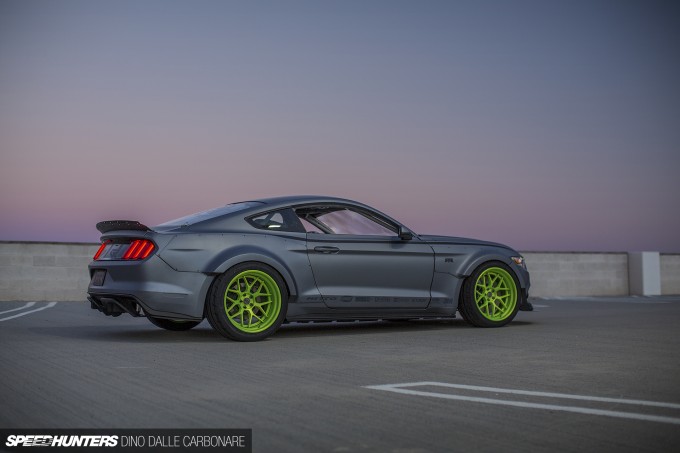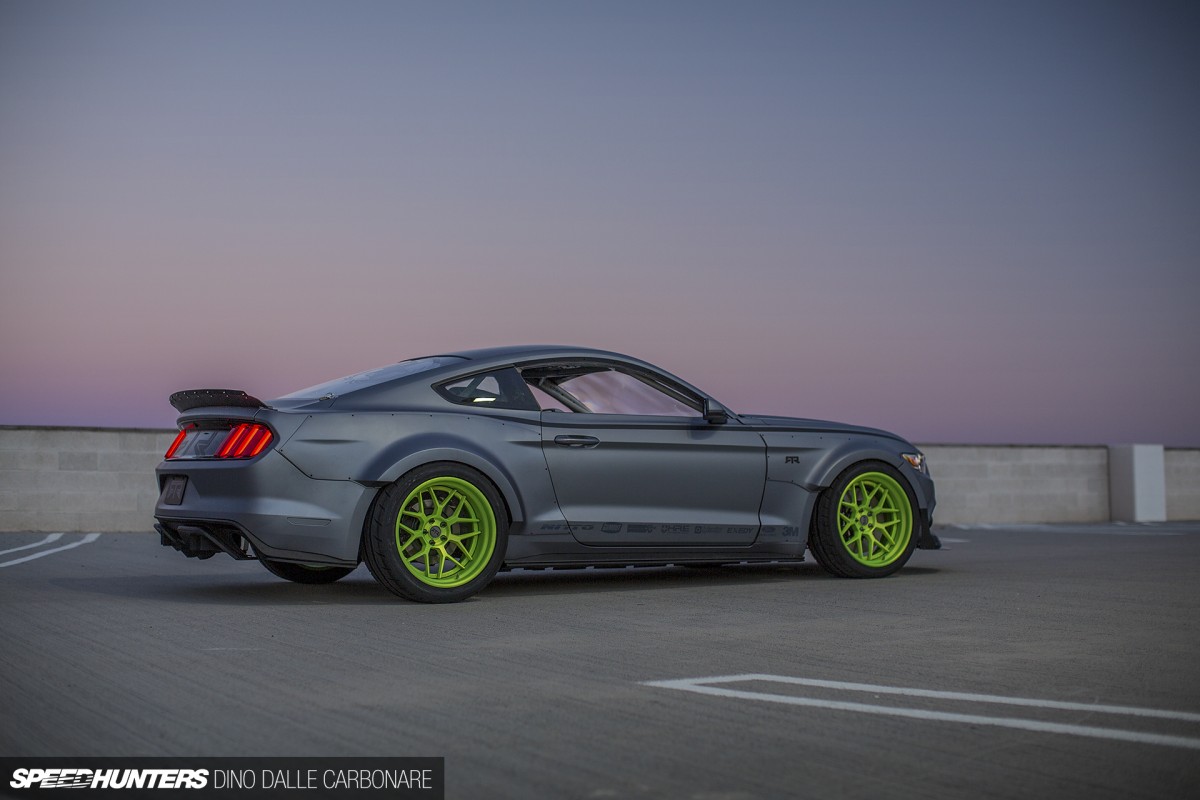 I've pretty much come to the conclusion that the looks have been nailed to perfection here, so it's over to the rest of the details that make up this impressive drift machine.
The Important Bits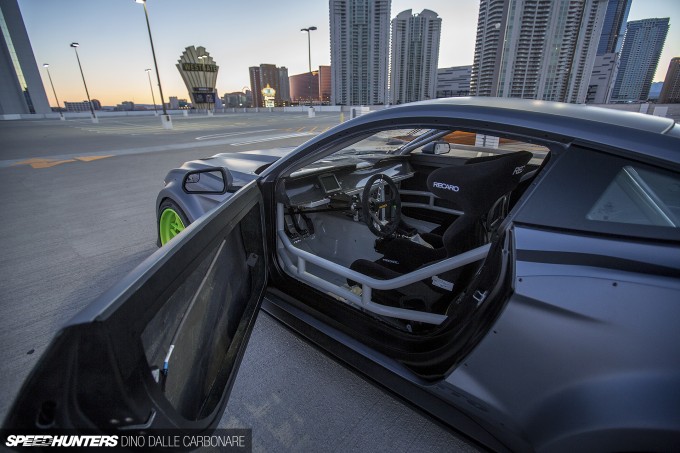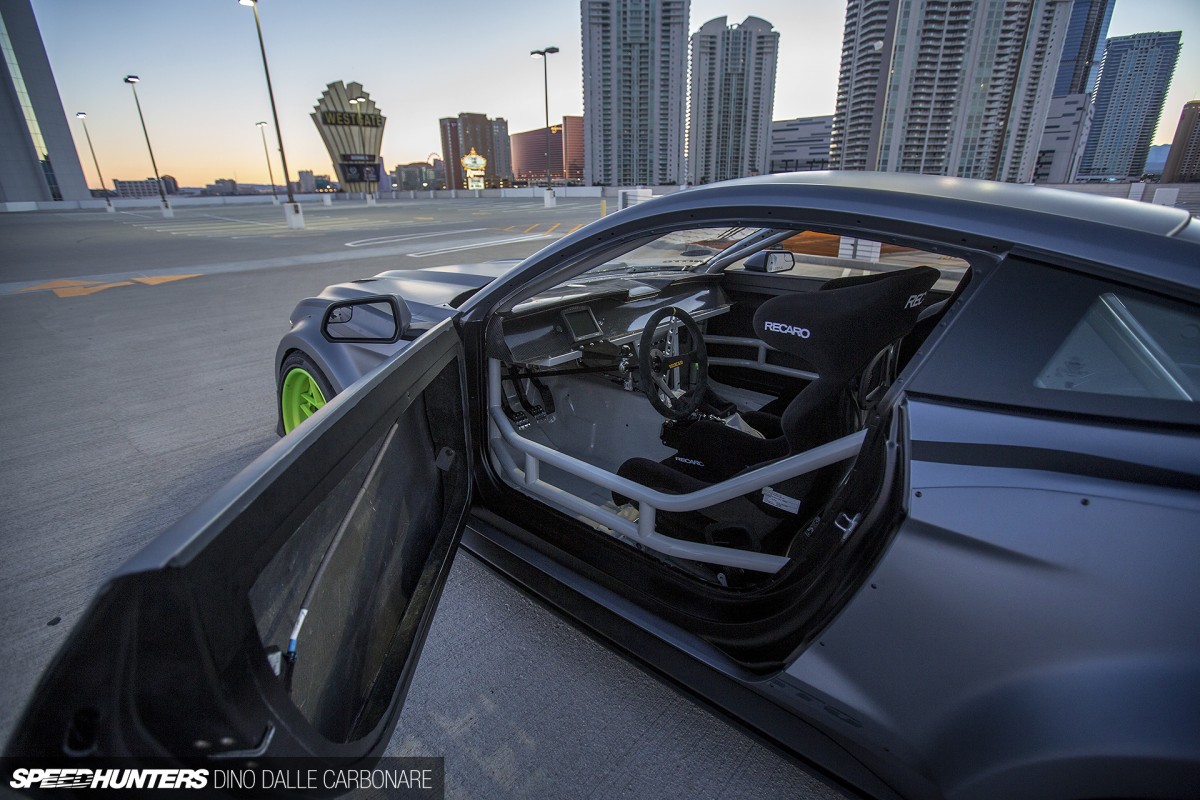 First up it's Vaughn's office. Much like the outside of the car, what really makes the interior stand out is the sheer simplicity of it all. But that doesn't mean it was easy to achieve.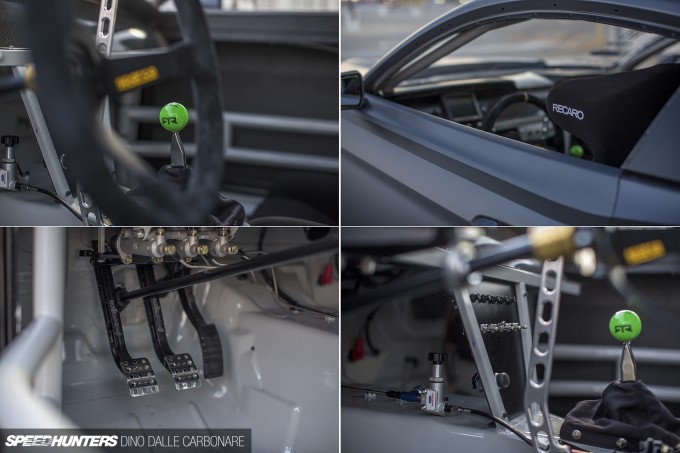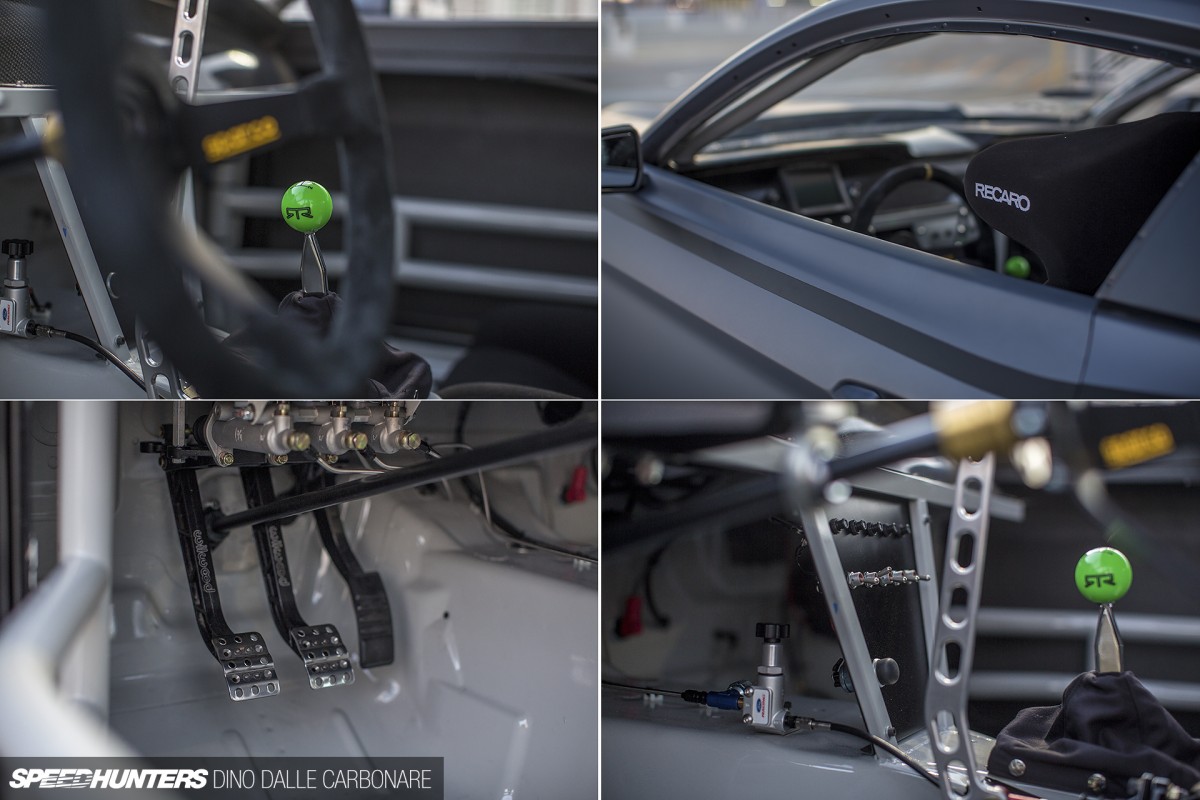 Opening the paper-thin composite doors you are confronted with an array of details, from the Wilwood pedal box to the custom dashboard and center console where the switch panel is located.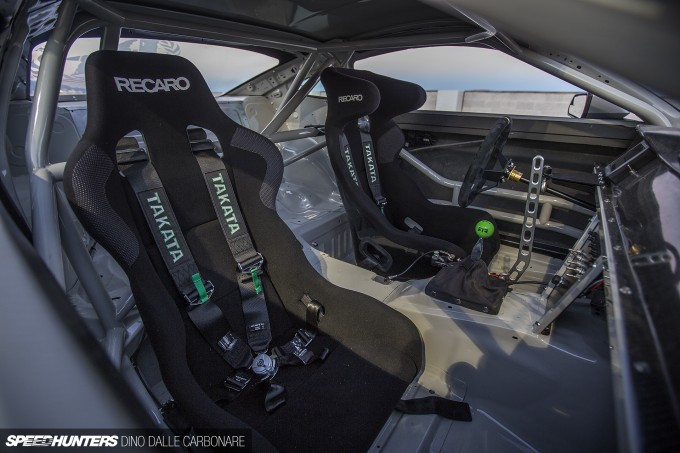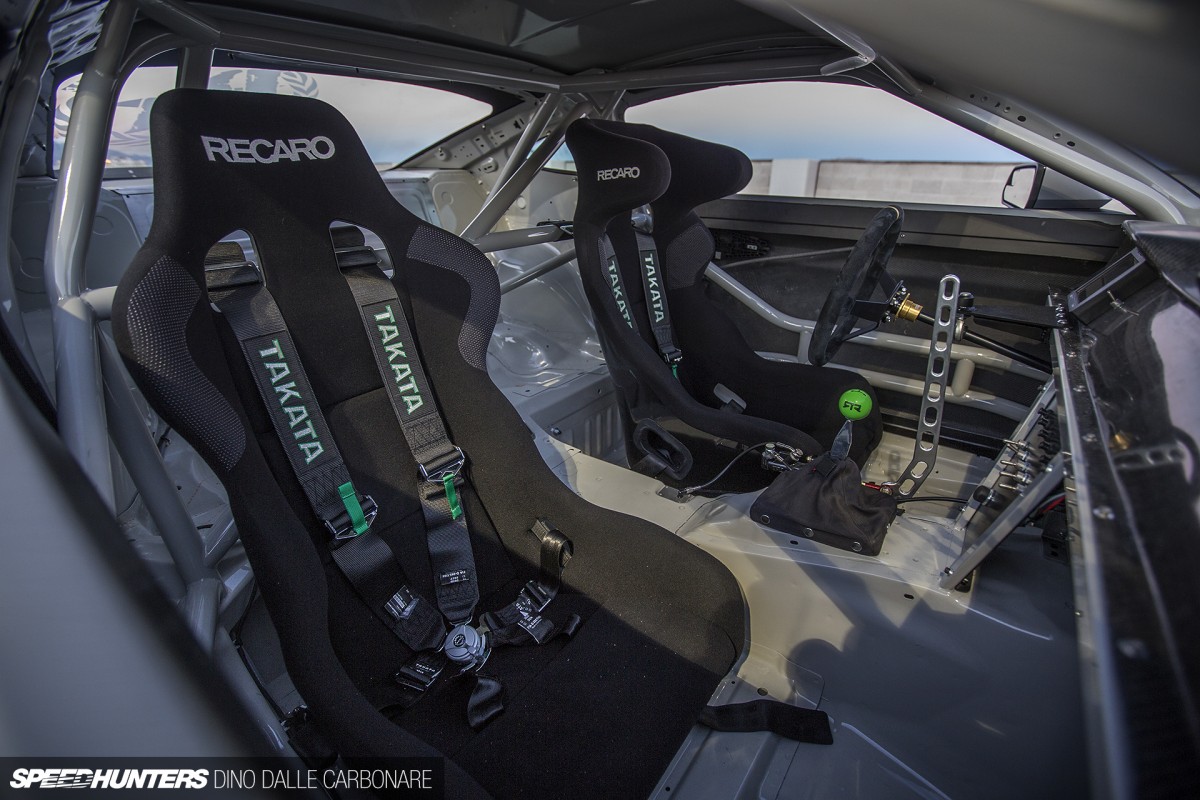 Climbing over the rollcage's door bars will land you in one of two supportive Recaro buckets – constructed from carbon fiber of course, and equipped with Takata 5-point harnesses. Like in all race cars, the seating positions are shifted slightly rearwards to help with both weight balance/distribution, but also to align the seats with the B-pillars for added safety in the event of an impact or crash.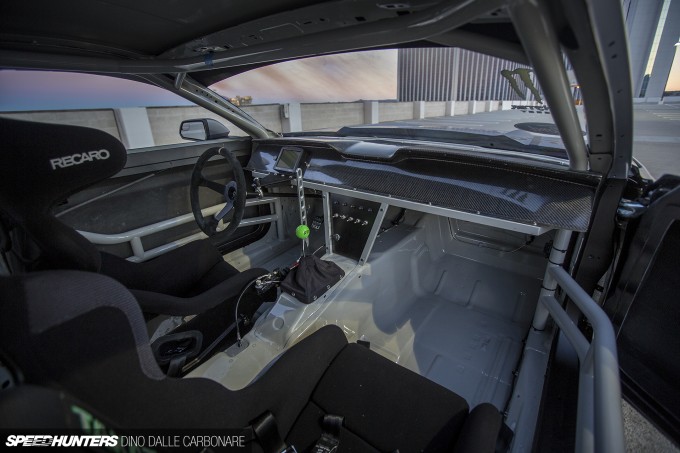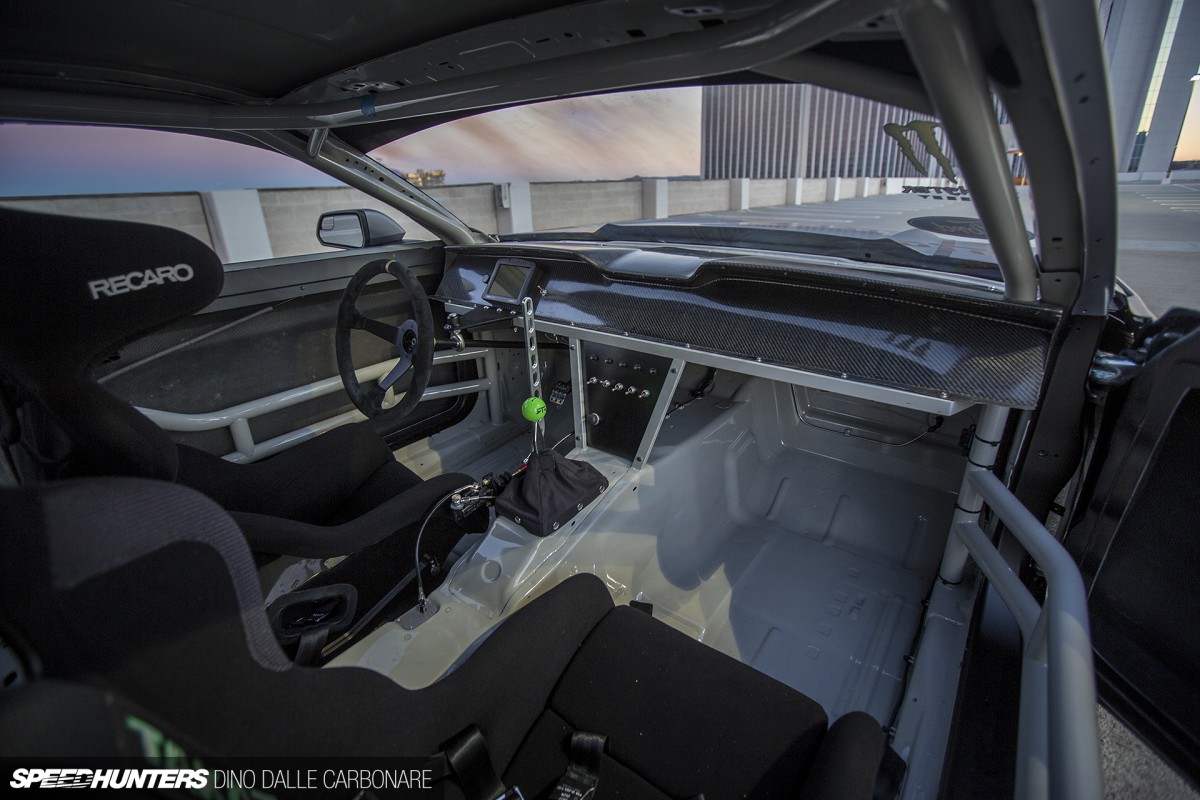 See what I mean when I use the word 'simplicity'? Check out the dash – a contoured section of polished carbon fiber that has the job of hiding the bar work, frame and miscellaneous wiring, as well as providing a perfect mounting point for the Bosch Motorsport DDU 7 digital display unit.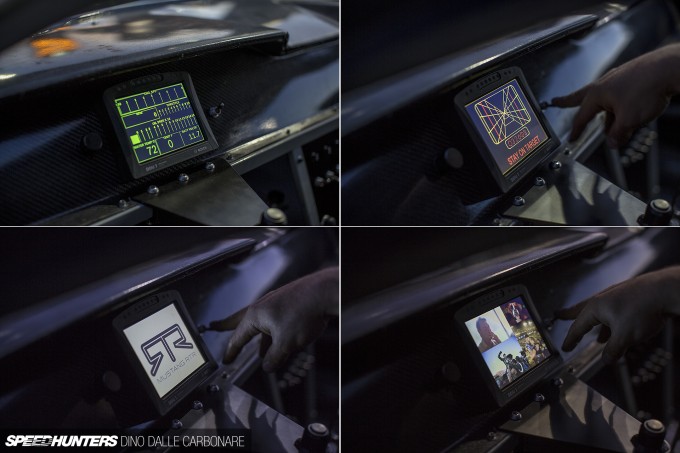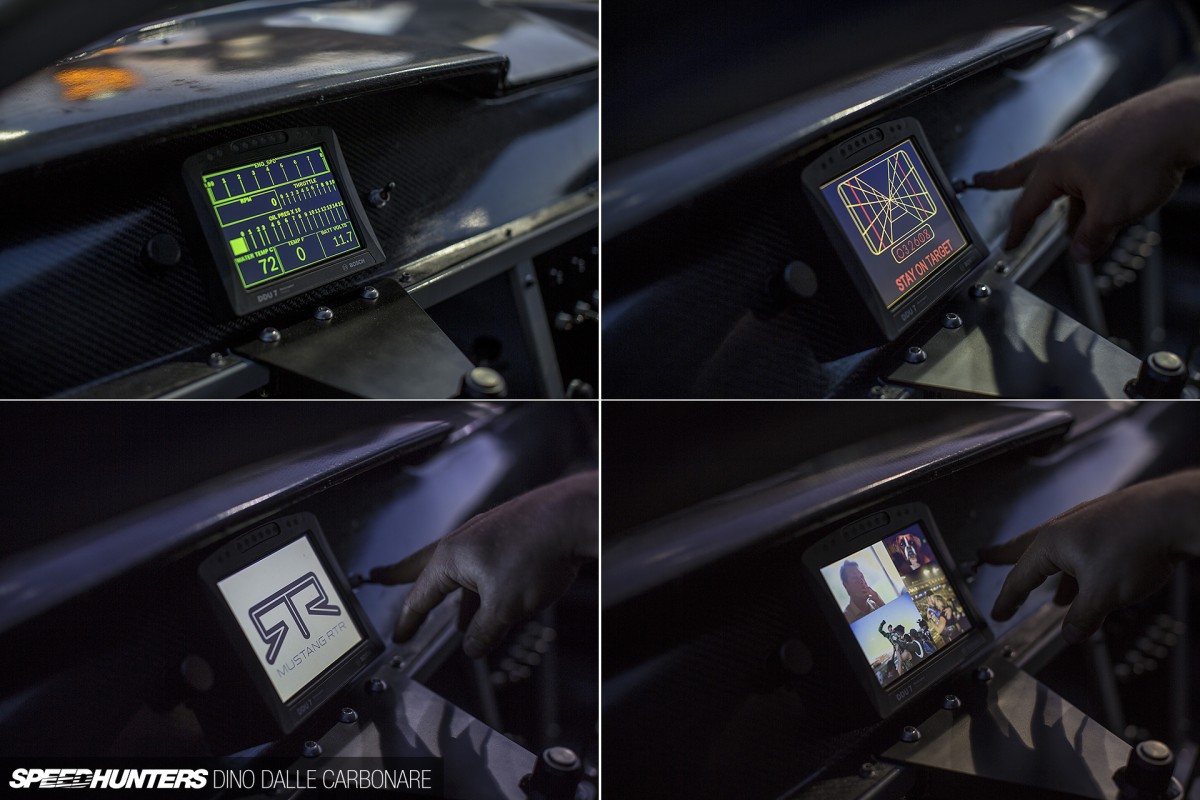 As Vaughn quickly demonstrated, this is one trick bit of kit that's able to offer some pretty cool and customizable displays. His teammates even added some pictures of important moments in his life for a bit of visual motivation.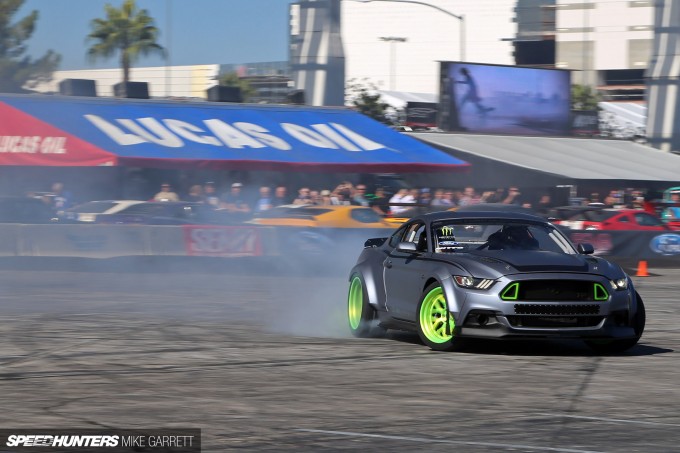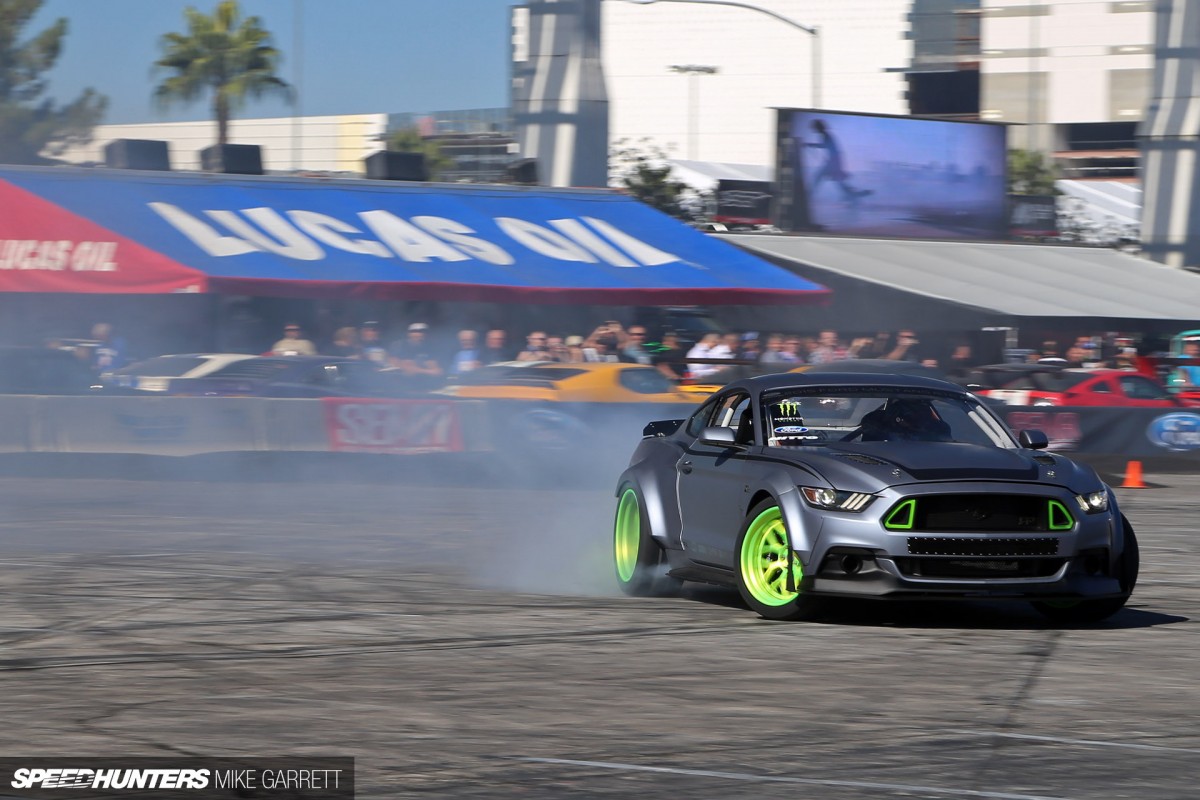 It all comes together to form a fun and very capable new project car for Vaughn to drive, but most importantly of all, develop from.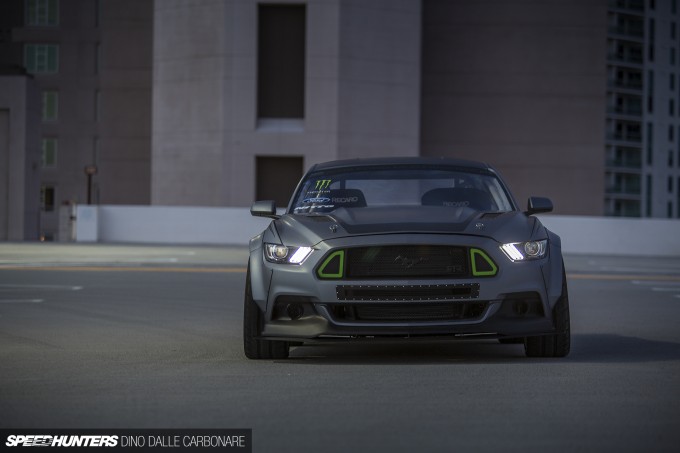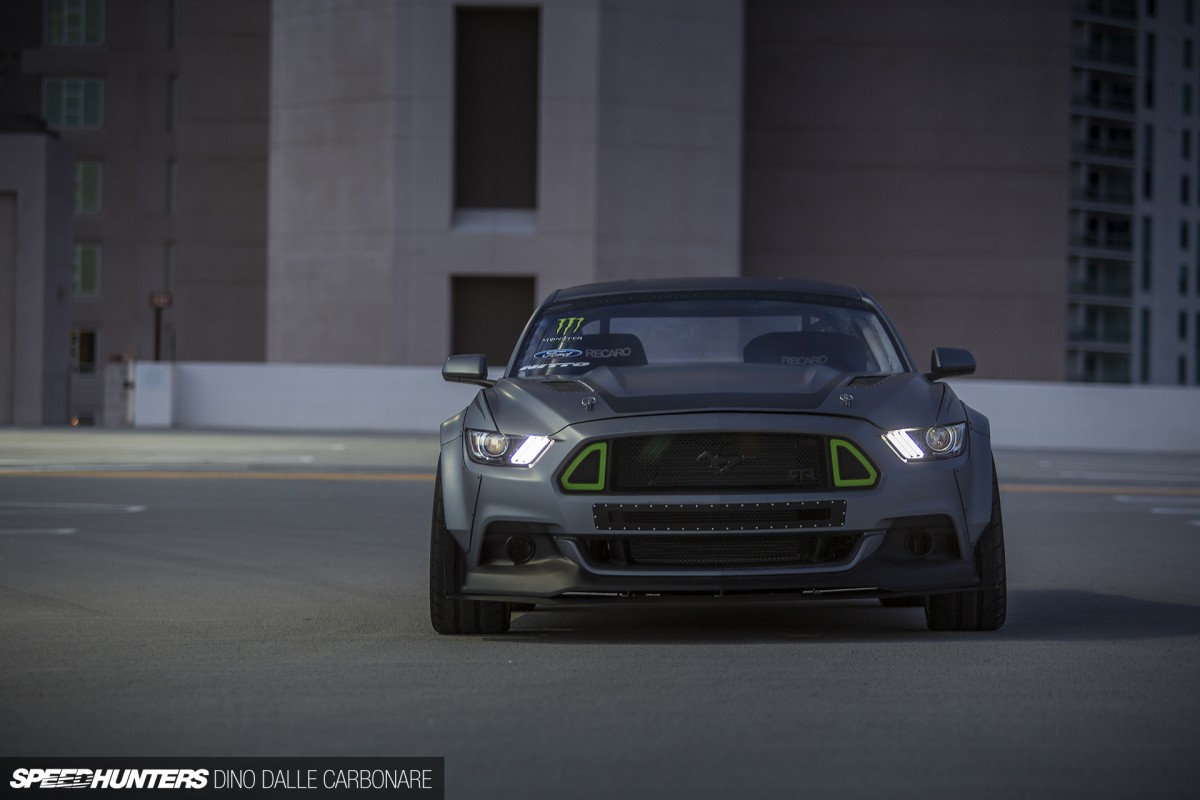 But of course, a drift's car true potential all comes down to the power-making bits, and in the RTR Spec 5's case it's all hiding under a composite vented bonnet.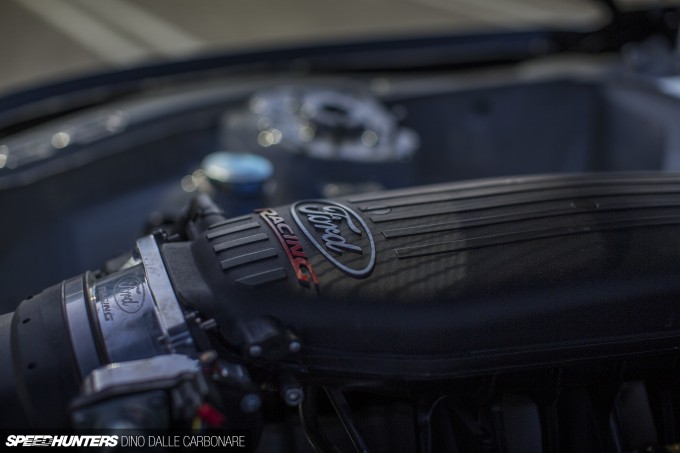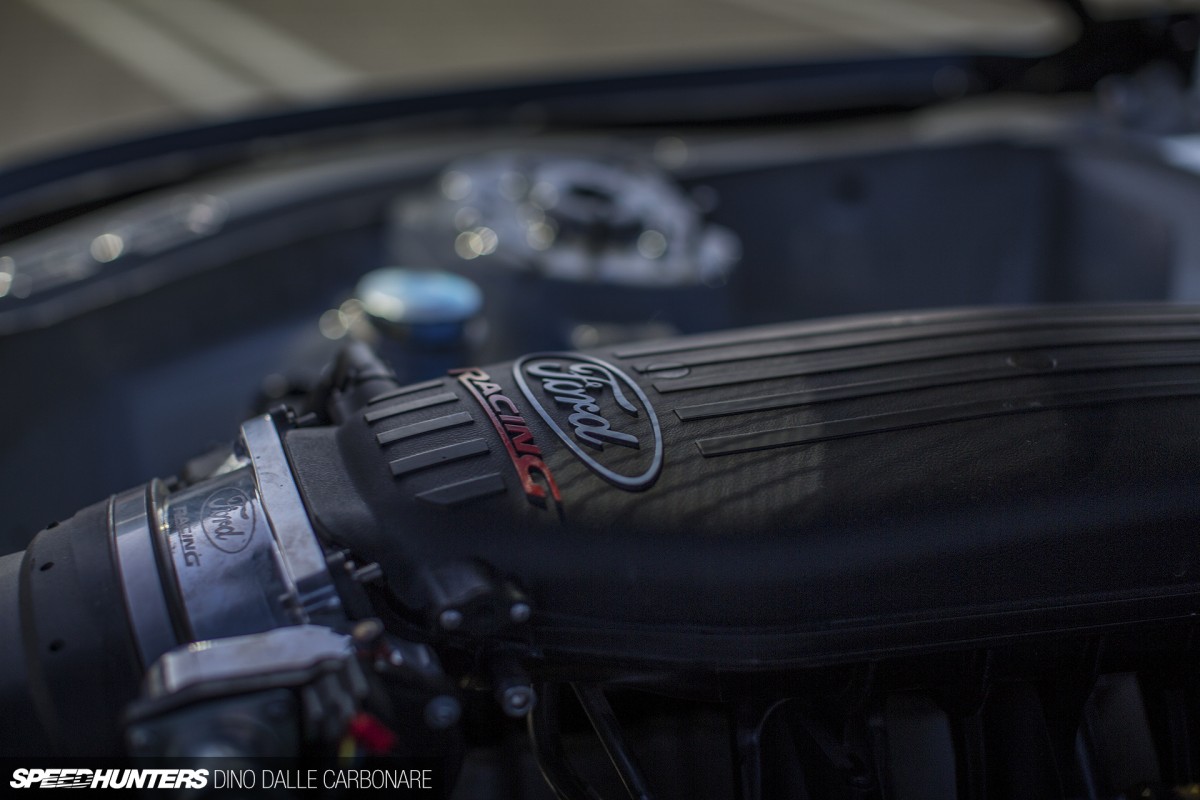 Lift it up and your eyes instantly note the Ford Racing logo atop the intake plenum that feeds the V8 beneath it. The Mustang RTR Spec 2 Larry and I drove impressed us for its broad spread of torque mated to a punchy mid and top-end – not to mention a nice willingness to rev. But the engine fitted to this particular car takes those qualities even further…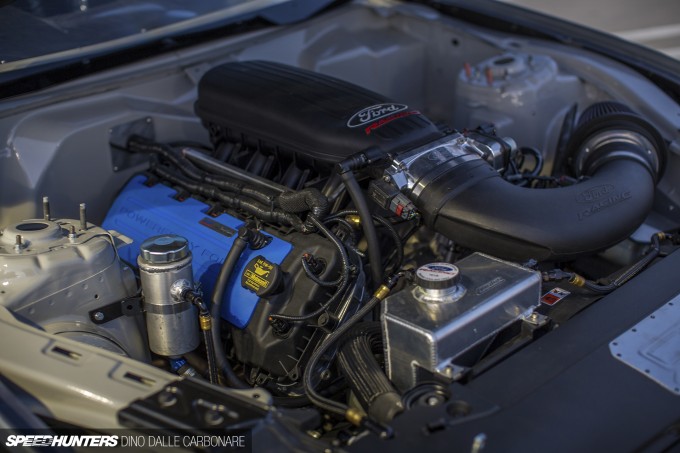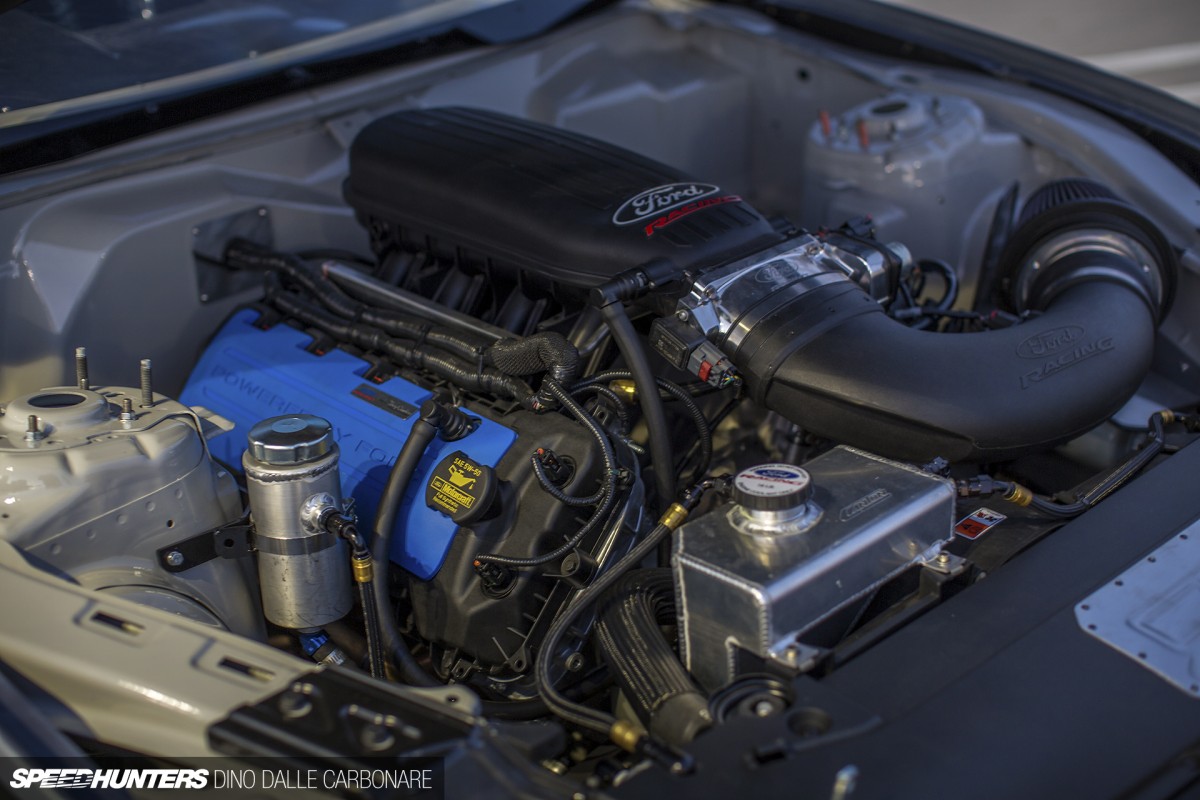 Appropriately named the '5.0L Aluminator V8 XS Crate Engine', this 500hp-plus motor runs all sorts of top-notch components to enhance every aspect of its naturally aspirated character. It reliably revs all the way to 8,000rpm thanks to Mahle hard anodized forged pistons with a low friction coating, Manley H-beam connecting rods, and a lighter yet stronger aluminium block with special cross-bolted main bearing caps. CNC-ported Boss heads and high-lift cams take care of the rest, making this a powerful and impressively responsive setup.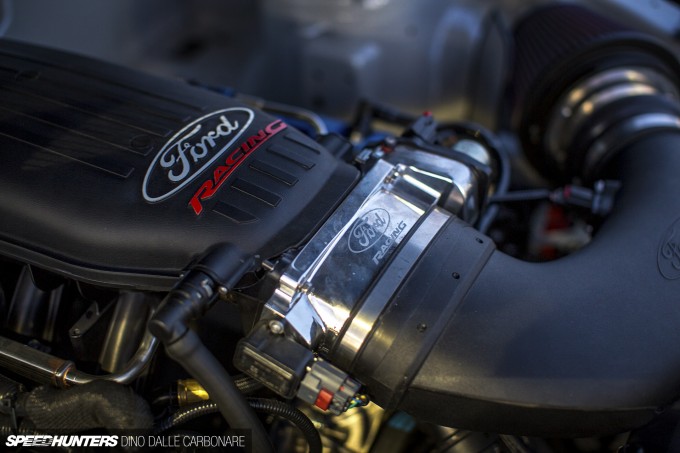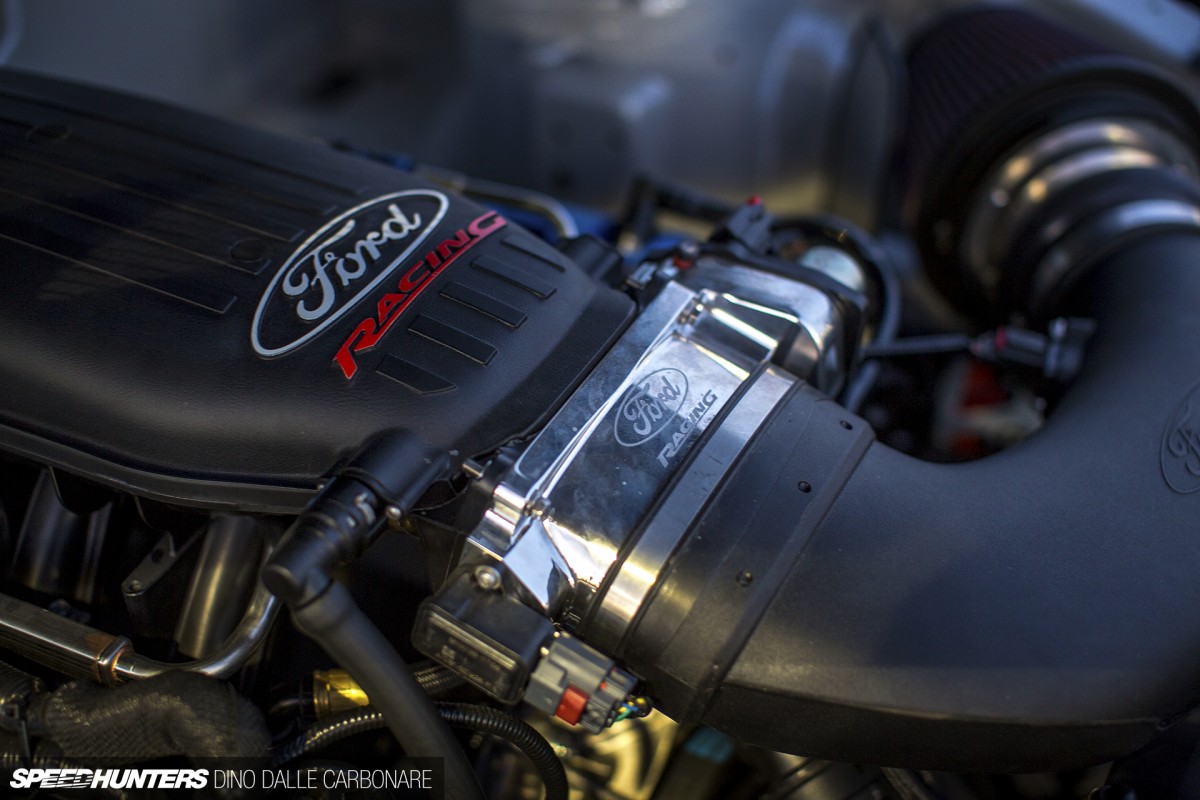 Vaughn's guys added American Racing headers and a Magnaflow exhaust system, while the engine breathes through a K&N cone filer, Ford Racing intake and the big throttle body you see pictured here.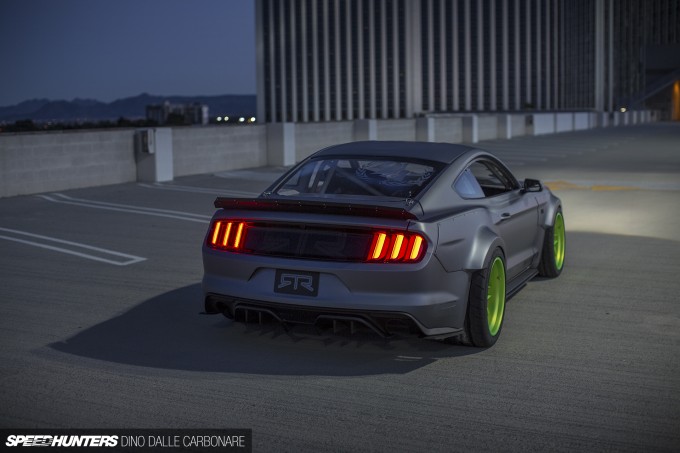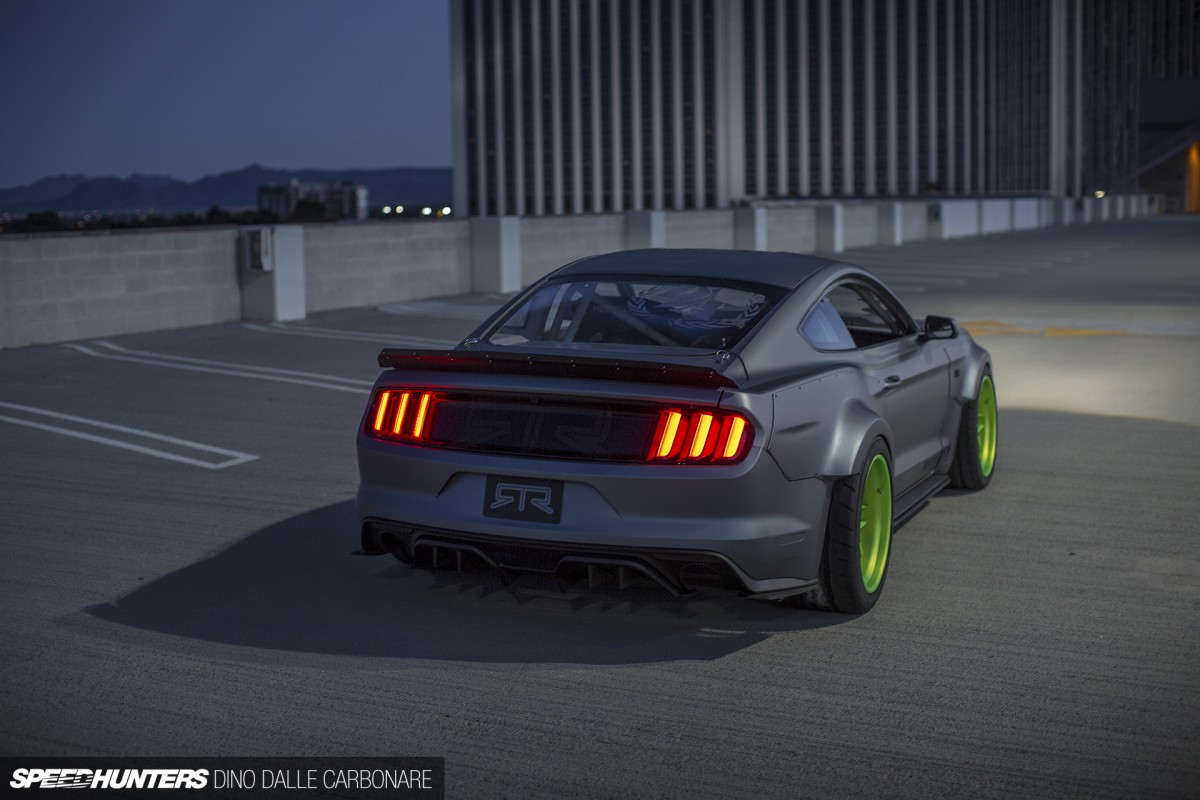 To make the most of the engine setup, the driveline uses a close-ratio 6-speed Ford Racing transmission running into a Driveshaft Shop Ford 9-inch diff conversion with 4:56 gears. For extra strength, bulletproof Driveshaft Shop aluminium driveshafts and axles are also fitted.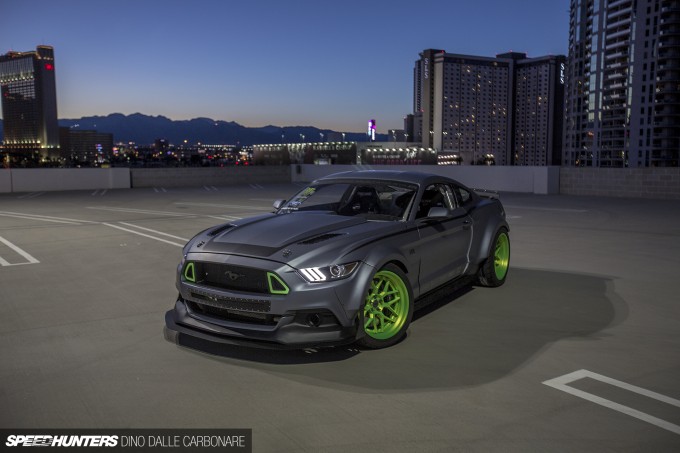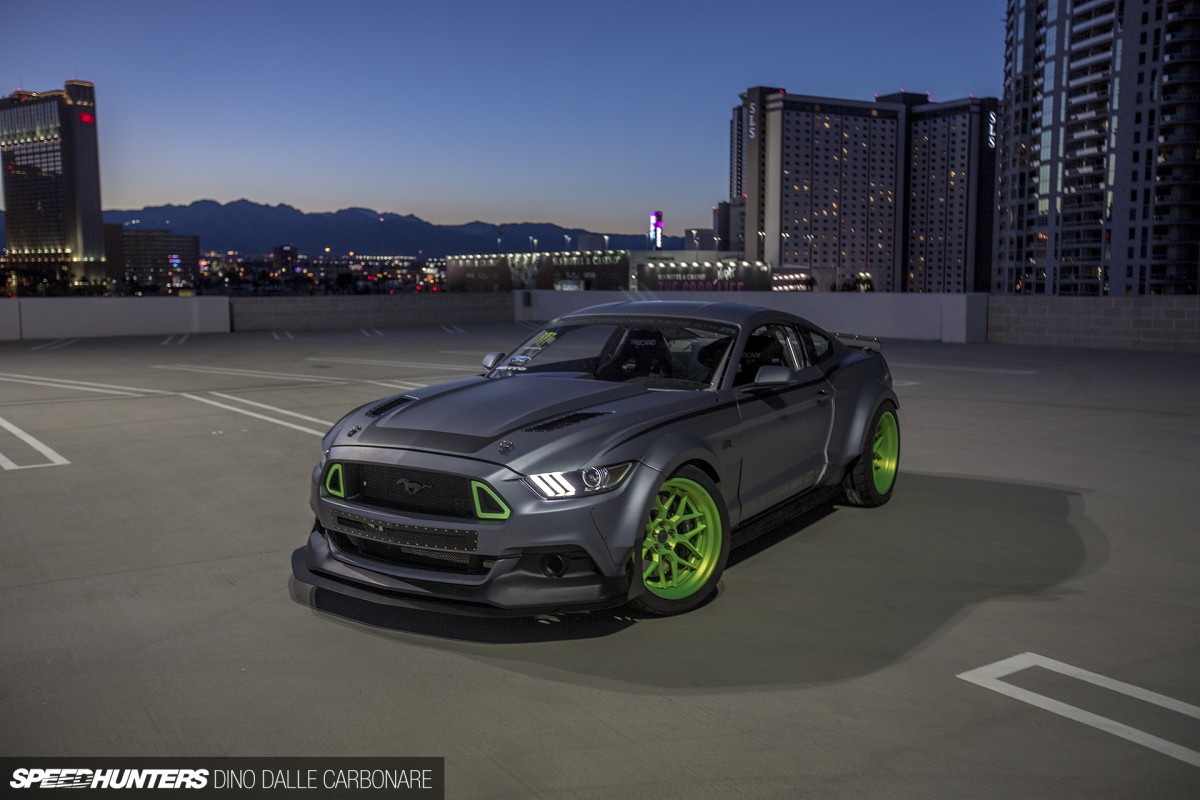 Once all the mechanicals were sorted, Revolution Automotive were left to extract copious amounts of power and torque, which they did.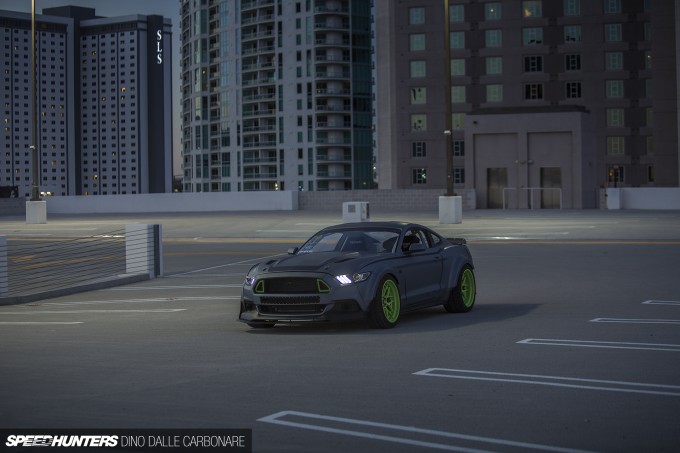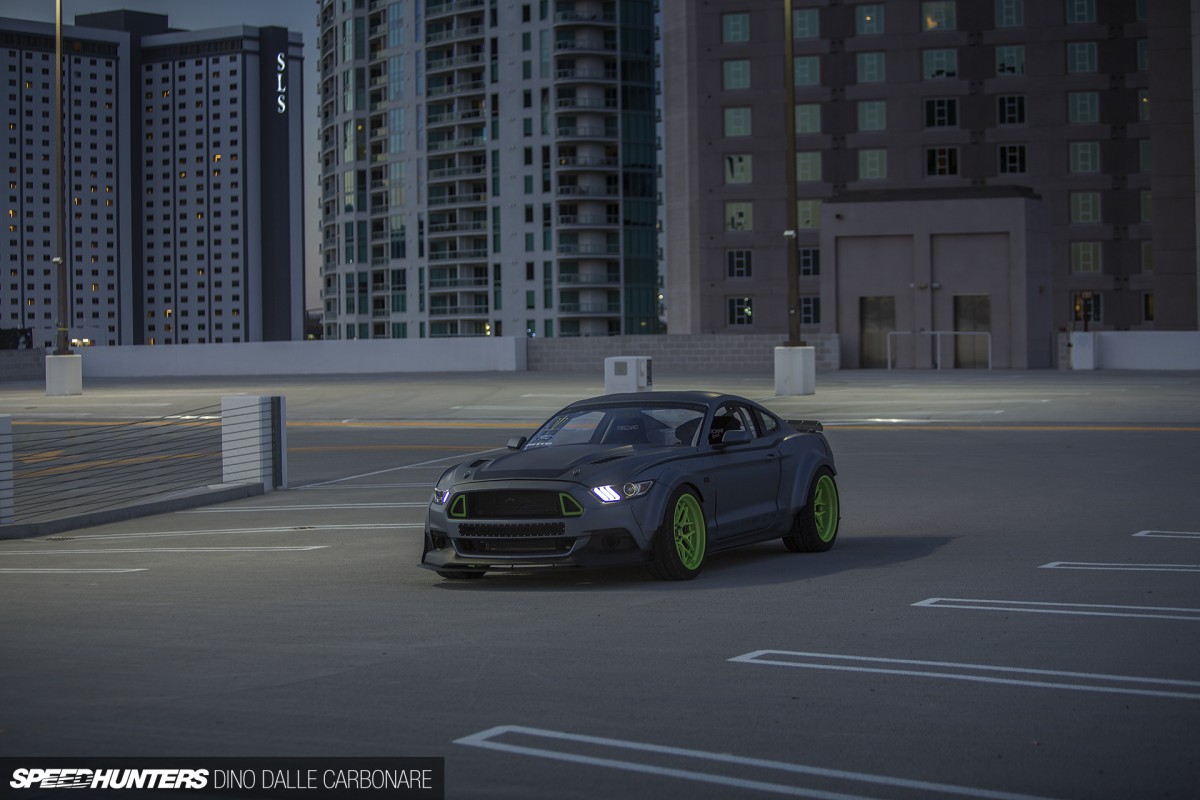 This car certainly represents what the new Mustang is all about – a great package that is begging to be personalised, built up and refined for whatever its end use may be.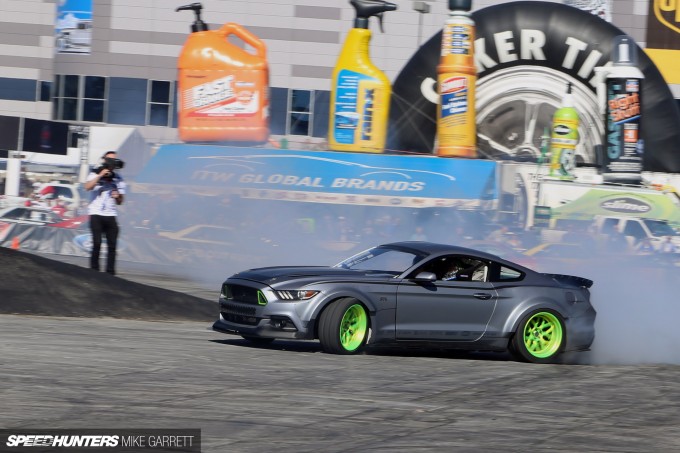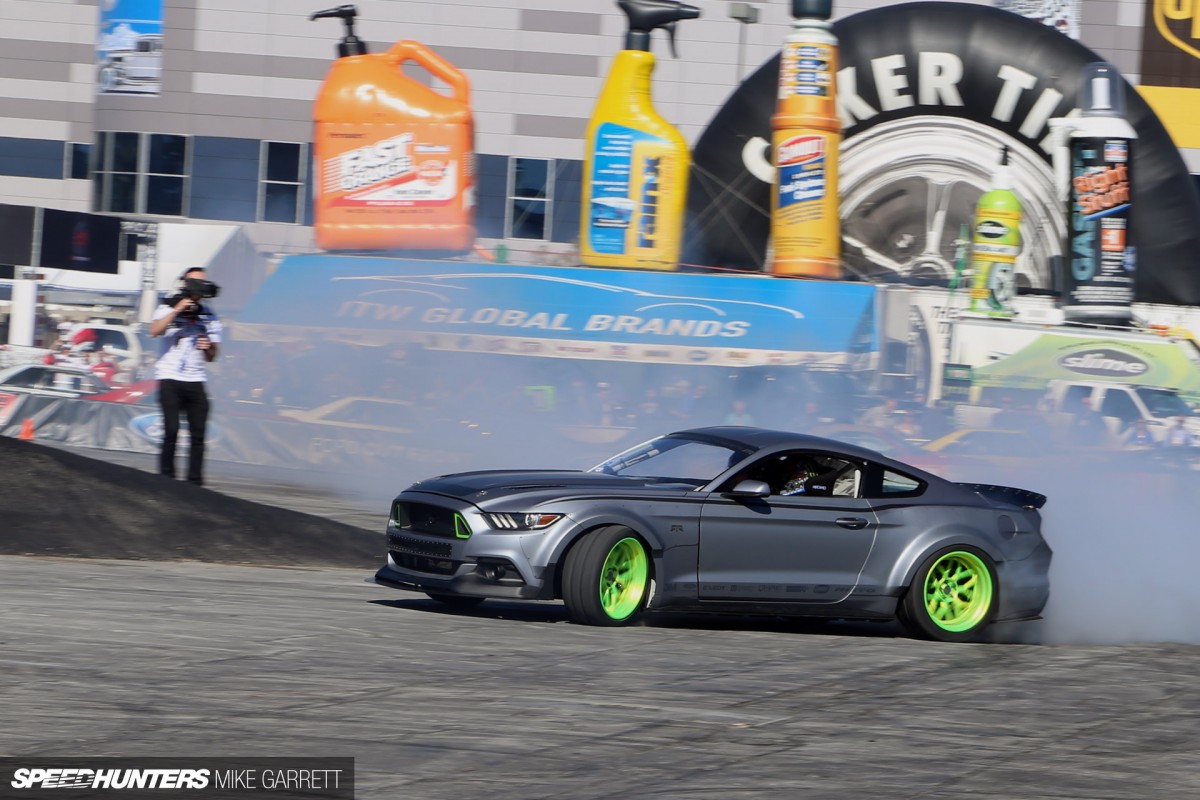 And if that's drifting, then Vaughn and his team have already shown us the ability this car has when it comes to ripping up tyres!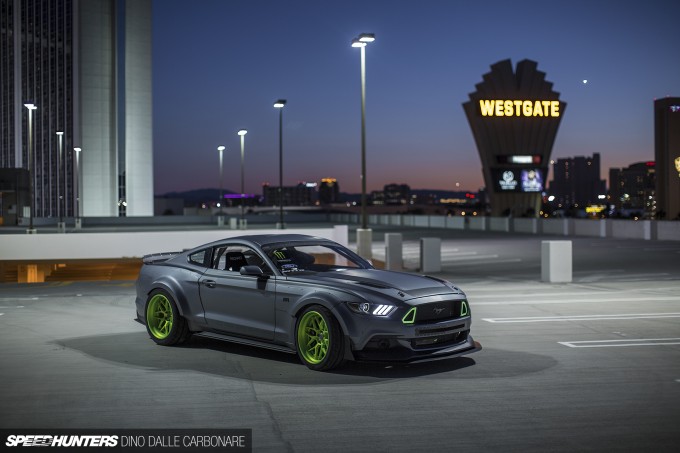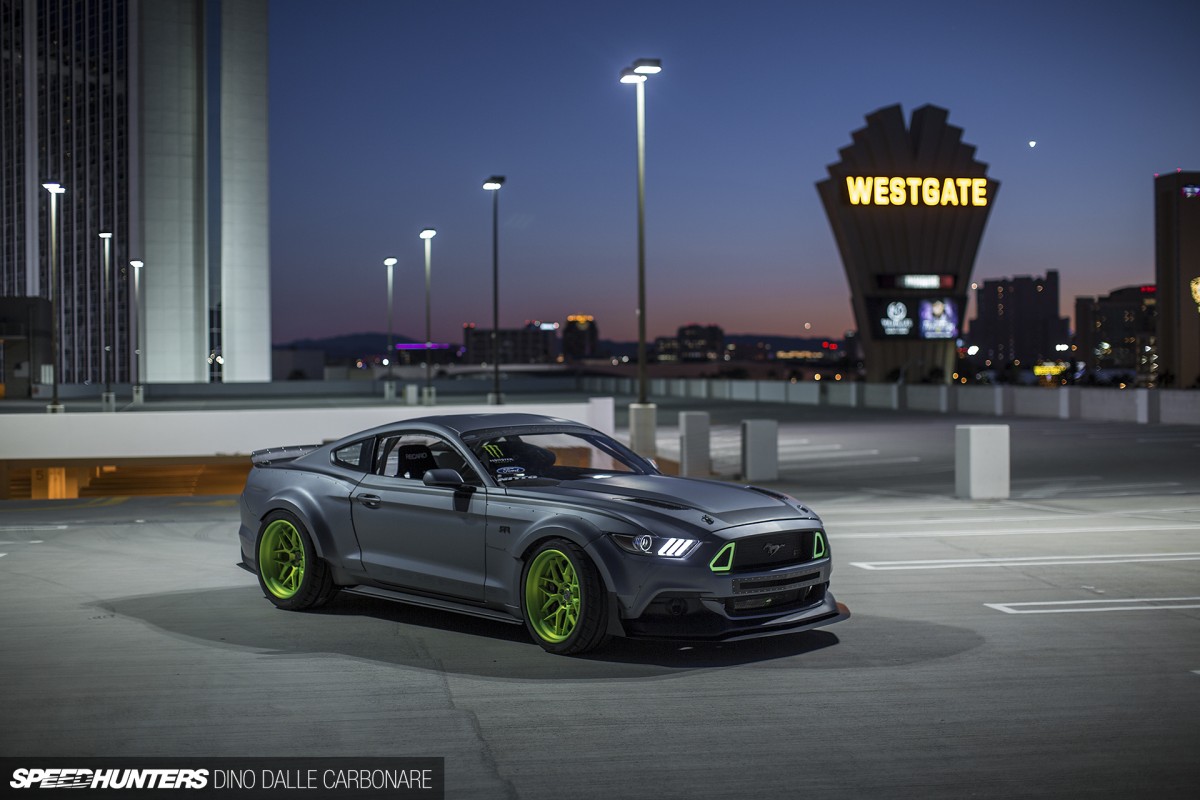 As the sun set over the Vegas Strip I was pleased that I had the opportunity to take a detailed look at this RTR concept. I was impressed by the overall execution and looks, not to mention the performance. The Mustang legend is definitely here to stay in all its different guises!
To wrap things up, check out this clip of Vaughn drifting the Spec 5 (and other machines) at SEMA.
Dino Dalle Carbonare
Instagram: speedhunters_dino
dino@speedhunters.com
Additional Photos by Mike Garrett
Instagram: speedhunters_mike
mike@speedhunters.com