Grass Is Greener
While Southern California has some of the best car culture in the world, anyone who lives there will know just how strict the laws regarding modifying street cars and what can and can't be registered are. I've always been envious of other States because of this, as in many places you can get away with crazy motor swaps or drive rare imported cars without the authorities even blinking an eye.
But as much as I thought that car culture in California was heavily regulated, my perception changed when I visited Singapore for the first time…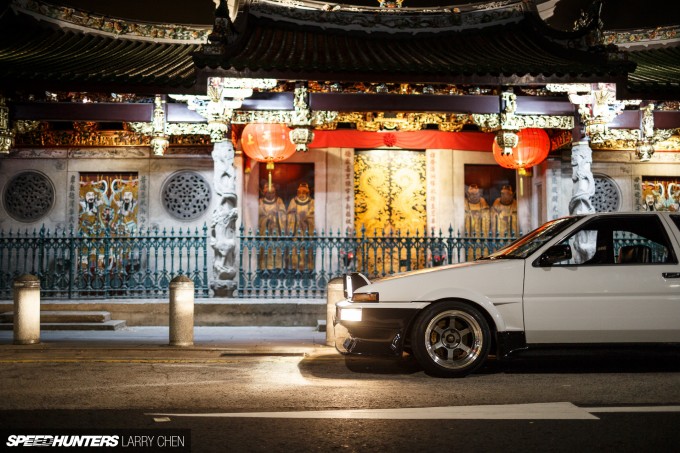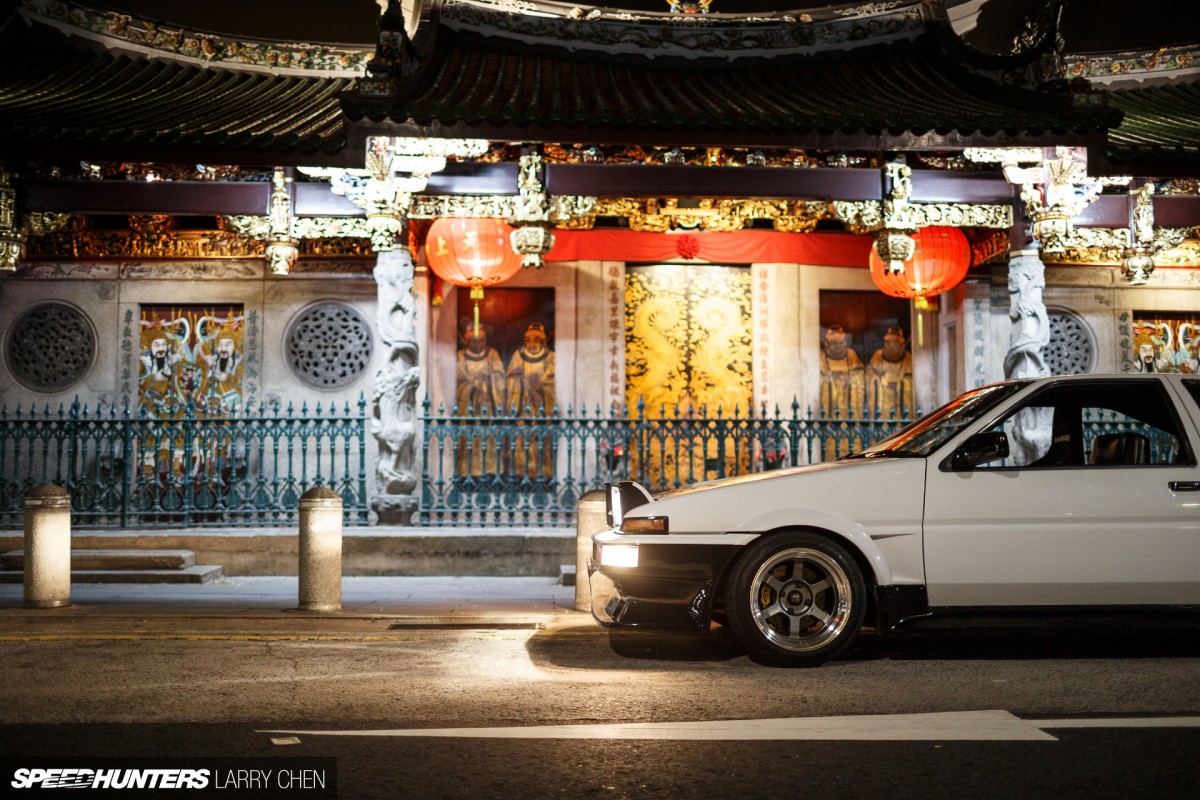 I've traveled to 26 different countries since I've become a Speedhunter, so I've had the chance to experience car culture all over the world. If you guys are regular readers then you'll already know how crazy we are for Scandinavian car culture – specifically in Norway. But as many of my Norwegian friends say, 'Everything fun is illegal in Norway.' That is a country where you can't even put lowering springs in your street car without getting hassled by the authorities, and even snowmobiles are illegal (no joke). Then there's the outrageous taxes on new and used cars based on engine size… But as tough as those in Norway have it, the regulations don't even hold a candle to what car enthusiasts in Singapore have to live with…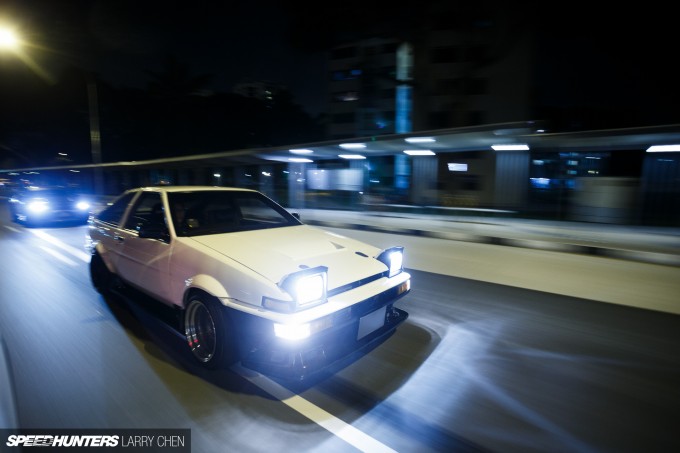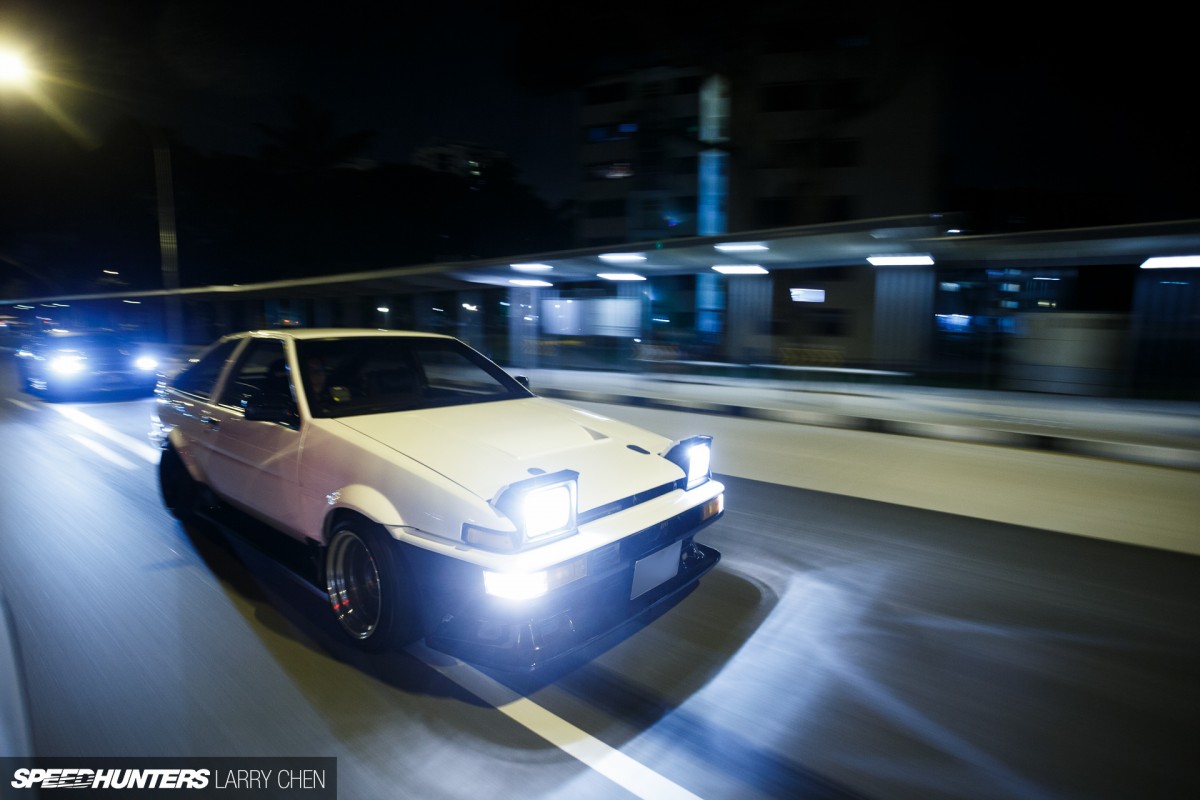 In a way it's understandable that Singapore is so strict on controlling the cars on the road. After all, there's only 277 square miles to this country, yet it's home to 5.5 million people. Quite simply, there just isn't enough room to play with cars here. Somehow though, the petrol heads in Singapore manage to still band together and enjoy car culture – but it comes with a cost.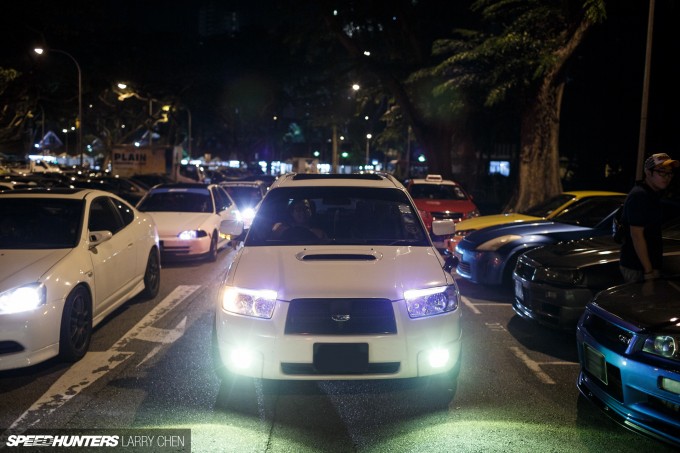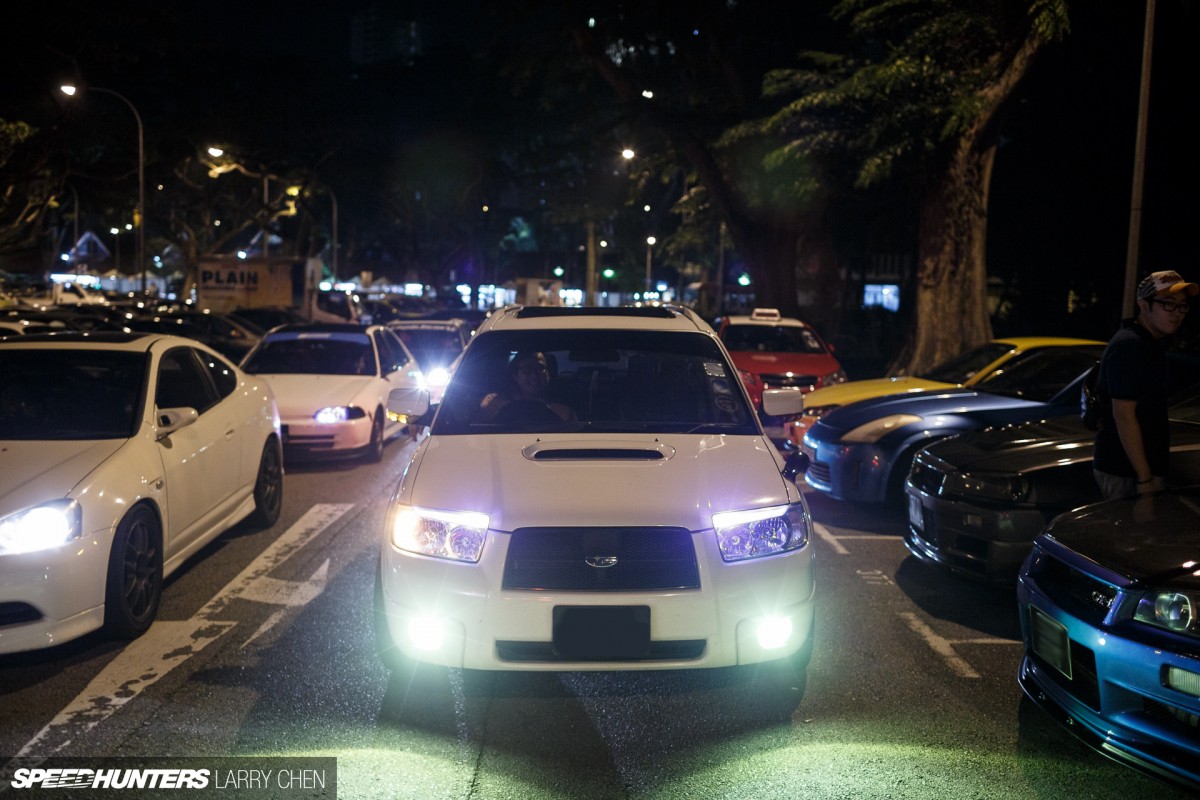 For example, in North America the manufacturer suggested retail price of a Toyota GT-86 (or Scion FR-S) is US$25,900. If you were to purchase the same car in Singapore right now, it would cost around $128,000. That's USD, not Singapore dollars! And it gets even better… You only get to have the car on the road for 10 years, unless you're willing to pay an exorbitant amount to keep it for another decade.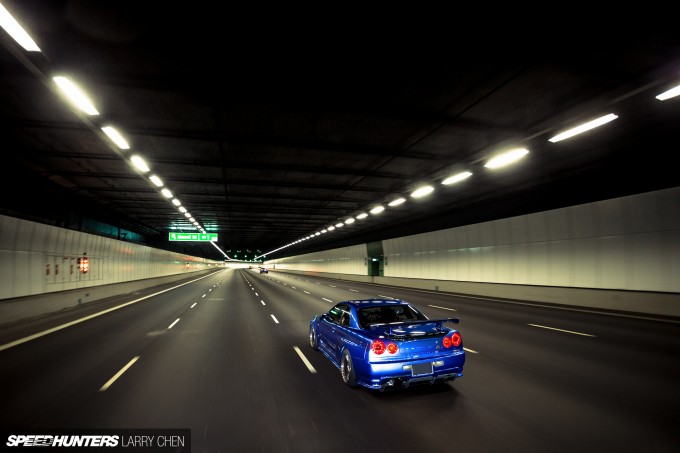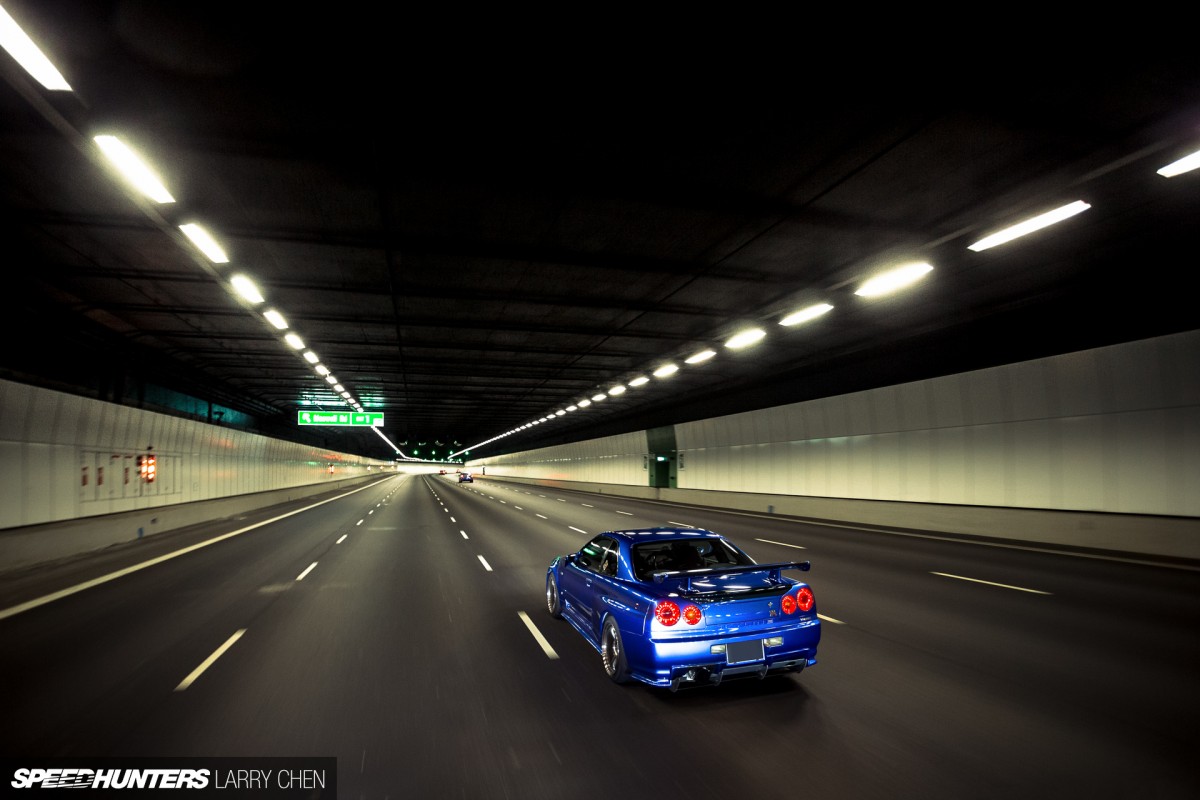 It's called a Certificate of Entitlement, or COE, and every car in Singapore requires one to be road legal. If you don't pay and get caught, the authorities will take your car to the scrapyard and crush it.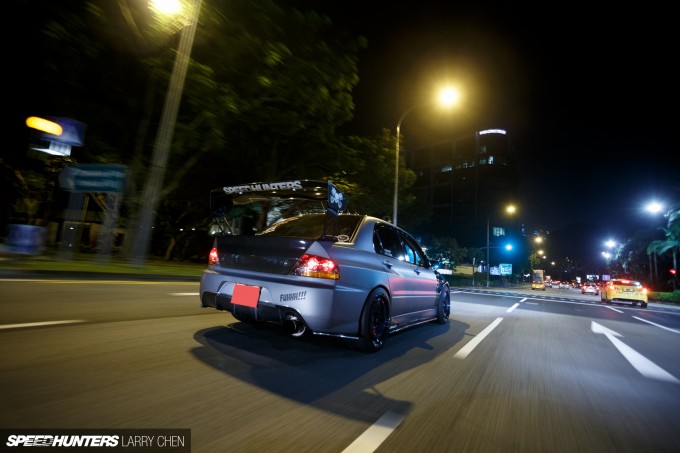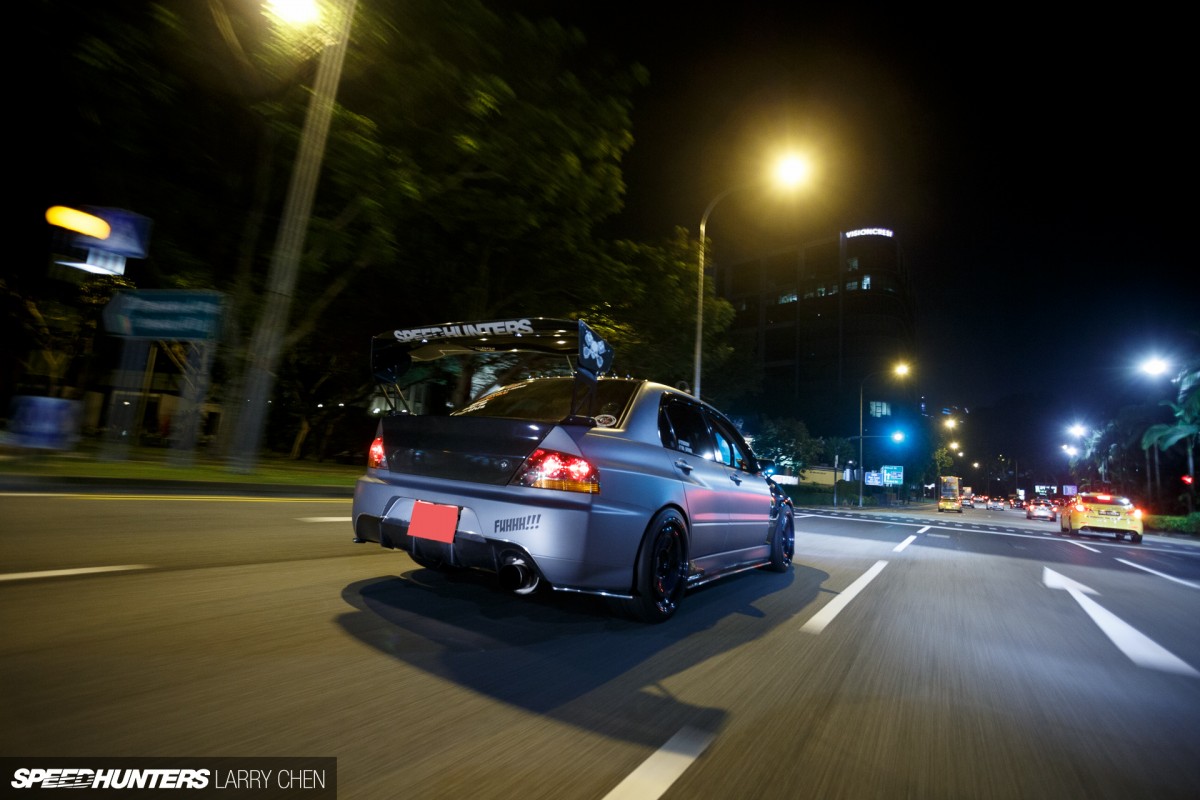 These regulations are in place to keep the number of cars on the road to a minimum, and to ensure that the fleet is kept modern. Why is the COE so expensive? Well, the government only makes a certain number of them available, and car dealerships have to bid on them which drives up the price. Everyone has to pay the same amount as the highest bid, so it fluctuates depending on the season. At the moment a COE costs about US$60,000, but of course, it could go up even higher!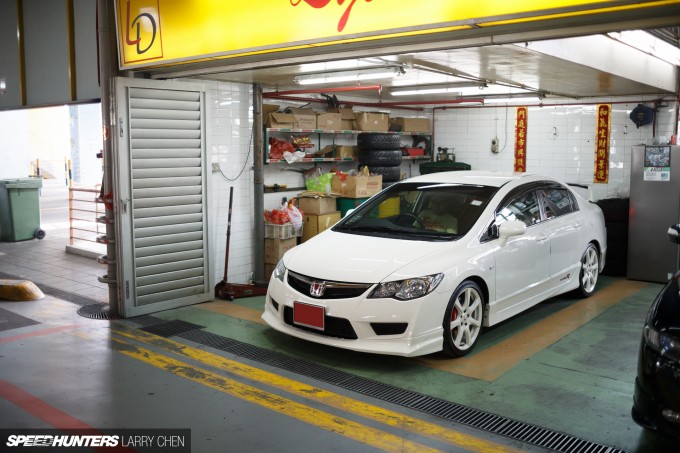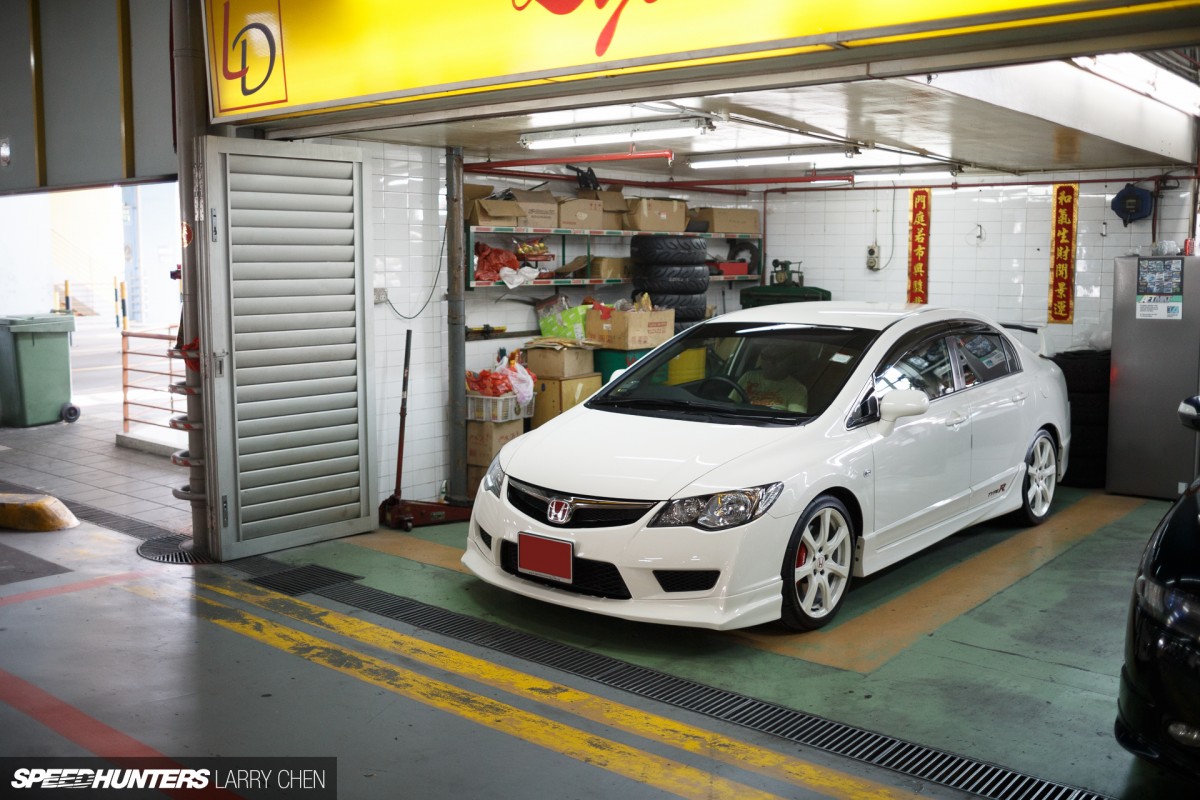 So let's say you want to buy a 2007 FD2 Honda Civic Type R. A car like this would cost around US$55,000 in Singapore, but because of its age and the fact that a COE only lasts for a decade, in three more years the owner will have to pay another US$60,000 or thereabouts if they want to keep it on the road. There are a few ways around these outrageous prices, but I will touch on those shortly…
Making Friends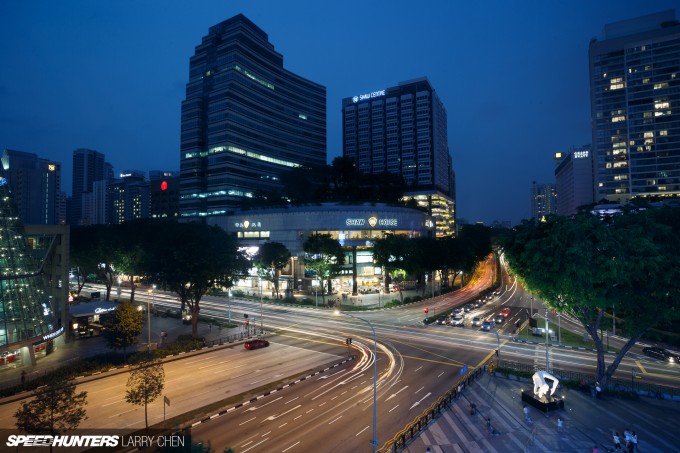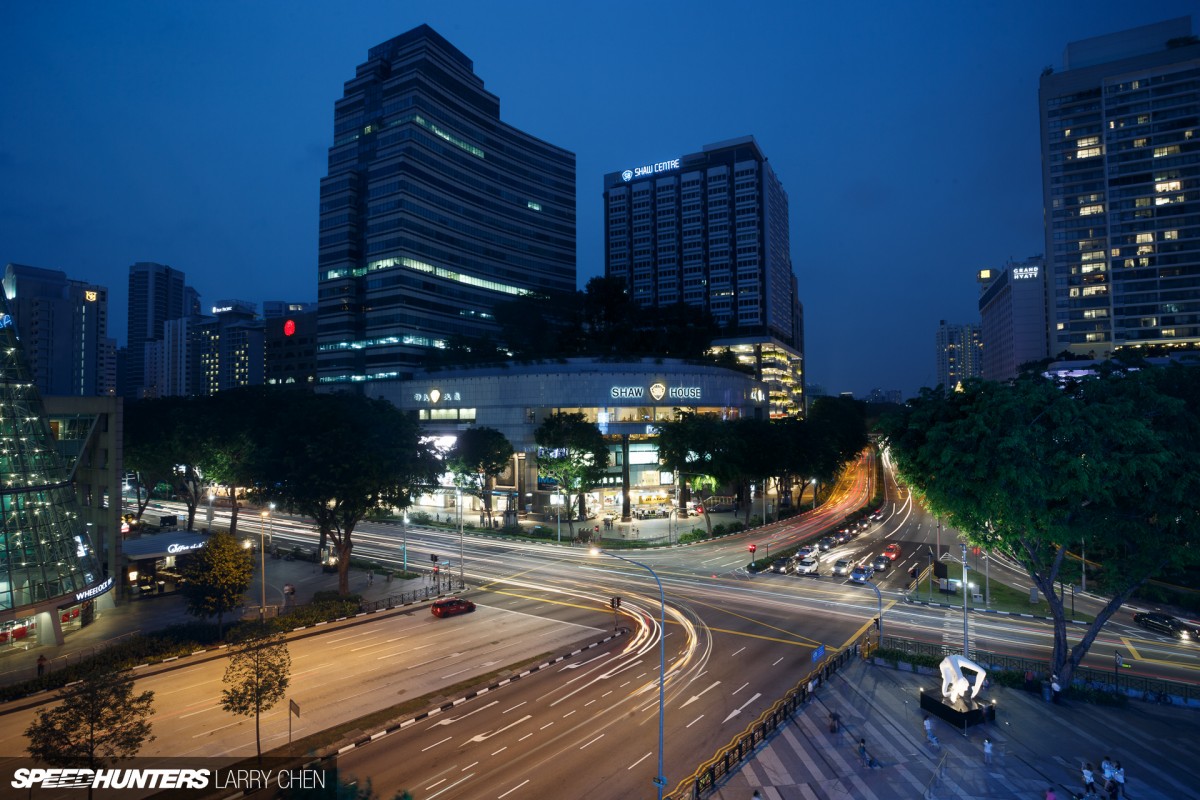 The reason why I was in South East Asia in the first place was to promote my new Formula Drift Asia book, which was on sale in downtown Singapore at the Shaw House Center.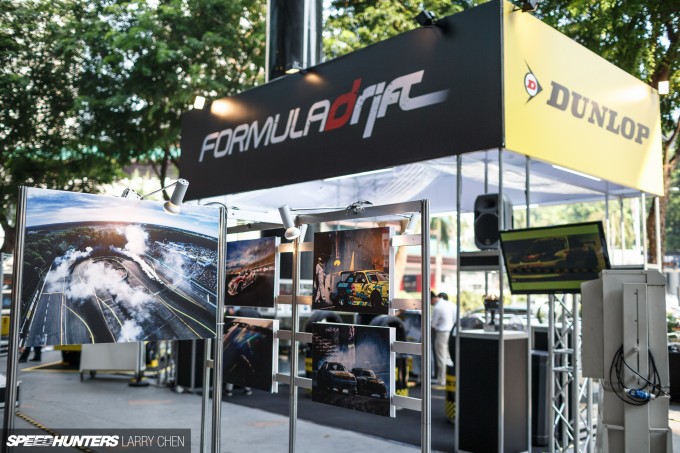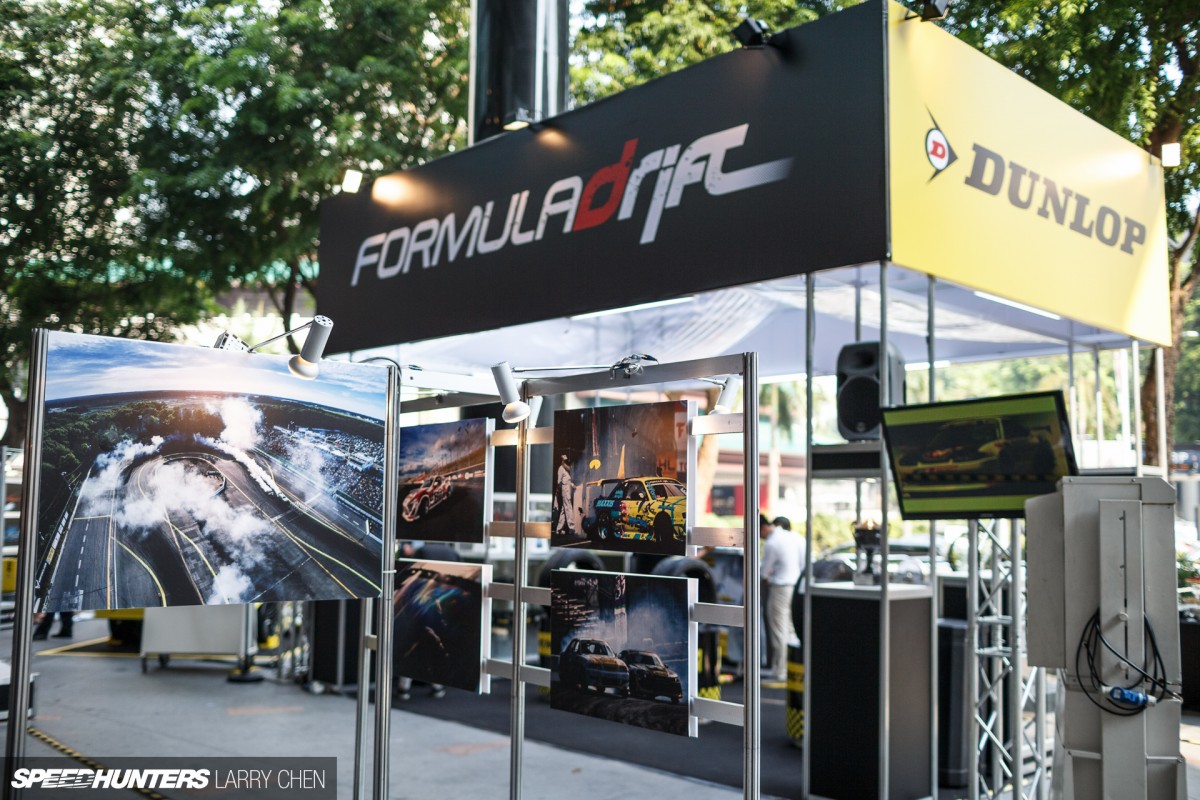 With the help of Formula Drift Asia's President and founder, Marcus Lim, I set up my very first photo gallery. The photo book was on sale for the weekend and the proceeds went to charity. We chose Camp Vision – a non-profit organization geared towards helping at-risk youth in Singapore.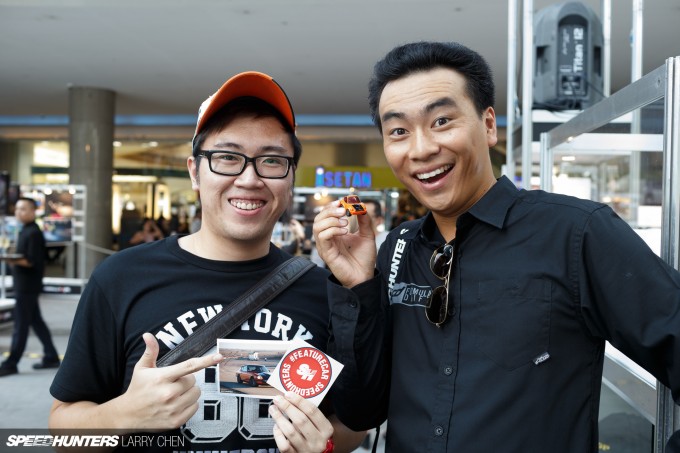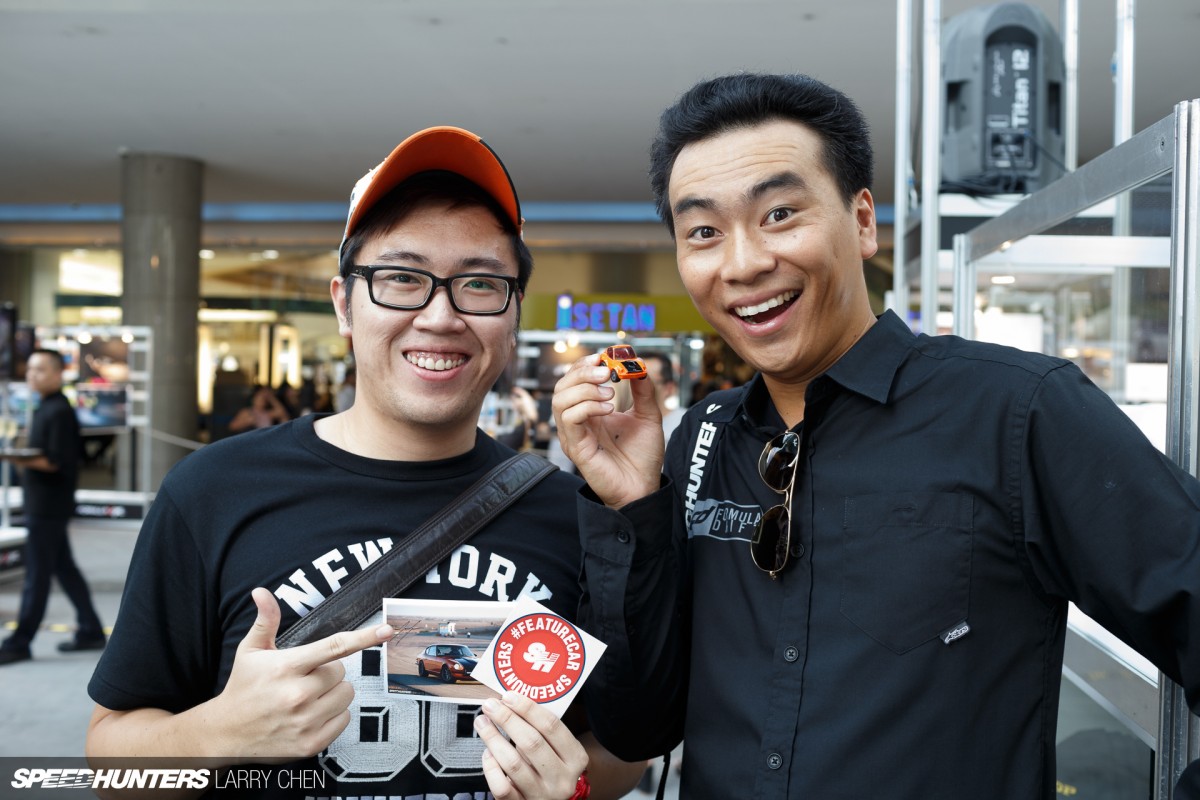 Many fans came by, as well as a few Formula Drift Asia drivers – including Benjamin Chiam who drives an awesome Toyota Supra with NASCAR-inspired livery.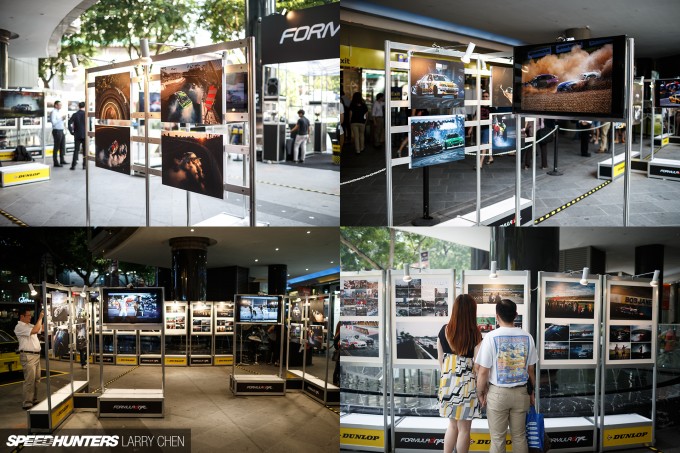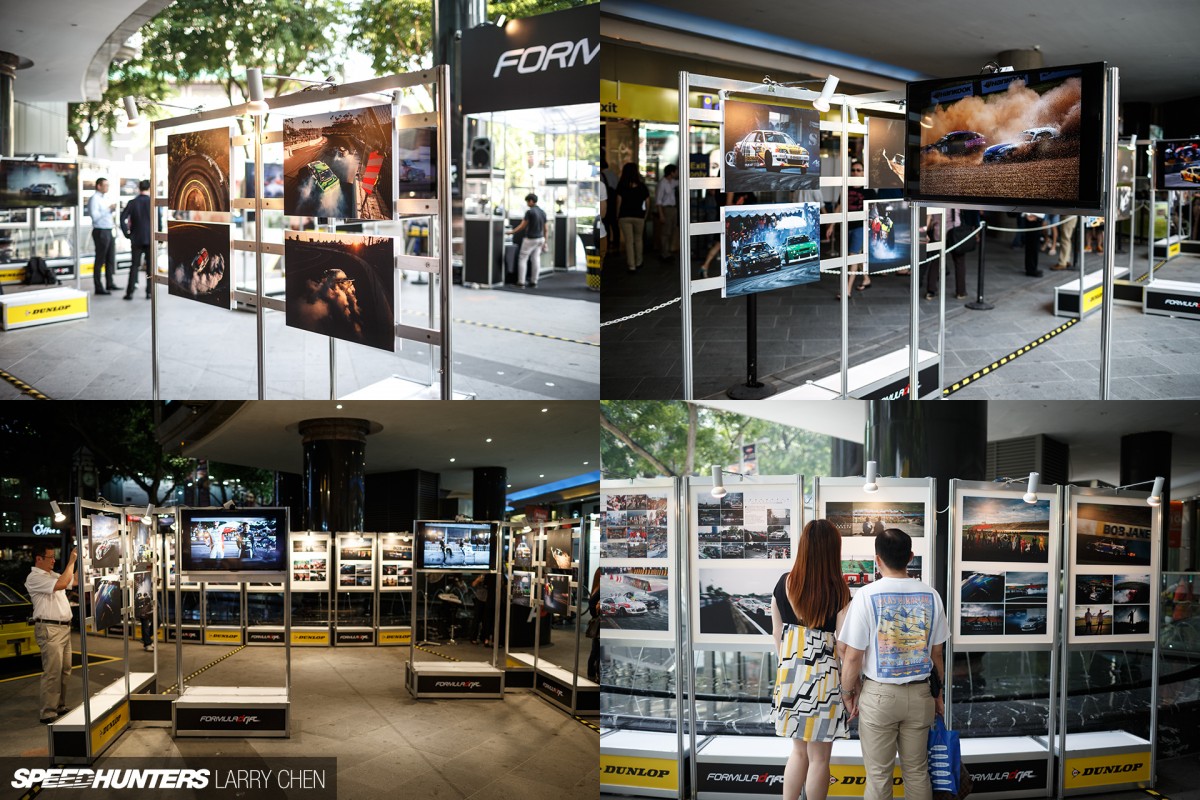 Overall, I was very happy how the gallery turned out. We sold almost 200 books over the course of the weekend, and all for a great cause.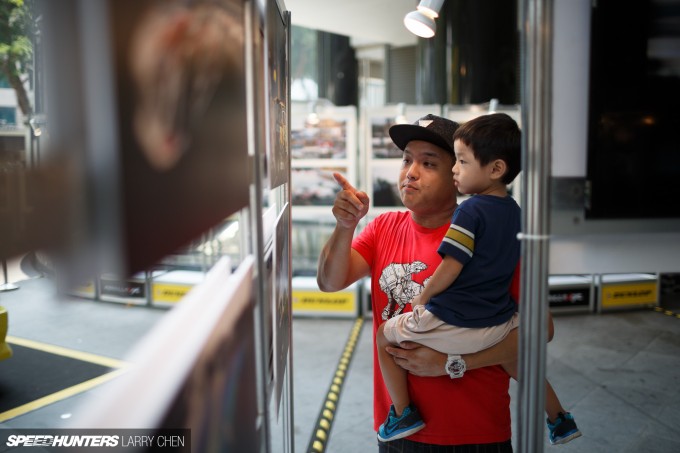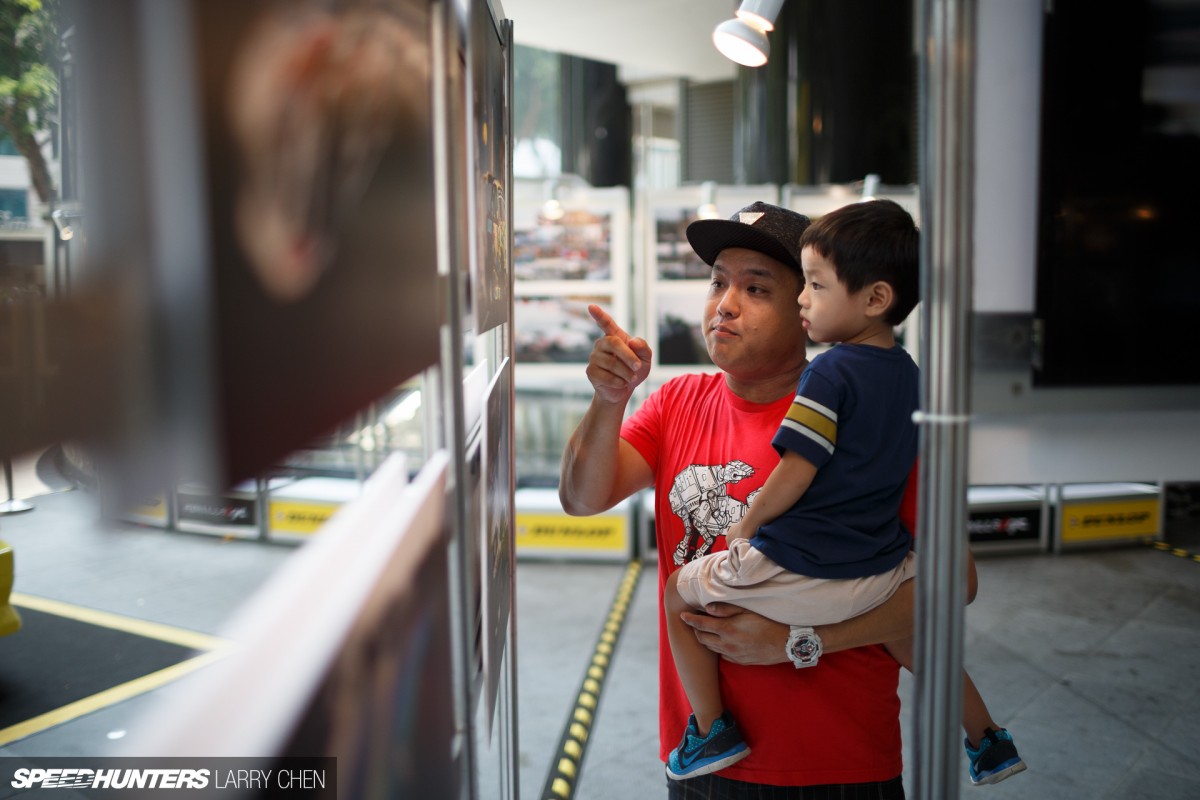 Our goal at Speedhunters is to showcase local car culture and scenes from all across the world. If it's cool and it's car related, we want to hear about it. So I was ecstatic to make friends with a few people from the local tuner scene.
Godzilla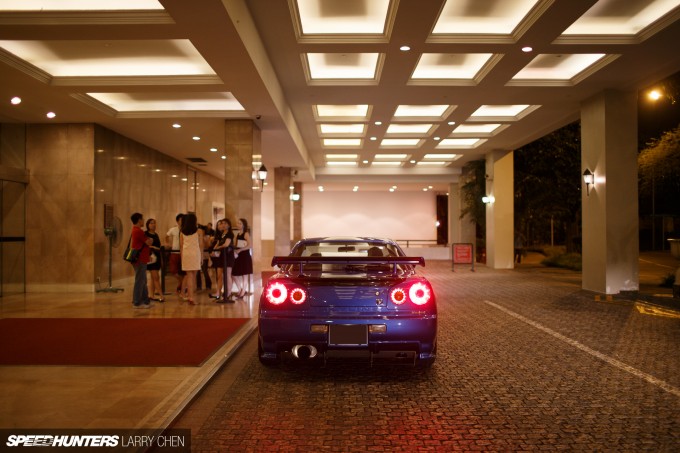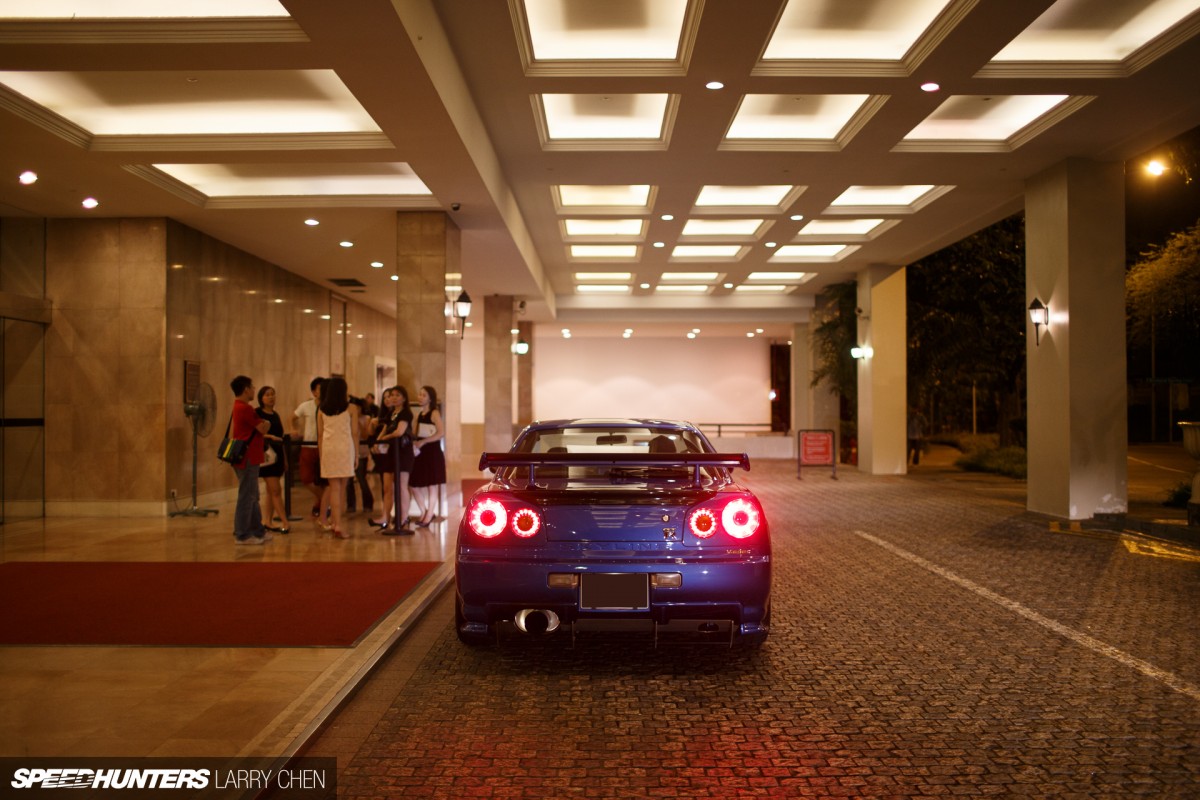 After the gallery showing and being stuffed full of some of the best Chinese food outside of China, I was greeted at my hotel by Godzilla. This build was actually inspired by our very own Dino's Project GT-R, although the owner does not have red RAYS Volk Racing TE37RT wheels that you guys love so much.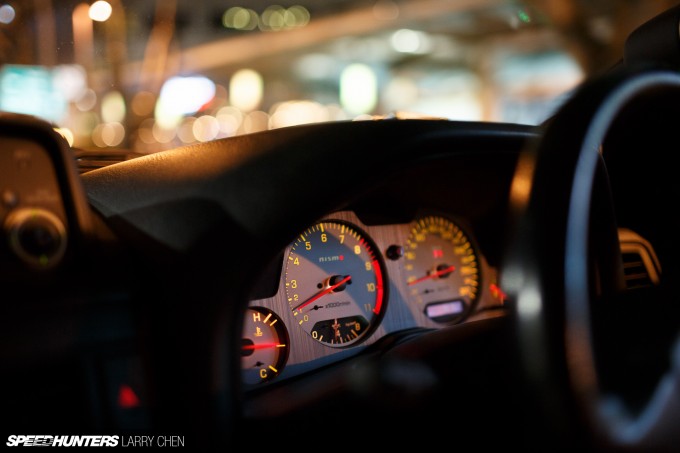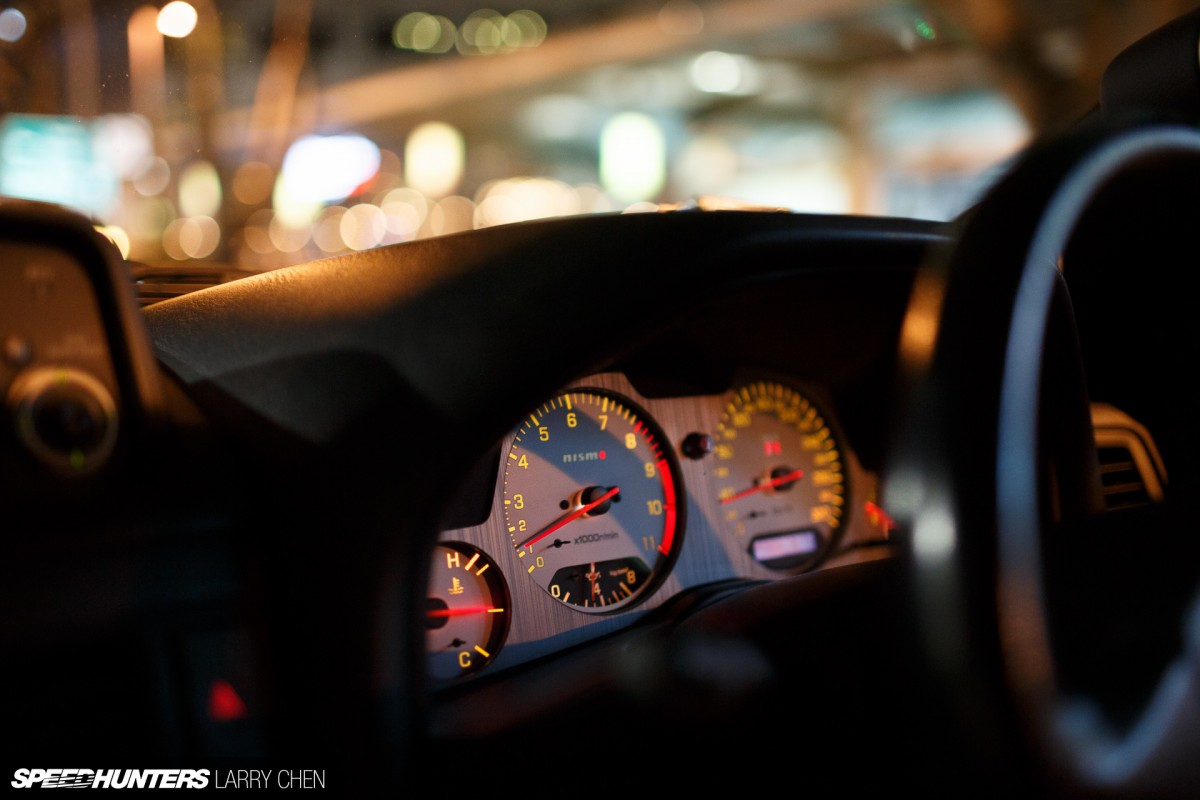 The absolute worst part of my job is the traveling, so since I was primarily in Singapore for the photo gallery I left my full camera kit at home. Of course, I couldn't be completely empty handed though, so had brought one camera body and two lenses (a standard and a wide zoom) with me.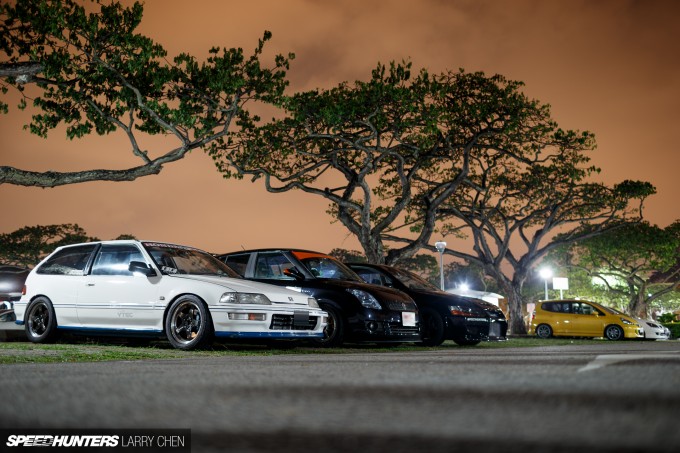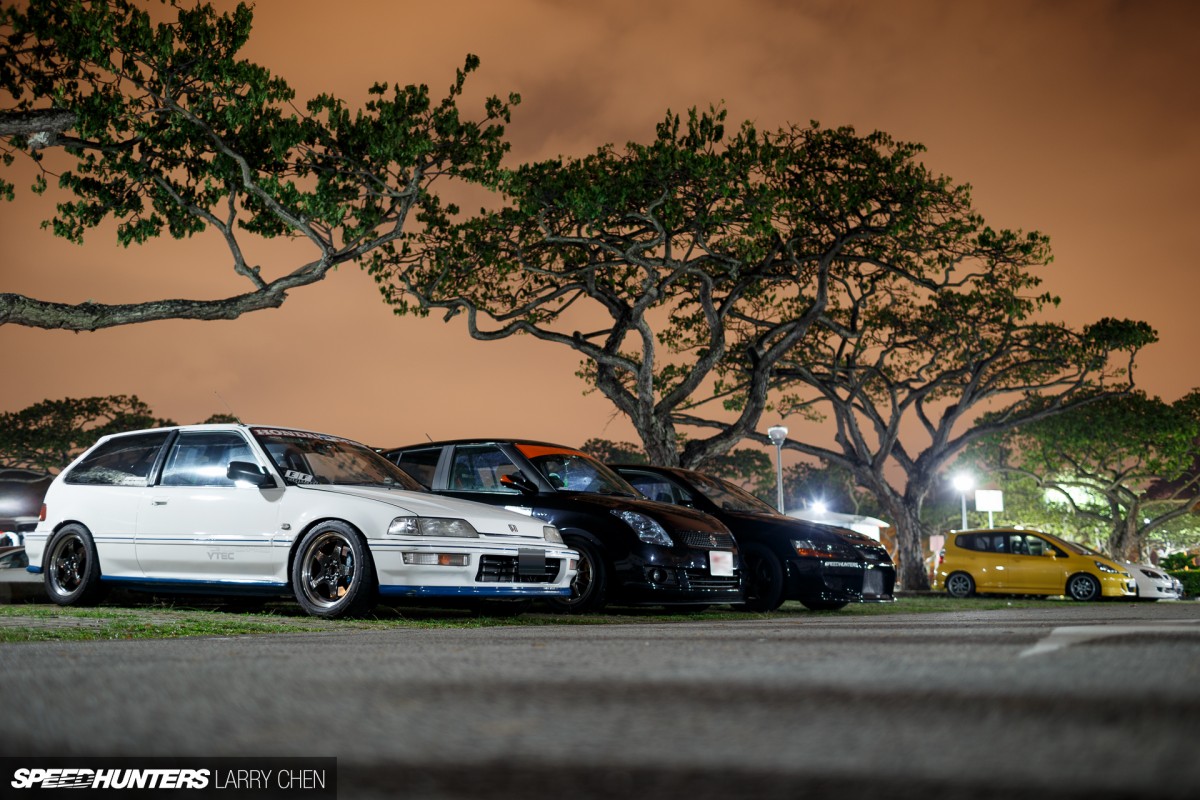 We drove for just a few minutes before stopping at a parking lot filled with cars – not the sort you would normally see on the road in Singapore though.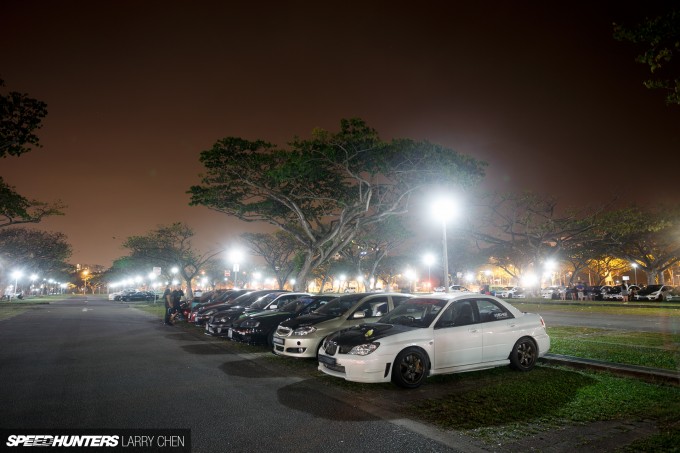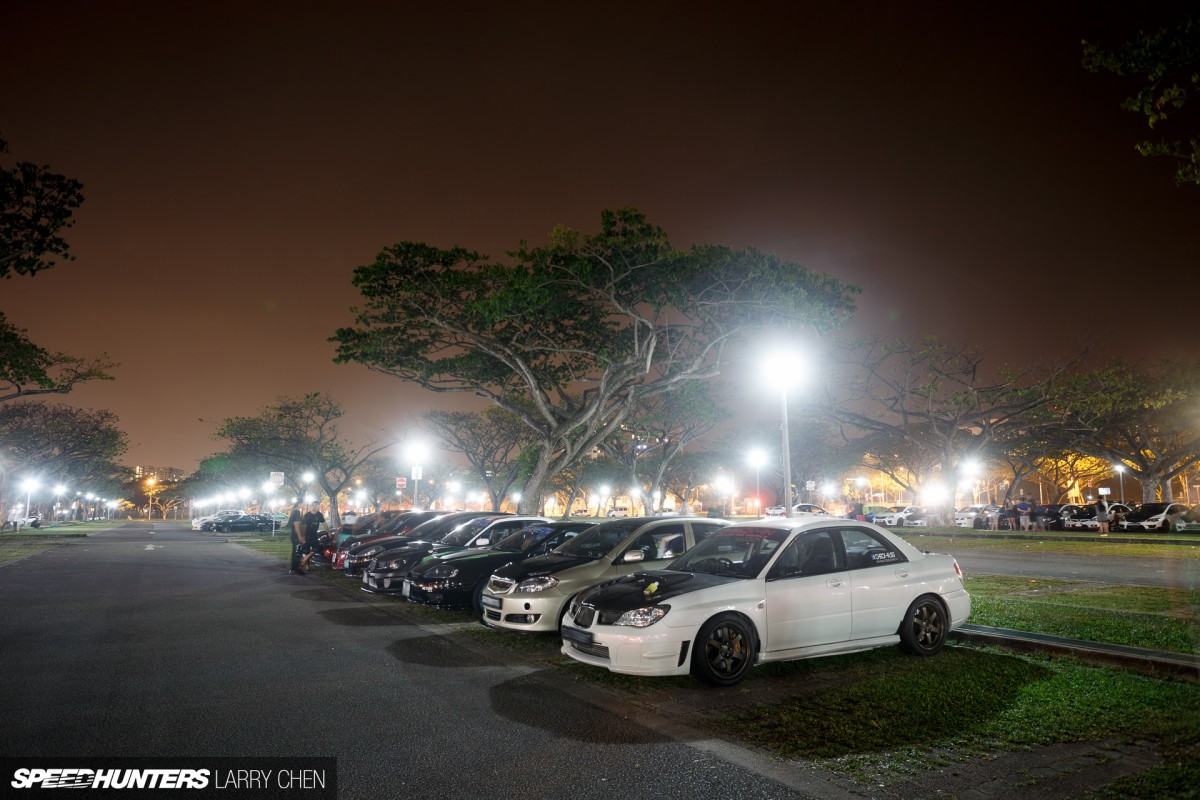 With such strict car ownership regulations, I did not expect to stumble across such a strong tuner culture. A standard Toyota Corolla costs over US$100,000 new here, so can you imagine what a Subaru Impreza WRX STI runs for?!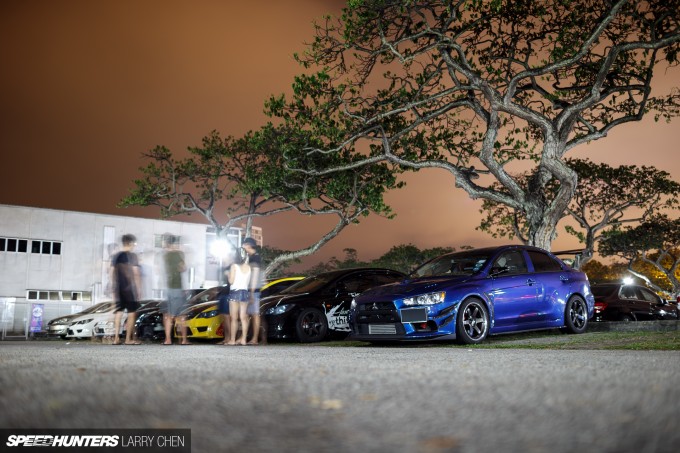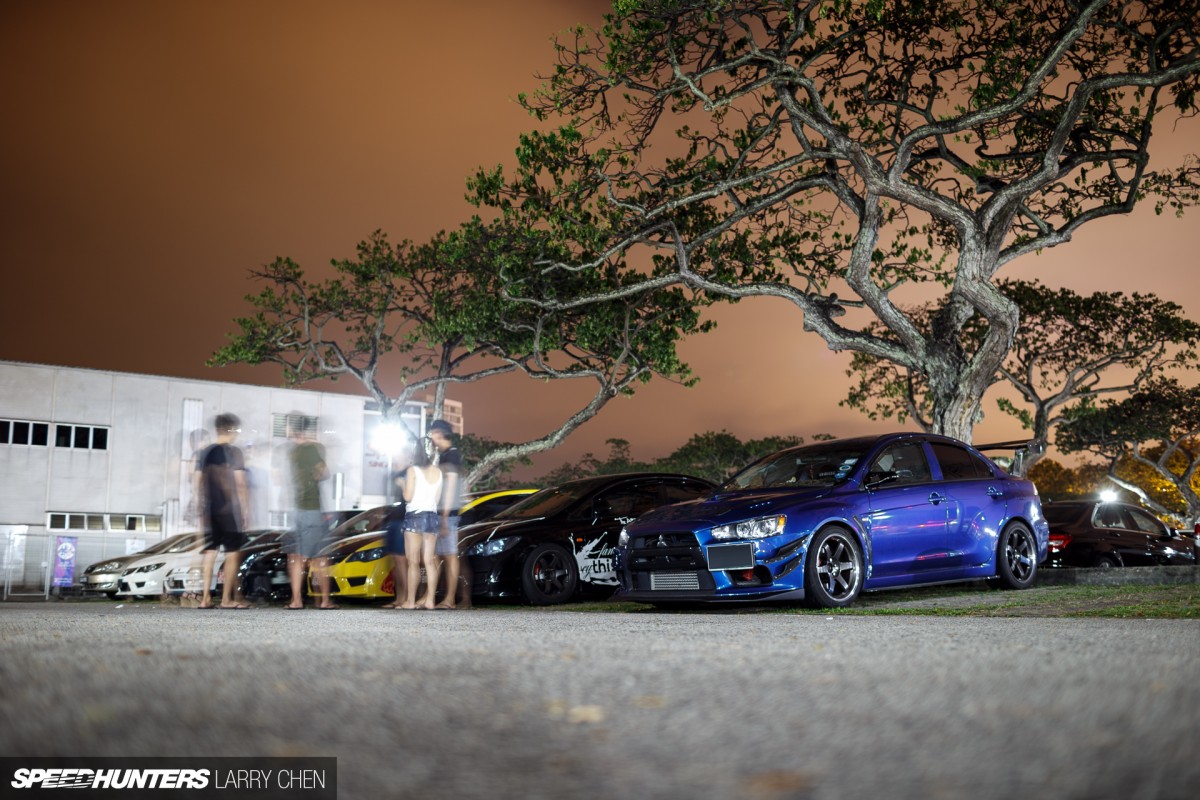 One of the things I noticed was that none of the cars had their hoods popped, which is the norm for late-night meets, right? There's a good reason for that though, as if Singapore's Transit Police drop by and see that your car is modified, they can force an inspection. Even being ratted out through an identifying photograph is enough for the authorities to take action, which is precisely why I took the liberty to blur out all the license plates.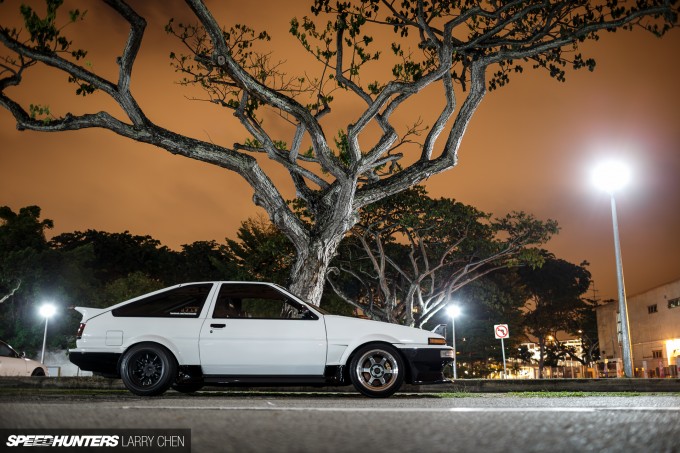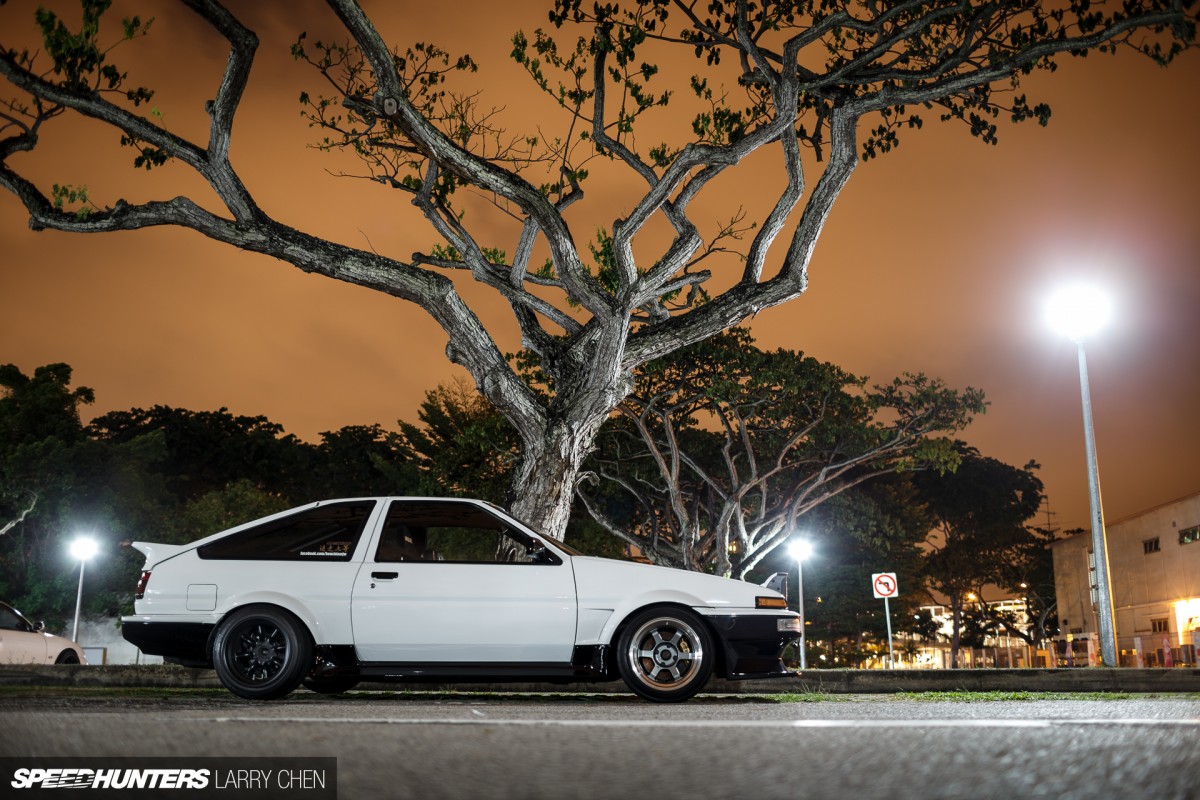 You might be wondering what the deal with older cars like this AE86 is. Well, the COE has been paid twice already to keep this car on the road in Singapore, but it's up for renewal in two years. So, if the owner wants to drive it for another decade, he will have to cough up another large wad of cash.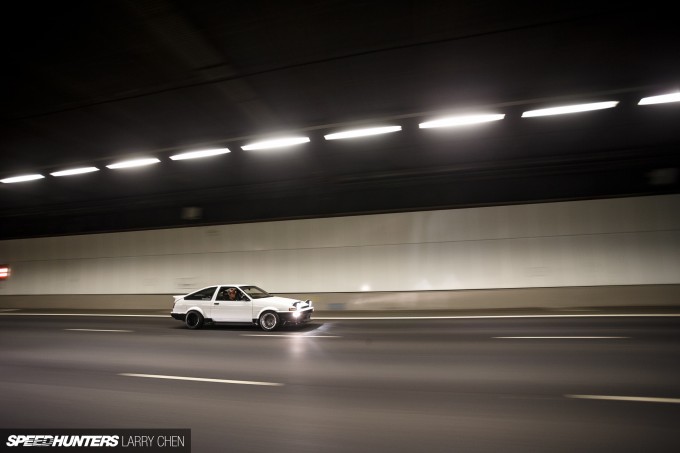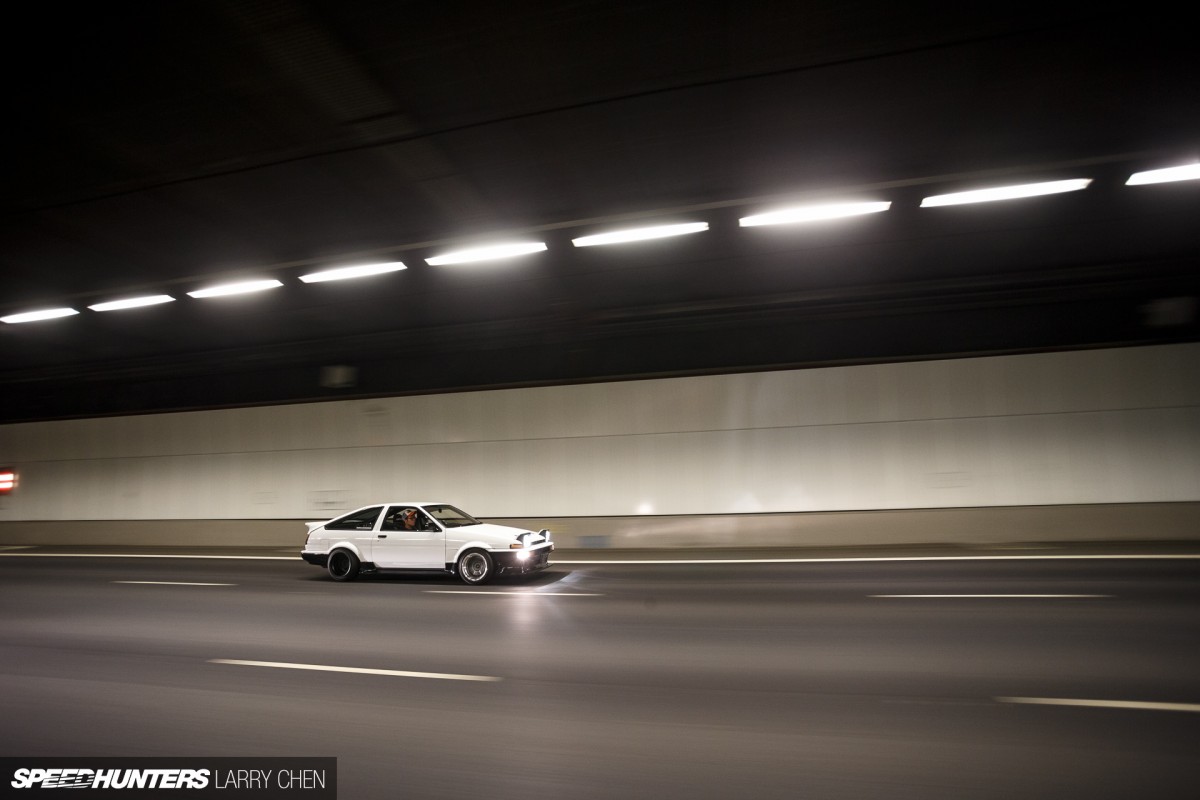 Believe it or not, this is the very last AE86 Trueno three-door hatchback in Singapore – all the others were crushed when their COE expired. If you don't have the money for a COE but really want to keep your car, there is a loophole in the law that a few have figured out.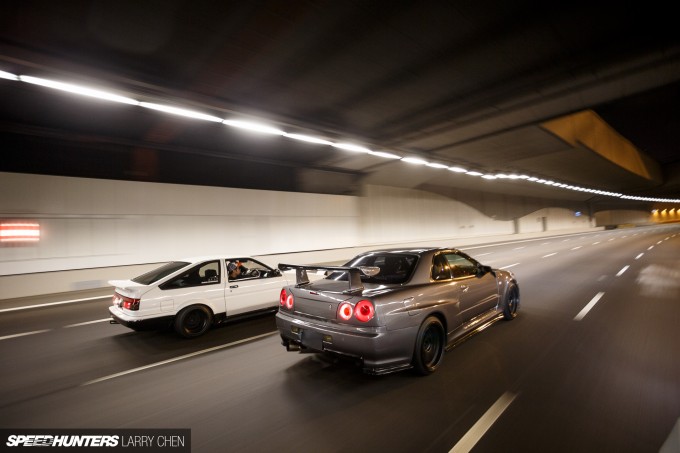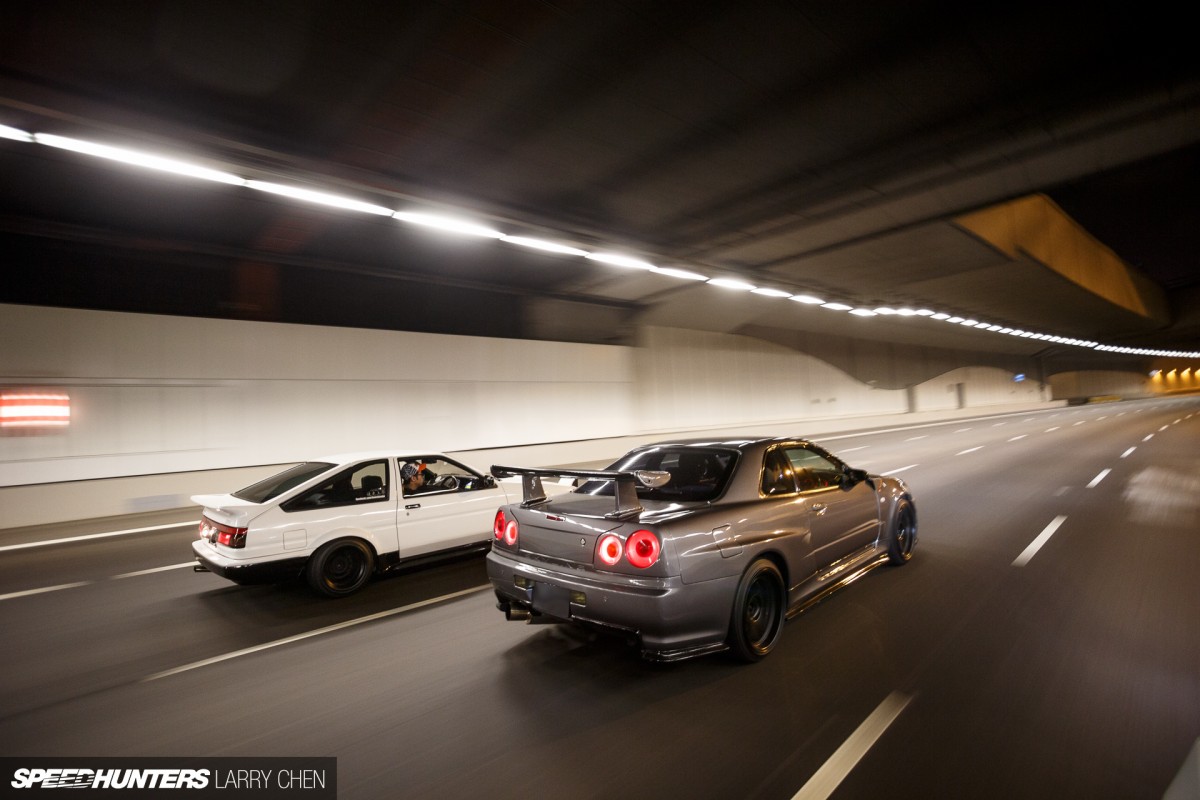 Some desperate owners have driven their cars into Malaysia and paid a shop to store it, and then reported it stolen back in Singapore. Of course, the car can then only be driven in Malaysia and on the track, not the road. Desperate times call for desperate measures as they say.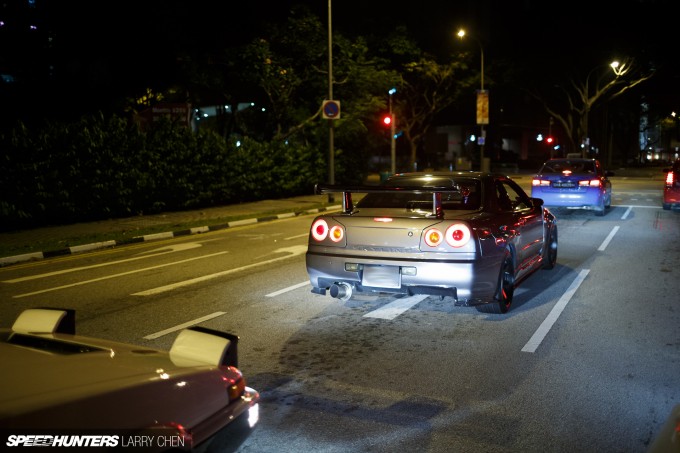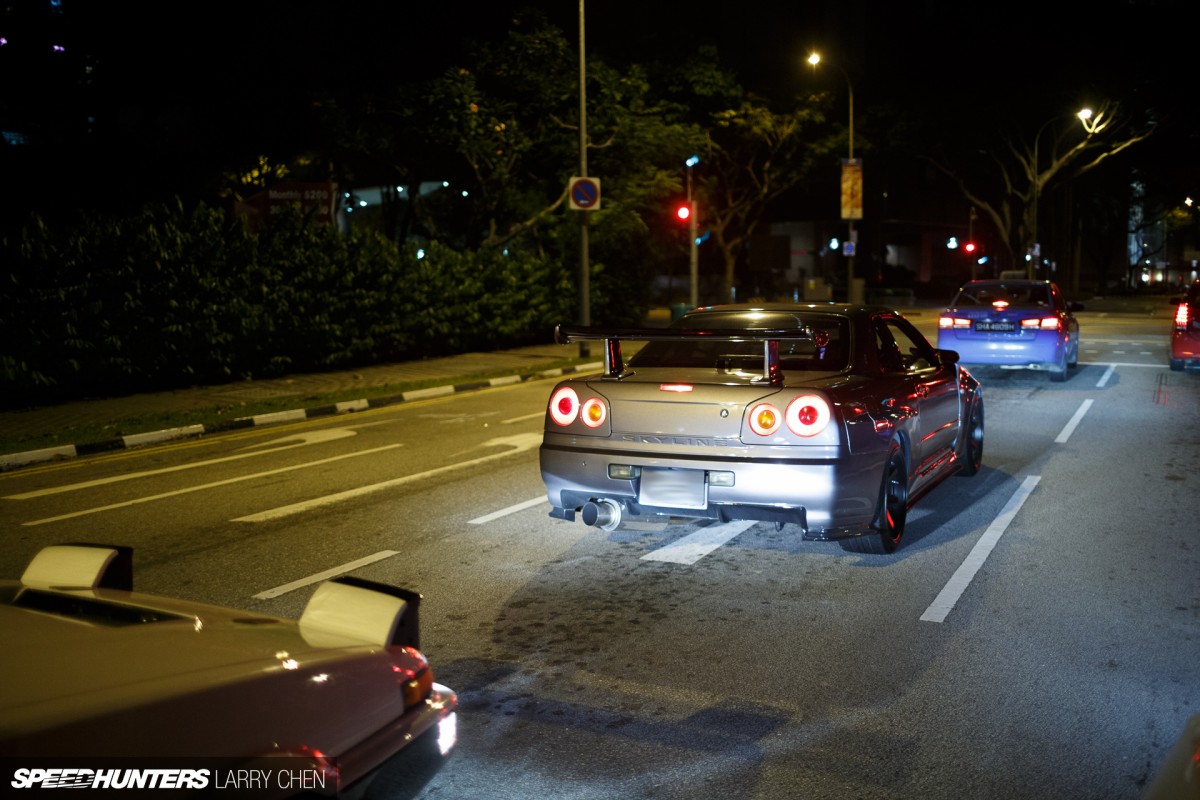 So why not import more AE86s from Japan then? Well, you could, but given their age they would need to be registered as a classic car, which only allows a few days out of the year in which they can be driven on the street. If you want to import something like an R34 Skyline, you're going to be out of luck, as you can only import cars that are just a few years old. It is why there are only nine BNR34 GT-Rs left in Singapore.
Wangan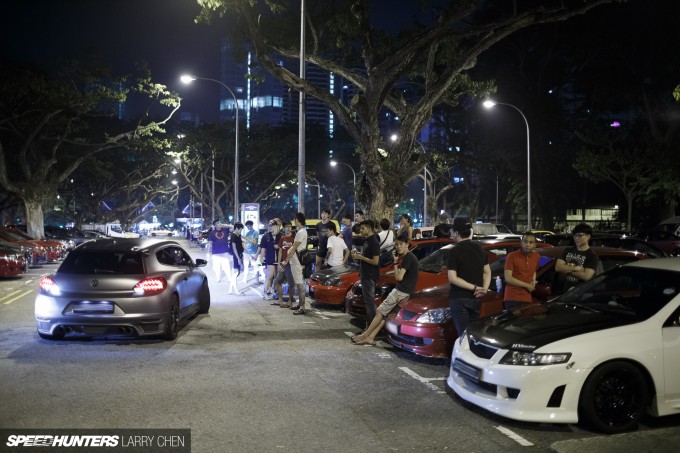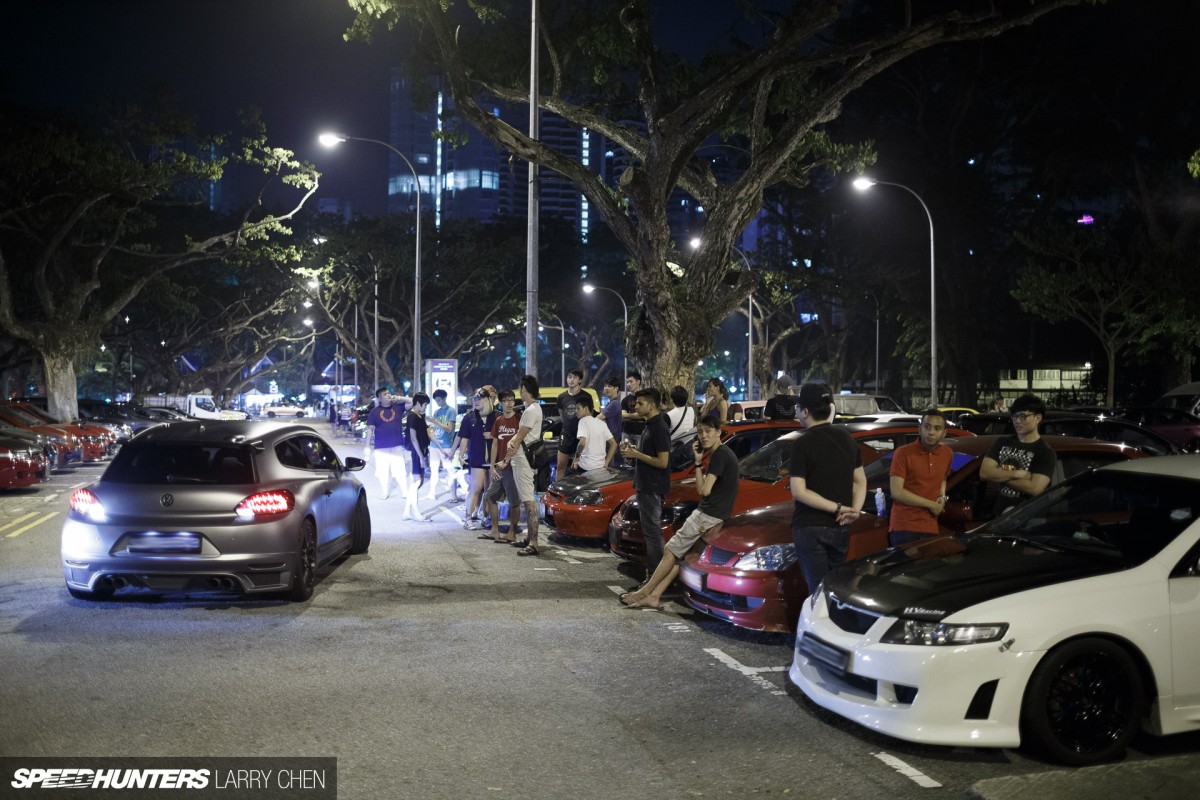 We cruised around in a group of about 20 or so cars before ending up at a very popular meeting point. By now it was already 1:00am.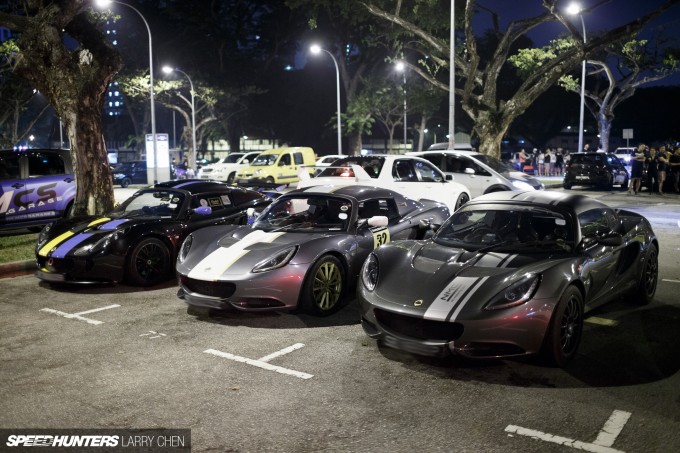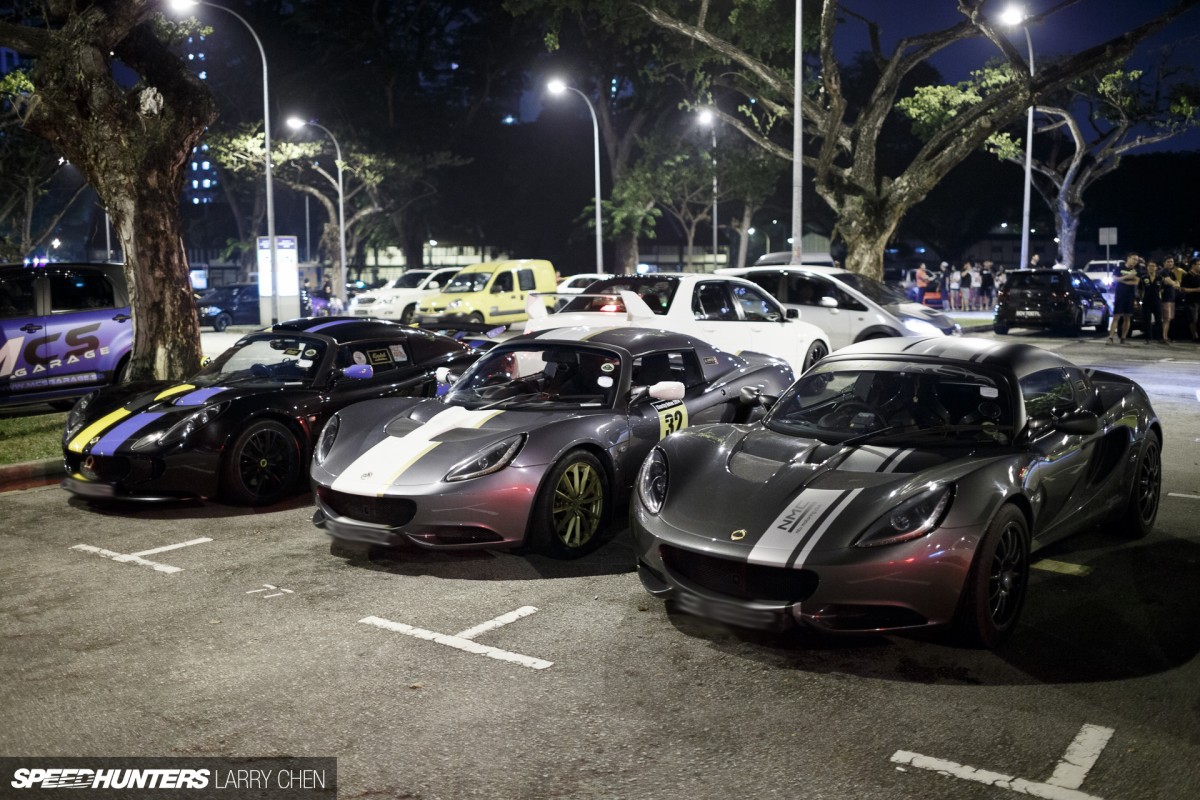 There were all sorts of cars, and I could not imagine how expensive some of these would be to own.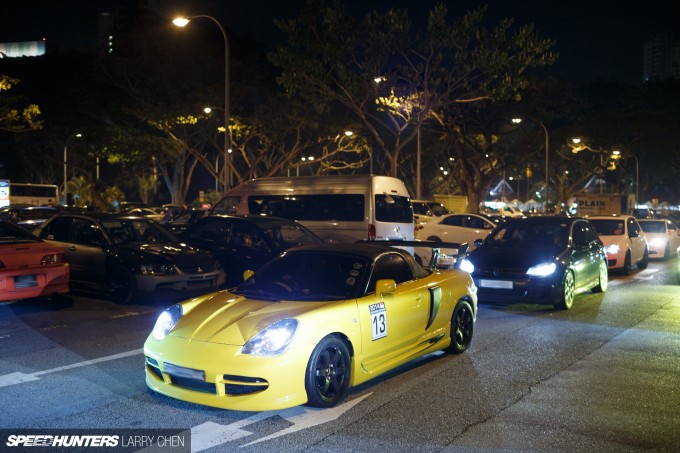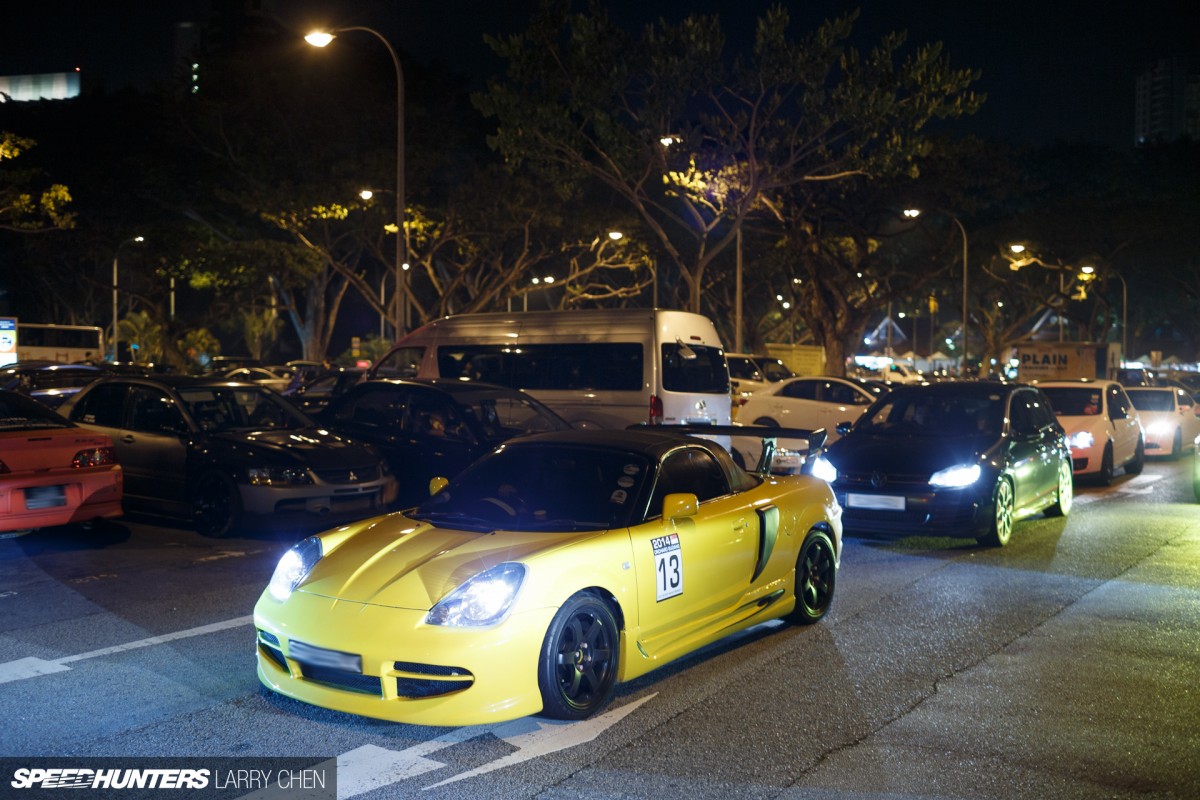 Quite a few cars at the meet proudly displayed track day badges to signify that their street machine sees the light of Sepang Circuit, or other Malaysian race tracks.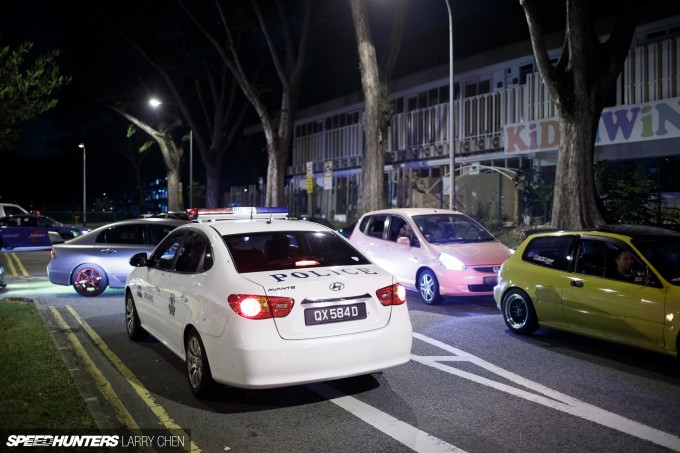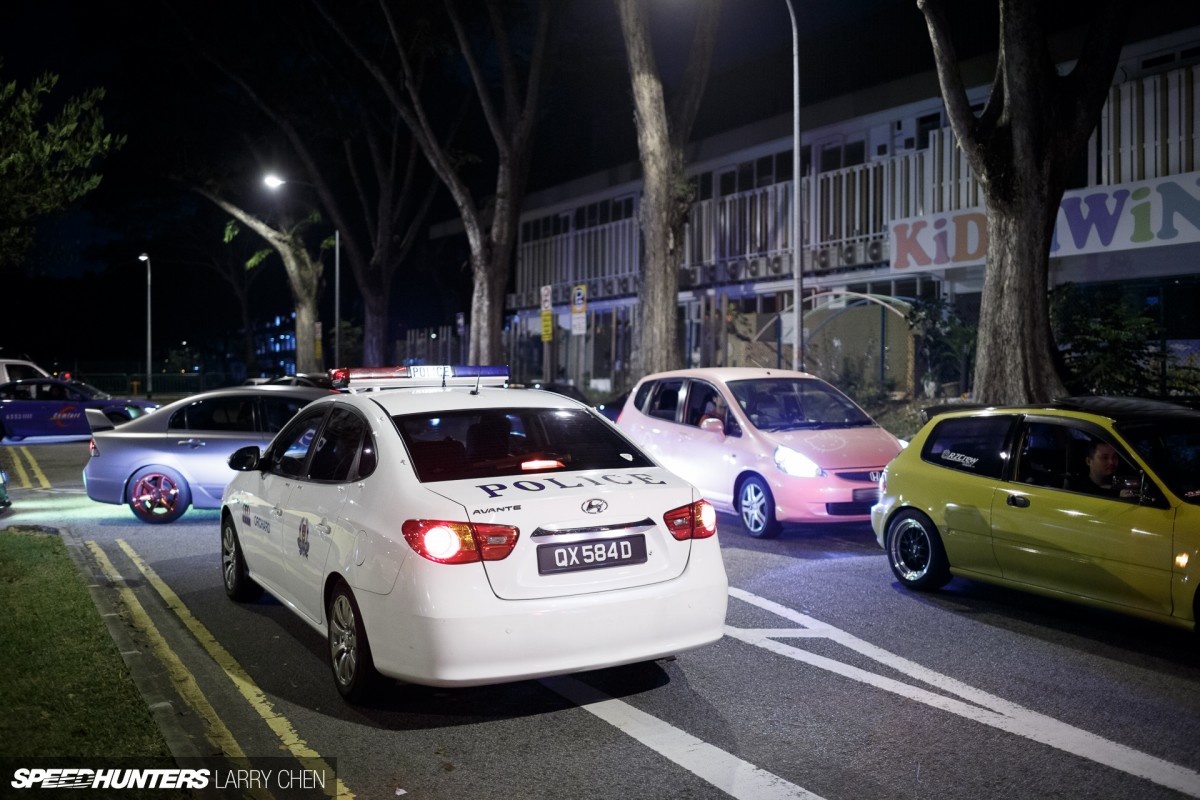 Soon the police showed up of course, and one by one the cars rolled out in orderly fashion. No one was worried though because, unlike the transit Police, local cops have no authority to hand out citations for modified cars.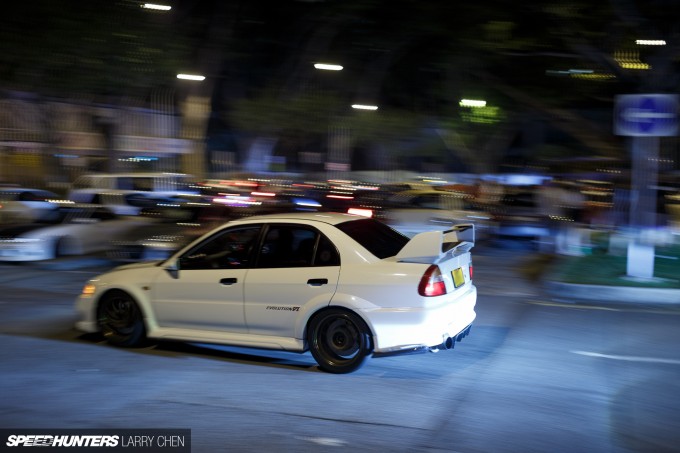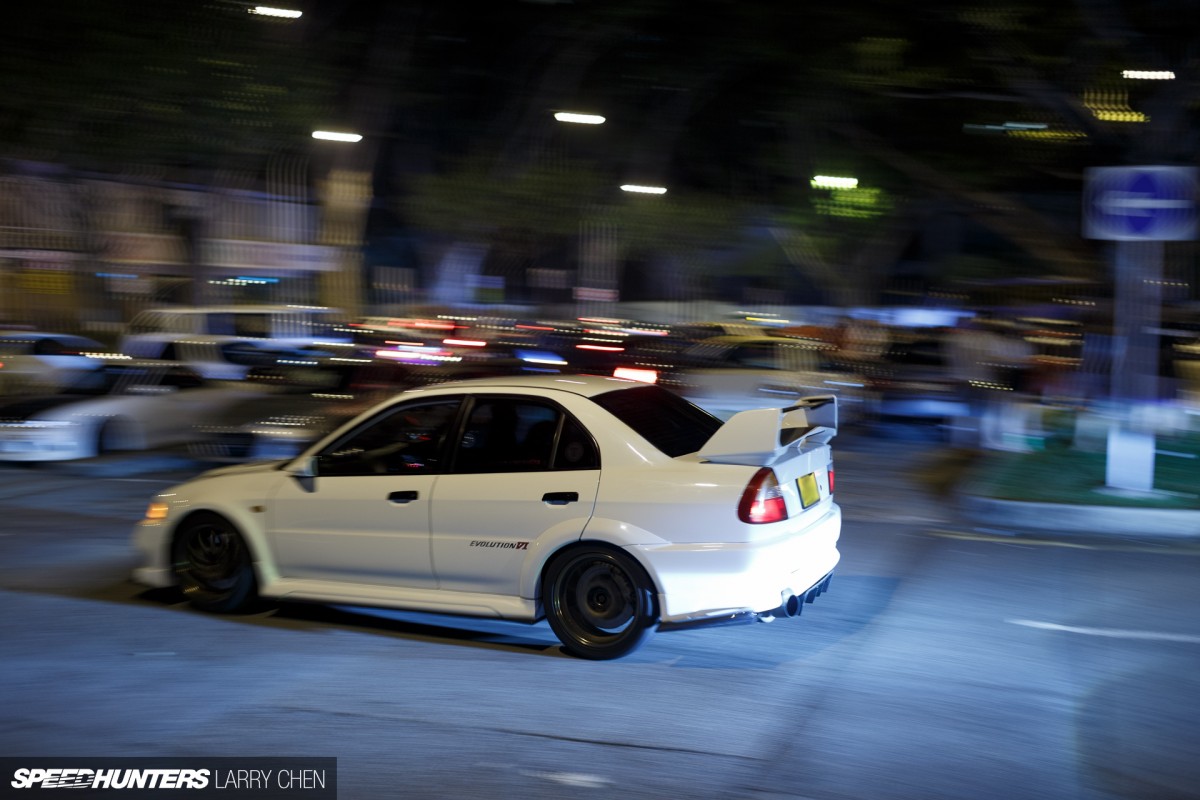 If you were wondering, only right-hand drive cars are allowed on the road in Singapore. There are two Ferrari Enzos, a few Mclaren P1s, and even a Mclaren F1 in the country. Because they're all left-hand drive (Or middle drive), though, none of them can see street use. They just sit in garages collecting dust.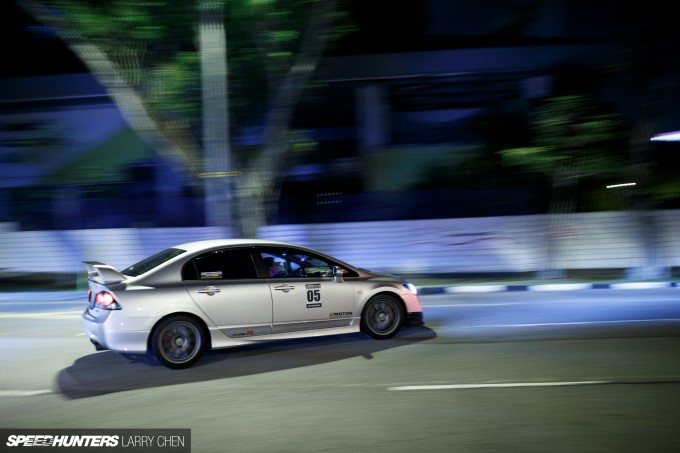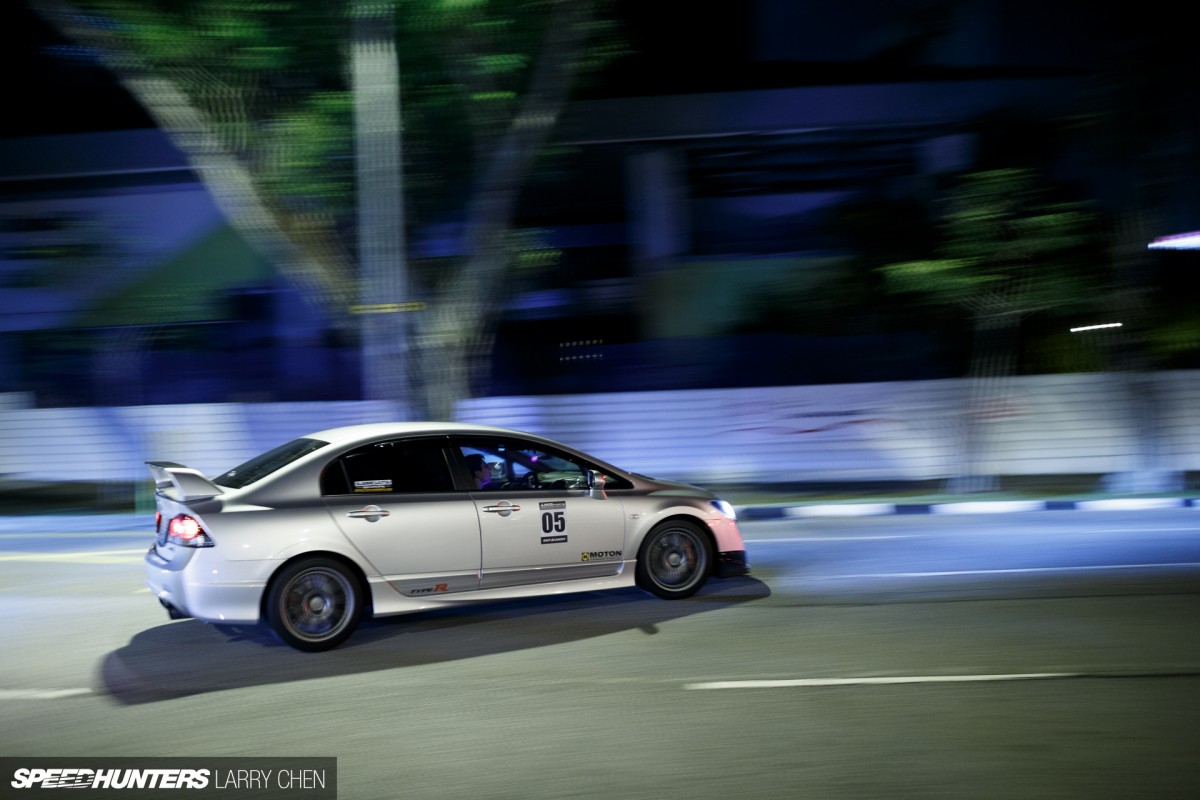 A predetermined route was planned out for the early-morning drive and our group quickly grew to around 80 cars strong.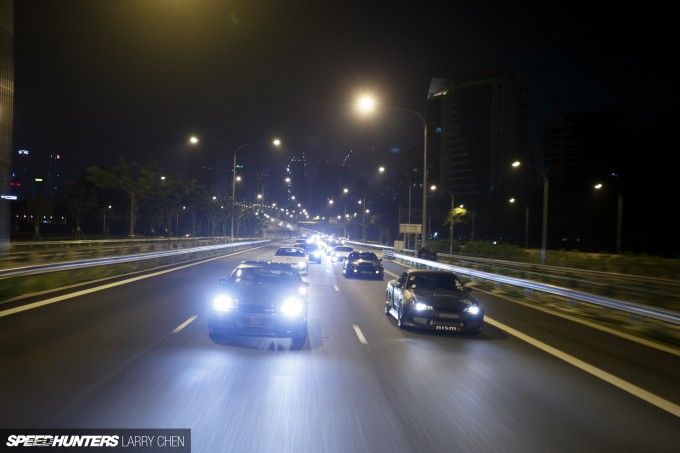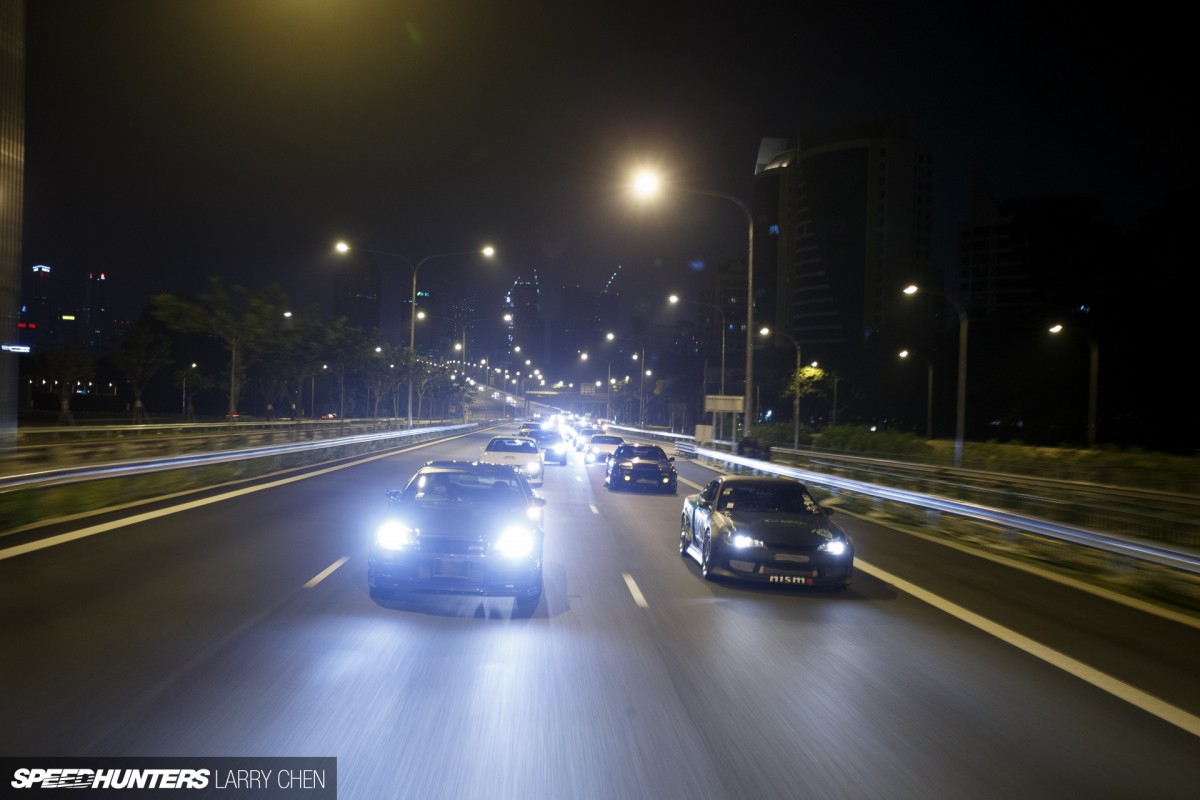 At this point it really did remind me of the days when I first got my driver's license and cruised around the streets of Los Angeles at night with my friends. We would drive for hours, but never ran out of road.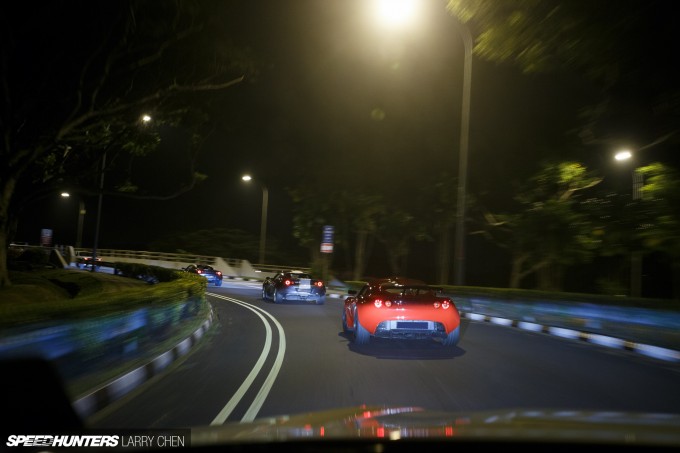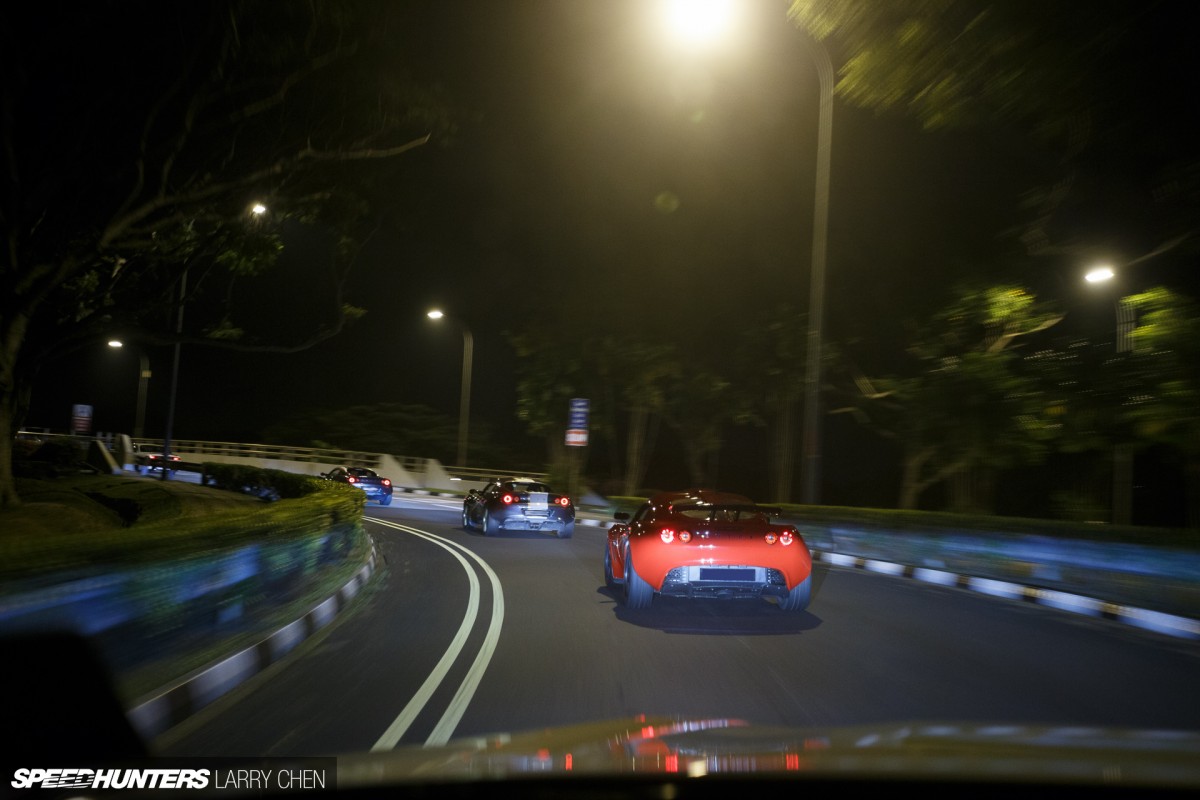 It's somewhat different in Singapore of course, and you're limited to the network of roads on the tiny island. So we drove to the airport and back a few times, as it was the longest stretch of road in Singapore.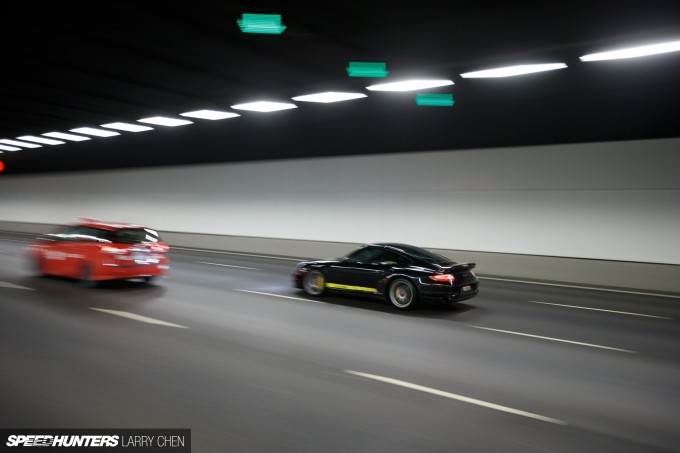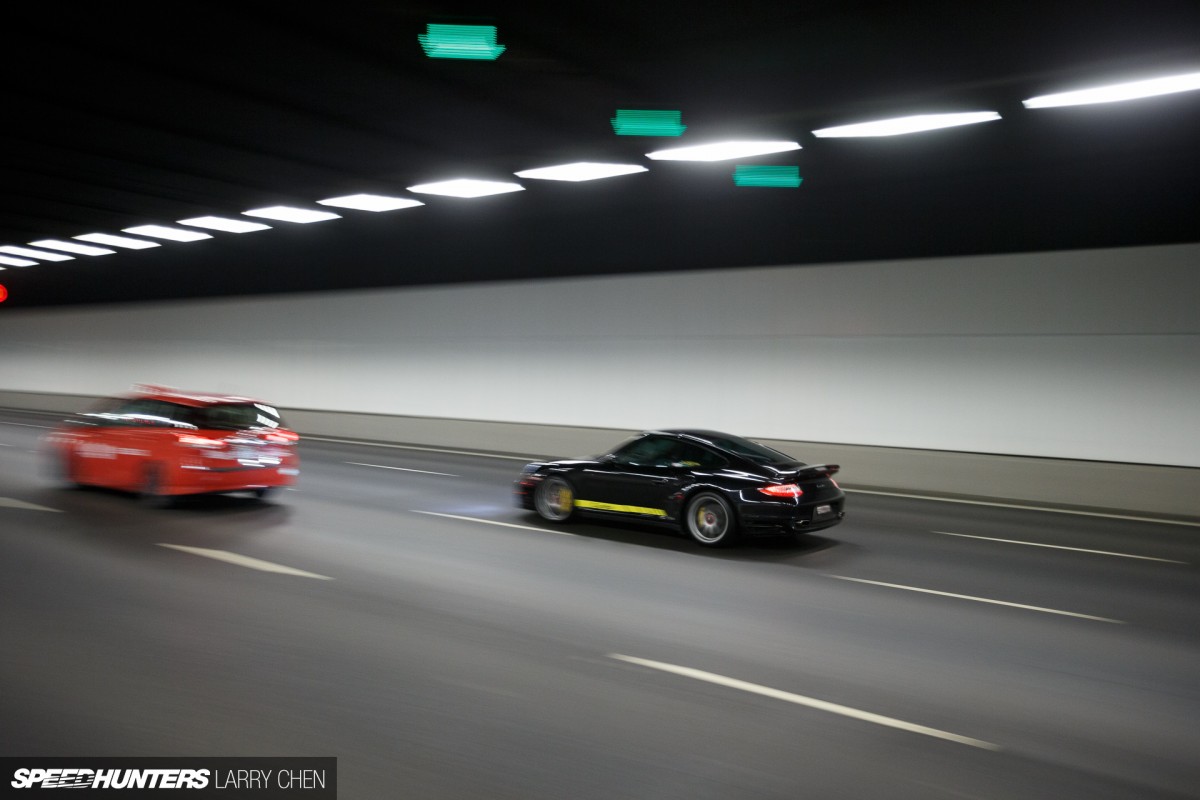 While the rest of the city slept, we blasted through the tunnels and roadways.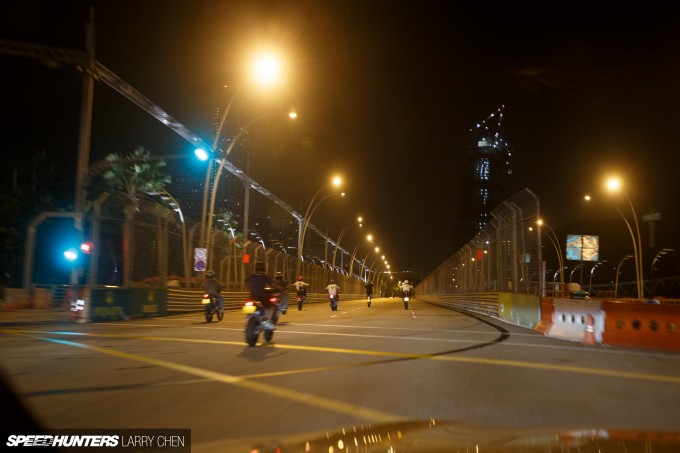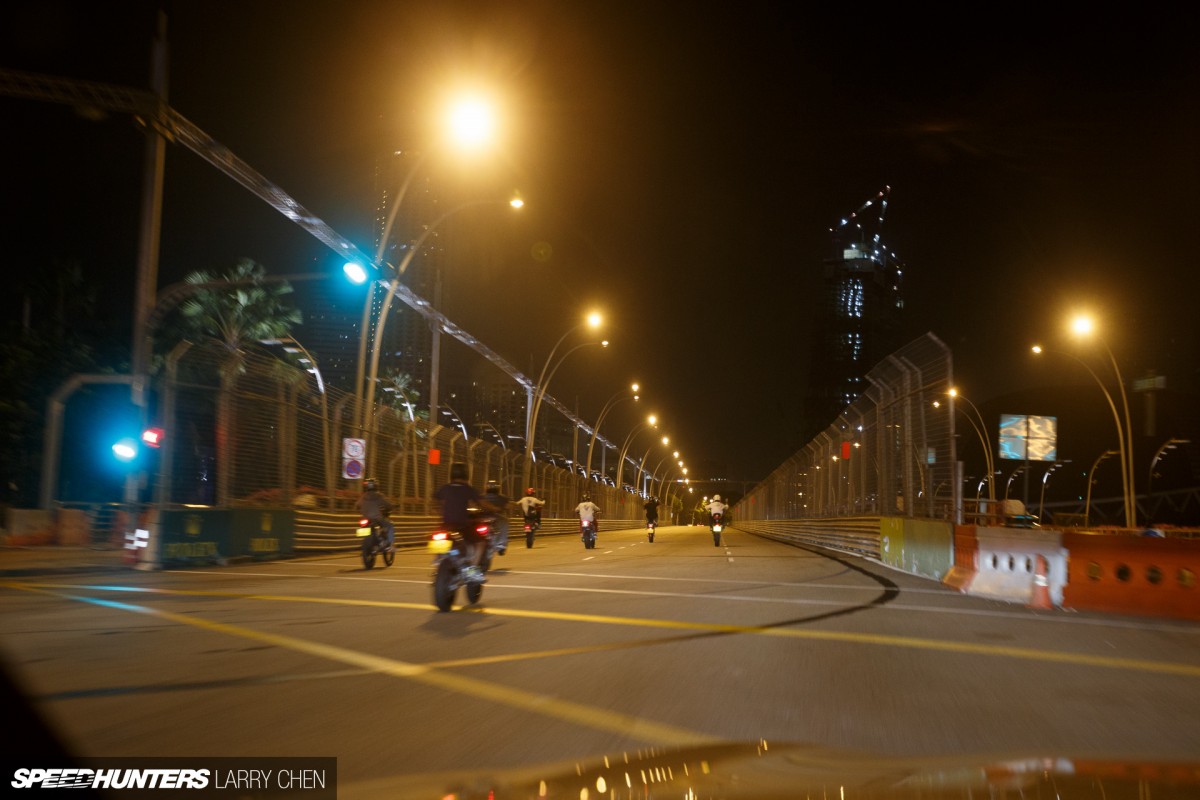 We even came across a gang of motorcycles that seemed to have a similar plan.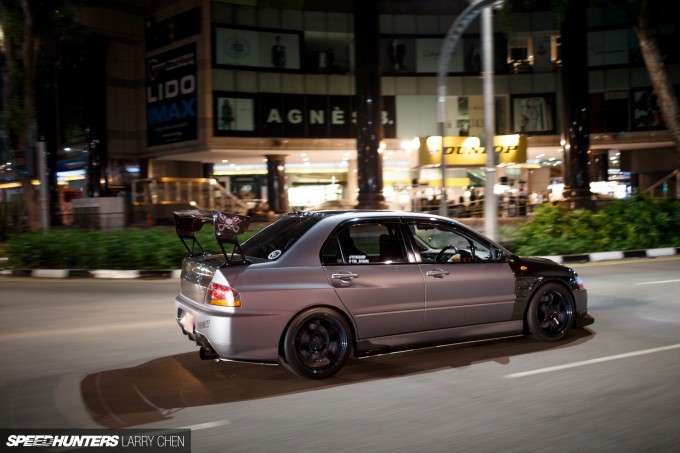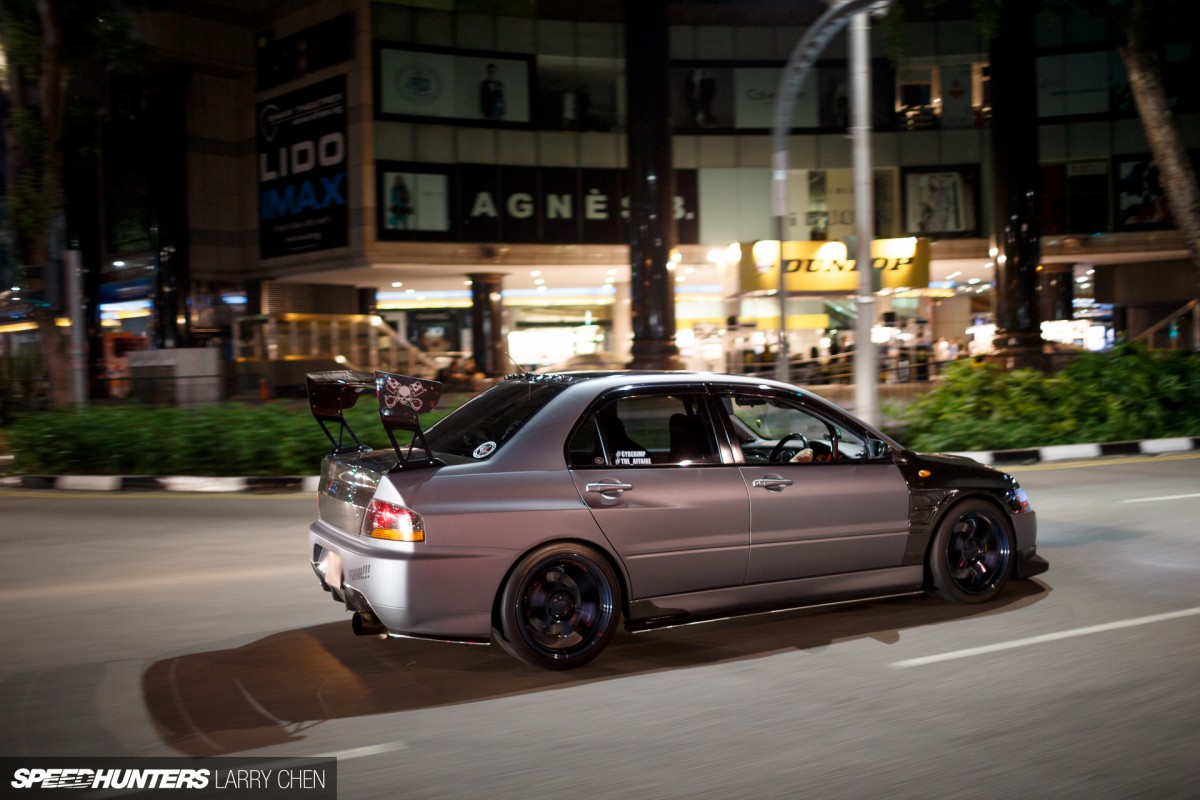 Given this place is so small, we were bound to drive through the major intersection where my photo gallery was. Just a few hours earlier I was at that very spot signing books and chatting with fans, but at this moment we were blasting through the streets of Singapore like we were on the Wangan.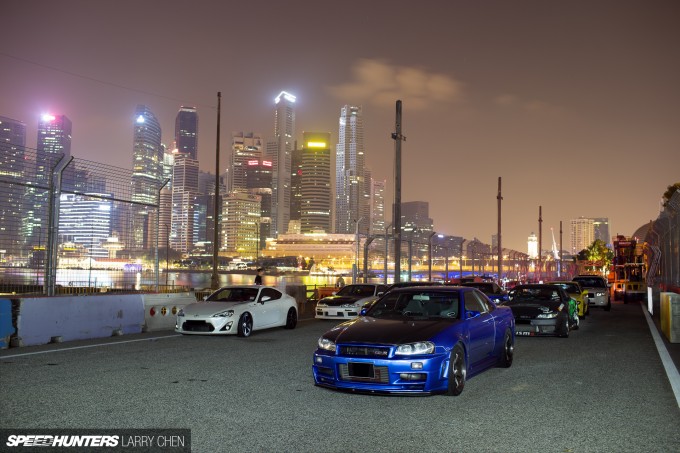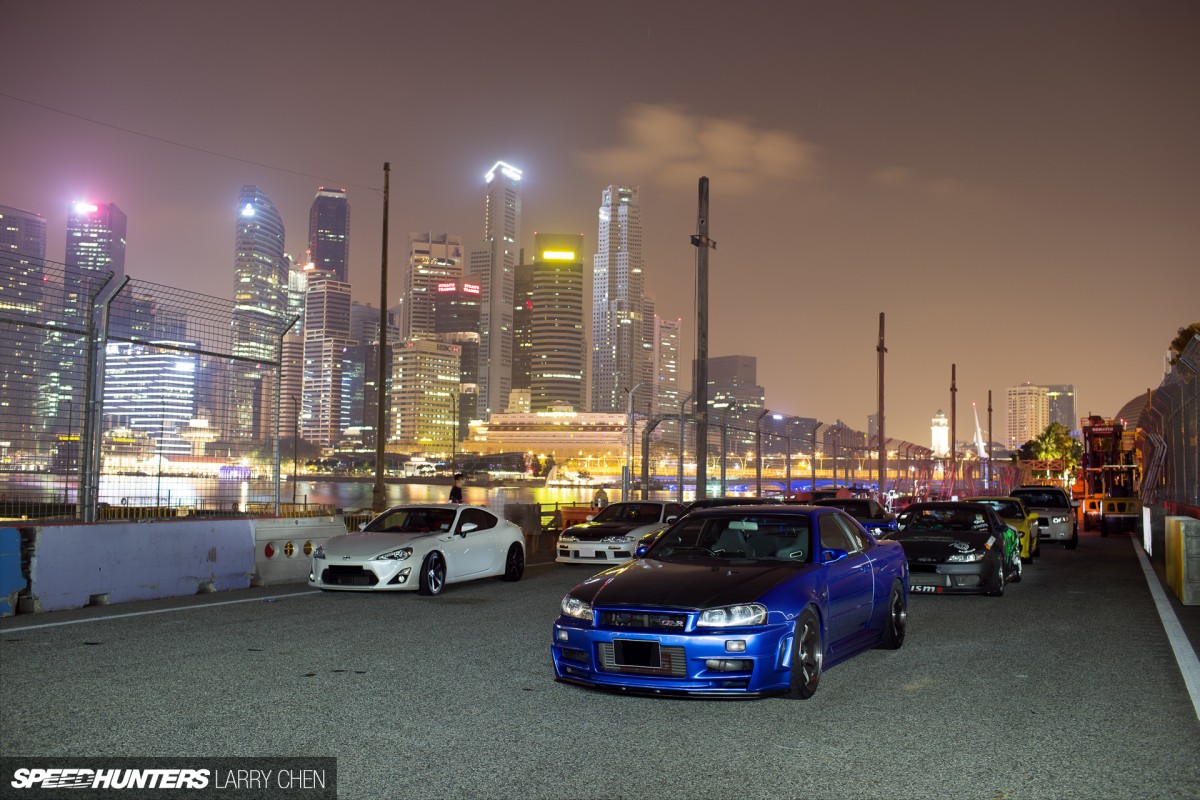 Eventually, the group split up and we ended up with the original 20 cars that we started with. The Singapore Grand Prix was held just a week earlier so we parked right in front of the main grandstands. Just in case you guys were wondering, that Bayside Blue beauty would fetch a cool US$200,000 if it was put up for sale, but I have a feeling the owner is going to hold onto it until it's the very last one in Singapore.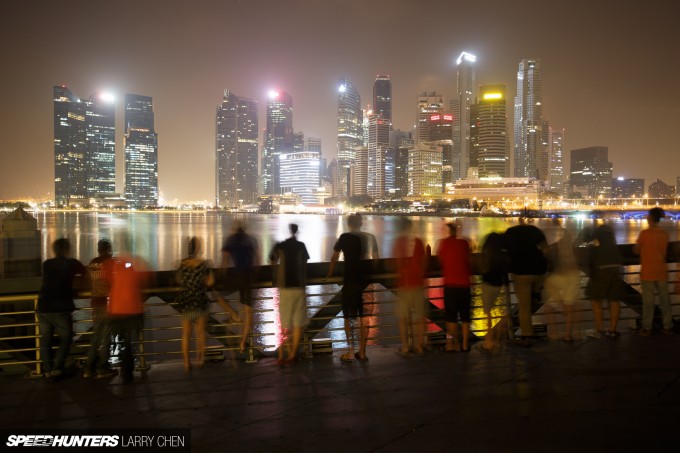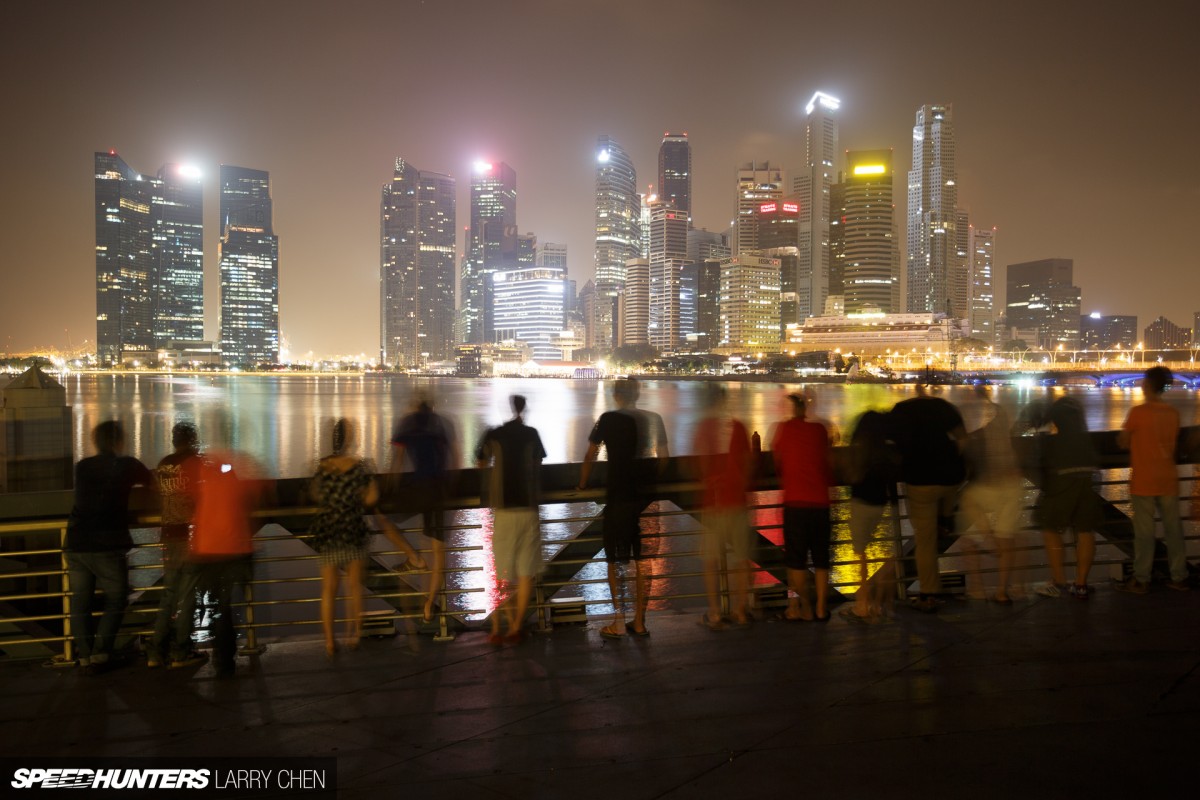 This group of tight-knit friends help keep car culture in Singapore alive and well, and I am very glad that I met each and every one of them. It's just too bad I can't mention any of their names. It was 4:30am now which meant it was time for some dim sum.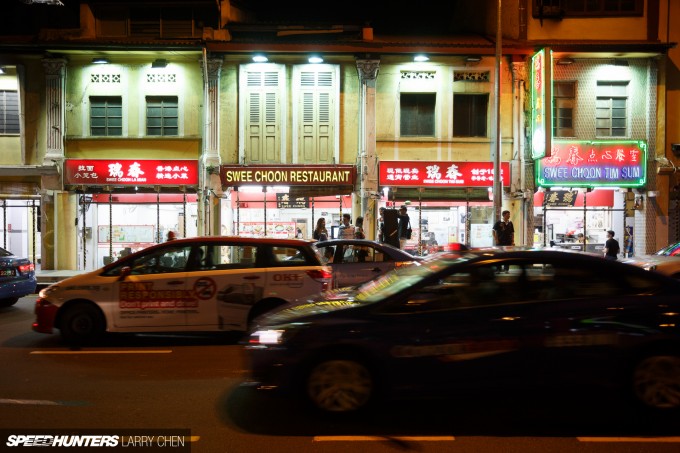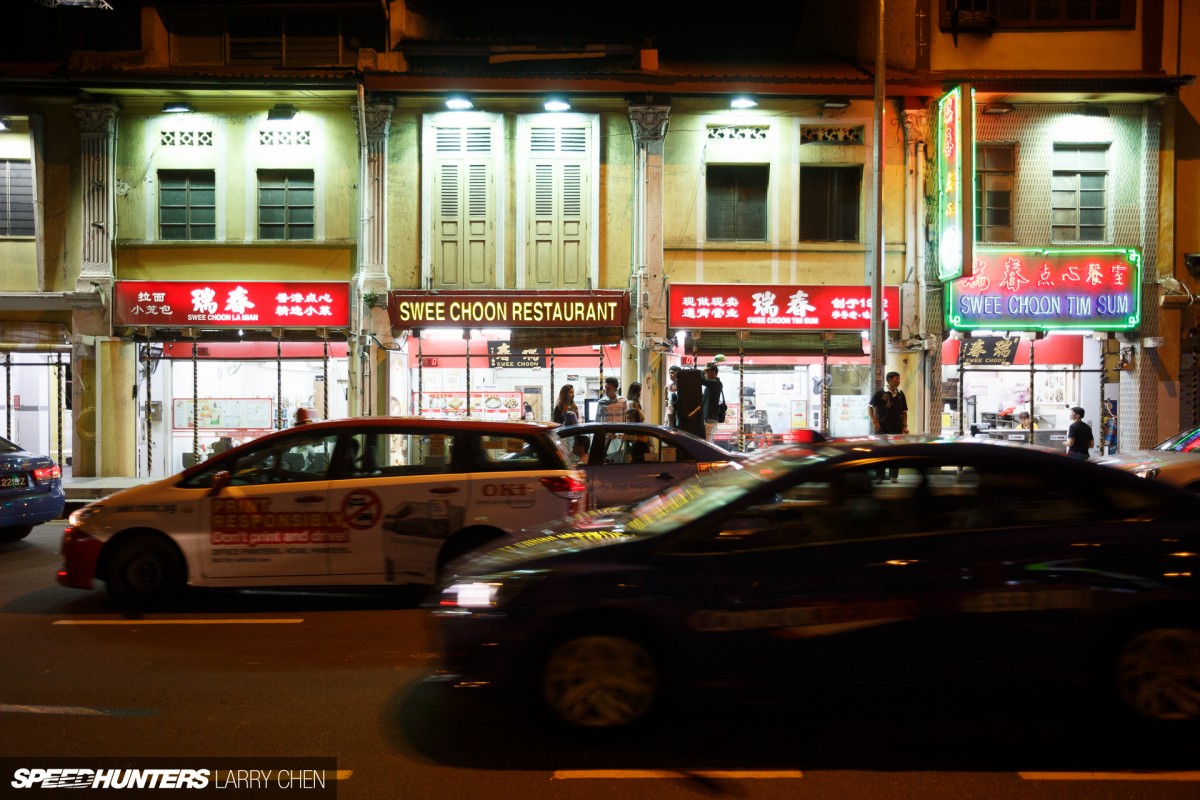 Swee Choon Dim Sum is open all night and it's one of the local hot spots to frequent after the clubs. While every other table had guys and gals dressed to the nines and tipsy from a night of drinking, we were a table of car enthusiasts sharing stories of our fun-filled night over some delicious plates of food.
Local Fare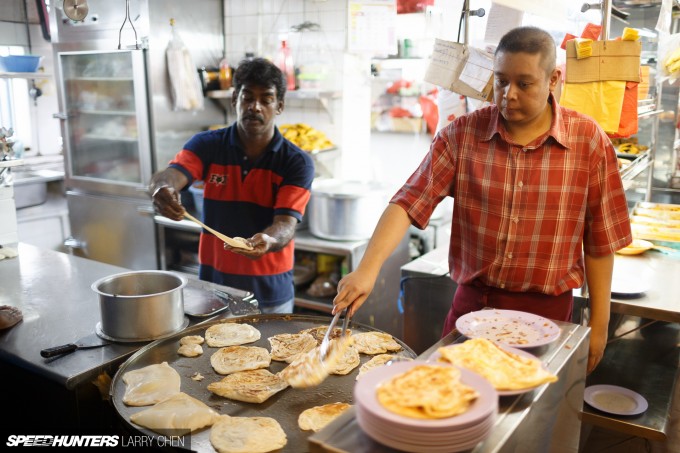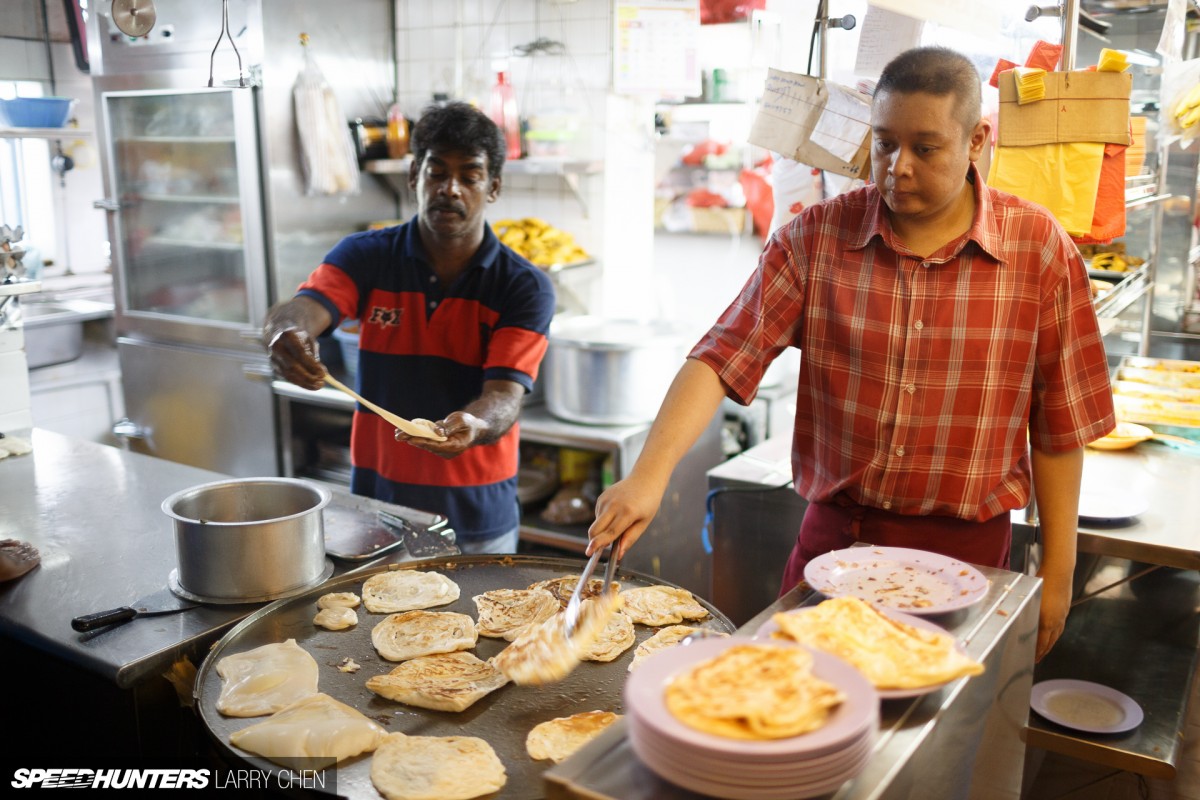 Before I left Singapore I met up with one of the editors at Rev magazine, which is probably the largest tuner magazine in Singapore.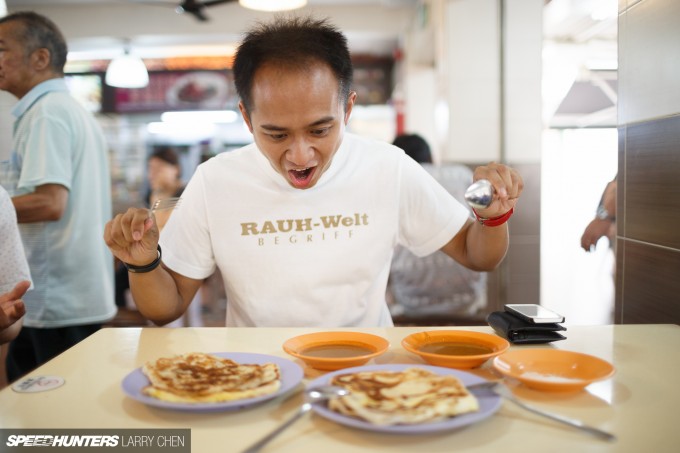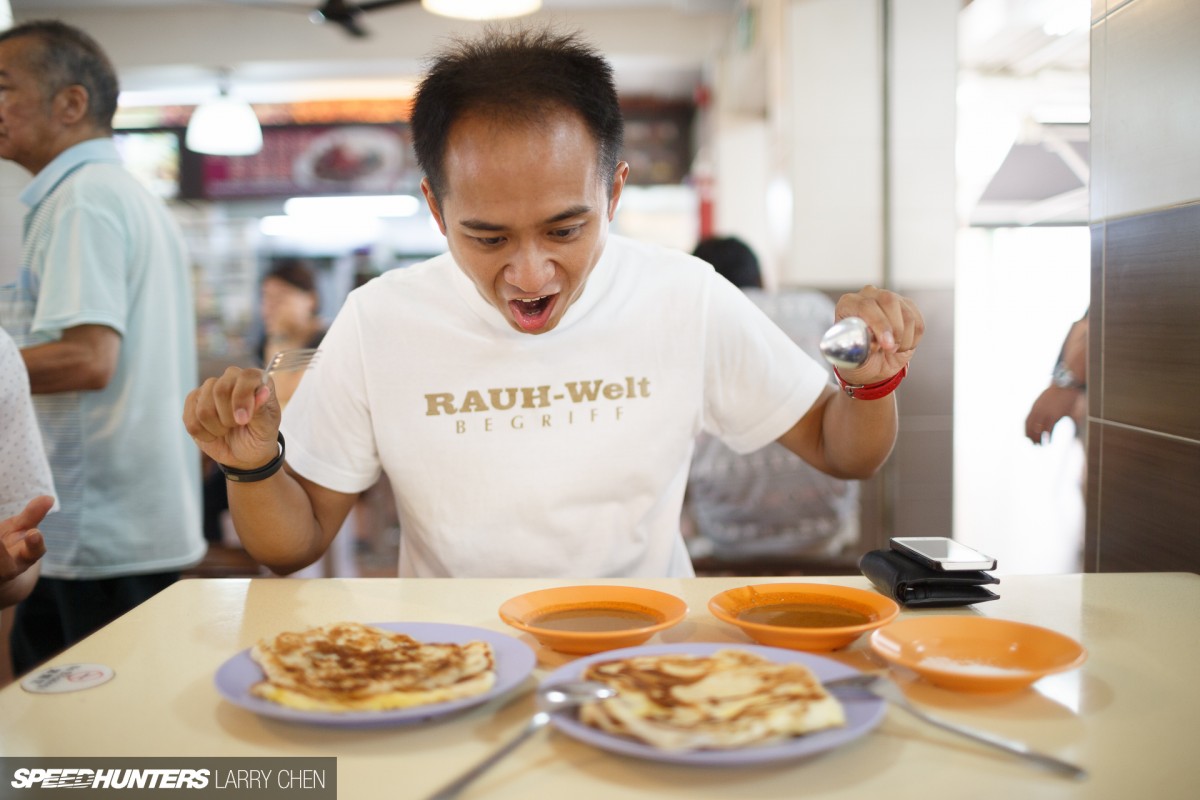 Aaron Hia is also a photographer so we had quite a bit in common. Plus, we both love Taiwanese-style pancakes – although I've never had them dipped in curry before…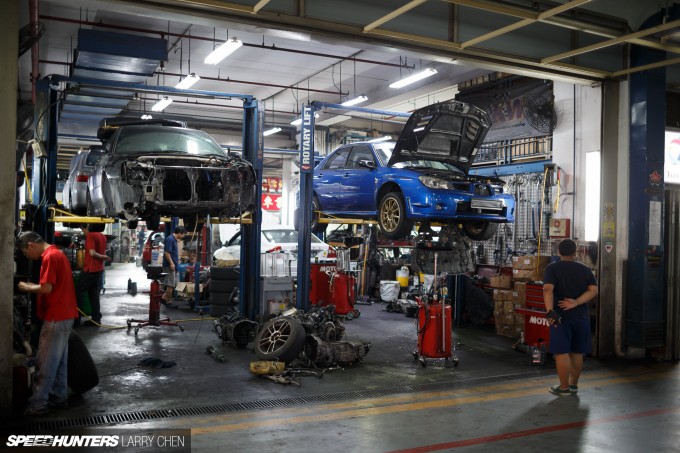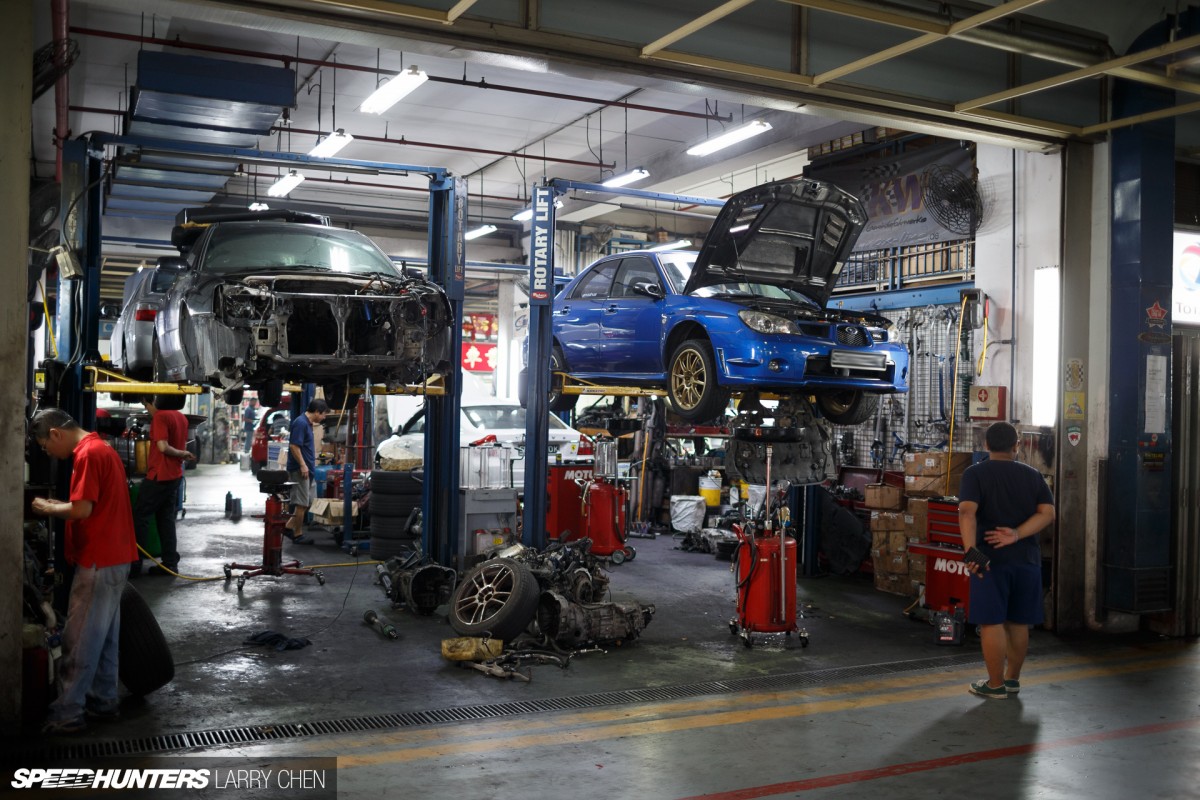 One of Speedhunters' past Editor in Chiefs, Charles Kha, toured Singapore while he was on the job and visited one of the largest performance garages in the country.  Singapore actually reminds me of Japan in that it's not really commonplace to work on your own car. You don't even wash your own car or change your own oil – a lot of which can be put down to a lack of space. So before I left, I wanted to check out some of the local shops responsible for tuning the cars that I encountered a few nights earlier.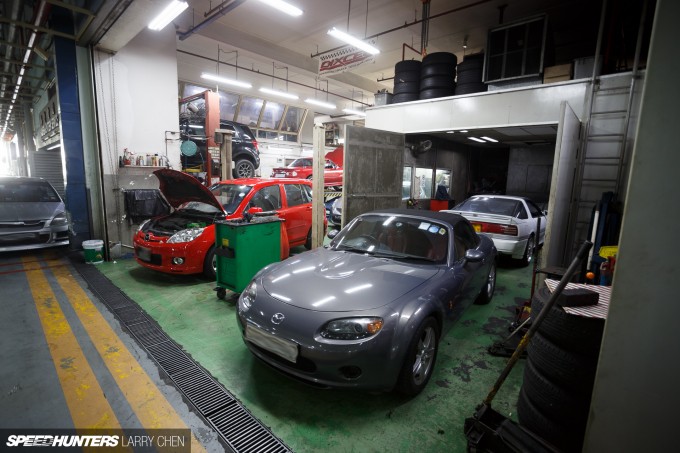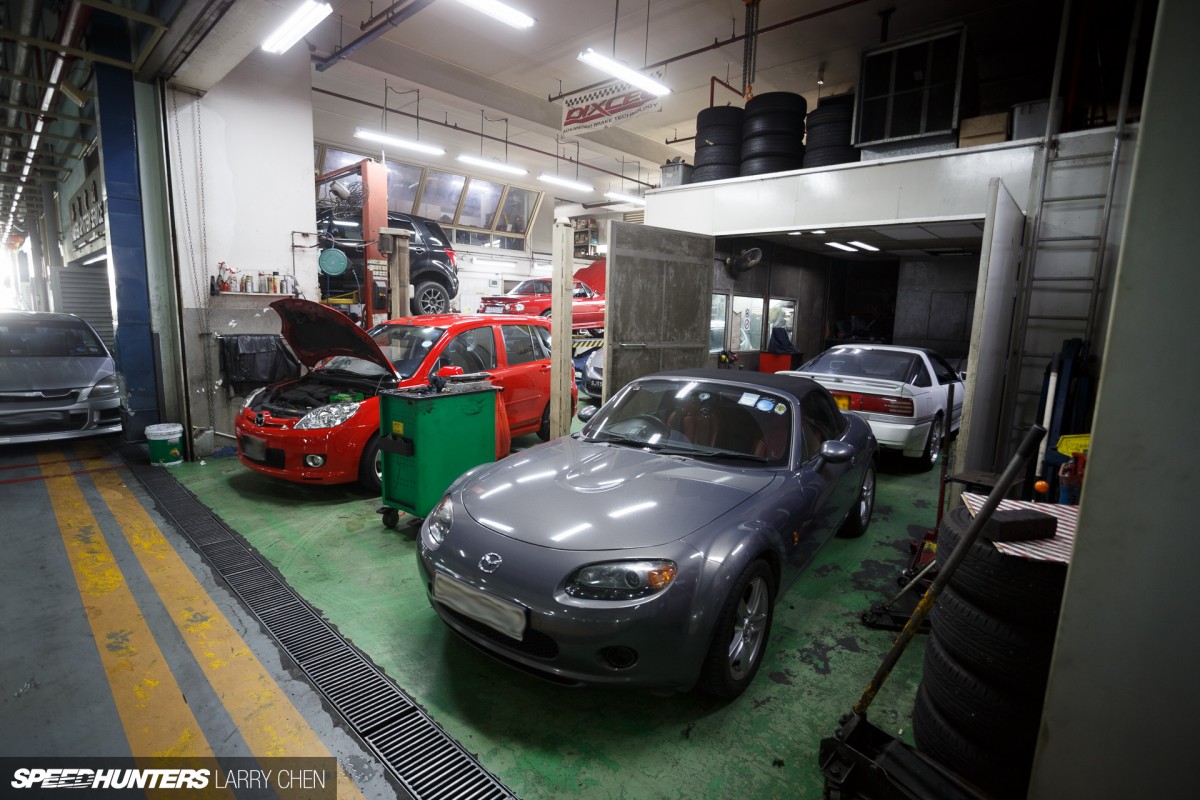 Aaron picked me up in his Suzuki Swift and took me to the outskirts of town and a huge multi-level complex filled to the brim with different mechanic shops. While most of them cater towards OEM maintenance, a few specialize in tuning and servicing for performance. That Supra in the background? The very last example in Singapore…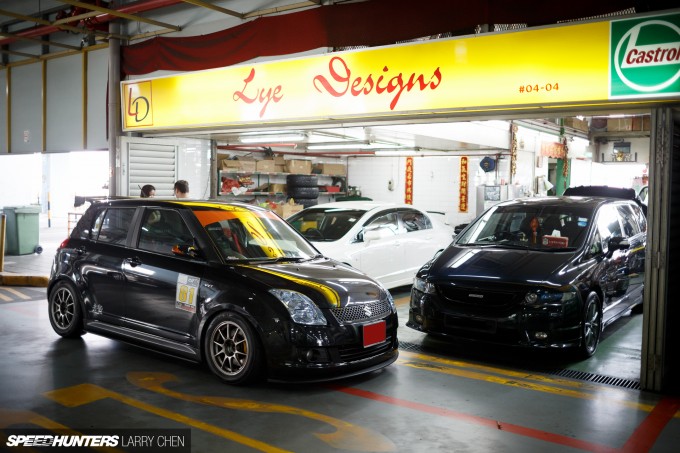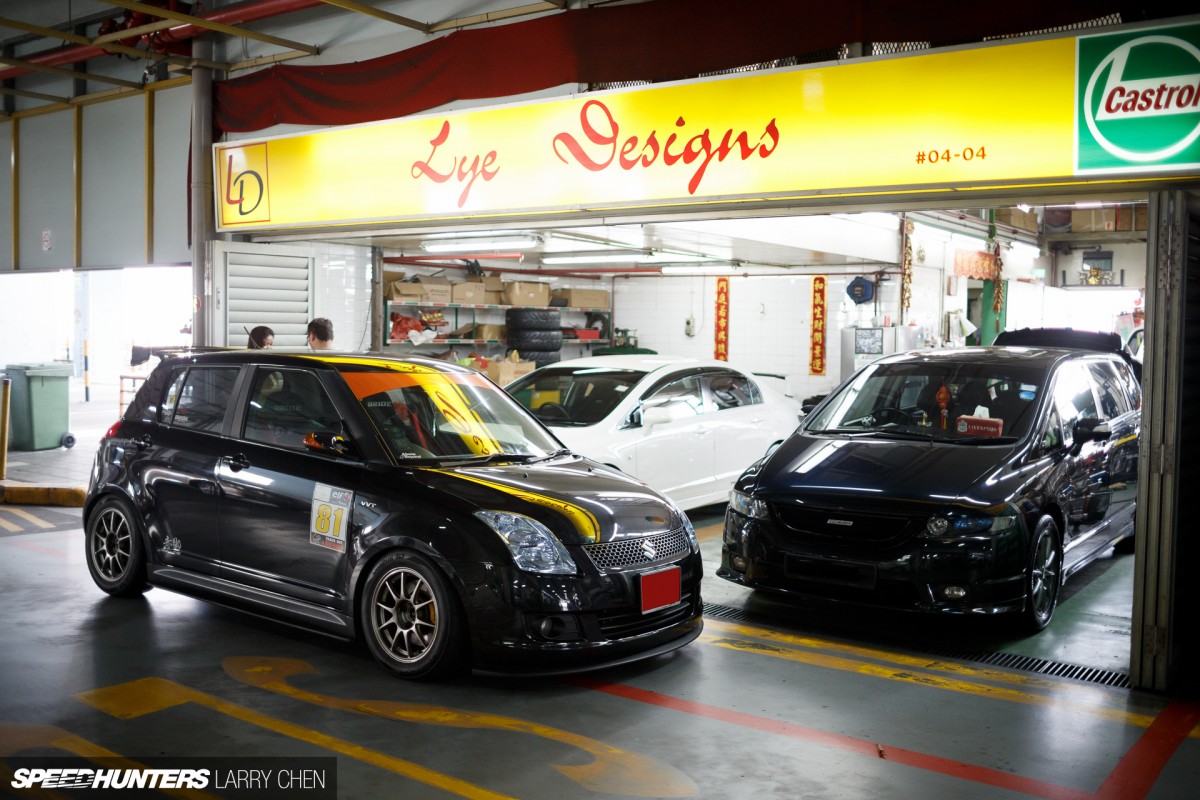 Aaron is a bit of a track day junkie himself and when he picked me up, his Swift was still running on semi slicks from his last day out at Sepang Circuit. Our destination was Lye Designs – a well known shop in the local scene.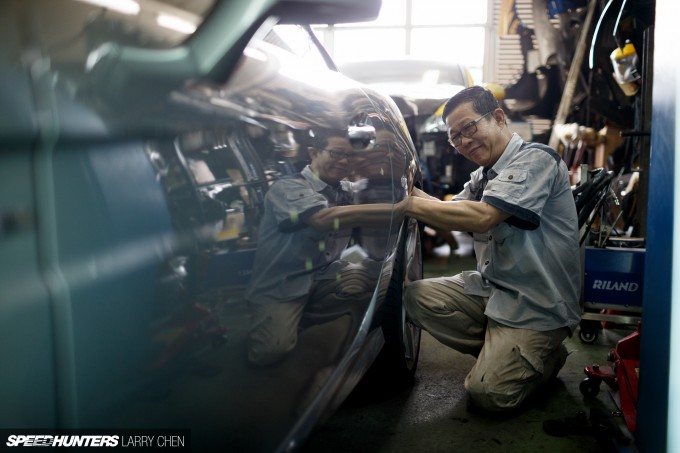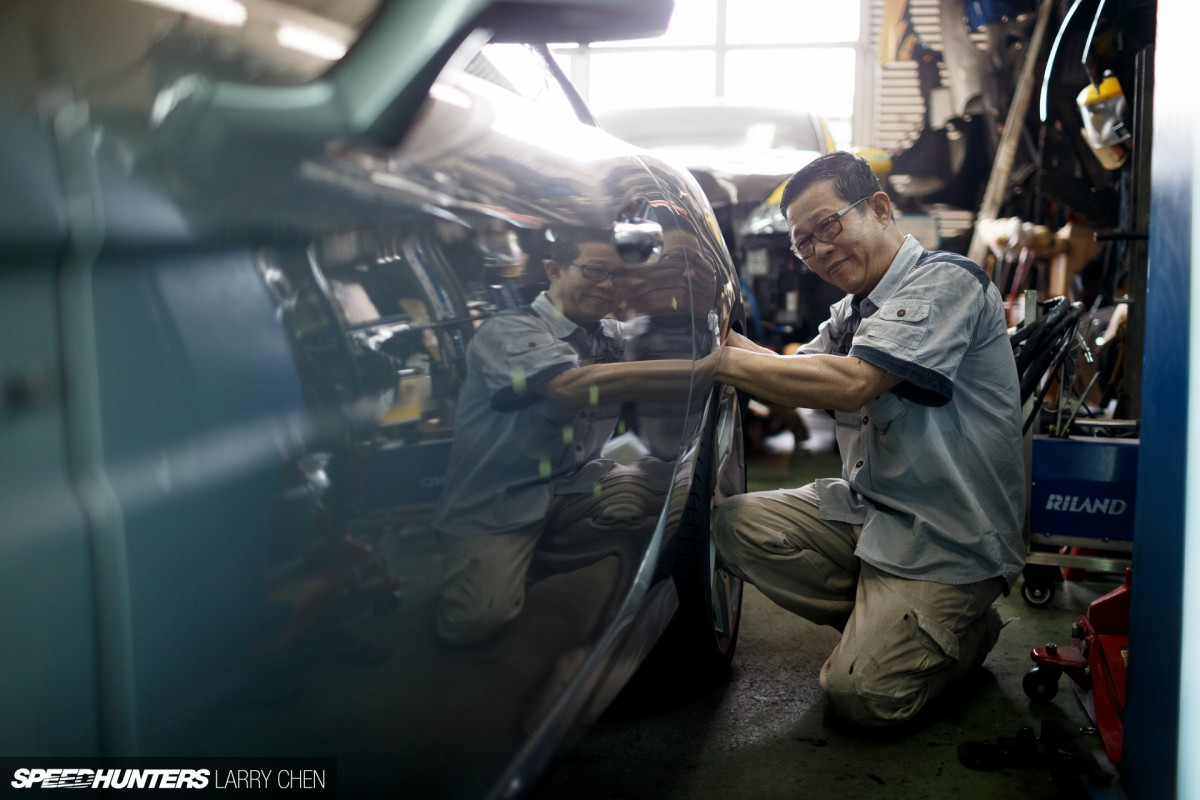 'Uncle Lye' is regarded as the Nakai-san of Singapore. He's been running this half body shop, half race-prep workshop for decades. If you want your car restored or modified the right way at a fair price, he's the guy you come and see.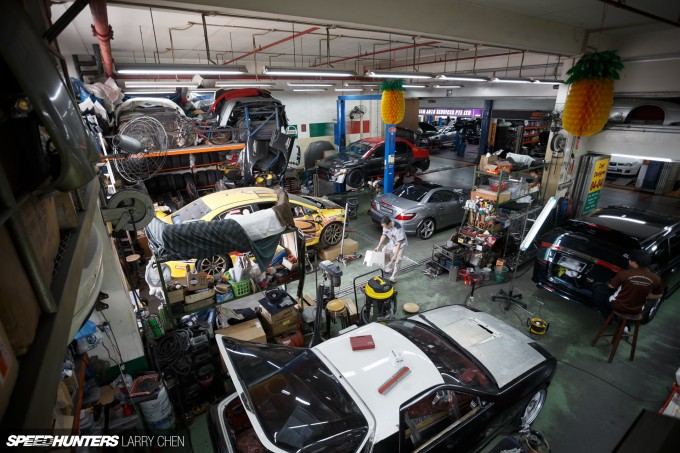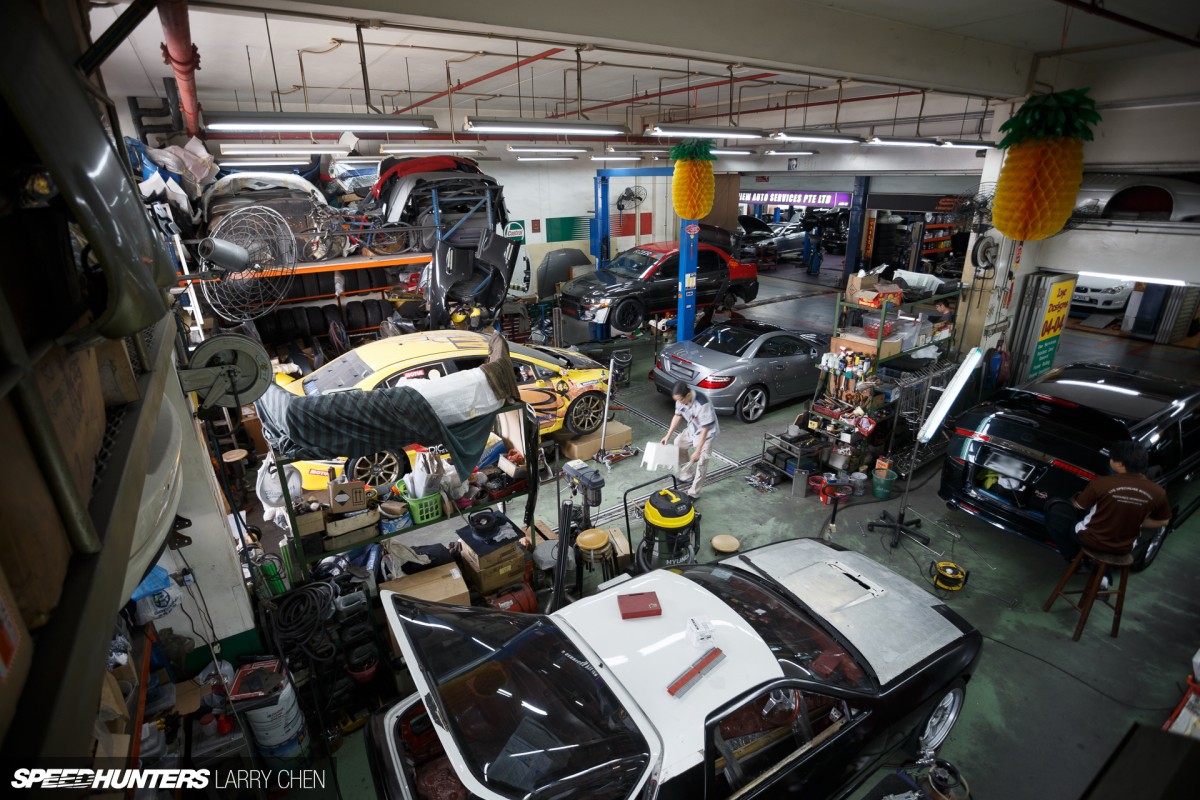 It's an honor to have your car worked on by the legend himself, and although there's not a huge amount of room in the workshop, Uncle Lye always has plenty of projects on the go.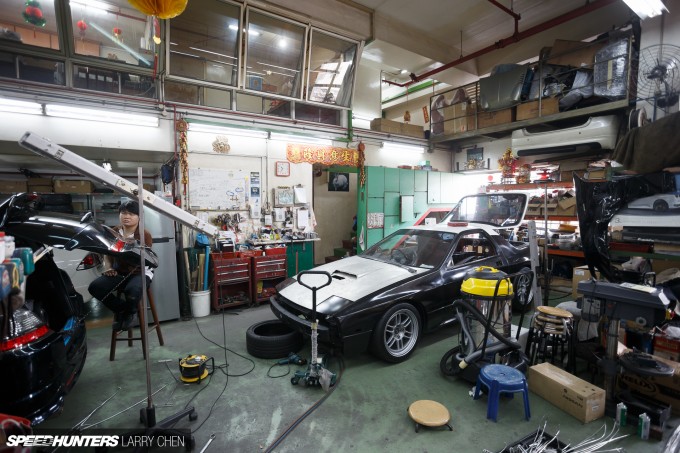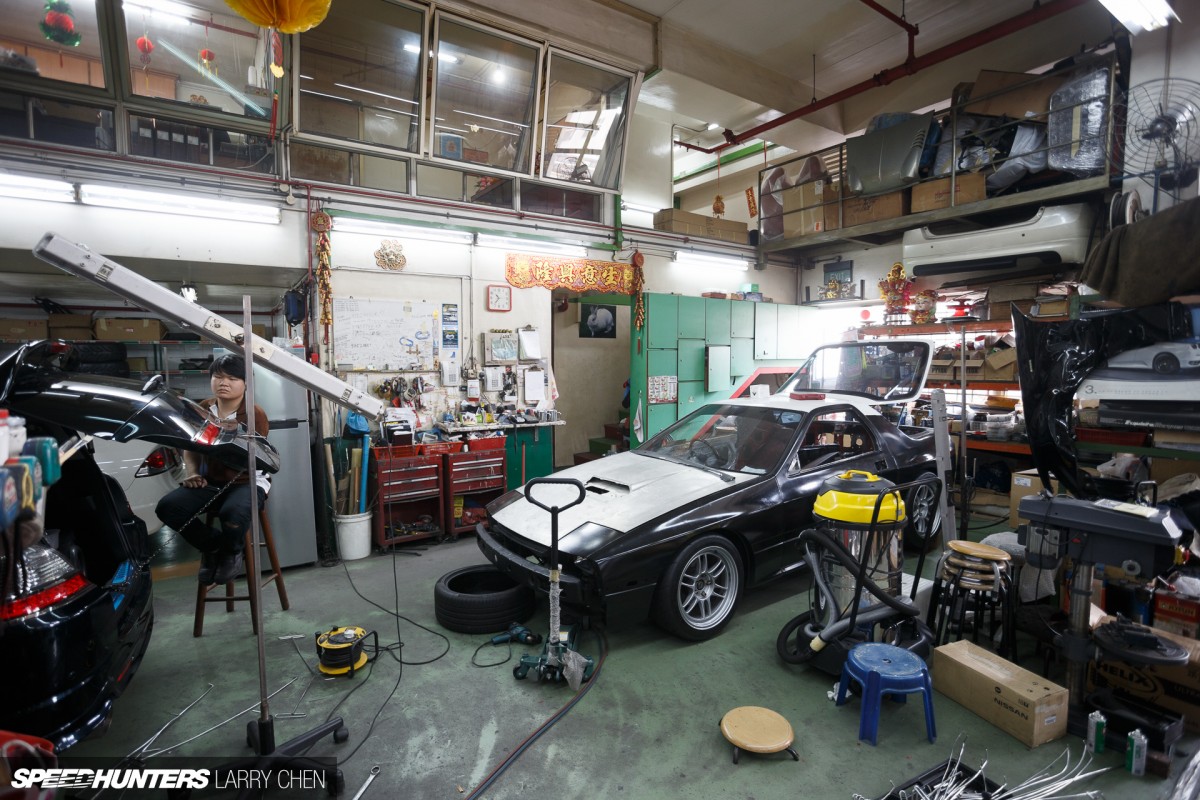 You guessed it – he has one of the last FC3S Mazda RX-7 in the country, which is currently undergoing a full restoration for one lucky customer. There are only five left on the road. When the car first came into the workshop it was in horrible shape with multiple layers of old paint covering the body. But because it's one of the last of its kind here, there's no way it could be scrapped. It's going to take time to rebuild it from the ground up but it will definitely be cool to see it back on Singapore streets.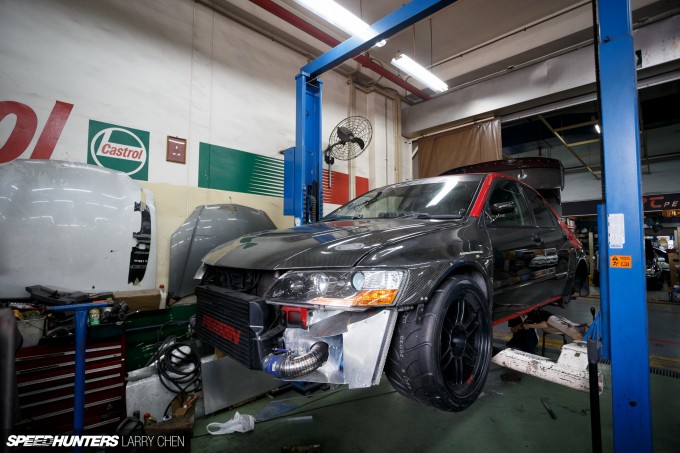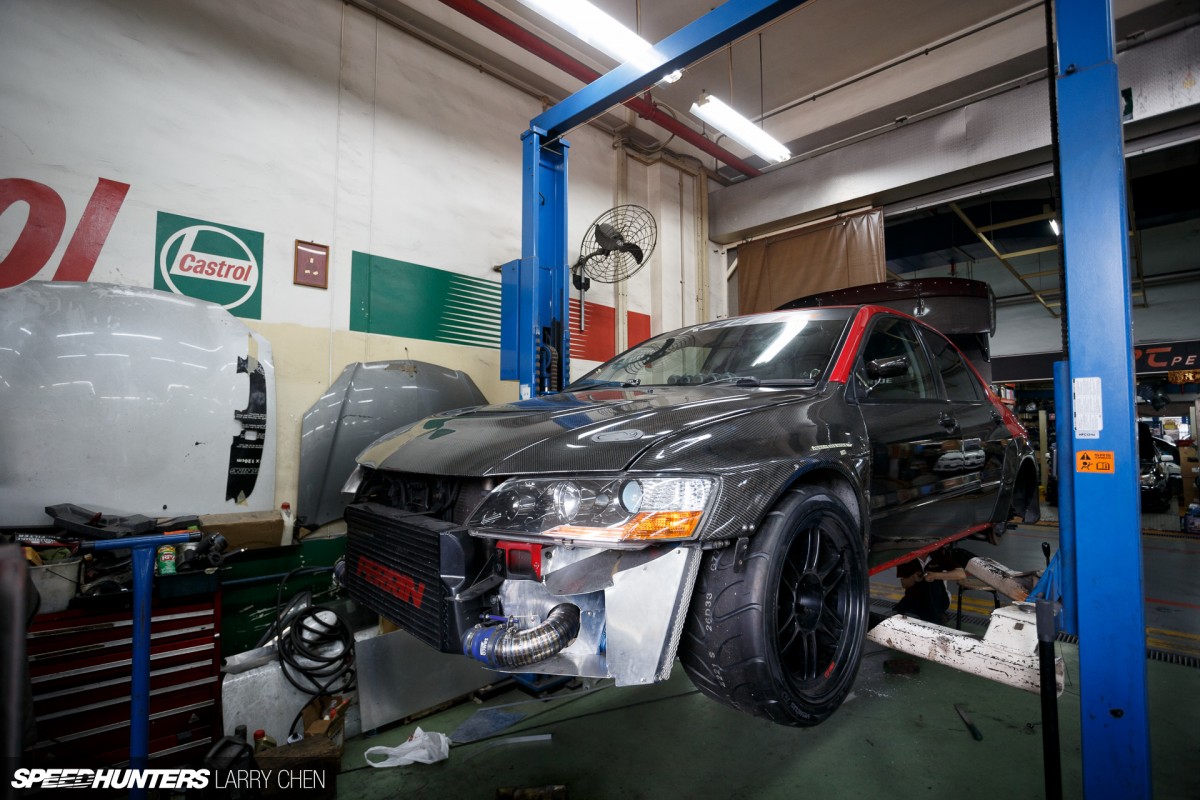 Also in the shop was this very nicely built Evo – a car that currently holds the AWD Turbo Street class time attack record at Sepang Circuit with a 2'24'839 lap. For comparison's sake, Aaron's Suzuki Swift clocks in at 3'01. This car will be shot for Rev magazine soon so keep an eye out for it if you are local.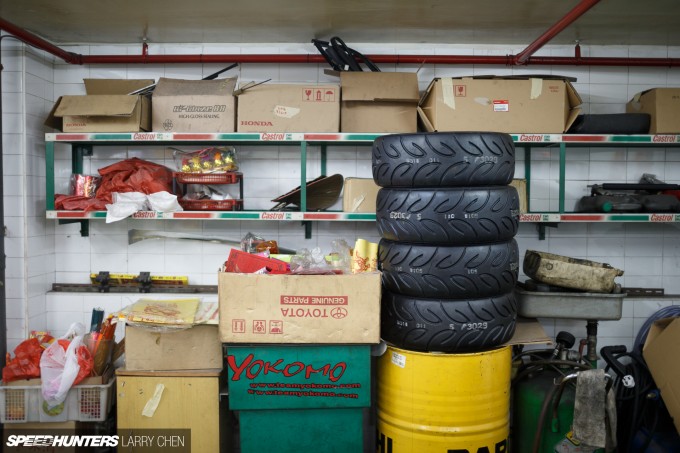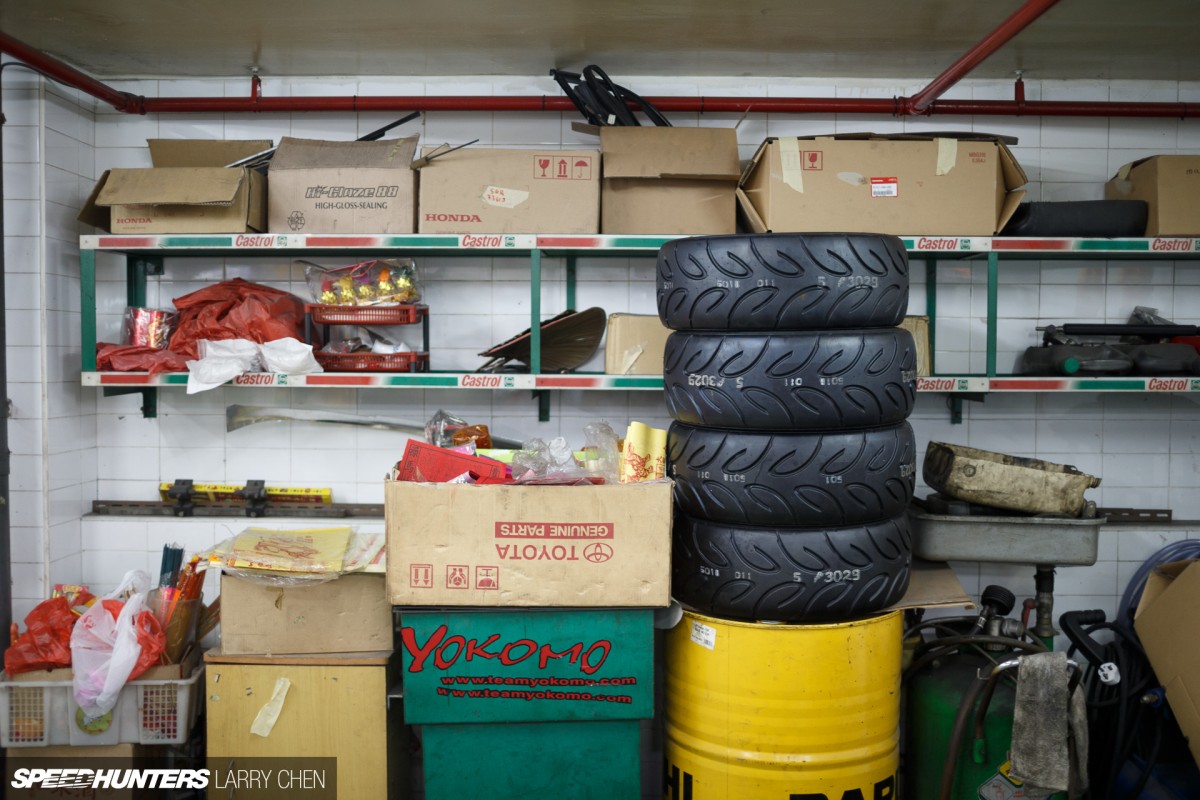 Along with building and servicing cars, Uncle Lye offers technical support at the track.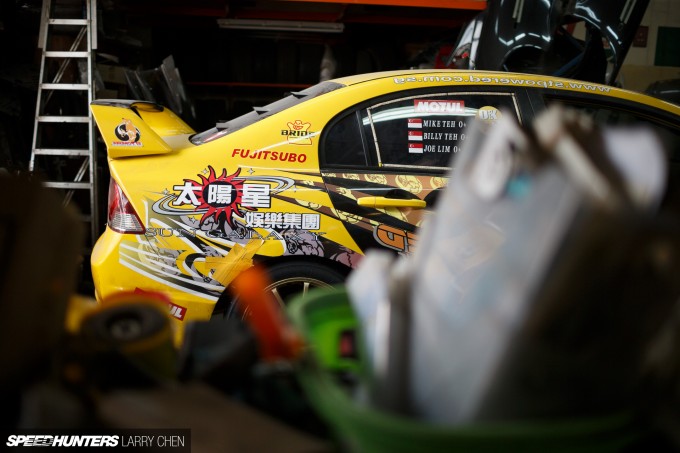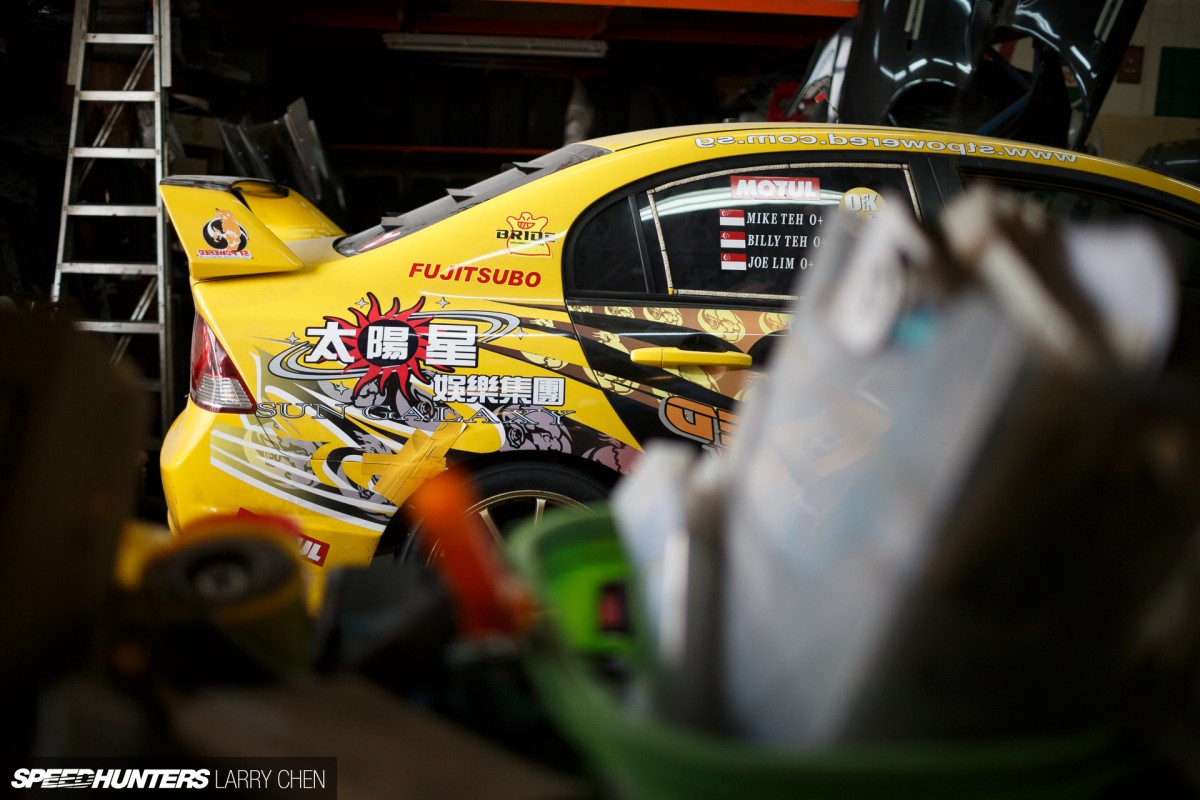 This FD2 Honda Civic Type R that competed in the recent 2014 Malaysia Merdeka Endurance Race (aka the Sepang 12 Hour) was in the shop for some race damage repairs.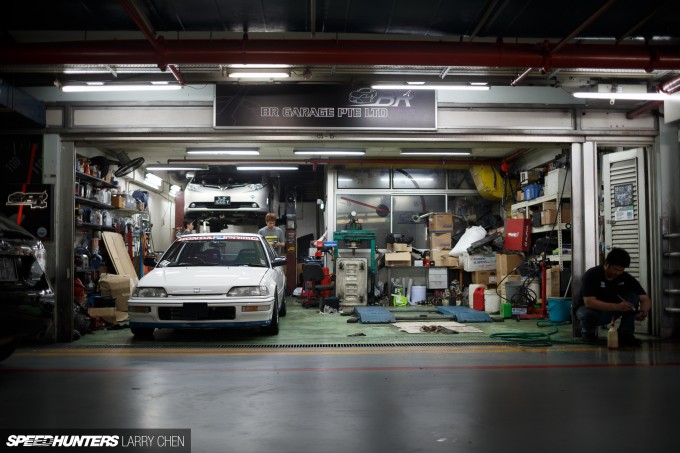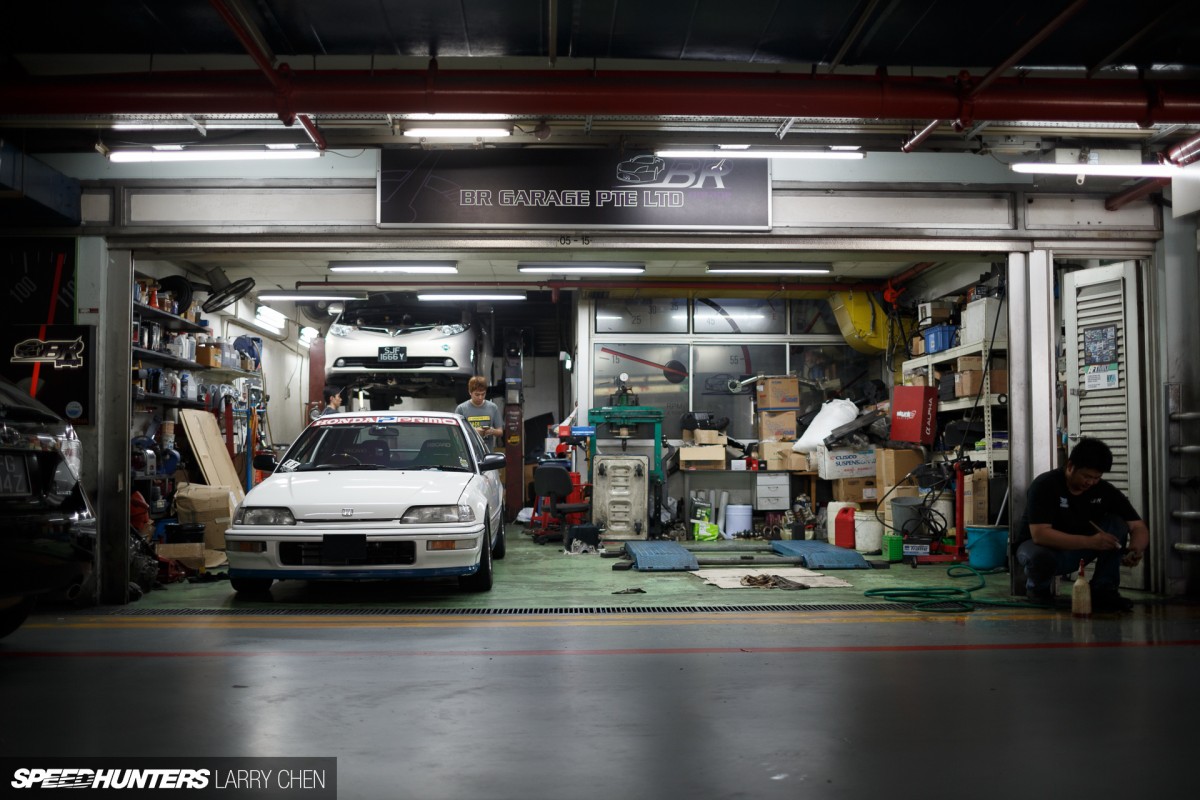 Aaron and I walked around for a little while until we came across one of his friend's cars that we saw a few nights earlier. Yes, it is the last EF Honda Civic SiR in Singapore…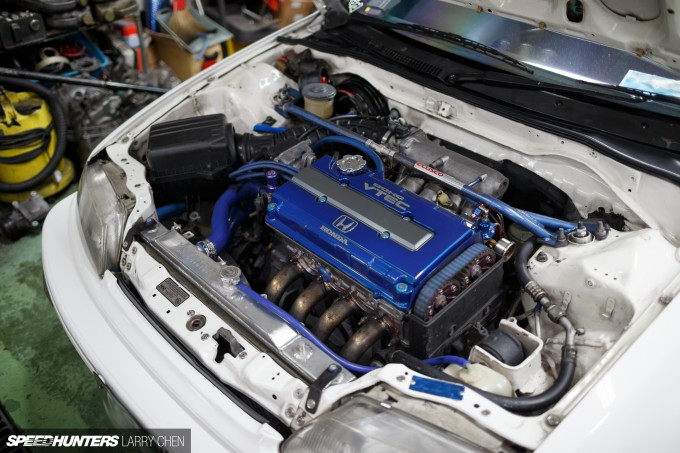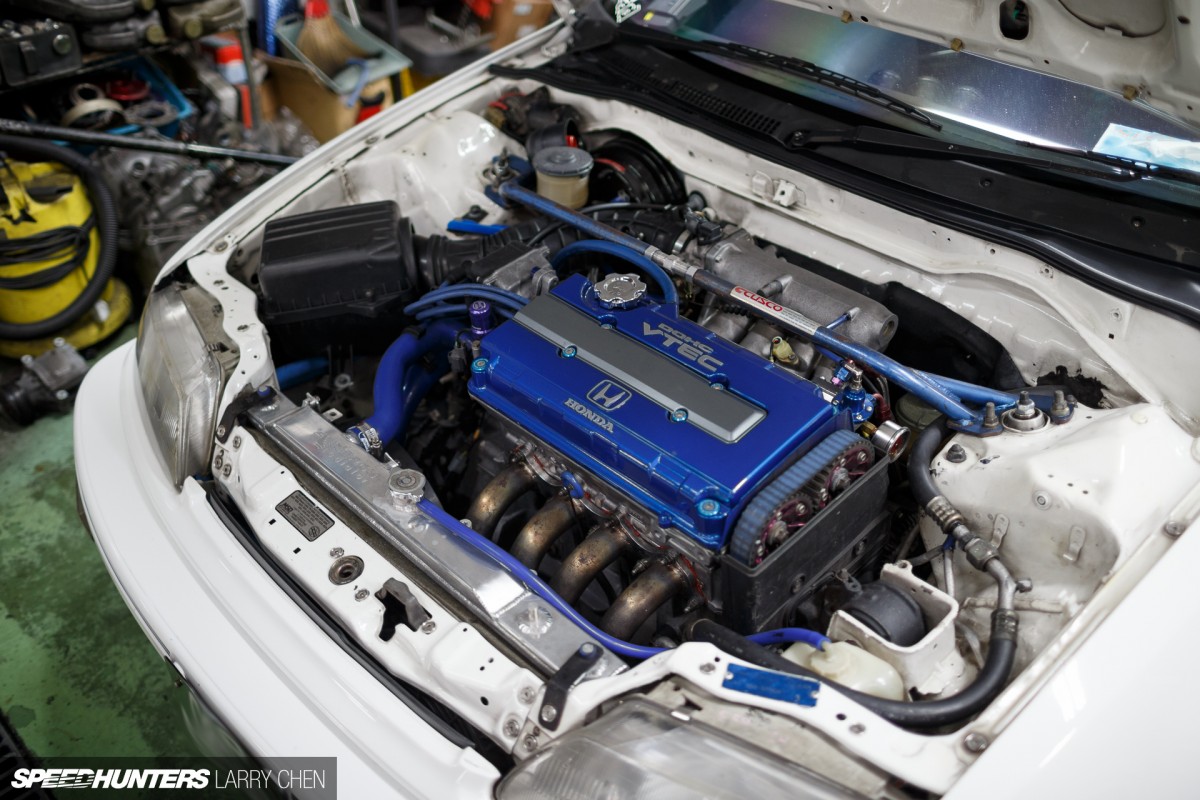 There are a few other examples, but they're just replicas and not a genuine EF9 like this one. It's been tastefully upgraded too.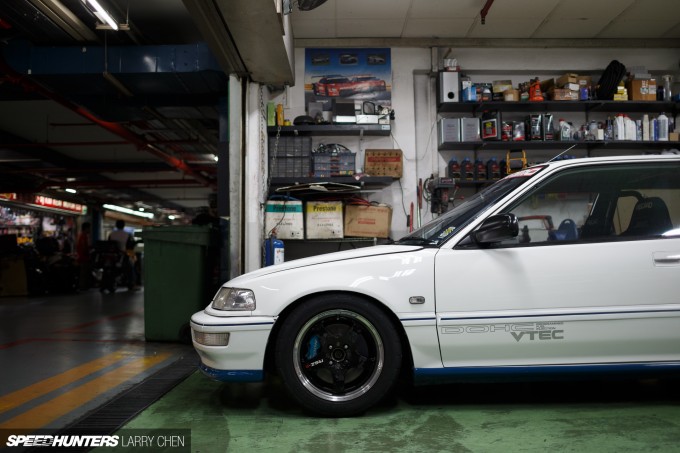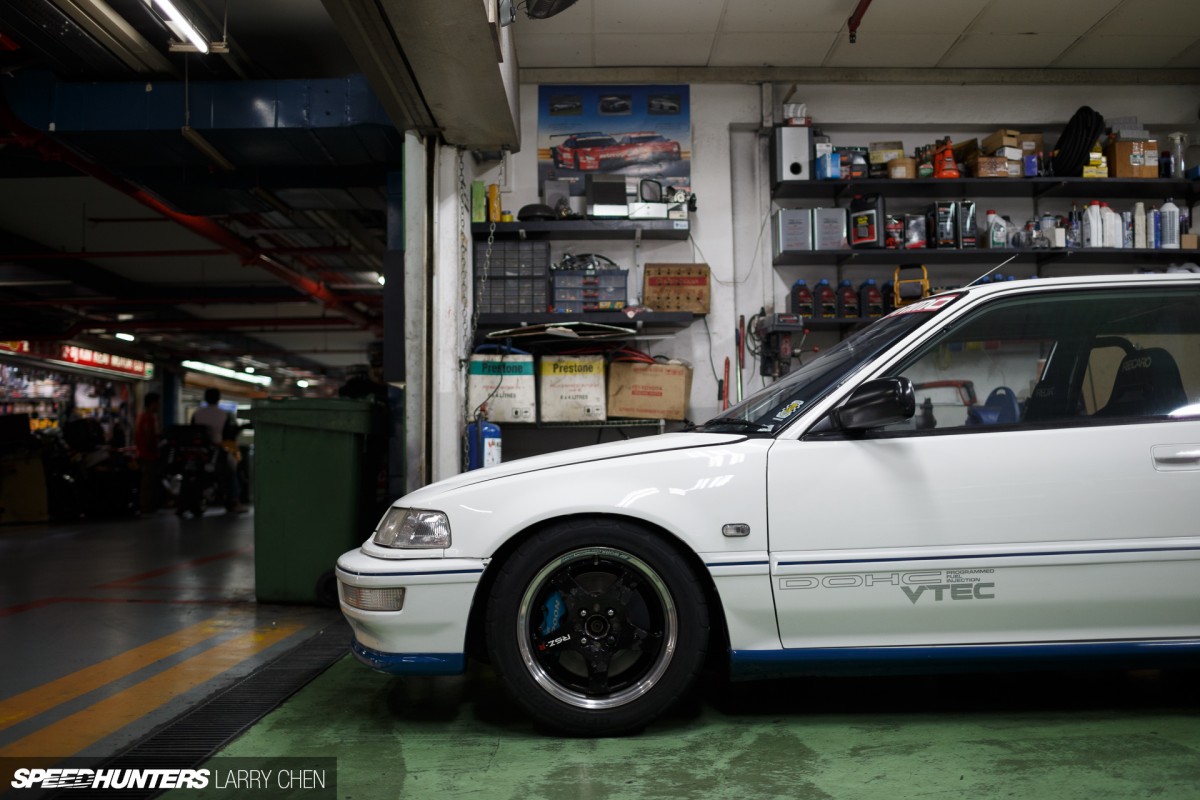 Singapore enthusiasts are on a whole different level in terms of commitment. Paying COE of around $60,000 for something like this Civic SiR is beyond loving your machine. It's an obsession, and I truly admire the passion for car culture here.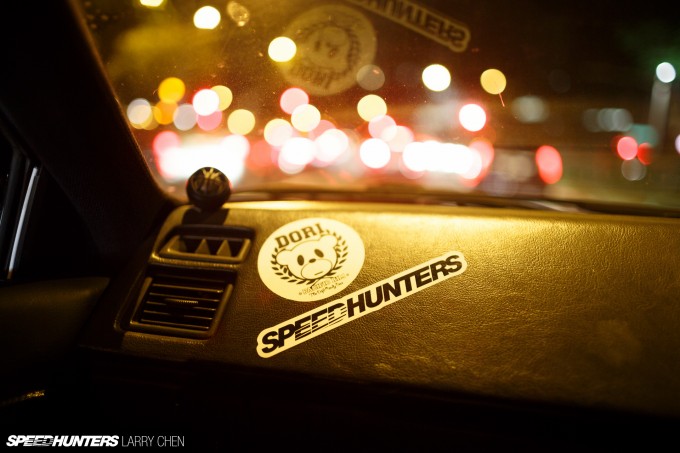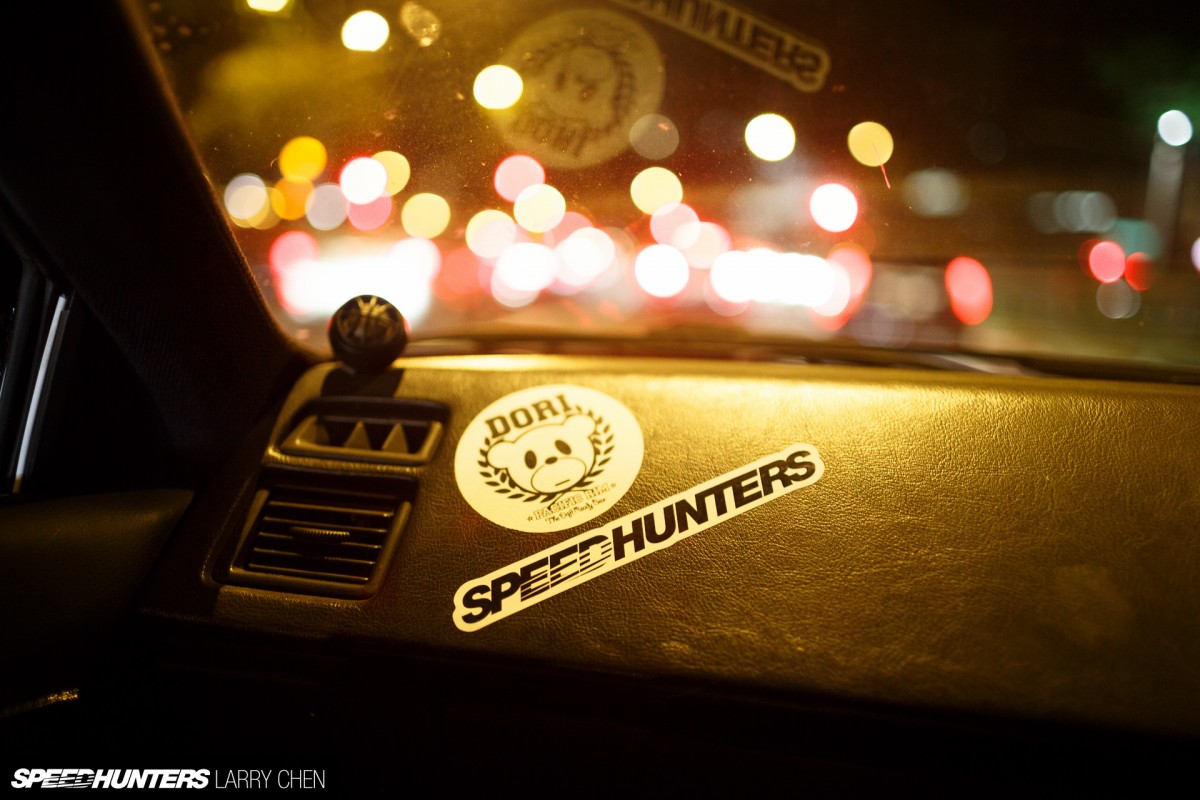 As one of the guys said, 'We don't do drugs, we don't gamble, and we don't cause trouble. We just love cars and hanging out with friends. What's wrong with that?'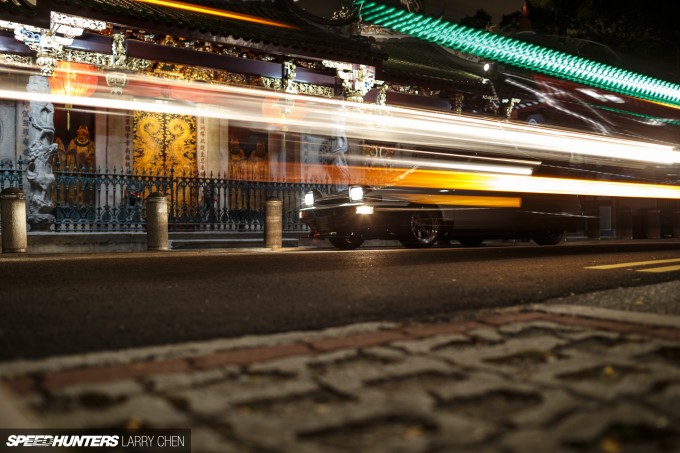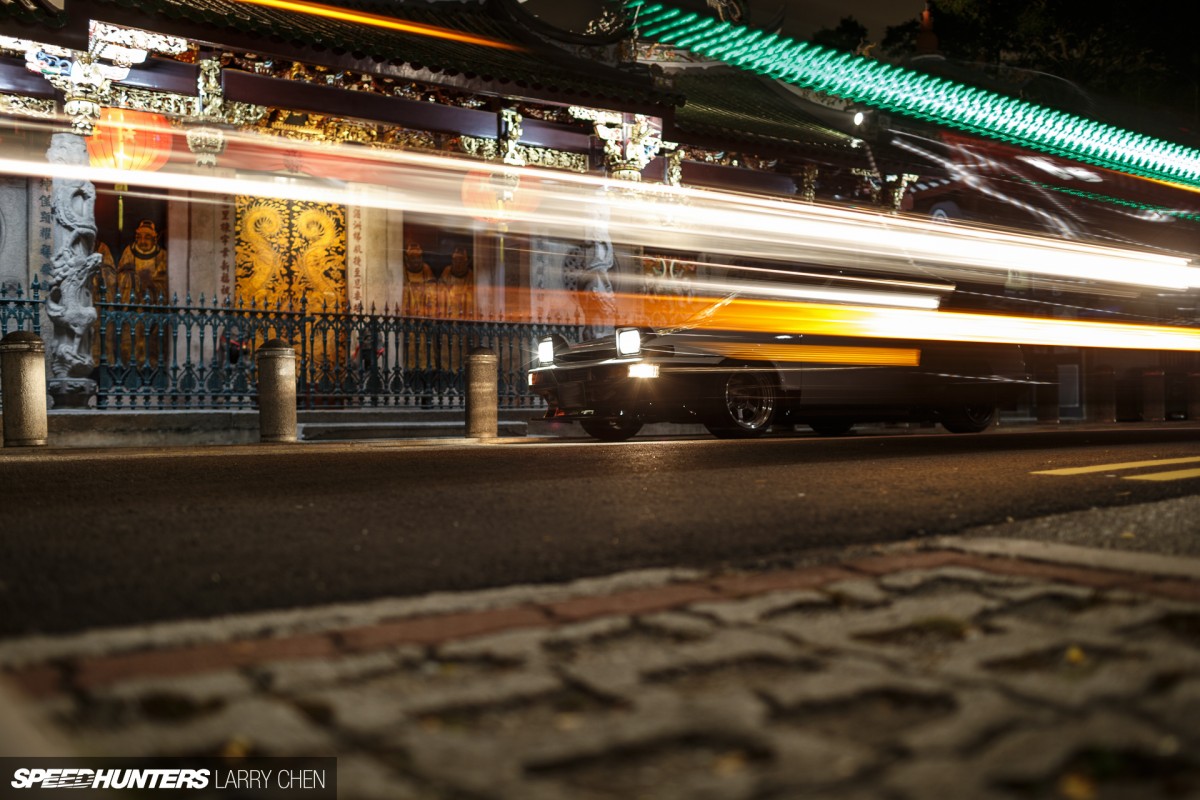 My quick visit to Singapore really opened my eyes and gave me a new appreciation for the freedoms we have with automobiles in California. I bought my 1970 240Z for $3000 when I was 20, and every year my registration is $50. My friends in Singapore will never know what that is like because there is not a single 240Z in the country! Even if someone did fork over the money to import one, they could then only drive it on select days in the year.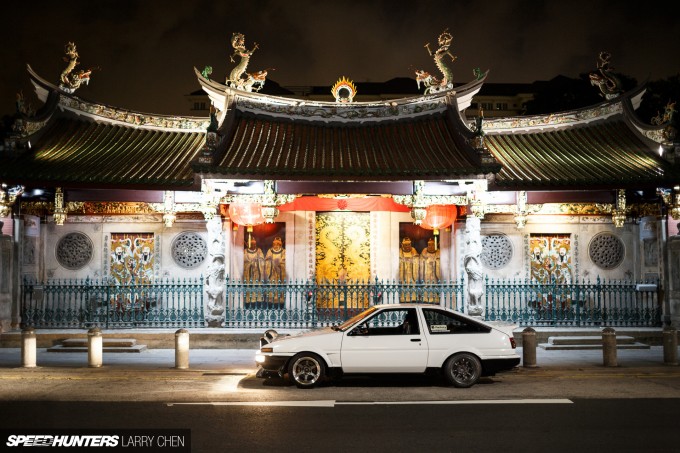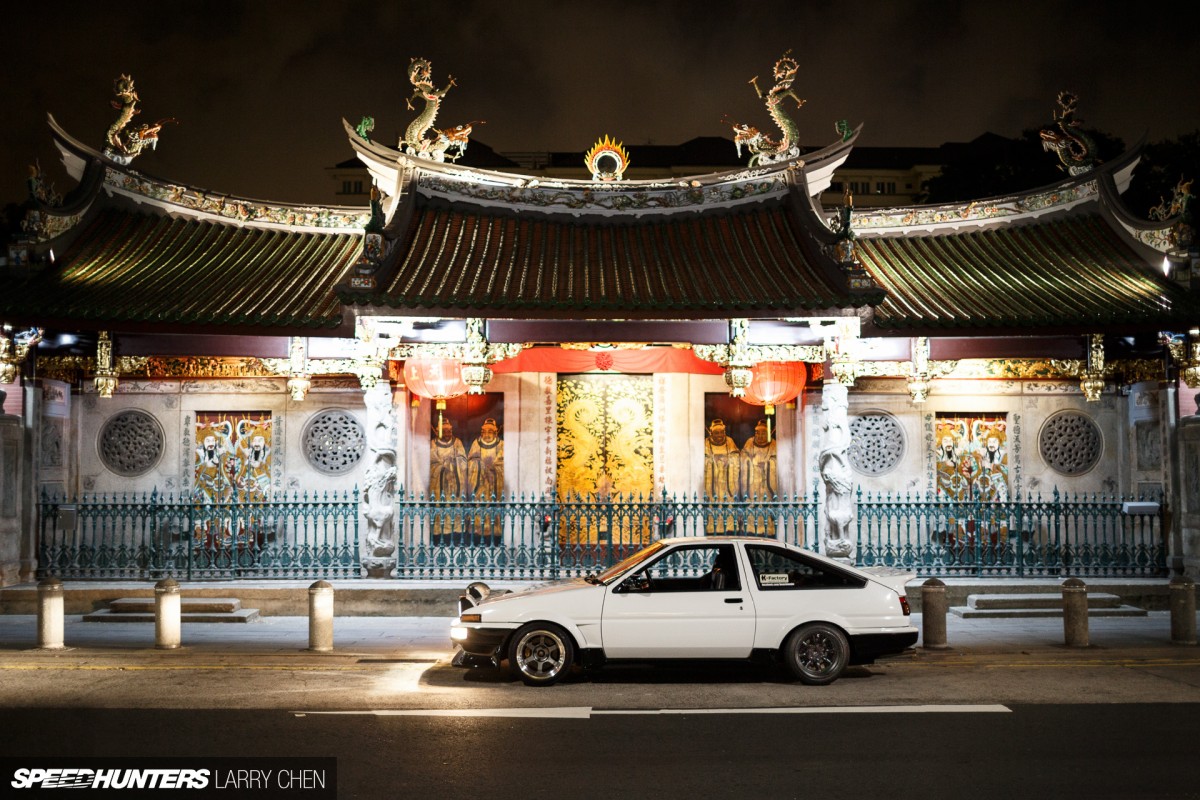 Which brings me to a question for all you Speedhunters out there: do you live in a country that is even more regulated than Singapore when it comes to enjoying cars as a hobby? Coming from the land of beater cars and cheap registration, this is all new to me…
Larry Chen
Instagram: larry_chen_foto
larry@speedhunters.com